With my husband being from New Zealand and me being from Ireland, it's inevitable we need to fly a lot with our two kids. We've been to six continents with our children, visiting 40+ countries.
I am a travel enthusiasts at heart and couldn't imagine giving up exploring once we became a family! Needless to say, we've incorporated our little ones into our way of life and they have become amazing little adventurers.
Flying with kids takes some preparation and we are very well practiced as we've been travelling with our two since they were babies, even in the more difficult toddler stage.
I have come up with a really simple and easy to remember acronym that is the key to a successful flight with kids (or at least make it a lot easier). Just remember S.A.S; or snacks, activities and sleeping aids.
Every time I've been really organised with these three things, the flight has gone well. Another commonly referred to parenting acronym is HALT; hungry, angry, lonely and tired. It's like being 'armed' with something to tackle each of those issues.
In this blog I will give you lots of advice, tips and tricks for the tried and tested products we have used for flying with kids.
If you are flying through different time zones be sure to also check out our dealing with jet lag post here!
FLYING WITH KIDS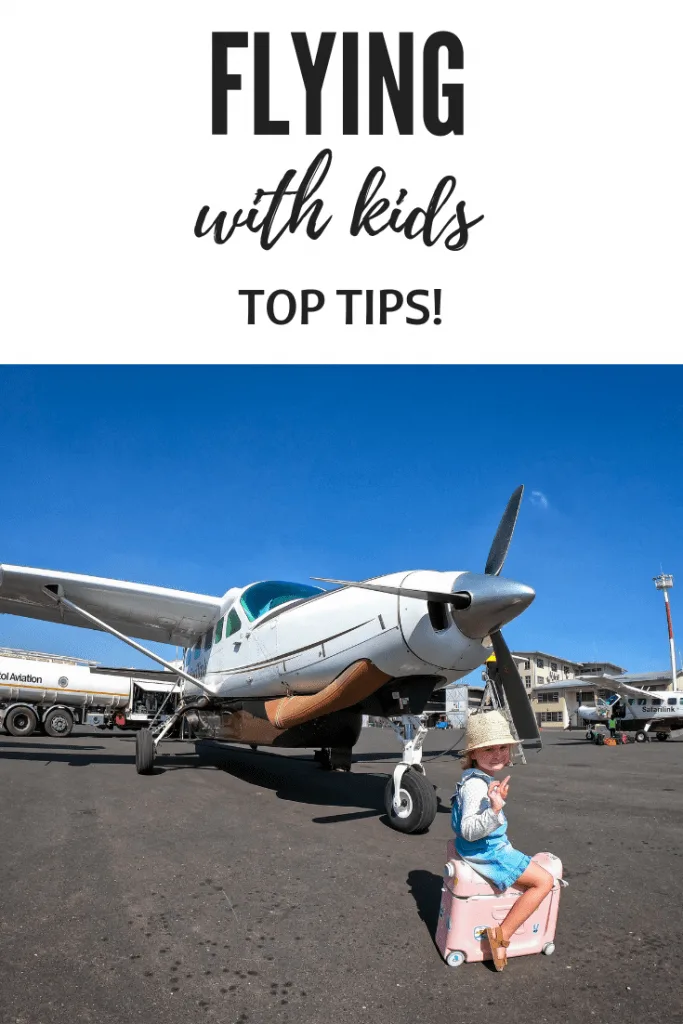 Before you head out on your vacation don't forget to buy travel health insurance. We like World Nomads!
BEST SNACKS
It's no secret that eating plane food and just generally flying can make us all feel a little unhealthy, so having nutritious snacks are key. Although taking lots of food on board can be a pain in terms of extra hand luggage, if it's planned well, hopefully it will all be eaten leaving you less to worry about at the other end of the flight.
I always allow one piece of hand luggage for snacks on a long haul flight. I usually get away with a smaller bag within my backpack on a short haul trip.
The key is ensuring you bring enough to see you through but not too much that you need to declare it at the other side. Declaring food can be a long and arduous process in some countries so it's better not to have it. I use stainless containers or food grade cloth to store all of my snacks.
Stackable containers
are an amazing option to reduce bulk afterwards once everything is finished. I love using compartmental lunch boxes
to bring multiple food suitable for snacking. Here is a handy list of foods I tend to use for snacks on a plane!
LIST OF PLANE SNACKS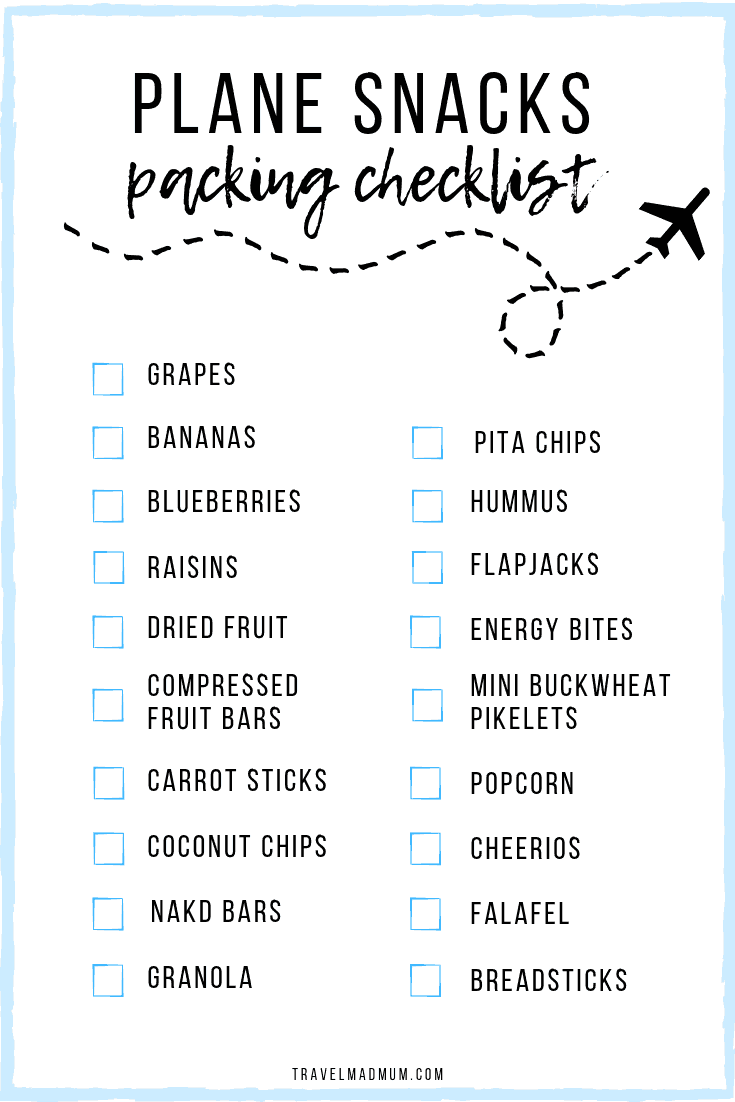 ACTIVITIES
Activities are everything when it comes to keeping kids entertained on any long journey! I try to categorise the activities into stimulating and entertaining, or more low key things for when the kids are tired and just need to chill. In addition to the activities below you can check out our longer list of our favorite travel toys here.
LOW KEY RELAXING ACTIVITIES
For the latter I find thin reading books that pack away nicely to be a really good option. I can chill them out with a cuddle whilst reading a book, just like home. On the whole, whilst I don't like using electronic tablets much, it has saved the day a few times. We use the Amazon Fire tablet
.
I particularly like it because it has parental controls and monitoring of what kids are up to. There is a tonne of educational apps and we can download movies from our prime account when needed for a long trip.
You know that moment on a flight when you just need your kid to settle down and go to sleep? Having their familiar movies with a set of headphones
is a great option allowing them to switch off from the otherwise new and stimulating environment.
INTERACTIVE ACTIVITIES
When it comes to more interactive play, we tend to use a pre-made activity bags especially designed for travelling. There are currently two on the market that I know of, BusyBags
and Keep em Quiet Bags (UK).
That said, we are not always in a location where it's easy for us to order one so we might go to the pound / dollar store and pick up a few things to make an interesting pack for the kids.
EASY ACTIVITIES
The key here is new things or something they haven't seen for a while. It always helps with keeping them interested for a bit longer. We absolutely love mess free painting over here!
It can come in a variety of forms, whether it's a colouring book activated with water and a brush
, or something reusable like this Peppa Pig mat that acts as a doodle board, also activated by a brush that has water inside. (It would appear this is only available in the UK but for those in the US you can find this similar product
.)
We've used this from a young age with our kids and it's always a winner to kill some time in flight.
COLOURING ACTIVITIES
Colouring in is always a winner. I try to get a new book that is themed around the place we are going to. It really helps engage our kids in both the activity and the overall trip. Like recently we went on a safari trip, so I ordered a colouring book
to match the trip. For crayons I love this wooden eco option
.
CARD GAMES
My older girl is just coming into the age when interactive card games are entertaining. There are so many other options from the traditional cards
, from conversation starter packs
, to interactive games, it's a good compact option that can be used time and time again. Learning a few magic tricks as the parent, I bet your kid will love it.

ENGAGING CULTURAL ACTIVITIES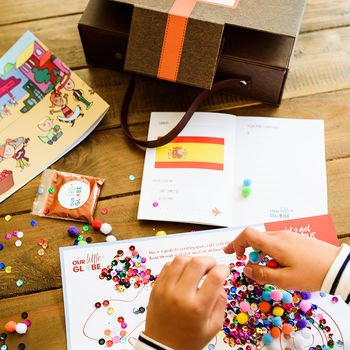 More recently we learned about Our Little Globe company. They are a subscription box for kids wanting to learn about the culture of different countries. Esmé tried out the Kenya box just before our trip and it was an amazing introduction to her trip whilst we were still at home.
We took it along on our trip and used it both on the outbound and return journey. Inside it has a passport with flag stickers, recipes for the countries traditional dishes, an activity related to the culture a crib sheet with a few words in the language and a map.

OUR LITTLE GLOBE ACTIVITY
The map was an amazing way to prep our kids for the trip. It showed lots of the animals they could expect to see and what a Masai village looks like, as well as traditional clothing. Our daughter found it a fun way of 'ticking off' things she'd seen and we found it a very useful way of preparing her for a significant cultural difference.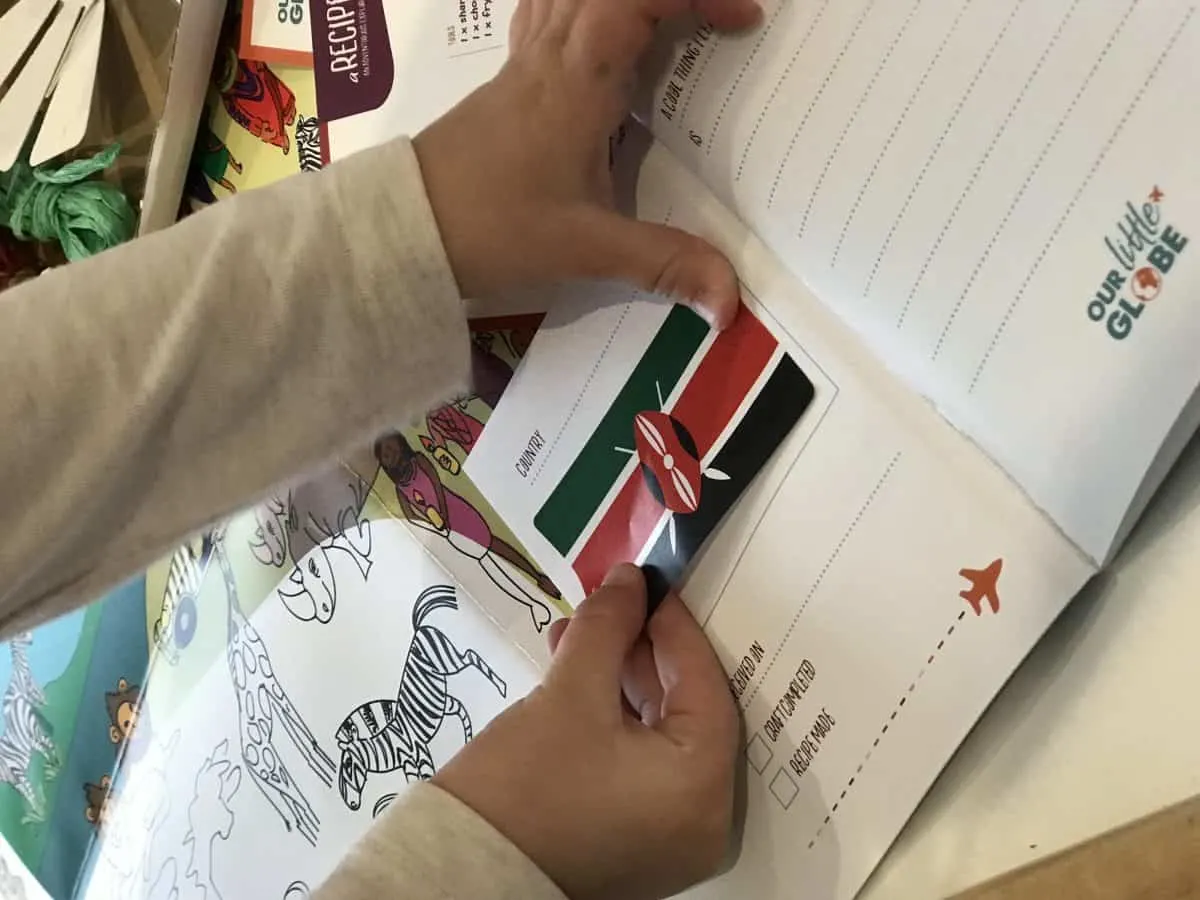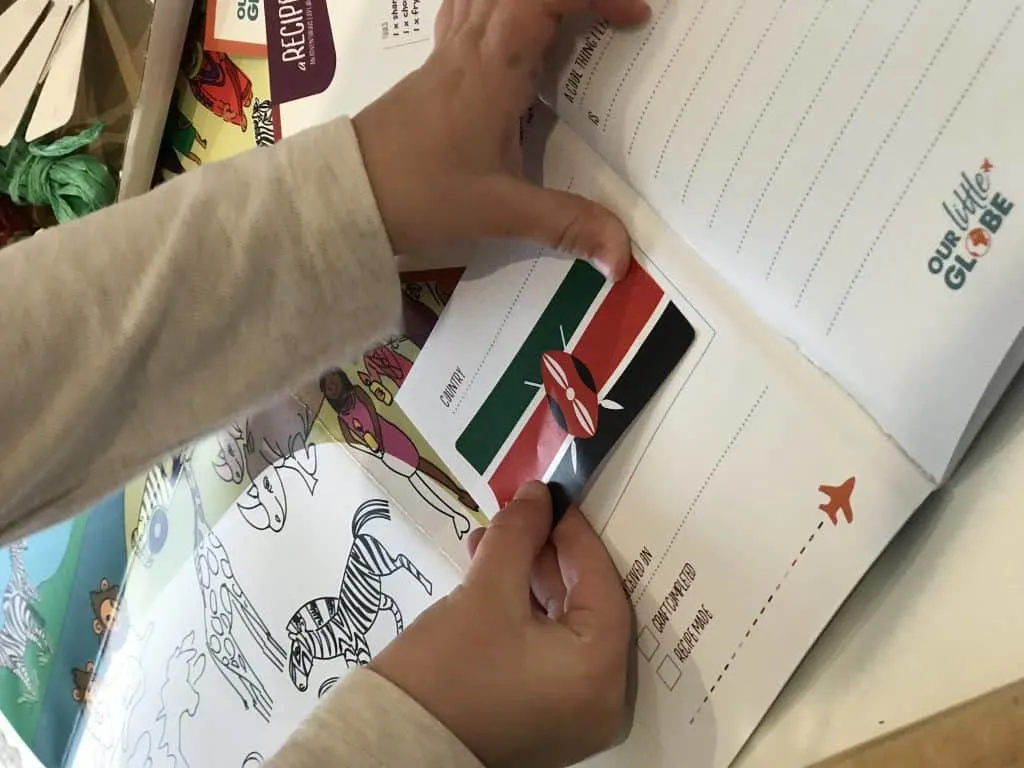 It was so nice to have this pack (which is light weight and compact) to reflect on the way home. It certainly kept Esmé happy for a while and best part is it was super meaningful for all of us.
The passport page for 'Kenya' asked what she learned from the trip and it was so nice going over this with her on the way home. Check out their website and get your Little Globe Pack here!
TRAVEL JOURNAL
Now that Esmé is a bit older we've been encouraging her to keep a travel journal
. She documents things like countries she's been to, how many plane rides she's been on, what things she saw on her trip and what she liked the best or what she was most excited to see.
In some cases you can get entire journals related to the place you are visiting, like this kids Bali journal
. Similar to the Our Little Globe pack, it engages kids from the beginning to the end of trip. You can chat about what they want to see the most or what they like the best for the way home entertainment!
OLD FASHIONED GAMES
I distinctly remember my mother putting together a bag of activities for us as kids, they may be retro as hell, boy things like a good old fashioned rubik's cube
can provide hours of entertainment. It's amazing for cognition and dexterity.
I love bringing things that have purpose on our trip rather than simply sticking the kids on a tablet. Believe me, when I really can't be bothered or they are too tired we do use a tablet but for the most part we try not to.
Esme recently inherited a travel sized connect 4
. Do you remember that game from when you were little? Although they are small parts and can easily get lost it is a cool game that encourages us parents to play with our kids on the journey.
Top tip is to fill the leg room space in front of your kids seat inflight to prevent them losing their toys. On that note, let's chat about sleeping aids.
INFLIGHT SLEEP AIDS
We've tried out a number of inflight sleeping aids, but nothing beats the JetKids BedBox
. Our kids have been trying out the latest version and this product has been nothing short of a life saver on a number of occasions due its multi-use.
Whilst the main reason I love this product is because it essentially creates a bed for my kids on a flight, there are other functions they love even more. Lets start with those!
The JetKids BedBox
is a ride on scooter, come suitcase with storage, come bed. I mean, this is literally the most genius invention to come onto the family travel market ever! This one product can deal with every stage of the journey and has been such a game changer for us.
RIDE ON KIDS LUGGAGE
Picture this, it's 4am and your trying to cheer your kids up for the red eye flight you are about to head to the airport to catch. Nothing can change their mood until you tell them they can literally scoot around the airport to their hearts content.
The ride on function has saved many an early morning melt down and helped us to whiz through the airport at a good speed. The ride on function is definitely the most fun of all. If the kids are lazy to scoot themselves, there is a handy strap for parents to pull them along.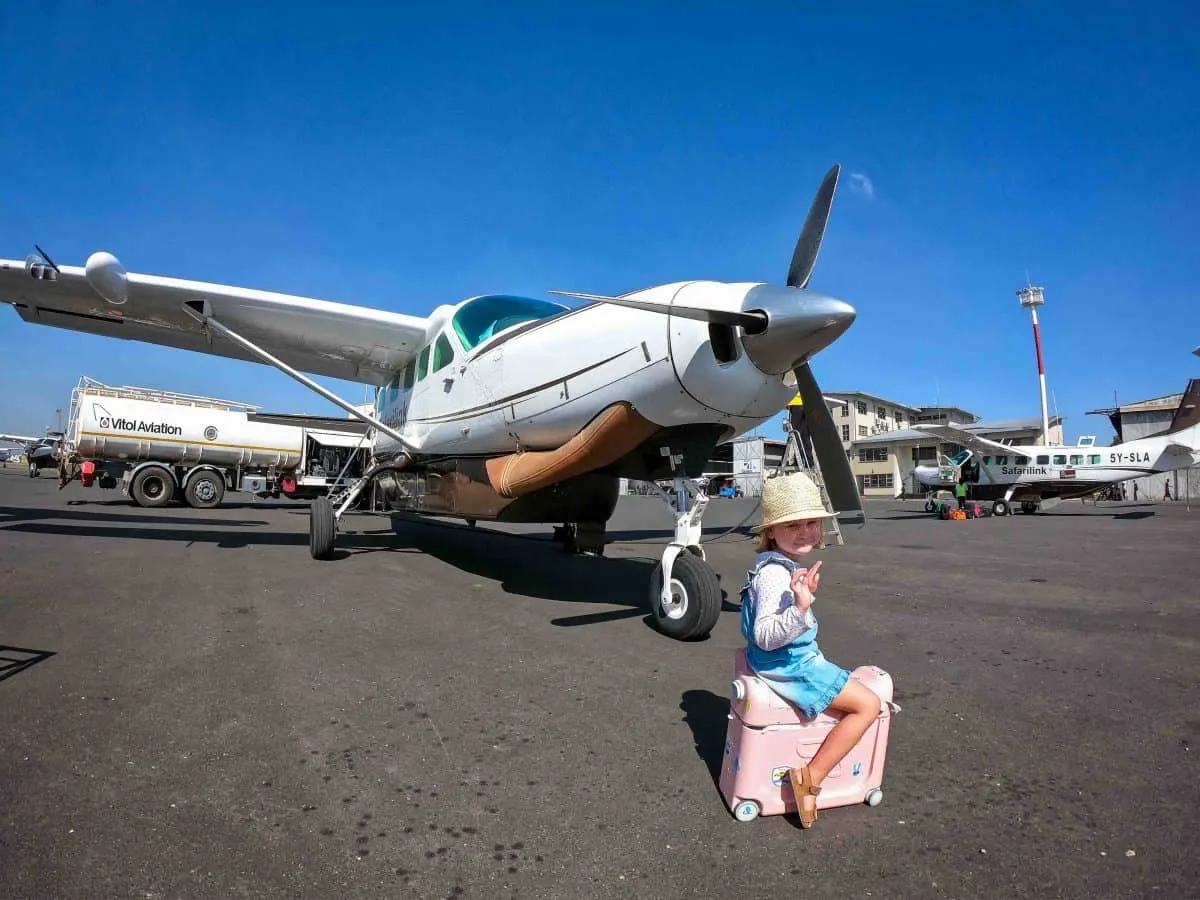 CARRY ON KIDS LUGGAGE
This little genius product also acts as a suitcase that comes in a variety of colours, with storage compartments inside the main body as well as the lid! It has a hard exterior meaning lots of different things can be stored inside safely.
I tend to put my kids activities and snacks inside. The JetKids BedBox comes with its own mattress that takes up a little bit of the space, however there's still plenty of room for other things.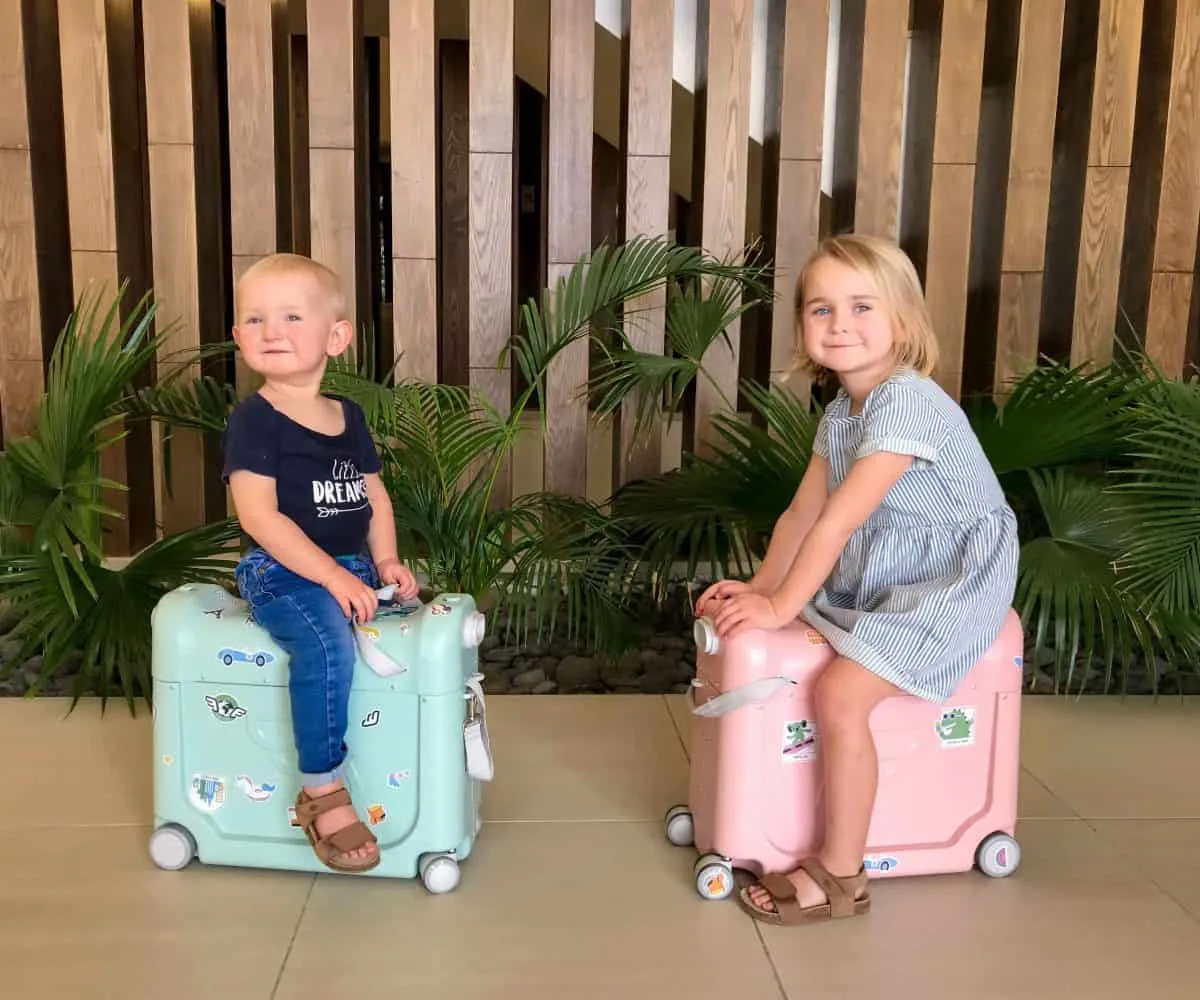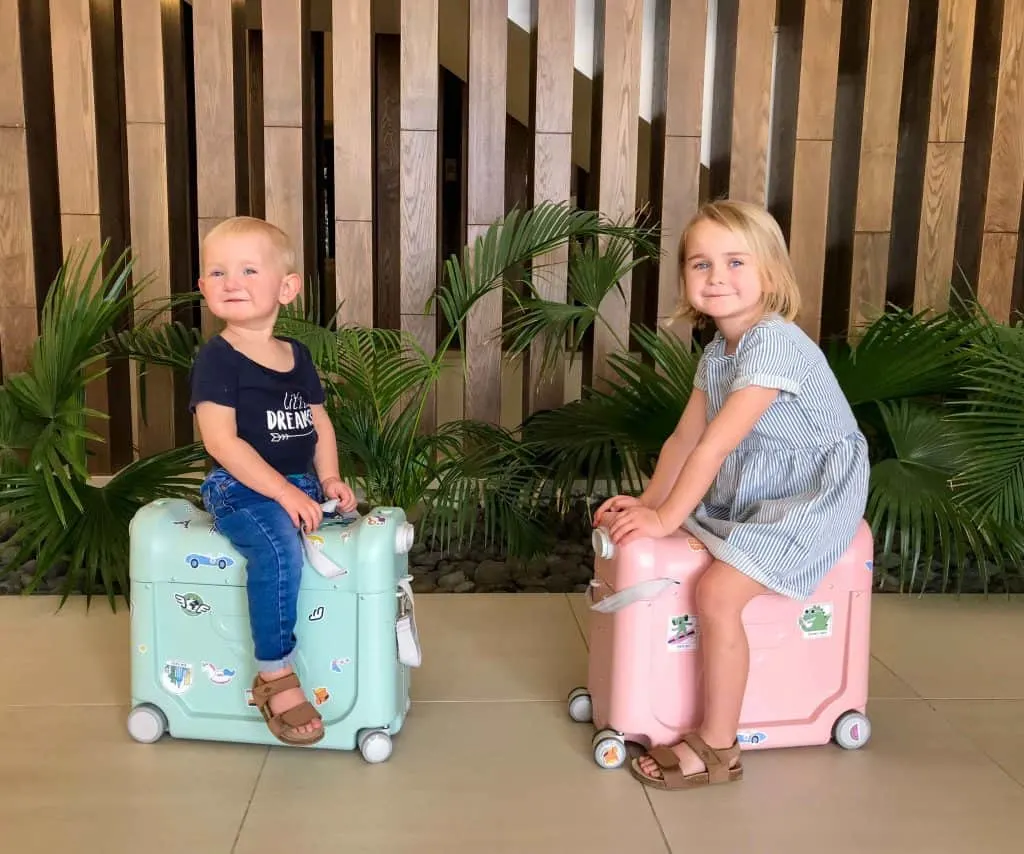 SLEEP ON BED FOR KIDS ON THE PLANE
Like I mentioned the main reason parents will buy this product is because it turns into a bed by filling the leg room space in front of a child's seat. It sits nicely in there and all you have to do is turn the lid upside down and slide across the handy bridge to meet the chair.
The last step is spreading the soft non-slip mattress out across the new surface to make your little one a bed. We've gotten through many a long haul flight with well rested kids because of this.
I have to admit I'm often a little jealous of their first class bed! Let's face it, lying flat and cosy like that, mid-flight, only happens in first class otherwise!
I normally bring one of my pashminas to act as a blanket that can also have another use later (packing savvy tip). To make it a dreamy sleeping situation I also bring a little eye mask
or something to shade the lights and a familiar cuddly bear.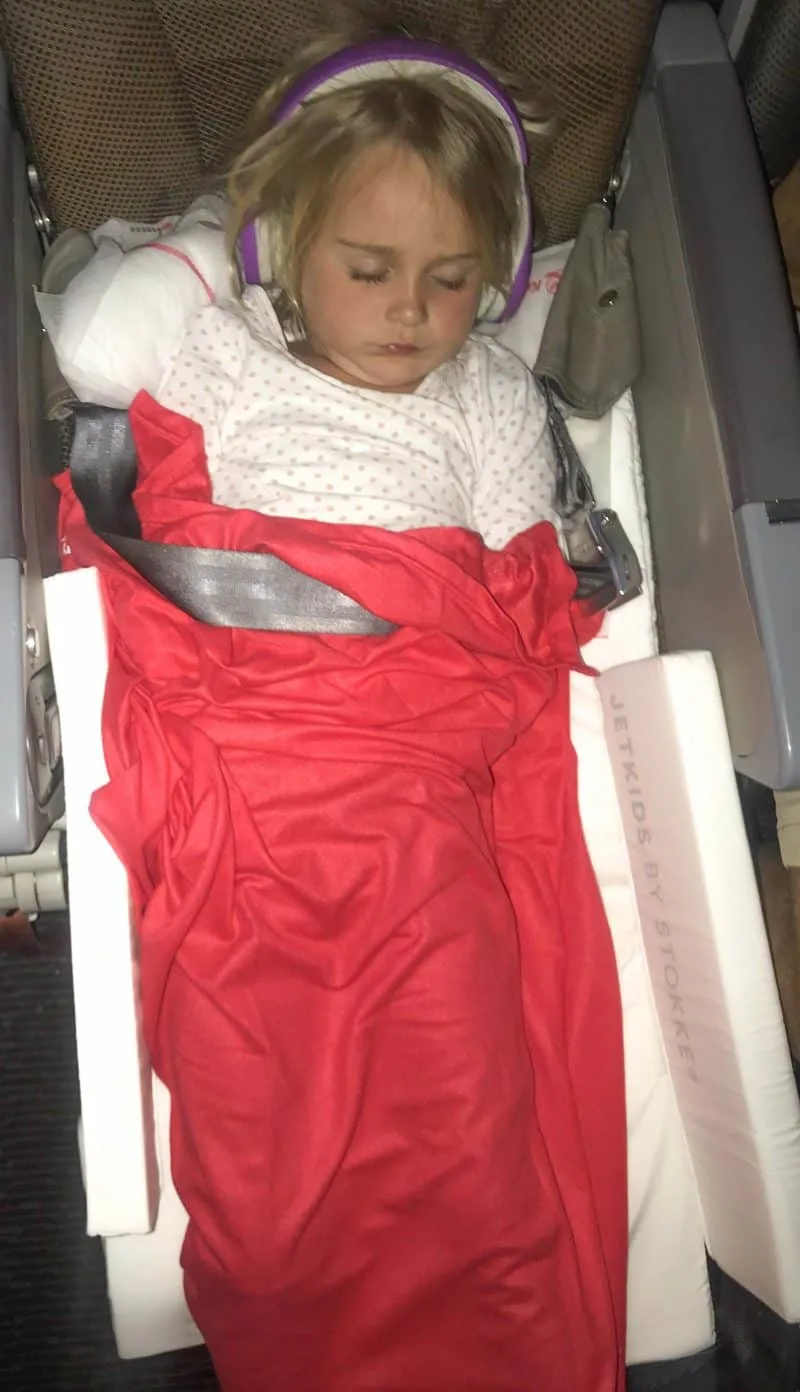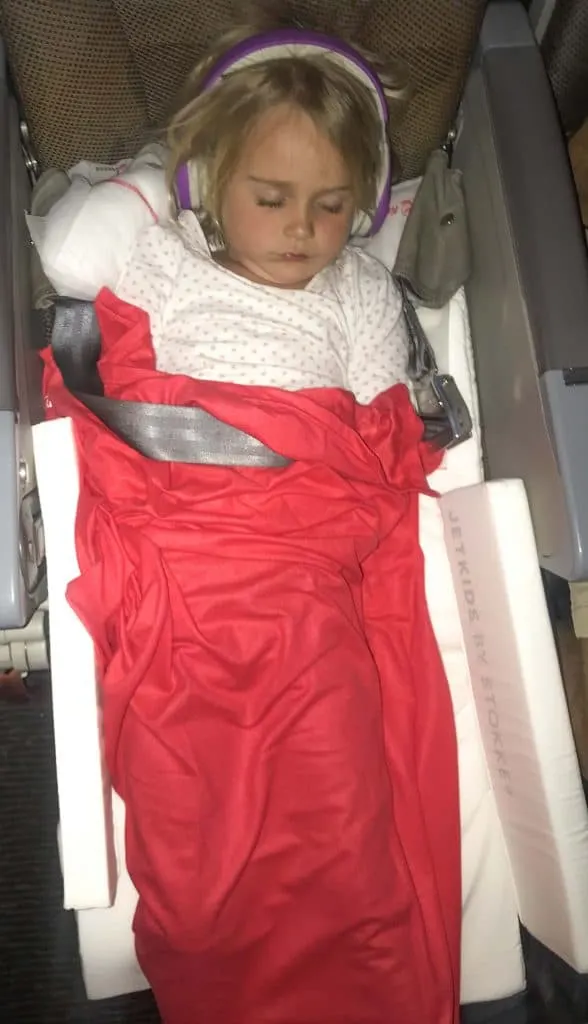 Will you be needing travel insurance, flights, reliable internet, rental cars, or hotels for your trip?
You May Also Like:
This post is a paid partnership with JetKids BedBox. As always, all views expressed are entirely my own.