Visiting Lisbon with kids wasn't high up on our priority list of European cities. Having experienced it first hand, I'm wondering why it isn't as well travelled as other destinations? It seems to have everything!
From history, architecture, charm and culture, to an abundance of family friendly activities and attractions.
We squeezed in plenty of experiences in our two days, but I feel three to four days would have been the perfect amount of time to see and do everything at leisure in Lisbon with children in tow. If you are doing Lisbon as part of a larger Portugal trip, be sure to check out our Portugal With Kids or Algarve post.
Based at the mouth of the Tagus River, Lisbon City is stacked on steep hills. The buildings either boast patterned tiles on the entire exterior or have a crumbly pastel coloured paint.
This makes for a great view from many of the elevated points throughout the city, especially at sunset. Many of the cobbled streets are steep and windy. Every once in a while a yellow old-school tram chugs along.
Laundry hangs from the windows above giving the streets a vibrant colour.
The layout of the city made sightseeing a little more strenuous being heavily pregnant. Equally the cobbled streets are not so good for pushing buggies with small wheels.
Exploring Lisbon with a toddler and while pregnant certainly gave me a workout! However a carrier worked really well for us and transport is easy around the city.
A great, lower impact way to get to see the city is a hop on, hop off bus tour. You can find tickets and prices here.
Here in this post is all you need to know about travelling to Lisbon as a family: In my usual format here is the best of where to eat, sleep and play in Lisbon for kids.
Things To Do In Lisbon With Kids

Lisbon For Kids – Places To Eat
Lisbon is quite multi-cultural in its variety of restaurants and eateries. From sushi, to traditional Portuguese food, you will find whatever you are feeling like. Our daughter is quite fussy but we had no issues in finding things she likes to eat.
Many of the traditional Portuguese restaurants in Lisbon provide cheese, bread, olives and other snacks as soon as customers sit down at their table.
It's worth noting, they are not complimentary, however they are still put on your table without ordering them. It racks up around an extra €10 on the bill, they can be politely declined.
If you are interested in trying some of the traditional foods, seafood is a major part of the menu. Custard tarts (pastel de nata) as well as sheep milk cheese seem to be quite popular 'must tries'.
If you want to come prepared you can check out this list of the best traditional Portuguese food. Here are the best restaurants in Lisbon, that we found. If you need more options, you can check out this Lisbon food guide.
Time Out Food Hall
Based in a historic hall full of character, are 24 fine dining restaurants. It's an absolute foodie's heaven. From hamburgers, to steaks and caviar, there is so much to be enjoyed.
Long wooden benches fill the centre of the hall where punters eat together.
It goes without saying, it's a really busy area at peak meal times. So if you intend to visit with little ones, try to go early.
The table set up isn't ideal for kids but there is a playground and grassy park just outside the door where a takeaway could work perfectly. We were amongst plenty of families eating here.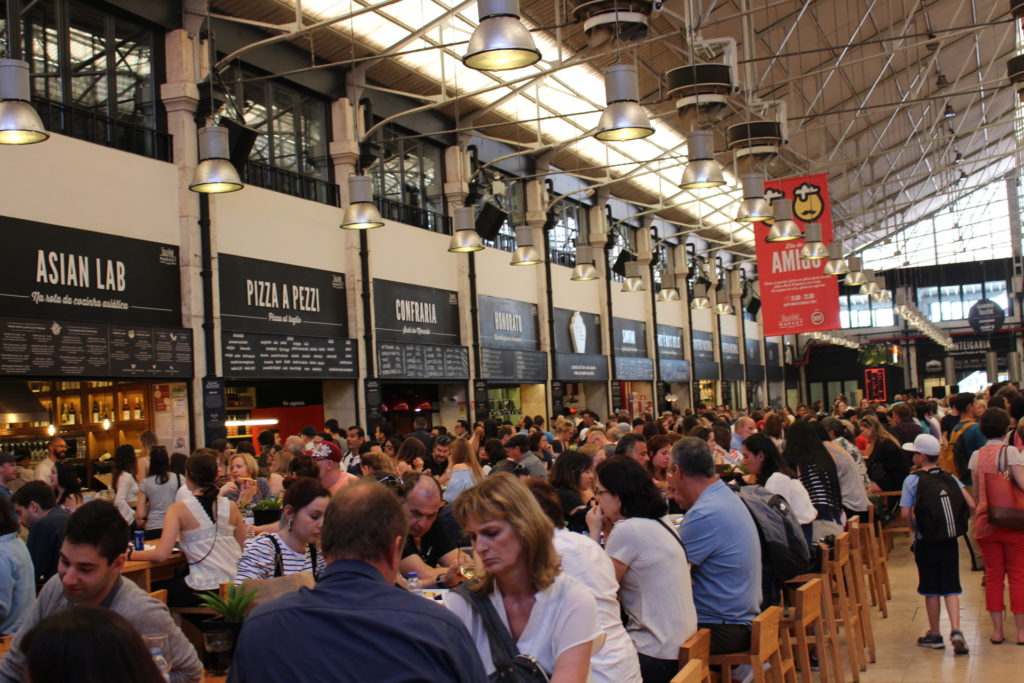 Rua Bartolemeu
Very close to the Belem Palace is Rua Bartolemeu, a street full of restaurants with outdoor dining space. It's the perfect place to have lunch after visiting some of the nearby attractions. The majority of the options are Portuguese food.
We ate at Dino's but there are plenty of others that looked really good. We really enjoyed the salad and marinated prawns!
Next to Rua Bartolemu, is a large open green space where there is a playground and ice cream stand. Perfect for a dessert perched in the grass whilst soaking up the sun.
Rua Garrett
Rua Garett is a pretty courtyard area in the Chiado district. Its tucked away from the busy streets and has three restaurants with indoor and outdoor dining space.
The most popular of the three places seemed to be Mezo Giorno restaurant. They serve a variety of pizzas, pastas and salads. The food was great and quite reasonable too. This was definitely one of the nicer areas we found in the Chiado area.
FAMILY FRIENDLY ACCOMMODATION IN LISBON
We got lucky in our search for where to stay in Lisbon with kids. We stayed at the fabulous Martinhal Lisbon Chiado Family Suites.
They offer spacious serviced apartments in the centre of Lisbon, specialising in luxury family stays. They are in a great location to access both central Lisbon and the shoreline of the Tagus River.
Martinhal is most certainly the 'go-to' company if you want an easy trip to Lisbon with toddlers. From free baby concierge, to pyjama parties and freshly made food for kids of all ages, it really changed our thoughts on how we travel.
Check pricing and availability for Martinhal here.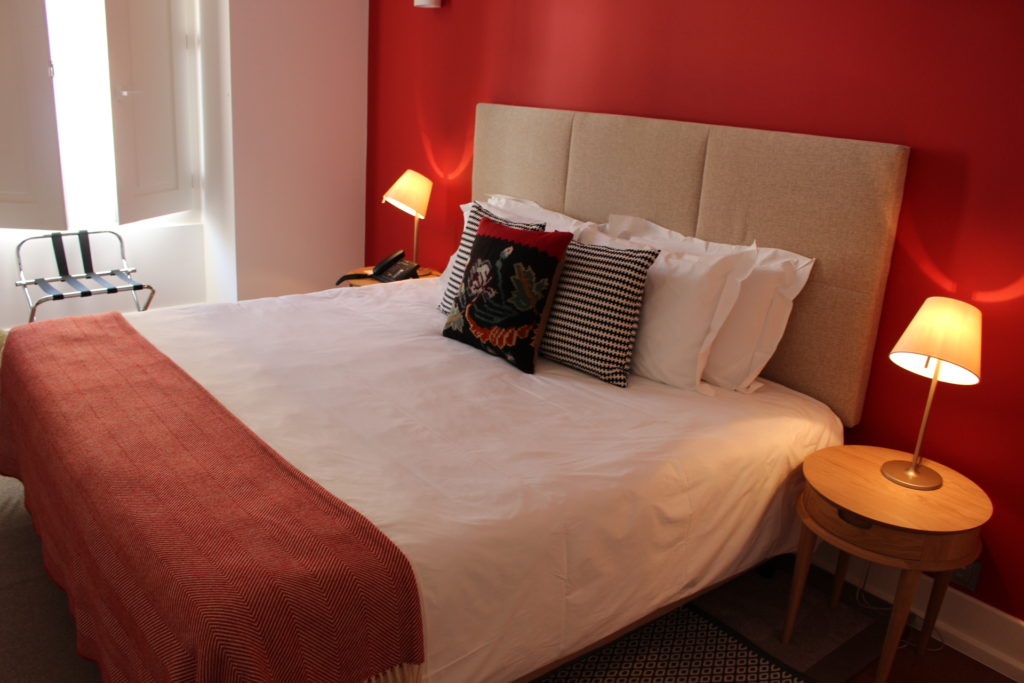 The apartment
We stayed in a one bedroom apartment with open plan living and dining space. We had a large fully equipped bathroom with a walk-in shower and separate bath.
They even had a potty and stepping stool for our daughter. There was another separate toilet and an area which could realistically be considered a second bedroom. It had two bunk beds that can be neatly folded onto the wall if not in use.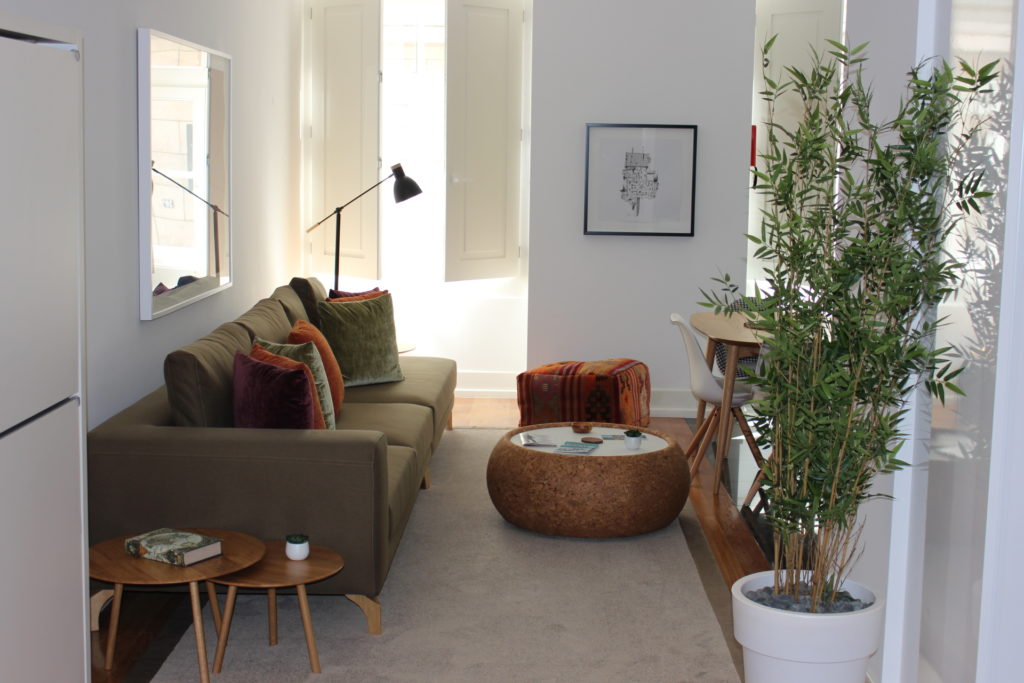 Martinhal think of everything for kids, as they also had a bed rail for our little one. All of the spaces were modern, clean and fresh with a splash of colour in the soft furnishings and Portuguese inspired art on the walls. It was such a lovely place to be.
The kitchen was fully equipped with all of the appliances including a washing machine and an espresso maker! It felt so nice to come home with little or no laundry after a holiday.
I love how they leave an essentials pack for all guests inclusive of milk, orange juice, water and children's savoury snacks.
They really have the family at heart with all of these little gestures that make such a difference. Not to mention the gifts every child gets on their arrival. Esme hasn't put down 'Rasphino the Fox' since we've left.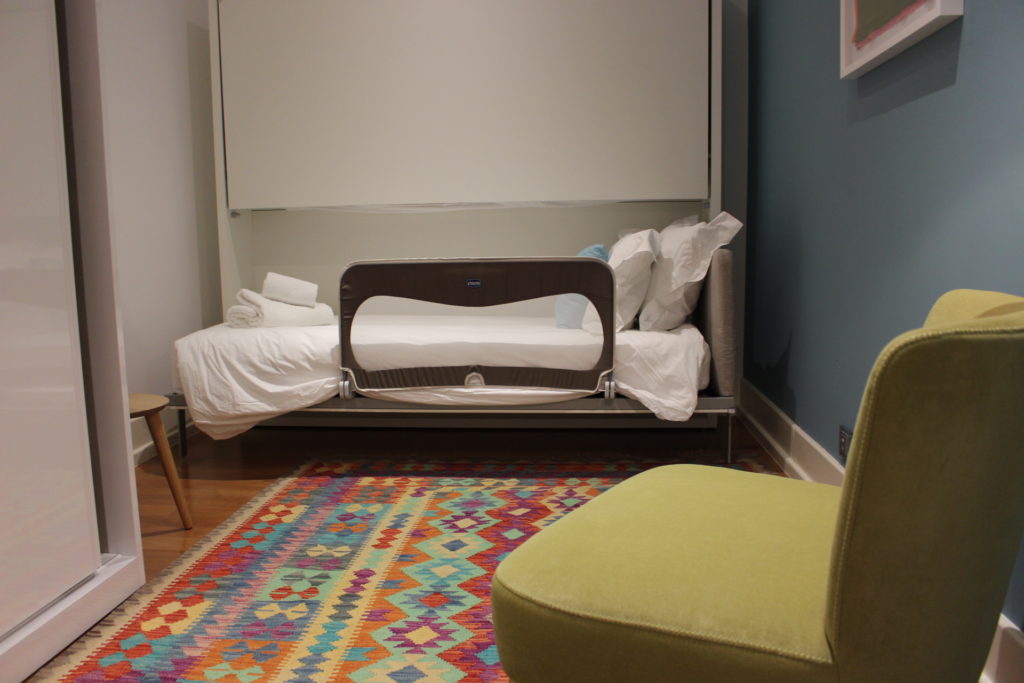 Eating at Martinhal Chiado
Having a kitchen in the apartment is super handy for making homemade meals. However, I must admit, we were quite lazy and ate out mostly.
If we were staying for longer, I am sure we would have made some meals ourselves to maintain our budget.
Within the hotel, is M Bar/Cafe. Hotel guests tend to have breakfast there, we loved the continental option. They also serve a variety of light bites throughout the day. Inside the cafe, it has its very own old-school BMW mini!
It was a real hit with all the kids who spent more time inside it than eating. The children's menu was perfect, with plenty of healthy options and they even have baby food. It was so nice not worrying about what our little one would eat.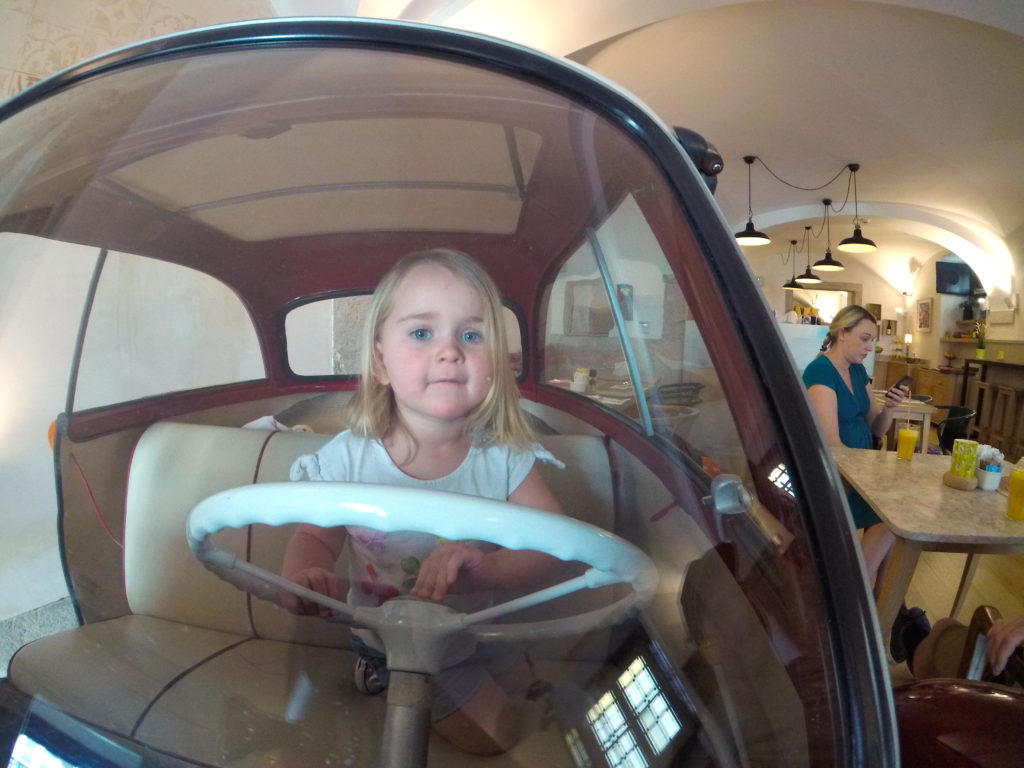 The Kids Club at Martinhal Chiado Lisbon
The hotel has its very own secure play area, staffed with the kindest childminders that looked after Esme so well.
They run a variety of activities throughout the day and commence 'pyjama party' from around 5:30pm. Some of the activities include story telling, art and treasure hunts. They also have a different areas for babies.
All of the facilities were clean and tidy with lots of toys. Esme just loved it! Let's say it was embarrassing getting her to leave. She always wanted to stay for five more minutes!
Daytime childcare is complimentary. However PJ party costs €5 for four hours or €15 for the party and dinner.
They take orders and discuss the meals with parents at the time of booking. We loved the options they had, all healthy but not boring,
Any report of Esme cleaning up her food is a win for us. Similar to the daytime child care, the PJ parties are themed.
What was really fantastic, we had no guilt leaving her for some much needed adult time out. We knew she was having lots of fun.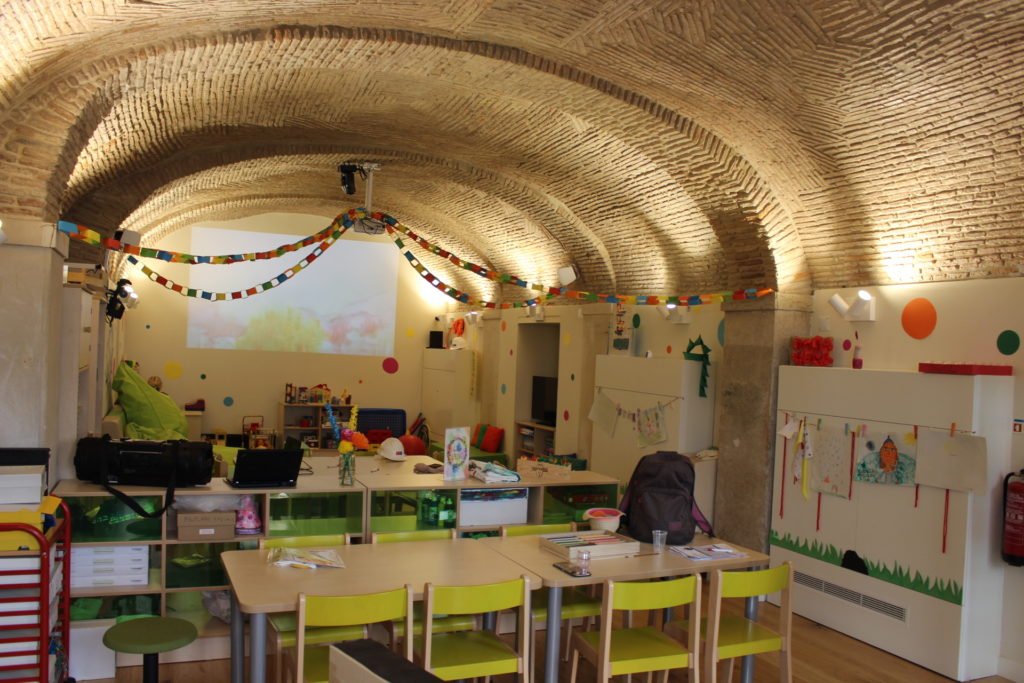 Baby concierge
Martinhal offer a free baby concierge to all guests. Strollers, sterilisers, baby baths and cots are just some of the items that can be reserved.
You can even pre-order nappies. We made use of the potties with our toddler. This is the first holiday we have gone on where we haven't taken ten steps back with toilet training.
All you have to do is contact the reservations department by email to reserve what you need.
Transfers
Hotel transfers are quite reasonable and comparative with local taxis. They always had the correct sized car seat and bottles of water. They even had a DVD player that helped get our wriggly toddler into her seat.
THINGS TO DO IN LISBON WITH KIDS
There is plenty of things to do in Lisbon with kids both indoor and outdoor, making it a great city break all year around and one of the best places to live in Portugal. Here are a few of the best things to do in Lisbon with kids.
Oceanario aquarium
If you have read any of my blogs previously, you will know I am skeptical of any attractions involving animals or sea life. Oceanario is the largest aquarium in Europe.
What I really loved about it is there are no oversized mammals that shouldn't be trapped in a tank. There is one central tank which is just massive!
There is plenty of room for all of the species to move around. The imitation of the natural environment was more than impressive.
It's best to buy tickets online before arriving. They accept e-tickets which is handy. Under 3 years old is free of charge.
We spent most of the morning at Oceanario, there are plenty of other things to do nearby, we really loved the onsite gardens and green area outside the cafe.
Cable car
The cable car ride runs along the edge of the Tagus River and is just outside the aquarium. The views along the way of the pretty Vasco da Gama Bridge in the distance are stunning.
The 3/4 of a mile journey takes around eight minutes, allowing plenty of time to take in the scenery and snap pretty photos. This was one of our favourite things to do in Lisbon with children.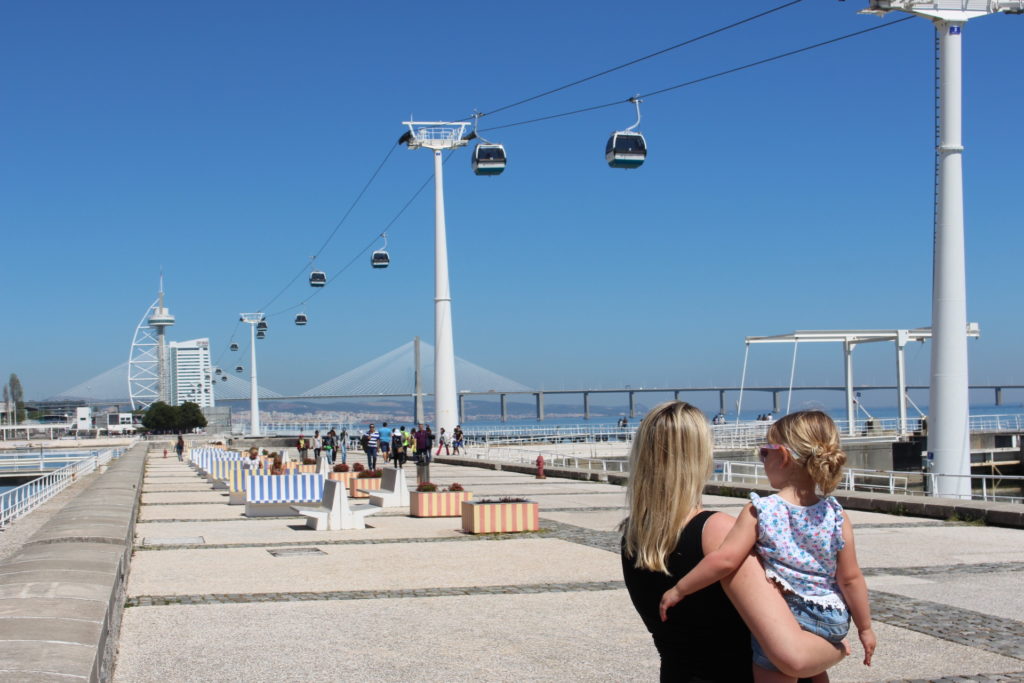 Route 28 tram
We jumped onboard one of the iconic yellow trams, not realising we would see some of the best sites in Lisbon along the way. It goes around in what feels like a big loop of the city.
At only €2.90 per person, it's a bargain. The only issue is if you don't get a seat, its hard to see everything.
Its best to go mid-morning to avoid the crowds. Our daughter enjoyed this different experience.
Tuk tuk tour in Lisbon with kids
There are so many tuk tuks around the centre of Lisbon that are readily available for sightseeing tours.
\A tuk tuk tour is a great way of seeing the city with kids without it being arduous and boring for them. Its worth speaking with individual drivers to get the best offer.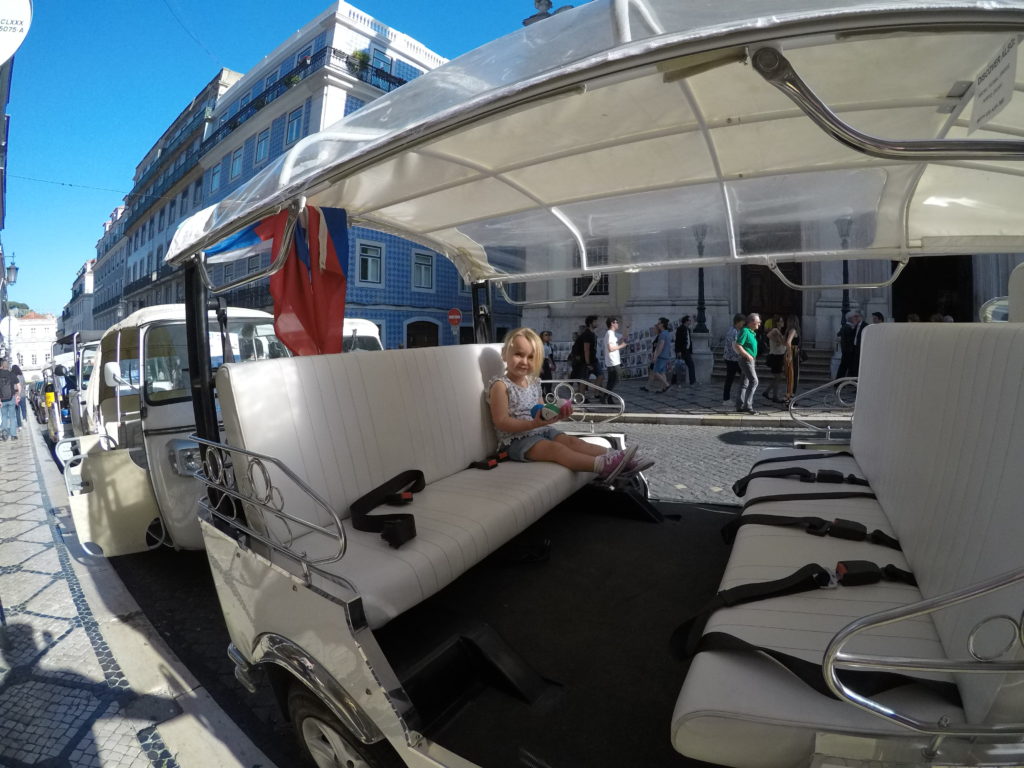 Electricity Museum
The electricity museum is also on edge the Tagus River. Housing an old power station and many experimental electrical activities, there is something for adults and children alike.
My personal favourite was the body heat map. We had some great fun playing around with that. Our daughter spent a long time in the experiment section. At only €5 an adult, it was a bargain for an hour of entertainment.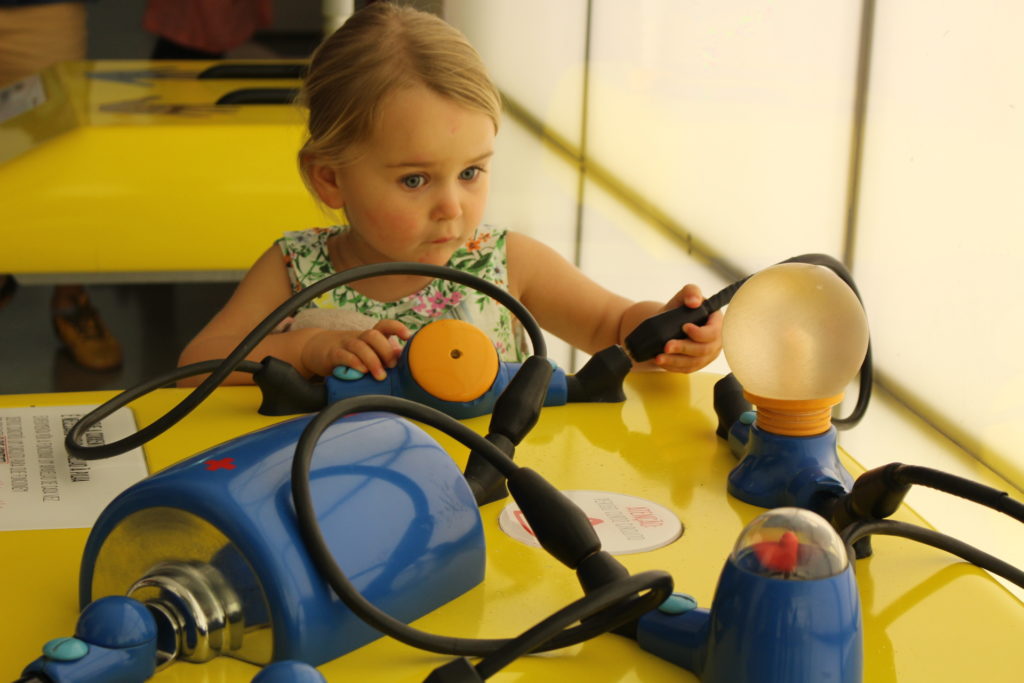 There are many other things to do in Lisbon and places we would have liked to visit but we ran out of time. To save you the research and if you have time, we would have liked to go to the Science Museum, Jardin da Estrella and Monstano National Park. I also heard of a kayaking trip that sounded like fun.
Find great prices on tours, day trips and activities in Lisbon through Get Your Guide!
If you fancy combining a city and resort break, Martinhal also have a five star hotel in the Cascais less than an hour away. We had three days there before arriving in Lisbon.
It was quite a nice balance of experiences and is also a great option for travel with kids in Portugal.
Ready to book? Find great deals on flights, travel insurance, hotels, reliable internet, and rental cars!
HELP ME TO KEEP WRITING
Have you found this information helpful? We would be so grateful if you could give a small token of appreciation by becoming a patron which you can checkout here. What is a patron you may ask? In this digital age there is a demand for immediate information online. Being a patron is a new-age way of giving back for the information, which takes time to put together with no financial return. It's the very same as Go Fund Me.
You may also like
Have you been to Lisbon with kids? Or maybe you are thinking of going? I love hearing from you. Leave a comment and I will get back to you as soon possible.
Disclaimer: We stayed at Martinhal Chiado on a complimentary basis in return for a written review. All views are my own and have not been influenced. This post includes affiliate links. If you make a booking using the links, there will be no extra cost to you, but we will receive a small referral fee for our travel piggy bank. Thank you for supporting us!