A winter trip to Austria with kids seems like the ideal getaway to make the most of the snow. We visited in early March, nearing the end of the ski season.
We stayed near Zell am See, a pretty little town perched on the edge of a lake, it's also surrounded by stunning snow capped mountains! It's a haven for families and winter sport adventurers.
If skiing or snowboarding is not of interest, there is still plenty to do in the area. From outdoor family spas to nature trails there is something for everyone. Here is what we got up to on a winter trip to Austria with kids.
A winter trip to Austria with kids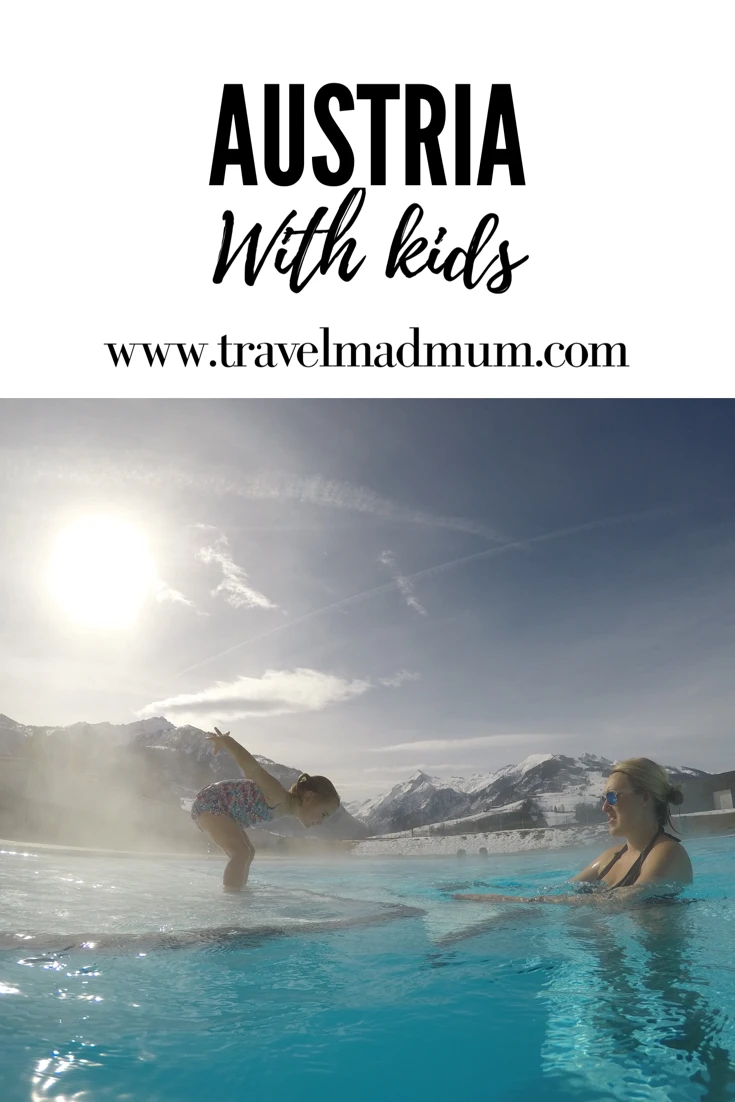 Austria with kids
Eat
There are quite a few restaurants in Zell am See town. The most popular being Crazy Daisy which is very close to the lake. It has an indoor and outdoor area with heaters.
The food is mainly Italian inspired and I have to say the pizzas looked SO good! I highly recommend booking, especially if you want to go at peak lunch or dinner times.
Make sure to leave room for dessert as the waffle stand outside will make your mouth water!
Kupferkessel restaurant is a little more quiet and away from the hustle of the main street. It has an Austrian feel, the waitresses are dressed in traditional outfits and serve typically local foods.
There were lots of young families and we were accommodated without booking. Prepare to feel very full as portions are quite big.
Sleep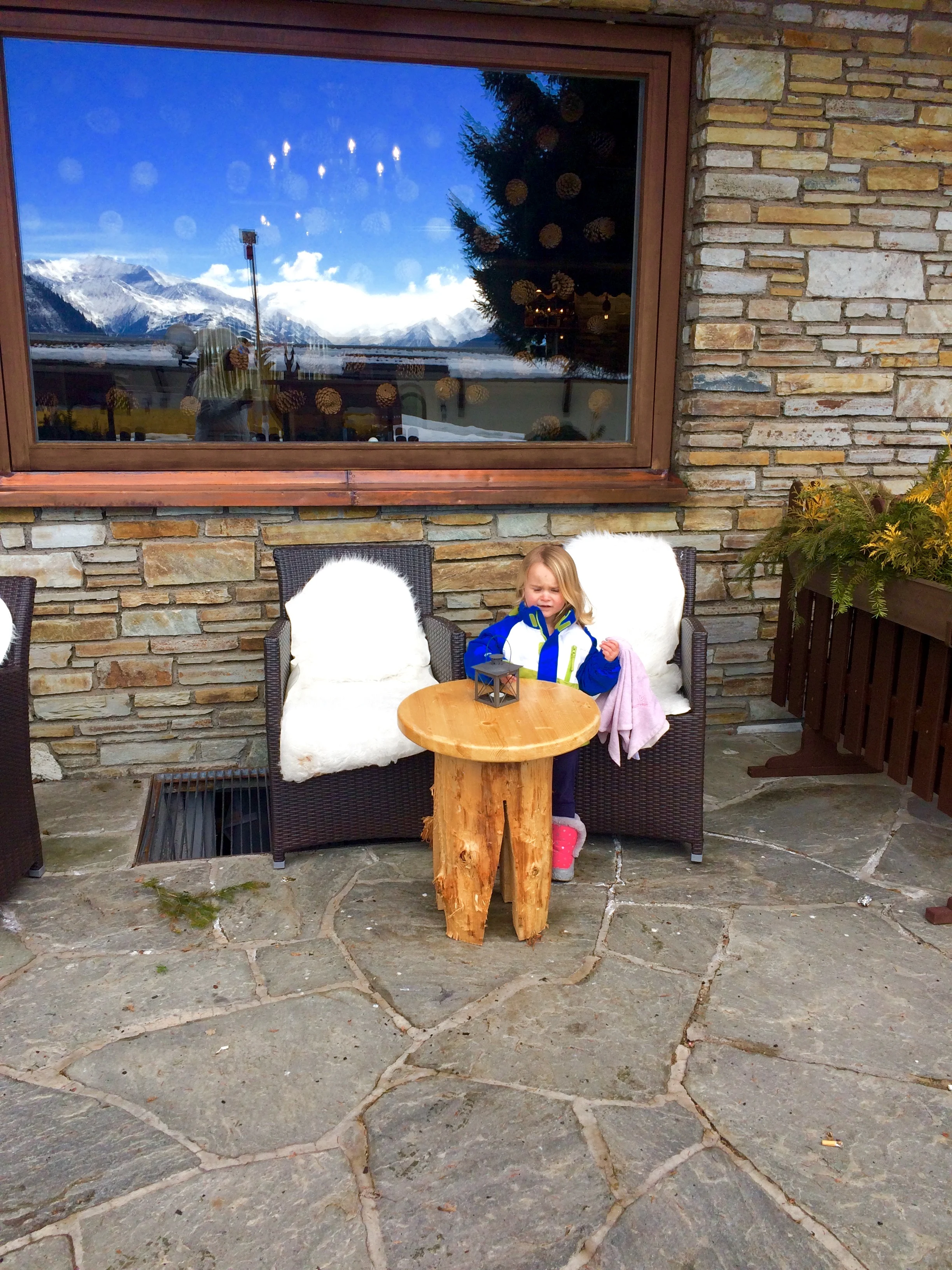 We stayed at CLC World, Alpine Centre. Situated a ten minute drive from Zell am See, it was in a great location to access many of the winter activities as well as visit the town.
The hotel is very family orientated with a beautiful swimming pool, games room, kindergarten and TV room. It has a restaurant that is very reasonable in price with an A La Carte and kids menu.
They also offer an Austrian inspired set menu throughout the week. They were really accommodating with our picky daughter.
We stayed in a one bedroom apartment which had a kitchen with all the appliances, dining space and living room. It was perfect as our daughter slept in the bedroom and we used the additional fold-out bed in the living room so we didn't disturb her.
It makes a change from sneaking around a hotel room and meant we could have our evenings together. We had a massive balcony with stunning views of the nearby mountains.
There was also a mini-bus service that took us to our daily activities.
Our favourite part of our stay was the welcome night. A fire pit was set up outside where guests could self-cook sausages and there were blankets on all of the chairs.
They had a small wooden hut where they served mulled wine and beer with traditional Austrian music in the background. It was such a great experience!
For CLC World, Alpine Centre, rates, click here.
Play
Skiing and snowboarding
There is plenty of choice when it comes to skiing and snowboarding in Zell am See. There are three multi-faceted mountains in the area.
Maiskogel and Schmittenhöhe being the most popular choice amongst families with children who are skiing. Kitzsteinhorn, the largest of the three mountains is generally used by experienced skiers and snowboarders.
All three mountains have great facilities at the top, with restaurants and bars. I recommend booking a table for lunch in advance as it seems to get quite busy.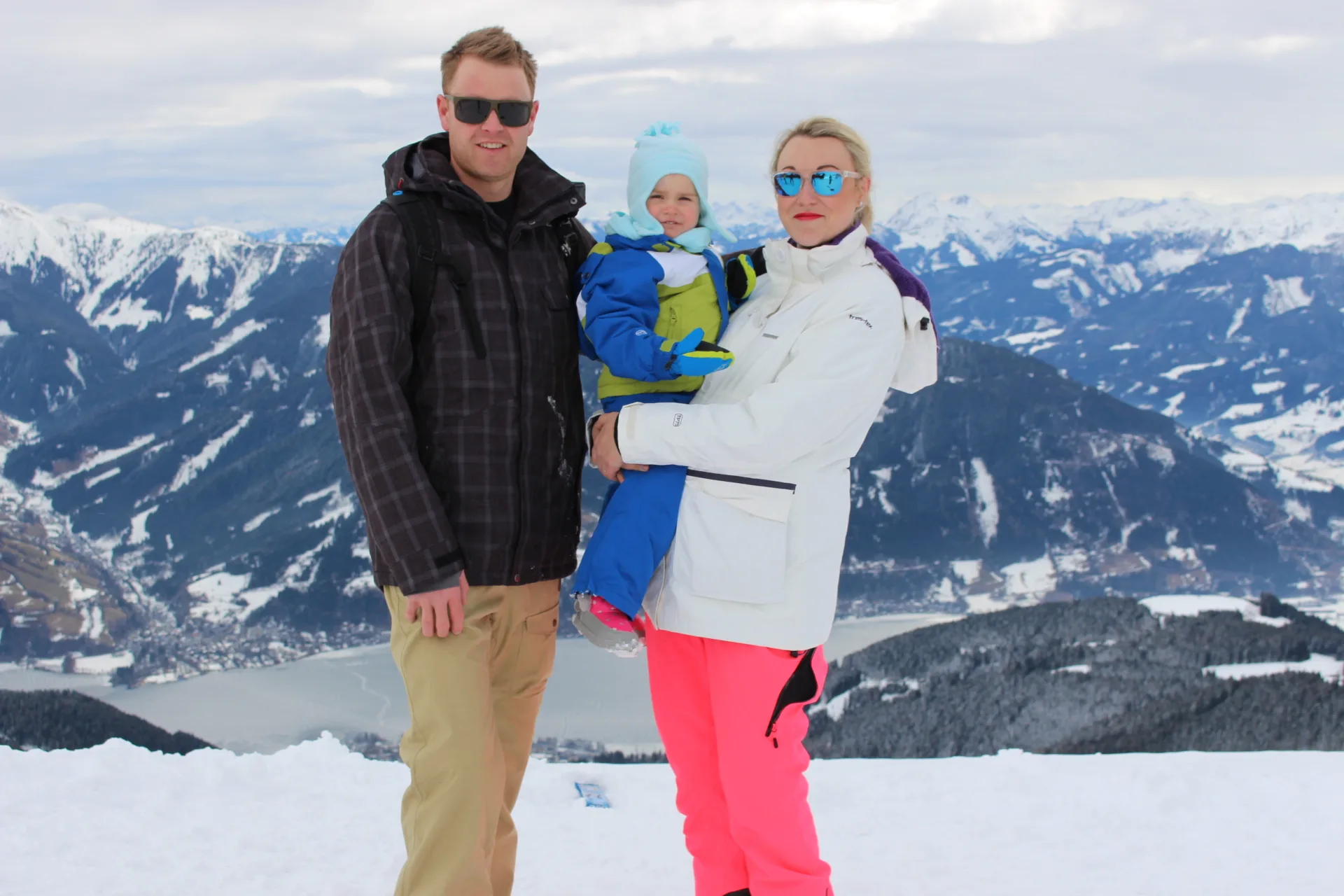 After a little research, most ski schools offer lessons from three years-old and above. I feel that is a good age to start.
On this occasion, our daughter was too young for a formal lesson so we just rented the skis to give her a chance to try them.
Equally there are many places to rent equipment out for other family members. We got ours at the hotel we were staying at. Ski passes are approximately 50 euros per day in the Zell am See region.
Esmé's kids ski outfit and my ski pants are from Trespass.
Tobogganing and sledding
There is an amazing 6 km long tobogganing trek near Zell am See. Tobogganing and sledding is a great activity with younger kids in the snow if they are accompanied by an adult.
Visiting stables
Our daughter had a lovely afternoon at the stables near our hotel. They had both ponies and horses. I am always a little sceptical about any activity involving animals.
However they were all very well cared for and weren't used for back to back tourist riding experiences. Instead she was shown around, met all of the animals and had a couple of minutes riding on a pony around the yard.
I loved this rather than a long trek because I am keen to teach her about animal welfare when it comes to tourism.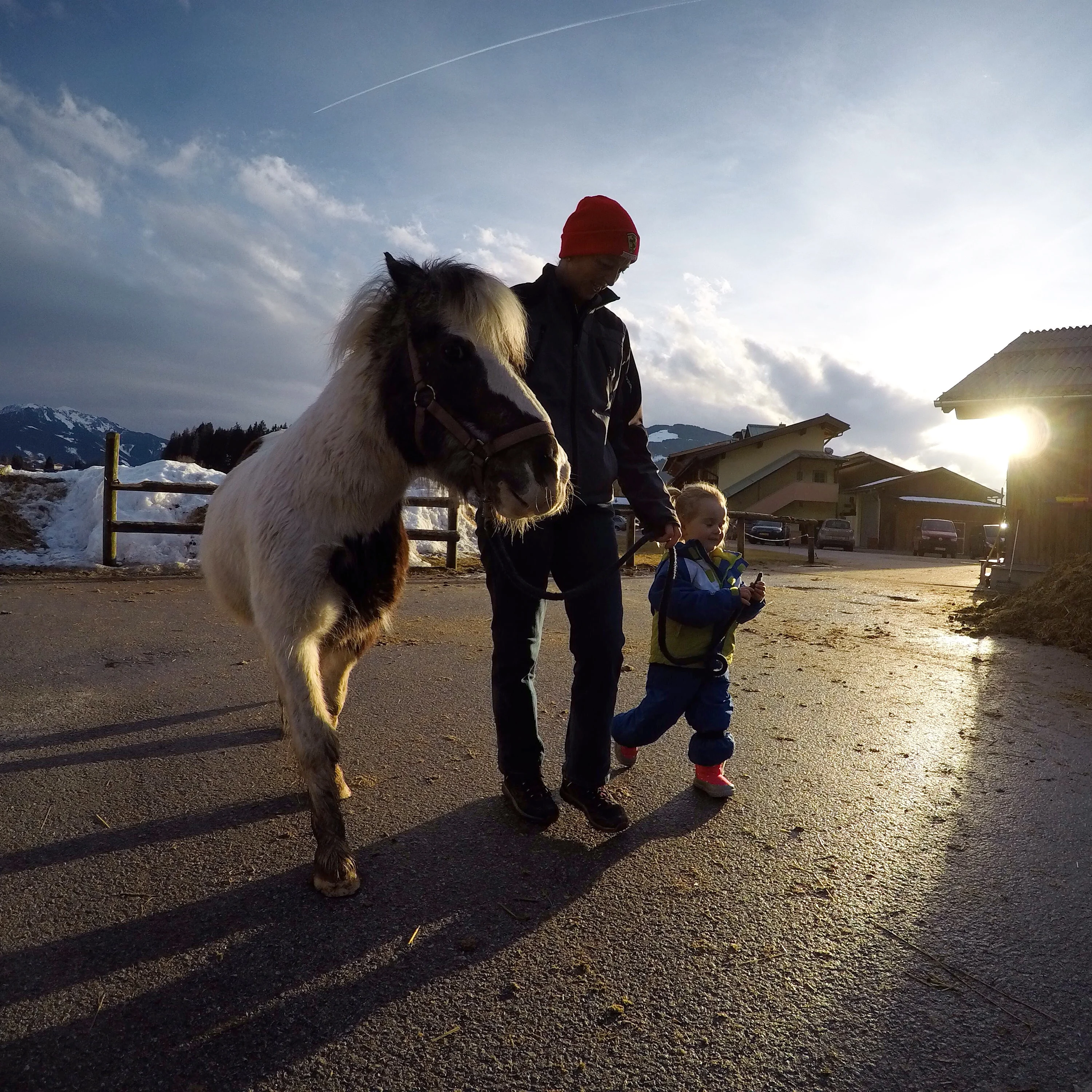 Outdoor family spa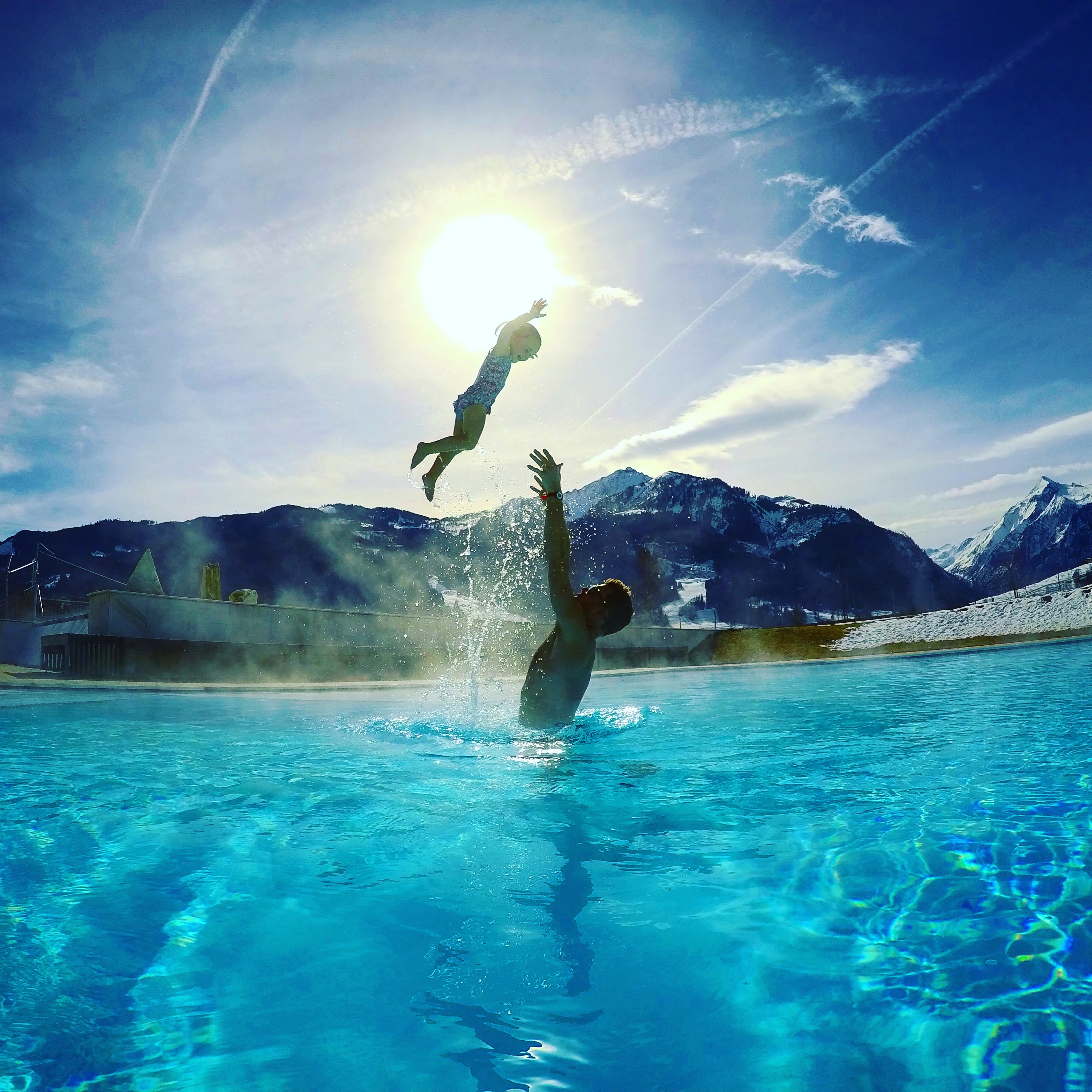 We visited the incredible Tauren Spa. It's an amazing indoor and outdoor family spa. The water is the perfect temperature whether you are inside or out and the view of Kitzsteinhorn Mountain from the pool is magnificent. The entire facility is quite luxurious.
There is a specific section for little ones and even a kindergarten if you prefer to have some time-out. There is a restaurant onsite which serves buffet style food.
It's probably best to enjoy it in the morning with kids. I imagine it gets quite busy in the evenings when skiers descend from the nearby mountains.
Kaprun viewing platform
If you have a clear day and intend to visit the Kaprun viewing platform – just go. We made the mistake of waiting until our last day but the weather was not so good.
The viewing deck has a walkway suspended off the very top of the highest mountain in the Salzburg district. It's the perfect place to spend a couple of hours taking photos, absorbing the view with a hot chocolate or beer in hand.
Exploring town
The town of Zell am See is very picturesque. Occasionally, the lake freezes over when the weather is cold enough and we were told many of the locals venture out onto the ice to skate.
The town also has many restaurants, cafes and bars to discover. They are quite busy at lunch time and in the evenings.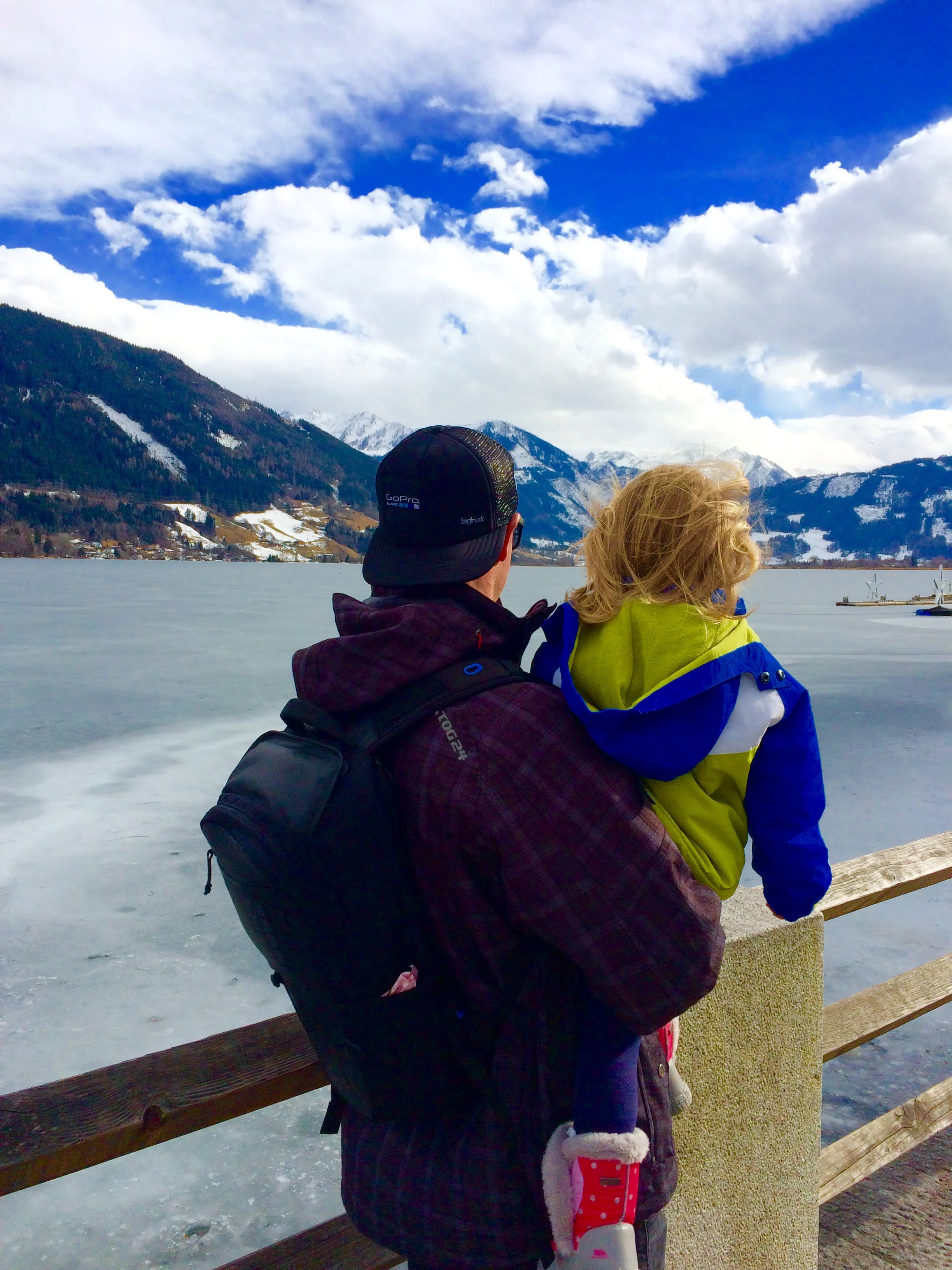 Nature walks
There are plenty of hidden gems in Austria waiting to be discovered. Due to the nature of the landscape around Zell am See, it is a great place to go on nature trails. We were very lucky to have one right next to our hotel.
It wasn't too long, so it was perfect with a toddler. We weaved our way around the tall pine trees, coming across stunning views along the way.
Related: Since visiting Austria, I've become obsessed with finding some great skiing spots for our next adventure. Make Time To See The World have some great tips for finding a ski resort.
Have you been on a winter trip to Austria with kids? Or maybe you are thinking of going? Make sure to leave a comment and I will get back to you.