Florence, the mesmerising city filled with history, culture and outstanding architecture dating back to medieval times. It was the birthplace of the Italian renaissance and was one of the most important cities in Europe from the 14th to 16th century. I actually for once, managed to learn a little bit of history despite being in Florence with a two year old and it was fascinating. You should definitely explore Florence with kids!
Why not explore Italy through this ten day itinerary?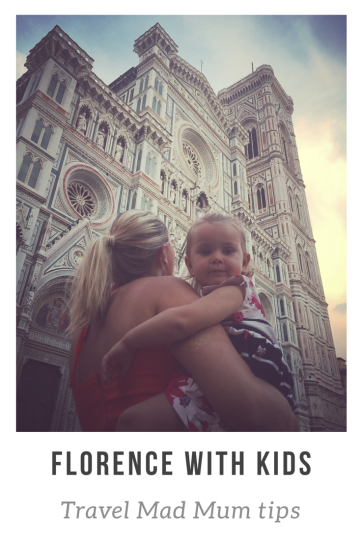 I was particularly blown away by the Vasari Corridor. A mile long elevated passageway that could fit a horse and cart through the centre. It navigates around towers, across rivers and was built so the 15th century Duke of Florence could avoid feeling insecure in public. Besides from my education in Florentine history, there is a great deal to do around the city and Florence is quiet fantastic and fun. There are plenty of outdoor spaces for kids to enjoy, amazing food and fabulous hotels. It's one of those all-round cities for everyone in the family.
One big tip before I bust into the finer detail is all Florence tourist attractions are free on the first Sunday of every month. You heard me right – free! I guess whether you are a day tripper or a slow traveler, that is a great reason to go to Florence with kids on the first weekend of the month!
In my favourite format of eat, sleep and play, here is my take on:
Florence with kids
Eat
For the kids – Gelato
Gelateria La Carraia is probably the only place in Italy where you can get a generous scoop of gelato for the small price of 1 Euro. The average price in Italy is 3 Euros so it is very good value for money. The shop is on the banks of River Arno that runs through the centre of Florence. Enjoy your gelato on the bench watching the world go by!
For mum and dad- Aperitivo
Have you heard of the term 'aperitivo' before? Let me enlighten you, if you haven't. It's the Italian way of doing 'happy hour'. It's not two for one beers or anything like that… Essentially when you buy a drink in the evening, you often get unlimited nibbles along with your drink for free. In some instances this can almost suffice as a meal. Well certainly in the Westin Excelsor which is apparently the best place in town for an aperitivo. At the small price of 8-10 Euros, you will get a drink, unlimited olives, cheeses, salami, bread and so on. In addition to that the Westin Excelsor has some absolutely stunning views of the city that are worth the trip to see.
It is absolutely fine to bring kids. Esmé loves nibbles rather than meals so this was right up her street. Especially as she would eat a block of cheese if you let her! Besides from the above, there are an abundance of Italian restaurants serving quality food dotted on every street corner. Let your nose lead you to your favourite Italian aromas.
Sleep
Like most great tourist cities, there are loads of great areas to stay in Florence. We stayed at the fabulous Grand Hotel Minerva Florence.
All I can say is stunning, stunning, stunning! The hotel is based only a stones throw from the train station, so it was perfect after our long day of travel with the backpack.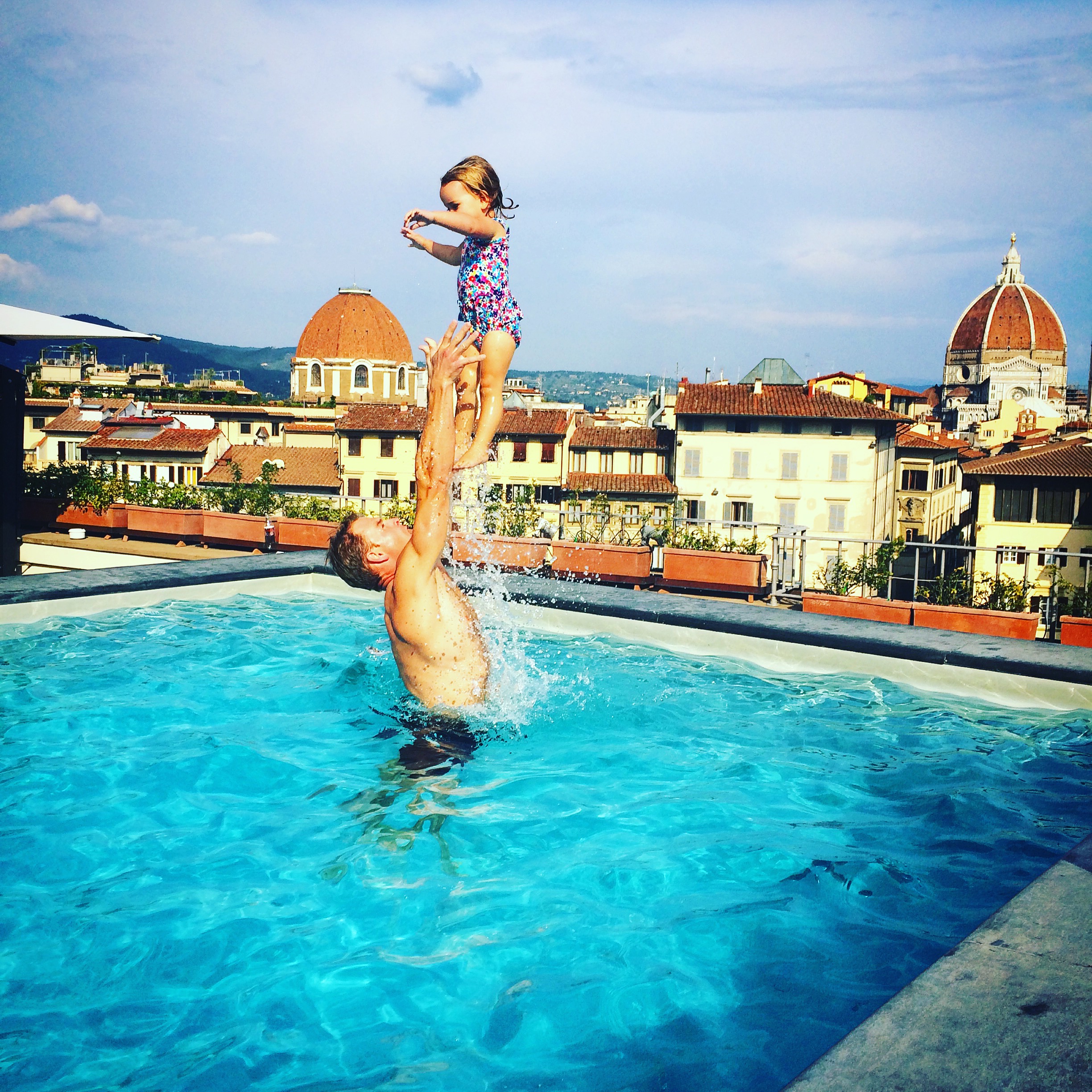 We were totally in love with the roof top pool. We spent hours up there relaxing and taking in the stunning views of the city. Right in eye shot was the Cattedrale di Santa Maria del Fiore which is the main dome that dominates Florence's skyline.
The hotel makes a great effort with children. Esmé loved her Florence colouring-in book that was left in our room. The rooms were big and spacious, perfect for an energetic toddler.
Breakfast was included in our stay and it was just delicious. The coffee, fresh breads, croissants and antipastis are particularly good. It's perfect for lining the tummy before a big day of sightseeing.


Play
Eco electric buggy tour
The best way to see the city with a toddler is with Eco Green Tours. It worked so well for us because Esmé was entertained by the fact we were in a buggy and it was quite quick. We got so much knowledge and information from our tour guide, who was just amazing. He asked us a few questions beforehand about what we like and tailored the trip accordingly. He gave us lots of top tips on getting away from the tourist areas and where we could find value for money.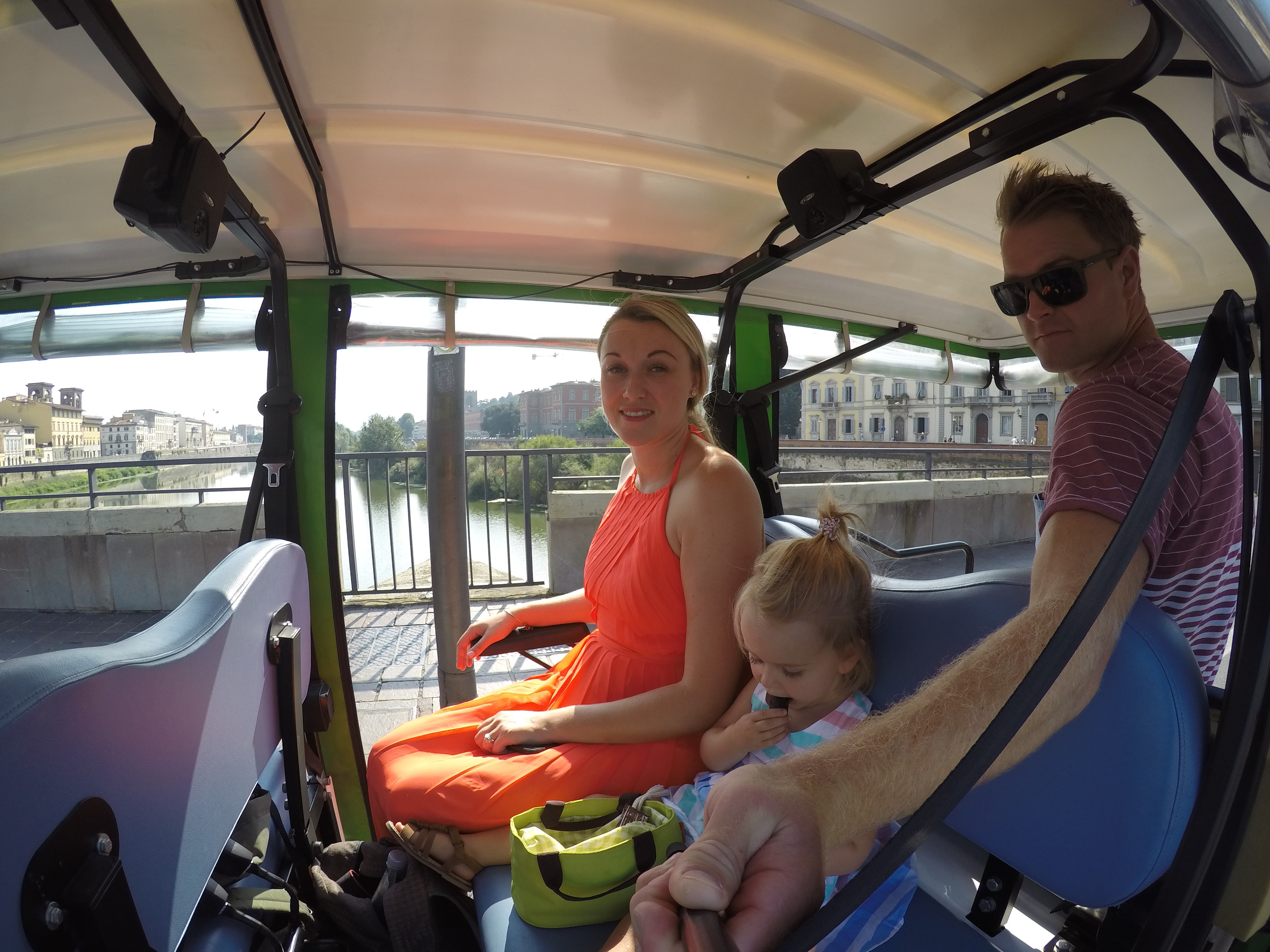 Florence lookout
If you like a city lookout, Piazzale Michelangelo is the place to go and get an elevated view of Florence. The beautiful mountains that surround the city can also be seen, making it a great spot for photos. If you are going up during the day, I suggest bringing a picnic and enjoying the space.
The main square
Piazza del Duomo is obviously very touristic. However, if your little one likes to break out into sporadic dance, it is a great place to hangout. We walked around the dome listening to the different buskers. Esmé just loved it. The square is vibrant and busy but worth a visit even if you only have two days in Florence.

Piazza Santo Sperito
If you like to escape the tourists, Piazza Santo Sperito is where the locals hangout. In the evenings, they congregate, bringing their evening meal, a bottle of wine and a guitar. Everyone shares. Children play with each other and it is very much a community affair. I guess having a few words of Italian and some food to contribute would be massively helpful.
Giardino Di Boboli
I always like to bring Esmé to the botanical gardens on a city break. Giardino Di Boboli is not so much botanical. Instead it is a beautiful space filled with fountains and amazing sculptures. There is even an amphitheatre. It truly is a photographer's wonderland. It is just perfect for little ones to run around.
Piazza di Santa Maria Novella
We were so lucky our hotel was situated on this fabulous square. It seems to be a place where outdoor free concerts take place regularly. We just opened our windows in our hotel room and it was perfect, so relaxing. All the kids we could see were dancing together. Super cute!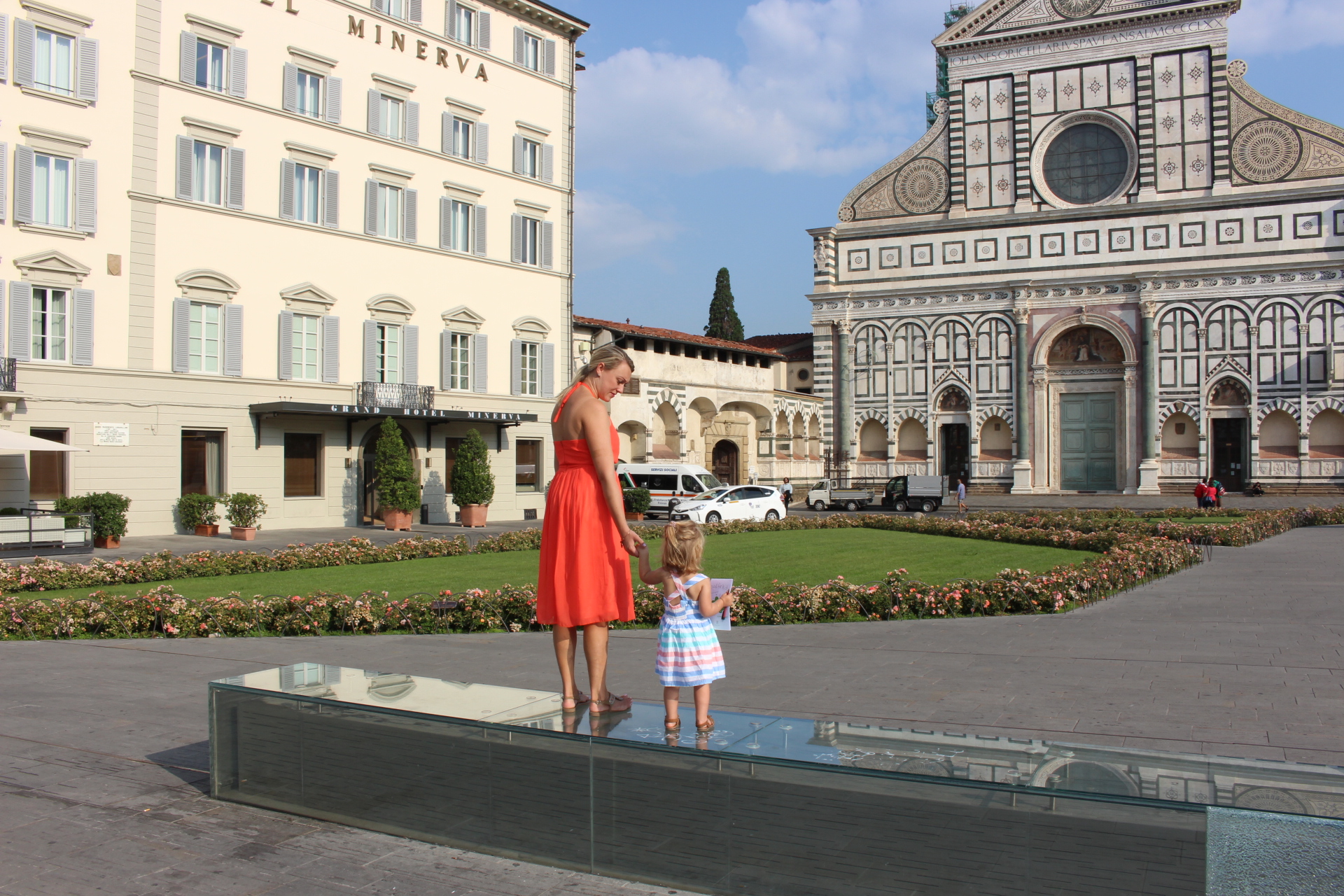 Have you been to Florence with kids? Is there anything else you would suggest? Make sure to share in the comment box.
For more guides on specific locations please check out my Pearlshare account.
See also:
This post is sponsored by Pearlshare.