We had been contemplating taking Esmé with us on our honeymoon for ages but we couldn't make our mind up. I mean, who wouldn't want to go Backpacking around Italy with kids?
Travel Mad Dad was pretty keen for a child-free break whereas I had been working a lot in the run up to our wedding and hadn't seen her for ages, so that was the deciding factor in the end.
The decision was made only a week before our wedding and was all a little rushed to say the least. I looked at a map of Italy and booked a flight into Venice and out of Rome, possibly a little ambitious. We made no other plans and just thought we would wing it.
Sometimes we are a little delusional and think 'ah we'll be grand' (in my Irish accent). Everything always works out in the end but it's not always the easiest route. Basically our biggest lesson from this trip was we needed to do a little more planning. Based on our wins and losses we have come up with some top tips.
BACKPACKING AROUND ITALY WITH KIDS
Map your route according to the time available
We had eight days to play with for our trip. However, we could have easily stayed for ten days in Italy. We decided to fly into Venice. From there we went to Florence, Paradu Eco Resort in Tuscany on the coast, Cinque Terre, San Marino and Rome. (You can check out our review of the Paradu Eco Resort here.) We probably could have done with an extra couple of days at the end of our trip for relaxation purposes and to explore all the hidden gems of Rome.
Otherwise the ground covered was okay with Esmé. We had originally wanted to make it as far as the Amalfi Coast but once we started the journey, we realized that was too far and settled for Rome as our last stop.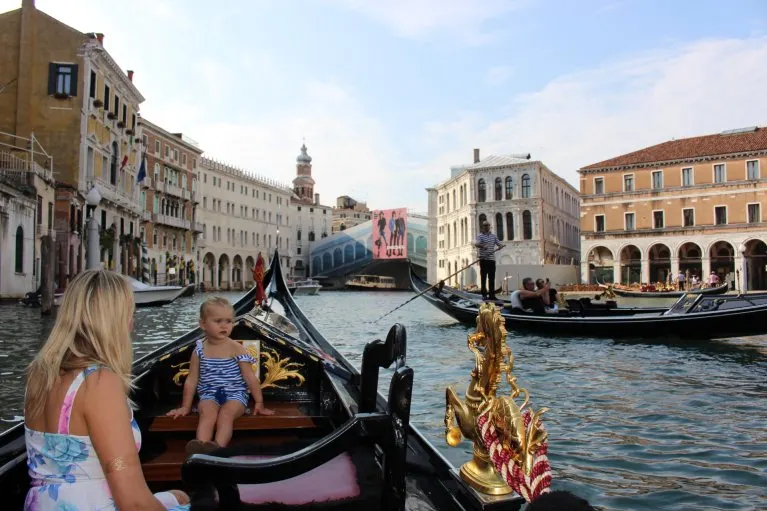 Buy An Inter-Railing Ticket and Book Seats In Advance
One of our biggest mistakes of our entire trip was our organisation and investigation into train times. Although fairly frequent, we often just turned up to the station expecting to get on one right away.
As I said, we can be delusional sometimes. The other issue was we did it the most expensive way of buying tickets as we went. Definitely the best way forward is to buy an inter-railing ticket and plan your journey in advance, especially in high season. (You can plan ahead here.) This is so much more cost effective for an Italy road trip.
Trenitalia is also quite efficient and are nice trains to travel on. Expect to see stunning scenery along the way. The other huge plus of using the train for us is Esmé regularly gets car sick so this was so much better as we didn't have to worry. Check out this article if you want to learn more about train travel in Europe.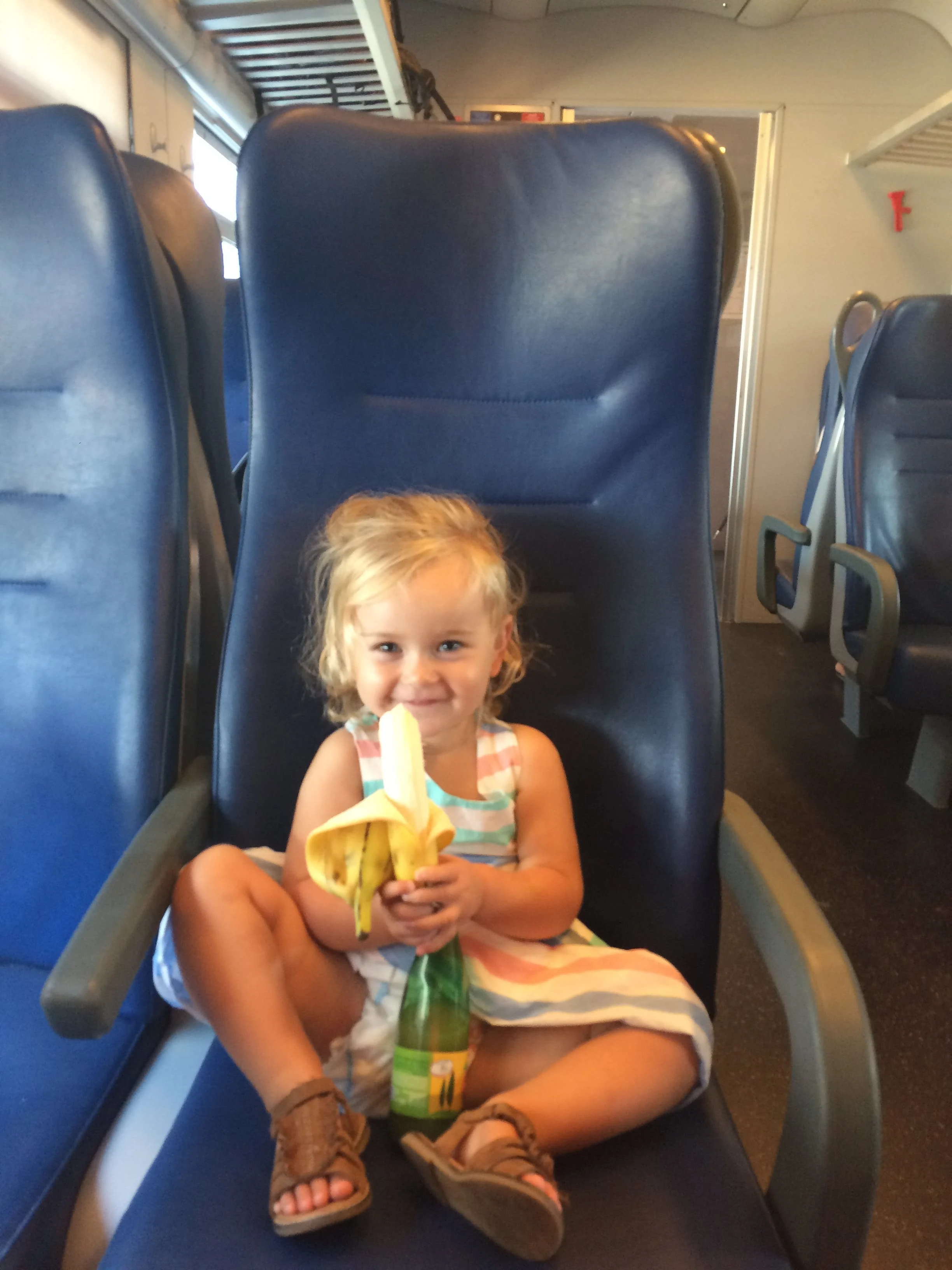 Visiting Italy as part of a larger trip? Check out these 20 one week Europe itineraries!
Pack light
When visiting Rome with kids or anywhere for that matter, it is important to pack smart. If you have read my blogs in the past, you will know I am a huge advocate of just one decent backpack for all three of us. We use a Kathmandu waterproof backpack which has really good padding on the waste and arm straps. We each have one cloth back allowance inside the pack.
Despite packing so light, we always come home with something we have not worn. I find products always take up so much space, so we always decant into reusable baby food pouches. Remember, you don't need to bring the kitchen sink. You can always pick things up along the way if you really need them.
Related: Looking for a carry on backpack?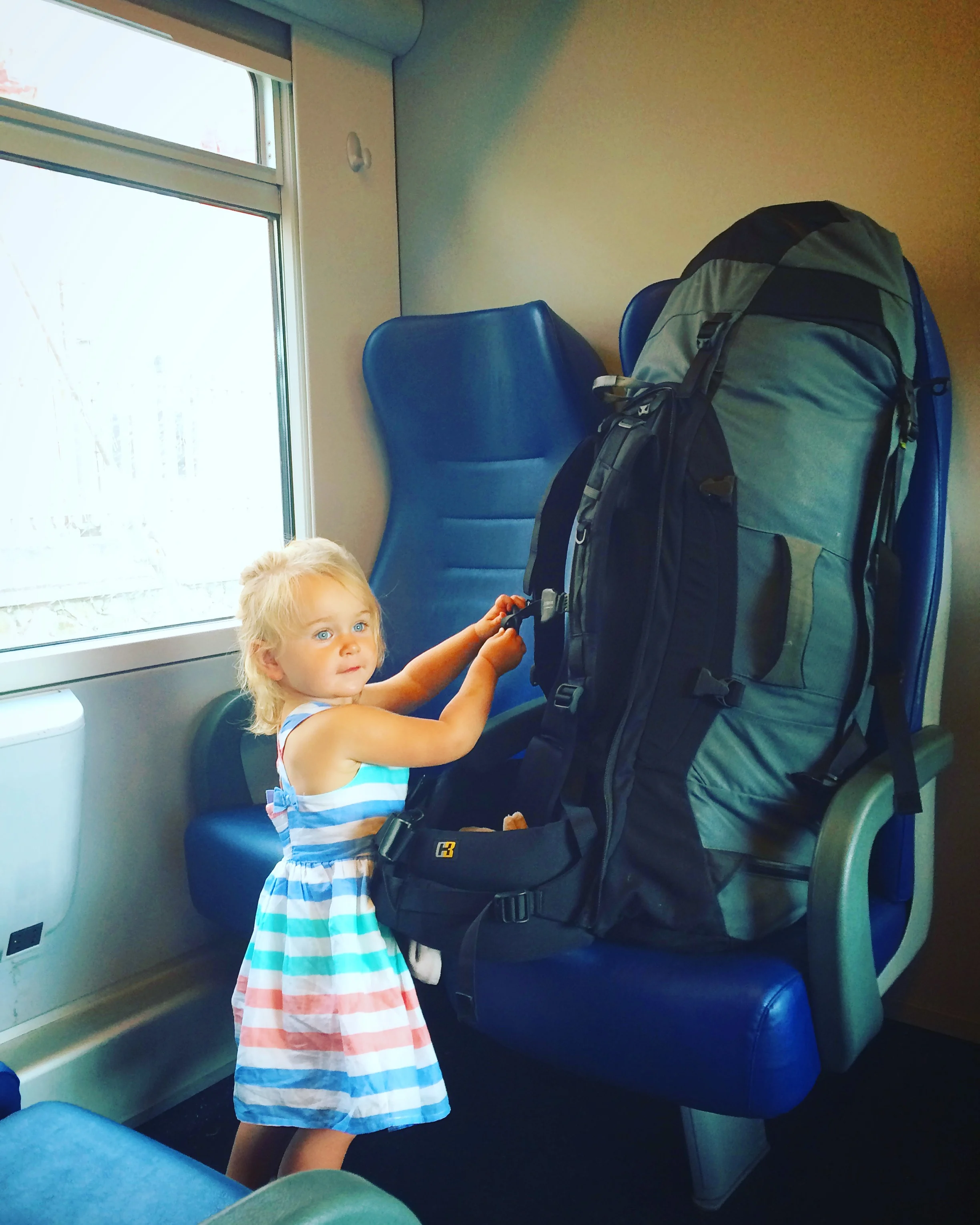 Factor in things your child loves at each stop
Sometimes intense travel such as backpacking can be a lot for little ones. We always find the best way to break it up is by ensuring Esmé's favourite activity is factored into the day. That usually involves swimming. A swimming pool is an essential pre-requisite of any hotel we are staying at.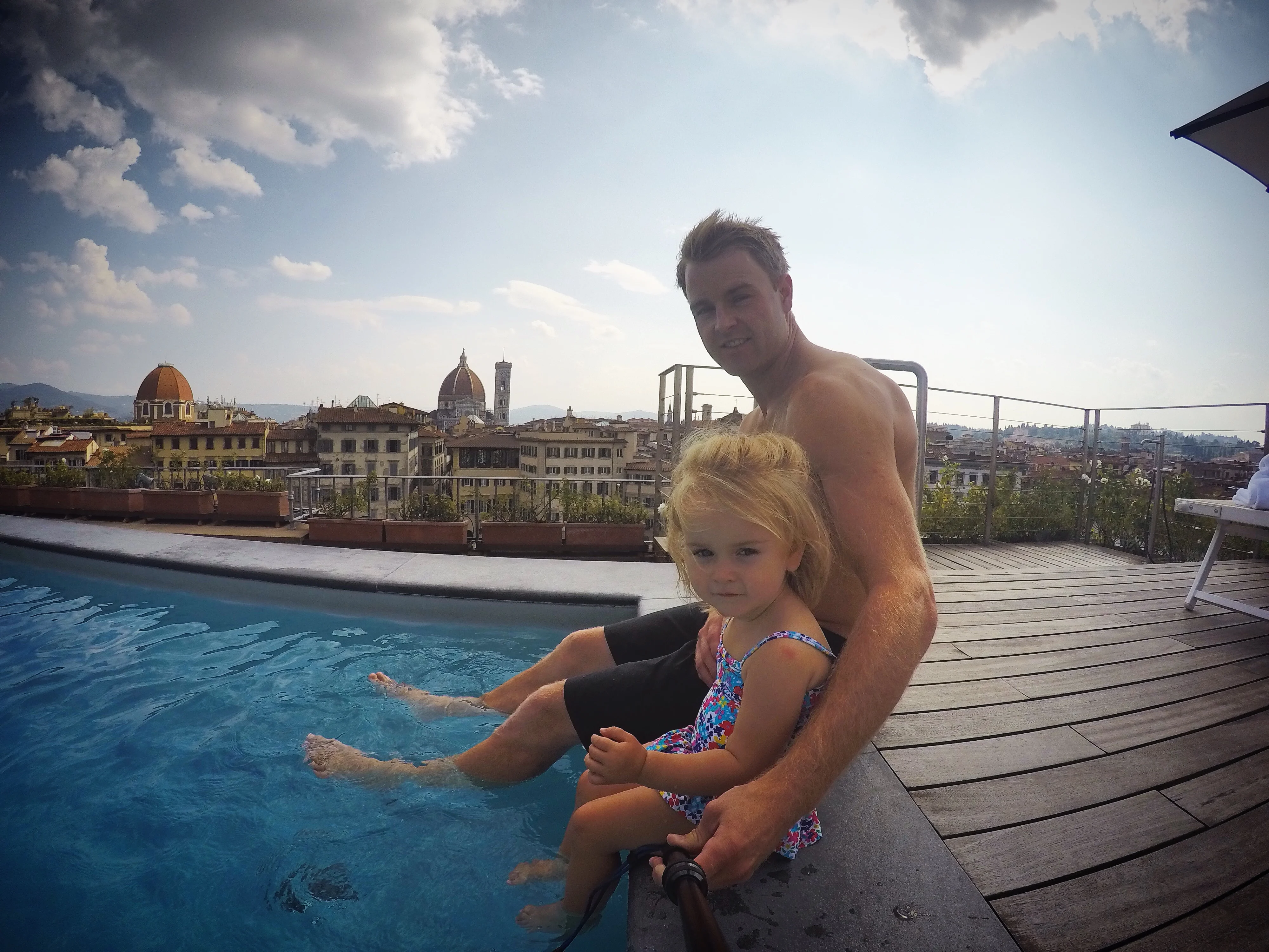 Bring some toys that are a little new and exciting
The best idea I have seen is making up a 'busy bag' which I found on Pinterest. This is really easy and cheap. Usually, I go to the £ shop and fill up with new crayons, colouring books and silly wind-up toys that hop around. Gel stickers are also a winner as we tend to stick them on the aeroplane window. Our favourite new travel toy is a Peppa pig mat that has a water stamp with it. She thinks she is painting but really she is just splashing a bit of water about – no mess!
Bring snacks for transit when you are backpacking around Italy with kids
Snacks save us 9 times out of 10 when we are verging on a tanty. We always bring a variety of snacks for Esmé from Ella's fruit pouches to Nakd bars. She thinks the caocao flavoured ones are chocolate even though they are mashed up dried fruits. Always a win when they think they are eating chocolate but really their not. We try to bring enough for our entire journey as we are the proud owners for thee fussiest little girl in the world. When we arrive somewhere we always stock up on apples and other fruits which are readily available in Italy.
One other thing about Italy is dinner time are generally much later in the evening. If like us dinner time for little lady is at 6pm, make sure you have a back up plan of room service or a meal you can prepare yourself.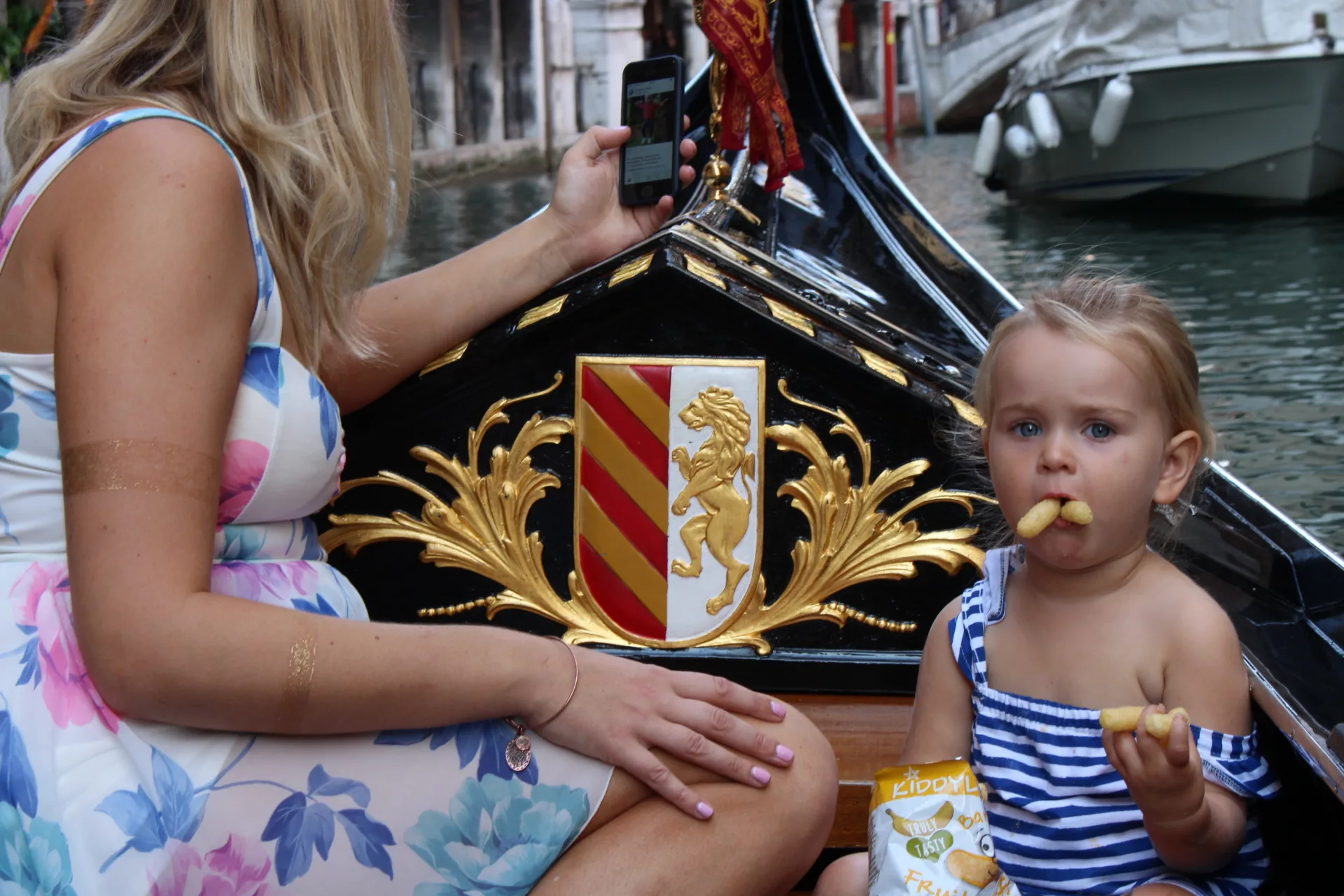 Bring a carrier suitable for the age
Just think of the treks around the coast of Cinque Terre or other exploring where a buggy is not helpful. We use the I-angel Nature Carrier Hipseat
(you can read our review of the carrier here!) which is great for a toddler. It definitely got it's use in Italy. We also bring our small mountain buggy nano that folds into the size of hand luggage.
As it was our 'familymoon' on this trip, we had a hangover the morning after we had a babysitter at one of the hotels. We managed to leave our buggy behind and only realized when we were already three hours away. So if you happen to be in the Portovenere area and would like to borrow our buggy, feel free!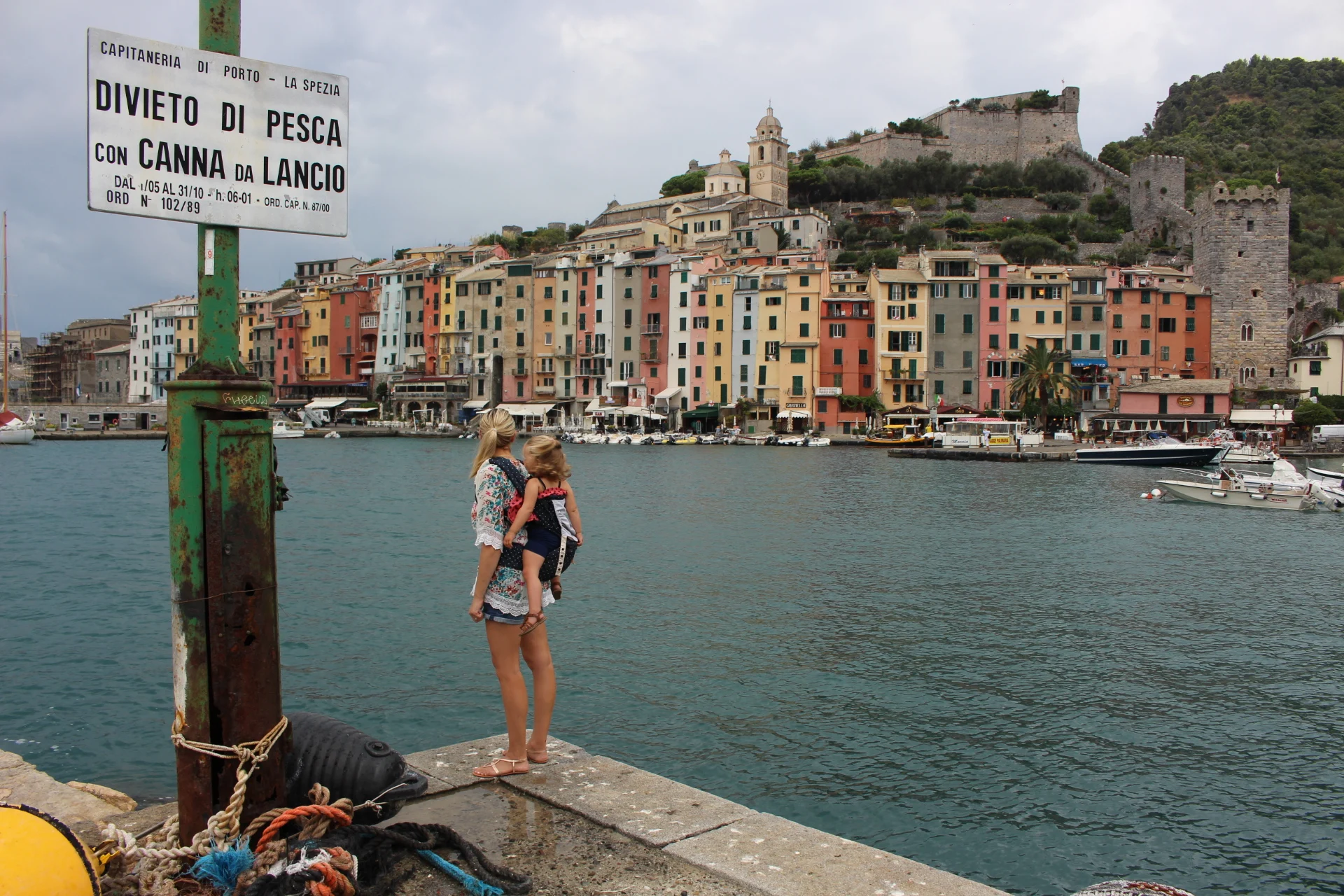 Explore and taste Italy
Esmé is always happiest when she is leading the way exploring for herself. Obviously, we are always one step behind keeping an eye. We discovered when we spent 2 days in Venice and Cinque Terre that they are great places for that. There were there no cars in the centre.
Italy off the beaten path is perfect for little ones as there is a lot to explore.
She wandered around the cobbled streets stopping at the odd gelato shop asking for ice-cream. Don't all kids just love Italian food? From pasta to pizza and back to gelato it is all so good and generally quite easy to feed little ones in Italy with the variety.
Related: Gluten free Rome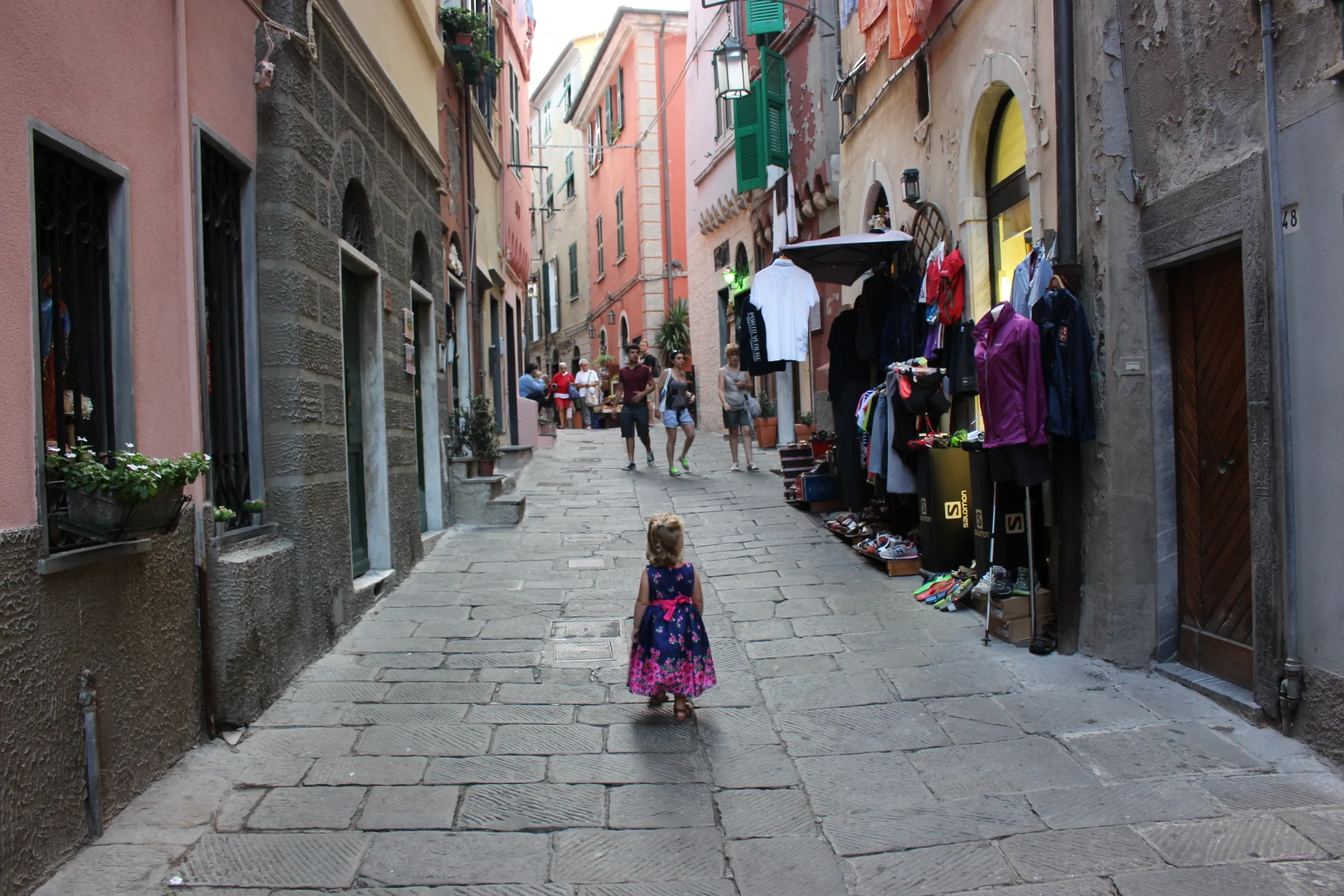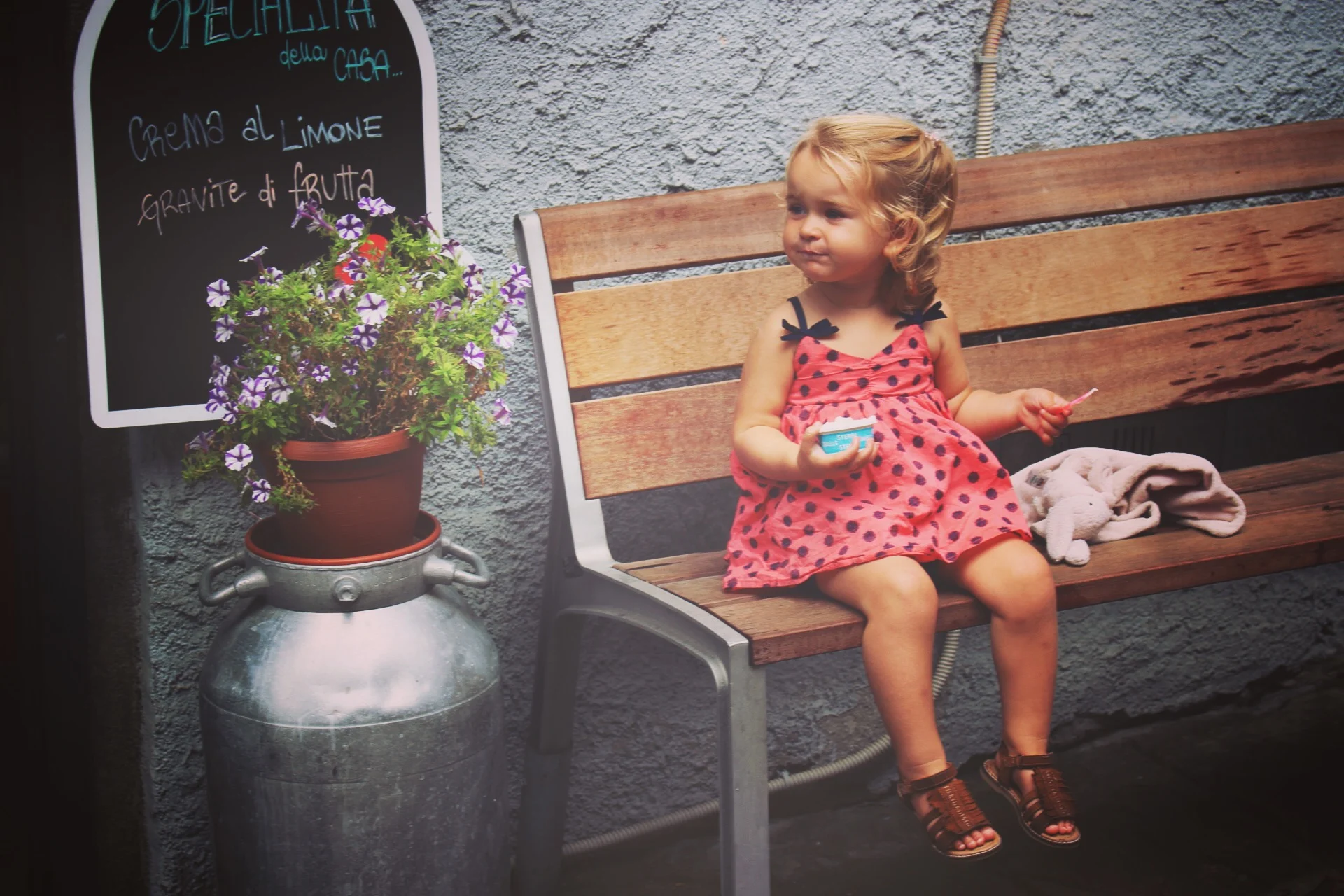 If you still want more ideas here's an Italy 10 day itinerary
Ready to book your trip? Get the best deals on hotels here
Have you been to Italy with your kids? What did you /they like and why?
You May Also Like: