Paradu Eco Resort, Tuscany is roughly an hour away from Pisa by car. Set by the sea and in the heart of Tuscan life, there are an abundance of activities both in the resort and in the surrounding area which can be done either by locals or first time visitors. The guests are predominantly young families from other European countries which makes it more busy during school holiday period.
They offer a variety of rates from full board to accommodation only. I am not so familiar with resorts of this type but I was amazed to learn that an adult only costs €273 for a week on a full board rate. This puts this type of holiday firmly in a more affordable category for families that may otherwise find it difficult to save for a summer break. In my usual format of eat, sleep and play this is our review of Paradu Eco Resort, Tuscany as a family.
Paradu Eco Resort Tuscany

Eat
We opted for the full board rate given its affordability and ease. Breakfast, lunch and dinner was served in the main restaurant on site daily. The food definitely had an Italian flare to it and was perfect for Esmé as there were many options given she is incredibly fussy. In honesty, I am also quite fussy and usually I am not a fan of buffets, however I was surprised at the quality of the food. I guess if you have Italians making Italian food you can't go wrong! The salads were fresh and I particularly liked the pasta dishes. Hubby who usually does not drink wine was a big fan of the complimentary bottle of wine that is provided at lunch and dinner, obviously not at breakfast.
Other options onsite included a pizzeria and a restaurant which I believe is really good however we did not make it to either. I saw a few families making meals themselves in their glamping tents which again gives more options for different needs. There is a small supermarket onsite which is open for a few hours a day if you need some snacks, milk etc. The evening meal on the full board does not start until 7pm which in truth was a lite late for our routine so it may be worth having something at home if you have a little one like us that eats earlier.
Sleep
We just loved the accommodation set-up. In amongst an abundance of trees are several chalets with a deck, a bedroom, bathroom and small kitchen. It felt lovely to be at one with nature in the forest. I loved waking up in the morning, sitting on the deck with my coffee listening to the birds chirping. The chalets were serviced so our room was always tidied up on our return. Alternative to the chalets are the rather big glamping tents which could house an army in my opinion. All dwellings are a short walk to the amenities.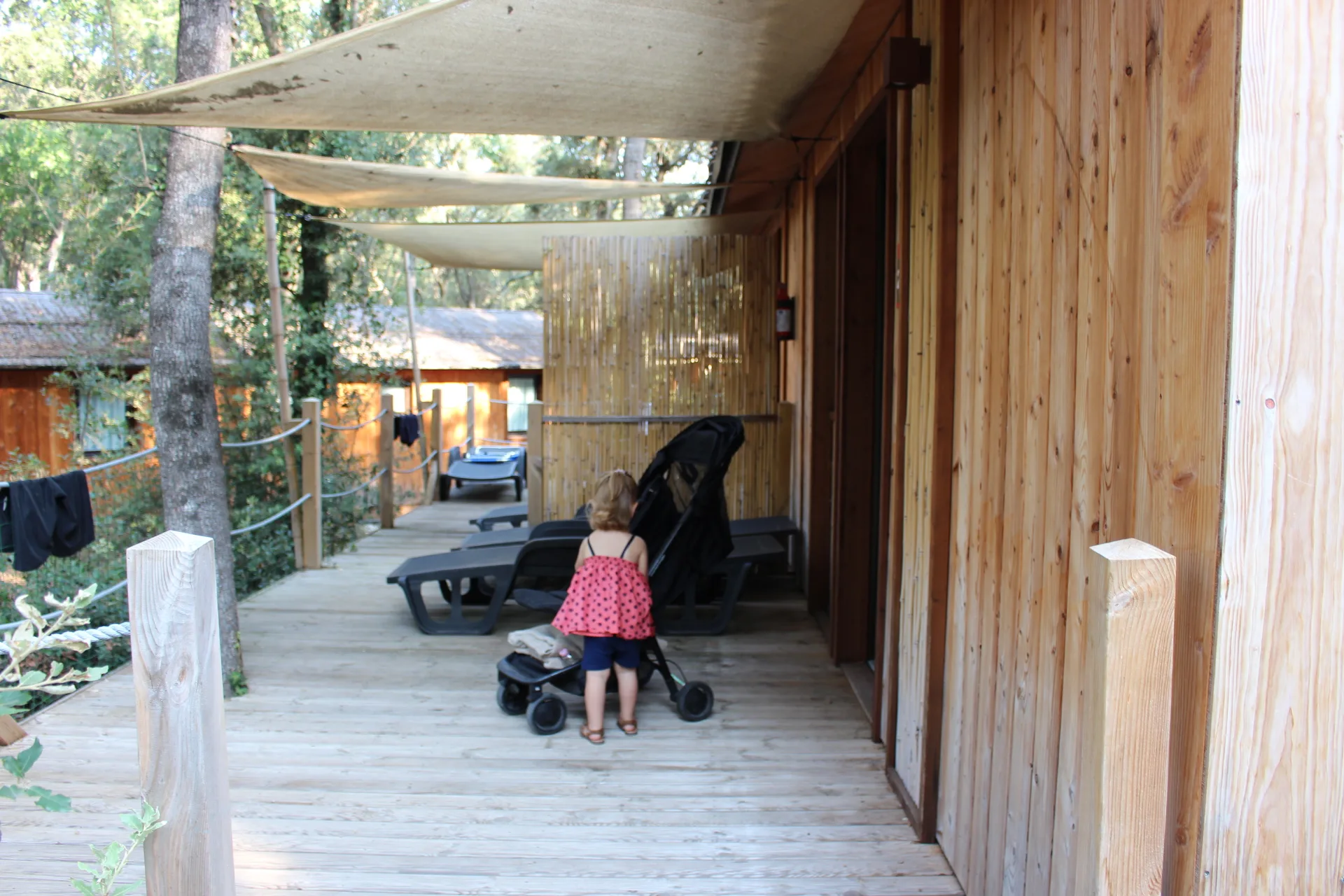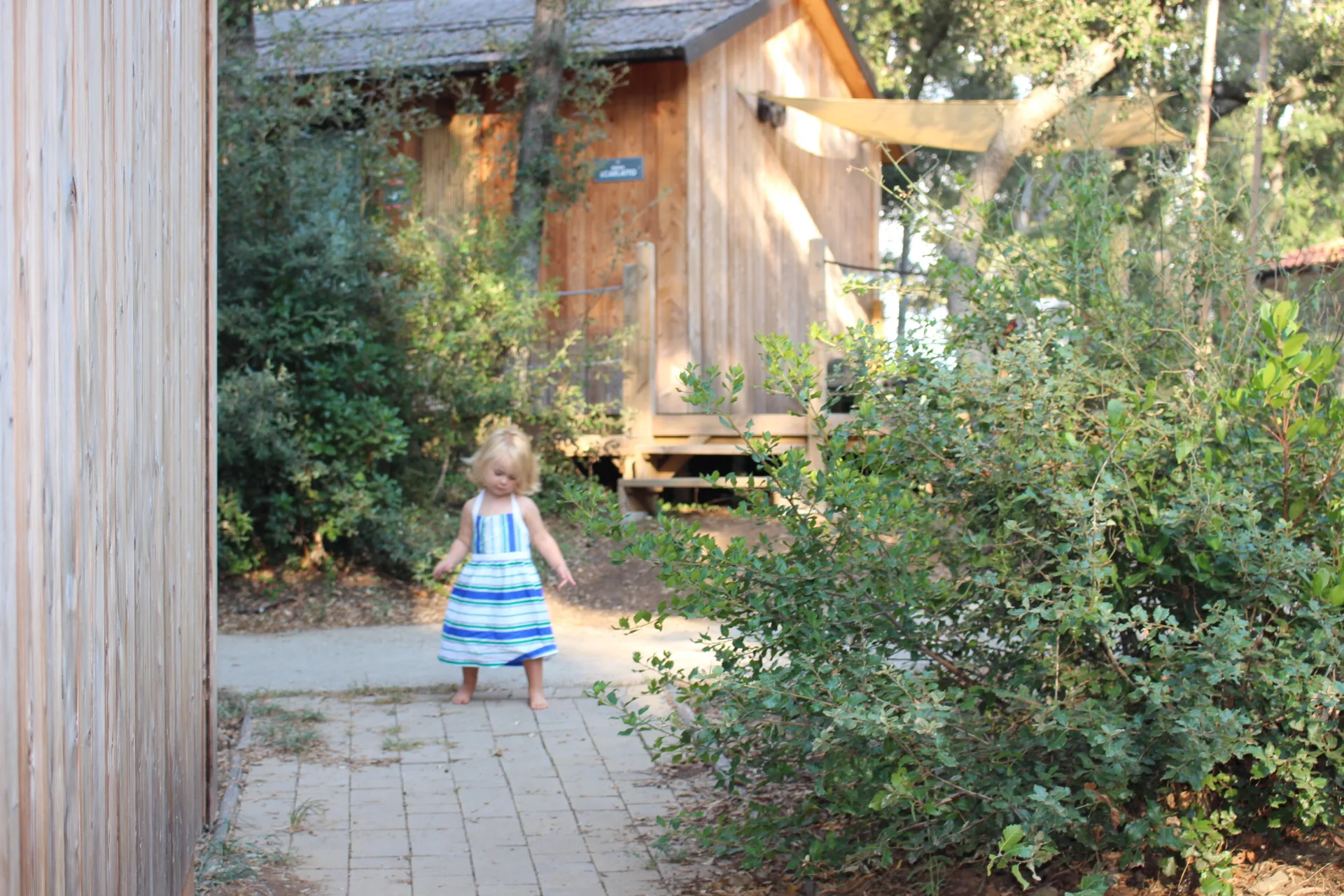 Play
This is where the resort in Tuscany excels for little people. Esmé was in her element! She just loved the soft bottom swimming pool where many children played every day. It's quite shallow and big so plenty of room to move around.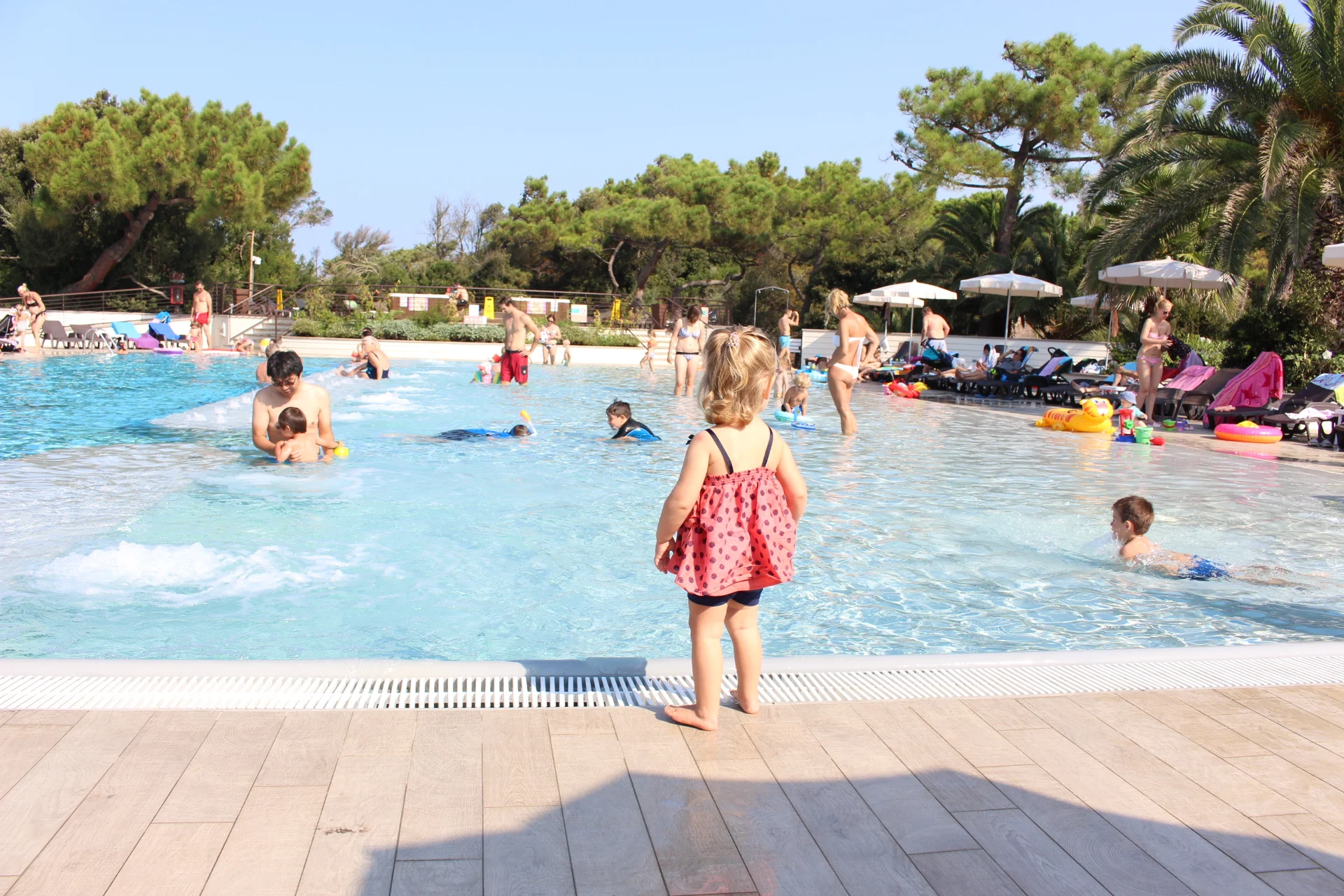 A short walk from the swimming pool is the beach. They held daily activities on the beach. My absolute favourite was the perfect sunset which we watched both evenings we were there. Esmé played around whilst we chilled and had sand chucked at us!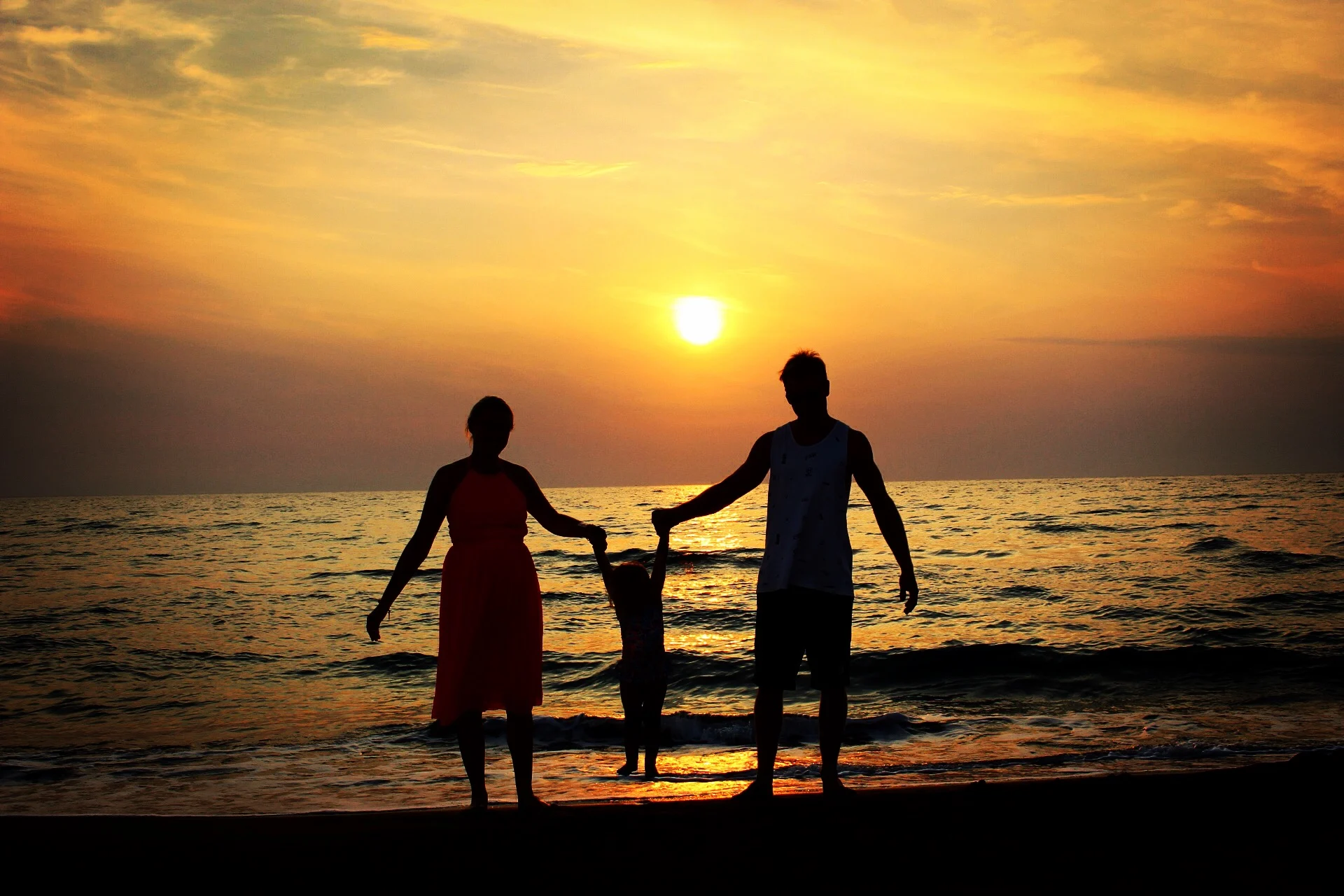 In the evening after dinner there was entertainment which included a kiddie disco, a theatre performance and Esmé's favourite was the black light show. I recall peppa pig also making an appearance one evening!
In addition to all of the above, there are also several playgrounds, an area with bouncy castles and a nursery. Overall I give them 10/10 for effort with little kids. If only there was a little more for the parents! There are local vineyards which we would have loved to visit but time was against us. They sounded fab though from what I was hearing so may be worth checking out.
Eco measurements
I asked the manager to explain some of the eco measurements they take at the resort. This is what she said:
1.Chalets are made with untreated wood so 100% recyclable.
2. Each chalet has its own boiler to warm water and electric panel so they can reduce energy consumption, and everything goes with electricity (no gas).
3. All walking paths are made of enviromentally friendly materials.
4. Driving vehicles onsite is not allowed.
5. At every bar they try to minimise the use of plastic by using biodegradable items.
6. The ambience, the pinewood and the flora are preserved as it is not touched (excluding ordinary maintenance to guarantee the security of the guests).
7. They take water from their own well and distribute it with specific systems and purifiers.
Getting there
There is a train station about 3km away but you will need to get a taxi from there to the resort. My understanding is they are intending to start a shuttle service from Pisa airport next season. Pisa is an hours drive.
Thank you very much to:
Paradu Eco Resort for having us as their guests. #ad