BACKPACKING WITH A BABY
Yes I can show you some of the most amazing photos of our 'baby gap year' (when we went backpacking with our baby during my maternity leave). But, was it all plain sailing? Everyone these days can make life look pretty amazing on social media with the best photos. What are some the home truths about backpacking with a baby?
1. You will have to share a room
If you go backpacking with a baby, you are probably going to get one room for the family and it has consequences! This is us laying down beside the bed on the floor in our hotel room trying to hide from our girl who really needed to sleep!!! Being in the same room is a pain in the ass… Naps are few and far between resulting in a sometime cranky baby!!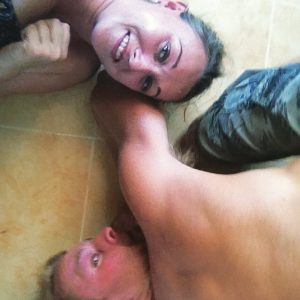 2. Then there are the tantrums…
As you're around other people A LOT… You tend to give into tantrums you know you will regret later!!
3. You don't have enough toys
While backpacking with a baby, you have limited space in the backpack. Which means not enough toys. One night I bounced our precious ball off the wall in our hotel room when we were playing.. No idea how, but it got caught in the very high false ceiling.. There were quite a few tears at its disappearance so Travel Mad Dad made some efforts of jumping on the bed .. No chance… I then got on his shoulders… I thought he was strong… Nope… Lasted two seconds… No chance… We then took down the shower curtain pole and I got back up on the shoulders with the pole… Travel Mad Dad's back can't take it!!… You may ask – why not buy a new ball?? Because it was a bloody special ball with lights!! All efforts in vein :(

4. Say goodbye to your night life
More often than not you hover your dinner in a bid to prevent the evening cranky time!! Sometimes you're lucky to have a sleeping angel in her buggy for dinner, in which case you can sit back, relax and have a beer!
5. A bathroom may become your living room
Yes, we have pulled two chairs into the bathroom, with two cans of beer and one ear of an iPod each. I thought this was hilarious, Shaun thought it was a really shit set of circumstances having a beer in the bathroom at baby bed time – 7pm!
6. Your baby might become a bit of a diva
She has been given way too much attention when we are away from locals. She thinks she's a celebrity!.. Now, when we are out and about in London, she can't understand why she isn't getting the same attention.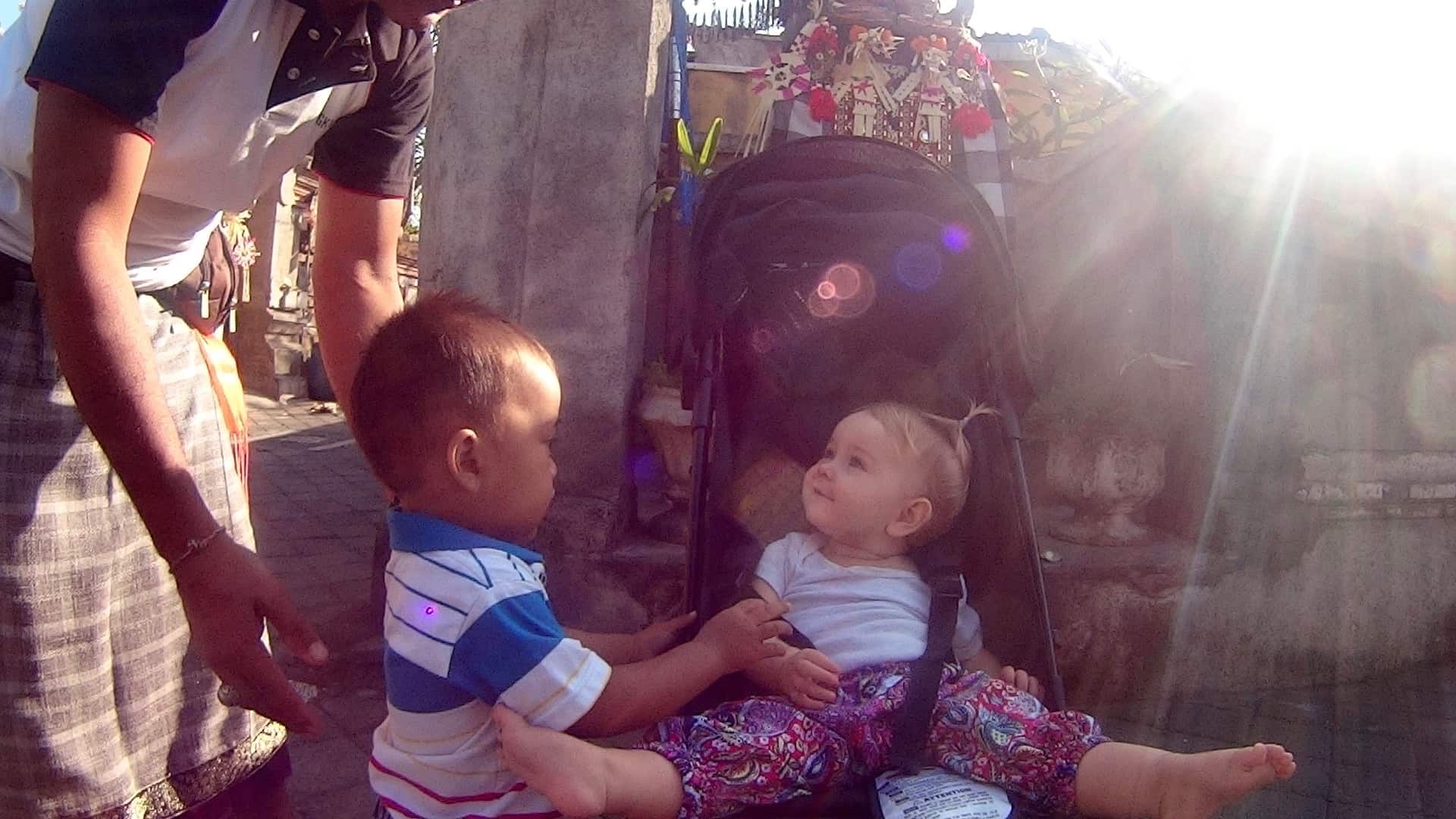 7. … and possibly a bit spoilt
The endless supply of different breakfast items to mall, suck and chuck around makes her a little spoilt!
8. You have to learn some creative ways of cooking food
Trying to keep a fussy eater happy while backpacking with a baby has pushed us to cook sweet potato and carrots in a kettle! Yes, you heard right, a bloody kettle. Have a fussy baby and understand what I mean? Make sure you read my article on 'feeding a fussy baby'.
In summary…
I think what I am trying to say here is, despite all the great photos and memories, we are not trying to pull the wool over your eyes and trick you. Babies will be babies. Luckily, you have all the new sights and sounds of a new adventure to keep you sane whilst travelling. For me this beats doing it all at home.