We love to explore new destinations and feel firmly that having kids shouldn't stop you from having exciting new experiences. However, sometimes you just need an unencumbered, lie by the pool kind of holiday.
The easiest way to accomplish this kind of low stress family vacation, is to head to one of these amazing, all inclusive family resorts.
A good all inclusive family resort will cover all your needs with delicious food, entertainment for the kids and adults, and of course lots of drinks.
So that you can choose the best all inclusive family holidays without doing too much legwork and research, we've done the work for you.
We reached out to some of our well traveled friends to find all the best all inclusive resorts for families.
They are spread out, throughout the globe, so wherever you feel like heading we've got you covered. We do have a section just dedicated to the best family resorts in Mexico since they've got a bunch of really amazing options and are very convenient for people in the USA to get to.
If you are concerned about flying with your little ones, check out our posts with our best tips for flying with kids. If we are missing any of your favorite all inclusive hotels, let us know in the comments!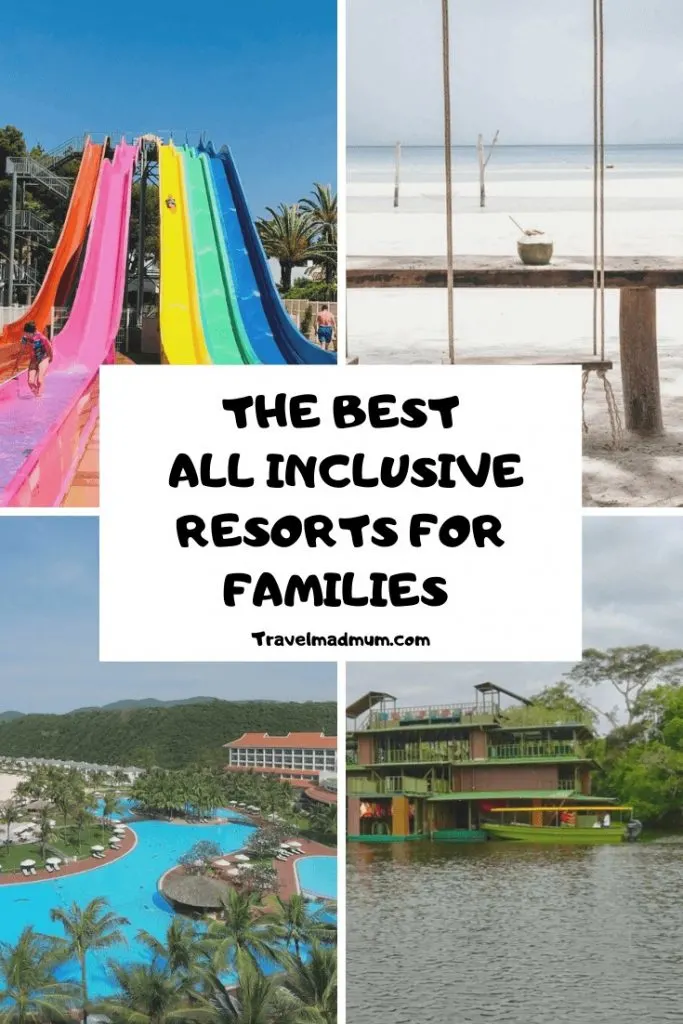 The Best All Inclusive Resorts for Families
Soneva Kiri – Koh Kood, Thailand
Contributed by Midnight Blue Elephant.
Many resorts will make you feel that luxury and children don't go together. A welcome exception is the Soneva brand, known as a frontier when it comes to sustainability and barefoot luxury. Their Thailand all inclusive beach resort, Soneva Kiri, is located on Koh Kood, a quick private plane ride away from Bangkok.
While the arrival is already posh, the resort was not just created with sustainability but also families in mind. That starts with the design which resembles Neverland: bamboo structures, lots of greenery, and villas that resemble a chicer version of a safari tent.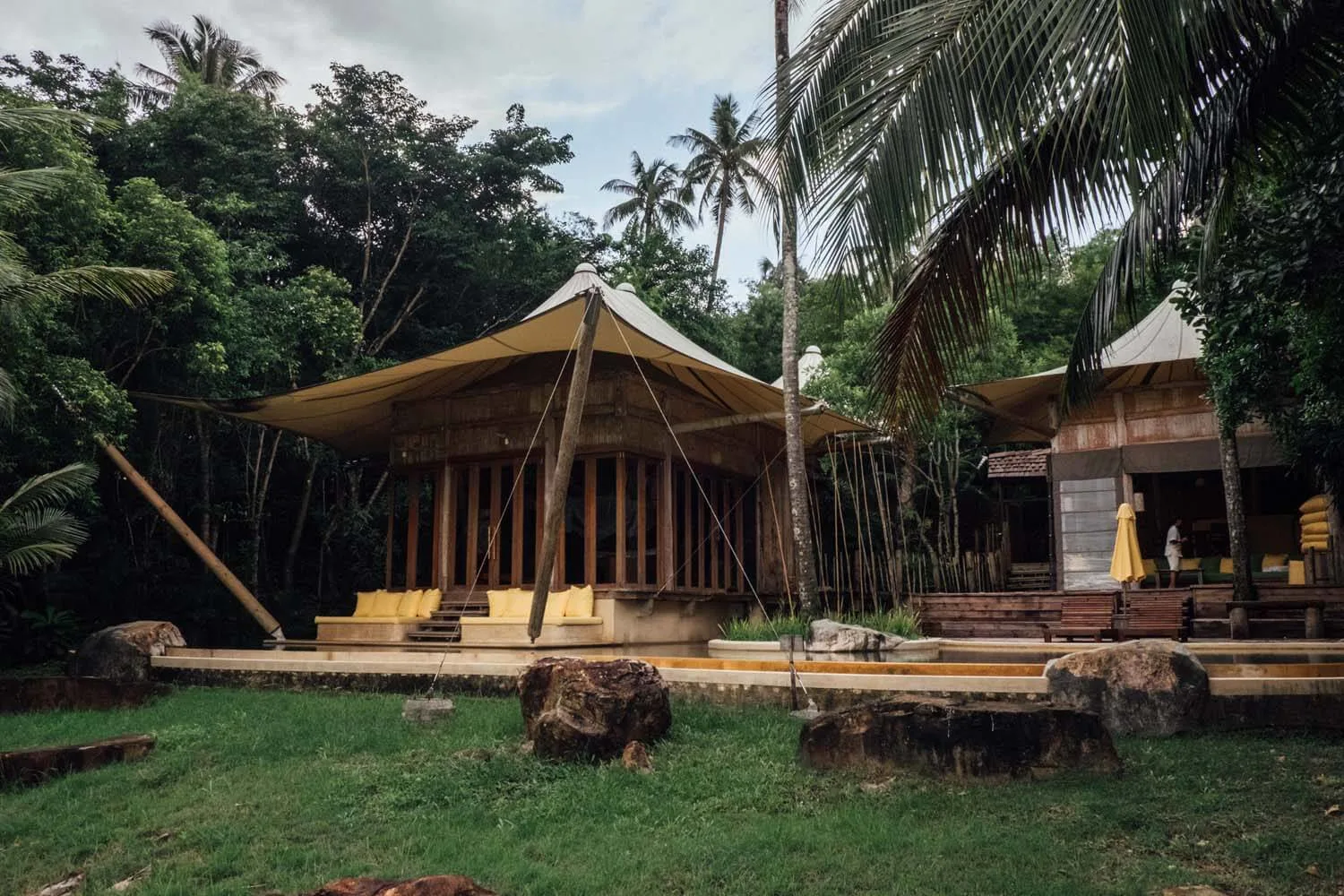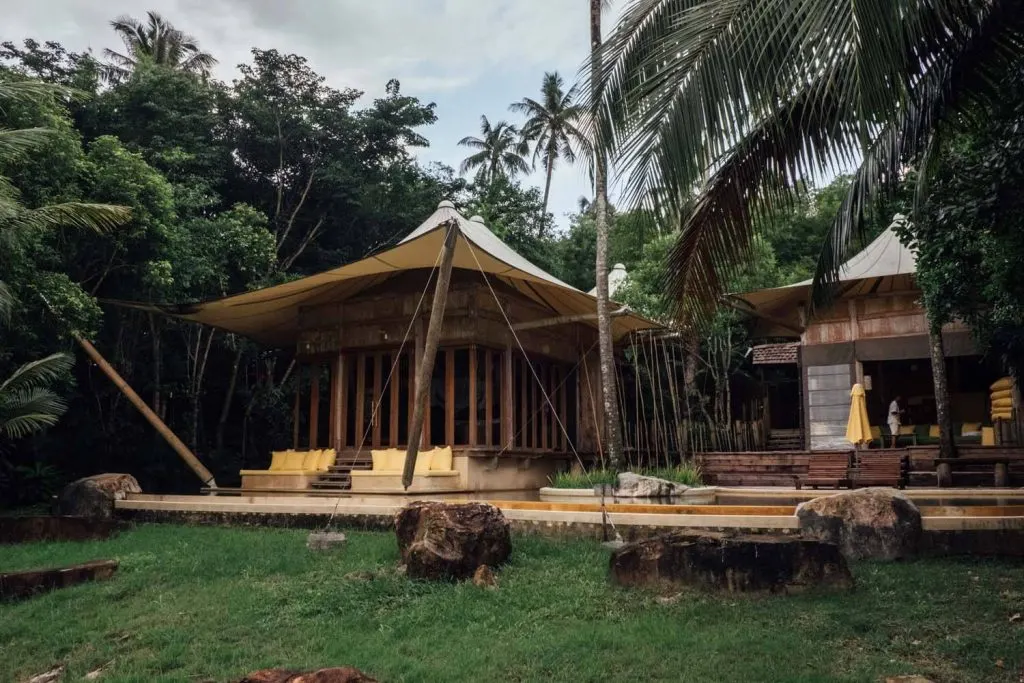 If you are traveling with kids chose one of the Beach Pool Retreats which come with two bedrooms, an outdoor entertainment area, a pool big enough to swim laps in, and direct beach access.
The Eco Den and the Den, shaped like a giant bamboo manta ray, are the resort's kids clubs which will keep children from as young as one year old entertained and expertly supervised.
In addition, there are many activities for the whole family included in your stay. On the agenda are boat & waterfall excursions, stargazing at the astronomy tower as well as culinary adventures such as cooking classes and chocolate workshops.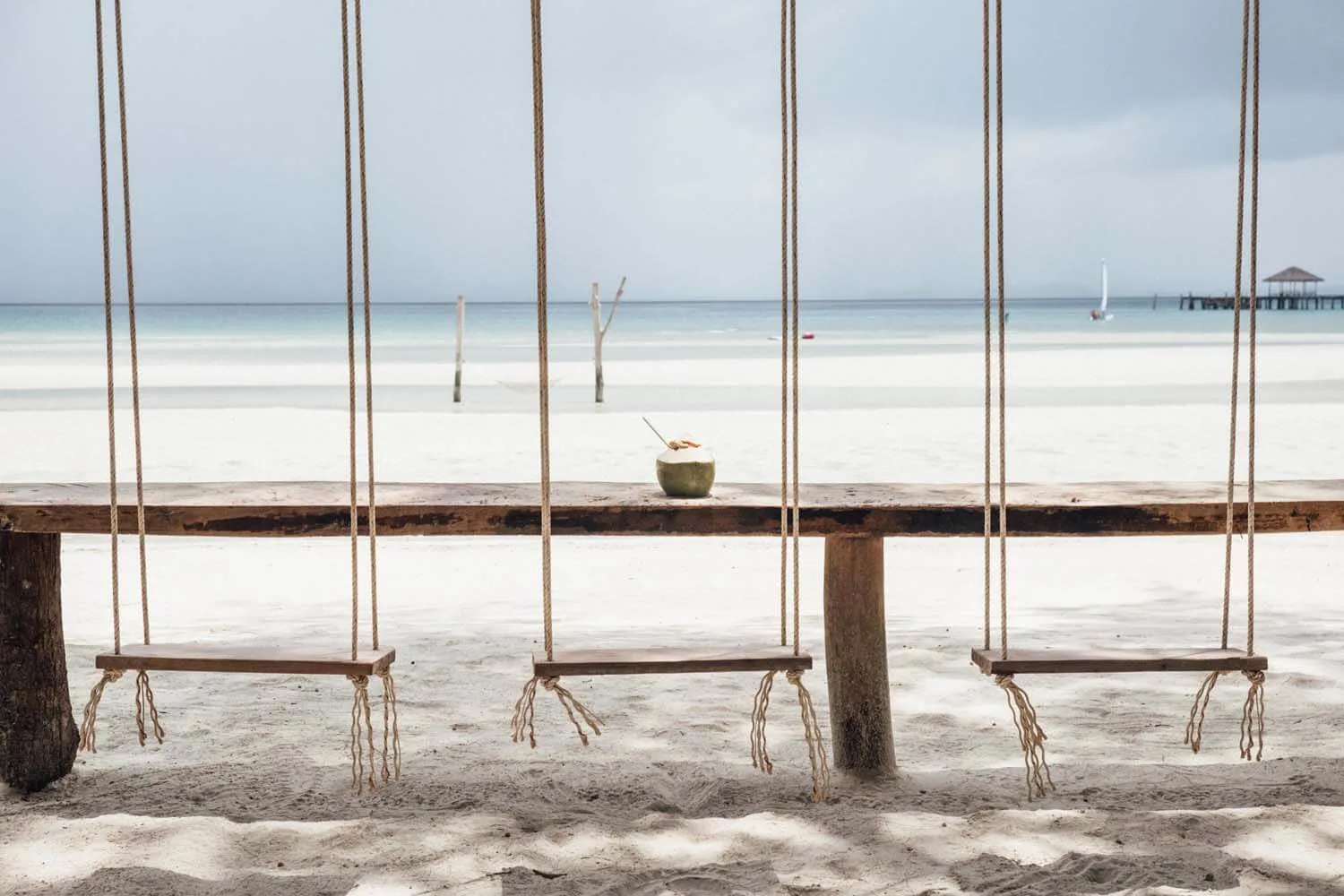 Or how about a movie night for the whole family at their Cinema Paradiso under the stars? Of course, every screening comes with a side of fresh popcorn!
In addition to the popcorn, the food is another highlight at Soneva Kiri and luckily there are plenty of options that will keep even the fussy little eater happy. From pizza and pasta to local dishes and sushi there are many options to choose from, most of which are included.
Sitting quietly is definitely not required at most of Kiri's restaurants. For those who do want a more secluded and romantic setting, there is always the resort's famous tree pod.
Another culinary highlight? The signature chocolate room and ice cream bar with unlimited sweet delights which brings the whole family together. Ice cream for breakfast? Of course, you are on holiday after all!
Check out prices and availability for Soneva Kiri here!
Best All Inclusive Family Resorts, Mexico
Dreams Playa Mujeres Golf & Spa Resort: Playa Mujeres, Mexico
Contributed by Travel With A Plan.
Throughout our years of exciting travel experiences, one of the most amazing all-inclusive family resorts that we have stayed at is Dreams Playa Mujeres Golf & Spa Resort!
Dreams Playa Mujeres is located a short 30-miles (15.1km) north of Cancun, Mexico, which is home to an easily accessible International Airport. Access to Dreams requires easy airport transfer along with entrance into the beautiful gated-community of Playa Mujeres.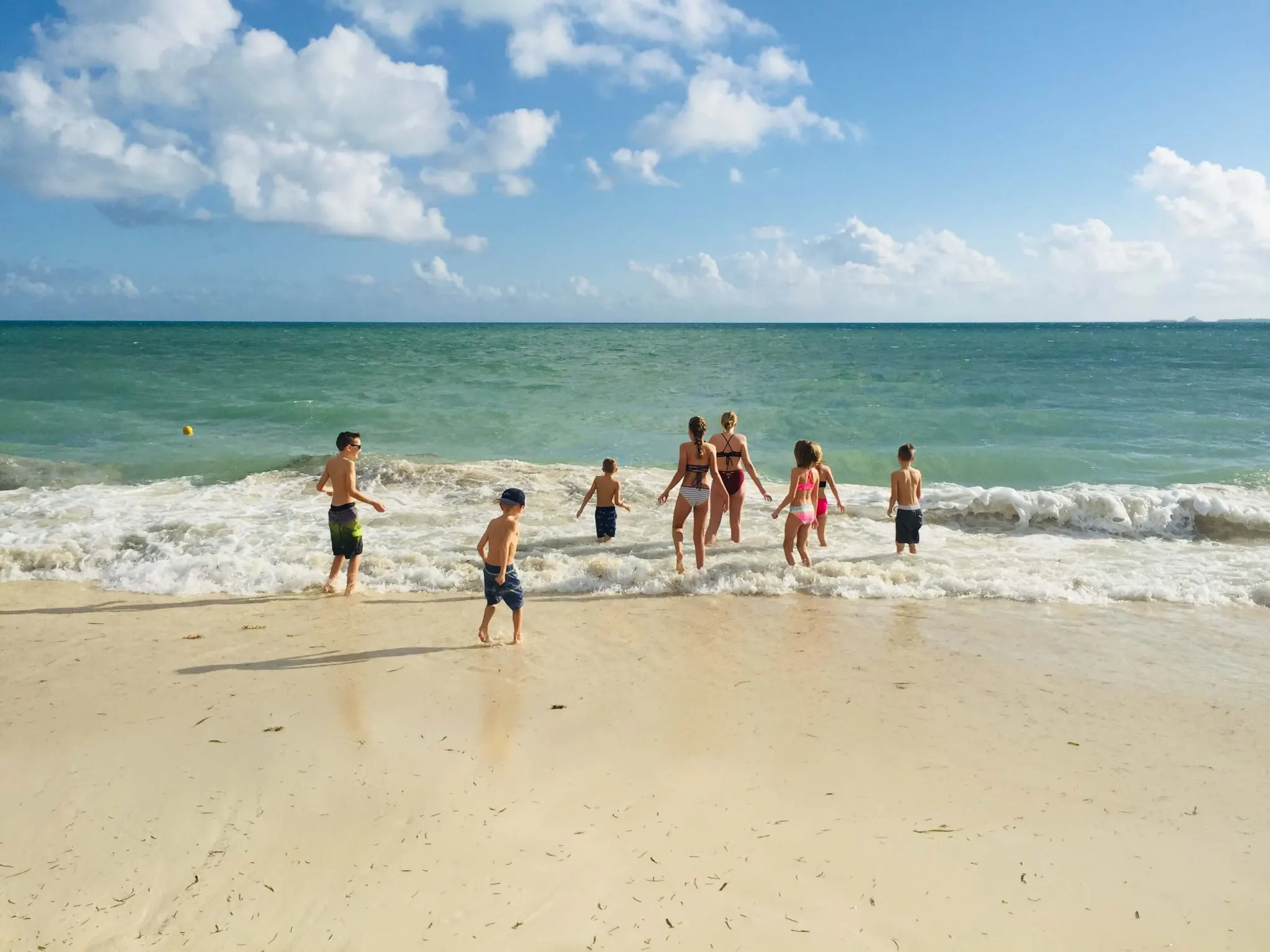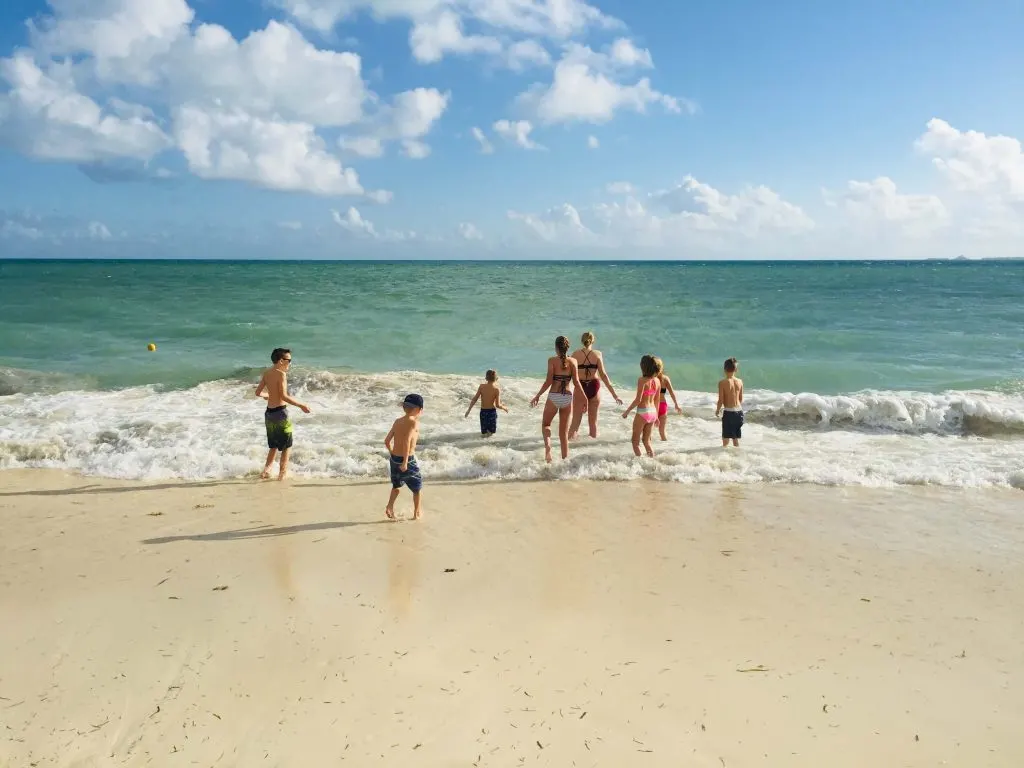 Once there, you and your family will be welcomed with a cool towel and sparkling beverage before being assisted to your perfectly appointed guest suite.
At first glance, the grounds of Dreams Playa Mujeres are impeccable with multiple pristine swimming pools and gorgeous landscaping throughout. Guest Suites include upscale amenities, large bathrooms, and a fully-stocked mini bar, as well as free child-friendly snacks and treats.
With thanks to the welcoming entertainment staff, you will be quickly immersed into the fun and relaxing atmosphere at Dreams. With options such as pool activities, cooking demonstrations, live music, and nighttime shows, there is always something fun and festive going on.
The children's waterpark and lazy river, along with the interactive Kid Club activities provide endless entertainment for even the youngest of travelers. Our kids loved the basketball court, rock climbing wall, bungee trampoline, and onsite dolphin habitat.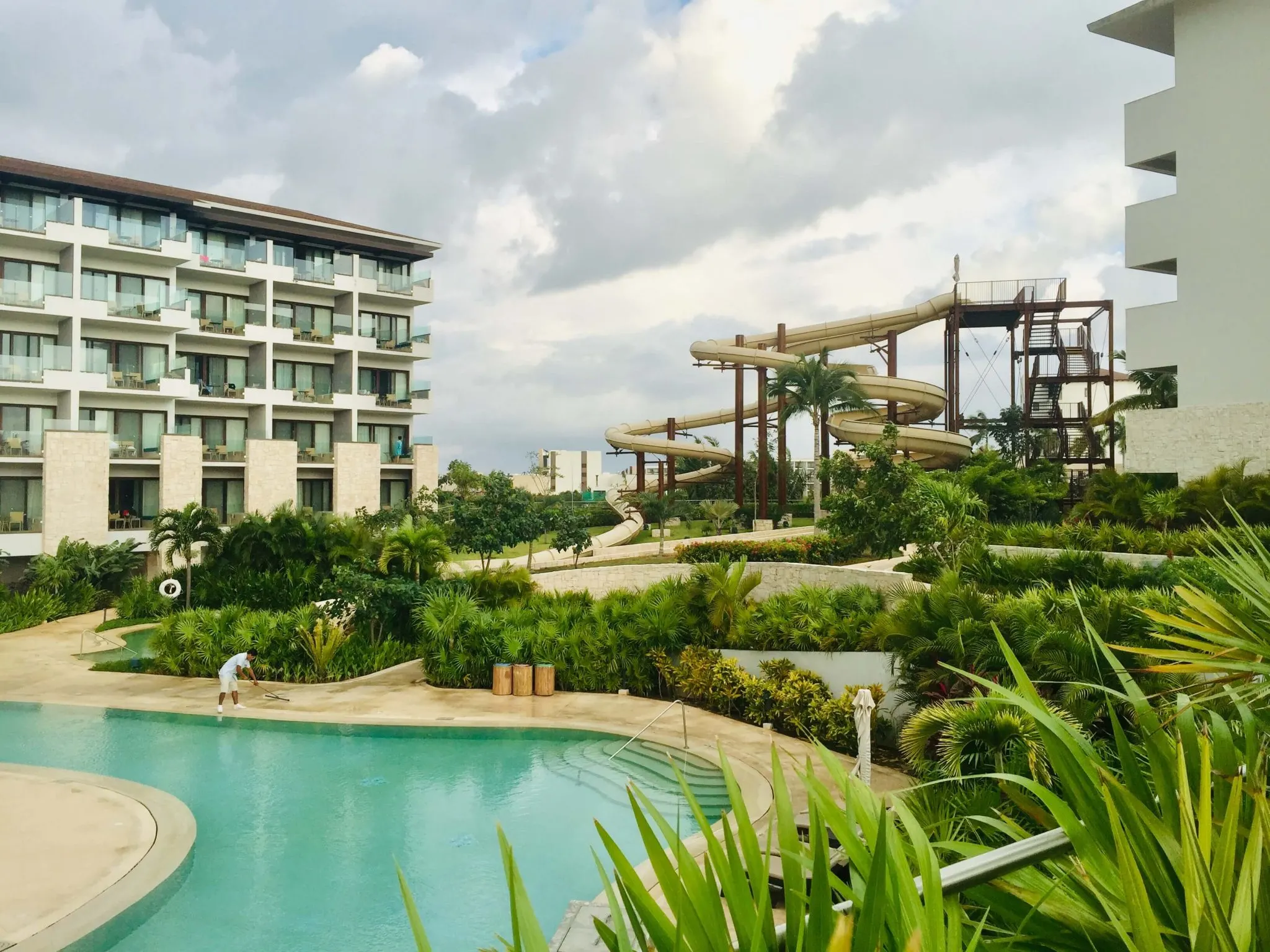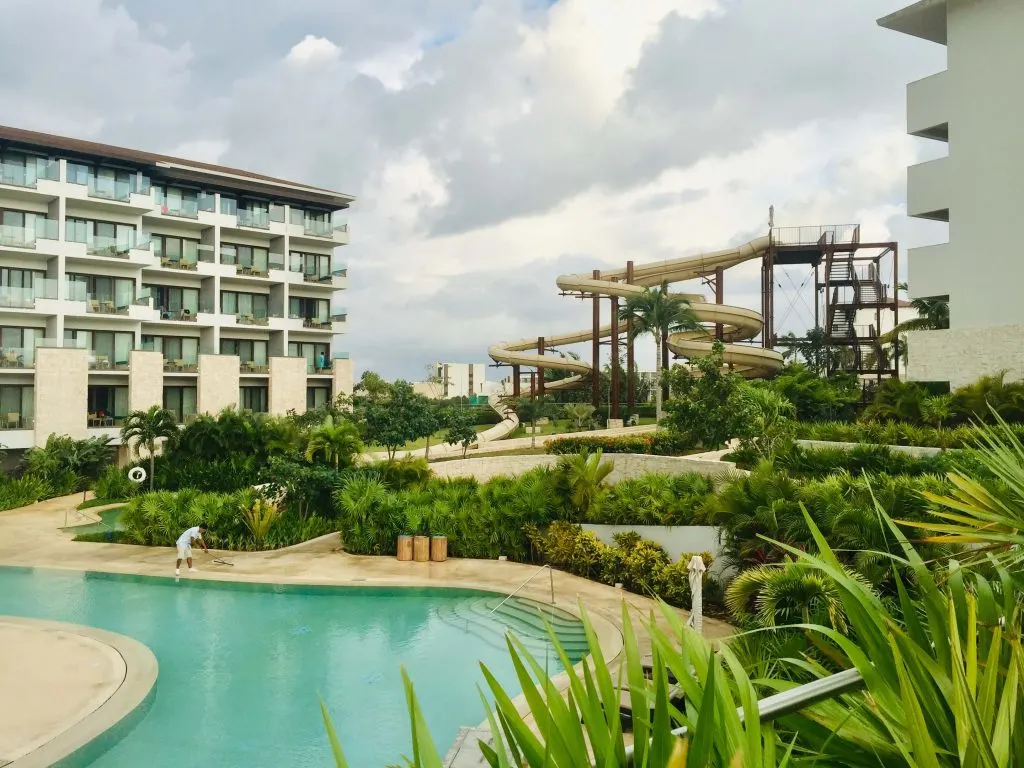 With a total of 10 dining options, including 7 à la carte restaurants, one buffet, a grill and an ice cream parlor, the food here is pleasing to both sophisticated palates and the pickiest of eaters.
Pool and beach side service, along with free 24-hour room service are additional amenities that help make Dreams Playa Mujeres so amazing!
In conclusion, the welcoming, family-friendly atmosphere at Dream Playa Mujeres Golf & Spa resort cannot be beat! With travelers and tourists from around the world, Dreams delightfully becomes a 'home away from home' to the point where it is hard to leave.
That being said, it is I great idea to rent a car to explore the local area.
For these reasons and more, we consider Dream Playa Mujeres to be one of the most amazing family friendly all-inclusive resorts!
Find prices and availability on the Dreams resort here.
Royal Haciendas – Playa Del Carmen
Contributed by Blissmersion.
I am a huge fan of Mexico and there are plenty of places to stay in Mexico City.
However, Mexico family resorts are out of this world. I may be biased because I'm a resident however vacationing here is amazing. My favorite resort is located in Playa Del Carmen.
The Royal Haciendas' worst review was that there was nothing to do after 7 pm, so I booked it. Though I didn't check out the nightlife, I know there were adult activities starting at 8 pm.
Our vacation to the Royal Haciendas All Inclusive beach resort was one of the best we've had. The beach has a rocky outcropping about 30-40 feet out that makes for calm water that was perfect for the kids. There are beach loungers with palapa style umbrellas.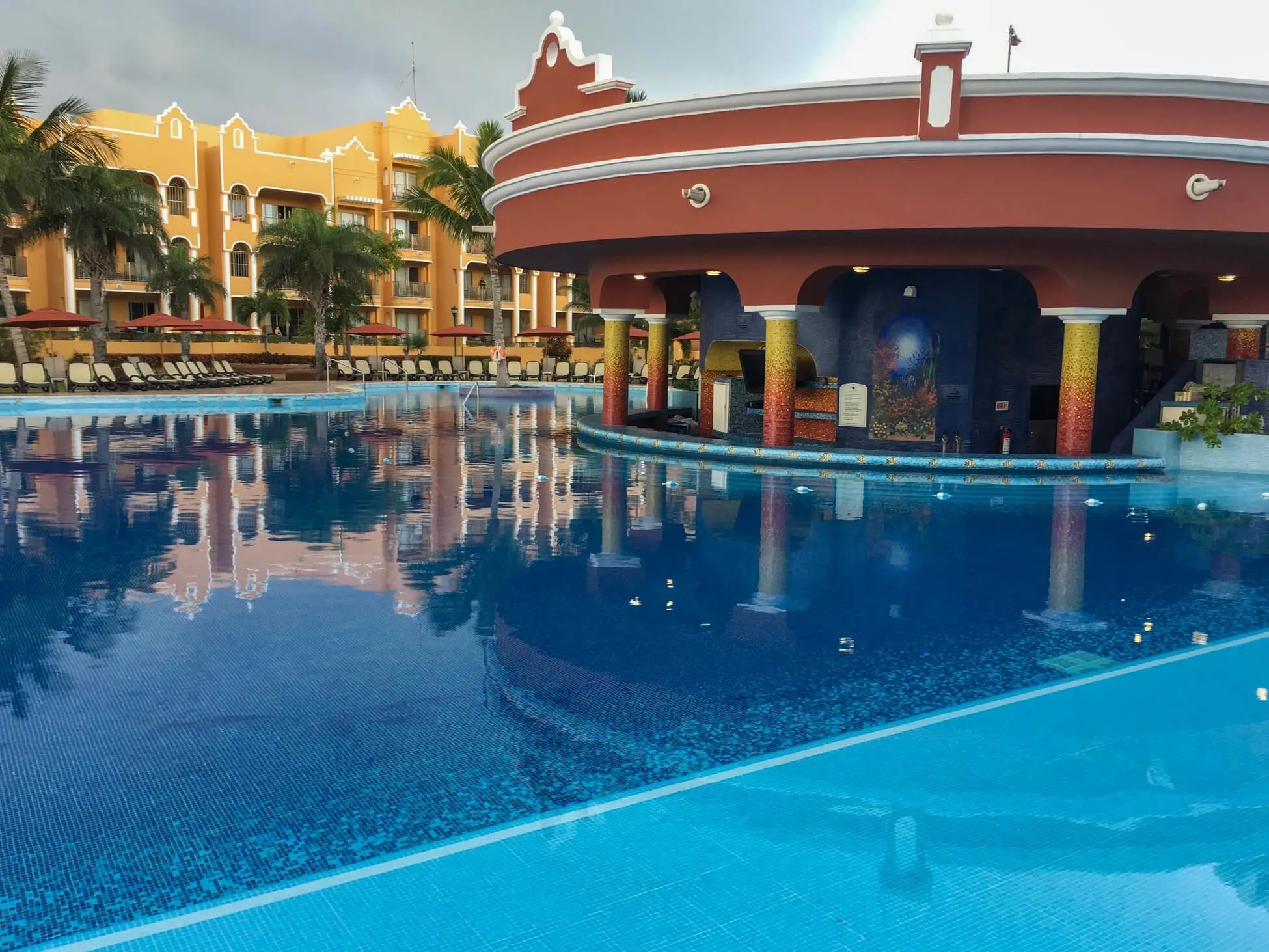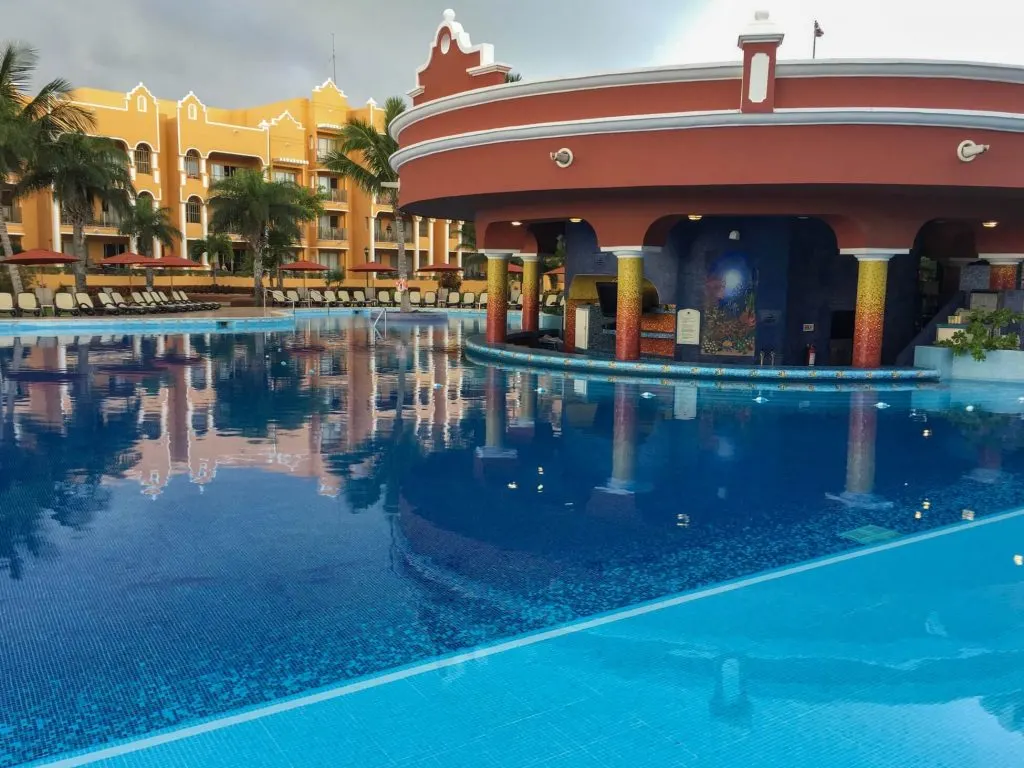 We quickly discovered that the resort offers food and beverage service to the beach and pool. This is one of the things that makes Royal Haciendas so amazing. I ordered lunch and I would wait to call the kids out of the water until it was delivered. They could eat without having to dry off and go to the dining room.
I haven't yet been to another all-inclusive that offers beach and pool side food and drink service like that. This is one of the reasons it was one of our best family vacations ever. We avoided meltdowns that were due to hunger.
The Royal Haciendas also has a wonderful kids' club. The activities are engaging and available most of the day.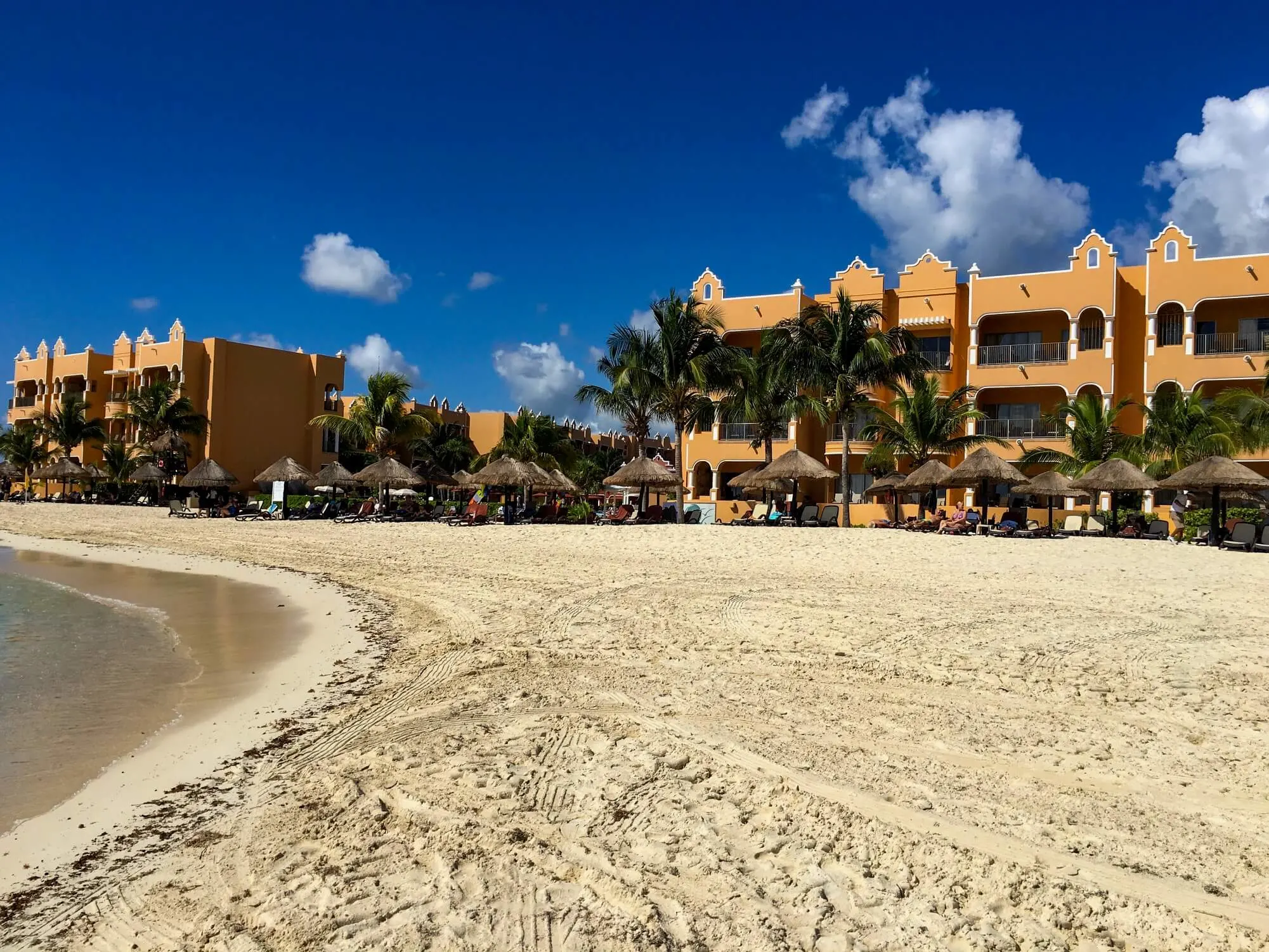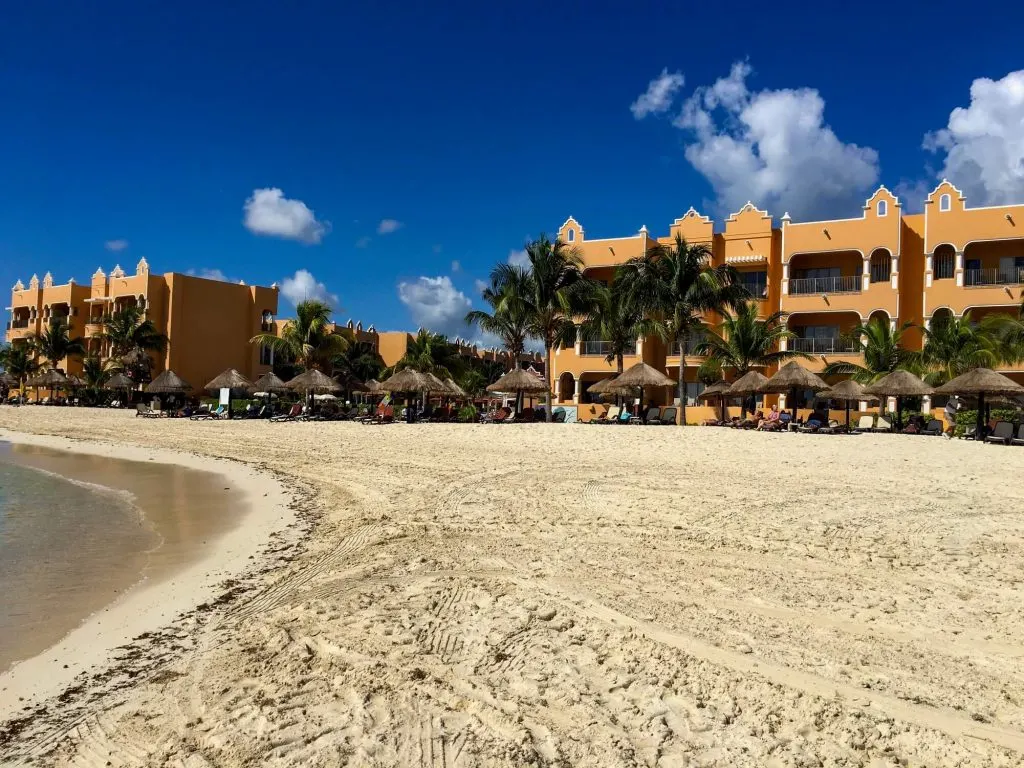 It is open from 9 am to 5 pm and there was an additional activity from 6 pm – 8 pm that usually involved dinner for the kids. Our kids had so much fun, it was difficult to convince them to leave the club and hang out with us!
The ladies from the kid's club would also come around and invite kids to the activities, which is another thing I haven't seen at other top all inclusive resorts.
The only downside was that our room was fairly small. However, it was adequate for our needs and the other amenities more than made up for that. Our experience was so wonderful that I can't wait to visit again!
Find the best prices on the Royal Haciendas here!
Club Med, Ixtapa
Contributed by GlobeTotting.
Located on Mexico's Pacific coast, on a beach lined with palm trees, is where you'll find Club Med Ixtapa. One of only two Club Med properties in the country, this is our choice for the best all inclusive for families for a number of reasons.
Firstly, Club Med Ixtapa is such a happy place. Everyone – from the staff and the parents to little kids and even teens – smile seemingly all the time here.
Secondly, absolutely everything is included in the price; that means your accommodation, your food, all activities and even your afternoon cocktail and wine with dinner.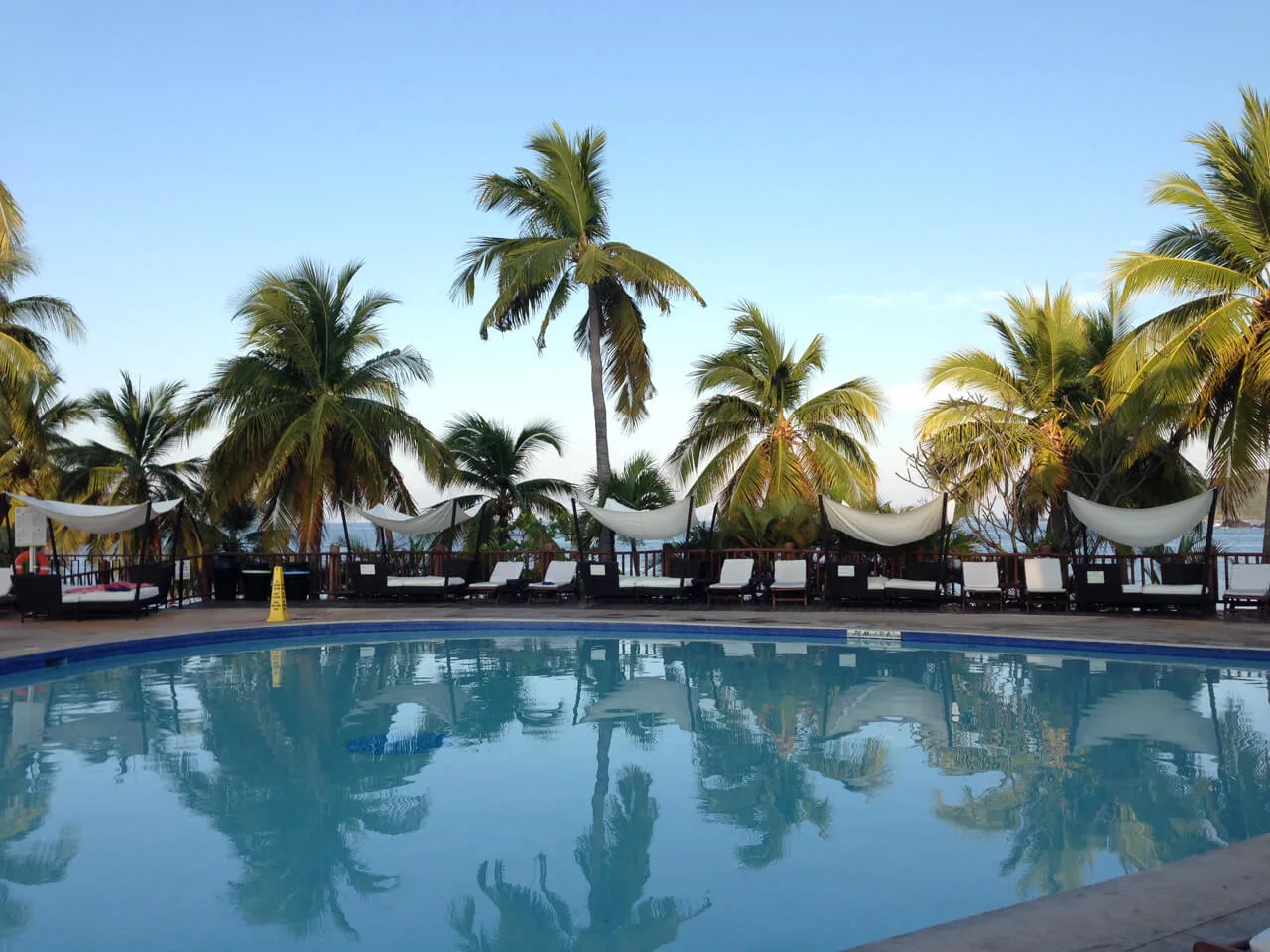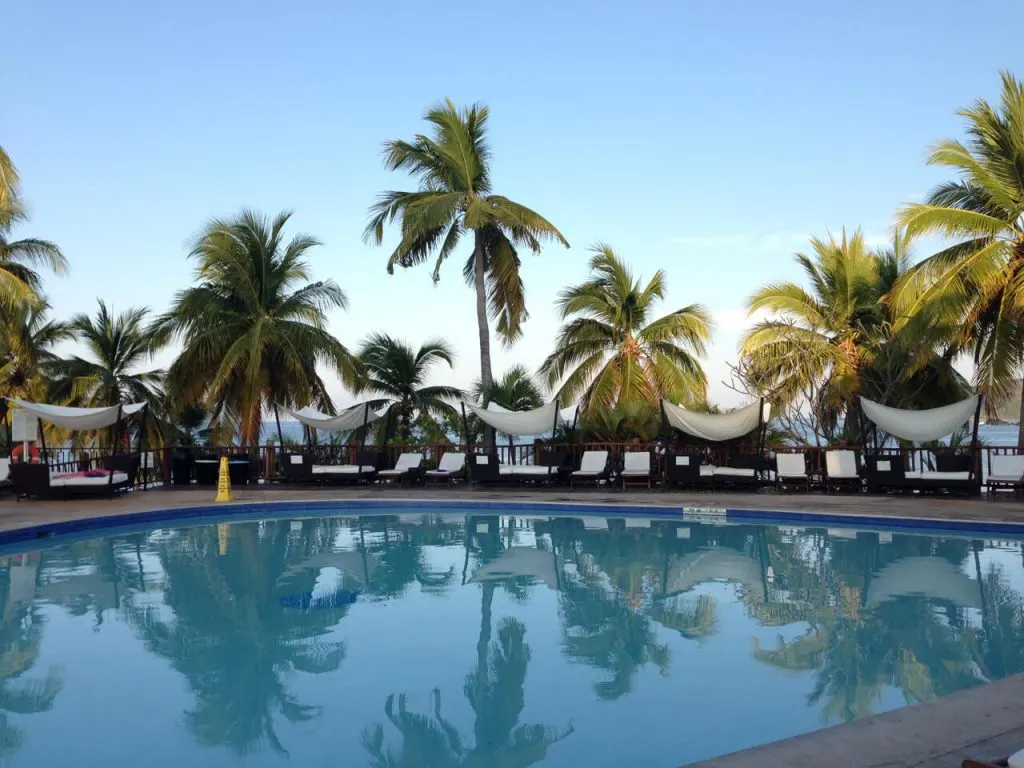 The only things that you have to pay extra for are some excursions, such as big game fishing, and for baby club (kids' club activities are included).
So, what exactly do you get? Club Med Ixtapa houses 298 rooms across a handful of two- and three-storey villas linked by paths lined with bougainvillea and frangipani flowers.
The rooms are divided into three categories: Deluxe, Club and Suites. Deluxe rooms come with two bedrooms, a spacious bathroom and either a private terrace or balcony.
Club rooms are marginally larger and the Suites come with a separate living area, as well as the option to have breakfast delivered to your door.
There are four restaurants with lots of family-friendly meals available. If you're travelling with a little one, then you'll find a baby corner in the main restaurant stocked with baby food, yogurts, milk, formula, bottle warming facilities and more.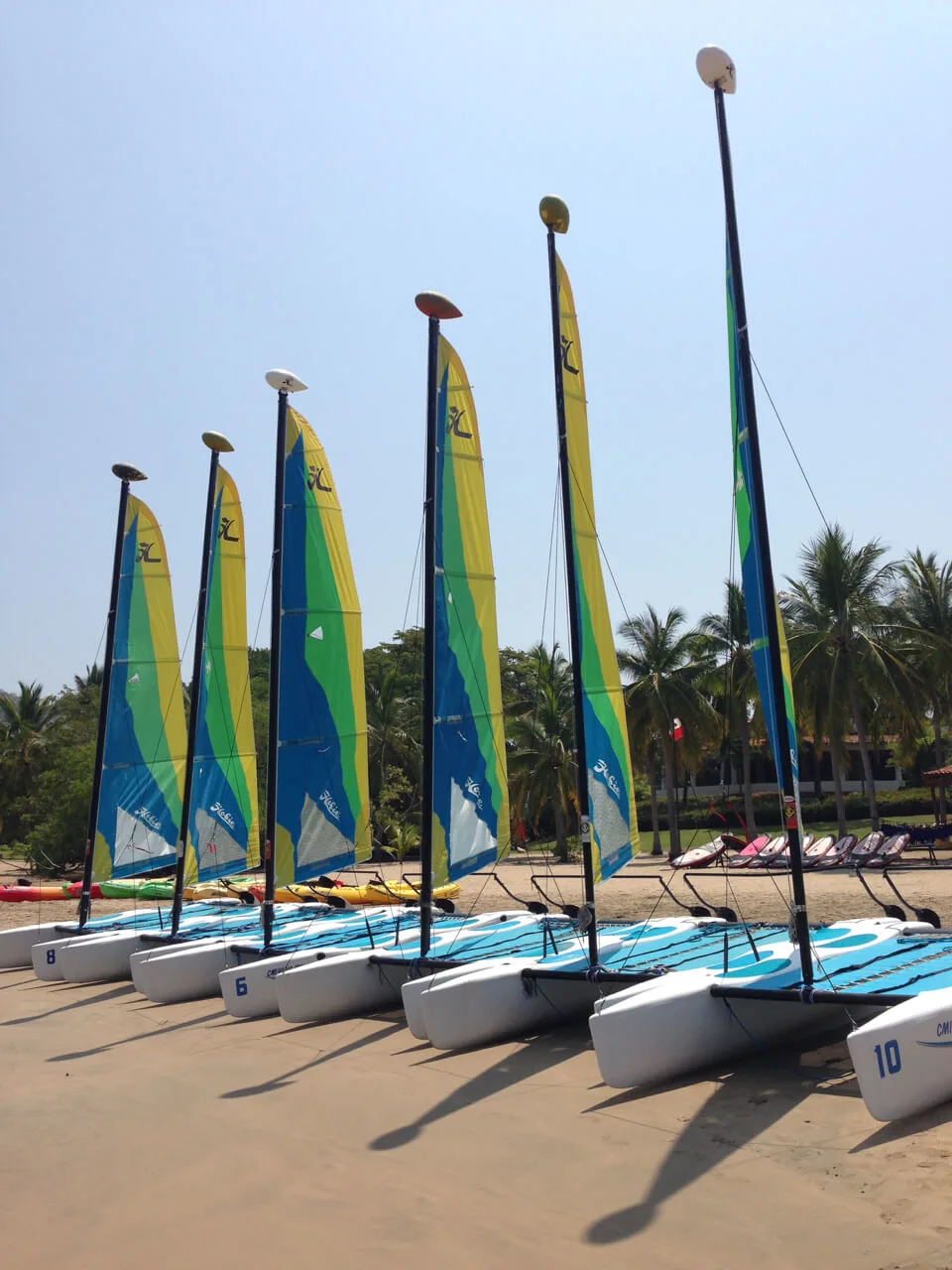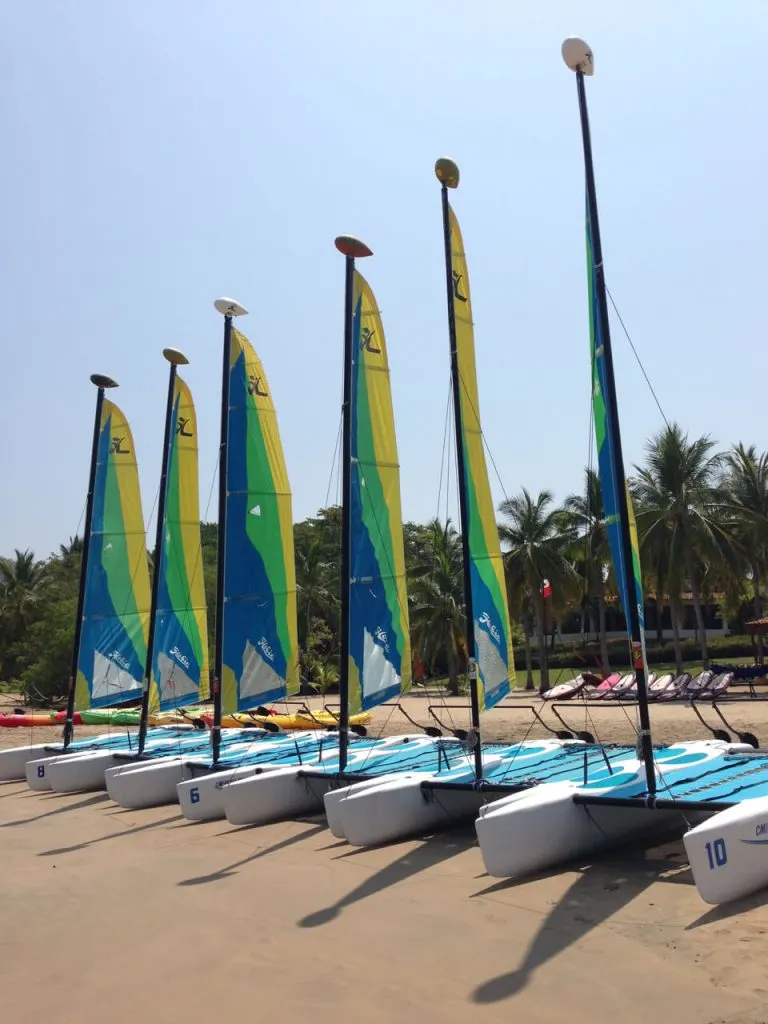 And then there are the activities. There are so many things to do here from archery and tennis to kayaking, sailing, beach volleyball and so much more. There's even a trapeze school!
The kids' clubs are constantly busy and cater for children from as young as four months old (so mum can really have a holiday!). Activities for kids include swimming, walks, crafting, drama, trapeze and about a gazillion other fun things to do!
If you're looking for all inclusive trips that offer something for everyone in the family then I highly recommend Club Med Ixtapa.
Find the best prices on flights here!
Beaches Resort, Jamaica – Best All Inclusive Family Resorts, Caribbean
Contributed by Jamaica Travel Saver.
Jamaica packs quite a punch when it comes to things to do on vacation. However, if you are planning to visit on an all inclusive family vacation the ideal location is Ocho Rios on the northern coast.
There are a number of kid friendly attractions nearby such as Mystic Mountain, Yaaman Adventure Park and Dolphin Cove. For the adults there are spas, cooking classes and a nearby golf course if you dream of hitting the greens every day.
If you don't want to venture outside your resort, Beaches Resort has something for everyone in the family.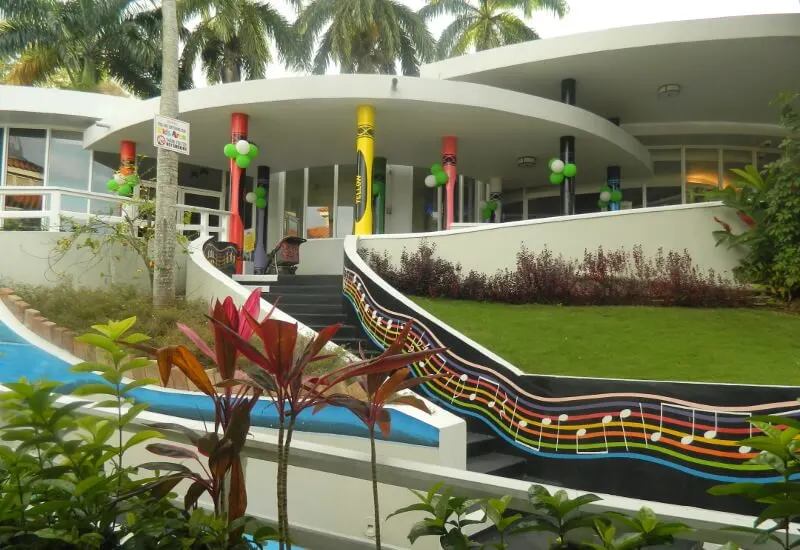 For the younger kids there is a Sesame Street themed kid's camp. For the older children there is a pirates island water park, Xbox play lounge, teen nightclub, all-inclusive golf program for kids, basketball, tennis and billiards.
The resort also offers a wide variety of water sports and a comprehensive dive program. For the adults in the group there is a golf course that is affiliated with Beaches, you also have access to a world class spa and sunset catamaran cruises.
Family dining is of utmost importance at Beaches. There are seven dining options providing delicious options for everyone and are guaranteed to satisfy even the most finicky eater.
Beaches will take you on a culinary journey from Italy, to the Caribbean, to France. You are guaranteed to find something to satisfy everyone in your family. An additional plus is adults have access to unlimited liquor.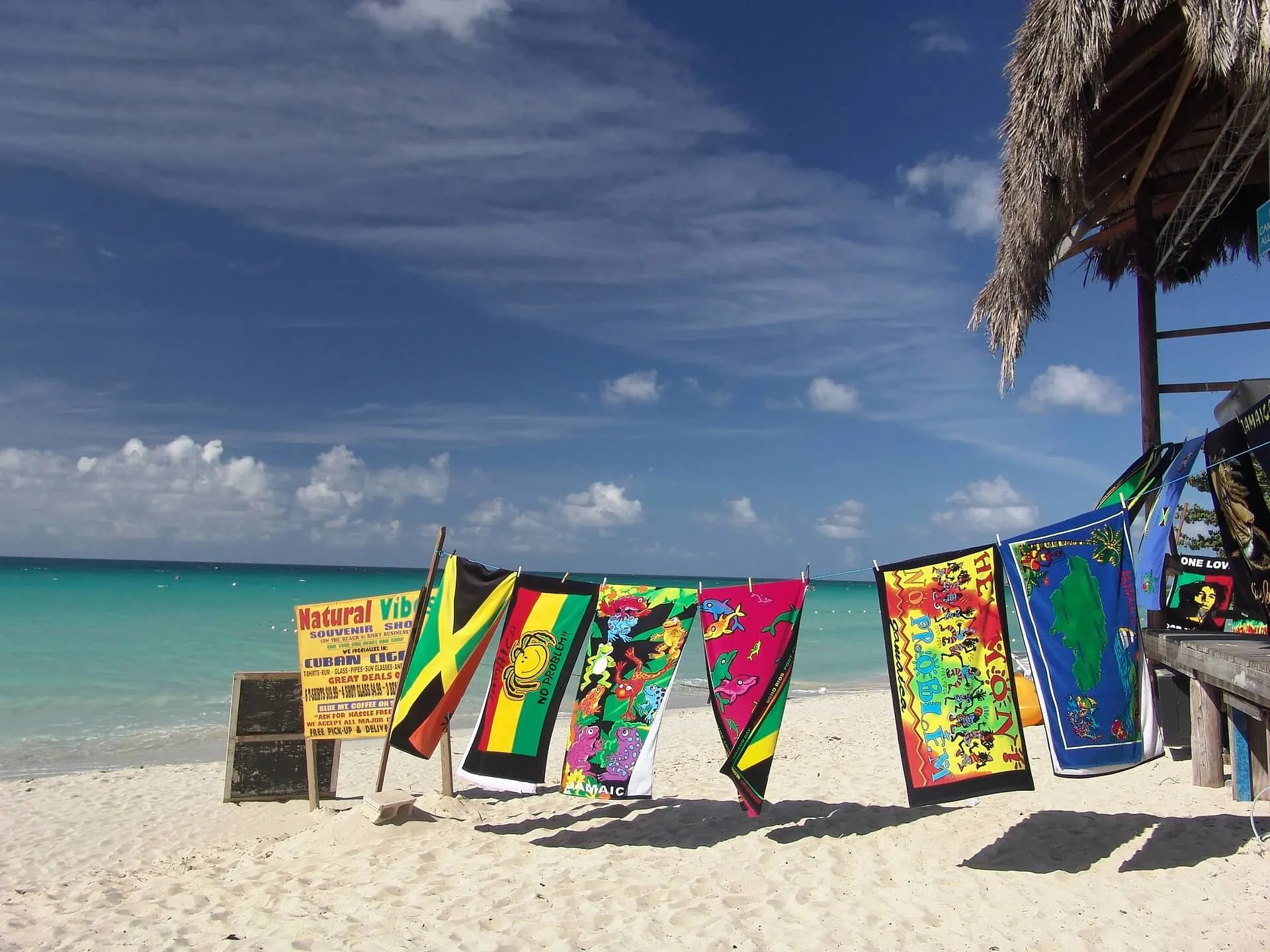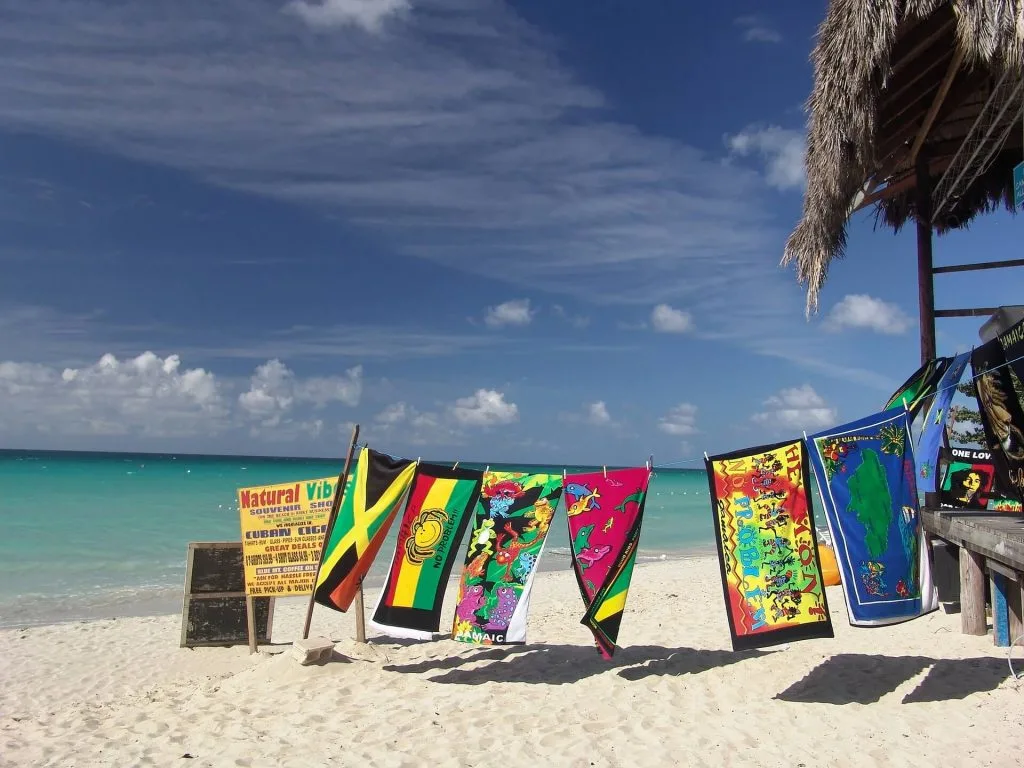 Beaches also provide a world class experience with its luxurious suites. A unique feature for families is the together nest concept.
These one of a kind accommodations are designed with both couples and families in mind. You also get a personal butler or concierge with this room option.
You will find most rooms offer a sea view. However, my favourite is the Greek beachfront suite that has a private deck that leads out to the beach.
With the myriad of activities available, Beaches offers something for everyone in your family and is guaranteed to make your journey to Jamaica and your Caribbean family vacation an unforgettable one.
Find prices and availability for the Beaches Resort here.
Beaches All Inclusive – Turks and Caicos
Contributed by Carpe Diem Our Way.
Beaches Turks and Caicos is hands-down, the best all inclusive resort for families out there!
There are so many amazing things to say about Beaches, but to start, they pride themselves on offering a frictionless vacation for families, including those who have allergies or children with autism.
One of the best things about Beaches all inclusive for families is the kids club! It is not your average kids club. The kids snorkel, play basketball, swim, build sand castles, play soccer, they are rarely in the kids club assembly point! Their hours are very generous and often until 10pm.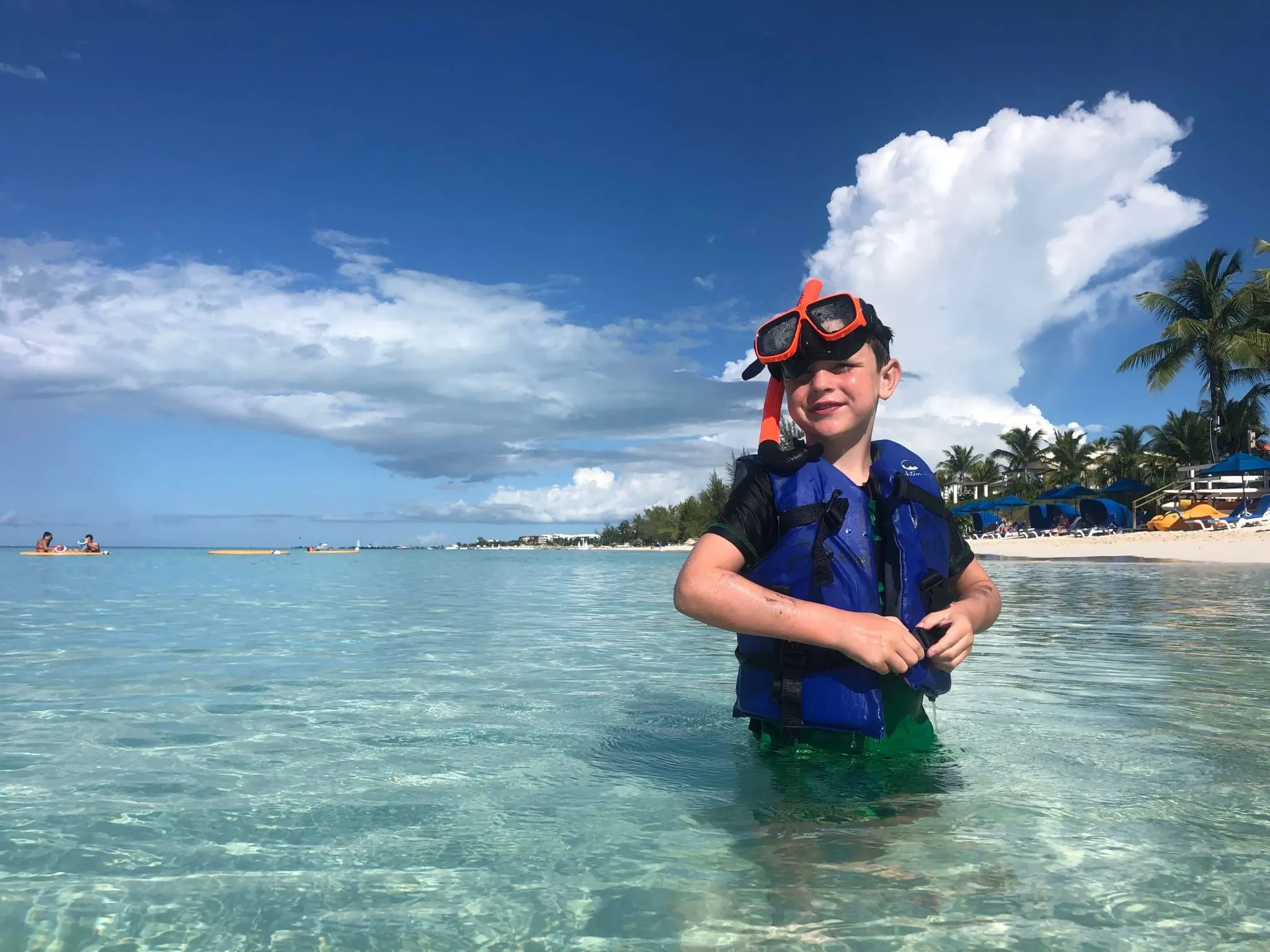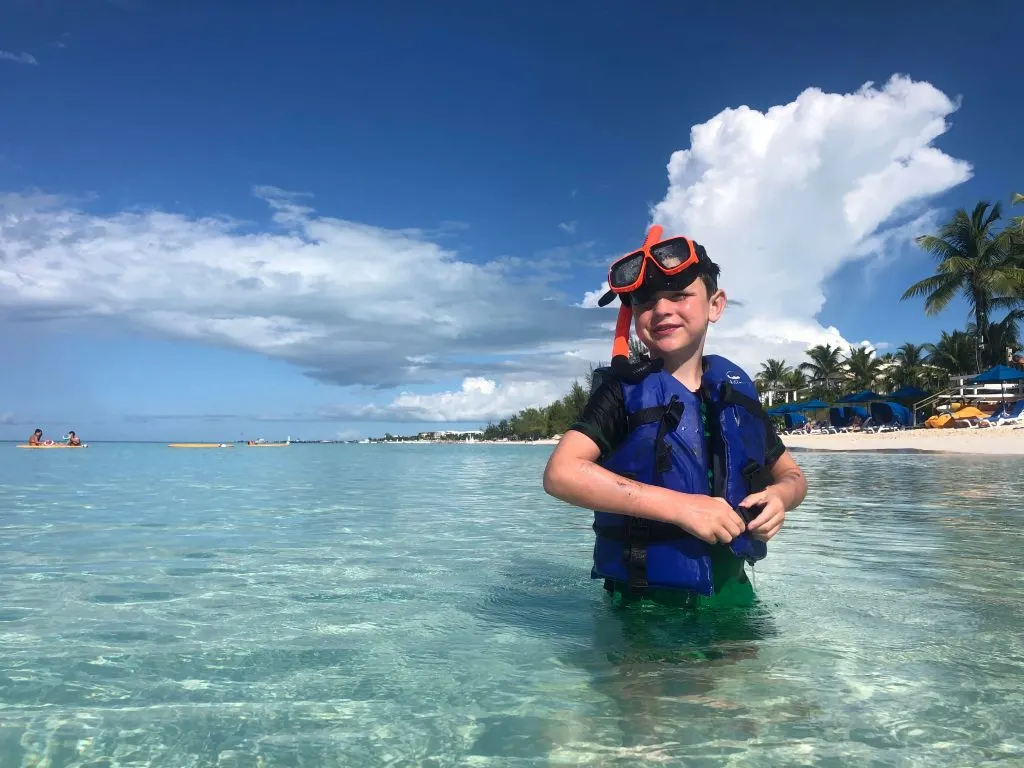 For older kids, there is an Xbox lounge and the ability to come and go in kids club as they please. The swimming pools and pirate island are another feature that makes Beaches the best.
Whether it is the ice cream truck next to the water park, the water slides, lazy river or spray park, there is entertainment for all ages!
While your typical room at Beaches is not much different than a typical hotel room, there is a mini bar and plenty of space. There are also beachfront homes you can rent that have all the bells and whistles.
When it comes to food, Beaches comes through again. Whether it is sushi or teppanyaki or a quick chicken strips and fries, there are restaurants for everyone!
If that was not enough, Beaches does not allow tipping, as that causes a differentiation of service, and Beaches wants everyone to have the best service.
It's nice to know that you do not need to walk around with cash for the bar or service providers, another luxury of a frictionless vacation!
Find the best prices on the Beaches Resort here!
Jungle Land Floating Lodge – Panama Canal
Contributed by Meghan The Traveling Teacher.
If you're looking for a unique all-inclusive, then this floating lodge along the Panama Canal is for you. It's an incredibly unique experience and honestly different than anywhere else I've ever stayed.
Jungle Land is the only floating lodge in Central America and located on the Panama Canal. When you stay here you worry about nothing. All meals, activities, alcohol, and services are included.
They offer such unique activities as part of your package, from riding along the water past the boats on the canal to feeding monkeys to made to order meals made by chefs on site.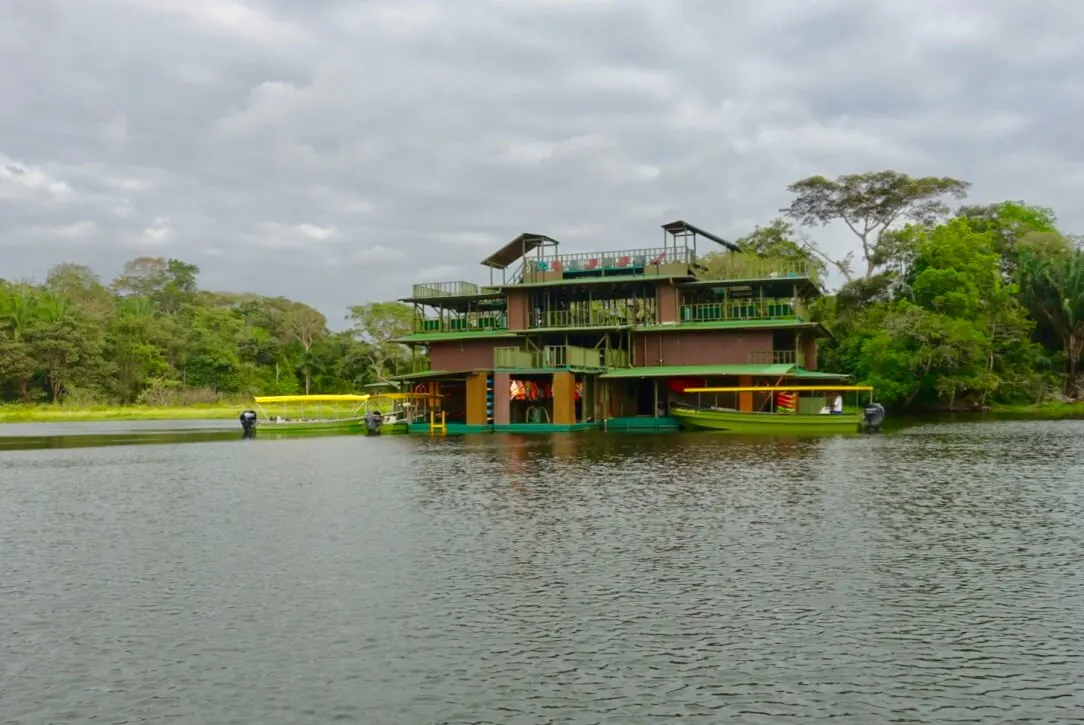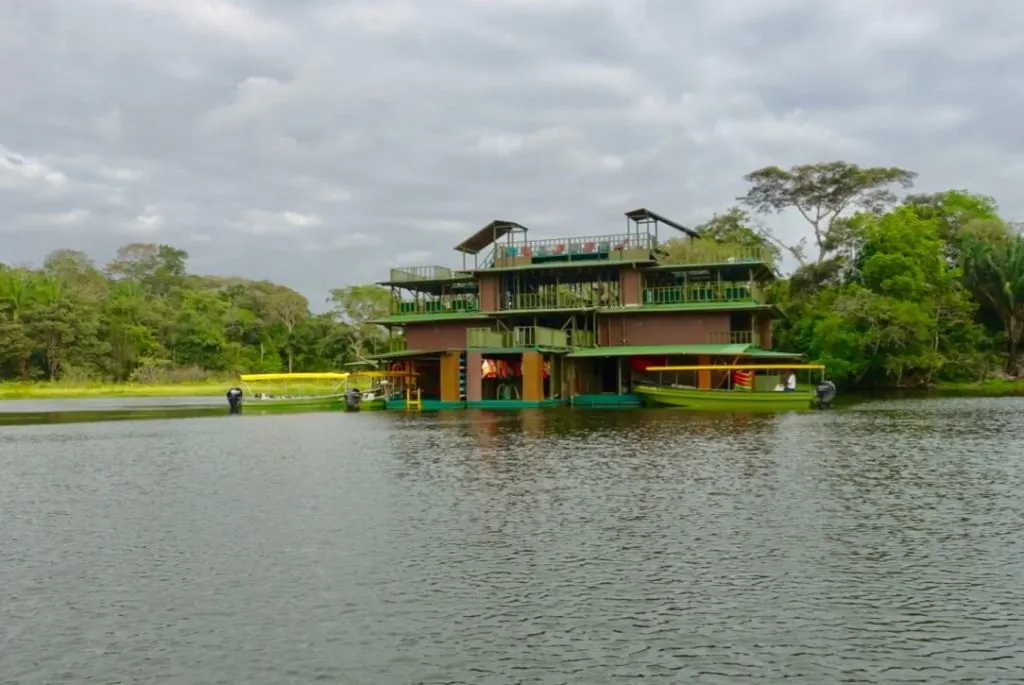 There are only six rooms at the lodge and while there, three different guides are on staff to help you enjoy the activities you choose such as swimming, kayaking, hiking, SUP, waterfall jumping, night safaris, and bird watching. The list goes on!
The lodge has tons of places to enjoy nature while still offering the amenities you'd expect at home. Rooms each have their own private balcony with a hammock and private bathroom making your stay more comfortable.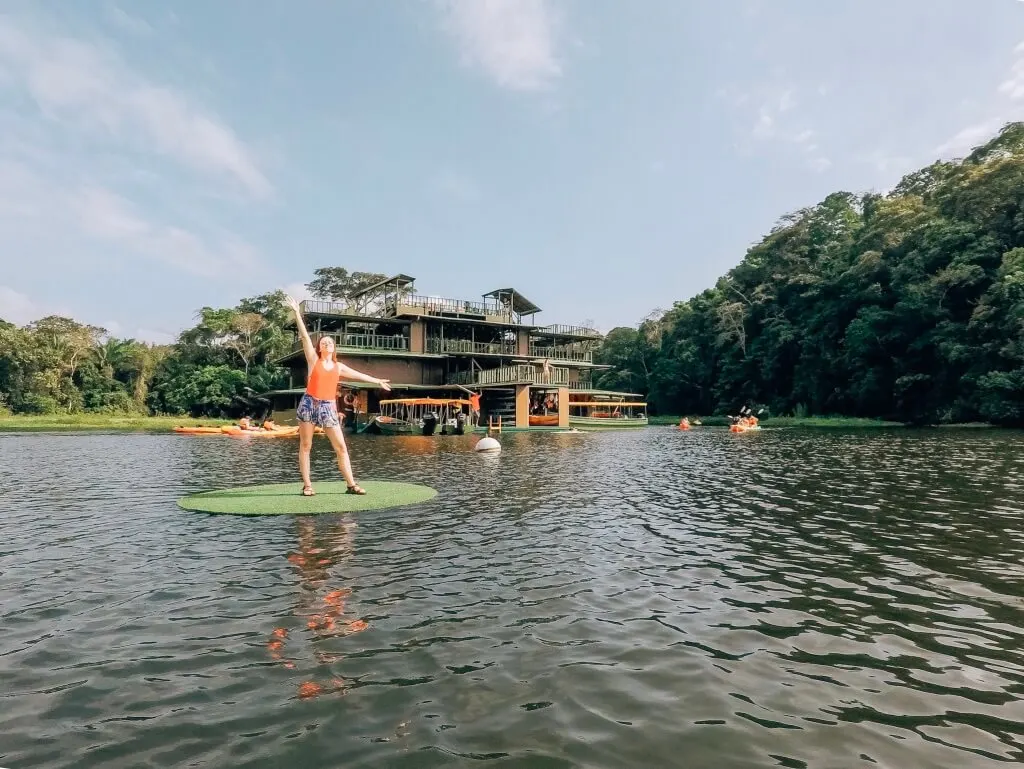 You have access to food and drinks anytime with their fully stocked bar and fridge available anytime. Sipping wine while you are watching the sunset as toucans fly past you in the evening and an alligator swims past the lodge is like nothing else.
The staff was so kind and helpful, making sure you are able to do as much as you want while still allowing for ample relaxation time.
This adventurous, fun lodge is truly a unique family vacation destination that you will remember forever. It was a highlight of our trip to Panama and it will be yours too.
Find prices and availability on the Floating Lodge here!
Olympic Lagoon – Cyprus
Our family trip to the Olympic Lagoon hotel in Ayia Napa, Cyprus was one of our most relaxing family vacations we've been on.
We've traveled a lot with our three year old but this was really the most refreshing trip. This family all inclusive resort took care of everything for us.
When we arrived at the hotel we were greeted with cold drinks, fruit and Cypriot treats and a mini bar stocked with water, juice and soda.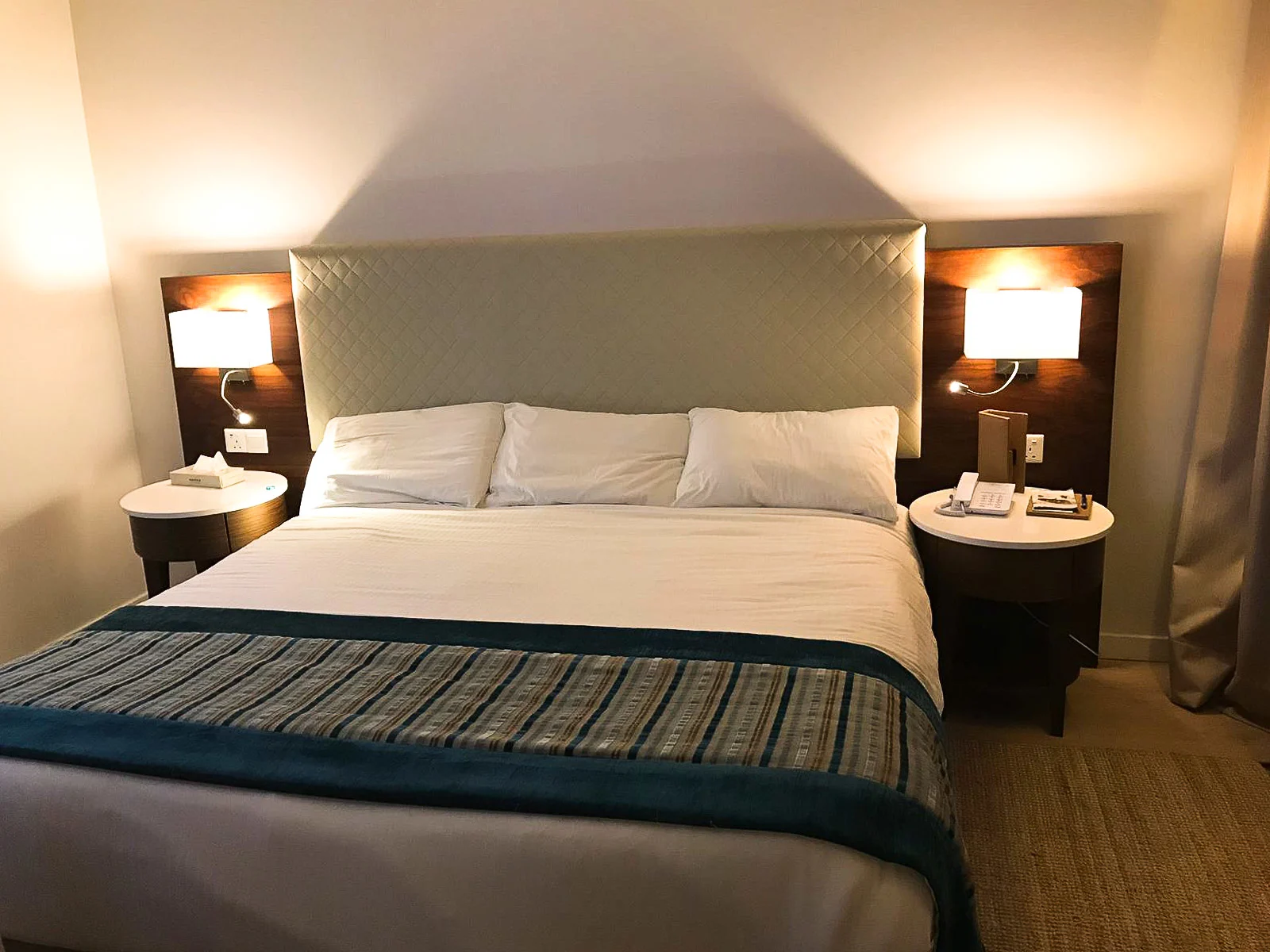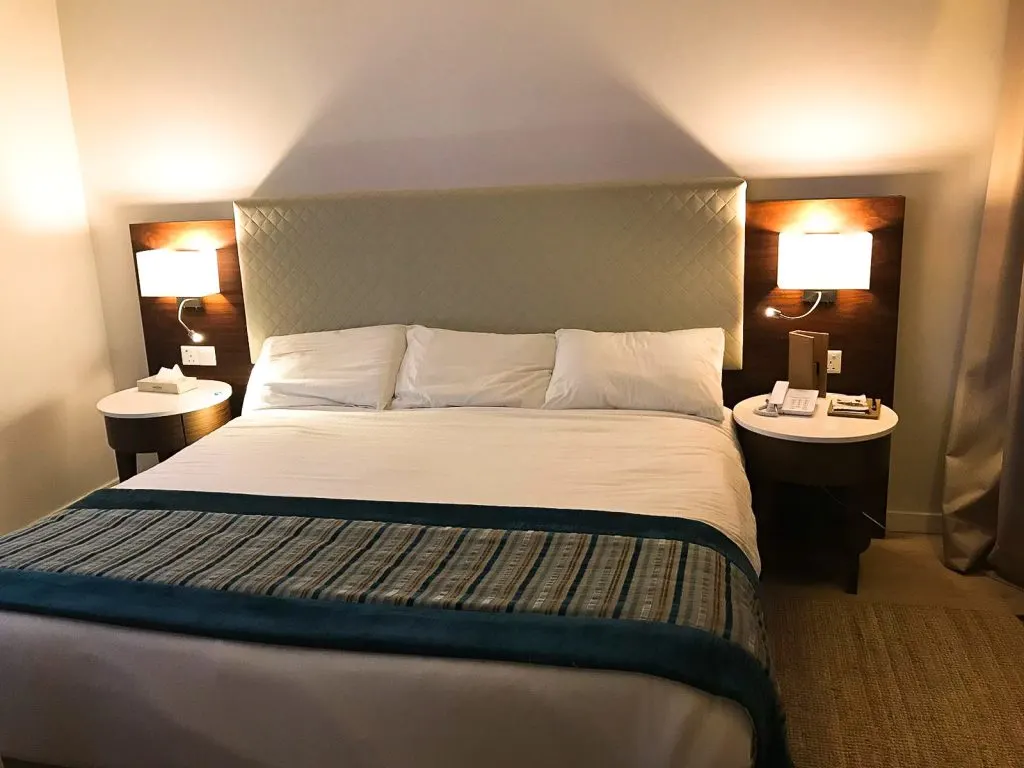 There is plenty to do in the area with stunning beaches and boat tours, water sports and more in the area, but we mainly spent our time in the resort.
Within the resort is a fabulous kid's pool that my daughter basically refused to leave. They also have a lazy river and two other pools.
With an awesome kid's club, we actually got to spend a bit of adult time without having to worry, as the kid's club gave us a pager in case we were needed.
My daughter loved the club and they have different groups and activities for kid's of all ages, up until teens. They also have fun movie nights for the kids, so the adults can head off and enjoy some evening alone time.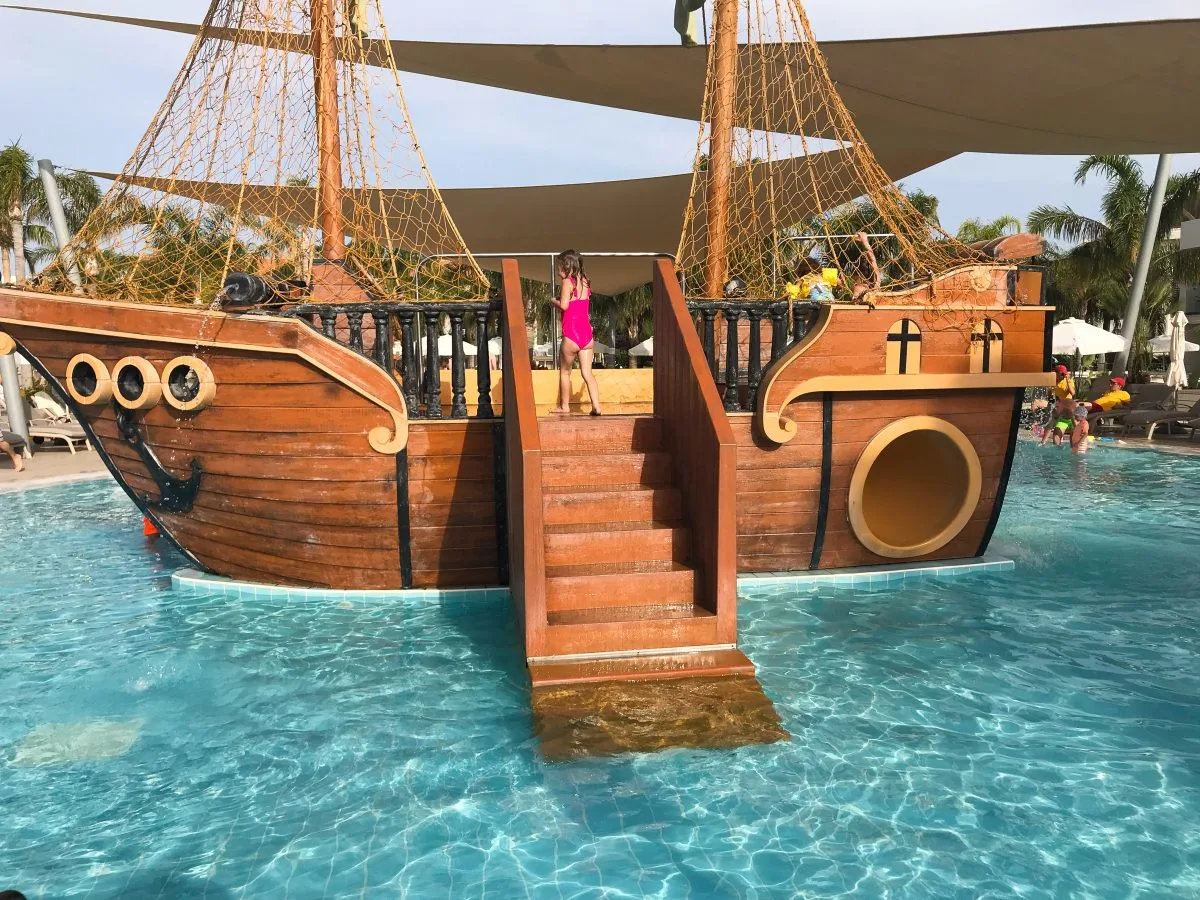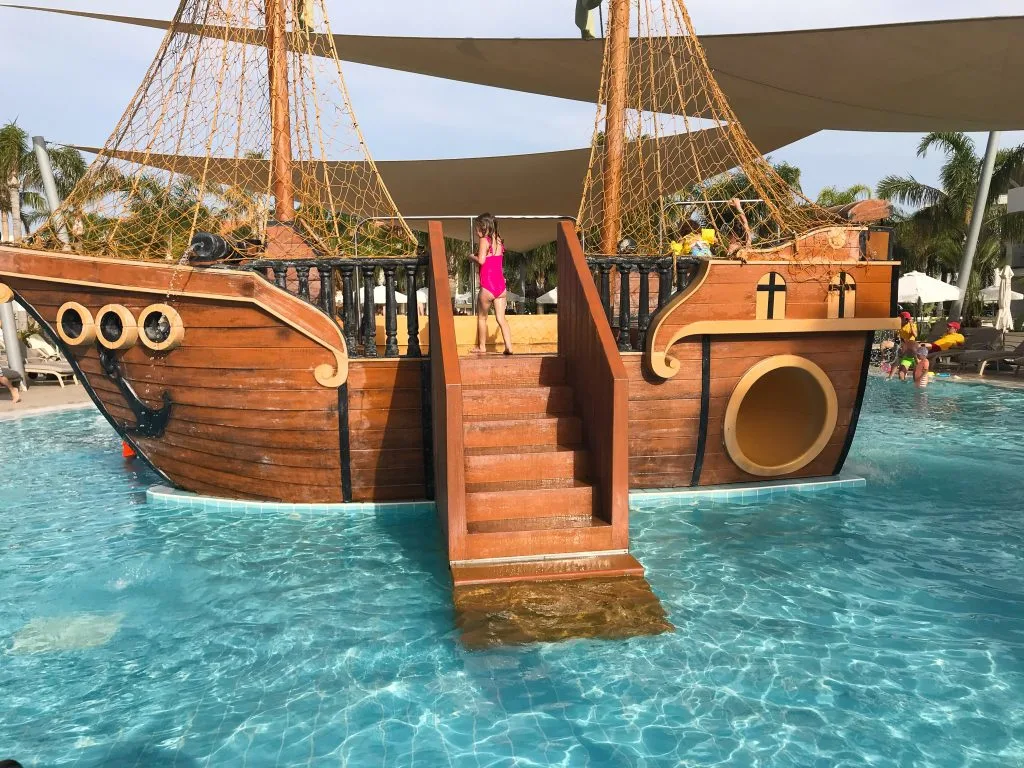 The food was great with 6 different themed restaurants to choose from. The staff also went out of their way to accommodate our vegan diet and make sure we had food to eat.
If you are hungry between meals, the snack shop and ice cream station and, of course the bar are open all day, and are part of your all inclusive package.
The snack shop was a real life saver for when we were starving but our daughter didn't want to head in for lunch. They call it a snack shop but it was stocked with lots of real food like pizza, sandwiches and more.
They also have shows every night of the week and live music in the bars, so you won't be getting bored any time soon!
If you'd like to read more about the Olympic Lagoon Resort, click here.
Globales Playa – Spain
Contributed by Get Out with Kids.
Our favorite all-inclusive family hotel is Globales Playa near Estepona in Spain. This hotel is super child friendly, with multiple all-inclusive buffets that have a huge variety of options to please even the fussiest of eaters.
And with free soft drinks available all day (as well as free beer, wine and sangria) both mum, dad, kids and anyone else in your family will love this kid-friendly all-inclusive resort!
The hotel also offers multiple locations to eat around the resort, and our favourite was the buffet on the beach front. Guests are required to reserve the night before; all nights are themed, such as Mexican, Italian… even Spanish!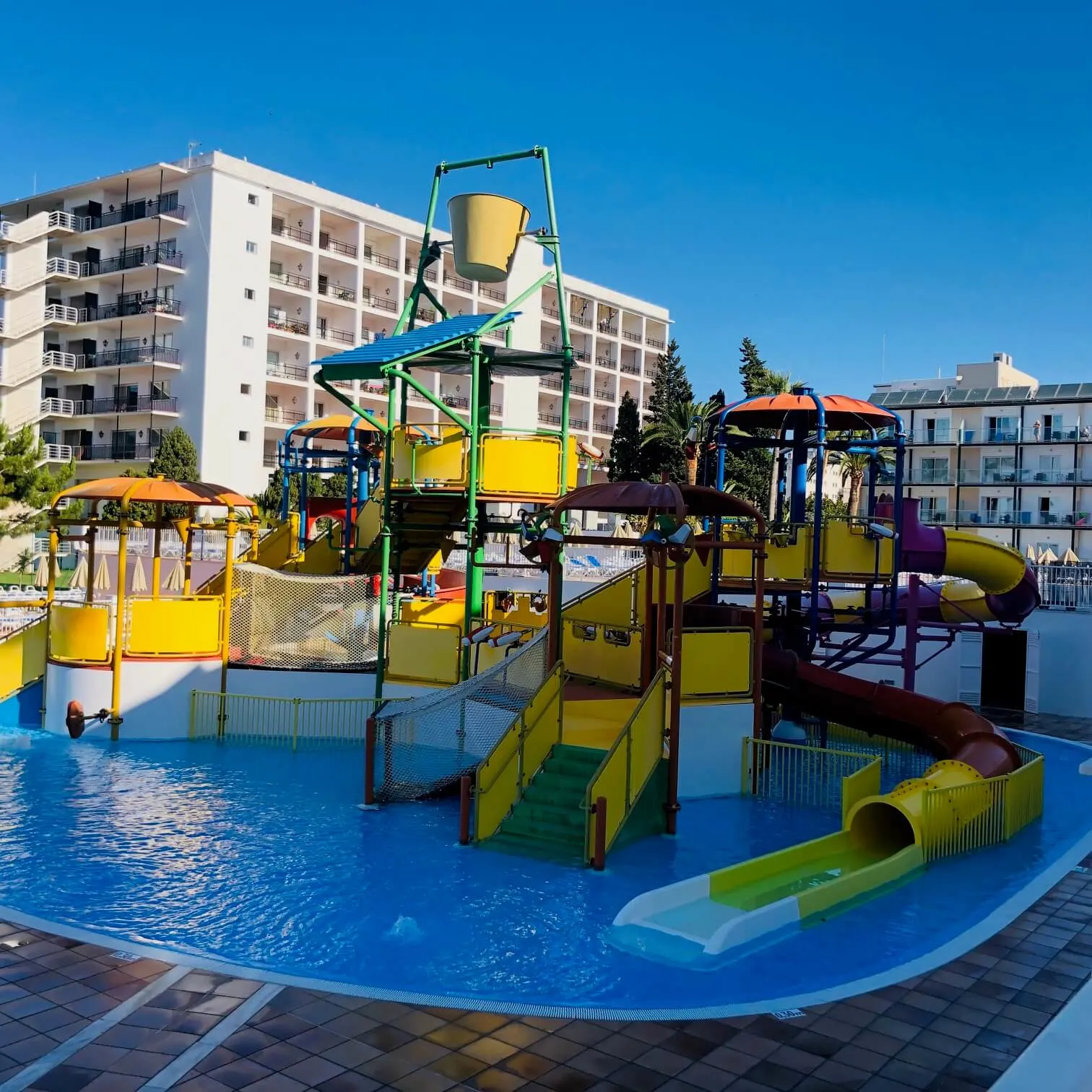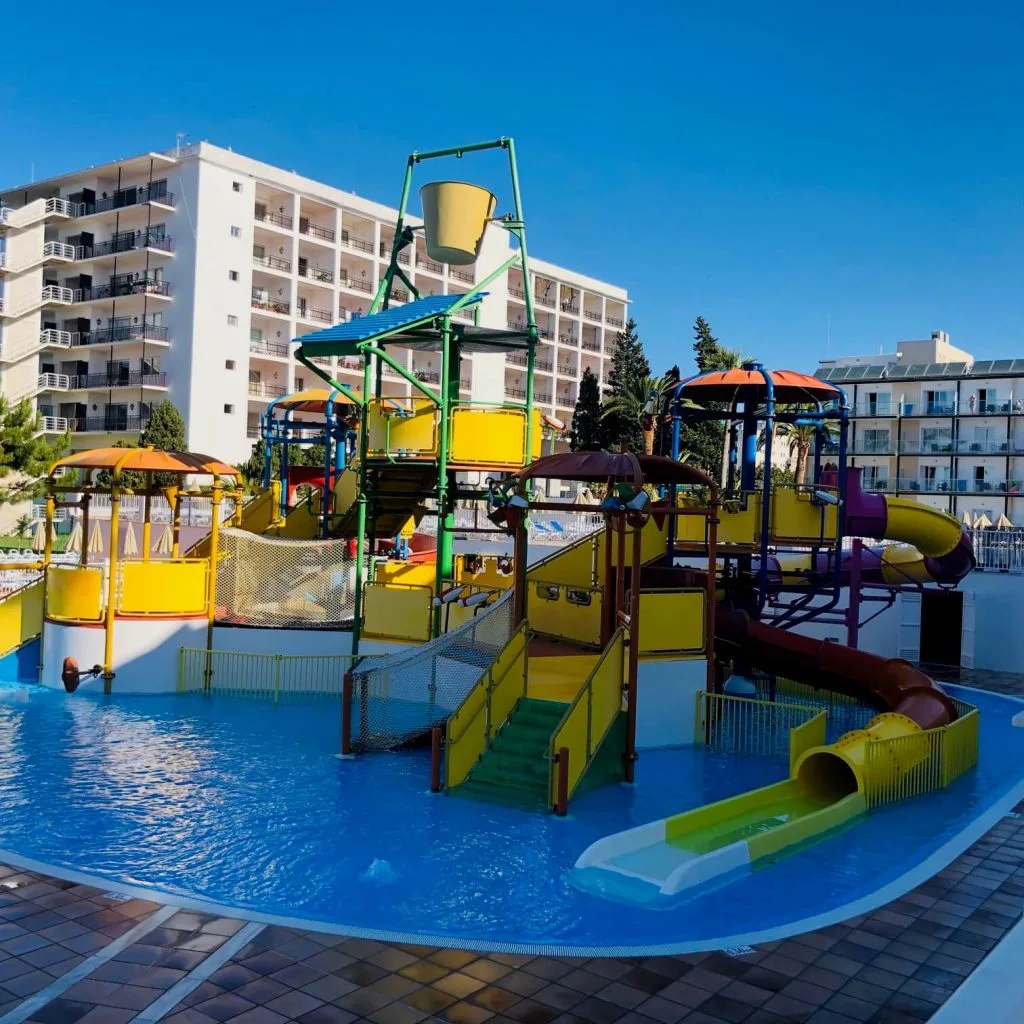 Whilst the all you can eat buffet is a huge draw at this resort, it really is the swimming opportunities that won our kids over.
The resort has multiple pools and swimming opportunities across its huge grounds. Best of all it houses 7 huge waterslides and a fair few smaller slides for younger kids.
The hotel also has great entertainment suited to the whole family, including an arcade, kite surfing, mini football and more. The hotel has free Wi-Fi, and TV's in each room.
The accommodation options are great for families and couples, with many different room choices to suit your needs. All the rooms have safes to keep everything protected.
The bathroom is stocked full of amenities, with multiple sets of everything, for everyone in the family.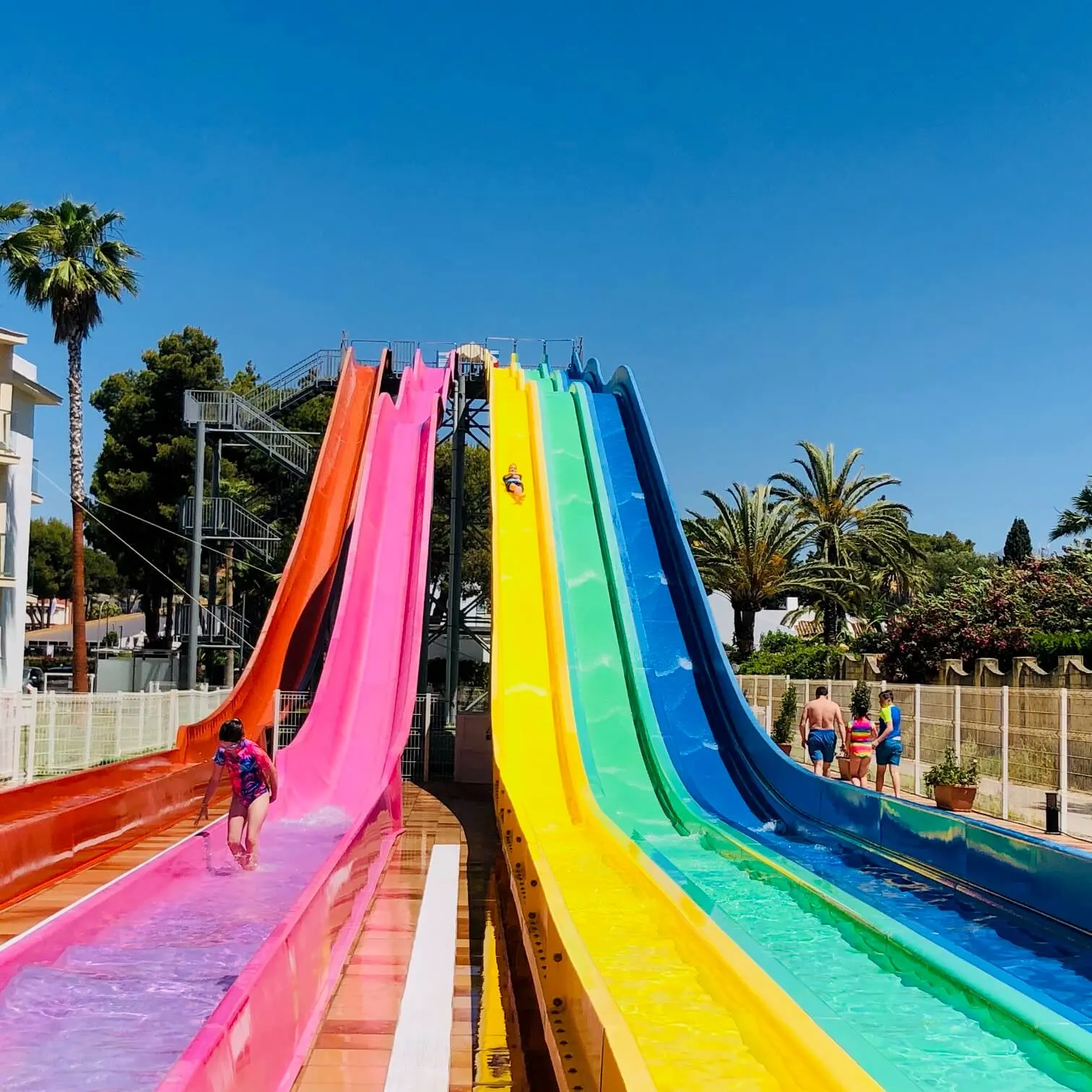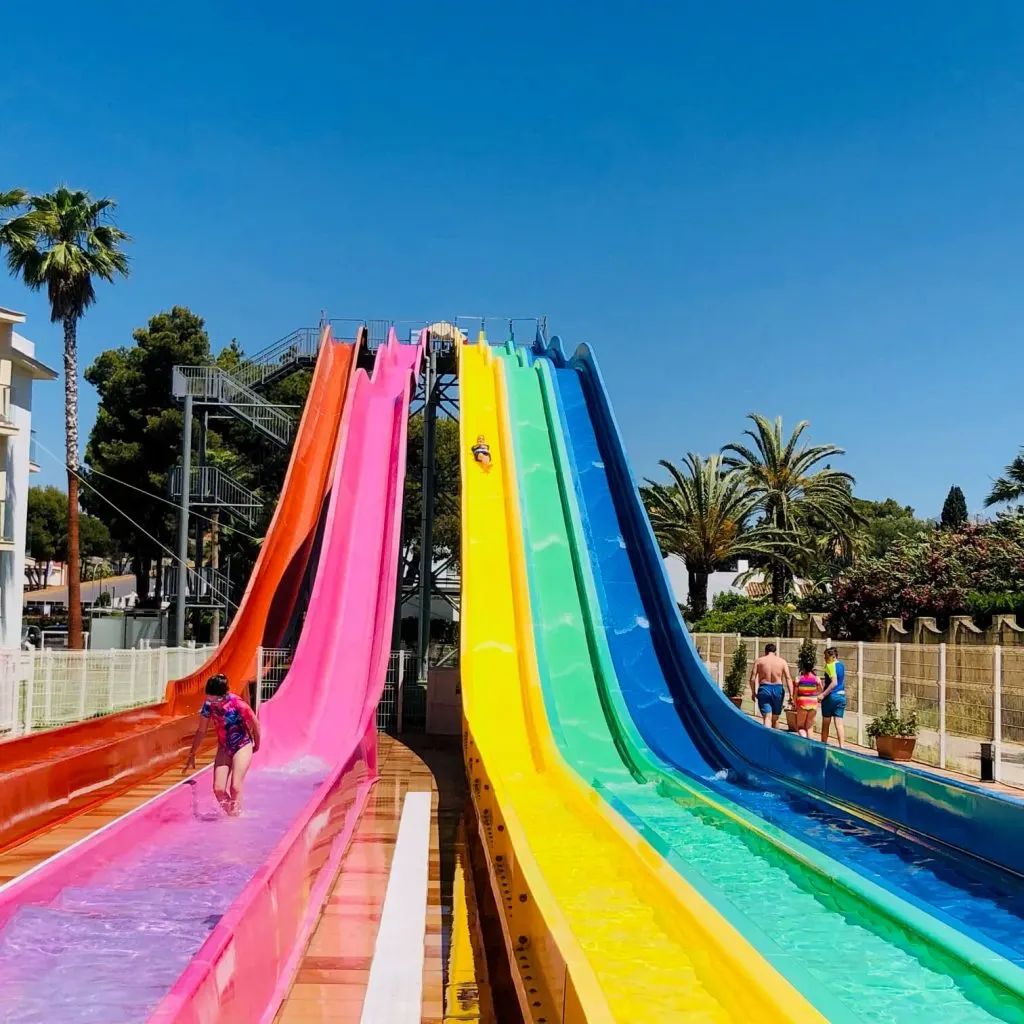 The hotel is around a 20-minute drive from the Estepona town centre, and a 40 minute drive from Malaga Costa Del Sol Airport. The hotel is walking distance from a public bus stop (Isdabe).
We did easy day trips to the beaches at Marbella and Estepona while we were staying at the resort. The bus costs approx. €3 each way and run every 15 minutes. If you plan on renting a car, click here to find the best prices.
We took an Uber from the airport (which was around €90!) so we took 2 buses back, which took around 2 hours but was much cheaper.
Find the best prices on the Globales Playa here.
Hotel Amarin – Croatia
Contributed by Pack More Into Life.
We've spent years traveling around the globe and have taken quite a few trips to all-inclusive family friendly resorts. We love being able to unpack and have a place where everyone in the family can have a great time!
One of those favorite kid friendly resorts was the Family Hotel Amarin in Croatia. Similar to a kinderhotel, it is all about fun for the whole family, including the smallest members of the family.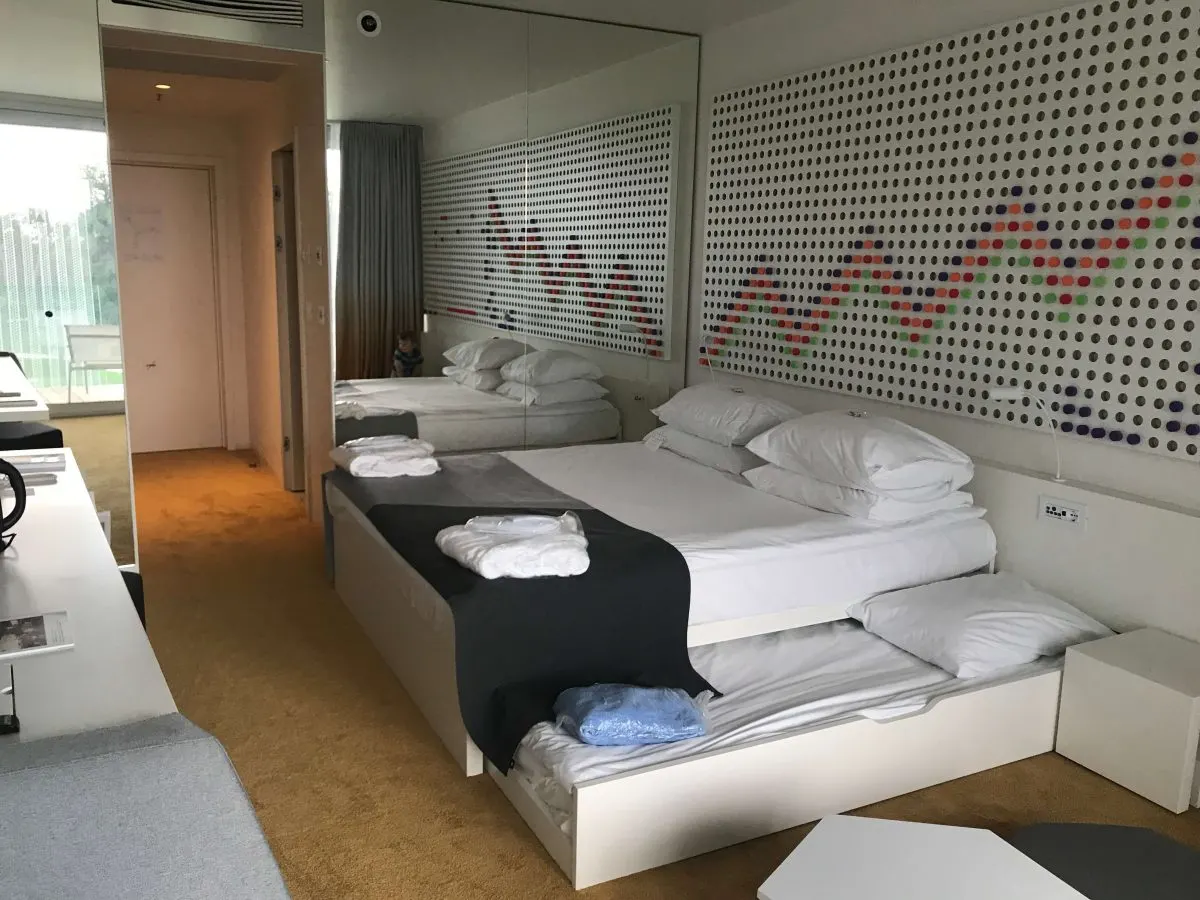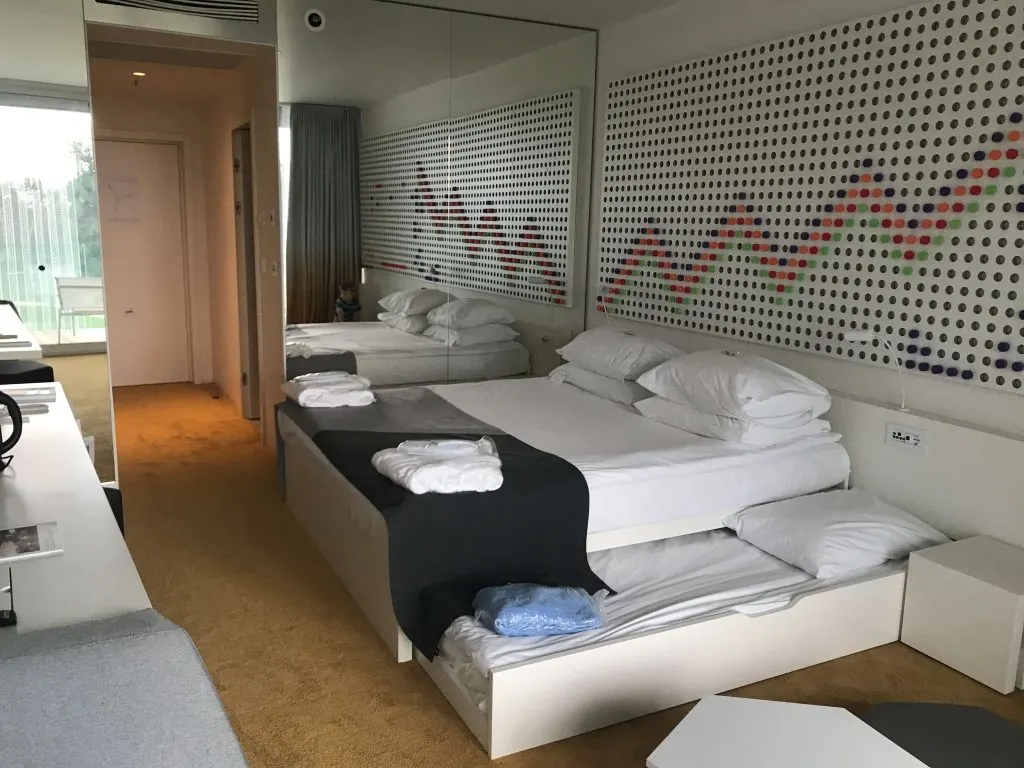 The price includes everything you could possibly need from amazing world-class buffets, with lower-level buffets for kids to make their own meal to baby food making stations where parents can make their own custom blend of food, have a bottle made or rice cereal at just the right temperature.
The restaurants include high chairs and booster seats close by for parents, as well as staff to help with anything you need.
The resort itself features multiple pools (indoor and outdoor) with slides, a lazy river, and water sprayers. A short walk away is the pebble beach with kayaks, paddle boats with slides and lounge chairs.
There is another restaurant and bar located near the beach so you don't have to get up when the little ones get hungry.
The outdoor area also features multiple playgrounds, trails to walk or ride bikes (free to borrow), musical instruments to play and grassy hills to run up and roll down.
Inside the resort, you'll find a full-service spa, heated indoor pool, large climbing structure in the lobby which provides hours of fun as well as a large childcare zone.
Childcare is included in the rate and you can use as much or as little as you'd like with multi-lingual staff. Children are checked in and out of the childcare fun club and are sorted by age.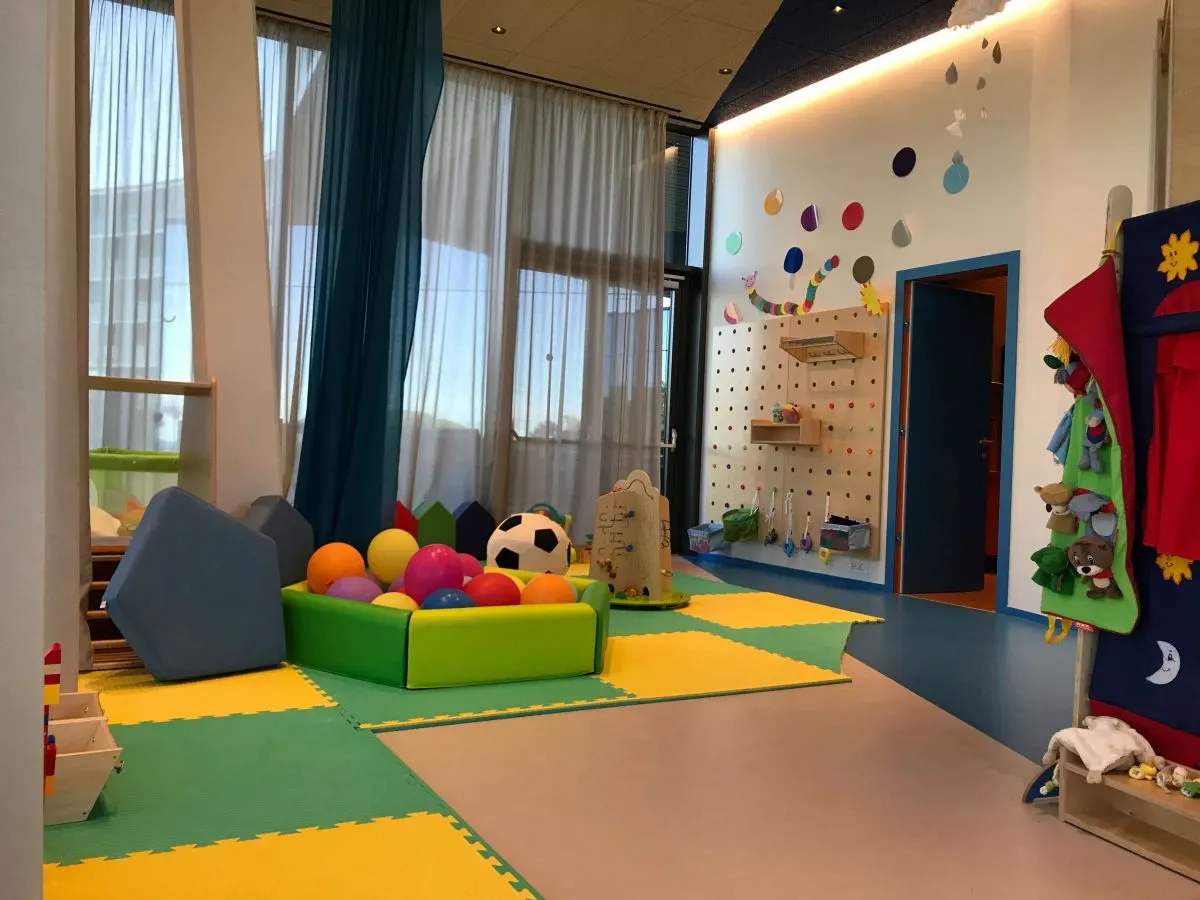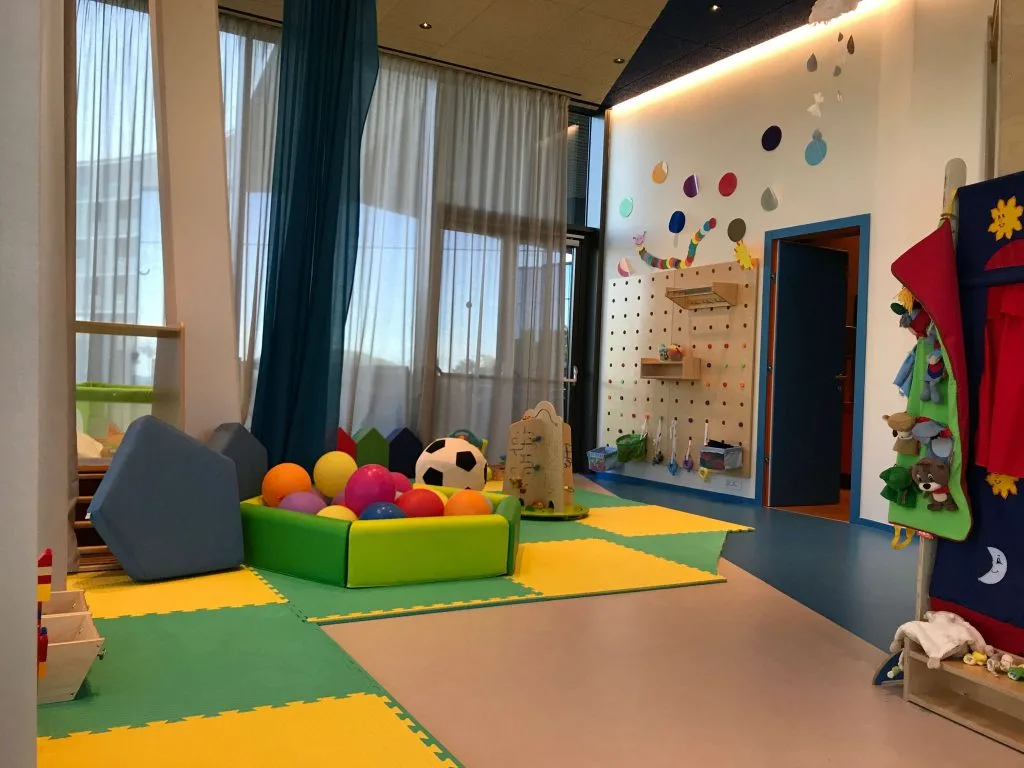 Each area features high-quality toys from makers like Haba, Hape, Plan and Lego. Caregivers tend to the children, play fun games, go outside in specialized areas and make sure the children are having as much as the adults.
Parents are welcome to drop off or stay and play with their children. The entire resort is designed to make sure families have a relaxing vacation.
There are plenty of activities for the children from the moment they wake up until they fall fast asleep on their cozy beds in the family suites.
Find the best prices on the Family Hotel Amarin here.
Vinpearl – Nha Trang, Vietnam
Contributed by The Broad Life.
There is the all inclusive Vinpearl Land Resort located on Hon Tre, one of the biggest islands at Nha Trang, Vietnam. Visitors have to come to the island by cable car, or speedboat.
Then they can see the whole resort and hotel are designed ingeniously following the indigenous Indochina and Cham tribe style, which will impress even the most fastidious person. Visitors can choose from various options of rooms at the hotel, or villas with 1, 2, 3, or 4 rooms.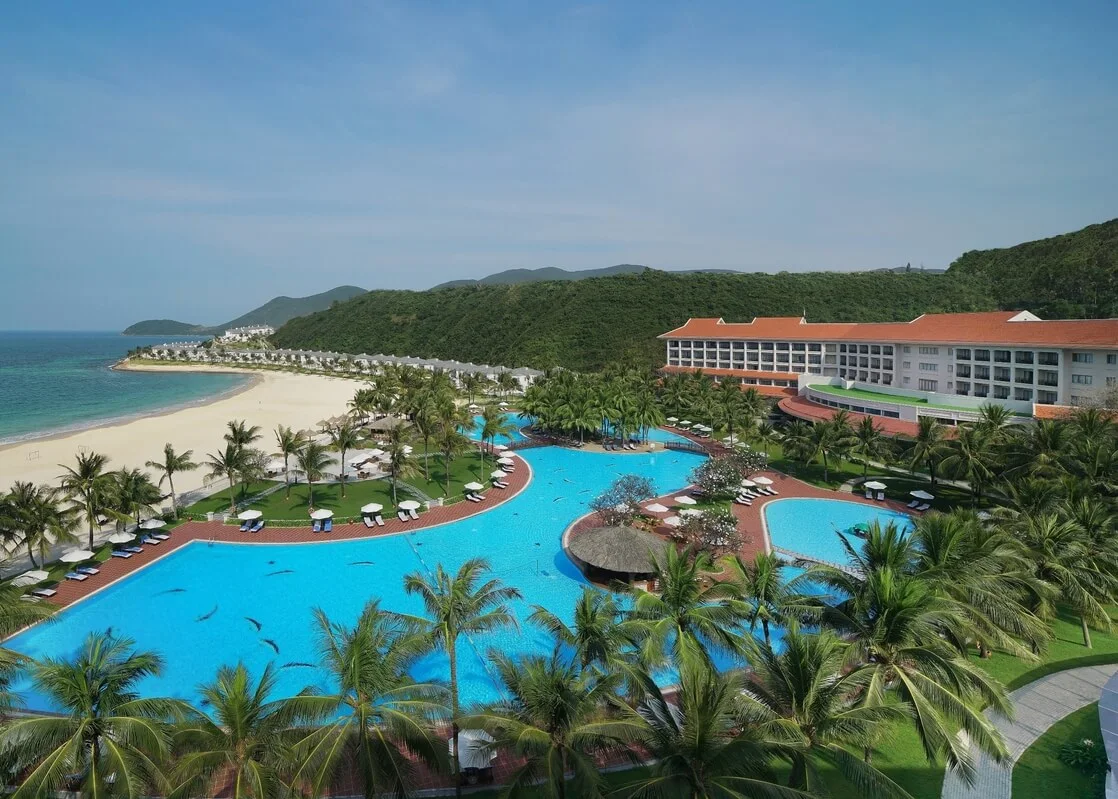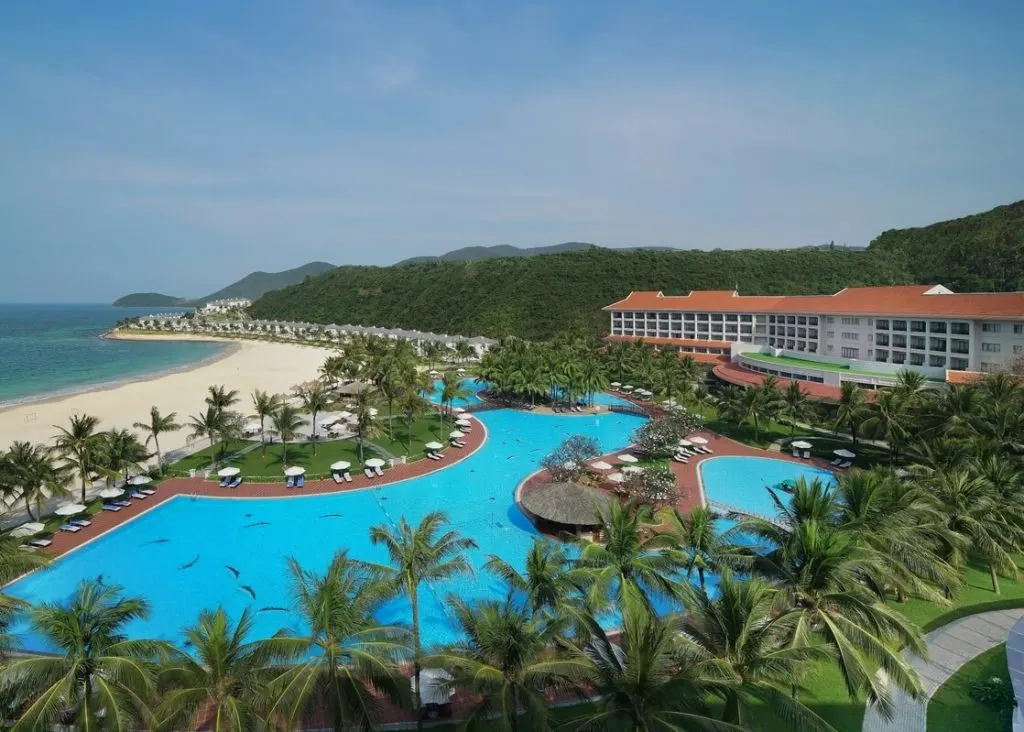 As a part of the whole Vinpearl Land, there is plenty to do including a very big playground, a waterpark, an aquarium, and plenty of beautiful beaches. The place is the best choice for family with different suitable activities for any ages.
They also have a modern system of aquarium built on a 3,400 square meters area, consisting over 300 marine life species imported from different countries in the world. There is no kid that won't be amazed by this enormous fish tank.
Besides that, they have thrilling games, ferris wheel, 4D movie at the playgrounds, and the family can, of course, enjoy the beaches with white sand, and the cool wind of the middle Vietnam. Don't forget they also have gym, spa, and Ocean hill for any needs of family activities.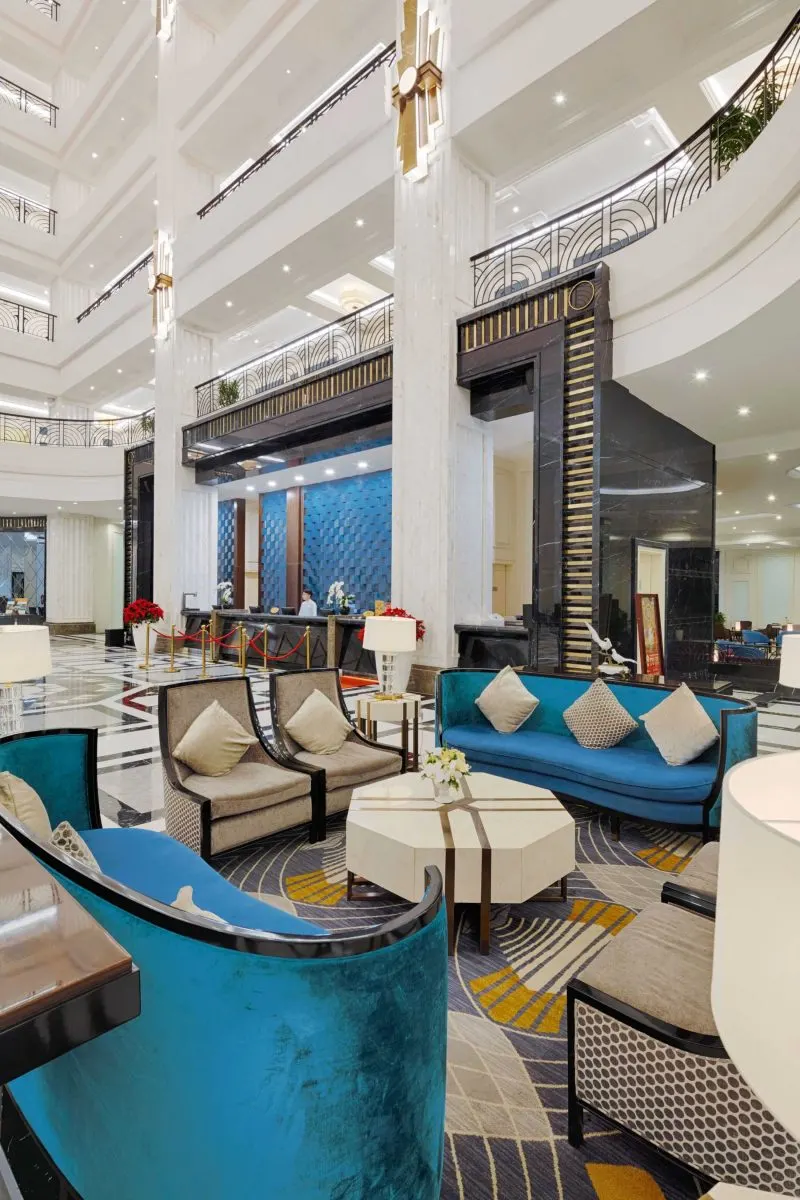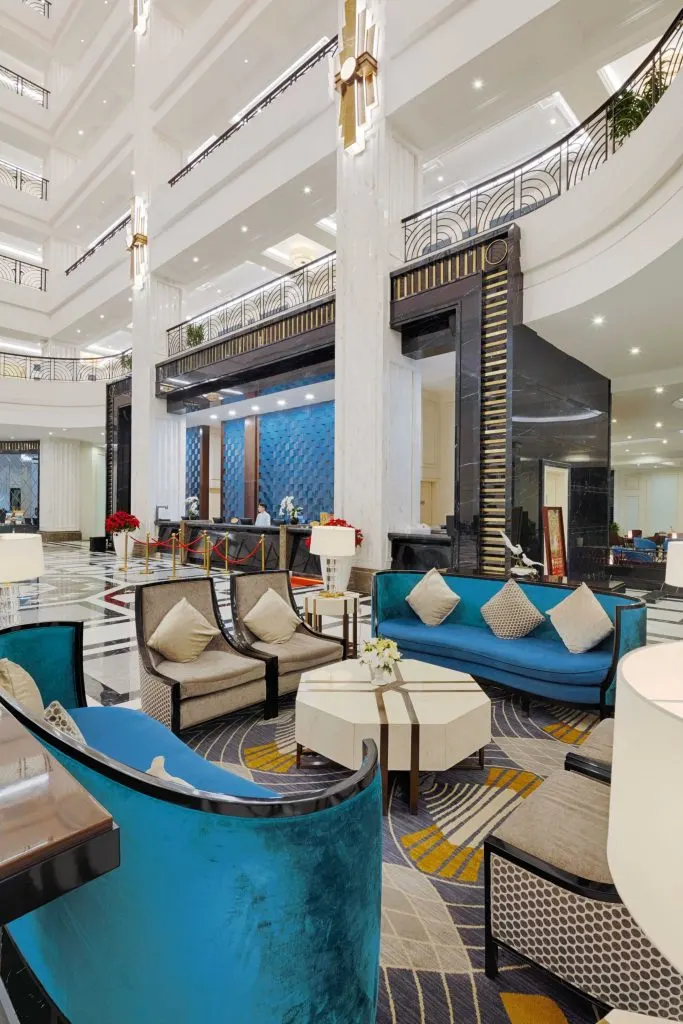 The food is another attractive part of the place with 8 restaurants and bars within the area, serving delicious dishes to everyone.
Inside the resort visitors are served 3 times a day with all the freshest foods, but if you'd like to venture out, other restaurants in the areas around provide finest local Nha Trang cuisine.
All of those are served at the best flavor, made from the freshest materials of the country. They even have some of the best seafood. Additionally, there are foods from different cuisines such as Chinese, Western ones to fit everyone taste.
Find the best prices on the Vinpearl Resort here.
Ready to book your trip? Find the best prices on flights, hotels, travel insurance, and rental cars!
You May Also Like: