I have lived in London for 16 years now and The Cotswolds was one of those places that was always high on my list of places to visit. Typically, I hadn't got around to it until recently, and, wow, there are so many things to do in The Cotswolds with kids.
With stunning preserved medieval villages and beautiful countryside, visiting The Cotswolds is the ultimate quintessentially British experience. Some of the towns reminded me of the Peak District!
The Cotswolds is an area in the South West of England that stretches across six counties between Stratford Upon Avon and Bath.
Rushing rivers pass through typical stone villages, each surrounded with rolling green hills and farmland. Each village is nestled amongst nature and no place is short of things to do for young families. Country pubs with burning fires and great tea rooms too, it is such a cosy experience in the winter and equally as lovely in the summer.
The Cotswolds thrives on tourism and as such there are tonnes of Cotswold family holidays. From cultural experiences, to more adventurous activities on the lakes in the warmer months, you'll always find something fun in The Cotswolds with kids.
We spent our time in The Cotswolds with kids doing some lovely walks, visiting the villages, especially the markets and hanging out at our really family friendly hotel.
It was such a great weekend and only a 2 hour drive from London, it's the perfect getaway any time of year. Here are a few things to do, places to stay / eat and so much more!!
Cotswolds With Kids
Things To Do In The Cotswolds For Families
Cotswolds Motoring Museum
Based in the Bourne on Water village, Cotswold Motoring museum allows you to step back in time and enjoy the sights, sounds and smells of the past years. It is crammed full of vintage and classic cars, vehicles, caravans, toys and memorabilia from the bygone years. It is even home to BBC TV's Brum! You may even recognise something from your childhood – that will make your own kids giggle!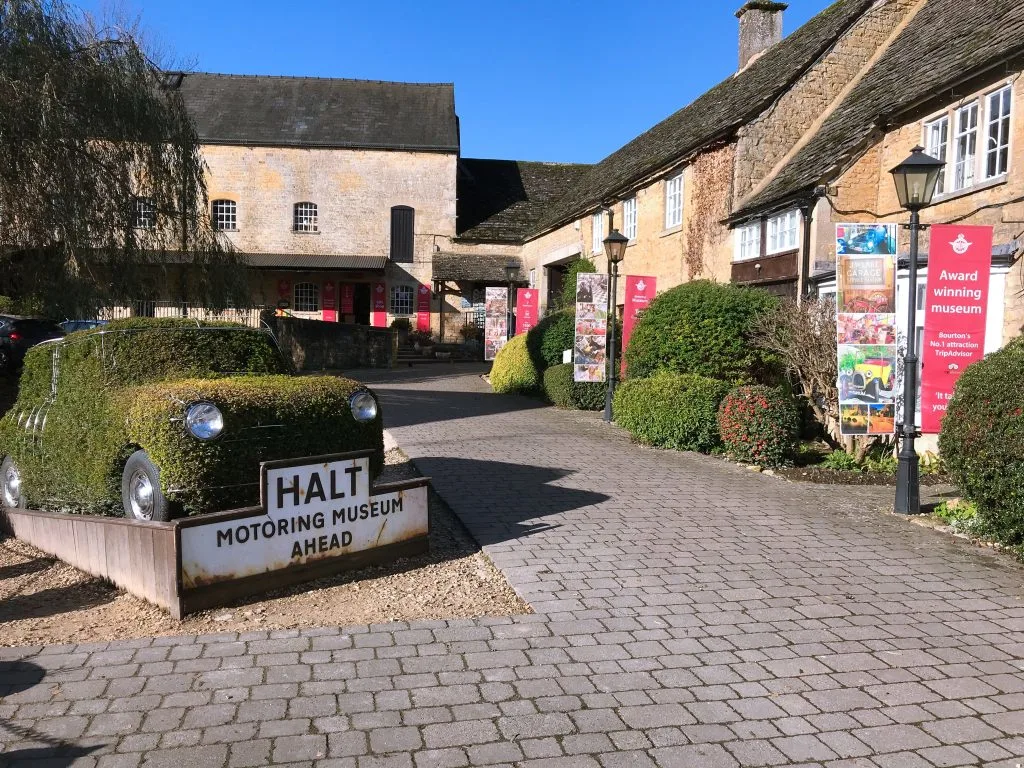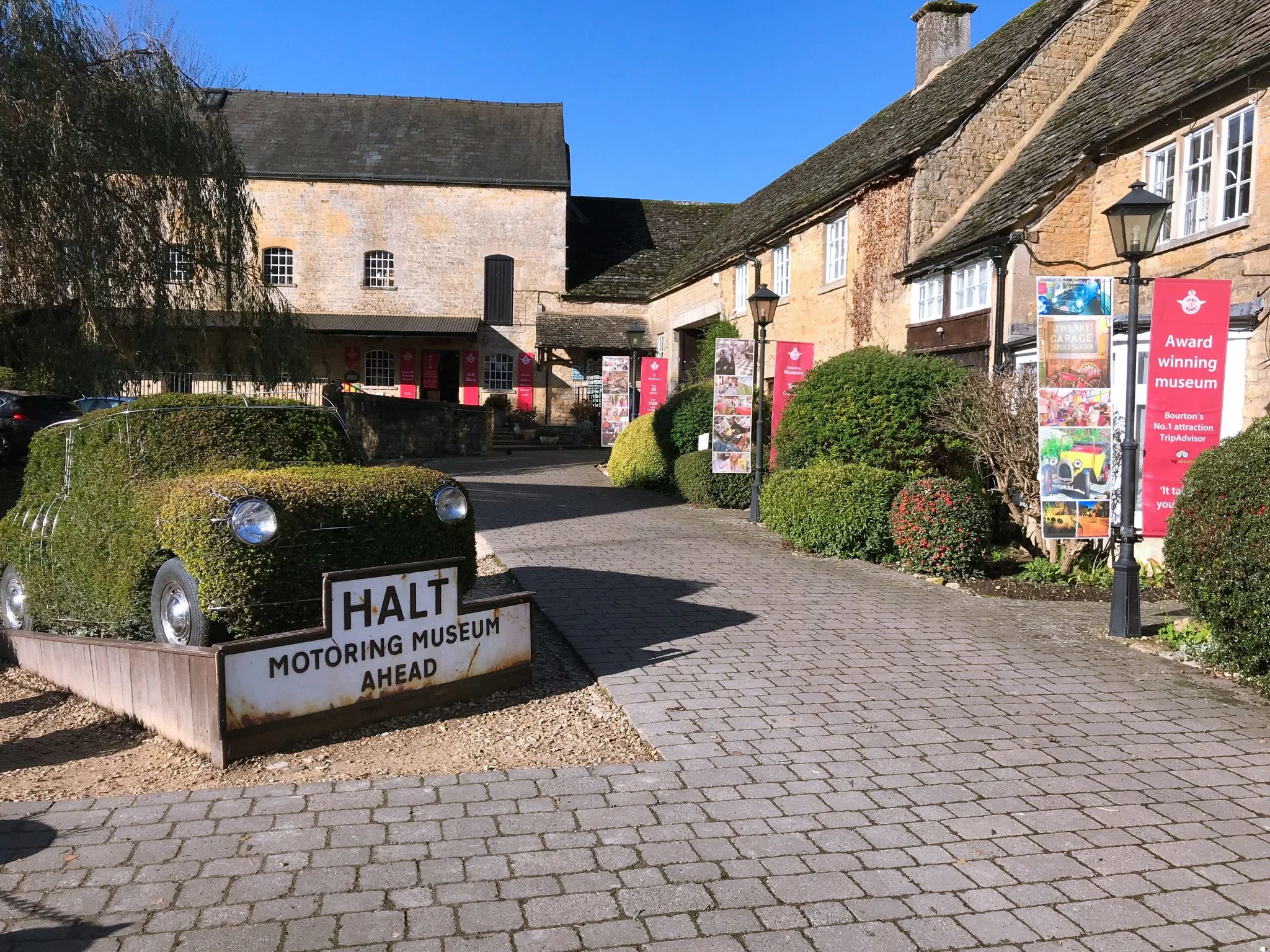 The Model Village is one-ninth scale replica of Bourton on the Water. It contains all of the beautiful buildings including the Old Water Mill which is now the Car Museum, down to the Old New Inn and the ford. The Motoring Museum is one of the many things to do in the Cotswolds with Kids.
The Model Village itself was created by a landlord from the Old New Inn and it took him 5 years to build. It officially opened to visitors back in 1937.
Birdland Park and Gardens
Birdland is more than just the title sounds. As well as a bird attraction, it is set in 9 acres of gardens and woodland with the beautiful River Wildrush winding its way through allowing some of the bird species to live in their natural habitat.
You may be surprised to hear, but within Birdland you will find Jurassic Journey – Your children travel back in time to the prehistoric era. Walk through the forbidden landscape, where you bump into life size dinosaurs hidden amongst the bushes and head into the Dino-Dig to uncover some buried fossils.
This was a real favourite when we visited the Cotswolds with kids.
Westonbirt Arboretum
Located near Tetbury in the Cotswolds, one of the best places to visit with kids is Westonbirt Arboretum.
There are two parts to Westonbirt Arboretum, the Old Wood and the New Wood. During different times of the year, both come alive with blossoms, flowers and leaves of different colours.
There are many trails through both woods and dogs are welcome in the New Wood (on a leash). Younger kids can also take bikes and scooters through the New Wood thanks to the paved paths in much of this area of the Arboretum.
There is a Gruffalo Trail to keep younger kids entertained. During autumn, Westonbirt come alive as the leaves change colour in preparation for winter. Watch out for beech tree, oak, the Japanese maples (or acers), and check the ground for acorns and horse chestnuts (conkers).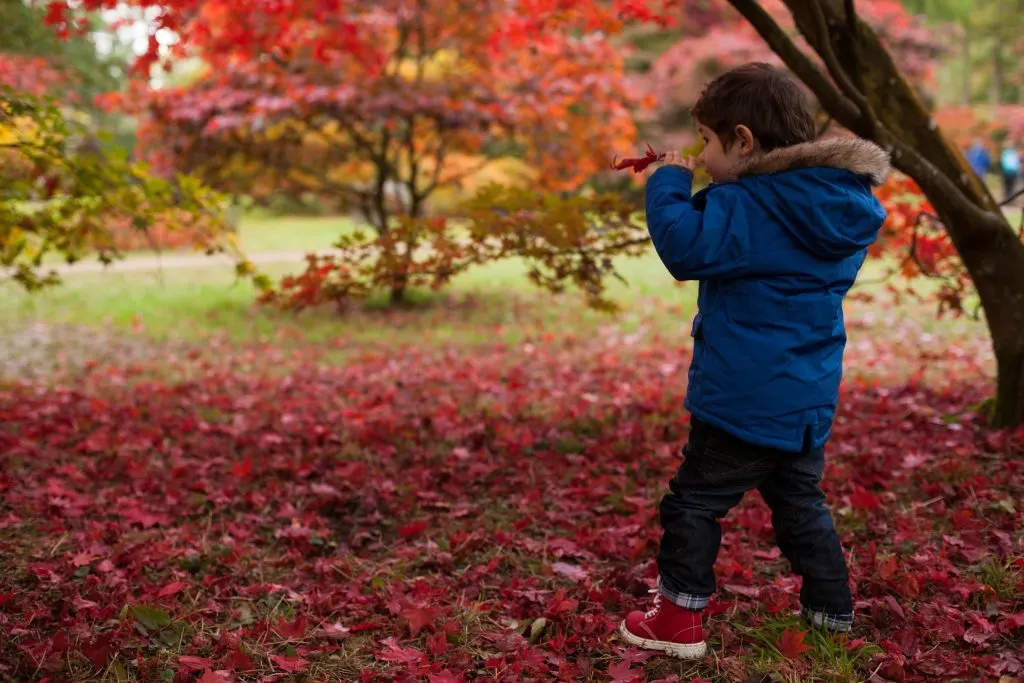 There are walking trails through both sections of Westonbirt, and a nature play trail in which children and their families are encouraged to build dens and play in the woods.
In the run up to Christmas, there is an Enchanted woodland illuminated trail in which fairies light up the trees and give you a chance to meet woodland creatures along the way. There is a Christmas village with arts and crafts stalls and some sell hot chocolate or mulled wine.
Blenheim Palace
Blenheim Palace is a Manor House, with over 300 years of British history and stunning grounds to explore, there is something for the whole family! There is so much for little ones, from the Marlborough Maze, which has to be the best maze I've ever come across, to the forest schools held on the grounds.
It's certainly a full day out, when considering the beautiful gardens, not to mention the miniature train ride that runs between the palace and the gardens every half an hour.
Blenheim Palace also has a buggy tour around the lakes, it's a guided tour with the history of the park and the views along the way are simply stunning.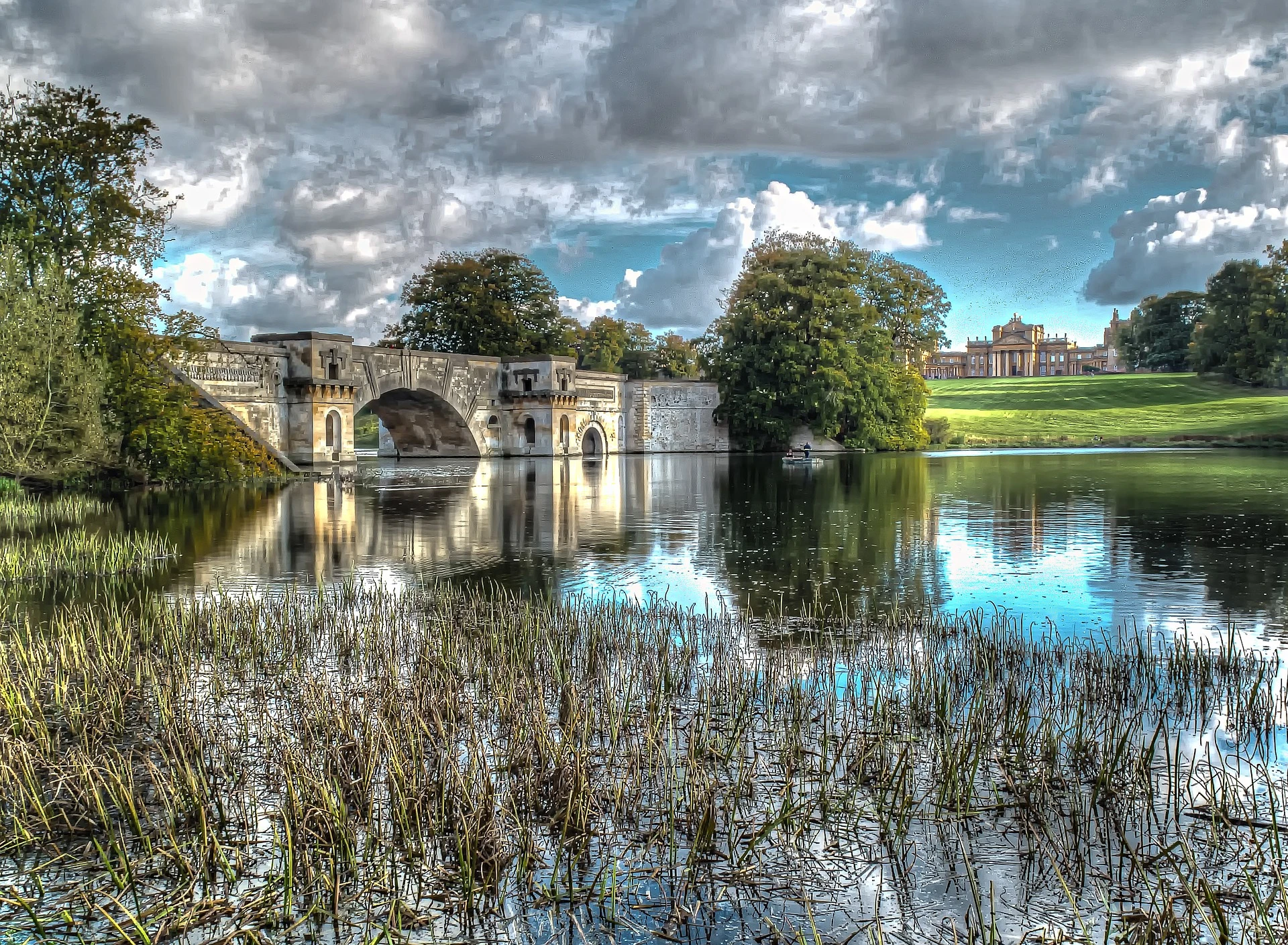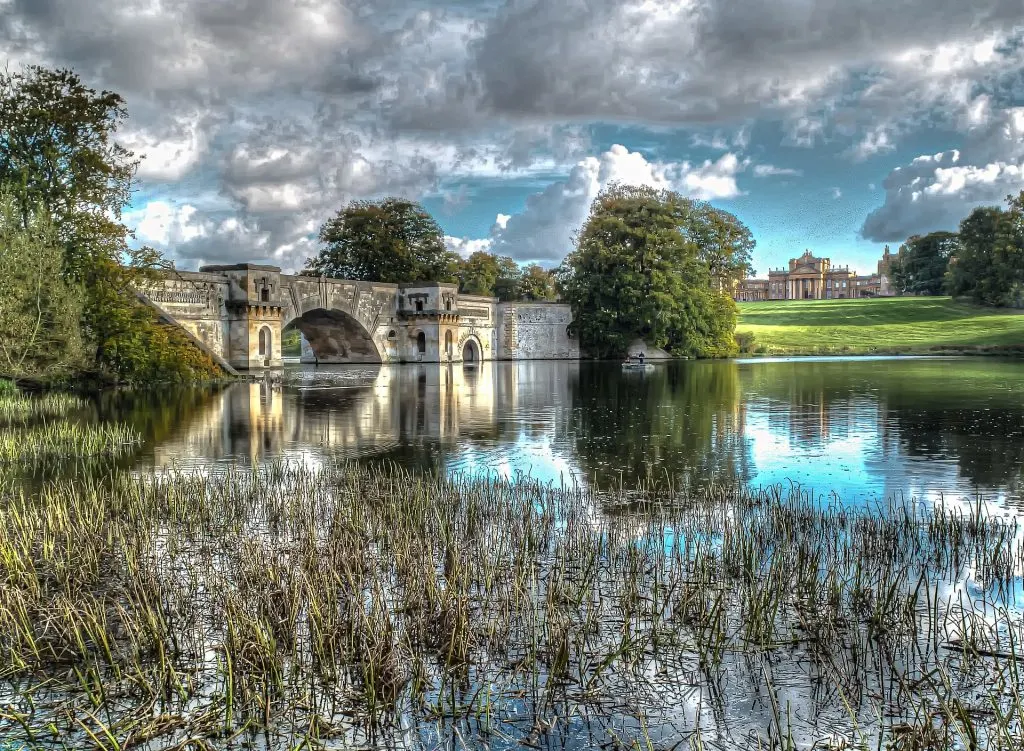 If that wasn't enough, there is an adventure playground for kids to enjoy and a butterfly house where they can get up close and personal with the mesmerising colourful species.
During the winter period, a visit to Blenheim Palace is quite different than the summer. They have Christmas markets and an illumination trail through their festive gardens. The stately home is transformed into an Alice in Wonderland fairy tale.
The Alice in Wonderland installation is essentially an indoor fantasy trail, perfect for rainy days, or when it's simply too cold to be outside. This area of England is very outdoors so it is a great indoor activitie for Cotswolds with kids. No cotswolds family holiday is complete without visiting Blenheim!
Click here for ticket deals to Blenheim Palace.
Woodchester Park National Trust
Woodchester Park is stunning woodlands complete with a country estate home, play trails and a boathouse on a lake. It's the perfect place to explore when it comes to things to do in The Cotswolds with kids.
The play trail takes about an hour and a half to walk and features rope swings, climbing frames, wobble beams, see-saws and so much more. Woodchester advise for little ones to wear wellies, as it gets muddy, even on sunny days.
Woodchester National Trust is home to some rare wildlife, one of Britains rarest bats has made the park its home! Not to mention a vast array of birds can be spotted as well.
Make sure to join the National Trust as a member for the best value on days out.
Corinium Museum
The Corinium Museum is in the heart of The Cotswolds infamous town, Cirencester. It is home to a wide collection of archaeology and rural history pieces. Whilst that may not be of interest to the younger ones, the museum always has a variety of events for kids.
From Wheres Wally trails, to book reading, and Christmas jumper trails over the festive period, you'll always find something on at the Corinium Museum for kids. It's definitely one to add to your list for things to do with kids Cirencester.
Cattle Country Adventure Park
The Cattle Country Adventure Farm Park is another great option when looking for things to do in the Cotswolds with Kids. They have something for all weather situations, from a splash pool in the summer, to indoor play for rainy days, you can visit whenever!
Cattle Country is such a fun places of the many family days out in Gloucestershire. There is also a beach barn with sand, not to mention trampolines, mini golf and climbing frames.
If that wasn't enough there is also an outdoor kids castle where they can go on tube slides, zip lines, cross bridges and walkway.
No matter the age of your child, there is an area specific for them at Country Castle Adventure Park. There is also an animal experience area where they can meet the residence of the park! It really has to be one of the best days out with the kids in Gloucestershire.
Cattle Country is probably the best thing to do in The Cotswolds with kids and toddlers especially, since there are so many age appropriate things for them to do at this fantastic park.
Fairytale Farm
Fairytale Farm is very close to Chipping North, another one of the great family days out Cotswolds style! There is literally something in every corner of The Cotswolds for children.
With 6 zones, comes 6 different experiences, including sensory walks and adventure play, making it one of the many popular Cotswolds children's attractions. There are so many different play areas at Fairytale Farm.
The sensory water play area is fabulous in the warmer months, some of the dryer activities include giant musical chimes, many activity panels, and a giant camera that will take your picture!
Cotswold Water Park
Cotswolds Waterpark is based on the edge of over 100 lakes all interconnected with rivers and walkways. It's the UK'S largest marl lake system. The best time to make the most of the waterpark is in the summer, however, there are also some stunning trails around the lakes in the colder months.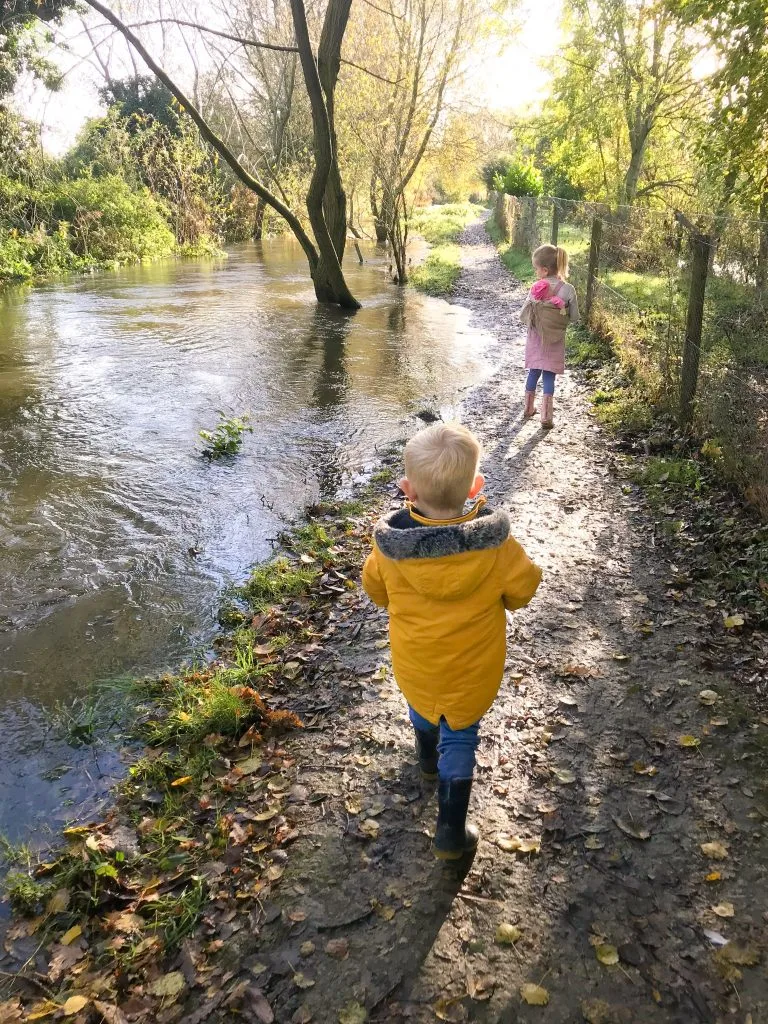 There are a tonne of activities at the waterpark, from golf, to paint balling, and aerial adventures to aqua adventures. The aqua adventures are obviously the most symbolic of the Waterpark, with a giant floating bouncy obstacle course for people to run across, it is a great place to visit in the Cotswolds with kids.
The waterpark is also a charity that works hard in terms of conservation and monitoring of wildlife. They have over 100 volunteers that assist with maintaining the area for people to enjoy whilst also preserving the wildlife. This is a great reason to visit and support the charity.
Family Friendly Hotels Cotswolds
Self Catering Apartment With Hotel Facilitles
De Vere Cotswolds Waterpark is based on the edge of the marl lake system. The hotel is surrounded by some spectacular natural beauty with the lakes and many trails. The hotel offers both standard hotel rooms and self catering apartments.
There are restaurants on site but we wanted to be able to cook ourselves. They have a really lovely indoor swimming pool within the spa onsite. It is open to families at certain times of the day making it one of the more child friendly hotels when visiting the Cotswolds with kids.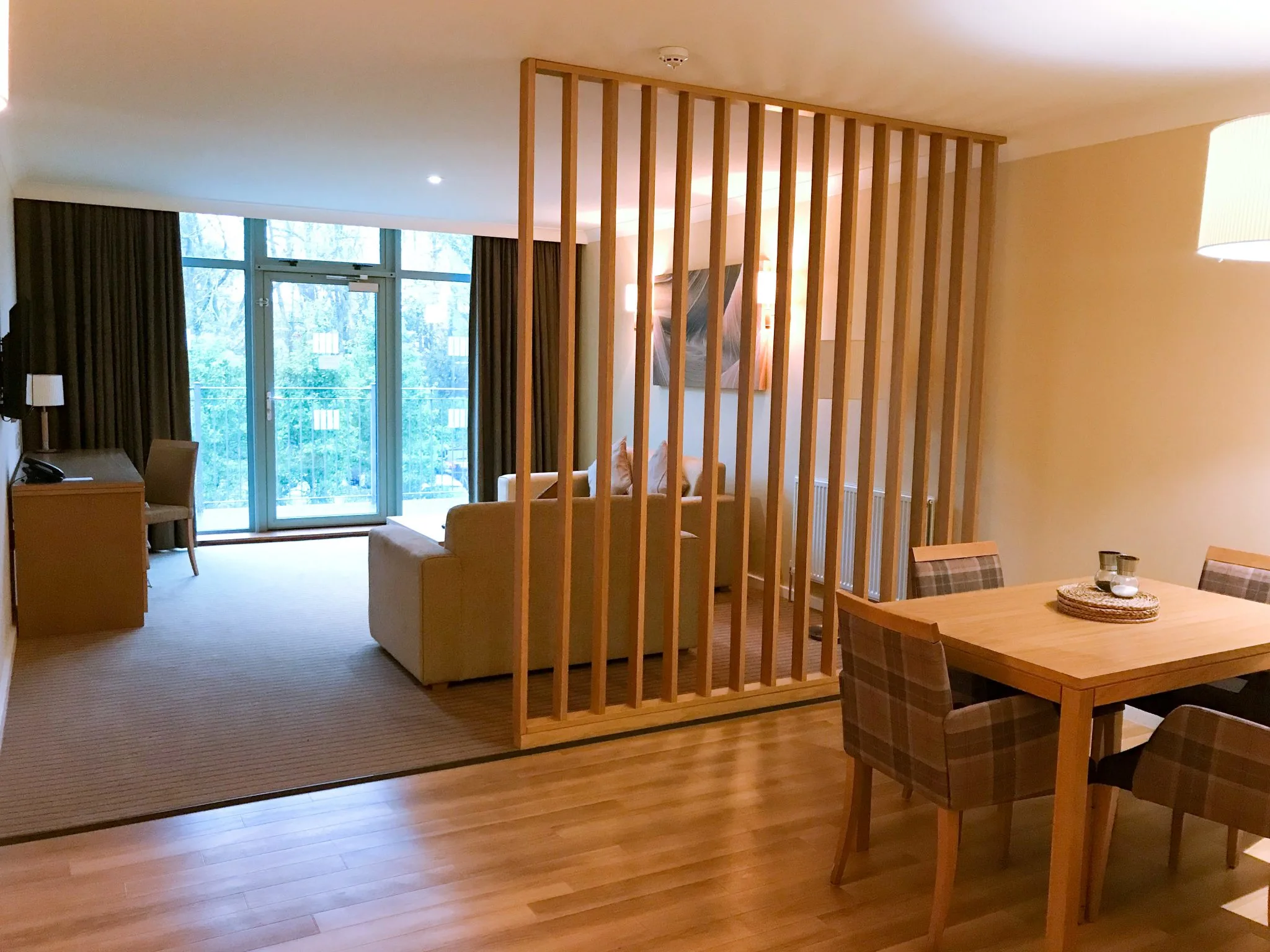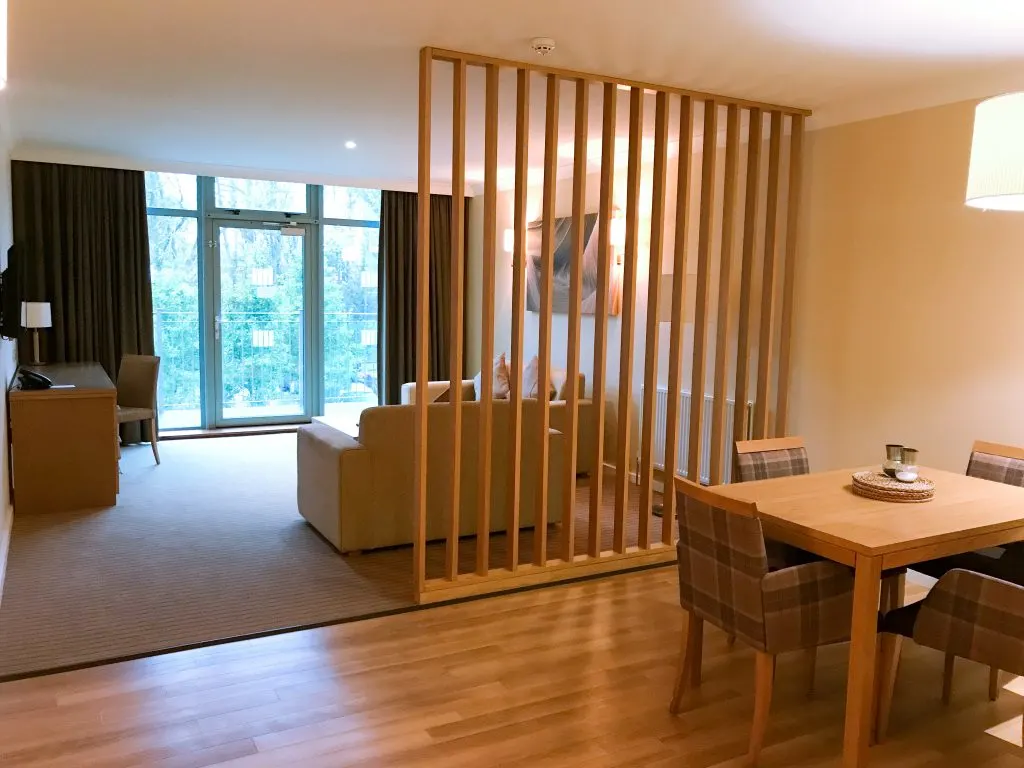 It's a really lovely hotel and was one of the few that had affordable availability when we decided to book a last minute trip during half term! Make sure to request a room with lake views if you decide to book!
For rates and availability at De Very Waterpark Cotswolds click here.
Luxury Family Hotels Cotswolds
Another amazing hotel option is Calcot Manor, closer to the village of Tetbury. Calcot Manor and Spa is every parents dream hotel! From the amazing swimming pool with special kids hours, to the evening listening service so the parents can have a chill dinner at the restaurant, this hotel is fully geared towards families.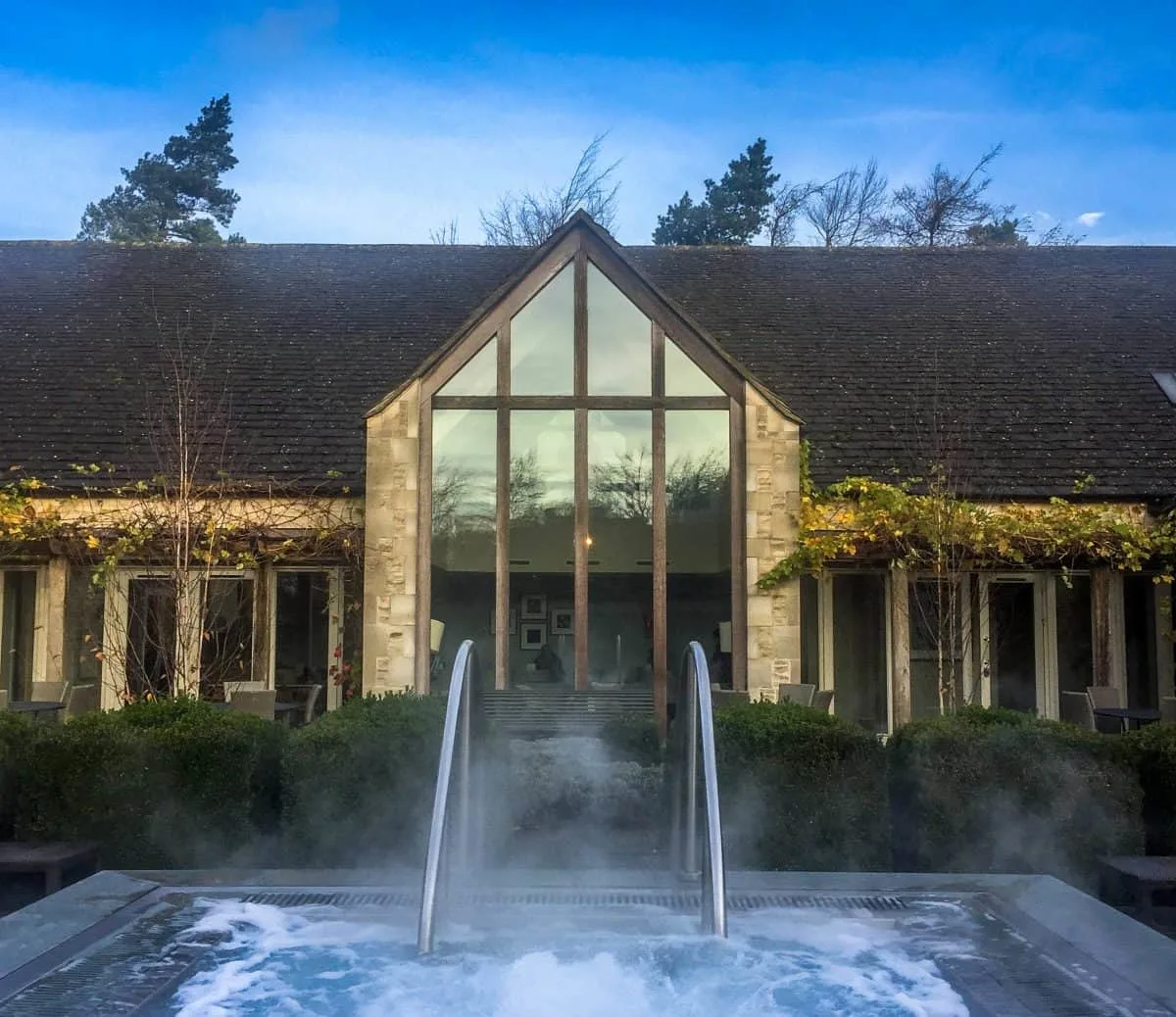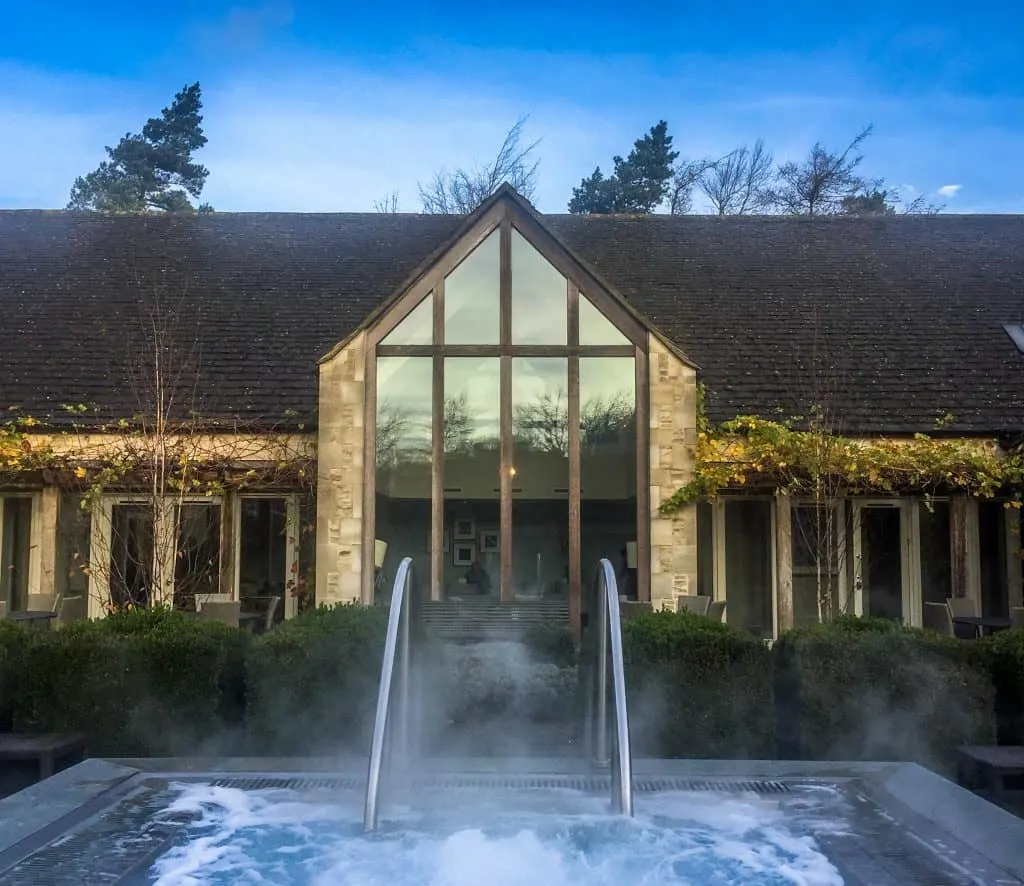 They have a creche onsite, fully equipped with child care and many toys for little ones to explore. Oh, and did I mention the special kids afternoon tea? It's an incredible hotel that caters for parents and children!
For a full review of Calcot Manor click here, or jump straight to checking prices here.
You can also check out Bruern Cottages where our friends of Twin Travels stayed.
Child Friendly Pubs Cotswolds
Cosy pubs are quite popular in The Cotswolds, especially in the winter. During the day, it's a place where people chill and have lunch, or an early dinner, and luckily there are a few that are family-friendly.
Our favourite was in Cirencester, it's called The Fleece and can't be missed due its distinct Tudor building. Inside there is plenty of space and actually some parts of it feel more like a restaurant than a pub.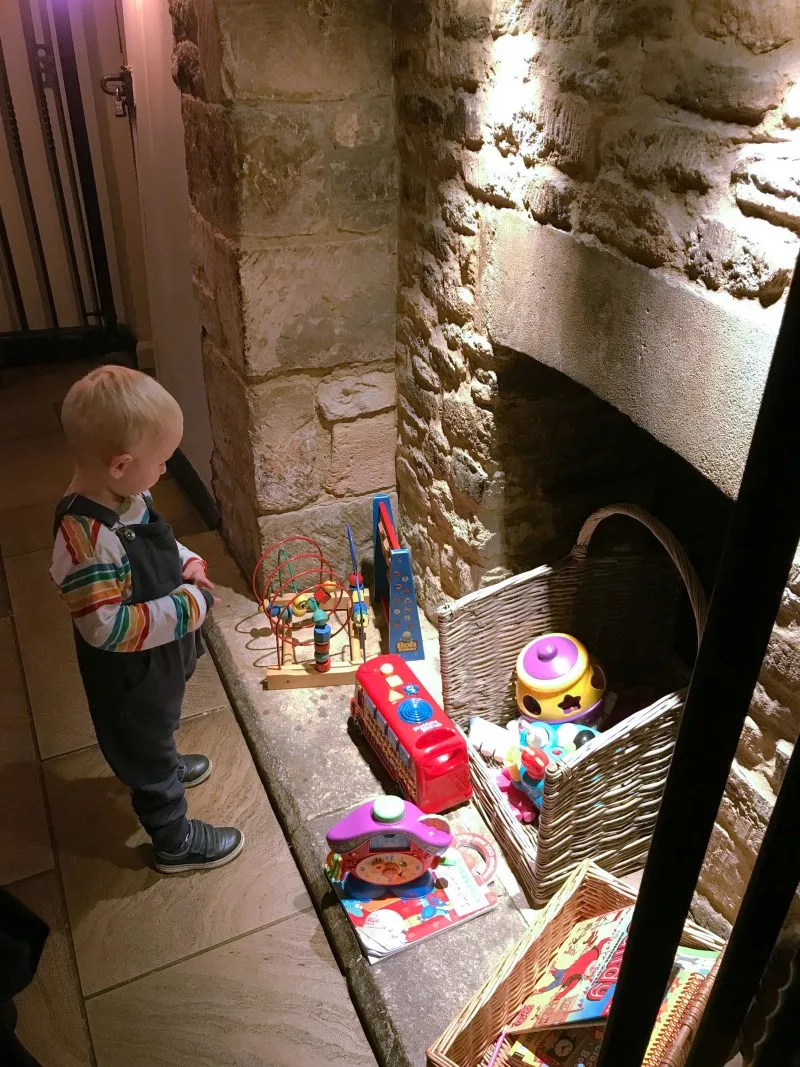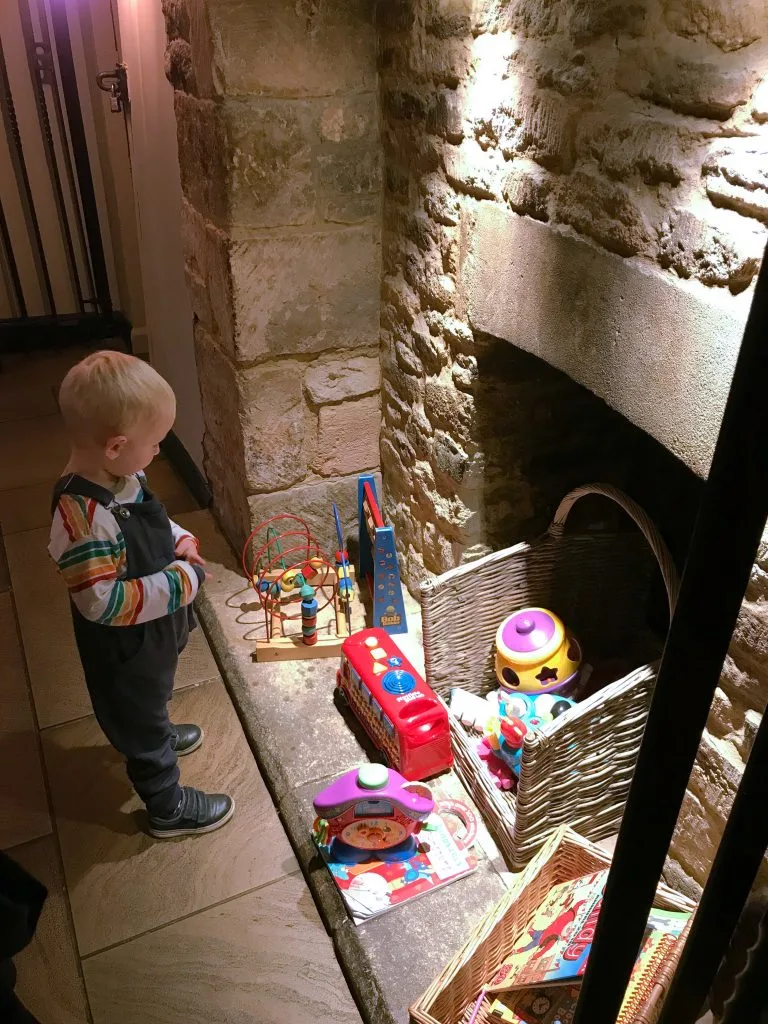 We loved the kids menu and the fact they had a selection of kids toys and books to keep the little ones entertained during lunch. When there are kids toys, you know you are more than welcome as a family!
It's those little things that go such a long was as a parent when you just want to have a chilled out bite to eat.
Bourne On The Water
Bourton on The Water, or otherwise known as The Venice of the Cotswolds has recently been voted as one of the prettiest villages in England, so you must put it on your list of places to visit whilst staying – it is beautiful all year round.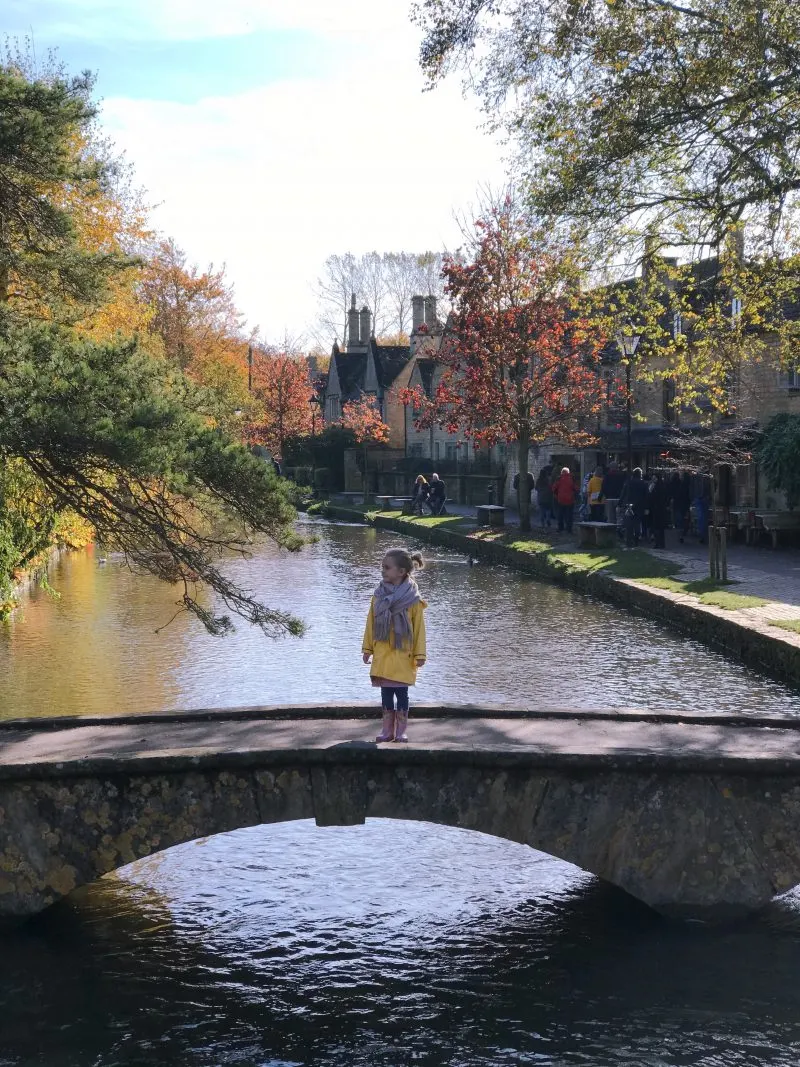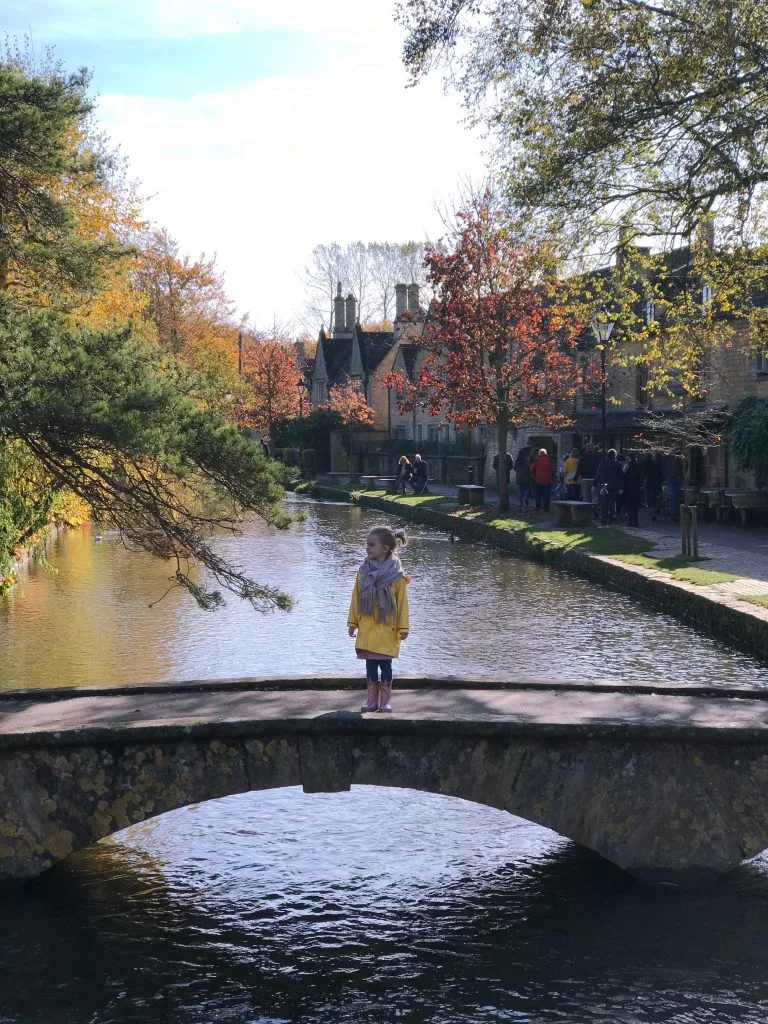 Bourton on the Water straddles the River Windrush which is a wide, shallow river which runs through the village. In the summer, families can be seen kicking of their shoes and playing endlessly in the water so remember to pack a change of clothes when you go!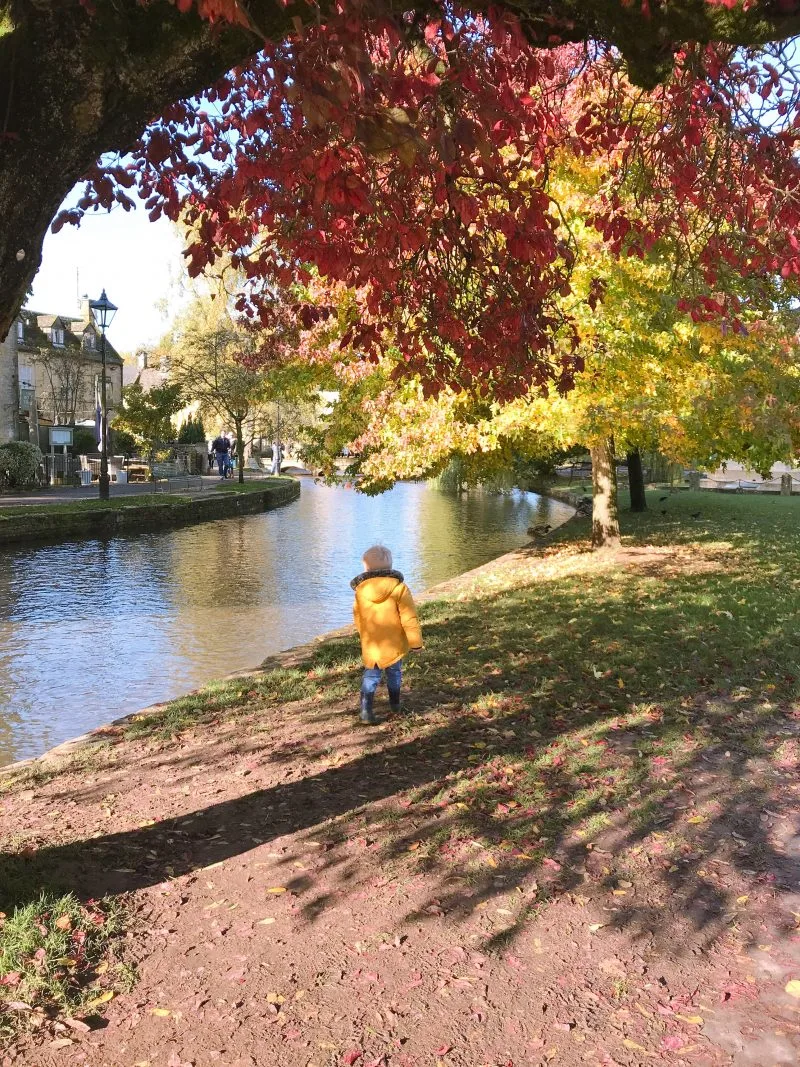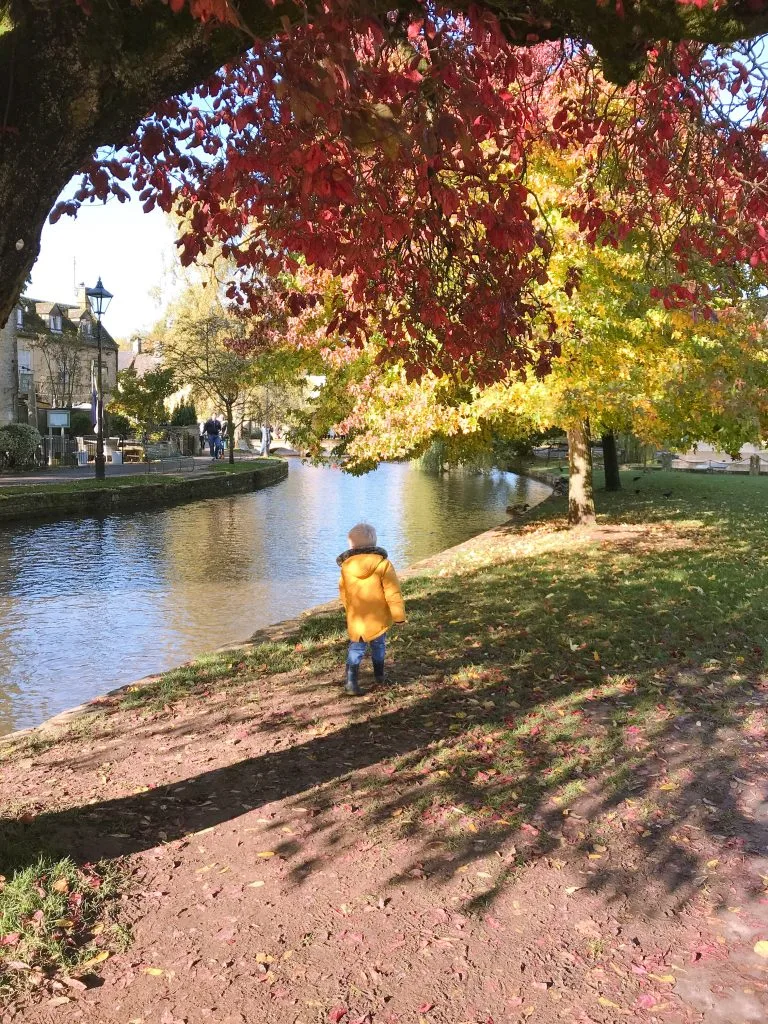 Bourton on the Water makes for the perfect day out and allows you to take in the Cotswold village life with the family. It offers something for the whole family from quaint toy and gift shops, small cafes and tea rooms to attractions such as the Motor and Toy museum, Birdland and Dinosaur park, and the Model Village.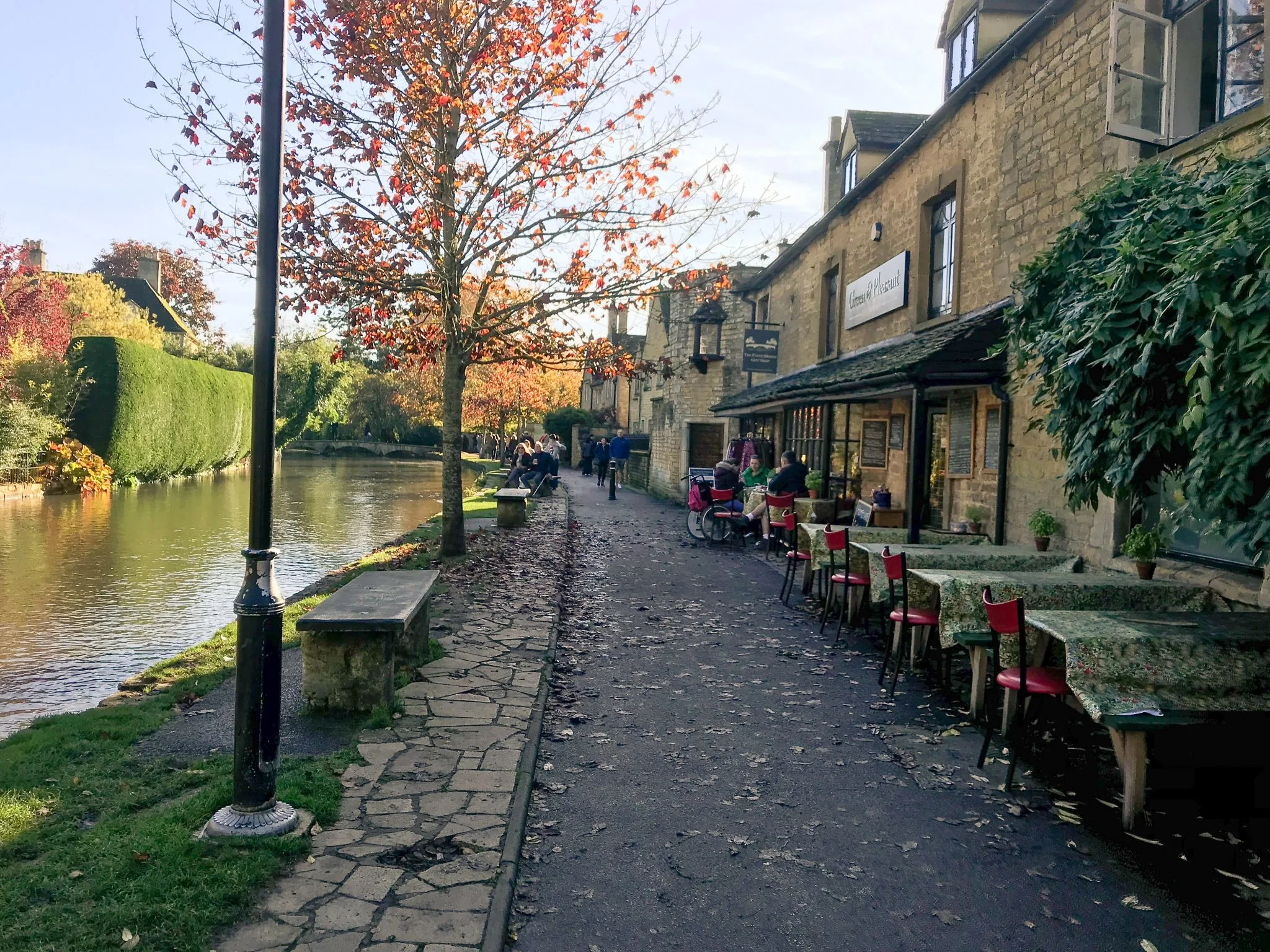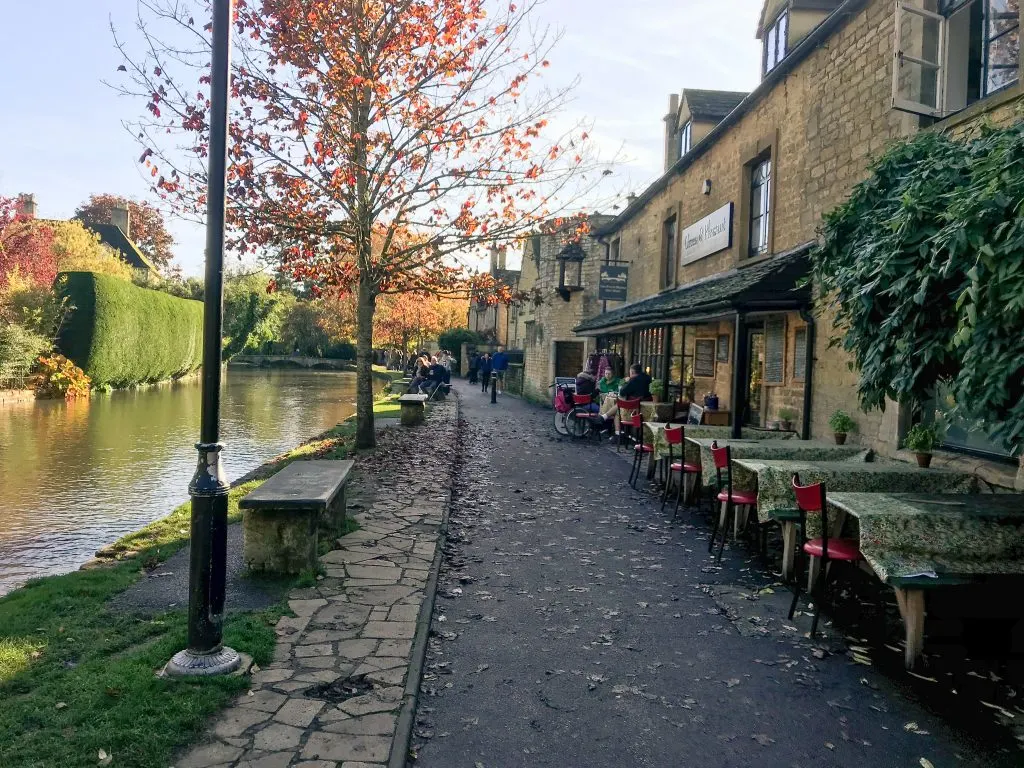 Cirencester
Cirencester is one of the larger towns in the area and has a tonne of restaurants, bars, small boutique shops and some of the more recognisable grocery stores such as M&S Foodhall and Tescos. We stayed in a self-catering apartment, so we picked up food in Cirencester.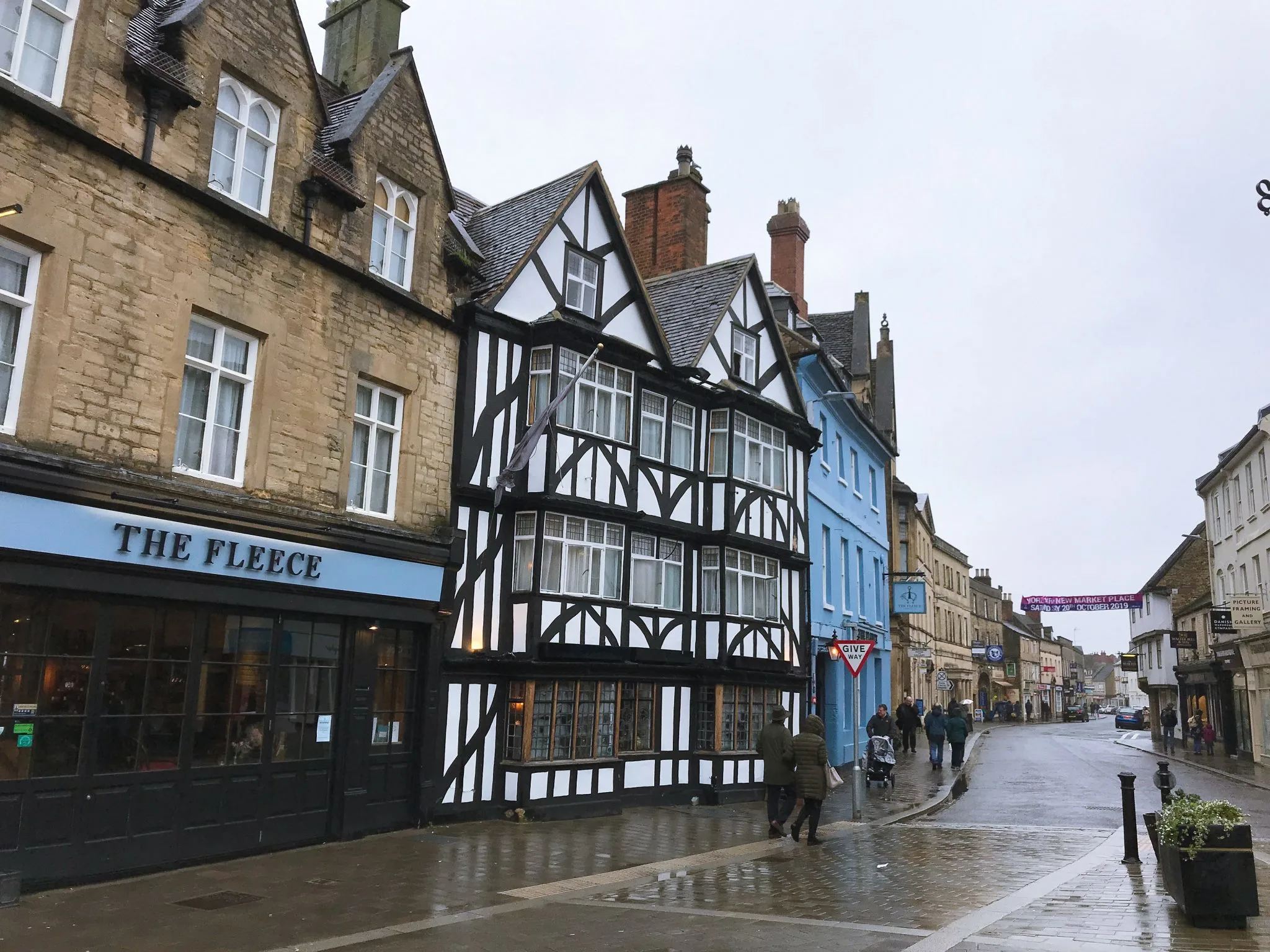 It is a lovely town to walk around, we particularly loved the market where locals congregate to sell their produce. As previously mentioned they also have the Corinium Museum.
Bibury
Arlington Row is the most famous row of houses in the UK, featured on postcards, travel books and so on, they are incredibly symbolic and attract many tourist's.
The cottages date back to 1380 and are now managed by the National Trust, you can actually stay there but must book quite far in advance. Other than these infamous houses, there is also a trout farm with nice grounds in Bibury. There is a very small trail through marsh land in front of Arlington Row.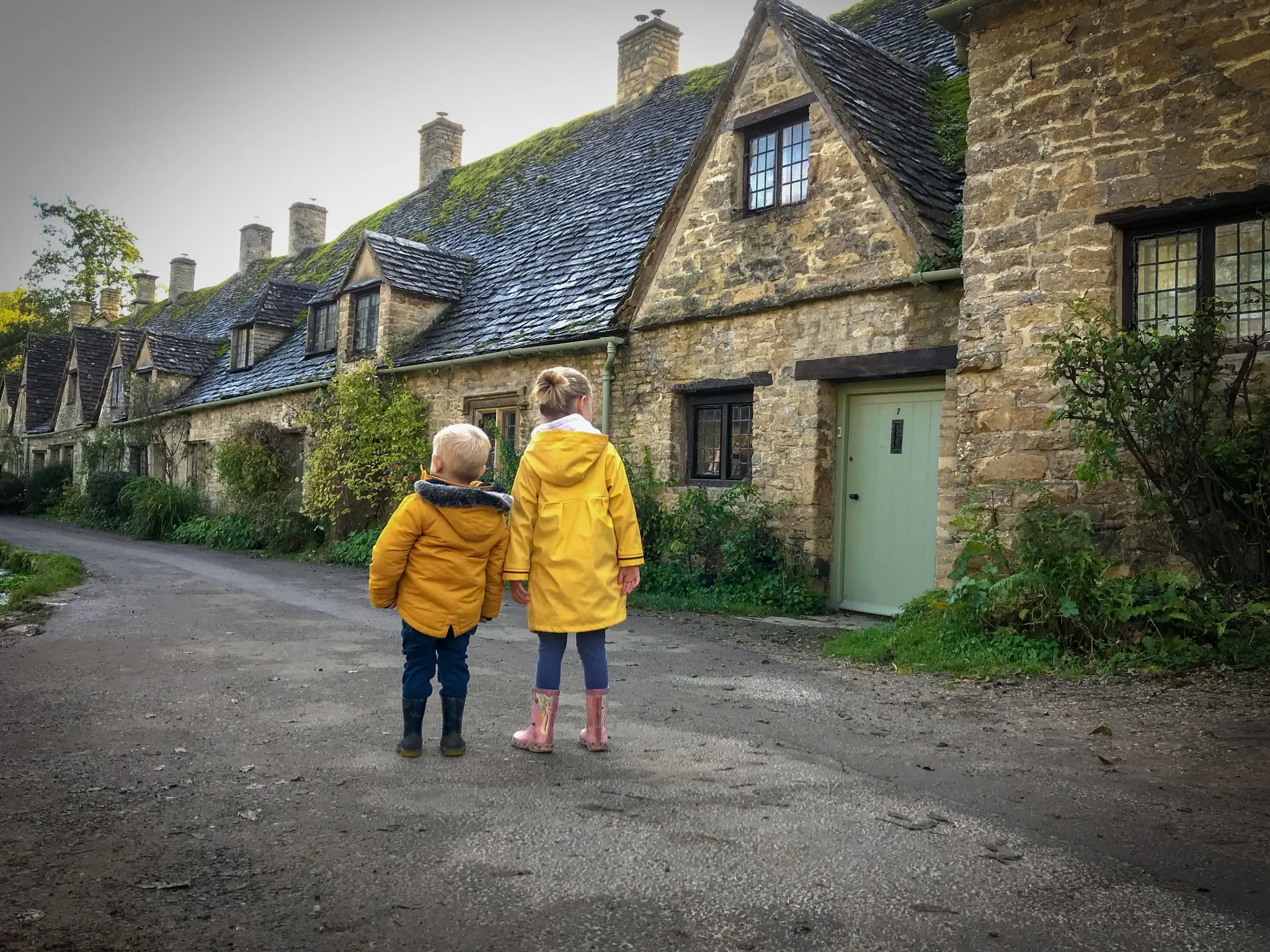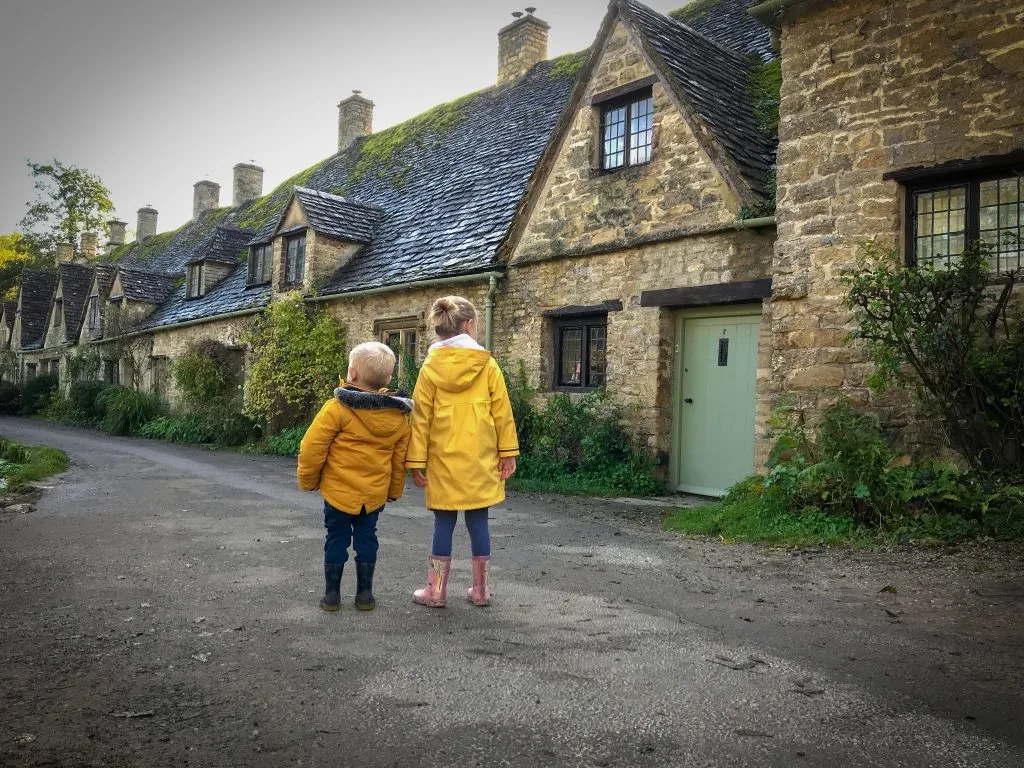 Other than the pretty buildings and a short walk, there is not a whole lot in this village. It's just one of those free things to do in the Cotswolds with Kids and will only take up half an hour of your time, so incorporate it into something else.
Other places you might want to visit include: Chipping Campden, Sudeley Castle, Slimbridge Wetland Centre, Cotswold Way, Cotswold Wildlife Park, Deer Park, Cogges Manor Farm, Cotswold Farm Park, Cotswold Falconry Centre
Add Arlington Row to one of your days out in Cotswolds with Kids.
Disclaimer:
This Cotswolds with Kids post contains affiliate links, by using them, it does not cost you any extra, we receive a small commission helping us to continue writing useful destination guides for families. Thank you in advance for your support.
You may also like:
The Best Things to do in New Forest with Kids