With more and more families reluctant to travel abroad, family camping is fast becoming the ideal holiday. No matter what age your children are or where you live in the UK, we looked at the best campsites for families in the UK to suit all ages and find somewhere that is suitable for you.
Camping is also the perfect holiday to have if you are on a budget. Which with the Coronavirus Pandemic happening, who isn't? Many families are ditching hotels for some social distance.
Even if camping was the furthest thing from your mind, it is a great family holiday that never fails to disappoint. There are plenty of opportunities to bond as a family and spend some quality time together.
However, if camping is not your thing, but you still want to experience the outdoors and quality family time, then maybe glamping would be perfect for you. There are also the options of safari tents and bell tents.
Whether you are looking for an activity-filled campsite or somewhere quiet beside the sea, we will check out the different places for you and your kids to camp.
If you are looking for camping gear, Regatta have a whole host of I really love their tents!
Best Campsites for Kids UK
In this article, we cover all the best campsites for families UK and the facilities they offer. We cover the budget, amenities, and activities nearby for the perfect family holiday.
Before we jump into the best campsites for families UK let's take a look at the camping gear you might like to take along with you.
While all the facilities adhere to the social distancing rules, to give you a bit of peace of mind you could take along a few extras.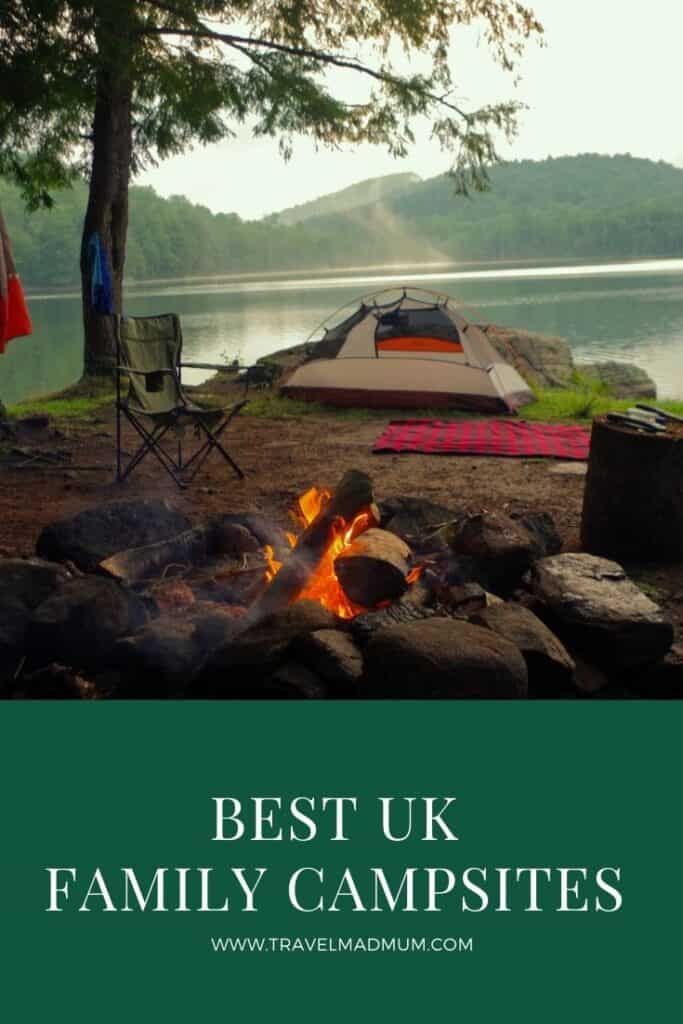 A solar shower with a pop-up tent would be the perfect solution to keep you feeling fresh and while keeping your distance from others. A composite toilet is another solution that gives families privacy and away from others on site.
Most families like to cut costs wherever possible, camping memberships are a great way to save money and discover new camping sites.
The Best UK Campsites for Kids
Before we dive into the different areas, there are a few things to consider first. Families may want to think about the different camping options available.
If pitching a tent and lying on the ground is not an option, then family caravan parks might be worth looking at. You don't even need a caravan as most offer the option to rent one per night or the duration of a stay.
There are also an abundance of holiday camps for kids scattered across the UK. These have the option of camping, caravanning, or even renting out a small holiday home.
You may also want to consider family campsites with entertainment. If you want someone else to keep the kids entertained while you relax, then this can help narrow down your choices.
Some of the best campsites in England for families have many options available, we have everything covered in this article!
Best Family Campsites in Cornwall
It's not surprising that some of the best campsites for families UK can be found in Cornwall in the South West of England. Here you can find everything you are after, from Yurts to motorhome camping.
Tregedna Farm is one of the best family campsites in Cornwall. It is suitable for tents, caravans, and campervans. You can even bring along the family dog.
There is a beach nearby that is perfect for kids to get their feet wet. For the more adventurous, there are also watersports available. Make sure to pack your wetsuit if you are ready to try kayaking or snorkeling.
Like all of the best campsites in Cornwall for families, there are plenty of restaurants nearby. However, at Tregenda Farm they have their own farm shop on site that offers plenty of seasonal food.
There is also a play area on-site to keep the kids busy. Not to mention plenty of space for the kids to run around.
Most importantly there are toilets, showers, and a wash area with a washing machine and tumble dryer for families to use. A washing machine is always a massive bonus when camping.
Best Campsites in Cornwall for families
Another campsite that seems to offer it all is Tremovru Campsite. While it may be popular with surfers due to its location, it is full of amenities for families. Even though Cornwall is full of some of the best campsites, this is a great family run campsite.
There are so many amenities that it is difficult to include them all. If you are camping with a baby or little ones there are even baby changing facilities. If you are travelling with older kids then you might be glad to hear that there is free WIFI available. We always take our Solis Wifi Hotspot with us!
Like the previous campsite, you will find toilets, showers, and a wash up area. There are also hairdryers and electrical shaving sockets available.
It is the perfect place for a barbecue and the onsite shop sells local food and other essentials. You can borrow bricks for barbecues and charcoal can be found on site.
However, what sets it apart as one of the best campsites in Cornwall, families can sit around the hired fire pits telling stories. It is also the perfect place for parents to enjoy a glass of wine while the kids sleep after burning off all their energy at the local beach.
In fact, you are never short of things to do in Cornwall with kids, so there are plenty of opportunities to keep them busy.
Family Campsites, Yorkshire
With Yorkshire known for its beautiful countryside, it is no wonder you can find amazing camping sites for kids here.
You might not find any places to surf, but there are plenty of activities to keep the kids busy. We had a look at some of the best campsites in Yorkshire for families.
Like many family campsites, Humble Bee Farm has a great play area for kids and it is also full of amenities for all the family.
There are the usual toilets, showers, and wash areas available. There is even an onsite shop for any supplies you need in a hurry. They also have the fire pit to hire in the evening.
The farm lives up to its name and there are plenty of animals to see . They have a pig that is sure to delight the kids and they can even get involved with collecting their own breakfast.
While you can find a beach a short drive away, one of the highlights of the farm is that the Yorkshire Wolds Way runs right along the site.
If you are a budding historian, then Butt Farm is right up your street. The field next door is home to a WWII anti-aircraft gun site.
Even though the area has been around for years, the campsite is relatively new. It is just a few years old and the owners have made sure that all of the amenities you need are on site.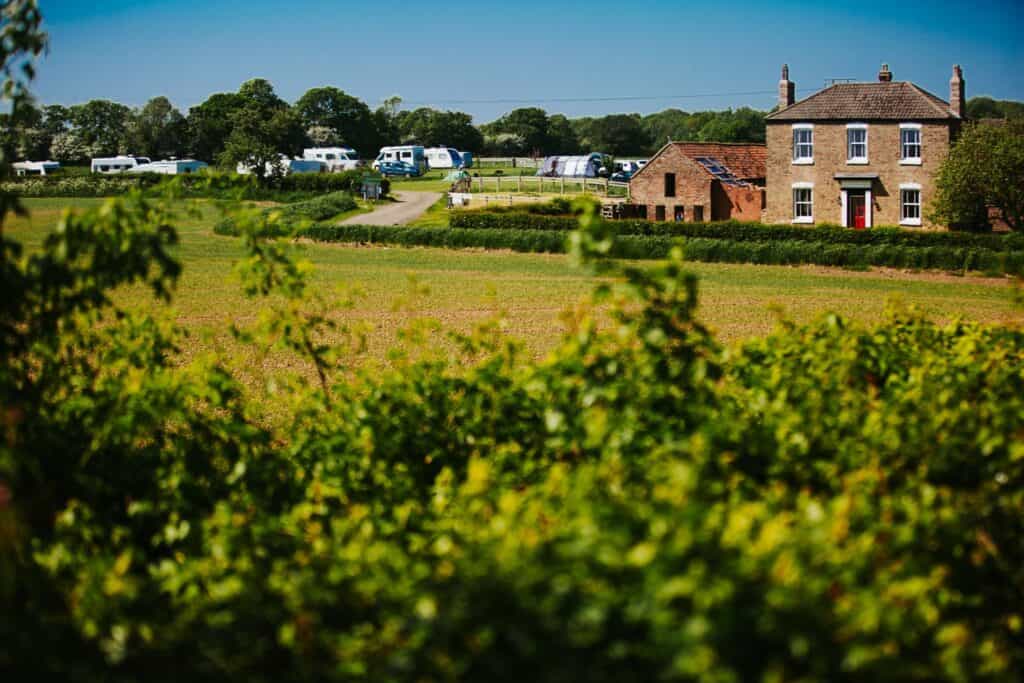 If history is not your cup of tea, then just short while away you will find a great place to fish, or take a tour of the local windmill. Like most family campsites, Yorkshire has great trails and walking routes for all family members.
Best Campsites in Wales for Families
Wales needs no introduction and it is one of the most beautiful places and home to the best family campsites.
There are so many places to choose from, and we struggled to choose just two campsites good for kids.
The first one on our list is in South Wales and it is the Heritage Coast Campsite. There are some spectacular sights nearby and it has something for everyone.
One of the best things about it is that it is family-centered. It would be very unlikely to find people partying or large groups.
While you can't bring your own barbecue, there are amenities on site. They even have their own cafe that not only serves food throughout the day, but it is fully licensed and serves some local brews.
You may recognise some of the popular spots nearby. Like the Merthyr Mawr Sand Dunes and Southerndown and Dunraven Bay. They have both been backdrops on TV and campers can take advantage of the fantastic location.
This is also the place to be if the outdoors is not for you. If you are in need of some retail therapy, then Cardiff is not far away. Depending on your budget, you could spend some cash at the boutiques or head to the Bond Street of South Wales.
Campsites for Kids
In North Wales, you will find Graig Wen. It is the perfect place for wildlife lovers nestled right in the hills. Not only is it the perfect backdrop, but it is a secluded place close to nature.
While it promises to take you back to nature, you can still find the amenities needed like showers and toilets.
You can sit around the communal fire pit, or count how many animals you can spot. No matter what time of day, you won't be disappointed. There is a site specifically for children and it is pet friendly, as long as dogs are kept on leads.
As well as trails and cycling, there is plenty to do for the more extreme sports-minded family members. Nearby you will find a zipline and even an attraction centered around myths and legends.
Best Family Campsites, Lake District
It wouldn't be camping in the UK if we didn't visit the Lake District. It undoubtedly has the best campsites in the UK for families.
The Lake District is probably one of the most famous holiday destinations in the UK. It is known for its lakes, mountains, and forests. Not surprisingly there are many family camping sites to choose from.
At Lanefoot Farm campsite, there are options for everyone. Whether you have your own tent or not, you will find somewhere to stay that is great for families. In fact, they have a field dedicated just for families.
The campsite has been around for years and it is known for its laid back atmosphere. Although you will still find toilets, showers, and a laundry room. There are plenty of trails nearby at Whinlater Forest and numerous cyclist routes. It is right on the C2C route, with more routes closeby.
The campsite is also a short walk from the village where you can explore the pubs, grab some supplies, or simply sip the local beer.
Campsites for Families
One of the best-located campsites is Moss Side Farm Campsite. It is a working farm that has plenty to do.
Like any good campsite in the Lake District, you will find lots of places to hike. However, this campsite is also close to the sea and lakes and you will find the most spectacular views of the coast.
If you plan on taking advantage of the hiking trails then make sure to pack a good pair of hiking boots for the kids. Even if your kids are too young to hike, there are great backpack carriers available for them to tag along.
Everything you need is onsite, from toilets to barbecues. However, if you want to explore off-site you will find plenty to keep you busy. You could go canoeing on the lake, visit a castle, or even visit South Lakes Animal Park.
To keep it one of the best family-friendly campsites, big groups are not allowed. This makes it a firm favourite for families and it had to be on our list of best campsites for families UK.
Family Camping Midlands
The Midlands is no stranger to family-friendly campsites. There are plenty of child-friendly campsites to choose from and some of the best campsites for families in the UK are right here.
Chase camping in the West Midlands is another place for our wildlife lovers. However here you can expect to see deer, owls, foxes, and rabbits. In fact, there is even a Gruffalo spotters trail nearby for fans of the book.
Family camping holidays in the UK can also include some adventure. Birches Valley visitor Centre is right next door. There you can find a host of activities to keep the kids and the parents on their toes. Activities like Forest Segways and Go Ape are just some of the experiences in England on your doorstep, making this a family-friendly site.
Onsite you will find all of your usual amenities, including a Pizzeria. There are also plenty of places to eat and drink nearby that serve good food, ale, and great gin.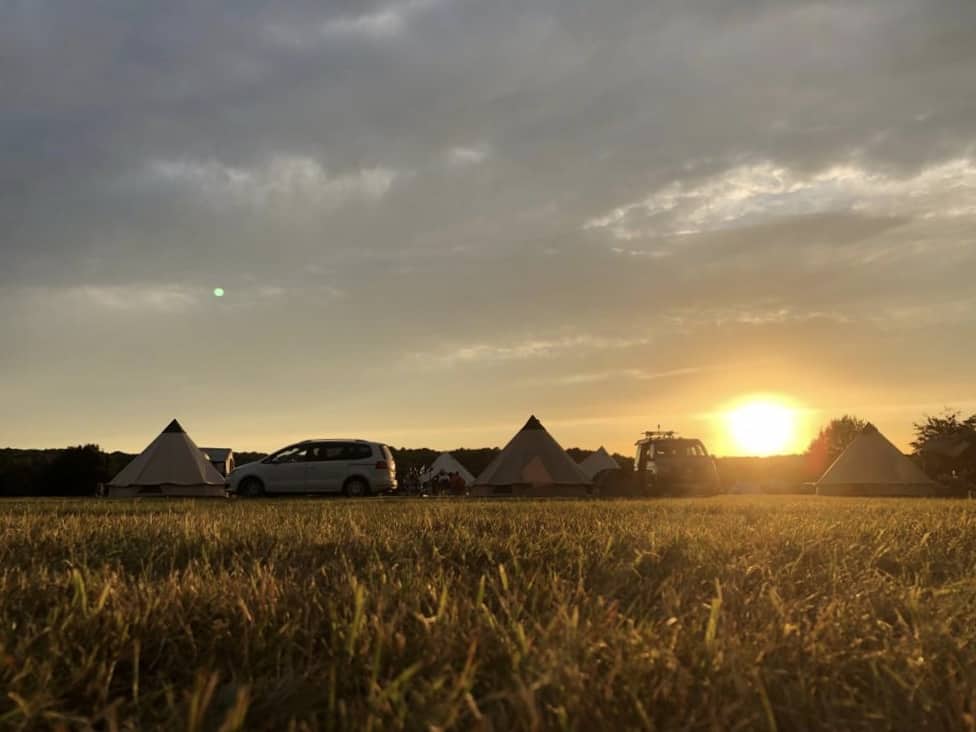 Family Friendly campsites UK
In the East Midlands, you will find the small Cuckoo Farm Campsite. It has everything you need at the campsite, including cooking equipment. There are even farm animals for the kids to pet.
The campsite is relatively secluded, and the river runs nearby making it a great place for the kids to splash and collect rocks. Be sure to pack some rock shoes for the kids.
A few miles away, there are a number of activities to take part in and lots of beautiful places to visit. Whether you want to watch the birds, have a picnic, or even water sailing at Rutland Water Visitors Centre. Camping with kids in the UK means the weather may not stay dry and we know that you have packed your raincoat and wellies. However to keep the kids dry and out of trouble, you can check out the Stamford Arts Centre.
Family Campsites, Scotland
There are camping and caravan sites for kids scattered all over Scotland. Family camping holidays can be near the centre or located in the beautiful highlands in the North of the country.
The first campsite to look at is in central Scotland in Stirlingshire. Drymen Camping offers a communicable food area where campers can prepare their own food.
After you pitch your tent you can enjoy sitting around the picnic tables scattered about the site. Campfires are not allowed, but there are barbecues available.
The campsite is located in Loch Lomond & The Trossachs National Park and there are plenty of things to keep both you and the kids busy. The park has trails suitable for all abilities and a cycling route nearby.
Loch Lomond Shores offers numerous shops and restaurants. For parents the Glengoyne Distillery is nearby and there you will be able to sample some of Scotland's finest whiskeys. Which had to put it on the list of best campsites for families in the UK.
There are many restaurants nearby including The Beach Tree in Dumgoyne where kids can eat and then pet some of the friendly animals at the zoo.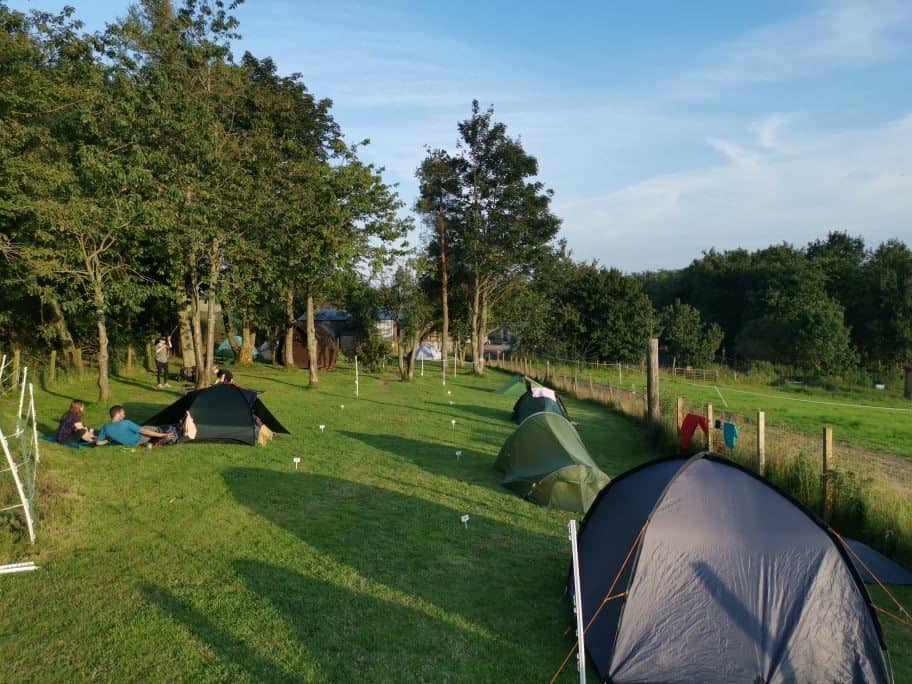 Good Campsites for Families
If you are looking for somewhere more remote then Ace Hideaways in the Highlands is perfect. As it is a remote site, there are plenty of amenities to make it the best camping holiday.
There are different hideaways to choose from so you are sure to find the right one for your family. Nearby the area is bursting with activities. There are the usual walking trails, but also fly fishing, water rafting, golf and even paintballing available.
Located near Findhorn Valley and if you are not up for one of the activies, it is still a great place for quiet walks for you to soak up nature. There are facilities to suit every memebr of the family.
It is definitely the place for a unique family adventure.
Best Family Campsites, Somerset
Somerset is known for its apples and cider. It is also one of the most picturesque places. Located in the Southwest of England is also famous for cheddar cheese.
At Wookey Farm, the kids can find out all about running a dairy goat farm. There are also a host of other animals to keep the kids amused.
Although you will only find basic amenities here such as composite toilets and cold drinking water. There are no showers here, but if you are brave enough to give it a try then take a dip in the River Axe or bring your own solar shower with you.
There are plenty of places nearby if you want a break from the amazing scenery and find out more about the village. If you want to venture further afield, the kids will love Longleat Safari Park.
If you are willing to get your fingers dirty, then this is the place for you. We included is as one of the best campsites for families in the UK due to it being a low impact, eco campsite.
Best Campsites for Children
Located just a five minutes walk from Cheddar, Petruth Paddocks has family at the forefront of its mind. There are strict rules in place to ensure that all guests have the best holiday.
This campsite has both toilets and showers, and fires pits are available for all guests. The site is very relaxed, and there is plenty of space to spread out. Next to the site, there is a horse paddock to keep the little ones entertained.
There is also plenty to see and do nearby. For older kids and there is abseiling and rock climbing or you could explore the cave in the Wookey Hole. There is also the cathedral in Wells, Berrow Beach, or head out to Glastonbury.
With plenty of pubs, restaurants, and cafes in the local village, you will be spoilt for choice as there is something for everyone.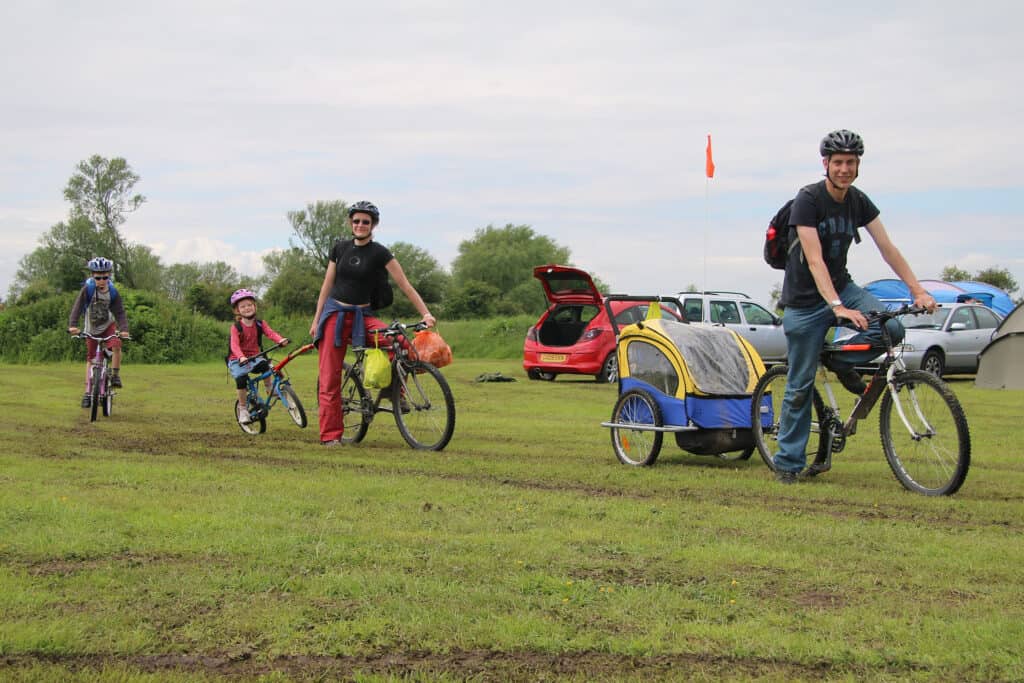 Tips for Camping with Kids
If after reading this article you are itching to get going to some of the best campsites for families in the UK, then check out what you need to bring with you to make sure you have the best family camping trip.
We all know about the essentials; a tent, sleeping bags, and blankets. However, there are other items to consider depending on the choices you make. If your campsite doesn't have a cooking area then it may be best to invest in a small cooker and travelling cooking set.
There is also the option of entertainment. Although we expect that many of your kids will crawl into bed after running around all day. You may want to consider a few board games or books to take with you. Camping is a great way to stay screen-free although some sites do have WIFI.
One of the most important things to bring is the right clothes. We all know that the UK weather is unpredictable, so rain jackets are a must. If you have decided on the more adventurous kind of camping holiday, then you need to invest in a good pair of hiking boots.
It may all seem like a lot, but the items you buy can be used again on your next camping trip, as we are sure that it won't be your last.
All of the campsites mentioned are adhering to social distance rules and they may have new rules in place. It is best to check with the campsite before going to confirm the amenities provided.
You may also like:
Best UK campsites for families
The Best Things to do in New Forest with Kids
The Best Things to do in Cornwall with kids
Best Things To Do In London With Kids
30 Of The Best Family Hotels London
Will you be needing travel insurance, flights, reliable internet, rental cars, or hotels for your trip?
Disclaimer: This post may contain affiliate links. By using them it will not cost you any extra, we will receive a small percentage of the sale.