Looking for some of the best things to do in Dorset With Kids? Famed for its dramatic Jurassic Coast, featuring fossil beaches, mind-blowing cliffs and natural landmarks such as the Durdle Door, there is no doubt Dorset is one of the best places to visit for little explorers.
Aside from the most famous landmarks and beautiful nature of Dorset, there is also plenty of other attractions for rainy days or more specific interests. From Sand World to the Tank Museum and day trips on a boat to see the beautiful coastline, to ancient castles, there is something for everyone!
Spanning some 142km of stunning coastline, Dorset stretches all the way from Bournemouth to East Devon. As you can imagine for this reason, unless you have a long period of time, it's best to concentrate on one part of the county.
The best area to concentrate on are either the Isle of Purbeck along with the Lulworth Estate, they are approximately 35 minutes drive between both areas.
The other areas to potentially focus on is the Weymouth and Portland area along with Lyme Regis and Chartmouth Fossil Beach. Of course, you could base yourself somewhere in the middle of the county so you can make it to all of the best spots.
Driving through the postcard-perfect sleepy villages with thatched roof cottages and the beautiful countryside with rolling green hills, you are certainly going to enjoy this stunning part of England. Here's a complete guide on the best things to do in Dorset for kids.
Headed to Dorset in the summer? Why not check out the family-friendly festivals in the area!
Things To Do With Kids In Dorset
Weymouth
1. Weymouth Beach Front
Weymouth Beach is quite what you expect of a typical British seaside town. Featuring a number of bars, restaurants and cafes, along the promenade, this is one of the few beaches you don't need to hike to in Dorset. So many of the beautiful spots in Dorset do require a bit of a walk so Weymouth Beach is ideal in that respect.
The beach is shallow, the waves are gentle and of course, the beach is sand which is always a favourite for children. Along the beach you will also find cute colourful beach huts, a number of kids' activities such as a mini caterpillar rollercoaster and a seaside icon, the helter skelter!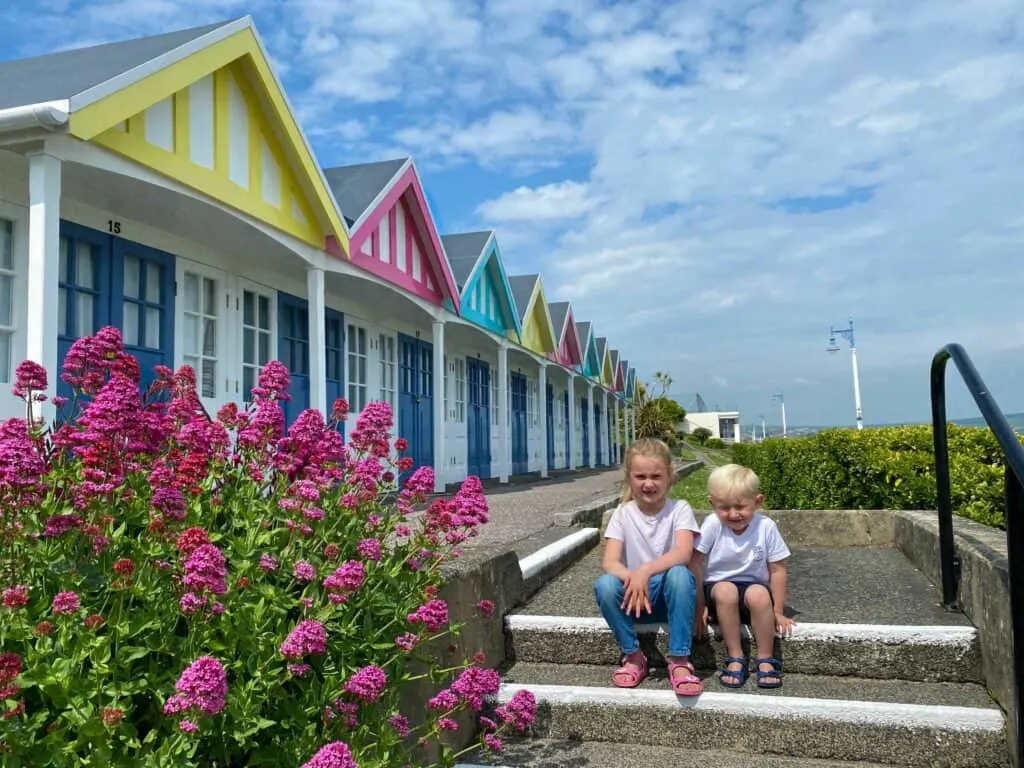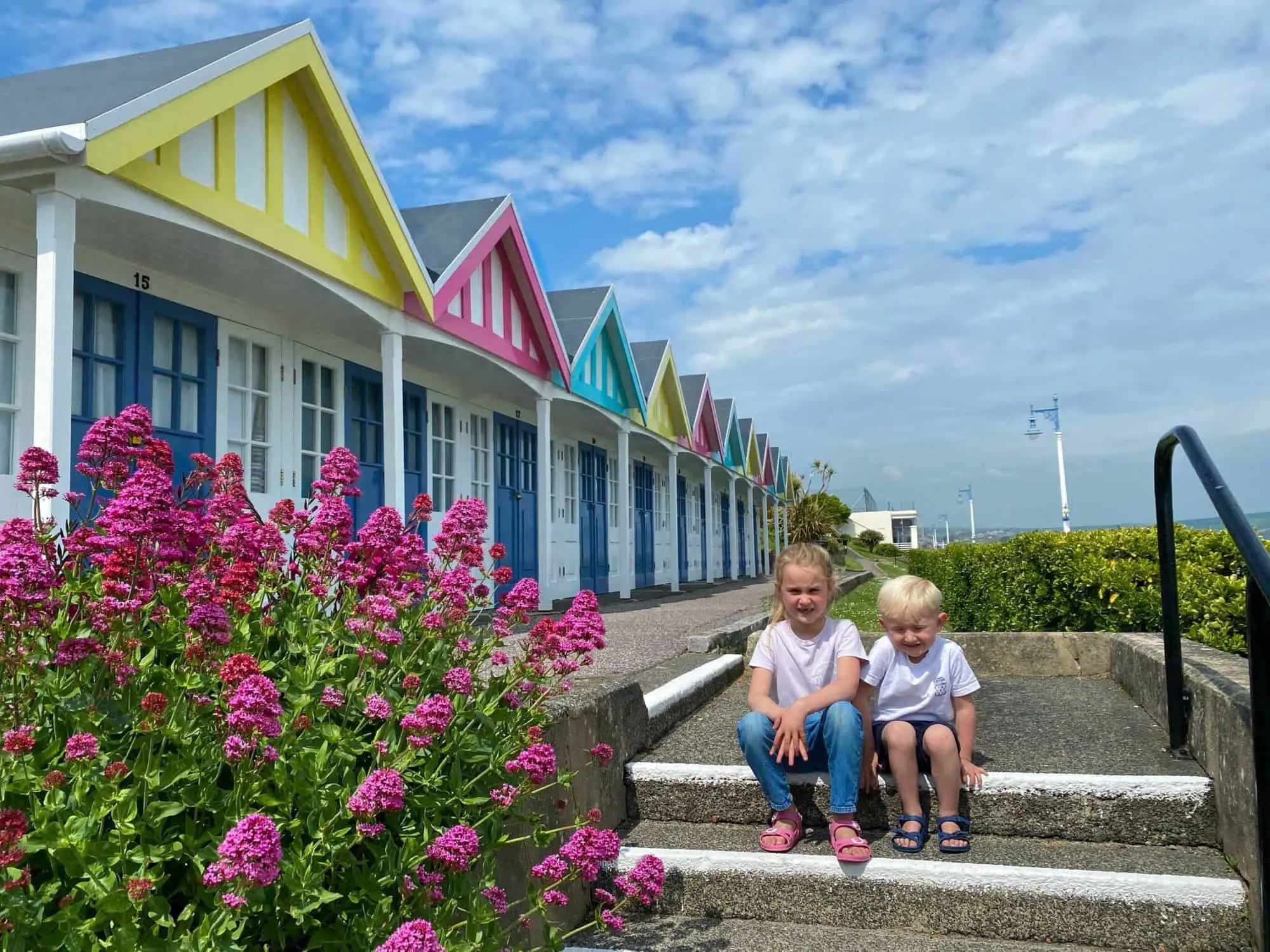 Our kids had lots of fun on Weymouth Beach making sandcastles and dipping their toes in the water. One of my kids was even brave enough to swim.
The promenade is perfect for a stroller walk if you are looking for things to do in Dorset with toddlers. My kids also enjoyed scooting along the seafront.
Location: Esplanade, Weymouth DT4 8DG, United Kingdom
2. Weymouth Restaurants – Days Out With Kids In Dorset
Weymouth is a great spot if you fancy eating out. There are many places to choose from but if you like places where they have a good variety for kids, Prezzo Italian Restaurant is in the harbour area and was an ideal spot to feed my two vegan kiddos. That said, there are some lush beer gardens literally all along the harbour, however, they do get very busy on sunny days for obvious reasons.
Prezzo Italian Restaurant Location: 56 St Thomas St, Weymouth DT4 8EQ, United Kingdom
My favourite restaurant was Nautico Lounge, It was on one of the backstreets but was quite spacious and had a courtyard dining area. The food was great and had a great selection of options for all diets. Not to mention it had a table on a busy day unlike many of the harbour restaurants.
Nautico Lounge Location: 66 St Thomas St, Weymouth DT4 8EL, United Kingdom
3. The Weymouth Harbour
The harbour in Weymouth is a great place to sit and people-watch. Grab an ice cream or a coffee and watch what is going on around you. You will notice so many of the locals go 'crabbing' around the harbour. They all seem to love it as an activity. From what I can understand they put the crabs back and don't eat them.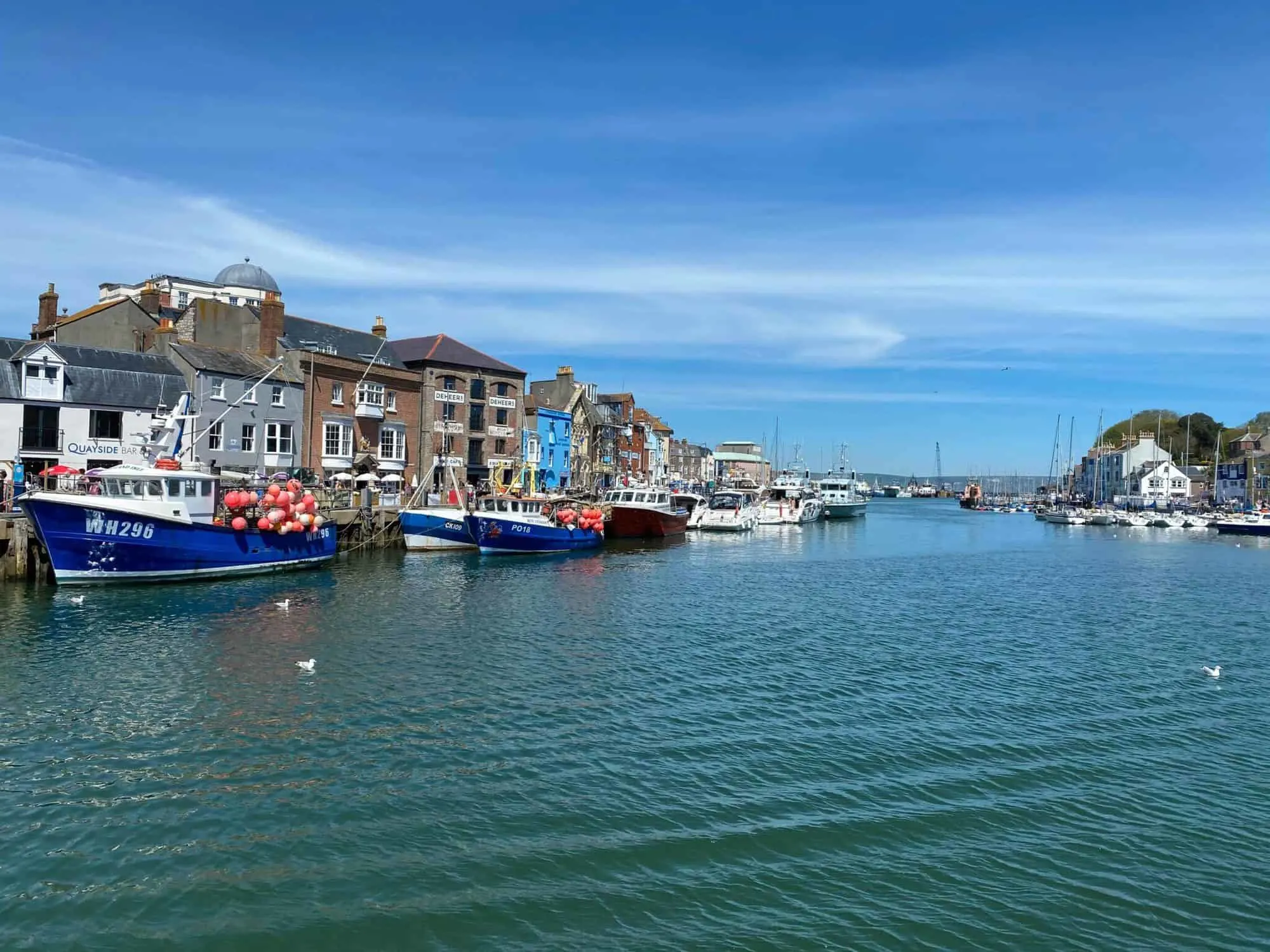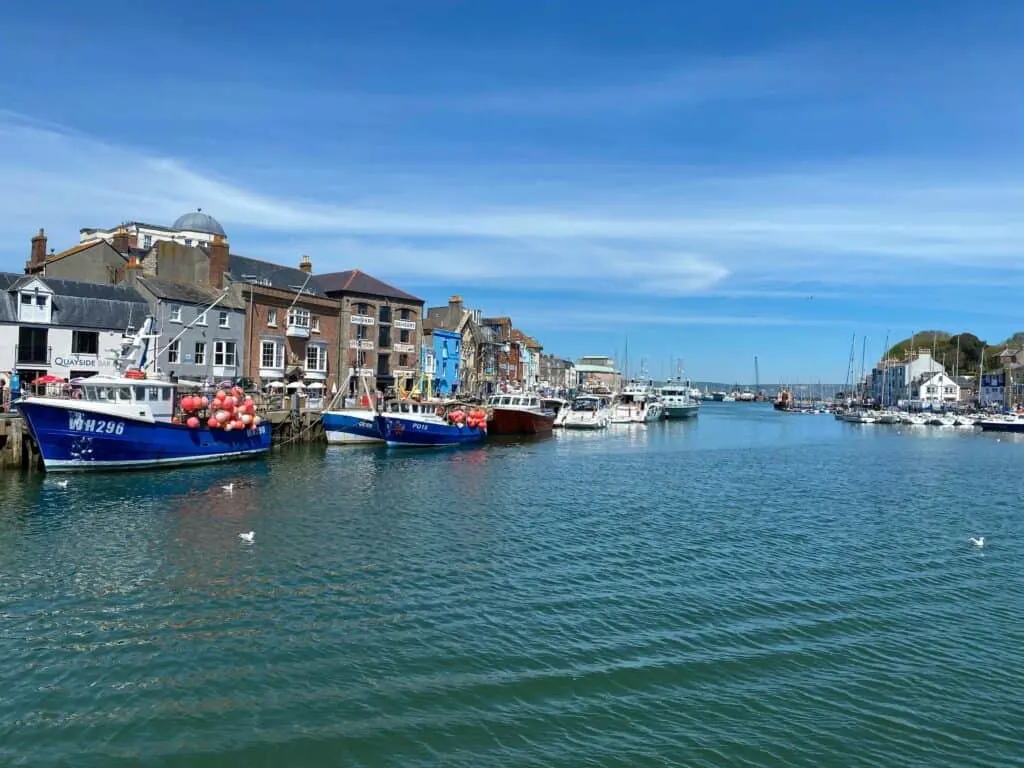 Another great thing to see in Weymouth Harbour is the bridge that opens up to allow boats to pass through. Our kids loved seeing that!
Location: Custom House Quay, Weymouth DT4 8BG, United Kingdom
4. Take A Boat Trip – Dorset Kids Activities
Looking for one of the best kids' days out in Dorset? Inside Weymouth Harbour, there are a number of tour operators that take customers to see the Jurassic Coast from the water! As you know Dorset is most famous for its coastline but most people view it from clifftop walks and beaches.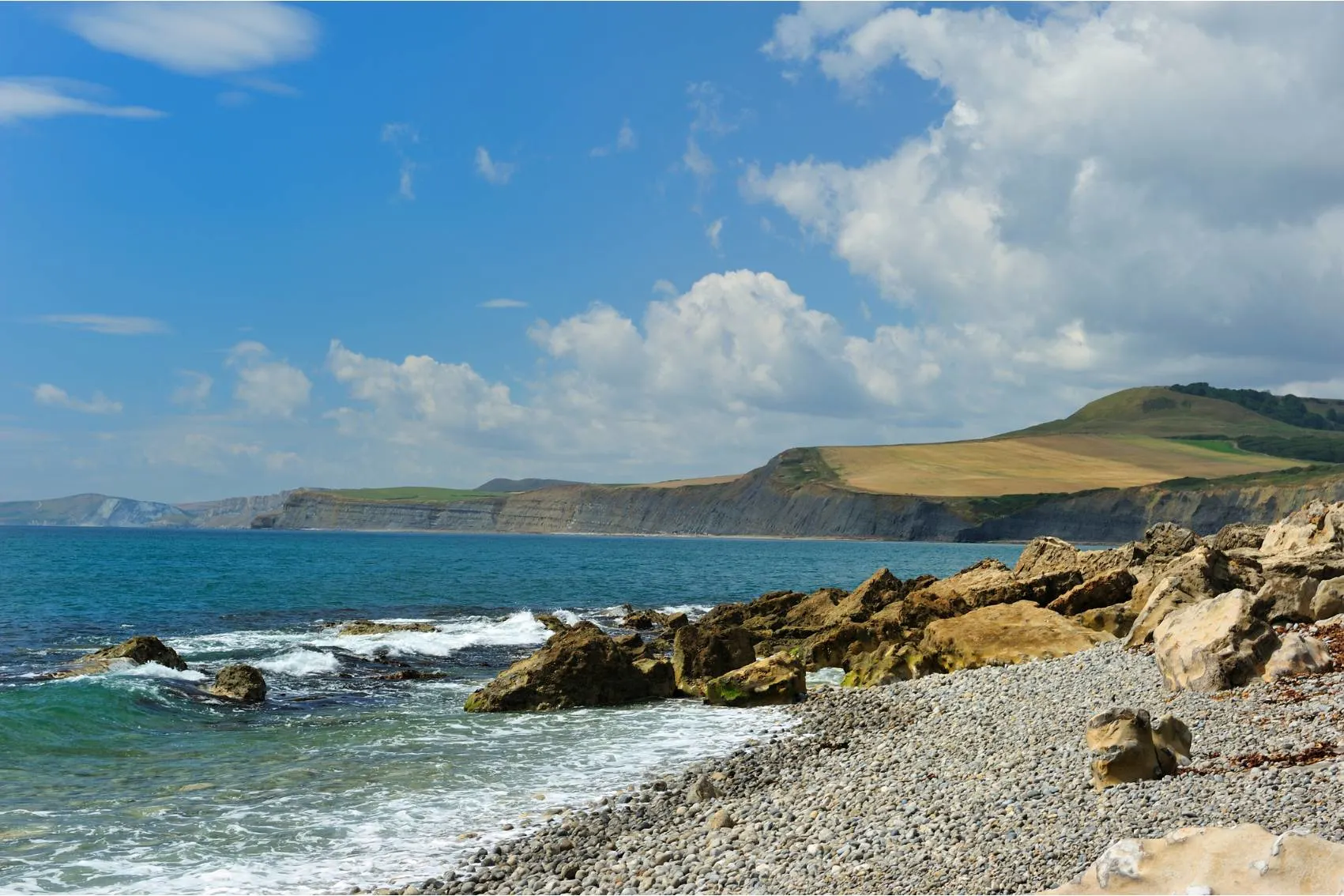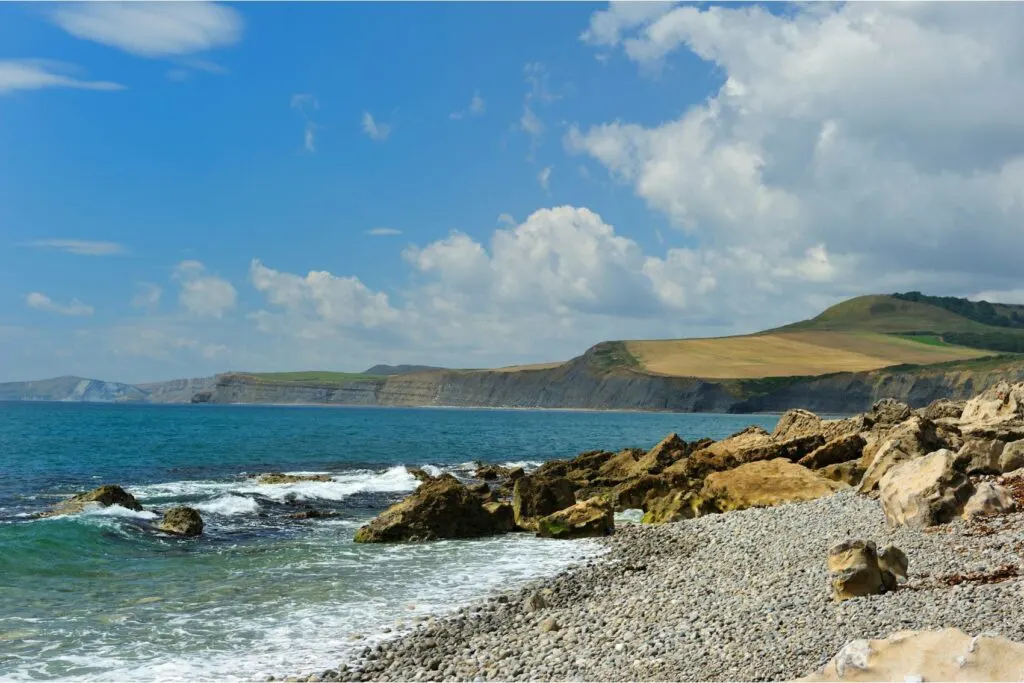 Seeing the coastline from the water is definitely worth it and all of the companies take children and make it fun for them too. There are quite a few options whether you want to see the Durdle Door or something different. It's best to book online so make sure to check out the best boat companies.
Check out this two-hour boat tour to see the whole Jurassic coast.
5. Lodmoor Country Park – Things To Do With Kids Dorset
If you are looking for a mixture of rainy day activities in Dorset or maybe something a little adventurous, Lodmoor Country Park in Weymouth is the place to go!
It's essentially a massive adventure park containing many indoor and outdoor paid activities. The shared car park in the centre allows you to visit multiple attractions on the same day if you so wanted to!
The area is home to Pirate Ship Play Park, Weymouth Sealife Adventure, Rio Grande Railway, Sand World and 9-hole Pitch and Put.
There is also Leisure Ranch with go-karting and water slides. Not to mention you can access the park and nature reserve itself behind the attractions.
There is paid parking which is really affordable. I recommend getting the pay-by-phone app if you are staying in Dorset as you have to pay for parking at almost all attractions. It's a quick and easy way to pay and like I say it is generally affordable.
Location: Weymouth DT4 7SX, United Kingdom
6. Sand World – Things to Do For Kids In Dorset
We had one drizzly day in Dorset and decided to go to Sand World within Lodmoor Country Park. We had such a great morning checking out the incredible sand sculptures, they are so impressive. The kids loved the sculptures, especially as they were recognisable characters such as Minions and Moana.
Aside from the spectacular sculptures, you can pay an extra couple of pounds for the kids to make their own sand art with a figure of their choice! There was such a great array of sand colours, my kids really enjoyed this activity.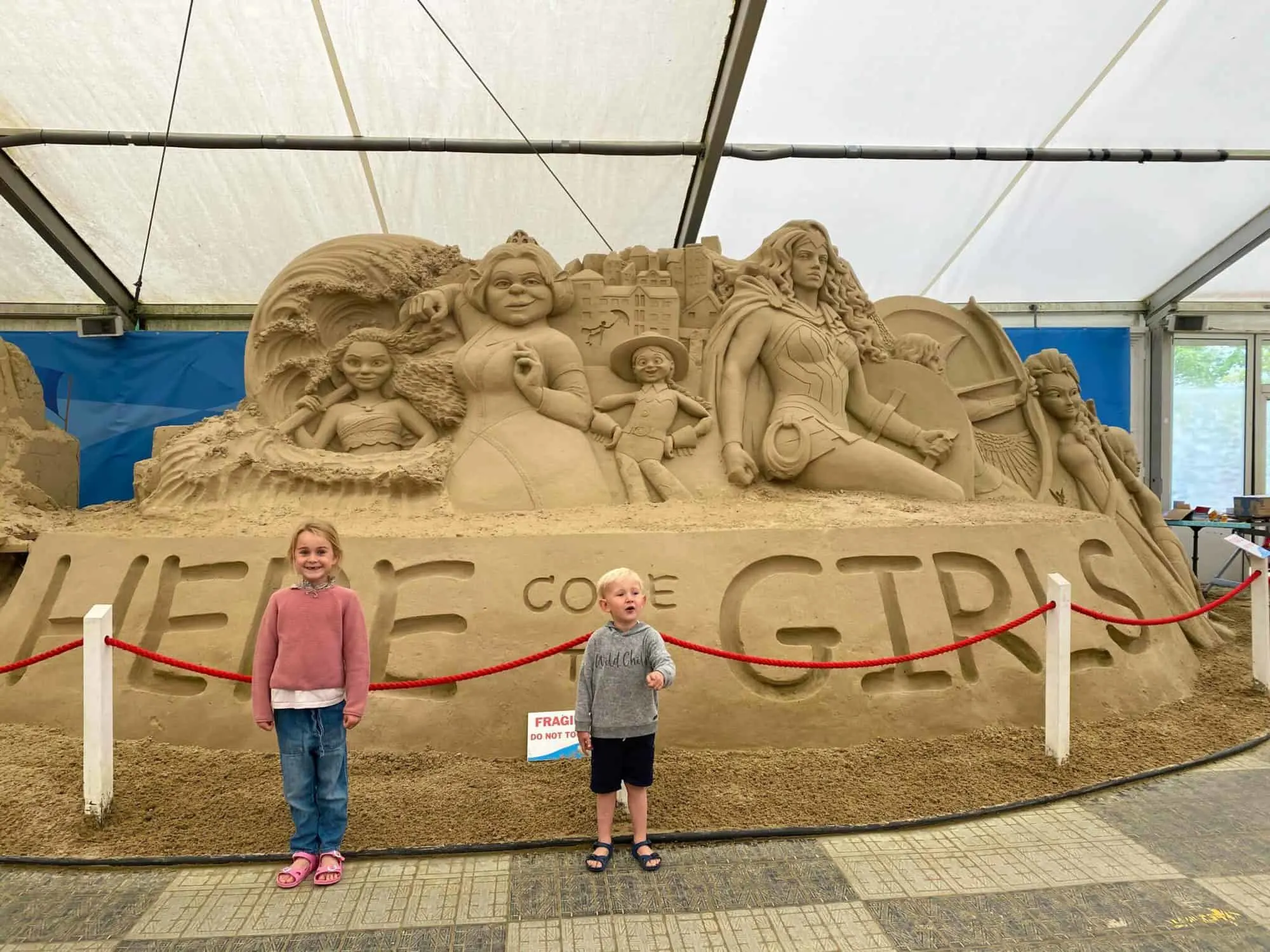 We finished off the morning in the outside part (that is sheltered) where we could build our own sand sculptures. They had a great array of tools to use so we could get fully crafty.
The sand is sectioned off into different parts and they have a cleaning policy in place for used tools which I thought was really good. The kids (and adults) loved doing this activity, I could have spent all day building something!
7. The Pop-Up Weymouth Museum
The Weymouth Museum is a great place to learn about the town's fascinating history while browsing the Museum's unique exhibits and artworks.
With history talks for the grownups and play areas for the little ones. It provides a creative and interactive way for kids to imagine life as a pirate – complete with costumes and a variety of ship models to explore and play with.
Imaginative play and stories about the seaside help them learn about the town's history, as well.
Not only does the Museum provide insight into the past and the lost treasures of the sea, but it also serves as a significant source of inspiration for young budding artists.
The history and culture rich Museum offers daily events and shows, so be sure to add it to the list of things to do in Dorset with kids.
Cost: £1 for Adults, children enter for free
Timings: 10 AM to 1 PM (Wednesday, Friday and Saturday)
1 PM to 4 PM (Thursday)
Location: 40b St Thomas St, Weymouth DT4 8EH, United Kingdom
8. The Palm House, Weymouth
The Palm House is a large cafe that houses kids' indoor and outdoor play areas and dedicated play areas for those under five.
The centre provides a safe, stimulating, and nurturing environment for children, with experienced and qualified staff providing educational and creative activities. There is also a large garden with a variety of play equipment as well as a music room.
Younger kids can enjoy climbing frames, slides, interactive games, soft toys, giant sandpits, swings, and so much more while parents sit back and relax within the play areas.
Other features at this colourful venue include amenities for older kids, such as outdoor-themed exhibitions, a gift shop and even electric bicycles for hire.
Timings: 9:30 AM to 4 PM (Monday to Friday)
9:30 AM to 4:30 PM on Saturday, and
10 AM to 4 PM on Sunday
Location: Swannery Lake, Commercial Rd, Weymouth DT4 7TZ, United Kingdom
9. Grab A Movie At Cineworld Weymouth
Cineworld Weymouth offers a wide selection of films for the whole family to enjoy.
With nine screens, there are plenty of options to choose from, plus the convenience of being in Weymouth's town centre makes the experience even more enjoyable.
Kids and adults alike are sure to be in awe of the theatre's immersive 3D experience, creating an illusion of depth in the movie and making it seem like the action is happening right in front.
Enjoy delicious food and beverages without ever having to leave your seat or miss a single minute.
No matter what the weather is like, Cineworld Weymouth is the ideal place to take the family and kids to see movies.
Timings: The timing of each show varies depending on the film
Location: New Bond St, Weymouth DT4 8LY, United Kingdom
10. Treasure Trails At Weymouth Seafront
The Treasure Trails at Weymouth Seafront aim to be an engaging and fun activity for children, allowing them to explore the town and uncover its hidden gems.
The Treasure Hunt encourages physical activity, as kids have to navigate the area to find the unique markers that will lead them to the treasure.
To get on with the adventure, visit the website and download the PDF route to your phone. In the app, kids and adults alike have a chance to win real treasure by answering clues and taking quizzes. Correct answers enter into a monthly prize draw for £100.
The route passes through some of the most iconic sites and attractions in the area, including some places that literary fans may recognize. It also includes stops at some of the area's parks and gardens, giving children the opportunity to stretch their legs and enjoy some outdoor activities.
Bringing the kids to this activity is the most enjoyable way to spend a sunny day in Dorset.
For a memorable experience, the downloadable route is customizable. So get creative, wear those hiking boots and head outdoors for a wonderfully adventurous day.
Cost: £9.99 per trail
Location: The Esplanade, Weymouth, Dorset, DT4 8EA, United Kingdom
Isle Of Portland
11. Chesil Beach – Days Out In Dorset With Kids
If you zoom in on google maps of Weymouth you will see there is a bridge road that goes all the way to an island off the coast. The Isle of Portland is definitely worth a visit. Featuring a beautiful lighthouse with stunning coastline views and wonderful wild flowers all around the site.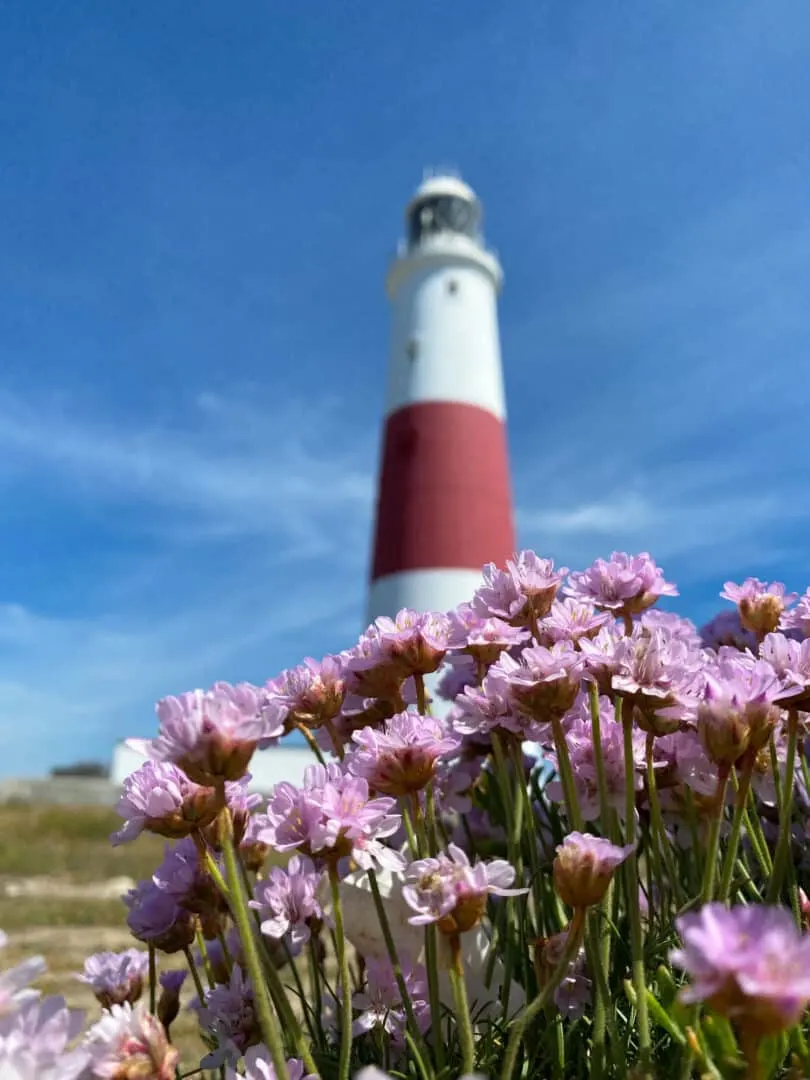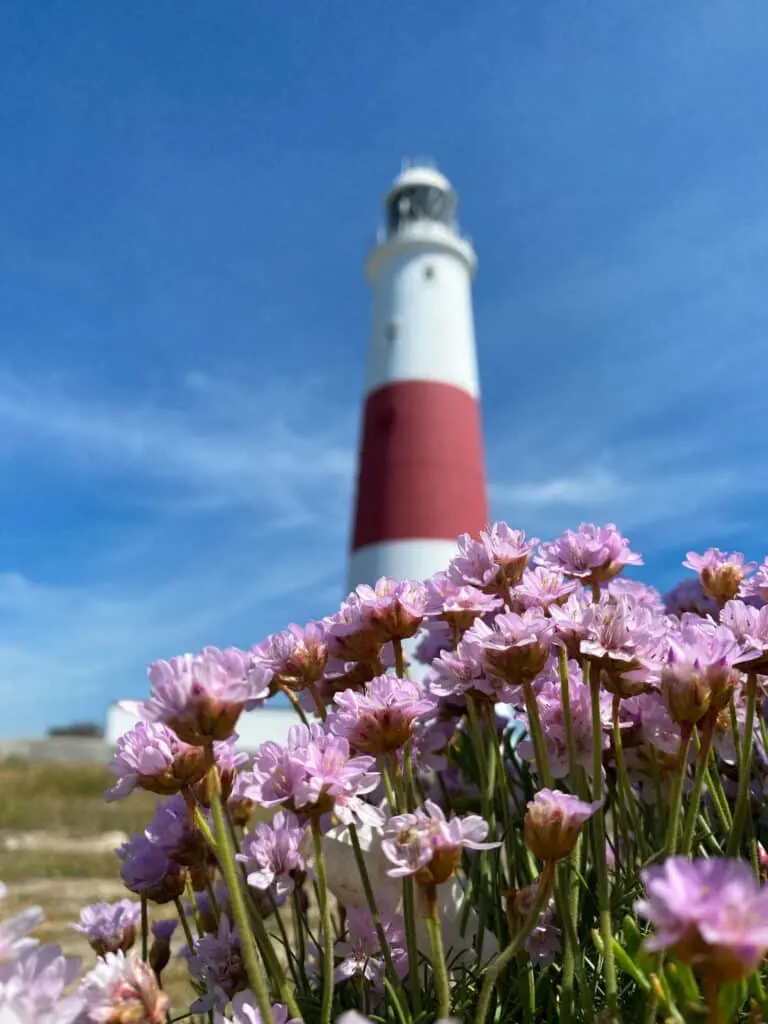 A barrier beach called Chesil Beach runs the entire length of the road which is really pretty to look at when you reach a high point of the island. It looks like a sand beach from an aerial perspective but it's actually a shingle beach.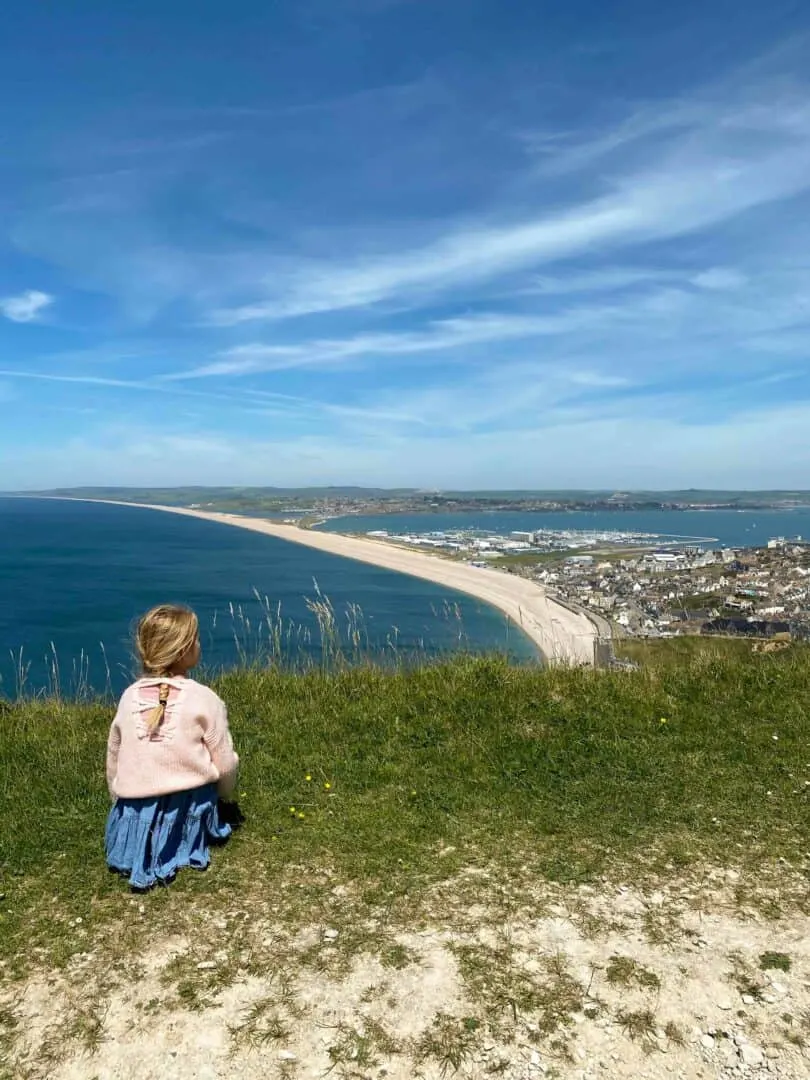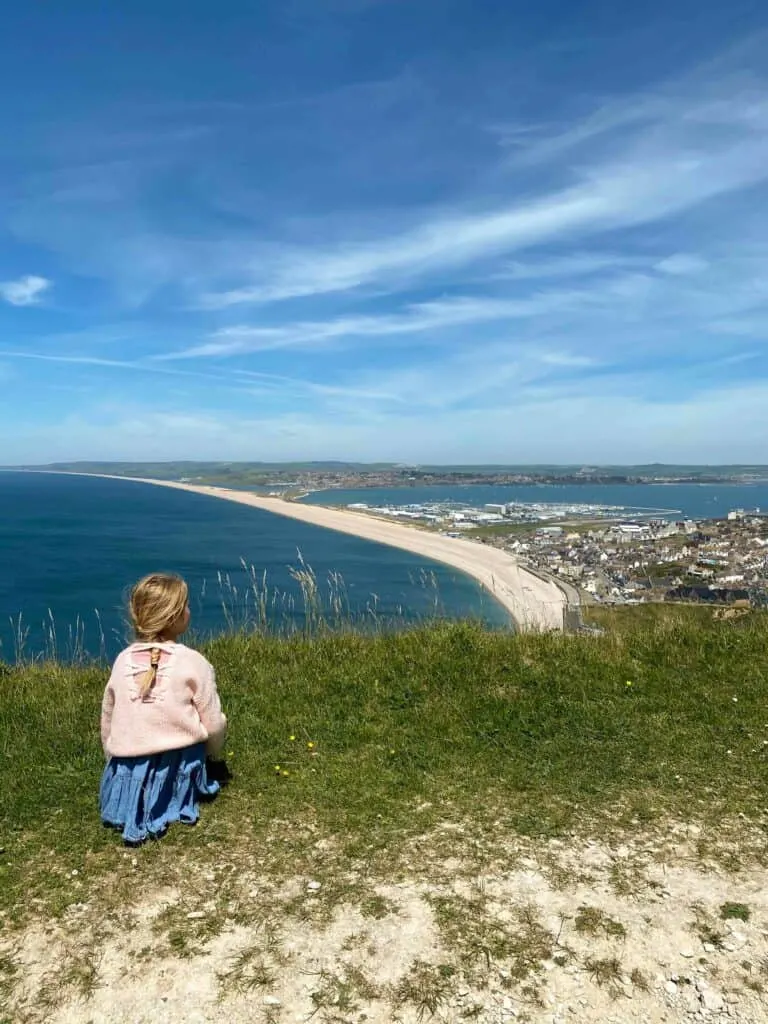 Whilst it's nice to have a quick look it's not suitable for swimming on Chesil Beach nor is it easy to walk along. I therefore wouldn't factor long periods of this particular beach into your itinerary.
Location: A354, Weymouth DT4 9XE, United Kingdom
12. Tout Quarry Sculpture Park & Nature Reserve – Kids Activities Dorset
There are lots of incredible coastal activities on the Isle Of Portland but our favourite was visiting Tout Quarry Sculpture Park & Nature Reserve. Here we walked around the area, with some paths weaving through rock formations and along the cliffside.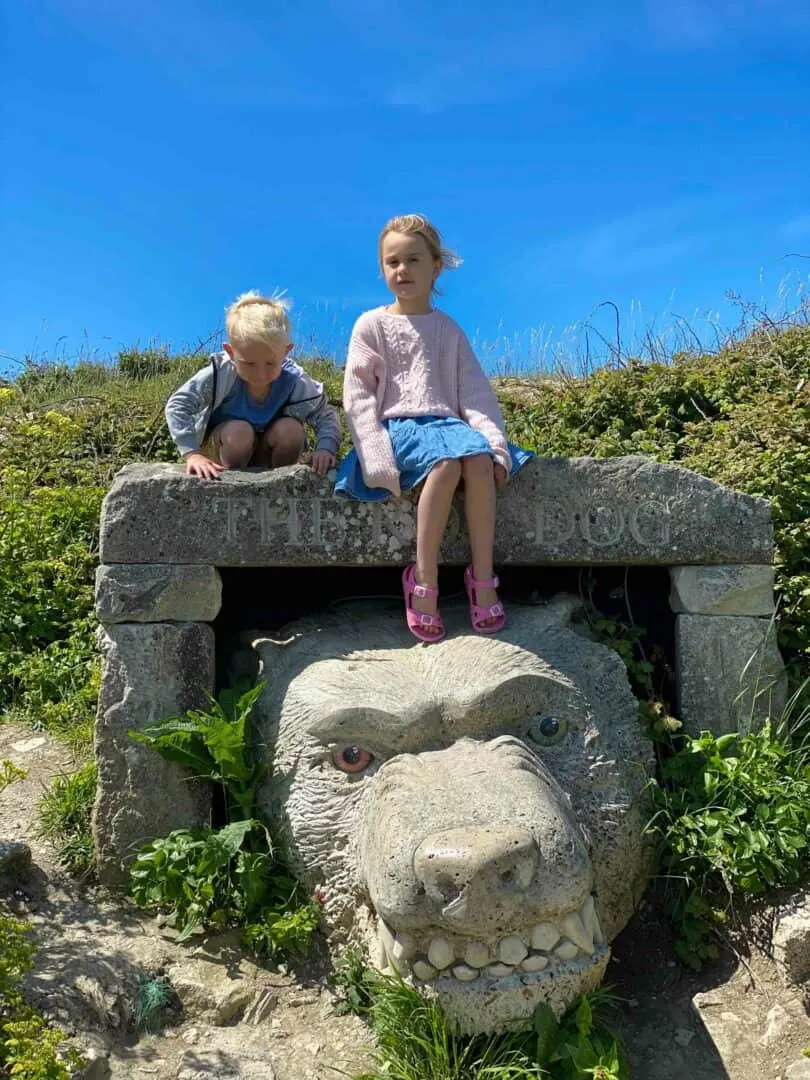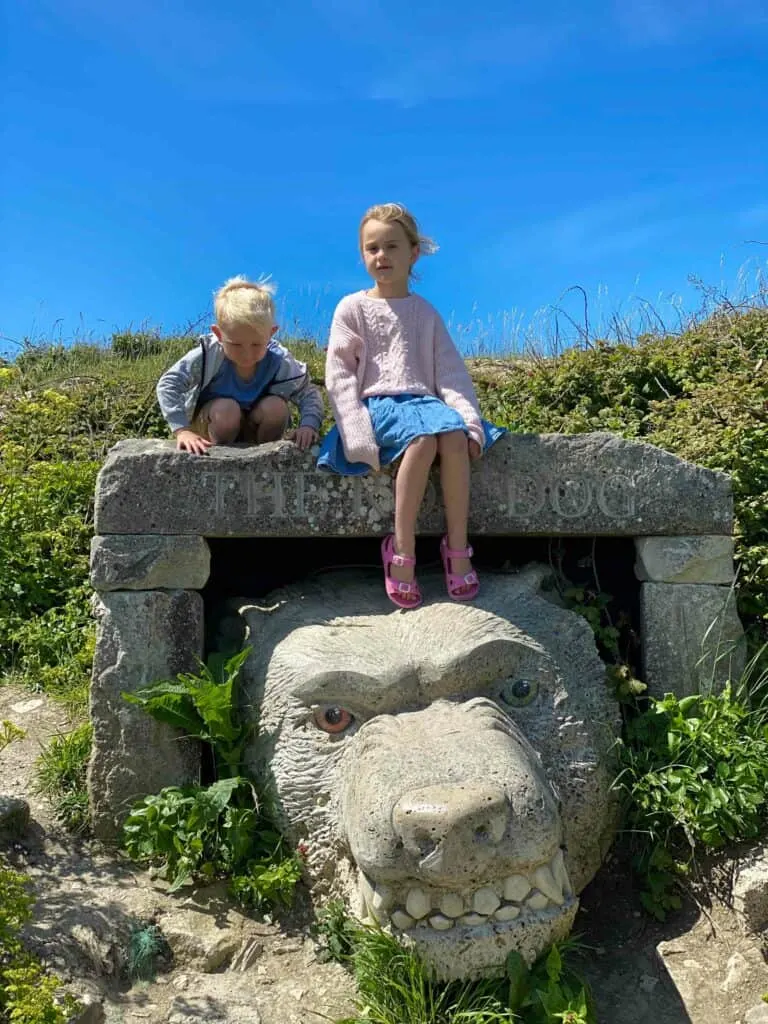 Along the way, you will find some incredible rock sculptures which the kids loved exploring. It is not a particularly buggy-friendly place so I'd say take a carrier for little ones.
The park is free to enter and I have to say my favourite part was the coastal path which provided views of Chesil Beach road that connects to the mainland. Such a pretty view on a nice day!
Timings: Open 24 hours
Location: Isle of Portland, United Kingdom
13. Fancies Farm – Things To Do With Kids In Dorset
The Isle of Portland has a tonne of other things to see including a free farm where you can buy some feed for the kids to give to the animals.
Fancies Farm is quite basic (but it is free) with some horses, donkeys, sheep, goats and chickens. They also have a small sand area for kids to play and a little cafe to grab a coffee with picnic benches.
Timings: 10:30 AM to 4 PM (Monday to Sunday)
Location: Glacis, Portland DT5 1EQ, United Kingdom
14. Easton Gardens – Places To Go In Dorset With Kids
Looking for an outdoor space to relax in when visiting Dorset with kids? Easton Gardens must be on the list of things to do in Dorset with kids.
Being recognised as one of the top green spaces in the country, the Easton Gardens are easily accessible, safe and well-maintained.
The play area includes features to ensure children of all ages, abilities, and mobility can access the playground and enjoy its features.
The level ground throughout the garden makes it easy for wheelchairs and pushchairs to access, and the green space provides plenty of room for running around and having fun.
Cost: Free Admission
Timings: Open 24 hours
Location: 11 Easton Square, Easton, Portland DT5 1EB, United Kingdom
Lulworth
15. Durdle Door – Family Days Out In Dorset With Kids
No visit to Dorset is complete without a trip to see the geological wonder – the Durdle Door! This iconic landmark has to be one of the most photographed spots in all of the UK. You can get some incredible views of the limestone arch from a variety of different angles. Whether its from the pebble beach or on the cliff top above, it looks magical!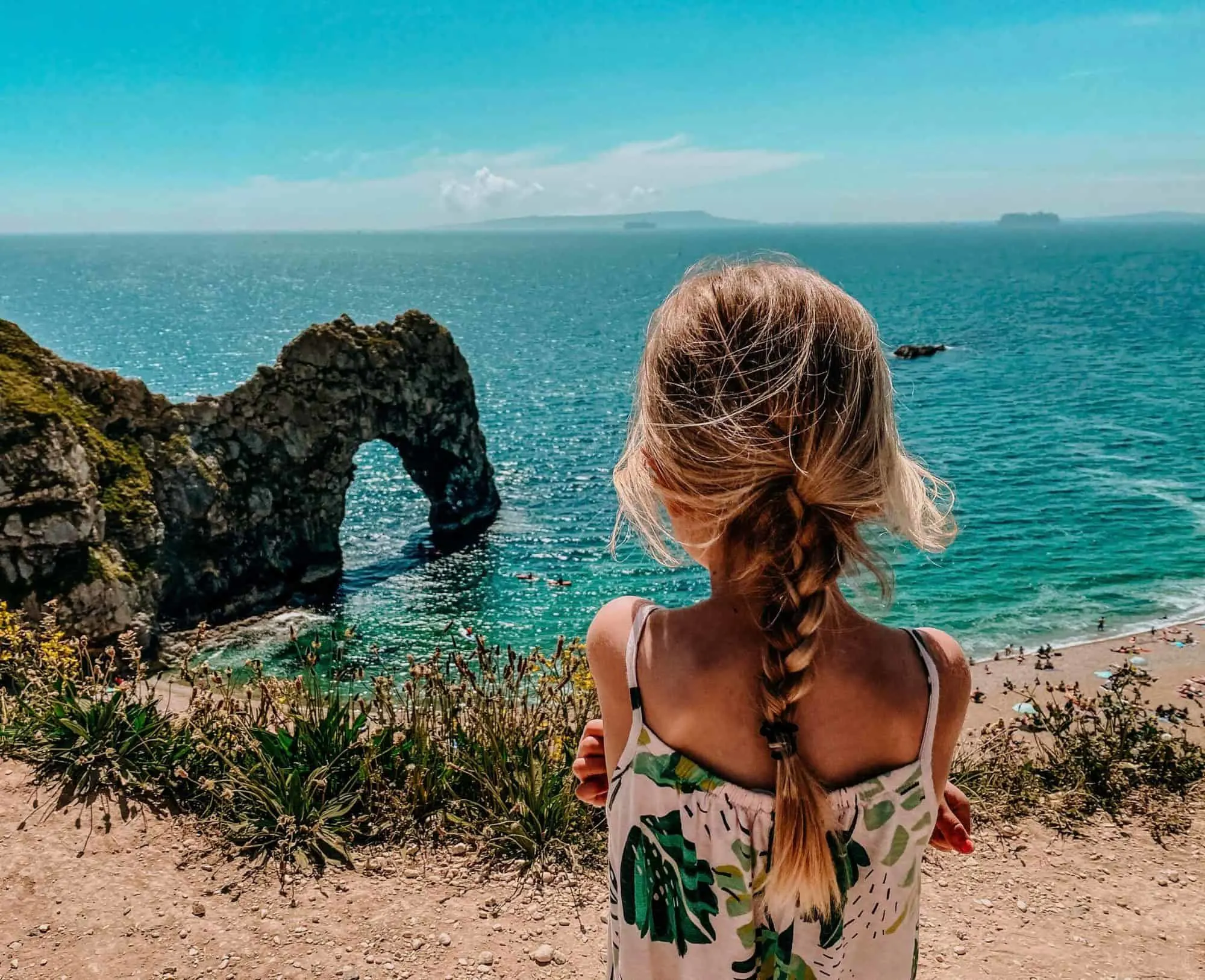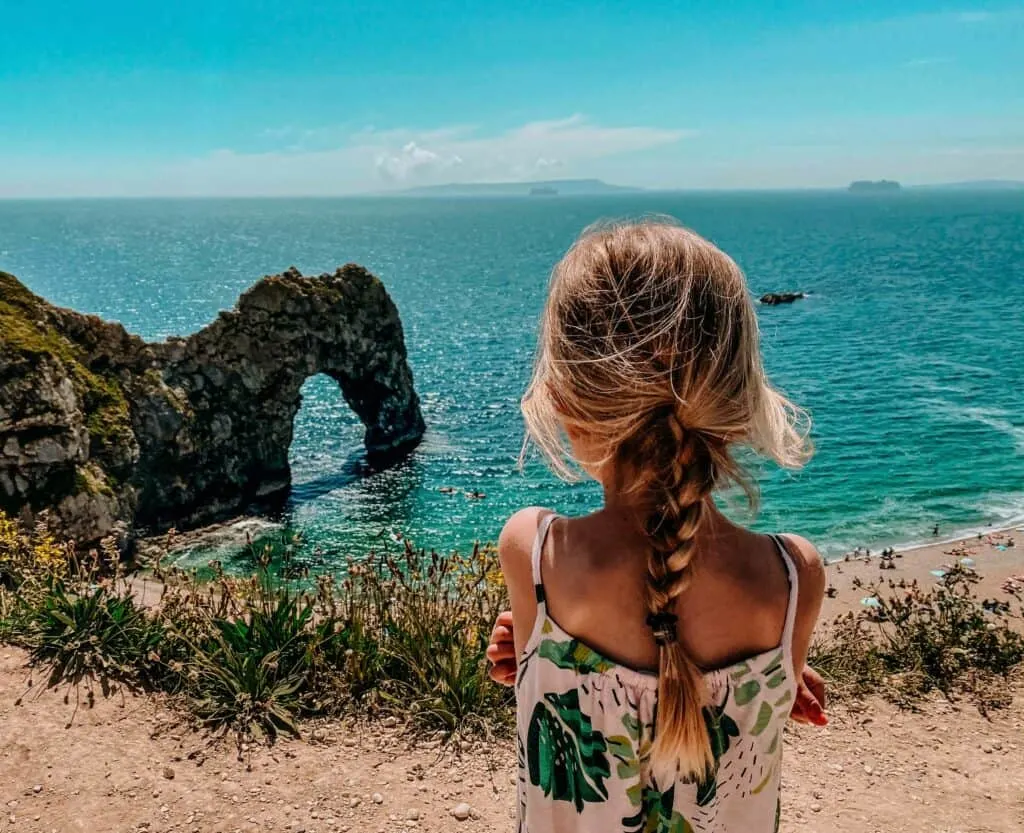 There are at least two or three beaches you can access on the walk from the Durdle Door car park. Man O War is one of them and is a little quieter on busy days than the Durdle Door Beach. The stairs that lead to Durdle Door split in two half way down so you can choose to go to Man O War if you prefer.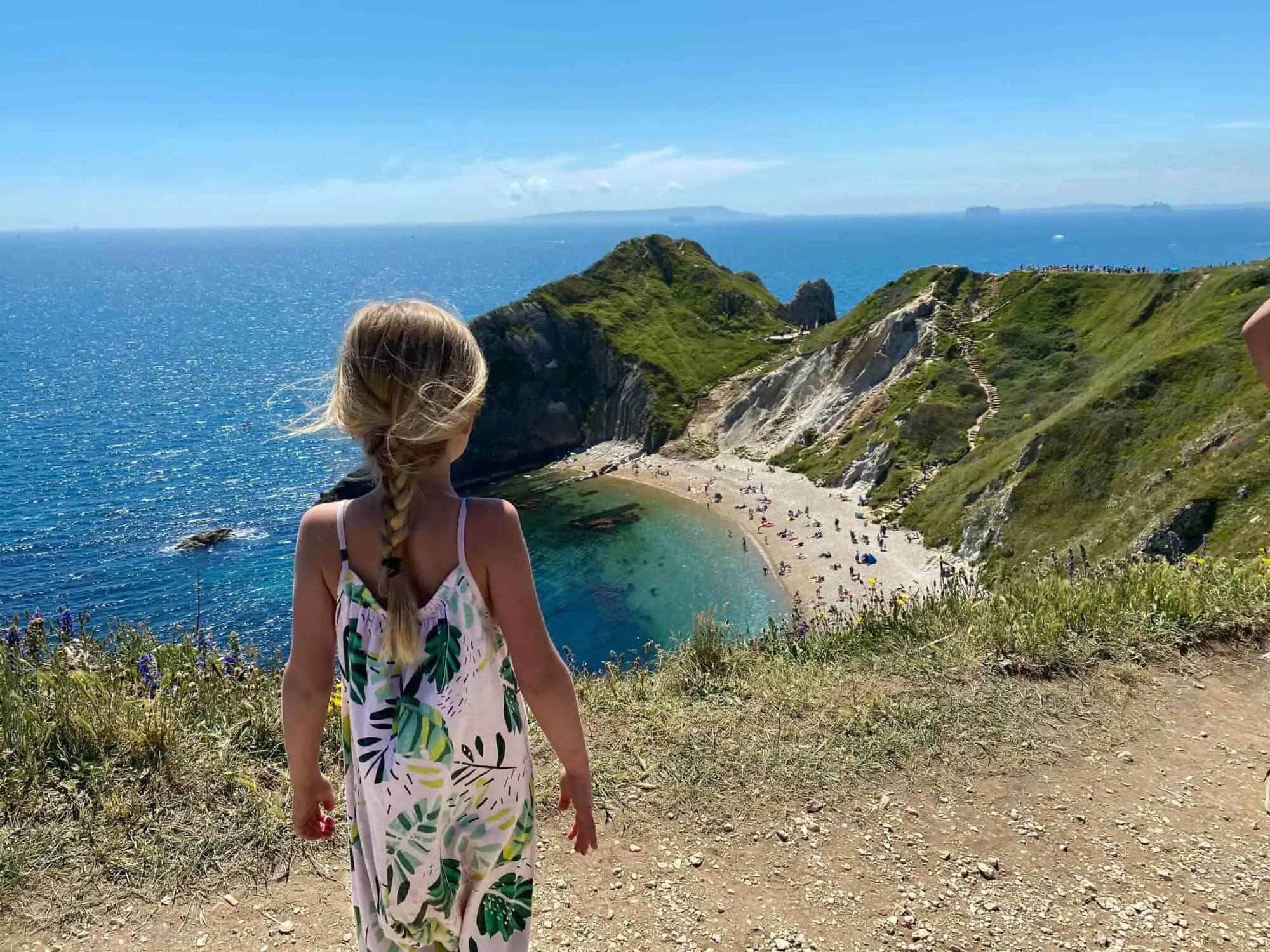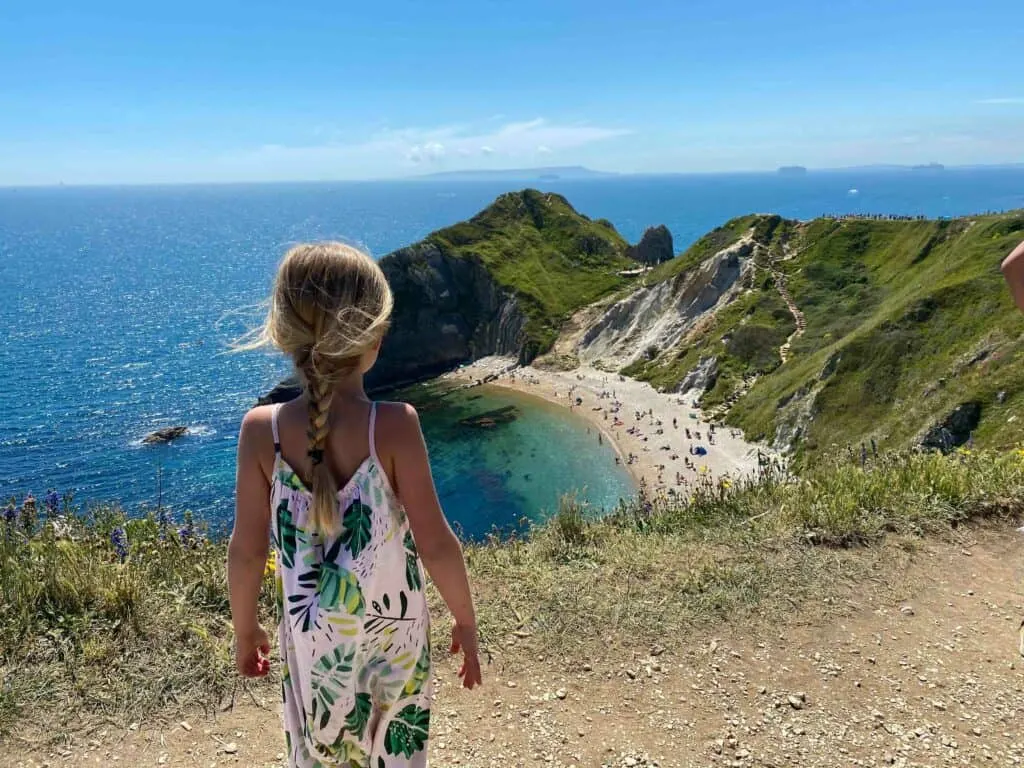 Man O War has two bays and obviously, the further along you follow the bay, the quieter it gets. It's worth noting the gravel path down to the Durdle Door and stairs to the beach are quite uneven for little feet. It's also worth noting it's quite the hike to get back to the car park.
We did see lots of people with varying abilities doing the walk so it's totally possible, you're just going to need to work those leg muscles, especially if you end up carrying a little one. The beaches are quite shallow and perfect for kids to paddle.
Try to pack light and compact so you don't have too much to lug back up the hill after! Durdle Door car park is a paid car park and again if you download the app, that is the best way to pay.
To see Durdle Door from the sea check out this tour.
16. Lulworth Cove – Family Days Out Dorset
Lulworth Cove is one of the most popular beaches in all of Dorset. It's about a 30 minute walk across the hill from the Durdle Door car park if you would like a nice coastal stroll. Alternatively, you can park closer just next to West Lulworth village, however, you will still need to do a bit of a hill walk to get there!
The water is crystal clear and a beautiful blue colour which attracts so many visitors. The beach is a pebble beach so no sand castles for little ones, that said it is shallow so perfect for little paddlers.
Location: West Lulworth, BH20 5RQ, United Kingdom
17. Lulworth Castle – Things To Do In Dorset With Children
Lulworth Castle is a stunning part of the Lulworth Estate. This 17th Century fortified castle is a quint essentially a British experience. Part of the English Heritage Association, the castle is quite affordable to enter.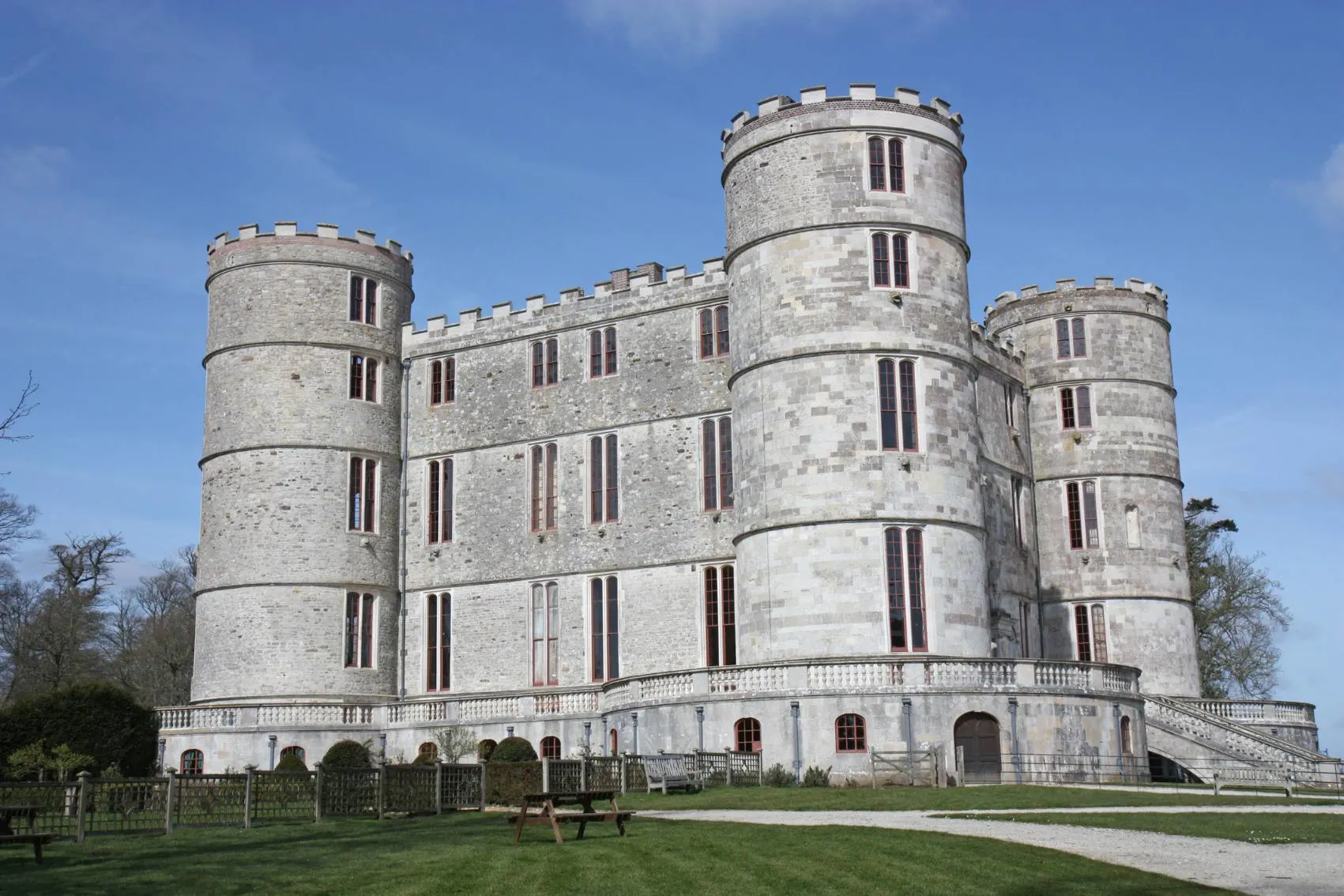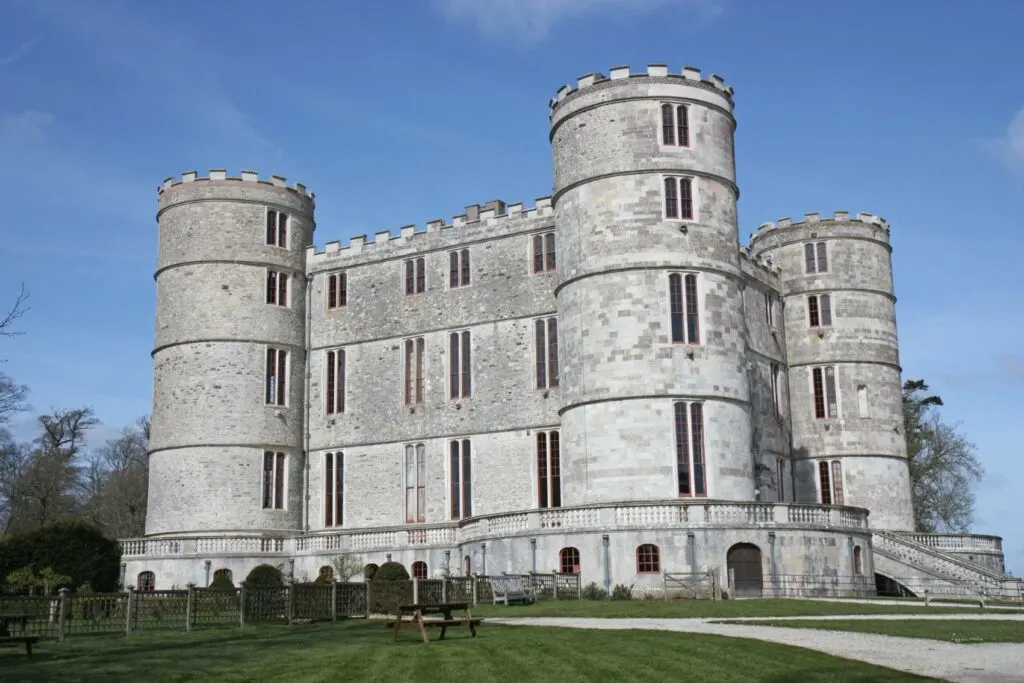 Featuring a children's playground and stunning gardens, it's a great place to spend an afternoon. Like everywhere nowadays it's best to book online. Booking the earlier slot on the website is best if you are visiting on the weekends as the castle does get quite busy.
Timings: 10:30 AM to 5 PM (Sunday to Thursday)
Location: East Lulworth, Wareham BH20 5QS, United Kingdom
18. The Blue Pool – Days Out With Kids Dorset
We had such a great morning visiting the blue pool. It's closer to the Lulworth attractions so best to tie it in when you are in that area. This activity was our daughter's favourite. It was much nicer on the purse strings than some of the other activities too!
The Blue Pool is a natural swimming hole where the minerals in the water give it a distinctive blue colour. It's certainly more vivid on a bright day. The pool is surrounded by beautiful woodlands with a trail all around the edge weaving through the trees.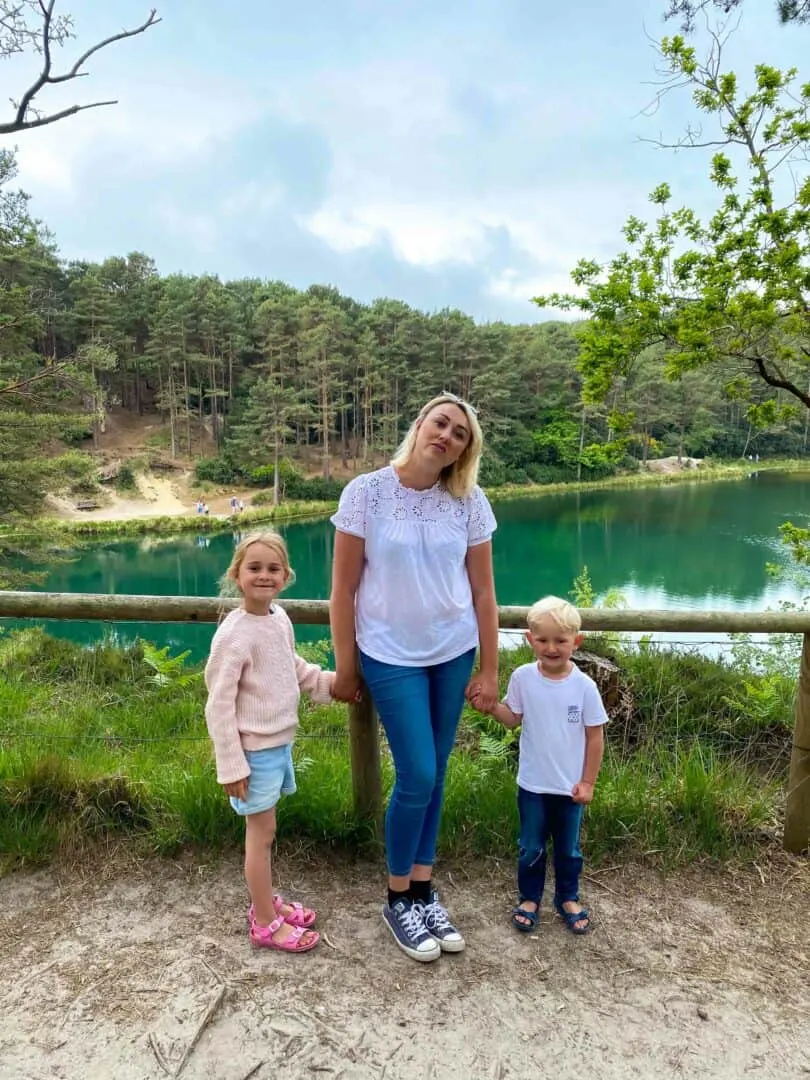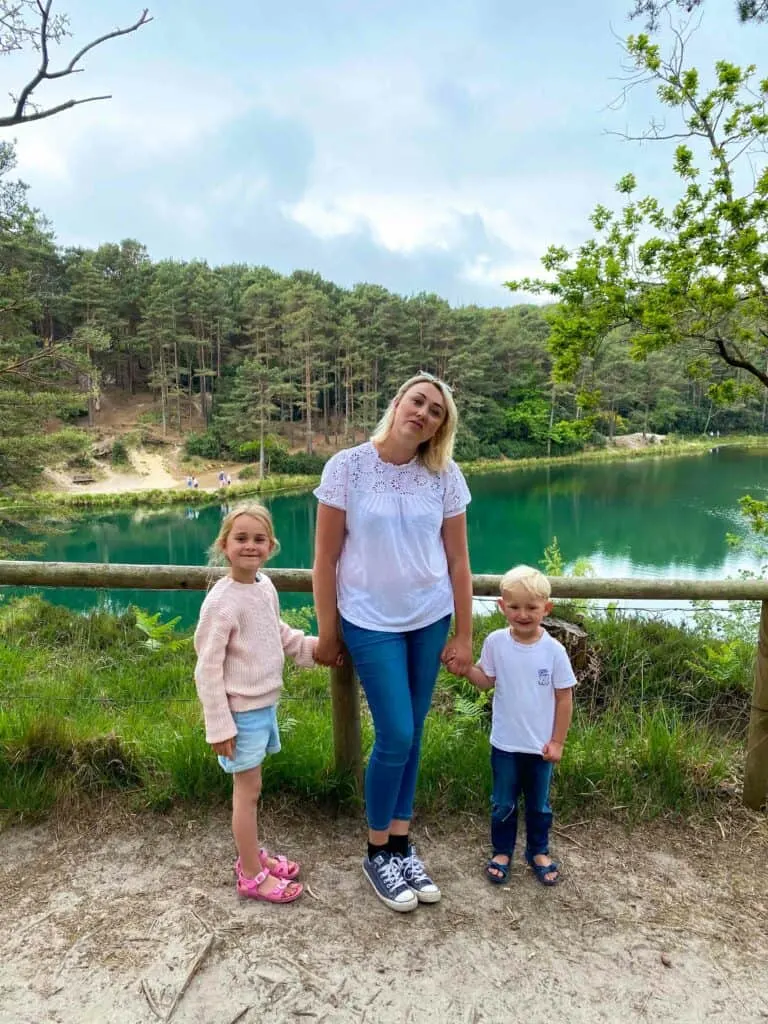 Funnily enough, we did not see anyone swimming, everyone was just on a walk. You can bring an off-road style stroller, there are no steps on the way around.
My kids really did love this mainly because of the fairy door trail provided at reception. The children had to look out for little mushroom toadstools and find the corresponding fairy door in the tree. It was so much fun and made sure even the 3-year-old walked the whole way.
There are tea rooms towards the end with some outdoor picnic benches to have lunch or a bite to eat from the cafe.
Location: Wareham BH20 5AR, UK
19. Monkey World Rescue Centre – Day Out With Kids In Dorset
Monkey World is probably one of the top Dorset attractions for family visitors. As a vegan, I generally don't go to zoos or places where animals are caged. However, Monkey World is a true rescue centre.
There used to be a programme on TV about Monkey World, I can't say I have seen it myself but I would love to watch it now that I have visited. All of the monkeys have been saved from awful situations such as labs and illegal trade.
Many have lived in confinement in small cages for such a long time they would not be suitable for release into the wild. This makes Monkey World a better place for them to live.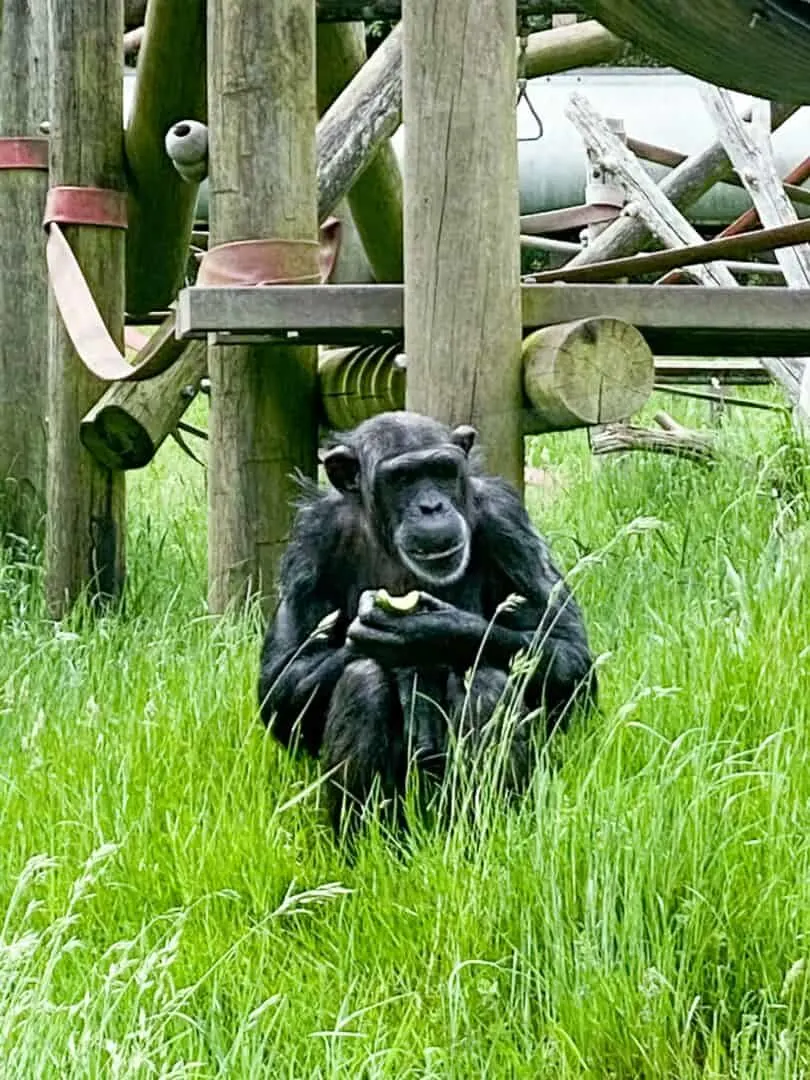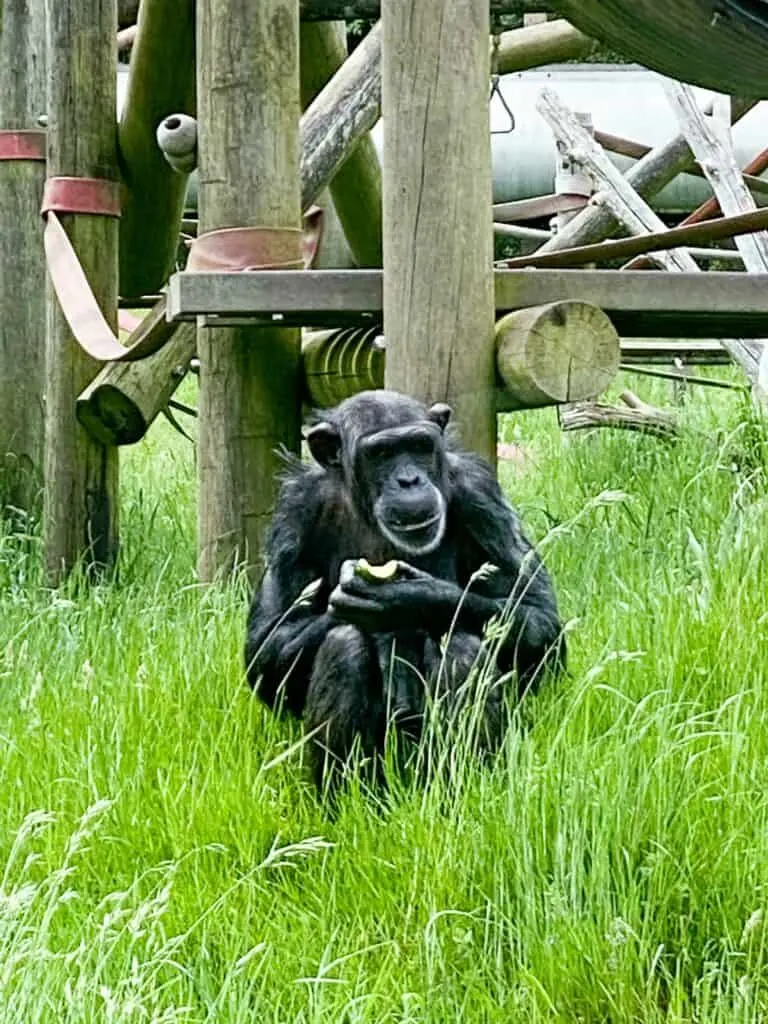 My kids have never been to a zoo so this was something completely different for them. They really enjoyed themselves and the playground at the end of the centre is just incredible. It's definitely for older children with more climbing ability. Our nearly 7 yo really enjoyed herself. There was lots of climbing involved and big slides.
There are around three smaller playgrounds dotted around the green spaces in the centre for younger children so there is certainly something for all aged children. Monkey World is possibly one of the best days out with kids in Dorset.
Location: Tout Hill, Longthorns, Wareham BH20 6HH, United Kingdom
20. The Tank Museum – Day Out With Kids Dorset
A tank museum is not the first thing that pops to mind when considering what to do in Dorset with kids. However, the museum has something for everyone. There is a trail around the exhibitions where little ones can collect stamps and even collect a free prize at the end.
Entrance to the museum is free for those under 5's and there are areas just for them. There are also plenty of interactive games to keep them busy as they walk around. For those a little older there is a chance to dress up and learn more about the tanks and their history.
Teenagers can even ride around in one of the mini tanks and learn about making and designing the tanks in the learning centre. There are also opportunities to see the tanks in action with special displays and events held throughout the year.
Timings: 10 AM to 5 PM (Monday to Sunday)
Location: Linsay Rd, Bovington, Wareham BH20 6JG, United Kingdom
21. Moors Valley Country Park
For nature and adventure then check out Moors Valley Country Park. Many of the trails are especially for kids. The Play Trail is the most popular and leads to a wooden play area.
Halfway along the trail there is the Tree Top trail for those seeking a bit of adventure. Just like it says on the tin, it is a walkway high up in the tree tops that gives a fantastic view of the park.
The Ranger's Den at the park has been set up to give kids more information about the creatures that live at Moors Valley Country Park. Inside there are many activities and the chance to see some of the animals themselves. It is free to enter, but a small donation is welcome.
The Moors Valley Railway allows families to see the park from one of their many steam trains. It is not open all year so check out the timetable to avoid disappointment.
For older kids, the park has its very own Go Ape. There are five adventures to choose from with a couple suitable for six-year-olds.
Check out tickets and prices for Go Ape here.
Isle Of Purbeck
22. Corfe Castle
Corfe Castle is a one thousand-year-old royal castle that was used as a royal palace and a fortress. It is on the Isle of Purbeck and it has beautiful views of the village below. It was built by William the Conqueror in the 11th century and demolished in the English Civil War.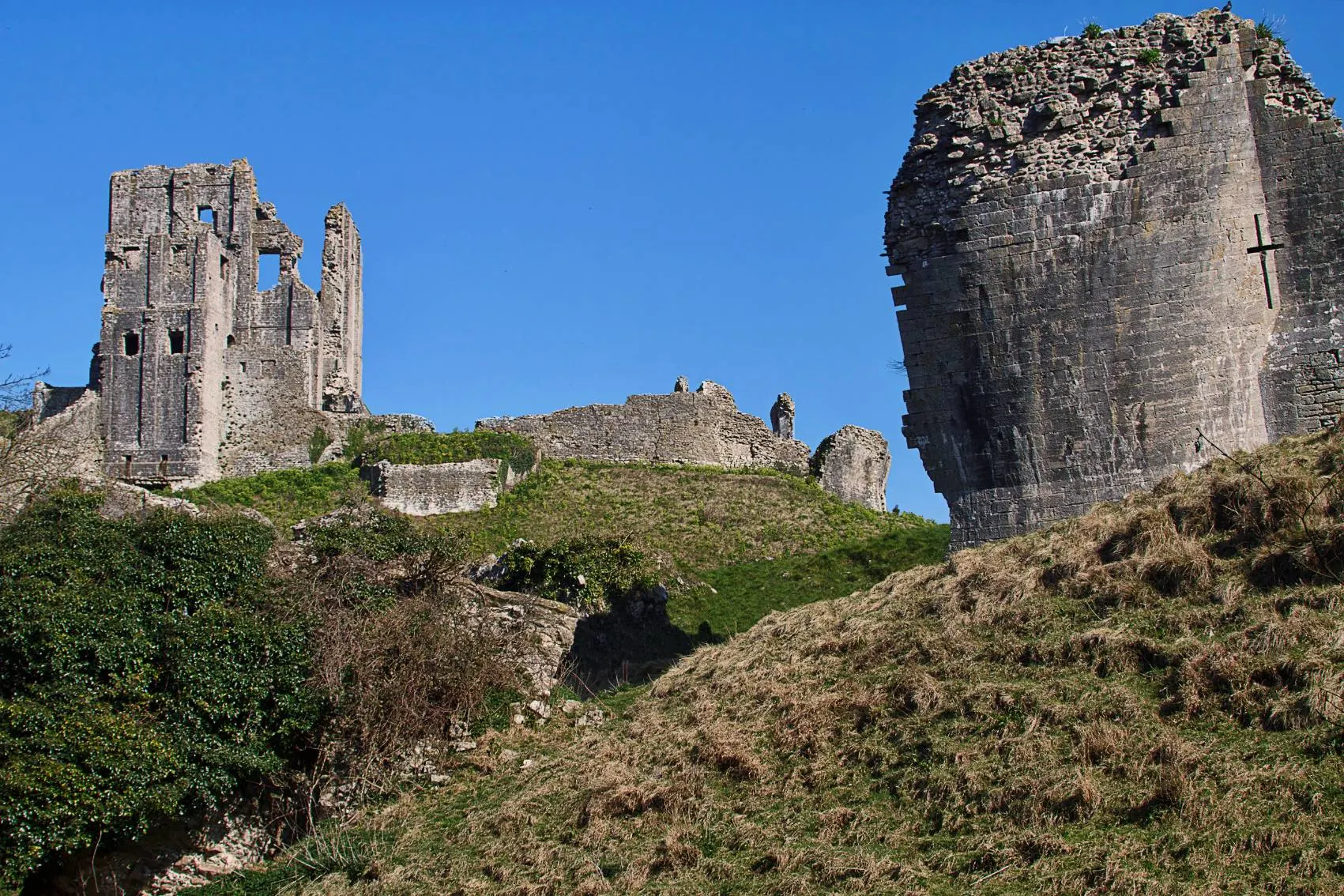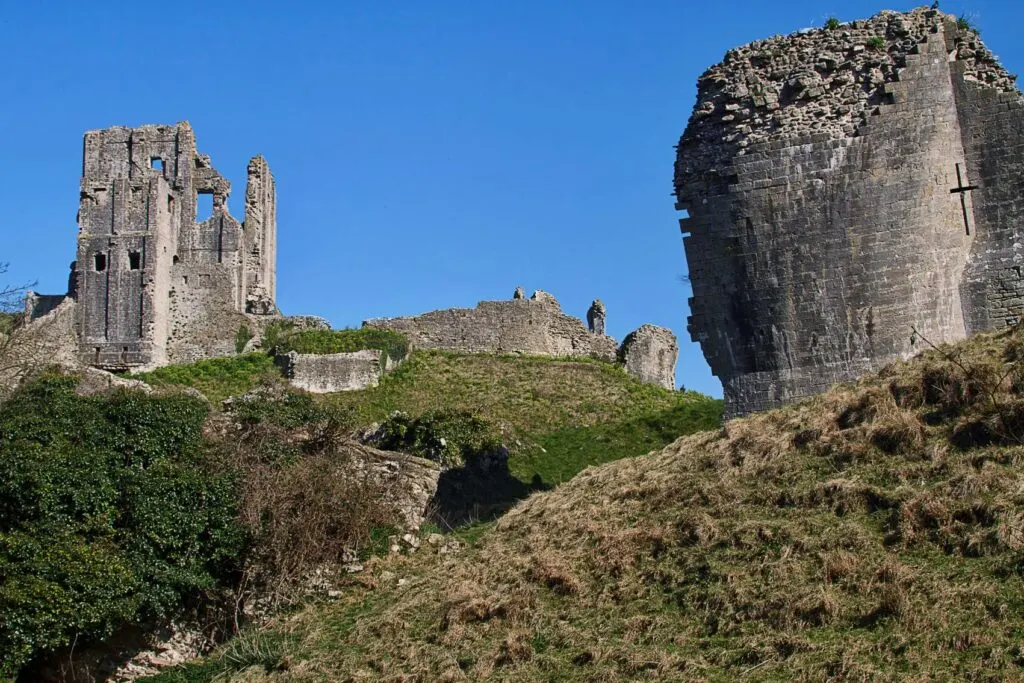 As you explore the ruins, challenge kids to count the arrow loops. There are also many secret places to find and keep your eyes open for the wildlife that now calls the castle home.
Book a guided tour from Weymouth to Durdle Door, Lulworth Cove and Corfe Castle.
23. Kimeridge Bay
Kimmeridge Bay is based on the Isle of Purbeck which is essentially the more eastern part of Dorset. This rock bay pool is famous for rock pooling which kids always love! The bay forms part of the Jurassic Coast and is also within the UNESCO heritage site.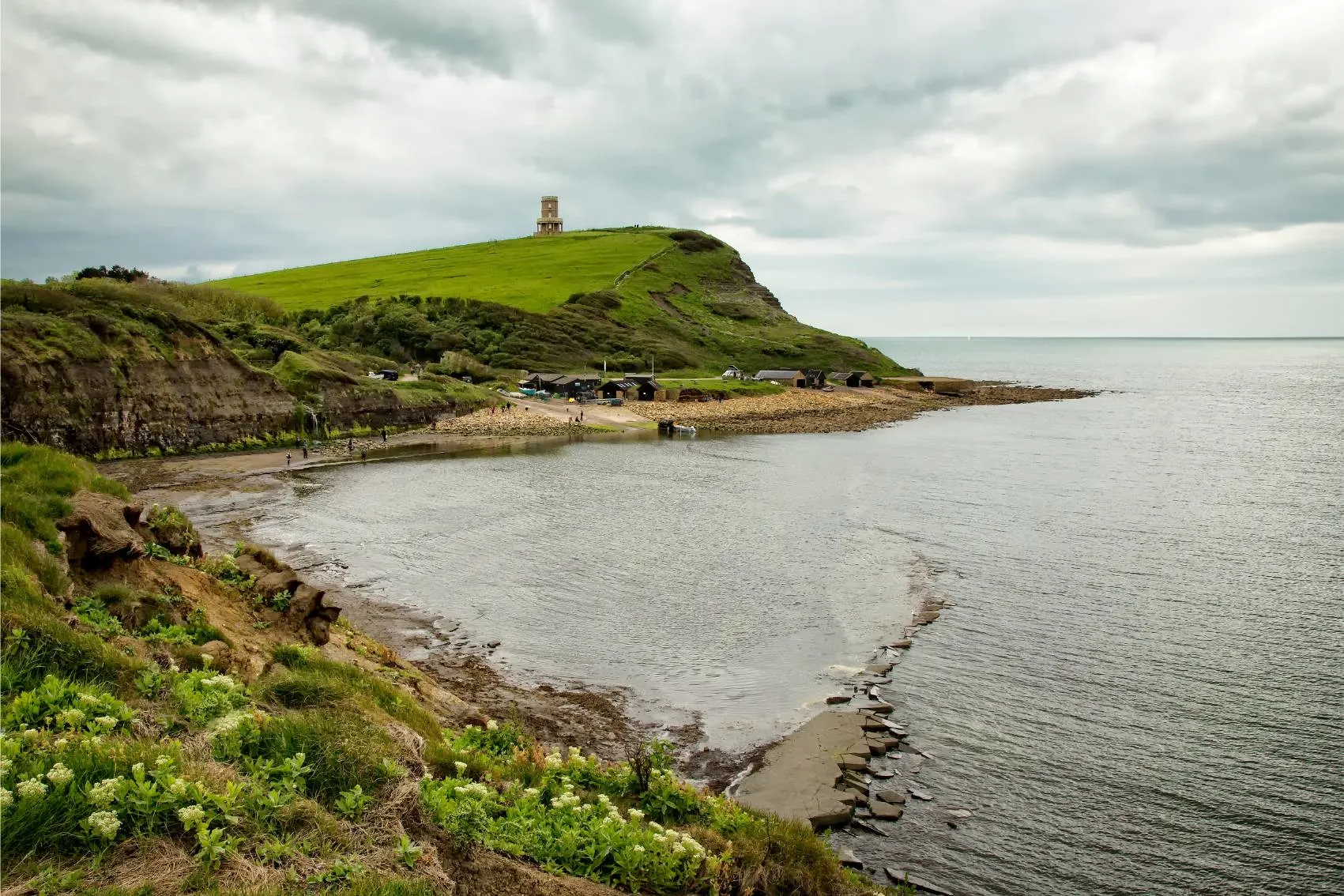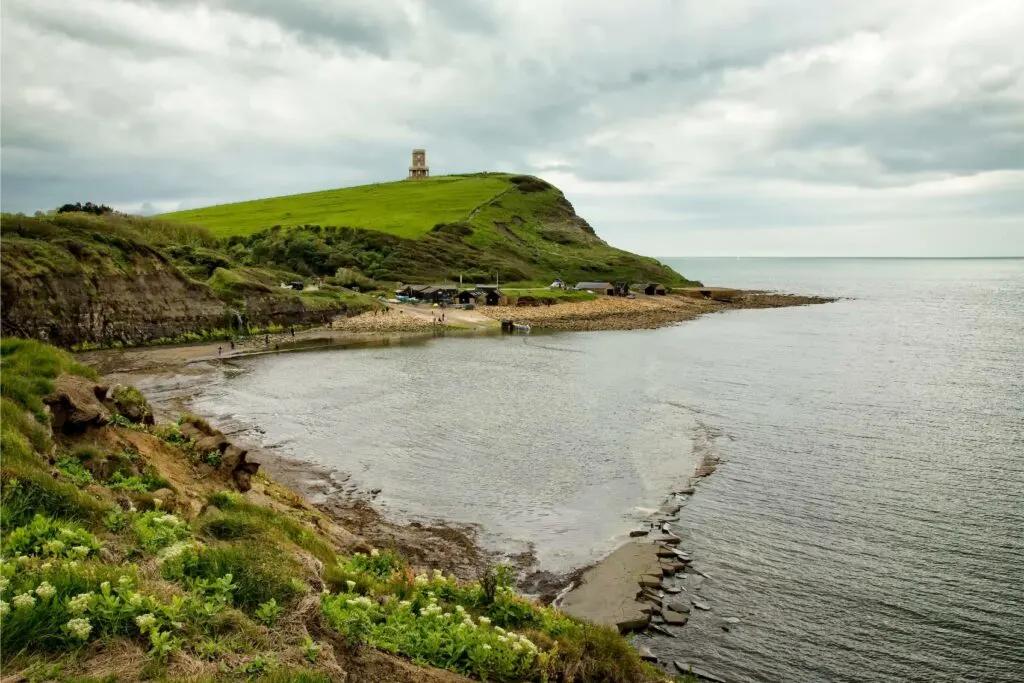 There is no sand on this beach nor is it a swimming beach it's simply for discovering all the life in the rock pools. Make sure to check the tide before visiting! The Wild Seas Centre is close to the car park, it's free to enter and check out the aquarium. There are often events ongoing throughout the year for families.
Timings: 8 AM to 8 PM (Monday to Sunday)
Location: The Toll Hut, Kimmeridge Approach Road, Kimmeridge, Wareham BH20 5PF, United Kingdom
24. Old Harrys Rocks
A great way to see the unique chalk formations known as Old Harry's Rocks is the loop trail of the Jurassic Park World Heritage Site. The trail is around five kilometres but is an easy track with plenty to see along the way. There are signposts to keep you on the right track.
While the trail is easy, kids need to be well supervised due to the cliff edge. As you look out to the sea, Old Harry is the single stack of chalk standing furthest out to sea. If it is a clear day, have a lookout for the Needles. They are another chalk formation located near the Isle of Wight.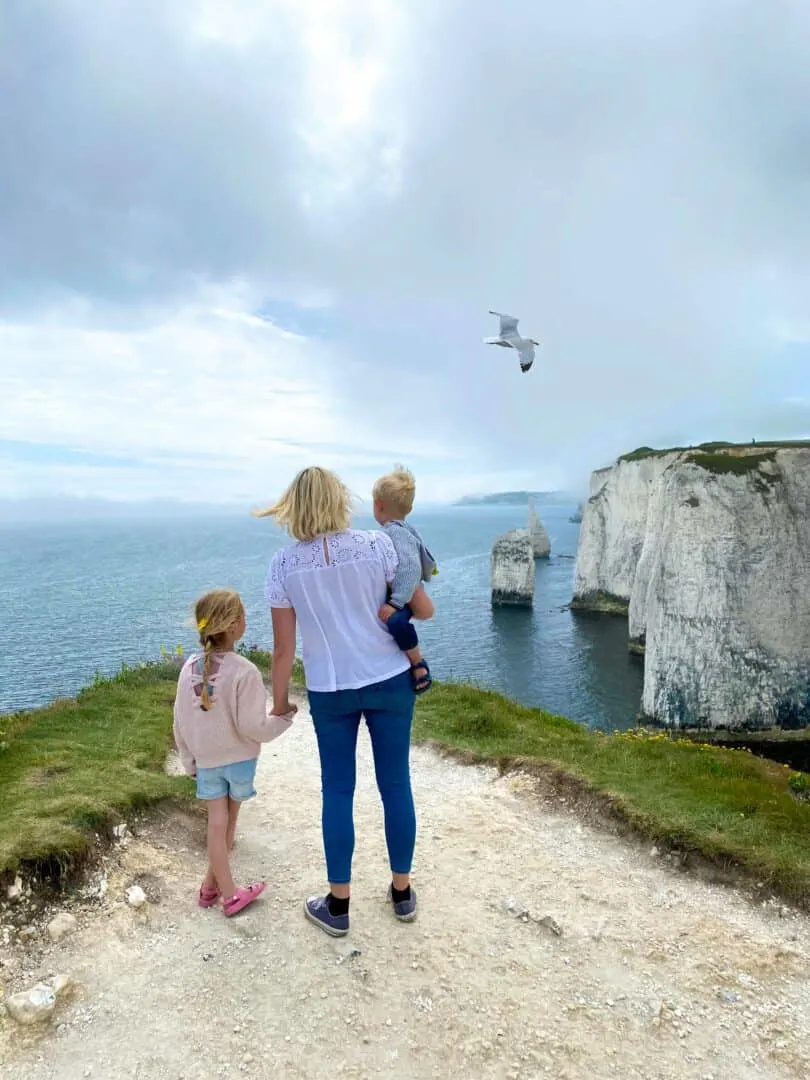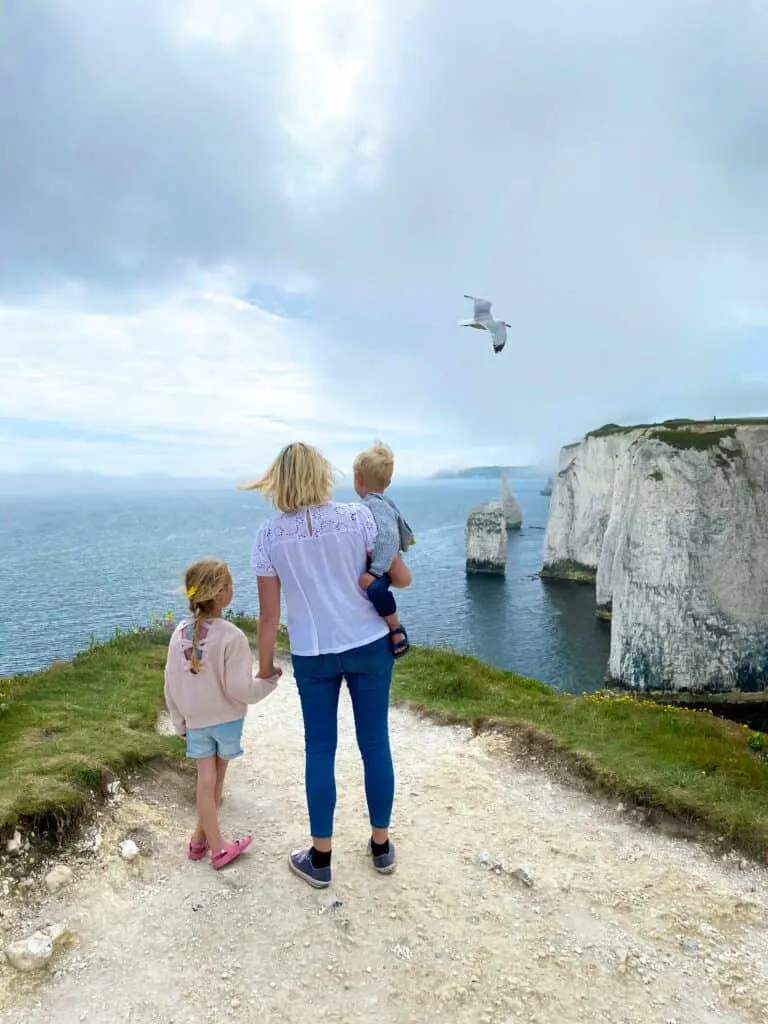 There are plenty of areas to sit and enjoy a picnic while taking in the view. After passing Old Harry keep following the trail until you pass an old church. Your starting point is off to the right. There is also the option to see Old Harry from the sea by kayak or by boat.
Location: BH19 3AN, UK
25. Durlston Country Park
Durlston Country Park is 320 acres and it is the perfect place to explore and learn about wildlife. The country park also has many events and activities throughout the year that are designed specifically with kids in mind. Many of the trails are suitable for strollers.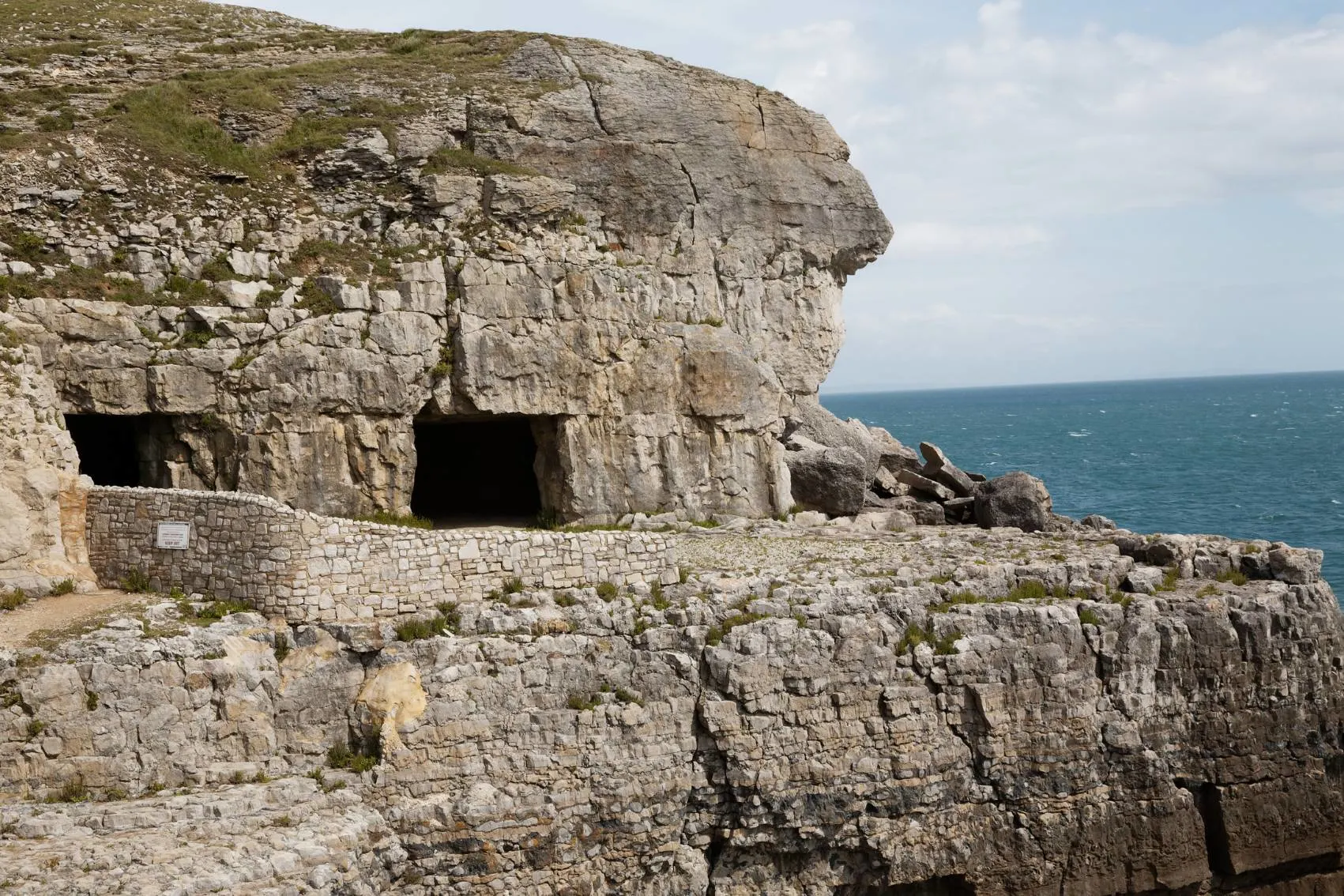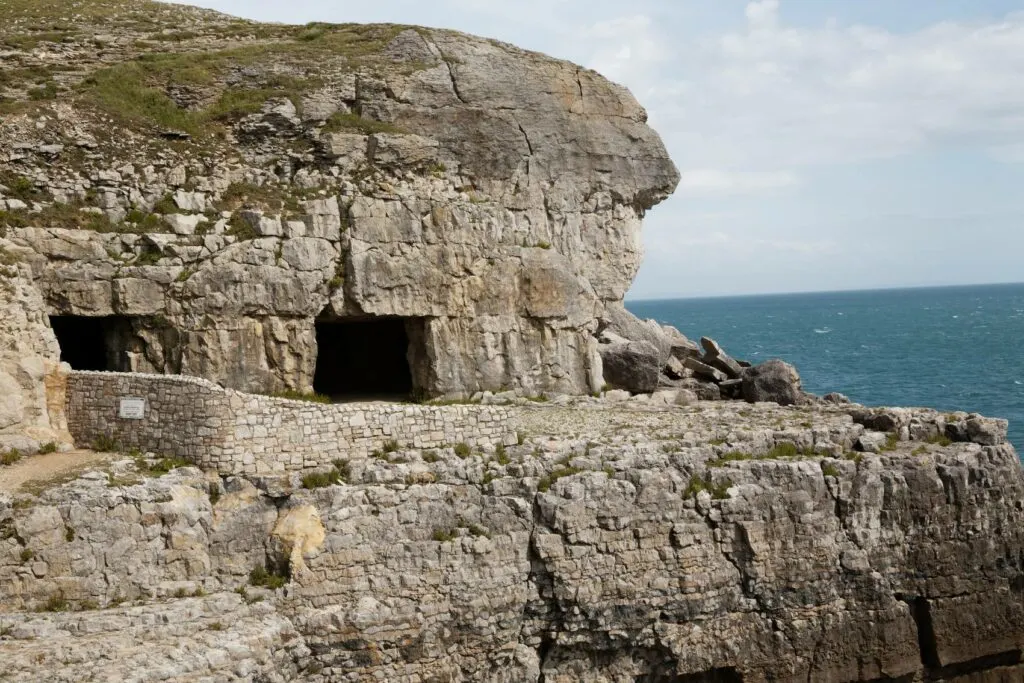 Some of the places kids might like to explore are Anvil Point Lighthouse and the Castle. In fact, during the summer months, there is a children's activity trail that starts from the castle. All year round you can rent a family explorer rucksack which is filled with activities and games for families to take part in along the Woodland trail.
Timings: Open 24 hours
Location: Lighthouse Rd, Swanage BH19 2JL, United Kingdom
26. Shell Bay – Family-Friendly Holidays Dorset
Shell Bay is a small bay that can be found on the Studland Peninsula. This stunning sandy beach is four miles long with dunes to the back. There are many ways to reach the beach including a bus and even a ferry from Sandbanks. The views from the bay are breathtaking and kids can enjoy watching the ships going in and out of the harbour.
The reason the beach is popular is that it is a safe place to swim, no matter the tide. However, this also means that it can get quite busy in the summer months. There are a few restaurants nearby to grab a bite to eat.
Knoll Bay is also a short distance away where there is a designated naturist area. It is well-signposted and if you are coming from that direction the Heather Walk trail provides a detour.
Location: S W Coast Path BH19 3AQ, United Kingdom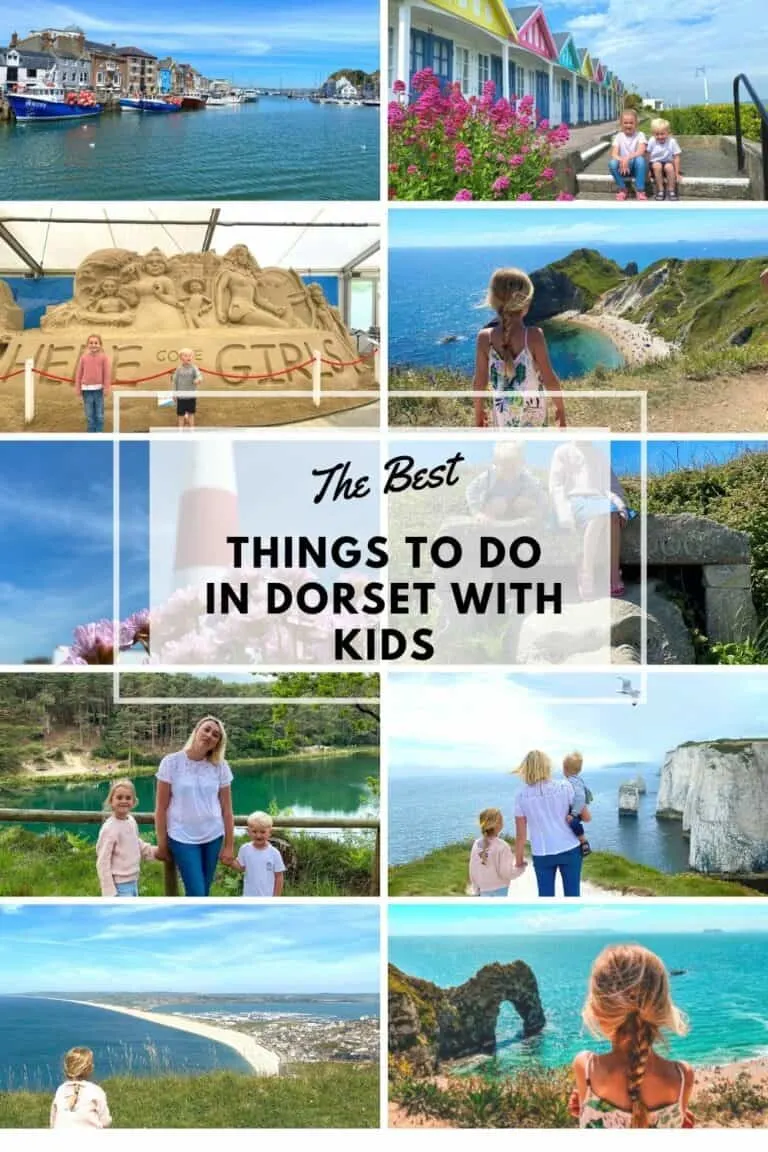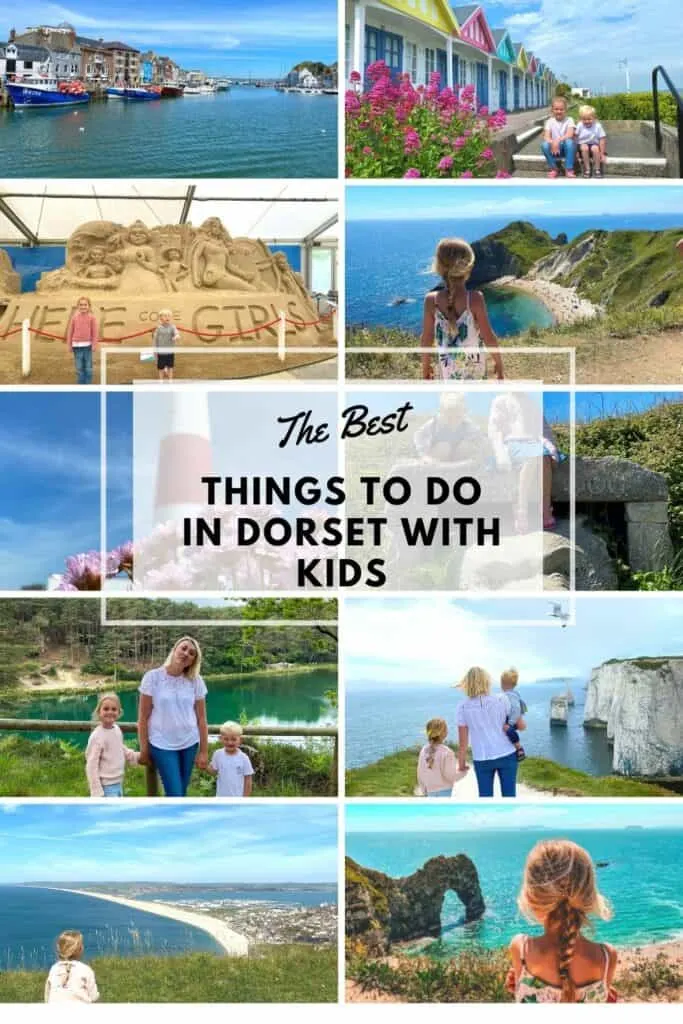 27. Bournemouth Aviation Museum – Things To Do In Dorset Family Attractions
Bournemouth Aviation Museum is located next to the airport. The museum has over twenty hands-on exhibits. It is a great chance for kids to explore a number of different aircraft. In fact, there is even a double-decker bus to sit in and take in the views.
Kids can climb into the cockpits of a Boeing 737 or a rescue helicopter. They are free to use their imaginations and be a pilot for the day. As it is hands-on, kids can play with the buttons and knobs without restrictions.
Timings: 10 AM to 4 PM (Monday to Sunday)
Location: B3073, Merritown Ln, Christchurch BH23 6BA, United Kingdom
28. Swanage Railway- Places To Go With Kids In Dorset
The Swanage Railway is on the Isle of Purbeck and runs five and a half miles from Norden to the seaside town of Swanage. There are plenty of places to stop along the way, including Corfe Castle and Harman's Cross.
The steam train has picturesque views and there are many picnic stops located at the stations. There is also the option to combine your trip with a visit to the Model Village at Corfe Castle. It is a fantastic chance to see what the castle looked like before its destruction in 1646.
Location: Swanage Station House, Station Approach, Swanage BH19 1HB, United Kingdom
Fossil Beaches – Dorset With Kids
29. Lyme Regis – Kids Attractions Dorset
Lyme Regis is a seaside town that is the heart of the Jurassic Coast. It is at the point where the West Dorset and East Devon coastlines meet and it is known as an area of outstanding beauty. There are many things to do in the town such as visiting one of the many beaches.
Lyme Regis is the birthplace of Mary Anning, a famous fossil hunter. To learn more about her and her work, visit the Lyme Regis Museum. There you can also find regular fossil hunting walks and the learning centre for kids to discover more about the fossils found in the area.
Location: Lyme Regis DT7 3JF, United Kingdom
30. Chartmouth Beach – Kids Activities In Dorset
Chartmouth Beach is another place to visit if you want to go on a fossil hunt. The Chartmouth Heritage Coast Centre run guided walks. However, if you want to venture out on your own use the displays provided to help you find your own fossil to take home.
If you are there in search of fossils, then head to West Beach. It is also possible to walk all the way to Lyme Regis in low tide. However, make sure to check with the Chartmouth Heritage Coast Centre before you set off. East Beach on the other hand has more dry sand. While you can still find fossils here, they are more abundant on West Beach.
It is not possible to visit most of East Beach during high tide as the road is impassable. Collecting fossils along the beach is a great activity. However, visitors are reminded not to hammer at the cliffs as the area is part of the Jurassic Coast which is England's only Natural World Heritage Site.
Location: Bridport DT6 6LS, United Kingdom
Places To Go With Kids In Dorset – Map
Where To Stay In Dorset With Kids
Durdle Door Glamping
The great thing about the Durdle Door site is it offers lots of options, from mobile homes to camping & touring pitches and cute little glamping pods.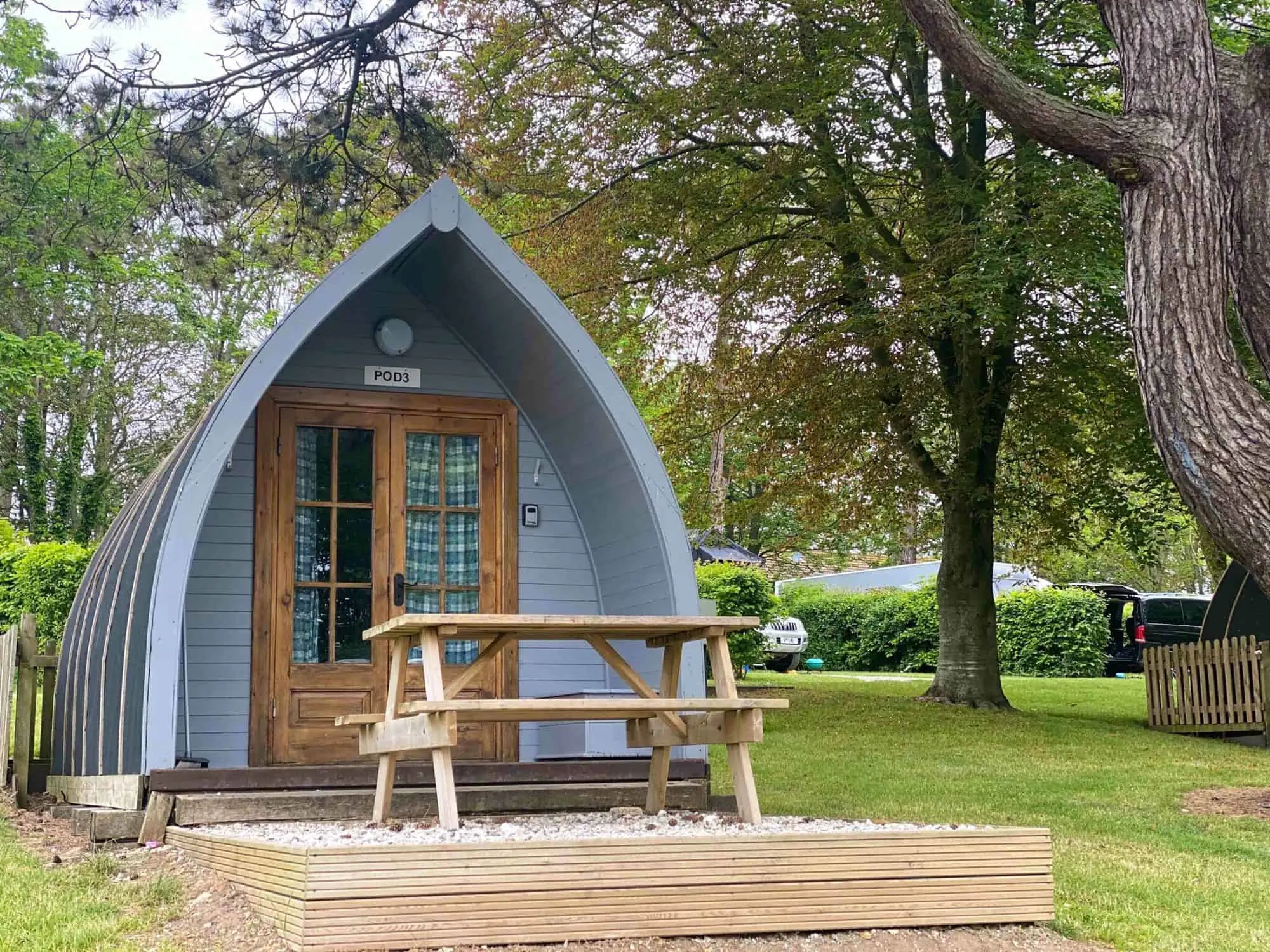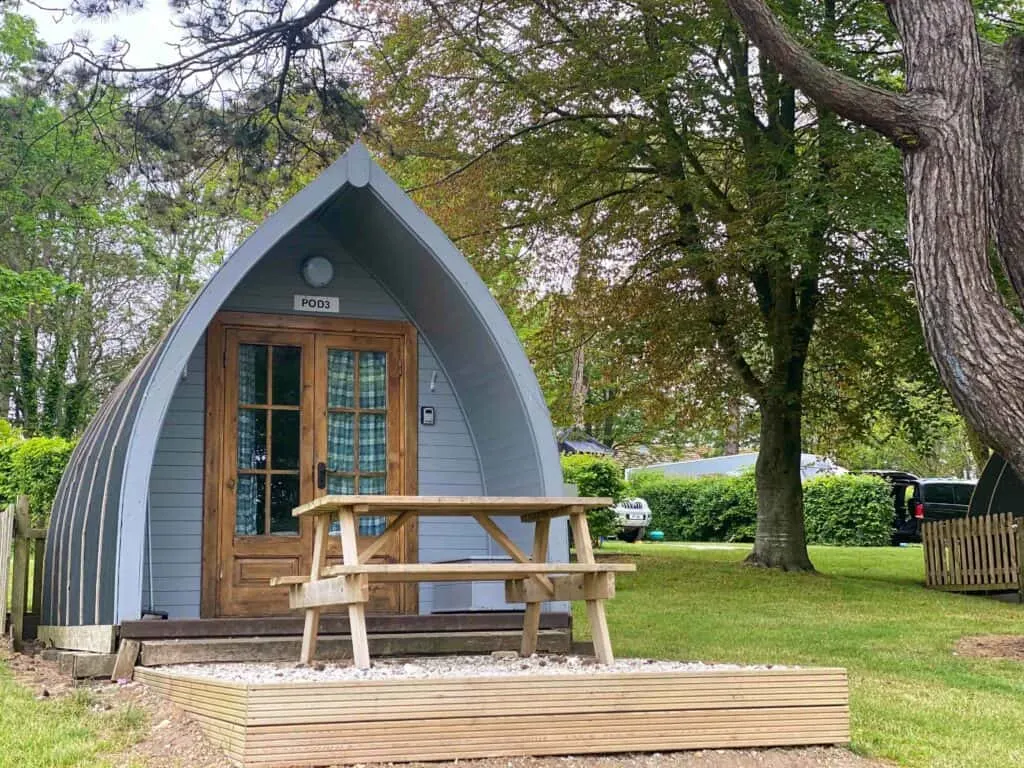 Durdle Door is just 200 metres from the coastal path and a central location to explore the Jurassic Coast. The pods sleep up to four people and there is access to showers and toilets. Bedding is not included so it needs to be brought with you or it can be rented from reception.
For more information and to check availability click here.
Touring
If you plan on seeing Dorset and the surrounding area, then renting a motorhome might be a great choice for your family. There are many motor home parks spread out across Dorset. Depending on availability there are usually electric and water connections available.
One of the great things about touring the area, especially with kids is the freedom it gives you. It is easy to get to all of the places you want to visit and you also have all facilities at your fingertips.
To find out about renting an RV or motor home click here
Camping
Herston Caravan & Camping is in Swanage, just a few miles from Corfe Castle. There are tents available to rent at the site which means that you don't have to lug all of your gear with you. The tents sleep up to four and bedding has to be brought with you.
One of the great things about staying at Herston Caravan & Camping is the free fire pits. The site provides logs for the first evening for free as well. What better way to wind down for the evening than toasting marshmallows on an open fire under the stars?
Click here to find out more information or to book a tent.
Cottages
Dorset is also known for its cottages and holiday homes. They are everywhere you go and many of them are available to rent. Parkfield Cottage is in Sturminster Marshall and it is within ten miles of the top attractions in the area. The cottage is in a quiet location with two bedrooms.
It is the perfect size for a small family. The garden to the rear is a great place for breakfast or a barbecue in the evening. A short walk away is the village pub and a shop to pick up essentials for your stay.
Find out more about the cottage here.
Holiday Cottages
Just a few miles from Charmouth Beach is Berehayes Holiday Cottages. The site has everything you need for a comfortable stay. Each unit has its own dining area and they all come with a fully equipped kitchen. On-site there is also a swimming pool and sauna for guests to use.
The playground is great for kids and there is a games room on site too. They might also enjoy feeding the alpacas, sheep, ducks and chickens. Just up the road, there is a pub and a few family restaurants.
Check out the holiday cottages here.
What to Bring to Dorset with Kids
Thanks to the great British weather it can be difficult to pack for a trip in the UK. When visiting Dorset there are a few essential items that you won't want to leave behind.
Dorset Facts For Kids
With its rolling hills, stunning countryside, quaint villages, sandy beaches, and Jurassic coast, Dorset is a magnificent place to visit and is truly a beauty.
Dorset is one of just five counties in England without a motorway.
Holwell, a picturesque village in Dorset, has the oldest post box in England (and is still in use today).
One of the hottest chilli varieties in the world, the Naga Chilli, is native to Dorset.
Poole Harbour is the second-largest harbour in the world, and the Jurassic Coast was the first natural site in England to feature on UNESCO's World Heritage List.
I really hope you've gained some ideas on things to do in Dorset with children. I have tried to provide a mixture of free and paid activities to balance out the costs. Likewise, I have tried to arrange this post so you can focus on geographical areas of Dorset as it may be difficult to travel to all corners of the county on one trip. Please do leave a comment, I love hearing from you!
You may also like,
The Best Things to do in New Forest with Kids
The Best Things to do in Cornwall with Kids
Will you be needing travel insurance, flights, reliable internet, rental cars, or hotels for your trip?
Disclaimer: This post may contain affiliate links. By using them it will not cost you any extra, we will receive a small percentage of the sale.