If you are looking for the best things to do in New Forest for kids we have so many tips! Our kids really loved the New Forest, there is so much to see and do in the area. The best part is you truly are at one with nature.
From the roaming animals walking freely wherever they wish, to the soaring pine trees around every corner, we certainly spent lots of time outside discovering.
Not to mention the cosy pubs, incredible restaurants and chocolate box villages with the cutest thatched cottages, New Forest is certainly that quintessentially British postcard!
Having lived in London, New Forest was high on our staycation bucket list for such a long time. It's so easy to get to from the big smoke! So whether you are a UK resident or coming from afar, the New Forest is a great addition to a UK itinerary.
I have travelled around the UK a fair bit in recent months, from Cornwall to Kent and lots of places in between. Nothing stood out as much as the New Forest, it's such special because of the wildlife.
I have travelled to 90 countries and never have I seen herds of free-roaming horses, donkeys and cows moving around villages and countryside so seamlessly and naturally. Locals don't blink an eyelid!
For us, this made our trip! I can only think of Iceland and Mongolia when it comes to this type of experience. If your children love animals New Forest is the place to take them.
In this blog, we cover all the best things to do in the new forest for kids, places to stay and some eating out recommendations too!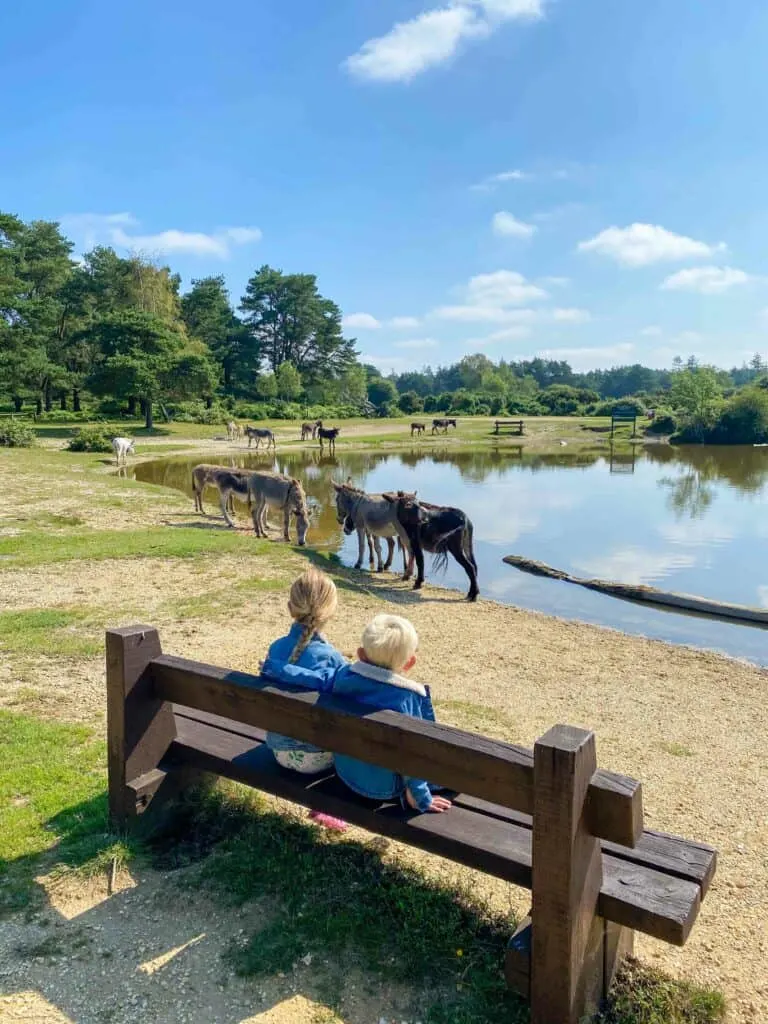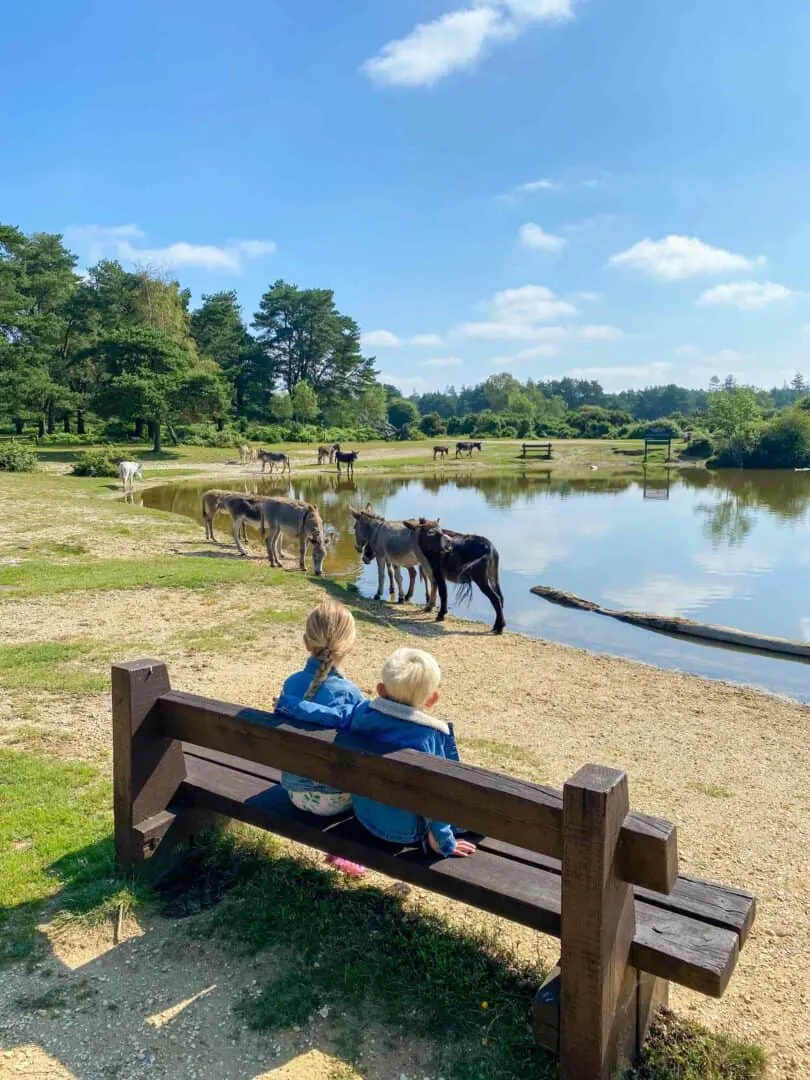 Activities New Forest with Kids
It's worth noting that so much of the New Forest activities involve hiking or biking to discover the many trails. There are companies you can rent a bike and kids trailer from, however, if you have provisions to bring your own bike and kids seats, I highly recommend doing so.
Some of the trails are quite long and of course, you can see so much more if the kids are not getting too tired from walking. We did a few trails walking and some are short enough for little legs so it's not a total necessity to bring a bike. It's just nice to have options right?
Tall Trees Trail
One of our favourite short walks was the tall trees just off Ornamental Drive. You'll find giant Redwoods and Sequoias. They really are mesmerising. Walking through this part of the forest feels completely different from other parts. The trees are so grand and the echo of the birds sounds so different.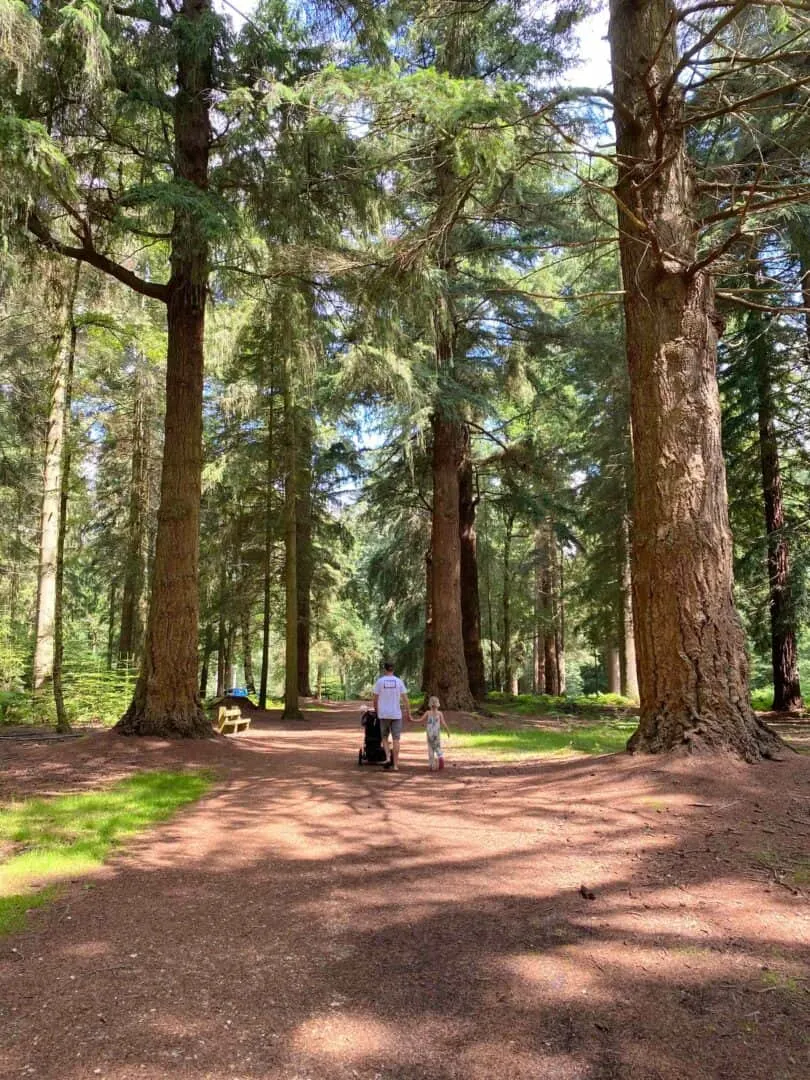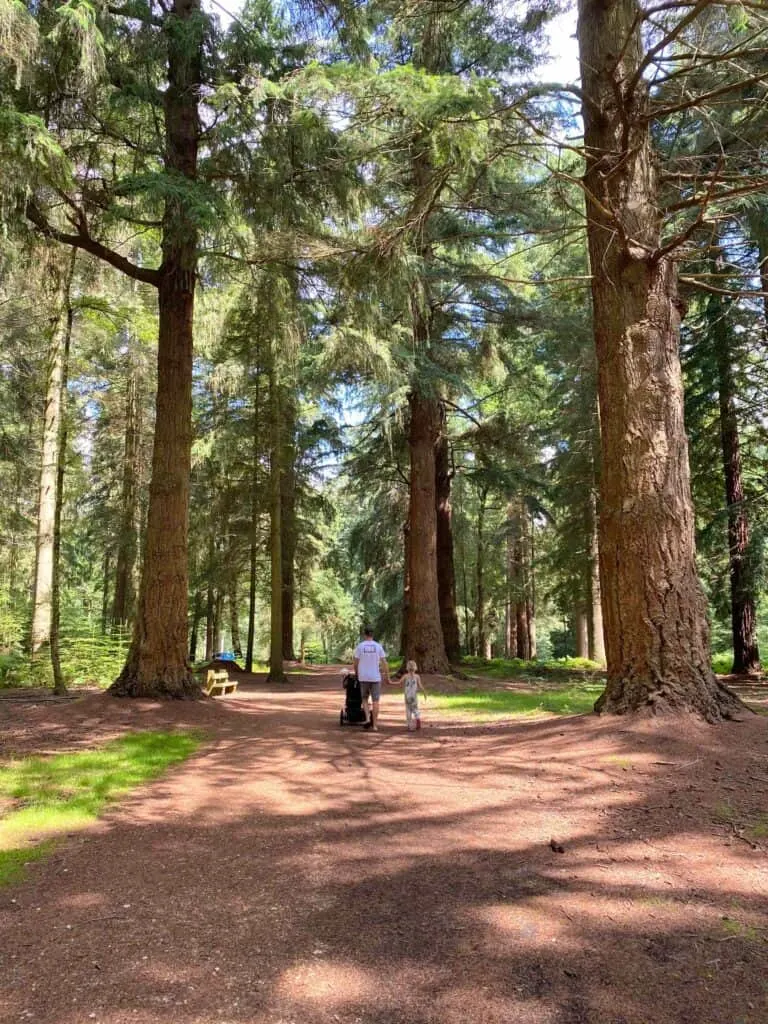 Our kids loved this walk. Definitely take a picnic with you. We literally sat and stared at the giant trees, they are incredible! It really is one of the most amazing days out with the kids, Hampshire.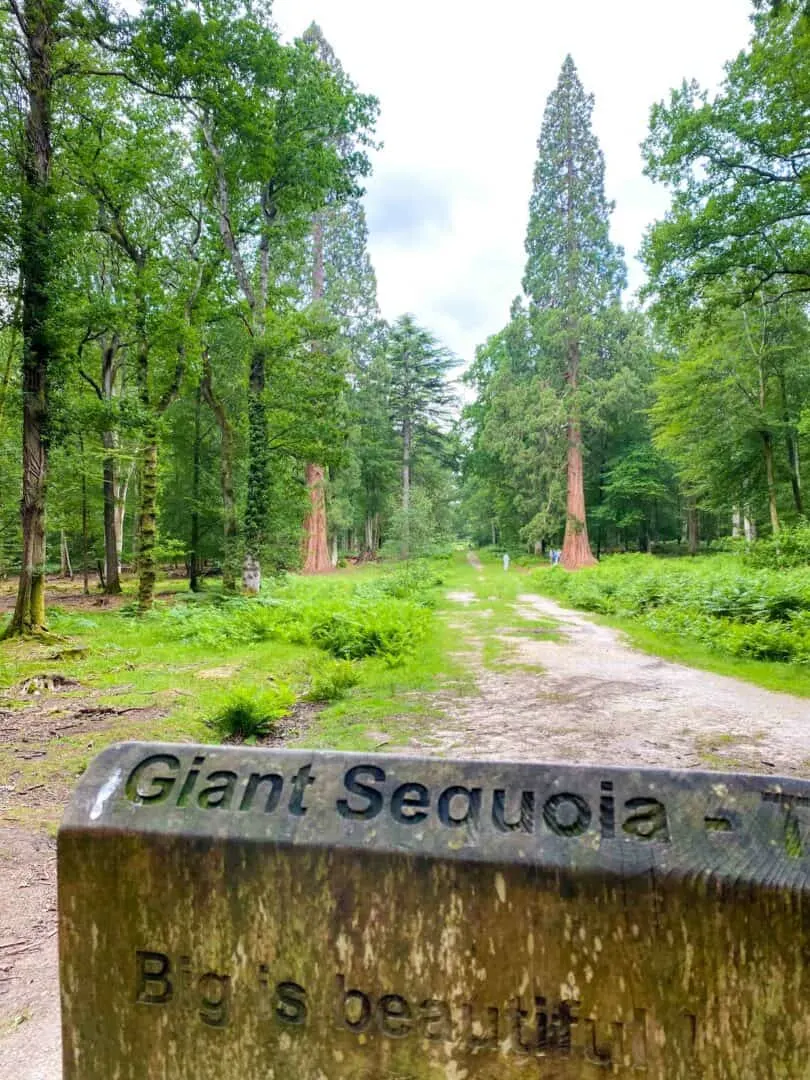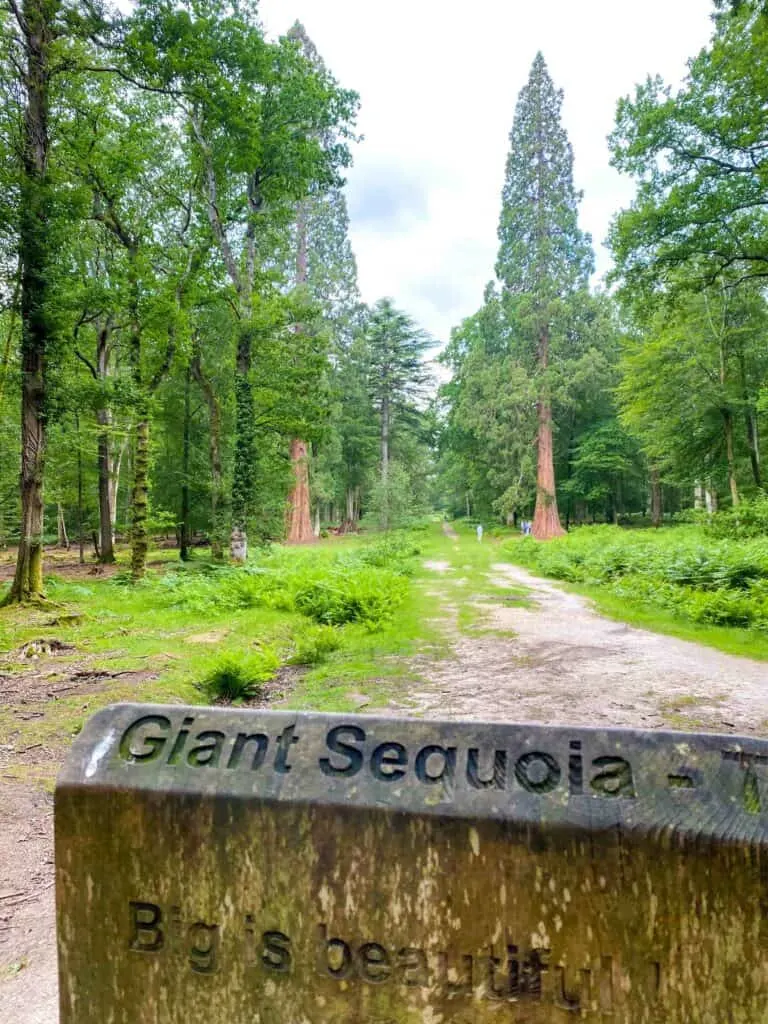 Visit Beaulieu Village
Beaulieu village is known as one of the prettiest villages in New Forest. While it might be a village there is still plenty to do on family days out, Hampshire. The village gets its name from the Beaulieu river that it is situated on and it dates back to the 13th century.
It is a charming little village that has a lot of character. There are a few shops on the main street including a lovely little ice cream shop that serves vegan sorbet. If you haven't brought your lunch with you then pop into Steff's Kitchen. Most of the produce that they use is picked from Patrick's Patch across the road.
It is a community garden and many of the residents use it too. There are also some picnic benches if you want to have a picnic. Of course, you can spend the day popping in and out of the shops, taking strolls along the river, or just embracing the peace and quiet that the village offers.
Also, like the rest of New Forest, you are never far from nature. It is not unusual to see a donkey or pony in the high street.
Bucklers Hard Boat Trip
There are plenty of rivers and streams in New Forest to discover on days out for kids in Hampshire. The Beaulieu River is one of them and it is 12 miles long. Surprisingly it is one of few privately owned rivers in the world. While you are not allowed to swim in the river there are plenty of other ways to enjoy it.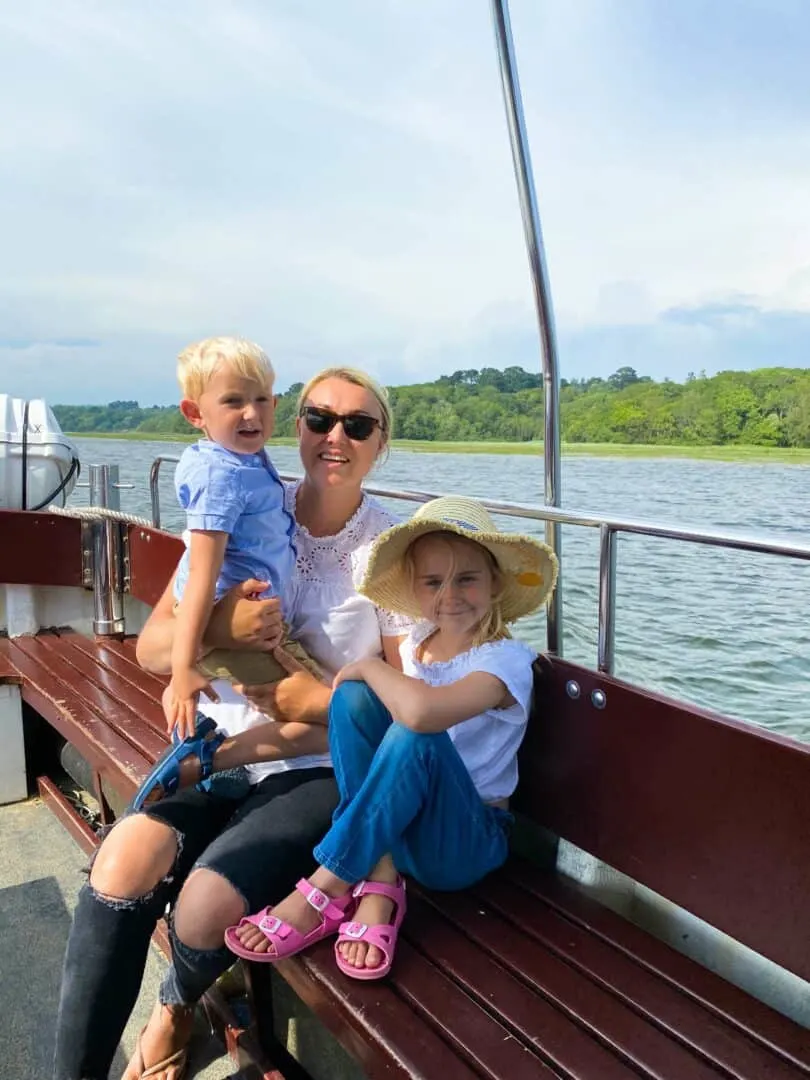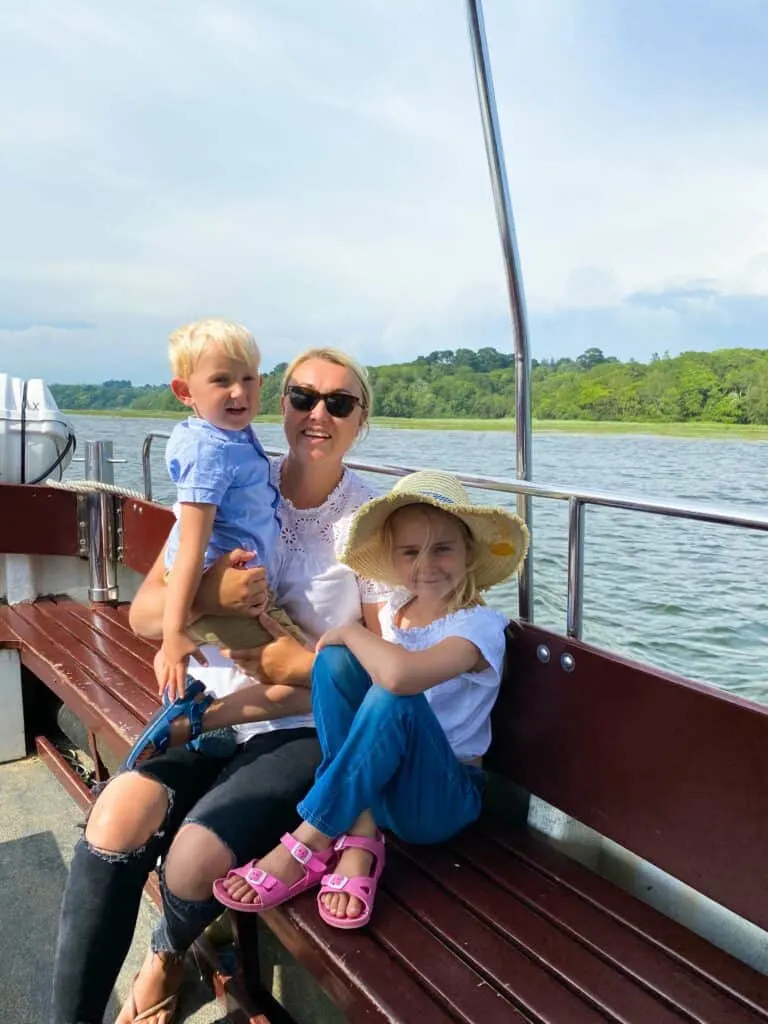 A river cruise allows visitors to discover the history and nature of the area. As you sail along your guide fills you in on all of scenery and history along the way. The trip is just thirty minutes but this serene cruise is not to be missed.
It is worth noting that the cruise is only open from Easter to October. Tickets can also not be purchased in advance and can only be purchased on the same day.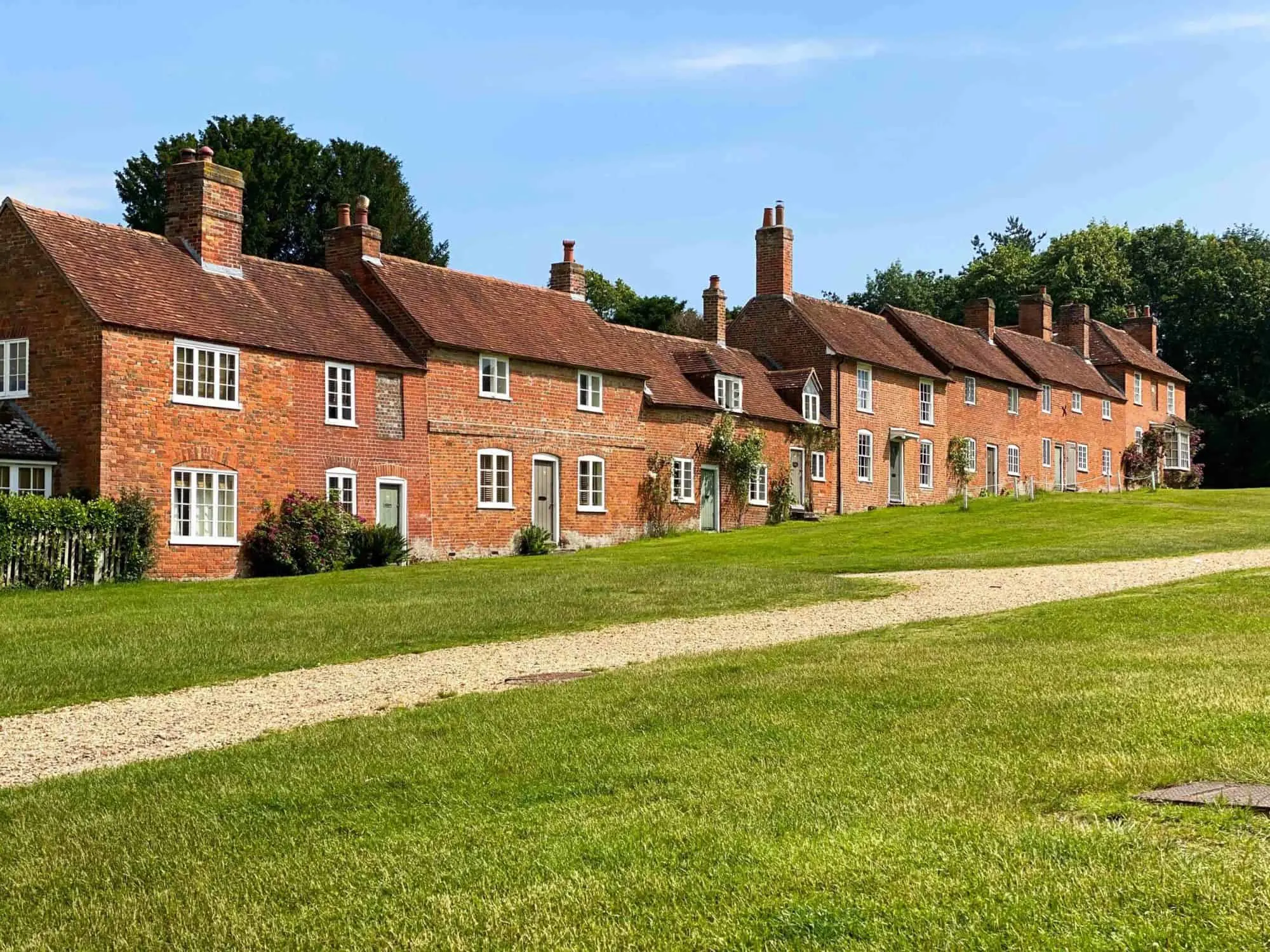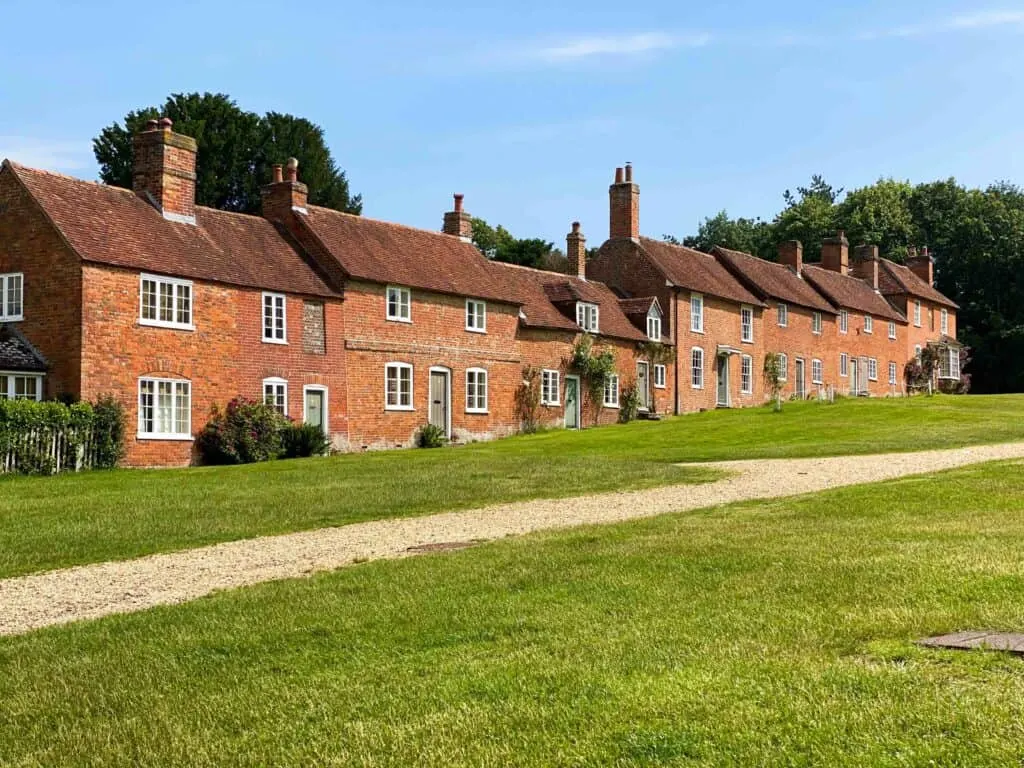 Exbury Gardens & Steam Railway
Exbury Gardens is 200 acres of beauty and nature. You can expect to see a collection of landscaped woodland, herbaceous, contemporary, formal and wildflower gardens all located by the river. The colours and scenery change depending on the time of year you visit.
Spring is said to be the best month to see the gardens. This is when their world-famous collection of rhododendrons and azaleas are blooming. The peak in May and line the paths. In summer make sure to visit the Iris, Herbaceous, Sundial and Centenary Gardens to see the exotic flowers.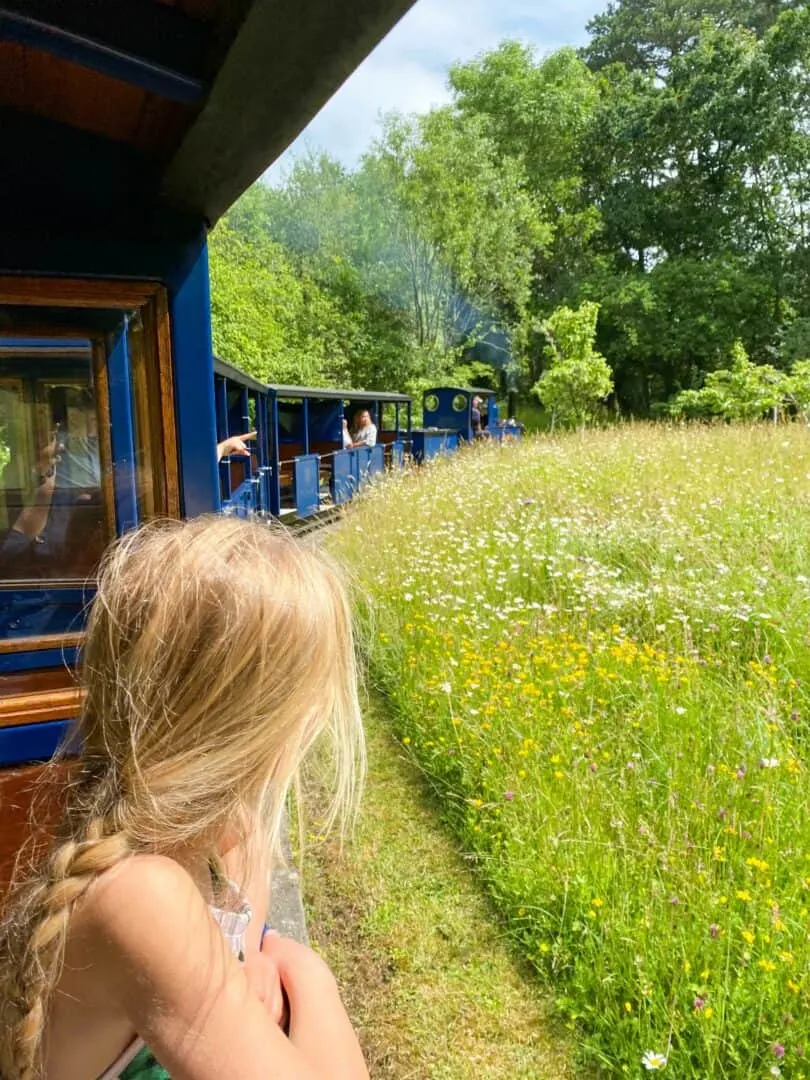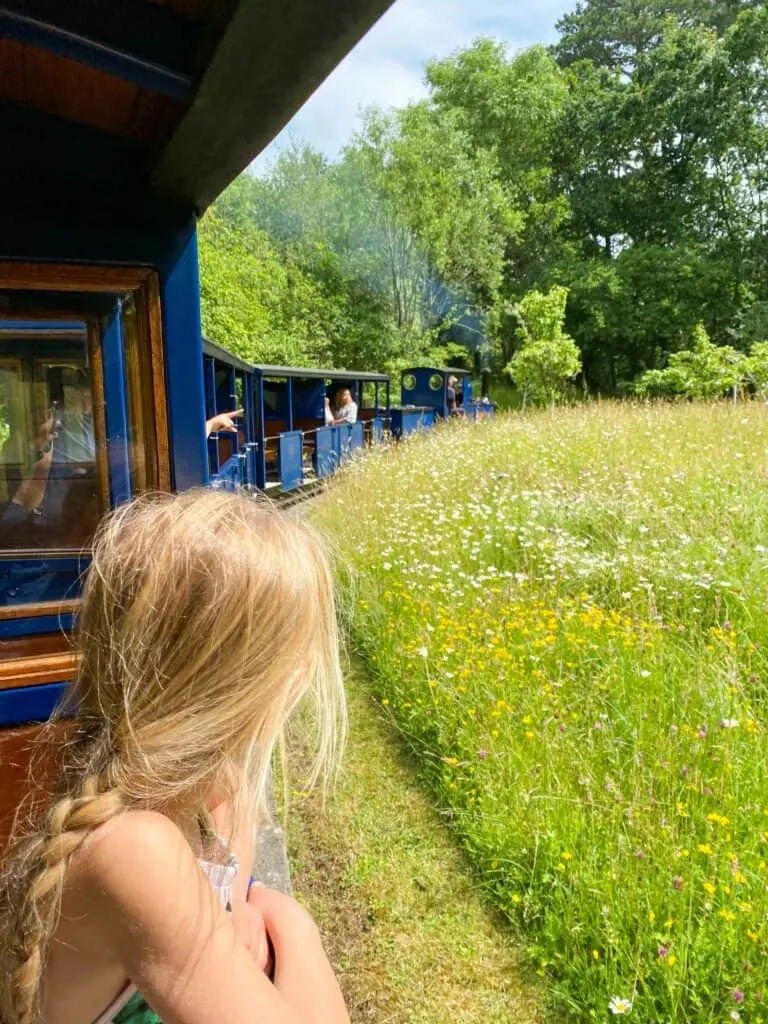 Don't rule out visiting in autumn. As the trees drop their leaves the gardens are covered in red and orange leaves. In fact, the colours and sights at Exbury Gardens are spectacular.
Exbury Gardens is also a dragonfly hotspot and a great place to spend days out with kids, Hampshire. One of only six in the UK.
The Dragonfly Pond is a new addition to the gardens and it is an amazing place to learn about dragonflies as well as getting up close to a few of them.
Little ones can explore the gardens on foot. However, the gardens are huge and you might hear some complaints about tired legs. That is the perfect time to hop onboard the working narrow-gauge steam railway.
It departs from replica Victorian station Exbury Central and takes passengers through various parts of the garden. In fact, Summer Lane Garden is only accessible by train. It then goes past Rock Garden before travelling through a tunnel.
It makes a quick stop at Exbury North to refuel and then heads back to Exbury Central passing by Dragonfly Pond on the way. The journey takes around thirty minutes and kids adore every minute of it.
If they still have energy left to burn off, then make a stop at the adventure playground before you leave. There is plenty there to keep them entertained. While you can take it easy and relax at one of the picnic benches.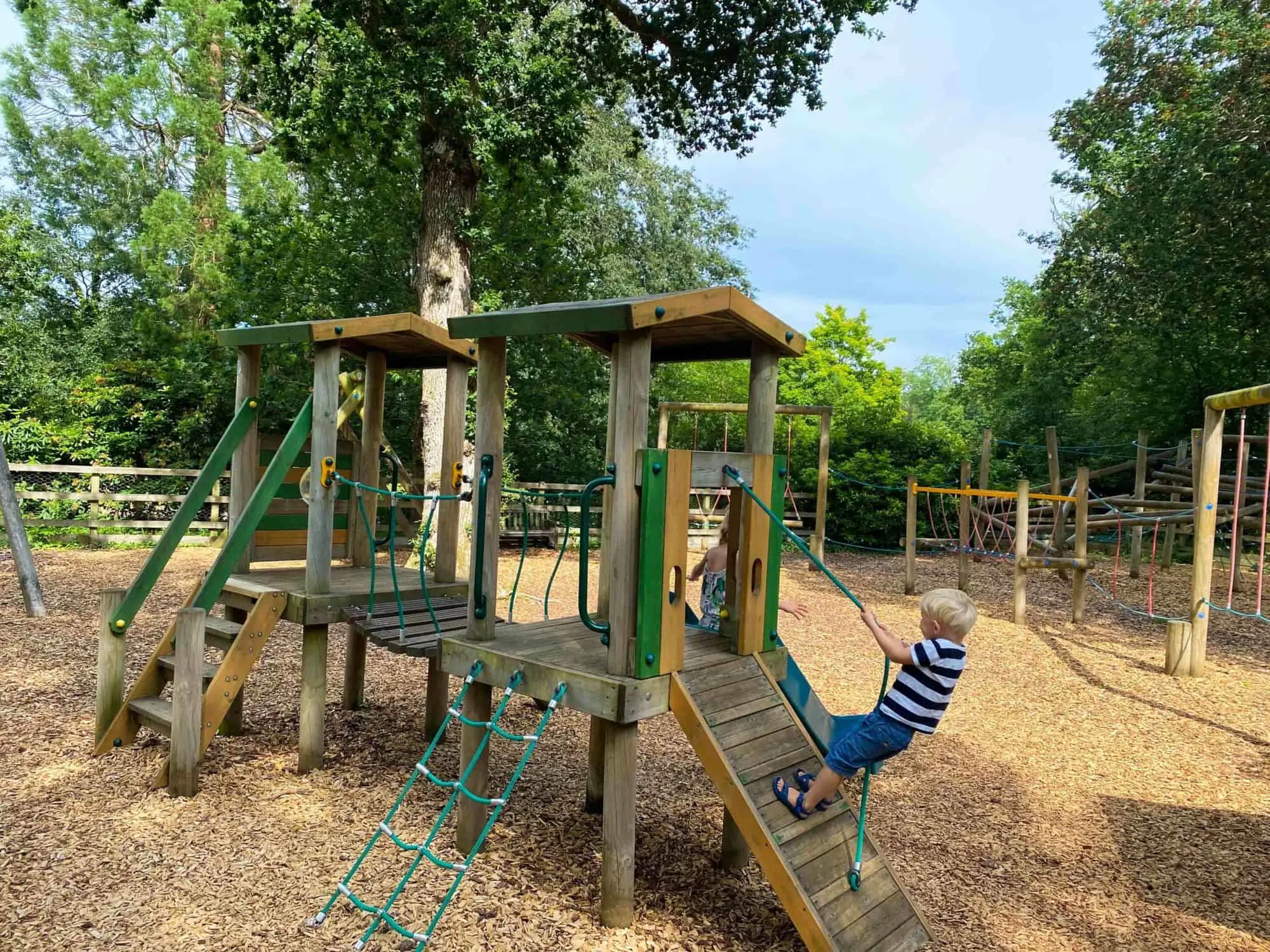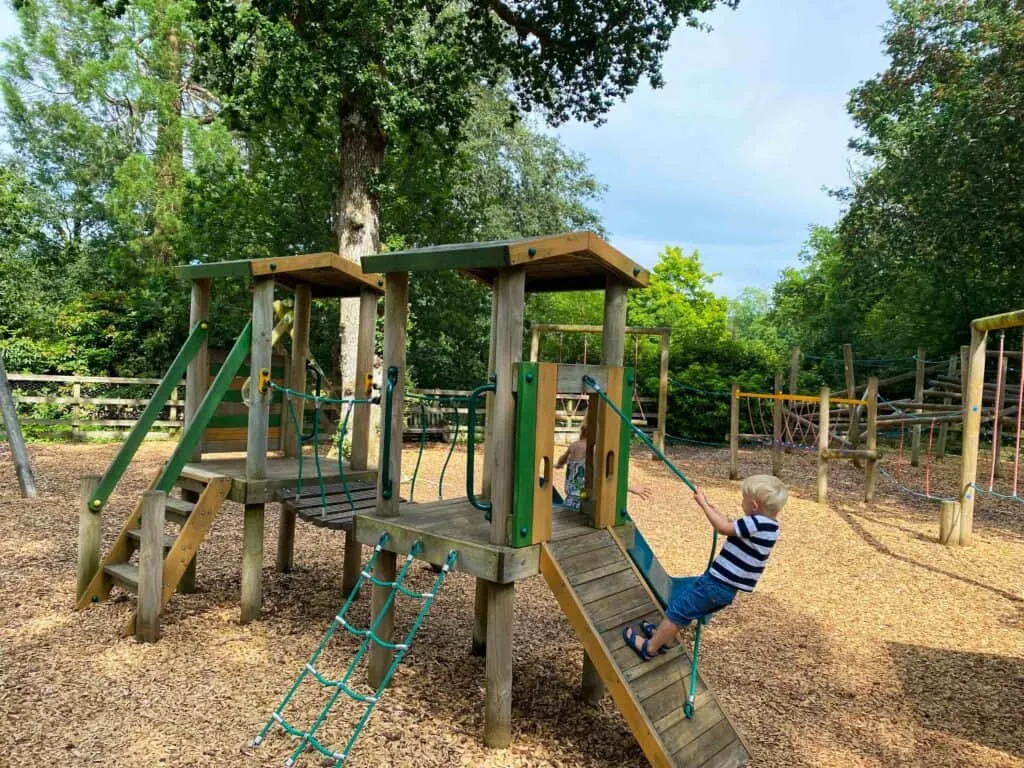 Moors Valley Country Park
Moors Valley Country Park has been designed with kids in mind and for family days out in Hampshire. In fact, many of the trails are kid-friendly. One of the most popular trails for families is the Play Trail. The big attraction is that it leads to a wooden play area.
Older kids can enjoy the Tree Top trail which is just off the Play Trail. There they can walk high up in the treetops. it is thrilling and also gives a fantastic view of the park.
To learn more about the creatures that live at Moors Valley Country Park, visit The Ranger's Den.
Entrance if free, but it is recommended to leave a small donation. Kids can not only participate in the many activities available but they can also see some of the animals up close and personal.
Inside you can find The Moors Valley Railway. There are 19 steam and 2 diesel locomotives and it is possible to ride them around the park. While the railway is open every weekend, it is closed at other times. The timetable is available online and it is best to check before you visit.
One of the most exciting areas of the country park is Go Ape. It has three Tree Top courses, Forest Segways, and Nets Adventure to choose from.
Choosing which adventure is right for you depends on many factors including age weight and height. However, there are adventures available for kids aged six and up.
Check out tickets and prices for Go Ape here.
Beaulieu
Beside the Beaulieu Village, you can find an attraction called 'Beaulieu'. Easily confused but Beaulieu and Beaulieu Village are two different things.
There are many things to do there and Little Beaulieu is a play area that ticks all the right boxes. Along with a wooden replica of Palace House for kids to explore, there are secret passageways, a treetop boardwalk and a zip wire. It has an adventure for every age group.
Kids that love cars can explore the National Motor Museum. Inside there are motorbikes and cars from both past and present. In fact, one of the most famous exhibitions is 'The World of Top Gear'. it displays some of the cars featured on the TV show.
Walking around the grounds and gardens also won't disappoint. There are seven different gardens to choose from and they are all unique. There is a kitchen garden, a flower garden and even tree carvings.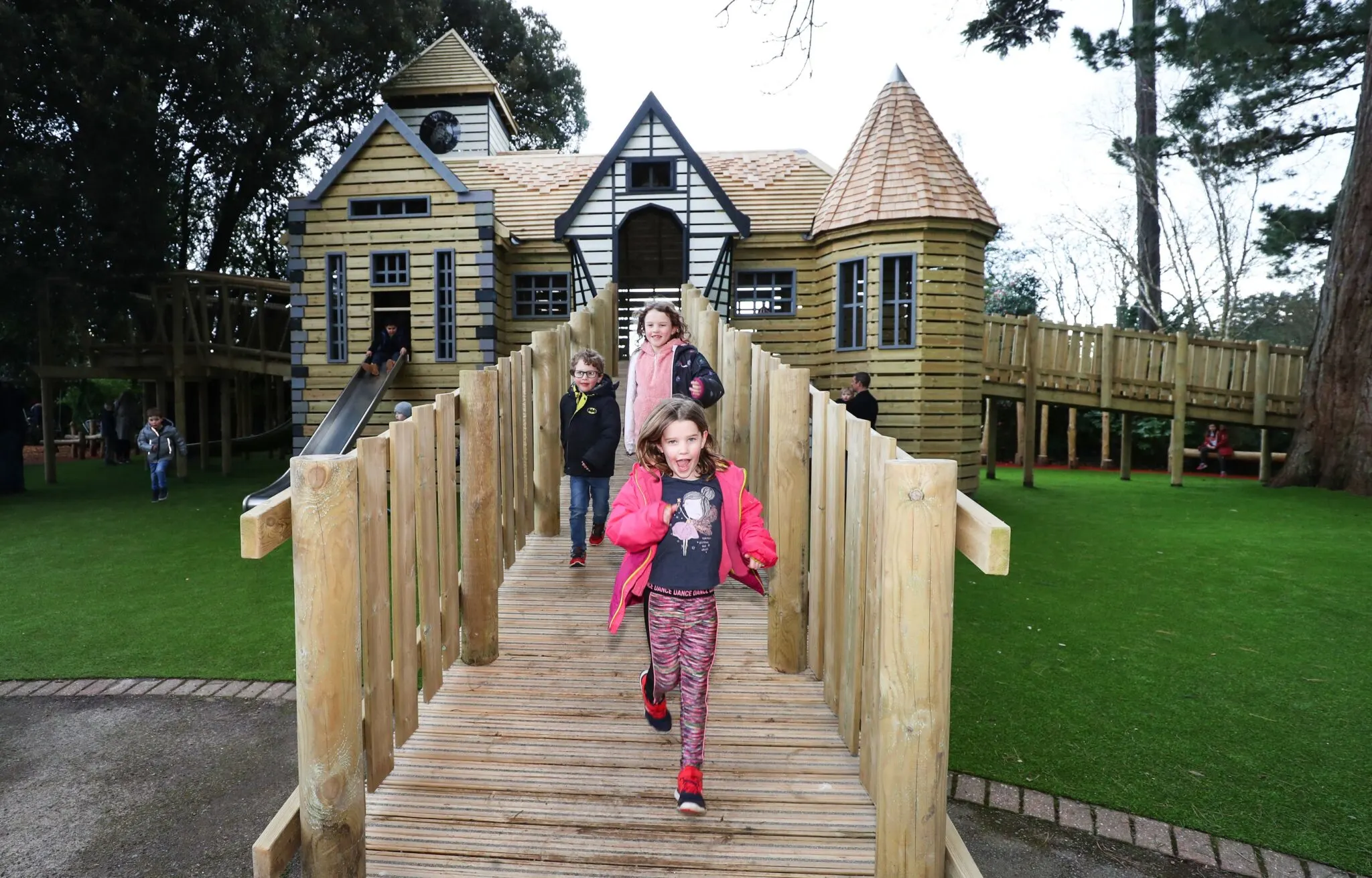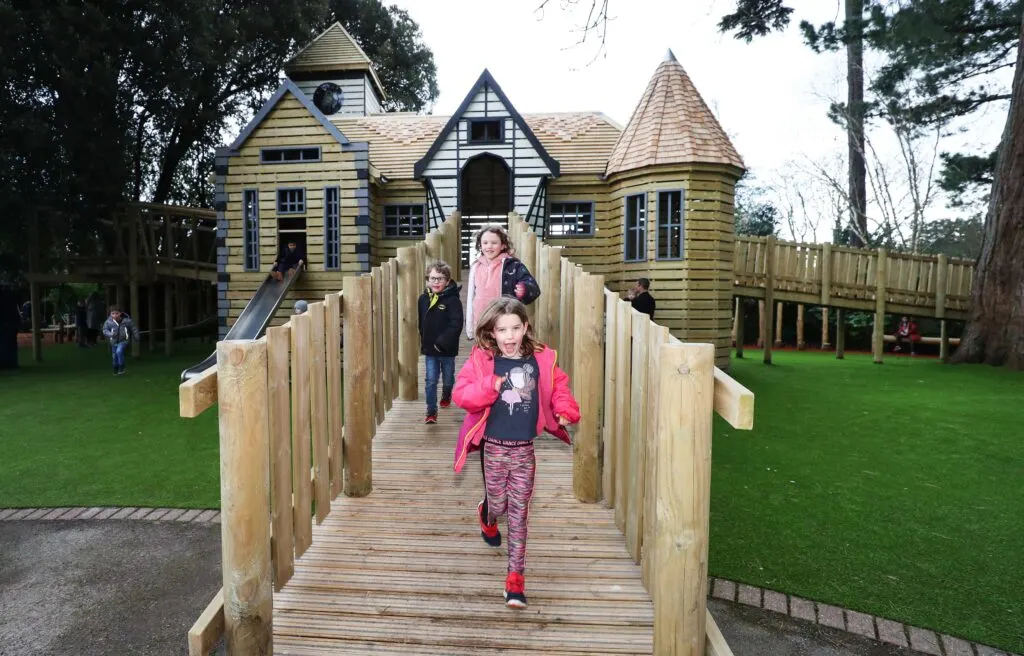 Foxlease Activity Centre
If you are looking for adventure and things to do with kids in New Forest, then look no further than Foxlease Activity Centre. There is a range of activities suitable for kids five and over. Some of the activities include abseiling, canoeing, archery, fencing, circus skills and a zip wire, to name but a few.
It would be easy to spend a few days at Foxlease. In fact, the activity centre has its own campground and accommodation. Foxlease Activity Centre is owned by the Girl Guides and it is open to the public when it is not being used as a training centre.
There are basic rooms to stay in too and there most stays come with breakfast. The centre is in a fantastic location as it is only a fifteen-minute walk to the centre of Lyndhurst. This makes it the perfect base to explore New Forest too.
To find out more about Foxlease Activity Centre click here.
Paultons Park Peppa Pig World
Little kids and toddlers can visit Peppa Pig World. It is the only Peppa Pig theme park in the world. There are nine rides to choose from and all your favourite characters from the show.
In fact, Peppa Pig and George visit the park every day. the rides are also based on some of the episodes from the show.
Peppa Pig World wouldn't be complete without its very own muddy puddle area. Make sure to bring a change of clothes and some towels when you visit. When you book a ticket you also get access to Pautons Park.
There are four other worlds to choose from and a host of other activities.
With over sixty rides at Paultons park, it is best to spend a couple of days there. You could choose to stay at the park itself or at some of the hotels nearby.
As there are many things to do in New Forest with kids, staying at the nearby hotels gives you the chance to explore other activities in the area.
Check out the hotels near Paultons Park Peppa Pig World here.
Hikes and Trails for Families
There are many trails to choose from in New Forest. Many of them are long, but there are a few that are suitable for little ones. If you are using a stroller then the Bolderwood Deer Sanctuary and Bolderwood Grounds Circular is a perfect choice.
It is less than 3km and you may see a lot of deer on your way. The trail is well signposted and starts from the free car park at the Bolderwood Sanctuary. However, if it is raining then it may be muddy.
If you are looking for an easy trail that has it all then consider Emery Down Circular. It is long at just under 10km, but there is plenty to do and see. In fact, there are a couple of pubs where you can stop for refreshments.
Along with beautiful views throughout, there is a river and a couple of streams to cross. Of course some church ponies, deers, squirrels and some more wildlife. About halfway in there is a reptile centre that you can visit for free and plenty of picnic benches.
Make sure to bring your wellies for this walk though as it is muddy at the end, no matter the weather.
As you explore New Forest, many people are on bicycles. It is the best way to see the forest so consider bringing yours along with you.
If that is not an option then there are plenty of places where you can hire them. New Forest Cycle Hire has several places set up around the area.
They have bikes in all shapes and sizes including off-road and gravel bikes. Children's bikes, tag-a-long and trailers and even children's seats that attach to adult bikes.
Camping In The New Forest With Kids
New Forest is surrounded by countryside. Many people that choose to visit the area, take the opportunity to get back to nature and stay at one of the many campgrounds. In fact, you can find New Forest ponies roaming free on the sites.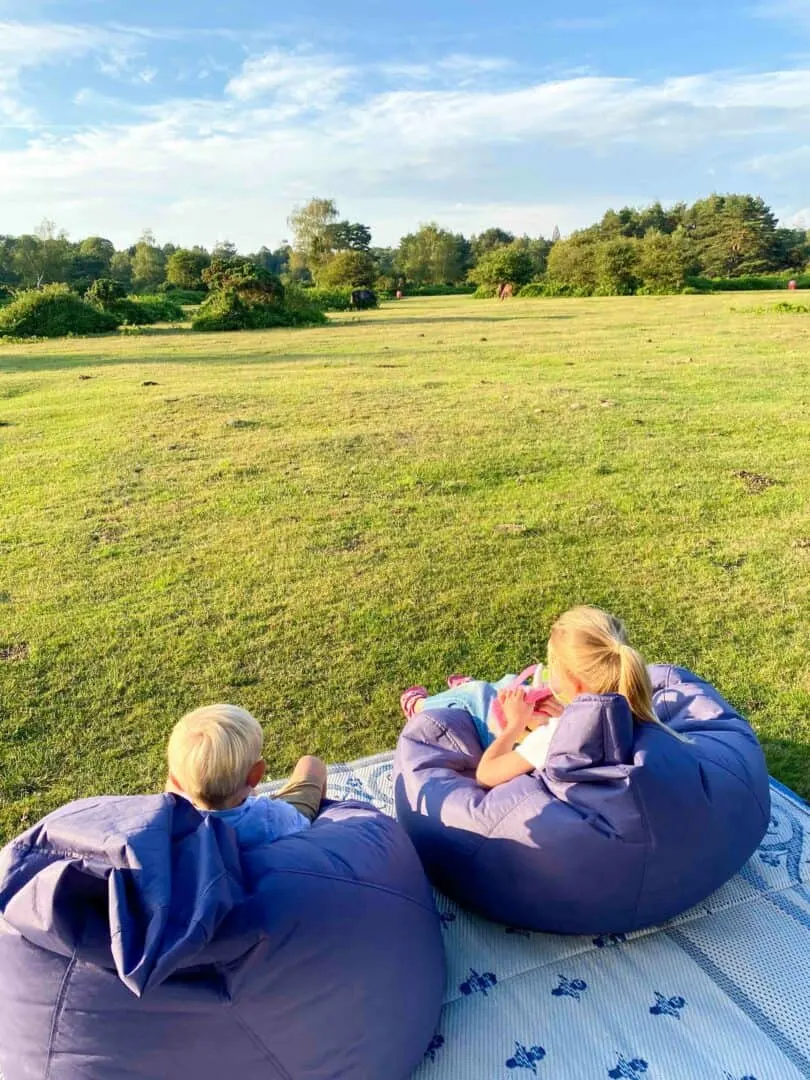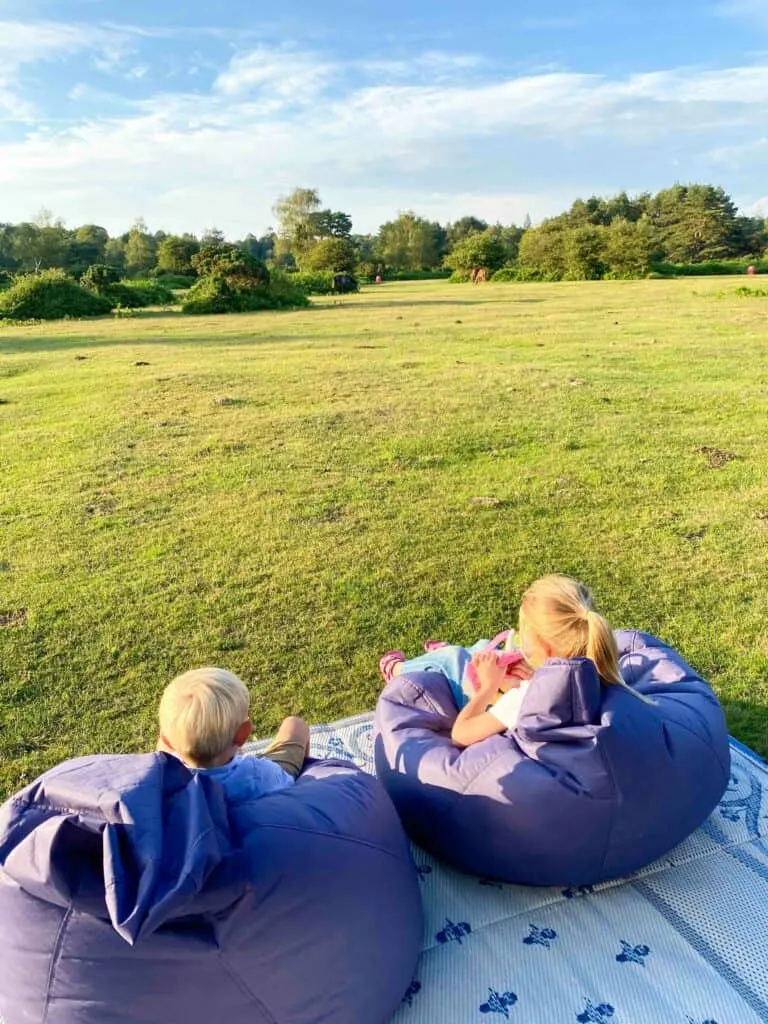 If camping is not your cup of tea then there is also the option to glamp. This saves you from having to bring too much camping gear with you and just concentrate on the essentials and more importantly making plans for days out with the kids in Hampshire.
Campgrounds usually have wide-open spaces and plenty of places for kids to run around. The great thing about campgrounds in New Forest is that you are also likely to share your space with a horse or a donkey. This means the kids can entertain themselves.
Check out the places around New Forest to camp.
New Forest Places To Stay With Kids
As New Forest is a popular spot there are plenty of places to stay. In fact, there is everything from hotels and B&Bs to holiday homes. Most of them have scenic views and are close to all of the amenities.
You could choose to stay in Forest Park Country Hotel with its stunning gardens and award-winning chefs. Or in the Thatched Cottage Hotel with great activities nearby.
The great thing about New Forest is that it has something for everyone.
Discover information and prices about accommodation in New Forest here.
Places To Eat Out With Kids
As New Forest has many nearby farms, many of the restaurants choose to use local produce. The Lavender Tea Rooms is one of those restaurants. It is also surrounded by lavender fields, so the view is breathtaking. Lavender can be found all over the menu too. However, they also serve soups and sandwiches along with several hot food dishes for all tastes.
Lyndhurst has a number of restaurants to suit everyone in the family. Along with the recognizable chain restaurants, there are some lovely independent ones. If you like Thai food then check out The Thai Forest. They have a great kids menu and a vegan menu too.
The Pig is probably the most famous restaurant in the area. It is known for its 25-mile menu. As the restaurant is in a great location, then only use local suppliers and support the local community. In fact, they have their own garden and much of the food on your plate comes from there.
The menu changes depending on the season and but they pride themselves on catering to families. It is a little pricey side as it is a two Michelin Star restaurant, but a great choice if you do want to splash out.
No matter where you decide to stay or eat, New Forest is the perfect place to create new memories. There is no much to do and see for kids of all ages. With wide-open spaces around every corner, kids have the freedom to run and explore.
You may also like:
Best UK campsites for families
The Best Things to do in Cornwall with Kids
The Best Things To Do In London With Kids
Disclaimer: This post may contain affiliate links. By using them it will not cost you any extra, we will receive a small percentage of the sale.