Like many European cities, Christmas in London is beautiful, with Christmas markets and wintery wonderlands all over the city! Needless to say, it is a magical time for kids in London!
You may be wondering where to see Santa in London to get into the Christmas spirit! I have been searching high and low for the best Santa grottos in London.
So whether you are visiting the city, or live in the suburbs, I have covered all angles from Central to North, East, South and West London.
One thing to note is some of the Central London options are pretty expensive and are ticketed to only a certain number of people. Rest assured, there are many other options, so keep reading to find what suits you.
If you choose to see Santa in the centre, you can combine the day out with a walk to see some incredible light displays around London's iconic streets.
I created this DIY London Christmas lights walking route, which covers all the best displays and is completely free! Not to mention, many Christmas markets are also in Central London.
We have spent Christmas in many destinations over the years, but London is one of our favourite places over the festive period! Christmas time is quite remarkable in London, especially with kids.
Tourists visit London from around the globe to spend Christmas in the beautiful city.
Let's get festive while discovering where to see Santa in London!
Santa Grotto in London
Santa Grottos In Central London
1. Santa's Grotto at Winter Wonderland, Hyde Park
Winter Wonderland in Hyde Park is one of the top attractions over the Christmas period for adults and kids alike.
Aside from the fun rides and festive markets, Santa has his very own grotto at Winter Wonderland.
Whilst booking entry to Winter Wonderland in advance is recommended, it's impossible to book to see Santa at his Grotto.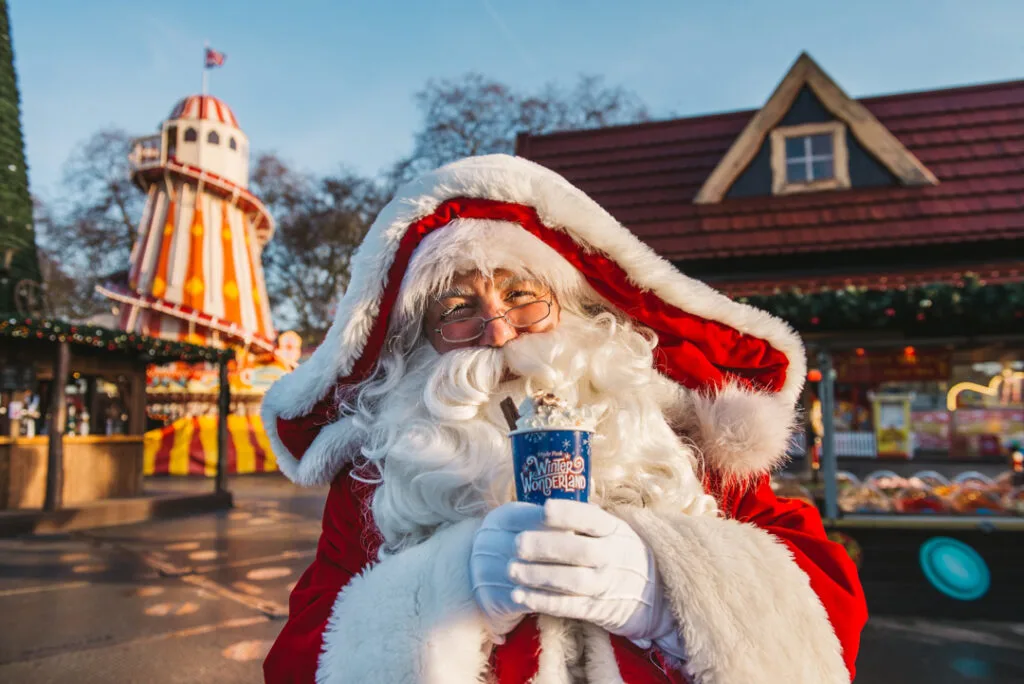 You must buy a ticket to the park and then visit Santa. The grotto operates on a first-come, first-served basis. Therefore, I advise arriving early to avoid any queues.
It usually opens at 10 am when there will likely be few queues. Winter Wonderland gets quite busy in the evenings.
The grotto closes by 6 pm, but here is the best part, it is free to see Santa with a Winter Wonderland ticket. There is also a Santa parade with dates and timings listed on the official website worth keeping an eye on.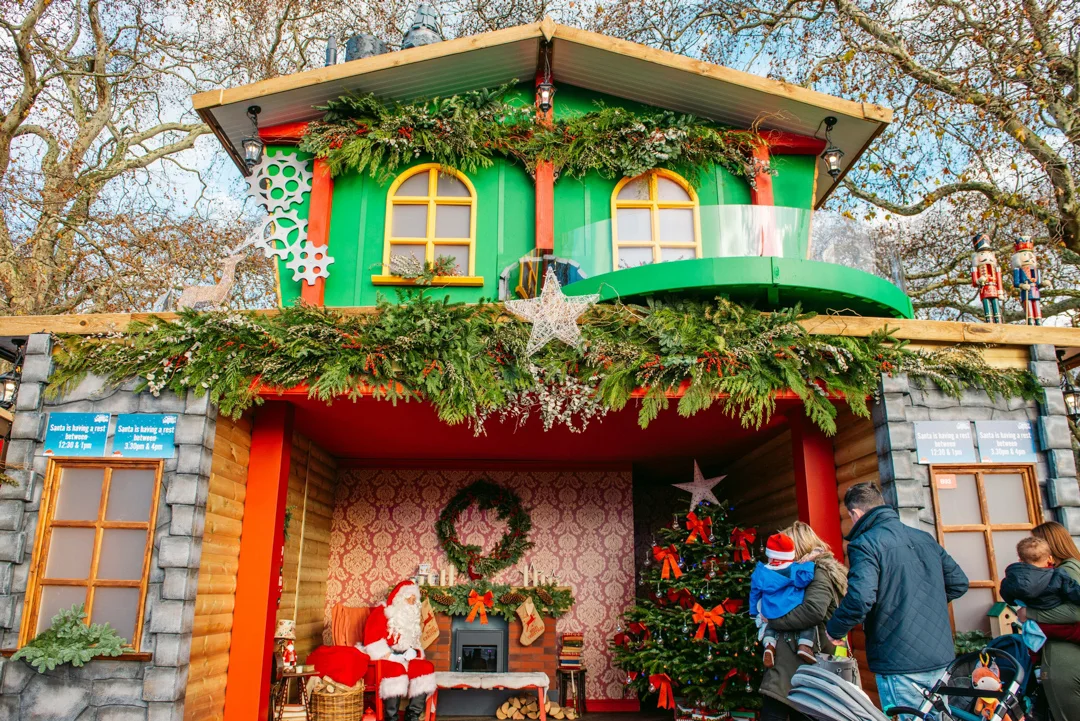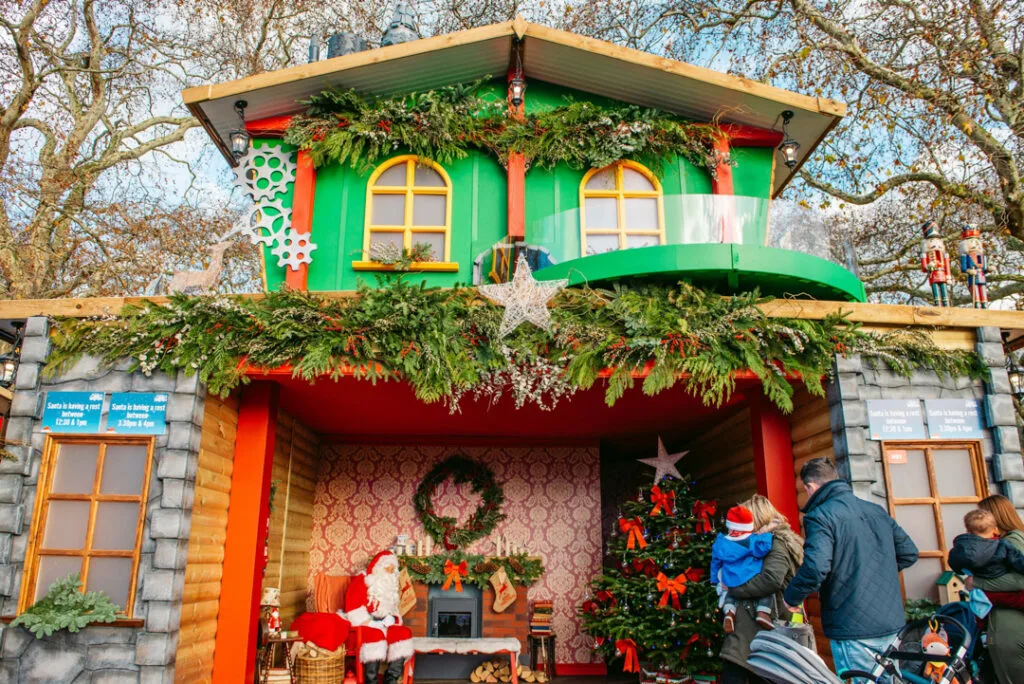 Santas Grotto is in Santaland, where there are several rides, some suitable for toddlers. Winter Wonderland transforms Hyde Park into a festive wonderland, so making a day of it is a good idea.
It features an array of other attractions, including an observation wheel, an ice skating rink, fun rides, and charming Christmas markets.
The park gets very busy, particularly during evenings, weekends, and school holidays.
You will also find plenty to eat and drink – grab a traditional mince pie and a glass of warm mulled wine or a hot chocolate.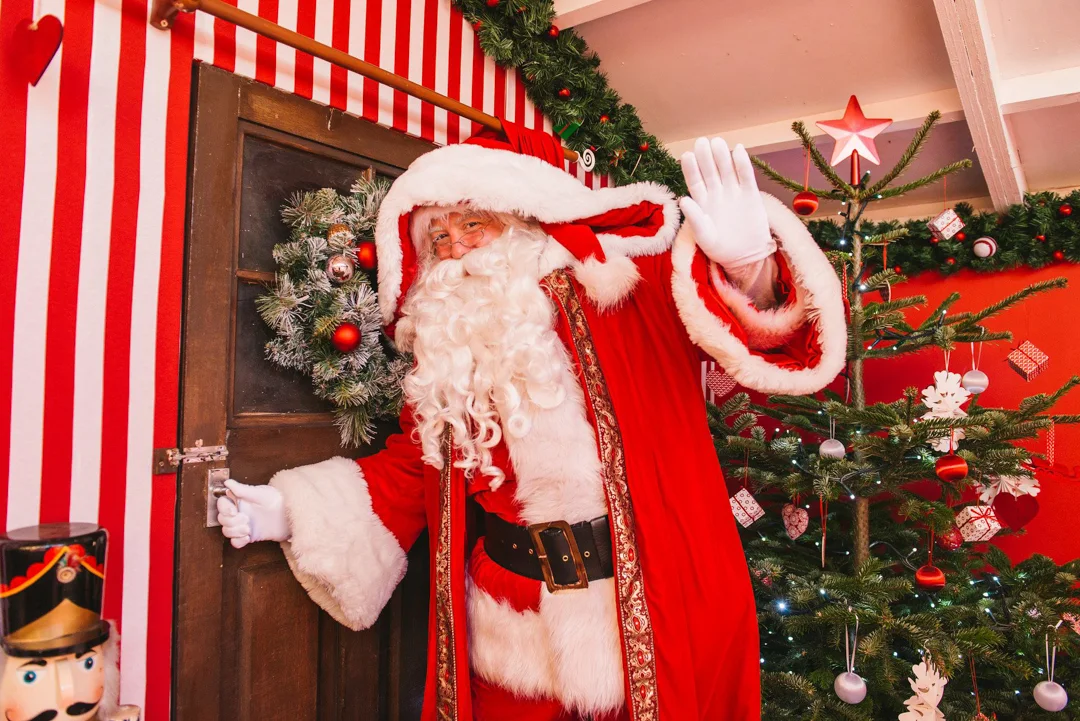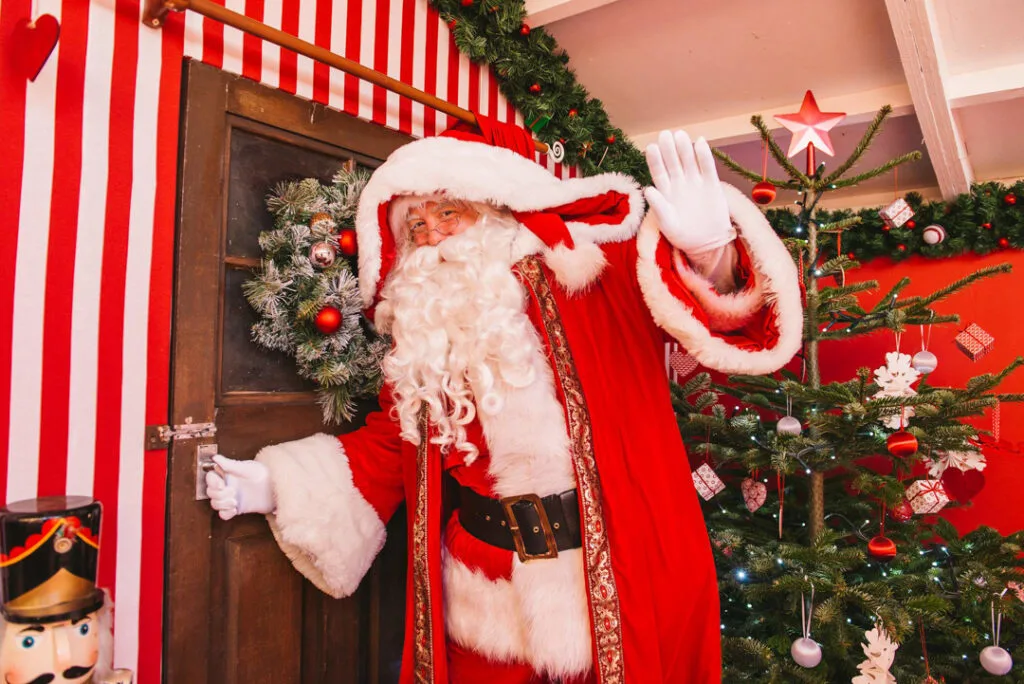 Make sure to wrap up warm, as spending long periods at Winter Wonderland can be pretty chilly. London can be rainy or even snowy over this period.
Hyde Park is easily accessible by public transport. The nearest London Underground stations are Marble Arch, Hyde Park Corner, and Lancaster Gate, all served by the Central Line.
Paddington train station is also within walking distance, offering connections to other lines and national rail services.
Entry to Winter Wonderland is at least £5 per person except for some weekday visits at the beginning of the Christmas season in November. Most rides, attractions, and ice skating inside will also come with a fee.
Ice skating, in particular, is quite limited, so booking a slot online in advance is very much recommended.
Winter Wonderland is returning to Hyde Park in London in November. You can sign up for a newsletter on their website to get the latest updates on dates, events, tickets, and more.
2. Selfridges
Next on my list of where to see Santa in London is the well-known luxury department store, Selfridges.
The most popular Christmas event at Selfridges is a beautiful breakfast with Santa. Dates for this year aren't available yet, but tickets will likely cost around £60.00 per person.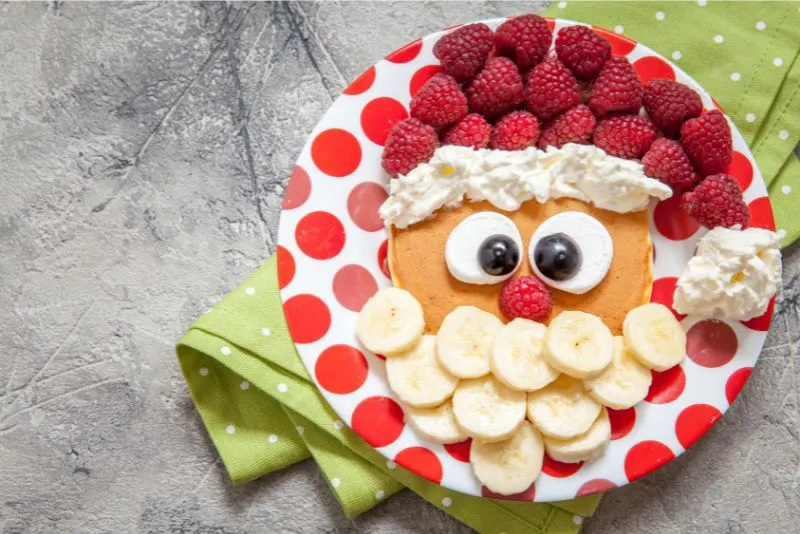 Selfridges is on Oxford Street, one of London's major shopping destinations. Bond Street (Central and Jubilee Lines) and Marble Arch (Central Line) are the nearest underground stations to Selfridges. Both stations are within walking distance of Selfridges.
Selfridges is in the ideal spot to wander along Oxford Street, Carnaby Street and Regent Street to see the beautiful Christmas light installations.
3. John Lewis
In stores in London (e.g. the Oxford Street location) as well as across the UK, Santa will be visiting another popular British department store, John Lewis.
The most prominent John Lewis location (and the best place to see Santa) is Oxford Street.
Last year, children were given a 'magic bean' to plant in Santas Grotto. Not to mention a LEGO gift worth £10. Tickets were £20 per child, with two adults joining for free.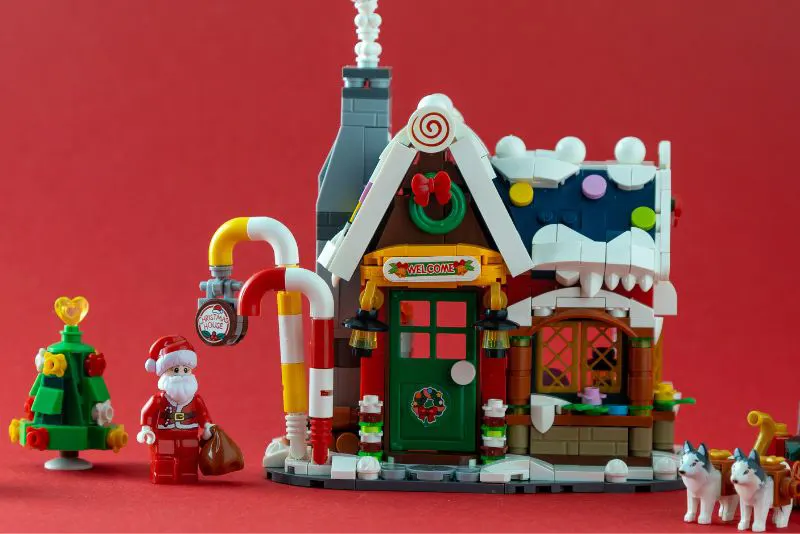 There are plenty of extras such as framed photos, baubles or snow globes with a photo inside at an additional cost.
Aside from the Santas Grotto and magic tree, there were a couple of other options, such as meeting Santa for a photo, including the LEGO gift, which cost £15.
The other option was a Santa's tea party which included festive songs with his elves, storytime, a hot chocolate or juice, a festive snack and, of course, the LEGO gift. This option was also £15, however, there was a charge of £5 for adults, and the entire event lasted 45 minutes.
These different John Lewis events occurred in various London stores from Kingston to Oxford St and Brent Cross to Canary Wharf.
We are waiting for this year's details to be released but are excited to hear what John Lewis has up their sleeve!
4. Fortnum & Mason
Always a favourite for tourists and locals at Christmas time, the famous Fortnum & Mason department store has a fabulous Christmas tradition of decorating the shop front from head to toe.
The storefront is always made to look like a colossal advent calendar.
Tickets to storytelling with Father Christmas at Fortnum & Mason are highly sought after and need to be booked as soon as they go on sale, so be sure to keep an eye out for updates on dates and ticket prices if you're interested in going to this event.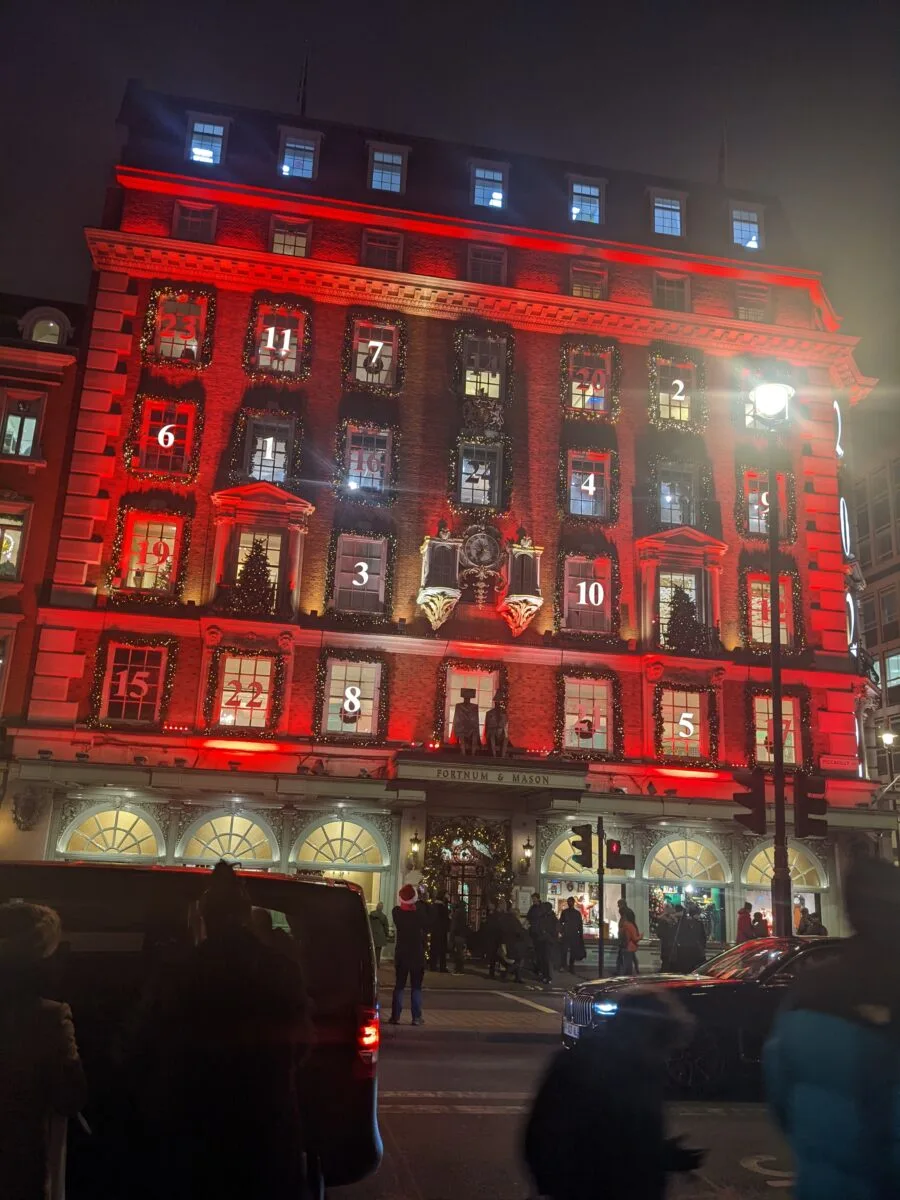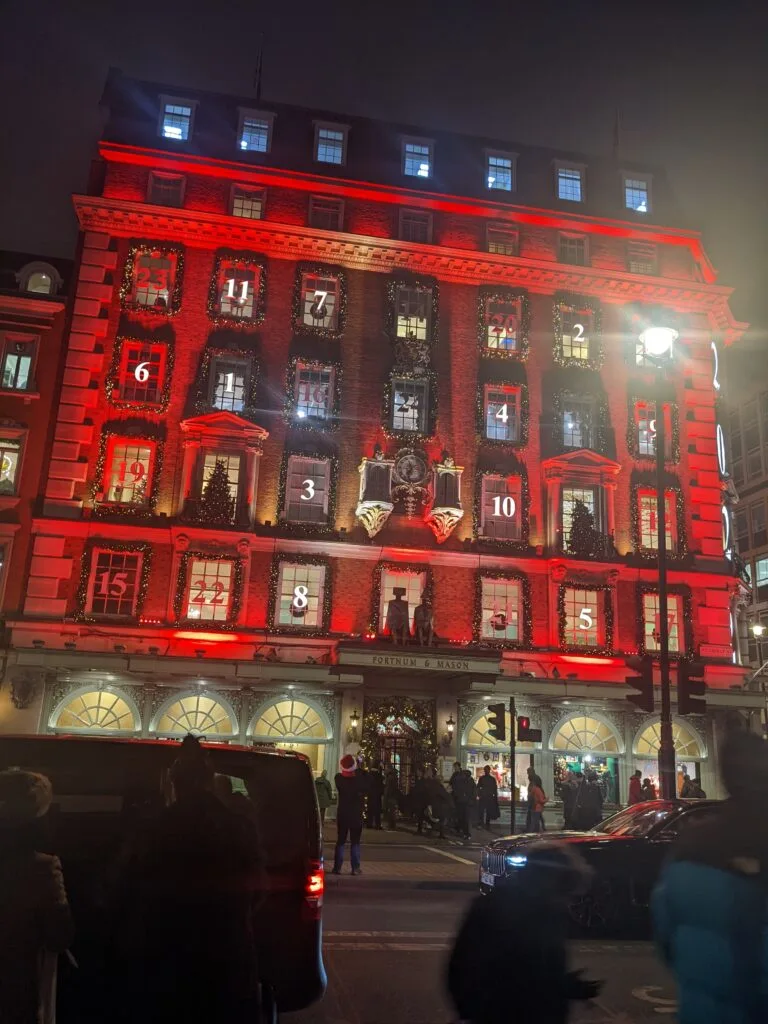 Founded in 1707, Fortnum & Mason is a historic department store famous for its high-quality food and hampers. It sells a selection of luxury teas, chocolates, biscuits and preserves.
Fortnum & Mason is located on Piccadilly in central London, close to many of the fantastic family hotels. The nearest underground station is Piccadilly Circus. From there, it's a short walk to the store.
5. Hamley's
Hamley's is the largest toy shop in London and a magical place to visit with children. Of course, Santa and his elves will be there in his grotto!
Being such a fantastic toy shop, Hamley's is an enjoyable and popular place to visit at Christmas time.
There are often performances with elves and other Christmas characters right at the front door of Hamleys, which makes visits that extra bit special.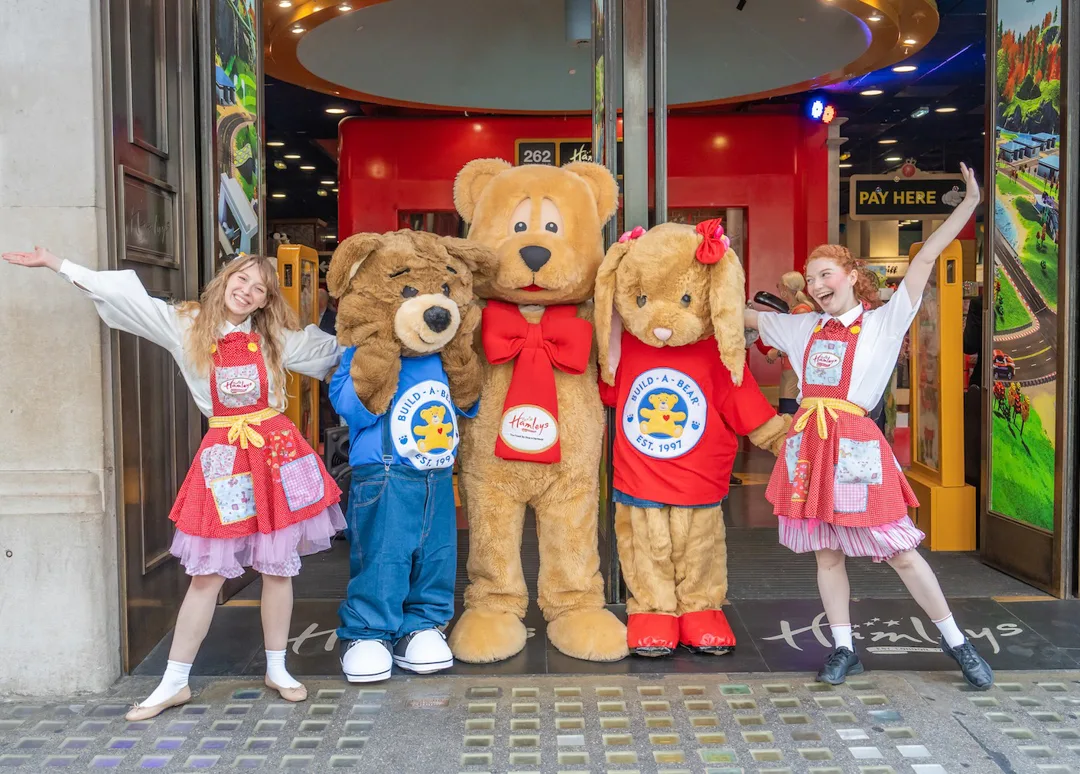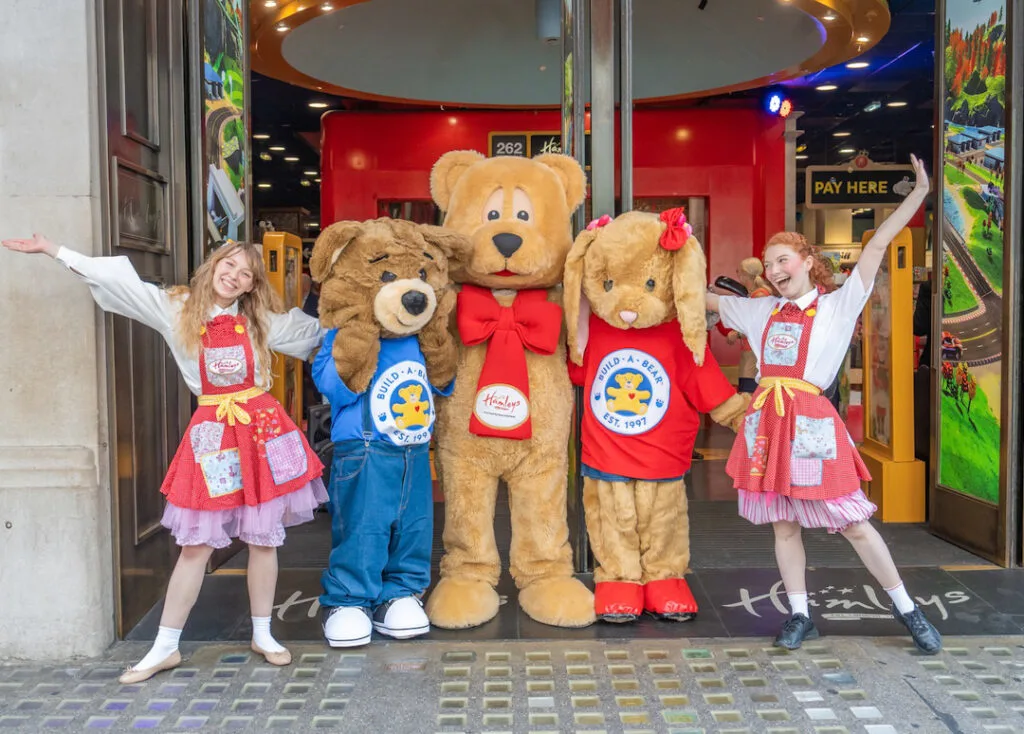 Be aware that the shop can get extremely busy during peak times in the evenings, weekends, and the school holidays.
The store is open until 9:00 PM every day, except Sundays when it closes at 6:00 PM. Most shops close slightly earlier on Sundays in London and the rest of the UK.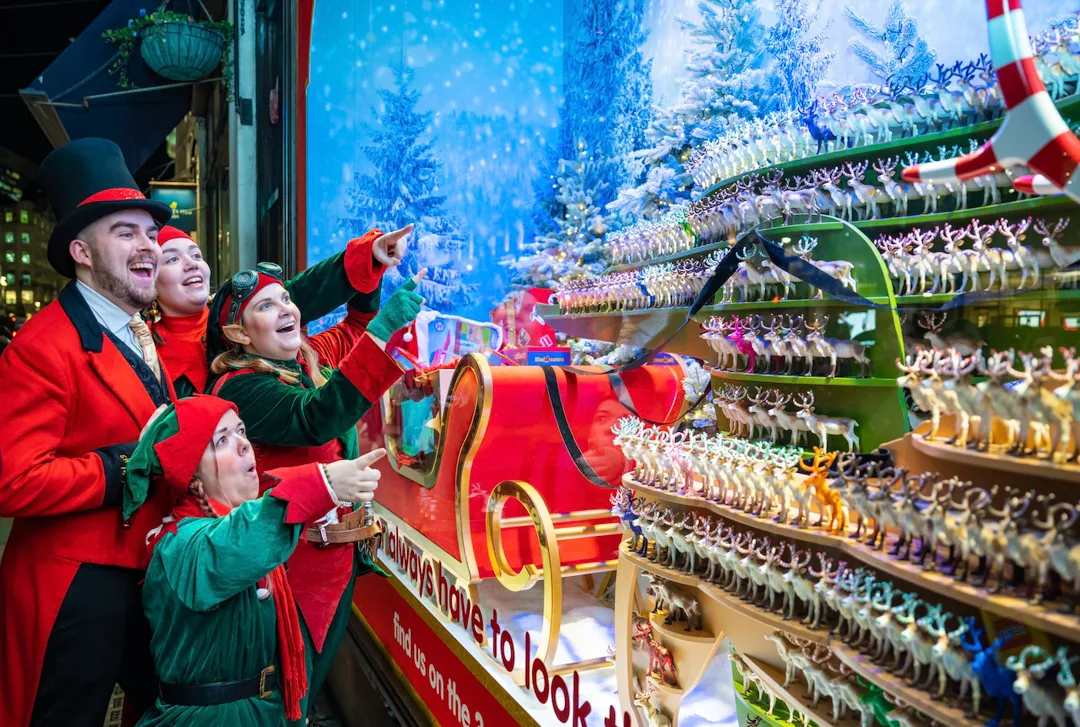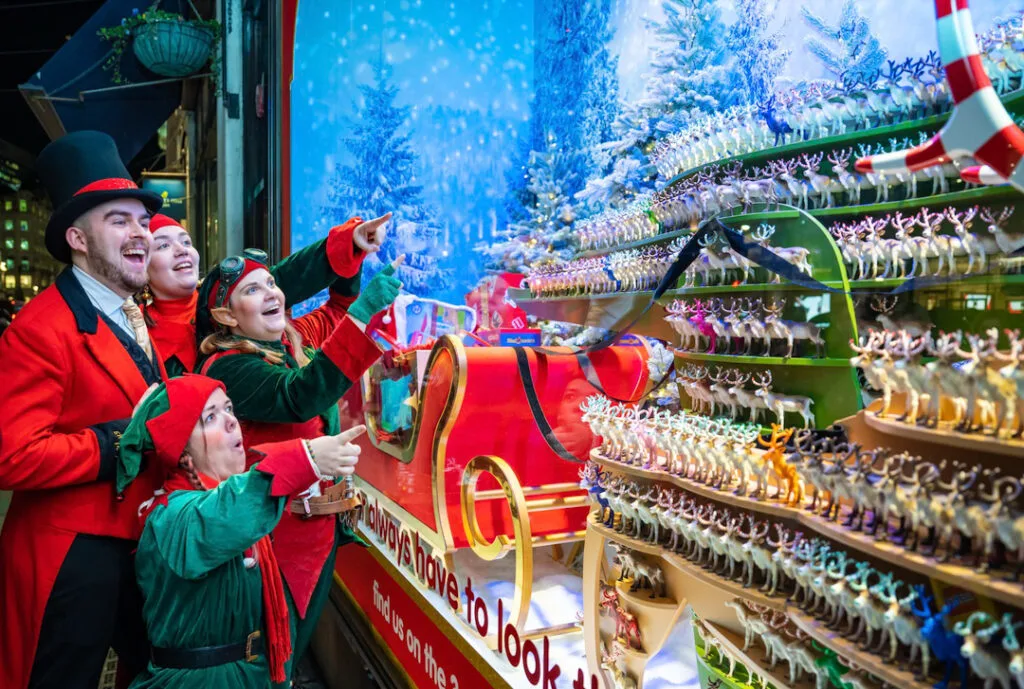 Tickets to see Santa last year cost £50 for three people, including a gift for little ones. Dates for when to visit Santa at Hamleys will be released soon.
Hamley's is situated on Regent Street, near Oxford Circus. The nearest underground stations are Oxford Circus (Bakerloo, Central, and Victoria Lines) and Piccadilly Circus (Bakerloo and Piccadilly Lines). Both stations are within walking distance of Hamley's.
6. Leicester Square
Leicester Square in Central London is a must-see location for tourists all year round. It is extra magical at Christmas time when the restaurants and outlets around the square are transformed with pine trees, sparkly lights, decorations, and delicious smells as the Christmas Market comes to town.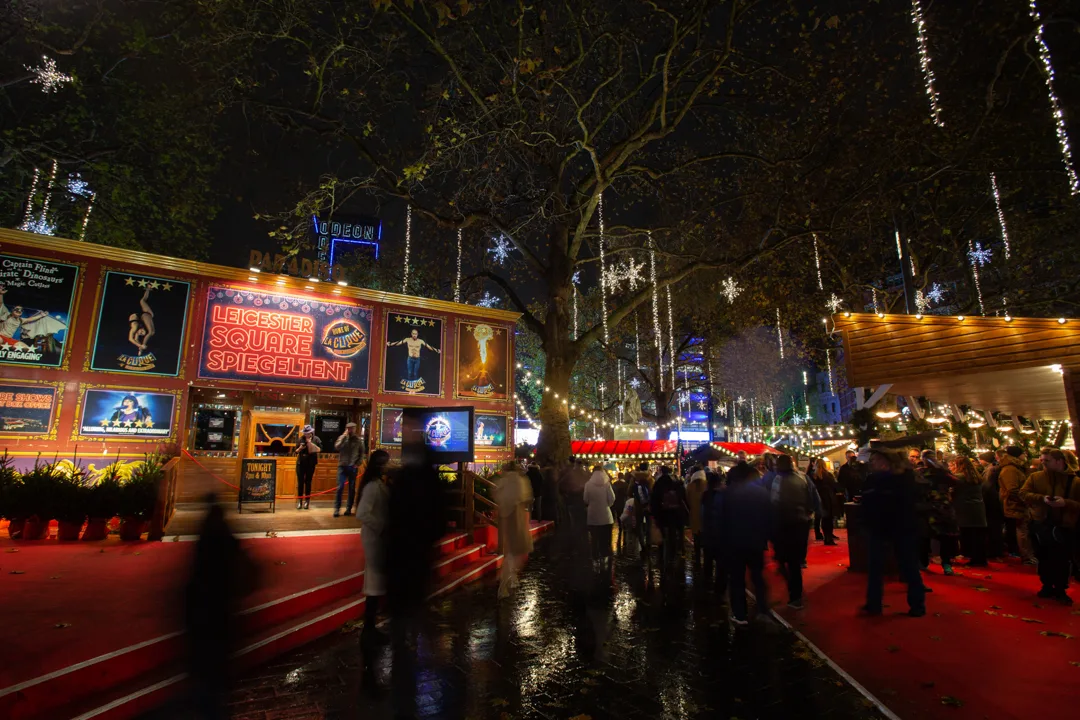 As well as all the classic Christmas treats and attractions, the market has its own Santa Grotto, where you can meet Santa and receive a small gift.
Dates and prices for this year are yet to be announced.
To get there, you have a few options for public transport. You could head to Covent Garden tube station, which is only a short walk away.
7. The National Gallery
The National Gallery is home to a collection of art exhibitions, from Renaissance to Impressionist art. The gallery is free to visit and has many exhibitions, whilst others are ticketed.
Santa will visit the National Gallery every weekend from the end of November to the end of December, and tickets will go on sale in mid-October.
Last year, the gallery hosted a show called 'The Picture Perfect Christmas'. It ran throughout December on selected dates or an hour. Although nothing is confirmed for this year just yet, we are excited to see if a show will be planned again this year.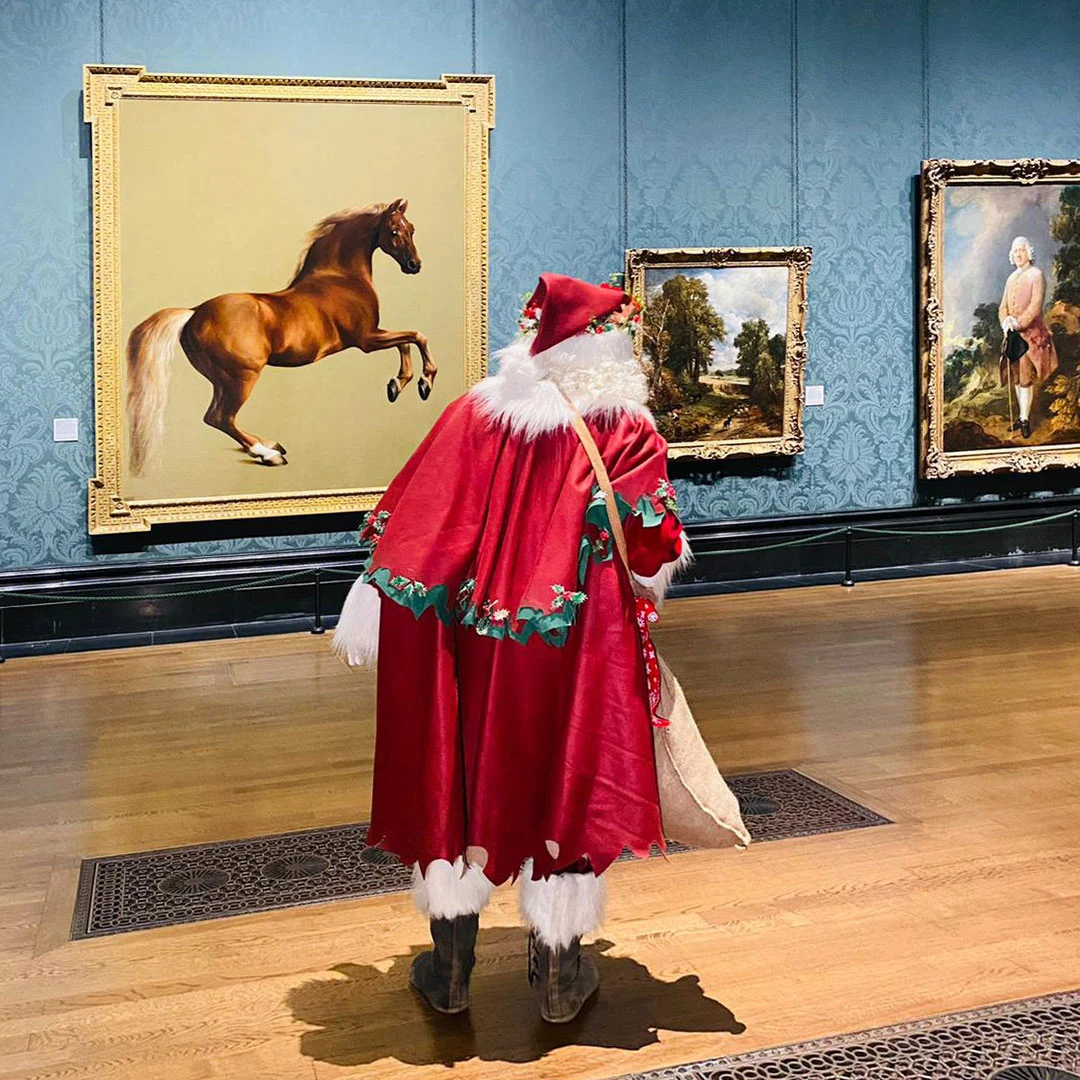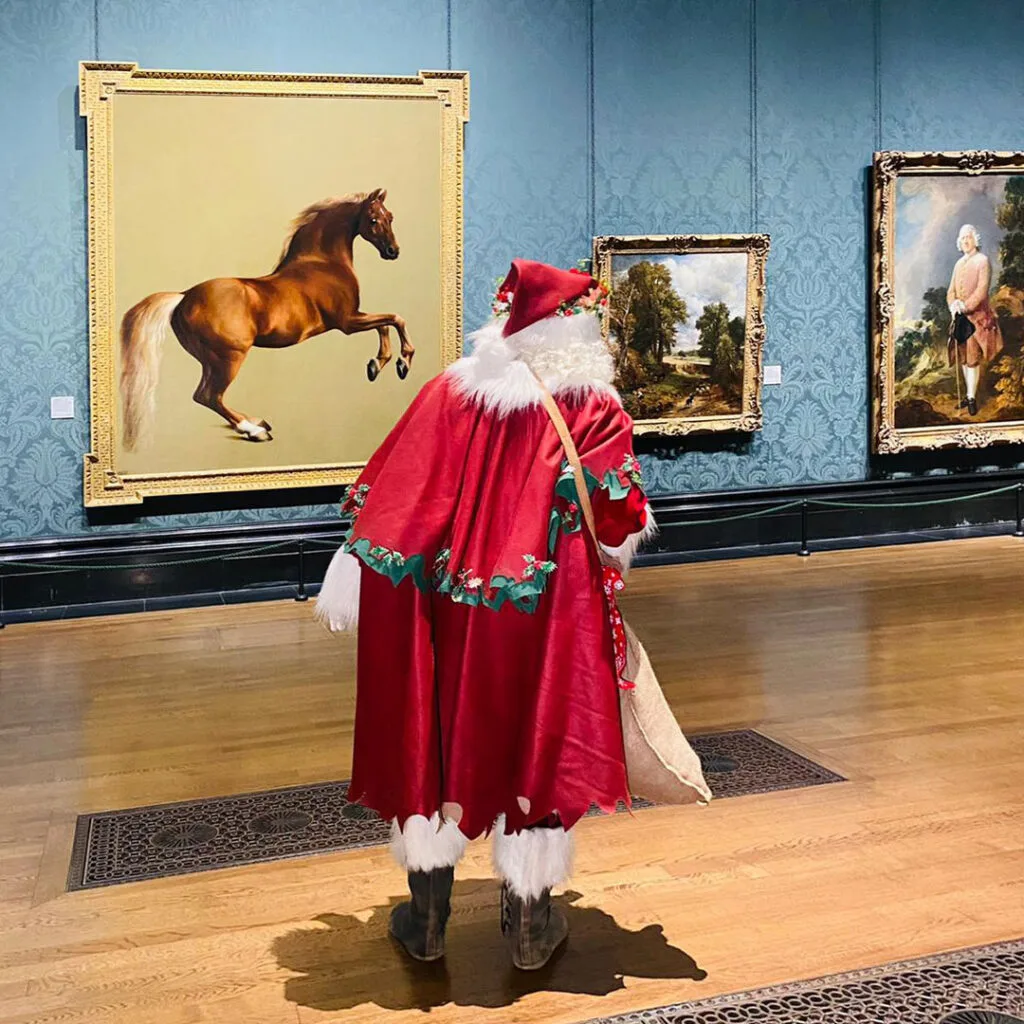 The main entrance to the National Gallery can be found at the centre of the Gallery overlooking Trafalgar Square. There is another entrance on the East side of Trafalgar Square with step-free access.
Inside are two beautiful restaurants and an espresso bar if you want something delicious to eat and drink during your visit.
Trafalgar Square is a short journey from London Victoria. Take the Victoria Line to Oxford Circus, then change for the Bakerloo Line to Charing Cross. From there, it's a 1-minute walk to the National Gallery.
Not to mention, Trafalgar Square often hosts Christmas carollers, especially on weekends. It's a lovely spot at Christmas.
8. London Transport Museum
The London Transport Museum is a favourite of London's many museums. Children can learn all about London's trams, buses, tubes, and trains.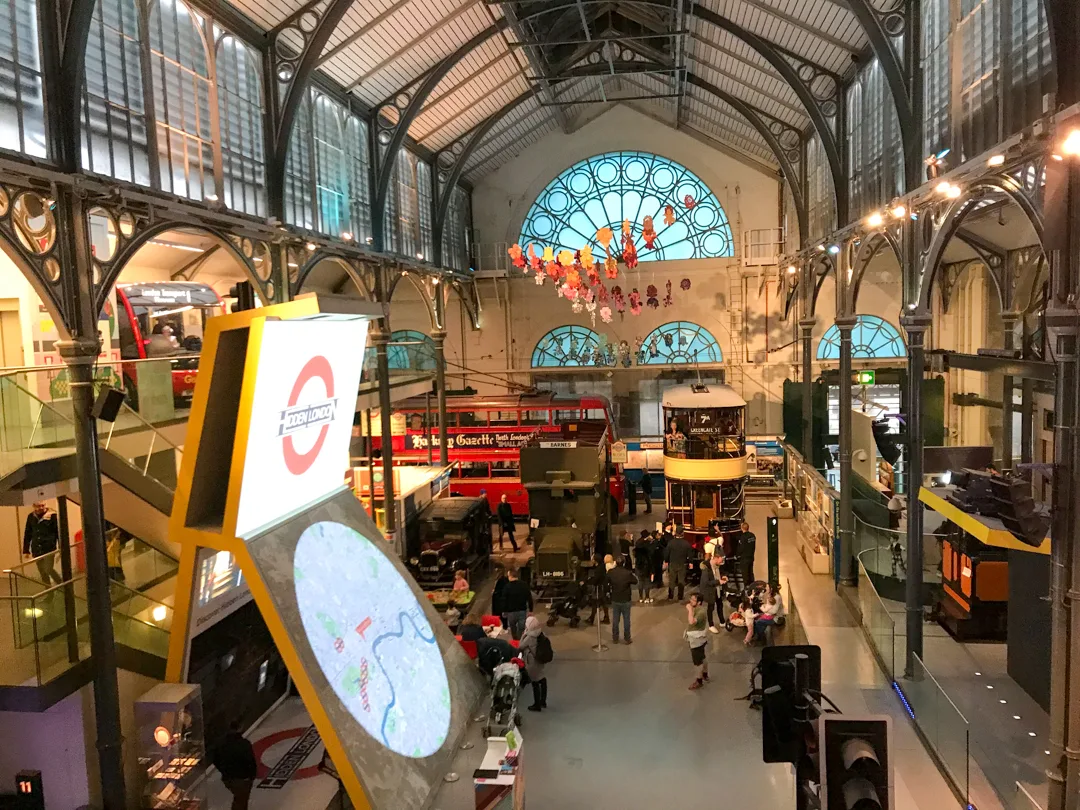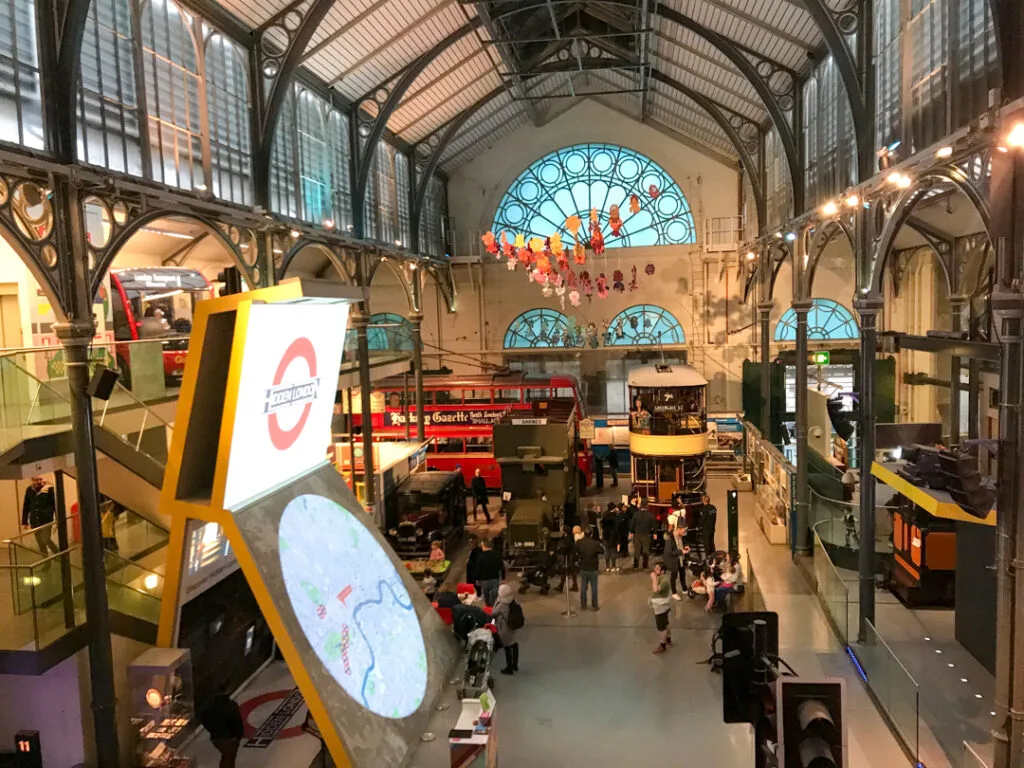 This is a great day out for little ones because there are so many interactive exhibitions at the museum to have fun and learn. At Christmas, it's even more special because Santa comes to visit!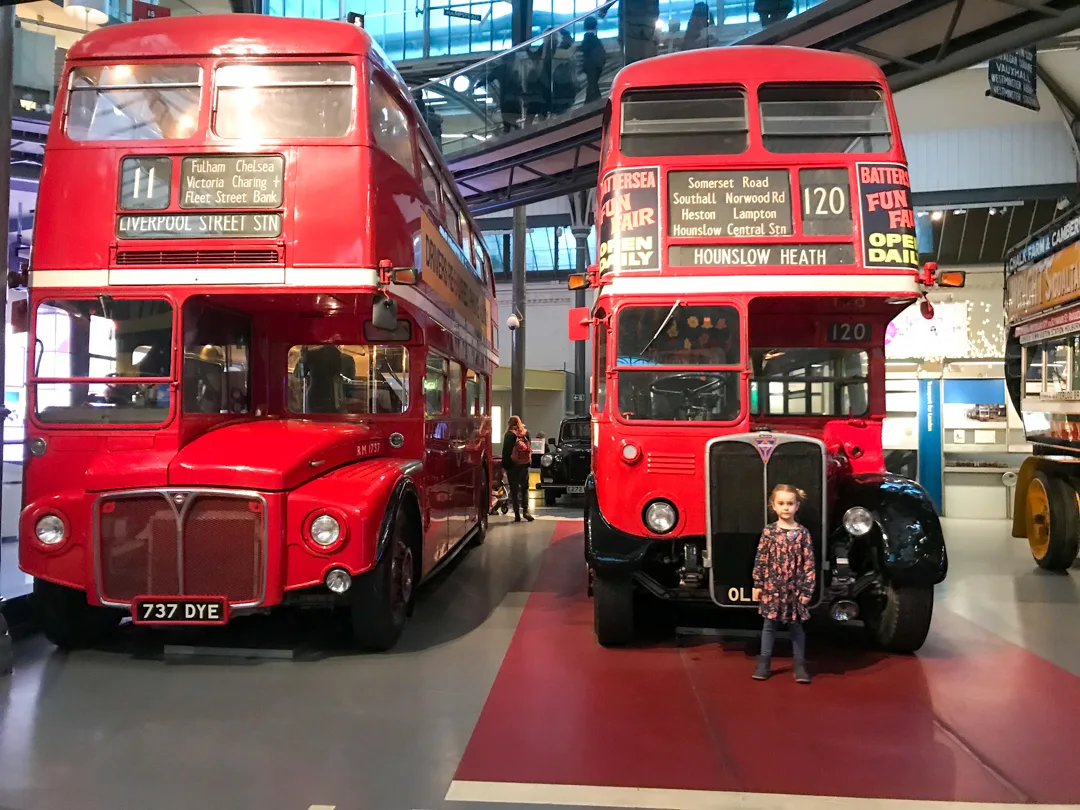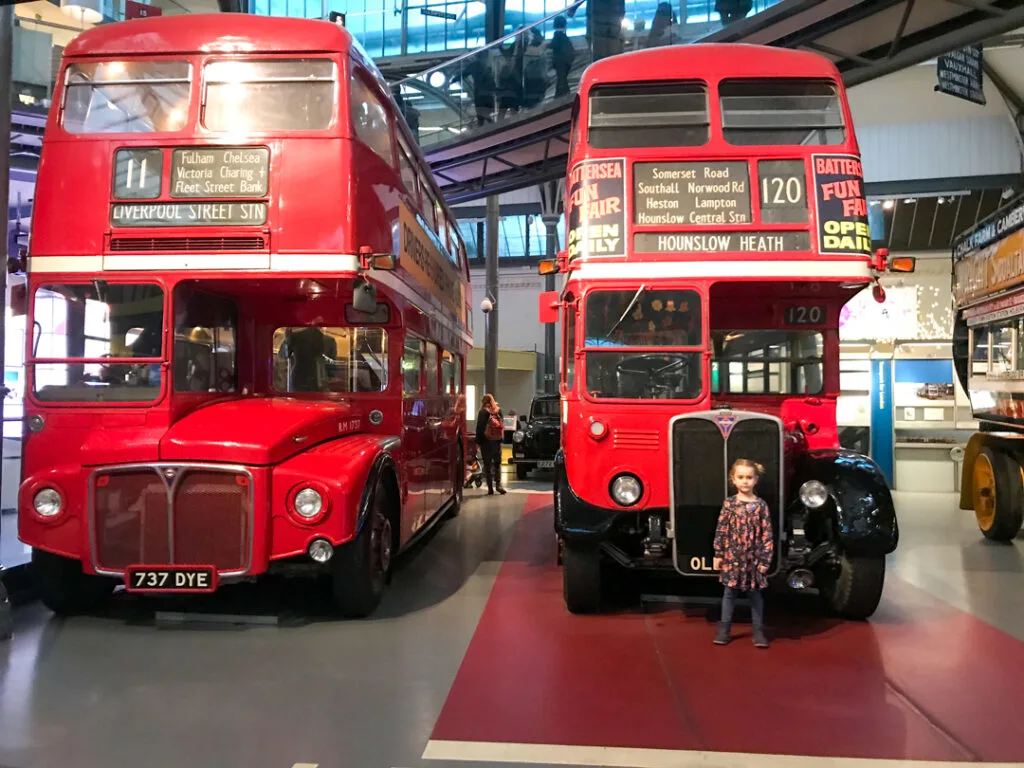 Prices and dates for where to see Santa in London aren't yet available but will be updated here as soon as possible.
9. Harrods
Harrods is our next top pick for where to see Santa in London. Christmas is arguably the best time of year to visit the store as it's decorated head to toe with Christmas trees, lights, and ornate baubles.
It must be said that bagging a ticket to Harrods Santa Grotto in London is very difficult as tickets are limited and highly sought after. Only 160 families will be lucky enough to visit!
If you'd like to try to get one, tickets are usually released in mid-November and cost £20.00 per child.
If you cannot get a ticket to see Santa at Harrods, there are plenty of other locations on my list of where to see Santa in London.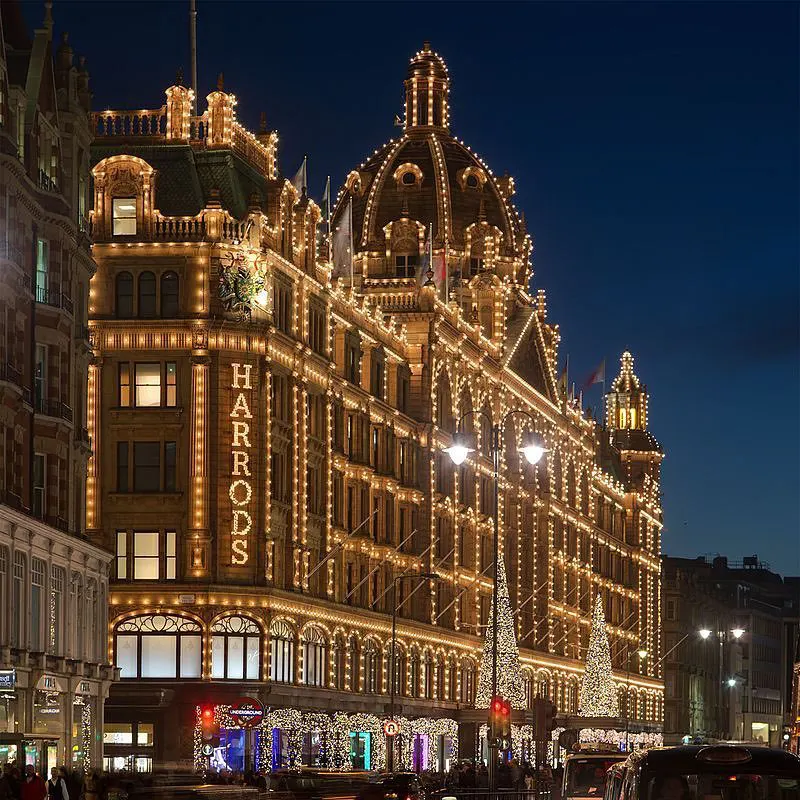 As well as Santa's Grotto, Harrods is home to a luxury Christmas shop with sparkly baubles, beautiful wreaths to decorate your door, and delicious, sweet treats to give as gifts to family and friends.
Why not pick up some luxury treats for dinner on Christmas day at the food court? Upstairs, the toy department is one of the most impressive and will make a fantastic day out for your little ones.
Harrods is located in Knightsbridge, a beautifully picturesque area to explore in Central London. If you're travelling by public transport, take the Piccadilly Line to Knightsbridge tube station, then it's a short walk to Harrods.
It is worth heading to Harrods after 4 pm to see the building lit up with fairy lights from outside.
Santa Grottos In North London
10. Madame Tussauds
Madame Tussauds is a world-famous museum of life-sized wax figures of celebrities and, at Christmas time, you will find Santa here! Snap a selfie with Santa this Christmas at Madame Tussauds.
Book tickets online because Madame Tussauds is one of London's most famous and popular attractions.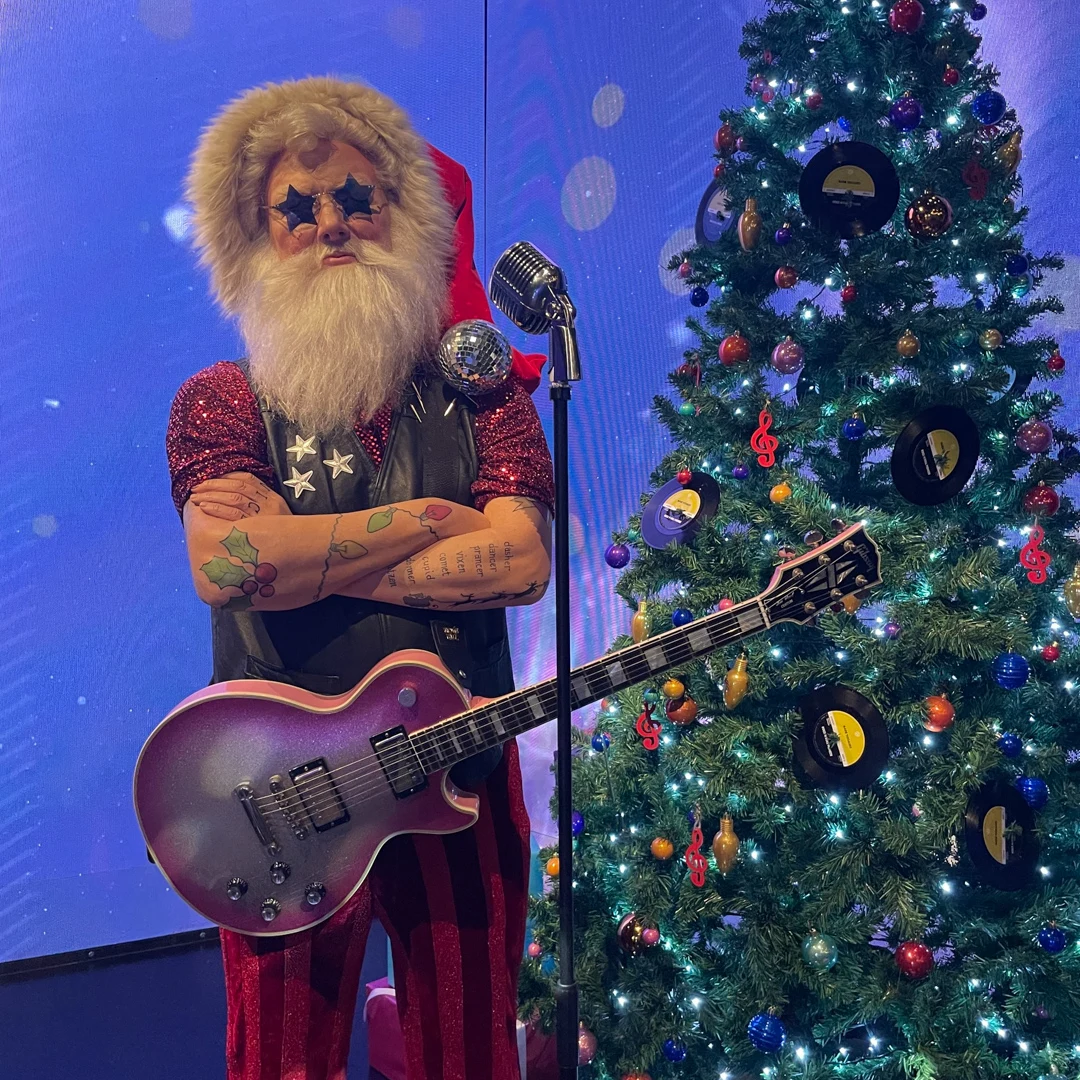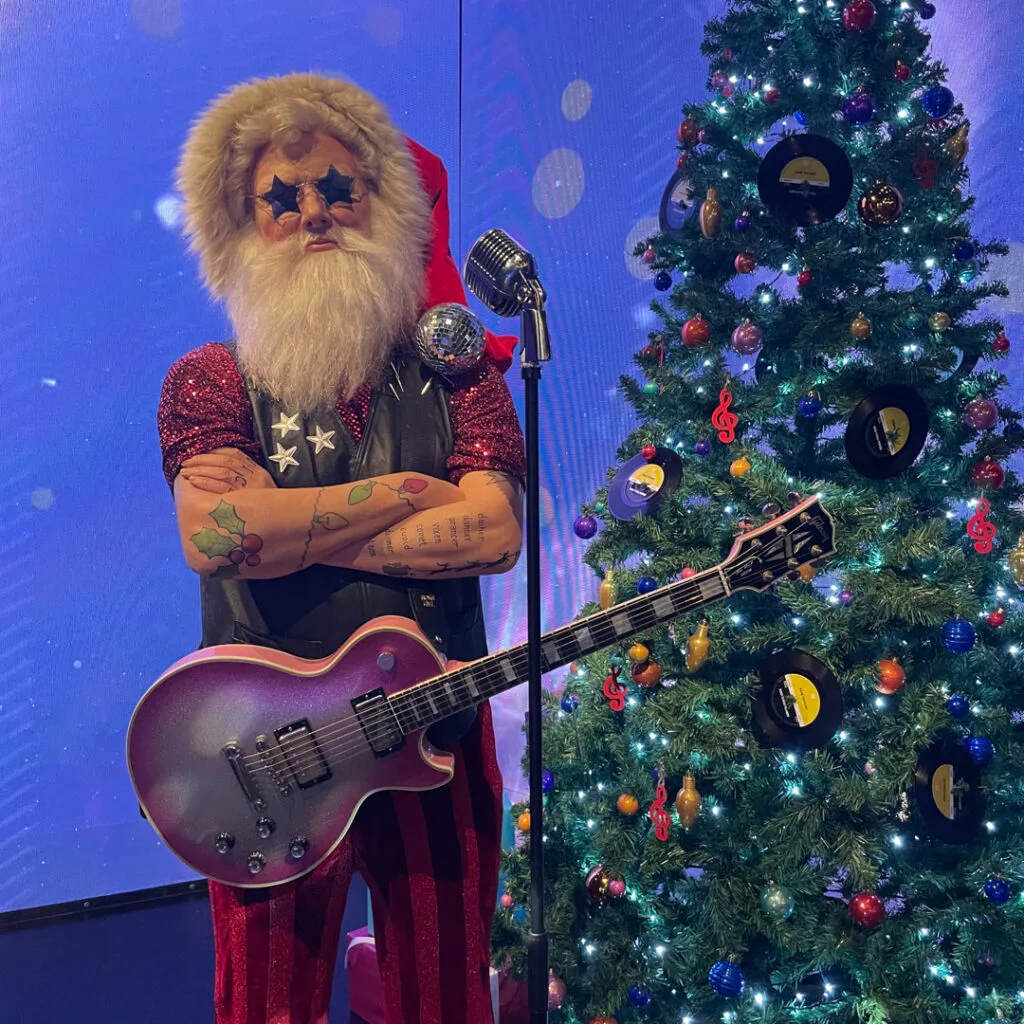 The attraction closes earlier than usual in the winter months, around 3 or 4 pm, because the days in the UK are shorter. Check out their opening times on the website to plan your visit.
To get to Madame Tussauds on public transport, the nearest tube station is Baker Street. The Bakerloo, Jubilee, Metropolitan, Circle, and Hammersmith & City Lines serve this station.
11. Alexandra Palace
Known by locals as "Ally Pally," Alexandra Palace is a beautiful Grade II listed building in London, usually used as a venue for entertainment, live music, and sports. It's also world-renowned for its beautiful architecture.
At Christmas time, however, it's transformed into a festive attraction and is a great place to head to if you're wondering where to see Santa in London.
Dates and times aren't available this year, but last year's entry was priced at £17.99.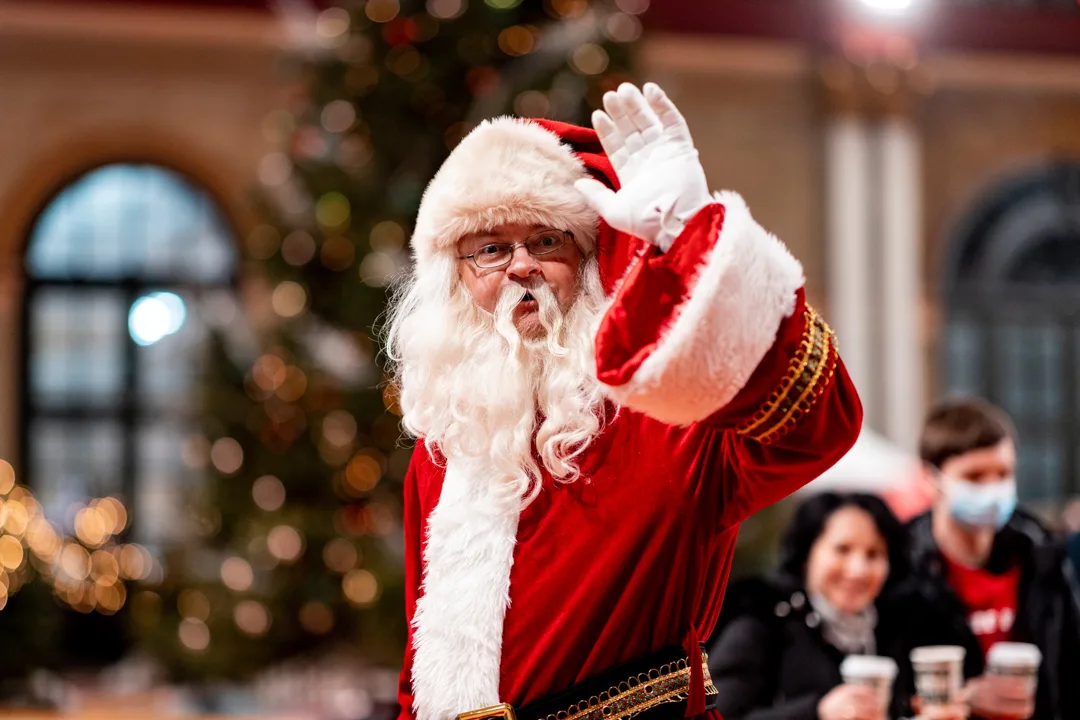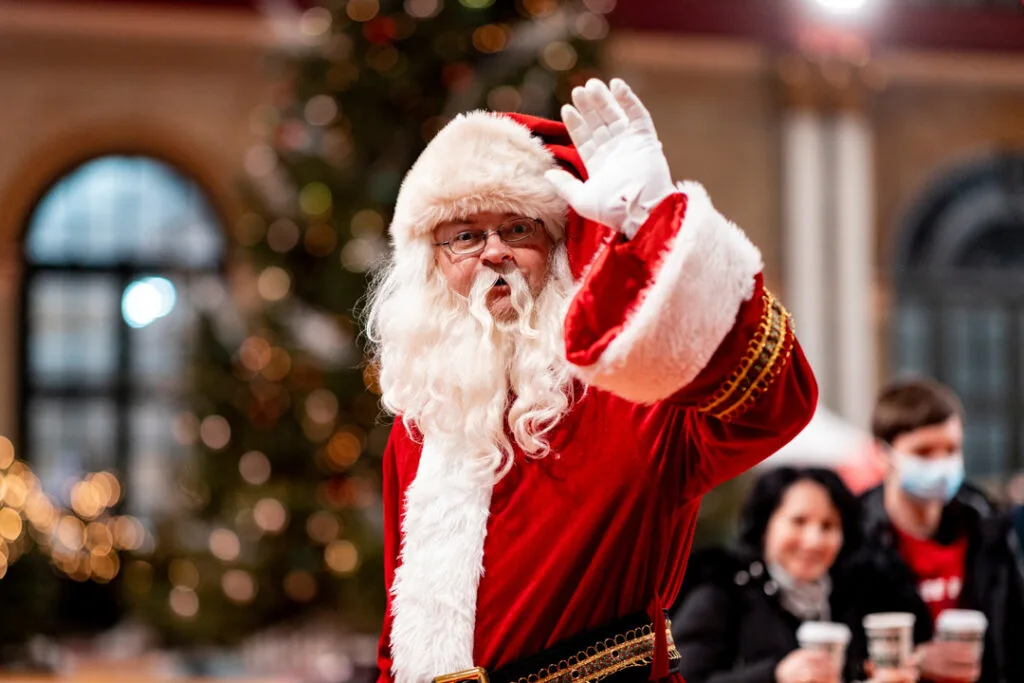 Check out what's on at Ally Pally website for the latest news on Santa's Grotto.
At Christmas time, Ally Pally also hosts a beautiful outdoor ice rink in London. You may wish to combine your visit to Santa with an ice skating session.
Ice skating tickets are well sought-after, especially for evening sessions, so make sure to book your tickets well in advance of your visit to avoid disappointment.
If you're travelling to Alexandra Palace on public transport, take the Piccadilly Line to Wood Green underground station. From there you can take a bus or taxi to Alexandra Palace.
Alternatively, you can take the Victoria Line to Finsbury Park station and then change for a Great Northern rail train to Alexandra Palace station. From there, it's a 13-minute walk to Alexandra Palace.
12. Springtime Nurseries
Springtime Nurseries is a charming garden centre in Enfield. Browse a vast selection of plants, flowers, gardening supplies, and outdoor furniture.
In the winter months, this vibrant plant paradise also turns into Santa's Grotto for families.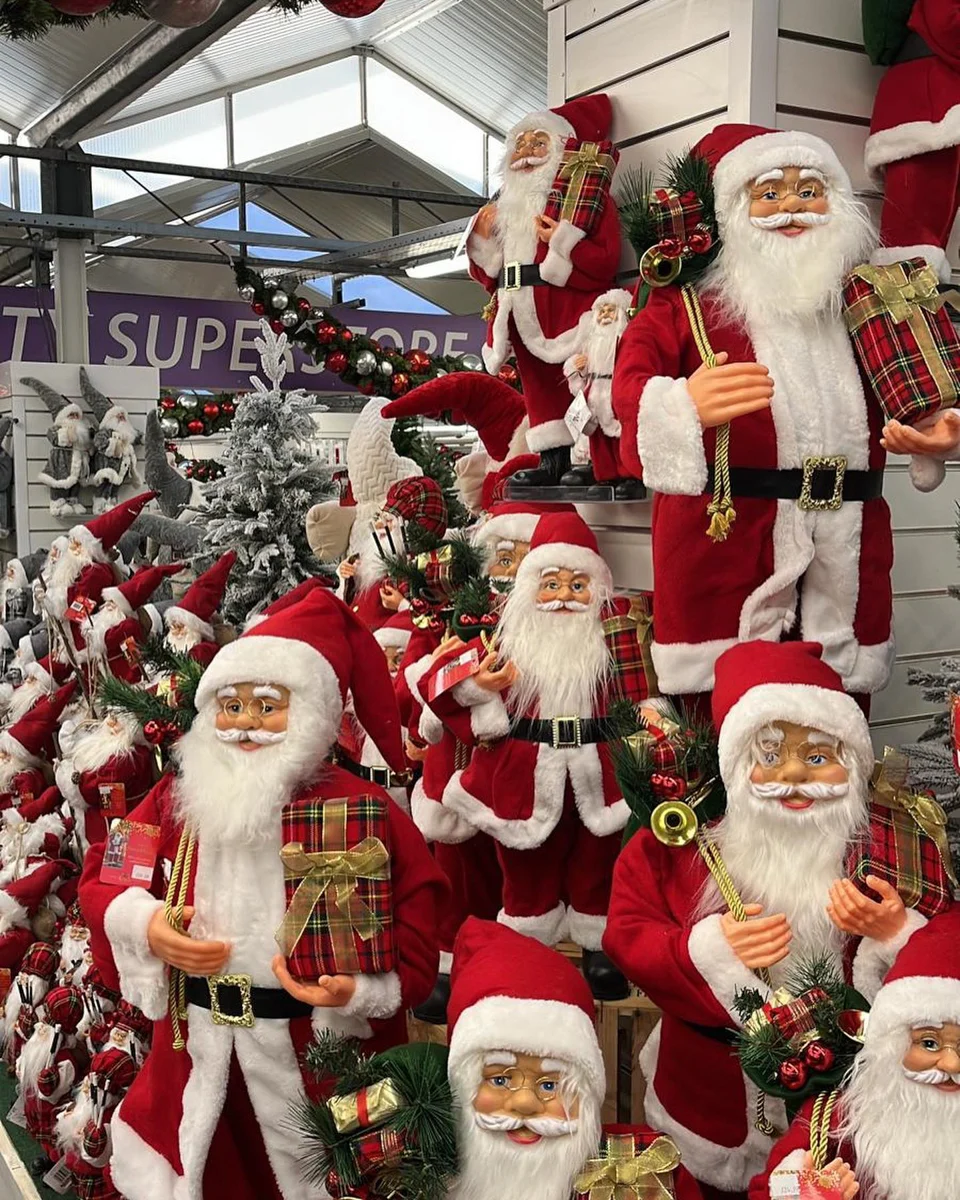 Exact dates and ticket prices are not yet available for Santa's Grotto at Springtime Nurseries. This year will be updated a little later when Santa lets us all know when he's visiting! Last year, entry for children cost around £15.
Enfield is in North London and on the Piccadilly line, or the overground train runs every 30 minutes from Liverpool Station to Enfield.
Click here to book your train tickets with the Trainline for the best prices.
East London Santas Grottos
13. Museum of London Docklands
The Museum of London Docklands showcases the docks' history and significance in the city's development. The museum hosts fascinating exhibitions on trade, maritime history, and the impact of the Docklands area on London's cultural heritage.
During the holiday season, the museum is transformed with lights and decorations. Meet Santa for 15 minutes and take a photo!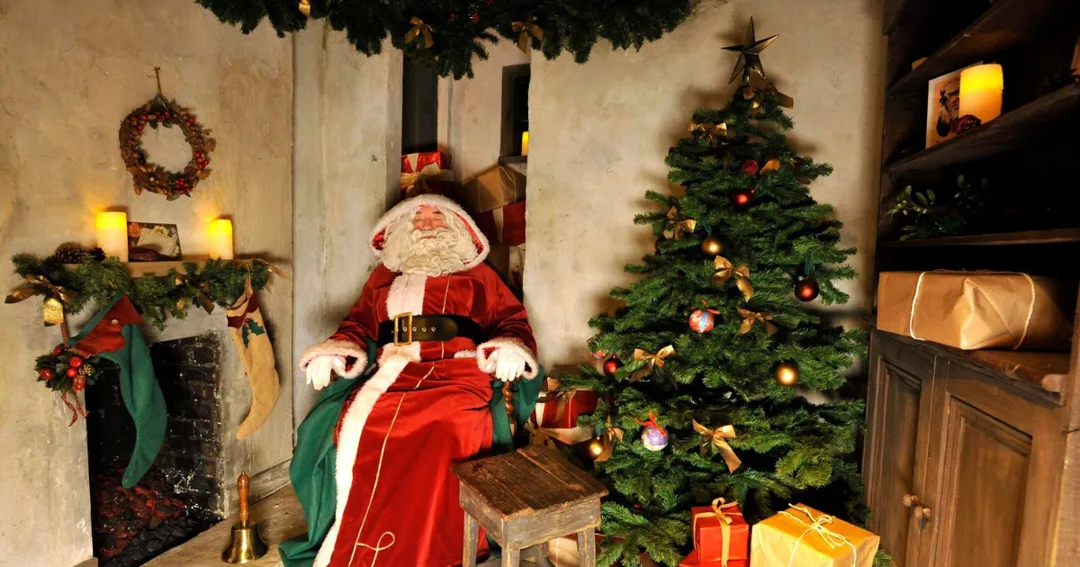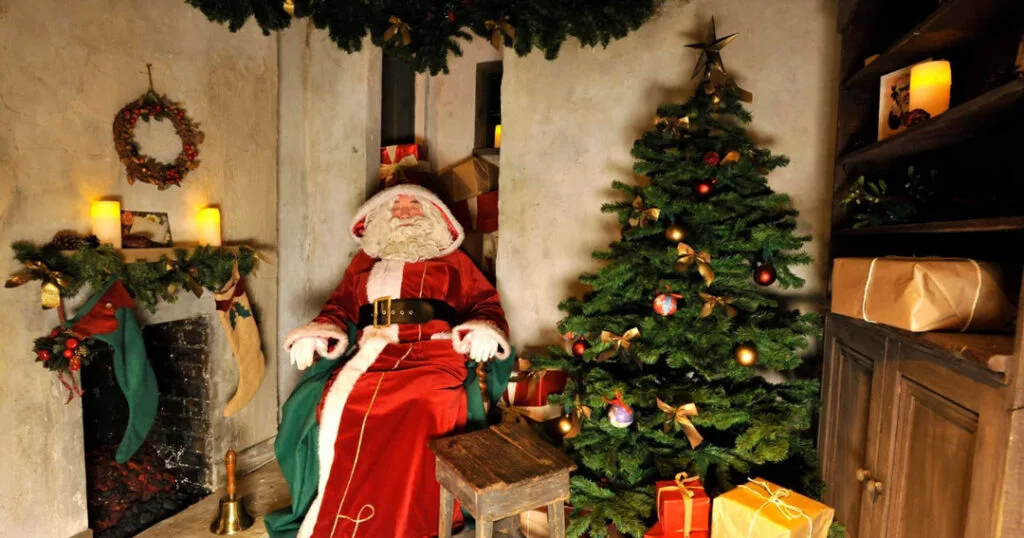 Entry to the museum costs £12.50 per child, and dates to meet Santa are yet to be announced for 2023. Watch for updates on when Santa and the elves will visit!
Last year, Santa's Grotto was open on the following dates: 2nd-4th, 9th, 11th, 16th-23rd December.
The nearest underground station for the Museum of London Docklands is West India Quay, right next to the museum. To get there, head to Canary Wharf on the Jubilee Line. From there, you can change onto the DLR to West India Quay.
South London Santa Grottos
14. Greenwich Market
Greenwich is a lovely neighbourhood on the River Thames in the South-East of London. Greenwich Market is renowned and loved by locals and tourists for its eclectic mix of arts, crafts, antiques, and street food.
Greenwich Market is transformed into a fantastic Christmas market at Christmas time in London. There are lovely gifts to buy, sweet treats and drinks to try, and Santa is there to be met!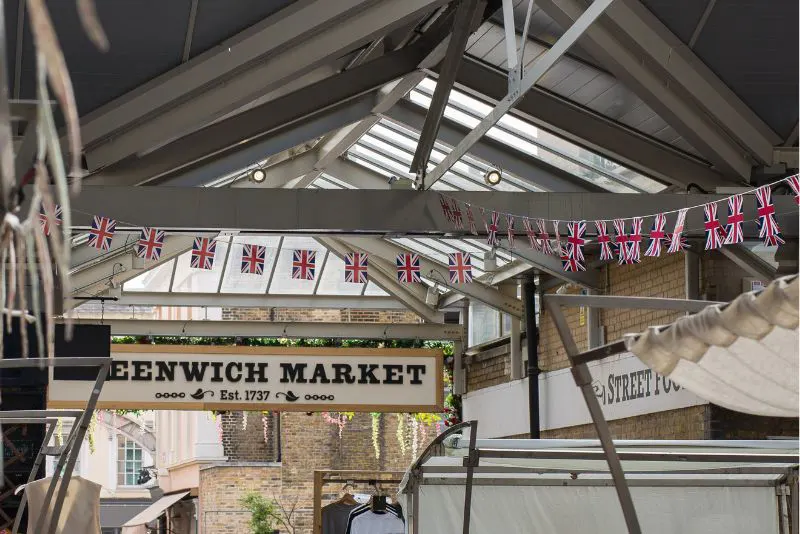 Exact dates and ticket prices are not yet available for Santa's Grotto at Greenwich Market in South-East London. Christmas markets in London usually run from mid-November to early January, just after New Year's Eve.
If you're travelling to Greenwich Market using public transport, the nearest station to the market is Cutty Sark, served by the DLR.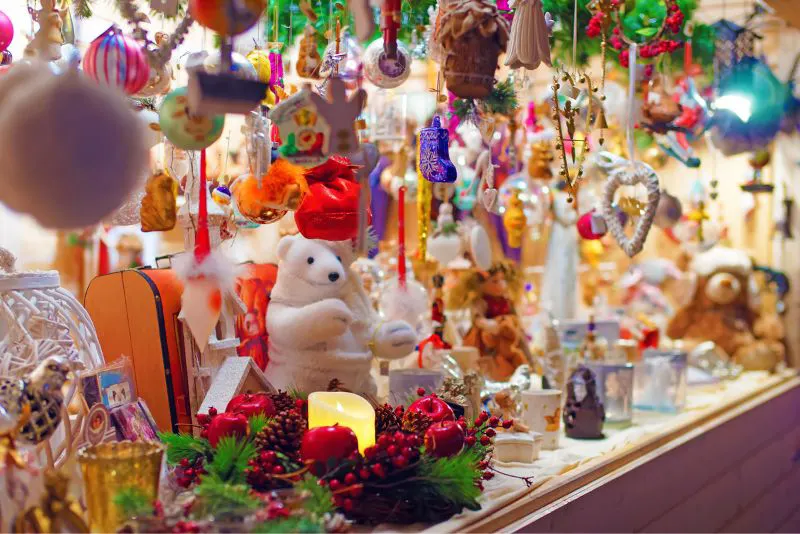 The DLR is relatively slow compared to the tube, but children will enjoy the views of London from the big windows!
Alternatively, you can get a train from London Bridge Station to Greenwich Station. It's a short walk to the market from either of these stations.
You can head back into Central London using the Uber Boat on the River Thames, by far the most fun way to get around the city!
15. Royal Albert Hall
The Royal Albert Hall is a beautiful venue at Christmas time when it's decorated and transformed into a magical Christmas wonderland. It's another fantastic option for where to see Santa in London.
Exact dates and ticket prices are not yet available for Santa's Grotto at the Royal Albert Hall, London. Make sure to keep an eye out for updates later in the year.
Please be aware that if you visit the area at Christmas, Hyde Park and the surrounding area and the tube stations will be much busier than usual due to the Winter Wonderland attraction at Hyde Park. Part of the park will also have no access.
If you prefer to take an alternative route, you can also reach the Royal Albert Hall from Leicester Square station (Northern and Piccadilly Lines).
16. Chessington World of Adventures
Also, South of London, you'll find Chessington World of Adventures, one of London's biggest and most popular theme parks, especially for younger children. This famous theme park is also a magical place to meet Santa in London in winter.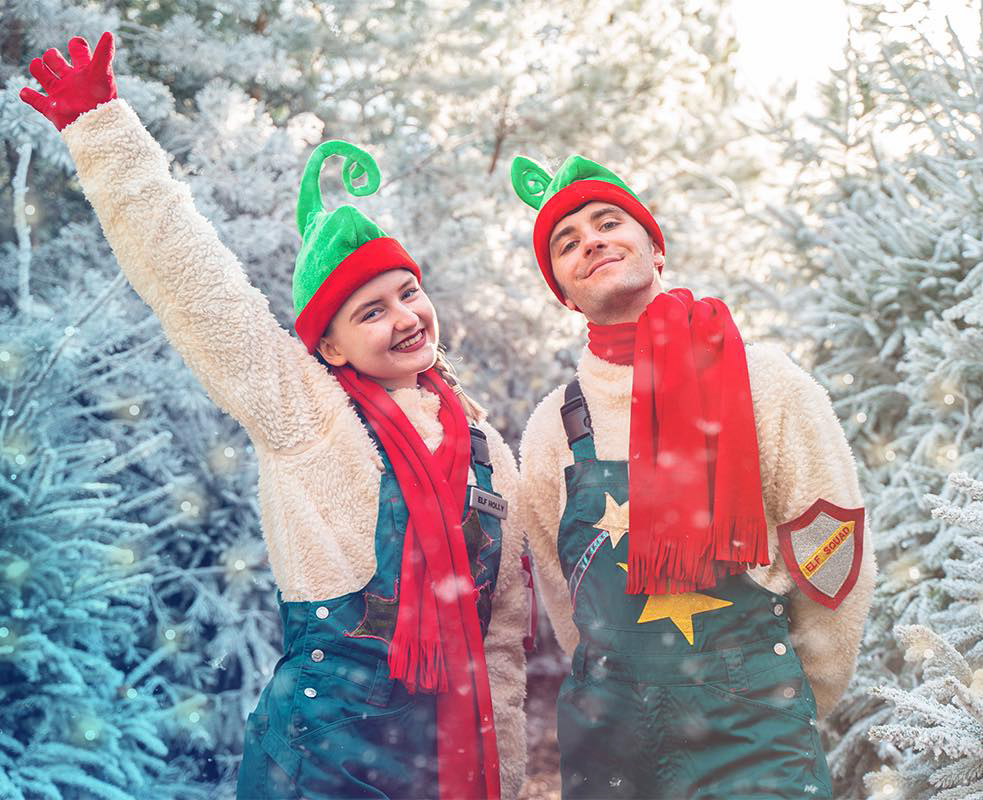 Whilst the theme park rides are closed in the winter months, at Christmas, you will find in its place Winters Trail, with Christmassy treats, a Gruffalo ride, and of course, a visit from Santa.
Children will be given a gift from Santa, while adults receive a complimentary hot drink and festive treat. To top off the day, Santa's reindeer will also be there!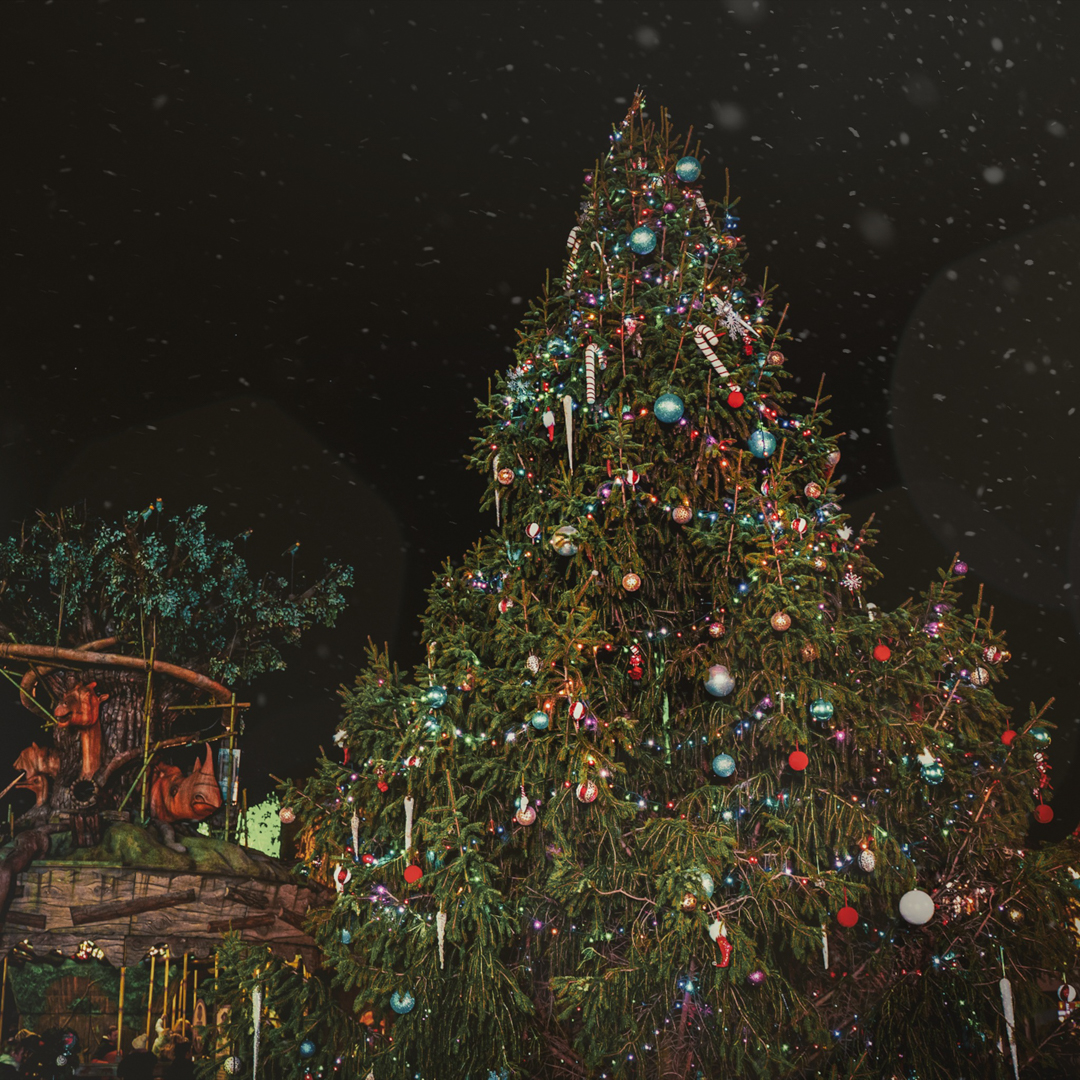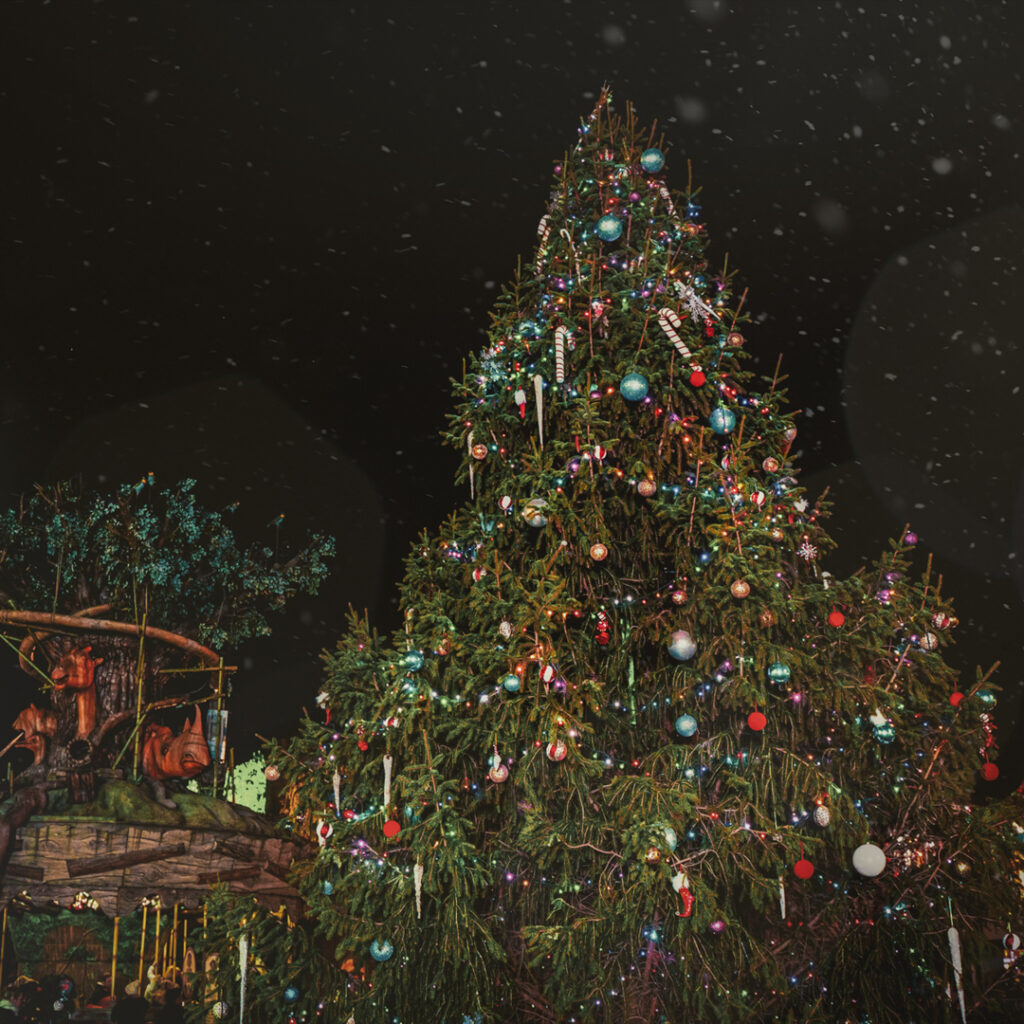 Be sure to book your visit in advance online. Admission to the grotto last year cost £20 per person when booked in advance online. Children under 12 months of age enter for free.
Check out tickets to London's Chessington World of Adventures
17. Shrek's Adventure
If your children are big fans of the Shrek movies, this will surely be the best Santa Grotto London for you and your family. Why not take the little ones to meet Shrek Santa at Shrek's Adventure in his Shrek-themed Grotto this Christmas!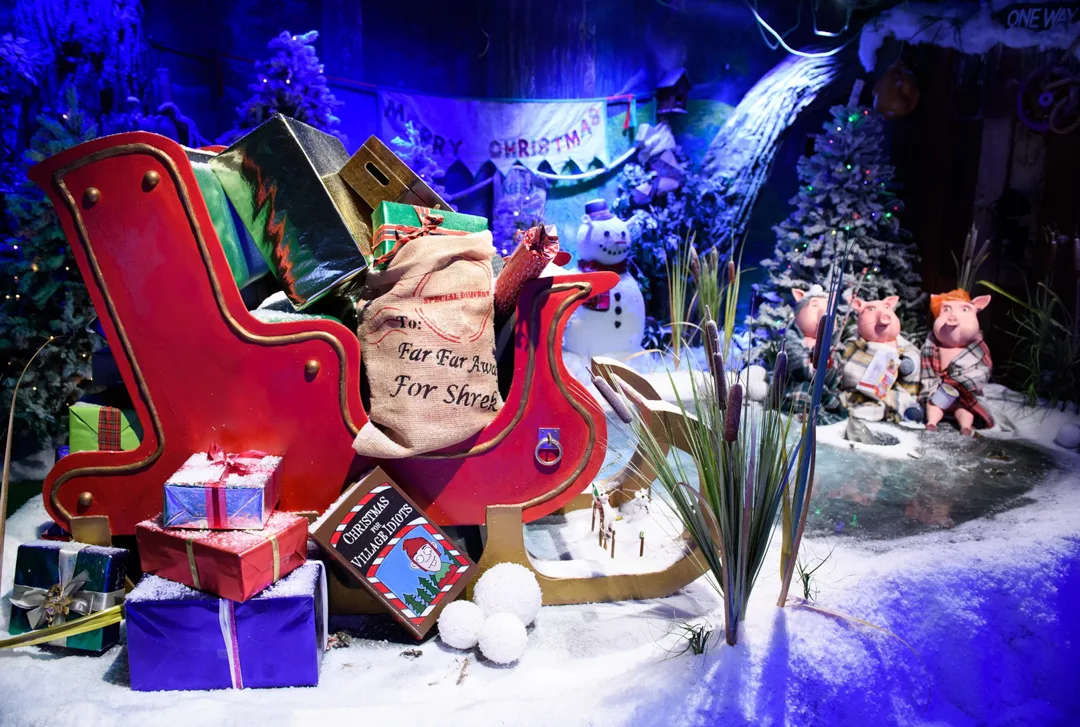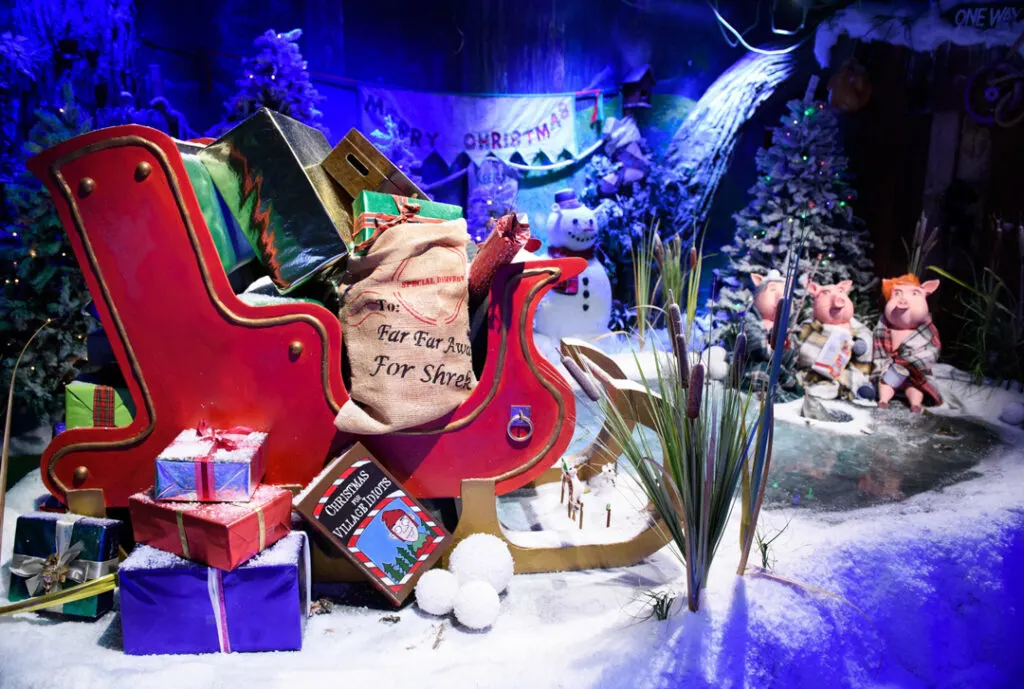 Shrek's Adventure is an interactive fairytale experience where you can meet all your favourite characters from the movie and see a live show.
Dates and ticket prices are to be confirmed for this year, so keep an eye out for updates! Standard tickets start at £24 per adult when booked in advance online.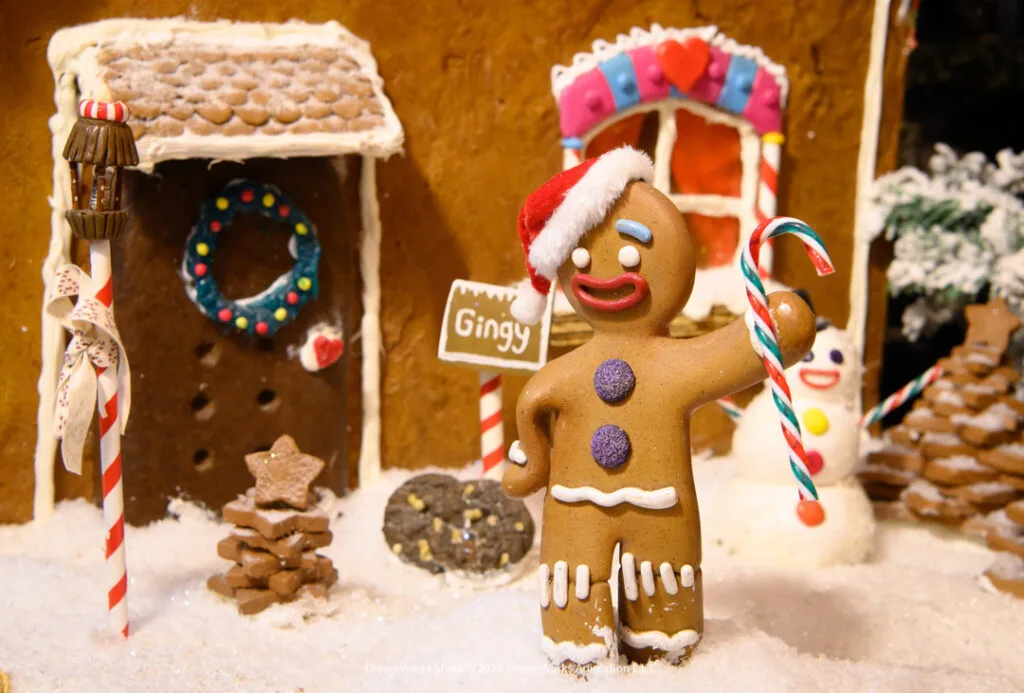 Shrek's Adventure is located in the riverside building by Westminster Bridge on the Southbank of the River Thames. Head to London Waterloo station on the tube or train, and the Southbank is less than a 10 minute walk away.
If you're travelling to Waterloo from elsewhere in the UK to see Santa in London, book train tickets with the Trainline!
Santa Grottos In West London
18. Chelsea Physic Garden
Chelsea Physic Garden is a Grade I listed park and garden, established in the 1600s to grow plants for medicinal and apothecary purposes.
The Chelsea Physic Garden is a short walk from Sloane Square tube station, which the District and Circle Lines serve.
Last year, entry to the Physic Garden to see Santa cost around £11 per child and £9 per accompanying adult. Exact dates and prices for 2023 will be available later in the year.
Chelsea is busy with Christmas activities all through the season, making it a must-visit location for where to see Santa in London. There is also a great range of shops and luxury Christmas shops around the area if you want to buy something special.
To get to the gardens from London Victoria, you can take a short bus journey (around 15 minutes) on route number 170 to Chelsea. Alternatively, if you'd rather travel by tube, take the District or Circle lines to Sloane Square and walk about 13 minutes to the gardens.
After visiting London Santa in Chelsea, check out one of the cute cafes in Chelsea or travel slightly north to Notting Hill. These are some of London's trendiest areas, making for a great Christmas-time walk with hot chocolate.
19. Chelsea Christmas Grotto
Nestled in West London's Sloane Square is the annual Chelsea Christmas Grotto. As well as meeting Santa, this Christmassy affair offers festive treats, story time, and a Bavarian curling rink!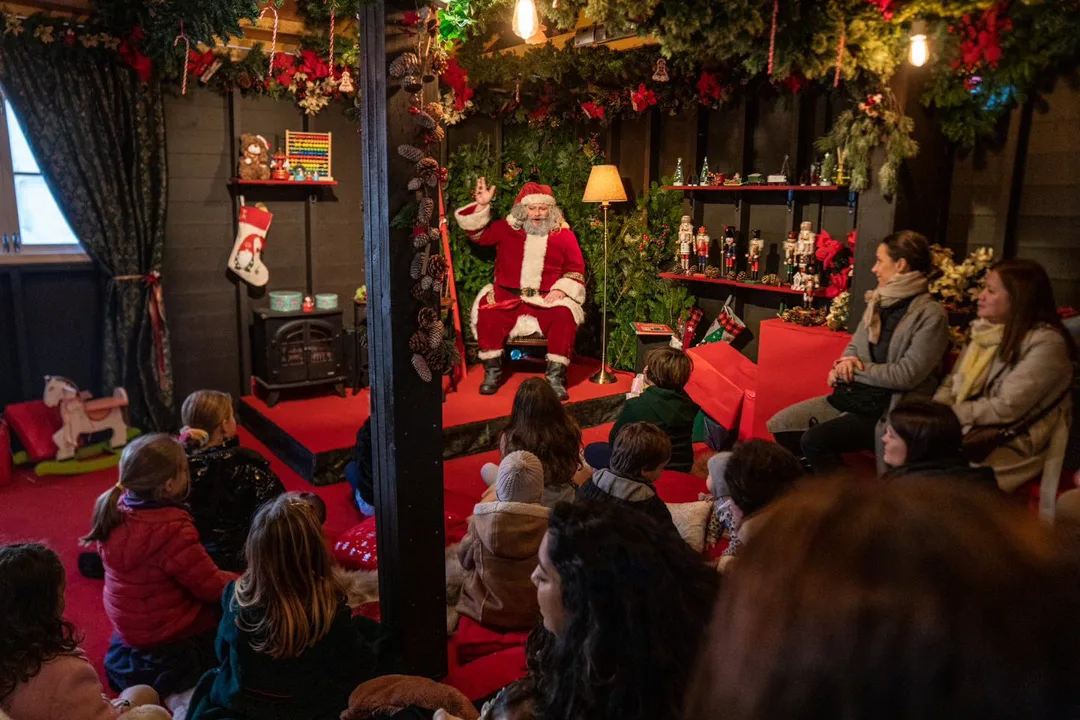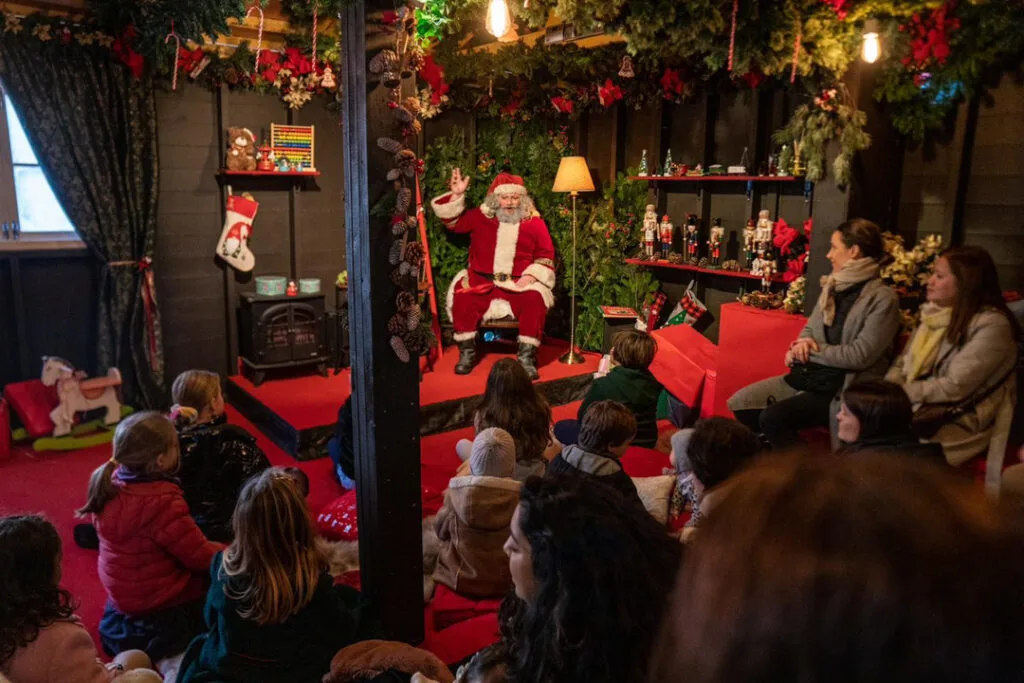 Children visiting Santa and his elves will receive a small gift.
Dates and prices aren't available yet, but more information is coming soon on their website.
20. Chelsea Christmas Lights
Also, in Chelsea in West London, Santa will visit to turn on the Christmas lights at Duke of York Square.
Christmas lights are a prevalent tradition in the UK, with many people gathering to see them turned on, often by a celebrity or local public figure. This year in Chelsea, it will be Father Christmas pushing the button!
Exact dates will be released later in the year, and updates will be provided when possible.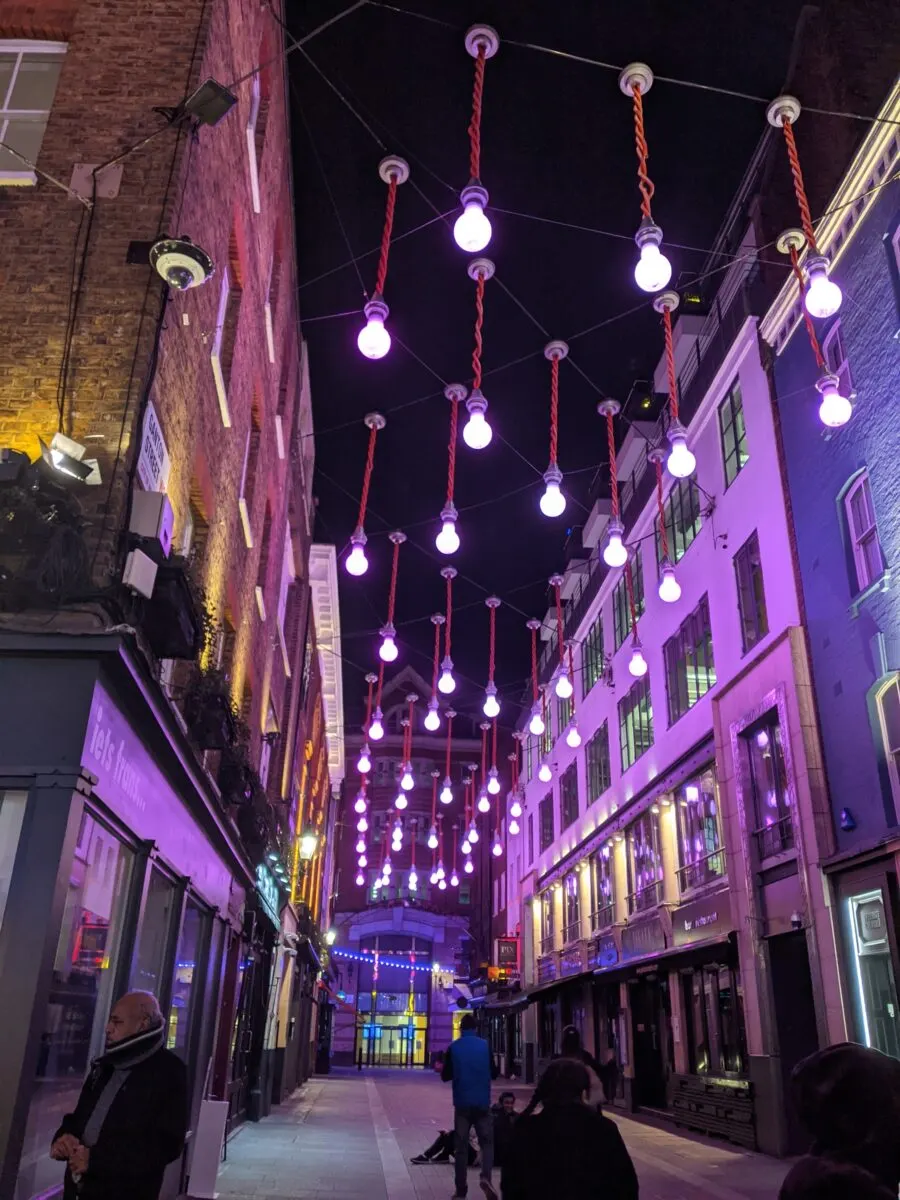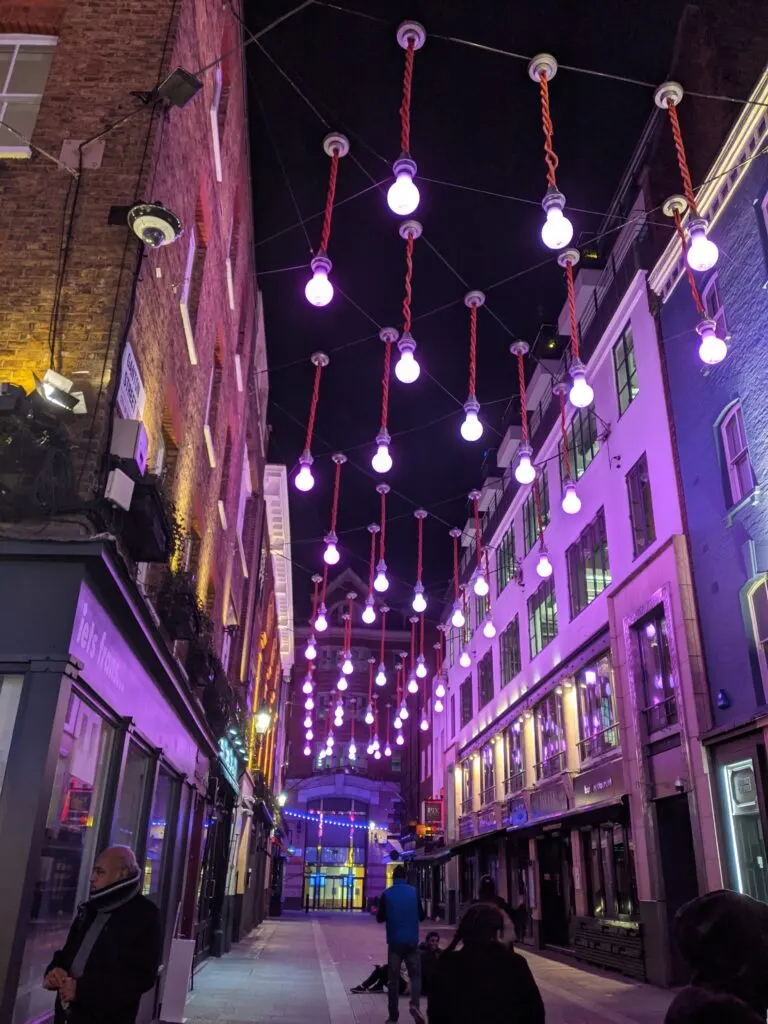 21. Kew Gardens
Kew Gardens is one of the best places to see Santa in London at Christmas. The entire gardens are transformed into a magical Christmas light walkway and wonderland. To top it off, Kew Gardens host their own Santa's Grotto.
This year, Christmas dates at Kew Gardens are from 15th November 2023 to 7th January 2024, with adult tickets starting at £21.50. Children's entry costs around £14, depending on age.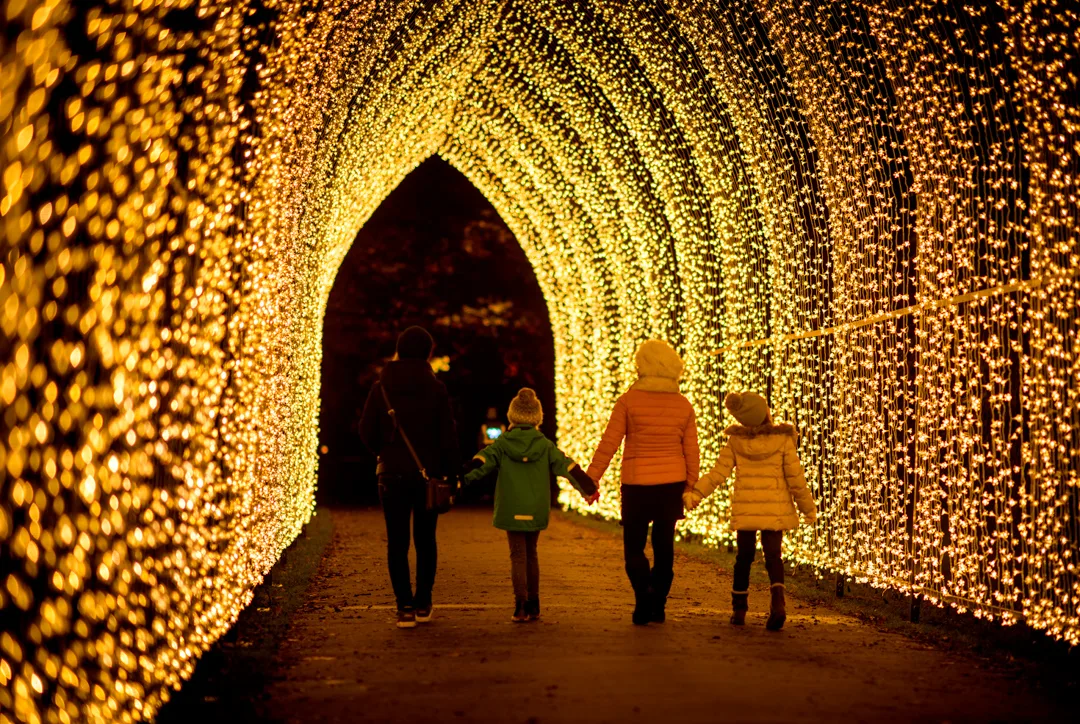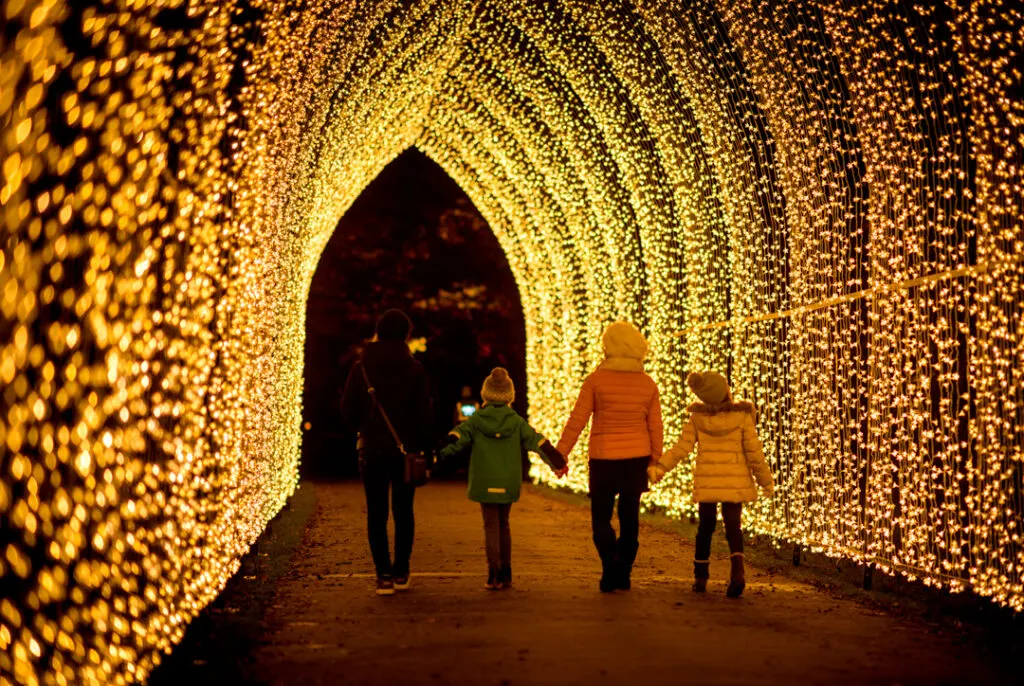 Make sure to book your tickets in advance online, as Kew Gardens can get very busy, so you may not be guaranteed entry without a booking.
The gardens are in the South-West of the City, near Richmond. To get there on public transport, the nearest underground station is Kew Gardens which the District Line and London Overground serve. From the station, it's a short walk to the entrance of Kew Gardens.
From Waterloo, you can take the South Western Railway to Kew Bridge, which is also within walking distance of the gardens.
If you're taking the South Western Railway, make sure to book with the Trainline. Get the best prices, including railcard discounts, and store your tickets in their convenient app.
To Summarize Where To See Santa In London
Using these recommendations, you will find somewhere magical to visit Santa in London this year! London is a fantastic place to visit with children as there are many attractions and things to see and do.
If you're going to be visiting a few of the must-see attractions, then make sure to find discounted tickets using one of the following providers:
With a Go City London Pass, you can visit multiple attractions with one discounted ticket.
Tickets to attractions and theatre shows are available at discounted rates on Attractiontix. Click here to make your booking today!
While you are in London, I recommend the hop on hop off bus tour as it's a fantastic and fun way to see so much of the city!
Disclaimer: This post about where to see Santa in London contains affiliate links. By using them, it will not cost you any extra, we will receive a small commission to keep us writing.
You may also like: