Visiting Kew Gardens with kids is one of our favourite family days out in London. We especially love the Kew Gardens playground. Nestled right beside Richmond Upon Thames it's one of the most beautiful parts of the city.
With it's serene garden environment, beautiful flowers, tall trees and glasshouse buildings – there is something for every member of the family.
It comes with many fun, educational benefits for children and there are certainly a lot to see and do in one day! On arrival and equipped with our map, we passed the iconic Palm House, standing just in front of the pond. We were on our mini mission to locate the latest addition to Kew Gardens, the new Children's Garden.
Arthur is obsessed with animals, so he was pleased to see and chat to the geese! The bright purple alliums were blooming and we spotted a few bees along the way. We meandered down the Great Broad Walk to the children's area.
Looking for more to do in London? Check out the best things to do in our London with kids megapost!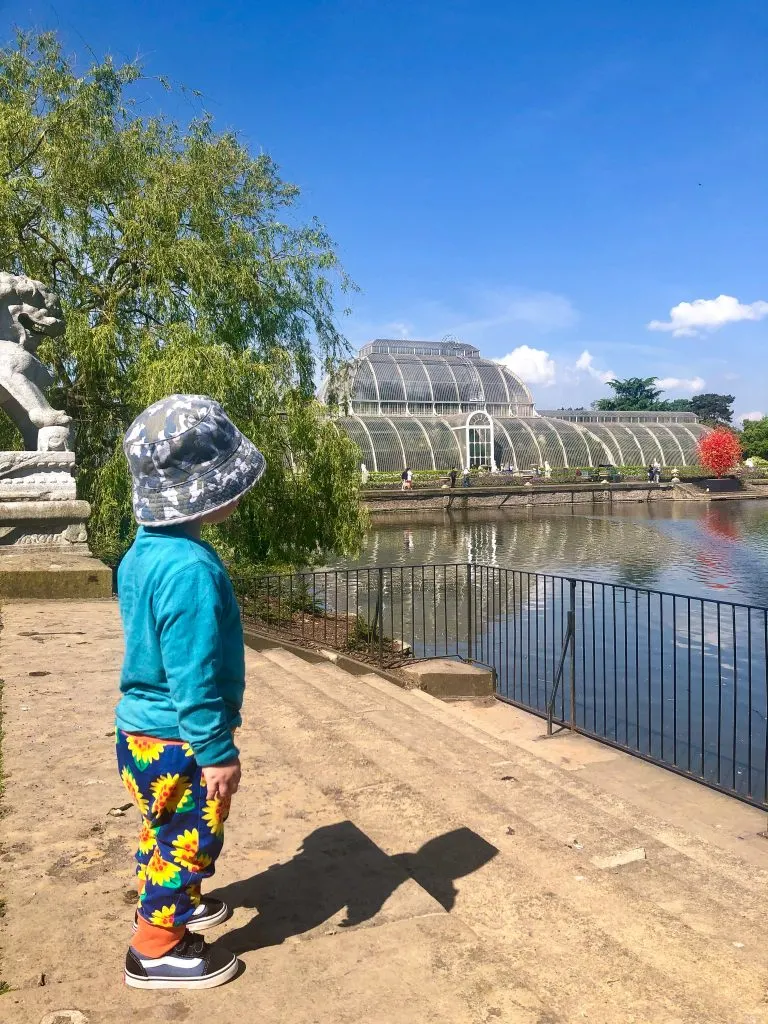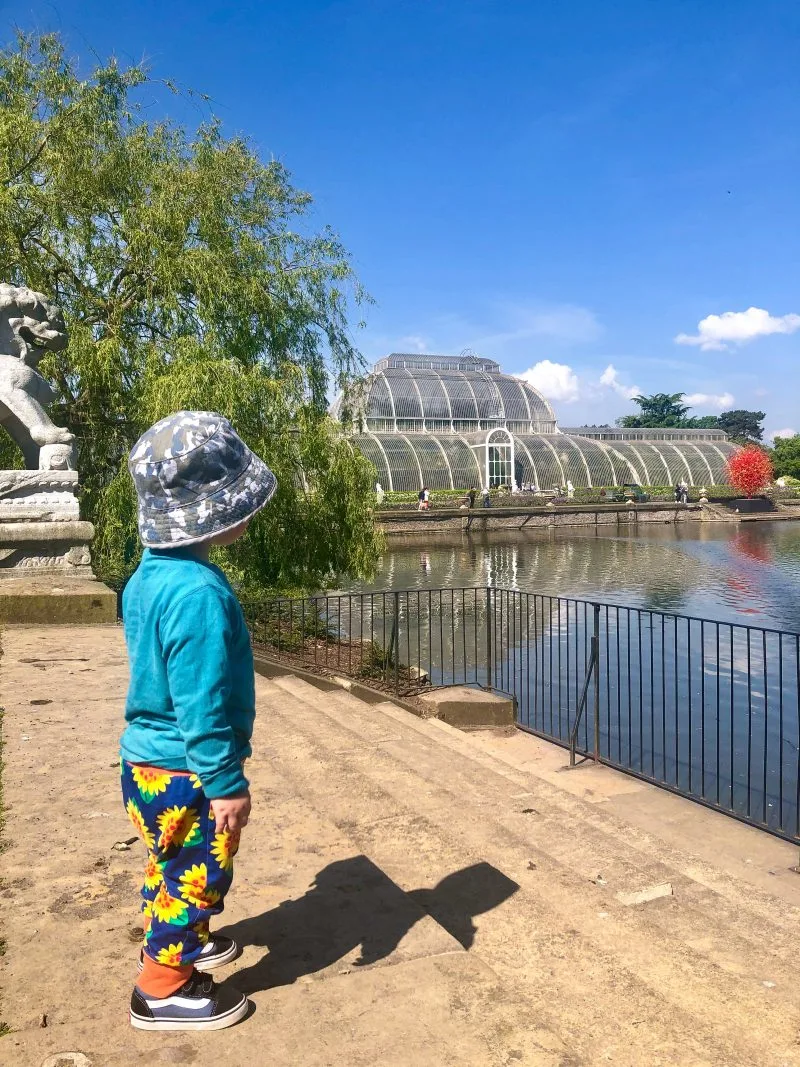 There are lots of benches along the way surrounded by gorgeous flowers and tall trees – perfect for feeding time or a rest if you've already seen a lot of the gardens (note – it's massive!). Kew Gardens have very recently upgraded the children's area with an interactive Children's Garden.
They have designed it cleverly and beautifully, incorporating themes of everything a plant needs to grow. When we approached the new Children's Garden – Arthur sped ahead excitedly seeing all the different things to play and climb on.
We spent a few hours one morning exploring these themes of Water, Earth, Sun and Air. It has everything to capture a kids imagination from wooden huts, windmills, colourful tunnels all in sync with trees and blooming planters.
The Children's Garden is designed for kids aged 2-12 years old – so there really is something for the younger and older children. There are hidden treasures dotted throughout the beautifully manicured gardens, with fun and educational activities along the way.
KEW GARDENS WITH KIDS
Earth
The Earth Garden was our first stop upon entering the Children's Garden. Arthur had great fun in the sand pit, where there are buckets and spades available for kids to dig to their hearts content. The wooden huts and large leafed palm trees adds to the magic touch Kew Gardens have put to this play area.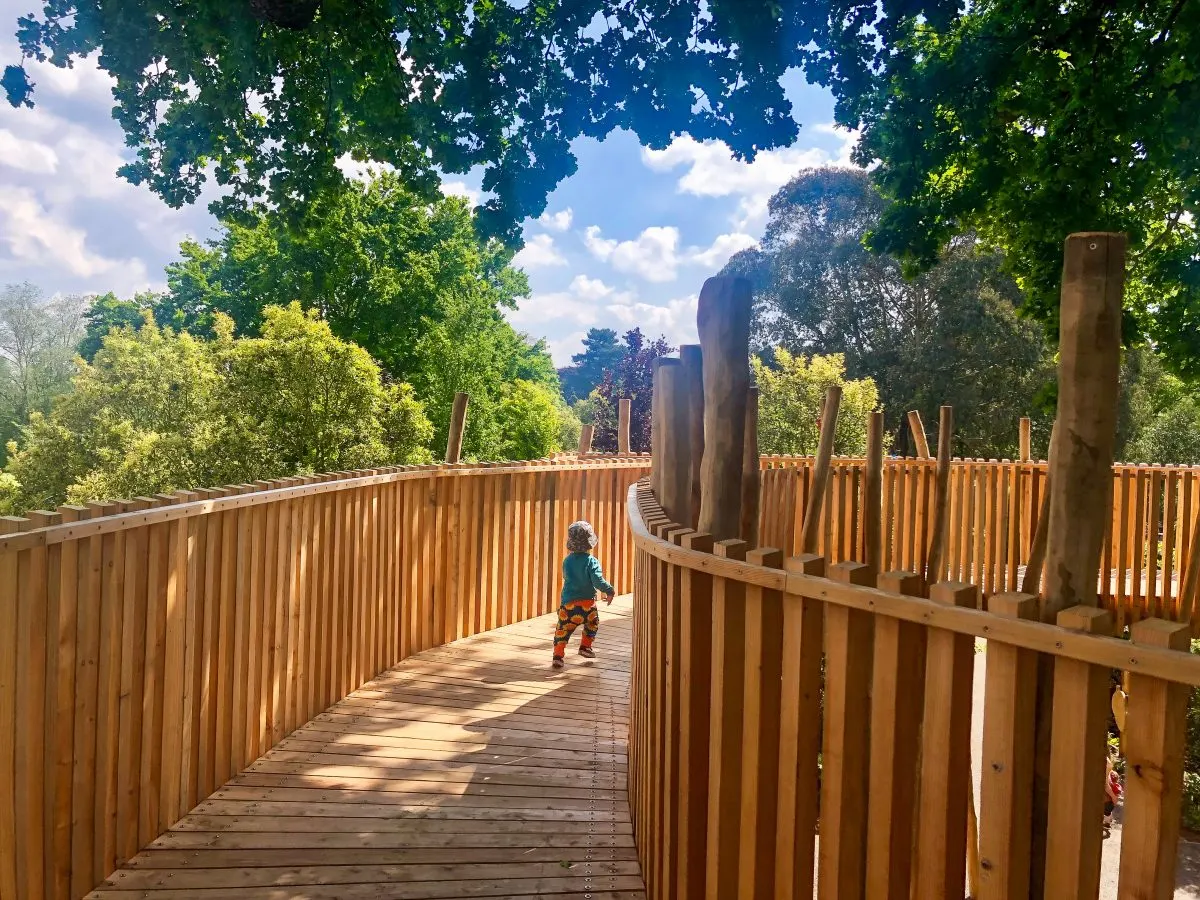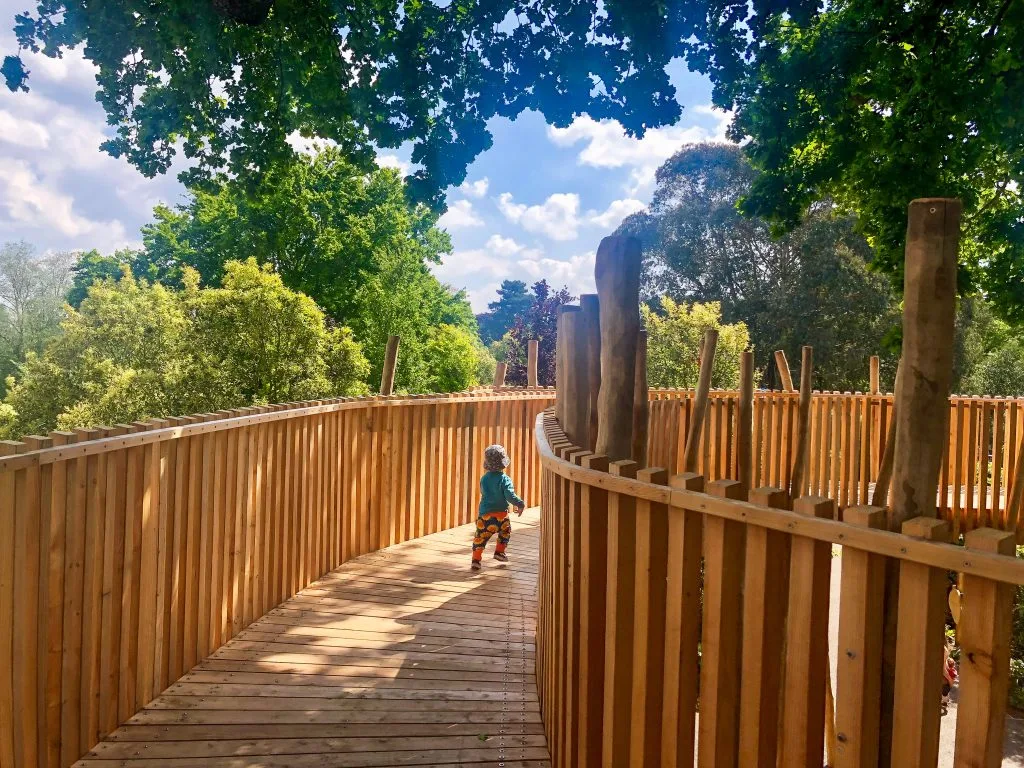 There are 3 large "worm hole" tube slides for the bigger kids, with smaller toddler friendly ones right beside. Arthur had to make use of the array of climbing equipment. Kew Gardens for toddlers is lots of fun.
Water
Hands down, anything with water is a winner in Arthur's eyes. In the Water Garden, there are some clever damns amongst a mini water fall mimicking our vital water cycle. There's a pump system for children to pump and collect water in a large plugged basin – waiting with excited anticipation for the plug to be pulled and watch the water trickle down stream into the dams.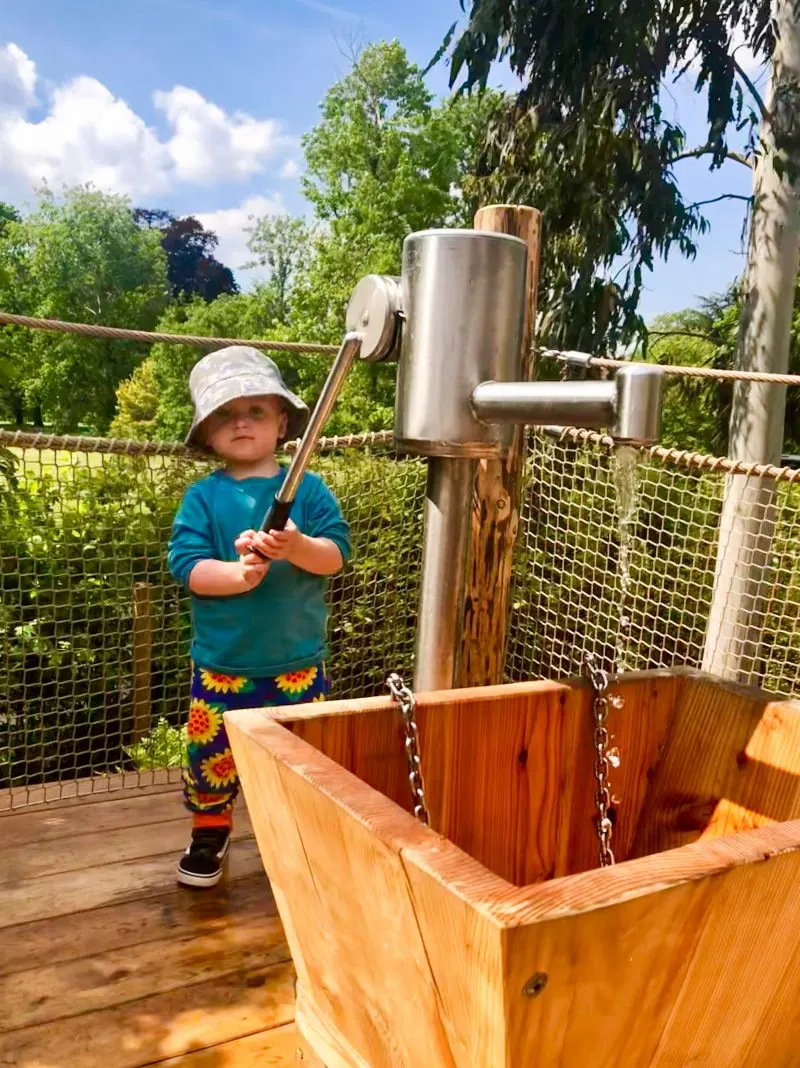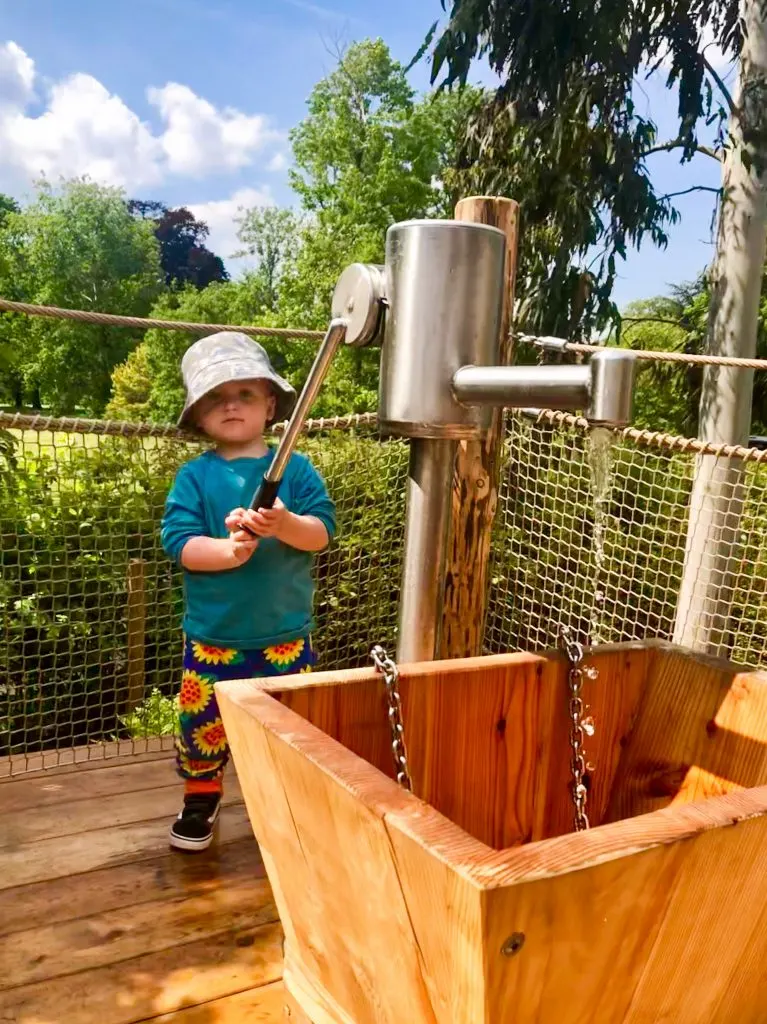 The older children definitely had the knack of it, while 20 month old Arthur didn't get the concept of not sticking his shoes in the water. But this was still his favourite! There was a mini pond with stepping stones, inspired by the beautiful waterlily. Rest assured, Arthur wanted to be straight in there. This was our favourite part of the Kew Gardens playground.
Sun
The Sun Garden comprised of some beautiful wooden structures, with a colourful tunnel to walk through. There was a grassed area to chill out or have some snacks, with shade provided by the trees. There is also lots of decking for seating or more toddler climbing (do they ever stop climbing?!).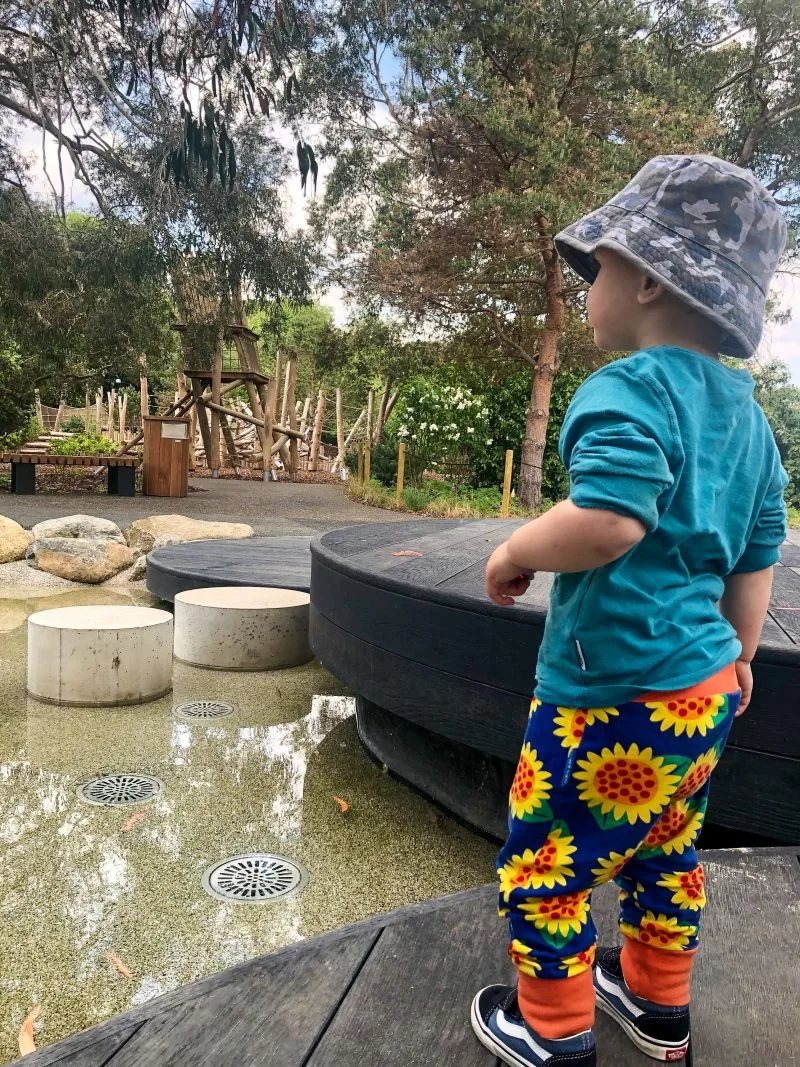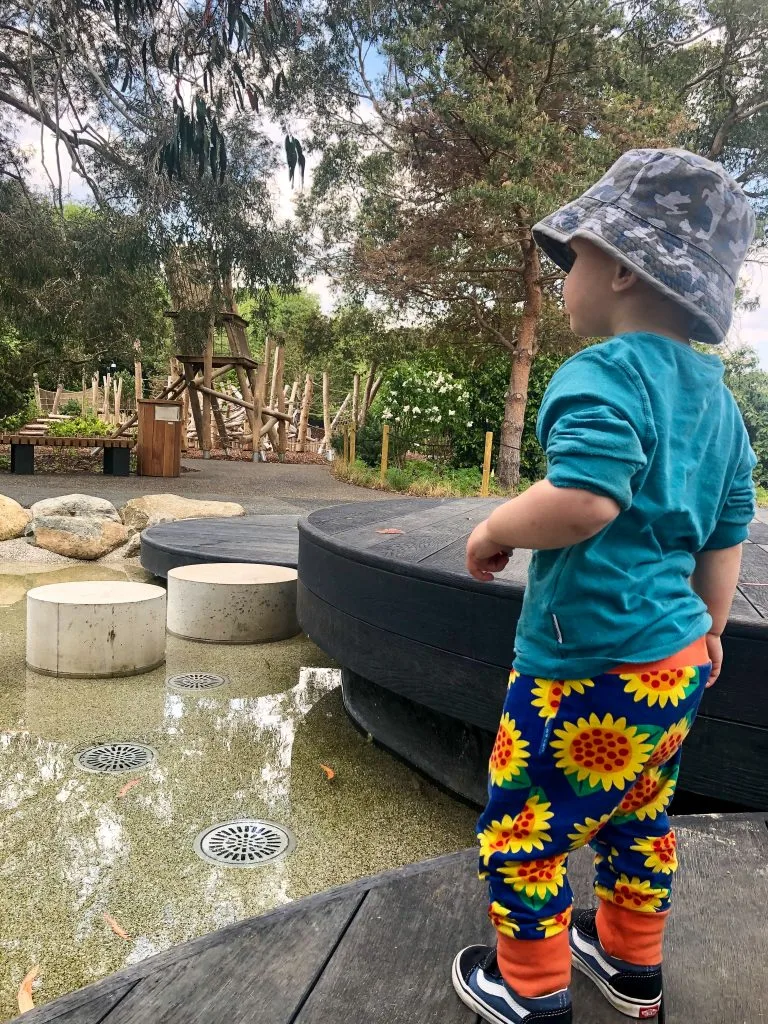 The Sun Garden also had windy paths lined with gorgeous sunflowers and pink candy floss grass. This was a lovely little stroll as Arthur took in his surroundings.
Air
In the centre of the Kew Gardens Children's area, there is a mini bridge erected as the "Oak Tree Circle" that the kids can climb and look at the trees from up high. It's pretty impressive this feature is wrapped around a 200 year old oak tree. We could hear the birds chirping away. This is a more suitable version for kids than the higher one in the main Kew Gardens.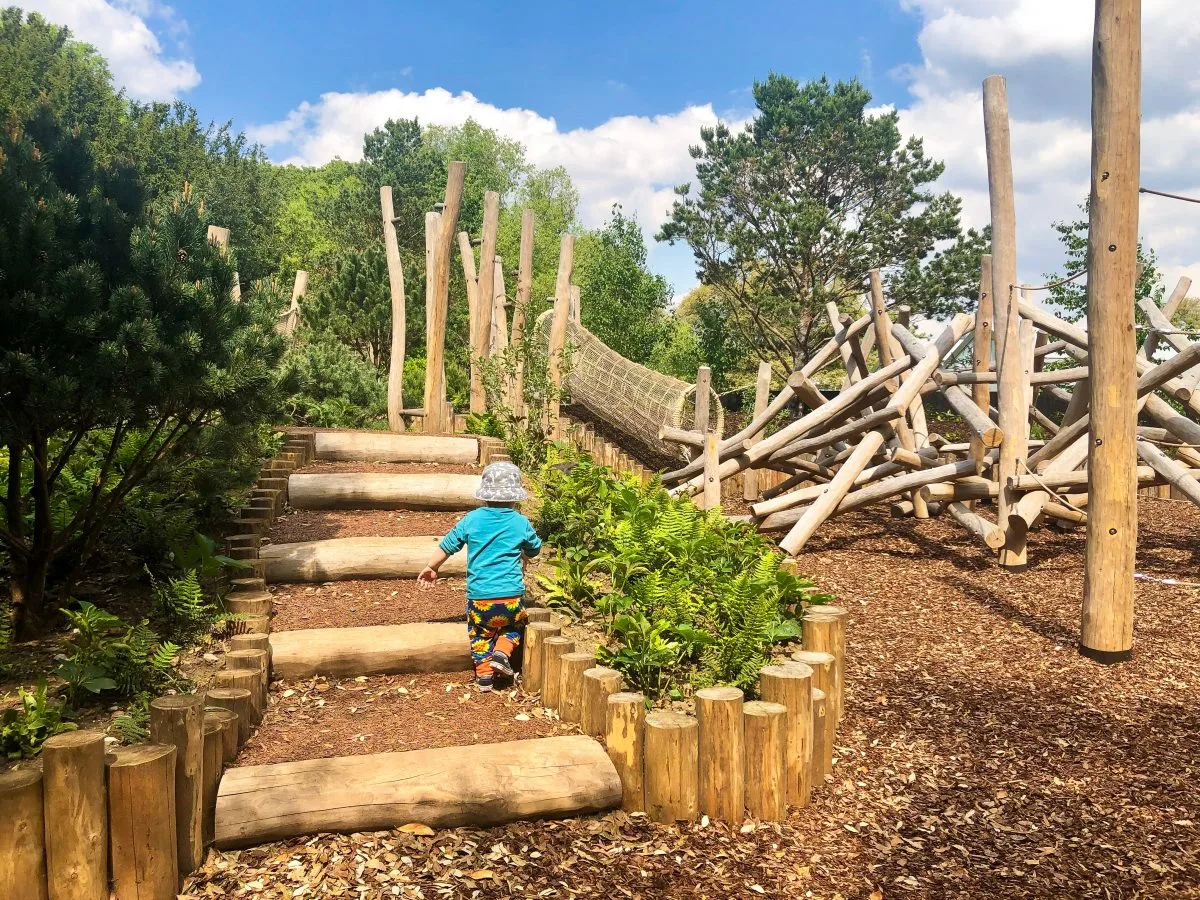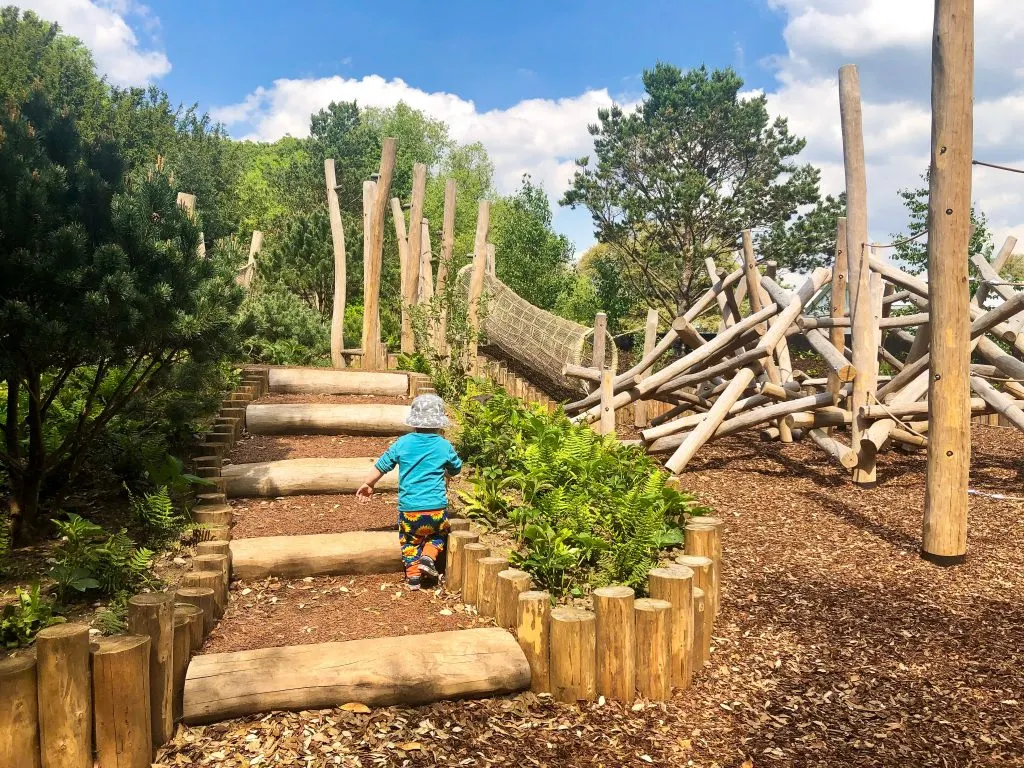 We loved colourful "windflowers" area, propped on high poles where the children can watch them twist and turn fervently in the London breeze. The trampolines beside this went down a treat – what kids don't enjoy bouncing about?!
Arthur enjoyed running about the various "pollen" spheres in the area, propping his little bum on them while I managed to sneak in a coffee. The bubbles floating about the area aim to imitate seeds floating in the wind.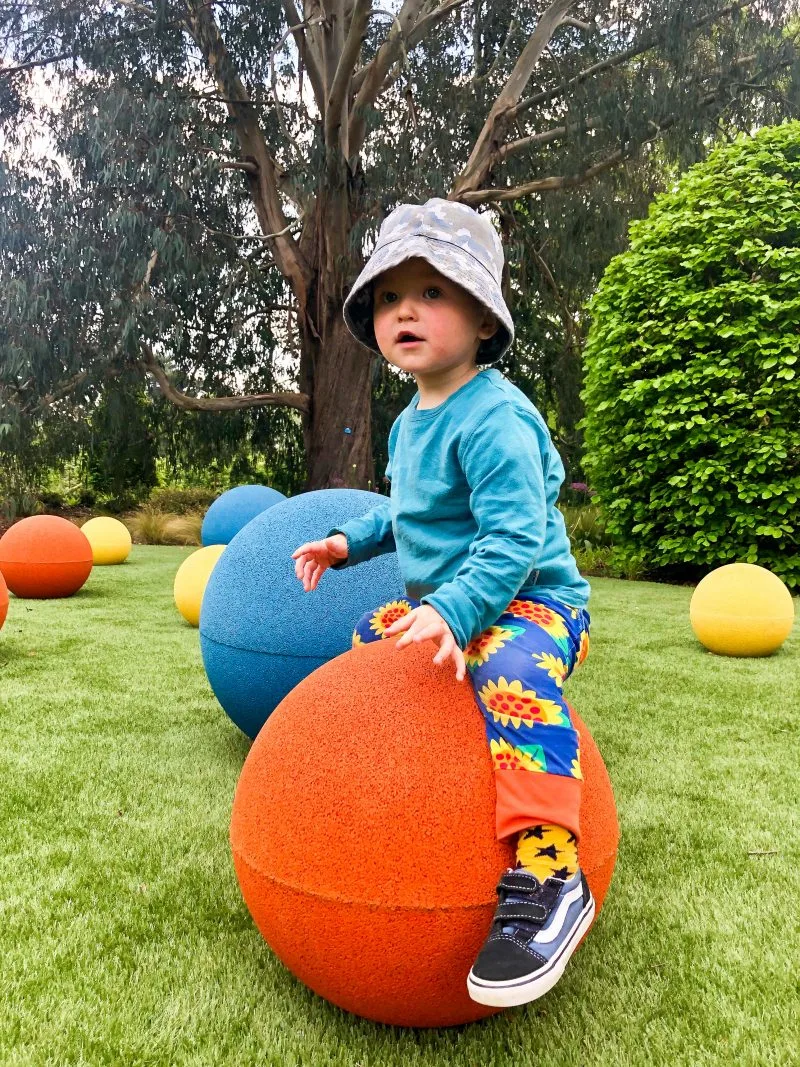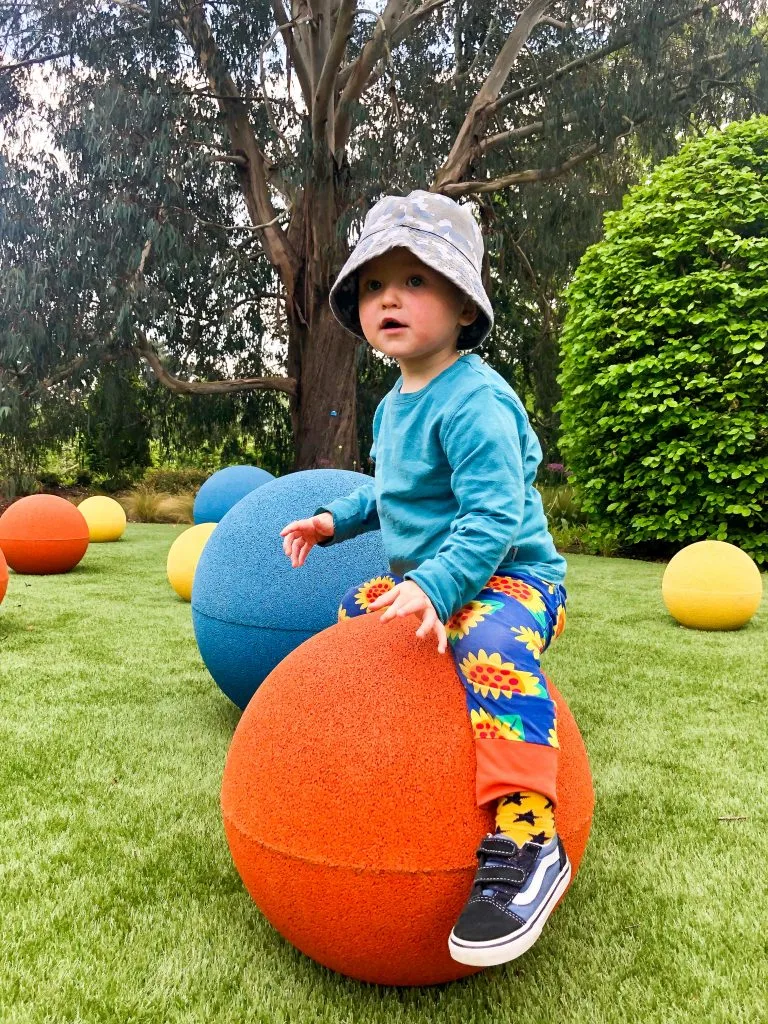 The imagination put into education is really outstanding! Also included are hammocks and periscopes, which Arthur wasn't interested in at the time, but would make great fun for the less manic toddler or child!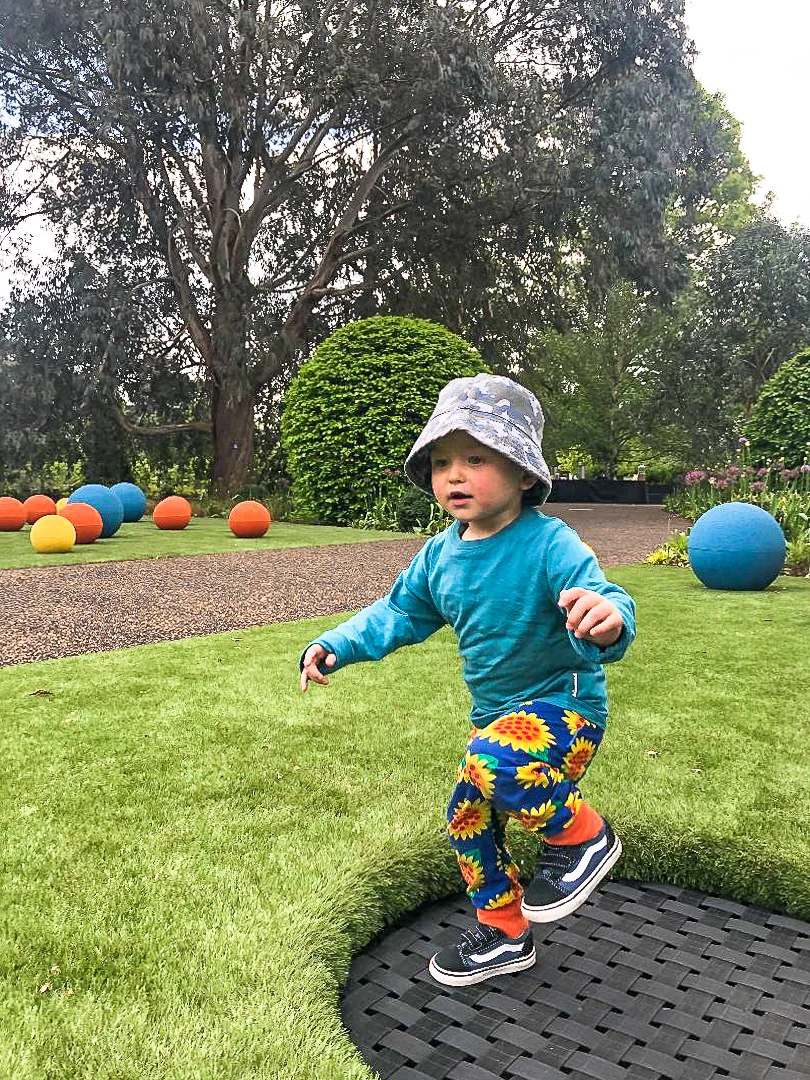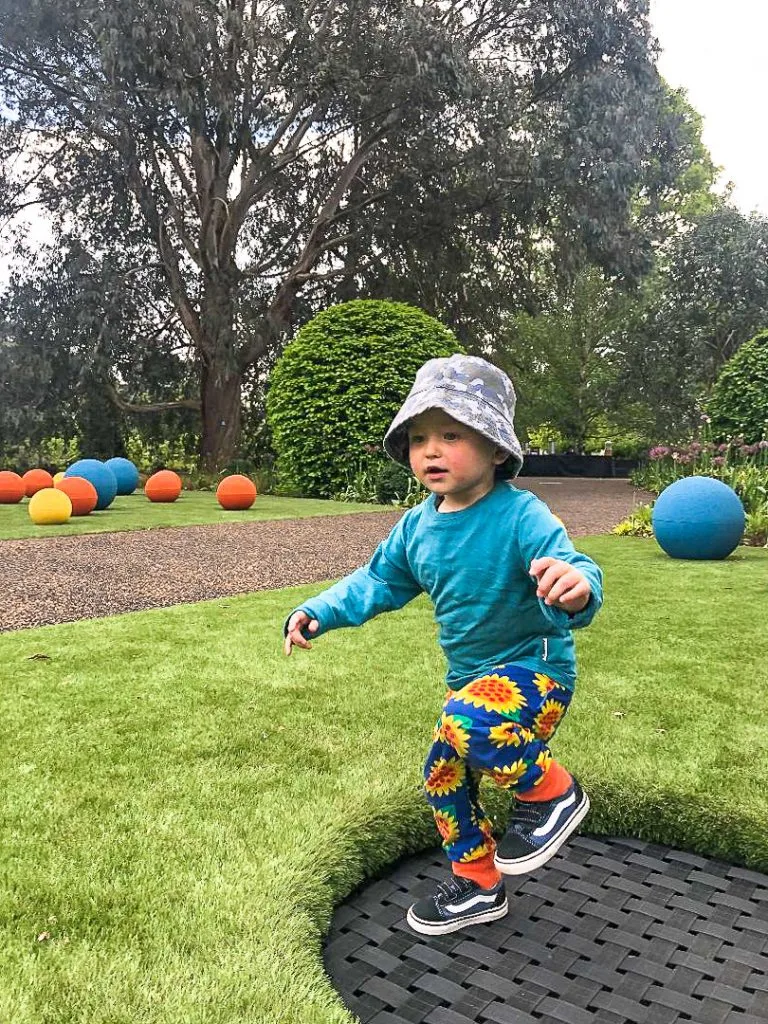 More things to do in three days in London.
Other info
The Children's Garden is not pre-bookable itself, however tickets to Kew Gardens are online. Booking online will save you money. A ninety minute time slot is allocated for play at the Children's Garden on a first come first serve basis. This is plenty for the little ones to maximise their adventure time and tucker themselves out.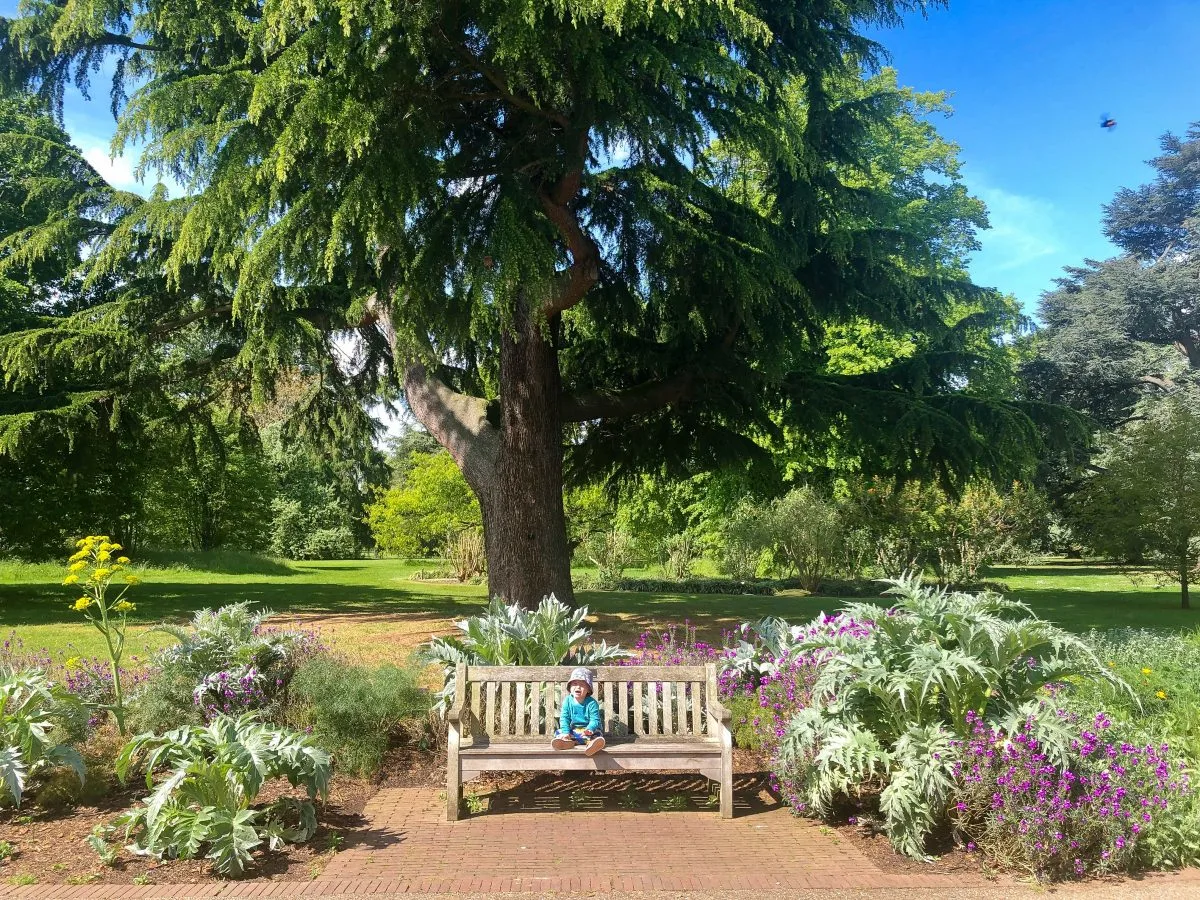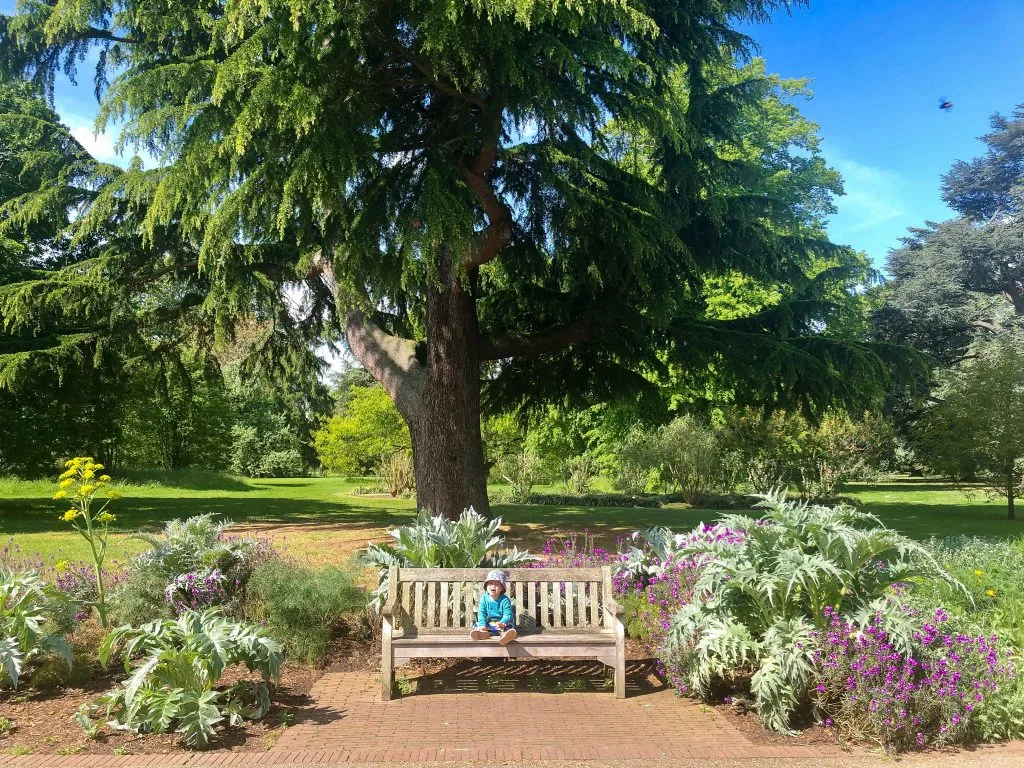 Its best to arrive early to avoid disappointment, as if the Children's Garden is at its capacity, you will have to return later in the day. We went on a quiet weekday morning which was perfect! Arthur was so tired afterwards and fell asleep almost instantly in the buggy when we left the Children's Garden, leaving me to enjoy a mosey through the park peacefully.
Food
The food options are great at Kew Gardens, there is a large food hall at The Orangery. There are other cafes and ice cream stand for any caffeine or ice cream needs during the day!
There are vegan and gluten free options with staff being accommodating for allergies. We however, enjoyed our own snacks brought from home on the day. Kew Gardens is after all, the perfect place for a picnic.
Overall
There are information pieces along the way which gave learning points and conversation starters for parents and little ones. I especially loved seeing a child's poem about the old tree displayed. I could see how this is such an educational, yet fun Kew Gardens day out for children.
There were various groups on school trips absolutely loving it, in particular the Kew Gardens Children's Playground.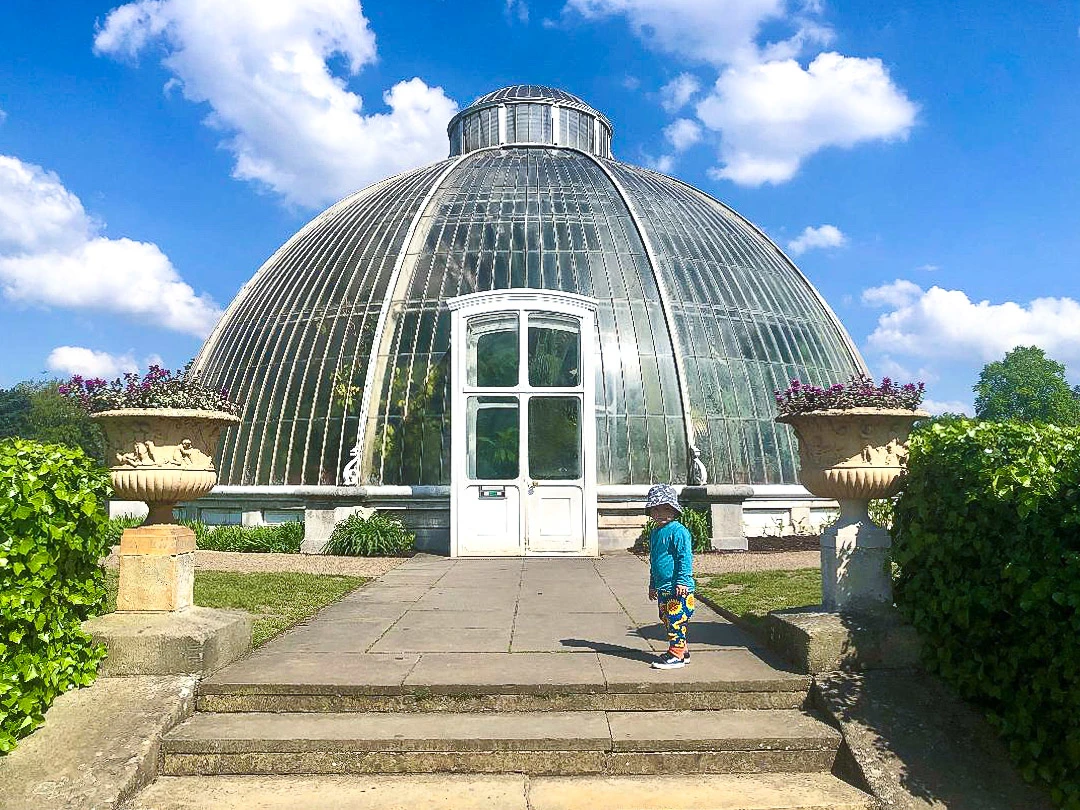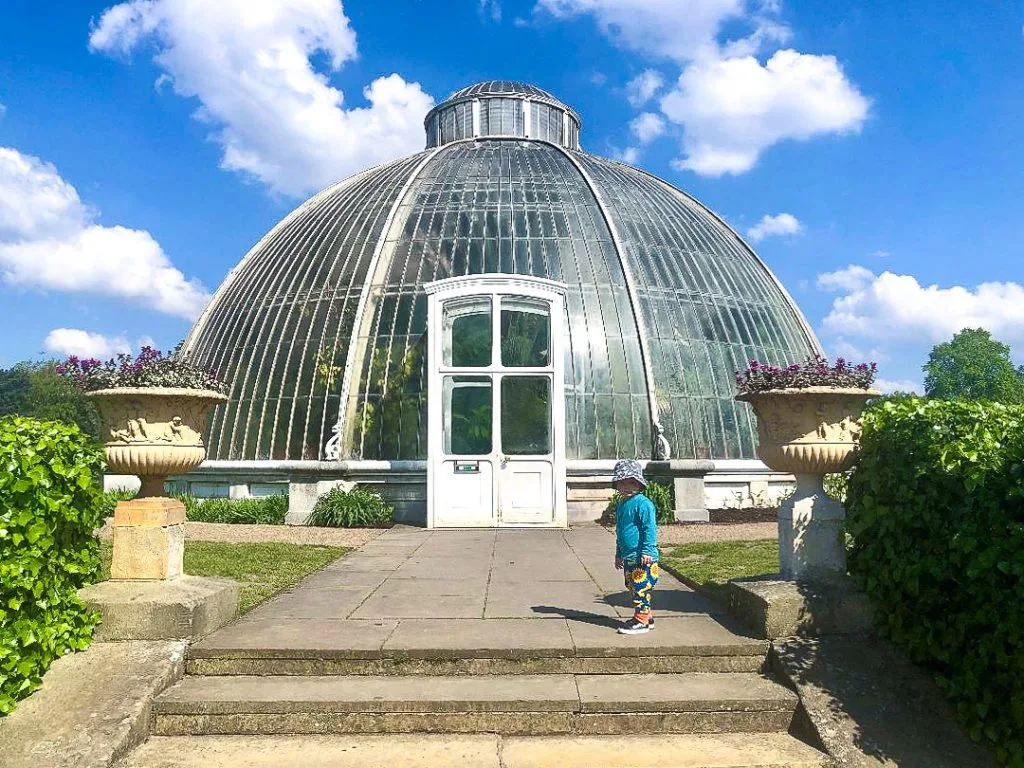 The chatter and laughter of children with big smiles on their faces could be seen and heard everywhere. I loved seeing Arthur taking all the beautiful surroundings in, pointing at the bees pollinating the flowers and overjoyed at his surroundings. He is happiest when in nature.
Kew Gardens is a great day out – however with so much to see, you will need to prioritise what to do. Otherwise you would need a second day here, especially if you like to follow your child's lead somewhat and not enforce too much structure to the day which is our preferred way to explore.
*Community Post by Gillian Edwards*
Disclaimer: Kew Gardens invited us to review their new play space. We were not obliged to write anything, all views are entirely my own. There are affiliate links in this post. By using them we get a small commission at no extra cost to you.
You May Also Like:
Afternoon Tea in London with kids