Tunisia is such an easy destination to get to from the UK, at only 3 hours by flight, it made sense to take a trip to see somewhere different. Tunisia is well known for its beach and resort type holidays. Based on the Mediterranean sea, it really has a fusion of feels from North Africa as well as other Med countries. There is lots in Tunisia for kids!
We booked our trip through On The Beach Holidays, they specialise in beach holidays – all things pool, sea and sun! Although most people visit Tunisia for the beach vibes, we did manage to fit in some site seeing and cultural experiences. I have to admit I do love a beach holiday but I like to balance it with getting out to see some of the destination as well.
When booking through On The Beach Holidays you can choose flights and hotels individually to make up your package holiday, it's all ATOL protected. They arrange transfers to and from the hotel when you arrive. It's always nice to have someone waiting for you at the other side when arriving at a new destination.
The other good thing about On The Beach Holidays is they take deposits for as little as £30pp and you can spread the cost of your trip up until 2 weeks before you fly. When you are paying for the whole family it can be expensive so I really like that option to make it more manageable. They have a tonne of destinations on their website, click here for more information.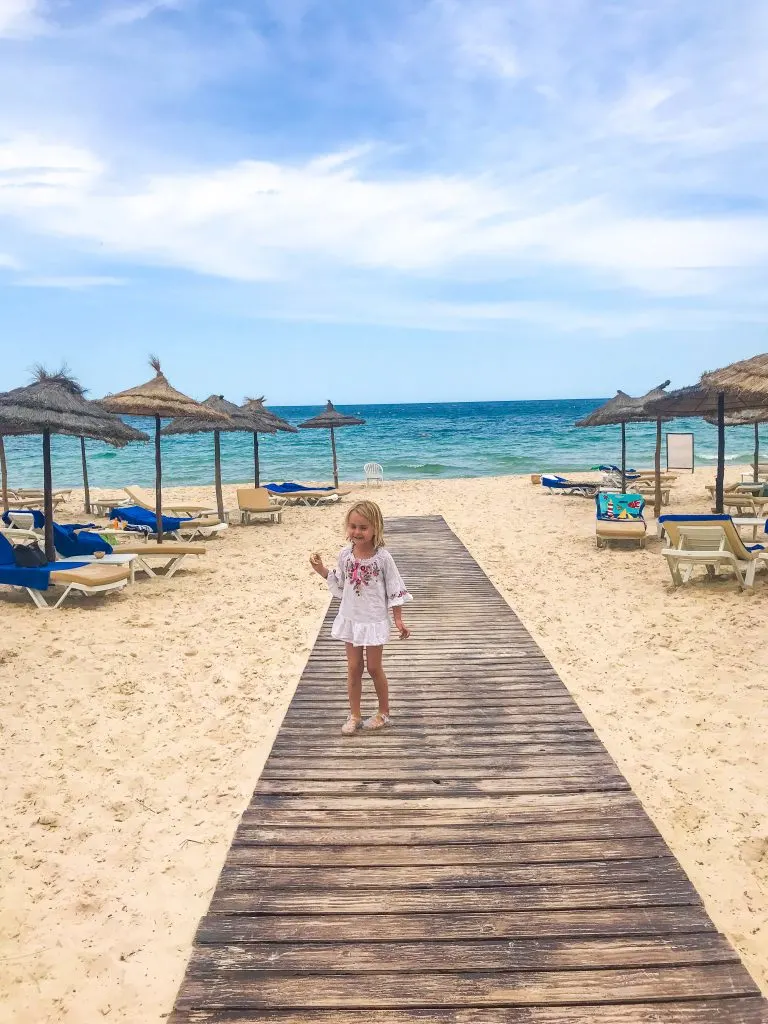 When we shared our trip on Instagram most people asked us if we felt safe, that had to be the number one question. I always advise looking at the Foreign and Commonwealth website for up to date information.
In my honest opinion I never felt unsafe when I was in Tunisia. We explored lots of the local area, people were friendly and inviting. Tunisia has had far less attacks than countries closer to home, such as France. Terrorism is everywhere in the world now so I wouldn't write Tunisia off as a destination for this reason.
Now we've spoken about the hot question of safety, lets get to the fun bit, here's what we got up to in Tunisia with kids!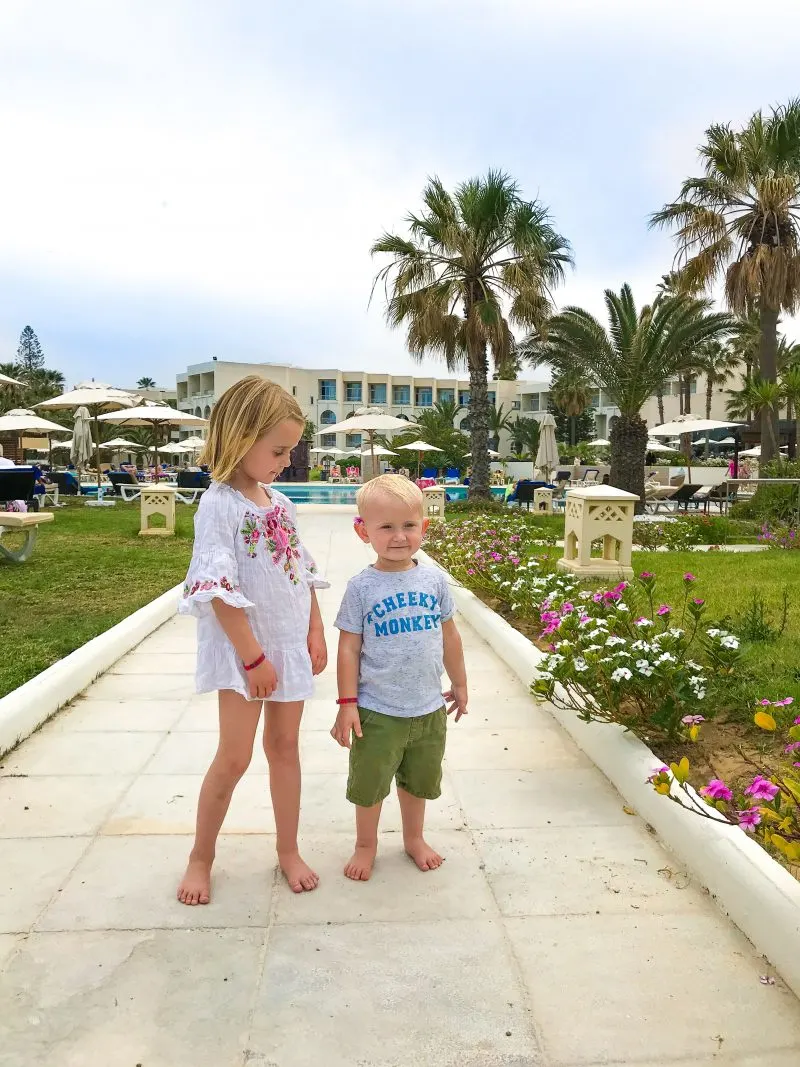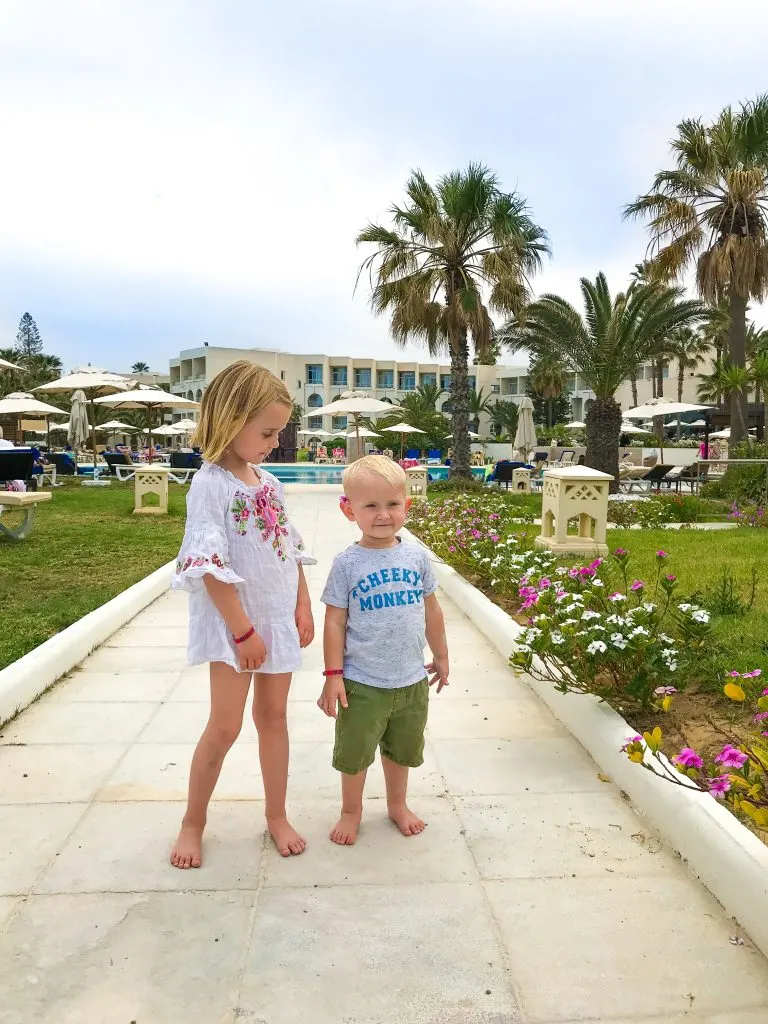 Fun Things To Do In Tunisia For Kids
Where to Stay in Sousse Tunisia For Kids
We stayed at the Iberostar Diar El Andalus, it's only a 30 minute ride from the airport. The resort has two massive pools and a smaller kids pool. It's right on the beach, so, you don't have to go far to enjoy some 'vitamin sea'. The long white sandy beach with aqua blue clear water is lined with straw umbrella shades giving it a real tropical feel.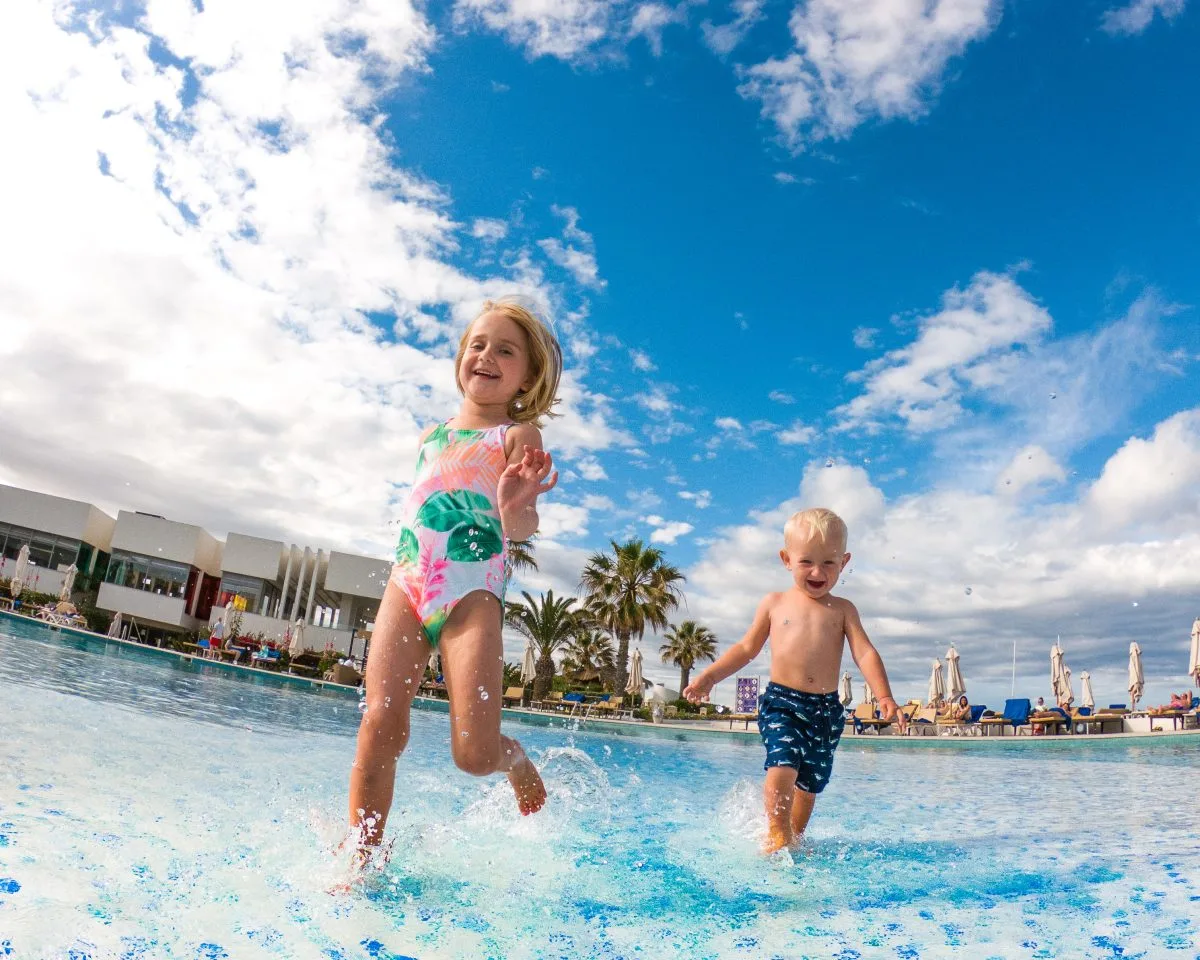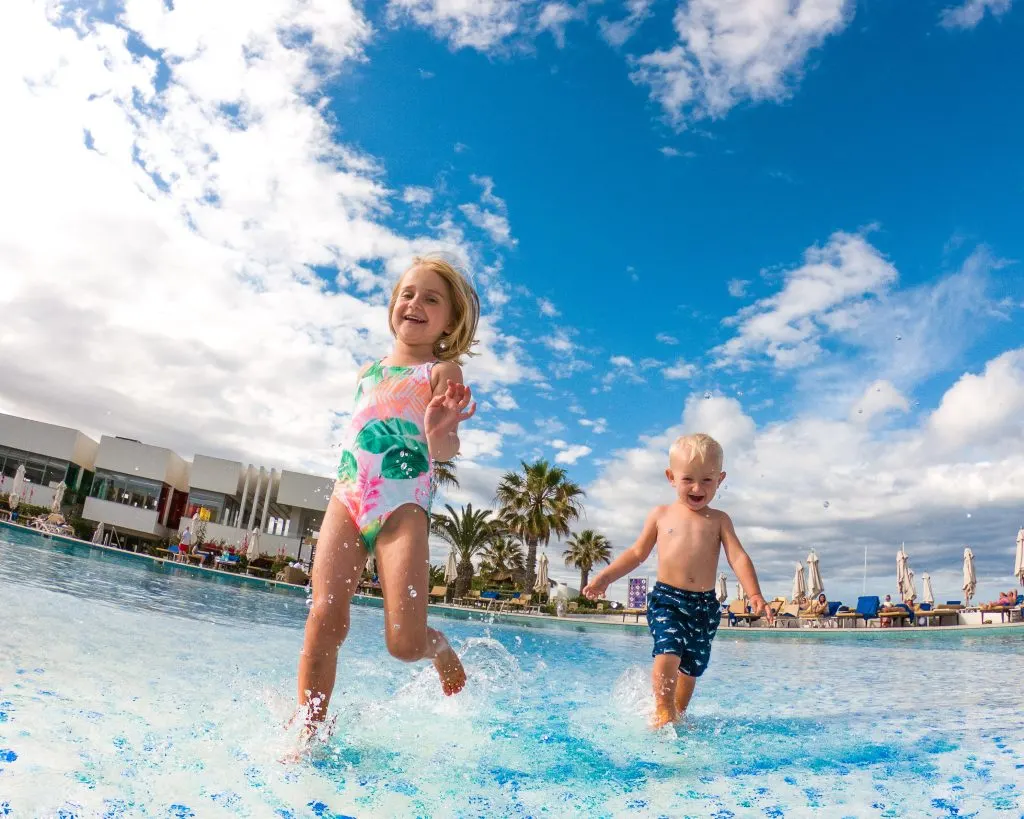 The Iberostar Diar El Andalus is an all inclusive food and drinks resort. Breakfast, lunch and dinner are served at set times in the main restaurant with a good variety of food.
My only real criticism, as a vegan, is it was hard to decipher what was vegan and required a bit of back and forward questions with the staff. There was always a variety of fruits, salads and breads but it was the warm food I had difficulty with.
There is a separate restaurant where they have silver service. All guests can make a reservation once a week as part of their stay. We booked it for our second night and it's definitely worth it!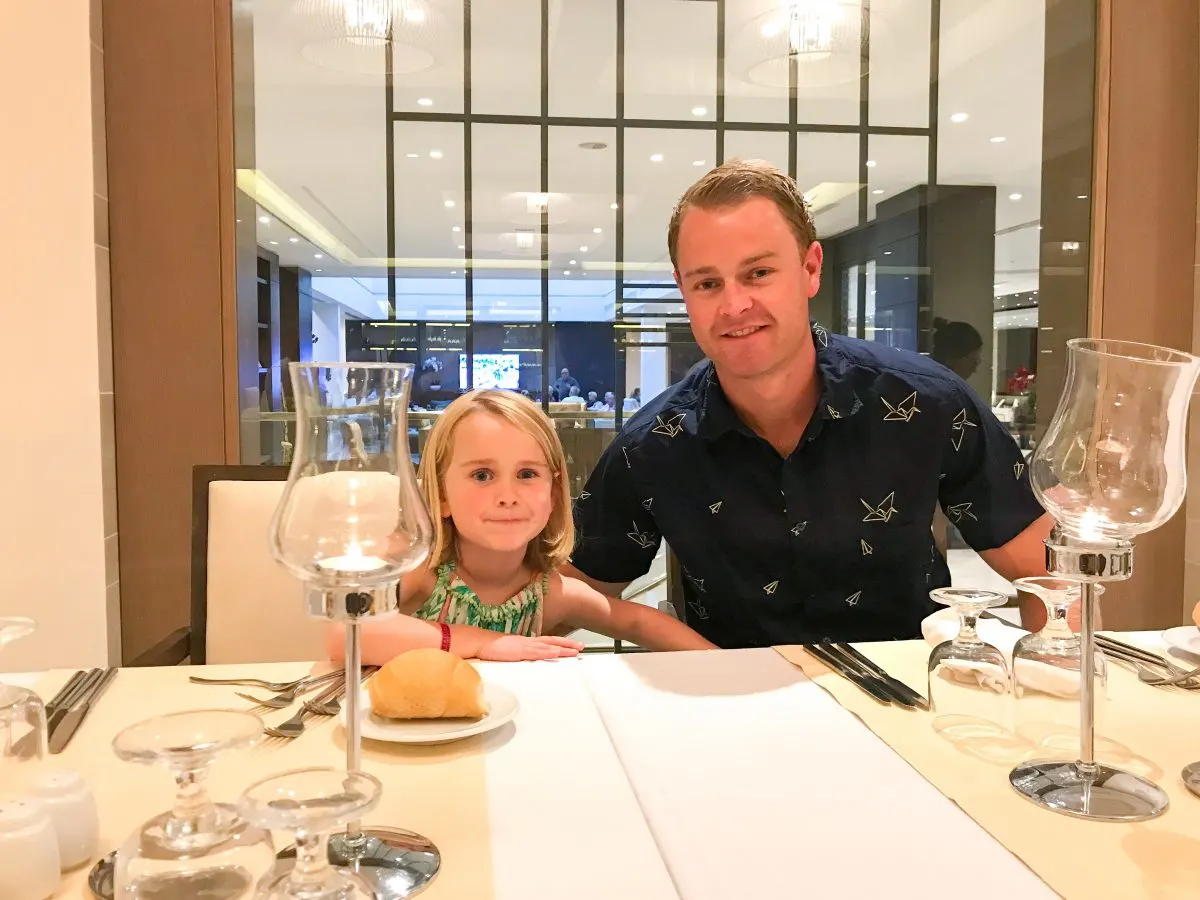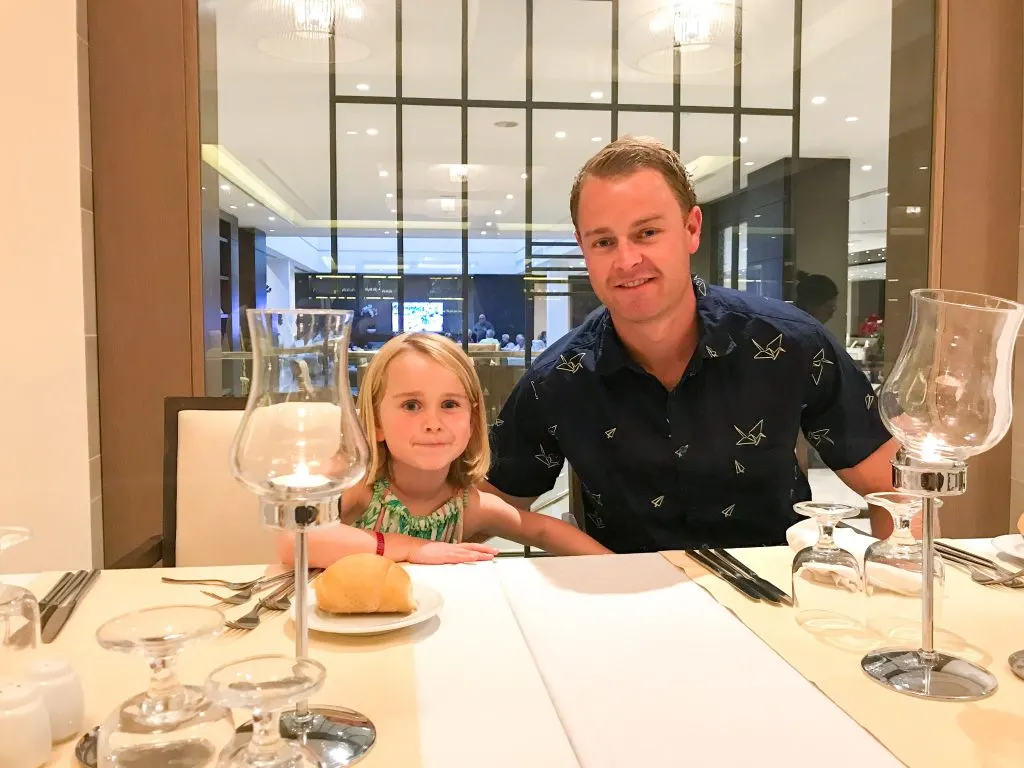 The recreational activities throughout the day around Iberostar Diar El Andalus are extensive and there is something for everyone. Our kids really loved the kiddie entertainers who were always around, even at breakfast to say hello! They particularly loved the disco every evening.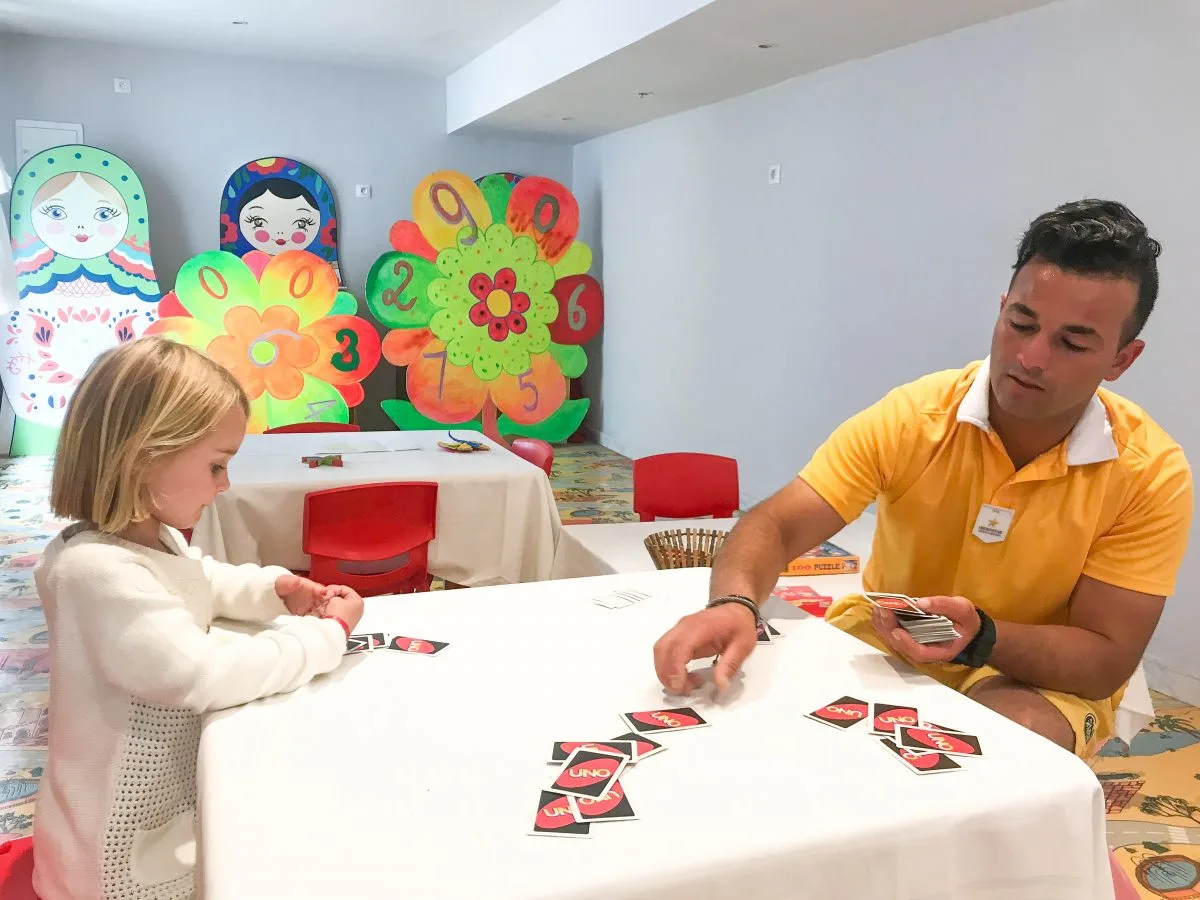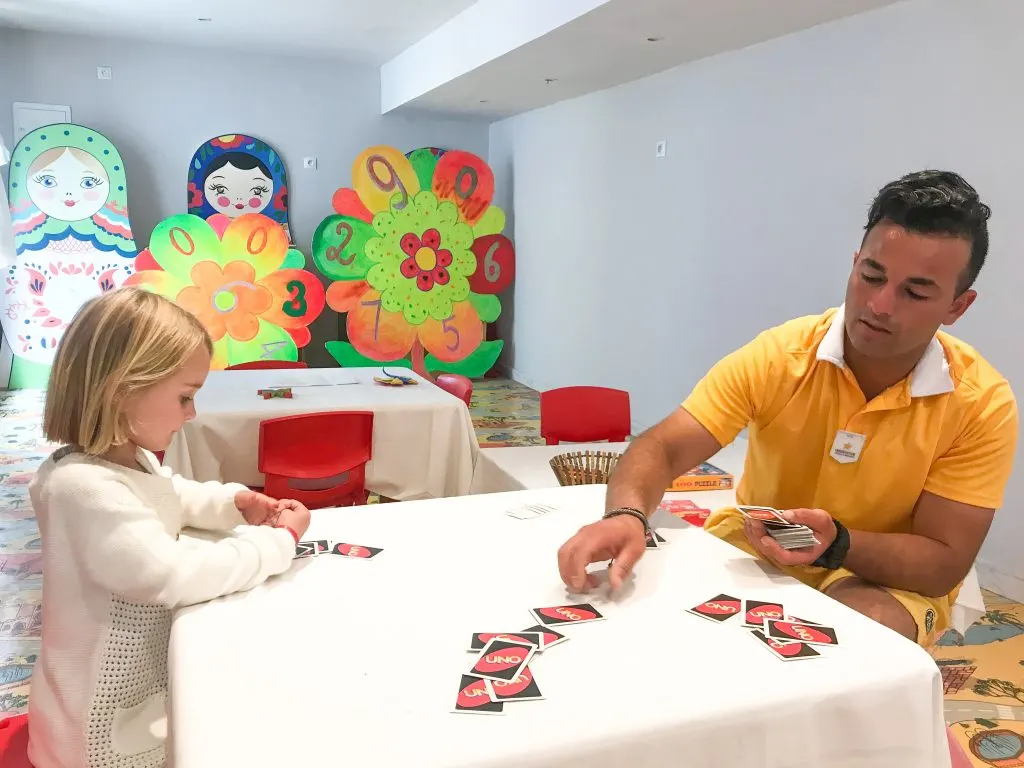 For the adults, there was always dance classes, water aerobics amongst many other activities around the pool during the day. There was also an 'adult only' area for those that want a bit of relaxation, we didn't have a chance to check it out, obviously ;)
The main lobby area is quite a big space with a bar and a piano where someone was often playing, whether it was a guest or staff member. Most guests spent their time hanging in the lobby sipping on the all-inclusive Pina Coladas in the evening.
We had a little bit of bad luck with weather so it wasn't ideal to hang by the pool for most of our trip. Although the water beds along the pool edge looked so inviting! Luckily we were able to explore.
Things to do in Sousse
We managed to incorporate a little of the real Tunisia into our beach holiday and we loved it! Here are the best activities we found close to our hotel.
Pirate Ship Trip
On our first morning we went straight out on a boat trip from the port of Sousse. I was so surprised at the three very authentic looking pirate ships in the port. They look liked they'd been plucked out of the 15th century. Giant wooden vessels with ropes and sails soaring into the sky.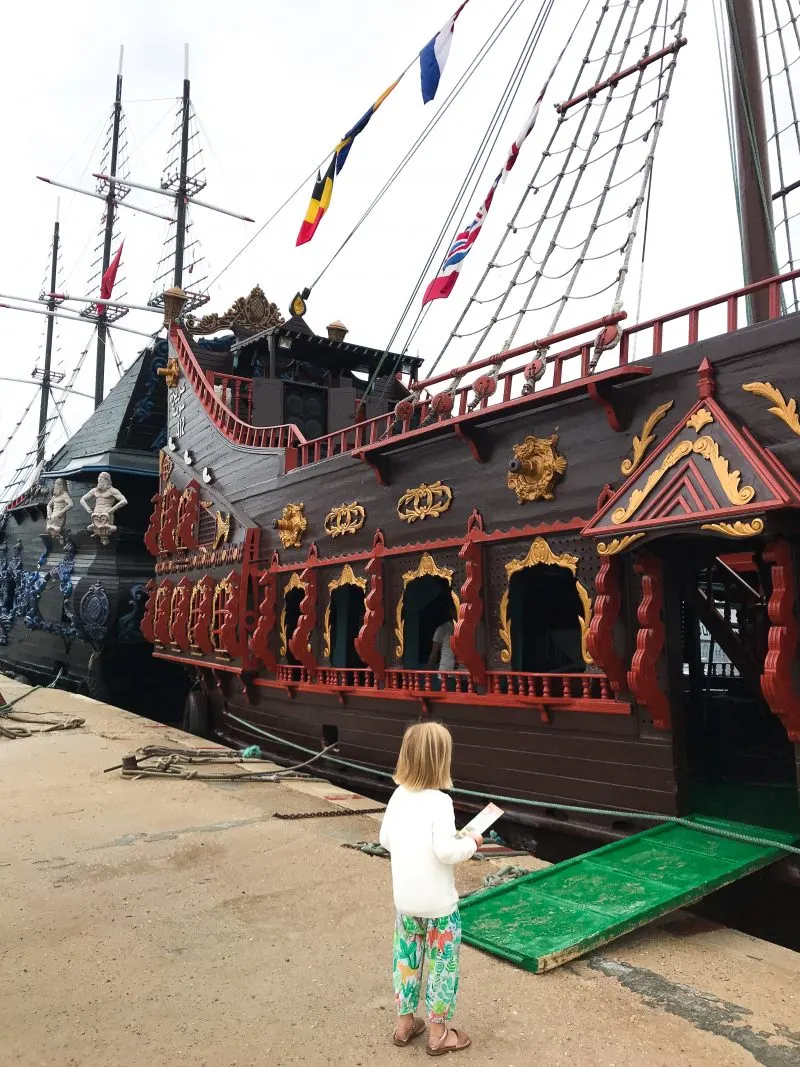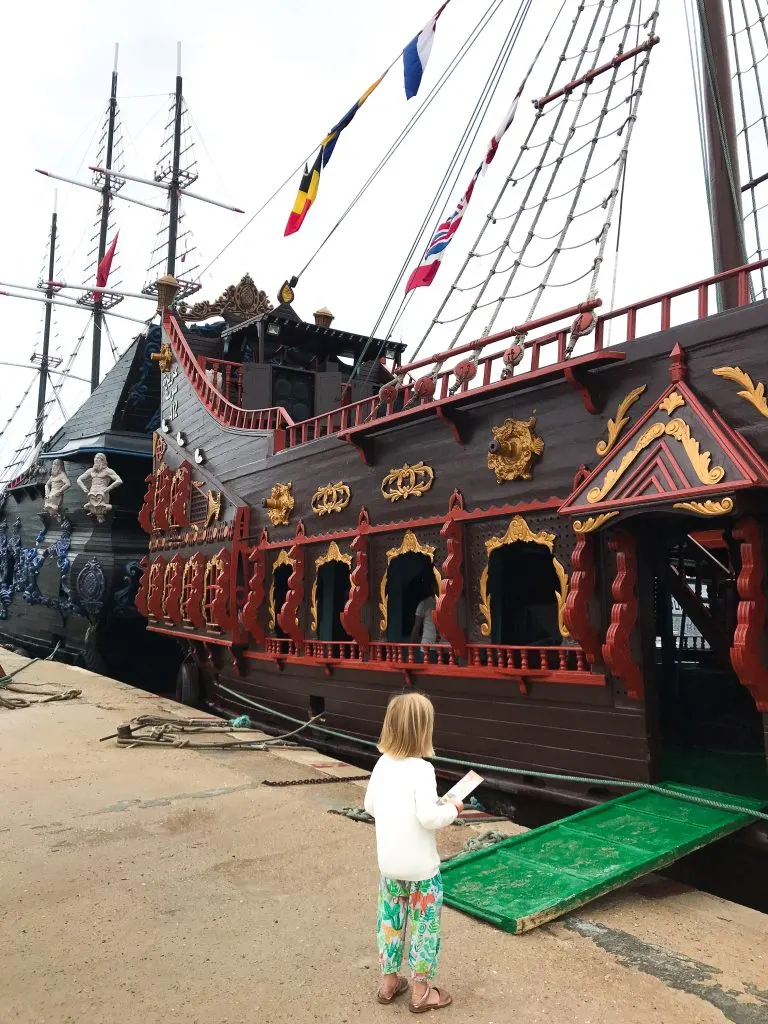 We sailed at 10 am and the journey included a two hour round trip with lunch, swimming and a show. Oh and a DJ for the entire time. Either I am getting old, or Tunisian's love loud music, but mannn it was blaring the whole time! Our kids loved meeting a pirate and were given their very own bandana to fit the bill! It was a really cool thing to do in Tunisia with kids.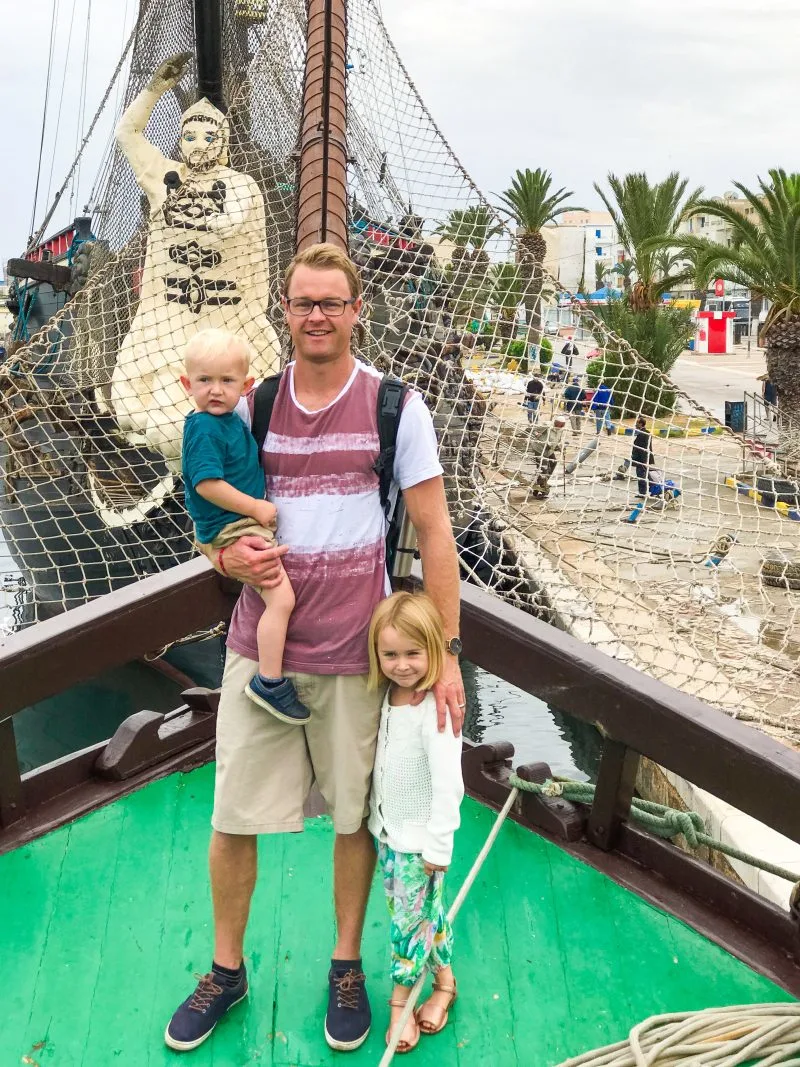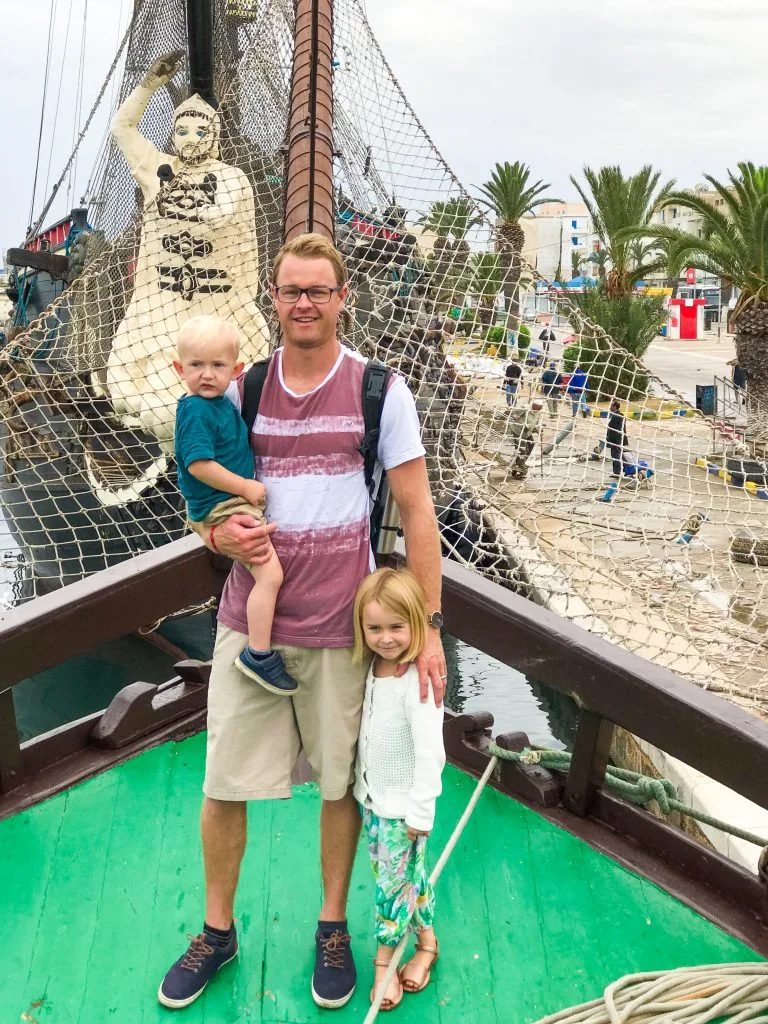 Beb Jedi Market
After our pirate ship trip we were feeling a little hungry so we walked to the Bed Jedi Market which is very close to the port. They sell lots of different local produce, so we picked up some dates, bananas and freshly made bread for lunch. It was really cool to walk through, even if your not planning to buy anything. It's interesting to see locals interacting and going about their business.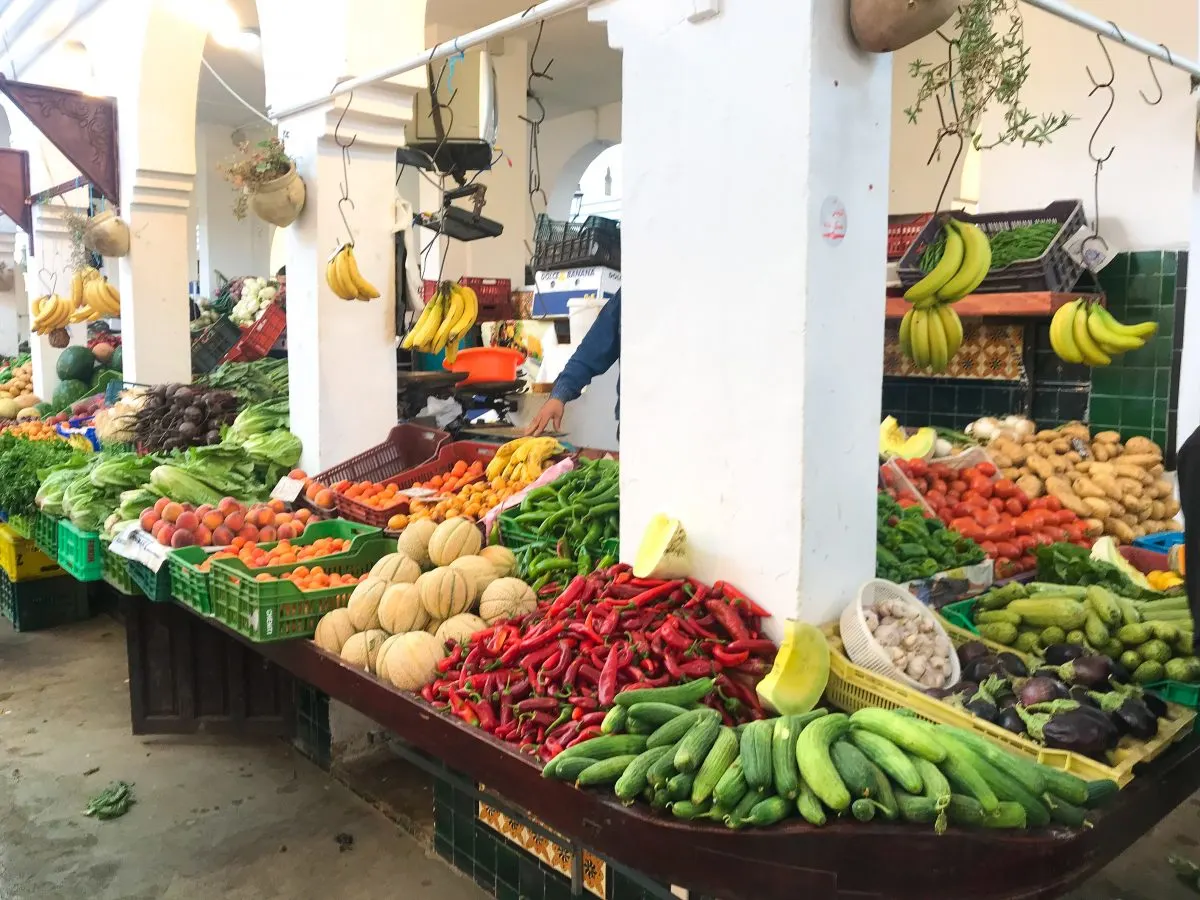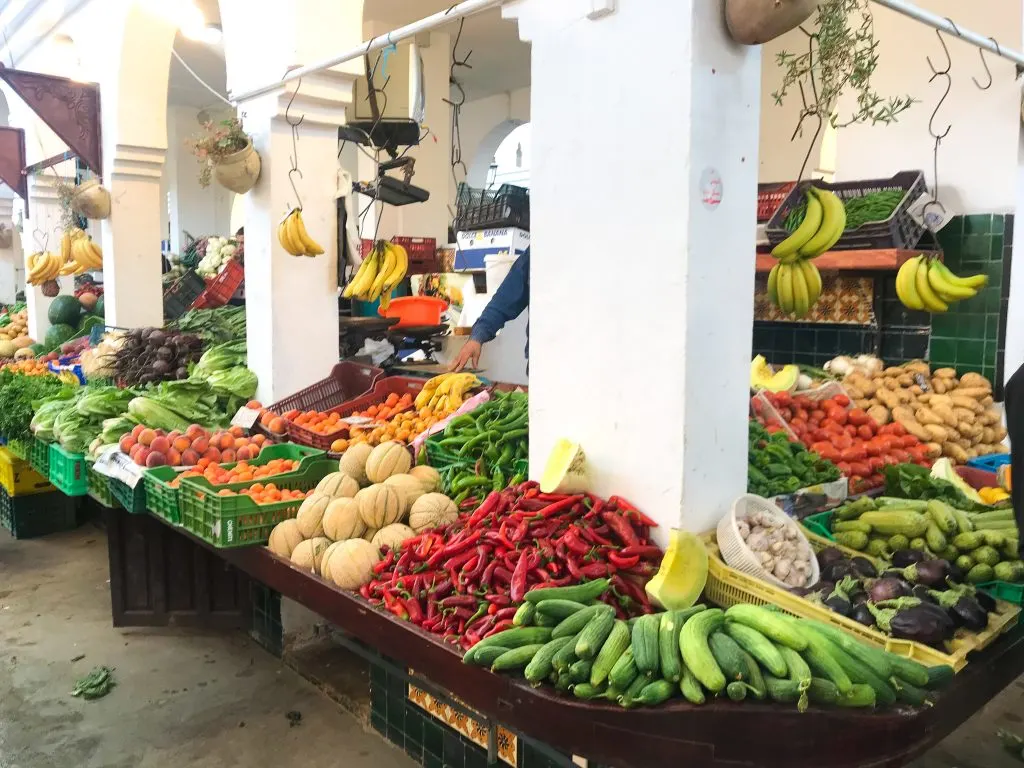 Sousse Museum
The Sousse Museum is not far from Bed Jedi Market, it's literally at the top of the hill, so our guide drove us up. One thing about this area of Sousse is it's not suitable for strollers, so make sure to bring a baby carrier if you need to. The museum has a beautiful fortress courtyard filled with flowers and the views over the Medina were beautiful.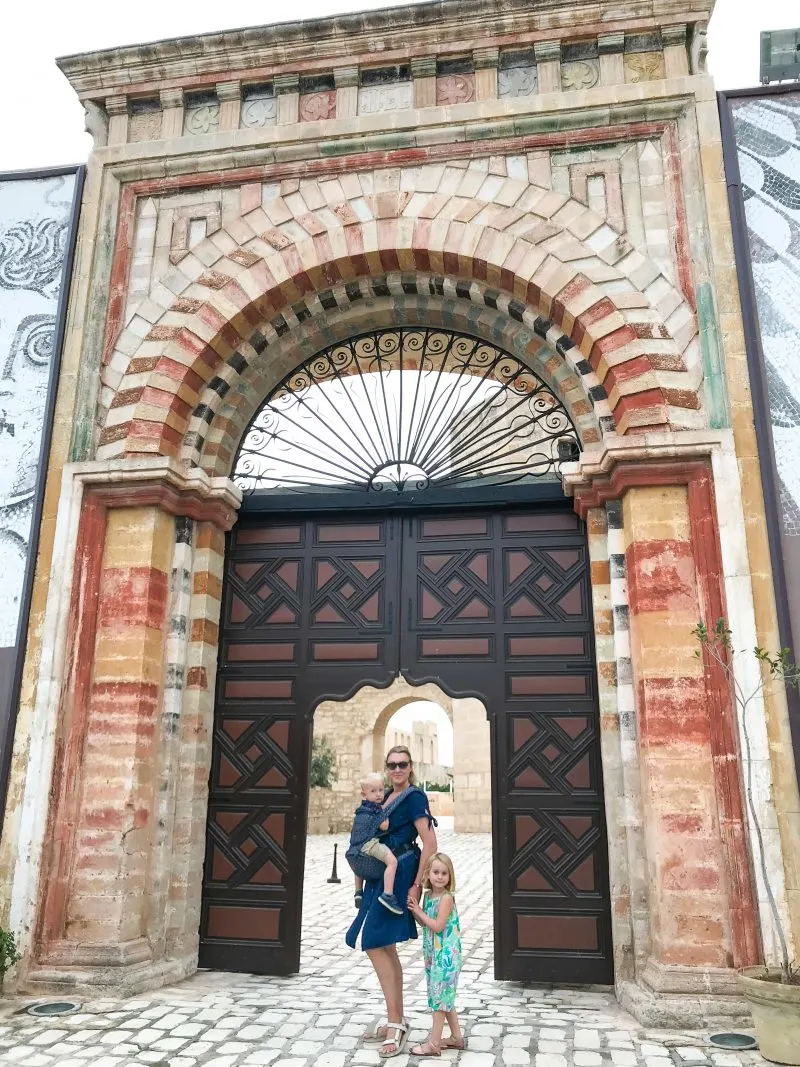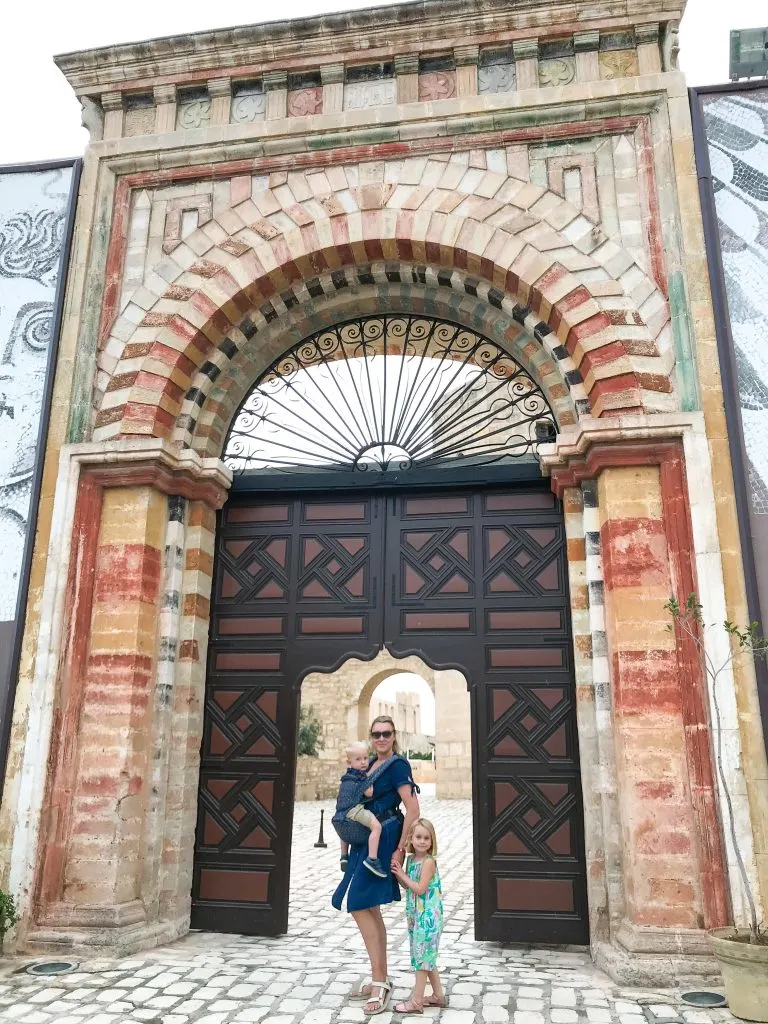 We did venture inside the museum to see some of the mosaics famously associated with Tunisia. Our kids were a little grumpy about being inside so we ventured out to the Medina which continued back down the hill from the museum.
The Medina
The Medina had to be my favourite part of the trip. Like I previously mentioned, it was a fusion of the Mediterranean and North Africa.
White washed walls, crumbling paint, bright blue doors and cobbled alleyways meandered from the top of the hill right to the seafront.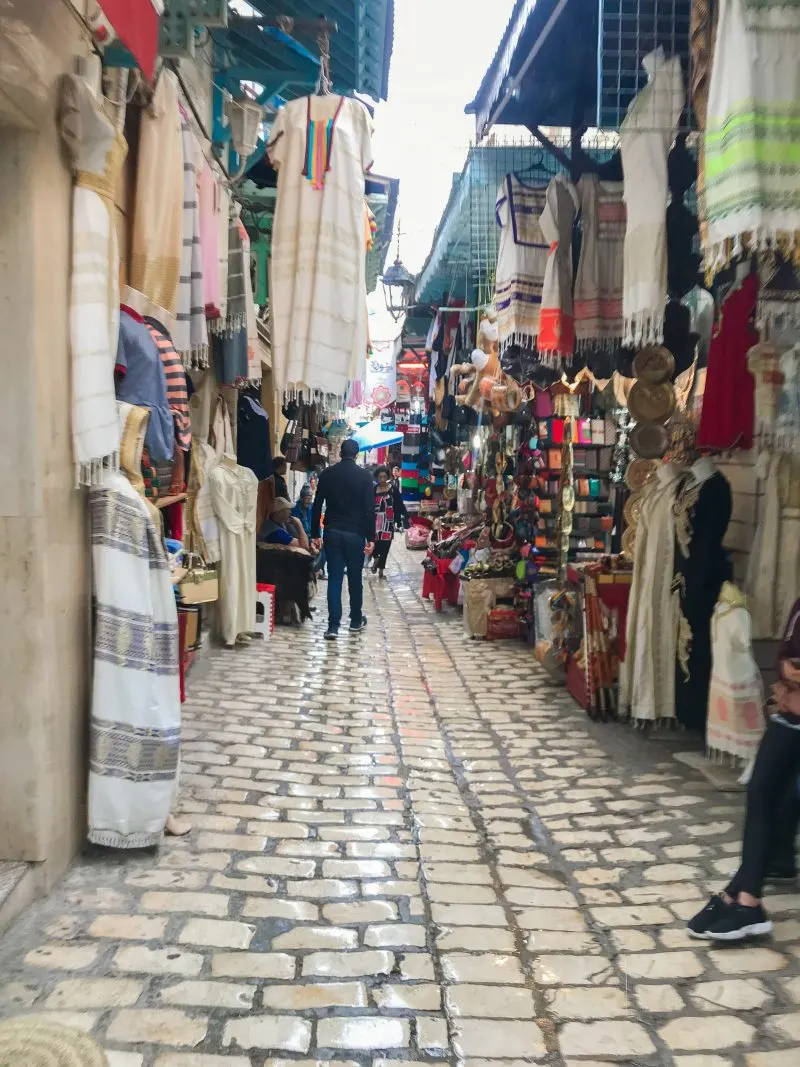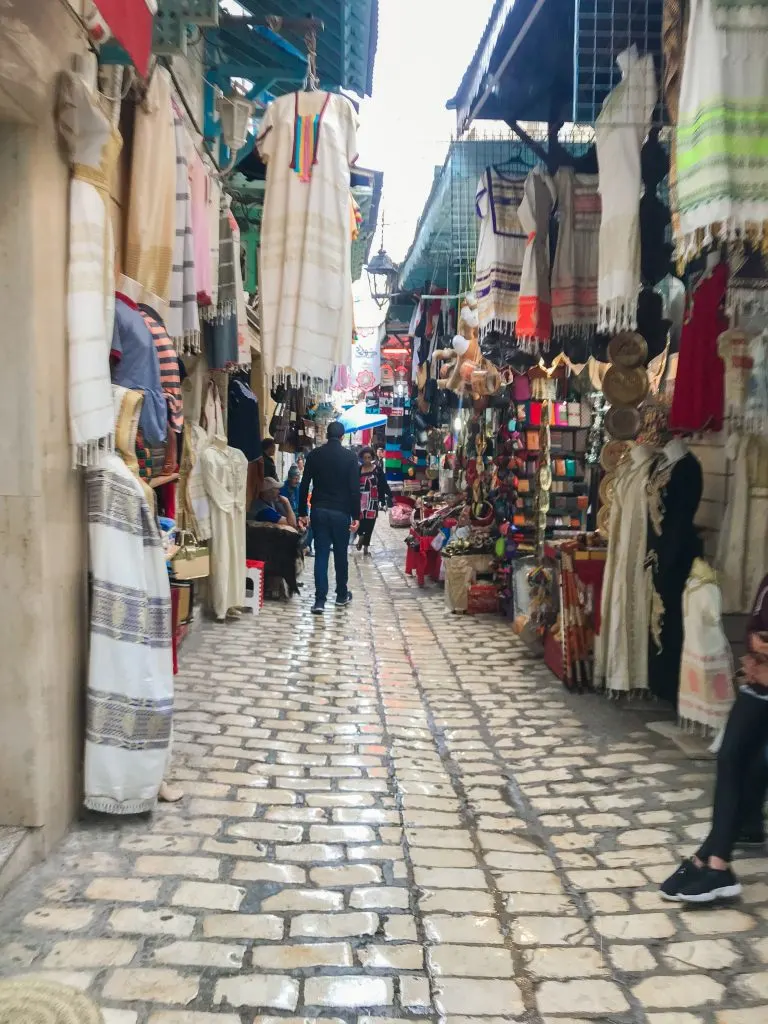 Little shops filled with arts, crafts and local produce. Out of all the Markets and Medinas I've ever been to, I really thought the one in Sousse was the nicest and least intense to walk through. Sometimes sellers keep hounding you but this was not the case in Sousse Medina!
3D Trickery Museum
Very close to the entry of the Medina there is a 3D Trickery Museum which the kids will love. There are a tonne of giant murals on the walls along with many other optical illusions that make amazing photos. We've been to a few 3D Trickery Museums around the world and it's always the perfect rainy day activity.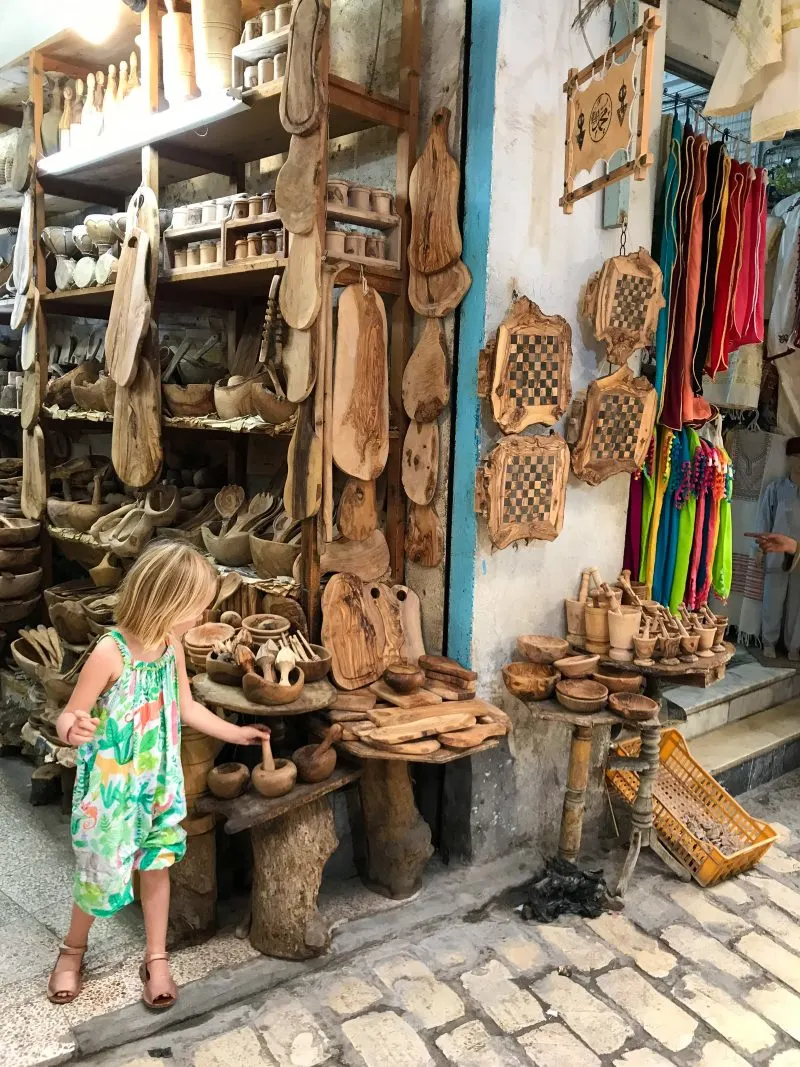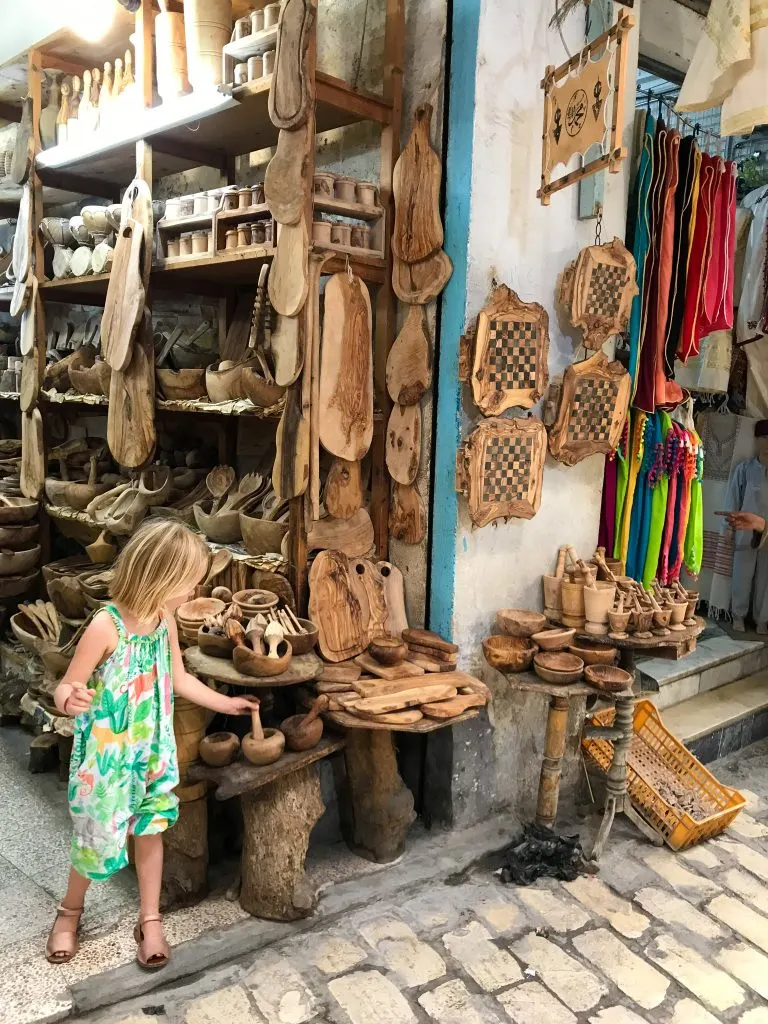 Visit Hergla
Ahhh Herlga was just stunning. It's a small Berber Village just 20 minutes drive north of Iberostar Diar El Andalus. It reminded me so much of Essaouira in Morocco.
Berber Villages are traditionally based around the Atlas Mountain. The people are generally indigenous to North Africa, we really enjoyed wandering through seeing the way of life and all the beautiful buildings.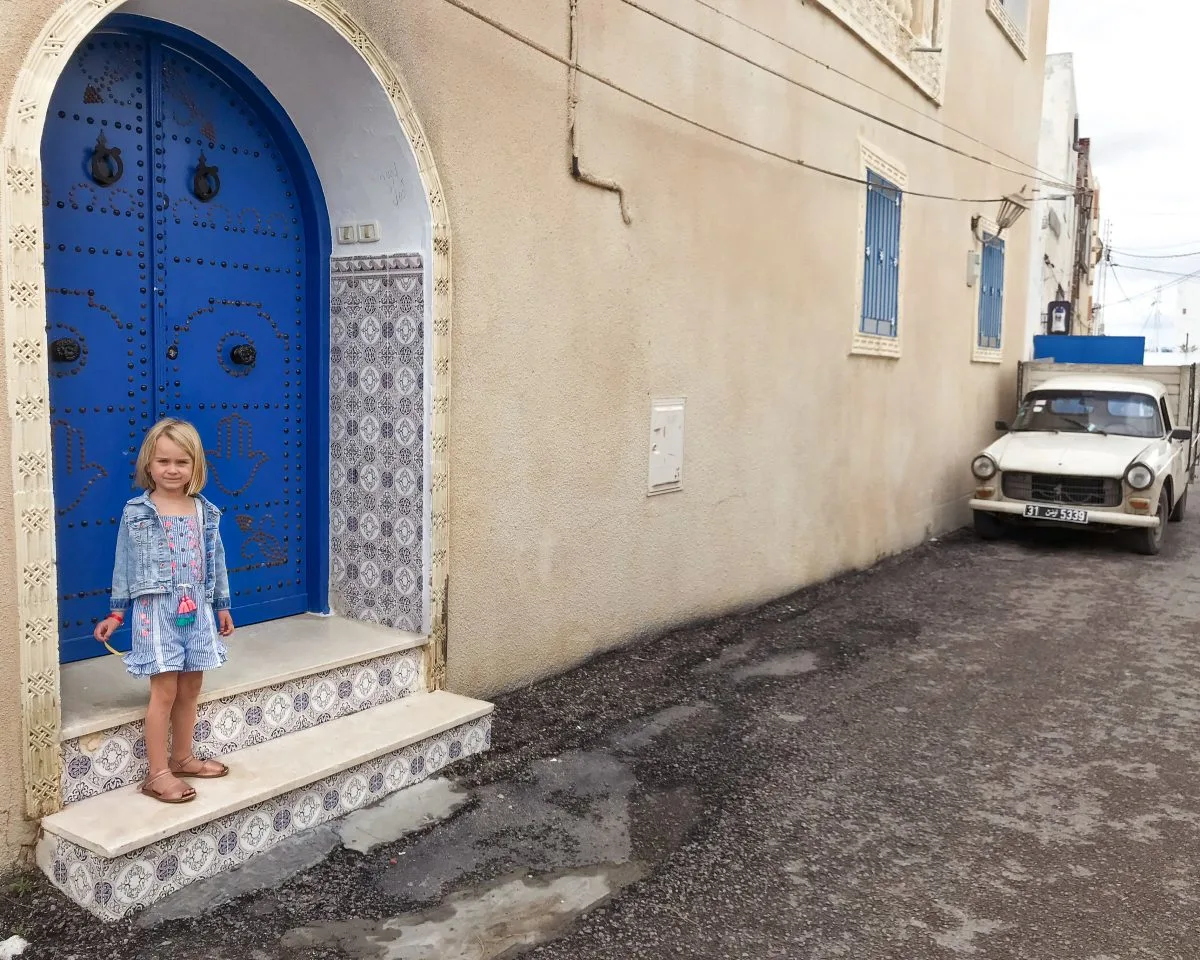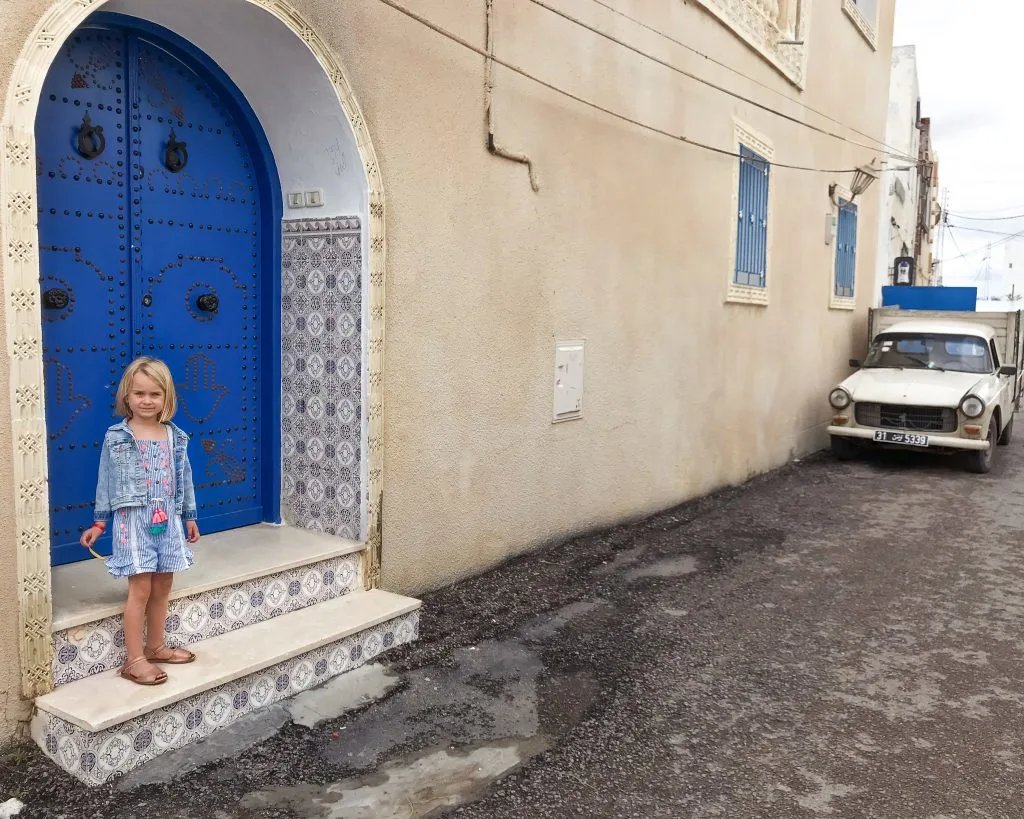 Hergla is not very touristy like other Berber villages so it's definitely one I recommend visiting with a guide to get a true feel for the culture. Make sure to pick up some crafts, we found a lady making baskets and ornaments from dried straw. I love buying keepsakes and reminders for my kids. Also how could my daughter say no to the beautiful pink and purple baubles on that bag made for her size!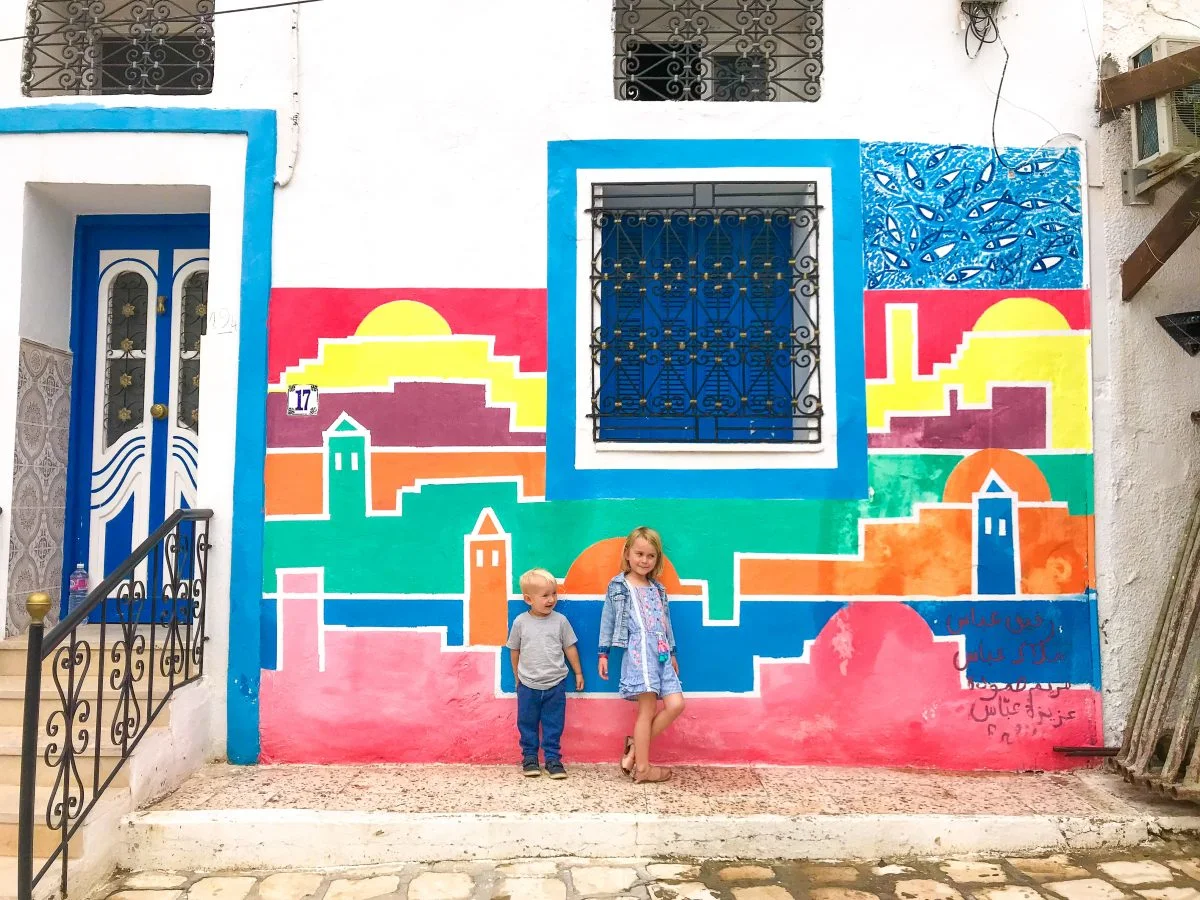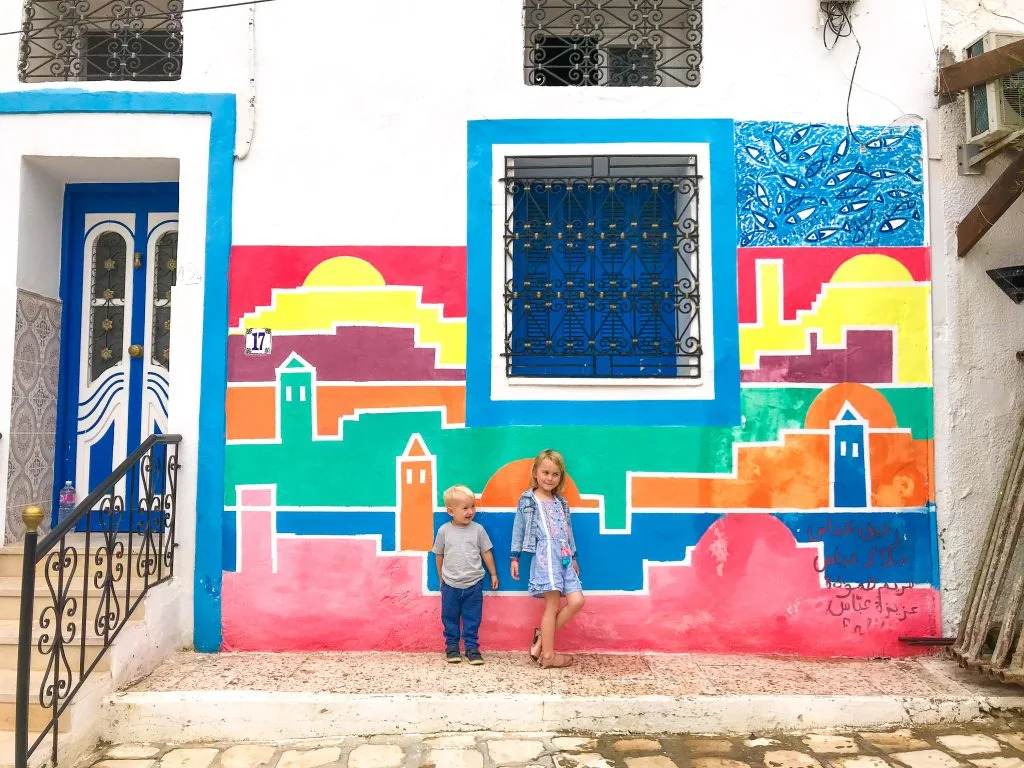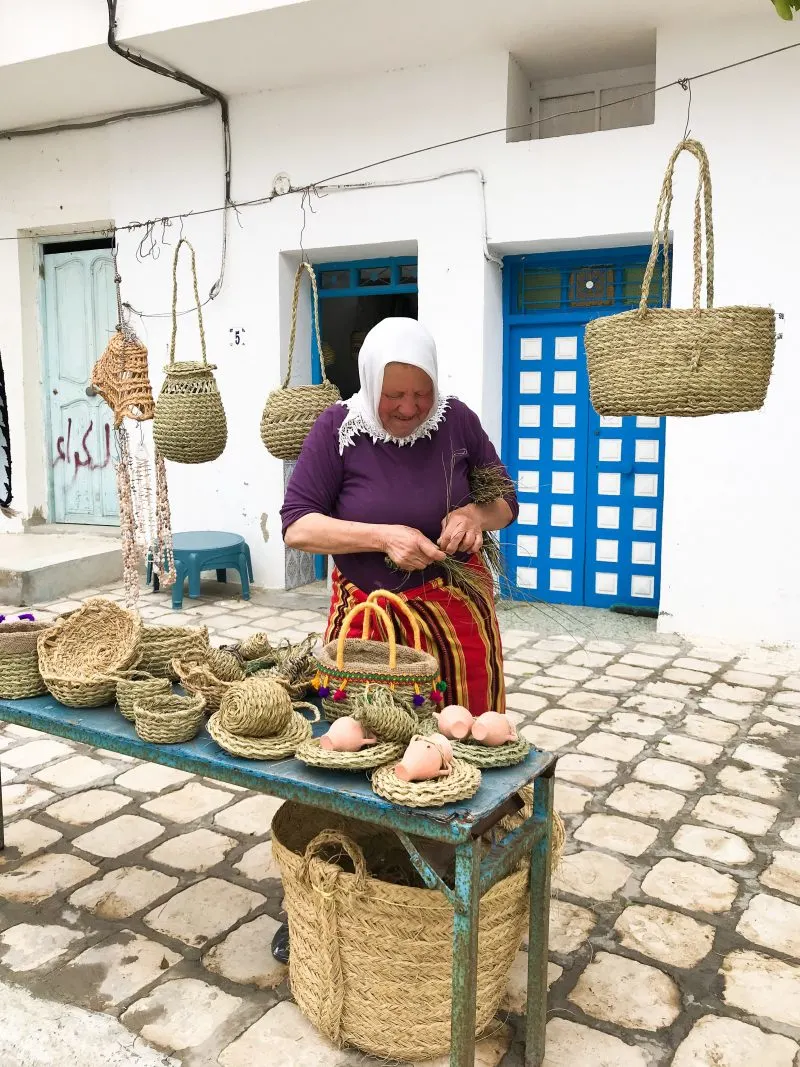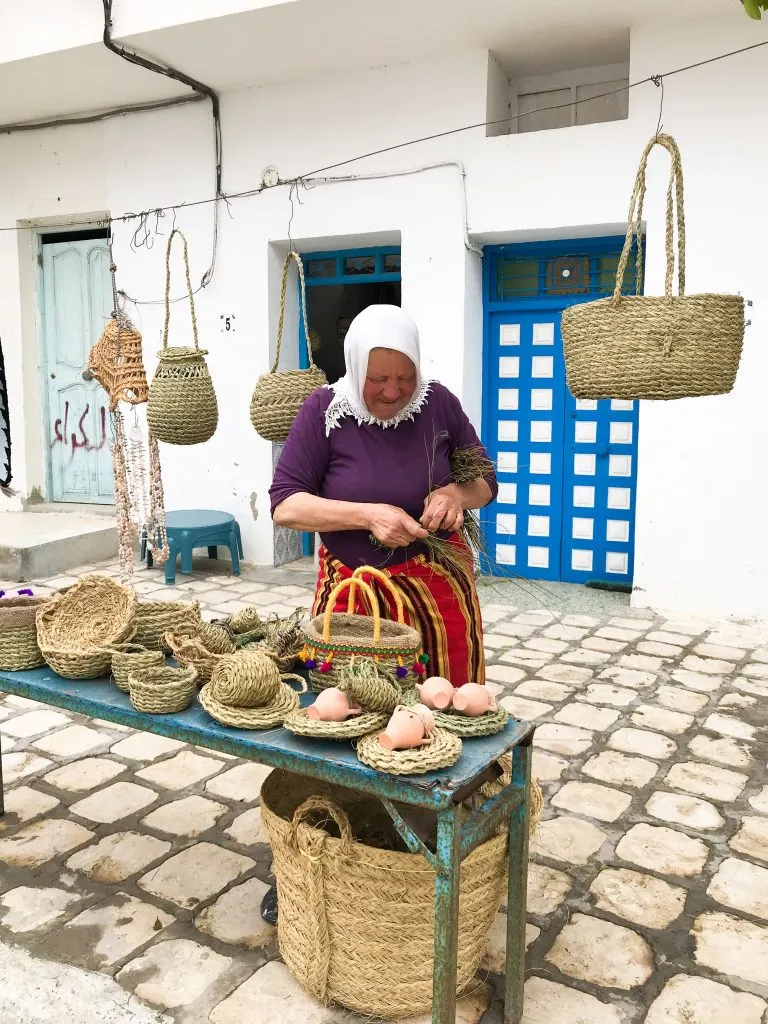 Overall we had an amazing few days in Tunisia, I highly recommend it if you are looking for something different combined with your beach holiday. Make sure to checkout On The Beach Holidays if you are considering going.
You Might Also Like:
The Best Things To Do In Cyprus With Kids
Disclaimer: On The Beach Holidays sponsored our trip in return for an honest review. As always all views expressed are entirely my own. There are affiliate links in this post. If you choose to use them, we get a small commission of the sale at no extra cost to you.