Community post by Jane ~ Afternoon tea in London is a quintessentially a British experience. Tasty sandwiches, jam and cream scones and plenty of beautiful pastries, everyone should experience afternoon tea in London. Until recently, this wasn't necessarily an activity you would choose to do with kids.
However, The Savoy Hotel have partnered up with HarperCollins to celebrate the 50th Anniversary of the publication of the 'Tiger who Came to Tea'. If you are thinking of going to afternoon tea in London with kids, the Savoy is the place to go.
If you are interested in finding more amazing things to do in London with kids check out our new megapost including more places to stop for tea with kids!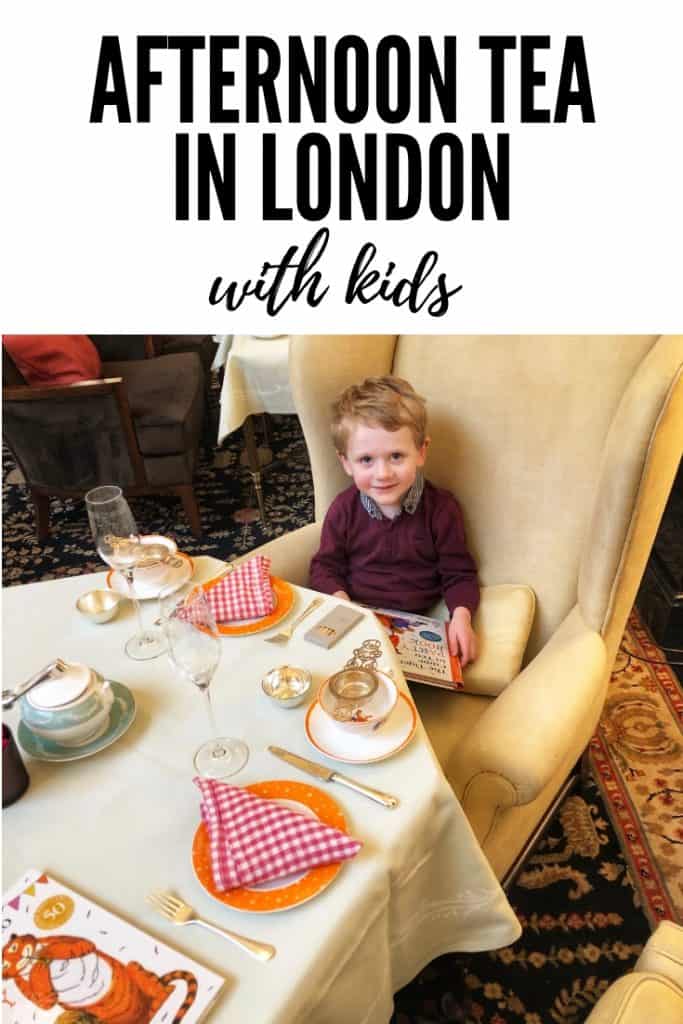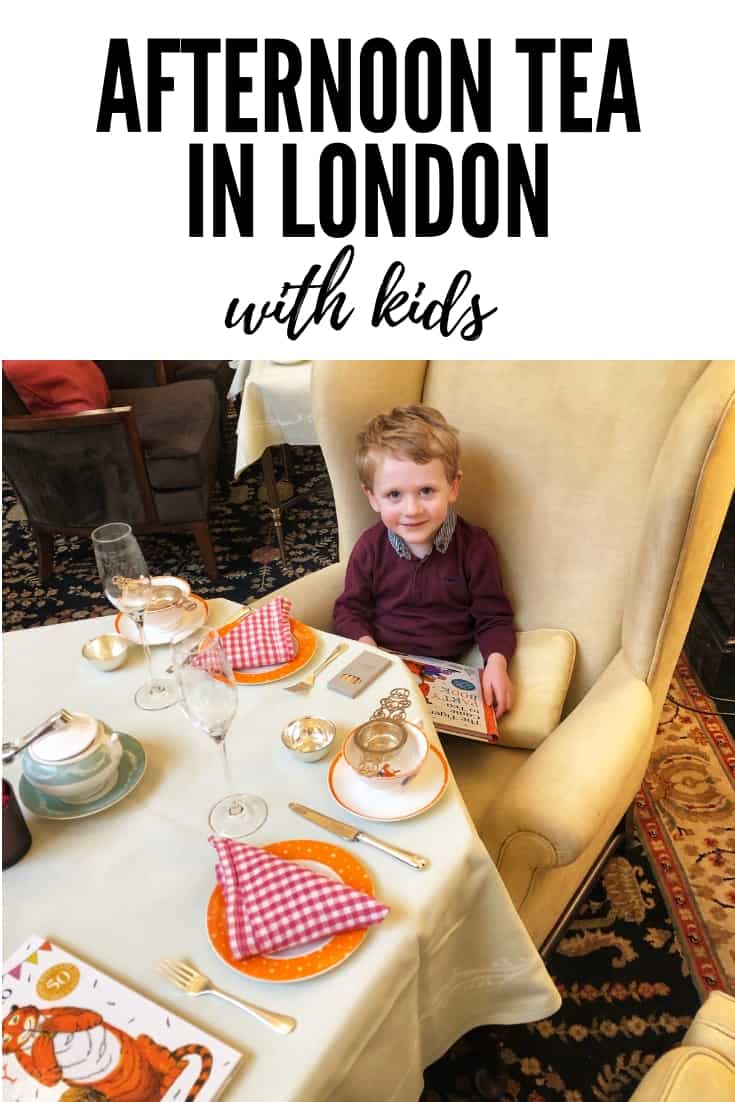 Afternoon Tea in London with kids
My 3 year old son, Bruno, and visited The Savoy in February half term. I decided to go for their earliest time slot, 1pm. This was so we could essentially use afternoon tea as lunch time!
When we arrived we were seated in the stunning and iconic Thames Foyer and both given an activity book. As an accompanying adult I could have had their traditional afternoon tea, however, I decided to join my son and have the full tiger experience which is £40 per child. The activity book is full of things to do and stickers which kept my son throughly entertained.
The Tiger who came to Tea menu – Afternooon Tea in London with kids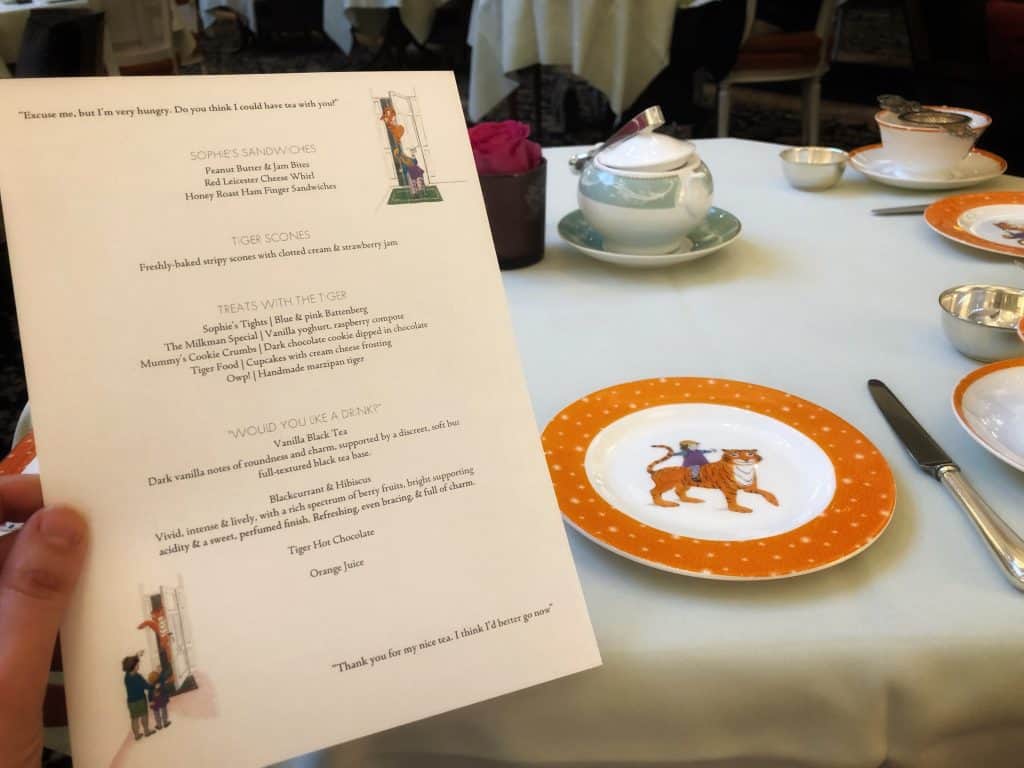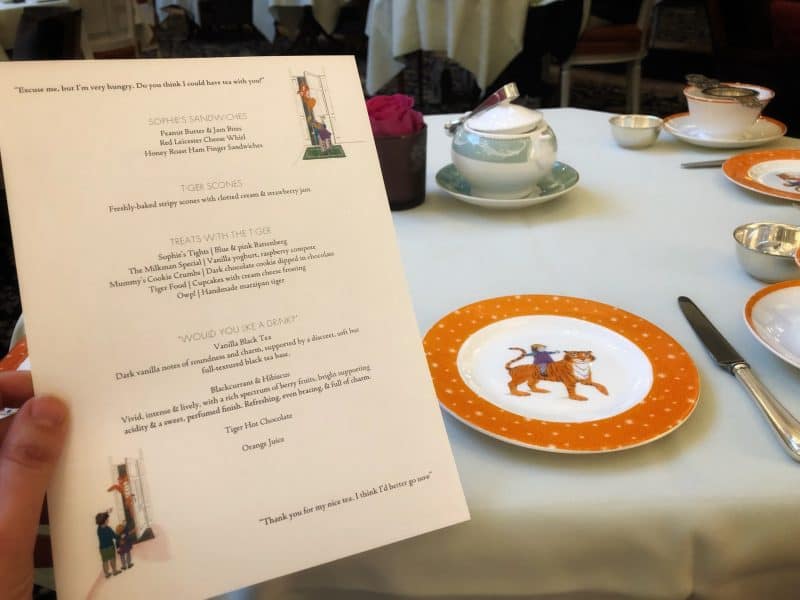 The menu is playful and imaginative. I tasted everything on this menu and it was all utterly delicious! To kick off proceedings were our drinks. Bruno opted for a fresh orange juice and I tried the Blackcurrant and Hibiscus tea. The tea was flavourful and sweet. It didn't take long before my son abandoned his juice in favour for this unusual tea. All of the crockery is designed with the iconic 'Tiger' theme which make for a very striking place setting. The sandwiches followed shortly after our drinks. The cheese and ham were nice but the jam and peanut butter ones were divine! Gluten Free and vegan options are available, however, they need to be ordered 48 hours in advance.
Afternoon Tea in London with Kids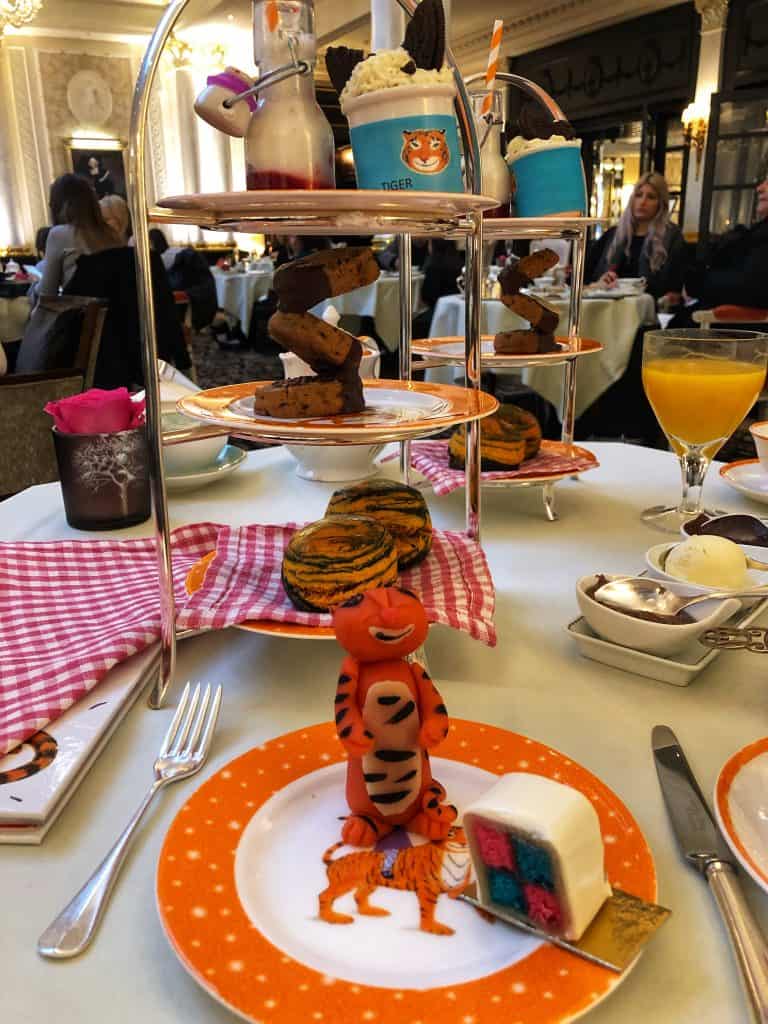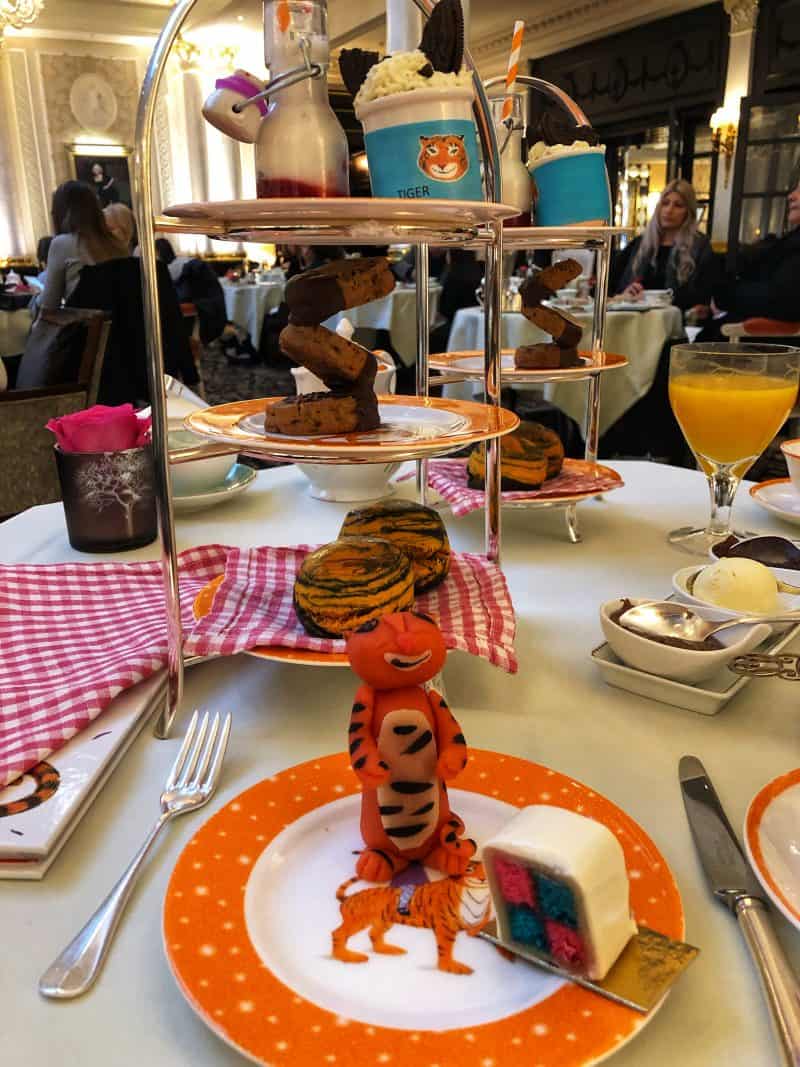 The sandwiches were lovely, however, the cake tower was certainly the main event! Each item on the menu is linked to Judith Kerr's famous story. Even the Battenberg cake matched Sophie's tights in the book! The striped scones also came with chocolate sauce as well as the traditional jam and cream. Our waiter carefully explained each item to my son which was a really nice touch. His favourite item was The Milkman Special – the strawberry and yoghurt bottle. The skill and precision in making such delicious items is evident.
Looking for an affordable kids day out? Click here to read our recommendations.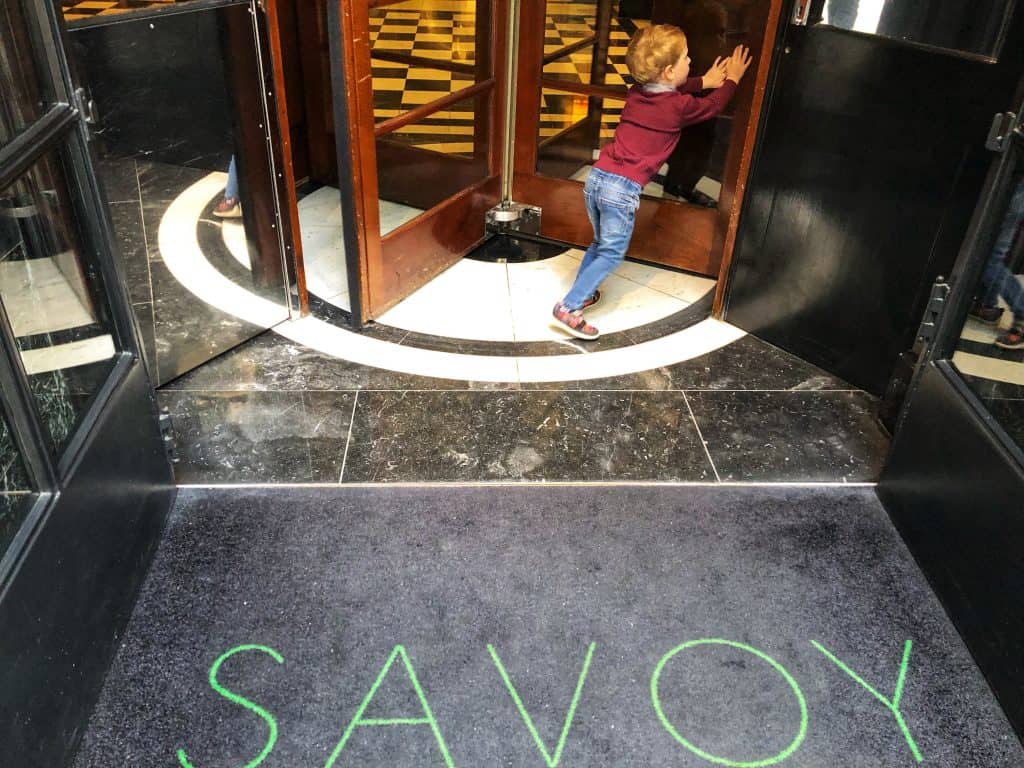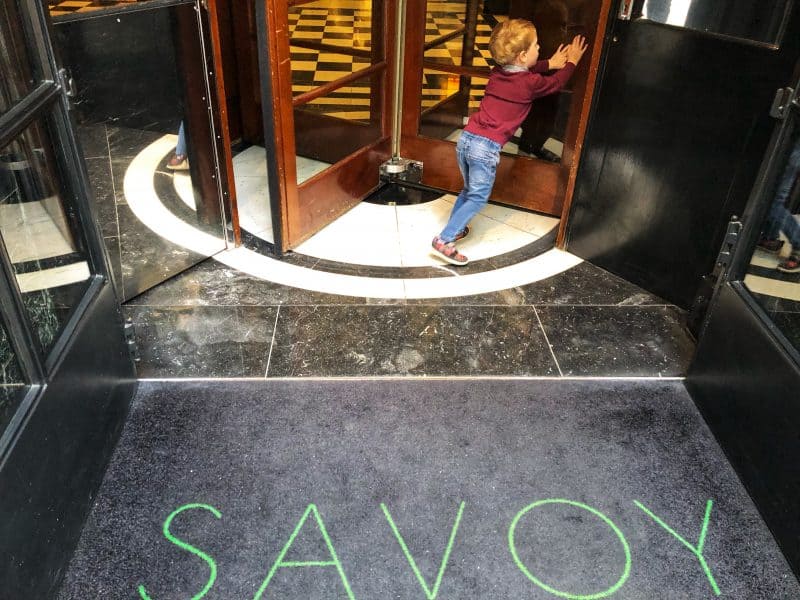 The Savoy is one of the most famous luxury hotels in London, located right on the River Thames. It's name is synonymous with exclusivity and luxury. Saying that, younger guests are more than welcome. At no point did I feel it was inappropriate to have a young child in such an iconic 5* hotel.
Fancy a walking tour of London? This blog explains an excellent self guided route.
The Savoy is superbly located for exploring London. After we finished our amazing tea, it was time to head outside and have a run about. A short walk across the river is The London Eye and Southbank. Whilst we didn't go on the London Eye on this occasion, we did go to the Jubilee Gardens which is right next door. The Jubilee Gardens are a large wooden play area with the most incredible views of London.
You May Also Like:
Disclaimer: Jane's afternoon tea at The Savoy was complimentary in return for a written review. As always, all views expressed in this review are entirely our own.