Having been an avid traveller for well over a decade now, I have certainly noticed changes in the way I do so. Particularly in relation to technology and devices. Gone are the days of printing boarding passes!
Like most of us, my smart phone and connection to the world is a lifeline and this has now been transformed into how I make a living for my family.
Not only am I passionate about travelling and sharing inspiration via social media, there is lots of background work going on with the blog, in which a wireless travel wifi router is essential.
Staying connected to travel WiFi means I can keep in touch with loved ones easily, share our travels frequently whilst enabling us to get through long journeys at times. This goes especially for full time travel.
Increasingly, people are opting to work freelance and remotely. It's no wonder this shift in working flexibly sees a change in technology and how important travel WiFI is!
The Best Travel WiFi Device
Travelling with WiFi or 'MiFi' as it is sometimes called, couldn't have been made easier with Solis Hotspots. There is always that dreaded fear of not being connected to WiFi while travelling when desperately needed.
Or there is overusing your data allowance resulting in a massive bill. Cue – Solis Hotspot the travel WiFi router which enables you to get online anywhere in the world, where you have phone signal.
Rental and buying options
There is an option to buy or rent the Solis WiFi Hotspot, based on your personal travel plans. Portable WiFi for travel is a necessity for those who travel often, while also important for those nomadic workers.
In this case, it may be worth purchasing the Solis travel WiFi router. Having a reliable travel hotspot means you can get online pretty much anywhere in the world and crack on with your business.
It's also peace of mind as this WiFi hotspot for international travel is secure and encrypted. The travel WiFi rental may be a better option if you have one big trip planned in the space of a year. For this option, all of the passes are preloaded.
How you activate it
Simply switch on the travel WiFi router and connect to your chosen device. Setting up the travel WiFi initially can take around 5 minutes. However, once that is complete, you can simply switch it on anywhere and get online.
This includes up to five other devices, so your travel buddies or kids can benefit.
Prices
Use the online platform to purchase any number of day passes, which come at a flat rate of around £8/$9. Rental hotspots include all of the day passes for your trip.
This internet traveller is very cost-friendly, which is ideal as we all want to save costs when on the road.
For the Solis travel WiFi device, the daily passes last for 24 hours on the travel WiFi device and it's all co-ordinated from an online platform where you can see your connections, time and passes remaining.
They also offer monthly and annual passes if you are going to be travelling more long term.
For more information about Solis price plans click here.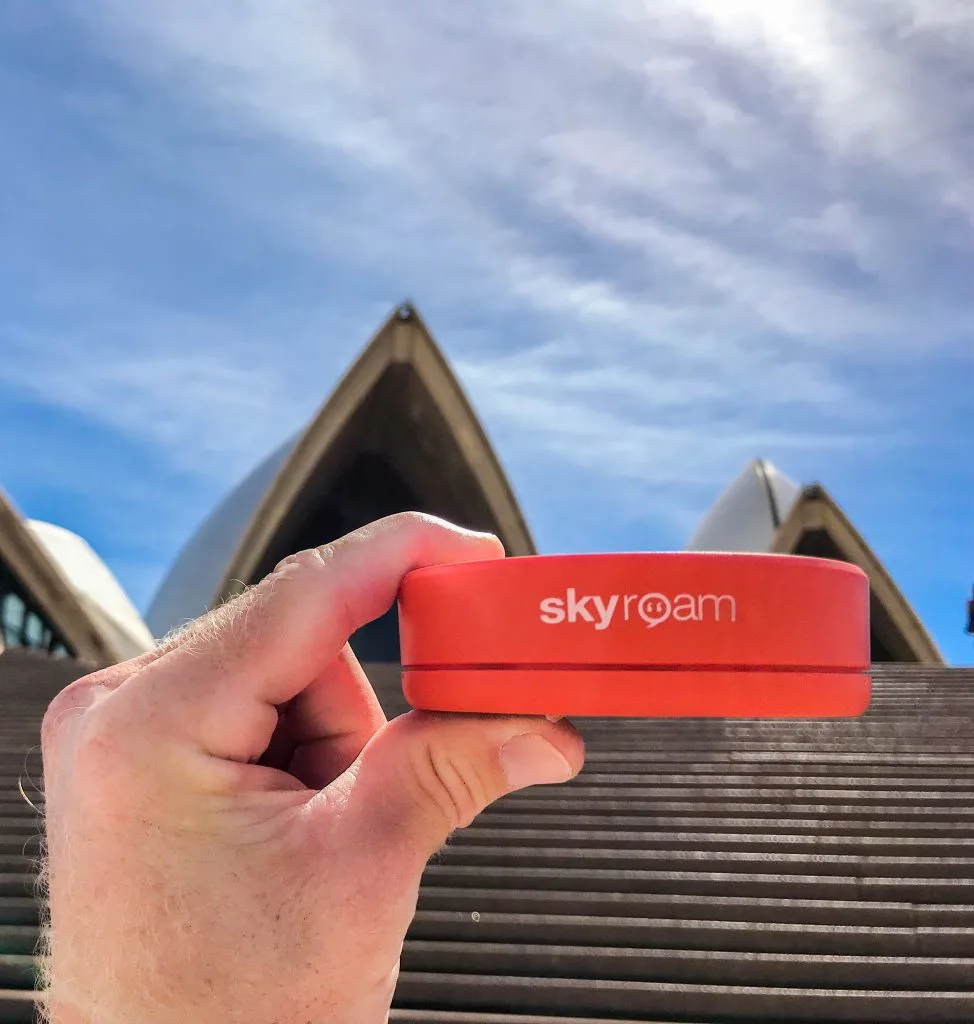 Performance
The travel WiFi hotspot is a neat little orange device, which can be easily packed and carried for your travel internet needs. Solis is highly rated as one of the best mobile WiFi hotspots for international travel.
I have used it in Canada, New Zealand, Australia and Bali with no major issues. Admittedly it was much better in Canada and Australia than it was in Bali. You have to have a phone signal and a good one at that.
There were times in Bali when we had no cell coverage and it obviously impacted on how well the Skyroam worked.
So I used it for smaller tasks like sending emails and checking messages rather than larger tasks such as video content when we did have signal. I must also state clearly that this travel internet dongle does rely on a phone signal to connect.
The travel WiFi device itself is neat and easily packed in your hand luggage. Packed in its own little black case, the travel hotspot is not bigger than the palm of your hand.
It is lightweight and comes with a mini instruction manual and USB cable, easily chargeable at a USB point or plug. In addition to it being a mini WiFi, it also works as a charging battery pack.
WiFi for International Travel
The wireless travel router is accessible from over 130 different countries. Solis travelling internet service links to any device including tablets, phones or laptops.
The travel WiFi hotspot even doubles up as a power bank, which saves space if you need to charge up regularly – you can just plug it in at the end of the day. It lasts roughly 16 hours per charge.
If you were ever wondering how to get WiFi while travelling in a car or long bus journeys, Solis would be a challenger for the best travel WiFi hotspot.
We have tried various combinations, from local sim cards, to using one another's hotspots, to scoping out local cafes and using our data.
However, I have found Solis to be the best portable WiFi for travel in relation to convenience, access, reliability and affordability.
So if you are considering any needs for internet while travelling, the Solis Wifi Hotspot was a great option.
For us, travelling wireless internet is a necessity as we enjoy being easily connected while on the road. Especially to show the kids their favourite cartoons and shows. It makes those long journeys that little bit easier.
For more information visit the Solis website.
You May Also Like:
15 Eco Friendly Travel Products
Disclaimer: Solis gifted me the travel WiFi device in exchange for an honest review. As always, all views expressed are entirely my own.