There is no doubt the amount of baby travel gear on the market is one of the most off putting things when it comes taking the plunge and booking a trip as a new parent.
Let me tell you, I am a minimalist at heart, so I am always on the lookout for the most light weight, compact baby paraphernalia to make that trip as easy as possible.
I absolutely love traveling and definitely do not let having a baby hold me back.
That said, it's important to be organised and ready to take on the adventure with your baby and being prepared is only going to make it more enjoyable.
Forget about big clunky items and think about all those nifty things that have multiple functions.
My 'go to' one stop shop has always been KeepEmQuiet.
They are an online shop that specialise in family travel and I have used them from very early on when it comes to preparing fo my trip.
If you guys read my content regularly, you will know my favourite acronym is S.A.S and it can be applied to any age group wether you have a toddler or a kid.
This is my life saving acronym that I use to cover all the basis before my trip.
It's all about enjoying the journey as well as the destination. Well all know a long car ride or an epic flight can be a challenge with a baby so S.AS will help you prepare.
It stands for Snacks, Activities and Sleep aids, and my favourite family run business, Keep Em Quiet assists in every aspect. So I've written this list of:
Top Baby Travel Gear
You Need to Successfully Rock Your Next Trip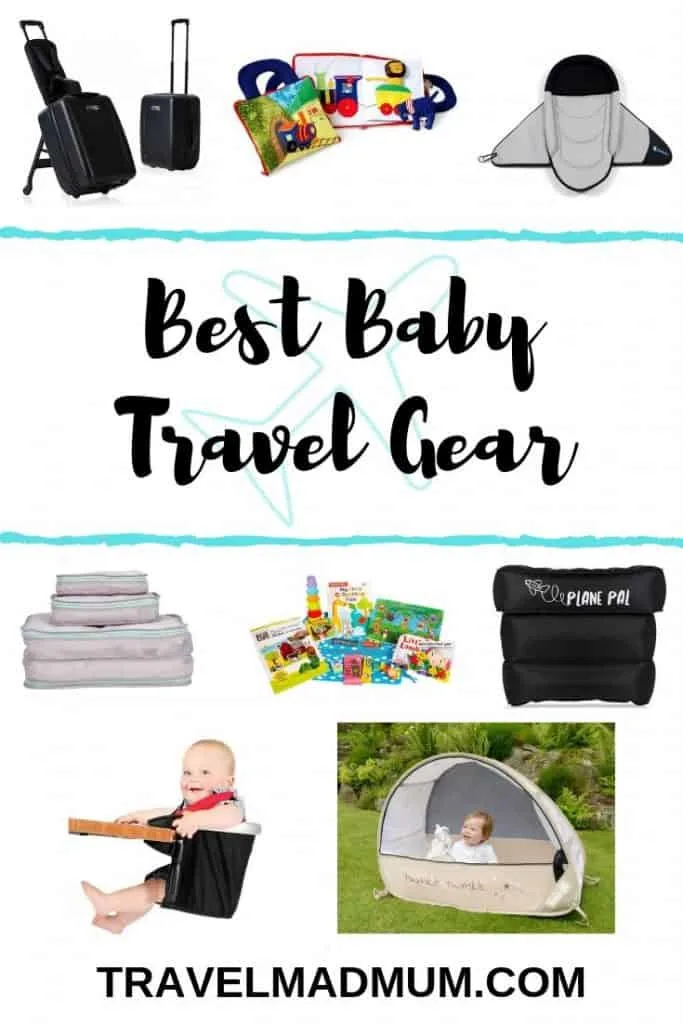 Activities For The Trip
Busy Bags
The one thing that saves me from epic melt downs is having a good stock of new baby travel toys.
I've always used the KeepEmQuiet activity packs that are age specific and stuffed full of new and interesting things.
They come in boy, girl or gender neutral. All you have to do is the enter the age of your little one on the site and you'll get a pack full of age specific new baby travel toys for your holiday.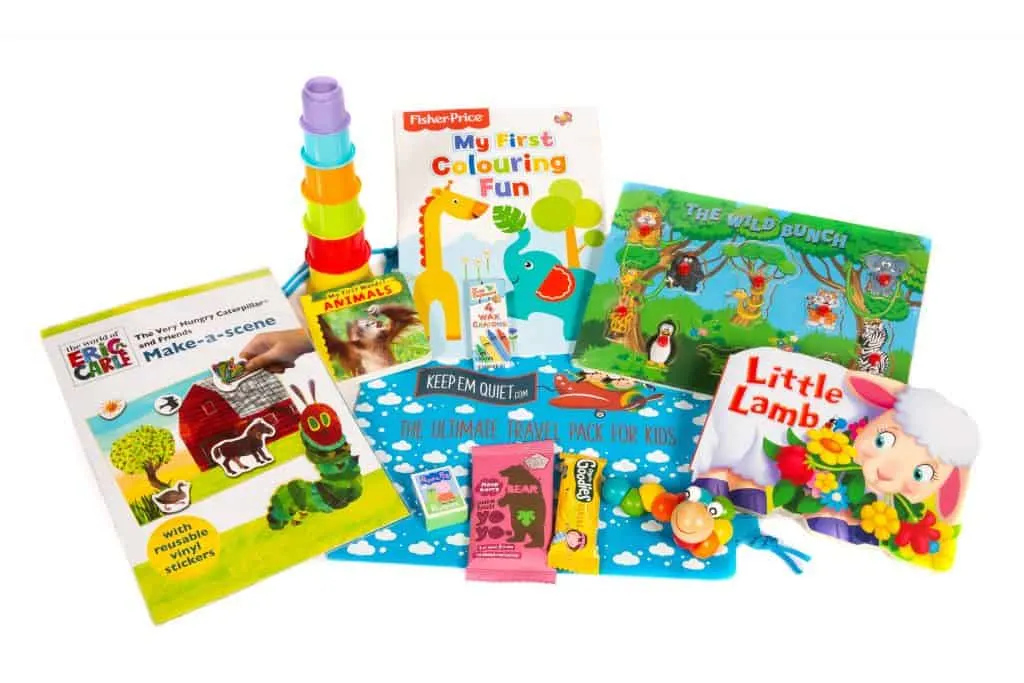 You can also specify if it's a short or long trip in order to ensure you have enough to last you for your holiday.
I always choose the latter, as we can generally get longer use out of it, wether it's an additional weekend away or a road trip somewhere.
The idea behind the company was to reduce screen time and engage little ones in interesting activities to keep them literally 'quiet' for the journey.
My kids love these packs and we love the educational spin on them for older kids.
For babies you can see they are well thought out to work on dexterity and cognition.
Click here for more information on KeepEmQuiet Activity Bags
Fabric Sensory Books
For those times you want to wind baby down, why not bring a little flat book or one of those cute fabric sensory books to read?
Those kind of things have always been great for our trips with our little ones.
Click here for more information on our favourite sensory books for travel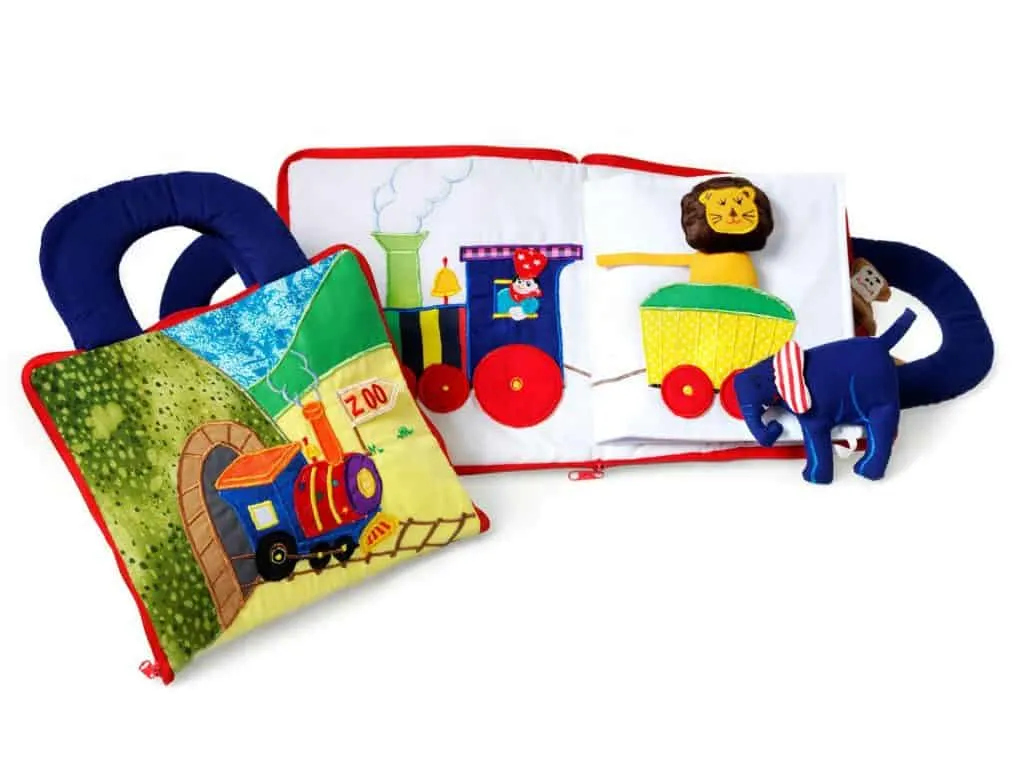 Pre Loaded Movies with Headphones
I a not a massive fan of handing over the i pad to my baby, but, well lets face it sometimes when everything else is over stimulating wether on a plane of train, you just need your little one to rest up for a while.
I tend to pre-load some cartoons or movies onto my phone or tablet. Usual headphones always fall off baby so I love the Snuggly Rascals headband style. They fit really nicely and don't keep falling off.
Click hear form more information Snuggly Rascal Headphones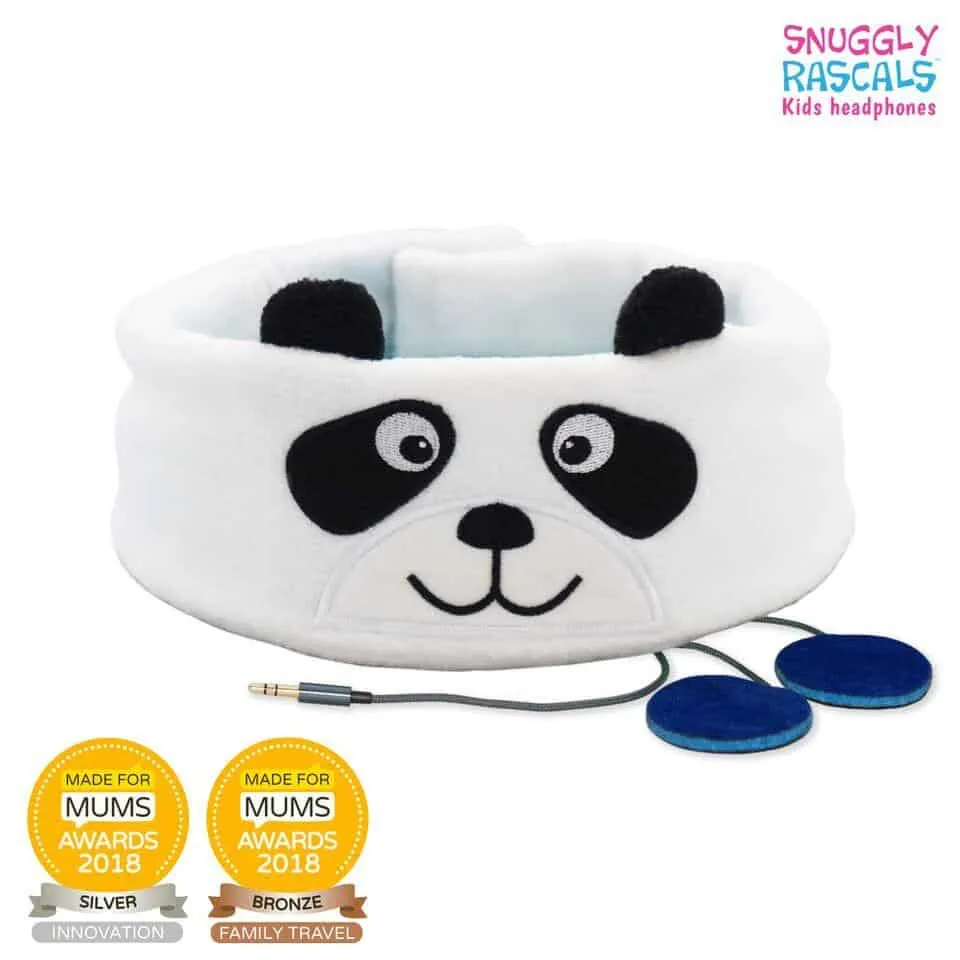 Snacks and Feeding Baby on The Trip
Travel Bibs
I've done it all when it comes to figuring out feeding baby on the go. We were weaning our little boy in the middle of a seven month pan American trip.
I still can't believe we opted for baby led weaning when we didn't have access to a washing machine and spent most of our time in developing countries with no highchair.
Having a really good bib that can easily be wiped clean rather than washed was key. Have you seen the very cool two in one Dare U Go silicone bibs?
They have a container built in so your baby can help them self to snacks and I guess it's quite good for catching what they drop too.
I love things that promote minimal waste!
Click here for more information on Dare U Go bibs
Cloth Travel High Chair
Secondly having our own travel high chair was equally as important. We've tried a few different travel high chairs and each has their now benefits.
For example the Koo-di travel cloth high chair is ideal for trips when you are watching the size of your luggage.
It folds down really nicely into your handbag or nappy bag. It attaches to almost any seat allowing baby to sit up at the table. The only downside is it doesn't have it's own surface for baby to eat from, so it's ideal for spoon fed babies.
Click here for more information on the Koo-di cloth travel high chair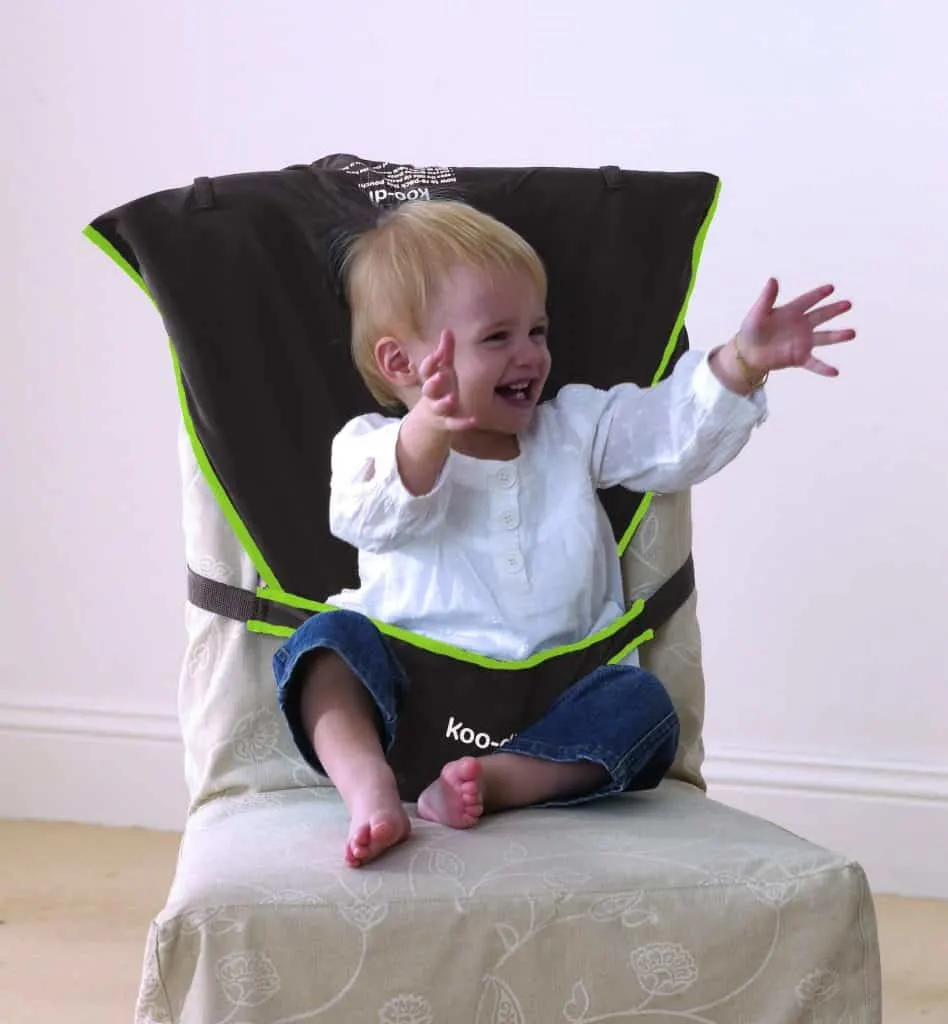 Clip On Travel High Chair
If on the other hand you really want baby to have their own surface to eat from, the Phil and Ted Lobster Portable High Chair is ideal. It clips onto almost any dining table and allows baby to sit right with you.
We've had the older version of this chair and I really love how they've added baby's own table. This packs flat and is an easy item to bring away without ramping up on clunky baby items.
Click her for more information on the Phil & Ted Lobster Highchair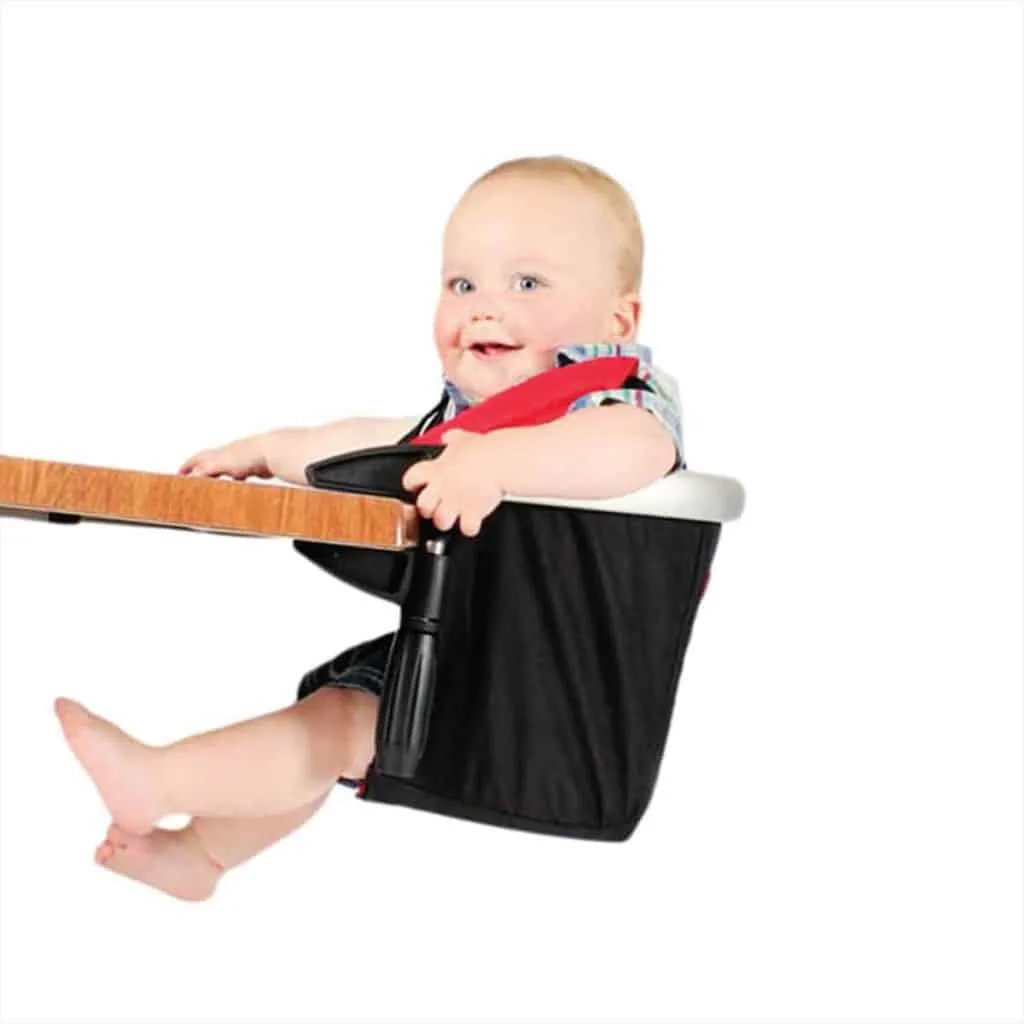 Reusable Snack Bags
I am a big fan of packing our own snacks and lunches for a trip. We have lots of stainless lunch boxes and reusable food pouches for baby. They are great way to save waste and money when it comes to eating out.
The pouches are better if you are really tight on space, we tend to bring both.
Click here for more information on reusable food pouches
Suitcase and Packing Cubes
Packing Cubes
So the whole suitcase and packing is where I think most new parents go wrong! You don't need to bring the kitchen sink, my biggest tip is only bring what you need.
Likewise, separate each family members clothes into a packing cube.
Our allowance is one cube each!
That goes for kids and adults, meaning little ones have extra allowance for multiple outfits since they mess them up more often.
This approach really works for us and helps to control the packing situation from getting crazy.
Click here for more information on packing cubes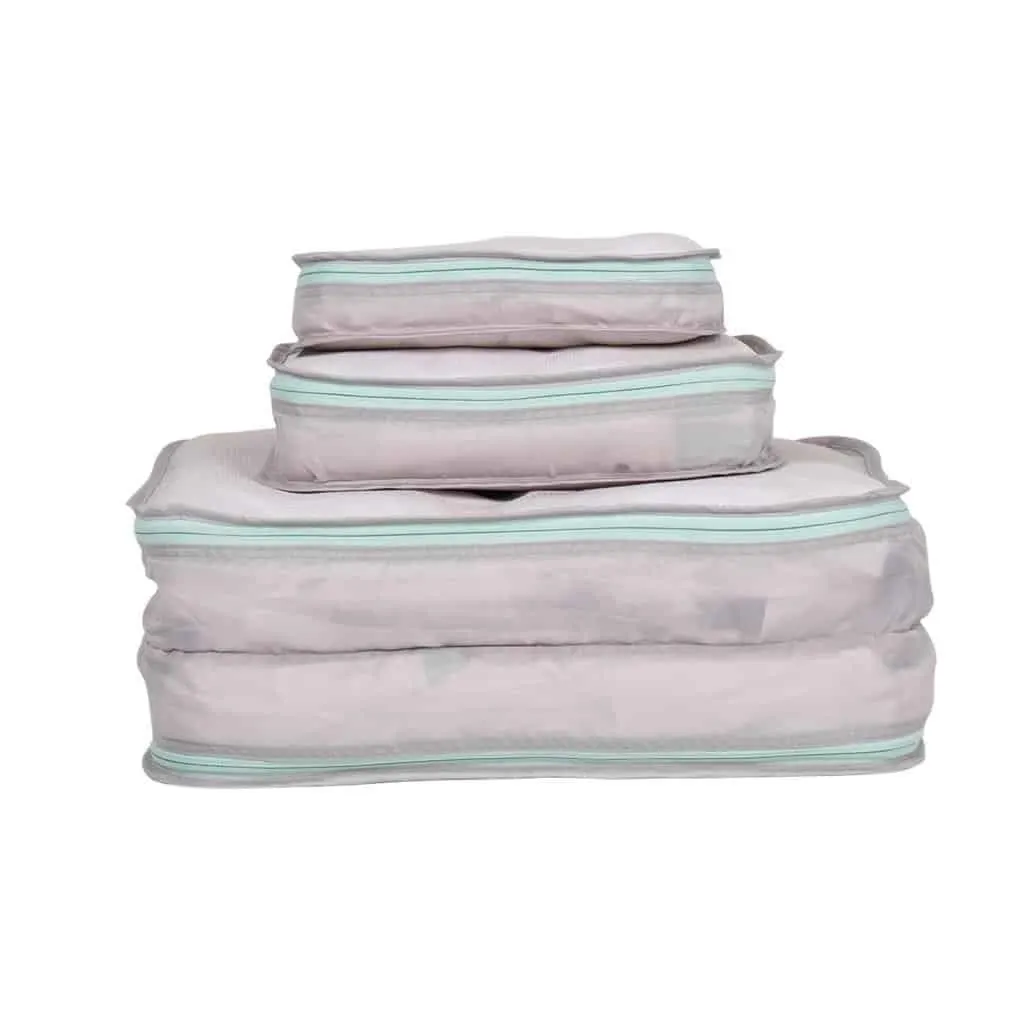 Best Suitcase
Like I mentioned previously, I am a big believer in products that double up in function when it comes to baby travel gear. That's why the Mountain Buggy Bagrider is the best suitcase EVA!.
Not only is this product a really nifty suitcase but you can safely strap your little one in to the seat on top.
It's like a stroller come suitcase all in one. Of course your baby needs to be able to sit up unaided and have good control to use this feature.
I think its a really good product for a solo parent trip or a weekend away where you can otherwise bring your carrier to get baby around instead of a stroller.
Click here for more information on the Mountain Buggy Bagrider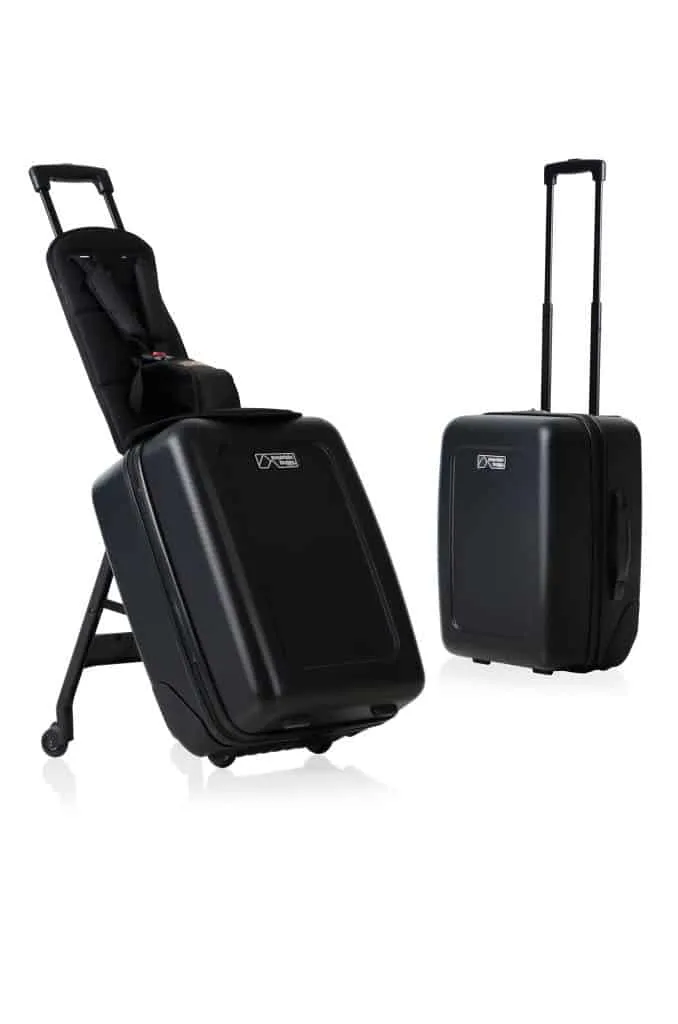 Sleep Time on The Trip
Travel cot
Every parents biggest concerns about traveling with a baby is sleep! Will it upset the routine? Will baby sleep in a new environment?
I am an advocate of getting baby to sleep on the go far in advance of our trip so it's not a shock to them.
Before we embarked on a big backpacking adventure around Asia with our then 9 month old baby, we bought the Koo-di pop up travel cot.
We put it in her room for her to get use to it and she had all her naps inside.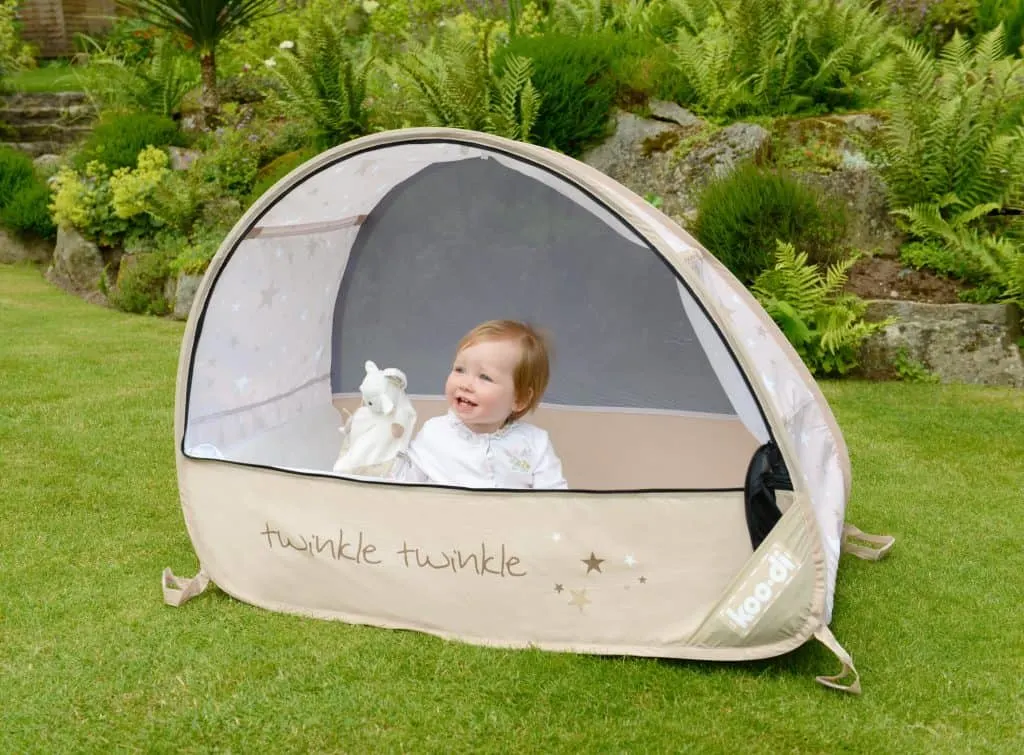 It's quite different from a traditional cot because it's lower down and has a zip up net for mosquitos and has a second function of keeping them inside!
We loved our Koo-di as it packs up nice and small.
I highly recommend buying the additional blow up mattress for extra comfort.
One of the main reasons we brought our own travel cot on holiday was so it was a familiar space for baby.
Likewise some hotels charge for cot rental and it worked out cheaper to bring our own!
Click here for more information on the Koo-di pop up travel cot
Carrier & Stroller
I am a baby wearing mum at heart. I've always used the i-angel carrier, it allows baby to sleep 'on the go' and is one that can grow with a family.
However s sometimes it's so nice to put baby in the stroller and just relax and have dinner, especially when they are asleep!
We've tried out tonnes of travel strollers and one of our favourites is the Britax Holiday Stroller. It comes in both a double and a single.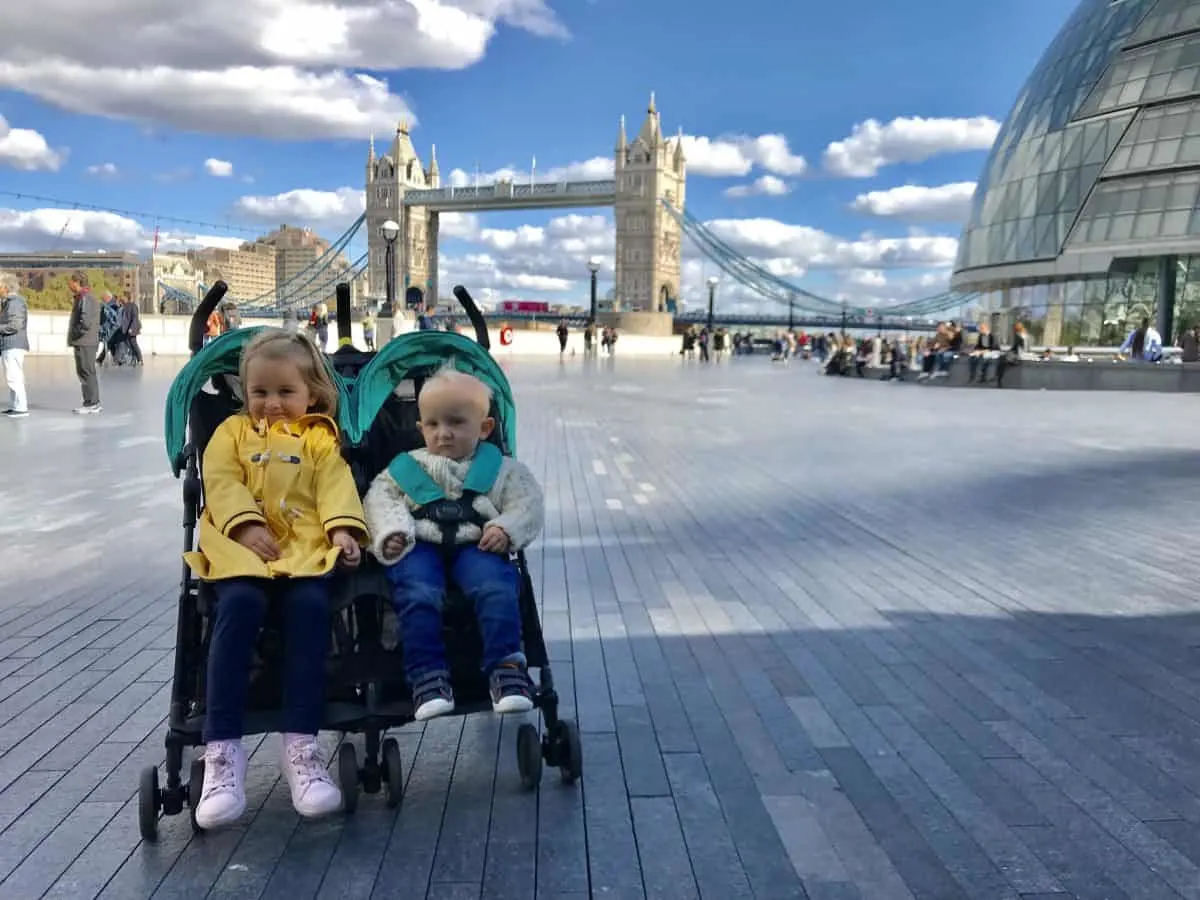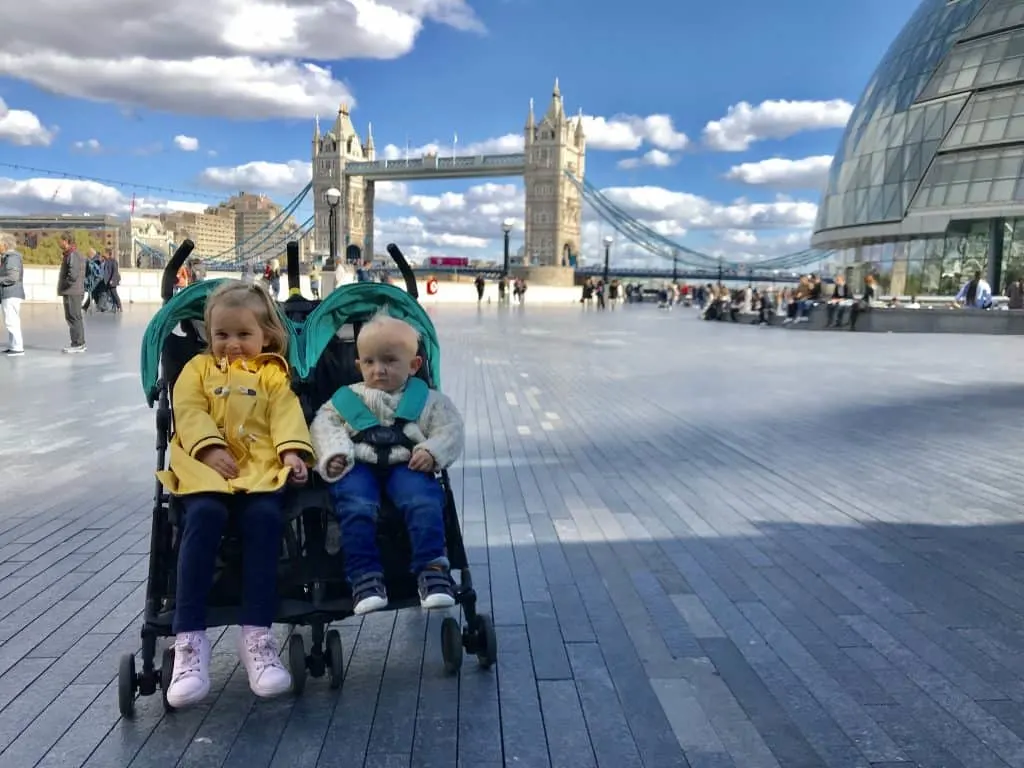 It's also really good value for money and converts into a lightweight backpack for those times when your little one wants to run free!
Having a stroller that converts into a backpack has been a game-changer for us in terms of making certain situations, such as hiking to more isolated places possible.
The best hikes are generally the ones that are not suitable for a stroller!
Click here for more information on the Britax Holiday Stroller
Stroller Shade
If your baby is use to a dark environment for sleep the Snooze Shade is a really easy light weight and compact item you can bring with you.
It offers UV protection as well as shade and stops any baby admirers from distracting your little one when they need to rest.
Likewise it's especially designed fabric so there is plenty of air flow making it breathable and shady. Oh, and it's universal! There is also the option of a beach baby stroller if you plan to spend a lot of time in the sun.
Click here for more information on the Snooze Shade
Inflight Sleeping Aid
In the first instance ask for the bassinet seat so you can hopefully lie your little one down. The only issue is, getting the bassinet is not guaranteed, and is allocated on an age basis, with younger babies getting it first.
The next best bet is to ask for a spare seat at check-in.
If you are lucky enough to bag a spare seat you can hopefully make the seat into a first class bed for your little one. We've previously used Plane Pal for our baby's when they were small.
It's an inflatable pillow that fills the leg room space in front of the seat. It creates a flat surface with the actual seat giving baby space to stretch out.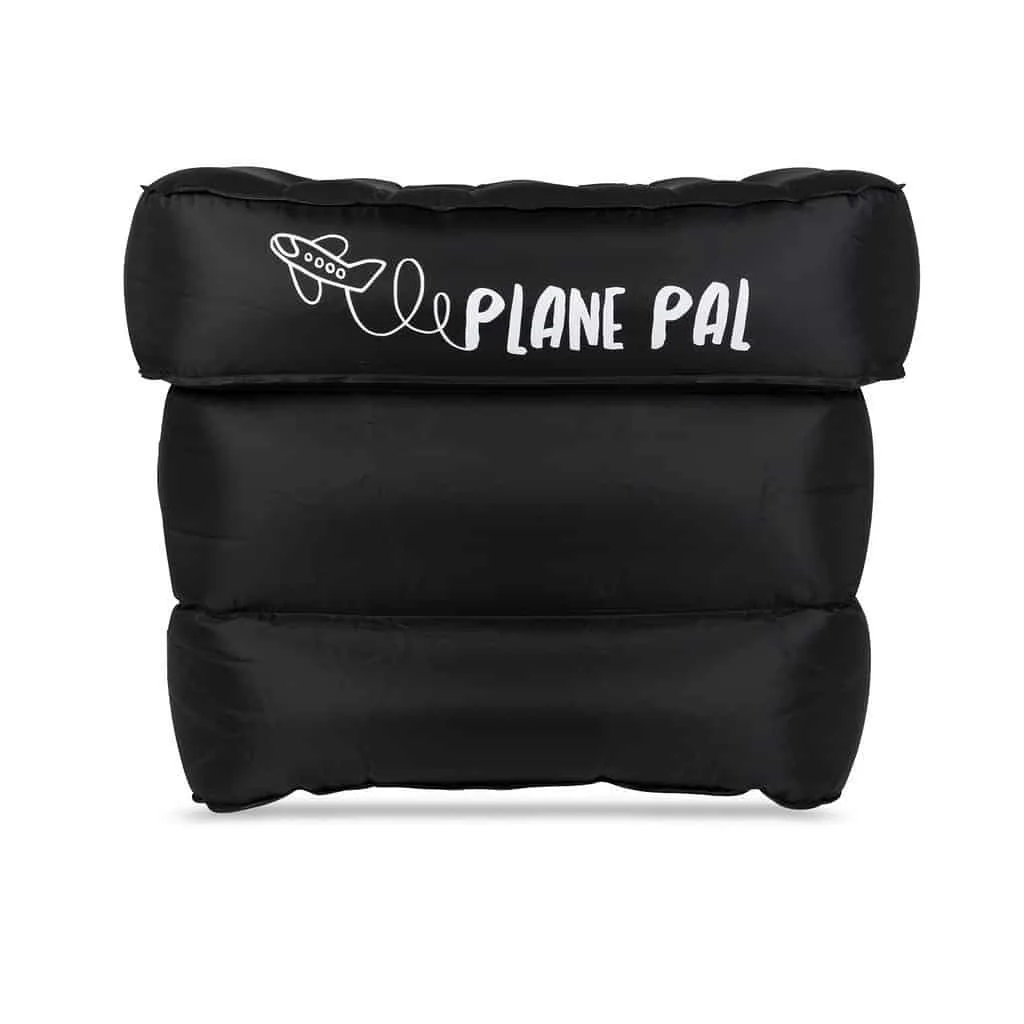 Obviously this is a bit of an investment as it's not guaranteed to be able to get a spare seat. The good thing is you can use it for any future trips as your baby becomes a toddler / small child.
If you are certain you are going to have baby on your lap for a long journey there is a Sky Mattress which essentially goes on your lap and acts as a bed for baby to lie down.
Click here for more information on inflight sleep aids.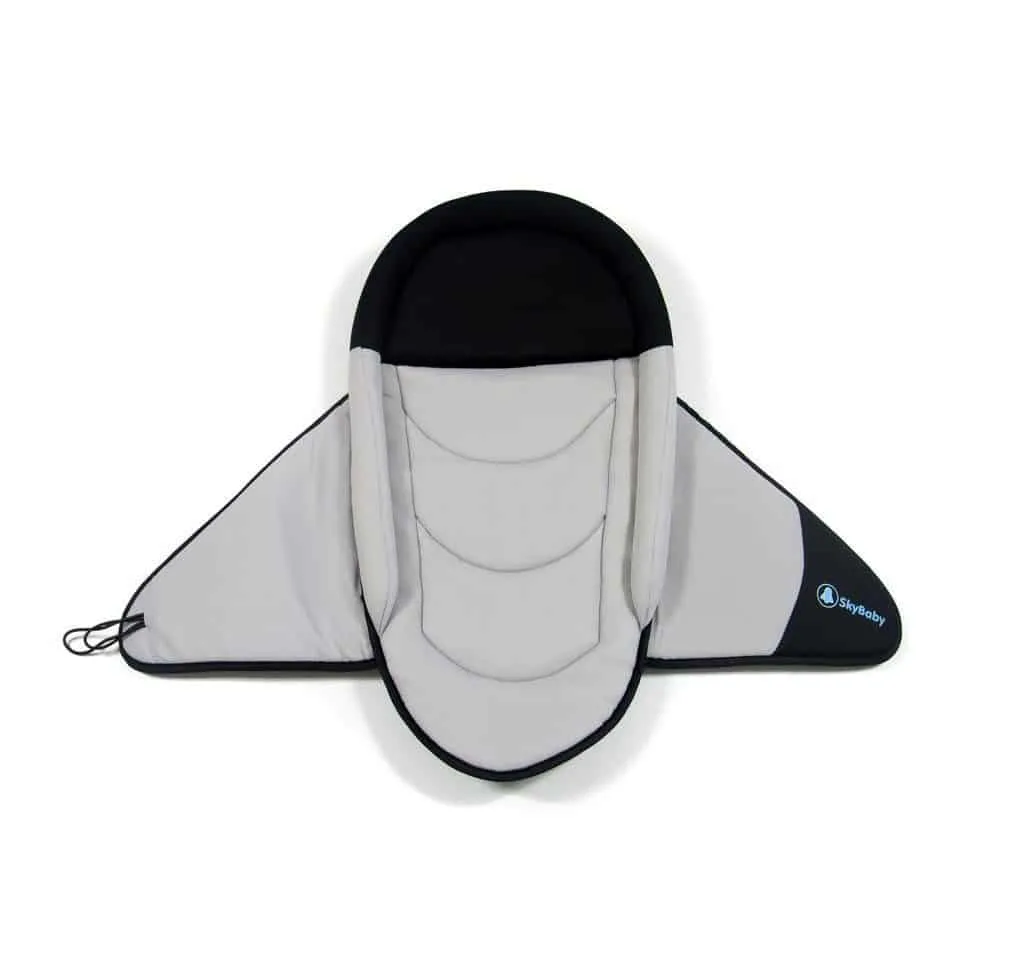 And here for more information on Sky Mattress
So that's it! These are my top picks when it comes to baby travel gear! Whilst you won't need each and every item for your next trip maybe some of these will be helpful.
Have I missed anything? What is your number 1 product?
Leave a comment, I love hearing from you.
Disclaimer: This post is sponsored by Keep Em Quiet, as always all views expressed are entirely my own.
You may also like: