It's that time of year again when the sun is out and school is almost over. Are you excited? Some of us will staycation whilst others will jet off to beach destinations.
The lead up to school finishing and going on holiday is always manic and I know as a parent you're frantically preparing in your mind!
I've come up with this neat little summer holiday packing list for families. Not to mention all the cool new things to keep the kids entertained on the journey.
Oh and of course, we have some cool things for mum and dad too! How many times do you get things for the kids, and not yourself, huh?!
I am listing everything out here for you to discover and enjoy, if you just want the printable list feel free to pick it up at the end of the post!
Family Holiday Checklist
I am just as excited for you about your holiday! I literally get butterflies thinking of new adventures, it's so great for the soul and family bonding, but lets face it sometimes it can be stressful too.
It can sometimes be related to keeping the kids entertained on the journey or navigating a busy airport. I have you covered with activities for the kids!!
Travel Toys for Kids
Fun Luggage Solution
We never leave home without some decent new entertainment for the kids. The absolute key to a successful journey is keeping them happy and entertained, and tummies full with some fresh snacks.
Getting kids through the airport can be a pain at the best of times, especially when it's an early or late flight!
I find the biggest distraction is having a ride on scooter suitcase or something equivalent helps them forget they are tired!
If you are doing long haul, I highly recommend the JetKids Bedbox
as this nifty scooter turns from a ride on suitcase into a bed for long haul flights!
If you are not going too far and only hopping on a plane for a few hours, a ride on scooter is a really good option to get through the airport without any tears.
For More information on the Ride on Scooter in the UK click here
For everywhere else including USA click here
.
Inside The Kids Hand Luggage
Activities for the Journey
We love love love the Keep Em Quiet bags that are full of age appropriate entertainment specifically designed for traveling. You can get a bag for long or short haul trips and it just saves so much time.
I use to make these kind of bags myself from the pound /dollar shop but I just don't have as much time!
For more information on Keep Em Quiet Bags, click here.
Tablet and Headphones
I'm a firm believer in only using the tablet as a last resort when we travel. I find it most useful when my kids are getting tired, need to rest and are finding it hard to zone out of the stimulating surroundings.
We use the Amazon Fire tablet
as it has really good parental controls and we can download movies with our Prime account before going away.

The selection of apps are all relatively educational as tablets go and we don't mind the kids using this particular brand so much for this reason.
For more information on the Amazon Fire Tablet click here
.
As for kids headphones, I find the Bluetooth option to work best, it's really much better not needing the connection lead. Another great tip is to get volume limited headphones so they can't damage their ears with noise.

For more information on Bluetooth headphones click here
Don't forget you can get tonnes of free movies with a trial Amazon Prime account. You can download all the free ones to the Amazon Fire tablet before leaving. They offer 30 days free trial and you can cancel any time. Top tip!!!
Try Amazon Prime 30-Day Free Trial
Travel Sized Film Projector
If you are not into the mindless scrolling on tablets but still want the kids to be able to enjoy a movie on holiday evenings. Wether in the backyard at home or in a hotel room, the Cinemood travel sized projector is amazing!
We've been trialing it out recently in prep for our big trip and I love that the kids engage with the movie more and are not tempted to scroll.

For more information on the travel size film projector click here.
Cultural Activity
If you read my content regularly you will know I'm really keen on engaging the kids in the cultural aspect of the trip. Our Little Globe are now selling country specific packs for places such as France, Spain, Italy, Greece, Netherlands and even Cornwall.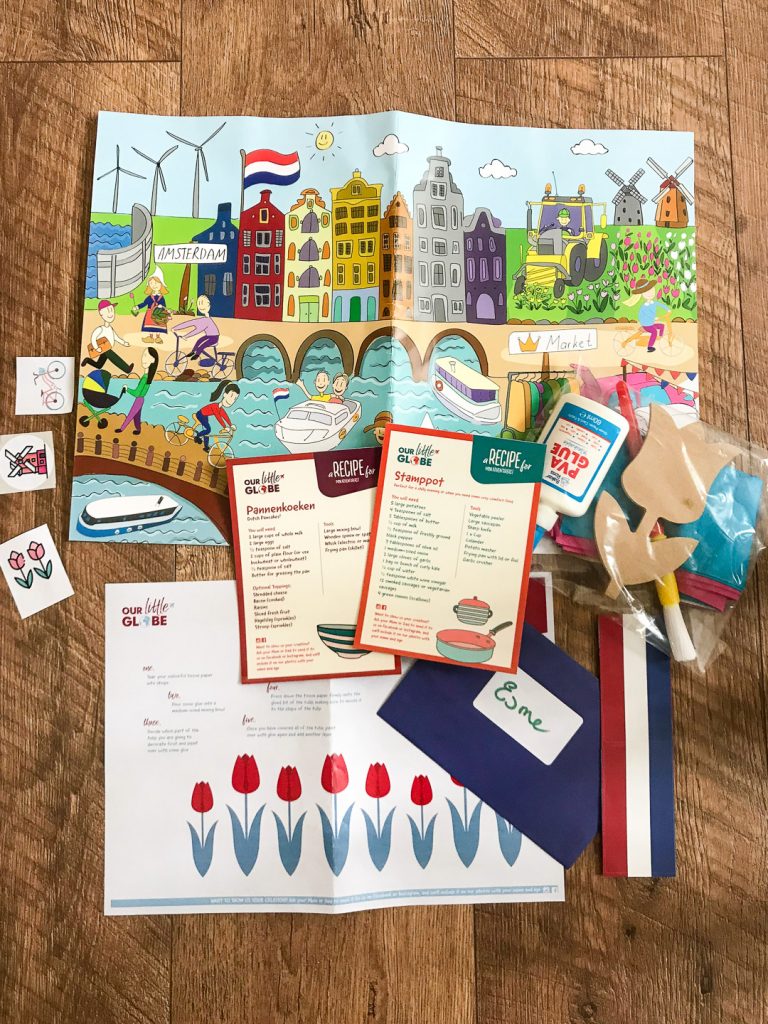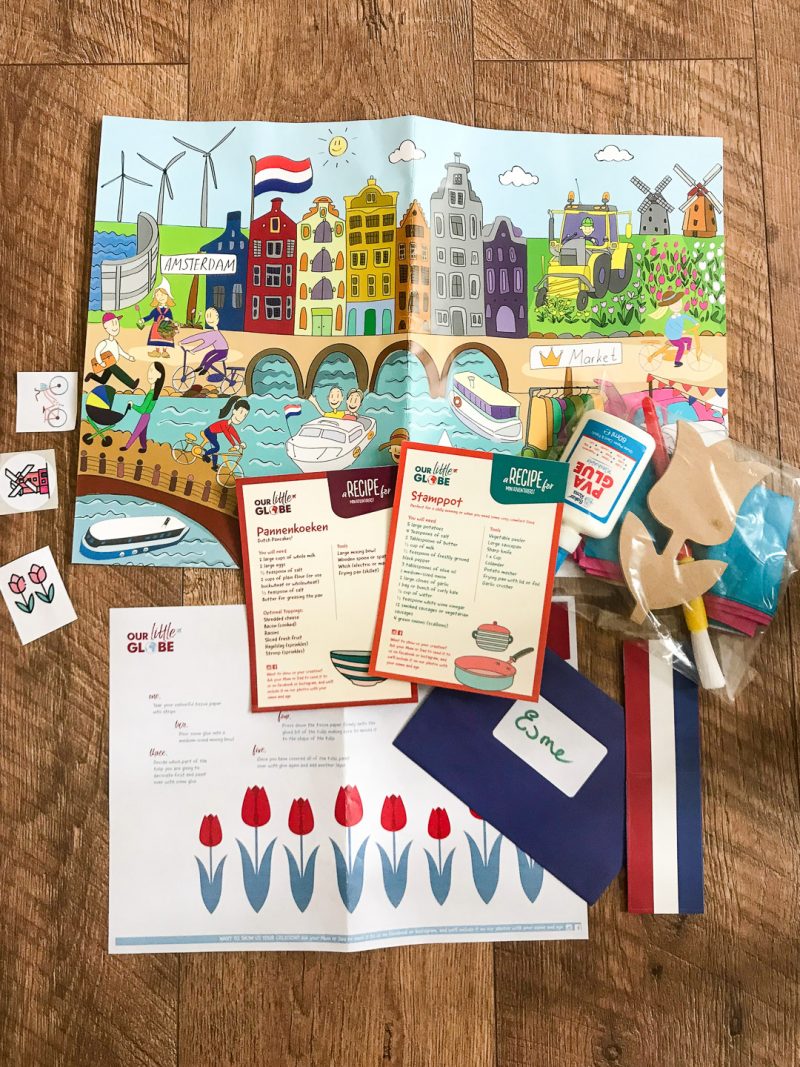 These packs provide kid friendly maps and activities so they have the opportunity to learn and engage with their surroundings.
Kids Camera
Another great way to engage a child in their holiday is to give them a camera
to take pictures. Our little one loves doing this and when we get home we can create a photo book together with their very own shots. It's such a cool thing to do in terms of reminiscing later as well as enjoying the trip.

For more information on kids cameras click here
.
Pool Toys
When we go on a summer holiday, the kids don't need much for the day to day in terms of entertainment. The new surroundings is usually more than suffice, however I always bring toys for the pool as it's our one chance to really improve their swimming.
I like bringing toys that sink and some that float to improve their underwater skills. Likewise, having them reach and grab whilst swimming (under adult supervision) improves their arm and leg movements when they stretch out.
For more information on pool toy packs click here
.
My little one won't go anywhere without her goggles so don't forget them. Likewise we got her swimming with one of those life vests that has removable floats. We slowly took away one by one throughout our trip previously and now she swims unaided.


For more information on kids goggles click here
or here
for swimming life vests.
Electronics & Camera Equipment
We've touched on some cool gadgets for the kids, but what about things mum and dad can enjoy too? We are so IN LOVE with our GoPro Hero 7 camera. It's the best piece of kit for epic family shots in a hurry.
We all know kids don't stay very still for long. The GoPro is all about action shots so the clarity is insane, not to mention the wide angle and of course it's waterproof so ideal for beach days and swimming shots.

So if you are looking for a new camera this year, I can highly recommend the GoPro Hero 7 because of it's internal stabilisation too. You don't need a gimbel, it's all built in.
Click here
for more information on the best action camera for families
On The Go Internet
I don't know about you but my phone doesn't always have low cost roaming in certain countries. That's why I generally use Solis internet on the go.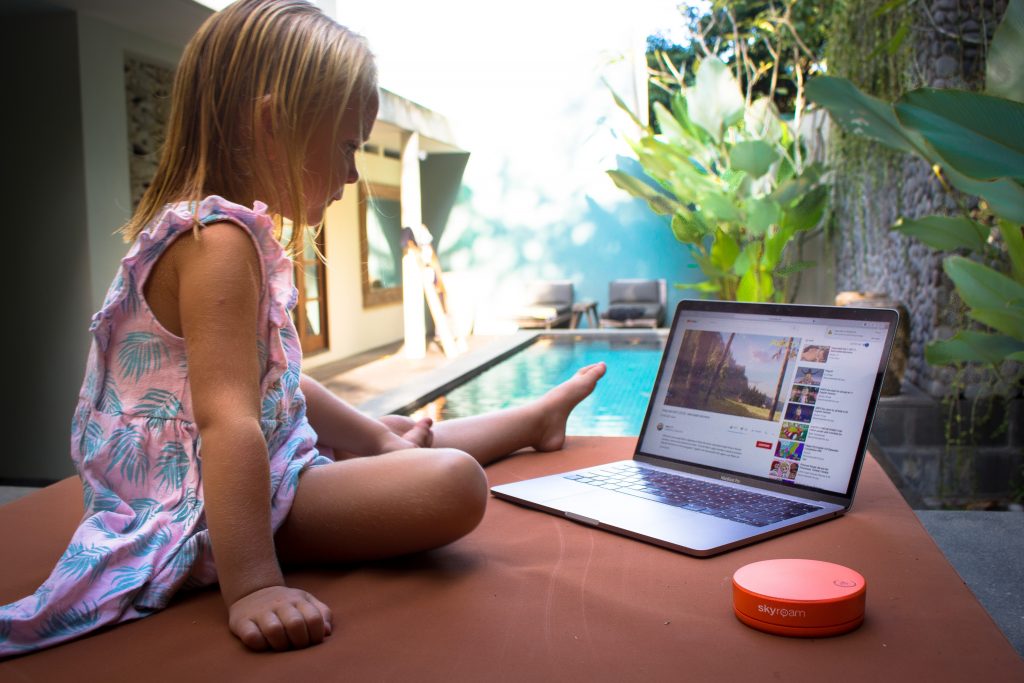 It is a small orange accessory and allows up to five devices to connect to it. You can pay by the day, week, month year etc, or you can simply rent it for your trip. An added bonus is the accessory also works as a battery charging pack so you can also get power on the go.
Don't forget your charger leads!!!
Click here for more information about Solis.
In Your Suitcase
Guess, what? I only ever bring one suitcase on holiday for my family of four! My secret is not over packing, only bringing what you need and packing cubes
! Nothing new just plain and simple! Here's what to pack in your suitcase:
Summer Wear / Clothes
Underwear x number of days for each family member
3 socks each
1 pair of dress up dress down waterproof sandals for each person
1 pair of trainers for each person
Two swimming togs per person
One sun hat
per person
T shirt and shorts for number of days for boys or for girls have half the amount in summer dresses
Beach towels
Luggage scale
Toiletries
Toiletries is something we have nailed down! One of the best things you can do is buy a small tin and a bar of shampoo and body soap.

I personally use the Lush one and it gets lots of washes out of it for the entire family. The benefits are reducing your weight and liquid! I am yet to find a really good conditioner bar but there are many on the market these days.
For more information on shampoo bars click here
Suncream
I'm a big fan of the Green People Suncream, It's marine safe, has UVA and UVB protection and goes up to SPF 30. Likewise it's really good for sensitive skin and comes in compostable packaging. It's such a good decor aware brand and such nice product.
Click here
for more information on Green People Suncream
Insect repellent
My kids are so lucky, they don't get bitten that often by mosquitos. However, I get nailed! I was so happy to discover the Incognito range. The repellent element is weaved into everyday products such as shower gel
and moisturizer
.
It also comes in a spray
and a roll on if you prefer not to use it in your products. When I go to countries where mosquitos are a concern I usually use the repellent in everything as the multi-prong approach has meant I don't get bitten at all which is quite unusual for me!
Also don't forget your:
Toothbrush
Toothpaste
Deodorant
Reusable swim nappies for babies
(These are all included in the printable checklist below)
First Aid & Medicines
Don't forget to bring a little first aid bag with you. I tend to stock it up with over the counter medicines, such as painkillers
, diarrhoea
, nausea, vomiting and allergy medicine
for any eventuality.
We also bring a small pack with plasters
, disinfectant wipes etc.
For more information on First Aid kits and medicines click here.
Documents
Travel Insurance
Whilst I know thinking about all the admin and documents for a trip is boring, it's of course really important!
I am a stickler for advising really good travel insurance. I use to work as an aeromedical repatriation nurse and I collected people who became unwell on a trip.
I classify them as the lucky ones that provided a travel nurse to go and pick them up. The unlucky ones are those that didn't have travel insurance. So basically don't forget to get your travel insurance and make sure you get one that has really good medical cover.
For our recommended travel insurance click here.
Passports & Visas
Have you checked your passport expiry date? Don't forget you need to have a minimum of 6 months left on your passport to enter some countries, so don't forget to check. Will you need a visa? Have you arranged it? Don't forget to check if you are not sure.
I have all of my family passport details typed into a locked document so I can copy and paste it easily for checking in online. Checking in online is a great way to reduce the fuss at the airport.
Guide book
Have you got a guide book to the area yet? We are always a big fan of Lonely Planet
, however there are so many more great e books out there these days, especially with family specific focus.

Type (your destination) family travel guide into Amazon and you will find some amazing things. You may even find a book especially for the kids on the destination.
Currency Exchange
There is no doubt getting your cash changed before you get to the airport is going to save you money. I generally use a money comparison site to see where I will get the best deal on currency exchange.
All you have to do is type the amount of your currency you want to exchange and what you want for your holiday. It will tell you the best place to exchange your money in terms of value.
To compare currency exchange click here.
In Your Hand Luggage
All of your documents listed directly above will be in your hand luggage. Here are a few other things
Book or Kindle
Nappies, nappy rash cream and wipes if needed
Change of clothes for younger kids
Neck pillow
and eye mask
Mini freshen up kit with toothbrush, small toothpaste, face wipe and face moisturiser.
Summer Holiday Checklist For Families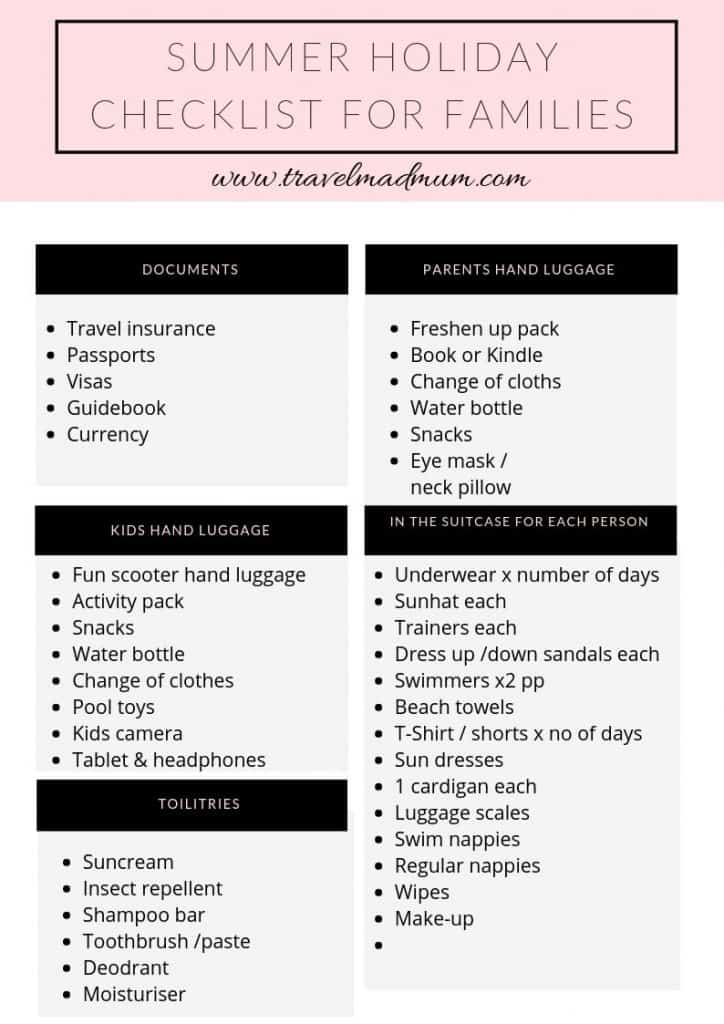 Be sure to pin this post for later!
You May Also Like:
Dealing with Jet Lag in Babies, Toddlers and Kids
Disclaimer: This post contains affiliate links. By using them it does not cost you any extra, we share a small commission to go toward the travel piggy bank.