England's capital city, London, was my home for more than 16 years! It's an amazing city to explore as a tourist as it's steeped in history, culture, and fun things to do.
Over the last few years, I've also learned it's also a great city to visit with kids.
There are loads of family-friendly activities and days out, and getting around the city is easy and safe. You won't need to hire a car as public transport is good enough to rely on for two days.
That being said, London is a big city. It covers an area of 607 square miles with a population of over 8.5m, making it the third largest city in Europe behind Moscow and Istanbul.
So, to make the most of a short trip to London, you will need to plan and decide some things you'd like to do in advance.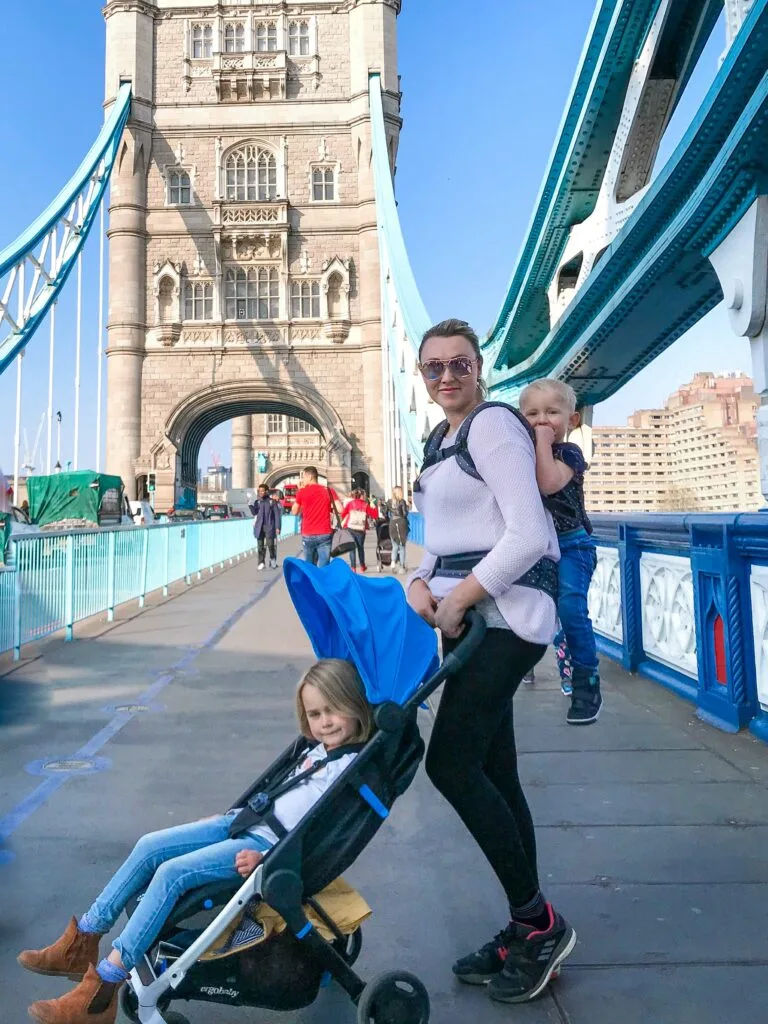 That's why I've put together this handy London 2 day itinerary with my suggestions of what not to miss!
Included in this post are suggestions for the best places to eat, fun things to do, and where to stay!
Two days in London probably won't be enough to see everything, but it will give you plenty of time to have loads of fun and fit in some of the best tourist sights and attractions.
If you plan your visit well, you can make the most of your time in the city.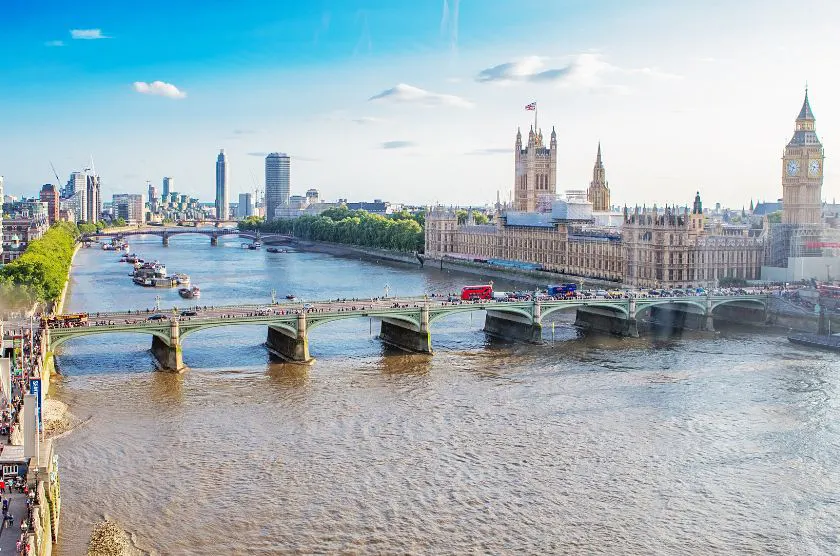 Different people will have different priorities and interests, so I have tried to give a few options here regarding activities. This London in 2 days itinerary is also catered to those visiting the city at different times of the year.
London is a great destination all year round, especially during the holiday seasons such as Halloween as well as Christmas. There is always something to do, come rain or shine.
How To Get Around London In 2 Days
If you're travelling to London from elsewhere in the UK, you can book your travel via train on the Trainline app or website. The Trainline offer excellent rates and makes booking travel super quick and convenient.
Also, if you don't have one already, you can get further discounts on travel by signing up for a UK Railcard. You can apply the Railcard discounts within the Trainline app which is good for those living in the UK.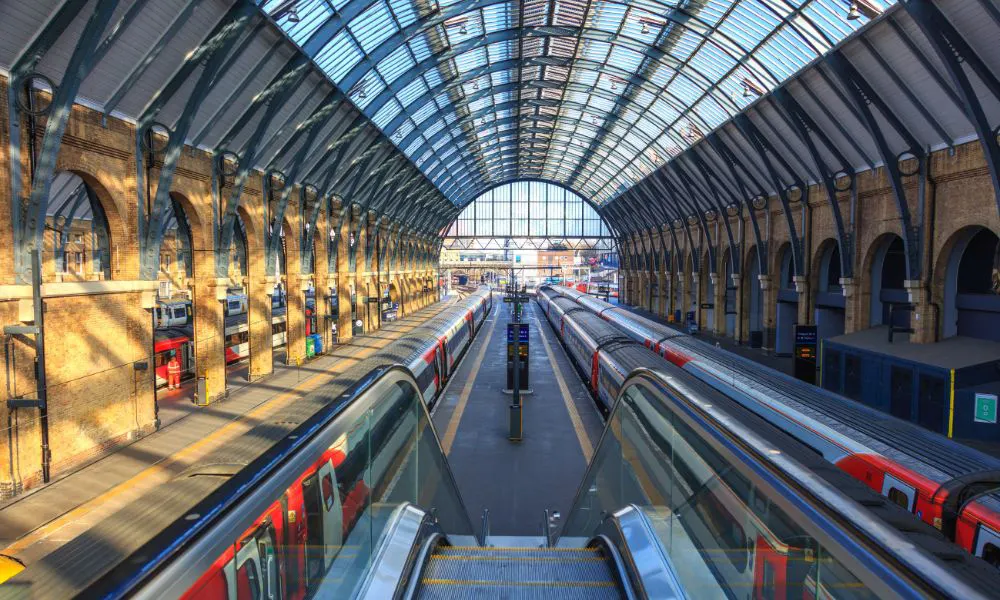 Getting around in London is relatively easy in comparison to many cities. I would recommend travelling by public transport or using cabs as there is a lot of traffic and parking is very limited.
The London Underground and other rail and bus services are easy enough to use, although they can be particularly busy during school holidays and half term.
Some London Underground stations are fitted with lifts, so look for step-free access if needed.
Check out the Transport for London website for updates on public transport and to plan your journey online.
There can sometimes be disruptions in tube and train services for various reasons so make sure to plan your journey in advance.
Google Maps is also great for planning journeys – you can input your priorities, such as 'least walking', and the app will give you the fastest routes. It is defintiely worth plannind ahead for a London 2 day itinerary.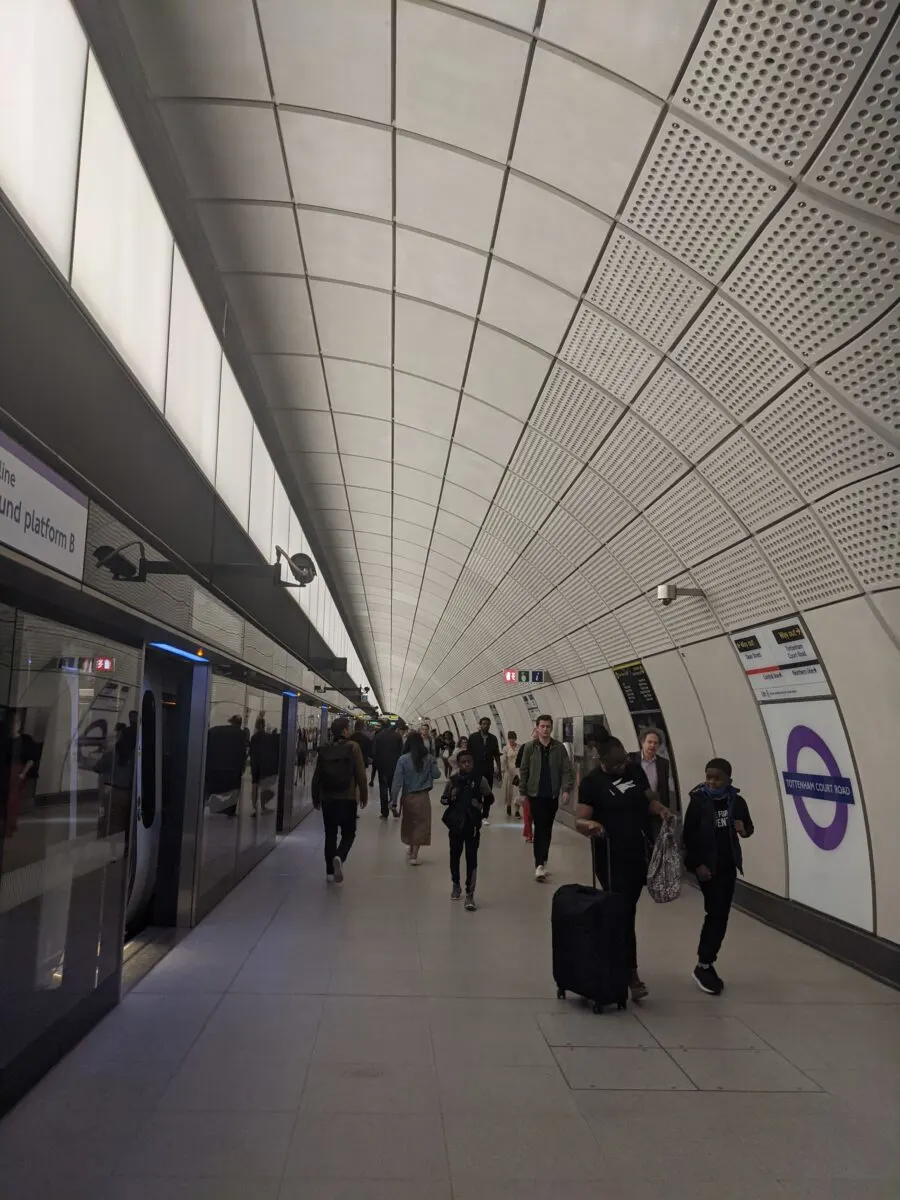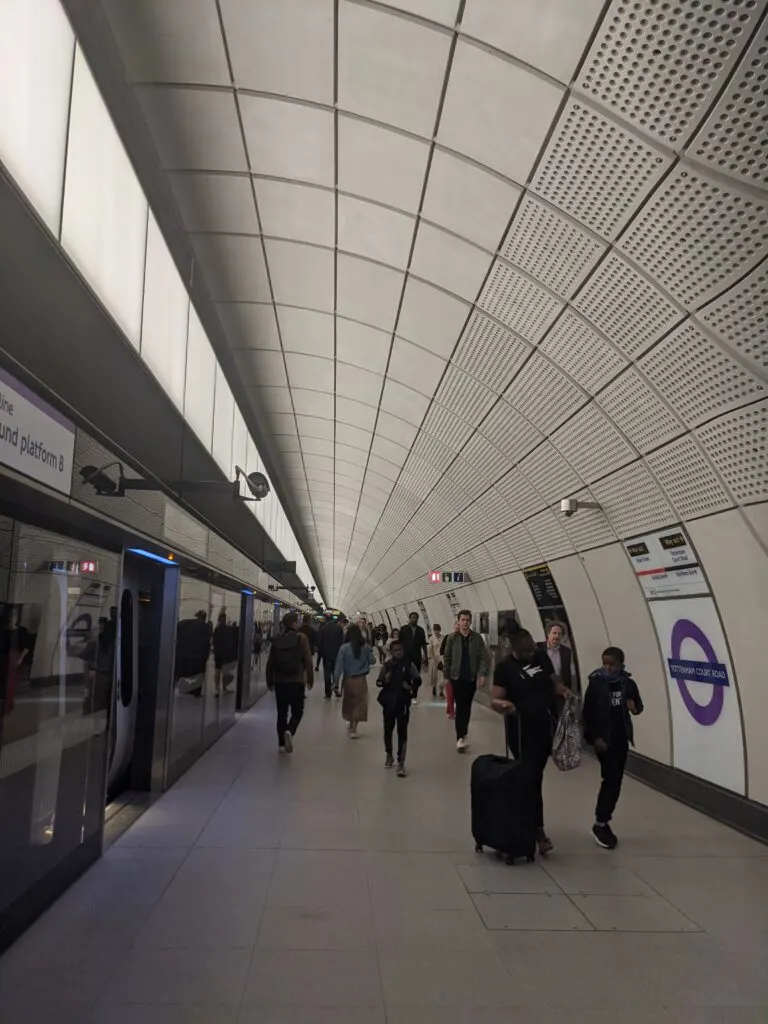 Although some tube and bus lines run 24 hours, most public transport shuts down for the night. So, if you're going to be travelling late at night, make sure you download Uber or Bolt cab apps to get around safely and easily.
These apps are more affordable and convenient than hailing a black cab in the street.
There is also a black cab app called Taxiapp UK, where you can book a taxi on your phone. After all, a black cab is quite the novelty if you don't live in London!
Be aware before you travel, buses in London do not take cash. The best way to pay for your fare on all public transport is to tap the yellow readers with either a topped-up Oyster card or any contactless payment card.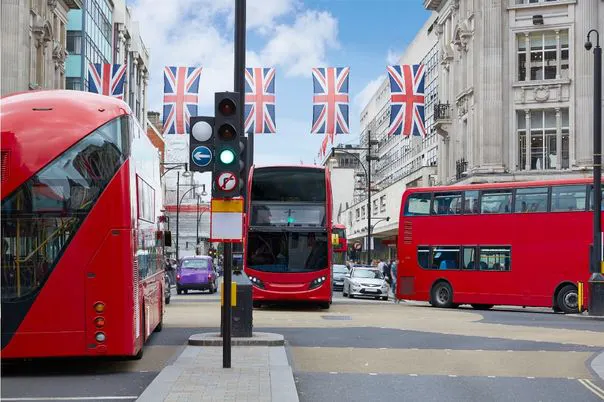 If you head to a railway or London Underground station, you can also purchase paper Travelcard tickets for your trip.
Discounted Attractions
With a GoCity London Pass you can visit a range of attractions without breaking the bank!
Book your tickets to family friendly days out and activities via Attractiontix for good discounts.
See Tickets UK is another great site making savings and discounts on many of London's best attractions including the Tower of London and Buckingham Palace tours.
Where To Stay In London For 2 Days
When visiting London for 2 days there are plenty of deals to be found and affordable ways to visit the best restaurants and attractions.
London is well known to be an expensive place to visit, but in this London 2 day initerary I have included top tips for saving money on everything London offers.
I imagine you first want to organise where you will be resting your head at night. London has a fantastic range of accommodation from luxury hotels to Air BnBs. There is something for everyone's preferences and needs.
If you like to be looked after and have access to a gym or sauna, I would recommend staying in one of London's beautiful hotels.
If you haven't already figured out where you'd like to stay, I would recommend you take a look at my ultimate guide to the best hotels in London.
For an easy, middle of the range Aparthotel, I highly recommend staying at one of Locke Hotels London locations. Locke Hotels are a great option if you're visiting London with or without kids.
Choose from multiple London locations in Kensington, Aldgate, Tower Bridge, or Dalston. For easy access to the top London attractions like Tower Bridge, the London Eye, and the Shard, I would recommend booking a room at Bermonds Locke in Tower Bridge.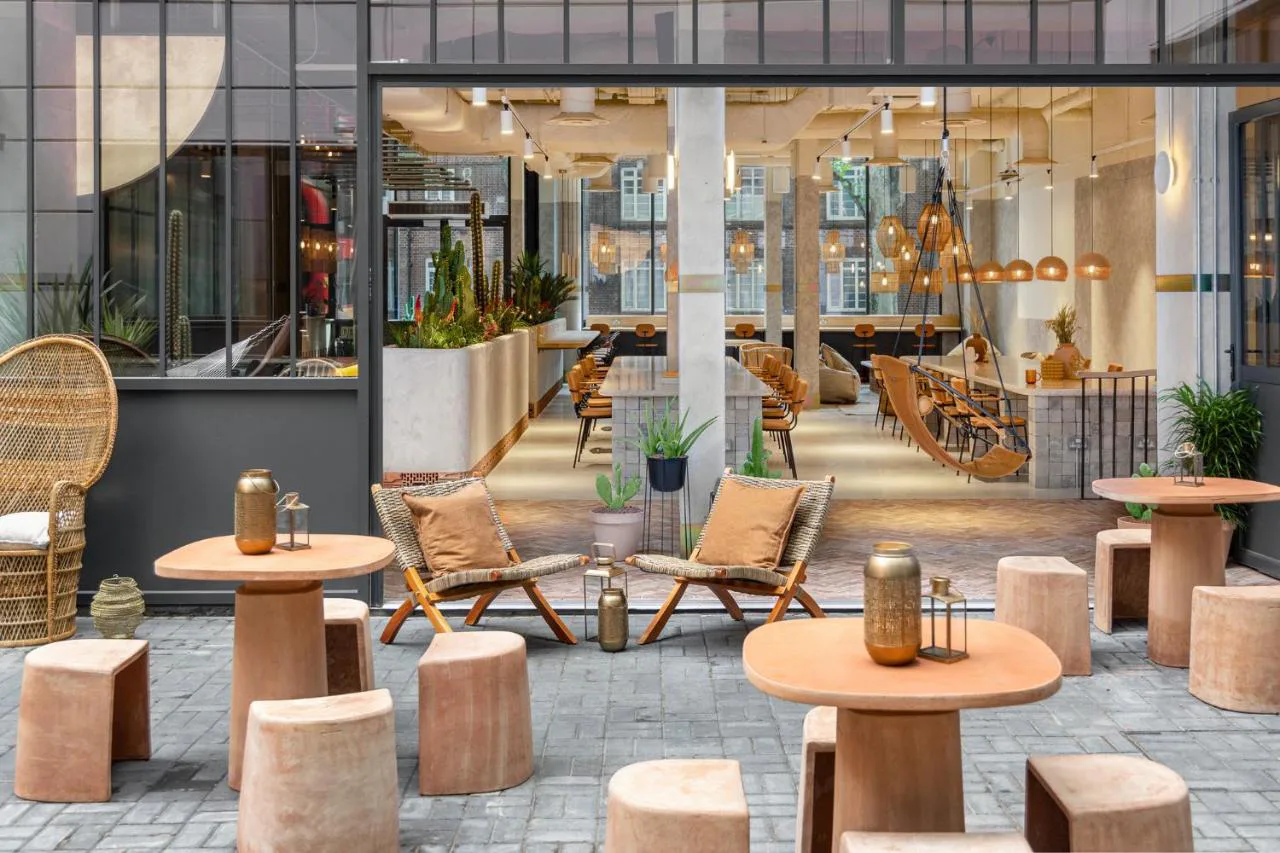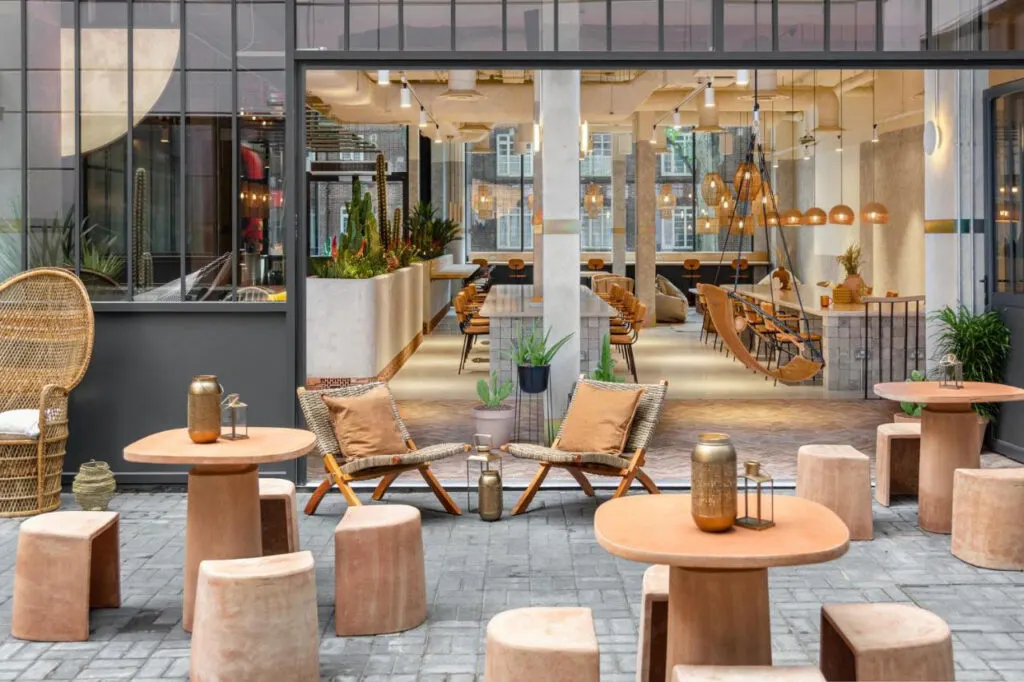 Bermonds Locke is in a super convenient location in Central London to make the most of your 2 days in London. There is a tube station a short walk away, and the hotel is near plenty of shops and restaurants.
The rooms at Locke Hotels come with everything you could possibly need – they are well equipped for staying with children and you can request a cot if you need one.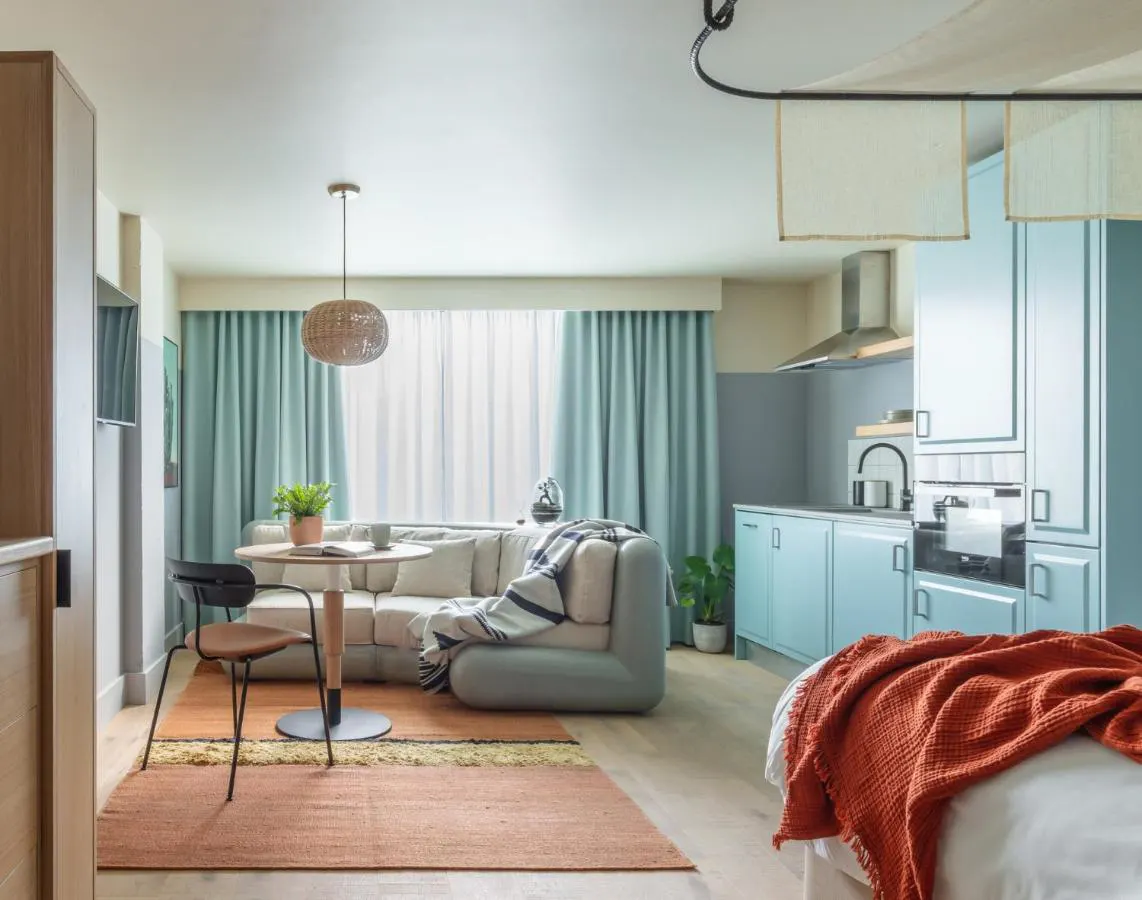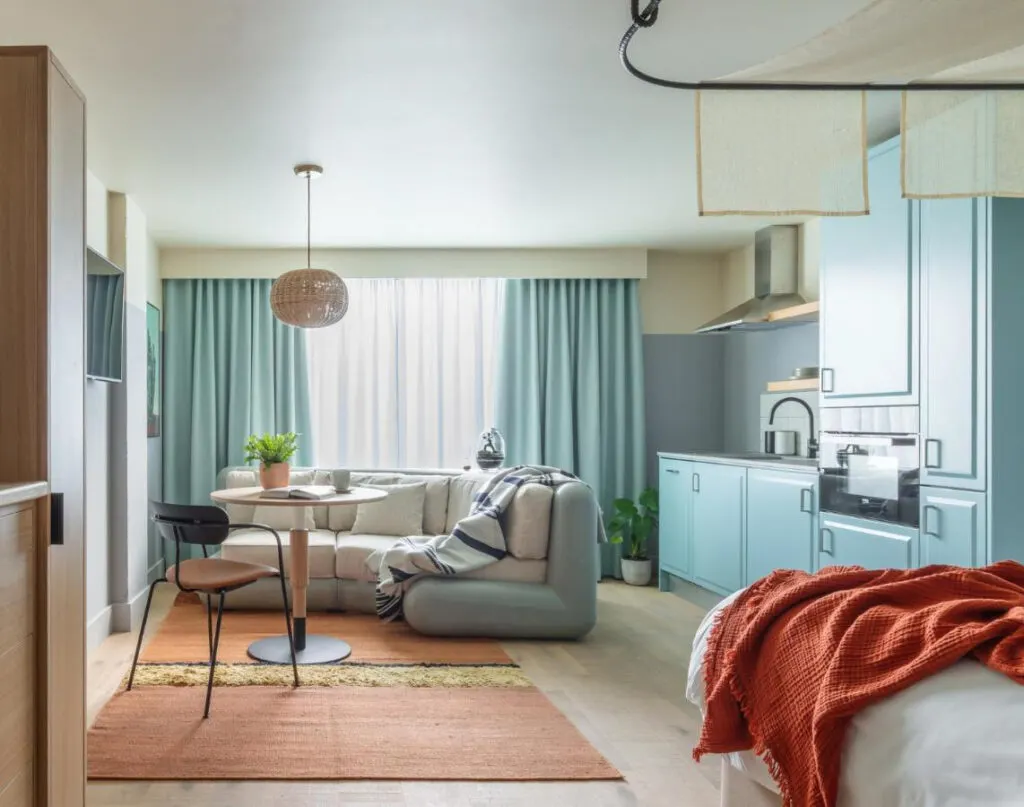 I love staying in Aparthotels when travelling as the facilities are so convenient. The comfort of a hotel combined with the facilities of a home is really handy sometimes.
If you're looking for something more budget-friendly, it's absolutely possible to stay in a hotel in Central London, right in the heart of the city, on a budget.
Travelodge Covent Garden is a budget hotel located in the vibrant are of Covent Garden.
Travelodge Covent Garden features comfortable and functional rooms designed with simplicity in mind. The no-frills rooms are equipped with the essential facilities and amenities including a TV and tea or coffee making facilities.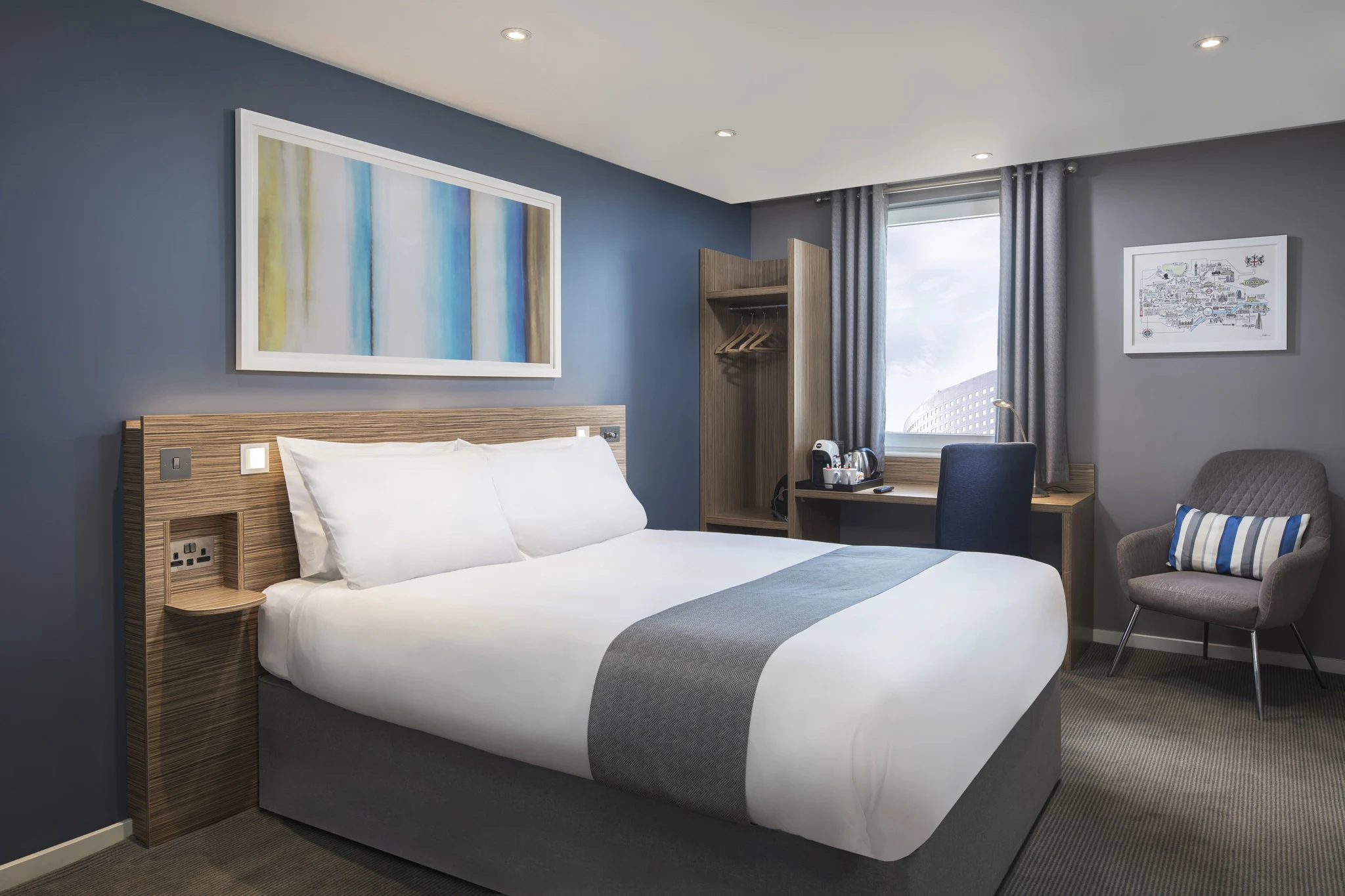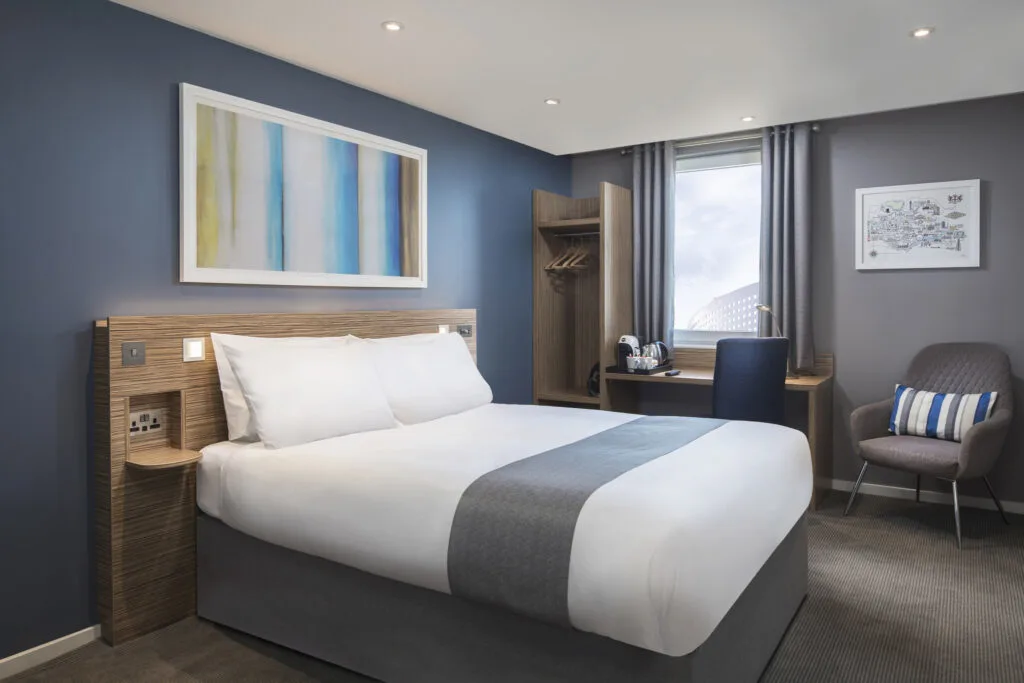 While the decor may be basic, it provides a clean and comfortable environment for a good night's sleep at an affordable rate. One of the main attractions of this hotel is its location.
Travelodge in Covent Garden is in a prime location for 2 nights in London. You'll be right in the centre of the best attractions, theatres, and restaurants.
The hotel is within walking distance of the West End, making it a convenient choice for theatre enthusiasts (see my recommendations for an evening).
Your journey back to your accommodation from seeing a show or enjoying a meal out will be an easy stroll.
The reception is open 24 hours a day so that you can check in and out at any time, depending on your flights. I've found the staff to be really friendly and helpful.
As with any budget hotel, this is a no-frills type of accommodation but will offer a clean and comfortable nights sleep in an excellent Central London location!
Please be aware that the Covent Garden is busy late into the night. Noise may be heard in the hotel, so a Central London or West End hotel might be less appropriate for very young children or light sleepers.
DAY 1: Morning
For your first morning in London, I recommend grabbing a tasty breakfast and a coffee (or tea) at one of London's cutest cafes.
Take the London Underground to London Bridge from wherever in London you are staying, and grab a delicious breakfast at The Breakfast Club London Bridge on Southwark Street.
The Breakfast Club is a favourite spot amongst locals and tourists, and they have multiple locations across the city – a testament to their popularity! The café has a fun, retro interior with quirky décor.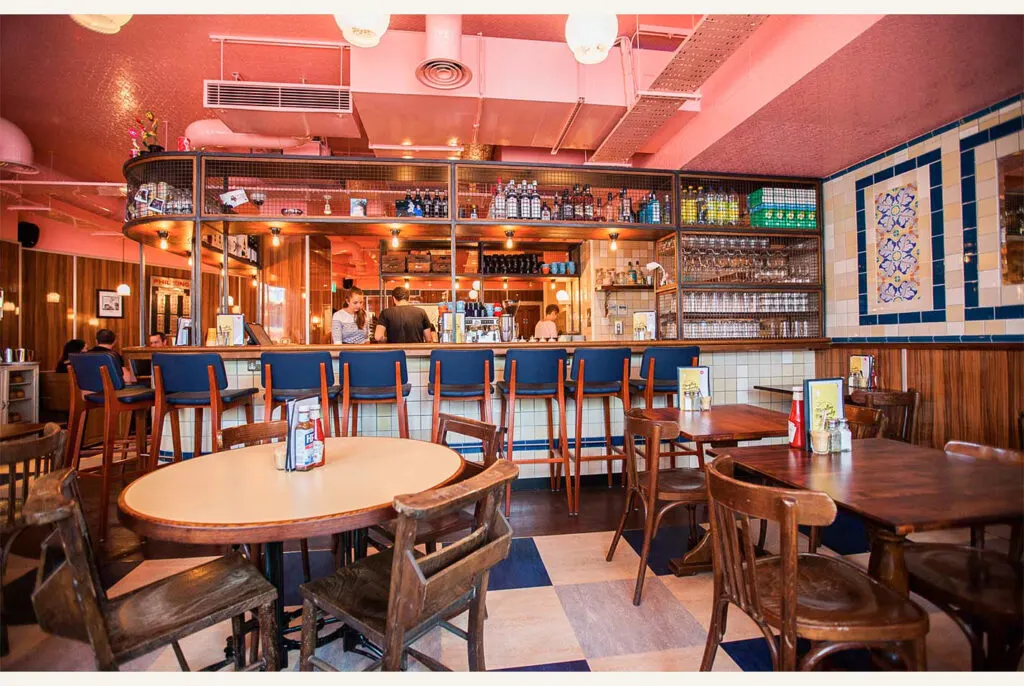 Staff are always really friendly and attentive, and the overall atmosphere is relaxed and charming, making it a great option if you're in London for 2 days.
The menu is the main attraction, particularly for breakfast and brunch lovers. Experience a traditional English breakfast with a twist on your first morning in London!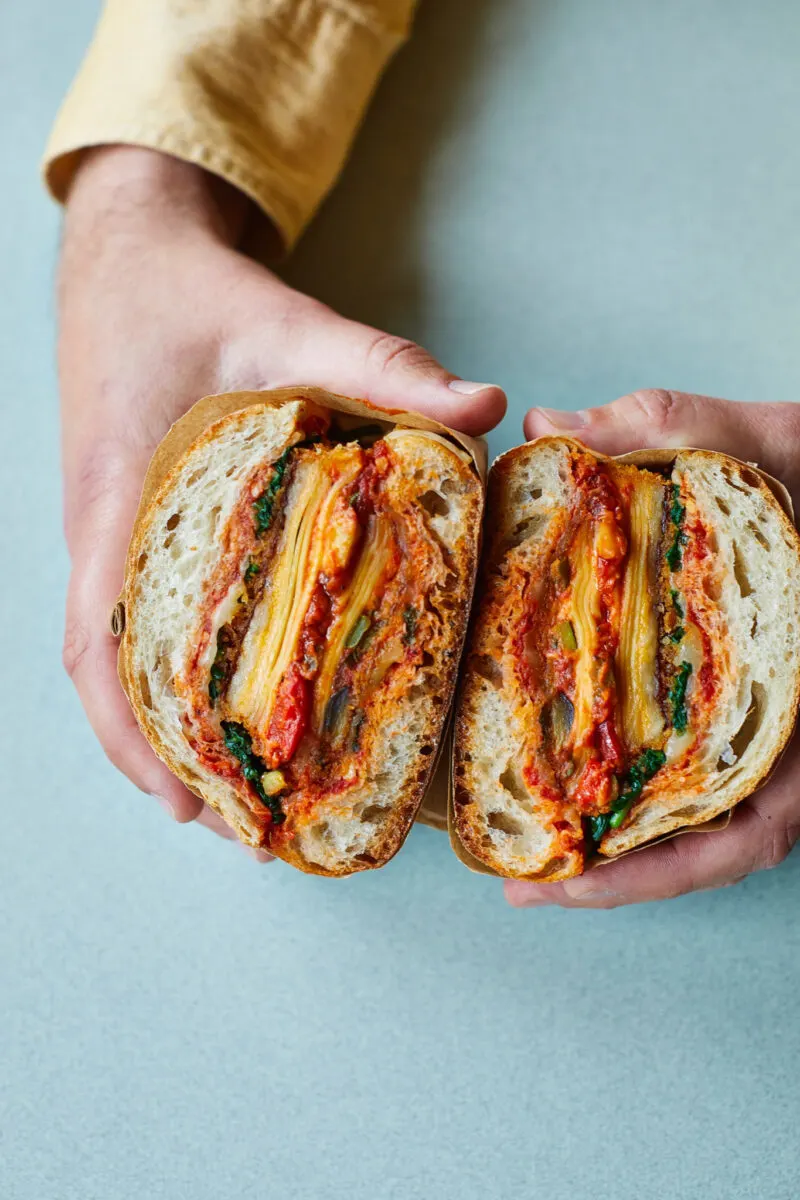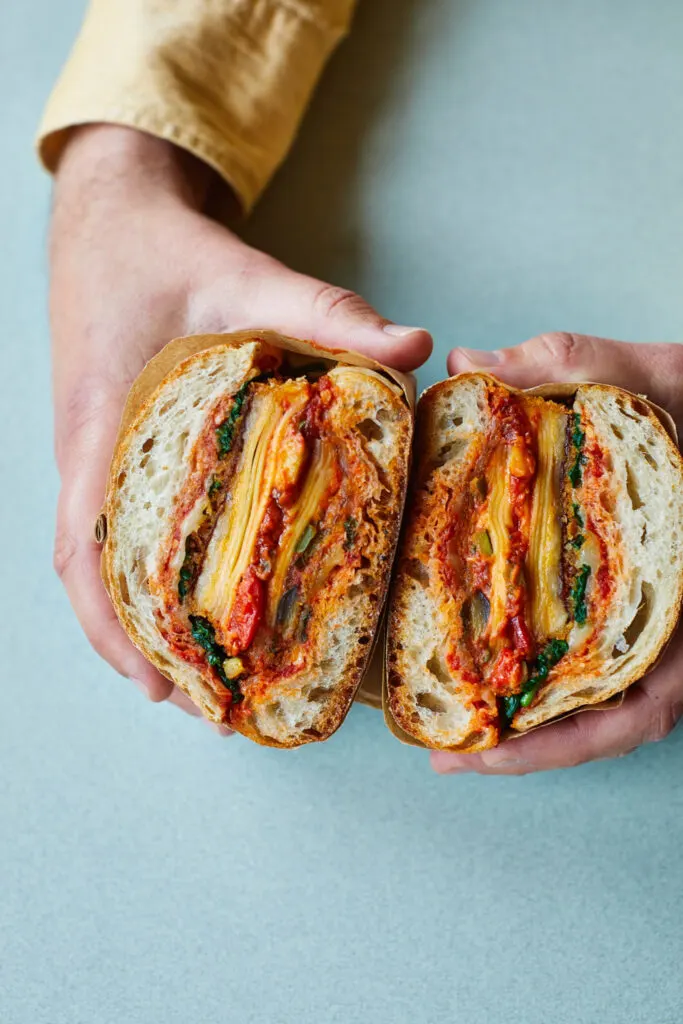 Whether you're in the mood for a hearty English breakfast or fluffy pancakes, The Breakfast Club has something for everyone. Vegetarian, vegan, and gluten-free options are also available.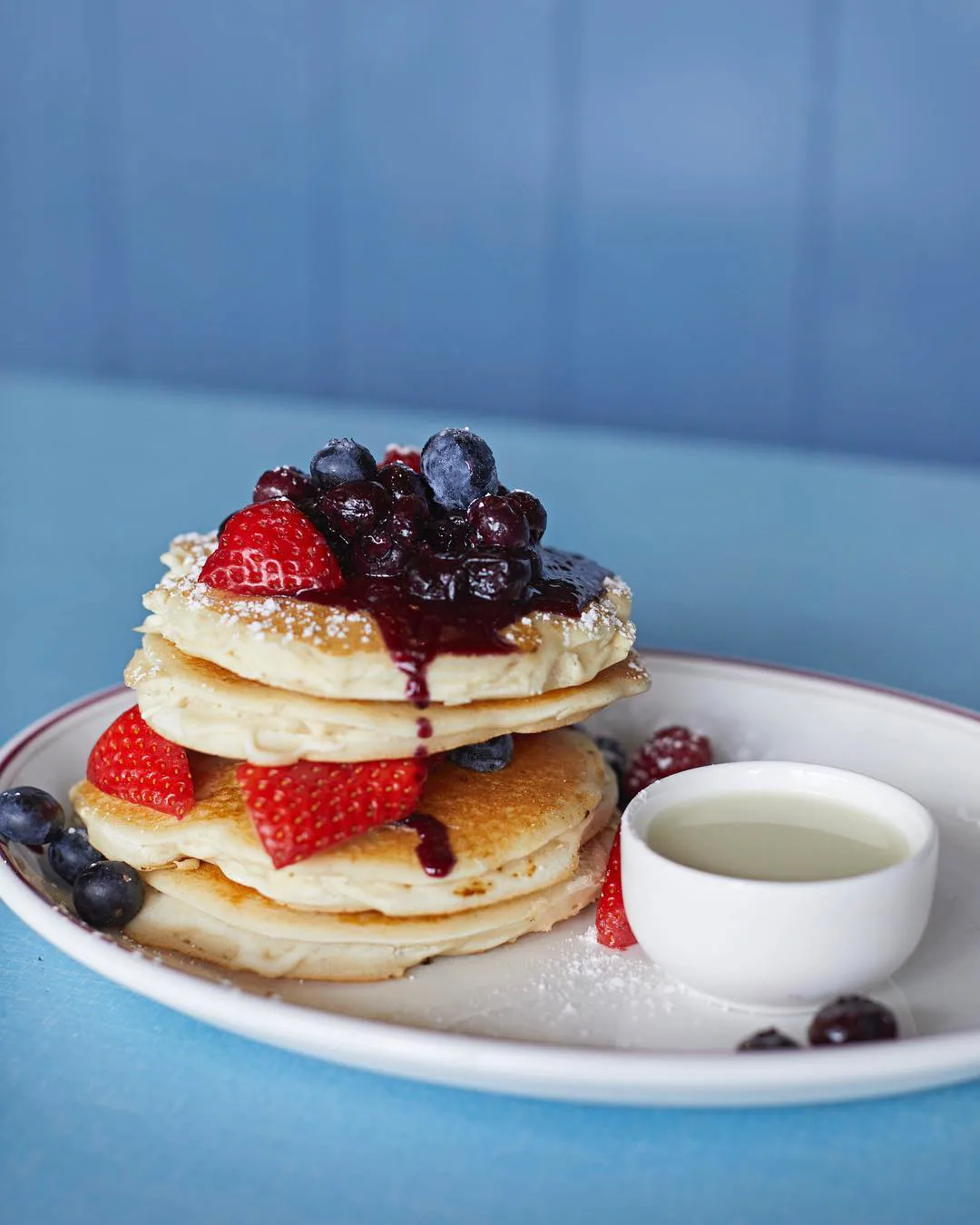 The majority of cafes and restaurants in London offer at least one vegetarian and/or vegan option, and most also offer alternative milks (normally oat milk, soy milk, or almond milk).
My favourite thing about The Breakfast Club is the quality of the food. The café prides itself on using fresh and locally sourced ingredients. The portion sizes are generous – we always leave feeling satisfied!
The café tends to be bustling and busy, resulting in a lively environment that adds to the overall experience. However, this popularity can also mean that the café gets crowded, especially during peak hours.
Be prepared, there may be a wait for a table, but the staff usually work to accommodate guests as quickly as possible.
If you're travelling with very young children this may be something to consider, or you may wish to book a table in advance.
After your breakfast, wander down London Bridge Street to visit one of London's top attractions and tallest building, the Shard. The walk is around 7 minutes.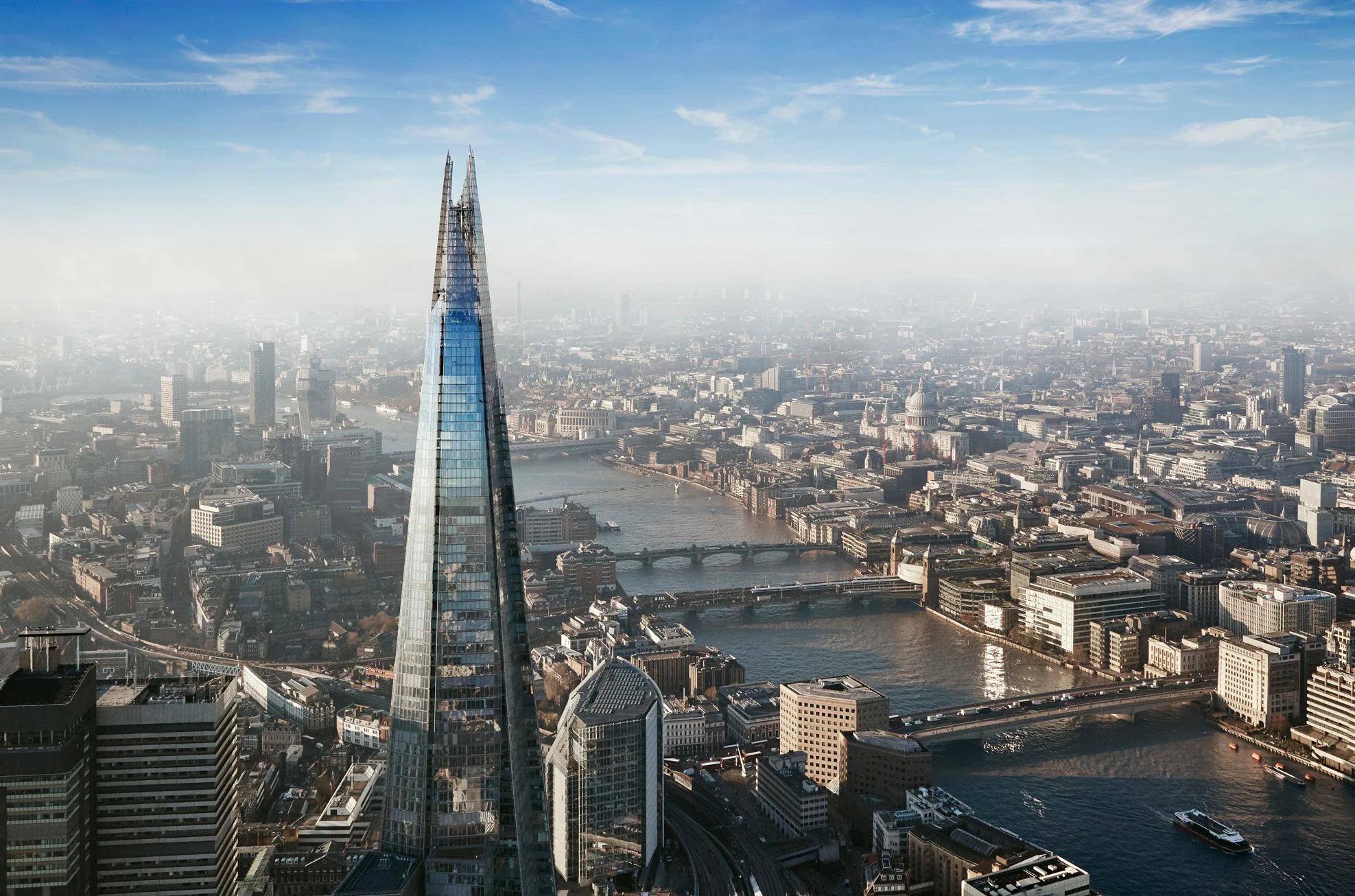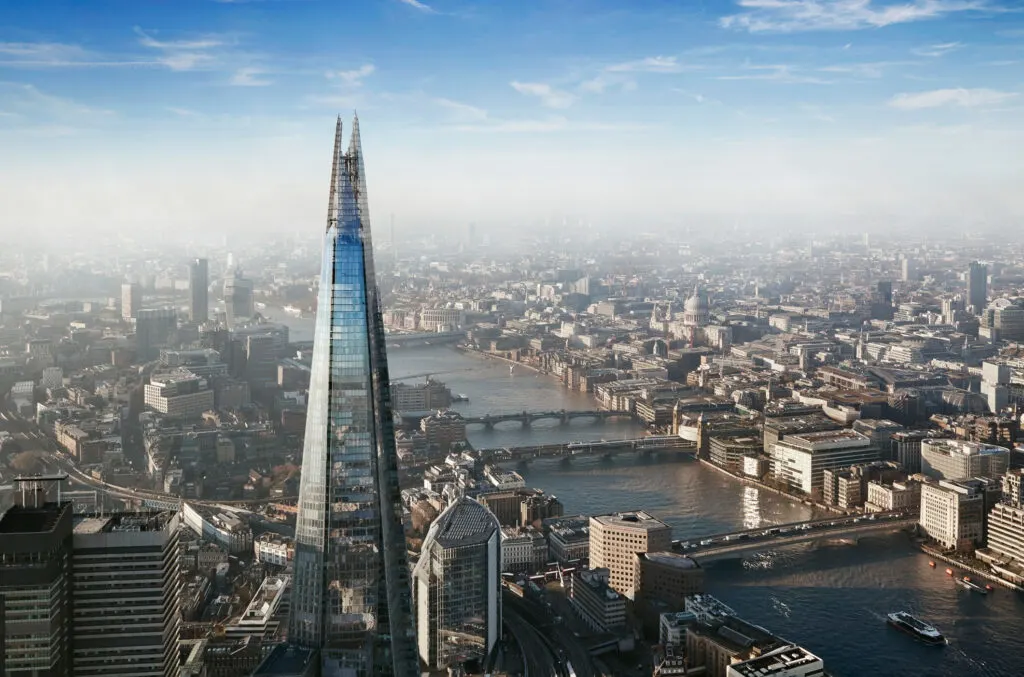 Before heading to the Shard, it's best to plan your visit in advance. Check the website for opening hours, ticket prices, and any special events or offers.
I would recommend booking your tickets online in advance to avoid queues and avoid disappointment – particularly if you're visiting with kids!
For those travelling to London for 2 days with children, keep in mind that there are height restrictions for the Shard's viewing platform.
Children must be at least 1.2 meters (3.9 feet) tall to enter without an adult. If your child doesn't meet the height requirement, they must be accompanied by an adult at all times.
The amazing views of London is the Shard's main attraction – see the entire city from above at 72 floors up.
Spot famous landmarks and you may be able to see other landmarks included in this London 2 day itinerary.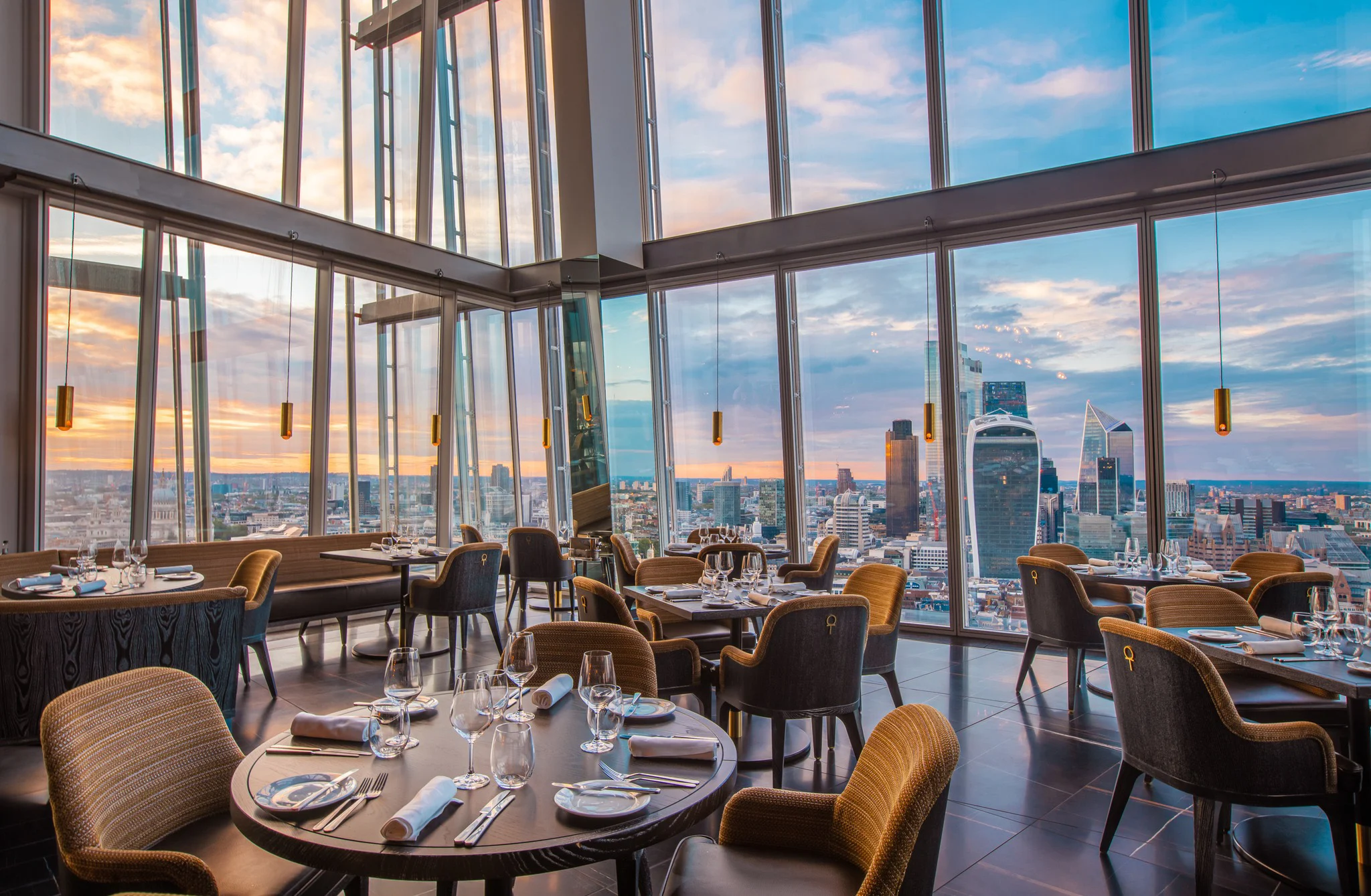 As well as the viewing platform, the Shard offers other activities which are interesting and fun.
The Shard offers interactive exhibits and multimedia displays on the ground floor and Level 69, as well as a Virtual Reality (VR) experience.
The exhibits on Level 69 provide educational information about the Shard's architecture, history, and London's landmarks.
Learn interesting facts about the city and engage with hands-on displays which are engaging and educational.
For an additional fee, why not try out the Virtual Reality experience at the Shard.
There is also an adrenaline-filled experience which is a slide down the building!
The slide down the building has become one of the most famous attractions to this landmark. It's super fun (a little bit scary) but worth it.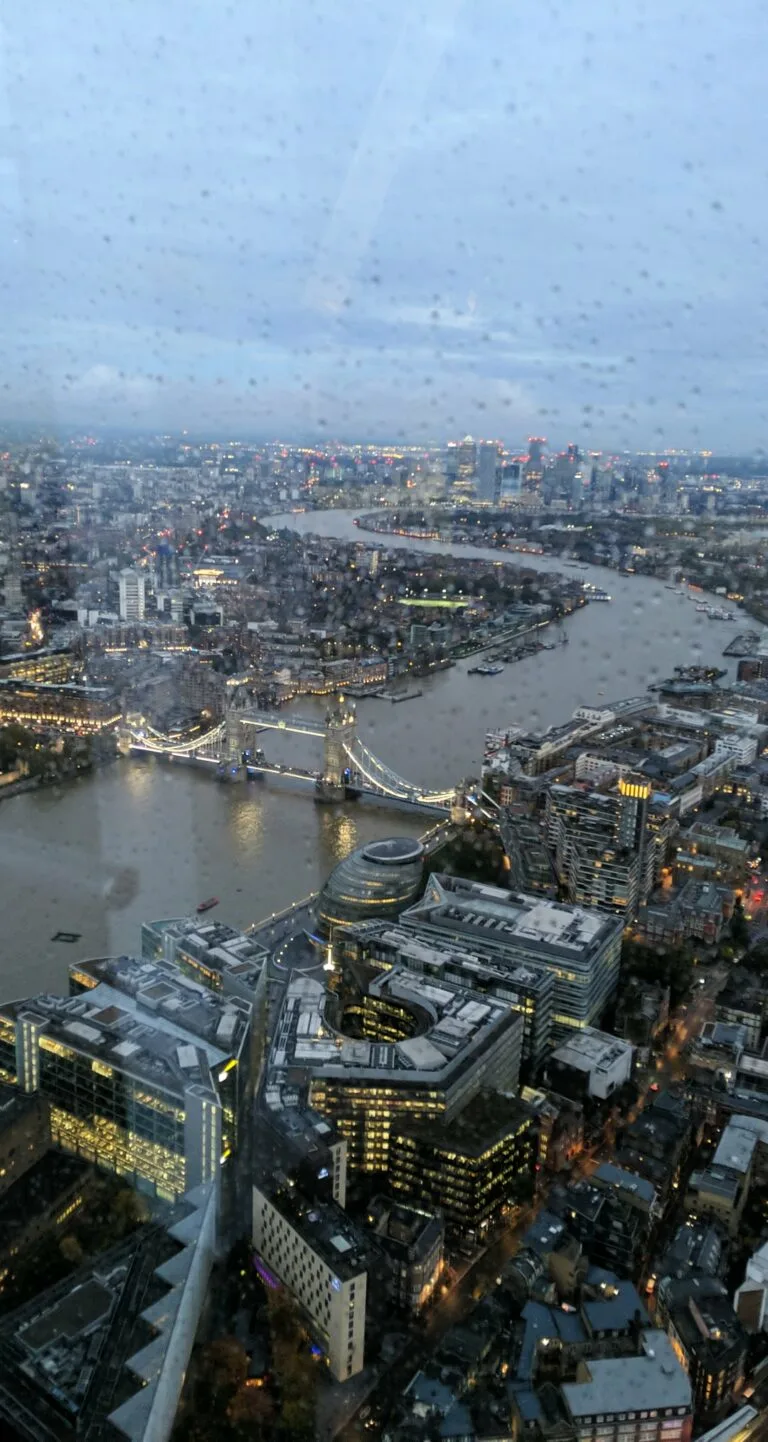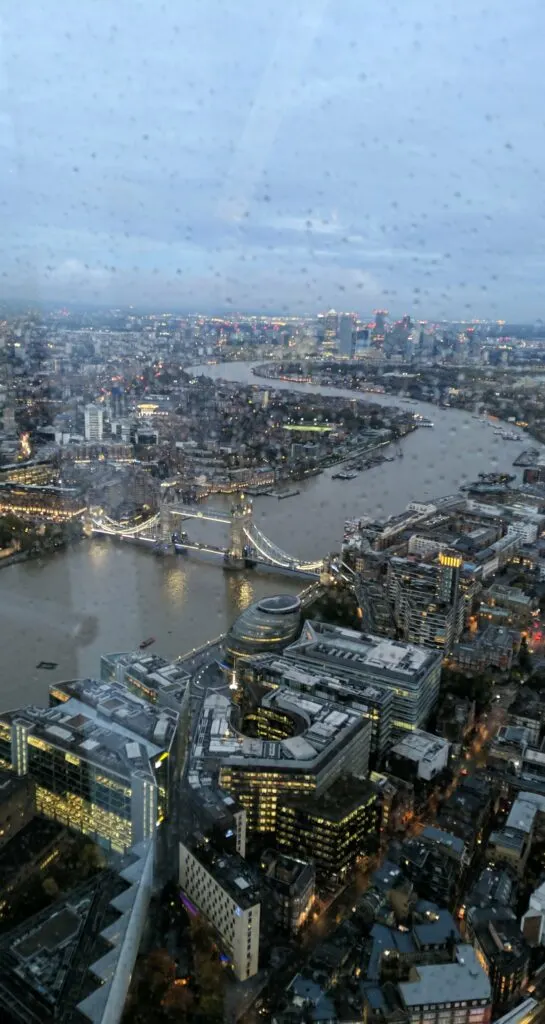 The Shard offers several dining options, including family-friendly restaurants. If you're looking for a meal or snack with a view, consider reserving a table at one of the restaurants.
If you want the view without the price of a ticket, visiting one of the restaurants or bars for a coffee is a top tip!
If it's raining in London, I would recommend waiting for a clear day to head to the 72nd floor of the Shard because the view will be much better.
However, if you've already booked tickets, the Shard is still a lovely experience in the rain! (see my photo above).
DAY 1: Midday
If you've taken a trip up the Shard in the morning, a great place to head for lunch once you're back on the ground would be Borough Market. This is also a great option if it's raining, as this outdoor food market is covered.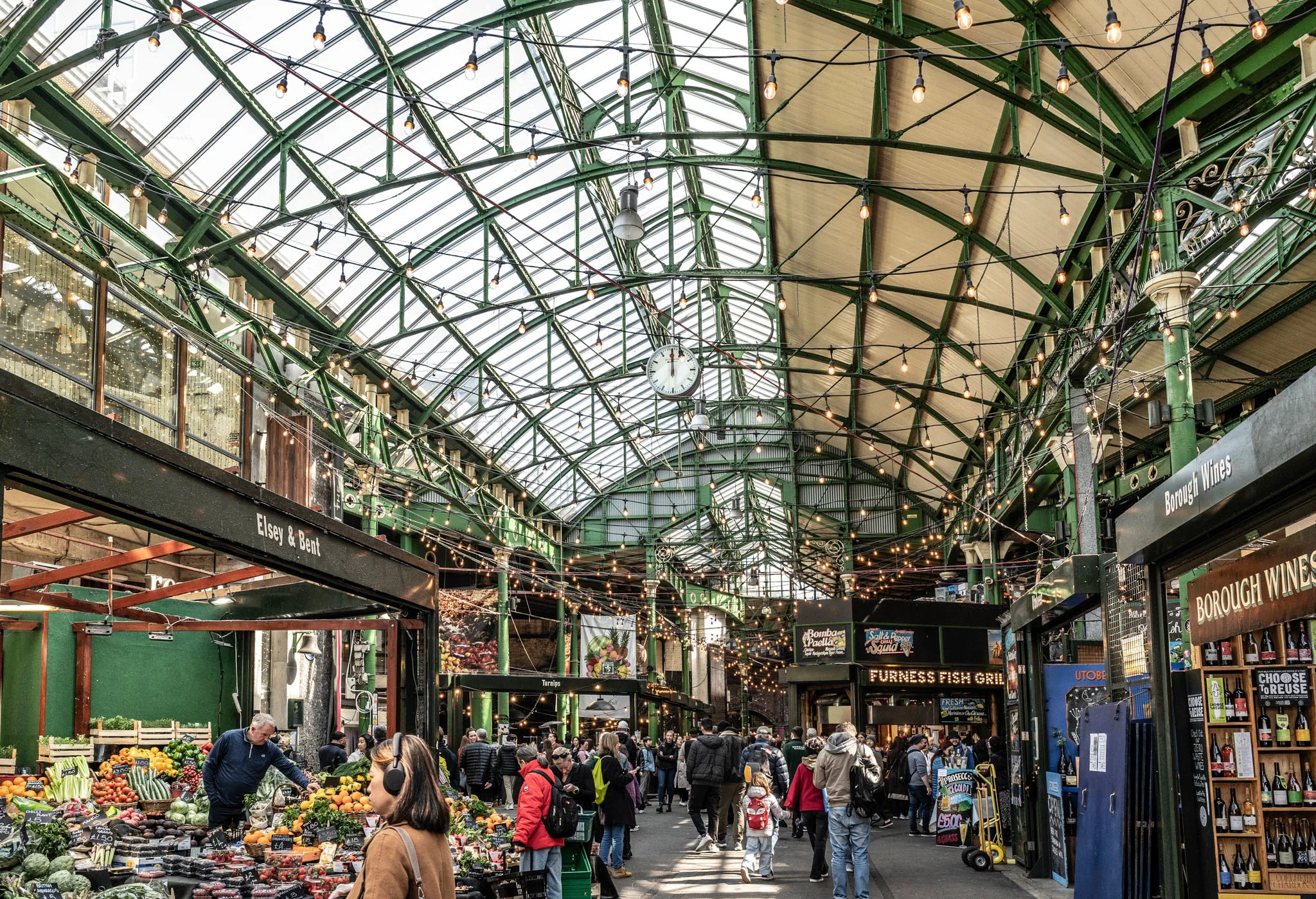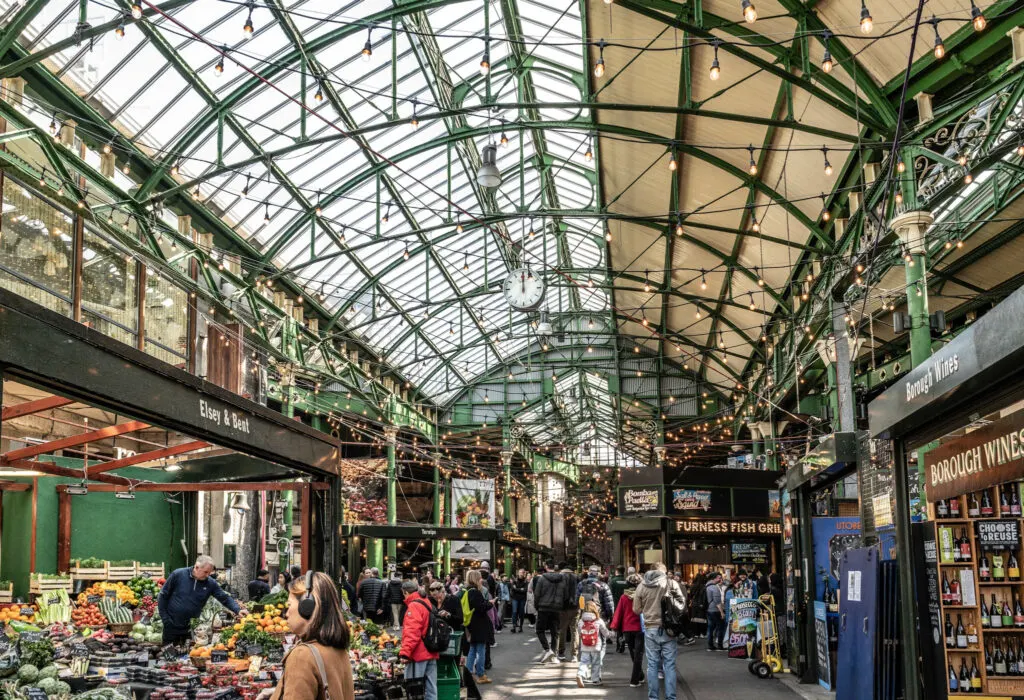 Borough Market offers a wide variety of delicious food and drink options, making it an ideal spot for a delicious lunch.
From gourmet street food to artisanal baked goods, you'll find something delicious for sure!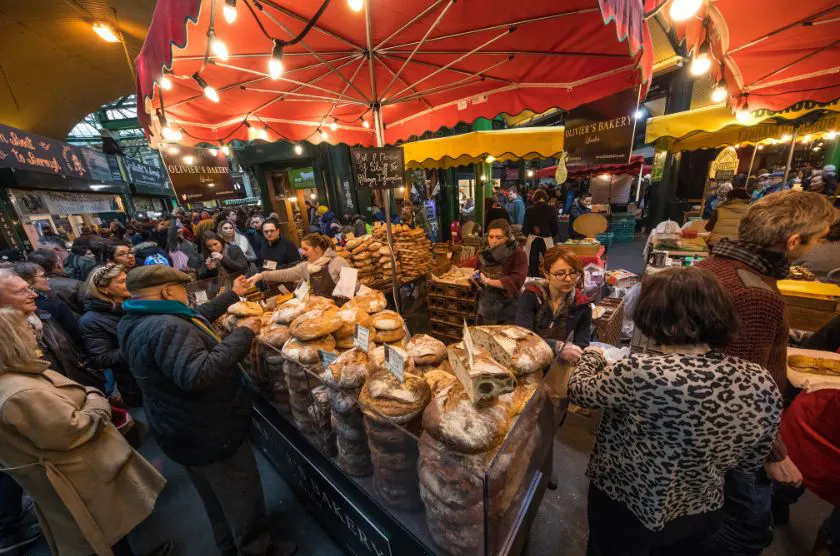 Vegetarian and vegan options are plentiful, ensuring there's something for everyone.
Enjoy a delightful dessert or pastry from the numerous bakeries and patisseries. Make sure to also try the handmade chocolates, traditional British cakes, or artisanal ice cream.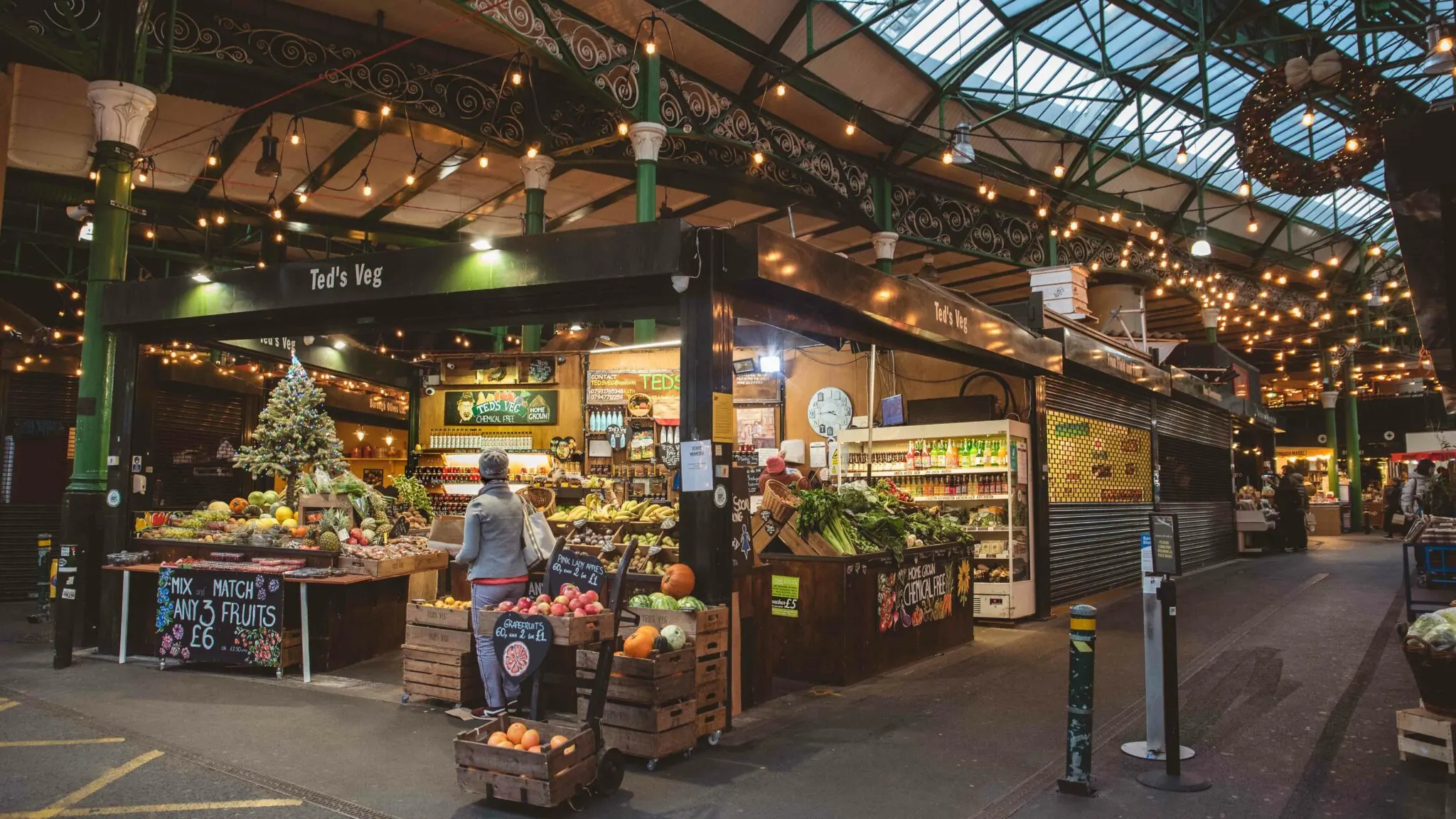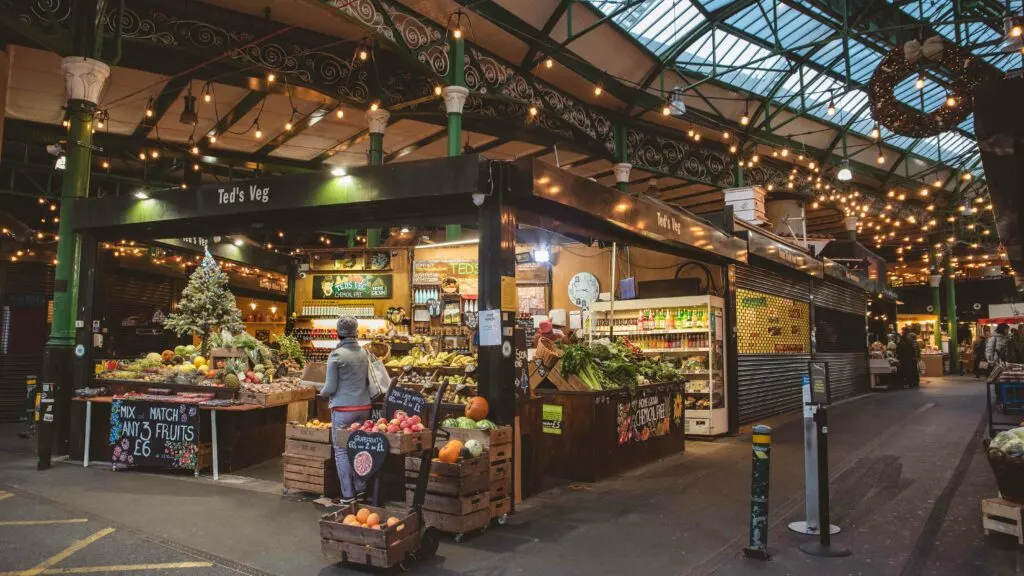 You can also explore the stalls offering a wide selection of fresh fruits, cheeses, and charcuterie to take home as delicious souvenirs.
Once you've satisfied your tummies and your taste buds at Borough Market, take a leisurely stroll to your chosen destination: either Tower Bridge or the London Eye.
Day 1: Afternoon
Both options are iconic landmarks with stunning views of the city. In the Waterloo or Southbank areas there are a whole range of things to do to fill the middle portion of your second day in London.
Take a walk along the Southbank, visit the Tate Modern, or take a tour of Tower Bridge. The walk along the Southbanks is one of the best free things to do in London.
Tower Bridge is a Grade I listed bridge built in the late 1800s and is an iconic landmark. Today you can tour the inside of the towers and take in the beautiful views of the River Thames.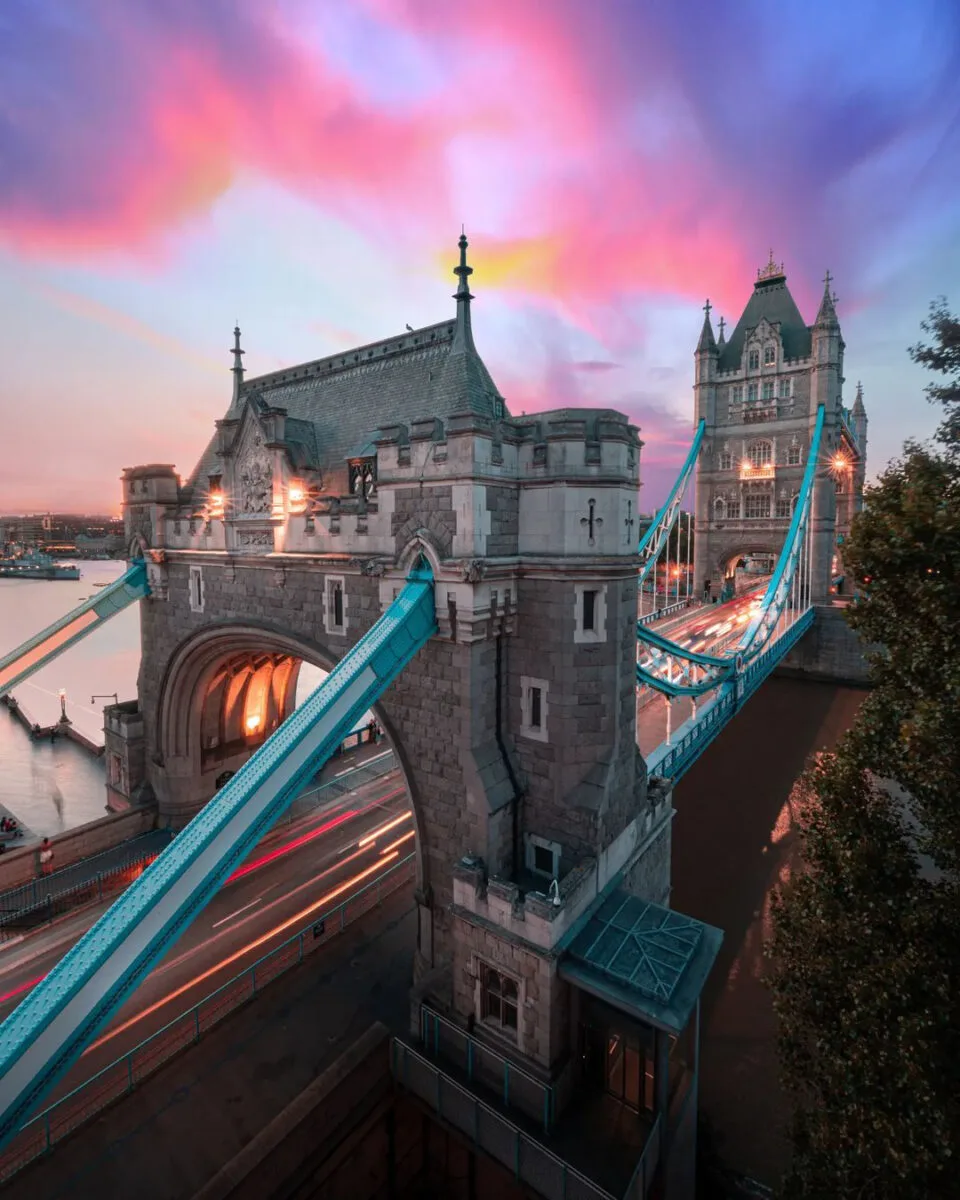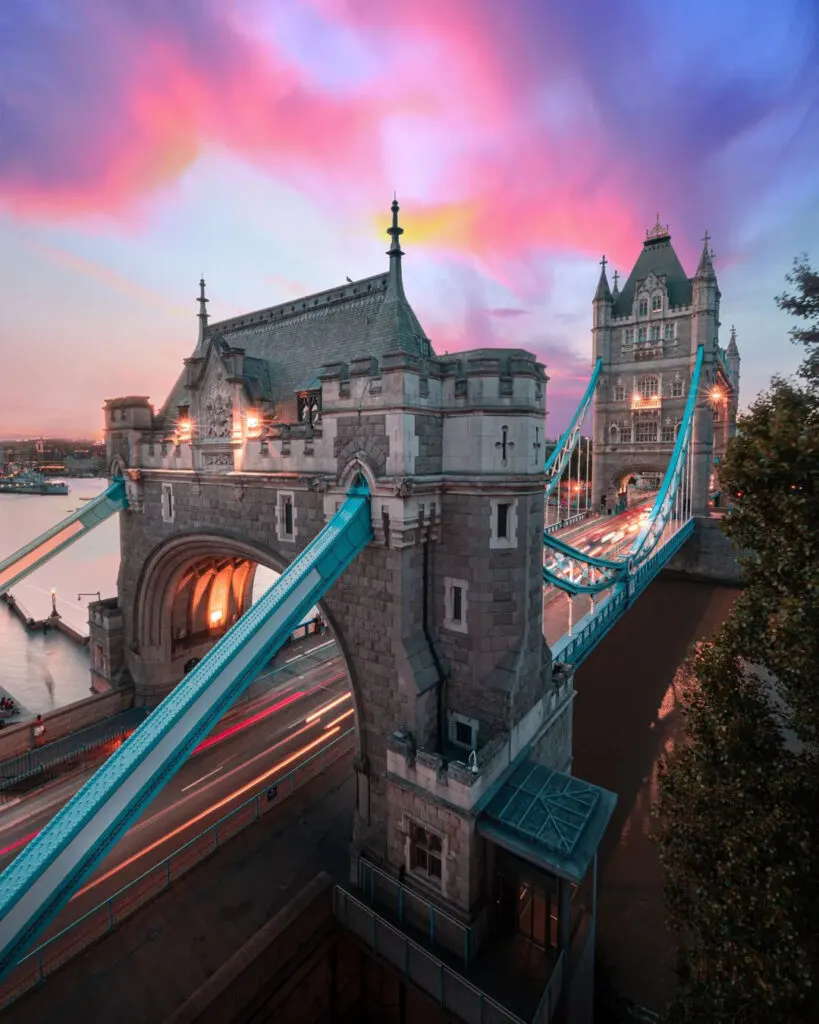 The middle section of the bridge lifts around 800 times a year, and you can check online for the bridge lift times if this is something you and you are interested in seeing.
Tickets for entering Tower Bridge are available via See Tickets UK. Click here to find discounted entry prices.
To reach Tower Bridge, follow the picturesque route along the South Bank of the River Thames.
Take in the beautiful river views, pass by Shakespeare's Globe Theatre, and continue until you reach Tower Bridge, one of London's top attractions.
If you plan to visit multiple attractions, it is worth getting a Go City London Pass to make savings.
The Go City London Pass is an excellent option for families visiting London for 2 days as it allows entry to multiple of the top attractions under one ticket at a discounted rate.
Tower Bridge is one of these must-see attractions.
Climb the North Tower, then cross the infamous glass walkway over the bridge before descending the South Tower. This is a really fantastic attraction, you will love the glass floor above the river!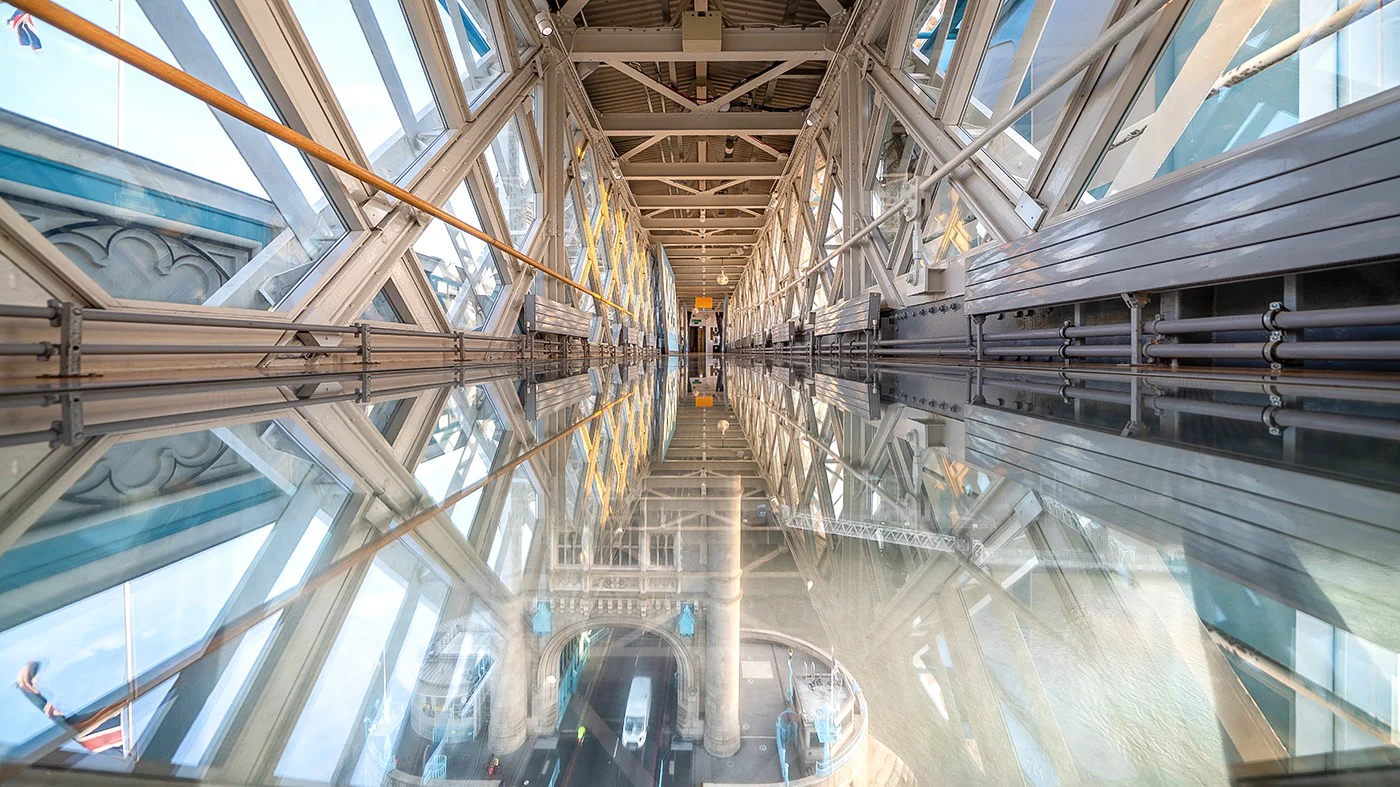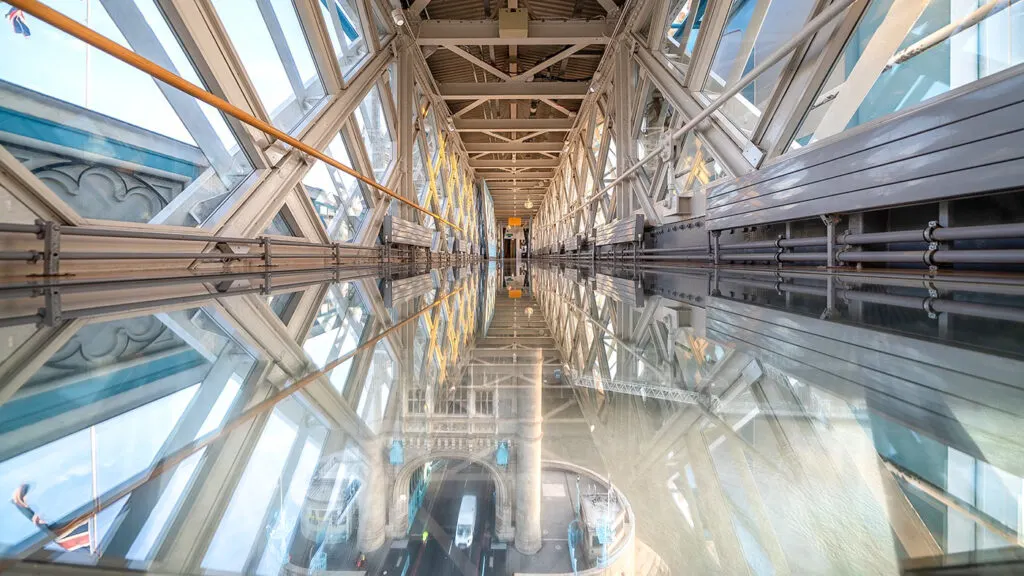 It's also worth exploring the Tower Bridge Exhibition, which includes interactive displays and the chance to see the bridge's mechanisms in action.
It's an educational and exciting visit that combines history, engineering, and great views of the city.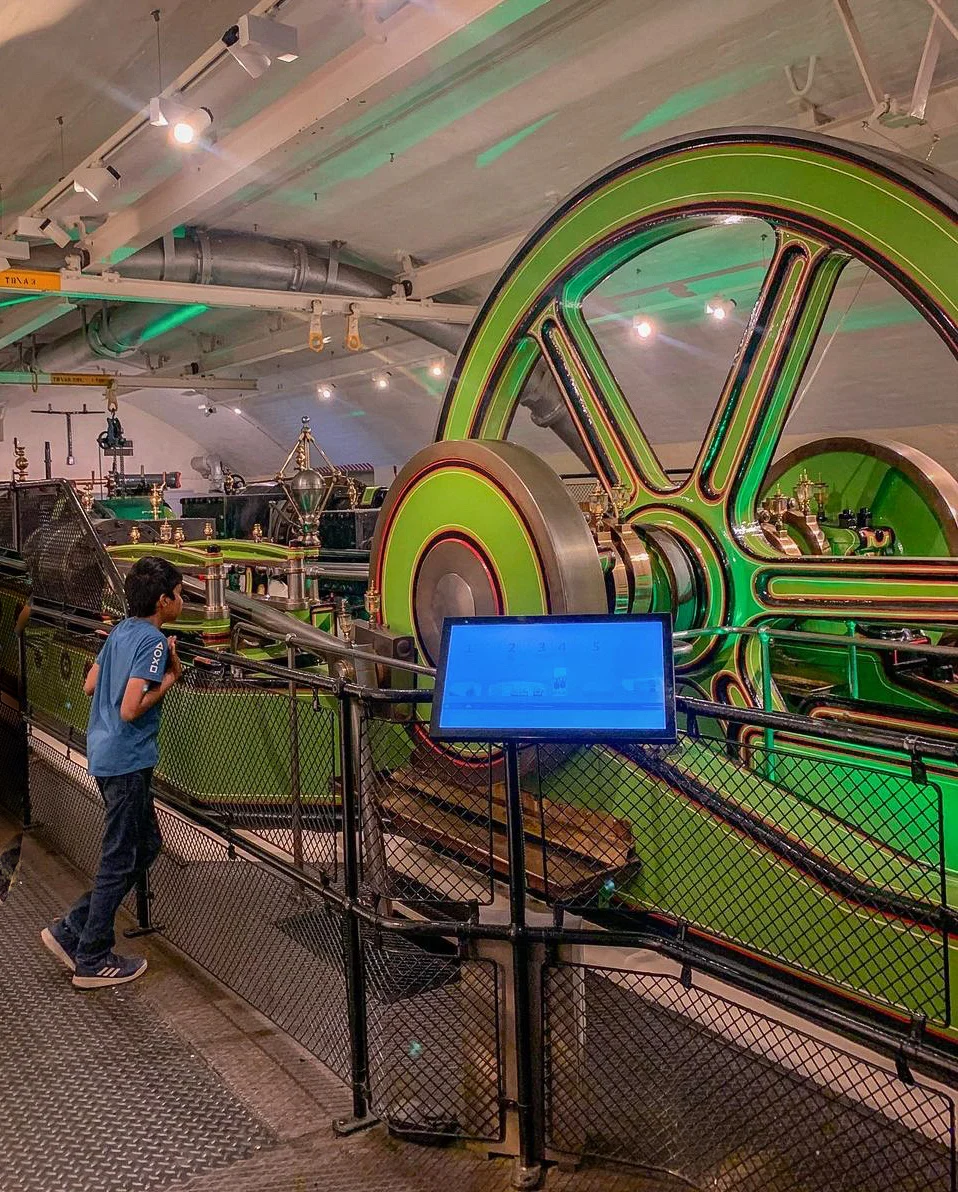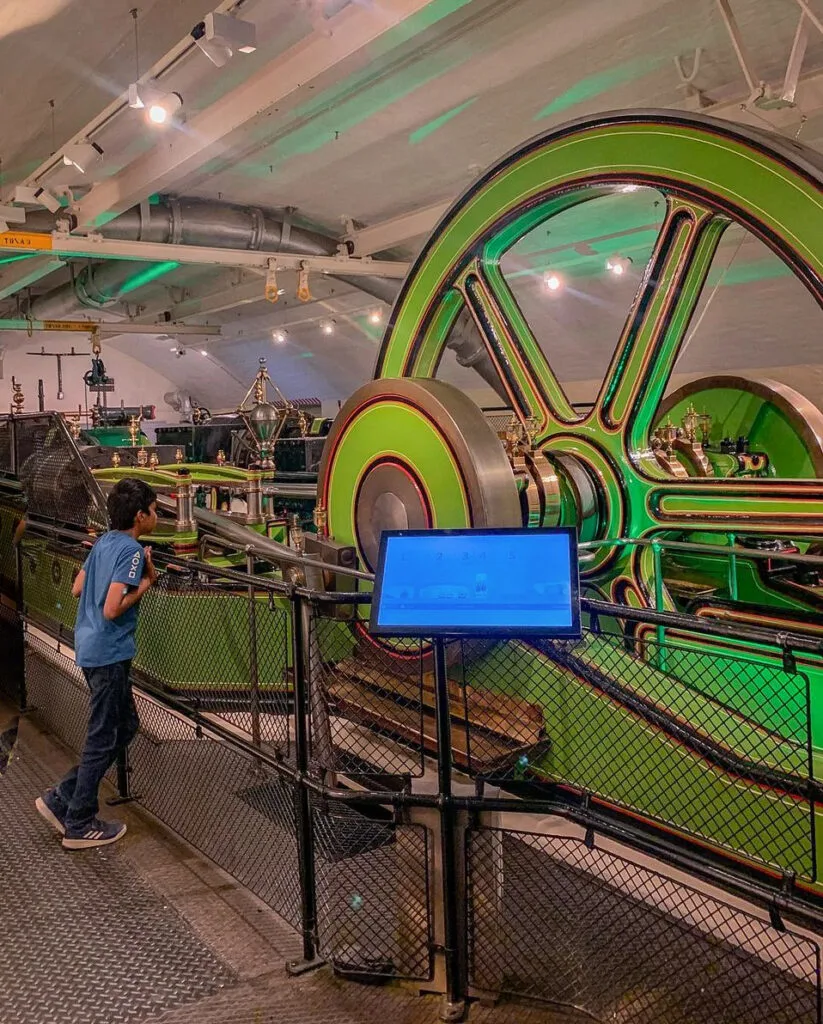 Alternatively, if you prefer to visit the London Eye, head west from Borough Market. From there, continue along the South Bank until you reach the London Eye.
This giant Ferris wheel on the River Thames has beautiful views of the city and an excellent opportunity to capture London's skyline from a unique perspective.
It's not as tall as the Shard, but it's a really fun experience.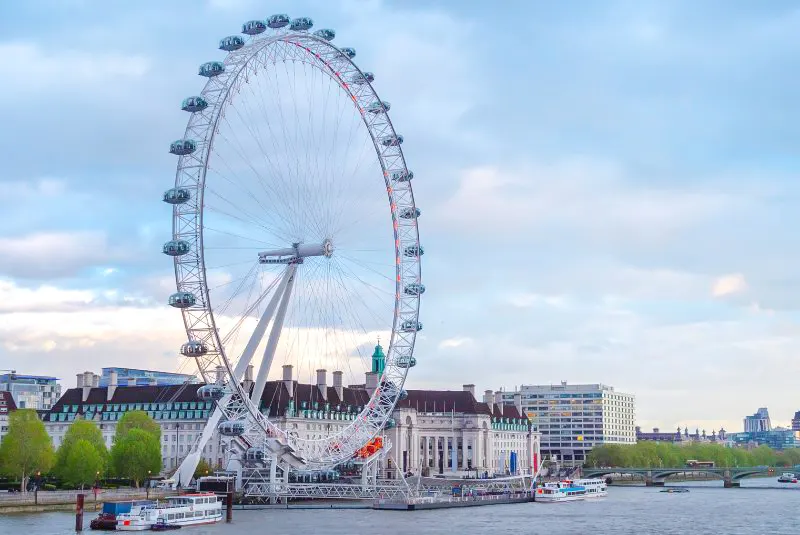 DAY 1: Evening
For the next part of this London in 2 days itinerary, you will want to have a fun evening for your first night, as well as enjoy a delicious meal before heading to a show.
Head to Covent Garden whatever the weather – it's a great option for those who are staying in Central London. It's even really enjoyable on a rainy day and there are plenty of fantastic restaurants to choose from.
It is always so magical at Christmas and they always mark fun celebrations at Halloween with pumpkins galore and Easter too.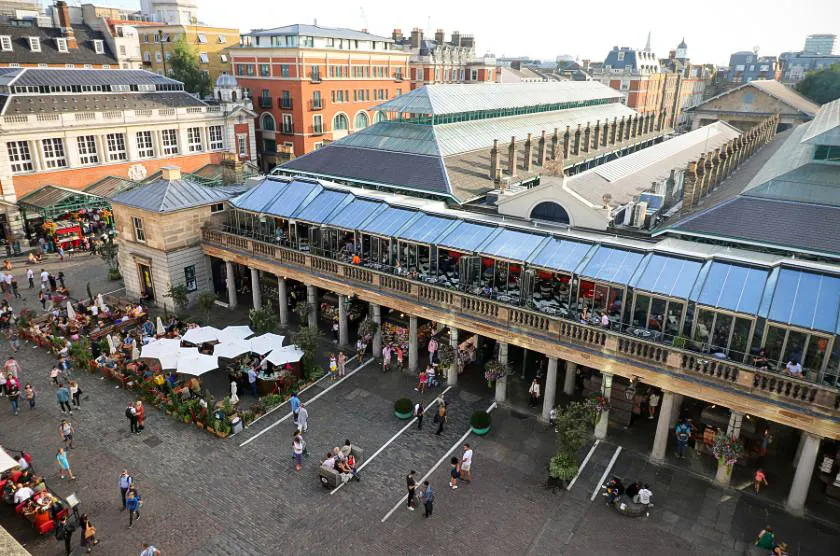 Start the evening around 5pm by heading to the bustling central area with shops and restaurants. Enjoy the lively evening atmosphere strolling through the market and take in some street performances.
Covent Garden is on the Piccadilly Line of the London Underground. It's a great spot for a bite to eat and maybe a drink in a traditional pub before heading to one of London's famous West End theatres.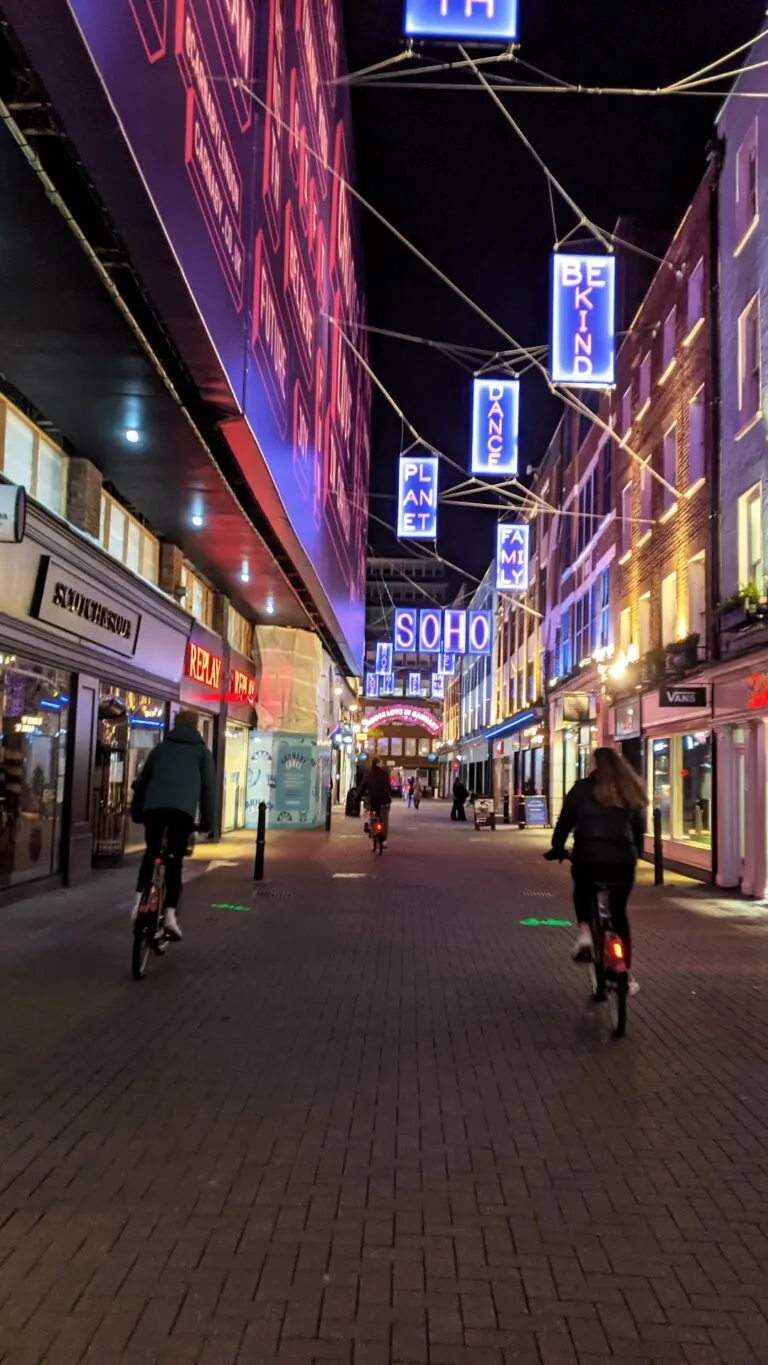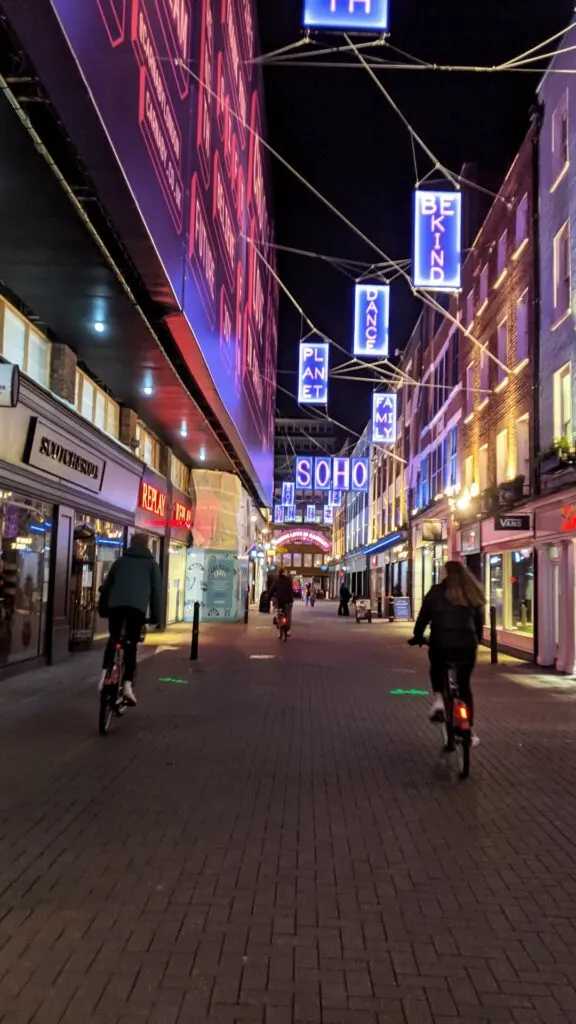 Here are my recommendations for something to eat in Covent Garden. I've listed a gastro pub option for those who fancy a traditional English pub meal and a more swanky option for those who feel like getting dressed up.
Located in the heart of Covent Garden, The Harp is a charming gastro pub known for its cozy atmosphere and exceptional selection of ales and ciders.
With its traditional Victorian interior and friendly service, it offers a quintessential British pub experience.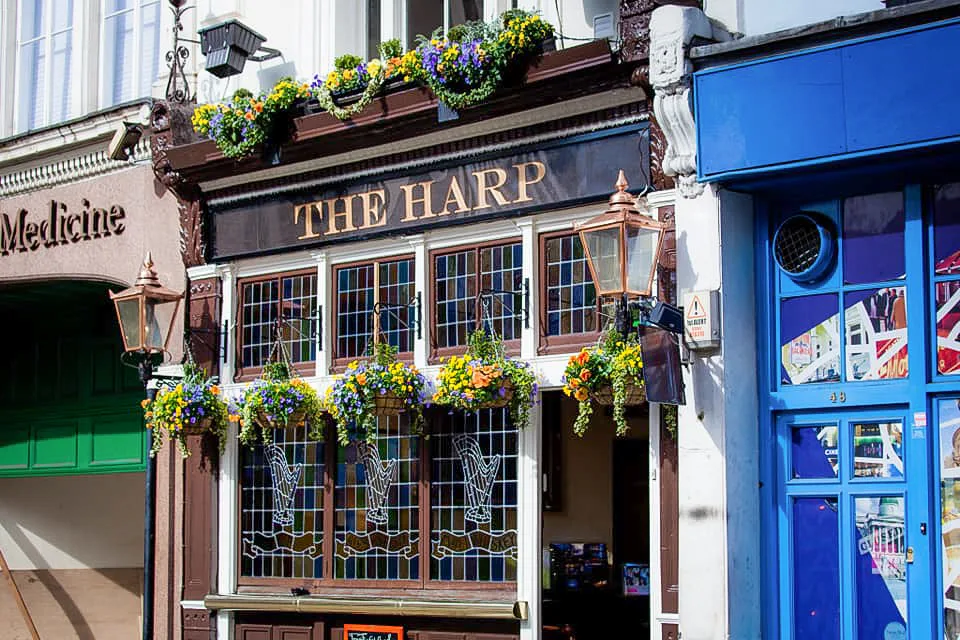 The Harp serves up a range of hearty pub classics, including pies and gourmet burgers, all made with high-quality ingredients.
It is particularly renowned for its extensive collection of well-kept real ales, making it a go-to spot for beer enthusiasts.
The pub's relaxed vibes and affordable prices make it an ideal choice for a casual and satisfying meal in Covent Garden.
For a more upscale dining experience in Covent Garden, Frenchie is a sophisticated restaurant that combines French and British influences in its cuisine.
Helmed by renowned chef Gregory Marchand, Frenchie offers an innovative and refined menu that showcases seasonal ingredients.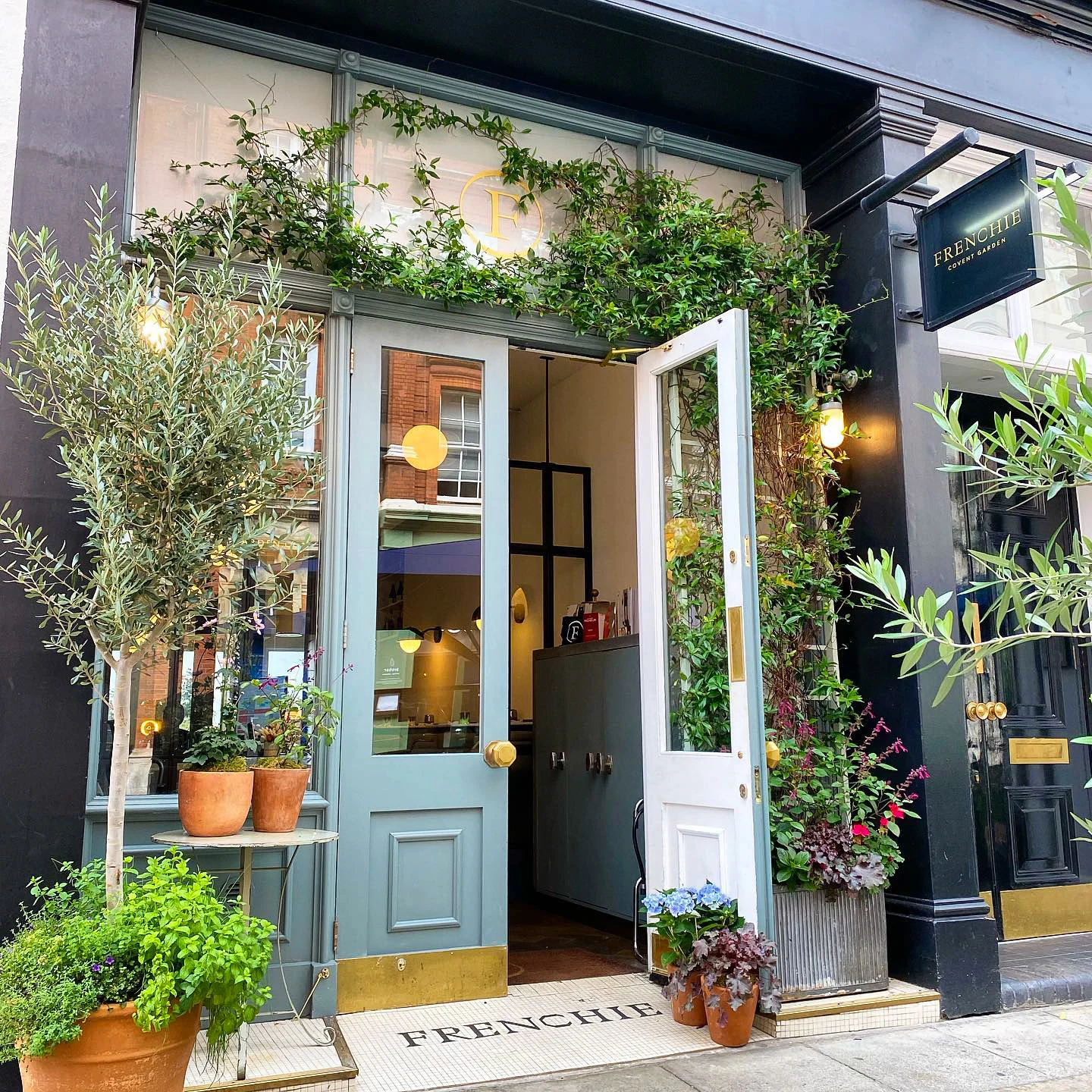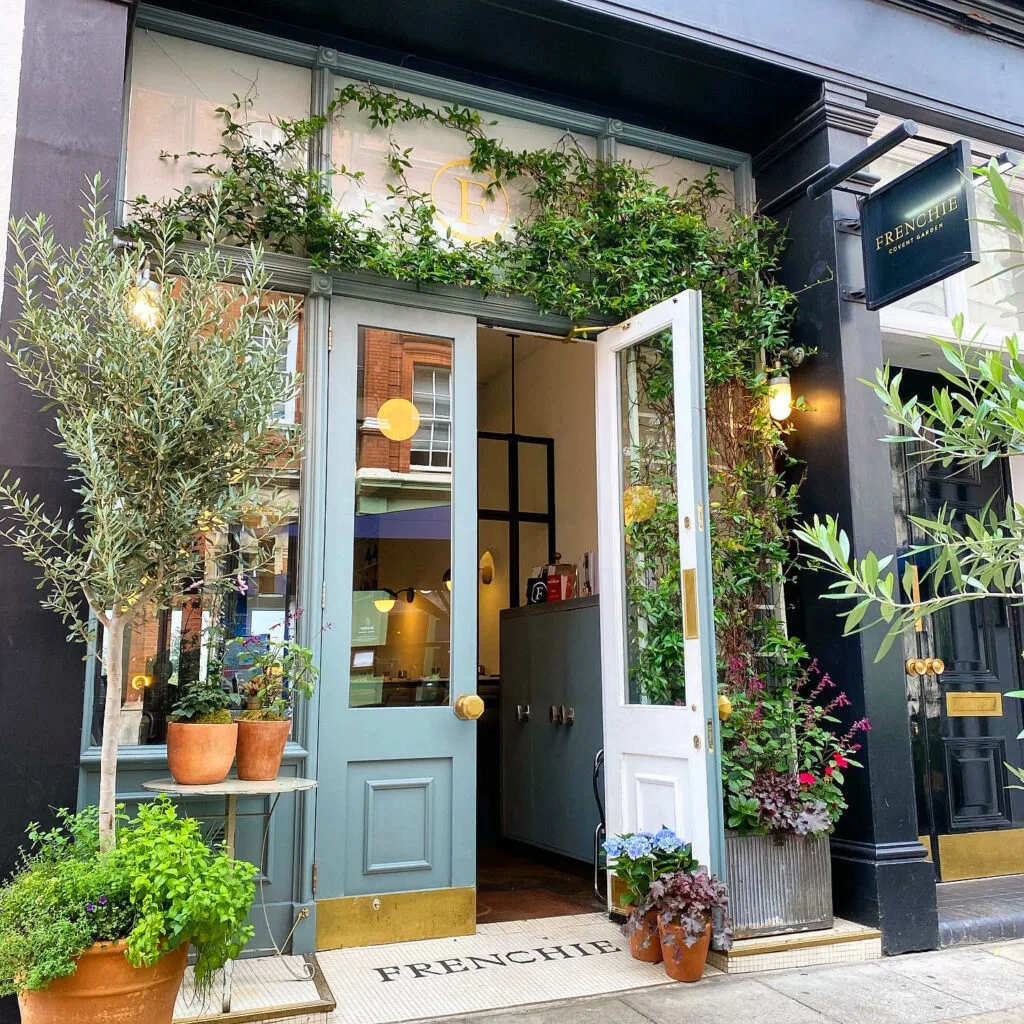 Frenchie also offers an extensive wine list featuring a curated selection of French and international wines, perfectly complementing the flavors of the dishes.
It's a fantastic choice for a special occasion or those seeking a high end culinary experience in a stylish setting.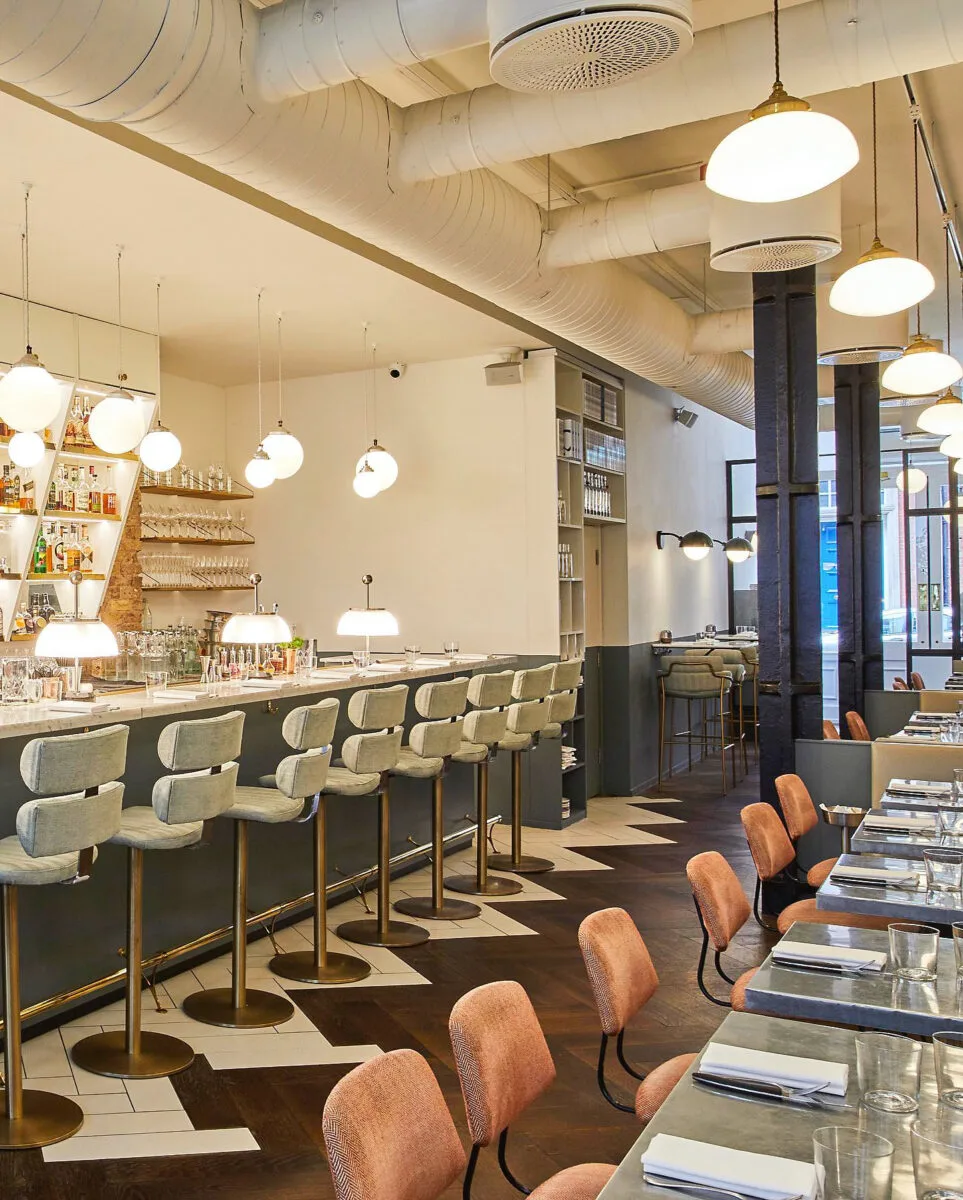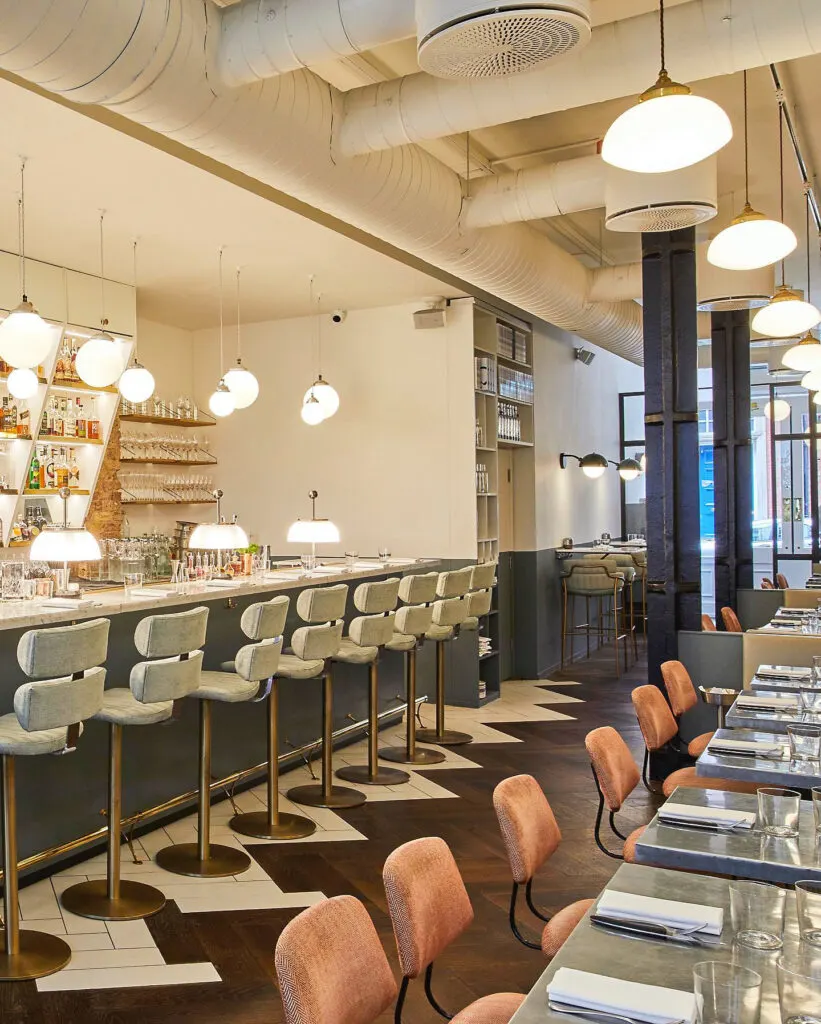 Make sure to book a table in advance to visit Frenchie because it's a popular option in the area and can get fully booked, especially at the weekend.
Day 1 Night: Catch a Show
Your legs will probaby be ready for a rest and relax. What better way to do than catch a theate show. Around 6:30pm, make your way to one of London's West End's theatres to catch an evening show.
It's just a few minutes walk from the dinner spots reccomended in Covent Garden.
Book your theatre tickets through See Tickets UK for last minute discounts and deals.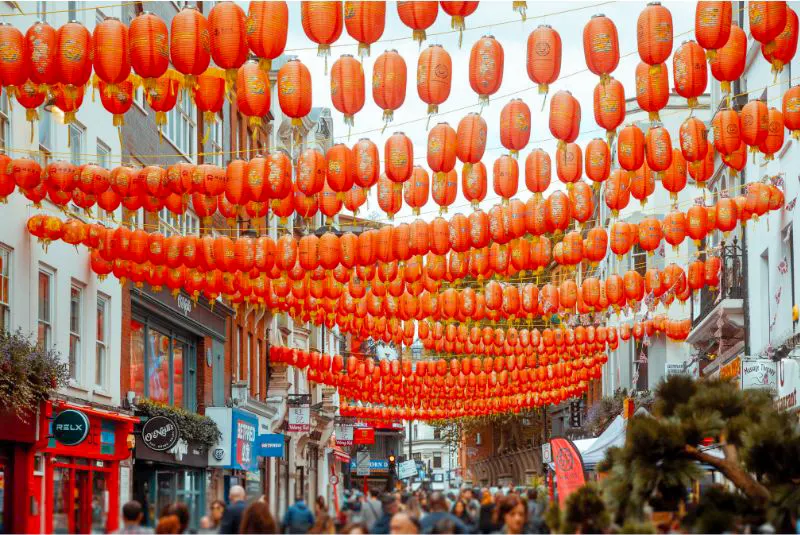 After the show if you have a little more energy to finish the day off and some room for dessert, wander up the narrow lanes of Chinatown.
You'll find some delicious sweet treats including little custard-filled fish from the Chinatown Bakery and ice cream sandwiches from Mamasons.
There are great vegan desserts here too, especially if you're a fan of Bubble Tea or sorbet. Soho and Chinatown are home to the highest rated Bubble Tea cafes in London.
All of the Bubble Tea cafés I have tried have either water-based fruit teas on offer, or milk based sweet teas with extra flavours such as brown sugar or tapioca.
If you're dairy free, ask for your tea to be made with plant based milk such as oat or almond milk.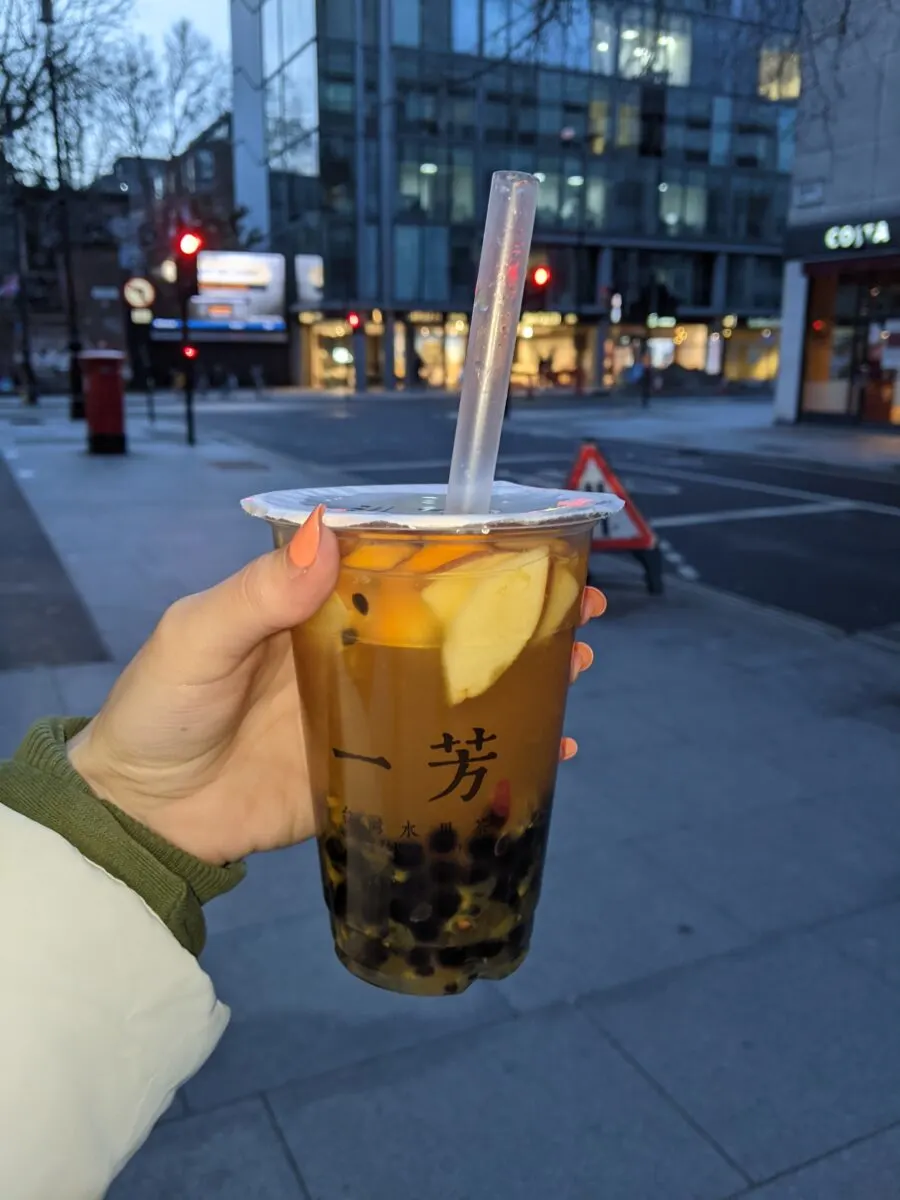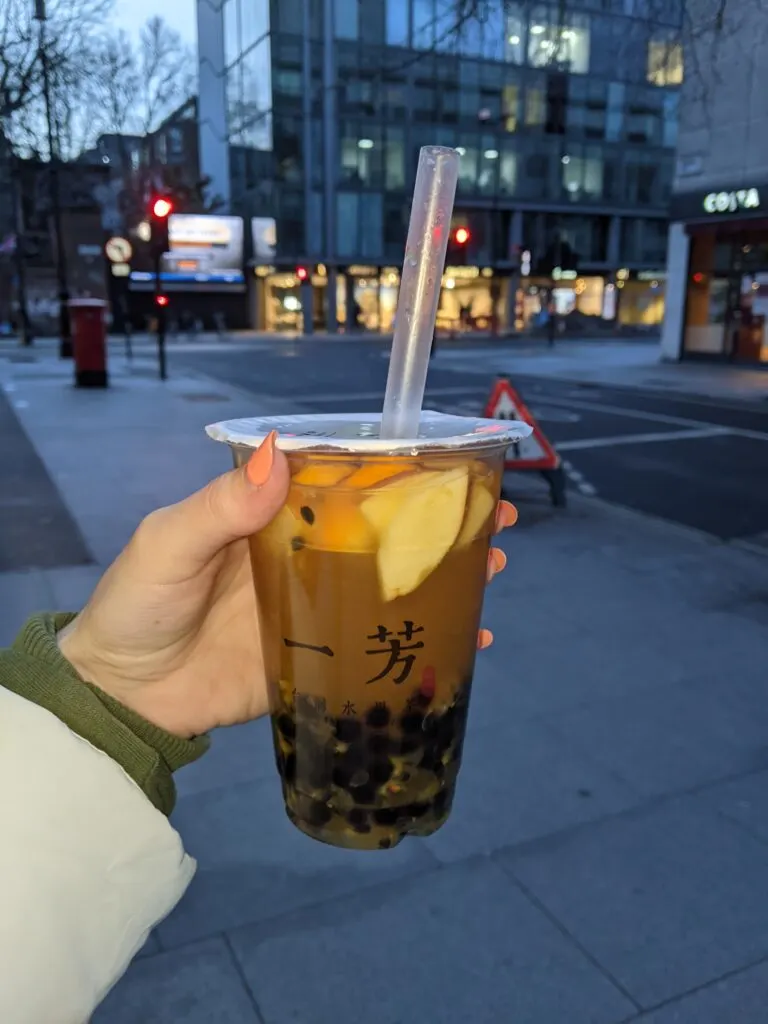 After a busy day in London, grab a taxi back to your accommodation, or the night bus or tube if it's still running. Most rail services end around midnight, but some tube lines run later at the weekend.
Day 2: Morning (option 1)
For the second morning in London have breakfast at the accomodationa and then head to see the The Changing of the Guard ceremony in London which is loved by many tourists.
It's fair to say it is a quintessential British tradition. So many tourists love to watch this ritual!
It happens each day at 1045 am in front of Buckingham Palace. It's a good idea to arrive early since it can get quite busy.
The guards usually start to gather at 10 am near the barracks before starting their march to the palace. These ceremonial duties are performed by the soldiers of the Household Division.
The same ritual takes place at Windsor Castle on the outskirts of London at 11 am daily.
British pagentry has always been incredible to see! It's fair to say we've all seen it on TV at one point or another, be it the Kings coronation or a royal wedding.
At the beginning of the ceremony the Old Guard soldiers on duty arrive and march into the courtyard. Every movement and position is precise!
Next, the New Guard arrives and the handover is choreographed perfectly. The entire display is accompanied by drums and brass instruments, not to mention rifles which are handed over to the incoming soldiers.
This traditon goes back centuries and is a lovely activity to get a feel for the British culture.
DAY 2: Morning ( Sunday only)
If watching the changing of the guard is not your thing (and presuming you are in London on a Sunday) Colombia Road Flower Market is a lovely alternative.
Columbia Road is home to a beautiful and bustling street market situated on a Victorian terraced street in Bethnal Green.
Make sure to bring some cash with you as many of the flower traders take cash only, and there aren't many ATMs available in the area.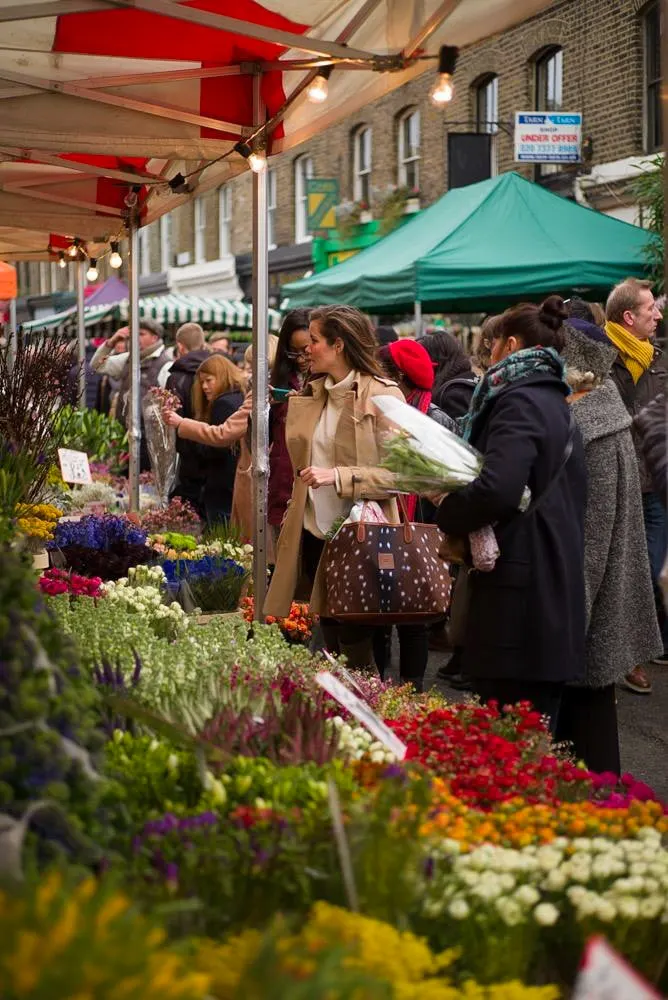 It's recommended to head to the market as early as possible, as it starts to get hectic as early as 9:00am.
If you are leaving London the next day, it is unlikely you will want to buy flowers, however it is a good experience regardless.
To get to the market, head to the nearest tube stations, Bethnal Green on the District Line, or Old Street Station on the Northern Line.
If you're travelling from South of the river, head to Hoxton station on the London Overground and walk for less than 10 minutes.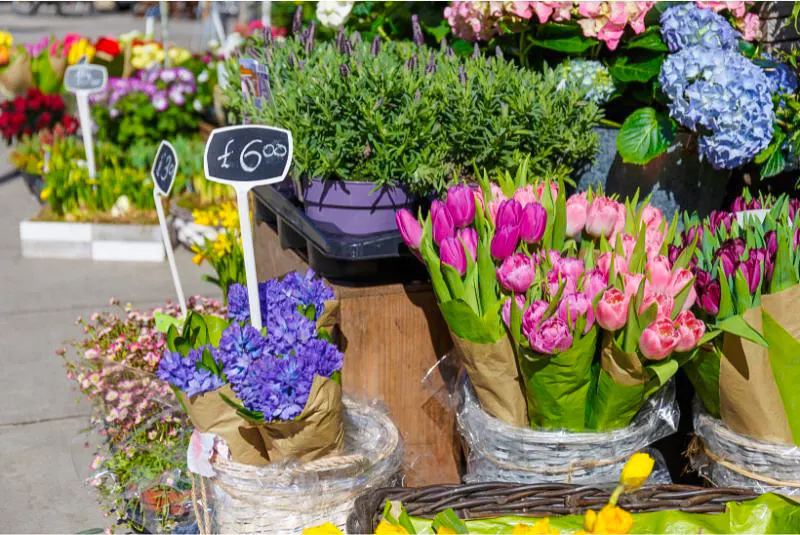 Once you're there, enjoy another delicious breakfast at one of the cute and quaint cafés dotted around the city. Fresh bagels are served up daily at Café Columbia, a local staple.
The market is best enjoyed in nice weather but will remain open every Sunday 8:00am-3:00pm come rain or shine!
For a morning in Columbia Road, either wander around the area and soak up the atmosphere, chill out in the local park with a coffee or lemonade, or do some serious flower bartering. When you're done, head into Central London.
DAY 2: Lunch
Next up in this busy London 2 day itinerary is by far my favourite way to travel in the city. Head down to the Southbank and jump on an Uber boat eastwards towards Greenwich.
I absolutely love taking in the scenes from the River, as the boat takes you past famous landmarks such as the Houses of Parliament and Big Ben, and the Tower of London.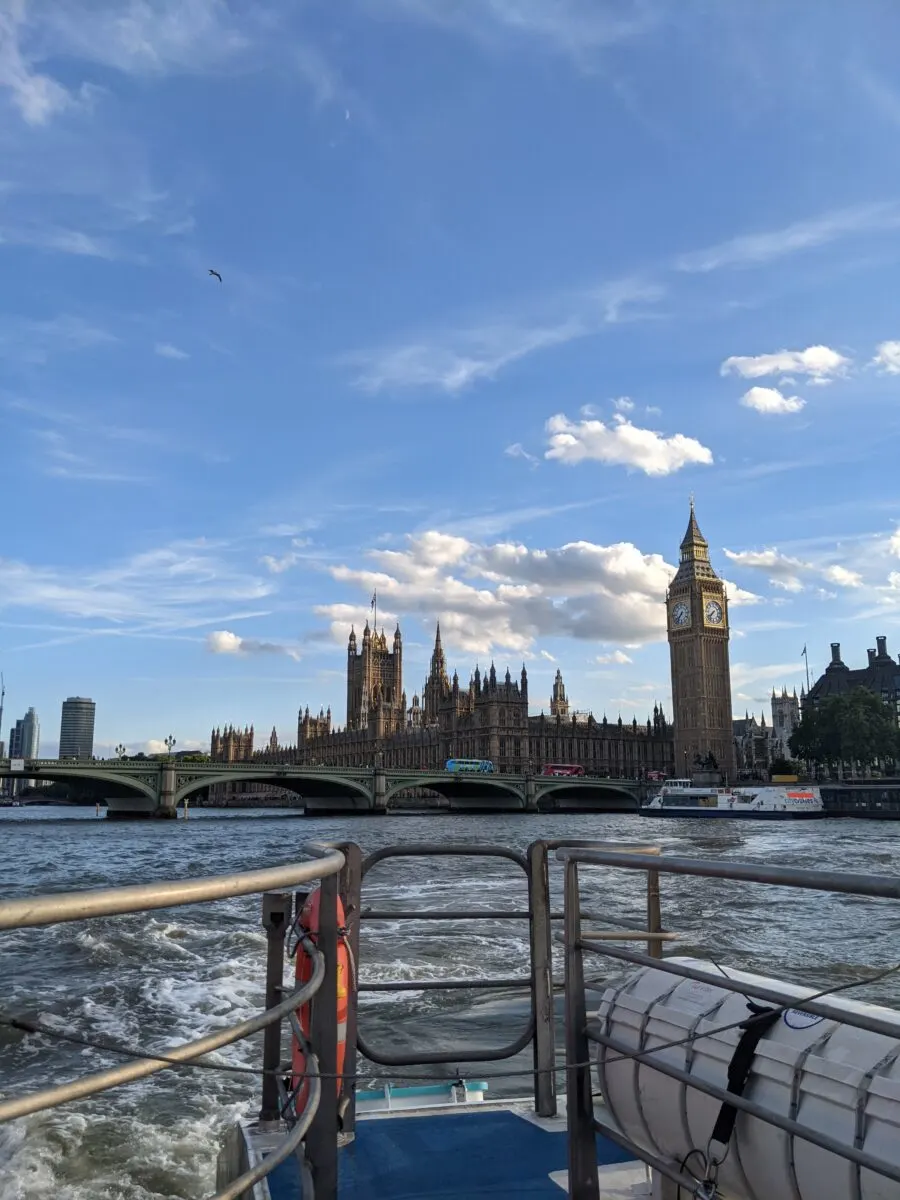 This is a really fun way to travel down the river and offers a unique perspective on these famous landmarks at a much more affordable price than an official boat tour.
You can simply jump on the boat at any stop and tap in with your oyster card or contactless payment card in the same way as you would on the London Underground or other TFL services.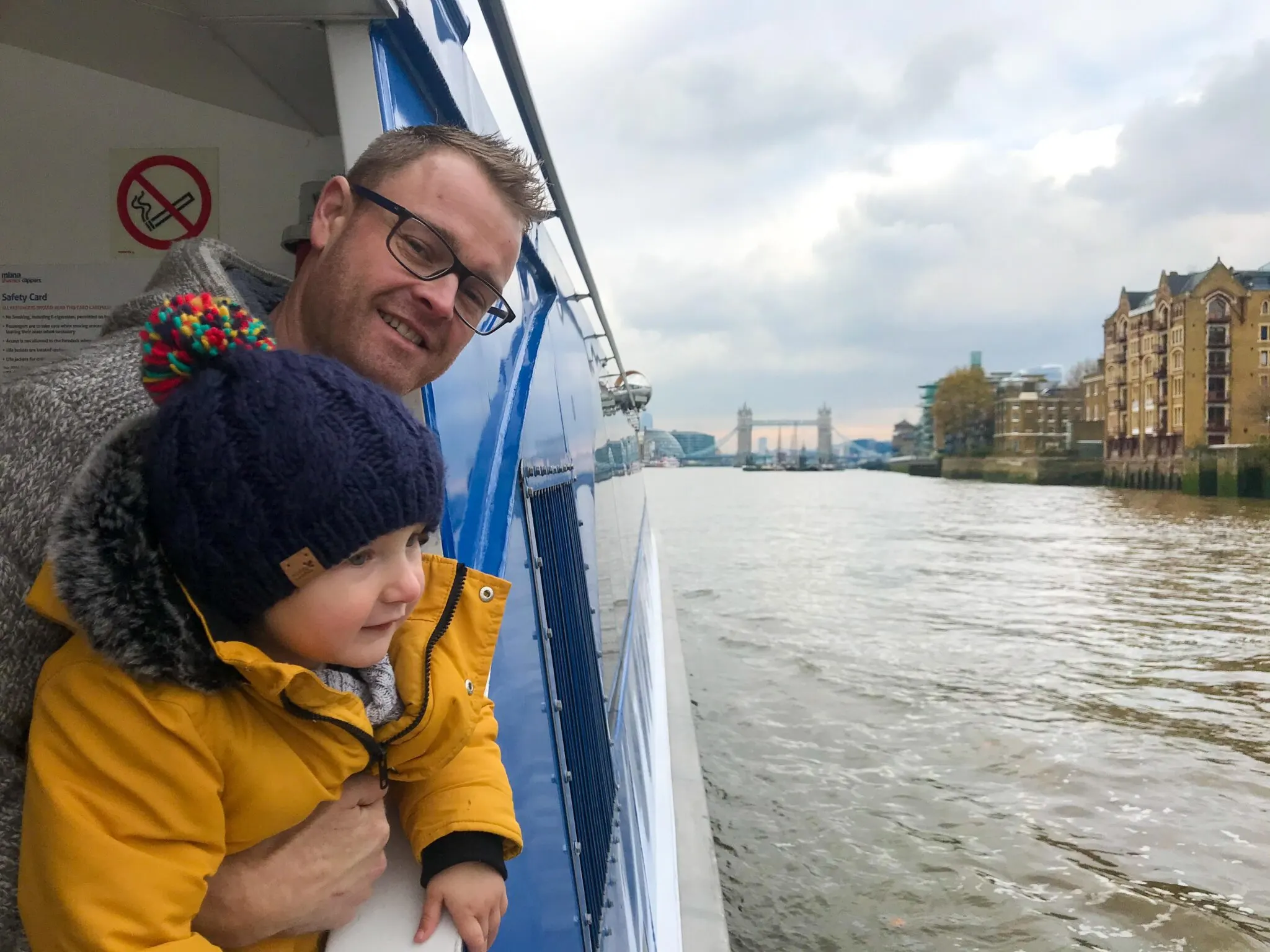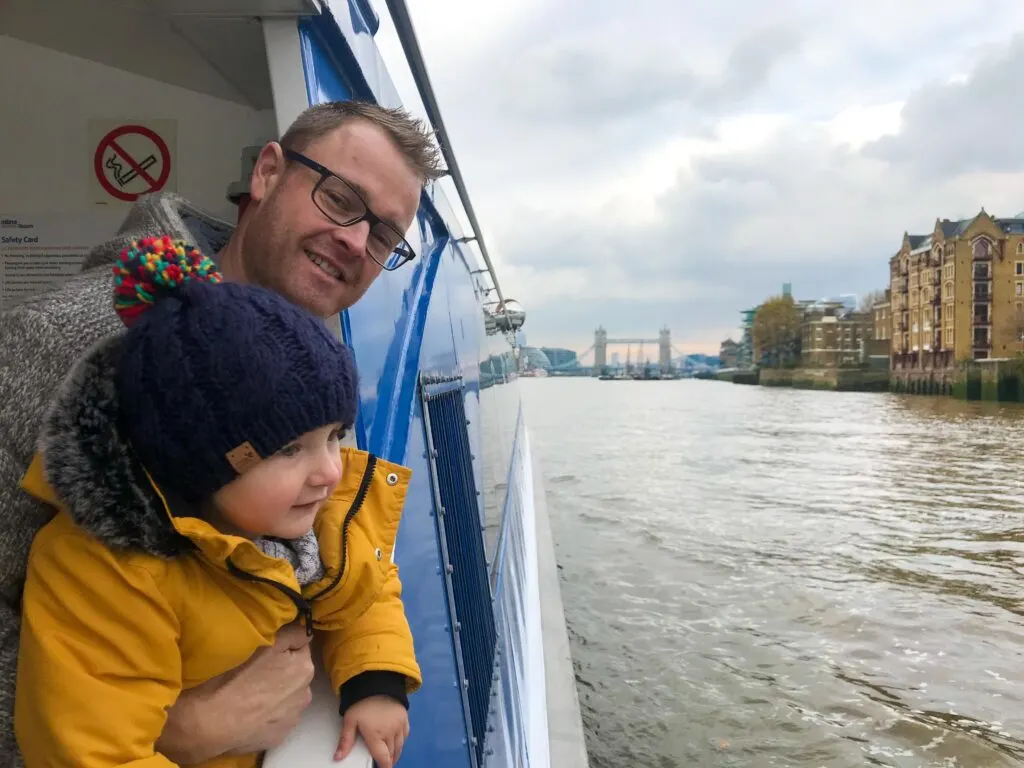 Once you arrive in Greenwich, there are plenty of ways to spend your time here. Have a look at the Cutty Sark and even climb the rig. This one is not for toddlers or young chidlren (ages 10+ only).
The Cutty Sark sailed in 1870 and has stood the test of time, with the ship retaining around 90% of the original materials despite a massive fire in 2007.
The restoration project post-fire cost £10 million more than the original budget.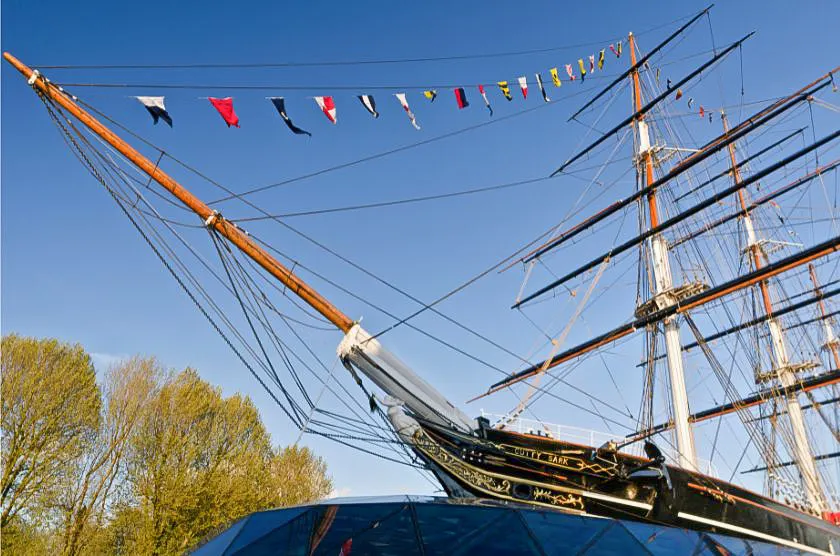 For the more adventurous, you can brave the windy climb over the O2 Arena, formerly known as the Millennium Dome.
After the briefing and being suited up in the required safety gear, ascend the iconic dome-shaped roof for a unique perspective of London's skyline.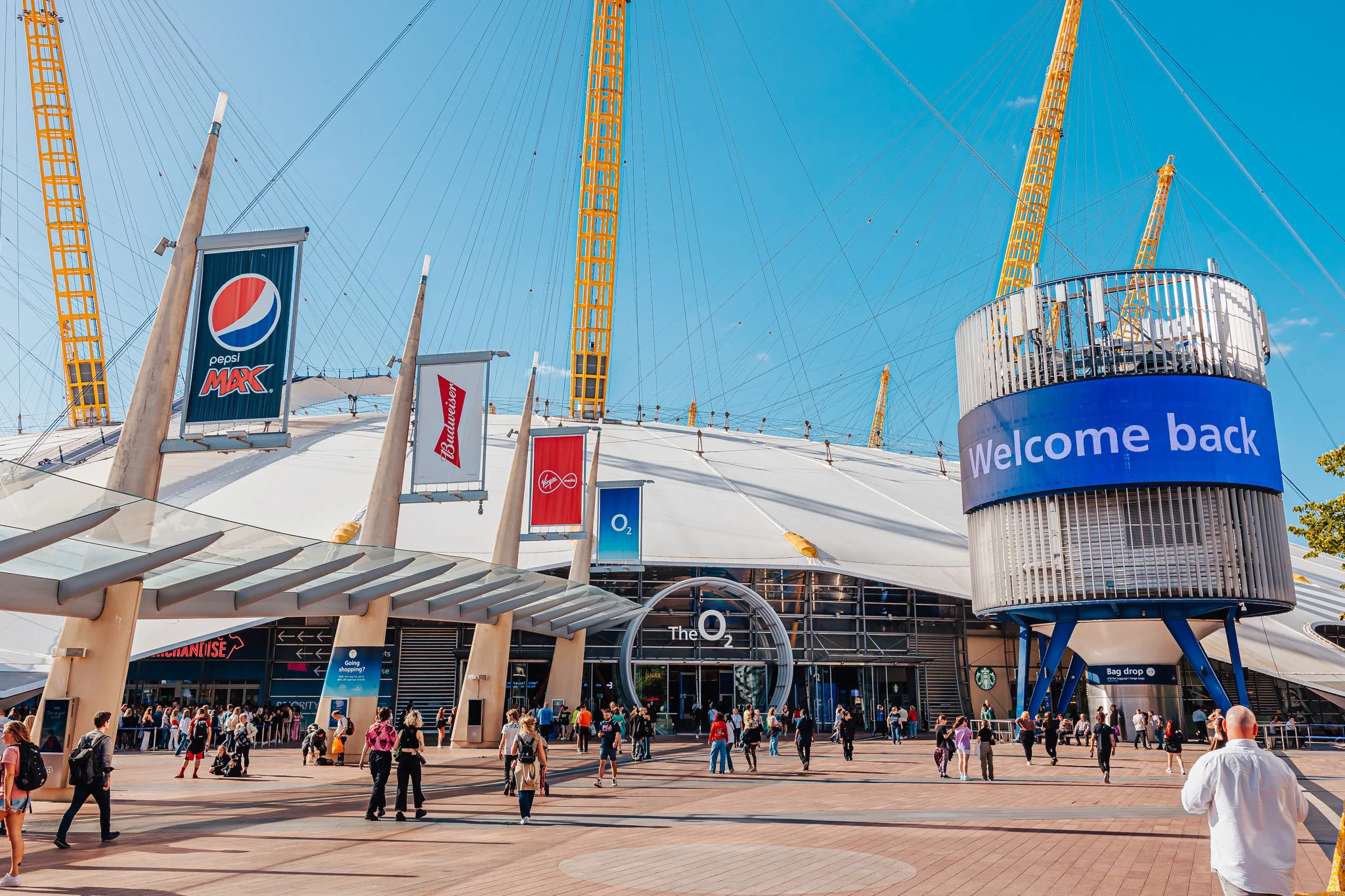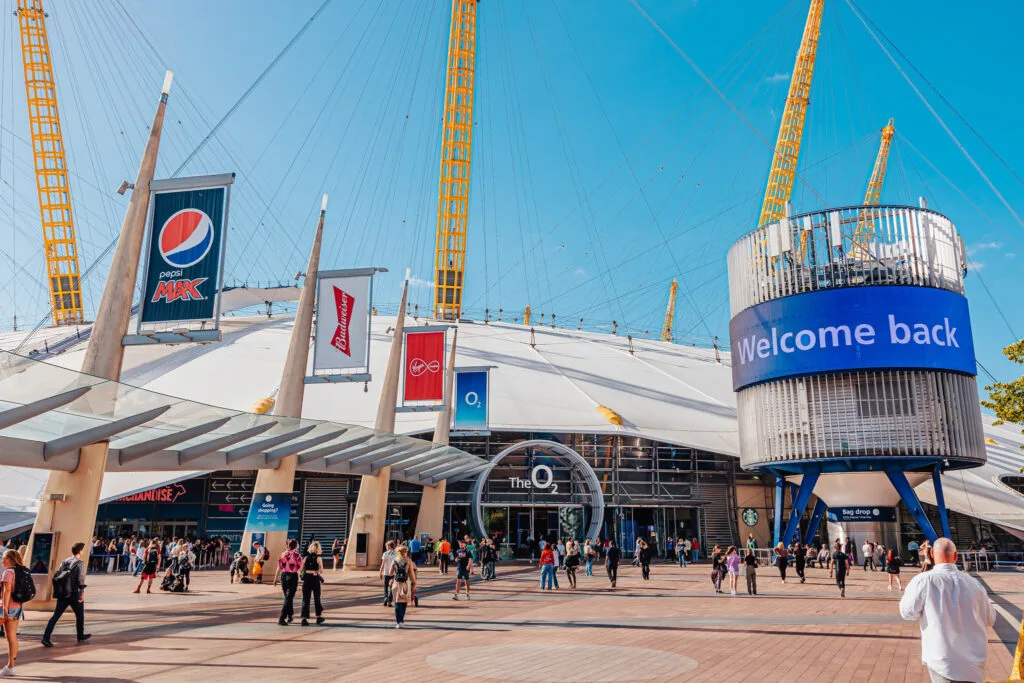 Originally built as an exhibition space, the Dome opened to the public on New Years Day of the year 2000 and today remains the ninth largest building in the world.
In recent years it has undergone some changes and is now home to a range of fashion retailers, and restaurants. It also holds many of the citys concerts.
You can read more about the history of the ship and the fire on the Royal Museums Greenwich website.
Transport for London have installed another interesting mode of transport between the Greenwich Peninsula and the IFS Royal Docks which you may want to fit into your London 2 day itinerary.
There is a line of cable cars which run above the River Thames. View the river from the air, see London differently, and have some fun!
Check online for ticket prices and opening hours on the TFL website. An adult round-trip ticket starts at £12, with children travelling for £6. Family tickets are also available.
DAY 2: Afternoon
Wander further into Greenwich and you will find a beautiful neighbourhood including Greenwich Market.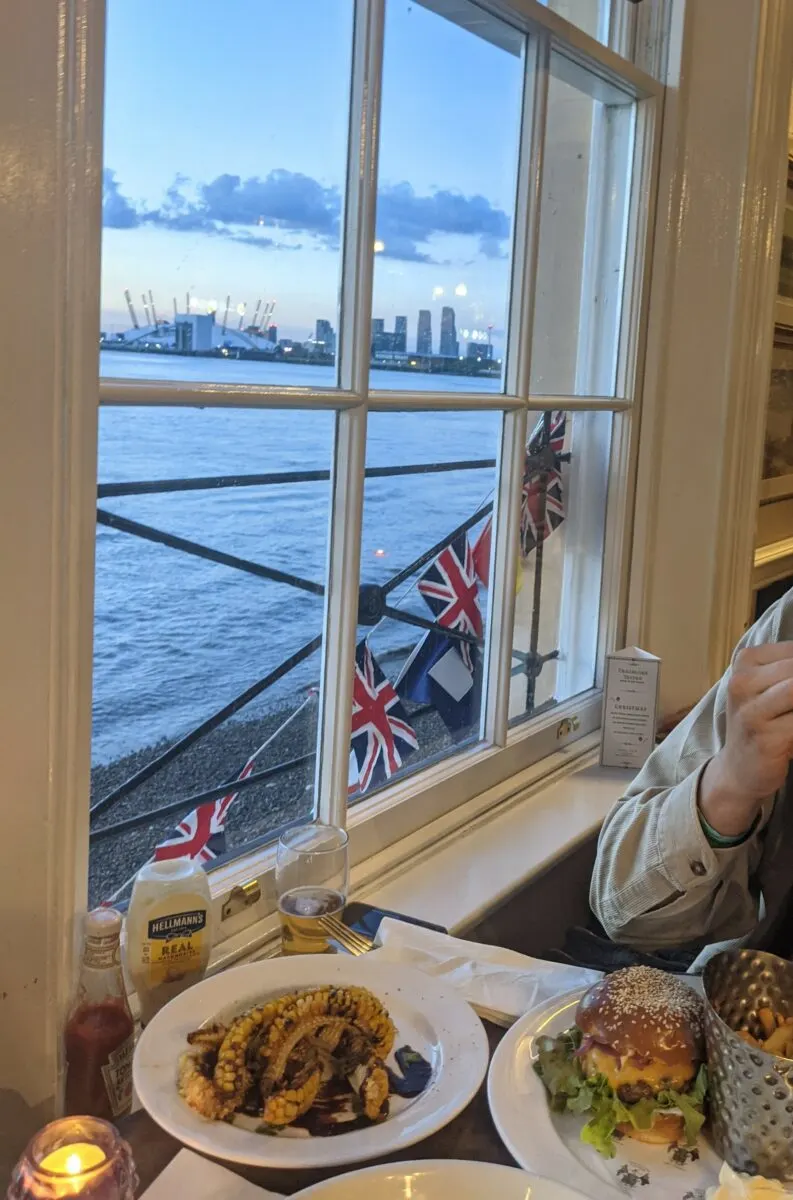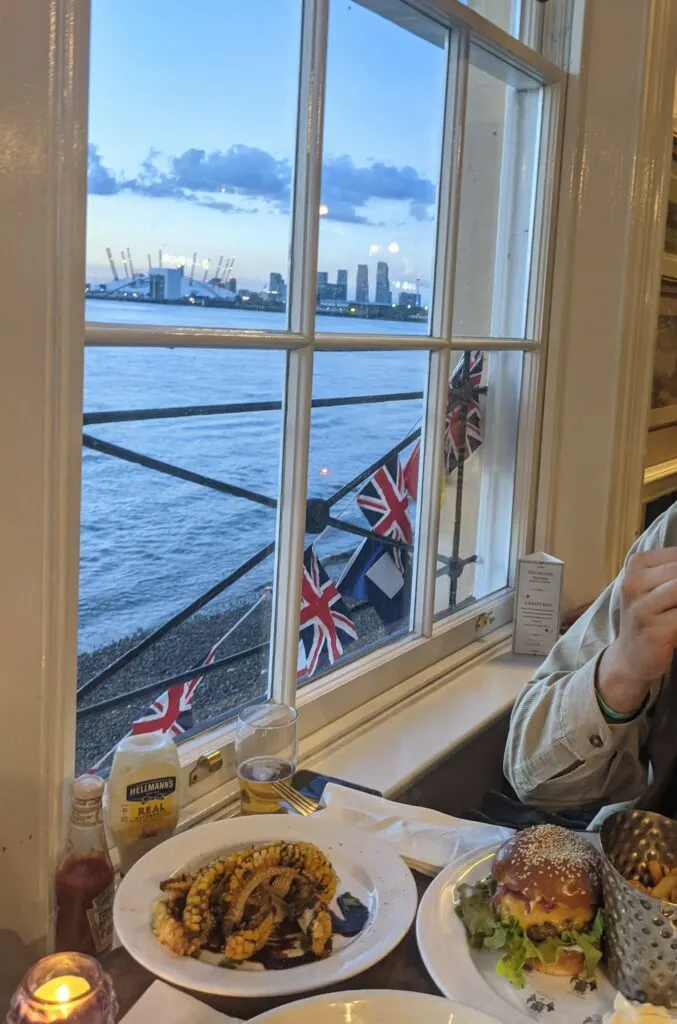 After a busy day of exploring, climbing, and cable car riding, wander eastwards to a riverside pub for a well-deserved afternoon pub lunch.
The Cutty Sark pub is a great choice for a sunny day as there is a row of tables right along the riverfront.
It's a family friendly pub with great food and excellent views of Greenwich Peninsula.
If it's a Sunday you're in luck – why not go for a traditional British roast dinner. Make sure to book in advance as roasts often sell out fairly early on Sundays, around 4pm.
DAY 2: Evening
The riverside pub is a great way to spend a relaxed evening chatting with family and friends. However, if you're with younger children, you may wish to head back into Central London.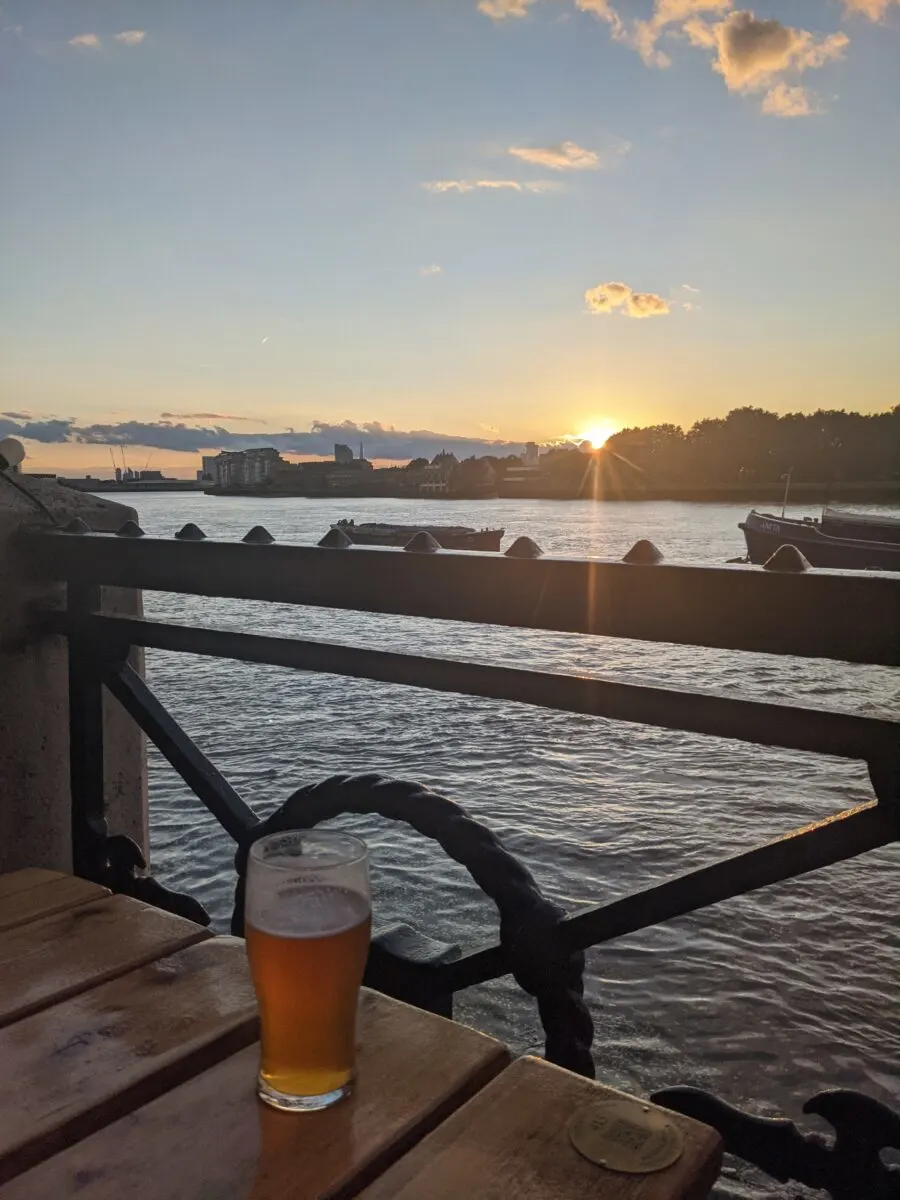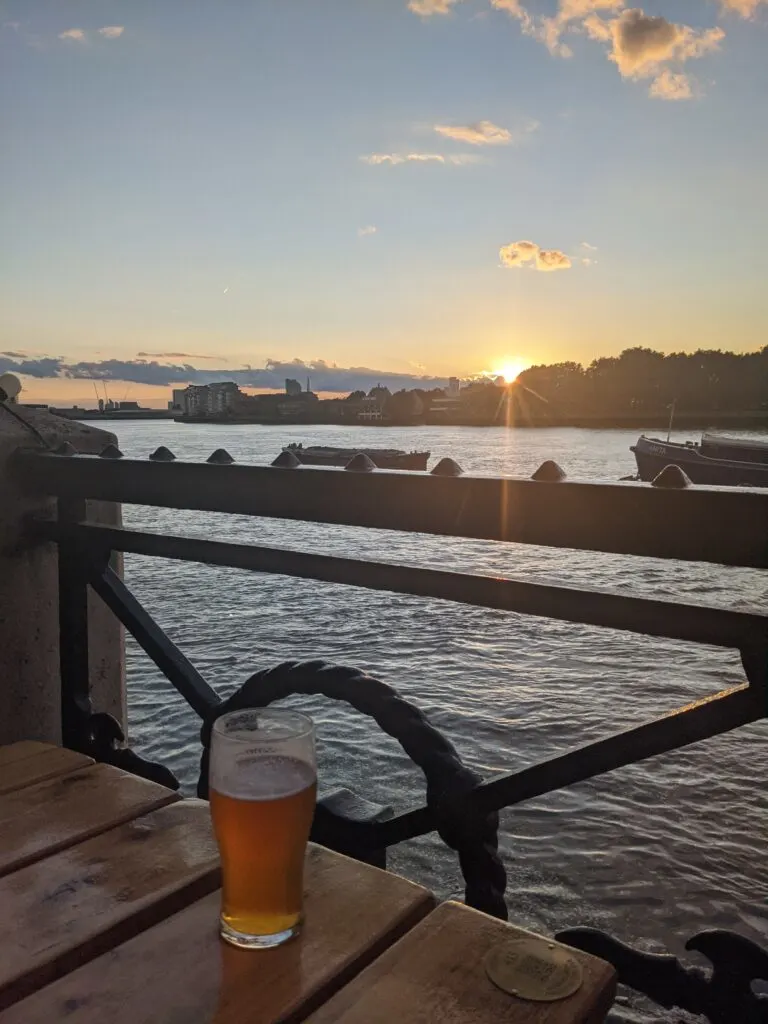 A nice way to end your London 2 days itinerary would be to head into Leicester Square or Trafalgar Square and enjoy the relaxed early evening hours.
Take in the atmosphere, enjoy the fountain in Trafalgar Square, and catch some evening street performances.
Grab some dessert, an ice cream, and wander the lively Central London streets before heading back to your accommodation for some well-earned rest.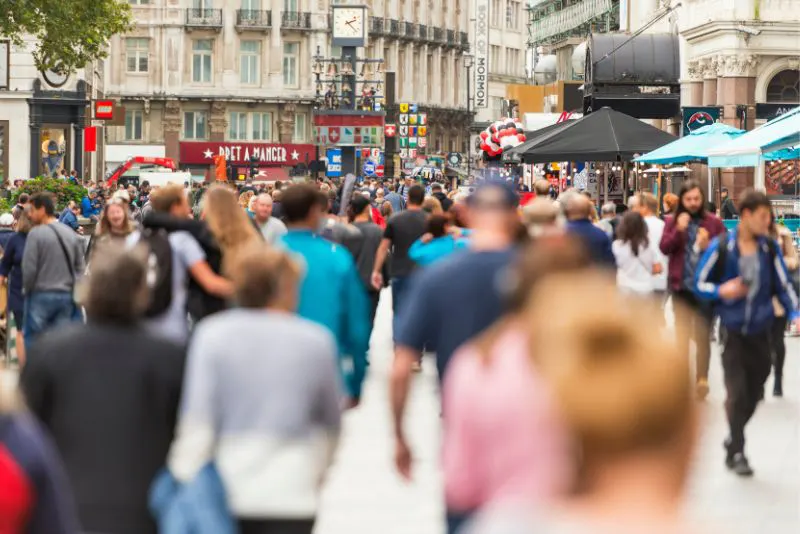 Alternatively, if you're visiting in a group without children, head into East London to the trendy bars of Brick Lane and Shoreditch.
Here you are bound to find some great cocktails and maybe even a spot of live music to end your trip.
East London is home to a lively music scene with a whole range of musical tastes catered for, from jazz to rock to electronic music.
Some of the best venues I've found in East London for reliably good music, even on a Sunday, are The Jago, the Old Blue Last, and MOTH Club.
If you're staying in South London, you will find some really interesting and fun bars and clubs in Peckham.
Head to Peckham Rye station on the London Overground from Canada Water and have a look around the high street at what's on offer.
Forza Wine is a slightly more upmarket rooftop bar on the high street (opposite the station) serving up small tapas-style plates and delicious signature cocktails.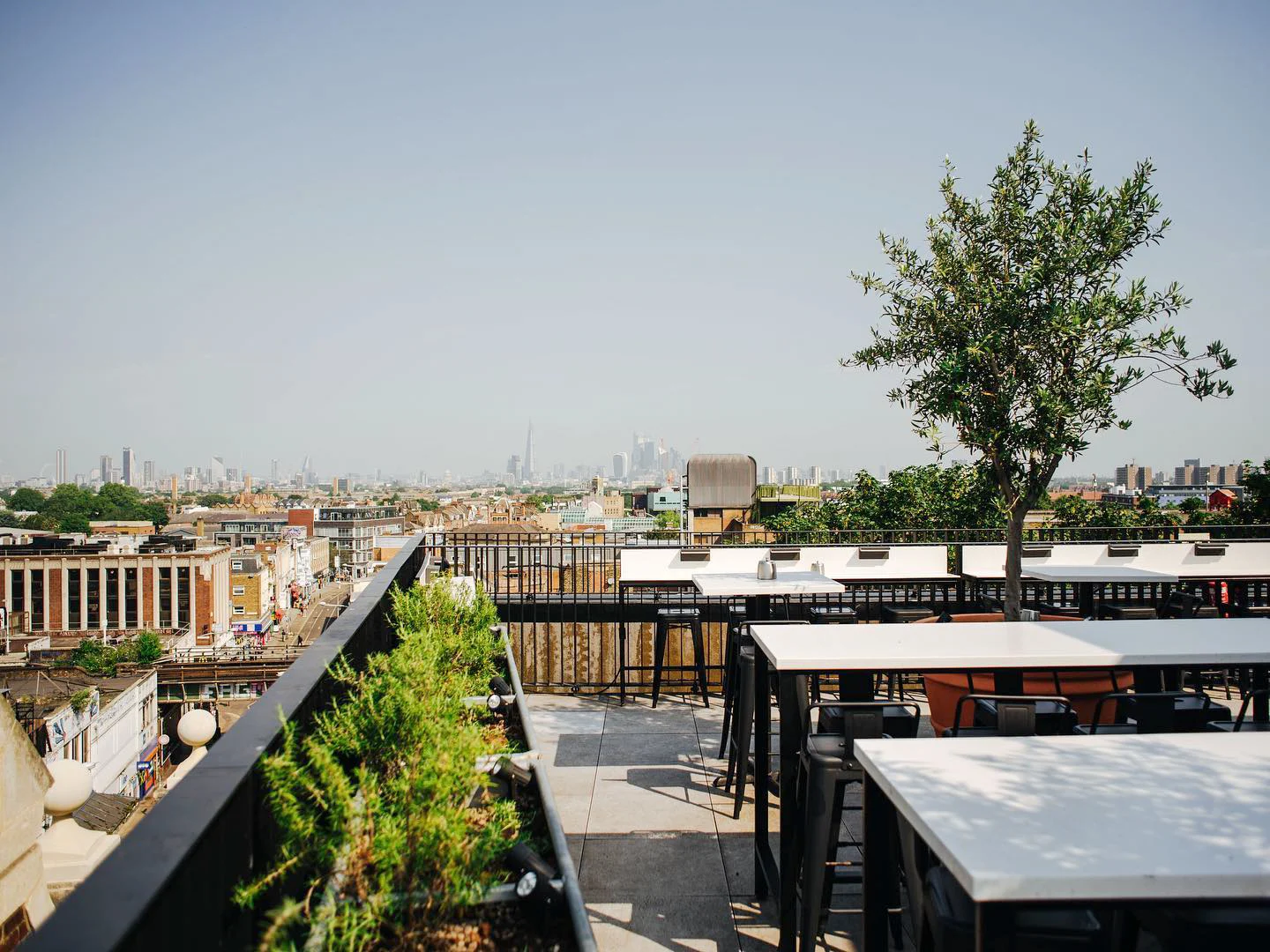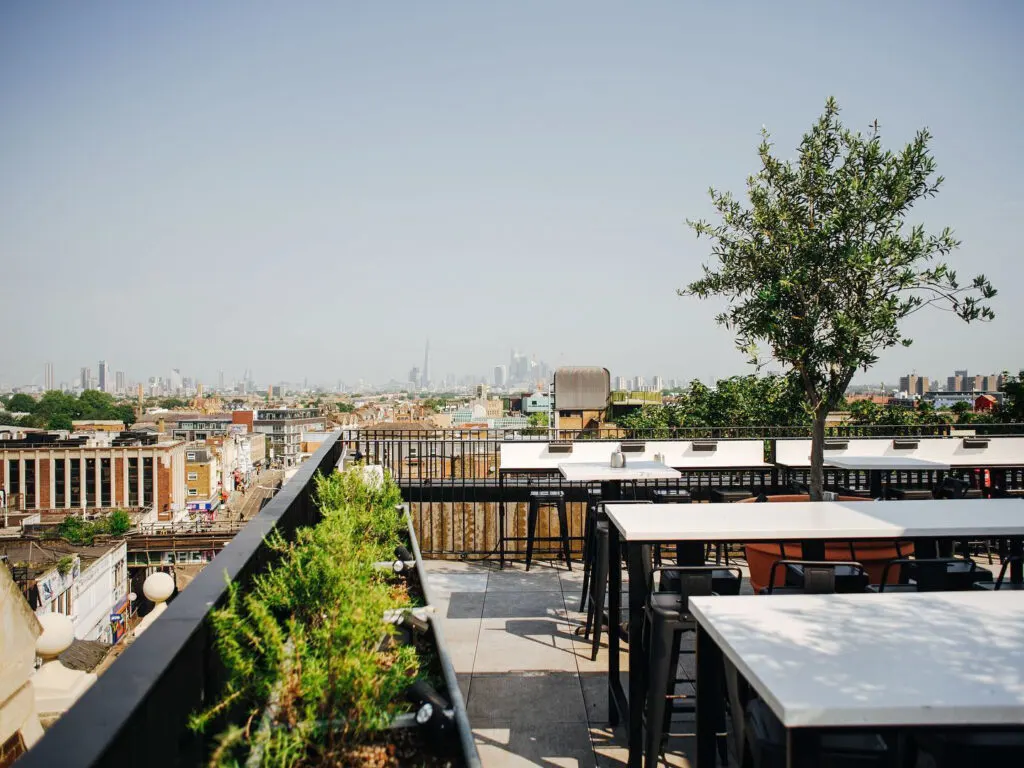 If vinyl is your thing then head to Jumbi, a new bar and restaurant space with a great selection of DJ's playing until 4:00am at the weekend.
Alternatively, on Rye Lane you will find a quirky bar called Four Quarters. It's decked out with vintage video games and Mario Kart projected on to the wall.
Downstairs there is another bar with more of nightclub feel and live DJ's Thursday – Sunday.
In the nearby neighbourhood of Nunhead, you'll find a beautiful local Irish pub called Skehans. To get to Skehans from Peckham just jump on the P12 bus route.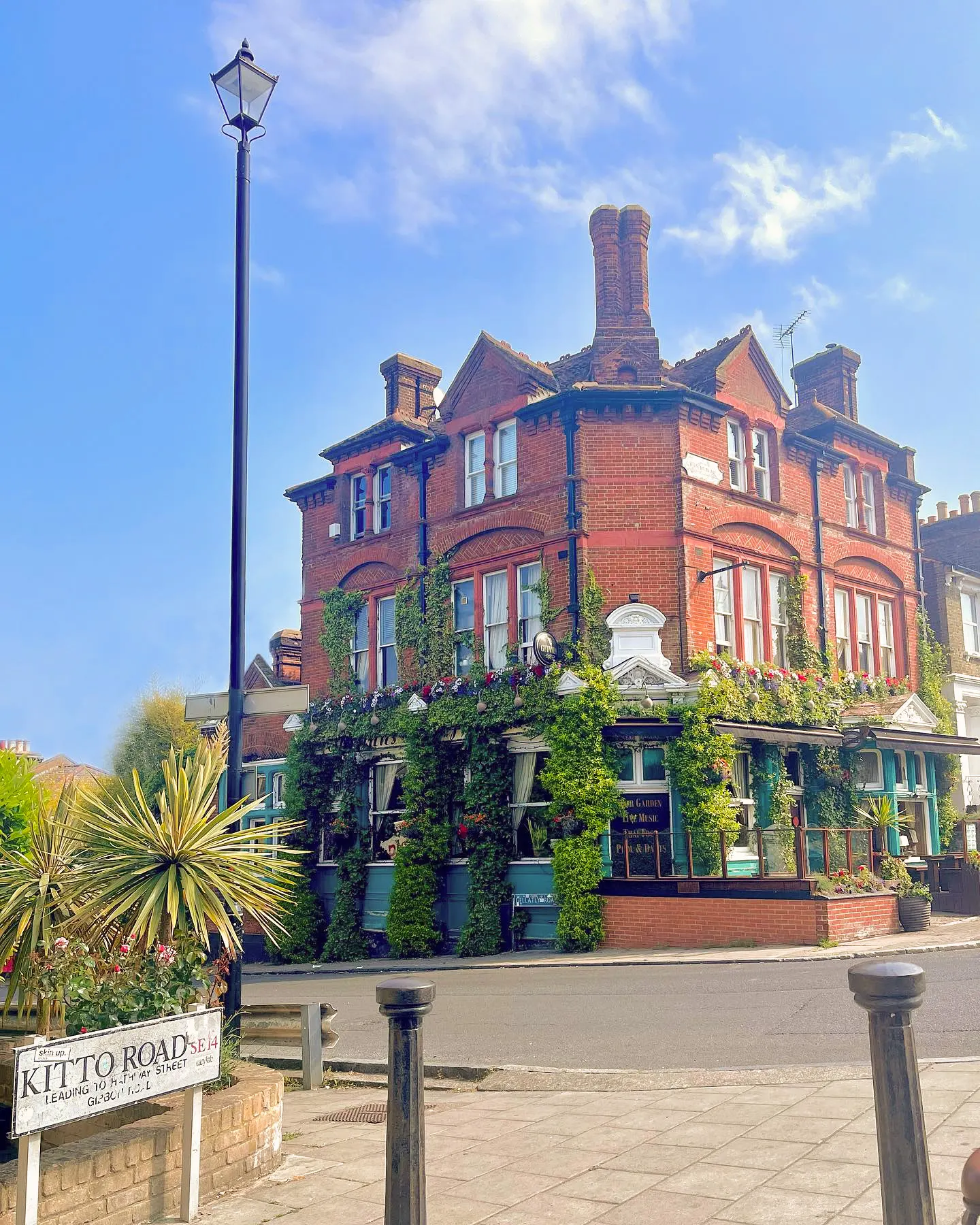 Decorated on the outside with ivy and flowers, inside you'll find a busy traditional pub complete with a real fire, pool table, and live Irish music every Sunday.
Downstairs you will find a fantastic Thai restaurant which you can even order to your table in the pub.
I love London in the summer, so in my opinion the best time to visit the city would be June to August. It tends to stay quite warm until mid-September but the weather is the most reliable earlier in the summer season.
August can be quite busy because of the school holidays and also very hot in the city, so June or July might be the ideal time to visit.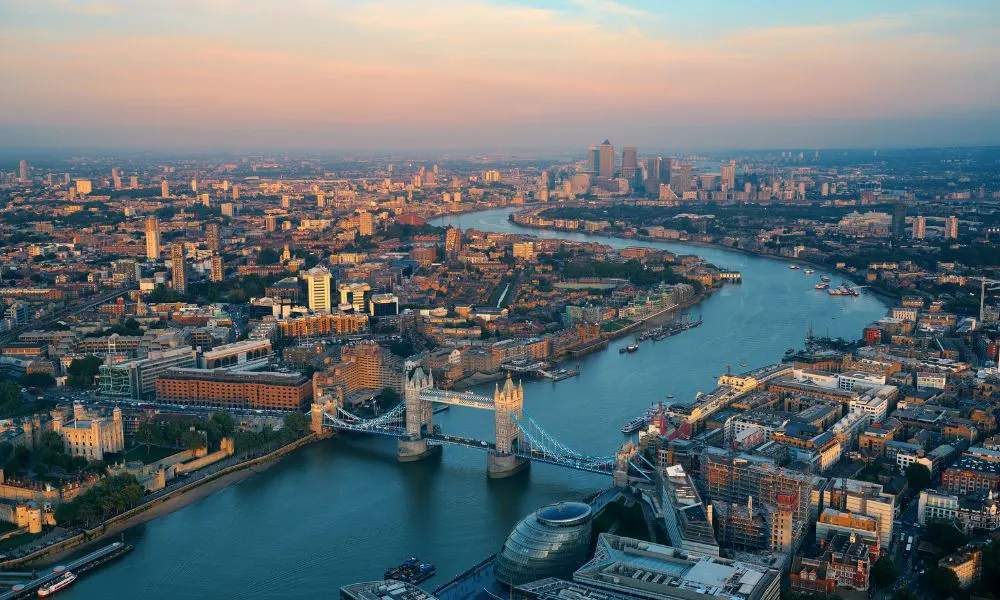 Alternatively, visit in the winter and enjoy the cozy and Christmassy atmosphere that the city has to offer.
Packing List for London 2 Day Itinerary
Remember you are only visiting the city for two days, so it's beneficial to pack light. There will be additional fees on your flight if you have extra cabin bags or heavy bags to put in the hold if you are flyinhg in with a low cost airline.
For a 2 day trip, try to share one hold luggage (usually around 20kg) for your family so you don't get burdened with huge fees on your flights! Check out my packing tips and how we manage to stick to one suitcase.
Large or heavy items like extra shoes and jackets can be taken in the cabin as hand luggage to save space.
Clothing
If you're travelling in the Autumn or Winter months, be sure to bring layers and a warm coat. Maybe throw in a hat, scarf, and gloves, if you're visiting in December or January.
If your visit to London falls in the Spring or Summer seasons, still bring a light jacket, light jumper, and perhaps something waterproof. In April and May it can be particularly rainy. An umbrella or a lightweight waterproof jacket might be handy if you're going to be outdoors, visiting lots of attractions.
This London 2 day itinerary involves a lot of walking around the city, so make sure you pack some comfortable trainers or walking shoes. Of course, you may want to bring an alternative pair of shoes for evenings and meals out if you plan on visiting the swankier options in this itinerary.
Electronics
As well as your phone and any other devices you need, I would recommend bringing a portable charger or power bank to keep your battery topped up. This London 2 day itinerary involves long days out where there may not be anywhere to charge your phone.
Remember that the plug sockets in the UK are likely to be different to the ones you use at home if you are travelling to London from abroad. Remember to bring an international adapter.
If you plan to do any adventure activities, having a GoPro action camera is ideal to capture high quality footage.
Essentials
Passport – consider keeping this in the safe at your hotel to make sure it doesn't get lost or stolen on your days out in the city.
Wallet or purse – you won't need much cash in London as the majority of places take card, but you may want to take some British Pounds out at an ATM if you plan on visiting any of London's markets, such as Colombia Road Flower Market (see my suggestions for Day 2) as some market stalls wont take card. If you are coming from a country with a different currency and prefer not to carry too much cash, preloading cards such as Revolut is an ideal option to reduce bank fees.
Travel Insurance – I always recommend getting travel insurance whenever you go abroad. There are really affordable insurance options available online, and it will give you and your family peace of mind knowing you are covered for any potential accident or incident.
Tickets and reservations – if you're using a smart phone, most tickets and reservation details can be kept in your phone, for example in your Apple Wallet. If you prefer, there is also the option to print these details out as a back up just in case.
Getting a SIM card at the airport
Getting a SIM card at the airport in the UK is a convenient option for international travellers. Make sure the phone you plan on using is unlocked and will work with a SIM card of any network provider.
Before your trip, you may wish to research different mobile network providers in the UK and compare their prepaid SIM card options. Consider factors such as coverage, data packages, international calling rates, and prices.
Once you arrive at the airport in the UK, SIM card providers are typically found in or near the arrival halls, and you may find dedicated kiosks or shops operated by mobile network providers.
At the kiosk or shop, discuss your requirements with the staff. They will guide you through the available options based on your needs, such as the duration of your stay and data requirements. They may require identification or passport details.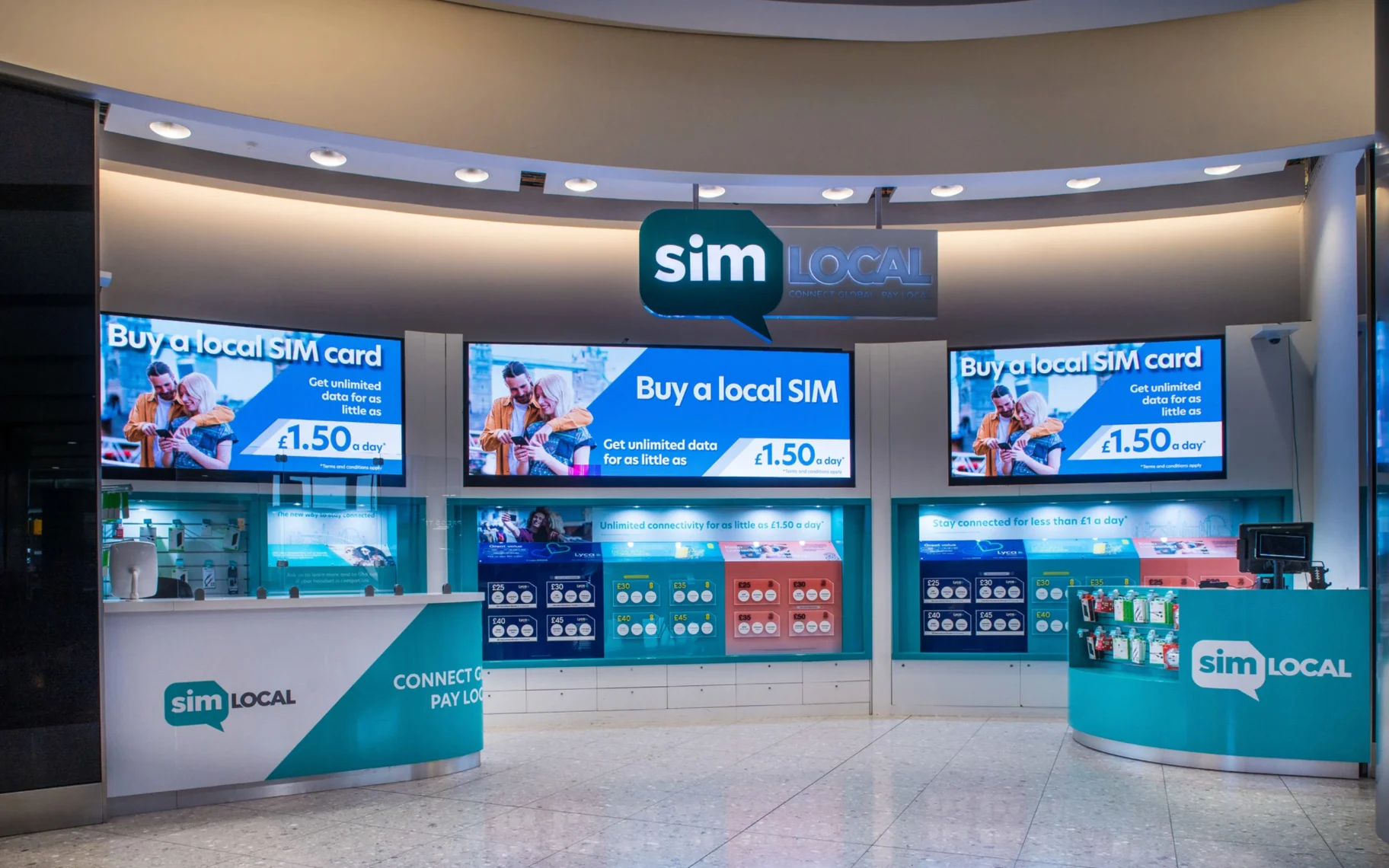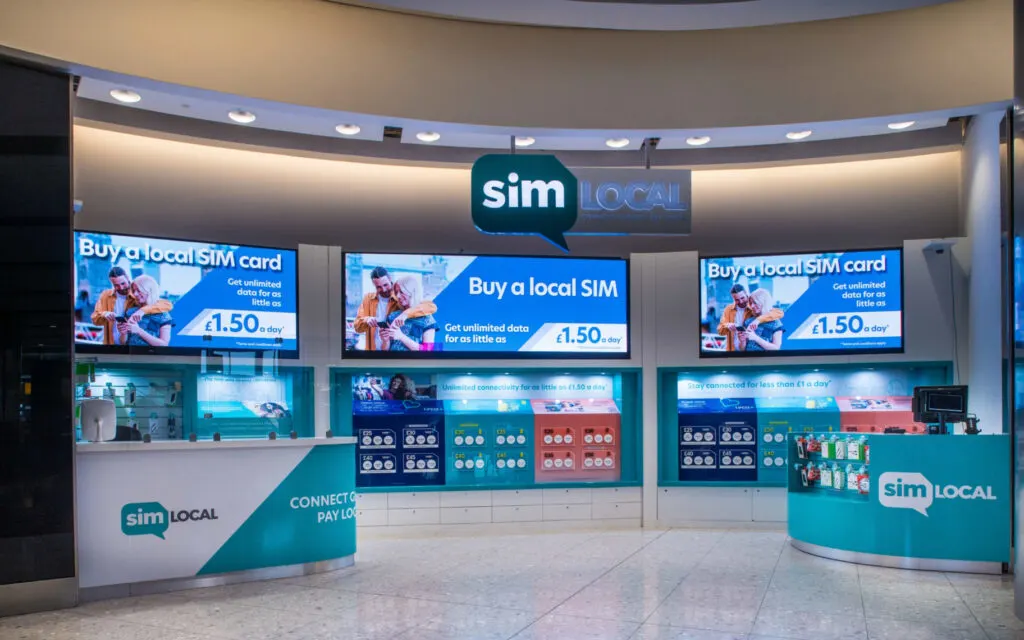 You may need to fill out a registration form and make the payment for the SIM card and any selected data or calling packages. Payments can usually be made in cash or by credit/debit card.
Follow the instructions provided by the staff or outlined in the packaging to activate and set up your new SIM card.
This typically involves inserting the SIM card into your unlocked phone and following the steps for activation. If you encounter any difficulties, the staff will be available to assist you.
Depending on the prepaid plan you choose, you may need to top up your SIM card with credit to use data, make calls, or send messages.
The staff at the airport will provide guidance on how to top up your SIM card, which can typically be done online, through an app, or at various retail locations throughout the UK.
This is a really great option for travellers as having mobile data is almost essential for navigating your way around the city.
Most hotels and pubs will offer free wifi, but it won't be available at attractions and some other venues, so mobile data is essential.
Healthcare in London
Some healthcare providers in the UK, including the National Health Service (NHS), have regulations which require non-UK residents to pay a fee for use of the service. This is why it's essential to buy travel insurance before you visit.
If you are in a medical emergency, 999 is the telephone number for all emergency services including the ambulance, police, and fire fighting services.
If you're visiting from a country in the European Union, you can still use your EHIC card to get access to free emergency medical treatment in the UK post-Brexit. Visitors from Norway can use their Norwegian passport.
If you do not have an EHIC card and you're visiting from outside the European Economic Area (EEA), hospital treatment is only free to those who are ordinarily resident in the UK. As a tourist visiting for two days from outside of the UK, you would be unlikely to qualify for free treatment.
A&E services are free unless you are admitted to hospital, in which case the medical treatment would come with a charge. Travel insurance is essential in this case, as all charges and fees would likely be covered.
Make sure to browse different travel insurance providers to make sure you're getting the best deal and all kinds of accidents and circumstances are covered.
I hope you have found this London 2 day itinerary useful in planning your trip to London for 2 days. This is a packed schedule, but I've tried to give multiple options to suit a range of needs!
Don't feel like you need to pack everything into 2 days in London – relax and make sure to enjoy your time however you want to. You won't be able to see everything, but you will make some great memories.
Frequently Asked Questions
Can I do London in two days?
While two days is quite short to fully explore all that London has to offer, it is still possible to experience some of the top attractions in the city.
It's important to prioritize the attractions and areas that interest you the most and make the most of your limited time.
Focus on the must-see landmarks, visit a few museums or galleries, and explore a couple of neighborhoods.
Keep in mind that you won't be able to cover everything, but you can still get a taste of London's charm.
Where is the best place to stay in London for 2 days?
For a two-day stay in London, it's ideal to choose a central location that offers easy access to major attractions and transportation options. Some recommended areas include:
Covent Garden which is known for its vibrant atmosphere, street performers, and proximity to theatres.
This area provides a lively base within walking distance of popular attractions such as the British Museum and the West End.
Southbank is situated along the River Thames and has great views of the city skyline and landmarks like the London Eye and the Tate Modern.
It's well-connected, and you can enjoy riverside walks and cultural venues.
Kensington is a slightly quieter, upscale neighborhood. It's home to Kensington Gardens, Kensington Palace, and the Natural History Museum, providing a mix of green spaces and cultural attractions.
How many days do you really need in London?
London is a vast city with an abundance of attractions and activities, so the ideal duration of your stay depends on your interests.
Ideally, four to five days would allow you to visit major landmarks, explore museums and galleries, and discover some of the neighborhoods.
However, if you have limited time, two to three days can still give you a taste of London's highlights, ensuring you make the most of your visit.
Is London safe?

London is generally considered a safe city for tourists. Like any major city, it is important to exercise caution and take common-sense safety precautions. Here are a few tips to ensure a safe visit to London:
Be aware of your surroundings at all times, especially in crowded areas and public transportation hubs. Keep an eye on your belongings and avoid displaying valuable items unnecessarily.
Stick to licensed taxis, reputable ride-sharing services, or public transportation when getting around the city. Avoid unlicensed or unmarked vehicles.
As with any popular tourist destination, there may be pickpockets in crowded areas. Keep your belongings secure, use bags with zippers or closures, and consider wearing a money belt to keep your valuables safe.
Keep your mobile phone charged and have emergency contact numbers readily available. It's also a good idea to inform someone trustworthy of your whereabouts and plans.
Familiarize yourself with local laws, customs, and cultural norms to avoid any unintentional misunderstandings or offenses.
Stick to well-lit streets and busy areas, especially at night. Avoid walking alone in unfamiliar or poorly lit areas.
It's important to note that no city is completely immune to crime, and it's always wise to stay informed about current travel advisories and follow any safety recommendations provided by local authorities.
London has a robust police presence, and emergency services are easily accessible throughout the city.
When is the best time to visit London?

The best time to visit London depends on your preferences and what you're looking to experience. Here are some factors to consider for each season:
Spring in London brings milder temperatures and blooming flowers. It typically falls between March and May.
The city is less crowded compared to summer, and you can enjoy events like the Chelsea Flower Show and various outdoor festivals.
Summer is peak tourist season in London due to the warm weather and longer daylight hours. It is fron June to August.
Expect larger crowds, especially at major attractions. This season offers the opportunity to enjoy outdoor activities, parks, and open-air events such as music festivals and theater performances.
Autumn is from September to November and brings mild temperatures and beautiful foliage. It's a great time to visit if you prefer fewer crowds and want to explore the city comfortably.
You can also catch events like the London Fashion Week and the Diwali Festival.
London during winter is festive and magical, with Christmas decorations, ice-skating rinks, and holiday markets.
It is from December to February and it can get quite cold, and daylight hours are shorter. Museums and indoor attractions are popular during this time.
If you're spending any time in London, you may also want to check out some of my other blog posts:
Disclaimer: This post contains affiliate links, by using them, it does not cost you any extra, we get a teeny commission. Thank you in advance for your support.