This list of the best playgrounds in London is perfect for those visiting the city or residents looking to explore somewhere other than their own neighbourhood.
London is a fantastic city to visit with kids as there are so many days out and things to do, lots of which are free.
London parks and the best playgrounds in London make for a great day out during half term or summer holidays.
If you live in London or nearby then maybe you are tired of your local park and want to find somewhere new.
I've made a list of the best playgrounds in London so that you can find somewhere new to take your kids for a fun day out.
I have included some directions for getting to each park on public transport so that you can easily choose one accessible from your hotel or wherever you live.
I have also included details of parking nearby where possible for those who will be travelling by car.
London is an easy city to get around as the public transport is excellent. If you're visiting from abroad or somewhere else in the UK you won't need to hire a car.
If you're travelling to London from elsewhere in the UK, I would recommend booking your train on the Trainline website or mobile app for convenience and the latest prices.
Train prices in the UK tend to go up and down depending on demand rather than having a flat fee for the route like many other countries.
For this reason, it might be worth buying a UK Railcard, which you can also purchase on the Trainline website or mobile app.
Most of this list of best playgrounds in London are easily accessible on public transport. I will give details of how to get to each of the best playgrounds in London, but plan your journey online in advance using the TFL app or website.
Now, let's get into my list of the best playgrounds in London! I have tried to include options for families with children of all ages, from tiny toddlers to older kids.
So, keep reading to discover my list of the best playgrounds in London for all children, big and small!
Best London Playgrounds
1.Diana Princess of Wales Memorial Playground
The Diana Princess of Wales Memorial Playground is by far one of the best playgrounds in London and one of the most well-known.
It was opened in the year 2000, and built to honour the memory of the late Princess Diana.
This London playground features a giant pirate ship which children can climb. The entire area is a 7-mile walkway which winds itself around multiple parks and green spaces, connecting them.
The playground is gated which is perfect for those with smaller kids and built to allow both able and less able-bodied children to play together.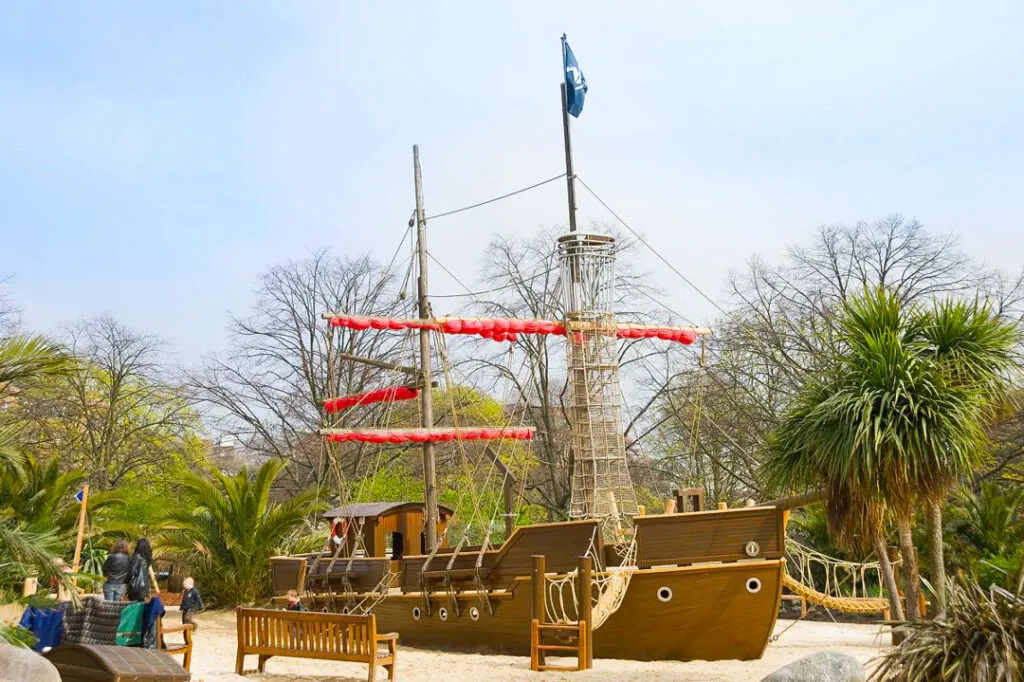 This fantastic playground can be found in Hyde Park in Central London. To get there on public transport, take the Central Line to Queensway tube station and walk for about 4 minutes to Kensington Gardens (to the West of Hyde Park).
It may be difficult to find parking in this busy Central London neighbourhood, especially during the half term and summer holidays when the kids are off school. However, if you visit on a Sunday, parking on a single yellow line is free.
When you have explored this central London playground, make sure to have a look at the rest of Hyde Park.
This is one of London's most famous parks and also home to the fantastic Winter Wonderland, where you can meet Santa at Christmas and explore beautiful festive London markets.
2. Biodiversity Children's Playground
In East London, Biodiversity Children's Playground offers a really fun and unique playground day.
This London playground has a cute and playful pond theme with wobbly lily pads and a massive wooden fish.
It is located in Stratford near Westfield shopping centre where you may like to do some shopping if it turns out to be a rainy day. Hopefully, the sun is out to explore this quirky children's playground in London.
Biodiversity Children's Playground in Stratford is one of the best playgrounds in London for young children and toddlers.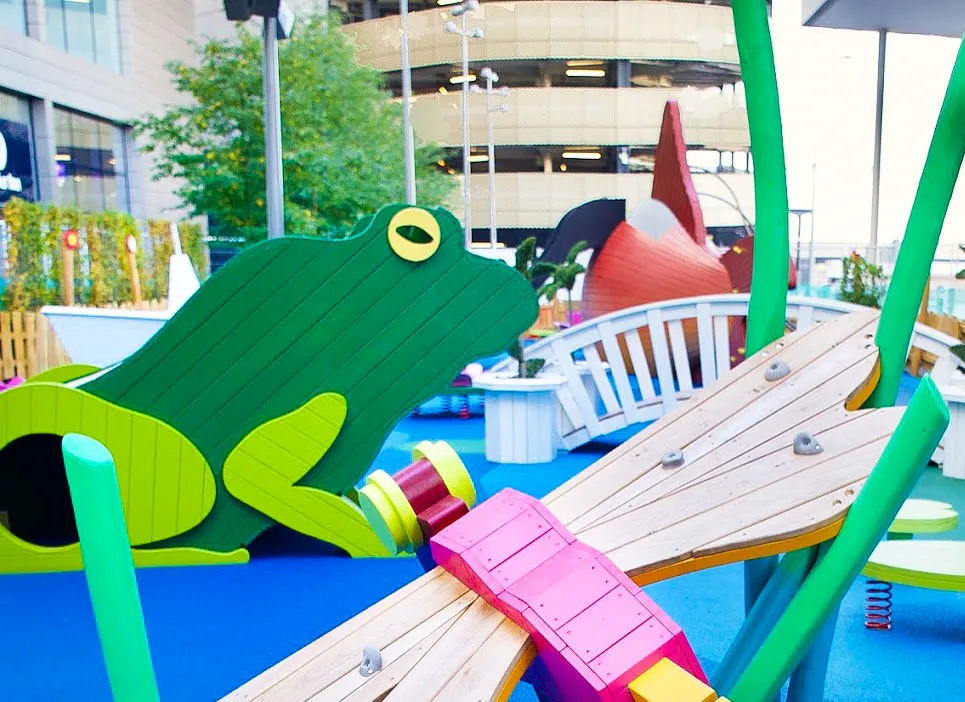 It's is open until 9 PM most days of the week but closes early on a Sunday at 6 PM.
The majority of shops and businesses in London also close early (around 5:00 PM) on Sundays.
There are plenty of cute cafes and family-friendly restaurants in Stratford around the Westfield shopping centre if you are looking for a bite to eat after your trip to the playground.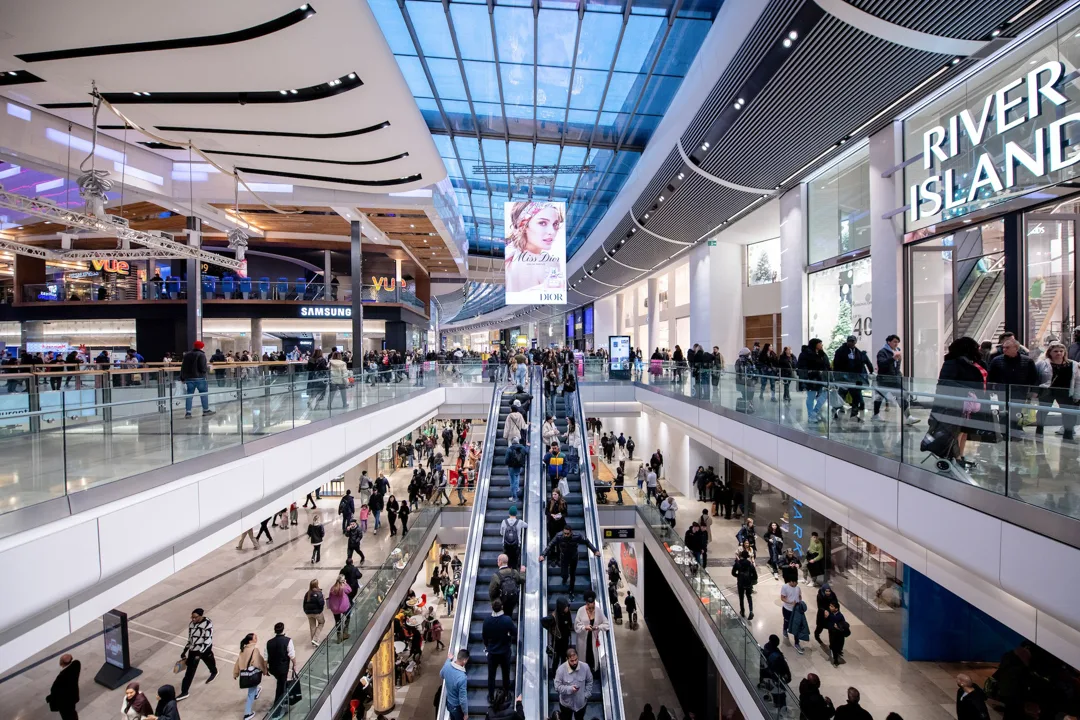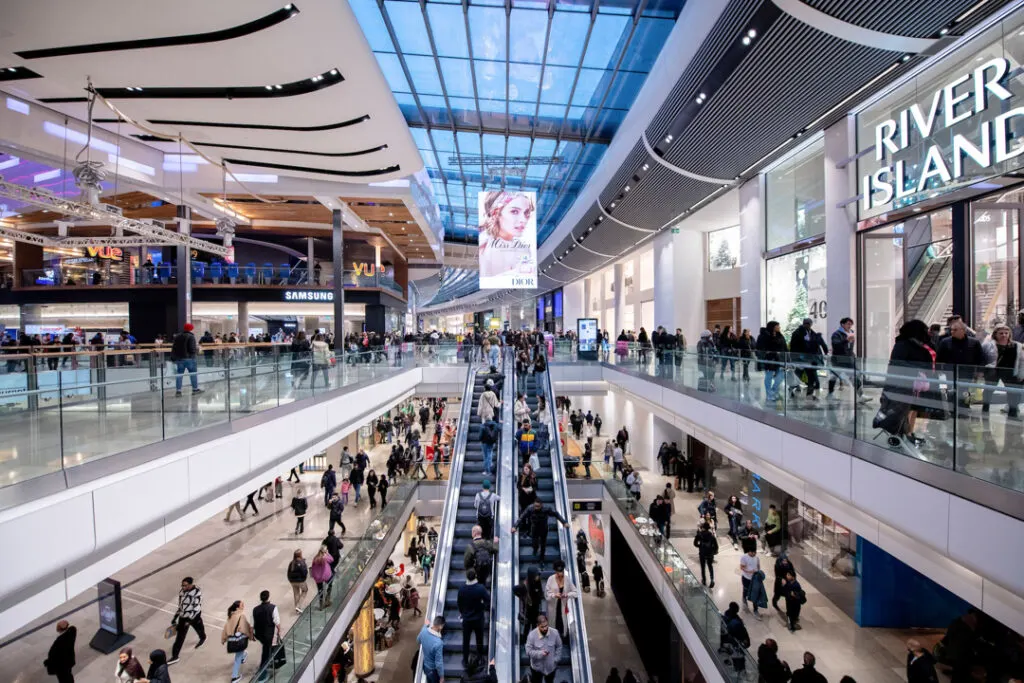 My favourite family-friendly restaurants in Stratford have to be Franco Manca for pizza or Pho for Vietnamese noodle soup. Both have vegan options and great choices for kids, which they always enjoy.
To get to Stratford City Westfield shopping centre by public transport, take the Central Line to Stratford tube station. You can also take a Southeastern or other train service to the overground station, Stratford International.
If you're travelling on an overground train, book tickets on the Trainline with a UK Railcard for a 30% discount.
Plenty of parking is available at the shopping centre for those who will be travelling by car.
3. Magic Garden, Hampton Court
The Magic Garden at Hampton Court is in Greater London in the southwest of the city, just past Kingston. The area is really beautiful with lots of green space and Richmond Park is nearby.
The playground is one of the best in London with its range of activities. This includes sand and water play, climbing frames, and slides.
You may wish to bring a towel or a change of clothes for the kids since there is a lot of water play in the garden, like a splash park with fountains. This will be especially enjoyable when you want to cool off on a hot summer day.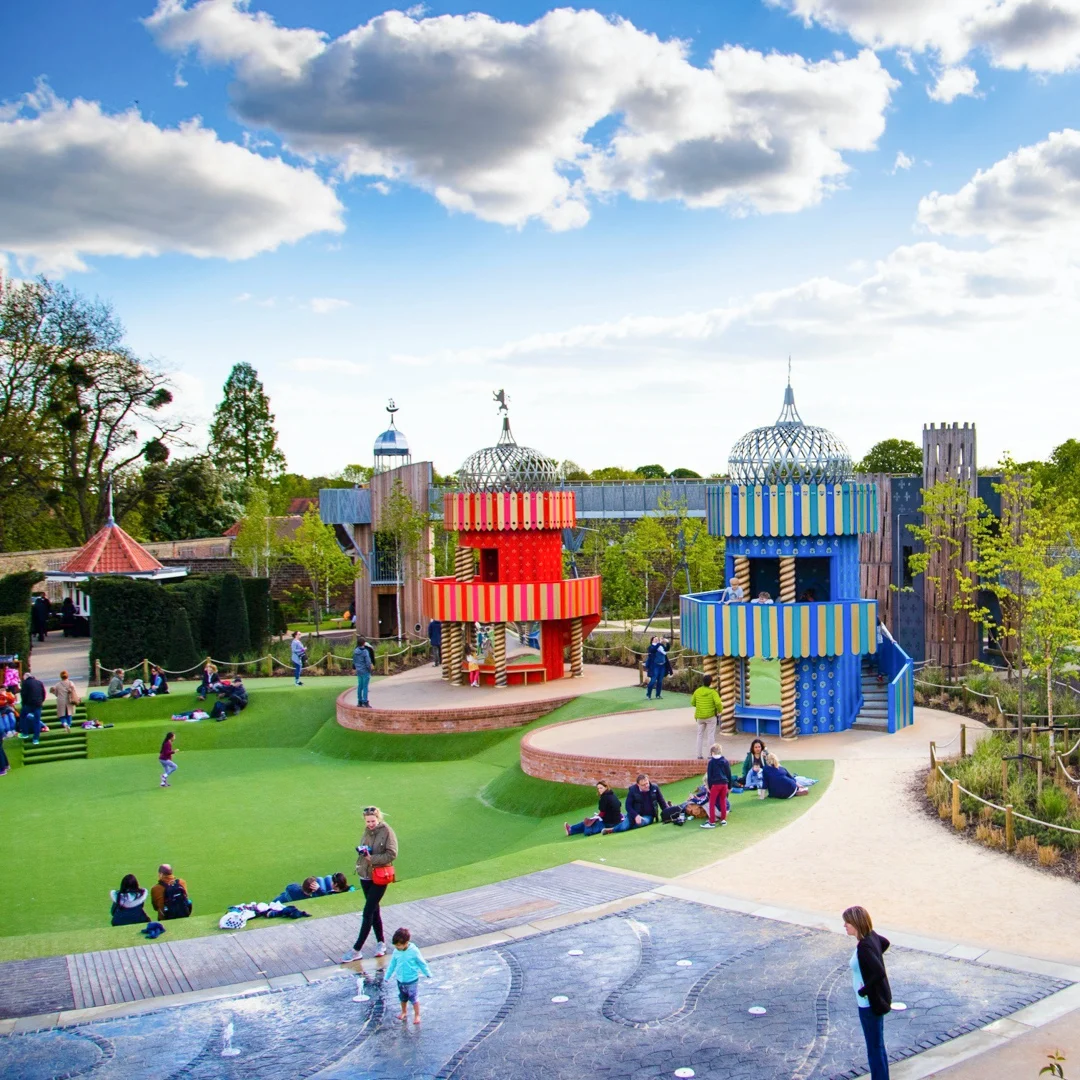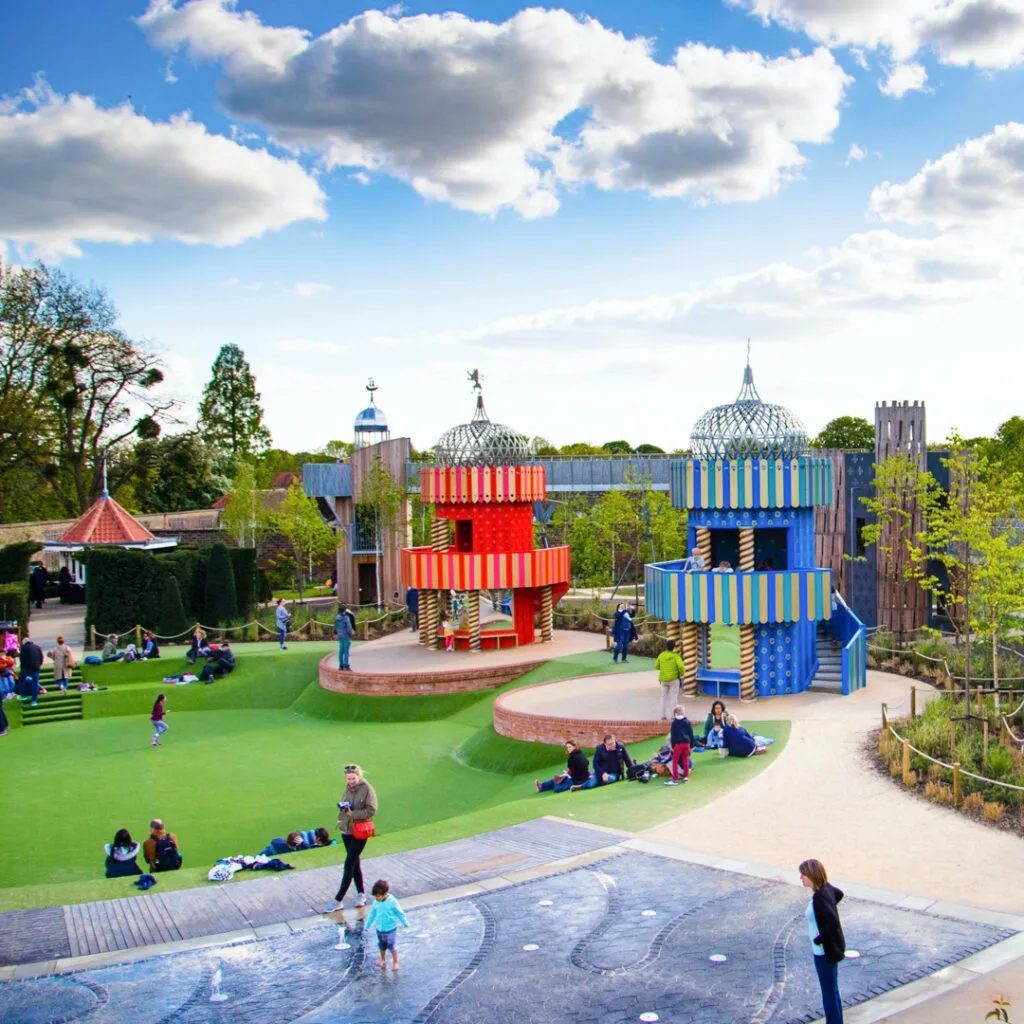 You can travel to this London playground by taking the South Western Railway service (an overground train) to Hampton Court. From here, it's around a 9-minute walk to the Magic Garden playground.
While this is one of the best playgrounds in London, it is essential to note, it is one of the few playgrounds on this list which require visitors to pay an entry fee to Hampton Court Palace.
Visiting the playground without a palace entry ticket is not possible.
Each day, the playground closes 45 minutes before the palace shuts. Check the Hampton Court Palace website for more information on opening times and prices.
4. Peckham Rye Park Playground
Peckham Rye Park has a fantastic children's play area complete with an in-floor trampoline, a rock feature, and a giant slide!
Around the playground is a lovely park with gardens, a vast common for sports and games, or a walk with the dog.
The playground is also conveniently located right next to the toilets (which are decent), and a lovely café serving everything from pizza to ice cream and pints!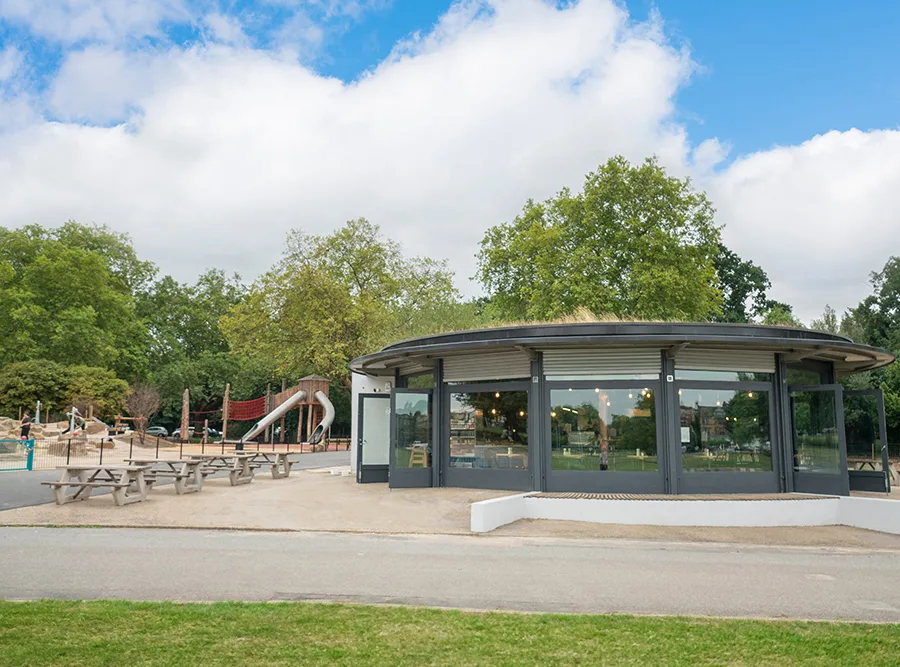 With all of this, Peckham Rye is a great place to spend a sunny Saturday or Sunday having a run around with the kids and something to eat and drink with family and friends.
It's one of the best playgrounds in London, especially for locals living in South East London.
At the bottom of the common is an incredible high street with plenty of proper shops, and excellent restaurants, cafes, and pubs.
To get there on public transport, you can get the train to Peckham Rye station and walk for around 10 minutes to the park. Alternatively, take one of the many bus routes which serve the common such as the 63 or the 363.
If you would rather drive, there is a large car park near Peckhamplex Cinema on the high street. The high street itself is buses only, so keep this in mind when you plan your route.
5. Paddington Recreation Ground
Next up on my list of the best playgrounds in London is the Paddington Recreation Ground.
This, fun-filled playground in London is like stepping into a mini paradise for little explorers!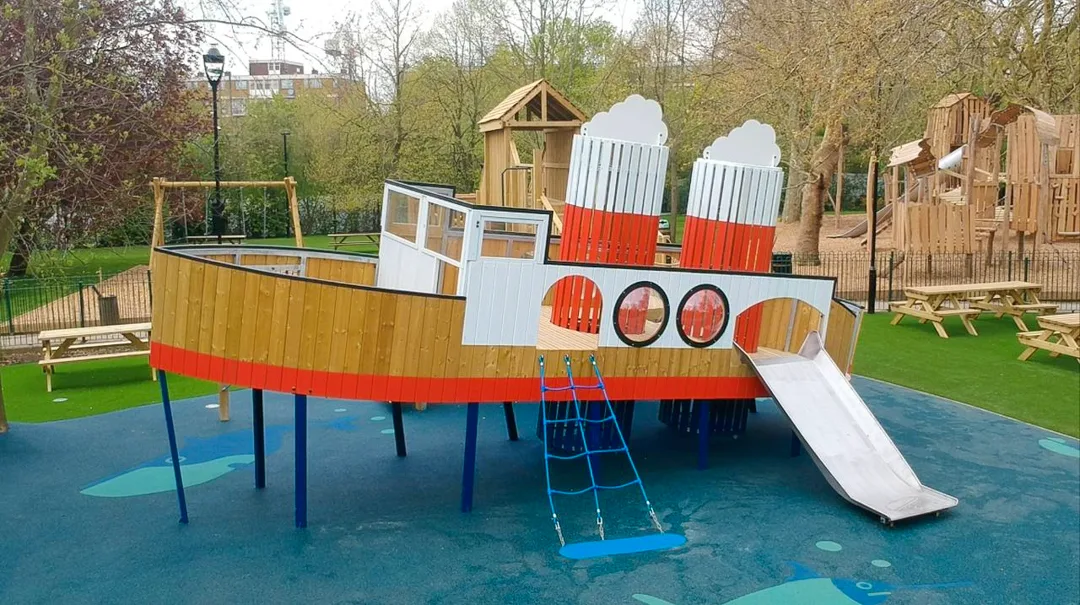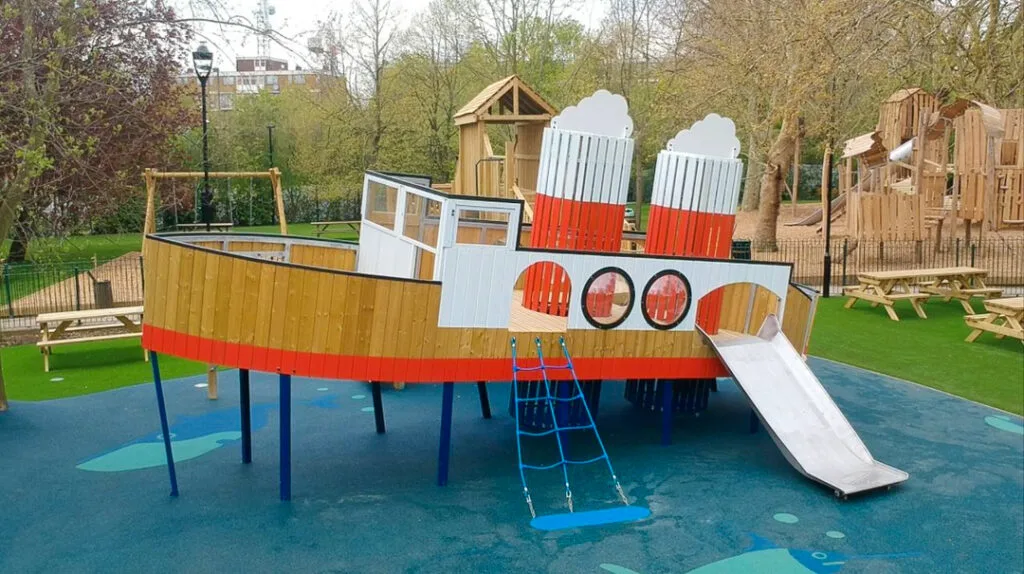 The Paddington Recreation Ground playground is a kiddo's dream come true. The climbing frames are like mini adventure zones and will keep them running around and creating games for hours.
This playground is a wonderland designed for kids between 2 and 10. There's something for everyone, from the tiniest toddlers to the more adventurous older kids who love to climb and slide.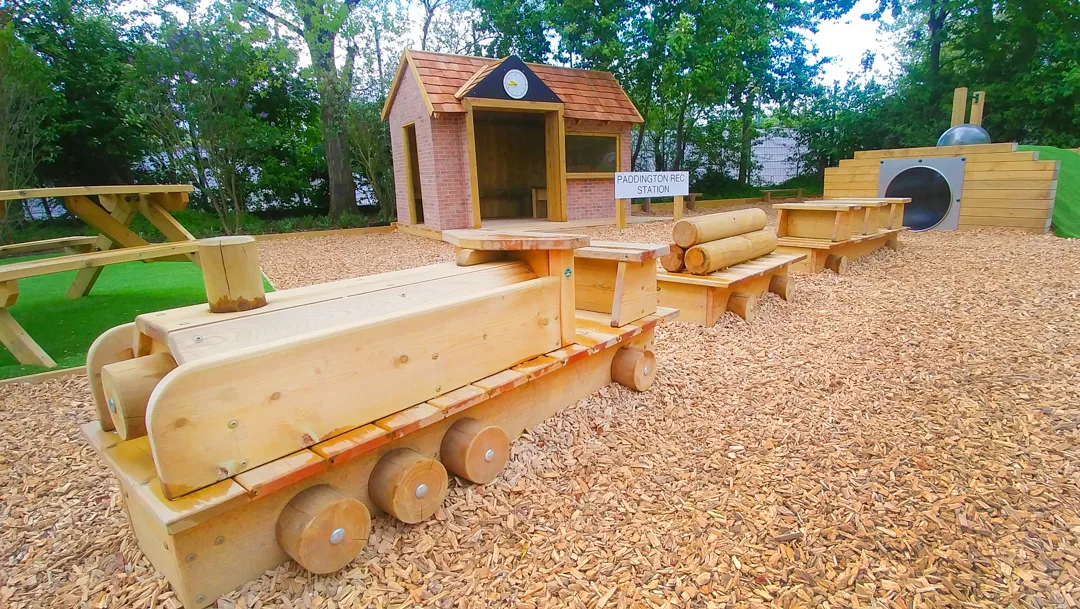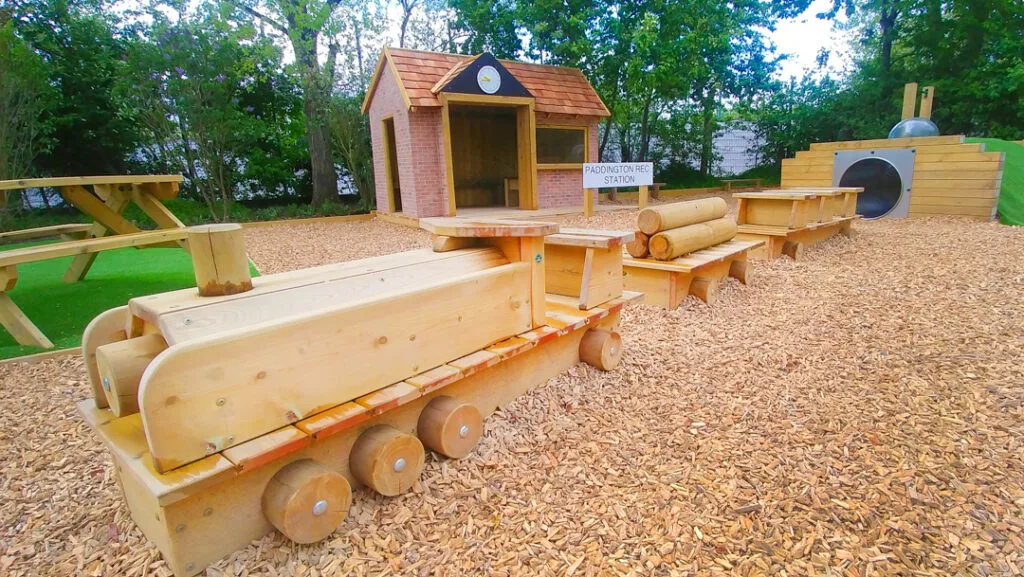 Getting to this haven of play is a breeze, especially if you're staying in a Central London family hotel.
Hop on the Bakerloo Line and hop off at Maida Vale station. From there, take a stroll for about 10 minutes to reach the Paddington Recreation Ground.
6. Children's Garden, Kew Gardens
The Children's Garden at Kew is designed for children ages 2 to 12 and is one of London's most idyllic and best playgrounds.
Not just a playground, the Children's Garden is a learning space for children to learn everything about growing the plants which populate the space. This is divided into four parts: the earth garden, air garden, water garden, and sun garden.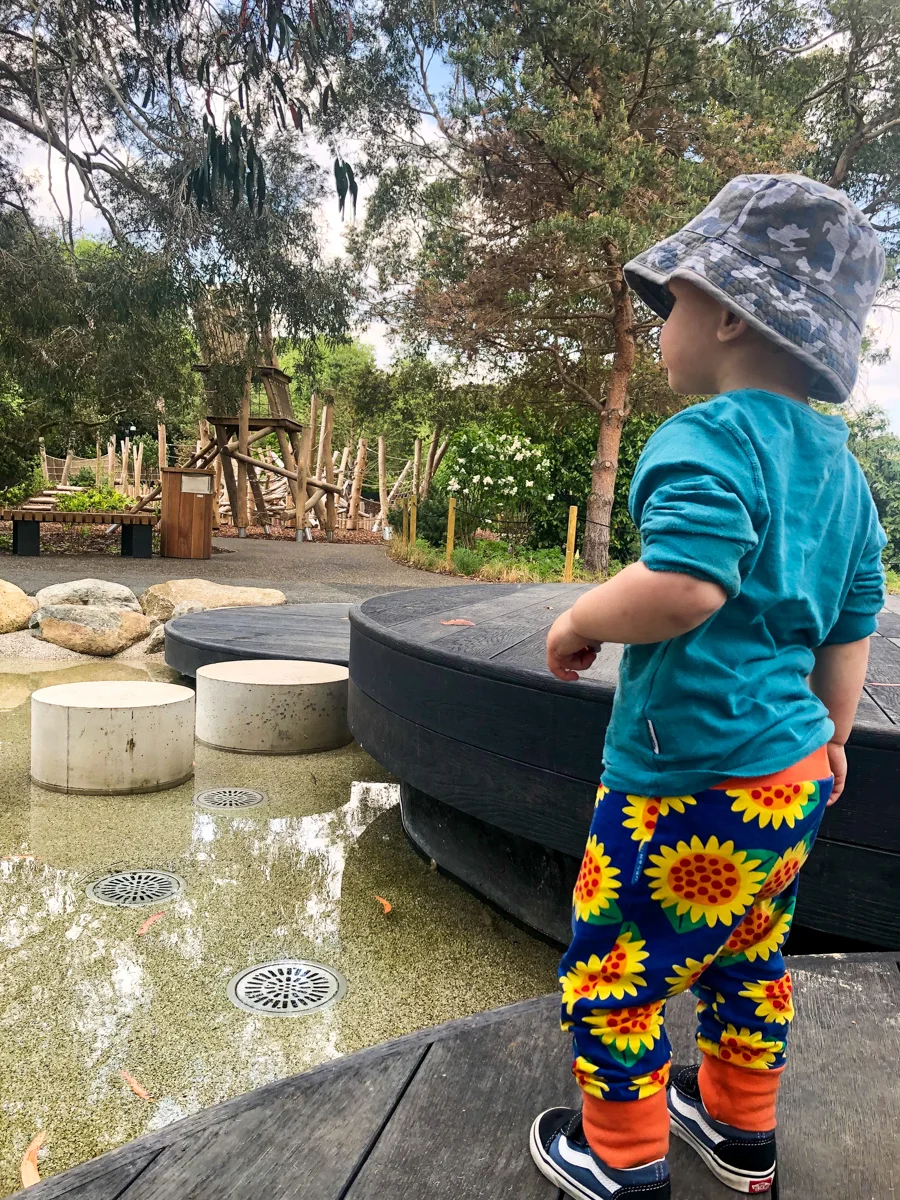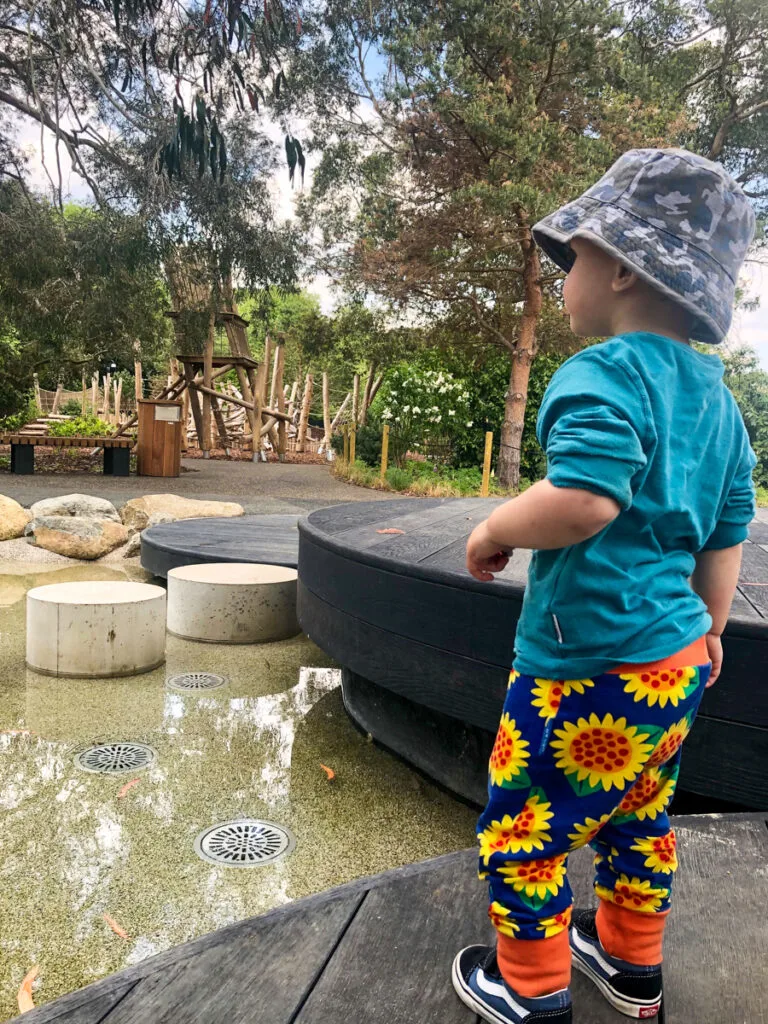 An entry ticket to Kew Gardens is essential for visiting the Children's Garden – by far one of the best playgrounds in London. The whole day out is worth the ticket price, in my opinion.
For August, Kew Gardens opens at 10 am every day and closes at 7 p.m. on weekdays and 8 p.m. on weekends and bank holidays.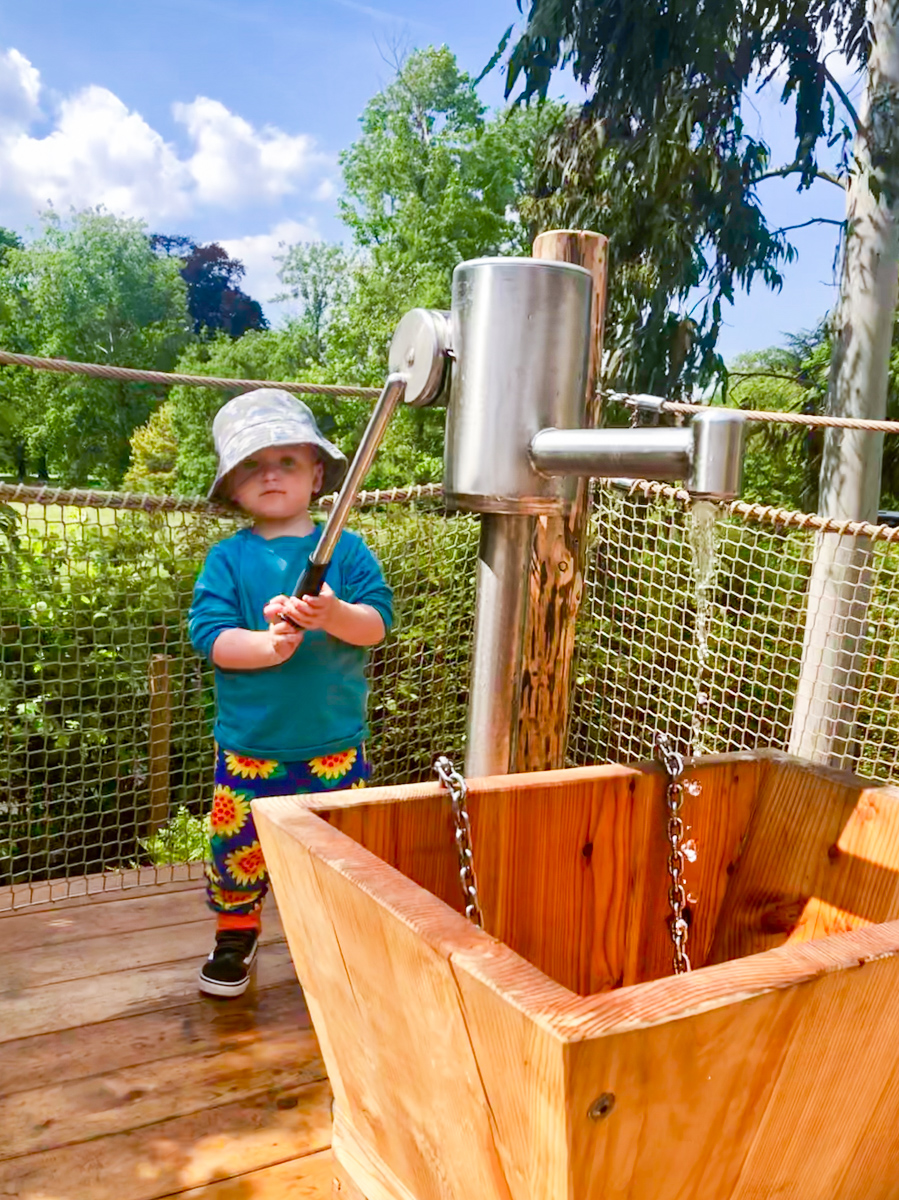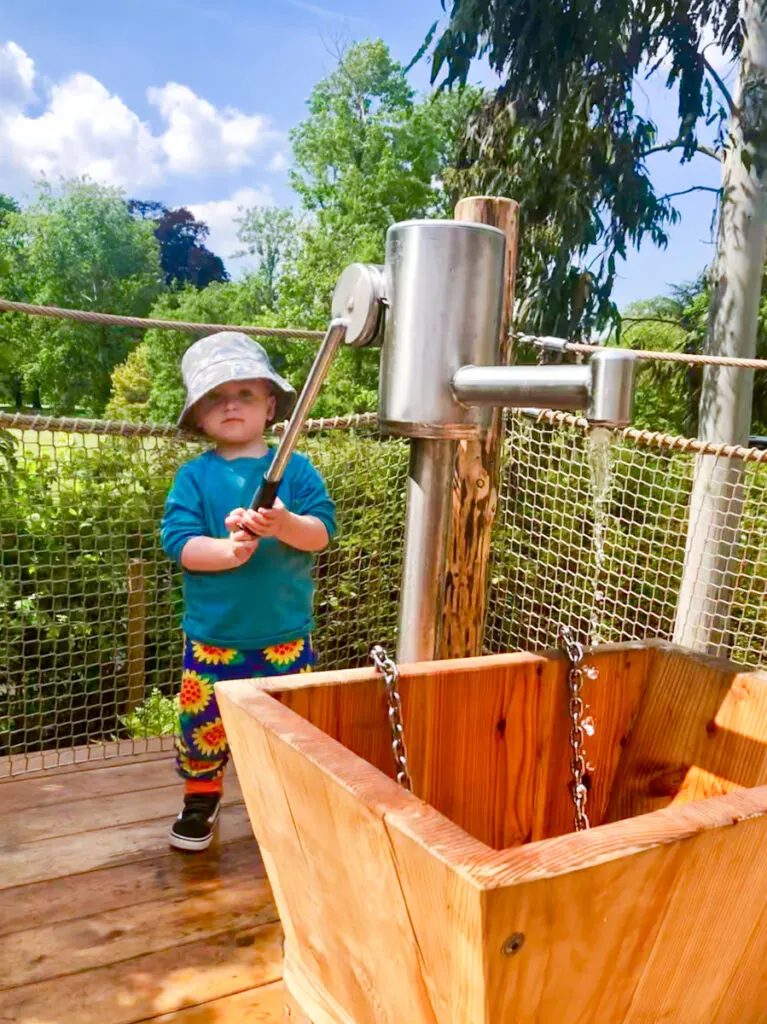 In the winter months the gardens close earlier due to the shorter days, so check online for the time you are visiting. Christmas is a lovely time of year to visit as the park has a fantastic Christmas light walking route.
Kew Gardens is approximately a 40-minute drive from Central London, traffic dependent.
To get there on public transport, you can take the District Line to Kew Gardens Station. The London Overground also serves this station on the Stratford and Richmond routes. You can use your Oyster card on all of these services.
If you and your family are travelling by public transport, the Royal Botanic Gardens are a 13-minute walk from the station.
7. Battersea Park Children's Playground
Next on my list of the best playgrounds in London is Battersea Park in the southwest of the city.
Battersea Park has a few children's playgrounds suited to different ages. In the South West of the park, there is a playground for toddlers and smaller children.
This playground is suited to children aged 4 through to 14. The fun facilities include swings, slides, trapeze bars, and exercise stations.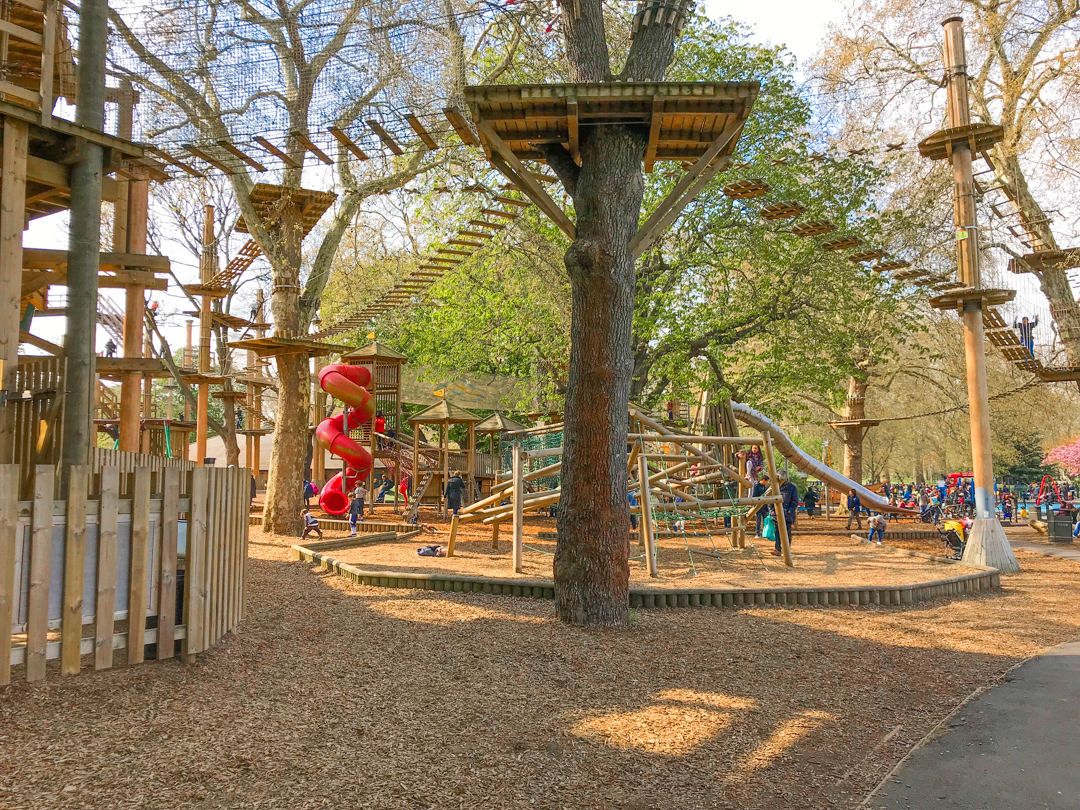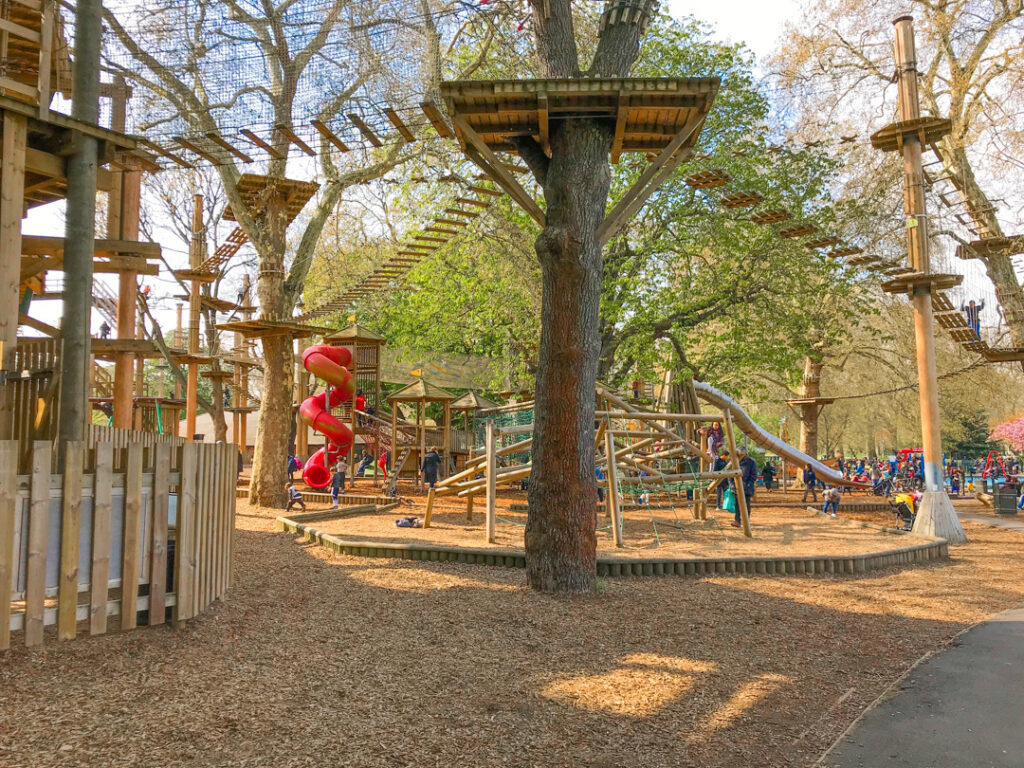 The toddler area of the playground includes stationary equipment, such as the wooden train, which is more stable and safe for younger children to play on.
Across the play park, you will find the adventure play area, which is more challenging and designed for children aged eight years and above.
Battersea Park is also home to Go Ape, a tree-top obstacle course and not for the faint-hearted!
This is loads of fun but quite tricky (and a bit scary), so I would recommend it for older children mainly, although many Go-Ape courses do have a smaller treetop course for younger children.
To get to Battersea Park, take the train to Battersea Park Station.
8. Greenwich Park Playground London
The children's playground at Greenwich Park is a fantastic spot where kiddos can unleash their imaginations, climb, swing, and have the time of their lives!
Greenwich Park children's playground is fantastic for all ages of little adventurers, making it one of the best playgrounds in London. Whether you've got mini daredevils or creative explorers, this playground has them covered.
This park has everything from classic swings to super cool slides. There's no shortage of fun here especially the climbing structures!
The adventure-themed play area is by far the stand-out part for my kids and solidifies this spot on the list of the best playgrounds in London.
Imagine rope bridges that lead to secret worlds, faux rock formations perfect for little climbers, and endless opportunities for imaginative play.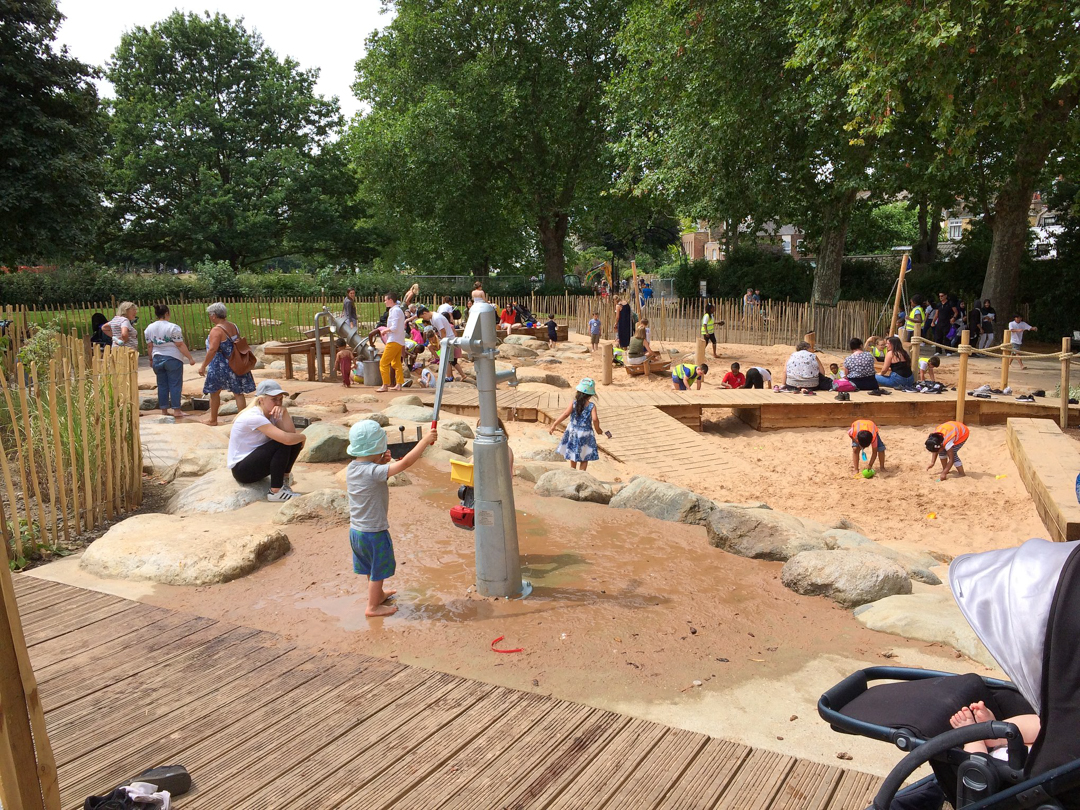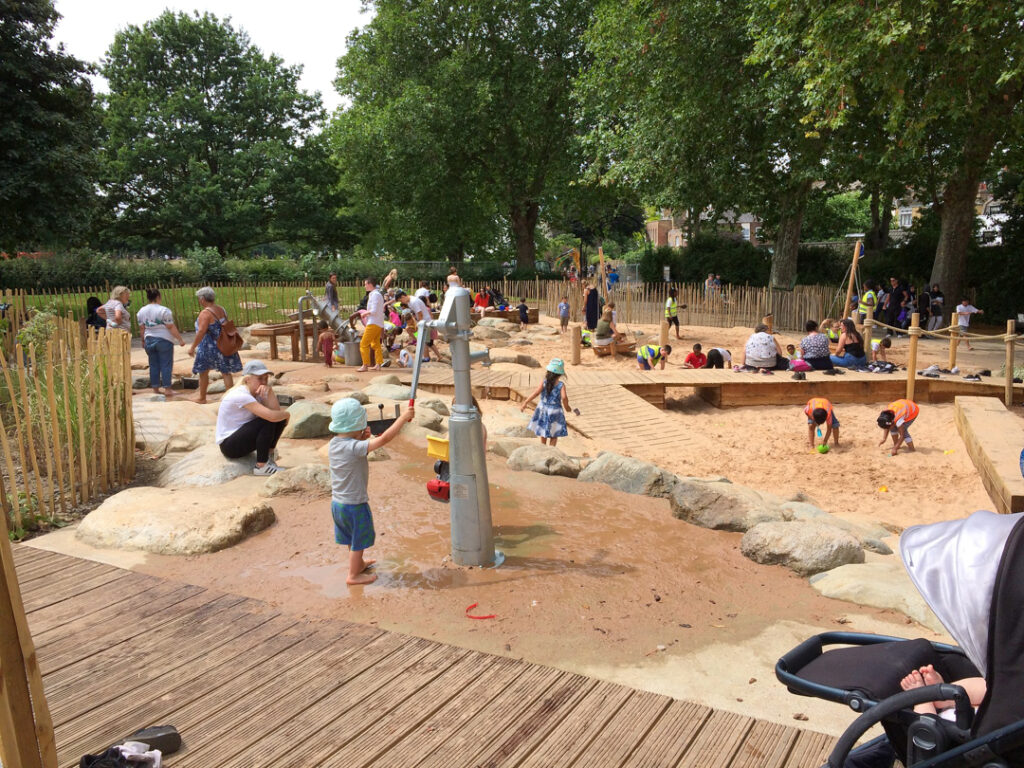 There's even a sand play zone to build sandcastles. This is a great one for smaller children to have fun playing in the sand with supervision.
On a sunny day, you and your kids will be grateful for the water fountains and features. London has plenty more splash parks and lidos if it's a hot day in the summer holidays.
To get there, hop on the Jubilee Line and get off at North Greenwich station. Grab the 188 or 129 bus towards Greenwich town centre from there. Jump off at Greenwich, National Maritime Museum station.
It's just a 10-minute walk from the bus stop to one of the best playgrounds in London. Follow the signs towards the National Maritime Museum and Royal Observatory – you can't miss it!
I love visiting Greenwich Park in London, with its breathtaking views of the city skyline and the River Thames.
There are also many family-friendly restaurants near the best playgrounds in London, and lovely family pubs if you're looking for something to eat or drink after your day at the park.
9. St James Park Children's Playground London
The children's playground at St. James Park is arguably one of the best playgrounds in London with its beautiful surroundings and fantastic location.
This park makes for a great family walk before and after playing in the playground.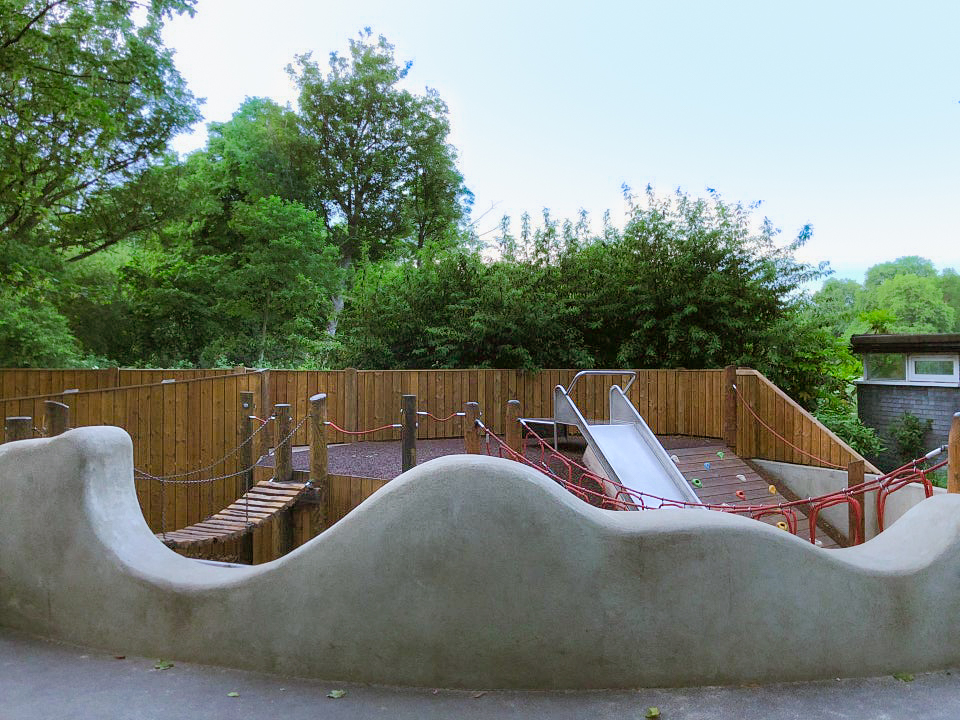 The playground is in a gated area next to a stunning lake, so adults can enjoy the view and the surroundings while the little ones have fun!
This playground caters to various ages, making it perfect for toddlers, preschoolers, and older children alike.
However, you may want to be more mindful with toddlers and watch them closely as part of the playground has quite a lot of stones on the ground, which might make it unsuitable.
A playground kiosk is open nearby with good coffee for the grown-ups and delicious ice cream for everyone.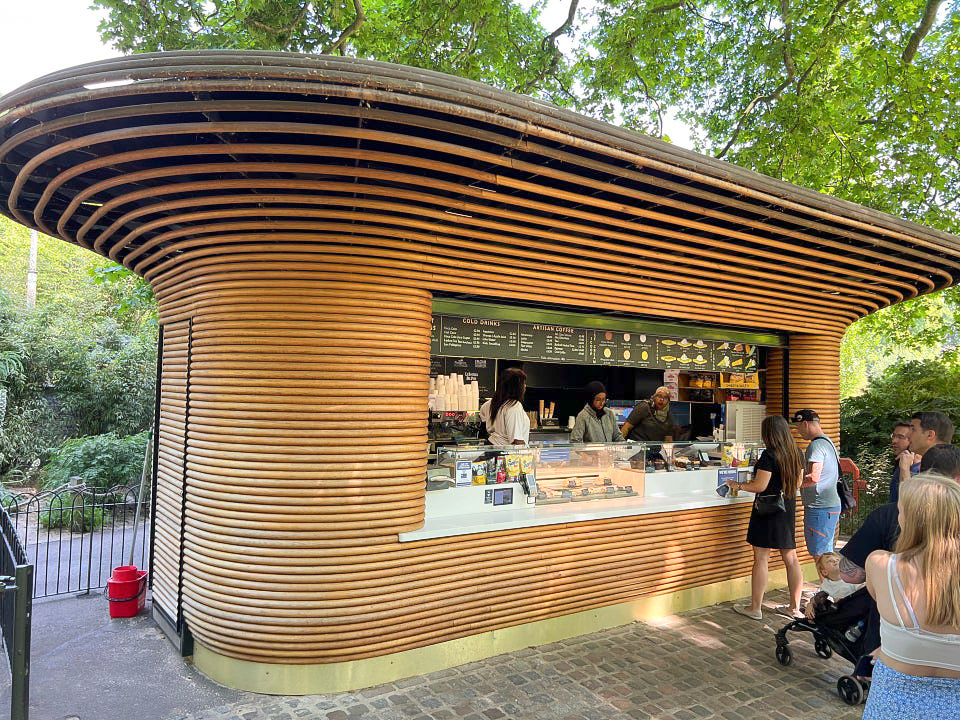 I recommend travelling to this children's playground on public transport rather than driving due to its central location.
You can take the Circle or District Lines to St James Park tube station to get there. From there, it's a short walk (less than five minutes).
10. Jubilee Gardens Playground London
The Jubilee Gardens Playground, situated behind the iconic London Eye, is a lovely play space in an otherwise bustling area of the South Bank on the River Thames.
This playground has a picturesque backdrop for families and children to enjoy, with the London Eye towering above and Big Ben just behind.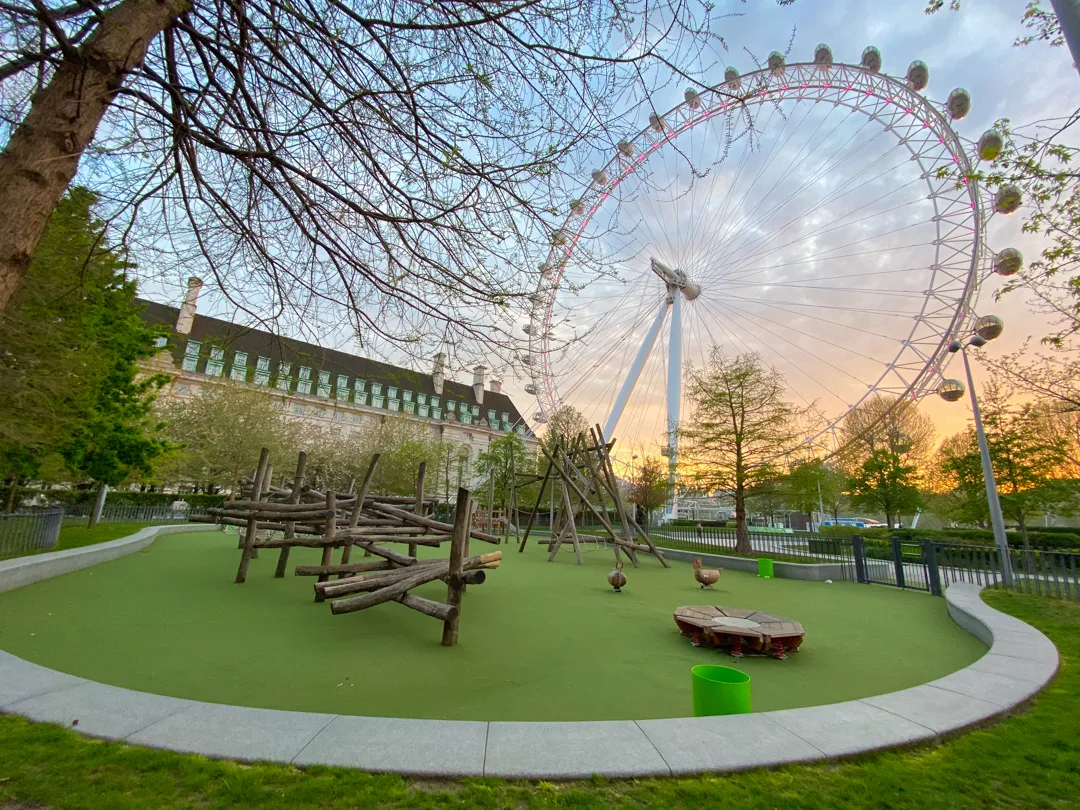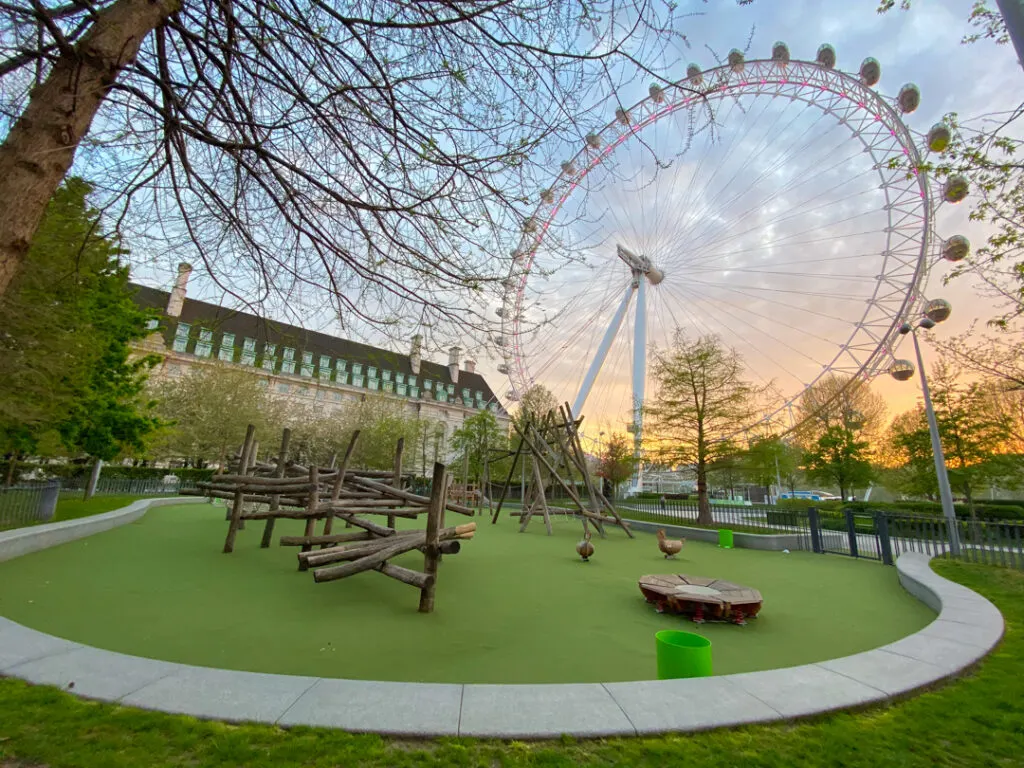 It features a range of equipment, including swings, slides, climbing frames, and interactive play structures that cater to children of all ages.
I don't know about you, but we always tend to walk for miles whilst on the South Bank so this playground is ideal for kids looking to run around.
Parents can relax on nearby benches while keeping an eye on their little ones at play. With its proximity to the London Eye and other attractions, the Jubilee Gardens Playground is a fantastic addition to the area, providing a much-needed space for families with kids.
11. Tooting Triangle Playground
Tooting Triangle Playground, located in Tooting Bec Common.
It's the perfect space for local families, and i have personally travelled from the south-east to this playground for a change of scenery. We love Tooting Bec Common since it's a lovely open green space.
The playground itself has some fantastic climbing obstacle courses suitable for older children. There is also a large sand space, perfect for warmer days and messy play for toddlers.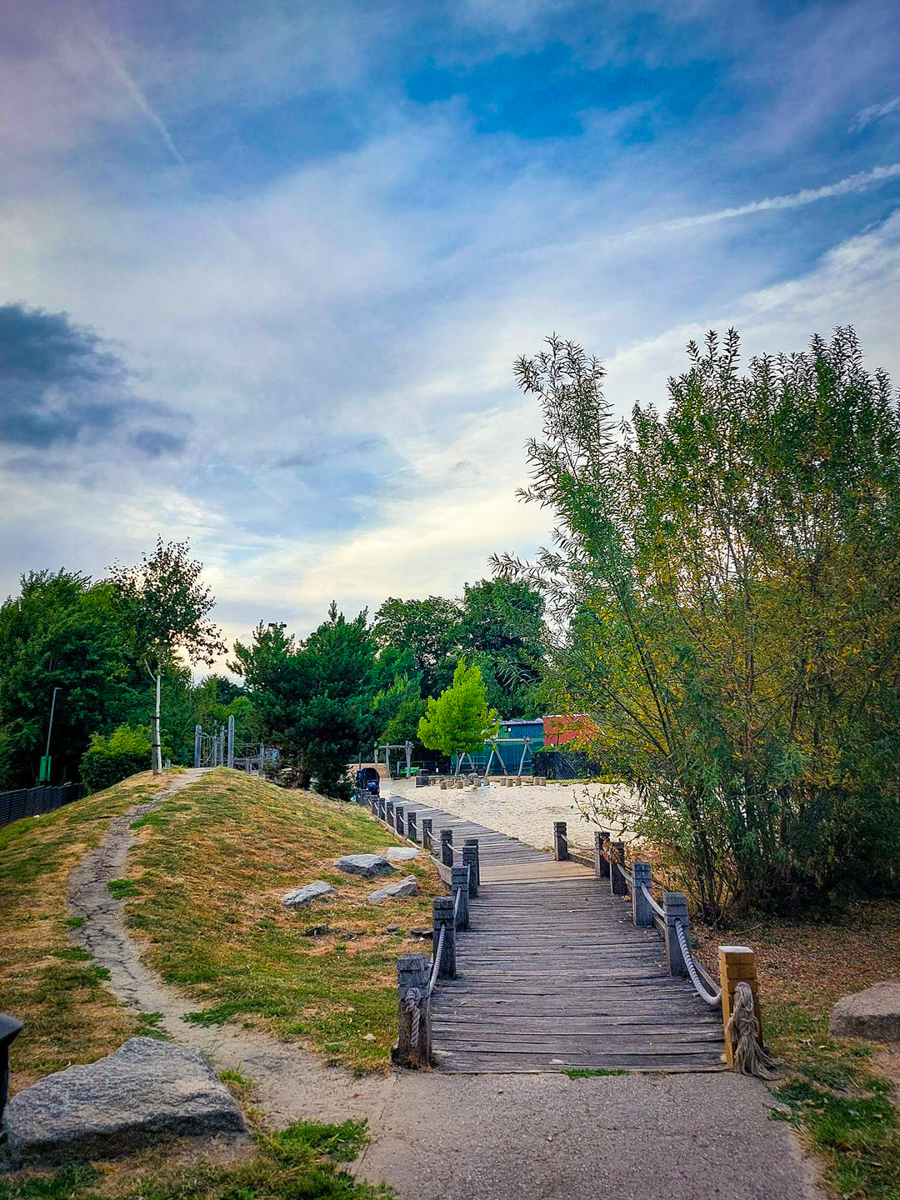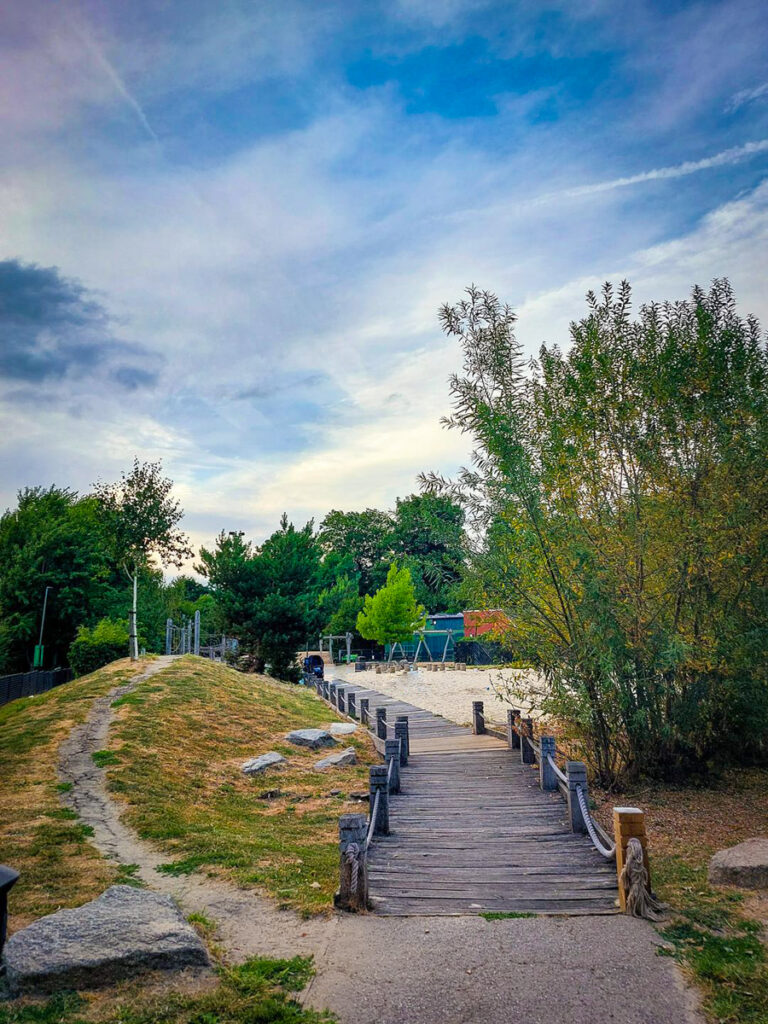 Aside from the climbing obstacles and sand pit, there are some swings and a few other traditional playground items. Tooting Triangle Playground is considered a natural playground with giant tree stumps in the sand pit for kids to jump from one to the next.
Tooting Bec is the ideal place for kids to scooter as there are many flat pathways throughout the common. A train line runs right through the park, so it's also a great spot for train enthusiasts. Train drivers always give a hoot as they pass the kids.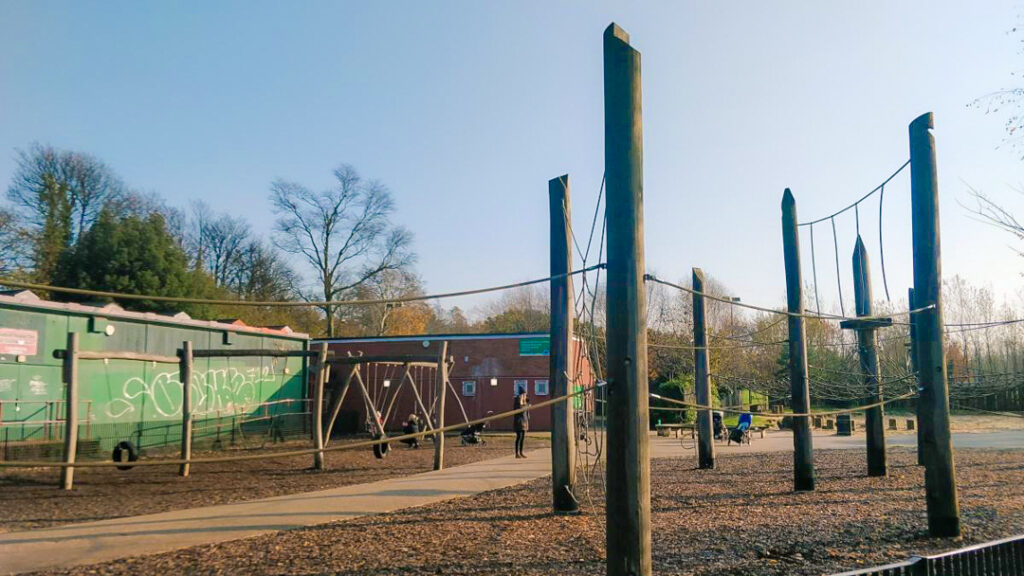 The lido is also within the common, which is a great spot on a warm summer day.
There are plenty of buses, namely the 319, 249, 315 and G1, which stop at the common. It's also a short walk from Tooting Bec Common tube station and not too far from Balham and Streatham station for overground options.
Tooting Bec Common cafe is on the other side of the park but is a nice stroll across from the playground to make a day of it.
Thank you for reading this list of the best playgrounds in London. I hope you found something fun to do with your kids.