Considering a weekend in North Yorkshire with kids? A staycation is certainly the way forward and Yorkshire is a county brimming with some excellent places to stay and visit. The North Yorkshire coast is a fabulous place to go to for an ultimate family-friendly weekend away.
There is so much to see and do and there is something to suit all age ranges and tastes. You will find more than enough at each location to spend a weekend away with your family.

This is a guest post by Suzy from Yorkshire To Do With Kids. Her family moved to the area a few years ago and have visited a wide range of attractions and things to do across North Yorkshire and beyond.
We are so grateful to tap into her local knowledge to create a weekend in North Yorkshire with kids.
A Weekend In North Yorkshire With Kids
Best Beaches For Families to Visit on the North Yorkshire Coast

The North Yorkshire coastline has a great range of beautiful beaches. Most of the coastline is rugged with high cliffs meaning some of the beaches may be more accessible than others.

The easiest three places to visit in North Yorkshire with beaches are Scarborough, Filey and Whitby. They all benefit from low-level and accessible beaches with plenty of golden sand.

Although do check tide times before you visit as the high tide in Yorkshire usually means less golden sand. This is especially so in Scarborough where it's not unheard of to see large waves crashing onto the road.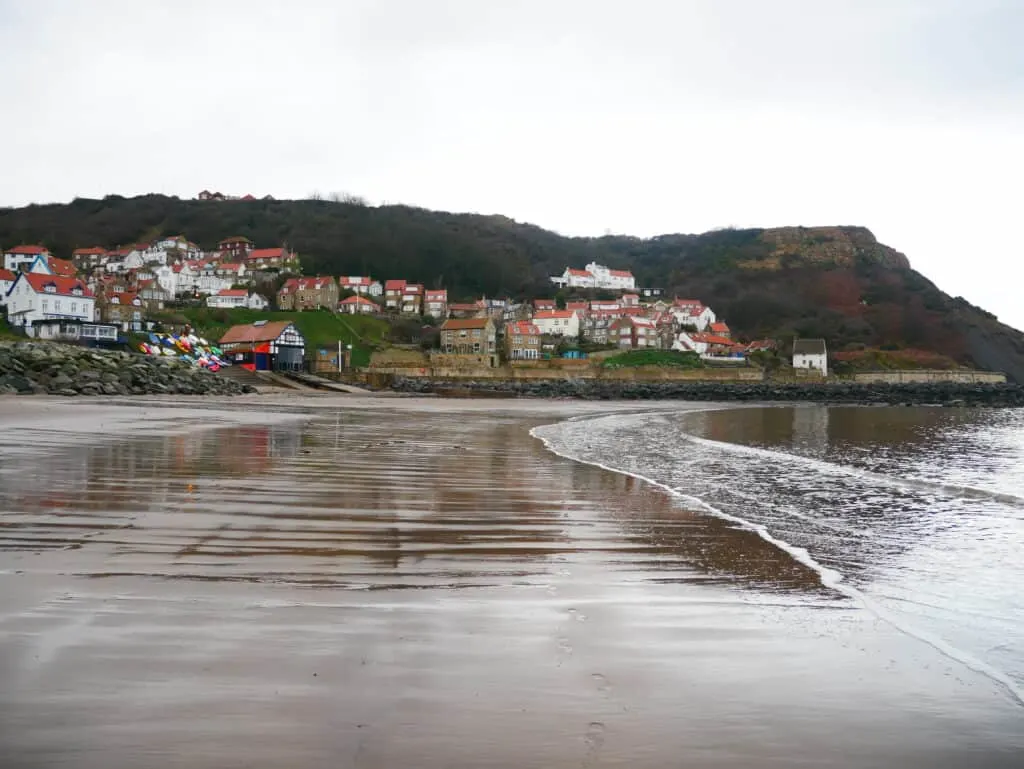 Next, you have Saltburn-by-the-sea, Runswick Bay and Robin Hood's Bay. Access to all of these beaches is less easy but very rewarding.
They mostly involve a large hill which I will mention more about below. Finally, one of our favourite North Yorkshire beaches is Cayton Bay which is more of a challenge to visit although still doable.

If you are travelling from the south we will start with Filey, the first seaside resort that you will come to on the North Yorkshire coast.

A Weekend Break to Filey for families

Filey is one of the smaller seaside towns that we will cover in this post. It does, however, have a huge number of holiday parks to stay at nearby.
Our favourite is Haven's Primrose Valley but there is also Blue Dolphin, Reighton Sands and The Bay.

There is a long promenade alongside the seafront at Filey with a paddling pool, a small number of toddler-friendly fairground rides, crazy golf and a small selection of amusements plus kiosks serving food and drinks. One of our favourite places to visit is Glen Gardens.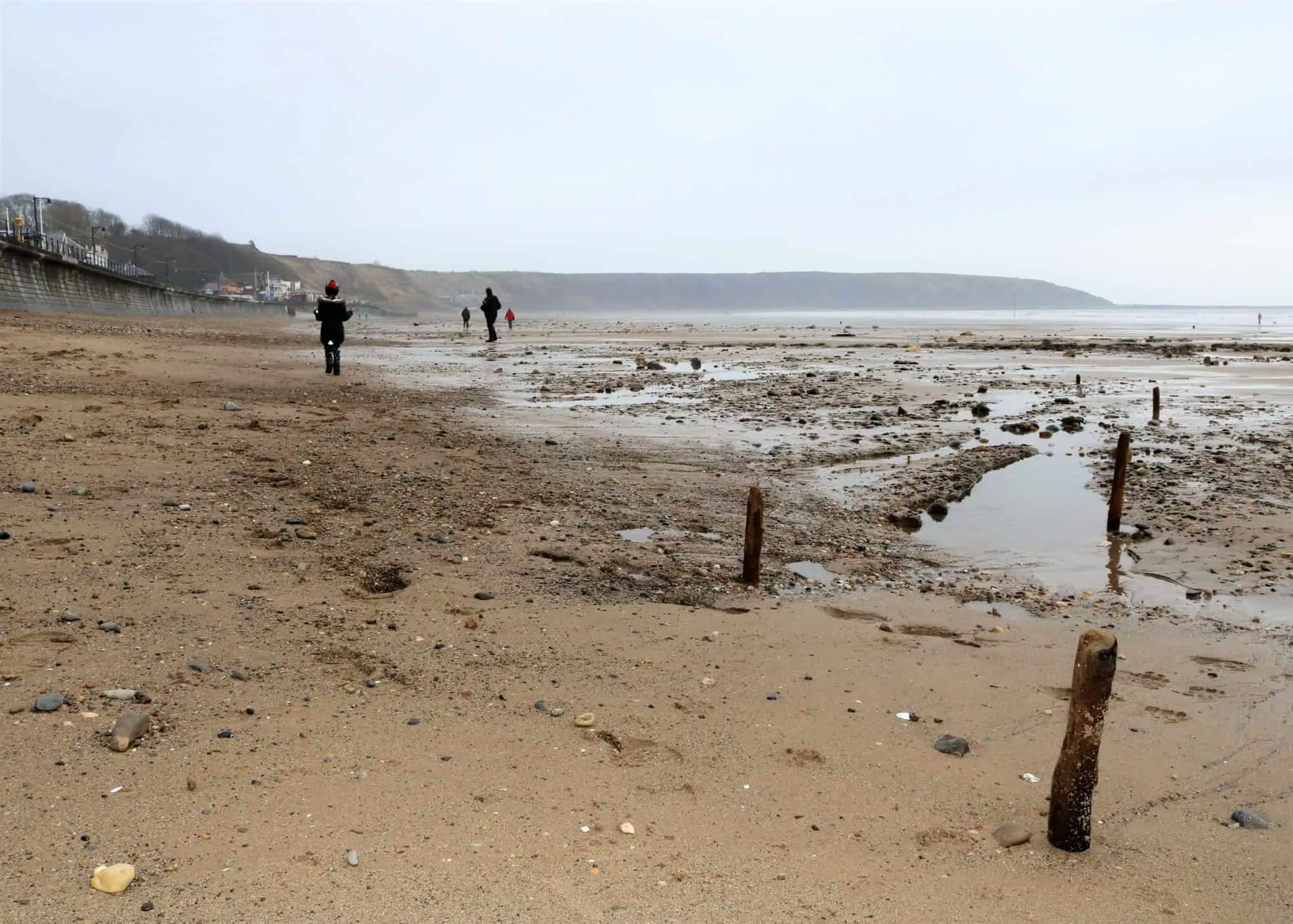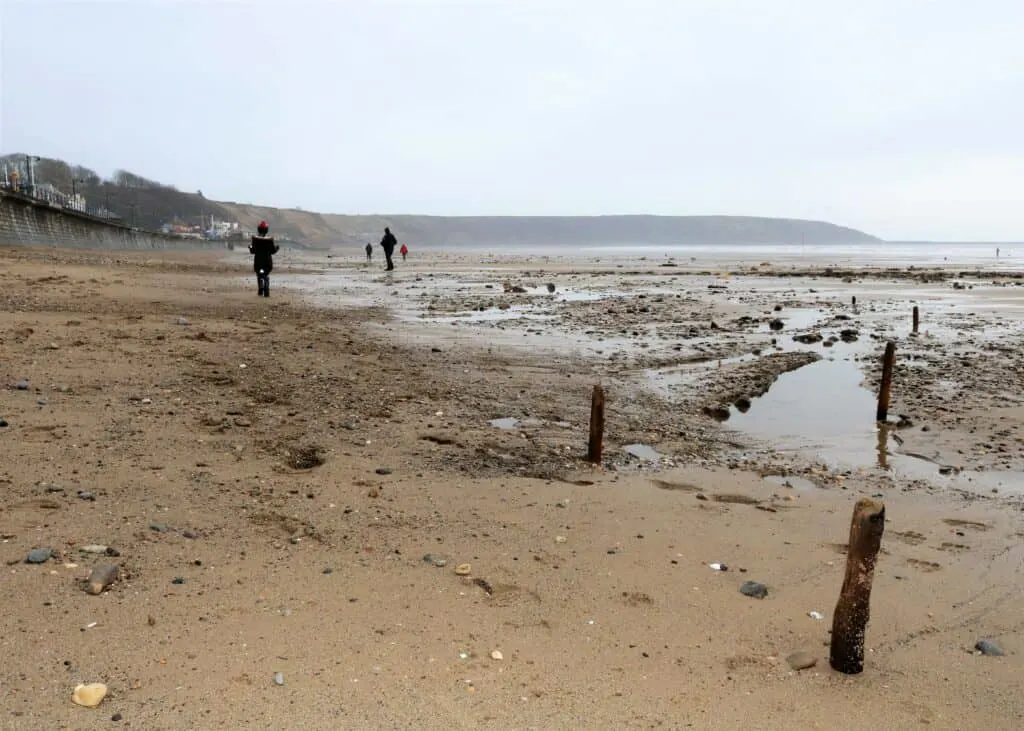 It's lovely in the warmer months with crazy golf, trampolines, a small boating pond and a playground. Filey is one of the more relaxed seaside resorts and perfect for families that want to chill out by the sea.
Filey is one of our favourite places to sit on the beach and enjoy some take-away fish and chips.
Check out places to stay in Filey here.
Scarborough Weekend Break Things to do

Over the years Scarborough has been somewhere we've enjoyed many weekend breaks. There is so much to do there that you will struggle to not be busy. We often stay at The Sands right next to Scarborough's north beach.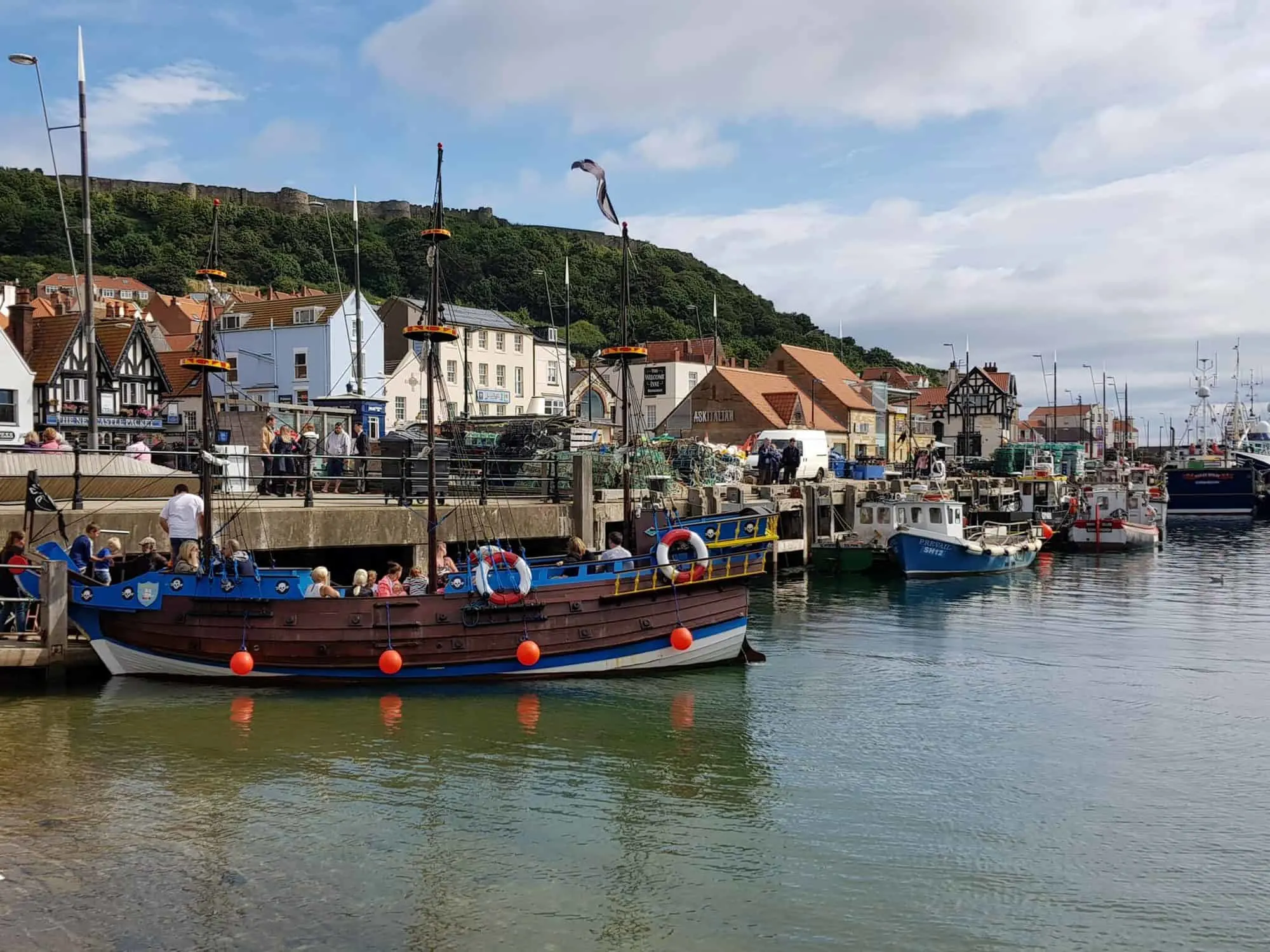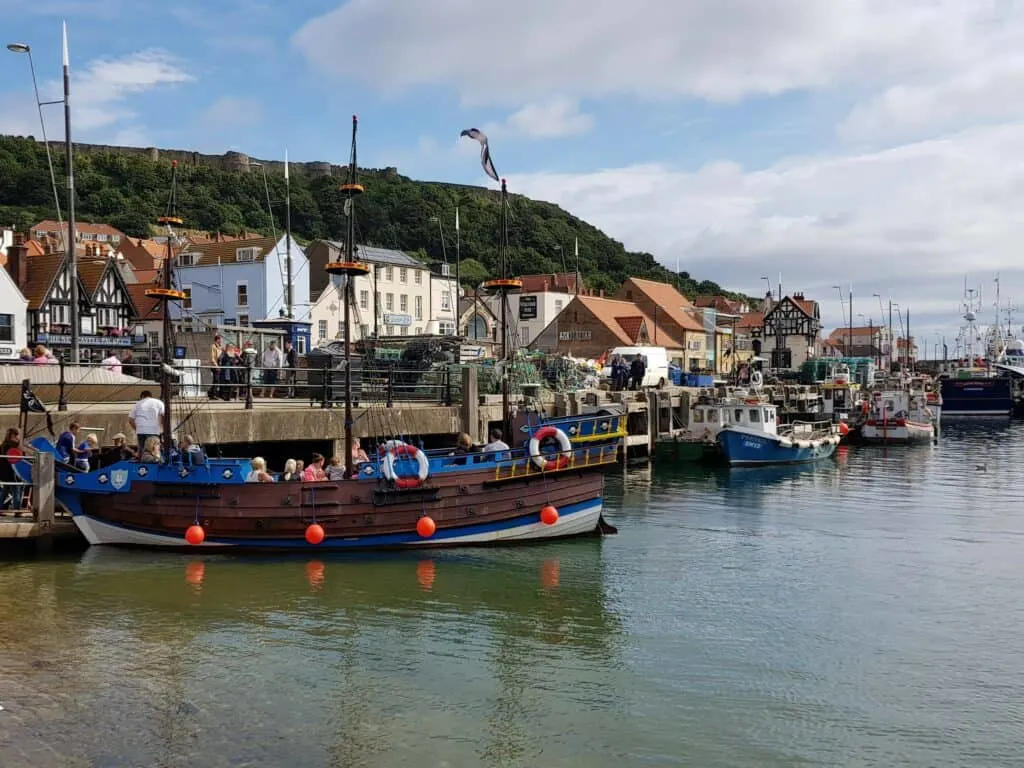 There you can rent 1-3 bedrooms self-catering apartments, most with sea views. The Sands is just a stone's throw from Peasholm park where you can hire dragon pedalos, feed the tame squirrels and have a go at putting.

You also have the North Bay railway at this end that takes visitors to Scarborough Sea Life centre.
We often take the open-top bus down to the south beach where all the amusements, restaurants, pubs and fish and chips can be found.

The south beach has a beautiful harbour where there are boat trips in the warmer months. There is a large Ferris wheel and pirate-themed crazy golf.
You can take the tram up the hill to enjoy a spot of shopping and high on a cliff stands the English Heritage owned Scarborough Castle which has stunning views of both the north and south beach of Scarborough.
There are a number of places we like to eat on the south beach. There is plenty of options for fish and chips plus there are a few seafood restaurants if you fancy something a little bit different.

Our favourite beach to visit in the area is Cayton Bay. This is close to Parkdean's Cayton Bay holiday park. Parking is free on the road although do get there early as the parking soon fills up.
The walk down to the beach is steep but worth it when you get down there. It is a beautiful stretch of sandy beach with rockpools and derelict pillboxes from WWII.
If you walk north you will come to a section of the beach where the woodland meets the sand. It's a truly beautiful part of the world.

Robin Hood's Bay A Weekend Break

A visit to Robin Hood's Bay is like stepping back in time. Most of the seaside towns on the North Yorkshire coast are full of holiday parks.
Robin Hood's bay is the opposite with a small fishing village that has luckily evaded over-tourism. Accommodation here includes hotels and friendly B&B's.

Visitors are not allowed to drive down the steep road that runs through most of Robin Hood's Bay.
There are two public car parks at the top where you have to pay and display and then walk down. The streets are cobbled and full of pretty seaside homes.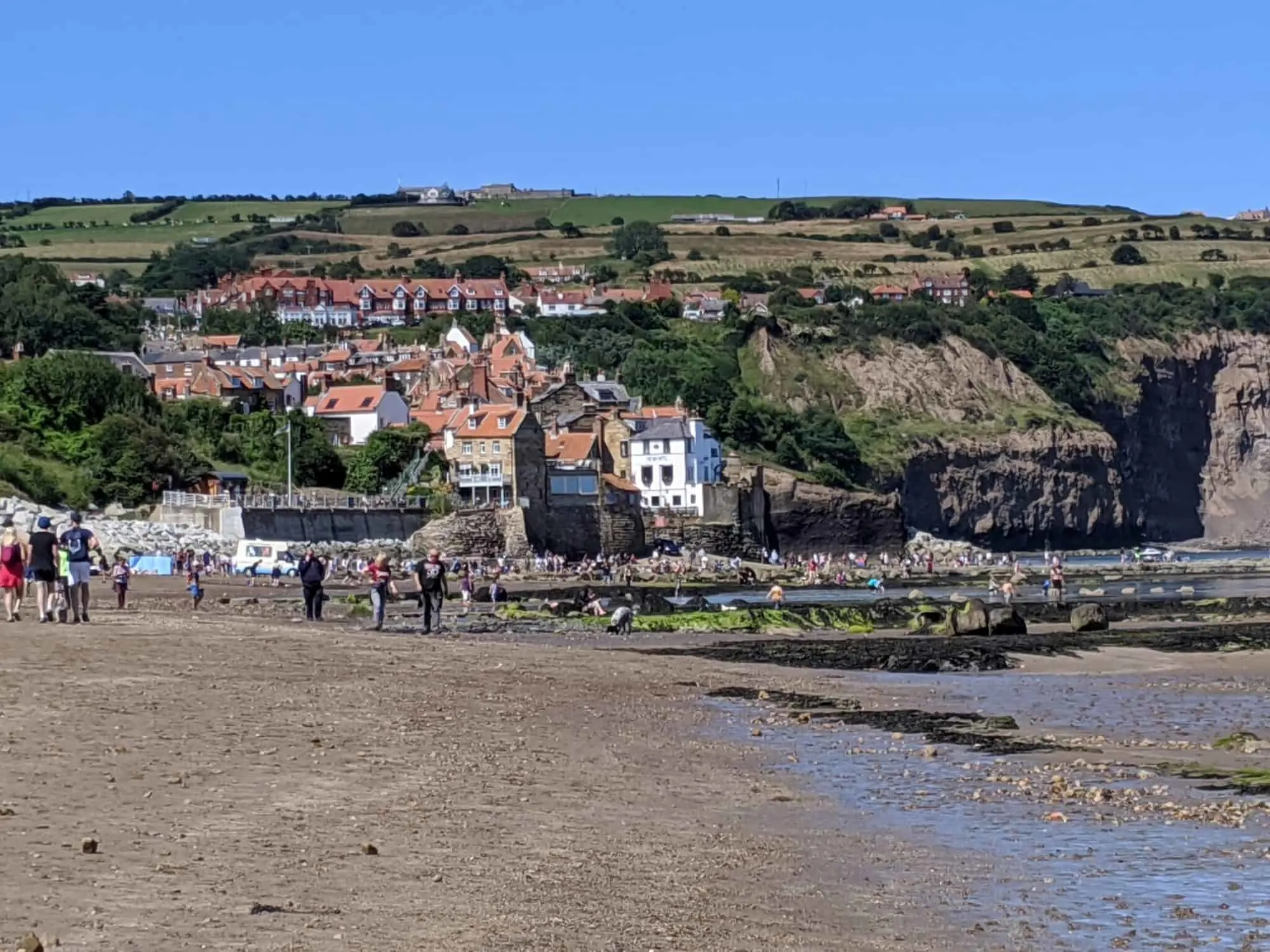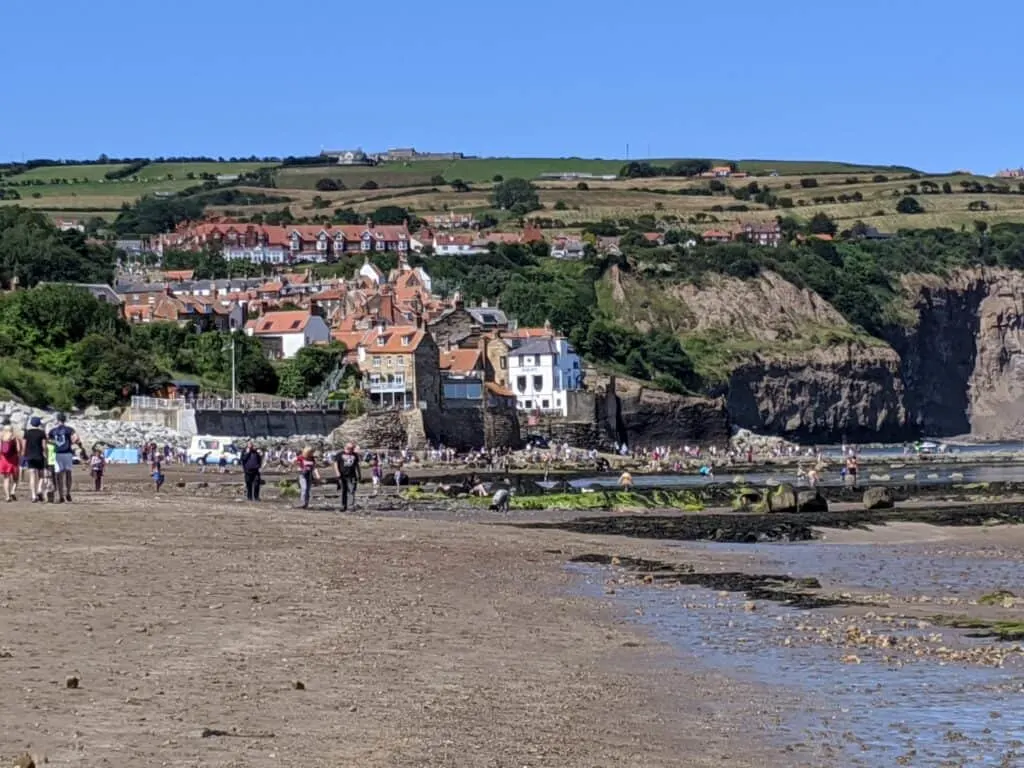 There are some lovely shops and when you reach the bottom you will see fishing boats and one of the most beautiful stretches of beach the North Yorkshire coast has to offer.
It's a great place to enjoy some rock pooling or a lovely big ice cream. I can't explain in enough words just how lovely Robin Hood's Bay is so you will have to check it out for yourselves.
We like to eat at the Bay Inn which is an 18th-century inn on the water's edge.
Check out places to stay in Robin Hoods Bay here.
Whitby Family Weekend Break
The next town on the North Yorkshire coast is the historic Whitby. We find this to be the busier of all the seaside resorts especially as it attracts visitors from all generations.
The most famous attraction in Whitby is Whitby Abbey which stands high above the town and was the inspiration for Bram Stoker's Dracula.
It's a mostly ruined abbey but English Heritage own the site and you can explore the ruins with your family.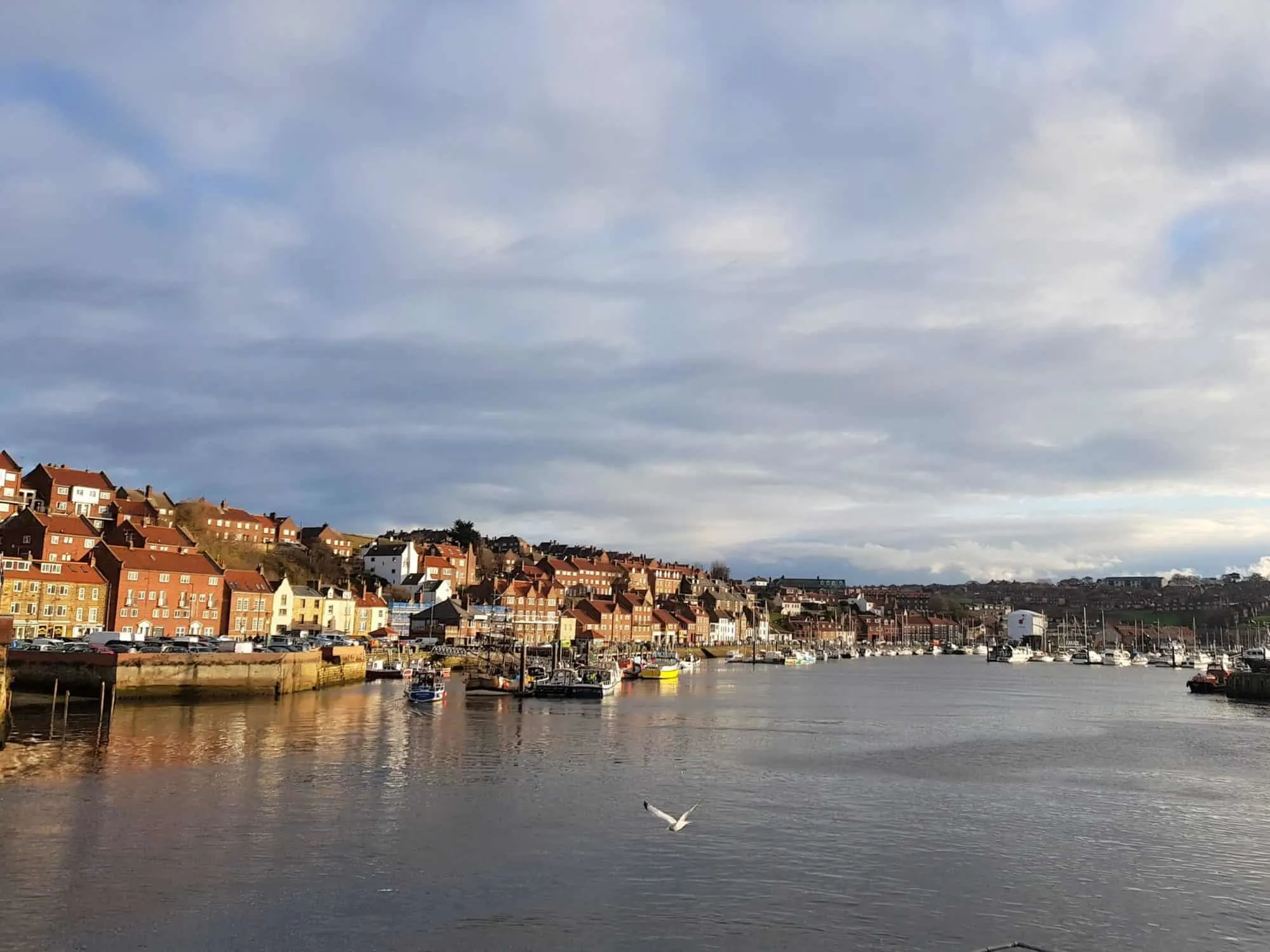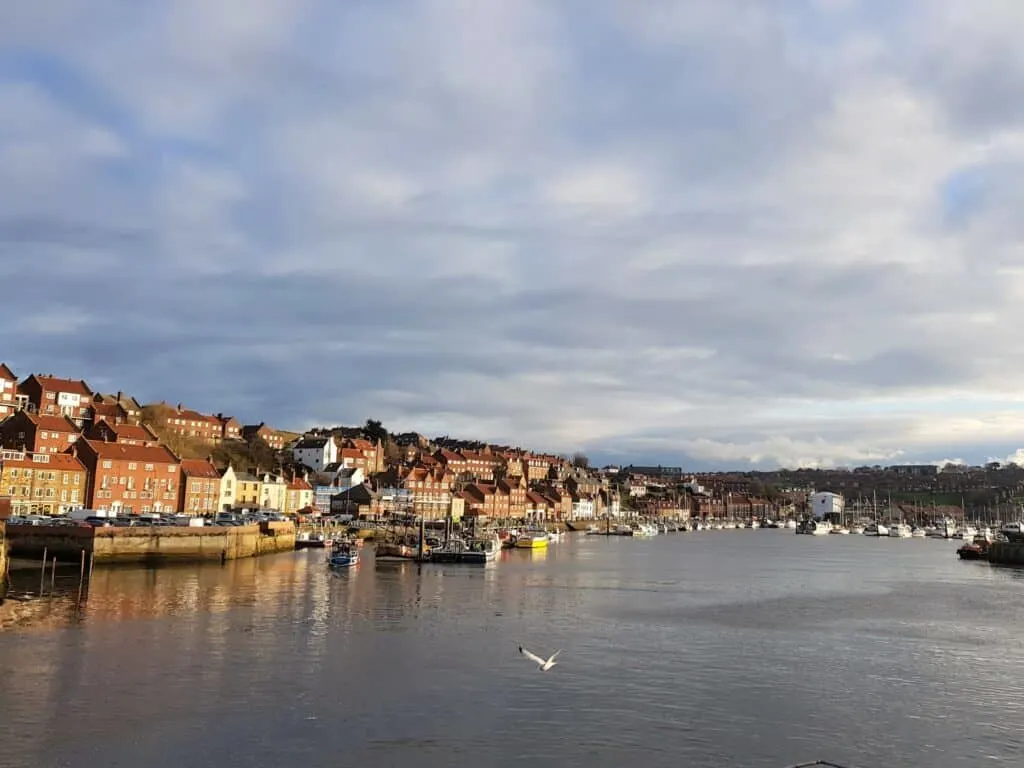 The town was also once home to Captain Cook and there is a Memorial Museum to him, a boat trip and a moored replica boat with an interactive museum onboard.
There is a great range of places to eat and we can recommend Trenchers near the harbour and Harry's Lounge Bar and Brasserie which is more towards the amusements.
There is a lovely stretch of beach a short walk from here. The beach is famous for Whitby jet, its colourful beach huts and there's even a shipwreck on the way to Sandsend.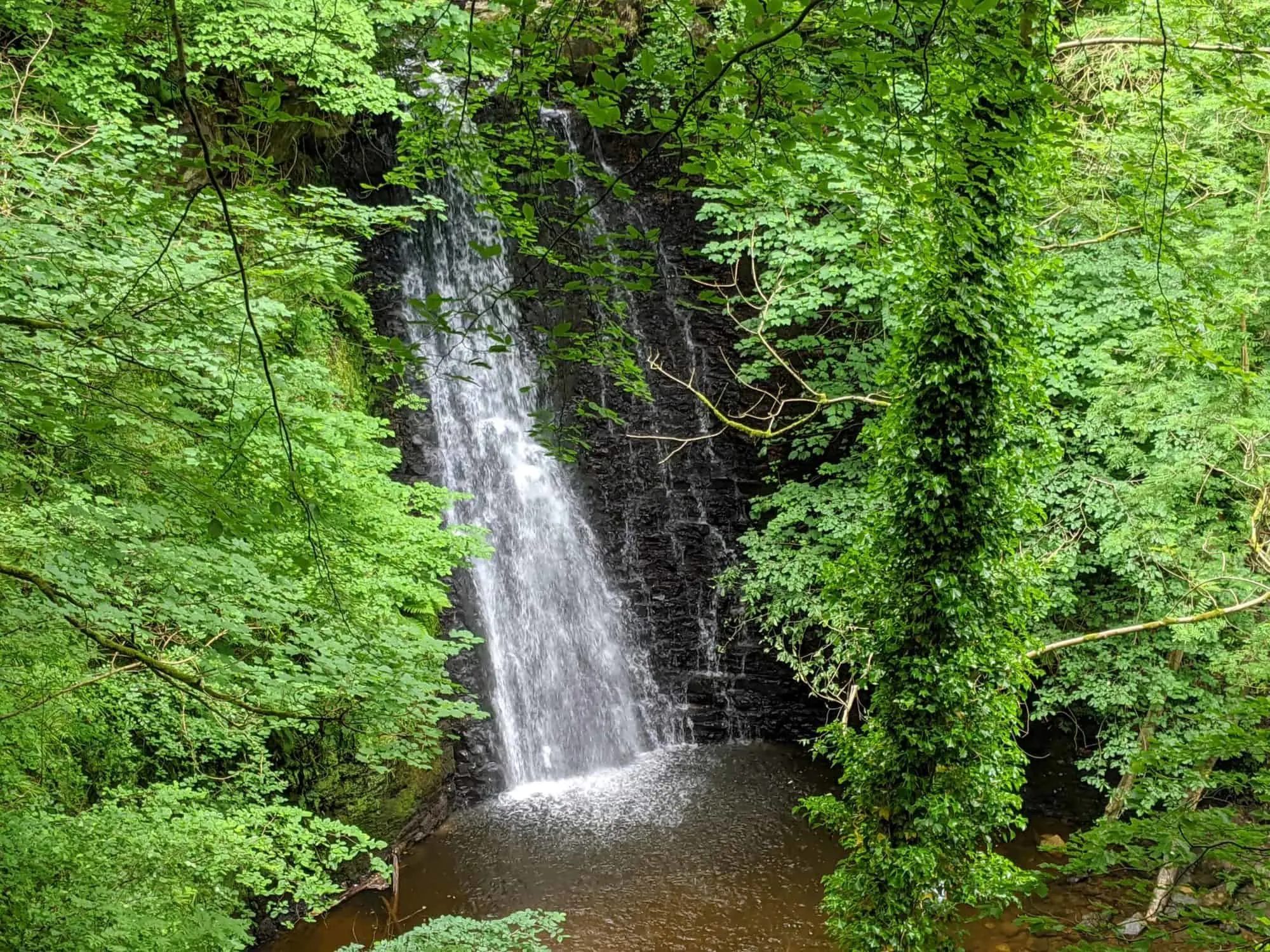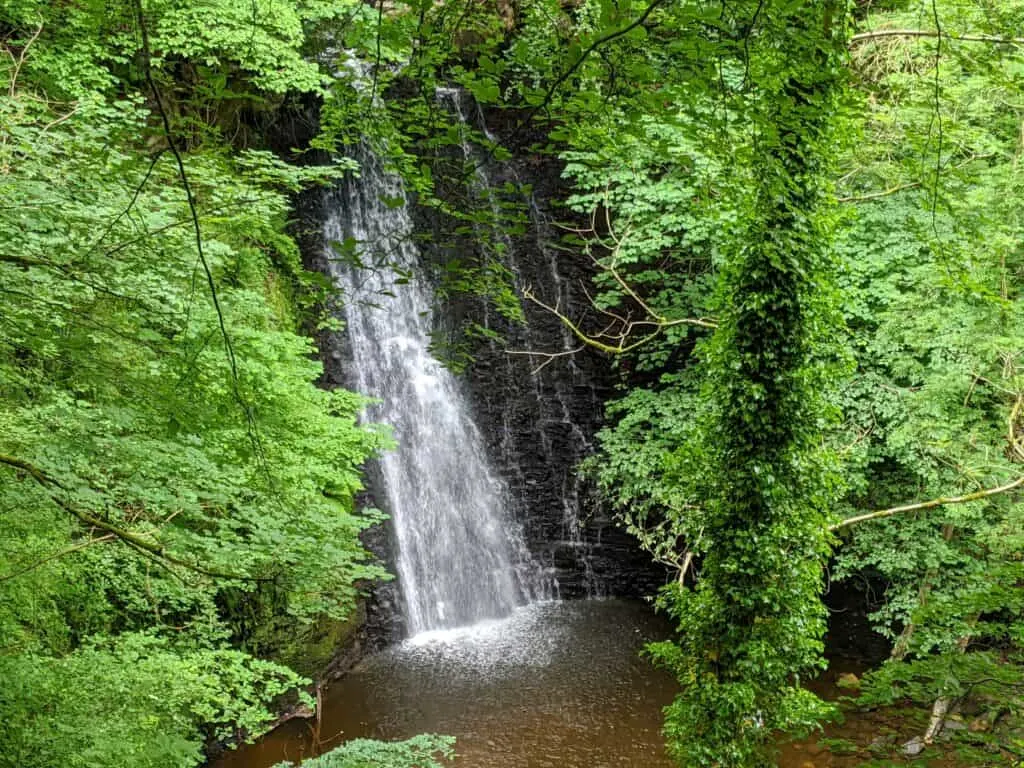 If you are staying in the area and have a car I can also recommend the Falling Foss Waterfall tea room.
The tea room has outdoor seating only and it is in the most picturesque setting I've ever eaten in. We can especially recommend their homemade scones. You can get down to the waterfall however it's a really challenging walk.
If you are visiting with young children there's an idyllic, mostly shallow, stream that runs next to the tea rooms. You can find out more about Falling Foss Waterfall here.
Check out places to stay in Whitby here.
Family weekend break to Saltburn-by-the-sea

The final seaside town on our list is Saltburn-by-the sea. This is one of my favourites as it's so picturesque. The highlight is the tramway which dates back to 1884.
There is free parking at the top of the hill so you may want to use the tram to get down and back up.
I had mentioned that this beach wasn't as accessible as Whitby and Scarborough. It is accessible it all just depends on where you manage to find a parking space.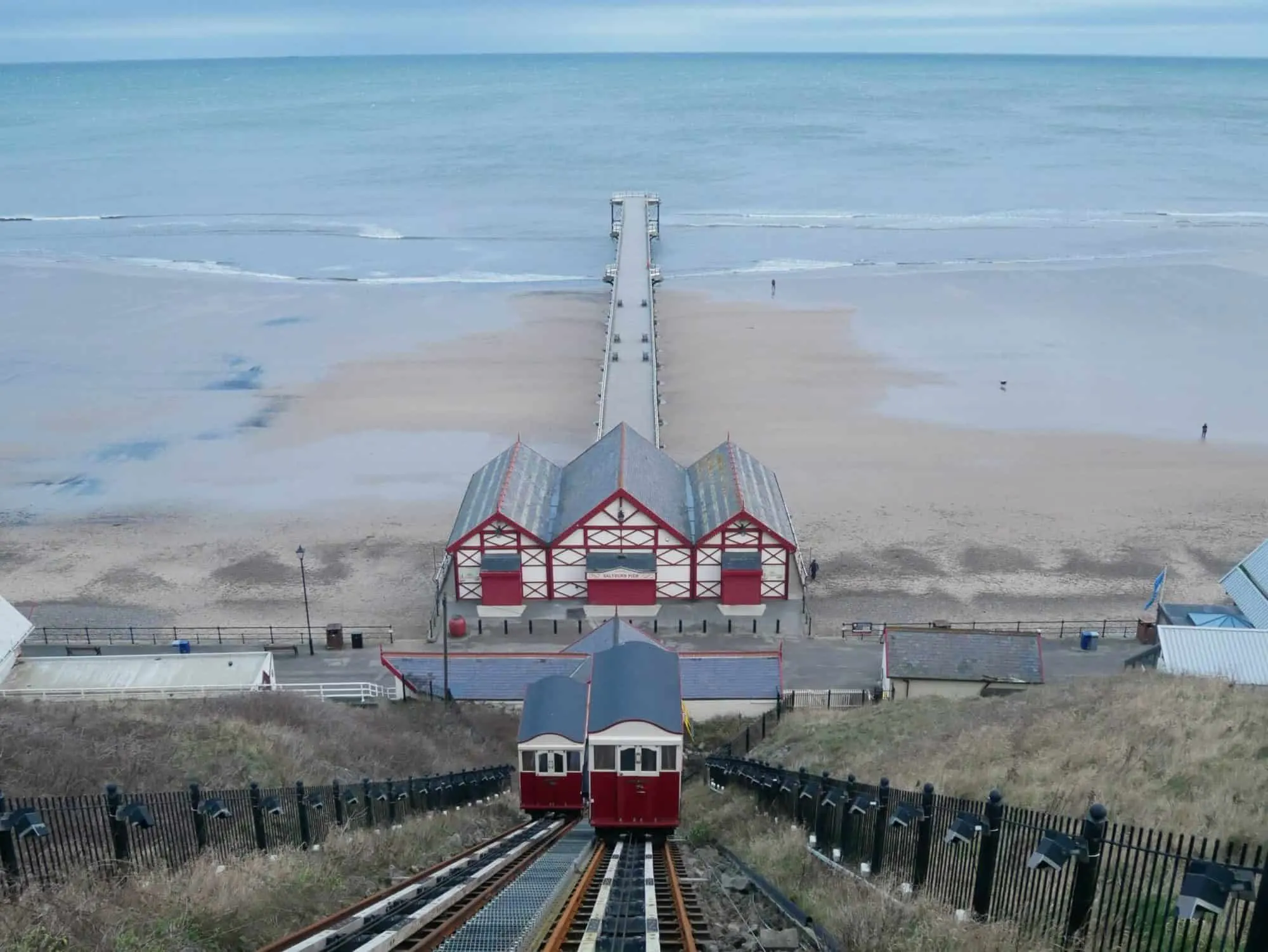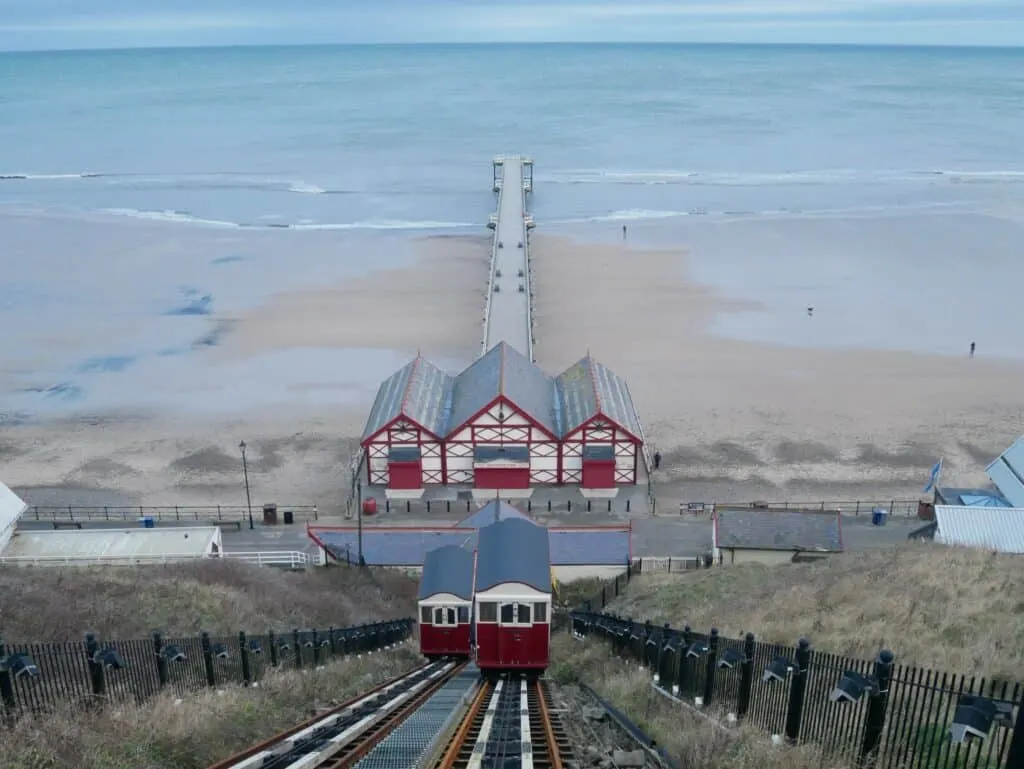 There is Yorkshire's only pleasure pier at Saltburn which has an amusement arcade at its start. The beach here is stunning and the tide can go out quite a long way.
Close to the pier, you will find crazy golf and miniature steam train rides.
It is worth venturing up the hill into town as there are some excellent restaurants. Our favourites are the Thai restaurant Coco & Rum and The King's Grill. We like to stay at The Spa Hotel, check it out here.

Close to Saltburn, you will find Runswick Bay which was awarded Britain's best beach in Yorkshire.
The beach is breathtakingly beautiful. Its beauty comes not just from its size and its setting but from how unspoilt this sleepy former fishing village is.
If you visit get there early as parking spaces can soon fill up. Runswick Bay is one of our favourite places to hunt for fossils and we have found some really special fossils there.

I hope you have found some inspiration for a weekend in North Yorkshire with kids and come visit my favourite county in the UK. It is a great place to visit for a family weekend away and I think the only challenge will be choosing which seaside resort to stay at first.

Website: Yorkshire to do with kids
Facebook: Yorkshire to do with Kids
If you were thinking of a weekend in North Yorkshire with kids you may also like:
The Best Things to do in New Forest with Kids
The Best Things to do in Cornwall with Kids
Disclaimer: This post may contain affiliate links. By using them it will not cost you any extra, we will receive a small percentage of the sale.