We visited South Korea with our family recently during the summer holidays. We explored the beautiful cities of Seoul and Busan with kids aged between 1 and 8.
South Korea is a unique destination. I had expected it to be somewhat similar to other destinations I have visited in the region, such as Hong Kong, Japan and Taiwan. However, it is a unique place regarding culture, food and things to do.
Busan is a modern place with a lot of similarities to Seoul. The main difference is that it's a city on the beach in the far south of the country.
Busan has some stunning coastal scenery. From cable cars to trains and hiking trails to winding roads, there are many ways to enjoy the landscape along the coast.
The city is also a gateway to other spots off the beaten track, such as Geoje Island, making it an ideal base for day trips to see some of South Korea's best-kept secrets.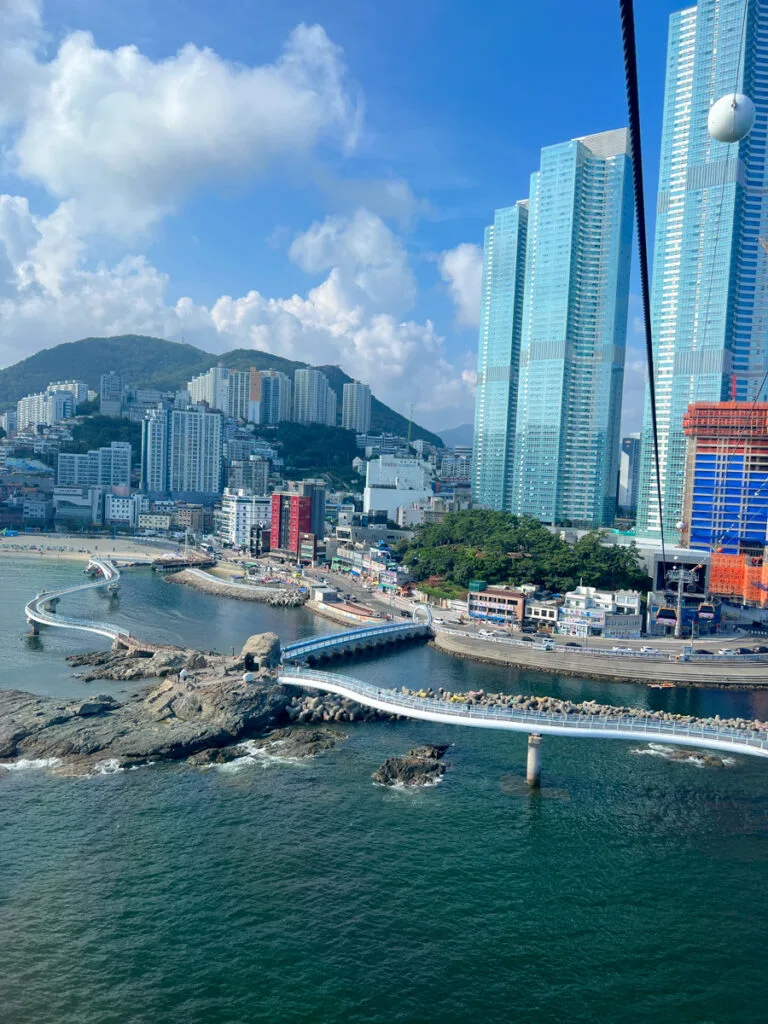 We visited Busan with kids in partnership with Audley Travel and the Korea US Tourism Organization NY Offices. Rest assured, all views expressed are entirely my own, covering both the highs and the lows.
This post is an overview of all the fun things to do in Busan with kids, how to get there, where to stay and some restaurant recommendations.
Let's discover all the fantastic things to do in Busan with kids.
Getting to Busan With Kids
First, if you are travelling from Seoul to Busan with kids, the most convenient way is on the fast train which departs from Seoul Station. It's best to book ahead as it is quite a busy service.
The high-speed train service connects Busan with a few cities. There are four seats with a table in the centre or two seats together. Trains are air-conditioned, and uber modern with Wi-Fi, clean washrooms and plenty of luggage storage.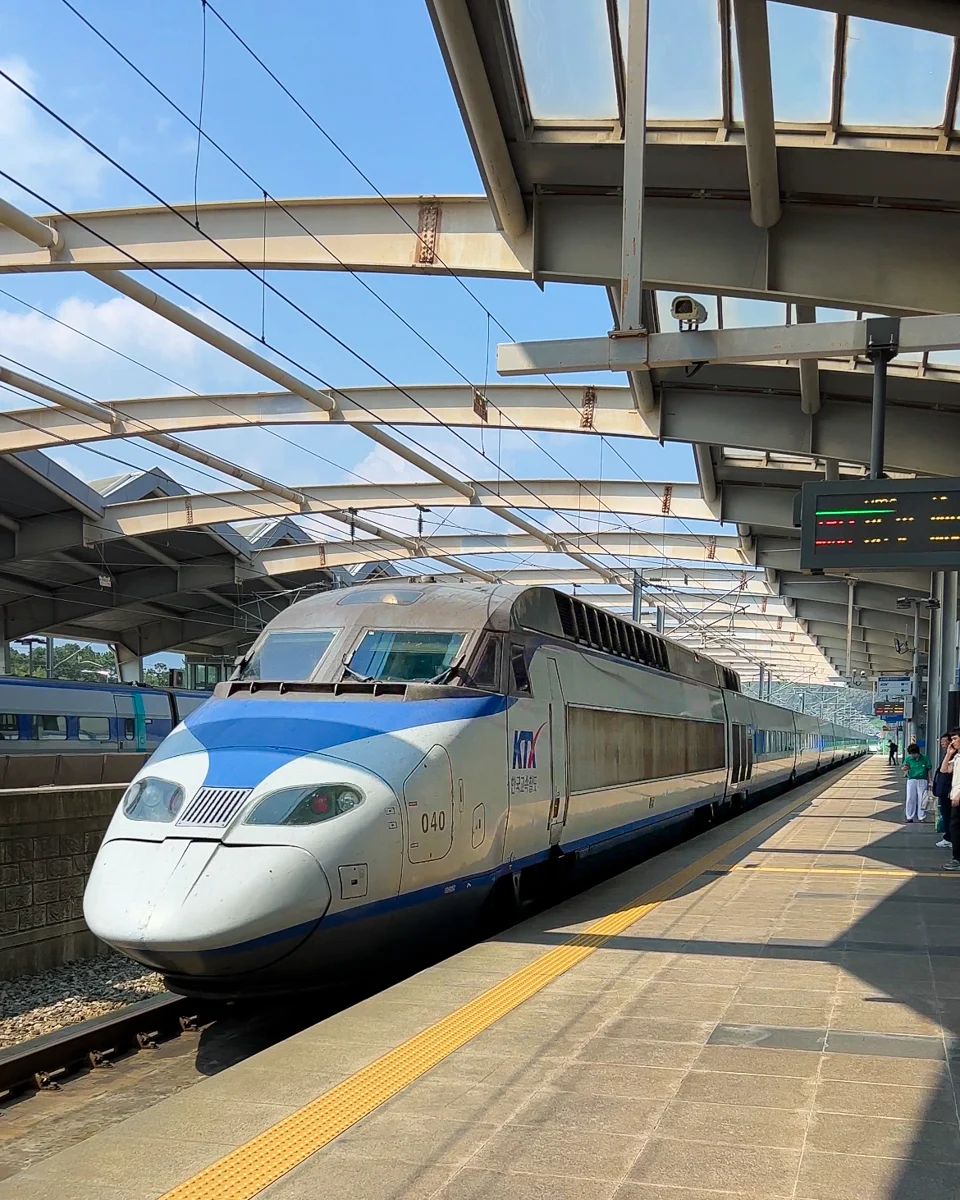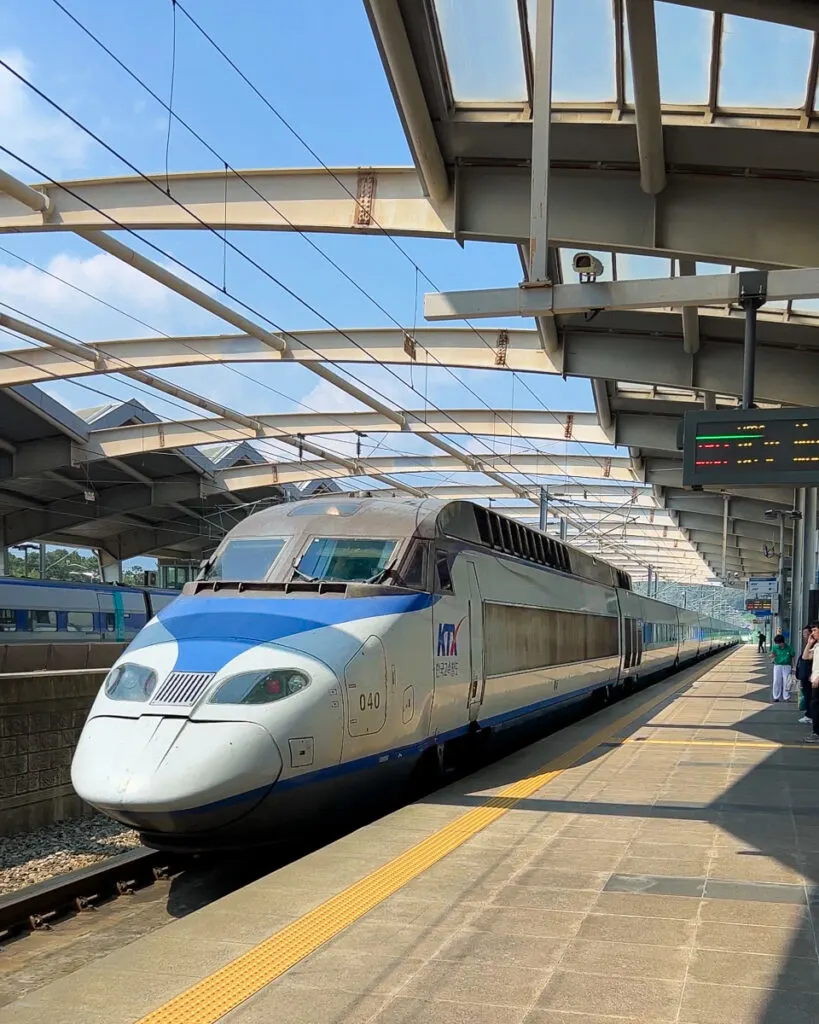 Overall, the journey between the two cities takes around two hours and is super comfortable. There are a few stops along the way, and everyone has assigned seats.
The train station at Seoul and Busan has lots of great coffee shops and corner stores to stock up on some snacks for the journey.
It's worth noting that Busan train station is around 45 minutes to an hour's drive, depending on traffic around Haeundae Beach, where many tourists tend to stay.
There are plenty of taxis outside the door. However, if you are travelling with a big family like me, then it's best to pre-arrange a vehicle to ensure enough seats.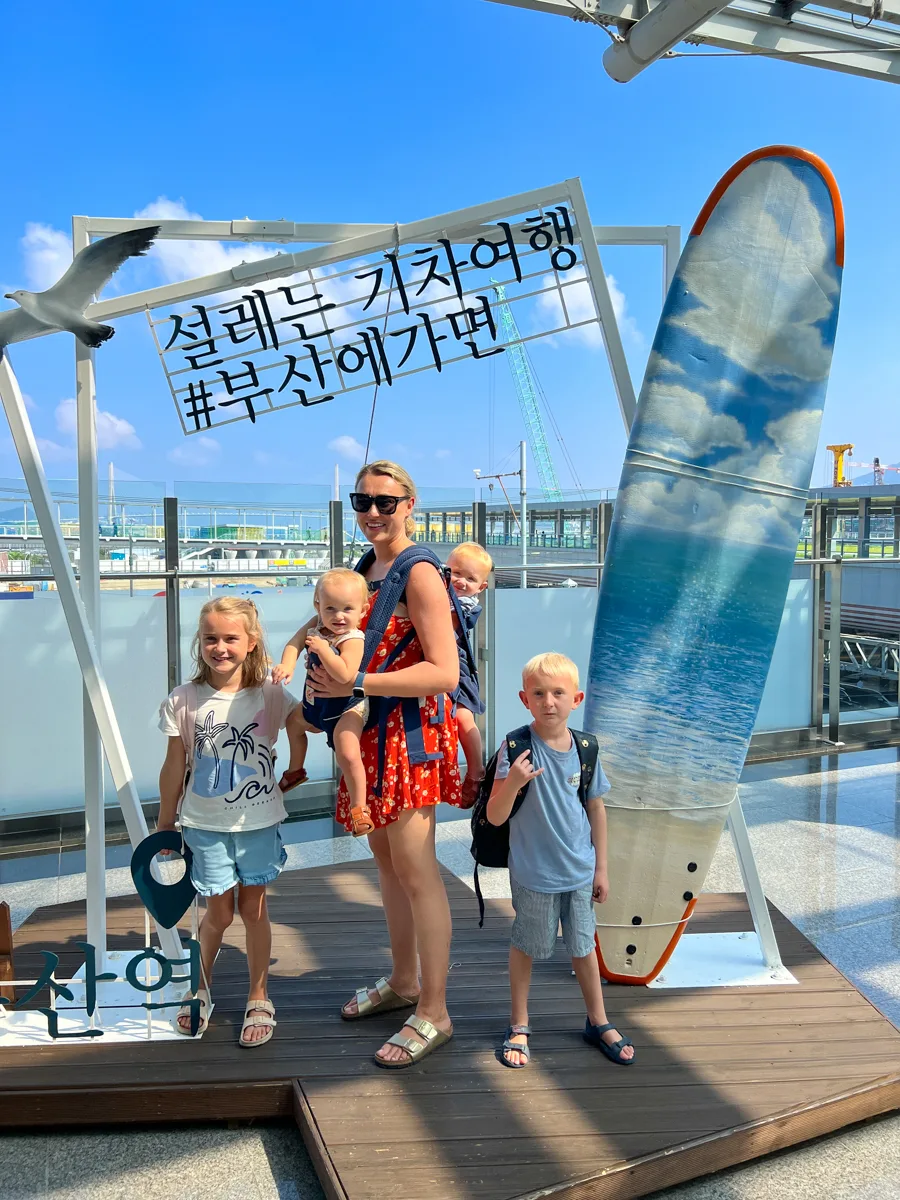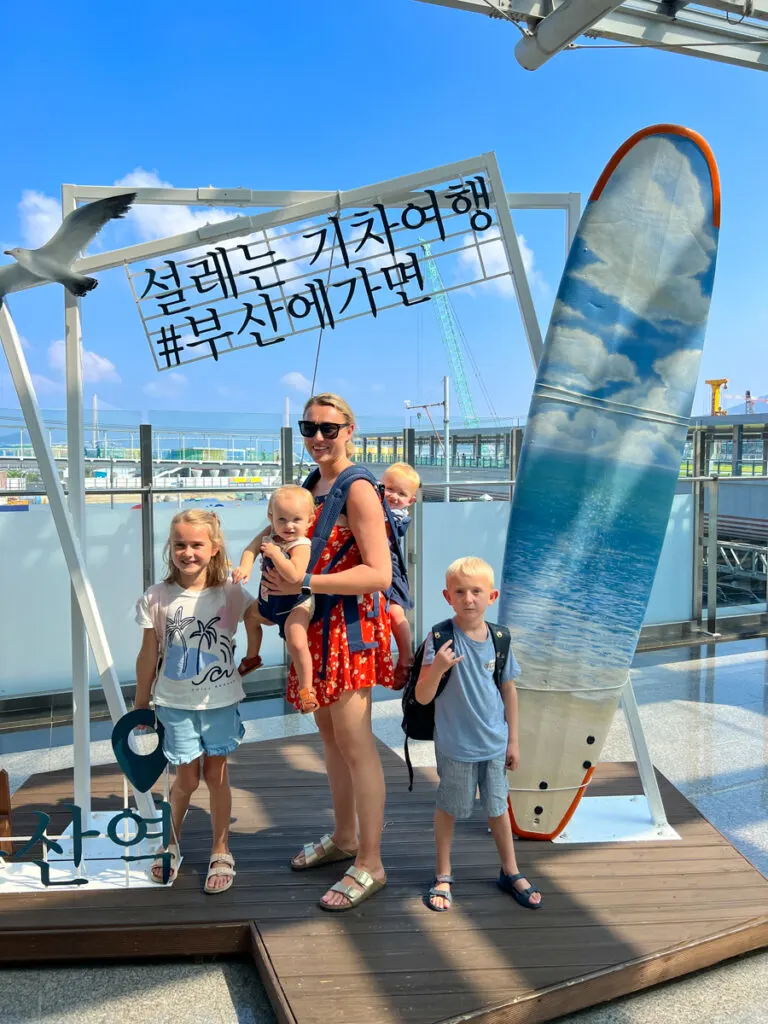 Audley Travel arranged our train tickets in advance, so this was great. We didn't need to worry about anything other than showing up.
As we were on quite a long trip over the summer holiday from school, we had quite a bit of luggage with us.
So, we decided to store some bags we did not need in Seoul. A few places near the station can easily be found on Google.
Things To Do In Busan For Kids
During our five days in Busan with kids, we spent two days on a guided tour with Audley Travel. We saw some of the highlights of Busan itself on the first day. On the second tour, we went further afield to Geoje Island.
We were provided with T Cards, which were pre-loaded to explore Busan at our own pace on the other days. This allowed us to have a mix of relaxation, downtime and adventure!
1. Haedong Yonggungsa Temple
One of our first stops on our guided tour was Haedong Yonggungsa Temple. It was a 45-minute drive from our hotel in Haeundae, Busan with kids.
This incredible Buddhist temple is one of the few on the coast. It's perched on the edge of a cliff, making it truly unique since most temples are in the mountains.
Haedong Yonggungsa Temple dates back to the Goryeo Dynasty in 1376, initially constructed by the great Buddhist teacher Naong.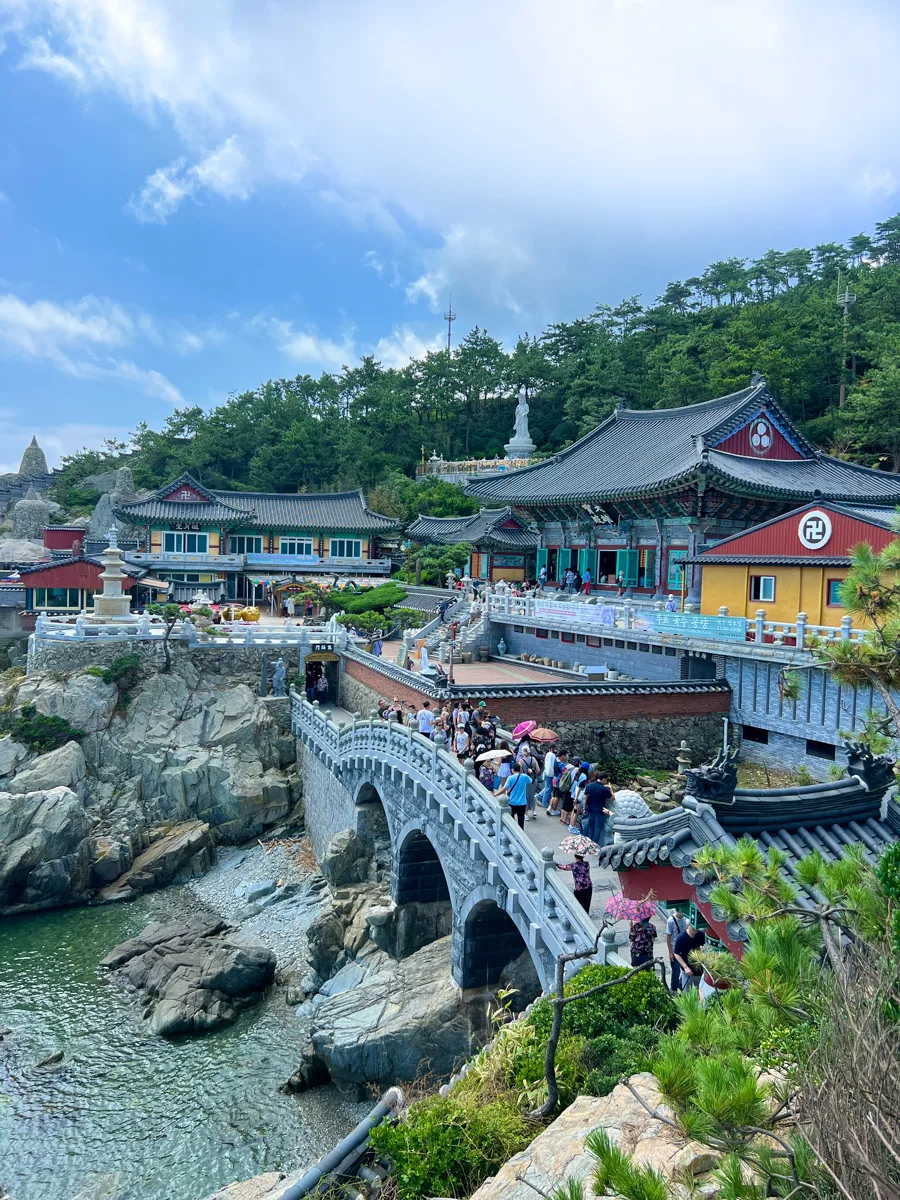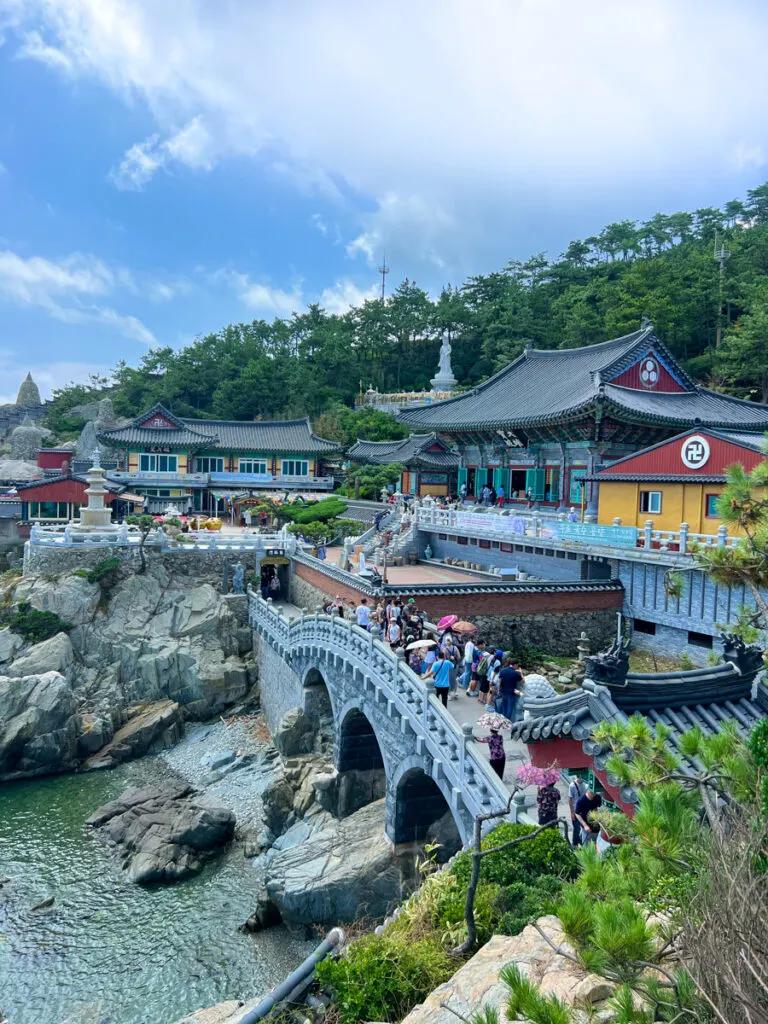 However, much of the temple was destroyed during the Japanese occupation of Korea. It was later reconstructed in the 1930s.
Our kids were fascinated when we entered the temple, and it's a must-see on any Busan family itinerary.
If you like to know about the history and cultural practices, it's a fantastic place to visit with a tour guide. We were grateful to visit here with our Audley Travel guide. We learned so much.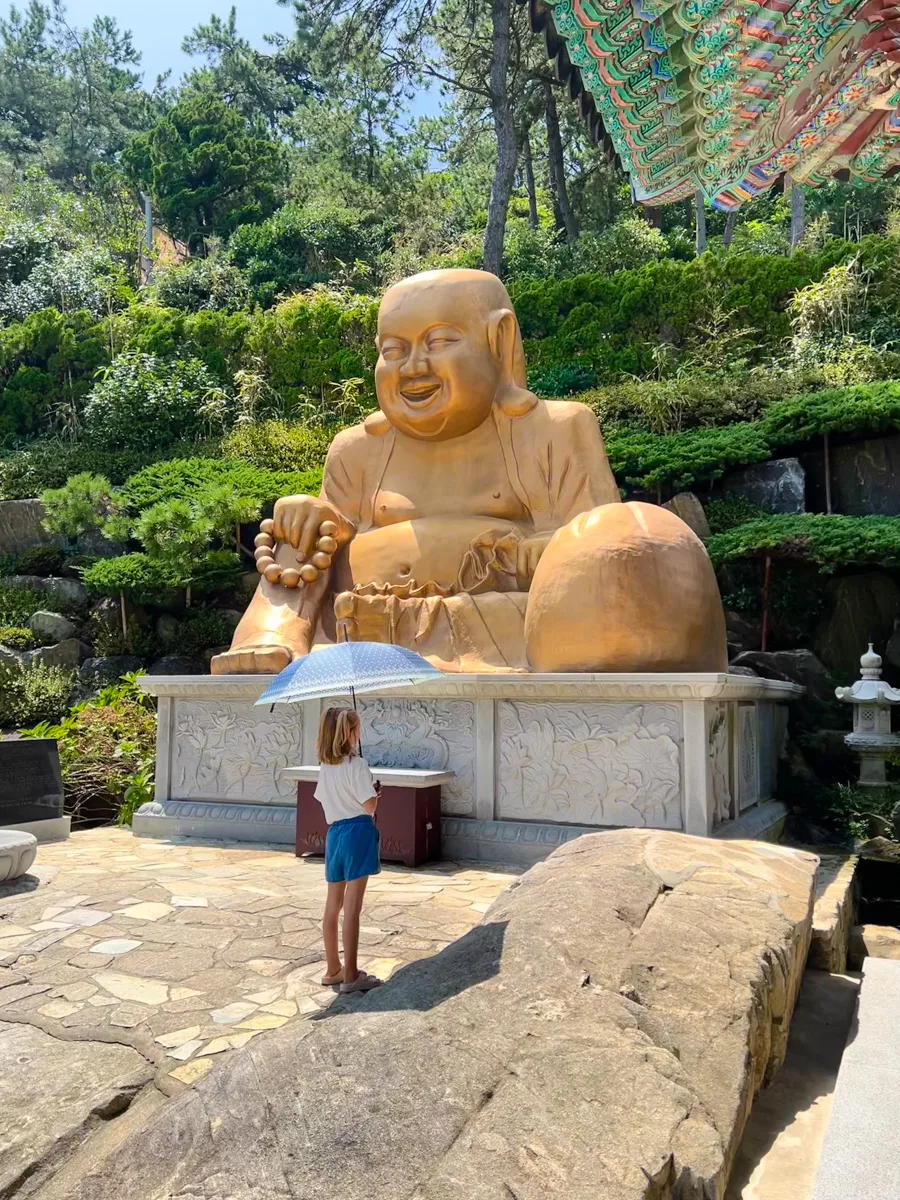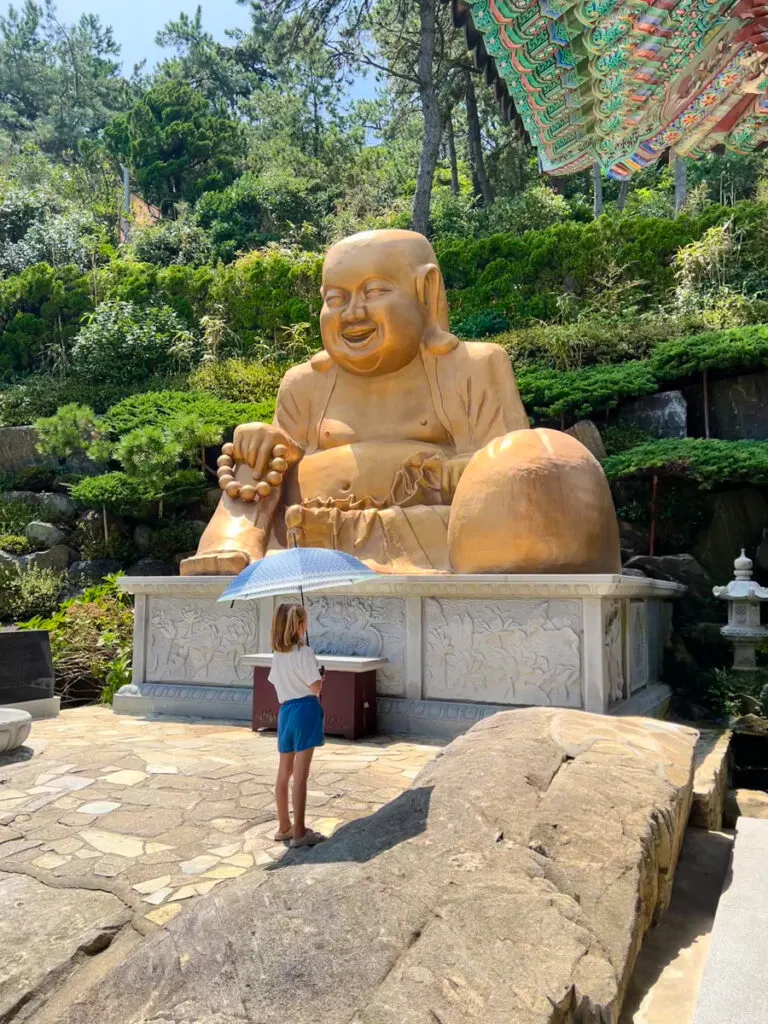 Featuring courtyards filled with incredible overhead lanterns, a beautiful bridge crossing from one ocean rock to the next and the most stunning ancient Korean architecture -we were blown away!
We saw worshippers putting coins on statues as an offering and monks chanting inside the temple. It was so special!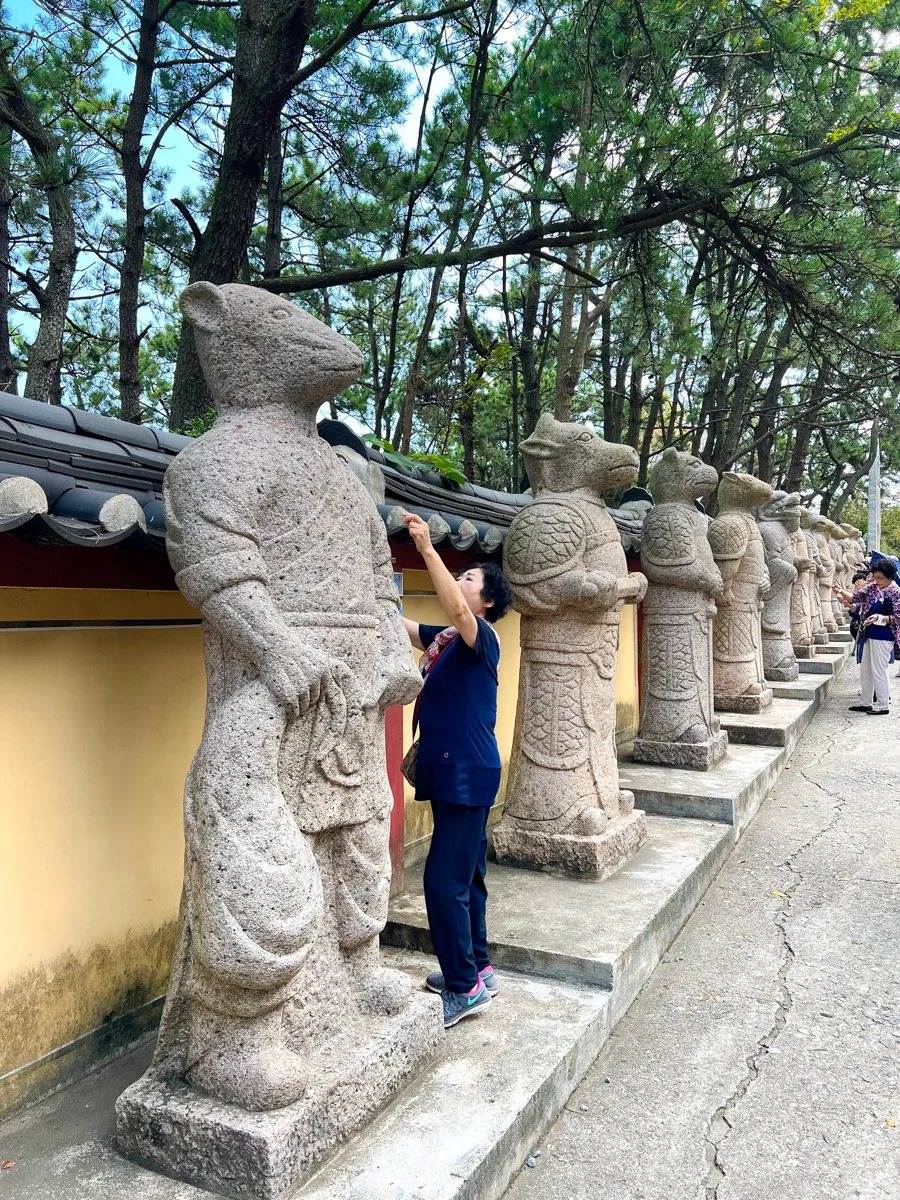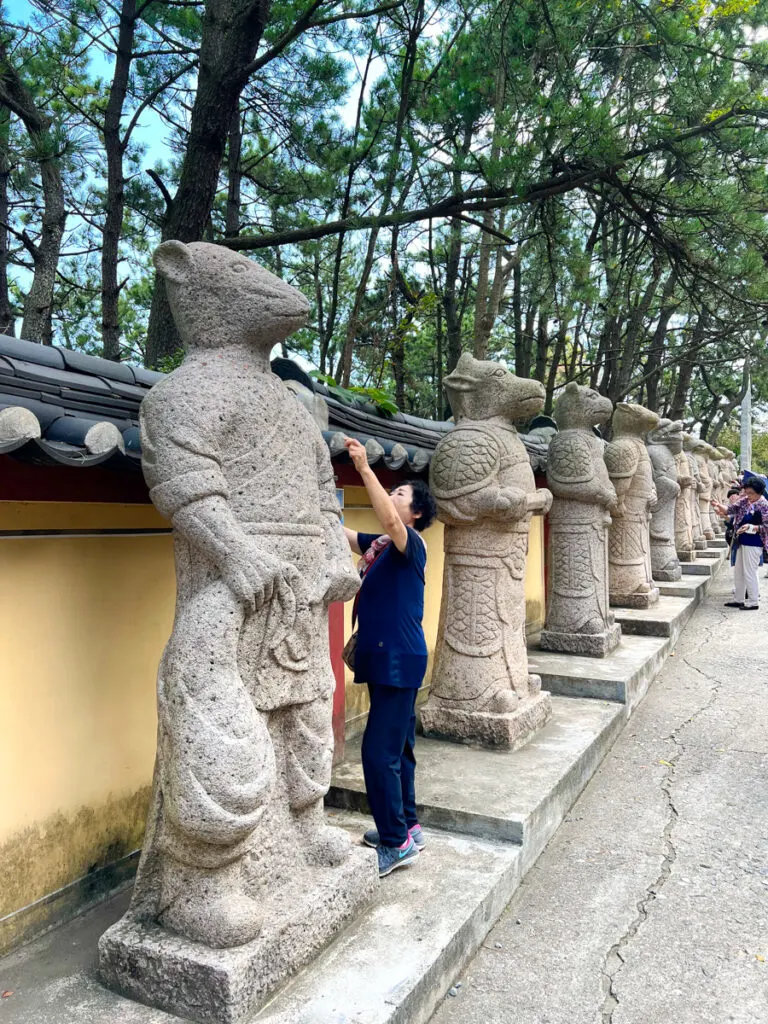 Our kids particularly loved writing a wish on a gold leaf and tying it to the gate overlooking the ocean, which many other worshippers have done for years.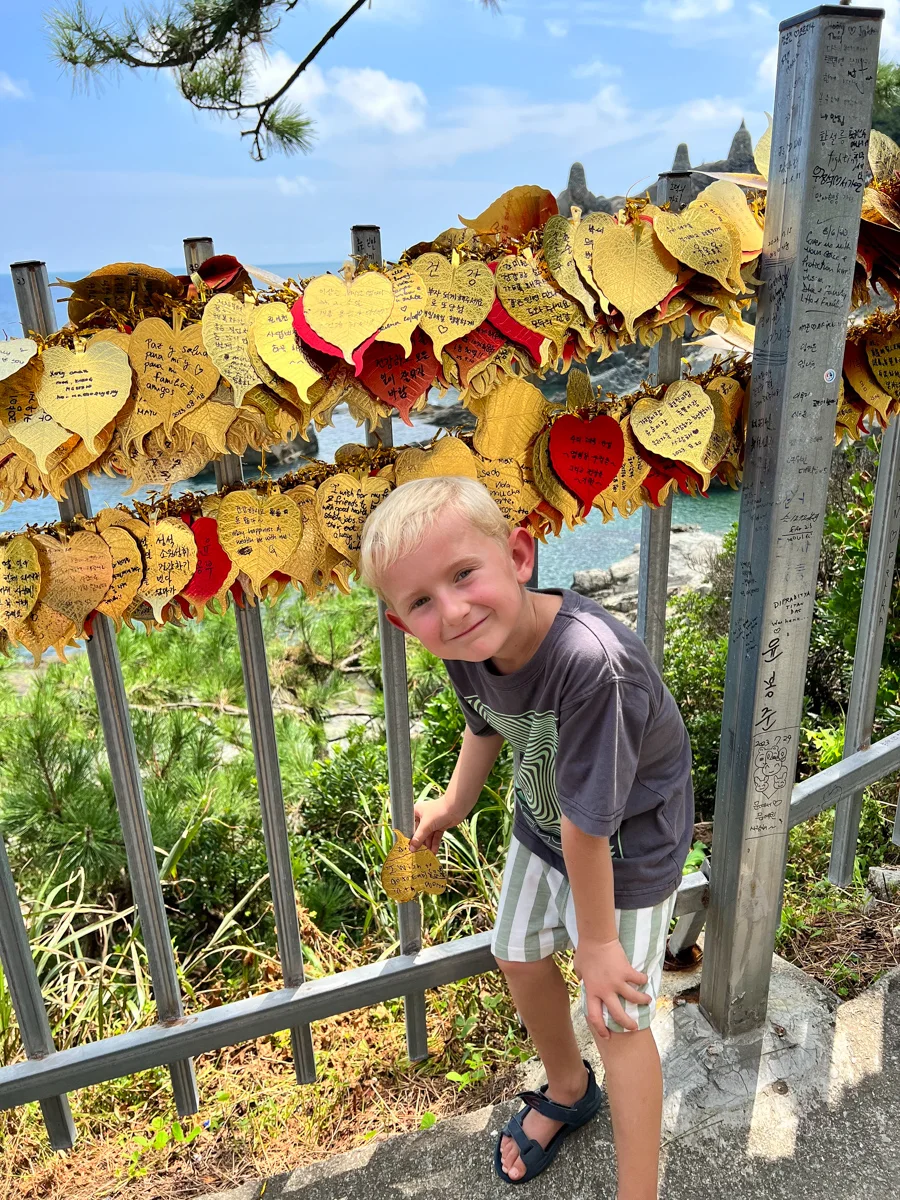 The Koreans at the temple were impressed by the fact we had four children and were so welcoming. They gave the kids juices, fruits and snacks, which they loved! It was one of our highlights of visiting Busan with kids.
2. Songdo Cable Car
The Songdo Sea Cable Car is often called the Busan Air Cruise. This cable car ride spans from Songlim Park on the eastern side of Songdo Beach to Amnam Park on the western side.
On the cable car ride, we were suspended above the sea with incredible 360-degree views of the city and the ocean from a height.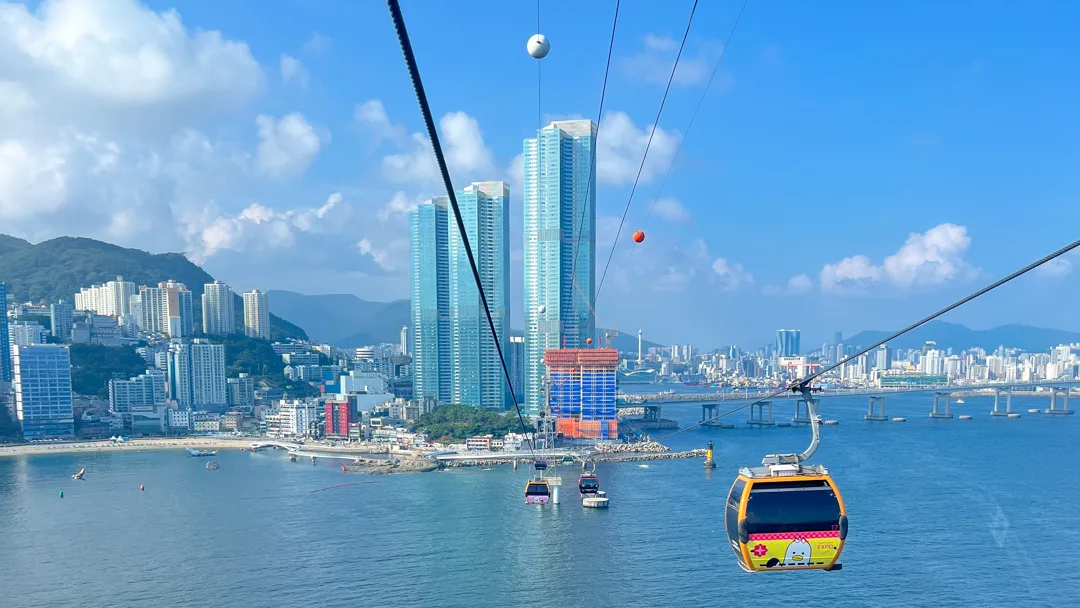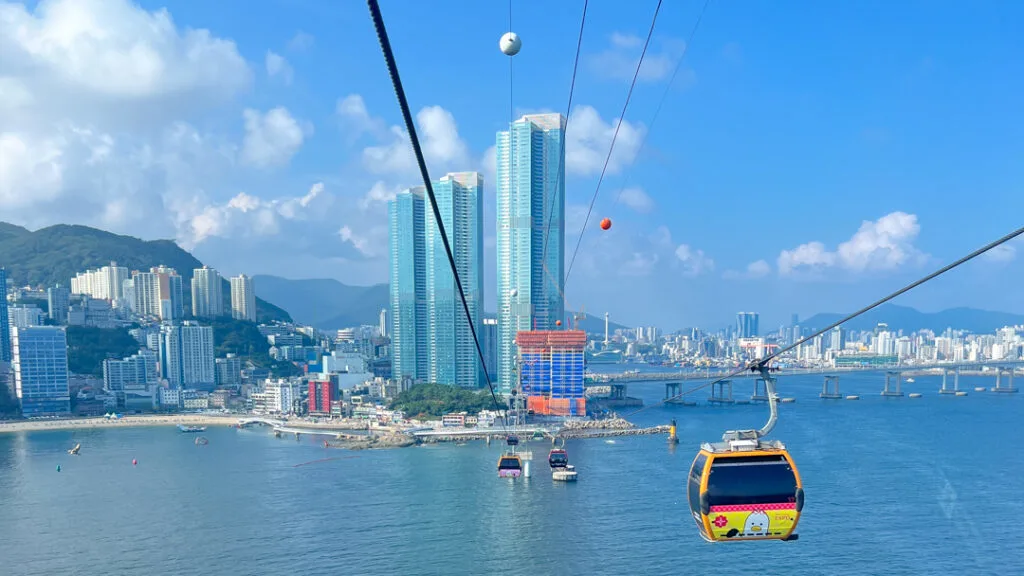 We had views of Busan Yeongdo, Namhang Bridge, the scenic Songdo Coastal Dulle Road, and the dramatic coastal cliffs that emerged along the way.
There is an option for an extra fee to take a 'crystal' cable car ride with a glass bottom. To be honest, it's not entirely necessary, as the views are stunning regardless.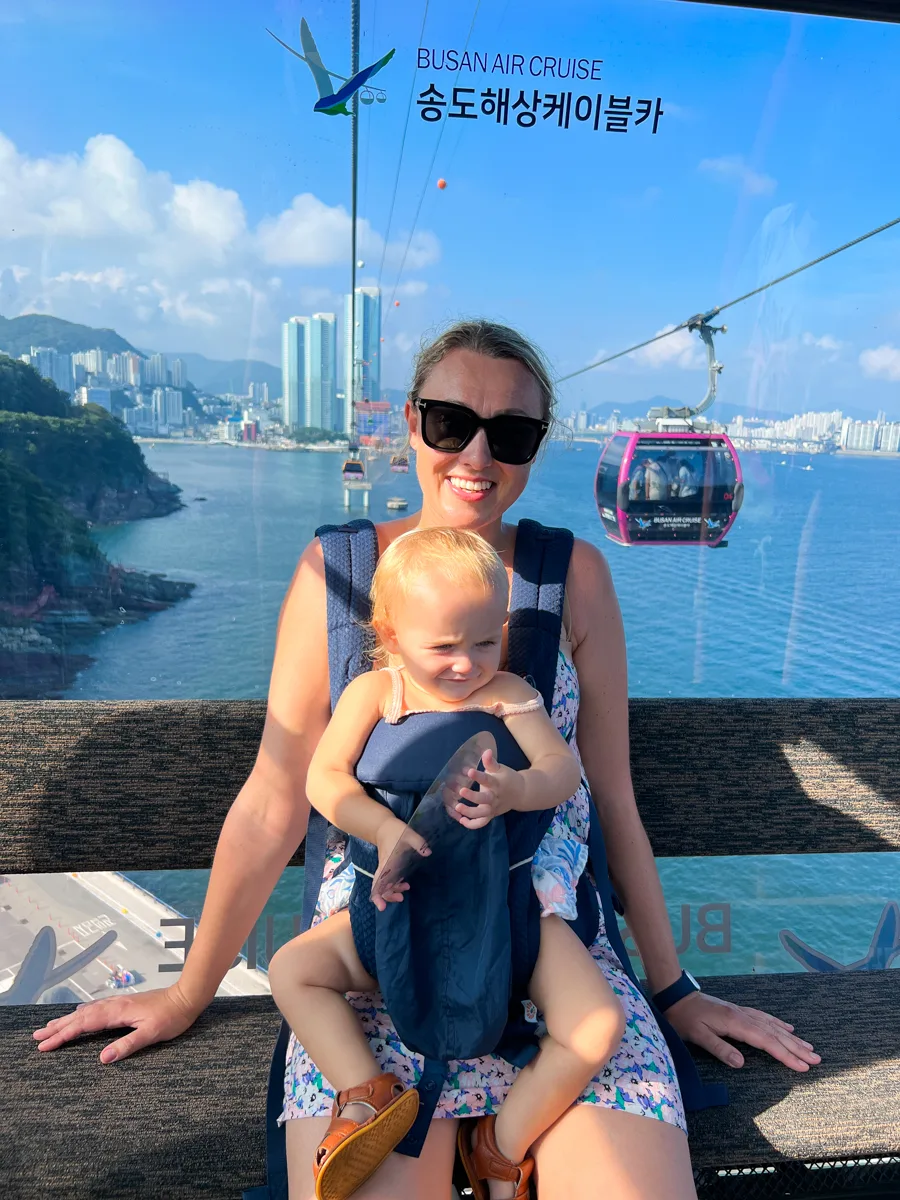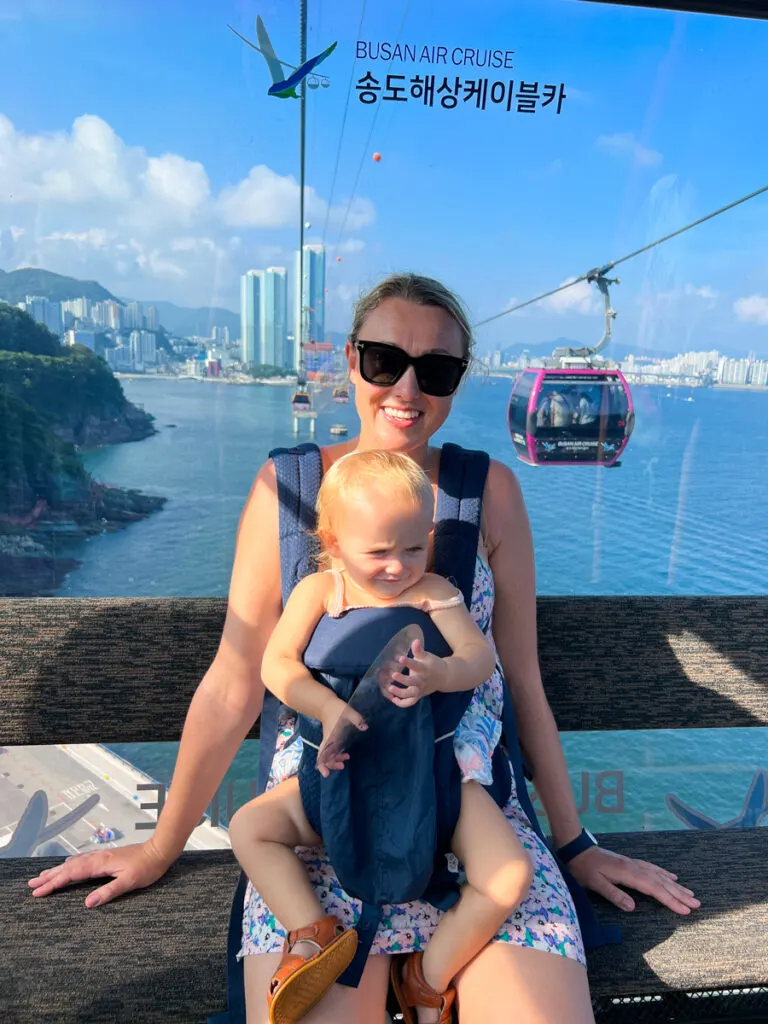 However, taking the crystal cable car entitles you to skip the queue, which might be appealing to those visiting Busan with kids.
The ride across is around 1.6 kilometres long and leads to the Songdo Sky Park, where there are several attractions to enjoy.
From playgrounds to restaurants and incredible trails through the 'healing forest', it's a fantastic place to spend some time in Busan with kids.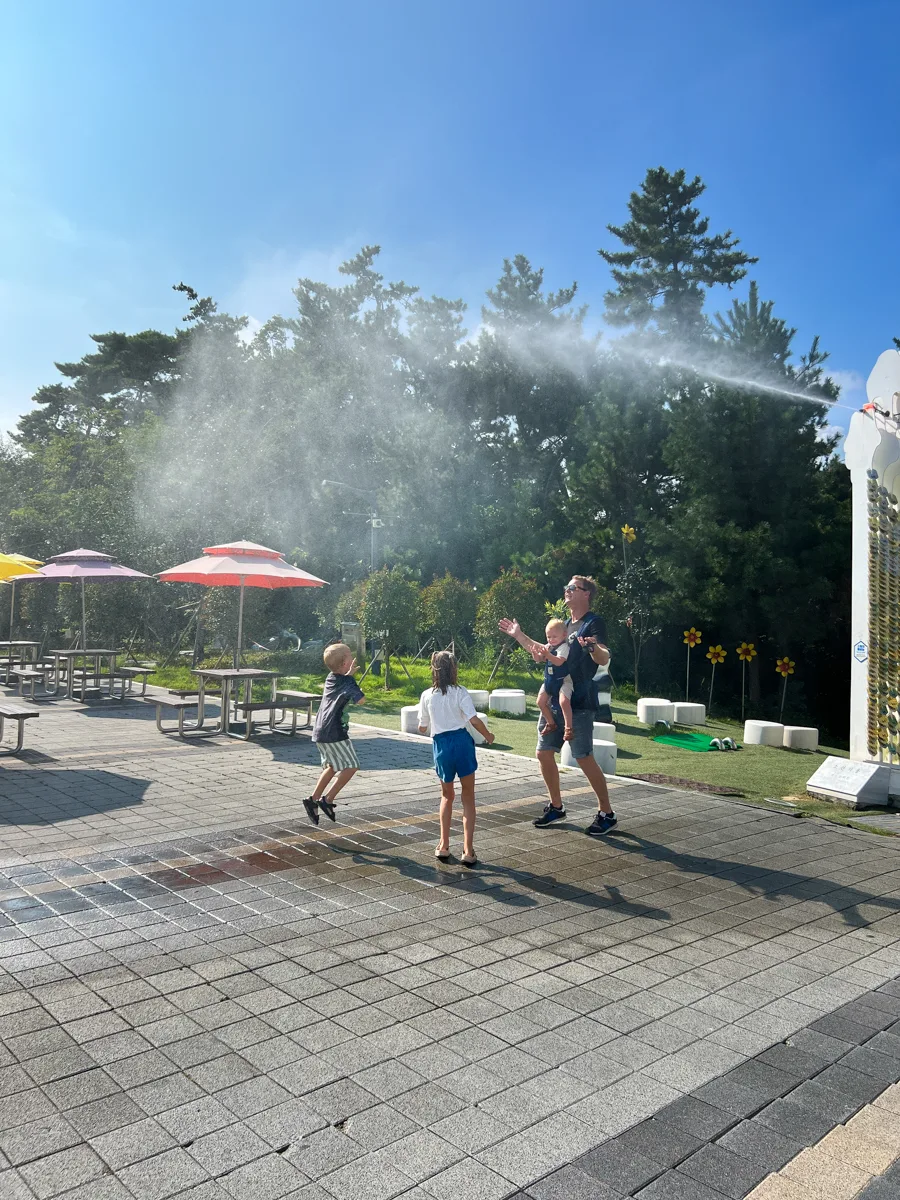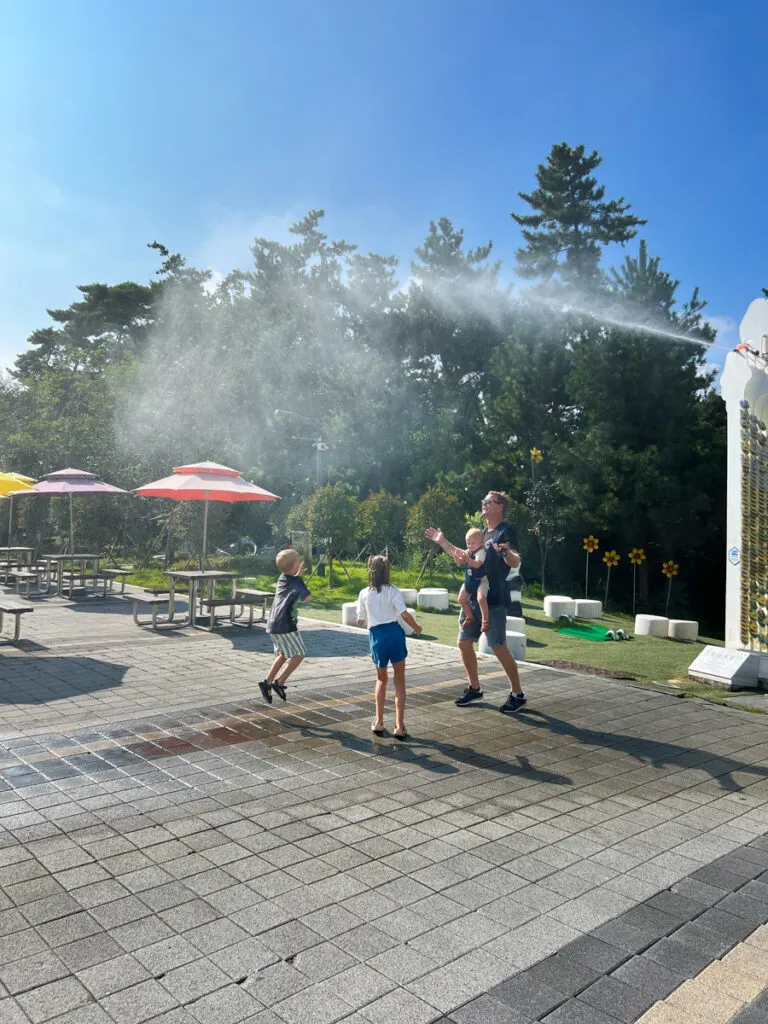 As it was a particularly hot day, we needed umbrellas, and our kids loved the misting water, which they decided to soak themselves in!
3. Songdo Yonggung Suspension Bridge
Just a couple of minutes from Songdo Sky Park cable car station is the Songdo Yonggung Suspension Bridge, which is an incredible experience.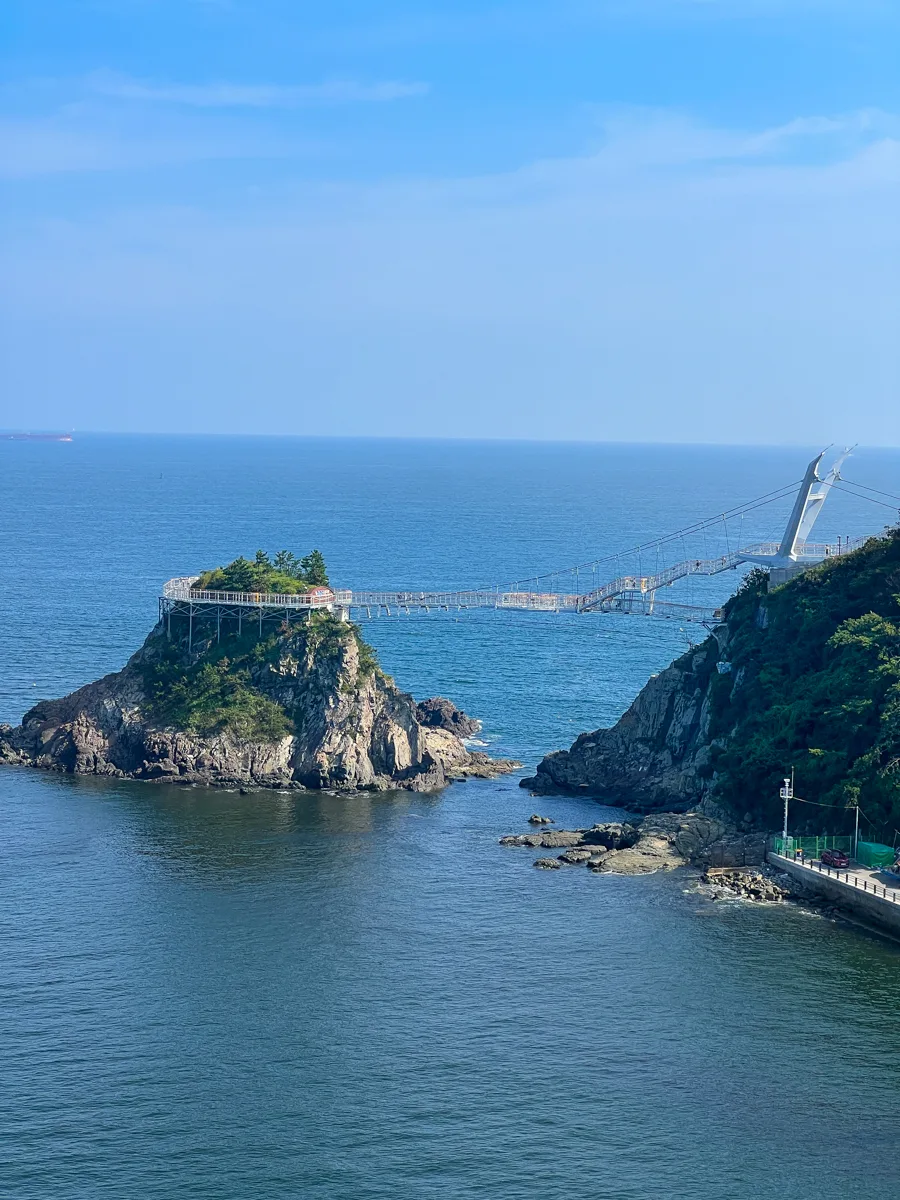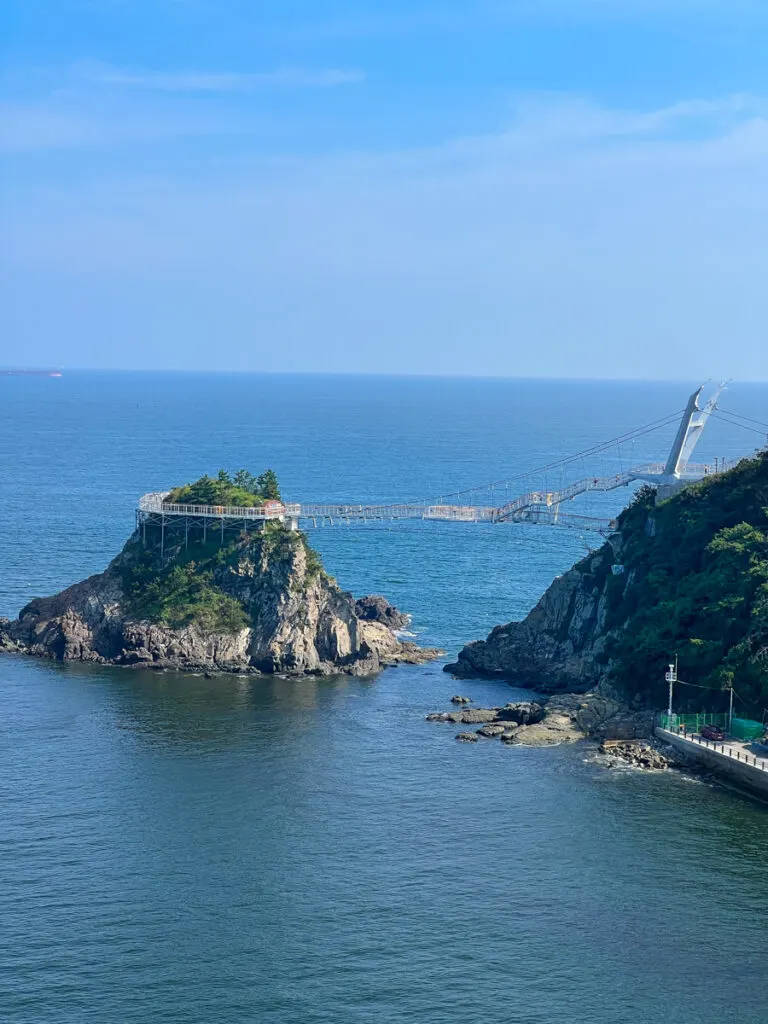 The bridge has a fee, but it's very much worth it! It takes you across to a small rock island. All the while, we could see the water crashing metres below our feet onto the cliff edge.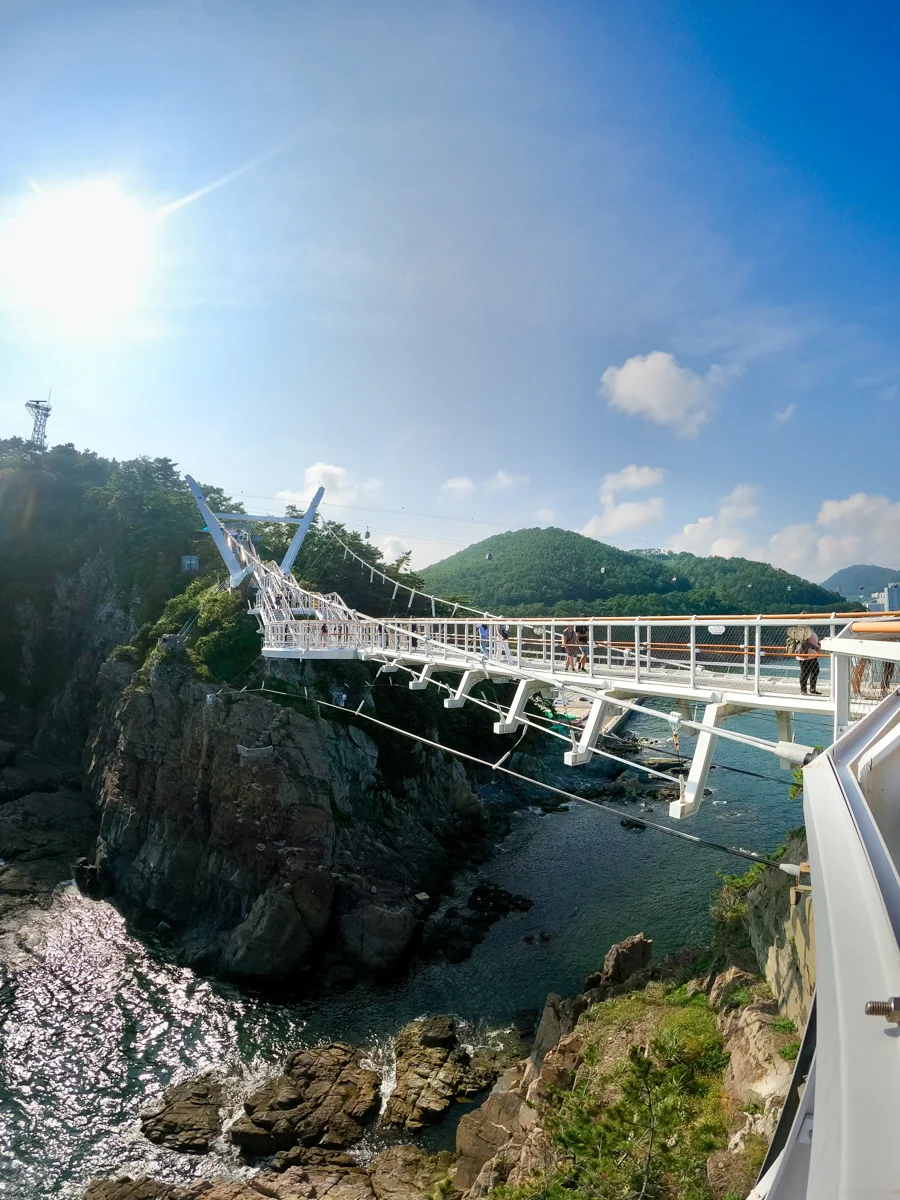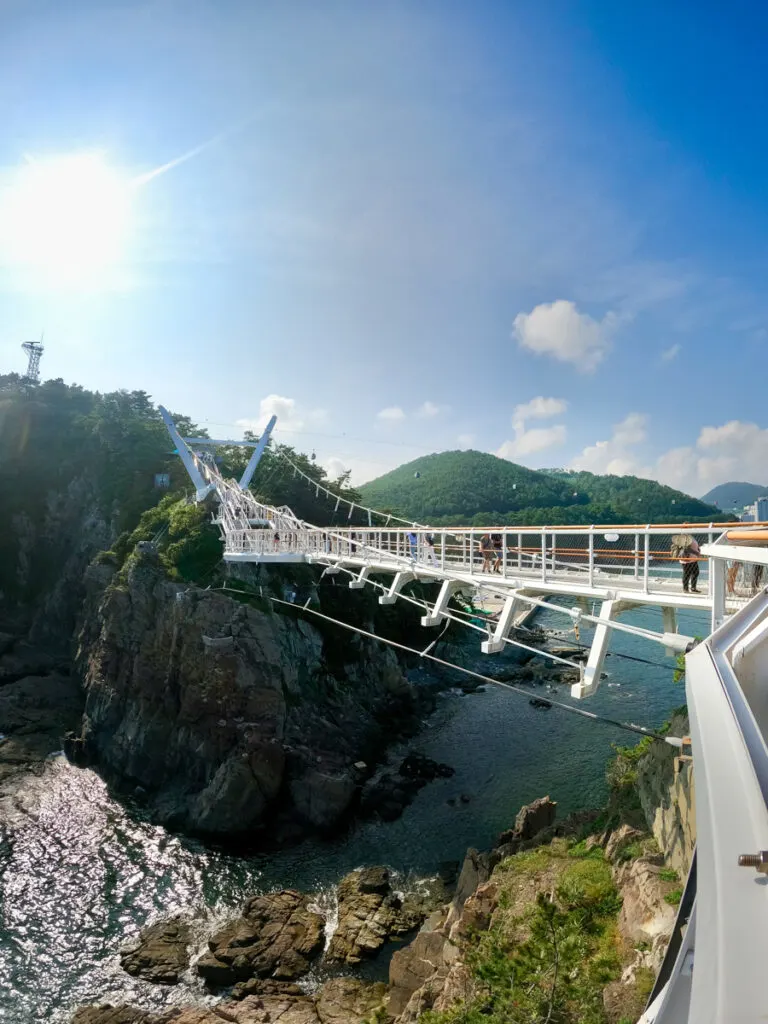 It's all super secure with high railings, so walking with kids is safe. The views of the rugged coastline are beautiful, and it's such a thrilling experience in Busan with kids.
4. Gamcheon Culture Village
Tucked away in the hills of Busan is Gamcheon Cultural Village. It's sometimes described as the Santorini of South Korea.
Picture a steep hill full of colourful houses stacked on one another. The vibrant village has a deep-running history and culture blended with incredible art!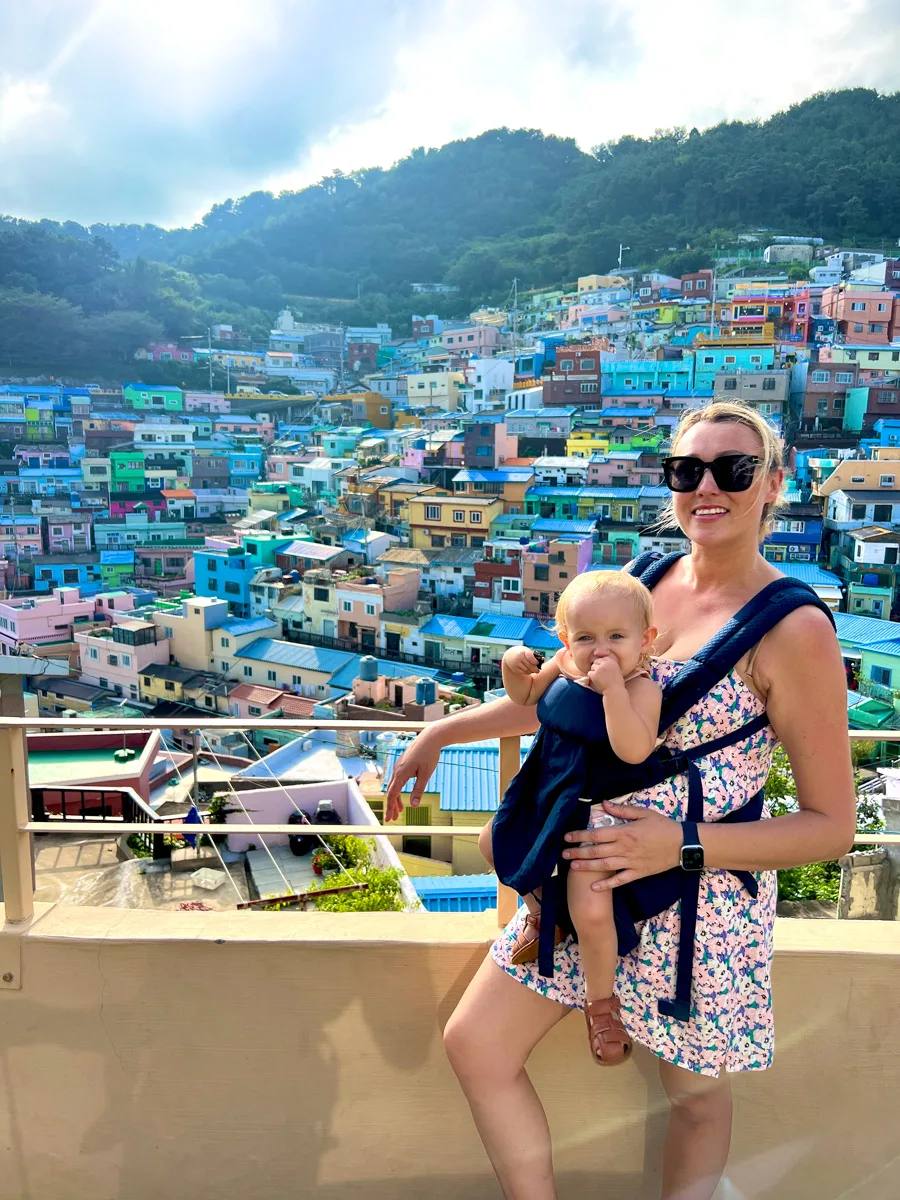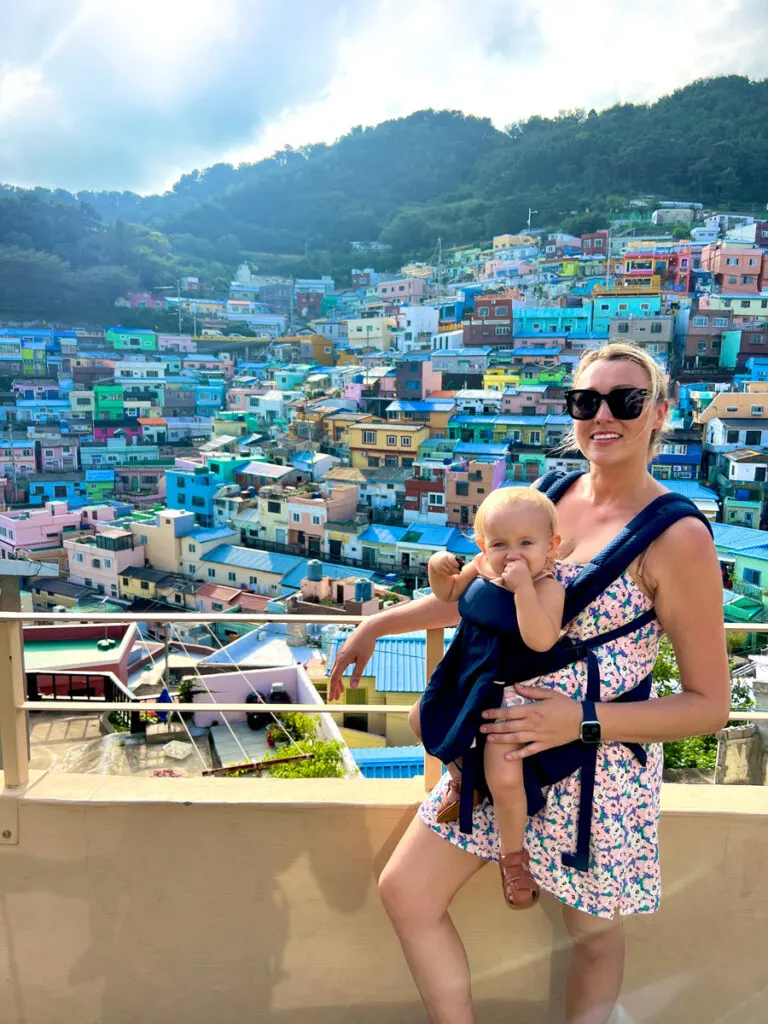 Gamcheon Village was built in the 1950s during the Korean War. The village began as a settlement for refugees fleeing the conflict in other parts of Korea.
Displaced families sought shelter in the hills of Busan, where they built makeshift homes. In the aftermath of the Korean War, Gamcheon Village faced significant challenges.
The hilly terrain made it difficult to build proper infrastructure, and the residents often lived in poverty and substandard conditions. Gamcheon village was characterized by its tightly packed houses, narrow alleyways, and lack of basic amenities.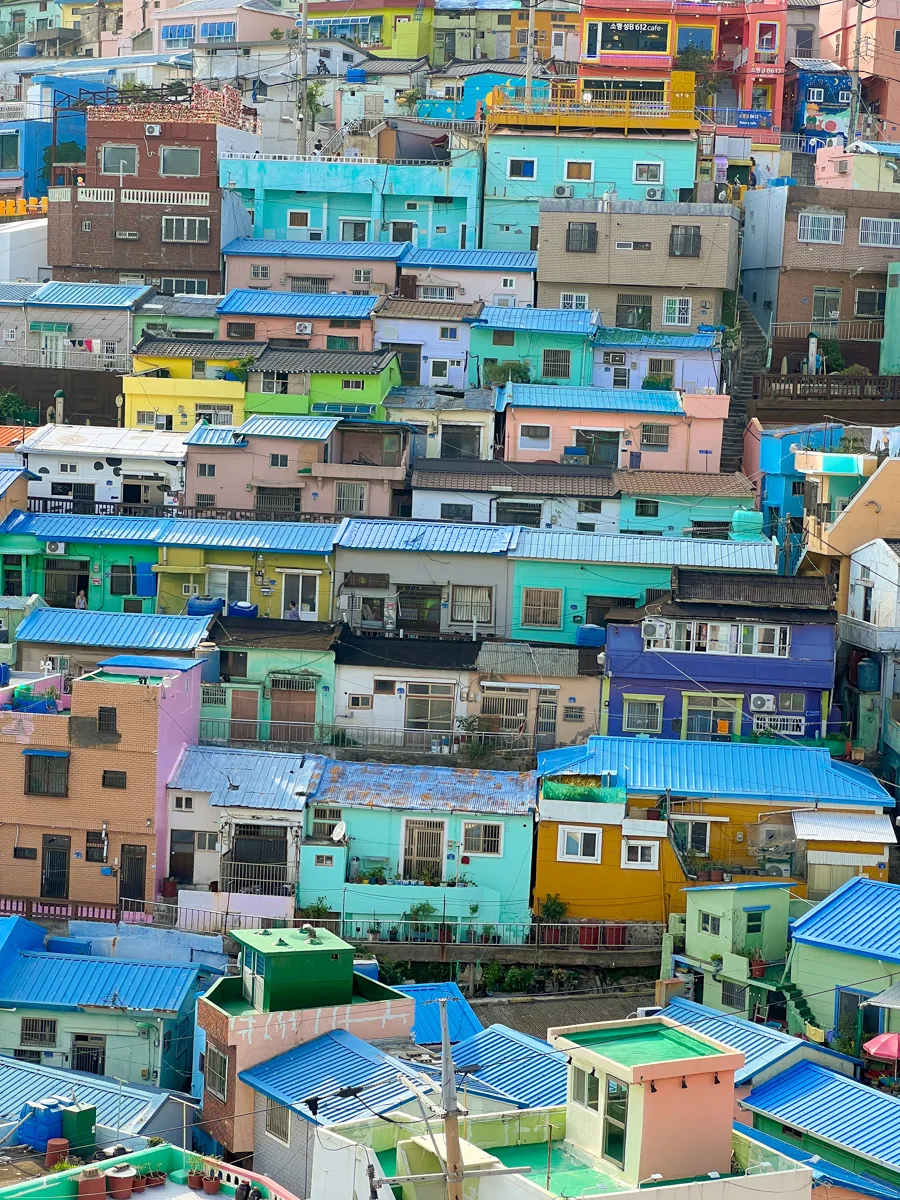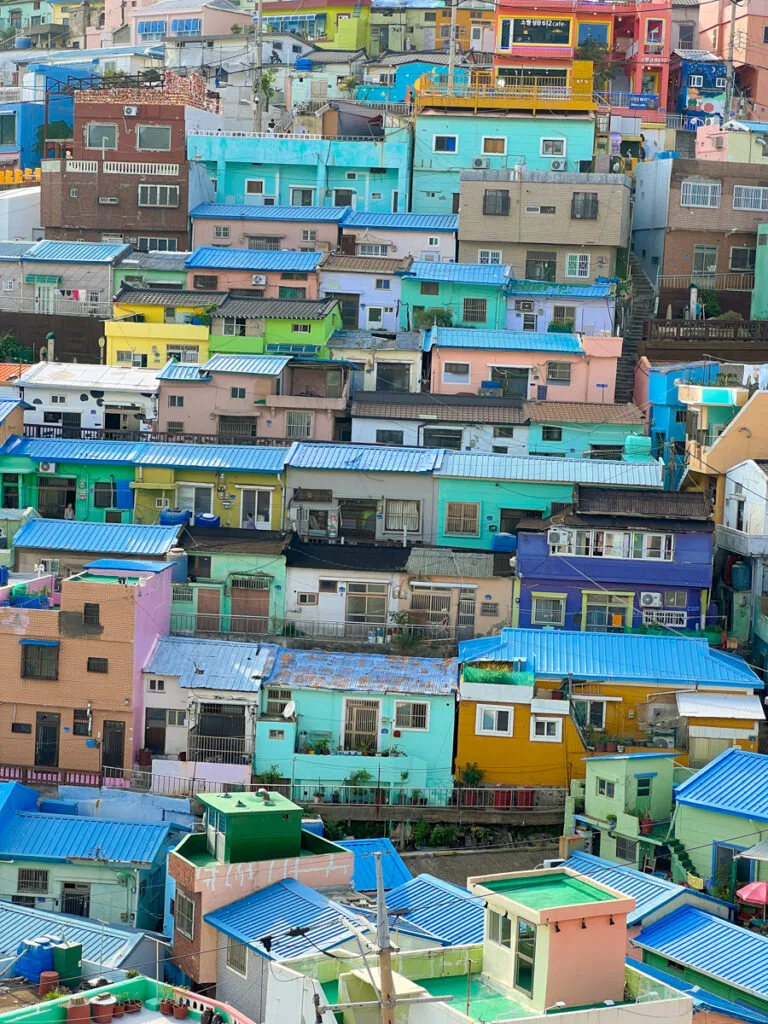 The turning point in Gamcheon Village's history came in 2009 when it was selected as a community art project site.
Local artists and organizations collaborated to revitalize the village through art, painting murals, creating sculptures, and installing colourful artwork throughout the community.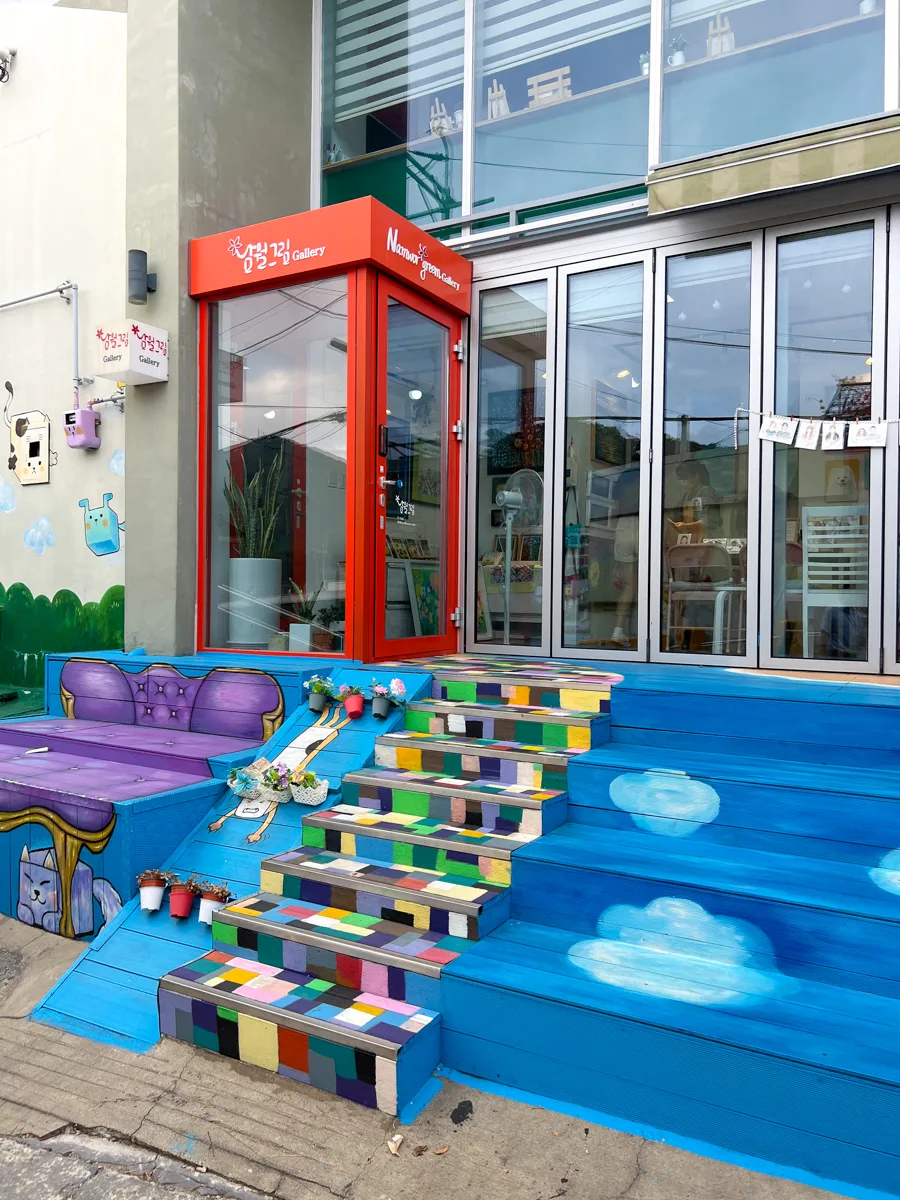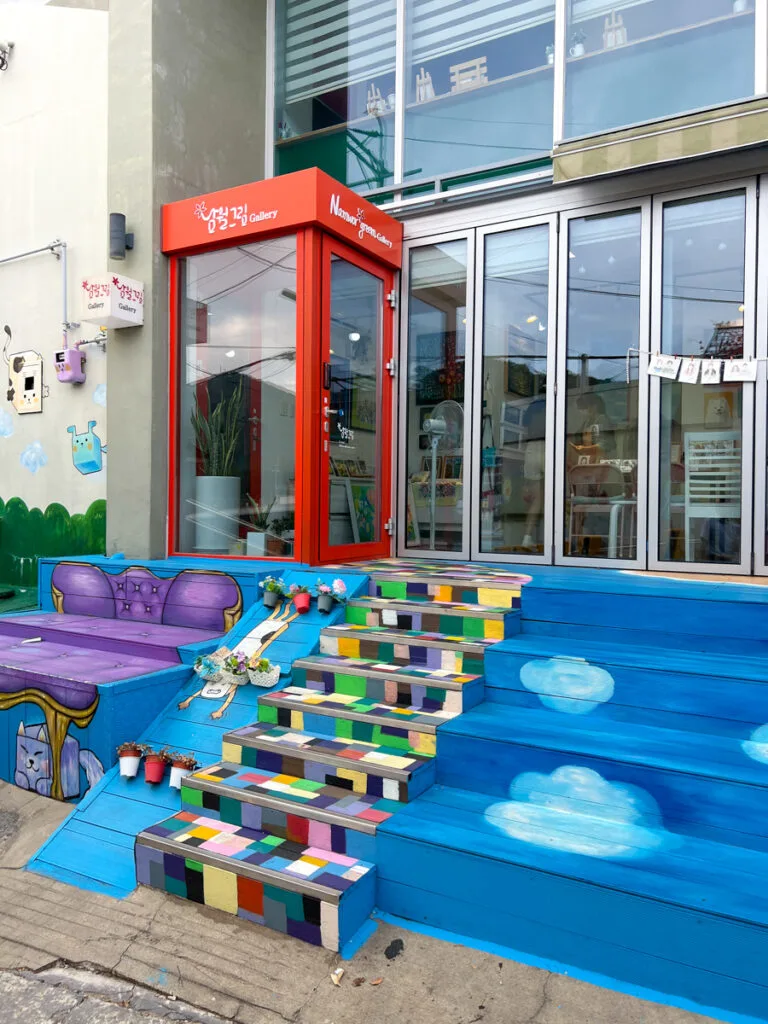 The transformation of Gamcheon Village into an open-air art gallery attracted attention from locals and tourists.
It has since become a blueprint for regenerating run-down areas worldwide. The colourful streets and beautiful installations make it a must-visit place in Busan with kids. Our little ones enjoyed the vibrancy of it all.
Whilst many families have moved on, a few residents remain in the village, living alongside the beautiful galleries, cafes and vibrant installations.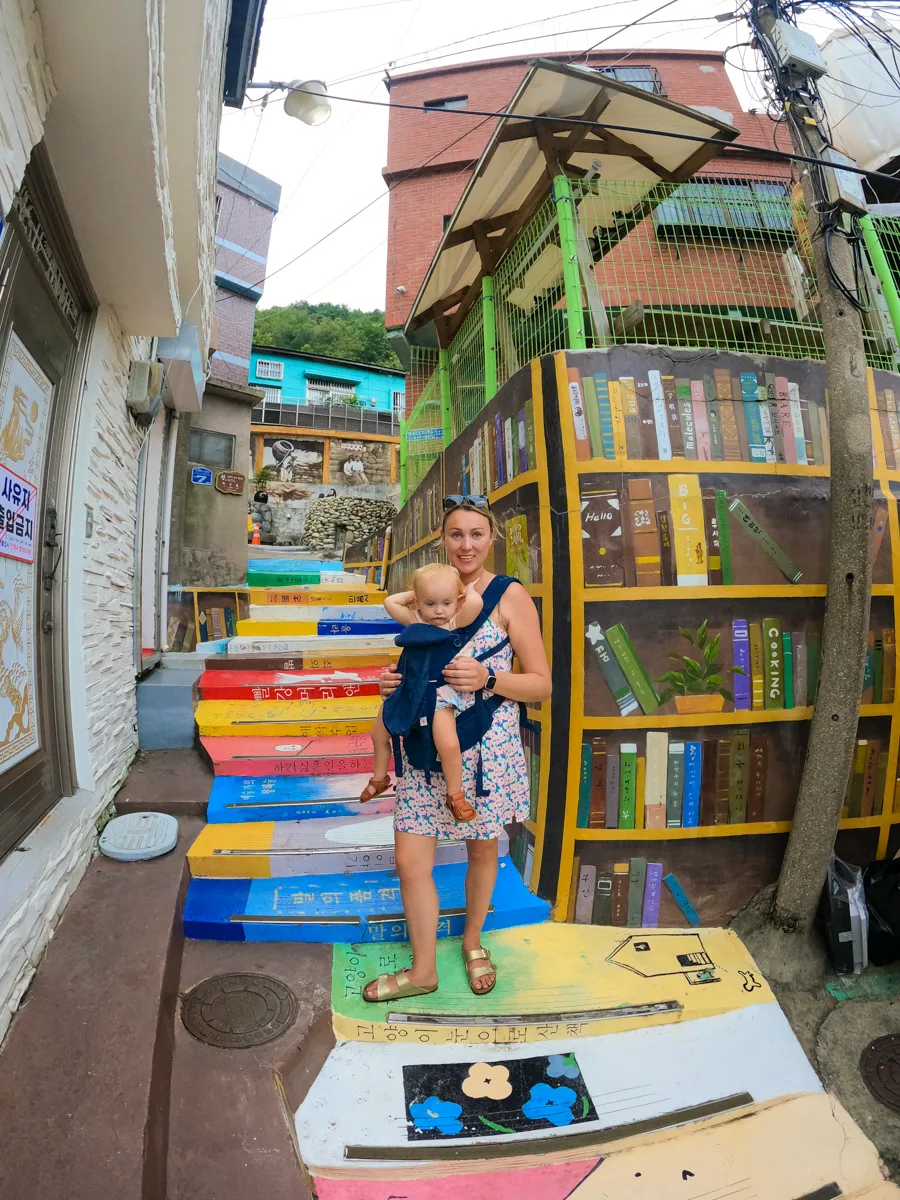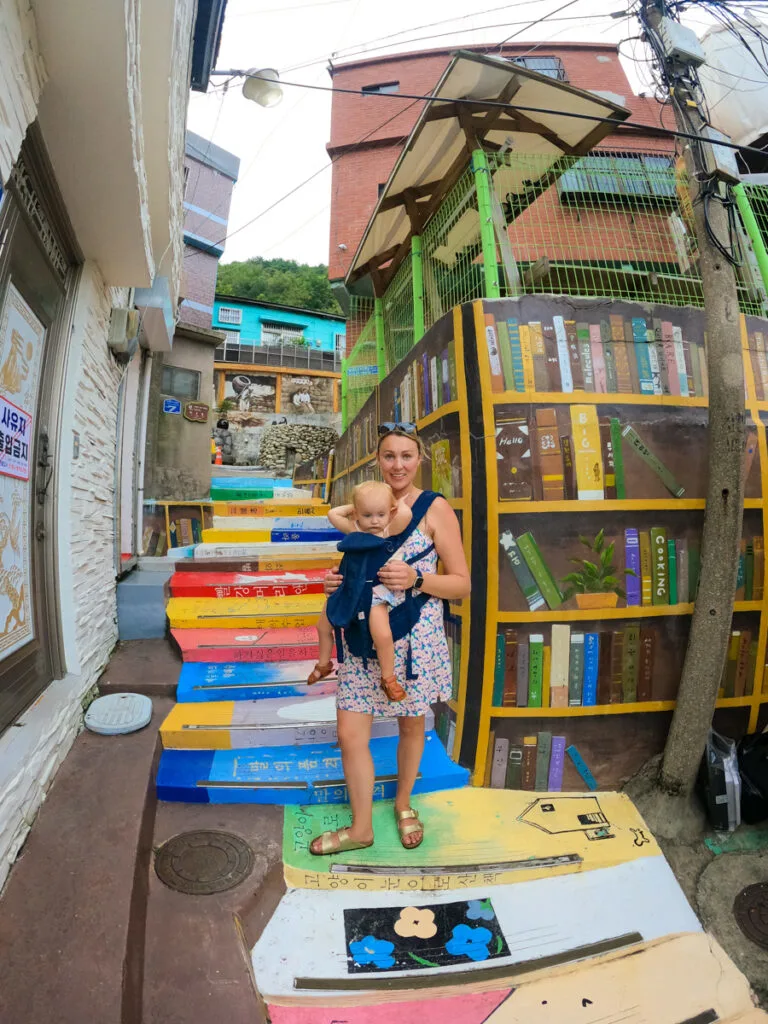 The success of the art project was due to the active involvement of the residents. Many of them embraced the changes and contributed to the ongoing development of the village.
Some opened small shops and cafes, selling local crafts and art, further boosting the local economy.
Today, Gamcheon Cultural Village is a testament to the transformative power of art and community engagement.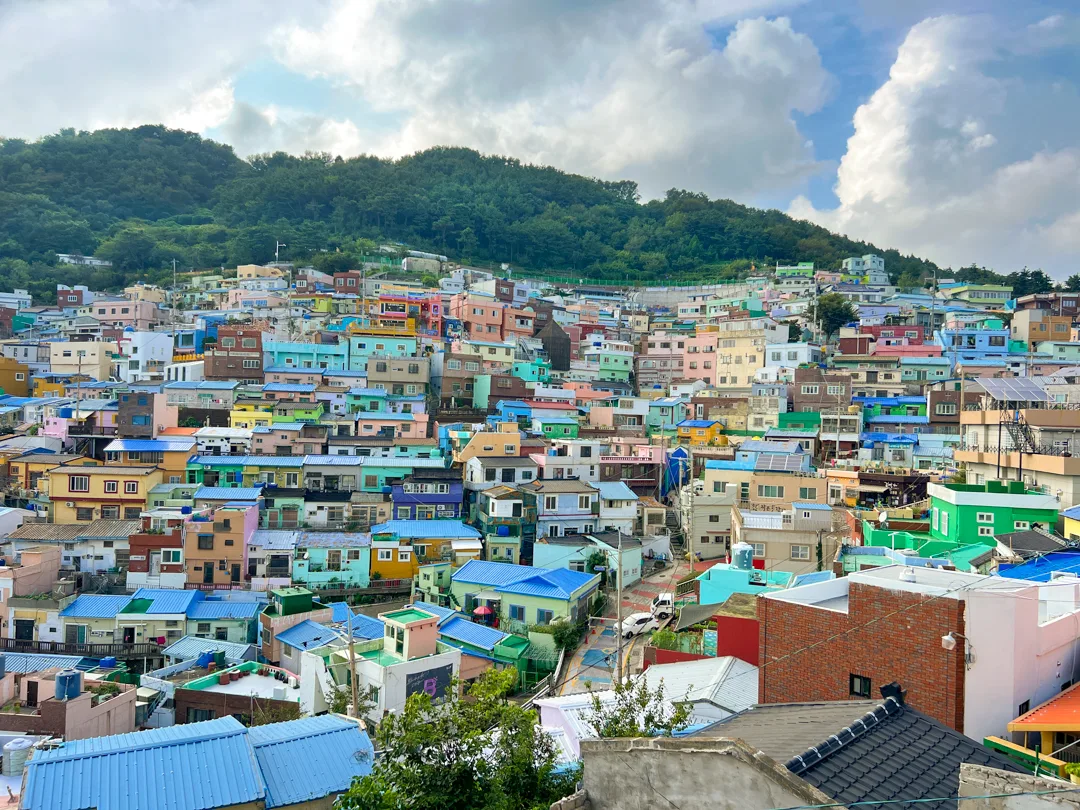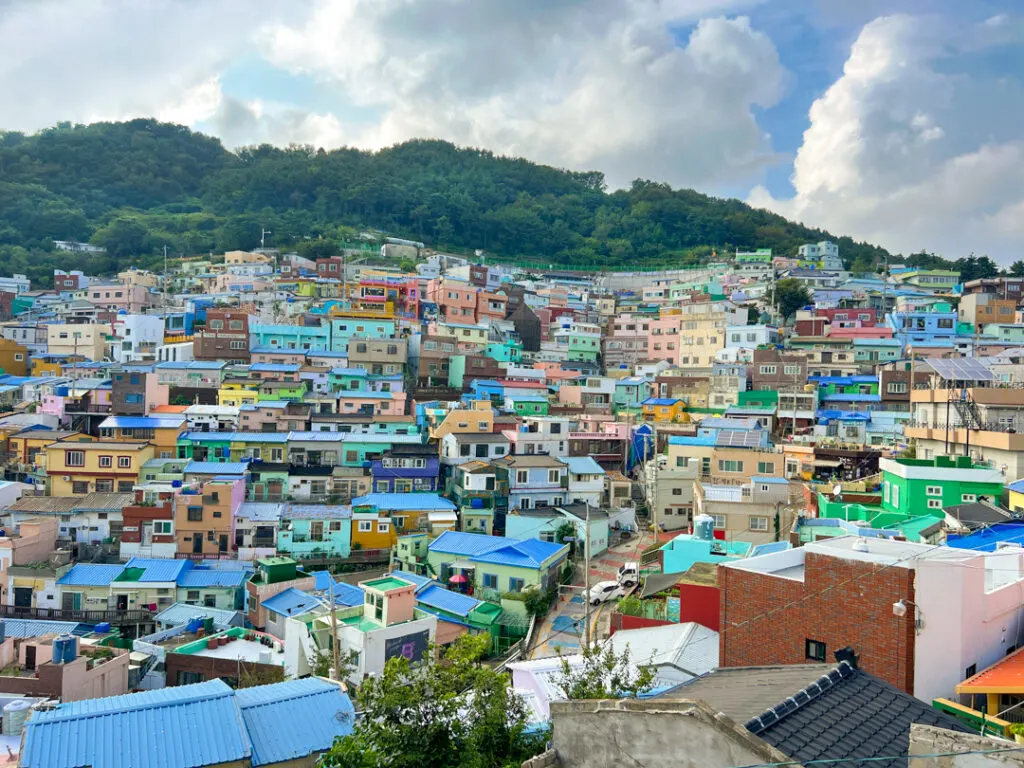 It's a living example of how a once-struggling neighbourhood can reinvent itself through creativity, turning adversity into something positive.
Gamcheon Village is a popular tourist destination and a cherished symbol of Busan's rich cultural heritage and artistic spirit.
5. Dongbaek Park
Nestled along the East Sea in Busan, Dongbaek Park offers respite from the city and is an ideal place to run around in Busan with kids. It's just a short stroll from Haeundae Beach.
The park has stunning views of the ocean, with the Haeundae city skyline in the distance. The park weaves around the coastline on a peninsula before joining back up with the beach.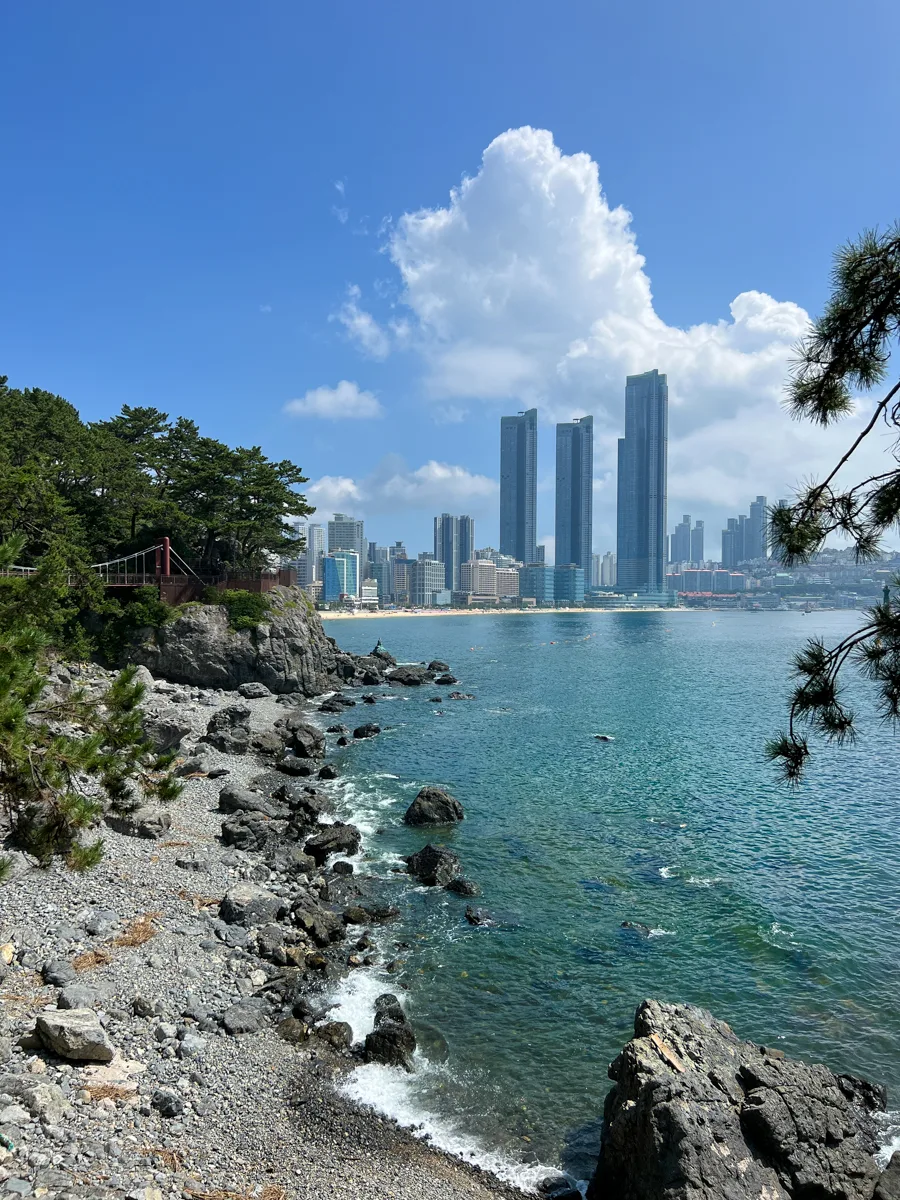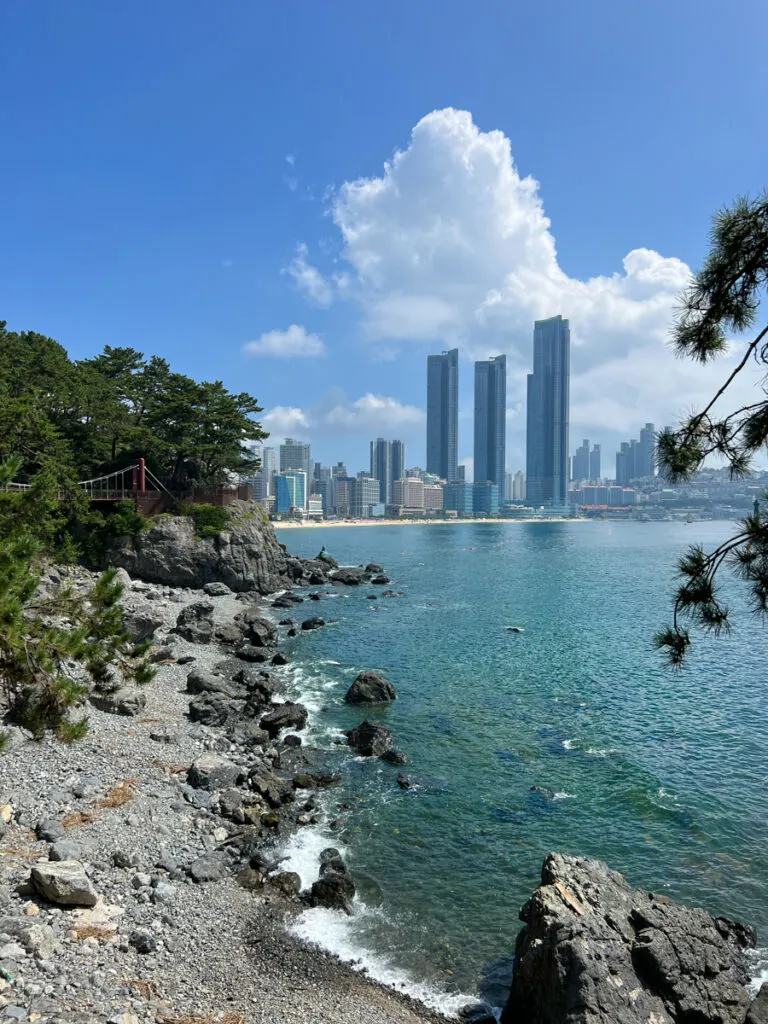 Lined with Dongbaek trees, the park's pathways meander through diverse flora and fauna. Our kids loved collecting pine cones along the way.
We visited Busan with kids in August, which was quite hot. It's worth noting the park changes with the seasons, making each visit unique.
Dongbaek holds historical significance, with a statue of Choe Chiwon, a renowned scholar and poet from the Silla Dynasty, at its heart.
The APEC House, where the 1995 APEC Summit took place, is another interesting landmark within the park. Inside, the blend of traditional Korean architecture and modern aesthetics was fascinating to see.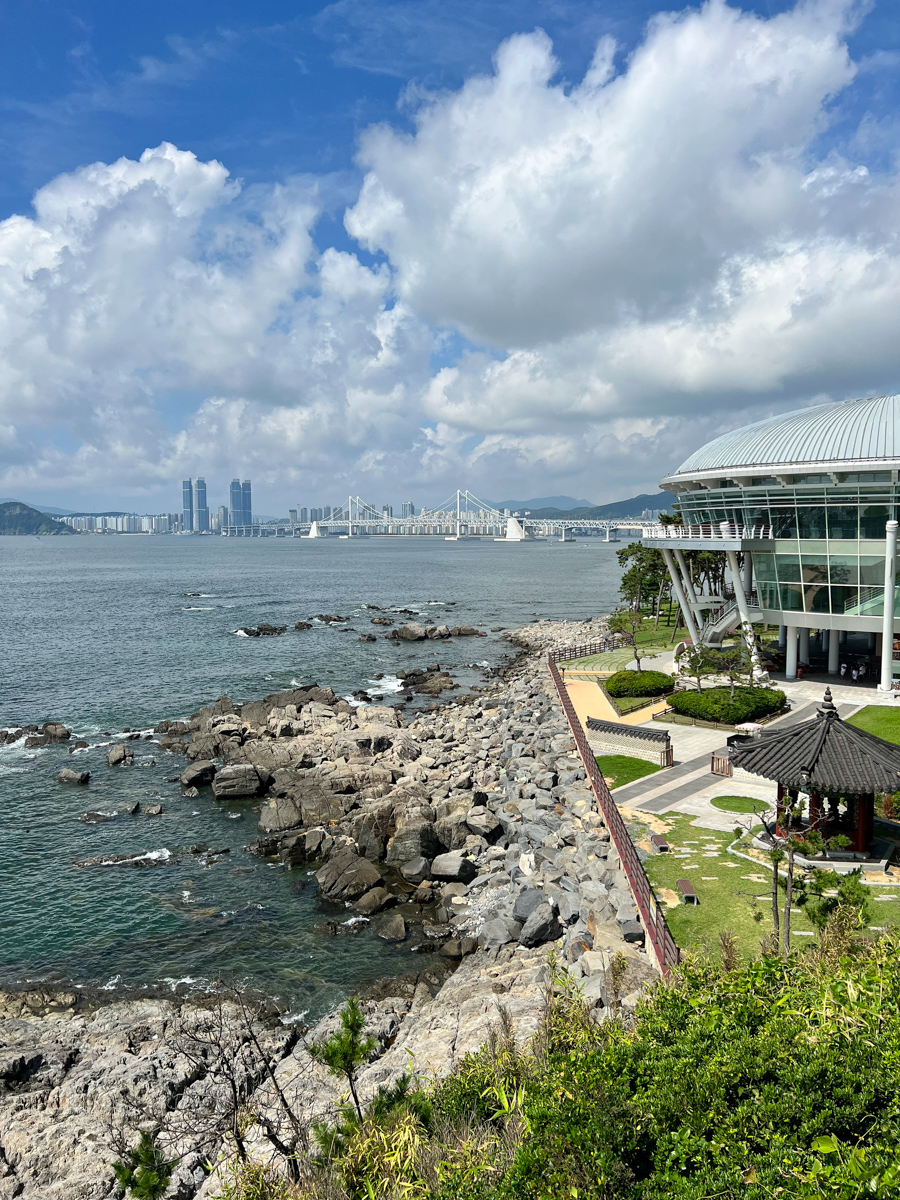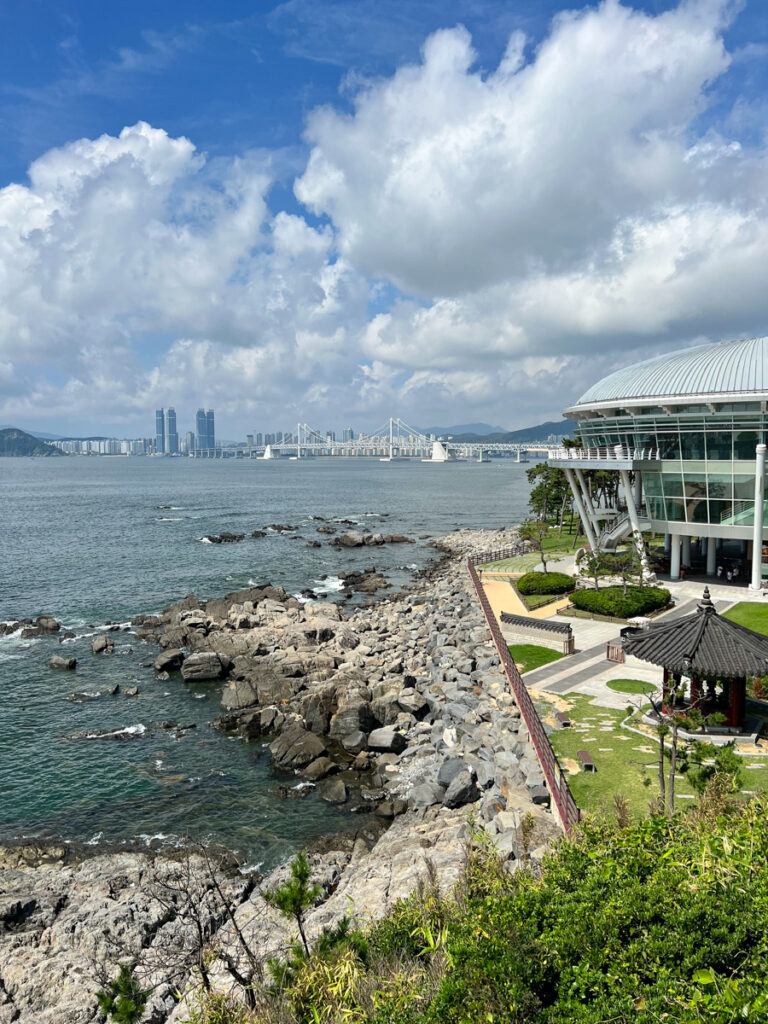 There is plenty of information about the APEC Summit, and the room where the leaders sat is well preserved.
After visiting the APEC House, we continued our walk along the coast. There are a couple of lookout points along the way, which are perfect for photos.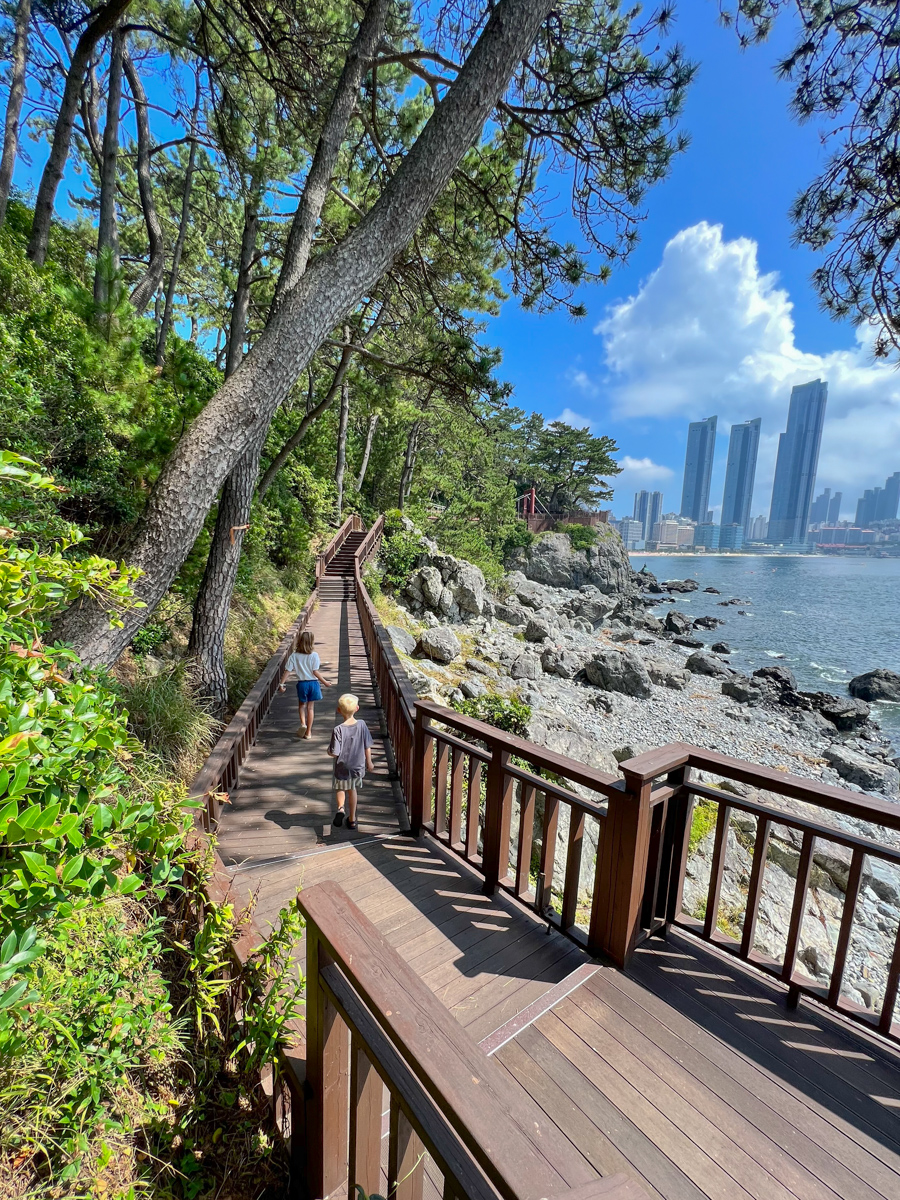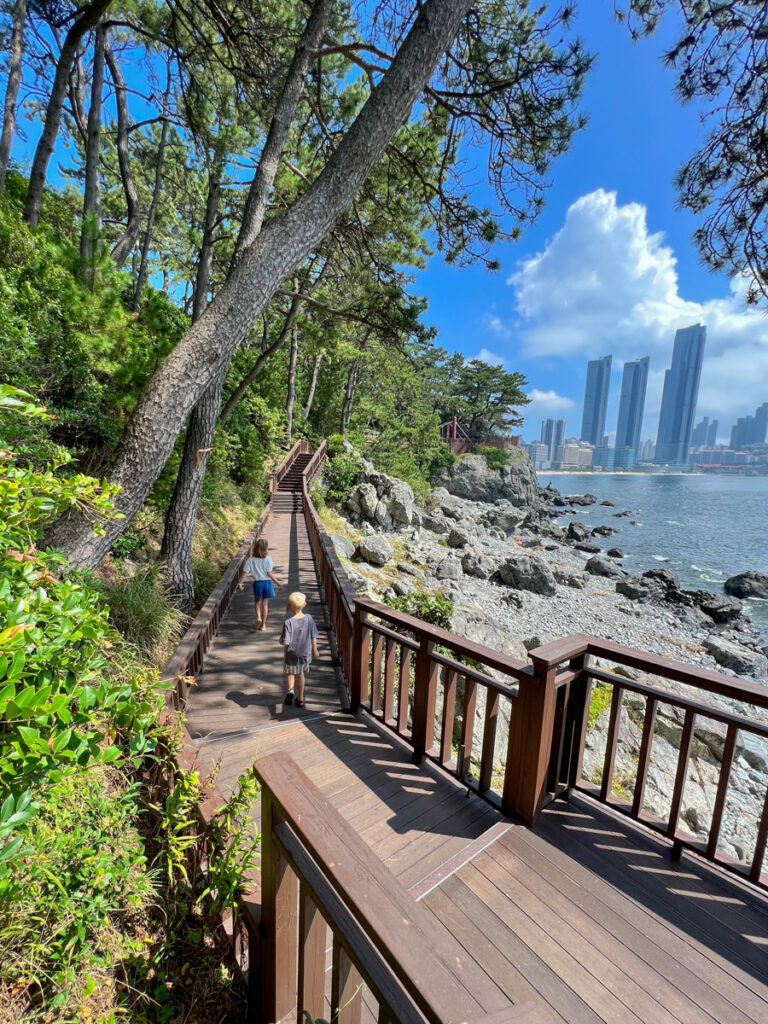 In parts, steps and bridges cross the ocean beneath, so if you are travelling with a baby or toddler, it's worth bringing a baby carrier. Nonetheless, it's a stunning walk!
Dongbaek is a beautiful spot to head for sunset, especially with the views of the city, coastline and beach.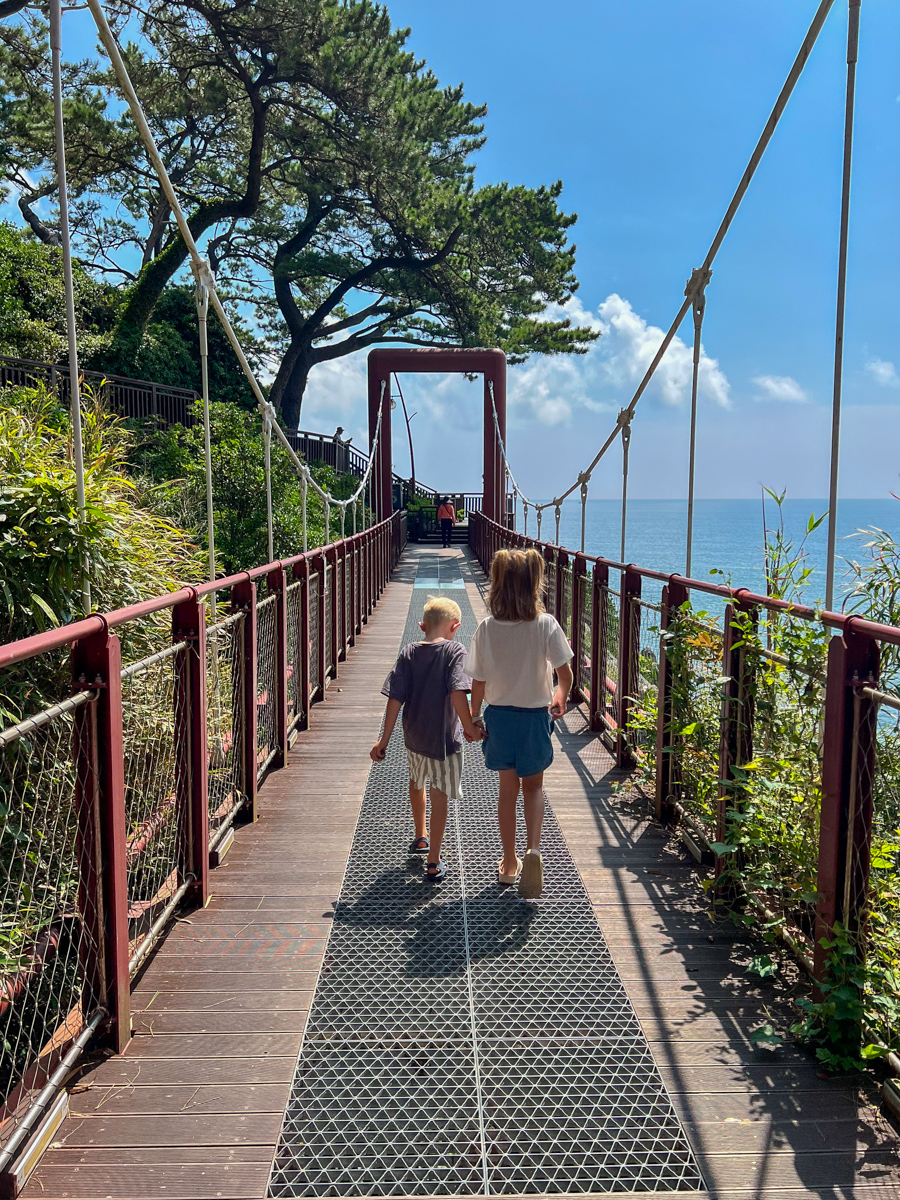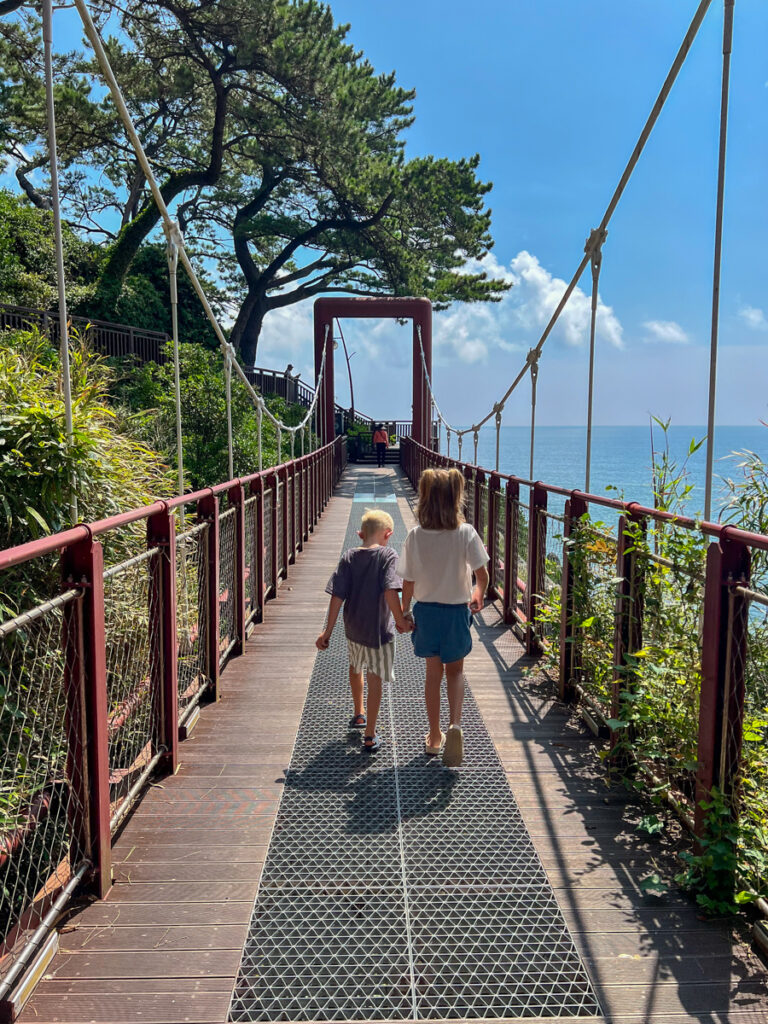 We got to visit Haedong Yonggungsa Temple, Songdo Cable Car, Songdo Yonggung Suspension Bridge, Gamcheon Cultural Village and Dongbaek Park all in one day.
It was a huge day, but it was great to utilise our tour guide to the max before relaxing and exploring Busan with kids at our own pace.
6. Club D Oasis
The next day, we were ready for relaxation so we decided to check out Club D Oasis, which is right on Haeundae Beach.
This spa and waterpark facility is ideal for families. It is a popular spot, featuring relaxing zones, slides, splash parks, and an infinity pool with incredible views over Haeundae Beach.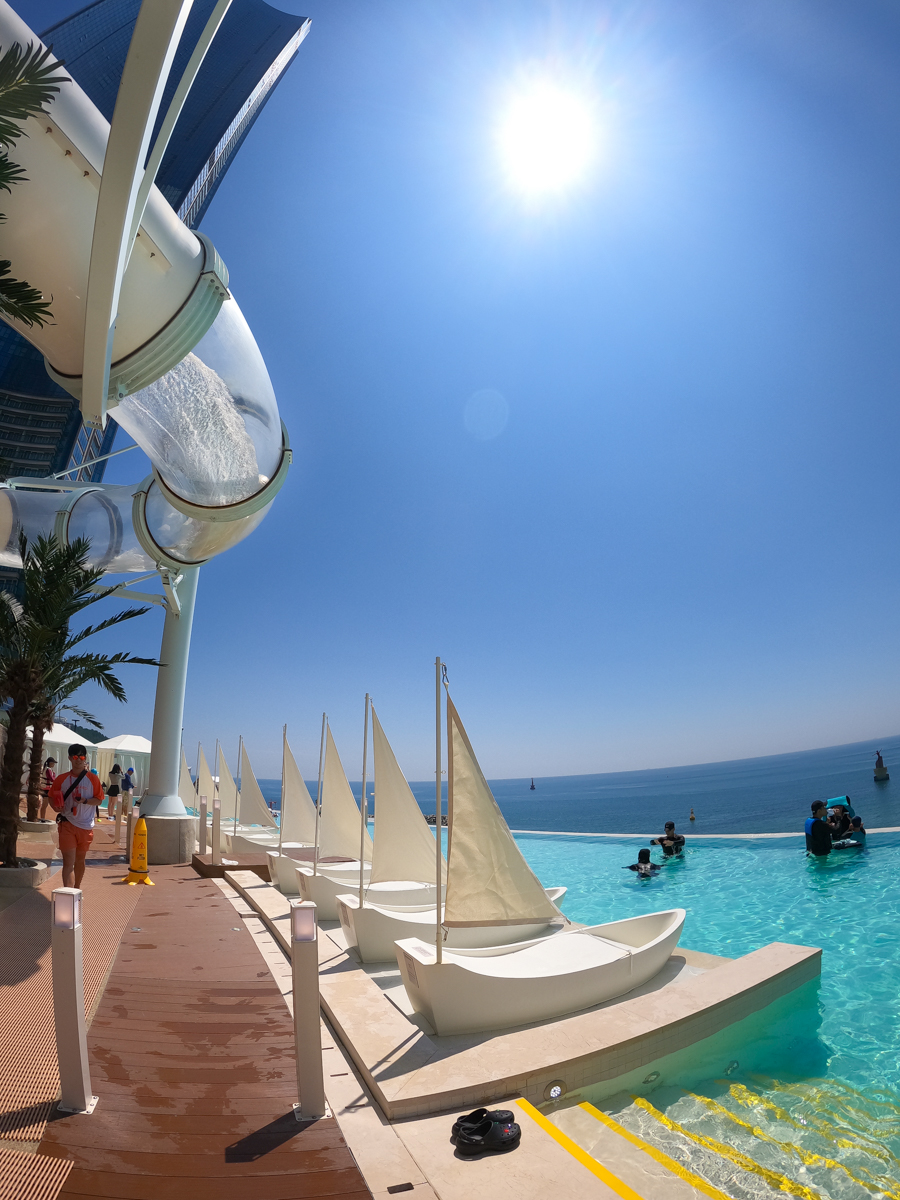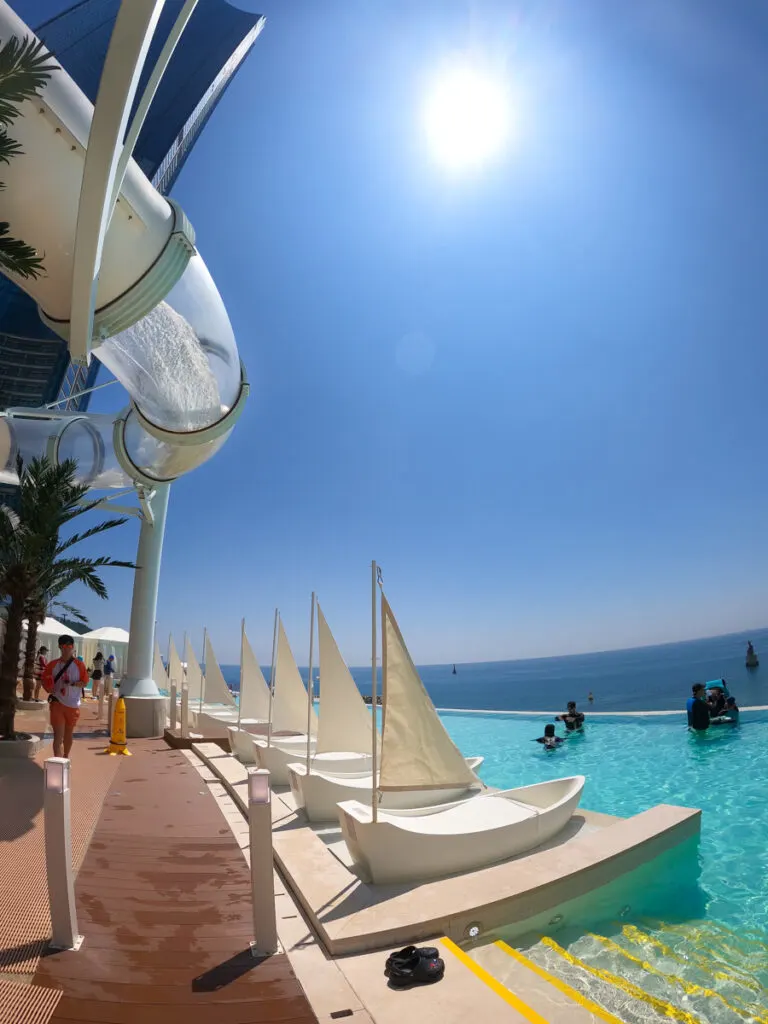 We visited on a weekend, so, Koreans were busy relaxing on their day off work.
It's a sparkling clean facility which is super high-tech. On entering, we were assigned numbered lockers for shoes. As we dropped them off, we had another assigned locker for our belongings.
Everything was operated by a bracelet connected to our credit card ( we learned this later).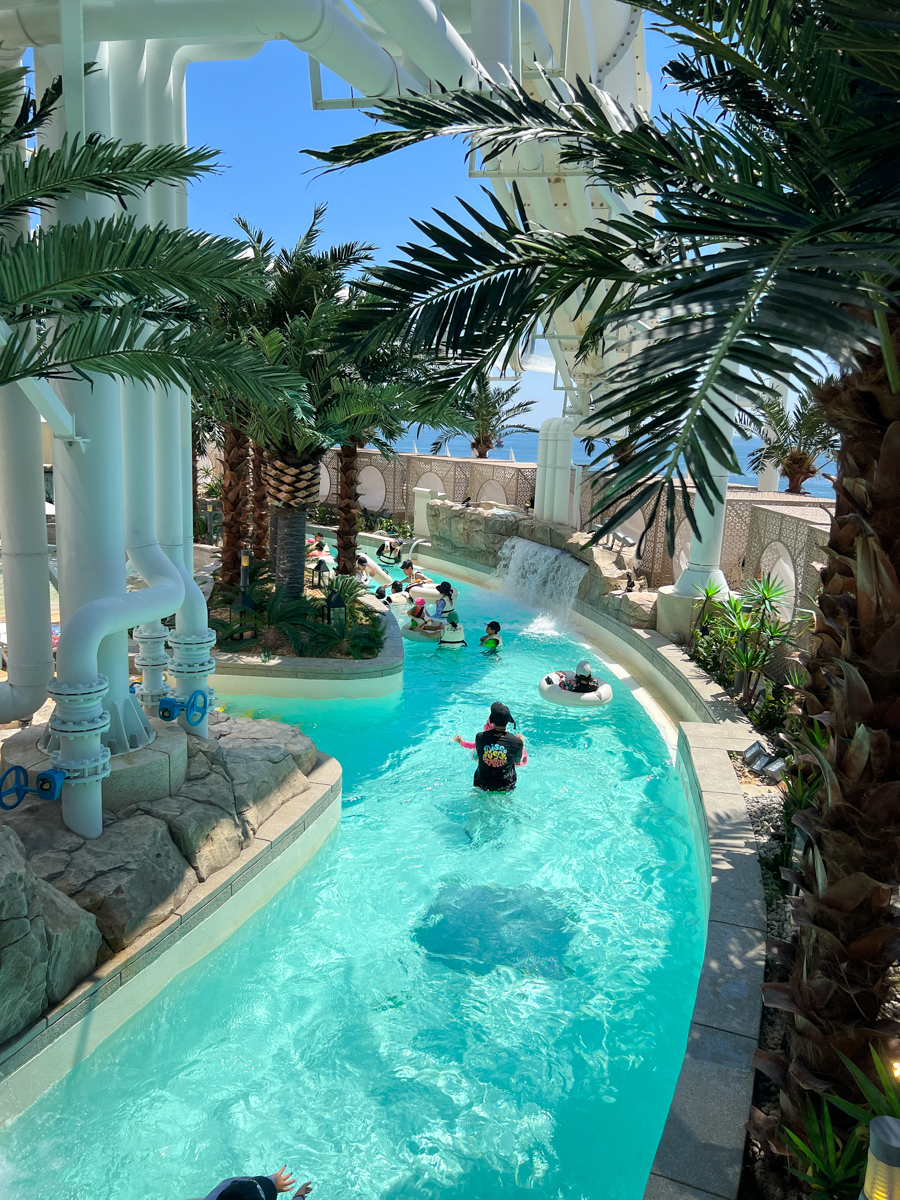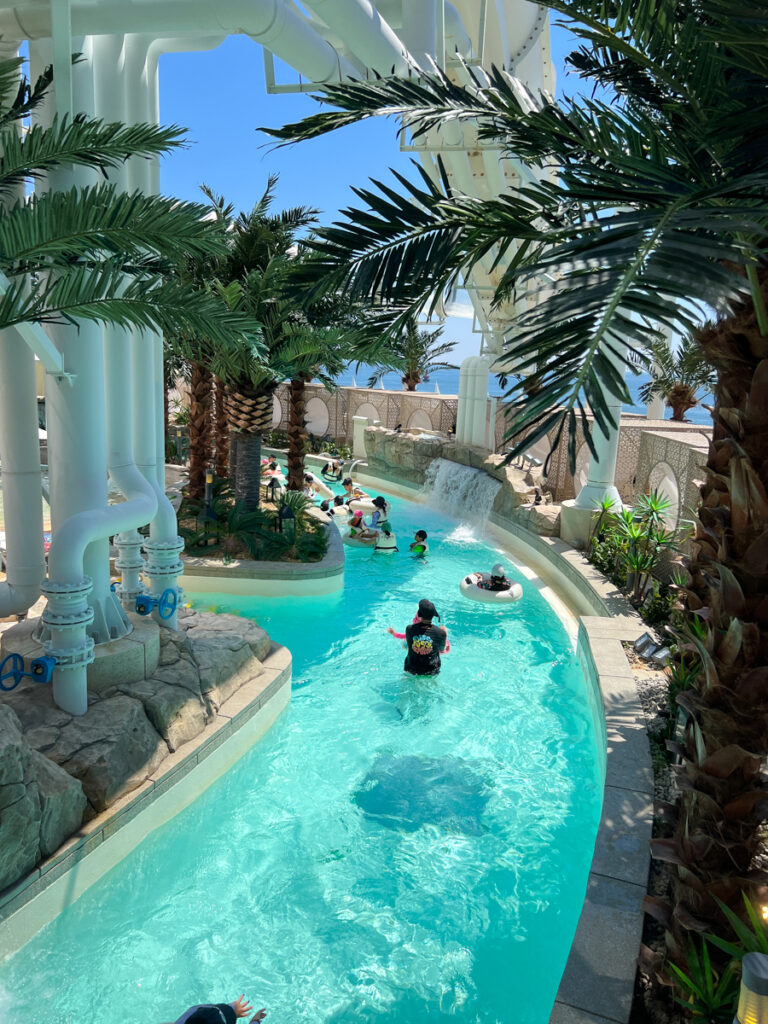 The changing facilities were beautiful, as were the pools and amenities.
A couple of downsides were that the staff didn't communicate that we needed a life jacket and swim hats for everything. This seemed a little overkill since life jackets had to be rented, and swim hats were an additional cost on top of the admission.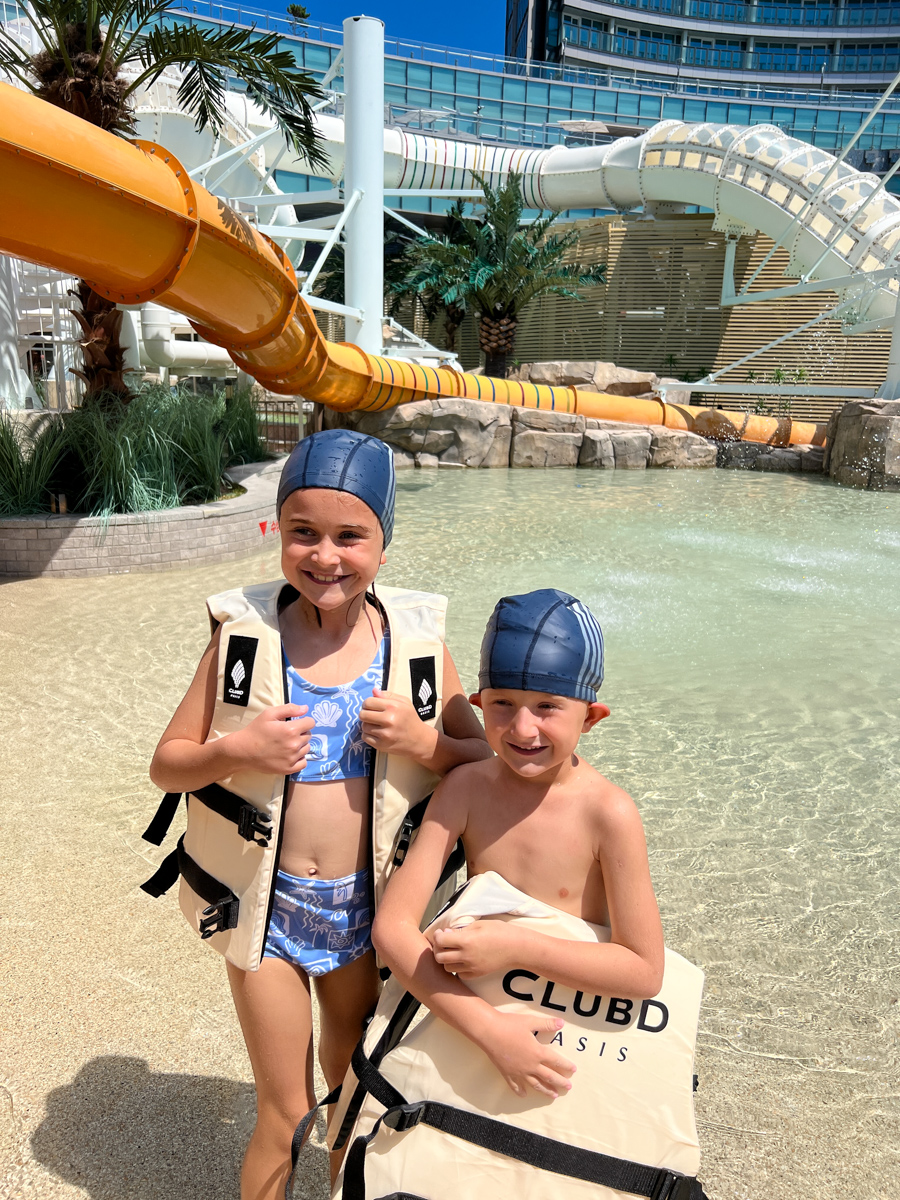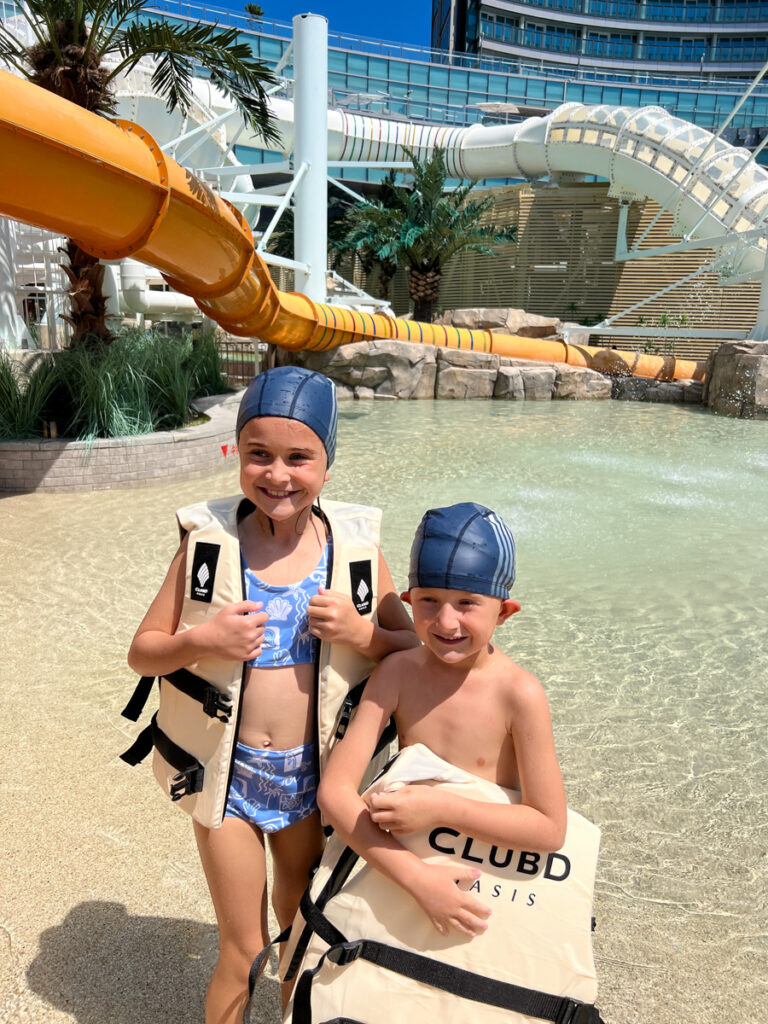 There were quite limited food options, with most being things like fried chicken, ice cream and pizzas. It didn't fit what felt like a spa, so it was hard to make a day of the entrance with the limited food.
Everything is connected to the bracelet, as mentioned, so you don't need to carry a wallet to pay for various things in the club, which was great.
Hilariously, on exit, we could not open our shoe locker without going and finalising the bill of things we had clocked up during the visit.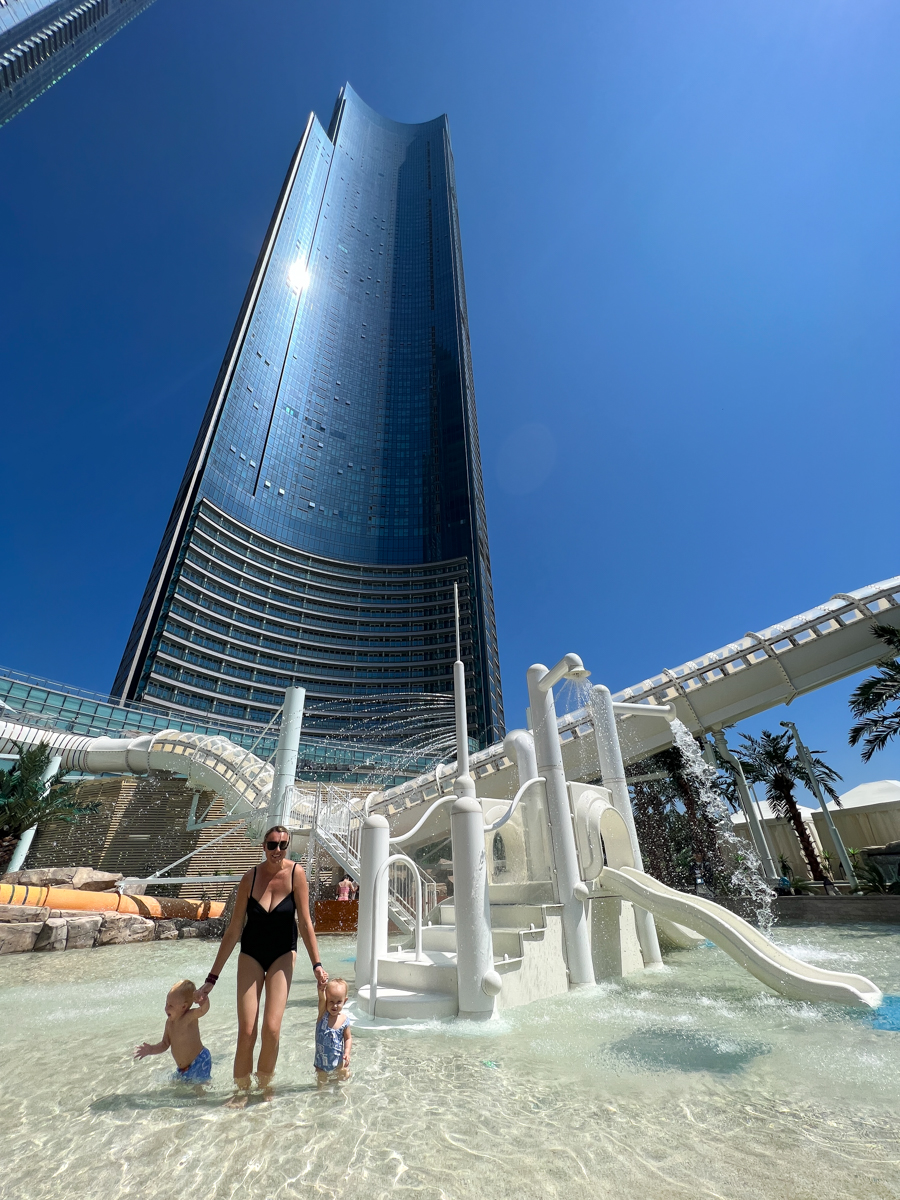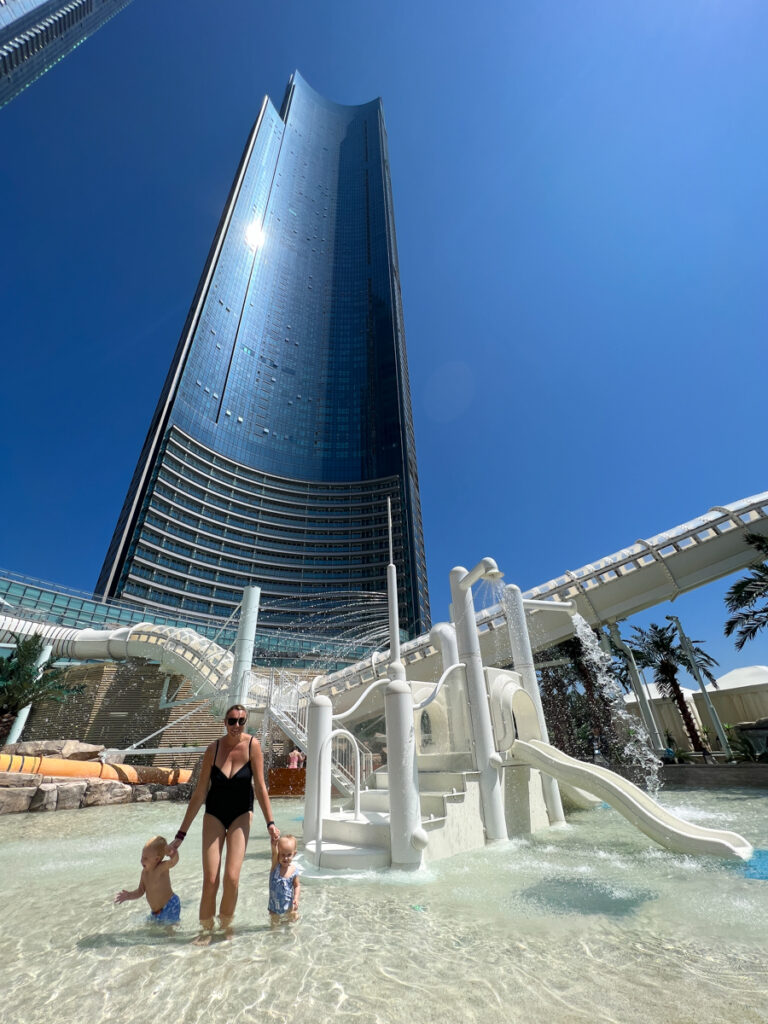 We had this feeling a lot throughout our time in South Korea. Whether it was visiting the tea house with an entry fee or the pool at our hotel, it always felt like they were worried we'd 'run off' without paying for something.
Besides these little quirks of walking around in life jackets and swim hats at a spa, the kids had a blast on the slides and playing at the waterpark.
7. Blue Line Sky Capsule
The Blue Line Sky Capsules are a super iconic experience in Busan. They are in every leaflet and marketing material about the city.
Think cable cars on a train track that wraps around a cliff edge with stunning sea views. As a family of 6, we weren't allowed to travel in one car together, despite two of our children being babies in a carrier.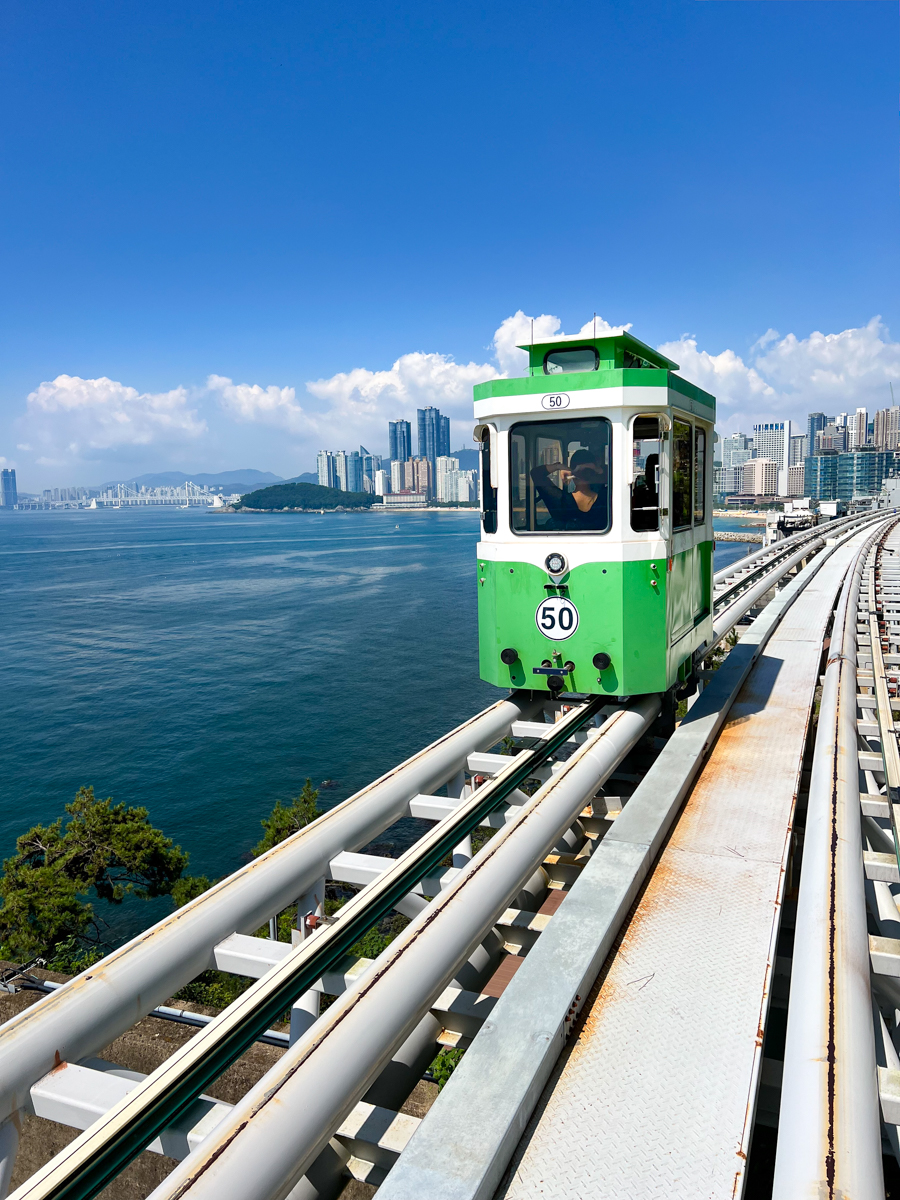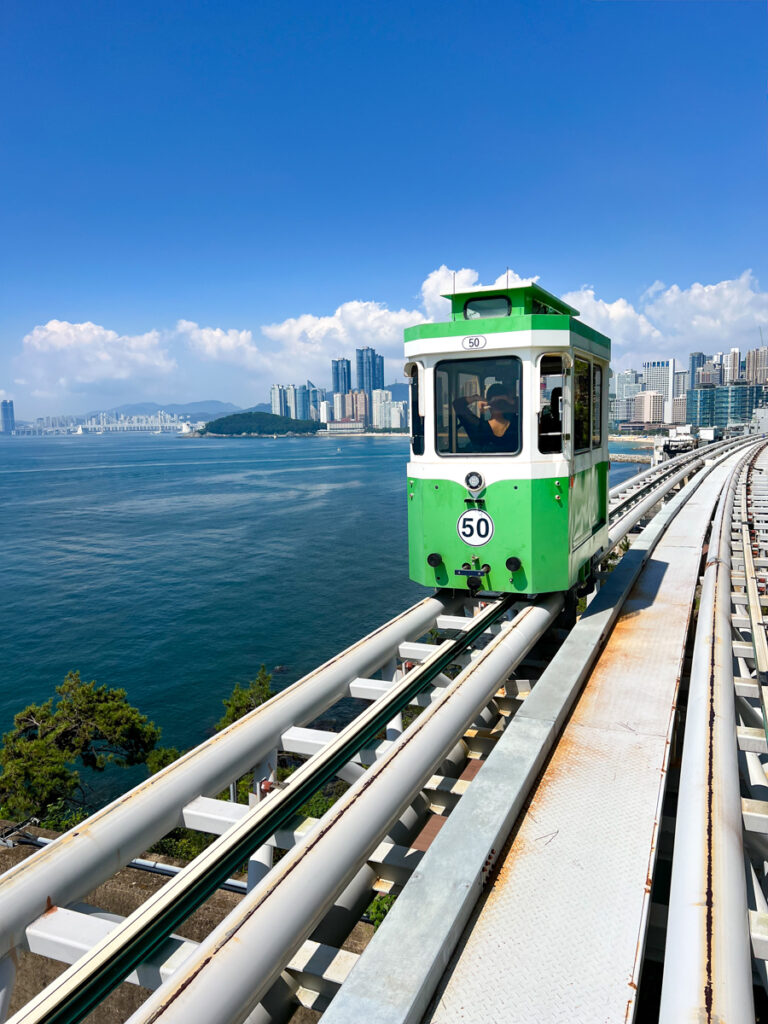 This was one of these quirks of South Korea, rules are rules, and they usually don't bend even though there was loads of space for us all inside.
Nonetheless, despite paying for two cable cars, we loved the relaxing few minutes of checking out the views from the cliff edge in this unique experience.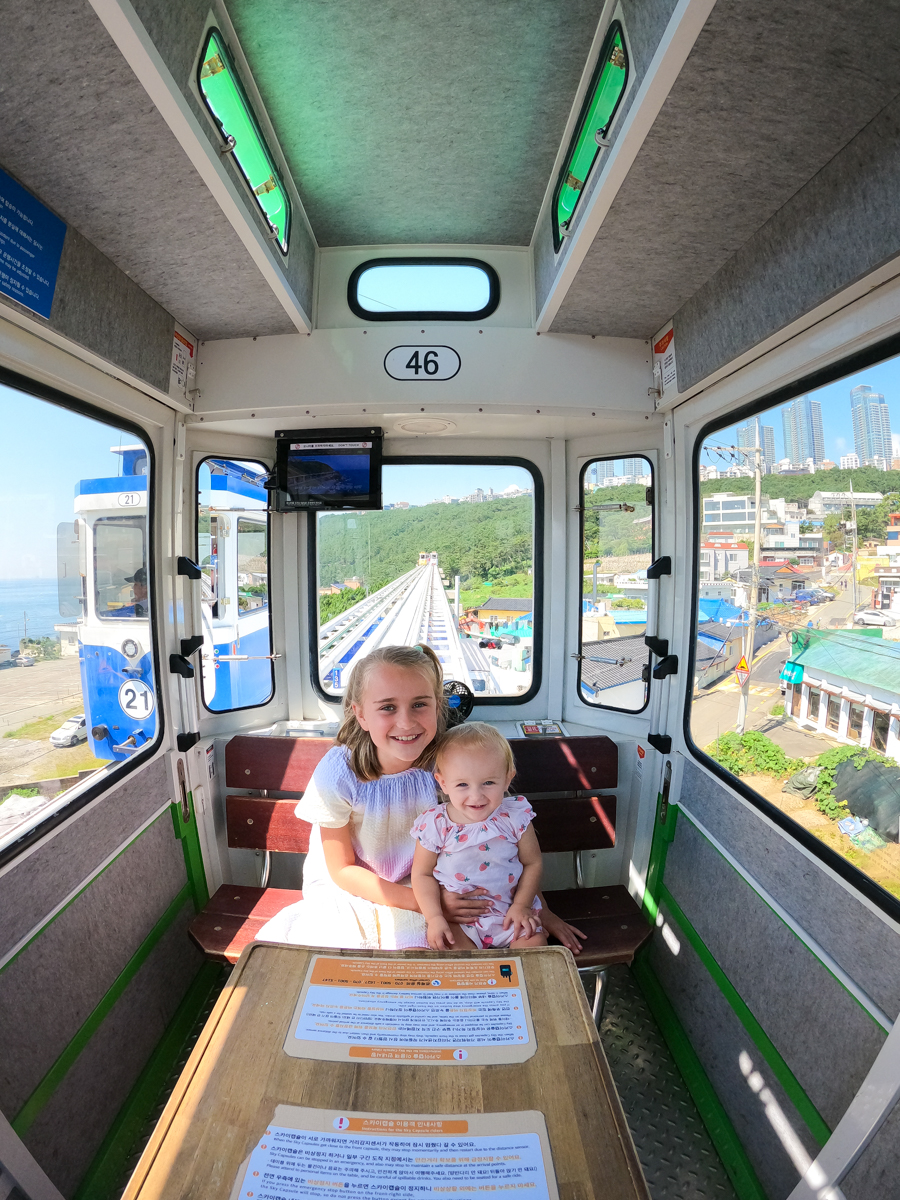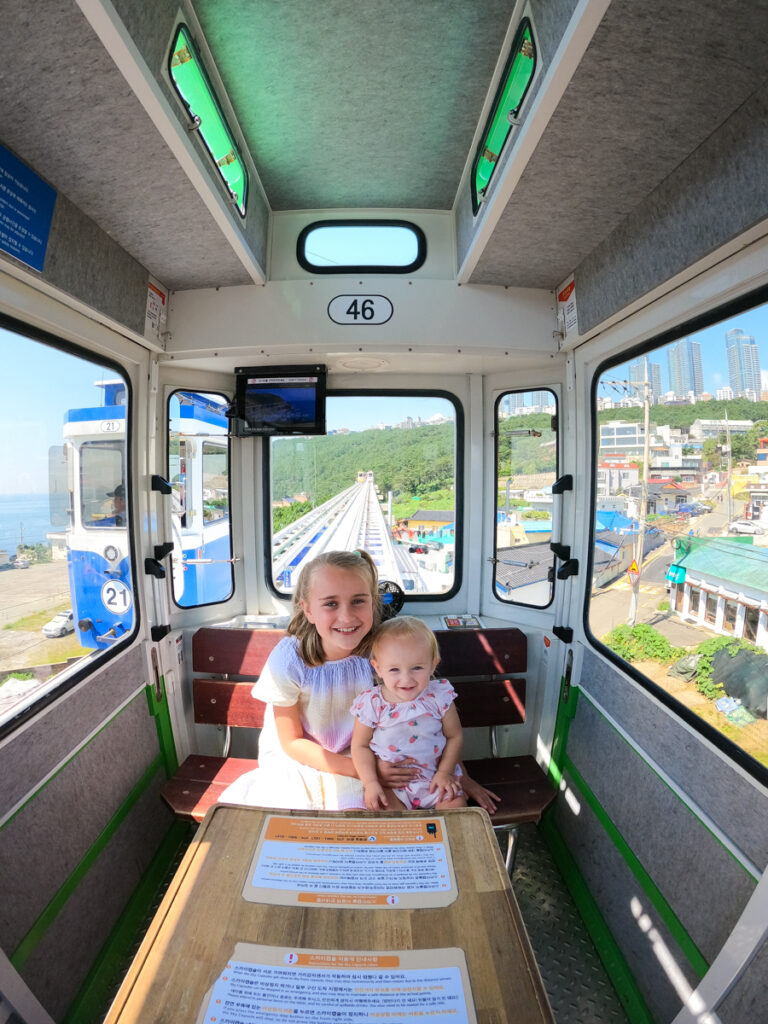 There are a few different routes which run along the coast. It's best to book in advance as we found the route from Haeundae was completely booked up for our chosen times.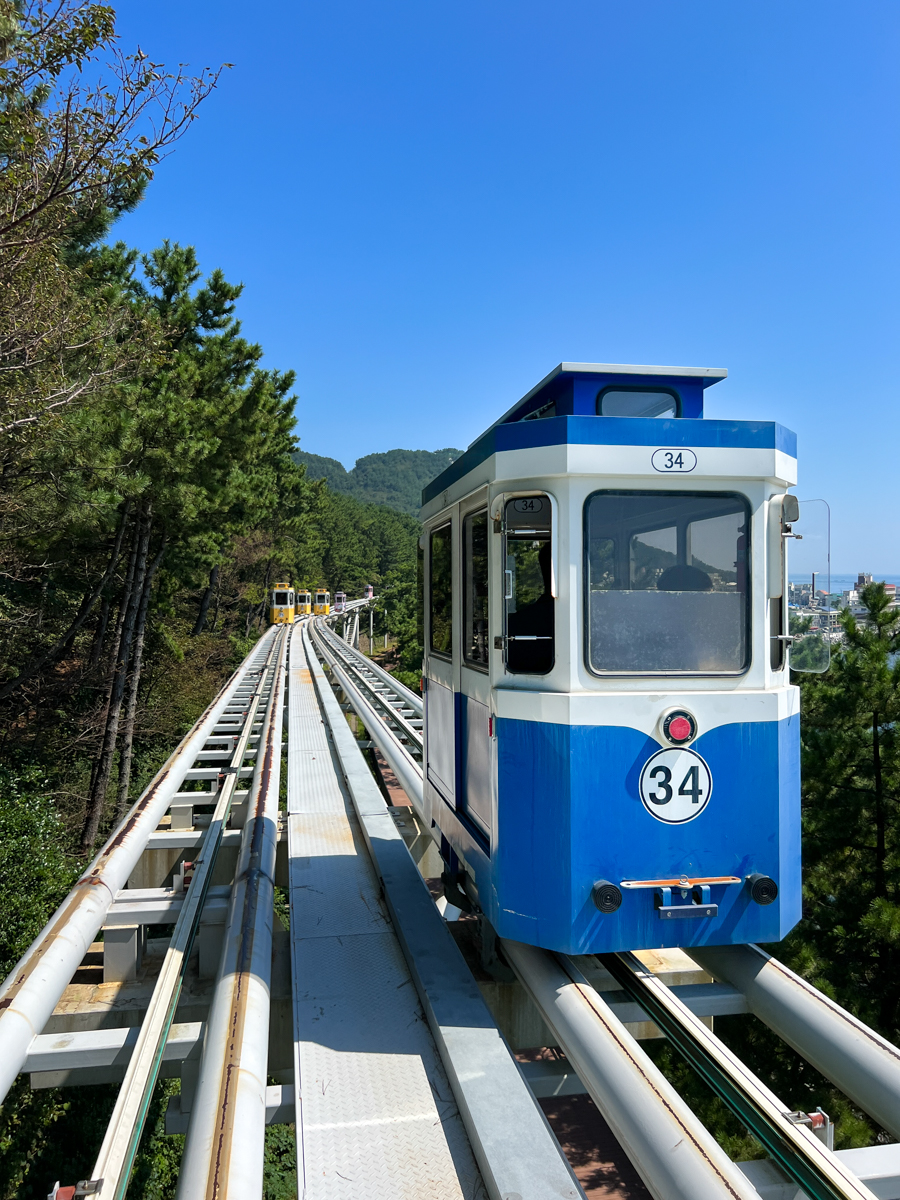 So, we just went a little further in a taxi to make our way back to Haeundae in the cart.
8. Haeundae Beach
We stayed just one block away from Haeundae Beach, so naturally, we explored everything around the area.
It's a lovely stretch of golden sand spanning 1.5 kilometres, with plenty of amenities and activities along the beach. There is even an aquarium right next to it.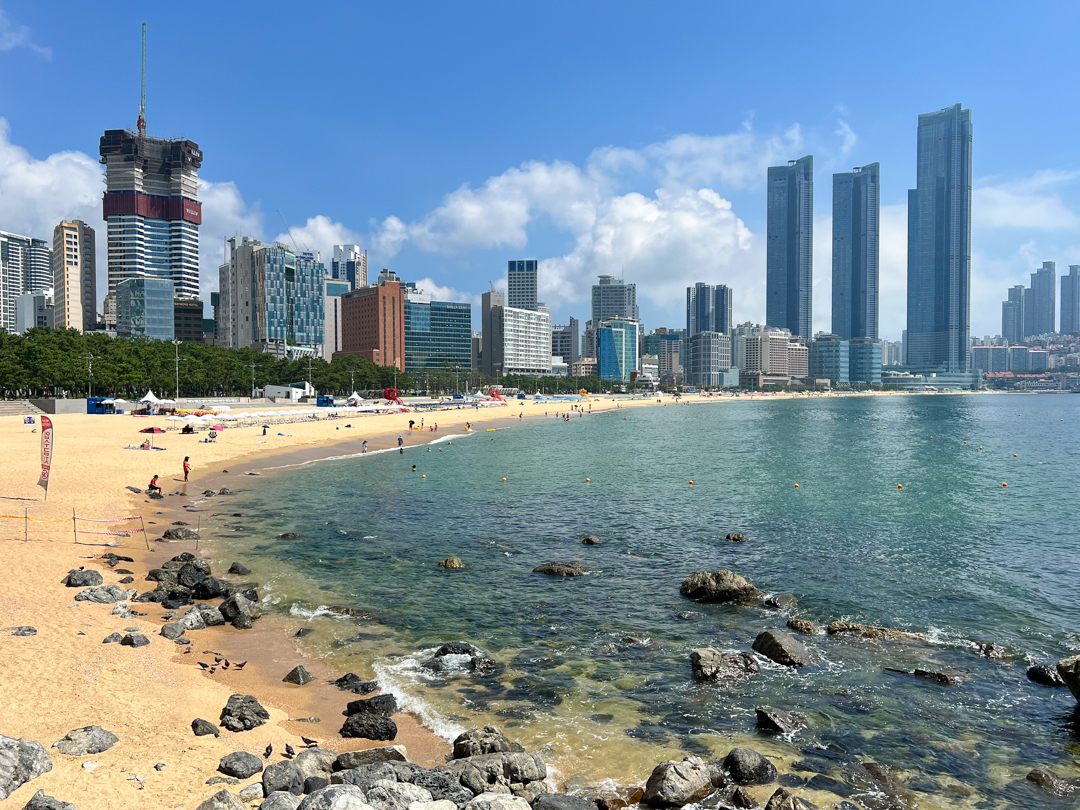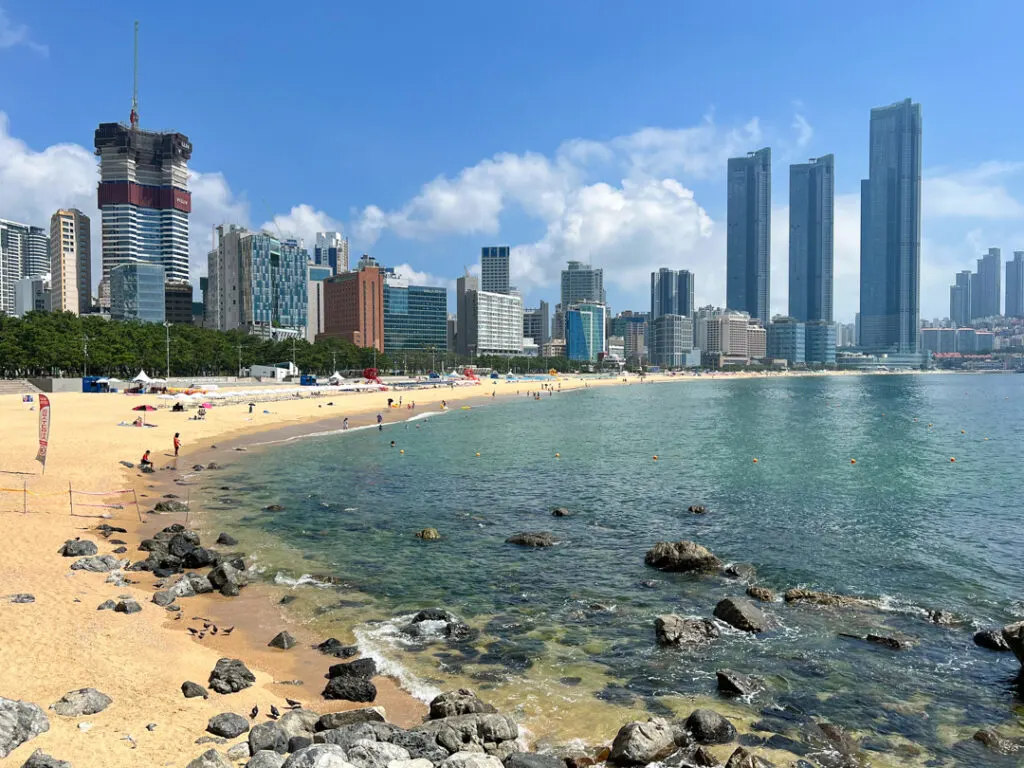 There are plenty of opportunities to enjoy jet skiing, paddle boarding, and windsurfing. Not to mention, sunbathing as there are plenty of sunbeds.
Strolling along the promenade at night is super interesting as many performers are singing, dancing or magicians. We saw one fire performer which was incredible to watch.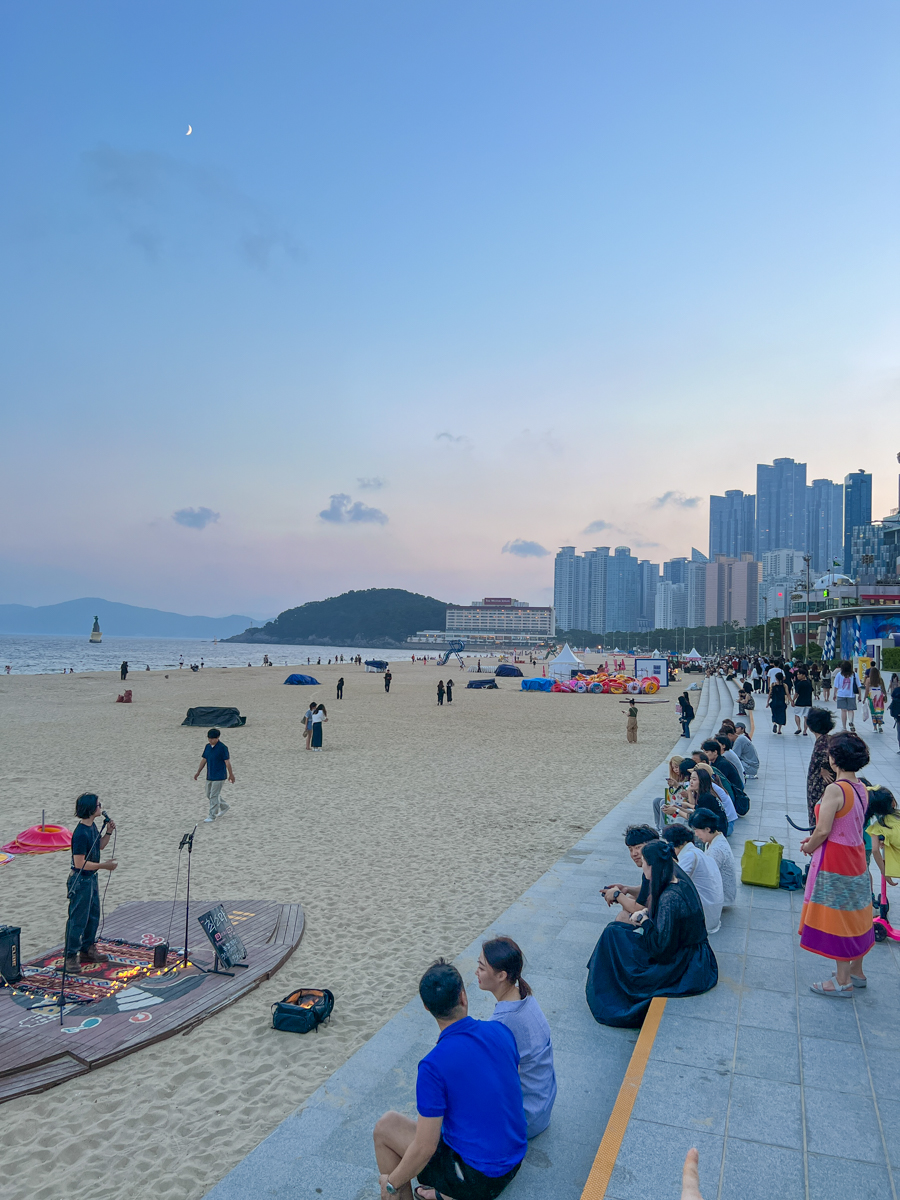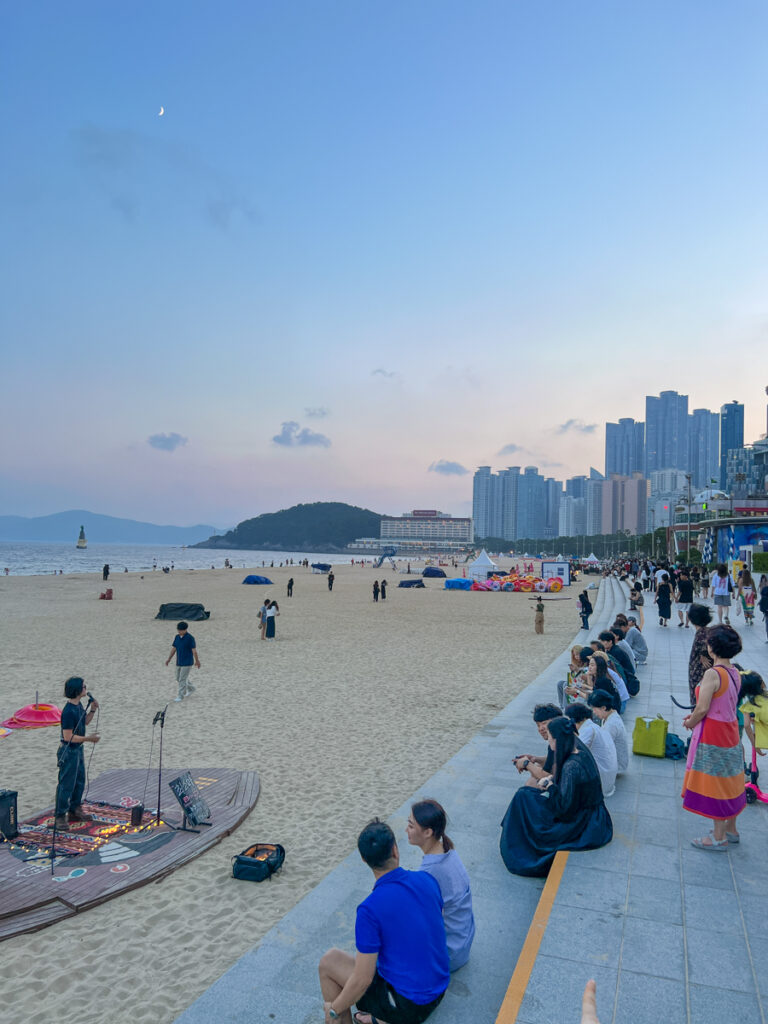 Hauendae has many restaurants, cafes and bars with a mix of Western and traditional Korean food.
9. Geoje Island
After a couple of days of relaxing at Haeundae Beach and Club D Oasis, it was time to make another day trip with our tour guide from Audley Travel.
Initially, I was a little put off by the distance to visit Geoje Island, but I'm so glad we went as it was a truly unique experience, off the usual beaten track.
We left early in the morning to catch a timed ferry to Oedo Botanic Island. The journey took a little under two hours from our hotel in Haeundae. We slept most of the way.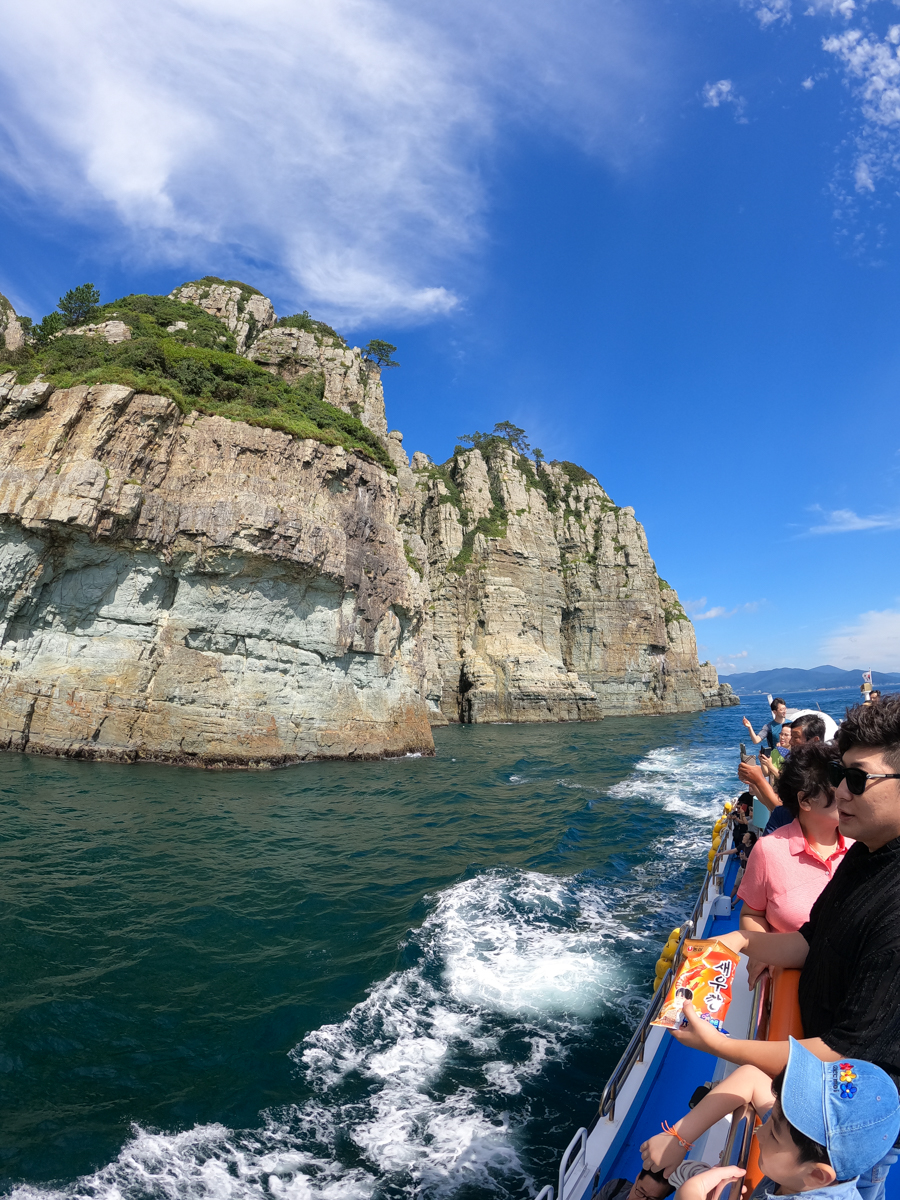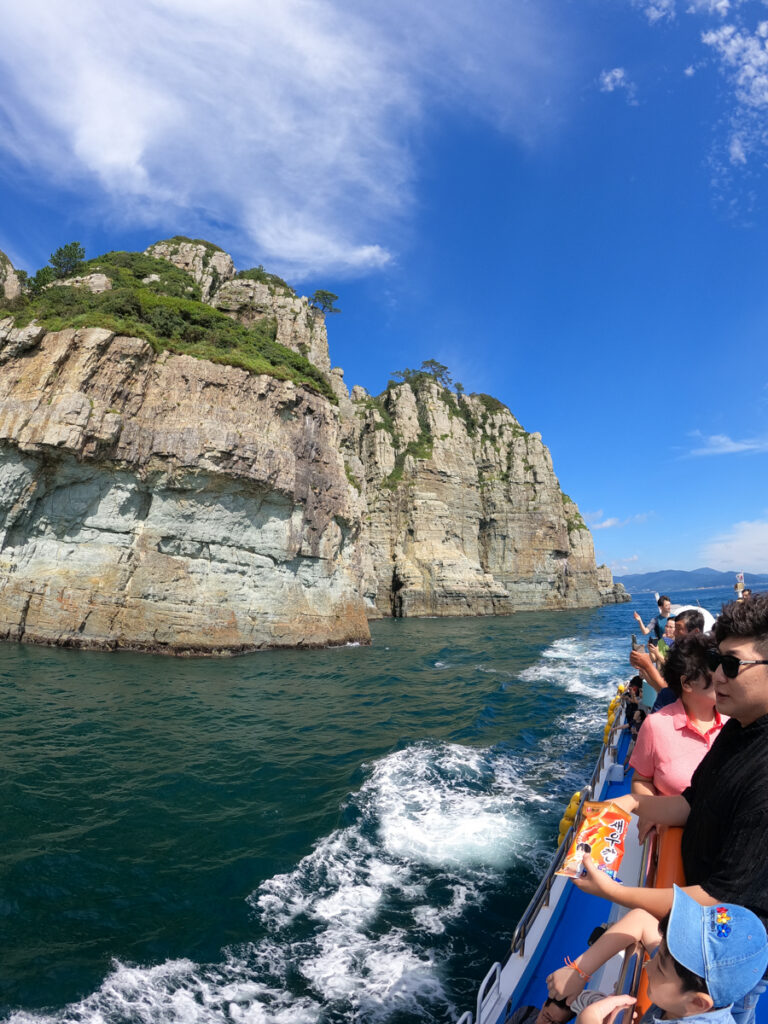 Geoje Island, also known as Geoje-do, is the main island of Geoje City in South Korea's Gyeongsangnam-do province.
It's the country's second-largest island, covering 383.44 square kilometres. The island has stunning peaks such as Gara, Gyerong and Daegeum.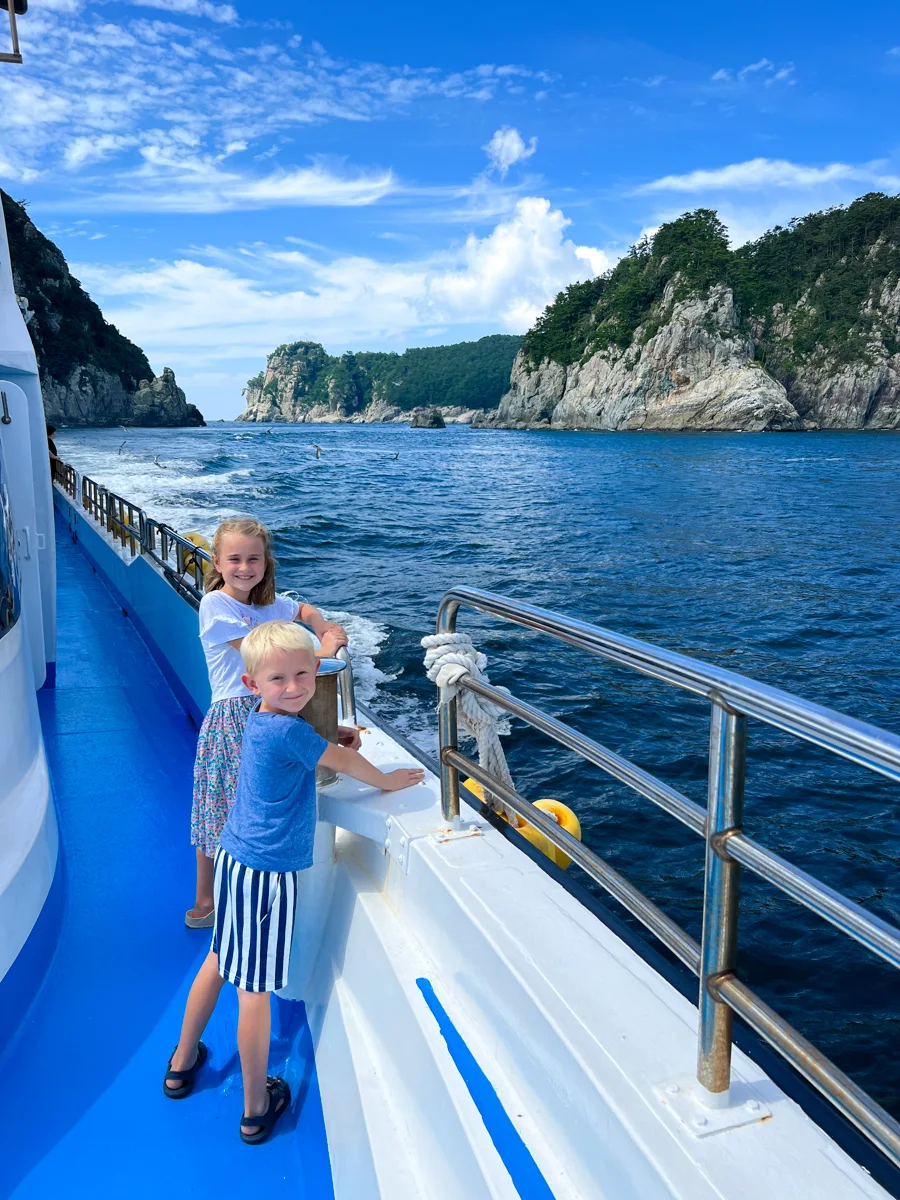 Geoje Island is renowned for its rich granite deposits and is part of the Hallyeo Maritime National Park.
The island has a rich history, with a strategic role during various periods, including naval battles and the Korean War.
Today, Geoje is a shipbuilding hub and the hometown of former South Korean presidents Kim Young-sam and Moon Jae-in. It also played a crucial role in evacuating North Korean civilians in the 1950s during the Korean War.
Oedo Botania & Haegeumgang
Oedo Botania was where we spent most of our day trip to Geoje.
A ferry leaves a few times a day from Jangseungpo Port to get there. This ferry takes a little detour on the journey, allowing passengers to see the beautiful Sea Diamond, known as Haegeumgang.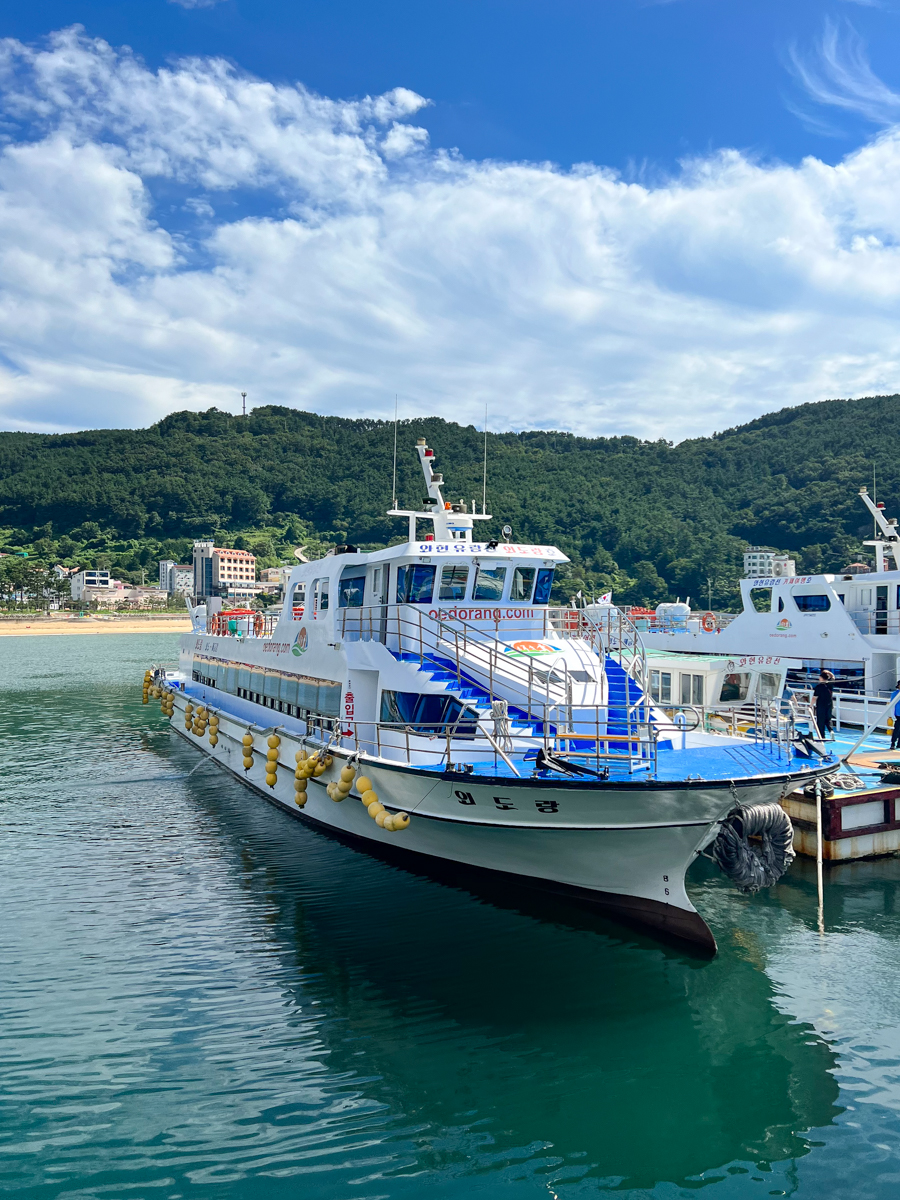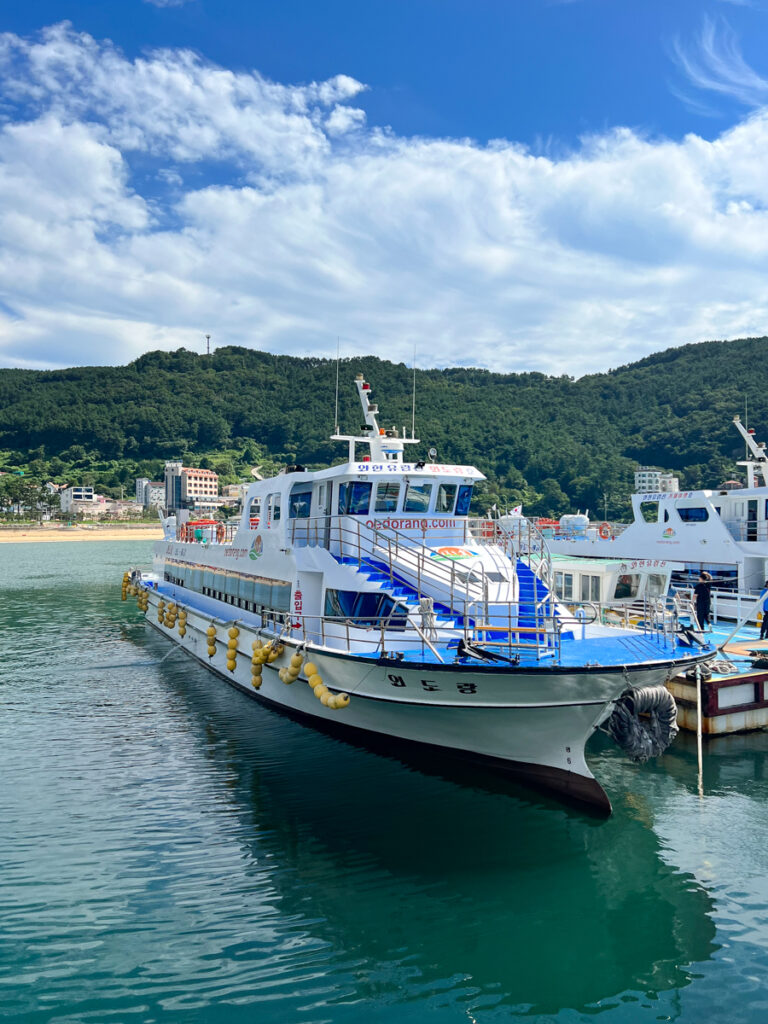 Hargeumgang is essentially a group of striking sea stacks and rock formations. These formations are famous for their unique shapes and sparkling appearance in the sunlight.
They are rugged and beautiful, and it's one of the most worthwhile detours I've ever taken – that's for sure! After circling the rocks, the ferry made its way to Oedo Botania.
Oedo Botania is a marine botanical garden within the Hallyeo Maritime National Park.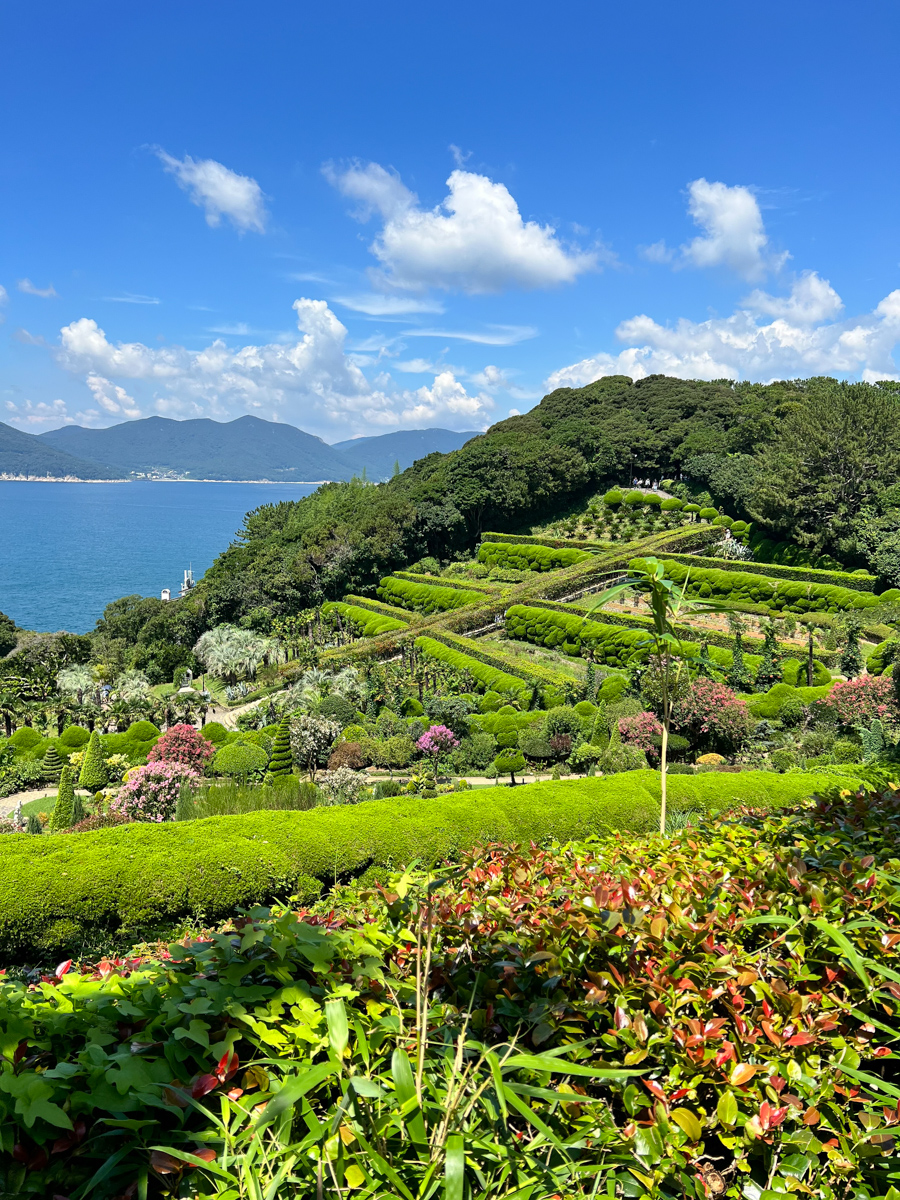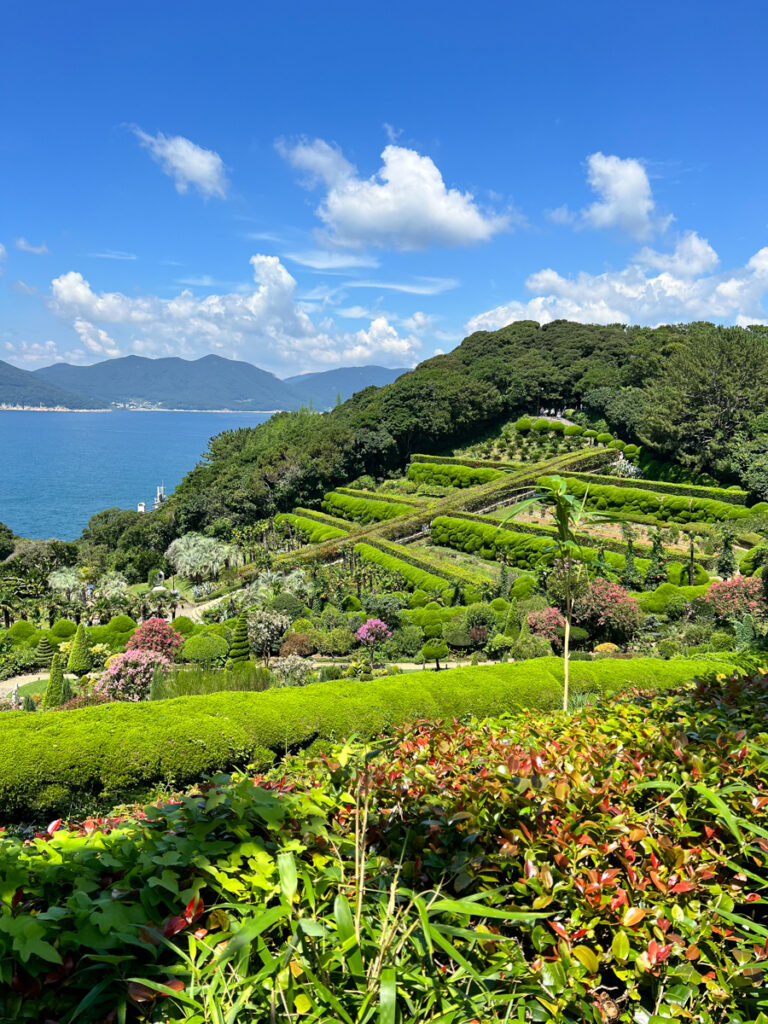 It's Korea's first privately developed island and was established by Changho Lee and Hosook Choi, a North Korean man, in 1963 as an orchard and pig farm.
It evolved into a lush botanical garden in 1976. Today, there are over 3,000 plant species, some native to Korea, others subtropical.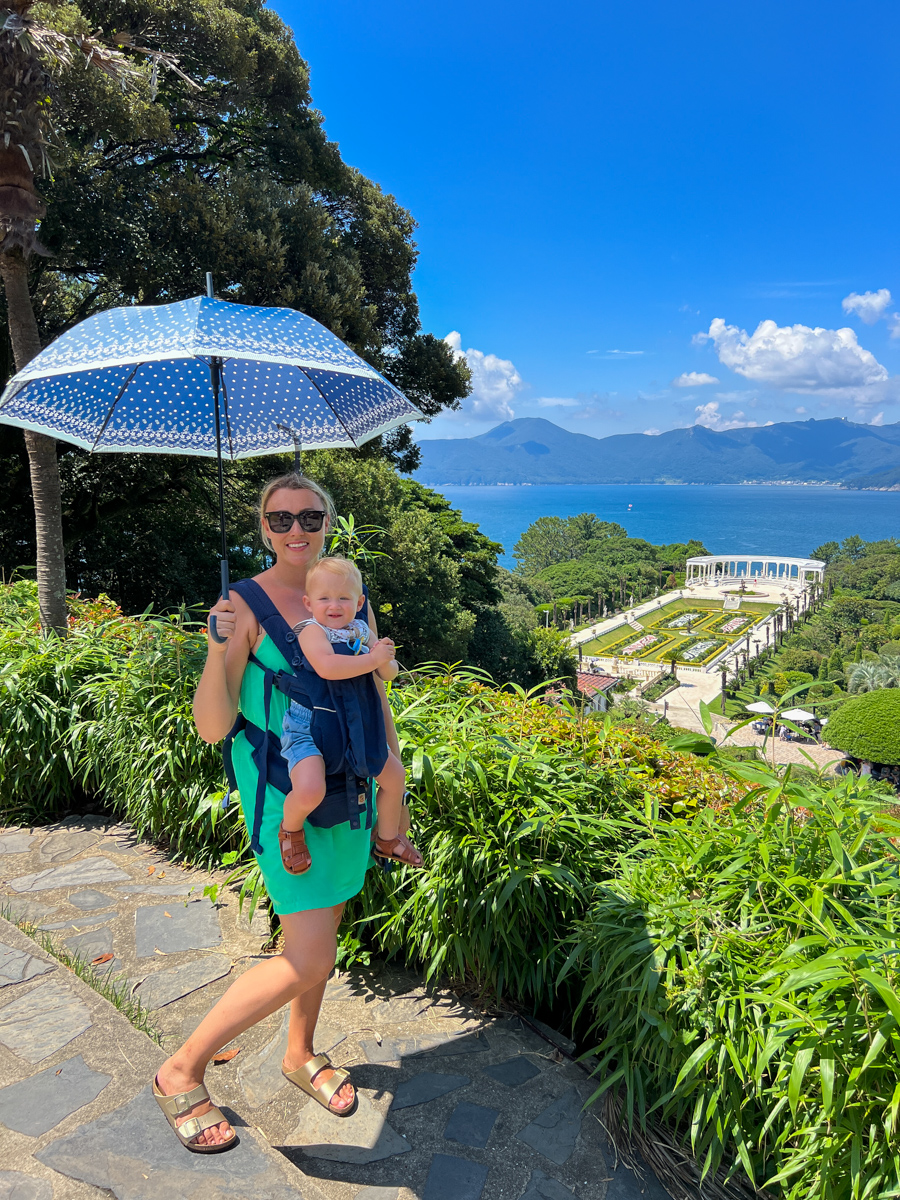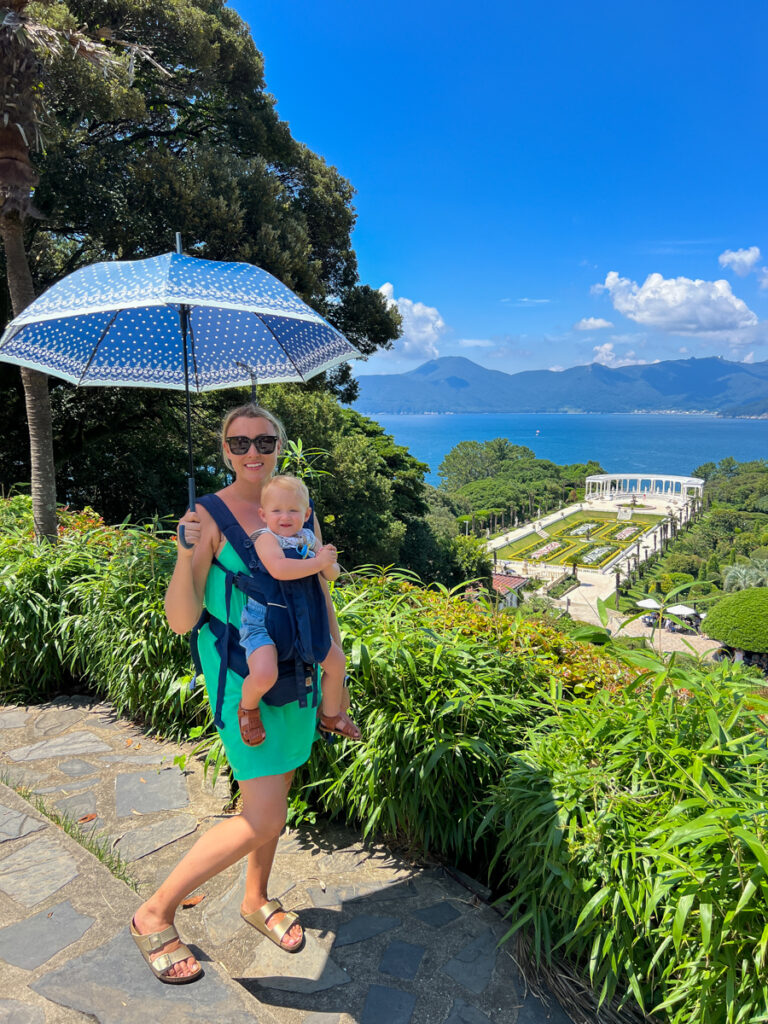 The garden features statues, a Greek-inspired pavilion, and an old schoolhouse. Highlights include the Cactus Garden, Venus Garden, Flower Garden, and the Stairway to Heaven.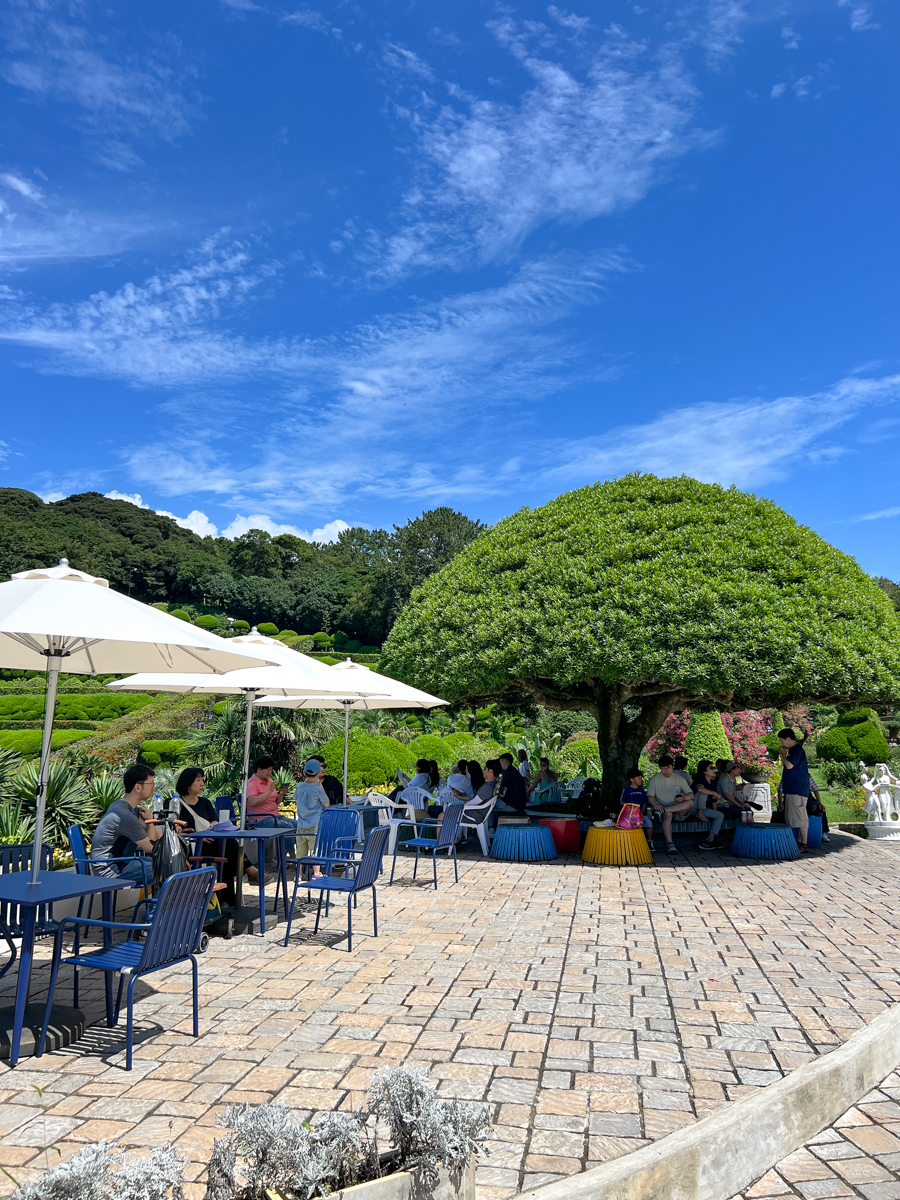 There is a nice kiosk serving fresh lemonade and ice-creams close to the pavilion, and it has a lovely shaded area which looks like the perfectly manicured bonsai tree. It almost looked like a giant umbrella!
Further up the hill, is a restaurant with panoramic views of dramatic cliff edges and the beautiful blue water. It almost felt like the Amalfi Coast!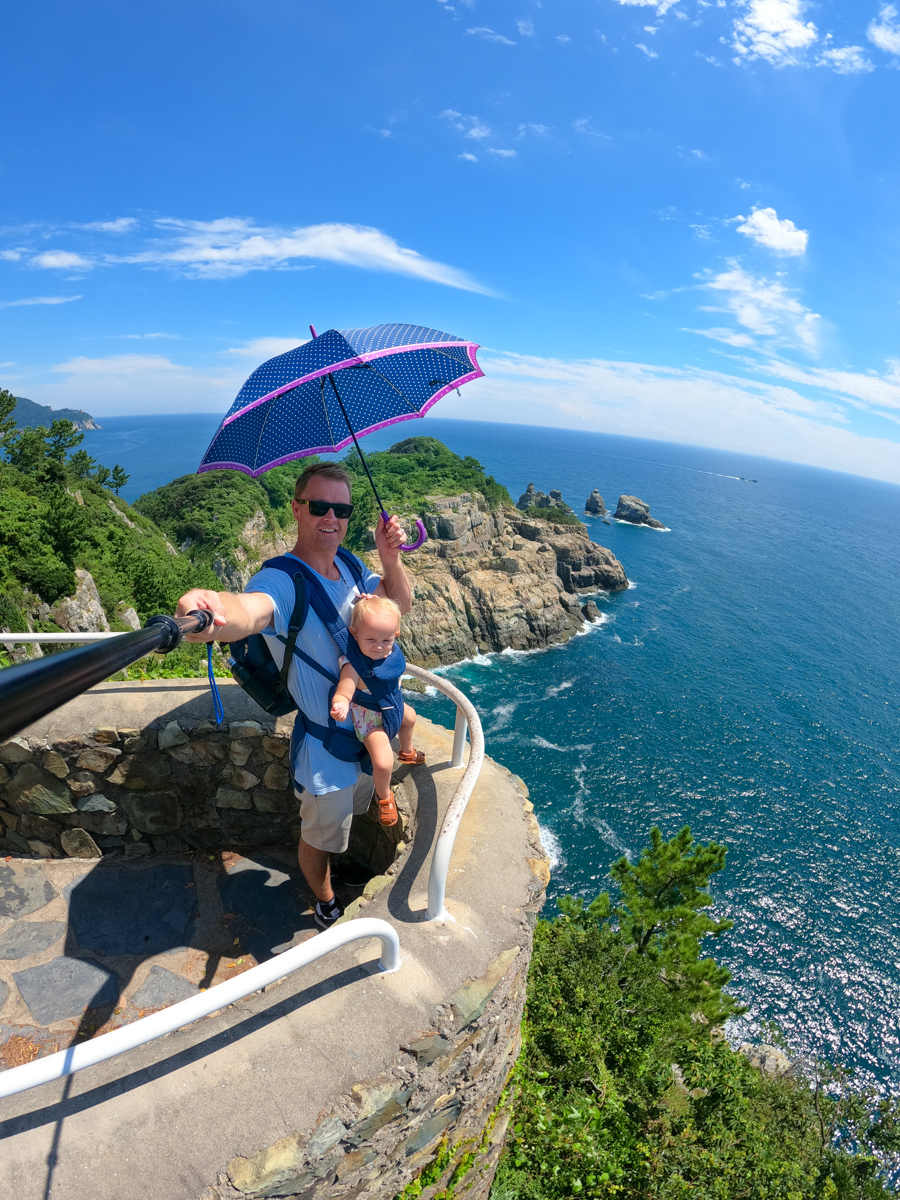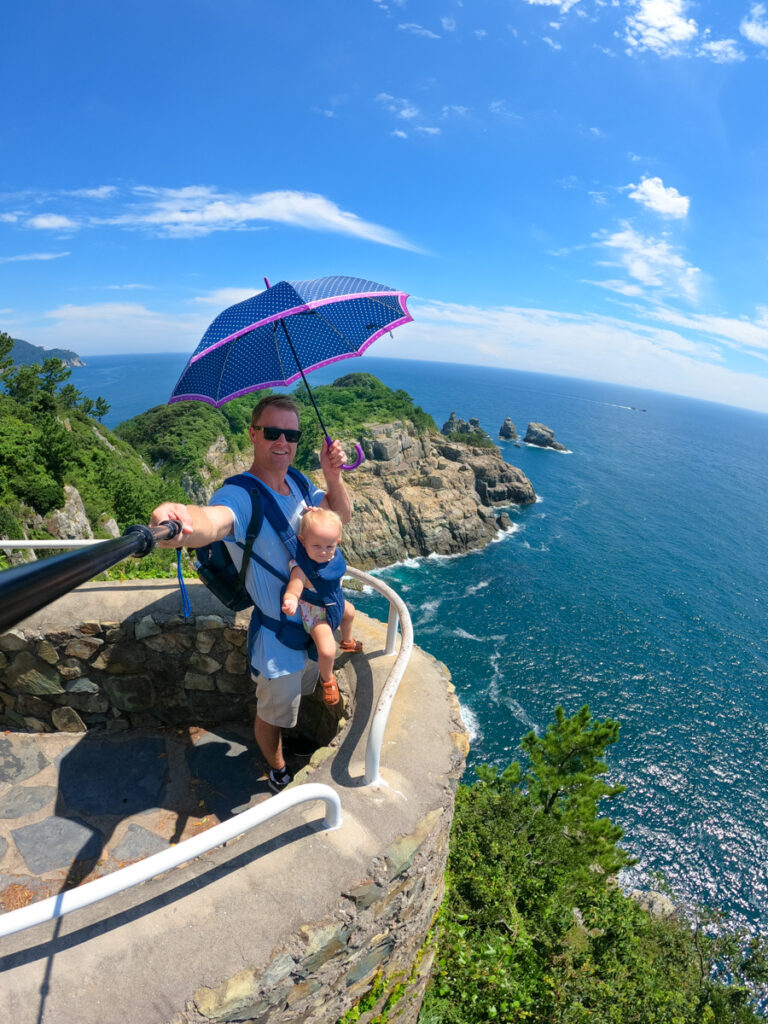 As we meandered to the port to take our ferry back to Geoje, we came across the Stairway to Heaven.
The Sea Diamond, Haegeumgang, is perfectly framed with a row of trees which the stairs descend through. It was so cleverly planned and one of the jaw-dropping parts on the island.
If you are visiting Busan with kids, I can highly recommend a trip to Geoje, based on Oedo Botania alone!
Blackpearl Pebble Beach
After visiting Oedo, we made our way to Hakdong Mongdol Beach, essentially a black pebble beach.
We stopped for a quick swim, and the water was so clear, it reminded me of Lake Tahoe in the US, seeing all of the pebbles clearly through the water.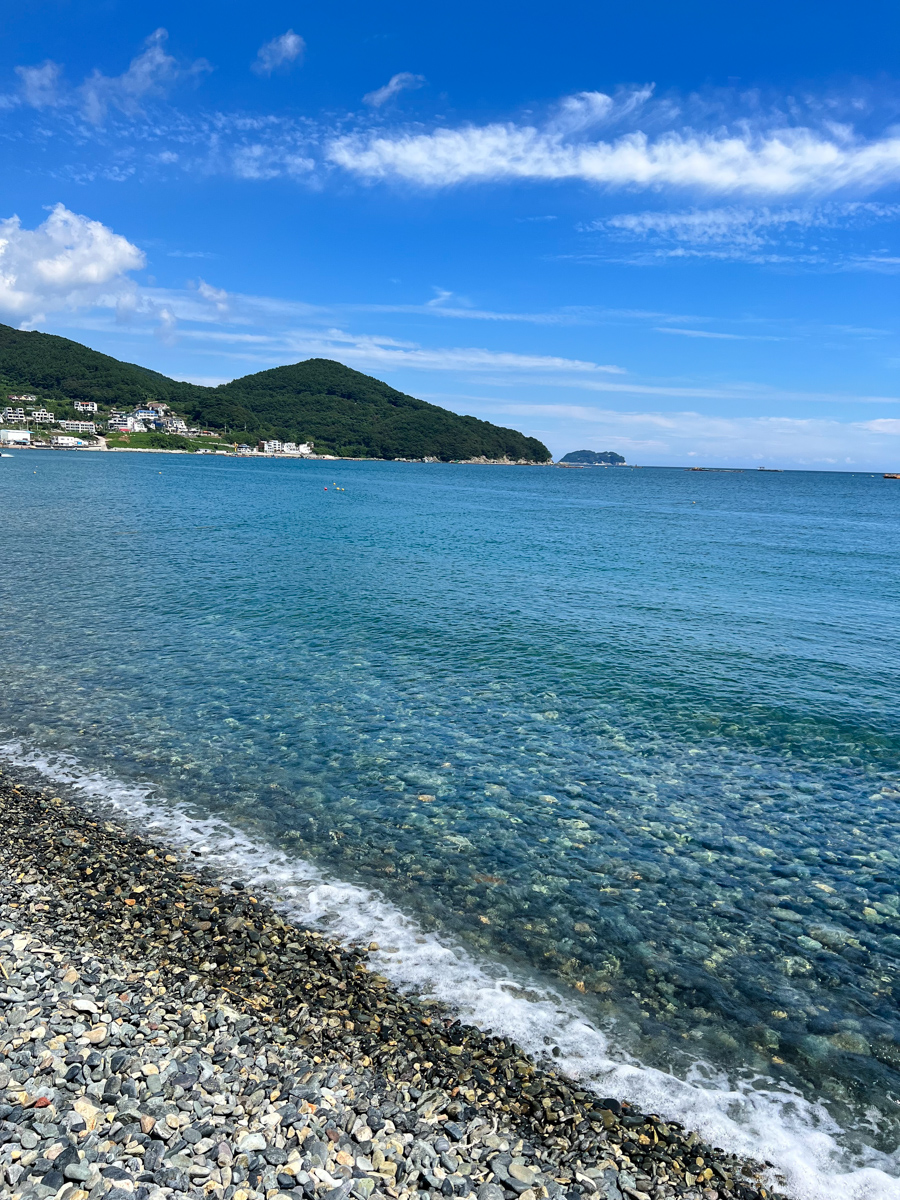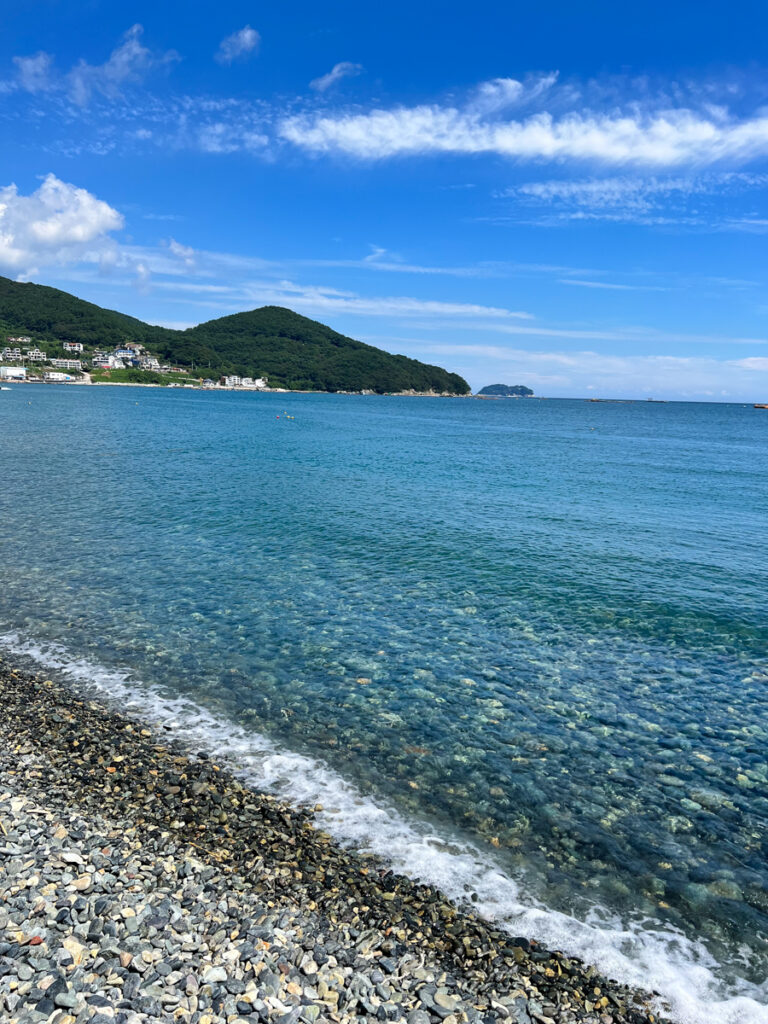 It is a little difficult to walk on without rock shoes, but the water was so inviting, especially with the mountainous landscape.
After we had a quick dip, we headed to Windy Hill!
Windy Hill
Windy Hill is a unique spot on Geoje Island with its striking coastal views and iconic windmill.
Honestly, we could have been transported to the Netherlands as I hadn't expected to see a brown wooden windmill.
After lunch, we took a leisurely walk around the area, taking in the views along the way. Just below the windmill is a small wharf known as Dojango Wharf.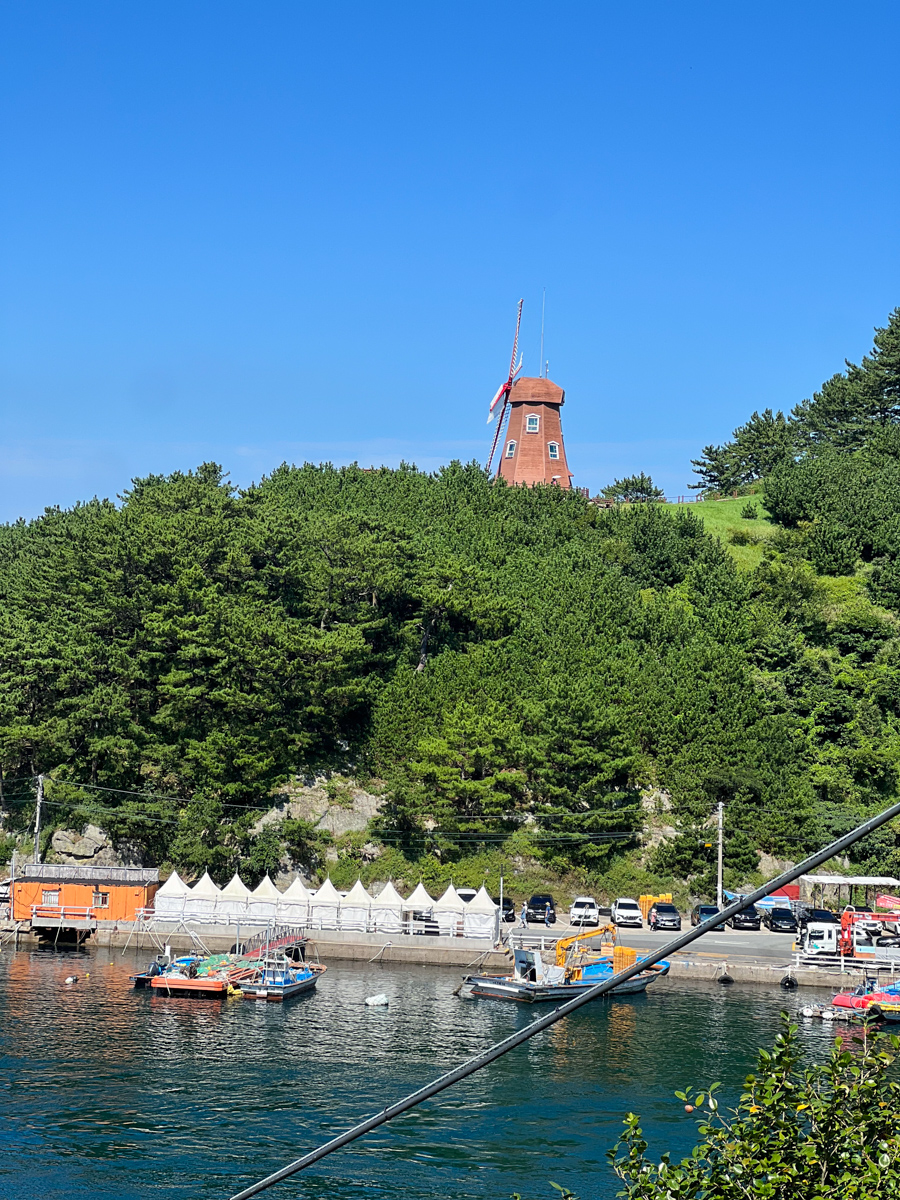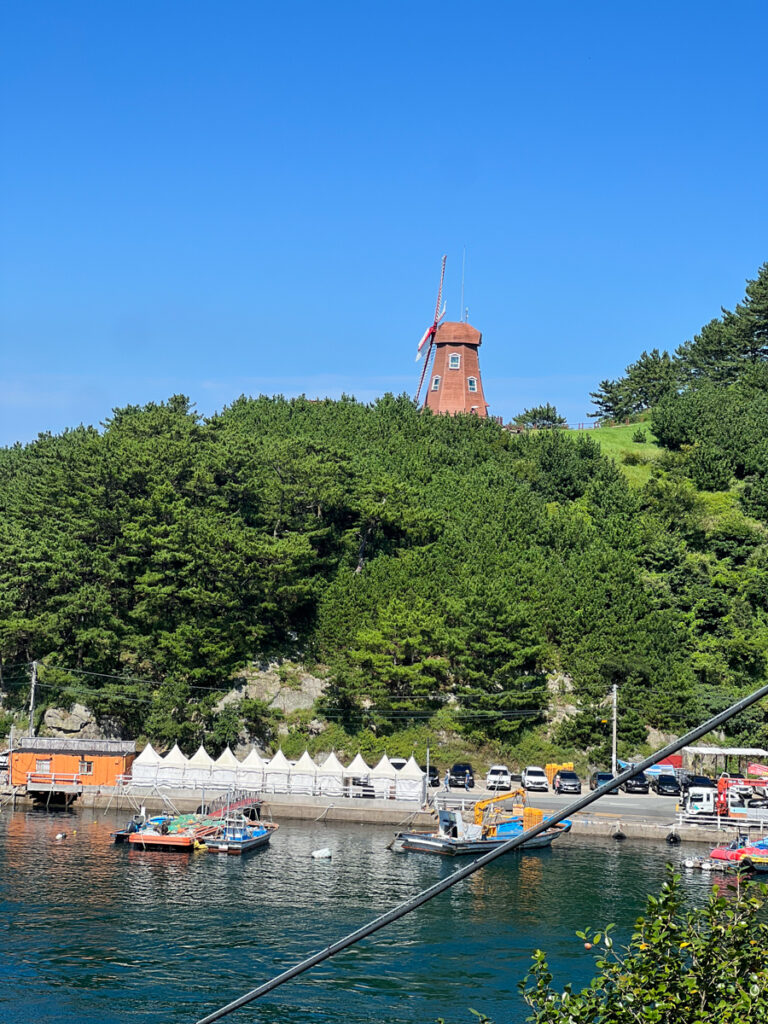 The windmill and surrounding area gained fame from its feature in Korean dramas such as Eves Garden and Merry Go Round.
A wooden promenade leads from the wharf toward the hill with distant views of Hakdong Village.
By this point of our day trip, we were conscious of Busan rush hour traffic and decided to make a quick exit to ensure we didn't end up making our journey back to the hotel too long, but it was worth the visit.
10. Gwangalli Drone Show
Our final night in Busan with kids was a Saturday, perfect timing for the Gwangalli Drone Show.
It's every Saturday evening, not just on special occasions, which is amazing. Above the waters of Gwangalli Beach, at 8 pm and 10 pm, hundreds of drones take to the sky to create an incredible visual experience for onlookers.
The beach was packed, and it's best to arrive early! Luckily, the security team were nice and gave us a good spot to watch the show when they saw us with twin toddlers.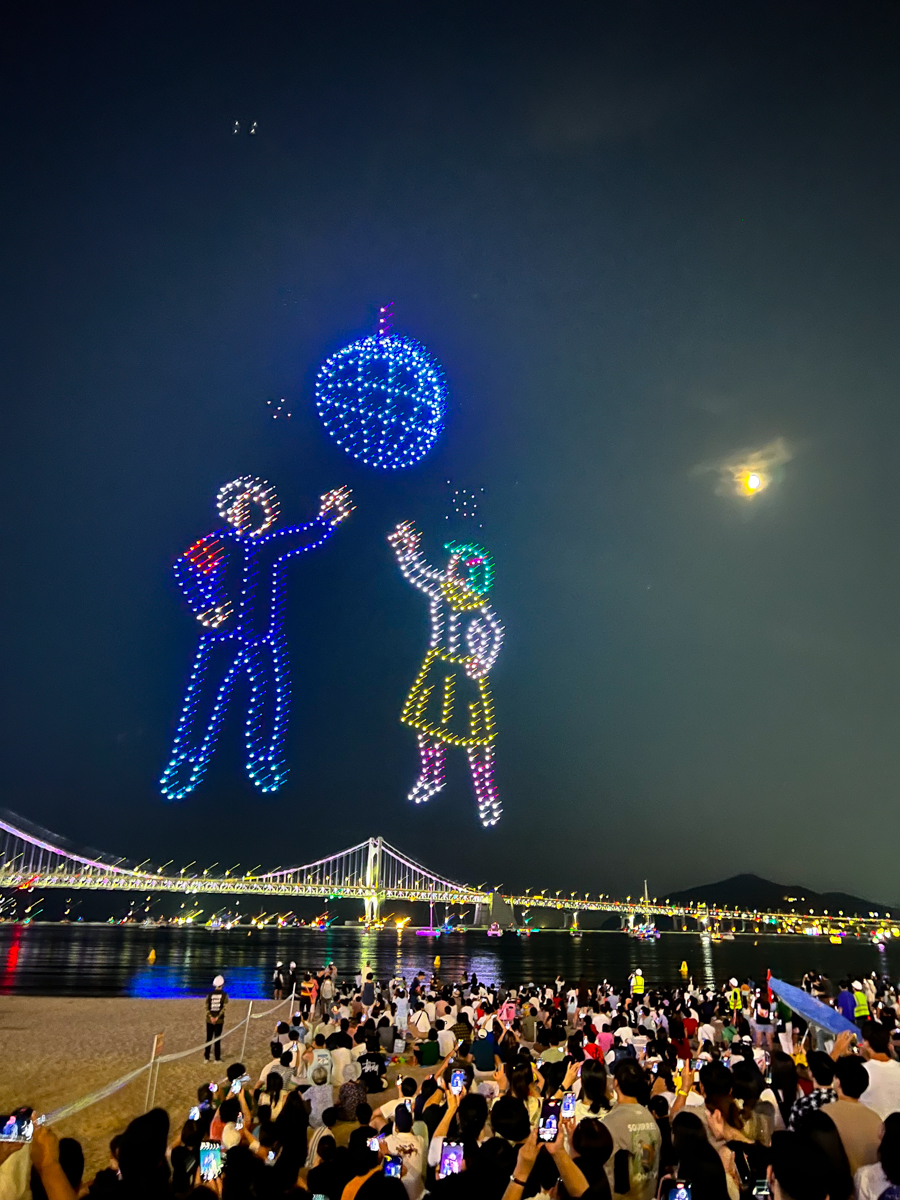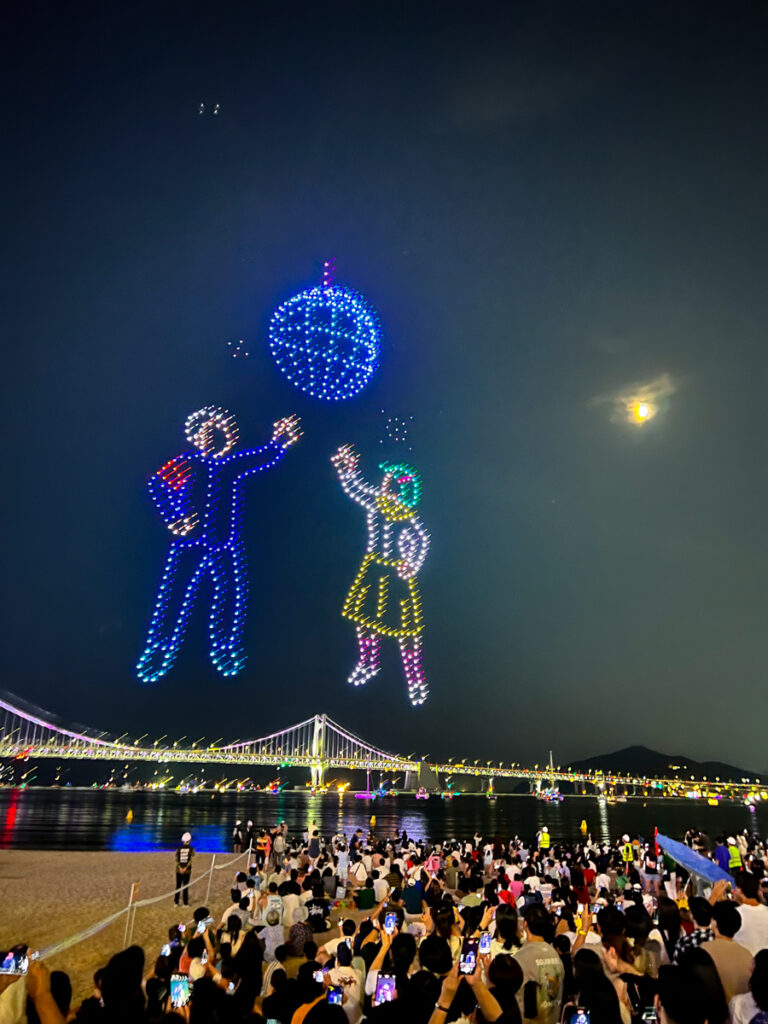 In the distance is a 7420 metre long suspension bridge which is often lit up! Busan has many bridges connecting the city, and the Gwangalli one is the second longest in the country!
As the sun dips below the horizon, the stage is set for the Gwanganli Drone Show. This remarkable display involves a fleet of synchronized drones that take to the sky, choreographed to music and programmed to create stunning patterns and animations.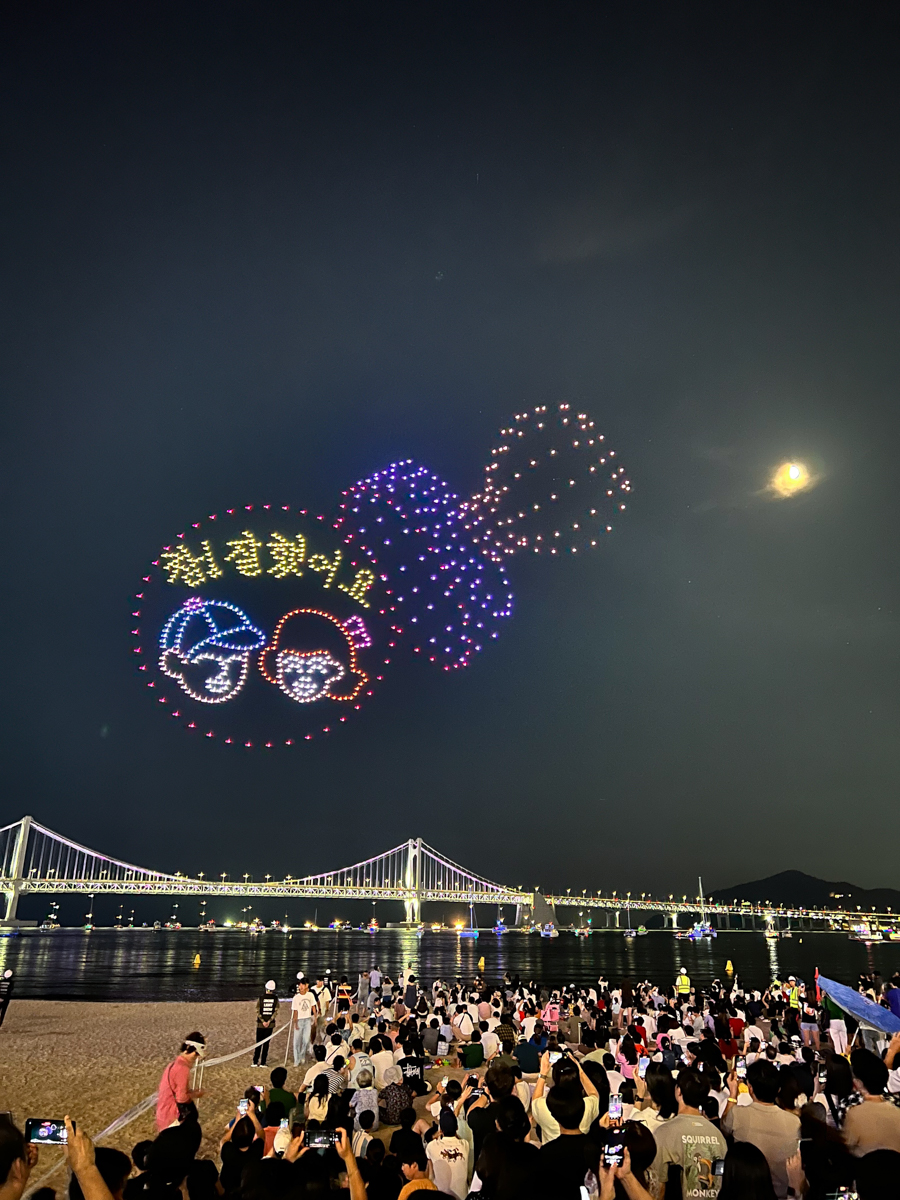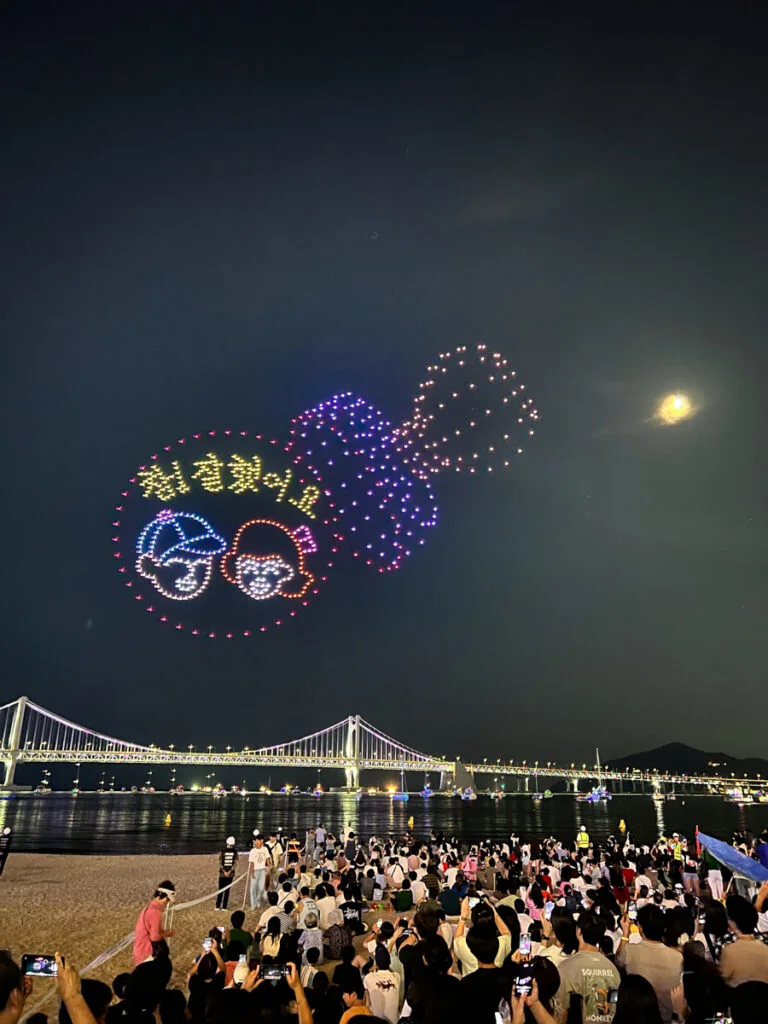 Each drone has LED lights that can change colour, creating an incredible display.
Some patterns we saw were roller skates, a couple holding hands, a suitcase filled with things, and so much more. It was the perfect ending to our trip to Busan with Kids
Where To Stay In Busan
We stayed at Shilla Stay Haeundae which was just a few steps from the beach. The location was fantastic for heading out on foot to explore the area in Busan with kids.
We had interconnecting rooms with a double and two single beds. The hotel is a skyscraper building with many floors and, subsequently, many guests.
Whilst all the facilities were clean, nice and well-maintained, the hotel was my least favourite element of our trip to South Korea.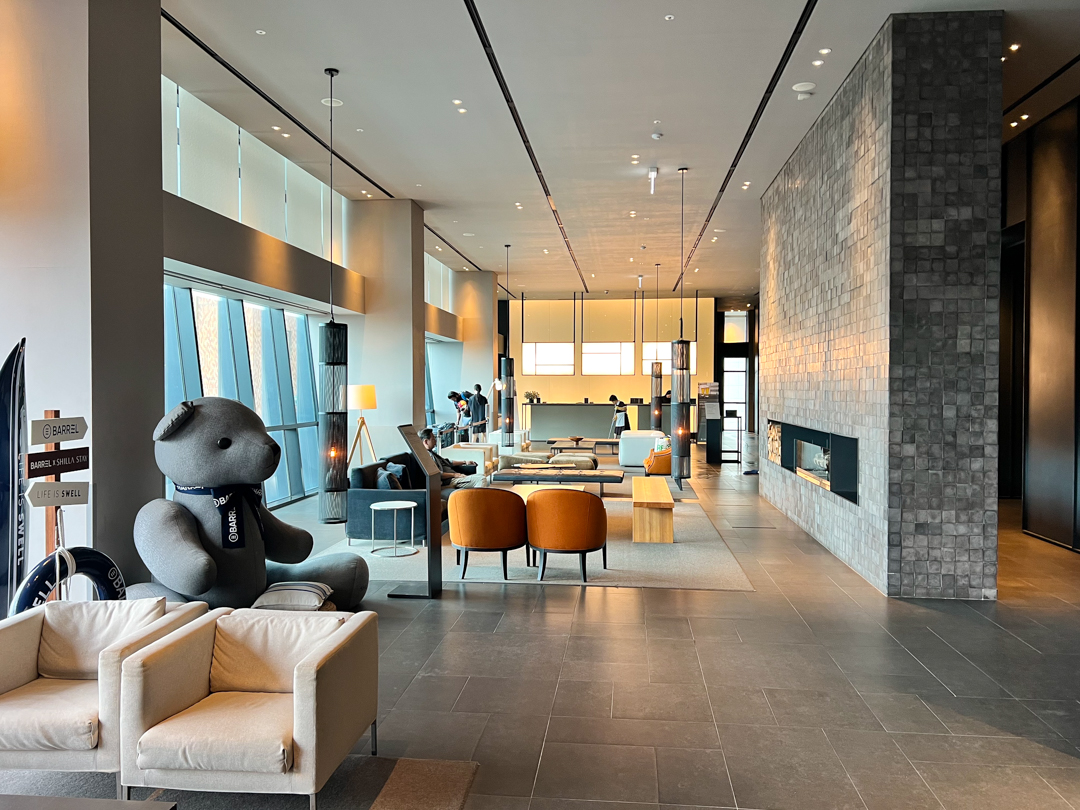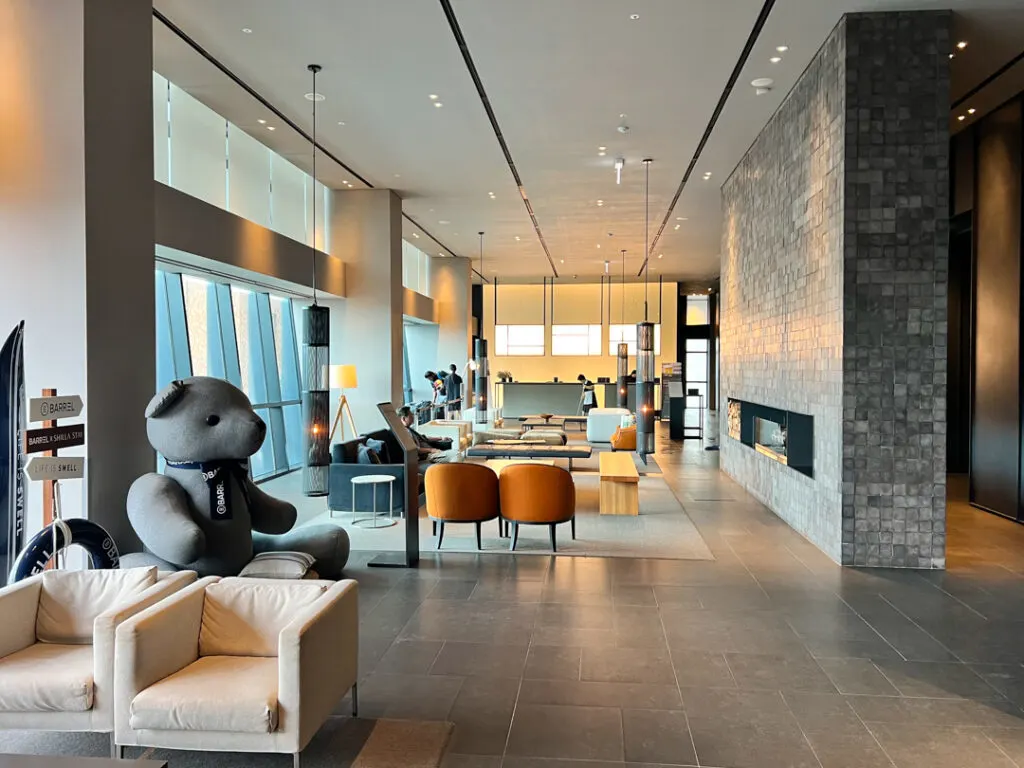 There was not enough staff to serve all of the guests. The pool facilities had quite a high charge per guest, which really adds up with children.
There was no room service in the hotel which is a little challenging with young kids especially when travelling after a long day of exploring, sometimes you need room service to save the meltdowns.
This hotel uses bed railings rather than providing cots, which might be okay for a single family, however, since we have twins, it was a challenge.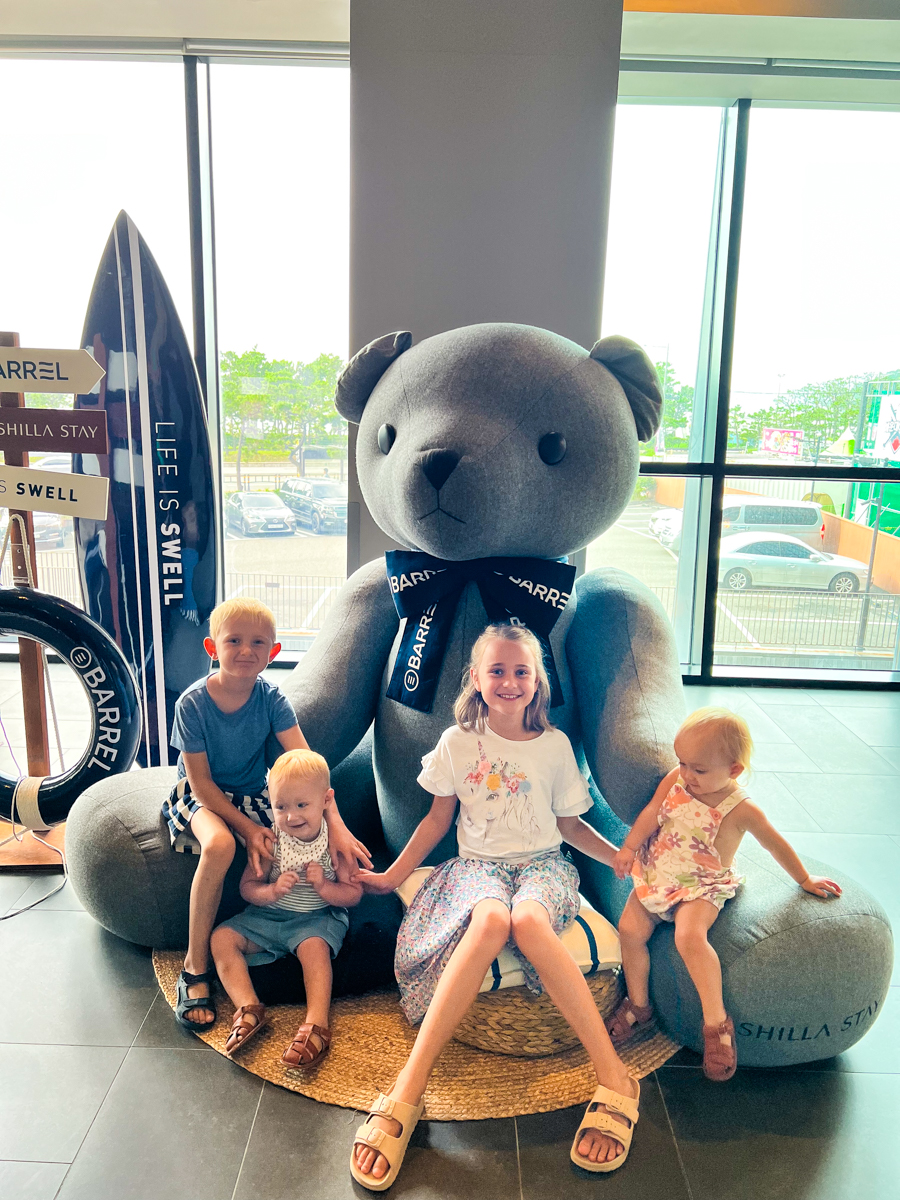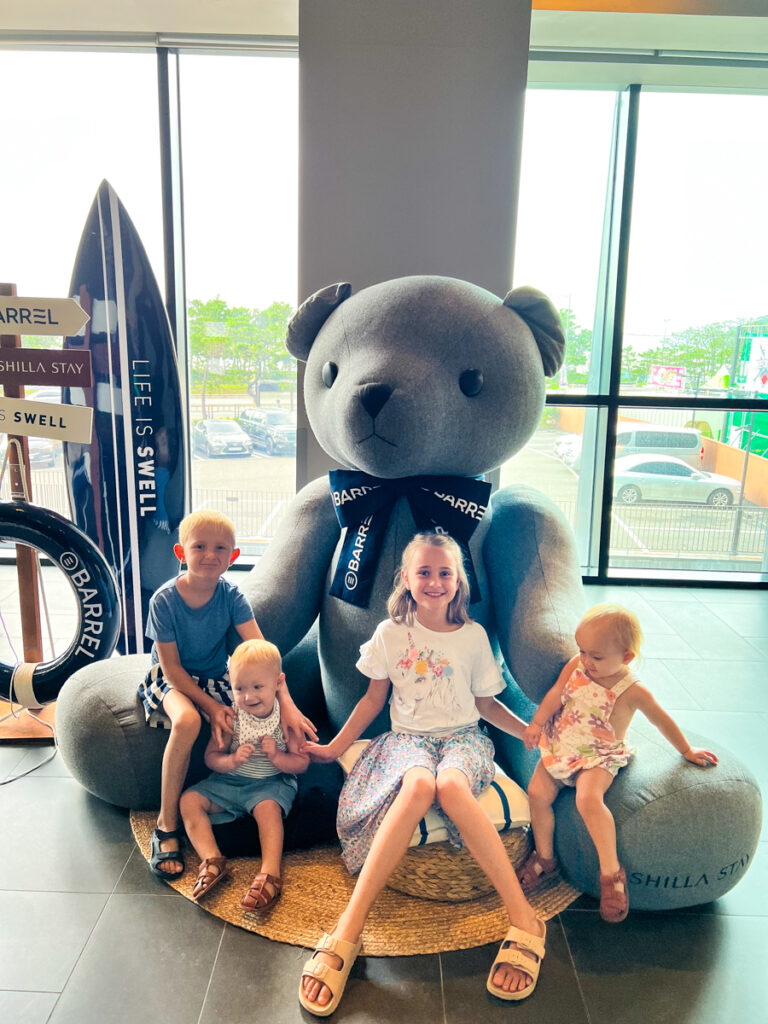 Overall, the hotel was clean and nice in a great location. If you are prepared and expect not to use the pool without a charge etc. then it would probably be fine.
To end on a positive note, they did have a self-service laundry, which is always a win with kids.
Nice Restaurants
There are tonnes of authentic Korean places to eat out all across Busan. However, with four fussy kids, we mostly stuck to more familiar cuisines. Our three favourite places were:
Fuzzy Navel near Haeundae Beach, which is a lively and popular spot. Whilst it had a party vibe at night, it was fine in the early evening, serving everything from pizzas to salads and burgers.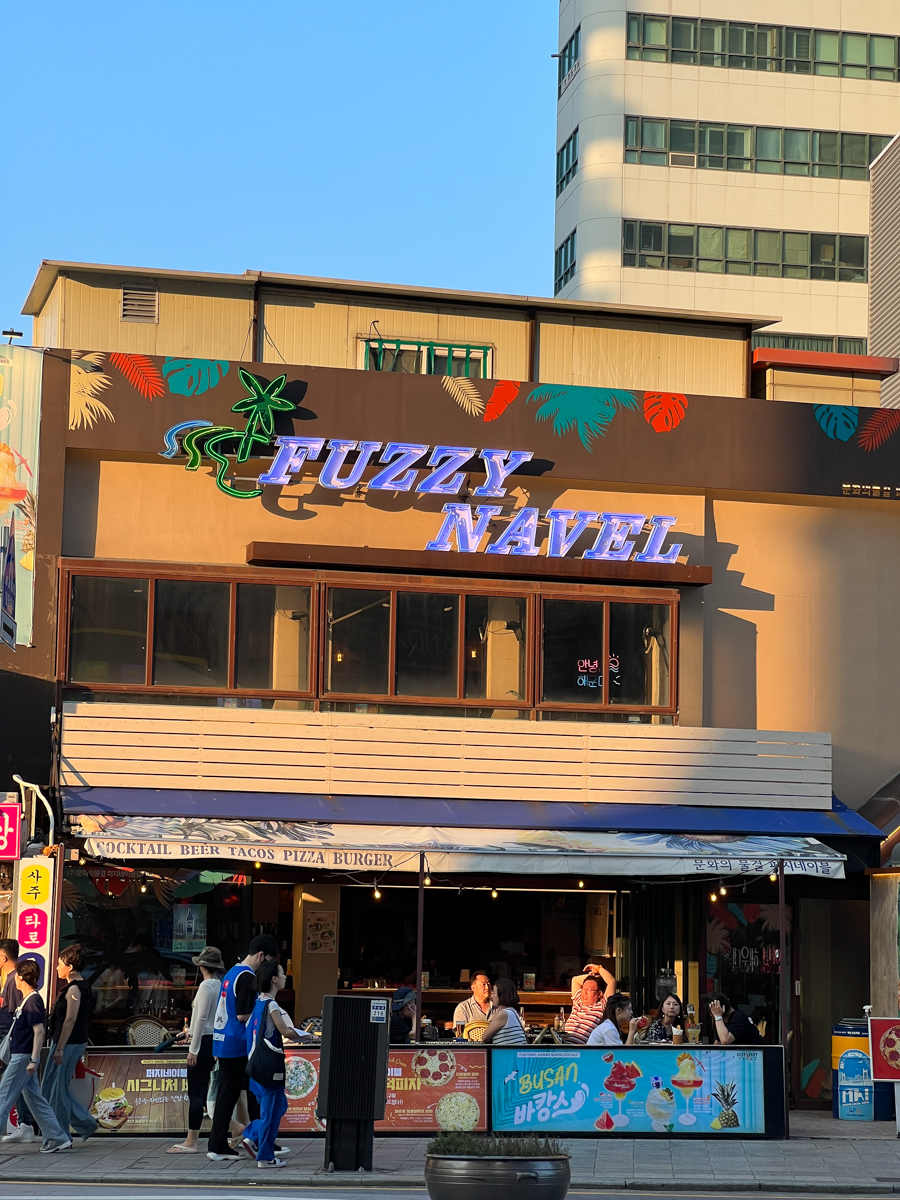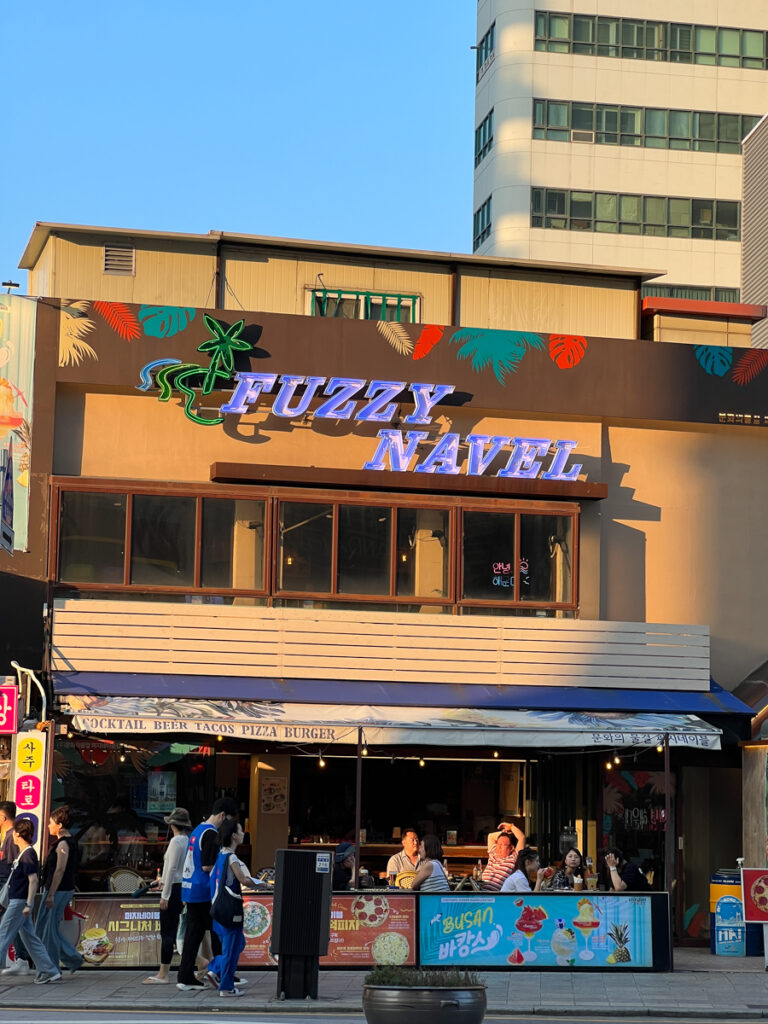 Namaste had authentic Indian cuisine just a stone's throw from Haeundae Beach. They had flavorful curries, which we got takeaway from a few times.
Home Bistro is a cosy eatery near Haeundae Beach. The food here was by far my favourite as it was vegetarian with a Korean flare.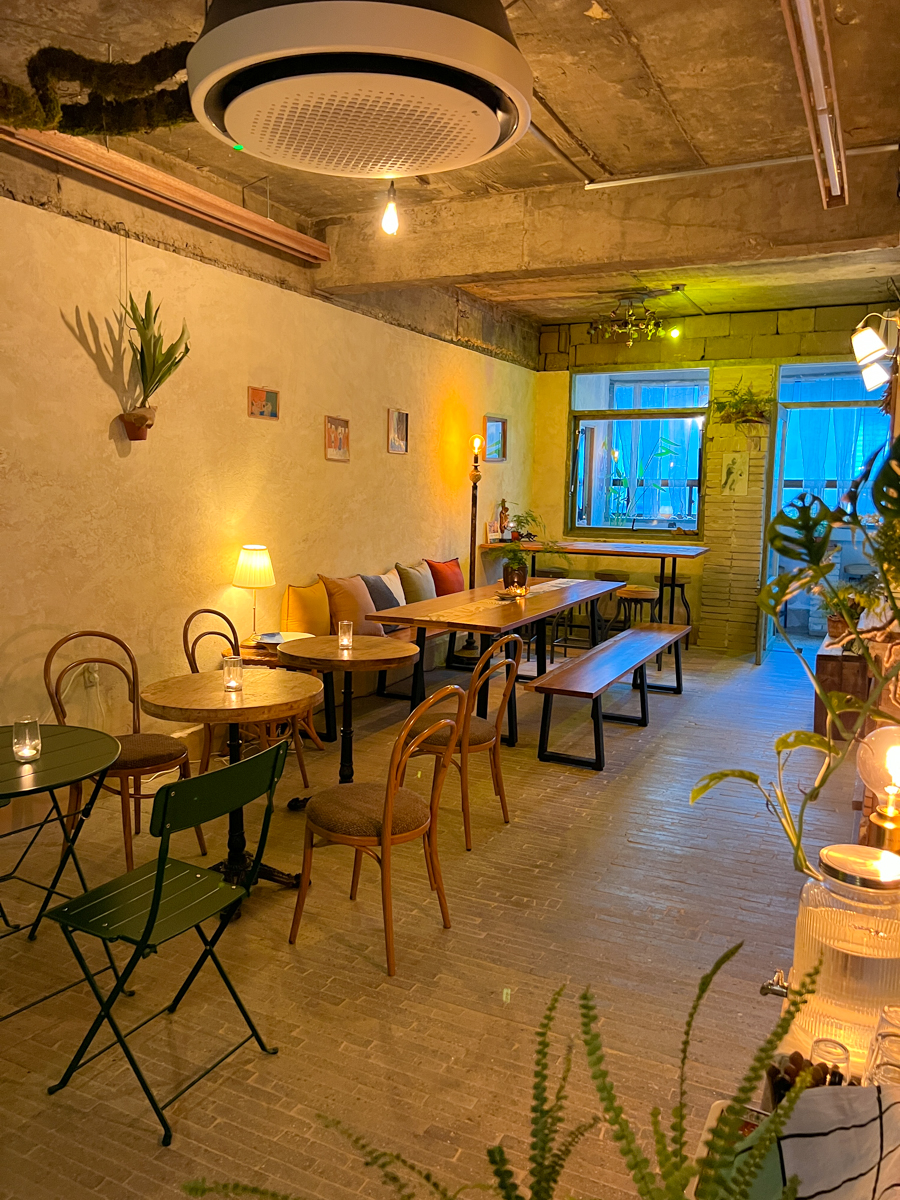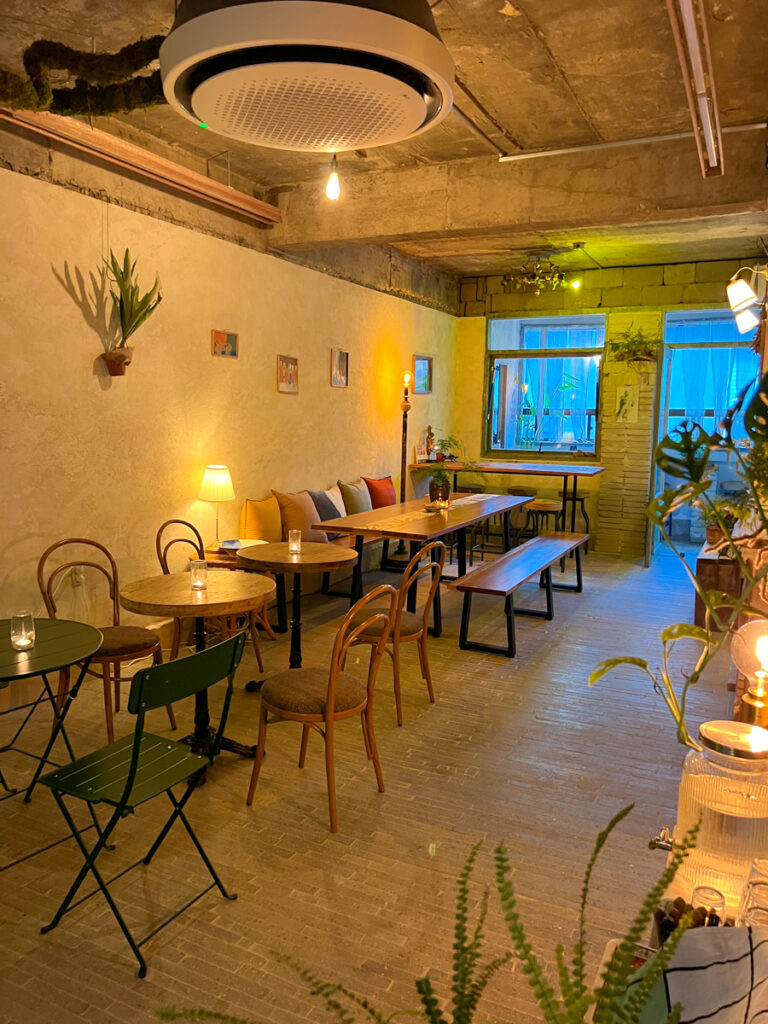 Overall, we absolutely loved our time in Busan with kids. There are so many incredible things to see and do.
There were definitely a few quirks and rules to navigate, which we felt more so in Busan than Seoul, but it was still very much a great trip.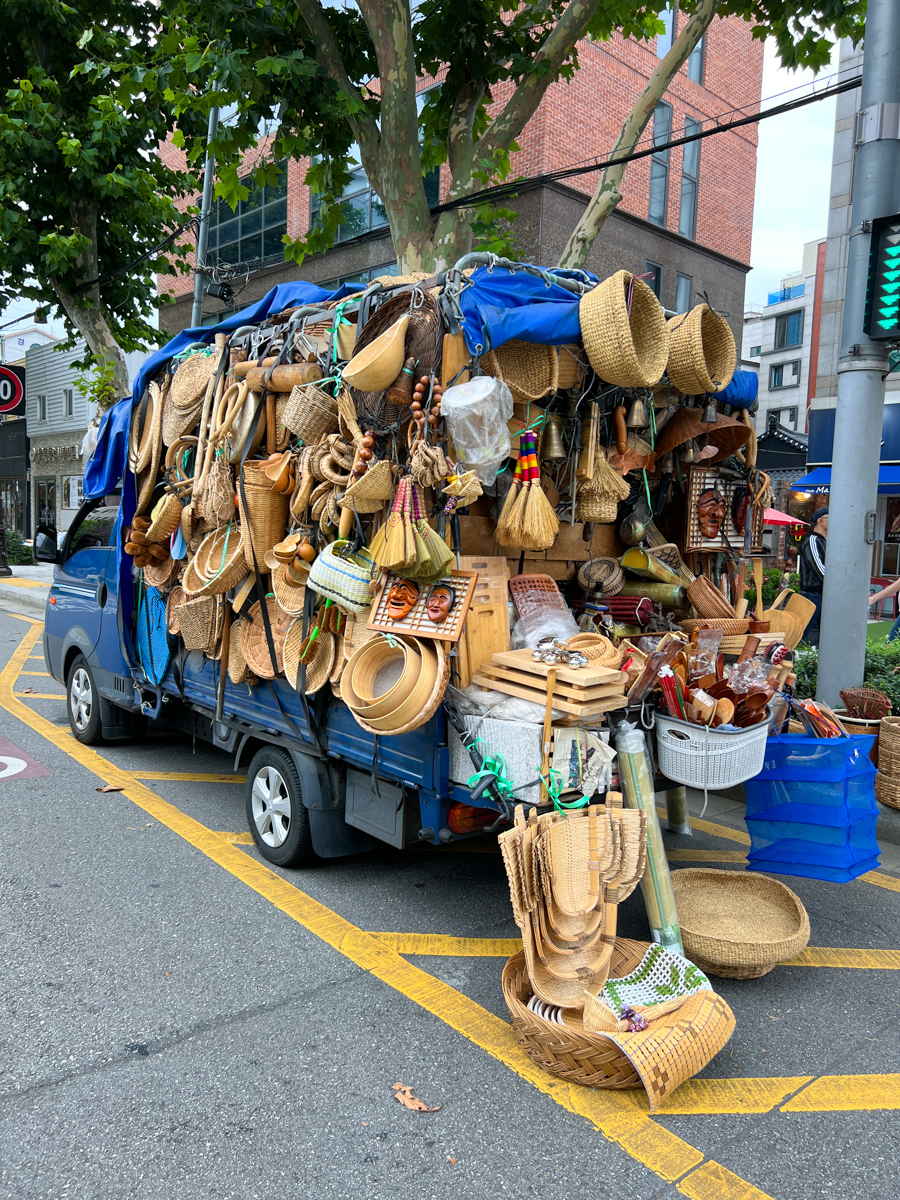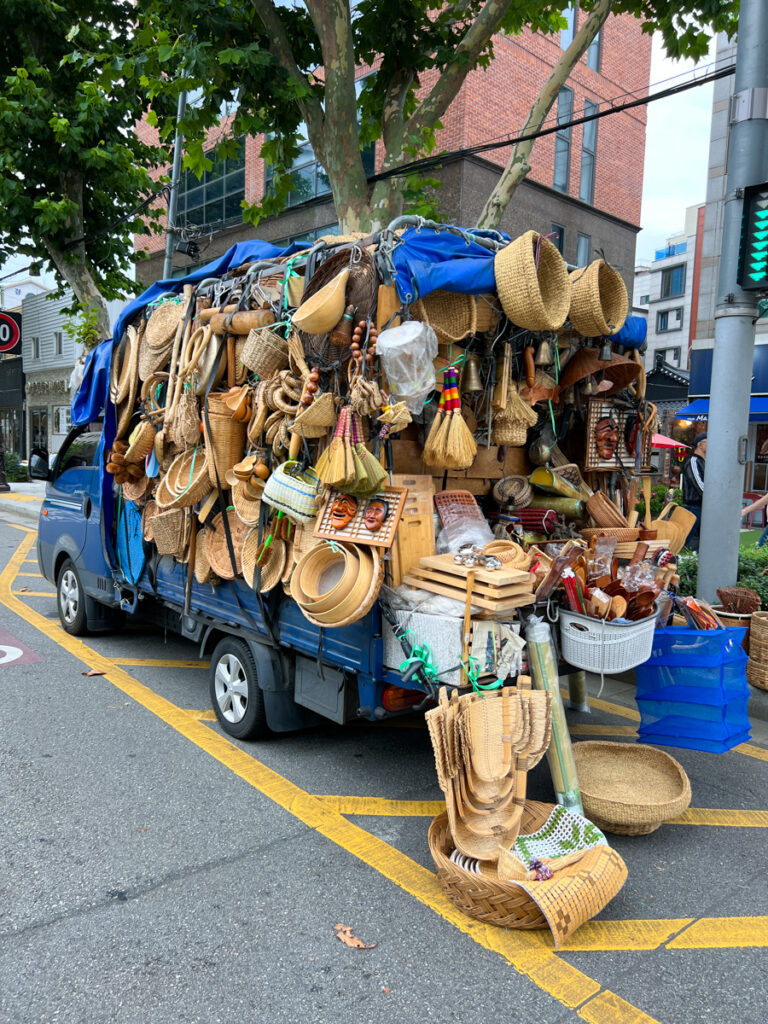 Audley Travel offers tailor-made trips to South Korea. A 12-day trip costs from £3,900 per person (based on a family of four travelling).
The price includes return flights from the UK, transfers, accommodation (Seoul Fraser Place Central and Busan Shilla Stay Haeundae), train travel between Seoul and Busan and excursions. 01993 838200/ www.audleytravel.com/south-korea
Disclaimer: This post about Busan with kids is sponsored. Visit Korea US and Audley Travel partially hosted our trip to South Korea. All views expressed are entirely my own.