We recently visited South Korea on a summer holiday with our four children and spent most of our time exploring the best things to do in Seoul with the kids.
South Korea is a unique destination. I had expected it to be somewhat similar to other destinations I have visited in the region, such as Hong Kong, Japan and Taiwan. However, it is a truly unique place regarding culture, food and things to do.
Seoul is an uber-modern city, and it's safe to say Koreans love all things technology. From candy floss vending machines to robot waiting staff in restaurants, there was so much in terms of technology that our kids were blown away by!
Aside from the tech advances, we were impressed with how the ancient palaces are well preserved, and Seoul is essentially built around these historical landmarks.
It is a case of old meets new and blends in beautifully with the backdrop of the mountainous landscape.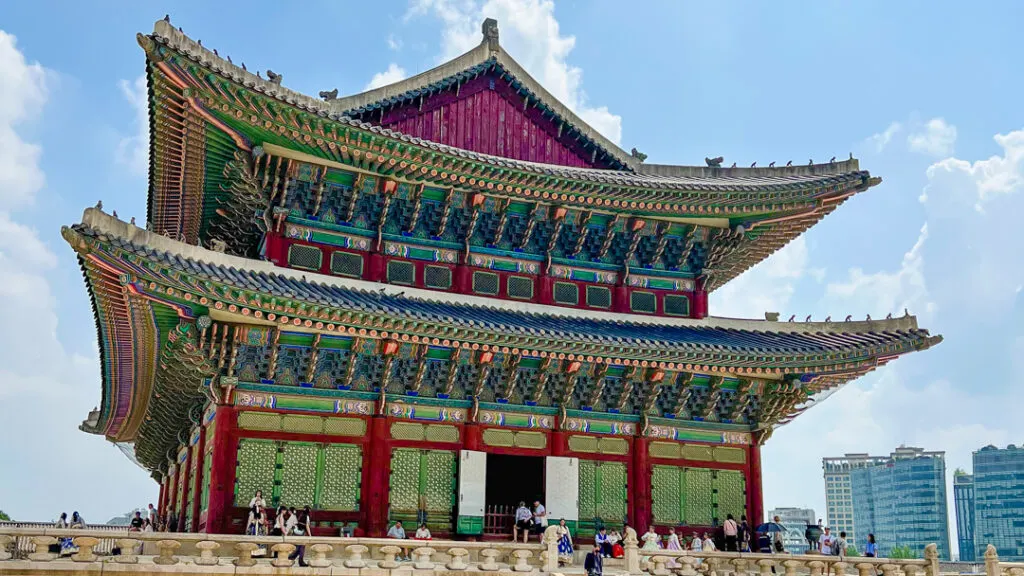 That's right, the incredible modern Seoul feels like it's in the centre of a valley. Many of the streets have a steep climb on the perimeters of the centre, which offers stunning views from atop.
Seoul also features bustling night markets with fantastic street food, stunning temples and some unique and traditional restaurants.
We visited Seoul with Audley Travel, experts in tailor-made trips. To be completely transparent, we partnered with Audley Travel and the Korea US Tourism Organization NY Offices to highlight the family-friendliness of the destination.
Rest assured, this post is honest, highlighting the fantastic destination Seoul is and some of the challenges we faced.
We have travelled to many different destinations with Audley Travel over the years and have always been blown away by their attention to detail when making a trip for our family.
From Sri Lanka to Tanzania and Kenya to South Korea, we have created beautiful memories on our trips with Audley Travel.
So, let's dive in and discover what we got up to in Seoul With Kids.
Seoul For Kids
Getting Around Seoul With Kids
First of all, it is worth mentioning the international airport is approximately a 1 -1.5 hrs drive from the city, depending on traffic. Preparing for that is worth it, especially if you have a long flight.
We had a one-day guided tour of some of the top attractions in Seoul with Audley Travel. Otherwise, we were provided with T Money Cards, which can be used to get on and off public transport taxis and can even be used to buy things from some corner shops.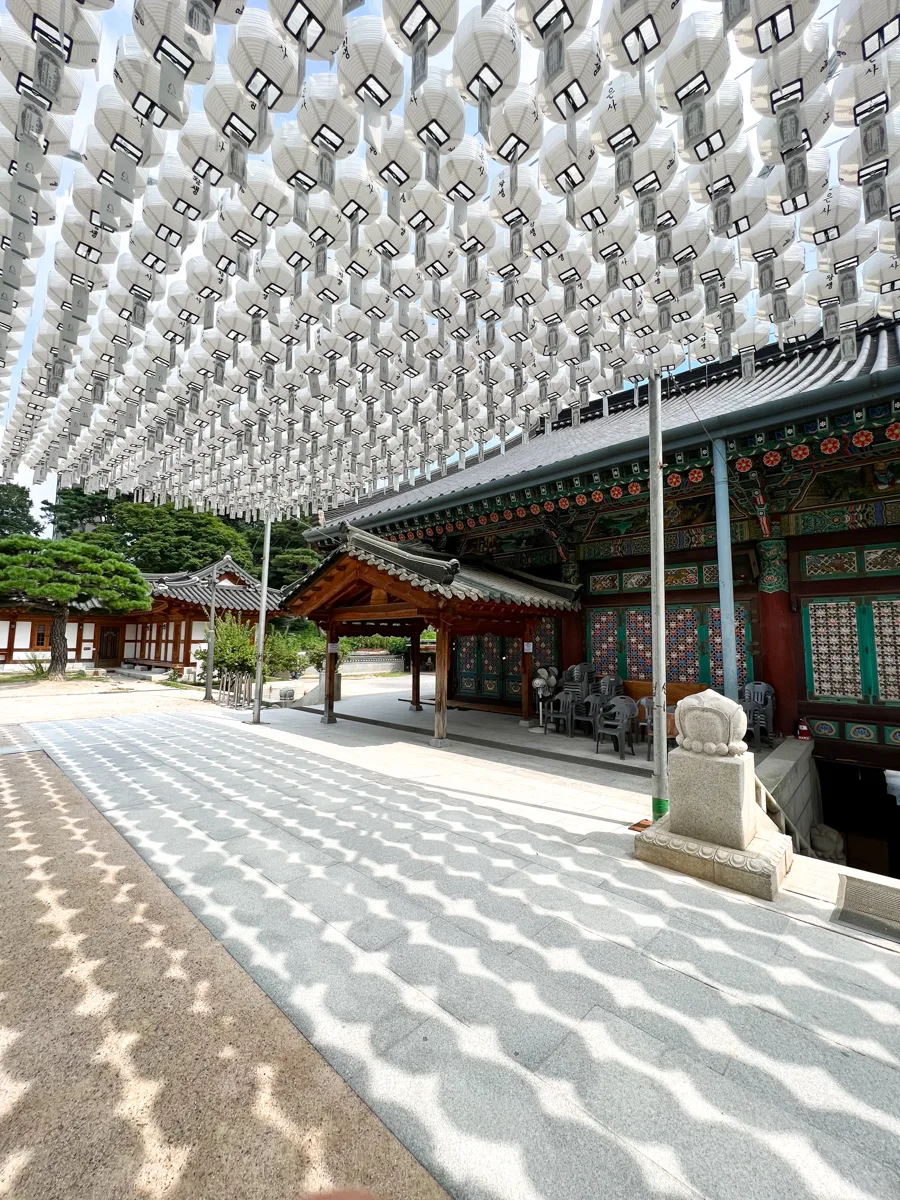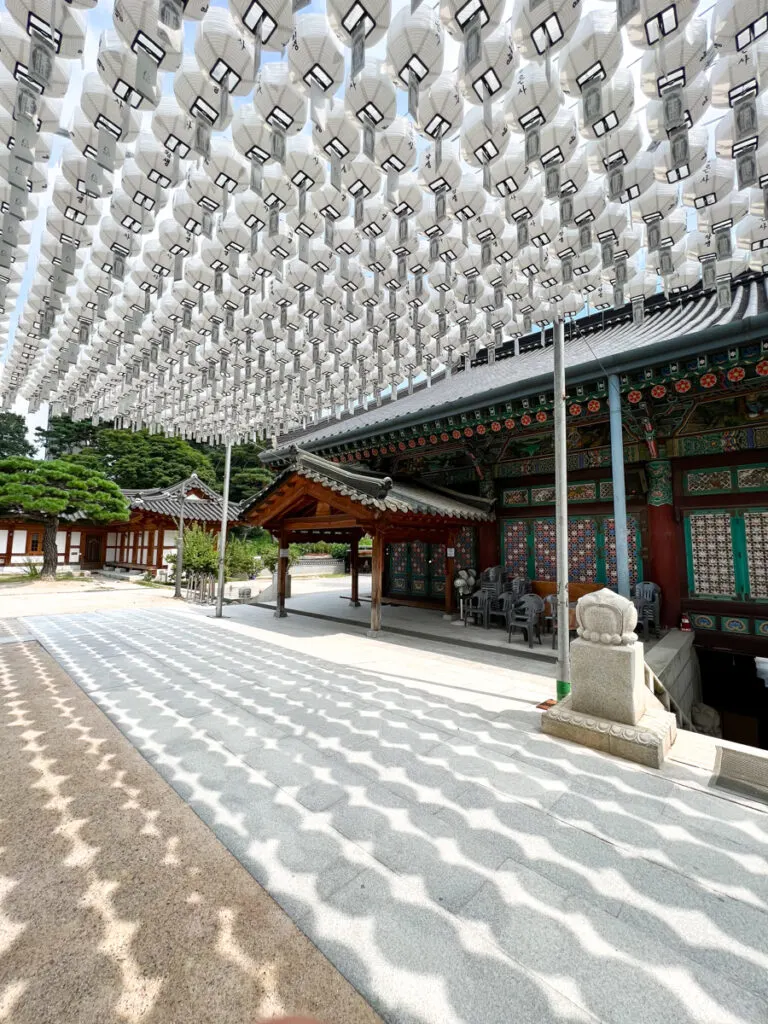 Audley Travel also gave us ideas of places to visit in our detailed itinerary. We could quickly top the travel cards up at transport stations and corner stores, which was great when travelling around Seoul with kids.
It was fantastic to see further afield spots with a tour guide before venturing around the city independently using buses, subways and taxis.
Seoul has a very efficient transport system, especially the buses. Most of the time, signage and public transport announcements are in Korean and English, which is helpful.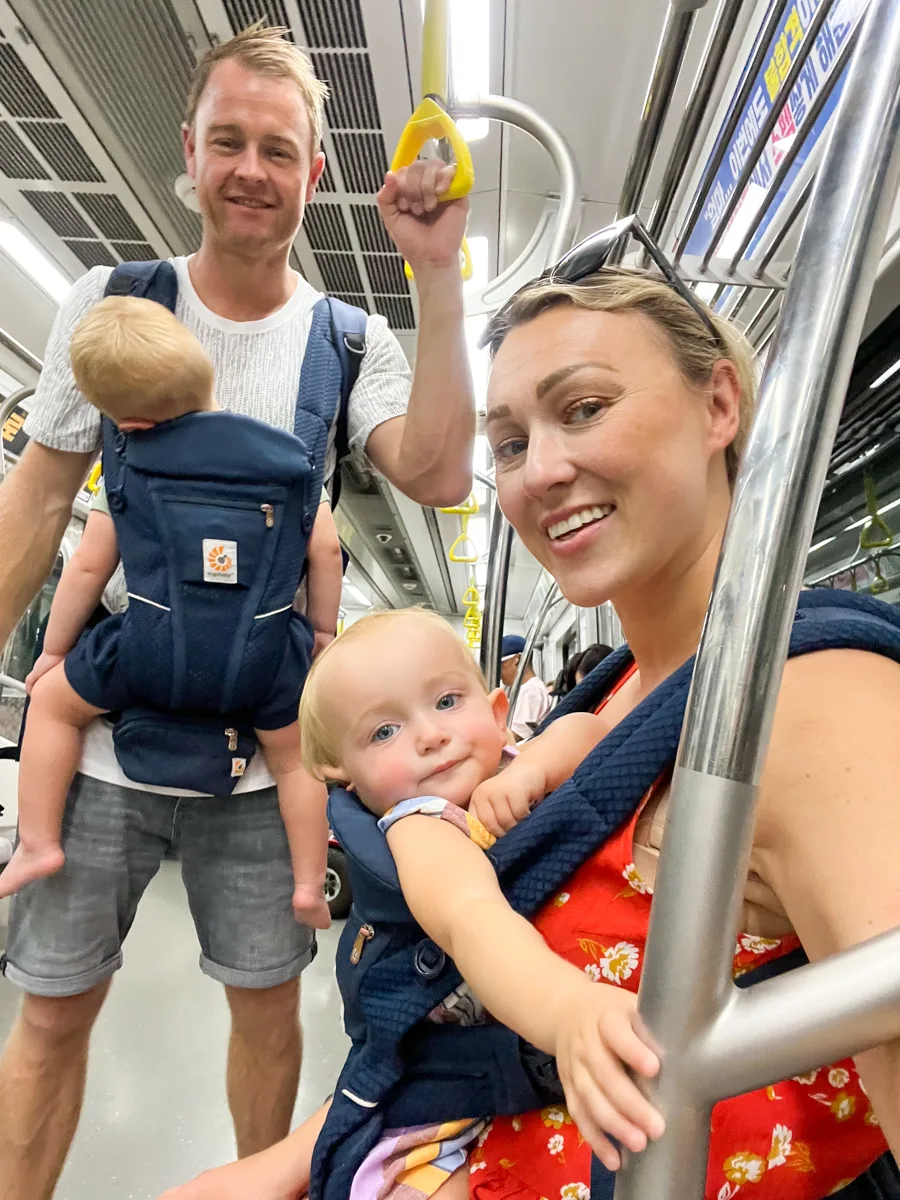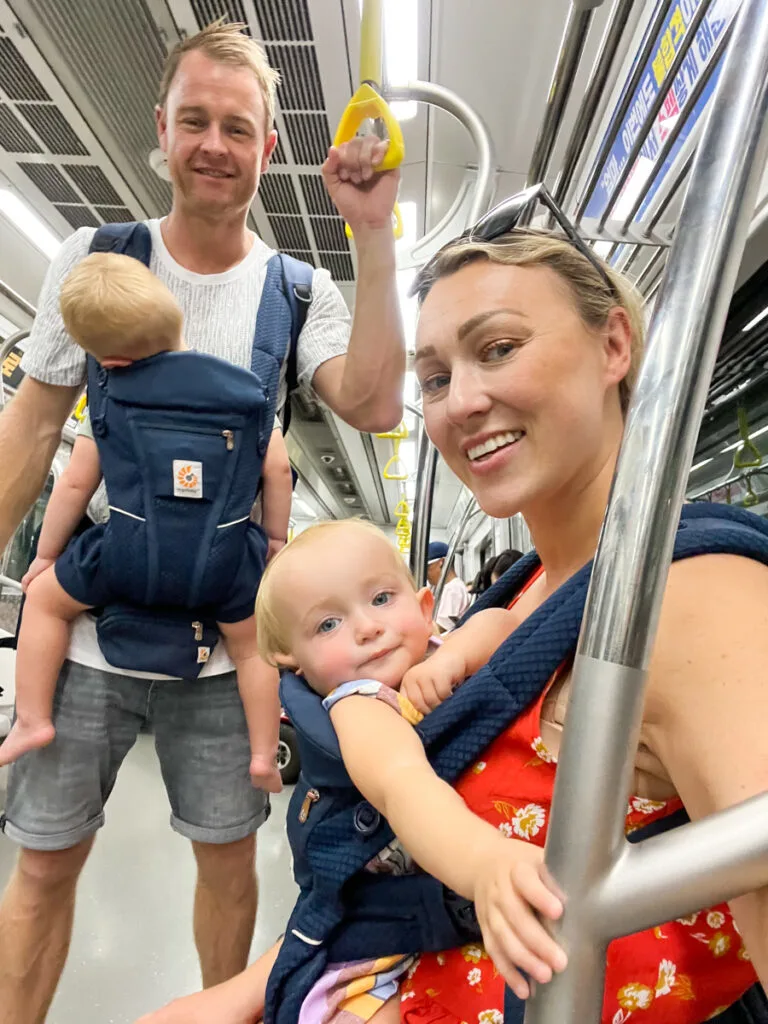 We didn't always get it right and went in the wrong direction several times. Sometimes, the quickest route may have involved changing buses several times.
Google was pretty good at providing options on the different routes, times, etc. It's worth using a carrier for babies and toddlers to make getting on and off the bus and subways easy.
Otherwise, taxis are pretty affordable in Seoul. They can sometimes be hard to flag down, especially on busier roads, so finding a taxi rank is good to avoid waiting.
We did walk quite a bit on cooler days and used umbrellas on hot days when the distances were short.
It's worth noting that Seoul is a very large city, so it's best to map out your wish list of places to visit and try to cluster things in the exact location. This makes travelling around Seoul with kids a little easier and more productive.
Where To Stay in Seoul With Kids
There are many different accommodation options for families visiting Seoul with kids. Be it a traditional homestay, luxury hotel or something in between.
We stayed in Fraser Place Central, close to the Seoul train station. It was perfect for us as it was an aparthotel, which is always a win with children.
We had the luxury of a hotel with the comforts of home with a kitchen for cooking and two bedrooms, which worked fantastic.
Cooking facilities were needed as food for the little ones was generally challenging in South Korea. There are plenty of options to eat out. However, it has to be planned to wind up somewhere the kids would eat at lunchtime.
Aside from the cooking facilities, breakfast was included in our stay, which was a lovely treat in the mornings in the restaurant on the ground floor. It had a mix of Western and Korean breakfast items.
From freshly baked bread and pastries to birch muesli and warm breakfast items. I quite enjoyed my daily dose of kimchi at breakfast! You can't visit South Korea and not fall in love with kimchi. It is seriously addictive.
This hotel had a children's play area, two cafes and a spa with a swimming pool, perfect for rainy days and hot afternoons.
Many hotels in South Korea do not include access to their pool in the overall stay, so it was fantastic that Fraser Place Central allowed all guests to use the pool.
Another plus was Fraser Place Central offered room service, which was ideal once the kiddos were all in bed and we were too tired to make dinner for ourselves. The food was great!
Things To Do With Kids in Seoul
There is an excellent mix of culture and fun when visiting Seoul with kids. What's great is many cultural sites can be made even more fun with dress-up costumes, which many kids love!
1. Gyeongbokgung Palace
Seoul has five royal palaces, all stunning time capsules from the past. Gyeongbokgung is probably the most impressive and sees the most amount of visitors.
This palace was just a short distance from our hotel, so it was one of our first stops on our full-day guided tour with Audley Travel.
Many visitors choose to dress up in traditional hanbok outfits when visiting! The palace provides free entry for those who dress in a hanbok, which is an excellent reason to do so!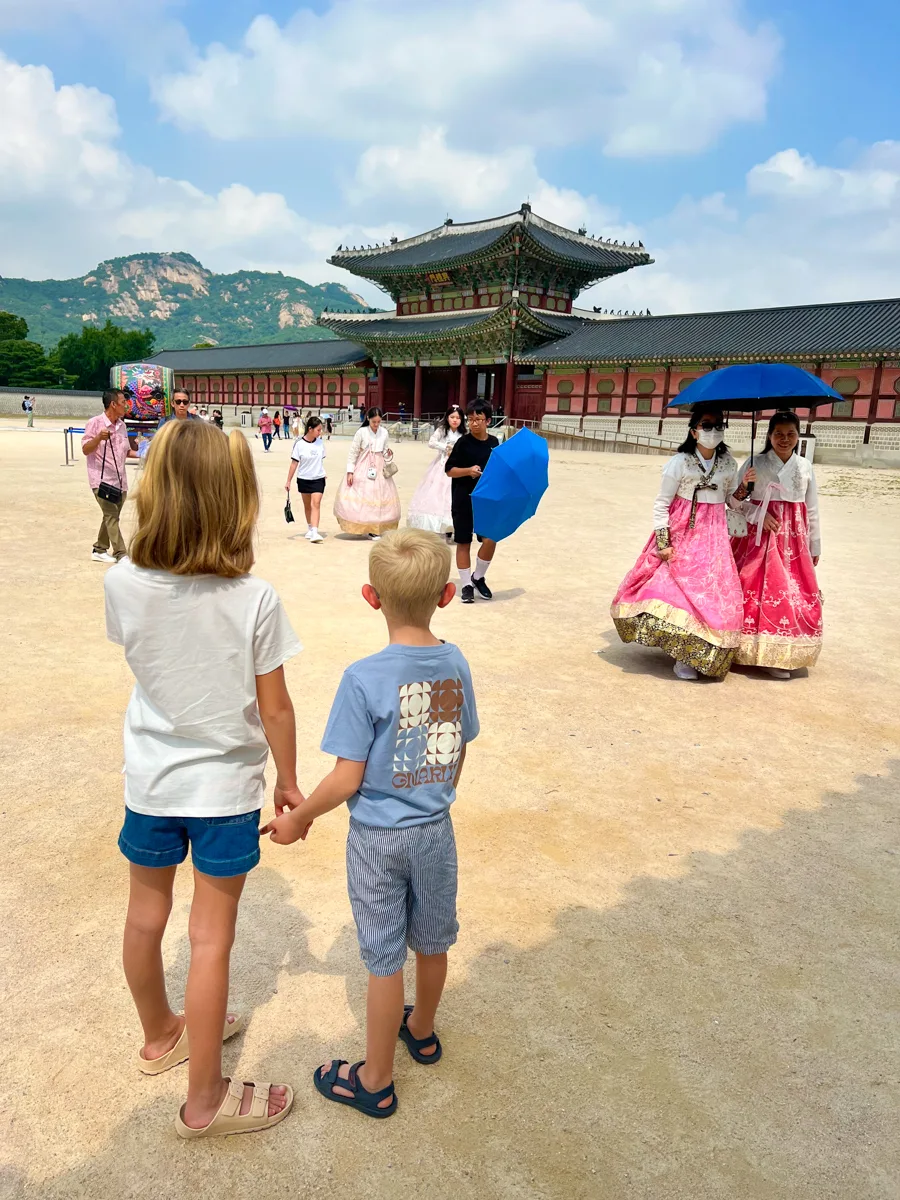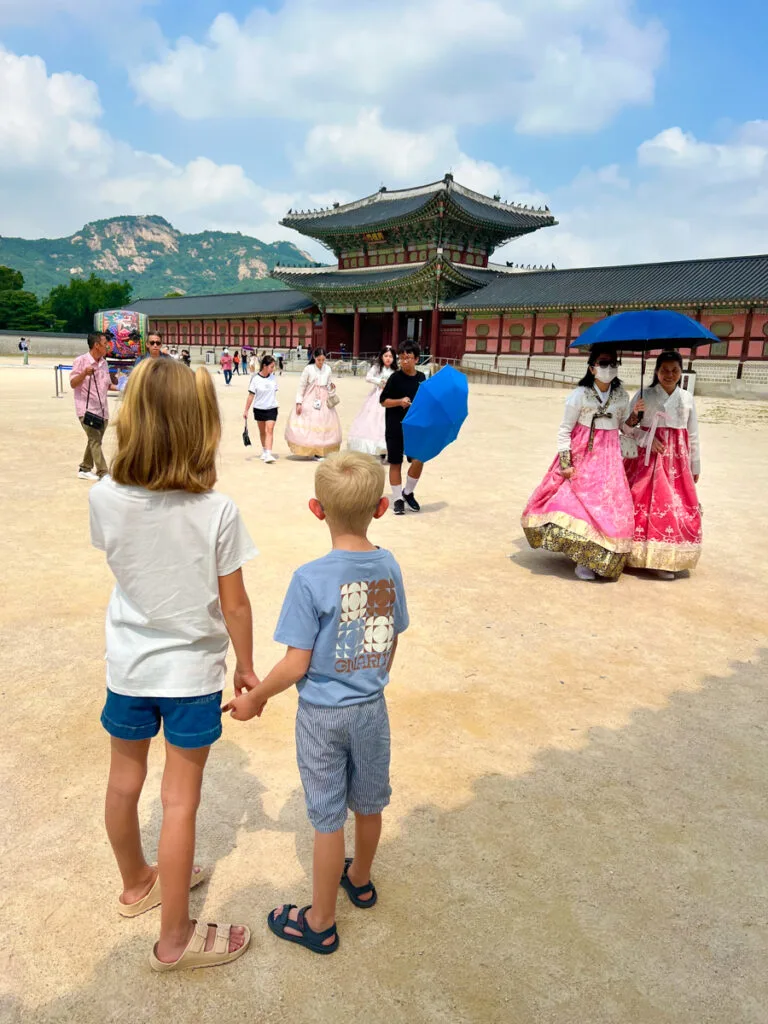 There is a shop on the corner just outside the palace renting outfits in various sizes, including those for children. They cost around 18,000 WON for four hours of rental.
We did not rent outfits because it was hot, and thought we'd be roasted. However, we loved seeing the other visitors pass through the palace in incredible outfits. It is one of our favourite memories of visiting Seoul with kids.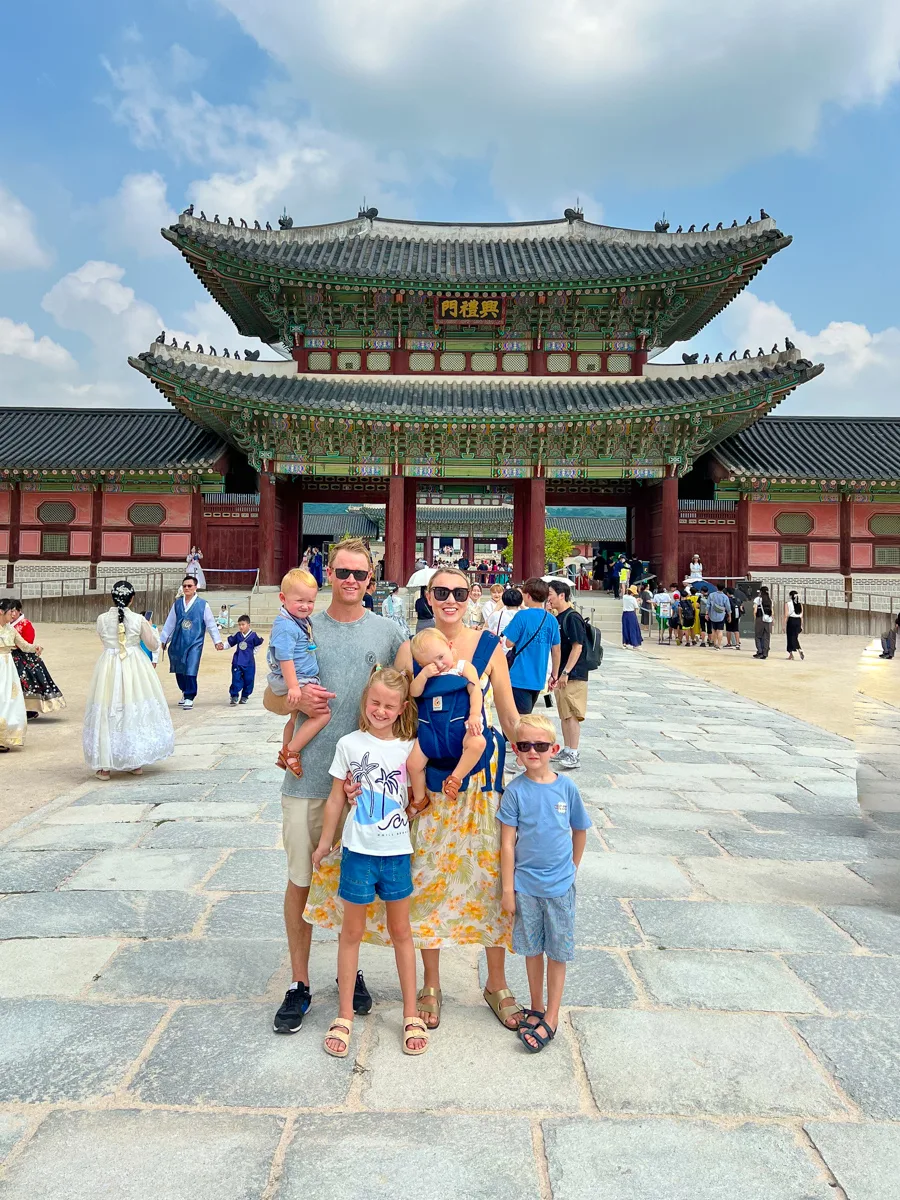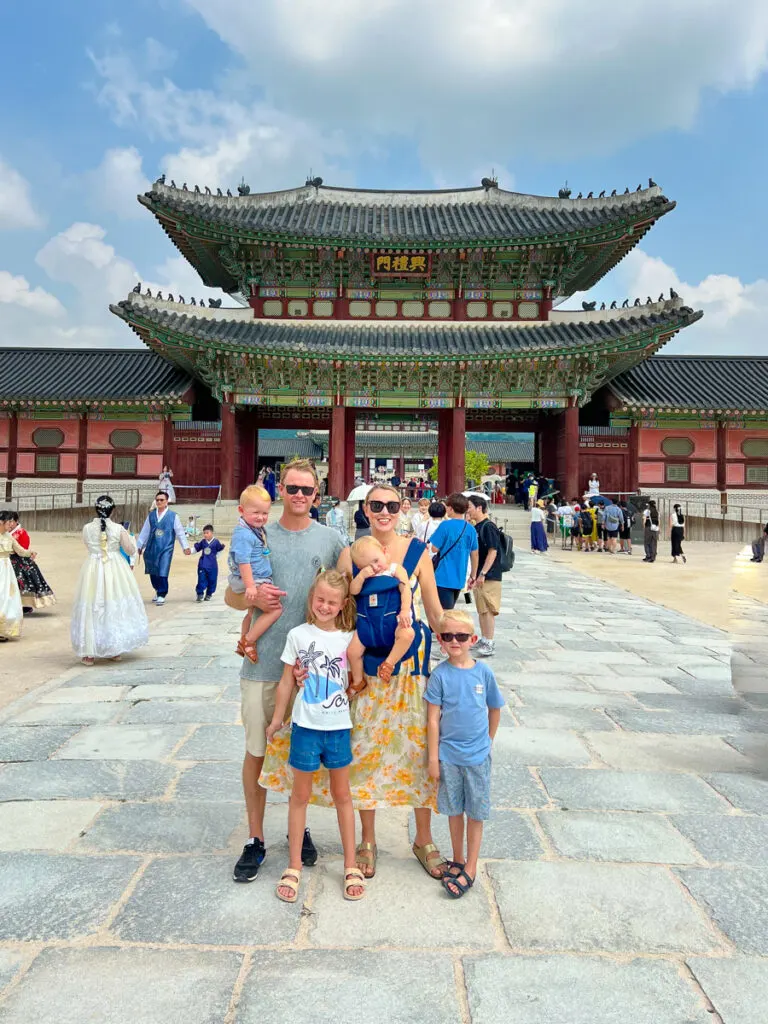 Bring an umbrella for shade and plenty of water if you visit Gyeongbokgung Palace, as there are many open spots, making it hard to catch any shade on a warm day.
Gyeongbokgung Palace, often called the "Palace of Shining Happiness," is a true cultural treasure.
Constructed in 1395 during the Joseon Dynasty, it was the main royal palace for over two centuries. This sprawling complex has incredible Korean architecture and design, boasting intricate wooden structures, gates, and serene courtyards.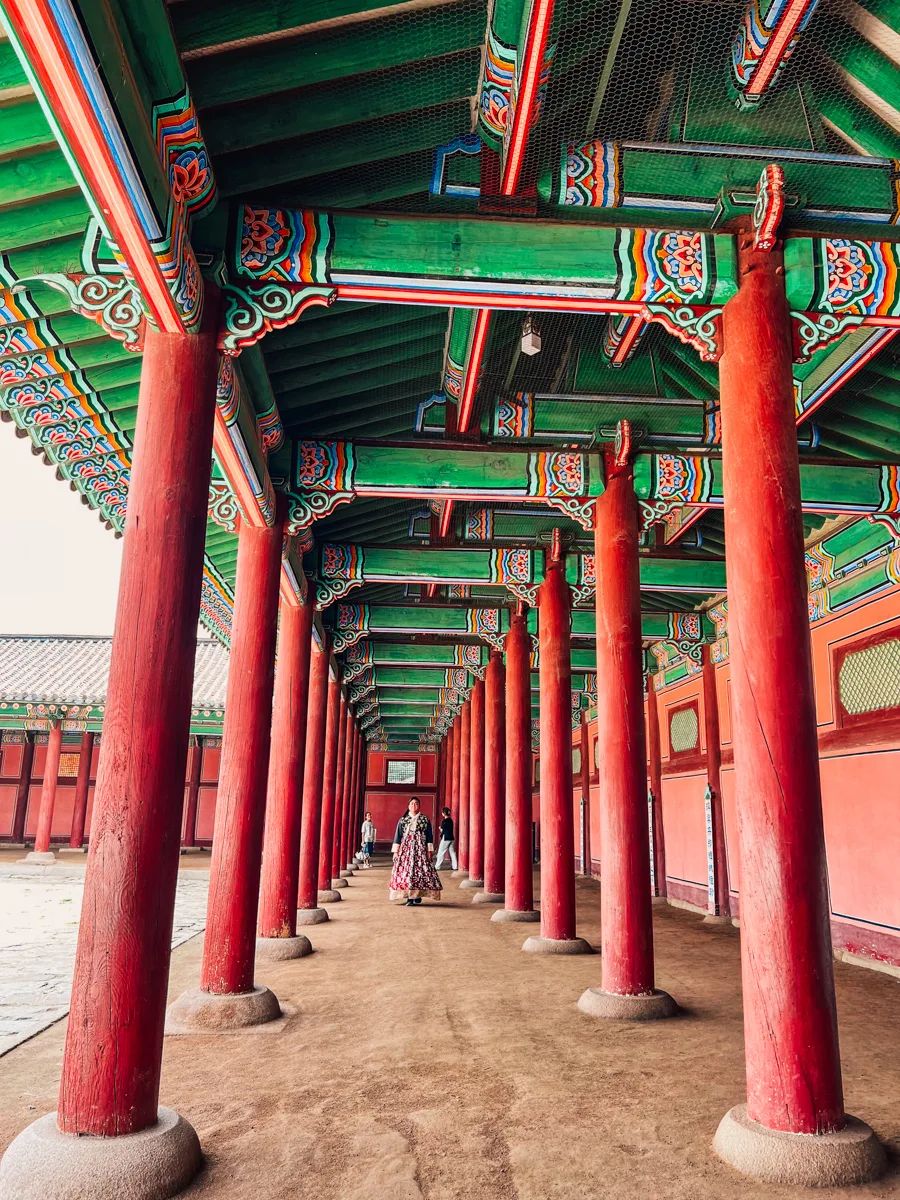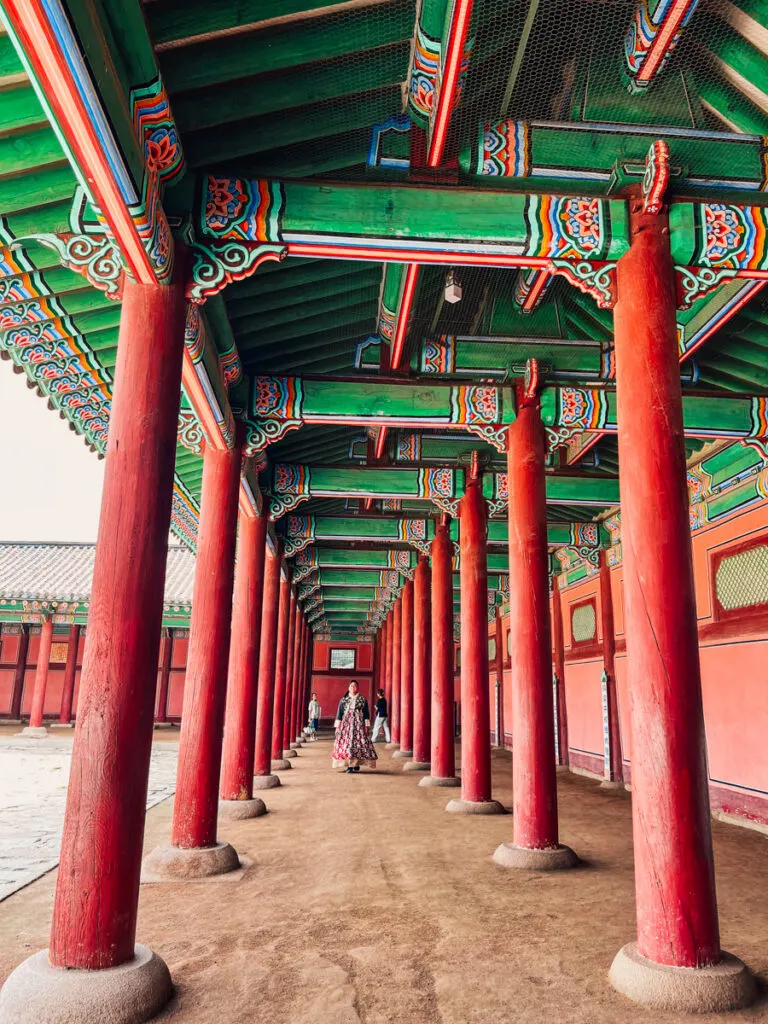 Gyeongbokgung is renowned for its incredible Hall, where kings held important ceremonies and greeted foreign envoys.
Whilst exploring the palace grounds, we loved the Gyeonghoeru Pavilion, perched on an artificial island in a large pond, and the tranquil Hyangwonjeong Pavilion, surrounded by reflective water and the scenic backdrop of Bukhansan Mountain.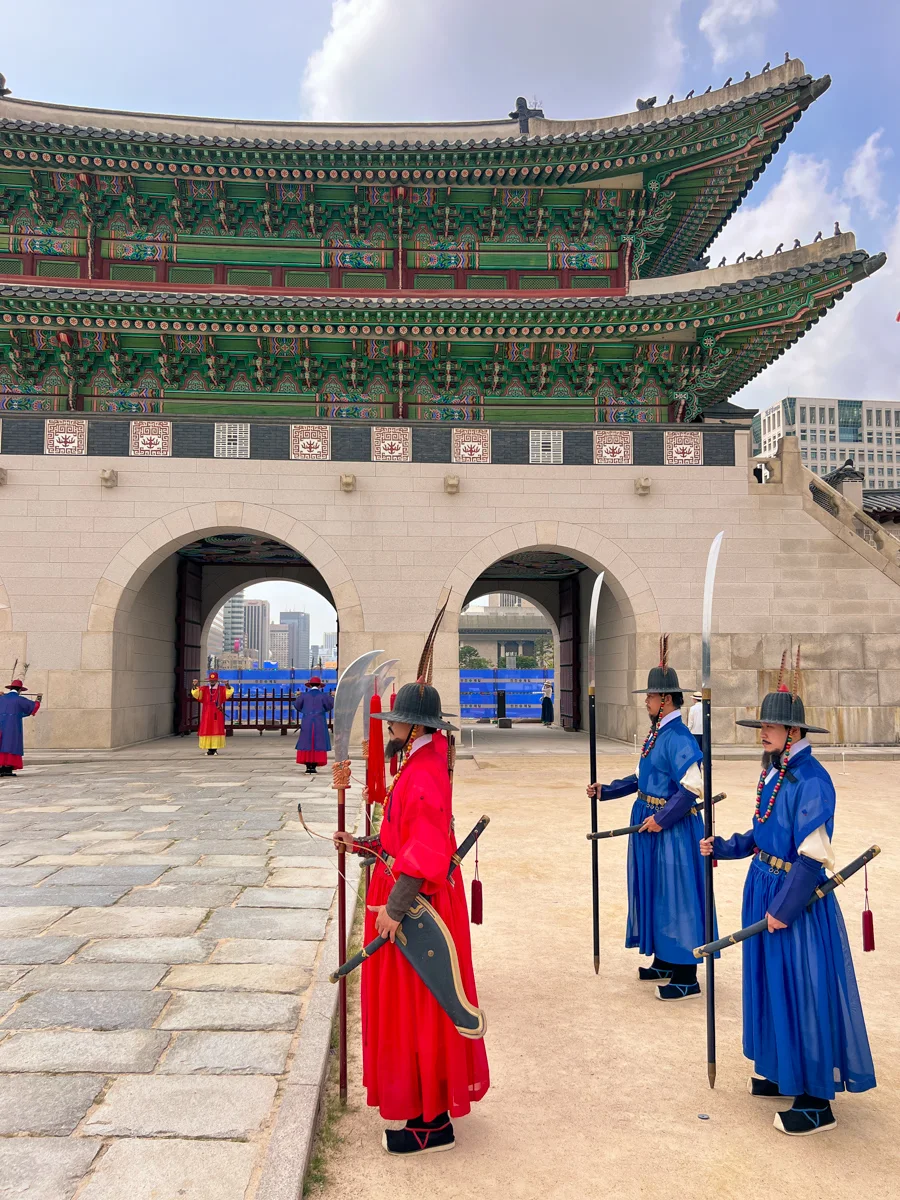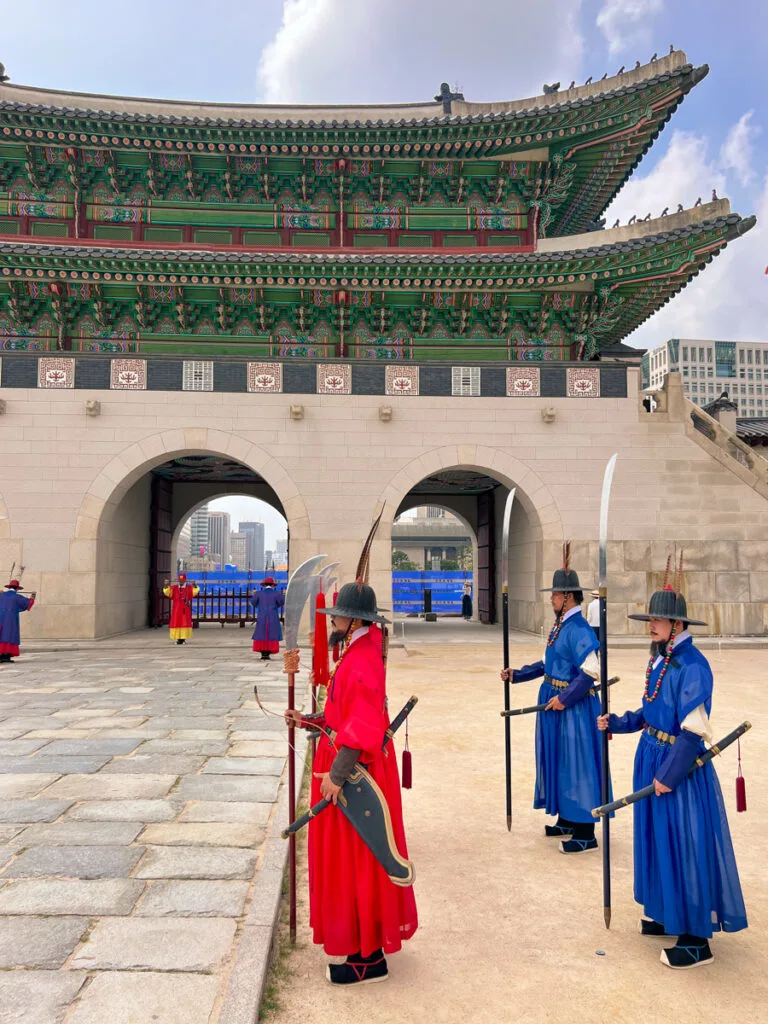 We got to experience the Changing of the Guard ceremony, which takes place at the main gate, adding a touch of tradition to the experience. It only happens at specific times of the day, so it is worth checking if this is something you'd like to see.
Wandering along the intricately framed walkways made for some incredible photos. Not to mention, there is one particular point where you can capture a great photo. The roof corner perfectly frames the palace! It is one of our best photos from the trip to Seoul with kids.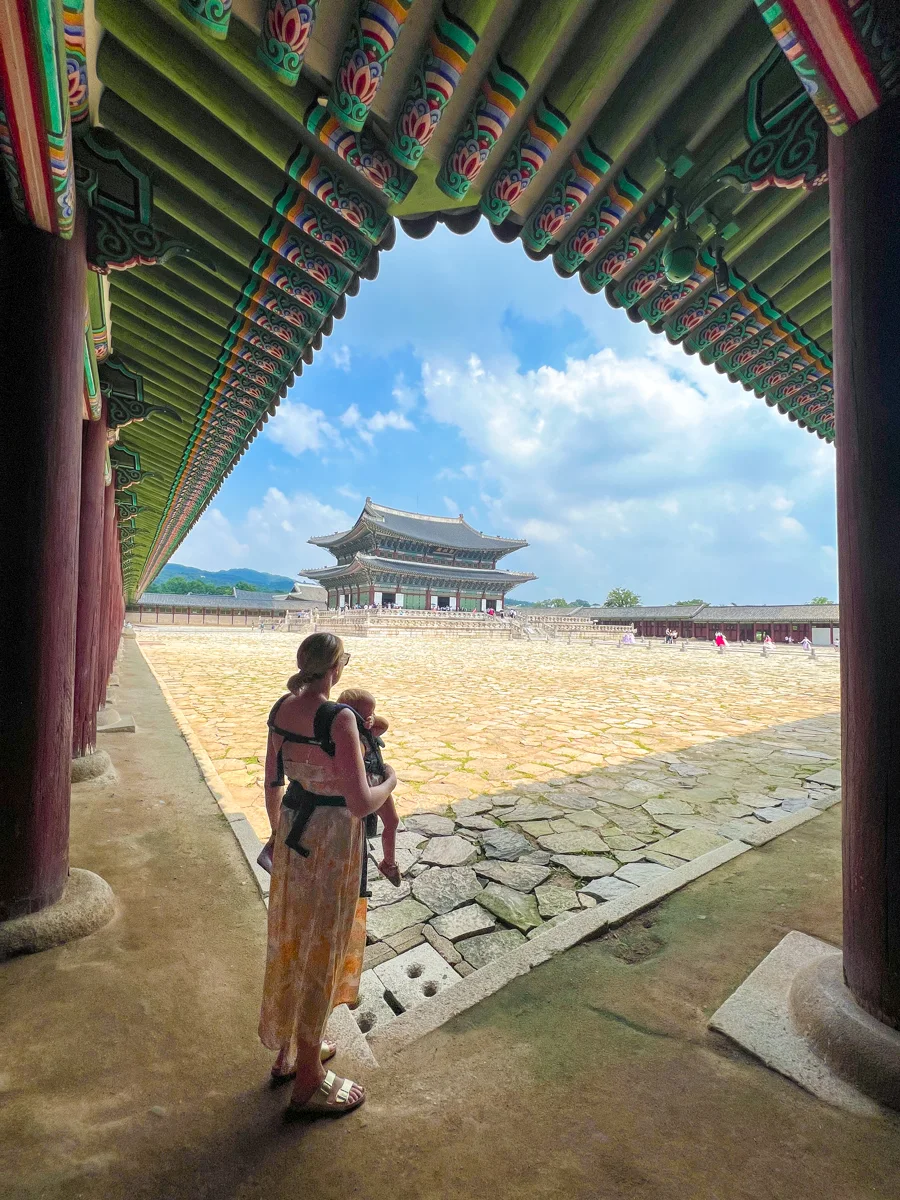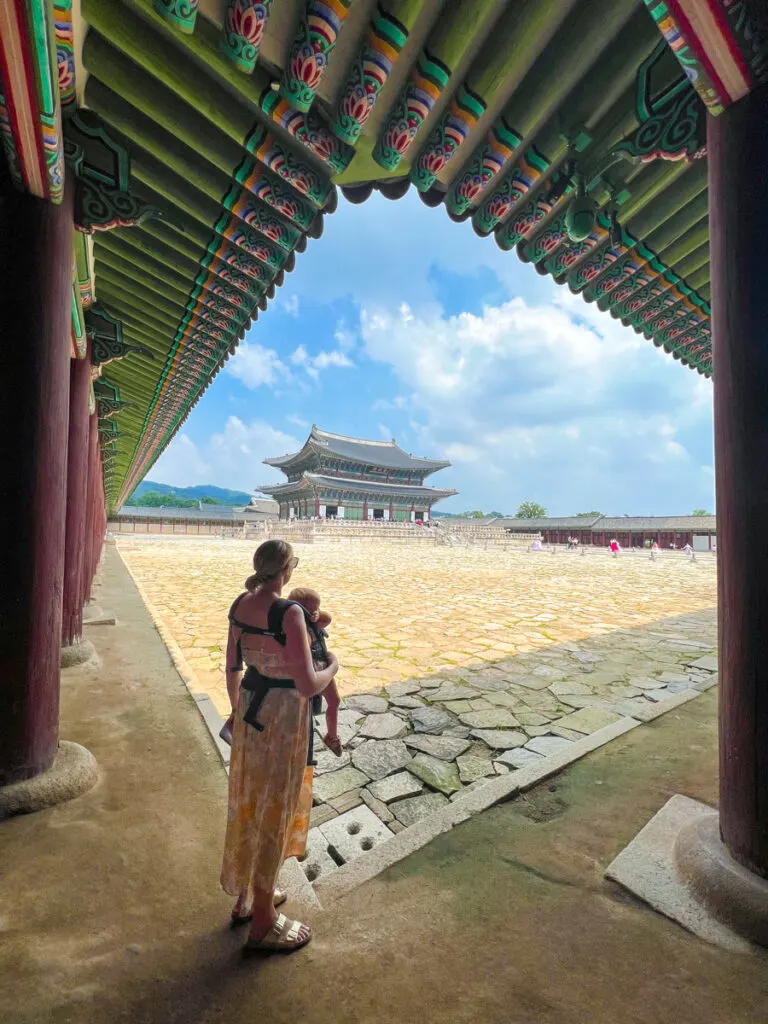 2. Palgakjeong Pavillon

Nestled up on Bugaksan's lofty summit, covering a whopping 1,652,900 square meters and standing 345 meters above sea level, is the Palgakjeong Pavilion.
This beautiful pavilion is built in the traditional Korean style. It has spectacular views of the mountainous landscape on one side, and on the other side has views of the city. There are a couple of places to grab a bite to eat here. However, it is mainly about the views!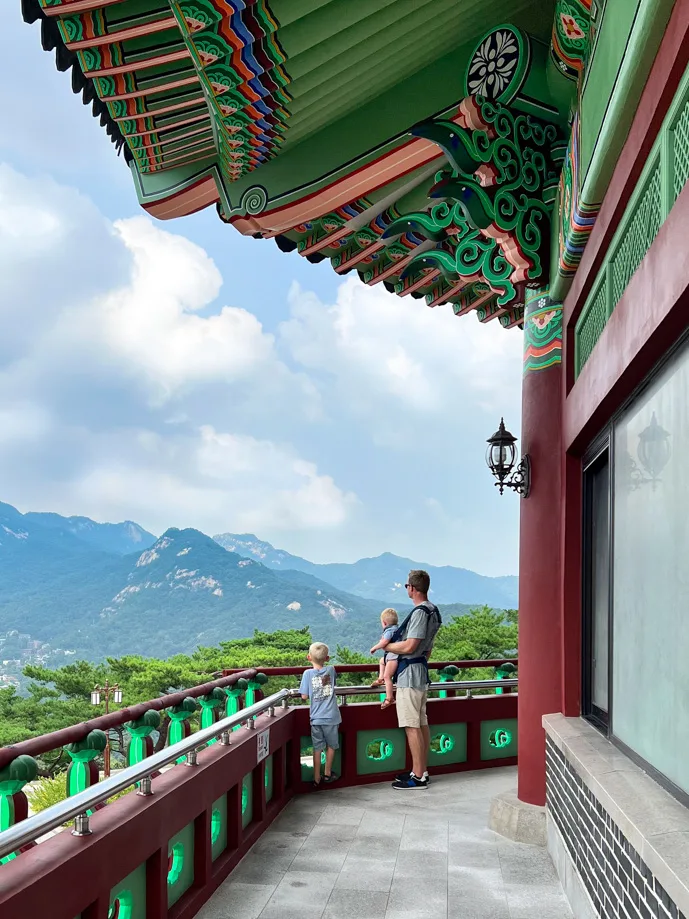 We visited the pavilion with our tour guide, Henry, which is advisable as a car is necessary to reach the area.
3. Bukchon Hanok Village
Wandering through the historical streets of Bukchon Hanok Village is like stepping back in time when visiting Seoul with kids.
Nestled between the modern skyscrapers and streets of the capital, this historic neighbourhood has a rich cultural heritage.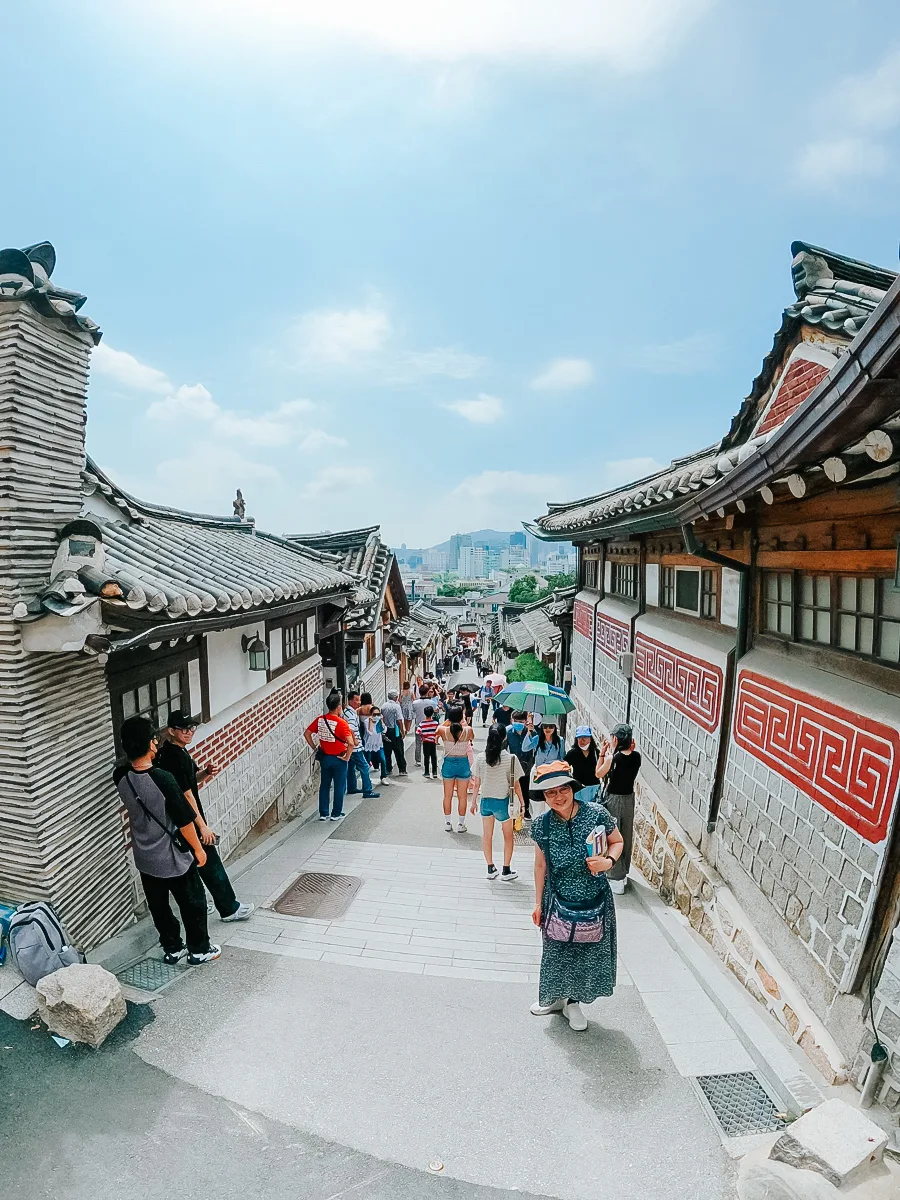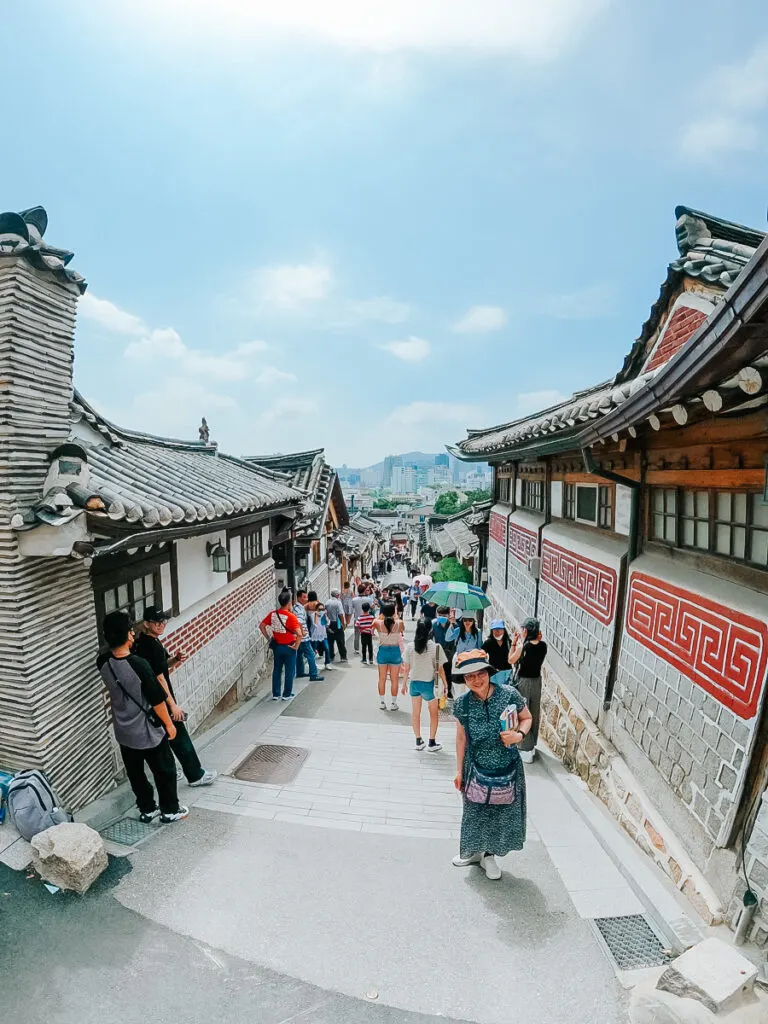 We saw traditional Hanok houses, and many are residential to this day. However, some have been converted into art galleries, small boutique stores and cafes.
There are some hidden alleyways along the way and a tea museum at the top of the village.
Hanok houses have elegant wooden frames and slopping roofs. Not to mention, many of the pathways are cobbled, adding to the village's charm.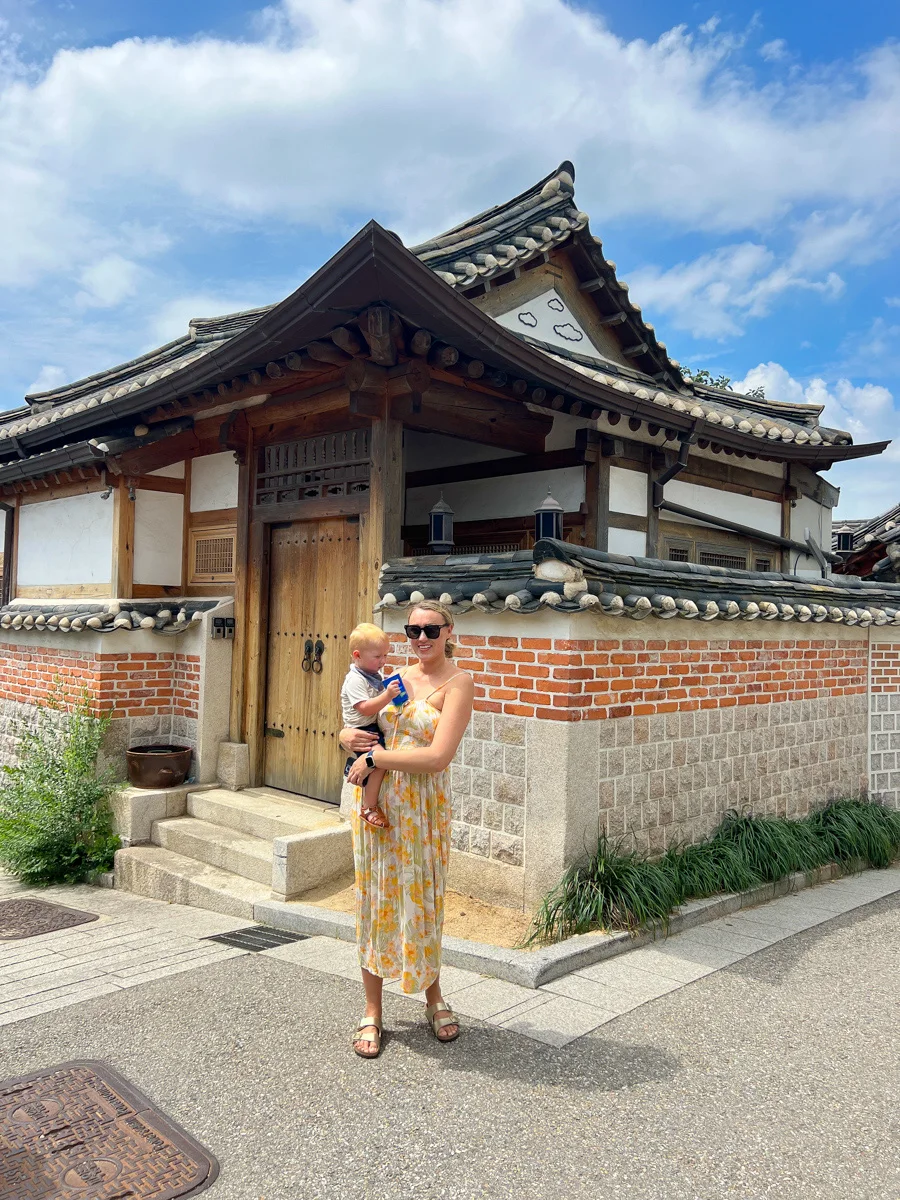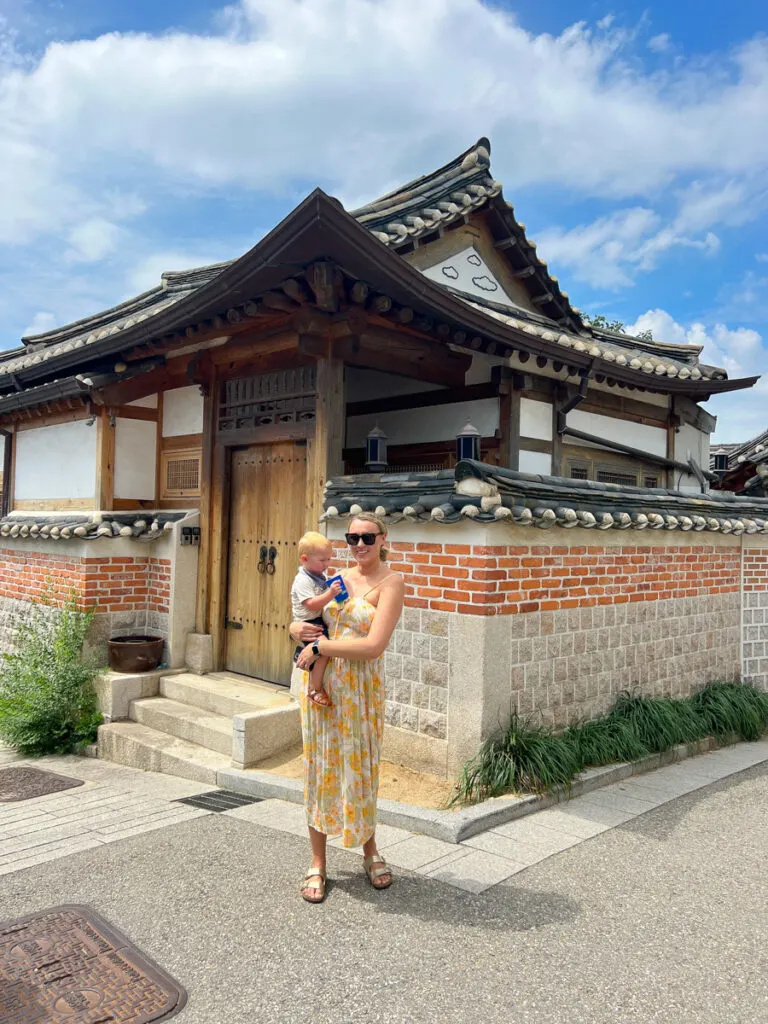 The tea museum was a perfect spot to rest after wandering the streets. We chose a scorching late morning to visit, which wasn't wise.
It is best to arrive a little earlier in the morning to avoid the crowds, as it gets pretty busy with tourists.
There is a charge to enter the tea museum. However, it is redeemable on a cold or hot drink. We opted for lemon iced tea, and they were SO good!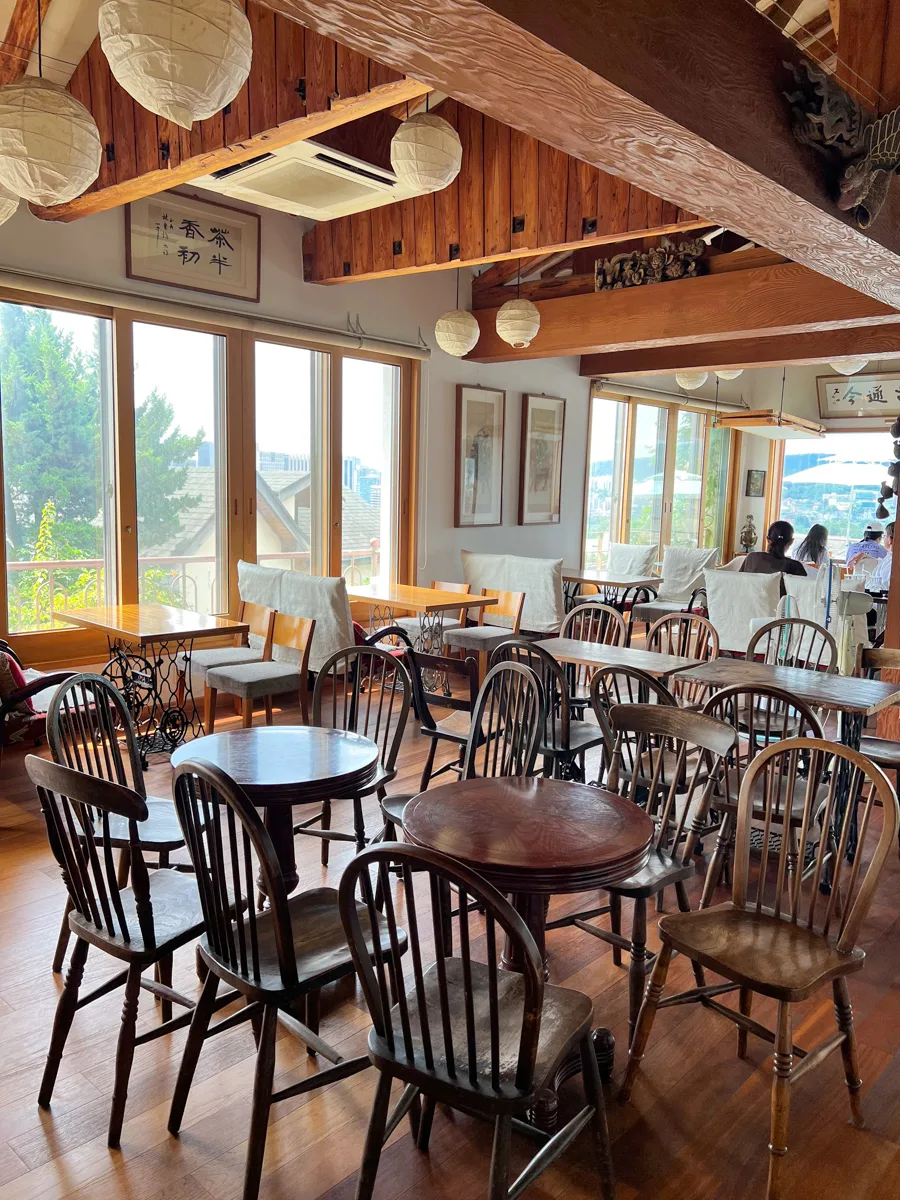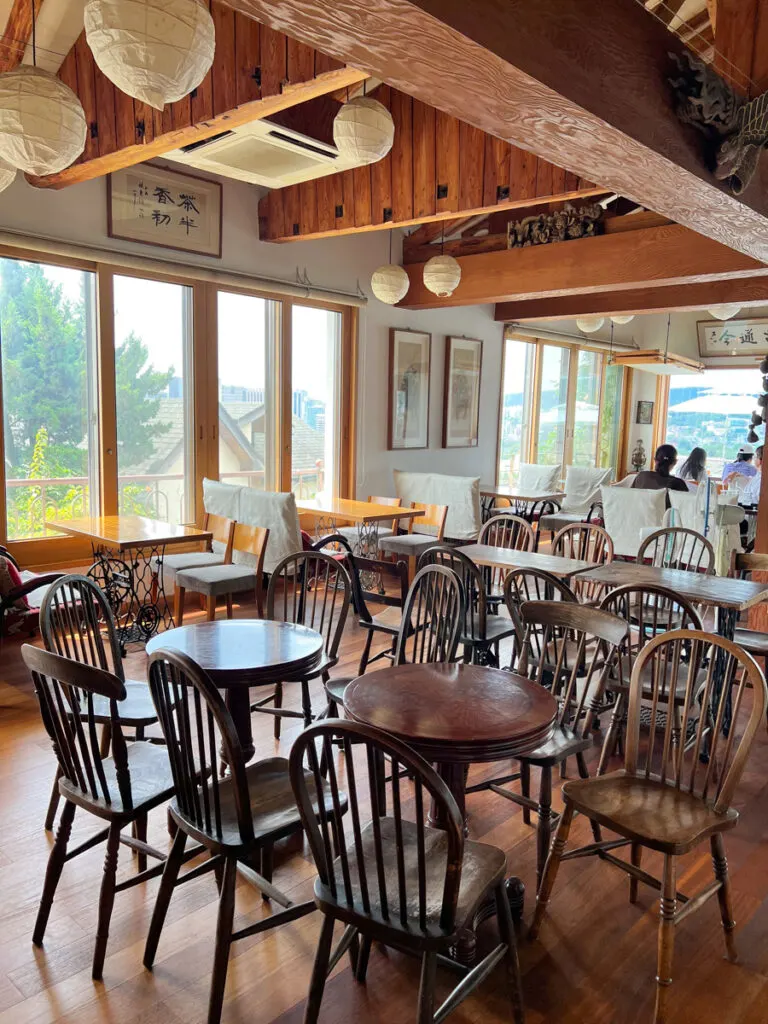 We sat on the upper floor with a beautiful terrace overlooking the rooftops of the Hanok village. In the distance, we could see the city and the mountains, another classic outlook of old and new blending seamlessly in Seoul.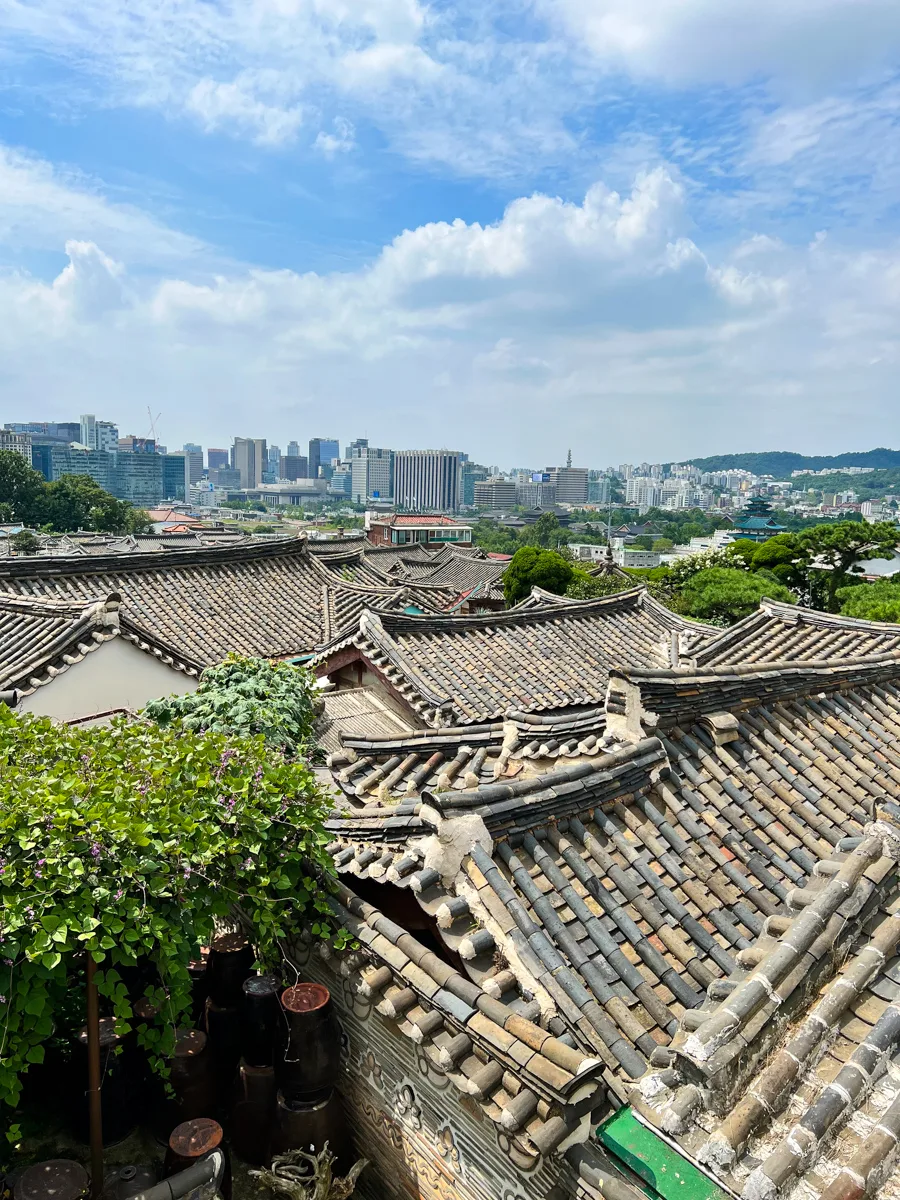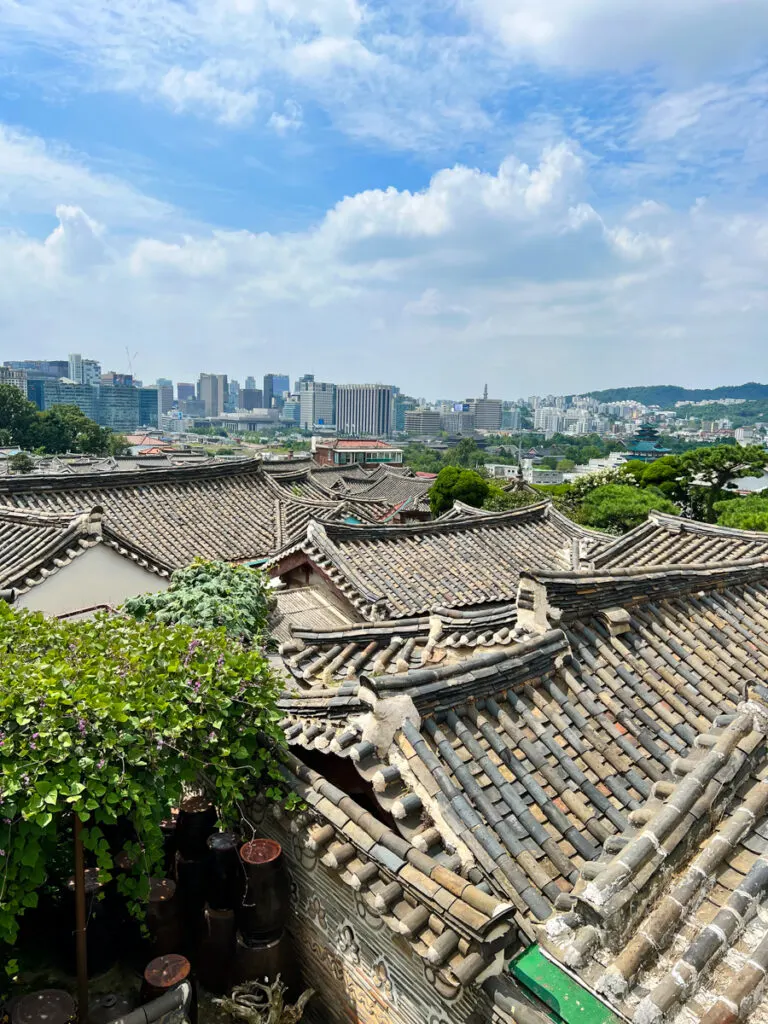 The museum itself was a treasure trove of tea culture. The interior was adorned with wooden furnishings, traditional Korean art, and countless tea cups on display. Most of the pieces were in glass cupboards, so it was okay with our two toddlers.
After we finished our cold tea, we ventured into the peaceful garden to explore. It was a tranquil, relaxing spot featuring traditional doorframes, a pond and greenery.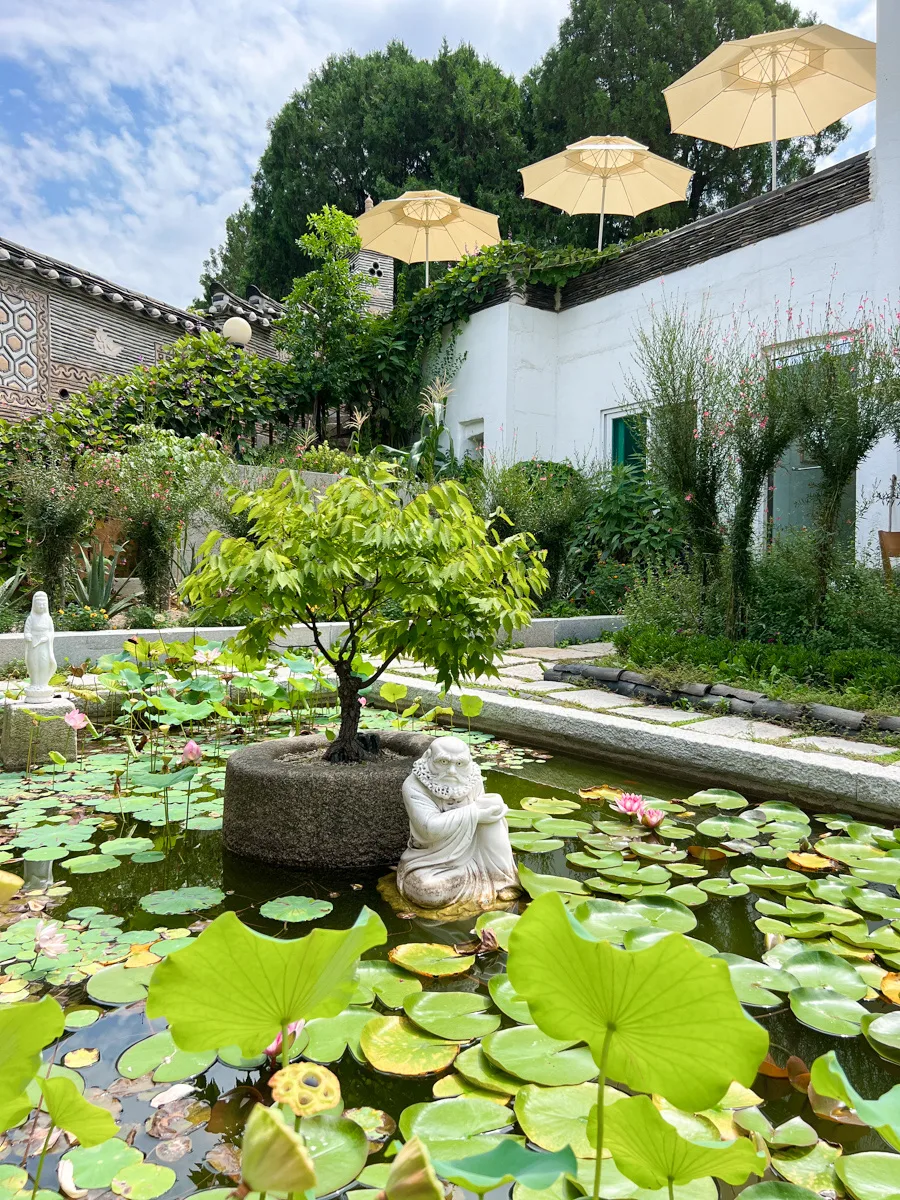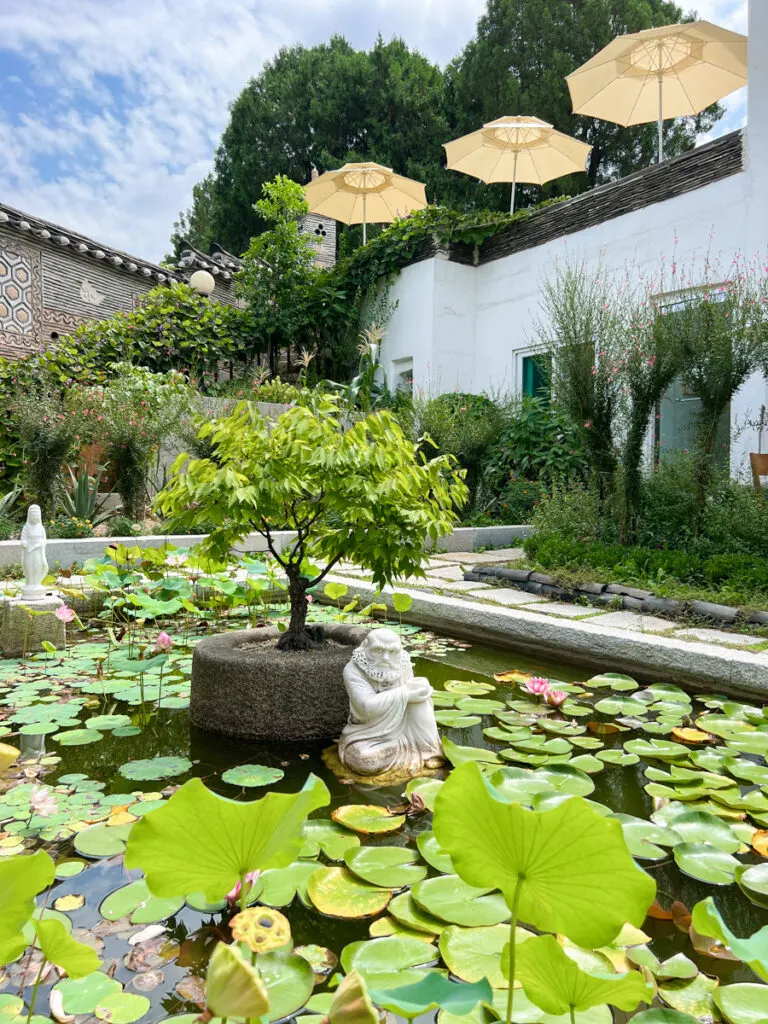 You can rent Hanboks in the village, which many people do. If you missed dressing up at the palace, it's another great spot to snap some traditional photos in Seoul with kids. The Hanboks were a little more expensive than the shop before the palace.
4. Insa-dong
Not far from Buckchon Hanok Village is Insa-dong, a lovely area filled with art galleries, cafes, restaurants and small markets.
We spent quite a bit of time in Insa-dong. A main street runs through the centre of the area called Insadong Gil. There is plenty to explore, including traditional crafts, art shops, and more.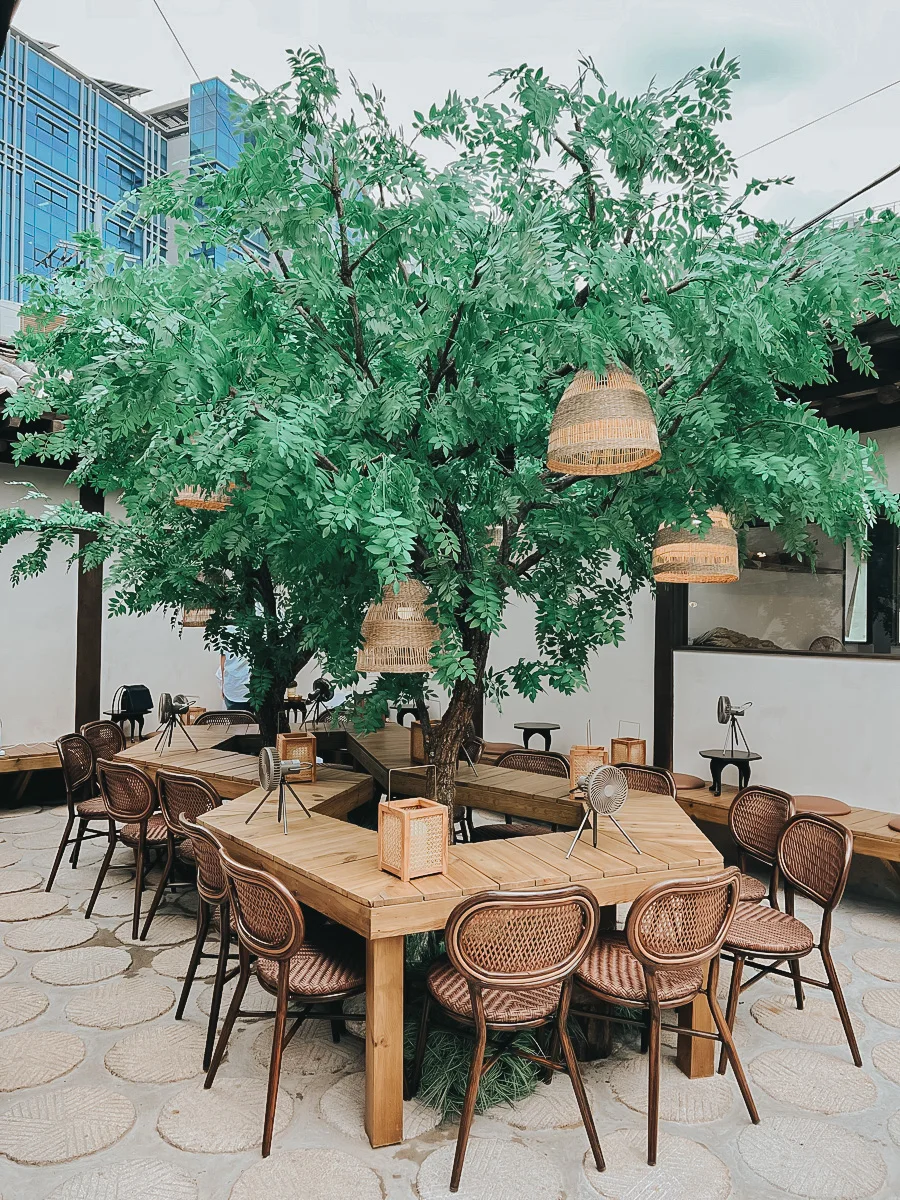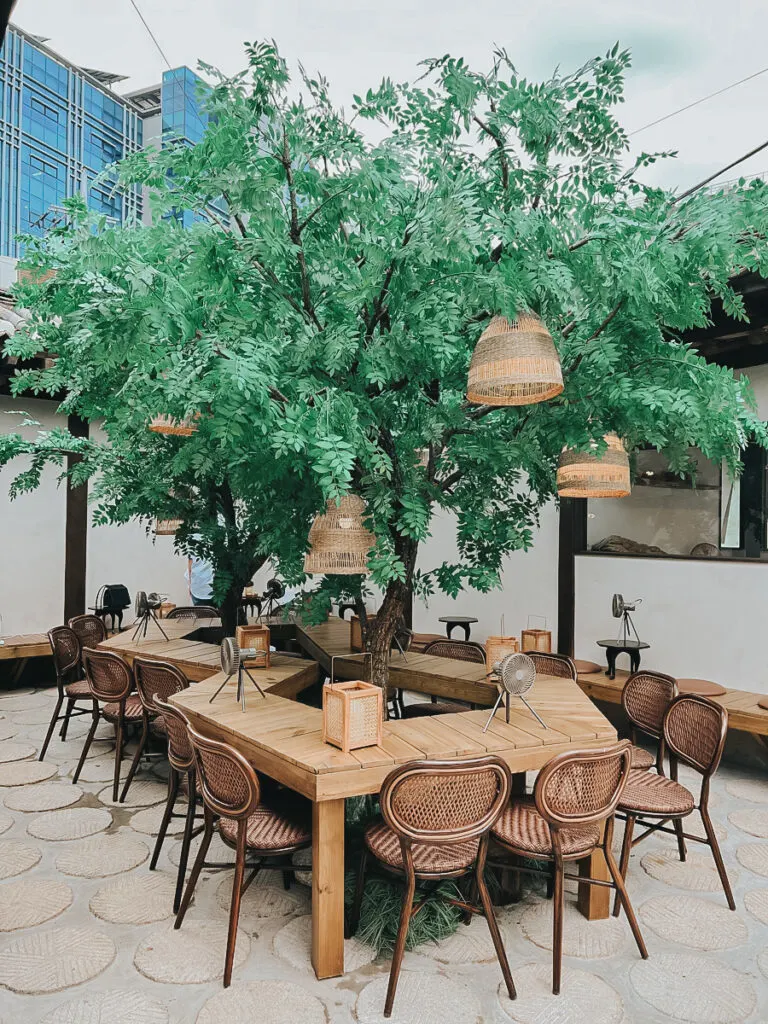 We loved the traditional sweet-making demonstrations in several spots along this street. Watch for this tradition in markets and other places when visiting Seoul with kids.
Another area that is a little harder to find is Ikseondong Culture Street, with narrow alleyways filled with eateries. It's the best place to grab a meal or a bite, as endless options exist.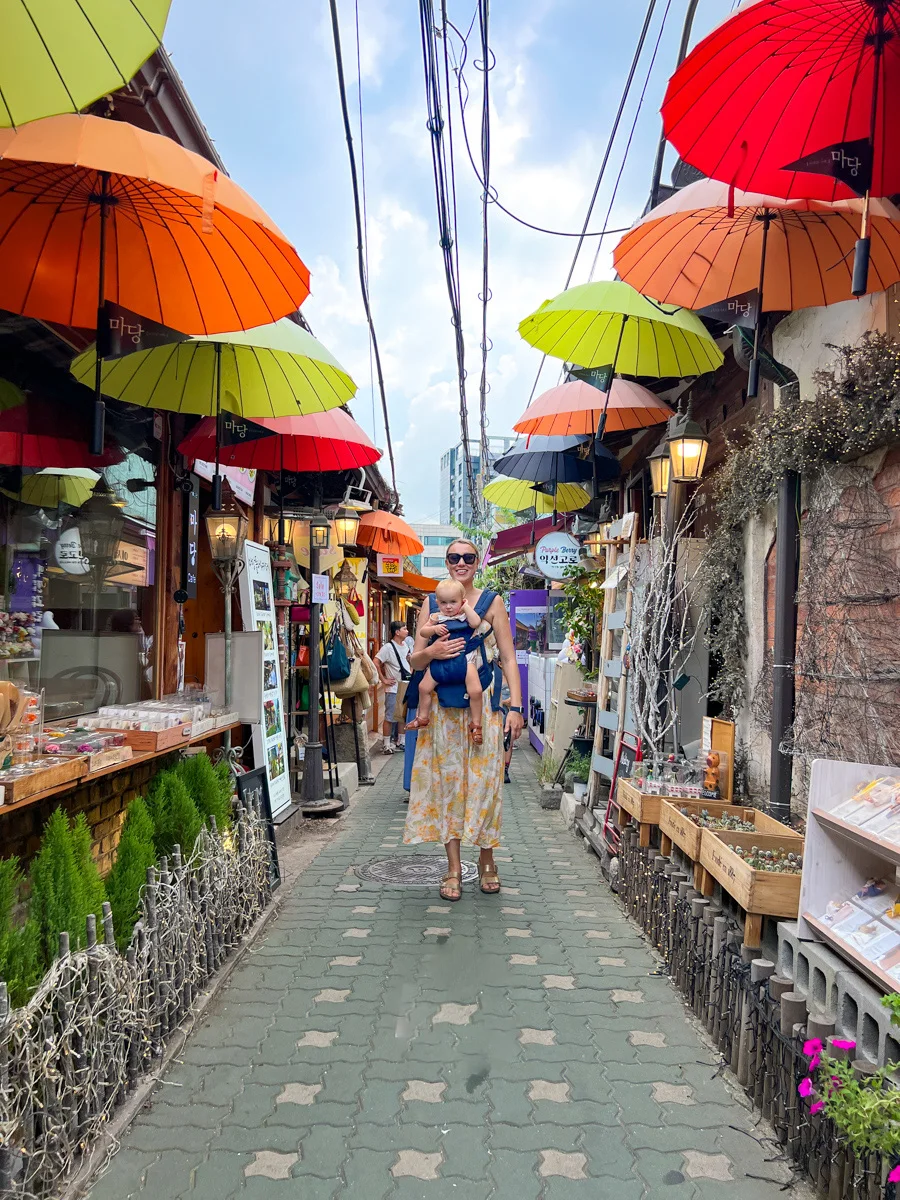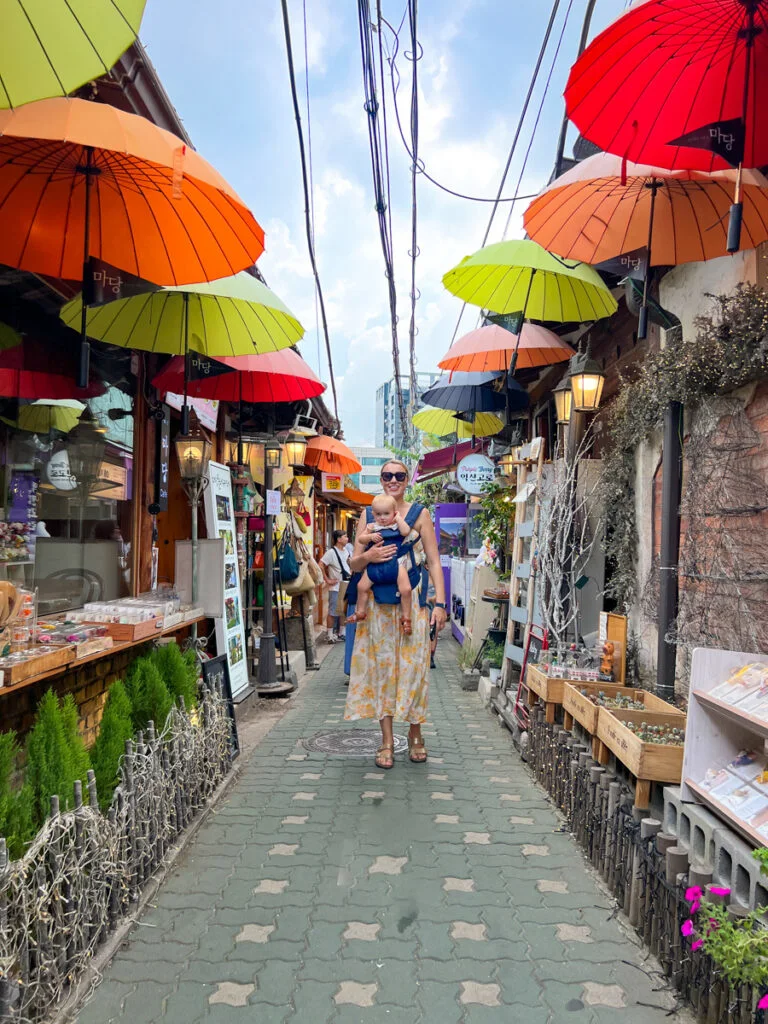 Koreans love dessert-style cafes, and you'll find plenty in this area! Aside from the charming alleyways, some small eateries have cute courtyards with unique displays, adding to the charm.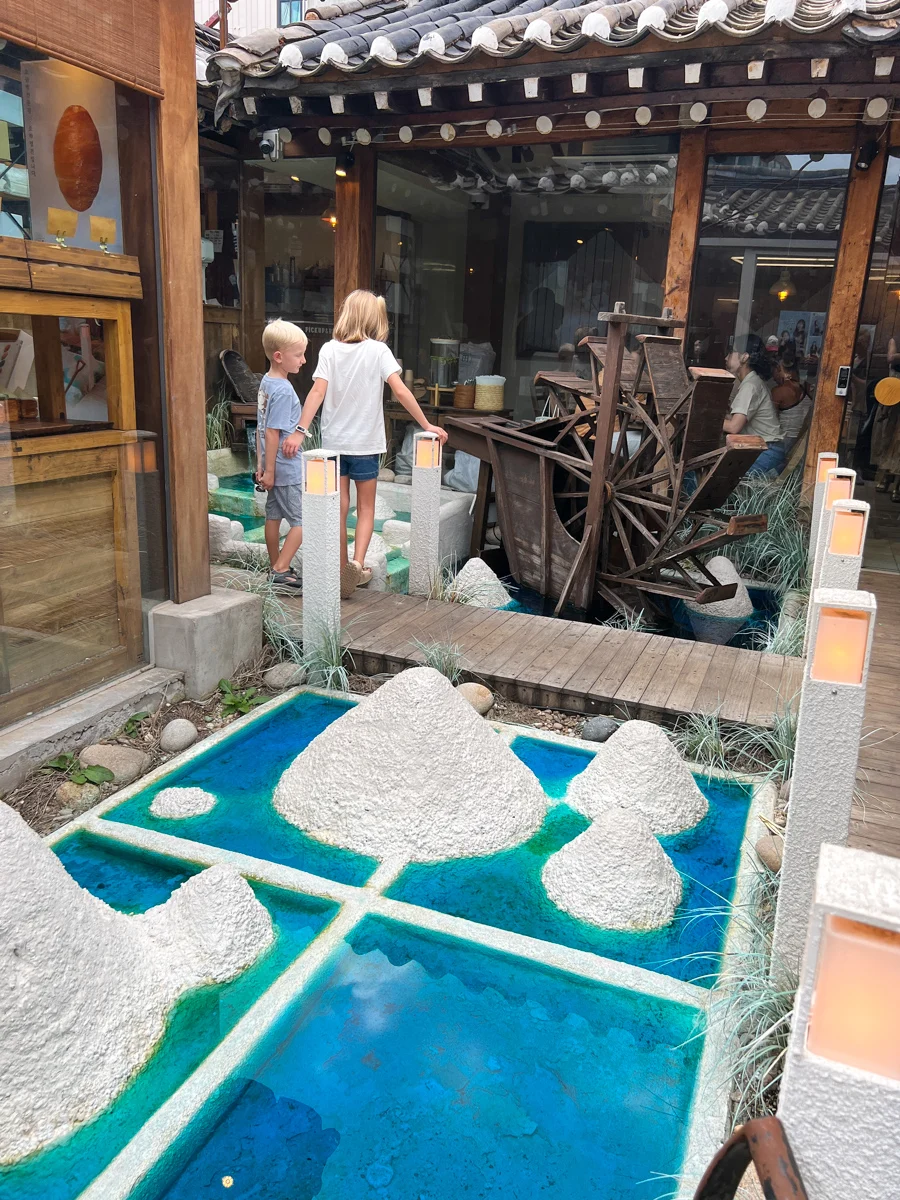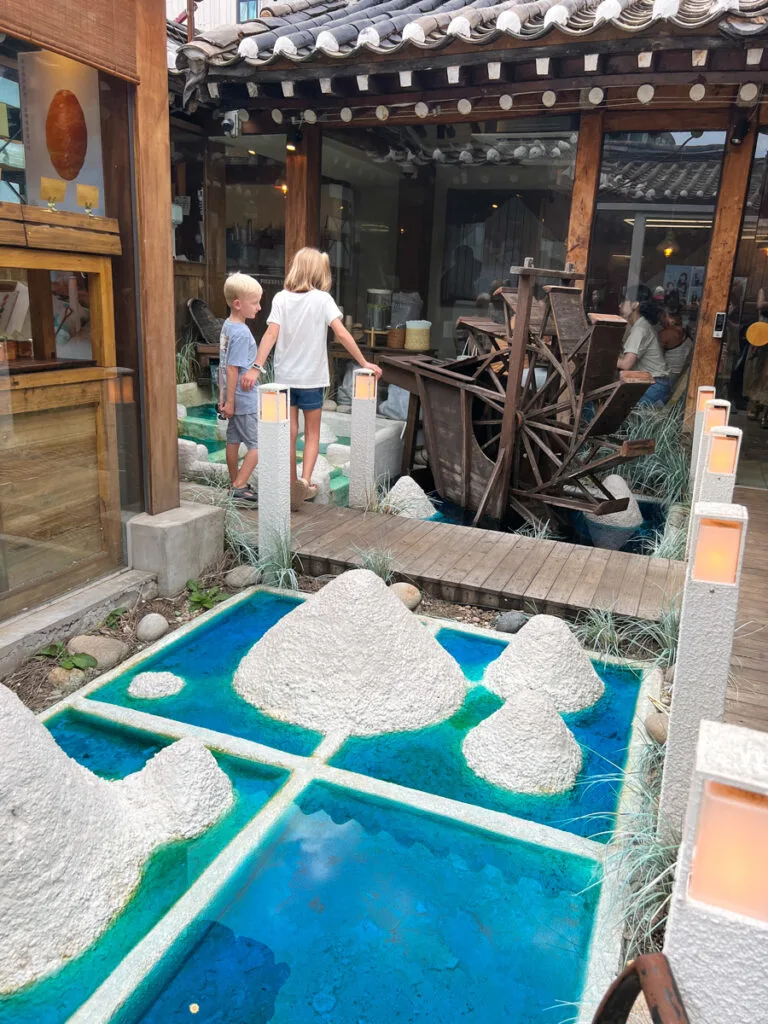 For example, we saw some with water fountain features and another with a rail track through the centre. It makes for an interesting stroll. Aside from the eateries, there are several places to pick up small gifts, clothing and souvenirs in this area, too.
To find this area, this map location might be helpful.
5. Color Pool Museum
Another great spot in Seoul with kids is the Color Pool Museum, based just off Insadong Gil on the 6th floor of a building.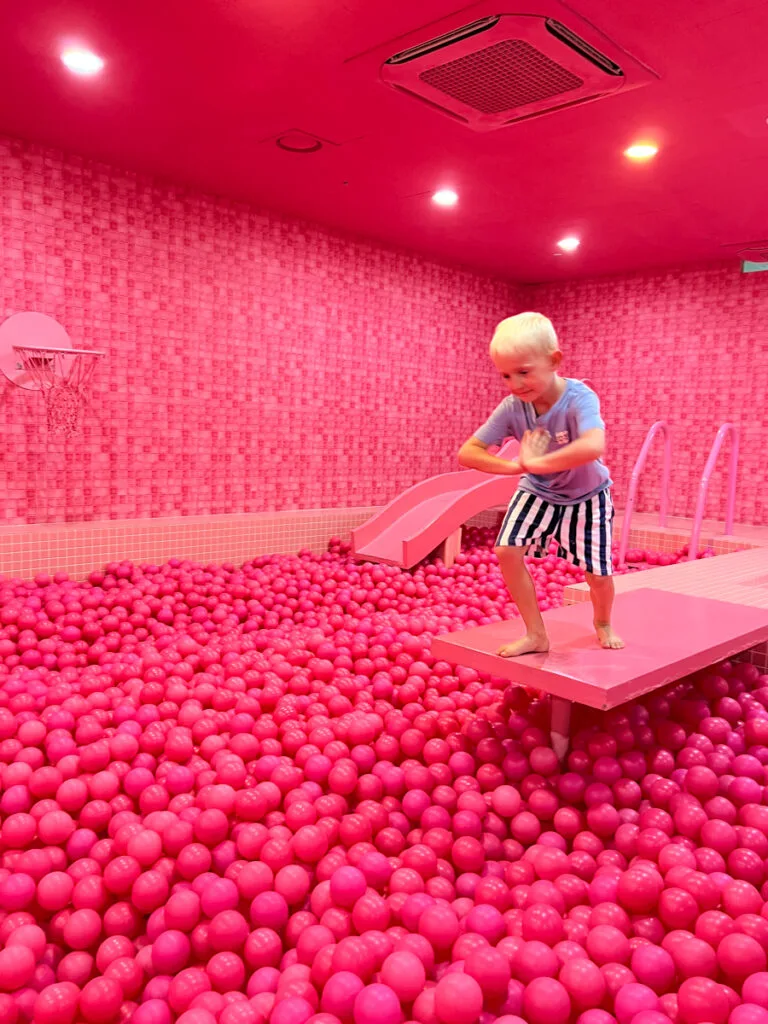 It's essentially a series of three rooms with all things colour, from a pink ball pit with a slide to a room where a unicorn scattering confetti (from its butt, which our kids found hilarious) and a giant watermelon swing. It's all about the colourful photos.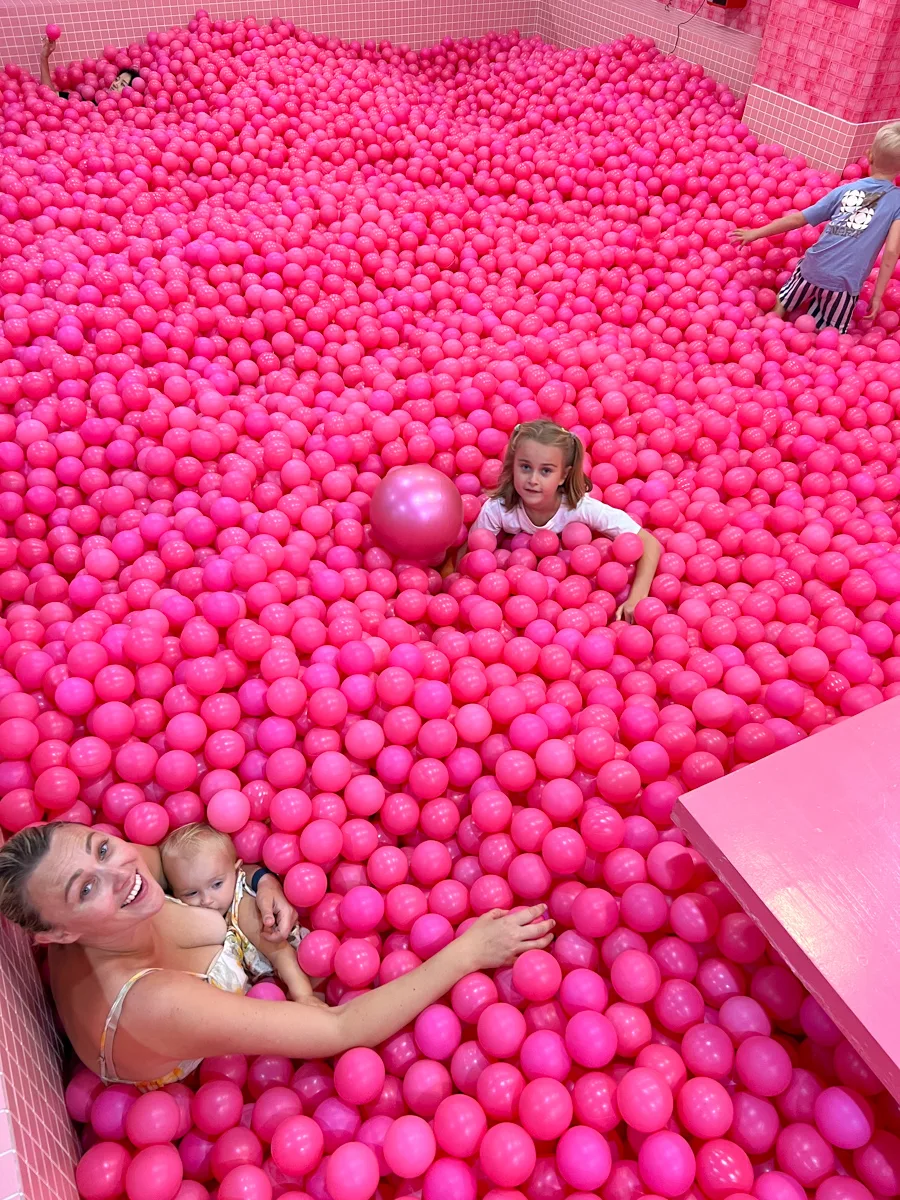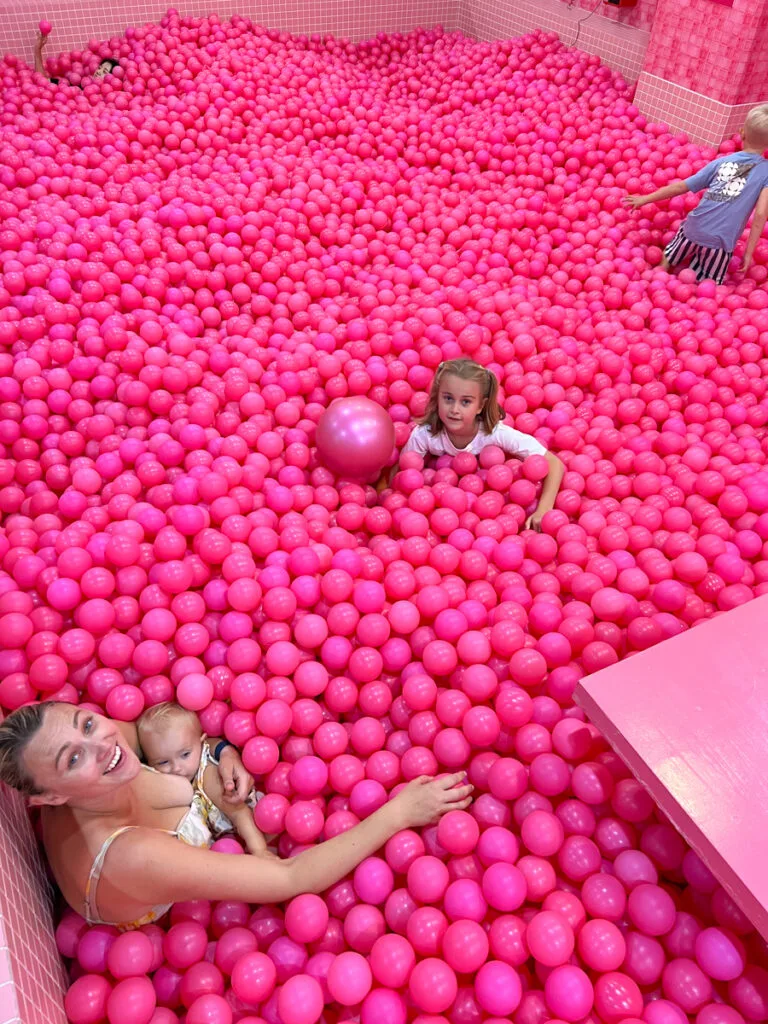 Our little ones had lots of fun exploring this museum, and it was perfect for a hot afternoon break from the heat while visiting Seoul with kids.
6. Starfield Library
Starfield Library in Seoul is an architectural marvel located within the COEX Mall, one of Asia's largest underground shopping centres. It's a must-visit in Seoul with kids.
This open space features towering bookshelves and a vast collection of books and magazines and is open to everyone, with no membership required. It's an ideal free activity when visiting Seoul with kids.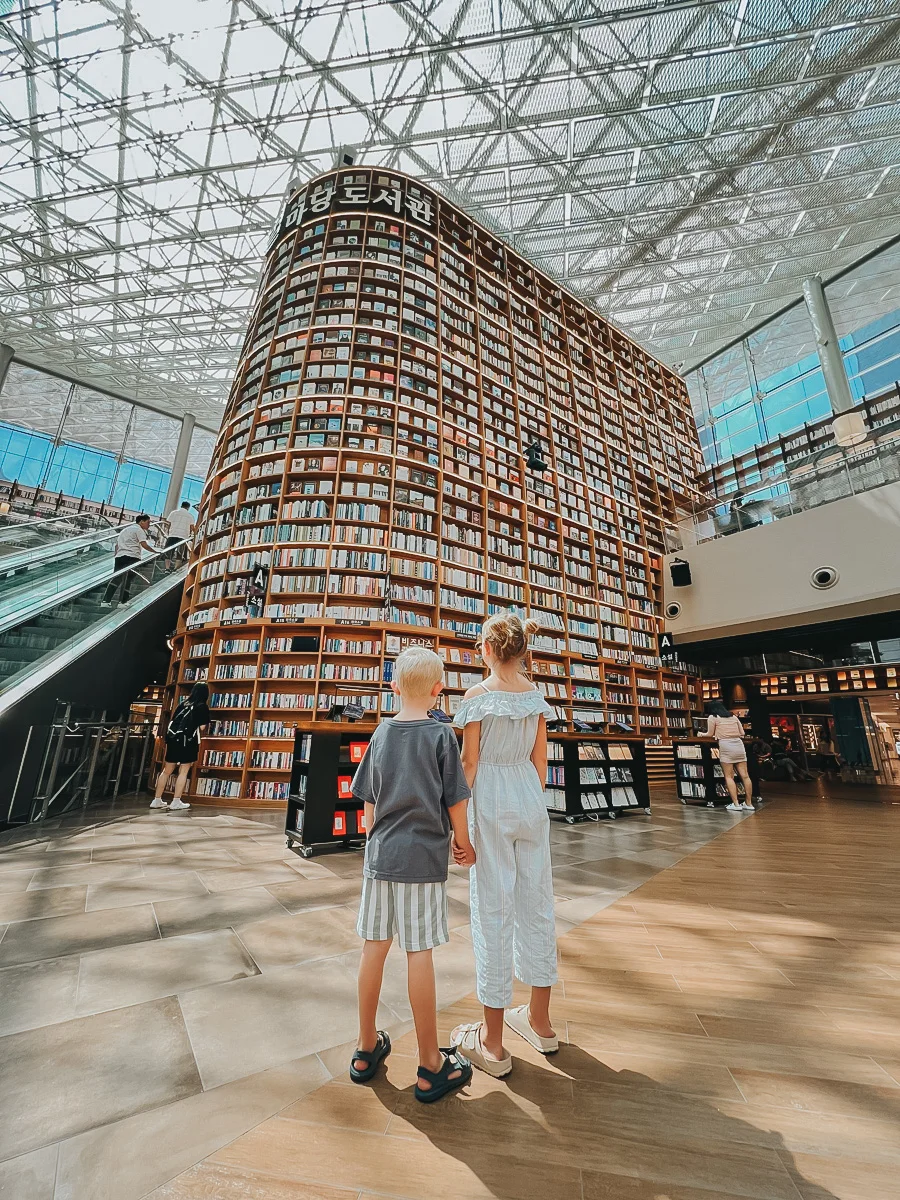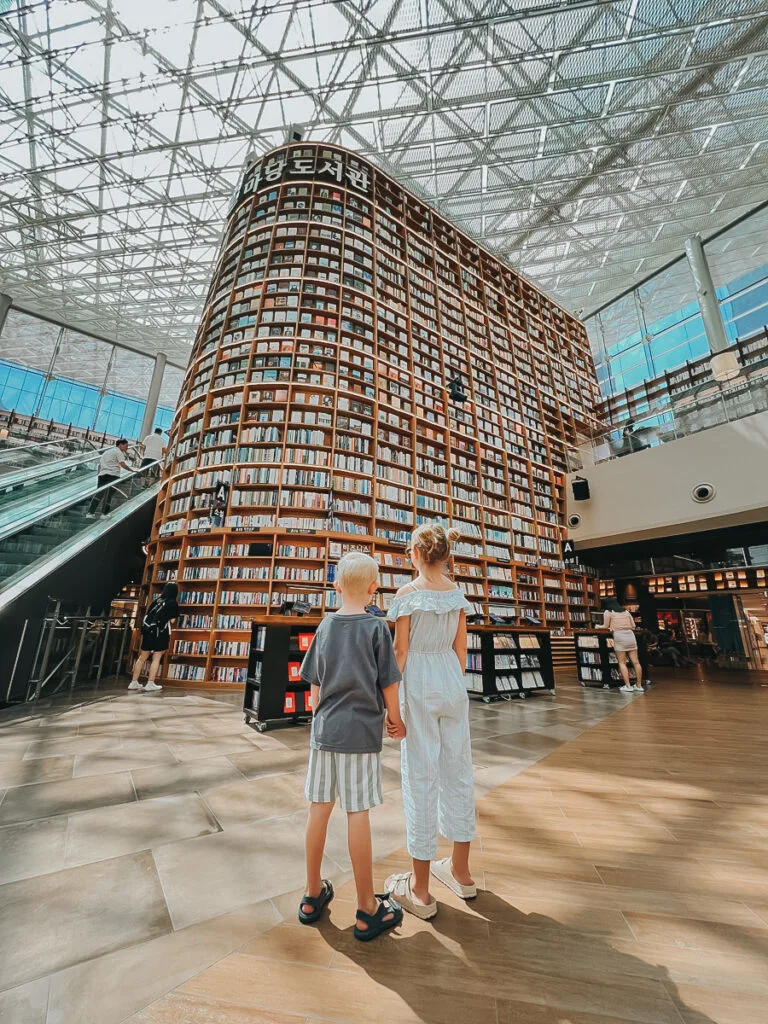 Even though most of the literature is in Korean, visiting the Instagram-worthy library is still well worth it.
Within the library, there is a cafe serving cake and hot drinks. Several tables are dotted throughout where people sit and relax with a Starbucks takeaway in the same area.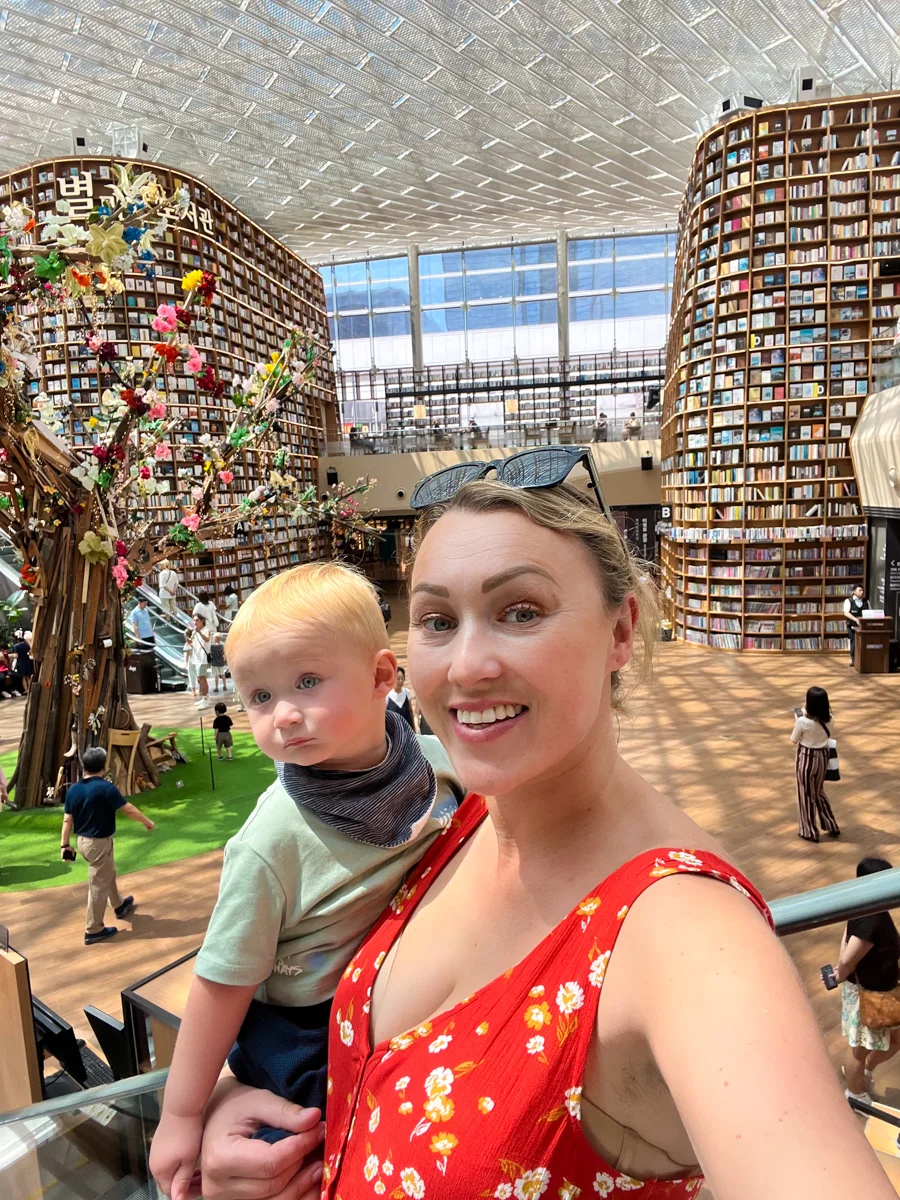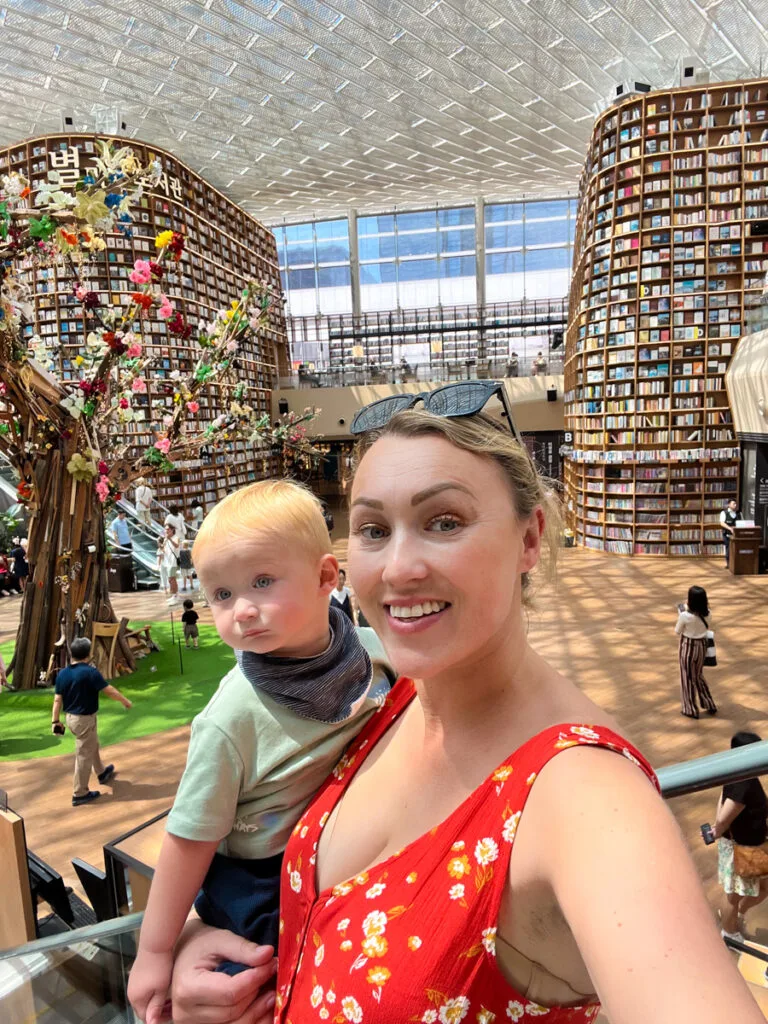 It is not a quiet library like you'd expect since it's open to the rest of the mall.
If you are vegan like us, we had lunch at the Plantd restaurant in the mall, which was great!
7. Coex Aquarium
While visiting the COEX Mall library, heading to the Coex Aquarium is worth visiting if you are in Seoul with kids. It is undoubtedly one of the more quirky aquariums we've been to.
One section was like the inside of a Lego house with cleverly concealed aquariums filled with tropical fish.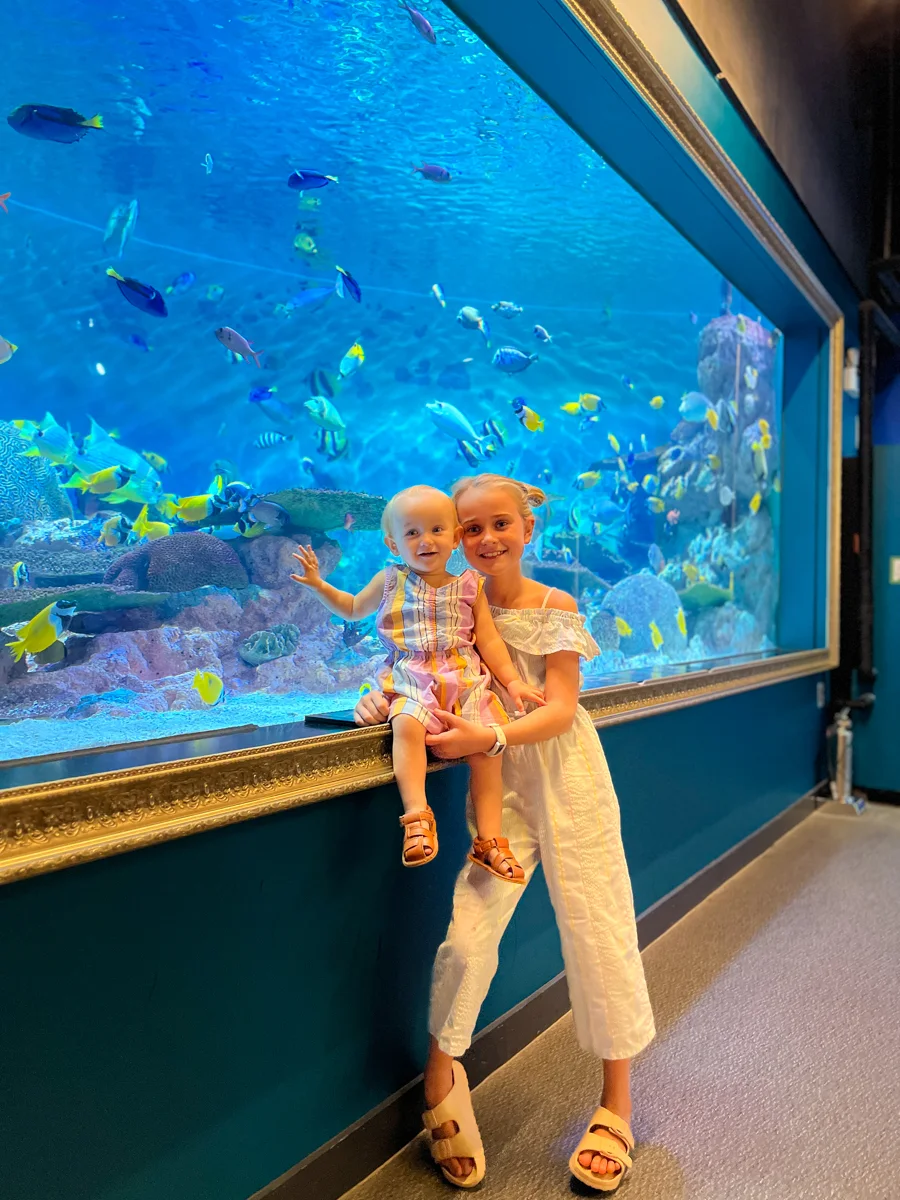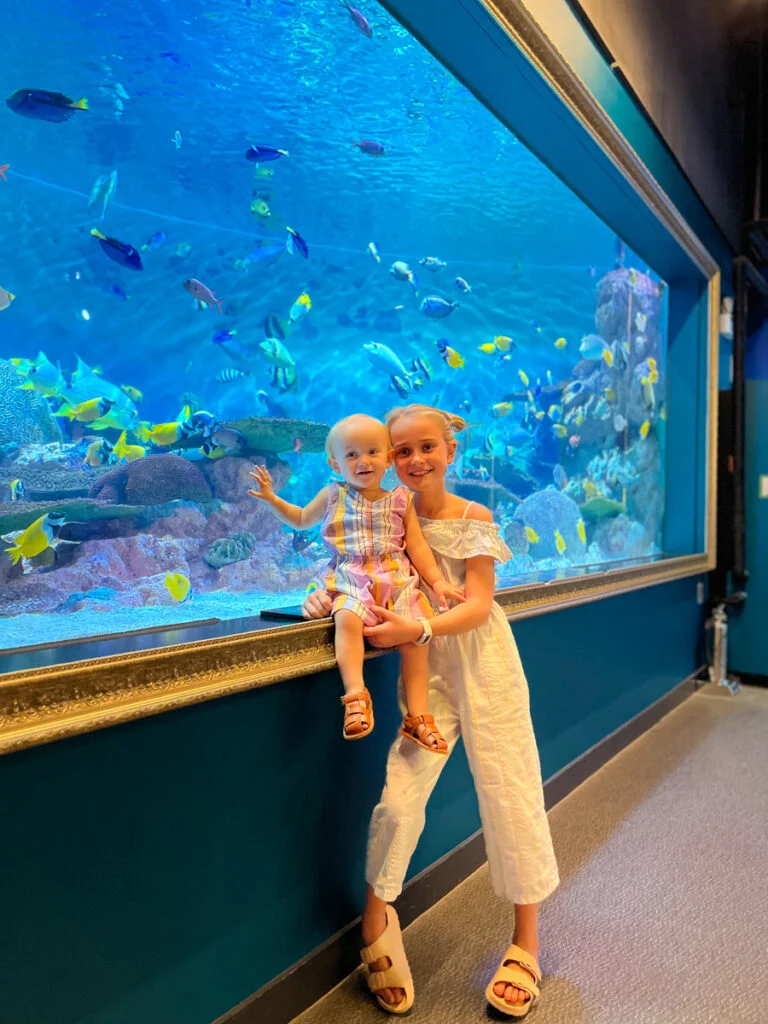 Aside from the quirky Lego house, the aquarium has five zones. The zones are Amazonia World, Penguin Playground, Jellyfish World and Aqua Planet Zone, which features an underwater tunnel and huge tanks!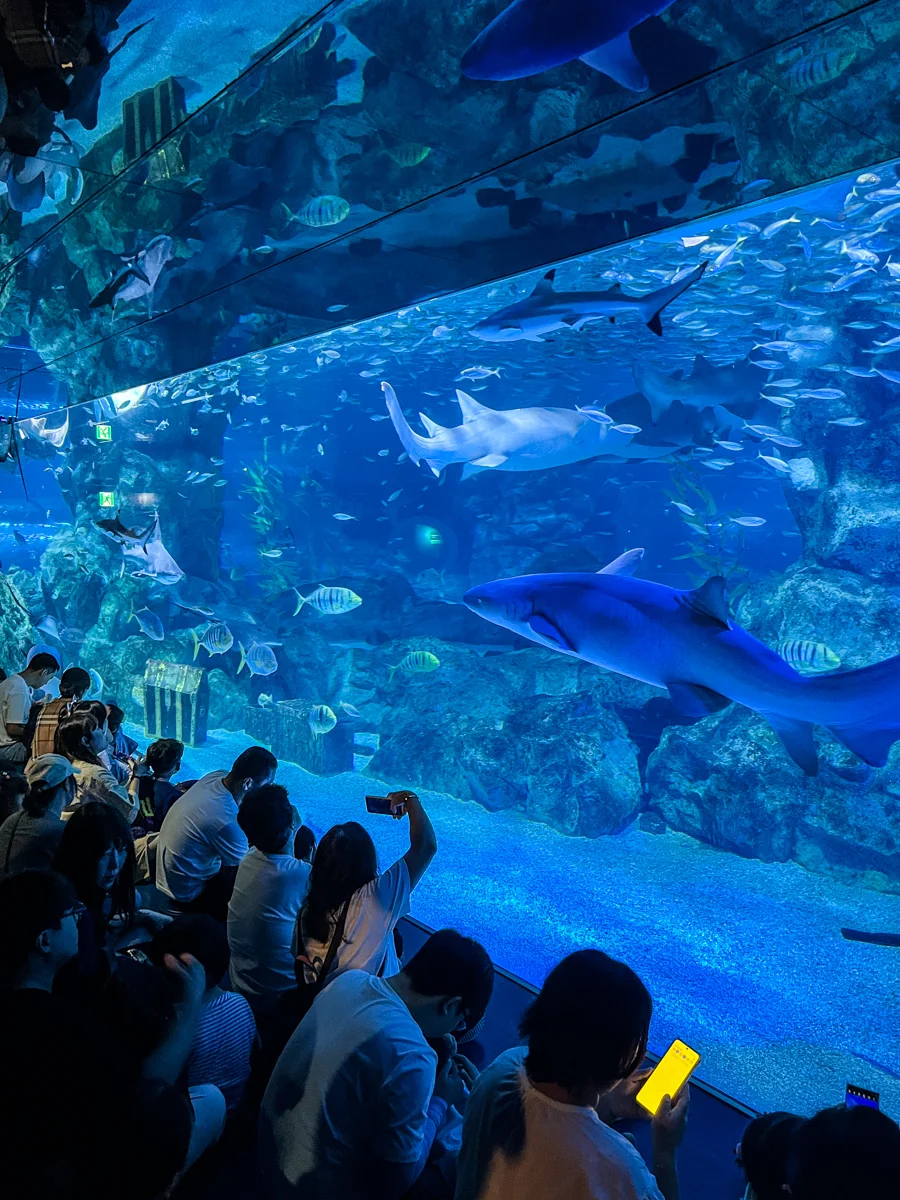 As we passed through the Coex Aquarium, there were several demonstrations, including feeding of the sharks, mermaids swimming and much more.
8. Statue Of Gangnam Style
Located in the heart of the upscale Gangnam district, the bronze statue immortalizes Psy's famous horse-riding dance pose from the viral hit song.
Visitors can join in the fun by mimicking the pose and enjoy the interactive nature of the monument.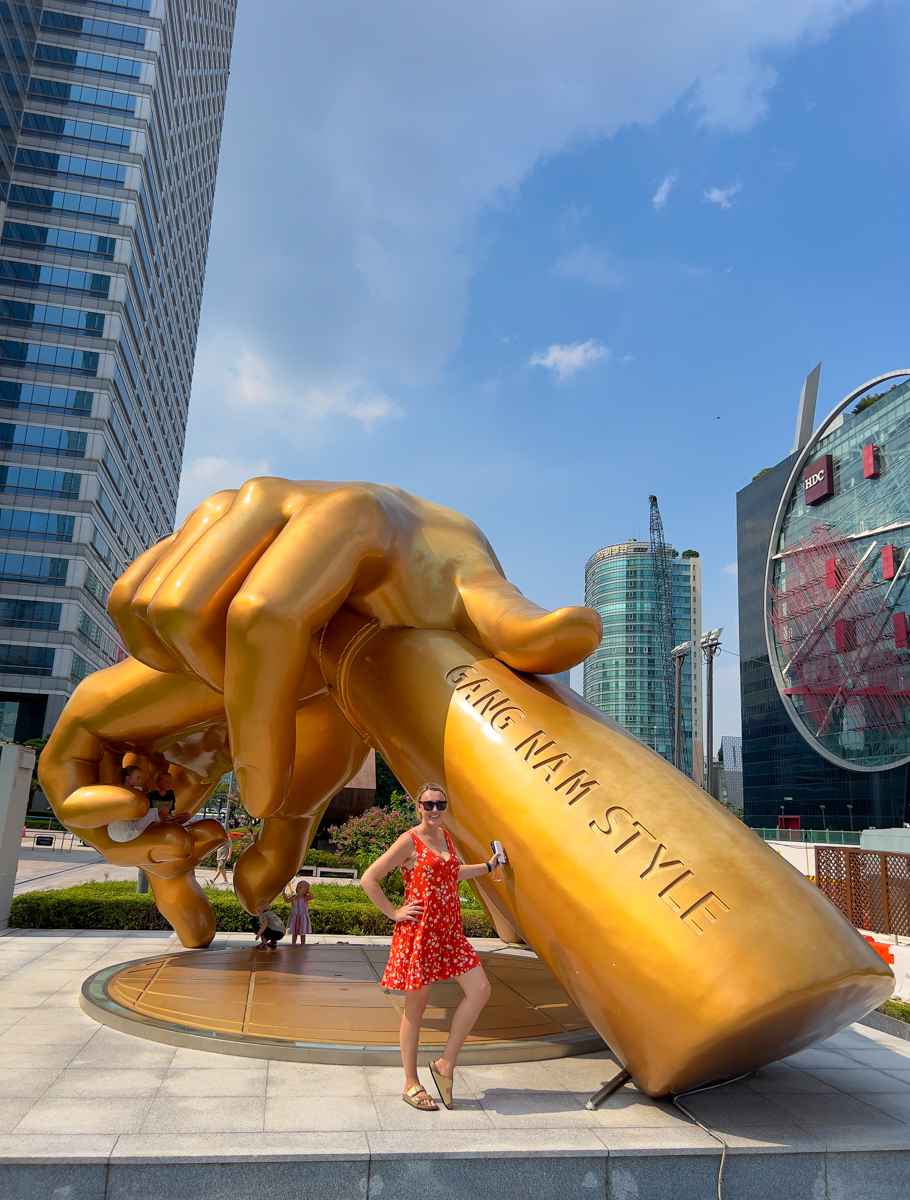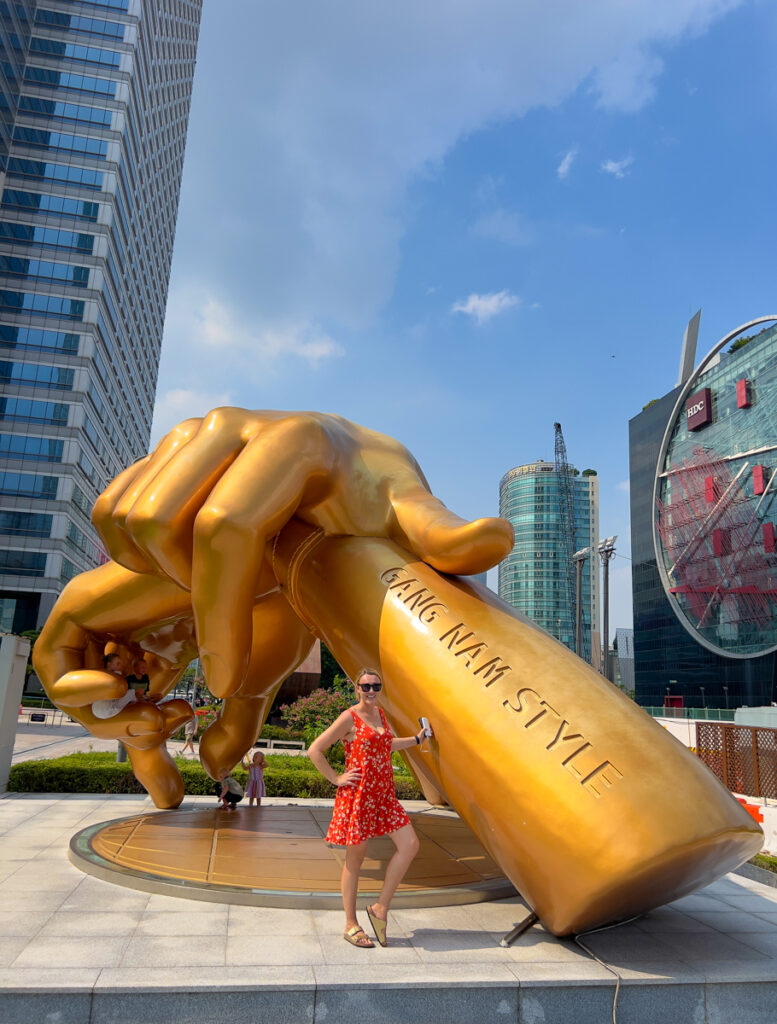 Needless to say, there are speakers playing the smash hit, and most tourists love to recreate the dance.
Surrounding attractions like the COEX Mall, COEX Aquarium, and Starfield Library make it a convenient stop for a memorable snapshot of pop culture in Seoul.
And YES, I 100% danced with the kids (LOL).
9. Bonguensa Temple
The ancient Bonguensa Temple is a tranquil spot just off one of the streets close to Coex Mall. It is a lovely escape from the bustle of the city.
The temple is over a thousand years old and was built during the Silk Dynasty. Bonguensa Temple is incredibly well preserved. Similar to visiting the palace, it felt like we had stepped back in time when we entered the temple.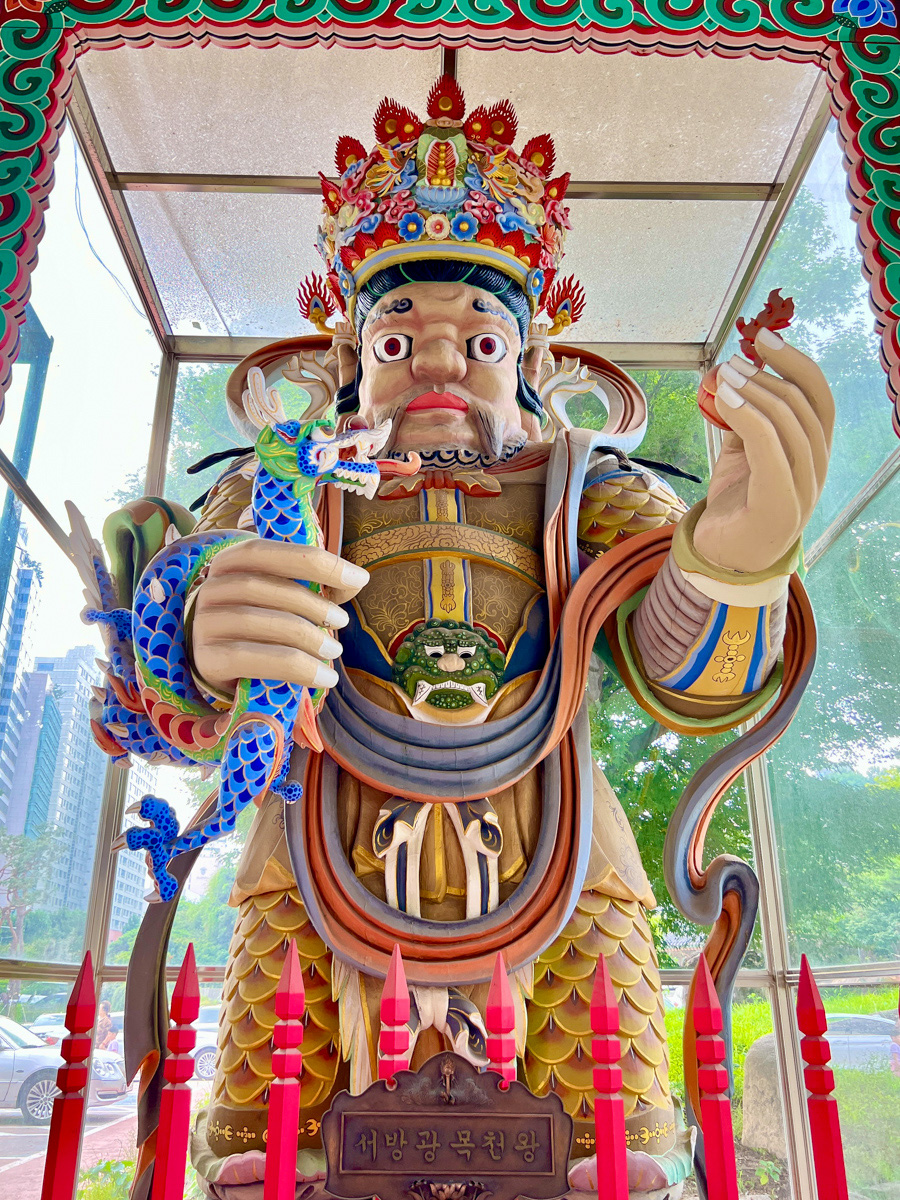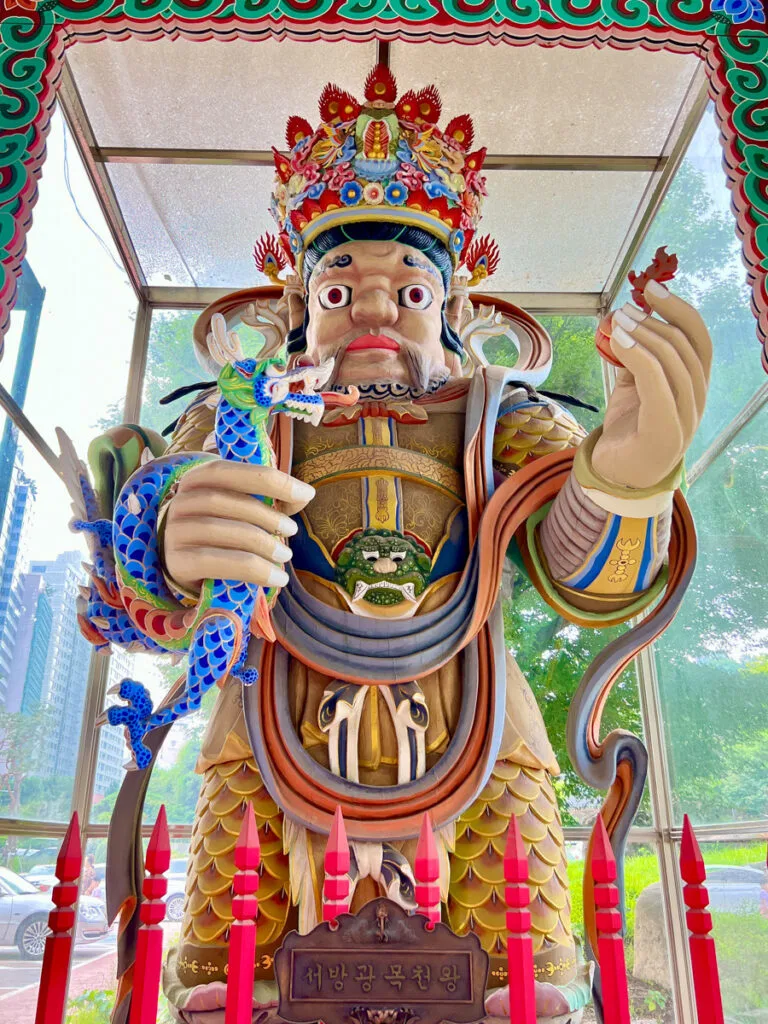 Several buildings are dotted around a hill, including a giant standing Buddha, surrounded by hundreds of tiny Buddhas. It's insane to look at.
We saw monks chanting inside some of the buildings, and it was fabulous to watch their rituals and practices.
It was a lovely place to visit in Seoul with kids as they gained some insight into the religious culture in South Korea.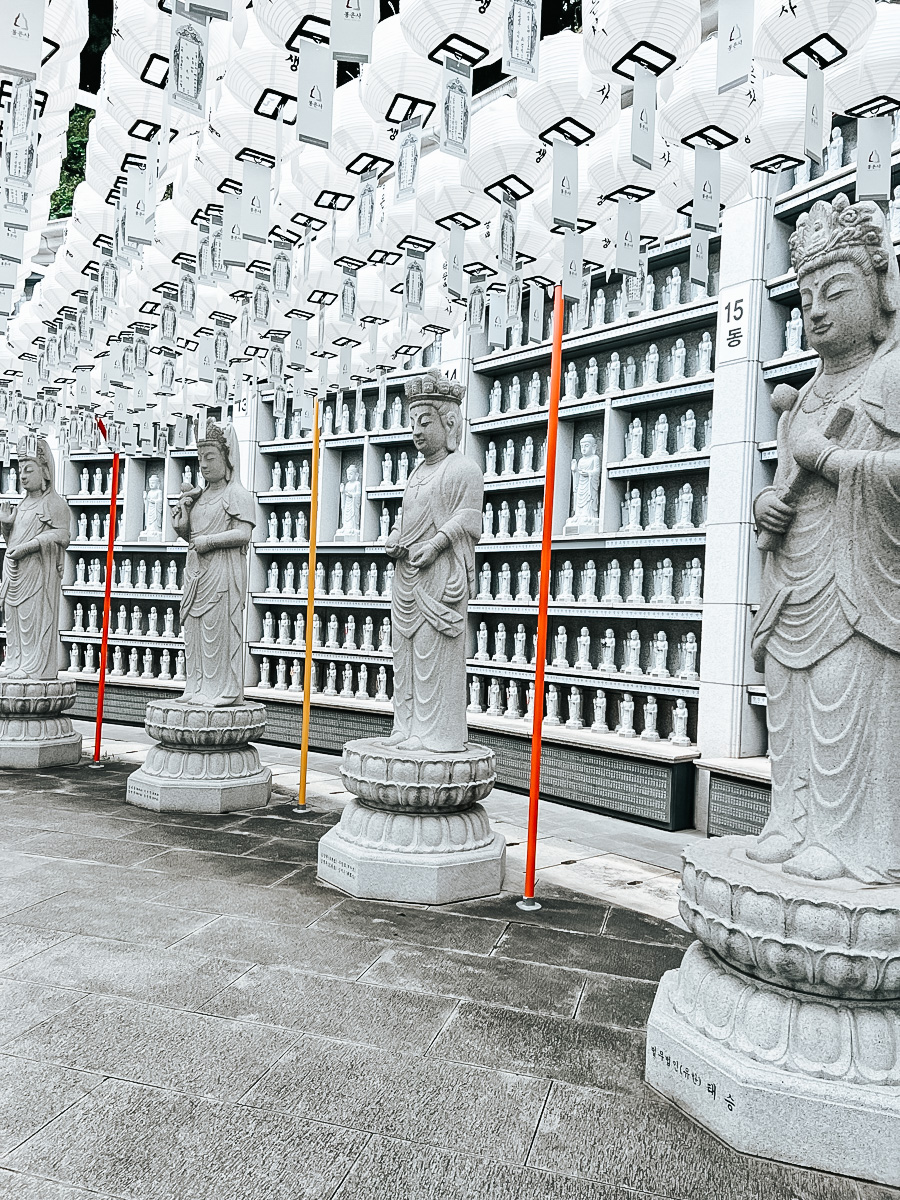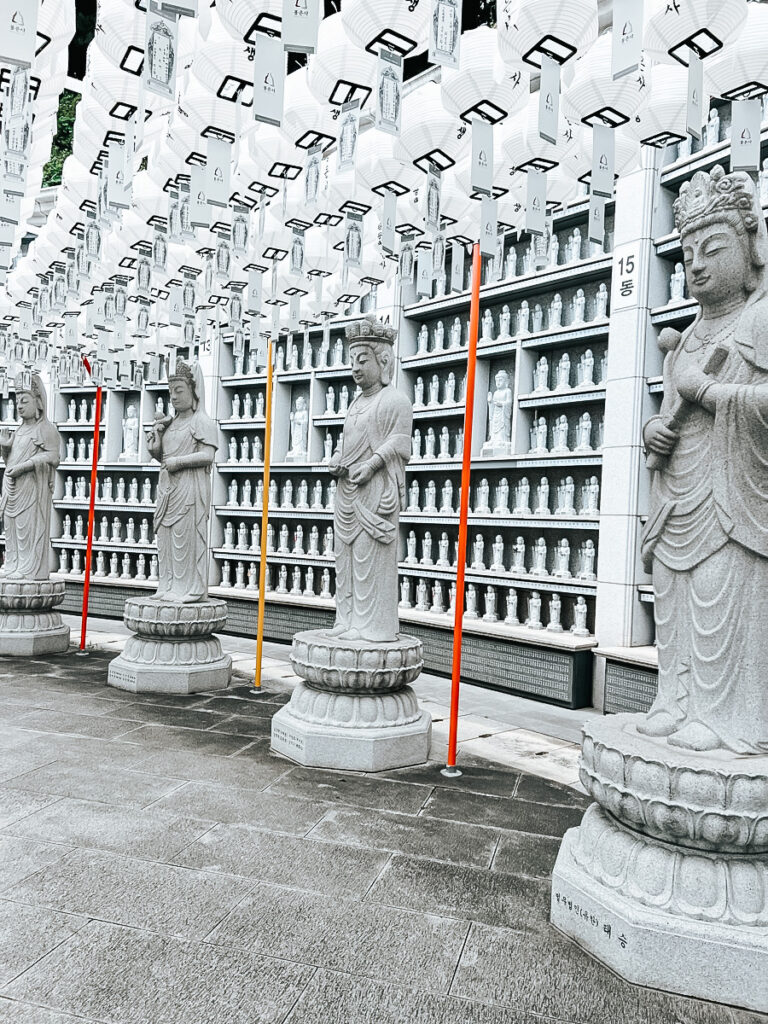 Aside from the stunning architecture, the temple was full of water lily plants in pots with pathways through the centre. Not to mention, the hundreds, if not thousands of lanterns hanging in courtyards and above walkways.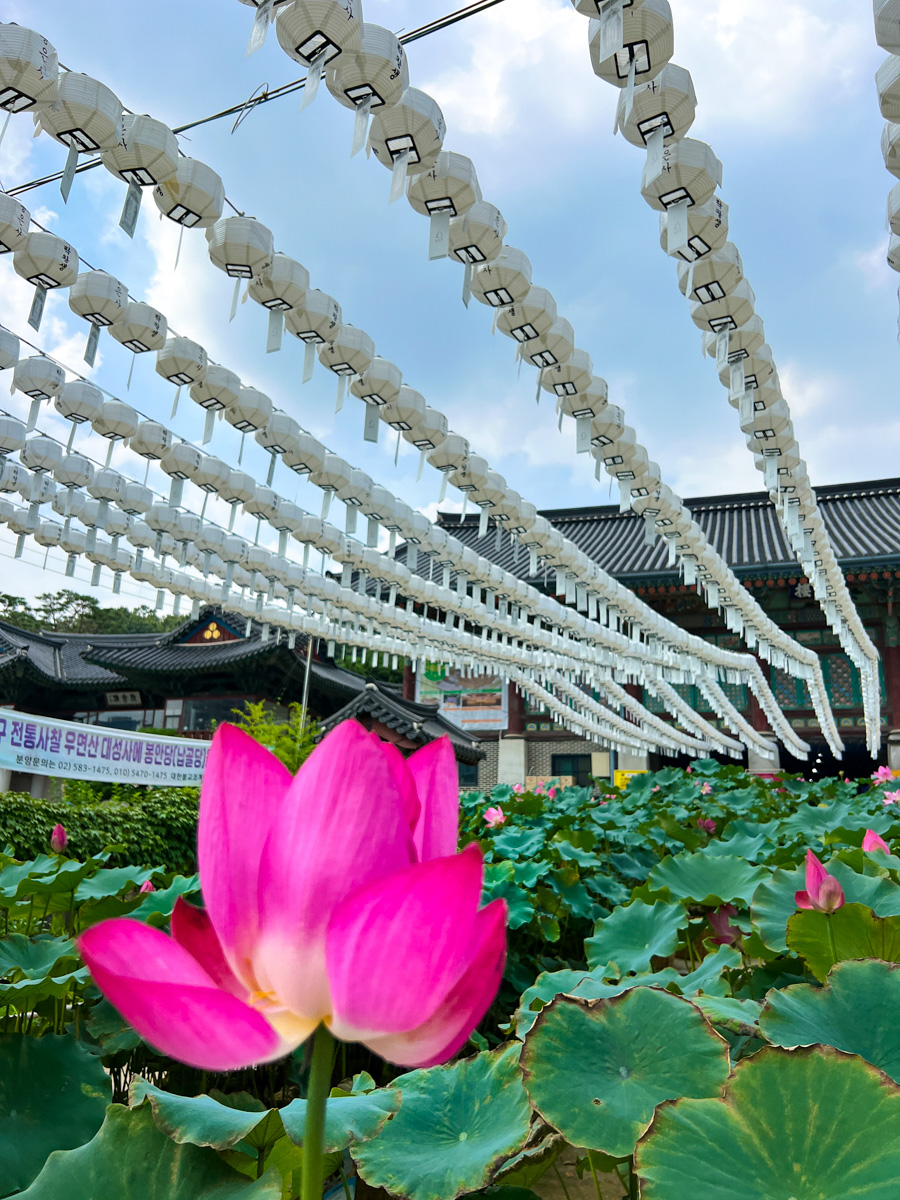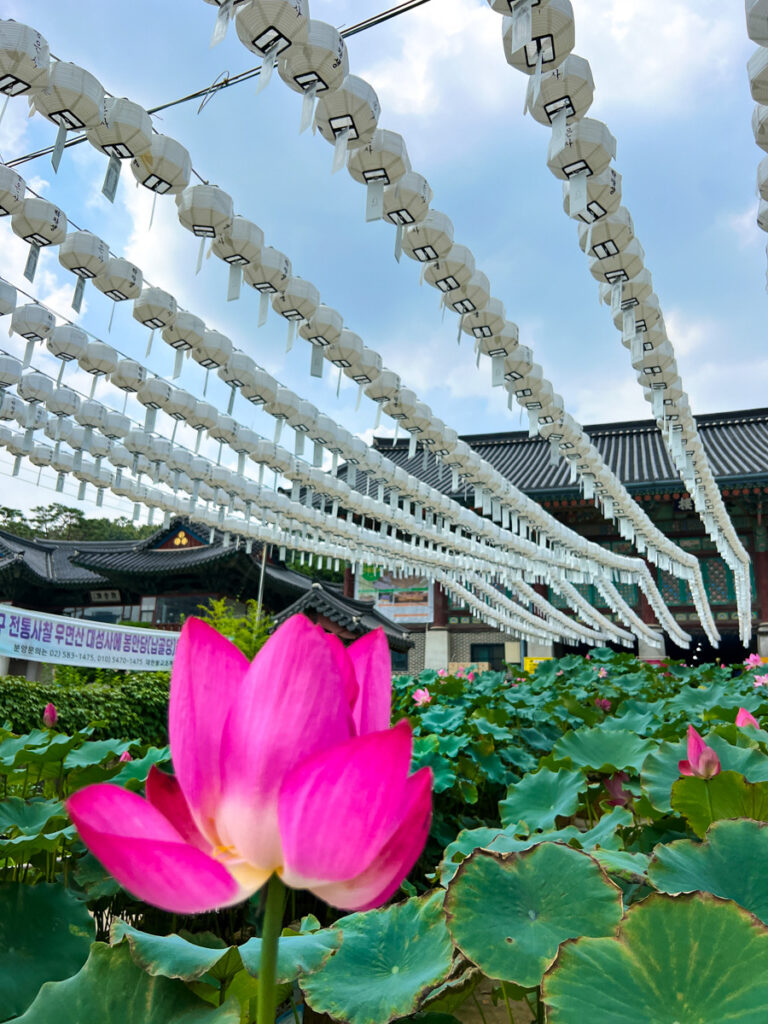 We visited during the day. However, we would have loved to visit at nighttime to see all the lanterns lit up!
Everywhere we went in South Korea, we found locals were very interested in us due to the size of our family! Inside the temple, worshippers were so kind and gave us snacks and water for the children.
10. Seoul Sky
Seoul Sky is one of the most recognisable landmarks of the city. It's one of those iconic places on TV on New Year's Day when the news reporter looks over the celebrations worldwide.
Perched on top of a mountain, the Lotte World Tower is an architectural wonder and a must-visit attraction in Seoul with kids.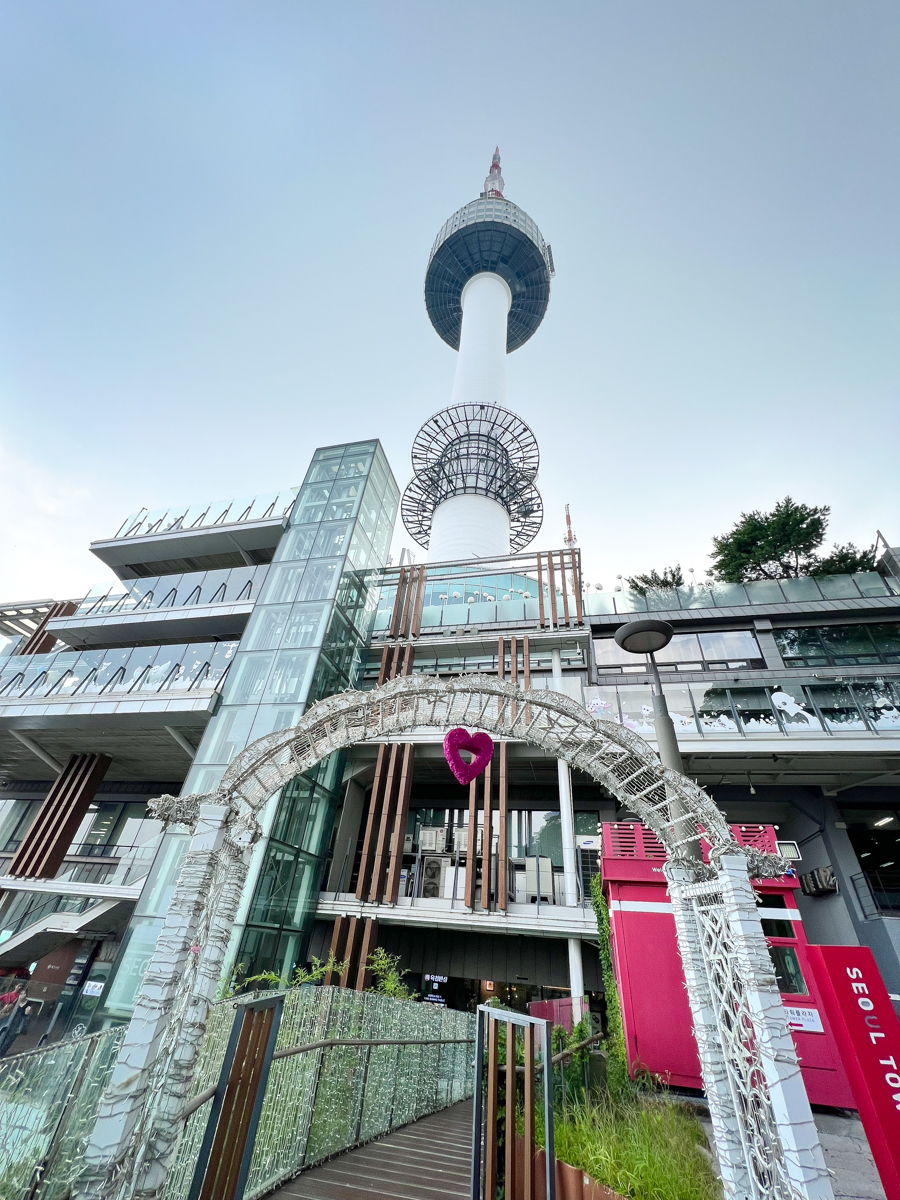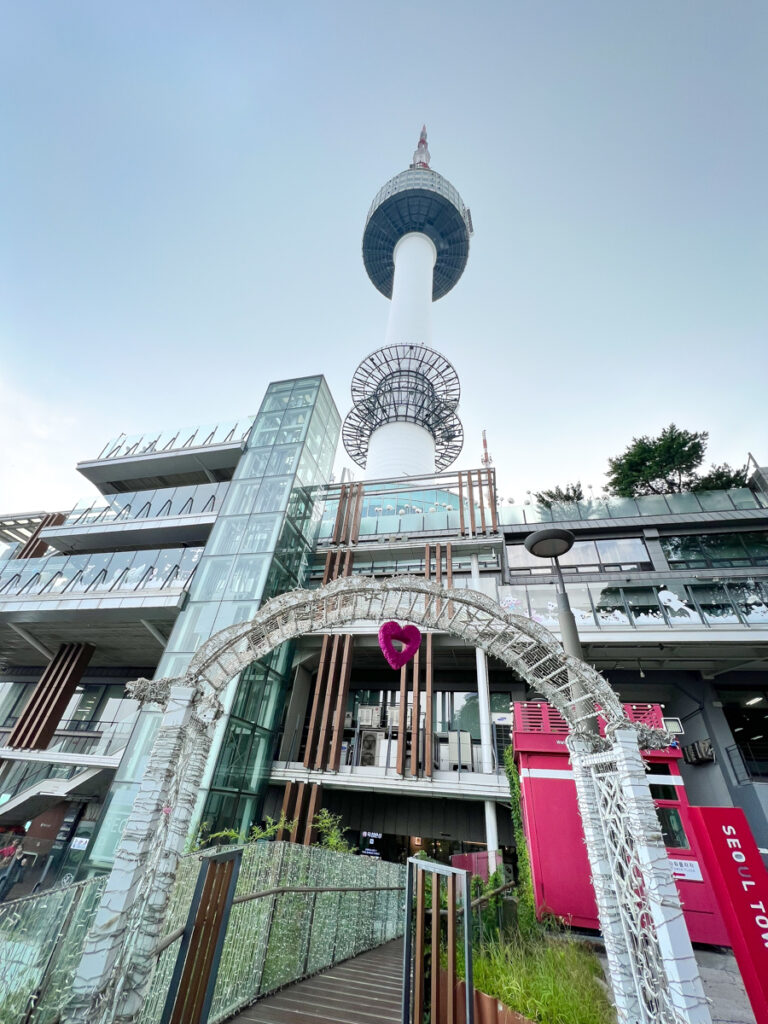 The elevated city views from Seoul Sky, at the top of the tower are insane. Seoul Sky is essentially a 360-degree observation deck. It is worth considering the weather before heading to the top, as an overcast or rainy day can impact the view.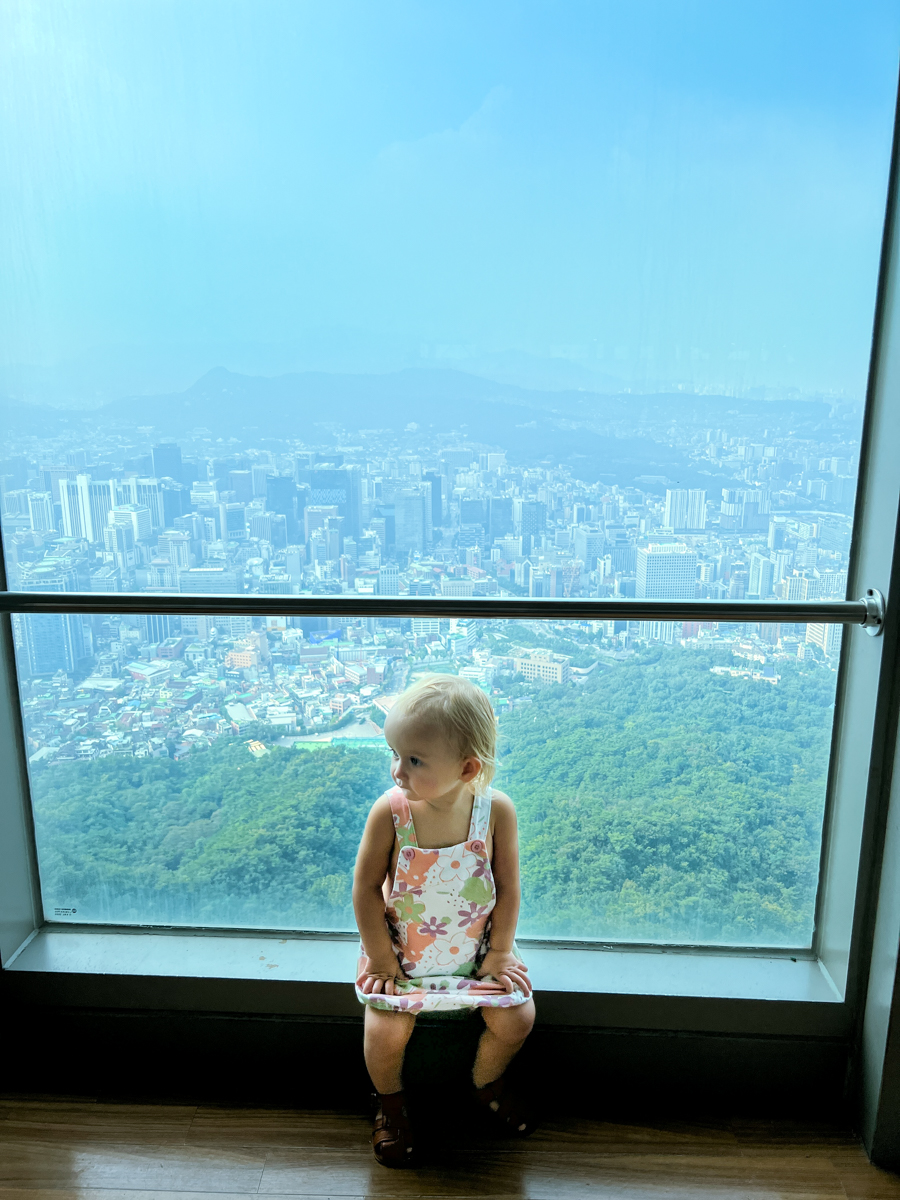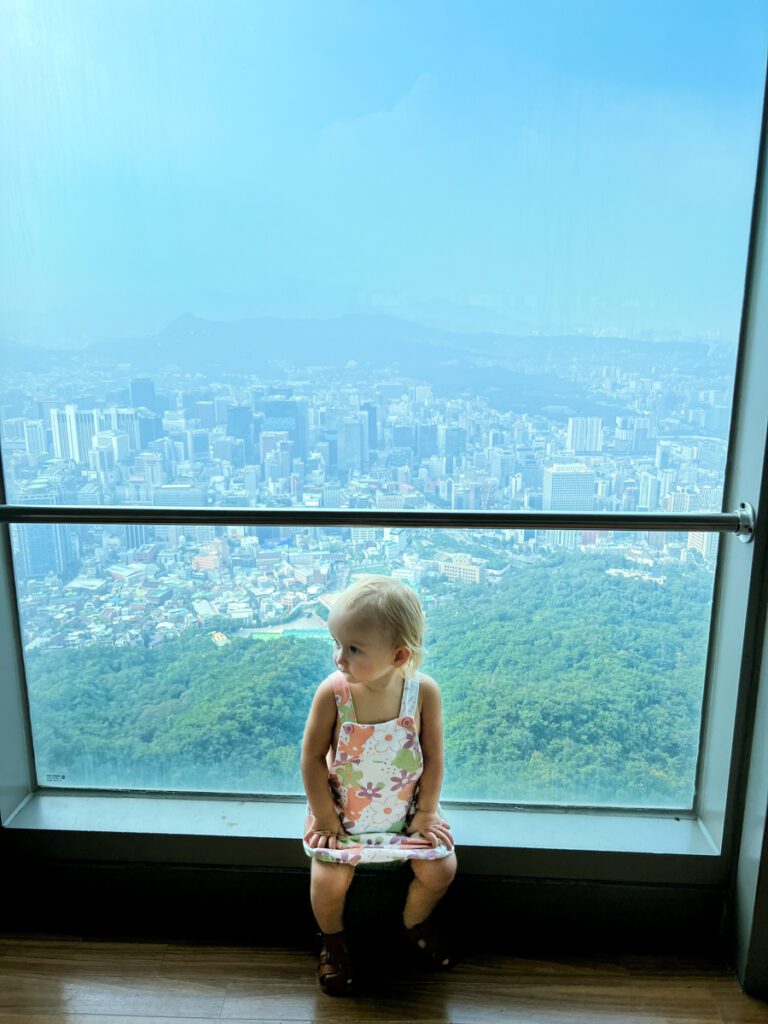 From the moment we entered the tower, it was a fully immersive experience. On the 4th floor is a 3D experience right in the lobby area. We watched a few short videos that took us around 'Seoul', and our kids loved it! It was so realistic!
Just before entering the lift to head to the top of the tower is a dark room with a light pattern installation. This is an excellent place to spend a few minutes before heading to the observation deck.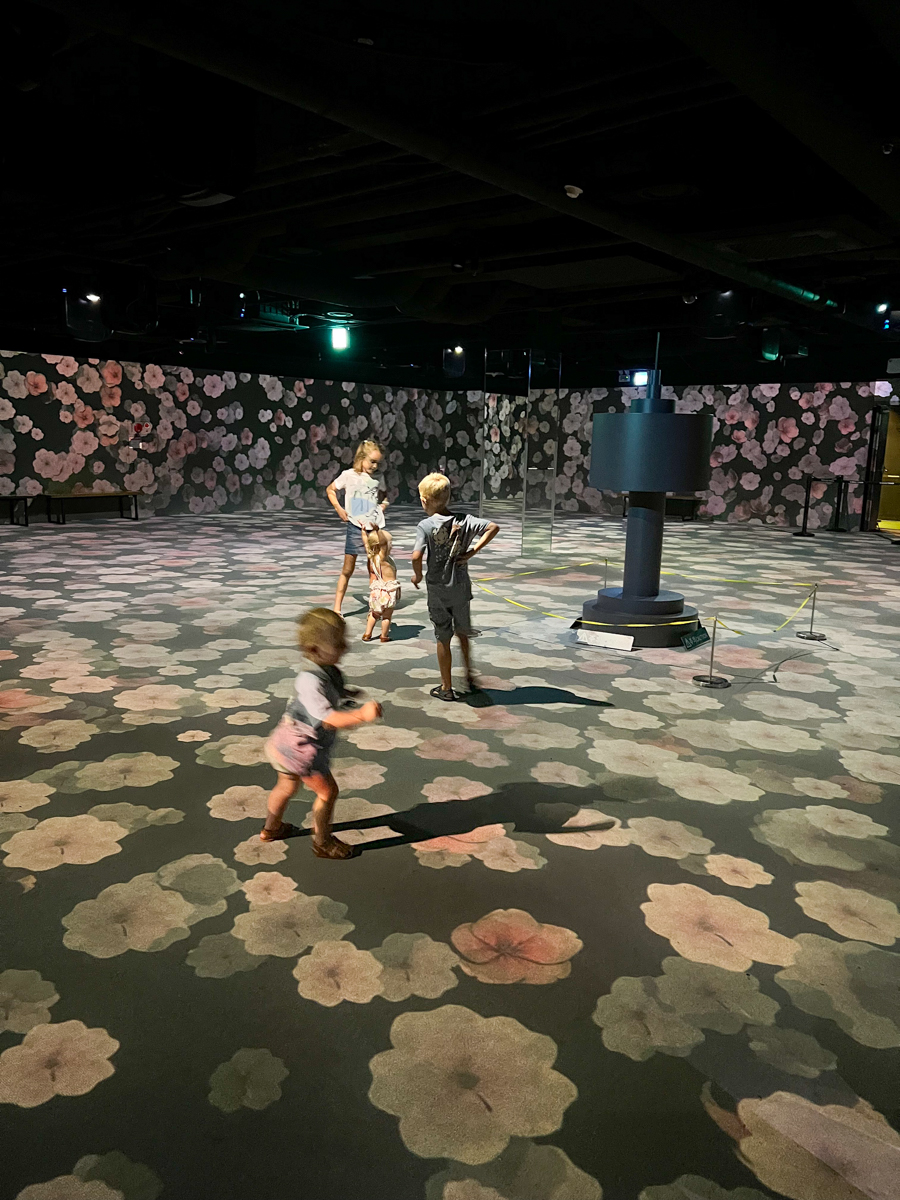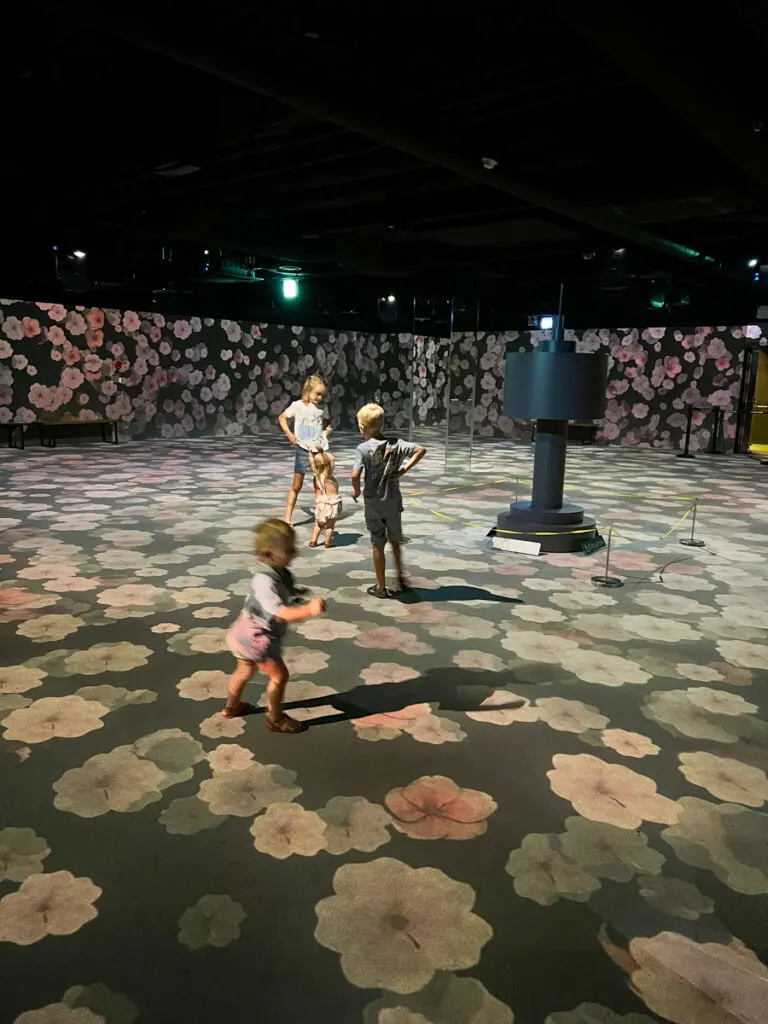 Even the lift to the top is an experience in itself. The lift has multiple screens showing awesome videos, which make it feel like you are going to the top of the tower in a cartoon world – the kids loved it!
Once at the top, we walked around, taking in the views. The Han River snakes through the landscape, and you can spot iconic landmarks like Namsan Tower and the Olympic Park in the distance.
You cannot drive to the tower door; it is quite a walk from the car park. A free shuttle bus takes visitors up from the car park.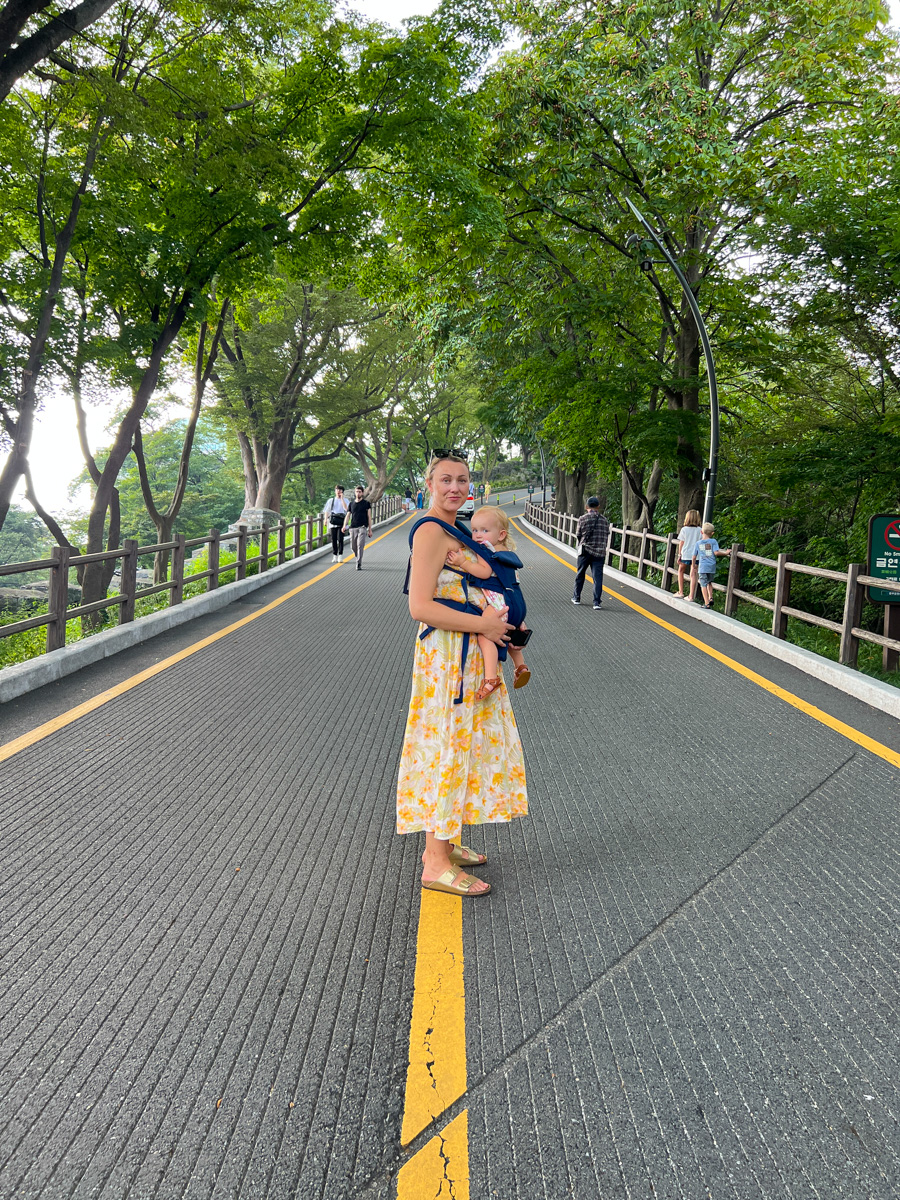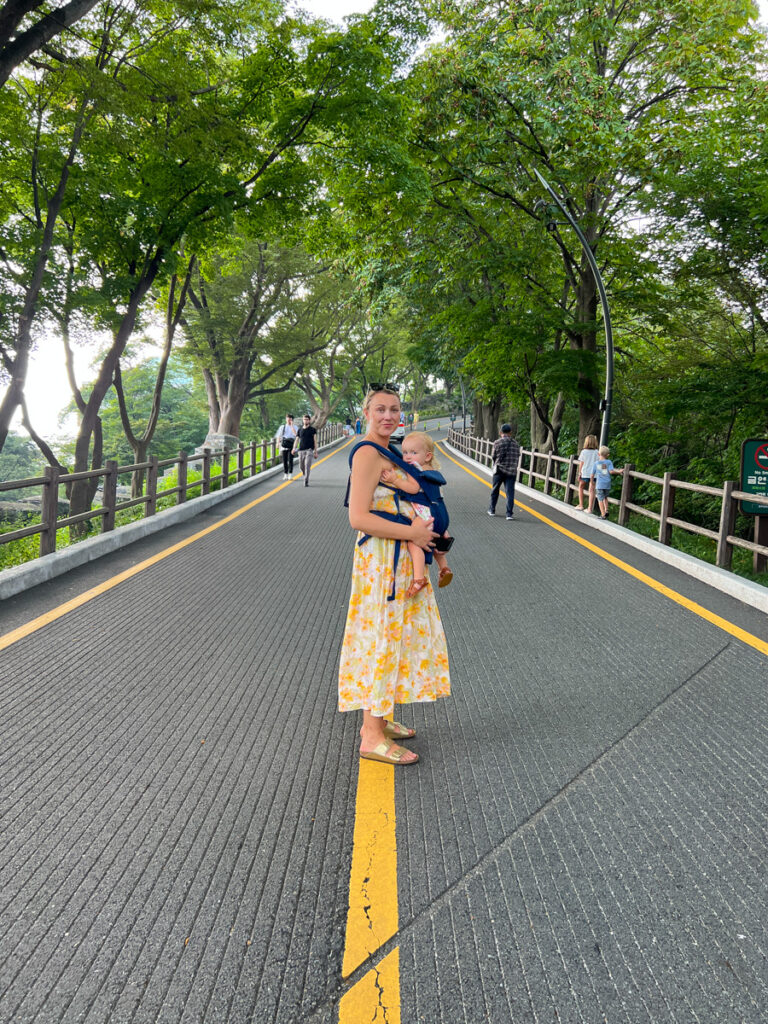 However, it only goes one way. We walked back down, which took around 30 minutes, weaving through the forest, which was quite nice.
There is also a cable car, which is another option.
11. Lottie World
You've probably heard the word 'Lotte' multiple times if you've come this far reading this post.
Lotte Corporation is a multinational conglomerate in South Korea. It consists of hotels, malls, residential buildings and much more.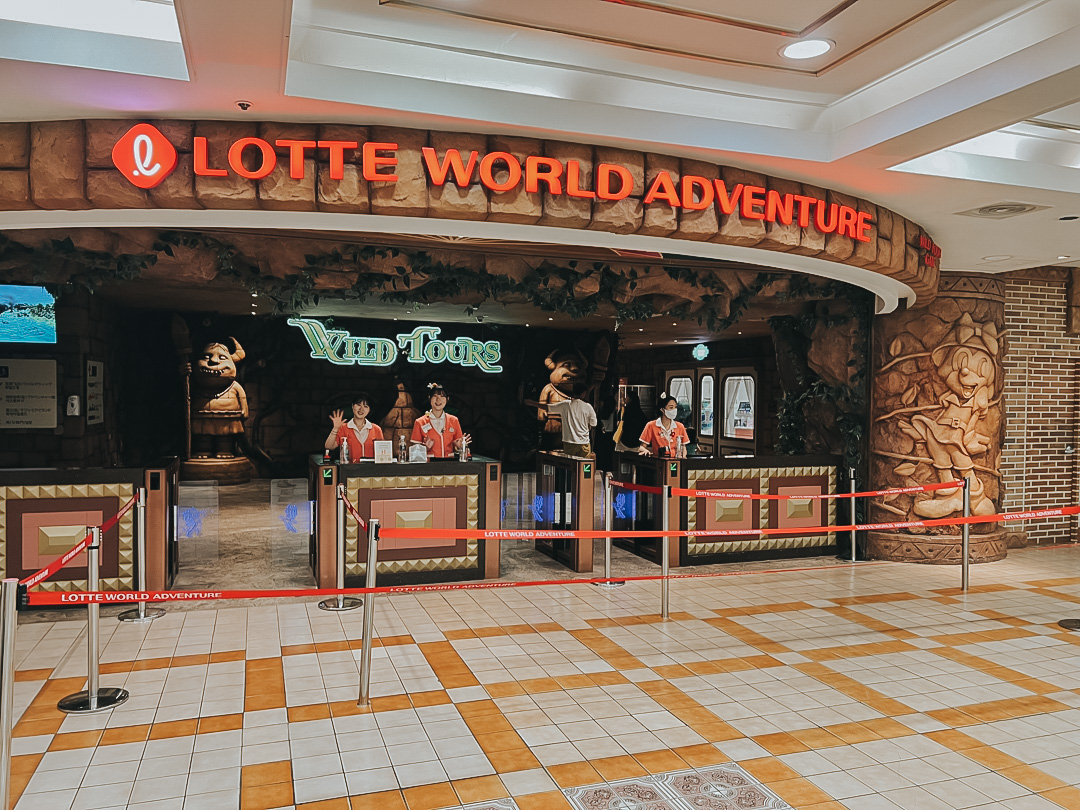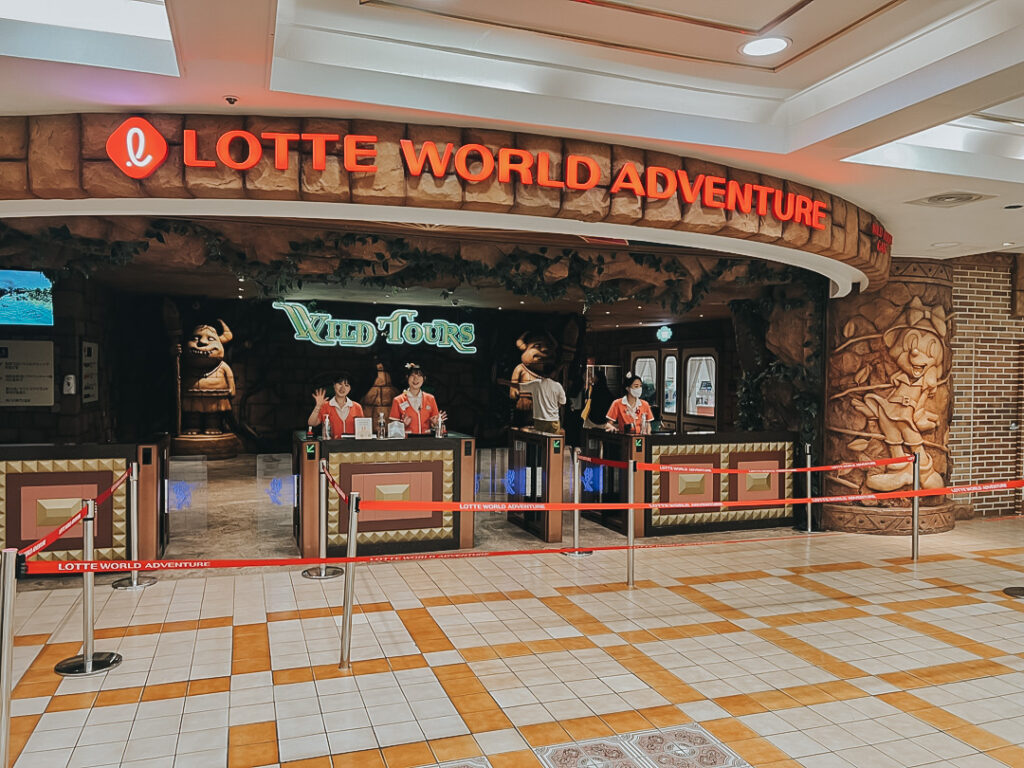 This includes a theme park, Lotte World, another family destination for those travelling in Seoul with kids. It is quite a unique theme park and feels like stepping back in some parts of medieval Europe.
It is based around an ice skating rink accessible from the attached mall. Lotte World is divided into two main sections: Lotte World Adventure and the outdoor Magic Island.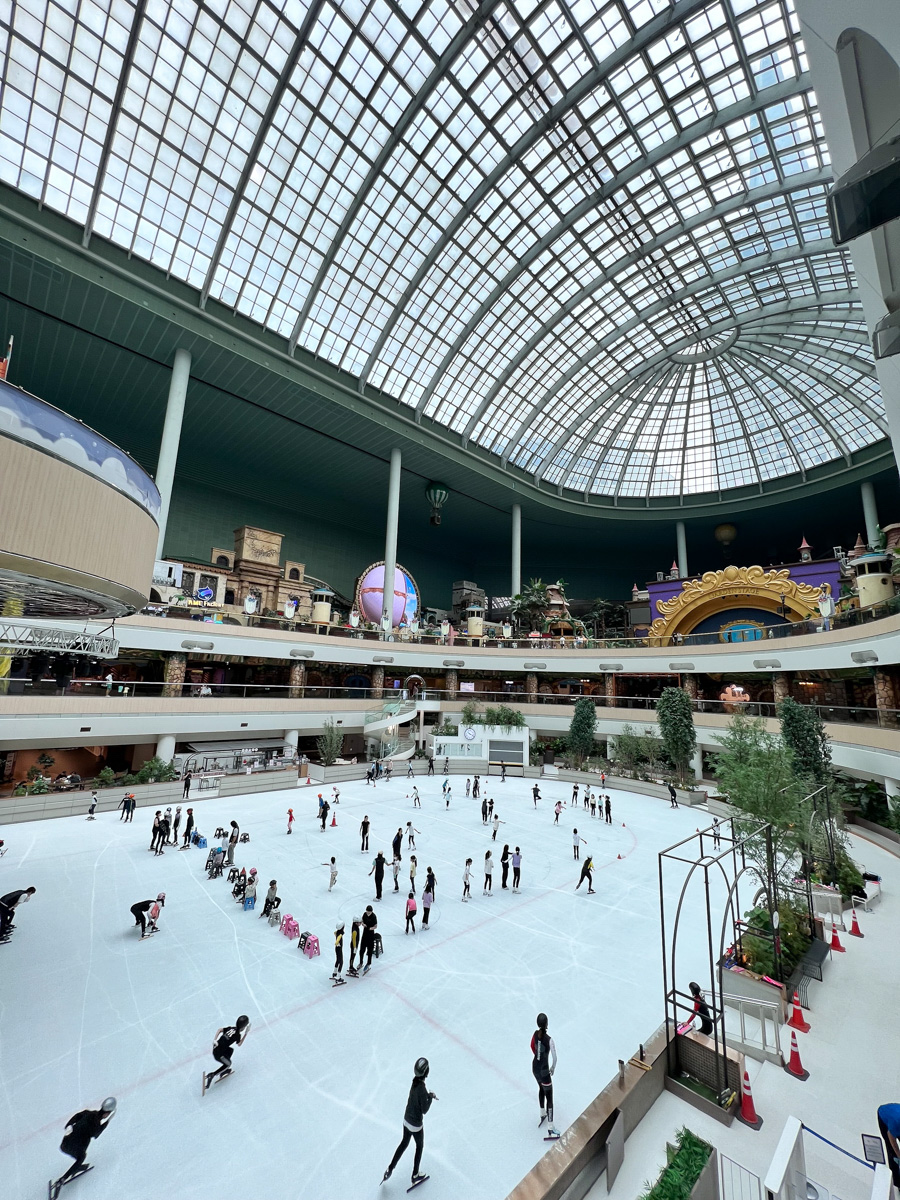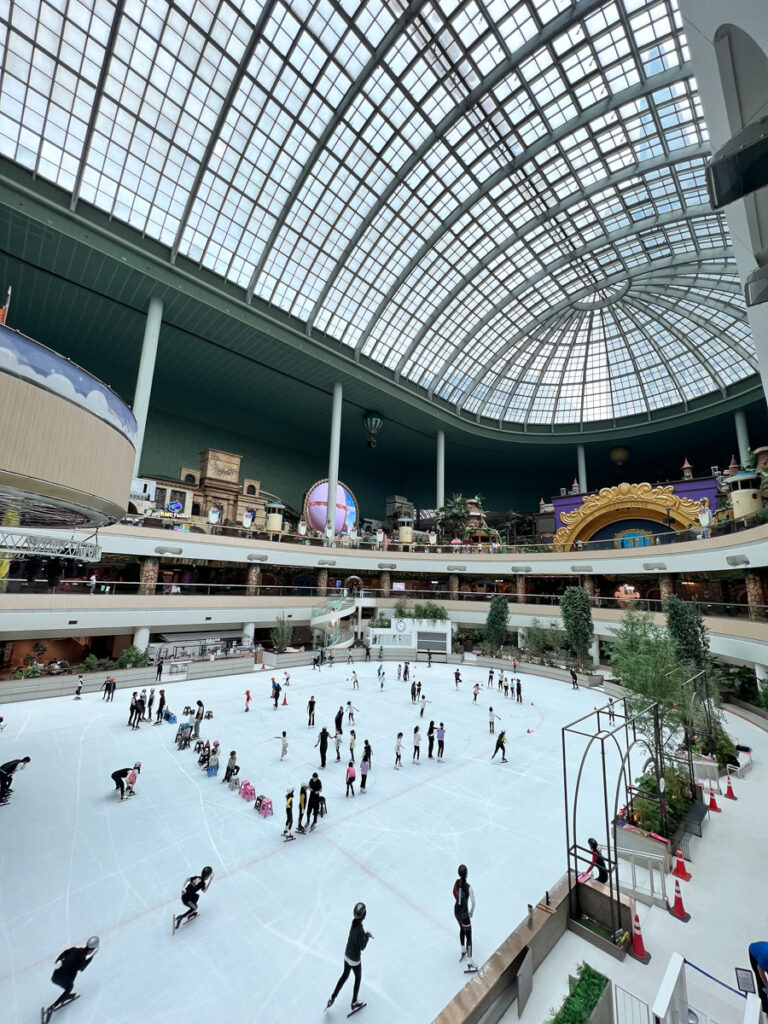 Lotte World Adventure has a range of indoor attractions, from roller coasters to family-friendly rides. The main attraction is the Magic Castle, a fairy-tale castle that houses an array of rides, shows, and themed zones.
For adrenaline junkies, Gyro Drop and the French Revolution roller coaster are the adventurous choices. At the same time, gentler attractions like the Hot Air Balloon and the Aeronauts Balloon Race are perfect for children.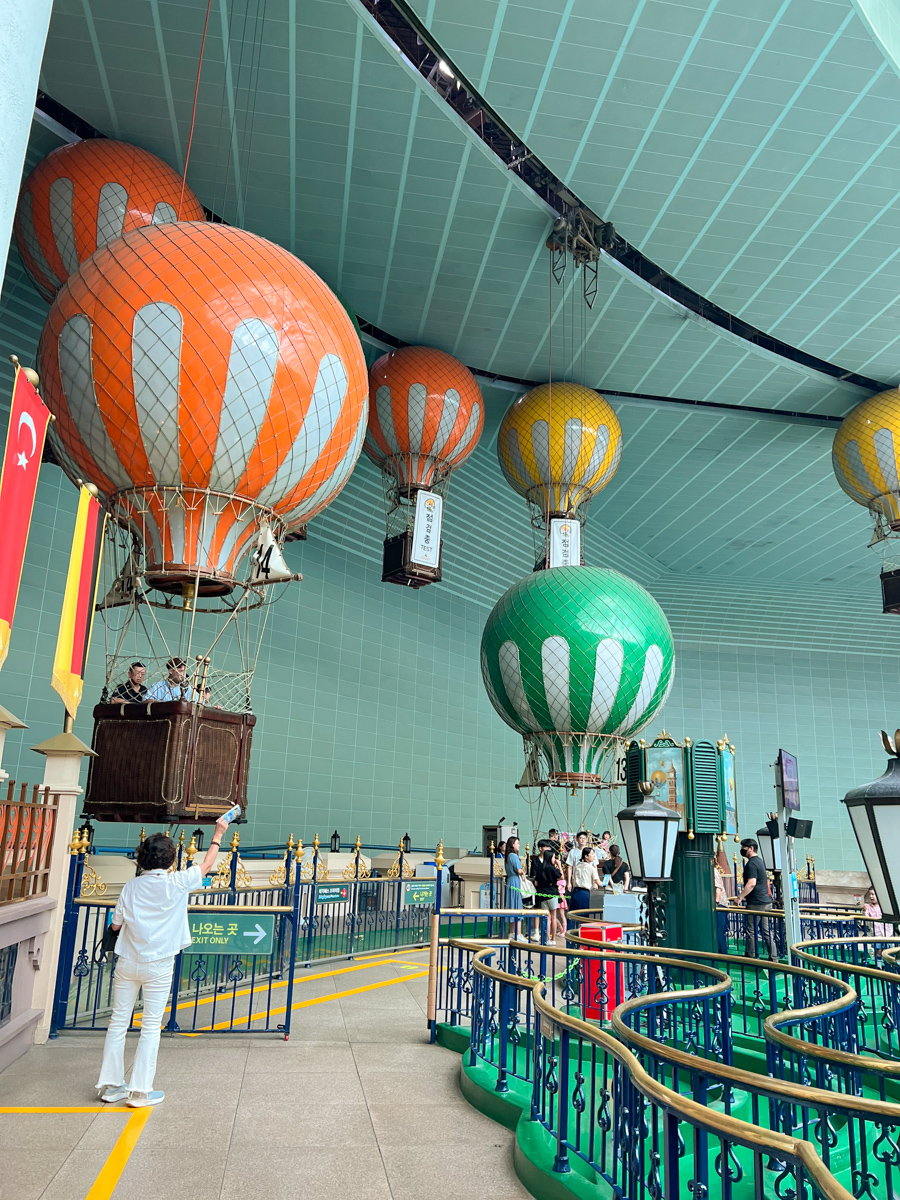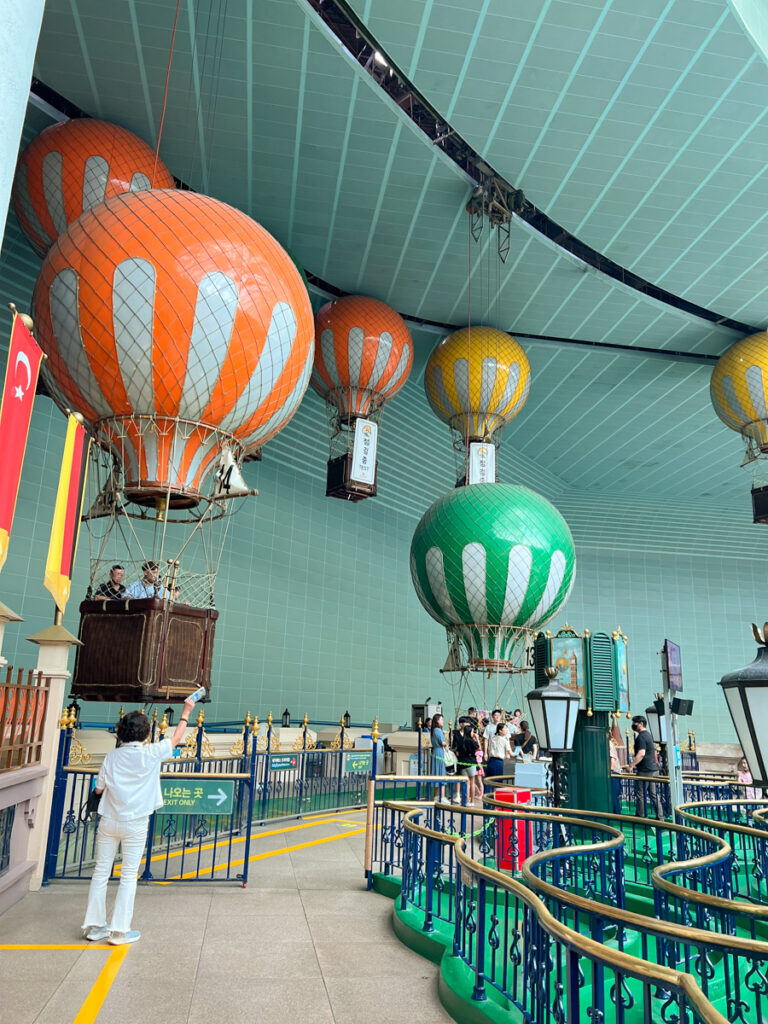 It is worth noting, there are several height restrictions which feel a little more conservative than other theme parks we've been to.
If you are visiting with kids around 5 or 6, it is worth reviewing the rides available to this age in advance.
Lotte World can be super busy, so I highly recommend getting a fast pass, especially when visiting with children, to avoid long queues.
The other part of Lotte World to explore is Magic Island, which is outdoors and surrounded by the water of Seokchon Lake. Magic Island's Adventure features adrenaline-fuelled rides and a picturesque view of the Seoul skyline.
Since the seasons in South Korea have extreme heat in the summer and icy cold in the winter, Lotte World can cater to the seasons with its indoor and outdoor areas.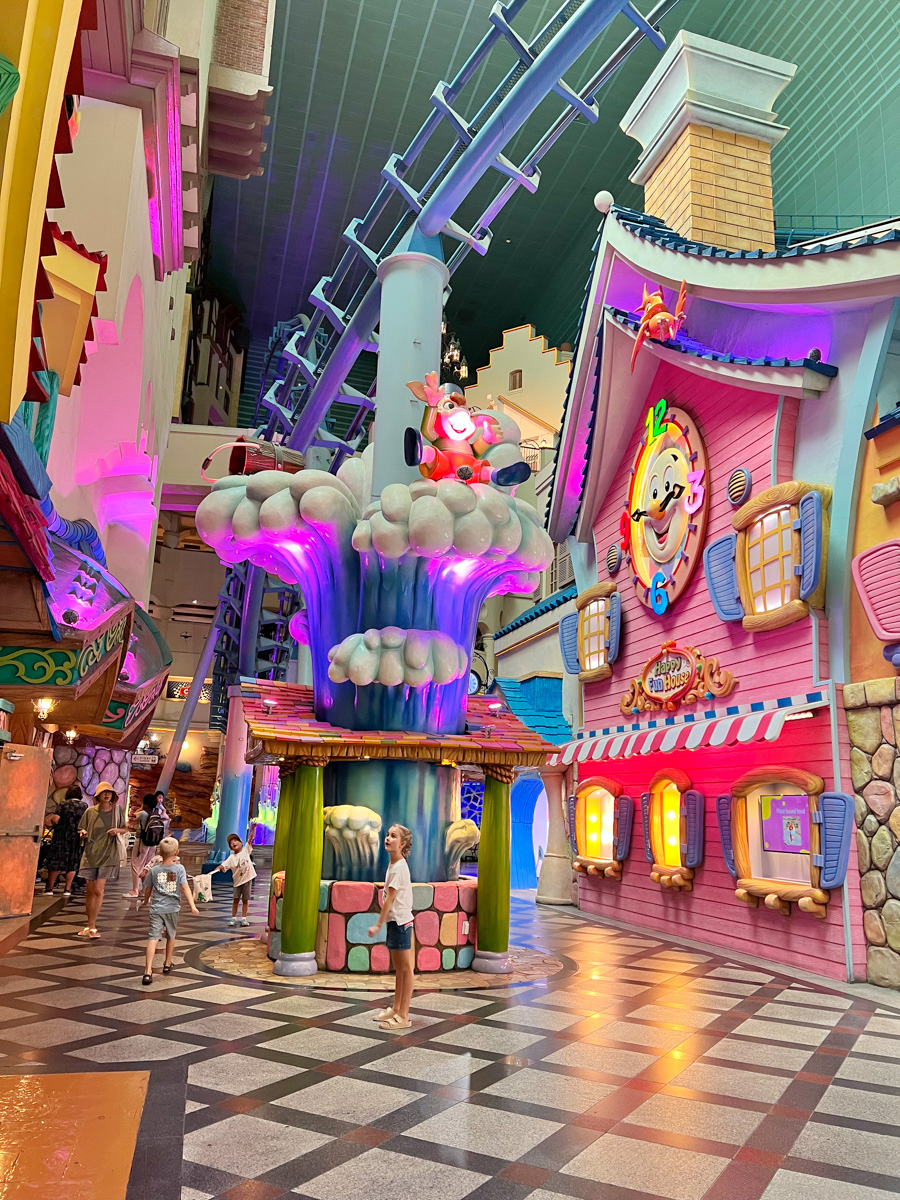 We visited in the summer. However, we heard it turns into a winter wonderland with festive lights and decorations in the colder months.
Babies can enter Lotte World for free. However, they need a baby ticket to use the designated area for this age group. Since we did not have a Korean phone number, we could not do this from the inside kiosk and had to leave the park to get one.
It's also worth noting that the baby areas have specified start and finish times, which was disappointing as we spent ages trying to buy a baby ticket only to wait 20 minutes more to enter with twin tots! It did make the visit a little tricky.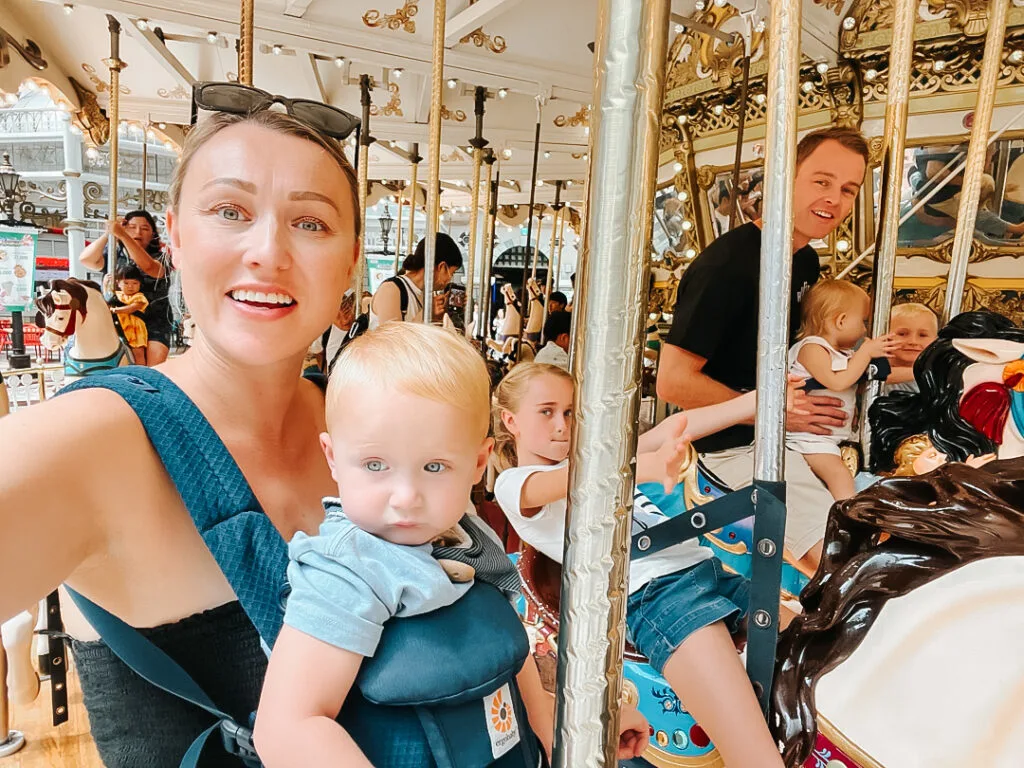 Beyond the attractions, Lotte World offers a few dining options, which we weren't blown away by, so we left the gate, which led into a food court in the mall. We thought we would be allowed to re-enter. However, this was not the case.
Overall, I would not advise Lotte World for those with young children. On reflection, we should have split up for the day and allowed our older kids to explore the park in depth with Dad and a fast pass to make the most of it.
12. Myeong Dong Night Market
If you still have some steam left in the evening, I highly recommend heading to Myeong Dong night market in Seoul with kids.
It is not too far from Namsan and runs daily from 5 pm. The night market comes to life just as the sun sets over Seoul. It is full of locals and tourists wandering along, sampling the many different foods.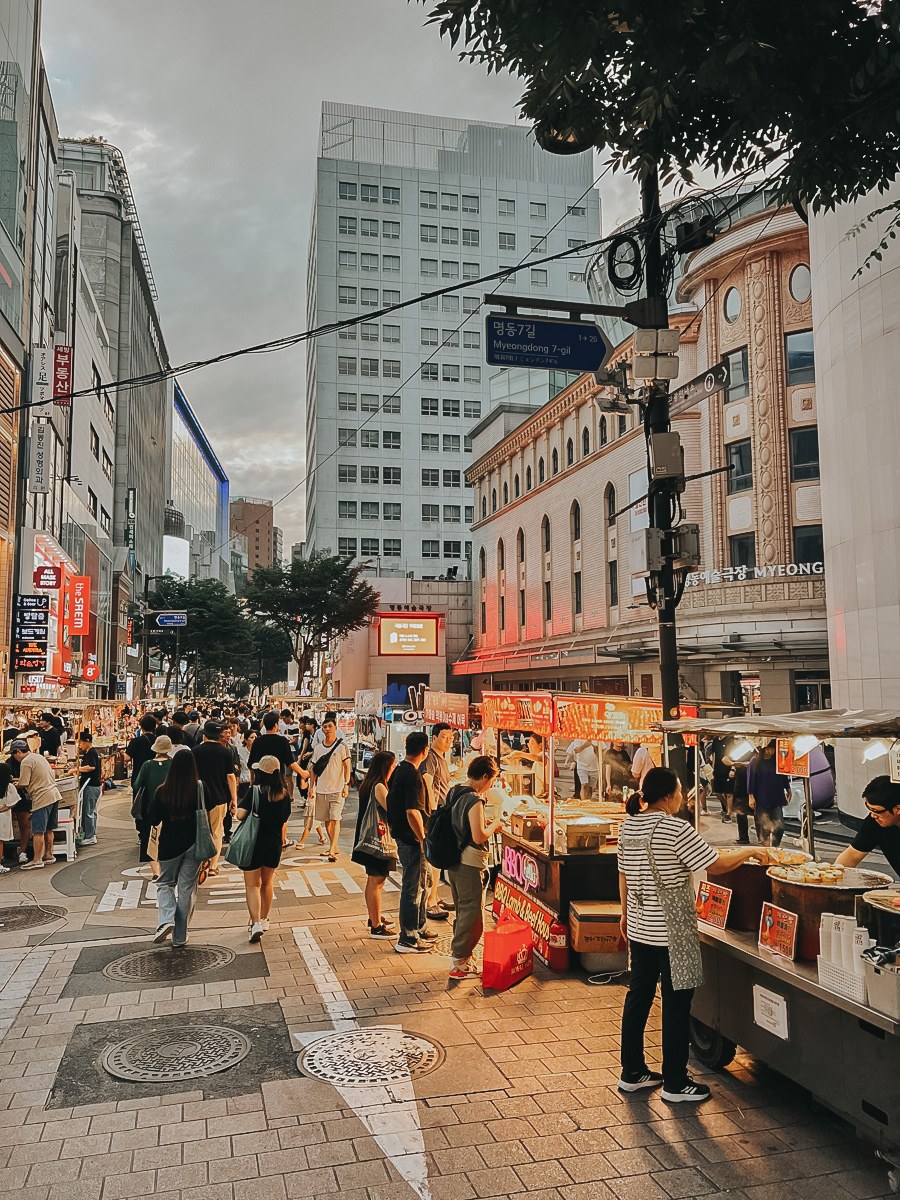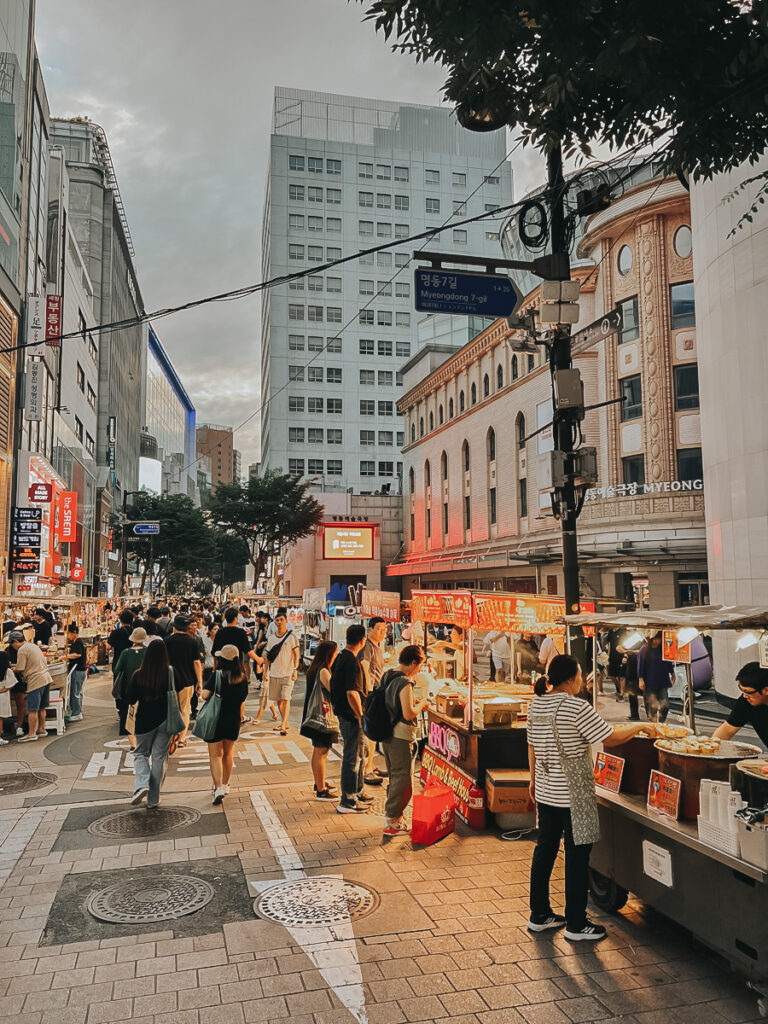 There are lots of meat and fish dishes. However, we found many vegan options, from veggie glass noodles to mochi and potato dishes to Bibmap.
Myeongdong is also an excellent spot for shopping in Seoul with kids. The market has many boutiques, cosmetic shops, and street stalls selling everything from fashion apparel and accessories to Korean skincare products.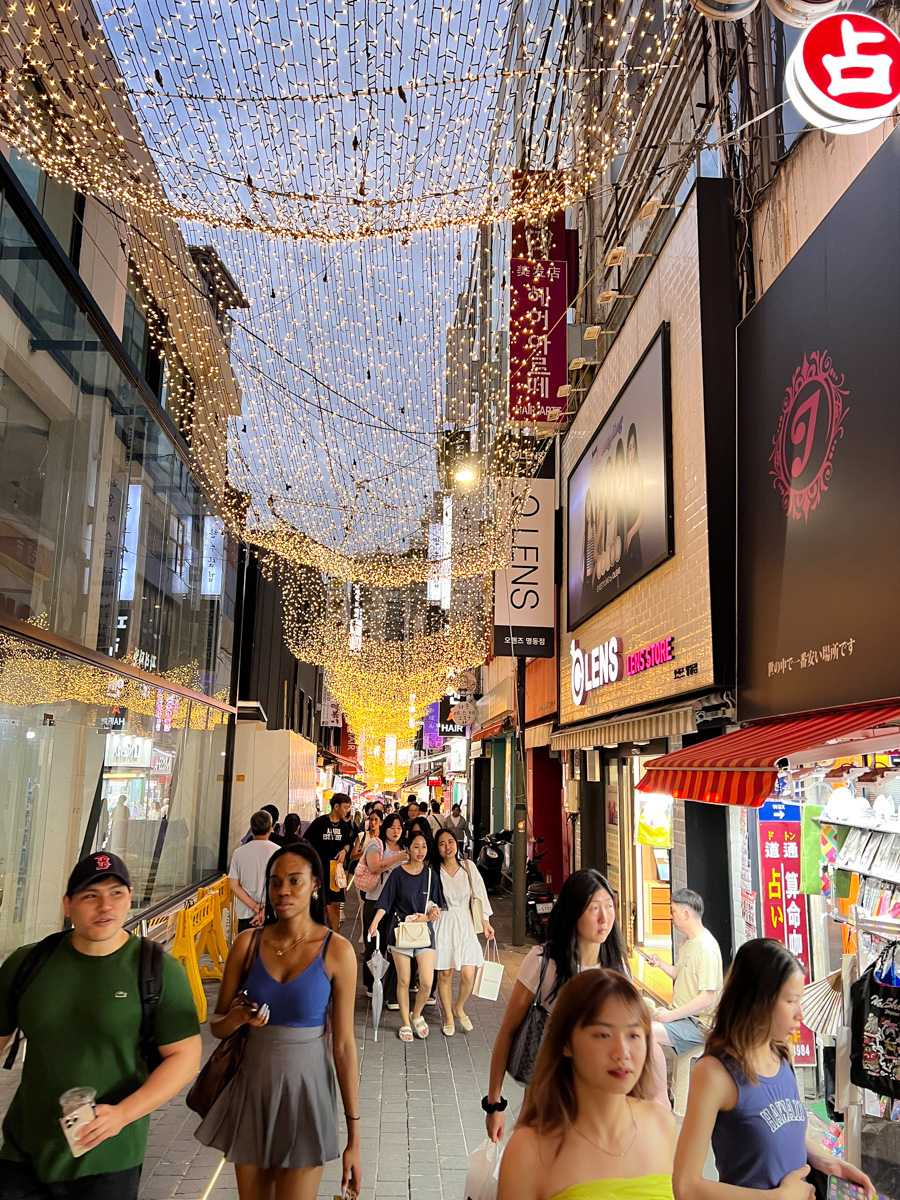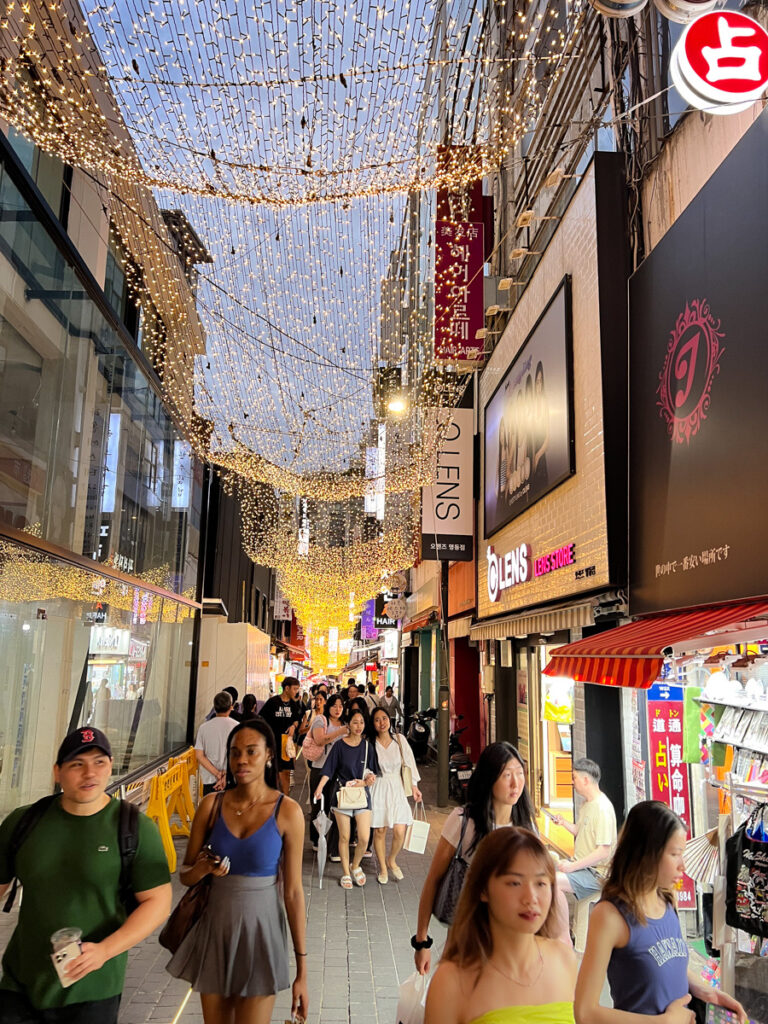 We also came across musicians, dancers and a magic show! The traditional honey-sweet-making demonstrations are also in a few spots throughout the market.
The market goes in until 1 am so it is an excellent spot if you are jet-lagged with kids and awake! I always make the most of those jet lag hours as we never see much of the night otherwise in different destinations!
13. Banpo Bridge Moonlight Rain Fountain
If you are visiting Seoul with kids, you have got to check out Banpo Bridge in the evening.
It's a double-decker bridge connecting the Seocho and Yongsan districts. The bridge's lower deck features over 380 water jets that shoot colourful streams of water into the air.
The upper deck has tens of LED lights that add colour to the incredible water fountain display each evening. Depending on the day and time of year, the show starts at around 7 or 8 pm.
Banpo Bridge is a whopping 4905 feet long, so as you can imagine, it is a pretty impressive display to see in Seoul with kids.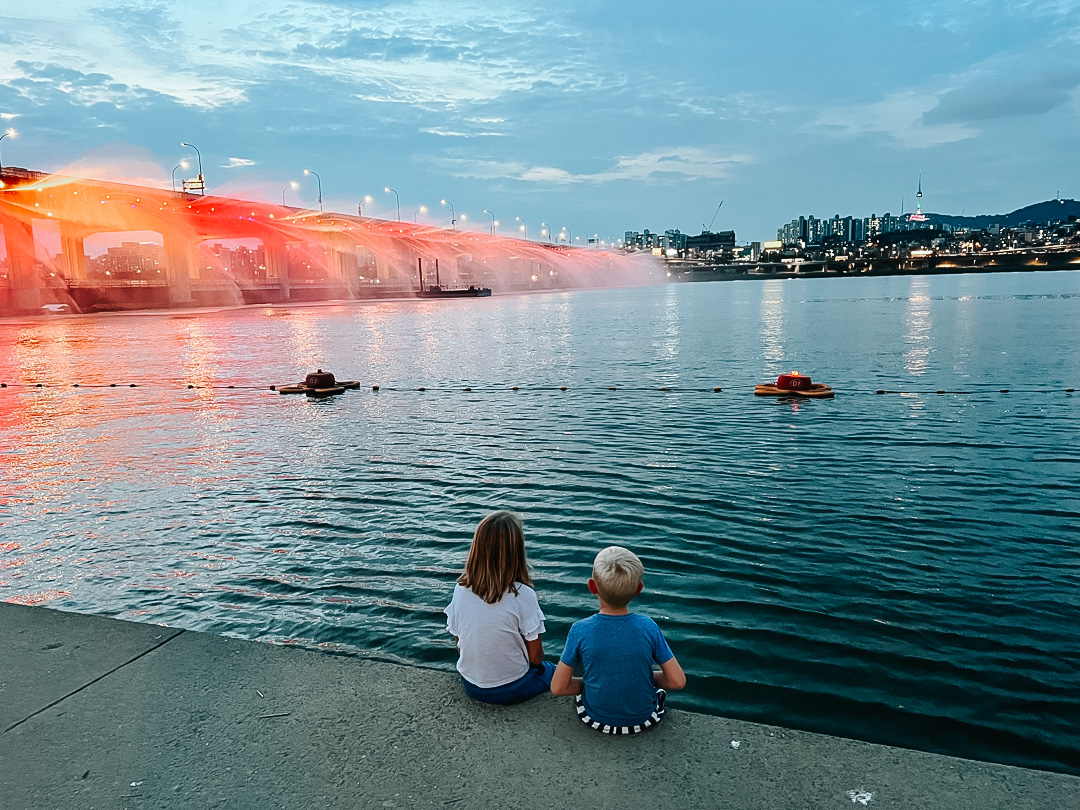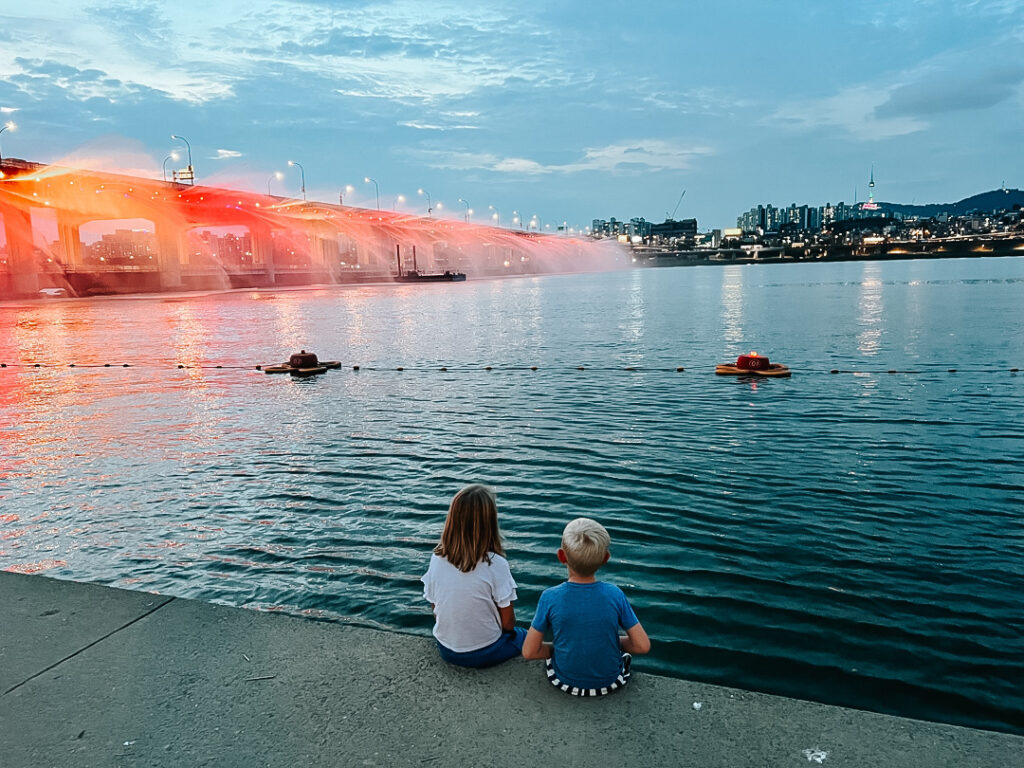 The fountain show typically begins with a mellow display of flowing water, creating the ambience that sets the stage for the main event. Then, the magic unfolds as the water jets spring to life in harmony with the rhythm of music.
There are a few viewpoints to see the Banpo Bridge fountain show when visiting Seoul with kids. Many locals and tourists head to Banpo Hangang Park, where there is theatre-style seating. Lots of people had a picnic and a rug to watch the show.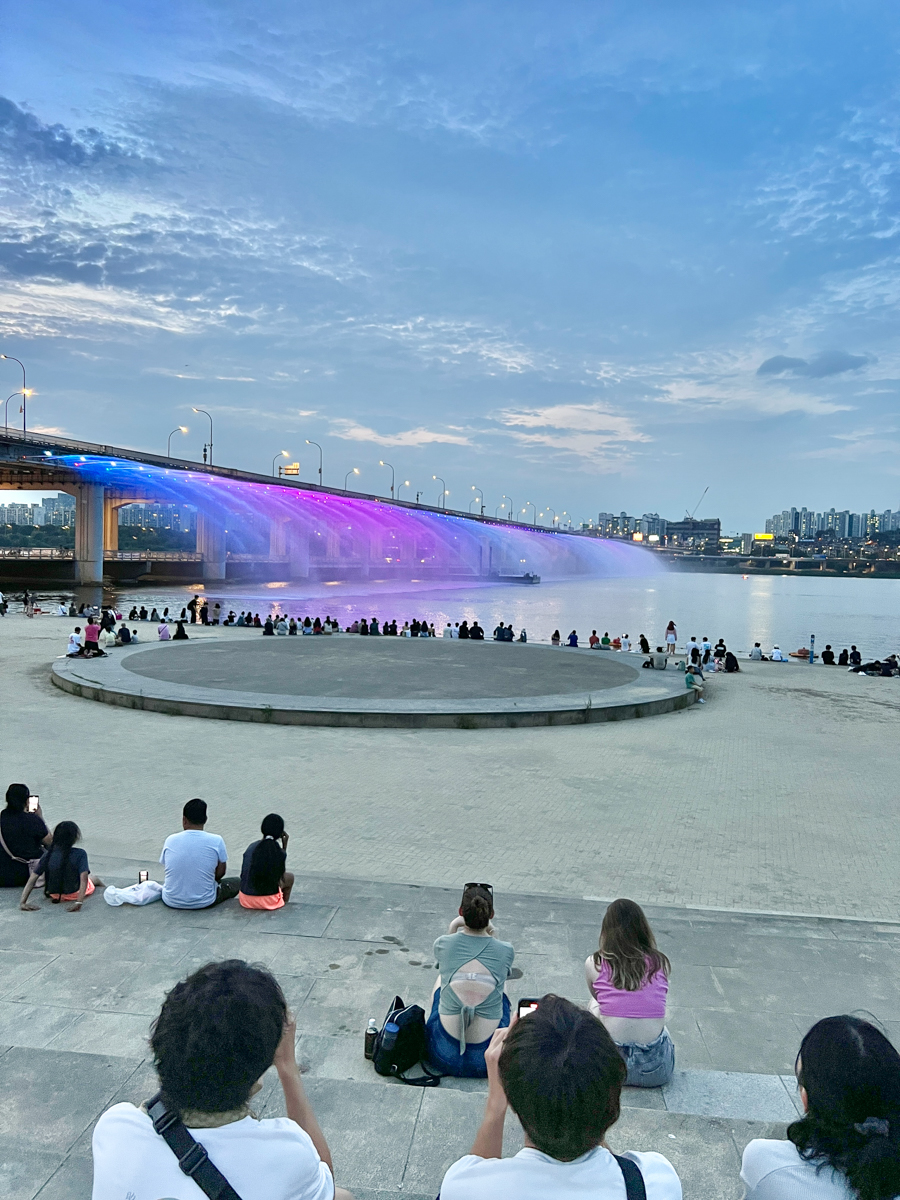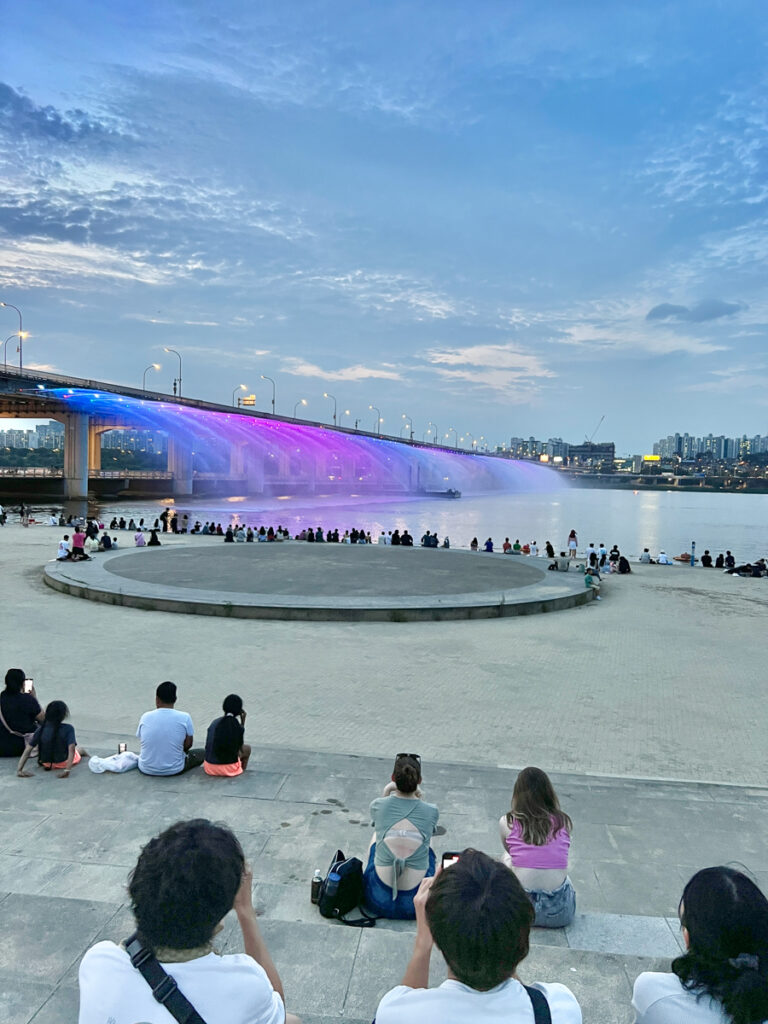 Sitting in this area is free, making it another fantastic free activity in Seoul with kids.
14. Seoul Forest
One of our kids' favourite memories from Seoul is renting tricycles and exploring Seoul Forest on wheels.
Seoul Forest is a green oasis, a serene escape from the city's hustle. It's a sprawling urban park, perfect for nature lovers looking to unwind away from the busy streets.
Seoul Forest, stretching across 1.16 million square meters, has a diverse landscape, including lush woodlands, wetlands, and beautifully landscaped gardens.
Right at the gate of Seoul Forest, you'll find rental stations offering a variety of tricycles. These tricycles come in various sizes, from small ones for children to larger ones for adults, making them suitable for visitors of all ages.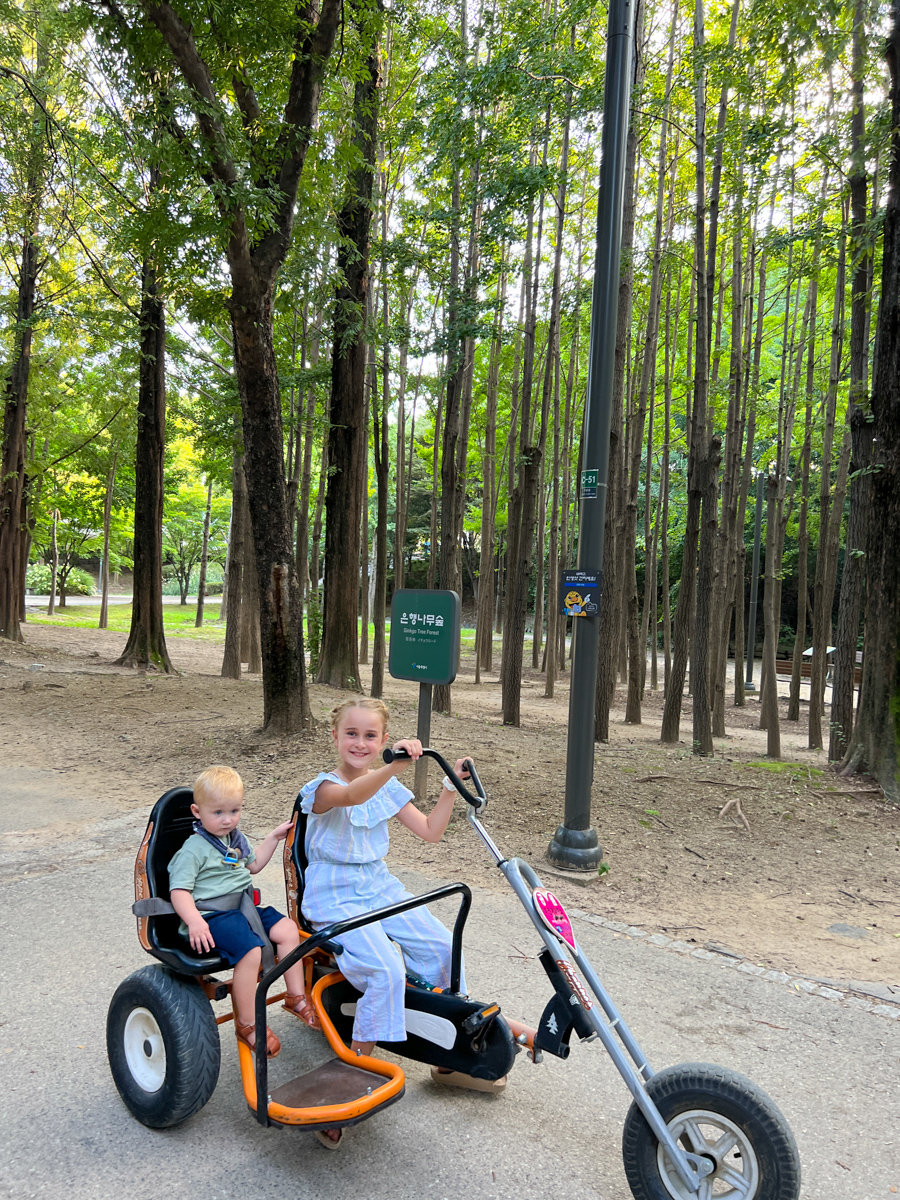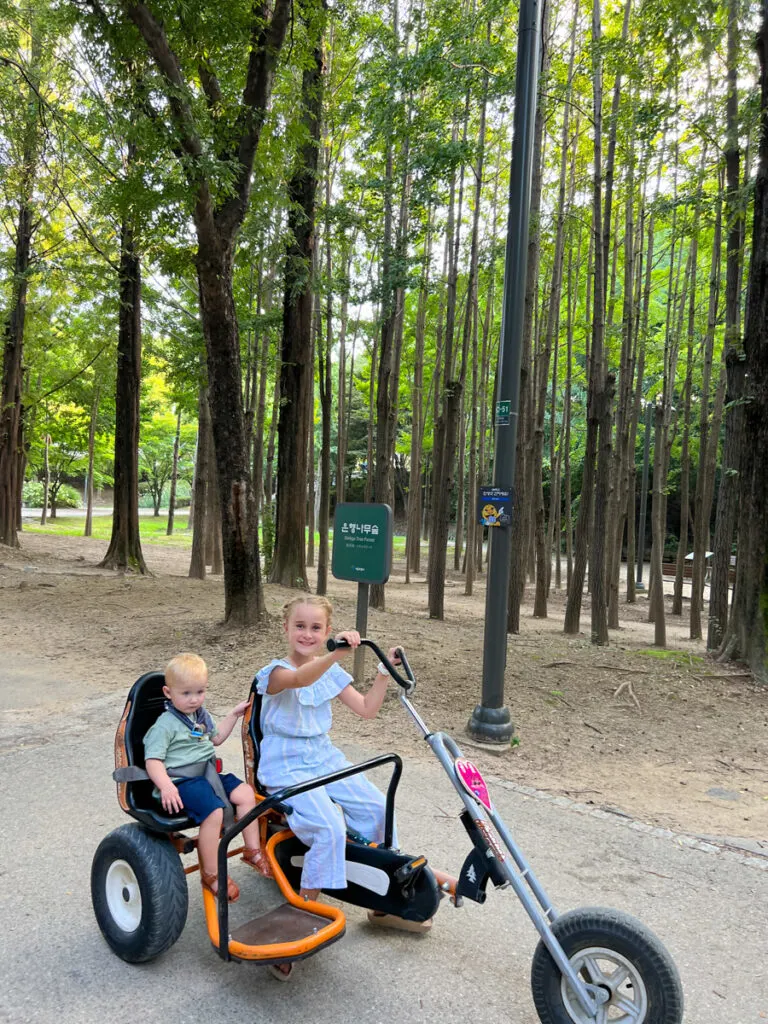 Aside from the beautiful nature, an extensive outdoor gym and some cafes are inside the park. There is also a stream, which many locals tend to soak their feet in to cool down in the warmer summer months, close to the cafes, which is a nice place to perch.
Just outside the park is a long street filled with boutique cafes and art galleries, which is lovely for a wander-along after. The forest was undoubtedly one of our Seoul with kids highlights.
Fun Facts About South Korea For Kids
If you want to get your kids excited about visiting South Korea, here are some fun facts about this unique destination for little ones.
South Korea has a unique alphabet called "Hangeul." It was created by King Sejong the Great and his scholars in the 15th century to make reading and writing easier for everyone.
South Korea is famous for its K-pop music, with popular groups like BTS, BLACKPINK, and EXO gaining international fame. K-Pop combines catchy music with fantastic dance routines.
Taekwondo is a martial art that originated in Korea. It's known for its fast kicks and powerful punches. Many kids around the world practice Taekwondo.
Bibimbap is a delicious Korean dish made with rice, vegetables, and your choice of meat (or tofu). You mix it all together with a special spicy sauce. Yum!
The traditional clothing in South Korea is called the Hanbok. It's colourful and elegant, often worn on special occasions like weddings and festivals.
South Korea is a very mountainous country. Over 70% of the land is covered in mountains. Kids who love hiking and exploring nature would have a great time here.
South Korea has some beautiful ancient palaces, like Gyeongbokgung Palace in Seoul. You can visit them and feel like you've returned to the days of kings and queens.
South Korea shares its border with North Korea, and a famous area called the Demilitarized Zone (DMZ) separates the two countries. It's a unique and important place to learn about history and geopolitics.
South Korea is known for its technological advancements. In Seoul, you can find cafes where robots serve your food and drinks. It's like dining in the future!
Koreans celebrate the Lunar New Year, also known as Seollal. Families gather to pay respects to their ancestors, eat particular foods, and play traditional games.
South Korea hosts many fun festivals throughout the year. One of the most famous is the Boryeong Mud Festival, where people play in the mud and have a blast.
Kimchi is a famous Korean dish made from fermented cabbage and spicy seasonings. It's served with almost every meal and is a staple of Korean cuisine.
South Korea's pop culture, including K-dramas and K-pop, has swept the world in the "Hallyu Wave." Many kids enjoy watching Korean TV shows and listening to K-pop music.
Have you been to Seoul with kids? Or maybe you are considering visiting South Korea? Leave a comment, we would love to hear from you.
Audley Travel offers tailor-made trips to South Korea. A 12-day trip costs from £3,900 per person (based on a family of four travelling). The price includes return flights from the UK, transfers, accommodation (Seoul Fraser Place Central and Busan Shilla Stay Haeundae), train travel between Seoul and Busan and excursions. 01993 838200/ www.audleytravel.com/south-korea
Disclaimer: This post about Seoul with kids is sponsored. Visit Korea US and Audley Travel partially hosted our trip to South Korea. All views expressed are entirely my own.