As a mum who has literally traveled all over the world, mostly baby wearing, my carrier is one of the most important pieces of paraphernalia I bring with me!
I want to be able to do all of the amazing hikes, and reach those places you can't take a stroller, in comfort, for both me and the baby. It also allows baby to take a nap comfortably (and sometimes even nurse!) without having to take her out or stop what we are doing on the move.
Likewise, having a child carrier allows you to be relatively hands-free when navigating airports, tourist hot spots and anything else you can think of! In this blog I will cover the best baby carriers for travel.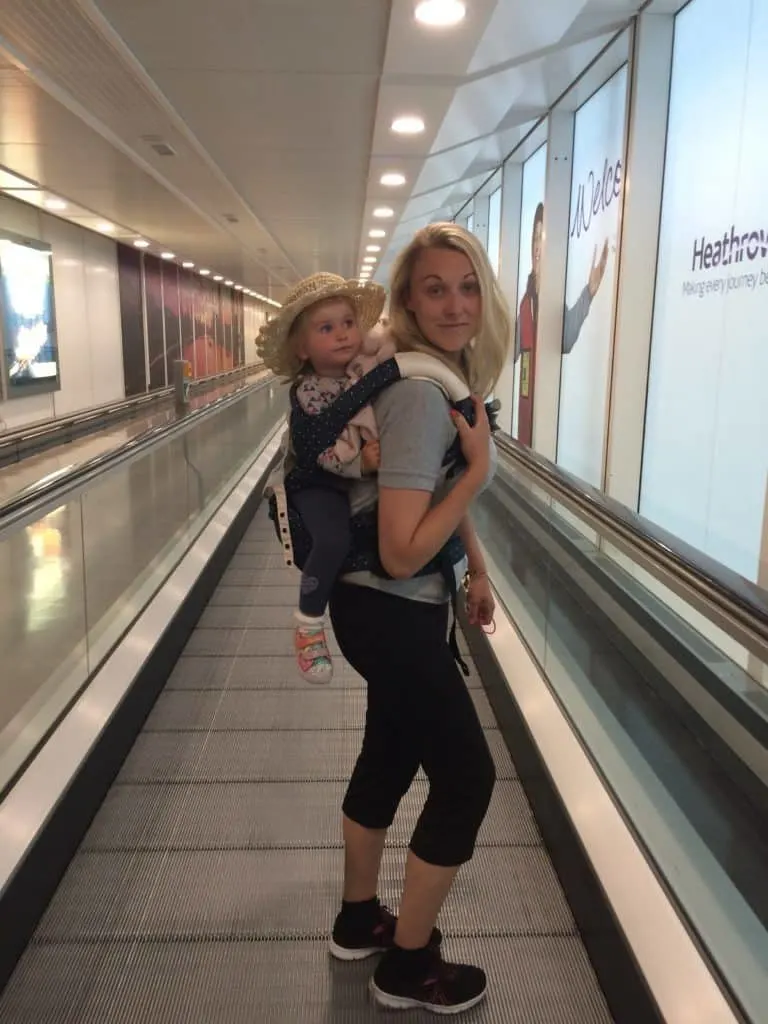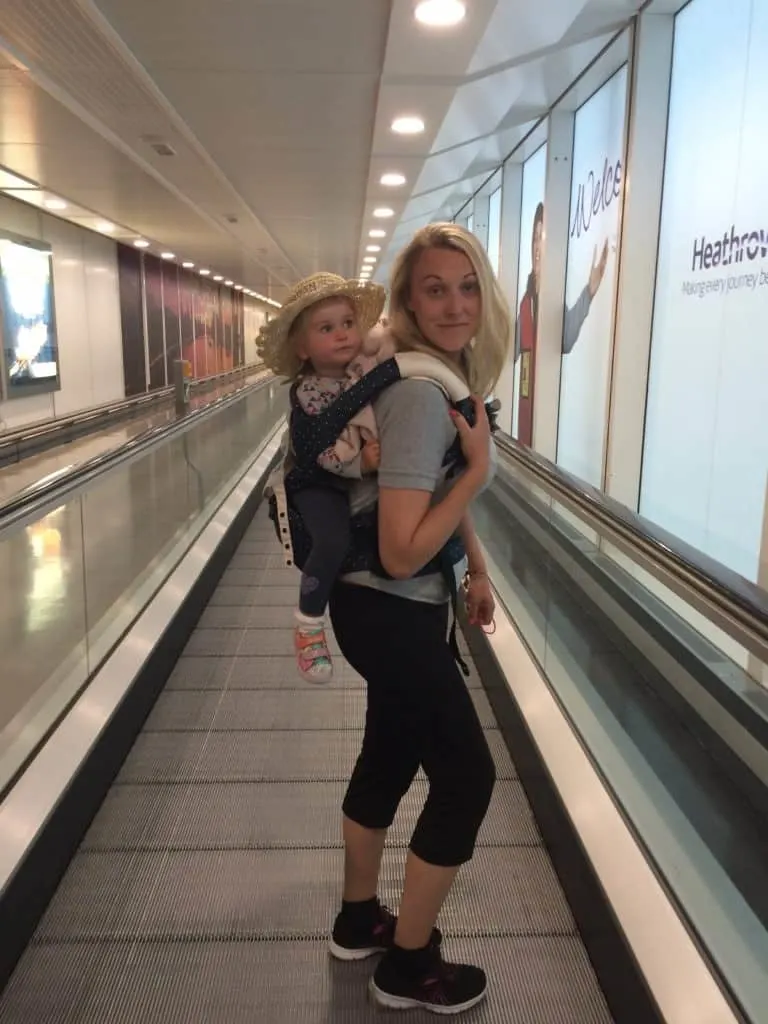 There are tonnes of baby carrier brands on the market and sometimes it can be hard to choose which are the best baby carriers for travel and everyday use.
There is no need to have a separate baby carrier for travelling. When you invest your money into a baby carrier you want it to work all of the time, no matter if you are travelling or not.
I've tried out my fair share of the top rated best baby carriers for travel and always revert back to the same one. Everyone is going to have different needs and feel comfortable in different carriers. Not to mention each person's budget will differ.
Both your and baby's comfort is everything, so make sure you are happy before purchasing it!
To help you out, I've made a baby carrier comparison table for you to see what may suit in addition to breaking down what qualities you should look for to have the best baby wearing experience.
I've also asked other parents what they think of their best baby carriers for travel and the pros and cons to each one.
Are Baby Carriers Safe?
Like all baby gear, baby carriers are very safe if you use them correctly and follow the manufacturers instructions. All reputable brands will come with instructions on how to place the baby into the carrier to ensure the baby is sitting comfortably and securely.
The most important thing safety wise, especially if you are carrying a very small child, is to make sure they are sitting in a way that supports their head and neck and doesn't block their airways.
If you choose a good carrier this should be simple to accomplish and you will get to enjoy the closeness, connection and ease that baby wearing provides!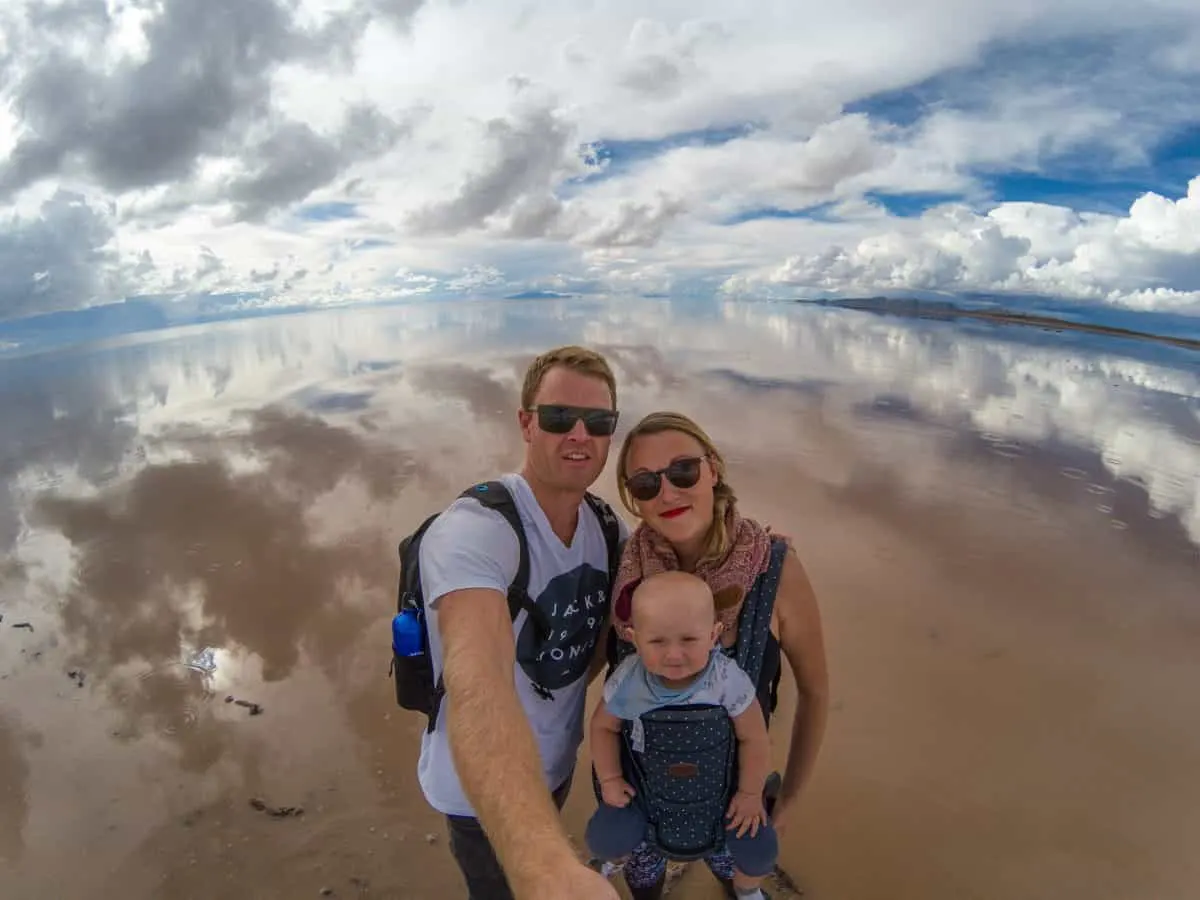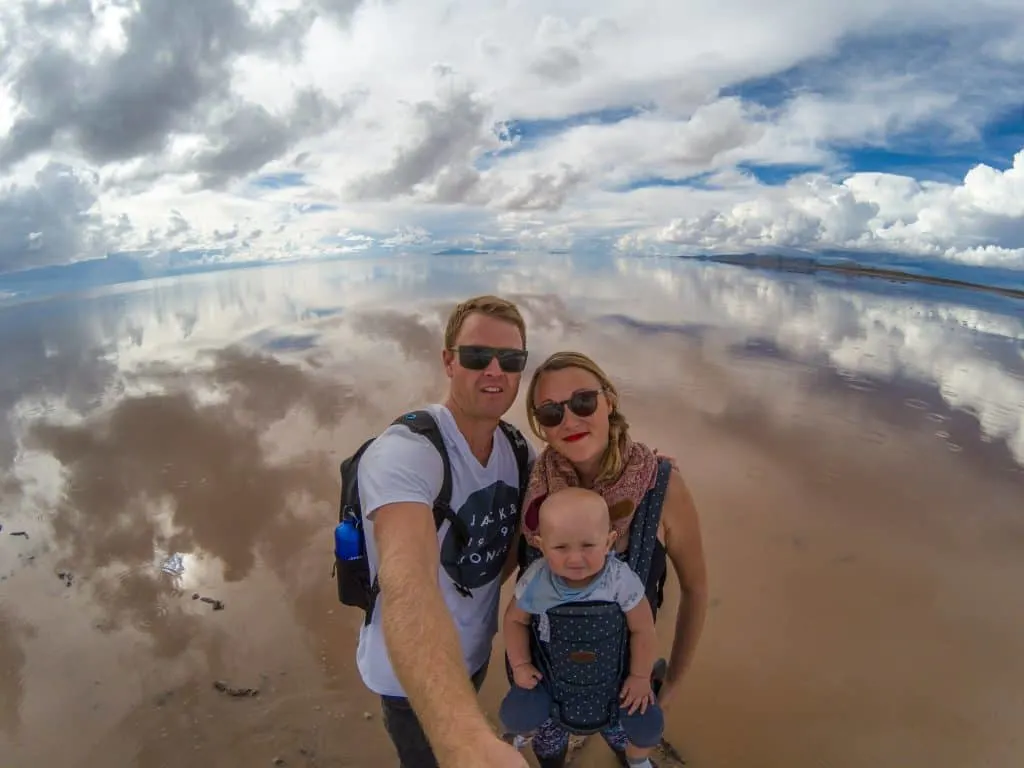 Benefits of Babywearing
There is evidence to suggest babywearing reduces the prevalence of flat head syndrome and SIDS.
It's a familiar space! We travel a lot, constantly changing environments and I feel the baby carrier has always been my kids 'safe place'.
You can breastfeed on the go. I have always found this super useful in attending to my baby or toddler quickly.
There is no doubt baby and toddler wearing creates a really strong bond between the two, whether it's mum or dad doing the wearing. It's a really nice way for the other parent to get a chance to have that closeness.
It makes adventuring so much easier. We can keep our paraphernalia to a minimum when we use a toddler carrier. Hands free is where it's at!
Babies and toddlers can see so much more when they are facing out in the baby carrier. Some suggest this really increases and promotes their development. I definitely talk to them a lot more when they are right on me as opposed to facing away from me in a stroller.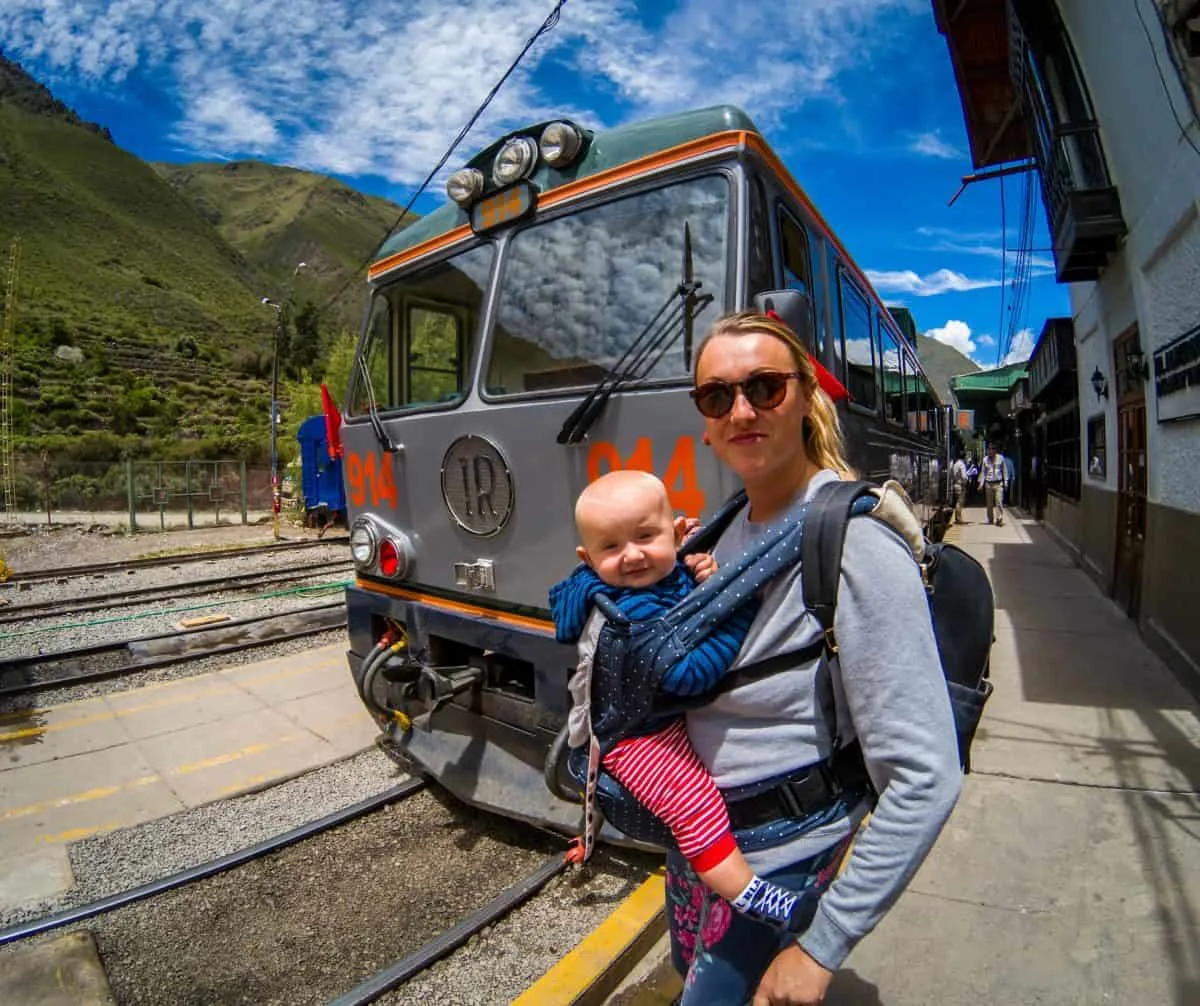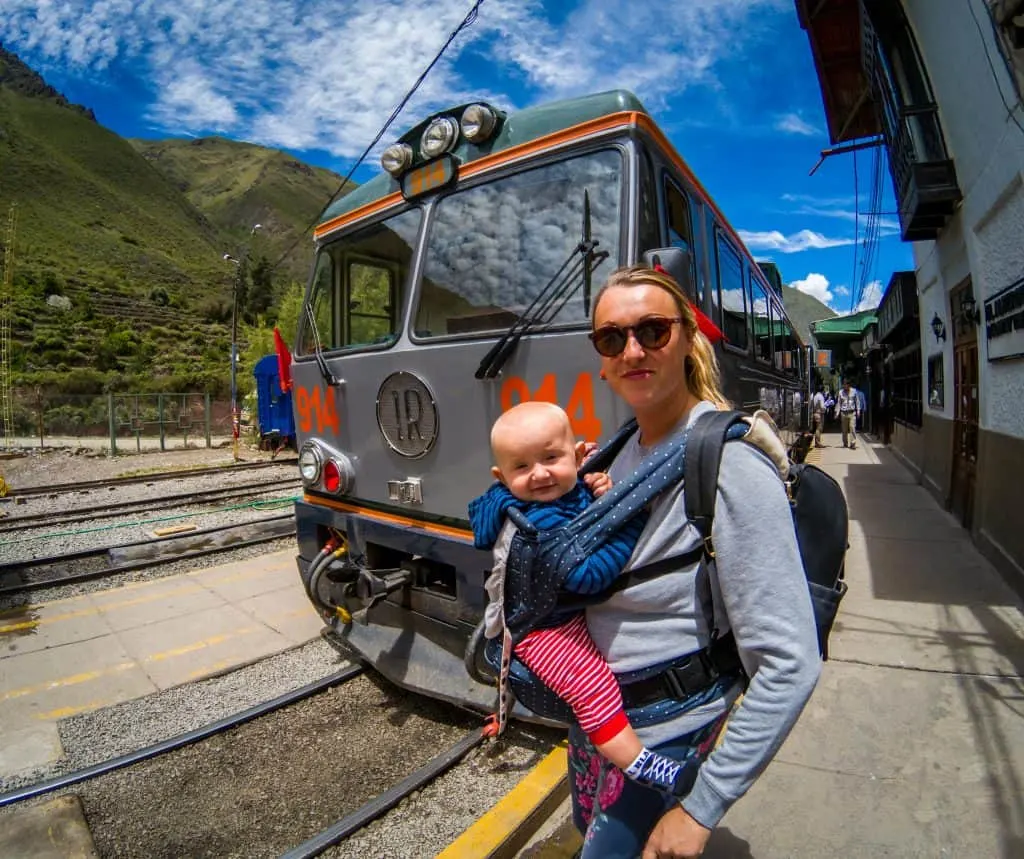 Benefits of Having a Baby Carrier For Travel
When you are traveling you are most likely going to have luggage and other things to carry. The carrier keeps baby contained and allows you to be hands free.
When navigating crowded tourist spots, or ancient cities with loads of stairs, not having to worry about a stroller is a huge win.
In a lot of countries, people will have no qualms about walking up to your kids and touching them. If you are concerned about your little one being exposed to germs, the easiest way to avoid unwanted touching is to throw them into a child carrier. Strangers are much less likely to stick their hands into your carrier.
Many children will easily nap on mum or dad's chest on the go if they are in a carrier which means you don't have to worry about stopping your day plans for nap time.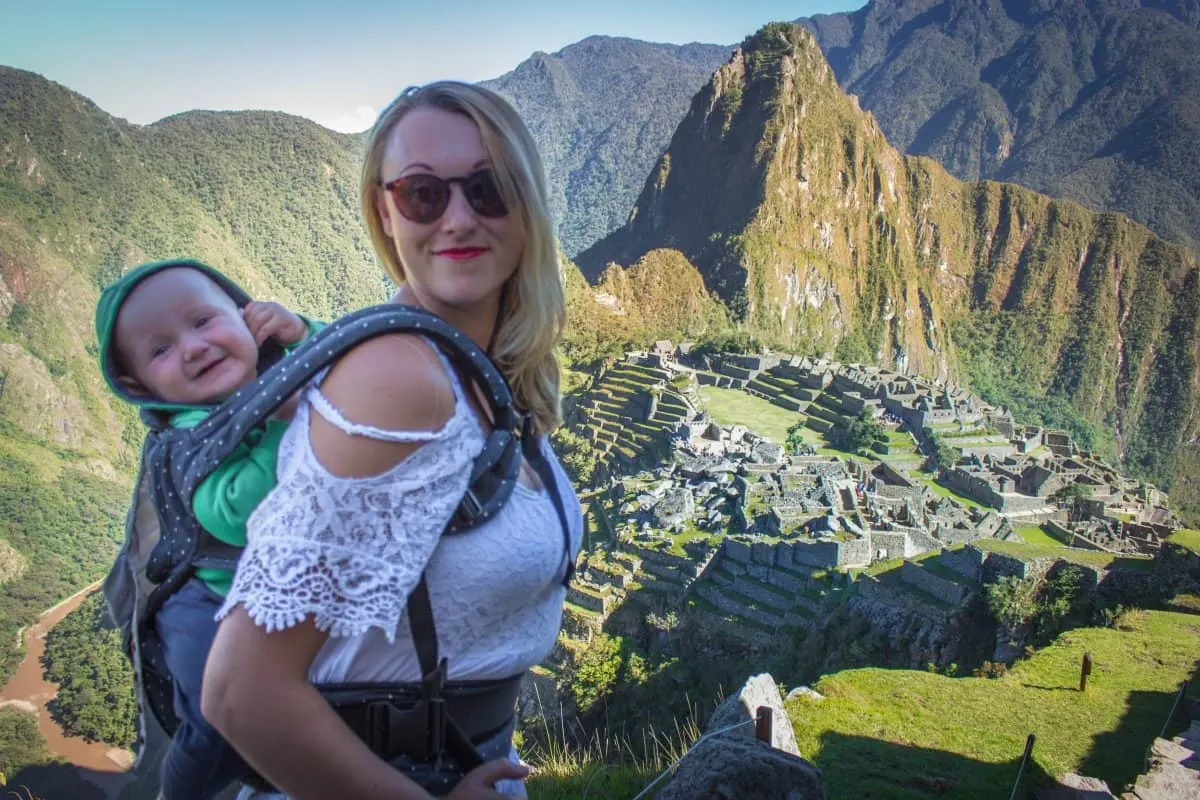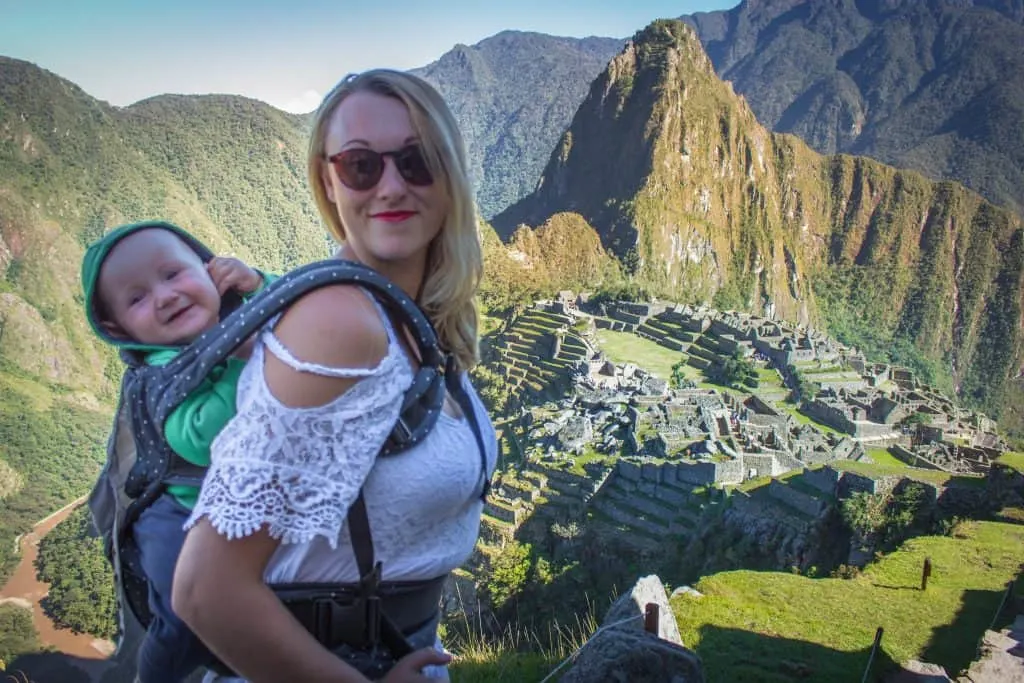 THE BEST BABY CARRIERS FOR TRAVELING
Best Baby Carrier Comparison Chart
How To Choose The Best Baby Carriers For Travel
There are several things to consider before buying a baby carrier, here is a list of questions you should consider:
Is it a highly reviewed carrier in terms of comfort?

Will the carrier suit your partner?

Is it easy to close the straps and buckles?

How many positions can I wear baby?

Does the baby carrier have a hood for sleeping and shade?

Is it a well padded, ergonomic baby carrier?

Can I carry a newborn in it?

Can I use it with my baby when they become a toddler?

What is the maximum weight?

Is it hip dysplasia safe?

What is the price? Is it within budget?
Finding the Best Ergonomic Baby Carrier
Like I mentioned the single most important thing about a carrier is comfort for both you and baby! I mean we all know carrying a baby around for 9 months is sore on just about every joint.
Ergonomic baby carriers are meant to distribute your child's waist in such a way that is comfortable for both the mum and the child.
I'm always looking for the most comfortable baby carrier by checking how well padded a carrier is! Does it have thick straps? For both the waist and shoulders?
There is nothing worse than a thin flimsy shoulder strap digging in with the weight of baby hanging. Make sure to try baby in the carrier and see how it fits or if you are buying a baby carrier online, make sure to read the reviews.
Straps and Buckles – Finding the Easiest Baby Carrier
The straps and buckles on each and every carrier is different. We've seen baby carriers with varying levels of complication as far as getting them on and off.
They can take some getting used to, so again always try, have a play with your carrier and watch any demonstration videos.
I always find tying the buckle between my shoulder blades when baby is on my front to be the hardest. Eventually I realised if I loosened it completely and tied it first before slipping it over my head I could tighten it after.
Baby Carrier with a Hood
Most carriers nowadays come with a little head support hood / shade. It works great for breastfeeding or supporting baby's head from falling backwards after falling asleep.
Age & Size Range
When it comes to investing in a carrier, the best thing is when it will last from newborn right through to young childhood. The best baby carrier for a newborn will usually come with newborn insets to give them extra support when they are really tiny,.
Some carriers can take up to 20kg load which is pretty much a tall 4 year old. Ideally you don't want to have to buy a second carrier for a bigger child so having one that can take a wide age range is good for your pocket!
If your child is already older and you don't need it to also be suitable for a newborn, we've included some fun options for finding the best toddler carrier.
Hip Dysplasia
Another very important thing to consider when buying a baby carrier is to ensure it is hip dysplasia safe. Most of the leading brands will have been certified by the International Hip Dysplasia Institute.
There are certain positions that are better to avoid hip issues for baby. According to the IHDI website narrow based carriers are not good for hip dysplasia, the upper thigh needs good support. Make sure the carrier you choose is hip safe!
Carrier Positions
When you are searching for a carrier you may want to consider which position you want to be able to carry your child in. Are you looking for a baby hip carrier? Or maybe you prefer to find one that is the best baby backpack carrier or front facing baby carrier.
Which positions you need is just a matter of you and your child's preferences. Some kids are content to snuggle and some want the freedom to be able to look around.
Some of the carriers are meant to be exclusively used for one direction or another but others can be used in any position you prefer. If a certain carry style is important to you, make sure to read reviews to ensure it's easy to get on and off in all the positions that are important to you.
We've also included an alternative kind of carrier; the toddler shoulder carrier. This could be a great option for travelling families who want their kids to be able to really look around and see the sites.
Best Baby Carrier for Dad
The truth is, most carriers should be comfortable regardless of gender. Nonetheless, if dad is going to be using the carrier you are going to want to find one that comes in a colour or pattern that dad will be comfortable wearing around town.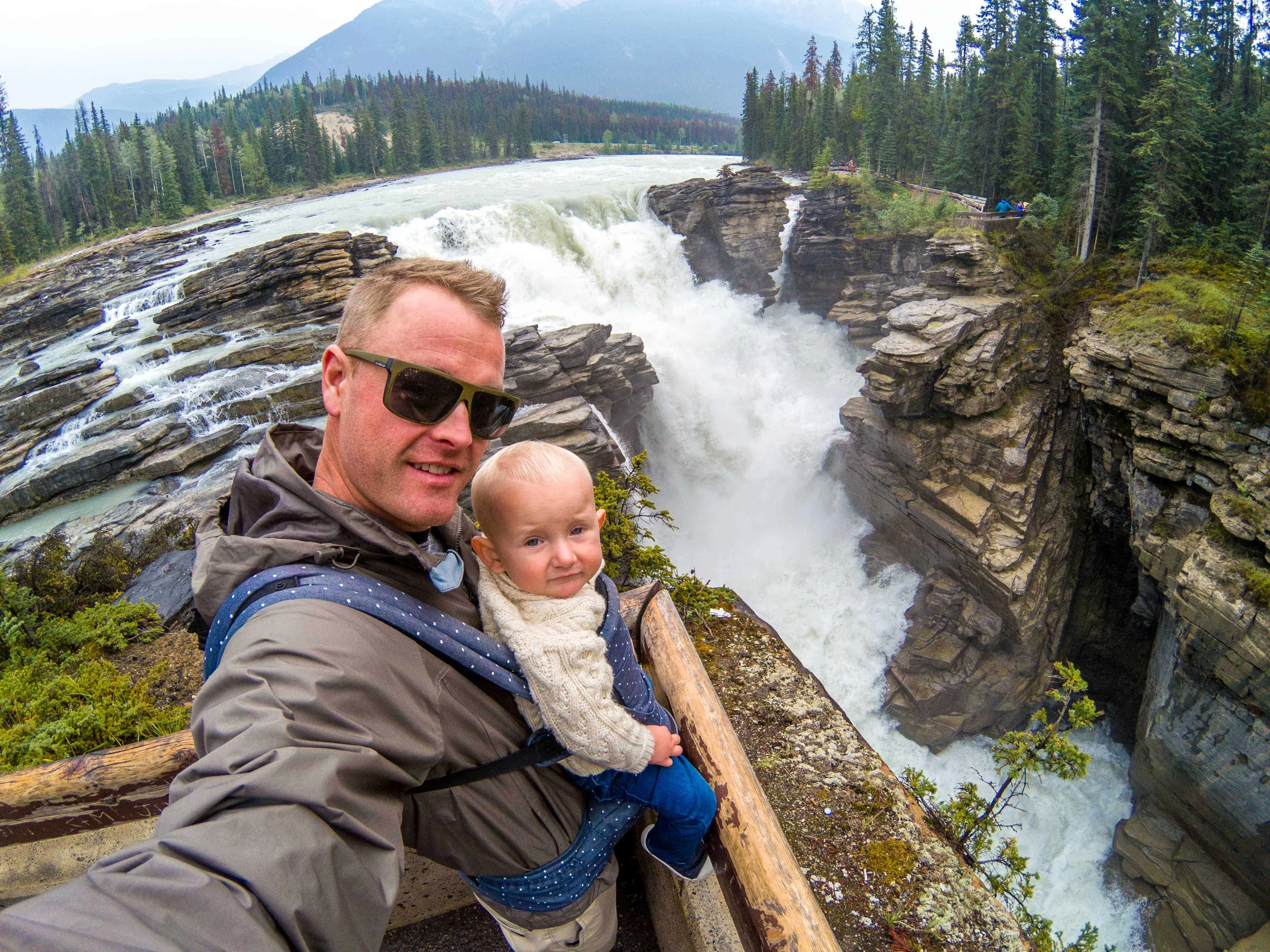 Best Baby Carrier for Hiking
You can, without a doubt, use your regular carrier for hiking but there are some advantages to investing in an actual hiking carrier.
A hiking carrier usually comes with a metal frame that holds your child higher up then a regular soft carrier and it also usually has much larger pockets.
The metal frame in particular can make hiking much easier because it allows for much better airflow. With a normal carrier, you and your baby will be pressed together which can heat you up quickly.
It also allows your little one to have better views of the area rather than their vision being impeded by your body. They also usually have much better sun shades than a regular carrier.
It is worth noting though, that some people who are more petite find hiking carriers to be uncomfortable and really difficult to carry and maintain balance on strenuous hikes.
If you are not doing any intense hiking we would probably stick with a normal, soft carrier.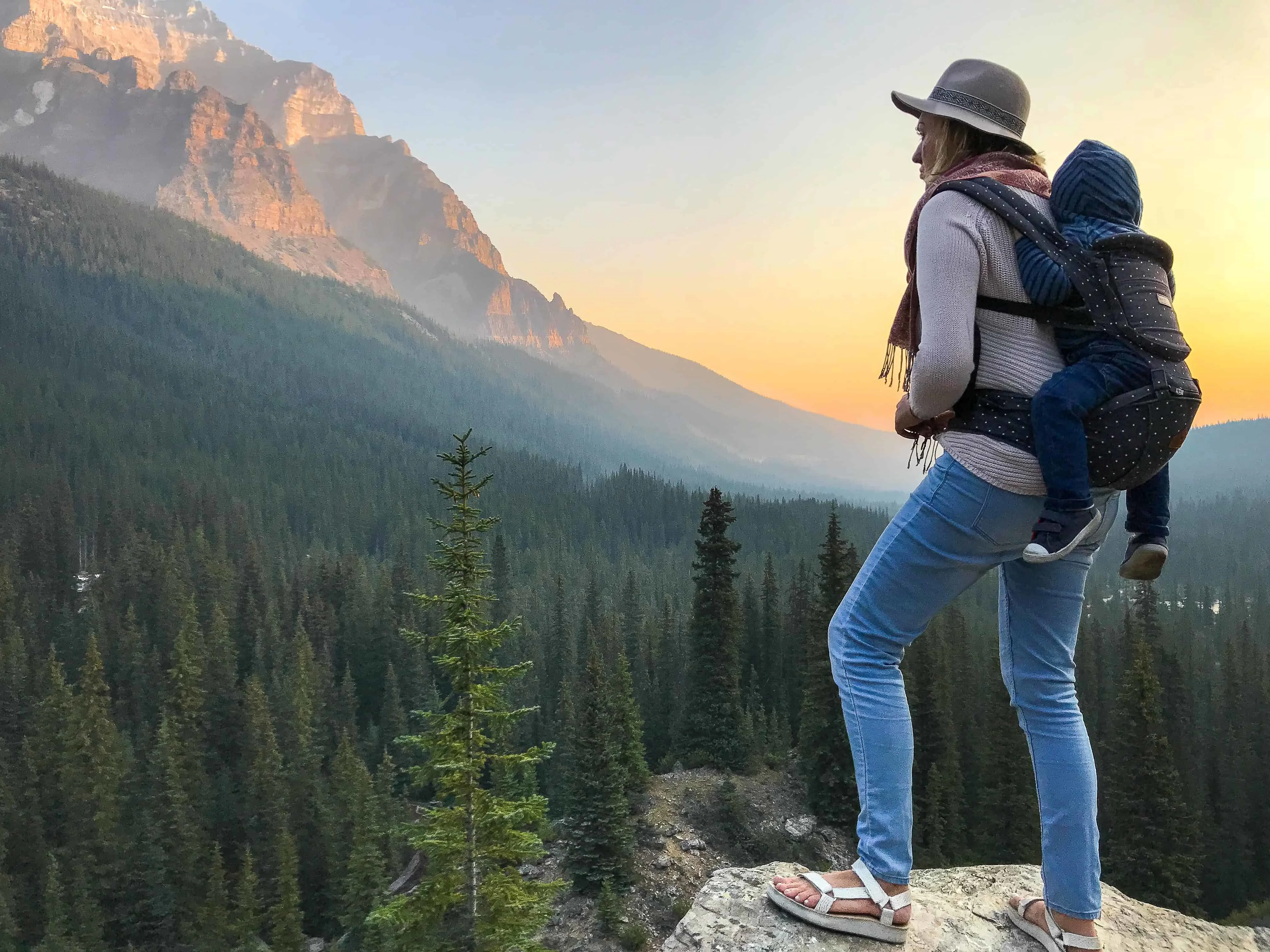 Finding the Best Affordable Baby Carrier
Baby carriers can be a costly expense and can range from £20 / 30 USD to £180/ 250 USD. This does not mean the most expensive one is the best.
We have found that the really cheap carriers are usually lacking in quality and comfort. They also are not necessarily completely safe for your baby's hip so it's really important to check that they are certified.
This does not however mean that the most expensive ones are best. There are plenty of really great carriers that are mid range, price wise. Hence why we've put this guide together for you with all the pros and cons of each and for each option we will try and give you an accurate estimate of the baby carrier price.
Best Baby Carriers For Travel Review
The Best Ergo Baby Carrier: ErgoBaby Omni 360
ErgoBaby has long been making fantastic carriers that mums and kids love. Their Ergobaby Omni 360
might just be the best ErgoBaby carrier yet, combining the best features from some of their popular carriers.
This soft baby carrier is an ergonomic carrier that can be used in four positions (back carrier seat, front facing, facing in towards your chest, and side carrier). It can also be used as an infant carrier (without even needing a newborn insert!) and all the way through toddler-hood. It can be used for babies from 3.2-20 kg.
Sale
It is also, by most reviews, very comfortable and easy to strap in once you get the hang of it. The straps go across, making an x on your back, which helps distribute the weight, making it one of the best baby carriers for back pain. Some reviewers have found it to be difficult in the beginning to get the hang of all the different adjustments.


The only complaints we've heard about this carrier is that it's thickly padded seat, while making your child extra comfy, can make things especially hot for you and baby so it might not make the best choice if you are frequently using it in hot climates.
It also makes the carrier a bit bulkier so it will take up a bit more room when you are storing it.
You can usually find the ErgoBaby Carrier for around 125 GBP. Check current prices here
.
Pros:
Can be used in four positions

Can be used as a newborn carrier – toddler carrier

Comes with great baby carrier cover to protect from sun

Thick padding and ergonomic design to ensure baby's and mum's comfort

Good weight distribution, making it comfortable for back pain
Cons:
May be complicated to figure out at first

Can be too hot for hot climates

Bulky
Conclusion:
The ErgoBaby Omni 360 is one of the best baby carriers for travel from one of the best baby carrier brands. If you are looking for a baby carrier from birth until toddlerhood, that can be used in a multitude of positions and ways, this may be the right baby holder for you!
Buy baby carrier here
.
ErgoBaby Carrier Reviews
Contributed by the Backyard Travel Family.
"We love our Ergobaby so much that we actually bought two! I took my first born on his first overseas trip all the way from New Zealand to Washington D.C by myself, when he was just 8 weeks old.
It was such a lifesaver to have my hands free through transit and for him to sleep on my chest the whole third flight when there was no bassinet. After that, I was sold on just how comfortable and easy to use this carrier was.
This soft shell carrier can be used as a front pack or a baby carrier backpack. (Or as a hip carry but I've never found the need to do this)
It can be used from newborn with a newborn insert, all the way up to school age or when they hit about 20kg. My 5 ½ year old has just reached the weight limit and I am still happy to carry him.
I love that it is light, so I can always throw it in the car or travel bag, and that it's so easy to put on. Just clip on the belt, pop them in and there's one more buckle – Ta-da!
Compared to woven wraps where you have to get the tension just right and remember how to tie it, this is a dream!
The sun hood has a dual use, stopping nosey babies from looking around when they should be sleeping. The last thing I love is the little zip pocket for keys, although would love it to be a wee bit bigger to fit my full wallet or a nappy.
Another bonus: I am 170cm tall and my husband is 180cm and we both find this carrier comfortable to wear."
Read more Ergo Baby Carrier Reviews here
.
Baby Bjorn Carrier Original – Best Newborn Carrier
The Baby Bjorn Carrier
is another carrier from a very popular brand. This carrier might be the best newborn carrier and parents and babies find it extremely comfortable at that age.
Sale
BabyBjörn Baby Carrier Mini, Cotton, Black
Perfect first carrier for newborns
Adjustable seat and head support for continual ergonomic support as your baby grows
Cozy and flexible fabrics designed to comfort your baby
The baby front carrier is especially suited to little ones, keeping their legs and feet in a more natural position for them.

It also is one of the easiest carriers to get on and off, with all the buckles being plugged in at the front. It also is set up so you can easily unhook the front piece allowing you to lay down your sleeping baby without jostling or waking them up.
The downside of this baby carrier is that it is meant only for babies. The carrier does not have a hip belt which usually helps keep some of the weight off your shoulders, so if you have a larger baby it could get uncomfortable before they even hit 6 months old.
You can usually find the Baby Bjorn Carrier Original for around 85 GBP. Find current prices here
.
Baby Bjorn Carrier One
Alternatively, if you want a Bjorn that you can use all through toddlerhood, BabyBjorn also makes a carrier that can be used at all ages and in four different carry positions. This carrier is reportedly very comfortable for mum and child.
Sale

It is very similar to the original but comes at a much higher price point and is more complicated to put on and get off.
Read more reviews of the Baby Bjorn Carrier One here
.
Pros:
Best newborn carrier

Extremely easy to put on and take off

Good price point
Cons:
Not suitable for toddlers
Conclusion:
If you are looking for a good quality baby chest carrier for your newborn and don't plan on carrying them at an older age, this is the carrier for you. These carriers are very comfortable for little babies and their mums and comes at a reasonable price tag.
Buy the Baby Bjorn here
.
The LilleBaby Carrier
The LÍLLÉbaby Complete Airflow carrier
is a fantastic hip carrier that you will be able to use as an infant baby carrier and toddler baby carrier.
We especially like this one for a travel carrier because it has mesh panels which allow for better airflow. This really helps if you and baby not get overheated when on the move or in hot climates.
Most parents seem to find the Lillebaby Carrier extremely comfortable, with its wide, thickly padded, straps. It is worth noting that some more petite parents found them to be too bulky.

The carrier can be used in 6 positions (back, front-forward facing, front-inward facing, front – fetal, front – infant, side).
It also is one of the best infant carriers because of its fantastic ergonomic design which keeps your newborn in the most optimal position for their legs and back.
The downside of this carrier is that it's a bit stiff and bulky, which means if you have to carry it around in a bag, it may take up a lot of space. It also is not the most intuitive and you may have to watch a few YouTube videos to figure out how to configure it correctly so that you child is sitting in the proper position.
A few reviewers reported that they thought they were using it correctly but hadn't adjusted it for their baby to be sitting in the optimal position for safety and comfort.
The LilleBaby carrier usually sells for around 100 GBP. Check current prices here
.
Pros:
Good for hot climates

Very comfortable for most parents

6 positions

Ergonomic design very good for baby
Cons:
Set up can be a little difficult
Conclusion:
If you want a carrier that can do everything, this might be the carrier for you. You may have to put a bit of effort watching videos to make sure you set it up correctly but this carrier is great for most people and most situations.
Buy baby carrier here
.
LilleBaby Carrier Review
Contributed by The Elusive Family.
"After having tried and tested numerous carriers for babies, the LÍLLÉbaby All Seasons beats all other carriers in terms of its ease of use, comfort, breath-ability, coverage and ability to breastfeed!
The front panel on the LÍLLÉbaby All Seasons is zippered, allowing to change the thickness of the material for maximum breathability depending on the time of year. The straps are padded and extremely comfortable as well as easy to change depending on how high or low you want to hold your baby. The ability to change the straps and the construction of the carrier, also provides for plenty of room to maneuver the baby and even breastfeed in the carrier! This bonus is crucial for a mom and especially when on the move with the carrier, particularly during travel.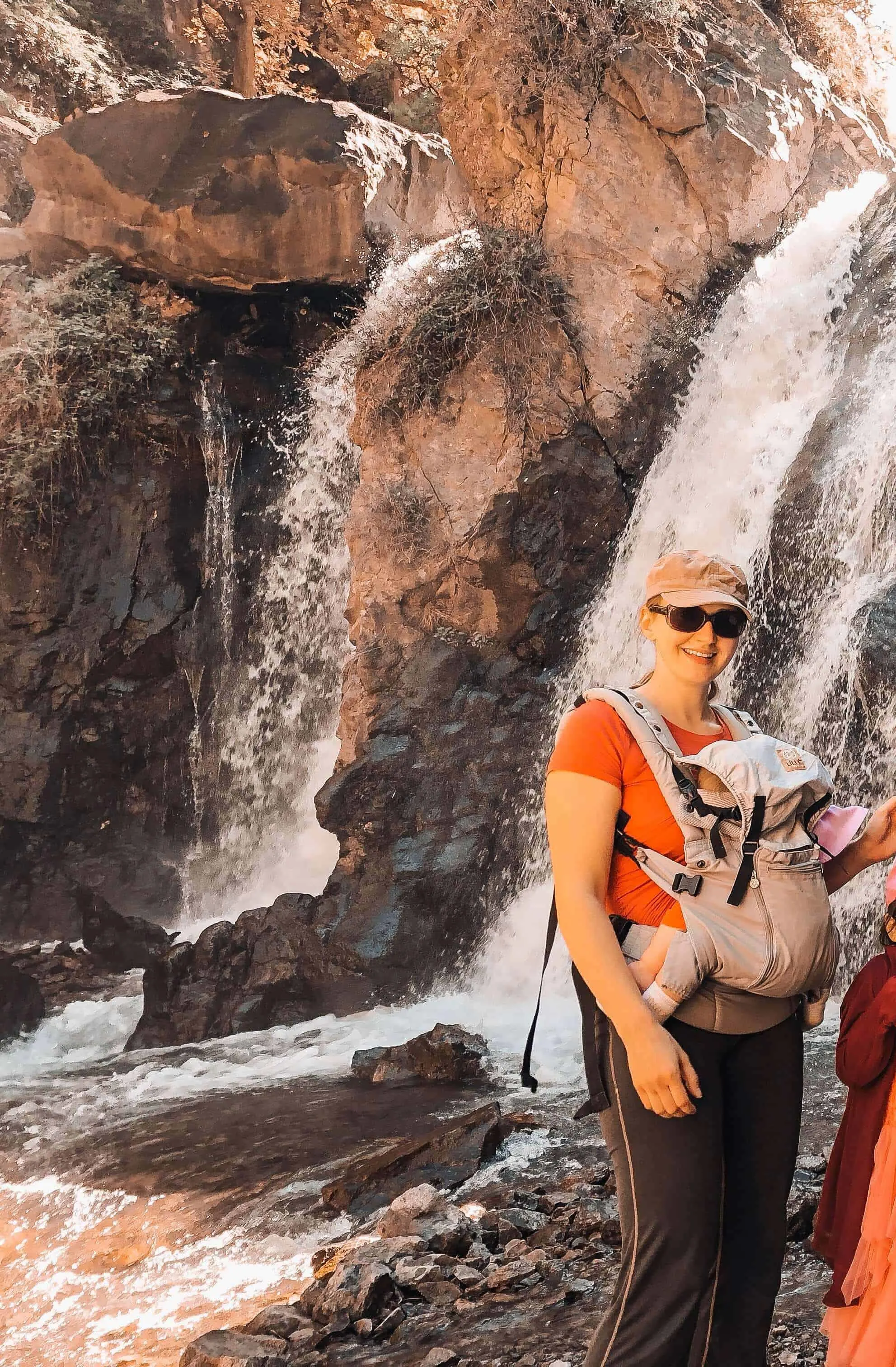 Babies can be forward facing as well as they get older. There is an option to change the width of the seat as well, which provides great versatility in the baby sitting properly and comfortably. Among the best features is the head support as well as the hood which provides perfect coverage from the sun and people, while baby naps."
Read more reviews of the Lillebaby Carrier here
.
The Manduca Carrier
The Manduca Carrier
is a fantastic and highly recommended baby carrier. A four position carrier made from organic and very strong materials, this carrier will last you not only from infant to toddler, but also through all your kid's baby carrying years.
Most mums and babies find this baby carrier extremely comfortable and it seems to fit well for people of all shapes and sizes.

The main complaint against this carrier is just that it can be a little confusing to get on and off. There are also some complaints from parents who seem to be using it incorrectly, which ends up with the babies being very uncomfortable. So, if you invest in this carrier, be sure to read the manual and watch YouTube instructional videos for each age and carry position you plan to use it in.
The Manduca Carrier can usually be purchased for around 90 GBP. Check current prices here
.
Pros:
Suitable for infant through toddler

Four carry positions available

Comfortable
Cons:
Conclusion:
If you are looking for a great all around carrier and you don't mind spending some time figuring out how to use it and how to get it on and off, this might be the carrier for you. A high quality carrier, this will truly be an investment and last you a very long time.
Buy baby carrier here
.
Manduca Carrier Review
Contributed by Happiness Travels Here.
I have used the same Manduca baby carrier with 2 children over 7 years. That is saying something about the quality of this carrier. The cotton construction is breathable and soft while being hard-wearing and easy to clean-just throw it in the washing machine.
The wide padded shoulder straps and thick waistband transfer weight to the hips taking the load off the back, neck and shoulders.
The Manduca is suitable from newborn up to preschool age (under 20kg). My second child was born with hip dysplasia and even with the bulky splint, I was able to carry her safely in the Manduca.
Once she was out of the splint, I was reassured by the doctor that carrying her in the Manduca kept her hips in the perfect 'M' position that was so critical for normal development.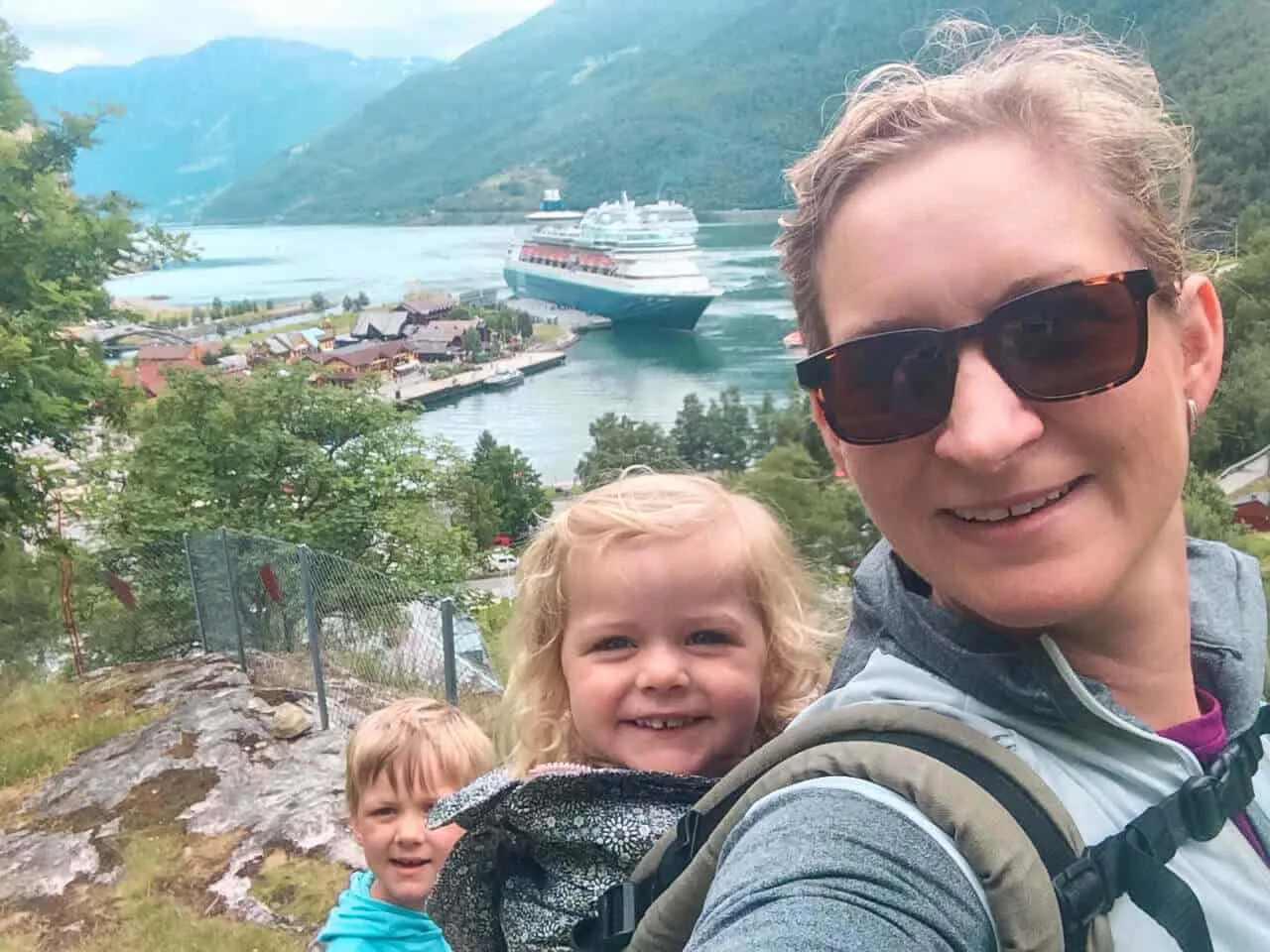 From 6 months old I was able to carry her on my back, freeing up my hands to drink coffee and read guidebooks and as we travelled through Europe.
As the kids got older and were able to walk more, the Manduca was stuffed to the bottom of the day pack and pulled out when tired legs needed a rest or a nap on the go. It was a lifesaver on many occasions.
Read more reviews here
.
Tula
The Tula Ergonomic Baby Carrier
is a really amazing carrier that mums love so much that it has a cult following. It is an incredibly easy baby carrier to put on and off and is so comfortable.
Parents love the wide, thickly padded straps that keep baby's weight well distributed. Babies love the wide seat that keep their legs in the optimal position for their hips and their comfort.
This carrier can be used from newborn age, with an easy to use infant insert, until childhood.
It only is usable for two positions (front, chest facing, and back carry).
It also very easy to breastfeed in, and while it comes with a sun shade cover that can be used for privacy, it isn't really needed because the carrier itself will provide a lot of privacy.
The carrier also comes in a variety of fun, bright colored patterns and have become collectibles for some mums, who spend loads on their high end, limited edition patterns.
The basic one can be purchased for around 80 USD. Check current prices here
.
Pros:
Easy to use

Comfortable for mum and baby

Very safe and comfortable for baby's hips

Can be used for all ages
Cons:
Only has two carry positions
Conclusion:
If you are looking for an all around fantastic, easy to use carrier and you are not bothered by only having 2 carry positions available, this may be the carrier for you! The Tula mum cult following even has park meetups, so it scores some extra points if you are looking for some mum friends.
Buy baby carrier here
.
Mountain Buggy Juno Carrier
The Mountain Buggy Juno
Carrier is a carrier that does great in almost every category. You can use it in four positions, from newborn (with an insert) until childhood, and it's very comfortable.
The carrier is extremely padded and ideally structured to make it very comfortable for the parents. It's also ergonomic and a good carry position for baby's safety and comfort.
Mountain Buggy Juno Carrier Bundle, Black
4 medically approved, ergonomic carrying modes : FRONT face in, FRONT face out, BACK carry and HIP carry….
Intuitive hands through connection pouch
Adjustable sternum runners with strong magnetic fastening providing easy adjustment
The best part of this carrier is a pocket that you can put an ice pack into to keep you and baby cool on hot days.
The only complaints we've seen against this carrier is that the magnetic clasp can be a bit hard to close, that it can be a little bulky and the baby carry belt is thickly padded which some people don't like.
You can buy a Mountain Buggy Juno Carrier for around 90 GBP. Check current prices here
.
Pros:
Comfortable for mum and baby

Great option for all ages

Four carry options

Ice pack pocket makes it great for hot days
Cons:
Magnetic clasp can be hard to close

A bit bulky
Conclusion:
This is a really great all around carrier, with good back support for you and leg support for your little one. If you are on the petite side you may find it a bit bulky.
Buy baby Carrier here
.
Click here to read a more in depth review of the Mountain Buggy Juno.
i-Angel Hipseat Carrier
Another great four position carrier, the I-angel Carrier
is a personal favorite. This carrier has proven to be a very durable and comfortable option.

The carrier is really easy to put on and take off and has a nice comfortable padded shoulder padding.
The I-Angel's thick waist strap takes the weight off of your shoulders making it very comfortable.
It is also very comfortable for kids with it's nice ergonomic design.
It is worth noting that for some smaller people the weight became uncomfortable for their waists, but for most it's a great option.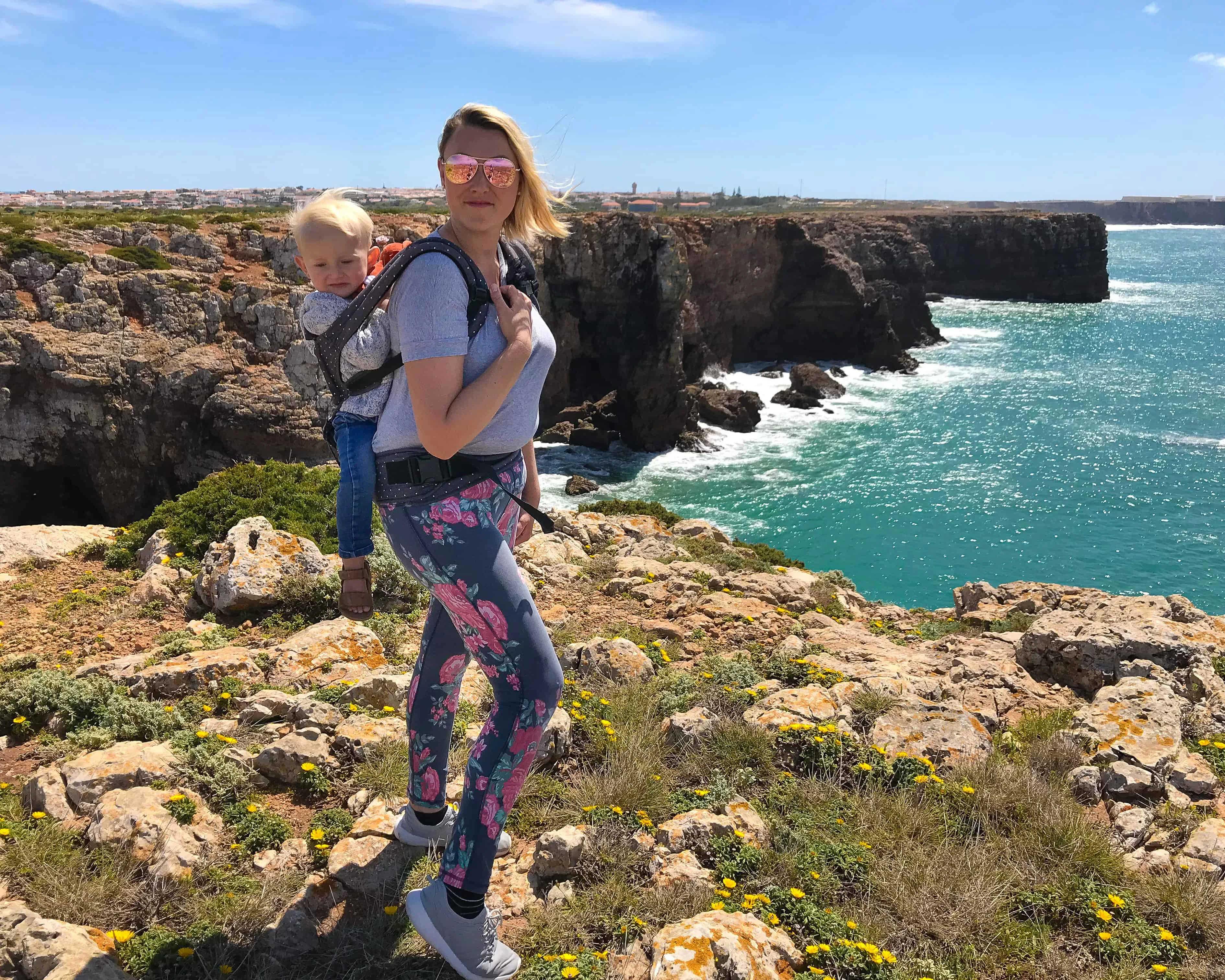 This carrier is not suitable for newborns until they are old enough to support their own heads although it will last you until your child hits 20 kg.
You can usually find the I-angel carrier for around 160 GBP. Check current prices here
.
Pros:
Extra thick padding on shoulders and waist

Comfortable ergonomic design

Four position carrier

Extremely durable
Cons:
Not suitable for newborns

May be uncomfortable for petite people
Conclusion:
If you are past the newborn stage, or planning to use a sling or other solution for the first couple months, this might be a great carrier for you. This baby carrier is comfortable, durable and has loads of positive review from mums who have fallen in love with it.
Buy baby carrier here
.
For a more detailed review of the I-Angel Carrier click here.
Osprey Poco – Best Baby Carrier for Hiking
As mentioned, buying a hiking specific carrier, while not necessary does come with some great benefits. If you are a family who loves hiking it may be worth investing in a hiking baby carrier.
Hiking carriers can be much more comfortable if you are doing long hikes, as they are built to really distribute the weight well. It is worth noting that people who are more petite sometimes feel like they are thrown off balance or just generally uncomfortable because of the large size of this carrier.
Our top choice for best baby carrier for hiking is the Osprey Poco AG Child Carrier
. This carrier rates really well for parent and child's comfort. It also comes with a lifelong warranty! No matter what happens the company will fix or replace the carrier for you if you are having problems.


The carrier has a comfortable and very secure seat for your child set up high on a metal frame so your little one will be able to appreciate the beautiful views. The Osprey has a great and easy to pop out sunshade if it gets too sunny out.
It also comes with large storage pockets that you can use to carry all your hiking necessities. It also comes with a rain cover and a kickstand. The kickstand is great for when you are taking the pack off so you can set it down on the ground without it falling over while you get your child out.
The carrier also has great mesh panels to keep your kids from overheating on a hot day.
The downside to purchasing a hiking carrier is that they are on the pricey end, they are heavier than the regular carriers, and they are only appropriate for kids from 6 months old.
You can usually find this carrier for around 230 GBP. Check current prices here
.
Pros:
Good for long hikes, especially multi-day hikes

Comfortable for Mum and Baby

Large pockets

Lifelong warranty

Good airflow for hot days
Cons:
Heavier and bulkier than traditional carriers

Not appropriate for newborns

Pricey
Conclusion:
If you are going to be doing a lot of hiking and want to invest in a great hiking backpack, this is the one! You can't go wrong with a comfortable hiking carrier that comes with a lifelong warranty.
Buy the best hiking carrier here
.
Osprey Poco Premium Carrier Review
Contributed by Pack More Into Life.
"The Osprey Poco Premium is a wonderful addition to kids travel gear due to its high weight and length limit (48.5 total pack load). This is a hiking style carrier that is worn on the back, features support for both the child and the adult, as well as a generous sunshade and storage.
It is best for children aged 6 months up to 5 years old (depending on height and weight). With an adjustable seat and multiple positions, children will also be safe and secure with the ability to see easily.
The carrier features plenty of fabulous accessories such as a removable drool pad, pull out changing mat, hydration sleeve, detachable day pack, and foot stirrups to maintain the proper positioning for your little one.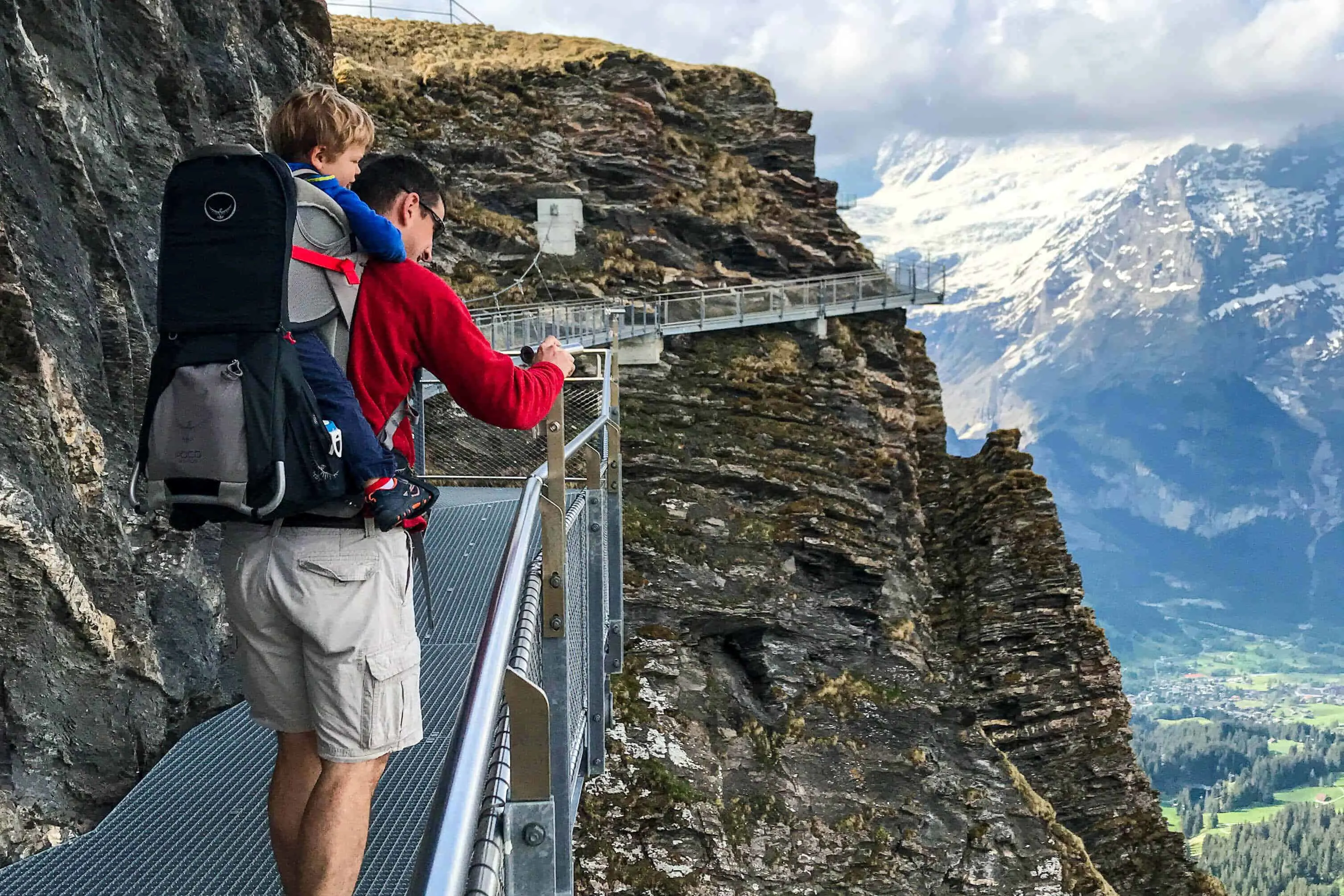 This type of pack is perfect for traveling especially in crowded locations or places where a stroller is hard to maneuver."
Read more reviews here
.
Twingo Carrier – Twin Baby Carrier
If you have twins, or even two kids who are of a wearable age you have two choices; buy a double baby carrier or wear two simultaneously (one on the front, one on the back).
One of the best twin baby carriers is the TwinGo Baby Carrier
. This carrier holds one kid in the front and one as a backpack carrier by having two carrier pieces that snap together. You can also use only one half of it if you will only be carrying one kid.
This carrier can be used from newborn if you get the newborn insert.
Most reviewers find this carrier very comfortable for parent and child although the weight of carrying two kids at once can be too much for some people.
The main downside to this carrier is it takes some practice and YouTube style instructional video to figure out how to get it all snapped into place, it is not the easiest carrier to figure out.
It also can only be used in two positions; front chest facing and backpack carry.
You can usually find this carrier for around 200 GBP. Find the best prices here
.
Pros:
Can carry two kids at once

Can be used from newborn age with insert

Comfortable for parent and child
Cons:
Can be confusing to put on and take off

Only two carry positions
Conclusion:
If you are looking for a way to carry two kids at once, this is probably the most comfortable option.
Buy carrier here
.
TwinGo Carrier Review
Contributed by Then I Had Twins.
"As an international family (Dutch/American) we knew that we didn't want the fact that we were having twins to stop us from exploring and traveling the world. We quickly realised that baby wearing would make both our day-to-day lives and traveling with two babies much easier and decided to purchase the TwinGo carrier.
The Twingo has gone with us on endless trips and makes travel days so much easier since we have been able to ditch our double stroller while navigating the airport, shuttle buses and can easily board and deplane or comfort cranky babies in flight or on the go. It even gave me the confidence to fly with the twins solo 4 times before they turned 2!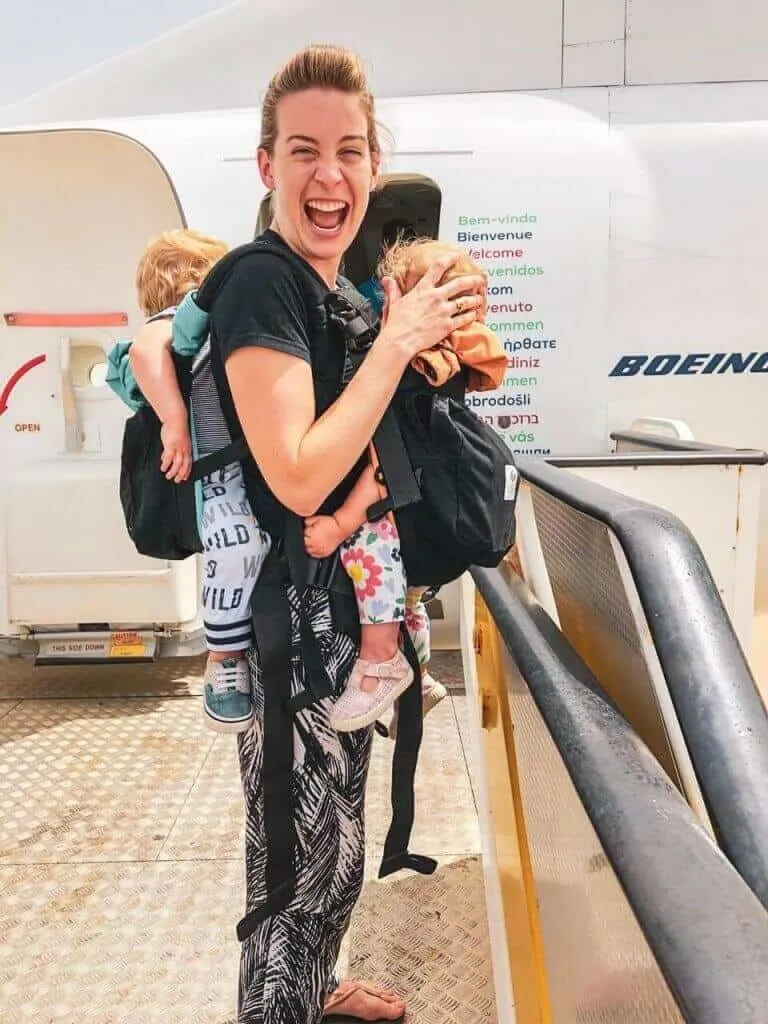 What I love most about this carrier is that it functions as both a tandem, front/back carrier, which I have used since the twins were 5 months old and can handle up to 70 lbs combined, and two single carriers which fit both me (158cm) and my husband (188cm) comfortably as either a front or back carrier and we have used since the twins were newborns and can handle up to 40 lbs.
The options on how to wear your twins (or two children) are really endless with the Twingo – tandem, front or back or side carry single, and it includes newborn inserts, panel extenders, weather (sun) shields, and teething guards.
I highly recommend this product to both twin parents or parents with young children close in age – whether you are headed to the grocery store or on holiday, it's so versatile and easy to use even when on your own, the TwinGo is really a game changing product for parents of multiples!"
Read more reviews here
.
SaddleBaby Carrier – Baby Shoulder Carrier
If you are looking for something a bit more unique, we've got you covered. The SaddleBaby Shoulder Carrier
is a really cool new type of carrier where your child sits as if he is being carried on your shoulders but there is a seat for his bum and his legs get strapped to your chest.
This makes it more comfortable for the parent and much safer for the child. It also allows you to shoulder carry your child, hands free.

For families with kids who love to be carried on shoulders, this is a fantastic option. It is only appropriate for toddlers though.
Whilst some families love this carrier, some find it less comfortable for women because of the chest strap and some just don't like how the seat sits on them, so you definitely want to try this one out to see if you love it or hate it.
You can usually find the SaddleBaby Shoulder Carrier for around 75 GBP. Find current prices here
.
Pros:
Great for kids who love to be shoulder carried

Makes shoulder carrying more comfortable
Cons:
Only appropriate for toddlers

May not be comfortable for some
Conclusion:
If you will be doing a lot of days in the park, museums, parades, etc. this can be a really great option. Especially those who already throw their kids up on their shoulders to give them a good view of the world, this will make things easier and hands-free.
Buy carrier here
.
More Baby Carriers You May Like – Baby Carrier Reviews
The Freeloader Carrier
Contribution from Tin Box Traveller.
"The Freeloader was designed by parents who couldn't find anything quite like it on the market and it definitely ticked plenty of boxes for us. It's compact – no bigger than a day pack – sturdy with a aluminium frame, and padding on the straps and seat.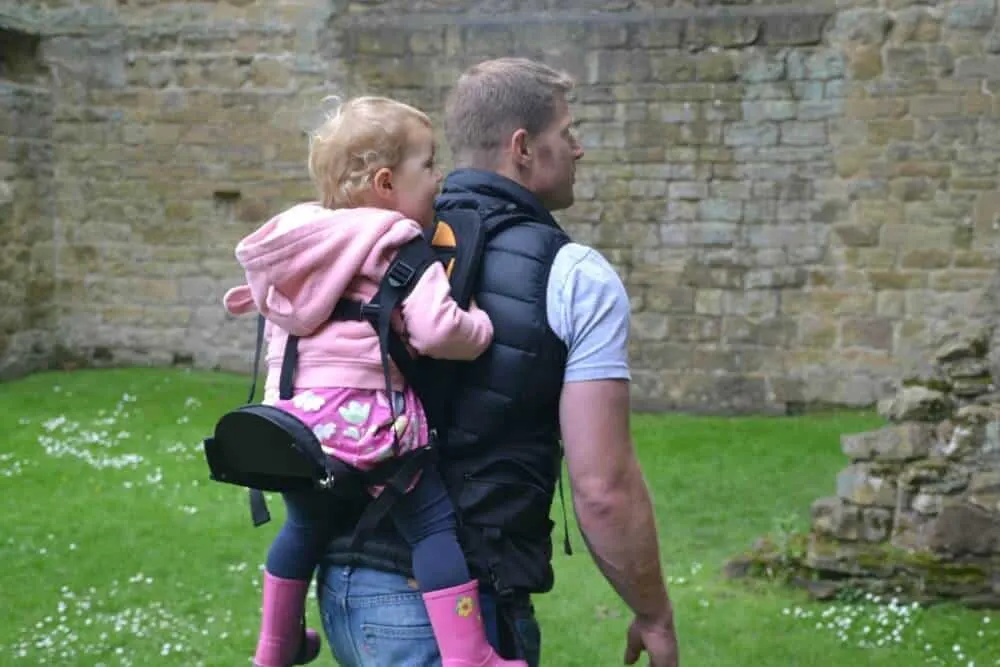 Your toddler sits in the piggyback position and their weight is distributed around the adult's core and shoulders.
It's the type of carrier that you can wear whether or not your kid needs a rest from walking and it takes up very little space. In fact, you could easily take it on a plane as hand luggage so you're ready to carry an exhausted toddler as soon as you leave your seat."
DEUTER KID COMFORT 3
Contributed by Parenthood and Passports.
"The Deuter Kid Comfort 3 is the perfect kid carrier for active families with toddlers. It can safely be used beginning when a child is old enough to sit up on his or her own. And because it has a weight limit of 48 pounds, you'll get plenty of use out of it as your child grows.
Our daughter is a very curious child, so when she was about 8 months, she no longer liked being worn in a chest-facing baby carrier. We switched to the Deuter Kid Comfort because it allowed her to sit up high and see the world while still being safely strapped in.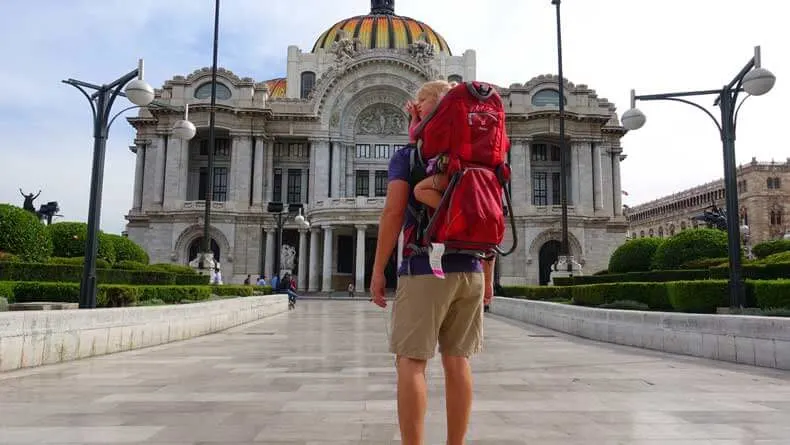 This has kept her perfectly content on multiple trips and nature hikes throughout her toddler years. The carrier is adjustable and distributes the weight evenly, positioning most of the weight on the hips rather than the back.
The Kid Comfort comes with a removable shade to keep little ones out of the sun and even a rain cover to keep them dry in wet weather."
HUG-A-BUB
Contributed by World of Travels with Kids.
"We are huge fans of the cloth wrap style carrier, Hug-A-Bub. As the name suggests, your bub is wrapped into the carrier and you literally hug them as you carry them.
We've used this for travel up to 6 months old when we have switched to a sturdier carrier like Ergobaby.
Why is the Hug A bub a great carrier? Newborns are floppy, and they like to be cuddled and hugged, and this carrier adapts to those needs. Our last two babies have loved sleeping in it, as it is like sleeping on mum and it works when all other techniques don't work. Instead of needing to hold the baby constantly you can get things done and are hands free.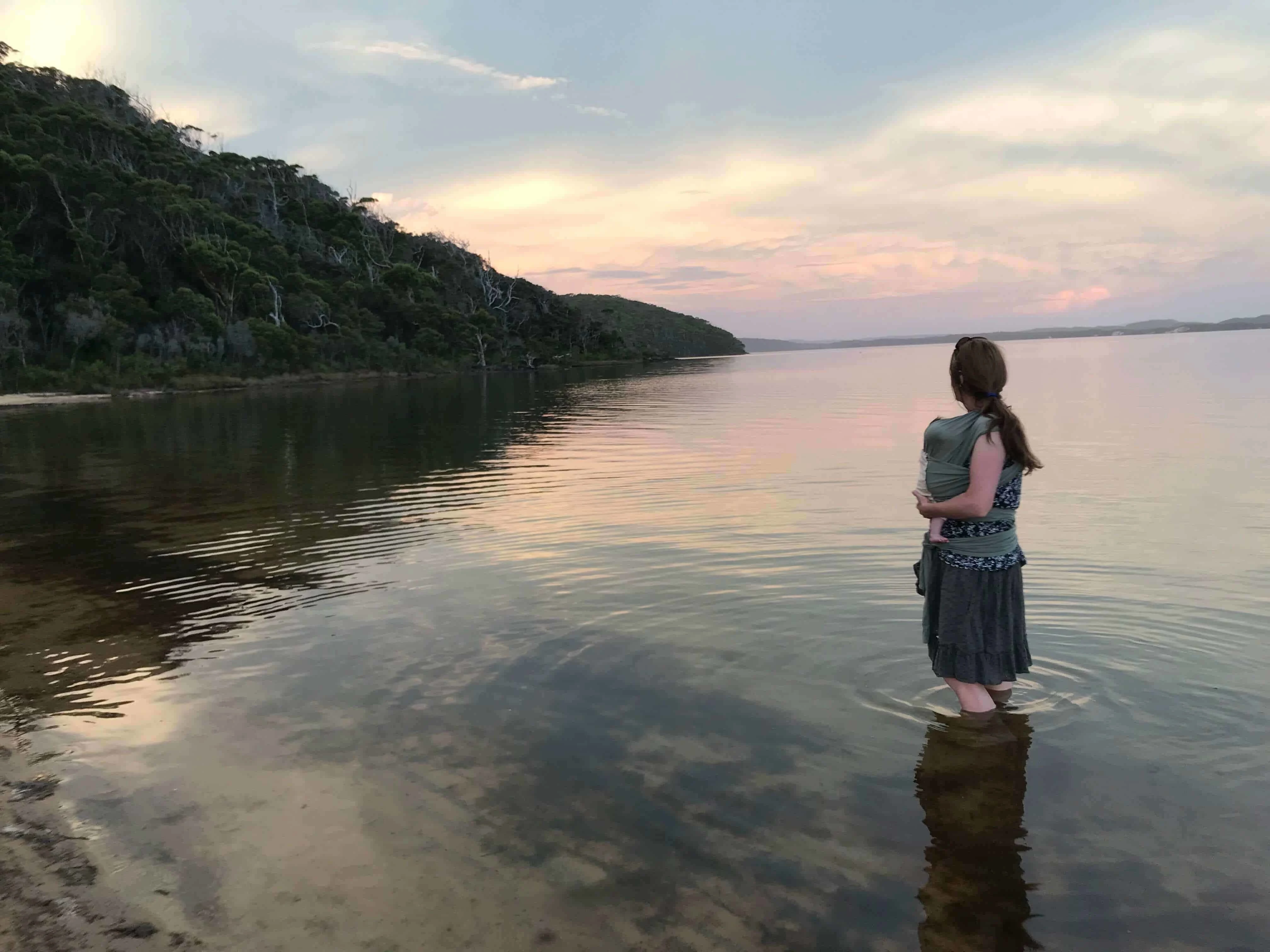 The wrap, while having plenty of fabric, is easy to jam into a backpack or carry bag and doesn't require any special packing skills.
The 'negative' of the wrap is putting it on – it requires practice and is on the challenging side. (Watch lots of you tube videos!) Once you have it mastered though, it is as quick and easy as other type of wraps.
Even when they are older and the Ergobaby was my go-to carrier, the Hug A Bub was still cosier and better for days when baby is sick or teething and can't be put down. (I put this down to the soft and huggable feeling!)"
WOMPAT
Contributed by Travel Gear For Kids.
These hand-made Finnish baby carriers are such a sight for sore eyes! The signature gnome pin hat makes them recognizable wherever you go. Add to that that they use the magnificent woven wraps of Girasol and Vanamo for their carriers and you know why I fell in love with them.
As they come in 4 sizes (baby, medium, toddler & preschooler) they are one of the only brands that really cater towards bigger kids.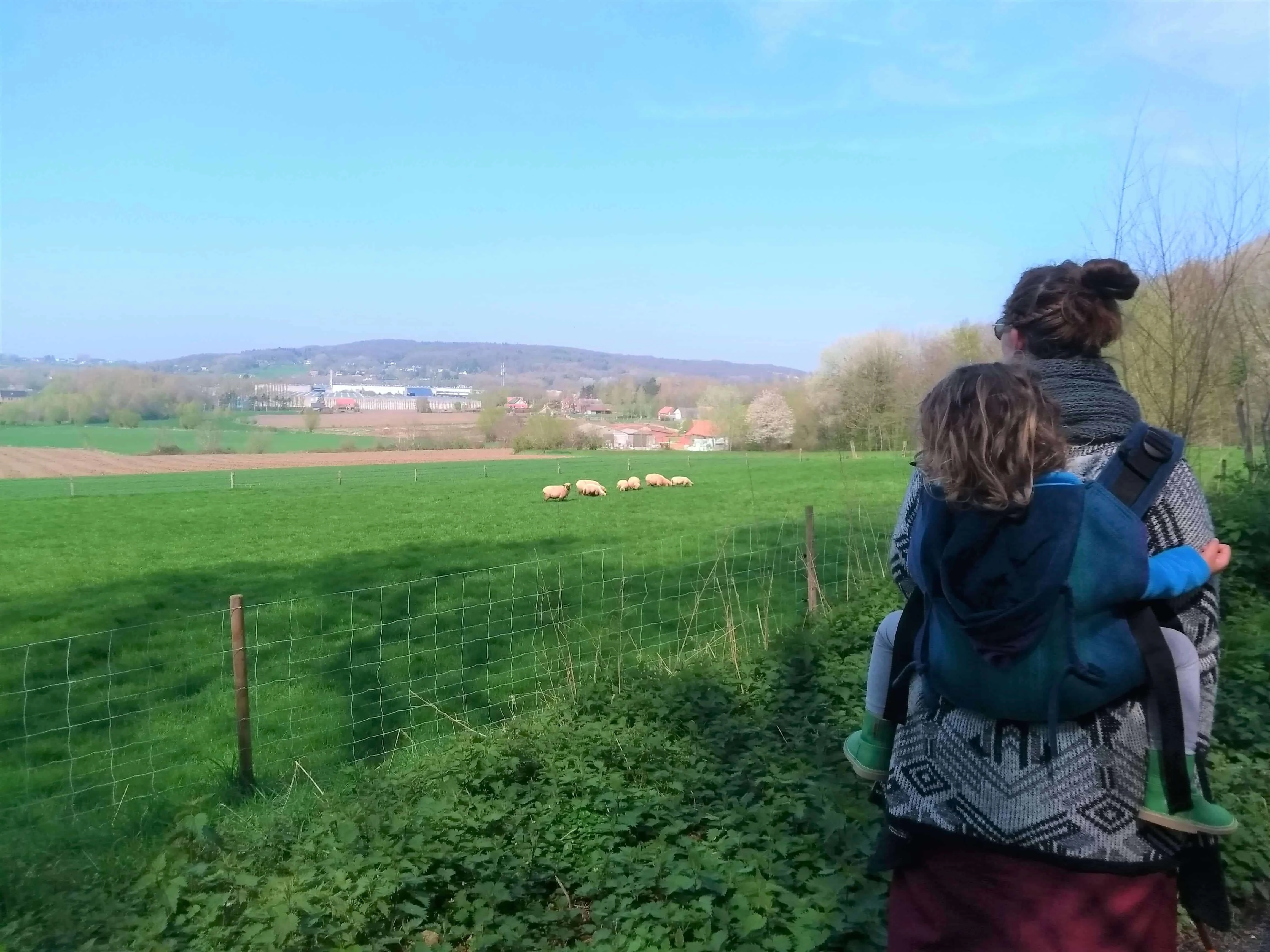 I love the beautiful wrap fabric (and you can even get them to make a custom wrap conversion, either with their fabrics or your own!) and the soft hip belt (especially great for people who don't like stiff belts). My 3.5 year old daughter sits comfortably in a Wompat toddler with the high back panel, the padded leg openings and the deep seat and loves it!
Be aware that the hip belt and shoulder straps are made from either corduroy or cotton twill. I didn't pay attention and ended up with a corduroy one while we were about to travel to Malaysia. It wasn't the best choice as a hot weather toddler carrier, but it works perfectly at home."
MACPAC VAMOOSE V2
Contributed by Navigating Adventure.
"We purchased the MacPac Vamoose V2 when our son was around 18 months old, and we love it for its comfort, versatility and longevity. We have used it for everything from city day trips to hiking in nature.
One of the benefits of this style of carrier is the storage space it provides. It has plenty of room for nappies, wipes, snacks, changes of clothes, sunscreen, hats and swimmers so there is no need to carry another bag.
It also comes with a small daypack that can be removed for convenience. Being a backpack style carrier, the weight is distributed evenly so you can move freely while carrying your child.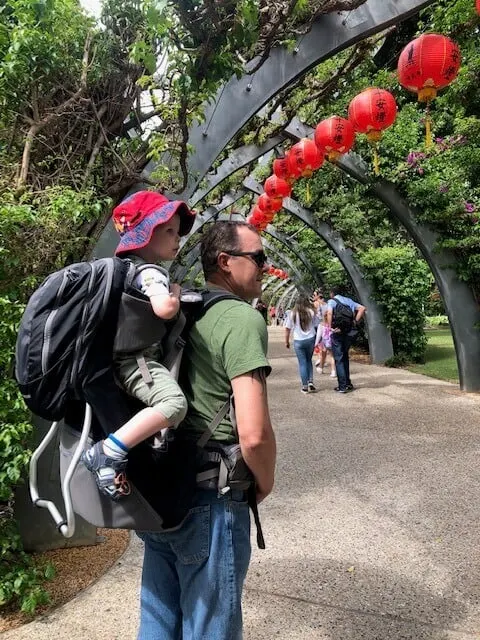 Relatively easy to put on, the Vamoose V2 has a stand which allows you to rest it on the ground while placing your child in position before swinging it onto your back.
It includes an adjustable safety harness for security and foot stirrups for comfort – allowing your child to stand if they want. A sunshade and rain cover is included, and a neck pillow for extra comfort can be purchased."
You May Also Like:
Disclaimer: This post contains affiliate links. By using them it will not cost you any extra, we will get a small commission on the sale. Thank you for supporting us : )
Last update on 2023-12-01 / Affiliate links / Images from Amazon Product Advertising API