There are tonnes of incredible Christmas Lights trails UK-wide! Christmas is such a magical time of year. No one cares that the weather is cold and sometimes a little miserable, be it snowing or raining.
It's all about donning those winter woollies and getting into the spirit of the festivities. I love winter's cold, fresh air and walking, especially when something interesting happens.
Despite the sun dipping quite early in the UK in December, the country comes to light with twinkling lights, Christmas markets, festive train rides, Santa's Grottos and Christmas lights trails.
Walking along the Christmas light trails is a great way to get outside for fresh air, exercise, and be distracted from the cold. It's nothing gloves, and a hot chocolate wouldn't resolve.
However, if you prefer to stay toasty, check out this post about incredible Christmas train rides in the UK.
I've been hunting for the best Christmas light trails in the UK. With a little help from my blogging friends, we've come up with this list of fun places to visit this Christmas.
Christmas Lights Trail UK
1. Kew Garden Lights, London
Kew Gardens in London has to be one of the most anticipated Christmas Lights Trails. Well, for Londoners, at least!
Tickets go on sale months in advance to the enchanted festive gardens, which feel like they span miles.
The botanical garden turns on the festive vibes in early November and it runs through until January. Needless to say, weekends and the days leading up to Christmas are the most popular.
However, it is worth the anticipation. It features a 3km long trail weaving through illuminated giant ancient trees, arched walkways with thousands of fairy lights and interactive lights dancing to festive music.
It feels like an enchanted forest with colourful lights covering the ground as far as the eye can see. It's like something out of a movie.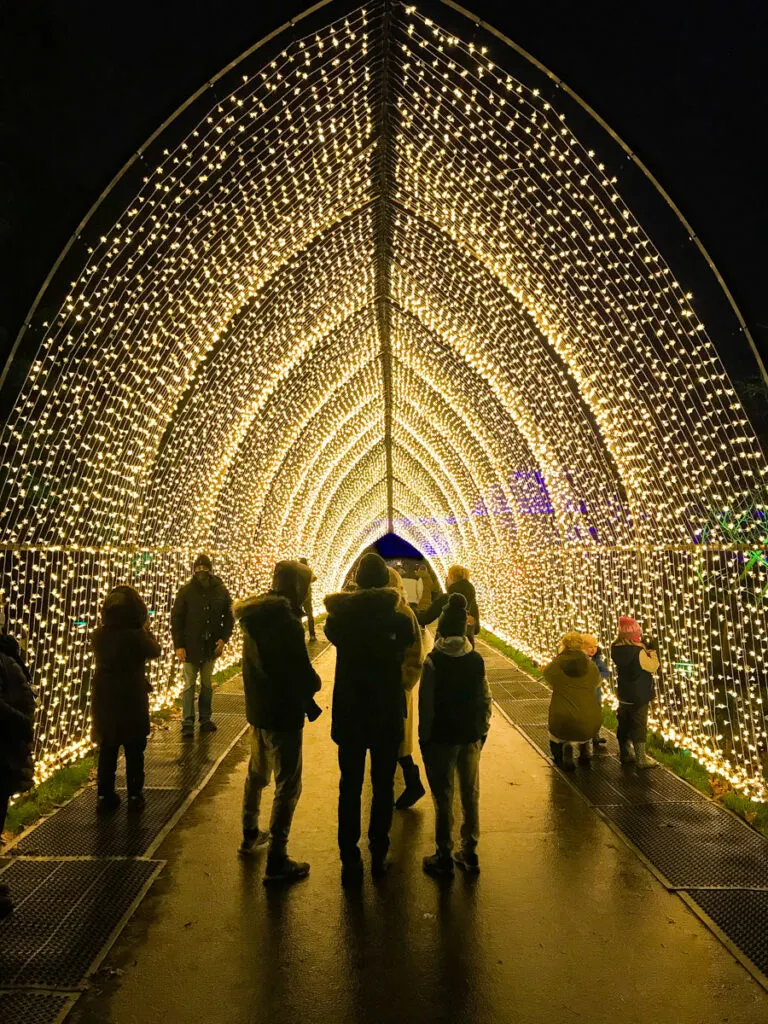 Some show stoppers include the glass house, which usually has a show projected onto it, the fairground and the fountains, which also have light projections.
The fountains have always been towards the end of our walk. However, it depends on which entry gate you choose when purchasing tickets.
Another fantastic display is right at the iconic tree-top bridges. There are some fantastic light and music displays there too.
Aside from the entertainment of the Christmas lights trail, there are also stalls selling mulled wine, hot chocolates and all the usual festive treats.
Children will love the fairground with a Ferris wheel, swings, and more along this Christmas lights trail.
It is pretty cold at Kew since it is a vast green space, so wrap up well.
Doing the full trial can take up to 2 hours, so ensure you are prepared.
2. Christmas Light Trails London Central
It's fair to say Central London at Christmas is probably one of the most magical and iconic spots on the planet.
I created a DIY walking tour through London to hit the main Christmas light trails. However, if you are a tourist visiting the city, you may like to join in on an official Christmas lights tour of London.
There are many types of tours, some are on foot, others are on an open vintage route master and there are even cycling tours to see the Christmas lights.
If you prefer to do it yourself, navigating the lights in central London is pretty easy. Start at Covent Garden and aim to finish at Hyde Park. You can shorten this, but here is a rough itinerary.
First, explore the main square in Covent Garden, where you'll find a giant Christmas tree, carollers and many other festive displays.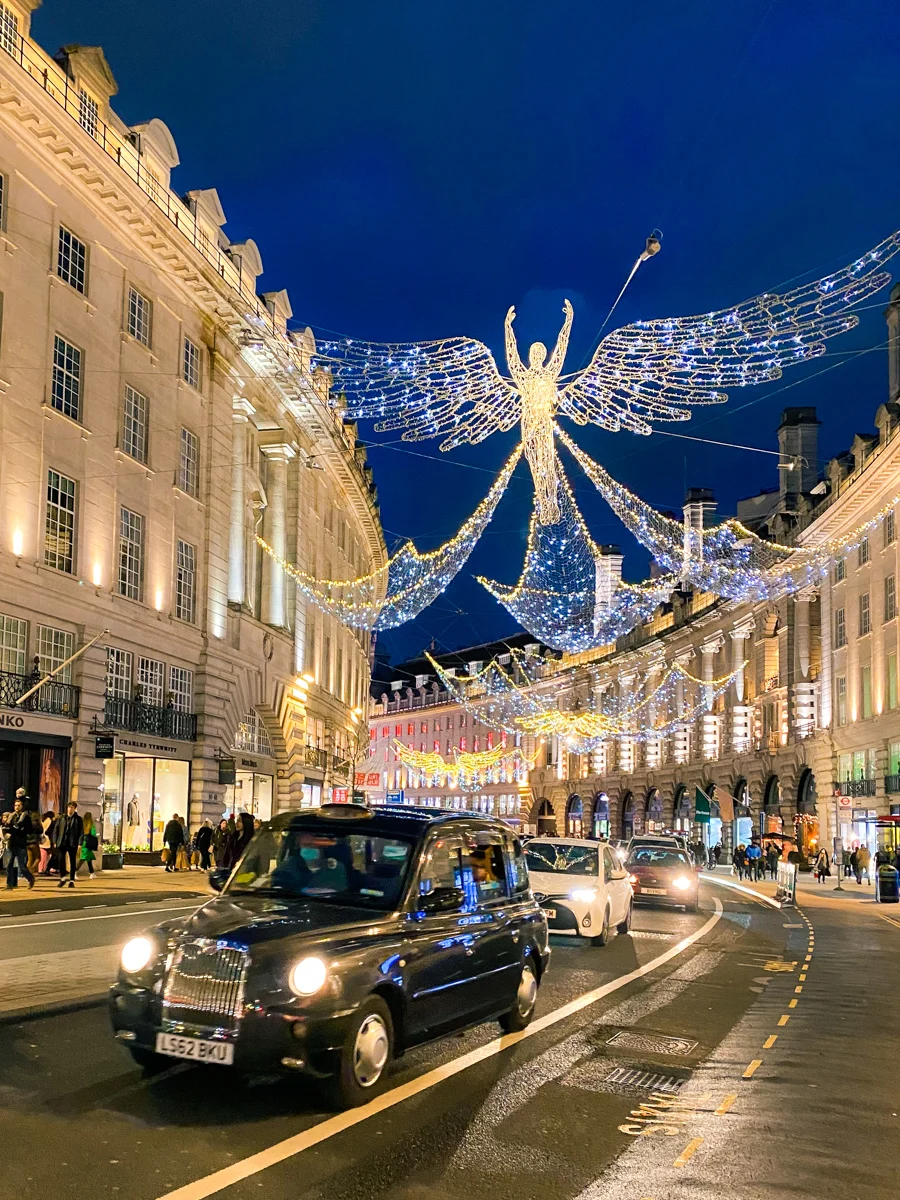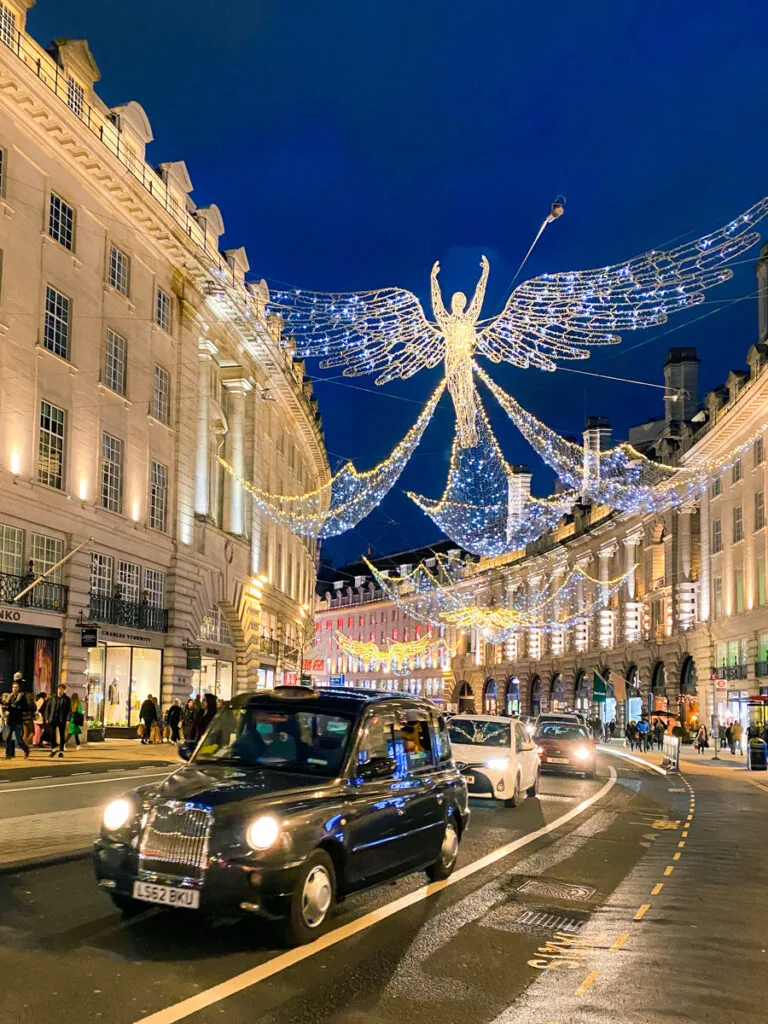 Walk along to Leicester Square, where there are equally some stunning displays, including a festive market.
Hop over to Picadilly Circus, just a a couple of minutes on foot for the beginning of the most iconic Christmas lights trails of all, Regents Street! Giant fairy lights drape from one side of the street to the other.
Route master red London buses and black cabs, along with the rest of the traffic, pass beneath the beautiful installations. The lights are all along the street, and they look a little different each year.
Take a short detour onto Carnaby Street, which tends to have funkier, less traditional installations along the narrow boutique shopping street.
Finally, go onto Oxford Street and wander towards Hyde Park, where the crowds will be en route to Winter Wonderland!
Oxford Street tends to have wonderful designs suspended above the busy road beneath, just like Regents Street. It's super pretty, albeit a little busy.
Once you wind up at Hyde Park, enjoy the biggest Christmassy winter festival in town, featuring an ice rink, many rides, Christmas markets, bavarian bars, restaurants, and so much more.
It's a must-visit if you are in London at Christmas time. There are plenty of other places to head out on Christmas Lights trails across the capital. The above are some highlights.
If you prefer to be taken around, check out this walking tour to see the Christmas lights trails in Central London.
3. Eltham Palace Christmas Lights Trails
A stone's throw from Central London, but gloriously calm compared to the more famous illuminations like Kew Gardens, Eltham Palace is well worth visiting at Christmas time.
The palace, an English Heritage site, was first used as a Tudor palace (Henry VIII spent much of his childhood there).
After standing unused for many decades, it was bought by the wealthy Stephen and Virginia Courtauld in the 1930s, who'd spent years travelling the world and filled the palace with global souvenirs and decorations.
The house is well worth visiting in the daytime but head there in the evenings in December (from 4 pm) for the Christmas lights trail.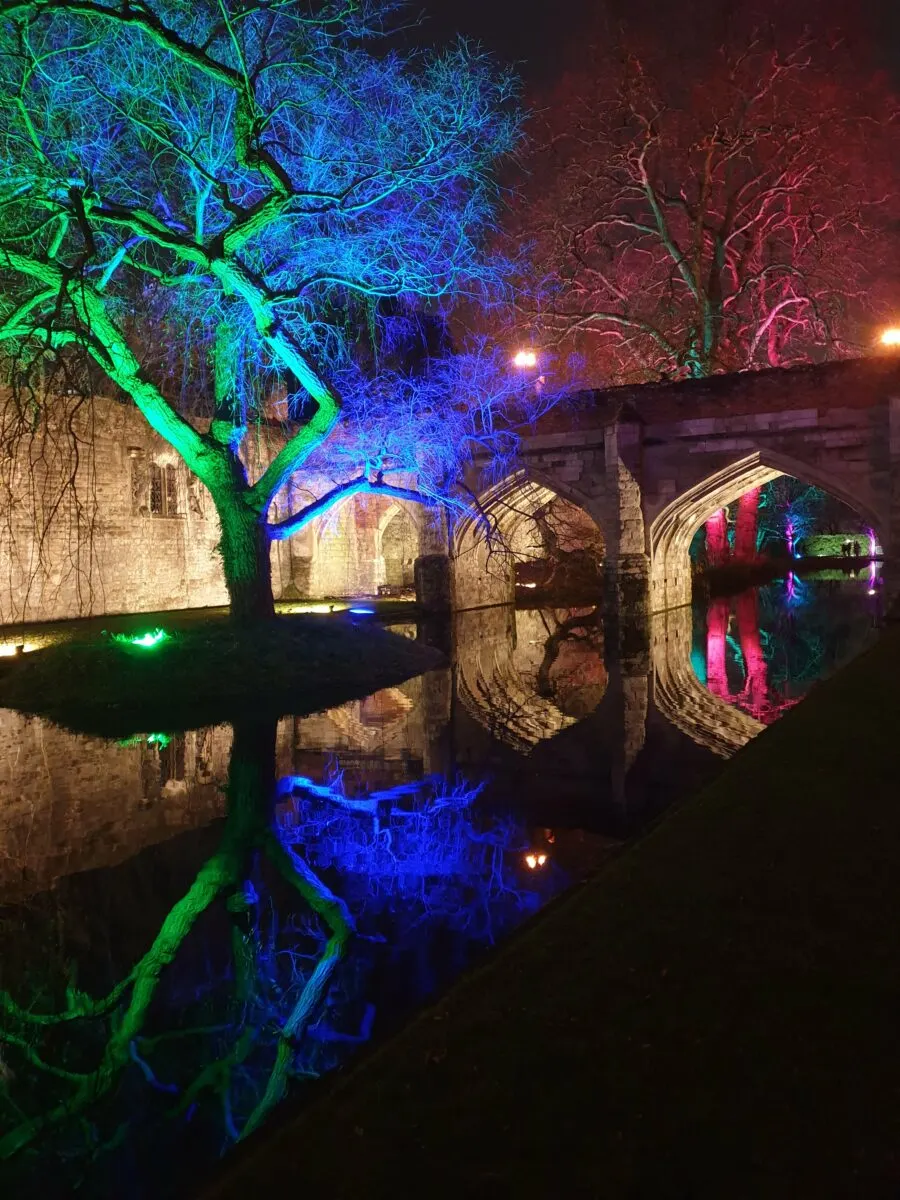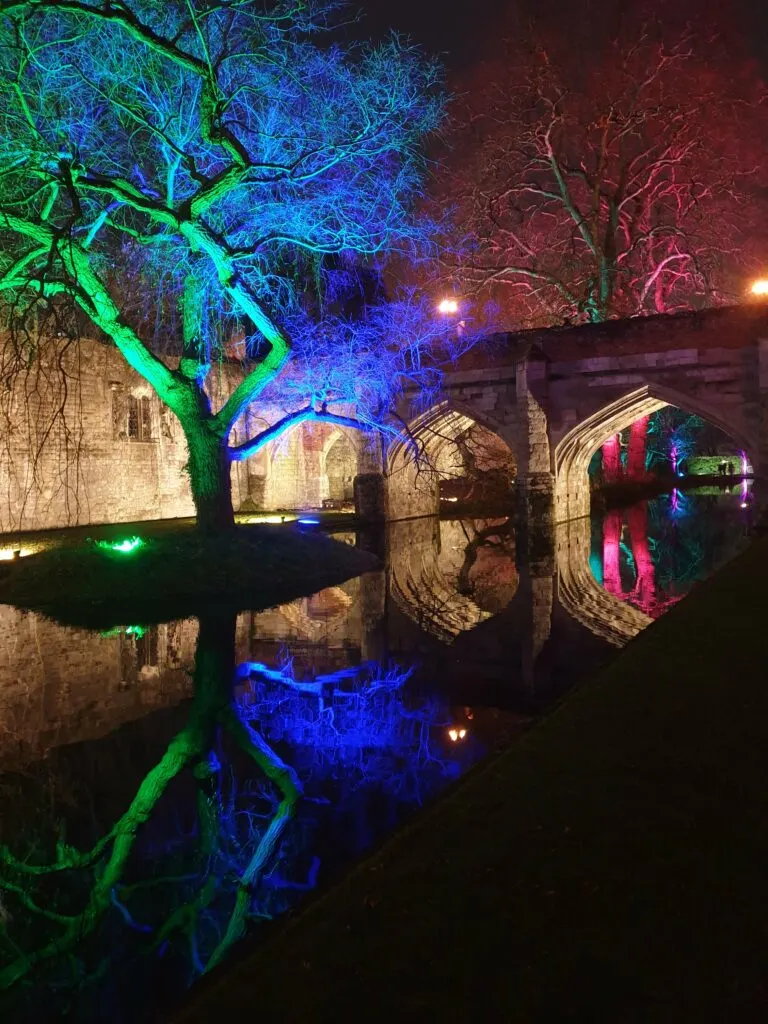 Step into an array of multicoloured lights, Christmas songs and festive food as you walk around the seemingly enchanted gardens.
This Christmas lights trail takes around an hour to walk around, and it's a fairly flat route that's perfect for families.
Feeling hungry? Stalls at the end serve festive treats like mince pies. Need something to warm up? There's plenty of mulled wine. It rarely snows in London in December, but it can get quite cold, so wrap up warmly.
Do book tickets in advance, as this Christmas lights trail often sells out, but it's without the crowds that you'll find in more Central London locations (despite being an easy train journey from London Bridge!).
4. Lightopia Christmas Lights Trail
When it comes to Christmas at Alton Towers, this top UK theme park on the Staffordshire border of the Peak District pulls out all the stops.
There's the unique Santa Grotto, authentic Christmas Markets, classic rides open especially, and incredible theming. But something that adds to the festive magic is Lightopia.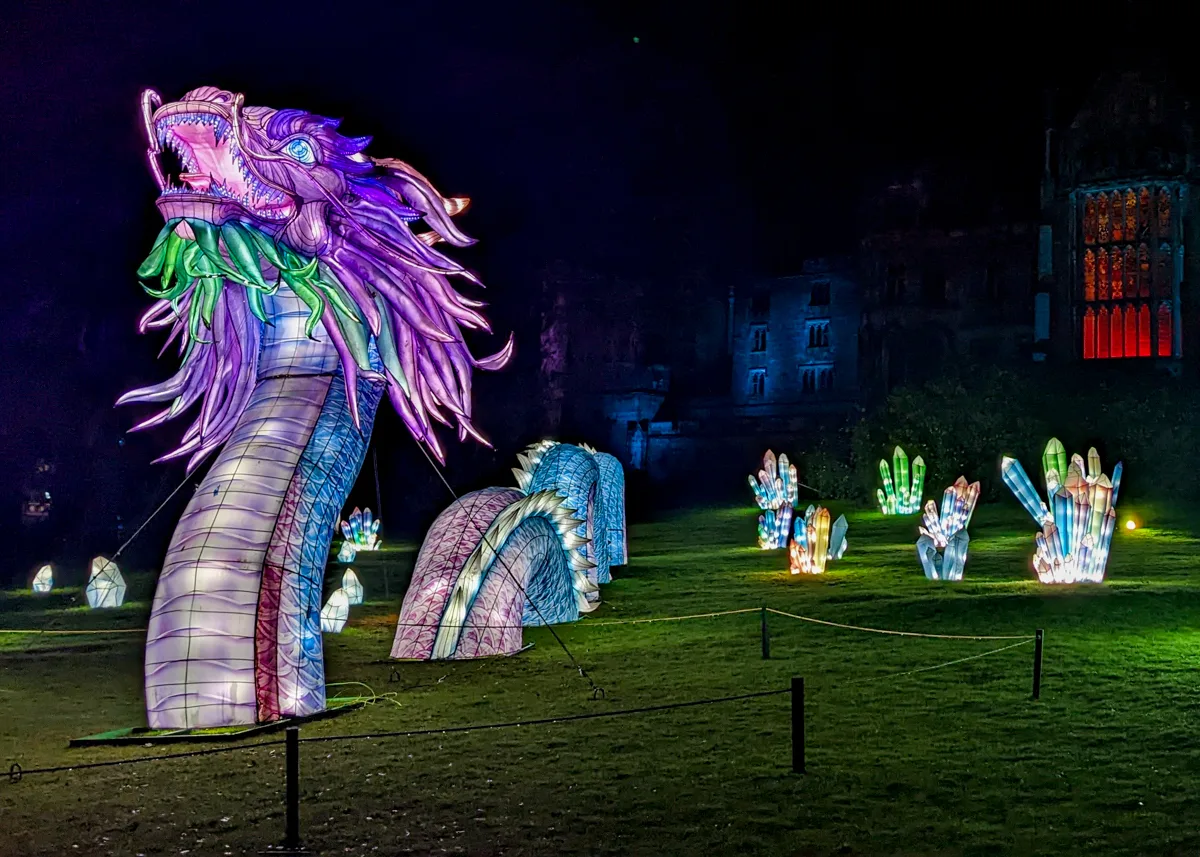 Lightopia is an award-winning Christmas lights trail around the Alton Towers grounds, and it's stunning!
There are giant lanterns, immersive projection light shows, and beautiful scenes, including the Gate of Wonder, Candy Land, mystic animals, and the Land of Diamonds and Fire Dragons.
But the most impressive display is right at the end, with Christmas scenes projected onto a water fountain.
The light trail is 2km long (one of the UK's longest), so come prepared with snacks, as there are no eateries along the way.
Perhaps pick up some churros from the Christmas market stalls before you start the light trail. It's also open through to early January, so if you're looking for something to do over Twixmas and New Year, Lightopia is a great option.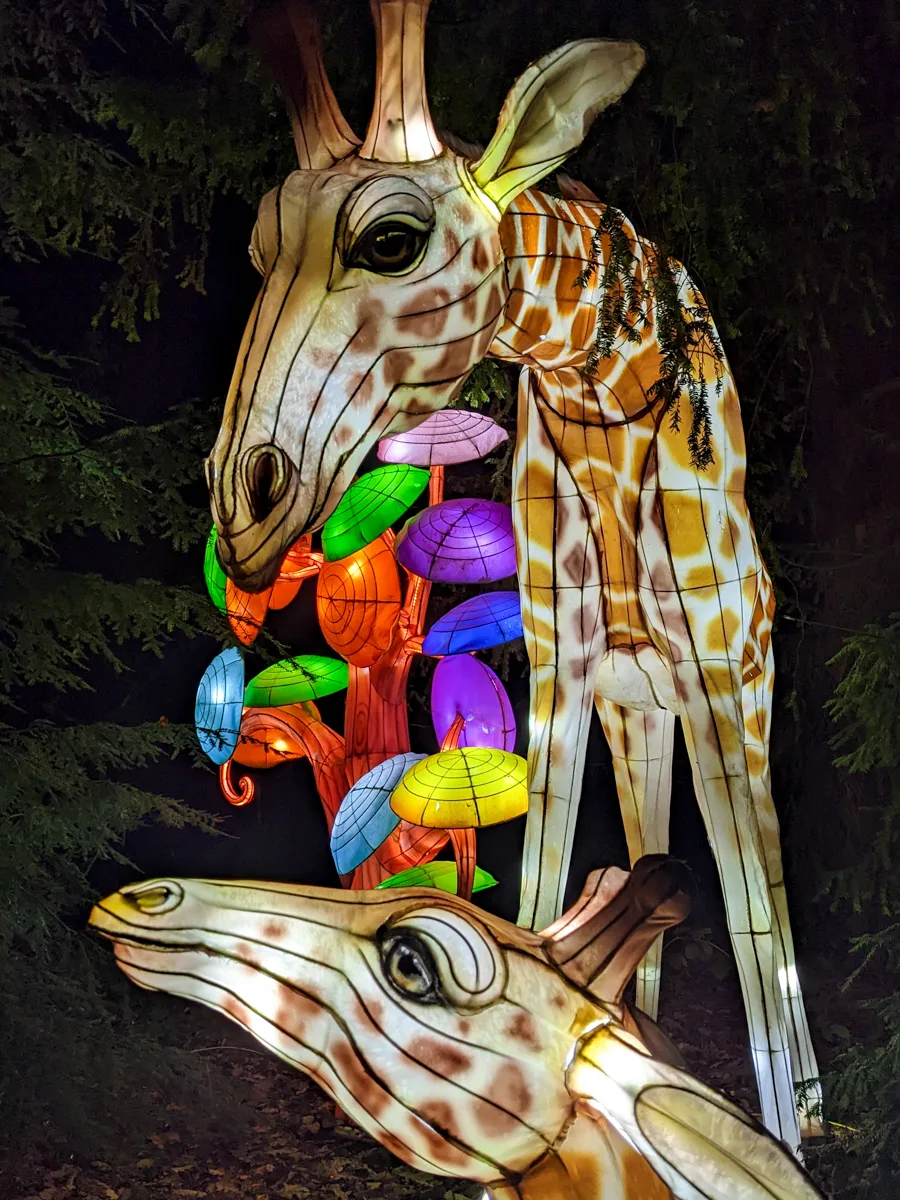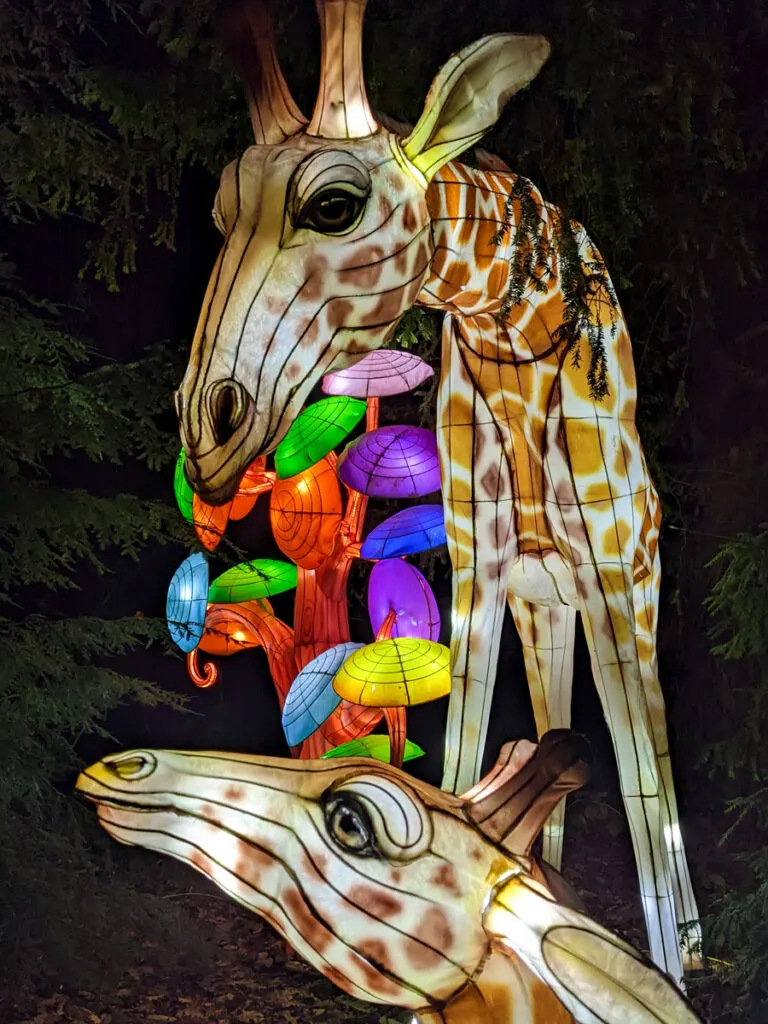 You'll likely be visiting Lightopia as part of the overall festive celebrations at Alton Towers. As darkness is required to provide the full effect, the light trail doesn't open until 4 p.m.
By this stage, little ones may be flagging from visiting Santa and going on the rides already, so do keep this in mind and perhaps time your arrival to the park for later in the afternoon.
5. Trentham Gardens, Staffordshire
Christmas is always special at Trentham Gardens in Staffordshire. You will find an abundance of shops and markets, Father Christmas, and this year, there is an elf school, the Trentham Christmas Festival, and a Christmas maker's market.
A stroll around the lake is special at the best of times, and we visit most weekends for a family stroll, but with the twinkling lights and magic of Christmas in Staffordshire, it is a little bit more special.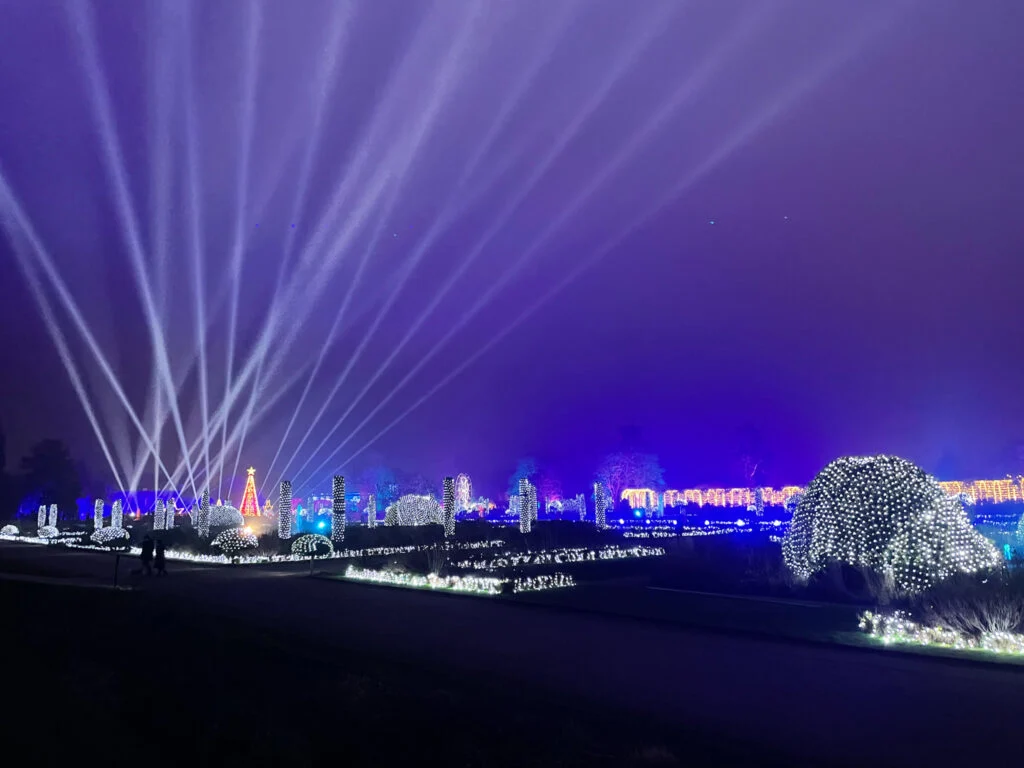 Last year, we visited the Trentham Garden light trail and enjoyed a magical journey through the gardens with a mix of lasers, light displays and music.
There were also a handful of rides and a small mix of food stalls where you could grab a mulled wine and a bite to eat.
Trentham welcomes everyone, and children of all ages love a walk around the lake in search of the Trentham Fairies, followed by an hour in the adventure playground.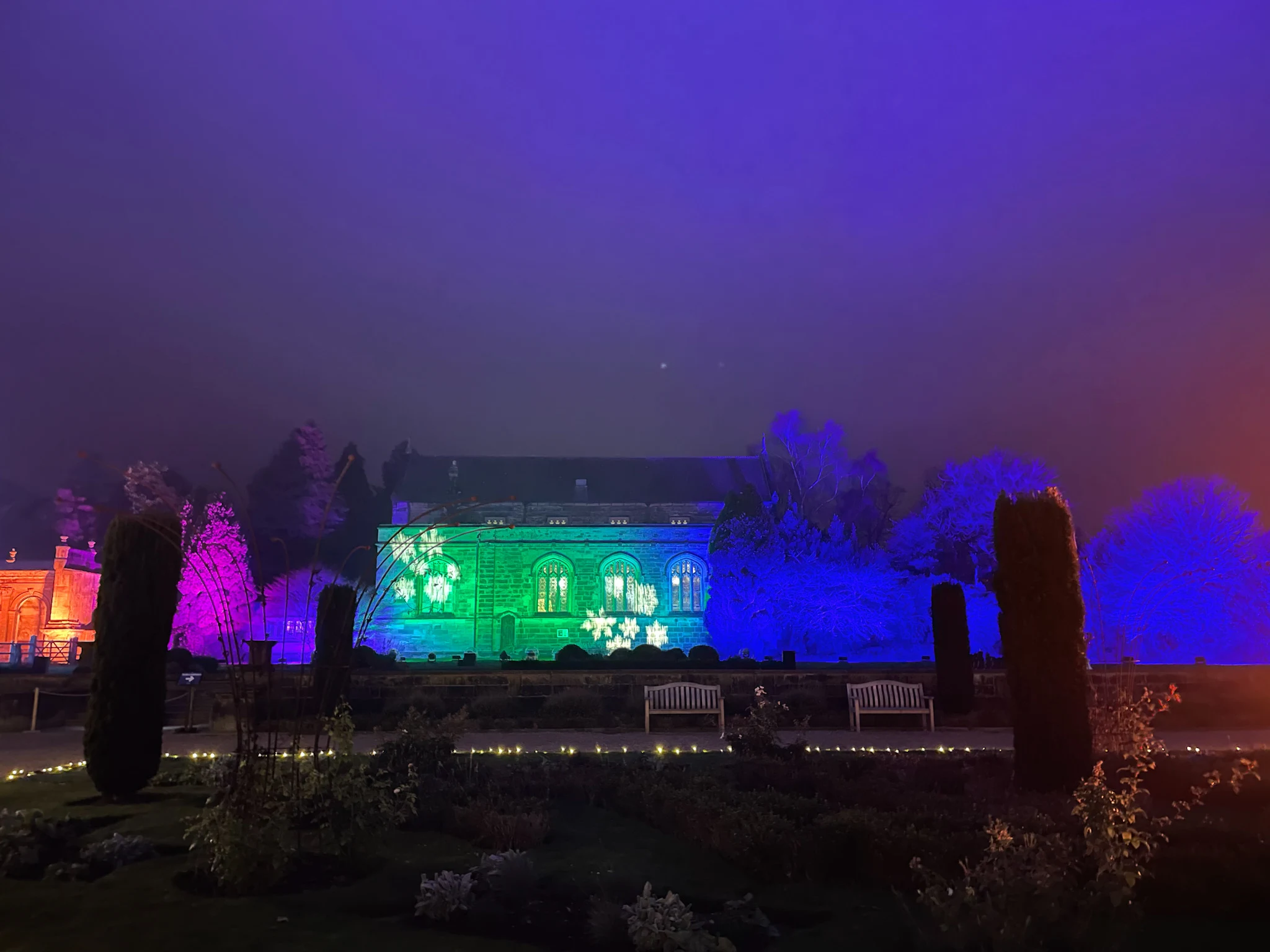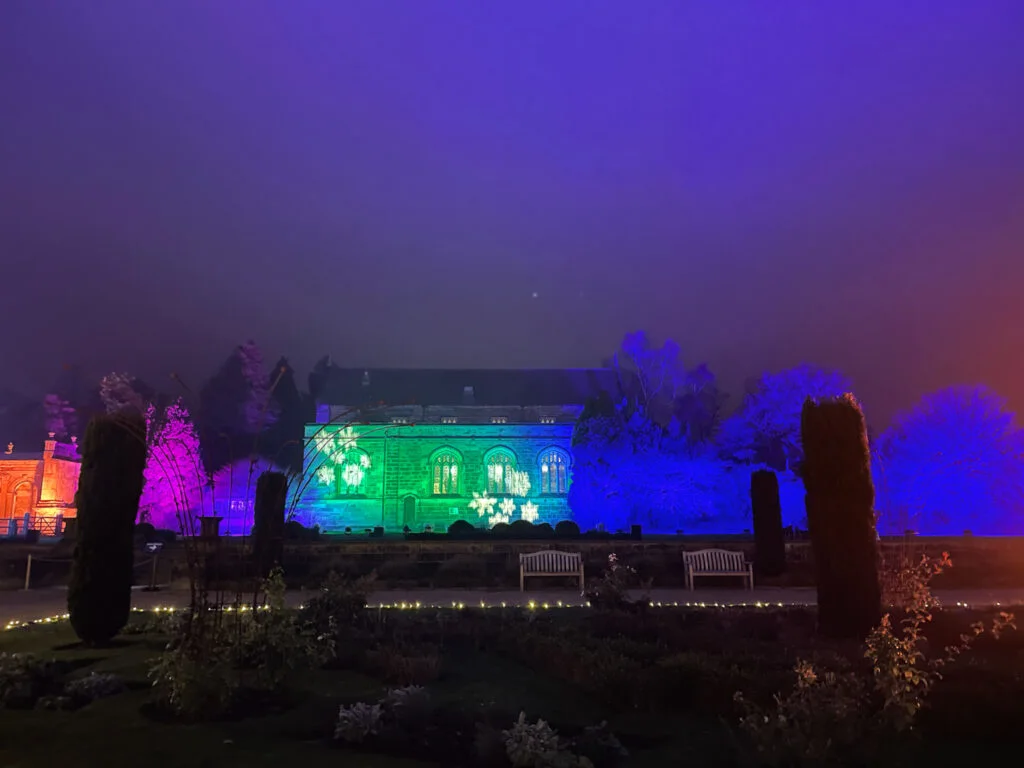 What is special is dogs are always welcome around the shops, in the gardens, in some restaurants, and on the illuminated light trail.
This year, there is a Christmas Festival, with a brand-new ice sculpture trail, live music, plenty of food and markets.
6. Winter Illuminations, Yorkshire Wildlife Park
Winter Illuminations at Yorkshire Wildlife Park is one of the UK's most magical Christmas lights trails.
Throughout the year, Yorkshire Wildlife Park is home to over 100 species of animals, ranging from lions and tigers to giraffes, meerkats and more.
But at Christmas, this unlikely setting in Doncaster is transformed into a spectacular 2.5-kilometre lantern display.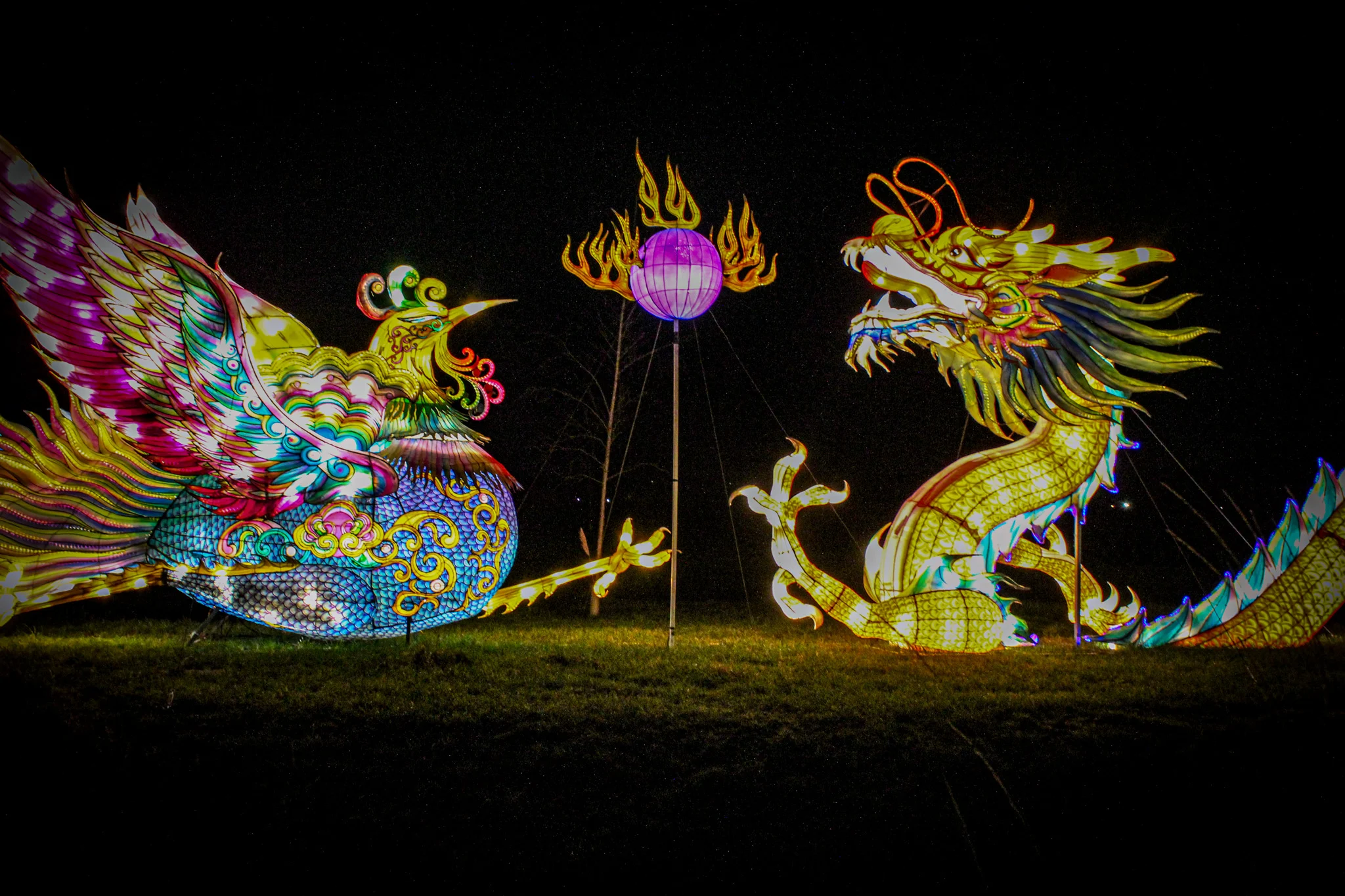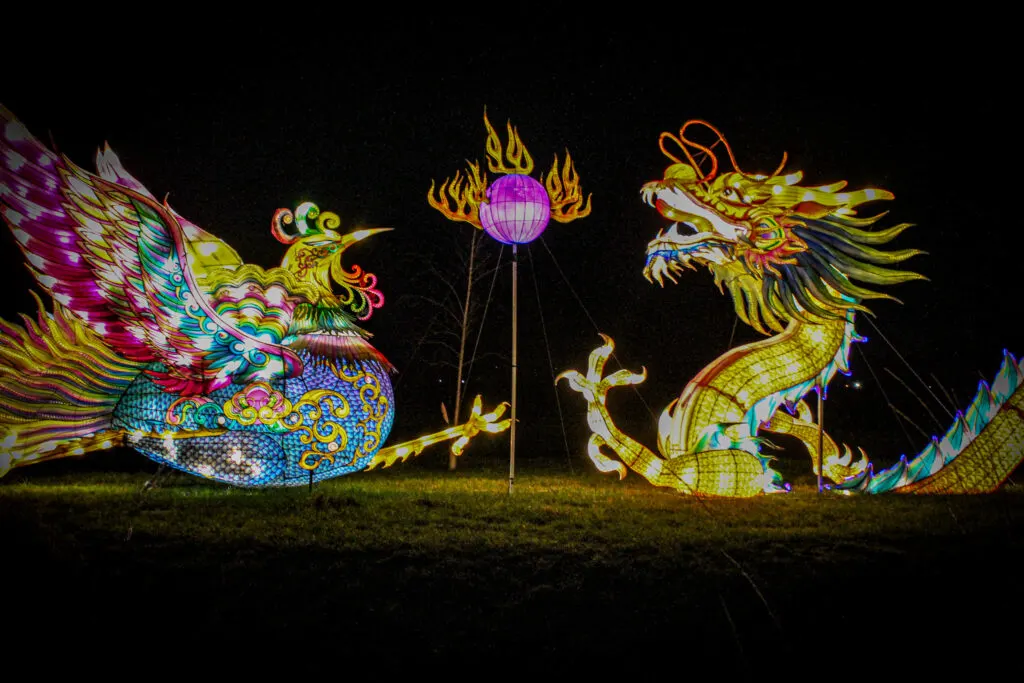 Vibrant lanterns illuminate the light trail in various sizes and themes. Along the route, you will be transported under the sea, to the fairytale kingdom, on an animal adventure and much more as you pass through each section of the trail.

You will also find stalls along the route selling hot and cold drinks, plus snacks. The Masai Coffee House or iCaramba will be open for something more filling throughout the event.

Alternatively, for a unique experience, you can book a table at the dinosaur-themed Evolution restaurant for a filling meal before walking the route.

If you plan to visit the Winter Illuminations, include a day ticket to visit the park. As a Winter Illuminations visitor, you can book discounted entry to the park on the day of your visit.
This means you can spend the day exploring the park and discovering the animals before your Winter Illuminations walk.

Better yet, you can book an overnight stay at the onsite hotel, with day entry to the park and breakfast at the cafe to turn your Christmas lights trail experience into a fun-filled weekend away in Yorkshire!
7. Westonbirt Arboretum Christmas Lights Trail
While Westonbirt Arboretum near Tetbury in Gloucestershire is well-known for its stunning autumn foliage displays, just a few weeks later, you can also follow a magical Christmas light trail through the trees during Westonbirt's 'Enchanted Christmas' event.
The trail is roughly a mile long and usually lasts 45 minutes to 1 hour. In that time, you can look forward to dazzling light displays in the trees, underneath them, on them, everywhere!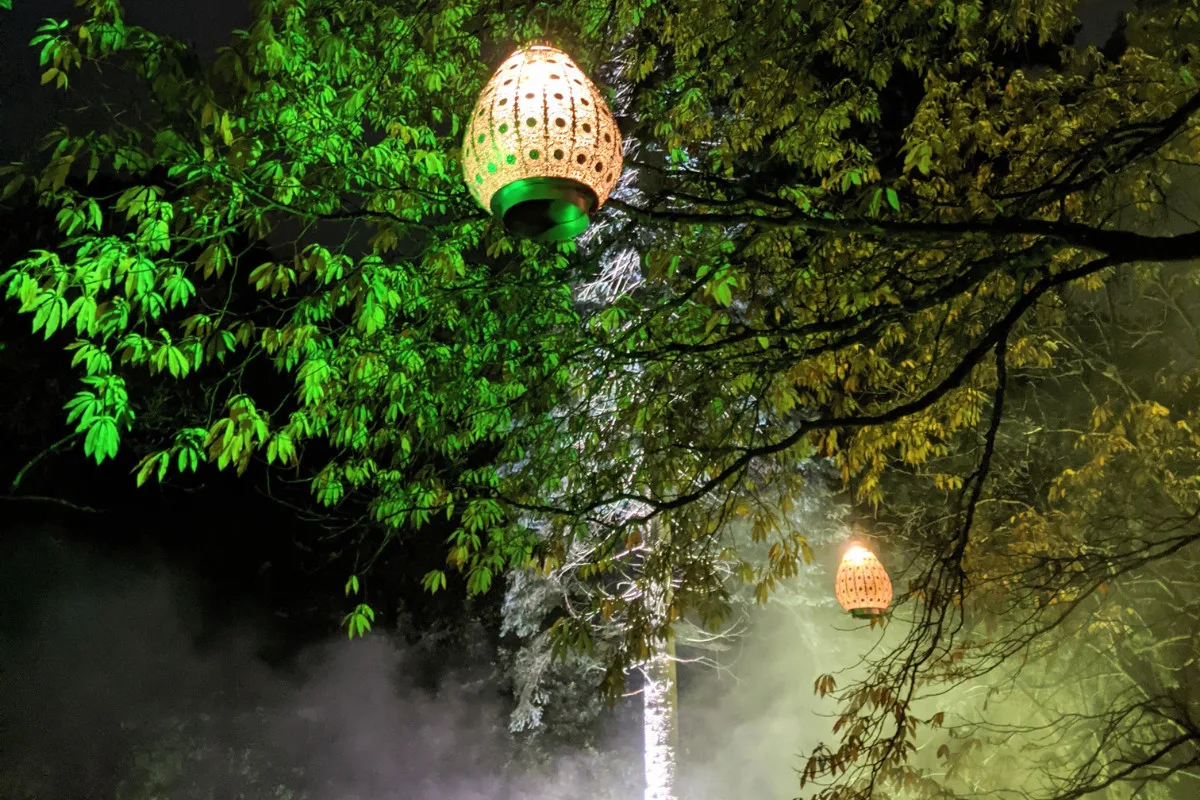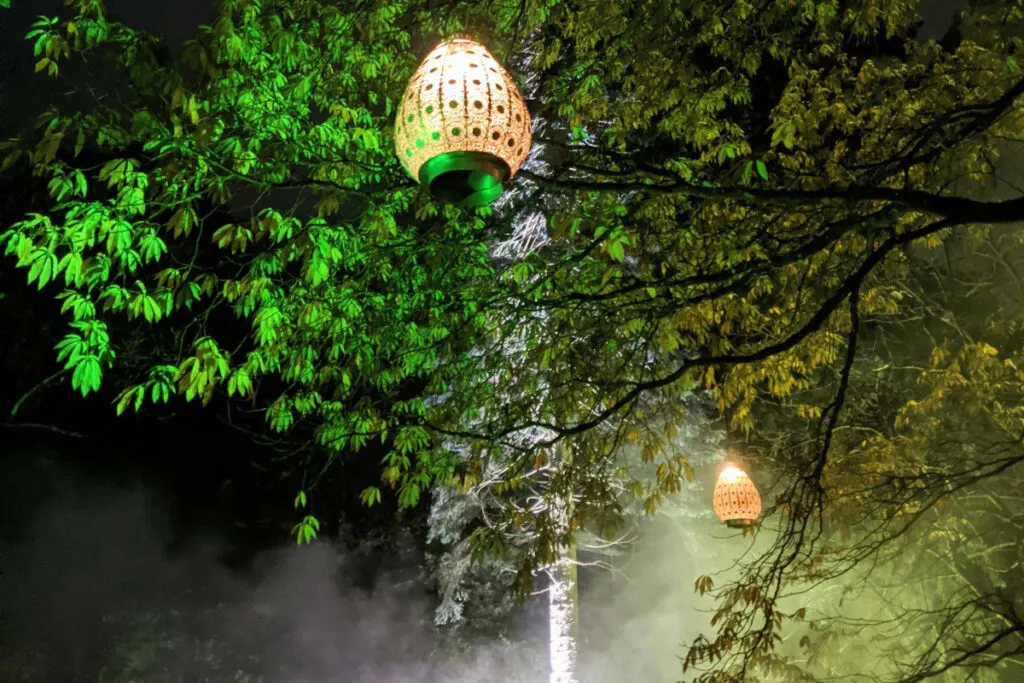 You can also look forward to a different story each year, sometimes involving actors. For example, when I visited one year, there was a magical fairy theme to enjoy, while the next year involved an adventurous journey to the "West Pole".
You may even see a group of carolers at the end of the trail near the gift shop. When I visited, fake snow fell from the trees around them, which looked very festive!
Once you've finished the light trail, you should spend some time at the Christmas Village. Here, you'll find traditional food and drink stalls selling foot-long bratwurst sausages, burgers, mulled wine and crêpes.
You can also browse her arts and crafts stalls to find handcrafted gifts and locally-made homewares, while there are usually funfair rides to enjoy in the village.
8. Stourhead Christmas Lights Trail
Stourhead House was one of the first National Trust properties to introduce a festive light trail and is probably one of the largest.
A grand 18th-century home in the Wiltshire countryside with huge landscaped gardens around a vast lake, it is the ideal place for an outdoor light trail.
The Christmas lights trail varies in theme yearly but usually incorporates the landscape's best features.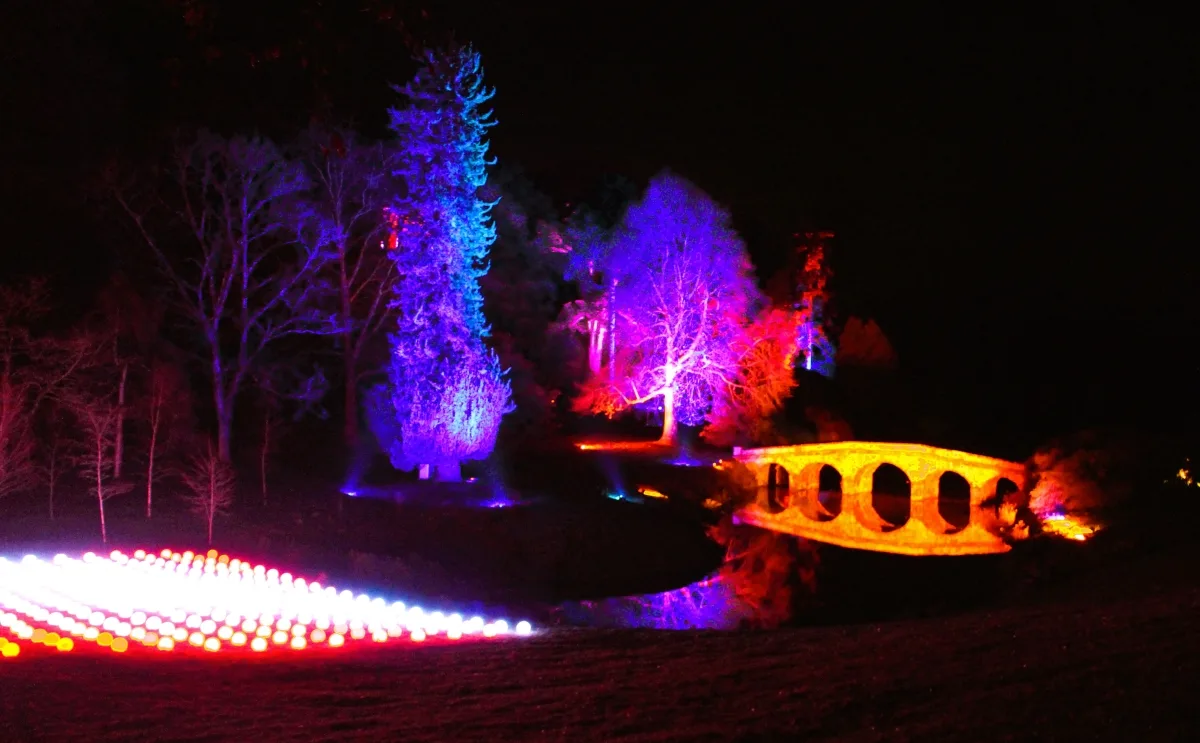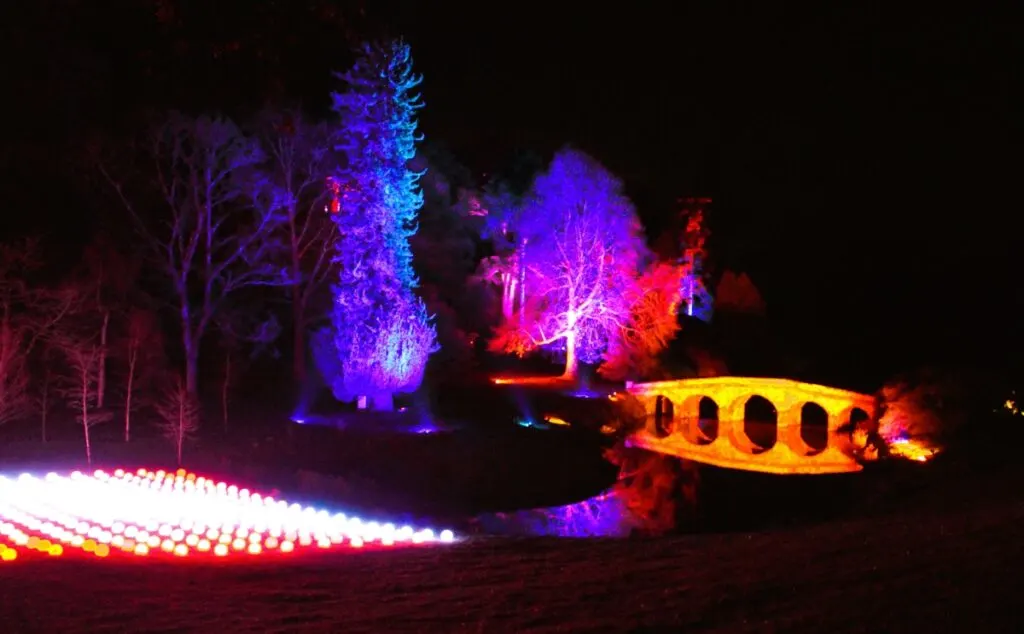 The trail starts in the car park, where there are drinks, food and the odd fairground ride, with the trail starting down the hill, often with a cascade of colourful lights to walk through.
The route continues through the grounds and, in previous years, has included a row of trees wrapped with lights which 'dance' in time to Christmas songs.
Flower beds are filled with illuminated flowers, an area of woodland filled with laser lights which flash and change as you move amongst them and a whole hill covered in thousands of lights made to look like spring bulbs.
A famous Palladian bridge crosses the central lake, and this is the trail's grand finale.
The bridge lit up, the folly on the distant shore illuminated and music all around, which creates a festive atmosphere and competes with the squeals of joy from the many children who visit.
The trail ends at the small courtyard next to the Spread Eagle pub, where stalls sell mulled wine, hot chocolate, mulled cider, mince pies and other festive treats.
It is worth booking tickets early as they sell out quickly, and wear suitable footwear as it can get rather muddy on the trail.
9. Wimpole Hall Christmas Lights Trail
The Wimpole Hall Christmas Lights Trail is a special event held over the Christmas period from late November until after Christmas on the 31st of December (usually).
The event is held at Wimpole Estate, a National Trust property in Cambridgeshire, and it's one of the best things to do near Cambridge in winter.
The festive trail is well known for its stunning illuminations, which light up the atmosphere, turning the historical site into a winter wonderland.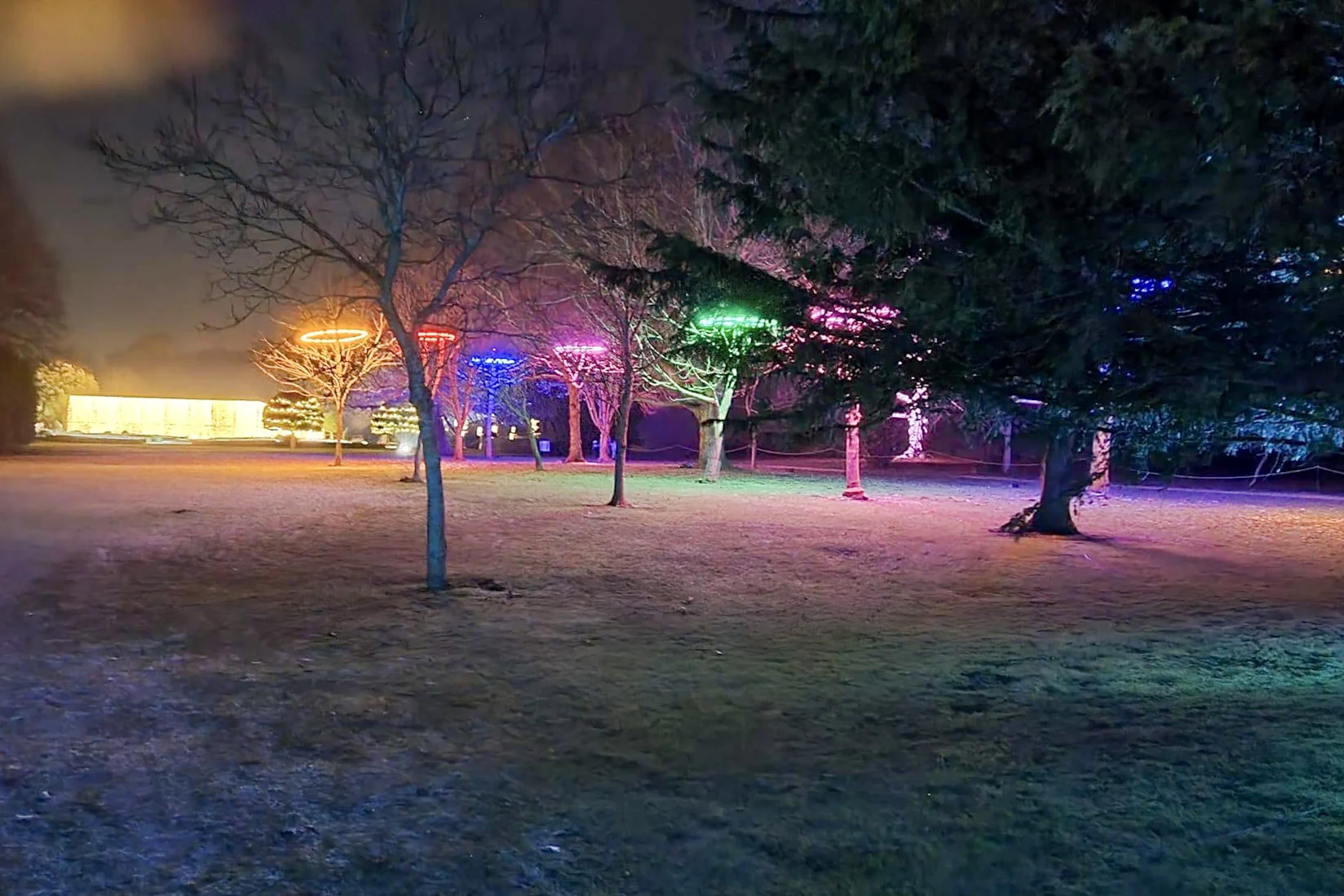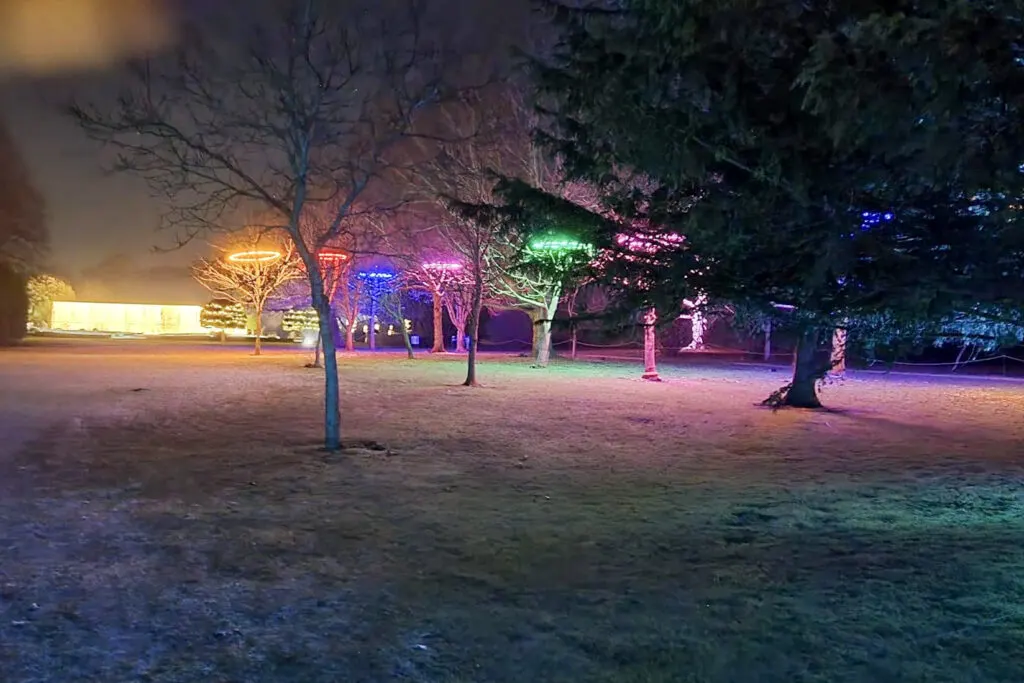 Featuring festive music to get you into the Christmas spirit, an enchanting atmosphere, crafts stalls and activities, plus food and drink stalls, too, so you can grab something to eat or drink whilst you're there.
Whilst the food and drink options can change each year and aren't predictable, there is almost guaranteed a lovely place to get some warm mulled wine to warm you up, or a hot chocolate if you aren't a fan of mulled wine!
If you plan on visiting, it is recommended to book tickets in advance as they are likely to sell out. Also, arrive early and dress warm with comfy shoes for walking (waterproof if possible!).
If you are attending with children, know that they also have a Santa's grotto, so if you visit before Christmas, it's worth taking them there, too.
10. Stockfield Park
Stockeld Park near Wetherby offers a range of fun, festive activities for all ages, including winter illuminations.
After dark between mid-November and early January, families can walk through the Enchanted Forest to be captivated by light displays, sound and light projections and illuminated characters and trees.
It is a magical, immersive experience for all ages, not just young children. The playgrounds in the Enchanted Forest remain open after dark, so you can take a break from the lights to enjoy a good run around.
Other activities on-site include a Santa's grotto, a Snowflake maze, ice skating, an indoor play barn and Nordic skiing – so there is something to entertain everyone.
Note that some of these additional activities have a minimum age requirement. You can even see a festive musical show and pick up your Christmas tree!
There isn't a fee to enter the park: visitors choose between five different price packages depending on the attractions they wish to visit.
The park is open all day, so you can arrive in the afternoon, enjoy various activities and stay till after dark to enter the Enchanted Forest illuminations.
Food options on-site include a reasonably priced pizzeria, a woodland cafe and two snack and drinks cabins.
We recommend wrapping up warm and visiting mid-week if possible, as the park gets very busy during pre-Christmas weekends.
If you are spending Christmas in York, Stockeld Park is an ideal destination as it is only a 40-minute from the city centre.
I hope you enjoyed reading about the Christmas lights trails in the UK. Did you visit any? Leave a comment. I'd love to hear from you.
Disclaimer: This post about Christmas Lights Trails may contain affiliate links. By using them, it will not cost you any extra, I will receive a small commission to keep us writing.