Visiting Santa's Lapland is a trip of life time on many family bucket lists. Based inside the Artic Circle, in the far North of Finland, Lapland is a winter wonderland.
Powder white snow covers every surface as far as the eye can see. Pine trees define the landscape lining every town, highway and toboggan run!
Despite the Artic temperatures, everyone was outside, dressed in the appropriate attire having fun, making snowmen, riding hills on sledges, or scooting through the forest on a snow mobile!
Check out Santa's Lapland Trips Here
Lapland is a fun place to visit with the family, even more so with little ones. They were so excited to see where all the Christmas magic happens, and of course, to meet the man himself, Santa Claus, as well as his energetic elves!
Every Christmas fairy tale starts in the North Pole, how magical for any family to visit? We spent three night there in early December, everything was booked through santaslapland.com. In this blog I cover a day by day insight into the trip, as well as some helpful hints and tips about clothing.
Looking for more ways to get into the Christmas Spirit? Check out our guide to the best family friendly Christmas Markets in Europe!
SANTAS LAPLAND REVIEW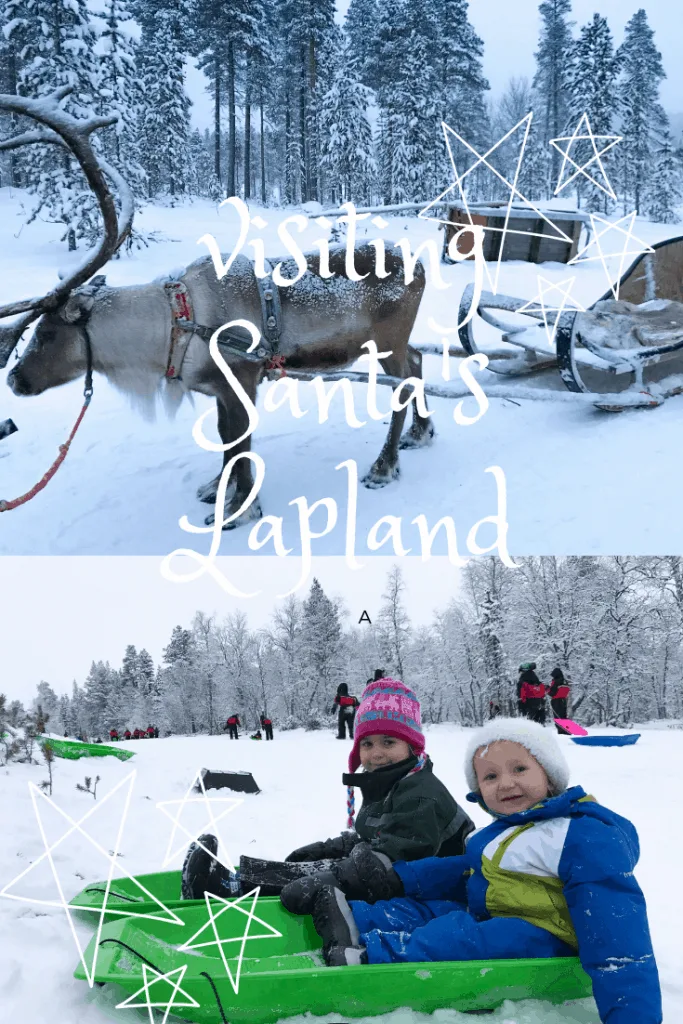 DAY 1
Day 1 was all about arrival, getting set up and settling into our accommodation. I must admit we were a few hours behind our group having missed our flight from London Gatwick to Ivalo. All that said, we were greeted at the airport by a helpful member of the team who took us straight to the hotel for our buffet dinner.
He loaded all of our bags into our room knowing we were a little bit hungry and tired from the trip. We tucked into lots of yummy winter salads, mashed potatoes, artisan breads and of course plenty of deserts. Along with a Lapin beer for the parents, it was the perfect welcome to the Holiday Club Resort!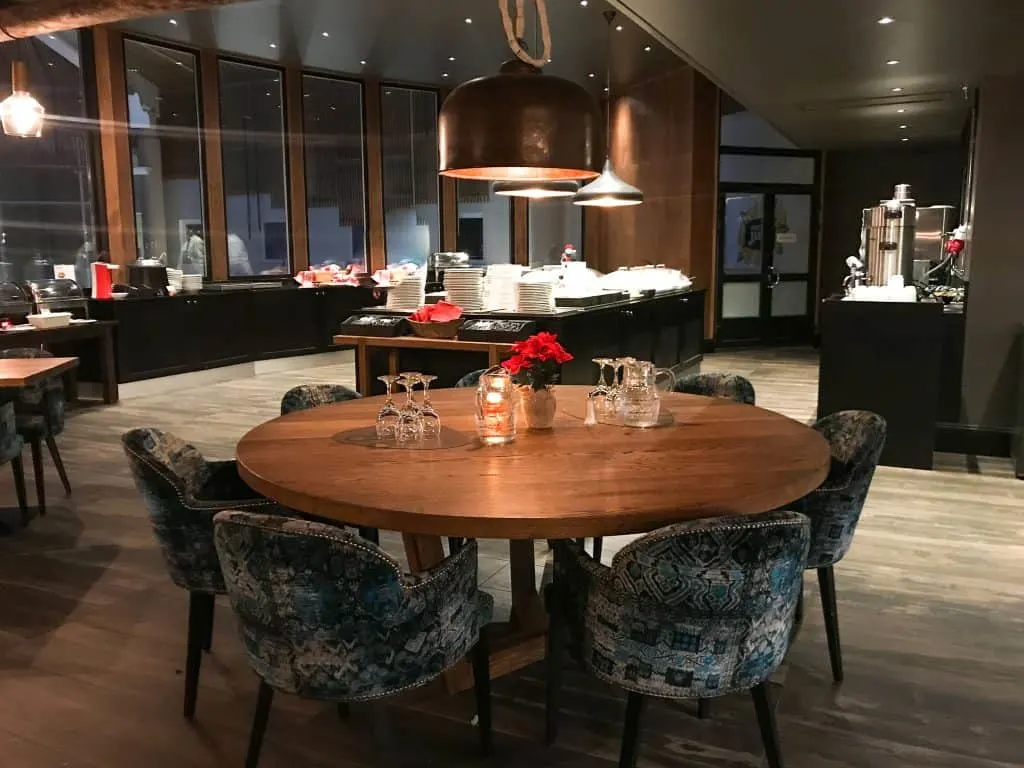 DAY 1
Ordinarily guests are assigned to a coach name (ours was called Tinsel) and taken to the clothing rental store. Everyone is sized up with full one piece artic suits, the best gloves I have ever seen, one pair of extra thick socks and snow boots.
They had a variety of sizes and the team were very helpful in making recommendations about layering underneath. We decided to get sized up the following morning and it worked out perfectly. We were otherwise free on our first day to make use of the Holiday Club Resort facilities.
There are many amazing things to do onsite. We obviously hit the snow first and foremost making full use of the hundreds of toboggan sleighs they have for guests to use. Esme was doing snow angels and checking out 'Santa's post office'.
After our kids were 'snowed out', we made our way to our room in the Terenpesa building. It was only 100 metres from the main building, that was perfect for making the dash to breakfast and dinner without getting fully suited.
Check out Santa's Lapland Trips Here
THE ROOM
We had two twin rooms with single beds, pushed together, one parent and child stayed together. We booked in July and although that may seem early many of the other room options had already been taken. So in theory it is good to book well in advance to get the best room configuration for your family.
Although the beds weren't the most comfortable I have ever stayed in, the rooms were cozy, warm and had the perfect views of the nearby forest. I just loved the glowing light in the window with that backdrop!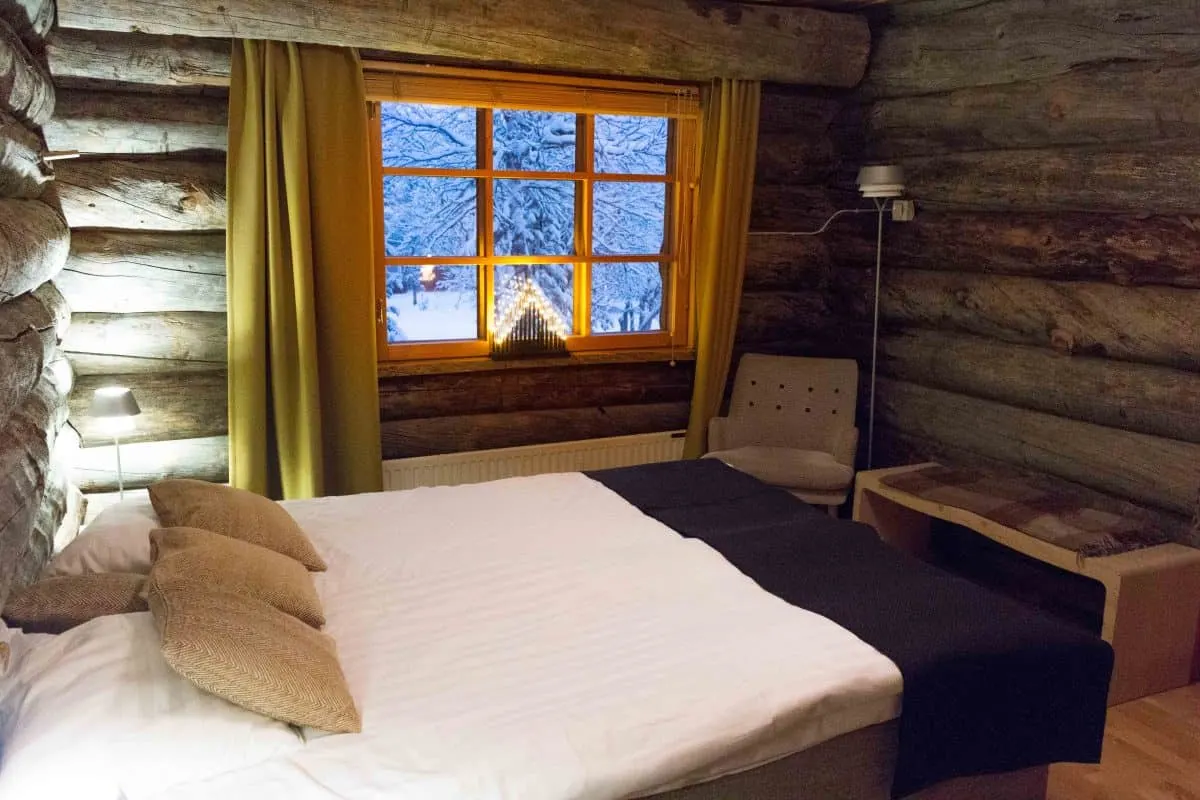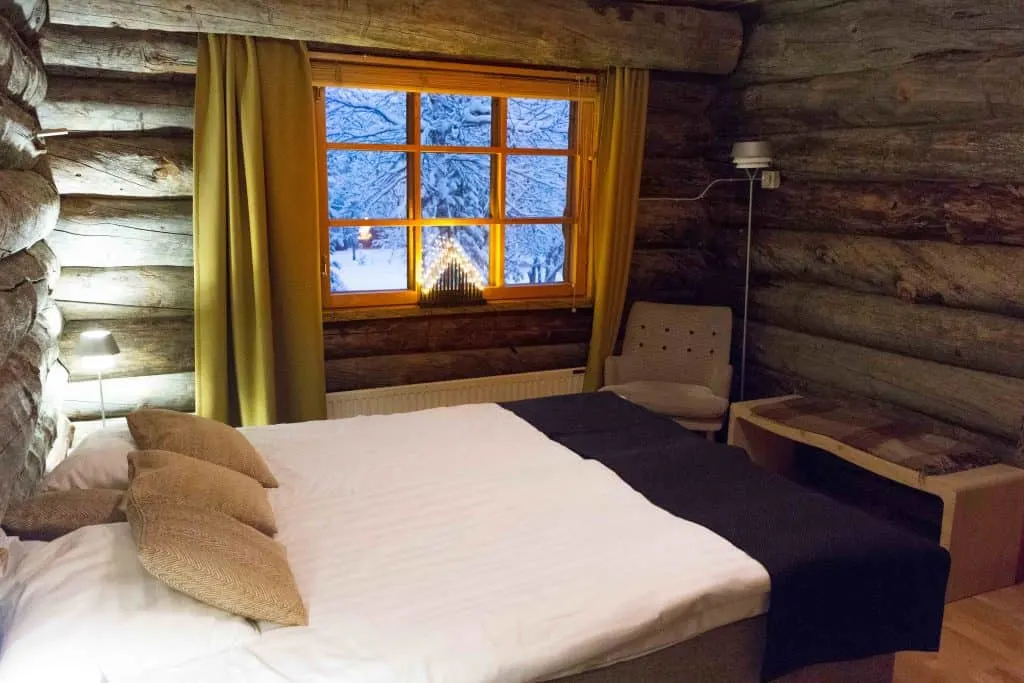 DAY 2
Our second day was also a free to do any of the 'extra' activities on offer. They had a range of options from discovering the Northern Lights on a snow mobile, to cross country skiing. We decided there was still plenty to do and see in the local Saariselka area as well as the Holiday Club indoor activities.
We started our morning off with a buffet breakfast! Again there was lots of options and they catered for different diets such as gluten free and vegan with food clearly marked. After our bellies were full, we went to the local toboggan run to try out the fast and adventurous option!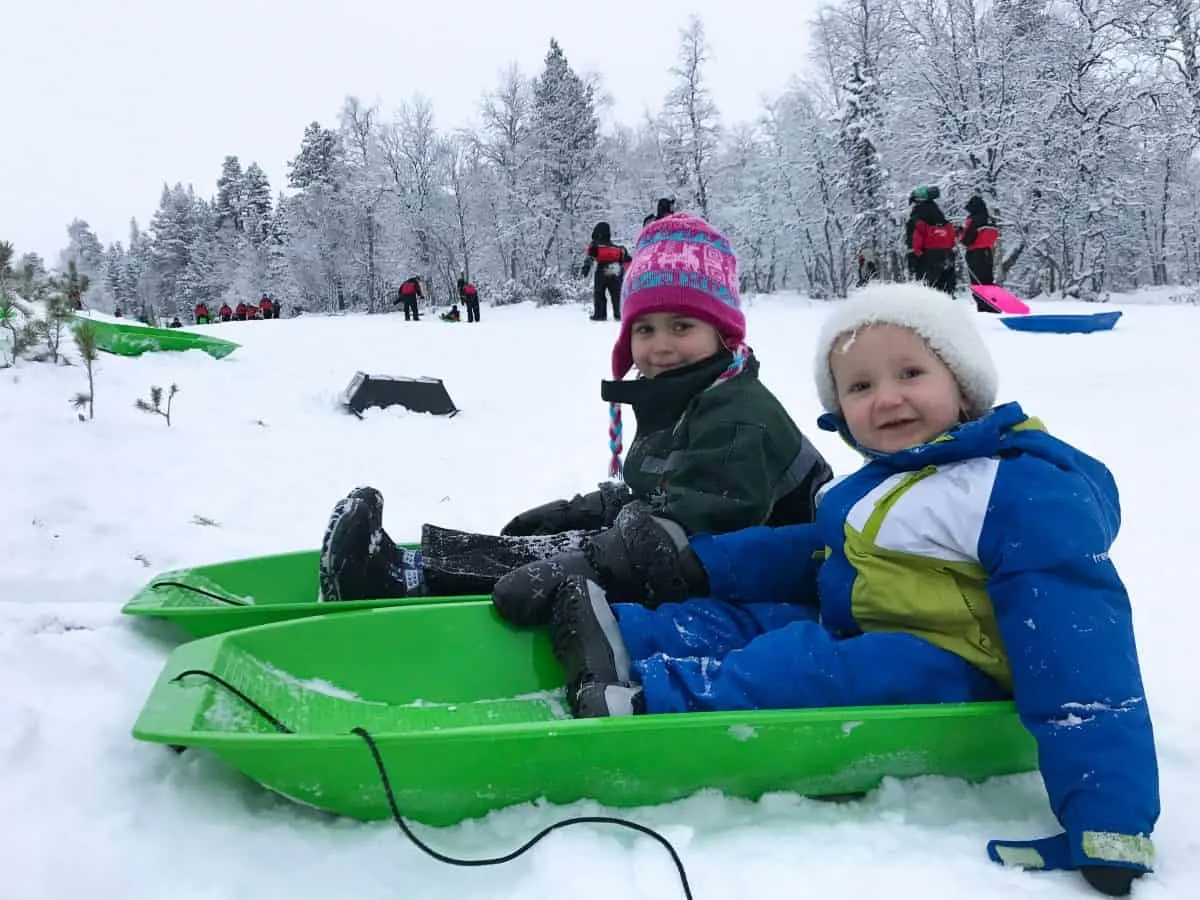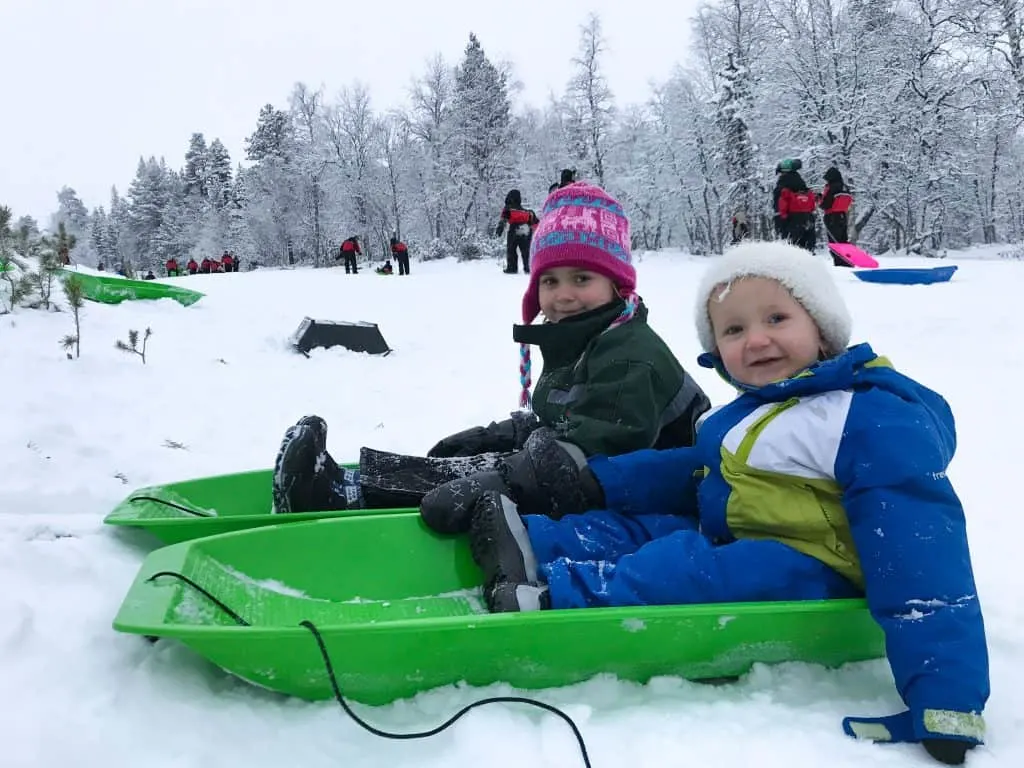 After having a few runs on the hill, the kids were ready for some indoor fun, so we tried out the 'Angry Birds' soft play area inside the Holiday Club Resort. It's the perfect option to break up the time outside for little ones. The suits provided were more than adequate, instead it was our 'rookie' artic parenting when it came to layers we didn't always get right. Nothing a hot chocolate or a warm blueberry juice couldn't sort out!
Check out Santa's Lapland Trips Here
RESTAURANT
After a nice play both indoors and outdoors, a warm lunch was in order. The Holiday Club A La Carte restaurant did amazing pizzas for a really good price. Oh, and did I mention mulled wine Finnish style?
Yes it's a thing and of course includes a shot of vodka, it was the perfect warming drink for the adults. A post food nap was in order for the entire family so we snuggled up in our cozy room, watching movies whilst the little ones slept.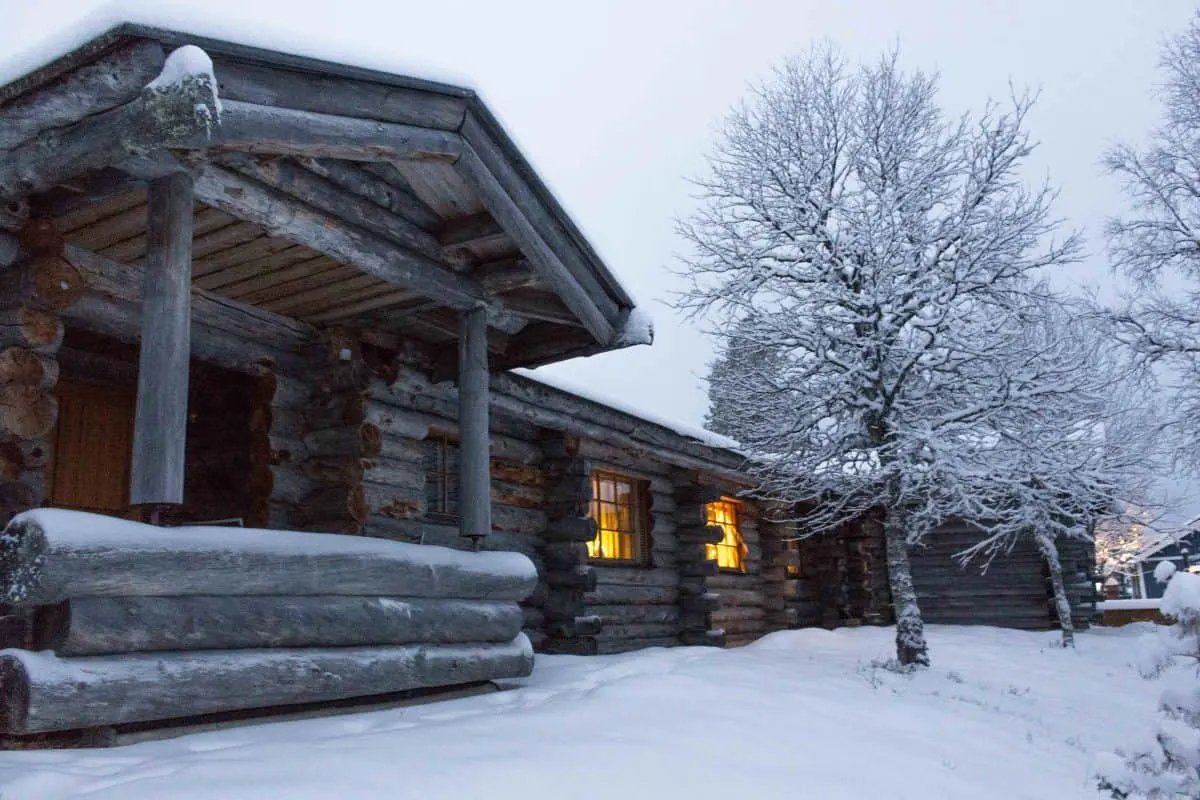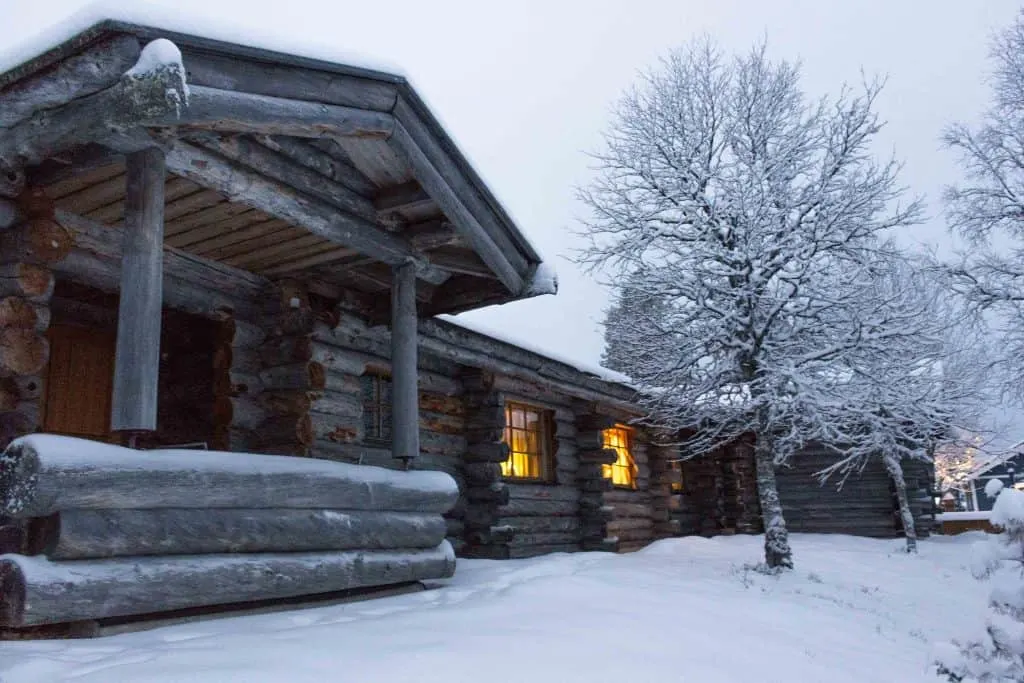 INDOOR ACTIVITES
After a rest we decided to check out the water park at the Holiday Club Resort. It's all indoors, (obviously) with beautiful lighting to compliment the 20hr dark days. The kiddies pool was nice and warm for Quinn, and the water slide was lots of fun for Esme. Although it was cloudy most of the time during our visit the glass roof on top of the waterpark seemed like the ideal place to catch the Northern Lights.
After a nice swim we wanted to have an early dinner, especially as our last day was going to be the biggest of all, the searching Santa day! The Holiday Club Resort start the dinner buffet at 4pm, so it was perfect for those little ones that get hungry early, we were all tucked up in bed by 7pm.
Check out Santa's Lapland Trips Here
DAY 3
Day 3 was a huge day and the main reason we visited Lapland – searching Santa day! Some guest did it on day 2, whilst others did it on day 3. I imagine it is arranged like this to reduce crowds and ensure queues are short at activity hotspots.
We were collected from the hotel at 915am and taken to the 'Artic Resort', about 25-minute drive from where we were staying. We were given all of the information by a rep on our arrival, she sat with us and talked us through everything.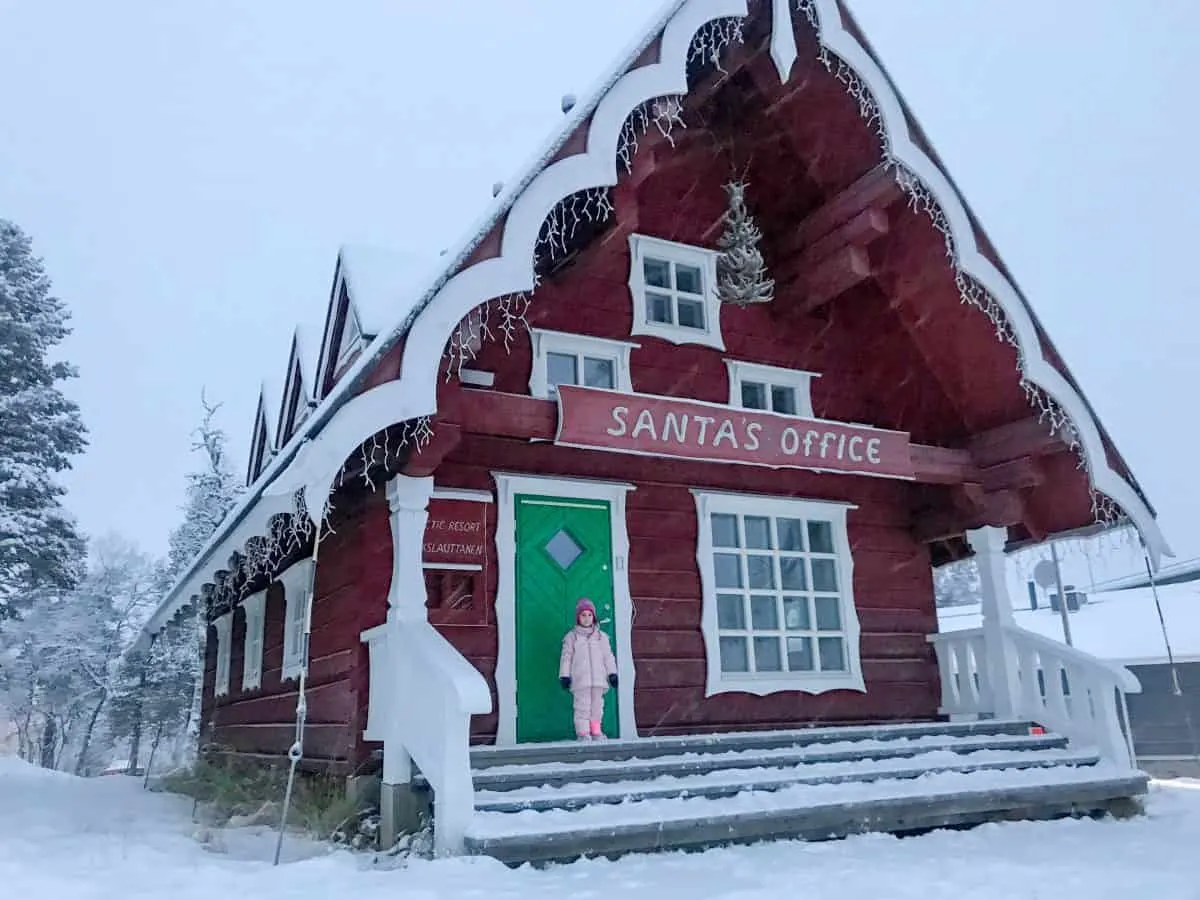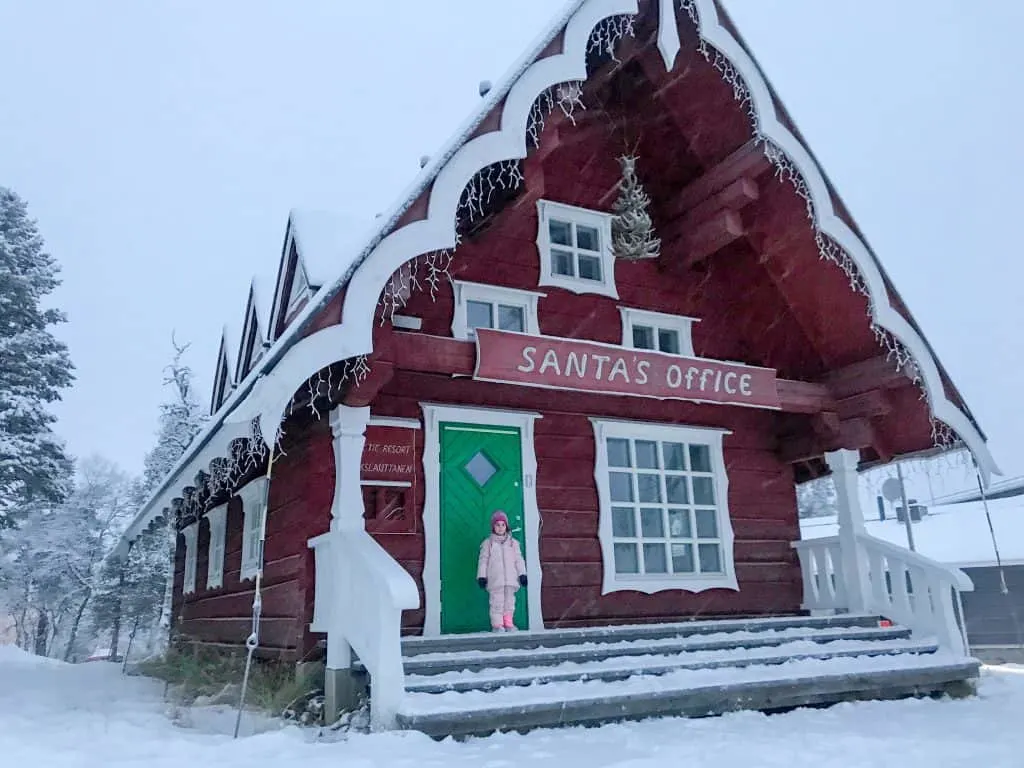 The drive to the Artic Resort is magical, seeing the beautiful countryside, so raw and untouched, it really hit home where we were in the world. On arrival one parent was asked to stay on board for a briefing whilst the kids went to play outside. They gave us a map with lots of tips for the day, best times to visit hotspot attractions, and so on.
THE MAGICAL SLEIGH RIDE
We went directly to the magical ride. A snow mobile pulled us on a sleigh through the forest, It was so beautiful and calm. That was until we came across some energetic elves and a log cabin!
The kids were taken completely by surprise when they realised it was in fact where Santa was hanging out! This was the pinnacle moment of the entire trip to Lapland with kids.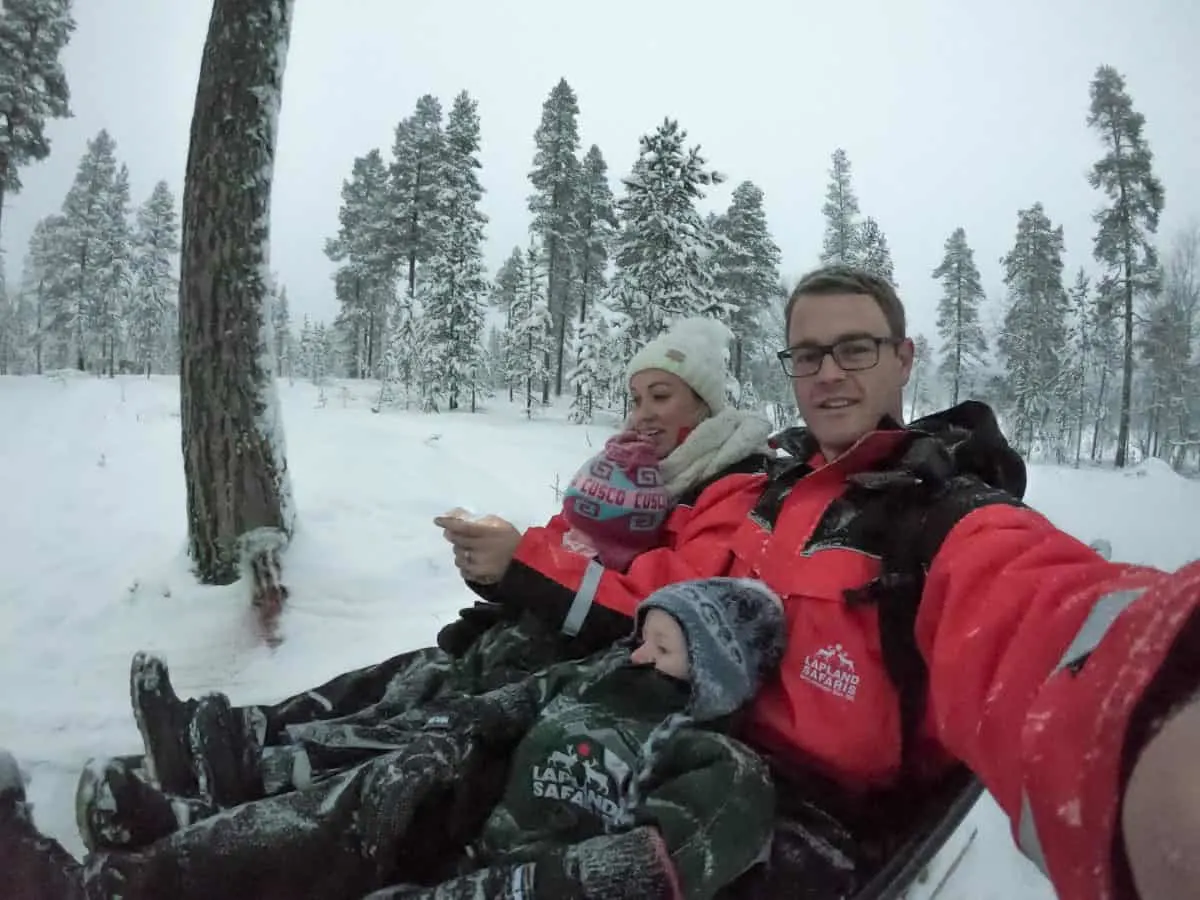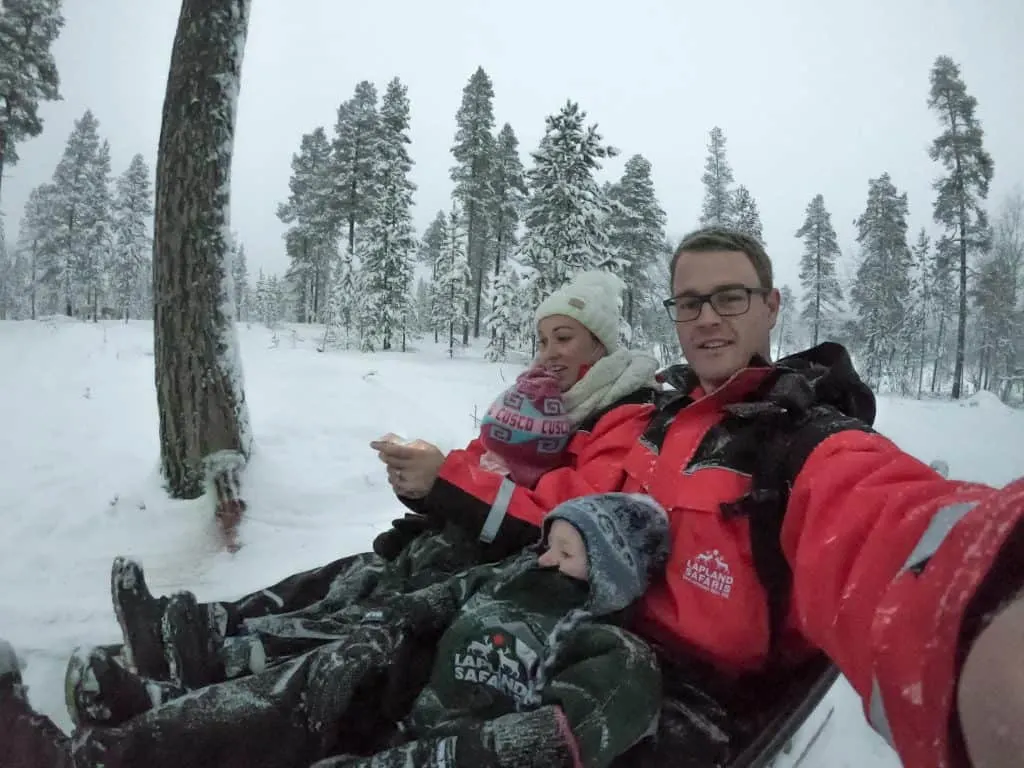 Santa was sitting in his rocking chair and had the kids letters they had originally posted from London in his hand.
Esme was shocked he actually received the letter! He went through them with the kids, asking what they wanted for Christmas!
Esme has since been obsessing about the food Santa asked her to leave out on Christmas Eve. After a family photo, we jumped back on our sleigh ride to explore the rest of the activities.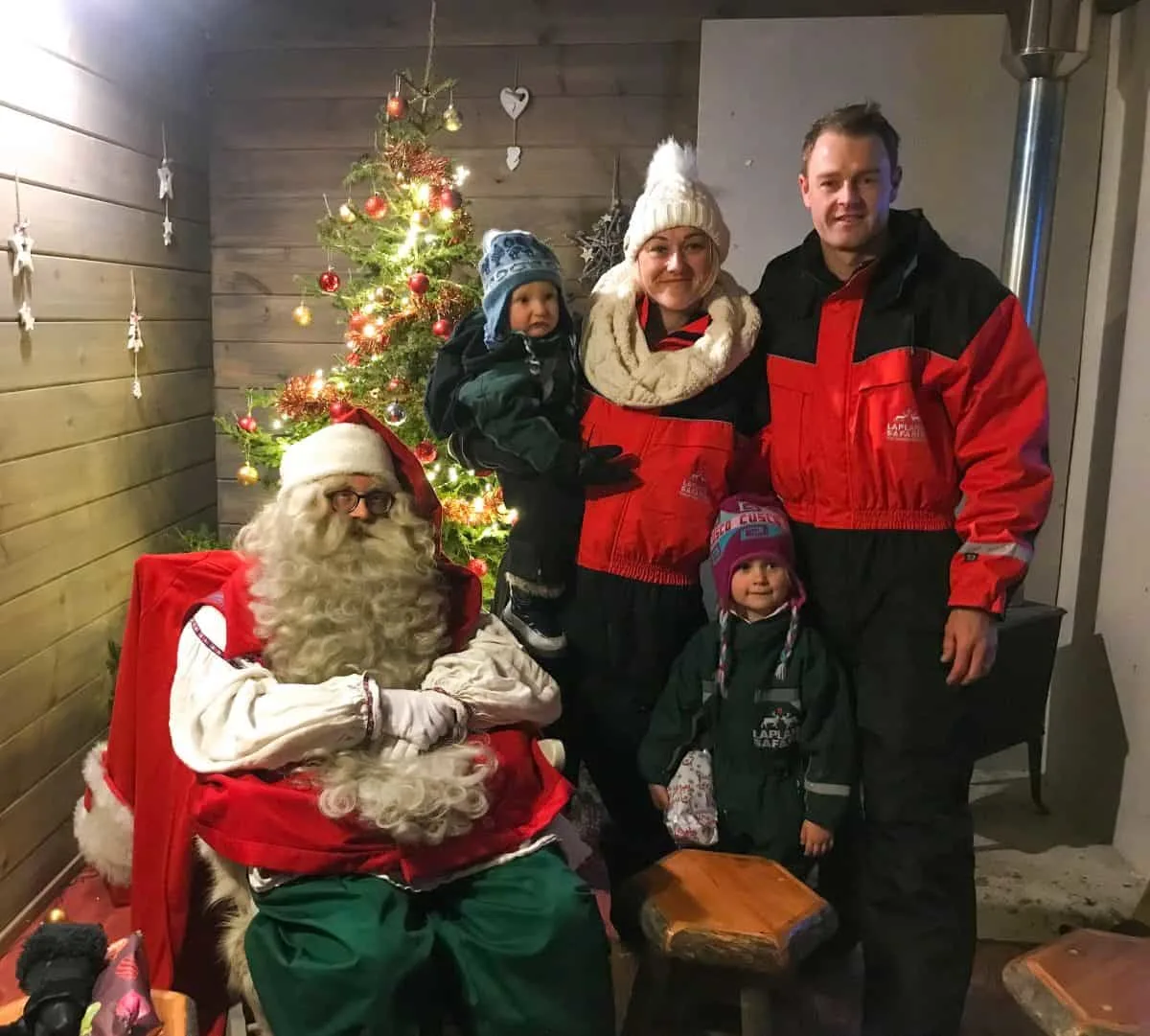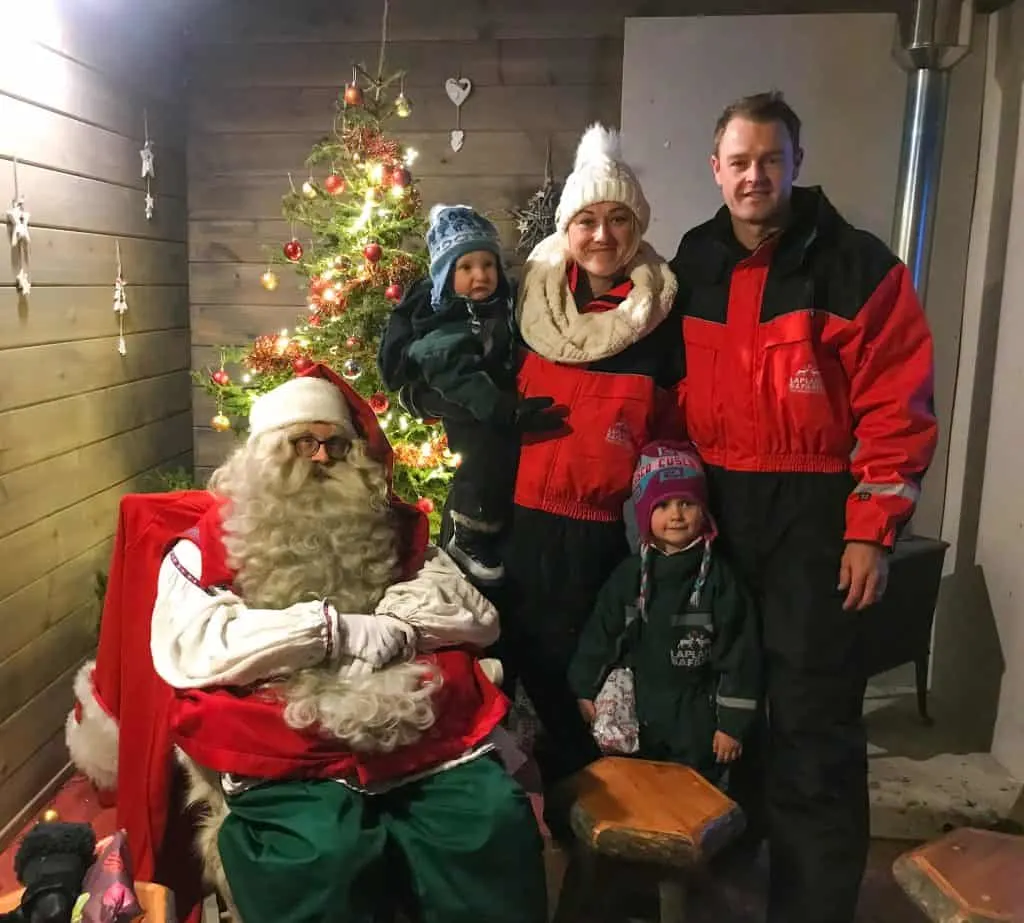 OTHER ACTIVITIES AT THE ARTIC RESORT
There is plenty to do across the resort. Esme and Quinn both loved trying out the 'Skidoos'. They are essentially kid sized snow mobiles. The track goes around a tree and is attached so it is safe for little ones. Even Quinn 18 months old had a go!
Besides from the skidoos, there was also ice fishing, ice hockey, toboggan runs, and tandem skiing. Not to mention the amazing elf show at the Igloo, we were so impressed with how engaging the show was for the kids, they absolutely loved it! The reindeer and husky sledge ride was very popular as well!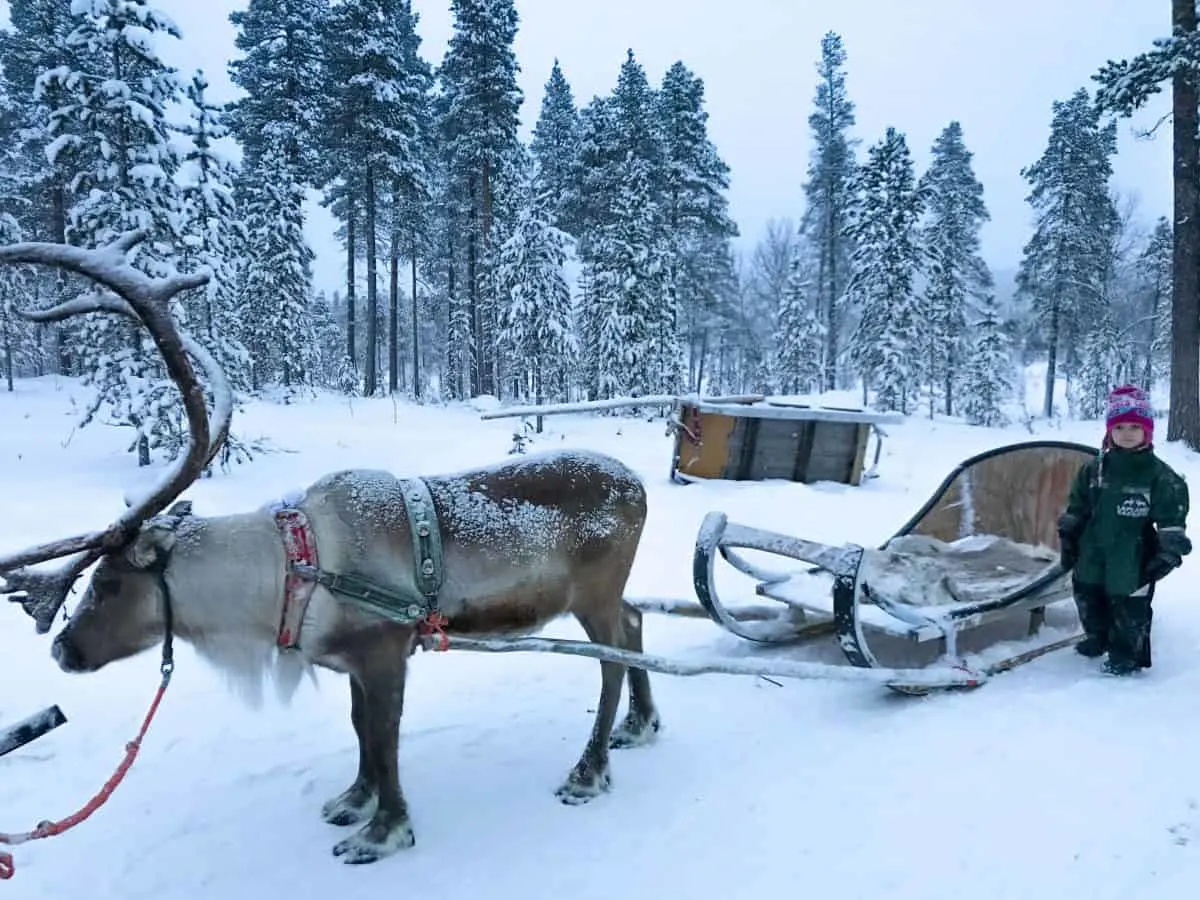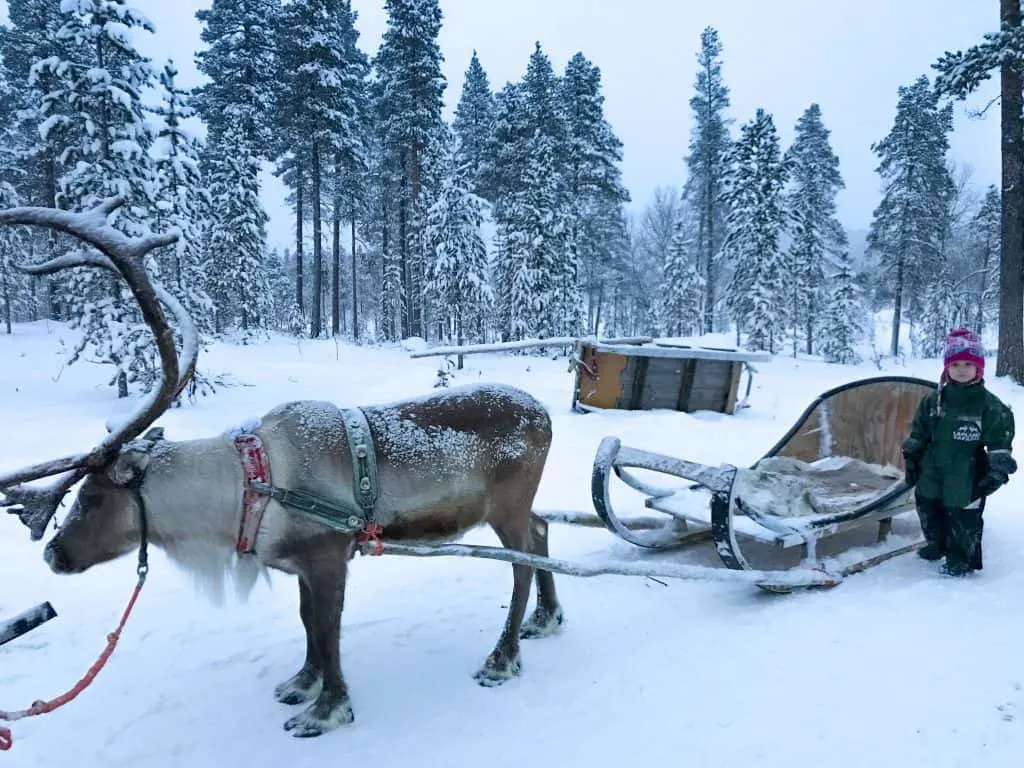 Check out Santa's Lapland Trips Here
LUNCH TIME
At lunch time we went to our designated restaurant, they served either vegetable and rice, or spaghetti bolognese. Each table had artisan style sliced bread and a jug of good oul blueberry juice (they love that stuff in Lapland).
Next to the restaurant they served pancakes inside a wigwam style tent. They had an open fire to warm up, as well as warm drinks and ginger bread biscuits. It was the perfect way to warm up before hitting some more activities.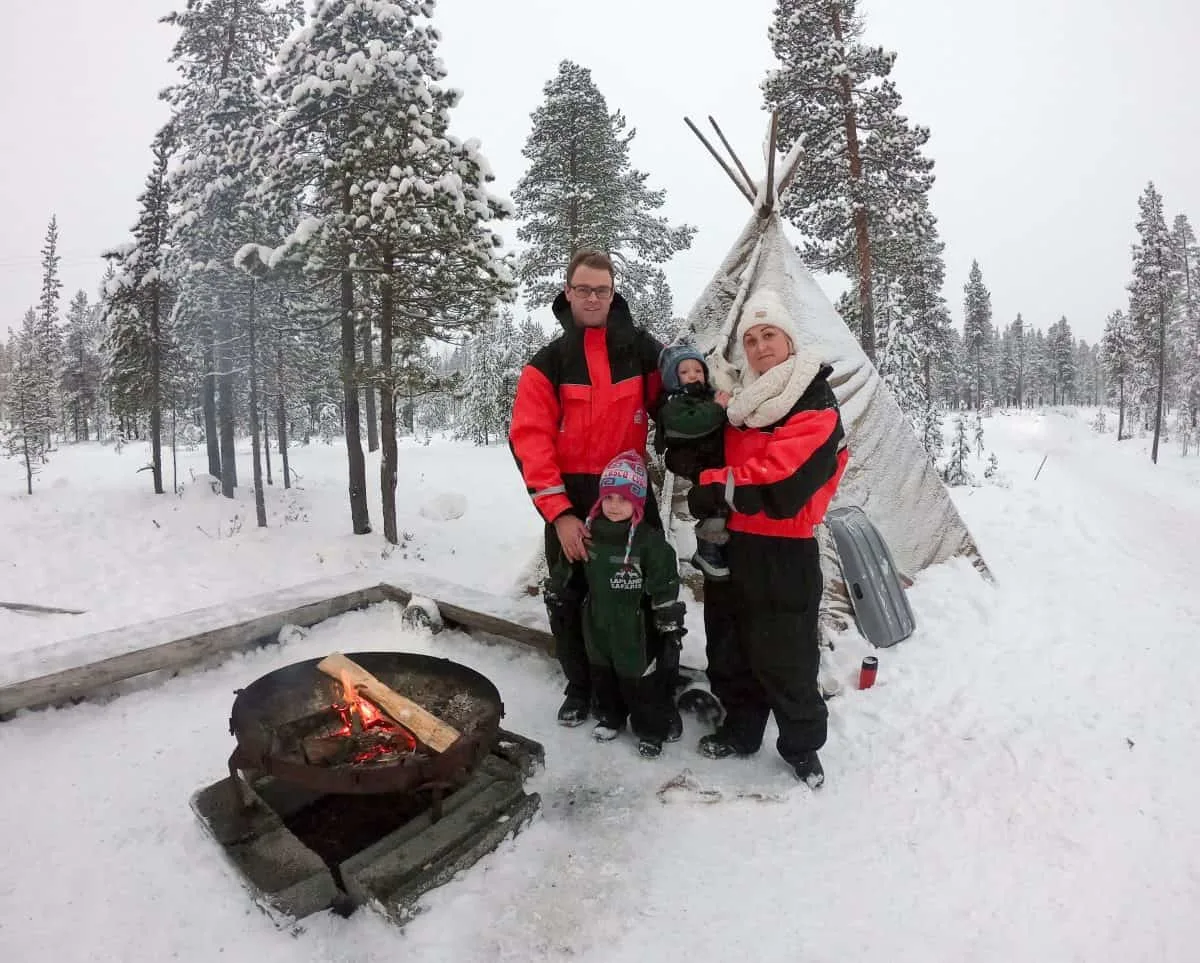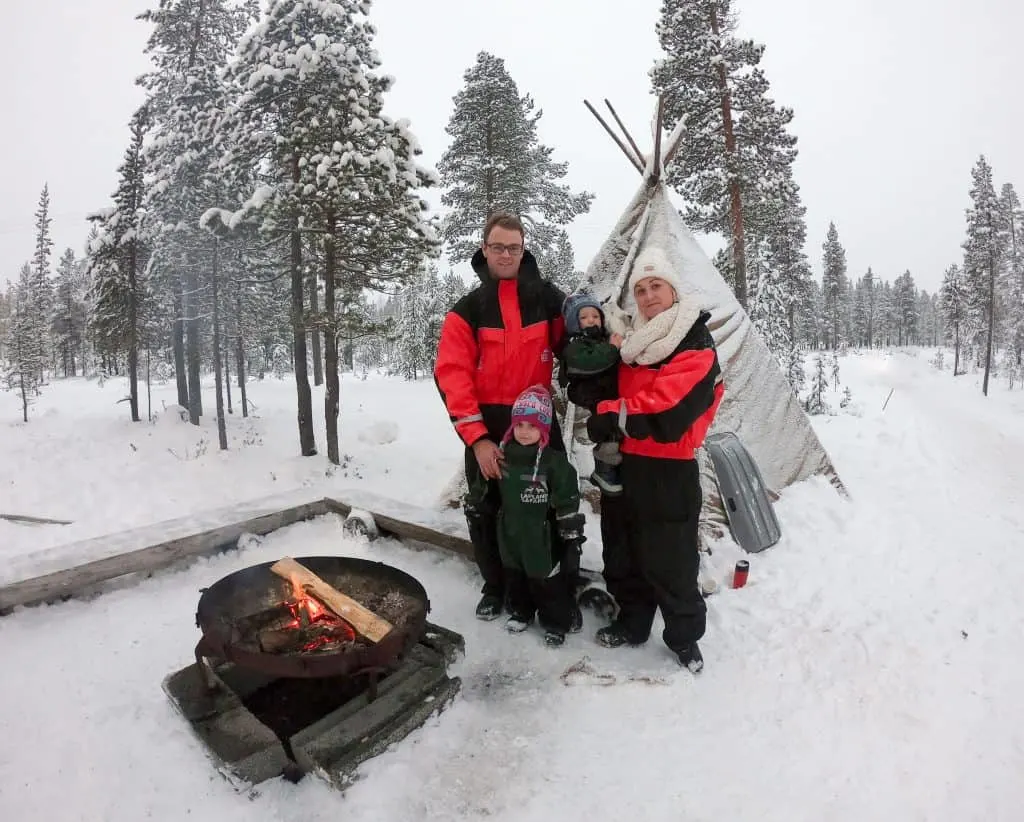 We rounded our day off at the Reindeer Barn where we learned lots about these majestic animals. Being inside at this point was most welcomed, the kids were starting to feel the cold after being outside for the majority of the day. Besides from some tired / need a nap / feeling a bit cold tears, it was an all round magical day!
THE END OF A GREAT DAY
Once we were finished, we jumped on one of the rolling coach services back to the hotel. They came every 20 minutes or so, we were back in no time for some much needed rest. Santa's Lapland put on a gala dinner for all their guests on the last night. It was such a lovely evening, it literally felt like Christmas Day.
All of the decorations and fancy table lay out, of course they served all the typical Christmas Dinner food and had really yummy vegan alternatives. The night was completed with legendary Christmas songs, games for the kids and silly dancing. What more could you ask for to round off a trip to Santa's Lapland?
Still looking for more Lapland inspiration? Check out these amazing Lapland bucketlist experiences!
WHAT CLOTHES TO BRING TO SANTAS LAPLAND / PACKING LIST
As I mentioned previously, Santa's Lapland provide artic suits, gloves and boots for all guests. The thing to get right is the layering underneath. This is what I brought for each member of the family:
Three sets of thermals, (full body) one for each day. It's important to wear this layer directly on the skin.
Six sets of leggings and three pairs of loose fitting jogging pants.
Six sets of normal socks and three pairs of thermal socks.
One neck warmer each. When doing activities, it was quite handy to have a scarf that wasn't flying everywhere. Likewise, we could pull it up to cover our face, if we were feeling the cold.
Six long sleeve warm shirts.
Three thick but roomy jumpers.
Light weight snow boots for the kids. These were handy when we were just going to dinner or breakfast.
Disposable pocket warmers. I cannot stress how amazing these little packs were! They saved the day when the kids just couldn't seem to warm up. I was amazed at how much heat they pump out. We had them in their socks, scarf and gloves, it made such a difference.
Whilst we were in Lapland, the temperature was unusually tropical at -5 to -10 degrees Celsius. One of our followers told us it was -45 last year when she visited, so having LOTS of layers is so important. If you find you are struggling to pack bulky clothing, vacuum bags are an amazing way to condense everything.
Check out Santa's Lapland Trips Here
PREPARING FOR SANTAS LAPALAND
As I mentioned previously our trip was a package holiday provided by santaslapland.com. They sent out a helpful pack full of information a few weeks in advance. It contained everything we needed to know about the trip, from clothing to photography equipment and extra excursions to arrival information.
The kids loved the headed notepaper to write their Santa letter and the cute Santa themed luggage tags. If you decide you want to do extra excursions, it's worth booking them in advance.
From what I can see online, the best time to book is in December the year before you intend to travel. This should (according to trusted Trip Advisor) insure the best price and options in terms of accommodation and dates. Check out availability and prices here.
Our trip to Lapland was hosted by Santas Lapland. As always, all views expressed are entirely my own. There are affiliate links in this post. By using them, we get a small commission for our travel piggy bank at no extra cost to you.
You May Also Like:
A winter trip to Austria with kids
Christmas Markets in Stuttgart