We were visiting Dubai and felt we really couldn't miss out on Abu Dhabi with kids. At only an hours drive from Dubai and direct flights from London to Abu Dhabi itself, this city of glitz and glam with stunning beaches is more than accessible.
Based on an island extending from the mainland into the Arabian Gulf, it's no surprise the beaches are stunning. The skyline is dominated by skyscraper buildings with some unusual architectural designs.
Being the capital of the United Arab Emirates, it's no doubt the city has some incredible landmarks such as the Sheikh Zayed Grand Mosque and Emirates Palace.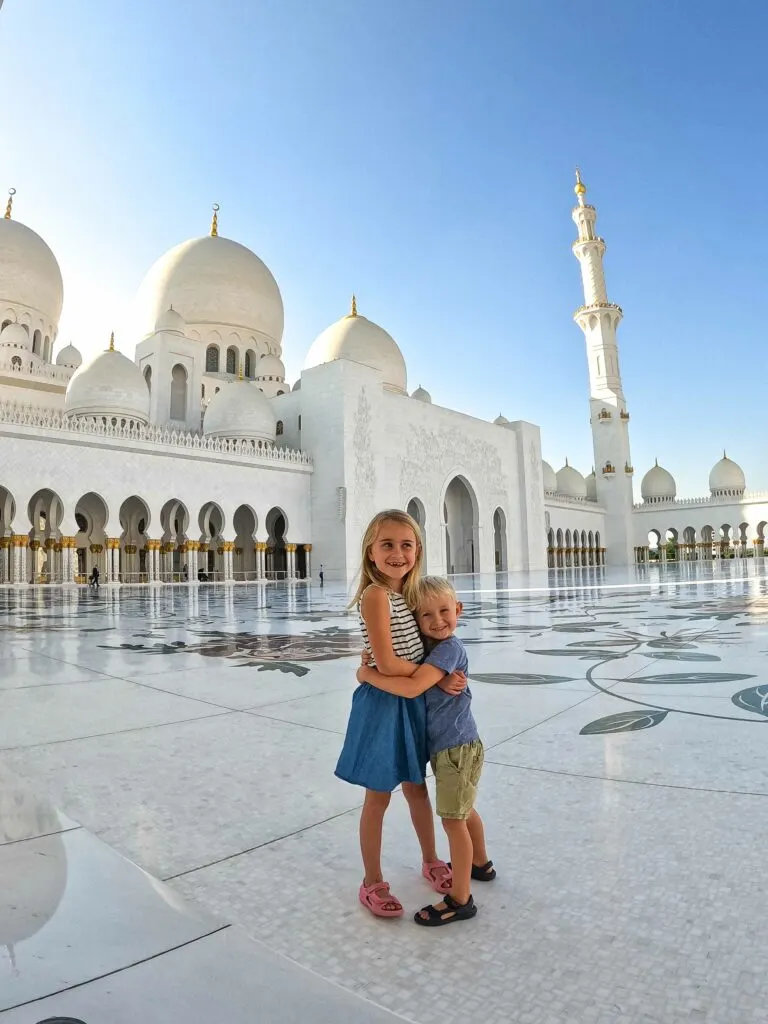 We spent four days exploring Abu Dhabi with kids but in truth, a week is probably a good amount of time to see and do all the highlights at leisure.
We've had a little help from our friends to put this itinerary together due to our limited time in Abu Dhabi, we didn't want to miss out on the best things!
While most people are really familiar with Dubai, not as many people will know much about Abu Dhabi. It's interesting seeming as Abu Dhabi is actually the UAE capital.
Over the last few years, Abu Dhabi has transformed into a modern destination and has grown hugely in tourism, ex-pats and foreign businesses.
We love Abu Dhabi and for anyone planning to visit Dubai for a holiday, make sure to factor in some time to visit the capital too.
With it being so close to Dubai and being pretty easy to get around, you could easily visit for a day trip and get a couple of the things mentioned below ticked off your list!
Looking for more middle east destinations? Consider visiting Jerusalem or Jordan with Kids!
KIDS ACTIVITIES IN ABU DHABI
The latest addition to the theme park scene in Abu Dhabi's Yas Island, Warner Bros World. Based in the city's 'entertainment zone' that is Yas Island – only minutes from the Abu Dhabi International Airport – you will find this entirely indoor entertainment complex.
The park is split into different worlds like Bedrock, Cartoon Junction, Gotham City and Metropolis. The fantastic design and special effects transport you right back to these childhood favourite lands!
Whilst rides do make up a big part of the theme park, there's no shortage of interactive entertainment, shows and character meet and greets to keep the kids entertained.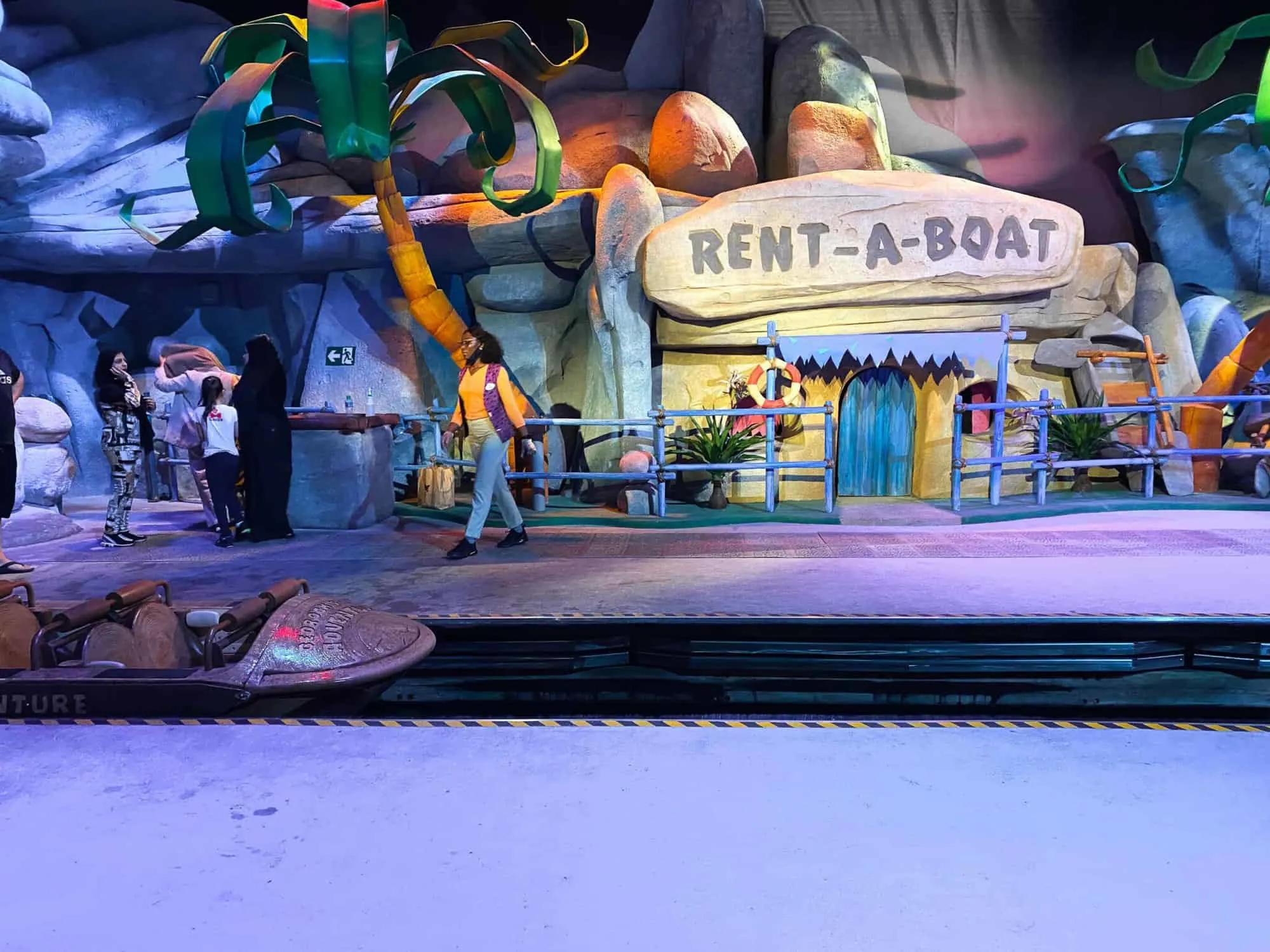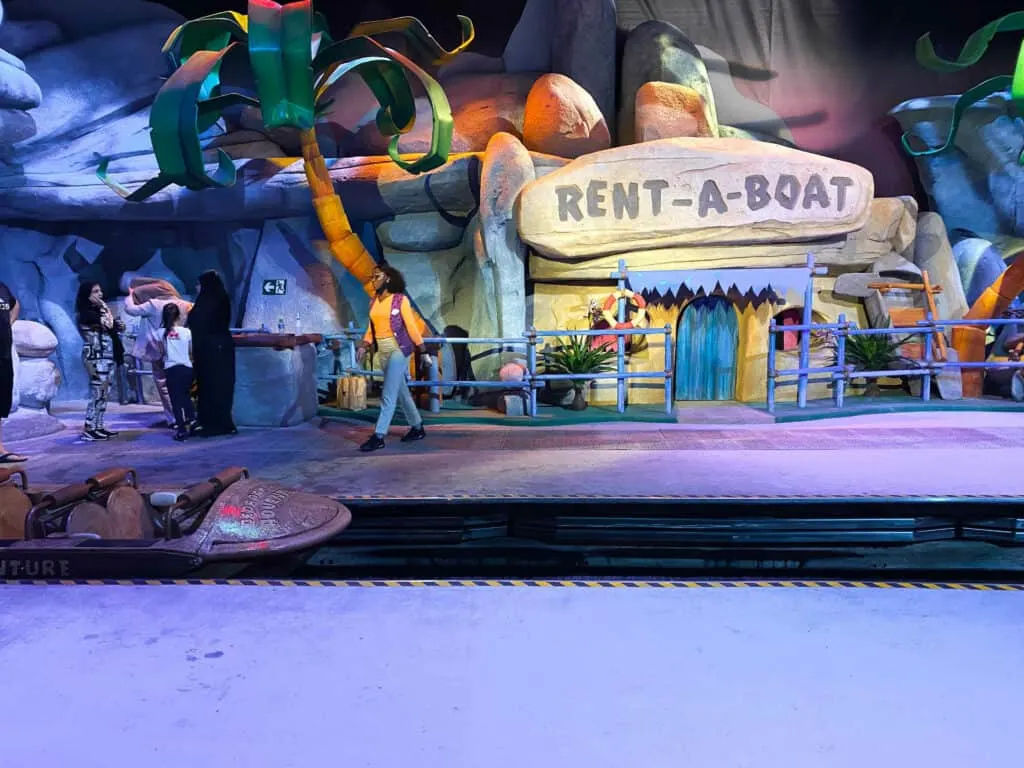 The park is ideal for children over 110cm, although there is still a good variety of rides that younger children can get involved with.
Stand out favourites so far (and if you are visiting on a busy day, run to these first!) include The Riddler's Revolution, Tom & Jerry's Swiss Cheese Spin and Fast & Furry-ous in Dynamite Gulch.
From the minute the park opens with a Cinema Spectacular light and sound show in Warner Bros Plaza, the park is abuzz with excitement. The attention to detail is exceptional and the characters really know how to make the children feel special.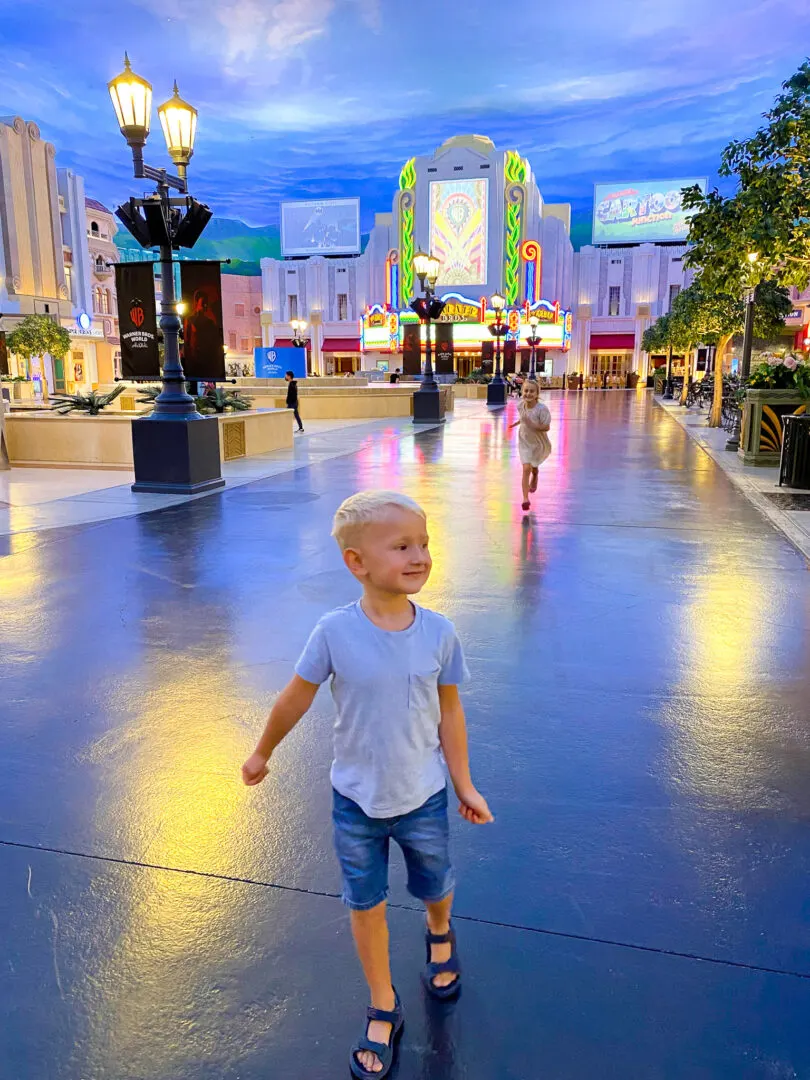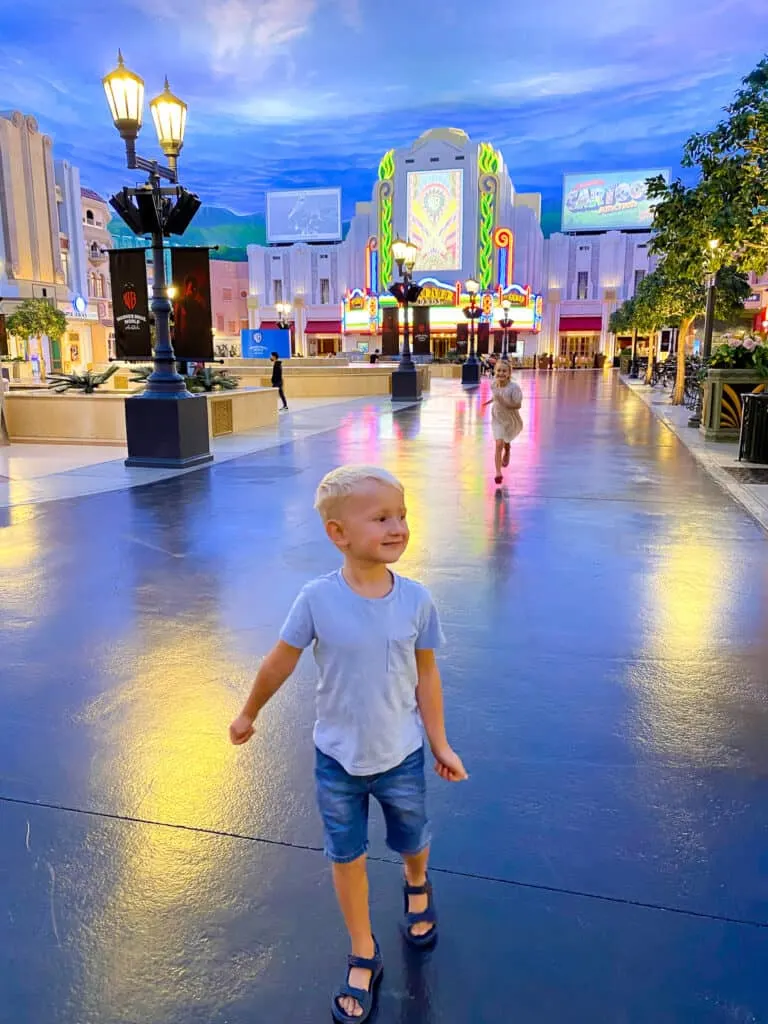 There are also plenty of restaurants and cafes which you will struggle to choose between as all offer great food for the family but also amazing design and decor that makes you feel as though you are living in childhood programmes.
Top tip: Visit during local school term time or during the week where you can almost guarantee you'll get no queues for rides and the park to yourself during the day!
You can book a day pass for you and the kids here.
EMIRATES PALACE
The Emirates Palace of Abu Dhabi is opulence defined. It is a grand and sprawling building where simply no expense has been spared. Everything oozes extravagance and gold is the dominant colour signifying the wealth invested in the construction and endless finishing touches.
Many of that being actual gold itself! Commissioned by UAE founder Sheikh Sayad, the Emirates Palace was designed to have joint meetings of the 7 United Arab Emirates.
Sayad was instrumental in unifying the 7 previously separate Emirates to form the UAE and had the vision to become stronger together and maximise return on the oil reserves that have brought wealth and prosperity to the land.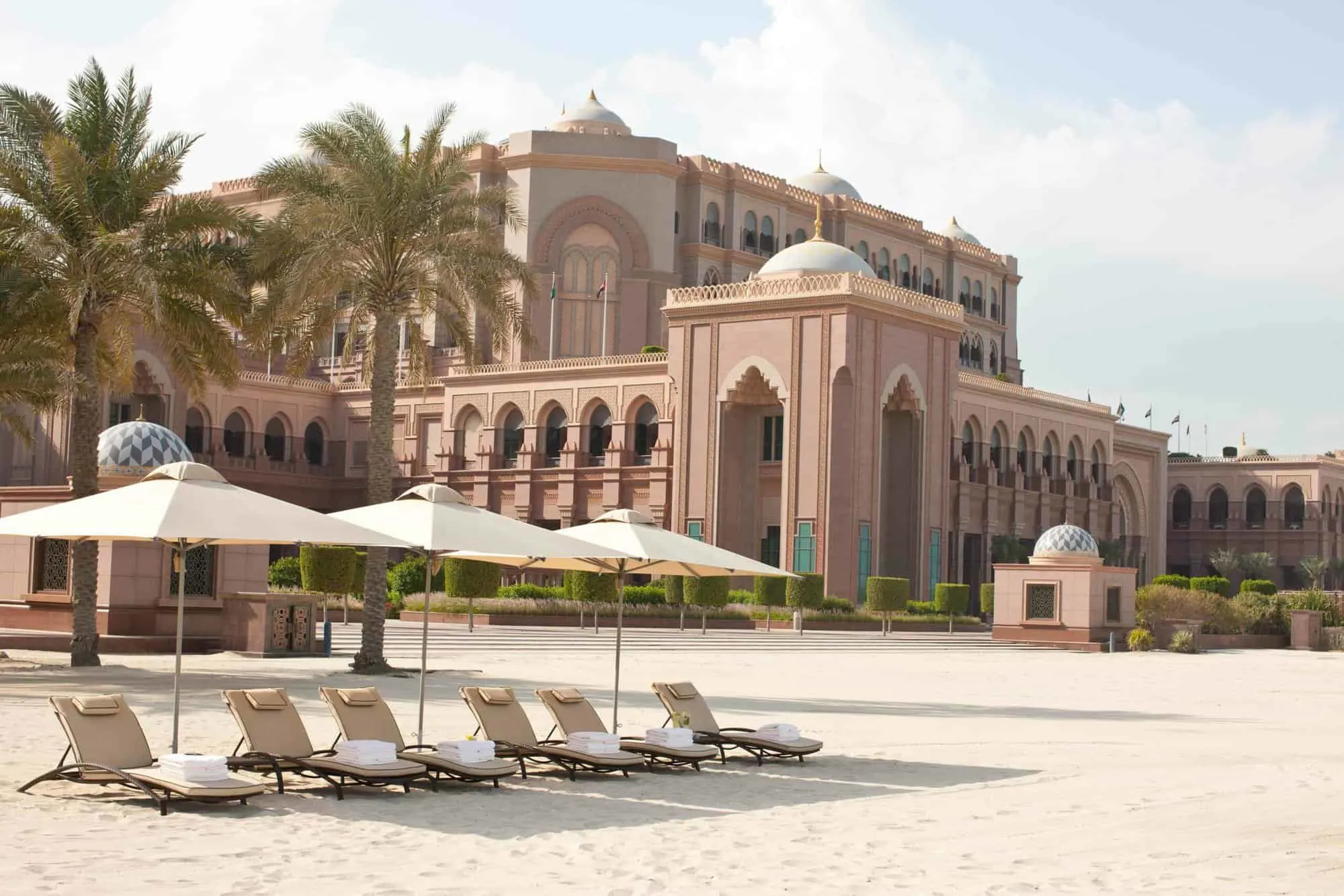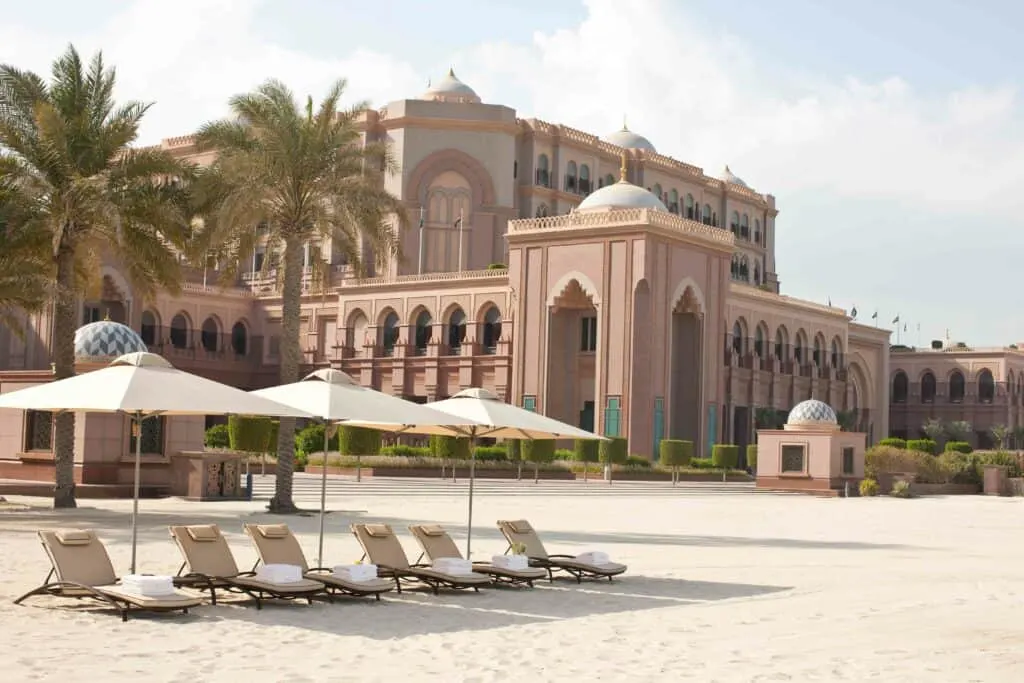 The Emirates Palace is still in use today for such purposes but also as a somewhat pricey hotel option and popular for the mega-rich to host all manner of weddings and salubrious gatherings.
As a visitor you are free to wander the sprawling lobby and look over the many gardens or even grab lunch.
Many will visit Le Cafe within the hotel and order one of the famous cappuccinos decorated with edible 24-carrot gold flakes. Definitely an insta-worthy coffee!
Once upon a time there was a gold bar vending machine in the foyer, although this has since been removed due to its dispute in weighing accuracy!
ABU DHABI CORNICHE
Stretching out over 8 kilometres, the Corniche is Abu is Abu Dhabi's main beachfront and a hub of social activity for the capital city. Over the years many sections have been developed to include family beaches, palm tree-lined pedestrian walkways, change facilities, restaurants and lifeguard stations.
You can enjoy the Corniche in many ways, both from the beach and in the water. At the high end of the scale, you can try a day pass to one of the luxury resorts like the Nation Riviera – for deck chair comfort, drinks service and nearby pools; or do as most do and join from the public beach which is accessible from a number of spots along the corniche.
All sections where swimming is allowed have lifeguards on duty during daylight hours (swimming is prohibited at night). One small section is fenced off for families only to enjoy with a very small entry fee, this includes a grassed lawn and picnic area.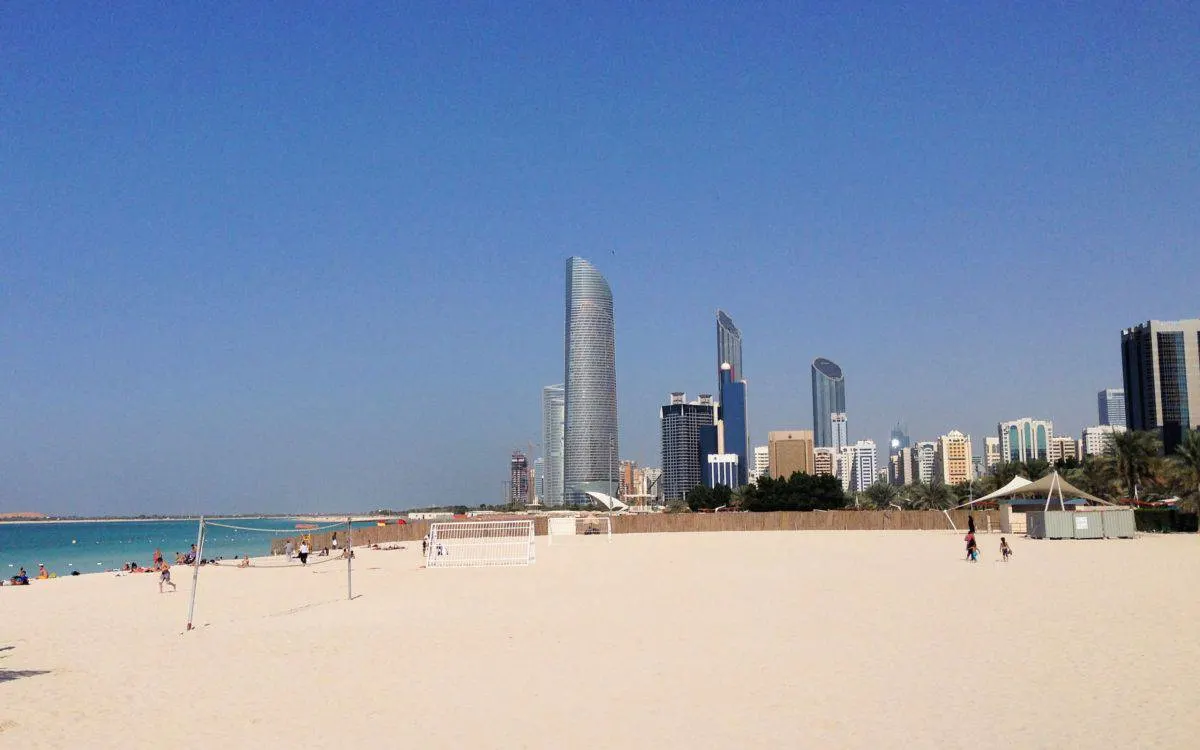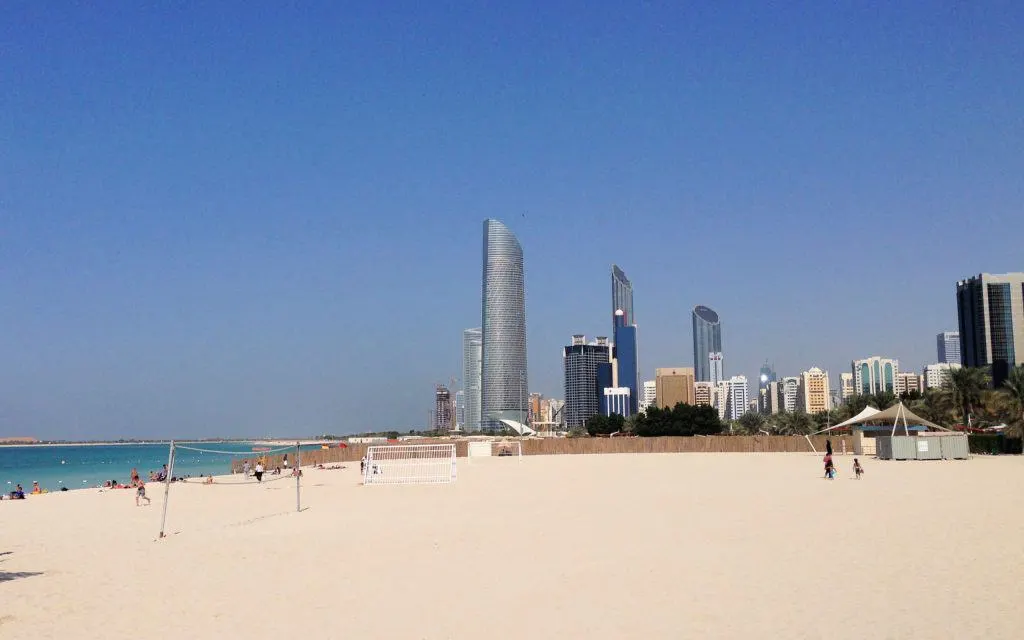 The Corniche is a popular spot for families, couples, fitness fanatics and individuals alike. With many options like strolling along the lovely walkway parallel to the beach, cycling, sunbathing, running and playing basketball or volleyball.
The sports, activities, beach and sea alone will be sure to entertain the kids!
Running along the corniche beside the walking path there is also a bike lane. There are a few areas where visitors can hire bikes along the beachfront, the perfect evening activity in the cooler winter months.
MANGROVE KAYAKING
You might think Abu Dhabi is all about desert and beaches but that's not entirely true. Abu Dhabi has mangroves too and a Kayak trip through these mangroves is a great activity with kids. A huge contrast to the desert safari!
The Mangrove National Park is located just out of downtown Abu Dhabi and is best visited from the Anantara Eastern Mangroves hotel.
There you can hire kayaks (or paddleboards) and go out into the mangroves alone or with a guide. The marina has also a variety of restaurants to have lunch or dinner. The marina is a great place to spend the day.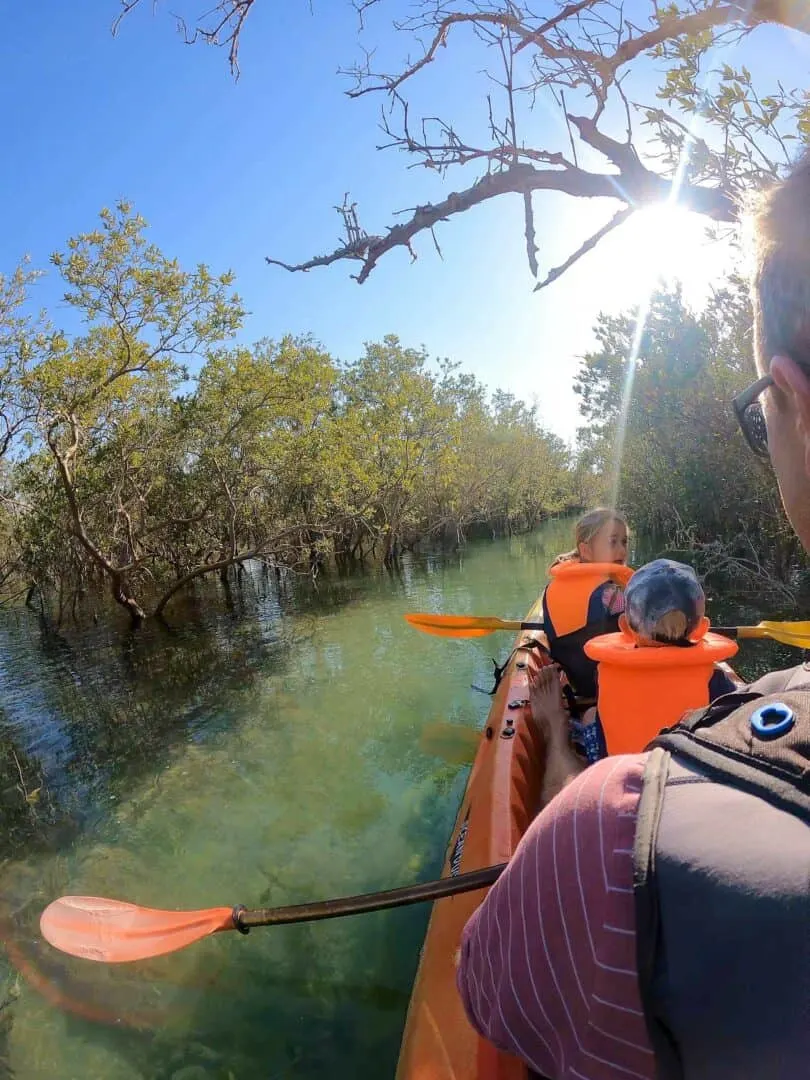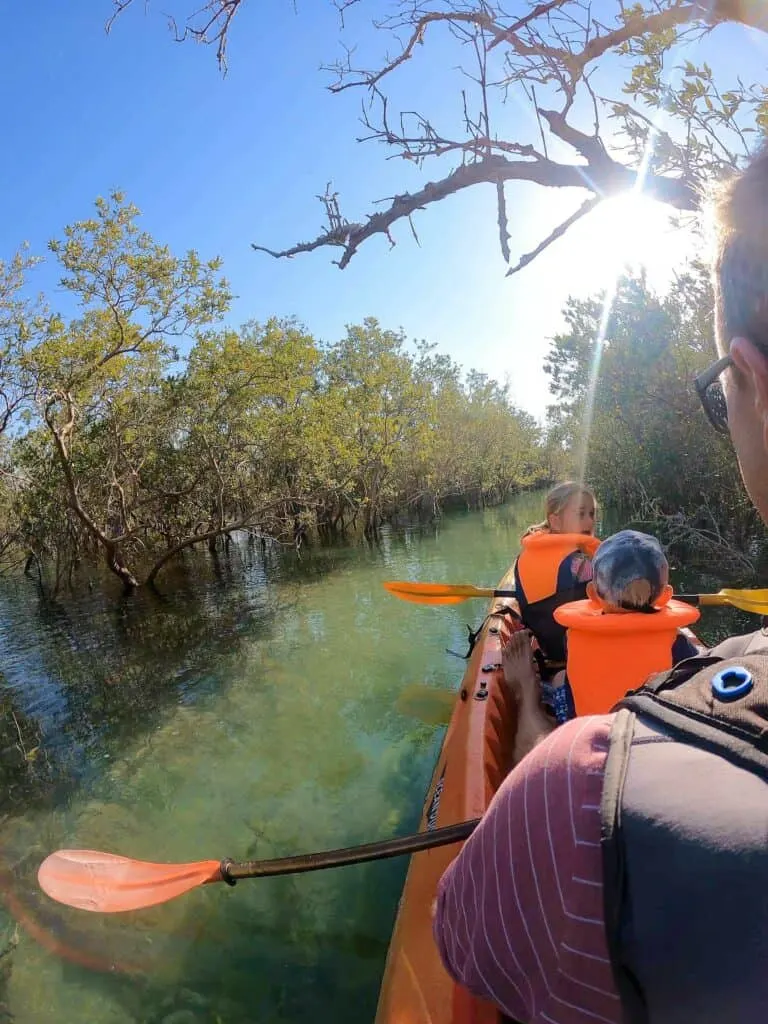 An Abu Dhabi mangroves Kayak trip can be from an hour to half a day, it just depends how much time you spend exploring the mangrove forest.
The Mangrove National Park is over 70 square kilometres and home to several endangered species including sea turtles and dolphins. If you're lucky you can spot some and this will keep kids busy looking out for them.
The easiest tour takes you into one of the mangrove channels where at a small "beach" you can go on the land (at low tide) to see the mangroves up close. Make sure to check out the small holes in the sand where crabs live.
It's a peaceful area as the city noise is gone but skyscrapers tower above the forest kilometres away. Kayaking these mangroves is a great way for kids to learn about this unique ecosystem and its inhabitants. Make sure to add it to your Abu Dhabi itinerary.
You can also take a boat tour around the Mangroves Park which is also highly recommended!
JUBAIL MANGROVE PARK
Confusingly, not that close to the Mangroves National Park and the area discussed above, the Jubail Mangroves Park is a great place to visit in Abu Dhabi with kids.
These mangroves, located closer to Yas Island, are a refreshing escape from busy city life, offering visitors lush greenery and the tranquil sounds of the tides flowing in and out around them.
The boardwalk pathways wind through the mangroves, allowing visitors to explore the natural landscape and wildlife living in the waterways below.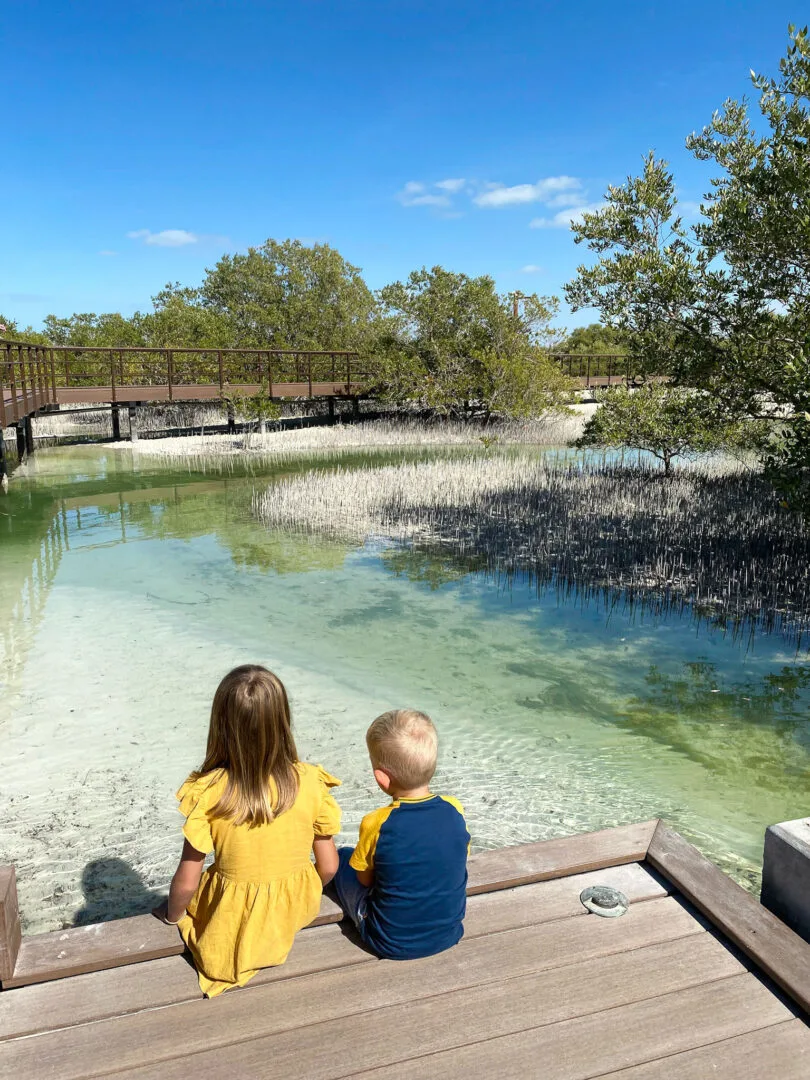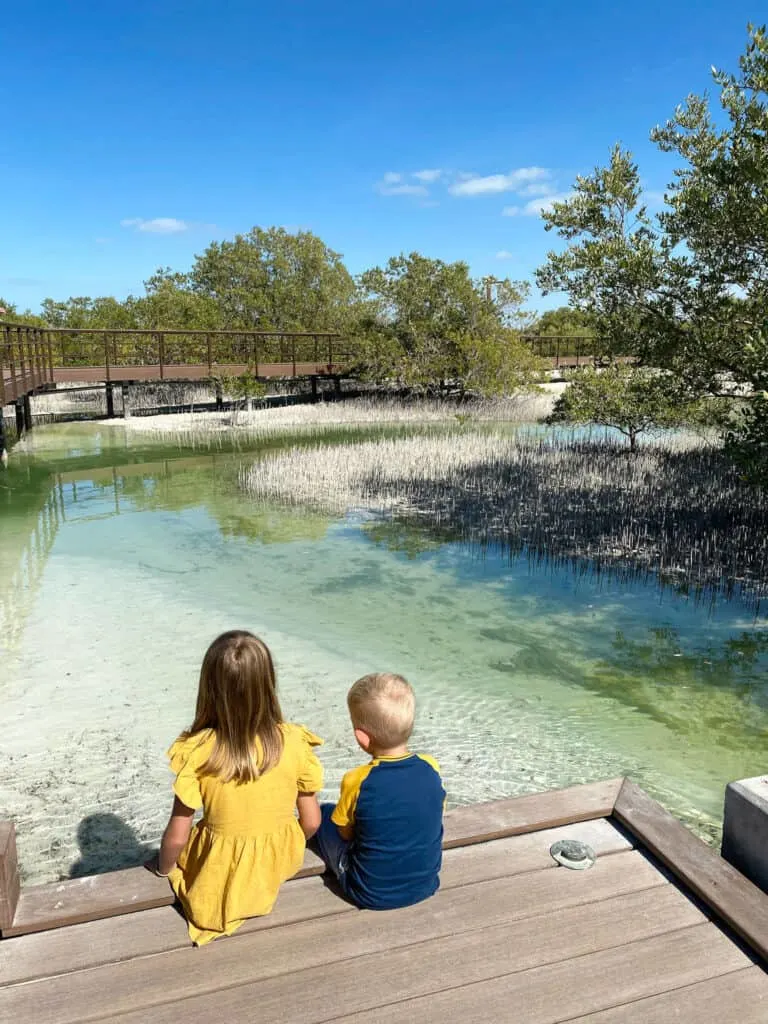 The site was developed with the hope of increasing awareness, appreciation and understanding of the mangrove habitats and how they support the protection of the Abu Dhabi coastline.
The boardwalk itself if quite short and is a perfect length for kids to walk and enjoy the wildlife just enough before getting bored.
If any of the family gets thirsty or hungry along the way, there is a lovely cafe restaurant 'crane' situated at the entrance of the park.
Here guests can enjoy refreshing drinks like fresh juices and smoothies, all made in-house.
There are also many delicious food options like freshly prepared sandwiches and baked pastries.
Visitors have the option to sit inside in the fresh AC or outdoors in the shade with stunning views of the mangroves.
DUBAI PARKS AND RESORTS
Dubai Parks and Resorts are exactly halfway between Abu Dhabi and Dubai. At only around 30 minutes drive, the fun-filled attraction is more than accessible. The area has several theme parks, namely Legoland, Motion Gate and Bollywood.
It takes a couple of days to do all of them with little ones but it is possible to do all three in one day with older kids if planned well. We loved the Legoland Waterpark.
It was such a fun-filled day and had something for all of us, even our one-year old enjoyed the experience.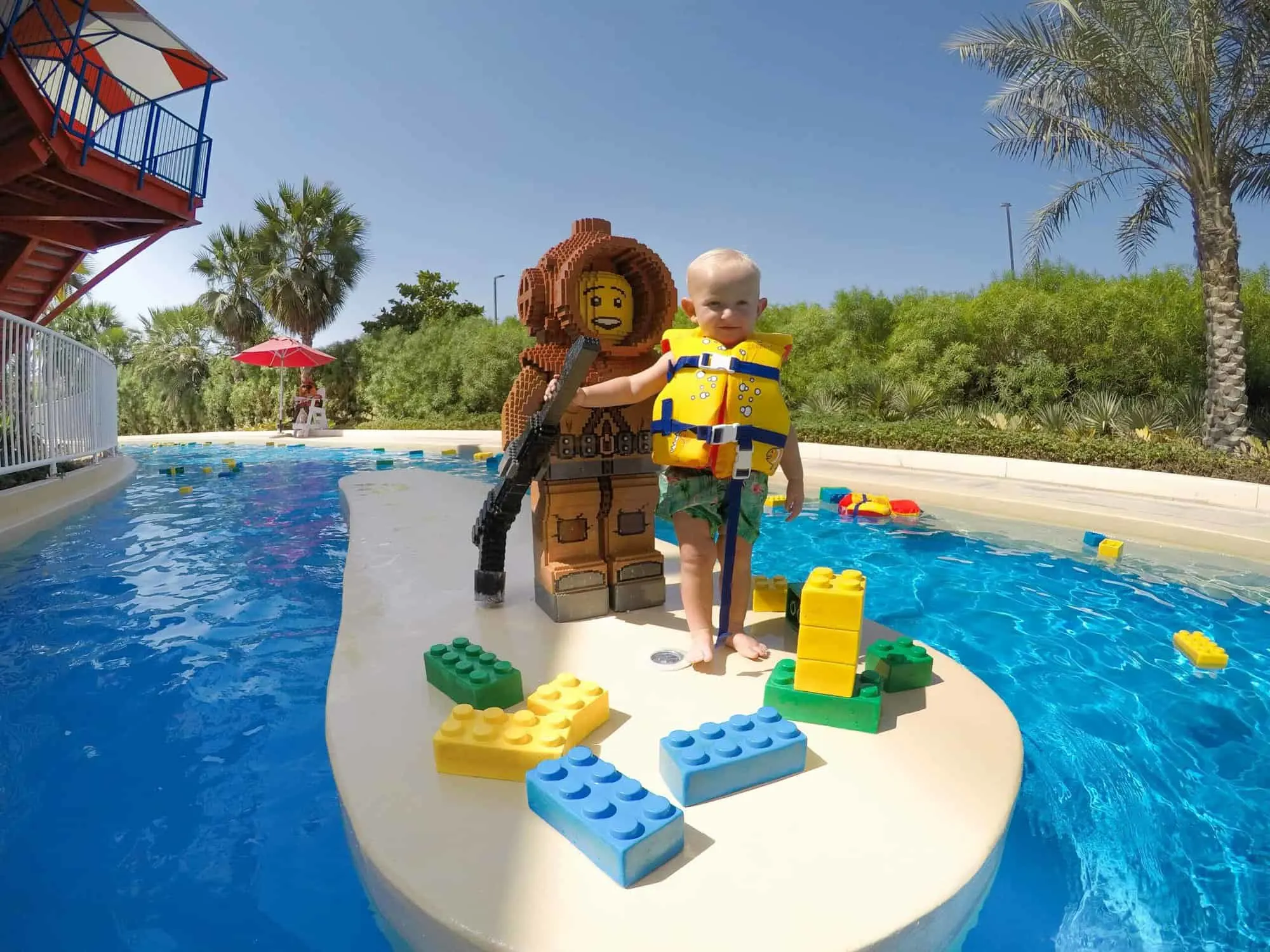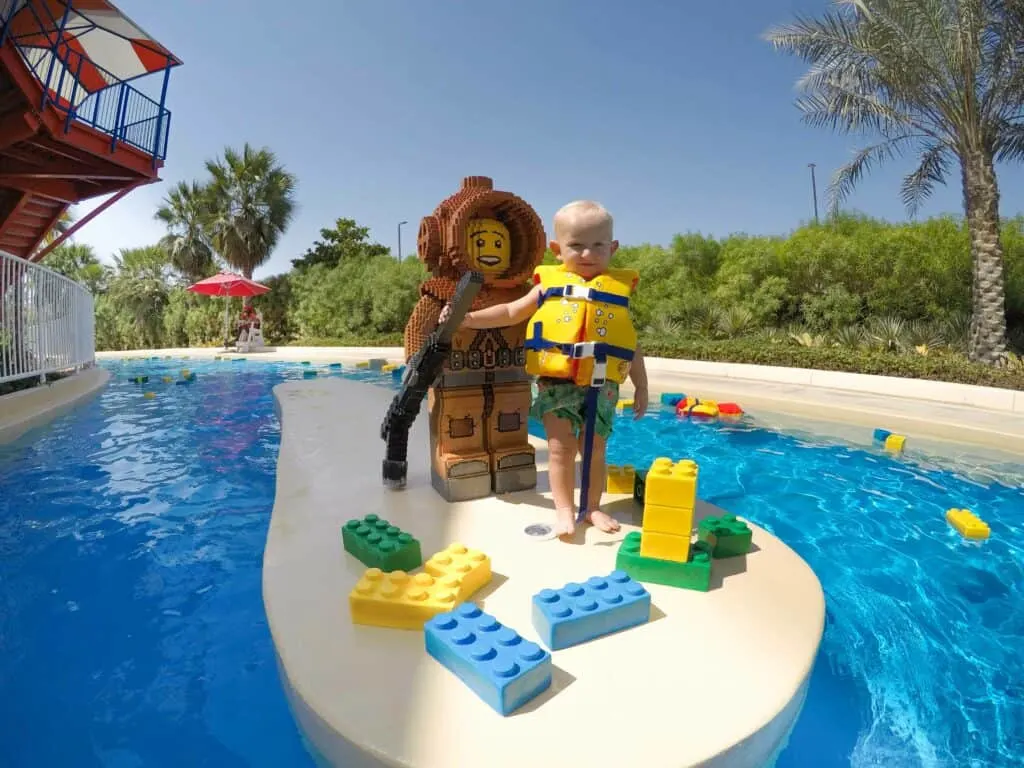 Bollywood was my favourite of all, most probably because it's something different. It's the perfect activity around sunset time. The experience is predominantly theatre performances which both of our children really loved.
The park does an amazing job at setting up a mock Taj Mahal and Mumbai train station amongst other Indian scenes. It is just one of the exciting things to do in Dubai and Abu Dhabi.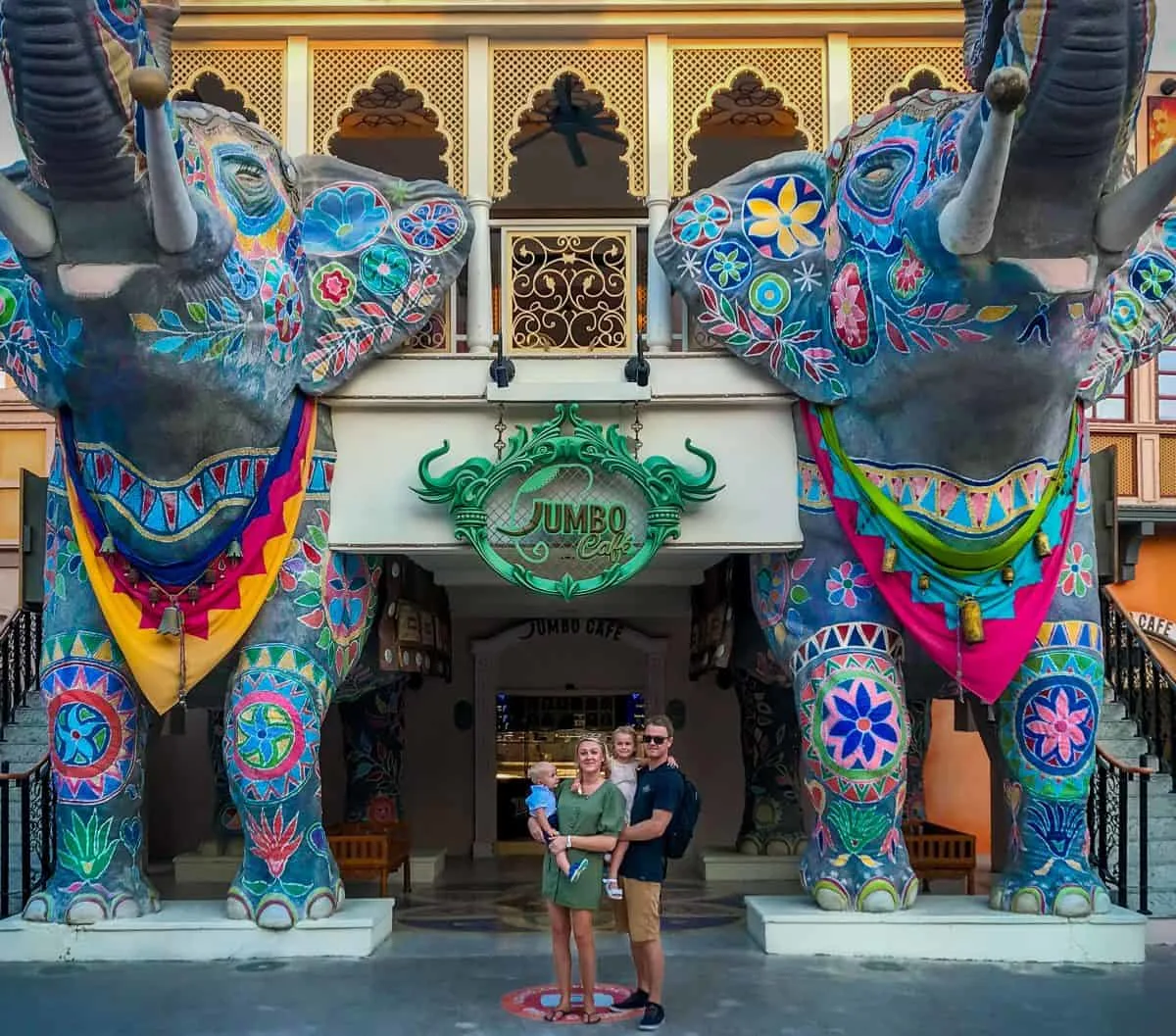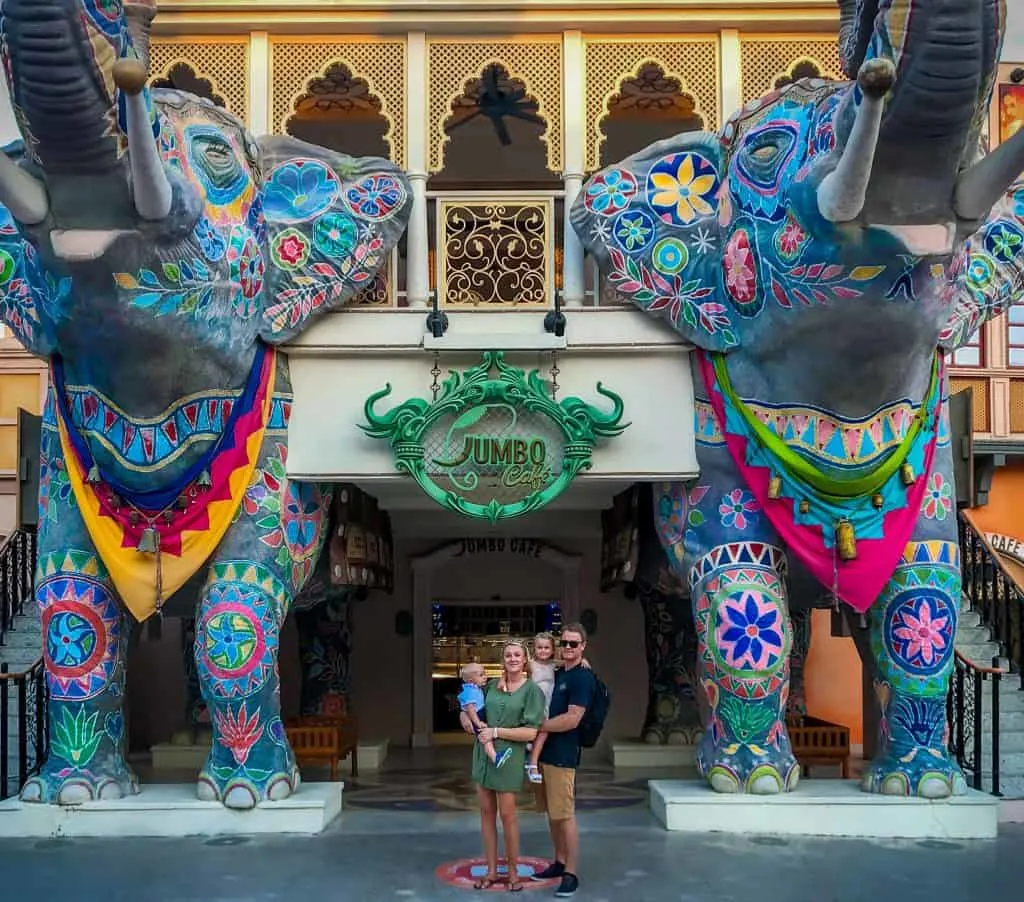 AL AIN ZOO
If you are looking for a real winner in Abu Dhabi with kids – Al Ain Zoo, home to over 4,000 animals.
You can book a 'skip the line' ticket here.
Al Ain Zoo has a number of options and experiences when visiting with the family. You can explore the safari area by foot tr train, feed the animals and watch shows and feeding times throughout the park.
If your kids are animal lovers and aren't too scared, the Safari Lion Feeding experience is amazing! You and your family will be ushered into an enclosed vehicle with a cage surrounding you making it possible for the lions to surround you.
You can feed these beautiful creatures raw meat through the openings of the cage and watch how they enjoy their food and interact with their fellow lions.
In addition to the tigers, visitors can also feed giraffes, penguins and budgies!
The penguin march experience is sure to be a winner among all of the kids, watching these adorable creatures march and play while the keeper shares information on these breeds.
This zoo cannot be compared to any in the UK or surrounding countries, we highly recommend it!
CLYMB ABU DHABI
CLYMB Abu Dhabi is an indoor skydiving and rock climbing centre located on Yas Island. This adventure centre includes two world-first experiences.
Housing the biggest indoor skydiving flight chamber in the world as well as the region's tallest indoor climbing wall, CLYMB Abu Dhabi is one for the adrenaline junkies.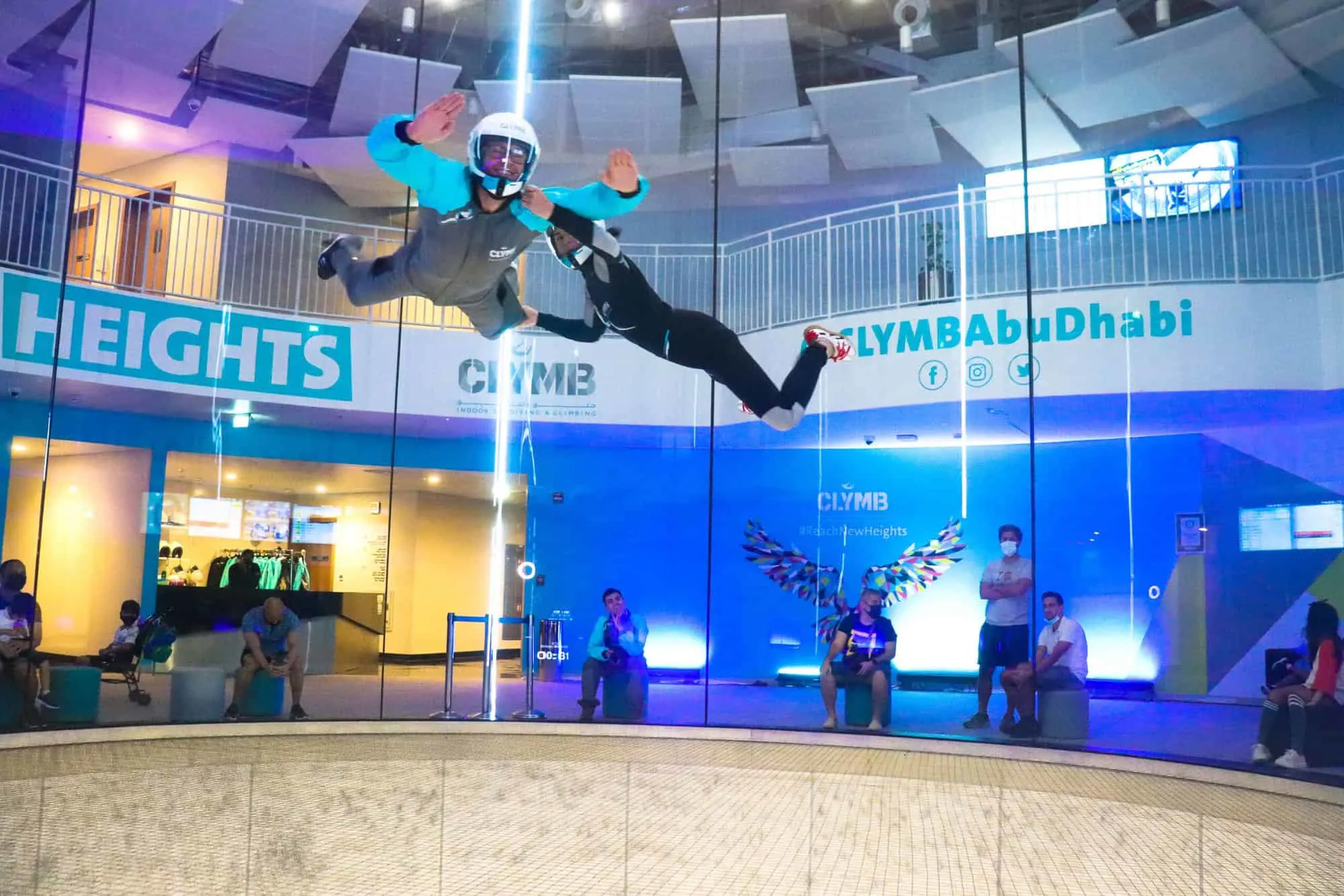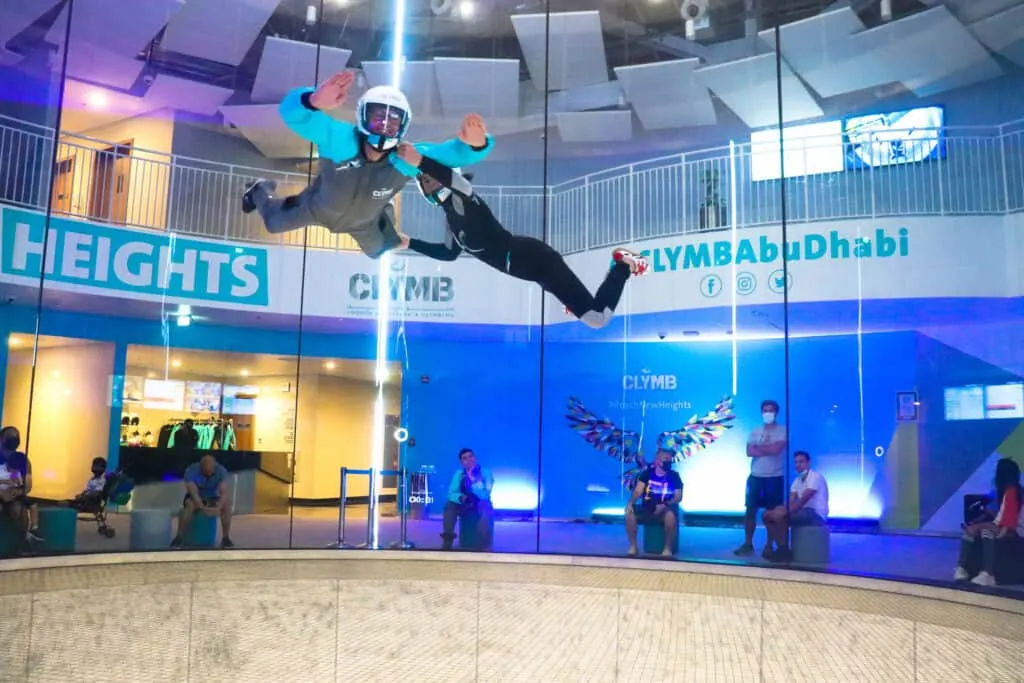 Children as young as 3 can experience indoor skydiving and the climbing walls are also appropriate for most ages. As well as that though, there is also a big adventure area designated for the kids!
BOUNCE
Another great activity centre for the kids is Bounce Abu Dhabi. Names 'the home of freestyle' this indoor trampoline centre will be a winner for kids of most ages!
There are trampolines, airbags and adventure challenge features making it one big playground for kids!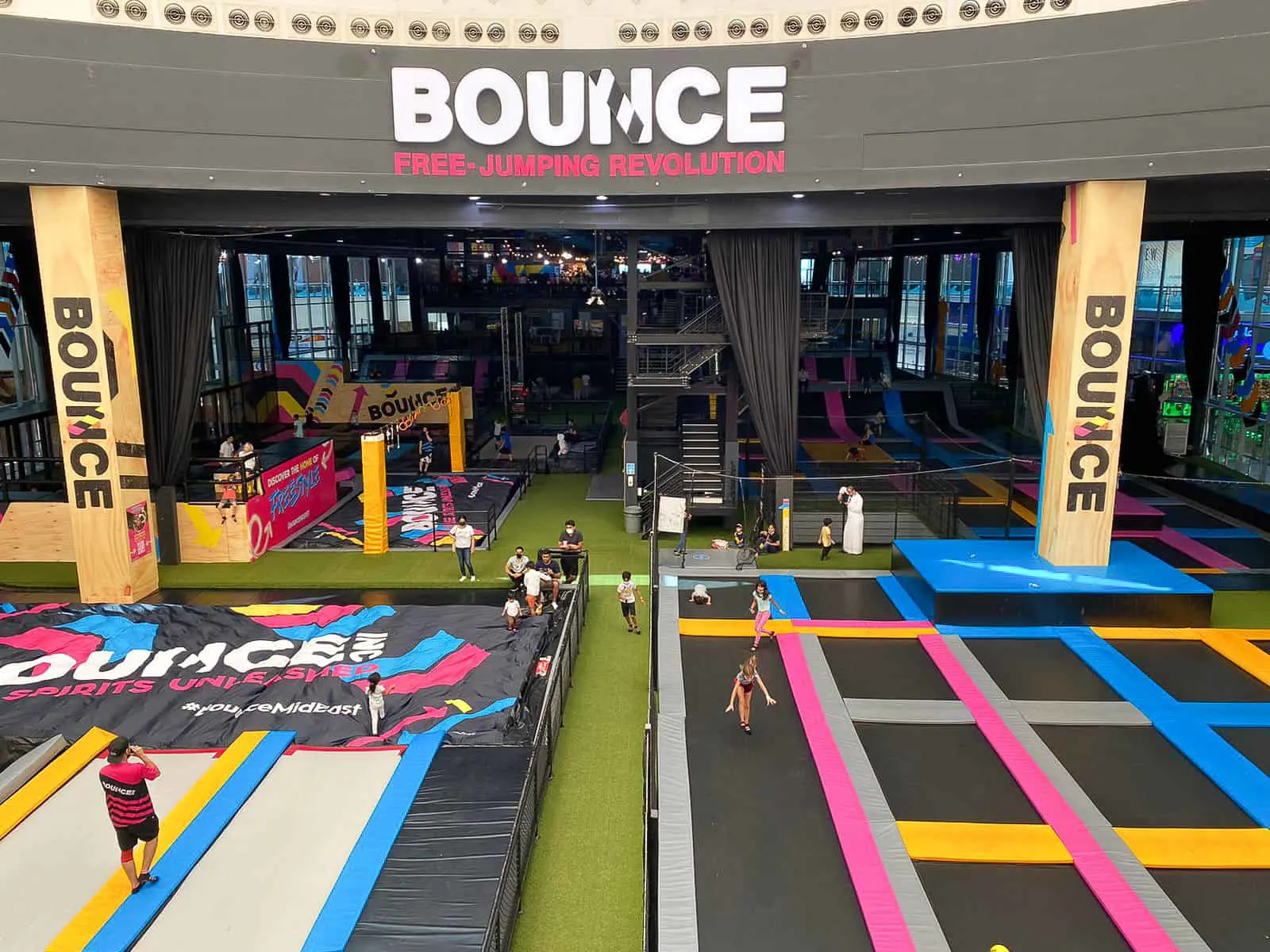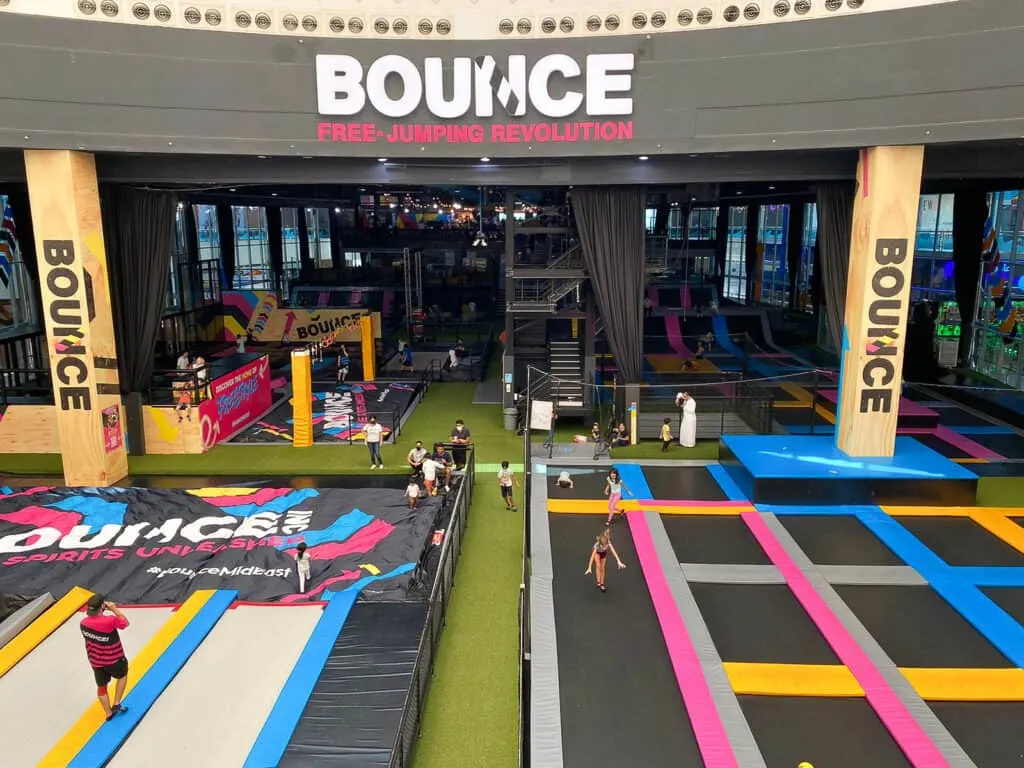 Bounce is located in Marina Mall in the heart of the city. There are different areas for children under 110cm and over. There are also different prices depending on which section you choose and how long you stay for.
KIDZANIA
Kidzania is a world where learning and playing collide in one indoor area created for kids. The experience is described as an interactive city run by kids!
The area is 7,000 metres squared in size and has been created to look like an exact replica of a city. all activities have been designed to engage children allowing them to learn and grow whilst having fun and playing!
There are over 70 'real-life' activities for kids from 4 years old to 16. There is a large emphasis on role-playing within the city and it aims to teach children about the real world with role-playing in jobs allowing the kids to learn about teamwork, social skills and creativity!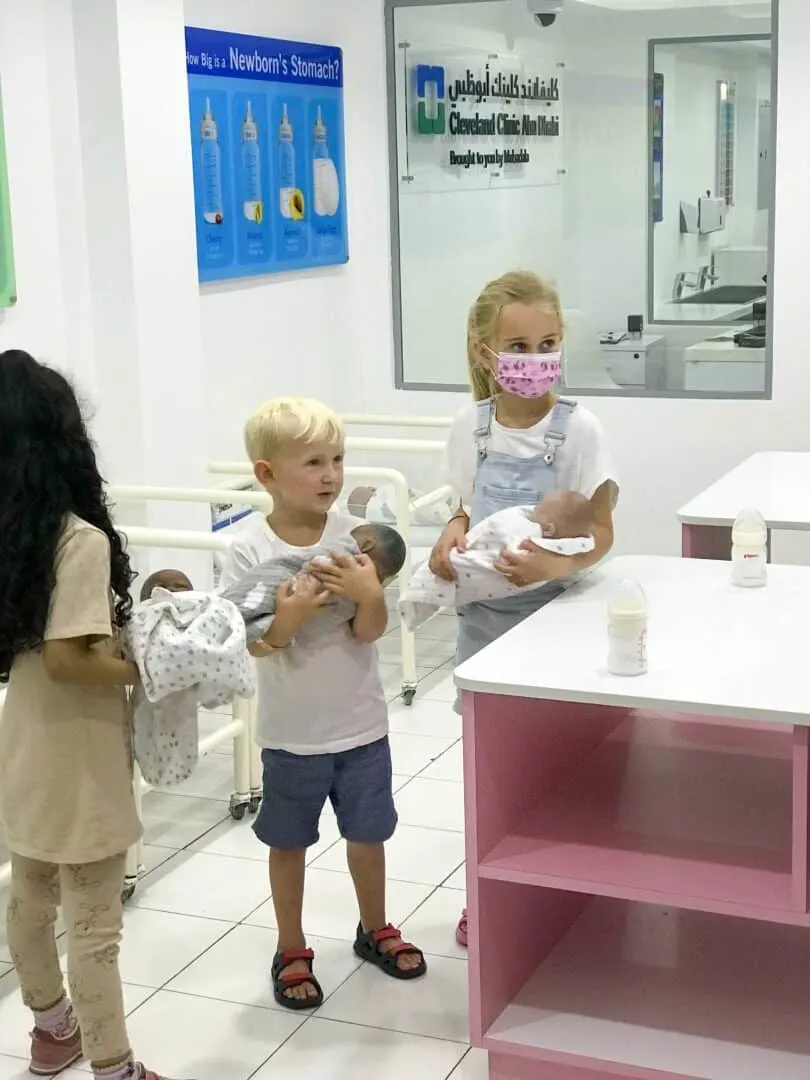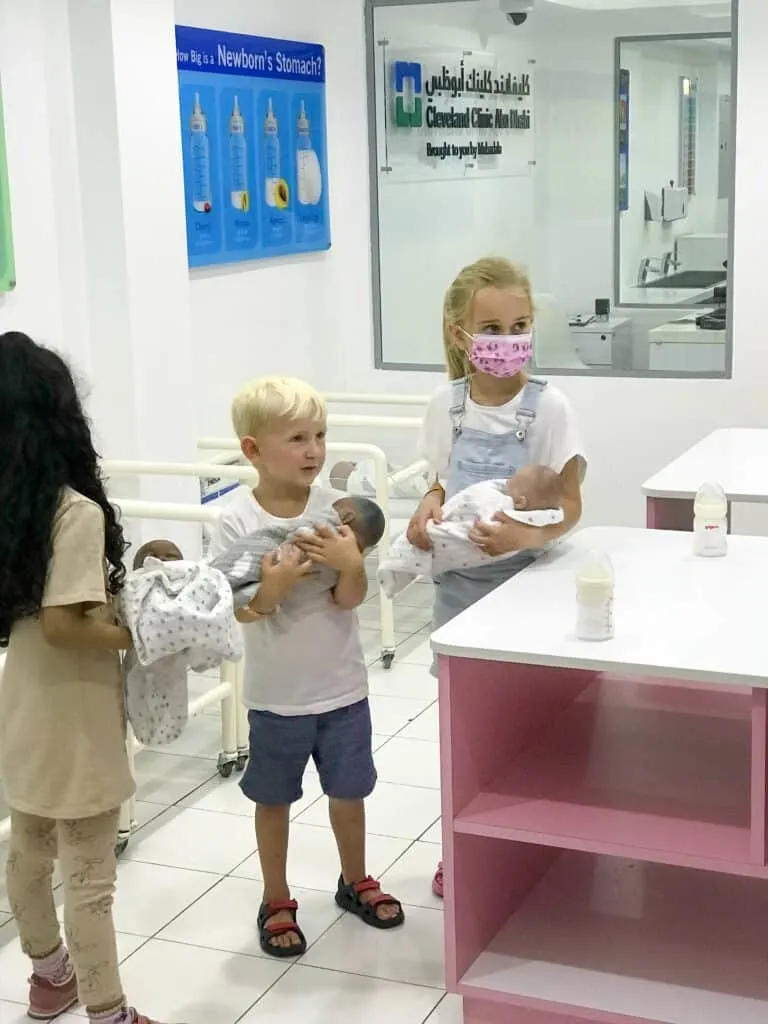 Allowing kids to play in this way is extremely productive and it's something kids absolutely love!
Children can go to 'university' and get a degree in their chosen subject. Something that is fun but also gets them thinking about their interests and passions early in life. There are creative activities within the university like drawing and painting.
In the entertainment area of the city, kids can learn to act, perform and DJ. With regular performances from children in the DJ corner and the Kidzania Reel Cinema.
There is also a media section where kids can play roles such as a news reporter, cameraman or floor manager.
For food and drink, kids can get involved in creating their own food in the city restaurants. This city is taking a healthy approach to McDonald's happy meals and Pizza Express and allows the kids to help create these healthy meals to enjoy.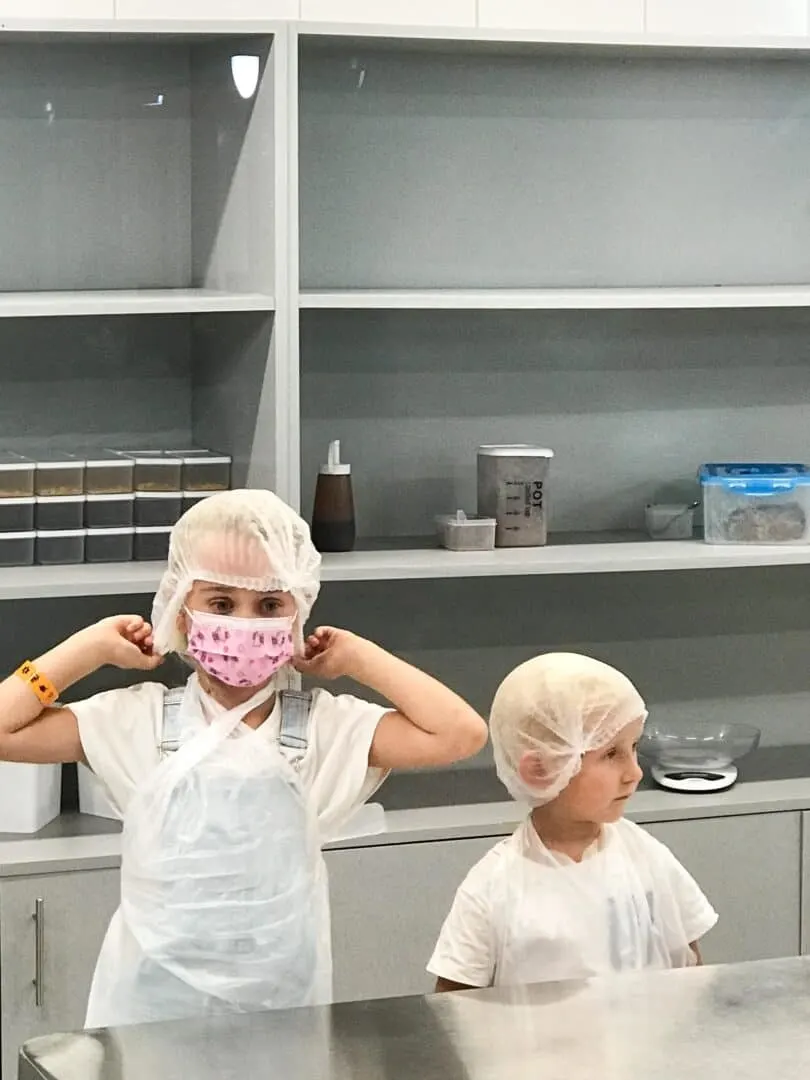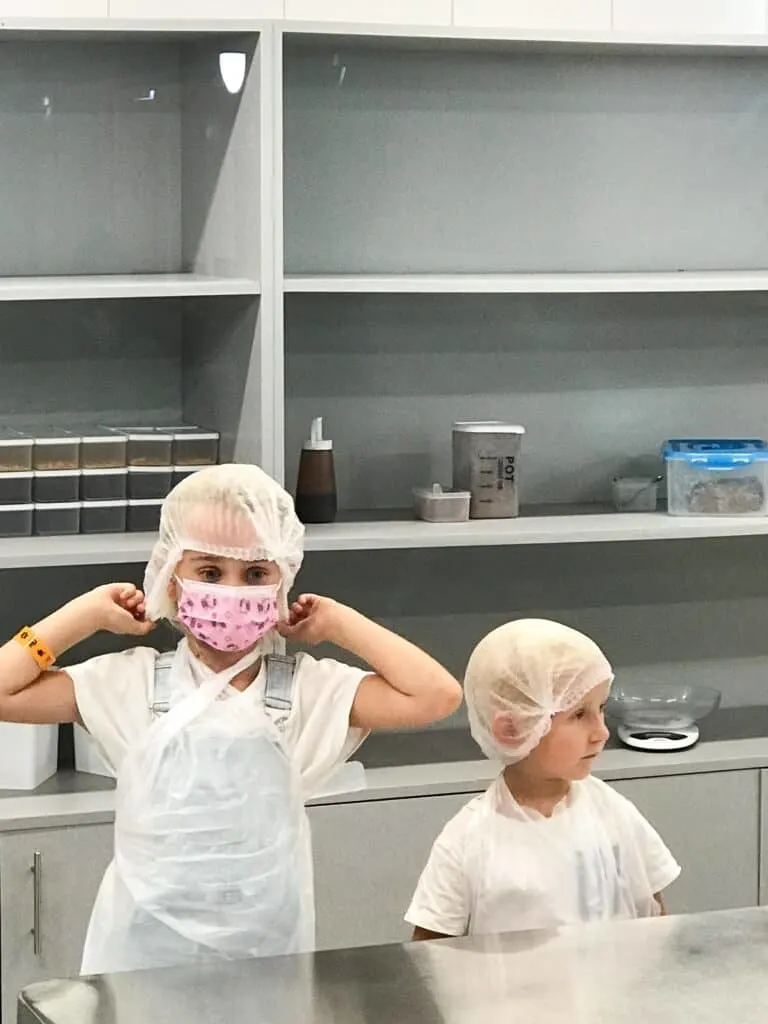 When it comes to health, the Kidzania City are interested in finding new ways to prevent disease and infection. Kids can become a scientist and help with this goal.
Next, children are invited to the dentist where they will learn healthy habits for good oral health before heading to the main hospital where they can learn how to look after newborns and patients and help promote the importance of eye health!
In return for the kid's jobs across various occupations, they are paid their salary in Kidzos. They can spend this money around the city in restaurants and the retail shops, where they can also purchase souvenirs and face painting.
Some of the occupations within the city include working in the city's local hotel, allowing kids to learn about hospitality and helping customers.
There is also a police station where kids can learn how to help keep people safe and follow the law. Other jobs include driving instructors, firefighters, construction workers and engineers.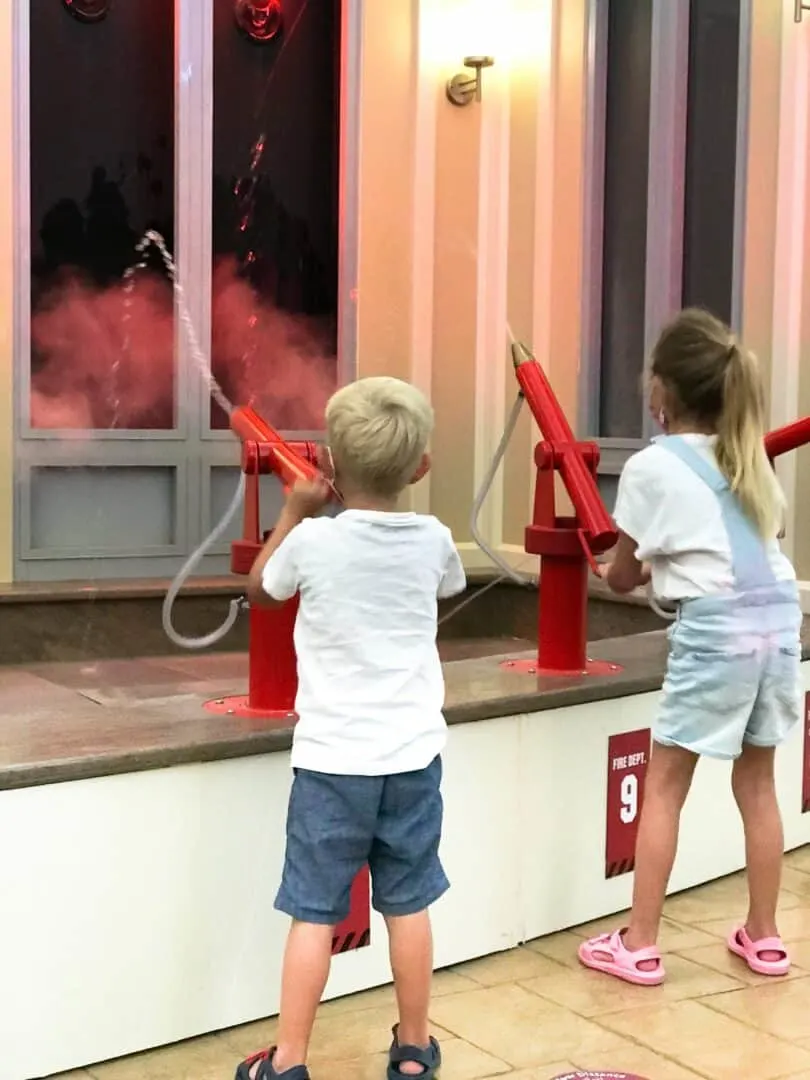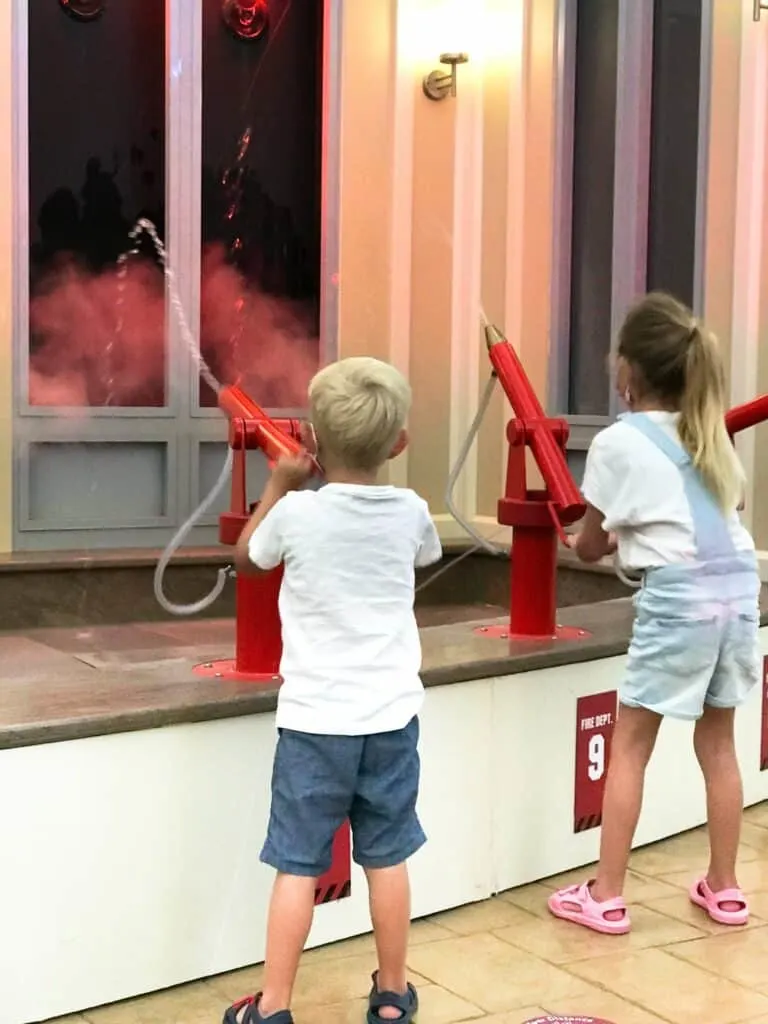 On the arrival of any child in the city, they will be given a boarding pass and they will be able to organise other transport such as a bus or getting their own driver's licence for a car!
Finally, there are lots of normal games to play with your new friends after your day at work like foosball or billiards in the games room or why not race through the obstacle course at Kidzania titans!
Kidzania is hugely popular with children and adults alike and is a great day out over the hotter months.
A mixture of games and learning for your kids, what's not to love? You can book a day pass here.
LEGO POP-IN & PLAY
Lego seems to be one of those companies that never go out of fashion. They grow and innovate with the times and have remained a child-favourite for countless years!
This lego shop is a great indoor activity for the kids. Kids and parents can come into the shop and explore all of the lego products.
This shop also allows customers to take some time to play with the products before buying. Meaning kids will spend hours in here building lego people, buildings and worlds across different these.
It's also great that children can interact with others while creating their masterpieces, perhaps they'll even make some new friends!
FUN WORKS
Fun Works is a jam-packed play area spreading across two floors is another indoor activity based on fun learning.
Fun Works pride themselves on offering state-of-the-art unique equipment and activities. Each activity has been created around fostering positive parent-child connections.
Within this dreamland for kids there are rides, a huge soft-play area, learning workshops, toddler playgrounds video games and much more.
Kids can win tickets in some of the more conventional arcade games, which they can then trade for gifts like toys, teddys or even bikes.
There are funfair rides for kids and toddlers, play areas that focus on improving motor skills and exercise and creative soft play areas for all.
NATIONAL GEOGRAPHIC
Another indoor activity that is great while in Abu Dhabi with kids has to be the National Geographic Ultimate Exploer.
This is the first of its kind in the region but we expect growth with its huge popularity and success on Al Maryah Island.
The idea behind this fascinatingly creative indoor experience is to inspire the next generation of scientists, engineers, thinkers and explorers!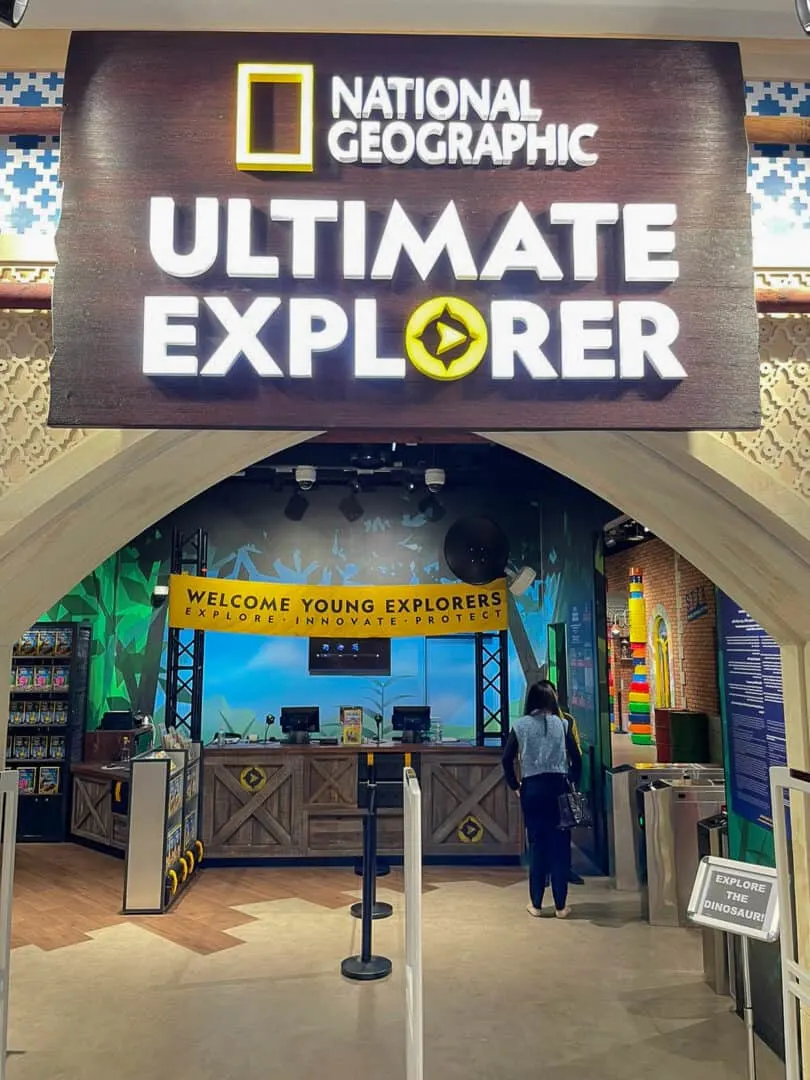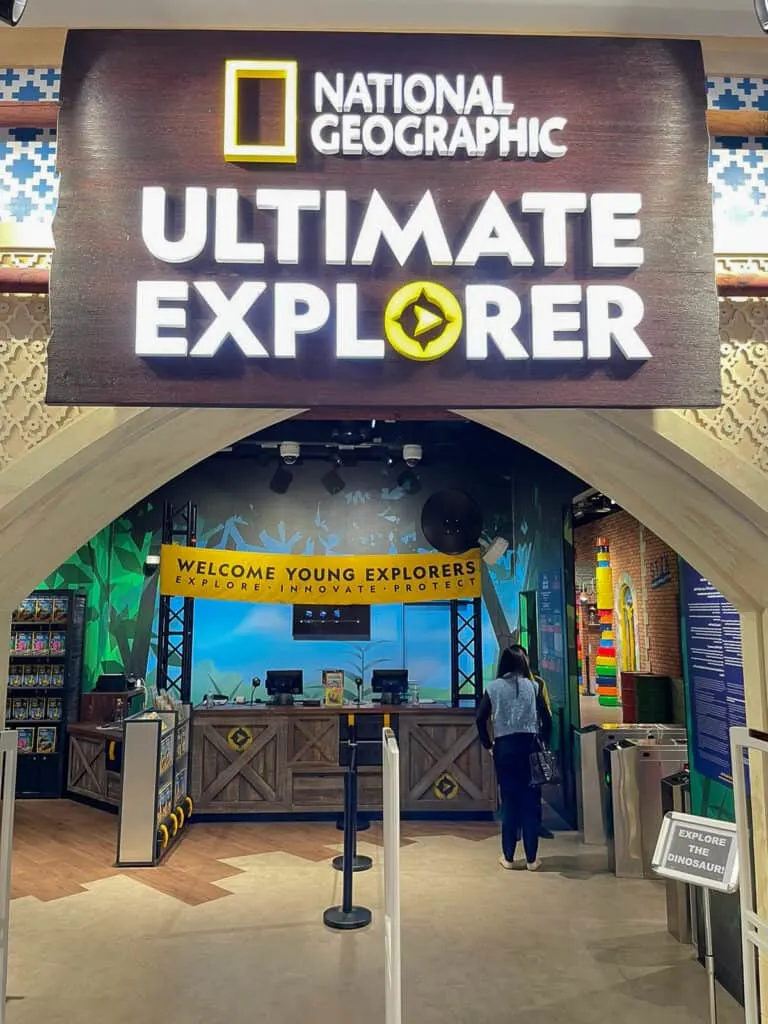 The experience is a blend of augmented reality, virtual reality and 3D technology to create a fully immersive play-based learning experience for children between 5-12.
This immersive family experience allows visitors to visit space in their shuttle, chat to a panda, programme a robot based on Mars and much more.
The experience offers something for each age group and interest with activities such as:
Upcycling – here kids can get creative and create something new bu reusing materials within a painting or sculpture or anything they can think of. They can bring this home afterwards.
Mission Mars – here kids can use their programming skills to control a robot that is drilling on Mars. They must figure out the controls and direct the robot correctly before making it safely back to base before the mission is over.
Space Jump – here the older kids can explore space within the AR experience. There are 2 options to choose from, floating in space or driving a rover on Mars!
Wild River Recon – another AR experience but this one is based in the rainforest! Children can experience exploring the rainforest in search of exotic animals that they can take pictures of with their AR equipment.
Canopy Climbers – this activity is most popular amoug the younger kids, it helps with developing motor-skills while also using their brain as they climb and explore this rainforest play area.
Terra Studio – this experience involves sand play like no other. The lights projecting down onto the sand pit simulates things like rain, volcanos and earthquakes. Here, kids create their mountains, volcanos and other environmental wonders and they can watch as the rain falls or there very own volcano errupts before them!
Crittercam live – in this experience, kids can live their dream of talking to animals! Within this theatre, children can use a Zoocoder to have an interactive conversation with a giant panda!
If all that isn't enough to convince you that this will be a big win for the kids, we don't know what is!
There are of course plenty of places to get food before or after this experience and the National Geographic also has a gift shop to explore after your visit.
XTREME ZONE
Xtreme Zone is an indoor activity suitable for kids of all ages.
There are a couple of Xtreme Zones in the city but this location is recommended!
Offering a host of activities for the whole family, Xtreme Zone has things like arcade games, challenging climbing walls, a trampoline park and let's not forget billiards and blowing so the whole family can get involved.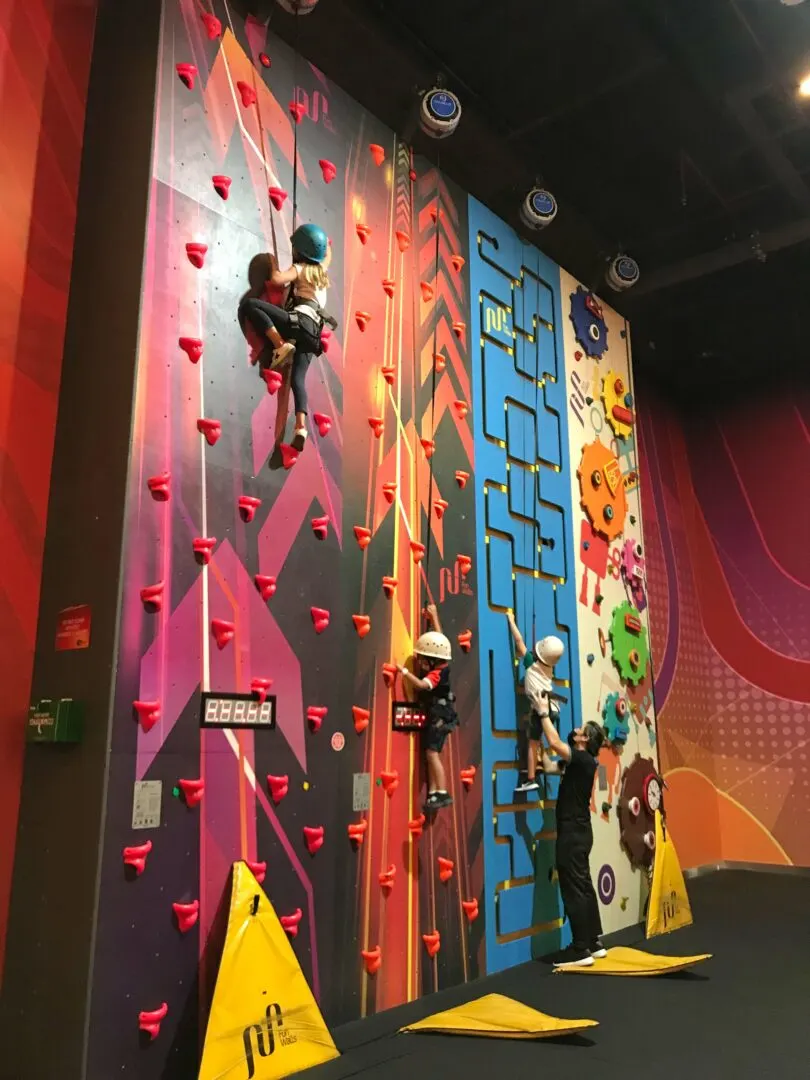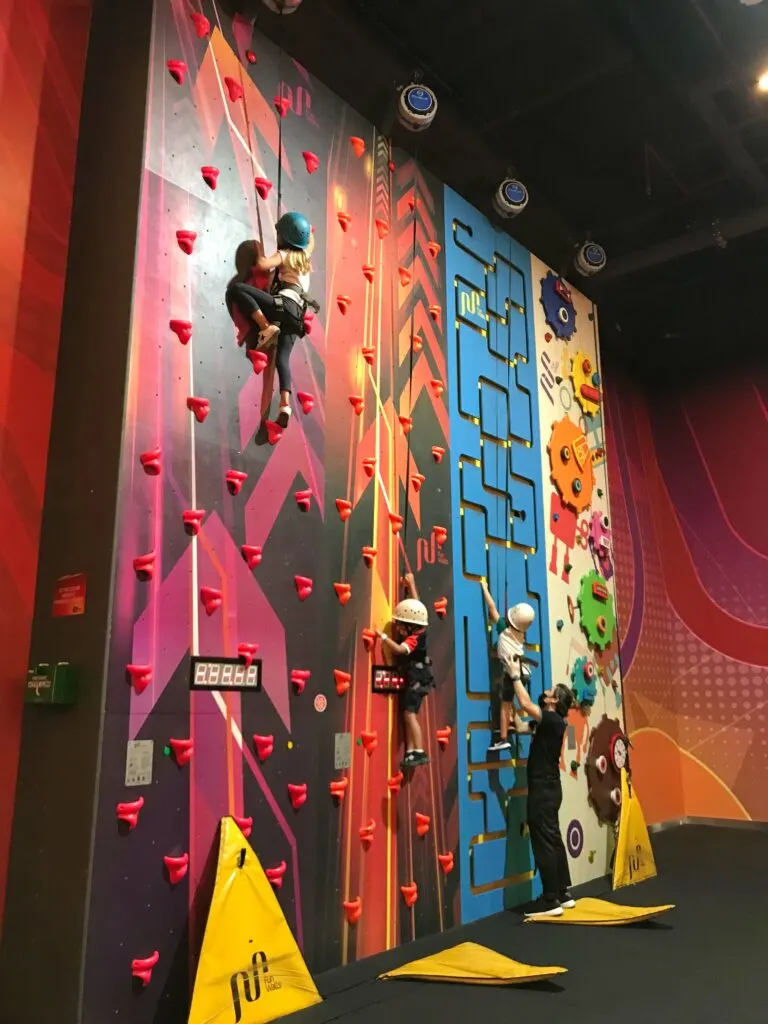 If you are looking to entertain the younger ones while having a break for yourself, the soft play area has a cafe where you can enjoy a beverage and watch from a distance.
If your kids are old enough to be left in the care of the Xtreme Staff, there are options to leave the kids while you can go and enjoy some shopping or a movie in the mall.
FIT 4 FUN
Over the last couple of years, the UAE has implemented a number of activations and initiatives in an attempt to make the country healthier.
As a result of the climate and culture, UAE residents have not been very successful in terms of physical and mental health.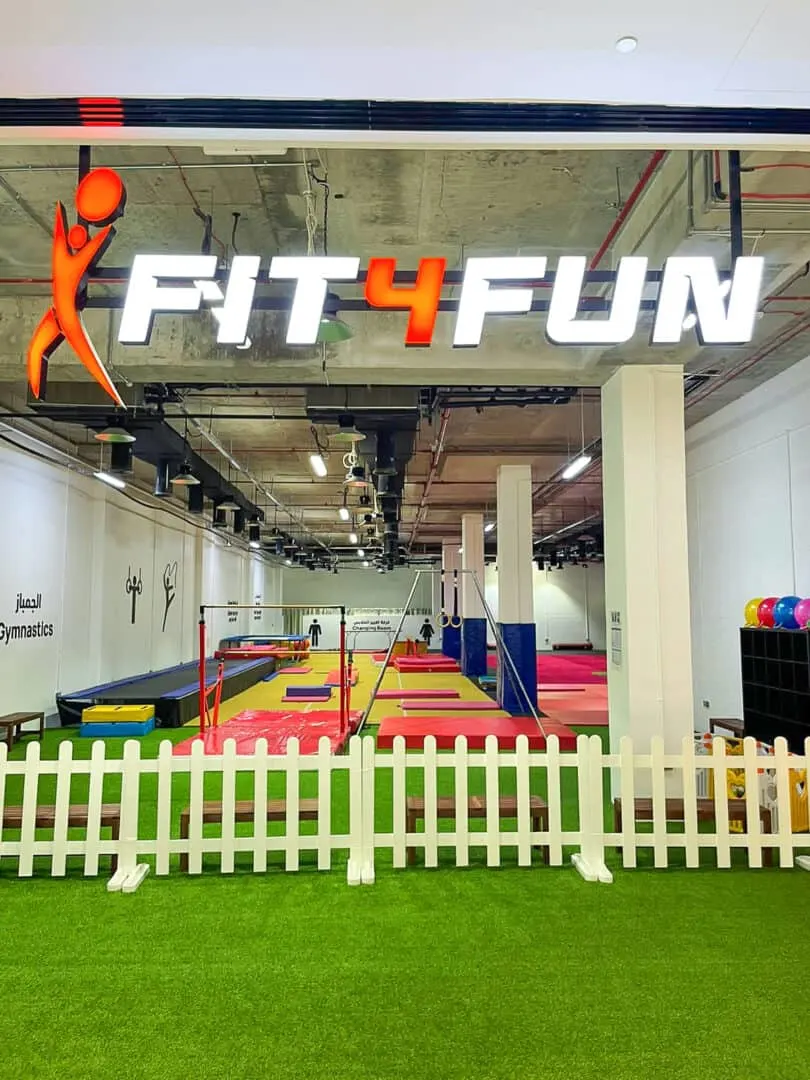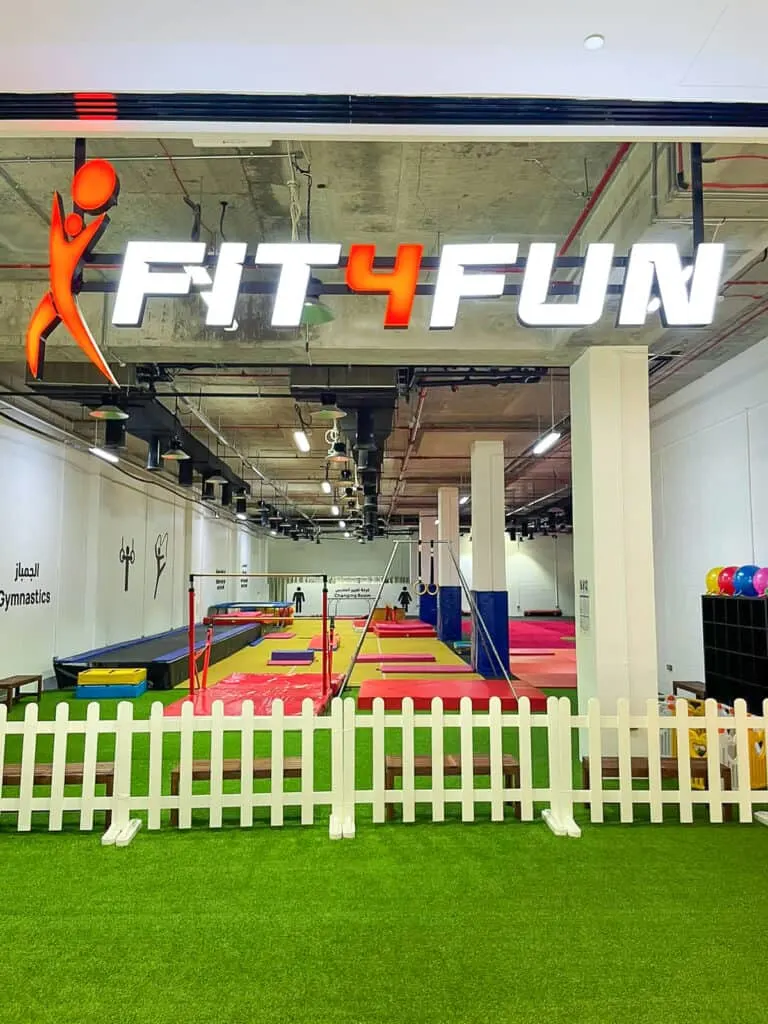 To encourage residents to improve their health, many health and fitness activities and initiatives have been implemented across the country.
Abu Dhabi has done particularly well with this and many of these sports, activities and clubs have been hugely successful in encouraging the health and wellness of the capital's residents.
Fit 4 Fun is yet another great initiative. Developed mainly for children but suitable for all, Fit 4 Fun have taken over a large space in the Galleria and offers lots of activities to help keep the kids fit and healthy while the weather is hot!
There are all kinds of activities including:
Cage football
'Ice' skating
Cage cricket
Teoball – a combination of tennis and football. Opponents hit the ball back and forth on a curved table using any part of their body except their arms and hands.
Mini golf
Gymnastics
Archery tag – a combination of archery and paintball. Opponents use the non-dangerous bow and arrow to hit a member of the other team.
Table tennis
Karate
Judo
Kick-boxing
Fit 4 Fun also offers children's camps over the holidays which is a great way to entertain the kids while they're off school.
CABDOODLE
Cabdoodle, this indoor play area is a favourite among the Abu Dhabi community!
There are countless play options for children in Cabdoodle as well as different options for parents.
The Stay & Play options allow children to use the play area. In here there are things like dress-up, arts & crafts and free play with tonnes of toy items.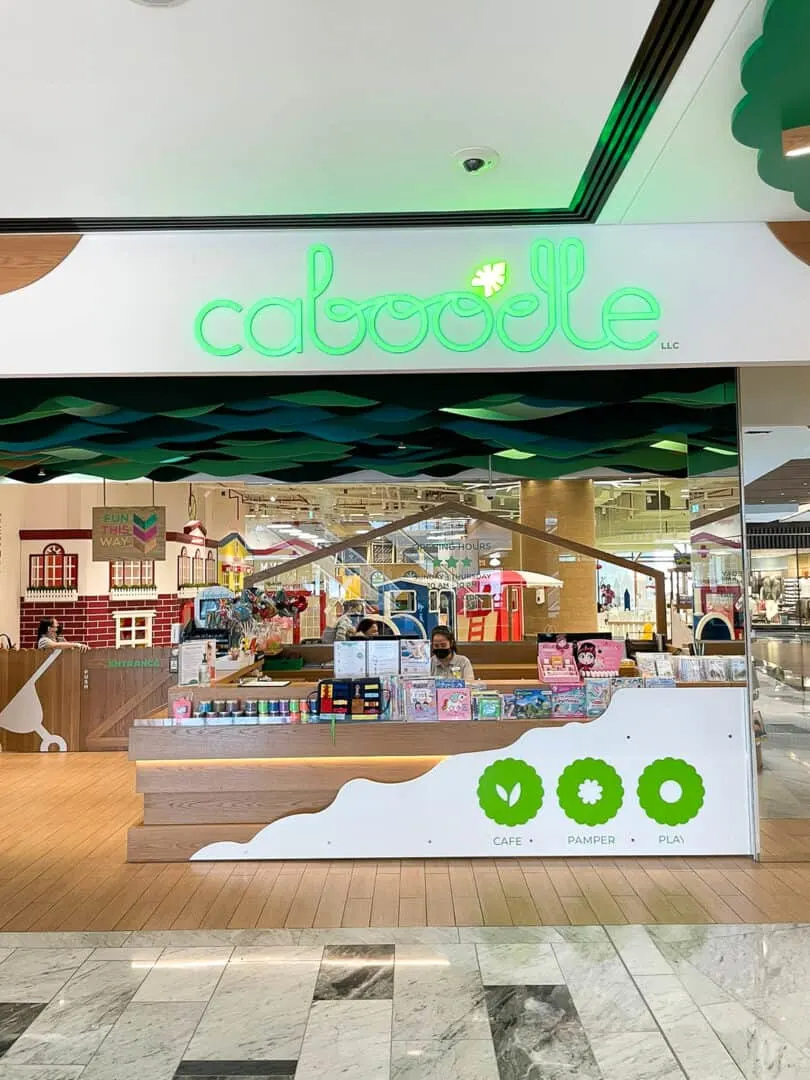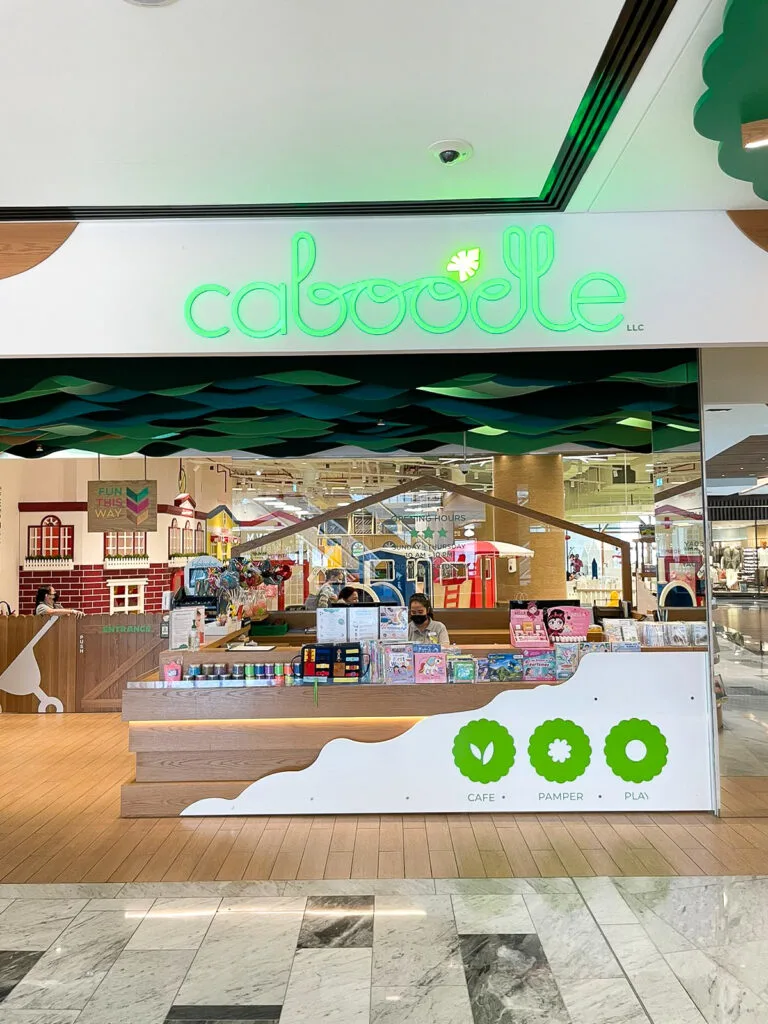 For the Stay & Play option, a parent or caregiver must accompany the child at all times.
For parents hoping to get some shopping done, there is a Drop 'N Shop option that provided 1-on-1 babysitting within the caboodle play areas.
For any parents looking for a long term deal, there are monthly memberships that allow you to join the caboodle club.
The great news is that Cabdoodle offers Spring, Easter and Summer Camps for the kids while they are on their school holidays.
The camps are usually 4 hours long and there are activities such as drama, gardening, free play, storytelling, fabric painting, sensory play, building blocks, science experiments, cookie decorating, obstacle courses, mascot meet & greet, music & movement and much more!
These camps are surely one of the best indoor activities in Abu Dhabi for the kids!
There are also plenty of other activities and class offerings throughout the year like Music Monkeys, Earth Day Crafting, Ramadan Gifting, Easter crafts and other seasonal activities.
YAS MARINA CIRCUIT
Yas Marina Circuit is home to the Abu Dhabi Formula 1 Finale at the end of each year. While the 5km track is not being used for F1 purposes throughout the rest of the year, they offer some great experiences for people of all ages.
If your kids are old enough to cycle, you must visit the track on a Monday or a Wednesday evening between 6 pm – 10 pm. The circuit opens to the public to walk, run or cycle around the prestigious race track.
You can rent a bike and helmet for free and cycle around with the family for as long as the kids can last! This free rental is great and there are different sizes for both the bikes and helmets which means everyone should be catered to.
When you get tired you can hop off and stroll around or go and have a look at the karting beside the track.
SHEIKH ZAYED GRAND MOSQUE
Sheikh Zayed Mosque is a stunning architectural masterpiece. Move over Taj Mahal, you have a competitor! The white marble wonder of the world hits many records. The largest chandelier in the world, the largest carpet in the world.
The inner courtyard is completely empty allowing stunning uninterrupted views of the mosque in its entirety from every angle. The colonnade corridors around the perimeter with tall columns are beautifully crafted with intricate designs.
We visited close to sunset, seeing the mosque in a variety of lights made it look completely different.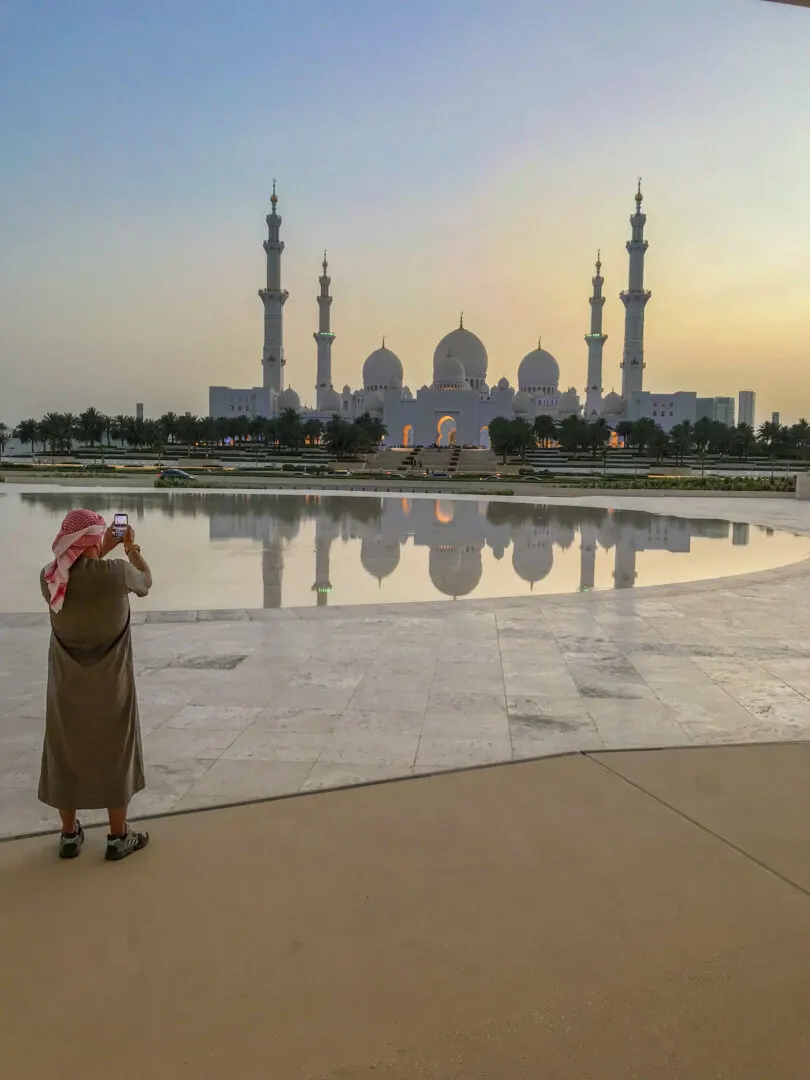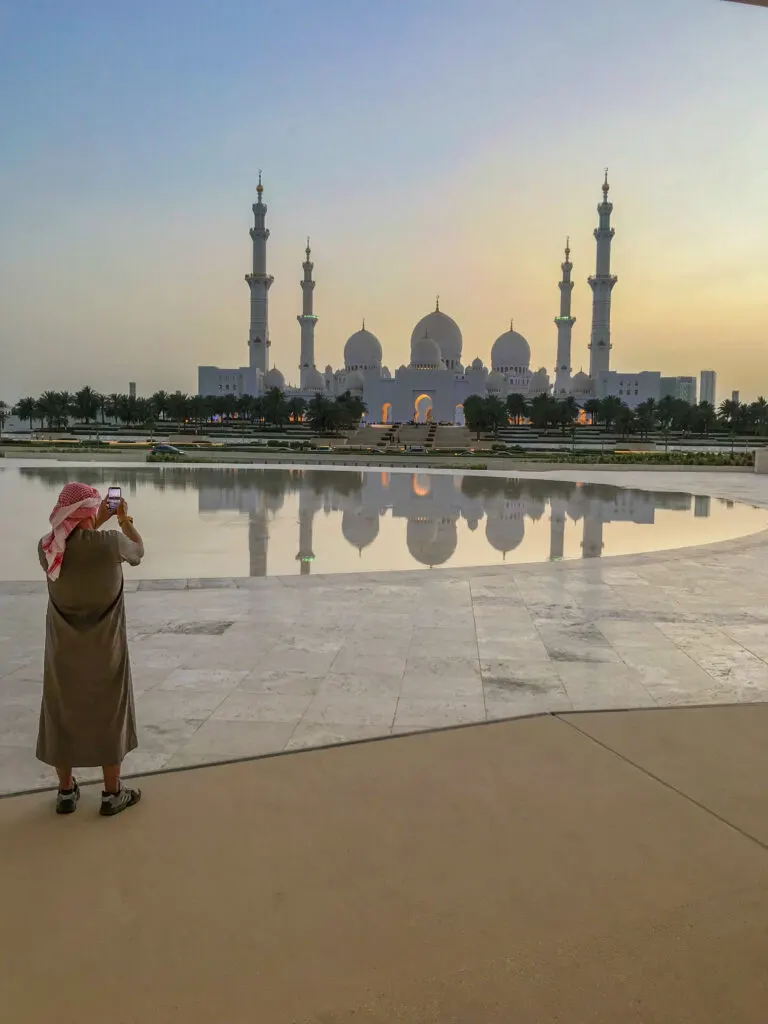 It wasn't at all crowded making it a relaxing and enjoyable walk around the Sheikh Zayed Mosque. Our kids loved exploring.
It's worth noting, the mosque is the epicentre of local traditions and customs. Female visitors are expected to wear an abaya and cover their hair.
They provide them for free on entering, men are equally advised to dress conservatively. You cannot be seen taking pictures outside or near the mosque without your hair covered. Officials will ask you to delete it from your phone.
WTC MALL SLIDE
Something so many of us would have dreamed of as a child. The World Trade Centre mall has opened a 68-metre and a 54-metre slide for mall visitors.
While shopping malls may not always be top of your agenda with kids, this addition to the World Trade Centre mall makes this a must when in Abu Dhabi with kids!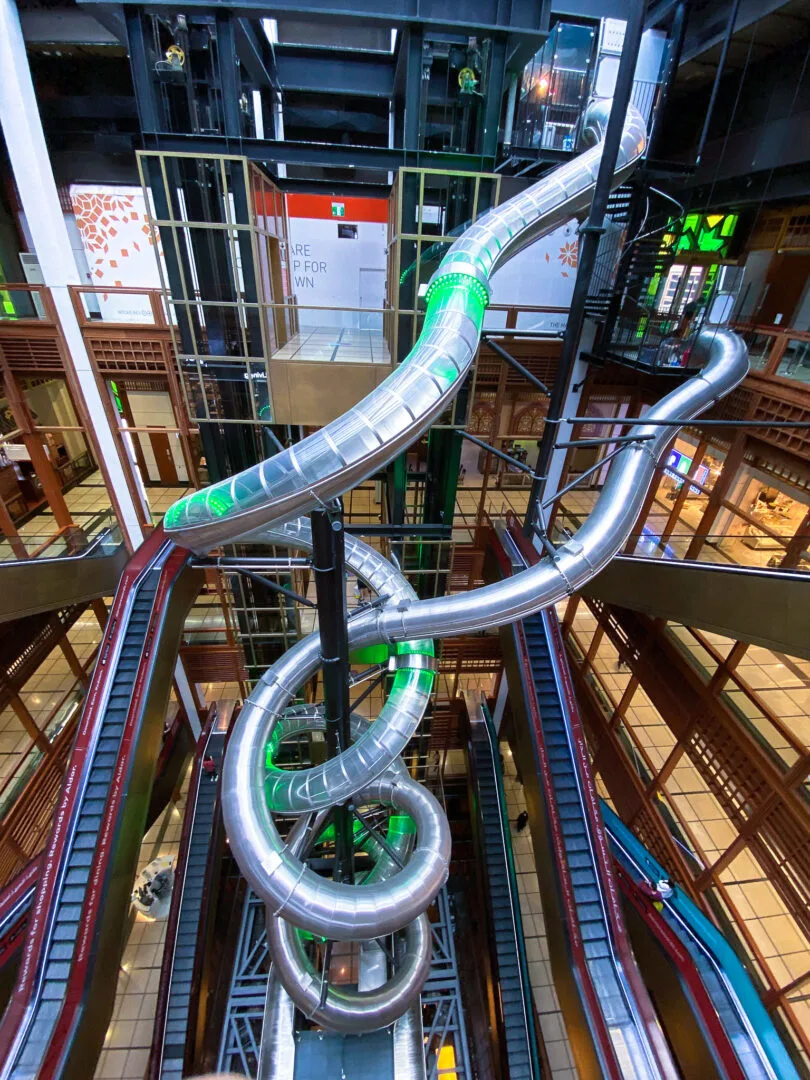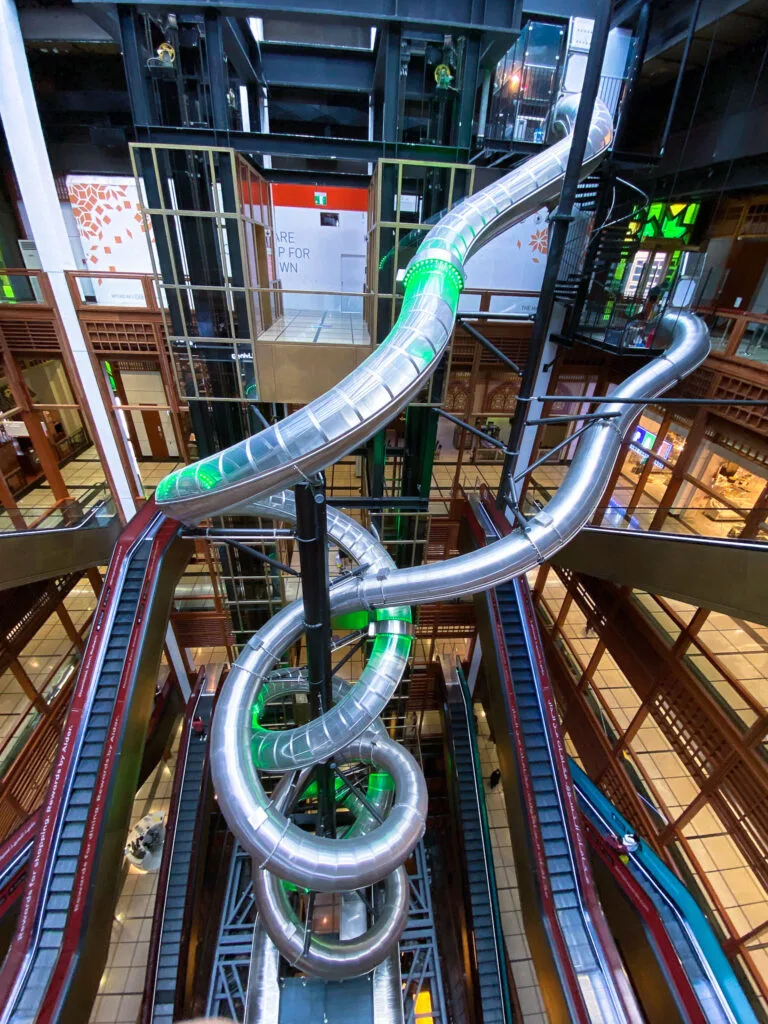 These silver slides can be seen from a number of vantage points throughout the mall and they bring riders down 4 floors at speed!
Thankfully this experience comes at a very cheap cost as this will be one the kids will want to experience over and over again!
The Velocity slide has also been known to be pretty popular among older kids and adults too!
So, would you try it out?
Find out more about Velocity here.
VISIT THE DESERT
We spent an evening in the stunning Abu Dhabi desert, our hotel arranged the trip for us. We were collected in a big 4×4 at around 3pm and the drive to the desert took about 45 minutes.
I have been asked so many times about how it worked with the kids and I have to admit it was totally fine.
They provided car seats for the little ones and they dropped us off at the camp whilst they took some of the other adult guests dune bashing. It was amazing to hang out at the camp without the rest of the group for an hour.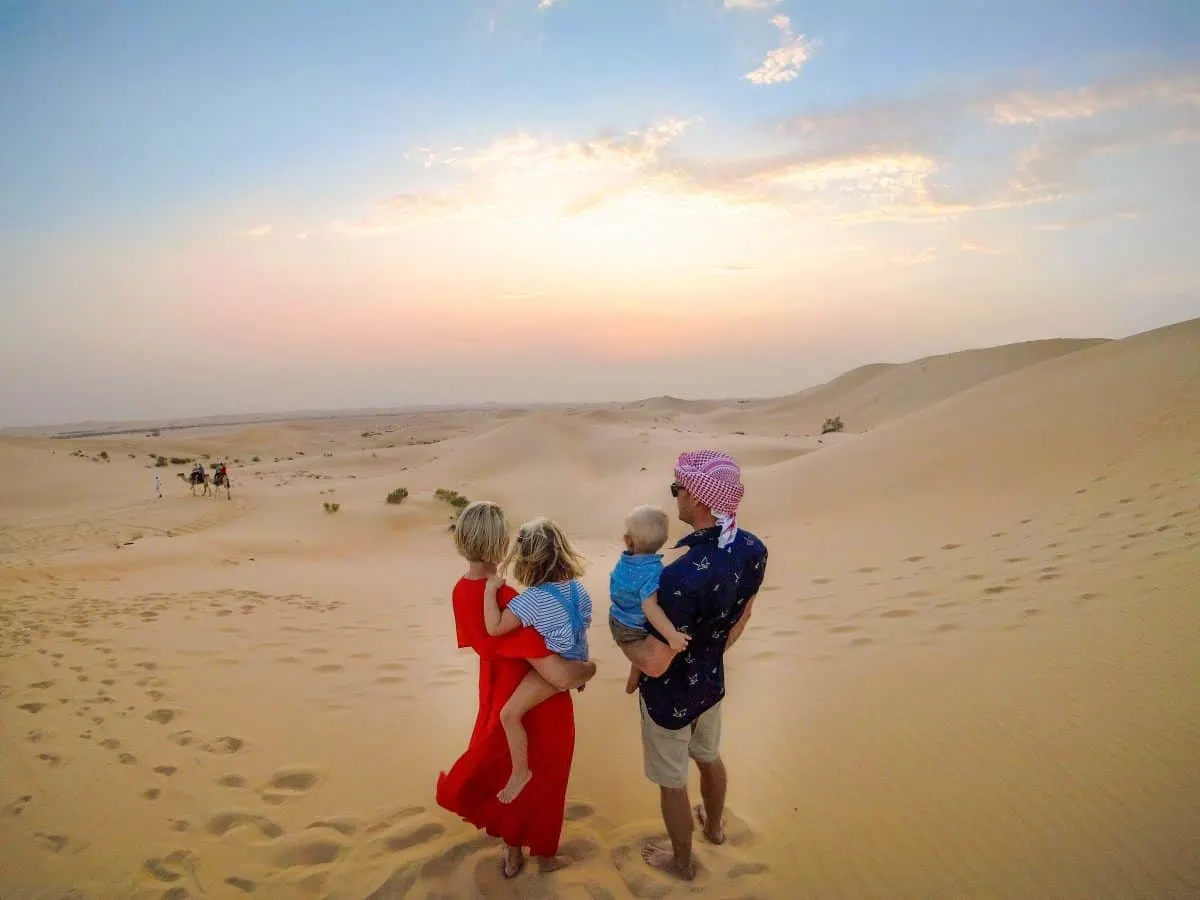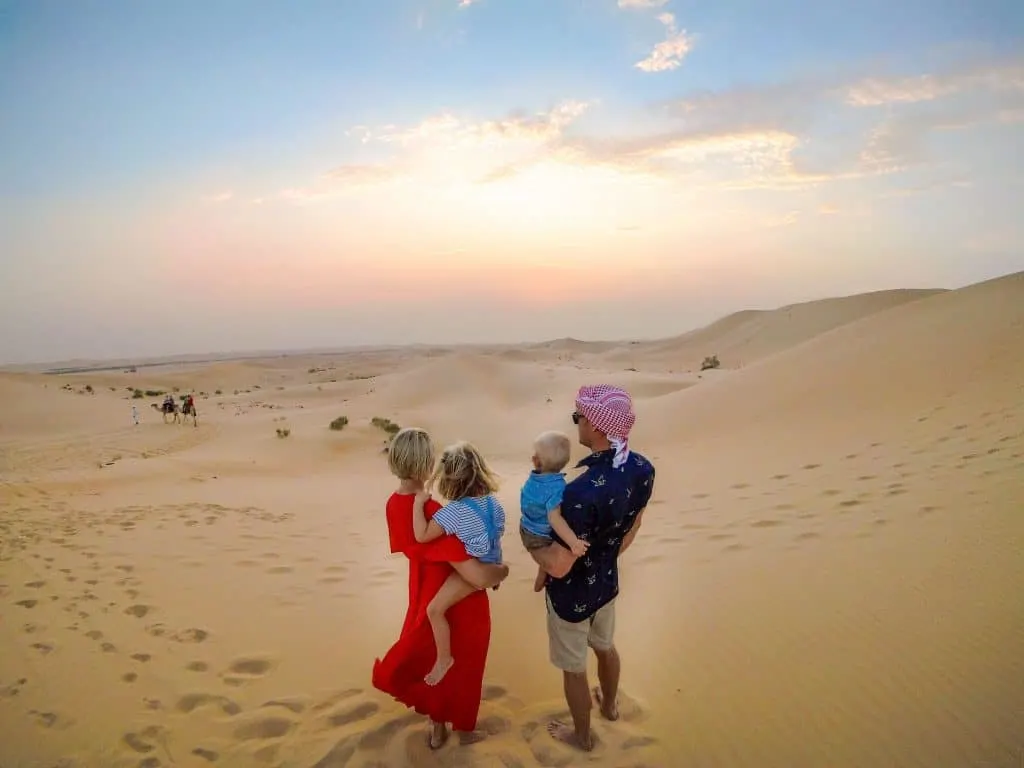 My husband had a chance to sandboard on the dunes next to camp, the kids had henna painting and tried on the local abaya and traditional clothing.
Although, if you are wary of animals involved in tourism, it's worth noting there are camels and eagles at most of the camps.
Once the group arrived back from the dune bashing, the sun was beginning to set and we were served a buffet dinner.
There were options for vegetarians/vegans- yay, and the kids found a few things they liked too. After we had dinner there were some amazing dance performances that lasted about an hour.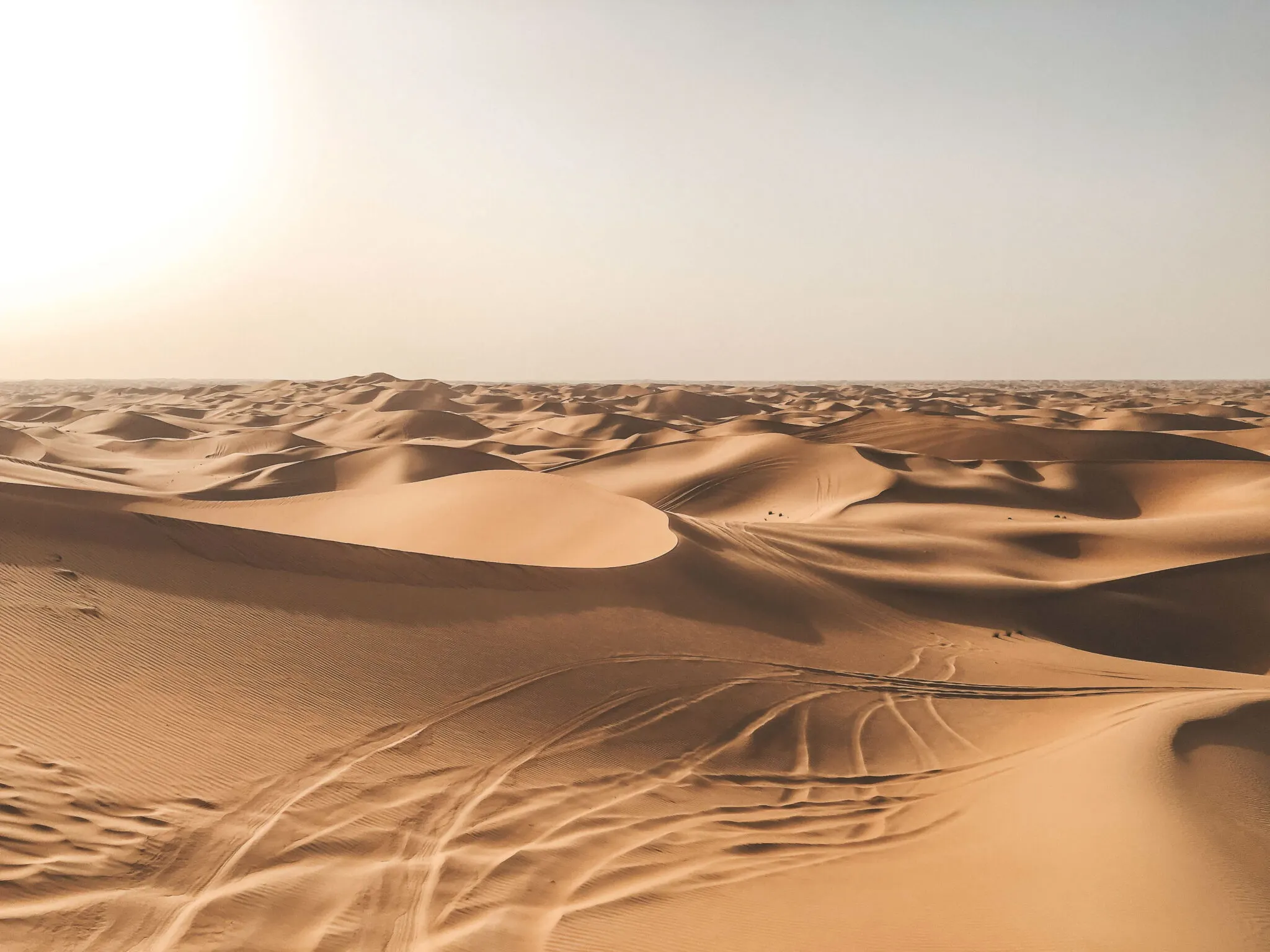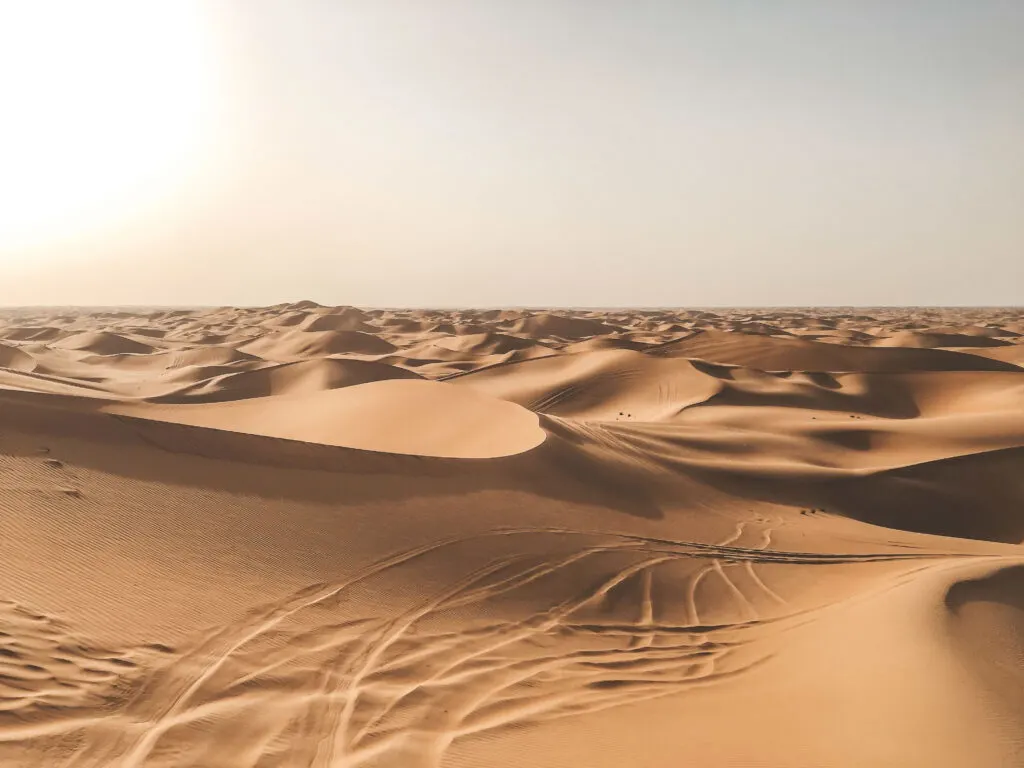 We were home by 9:30 pm, although it was a little late for our kids, the experience was totally worth it considering how much they enjoyed it.
There is also an option to stay overnight at the camp if you feel confident enough with the kids this could be a lovely option, getting to sleep under the desert stars!
For more information about this desert experience, click here.
FERRARI WORLD
My fellow blogger Nisbah kids are real adrenaline junkies, so Ferrari World Abu Dhabi was top of their little Adventurers' wish list for our Abu Dhabi adventure.
Here is what Nisbah had to say: Ferrari World is home to the world's fastest roller coaster and from the joyous screams of both my daughter and husband as they disembarked from the ride, the accolade was well deserved.
Ferrari world is not a conventional theme park and isn't filled with endless ride options. Where the park exceeds is the few roller coasters that it is home to are some amazing rides and for adrenaline junkies, it will be a huge hit.
There are also lots of Ferrari's to be wowed by, plus interactive shows, soft play options and rides. There are also a few additional extras such as go-karting which need to be paid for.
For families with young children, I wouldn't recommend the park for children under 110cm. For children, over 110cm there are lots of options, they need to be over 130cm to sit on the roller coasters but there are plenty of options and our youngest could go on plenty of rides.
We visited in October and on Friday and were amazed at how many rides we managed in just a few hours. That is my biggest pet peeve of these parks when big rides take several hours.
The queues for the park were ideal and we hardly waited at all which allowed us to do some of the children's favourite rides several times!
Overall a great day out for families especially those with teens who love adrenaline-filled activities.
YAS WATERWORLD
Yas Waterworld is a favourite with Abu Dhabi residents and visitors alike. Situated in the heart of Yas Island, it's really close to the airport if you are just looking to fill a layover, or surrounded by many hotels and restaurants so you can make a complete trip out of your water park experience (you can get some amazing hotel/theme park combo packages!).
What makes Yas Waterworld so special is that it's got something suitable for all ages so it really is a family experience.
From easy slides and splash play areas designed for the littlest toddlers through to tweens. Then there are plenty of adrenaline-pumping rides and slides for your much bigger kids to enjoy!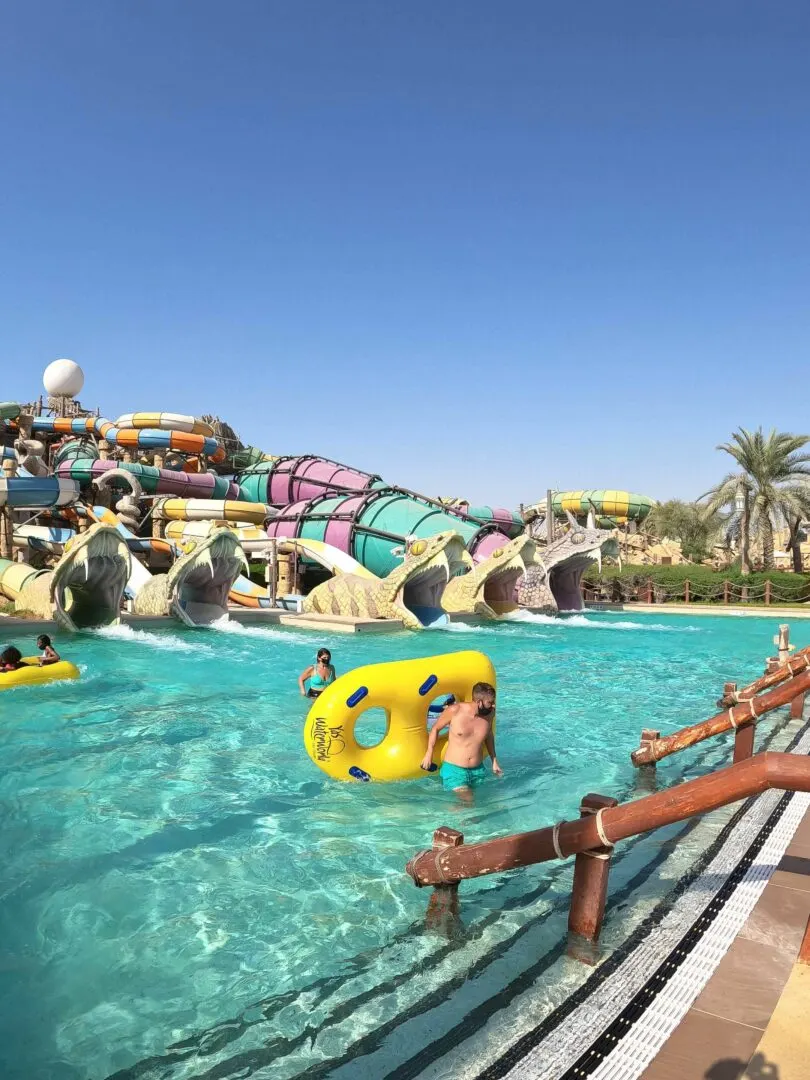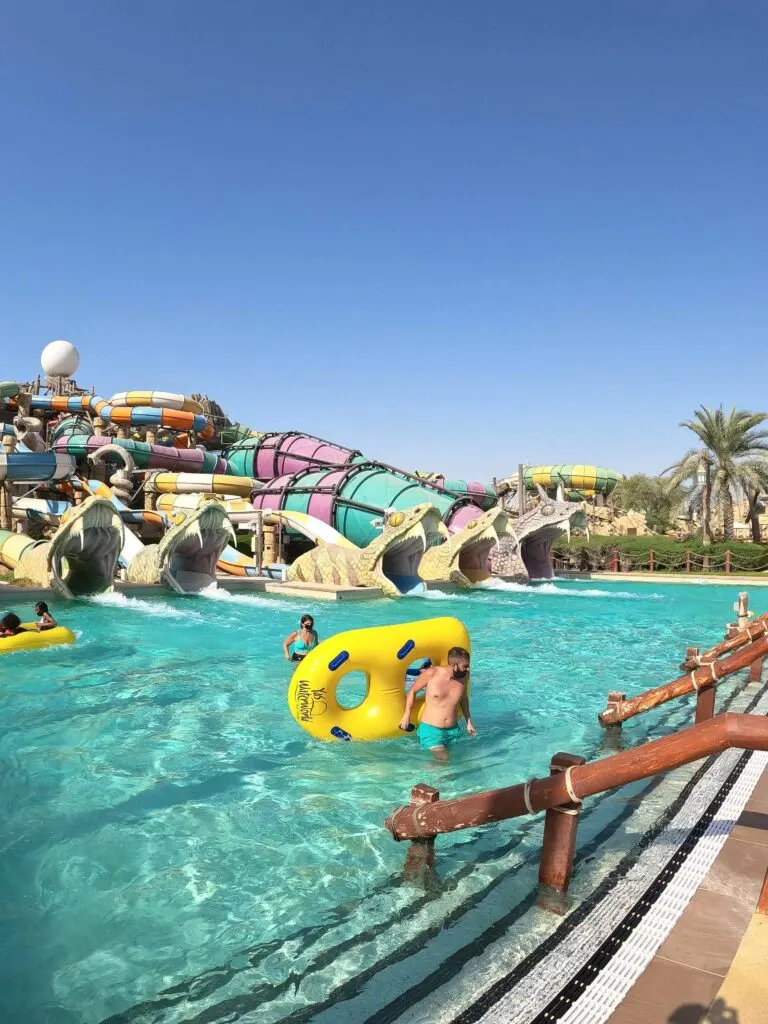 The park is well laid out, keeping a traditional Emirati theme to it. They have add-on experiences such as pearl diving, Cinesplash water cinema and a huge surfing simulator.
Visitors can enjoy the plentiful lounge chairs around the park. They offer everything from towel hire to swimming costumes so it is possible to literally pop out of the airport for a few hours and enjoy a cooling experience.
The younger ones will be sure to be obsessed with the wave pool as well as enjoying the kids water park and the lazy river.
Like anywhere in the UAE weekends (Friday – Sunday) can be busy and queuing expected from lunchtime onwards, but weekdays you can expect pretty limitless rides. Even in the peak of summer, the water is chilled so you will find it a refreshing stop on your Abu Dhabi itinerary.
VISIT A MALL
If you have the time, I would recommend visiting at least one mall on your visit. You and the kids will be amazed by the size and the offerings within these shopping outlets.
There also tend to be plenty of children's play areas, great interactive kids shops for toys and gadgets and loads of places to eat.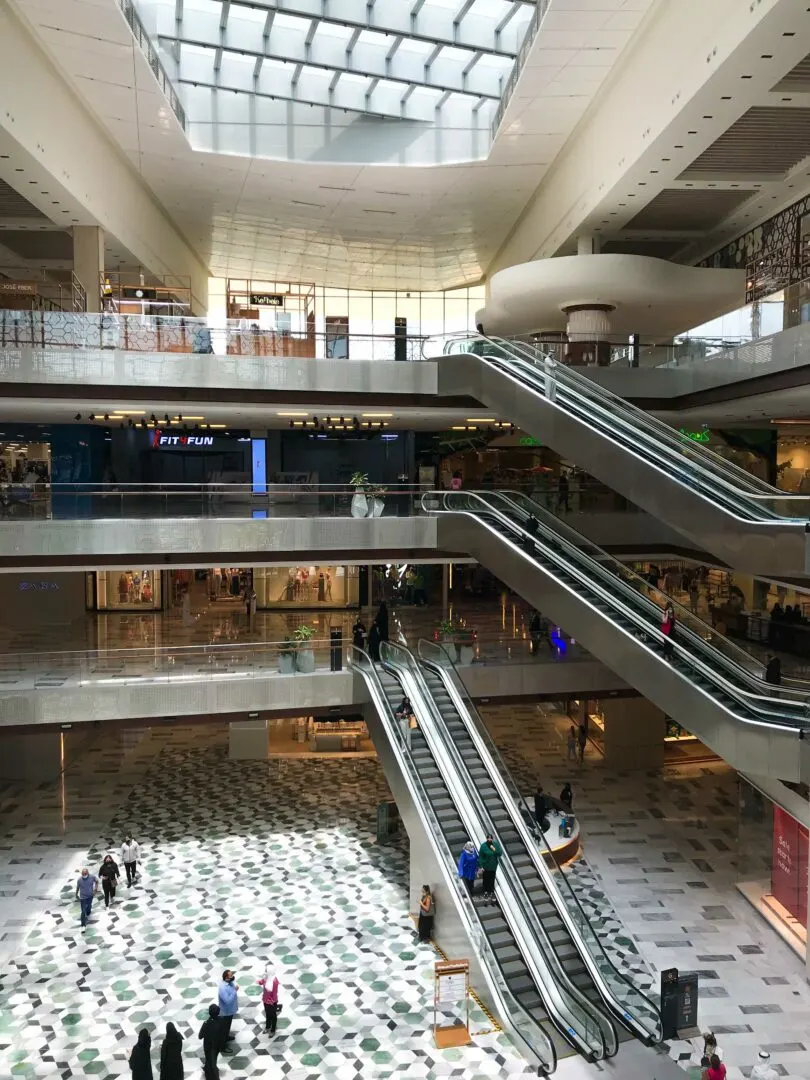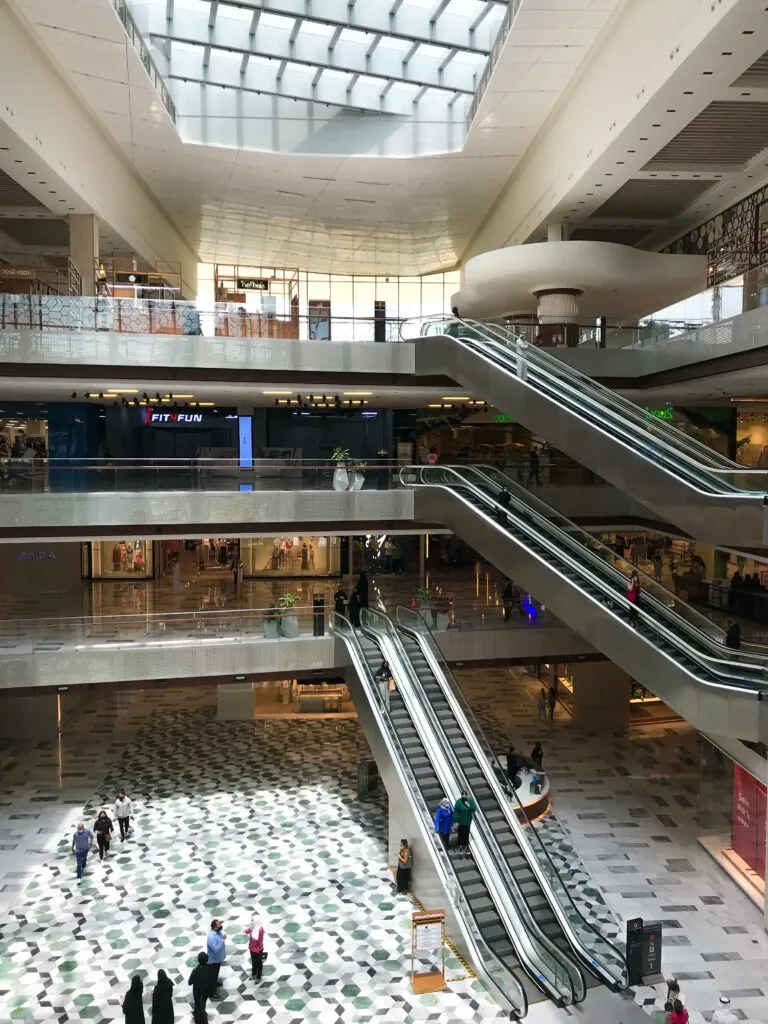 The Galleria by Reem Island is a popular one, with shops like Toys 'R' Us, Lego Store and the Virgin Mega Store. These shops will keep the children entertained for hours but of course, they will want to buy everything they see!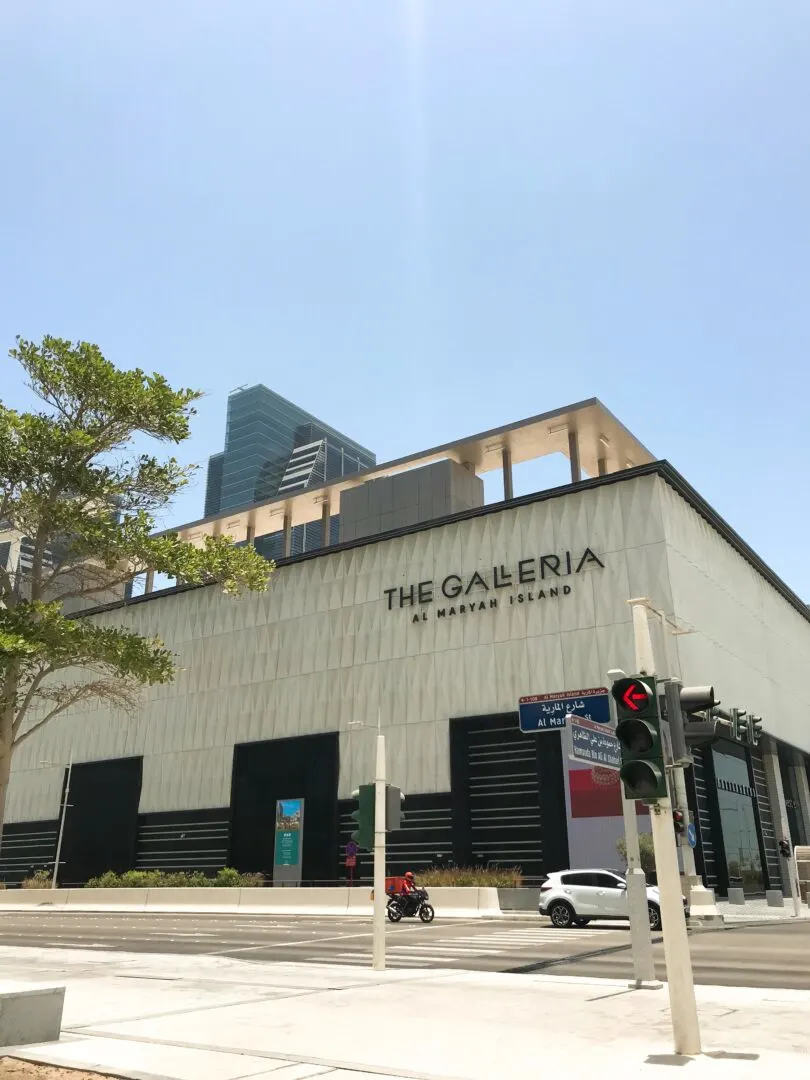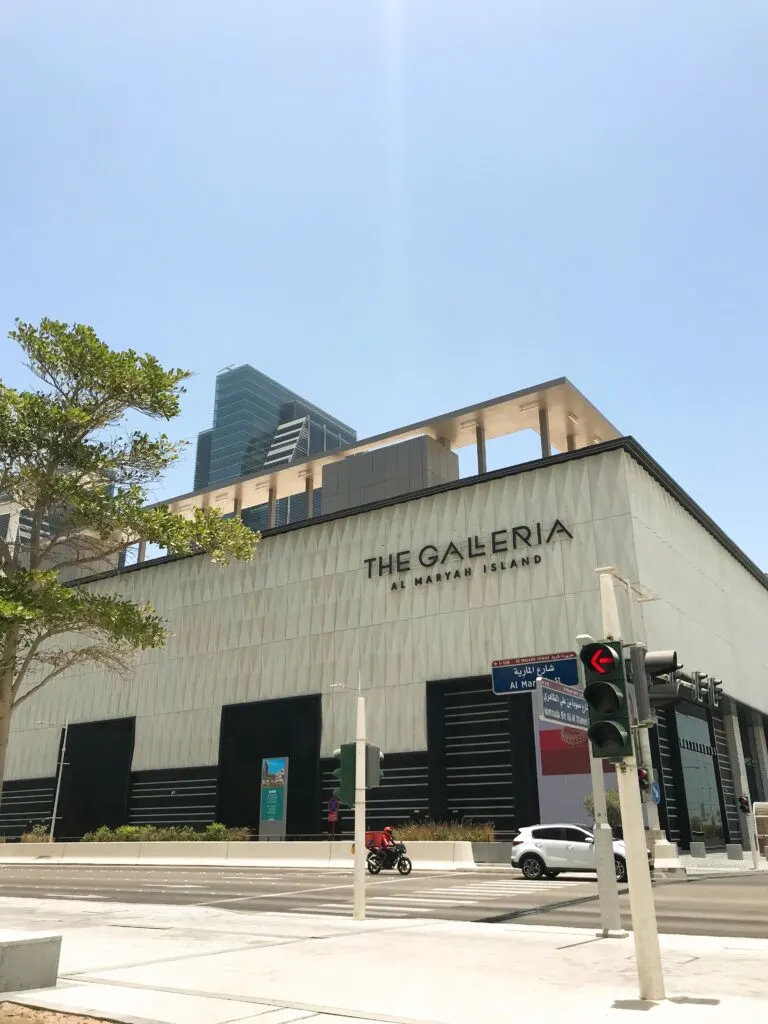 Yas Mall is also great with places like Kidzania, Fun Works and Lego pop-in & play. Again, great for keeping them entertained but hard to escape without burning a hole in your wallet!
UMM AL EMARAT PARK
If there was any park to visit in Abu Dhabi with kids, it's Umm Al Emarat Park. This masterpiece was created to commemorate the late Sheikh Zayed's legacy.
Umm al Emarat Park spreads across 179,000m², hosts more than 50 events annually and receives over 70,000 visitors each year.
The park does require payment at the entrance, however at 10 AED which is around £2, we don't think you'll mind!
The park offers a number of attractions for visitors such as the amphitheatre, a large grass area with a water feature at the foot of steps with a large arch encircling the top of the steps.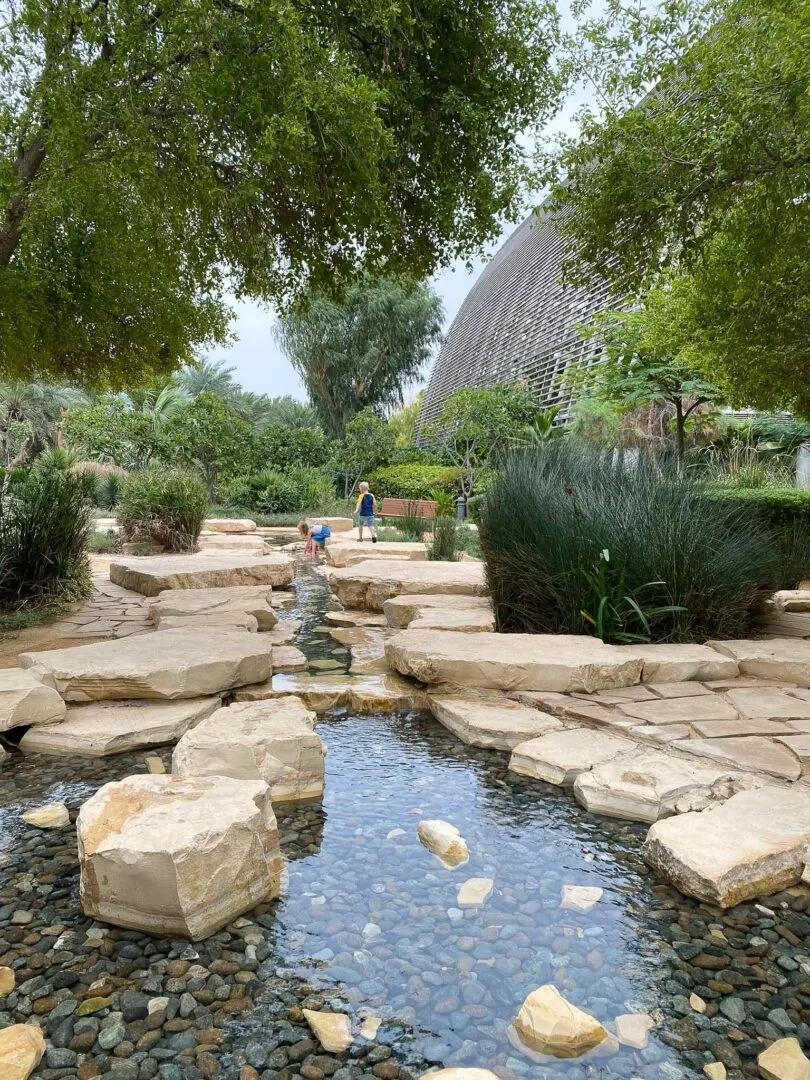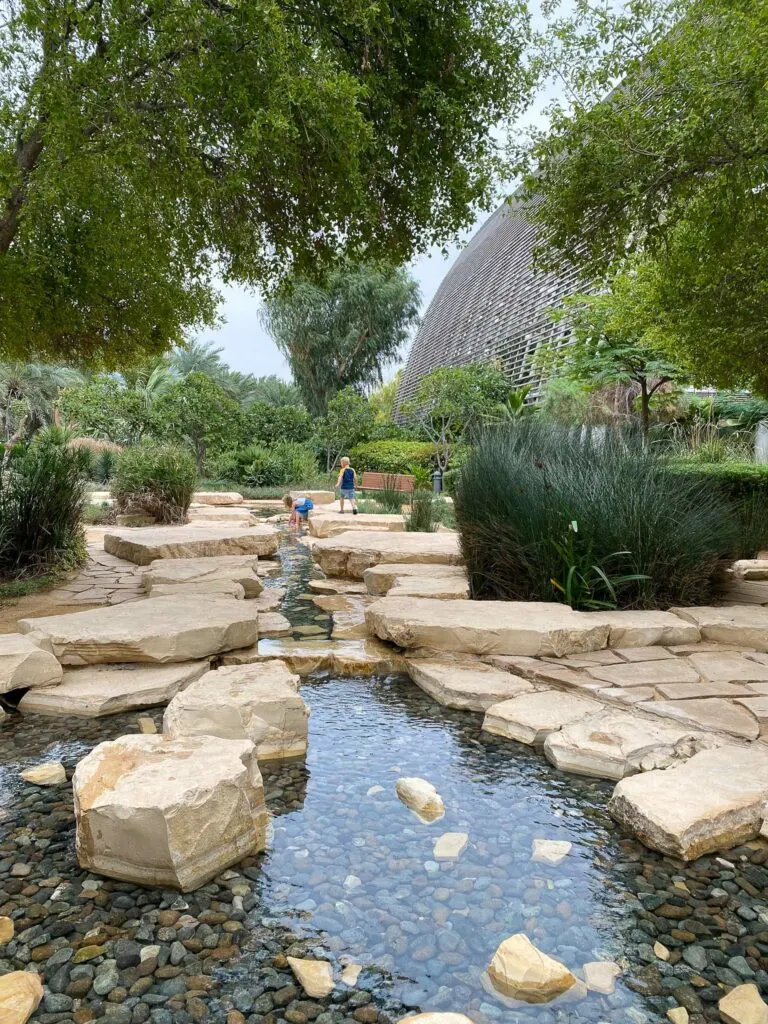 There will be people relaxing or playing games on this open grass daily as they enjoy the interactive water fountain.
Also available within the park is an animal barn and petting zoo. The area includes animals like goats, ponies, rabbits, tortoises, emus and camels, making this one of the great places to visit in Abu Dhabi with kids!
Children can have a pony or camel ride at a small additional charge.
There are different animals within the barn during different times of the year as they are rotated throughout the year for the welfare of each animal.
The botanical garden includes over 200 species of plants, many of which are different species of cacti! The kids will love the different shapes and colours of the famous cactus plant, do warn them that a prick from one of these cacti will not be pleasant at all so keep an eye on them!
There is also a cute bridge arching over the ponds of water created switch natural stone, the kids are bound to enjoy splashing about here!
Next, the children's garden – filled with structures and open green space for children to explore and play as well as ice cream.
During the cooler months, a range of activities take place here, from pony rides to face painting and balloon making.
The children's garden also includes a large screen and speakers where free movie nights are often held throughout the year.
The great lawn is the largest green space in the park and is a fantastic place for games and activities with family and friends.
The main promenade is a very enjoyable walk of palm trees, water features and changing lights.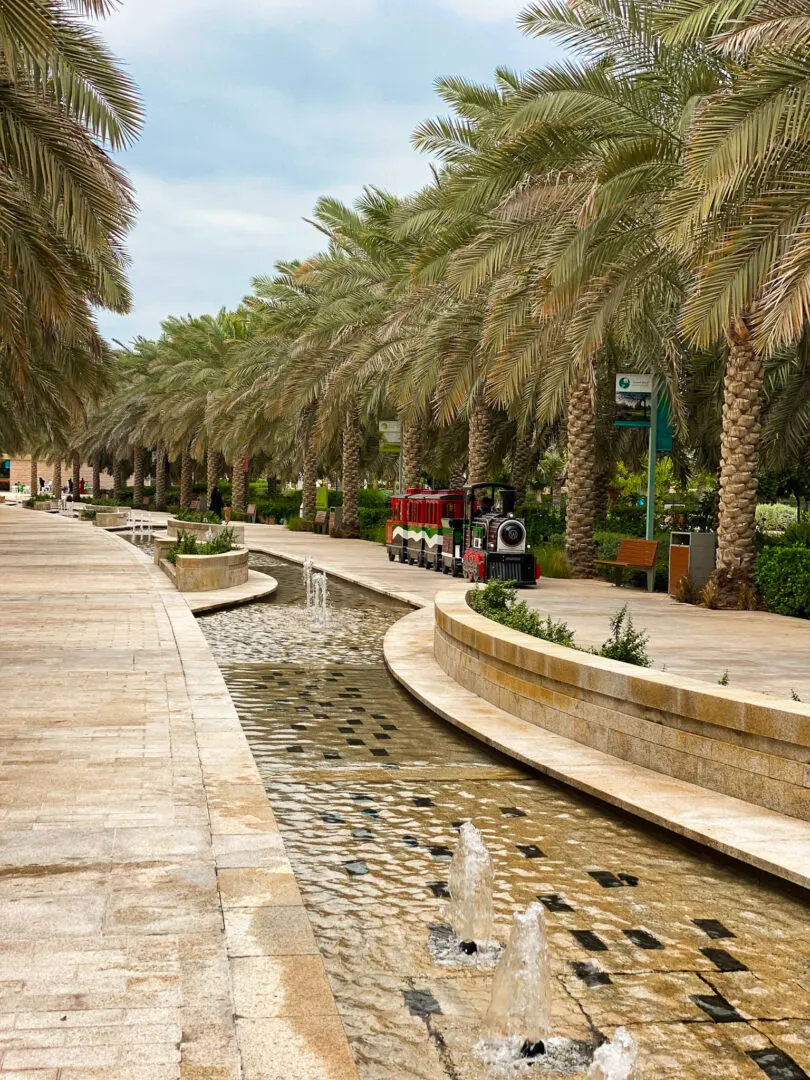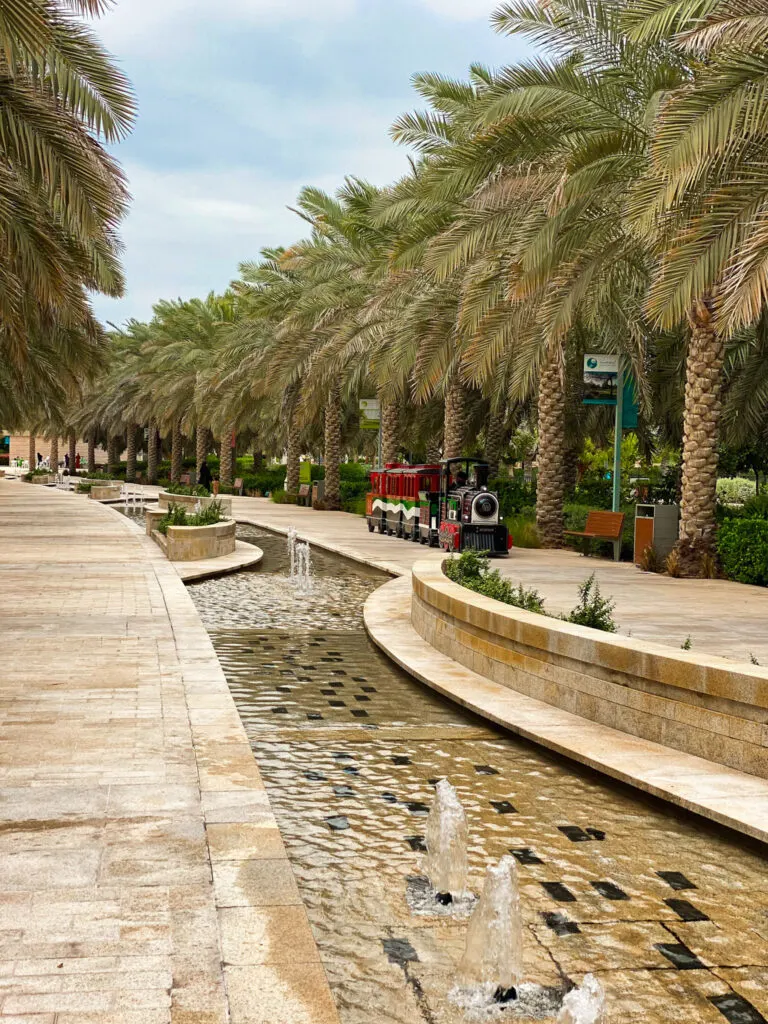 There are often market stalls along the promenade during different times of the year, selling handmade gifts and food.
Abu Dhabi Cinemas
Often a family favourite, a visit to the cinema is even more popular in Abu Dhabi! If you have enough time during your visit, we definitely recommend heading to the cinema in Abu Dhabi with kids!
As with everything in the UAE, they try to create bigger and better experiences across every offering, and the cinemas are no different.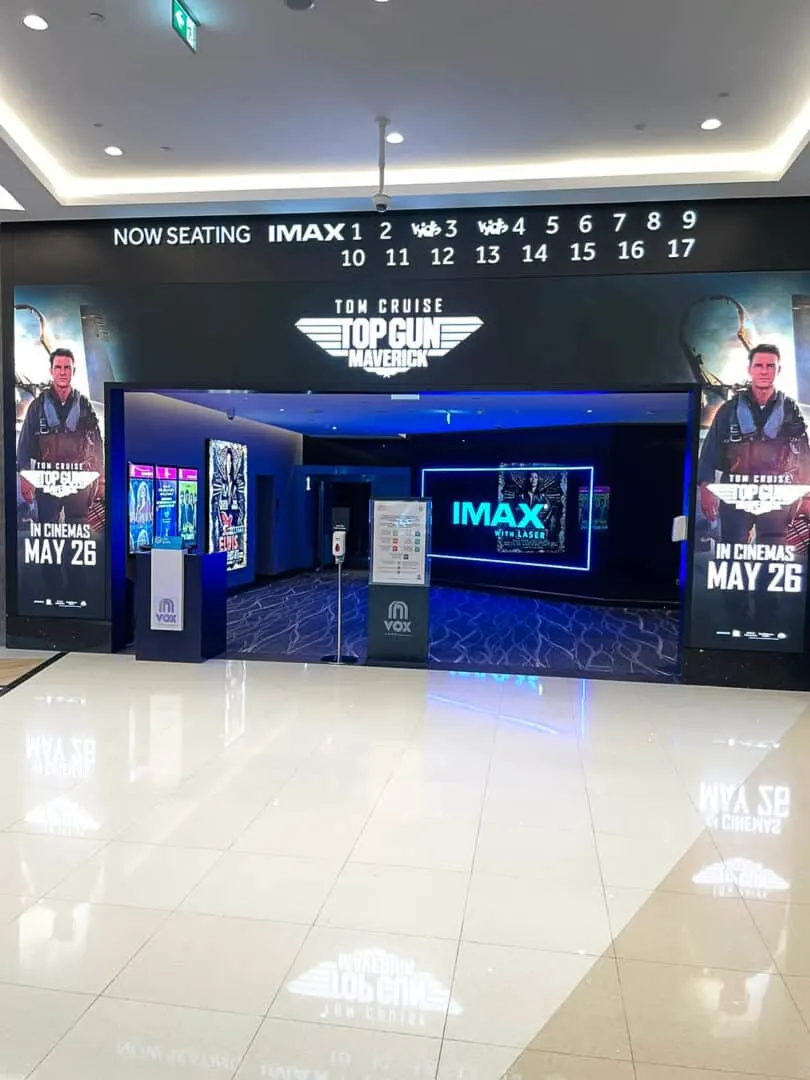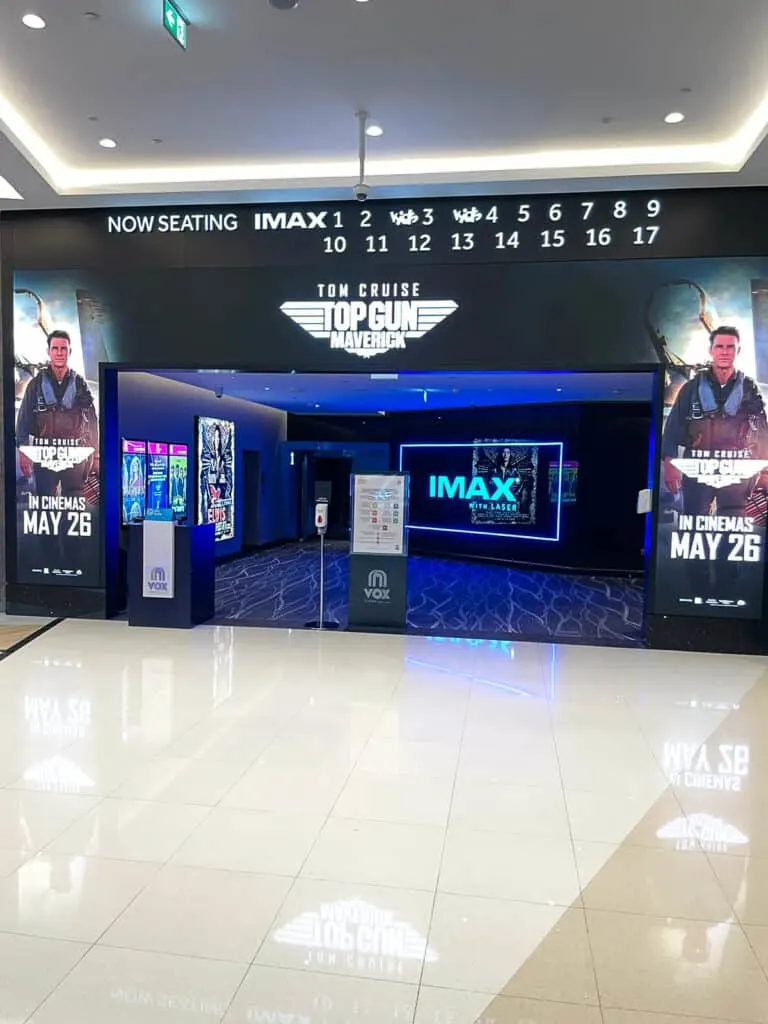 There are amazing kids specific cinemas, huge theatre cinemas, small 6 row cinemas and a number of other screens/theatre types to choose from.
When going to enjoy a movie, you and the kids can order more food than you can imagine, including kids meals, full dinners such as burgers, hotdogs, pizzas and much more.
There are plenty of options for drinks like milkshakes, frozen soft drinks and slushies. A firm favourite for kids and adults alike is the mixed popcorn options.
This allows movie-goers to mix 2 or 3 different types of popcorn within one large bag. The flavours are butter, cheese and caramel.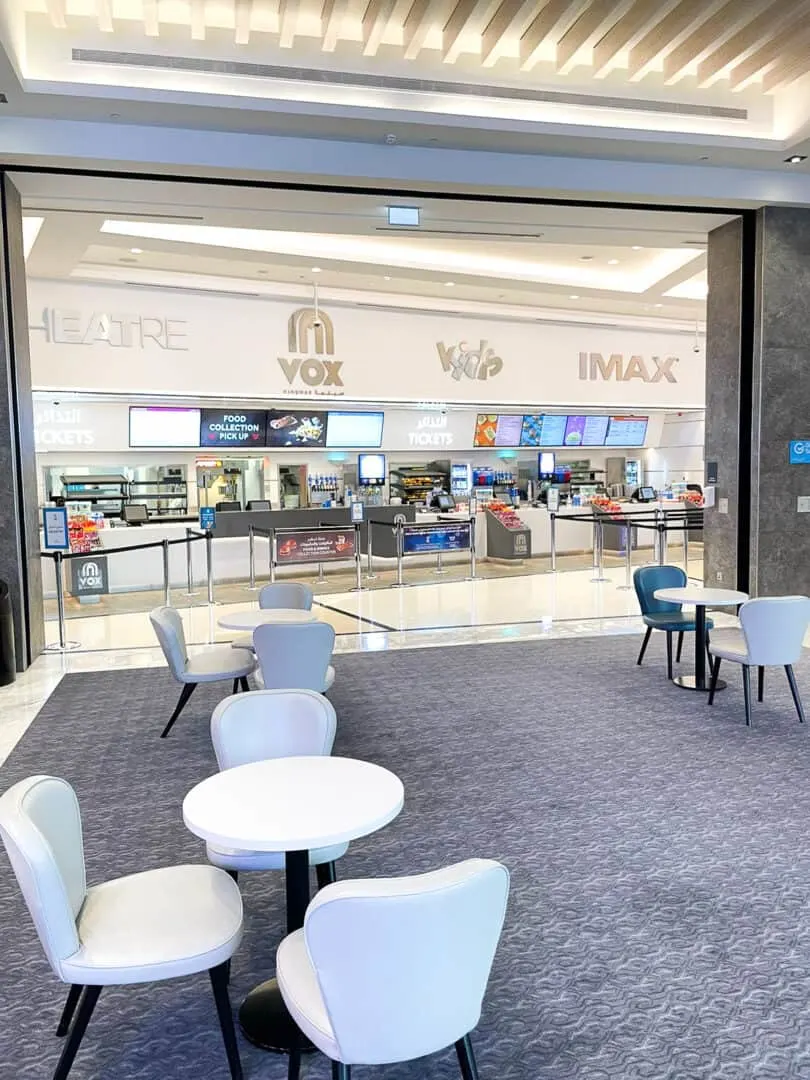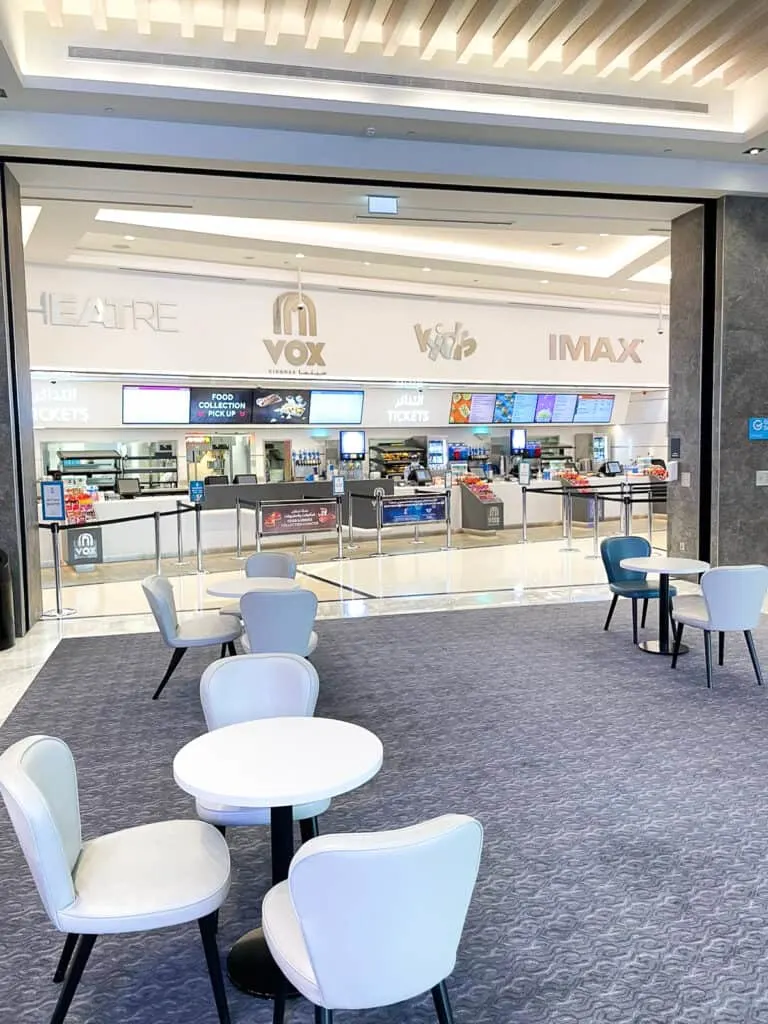 A lovely touch in many Abu Dhabi cinemas is the great hospitality, hosts will guide you from the ticket entrance to the correct screen and once at the correct cinema's door, there is usually someone who will take a look at your tickets and guide you right over to your seats.
What a treat!
AL HUDAYRIYAT ISLAND
Al Hudayriyat Island is home to some of the best things to do in Abu Dhabi with kids!
The island is one of the best locations to hang out with friends or family and boasts a huge number of facilities including Al Hudayriyat Beach, tennis courts, football pitches, basketball courts, padel courts, a 400m athletics track, a 5km and 10km cycling track, skate park, BMX park, high ropes park and the OCR park.
Many of these facilities are available to use free of charge or at a small cost. The beach, cycling track, and various parks are available to the public for free.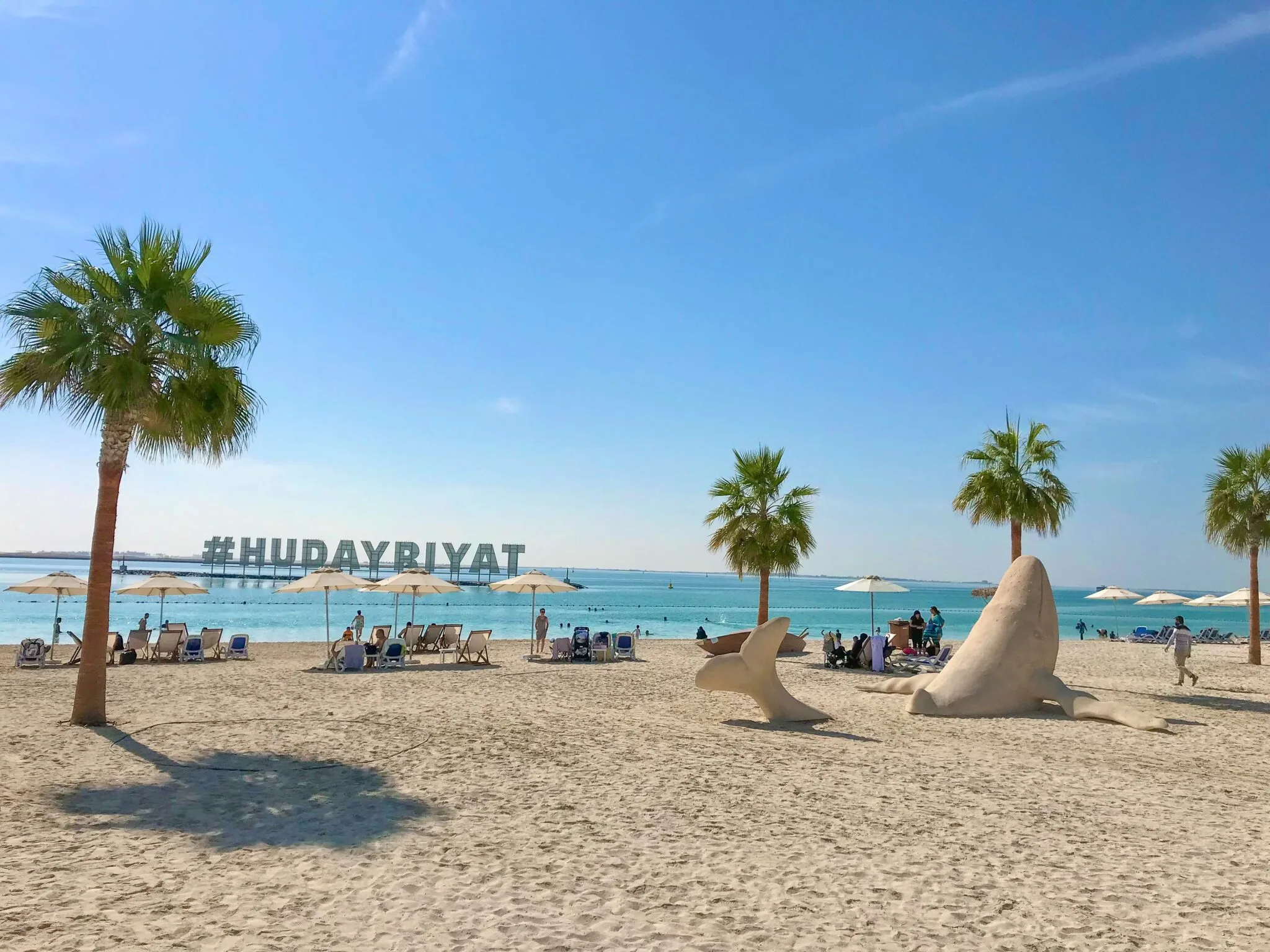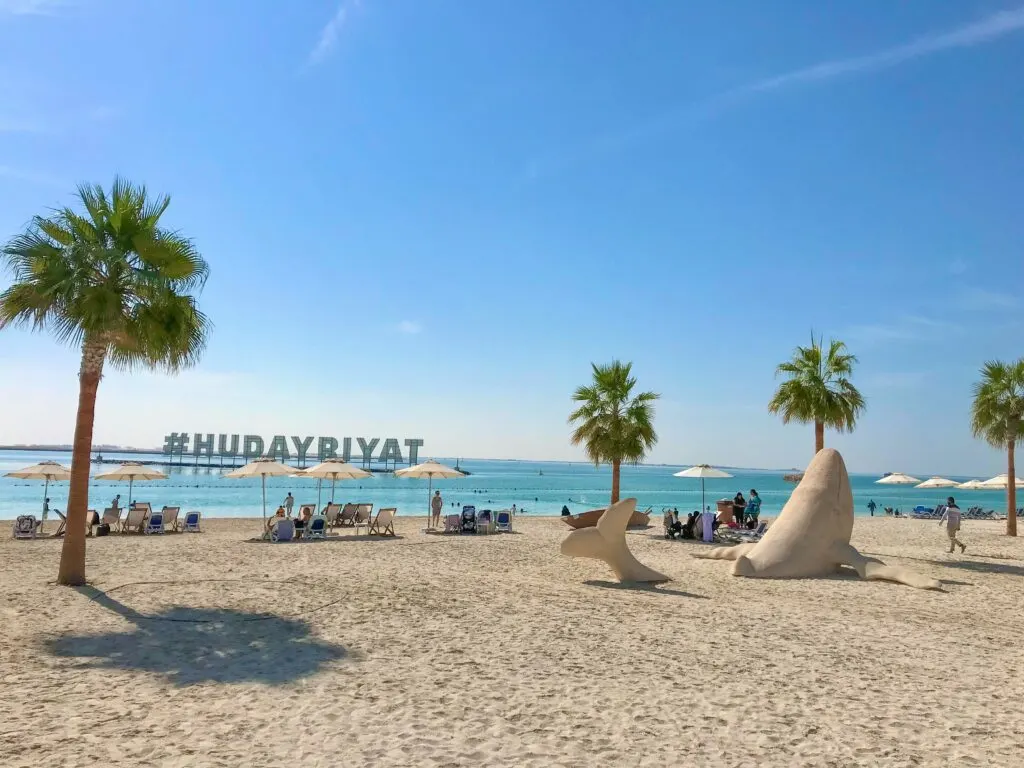 If you own a bike or if you are willing to pay a low price to rent one, the 5km and 10km bike track is a must. The 10km track will likely be too far for the little ones but the 5km should be okay, considering how flat the track is.
If not, you can always turn around and cycle back to where you started!
If you have any bike or skateboard enthusiasts, they can take advantage of the free thrilling parks designed for the most exciting tricks and flips!
The main attraction, Al Hudayriyat Beach spans over 24,000m² and includes over 600m of dedicated swimming area.
The beach is well maintained and boasts some of the most stunning views from dawn to dusk.
Many parts of the beach are divided into sections such as the couples beach, family beach, male beach and female beach.
There are great modern facilities in each section in terms of showers, changing rooms and toilets.
With plenty of sun loungers, great water and stunning views, this free public beach is an absolute treat for parents and kids.
Within the middle of the swimming section of the sea, lies a large Hollywood-esqu sign '#Hudayriyat'. There are plenty of places to walk around the beach and island also including short board walks and longer beach trails.
Along the strip of restaurants and cafes leading up to the beach opening, there is a brilliant water playground for the kids, it's like a mini water park for them to enjoy for free!
Some of the most popular restaurants along the strip include Rain, Shrimp Pot, Babu Town, Projecto Acai and Muncheeze. There are also a number of great places for coffee such as DRVN, I Love Coffee and Shot.
If you don't have time to sit down with food or drink, there are also a number of drive-thru coffee shops and restaurants on your way out of the car park.
DOLPHIN PARK
Located towards the top of the eastern mangroves, Dolphin Park gets its name from its large dolphin water feature.
In terms of uniqueness, child entertainment and pocket-friendliness, Dolphin Park is one of the best places to visit in Abu Dhabi with kids!
There is a walking and cycling path running from Anaantara Eastern Mangroves Hotel all the way up to Dolphin park along the mangrove coast measuring around 4km in distance.
The path is littered with outdoor gym equipment, quirky dome seats to rest in and respite spots with seats, wooden decking overlooking the mangrove coast and netted areas over the sea allowing people to sit or lie within these nets with the sea directly underneath.
The kids will love these areas as they'll be able to relax in the netted area or jump up and down on it over the sea!
Once you get close to the main part of Dolphin park, there are a number of food trucks with pizza and burger options and some creative seating and vibey lighting.
There are a couple of small astro pitches, basketball courts and huge open grass space. Plenty of room to play games with the kids.
This area does tend to be busy during the cooler evenings because the park offers permanent barbeque fixtures that the public can use for free.
During the cooler months, this park is full of families and friends enjoying barbeques and picnics with deck chairs and blankets scattered around the grass.
There are also public toilets at the top of the park and special bins for BBQ ash and coals to be disposed of.
REEM CENTRAL PARK
Located on Al Reem Island, Reem Central Park is one of the nicest parks the capital city has to offer.
Free to enter and park, this gem is one of the best parks in Abu Dhabi with kids.
Spanning over 1, 300m², Reem Central Park is perfectly located along an exquisite stretch of turquoise Arabian water.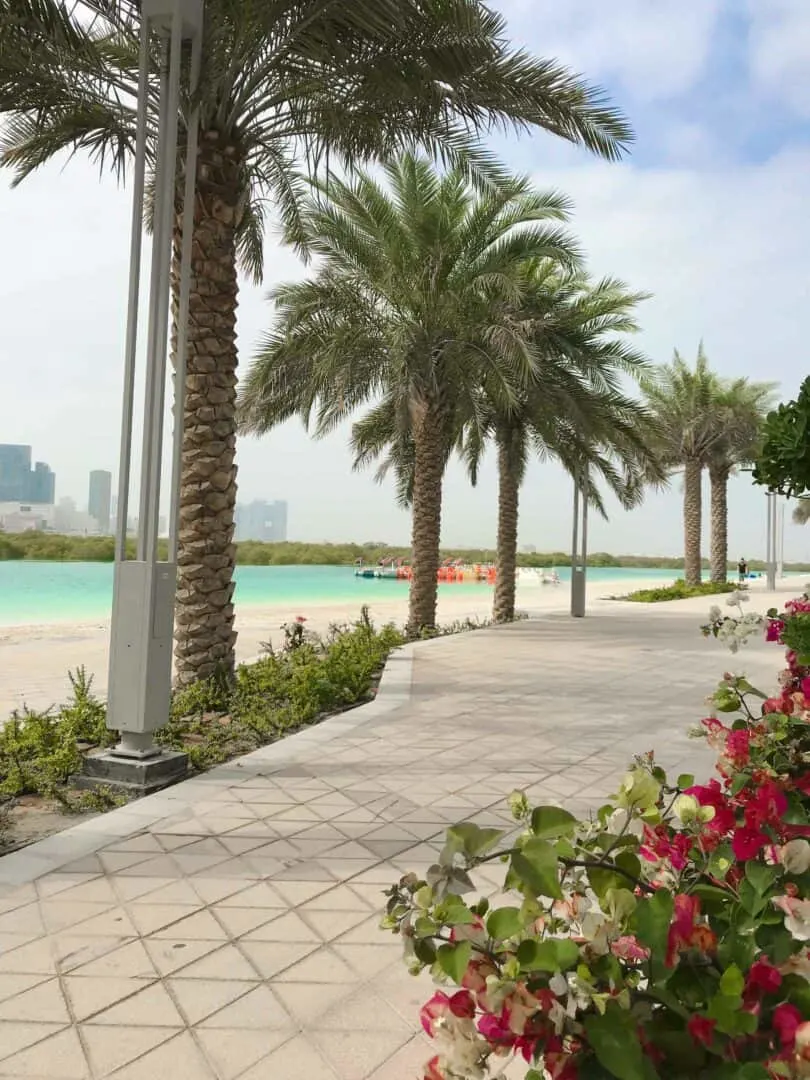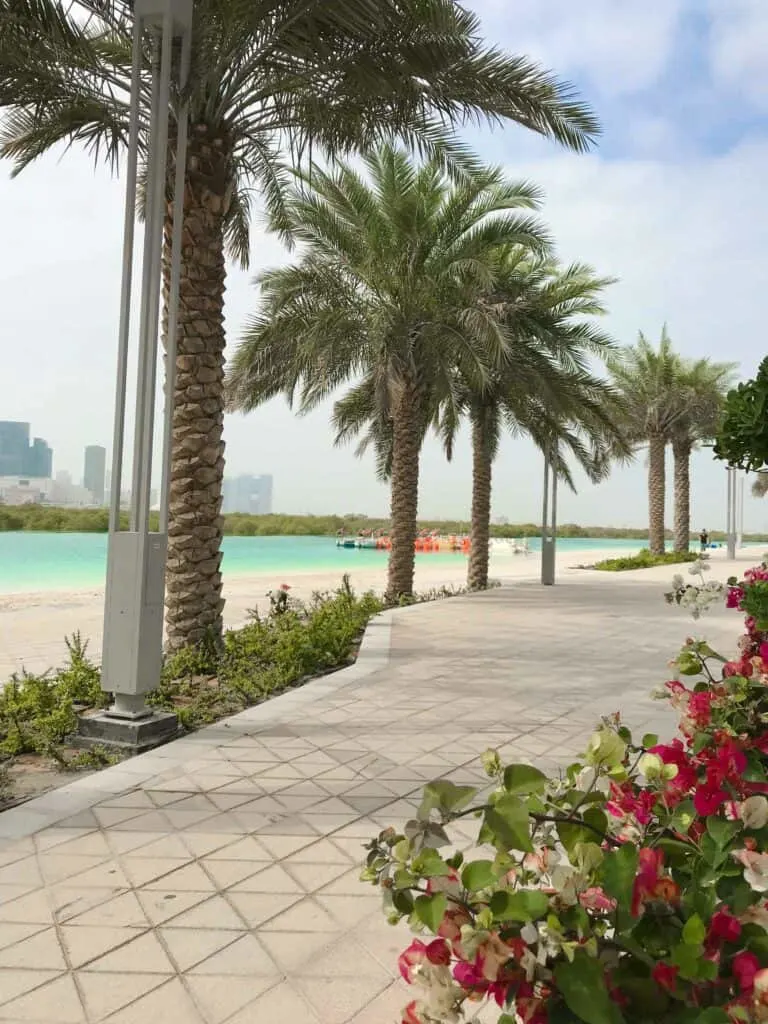 In the middle of the park, there is a large water feature, a number of food/drink trucks, coffee shops and a couple of restaurants.
The water fountain is one of the best around. During the evening, a magical show of water, music and lights takes place and it's safe to say you will enjoy it almost as much as the kids!
Water floods from the feature while a projector shoots lights and scenes onto the waterfall and along with music and smoke, a mesmerising story is told.
There will be children gathered around here every single evening to enjoy the show which takes place every 30 minutes after dark.
During non-show times, the water fountain is a play area for the children to enjoy and splash around. The water is shallow enough for all ages and loads of kids play around in the water during the day and in between the shows.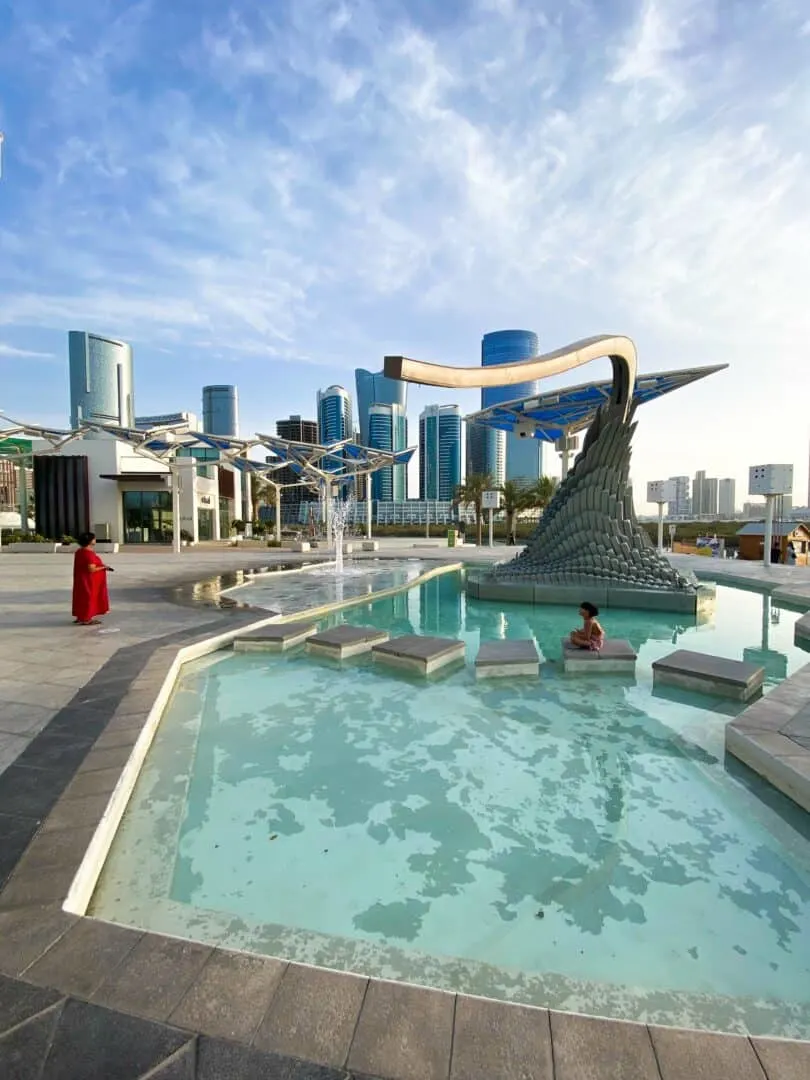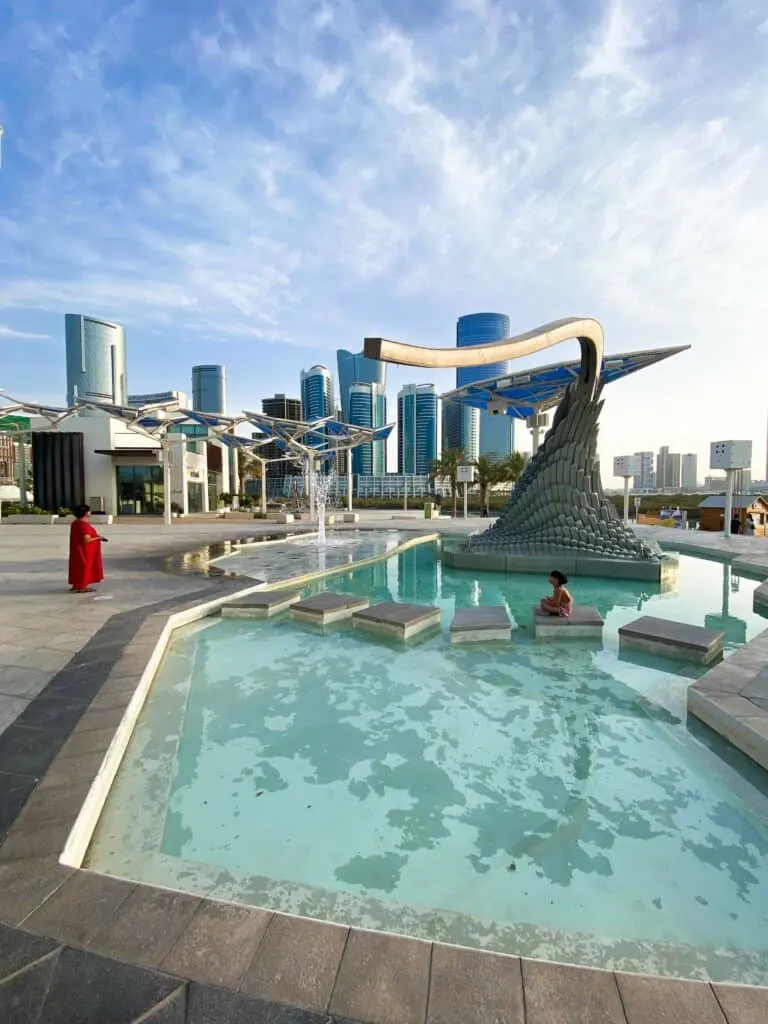 Sometimes, there will be songs playing from the fountain during the day and often, there will be bubbles floating around the structure and out into the surrounding areas, much to the kid's delight!
There are also lots of options for water sports in the park, like kayaking, wakeboarding, paddleboarding and more.
One of the more popular activities with the children are the round peddle-boats that can be hired out for 30 – 60 minutes at a time, 30 is more than enough!
There are loads of courts for sports like basketball, football and tennis and a few eco gyms scattered around, which kids have been known to be fond of.
There are a few different playgrounds throughout the park, which is great if you want to get a good length of a walk in as the stops for the different play areas along the way ensure the children won't get bored.
If you have any basketball fans among your family, there is a Kobe Bryant mural behind one of the basketball courts. A beautifully painted piece created in memory of the famous basketball star who lost his life in a tragic plane accident.
There is a certain section of the water that the public can get into and plenty of grass and sand areas to dry off and relax or play games.
The great thing about this free park is the lovely modern toilet facilities which are scattered throughout the park and include baby changing areas as well as toilets, changing rooms, lockers and showers.
This is great for when you have been swimming or even hanging around in the sand and sun.
The park also has a great atmosphere every time of the day and week. There is always a great buzz around with runners, walkers or swimmers.
The park is also a popular spot for fishing if that is something that would work for your family!
GO SWIMMING
When it comes to activities in Abu Dhabi, the city offers great options for water activities such as kayaking, wakeboarding, windsurfing and much more.
If you have kids that are a little weary of these activities, swimming is a great alternative and is also free in many places!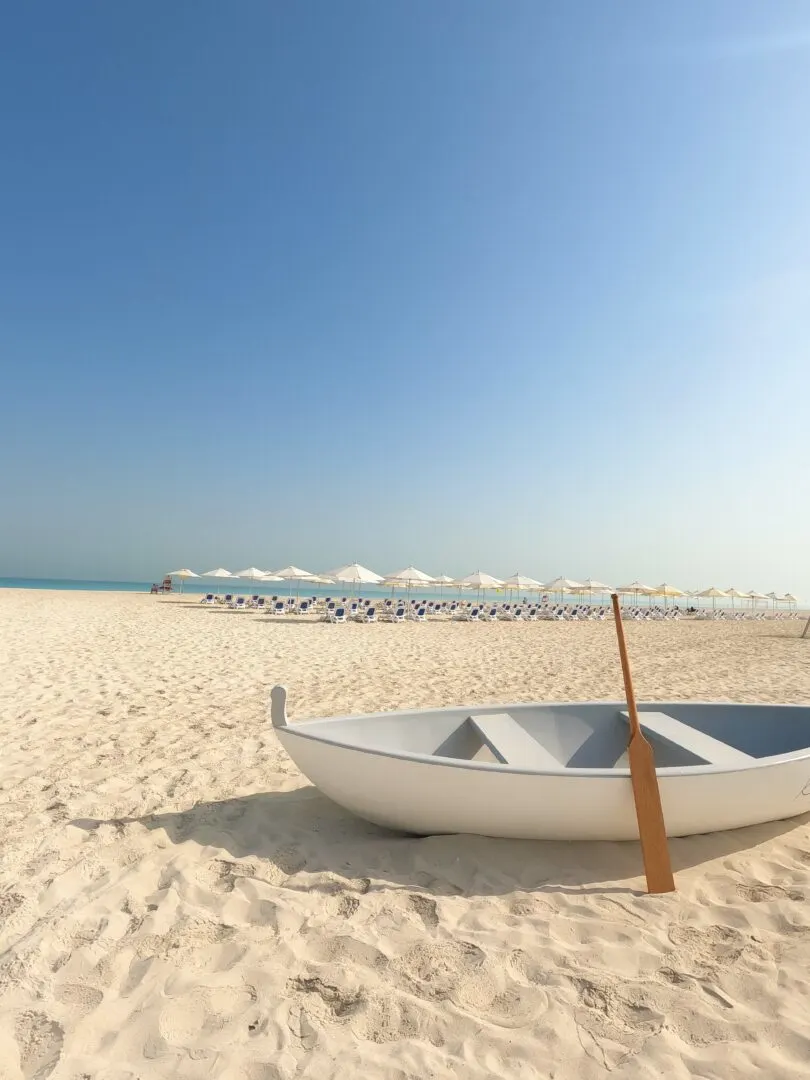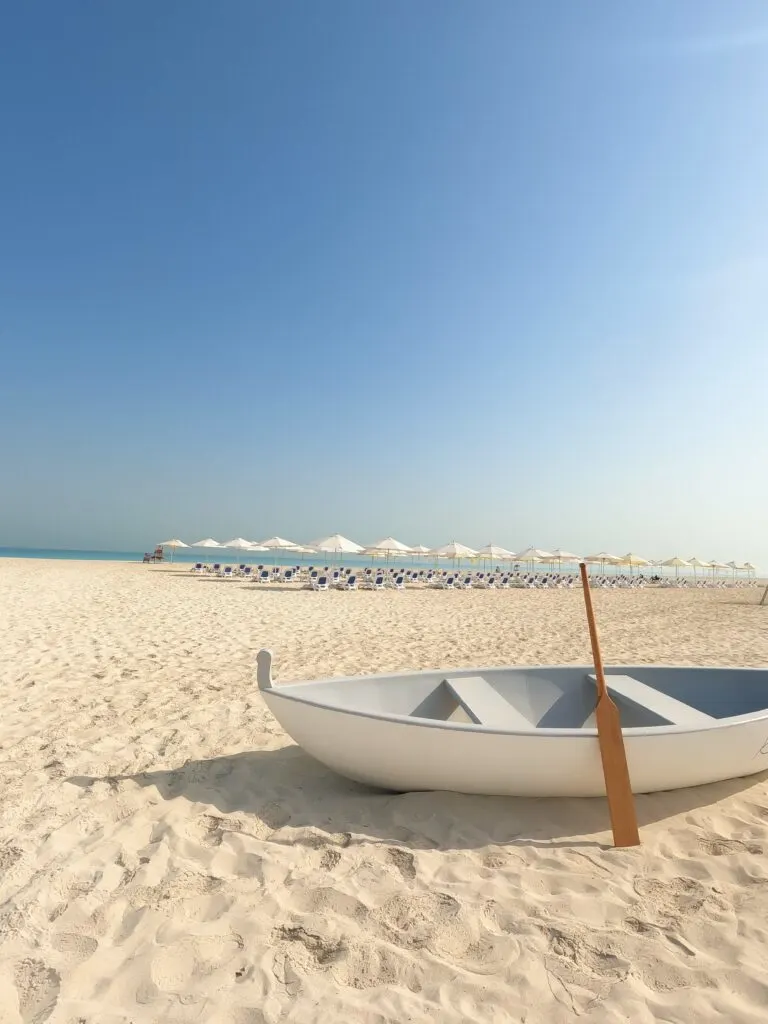 There are plenty of lakes, rivers and the sea, as well as the vast majority of Abu Dhabi residences including a pool.
If you have any friends or family living in the city, why not ask them for access to their pool?
To make your at-home pool day more exciting, you could bring some food and drink and have a picnic on the loungers.
Bringing a ball, rings or pool weights and floats could also make it a bit more exciting for the kids as well as playing cards or board games to have some poolside entertainment.
If you would prefer a river or sea for swimming, you can visit any of the free beaches or waterfront parks like Reem Central Park or Al Hudayriyat Island and go for a swim in the sea or river in one of these locations.
WHERE TO STAY IN ABU DHABI
We spent four nights in one of Abu Dhabi's swankiest hotels, the Saadiyat Rotana Resort & Villas! Saadiyat Island is one of the most amazing parts of Abu Dhabi with its lush tropical beaches, white sand and aqua blue clear water.
Saadiyat Rotana is a five-star resort with some really impressive mod cons. Just walking into our bedroom automated the curtains being opened, we were super impressed with the advanced technology.
The rooms are seriously stunning when it comes to interior design. The beds are incredibly comfortable and they have a clever conjoining room setup, so parents can get some downtime in the evenings.
There are quite a few restaurants onsite and they offer a really nice half board option which is perfect for the lazy beach holiday. We generally ate lunch whilst site seeing in the morning and ate dinner back at the hotel. They had everything from a lovely Italian to a really posh English pub onsite.
Now here is quite the statement, but Saadiyat Rotana serves up my husband's favourite hotel breakfast of all time.
Breakfast is our favourite meal of the day and without bragging, we are quite the connoisseur having stayed in 150+ hotels over the last year.
They had an entire station dedicated to amazing fresh juices, local delicacies, amazing pastries, just about anything, the quality was second to none.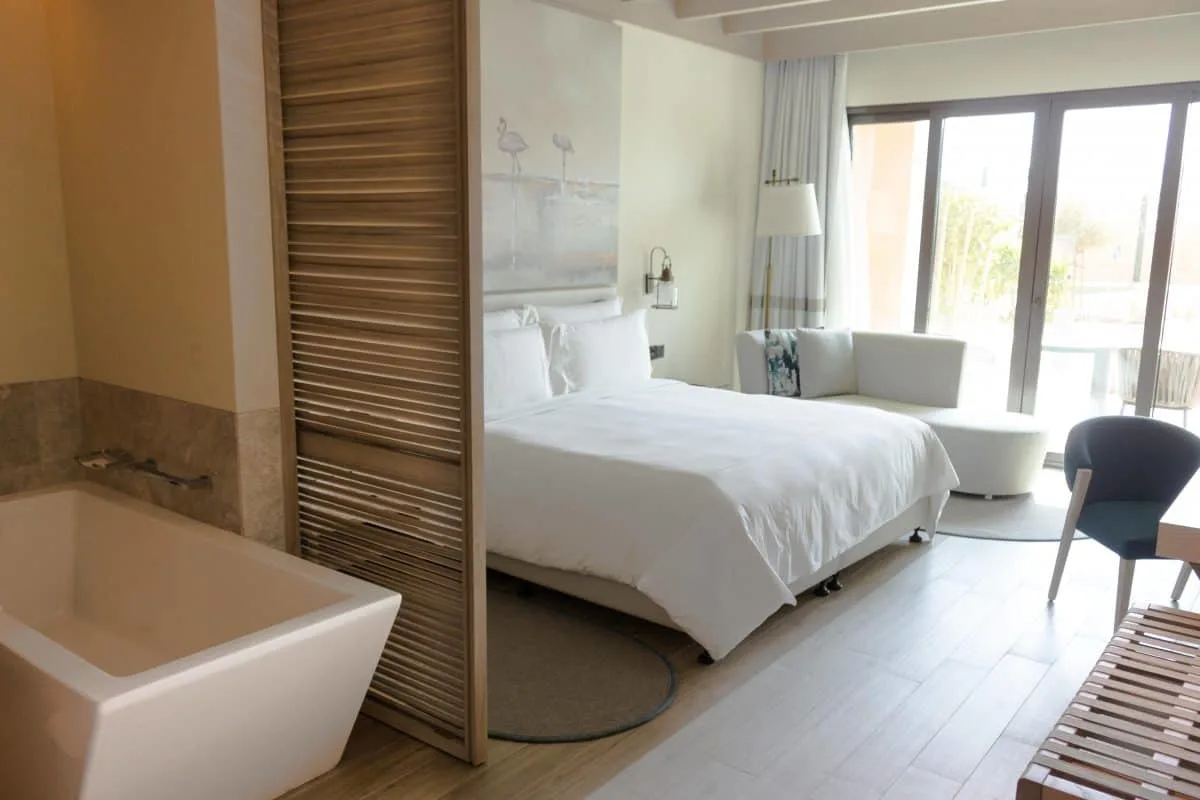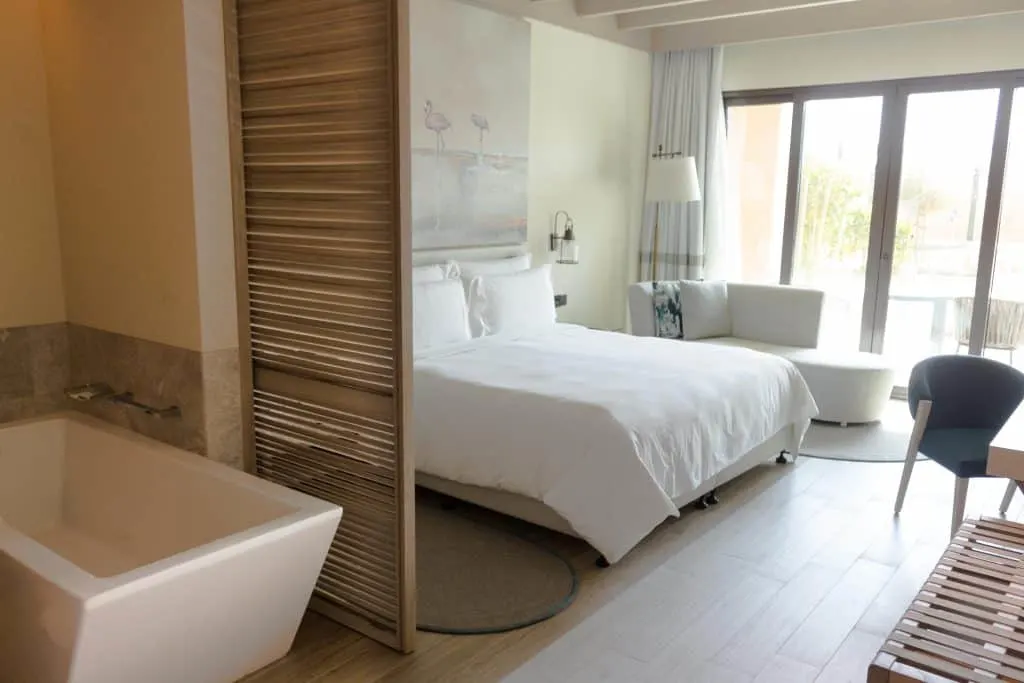 When it comes to visiting Abu Dhabi with kids, Saadiyat Rotana is ideal for families looking for luxury but also catering to little ones.
There are not many hotels that manage to pull both luxury and family friendliness off but Saadiyat Rotana do it perfectly.
We found there were more families than not at Saadiyat Rotana. They have a gorgeous kids club called 'Aladdins Cave' that has its very own splash pool, lovely staff that facilitates some great activities and a big room to watch movies!
Our little one loved going but often struggled with the decision whether to go to Aladdin Cave, the pool or the beach?!
Check out rates and availability here.
ABU DHABI WITH KIDS
The huge pool in the centre of the resort is the ideal depth for kids. It's surrounded by giant palm trees and some beautiful turtle statues.
The beach in front of the resort is a turtle preservation area as they often come in to lay eggs between June and September.
Saadiyat Rotana have taken many of the natural elements from the surrounding area and incorporated it into the design and architecture of the building.
In the reception area there are different sands from all the different deserts around UAE under a glass floor. It's a super beautiful feature and very eye catching as you enter.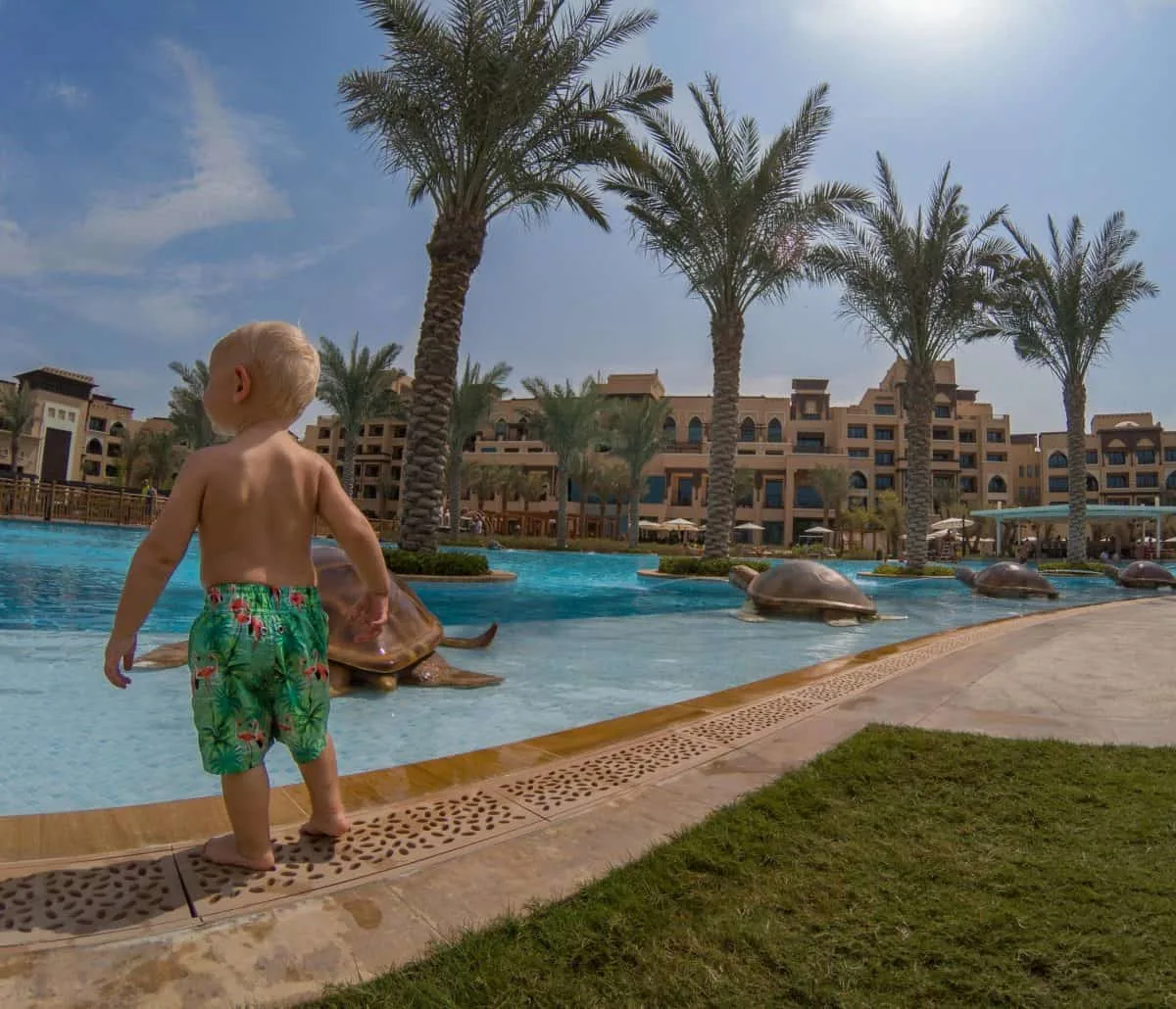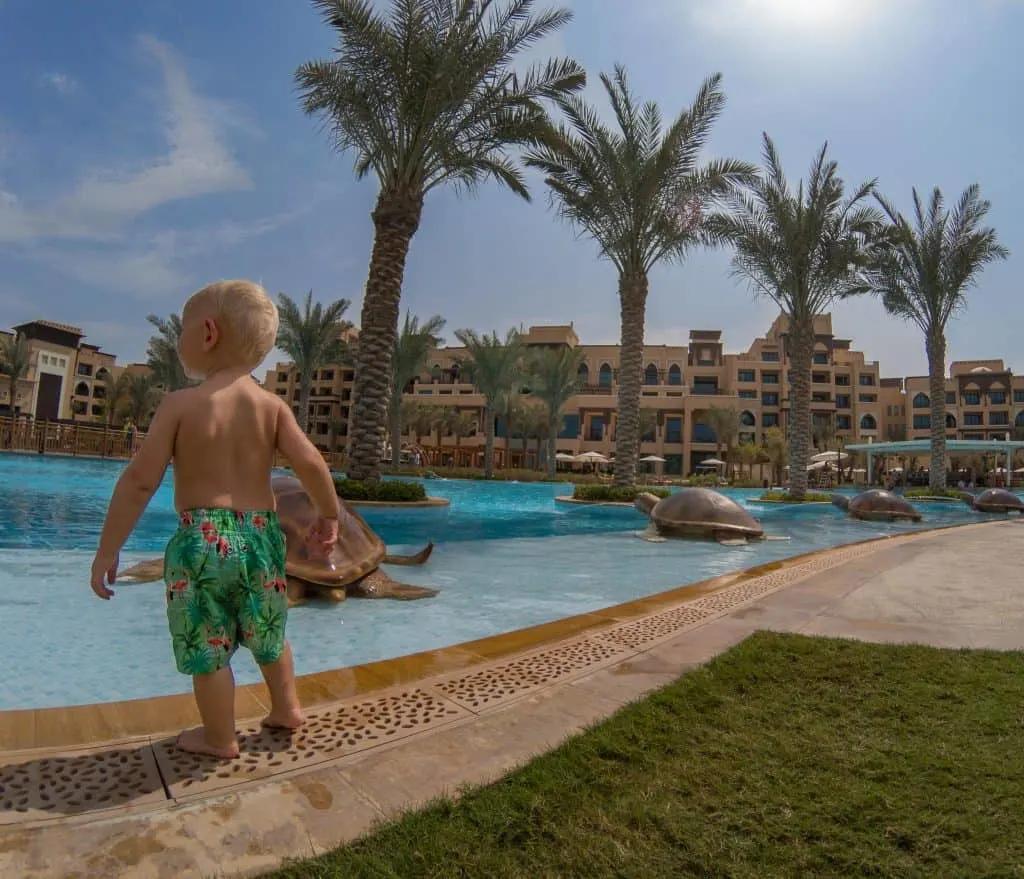 Talking of beautiful things, the beach is just gorgeous. We spent some lovely evening's swimming and catching the sunset. The water is so warm, almost like a bath and apparently it's not uncommon to see dolphins passing by.
There is a gorgeous beach bar, complete with swings for the kids to play whilst relaxing with a cocktail. It was an all round amazing stay and I know we would definitely go back when we travel to Abu Dhabi next.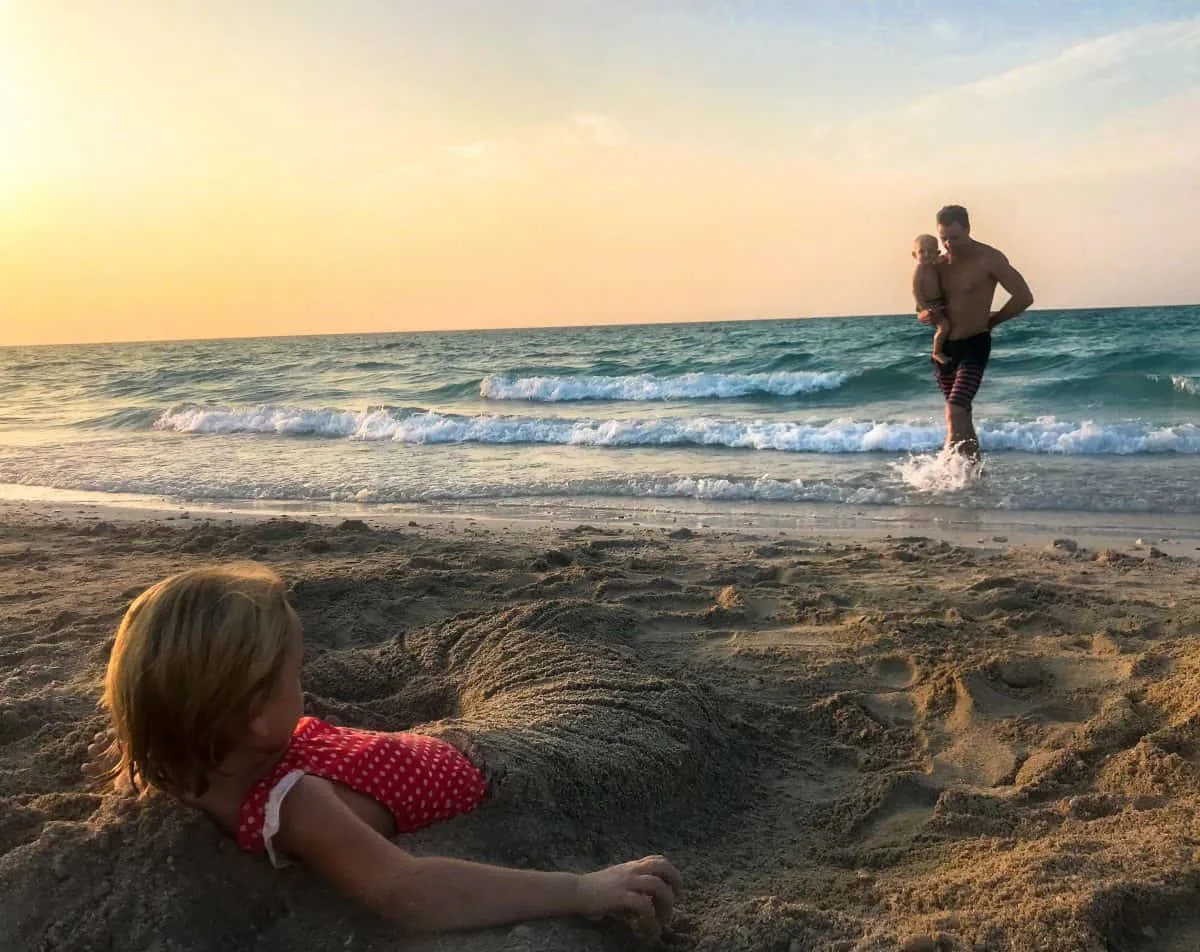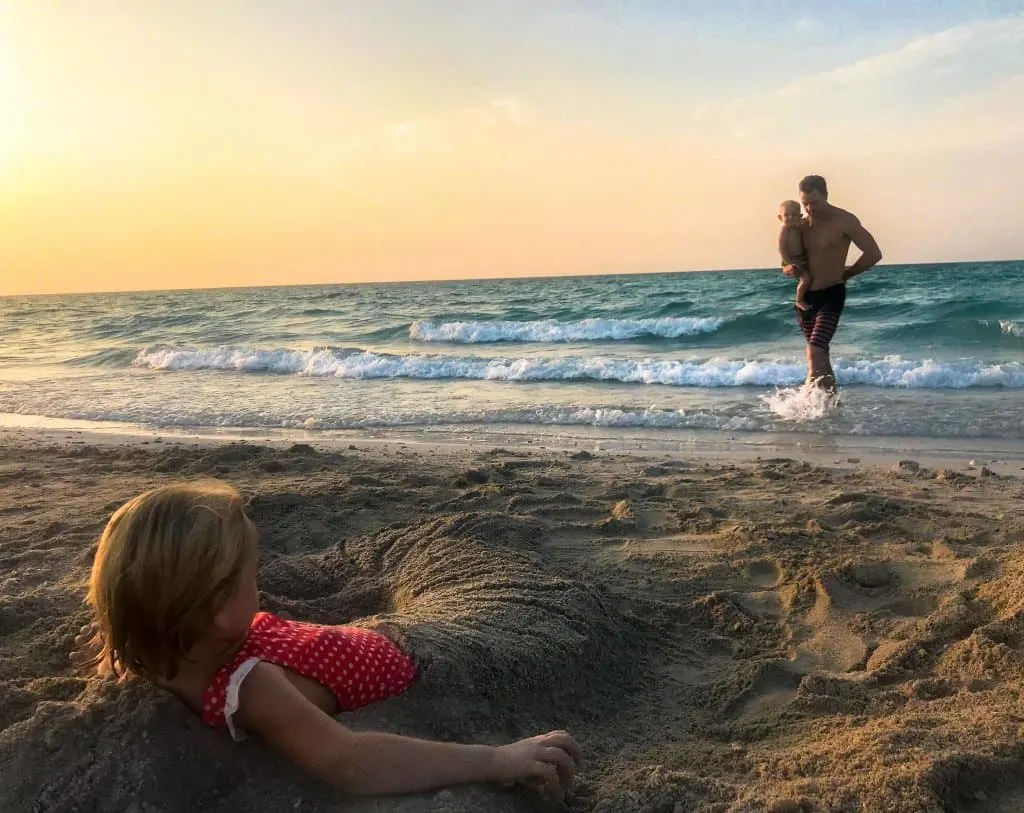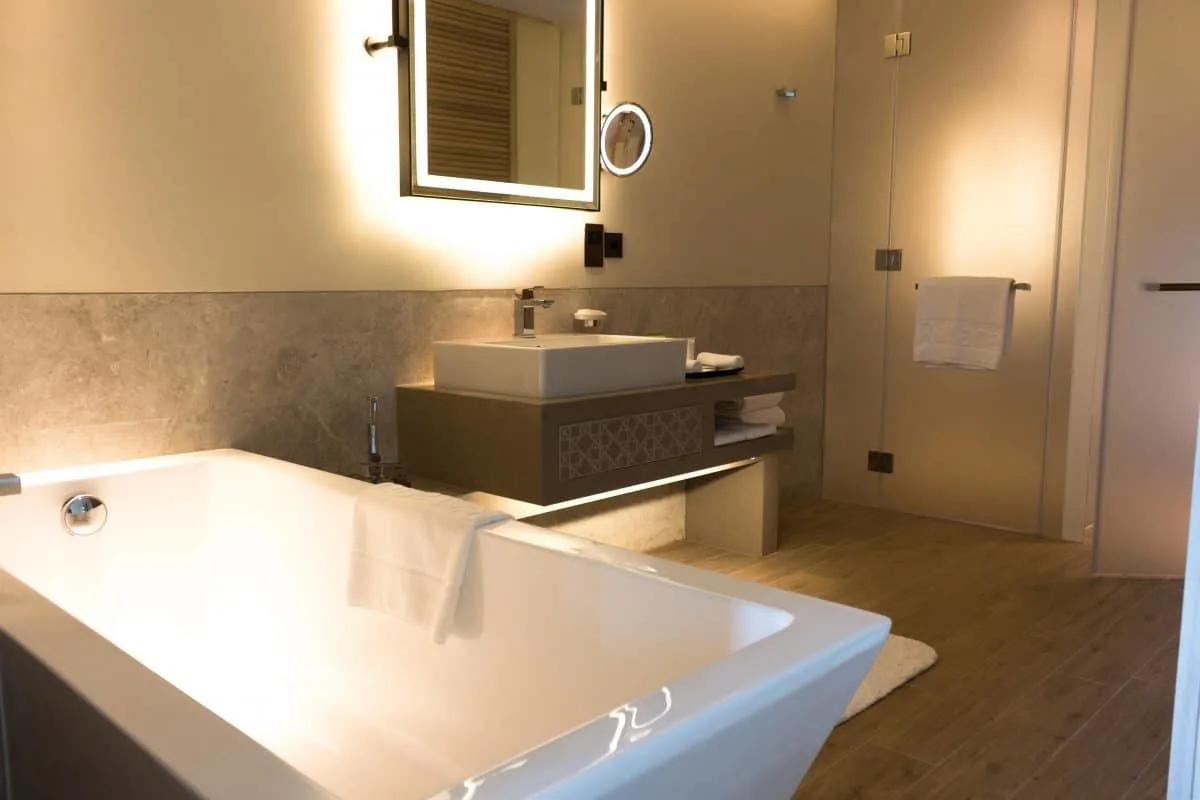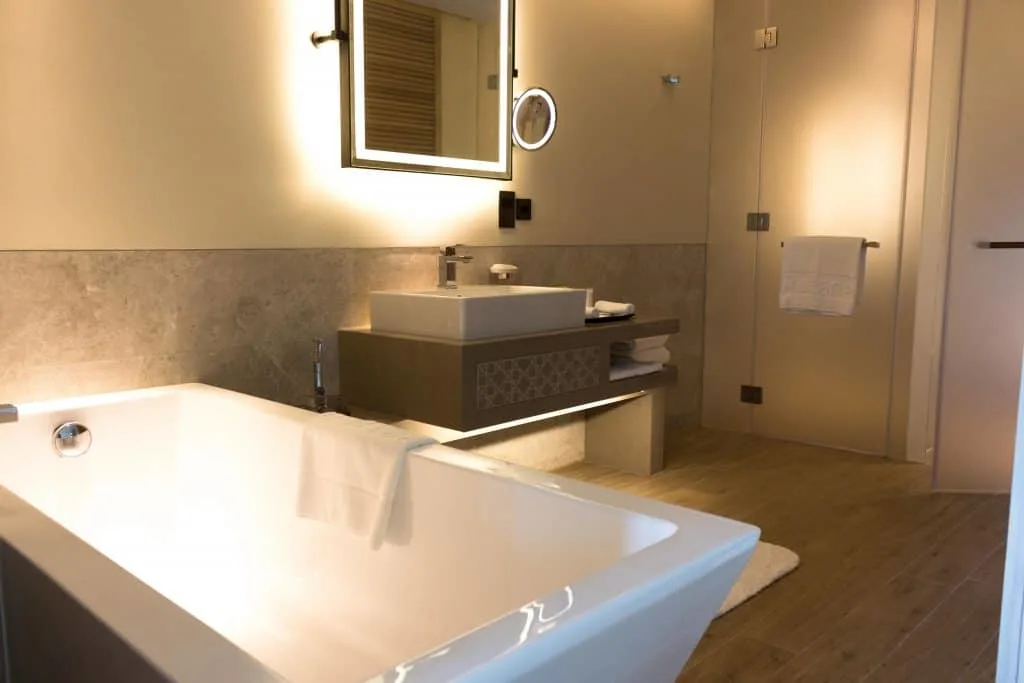 Our stay at Saadiyat Rotana was complimentary in return for an honest review. As always, all views expressed are entirely my own.
WARNER BROS HOTEL
One family-friendly hotel that cannot be forgotten is the Warner Bros Hotel by the Hilton. This hotel opened on Abu Dhabi's Yas Isalnd in late 2021 and has gone down a treat for kids and parents alike!
The hotel invites guests to have an animated stay by 'steping into the world of colour and creativity'.
The guest rooms include cinematic artwork, the dining options are playful and creative and the hotel welcomes all of your favourite characters daily.
While the main focus is on the characters and the theme of the hotel, they have also ensured that the grownups will have a great stay as they have loads of delicious dining options and some great pool areas.
The thing that makes this hotel one of the must do things in Abu Dhabi with kids is the complimentary day access to Ferrari World, Yas Waterworld and Warner Bro's World!
That in itself makes this hotel stay top of the agenda regardless of the guest experience.
Some of the dining options include bespoke cocktails bars, poolside meals, restaurants shining a spotlight on the cast members, grab-and-go food options and our favourite, dishes that reflect movie scenes in The Director's Club restaurant!
Book your next stay here!
JEBEL JAIS RAS AL KHAIMAH
If you have the time to take a trip from Abu Dhabi to Ras al Khaimah, be sure to head to the Jebel Jais mountains.
Jebel Jais is a mountain looking over the RAK and Oman border. On this mountainscape, there are a few activities on offer.
First, Jebel Jais Flight – the longest zip line in the world. This is amazing and we recommend everyone do this, there are some height and weight restrictions, however.
To partake in the zip line riders must weigh at least 40kg and be a minimum of 122cm tall. If your kids are under this, don't worry there are other options, do try to experience the zipline yourself if possible!
Next up, the Jais Sledder. Here, you can sit in a two-person sleigh on a low-slung track. You will fly down the Hajar mountain range at 40 km/h for around 8 minutes, covering 1,840 metres.
The excitement of the low-down sleigh, the views and the speed are very exciting for all ages! To ride the Jais Sledder, children must be over 3 years old.
Other activities include high ropes, Bear Grills explorer camp and hiking, all highly recommended however, not with the kids!
While RAK is a bit of a drive from Abu Dhabi, if you are staying in Abu Dhabi for a long visit, it's definitely worth it.
You May Also Like:
THINGS TO DO IN DUBAI WITH KIDS
Dealing with Jet Lag in Babies, Toddlers and Kids