We have been wanting to visit Jordan with our kids for a while now. The Middle East is so different from other places we've been with its vibrant unique culture and tantalising local delicacies, it's an experience like no other!
From the red sandy desert of Wadi Rum, to the lowest point on earth, the Dead Sea, there is a lot to see and do in Jordan (although I don't recommend the Dead Sea with kids, more about that later).
Most people fly into Amman in the north of the country, however, we weren't so interested in exploring the city and had an option to fly into Aqaba in the south direct from London.
We chose to base ourselves in Aqaba for the duration of our five day trip. We ordinarily like to move around and stay in different places, however, Jordan formed part of a much bigger trip (including a stop in Jerusalem) so we were keen to stay at the same hotel. It's really easy to get to Wadi Rum and Petra from Aqaba.
Although my feeling is, it's probably best to stay close to Petra when visiting. We rented a car at Aqaba airport and found the roads overall safe to drive on. There is the odd speed bump that is not very obvious so it's worth being extra vigilant for them.
Other than that, hiring a car is the best option with kids. If you prefer to get a guide, that can also be super useful when it comes to getting a well-rounded educational experience and insider information on visiting Jordan with kids.
My brother was travelling through Jordan at the same time as us and he used a guide that drove him around and organised his accommodation as well. Something to consider purchasing before leaving home is the basic Jordan Pass. It covers not only your visa for entry to the country, but also to a number of attractions, including Petra.
I've heard a few stories of people getting charged different amounts entering Petra, so it's something definitely worth buying, we saved quite a bit of money per head doing it this way.
It didn't make much difference to the queuing system in the airport at Aqaba, as the visa officers had to check the pass. I had it on my phone and didn't need to have them printed out. What's more, our kids, ages 4 and 1 didn't need a visa or to pay entry to the attractions. All the more reason to take them whilst they are young!
THINGS TO DO IN JORDAN WITH KIDS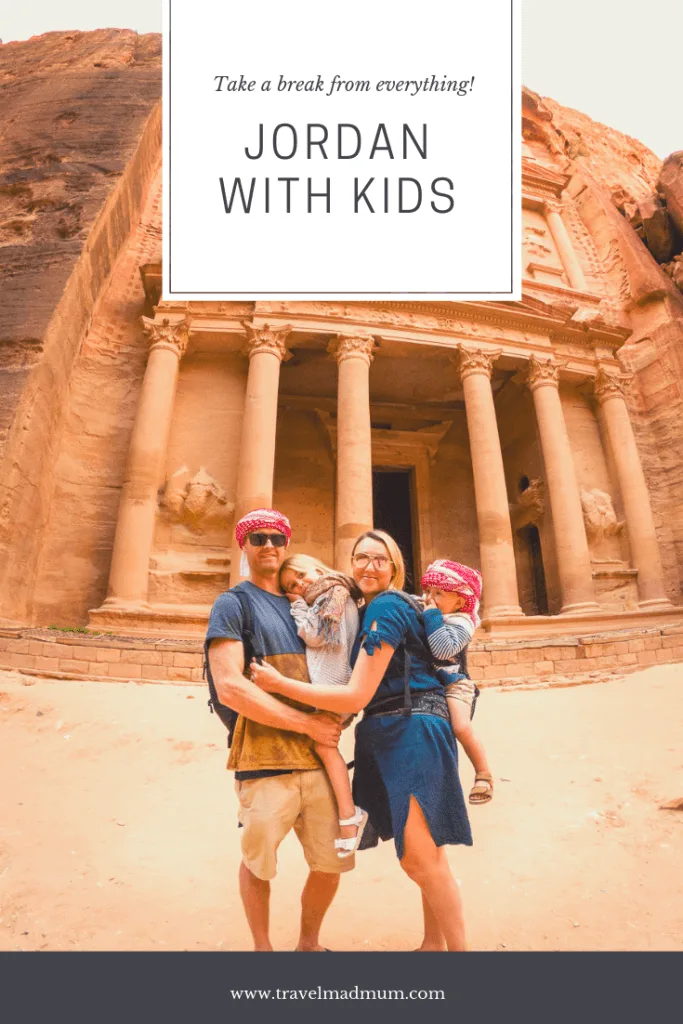 AQABA
Aqaba is a small town based on the edge of the Red Sea. Both Israel and Saudi Arabia are within a mile either side of Aqaba. It's almost like the bottle neck of Jordan! With the territory of being on the coast of the Red Sea comes spectacular coral reef and beautiful clear water.
We spent our time in Aqaba exploring the small town. There is some roman ruins, an ancient castle and a mosque to see. There is also a tonne of nice cafes and two really good restaurants that come highly recommended by locals.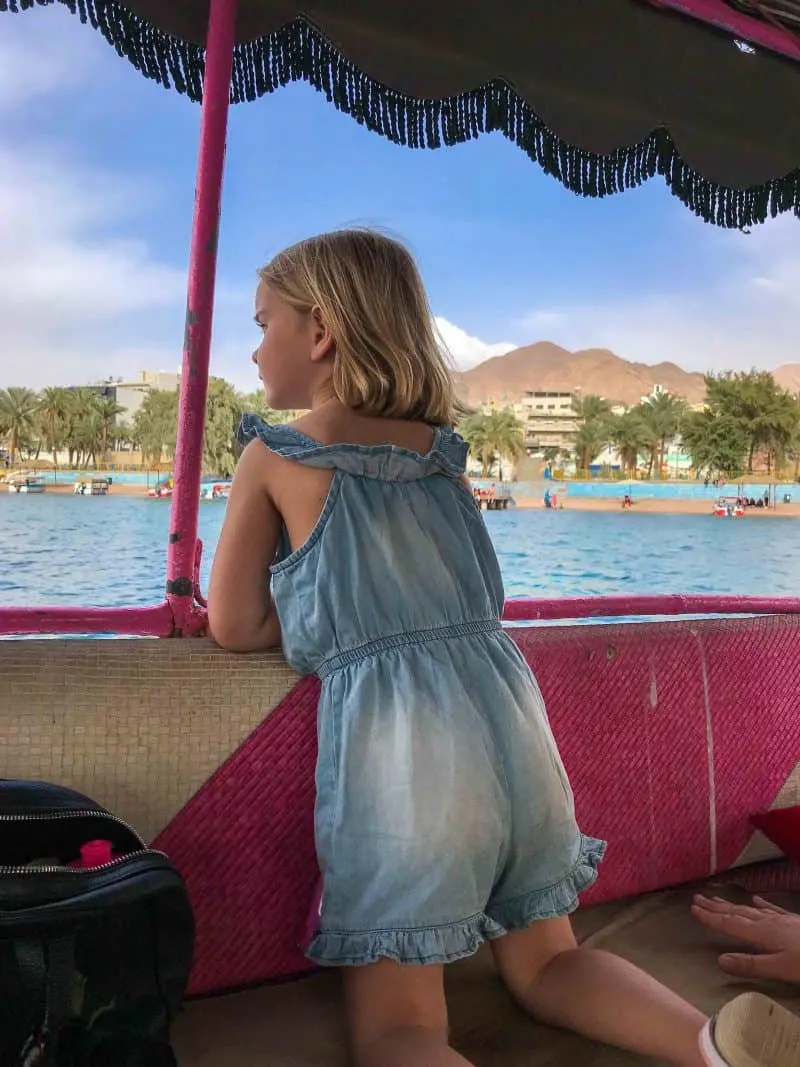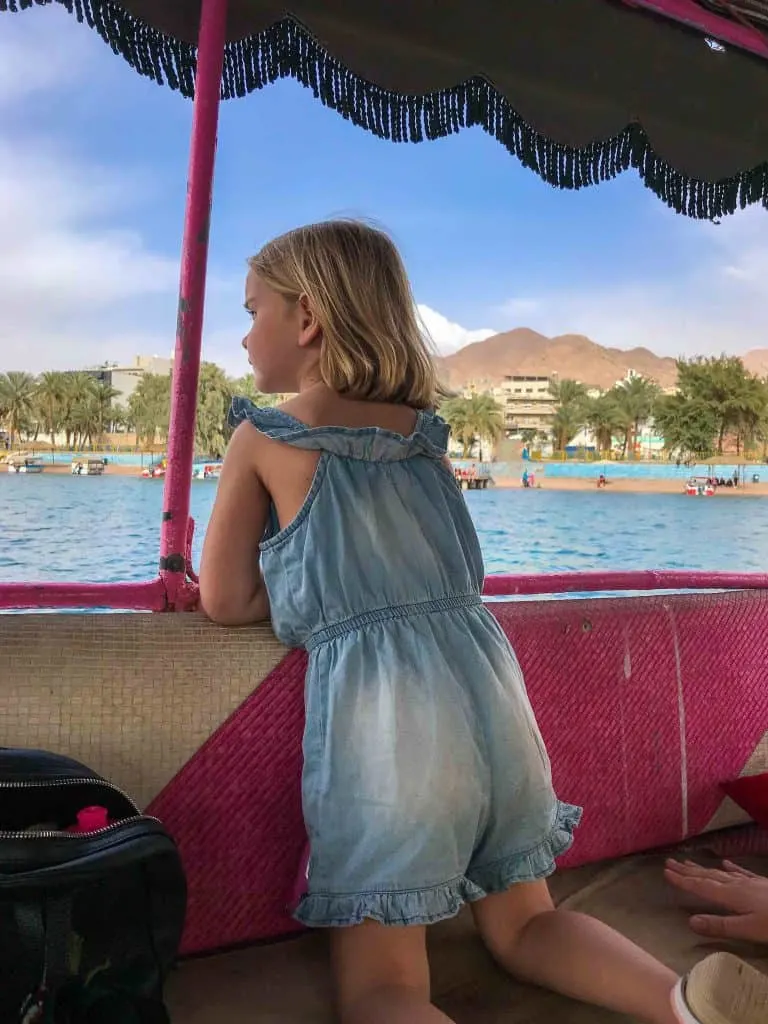 We took the kids on a glass bottom boat, I can't say I was that impressed, however I feel if it was organised a bit better through an official company with a better boat it could have been much nicer. Both hubby and I have an open water dive certification so we tee'd up childcare so we could explore Aqaba beneath the water.
We visited the seven sisters and the C-130 Hercules plane wreck. The visibility was amazing and, honestly, it's one of the best places in the world to dive! I was blown away by the preserved colours in the coral, unlike other places that are completely bleached from climate change.
WHERE TO STAY IN JORDAN WITH KIDS
We stayed at the fabulous Hyatt Regency Aqaba, not far from the town. It's inside a secure area called 'Ayla' where there are a few other hotels. Hyatt Regency has lots going on and was certainly a luxury experience.
I love hotels that manage to balance family-friendliness and luxury, there are only a handful that we've come across! Our kids absolutely loved the kids club, complete with lots of toys, games, art and craft activities. It also has a special splash park within the kids club.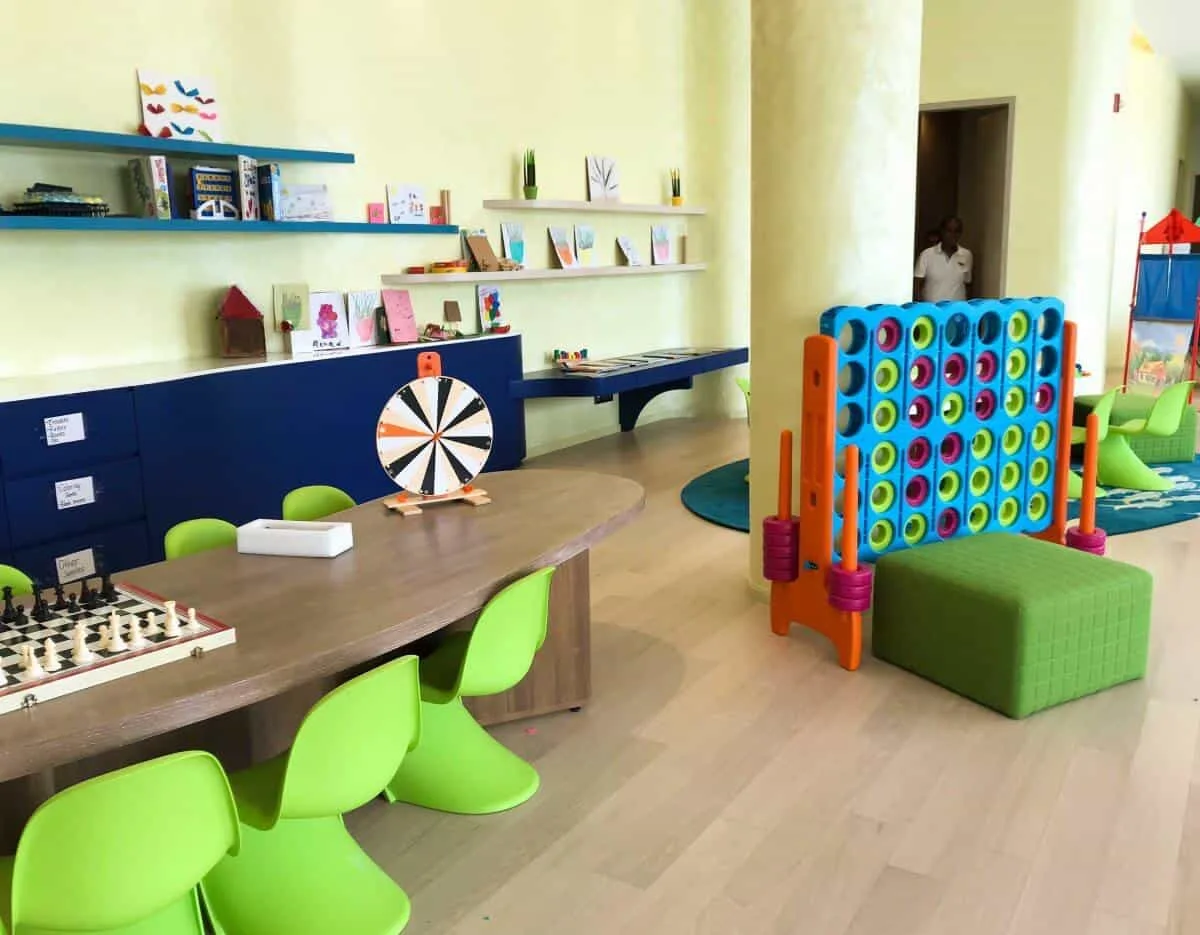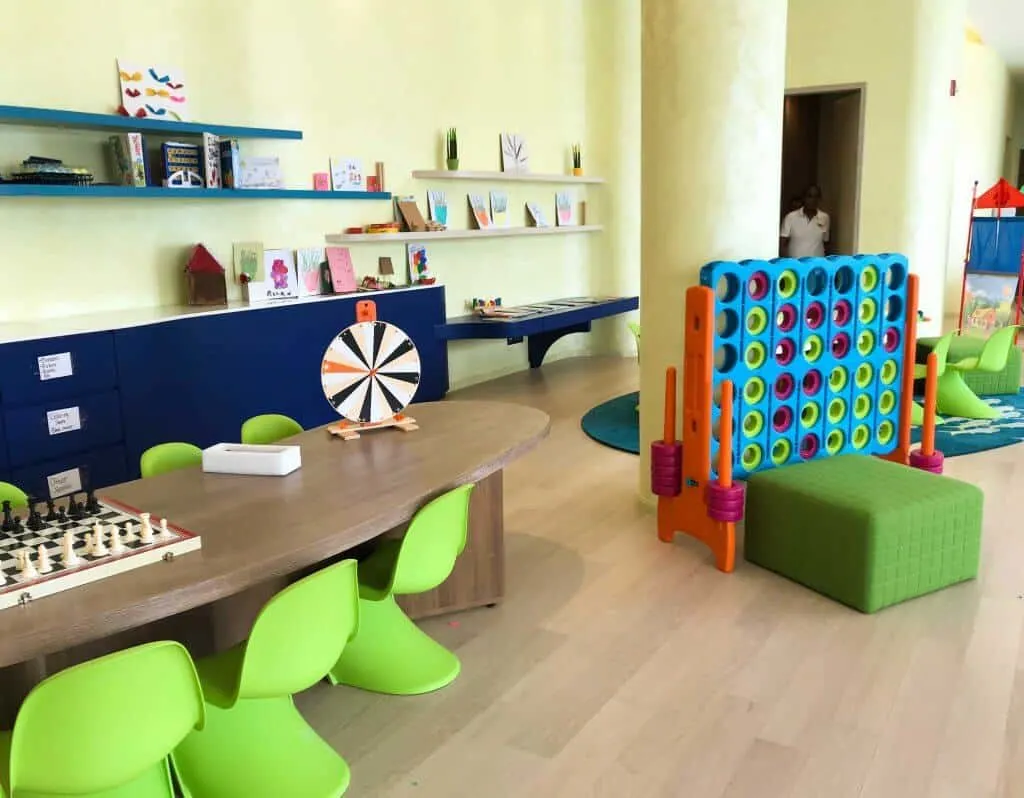 On our first day we were so looking forward to chilling by the pool but it was overcast and a bit chilly. However it was a lovely surprise to find the family pool was heated and could still be enjoyed despite the weather. The food was also amazing, from the buffet breakfast with everything imaginable, to lunch at the Olive Tree restaurant and the late night pizza at the bar!
Everything was so good and we always found something for our preferred vegan diet, it wasn't difficult at all. Of course the Middle Eastern, local type food was the best! I found myself eating it for almost every meal.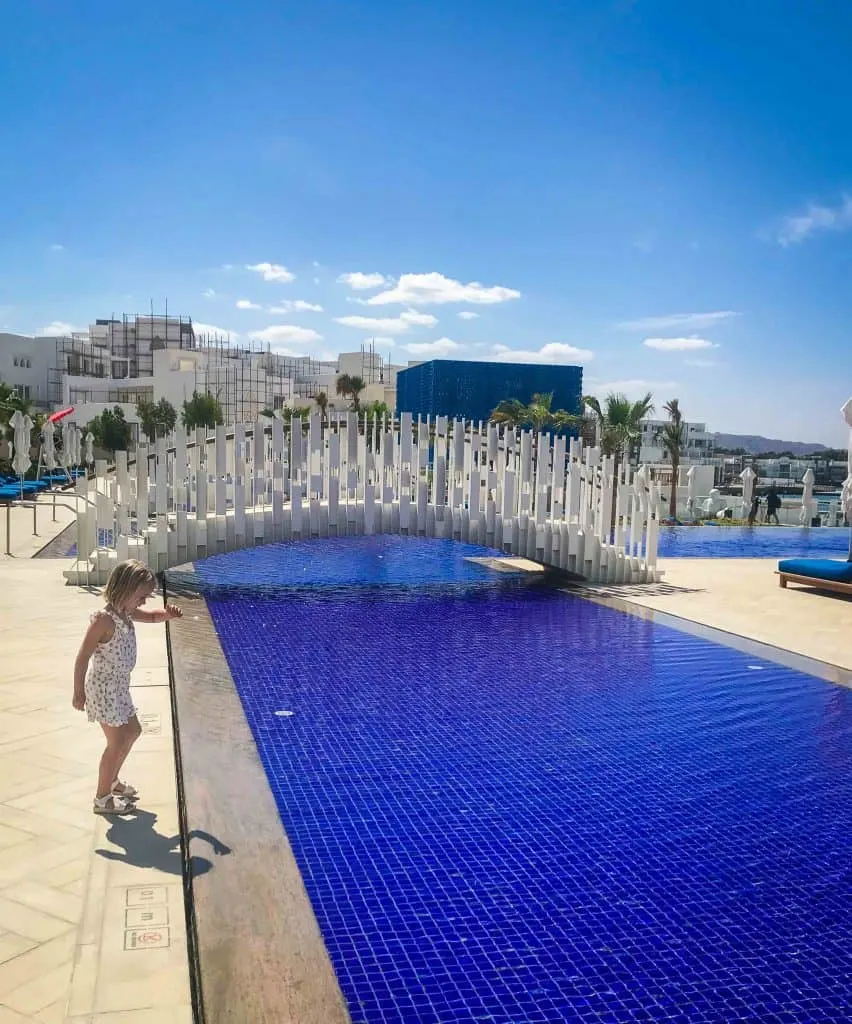 We stayed in a suite that had a separate living area from the bedroom. We all know that's a win when travelling with kids. Featuring a lovely balcony to catch the sunset, and a dining area in the living space, it could be used as a multi-purpose room. The beds were super comfy and the room was definitely spacious enough to house a single bed for our girl.
The walk-in bathroom was huge, with a bath, shower and separate bathroom. It was definitely an ideal space for families in terms of room and configuration. The kids were absolutely loving their robes that were perfect for their size. It's not often they have them in hotels, they felt extra spoilt.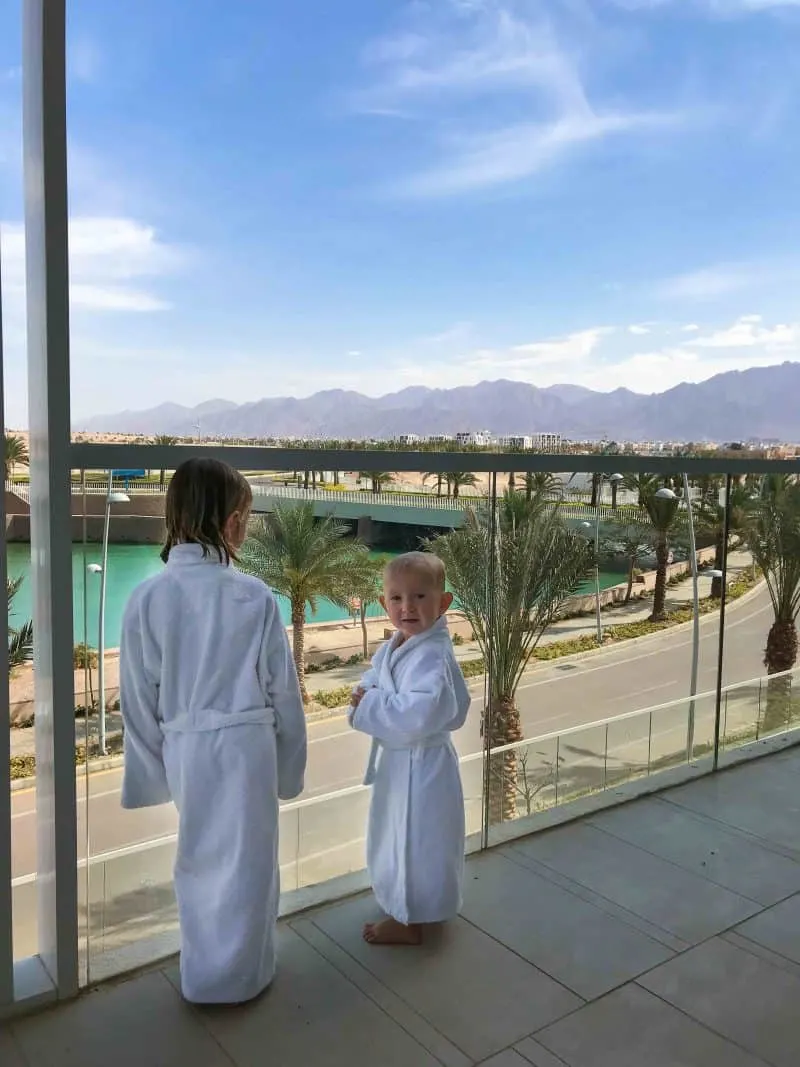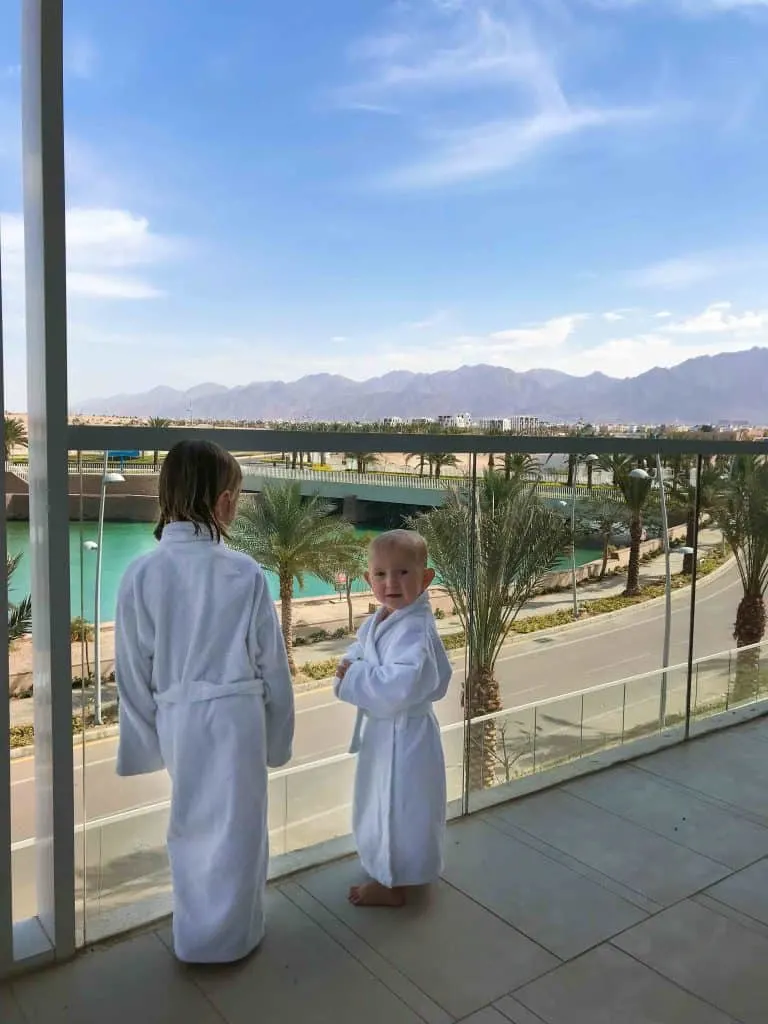 The Hyatt Regency Aqaba had several other areas including an adult only spa and a man-made beach. From plunge pools to lazy rivers it was a super relaxing and tranquil space. We also loved the live music in the bar in the evenings (the cocktails were also great and not too expensive). Hyatt Regency Aqaba rent a selection of bikes from kiddie size with stabilisers to full sized adult ones, another great activity to enjoy during our stay.
RESTAURANT RECOMENDTION IN AQABA
If you are looking for a nice restaurant in Aqaba the Sheikh El Harah restaurant was really good! It's a small traditional restaurant with a very friendly and accommodating owner. We ordered a few tasters as starters of local foods and it turned out to be a massive spread that could have definitely been suffice for a meal.
We had already ordered a main before realising that, so if you go, make sure your hungry, or just stick with the traditional tasters. It was super affordable and the food was great, not to mention highly recommended by locals.


WADI RUM, JORDAN WITH KIDS
We've previously visited the desert in Abu Dhabi with the kids, they really loved the experience so we were excited to visit Wadi Rum with them. Wadi Rum is unique in the sense the sand is almost red in colour and there are some incredible rock formations around the desert.
We were blown away by the stunning landscape. At only an hours drive from Aqaba, wether you'll choose to stay or not, is the perfect distance with little ones. We always tie our road trips in with nap time so it goes (hopefully) as smooth as possible.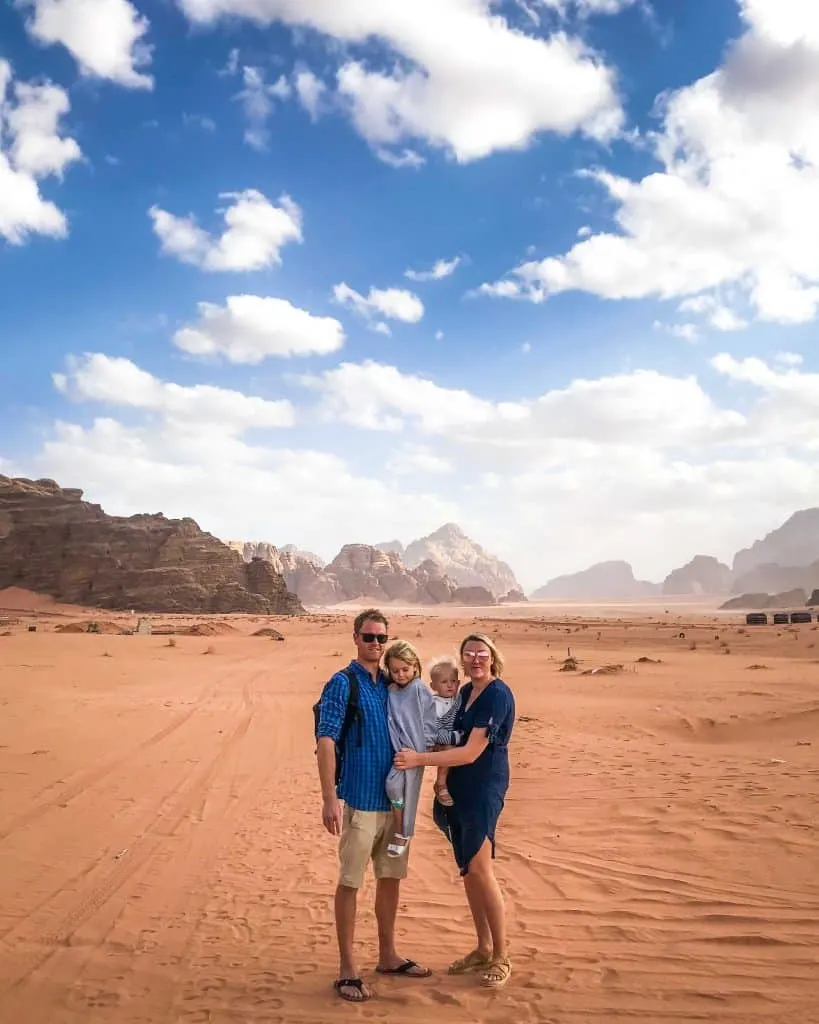 There are quite a few glamping sites in the desert that offer unique overnight stays in an igloo style tent. Complete with a double bed, stunning views and a ceiling window for seeing the stars from your bed, it's the ultimate Jordanian nature experience. Most of the camps have camels hanging around and offer jeep experiences.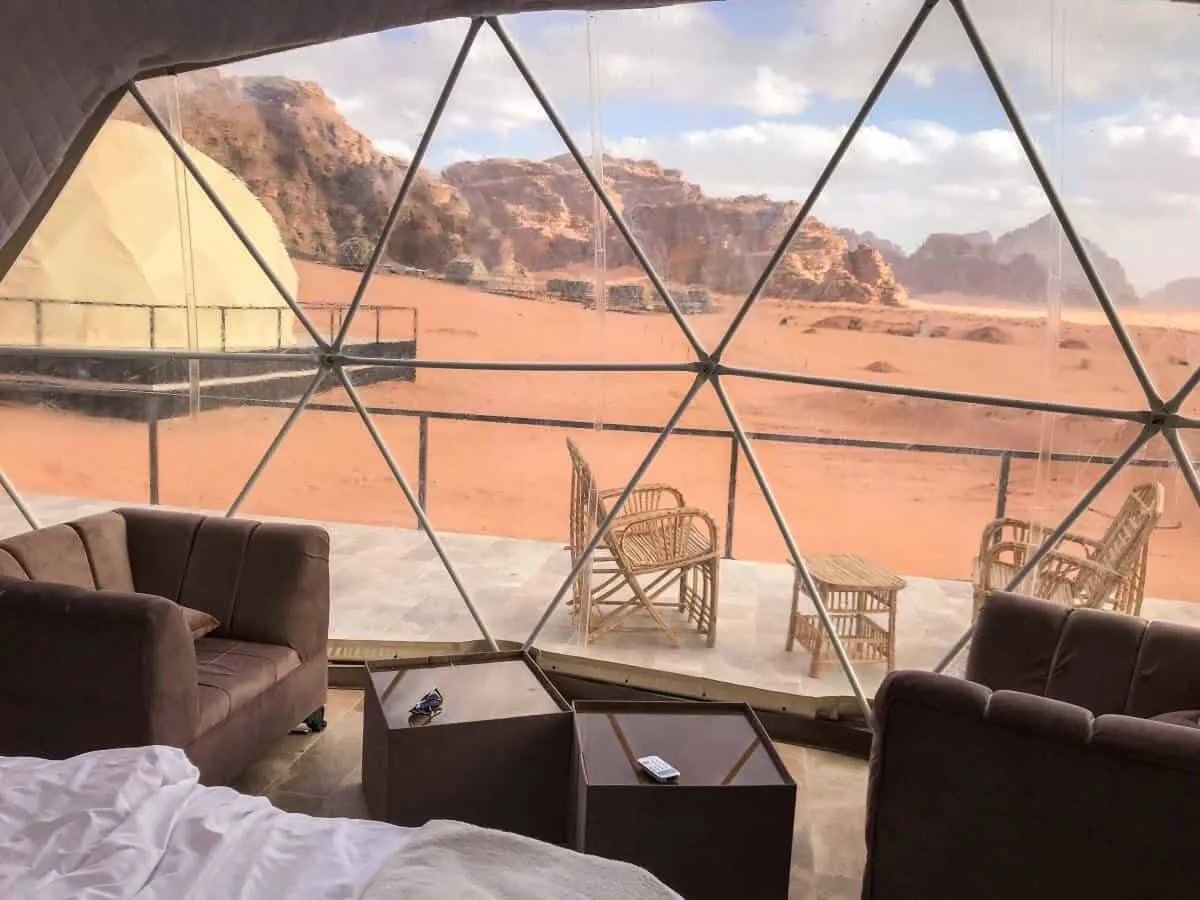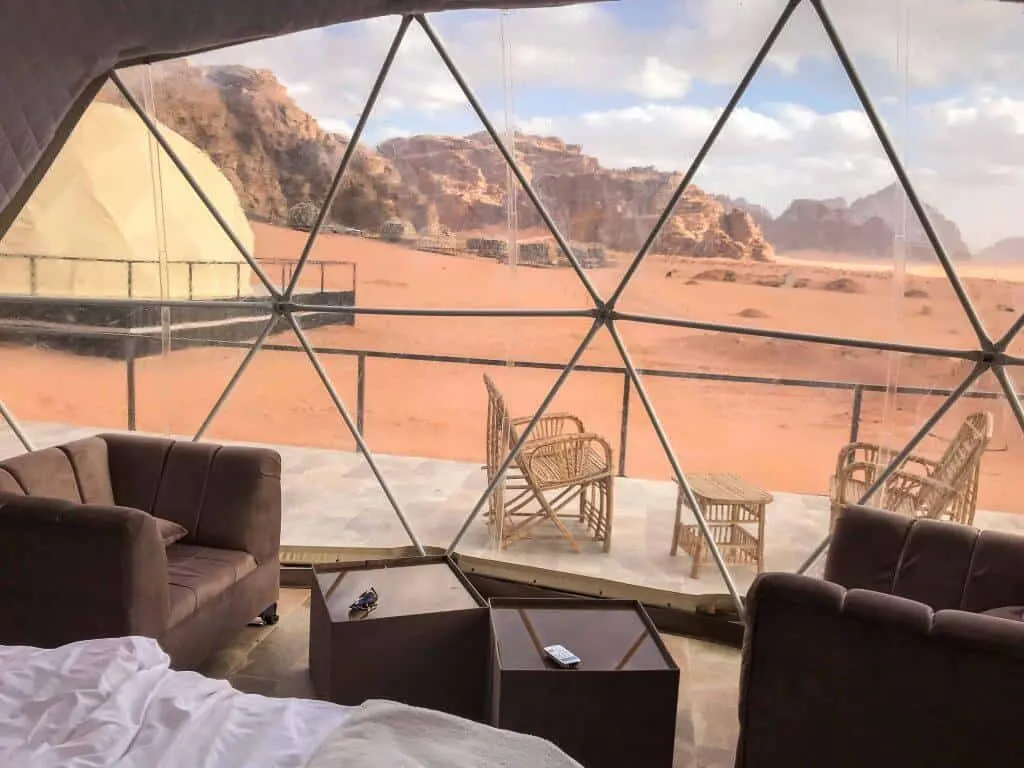 We went to the desert to watch the sunset from Hasan Zaweidih Camp and stayed for a buffet dinner with some entertainment afterwards. The kids absolutely loved the simple experience of playing in the sand and seeing the camels (we didn't ride on them).
Our daughter gets a little car sick and I felt going up and down sand dunes in a jeep wouldn't go too well so we decided to hang out at the camp instead. There are a tonne of different options out there but I can definitely recommend the camp we went to for stunning views and the food was great, the entertainment was mediocre.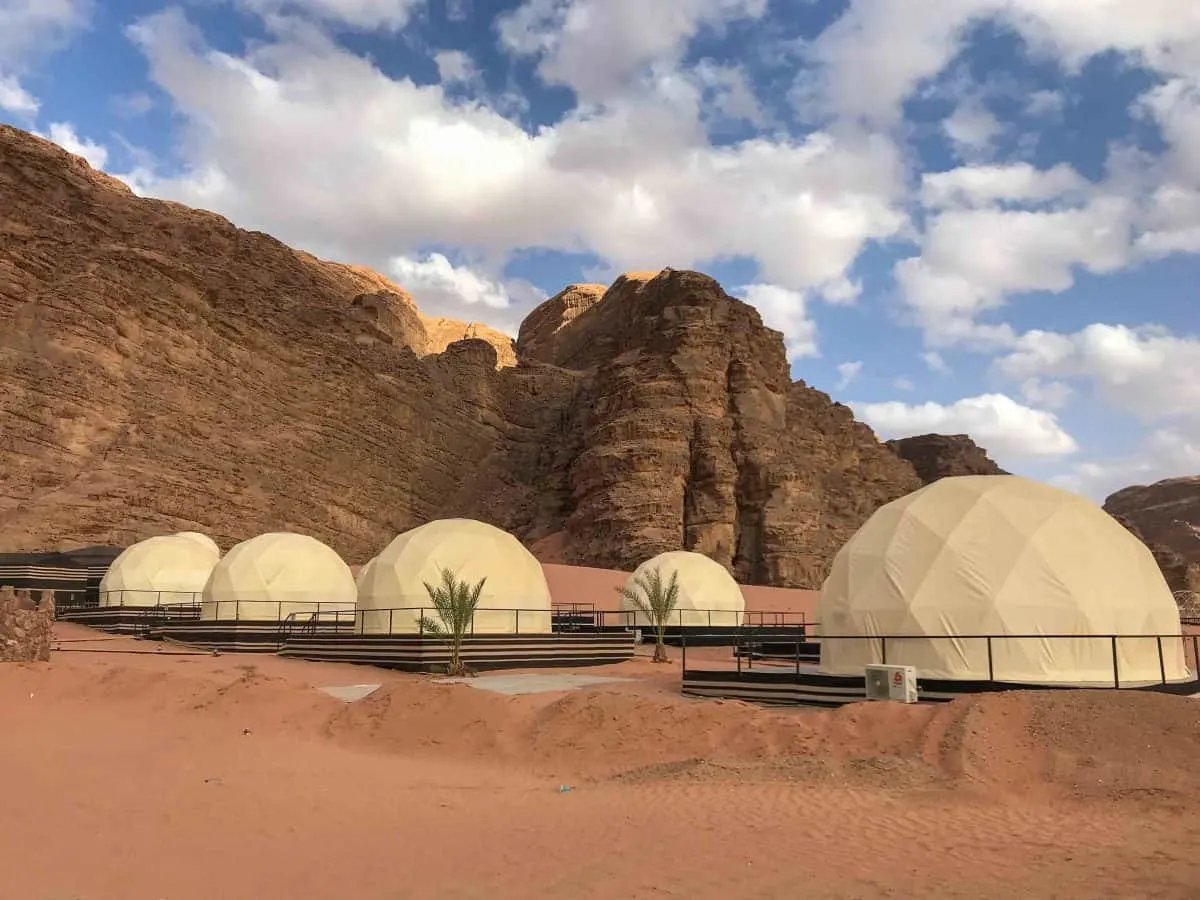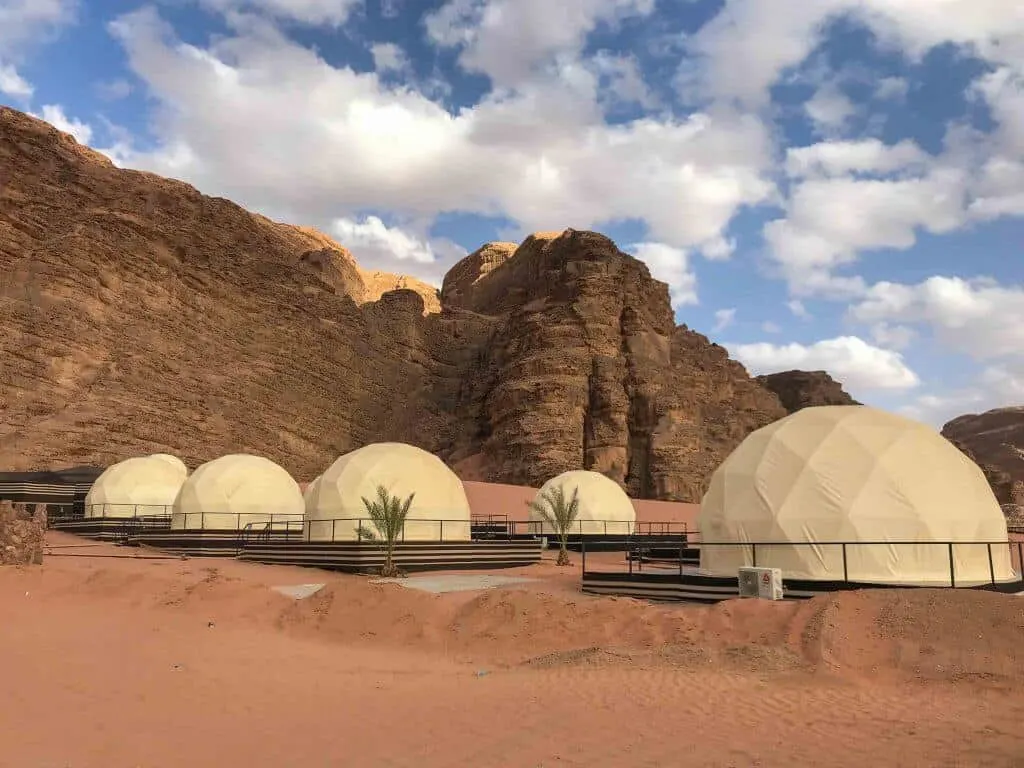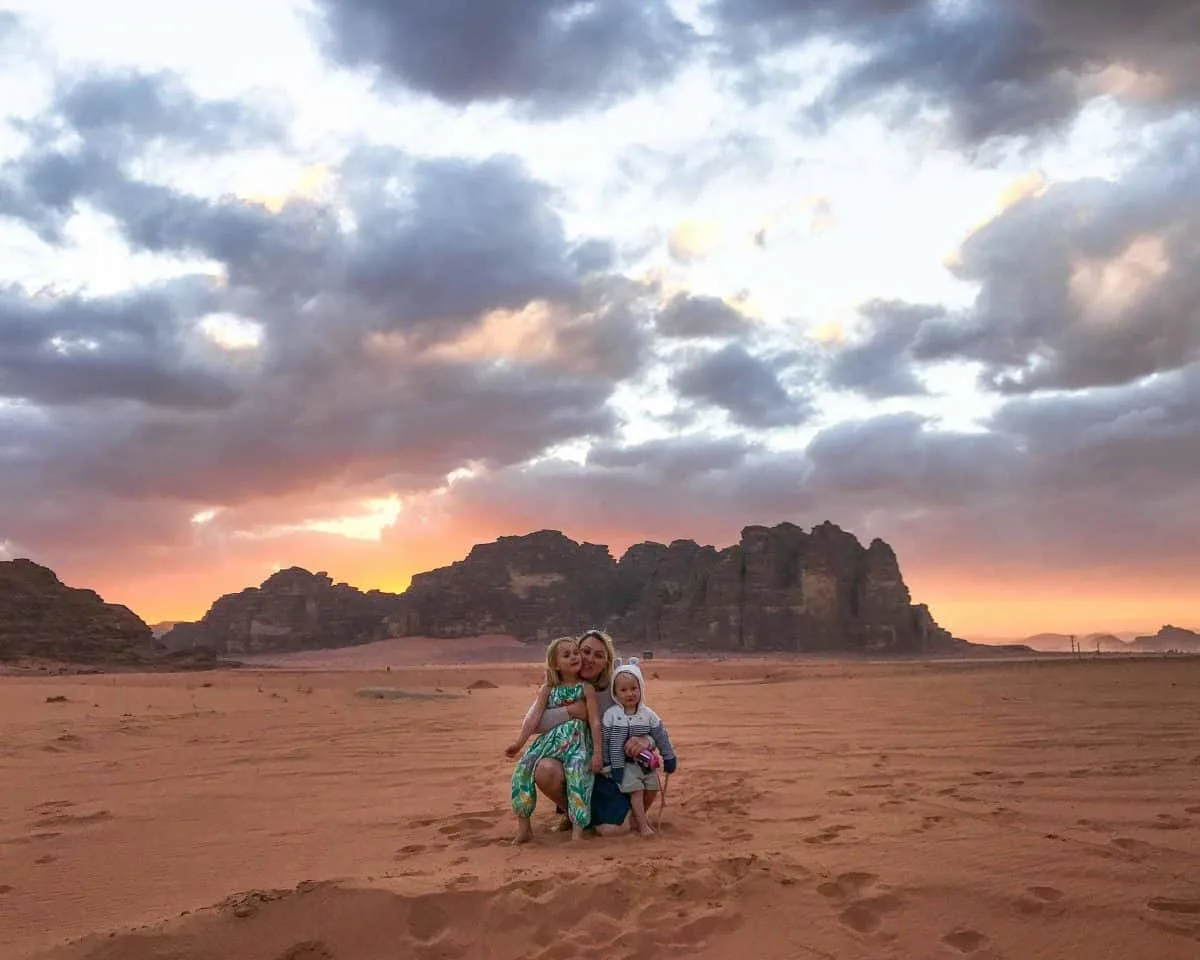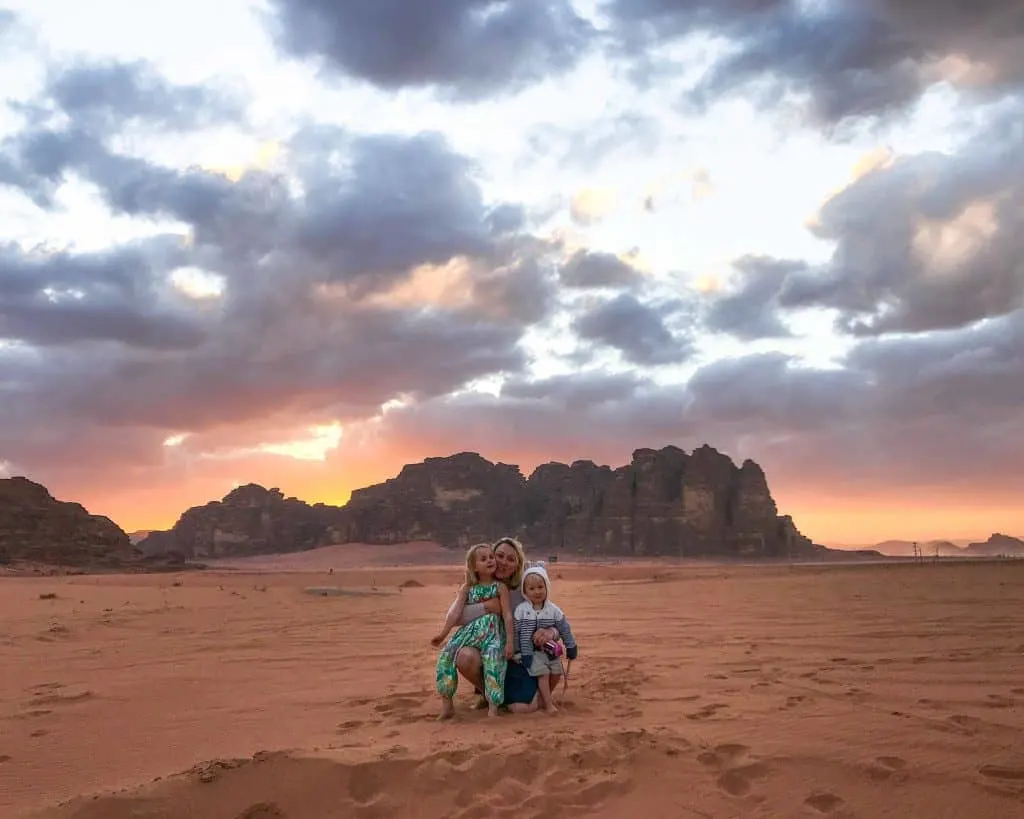 PETRA WITH KIDS
Petra is about a two hour drive from Wadi Rum Desert and equidistance from Aqaba. We chose to let our little ones play in the kids club before we left our hotel on the day as we weren't too sure how much they'd enjoy Petra and obviously the drive to get there. Hindsight is a great thing but we should have stayed nearby that day. Especially as we had an early start the next morning.
We arrived around lunch time and ate at a popular buffet restaurant just at the top of the hill after the entrance to Petra. Conveniently, we could also park there for free whilst we were in Petra! We brought our big stroller with an off roading tyre on the front
so that we could navigate the canyon walk with one kid inside and I took the younger one in the carrier.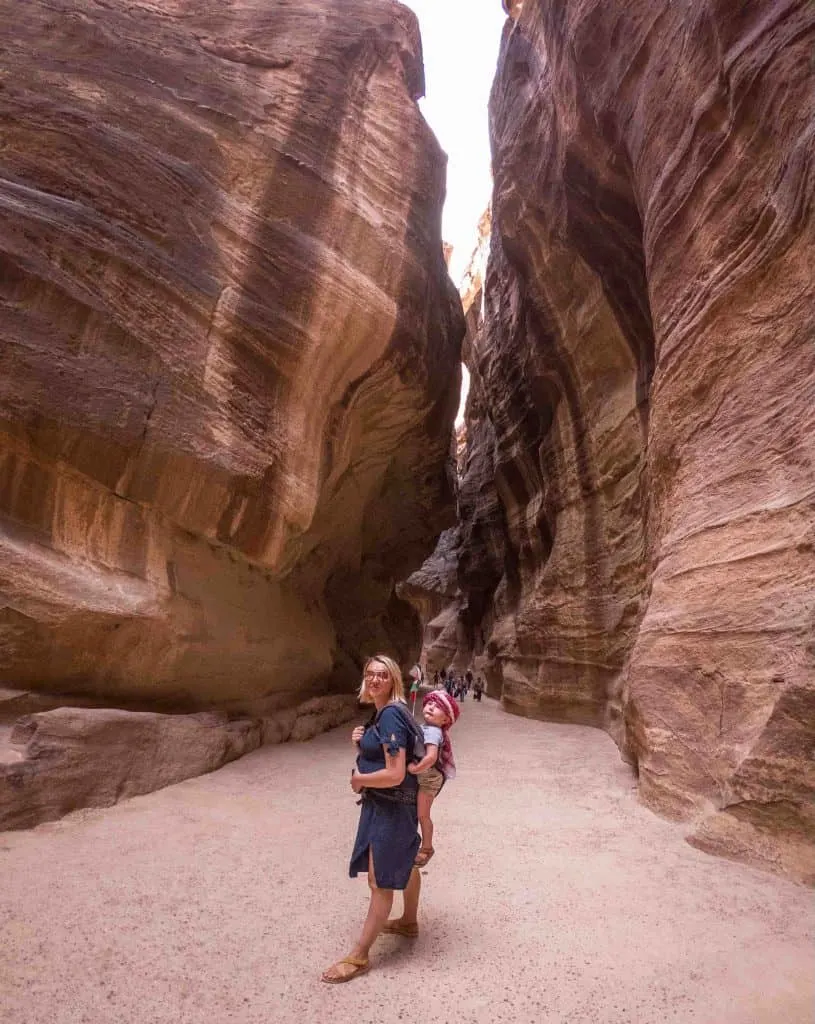 At the front gate there are souvenir and snack shops if you need to stock up before the 40 min walk. It's not a strenuous walk in my opinion, meandering through a beautiful canyon, you might find it takes longer if you are stopping to take pictures.
There are a number of horse and carriages racing through the same area and to be honest they take no prisoners when it comes to stopping for those on foot. I can imagine there must be accidents along there and for that reason I was so glad I had my kids contained either in the stroller
or the carrier
.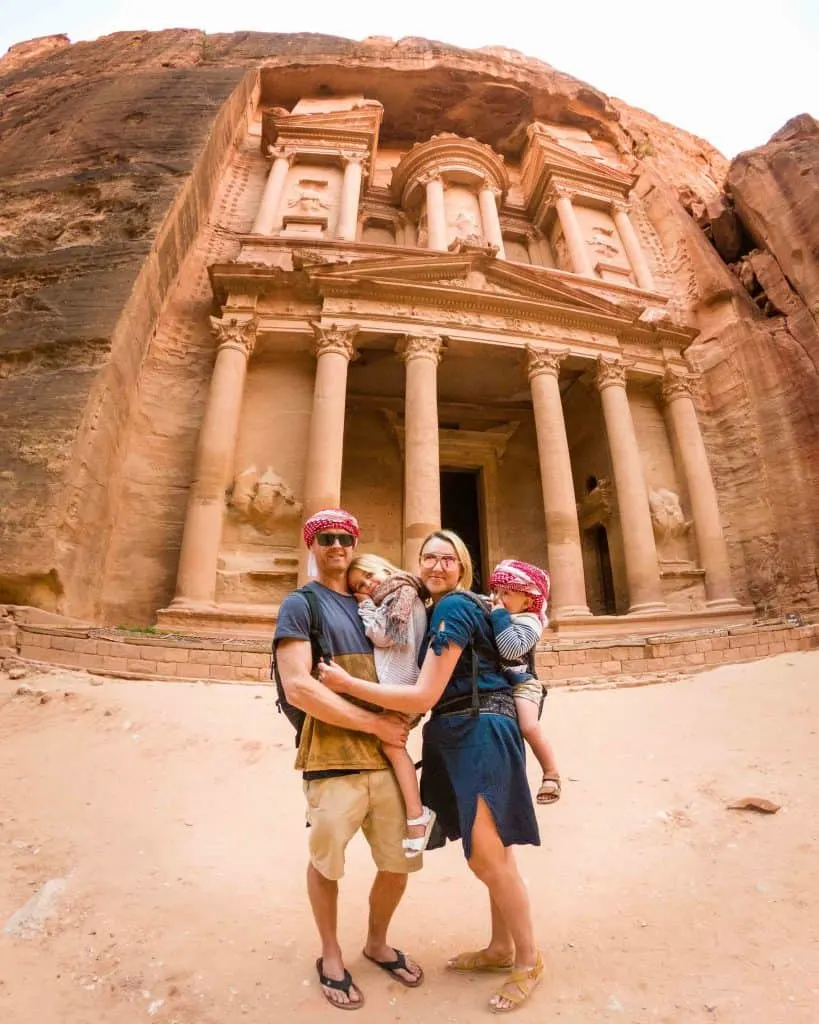 After our 40 minute walk we finally emerged from the canyon at the treasury. The rose coloured architecture carved into the rock face is one of the seven wonders of the world! It is truly a mesmerising piece of history and something that will be etched in my mind forever more.
I also won't forget the guy who argued with me for taking a photo of his camel and demanded I pay him. To be honest I wasn't even photographing the camel, he just so happened to be in the background. You'll find a few pushy men dressed like pirates of the Caribbean touting for your business.
In honestly they are slightly intimidating and can taint the experience somewhat but I found a firm 'no thank you' was enough to stop one person persisting but it wouldn't be long before another was asking us the same questions.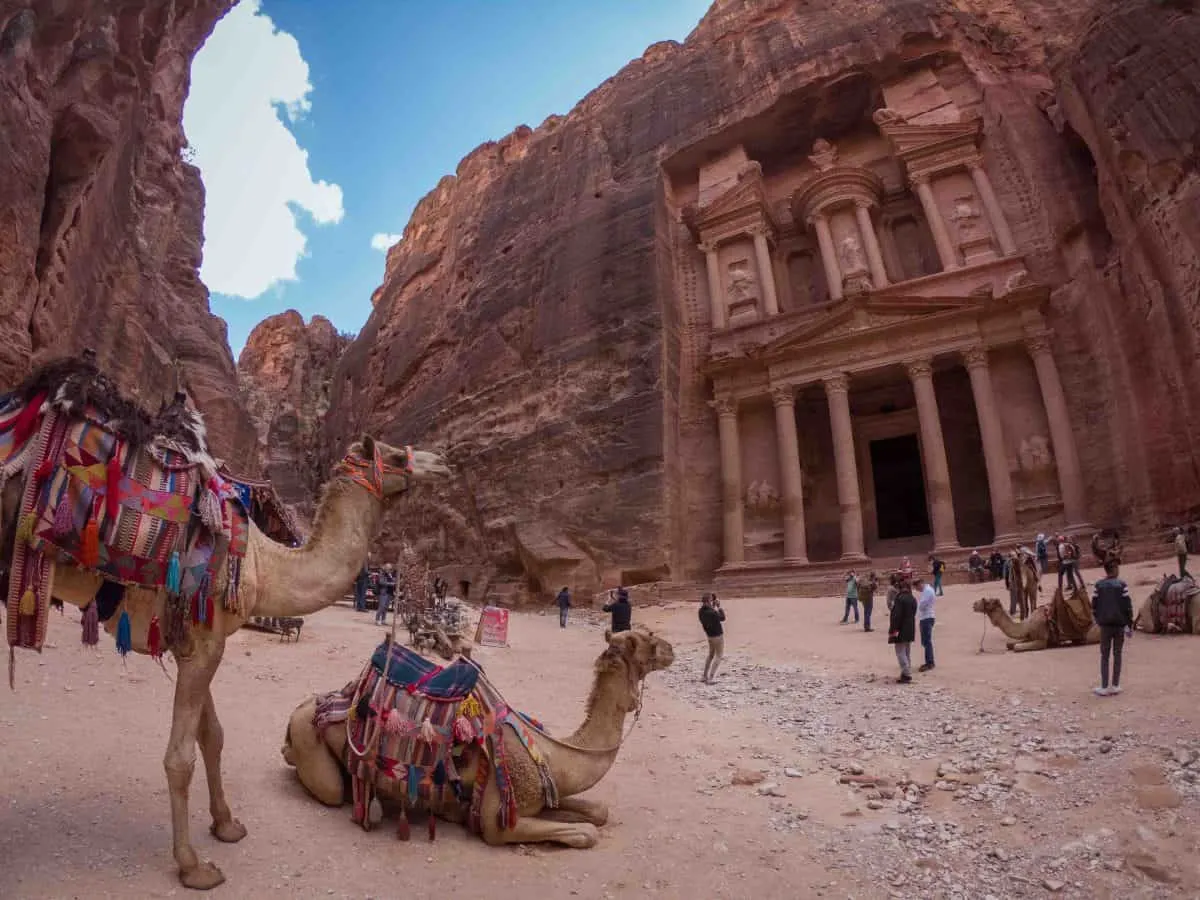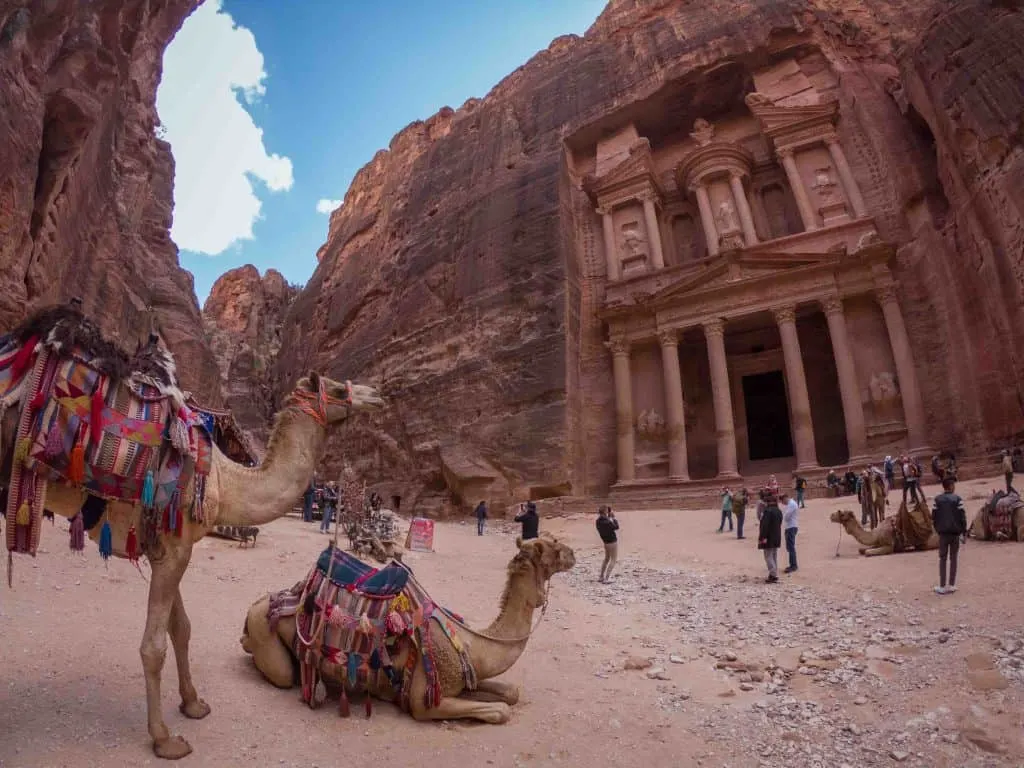 There is an onward hike from the treasury that a lot of people say is amazing but it was almost 4pm by the time we reached the pinnacle point so we decided to turn back. They say arriving at the treasury for around midday is the best time in terms of lighting if you are interested in the photography side of things!
DEAD SEA
There are plenty of things to do in Jordan. However, The Dead Sea is an experience for adults, not kids, as I learned from my mistake! As we all know it's the lowest point in the world and the most salty water imaginable, allowing you to float unaided on the surface. The salt is just too much for little ones sensitive skin. I'm the first person to throw my kids into new experiences but I hadn't done my research and I can't tell you how guilty I felt after!
They literally only got water on them for a few seconds (they didn't have sensitive skin to my knowledge before that) and they both reacted badly with stinging skin and a rash. So moral of the story is probably not to risk putting them in the water.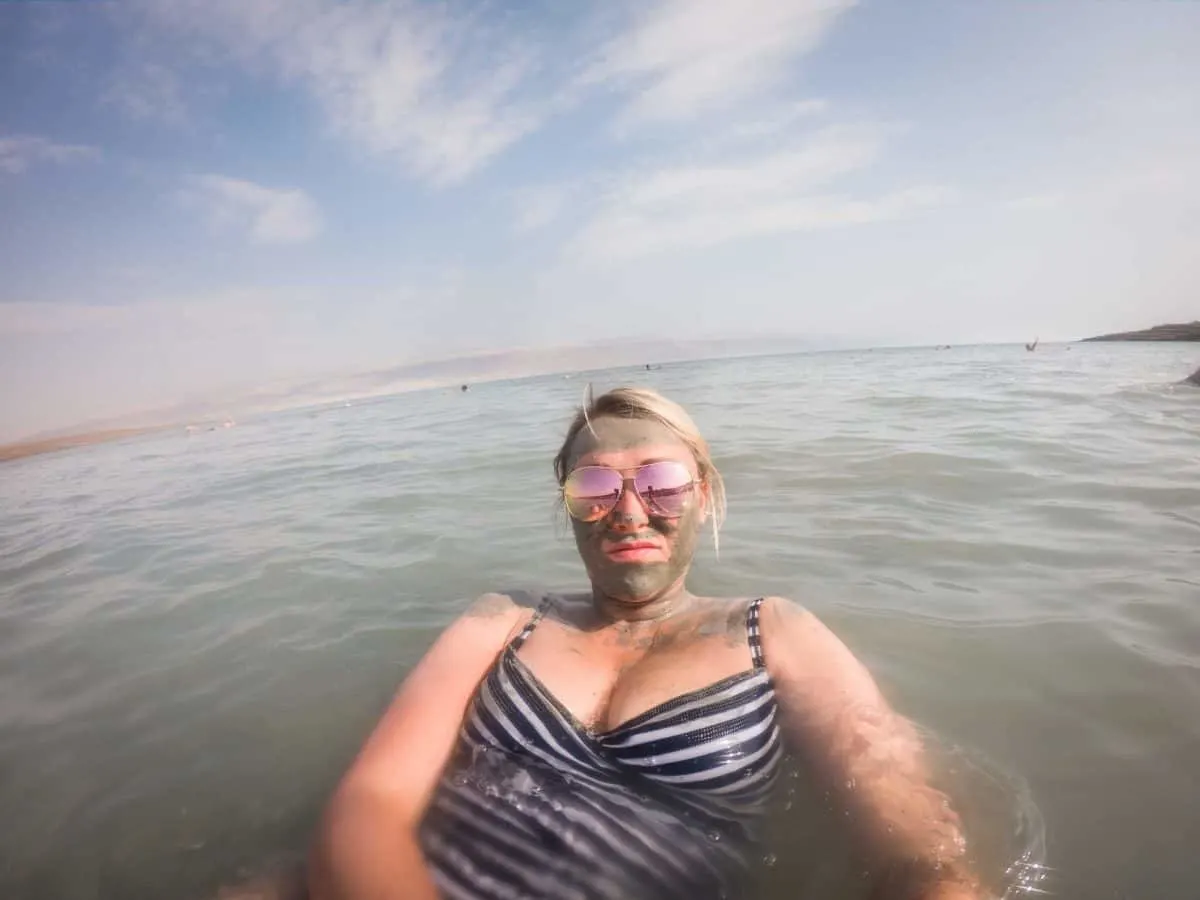 If you want to try it yourself, maybe taking turns with another adult could be an option? My kids were happy playing on the beach once they'd rinsed off in the shower. You can find natural mud full of minerals on the shore of the Dead Sea and most people lather their skin in it before jumping into the water and washing it off. It's was a surreal moment and something worth experiencing!
IN SUMMARY …
So that was our trip to Jordan with kids in a nutshell! I feel 5 to 6 days is the ideal amount of time to see everything whilst also incorporating relaxation, and of course playtime for the kids. If you are there for longer then try a 10 day itinerary.
Wadi Rum and the kid's facilities at the Hyatt Regency Aqaba were a highlight for the kids, whilst diving and the walk to Petra were our favourite moments!
The Jordanians are incredibly friendly people and so welcoming of families. I definitely recommend it a destination to explore the culture and unique landscapes. I hope our guide has been helpful if you are thinking of planning a trip to Jordan with kids.
Maybe you've been to Jordan already and have advice for other readers? Either way we love hearing from you so leave a comment and we'll get back to you.
Ready to book? Find the best deals on travel insurance, flights, and reliable internet!
Disclaimer: Our stay at Hyatt Regency Aqaba was complimentary in return for an honest review. As always, all views expressed are entirely my own.
You May Also Like: