I've made myself a big promise since coming home from our travels. I bought a car when I was pregnant with Esme, and fell into the habit of driving everywhere ever since! I could not be bothered with public transport when I was pregnant, especially in London.
I still think we are going to need one come winter, but I really want to get away without buying one until at least late Autumn. My main motive is to build up my fitness. We live in the highest point of London, Crystal Palace.
I can't get Esme to walk up and down the hills for long in and around our neighbourhood, and likewise doing it with a stroller can be slow. She's starting pre-school this September and its on the other side of our town.
So, we've decided to get new wheels with a brand new kids bike seat! Its called the Urban-Iki. I haven't been looking forward to the rush of morning school runs, and, I don't want that to be an excuse for getting a car.
KIDS BIKE SEATS
I'm obsessed with the Dutch and their cycling. My favourite type of bike are the dutch vintage sort. How pretty are they? And of course the Urban-Iki kids bike seat is made by a Dutch company too. Its quite modern looking but also looks and matches quite nicely with vintage style bikes.
We went for the baby pink colour. There are a few colours to choose from and all are light pastel. Esme has been asking for a bike for a while now and whilst that would be nice, I'm trying to be realistic. The scooter we got her, she jumps off after ten minutes and makes me carry it.
The tricycle we got her, well, she screams its too hard! So I'm sure you can see the pattern here, right? We try our very best to buy meaningful things and the rest of the money is for awesome experiences for all of us.
Having a bike seat has been awesome for a number of reasons, beyond it being totally practical. Firstly, Esme is contained and I'm not having the nagging conversation, 'come on, keep up love' on route to the shop. Secondly, I'm getting from a to b quickly and building my fitness up.
Oh, and did I mention, its like a child tranquilliser? Seriously! Both of my kids just conk out when they get in it. Now we do have a bit of head bobbing and dribbling going on, but it's totally worth it in replacement of rocking the buggy for over an hour, or bouncing on the spot in a dark room with babe in arms.
The Urban-Iki is super slick and light weight. I loved the design, and as I mentioned it blends in with just about any bike, especially my Dutchy favs! Do you ever make the fatal mistake of telling your child about something before its actually ready?
" We are going to the cinema today love".
Child – " I want to go now".
Me – " Erm yeah, its on in an hour".
Child- " I WANT TO GO NOW".
It's the typical school girl error.
KIDS BIKE SEATS
I did it again the other day. "Right Esme, do you fancy going for a bike ride in town?". Yeah now, now, now, she said with excitement. I couldn't believe I'd done it again. Off I trot with the help of Travel Mad Dad to set it up.
Knowing she was going to be standing there impatiently excited, we were on a time limit. Remember that show Crystal Maze back in the '80s? It was like one of the tests in that. How quick can we get the bike seat on before its game over? We were pretty relieved that it's EASY and quick to set up!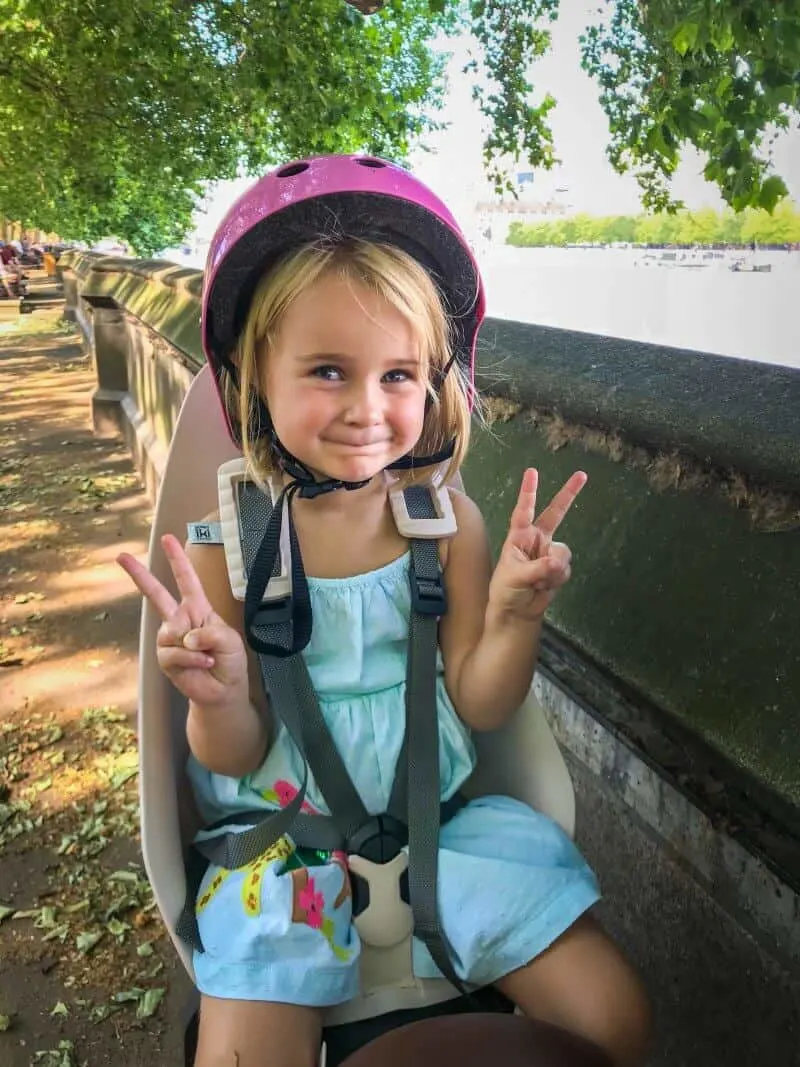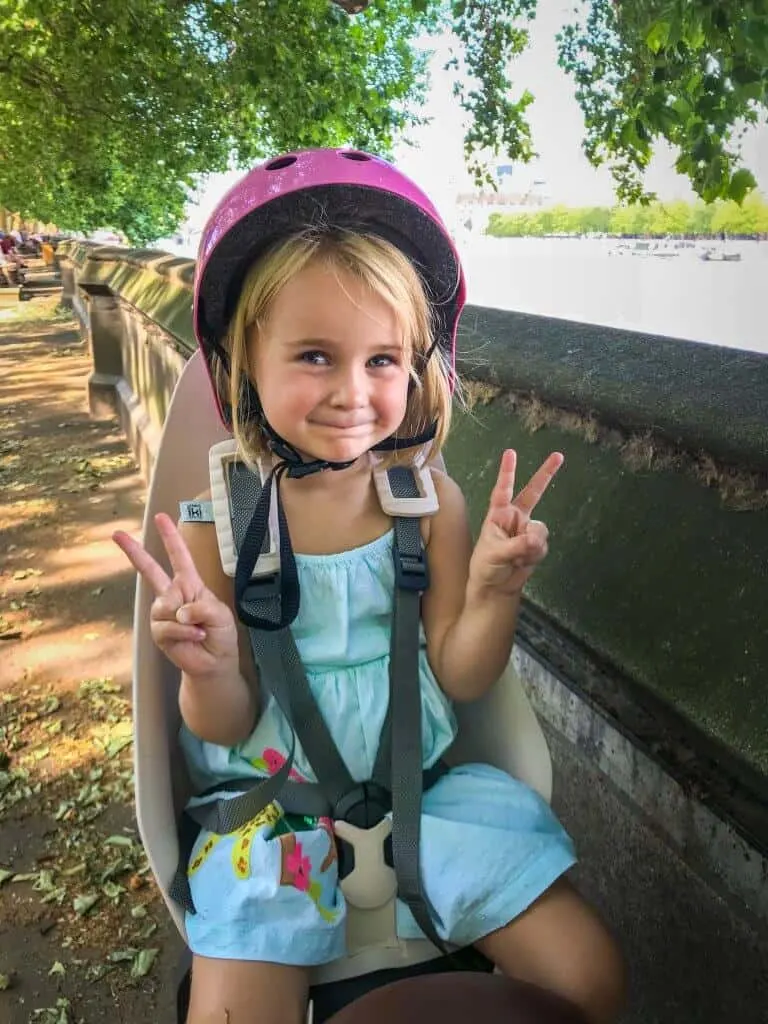 KIDS BIKE SEATS
It only took a few minutes with the very simple instructions to get it nicely secure to my vintage Dutchy! Just four screws with an Allen key and a nice panel to cover it over. I managed to take it off very easily too. Now you know I mentioned about the head bobbing and the dribbles?
Luckily its nicely secure keeping Esme snug with the four point harness strap. Its very easily adjustable to both kids and the clips aren't like one of those fiddly buggies that no one can figure out. Likewise, when she wasn't in a deep sleep the back was high enough for her little head to rest back on.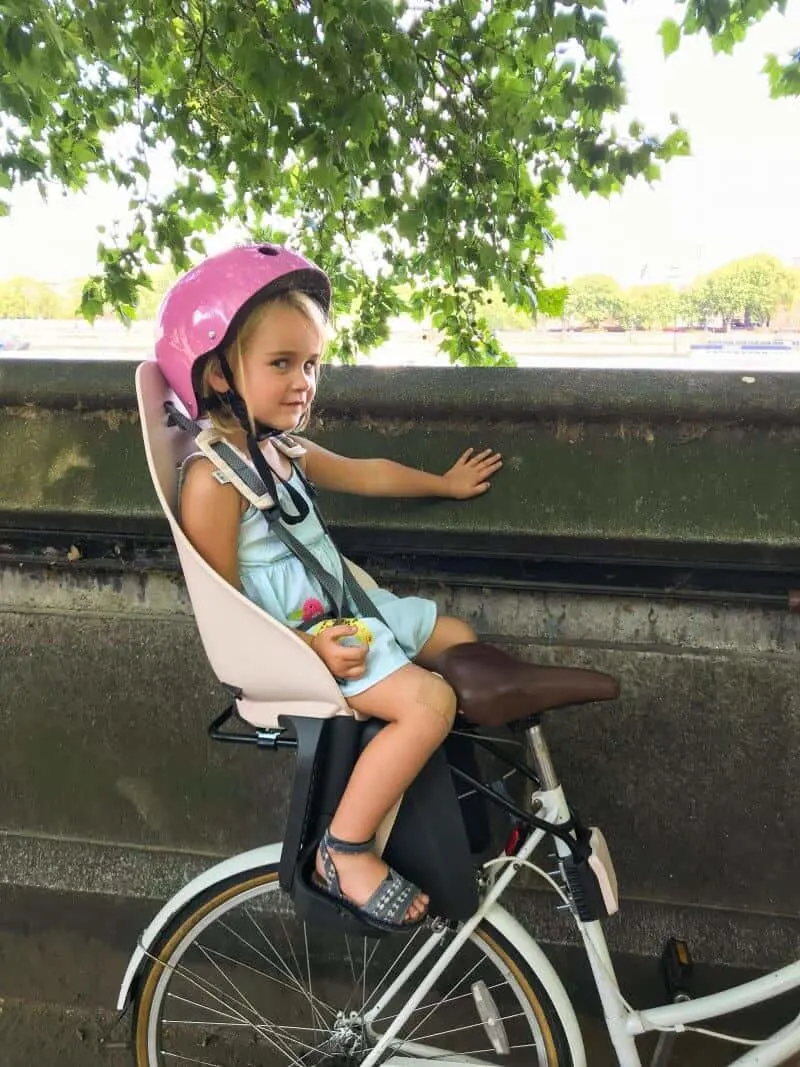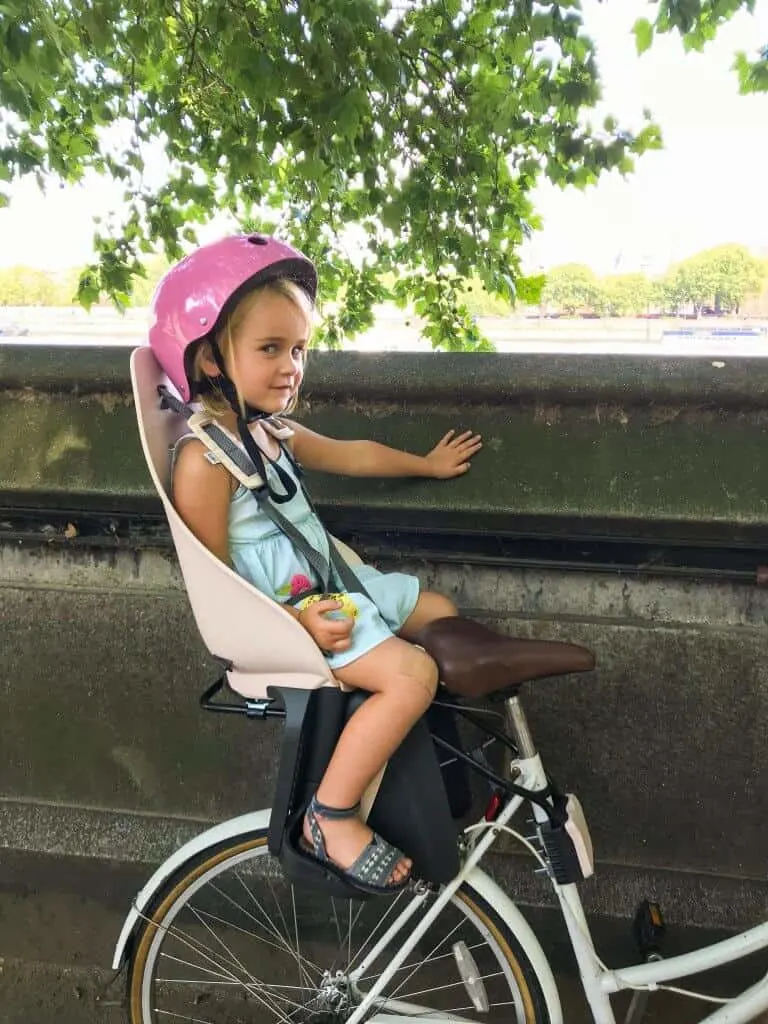 Her little feet had somewhere to sit rather than dangling. I think thats important. I always remember a dietician telling to make sure little ones feet are supported when they are in a seat. The point being is they won't get pins and needles in them from dangling.
They also had a little strap for her foot. To be honest, either she is the Incredible Hulk, or she just didn't like the strap, but she kicked it off a few times.
What I love about the Urban Iki rear seat is its longevity! We are going to get plenty of use out of it. It can take up to a 22kg child! Likewise, we can take Quinn in it. Little ones from 9 months up are safe to travel in the Urban Iki.
If you have read my blogs before you will know both of my kids outgrow things quickly. They have been like the Giant Beanstalk from birth. Its always good to know we will get good use out of a purchase for our two very tall babes.
This post about bike seats for kids is sponsored by Urban Iki.