For any first-timer to India, the culture shock smacks you in the face and awakens the senses. The colours, the chaos, the noise, the smells!
This is not a destination for the faint hearted so its worth considering tips for travelling in India with kids. However, for those intrepid families who yearn for something different, India may be one of the most magical places you encounter if your up for the challenge.
Due to a secondment through my husband's work, we spent a year living in Bangalore and took every available opportunity to travel and explore India. There were times when the bureaucracy, noise and congestion would be too much, but my over-riding feeling was that of wonderment.
This is a place where everyday life spills out on to the pavement and it's simply fascinating. Many people believe that India is not a place for family travel. However, if you are thinking about it, I hope these few tips persuade you. You won't regret it.
TIPS FOR TRAVELLING IN INDIA WITH KIDS
1. Where to go – India is a vast, contrasting country. Don't try and cram too much in to your precious time. India can be a sensory overload for little minds and all family members need time process everything. Allow a couple of hours down time every day.
Check out my 10 day Northern India itinerary and then perhaps head to the beaches of Goa (Agonda is our favourite for little ones). If you have more time, a trip to Kerala's backwaters or Hampi will not disappoint. Make sure to check out Pench Tiger reserve!
2. Allow for delays – 
Especially in the big cities, traffic has to be seen to be believed. Getting from A to B always takes longer and the worst thing to do is try to hurry along your kids as they very rarely comply.
3. Go up a notch with your accommodation choice
India is chaotic. To balance this, you need to ensure the place you stay is an oasis away from the chaos. This will give you all a breather and much needed time out. Look for somewhere that includes aircon if travelling in the hotter months, and breakfast, so you haven't got to head out early with hungry kids. A swimming pool is always a winner too!
TIPS FOR TRAVELLING IN INDIA WITH KIDS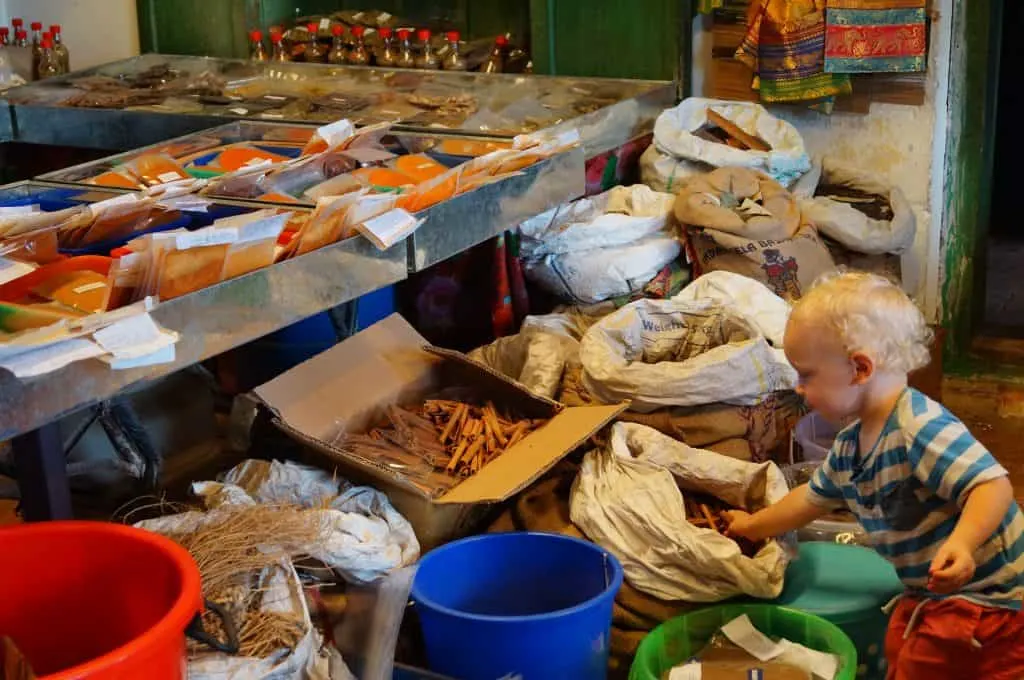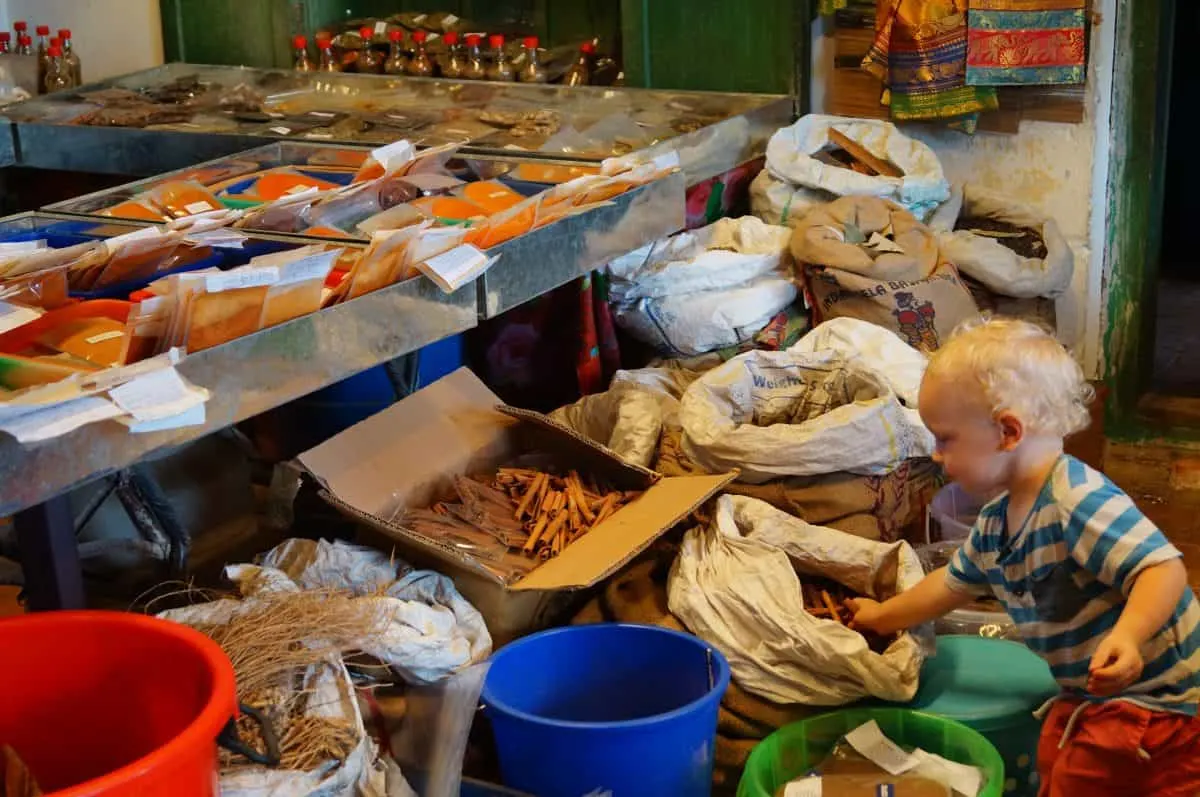 4. Hand sanitiser and washing feet It's easy to get hung up on the dirt in India. It's everywhere and unless you only go to high-class hotels and shopping malls, there's no escaping it. Kids love touching everything – the walls, their feet, high-fiving strangers – there's no stopping them unless you turn into a neurotic parent, which is no fun for anyone.
Kids will be kids. Just have the sanitiser handy before meals and get into the routine of washing feet whenever you get home. Thankfully my boys didn't get ill once during our time in India!
5. Omlettes, rice and naan bread Our kids don't like the spicy food. Most Western kids don't. We tired to give them a little bit now and again, but we didn't want to force it on them. However, as parents we LOVE our curries and we didn't want to go without.
At most Indian restaurants the chef can make a plain omelette or plain rice (although make it clear that 'plain' means no spice, no salt, nothing) and the kids always devoured naan bread. In most touristy places you can get pizzas and chips, sometimes pasta, and there's always a fruit stall nearby (stick to fruits you peel) And here's a little travelling parent secret… McDonalds is okay sometimes.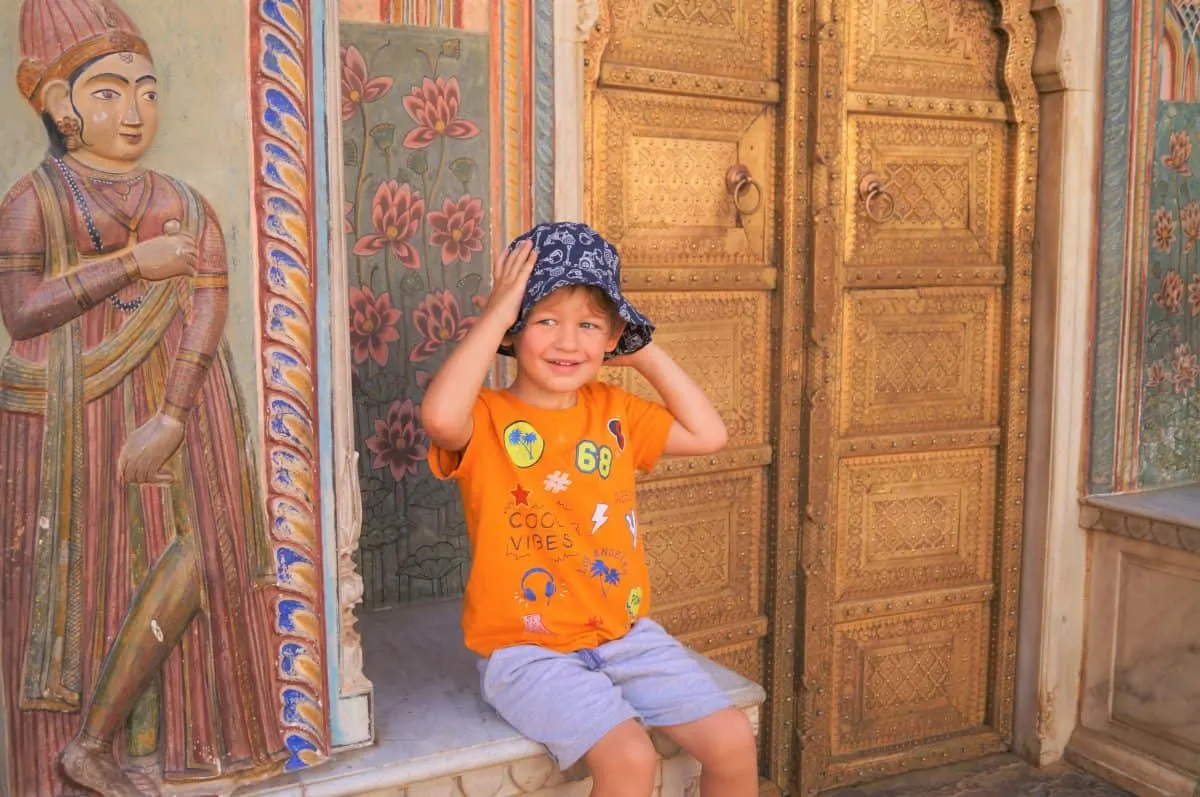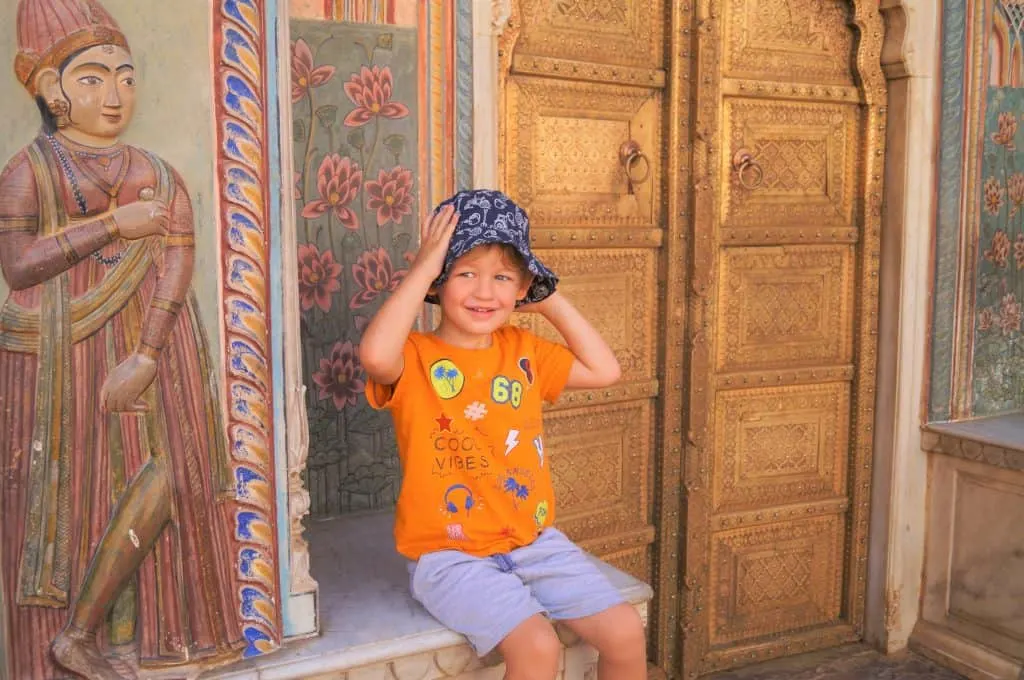 6. Eat where the food is moving – When eating out with kids, it can be tempting to go to a quiet restaurant where your little darlings won't bother anyone.
This can be a mistake as the food is unlikely to be fresh and they'll probably take longer to prepare your food – which means more time keeping the kids happy whilst sat at a table. Eat at restaurants that are busy with locals. It's a good indication that the food is fresh and moving.
TIPS FOR TRAVELLING IN INDIA WITH KIDS
7. Drink only purified water – 
Water sanitation is a big problem in India. Even if you get water from a nice restaurant, ask for bottled water. You just can't trust what comes out of the tap, especially for little tummies.
8. Pack a thermos flask – 
Getting hold of boiling water to heat milk can be a challenge. It's nearly impossible to get hold of on the trains and many hotels don't provide a kettle. However, you can always find someone (either at your hotel or a restaurant) willing to prepare you some boiling water. If you have a good thermos flask, it will keep your water hot for a good 15 hours or more.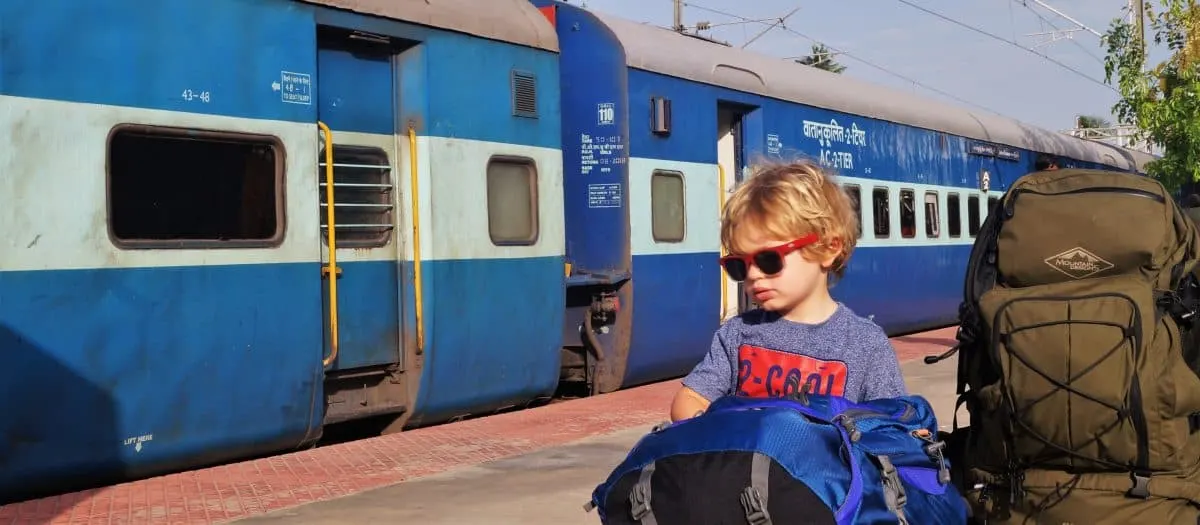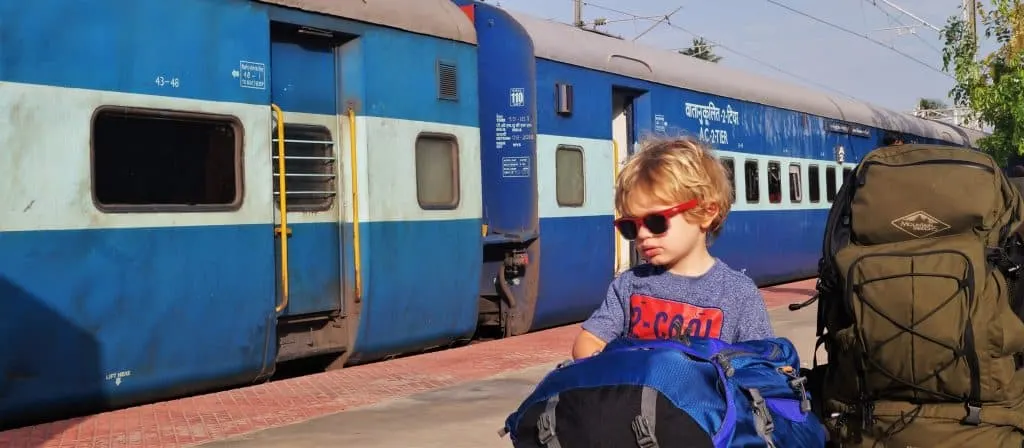 9. Book train travel – as early as humanely possible 
Trains get booked up almost as soon as tickets become available (120 days before departure). If you were without kids, you would be fine bunking down in Sleeper class on an overnight train. However, this isn't really advisable with young kids. We always tend to travel 2AC.
10. Keep your cool – India can be frustrating to the outsider. There are processes in place with checking into hotels, visa checks, booking tickets, and however nonsensical they may seem at the time, rules cannot and will not be broken (unless it involves driving on roads, no one follows any rules there!)
Add to this that seemingly everyone wants your tourist dollar, it's easy to lose one's cool. It's easier said than done, but at the end of the day it may just be easier to pay that little bit more, go with the flow, or just walk away. Do you really want your kids to see you lose your temper with someone?
TIPS FOR TRAVELLING IN INDIA WITH KIDS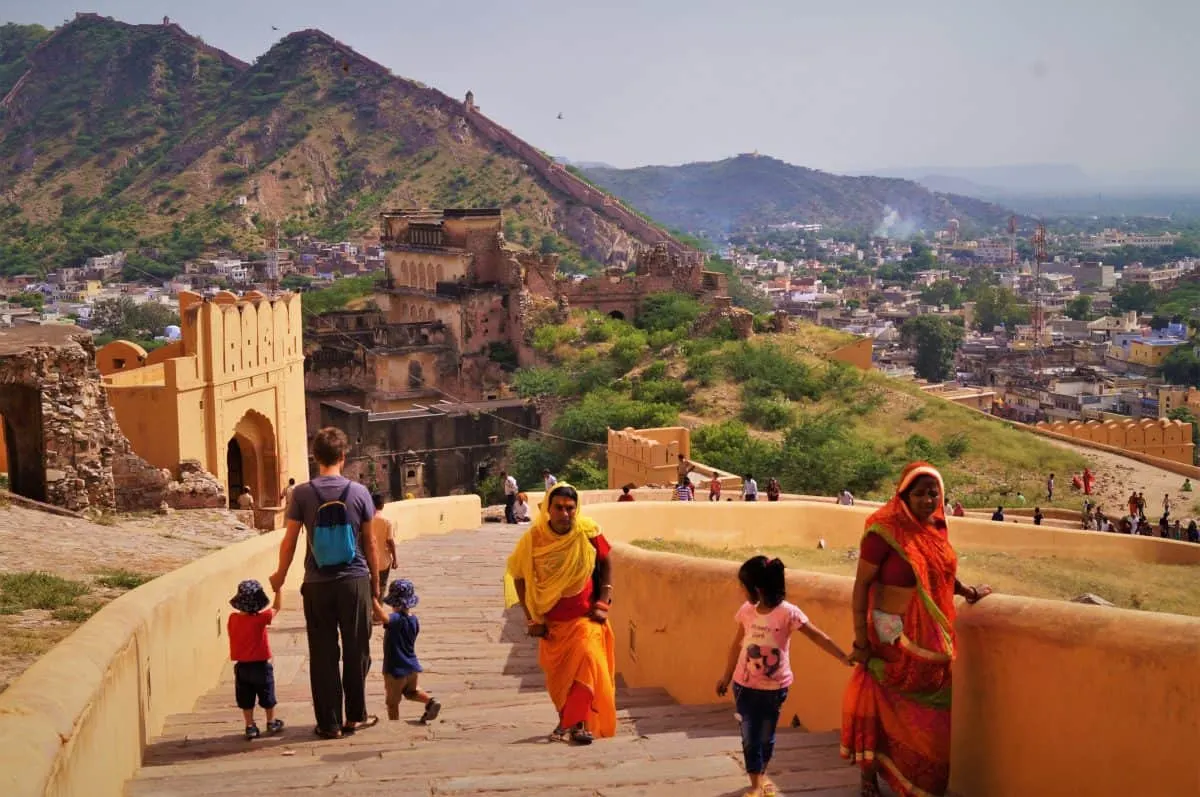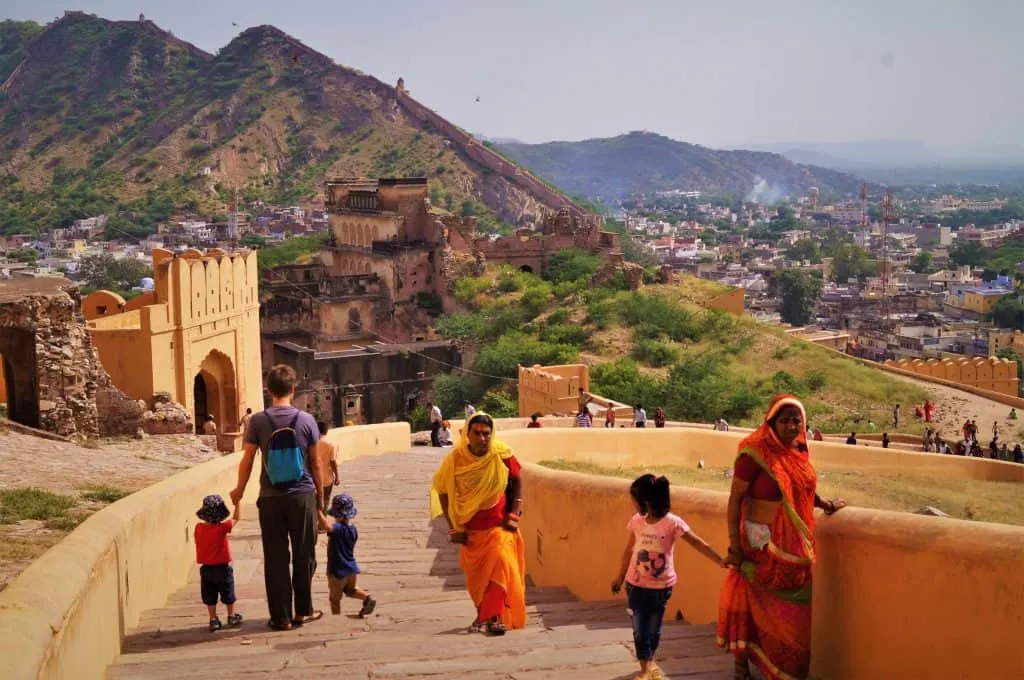 11. Learn to say no to photos. Within days of living in India, our boys were over the selfie requests. They had had enough. That doesn't stop people coming up to them, grabbing them, picking them up and posing. Be firm, polite and just say 'No'.
They may object, but as soon as you explain that it's your child saying no, they more often than not leave you alone. Though be warned, that they will still be snapping away at you and your family as you walk away.
12. Respect the seasons – India is a country of extremes and the weather is no exception. In summer months, temperatures can soar to mid-40s and the monsoon season makes some destinations almost impossible. Plan your travel for the milder months and your family travelling life will be much more comfortable.
The time to visit most of the country is November through to March. Escape the summer heat and retreat to the mountains between July and September. No matter what time you go there will probably be a festival going on! Check out this guide to make sure you get to experience Indian festivals on your holiday!
GUEST WRITER BIO
Jenny is a family travel blogger from the UK and is on a mission to dispel the myth that adventure has to wait till the kids are older. Her two boys (aged 2 and 4) have hiked to 3000m in the Nepalese Himalayas, meditated with monks in Thailand, ridden tuk-tuks across Sri Lanka and after a year living in India, they are now embarking on a 4 month overland adventure through Africa in a Land Rover Defender.
You can follow TraveLynn Family on:
You may also like: