When I first booked flights to South Africa, I had no idea it would be such a mission to find a lodge that would allow an overnight safari with a toddler.
Just to give you a little overview on how it works – there are many safari parks in South Africa that you can self-drive through and this works really well with a toddler, however, it is really special to do an overnight stay so you can get the best viewing of the wildlife. Having a safari driver is so much more educational than going by yourself.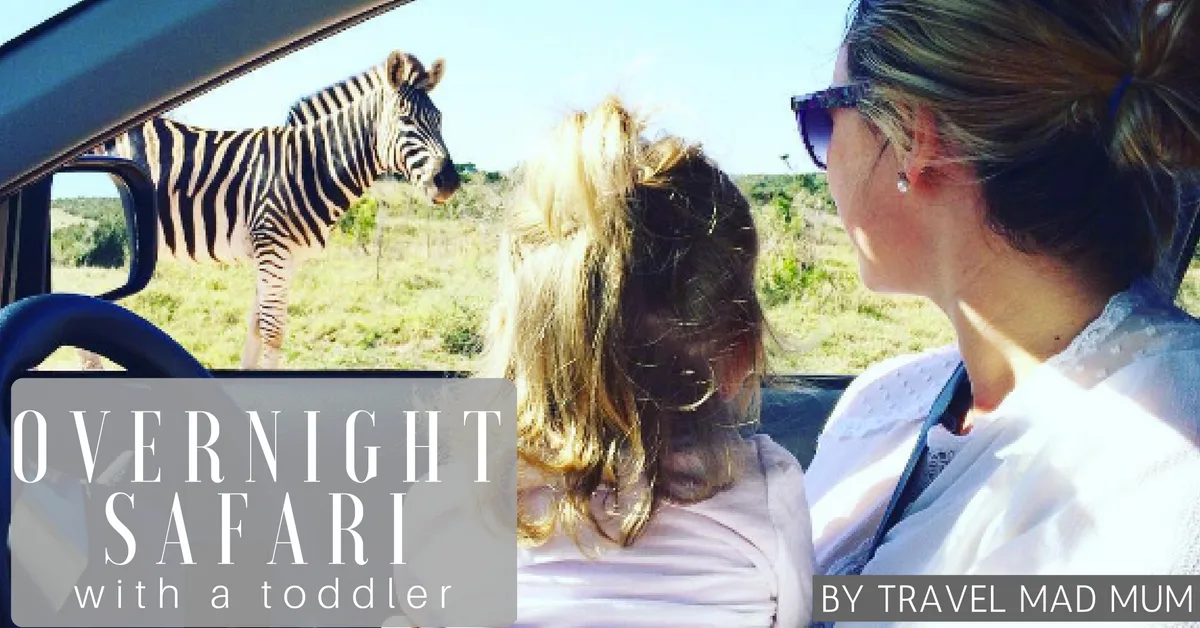 Overnight safari with a toddler
We spent a night at Riverbend Lodge, about an hour and a half from Port Elizabeth where we landed. I guess you could say Riverbend is more specialised in young families as our driver told us he takes young children and babies on drives pretty much every day.
The beautiful gated premises has views over the park, so animals can sometimes be viewed from your room if you are lucky enough. Prices are generally all-inclusive and include lunch on arrival, dinner, breakfast the next morning and two safari drives (one on the day of arrival and one early on the morning of departure).

They make an extra special effort with little ones, leaving them a bag full of little safari-themed toys in the room. Not to mention the biggest bed you have ever seen, especially helpful when you have a toddler that likes to do a starfish between Mum and Dad in the middle of the night!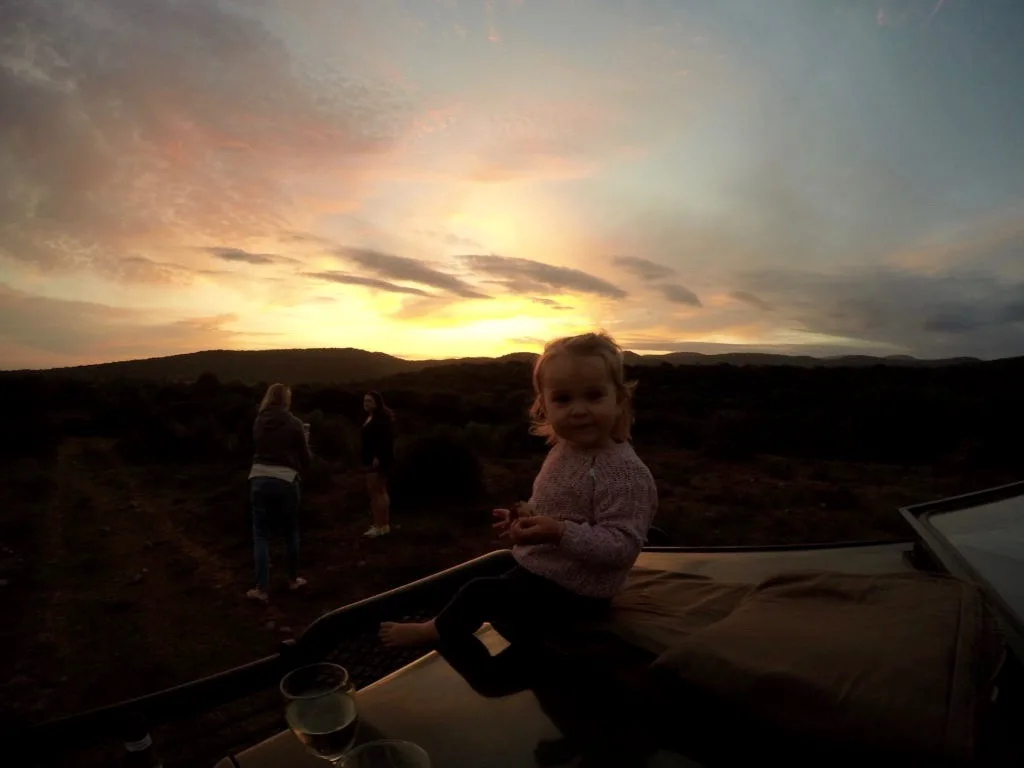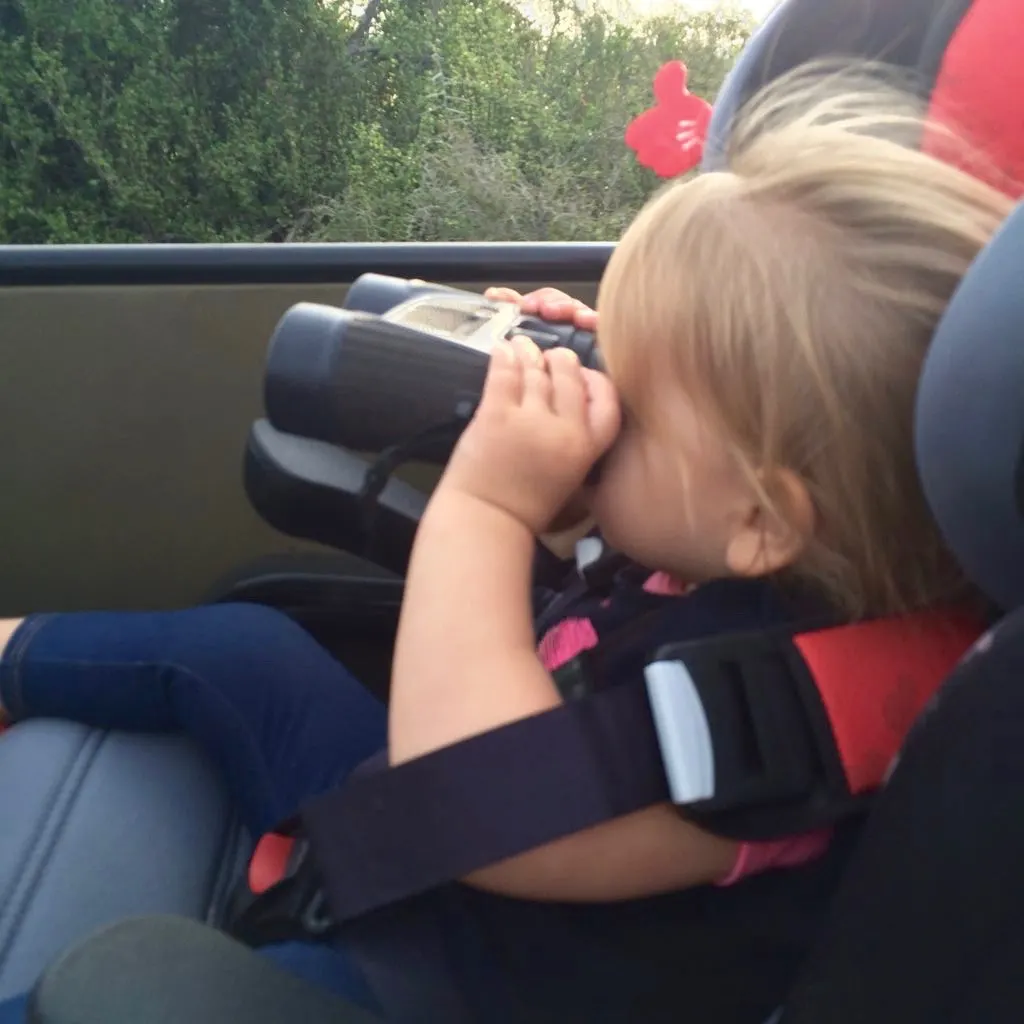 We went on our drive in the afternoon around 4pm after our lunch. They had a car seat for Esmé in the safari jeep. She has never been in an open-top vehicle before so she was really enjoying this new experience, even though she normally hates being strapped in the car seat!
Off we went on the look out for animals. Immediately we saw lots of zebra, warthogs and lots of variations of the antelope family. We were desperately trying to see a lion that another jeep in the area had radioed to our driver.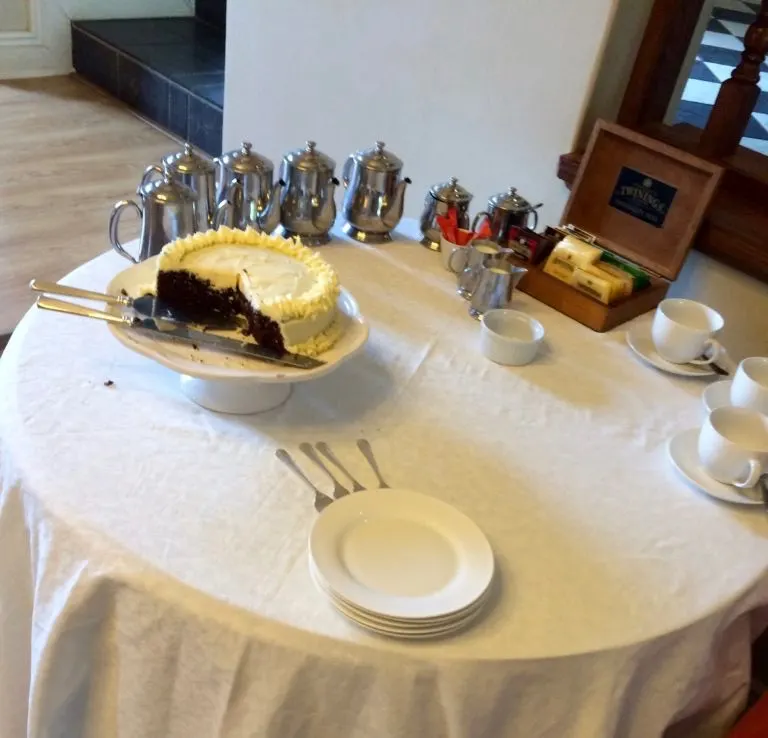 We raced along to the area and unfortunately only got a glimpse of him before he disappeared into the bush. We took this as an opportunity for a break as Esmé was needing a nappy change. Our driver made a little bed on the bonnet of the jeep. This is definitely the coolest place Esmé has had her booty cleaned – on the bonnet of a jeep in the wild!
Our driver David got out some nibbles and drinks for us all to watch the sun go down. It was such a lovely experience. Even though Esmé sat in a car seat for a good couple of hours, she was as good as gold looking at all the new sites and animals.
When we arrived back at the lodge we went straight to dinner after our big drive. The food was amazing, Michelin Star worthy I would say and the kiddies menu was also perfect. We had maybe one or two too many Amarula (the South African version of Baileys – so good!).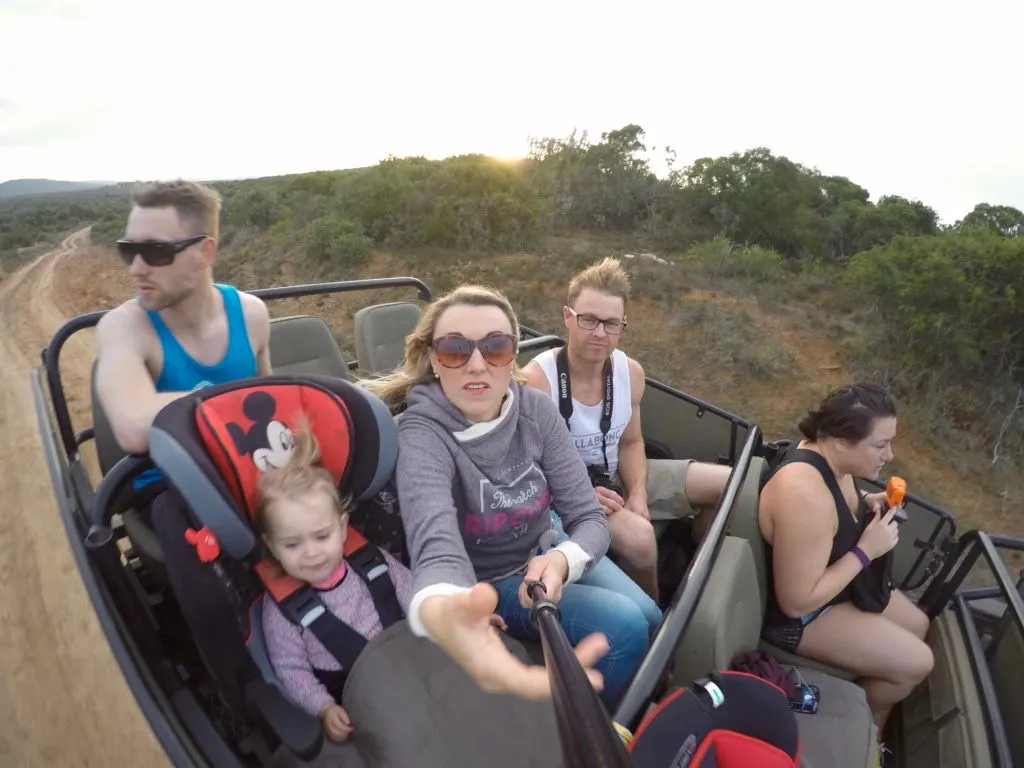 The next morning it was not too early of a start at 7am. We went straight out on the jeep with our driver, on the lookout for elephants that are well-known in the area. They are a herd of around 90 – yes 90 elephants! Our driver warned us it was going to be a long way to find them. Esmé and I were all wrapped up so we caught a few zzzzz's along the way.
After about an hour we pulled up for another picnic of hot chocolates, coffee and muffins. I was offered a shot of Amarillo in my coffee which I politely declined, I wasn't getting fifty winks en-route for no reason! However Travel Mad Dad loved the coffee/Amarillo combo – hair of the dog as they say!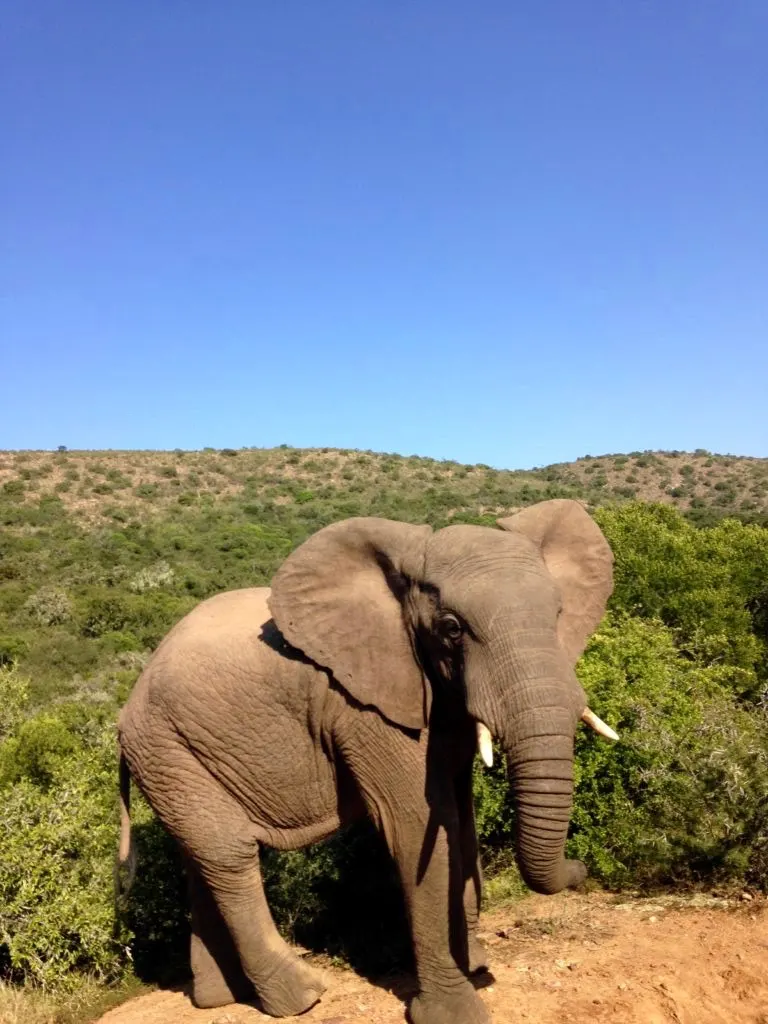 Eventually after a couple of hours on the look-out, we saw two elephants on the horizon, we got a little closer, maybe 100 meters or so. We were encouraged to take lots of pictures as this was going to be the best sighting. Little did we know when we drove a few more meters we would end up quite literally in the middle of the herd. Loads of them – left, right, in front and behind.
Peacefully going about their business eating bushes and walking around. I could hear them breathe they were so close! This is by far an experience of safari that exceeded all of my expectations and something I will never forget. It was so amazing to have Esmé with us taking it all in. I think she will never forget the word 'Ellie'. I never wanted the moment to end.
Kind of one of those times where you don't want to bother with photos and instead just enjoy the moment. After that, the journey back to the lodge felt so quick because I was still deep in thought about the moments before!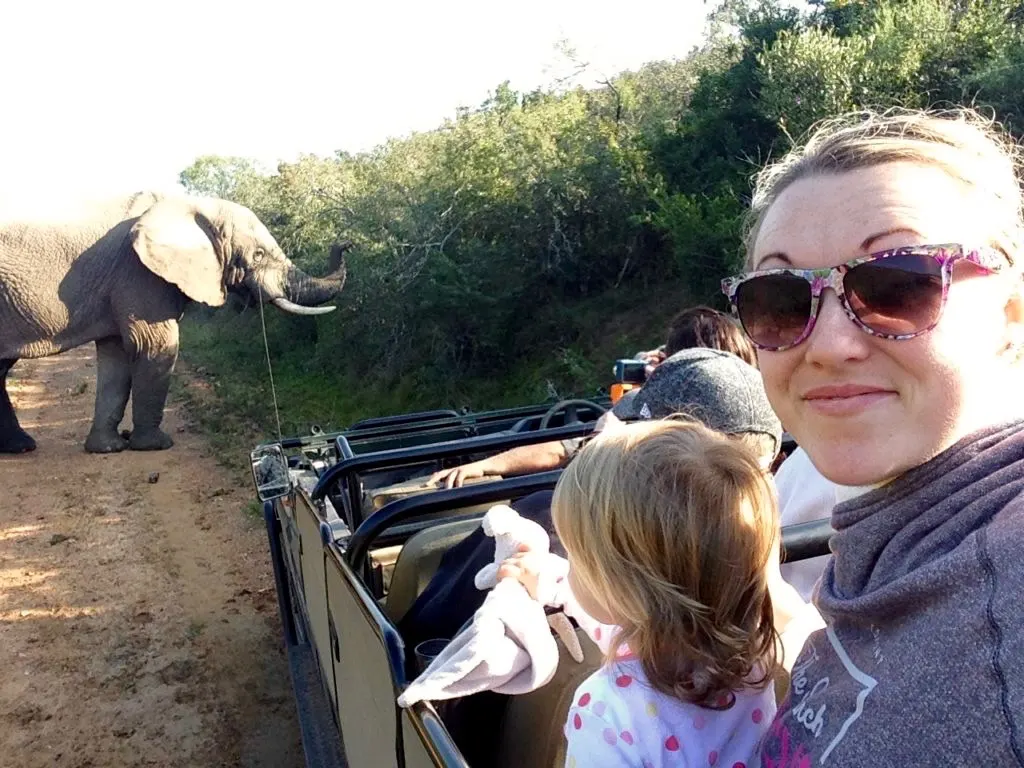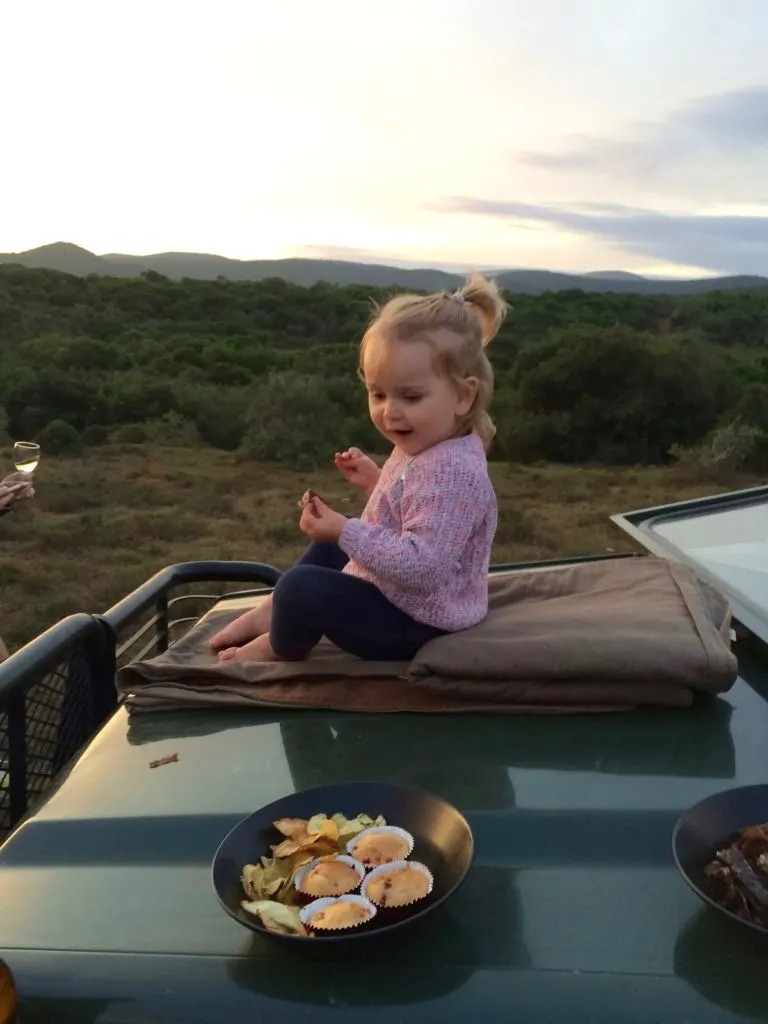 Of course on our arrival back, even though we took longer than expected on our drive, Riverbend had set up a delicious breakfast/ brunch buffet for us to eat before our departure. I guess that was our only regret – not staying longer to really enjoy the facility. Especially the gorgeous swimming pool. Our time was precious as we needed to start making tracks to Cape Town.
I highly recommend staying for two nights if you are thinking of going to really make the most of it. Doing an overnight safari with a toddler is something not to be missed as part of a South African itinerary (even without children). Howver, make sure to figure out the best time to visit South Africa.
There are many to choose from that vary in price, however if you wish to do an overnight safari with a toddler or child under seven I think you will struggle to find many that will facilitate so Riverbend is a great option for families.
Ready to book? Find the best deals on hotels, rental cars, and health insurance!
Have you gone on an overnight safari with a toddler? Tell me about it in the comments below!
See also: