With the Fall season upon us, it's time to put your boots on, don your flannel and head to one of the pumpkin farms in Oregon.
It's no secret everyone has their idea of the perfect pumpkin. Some like round or squat, others like tall and narrow.
Thanks to many pumpkin farms in Oregon, everyone can find a pumpkin they will love to sit in their window or porch this Halloween season.
There are plenty of pumpkin patches, harvest festivals and corn mazes in Oregon to discover in Fall. Enthusiastic local farmers are once again welcoming crowds.
Many pumpkin farms in Oregon offer additional activities such as produce markets, petting animals, wine tasting, games and more. Here is our list of the 14 incredible pumpkin farms in Oregon!
Pumpkin Patch In Portland, Oregon
1. Bauman's Harvest Festival
We have you covered if you are looking for a pumpkin path in Salem, Oregon! It is impossible to find a farm in the area that offers such a wide range of fun activities for the entire family as Bauman's Harvest Festival!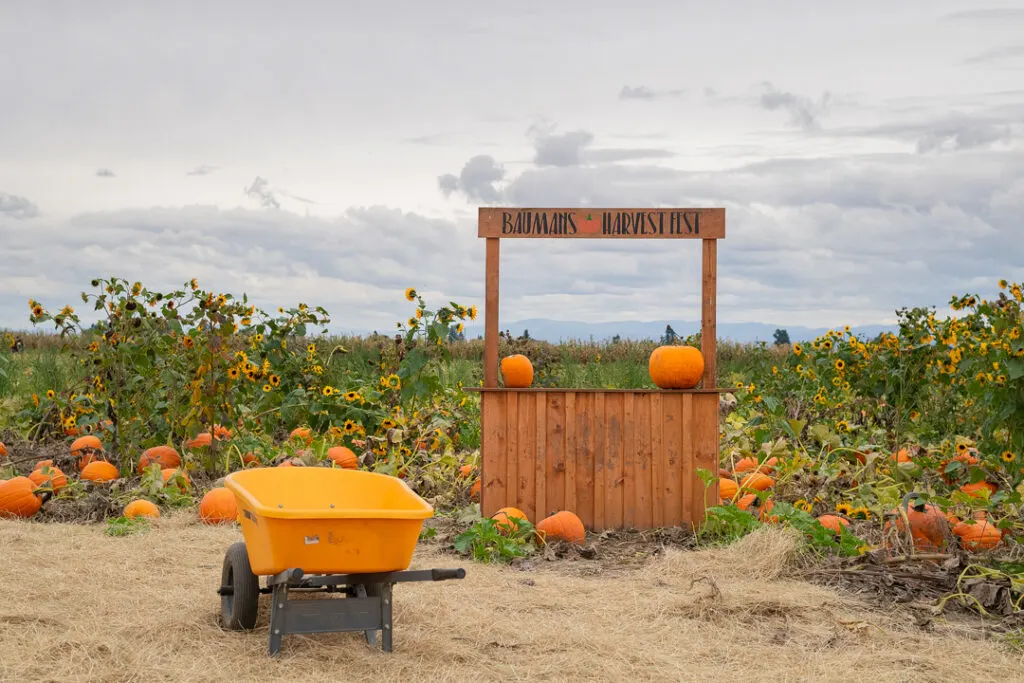 This year's Harvest Festival offers more than 25 activities for kids of all ages.
They include an animal petting zoo, apple canons, corn mazes, hay rides, gopher holes, a Pumpkin hill and a Rope maze to name a few.
While the kids are busy, the grown-ups can participate in the Baumans cider tours, which involves sampling!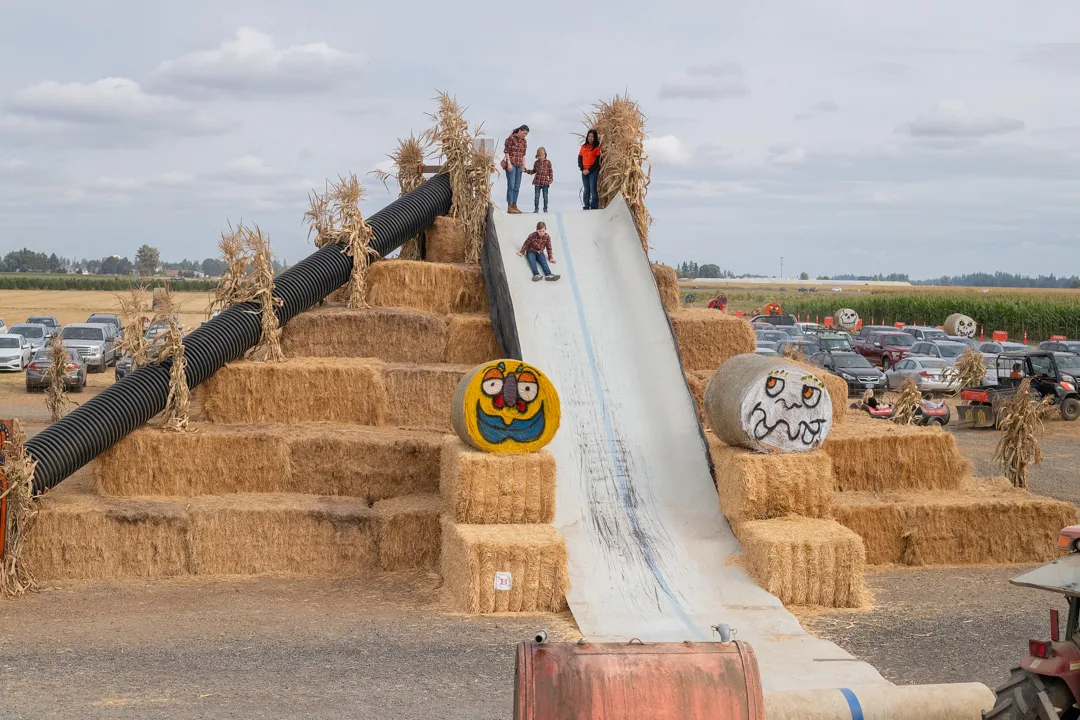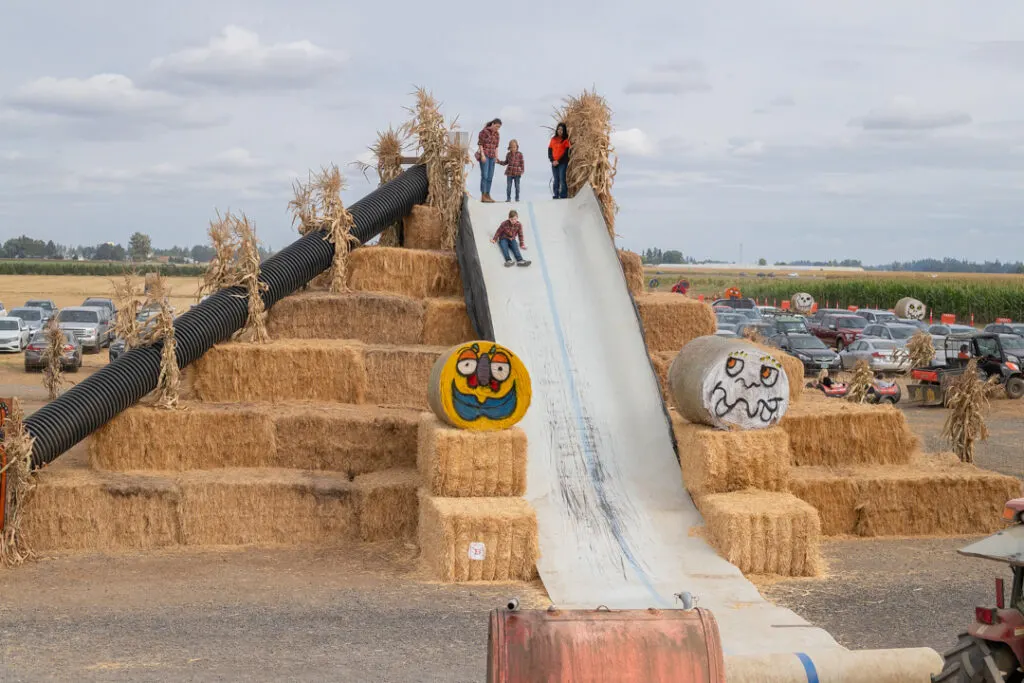 Whenever you are in the Salem area, we recommend stopping by Bauman's Farm, regardless of the weather.
It's worth noting the farm store and pumpkin patch is open 7 days a week during the harvest festival.
Dates: September 24 to October 30
Timings: 9am – 5pm (Tuesday to Sunday) Closed on Mondays
Entry Fee: Weekday Pass @ $15 per person,
Weekend Pass @ $15 per person (limited access) or $30 per person (unlimited access)
(Kids 2 and under are free when accompanied by an adult)
Location: 12989 Howell Prairie Rd NE a, Gervais, OR 97026, United States
2. Vince Woods Farm
Scaling through Vince Woods farm shed or wheelbarrow through the fields, you will find your perfect pumpkin. Many families have made visiting Vince Woods Pumpkin Farms in Oregon a Fall ritual.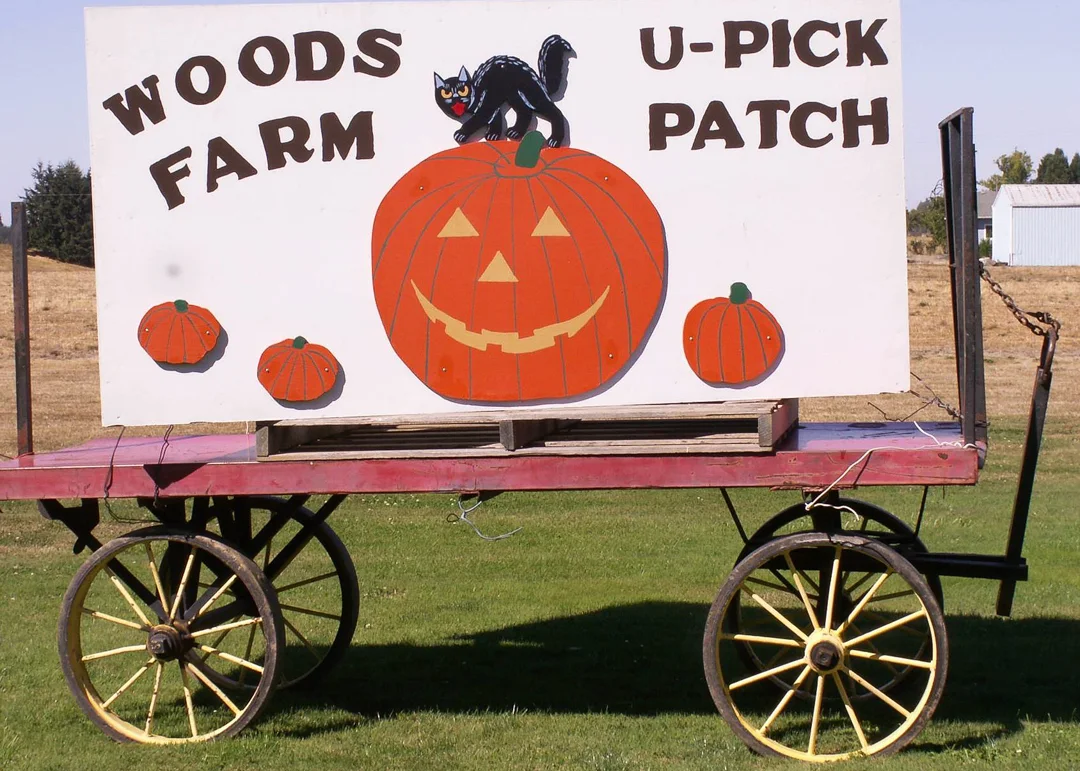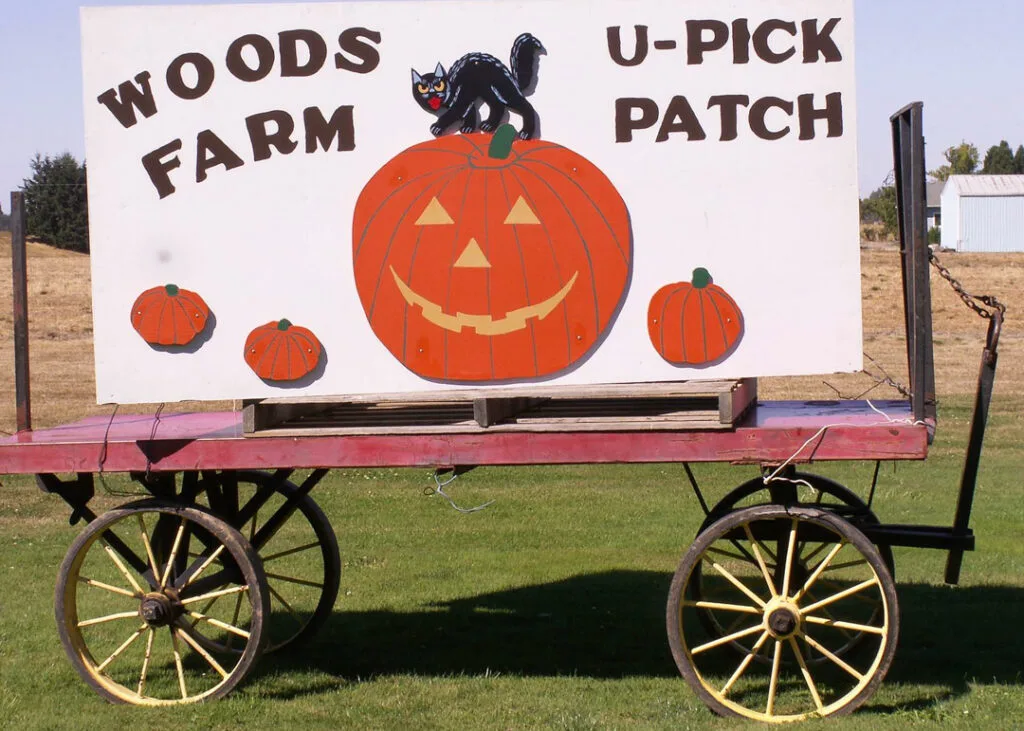 With fresh, quality pumpkins grown on-site, as well as other fall decor and low-cost entertainment, Vince Woods is a lovely festive place to visit with the whole family.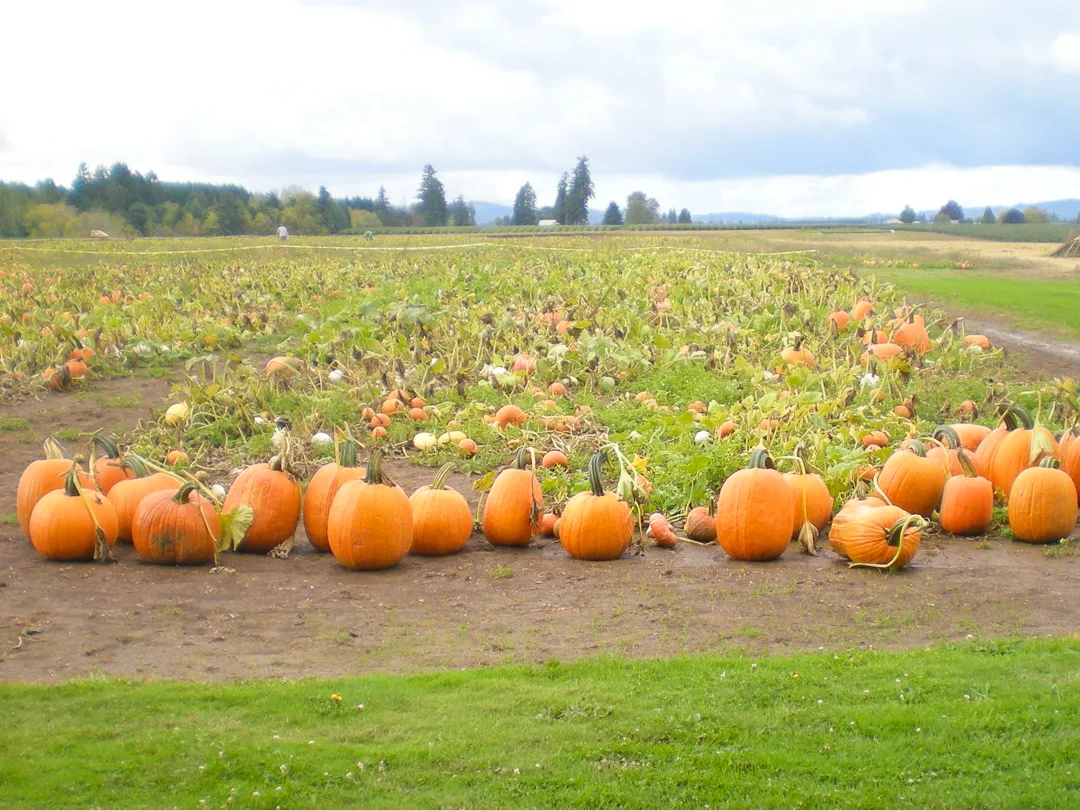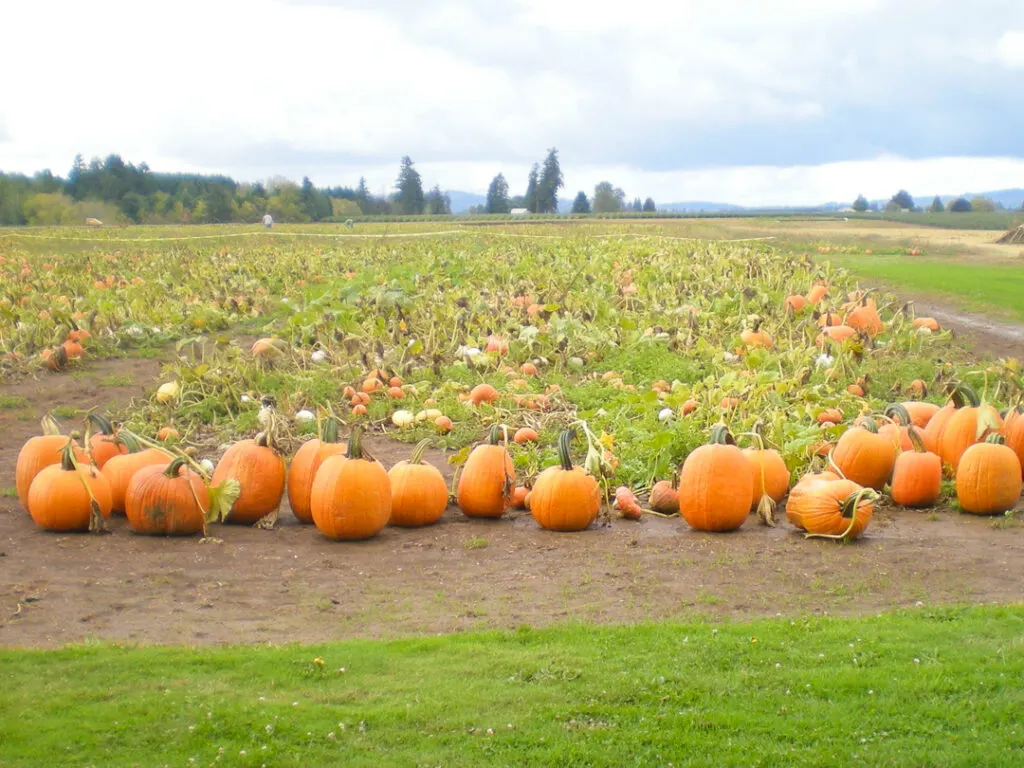 Dates: October 1 to October 31
Timings: 10am to 6pm
Entry Fee: Call 503-393-0120 or email vincewoodsfarm@gmail.com
Location: 6435 62nd Ave NE, Salem, OR 97305, United States
3. Papa's Pumpkin Patch
Each Fall, Papa's Pumpkin Patch grows around 50 acres of pumpkins and squash on their pumpkin farms in Oregon.
With an endless selection of pumpkins, squash & gourds, families can also check out their Fall decor and goodies to take home.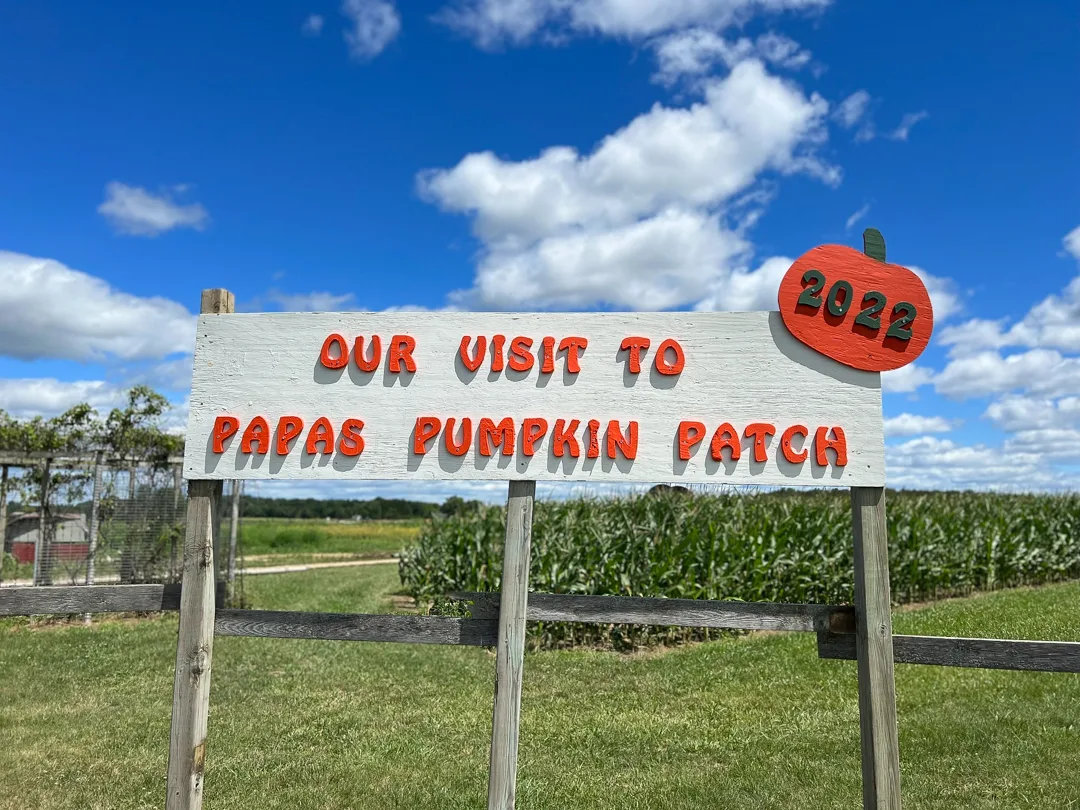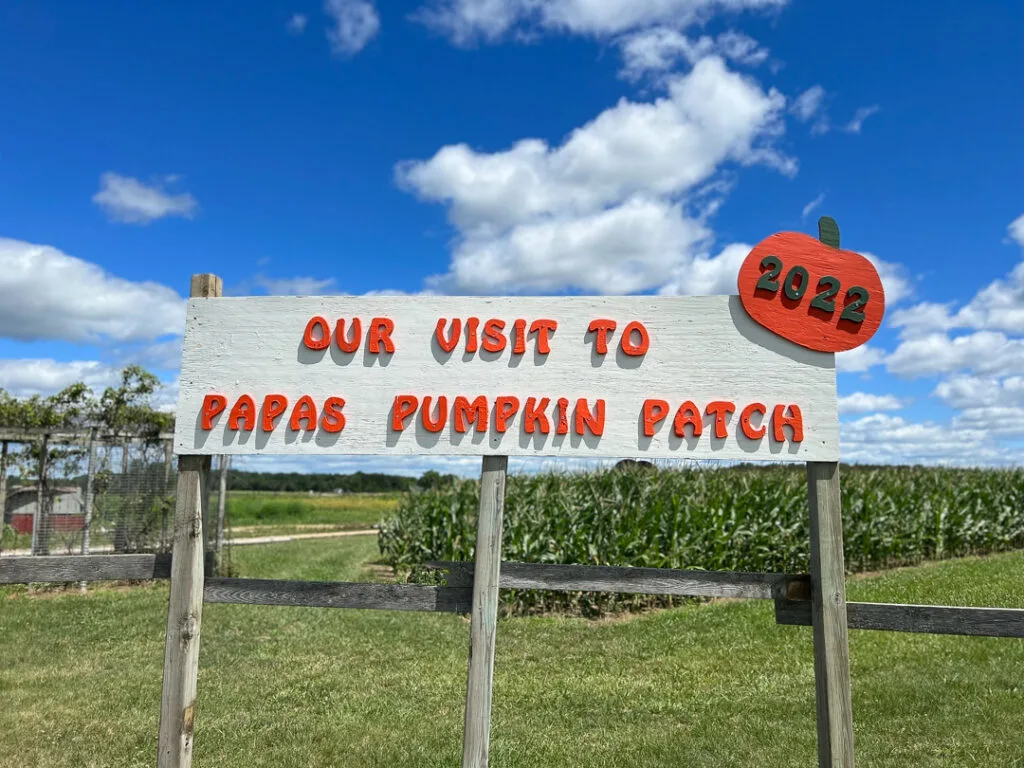 The farm is pretty basic, there are no activities, however, you can stroll through and pick your own pumpkin to decorate for Halloween.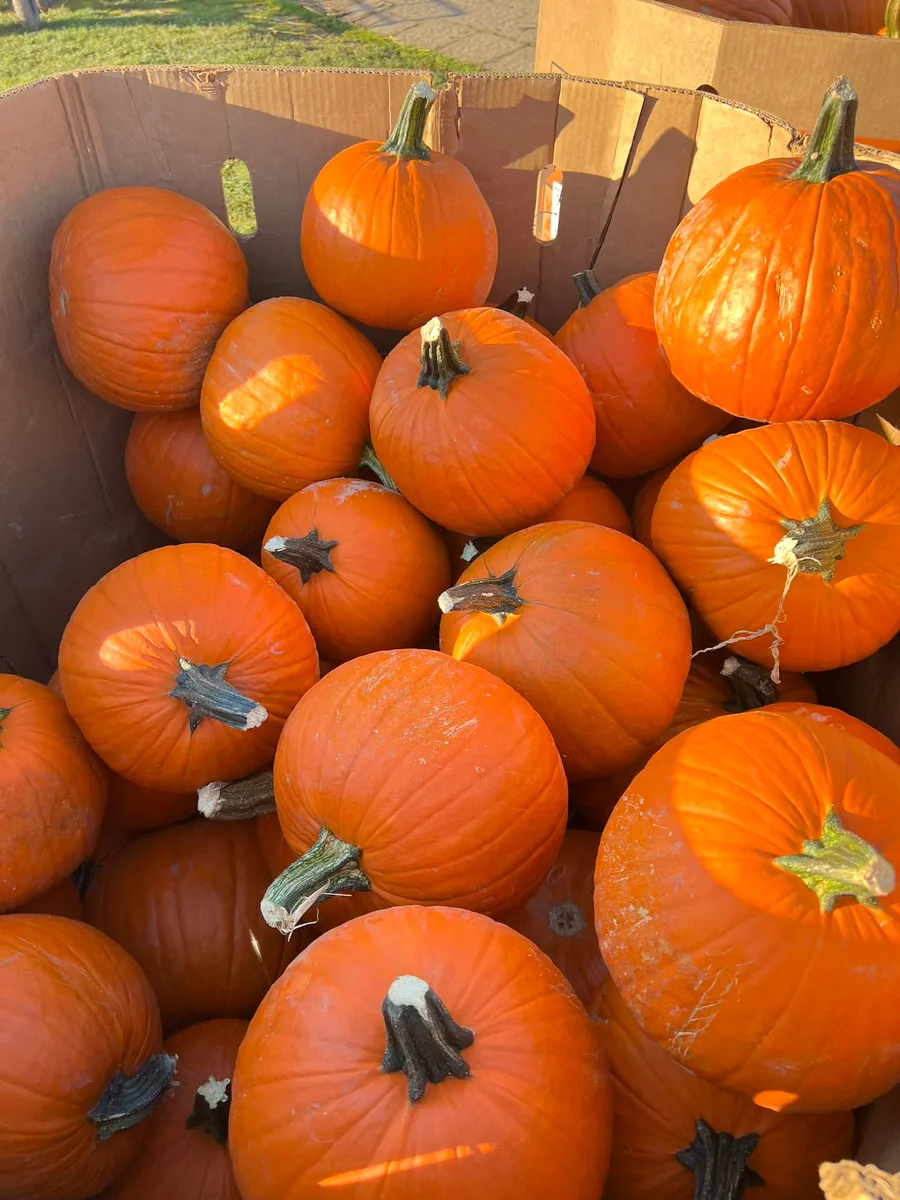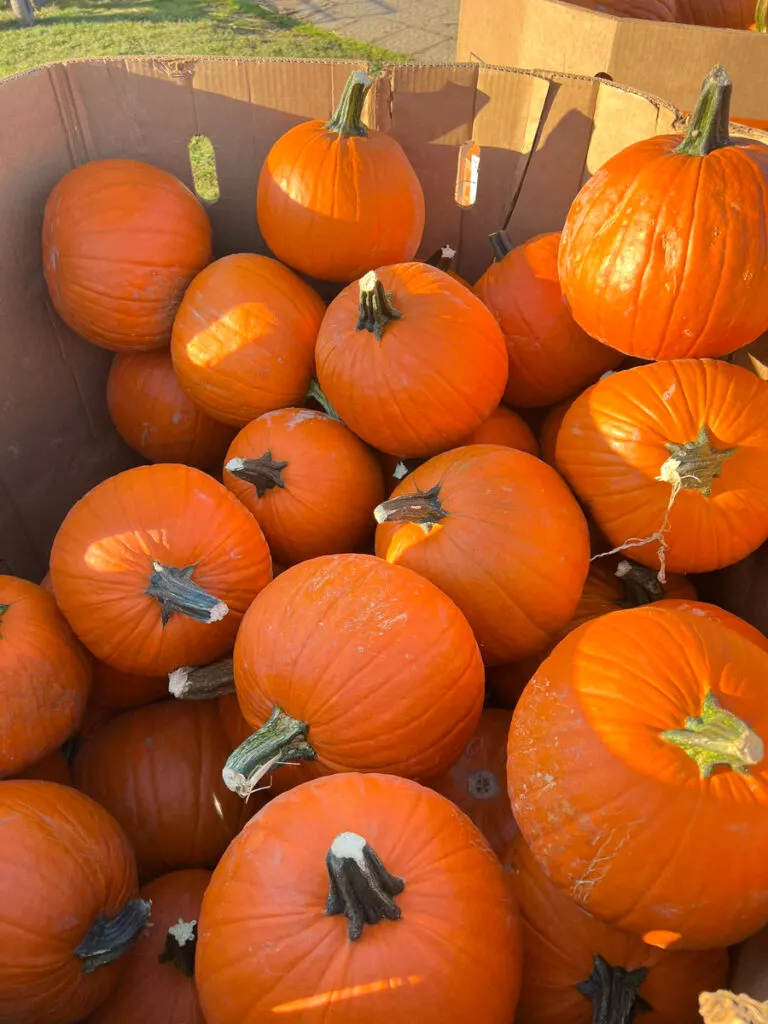 Being a Family friendly Farm, Papas Pumpkin Patch is one of the only pet-friendly Patches in the area.
Dates: Now until October 31
Timings: 10am to 6pm (Monday to Friday), 9am to 6pm (Saturday and Sunday)
Entry Fee: FREE
Location: 20345 SW Scholls-Sherwood Rd, Sherwood, OR 97140, United States
4. Northern Lights Christmas Tree Farm, Colonial Harvest Days
An unforgettable Fall experience awaits you on this family-run farm, making your harvest season a memorable one.
You will be able to explore the corn mazes and pick a pumpkin from the field. Don't forget to say hello to Teeny and Tiny, the resident goats.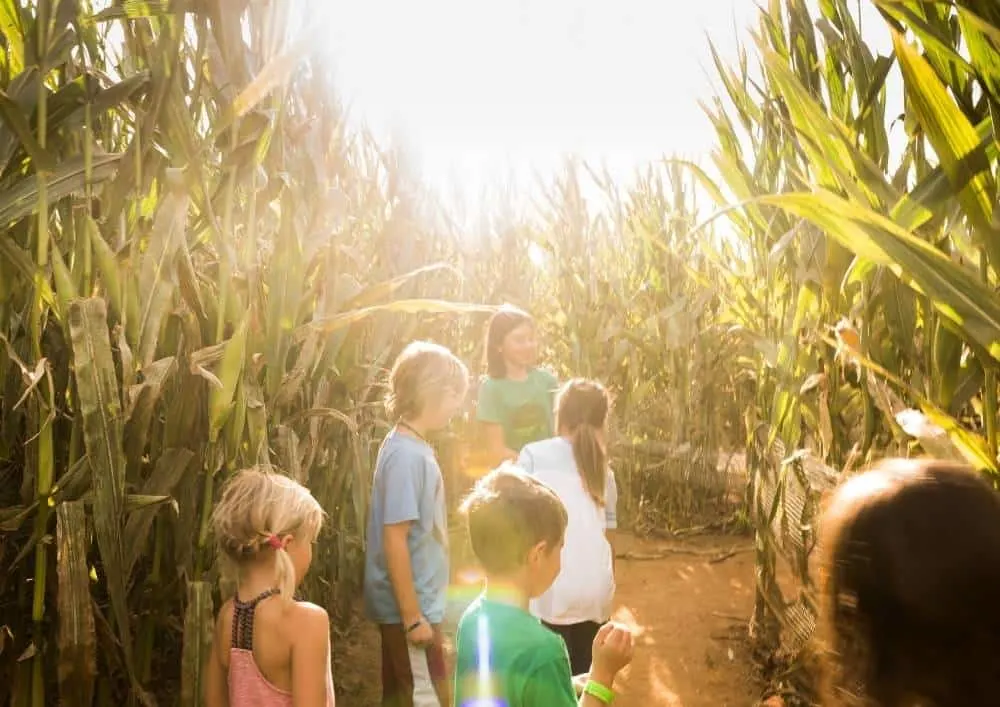 After you finish pumpkin picking, you could wander into the family-friendly corn maze and even a slightly Haunted Harry Potter night-time corn maze. It's suitable for grownups and children alike.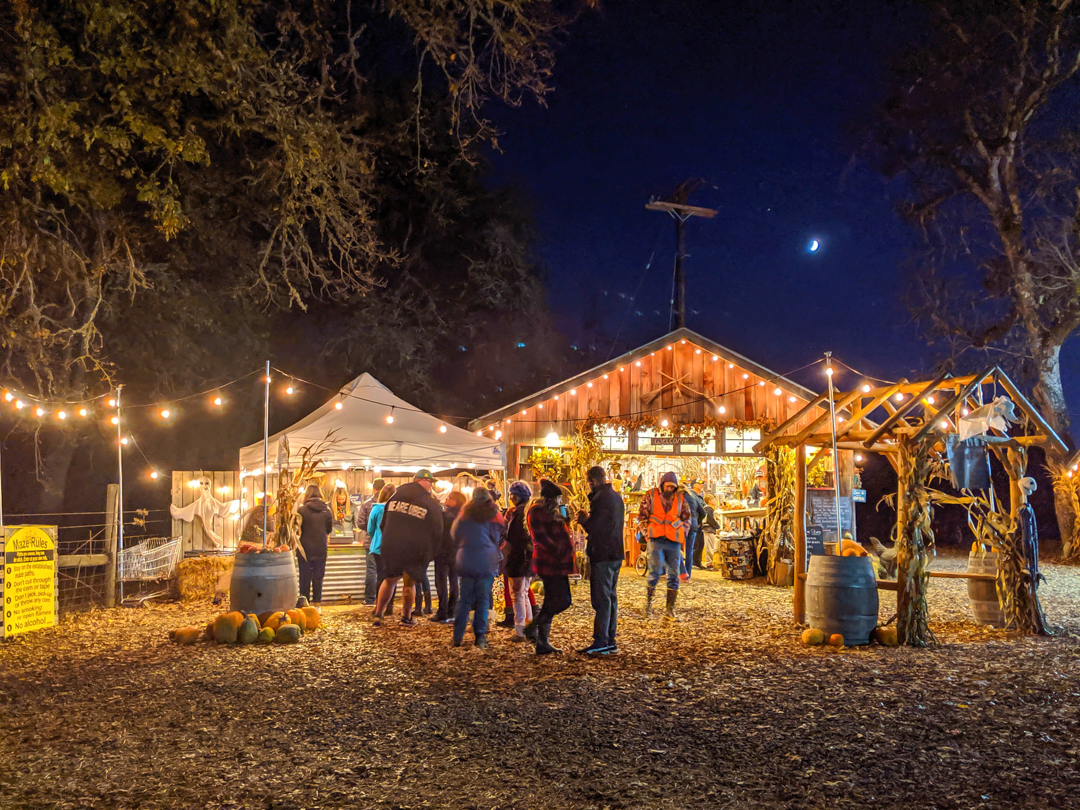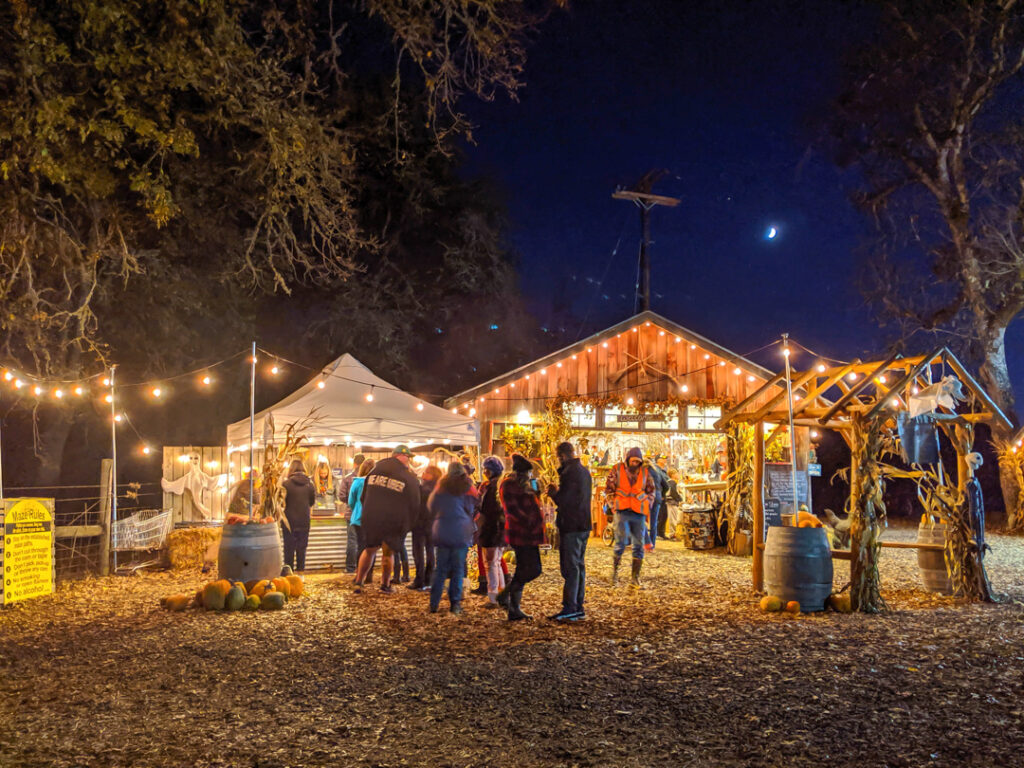 Aside from pumpkins, gourds, squash, u-pick sunflowers and sweet corn for sale, there will be a full-service espresso bar featuring Bigfoot Fudge, Unicorn and Rollin Dough Donuts vendors.
Dates: October 1, 2022 – October 31
Timing: 10am to 5 pm Daily
Entry Fee: Ages 12 and up @ $10 per person, Ages 5 to 11 @ $7.50 per person
(Children 5 & under are free)
Location: 36777 Wheeler Rd, Pleasant Hill, OR 97455, United States
5. Bella Organic Pumpkin Farm
On Sauvie Island, Bella's patch offers activities for all ages. In addition to the corn maze, pumpkin patch, cow trail and duck races for the kids, grown-ups can also enjoy rhubarb and blackberry wine.
Not to mention dragon fruit and apple starfruit hard ciders! Throughout October, the bravest, irrespective of age, can check out their haunted corn maze open on the weekends.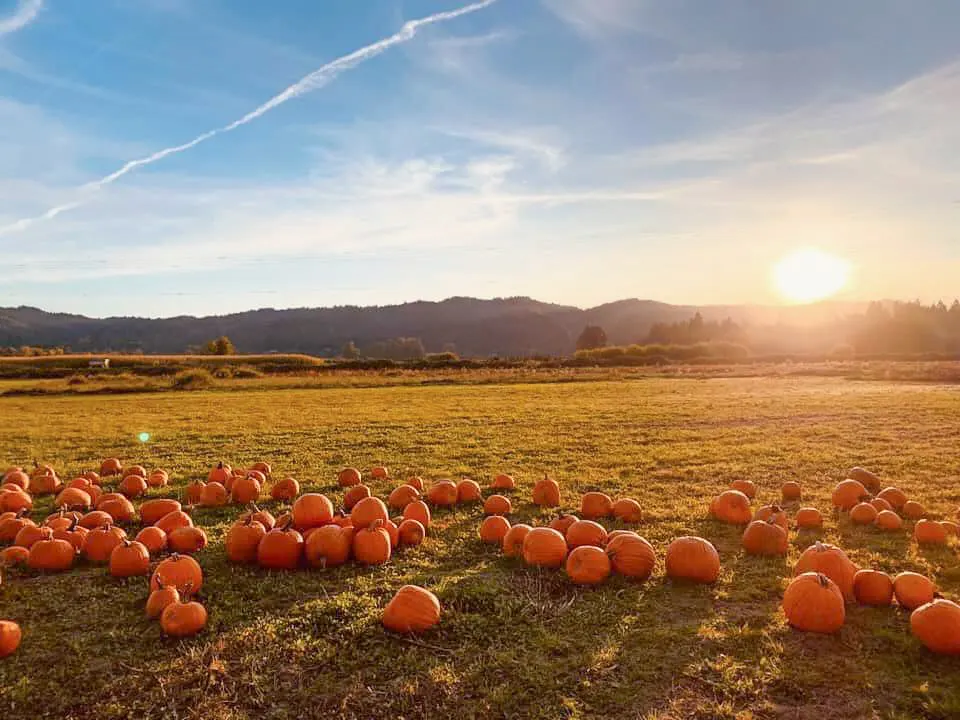 There is no charge for the hayride and pumpkin patch. The regular maze costs $6–10, and children under five are free.
The haunted maze costs $25–45 (children under five are not allowed in the haunted maze).
Bella Organic Pumpkin Farms in Oregon embeds a message in its 2.7-mile corn maze every Fall, and it continues with this tradition.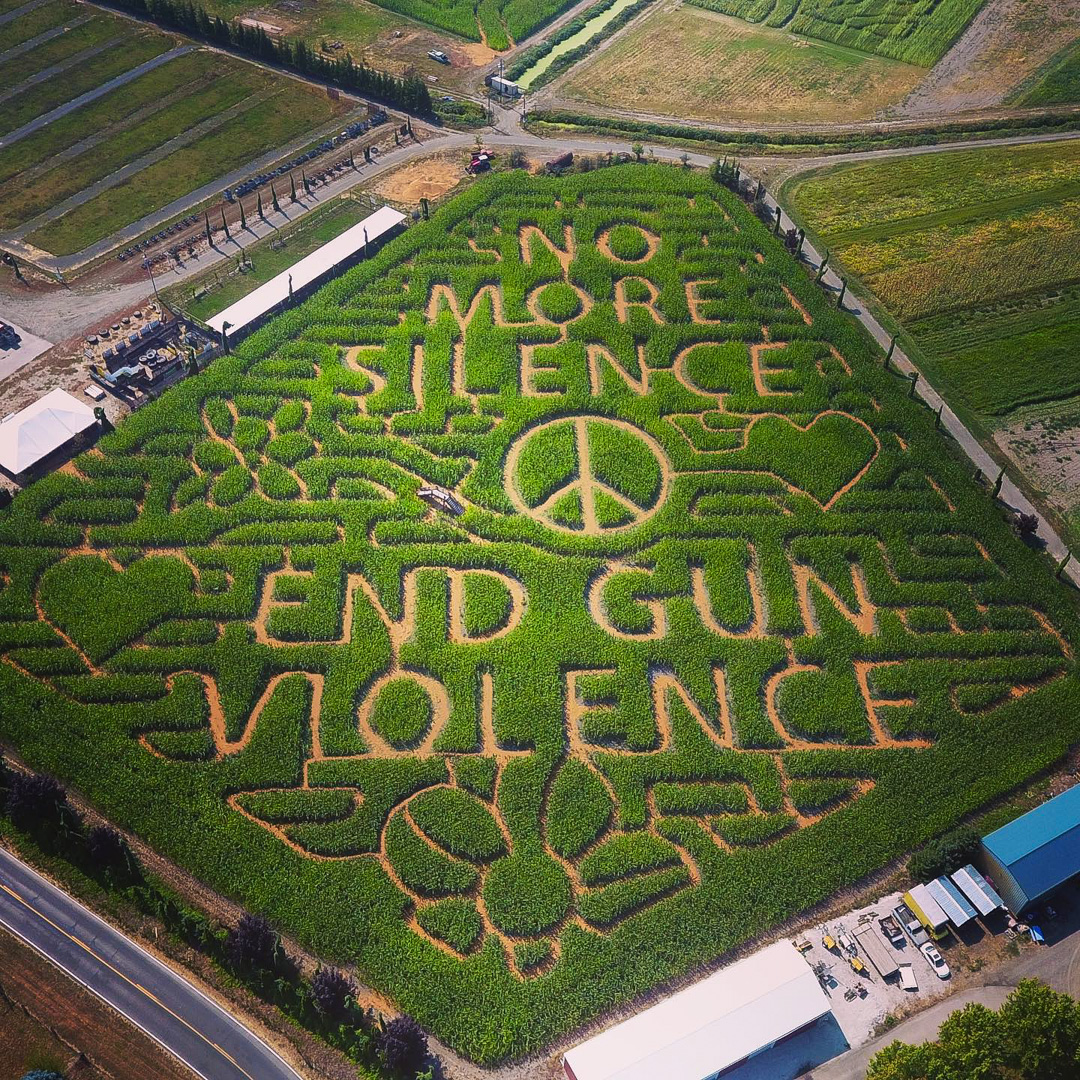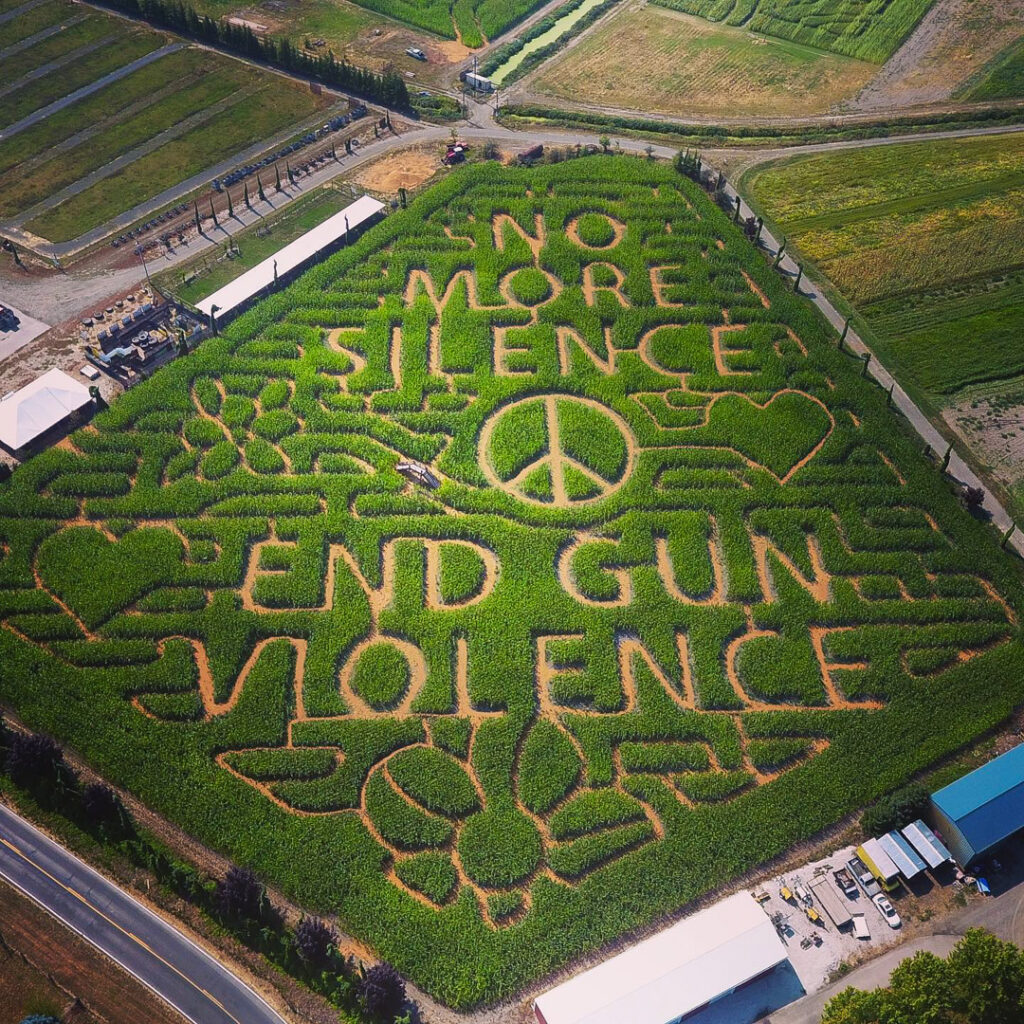 Dates: September 3 – October 31
Timings: 9am to 6pm (Sunday to Thursday), 9am – 10pm (Friday and Saturday)
Entry Fee: Hayrides out to Sauvie Island Pumpkin Patch are FREE
More details on Bella Organic pricing
Location: 16205 NW Gillihan Rd, Portland, OR 97231, United States
6. Plumper Pumpkin Patch And Tree Farm
The Plumper Pumpkin Patch has been around for over 20 years and has 25 different kinds of pumpkin grown on their farm.
This pumpkin patch features a forest-inspired play area for the little ones, mazes, playgrounds, obstacles and a hobbit house available for the older ones.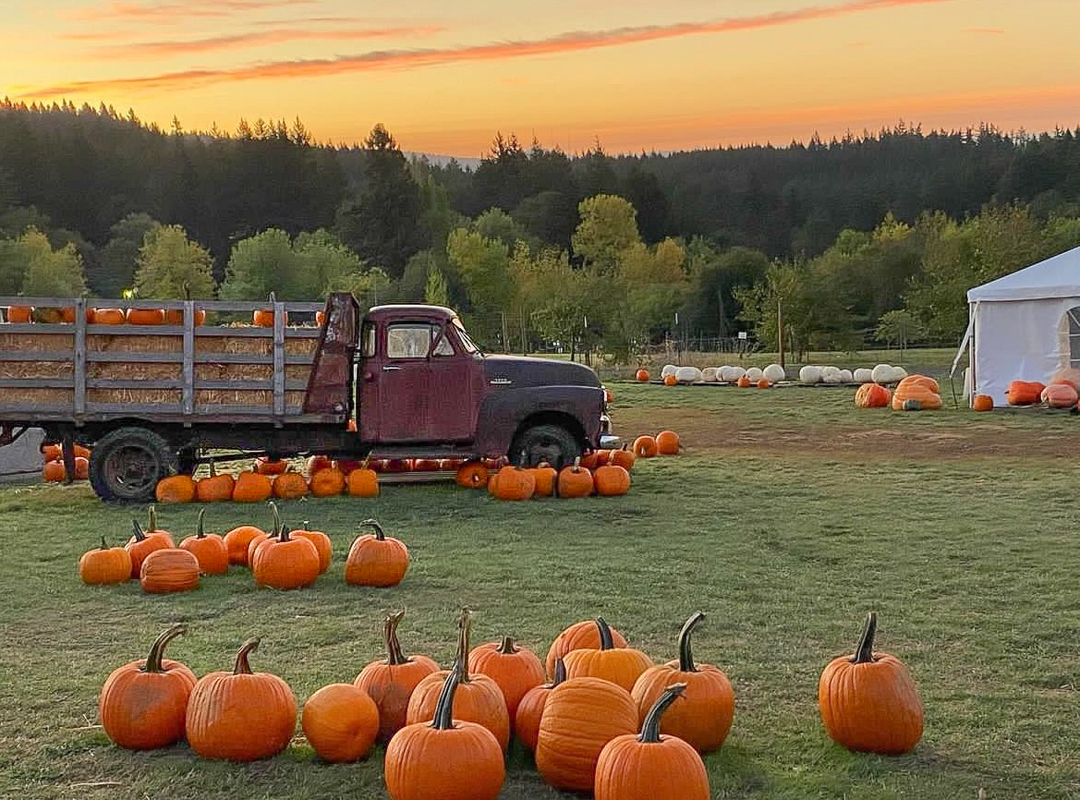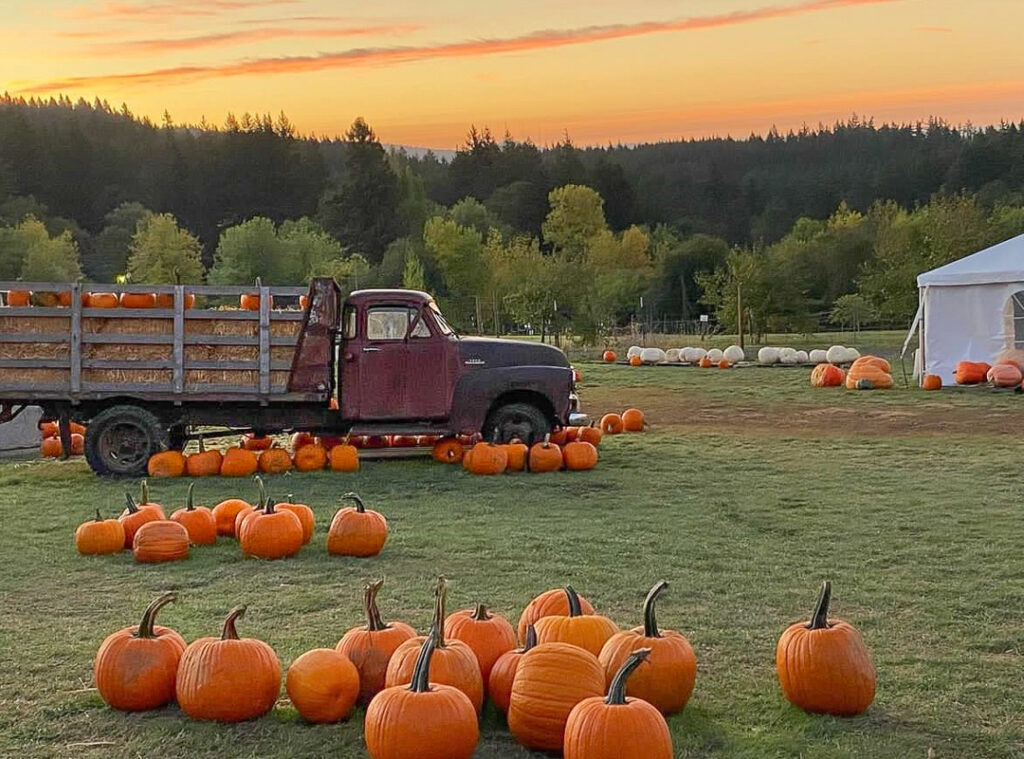 For the more adventurous, they can lob pumpkins and apples at unsuspecting targets and cars from 400 feet away with a hydraulic cannon!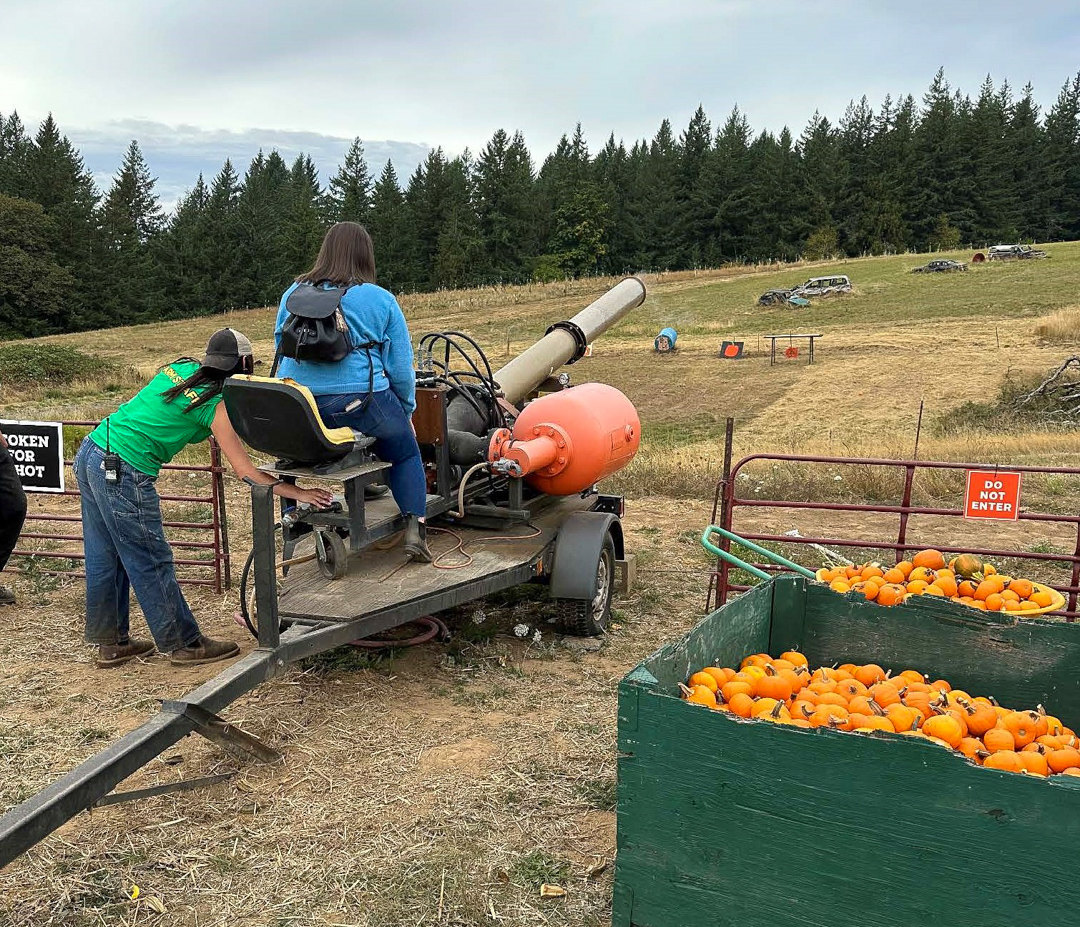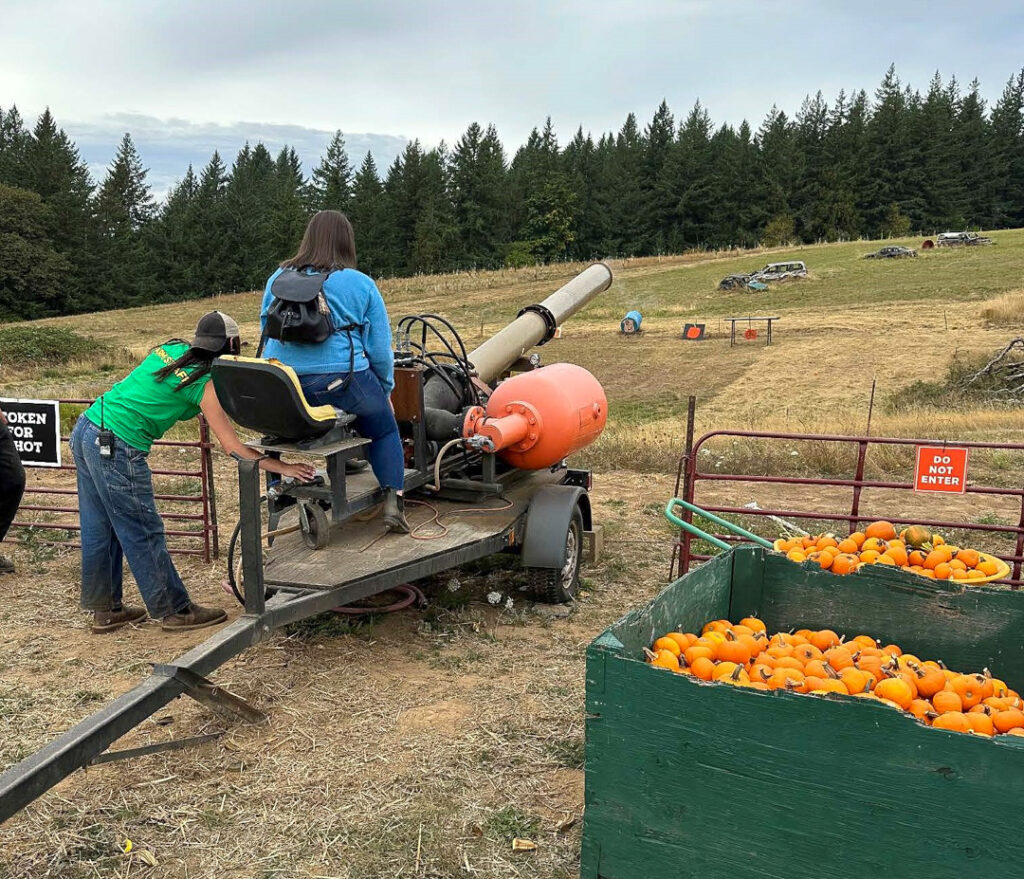 If you are looking for a relaxing day, you can always stroll around the petting zoo and say hello to the number of farm animals on the premises.
Be sure to purchase admission online, as there is an online discount.
Buy your Plumper Pumpkin tickets
Dates: September 17 – October 30
Timing: 9am to 5:30pm (Wednesday to Sunday), Closed on Monday and Tuesday
Entry Fee: Online Admission @ $13 per person, Walk-up admission @ $15 per person
(Kids under 2 get in free)
Location: 11435 NW Old Cornelius Pass Rd, Portland, OR 97231, United States
7. The Pumpkin Patch
A bright red barn built in 1929 is one of the original structures in the Sauvie Island pumpkin patch claiming to be Portland's "original" pumpkin patch.
There are many things to do in Fall, including picking your pumpkins and eating and drinking at the patio café and Pumpkin Perk Coffee shop. Browse the Pumpkin Cottage Gift Shop, take a hayride or walk through the huge maze.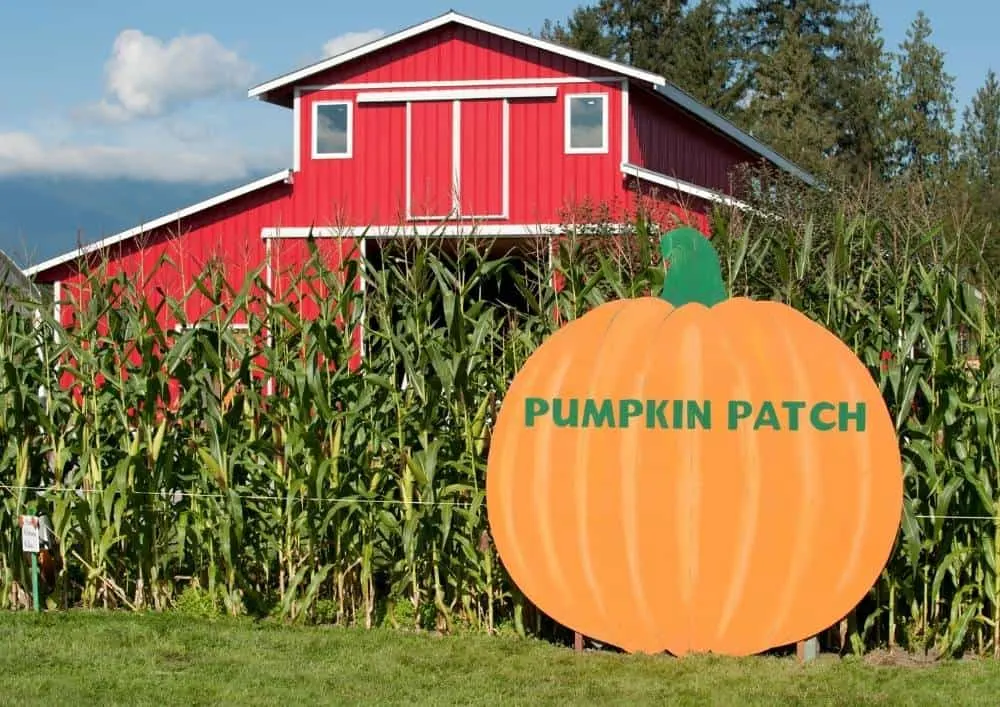 Once you arrive at The Pumpkin Patch, a free hayride will take guests to the actual pumpkin patch.
The cow train will transport smaller guests where they can hunt around for the perfect orange pumpkin.
Dates: October 1 – October 31
Timings: 9am to 6pm, Open daily
Entry Fee: FREE
Location: 16511 NW Gillihan Rd, Portland, OR 97231, United States
8. Fazio Farms
Not far from the City Centre, located on the beautiful Sauvie Island, Fazio Farms is best known for its creatively designed 6.5-acre corn maze.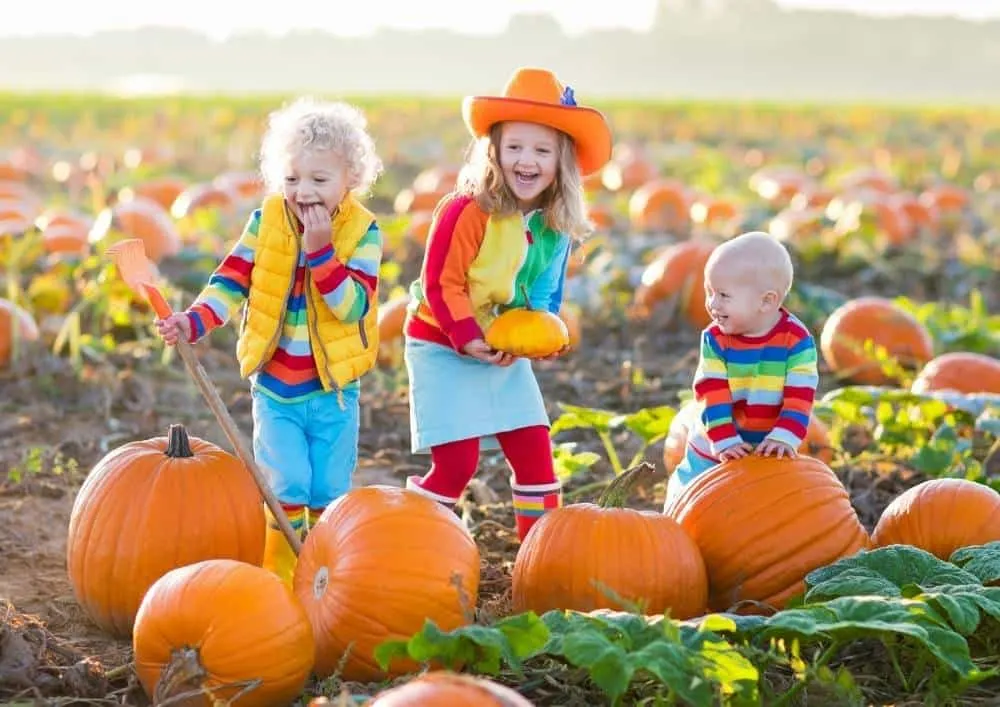 They have a smaller hay maze suitable for all ages. The farm offers hayrides, a bouncy slide, pumpkin ring toss and of course pumpkin picking.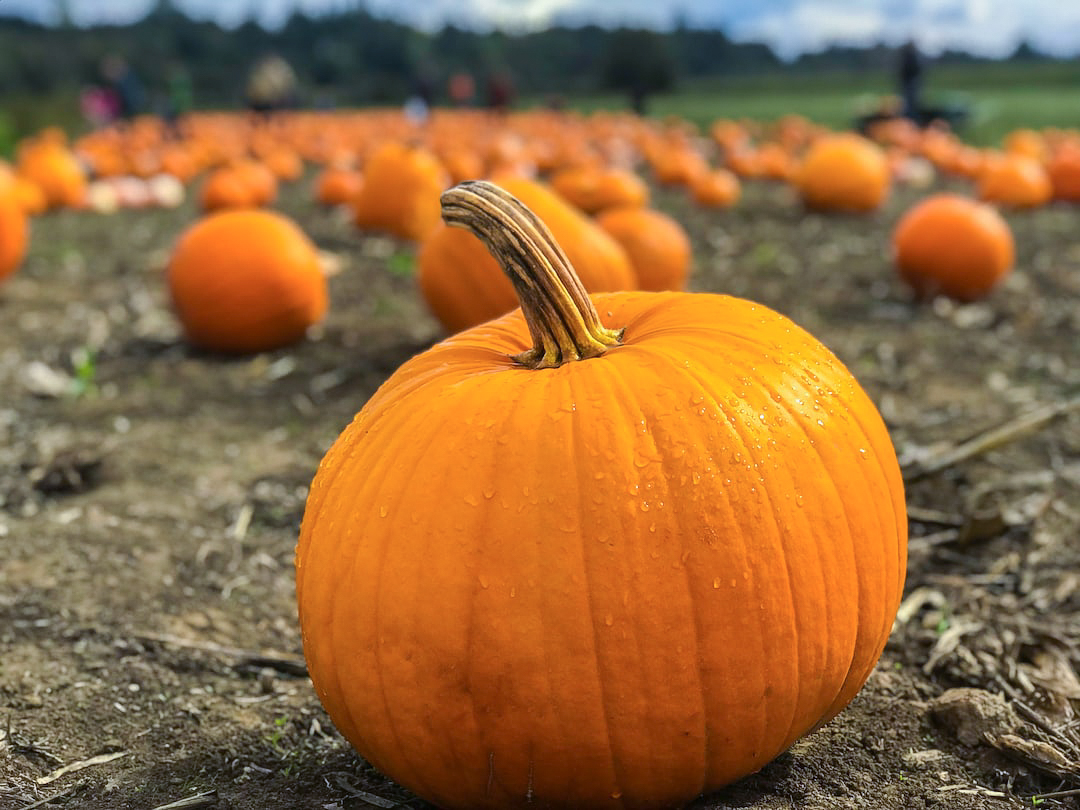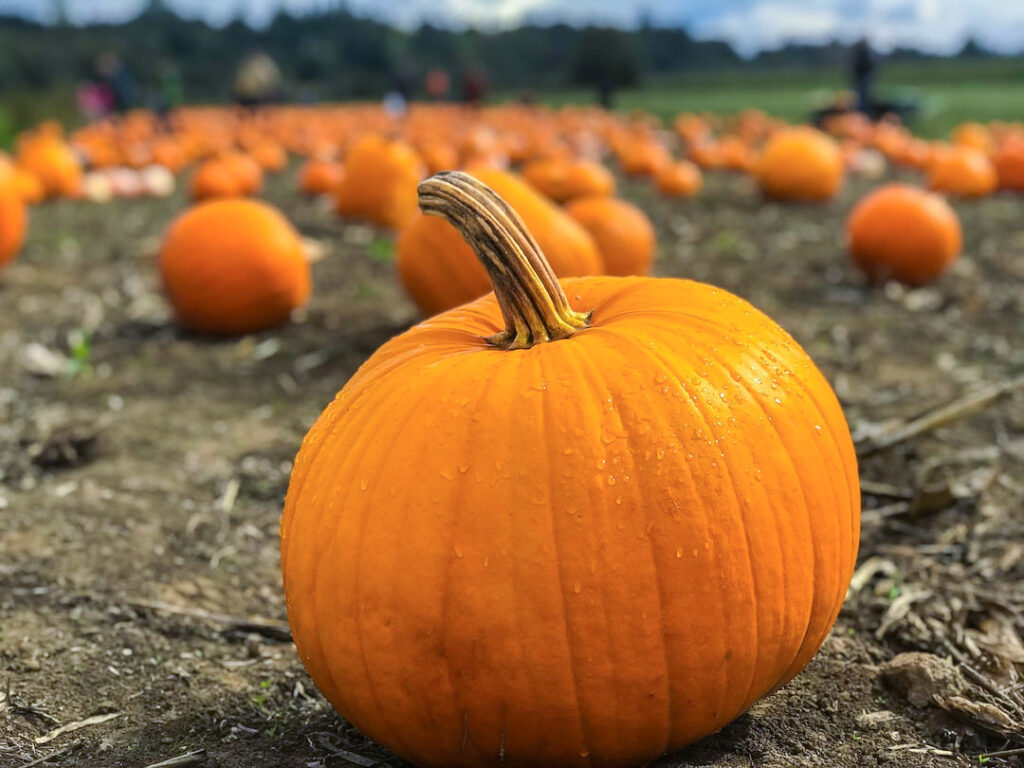 Dates: October
Timings: 4pm to 8pm (Monday to Friday) and 9am to 8pm (Saturday and Sunday)
Entry Fee: Free to enter, tokens are required for activities on the farm.
Location: 9028 NE 13th Ave, Portland, OR 97211, United States
9. Fir Point Farms
This pumpkin patch in Aurora is well-known for its corn maze, petting zoo, nature trail and cow train. It is one of the best pumpkin patches to visit for kids.
The town of Fir Point is located about 15 minutes south of Portland. It boasts a six-acre pumpkin patch, a kid's zone with bouncy houses, a cow roping area, a nature trail and giant slides.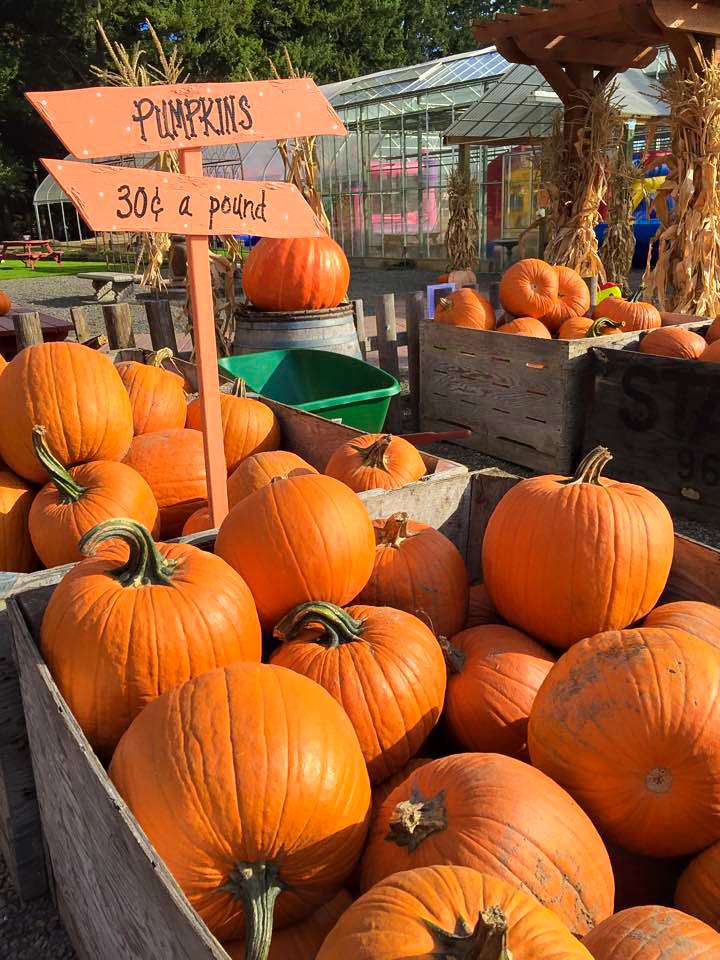 Although Fir Point Farms might be less crowded on weekdays. It would be best to visit this farm over the weekend since there are many activities for the kids to enjoy.
You'll love the fresh apple cider doughnuts if you have a sweet tooth.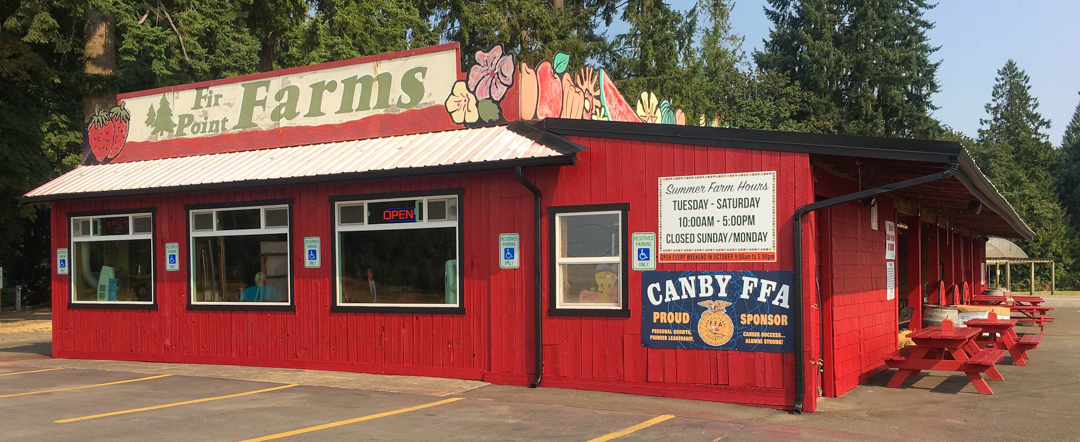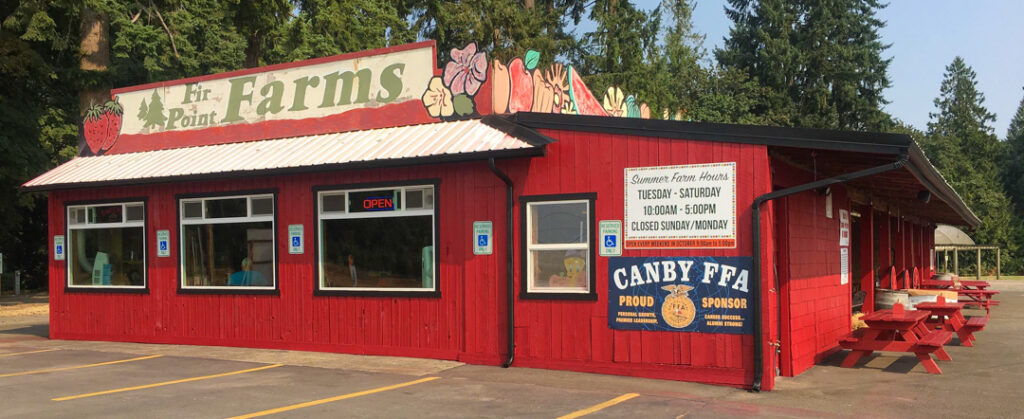 Dates: October 1 – October 30
Timings: 10am to 5pm (Wednesday to Sunday), Closed on Monday and Tuesday
Entry Fee: Free Admission (Extra costs only for activities scheduled only on weekends)
Location: 14601 Arndt Rd, Aurora, OR 97002, United States
Pumpkin Patch In Hillsboro Oregon
10. Roloff Farms
Located about 15 miles west of Portland and just north of Hillsboro in the unincorporated community of Helvetia Oregon. The Roloff Farms have been the setting for many of our television shows about the Roloff family.
Originally built as a utopian playland to entertain the now-grown Roloff children, Roloff Farms has several unique structures.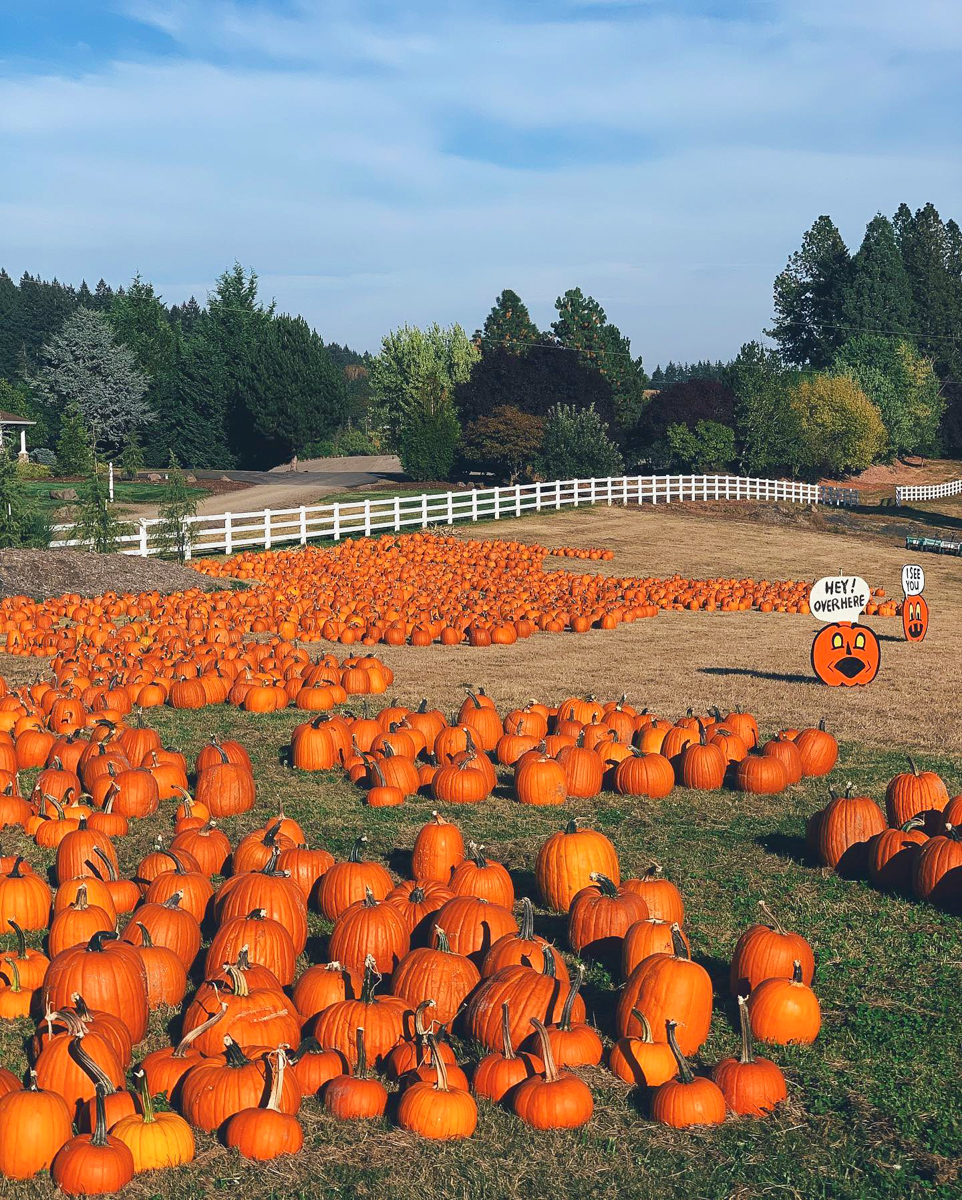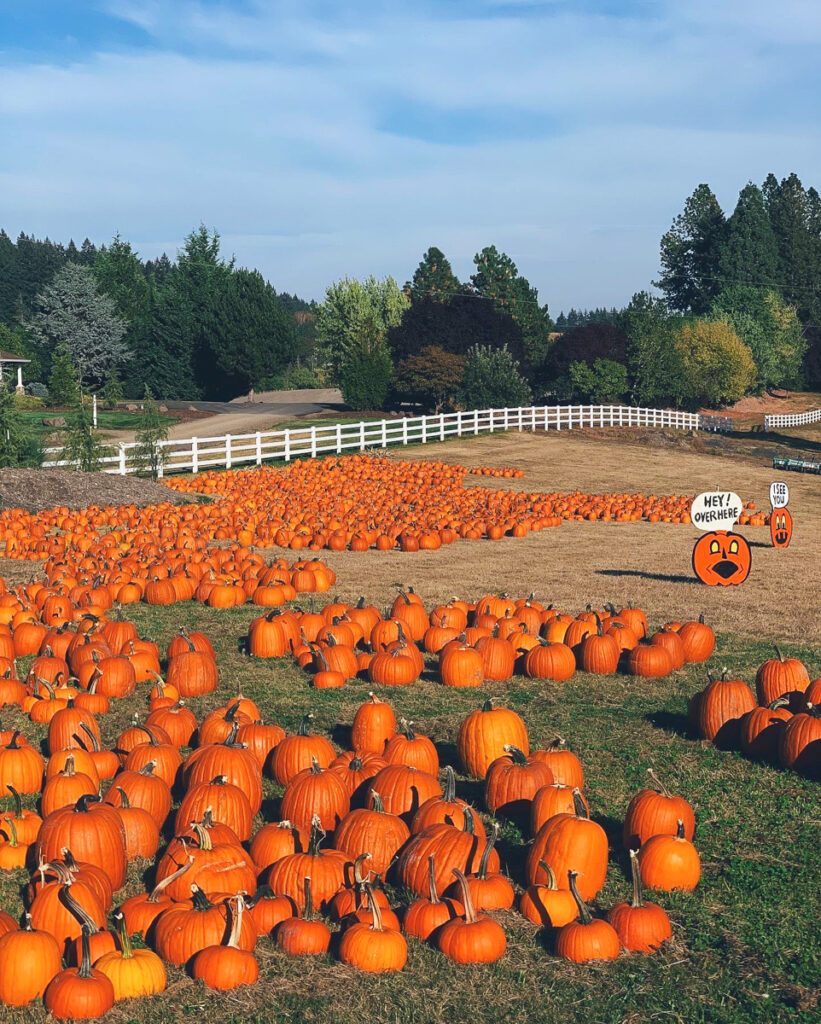 The original structures, with some new additions, have become a favourite tour attraction for people who visit the farm.
There is a scenic trail through the farm with play areas, a wagon ride, a country store selling treats, souvenirs and plenty more.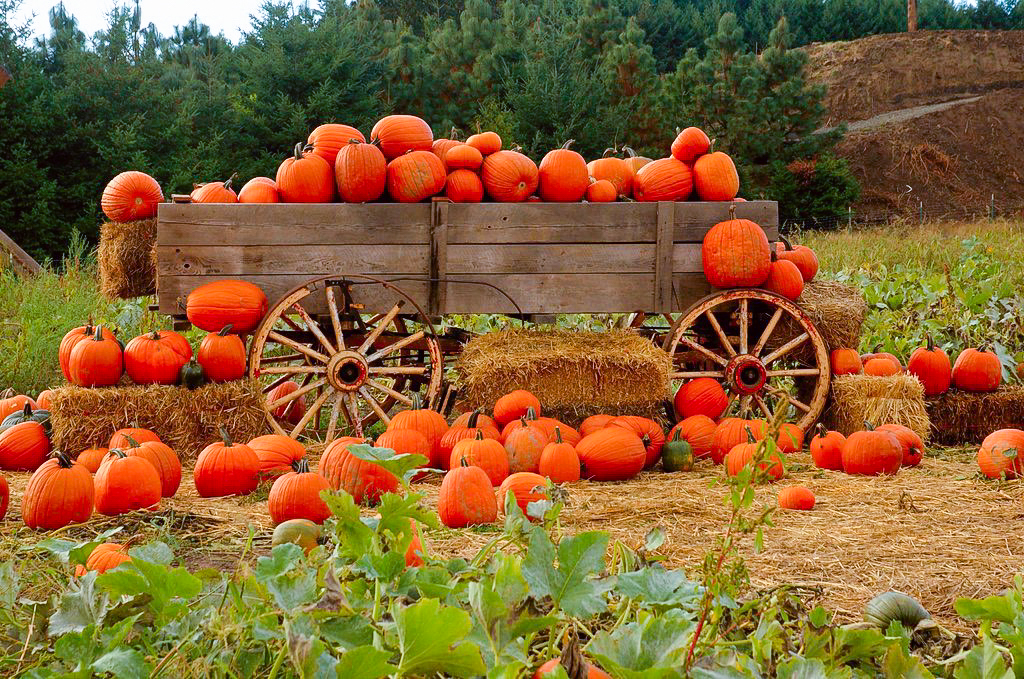 If you were an avid fan of the show, maybe you'll have the opportunity to meet the famous family while you're there.
Dates: October 1 – October 30
Timings: 10am to 5:30pm (Friday, Saturday and Sunday) – No Admission after 4:15pm
Entry Fee: $27 per person, (Children 2 and under enter for FREE )
Location: 23985 NW Grossen Dr, Hillsboro, OR 97124, United States
Pumpkin Farms in Eugene, Oregon
11. Johnsons Farms
Among the oldest farms in Lane County is the Johnson Farms, a family-owned agricultural company in Eugene, Oregon.
Johnson Farms has so much planned for this year's Harvest Festival. You can choose to go on a Walts wild wagon ride or load up buckets with miniature pumpkins and hit as many targets and scarecrows as possible.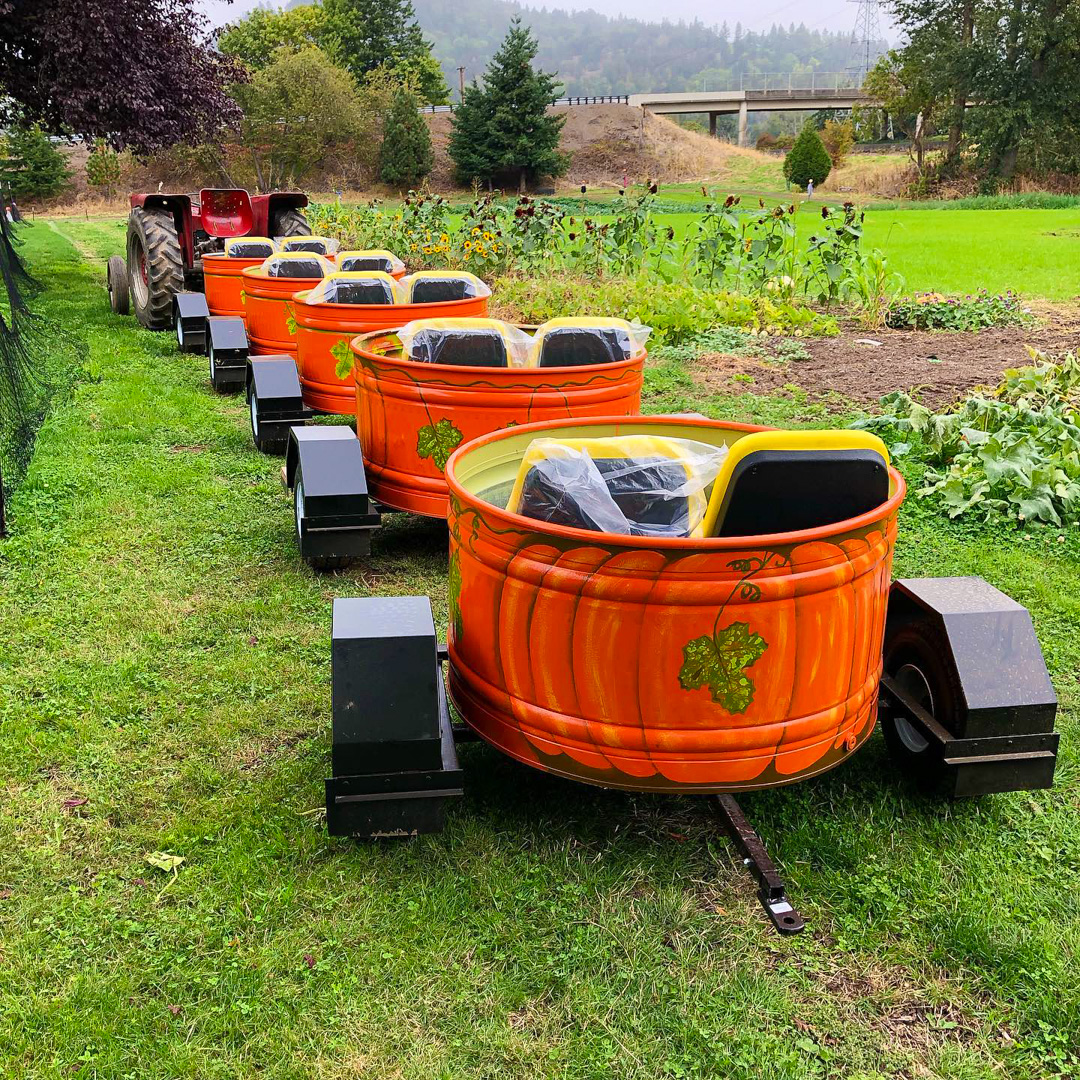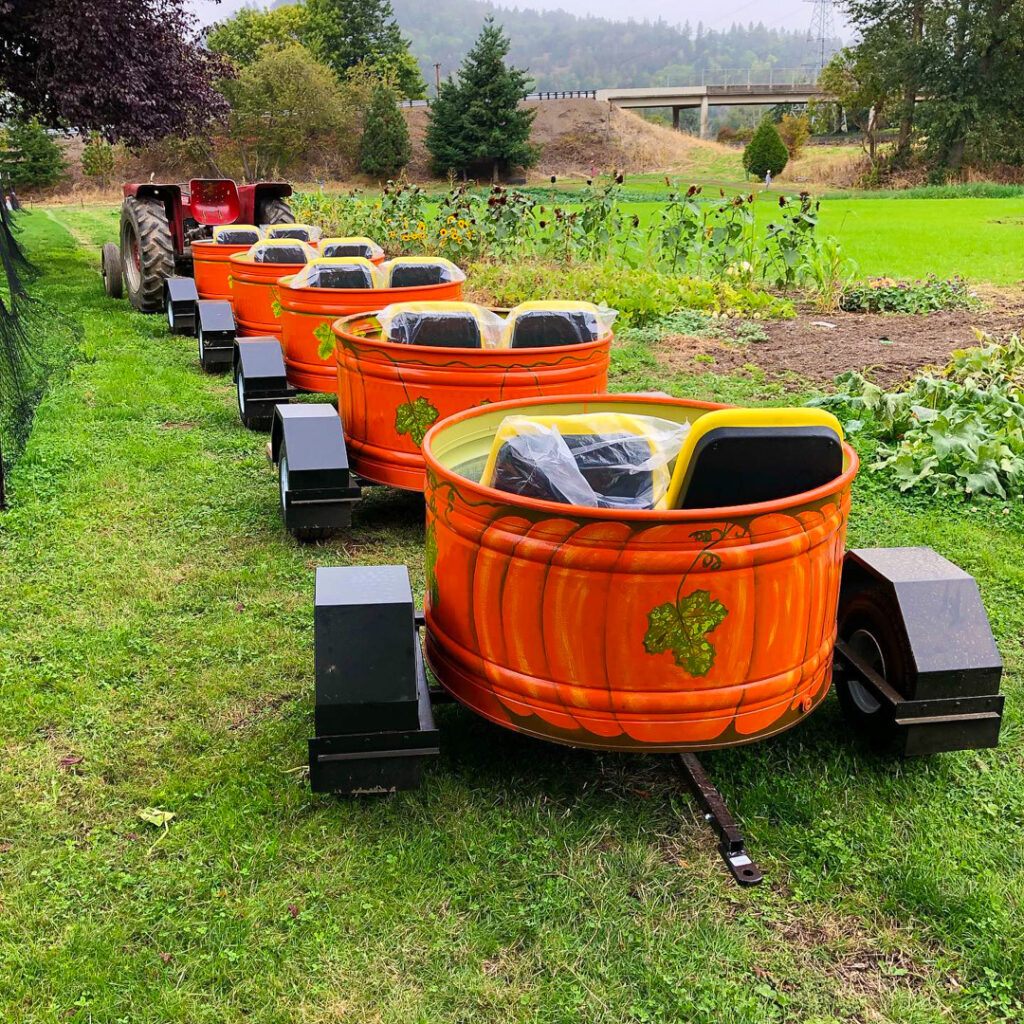 They have mazes and hay rides that are kid-friendly to ensure a wonderful time on their 4-acre pumpkin patch.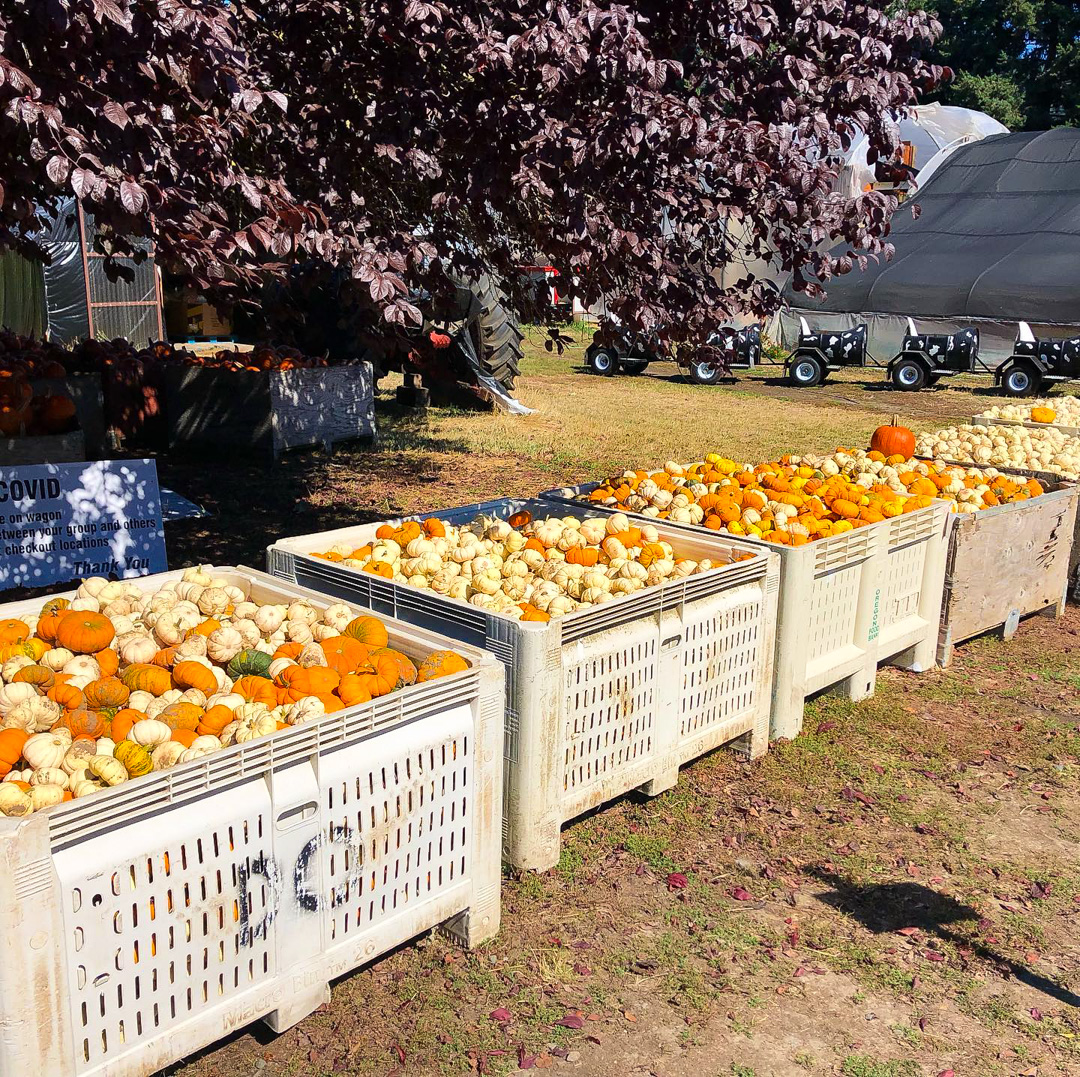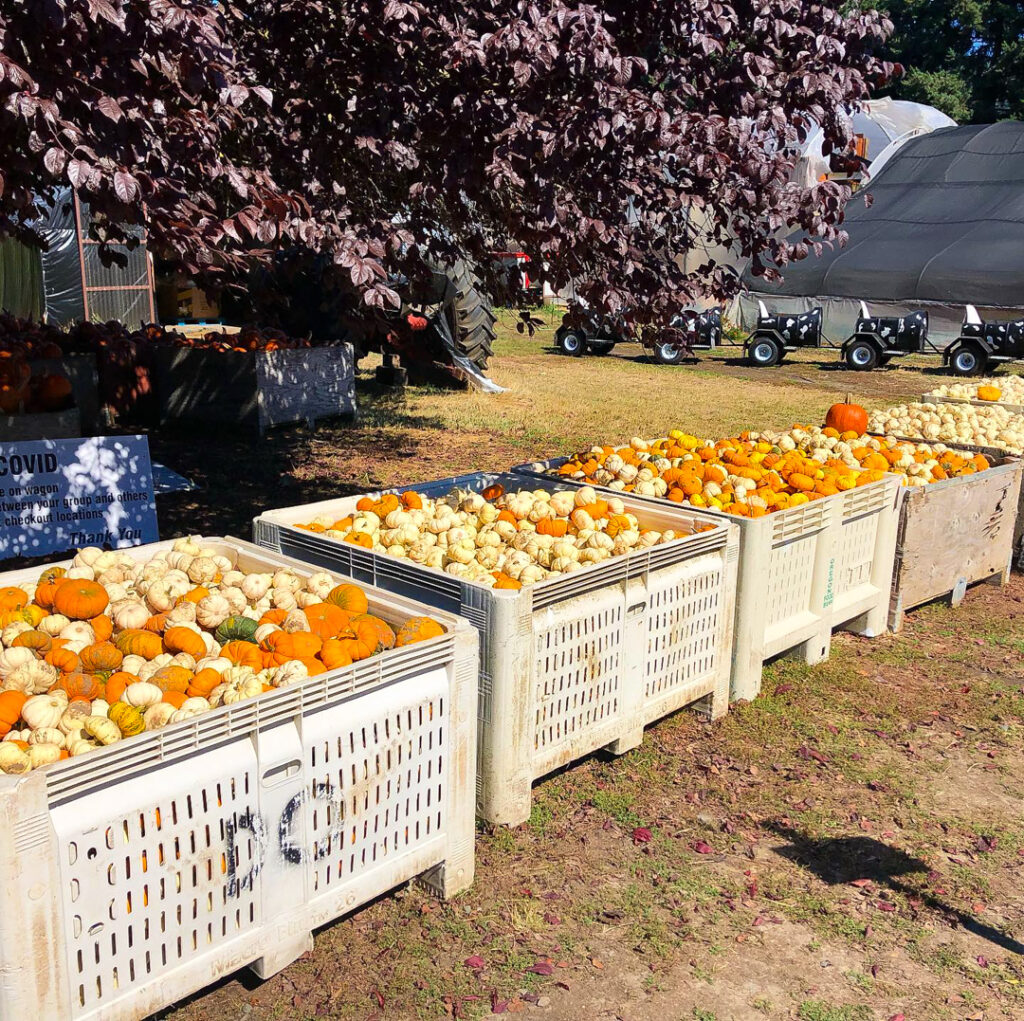 ($8 per person for hay rides, free for children under two years of age).
We suggest bringing a sack to load up your pumpkins. They provide you with wheelbarrows so you don't have to carry the weight of the pumpkins around.
Dates: Now through October 31
Timings: 10am to 6pm (Monday to Saturday), 11am – 4pm (Sunday)
Entry fee: FREE
Location: 89733 Armitage Rd, Eugene, OR 97408, United States
Pumpkin Patch In Boring Oregon
12. Liepold Farms
Liepold Farm in Boring, Oregon, offers lots of family-friendly activities during Fall. Hay maze, apple catapult, tricycle race track and children's pavilion, to name a few.
Having been in operation since 1952, the farm embraces sustainable agriculture as a farming family in its fifth generation.
The theme for this year's Fall festival is myths, monsters and legends. Stay alert and be on the lookout for Ogres and Leprechauns leading you astray.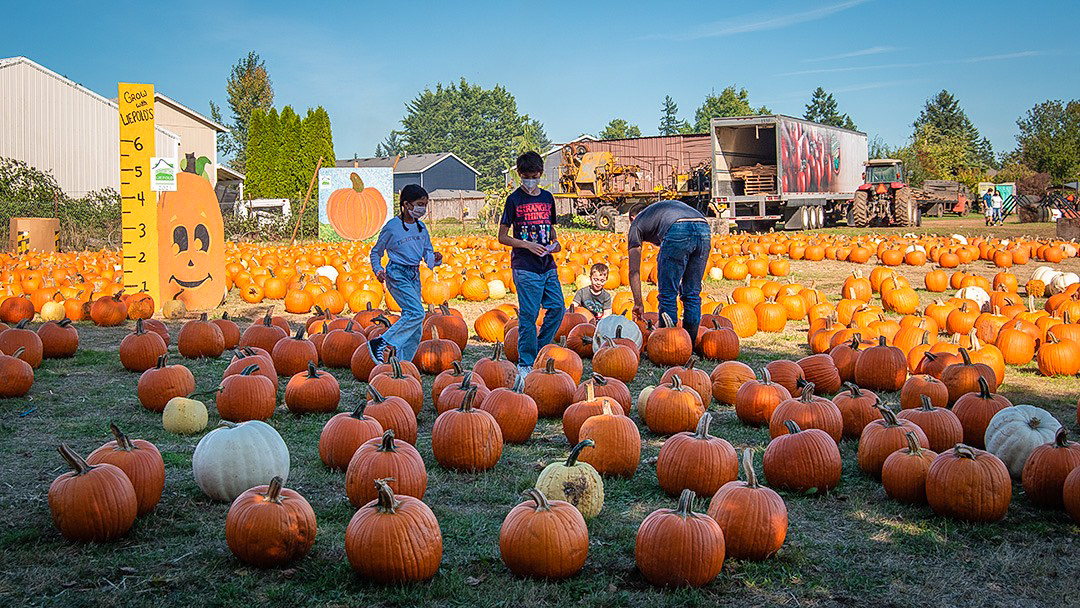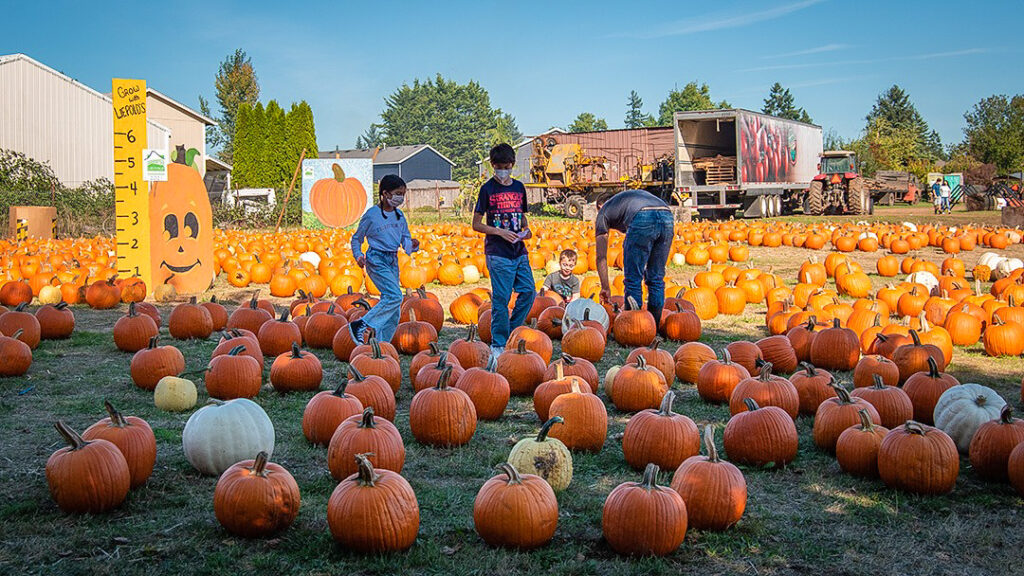 There are plenty of activities organised for the kids and grownups. A corn maze, dark maze, gnome hunting, hay rides, apple slingshot and a dead-end challenge in the corn maze.
You'll need at least two hours to enjoy what Liepold Farms offers fully.
Purchase your Fall Festival tickets
Dates: October 1 – October 31
Timings: 9am to 5pm, 7 days a week
Entry Fee: Adult pass @ $20 per person, Kids Pass (ages 2 to 13) @ $15 per person
Location: 14480 SE Richey Rd, Boring, OR 97009, United States
13. Bushue's Family Farms
There is no way you can resist the scent of homemade doughnuts. Try pumpkin bowling and grab a doughnut before taking a hayride to choose the jack-o-lantern. Not to mention taking in the view of majestic Mt. Hood.
You are welcome to bring your own snacks or lunch to the farm but make sure you dispose of garbage properly in the recycling cans at the Pumpkin Farm. Bushue's Farm has something for everyone to enjoy.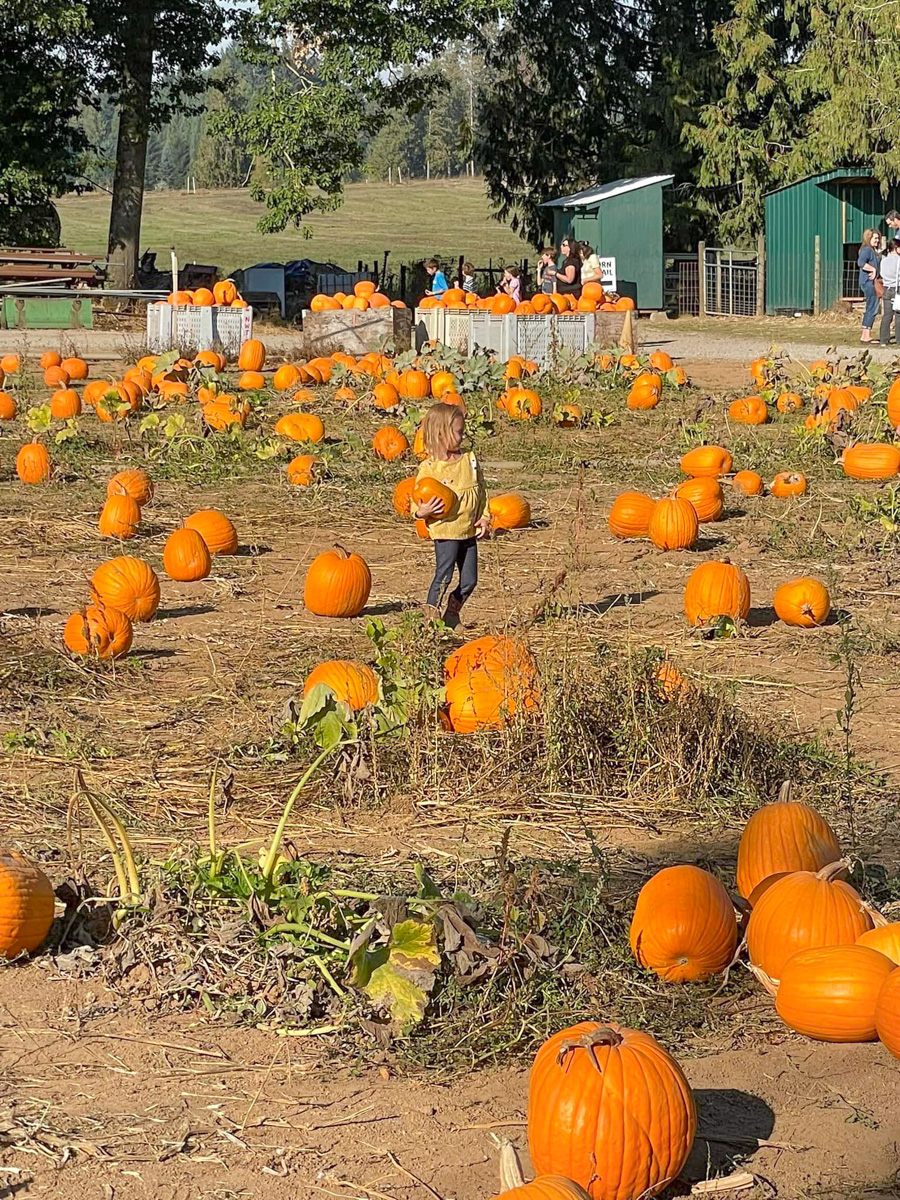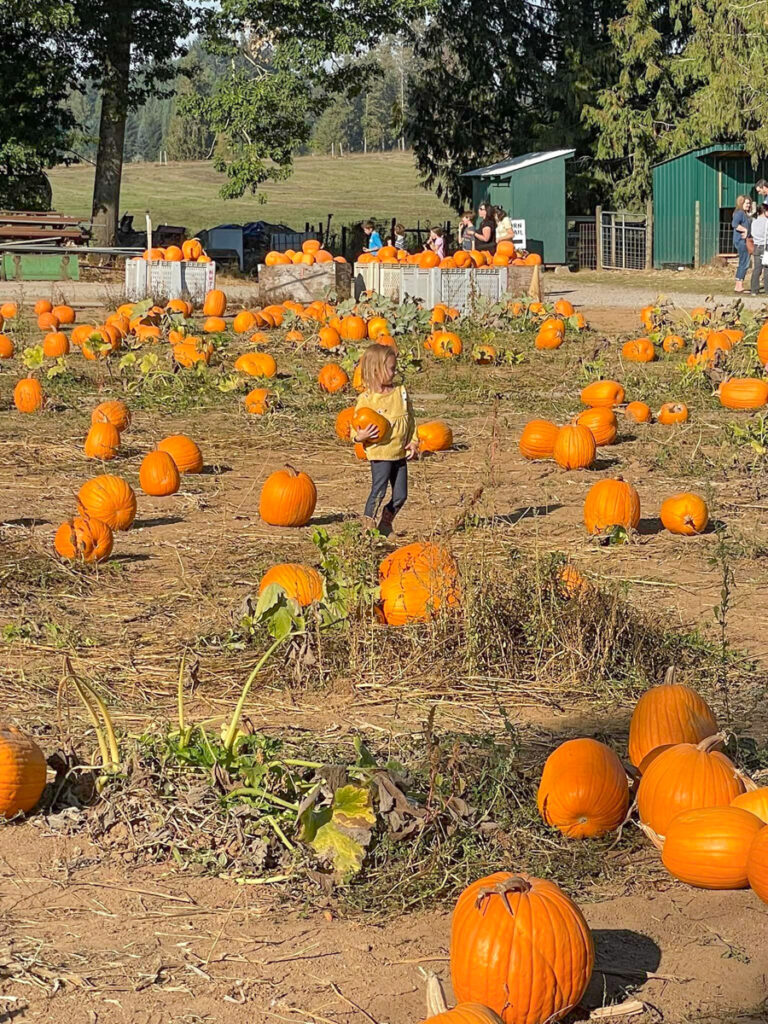 Once you have picked up your pumpkins and had your fill of hot dogs, chips or slushy, drop by their store that has a wide selection of Fall decor, including pumpkins, gourds, straw bales & corn stalks.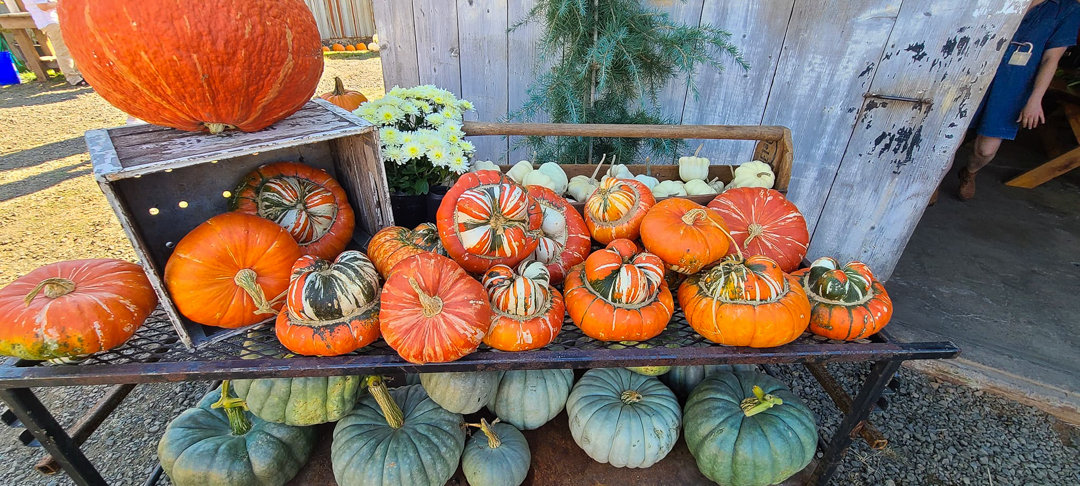 Dates: October 1 – October 30
Timings: 10am to 5pm (Thursday to Sunday), Closed on Monday, Tuesday and Wednesday (including October 31st, 2022)
Entry Fee: $12 for the Activity bracelet. Entry to the Farm is FREE, and there is no ticket requirement for adults to enter the play area with their children. (kids under 2 are free with a paid adult ticket.)
Location: 9880 SE Revenue Rd, Boring, OR 97009, United States
Pumpkin Patch In Medford, Oregon
14. Pheasant Fields Farm
Check out the Pheasant Fields Farms this Fall if you live in or around Medford.
The farm transforms into a Fall festival on weekends in October with a cow train, hayrides and corn mazes.
No admission fee is required to enter the front pumpkin patch, and you do not have to make a reservation or sign up for a time slot if it is only the patch you want to visit.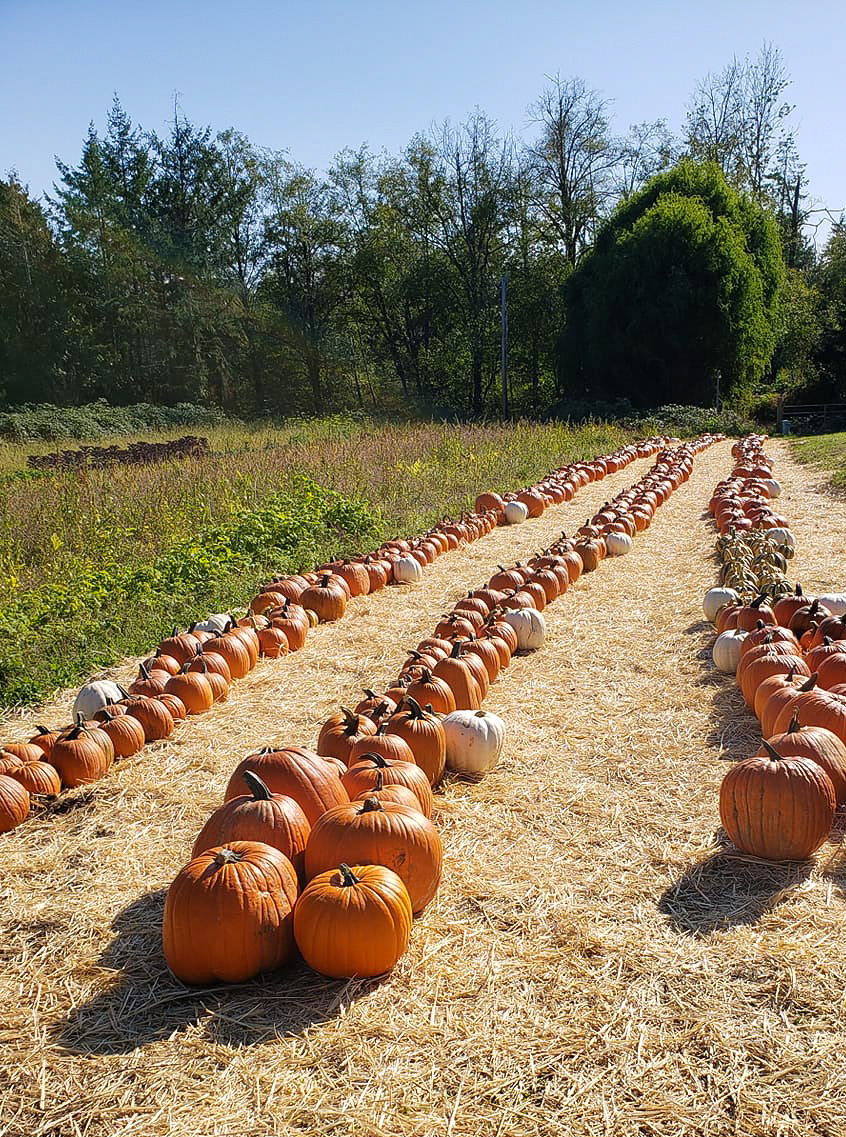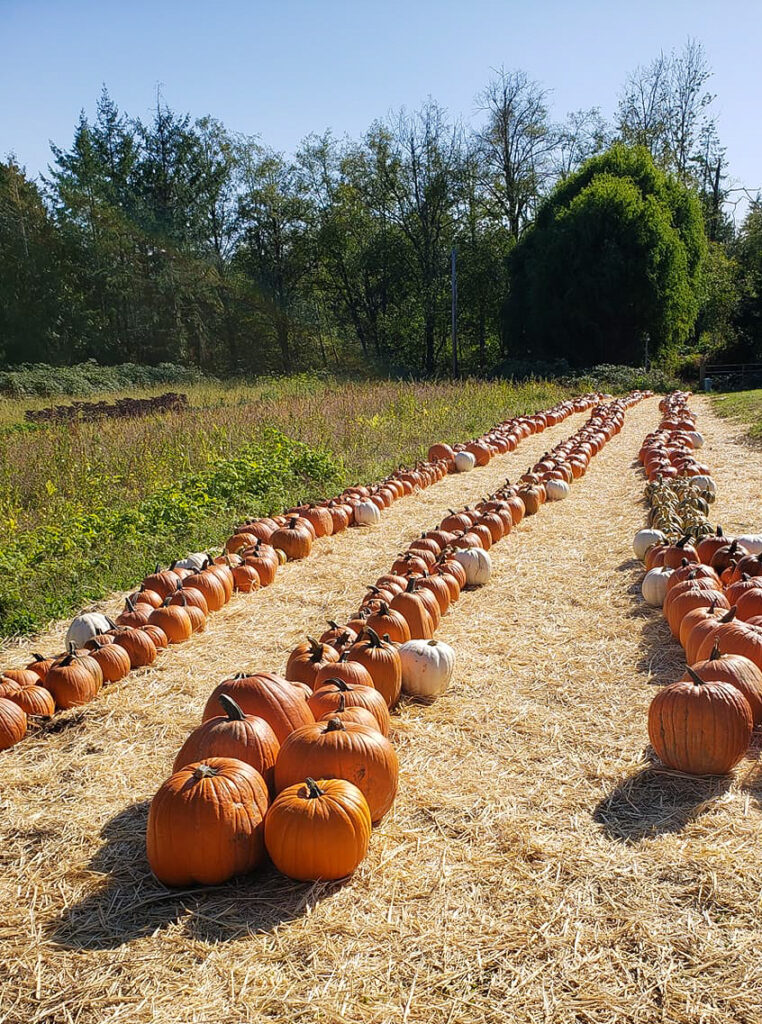 However, if you do get an entry pass, Pheasant Fields Farm will take you on a ride through their corn maze while you practice your paintball skills.
You will be shooting at different zombie targets and so many more thrilling activities. This farm doubles as a bed & breakfast if you want to stay the night and make a festive weekend getaway.
Dates: Every weekend through October
Timings: 10am to 5pm (Saturday and Sunday)
Entry Fee: Access only-General Admission @ $7 per person(Online booking @ $5),
General Admission with unlimited access to activities @ $14 per person (Online price @ $12)
Location: 1865 Camp Baker Rd, Medford, OR 97501, United States
To Sum Up Pumpkin Farms In Oregon
Our extensive list of Oregon pumpkin farms will ensure you a memorable Fall. You should call and double-check with the farm before you visit.
Unpredictable weather may force pumpkin farms in Oregon to close earlier than expected. A trip to a pumpkin patch is one of the most enjoyable ways to welcome the Fall season.
This is a family affair and a great activity for friends. We have also created a map to find the best pumpkin farms in Oregon nearby, whether you are living in the area or passing through on Highway 101 Road trip.
Map Of Pumpkin Farms In Oregon
How Do I Dress For Pumpkin Picking?
You'll be trotting around pumpkin farms in Oregon, so don't forget your rubber boots and flannel shirt. You may want to wear a weatherproof jacket or something that keeps you warm if it's raining or cold.
What Do I Bring To A Pumpkin Patch?
A wheelbarrow or a large sack to carry the pumpkins back to your vehicle.
A camera for capturing beautiful memories
Dress in layers in case of unpredictable weather
Bring a picnic lunch or cash for snacks and drinks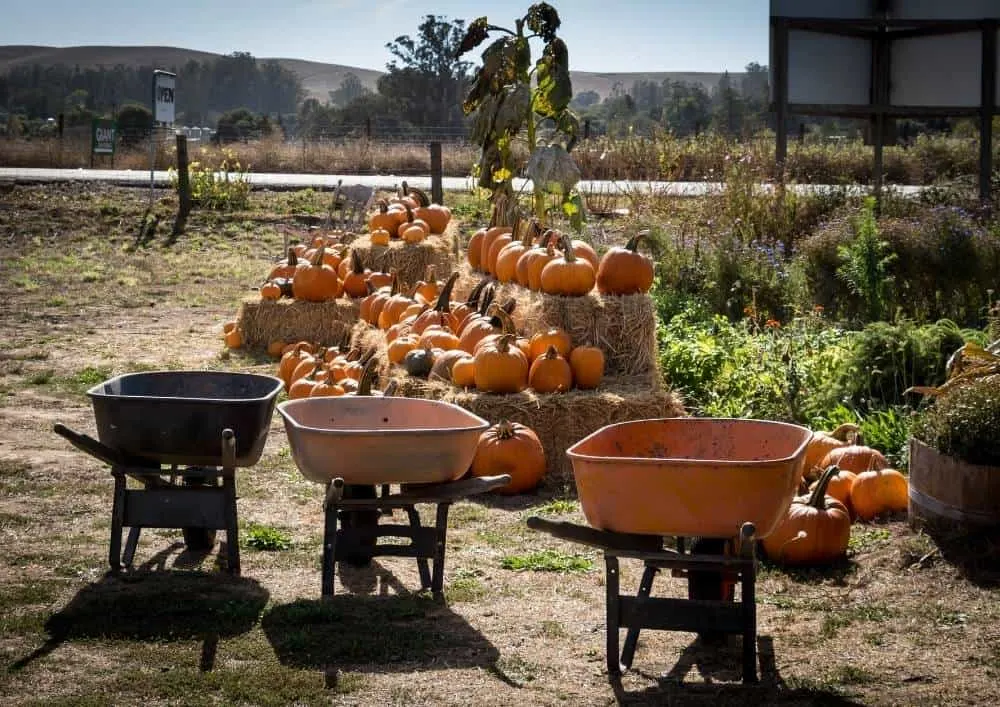 Here Are Some Simple Tips For Visiting Oregon Pumpkin Patches
It is always best to choose a pumpkin with a deep orange color
A pumpkin is ripe when it sounds hollow – check to see if it is hollow
Make sure the bottom of the pumpkin isn't mushy or soft
Ensure the pumpkin's stem is firm and secure
Pumpkin Carving Tips
If you visit one of the pumpkin farms in Oregon and pick up one to carve -soak your pumpkin in water for about 10 minutes before carving. When carving, it is best to use a sharp knife, a small serrated knife, a metal spoon, and a thumbtack.
With a serrated knife, level the bottom of the pumpkin. If you want to put a candle in your pumpkin, you may want to carve a hole in the bottom and place the pumpkin over it.
Once the top is opened, scoop out the seeds with a metal spoon. If you need to carve tiny details on the pumpkin, use a sawing motion rather than straight cutting.
If you create an elaborate design, you should draw it first on paper. Punch holes along the design with a thumbtack after taping the design to the pumpkin. Using this method, the pumpkin will not have visible lines after being carved.
Whenever possible, carve your pumpkin on the same day you plan to display it.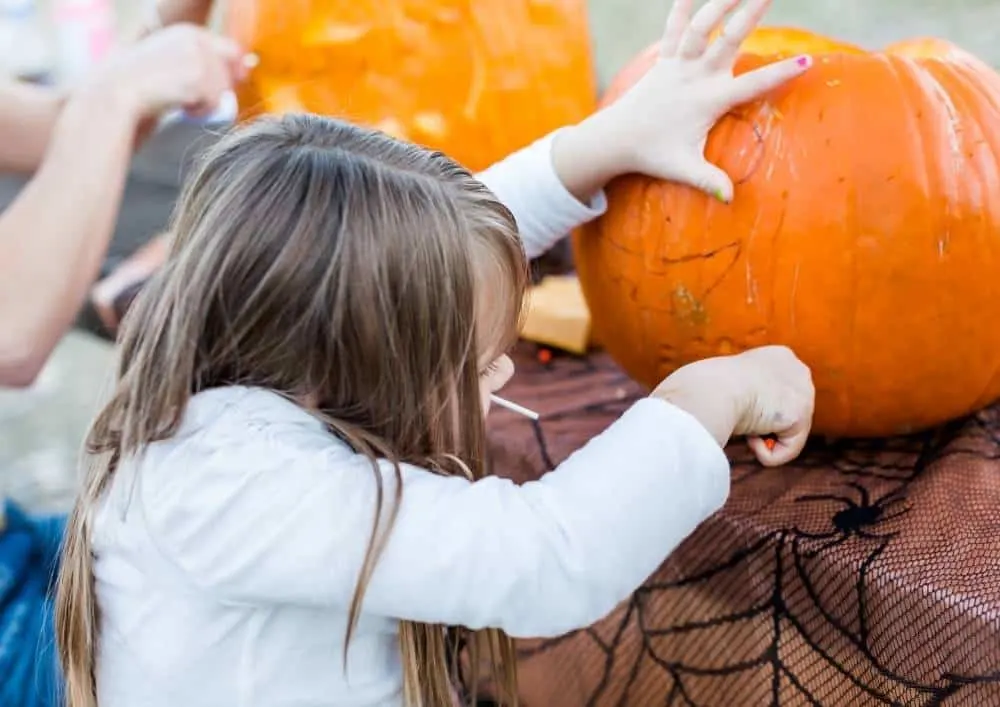 Well, if you got to this point, I would like to thank you so much for reading this article, we hope it was helpful to you. If you visited one of these pumpkin farms in Oregon, we'd love to hear how it was, leave us a comment below.
Best Pumpkin Farms In Maryland
Disclaimer: This post may contain affiliate links, by using them, it will not cost you any extra, we will receive a small commission at no extra cost.