As a family of frequent travellers, we are always keen to keep our little ones as comfortable and happy as possible on a long journey. Hence we had to write a Flyaway Bed review as soon as we tried it.
Sleep is the number one thing that keeps us all in check but sometimes trying to bed kids down on a flight can be a nightmare. That was until an airplane bed for kids came onto the market.
We've tried a number of products, from the Plane Pal to the Jet Kids BedBox, they all have different pros and cons to the design.
The first and foremost thing I have to say about the design of the Flyaway Kids Bed is it trumps all others when it comes to comfort for the kids.
Flyaway Bed Review
The Flyaway Kids Bed is essentially a blow up mattress that goes on top of the airplane seat and fills the legroom space as well. This set up creates a flat soft bed so kids can lie down and catch that all important beauty sleep.
It has a clever support stand that hold the mattress in place. The entire bed and support stand inflates in 90 seconds with a handy little pump.
It's quite a small pump in comparison to the ones that come with similar products, this was a big plus, as it takes less space in hand luggage.
The other good thing about the pump is it's not noisy so it doesn't draw attention when setting it up. We loved the little bag it comes with as it packs up into a good size for hand luggage.
Setting Up
Flyaway Bed Review
The instructions suggest giving it a try at home first and I have to admit this is a good idea. Of course, we were a little silly and didn't read the instructions first!
Our little boy fell asleep in such an awkward position before we had set it up, note to self, just read the damn instructions!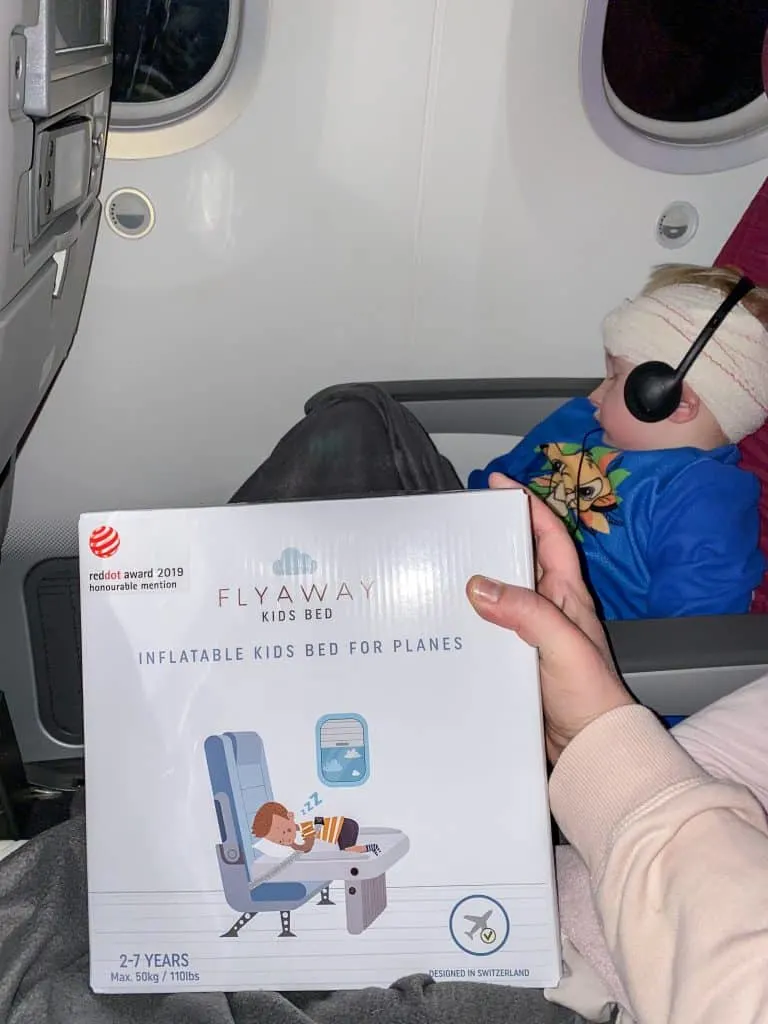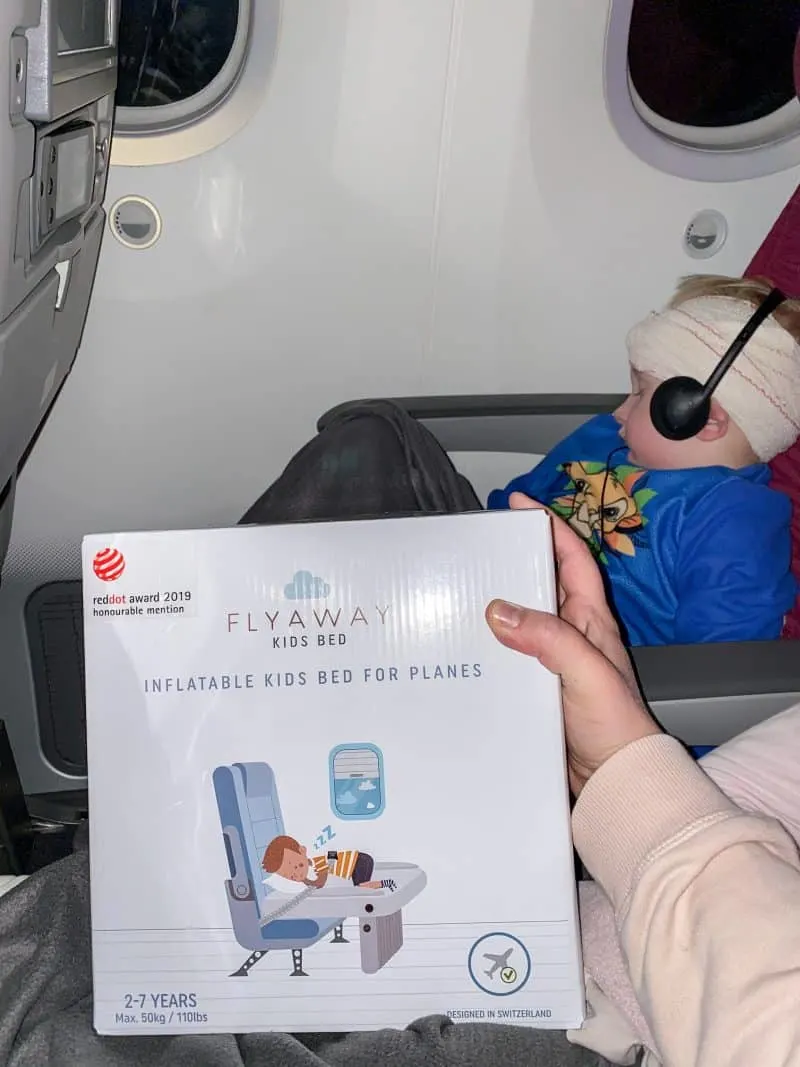 The thing is you need to get your little one out of the seat in order to put the bed in place. It only takes a couple of minutes to set it all up including pump time so they can sit on your knee whilst you are doing it.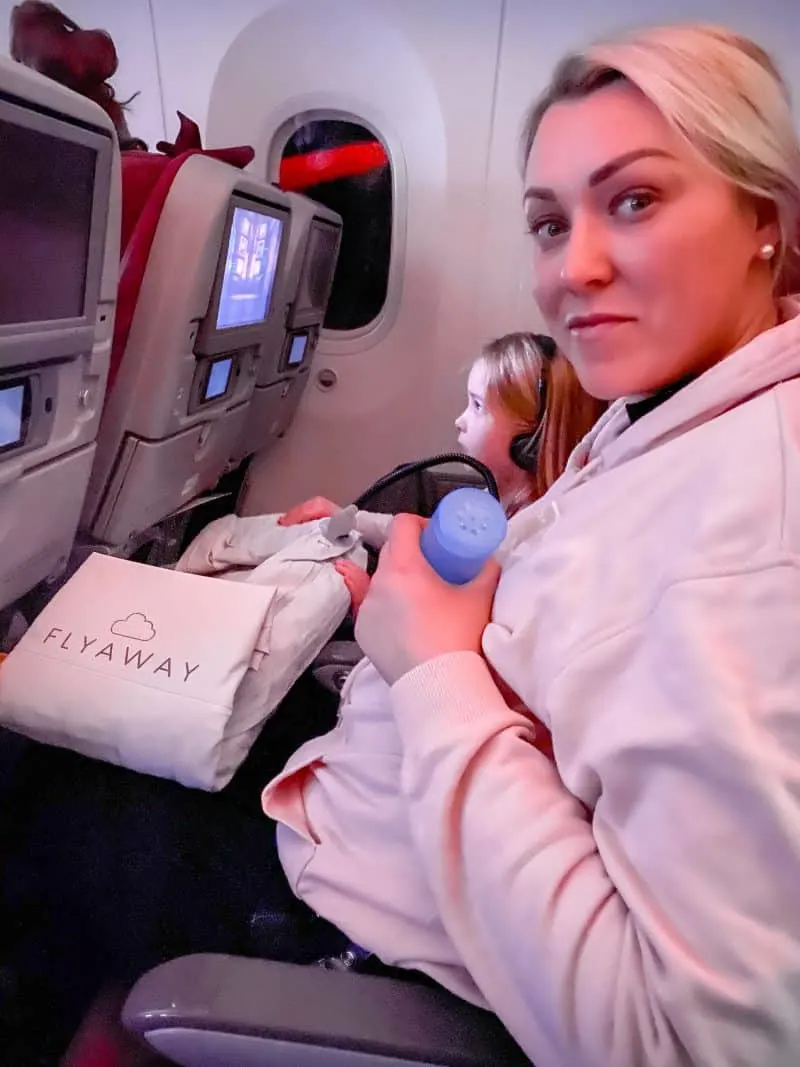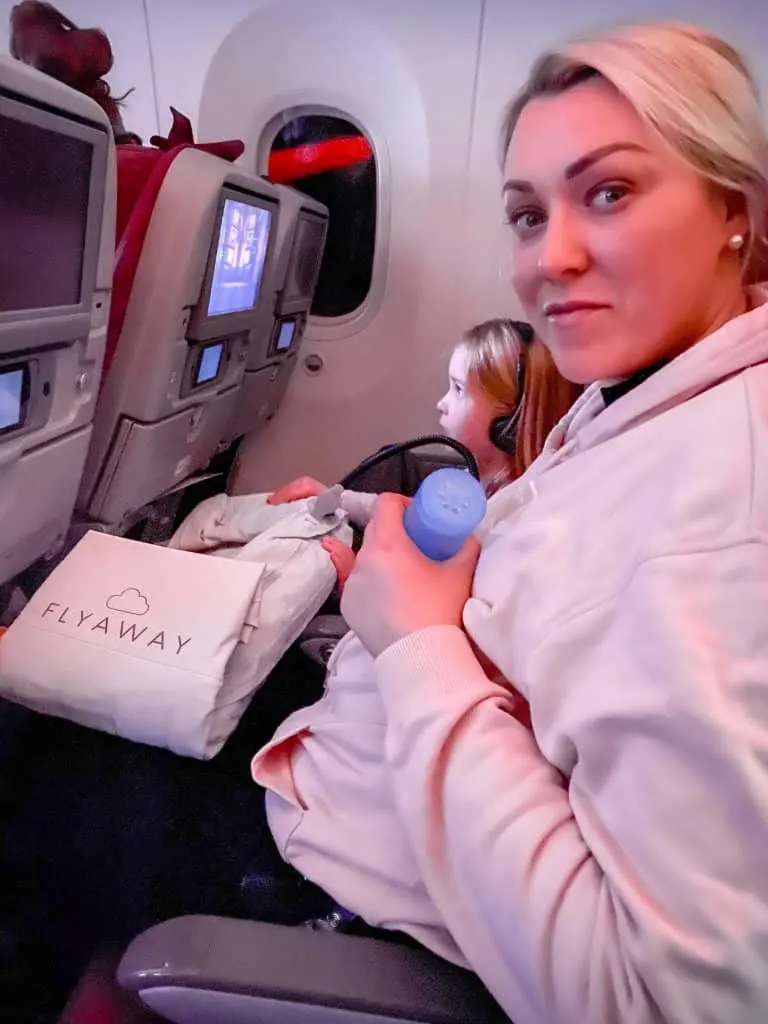 When you initially unravel the mattress it looks really big in comparison to other products I've used. So the best thing to do is store it in under the seat in-front of your child's seat.
Unpack it within the seat space rather than out on the isle and inflate both valves- that's it!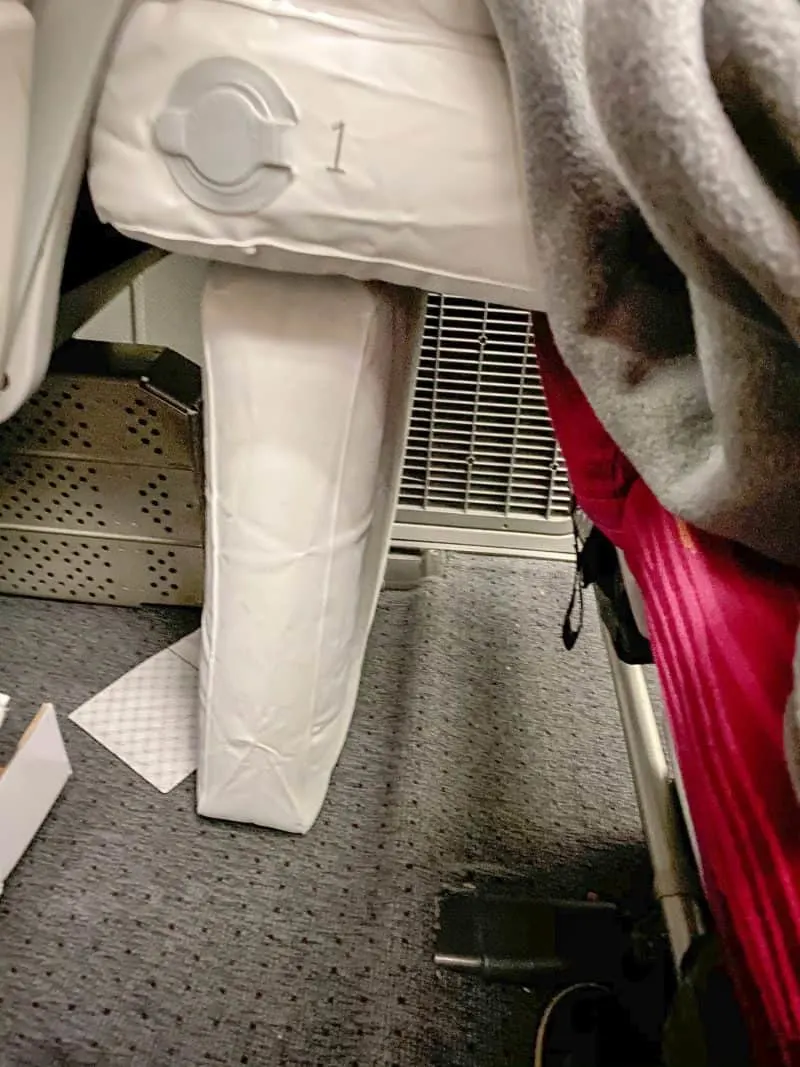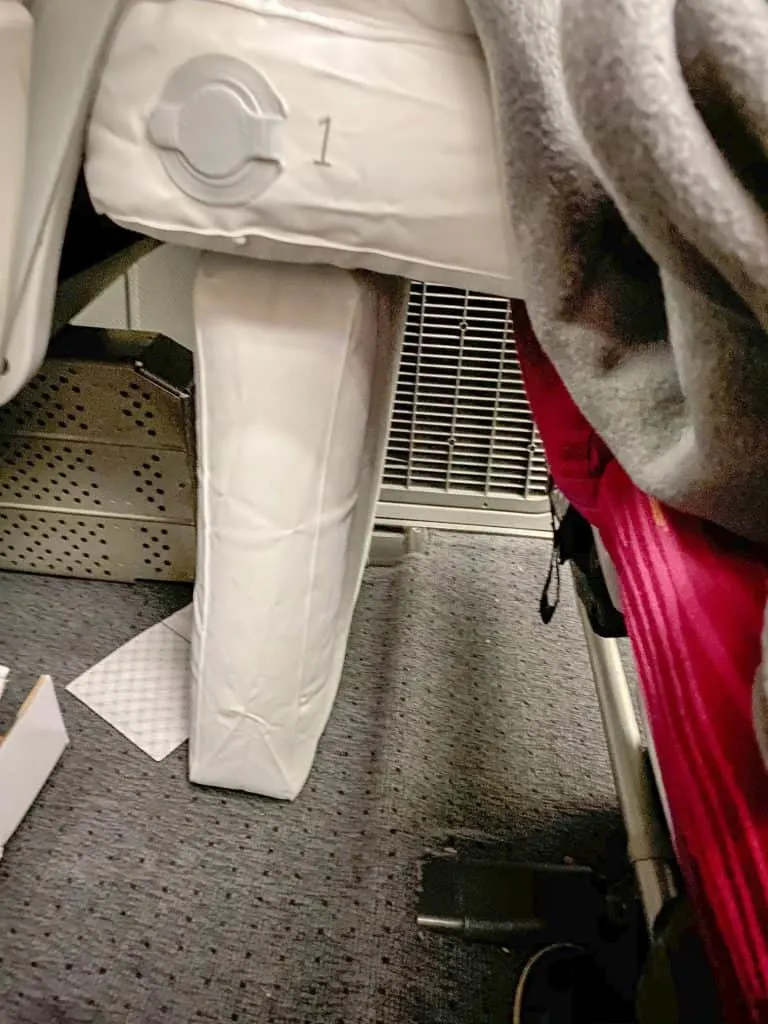 Choose Correct Seats For Use
Flyaway Bed Review
Something that is super important is to choose appropriate and safe seats if you plan to use this product. The window seat is fine as is the centre two seats if you are flying on a large aircraft.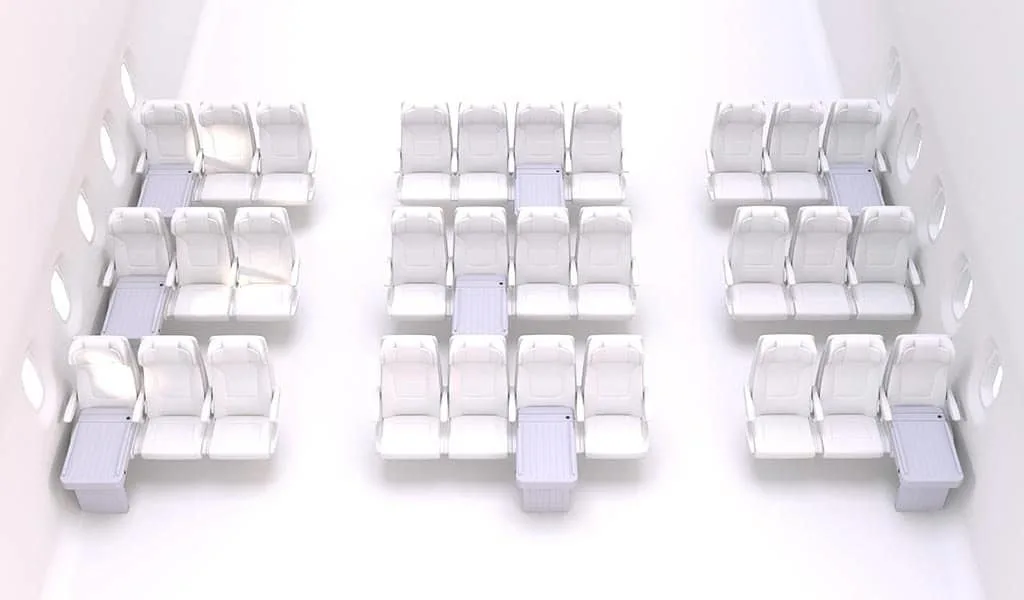 My personal preference is to use a window seat for this product as little ones don't have the distraction of someone on both sides. You can use the product on bulk head seats and obviously you can not use it on exit rows.
I was really happy to find this product has an emergency valve, you can pull in case you needed to deflate the product instantly.
Comfy Kids Airplane Bed
Flyaway Bed Review
Once the comfy kids airplane bed was all set up, we used one blanket and pillow provided by the airline to settle our little one down. He went back to sleep instantly.
The reason this product is more comfortable than others is because it's completely flat but also full of air.
With other products they are not quite as thick so my kids could feel all the lumps and bumps in the seat. This is definitely the best thing about the Flyaway Kids Bed!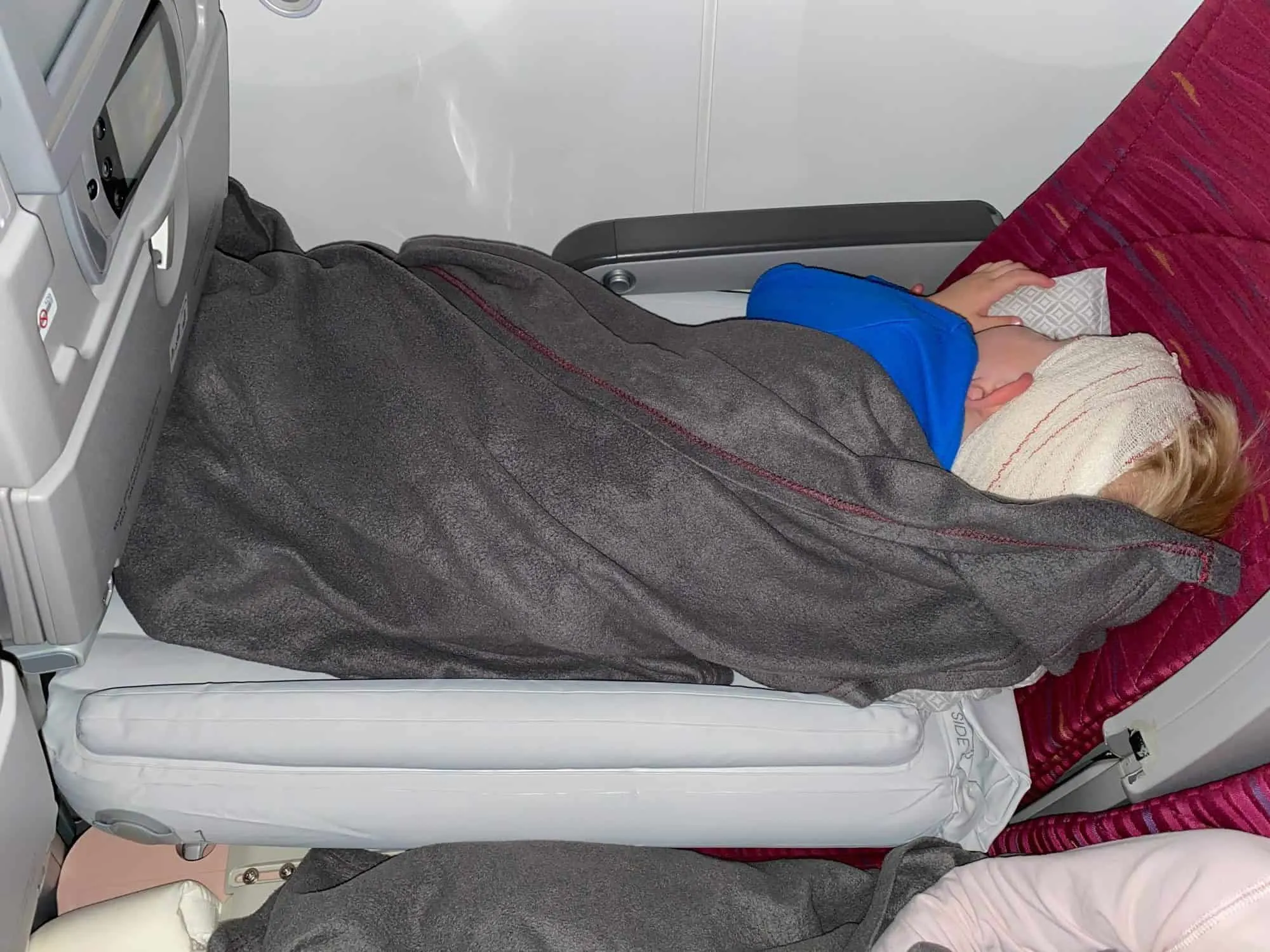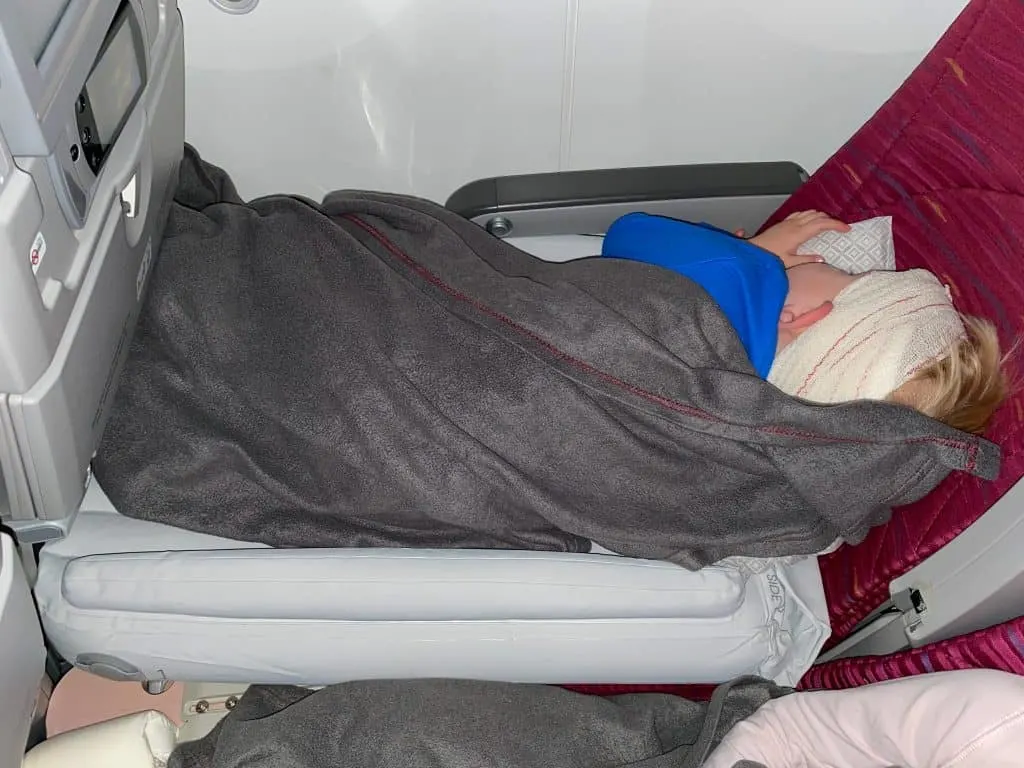 There is enough air inside to ensure they can't feel any bumps. It even has mini bumpers on edge.
We used this product for our toddler on the outbound flight and our 5 year old had a chance to use it on the way back.
Our girl is a tall 5 year old so she obviously couldn't stretch out but she was able to articulate that she found it more comfortable than other ones she had tried.
I really like the finish on this product, I didn't even feel it needed a cover. The material was fine to sleep directly on with their PJ's.
Do all airlines accept Flyaway?
The Flyaway Designs website has a list of airlines that do currently accept the product. You can find a full list of them here. There are a handful of airlines that do not accept and some others where the cabin crew will have the final say.
I have been taking these kinds of products onto the flights for the last few years without any issues.
The main thing is to be discreet, use the correct window, keep your little ones seat belt on and make sure there head is not at the tray end. This should be the right way around.
Put a blanket over your little one and keep the seat belt over it so cabin crew can see it, they are less likely to disturb you.
We always get our kids into PJs once we are on the flight, they also have eye masks, plane blanket and pillow. This all contributes to a great night sleep.
The other week we flew home from Tanzania on an overnight flight. Both kids slept like a dream the whole way thanks to Flyaway kids bed. The irony is hubby and I were exhausted and needing some sleep and our kids were literally perfect.
We arrived home at 8am, thank goodness we had our babysitter that day because we were definitely going to bed! We were delighted that they slept but seriously they had far too much energy after a long flight – lol!
Any downsides to the Flyaway Kids bed?
The Flyaway Kids is most certainly a superior product in terms of design and comfort. However that does come with a price tag of $120.
This is obviously quite expensive, however, if you are a frequent flyer, it is worth the investment.
You may also like:
Disclaimer: This post may contain affiliate links, by using them, it will not cost you any extra, we will get a small commission to keep on writing helpful content.