Portland, Oregon's largest city, is all about parks, cycling, breweries and museums. There are tons of fun things to do in Portland with kids.
We travelled down from nearby Seattle on a highway 101 road trip. There are distinct differences between the two cities.
We found Portland to be cleaner with many eco-friendly initiatives going on. I almost felt like I was in Amsterdam, everyone cycles!
We didn't know much about what to do in Portland, Oregon before we visited, but we loved how family oriented all of the tourist attractions were.
If you are in the area in Fall or Winter be sure to check out our guide to the best pumpkin farms Oregon or Christmas events in Portland.
Activities In Portland For Kids
Due to its position, Portland is an ideal base to explore natural attractions on the outskirts of the city.
Oregon is so beautiful and renowned for its landscape of waterfalls, forests, mountains and dramatic coastline and there are tons of things to do in Oregon with kids. In fact, walking along Bandon beach is one of my core memories with my kids.
If you are visiting, allow two to three days for exploring all the family activities in downtown Portland and a couple of more days for nearby nature trails.
Here are the best things to do in Portland with kids including hotel and restaurant recommendations as well as some interesting facts for kids.
Table Of Contents
1. Rent a Surrey
I never knew what a Surrey was until we visited Portland with the kids. It's kind of like a tuk-tuk, except you cycle it around yourself.
We rented one from Kerry Bikes at the Tom McCall Waterfront Park. It's such a fun way to check out the river's edge and see the city skyline. Our toddler really enjoyed it, and we parents got a leg workout!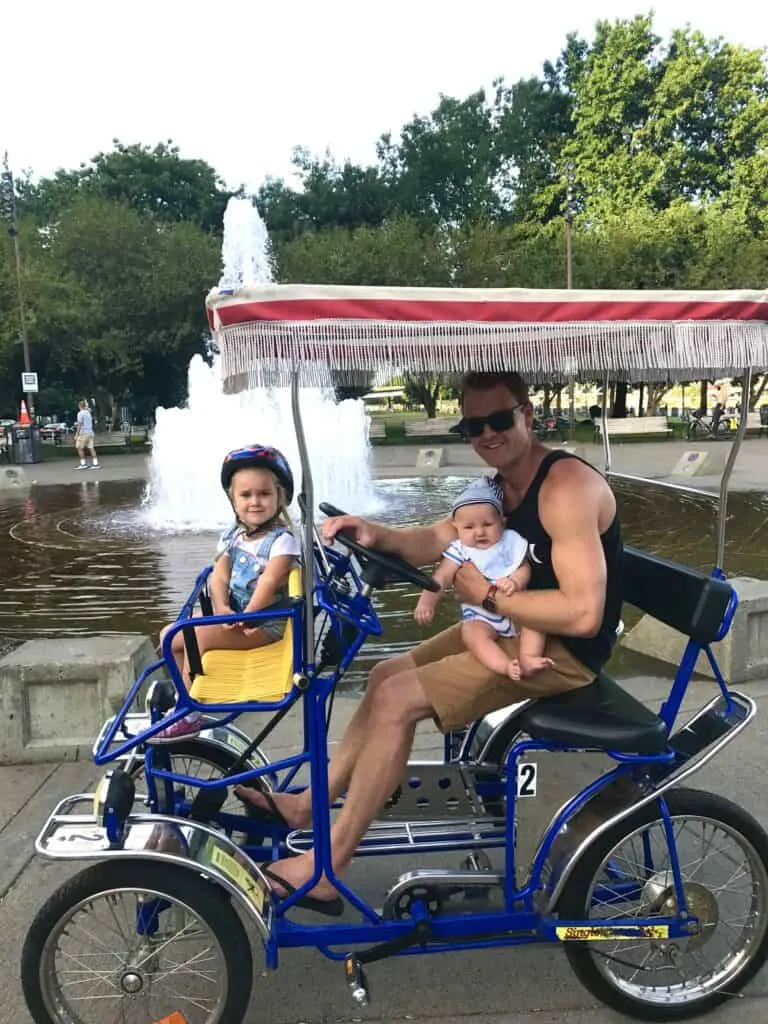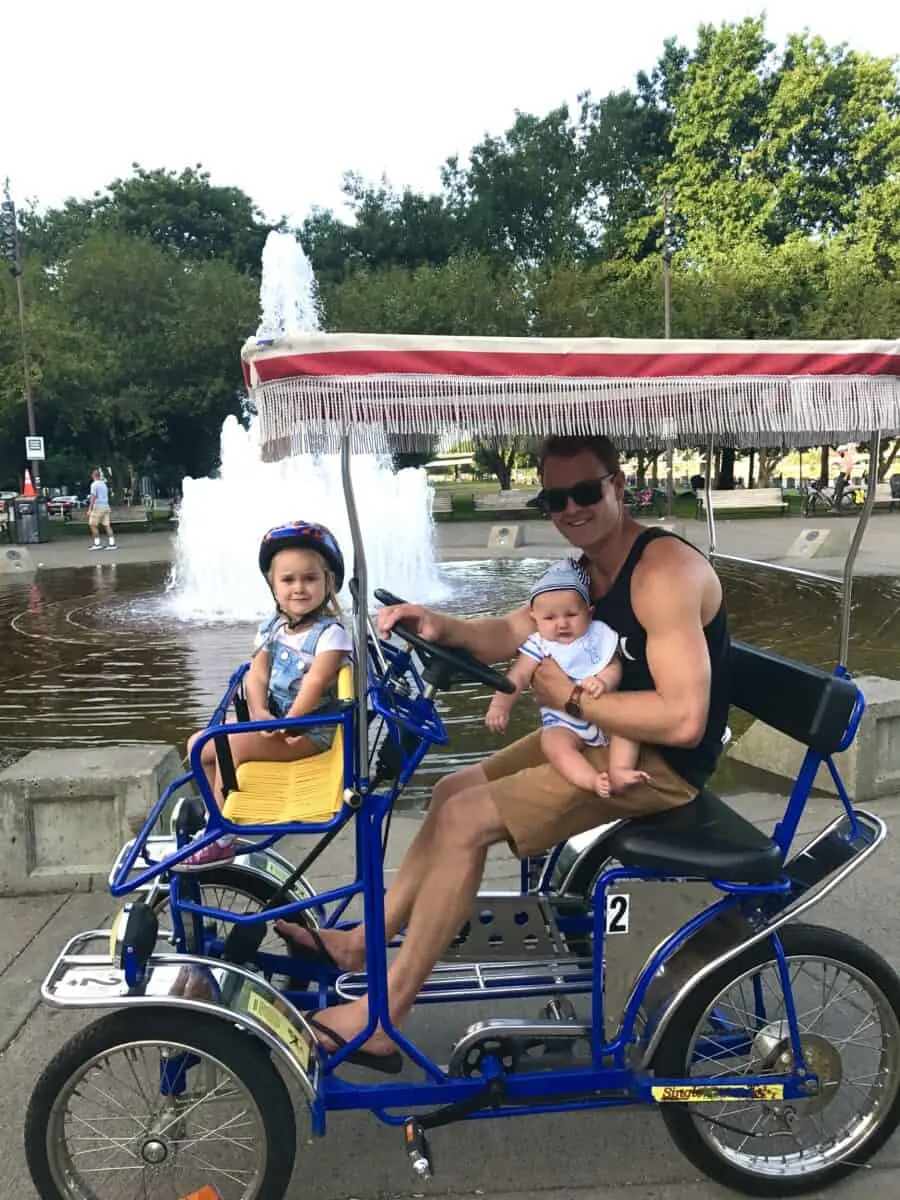 Kerry Bikes were kind enough to store our buggy whilst we took the Surrey for a ride. I love this company as they are a non-profit organisation. All profit is invested in local services for children with disabilities.
It's always a bonus for us when an activity gives back to the community. Tom McCall Waterfront Park is also a great place to take a stroll if you prefer not to rent a Surrey.
2. The Japanese Gardens
The Japanese Gardens is a popular Portland attraction in Washington Park. Based on a hill with views of Mt Hood, it's a tranquil escape from the busy city. A peaceful temple, a mini waterfall and beautiful vegetation are some of the highlights.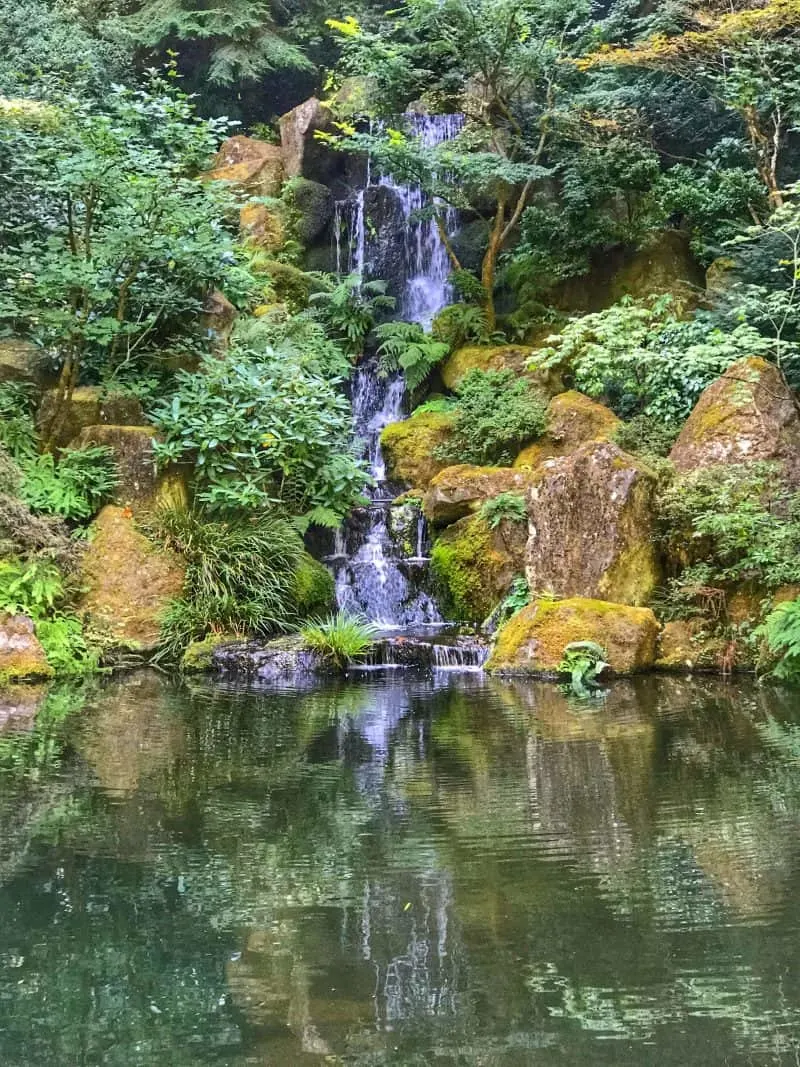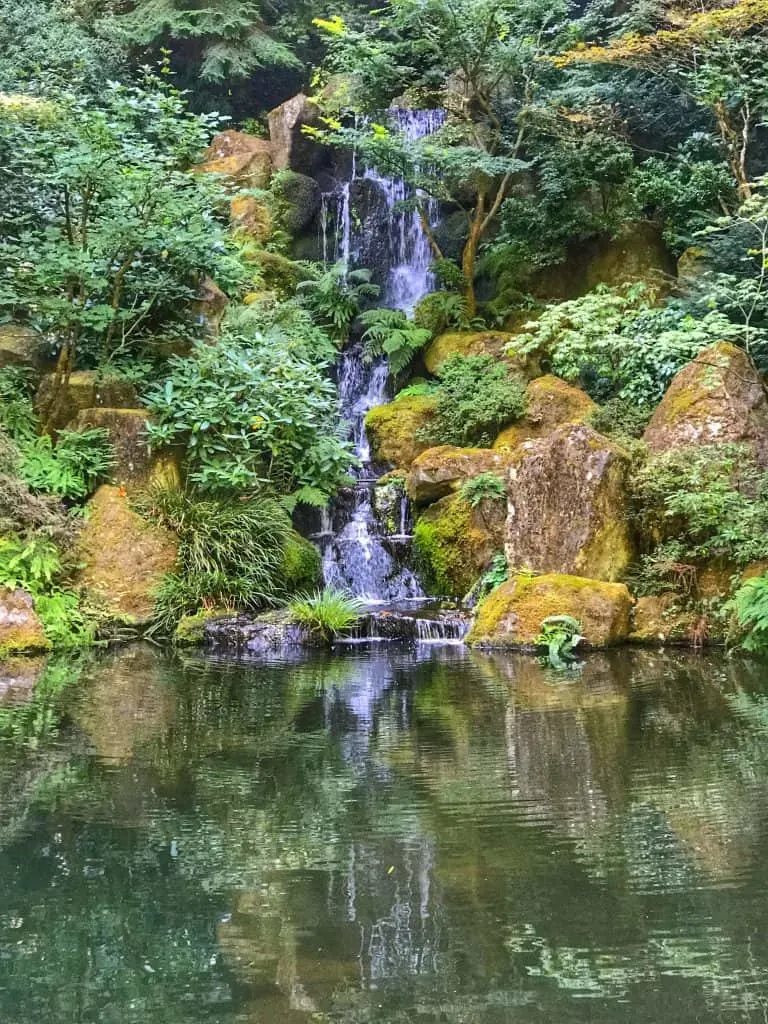 It's a little pricey for a ticket but luckily little ones go free. It's worth noting, strollers are prohibited in certain areas so it's best to use a carrier if you have a baby.
You can purchase tickets to the botanical gardens here.
3. Hiking in Forest Park
As one of the largest urban parks in the US, Forest Park offers more than 30 miles of trails with amazing forest scenery.
Taking a walk through Forest Park feels like the Amazon. It's the perfect urban escape if you are looking to get away from the bustle of Portland. Access to the park is free of charge, there are plenty of trails to discover.
The wildwood trail leads to an old stone house, also called the witch's castle and is a fun place to explore with kids.
There are endless types of trees and wildlife to discover. Keep an eye out for owls which can sometimes be seen in the area.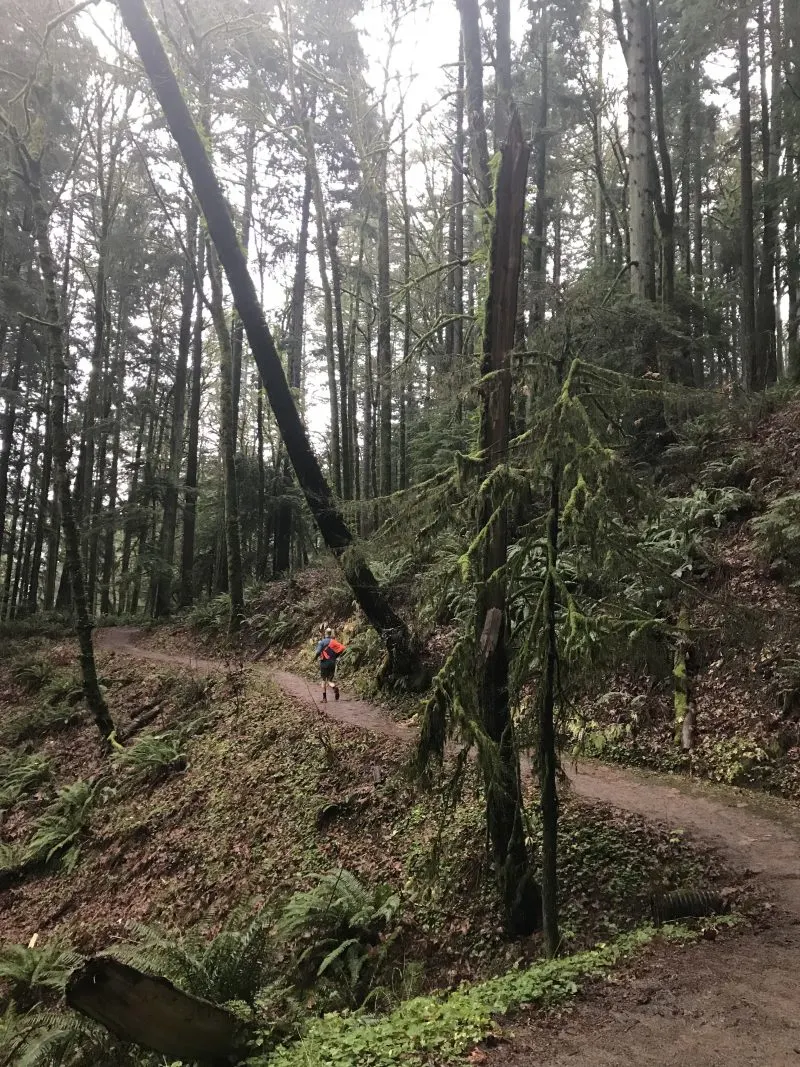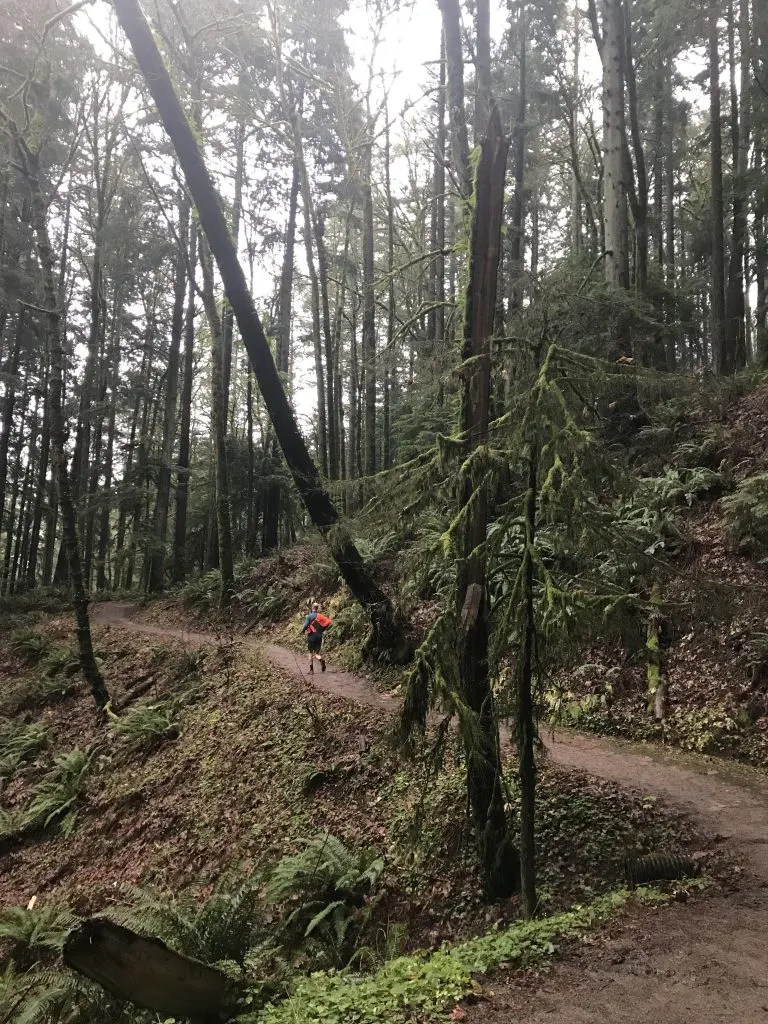 Since it's possible to spend hours in Portland's Urban Forest Park, make sure to bring enough water and snacks.
In general, although hilly, the trails are almost perfectly maintained. A pair of trail running or hiking shoes with a good grip will help you get through some muddy and rocky sections.
Maps can be found at most trailheads and at intersections. There are lots of options with easy, family-friendly trails, as well as more challenging trails for those who are looking for something a little more strenuous.
If you need a good carrier for hikes, you can check out the good carriers here.
4. OMSI Portland Kids Museum
Rain is quite common in Portland. Oregon Museum of Science and Industry is the perfect place to spend a rainy day in Portland.
The museum has exhibits for kids as young as a few months to begin interacting with science, technology, and art in a playful and interactive environment.
Older children love learning about the theoretical concepts supporting the activities, while younger ones can enjoy exploring.
The Turbine Hall allows kids to explore concepts of chemistry, physics, and music. There are a plethora of buttons and gadgets to help little ones to test out theories and ideas and see them in action.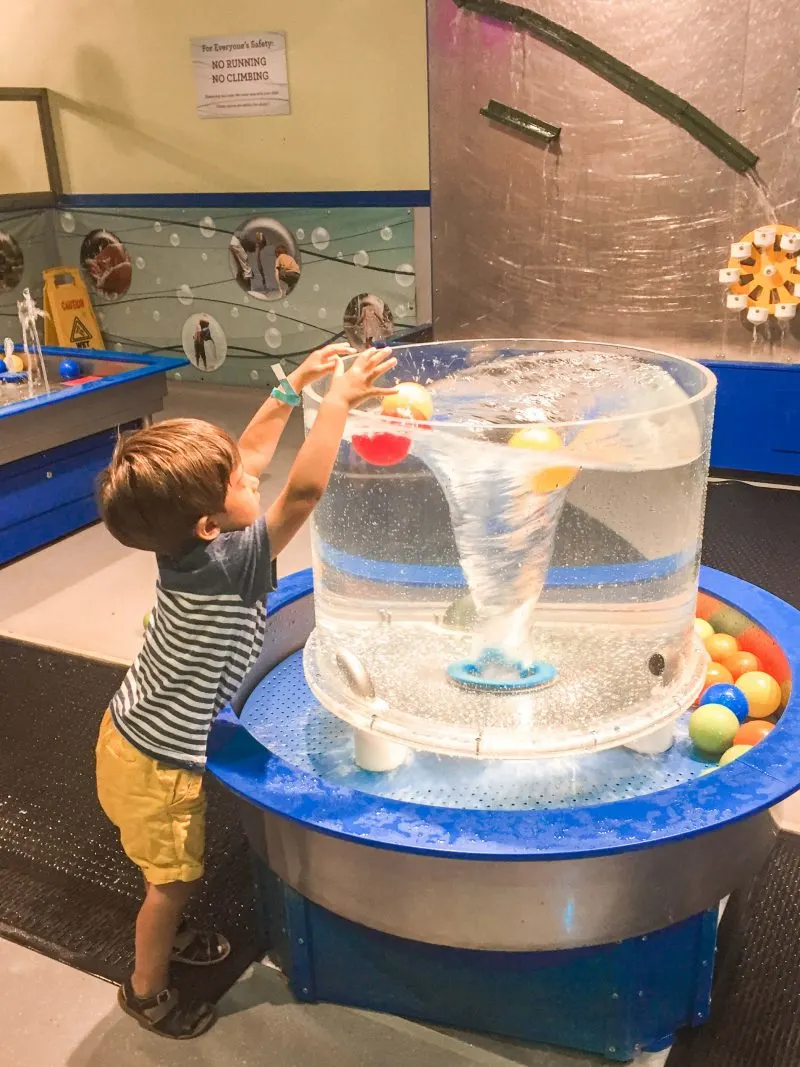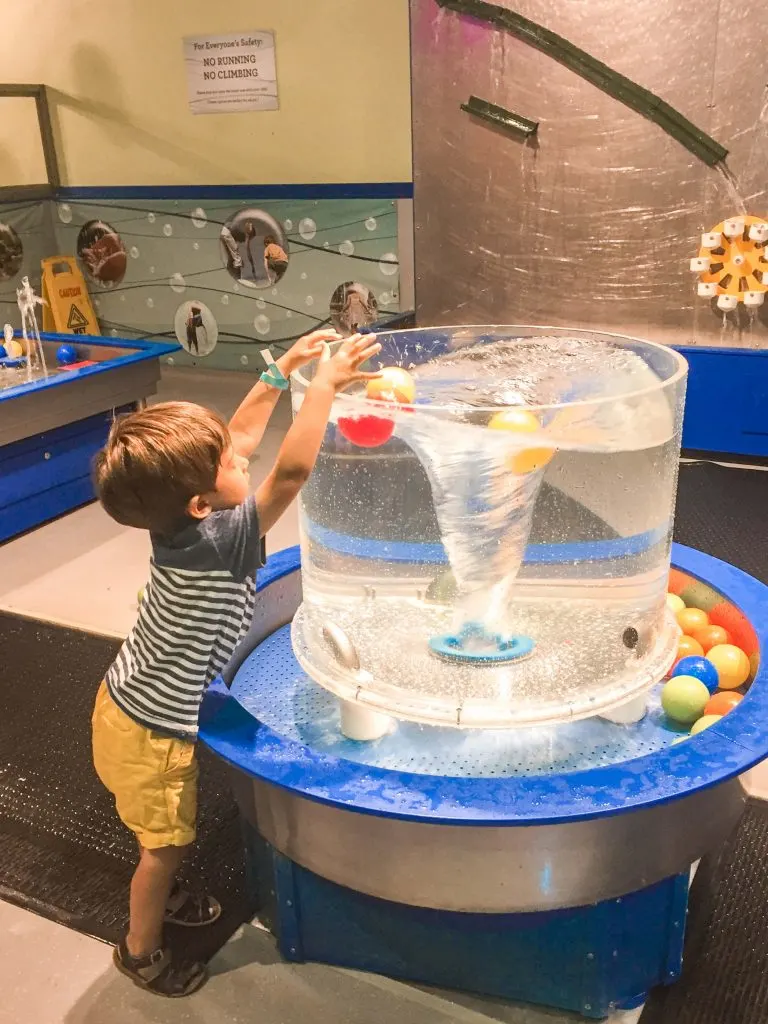 The Science Playground allows full-body experimentation and building. The Natural Science and Space Hall is the perfect place to learn about the natural world.
The water station is a favourite with the littlest explorers providing wet, hands-on fun. Smocks are provided, however, it is a good idea to wear water-resistant shoes or bring a change of clothing just in case.
If you need some downtime, OMSI also has an on-site theatre featuring science-based documentaries.
Don't forget to look into a planetarium show or submarine tour. Both are fascinating for kids and adults alike!
The museum is featured in nearly every list of things to do In Portland with kids. Make sure to allow a few hours.
5. Ride the Aerial Tram
The Portland Aerial Tram is an exciting way to travel from the waterfront to the elevated Marqhuam Hill neighbourhood. It spans some 3800 feet, providing great views back to the waterfront.
The best time to take a ride is at sunset, the view faces west, allowing for some great shots. A ride costs just a little under $5 so it's worth it for the view.
Check out this Aerial Tram Tour.
6. Explore Portland's Street Art
One of the most fun things to do in Portland Oregon with kids is checking out all the wall murals and street art. Portland's street art is an essential piece of the culture and a fun and easy way to teach children about the quirky city.
Wall murals can be found all over town. However, two great areas to see a lot of murals all at once are the Alberta Street Arts District and Downtown Portland.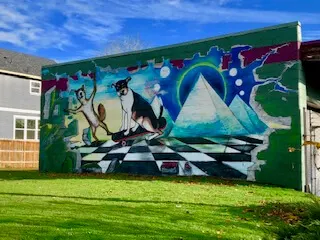 You can observe tons of colourful vibrant murals in a one-mile section of Alberta Street. Grab breakfast at Pine State Biscuits. You won't regret it!
If you happen to be staying downtown, there are murals all over. Kids can turn mural hunting into a game while exploring the area.
Make sure to check out Powell's Books, Pioneer Courthouse Square, and grab world-famous Voodoo Donuts.

7. Oregon Children's Theatre
Oregon Children's Theatre offers a variety of educational programs, workshops, and camps for kids of all ages.
By providing outreach programs for schools and nonprofit organizations in the Portland area, they strive to create theatrical experiences that are engaging, inspiring, and accessible to all.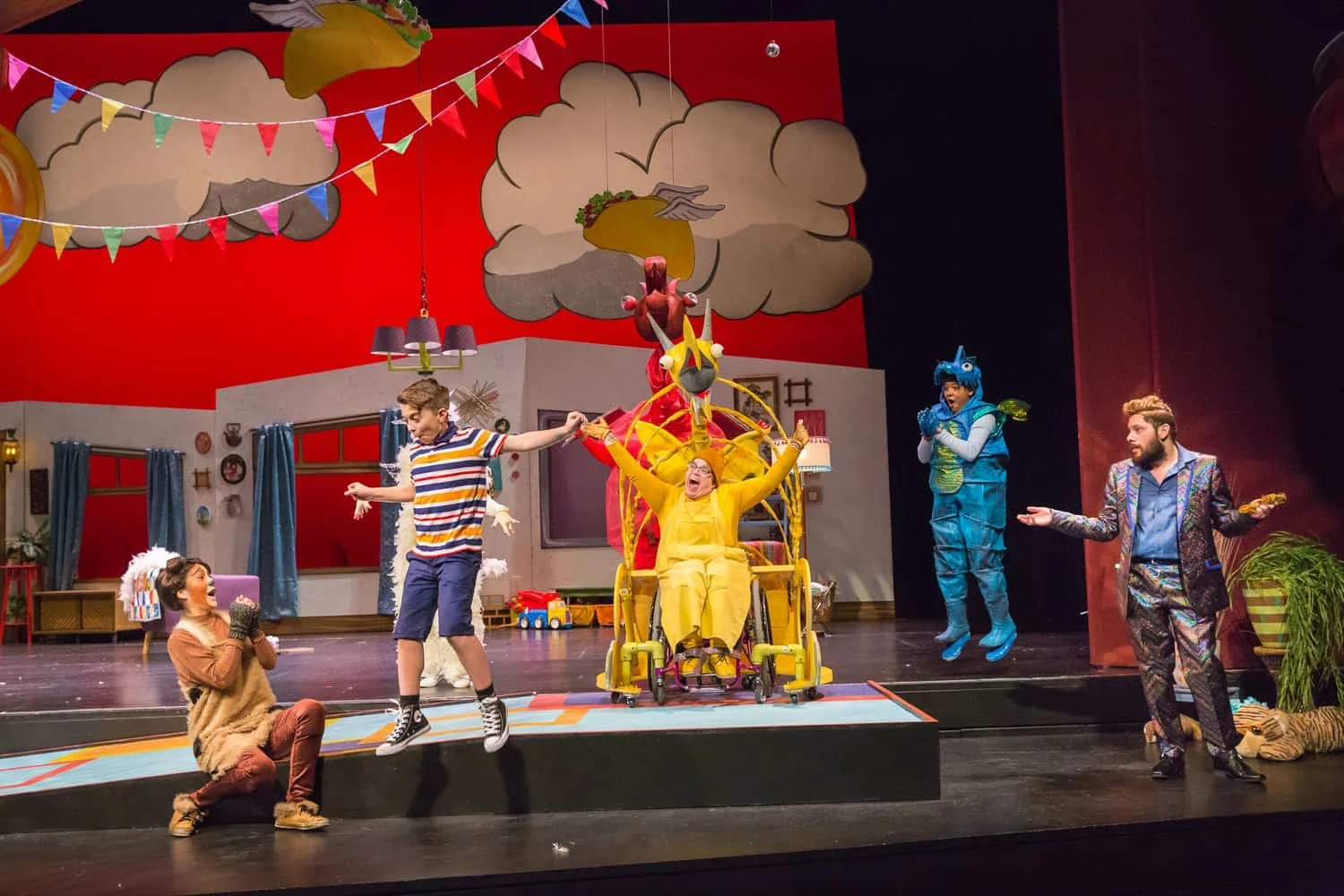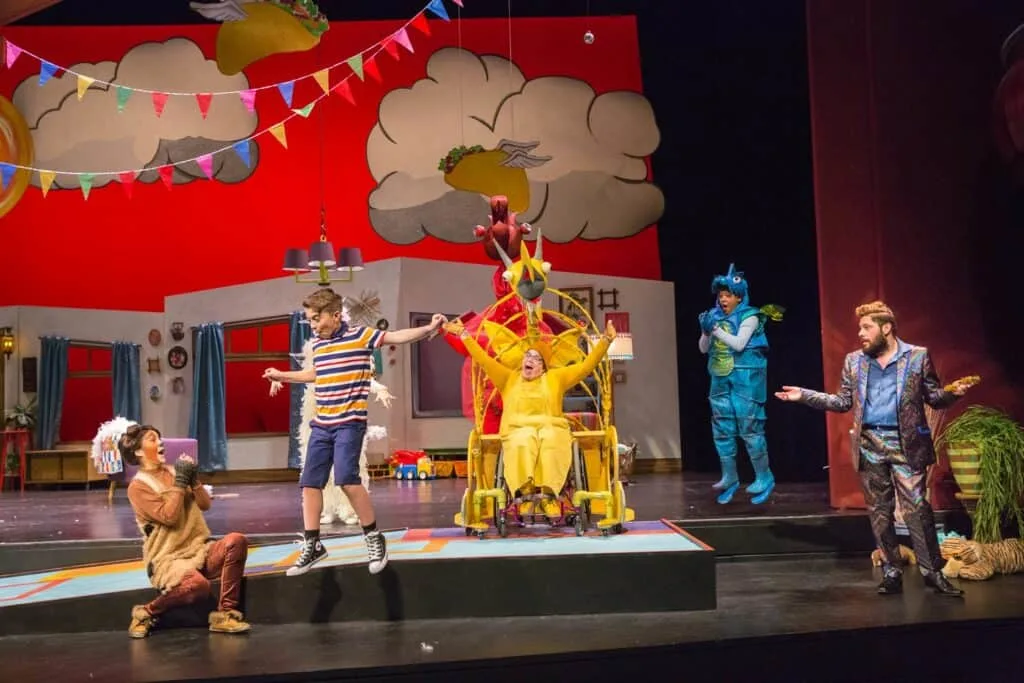 An interesting fact is the shows constantly change, which creates a new experience each time someone attends.
For more information, tickets and show details.
8. Hike to a Waterfall
There are several beautiful waterfalls not too far from the city. Some trails are harder than others with kids. Latourell Falls and Shepherds Dell are some of the easier ones to see.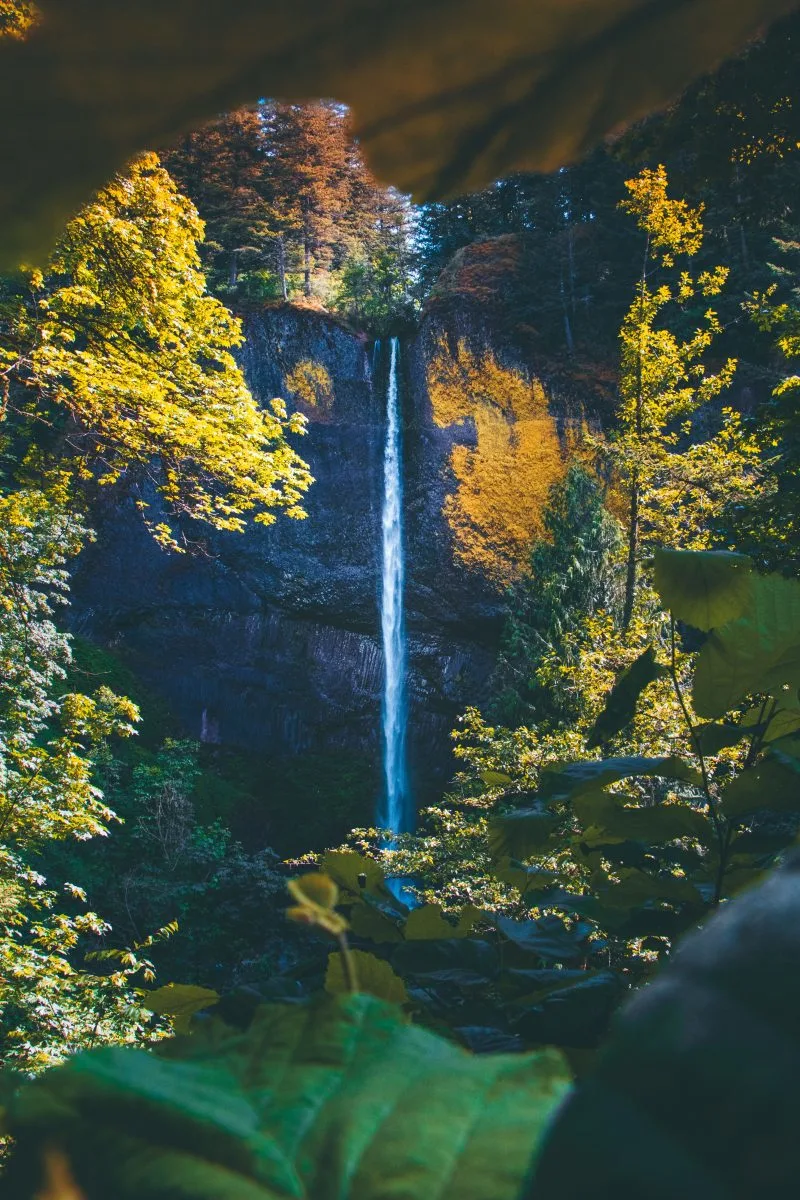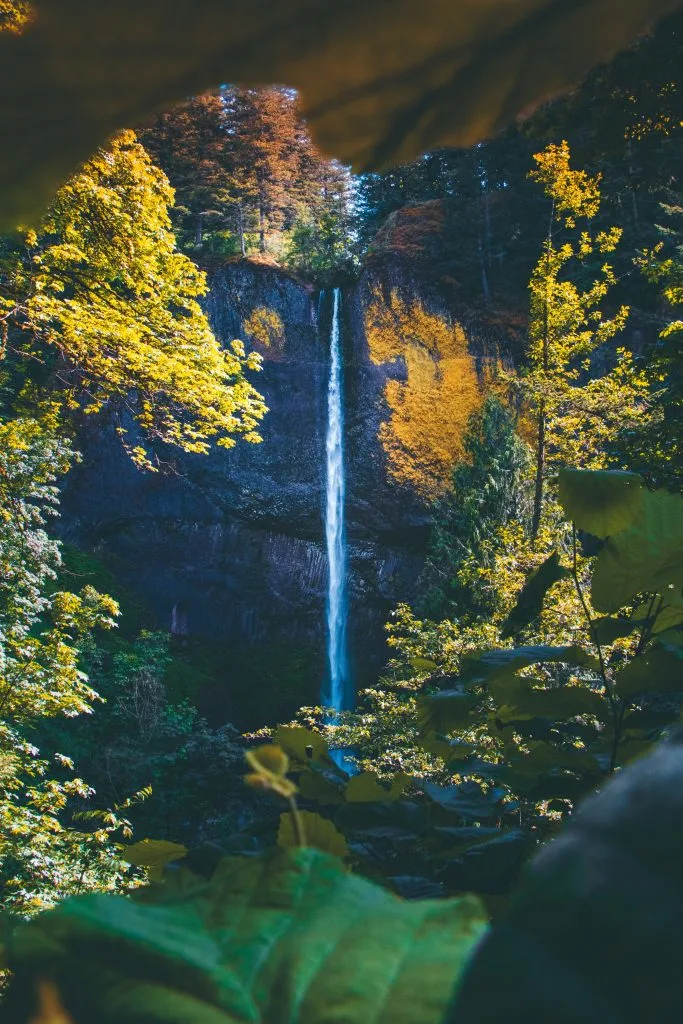 Exploring the waterfalls independently is totally possible. However, a guided tour is also a great idea when it comes to keeping it as easy and simple as possible.
Ideally, we would have liked to hike to the Silver Falls, however, due to fires in the area, some of the trails had been destroyed.
There are loads of waterfalls near Portland to discover, it's well worth adding a hike to your Portland with kids itinerary.
9 Oaks Amusement Park
Oaks Park is an amusement park in the vicinity of Portland, Oregon. With over 24 rides, it is one of the country's most diverse and exciting attractions, providing thrills and entertainment for over a century.
Zero Gravity, AtmosFEAR, and Adrenaline Peak roller coasters are among the most popular rides.
At the same time, a vintage carousel dating back to 1911, Jump Boats, an Oak Park Train, and a Ferris Wheel has spectacular views of downtown Portland for kids.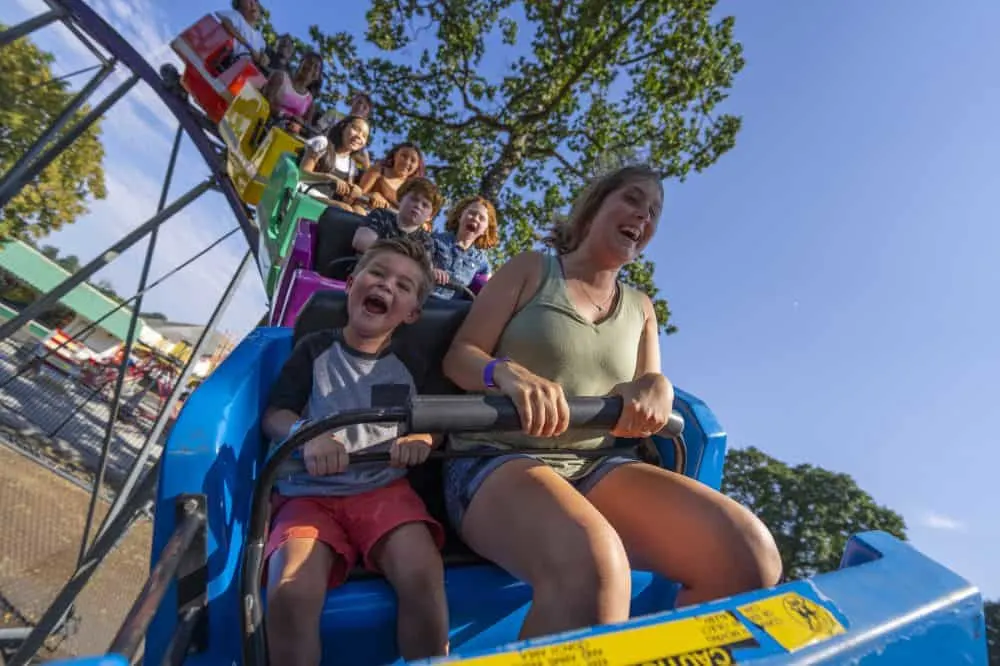 The Zoom Coaster is one of the most thrilling rides at the park. The Toon Cars ride and the nostalgic Big Pink Slide are also a hit!
The Amusement Park also has an escape room, roller rinks and minigolf to entertain the older kids.
In a carnival-like setting play games such as roller bowler, balloon bust, bob's fishing hole and redemption arcade. A total bast from the past for many parents!
For more information on Oaks Park.
Location: 7805 SE Oaks Park Way, Portland, OR 97202, United States
10. Oregon Zoo
Oregon Zoo is one of the most popular family things to do in Portland.For years, local Portland kids have loved visiting the zoo, which is home to over 2600 animals and birds from 215 species.
It's the oldest zoo west of the Mississippi, just minutes from downtown Portland via MAX light rail in Washington Park.
During the last few years, more than 40 per cent of the zoo has undergone renovation and expansion. It includes areas for rhinos, primate habitats, and an elephant enclosure for the animals.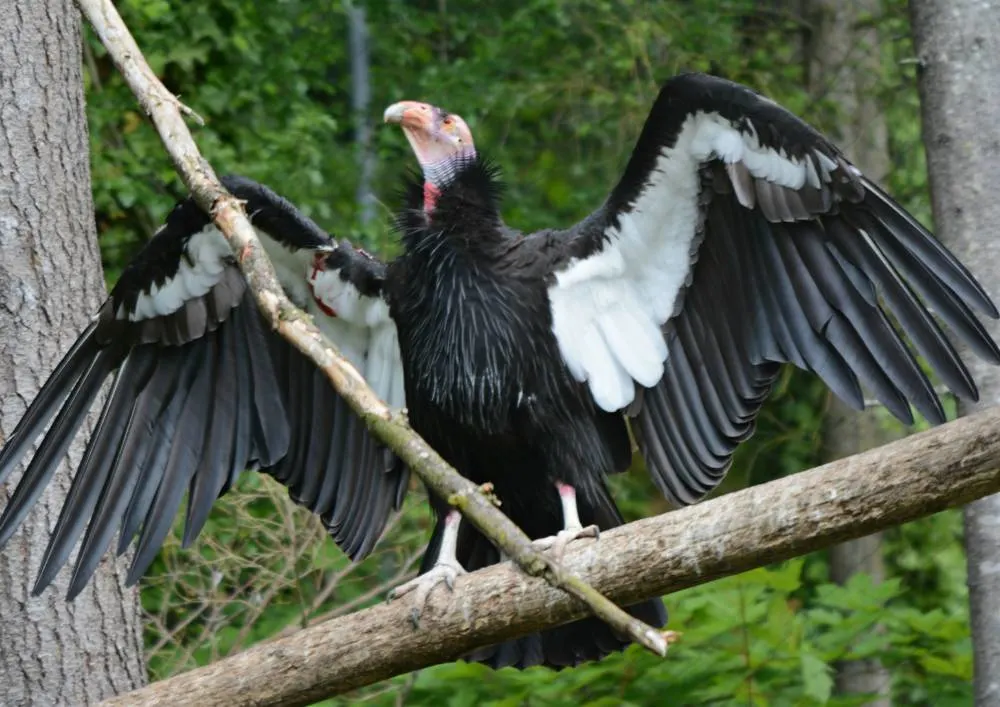 Among the benefits of the renovations is improving the animals' well-being by providing a more natural and stimulating environment for the animals to experience.
Some of the top activities for kids at the Oregon Zoo include,
Condors of Columbia Exhibit
Among the many events and attractions Oregon Zoo offers throughout the year are Zoolights during the holiday season, summer night concerts, and its historic zoo railway, which provides a classic, kid-friendly way to discover the zoo.
For more information about the Oregon Zoo
Timings: 9:30 AM to 4:30 PM
11. Mount Saint Helen
A great day trip from Portland is a visit to Mount Saint Helen's National Volcanic Monument.
Mount Saint Helen is an active volcano part of the Pacific Ring of Fire and is credited for the most devastating eruption in U.S. history.
It is located roughly 90 minutes from Portland so you can make it to the national monument fairly quickly, however, once you reach Spirit Lake Highway it is another 90 minutes to the Johnston Ridge Observatory, the terminal viewing point of the peaks and crater.
It's a good idea to rent a car to visit Mount Saint Helen.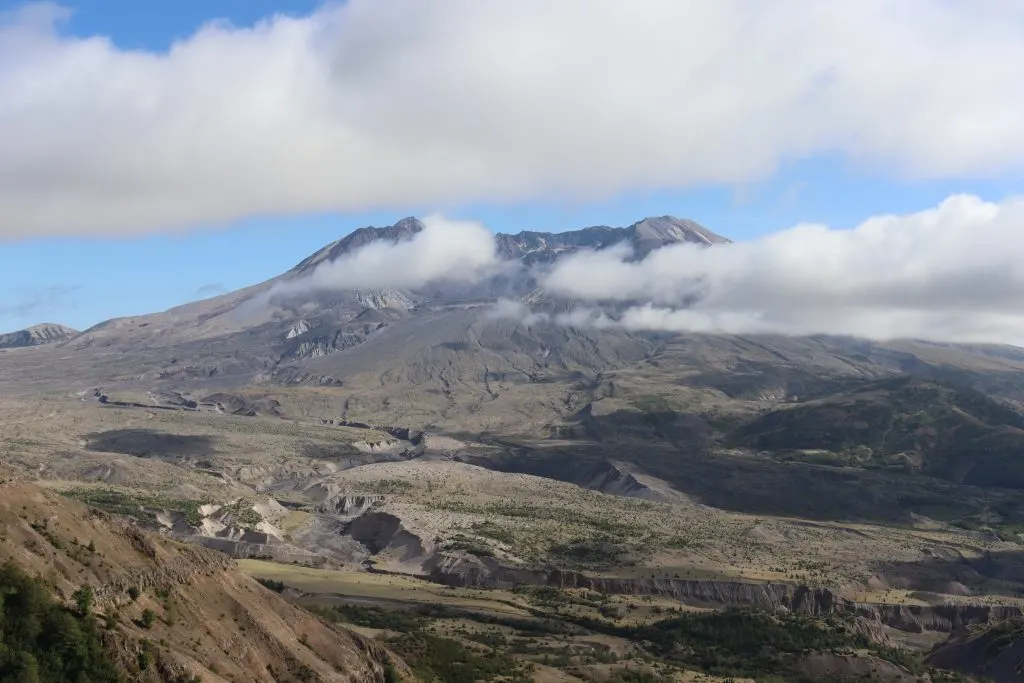 There are two additional visitor centres along the way. Mount Saint Helen's Visitor Center, $3.00/person and the Forest Learning Center, free.
The Forest Learning centre has a playground, interactive exhibits, and a full-immersion eruption theatre.
Once you make it to the summit, the Observatory is $8.00 per person. It's a good idea to bring a packed lunch. There are no stops for food outside of snack machines at the visitor centre after entering the National Volcanic Monument. .
If you prefer, you can opt full-day guided tour which is a great way to explore the mountain.
12. Oregon Coast Aquarium
Newport, Oregon Coast Aquarium is a world-class destination for visitors from around the world.
It features a stunning array of marine life from the Pacific Northwest and beyond, with over 100 exhibits and dozens of species.
The exhibit is an immersive experience, including touch pools and interactive displays, Not to mention the aquarium offers educational programs for all ages, including lectures, workshops, and hands-on experiences.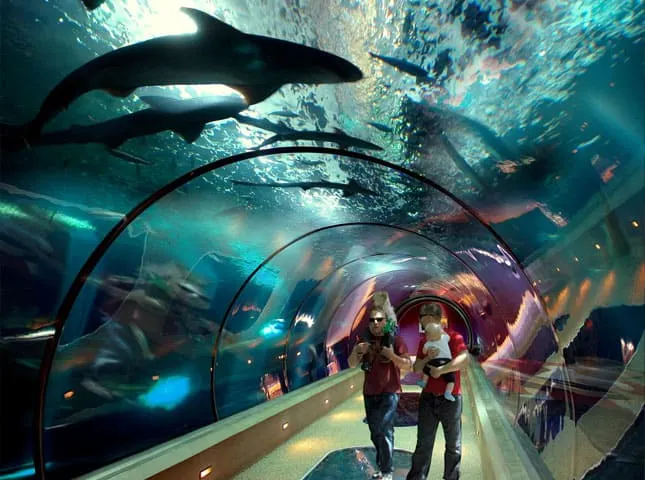 Interact with playful sea lions, take an underwater tour on a virtual submarine, and explore the famous kelp forest.
Another fantastic opportunity to create a memorable experience at the Oregon Coast Aquarium is purchasing a personalisable brick to install on the entrance pathway of the Aquarium or the aviary.
Location: 2820 SE Ferry Slip Rd, Newport, OR 97365, United States
13. Mt. Tabor Park
Mount Tabor Park in Oregon is home to the Volcano Playground. It is a terrific place for families with plenty of activities to keep everyone entertained.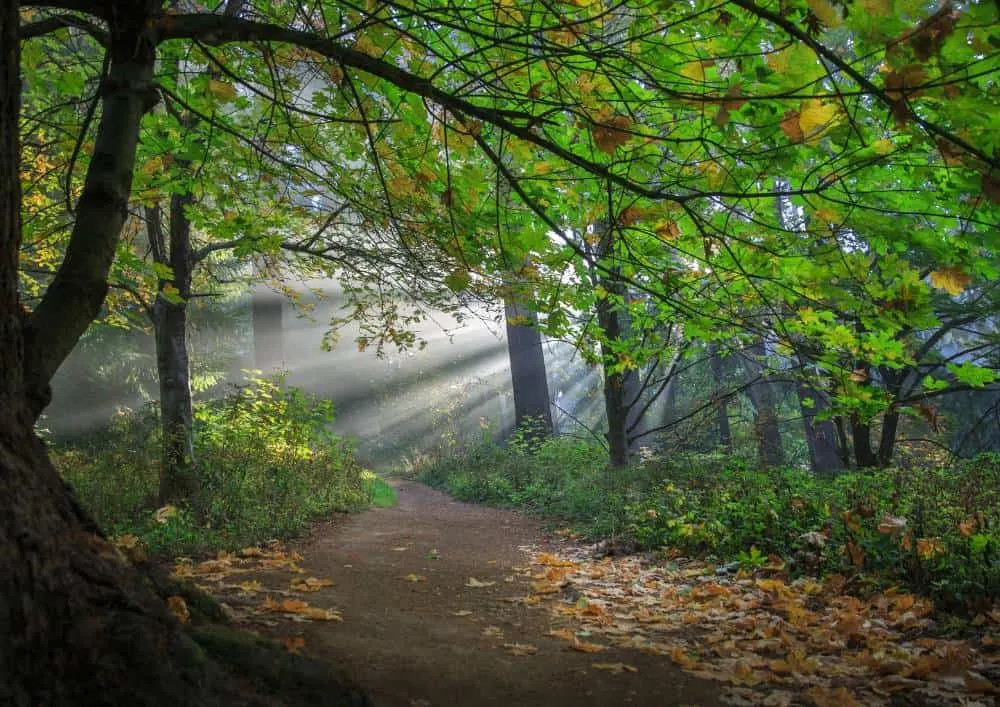 There are hiking trails to the summit of the dormant volcano. Not to mention picnic areas, a kid's playground, paved walkways, off-leash areas for dogs, a stage for entertainment, as well as tennis, basketball and volleyball courts.
Timings: 5 AM to 12 AM
Location: SE 60th Ave &, SE Salmon St, Portland, OR 97215, United States
14. Sellwood Park
With over seventeen acres of land, Sellwood Park offers acres of recreation in a lush woodland area
It's home to a variety of wildlife, including woodpeckers, squirrels, and rabbits, making it an ideal place for families and kids to explore and enjoy the wilderness.
Sellwood Park in Oregon is a beautiful park with a rich history. The area has some fantastic walking trails, picnic tables, and a children's playground. Not to mention the large outdoor and indoor swimming pools.
Timings: 5 AM to 12 AM
Location: 7951 SE 7th Avenue, Portland, OR 97202
15. Peninsula Park Rose Garden
The Peninsula Park Rose Garden is a peaceful escape from the city. The tall tree banks provide a sense of seclusion.
The lush lawns and playgrounds offer plenty of activities for kids, while the splash pad is a pleasant way to cool off on a hot summer day in Portland with kids.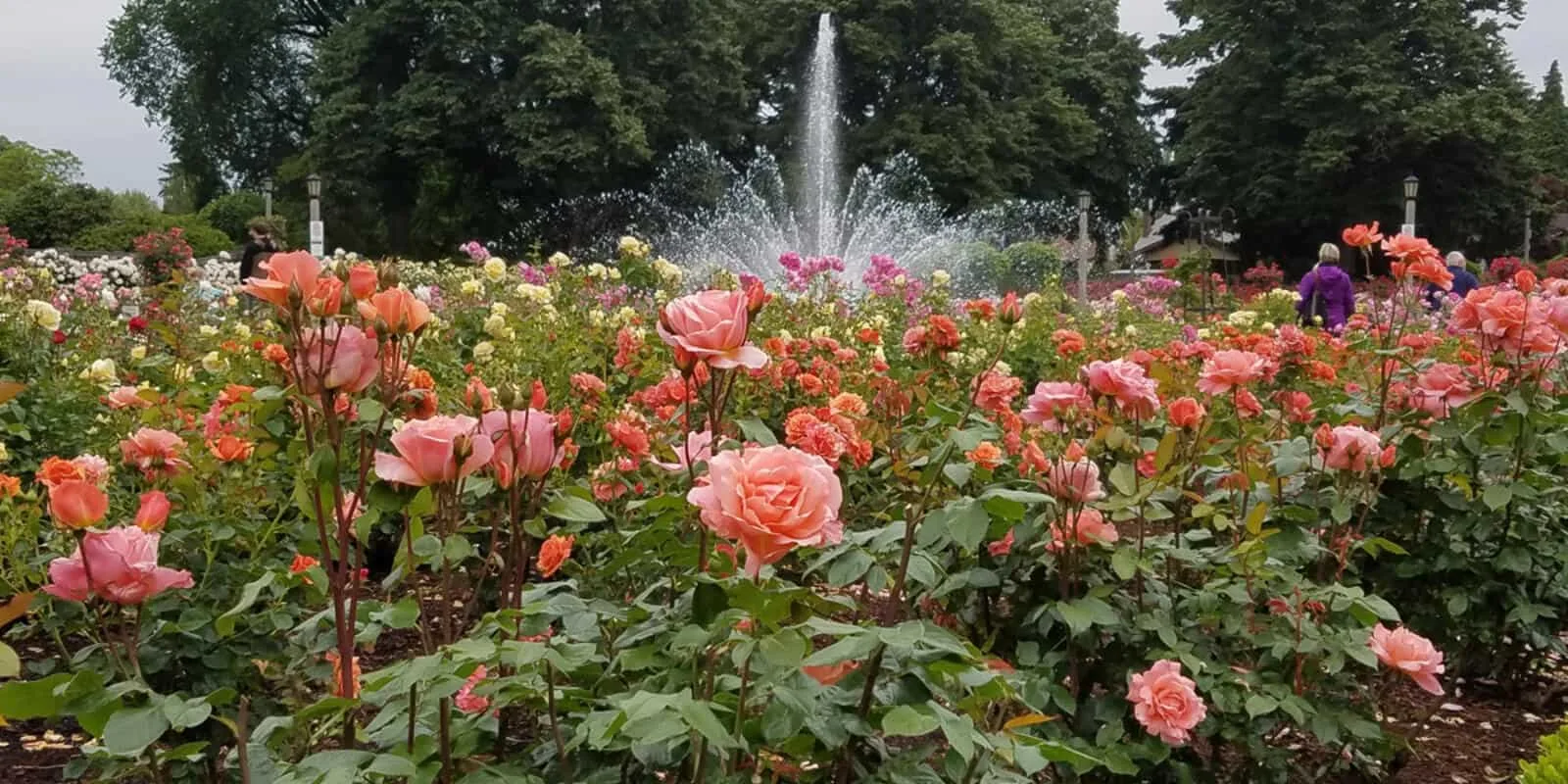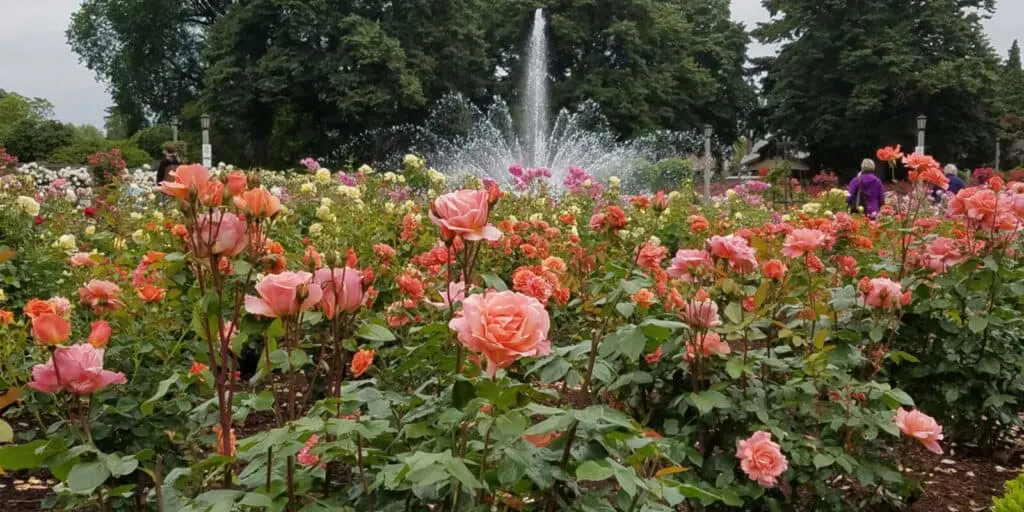 It's the oldest public rose garden in Oregon and offers a variety of outdoor entertainment for the whole family, along with thousands of blooms to enjoy.
Timings: 5 AM to 12 AM
Location: 700 N Rosa Parks Way, Portland, OR 97217, United States
16. Playdate PDX, Oregon
Playdate PDX is a three-storey indoor playground with two interactive dance floors and a special ball cannon area. Best suited for rainy and stormy days, parents can sit back and relax while the kids play.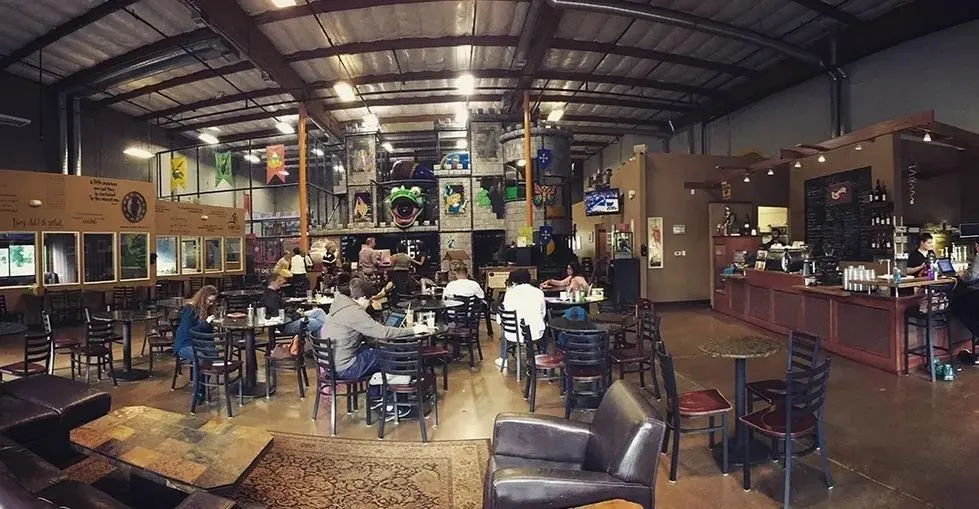 The dining room serves up coffee, food, and beer. Children can explore obstacle courses, play games, and participate in an abundance of group activities.
The dance floors and ball cannon area are usually the more popular with older children.
For more information and details on children's activities.
Timings: 11 Am to 7 PM (Daily)
Location: 1434 NW 17th Ave, Portland, OR 97209, United States
17. The Wishing Tree
Located on NE 7th Avenue just a couple blocks south of Irving Park you'll find the Wishing Tree, one of Portland's more unusual sights.
The stately Horse Chestnut tree is on an otherwise nondescript residential street. However, the tree itself is impossible to miss as it's absolutely covered in people's wishes!
The wishes have everything from world peace, and love, to food for the homeless, ponies, and more time to play video games.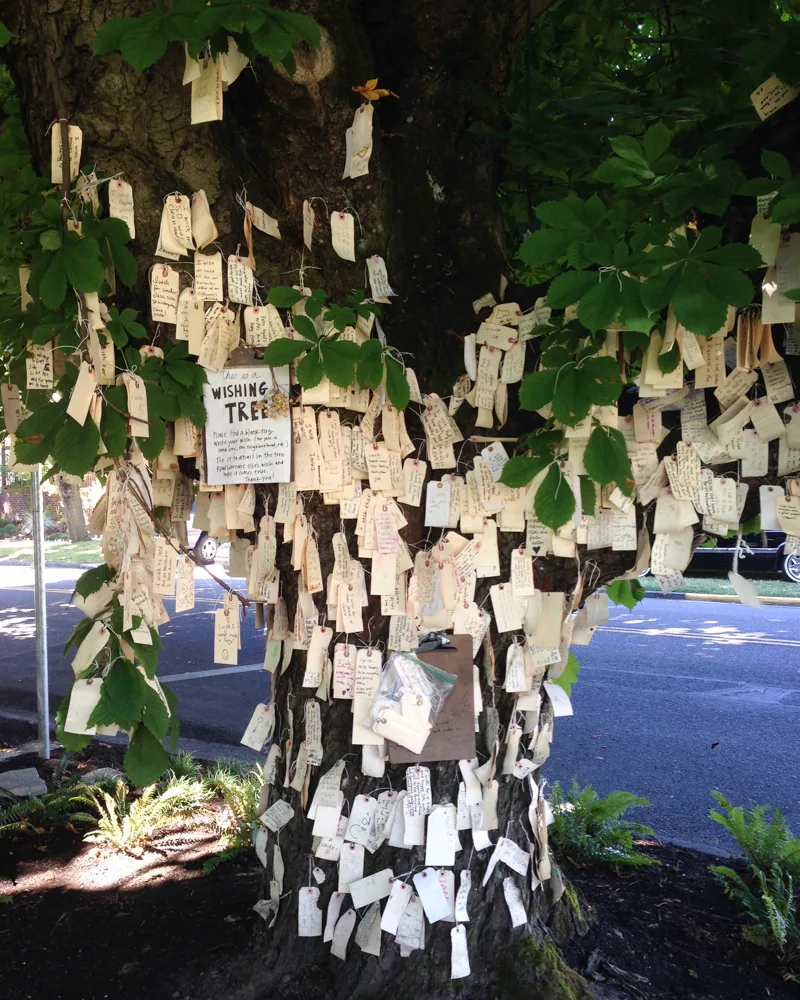 The Wishing Tree sits directly in front of the house at 2954 NE 7th Ave. The concept was started by the home's owner, Nicole Helprin.
In 2013, before leaving on a weekend trip, Nicole hung a few of her own wishes on the tree along with a set of instructions for anyone passing by.
When she returned home a couple of days later the tree had already collected dozens of wishes and had become one of the unique things to do in Portland.
You'll typically find a plastic bag full of blank manila shipping tags along with a clipboard and a sharpie so you can write down wishes and tie them onto the branches of the Wishing Tree.
As you walk through the neighbourhood you might see a few past wishes that have fallen from the tree and been scattered by the wind.
Kid Friendly Hotels in Portland Oregon
Rivers Edge Hotel and Spa
We stayed at the lovely Rivers Edge Hotel and Spa in Portland with the kids. was really happy to be on the edge of the city rather than right in the centre. It made it so much easier to get to the attractions in Washington Park.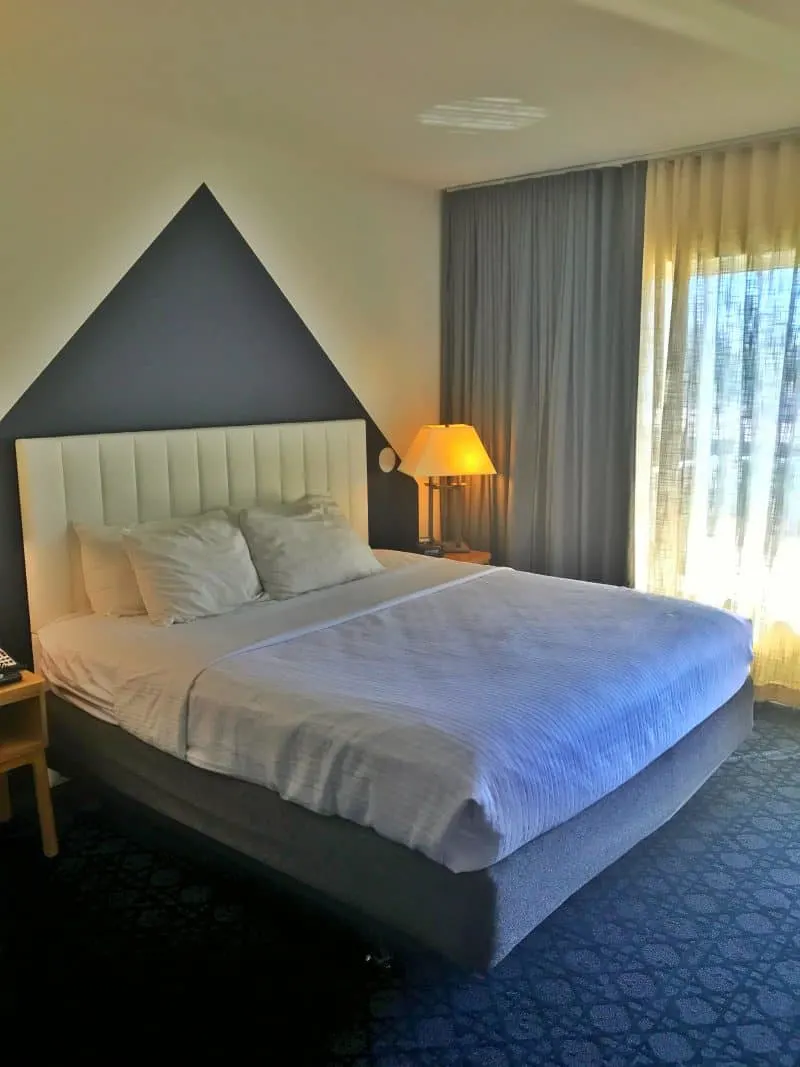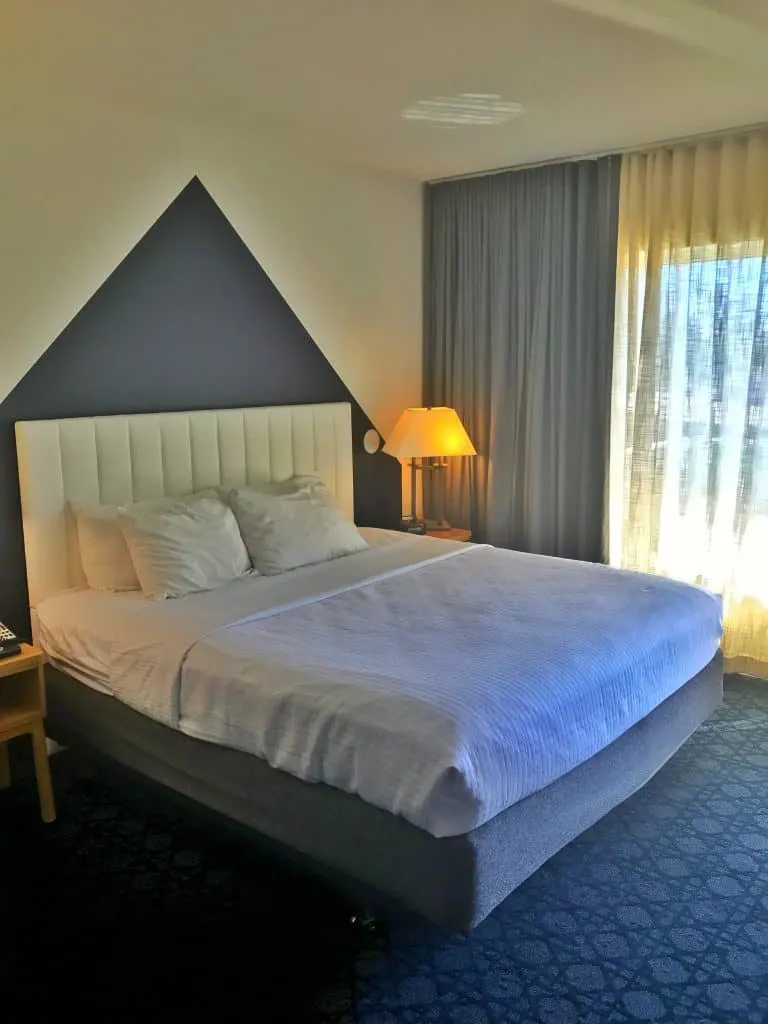 We had a family sized room with a little balcony. . There was a living space where the sofa turned into a double bed.
It was nice to have double use for the space so we could hang out during the day, especially if the kids were having a nap.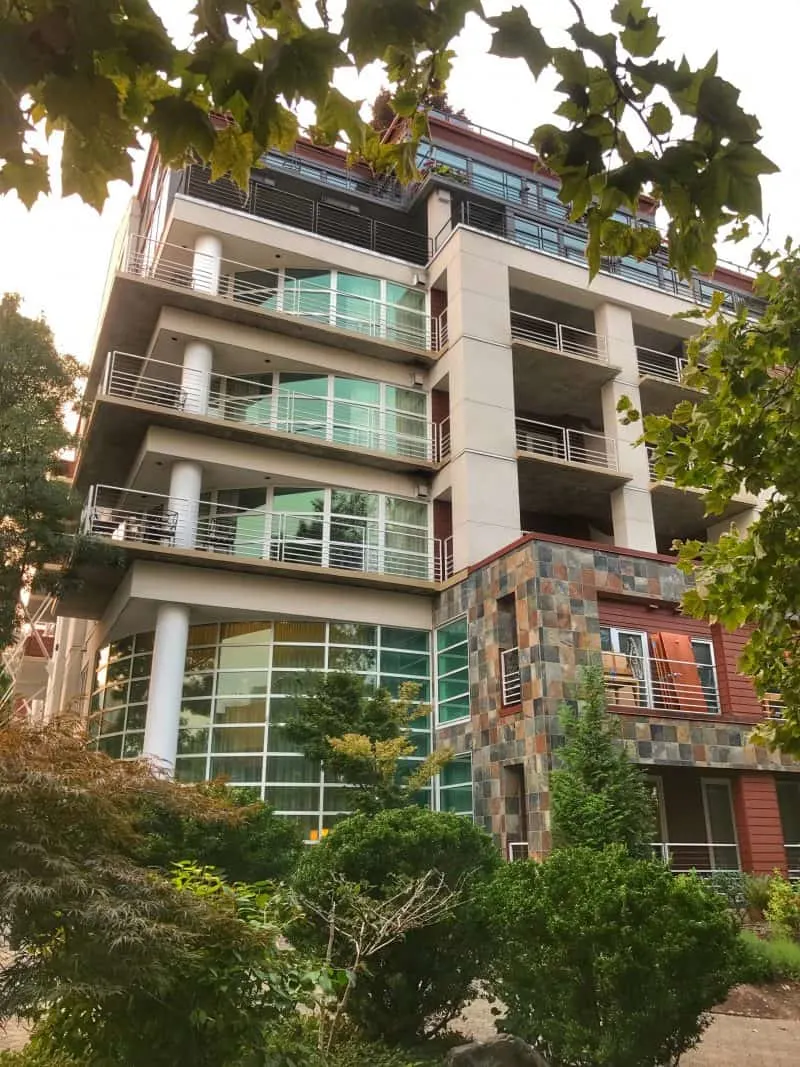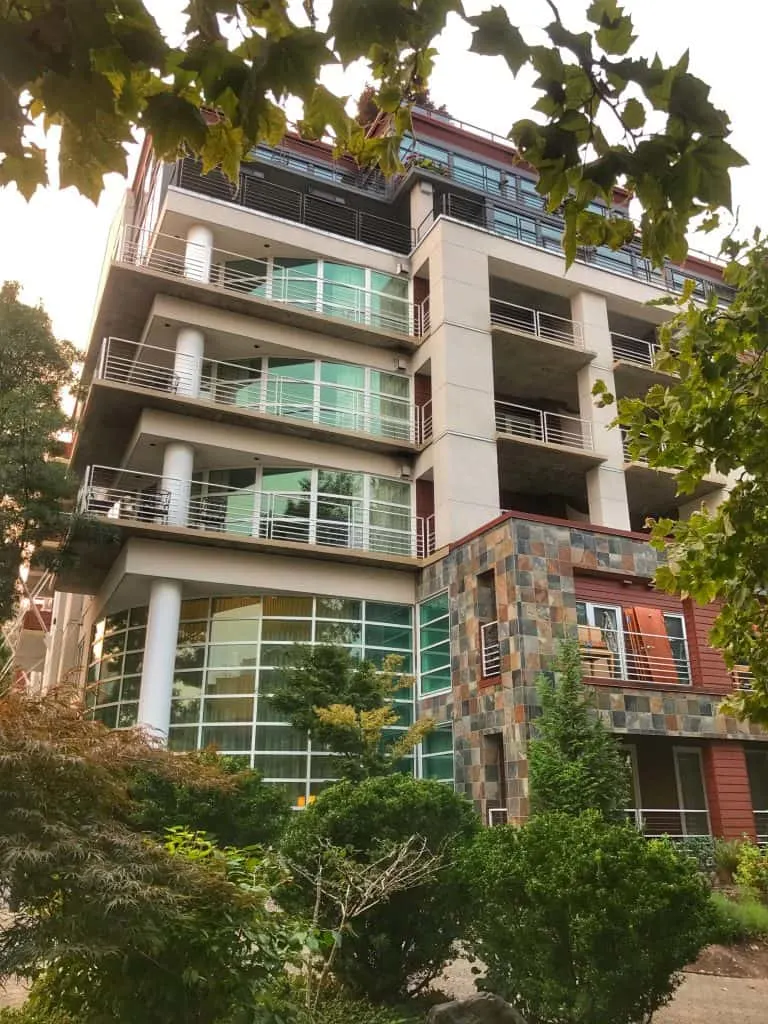 As the hotel has a spa, the products provided in the room were super luxurious! I don't always use hotel products, but the ones at River Edge were lovely.
The onsite 13,000-square-foot, fully-serviced spa has a range of treatments. I made the foolish mistake of not making an appointment in advance so I missed out.
Across from the main building is the hotel restaurant Aquariva. I guess the name gives it away, it has lovely views over the river.
We had made to-order breakfast both mornings. The pancakes were awesome, so I highly recommend trying them.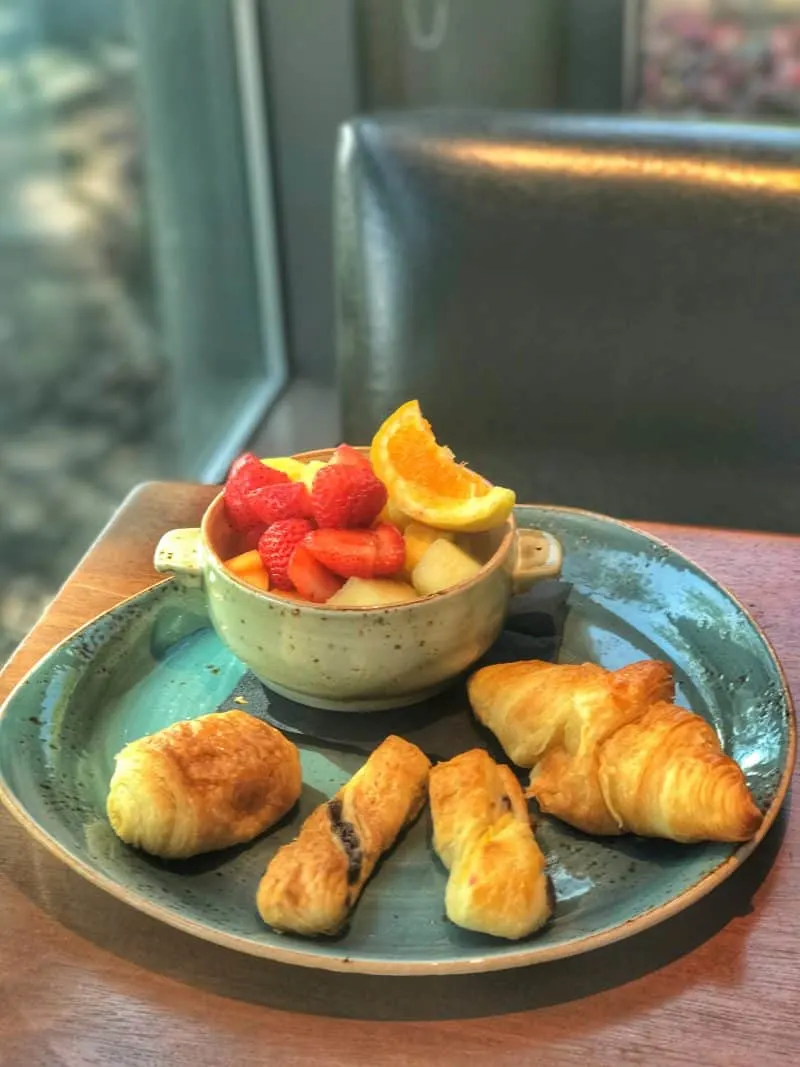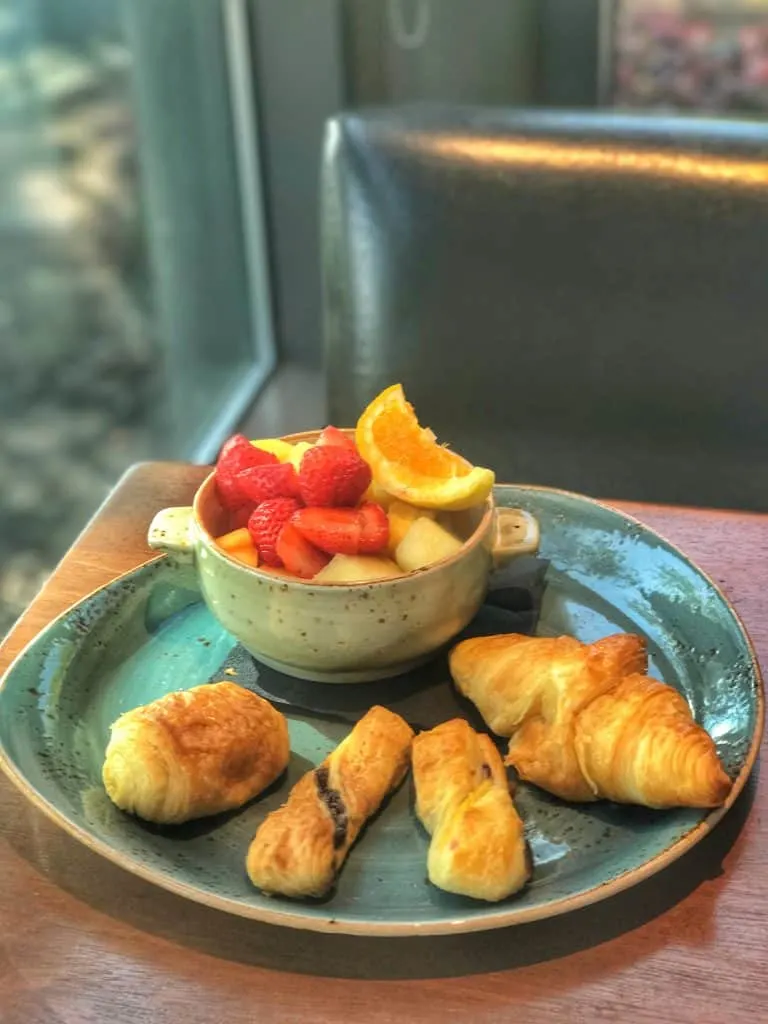 The food is presented impeccably and is all fresh produce sourced from local farmers, purveyors and ranchers.
I presume the menu is seasonal for that reason. They have kids' menus and always provide crayons at breakfast.
Besides from that, I can't say there was anything specific for kids at this hotel. However, as I say, a huge bonus was the location for getting to everything, and it was an otherwise had a nice stay there.
For rates and availability click here.
McMenamins Kennedy School
McMenamins Kennedy School is not only a hotel it is also a fantastic place to visit in Portland. Located in an old, renovated Kennedy Elementary School, the hotel offers tons of activities to keep your children entertained, rain or shine.
Inside the old auditorium is the Kennedy School Theater, where the latest box office movies are shown. The prices are budget-friendly and you can order food to enjoy in the theatre.
They have events such as the Crybaby Matinee during which you're encouraged to bring your baby! This event usually runs every Tuesday through Thursday.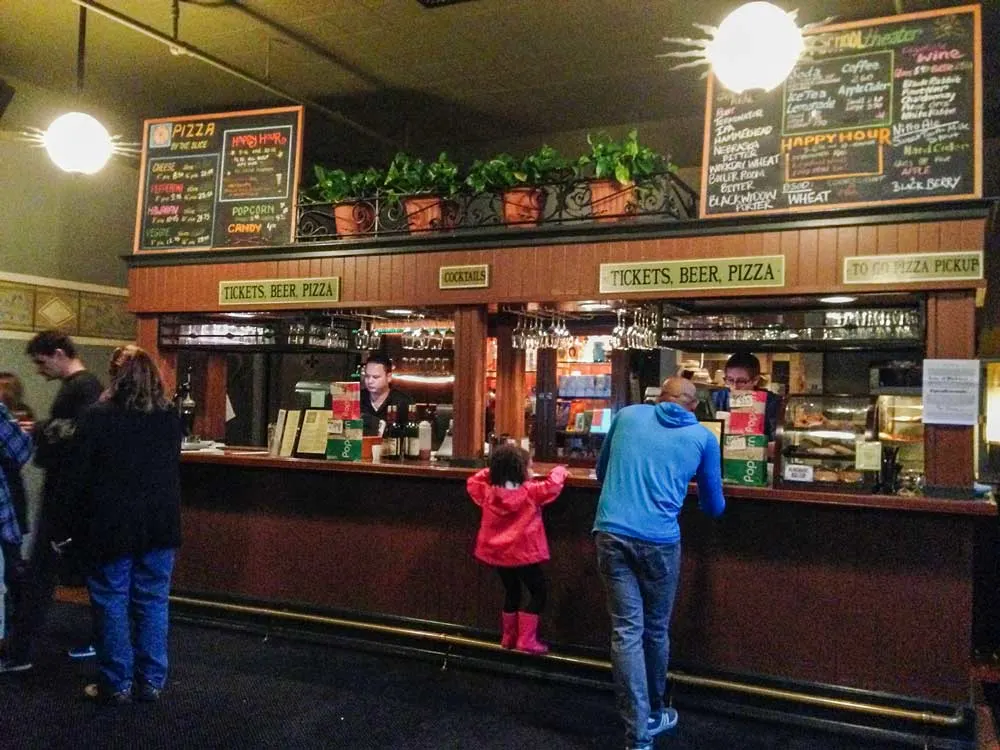 Be sure to also visit the soaking pool! The heated, chlorinated, saltwater pool is hidden within a private courtyard and surrounded by a lush garden.
If you're staying at the hotel, access to the pool is free, however, if you're just visiting for the day, they do offer a day pass.
McMenamins houses its own brewery, the Concordia Brewery which is a nice place to have a small sample of locally produced beer.
Aside from the Theatre Bar, you can also hang out and grab a quick brew in Detention Bar, Honors Bar, Boiler Room, or their restaurants, the Boiler Room and the Courtyard Restaurant.
The fun theme of the McMenamins Kennedy School hotel is a unique and amazing place to spend time in Portland with your kids.
Find prices and availability for a stay at the Kennedy School here!
Kid-Friendly Restaurants Portland
There are tons of cafes in Portland for families. Slappy Cakes, Poa Cafe and Roseway Play Cafe to name a few. The coffee in Portland was generally a lot better than in other areas in the US we visited. As parents, good coffee is a necessity!
Doughnuts in Portland
Portland is a foodie heaven and one of the things it's best known for is doughnuts! The most famous of all are Voodoo Doughnuts, which you can find in the Old Town and Davis areas of Portland.
The shops are bright, cartoon-clad spaces filled with even more colourful and inventive doughnuts.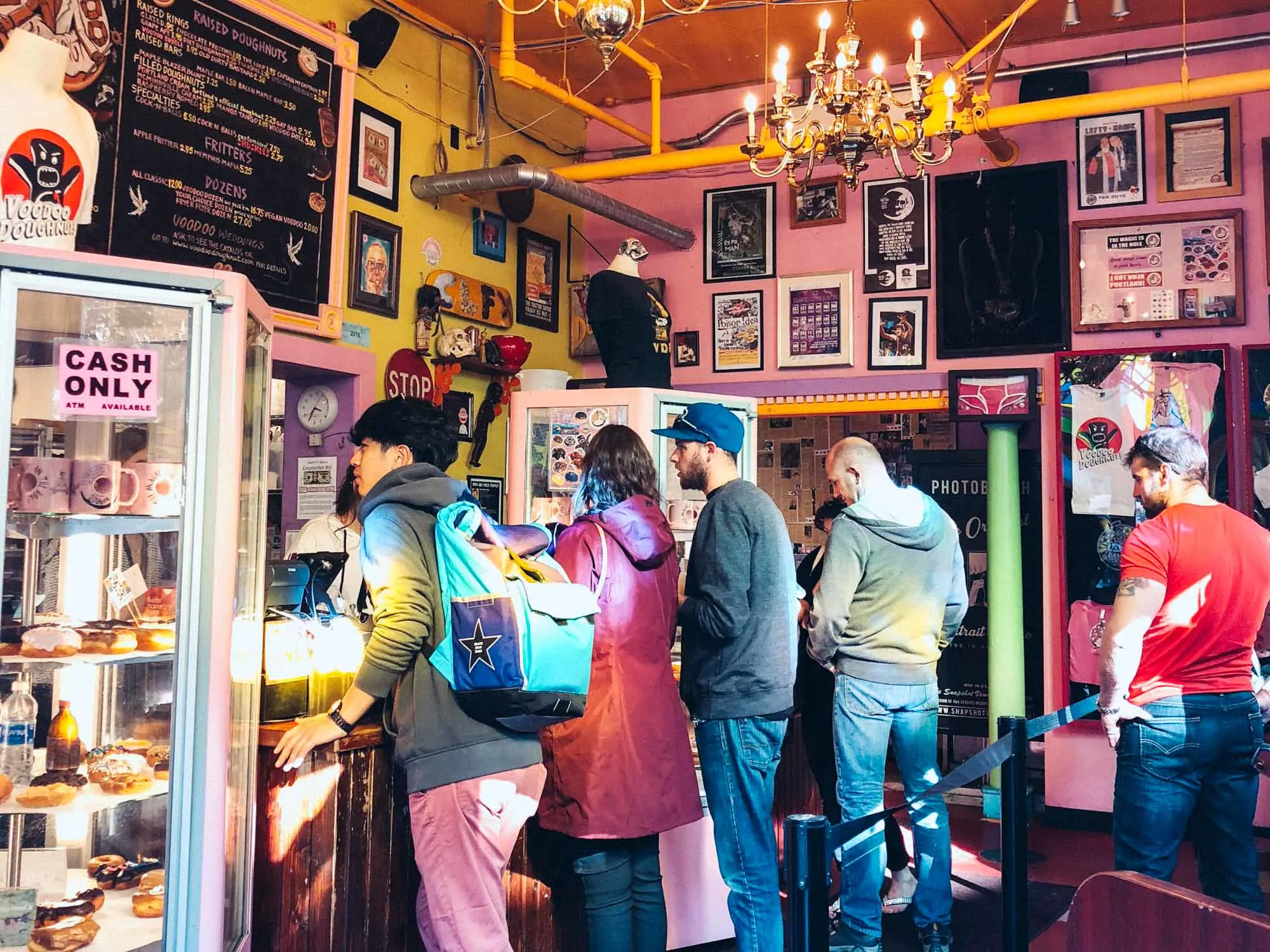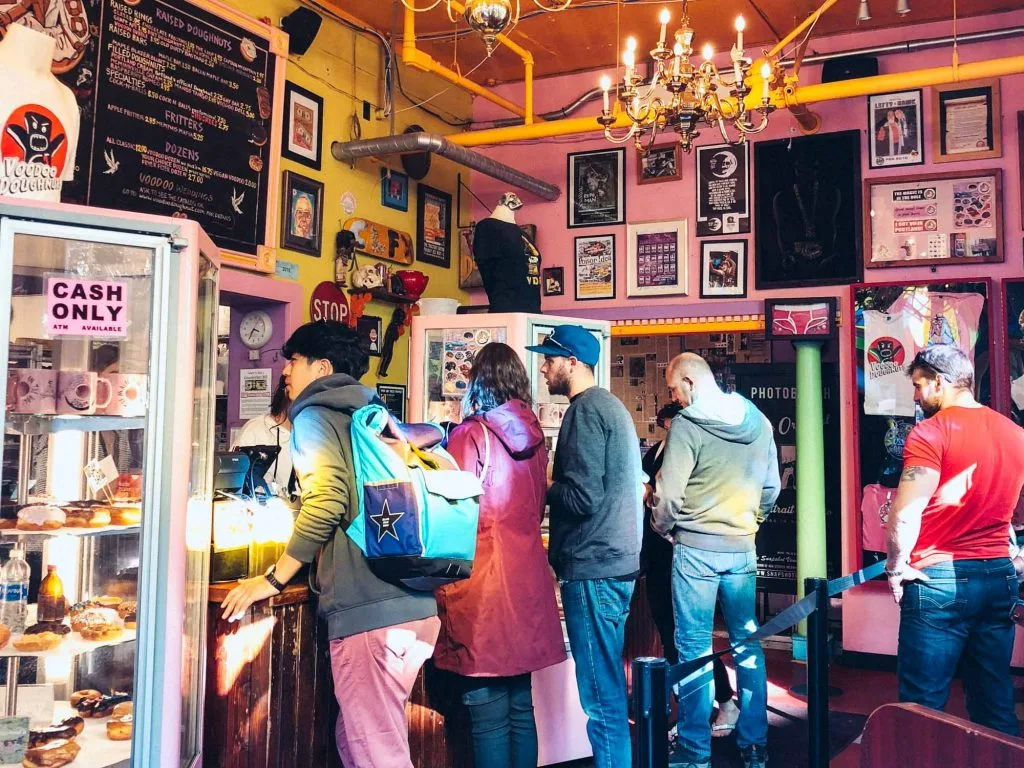 Kids will likely love The Loop, a ring topped with fruit loops and vanilla frosting or Marshall Mathers, a cake with frosting and mini M&M's.
Just be sure to avert their eyes from the more risqué 'Cock-N-Balls' doughnut, which is shaped like its namesake!
Other excellent doughnut shops in town include Blue Star, which focuses on gourmet flavours, such as Blueberry Bourbon Basil and Cointreau Crème Brûlée.
Pip's Original Doughnuts is the place to go for made-to-order mini doughnuts topped with chocolate or caramel.
With so many to choose from, make sure doughnuts are on the itinerary when visiting Portland with kids. There is also an underground doughnut tour, for some added excitement.
Hopwork Urban Brewery
Sightseeing can be thirsty work! Check out some of the best breweries Portland has to offer some of which are family-friendly.
Hopwork Urban Brewery is particularly well known for its family friendliness and distinct decor. The place is decked out with old bicycle parts making it all the more interesting.
They have some great food on the menu and kids meals are delicious with plenty of healthy options.
Kid Friendly Facts About Portland
Portland has an abundance of unique and fascinating facts. From its famous bridges to its quirky food culture.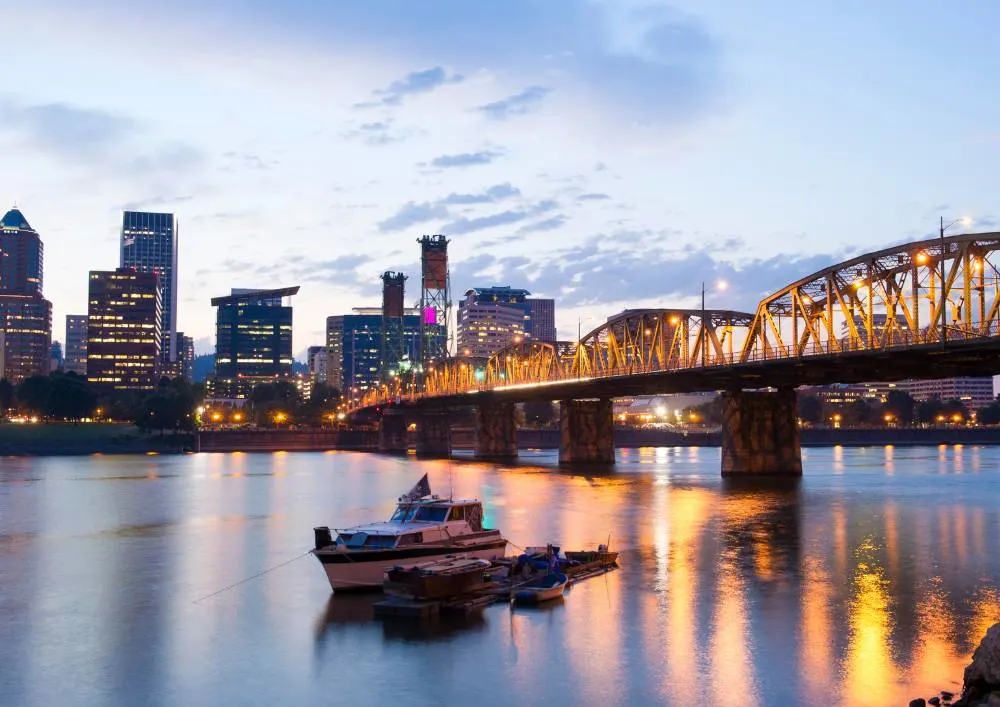 Many of the facts are pretty entertaining to most kids:
The Guinness Book of World Records claims Mills End Park is the smallest park in the world. Located near the Willamette River, the park is literally the diameter of a lamp post.
The city of Portland is one of the only two cities in the United States with a dormant volcano within its city limits.

In the Southeast part of Portland, Mt. Tabor is a popular location for picnics, and hikes, and also features an outdoor amphitheatre and a playground where kids can enjoy a day out.
The Pearl District in Portland is home to Powell's City of Books, which is the largest independently owned bookstore in the world.
Miniature horses and rings are all over Portland's sidewalks.

The metal rings are a reminder of Portland's history as a horse-friendly city and the Portland Horse Project.
Among the top cities for vegans to live in America, Portland is one of the most desirable.

Showcasing a wide variety of vegan and vegetarian options available. Ranging from local farmer's markets to high-end restaurants. It is the perfect destination for vegan food.
The Forest Park in Portland, Oregon, is one of the most significant urban forest reserves within the limits of an actual city in the United States.

It covers over 5000 acres with stunning views of the Willamette River.
Frequently Asked Questions Portland With Kids
Is Portland a good place to visit with family?
Families, without doubt, agree Oregon is a bucket-list destination. From the iconic Aquarium to the interactive Oregon Museum of Science and Industry, Portland offers a vibrant array of activities to keep kids of all ages entertained.
Is there anything to do with kids when it rains in Portland?
Portland has lots of indoor activities to entertain kids. Some of the top indoor activities include:
The Oregon Children's Theatre
Oregon Museum of Science and Industry (OSMI)
Powell's City of Books Library
World Forestry Center Discovery Museum
Visit one of the many family-friendly eateries.
What is the average time to spend at the Japanese Garden in Portland?
A tour of the Portland Japanese Garden usually takes one and a half to two hours, depending on the pace.
Besides relaxing and meditating, the Japanese Garden is also a peaceful place for reflection.
Any recommendations for how long to stay in Portland with kids?
Downtown Portland has many of the most popular attractions that require a short time.
However, if exploring more of the area is on your agenda, such as Mount Hood, the Columbia Gorge, the Oregon Coast, or Portland's neighbourhoods, five days are necessary to appreciate the area's beauty and diversity fully.
Is it possible to get around Portland without renting a car?
Portland is known for its walkway, so getting around the city is feasible if you are okay with the stroll.
Biking is another excellent way to explore and discover Portland.
Plus, public transportation services are generally more affordable and allow travelers to really get to know the city.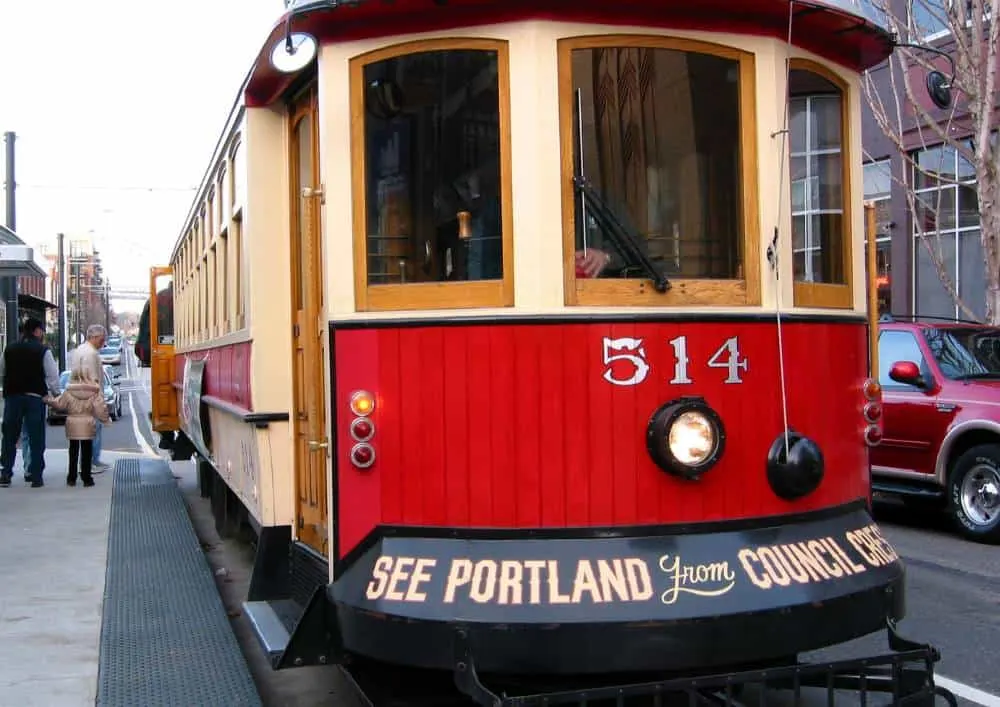 To Sum Up Portland With Kids
Portland is a great city for families, with a variety of kid-friendly activities and attractions, from the Oregon Zoo to the Portland Children's Museum.
There are plenty of outdoor activities to explore, such as hiking, biking, and kayaking, as well as a variety of parks and playgrounds.
Portland is home to some of the best public schools in the state, making it a great place to raise children. The city has a wide range of cultural activities and events, from art galleries to music festivals, making it an exciting place for families to explore and enjoy.
What we also loved about our trip was how many fun and weird things there are to do in Portland. You even see what seems to be their town slogan throughout the city on bumper stickers and walls 'Keep Portland Weird'.
Ready to book your trip? Find the best prices on flights, hotels, travel insurance, and rental cars!
You May Also Like:
Best Pumpkin Farms In California
Guide to pumpkin picking in Florida
Disclaimer: This post on things to do in portland with kids contains affiliate links. By using them it will not cost you any extra. We will receive a small percentage to keep us writing.