After our epic trip along the entire west coast of America, our final stop was 48 hours in LA! In truth, we were exhausted and needing a rest so we wanted to be close enough to things so we could stroll out and have a look without too much hassle. The obvious choice was to stay in Hollywood.
We didn't go too crazy with all the great things to do in LA, instead we relaxed in our hotel, took a tour, had a stroll and ate great food in one of Hollywoods best restaurants. In the usual format, here is our play, sleep and eat guide to LA.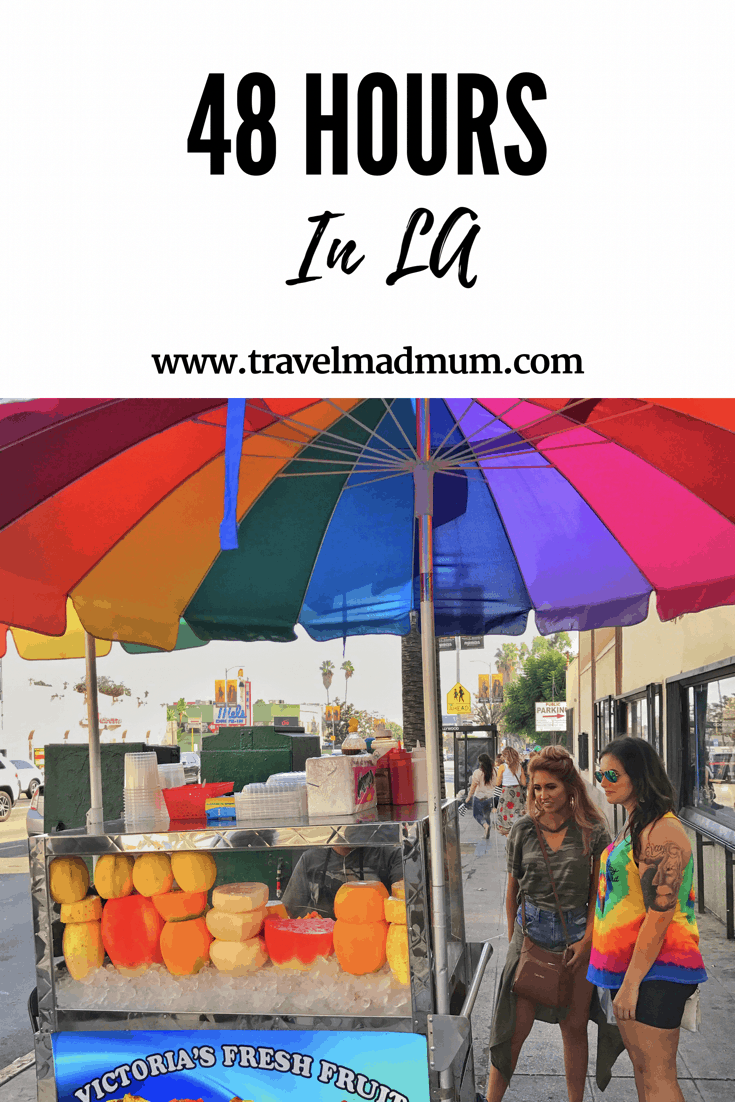 PLAY
We wanted to see all of the iconic parts of Hollywood in the easiest possible way. We took an open top van tour. They run every day from 9:30am and take passengers to all of the best parts . We saw the iconic Hollywood sign, loads of famous TV and movie sets, the walk of fame and sunset strip. They are great with kids and it's definitely an easy and straight forward way of seeing Hollywood!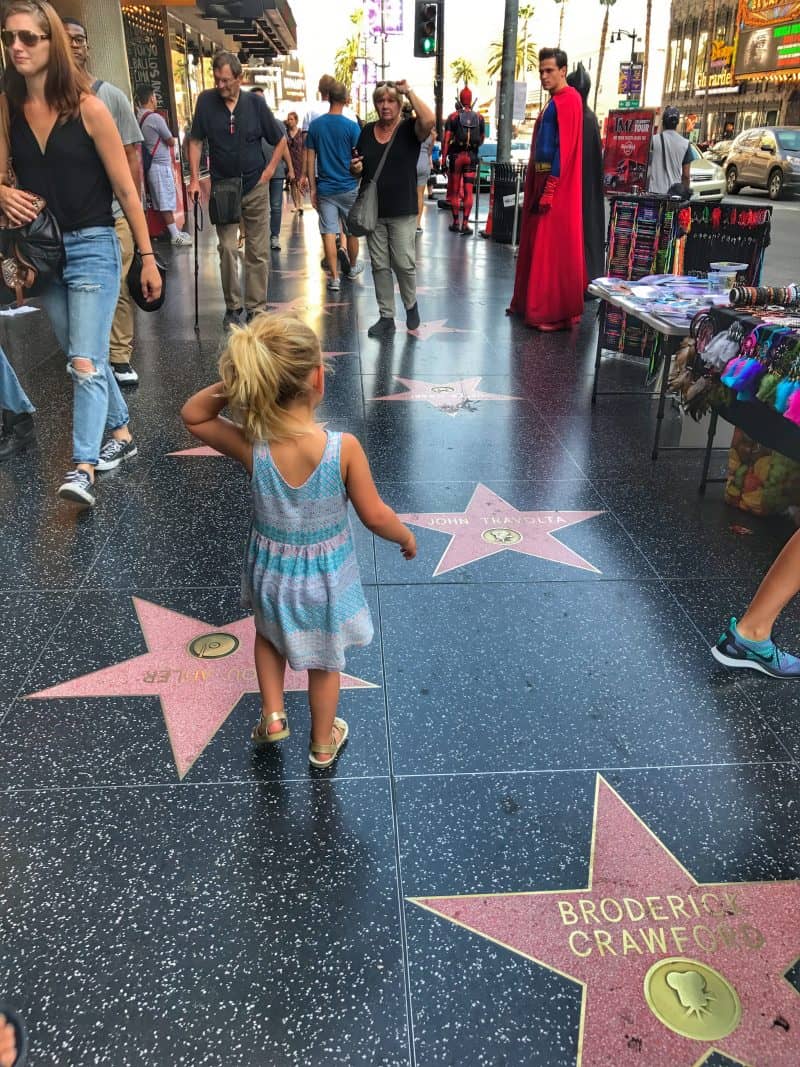 SLEEP
We stayed at Hilton Garden Inn, Hollywood. We couldn't have got any more closer to all the action which was perfect for us. With the Hollywood sign to our left and the boulevard to our right, we were so lucky with the location.
Relaxing and the Room
We had a family room on the seventh floor with views out over the hotel pool. We spent a lot of time chilling on the sun loungers and cooling off with a swim. It's always so good for us when a hotel has a pol because it helps us keep the toddler entertained whilst we are relaxing.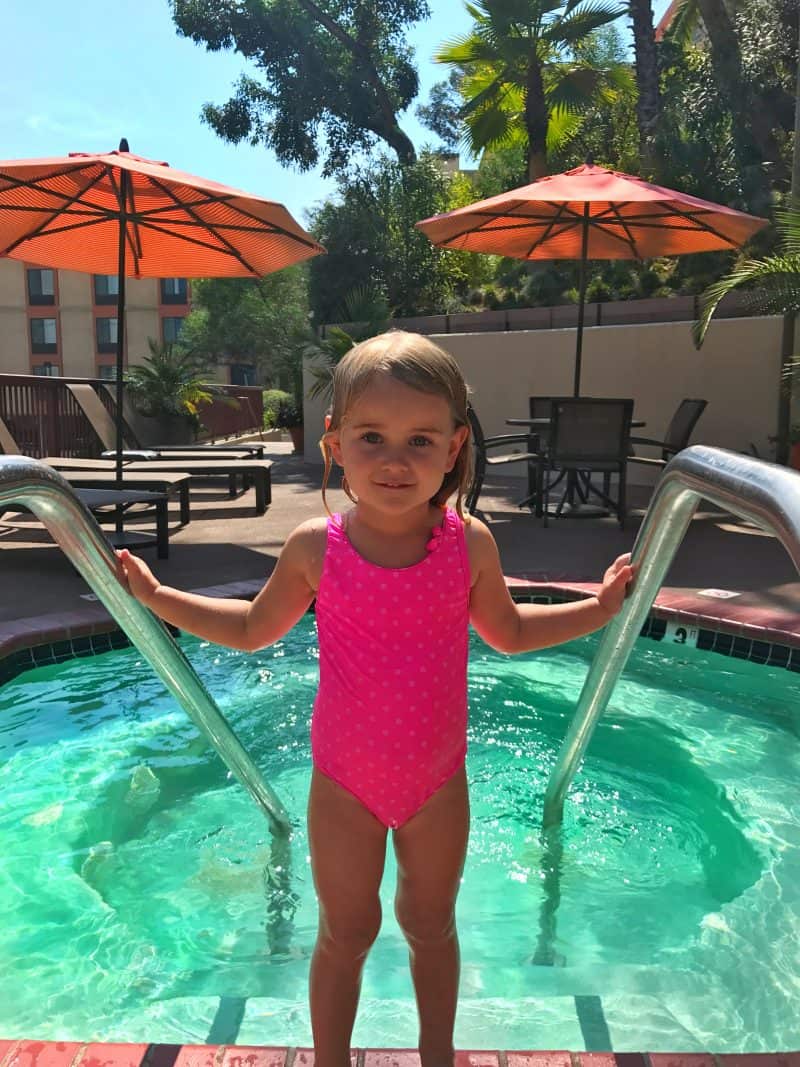 The room was a great size with lots of storage for all our luggage, a TV with all the necessary channels and a big bathroom with the all important bath. We really appreciated bathing the kids after living out of the camper van for over a week. The room was stocked up with nice coffee, a fridge and a microwave which is always handy.
Amenities
It might be a minor detail to most, but as a full time travelling mum, I was SOOO happy they had a coin laundry. Because the obvious thing to do on a Friday night in Hollywood, is laundry, right? Don't worry we made up for the lack of a social life on Saturday!
They also had an onsite restaurant. We only managed to have breakfast, but they had an a La carte and a buffet option. Our little one loved the make your own waffles station. They had juices, pastries, breads, yoghurts, fruits and cereals.
In the lobby area they had a massive dispenser full with ice water infused with fruits. It was the perfect thirst quencher after walking around outside. They also had freshly made fruit and oat cookies so guests could have little snack during the day.
In the lobby area they had a touch screen TV. It gave all the information on flight times from LAX and it also had a feature to take selfies sitting on the sofa. There was also a life sized figure of a movie star. Maybe they nicked it from the wax museum across the road?
EAT
Yamashiro restaurant
Hollywood is a hectic place, especially with kids. If you feel you need to escape, Yamashiro Restaurant, is the place to go. It's a tranquil Japanese restaurant based around a garden with a pond. The views over the city are outstanding, especially at sunset.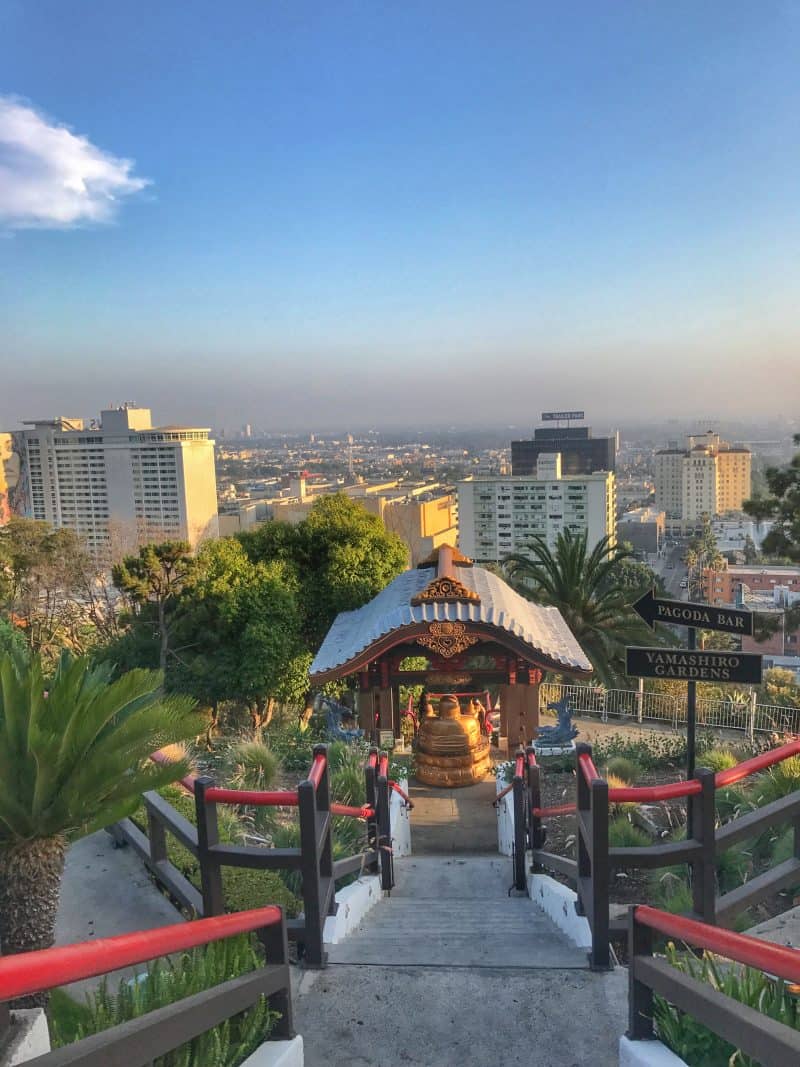 Yamashiro means mountain palace in Japanese and thats exactly what it feels like. It was built in 1911 by hundreds of craftsmen trying to recreate an orient palace and I think they did just that. From the moment we arrived, we felt like we were somewhere else. Looking down on the buzzing city was beautiful, the lights in all of the buildings were slowly coming on as the sun went down.
Drinks
We initially checked out the cocktail garden which is the best spot for the views. We followed up with a table in the garden. It was like being in a temple courtyard. They have some amazing signature cocktails, the obvious one being a Mai Tai which zinged me right into Saturday night mode.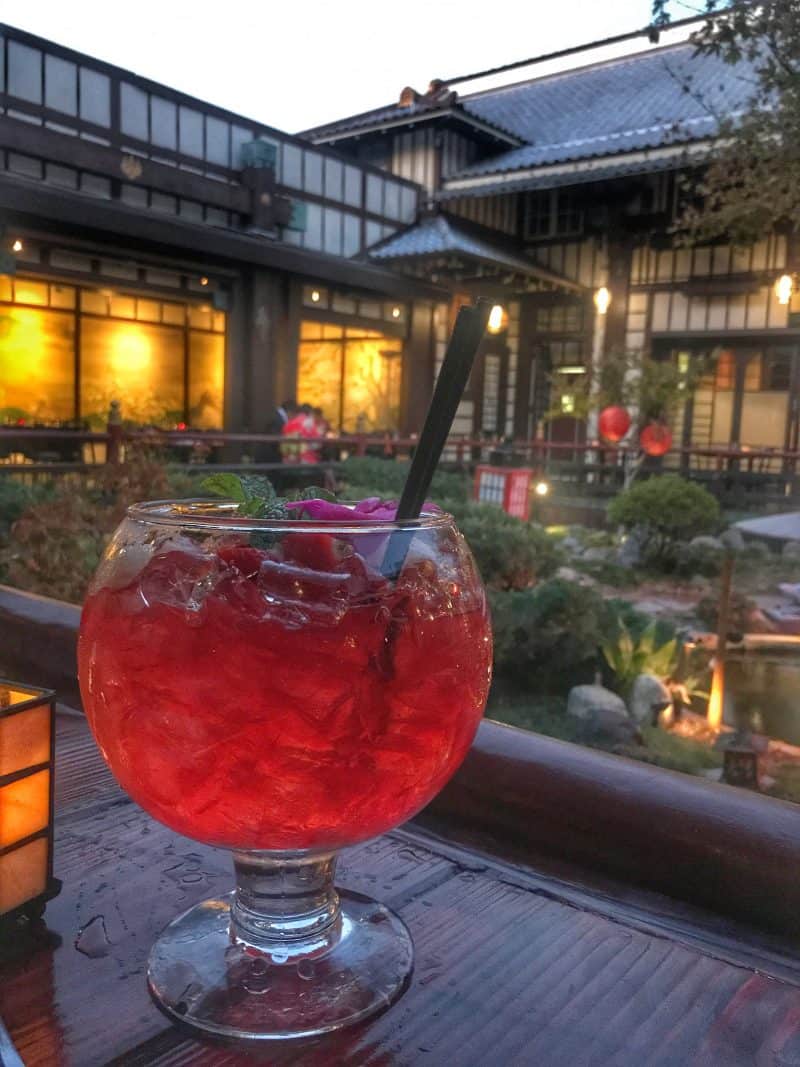 The other great cocktail is the Red Lotus. Being the size of a fish bowl, it's definitely one to share. Hubby and I sipped on it throughout our meal. The iced lychee and raspberry flavours were deliscious.
Food
The sushi and cal asian menu was the perfect accompaniment to the environment. We hadn't eaten much throughout the day so we were feeling hungry. Being a fine dining restaurant the portions were also ideal for fitting in all three courses. To start, I had the pan seared crab cakes with teardrop tomato pico de Gallo and cracked pepper aioli.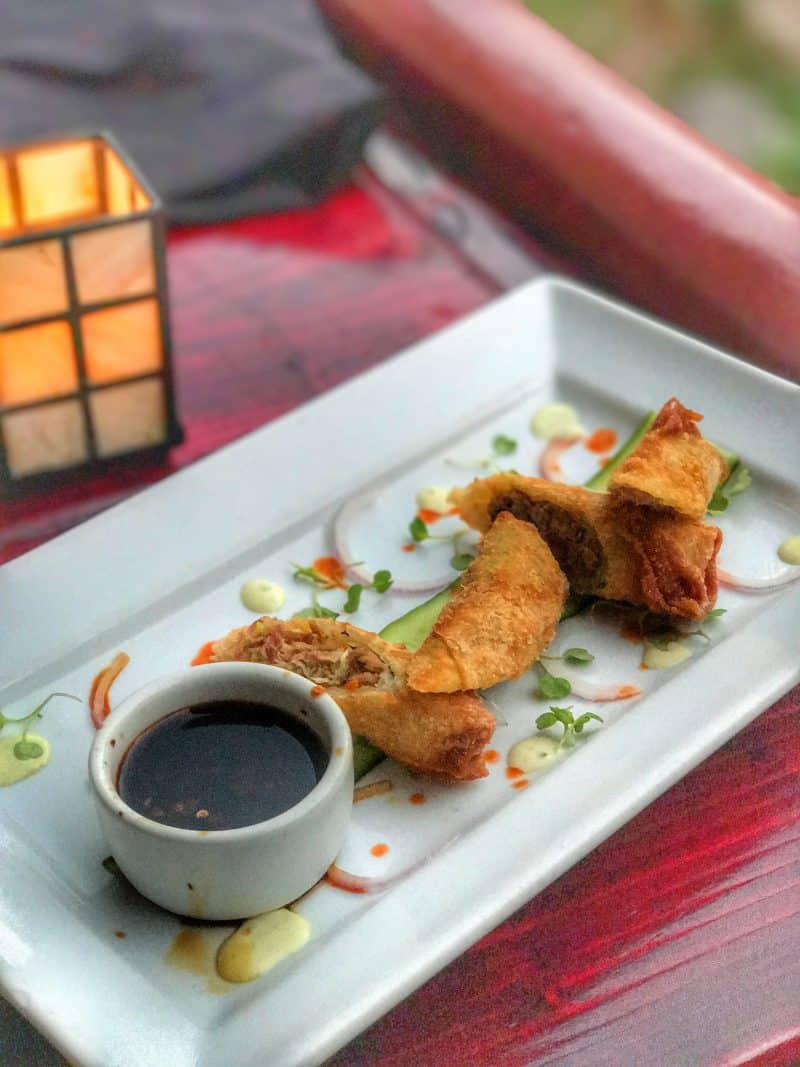 For mains, my husband and I had the Himalayan salt plate with American wagyu steak. It's always entertaining to cook your own food at the table. This dish was tender and incredibly tasty. It was such a lovely evening and the perfect finish too our west coast trip.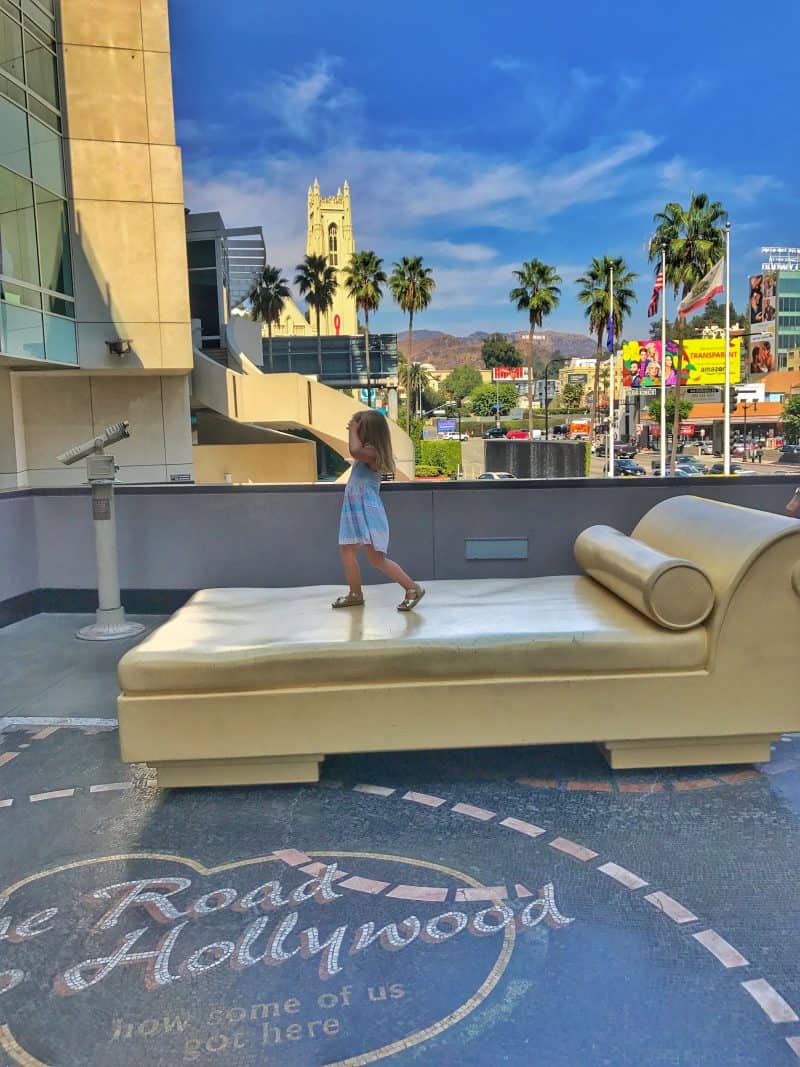 Have you been to LA with kids before? I love hearing from you, leave a comment and I will get back to you.
Disclaimer: We worked in conjunction with Ghost Media to promote some of LA's highlights. As always, all views our entirely our own. 
You May Also Like:
The Ultimate Pacific Coast Highway 101 Road Trip