After our epic trip along the entire west coast of America from Seattle, through Oregon and California, our final stop was Los Angeles with kids!
In truth, we were exhausted and needed a rest so we wanted to be close enough to things so we could stroll out and around without too much hassle. The obvious choice was to stay in Hollywood.
Los Angeles is a sprawling diverse city, from beaches to bustling streets, and museums to fantastic restaurants. Needless to say, there are a lot of fun things to do in Los Angeles with kids.
In this post, we cover activities, accommodation recommendations and of course family-friendly restaurants to help plan your LA family itinerary. Let's kick off with activities and places to see!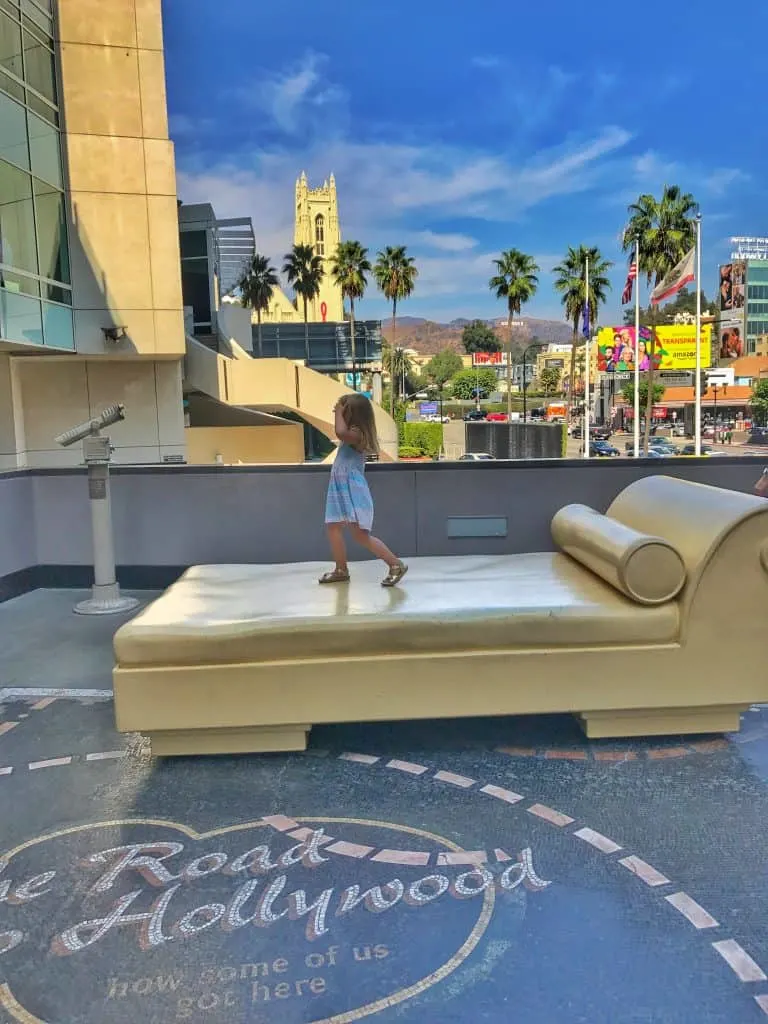 Activities In Los Angeles For Kids
Table Of Contents
1. Paramount Pictures Studio Tour
Paramount Pictures has been home to some of the most iconic movies and television shows of all time, spanning the entire history of the entertainment industry.
A popular tour in Los Angeles to the studio tour offers guests a choice between a standard 2-hour tour and a VIP experience of 4.5 hours.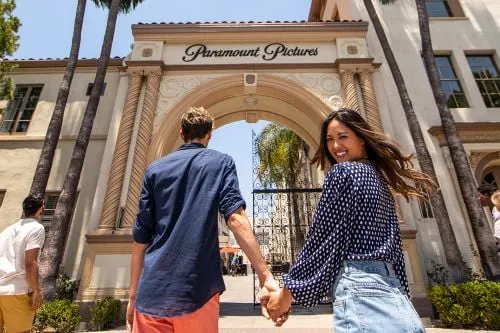 Grab the opportunity to explore iconic locations like the New York Backlot, Bronson Gate, and Soundstages. Walk among producers, crew, and industry talent that call the studio home.
Paramount Studios is the last major studio in Hollywood. It is a great place to understand Hollywood history.
For more information on Paramount Pictures Studio Tours.
Cost: Standard Tour @ $63
VIP Tour @ $199
Car Parking @ $22
Timings: 9 AM to 3:30 PM
Location: 5515 Melrose Ave, Los Angeles, CA 90038, United States
2. Universal Studios
A trip to Universal Studios is a 'must do' for any family trip to Los Angeles. There is so much to see and do in the theme park, it is challenging to fit it all into one long day.
Universal has age-appropriate rides to suit all tastes from toddlers to adults, as well as a fun parade filled with favourite film and television characters.
There are also several chances for a meet-and-greet photo opportunity with the characters during your visit.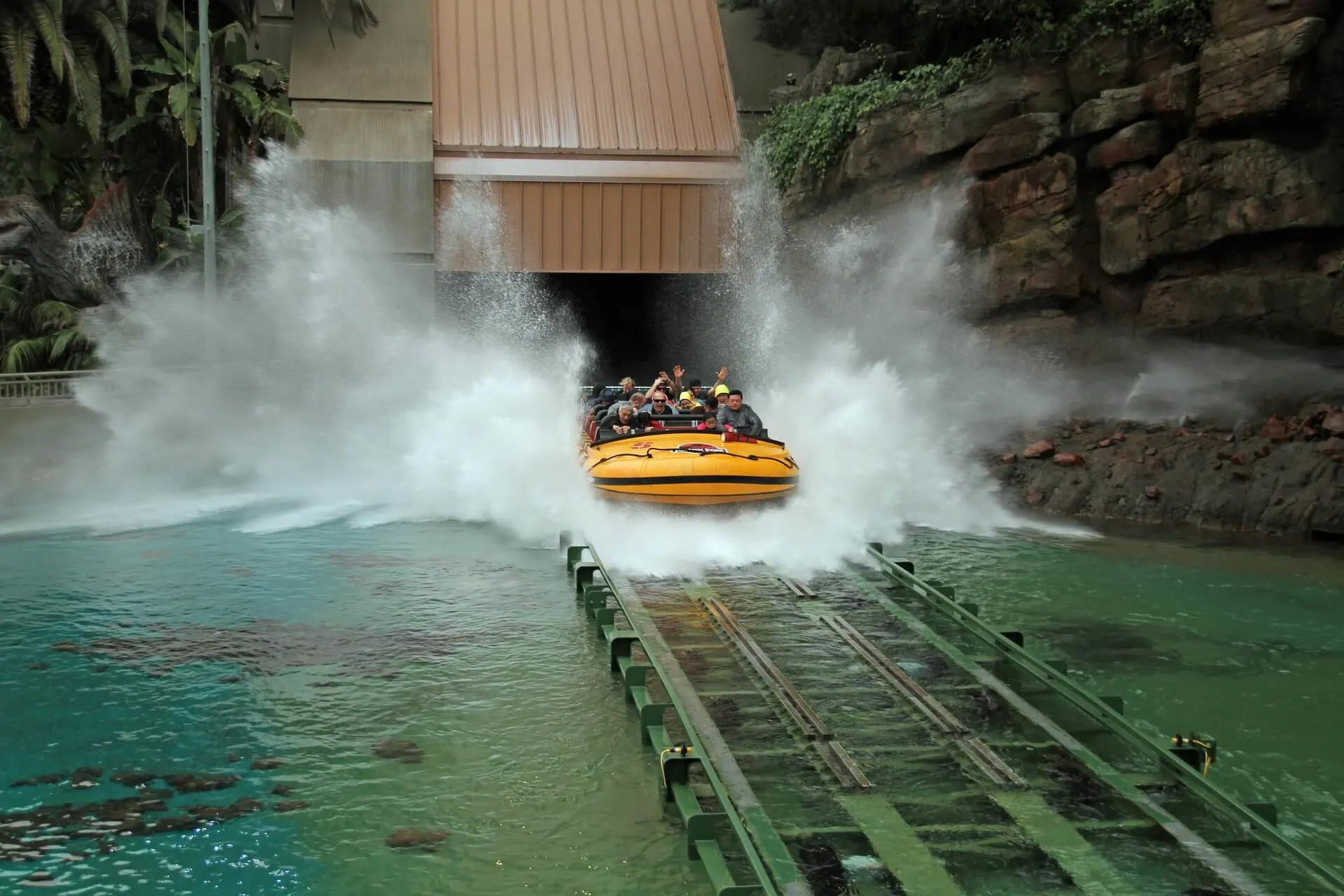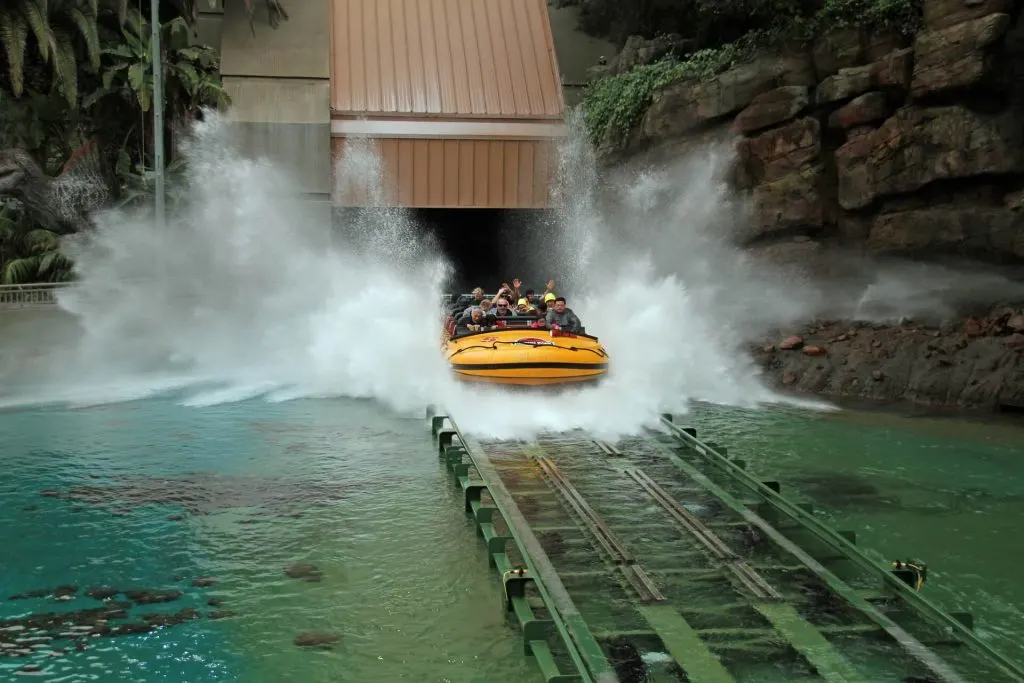 The themed areas of Universal Studios are lined with buskers and dancers, some of which are pop up style entertainers. You will never be bored!
One of the best areas of the park to visit is the fascinating guided tour of Universal's world-famous film sets.
Small groups travel with an entertaining guide on a shuttle visiting iconic sets recognizable from your favourite films. There are several surprises and special effects experiences along the way!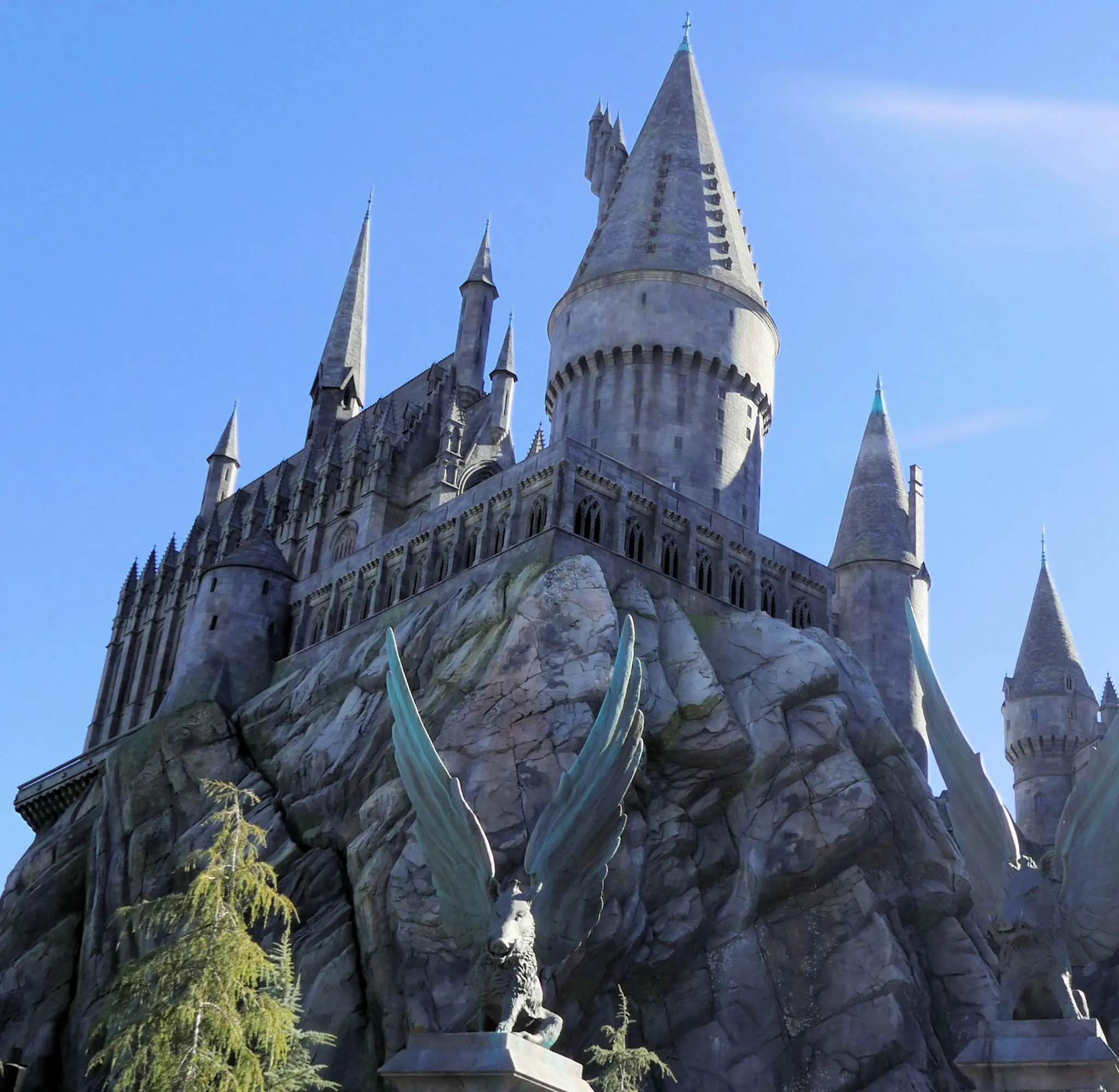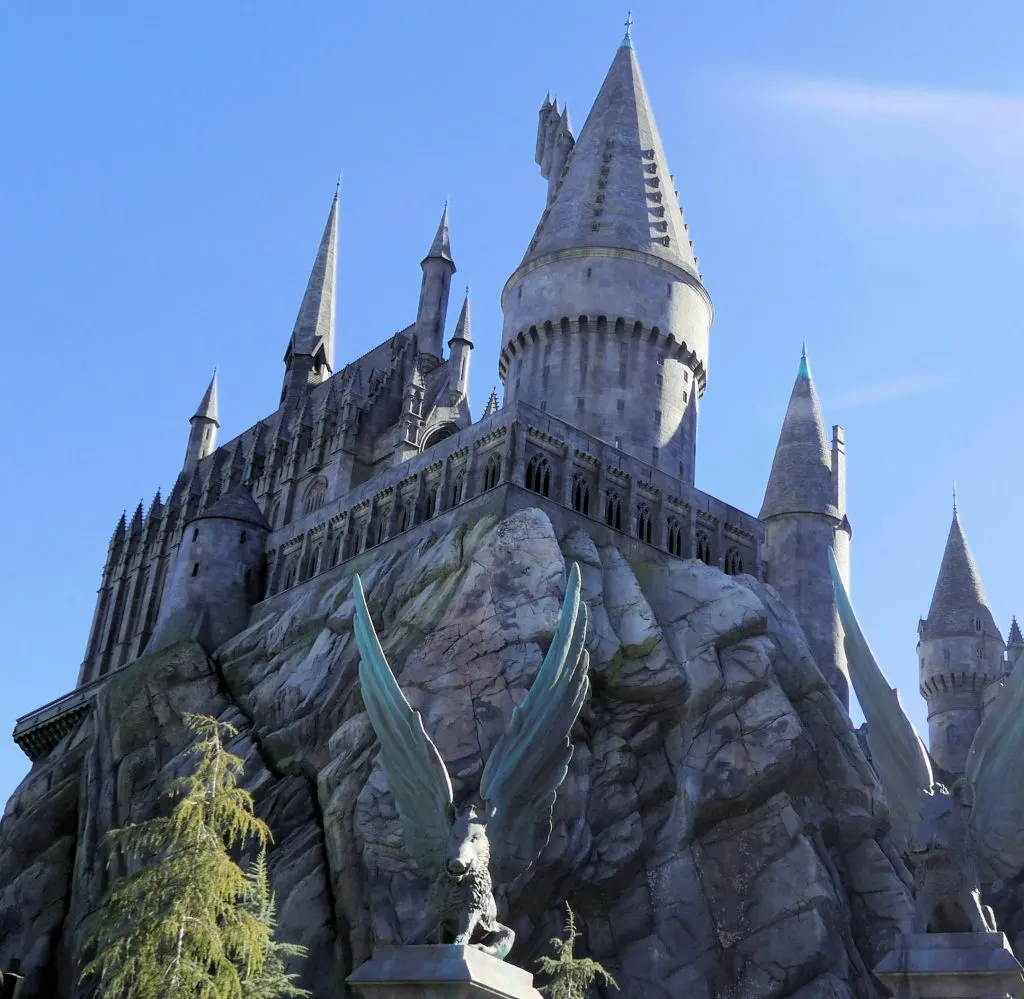 In addition to visiting the main park, Universal Studios is also home to Harry Potter World. The extensive area comprises the village of Hogsmeade, Hogwarts Castle and two thrilling theme rides.
The Hogsmeade village is fantastic. The attention to detail in the shops and cobbled lanes is impressive and you will feel fully immersed in the world of witches and wizardry!
Choose a wand at Ollivander's or enjoy treats from Honeydukes before exploring Hogwarts Castle and bracing yourself for the white knuckle rides!
If you've got Harry Potter fans in your family, this is definitely one of the best things for kids to do in Los Angeles.
Check ticket prices for Universal and other theme parks in the area here!
Location: 100 Universal City Plaza, Universal City, CA 91608, United States
3. Warner Bros. Studio
The Warner Bros. Studio Tour takes visitors behind the scenes of a working movie studio and provides insights into the processes and technologies used to create films and TV shows.
It is an eye-opening experience to get a glimpse of the intricate detail filmmakers, set designers and cinematographers take into account to make each scene come to life.
The amount of detail put into the production of the films and TV shows is awe-inspiring, and it all comes together to create something extraordinary.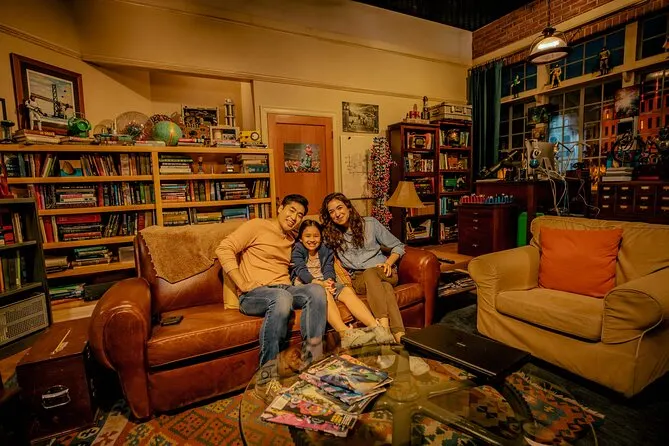 Original props and costumes from popular movies and TV shows are on display at the museum. In addition, a number of the original sets are on display, which is available to explore in detail.
Discover the sets of the Big Bang Theory, and sip coffee at the iconic Central Perk Cafe Friends Boutique. Stroll through movie backlots that famous movie stars frequent.
After the tour, browse the museum shop and get souvenirs of your favorite shows and movies.
Book a Warner Bros. Studio Tour Hollywood for your family.
Location: 3400 Warner Blvd, Burbank, CA 91505, United States
4. Swan Pedal Boat Rental
There are multiple time slots available throughout the day to enjoy a swan pedal boat ride at Echo Park to suit a family itinerary when visiting Los Angeles with kids.
With a private swan pedal boat rental, there is no stress about overcrowding or competing for the most picturesque views.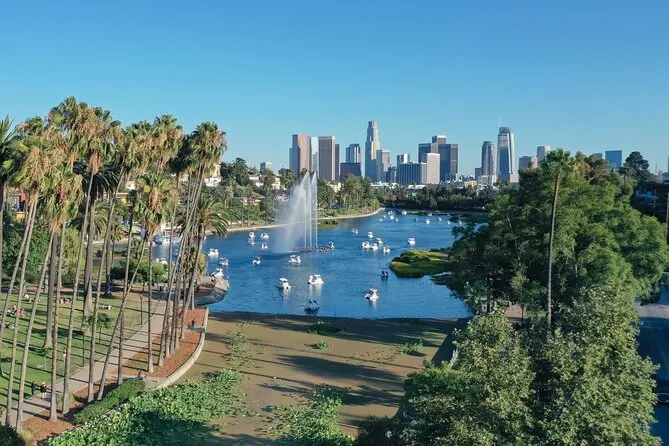 Strap on the lifejackets and set sail to embrace the city views and soak up the scenery in one of the peaceful corners of the city.
Take full advantage of the opportunity to explore Echo Park Lake in a unique and active way that is off the beaten path.
Book a swan pedal boat rental at Echo Park.
5. Baseball Game At Dodger Stadium
Taking the family to a Dodgers baseball game is a great way to spend an afternoon in LA.
For the best experience buy seats right on field level. There is so much going on at a Dodgers baseball game and it's fun to sit close to the action. Babies and toddlers three and under are free as long as they sit on a parent's lap.
The iconic Dodger Stadium is the third oldest MLB park. Before 2020, Dodger Stadium didn't have the built-in kid-friendly attractions offered at many of the newer baseball stadiums (like the coke bottle slide at Giants stadium in San Francisco).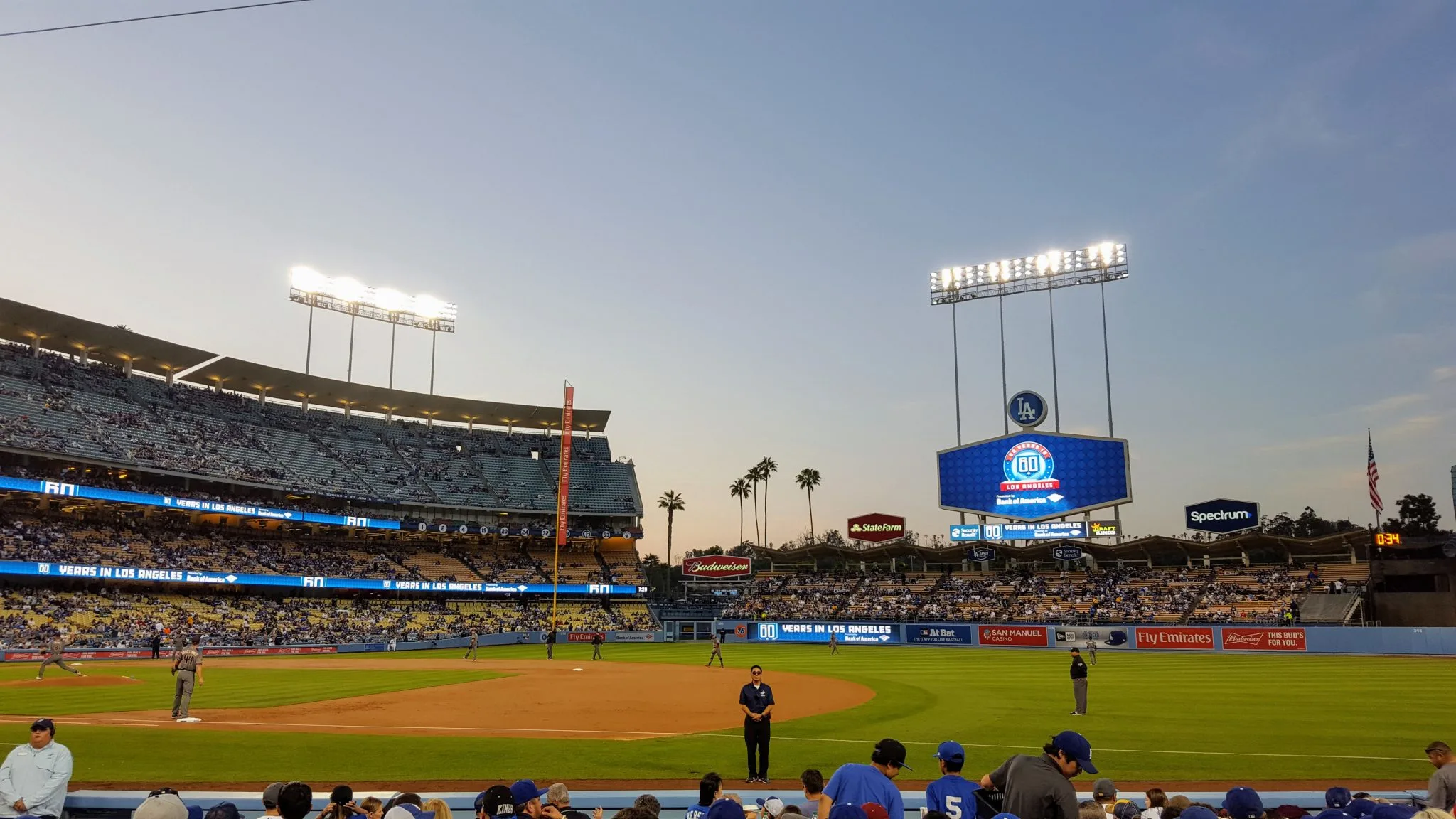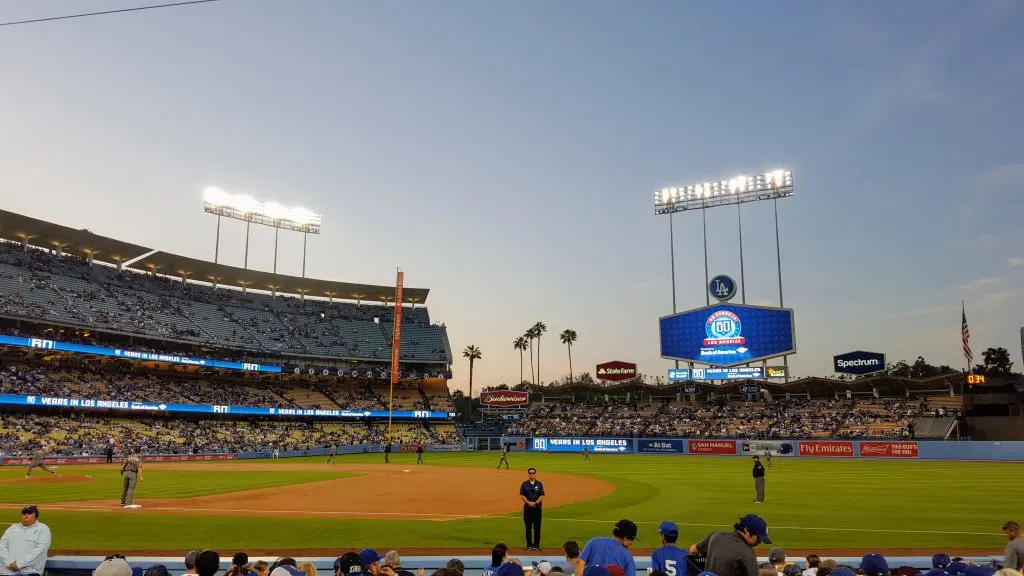 After the latest renovation, there is now a kids' play area in the centre field plaza. If the kids get restless watching the game, they energy off in the play area.
You'll also want to head up to the top deck to check out the amazing views. On a clear day, you can see downtown LA, the beautiful Santa Monica Mountain Range, and the iconic Hollywood sign in the distance.
No baseball game would be complete without a souvenir Dodgers ball cap.
If you can make it to a Friday or Sunday game you get the added bonus of Friday Night Fireworks after the game or the opportunity for kids 14 and under to run the bases after Sunday games.
Location: 1000 Vin Scully Ave, Los Angeles, CA 90012, United States
6. Kidspace Museum
Kidspace is an amazing children's museum with more than 40 hands-on exhibits, programs, and monthly events on 3.5 acres of indoor and outdoor space.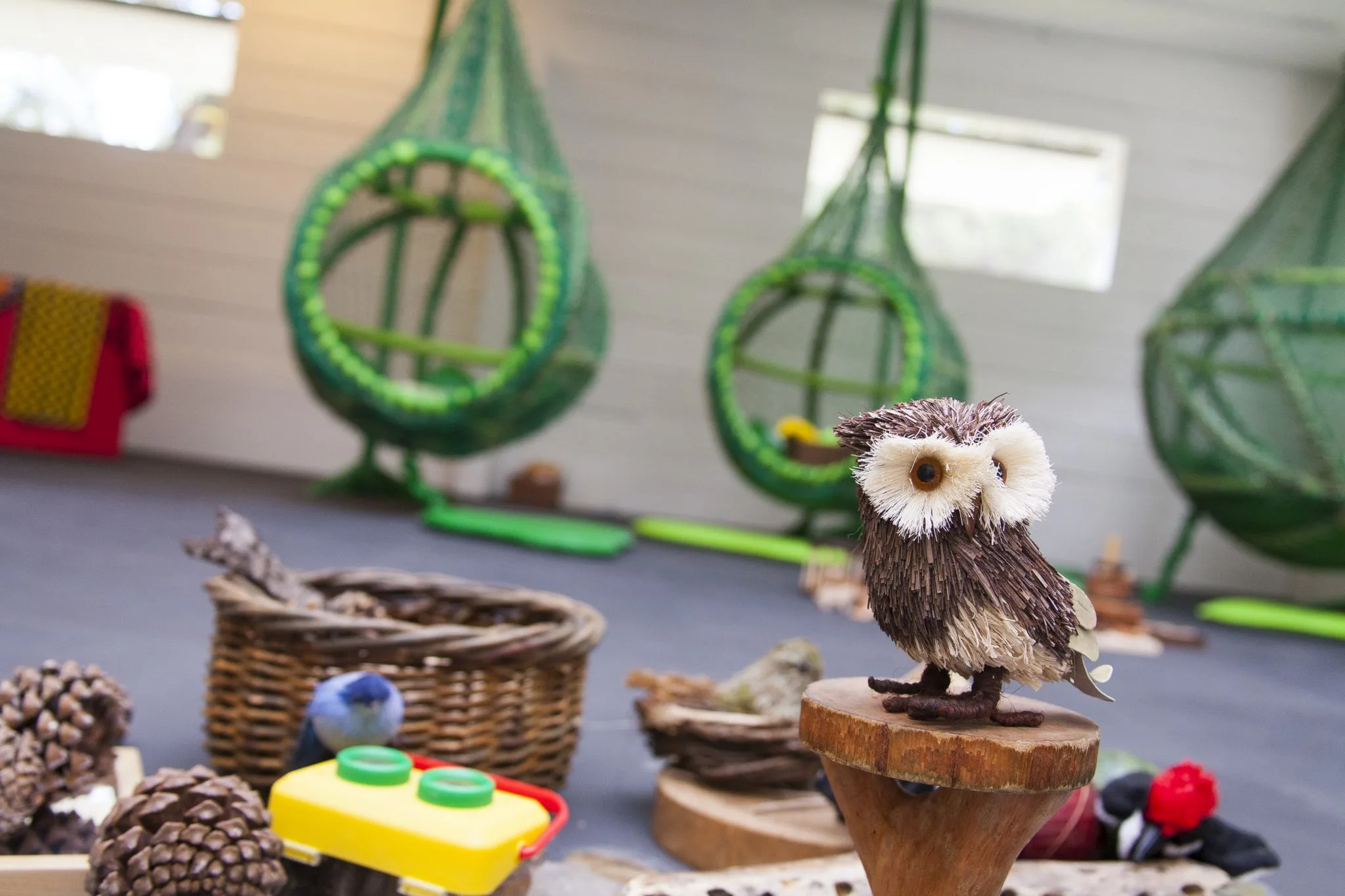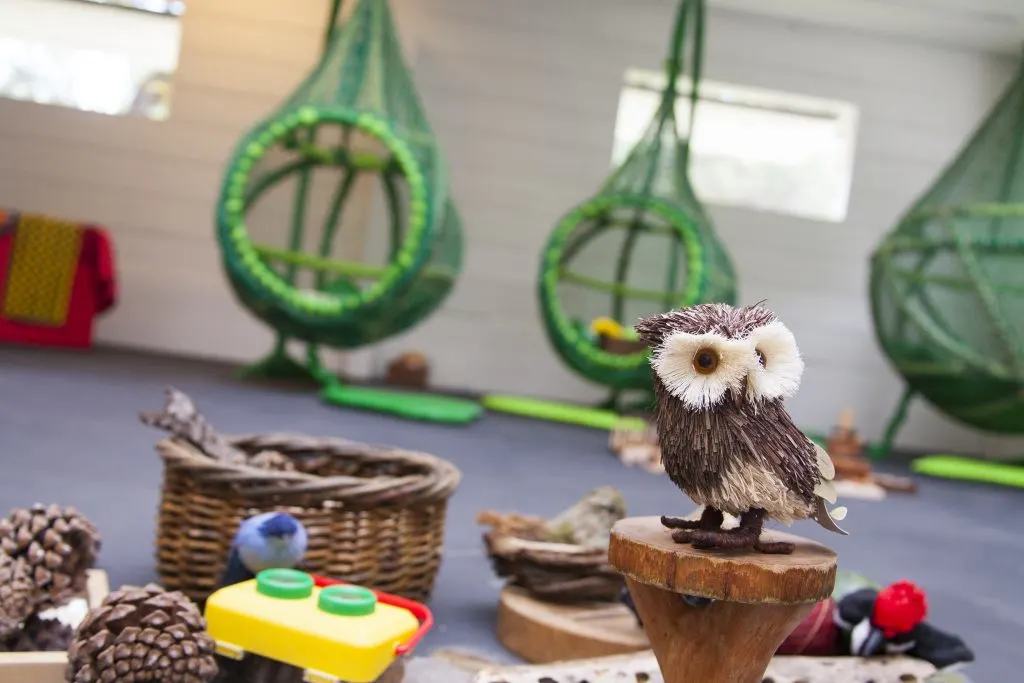 The exhibits and programs at Kidspace encourage growth and development through the exploration of natural environments, investigations in science, and artistic forms of expression.
From climbing up to child-size hawk's nests to learning to build bricks from mud to an entire physics forest, you'll find plenty to do for kids ages 1 to 10.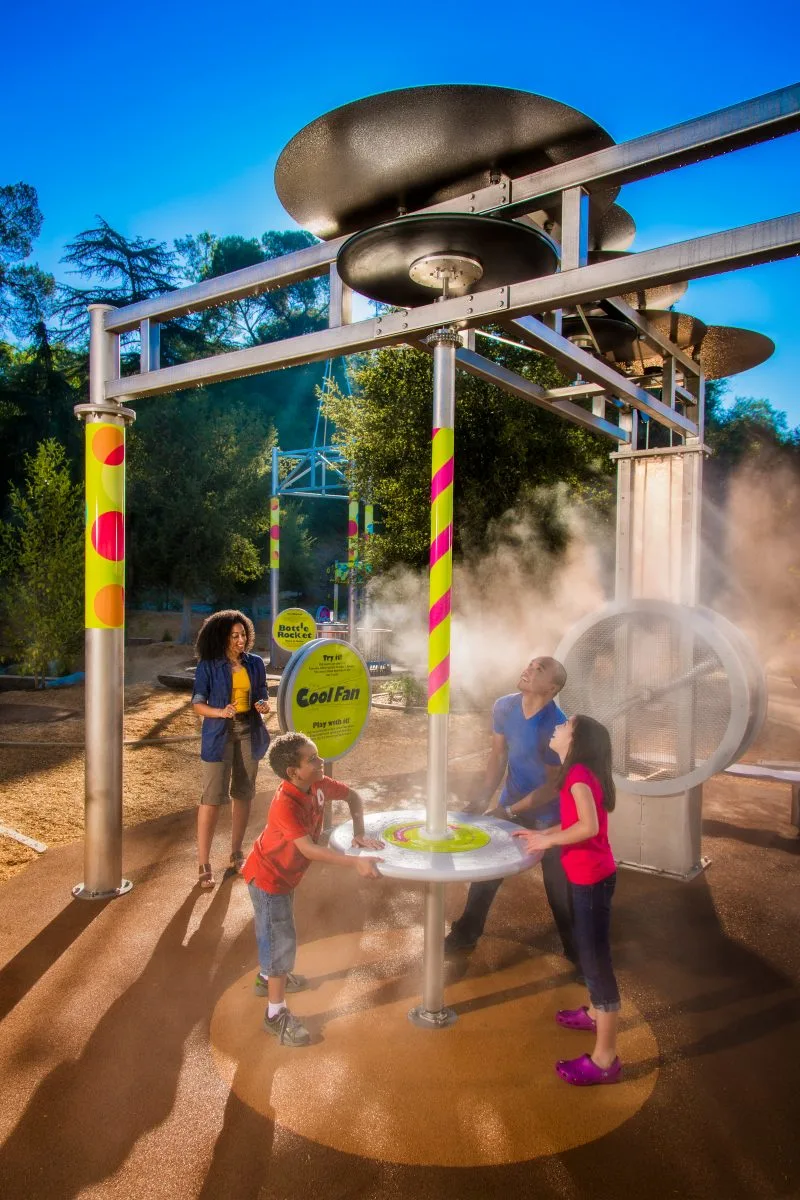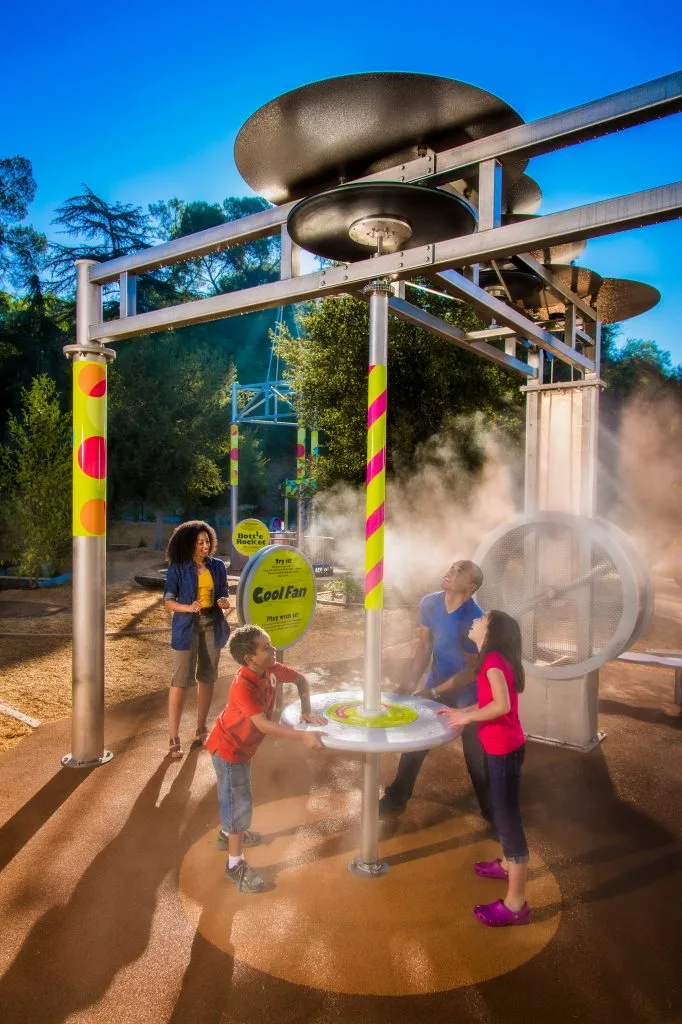 If you are visiting around Halloween time, they also have a pumpkin festival with carnival games, a pumpkin patch and more! It is definitely on our list of best places to visit in Los Angeles.
7. Helicopter Over Long Beach
The Helicopter Tour is an incredible way to see the beauty of the California coast, from Catalina Island to the bustling port of Long Beach.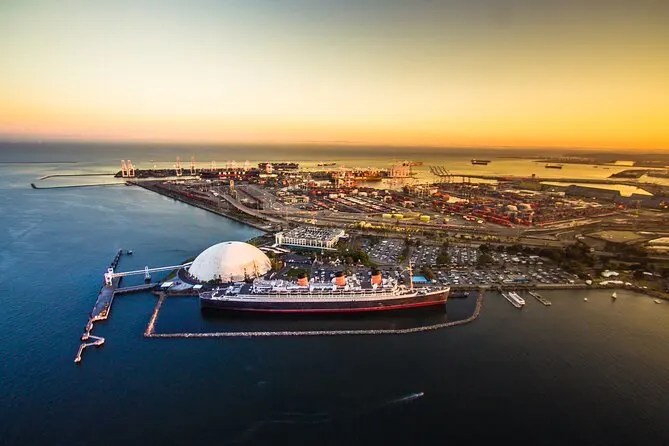 Get an aerial view of the iconic Queen Mary ocean liner and the imposing Battleship USS Iowa moored in LA's port, Harbor Boulevard.
It's a terrific way to experience the majesty of the Los Angeles coastline with the kids in a reasonably short time.
Book a Private Helicopter Tour Over Long Beach.
8. Battleship USS Iowa
The Battleship USS Iowa is a decommissioned United States Navy battleship now permanently moored in the Port of Los Angeles, offering kid-friendly tours and exhibits to the public.
Its decks and cabins give visitors a unique look at life on a battleship.
Get an up-close look at a variety of artefacts, photographs and documents that help illustrate the history of the USS Constitution and its crew.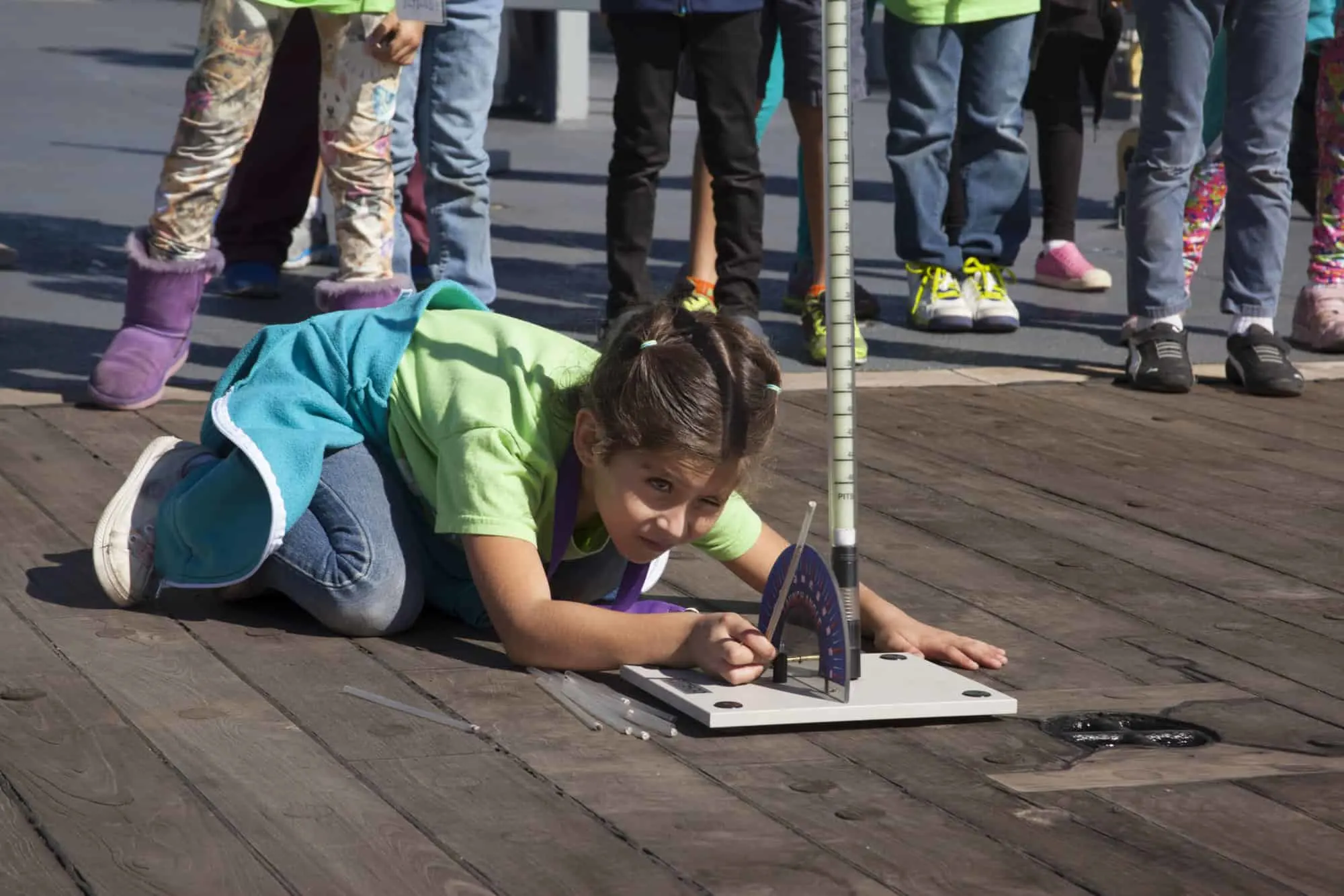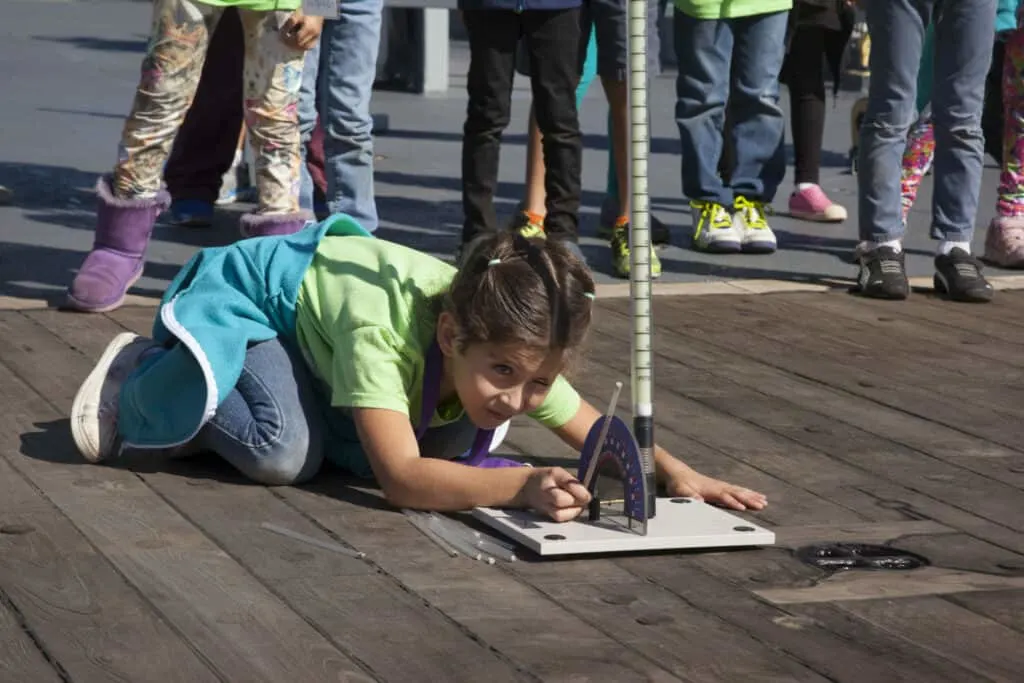 A fun activity for kids (and parents) is to find Victory Vicky, the dog on the battleship USS Iowa (The ship's official mascot).
During the tour, make sure to stop at all of Vicky's stops and hear her stories.
For more information on experiences and tickets.
Cost: $23.95 for general admission
$15.95 for youth admission (Ages 3 to 11)
Free entry for kids (Ages 2 and below)
Timings: 10 AM to 5 PM (Monday to Sunday)
Location: 250 S Harbor Blvd, Los Angeles, CA 90731, United States
9. TCL Chinese Theatre VIP Tour
The VIP tour of the iconic TCL Chinese Theatre provides the opportunity for families with kids to truly immerse themselves in the glamour and glitz of Hollywood's golden age.
Visiting the hand and footprint courtyard at the TCL Chinese Theatre is an excellent way for parents and children to learn about Hollywood's history.
The experience of seeing the stars' hands and footprints makes the experience more memorable.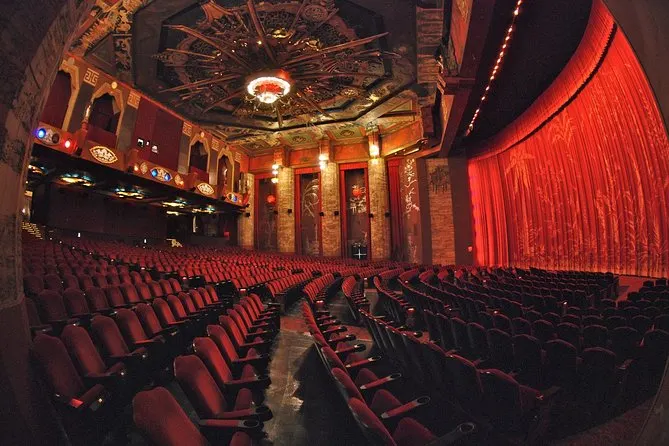 The tour goes through backstage areas, such as the costume and prop workshops, and into the world's largest IMAX auditorium.
Hence, a fantastic opportunity to observe the inner workings of the theatre and soak in the architecture and artwork.
Despite its short duration lasting 30 minutes, the tour is very informative and a great way to learn about the rich cultural history of the city and appreciate the theatre's timeless and fascinating legacy.
Book a TCL Chinese Theatre VIP Tour.
Location: 6925 Hollywood Blvd, Hollywood, CA 90028, United States
10. Madame Tussauds Hollywood
Madame Tussauds Hollywood is a wax museum that has incredibly lifelike wax figures of some of today's most famous celebrities. There is also one in London!
Kids can take pictures with their favourite celebrities or see what it's like to stand on the red carpet and be interviewed by a reporter.
Artists who specialize in wax sculpture create life-like figures. In order to make them as lifelike as possible, they use a variety of techniques, such as using natural hair and carefully painting the wax figures.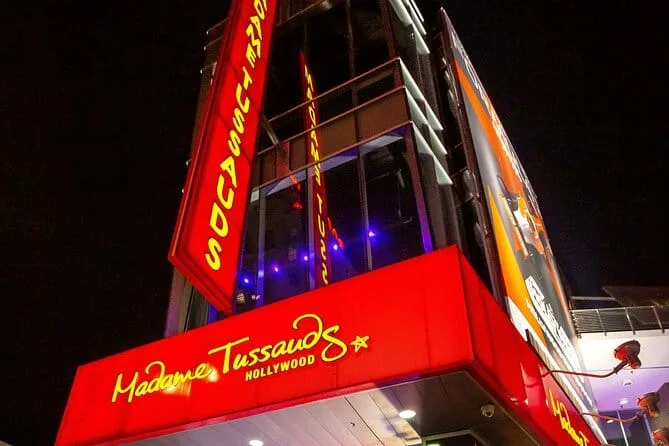 From the stars of Harry Potter and Game of Thrones to classic icons such as Marilyn Monroe and Audrey Hepburn, families love visiting Madam Tussauds.
Enjoy a favourite celebrity portrait at Madame Tussauds for one of fun things to do with kids in Los Angeles.
Ticket for Madame Tussauds Admission with Marvel Universe 4D Movie Experience.
Timings: 11 AM to 6 PM (Sunday to Thursday)
10 AM to 8 PM (Friday and Saturday)
Location: 6933 Hollywood Blvd, Los Angeles, CA 90028, United States
11. Movie at El Capitan Theatre
The El Capitan Theatre was built as a luxury theatre in the 1920s. It still oozes 1920 Hollywood glamour. Located on Hollywood Boulevard it's the perfect place to stop in to watch a family movie.
The theatre goes above and beyond with exciting extras like preshow entertainment. Some surprises you might find are live Disney character appearances, bubble shows, or confetti falling from the ceiling.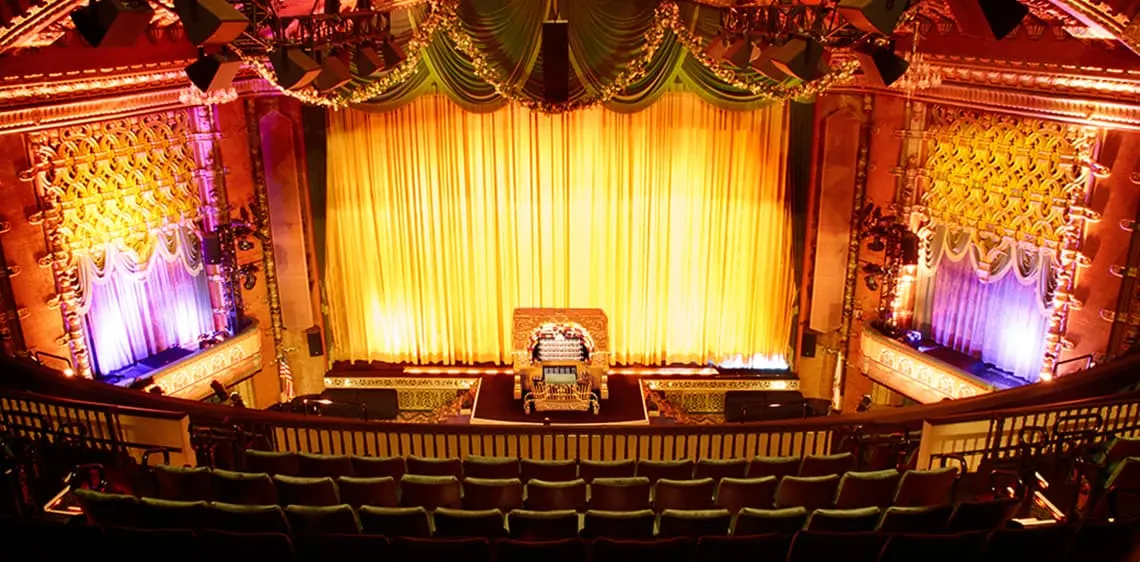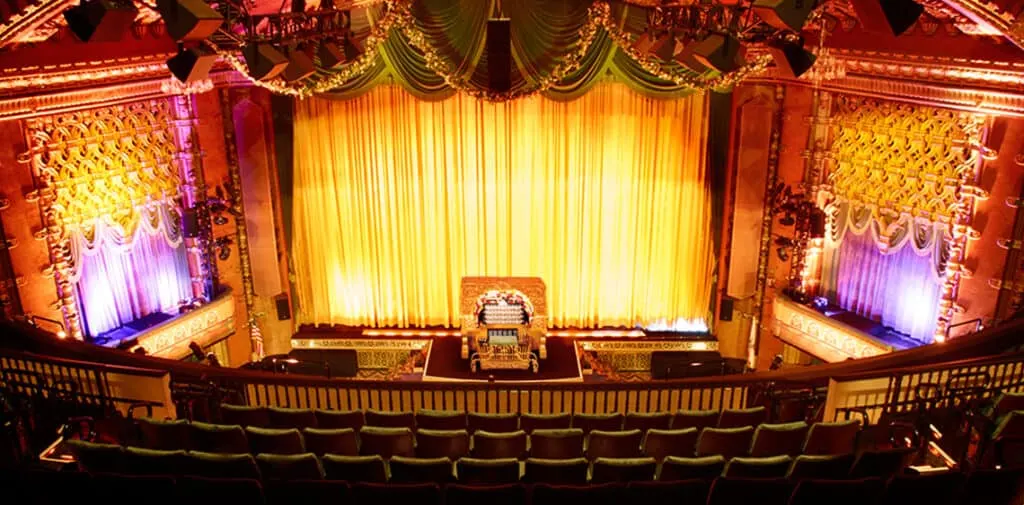 The movies they play are all family-friendly favourites. They also have a special showing for parents of young kids, where little ones can feel free to roam and the sound isn't as loud.
For show details and ticket bookings.
Location: 6838 Hollywood Blvd, Los Angeles, CA 90028, United States
12. Griffith Observatory
Griffith Observatory is one of the best places to visit in Los Angeles, especially for kids. Famous for its beautiful views of the city as well as the Hollywood sign, the observatory has free admission. It's also home to giant telescopes, a planetarium, and various science exhibits.
Visiting at night will give you the best chance at taking a peek through their telescopes! The telescopes are free for public viewing on clear nights when the observatory is open.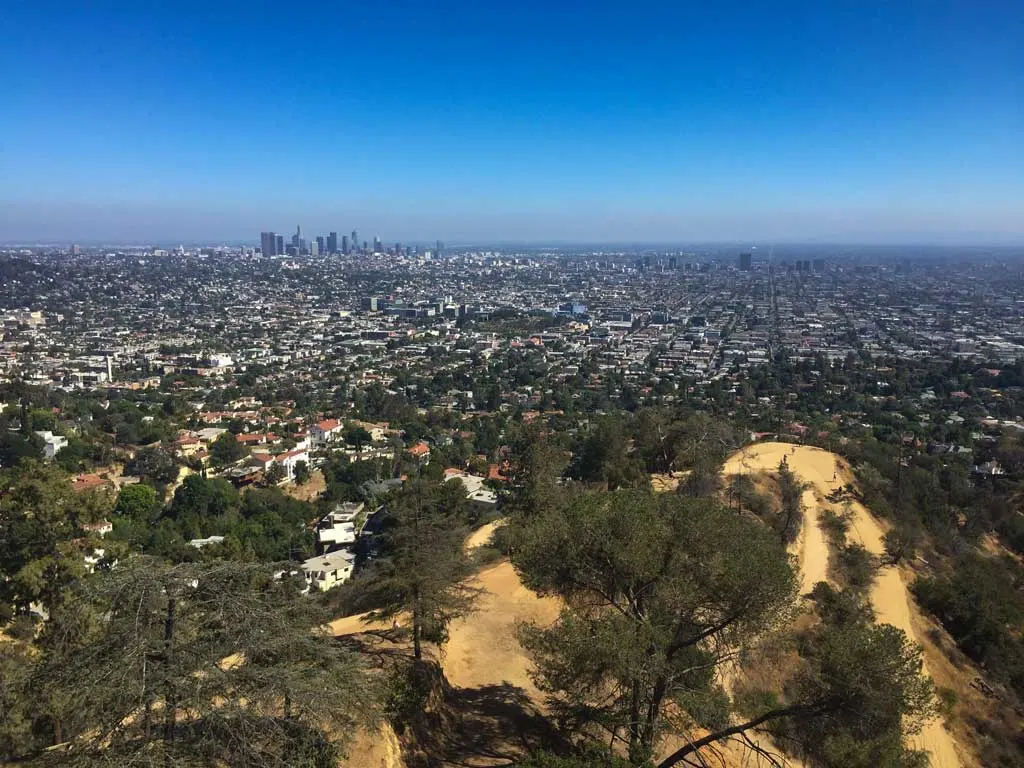 Once a month on Saturdays, Griffith Observatory holds public star parties, guests can bring their personal telescopes and point them at stars and planets. It is such a great learning experience for your kids.
The planetarium at Griffith Observatory offers a selection of three shows that require paid tickets. The shows are available daily and tickets can be purchased on the day, until 10 minutes prior to the show starting.
The Light of the Valkyries, in particular, teaches children about the northern lights.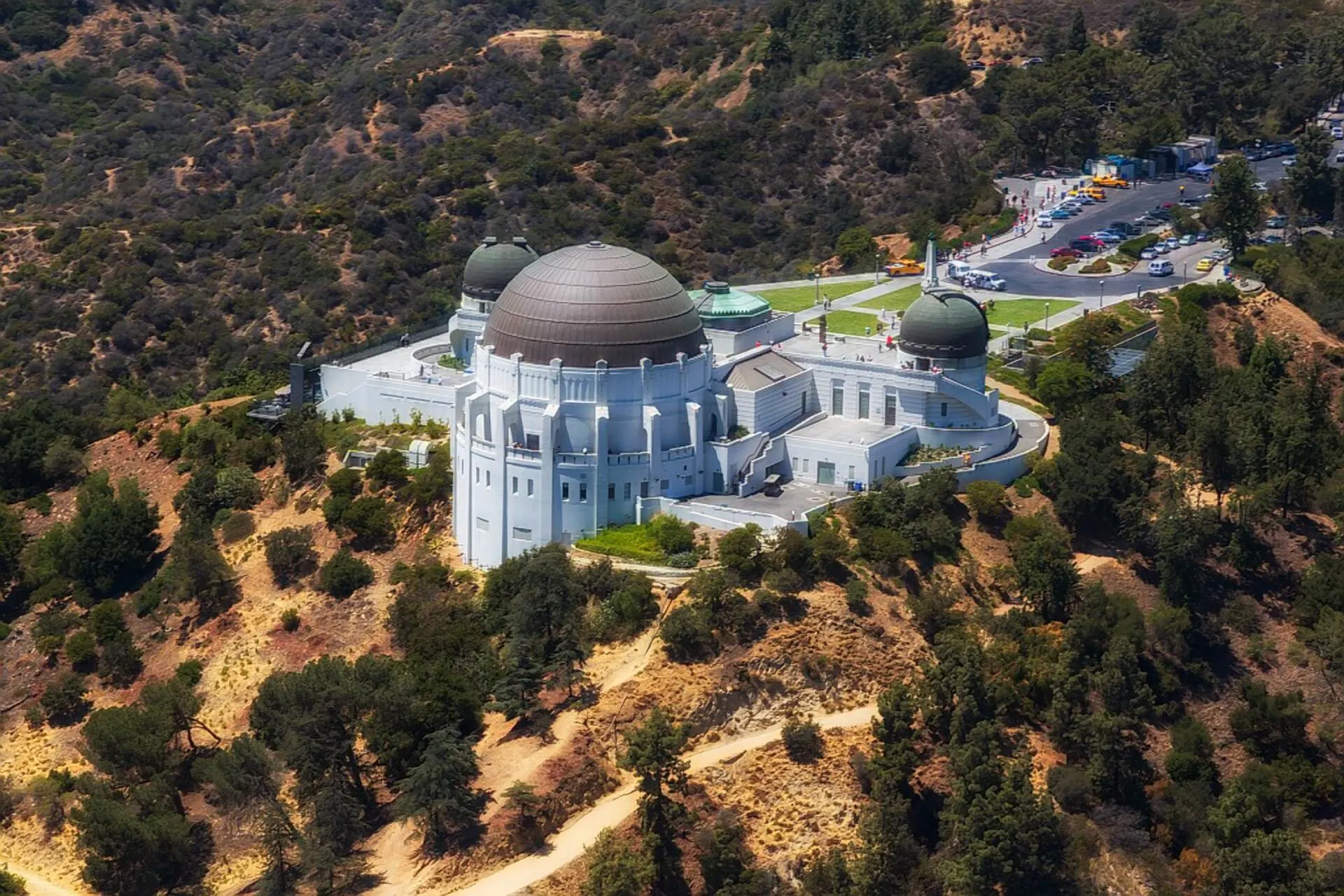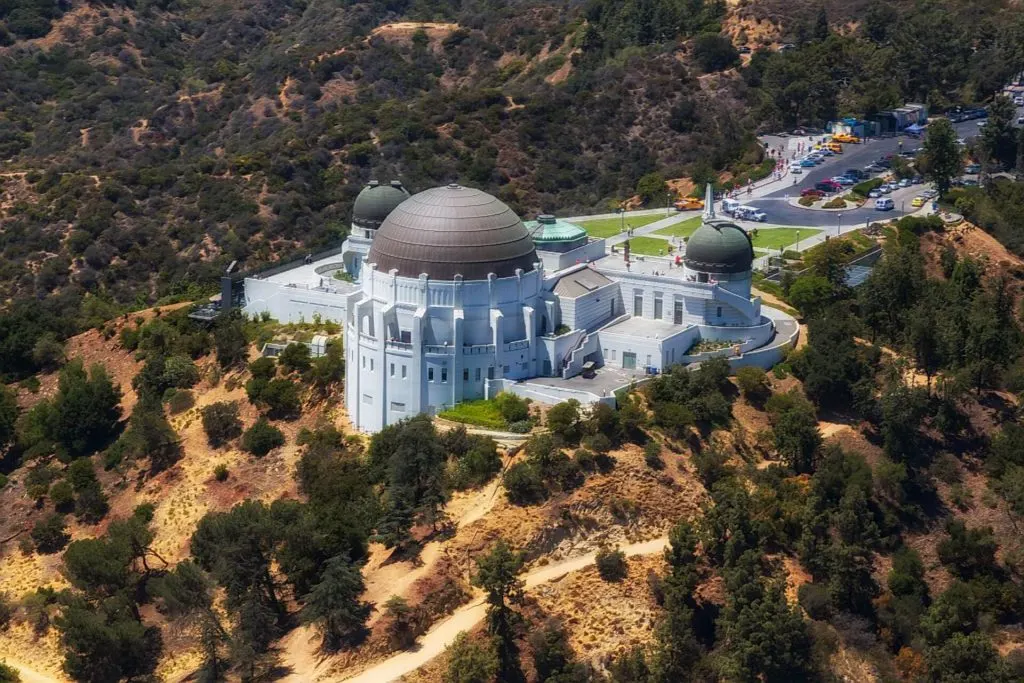 Griffith Observatory also has a variety of science exhibits including a pendulum and displays on the sun, moon, sky, stars, and galaxies.
Kids learn about space while also being fascinated by a Tesla coil, its electric waves just flow through the orb.
Visit Griffith Observatory for amazing views of Los Angeles and a wonderful learning experience!
Book a tour of the Griffith Observatory.
Location: Los Angeles, CA 90027, United States
13. Open Top Van Tours
A great way to see all of the iconic parts of Hollywood in the easiest possible way is on an open-top van tour. They run every day from 9:30 AM and take passengers to all of the best parts.
See the iconic Hollywood sign, loads of famous TV and movie sets, the walk of fame and the sunset strip. They are great with kids and it's definitely an easy and straightforward way of seeing Hollywood!
If you want more information about the open-topped van tours you can check them out here.
There are plenty of hidden gems to explore. Boyle Heights in Los Angeles is a great cultural experience and away from all of the normal tourist attractions.
14. Skirball Cultural Center
The Skirball Cultural Center offers a variety of family programs and activities, ranging from hands-on art and music workshops to interactive tours of its landmark exhibition Noah's Ark.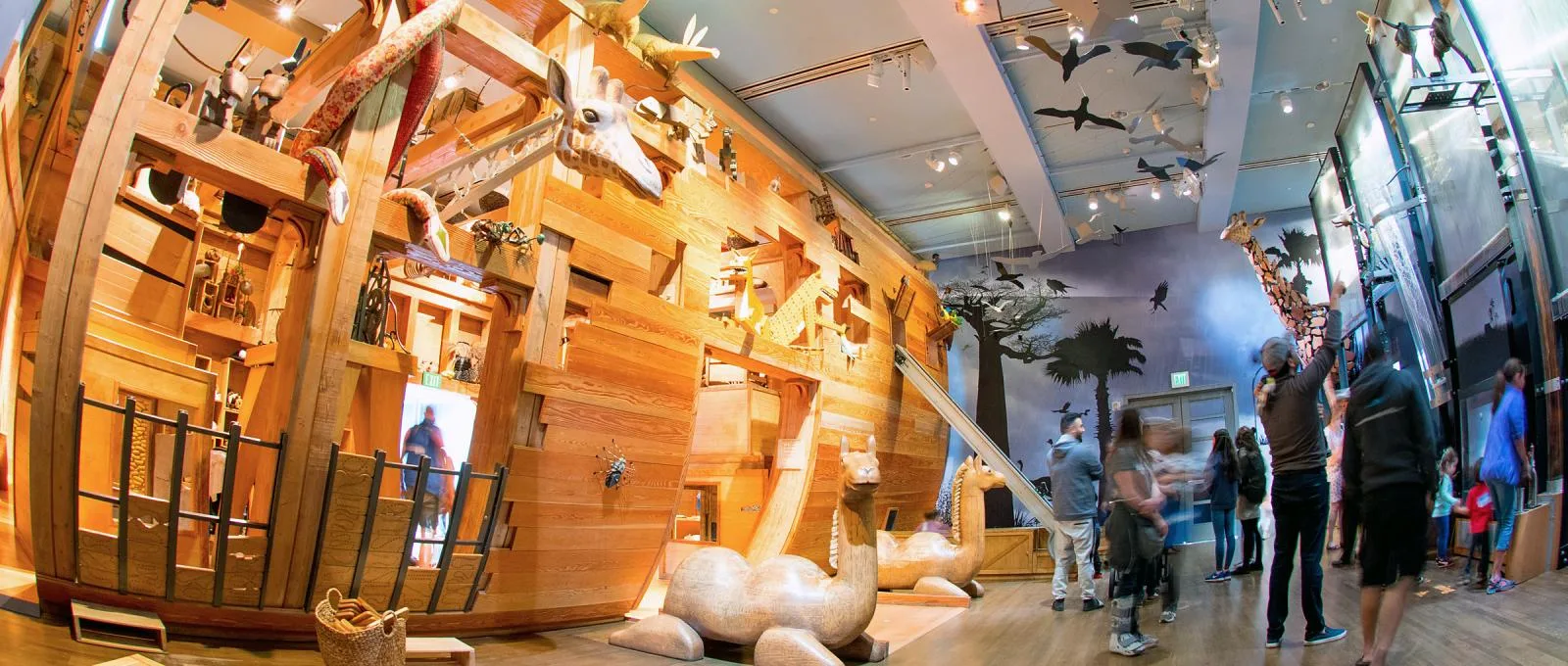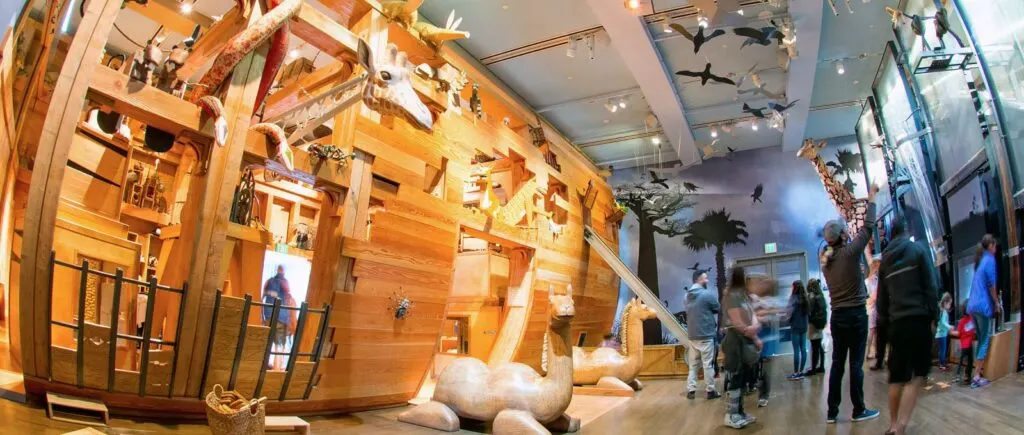 Through programs and activities that are both educational and entertaining, the Center's goal is to foster a sense of community and understanding between generations, cultures, and faiths.
It's an ideal opportunity for families to come together to learn about and appreciate the diversity of the world.
For more information on The Skirball Cultural Center.
Timings: 12 PM to 5 PM (Tuesday to Friday)
10 AM to 5 PM (Saturday and Sunday)
Cost: $12 for general admission
$7 for ages 2 to 12
$9 for students and children over 12 years of age
Location: 2701 N Sepulveda Blvd, Los Angeles, CA 90049, United States
15. La Brea Tar Pits And Museum
Kids can experience the ice age at the La Brea Tar Pits and Museum. The Tar Pits are the world's only consistently-active, urban Ice Age excavation site.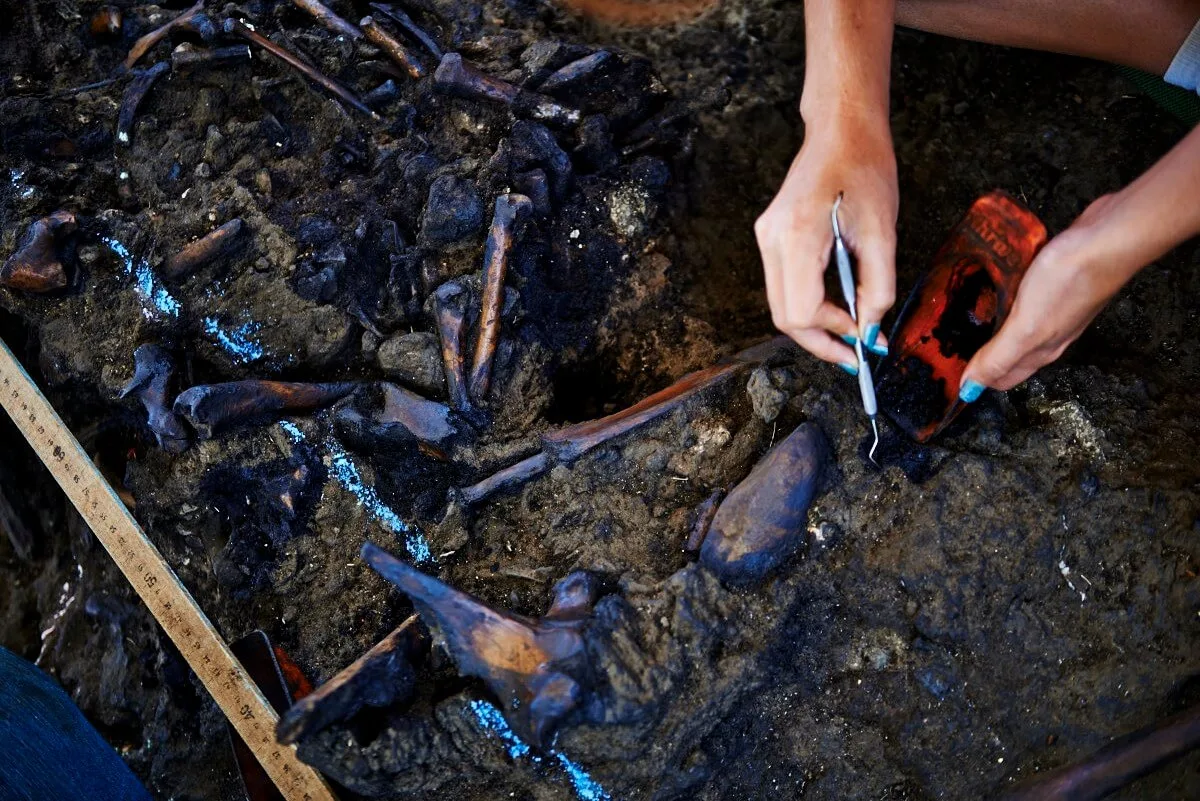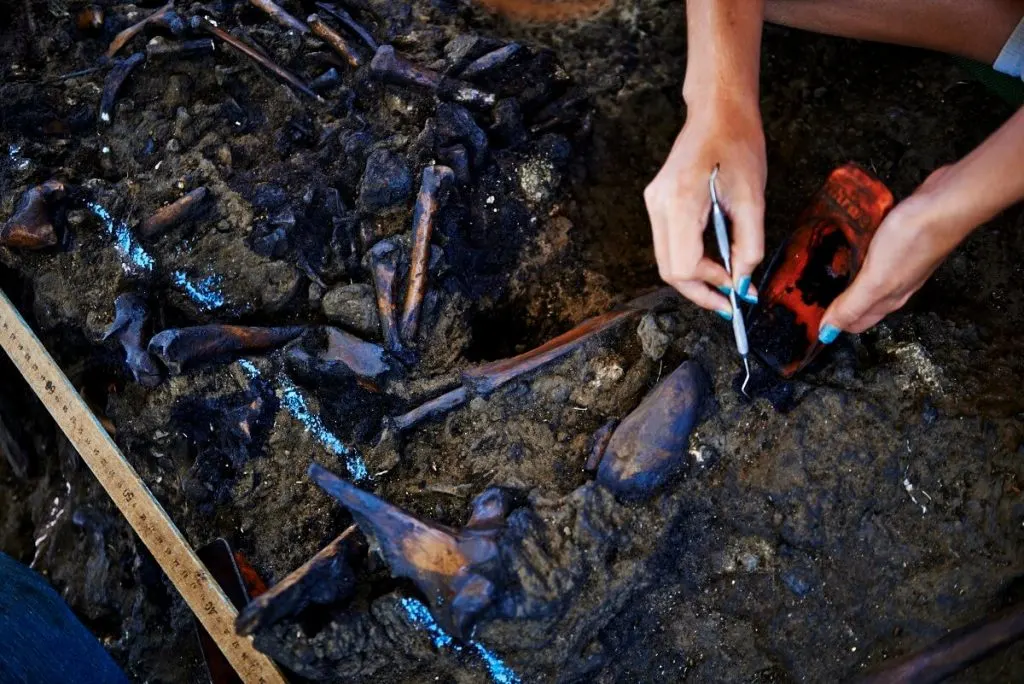 Children can see how they discover, prepare and research the fossils on display. THE journey STARTS in the park, where excavators unearth remains of plants and animals trapped in the seeps over the past 50,000 years.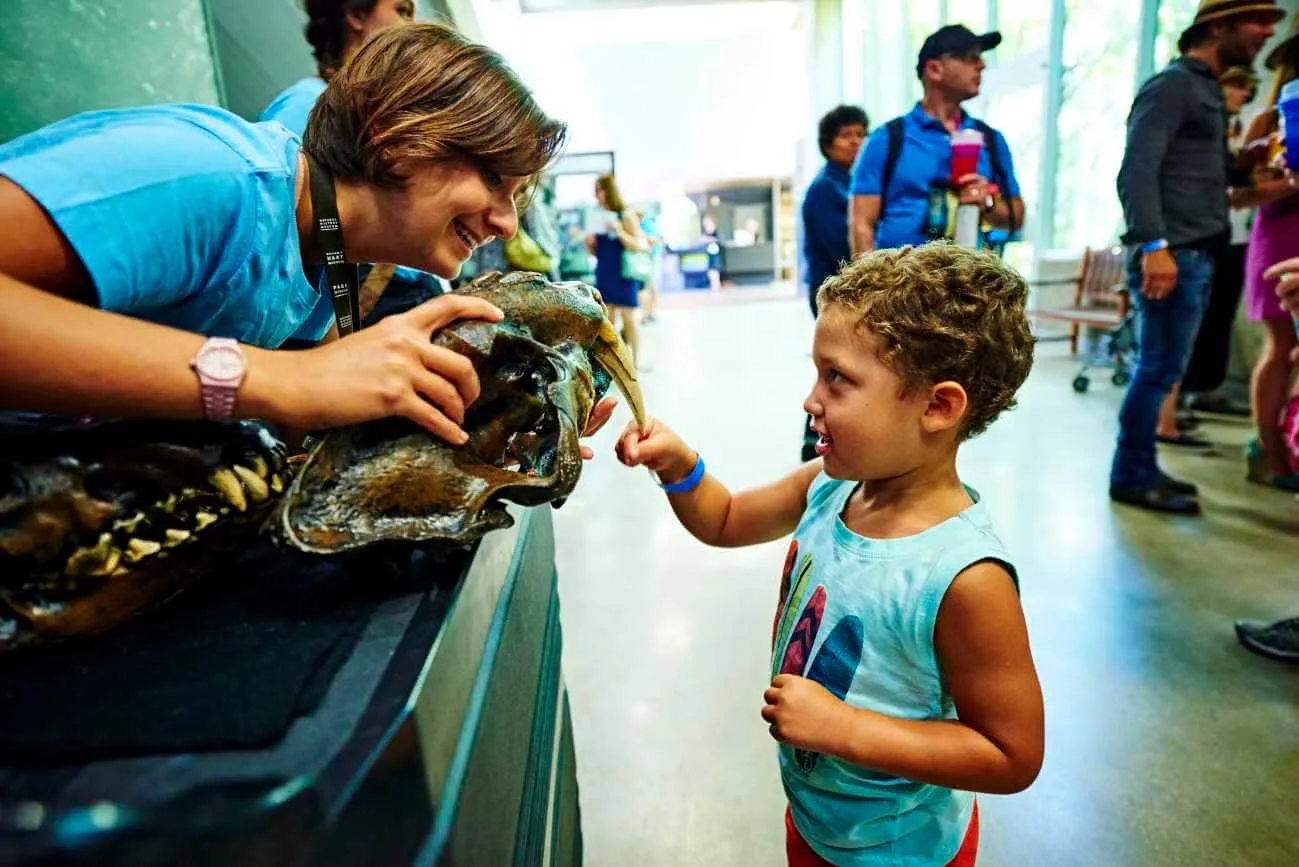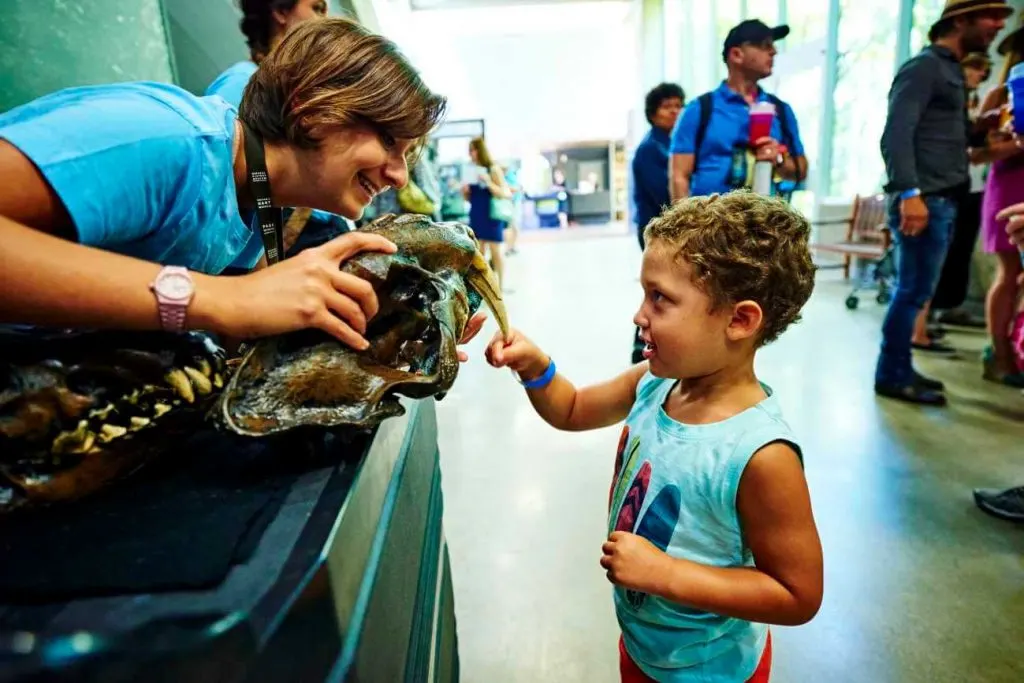 Staff and volunteers clean and sort fossils in the Fossil Lab. Afterwards, kids can check out all the amazing things that were already unearthed and cleaned, including sabre-toothed cats, giant sloths, mammoths and dire wolves.
Click here for more information about La Brea Tar Pits And Museum.
Timings: 9:30 AM to 5 PM (Monday to Sunday)
Cost: $7 for kids from ages 3 to 12.
$15 for adults
Students (13 to 17) and adults (62+) enter for $12
Residents of LA can visit for free from 3 PM to 5 PM from Monday through Friday.
Location: 5801 Wilshire Blvd, Los Angeles, CA 90036, United States
16. Guinness Book Of Records Museum
The Guinness Book Of World Records Museum is a unique and interactive experience allowing visitors to test their physical and mental feats against the world's greatest records.
Families can take part in activities together, having fun and learning about some of the most remarkable accomplishments in the world.
Play the largest existing Pac-Man game, compare your height with the world's tallest man, and compete with the world's heaviest person.
It is one of the best kid-friendly places in Los Angeles!
Check out the Guinness World Records Museum's website for more information.
Cost: $29.99 to $34.99 for regular tickets for ages 12+
$19.99 for kids ages 4 to 11
Ages 3 and under enter for free
Timings: 9 AM to 12 AM (Thursday to Tuesday)
10 AM to 12 AM (Wednesday)
Location: 6764 Hollywood Blvd, Los Angeles, CA 90028, United States
17. Hop-On Hop-Off Bus
The Big Bus, Hop-On Hop-Off tour is another option to see as much of the city as possible when visiting Los Angeles with kids.
Choose indoor and open-top seating options so you don't have to worry about the kids getting restless.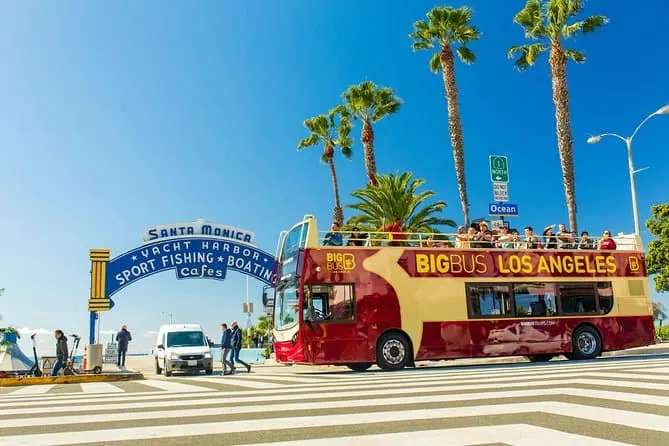 The ticket includes a comprehensive tour of all the must-see attractions in Los Angeles, with the flexibility to get on and off the bus as you please to explore each location more deeply.
Points of interest include:
Guided walking tour through the famous TCL Chinese Theatres
Celebrity Homes & Lifestyle Tour
Beverly Gardens Park Between Cannon & Cresent
Santa Monica Pier next to the Shore Hotel
The tour allows visitors to learn about the city's history and culture without having to plan an itinerary.
Providing simultaneous audio commentary in nine different languages makes the information accessible to a wide range of people.
Book the Big Bus, Hop-On Hop-Off Los Angeles tour.
18. Theatre Puppet Show
Another exciting and unique experience to attend with kids in Los Angeles is the puppet show and circus at the Bob Baker Marionette Theater.
Even though the shows are kid-friendly, they are divided by age. With the puppets dancing around and landing on the kids' laps, this interactive entertainment is going to make their day and put smiles on their faces.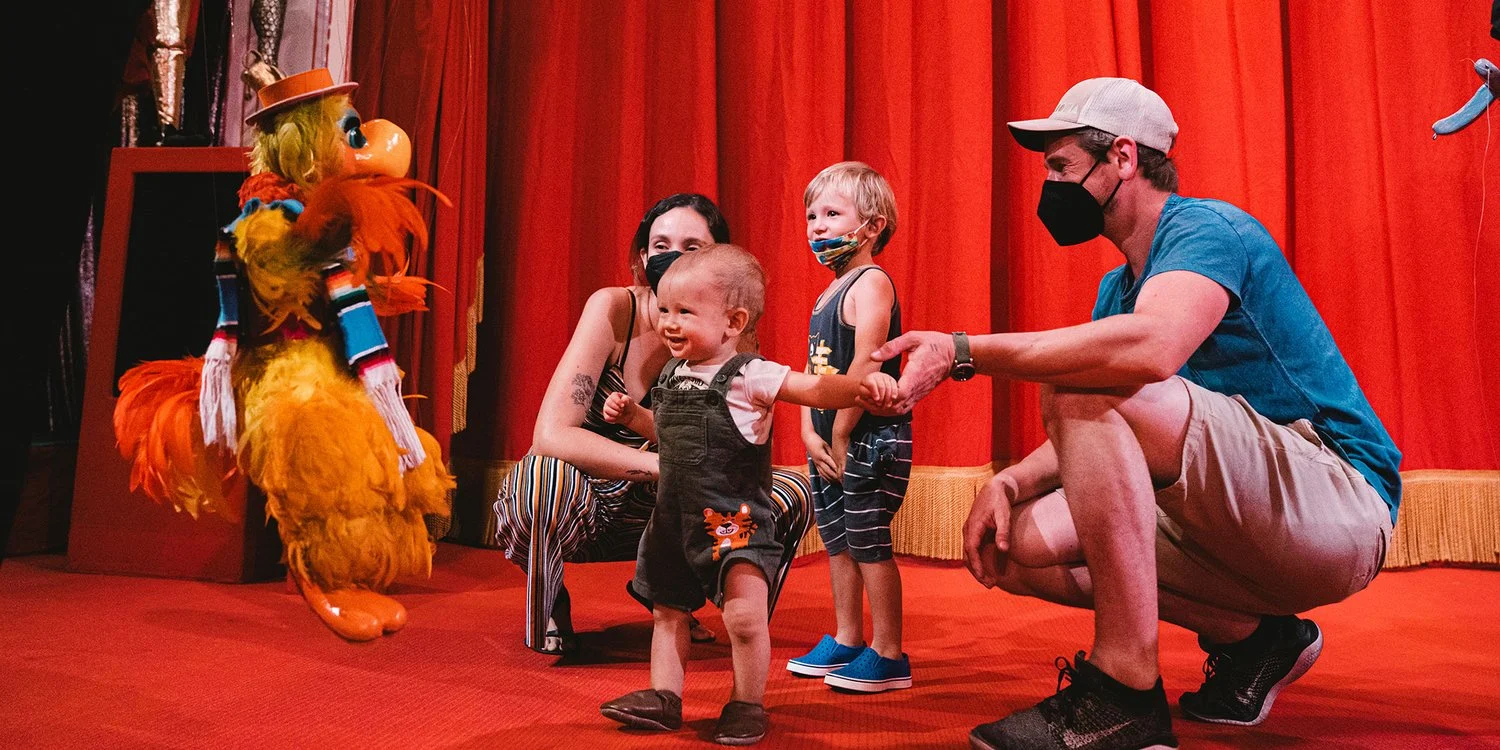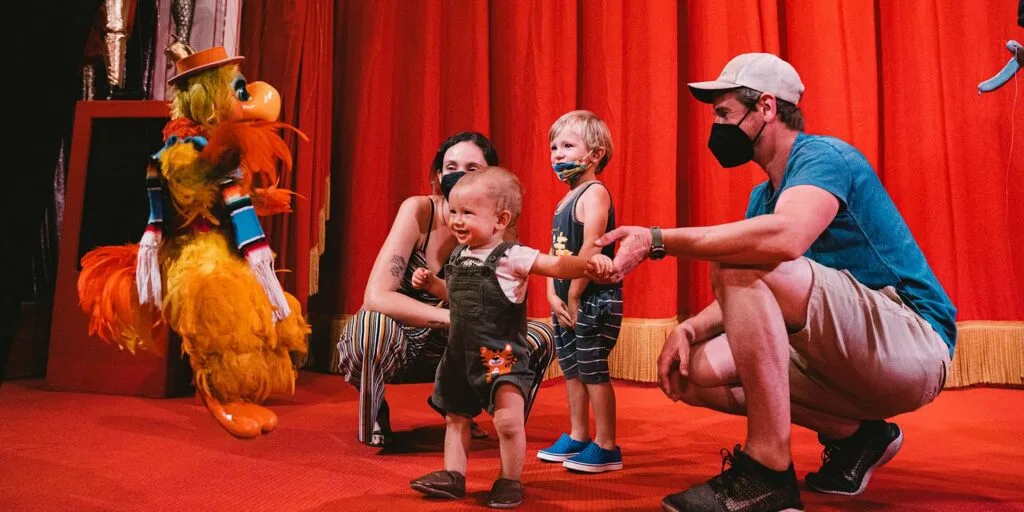 Bob Baker also has a circus, the most incredible show on strings.
The unique show combines classic circus acts like juggling, trapezing, and clowning with the art of puppetry, creating an unforgettable experience for audience members of all ages.
The marionettes are all handmade by Bob Baker himself and are a testament to his craftsmanship and creativity.
For more information on tickets.
Cost: Prices start at $25 per person
Children under 2 enter for free
Timings: 9 AM to 4 PM (Tuesday to Sunday), Closed on Monday
Location: 4949 York Blvd, Los Angeles, CA 90042, United States
19. LA County Museum of Art
LA County Museum of Art (LACMA) is a great place to explore art, with collections ranging from pre-history to contemporary.
The exhibitions are constantly changing and with plenty of events, LACMA is the perfect place to explore when visiting Los Angeles with kids.
The museum is vast, so come prepared, as you may have quite a bit of walking. However, for those short on time, take a moment to look at the Urban Lights installation out front.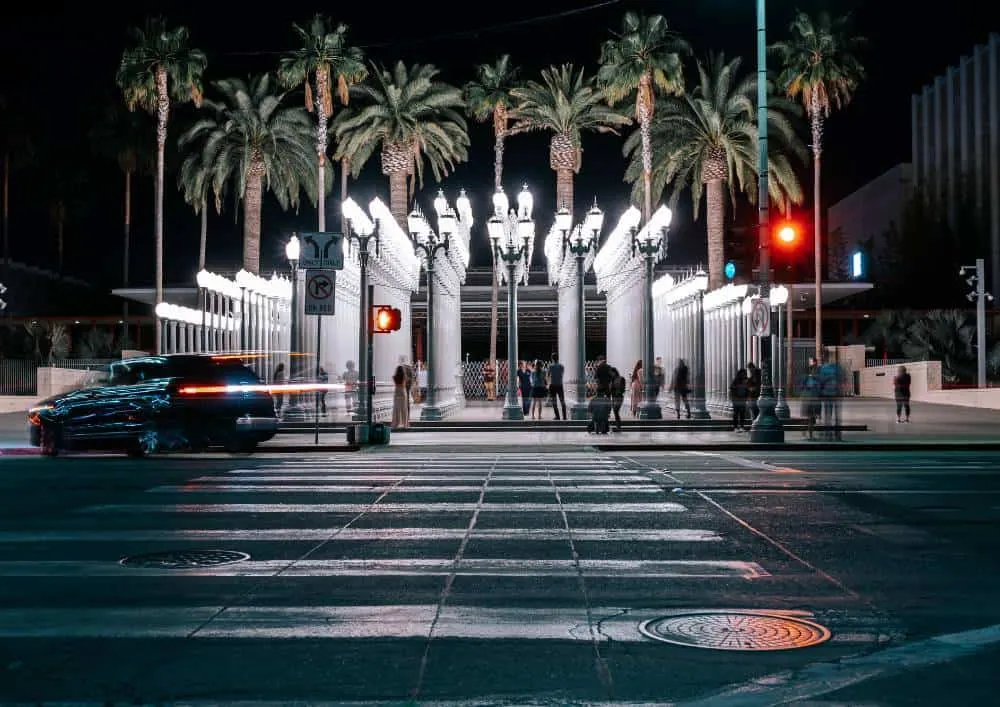 Kids love running through the maze of lamp posts. The display makes for some awesome photos.
The unique two-acre display of 202 restored cast-iron antique street lamps is a sight to behold. It's an iconic symbol of Los Angeles and a must-see for tourists.
It's also a great spot for locals to take a break and enjoy the beauty of the city.
For information on exhibitions and tickets.
Cost: $20 for LA County residents and $25 for those residing outside LA.
Kids ages 3 to 17 (outside LA) pay $10.
Timings: 11 AM to 6 PM (Monday to Thursday) and until 8 PM on Friday
10 AM to 7 PM (Saturday and Sunday)
Location: 5905 Wilshire Blvd, Los Angeles, CA 90036, United States
20.Tour On Electric Bikes
If you are travelling with active teens, LA's Electric Bike Tour offers a unique way to see and experience the beauty of Los Angeles and its surrounding areas.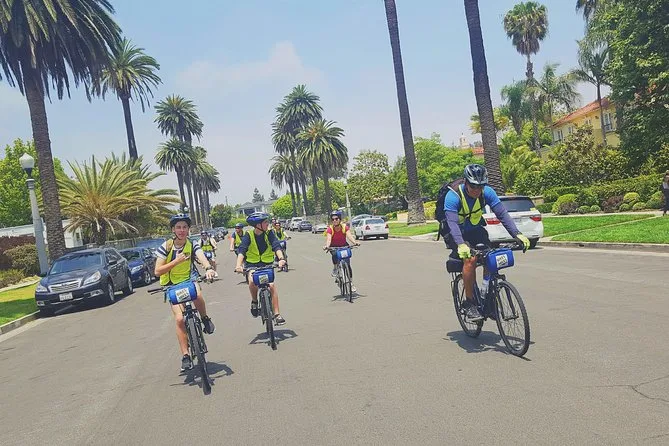 Reflective jackets and helmets are provided. A hybrid road bike is ideal for long-distance riding, and your family can ride effortlessly and confidently during the 32-mile (51-kilometre) stretch of roads.
Some of the top sights along the electric bike tour include,
Pedalling past Third Street Boulevard (Santa Monica's famous shopping area)
Venice Beach and Boardwalk
University of California (LA's best university)
Rodeo Drive through Beverly Hills
Walking tour of the historic Greystone Mansion
While the five-hour tour is exciting, we recommend it for families traveling with older children.
Book the ultimate electric bike tour of Los Angeles.
Meeting Point: 8500 Santa Monica Blvd, West Hollywood, CA 90069, USA
21. Private Air Tour
Experience Los Angeles from a different perspective with a Private Air Tour with family.
From the window of the plane, keep an eye out for the iconic Hollywood Sign, the famous Paramount studio, the opulent homes of Beverly Hills and Bel Air.
Not to mention the the picturesque beaches of California!
Be prepared to be astonished and dazzled by the breathtaking landscape of California in the authentic experience of a lifetime in Los Angeles with kids.
Book a Private Air Tour Of Los Angeles.
22. Los Angeles Zoo
Another one of the most popular places to visit in LA with kids is the Los Angeles Zoo.
Stretching over 133 acres, the LA Zoo offers educational programs, activities for kids, and special events throughout the year.
It allows for a completely different experience, providing something new to explore quite regularly.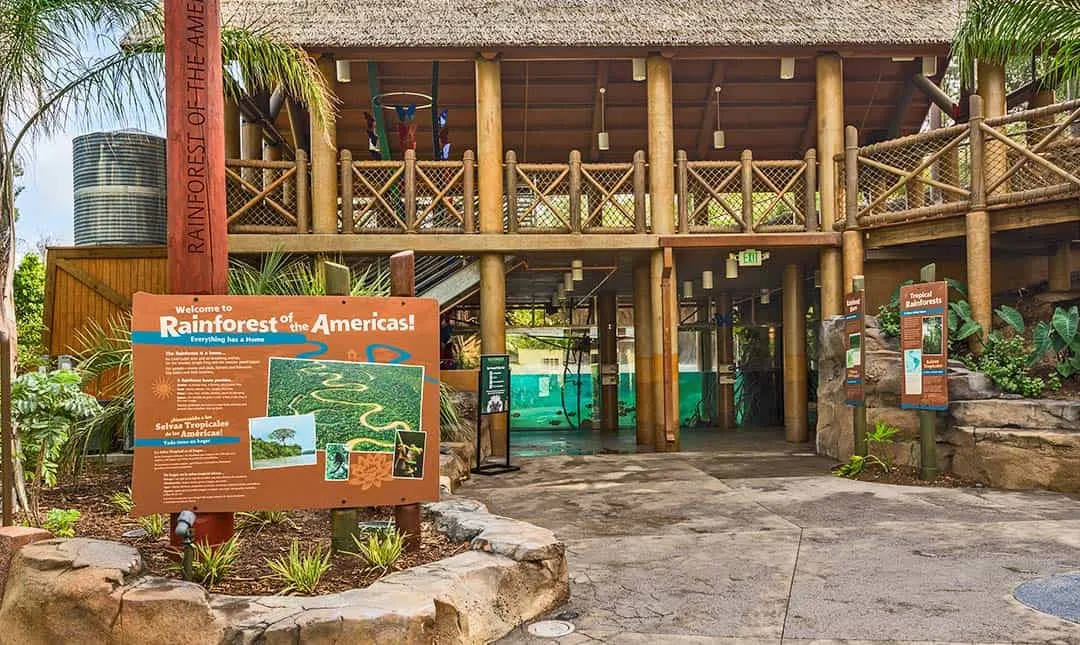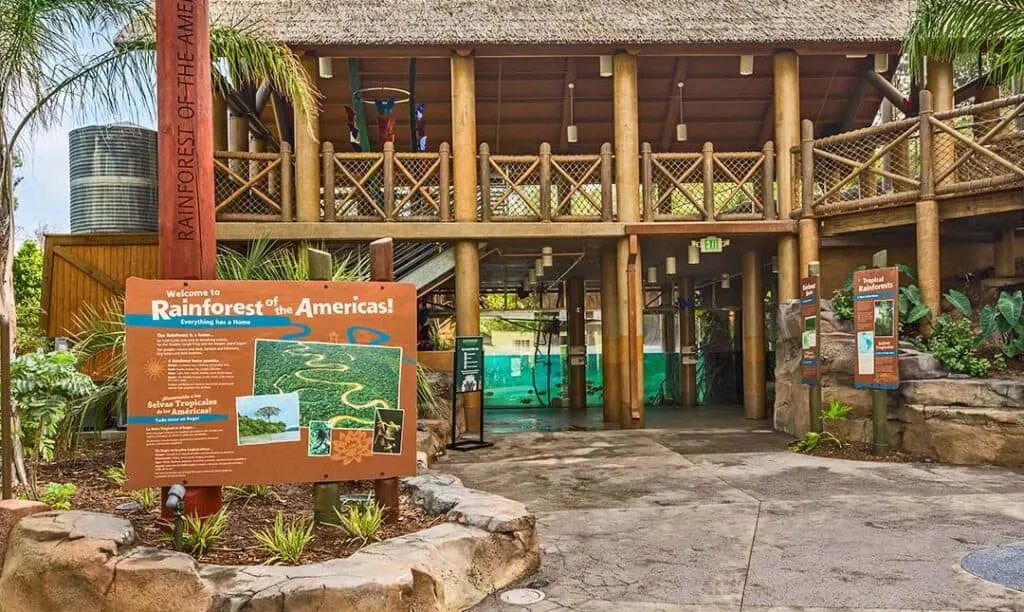 Nearly 1.8 million people visit the LA Zoo each year, home to more than 2100 different species of mammals, birds, amphibians, and reptiles, many of which are in danger of extinction.
Approximately 7,000 plants are in the Zoo's botanical collection, including several planted gardens and over 800 plant species.
Refer to Los Angeles Zoo's website for more information.
Cost: $22 for ages 13 to 61
$19 for ages 62+
$17 for ages 2 to 12
Children below the age of two enter for free
Timings: 10 AM to 5 PM (Monday to Sunday); closed on Thanksgiving and Christmas Day
Location: 5P28+9R, Los Angeles, CA 90027, United States
Free Things To Do In Los Angeles With Kids
23. Visit the Hollywood Sign
A trip to Los Angeles is not complete until the iconic 100-year-old Hollywood sign has been ticked off!
The best vantage point to get the perfect shot is from the Hollywood & Highland complex, which is the closest location to the sign.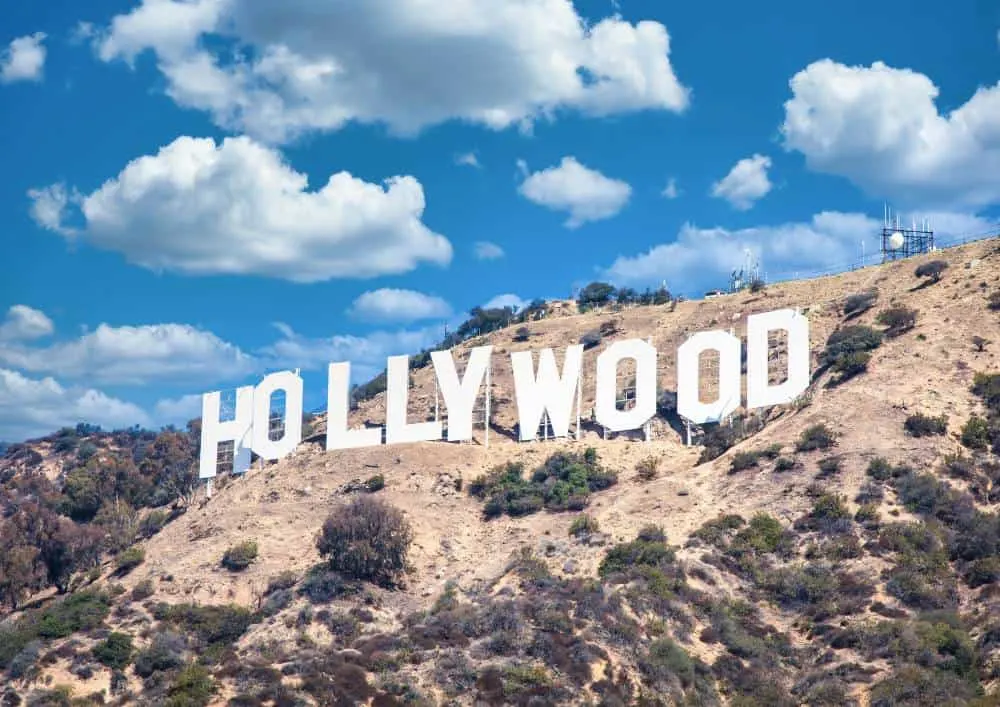 From this spot, get a panoramic view of the Hollywood sign, as well as the city skyline, the Hollywood Hills, and other iconic landmarks.
The complex has a terrace overlooking the sign, so one can get an up-close view.
Other alternatives to view the sign is by visiting one of our earlier mentions, the Griffith Observatory or picking one of the below hiking trails.
Location: Los Angeles, CA 90068, United States
24. Live TV Show Audience
Being a live audience for a television show is a great way to have a unique experience without breaking the bank.
Not only do you get to watch the show filming, but you also get to interact with the cast and crew, which can be an unforgettable experience.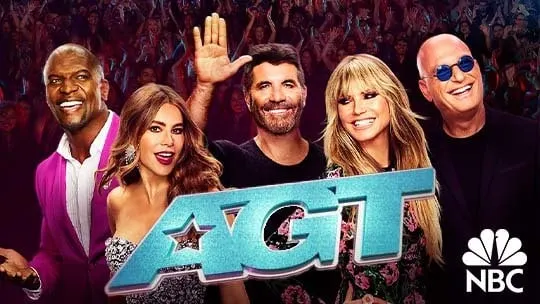 As tickets for these family shows tend to be in high demand, it is best to plan ahead to secure tickets in advance, ensuring you have the best chance to get tickets for the whole family and avoid disappointment.
It is important to double-check age requirements as some shows have minimum age requirements that may prevent some members of the family from attending.
On Camera Audiences (OCA) offers tickets for free, making it an affordable and fun outing for families visiting or in Los Angeles.
Plus, since the audience is so lively and enthusiastic, it can be an exciting experience for everyone.
For details on show calendar and locations.
25. Shane's Inspiration, Griffith Park
Shane's Inspiration Griffith Park provides a unique playground for children of all ages and abilities.
Creating the first Universally Accessible Playground in the Western US has inspired the creation of more inclusive and accessible playgrounds throughout California and beyond.
The playground allows children with physical disabilities to play alongside their peers, as the design allows easy access to the play structures.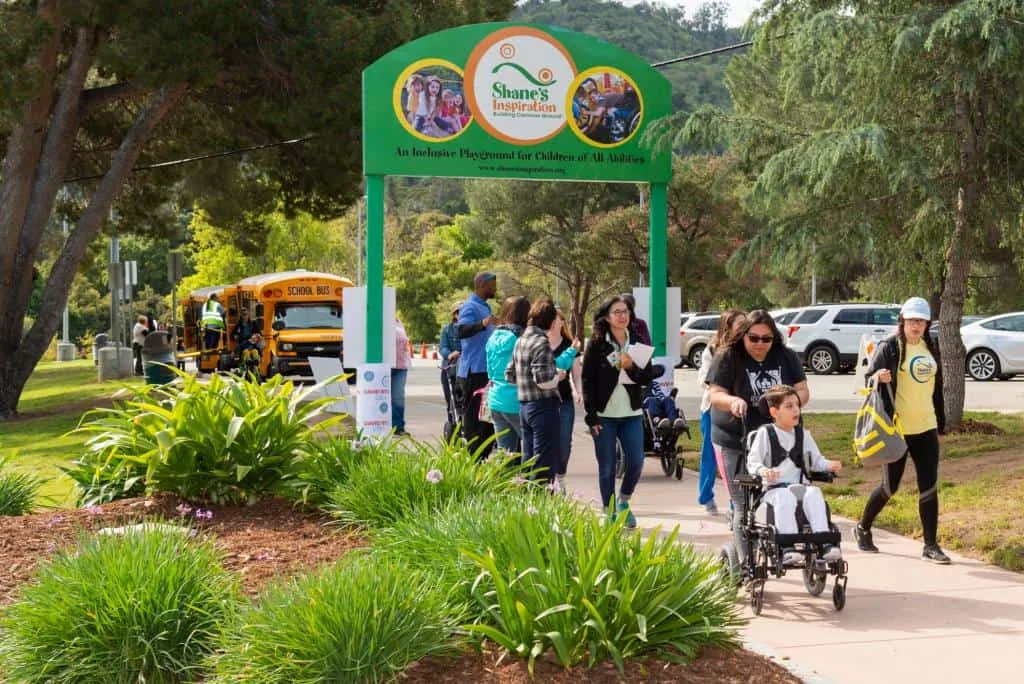 It offers sensory-rich play experiences as well. Through sensory-rich play, children gain a deeper understanding of the world around them and feel more confident in their ability to explore and express their imaginations.
Thus helping children to develop critical thinking skills, build self-esteem, and acquire essential language and communication abilities.
Add this park to your list of itineraries when looking for things to do in Los Angeles with kids.
Timings: 5 AM to 10:30 PM (Monday to Sunday)
Location: 4800 Crystal Springs Dr, Los Angeles, CA 90027, United States
26. Hollywood Walk Of Fame
The Hollywood Walk of Fame is a stretch of sidewalk along Hollywood Boulevard and Vine Street in Hollywood, California that features larger-than-life terrazzo and brass stars dedicated to celebrities in the entertainment industry.
Symbolizing the film industry internationally, the Hollywood Walk of Fame is a significant tourist attraction.
It's an iconic attraction and a must-see for any family looking for things to do in Los Angeles with kids.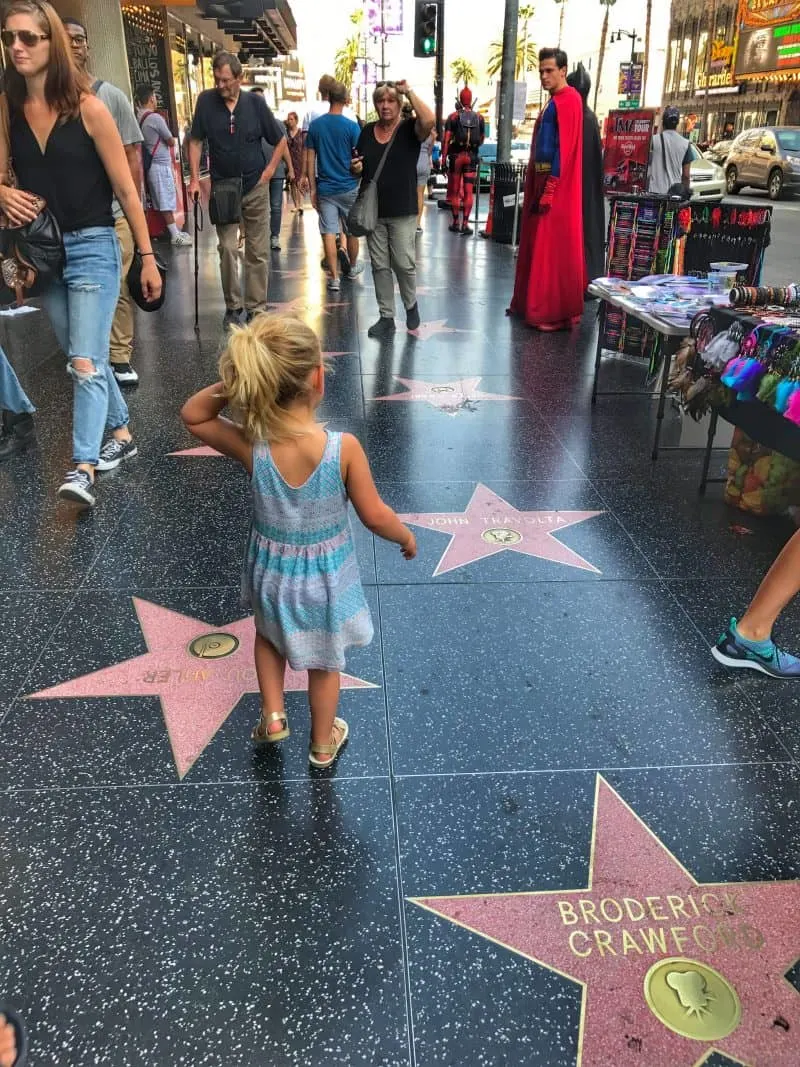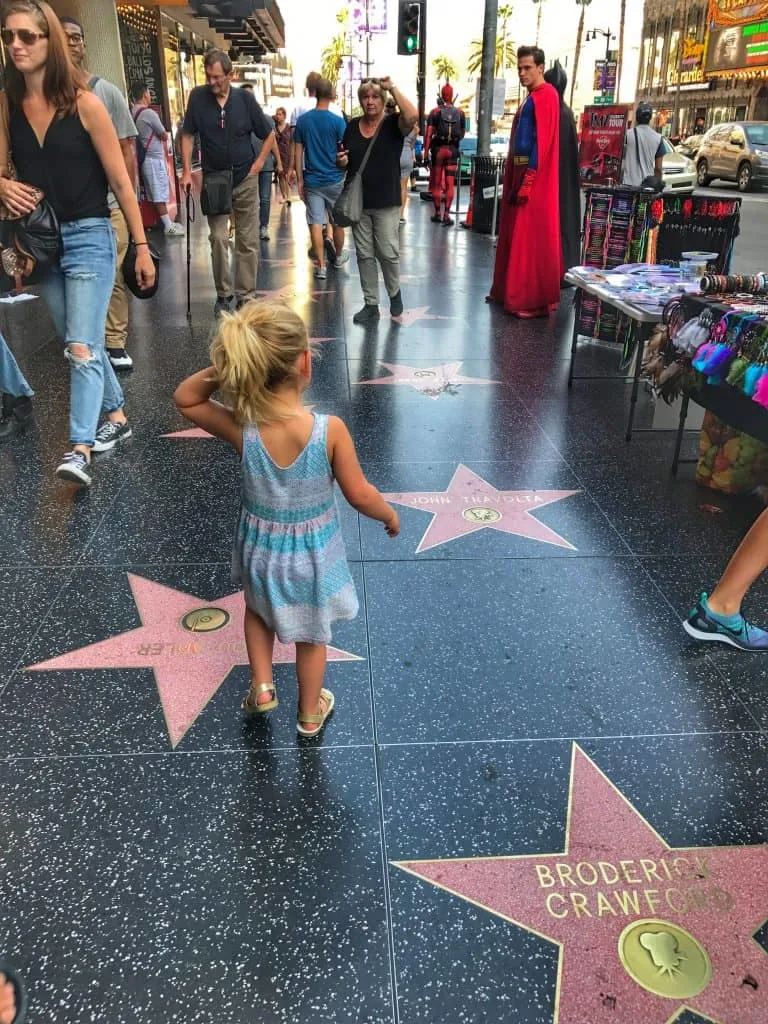 It includes over 2,600 stars with the names of actors, musicians, directors, producers, and other entertainment professionals, serving as a reminder of their lasting legacy.
Definitely, a fun and fascinating way for kids to learn about the history of animation and other film genres.
Timings: 24/7 access
Location: Hollywood Boulevard, Vine St, Los Angeles, CA 90028, United States
27. Funko Hollywood
The Funko Hollywood store is a must-visit for all Funko fans around the globe.
A great place to find exclusive Funko Pop! Figures and other merchandise, as well as meet other Funko fans and be part of the Funko community.
It offers a fascinating opportunity to explore the world of Funko, with its museum-like atmosphere, and take pictures with some of the most iconic Funko characters.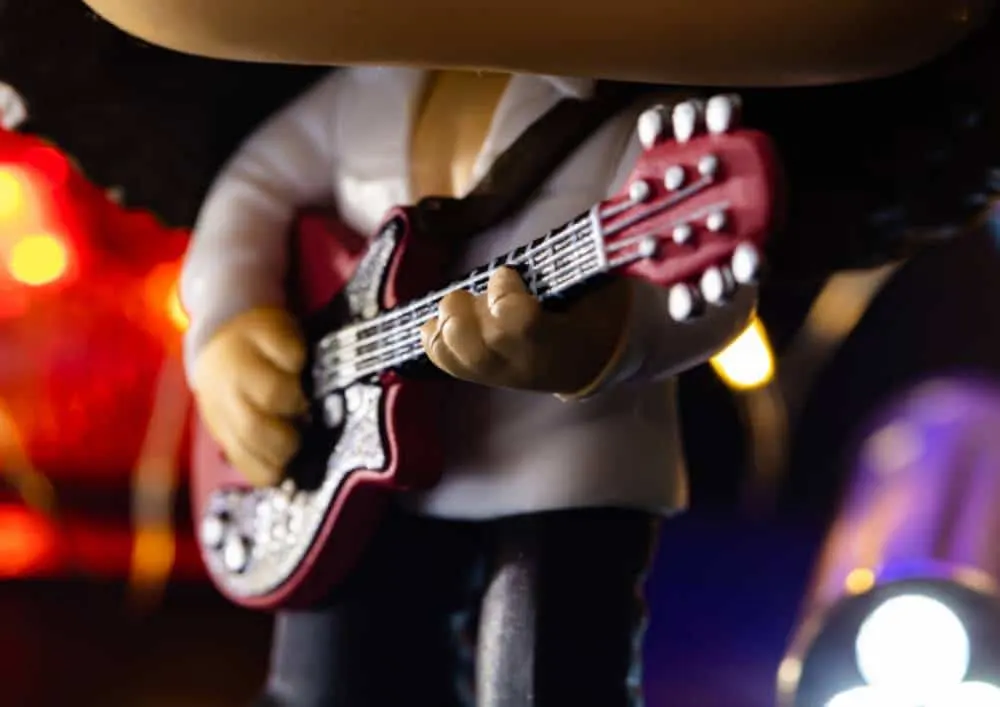 To avoid being stuck in crowds, we suggest visiting the pavilion that catches your kids' interest and making your way to "Pop People".
"Pop People" is a fun experience where Funko Hollywood designs a "Pop" that looks just like you.
With the demand for Funko figurines being so high, the waiting time for your "Pop" could be anywhere from an hour to three.
Visit Funko Hollywood for free if you do not intend to buy anything, and it's well worth the trip.
Timings: 12 PM to 6 PM (Monday to Friday)
10 AM to 6 PM (Saturday and Sunday)
Location: 6201 Hollywood Blvd #100, Los Angeles, CA 90028, United States
28. Grand Central Market
Grand Central Market is a historic, iconic market in downtown Los Angeles and has been a constant in the Los Angeles community since 1917.
A long-standing place for locals, tourists, and food lovers alike to come together to shop, eat, and gather.
The 30,000-square-foot Market features over 100+ vendors selling a variety of items, from fresh produce to ready-to-eat foods and snacks.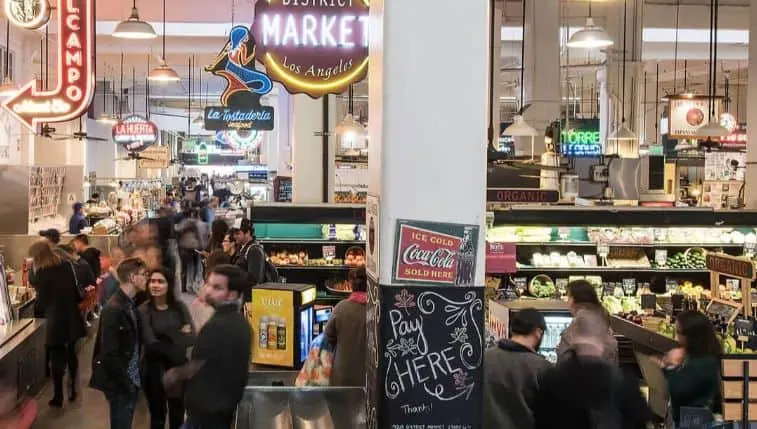 Some of the top stalls to visit with kids are,
McConnell's Fine Ice Cream
The stalls at the Market have something for everyone, including vegan food options, and it is a great place to shop and explore with the whole family.
It's imperative to note that there can be a fair amount of foot traffic during peak hours.
For more information on the Grand Central Markets.
Timings: 8 AM to 9 PM (Monday to Sunday)
Car Park: 308 South Hill Street, Los Angeles, CA 90013
Location: 317 S Broadway, Los Angeles, CA 90013, United States
29. Original Farmer's Market
The famous Original Farmers Market stands out by providing a unique shopping experience.
With a prime location overlooking the Grove, it combines the essence of both worlds, the traditional stalls and the modern trendy shops.
Customers can shop for locally sourced produce from the farmers market and explore the trendy restaurants, shops and toy stores in the central park area of The Grove.
A perfect opportunity to spend an hour or two when exploring Los Angeles with kids.
Prior to visiting, check their website to see if there are any special ongoing events that will entertain the entire family and the younger ones.
Timings: 9 AM to 9 PM (Monday to Friday)
9 AM to 8 PM (Saturday)
10 AM to 7 PM (Sunday)
Location: 6333 W 3rd St, Los Angeles, CA 90036, United States
30. Venice Beach
California is known for its beautiful beaches for a reason. Spend a day kicking back and relaxing at Venice beach to pack in beach time and get a kick of bohemian California culture.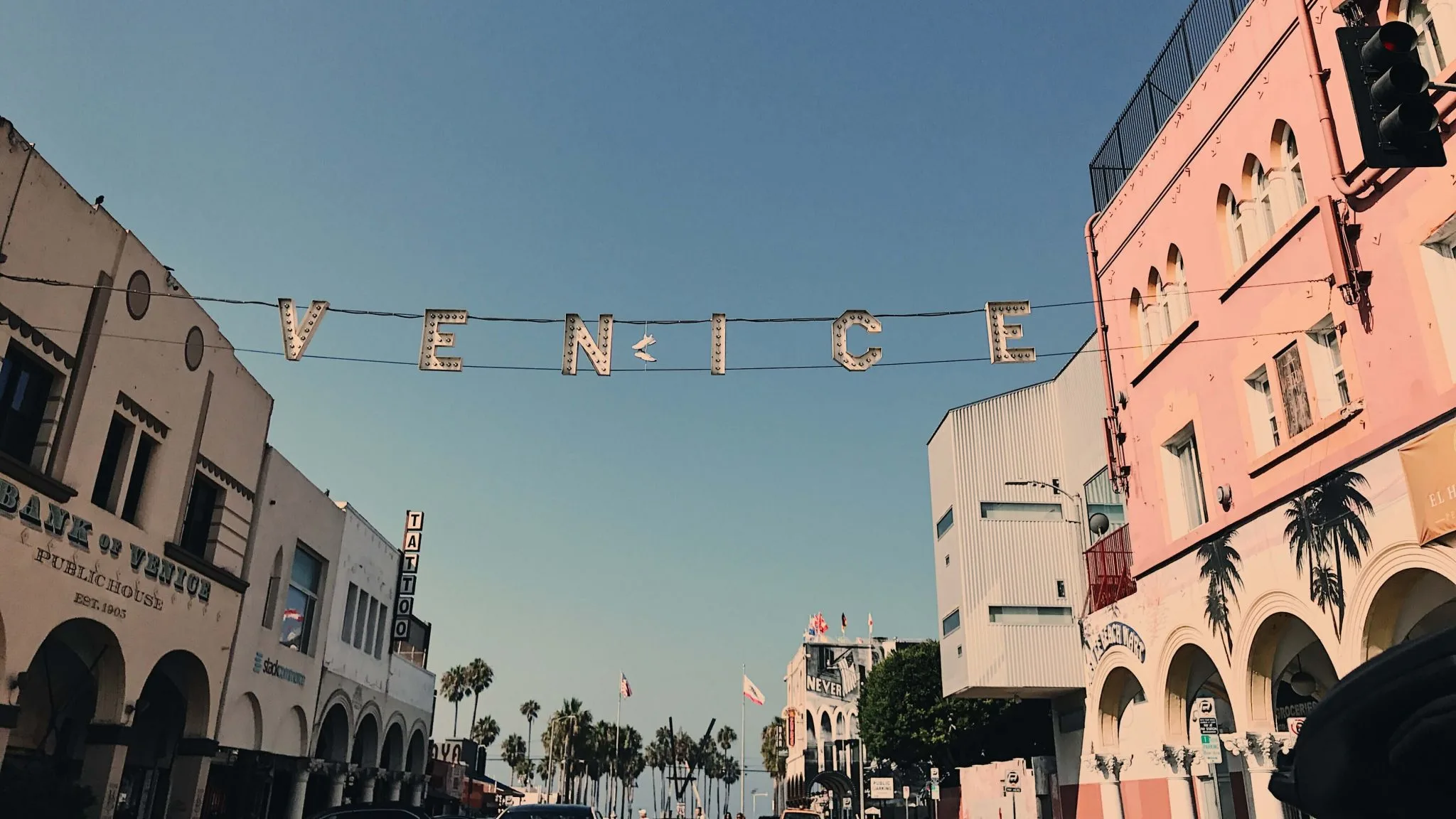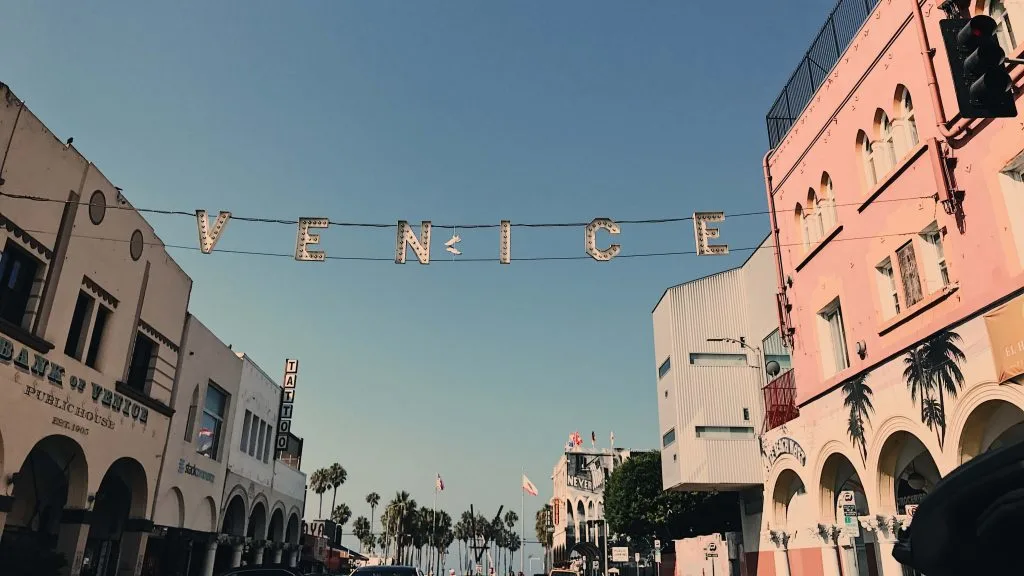 One of the highlights of visiting Venice beach is getting to explore the boardwalk. Venice Boardwalk is covered in fortune tellers, street performers, wacky shops, artists, colorful murals more!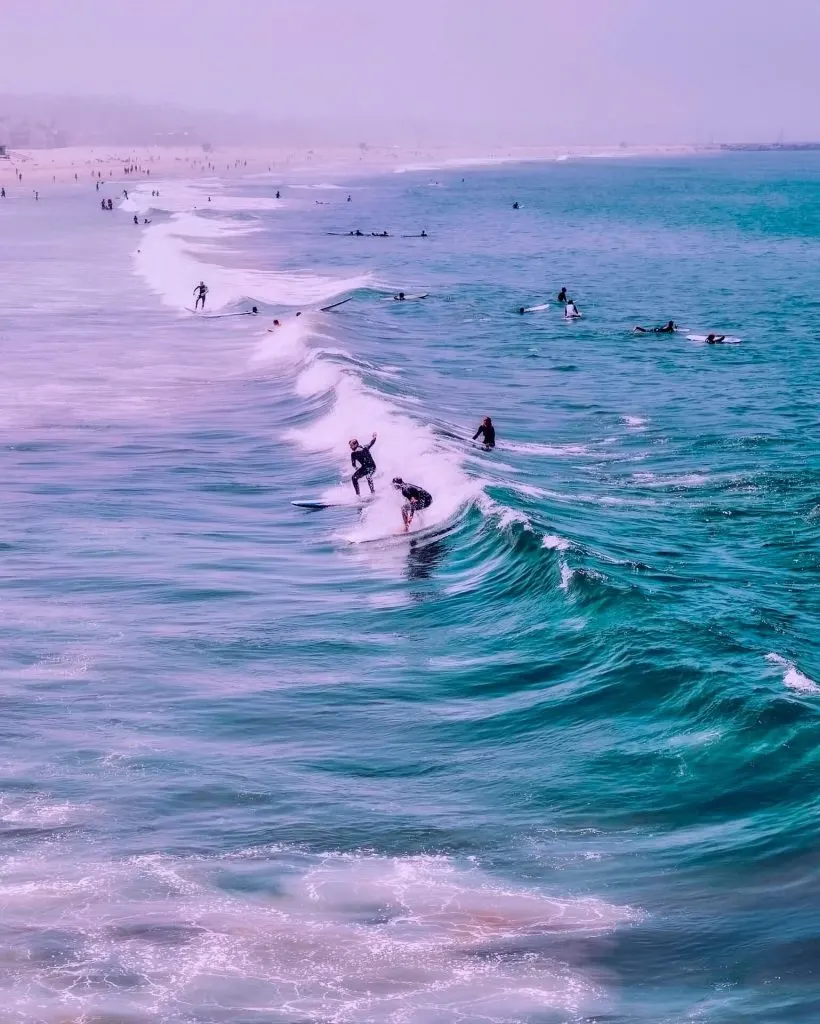 It is an incredible place to take in pure LA culture, with hippies, artists, muscle heads, surfers and everything else Californian perpetually present at the beach. Make sure to check out muscle beach – the open-air gym right on the beach.
When you are done laying on the beach and working on your tan, you and your kids will have tons of fun watching the street performances and buying unique handmade goods. You can also rent a bike so that you can get a chance to explore the whole boardwalk and end up at Santa Monica Pier, which is only a 10-15 minute ride away.
31. Santa Monica Pier
Whether you visit Santa Monica Pier as part of a Venice Beach day or head there just to explore the iconic pier, it's definitely a fun place to spend a couple of hours with your kids.
The Santa Monica coast and beaches are absolutely gorgeous and the pier is filled with amazing places to eat, an arcade, a giant Ferris Wheel, a roller coaster and a merry-go-round. Kids will have the best time hopping on the different rides and taking in the lively, bustling pier.
No wonder it is home to some of the best Airbnb in Los Angeles.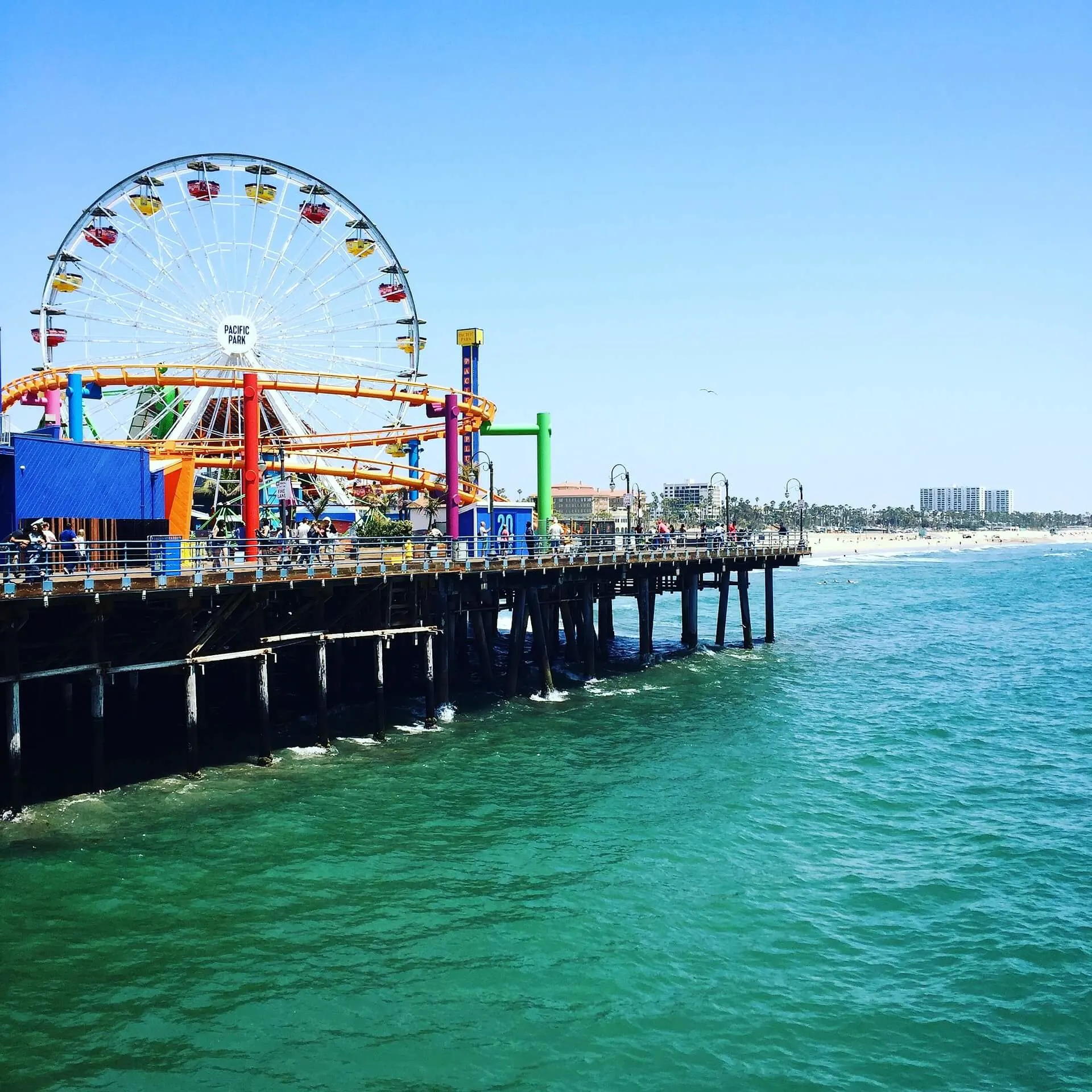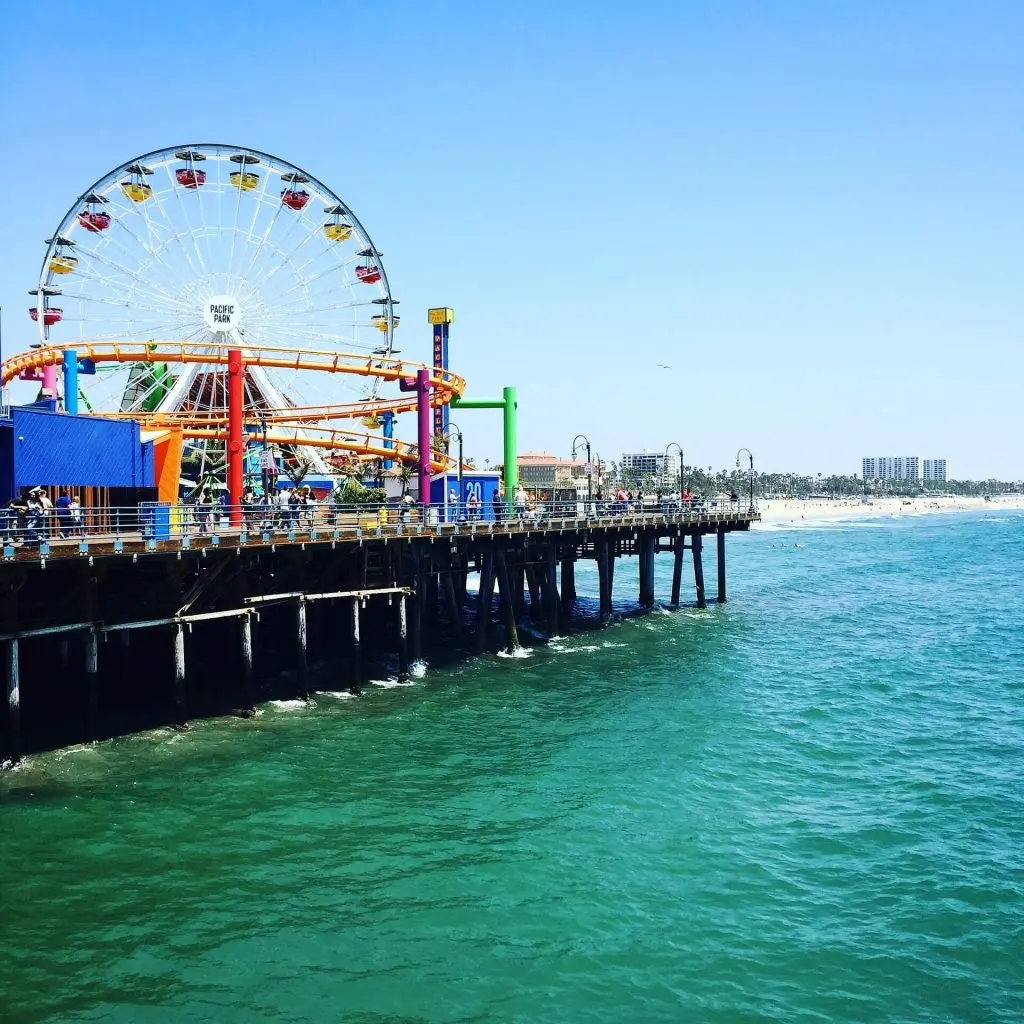 All of this comes with stunning views of the bay and the mountains. It's really the perfect place to grab some dinner and watch the sunset.
The pier has a really fun energy but it can get incredibly crowded on weekends, so if possible, try to come on a weekday.
32. Sweet Hollywood
If you were on the hunt for the most elaborate candy shop, look no further. This store is 2,800 square meters of candy, chocolate and fun.
They've got huge sections dedicated to every classic treat and areas where you can get creative. You can even create your own chocolate bar!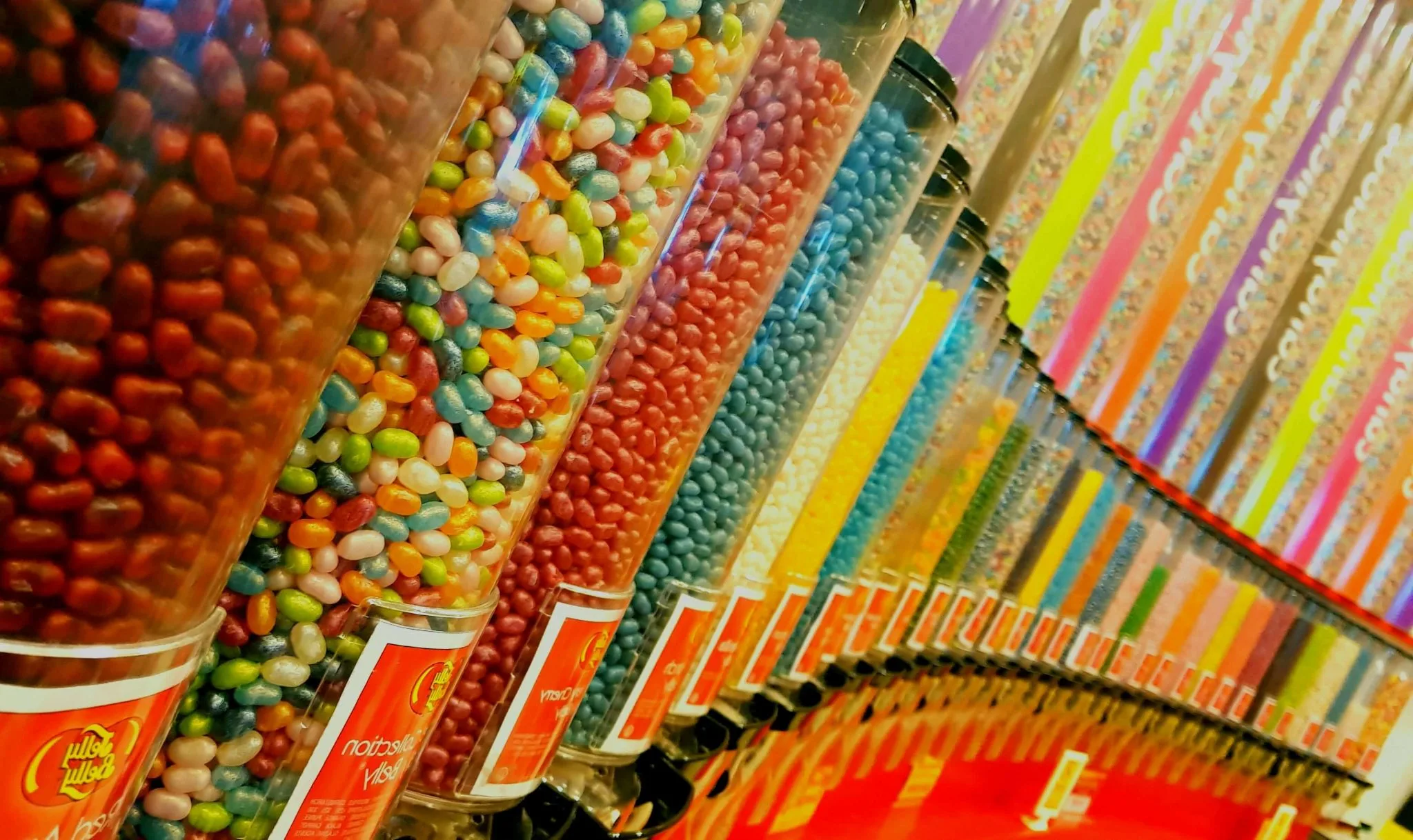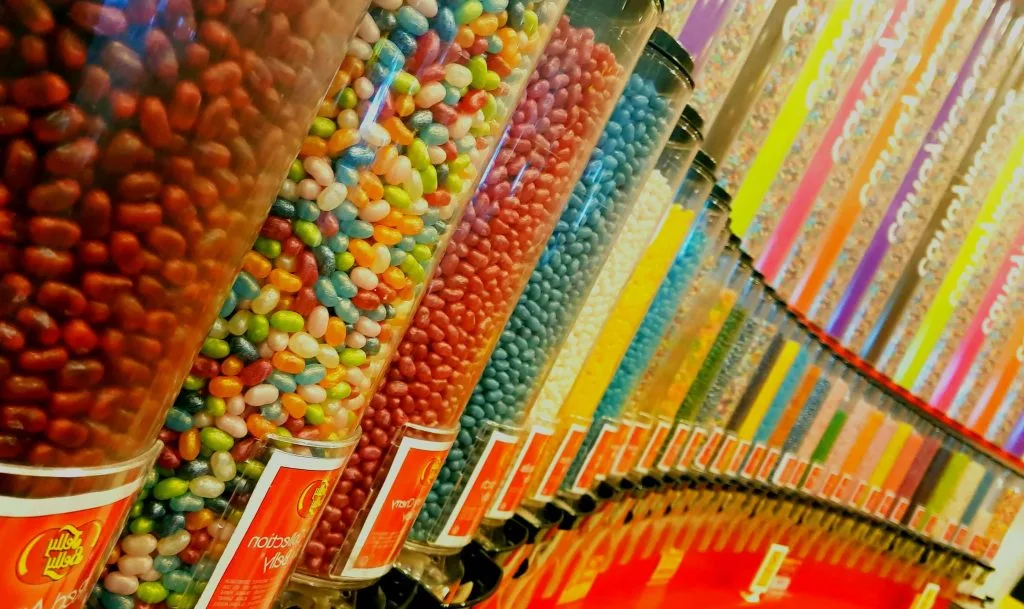 Don't leave without checking out their "yucky" section, where all the candies are scary things like worms, crickets, eyeballs or dispensed from toilets and urinals.
It's not just an eating and indulging experience though. You can explore their murals made out of jellybeans, play on the musical staircase, and ride in a Ferrari that you race and then it dispenses gumballs!
Family Hotels In LA
Hilton Garden Inn, Hollywood
By staying at Hilton Garden Inn, Hollywood, you couldn't have got any closer to all the action which was a perfect place to stay in LA. With the Hollywood sign to our left and the boulevard to our right, we were so lucky with the location.
We had a family room on the seventh floor with views out over the hotel pool. We spent a lot of time chilling on the sun loungers and cooling off with a swim.
It's always so good for us when a hotel has a pool because it helps us keep the toddler entertained whilst we are relaxing.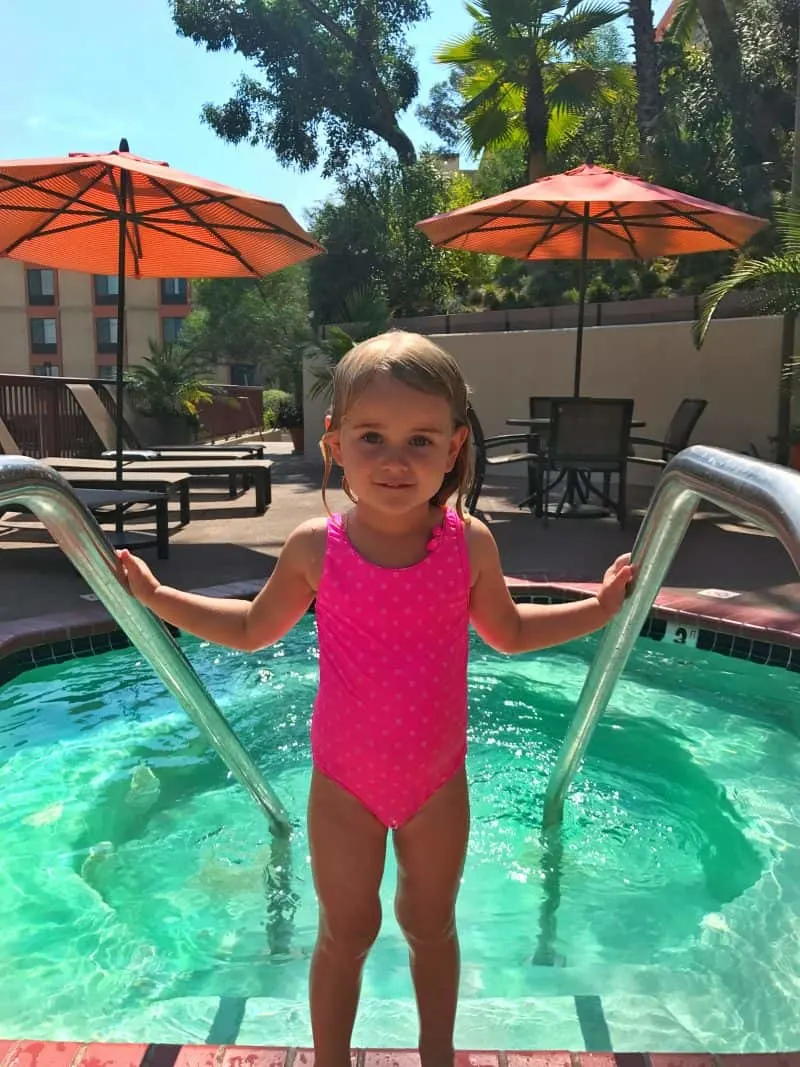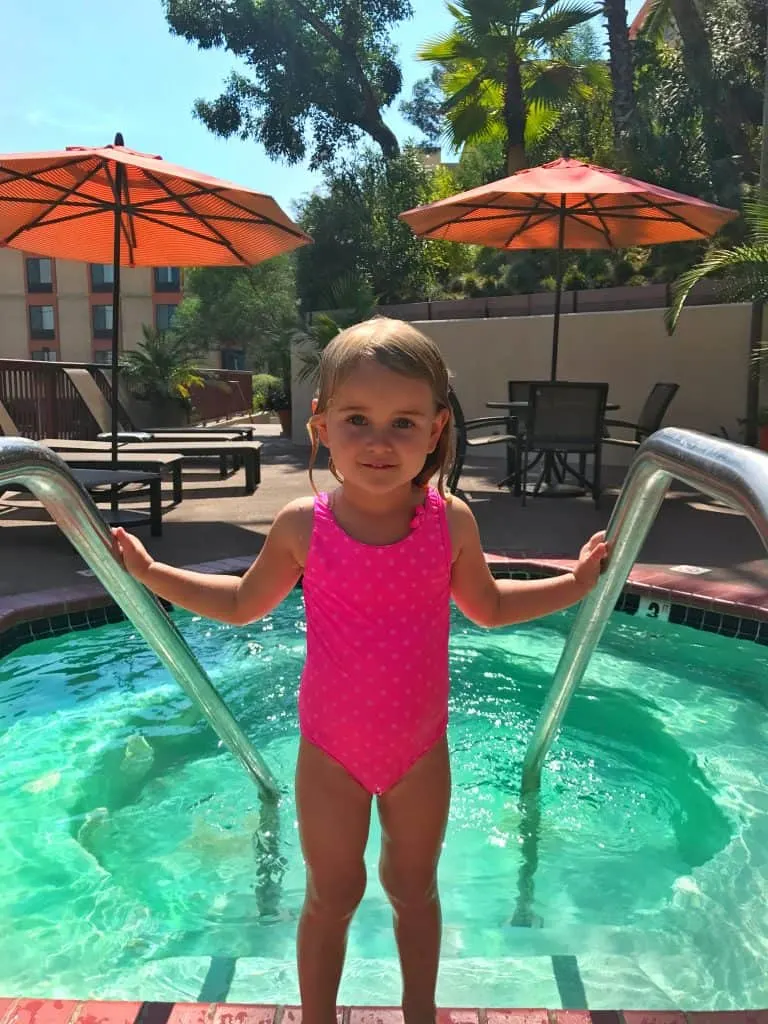 The room was a great size with lots of storage for all our luggage, a TV with all the necessary channels and a big bathroom with an all-important bath. We really appreciated bathing the kids after living out of the camper van for over a week on campsites.
The room was stocked up with nice coffee, a fridge and a microwave which is always handy, especially if you've got a fussy eater or formula to prepare.
It might be a minor detail to most, but as a full-time travelling mum, I was SOOO happy they had a coin laundry. Because the obvious thing to do on a Friday night in Hollywood, is laundry, right? Don't worry we made up for the lack of social life on Saturday!
They also had an onsite restaurant. We only managed to have breakfast, but they had an a la carte and a buffet option. Our little one loved the make-your-own waffles station. They had juices, pastries, bread, yoghurts, fruits and cereals.
In the lobby area, they had a massive dispenser full of ice water infused with fruits. It was the perfect thirst quencher after walking around outside.
They also had freshly made fruit and oat cookies so guests could have a little snack during the day.
In the lobby area, they had a touchscreen TV. It gave all the information on flight times from LAX and it also had a feature to take selfies sitting on the sofa.
There was also a life-sized figure of a movie star. Maybe they nicked it from the wax museum across the road?
Check prices and availability for the Hilton here.
Where to Eat in LA with Kids
Dine At Yamashiro Restaurant
Hollywood is a hectic place, especially with kids. If you feel you need to escape, Yamashiro Restaurant, is the place to go.
It's a tranquil Japanese restaurant based around a garden with a pond. The views over the city are outstanding, especially at sunset.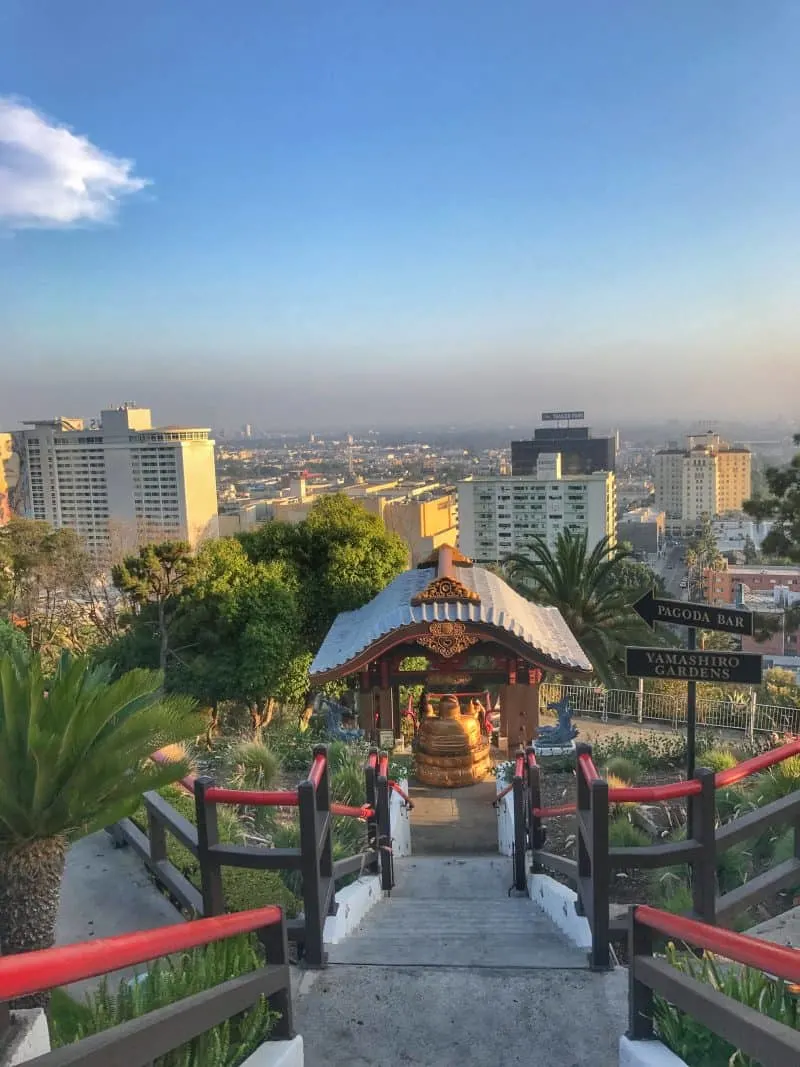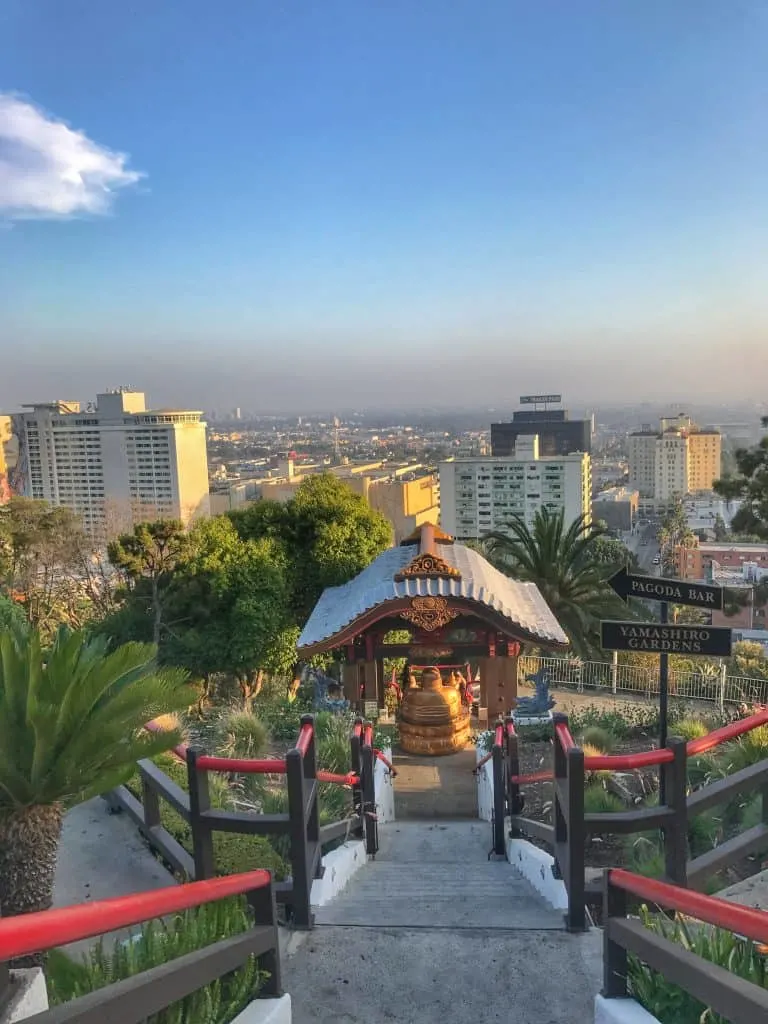 Yamashiro means mountain palace in Japanese and that's exactly what it feels like. It was built in 1911 by hundreds of craftsmen trying to recreate an orient palace and I think they did just that!
From the moment we arrived, we felt like we were somewhere else. Looking down on the buzzing city was beautiful, the lights in all of the buildings were slowly coming on as the sun went down.
We initially checked out the cocktail garden which is the best spot for the views. We followed up with a table in the garden.
It was like being in a temple courtyard. They have some amazing signature cocktails, the obvious one being a Mai Tai which zinged me right into Saturday night mode.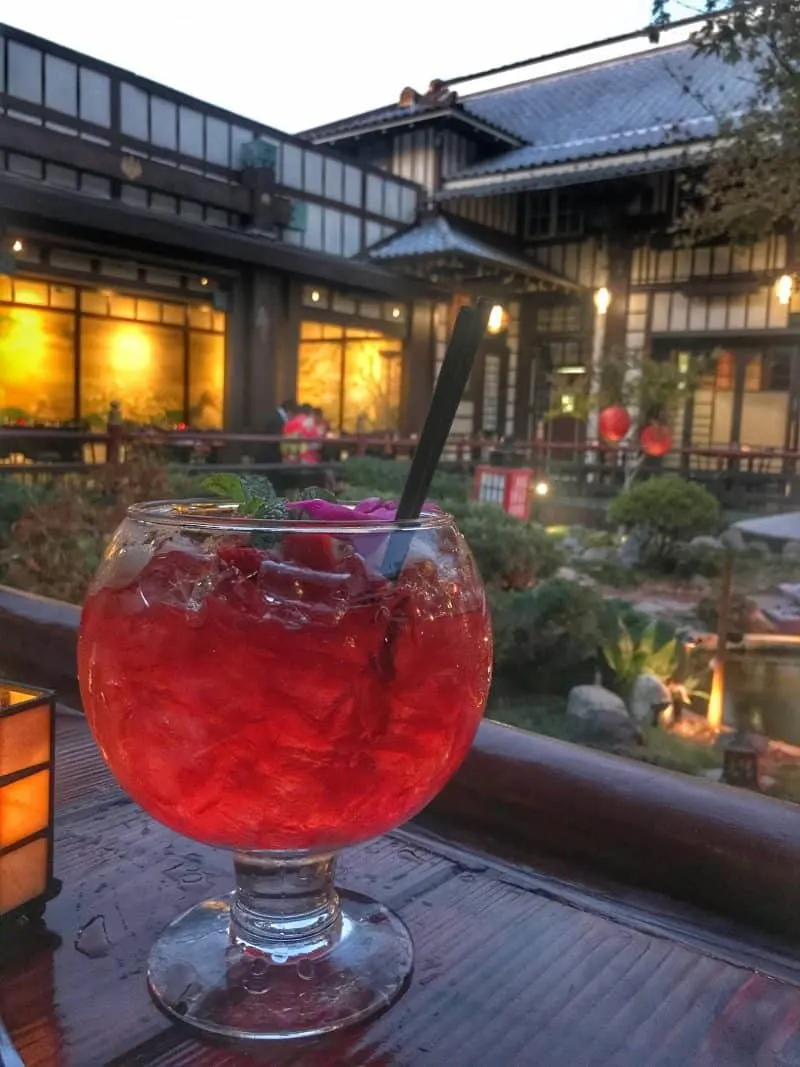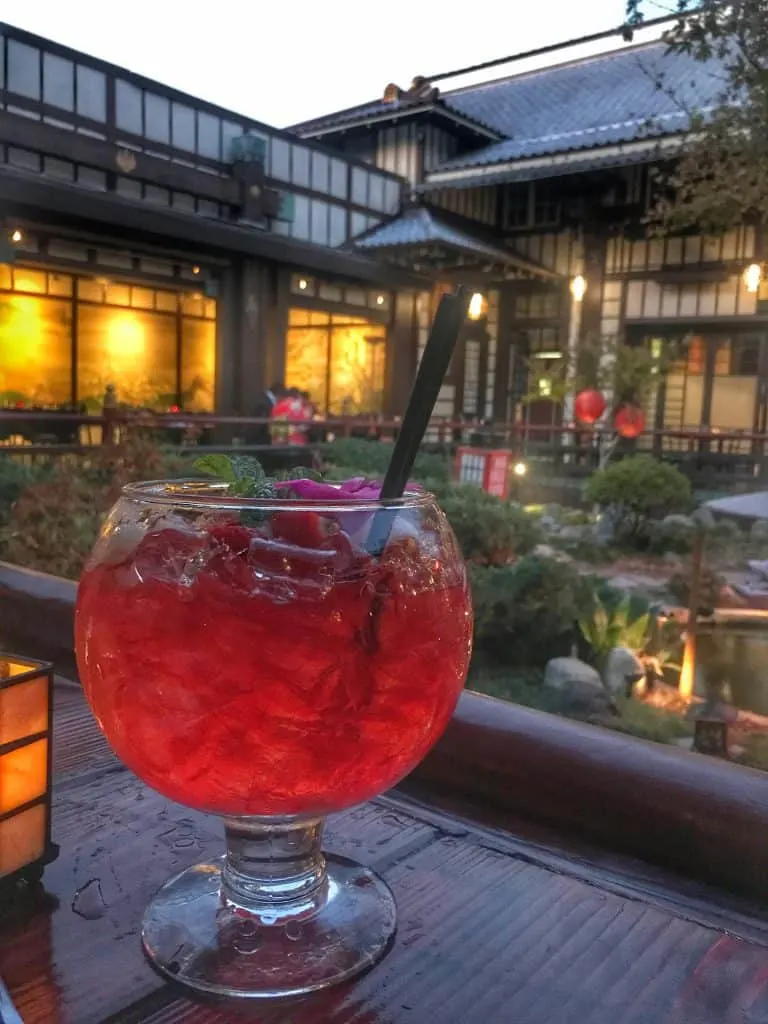 The other great cocktail is the Red Lotus. Being the size of a fish bowl, it's definitely one to share.
Hubby and I sipped on it throughout our meal. The iced lychee and raspberry flavours were delicious.
The sushi and Cal-Asian menu was the perfect accompaniment to the environment. We hadn't eaten much throughout the day so we were feeling hungry.
Being a fine dining restaurant, the portions were also ideal for fitting in all three courses. To start, I had the pan-seared cakes with teardrop tomato pico de gallo and cracked pepper aioli.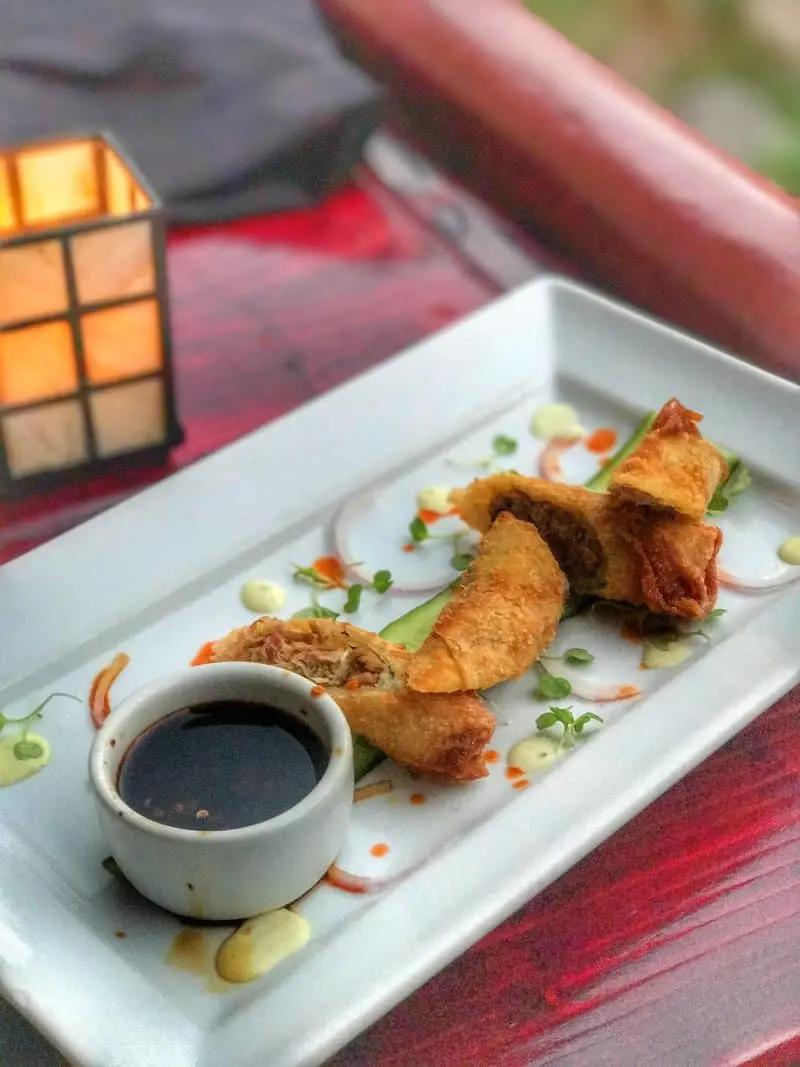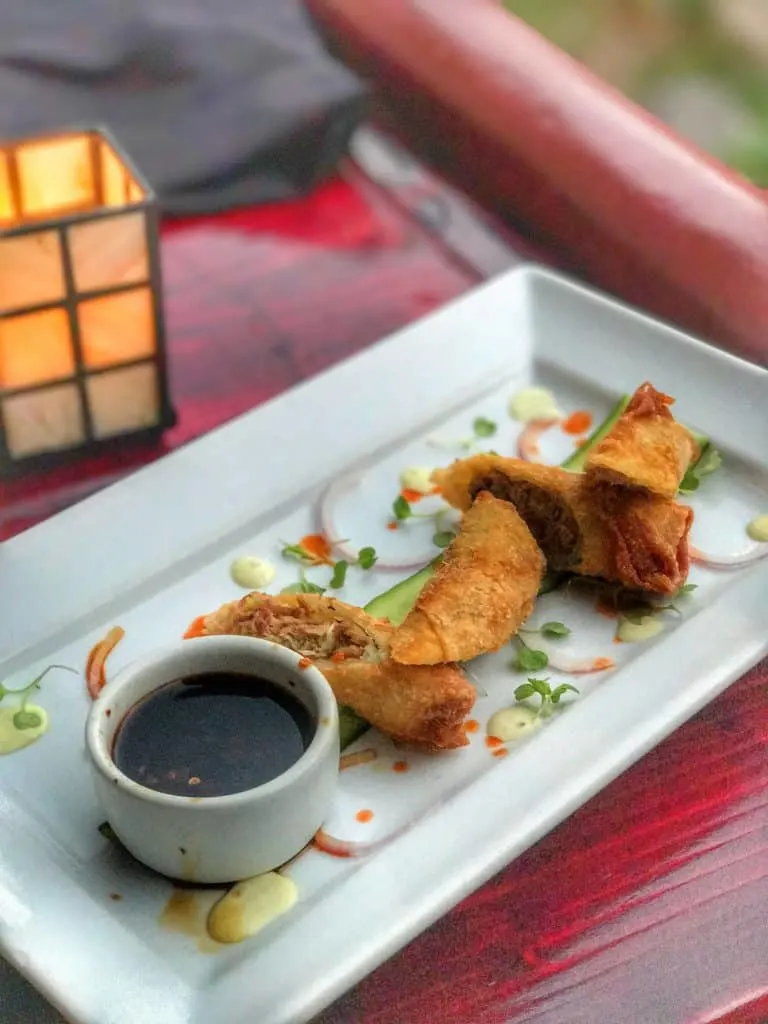 Fun Facts About Los Angeles For Kids
Not only is Los Angeles known for its movie industry but also its iconic landmarks, world-famous beaches, colorful neighborhoods, and vibrant culture.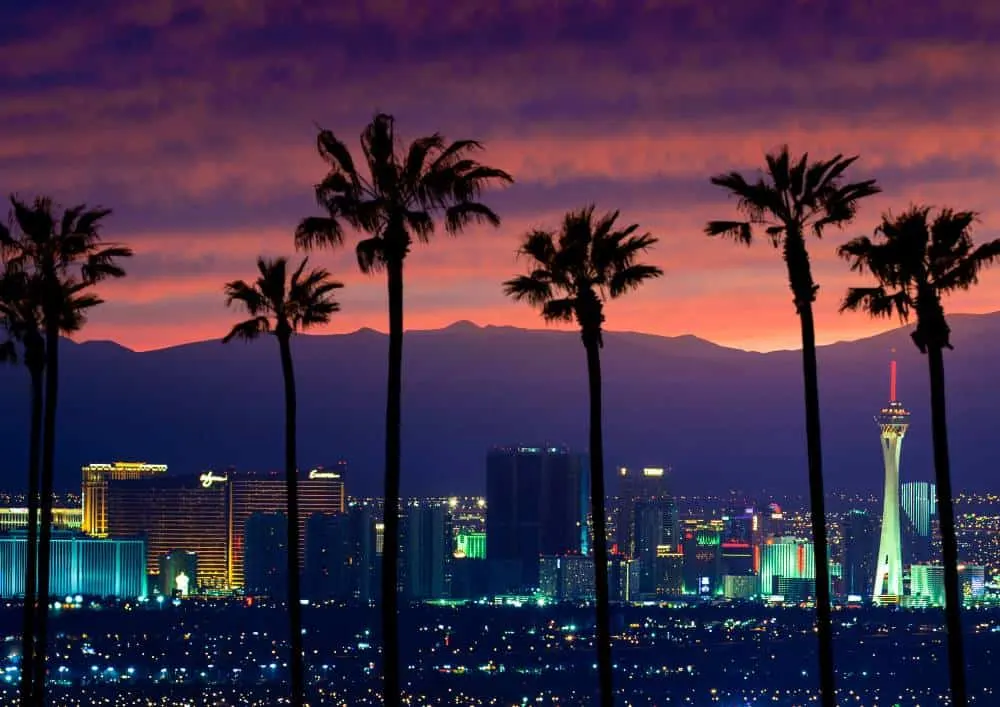 As you know, Los Angeles has plenty of things to do, such as visiting museums and galleries or touring the Hollywood Walk of Fame.
The following is a list of lesser-known facts about Los Angeles for kids your little ones may find interesting:
The Hollywood sign was originally known as Hollywoodland as a real estate advertising tool.
Los Angeles's Getty Museum uses goats to take care of its grounds. The animals graze on grass and bushes and keep everything looking neat.
Mickey Mouse was the first animated character to be honored with a star on the Hollywood Walk of Fame in 1978.
The Urban Lights installation outside the Los Angeles County Museum of Art (LACMA) consists of 202 street lamps. All of the lamps were initially dotted around Southern California in the 1920s and 1930s.
Santa Monica Pier carousel was originally built for the Venice Pier in 1922 but moved to its current location in 1947.
There are six different area codes in the Los Angeles metropolitan area! More than any other American city.
The Los Angeles Zoo is not the original LA Zoo. It took over 2000 animals to relocate from the Old Griffith Park Zoo (established in 1914) to the zoo's existing location in 1966.
Despite their iconic appearance, LA's palm trees were not indigenous to the area and were planted solely for aesthetic reasons. According to estimates, the 1930s were a crucial time for planting them.
Prior to its move to Los Angeles in 1960, the LA Lakers basketball team originated in Minnesota, commonly referred to as 'The Land of 10,000 Lakes'.
The number of cars in Los Angeles exceeds the number of people! As a result, Los Angeles has some of the most congested traffic jams in the country.
Los Angeles is home to a large and diverse immigrant population, which has helped to create a culture of acceptance and understanding in the city.
To Sum Up Los Angeles With Kids
If you have a few days to spare then a day or two in Yosemite is a great way to escape the city. It is just a few hours from LA and an amazing place to spend some time. Visiting Yosemite with kids is an amazing experience.
April in Yosemite is particularly beautiful as the waterfalls are roaring. No matter the time of year, it is best to plan a trip to Yosemite in advance.
Have you been to LA with kids before? I love hearing from you, leave a comment and I will get back to you.
Disclaimer: This post about things to do in LA with kids contains affiliate links. By using them, it will nto cost you any extra. We will receive a small commission to keep us writing.
You May Also Like:
Best Pumpkin Farms In California
Guide to pumpkin picking in Florida.
The Ultimate Pacific Coast Highway 101 Road Trip