There are plenty of Christmas events in Portland with fun activities for families leading up to the holiday.
From Christmas tree lighting, to Carolling in the streets, community gatherings and events there is plenty of things happening to get into the festive spirit.
If you are visiting the city with family for the first time, have a read of the best things to do with kids in Portland.
Portland is one of the most lively cities in the country, all the more vibrant and enchanting during the Christmas season.
It doesn't matter if you have kids are not, Portland for adults during the festive season is also fantastic, especially with the nightlife scene. Here are some of the best Christmas events in Portland.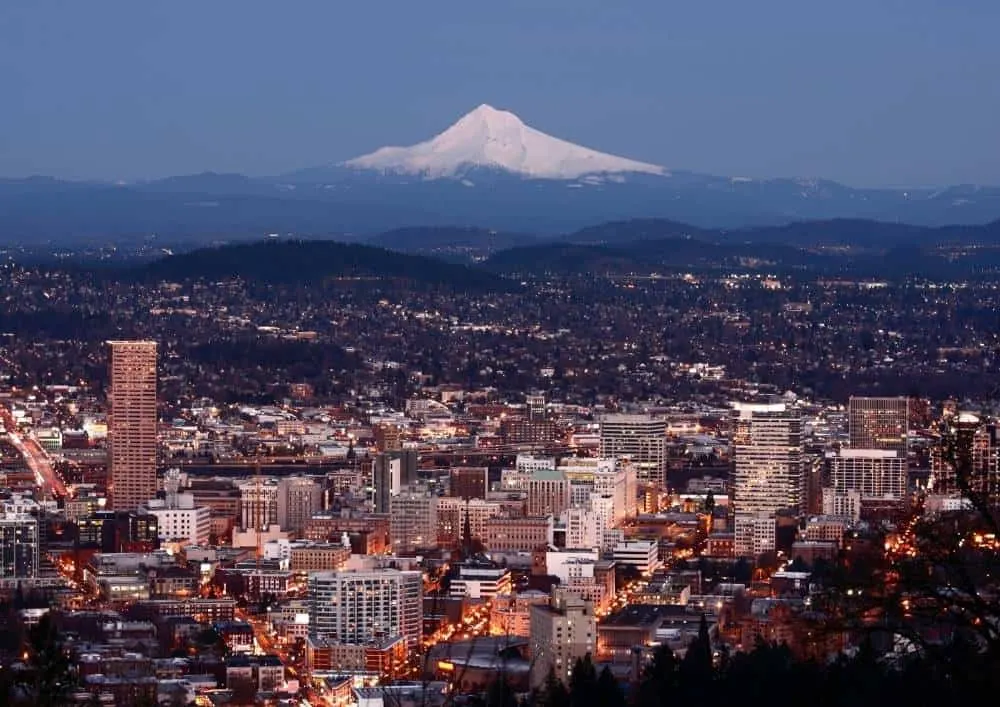 Christmas In Portland
1. Portland's Singing Christmas Tree
The Portland's Singing Christmas Tree is a fantastic way to start the festive season. It is one of the most awaited Christmas events in Portland, enjoyed by little ones and grownups alike.
Expect non-stop music, dance, and pageantry, including Santa and his dancing elves at the living nativity.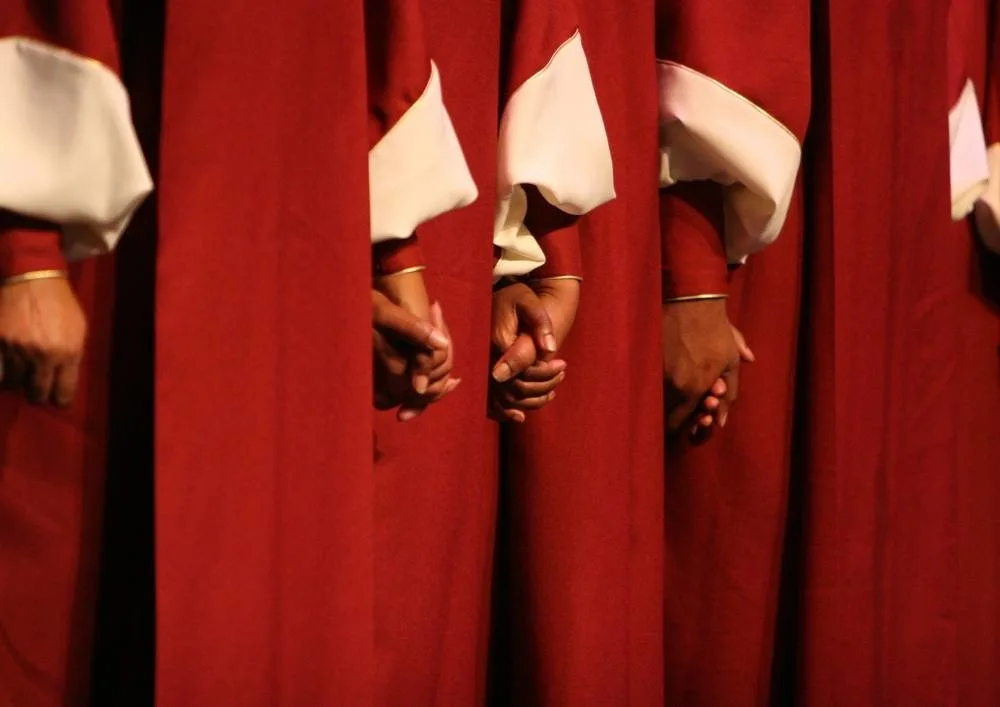 An incredible line-up of artists will join the adult and youth choirs to sing Christmas songs both new and old.
For further details on Portland's Singing Christmas Tree
Dates: Opening Performance on November 26
Location: Sunset Presbyterian, 14986 NW Cornell Rd, Portland, 97229
2. Portland Symphony Orchestra
For almost a century, the Portland Symphony Orchestra has inspired audiences in the city and neighbouring areas.
Almost half of the orchestras professional musicians are from Maine, and the remainder are from New Hampshire, Vermont, and the greater Boston area.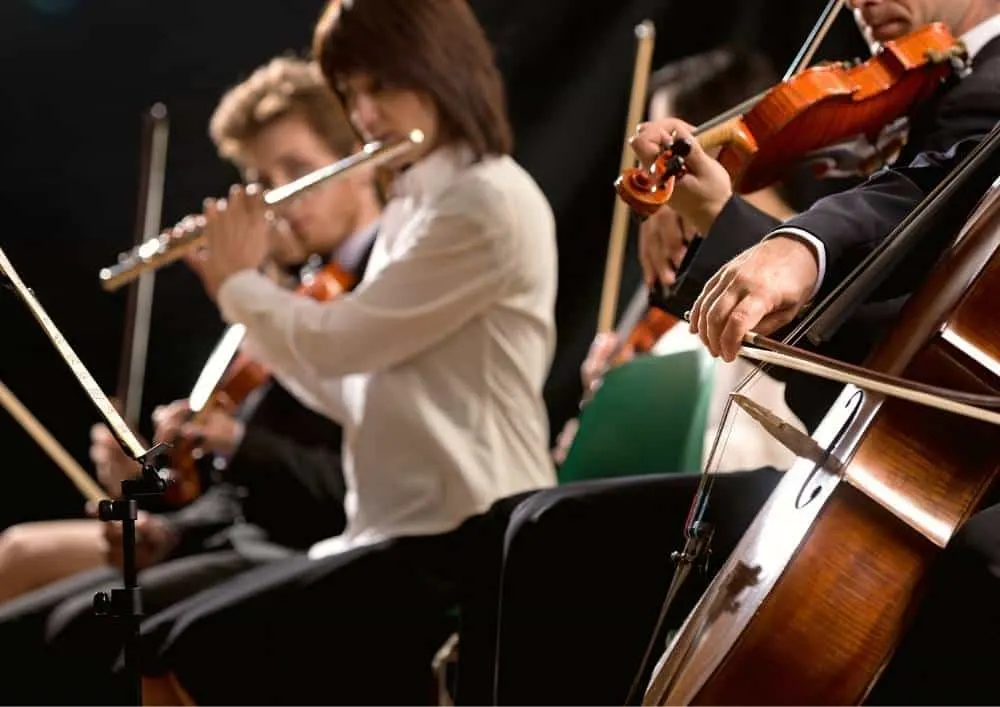 A visit to Portland to witness the orchestra live on stage playing Christmas classics is definitely worth it and undoubtedly makes it to our list of best Christmas events in Portland.
For Portland Symphony Orchestra schedule and ticket details
Dates: Premiering December 9 with the Magic of Christmas
Location: 85 Exchange St 4th Floor, Portland, ME 04101, United States
3. A Pittock Mansion Christmas
Another activity making it to the list of the best Christmas events in Portland is the Pittock Mansion, with over 23 lavishly decorated rooms transformed into a festive theme.
Guests are welcome to stroll the grounds and explore this massive rustic mansion decked out in colourful Christmas decor and lights.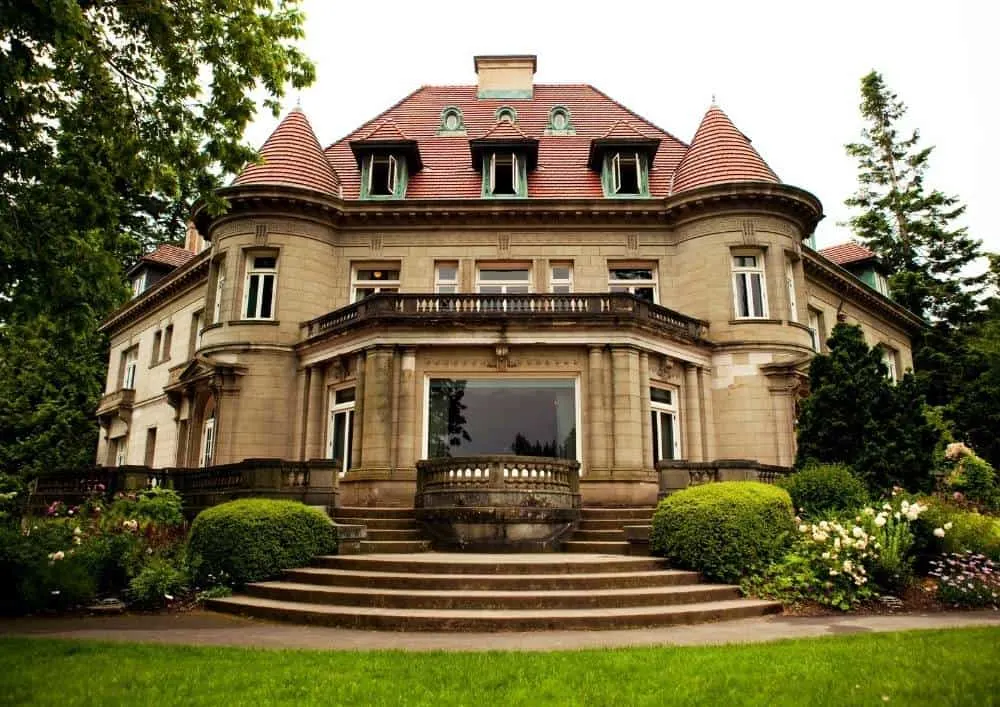 Pittock Mansion accept volunteers to support with putting up the decorations.
Tickets: Starting from $7 per person
Location: 3229 NW Pittock Dr, Portland, OR 97210, United States
4. Portland Revels
The Portland Revels puts on a celebration of the seasons through song, dance, story tellings and rituals from past and present.
This theatre is one of the Christmas events in Portland that adds character to traditional Christmas celebration with a touch of music, dance and drama.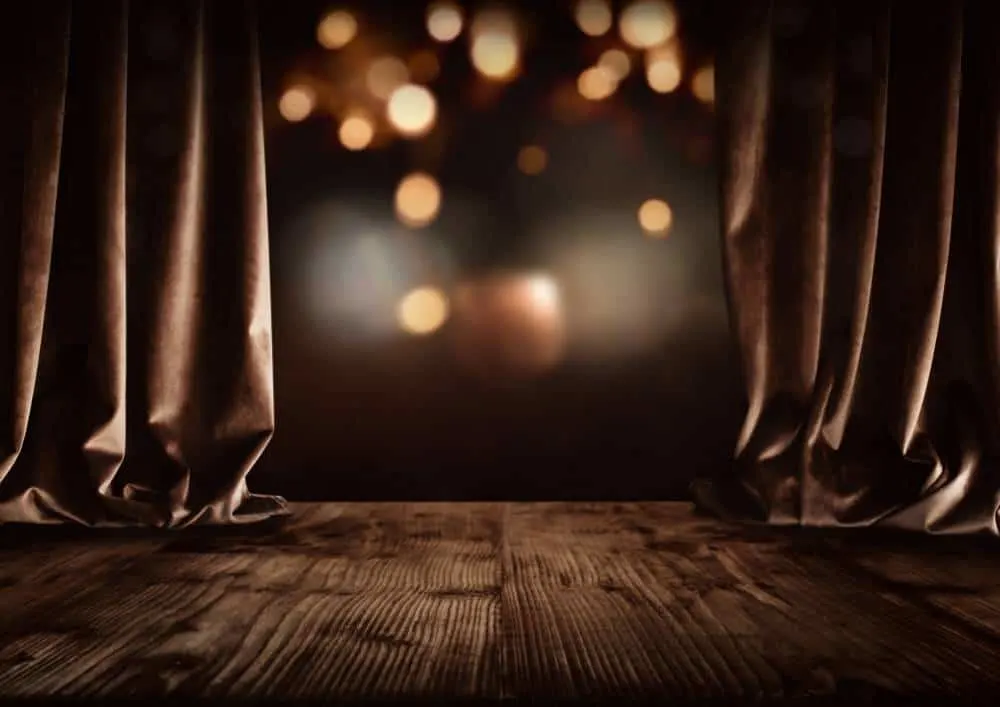 Whether you enjoy choir music, traditional dances, or story-telling, Portland Revels is the perfect holiday celebration.
The audience can sing and dance along with musicians, dancers, actors, and storytellers.
Donations are accepted to support the Portland Revels efforts in the local community.
Location: 128 NW Eleventh Avenue Portland, Oregon 97209, United States
5. The Nutcracker At The Oregon Ballet Theatre
Guests are taken to a magical Land of Sweets by Tchaikovsky's unforgettable score, with brave toy soldiers fighting mischievous mice at the Oregon Ballet Theatre.
Several holiday-themed plays and musicals run in Portland's theatres around the festive season, often for several weeks during the winter season.
The Nutcracker created by George Balanchine, is one of the most popular annual events at the Oregon Ballet Theatre, with its gorgeous sets and well-known music.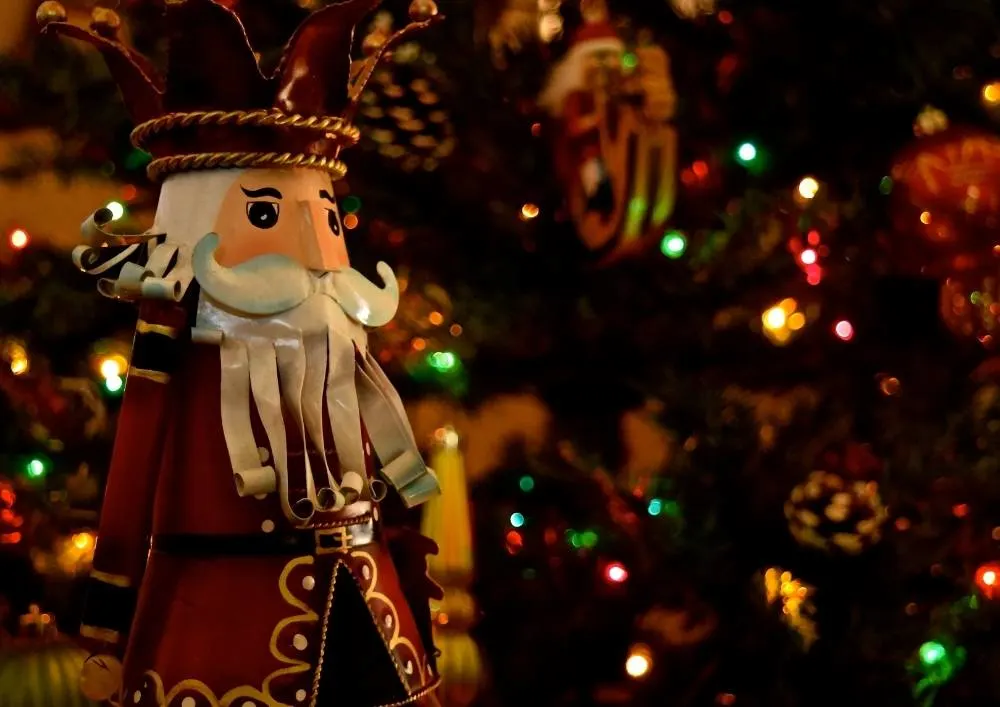 Unlike any other show in Portland, it features 12 different performances, making it to the list of the top Christmas events in Portland. It has become a holiday tradition for so many!
The Nutcrackers team offers "Performance Perspectives" one hour before the performance.
Dates: December 10 to December 24
Timings: Performance schedule
Tickets: $10 per person
Location: 720 S Bancroft St., Portland, OR 97239, United States
6. Christmas Ships Parade
The annual Christmas event in Portland lasts for two weeks, where ships sail across the Columbia and Willamette rivers each year in a parade.
The long-standing tradition in Portland began way back in 1954. There are two fleets participating in the Christmas Ships Parade, the Columbia fleet and the Willamette fleet.
During the parade, the Willamette fleet sails from the downtown River place neighbourhood to the Milwaukee Riverfront Park before returning downtown.
Whilst the Columbia fleet departs the Gleason boat ramp and heads down to Hayden Bay from the Washington side.
If you own a boat, you can participate in the Annual Christmas Ships Parade, all you have to do is sign up.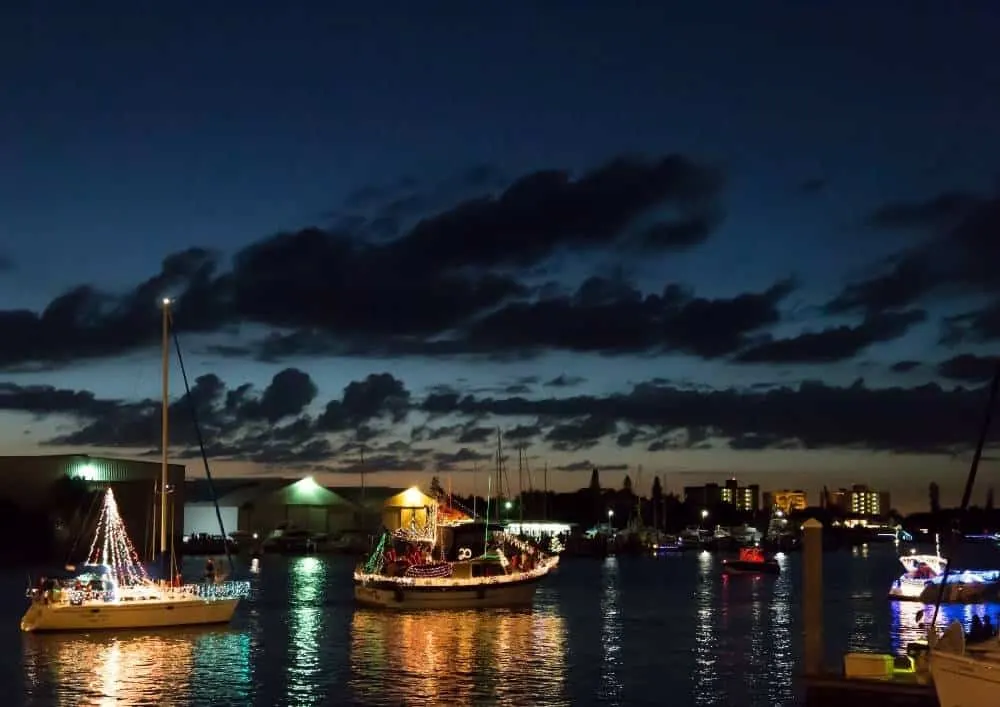 Spectators can listen to the music and watch the twinkling lights as boats sail past. There are various vantage points along the river banks to see the parade on water!
Tickets: No tickets required to view the parade
Location: For best viewing location, look up the Columbia Fleet Schedule and the Willamette Fleet Schedule.
7. Christmas Festival Of Lights At The Grotto
The Christmas Festival of Lights at The Grotto typically takes place from Thanksgiving weekend through Christmas week.
This walk-through event features several indoor and outdoor tented entertainment areas as part of the Christmas celebrations. Strolling through the Grotto will take 60 to approximately 90 minutes as it weaves around.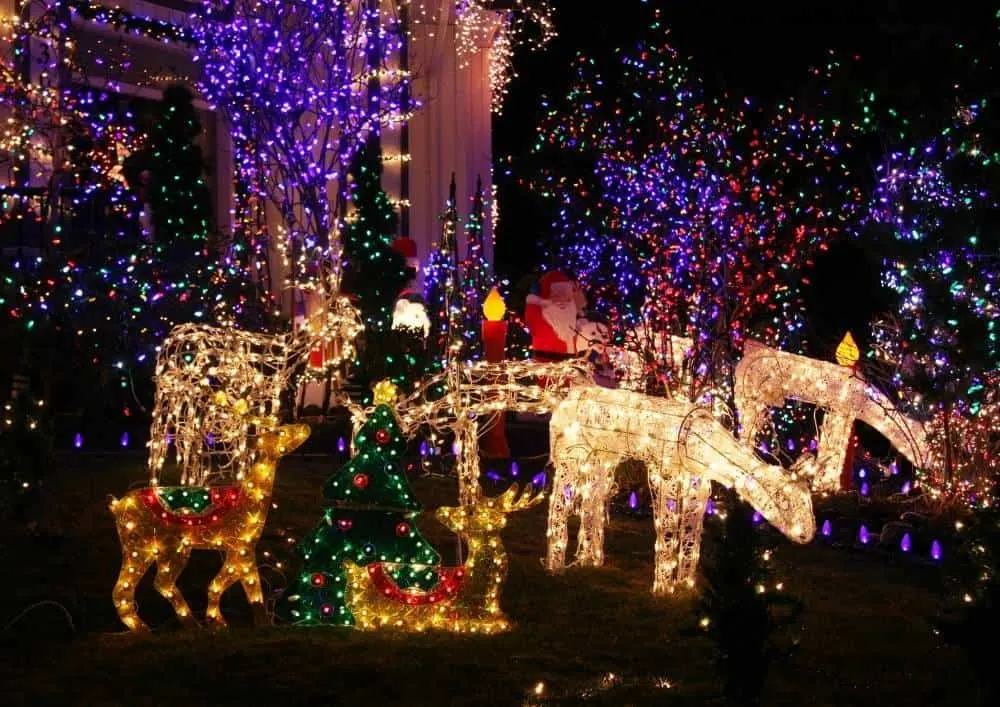 Besides spectacular outdoor lighting displays, visitors can enjoy indoor holiday music concerts, puppet shows, scrumptious festive snacks, Christmas carol singers and a petting zoo.
Dates: Friday, Nov. 25 – Friday, Dec. 30 (Closed Christmas Day)
Timings: 5 p.m. – 9:30 p.m. (Nov. 25 – Dec. 16) and 4:30 p.m. – 9:30 p.m. (Dec. 17 – Dec. 30)
Location: 8840 NE Skidmore St, Portland, OR 97220, United States
8. ZooLights At Oregon Zoo
There's nothing like Oregon's most popular holiday tradition to make the holiday season bright and cheery.
Oregon Zoo transforms into a winter wonderland sparkling with more than one million colourful lights.
In the days following Thanksgiving until just after New Year, stroll the zoo's pathways and enjoy animal-themed displays of light and motion.
There's something for everyone at ZooLights, from local food carts and sandwiches to hot cocoa, Oregon beer and wine. The best part is you can have all of this in the comfort of your own vehicle.
BrewLights is another highlight reserved only for the grownups. Explore the twinkling magical wonderland of ZooLights and sample from more than 45 local beer vendors.
The Zoo lights at Oregon Zoo is one of the most popular Christmas events in Portland.
Dates: Nov. 23 to Jan. 5 excluding Dec. 25
Location: 4001 SW Canyon Road, Portland, OR 97221, United States
9. Portland Winter Wonderland Light Festival
Travel through a Winter Wonderland in Portland on Christmas. The holiday-themed light is held at Portland International Raceway, and is the most significant Christmas events in Portland, Northwestern region.
Portlands Winter Wonderland is a drive-thru light show with over 250 colourful light display and fully animated scenes.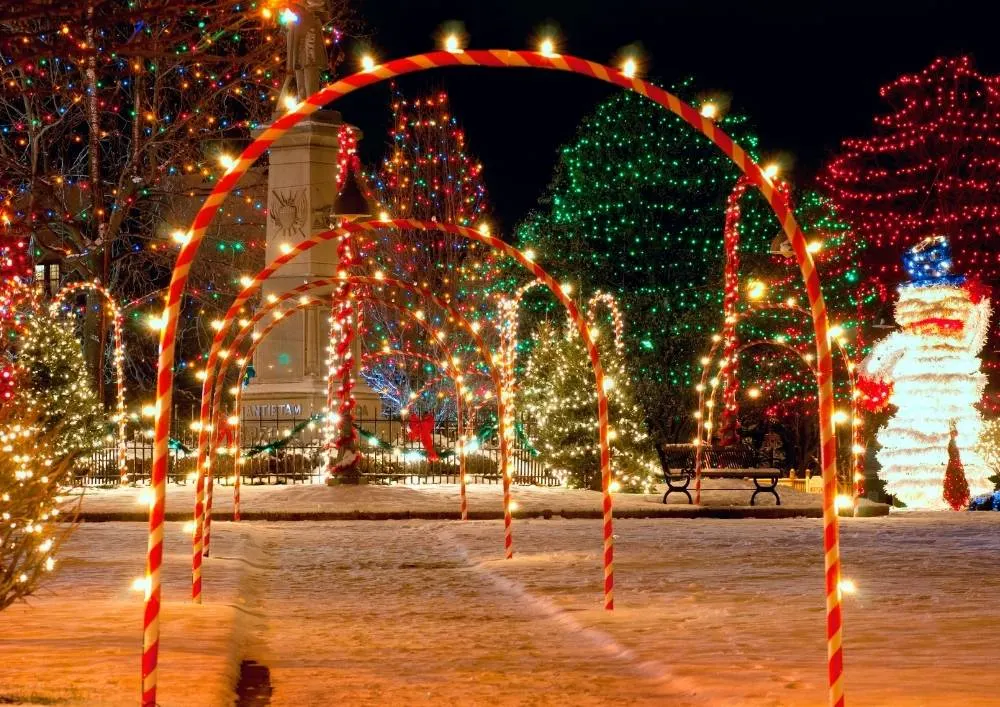 Guests can enjoy the experience from the warmth of their cars as they drive through the festive holiday light display.
Sunshine Division, a food bank providing to people in need, benefits from the profit made by this amazing Christmas event.
For donations to the Sunshine Division
Dates: November 25 to December 31
Location: 1940 N Victory Blvd, Portland, OR 97217, United States
10. The Peacock Lane Experience
The Peacock Lane is Portlands official Christmas Street!Since 1932, every house in Peacock Lane, Southeast Portland decorates its exterior with sparkling festive lights.
Including Santa and his Reindeer, Frosty the Snowman, Christmas trees, and even the Grinch, it has become an annual tradition in the area.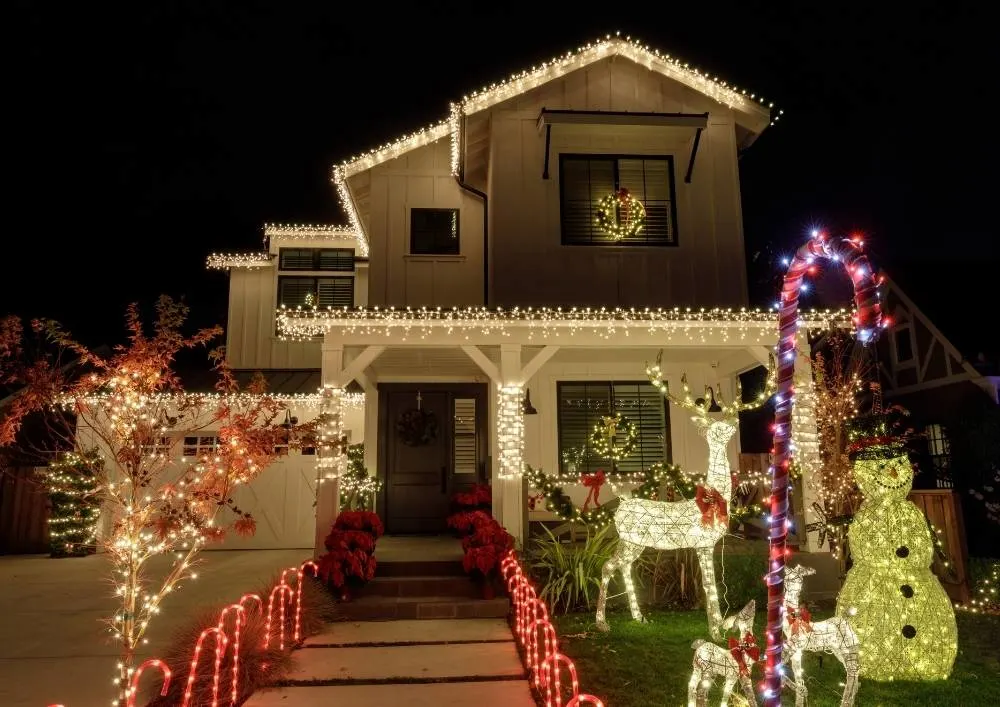 The wide variety of light displays extend across four residential blocks between Stark and Belmont Streets. This particular event attracts local Portlanders.
Dates: Mid December
Entry: Free
Location: SE Peacock Ln, Portland, OR 97214, United States
11. Pioneer Courthouse Square
The Pioneer Courthouse Square hosts two major events during Christmas, The Annual tree lighting and the much awaited Annual Tuba Concert.
Following Thanksgiving, the 75-foot Christmas Tree is lit with over 14,000 lights creating a family-friendly atmosphere filled with happiness and festive vibes.
A fun sing-along is held with local artists and Christmas choirs, making it a fun event. The tree stands tall after Thanksgiving through the second week of January.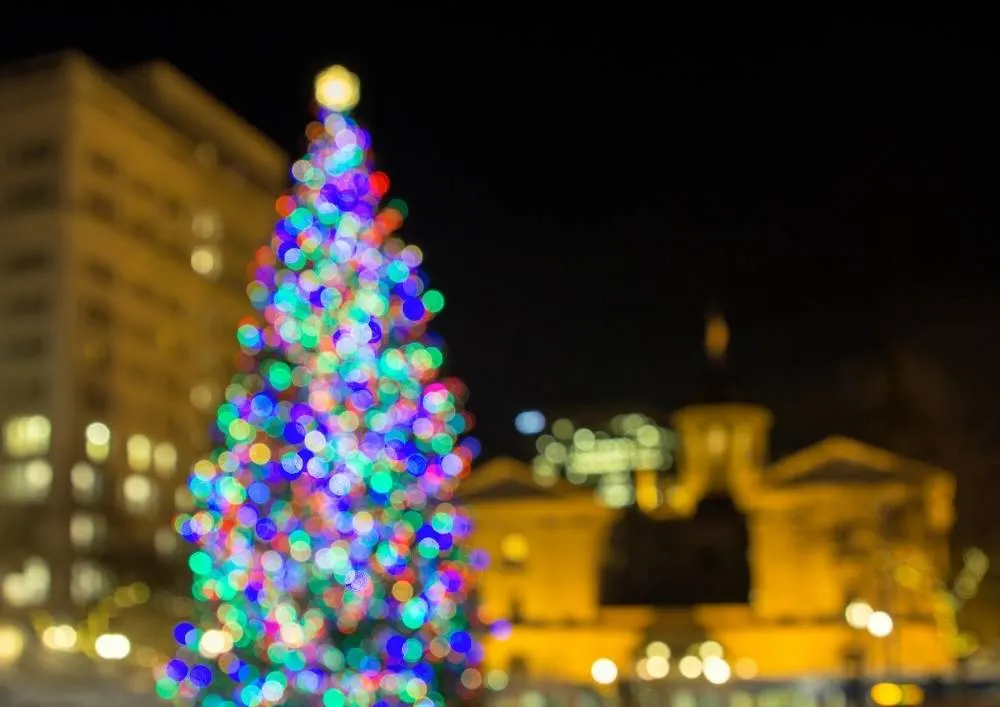 Pioneer Courthouse Square has organized its Annual Tuba Christmas Concert featuring over 200 participants playing in unison.
The square is transformed and brought to life making it one of the best Christmas events in Portland.
Annual Christmas Tree Lighting
Date: TBA
Entry: Free
Timing: TBA
Annual Tuba Christmas Concert
Entry: Free to attend, registration for the Annual Tuba Concert is $10 per participant
Timings: 1:30pm to 3pm
Date: December 10
Location: 701 SW 6th Ave, Portland, Oregon, United States
12. The Portland Bazaar
It is impossible to find a better place in Portland to buy holiday gifts than the Portland Bazaar. The pop-up shop has been created to highlight talented artists, makers, and small business owners from Portland, Oregon.
Previously, the market was at North Warehouse on Interstate, then Yale Union in SE, and now in Northwest right by the Pioneer Courthouse Square.
It is a fantastic outdoor shopping experience with over 30 vendors set up around the 75-foot Christmas tree.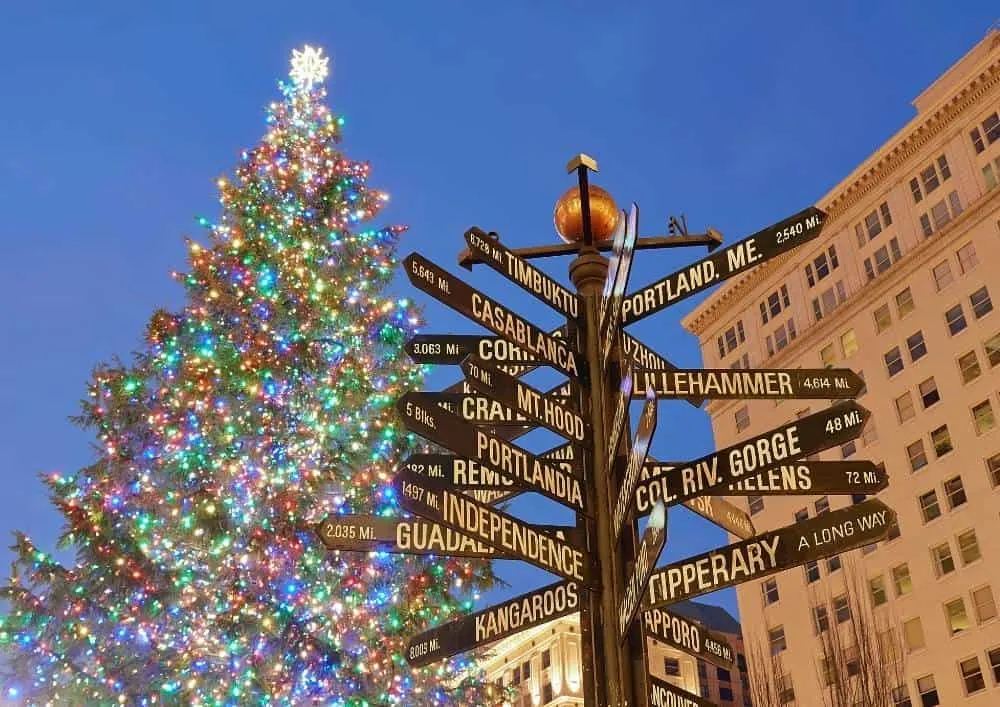 There is a chance to enter the Christmas draw and win amazing raffle prizes!
Entry: Free
Dates: December 10th and 11th weekend and December 17th and 18th weekend
Timings: 11am to 4pm
Location: Premier Gear & Machine Works Building,1715 NW 17th Ave, OR, United States
13. Crafty Wonderland
With over 200 vendors selling handmade goods and art, the Crafty Wonderland is the spot to tick off items on the Christmas shopping list.
The Holiday Art and Craft Market has everything including Christmas cards, knitting kits, banners, books and plenty of other things.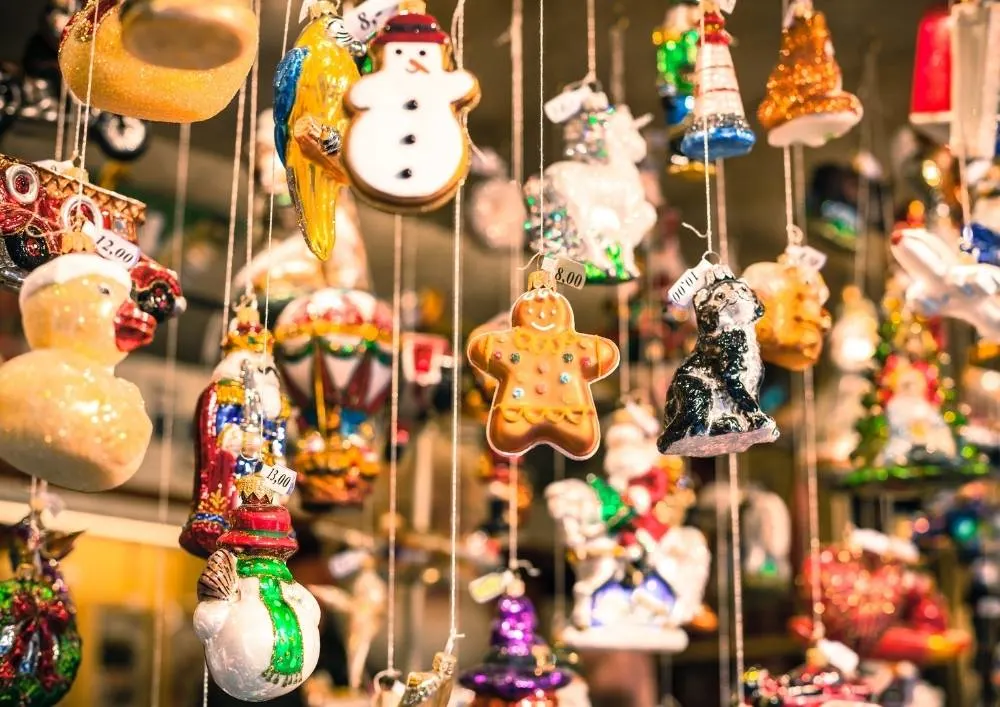 The event, like most other Christmas events in Portland, is free to attend, however early bird specials may require a ticket.
Entry: Free
Dates: December 9th to December 11th
Timings: Friday, December 9th from 5pm to 9pm
Saturday and Sunday, December 10th and 11th from 10am to 6pm
Location: Oregon Convention Center, 777 NE Martin Luther King Jr. Blvd., Portland, OR, United States
14. Portland Night Market
There are some evening Christmas events in Portland. The city's creative scene has been a focal point of the Portland Night Market since 2015.
Bringing food, culture, music, drinks, and retail together on the Central Eastside, the quarterly event provides Portlanders of all ages with a fantastic experience.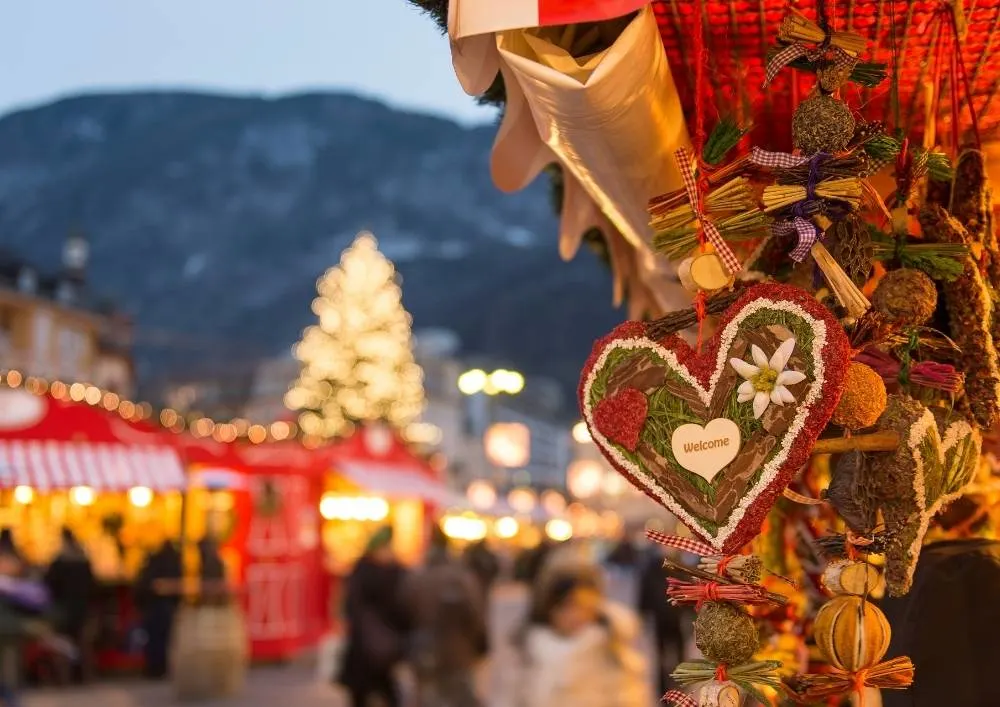 More than 150 Portland-based brands, makers and merchants are expected to participate. There will be booths set up inside and outside a large warehouse setting where food and beverages can be purchased.
There are plenty of special guests and displays expected at every event, including a DJ spinning a market mix tape and many photo opportunities.
Entry: Free, Fast Pass available @ $25 per person
Dates: December 1st to December 4th
Timings: 4pm to 11pm
Location: 100 SE Alder Street Portland, Oregon 97214, United States
15. Unique Markets: Portland Holiday Market
Unique Markets is a woman-owned modern, pop-up shopping experience with seasonal events three times a year.
With over 160+ local brands and the best of the best boutiques participating, it promises to be a fun and interactive experience that is more than just shopping.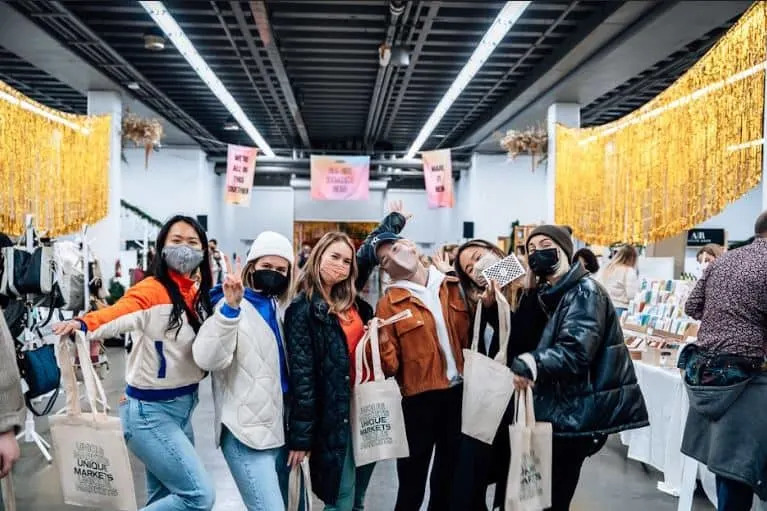 Featuring a dedicated Family Fun Zone, free drinks, photo ops, a live DJ, and food and drink, it sure is going to be an exciting day.
For Unique Markets ticket information
Entry: $10 to $40
Dates: December 3rd and December 4th
Timings: 10am to 4pm
Location: Veterans Memorial Coliseum, 300 North Winning Way Portland, OR 97227 United States
16. Portland Saturday Market
The Old Town/Chinatown neighbourhood turns into a vibrant open-air art and craft market from March through to Christmas Eve.
Portland Saturday Market is widely known as the largest continuous open-air market in the United States, easily making it one of the highlights of Christmas events in Portland.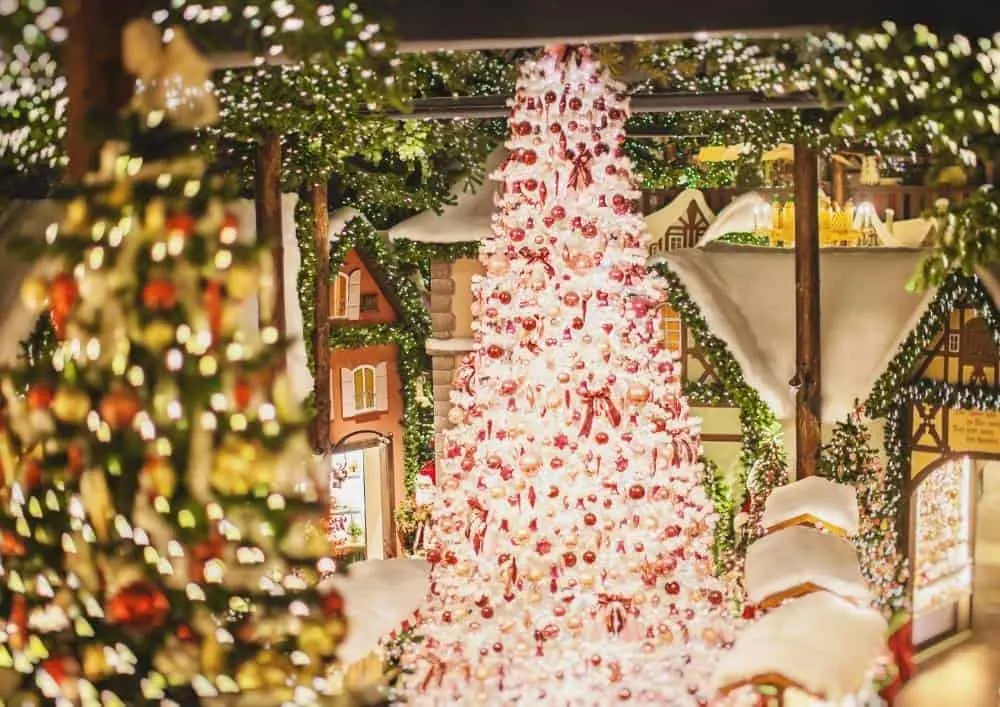 PSM provides a marketplace for local small businesses to showcase their handmade arts, crafts and foods from the Pacific Northwest. Customers have achance to talk directly with the artisan about their craft.
Entry: Free
Dates: Every Saturday from March to December 24th
Timings: 10am to 5pm
Location: 2 SW Naito Parkway Portland, OR 97204, United States
17. Holiday Ale Festival
The Holiday Ale Festival usually starts on the Wednesday following Thanksgiving for five days. The event is open to adults only, and more than 50 beers will be available to sample.
The annual celebration of festive drinks is set beneath the region's largest decorated Christmas tree.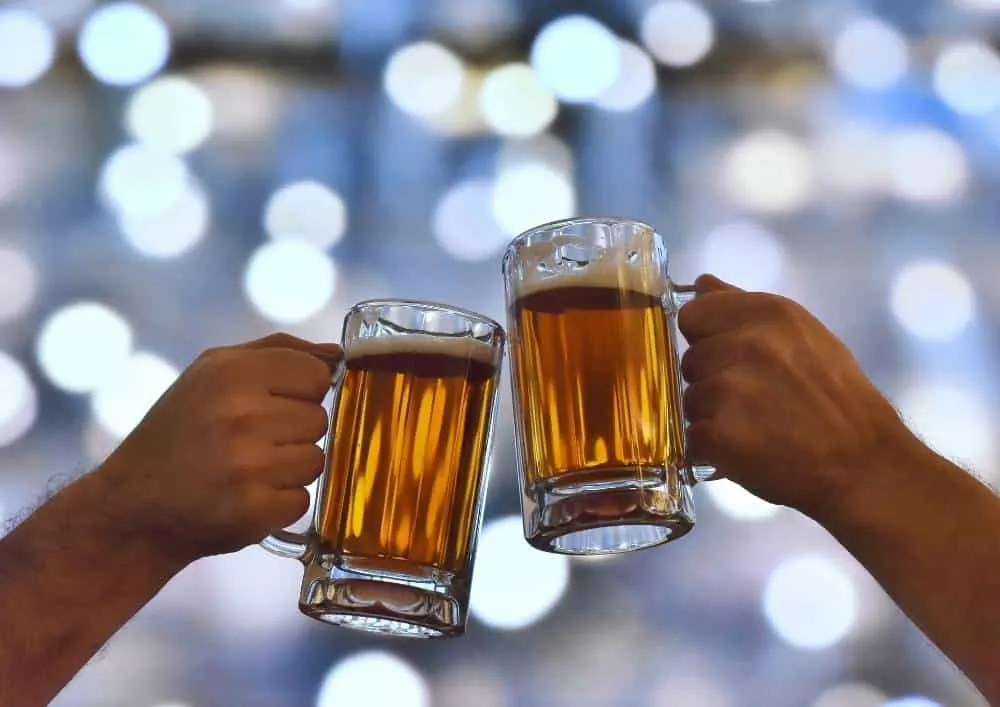 As part of the Holiday Ale Festival, delicious, holiday-themed food is served, live music is performed, and an exclusive beer brunch is held on Sunday.
The clear-top tent at the venue has gas heaters installed to keep guests warm!
Tickets: TBA
Dates: TBA
Location: Pioneer Courthouse Square, 715 SW Morrison St, Portland, OR, United States
Holiday Trains In Portland
18. The Holiday Express
Over the last century, Portland has been at the crossroads of many different railroads, contributing to its industrial heritage.
In order to facilitate intermodal transport, the city moved its three historic steam locomotives and most of their maintenance equipment to the Oregon Rail Heritage Centre.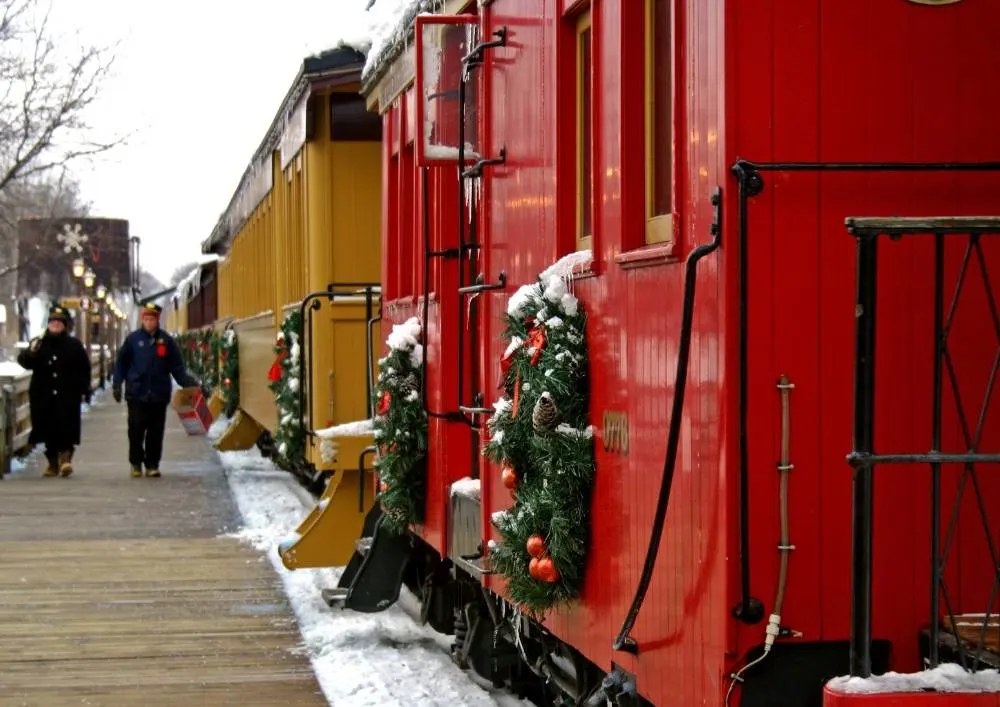 Fast forward to festive season, the vintage rail cars decorated in lights pulled by the historic Polson #2 1912 steam locomotive takes guests along the Willamette River. This journey lasts about 40 to 45 minutes.
In the daytime, enjoy scenic views, and potential wildlife sightings. While at dusk, festive lights are the focal point.
For details on schedule and Holiday Express tickets
Tickets: $23 per child (3 to 12 years of age), $28 per adult and $92 per family of four
Dates: November 25 to December 18
Timings: 10am to 8:30pm
Location: 2250 SE Water Ave. Portland, OR 97214, United States
19. Christmas Train At Mount Hood Railroad
With its warmth and charm, the Mt. Hood Christmas Train captures the magic and spirit of the Christmas season.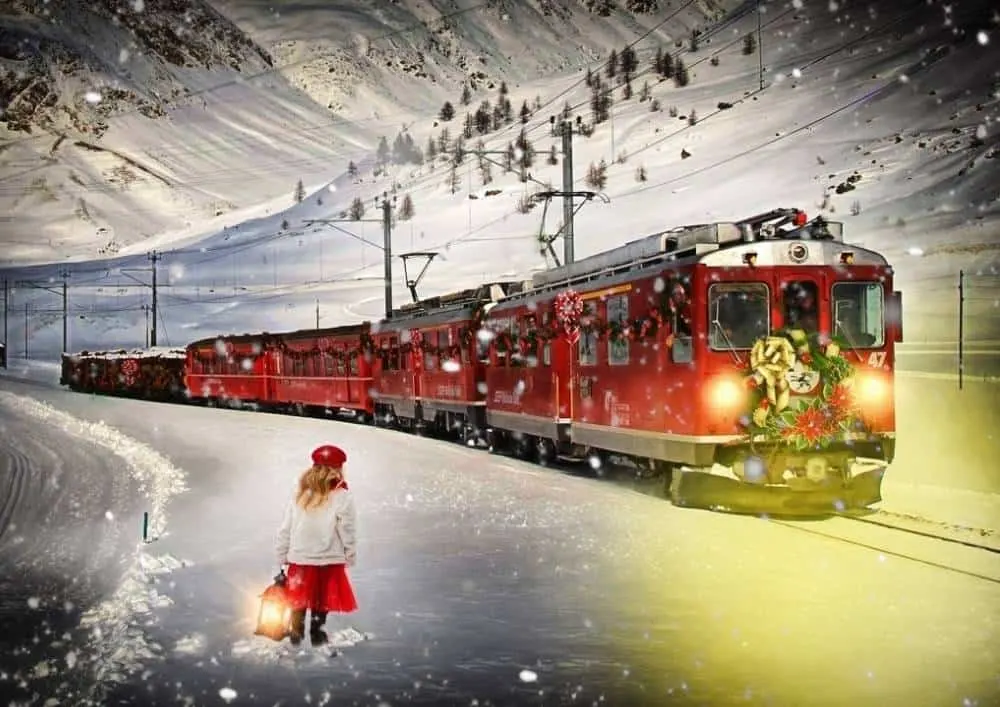 In the moments following the train departure from the station, the music begins to play. The characters from "The Train to Christmas Town" book are magically brought to life.
The journey lasts around 80 minutes with a stop in Christmas Town. Santa and his elves hop on board and present special gifts to each child traveling on the train.
For details on schedule and Christmas train tickets
November tickets: $59 per Adult, $49 per Child and $69 per Adult with Infant
December tickets: $69 per Adult, $59 per Child and $79 per Adult with Infant
Dates: November 17 to December 28
Timings: Check schedule on day of tickets booked
Location: 110 Railroad Street, Hood River, OR 97031, United States
20. Daimler Holiday Half
The Daimler Holiday Half Marathon consists of a 10 miler as well as 5k and 10k runs. It starts and finishes at the beautiful LEED Platinum-certified Daimler Trucks North America campus on Swan Island.
Along the way, Carolers sing whilsts others distribute cookies to runners for some festive energy.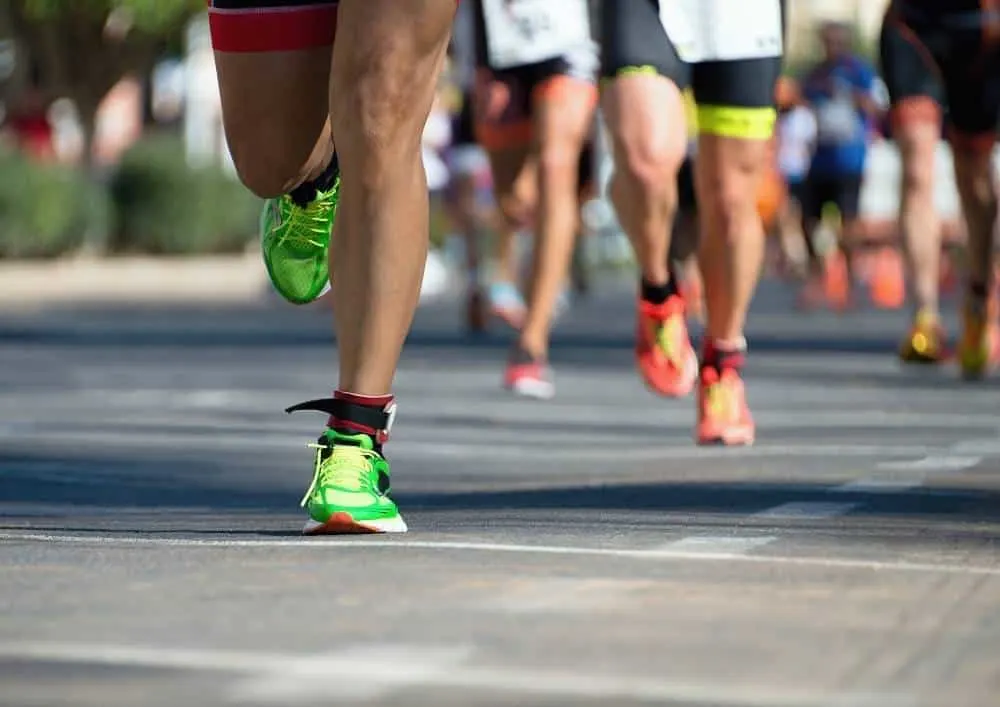 The finishing area is transformed into a holiday wonderland complete with food trucks, warm tents, cold beers and plenty of hot chocolate stations.
Runners receive a "Ugly Sweater" medal when they cross the finish line which you can hang on your Christmas Tree later.
Early birds who sign up receive a long sleeve tech shirt with a Christmas themed logo printed on it.
Register your Daimler Holiday Half spot
Registration fee: $15 to $92
Dates: December 11
Timings: 7:30am
Location: 4747 North Channel Avenue Portland, OR 97217, United States
21. Ice Skating At Oaks Park
The Oaks Park amusement features a large roller skating rink and is among the biggest and oldest continually operating in the United States.
Every year, the popular venue is adorned with Christmas decor complete with a huge tree set in the centre of the ice rink.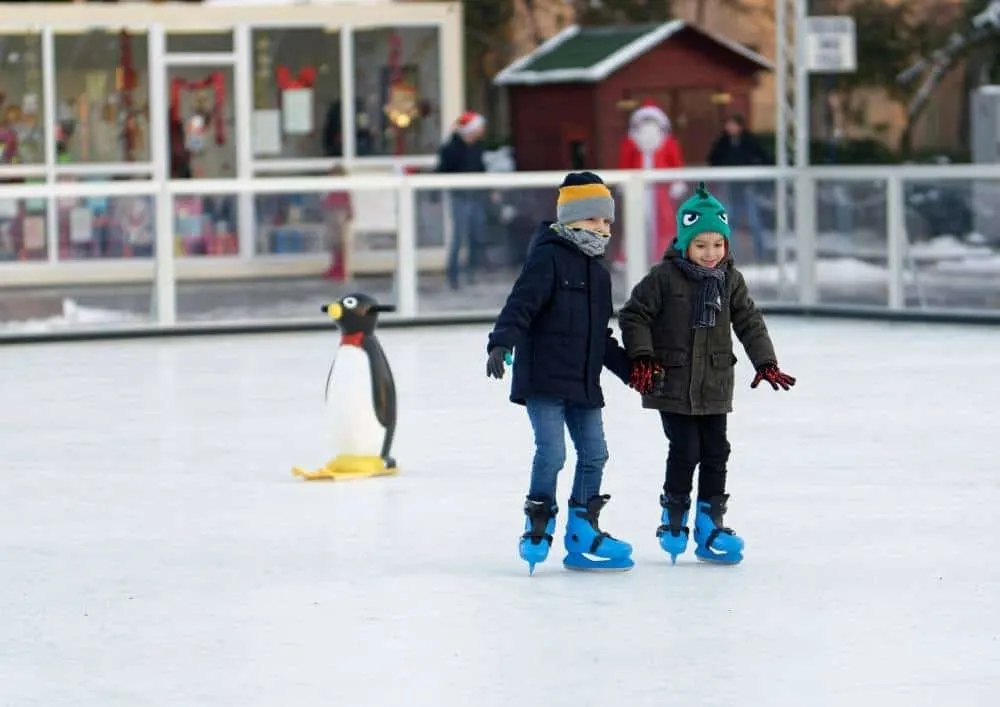 If ice skating is not your cup of tea, stroll around the park and ride the carousel or Oaks Park Train which is free.
For more information and reservations
Location: 7805 SE Oaks Park Way, Portland, OR 97202, United States
22. Cosmic Tubing
Cosmic Tubing is one of the most mesmerising Christmas events in Portland and Mount Hood Ski Bowl, considers itself to be the best party on the mountain! Lit up with over 600,000 LED lights, visitors are in for an electrifying experience.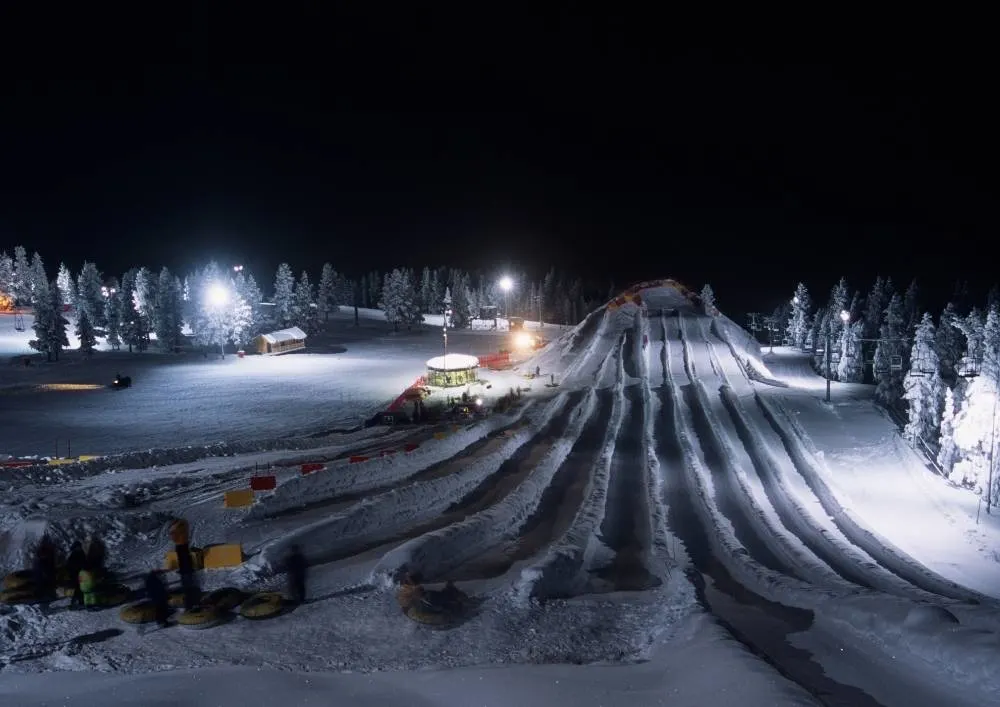 The in-house DJ mixes Christmas classics! Mount Hood's conveyor lift takes visitors with a tube to the top of the hill to slide back down!
Prices: $25 – $39
For details on ticket reservations and time slots
Dates: December 17 to January 2
Location: 87000 U.S. 26 Government Camp, OR 97028, United States
Christmas Hiking And Walks
An adventure-seeking activity during the Christmas holidays is hiking, which is Portlanders' favourite summer activity. It is also enjoyable in the winter! Hiking during the holiday season is perfect as it is less busy on the trails.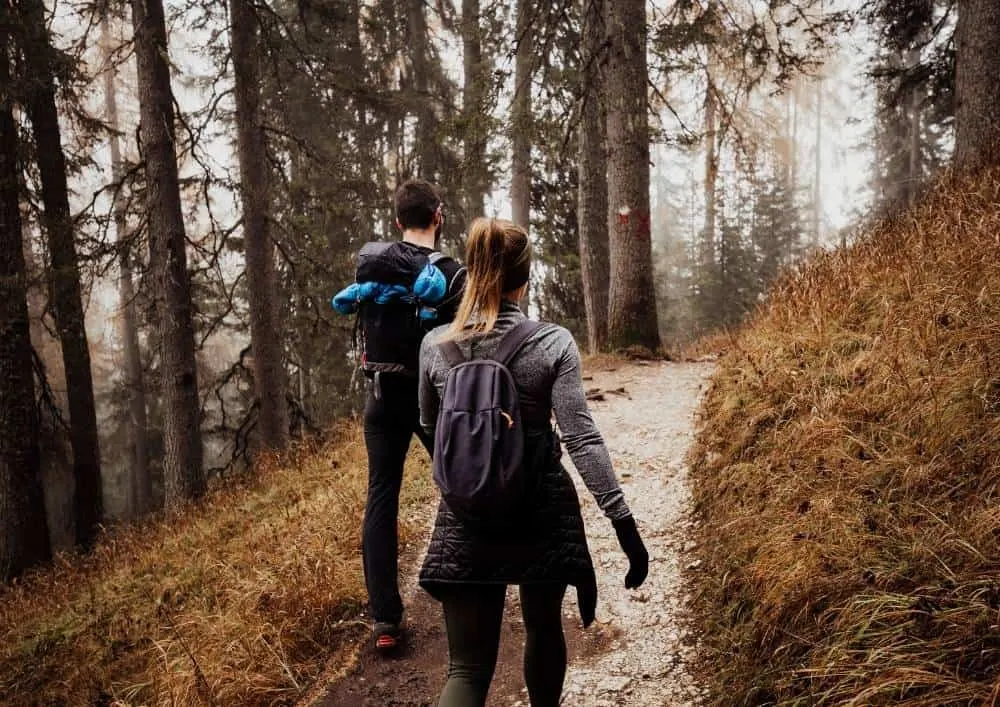 23. Hiking at Macleay Park
The hiking trail is part of a 5100-acre forest park open to the public all year round. The route passes through the Witch's Castle providing a glimpse of Pittock Mansion.
Keep in mind that hiking this trail is not an easy feat as it climbs to approximately 600 feet.
Location: 2960 NW Upshur St, Portland, OR 97210, United States
24. Mt. Tabor Park
Tabor Park in residential Southeast Portland is a popular place for locals to stretch their legs on sunny winter afternoons. The extinct volcano park features several wide, winding trails to the summit and two playgrounds where kids can burn energy.
If you want to burn and balance the extra Christmas calories, consider walking the stairs at the SE Yamhill entrance.
Mt. Tabor Park Location: SE 60th Ave and, SE Salmon St, Portland, OR 97215, United States
Mt. Tabor stairs Location: 6738 Mt Tabor, Portland, OR 97215, United States
25. Hoyt Arboretum Trails
The Hoyt Arboretum Trail is known as the museum of living trees with over 2000 species of trees and shrubs. Hiking this trail is perfect on Christmas Day.
This trail is hikeable throughout the year including the festive season, hikers have a choice of three trails that are very well marked:
A 0.5 mile, Fir Tree trail
A 0.9 mile, Spruce/ Wildwood/ Redwood Trail
The 1.25 miles, Overlook/ Wildwood/ Hawthorn/ Maple/ Wildwood/ Holly Trails
Maps are available at the visitors centre and can also be downloaded.
Download the Hoyt Arboretum Trail map
Look out for interpretive signs providing information about the trees in the vicinity.
To Sum Up Christmas Events In Portland
The Christmas events in Portland are plentiful, the "greenest" city in the United States has so much to offer from traditional Christmas markets, to Christmas tree lightings and loads of fun activities for the whole family.
There is something for everyone to bring on the holiday cheer.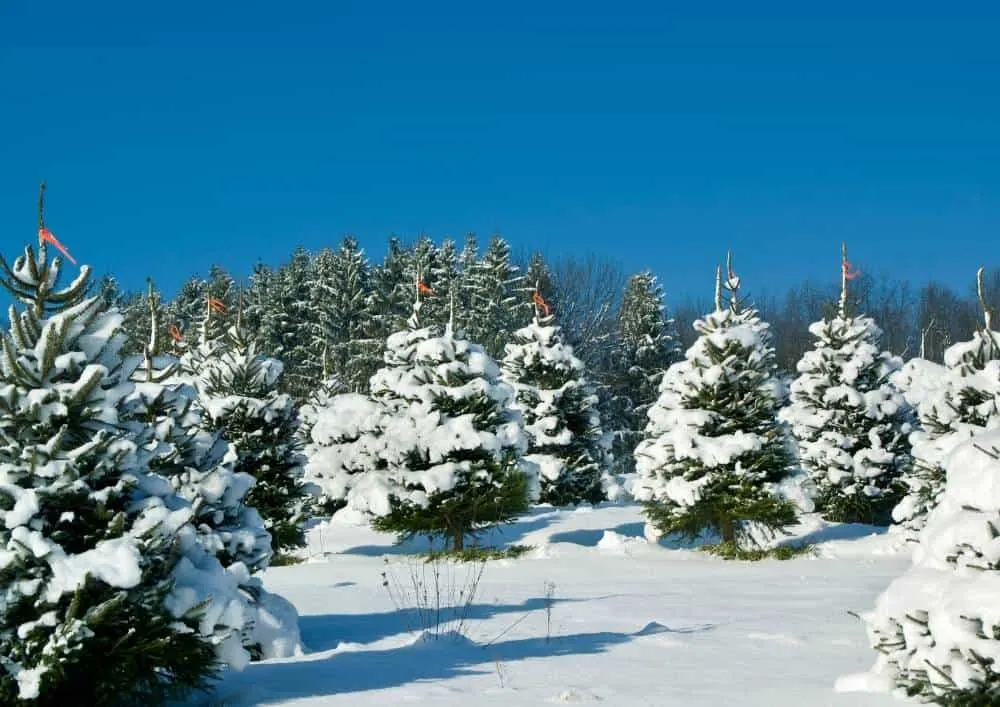 If you got to this point, we hope you enjoyed reading this article on the best Christmas events in Portland. If you have visited any of the places mentioned above, we'd love to hear how it was, leave us a comment below.
You may also like,
Portland With Kids | Flying with Kids | The Ultimate Highway 101 road trip | The magic of Yosemite in December | Pumpkin Farms in Oregon | Pumpkin Farms in Florida | Pumpkin Farms in California Pumpkin Farms in Maryland
Disclaimer: This post may contain affiliate links, by using them, it will not cost you any extra, we will receive a small commission at no extra cost.