Sunshine Mountain Lodge is based at Banff Sunshine Village, just a fifteen minute drive from Downton Banff. Based high up in the Rocky Mountains, the drive is incredibly scenic. Thousands of pine trees sore into the sky, and at one point on the way, we were looking down on dense forests and that was before we took the twenty minute cable car ride to our hotel!
We parked up in a secure place at Sunshine Village and had an initial check-in at the foot of the mountain. The helpful staff took our luggage so we could enjoy the cable car ride up to the lodge. As you can imagine, the toddler was ecstatic with this different way of getting to a hotel.
Having visited downtown Banff and Lake Louise on the morning of our arrival, I was a little overwhelmed by the number of tourists. It was really nice to escape the crowds and do something different. The hotel surroundings is quiet and serene with rolling hills covered in colourful wild flowers. In our usual format of eat, sleep and play, here is our review of Sunshine Mountain Lodge.
Sunshine Mountain Lodge, Banff
Eat
It's a long way up to the hotel from Sunshine Village, so I was hoping the food was going to be good. Chimney Corner Restaurant, based within the main part of the hotel, has stunning views across those flower covered hills I was talking about. The big fire and rustic mountain decor made it the perfect place to unwind.
Its very rare that I struggle to choose from a menu because the options are too good. Honestly our waiter had to come back because I just couldn't choose, the options were amazing from pan fried crab cakes and bison carpaccio, to butternut squash soup for starters, I wanted everything.
Being a fine dining restaurant, I considered the menu to be a good size with around five options for each course. It's not like I was overwhelmed with too big of a menu, it was literally too good! We had dinner both nights at Chimney Corner, but there is also pub style food next to the chair lift.
Chimney Corner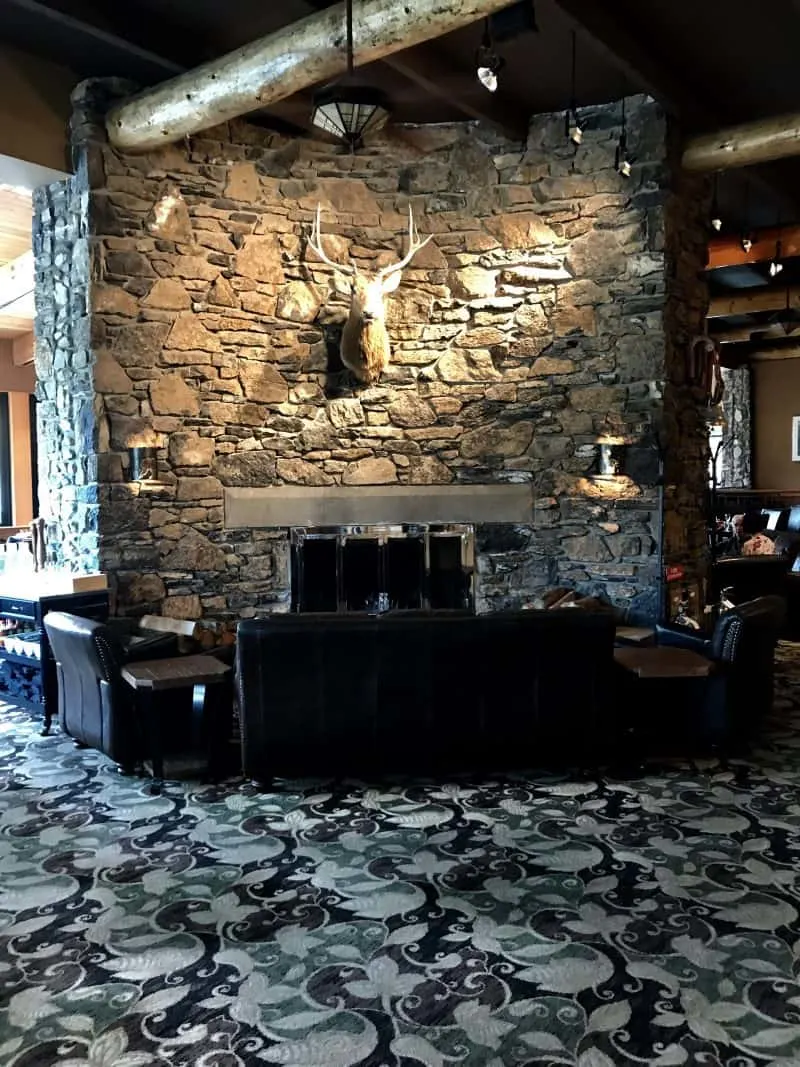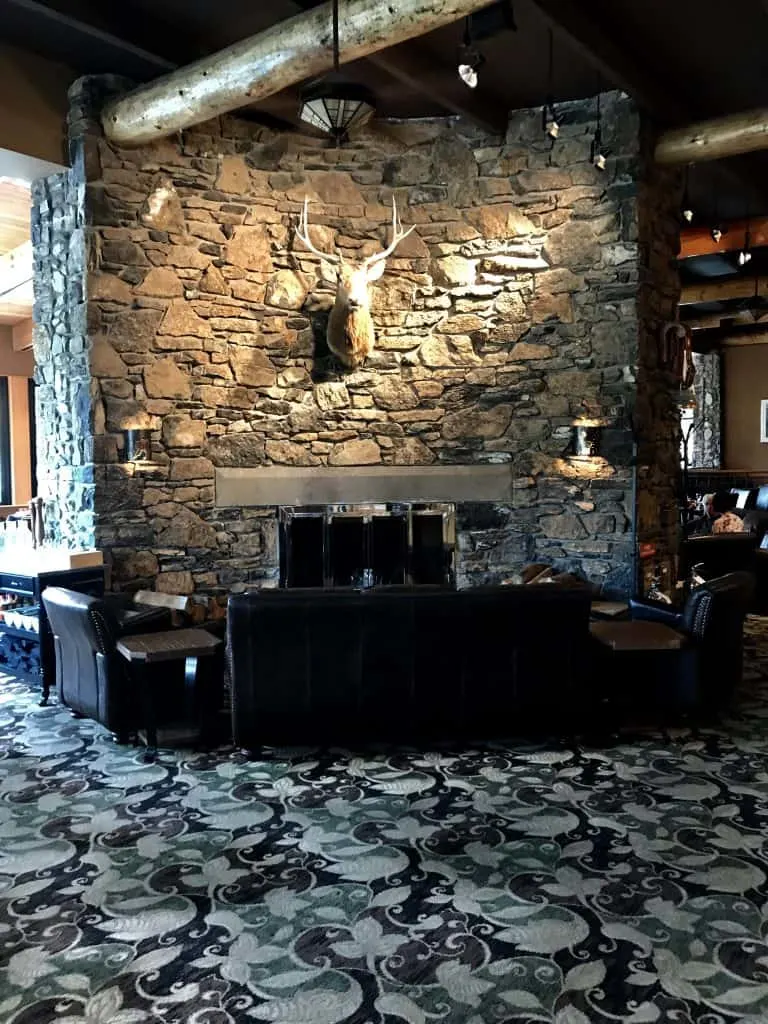 Breakfast is served at Chimney Corner. Rather than a typical hotel buffet, the food was fresh and made to order. There was a good mixture of healthy options like a green smoothie and some more naughty ones like good old fashioned Canadian pancakes with maple syrup!
As mentioned dinner was a difficult choice, so hubby and I switched plates half way through. I had the angry prawns whilst he had the bison cappacio. The presentation of the food was impeccable and of course the prawns were served 'on fire' which definitely gave our meal the 'wow' factor.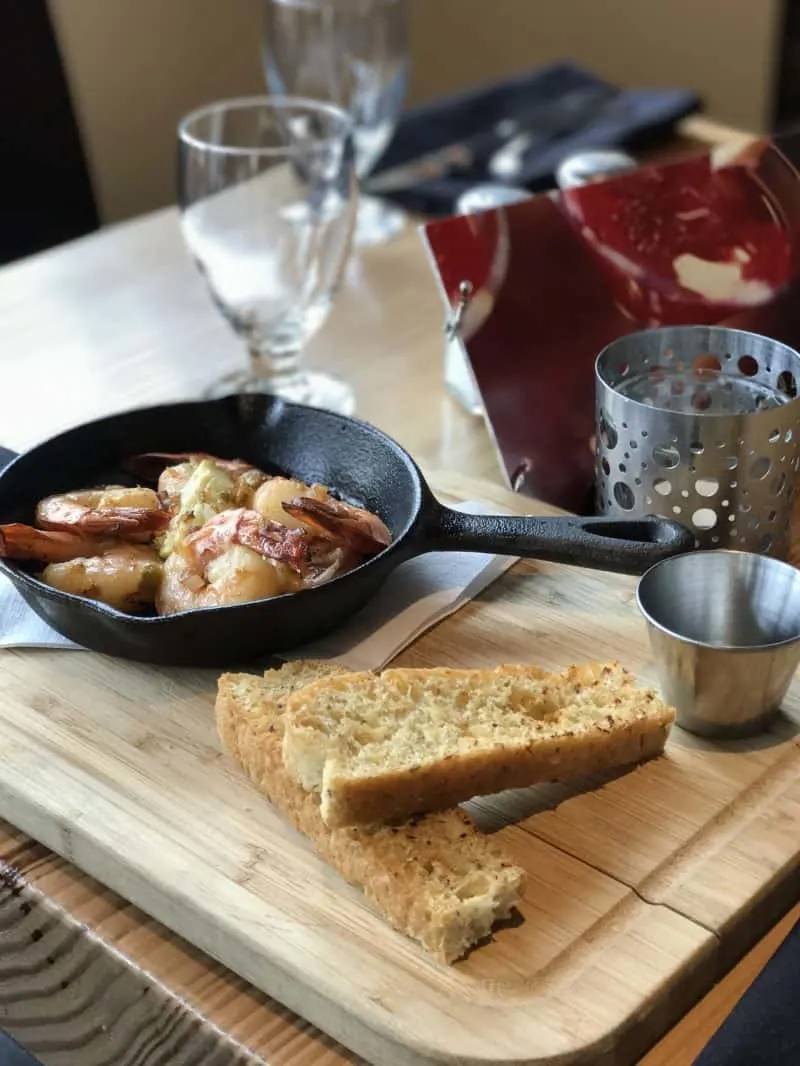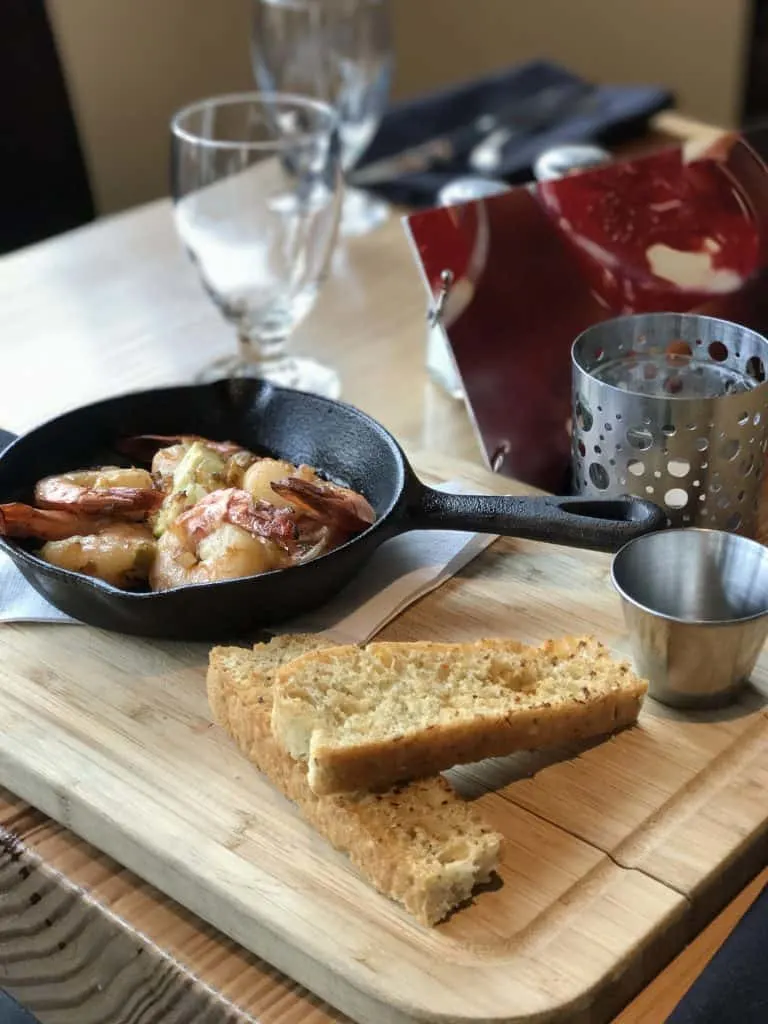 For mains we shared the ribs and filet mignon. The meat was cooked to perfection, super tender and the side of cranberry quinoa was the perfect accompaniment. The children's menu looks typical at first glance. Hot dogs, chicken nuggets and burgers. However when it arrives at the table it's certainly presented and tastes everything other than typical! Esme opted for a hot dog and this is what she got!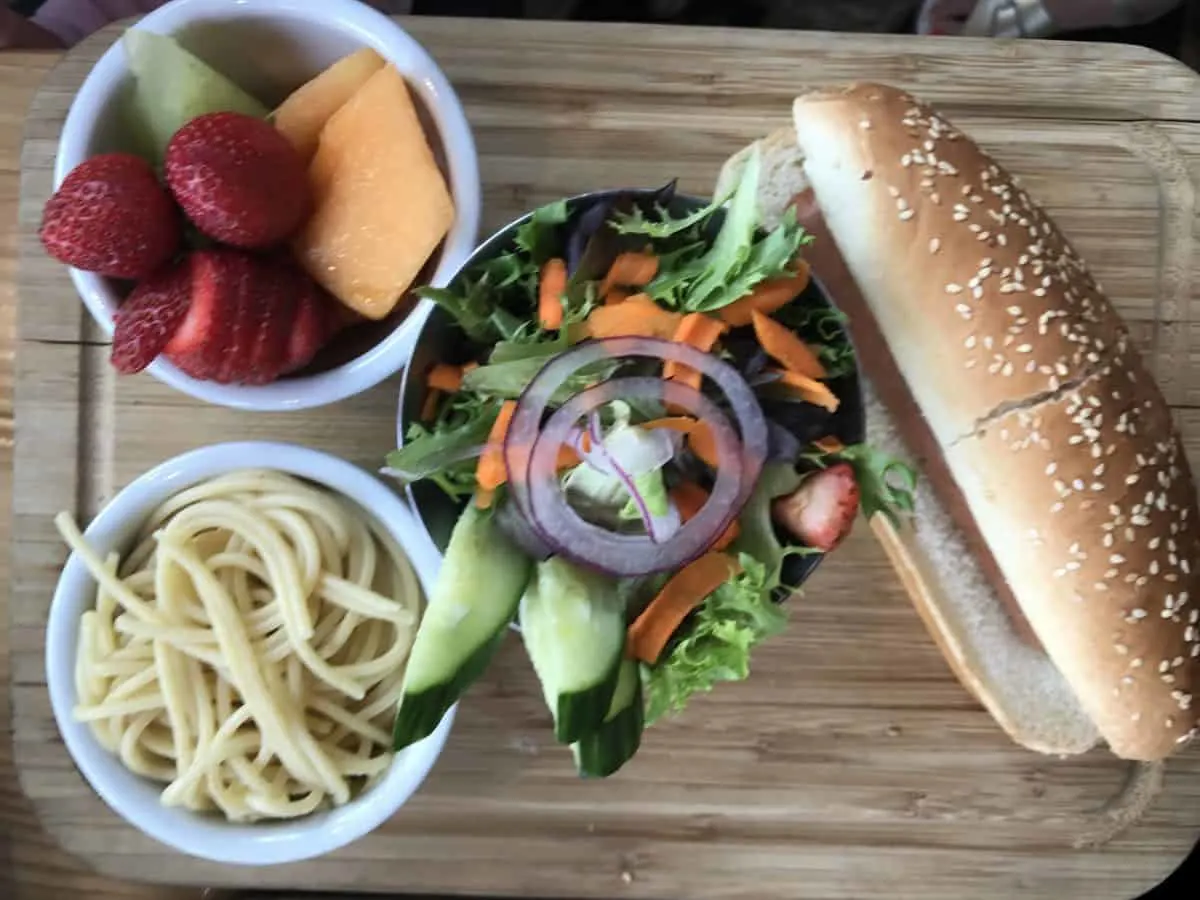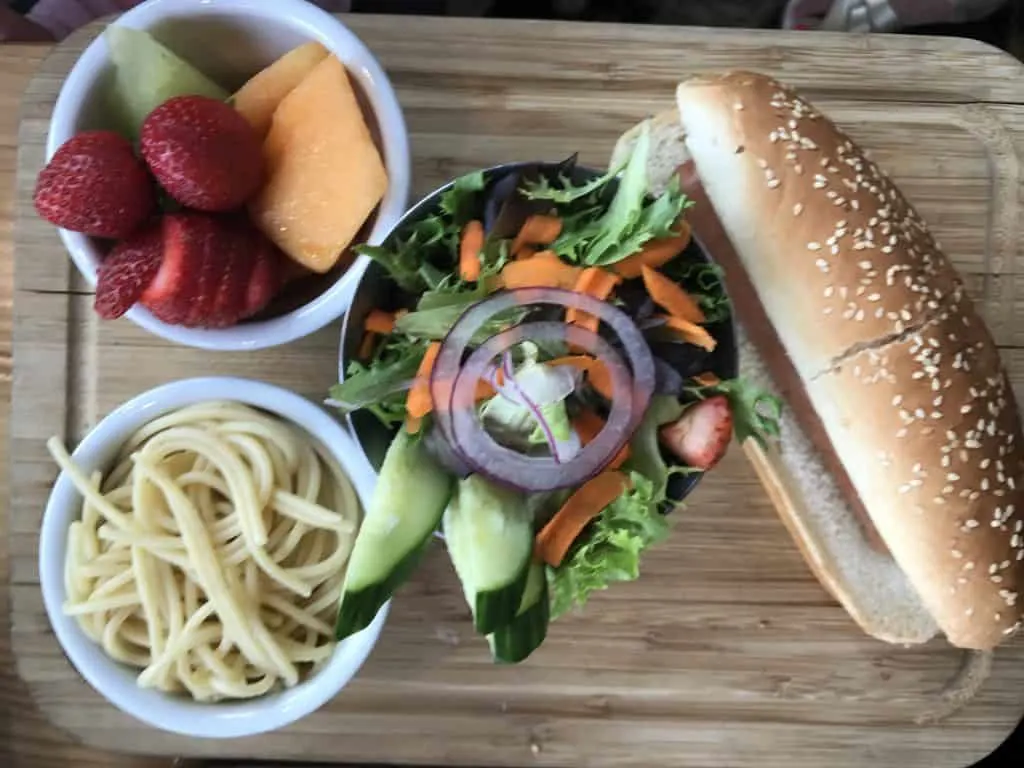 Mad Trappers Smokehouse
The Mad Trappers Smokehouse is more like a bar. They serve food such as burgers, chicken wings and wraps. I can see this place must be very busy in the snow season with boarders and skiers. It could be a good option for lunch. We got take-away burgers for lunch one day when the kids were asleep.
The cafe
The Lift Cafe underneath the hotel is an option for snacks. They serve freshly made crepes and pre-made sandwiches, tea and coffee. Its quite nice to have a warm drink after a walk up on the mountain. I had a cheeky banana, Nutella and pecan crepe, it was so good!
Snacks for little ones
I suggest bringing some small healthy non-perishable snacks for kids. Especially if you plan to do lots of hiking or need something small to fill the time between meals.
Water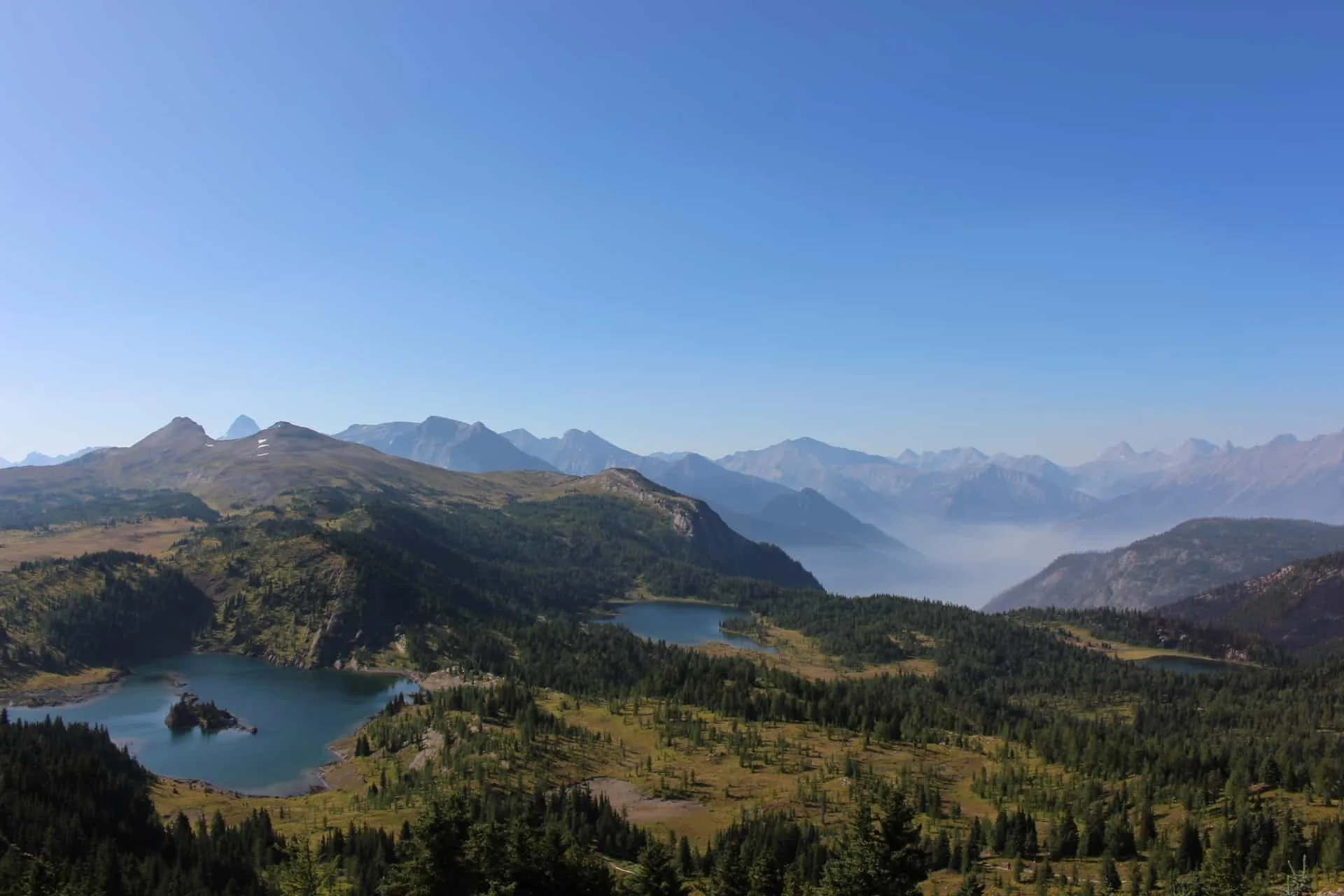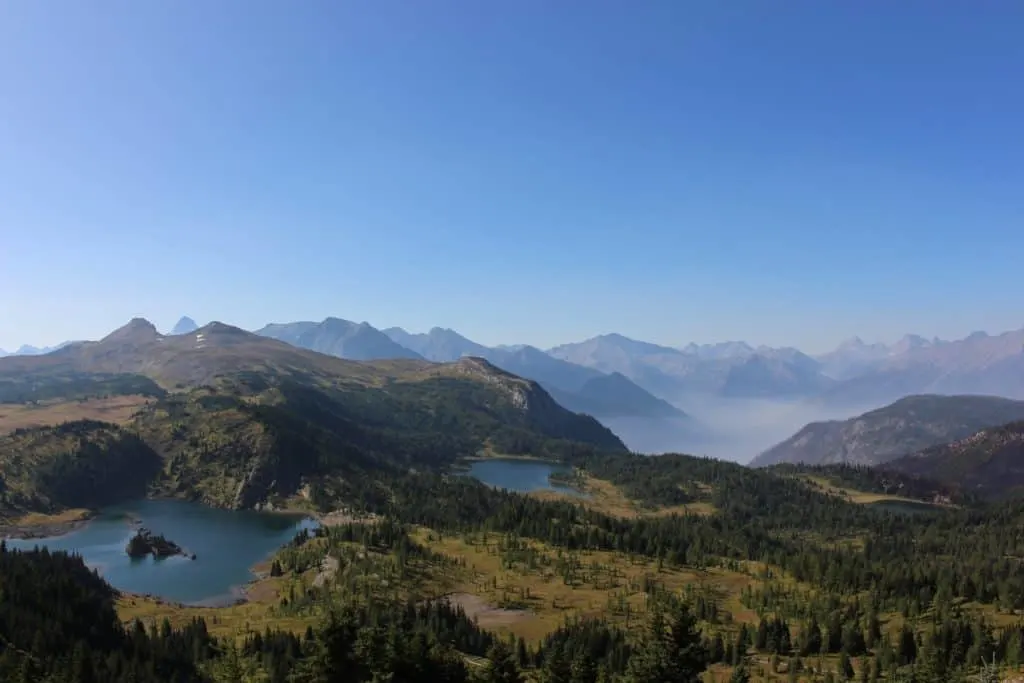 Bring your water bottle with you. The water at the hotel is the freshest mountain water in Canada. Its sourced from the nearby lake and Its quite refreshing when you are out on a hike knowing you are drinking the water from the beautiful lake. Our lovely guide Laurie made a valid point about the altitude. Being so high up, the air can be dry so its good to stay well hydrated.
Sleep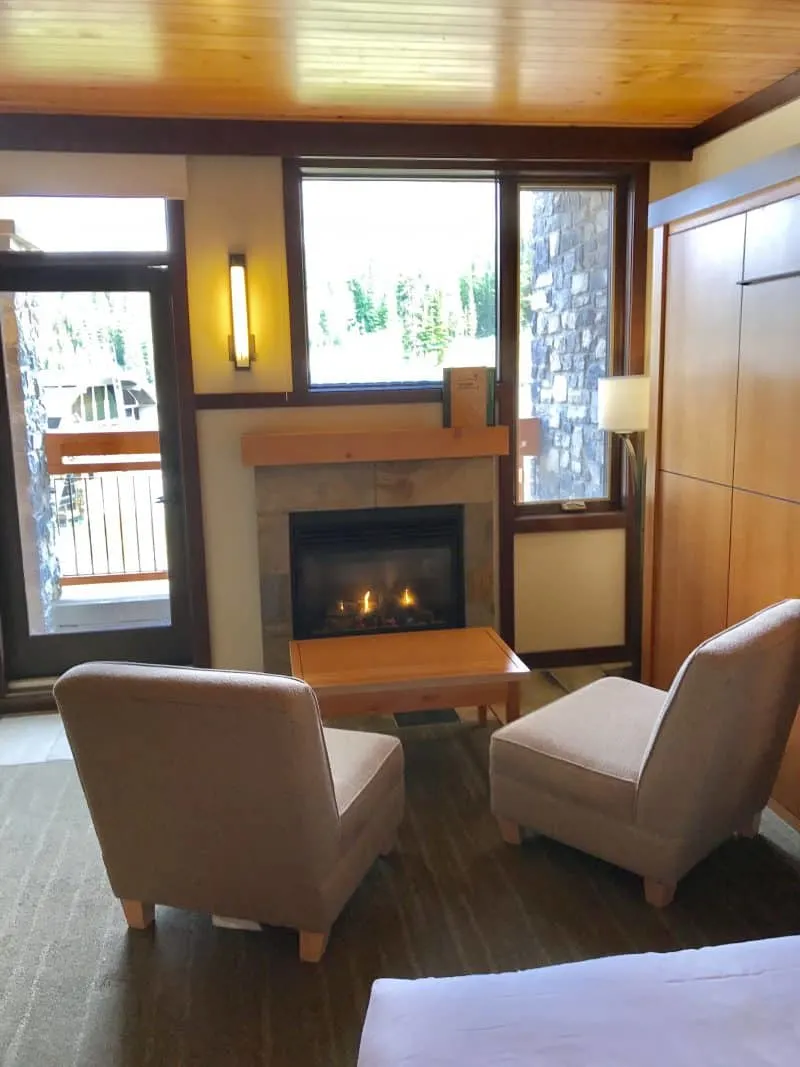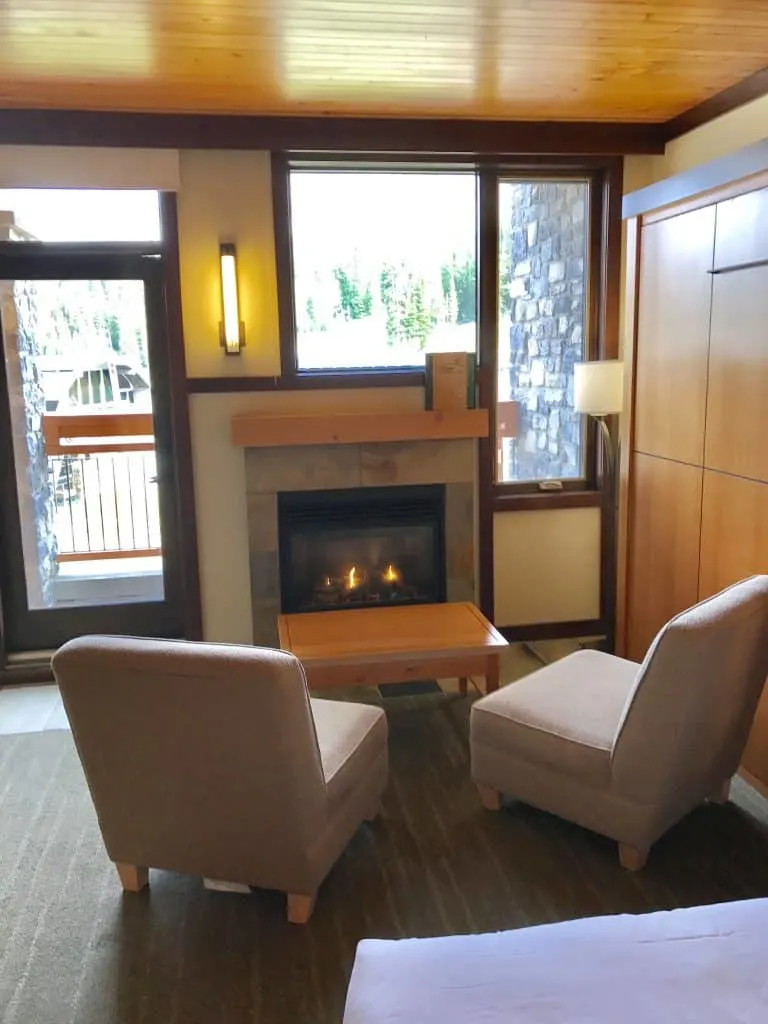 We stayed in a premier queen room with a balcony. The decor, again has a beautiful rustic mountain feel. Decked out with pine wood and a gas fire, we felt super cozy in our room. It was a good set-up for families. The room had a double bed, lounge area with TV and a fold out bed for kids.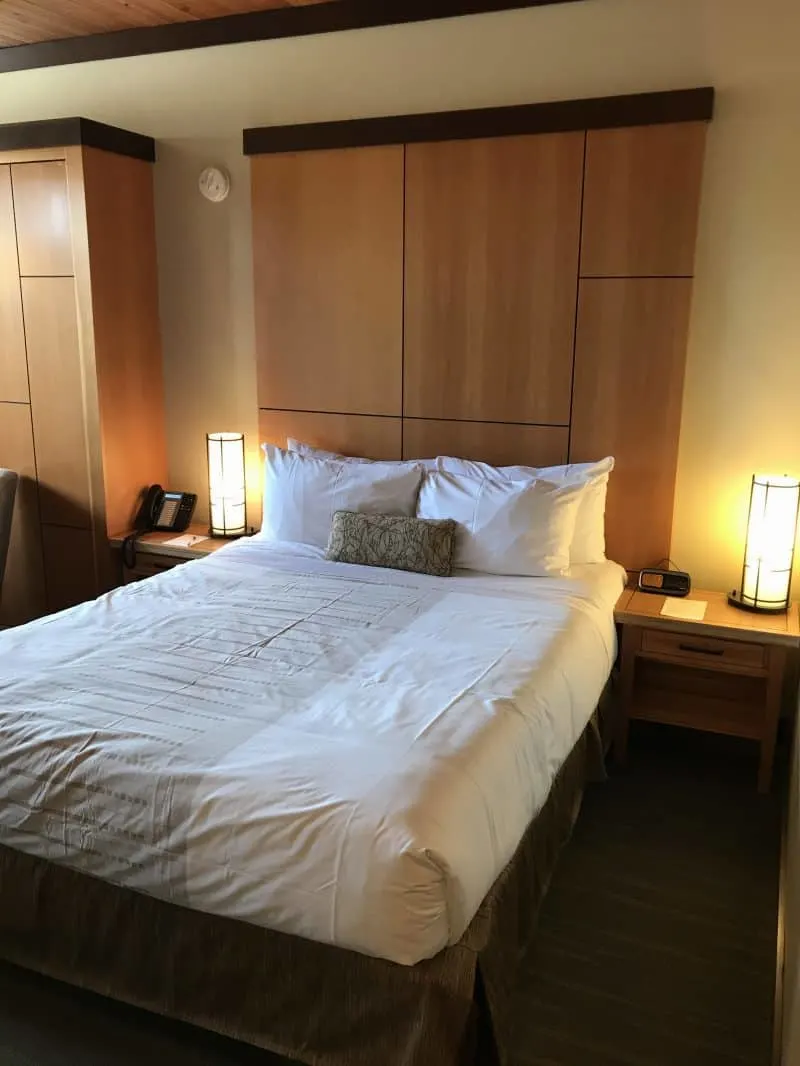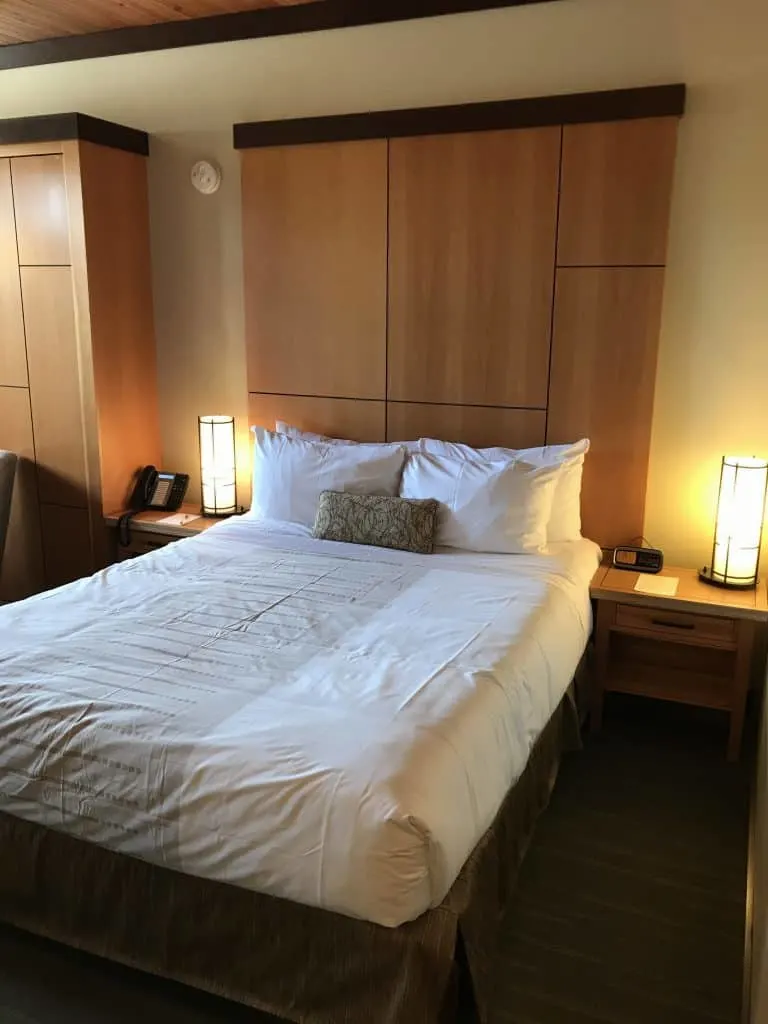 The Guild and Pepper bathroom product were lush, especially as they are all natural with no parabens (something I harp on about a lot). They provide robes to take to the sauna and hot tub, or to laze around in the room, taking in the stunning views with a nice cup of coffee provided in the room.
Play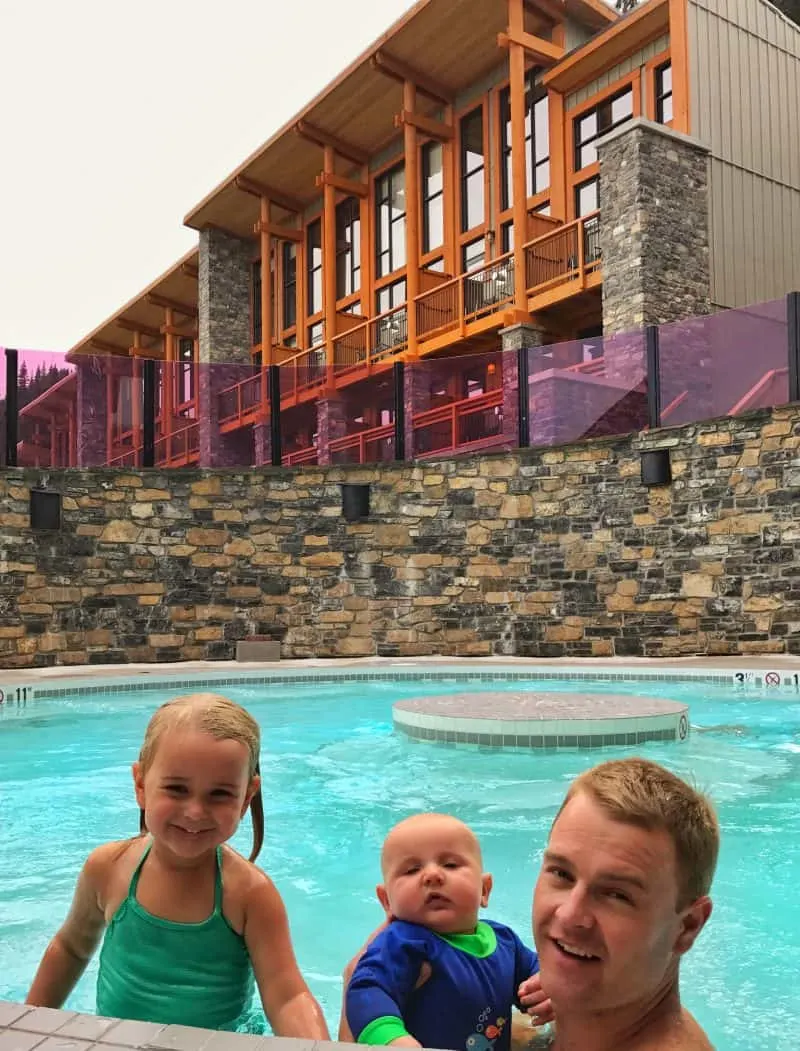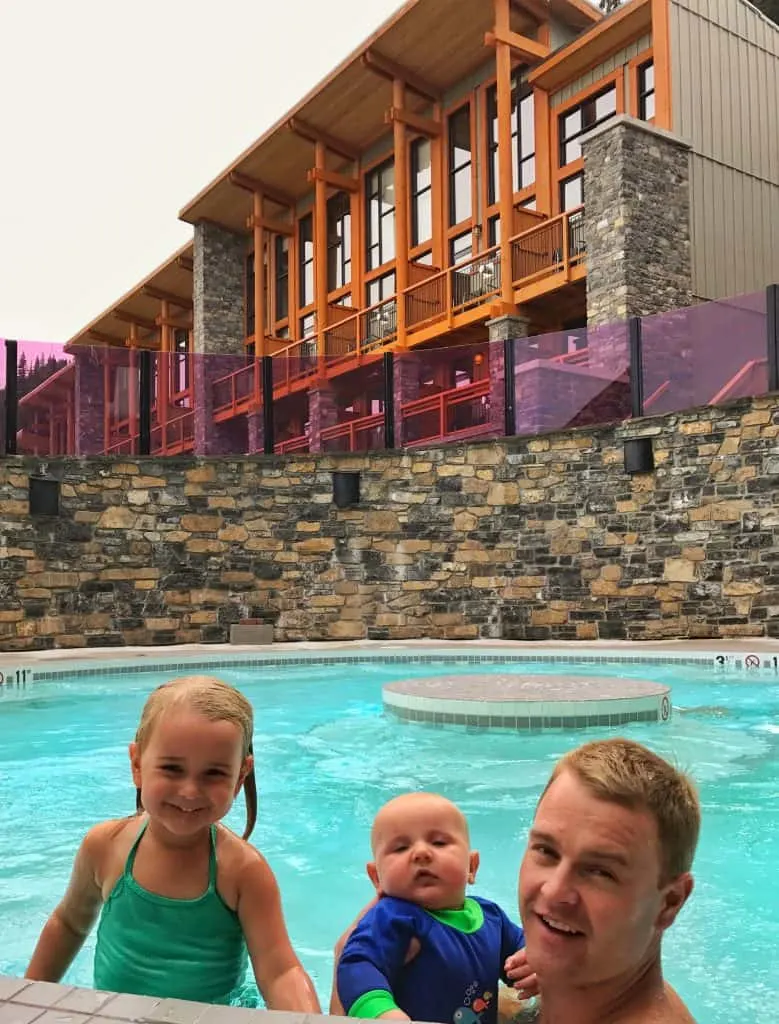 The hotel and surrounding area is the perfect place for families. I really liked it because we escaped the Banff summer crowds. Within the hotel there is a hot pool, not too deep, so it's ideal for little ones. There is also a sauna and a spa for treatments.
There is a gym in the hotel for all those do-gooders. It has lots of equipment from treadmills to weights. I had every intention of going but after two hikes in one day, I felt I had good exericise in the surrounding nature.
Hiking next to Sunshine Mountain Lodge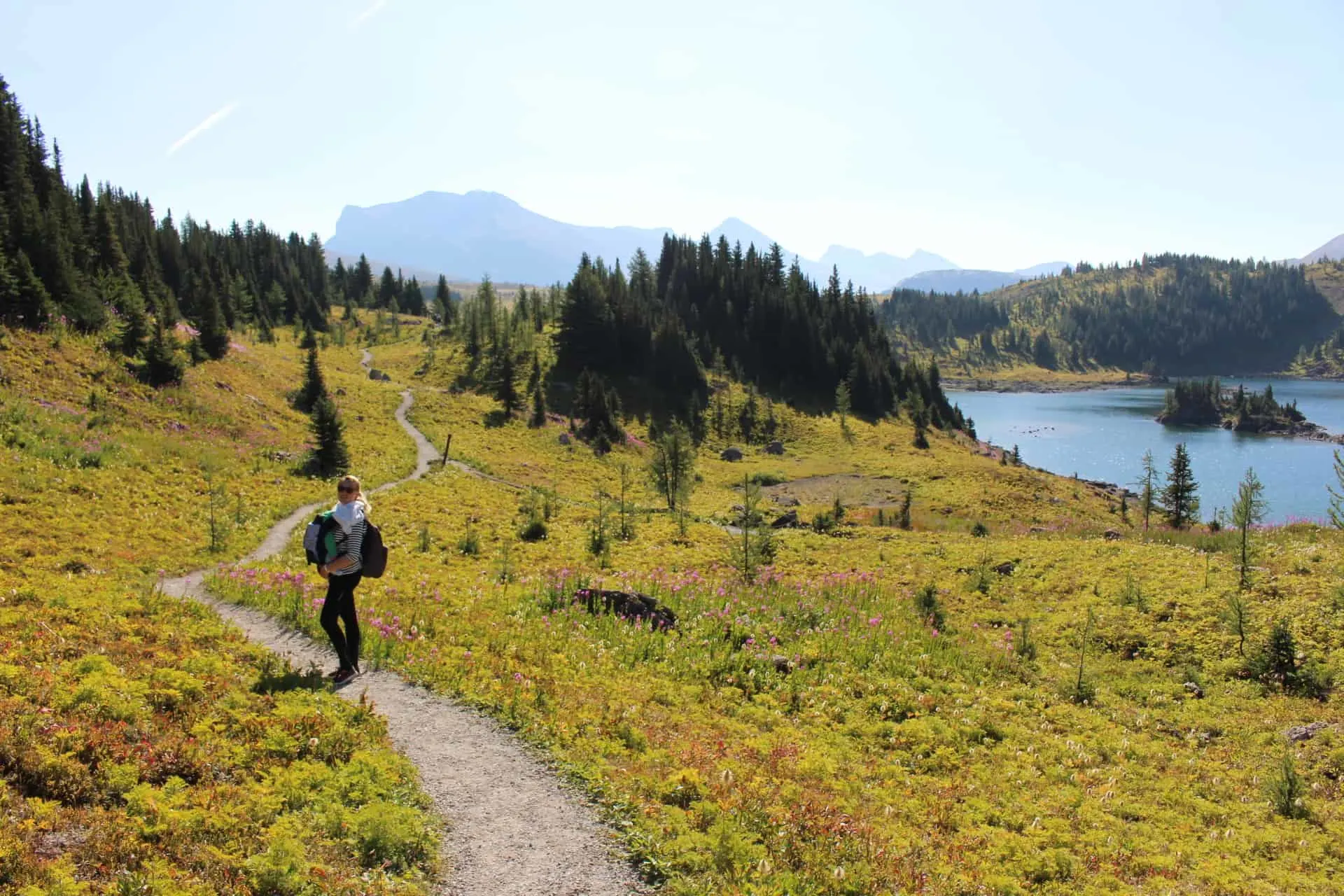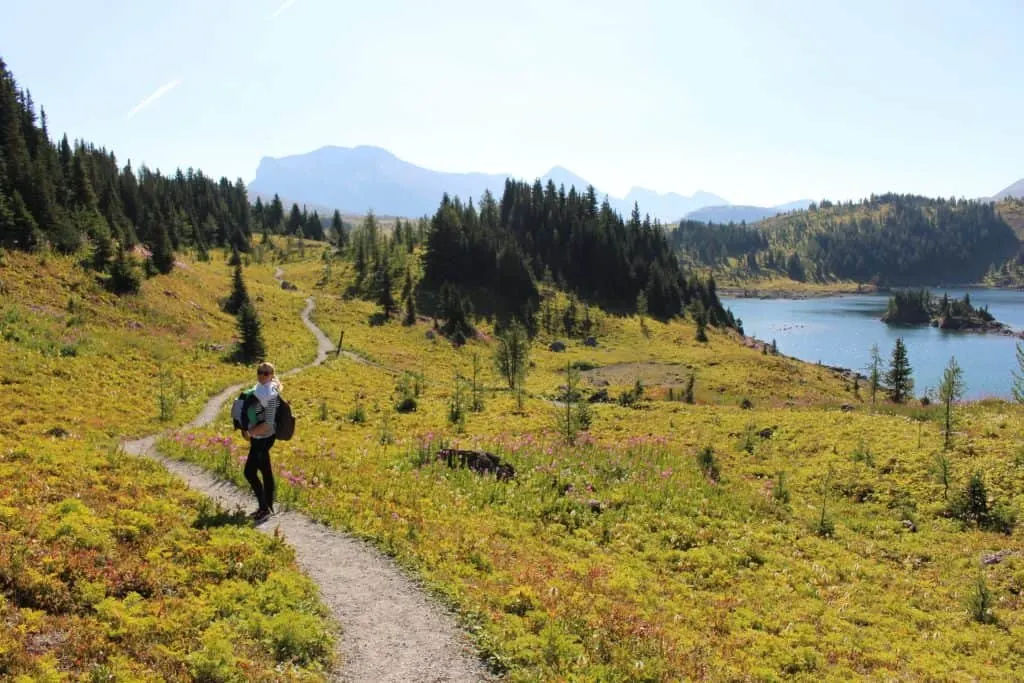 There are some incredible trails right outside the door of the hotel. The chair lift from the front door lands at an incredible view point of the Laryx, Grizzly and Rock Isle Lakes. Apparently it's the highest lift access for sightseeing in Banff.
Once at the viewing point there are several really low intensity trails for families with some of the most picturesque scenes. How can I best describe it?
Rolling blue mountains in the distance, winding paths leading to a clear blue lake, pink wild flowers lining all the paths and sporadic pine trees dotted throughout. It was sooo beautiful, words cannot do it any justice.
There are options to do longer more intense walks that may be suitable for a children above 8 years old. Equally the hotel offer hosted trail tours. The times range from 45-90 minutes. It seems like the perfect amount of time with kids.
Its worth noting, Parks Canada are very strict about protecting the wild flowers and the wildlife. It's really important to stay on the tracks. Just something to keep in mind with small kids.
We brought carriers with us and there were plenty of pretty viewing points as well as benches to rest along the way. This hiking has been a massive highlight of our Canadian trip. Predominantly because it's a little off the beaten track and there are no crowds like so many other parts of Banff.
For rates and availability at Sunshine Mountain Lodge, click here.
Have you found this review of Sunshine Mountain Lodge helpful? Maybe you are going or thinking of staying? Leave a comment and I will get back to you.
Thank you to Sunshine Mountain Lodge for hosting our stay. As always the views expressed our entirely our own.