Johnston Canyon (JC), based in the Bow Valley of Banff National Park, is a wonder of nature. A one kilometre long walkway follows the canyon from JC resort to an incredible waterfall suspended on the side of the rock formation. With over 10,000 years of water and rock battling, the canyon walk is most certainly a picturesque example of erosion.
JC is only a twenty minute drive from downtown Banff, making it an ideal base to see some of the other surrounding sites such as Lake Louise, Moraine Lake and the Ink Pots. The JC Lodge and Bungalows offers a mixture of camping and cabin type accommodation.
Perched amongst the pine tree forest, the cabins are an idyllic place to get a feel for Canadian Mountain life. In the usual format of eat, sleep and play, this is our review of Johnston Canyon Lodge and Bungalows.
Johnston Canyon, Banff
Eat
JC resort has plenty of options when it comes to meals. Firstly many of the cabins have self-catering facilities, allowing guests to make their own meals. Nearby Banff has a supermarket to pick up groceries. We got some nice salad and meat to make a BBQ.
The onsite BBQ shared facility is in the centre of the grounds. Decked out with two gas BBQ's and a few benches, it's the best place to sit and eat a meal amongst the pine trees. We also made lunch at our cabin both days of our stay.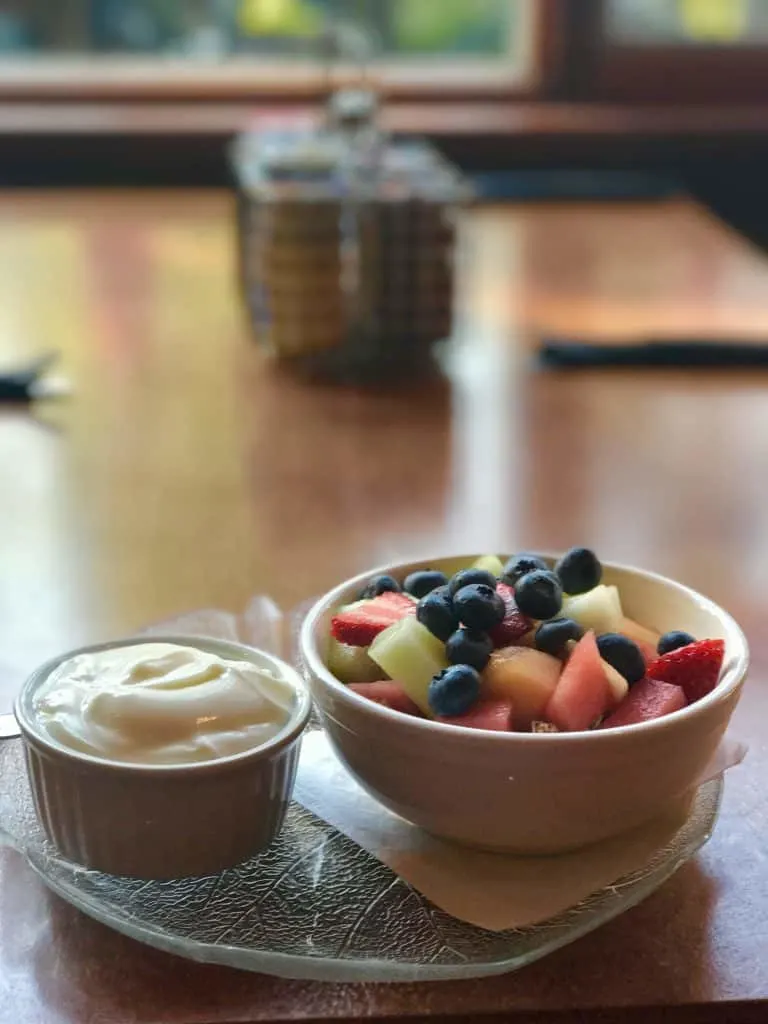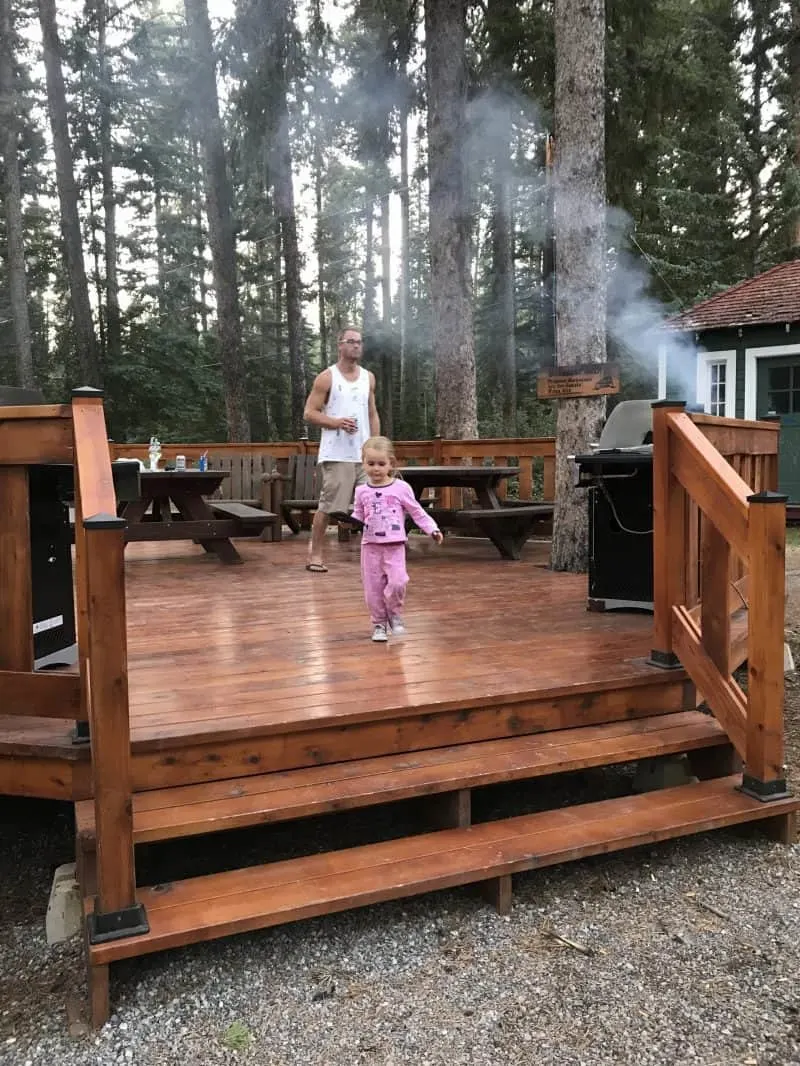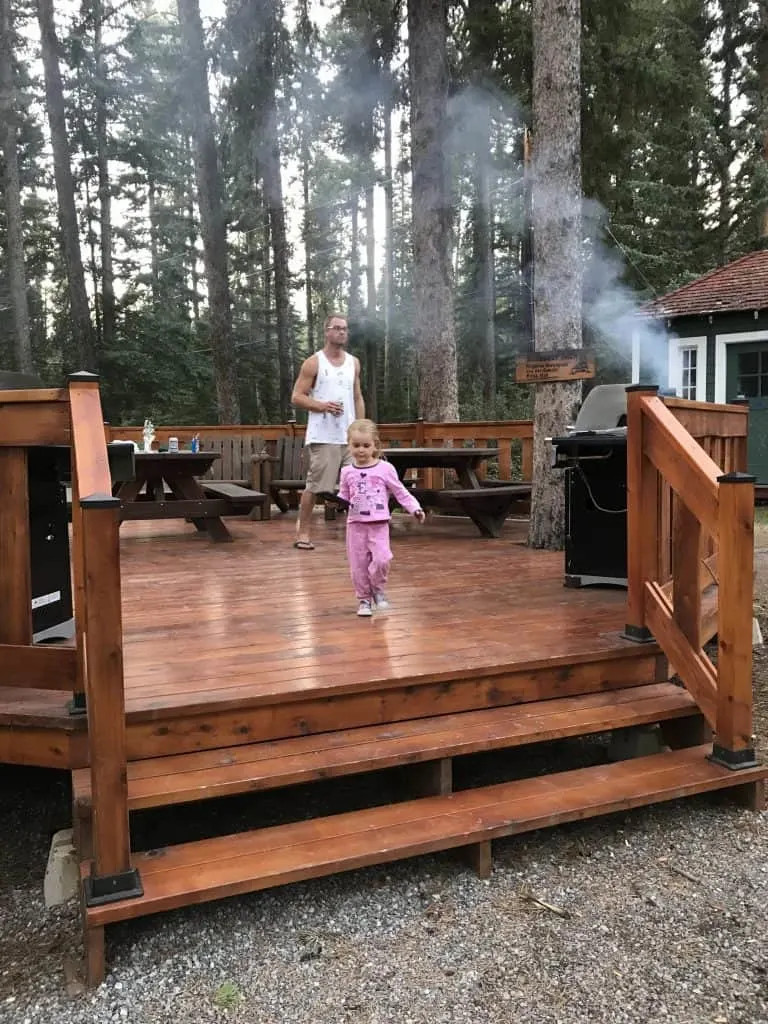 If you aren't feeling up to cooking, the Black Swift Restaurant onsite has lots of good options for breakfast, lunch and dinner. Breakfast is made to order and some guests may have it as part of their stay.
Having been on holiday for a few days, we opted for the healthier breakfast of granola with yoghourt and fresh fruit. There are also some delicious pancakes and cooked breakfast options too. The restaurant is open to the public not just guests of the resort. Its therefore a great place to relax after doing the canyon hike.
Also on site there is a gift shop with a quirky bar-style cafe serving sandwiches, hot drinks and cakes. If you prefer something cold, especially in summer after a brisk walk, there is a little hut right at the beginning of the hike serving ice-cream, a hit with our toddler of course.
Sleep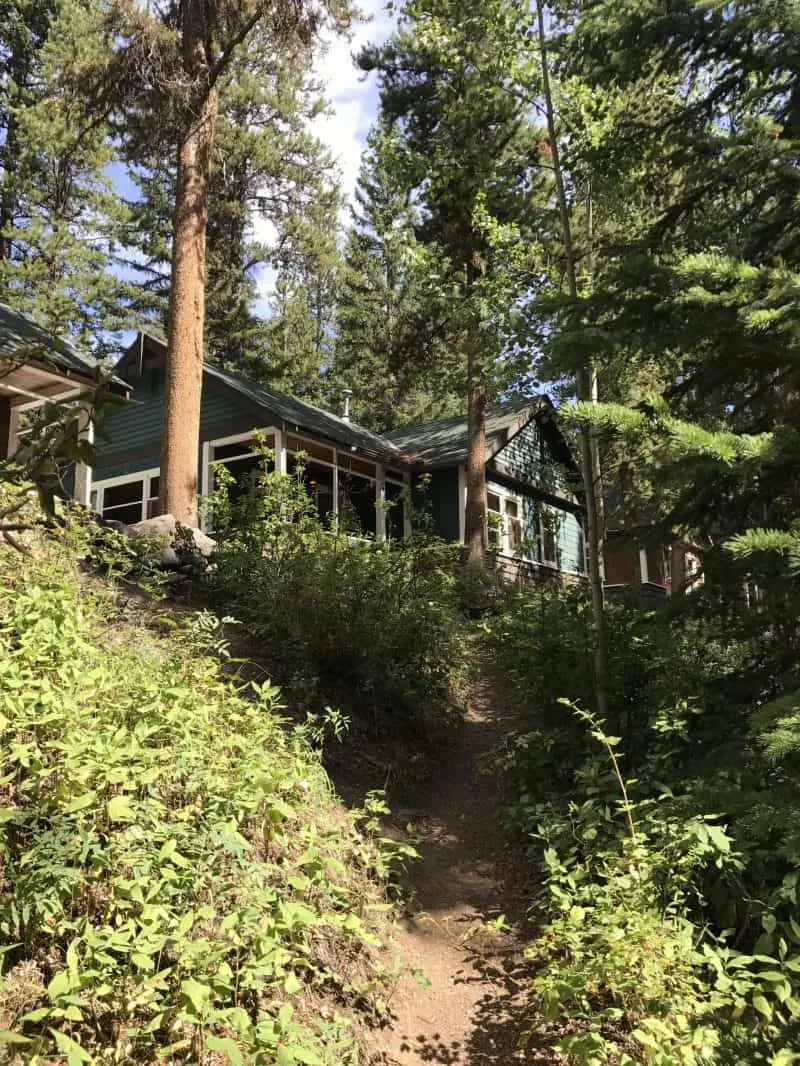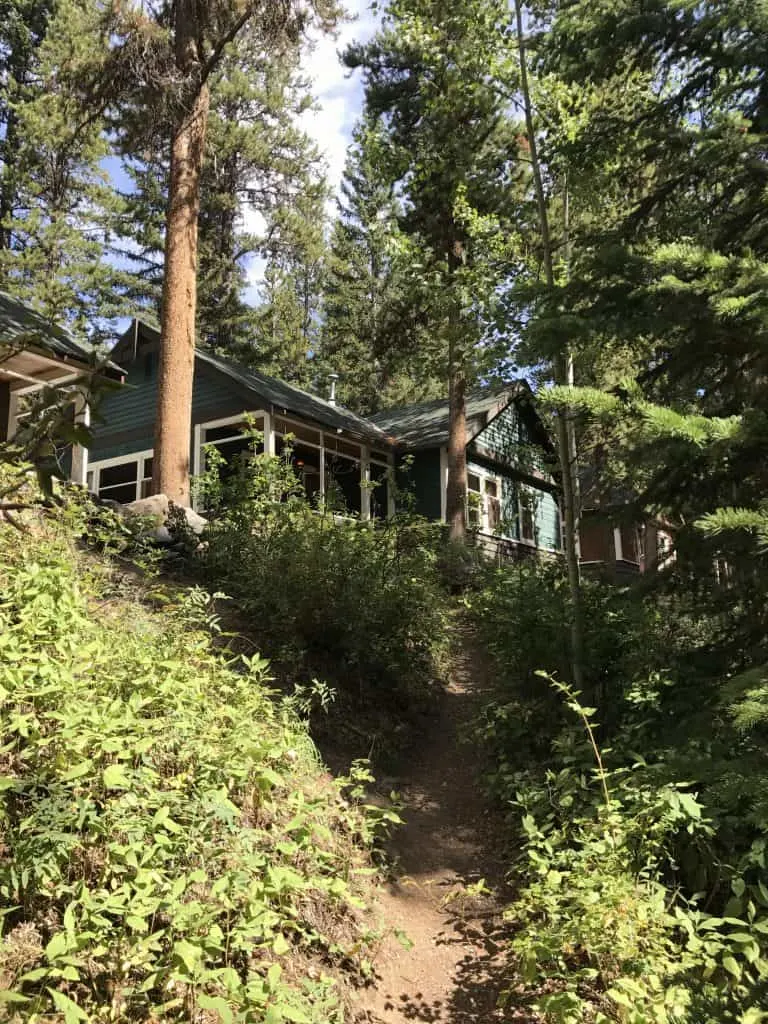 We stayed in a two bedroom cabin. Perched on a hill it had views of the JC trail. We loved relaxing in the giant wooden chairs on the porch, soaking up the afternoon sun. Inside the decor had a rustic mountain feel.
We loved everything from the log burner and old school radio, to the Victorian style bath and mood lighting. It felt super cosy. Both bedrooms had some of the most comfy beds we have ever slept in. That says a lot considering we are staying in a new place every couple of days.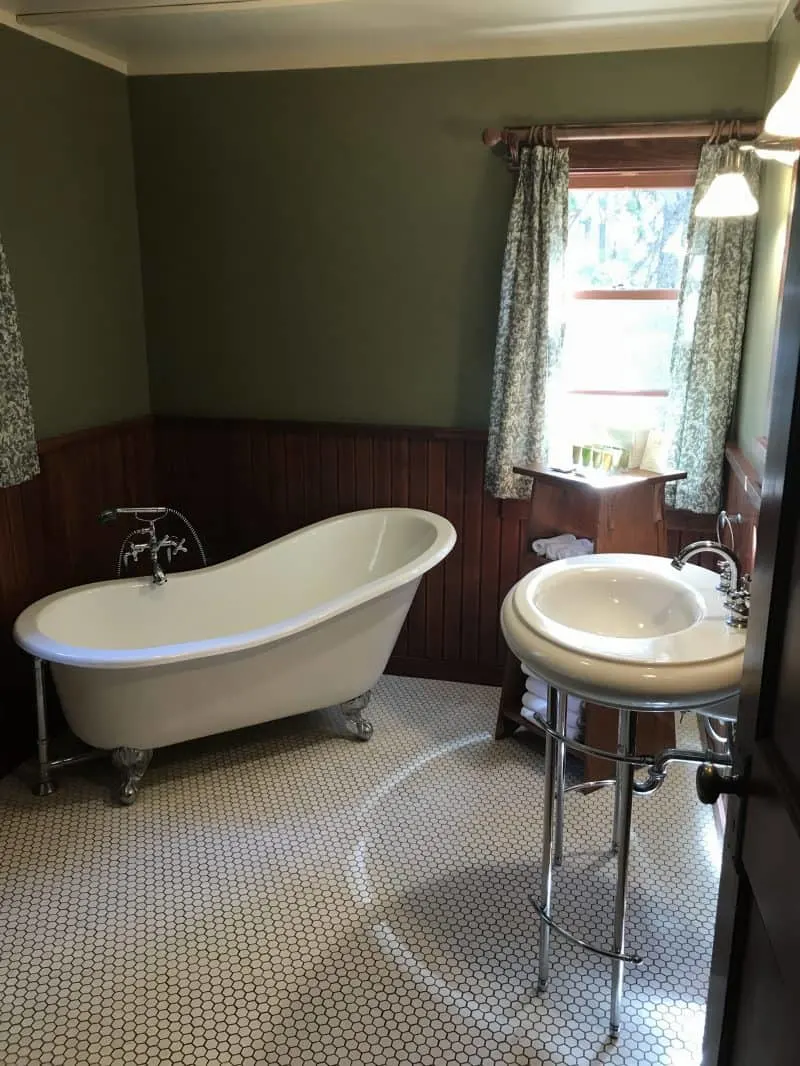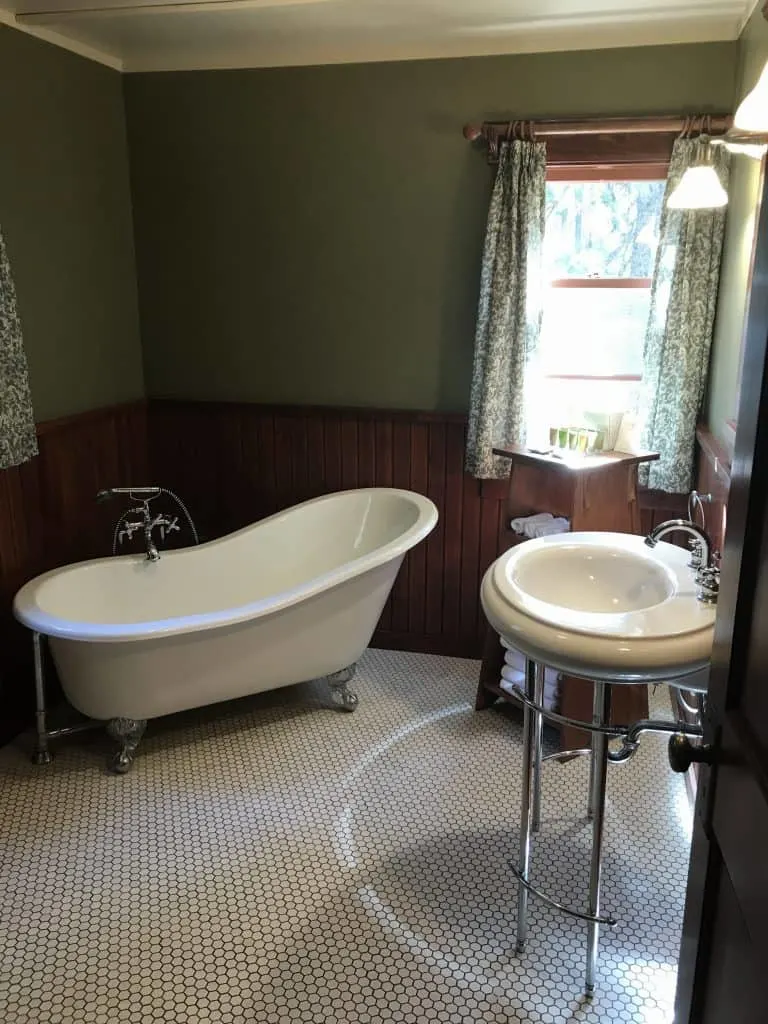 Our cabin had a lounge with a TV and big comfy leather sofas, as well as a small kitchen with all the amenities. It was perfect for our little family. The bathroom was super quirky with the big bath and paisley patterned curtains. It was such a nice place to unwind after a long day of site seeing with kids.
Play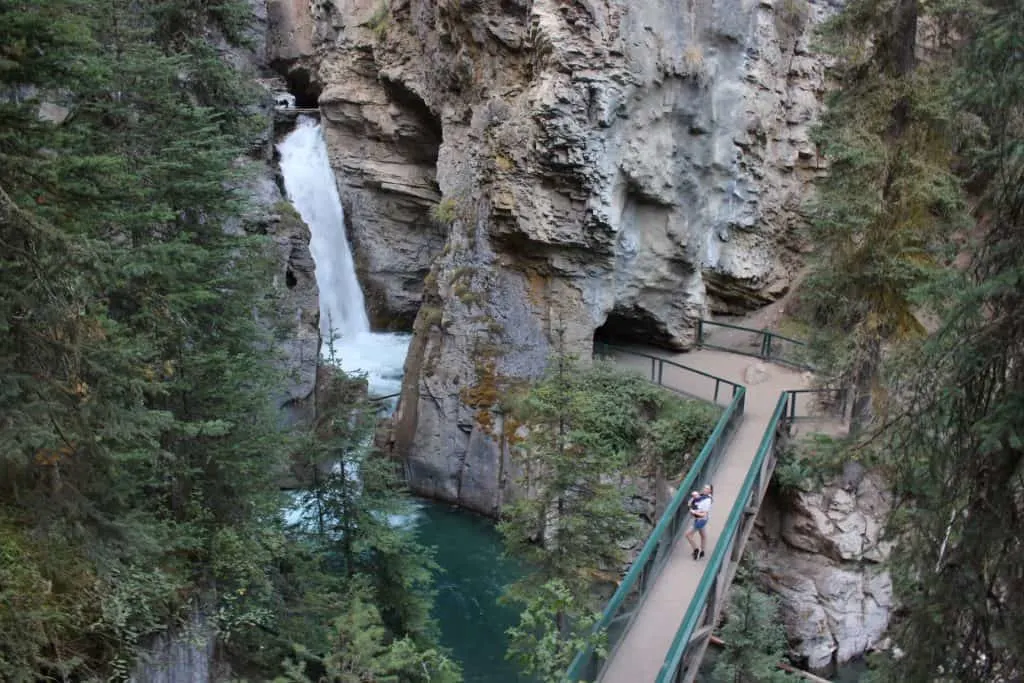 Like many of the activities in and around Banff, its all about the hiking and wildlife spotting in Johnston Canyon. Each of the cabins have detailed information about all of the trails. They can range from one, to nine hour round trips.
As a family with two young kids, the shorter options were ideal for us. The two best options were the trail to the lower and upper falls that can be done at the same time. The walk suspended on the side of the canyon is very safe and perfect for children to follow, its impossible to get lost.
The trail can get very busy from around 9am until 6pm. The beauty of staying at Johnston Canyon Lodge and Bungalows is we could go really early or later in the evening for a pre-bedtime walk. It made the experience so much better, especially as we could photograph along the way without the crowds.
The JC resort also offers bike rental and has a tennis court with free use of equipment. We didn't have enough time to make use of it but I feel biking in the area could be a great way to explore.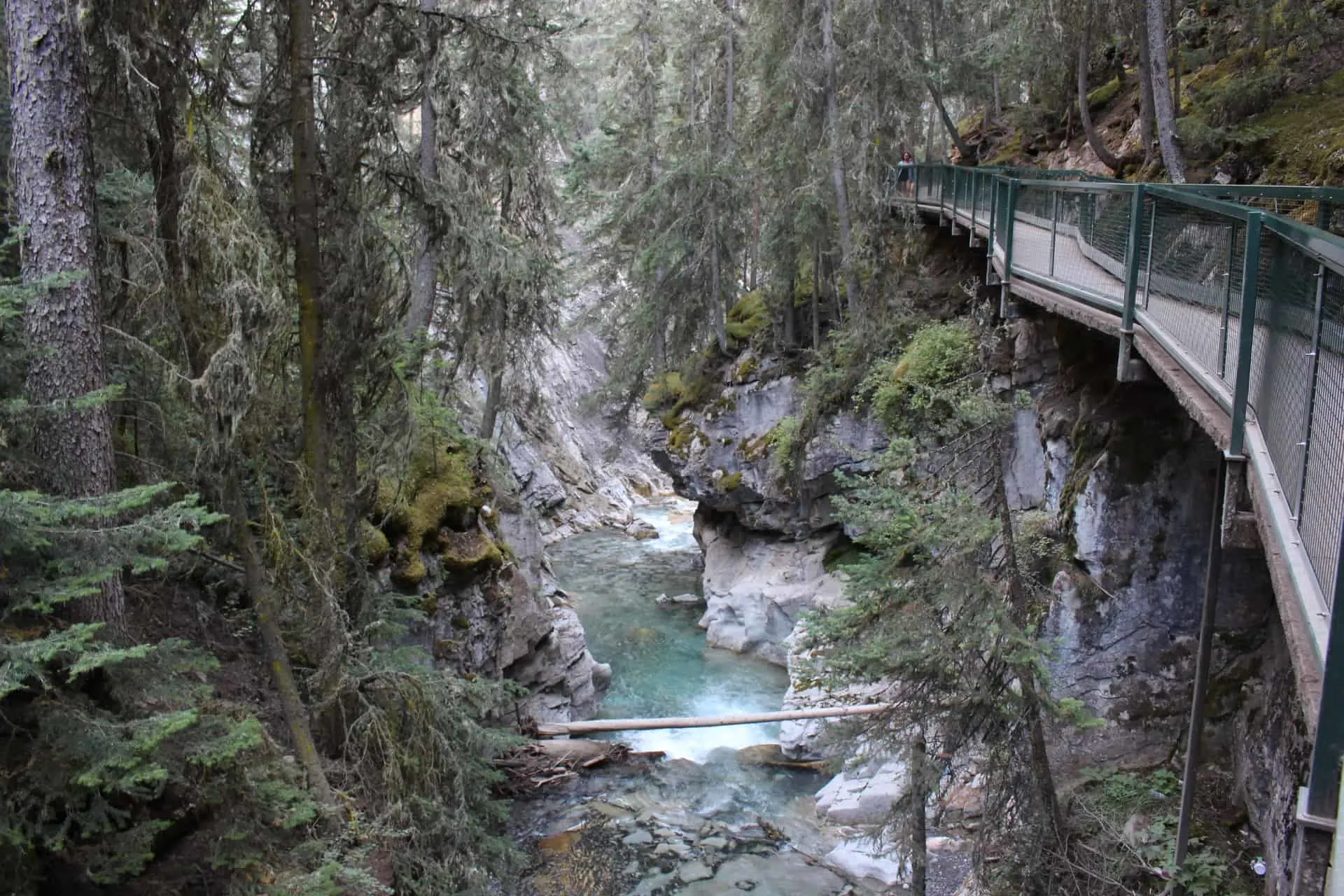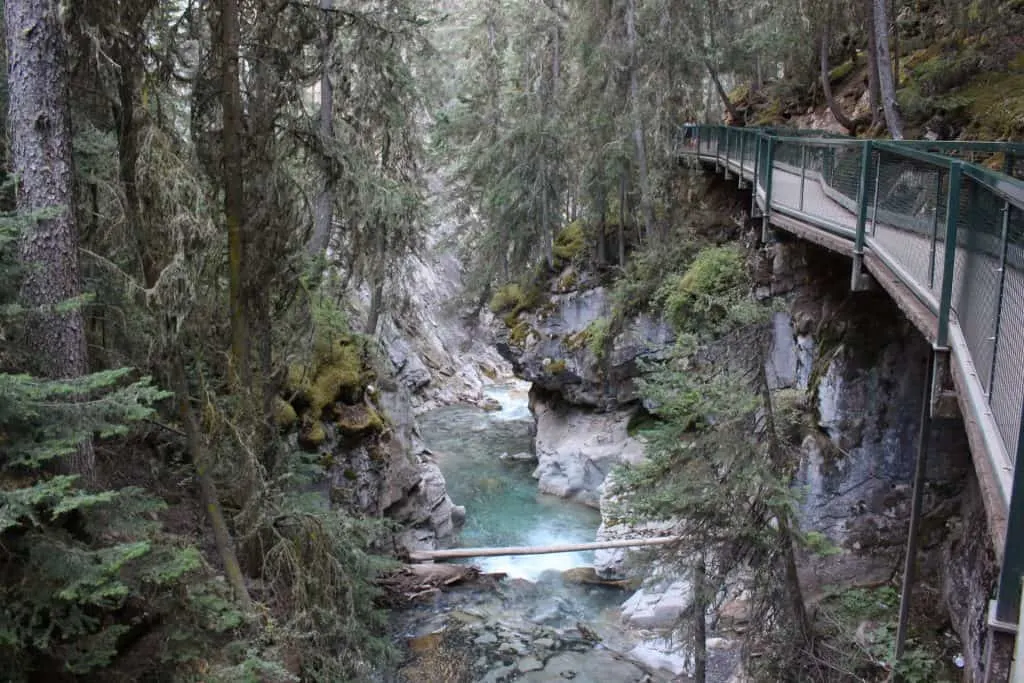 Discover 50 of the Best Things to do in Banff here.
For rates and availability click here.
Have you found this review of Johnston Canyon Lodge and Bungalows helpful? I love to hear from you, leave a comment and I will get back to you.
Disclaimer: Our stay was hosted by JC Lodge and Bungalows. As always, all views and opinions expressed are our own.
Going to Canada? Check out our Air Canada review here.