We are all familiar with the difference between economy and business, however what is it like Flying Premium Economy Air Canada? If you are considering Flying Premium Economy Air Canada we've got you covered!
Well it's essentially a middle ground with regard, to price, comforts and amenities, a service that may airlines are now offering. I was flying from Heathrow Terminal 2 to Calgary recently, onboard the Boeing 787-9 in premium economy class with Air Canada.
We were leaving home for an entire year with two kids, so I needed it to be as stress free and easy going as possible.From check-in, to boarding, and of course, the service inflight is somewhat different from Economy.Air Canada Premium Economy costs more but is worth it in certain situations.
Should it be your honeymoon, or maybe you have an extra bit of cash to spend on a flight to make it a more comfortable journey. In our case, we had a really stressful few hours leading up to arriving at the airport, so spending extra was worth it in my opinion.
Generally speaking, it's an average of 30% extra fare to fly Premium Economy across all airlines, and Air Canada is no different. Oh and just a quick reminder, you need an eTA if you are going into Canada as a foreign national!
I hope you find this write-up useful in making a decision about your ticket. You can find the best ticket prices with Air Canada here.
I love writing reviews, so after spending 8.5 hours trying this service out, here is my – Air Canada Premium Economy Review. I'd like to add, I did the standard economy a few months later on the same route, read to the end for a comparison.
PREMIUM ECONOMY AIR CANADA REVIEW
Air Canada Premium Economy Check-in
The lead up to our flight was completely hectic, especially as we had been packing our lives up and renting the house out for a year.
We really needed it to be an easy check-in process with the kids, for our sanity. We were totally exhausted when we arrived at the airport.
Luckily, Premium Economy passengers can check in at the Super Elite desk in Heathrow.
There was no queue, and the Air Canada concierge could see we had lots of luggage and two kids, so, they were incredibly helpful.
This was definitely one of the Air Canada Premium Economy benefits.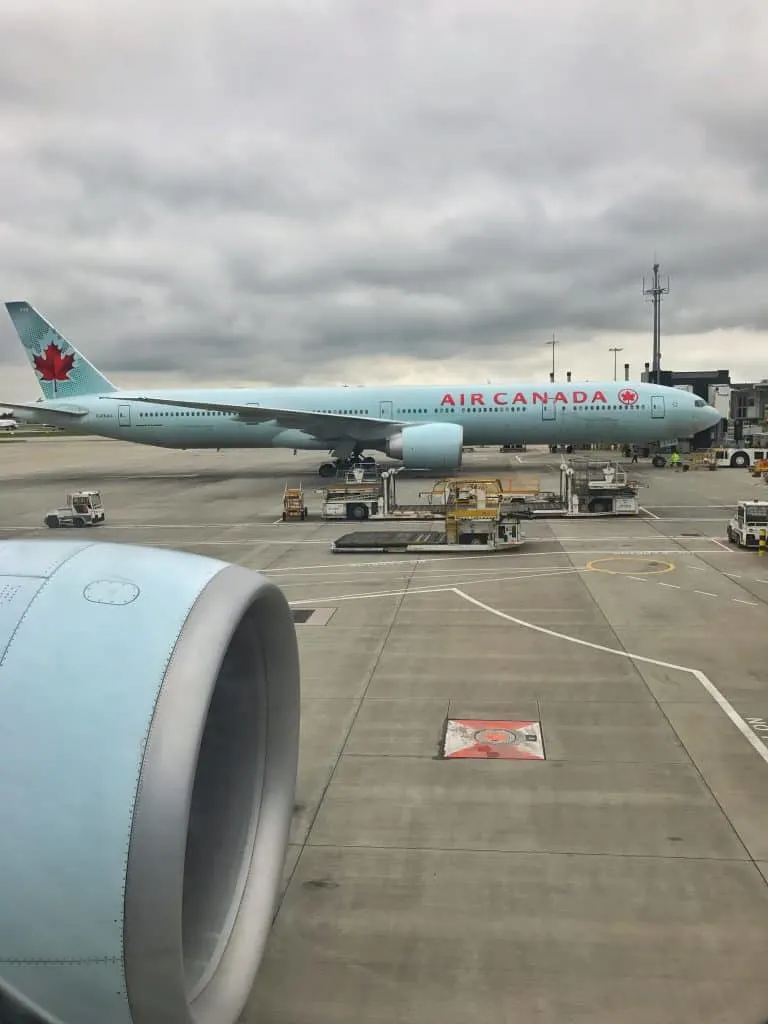 Air Canada Premium Economy Baggage Allowance
If you are flying Premium Economy on Air Canada, you are entitled to two checked bags of 23kg. That is a whole extra bag in comparison to the standard Economy passengers!
I am not sure if that was a good or a bad thing for us, we probably needed to be more ruthless with our packing since we were leaving for a year! On the plus side, it was great not to worry about having overweight baggage.
Does Air Canada Premium Economy Include Lounge Access?
Lounge access is not included in the Air Canada Premium Economy class.
However as frequent flyers, we find booking online for the international Premium Plaza very useful. For more information on Premium Plaza Lounges, click here.
I love chilling in a Premium Plaza lounge with a newspaper and a glass of wine before my flight!
It is a shame Air Canada Premium Economy lounge access is not included in the price of the ticket.
Boarding – A
ir Canada 787 Premium Economy Review
Similar to Business Class, all Premium Economy ticket holders are entitled to speedy boarding.
I am not sure about you, but sometimes l love this, and other times I would rather hang out in the terminal a little longer. Especially when it means I can let my kids burn off some extra energy.
Air Canada Premium Economy Seats
Are you considering an Air Canada upgrade to Premium Economy? Well I guess the Premium Class Air Canada seat space and recline might be the deciding factor.
As you can see from the photo below, there is plenty of legroom space in Premium Economy seats Air Canada.
Lets look at some facts. The seat reclines to 17.8cm and has a larger seat than Air Canada Economy.
Whilst it's not a very flat recline, it's certainly a lot more to get a comfortable sleep on a long haul flight.
There is 49.53cm between armrests seats onboard the 787 Premium Economy Class Air Canada.
The seat pitch is 96.5cm providing ample space to stretch-out and relax. Air Canada Premium seats come in a little under the Norwegian Dreamliner that has a 109 -177 cm pitch!
These are ideal seats with young families with the amount of space in mind. We managed the entire 8.5hr flight, even with a lap child and a needy toddler relatively unscathed.
I feel kids really pick up on feeling enclosed and having that space really contributes to making things a little easier with them.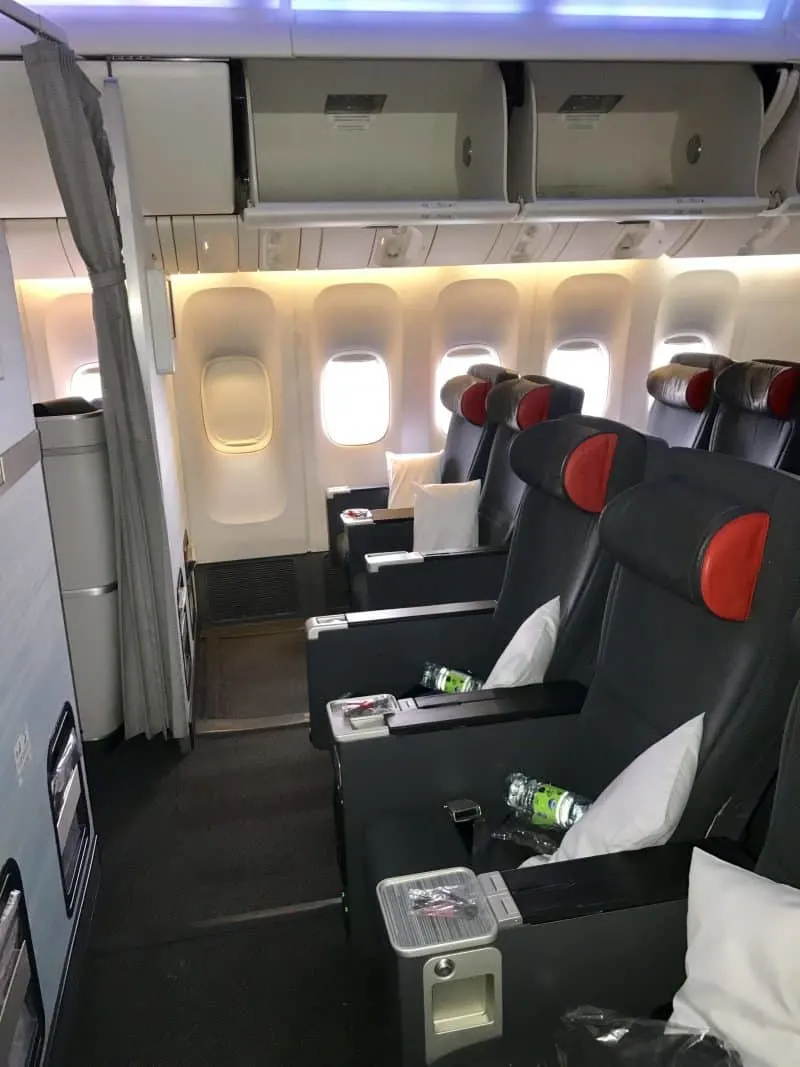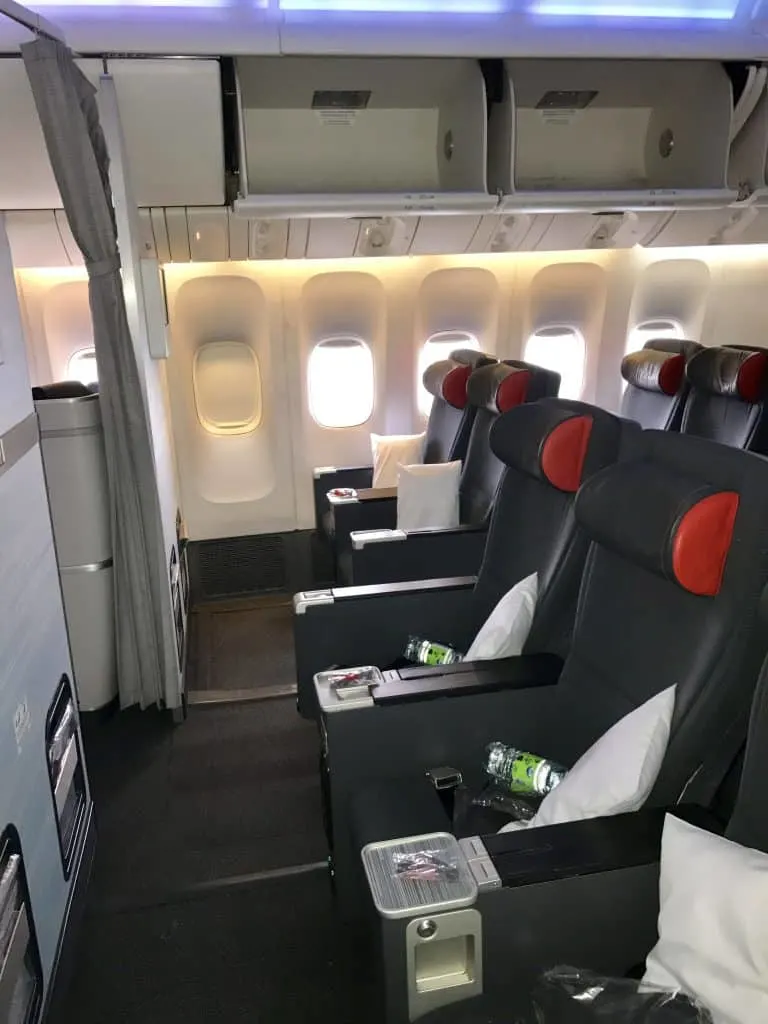 Air Canada Premium Economy Booking Class Entertainment
The entertainment console has a 28cm screen and has a good selection of current and classic movies. Premium Seats Air Canada has power and a USB port.
If you prefer to use your own headphones, there is a single pin audio. Alternatively the cabin crew provide headsets.
Air Canada Premium Economy Meals
Once we were in the air, we were given those amazing hot towels. Don't they just feel lovely when you put them on your face? The menu for lunch had two main options.
I chose the spinach and ricotta stuffed ravioli, whist hubby had the Parmesan and leek filled chicken breast.
I think the food in Premium Economy on Air Canada was really good. It's what sets it apart from a standard Economy ticket.
Service was quick from the point of starting and everything as you can see from the photo below was served in ceramic dishes rather than metal trays.
The meal had three courses, starter, main and desert. I find salad on planes awful usually but it was fresh and crispy making a welcome change from the norm!
We also really appreciated a glass in comparison to the usual plastic cups in Economy. I wish all plane meals were served like this for waste reasons.
I would imagine there isn't much difference in Air Canada Premium Economy vs Business Class when it comes to meals. Of course I'm sure they have better Champagne up the front but I really couldn't fault the food.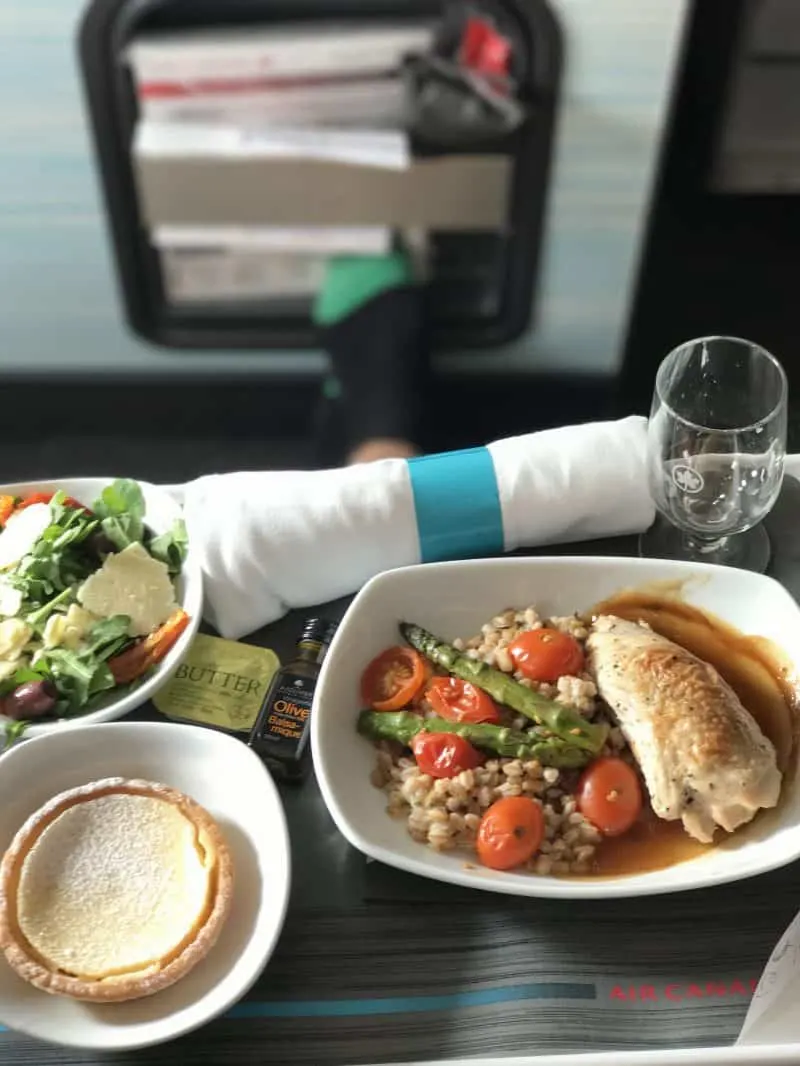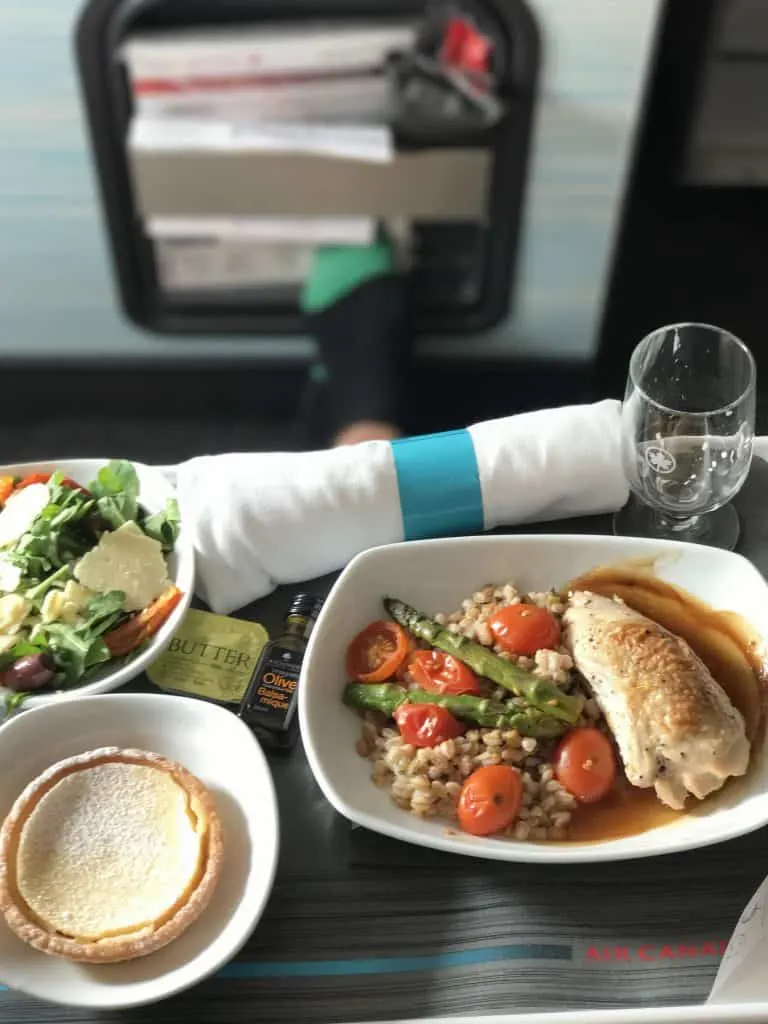 Being true to their home country, they had some great beverage choices, such as Canadian Club and Molson Canadian beer which I enjoyed. They passed by regularly throughout the flight with refreshments and nibbles.
Air Canada International Premium Economy Pack
The tidy packs provided by Air Canada to Premium Economy ticket holders contains an eye mask, ear plugs, toothbrush and a toothpaste. I've noticed so many airlines have stopped giving packs like this out, so it's nice to still get them in Premium!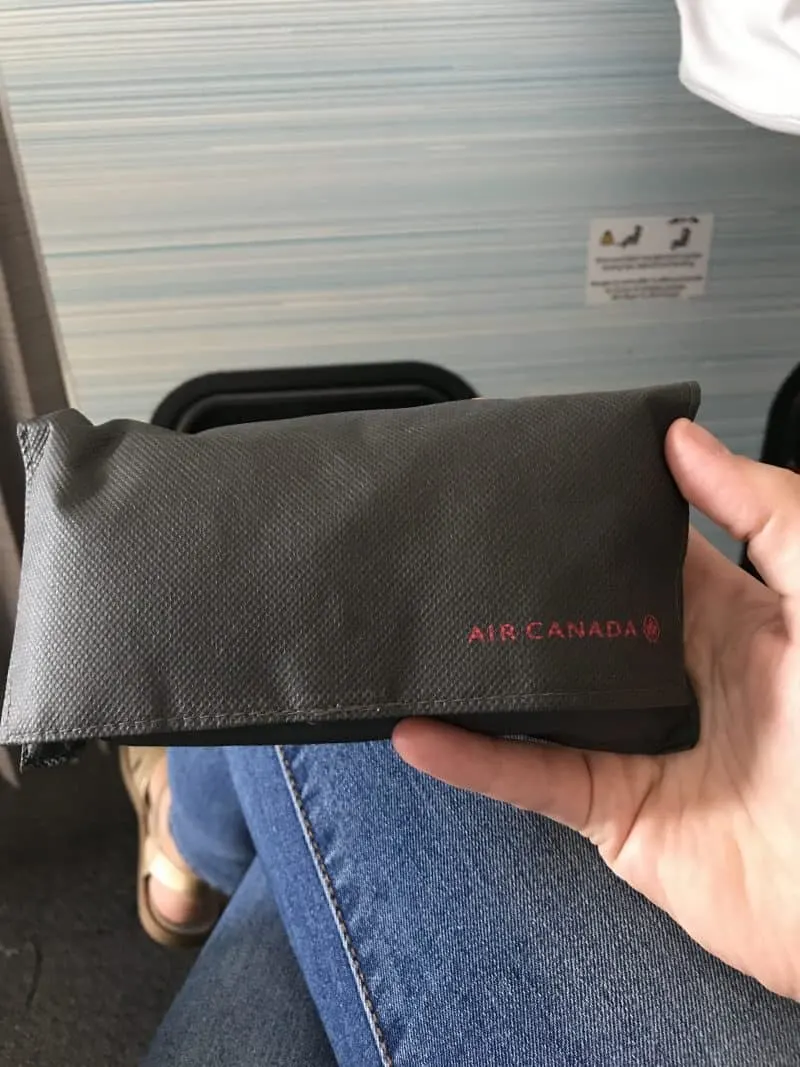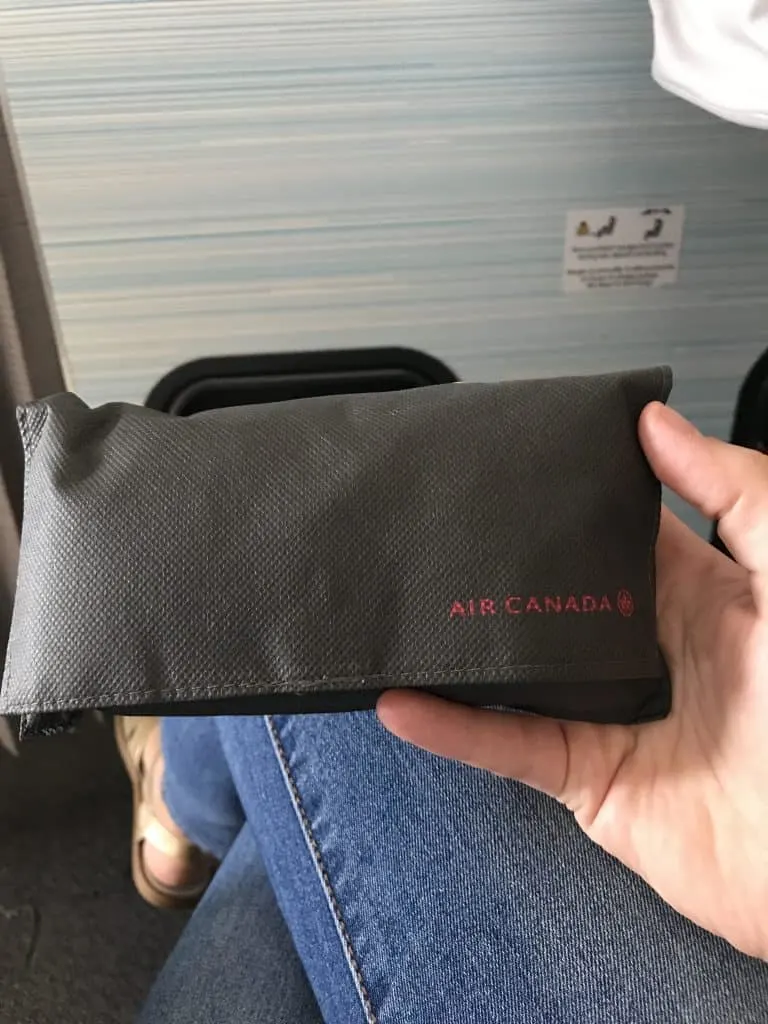 Air Canada Economy vs Premium Economy

Comparison Chart

Many people have asked exactly what is premium economy on Air Canada?

I have put this helpful comparison chart Economy vs Premium Economy Air Canada together to show you at a quick glance the difference of the ticket in comparison to a standard economy ticket.
Basic
Premium Economy
Check In
Regular
Fast lanes, Access to Airport Lounge
Seat Size
44 cm
50.8 cm
Legroom
78.74 cm
96.52 cm
Recline
12.7 cm
17.8 cm
Food
Regular
Premium food served on real plates
and additional premium snacks
Baggage
1 checked bag
2 checked bags
Check prices on flights with Air Canada here!
In truth I found my economy flight on the same route a few months later a completely different experience. The food was average, the staff were not as friendly and the seats were really tight for space.
Both my husband and I, as relatively tall people really noticed it. If you have the money to pay for Premium Economy, just do it, as it really is quite a different experience.
Premium Economy v's Business Class
The predominant difference in these seats is price. On average, Business Class seats are a whopping 65% more. The check-in, inflight entertainment and meal are much the same.
However the real difference is in the seat and having a fully reclining bed as opposed to a chair.
I feel this comparison makes Premium Economy seems quite reasonable, especially as the price point is so different. Of course there is always air miles and rewards with credit cards if you want to experience Business but don't necessarily have the budget.
The same goes for upping your class from Economy to Premium Economy. You could use air miles to get you upgraded?
Air Canada Premium Economy With Kids
If you are travelling with a baby, they have bulk head bassinets in the Premium Economy Air Canada 787. The bassinet can hold up to 12kg and is longer than most other airline bassinets. Particularly helpful past the newborn stage.
As soon as we were getting ready to set off, an attendant came and gave me a detailed safety brief on flying with a baby. I was quite impressed since on most other airlines we get handed a belt and asked if we know how to use it.
The attendant also said it would be no problem if we needed milk heated or anything for the kids. The staff were so attentive to our needs as a family.
Our older child was given a kids pack which I understand is also given to Economy passengers. Anything to make the journey pass right?
We pre-ordered a child's meal for our daughter. The main was the same, stuffed ravioli whist she had some different sides such as freshly chopped fruit and some chocolate for dessert.
Our daughter is incredibly fussy so it can only be a good sign If she was enjoying it. Light snacks were plentiful either side of our main meal. From pretzels and ice-cream to a warm wraps, we definitely did not arrive hungry at our destination.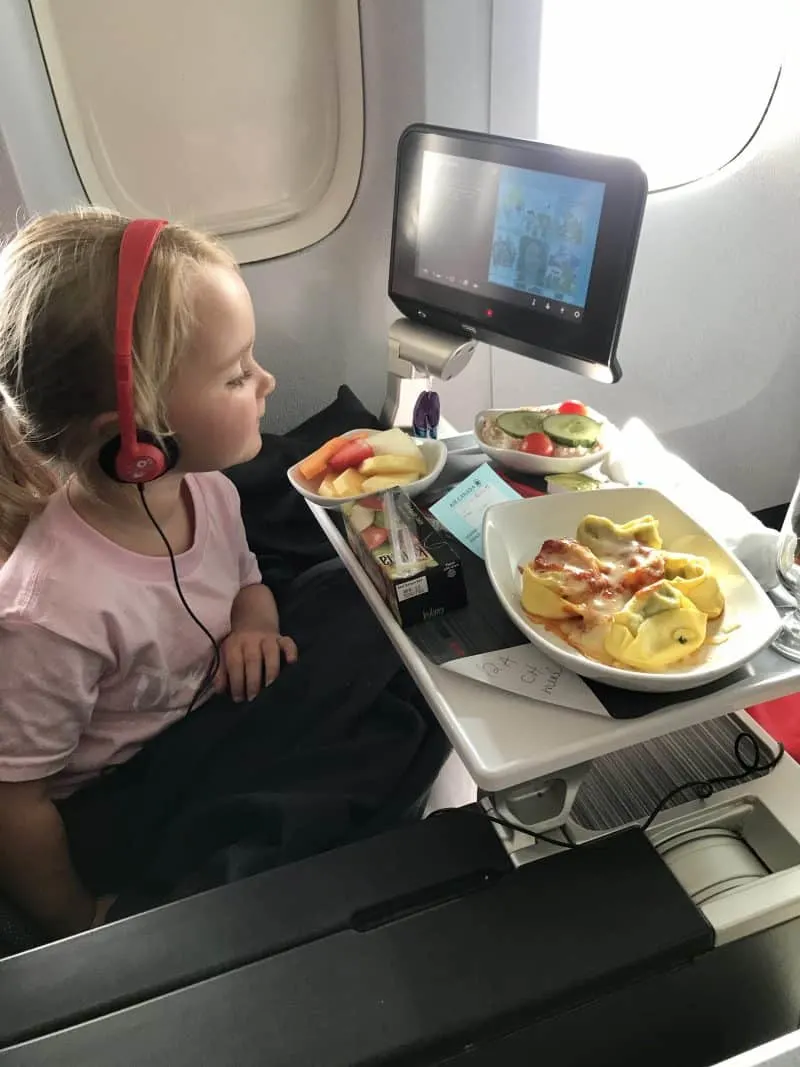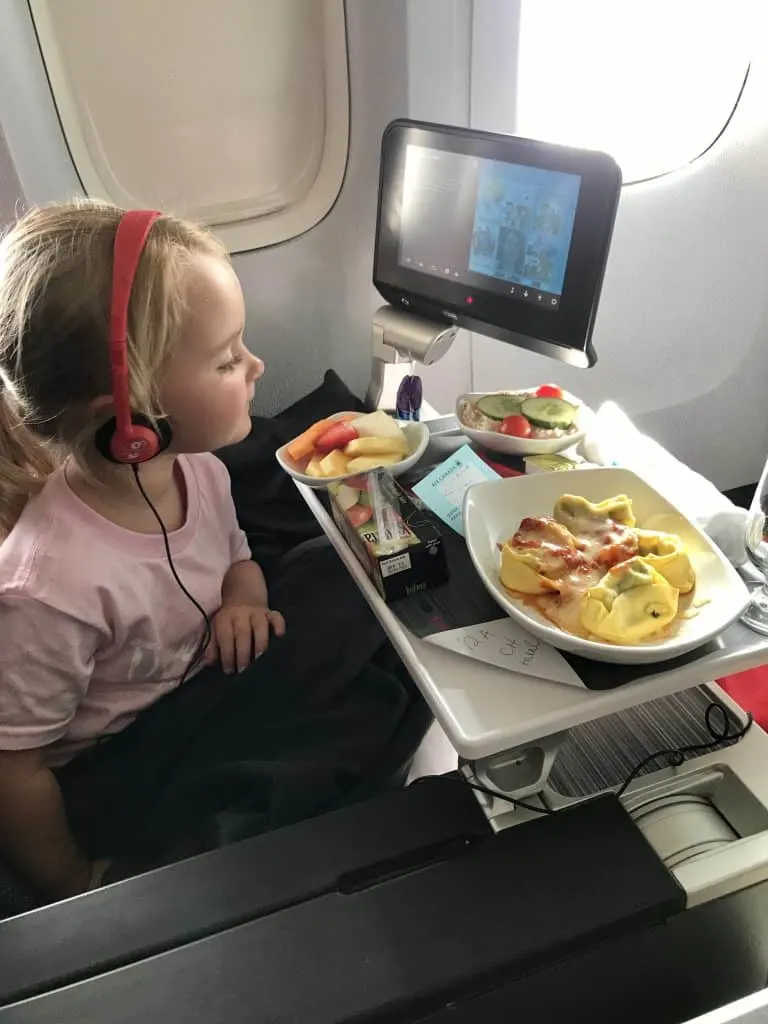 Are there any downsides to flying Premium Economy Air Canada?
Many airlines now have inflight WiFi, however Air Canada have not managed to implement this yet.
The only other thing as mentioned previously is, I feel lounge access should be included. Norwegian offer lounge access to their Premium Economy passengers.
Are you visiting Canada on a trip?
Canada had been high up on our bucket list for years. I was delighted that we finally took the plunge and locked it in as the first destination on our family gap year.
From emerald green lakes with stunning mountain backdrops, to incredible wildlife, bears, moose, whales and orcas to name a few, who wouldn't want to visit? Being a travel enthusiast, I love trying out new airlines, so I was excited to be adding Air Canada to my list.
Hmmm maybe I will go to Toronto next, any tips? We have a tonne of helpful destination guides on Canada should it be helpful in planning your trip.
Things To Do In Alberta, Canada
A final note …
Don't forget to book lounge access before going to the airport. I highly recommend Premium Plaza, there are quite a few around the world, particularly in the US. For more information on this lounge, click here.
Last but not least, while you will usually get the best service if you book with the airline itself, it's always worth checking out Kayak for competitive fairs. Kayak is certainly one of my favourite platforms when it comes to getting the best deal. To find out more click here or to book with Air Canada itself click here.
Have you found this review of Flying Premium Economy with Air Canada useful? I love to hear from you, leave a comment and I will get back to you. Every bit of feedback is valuable to continually improve our content.
You May Also Like:
Things to do in Alberta, Canada