If you are thinking of doing the drive from Calgary to Vancouver and looking for an itinerary of places to stop along the way, we have you covered!
From glass mirror lakes, to lush forest and rolling blue mountains, intriguing wildlife, not to mention twinkling cities, it is an incredible experience.
We explored back country vineyards, had close bear encounters, rode on motorcycle side cars and canoed beautiful aqua blue lakes! It certainly was a trip to remember.
Canada reminded me of NZ with so many adventurous activities. From zip-lines crossing a valley, to caving and rafting adventures.
As we have friends in Calgary, Alberta, we made it our starting point and mapped out our epic drive from Calgary to Vancouver.
Driving straight though would take around ten hours but we had three weeks to meander through the Rockies.
On our first trip we rented a car. The second time we did the road trip from Calgary to Vancouver we rented an RV through Authentic Canada !
Taking an RV is definitely more cost effective as you can cook yourself, campsites are generally cheaper than a hotel stay and you really do get the full 'nature' experience Canada has to offer.
So wether you intend to trip in a car or an RV, we have some helpful information in this post! We cover hotels we have stayed in AND campsites!
It's worth noting there is usually a fee for one way car rentals & RVs. So if you pick it up in one location and drop it off in another, there is an additional charge.
If you want to save on one way fees and can be flexible, quite often companies need help with relocating vehicles. They may need a specific dates and route to get vehicles back to popular starting points.
As such, they offer heavily discounted rates if you are willing to travel from the pick up to drop off specified. Look up relocation specials to avail of such deals.
If you are staying in Calgary for only a short time and looking to do a guided private day trip to Banff National Park. Including free time to visit Banff, view Bow Falls, stop at Surprise Corner, see Moraine Lake, and more click here.
I am so excited to share our route and if you are planning to drive from Calgary to Vancouver, I hope it gives you some trip inspiration. Here is our drive from Calgary to Vancouver road trip itinerary inclusive of Banff, Whistler, Kelowna, Kamloops and more.
Drive From Calgary to Vancouver Road Trip
When it comes to a city, its always easy to skip on by! I wasn't expecting much from Calgary as I just wanted to get to nearby Banff to see the beautiful lakes.
However we had travelled from London and just needed some time to adjust to the new time zone and stock up on supplies.
That being said, I was pleasantly surprised by Calgary, there is a lot more to it than meets the eye. From pretty parks to great food, we really enjoyed our first few days of the trip.
Calgary
You haven't been to Calgary until you've been up the Sky Tower. Depending on the weather, the views are incredible on a clear day.
The Observation Deck has 360 degree views of the horizon, not to mention eye watering views of below through the glass floor (which is not for the faint hearted). At 191 metres above ground level, the skyline is incredible.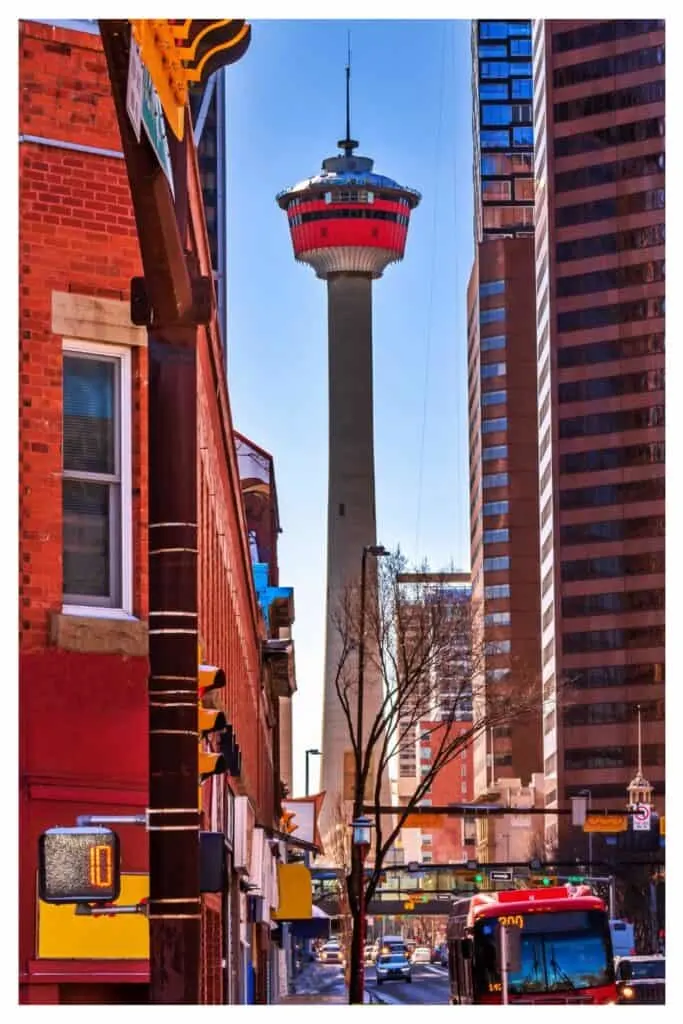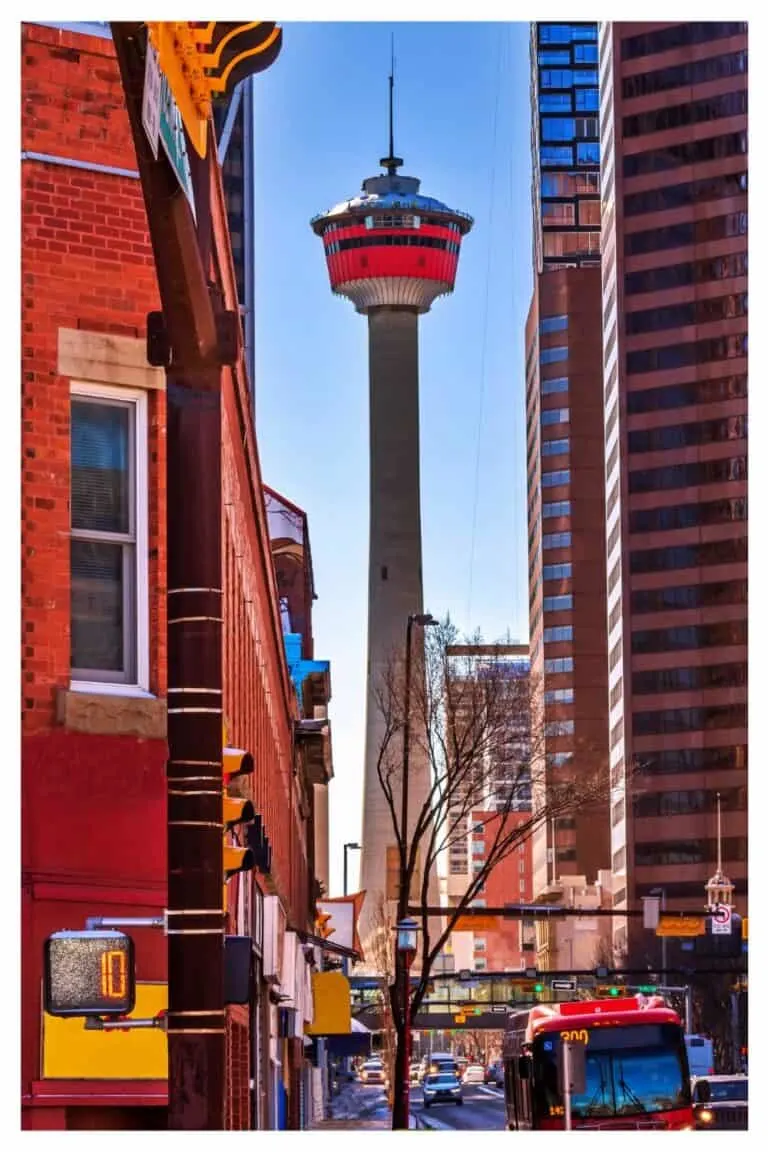 Aside from the views there is a multimedia theatre room with a short film and a revolving restaurant serving brunch on the weekend and dinner throughout the week.
It is totally worth trying to get a glimpse of the Sky Tower at night. It is always lit up in different colours and has different meanings, everything from Valentines Day to Pride, is shown through lighting up the tower.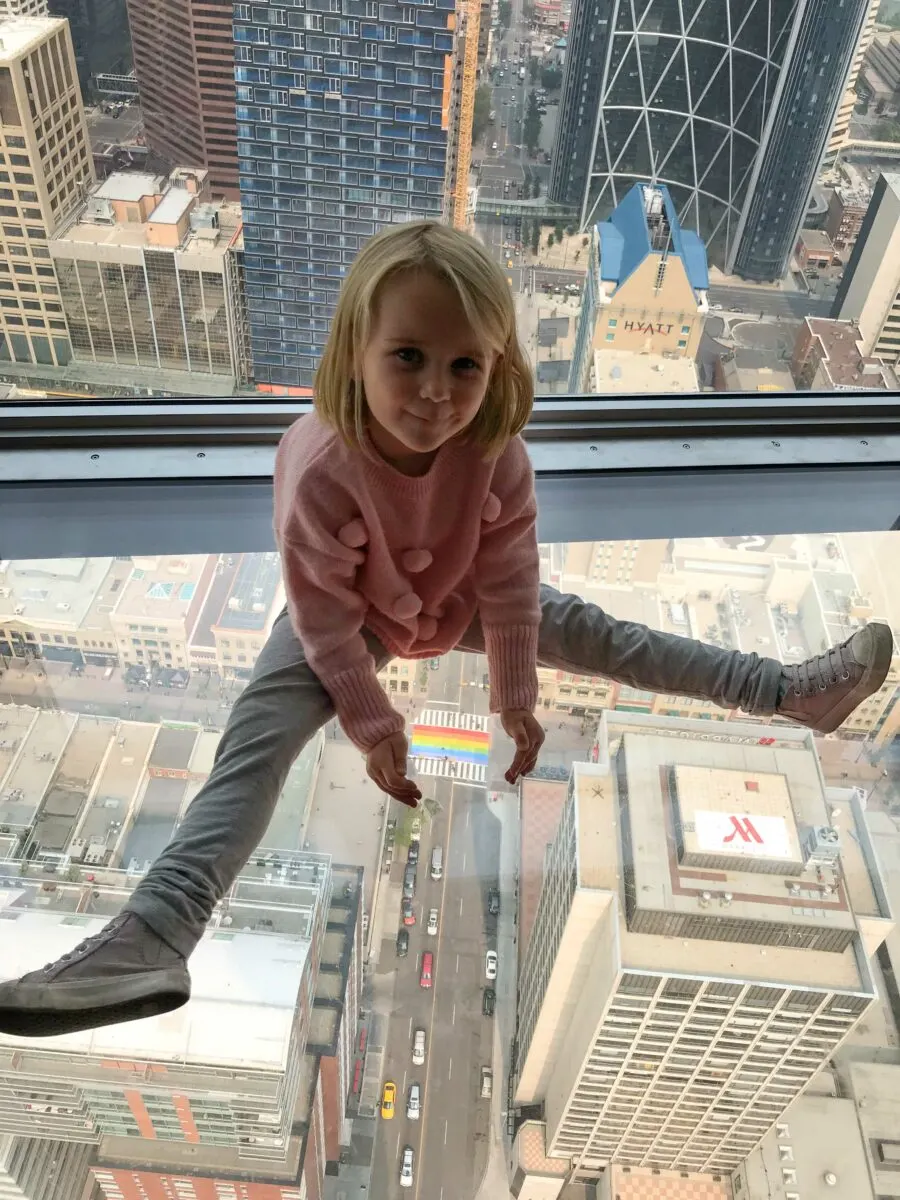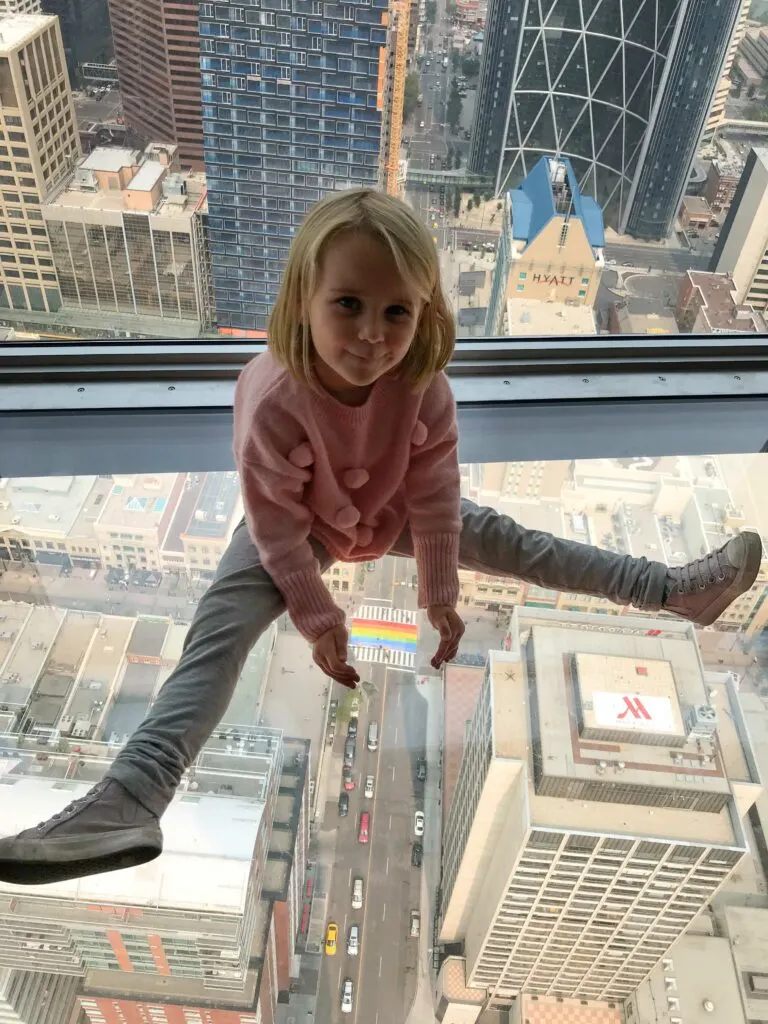 It is truly an iconic building of the city.
You can purchase tickets to the Sky Tower here.
Tour The City In A Vintage Motorcycle Sidecar
Yes you can tour the city in a vintage motorcycle sidecar! This is a great way to see the city quickly if you don't have much time. The trip around the city lasts just over an hour passing all of the best sites.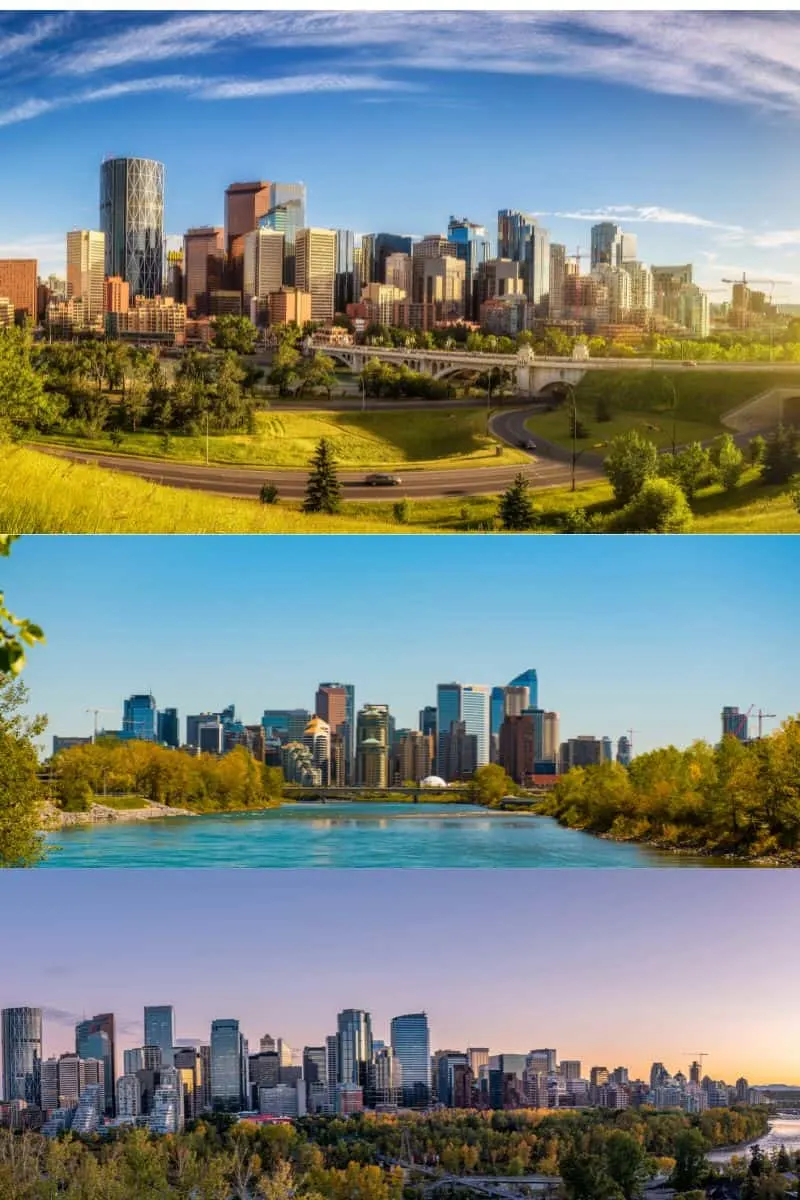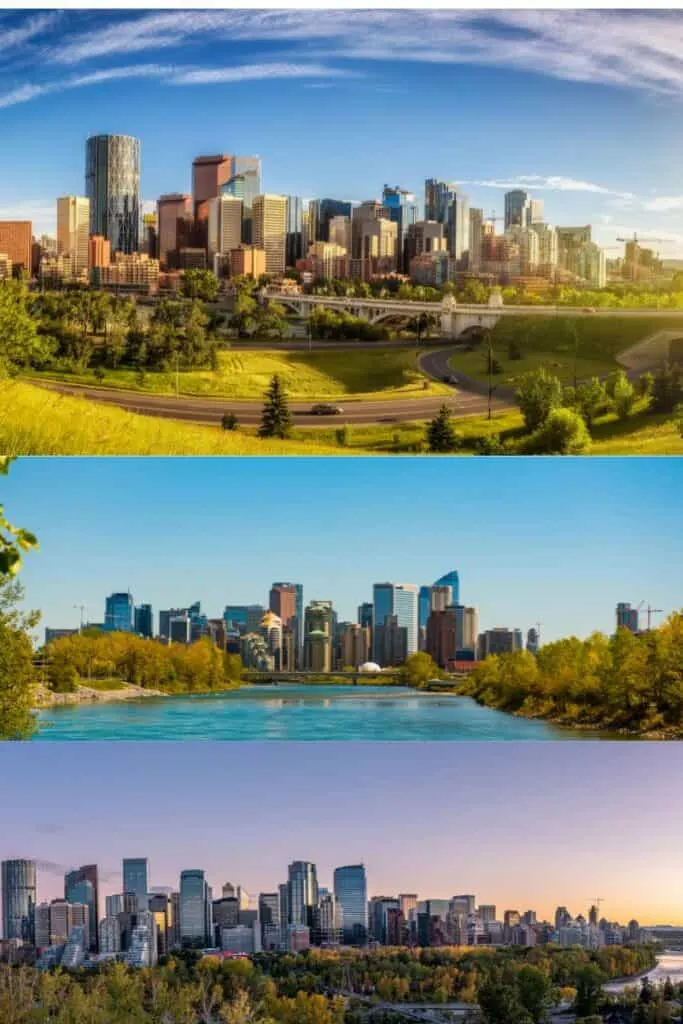 You will have commentary from the driver via a headset and will visit one of two look out points, either Scotsman's Hill or Crescent Ridge.
They offer pick up and drop off from your hotel / accommodation. It is essentially a whistle stop tour of Calgary.
Check out the sidecar tour here.
Core Shopping Centre With Botanical Gardens
You wouldn't really think to go to a shopping centre when you are travelling but Core Shopping Centre has unique botanical gardens called the Devonian Gardens.
It was given a 37 Million Dollar renovation in 2012 resulting in over 500 indoor trees, plants, living walls, fountains and fish ponds. It is an oasis in the heart of the city and loved by tourists and locals alike.
Of course you can explore the mall afterwards if you fancy before you drive from Calgary to Vancouver.
Explore Stephen Walk
Stephen Walk is a pedestrian only street. You'll find high end restaurants, shops and stores, not to mention buskers and performers whom set the mood.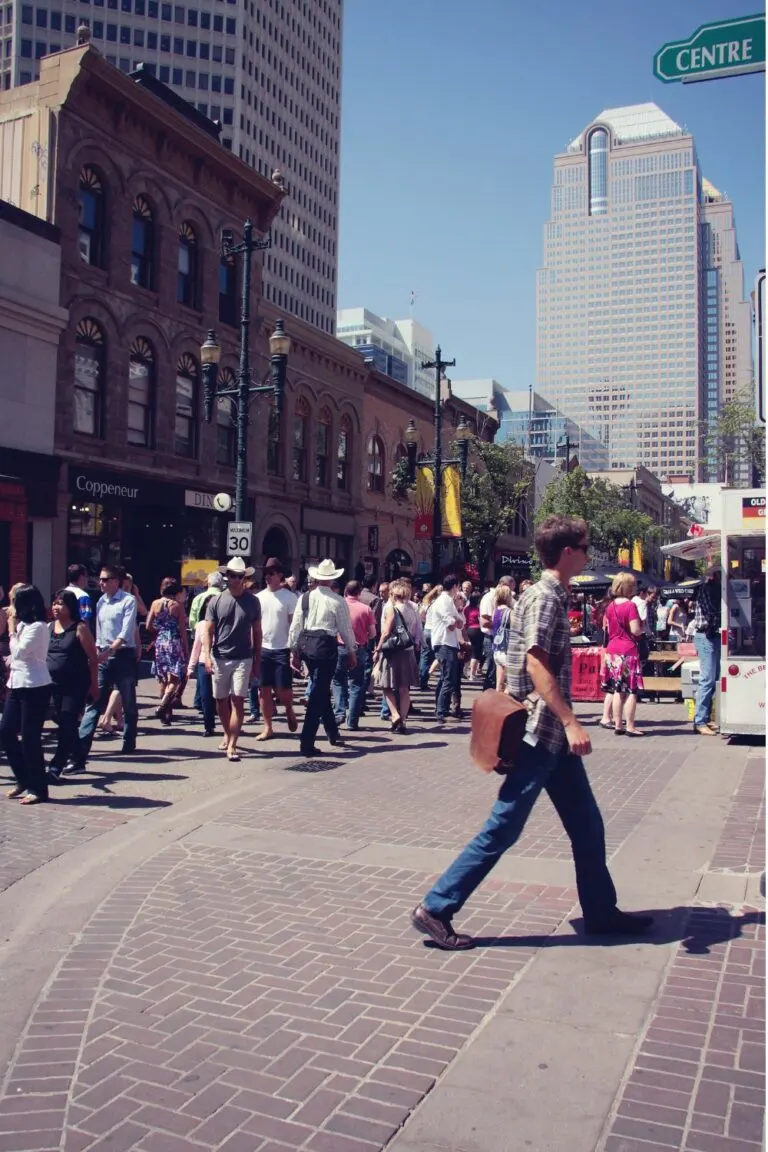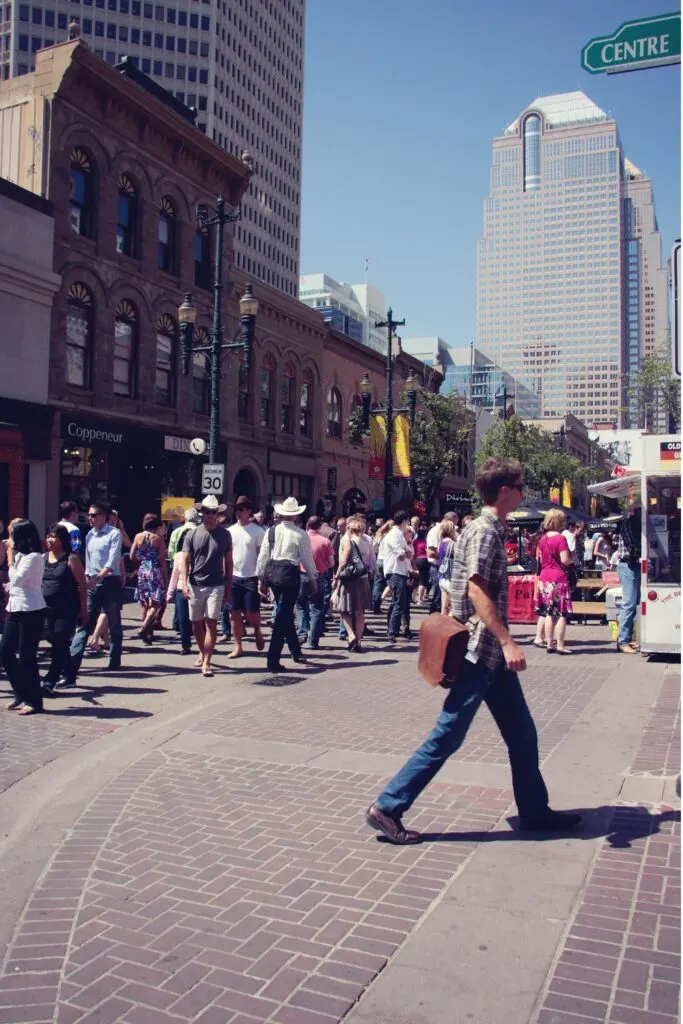 It reminded me so much of O'Connell Street in Dublin where I am from! It is the perfect place to wander and grab some lunch or dinner.
See The Wonderland Sculpture
The Wonderland sculpture in Calgary of a girls head is a must see! You can walk in and around the head and it can easily be viewed if you are passing by on a tour of the city.
At 12 meters high, the bent wire sculpture looks incredible at night with the backdrop of the glowing city. There are a tonne of other sculptures and statues around, however the Wonderland Sculpture is one of the best!
Walk Across Peace Bridge
Peace Bridge is a beautiful piece of architecture in the city. It stretches from one side of the Bow River to the other, passengers tend to walk or cycle across.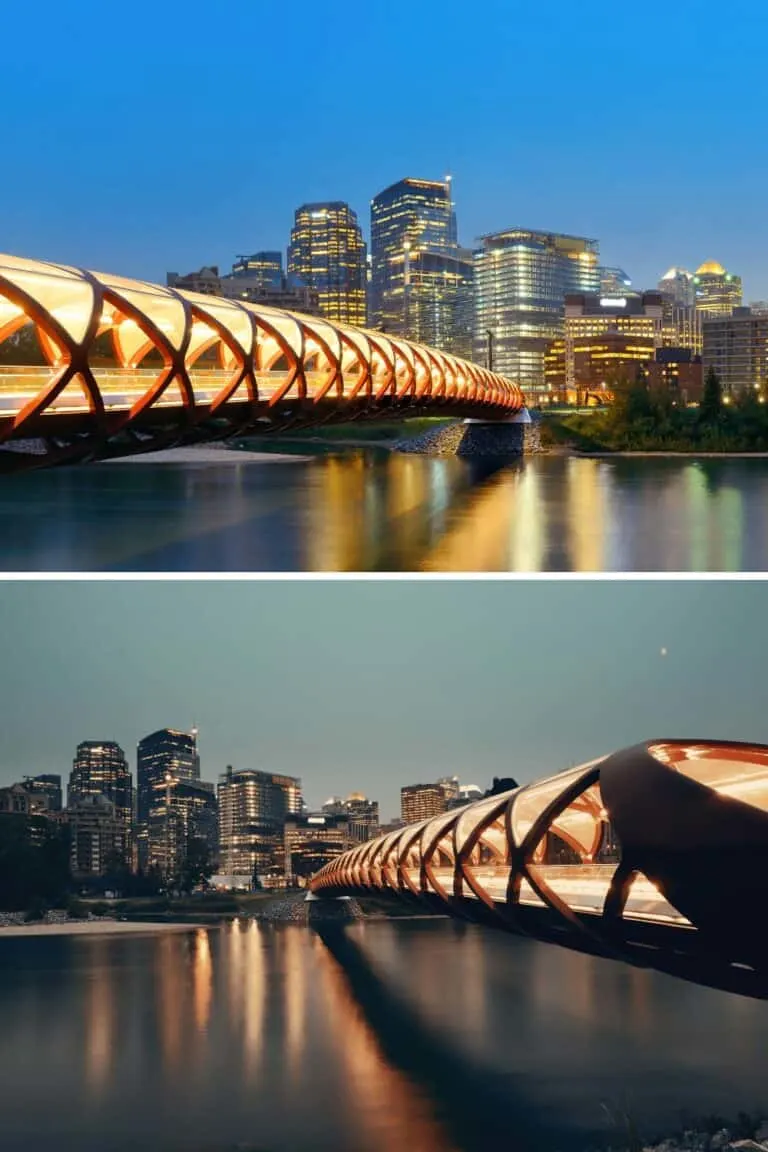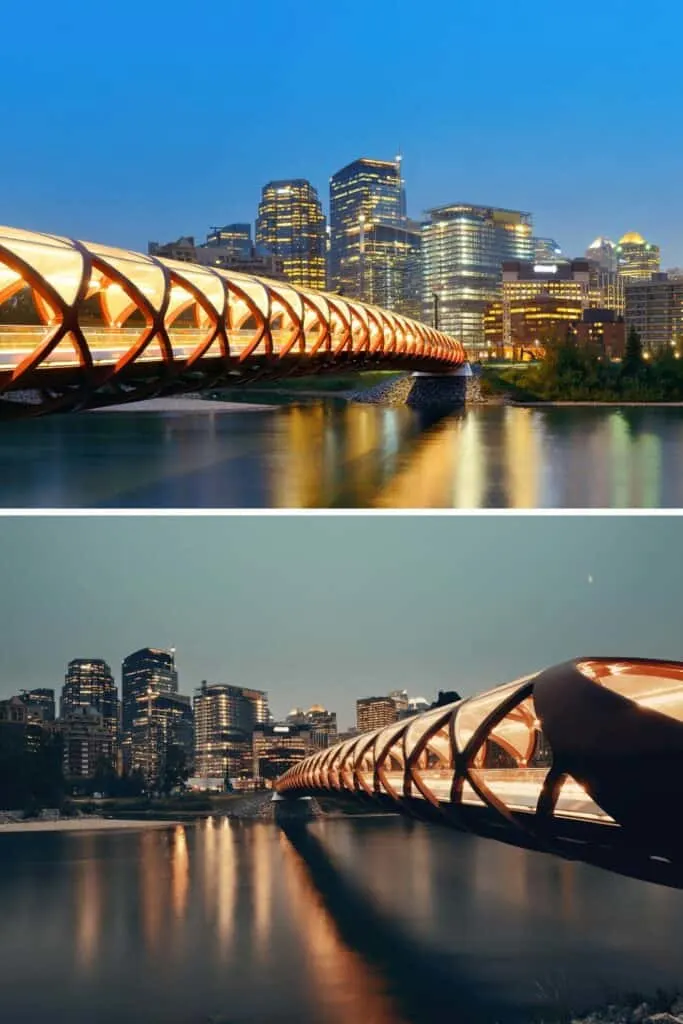 It provides light in the evenings and connects the city allowing those on the other side of the river easy access to commute into the city for work.
Visit Central Library
Located in the Downtown East Village of Calgary is the flagship Central Library of the city. The building has been constructed in an oval shape and is certainly an architectural masterpiece.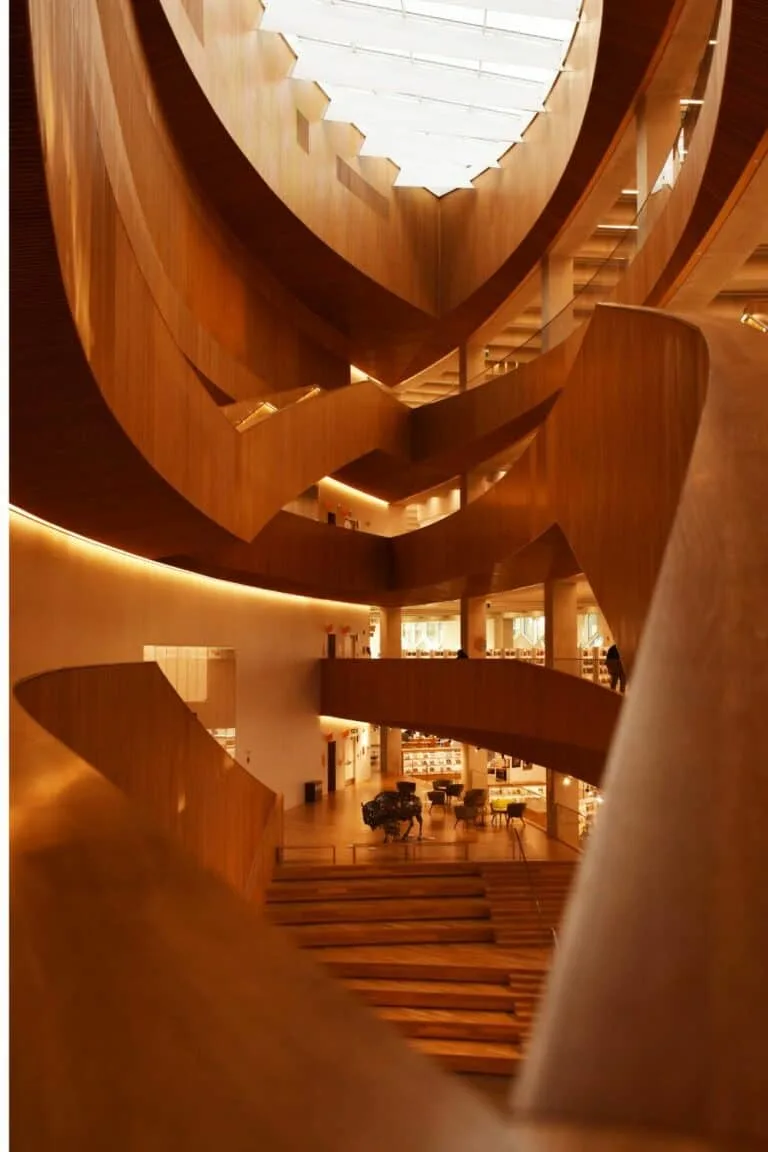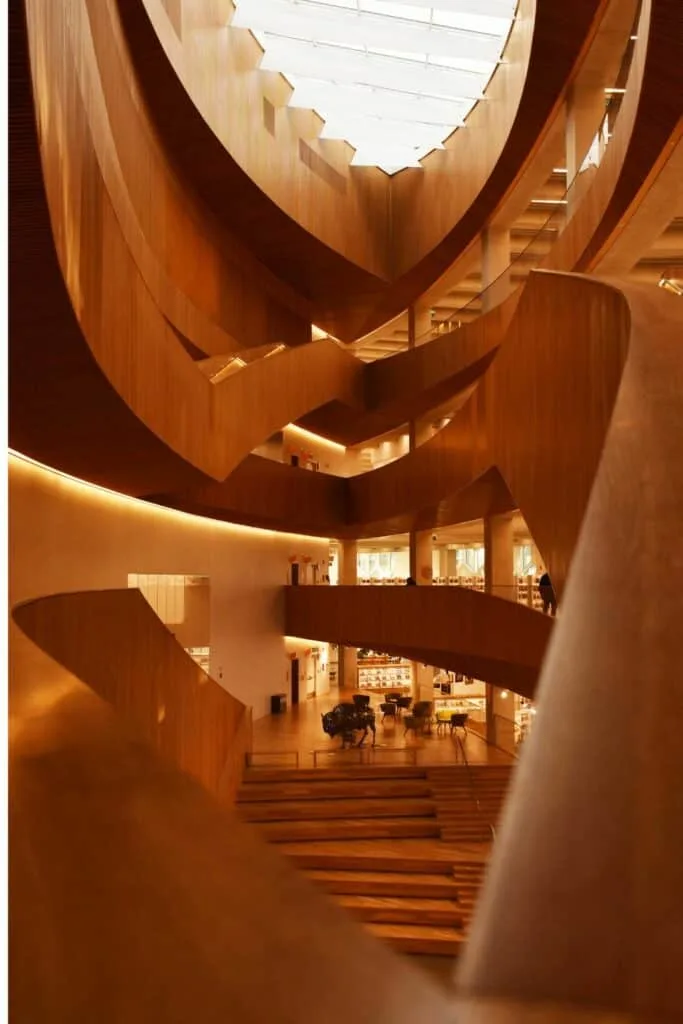 There is often performances, story telling and art events. There is parking and lots of bike racks around the building. If nothing else, it is worth checking out the building.
Canada Olympic Park
Canada Olympic Park, exactly as the name says, hosted the Olympics back in 1988! The grounds have been repurposed into an adventure haven for every season.
The season you visit will dictate the available activities. In Summer you can expect mega zip lines, mountain bike trails, crazy golf and summer bob sleighing. We visited in Autumn and the downhill karting was so much fun!
In Winter, skiing, snowboarding, scenic chairlifts and tubing are on offer. Calgary is super cold in the winter so it is not for the faint hearted!
Telus Spark Science Centre
The Telus Spark Museum in Calgary is described as a 'pixel playground'. It is great for children and adults alike.
For adults they have installations called 'brain smoothies' essentially amazing Digital art which gives the brain a break. Not to mention learning labs and 'after dark' for adults only.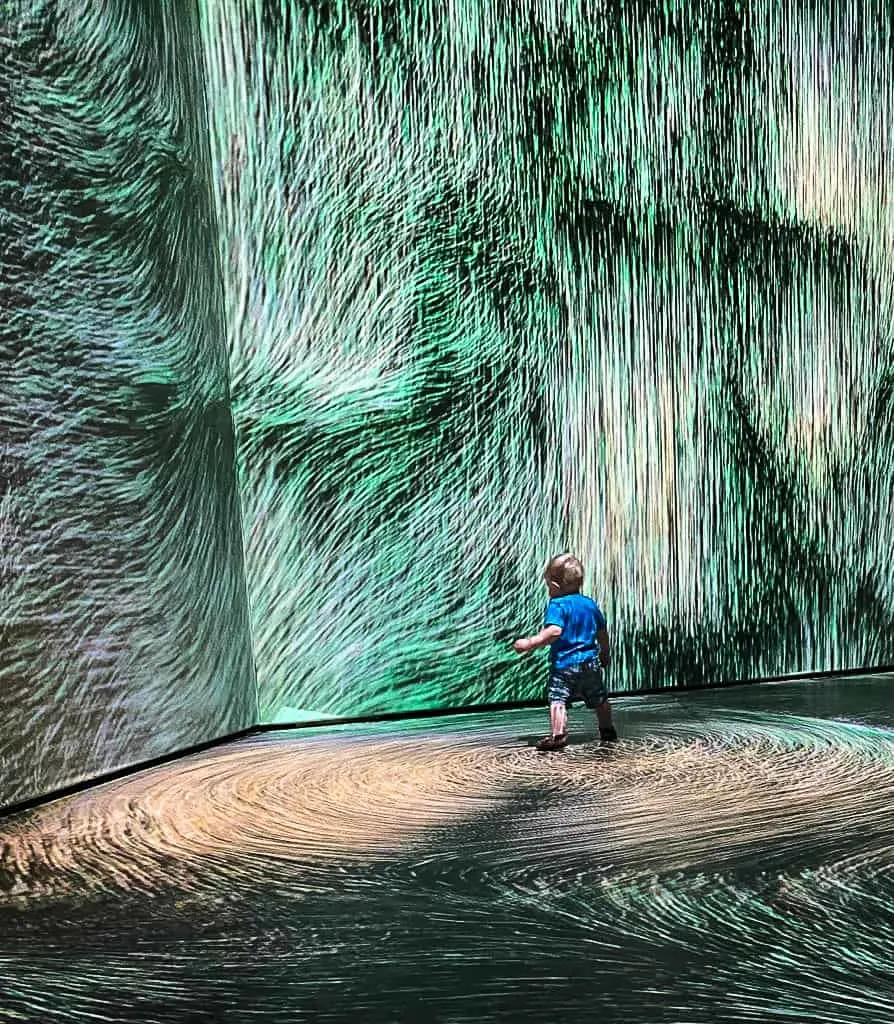 The centre is a real hit with kids featuring a water play area, three dimensional adventure space and tactile maker tables.
Its super hands on and fun for little ones. If you are visiting with kids, it is worth bringing a dry set of clothes since the water play area is such a hit!
The Saskatoon Farm
The Saskatoon Farm is not necessarily on route from Calgary to Vancouver. It is slightly south of Calgary so only worth visiting if you are staying around the area for a few days and prefer to explore the outskirts of the city.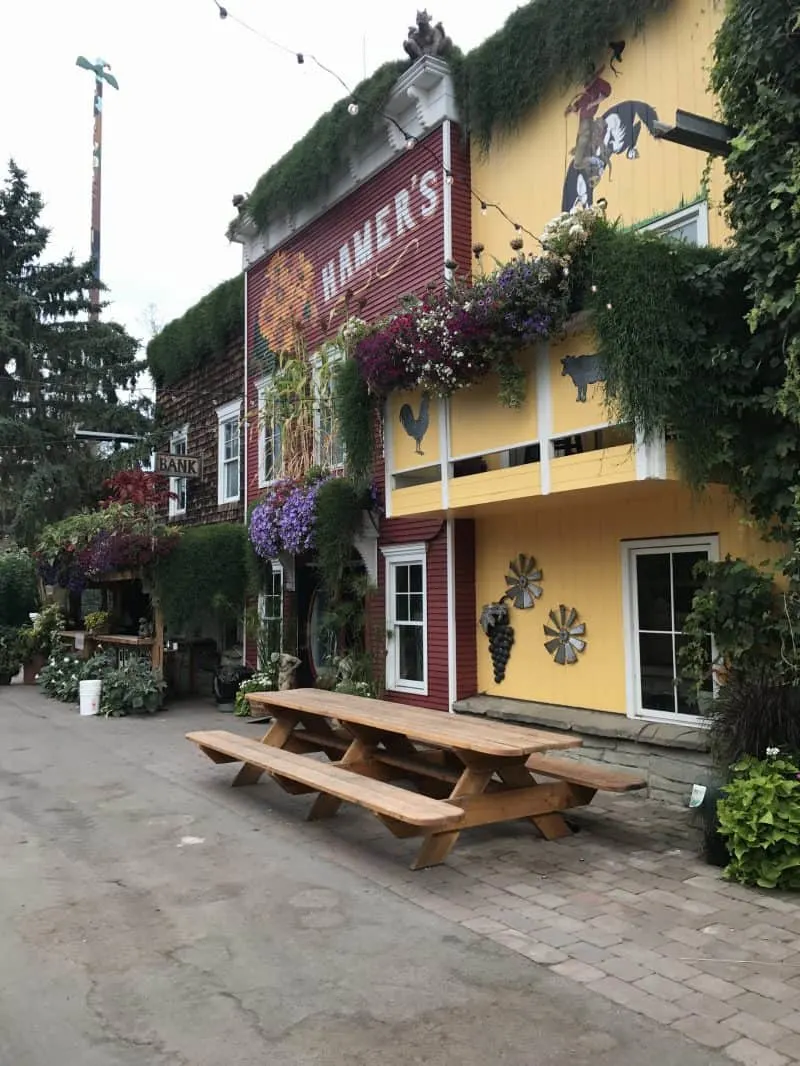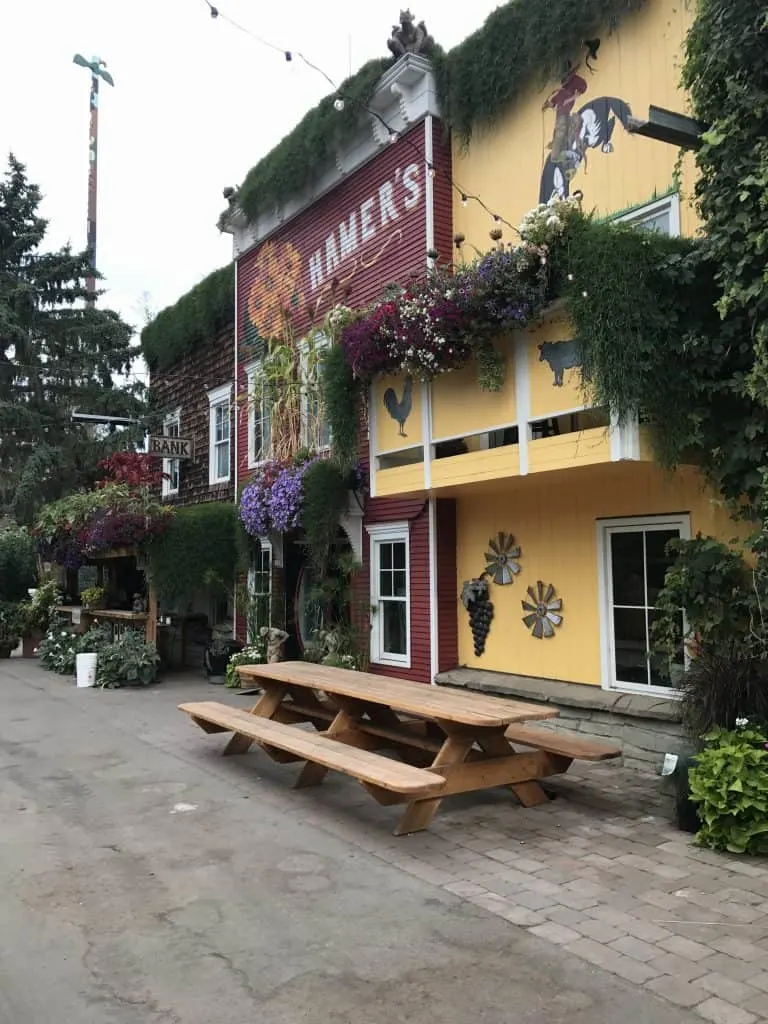 We visited on a cool Autumn day. You can pay $2 to pick your own bucket of Saskatoon berries at certain times of the year.
Saskatoons are very popular in Canada and a must try! There is also a bakery and restaurant where Saskatoons feature on the menu.
Frozen Saskatoons are available year round, not to mention markets held occasionally. Oh and make sure to say hi to the resident tortoise!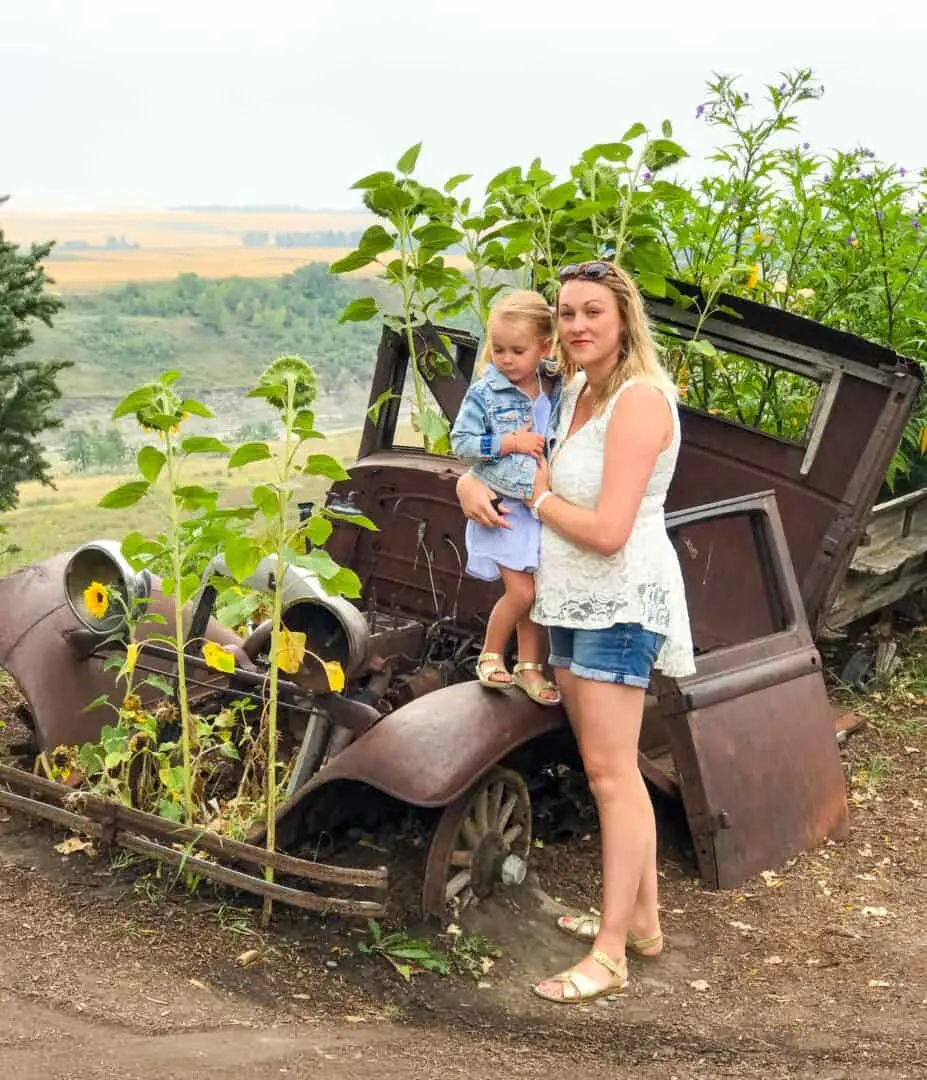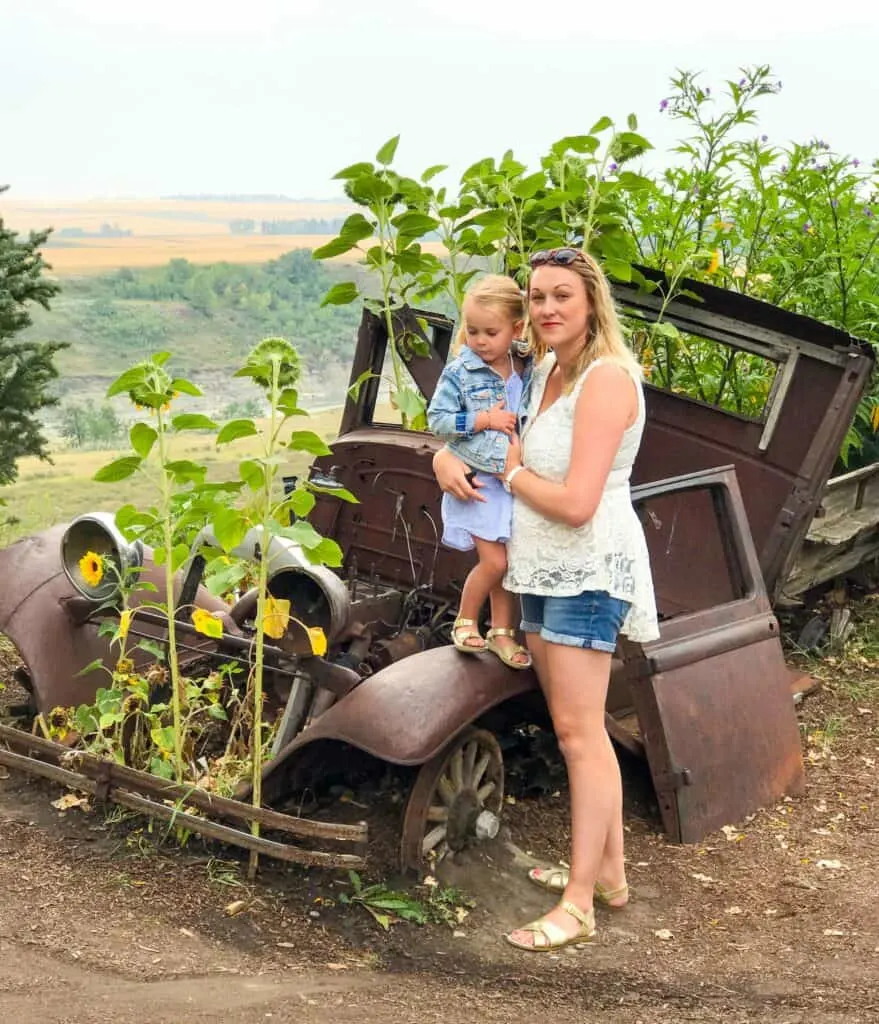 The layout of the farm is super cute with Cowboy saloon style buildings, rolling mountains & a gushing river in the background.
Check out Saskatoon farm here.
Where To Stay In Calgary
If you are looking for a place to stay Downtown the Westin Calgary is really nice and in a great position to explore the city and some of the very close by park land.
The Calgary Tower is half a mile away and there are a tonne of nearby restaurants and cafes with 5 outlets onsite. They have an airport shuttle too (the airport is only 9kms away).
If you are planning to do the trip backwards, on a Vancouver to Calgary road trip, The Westin could be a great final stop before heading home be it internationally or somewhere else in Canada.
They have an indoor pool, fitness centre and parking if you are in a rental car. However it does cost for car parking.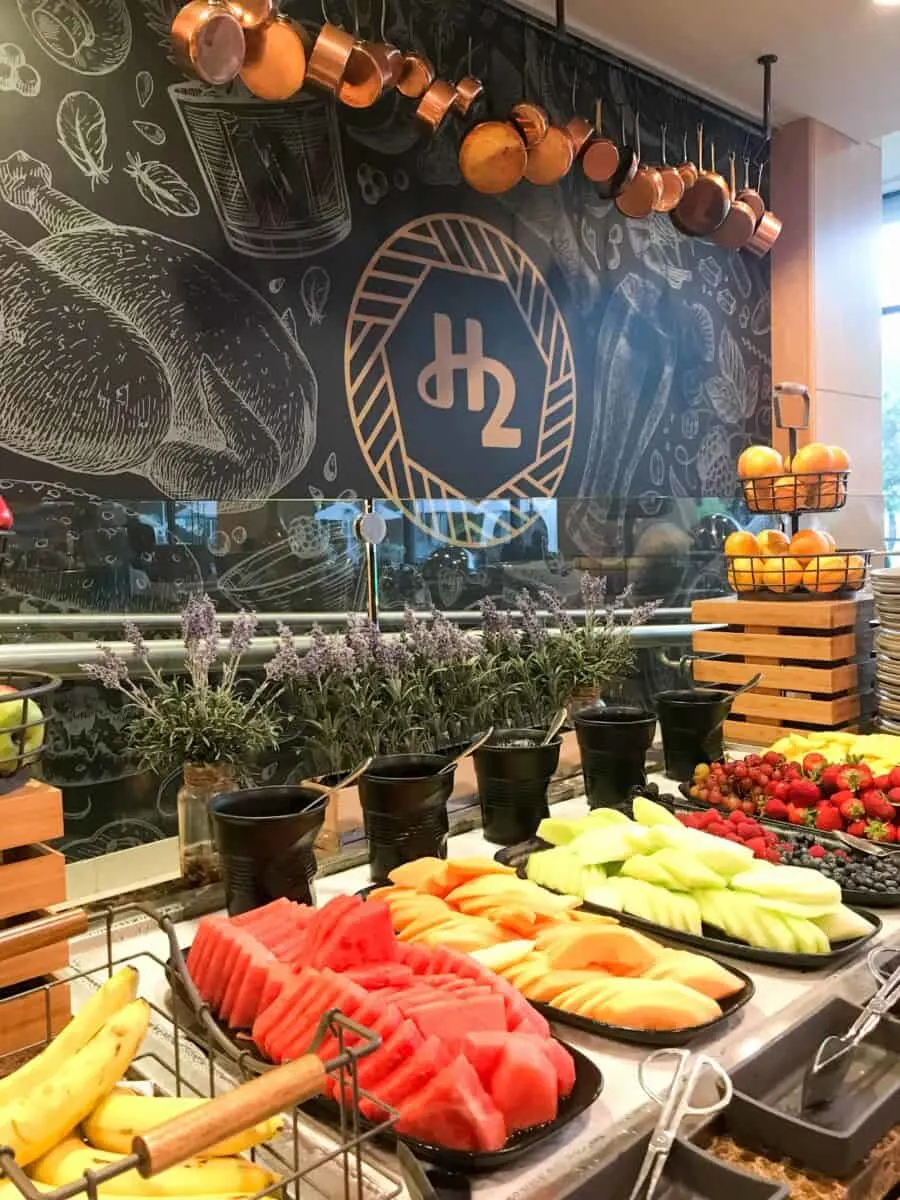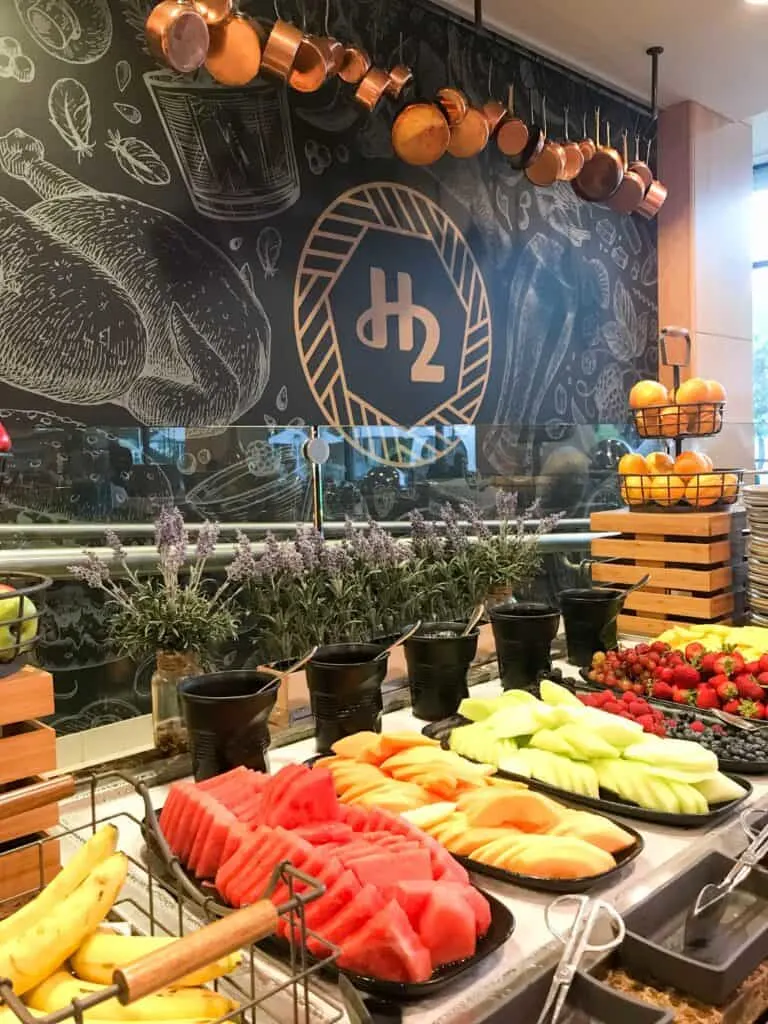 They serve a buffet breakfast which is pretty good to set you up for a day of exploring!
Check out Westin Calgary here.
RV Site Near Calgary
If you are staying in an RV, Bows Riveredge Campground is about 37 minutes out of downtown Calgary. Nestled on the edge of the river is 144 private sites cocooned by hedging.
The campsite has great reviews with spacious clean sites and it is easy to carry on with your Calgary to Vancouver road trip adventure as it is west of the city.
They have hook up, a playground, laundry, wifi, showers, group meeting spaces, biking and walking trails nearby! There is also a family sports centre and it is possible to fish on the river.
The RV site is located in the neighbourhood of Cochrane and has plenty of other nearby attractions.
Kanasakis
Once we set off from Calgary, it took us just under an hour to arrive at Kanasakis for an early morning hike. We were still on the UK time zone so we were up early.
We did the first leg with our Calgarian friends, they suggested an easy brisk morning hike called Troll Falls. This hike took is through forest to an amazing waterfall.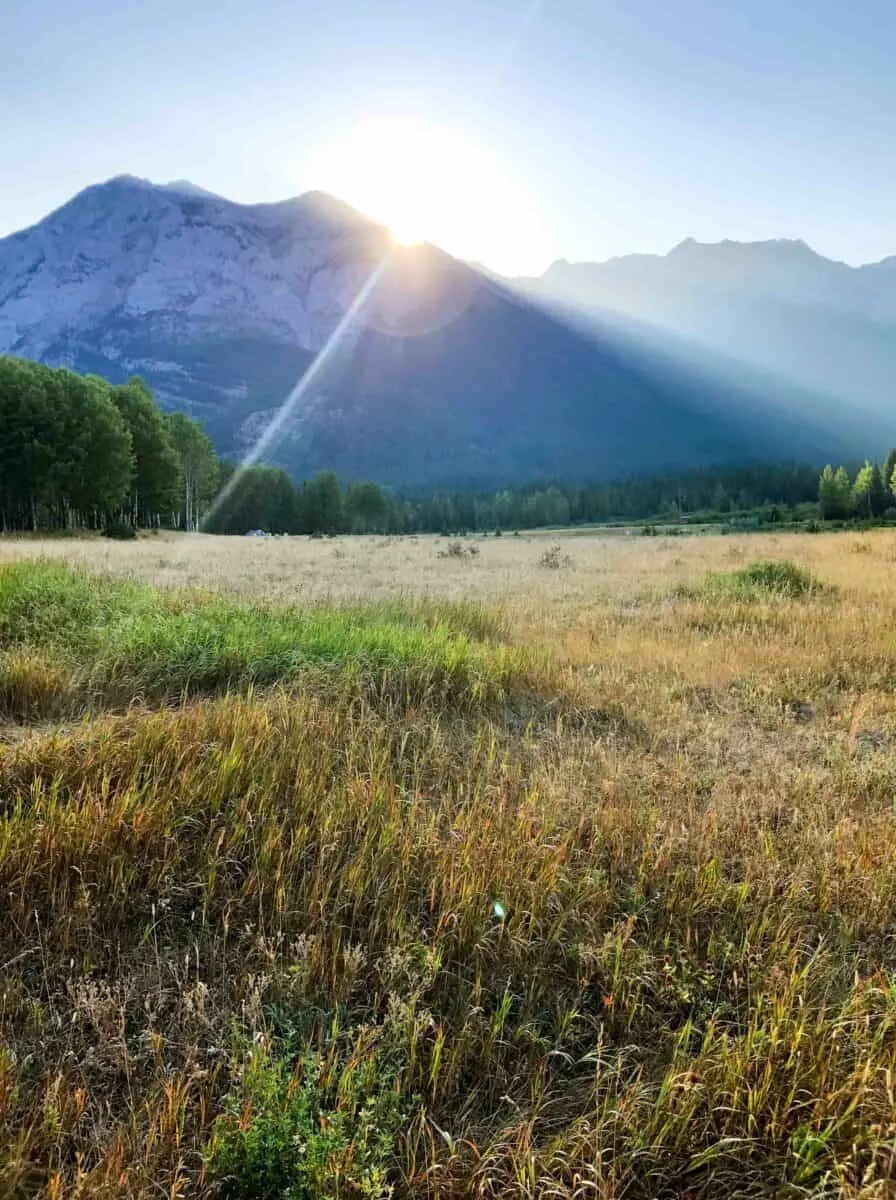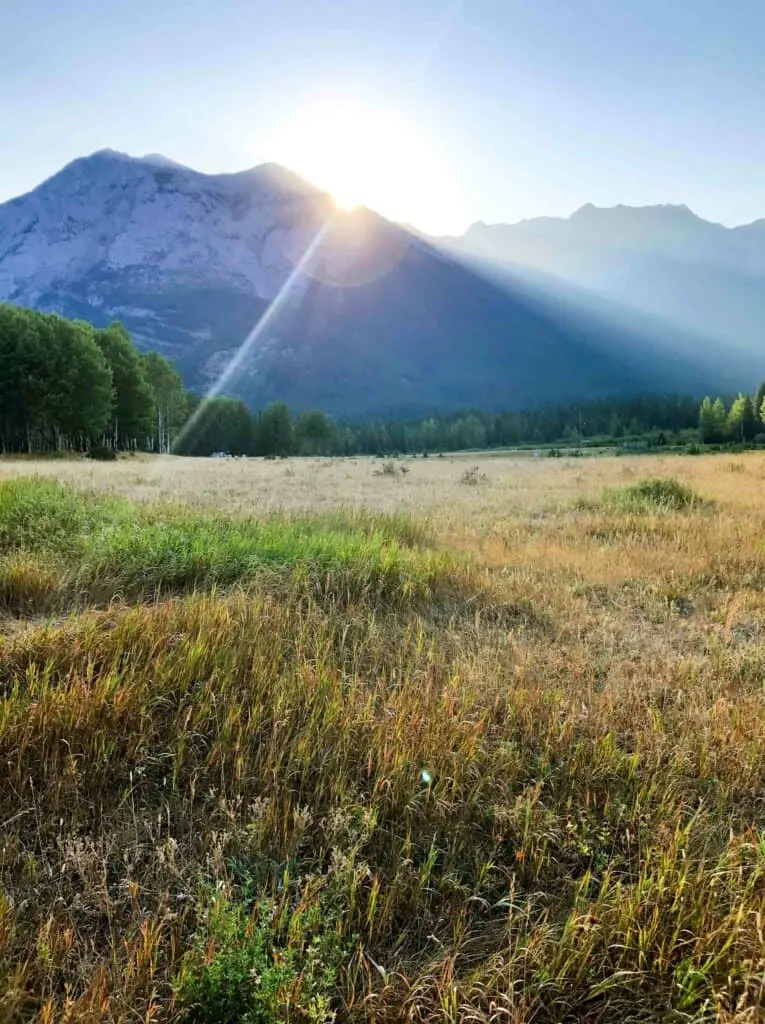 It was a super chilly early morning and quickly heated up by late morning when the sun was up. If you plan to travel Summer / Autumn you may want to bring layers so you can strip easily.
The trail is easy and is around a 3km round trip! Here is the shocking thing, on route I said I bet we are going to see bears! Our Canadian friends said they had lived there whole life in the area and had never seen them!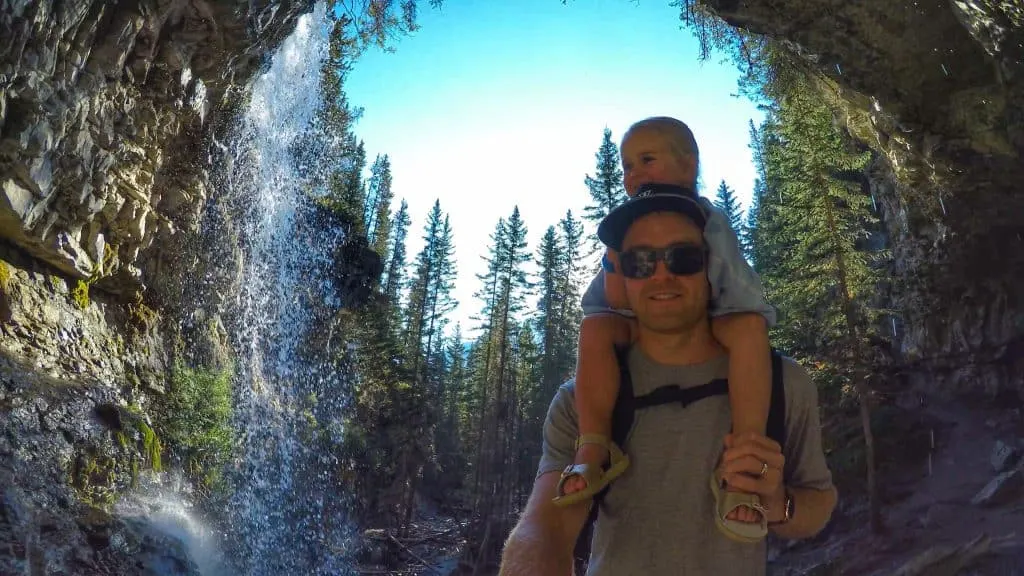 Half way through the trip, one of our crew said, "hey look at those sheep jumping around in the meadow down there".
Uhm, they are not bears they are baby grizzlies! No one could believe it! We knew mama bear would be nearby so we quickly made a bee line for a different path.
If you look at the photo above, the bears were around 100 metres below us! Still high on adrenaline, we couldn't quite believe we saw a black bear sitting in the next paddock! He stood up tall to check us out, it was an an unbelievable experience.
At this point our Canadian friends had enough and advised to go back to the car. Luckily we got to see the waterfall and all the beauty of the hike but this was honestly one of the most scary and memorable experiences of the 90 countries I have travelled to.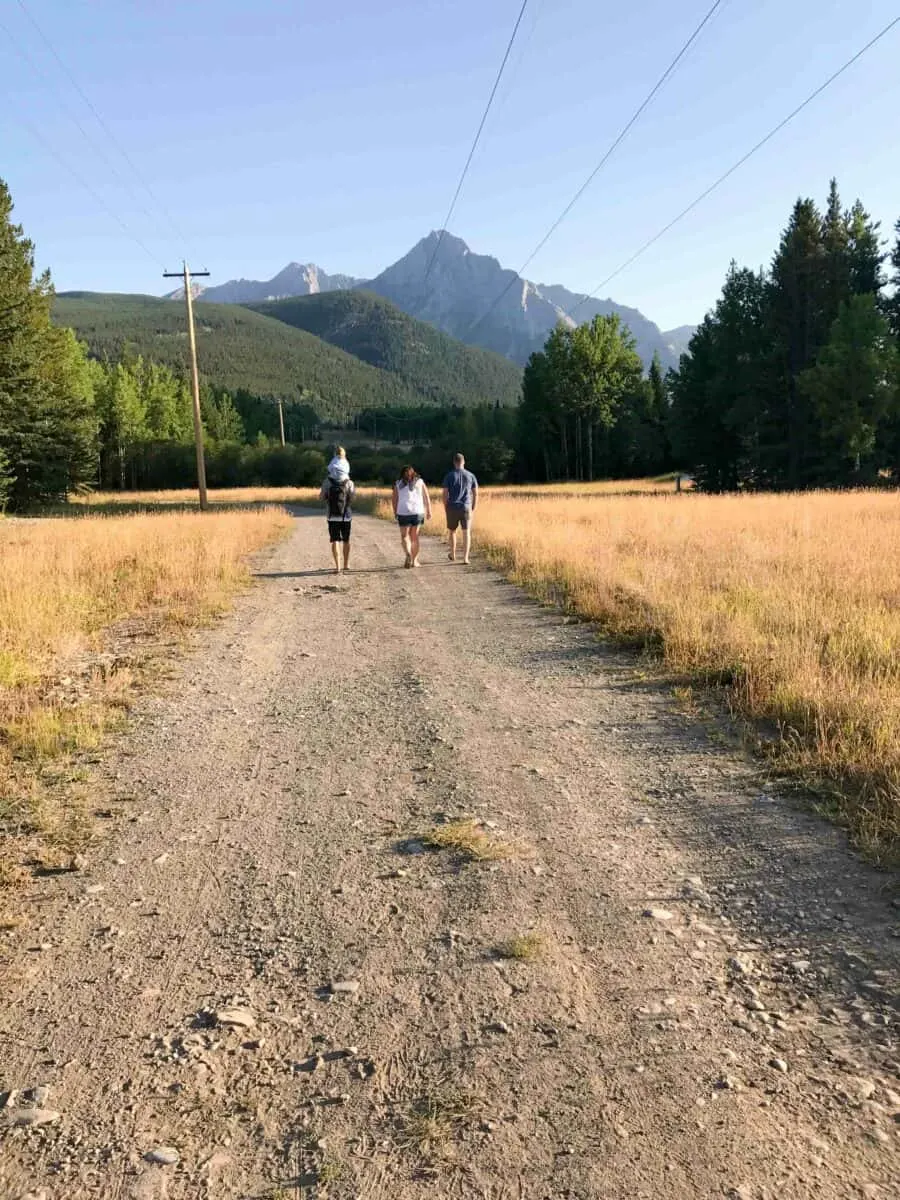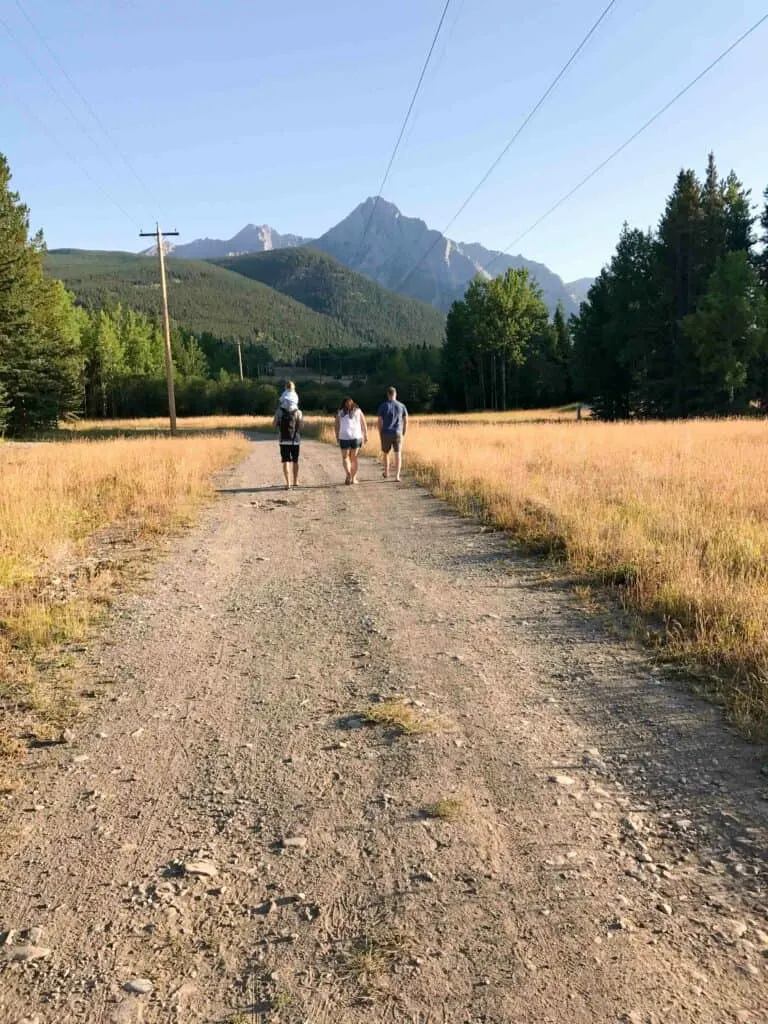 One thing I learnt from our encounter is that it's worth learning some bear safety tips if you plan to do hikes in their natural habitat.
We loved the All Trails app, it explains so much about nearby trails, difficulty and suitability for kids. It also is used as a platform to report bear sightings.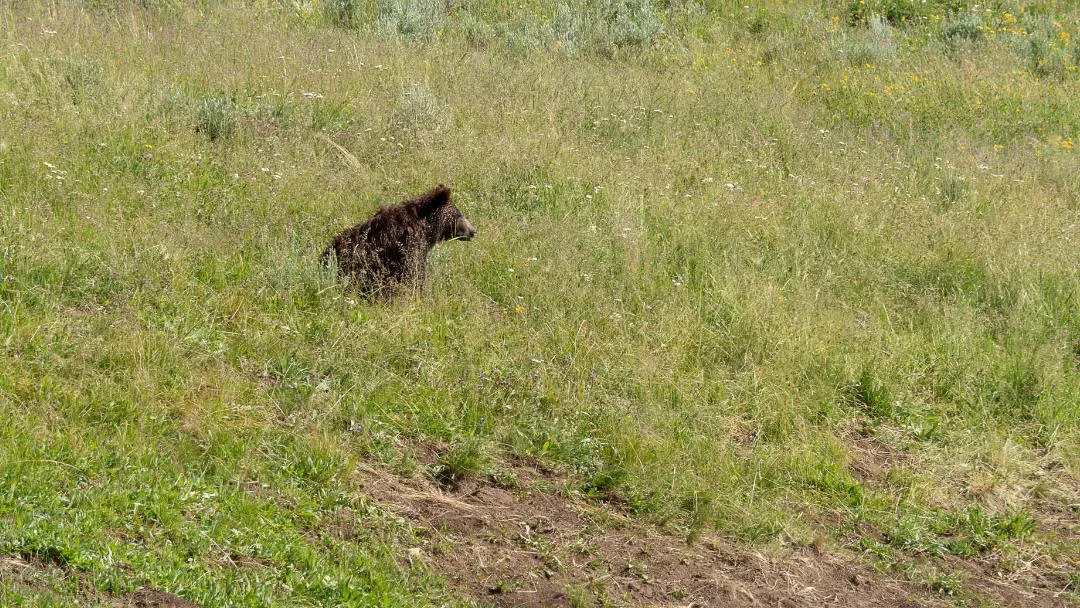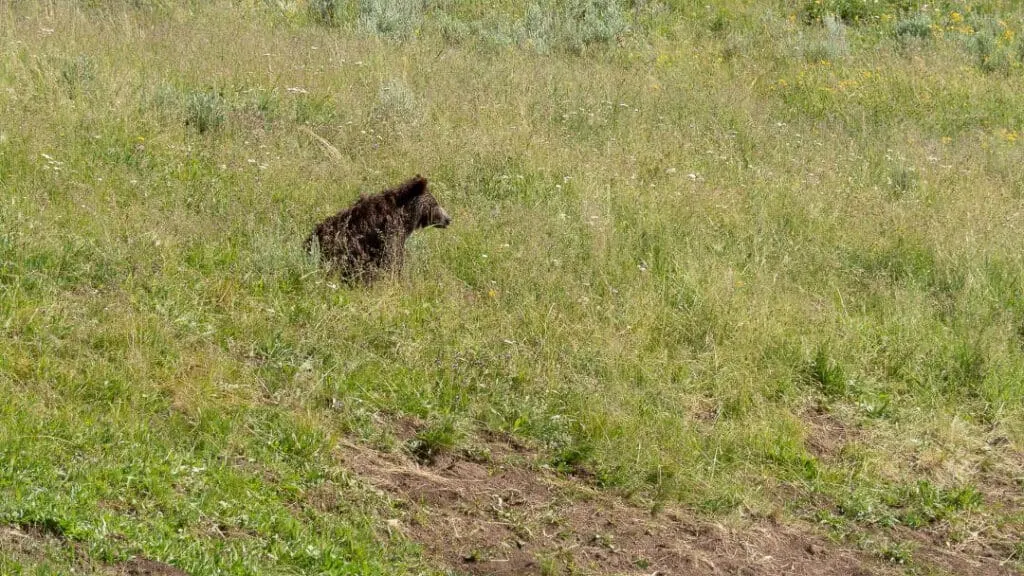 If you see bears it is best to report them. Check out this post for some of the other great hikes nearby.
Another thing to note is you may need a Kanasakis Conservation Pass as part of their efforts to protect the area when parking in the provincial park.
I would have liked to stay in Kanasakis hiking but it was just a quick stop for a hike and on we moved to Canmore which is very close by.
Canmore
Canmore is a beautiful little town nestled in the heart of the Rocky Mountains. It reminded me of the ski villages in Switzerland! There are plenty of things to do in Canmore.
Make sure to get out at this little town and wander around, there are plenty of restaurants, cafes and bars, it has all the mountain feels! 8th Street is a great place to start.
Rats Nest Cave
If you wanted to do something super adventurous, there is a nearby cave called Rats Nest Cave. Tours last from 4- 6 hours, so it would only be good if you were planning to stay in Canmore.
You can only access the cave as part of a tour so it is worth booking ahead if this is something of interest. It is one of the longest caves in Canada, at 4km cavers will see ancient bones and beautiful cave formations.
The tours run year round, so this is something good to know if you plan to visit off season.
Policeman Creek Boardwalk
If it is just a quick stop in Canmore, you should definitely take the Policeman Creek Boardwalk trail on the outskirts of the town. It is easy enough to park up on any of the streets when it is not peek season and walk the trail.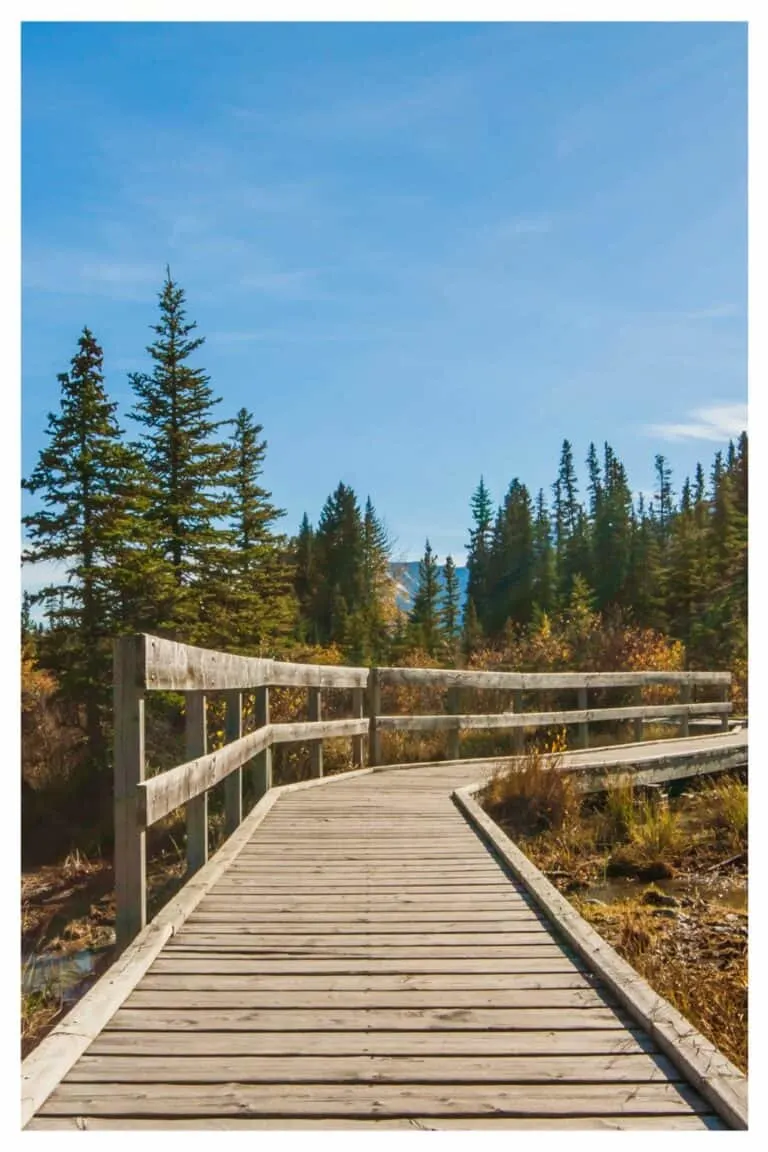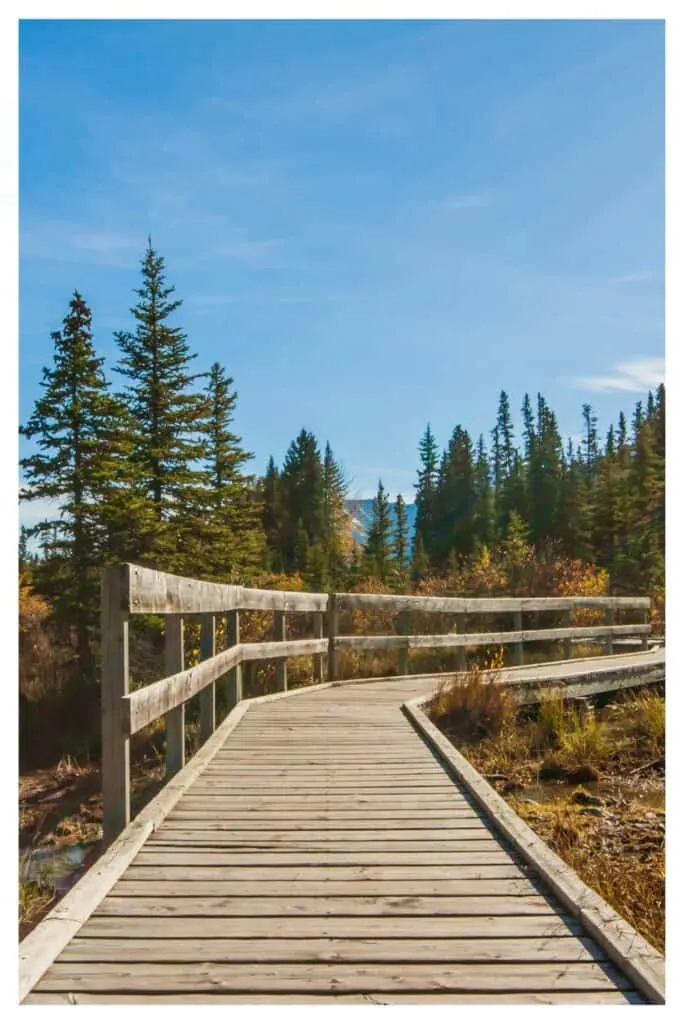 You will find the beginning of the trail by the big head sculpture in town. Weaving through the forest and pass pond and river banks, you may see elk or deer along the way. Its a really easy walk and worth doing to see the area surrounding Canmore.
Grassi Lakes Hike
When I planned the trip my inspiration was most certainly the beautiful crystal clear colourful lakes. Perhaps one of the less well-known lakes is Grassi Lake with its distinct green colourful and clear water, it is quite different from Lake Moraine.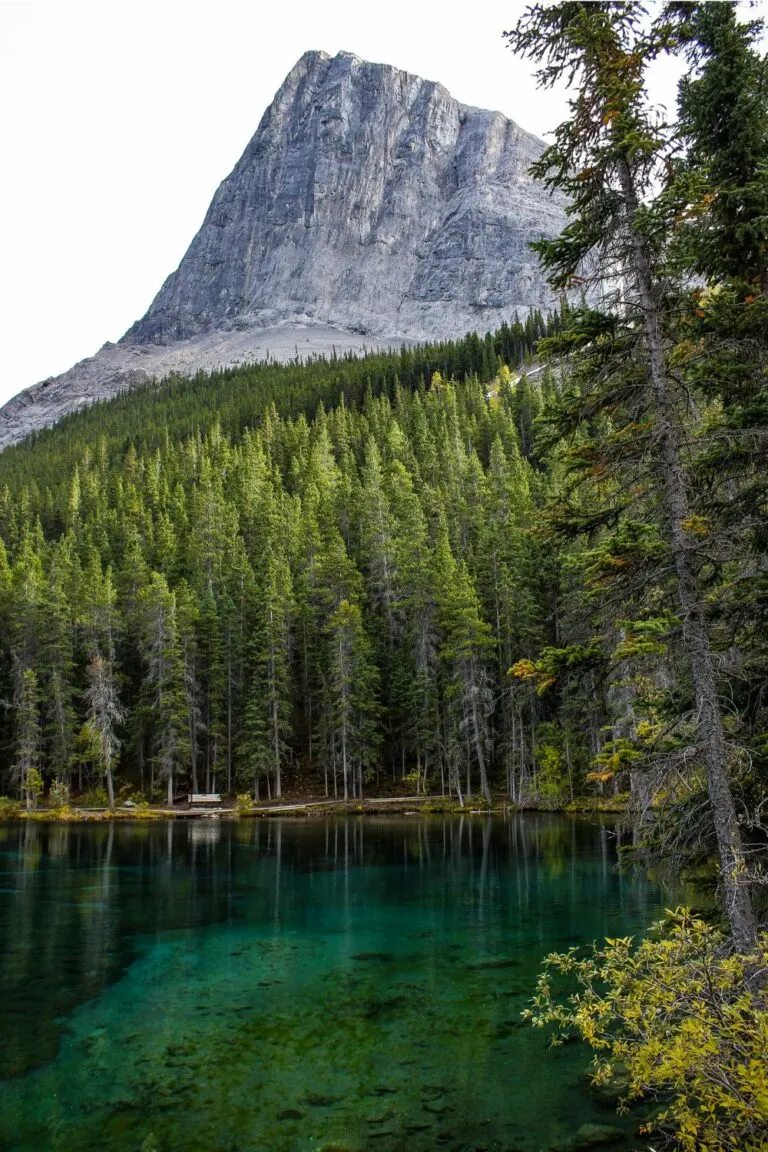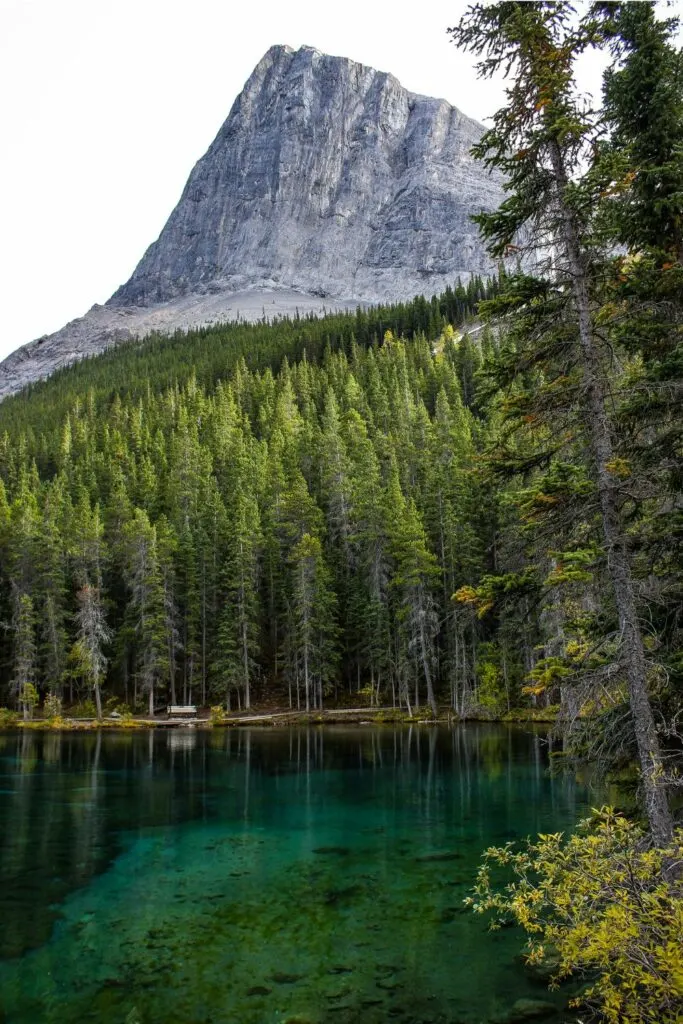 The trail to Grassi Lakes is fairly easy. There is a difficult path and an easier one. It is around 4km and takes 1 -2 hours depending on how many times you stop to snap photos!
There is some construction going on around the trail which may lead to closure, so do check before going that is is open.
If you are looking to stay overnight rather then heading on, there are plenty of options for Canmore hotels and RV sites.
Banff is only 20 minutes away from Canmore so if you prefer to keep moving it is not far! That being said Banff is generally more busy in the hotels and campsites. Therefore Canmore is a good option for an overnight stop.
Hotel In Canmore
If you are looking for a hotel in Canmore The Malcolm Hotel is incredible! Featuring an outdoor pool with a stunning mountain backdrop, hot tubs and BBQ facilities, it is the perfect place to unwind after driving from Calgary to Vancouver.
There is a bar, restaurant and fitness centre on site! They offer horseback tours, canoeing and cycling!
Check out the rates of The Malcolm Hotel here.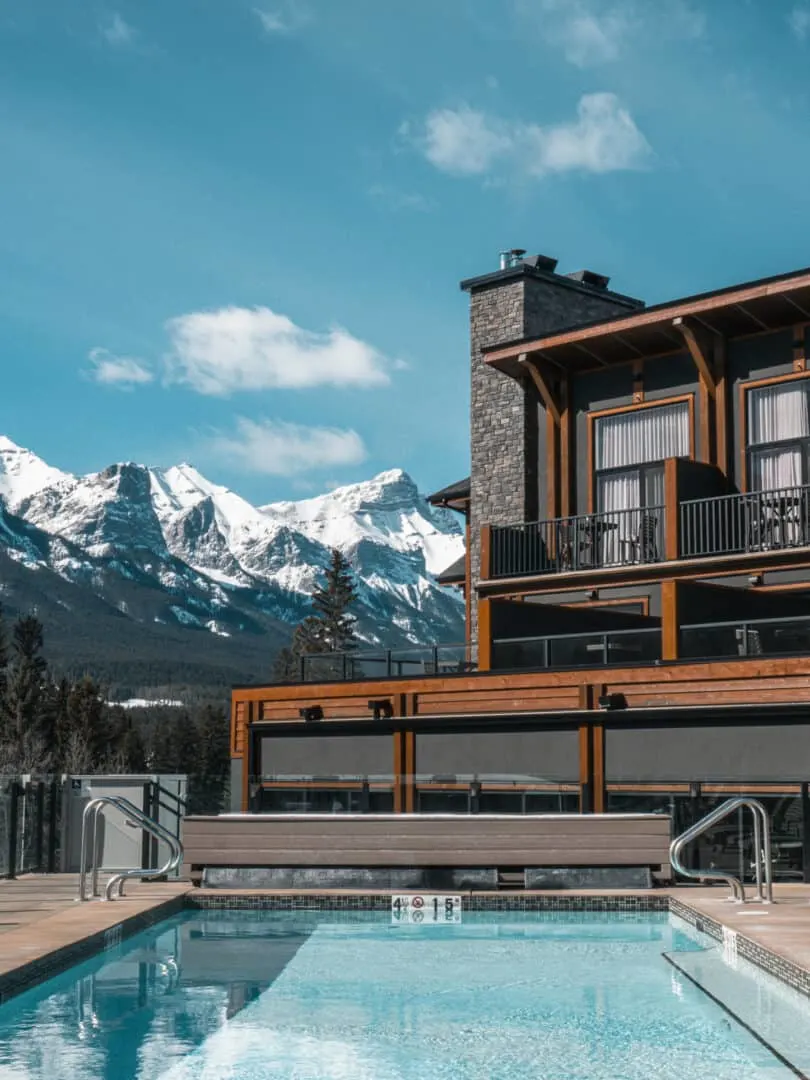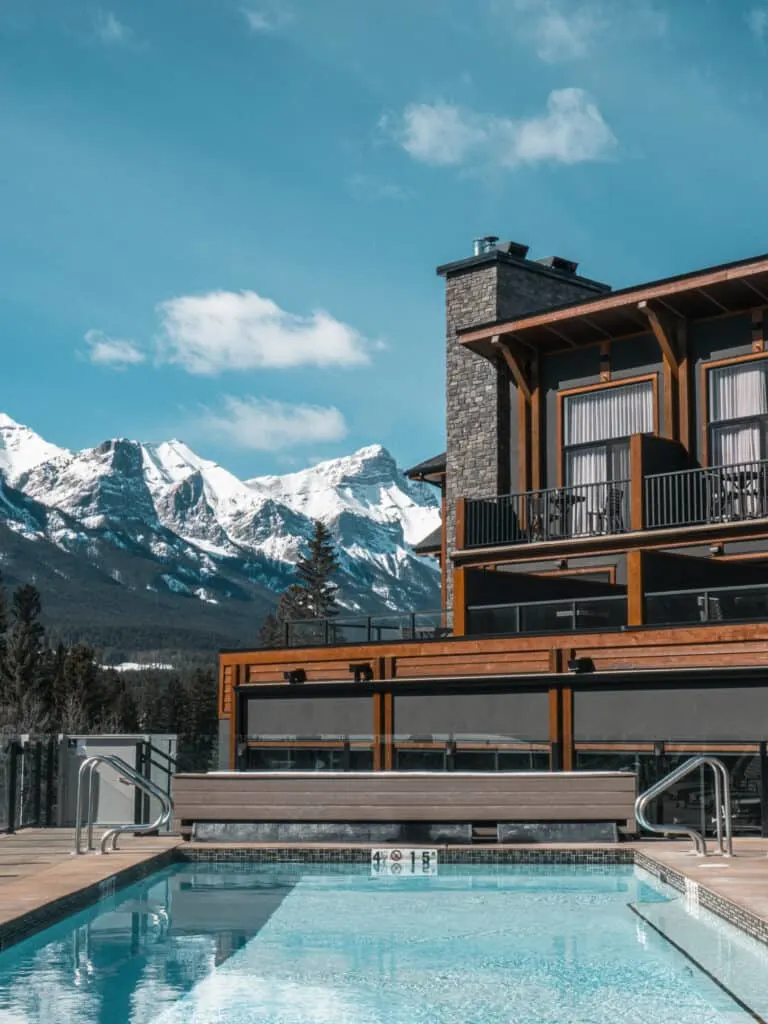 RV Site In Canmore
Three Sisters Campground is just off Trans Canada Highway, 12 km East of Canmore. With 36 pitches, the campsite is just on the banks of the Bow River.
The site allows small fires, however this may change on the weather and conditions. This is another place you may need a Kanasakis Conservation Pass to park. It is also a site where bears might be seen from time to time so bear safety is really important.
There are lots of hiking, biking trails, fishing and paddling nearby. Some guests also launch boats from this site!
Banff National Park
The first thing to say is no matter how you are travelling you will need a Canada Parks Pass to enter. You can either purchase one at the entrance or order it in advance on their website.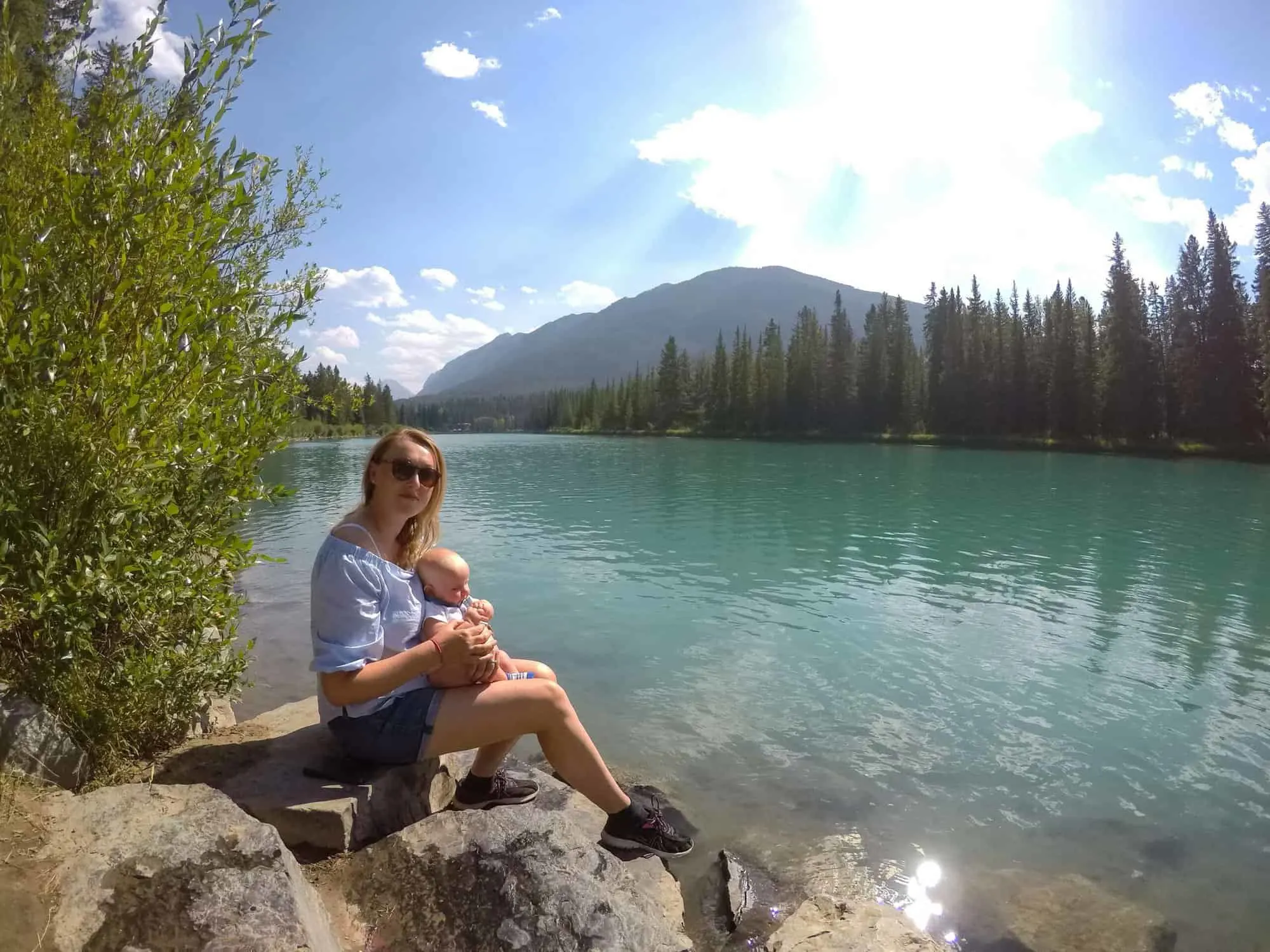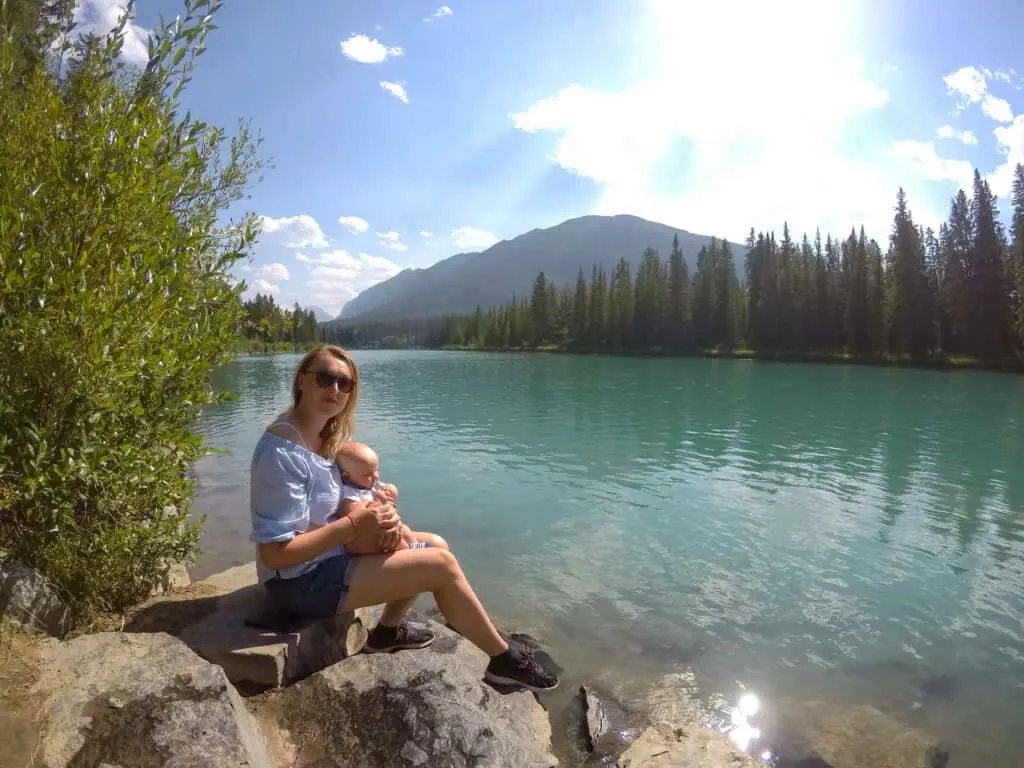 It's worth noting, if you order online it may take a couple of weeks to arrive depending on where you live. It is best to order it well in advance so you have it for the drive from Calgary to Vancouver.
You can purchase a single location pass or a multiple location pass. It is worth getting the multiple location pass if you plan on visiting Jasper. Just remember to display your pass hanging from your rear view mirror.
Once you are in, there is so much to do in Banff! From Sunshine Village to Johnston Canyon and Lake Louise to Moraine Lake!
Downtown Banff
If you are in an RV you may want to pitstop in downtown Banff to stock up on supplies. It is another quaint town in the Rockies.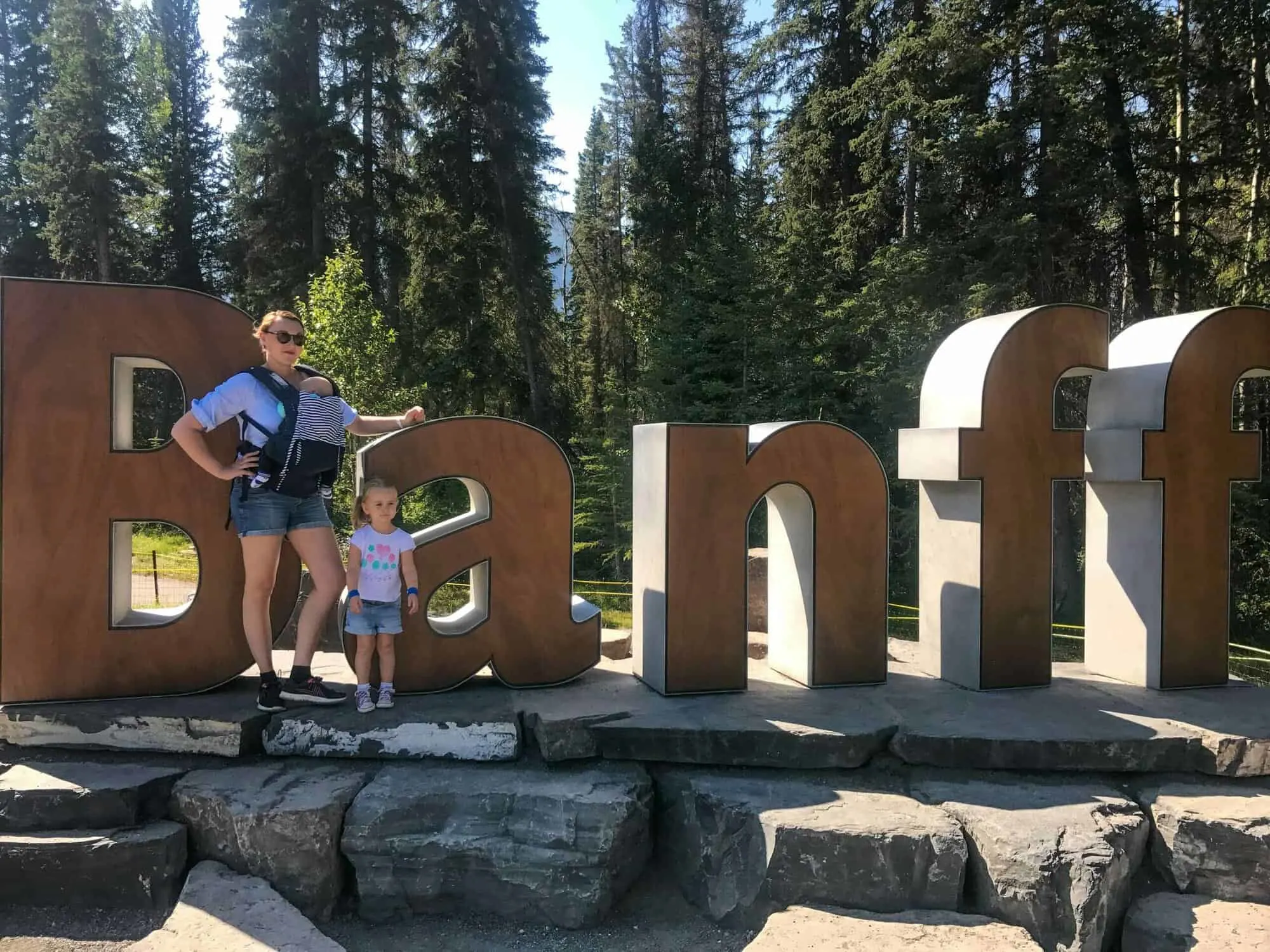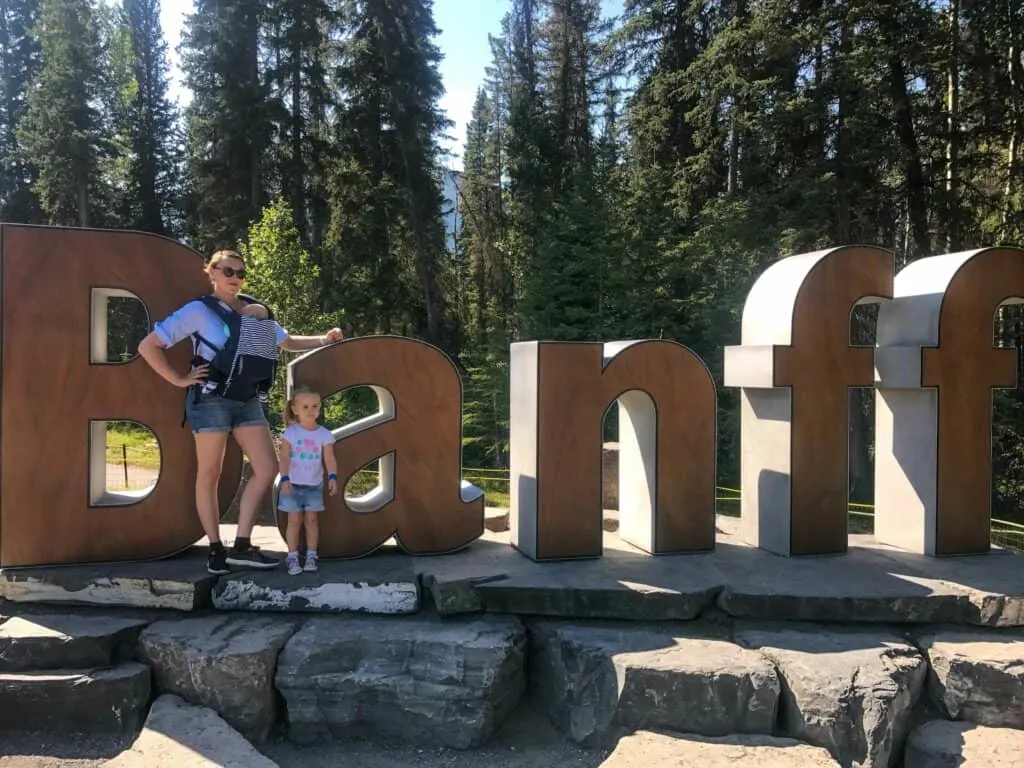 There are some amazing restaurants in Banff. From the town you can easily walk along the river or meander around the town.
Otherwise, everything is pretty much outside the town. Sunshine Village was our first stop after Downtown Banff!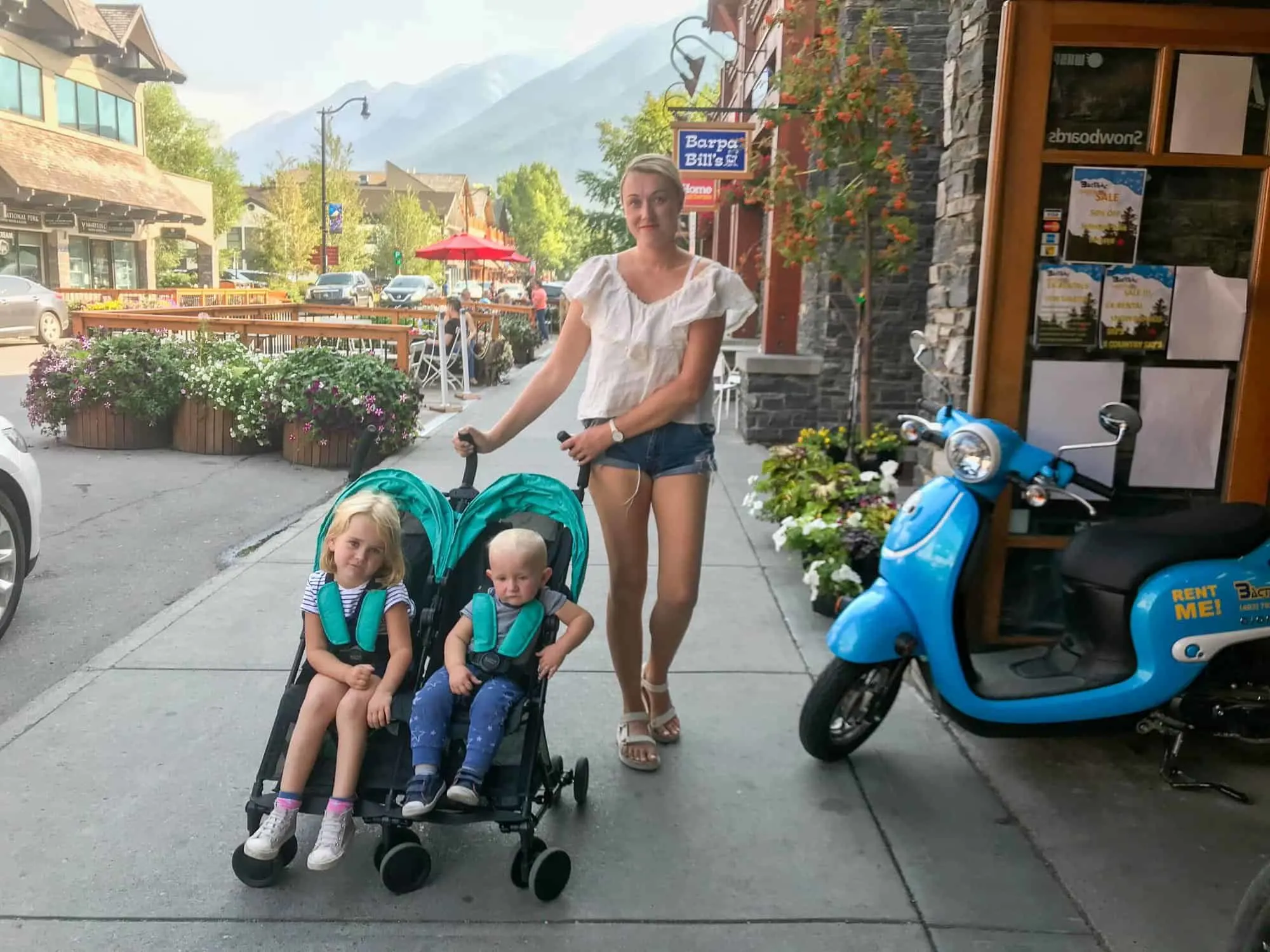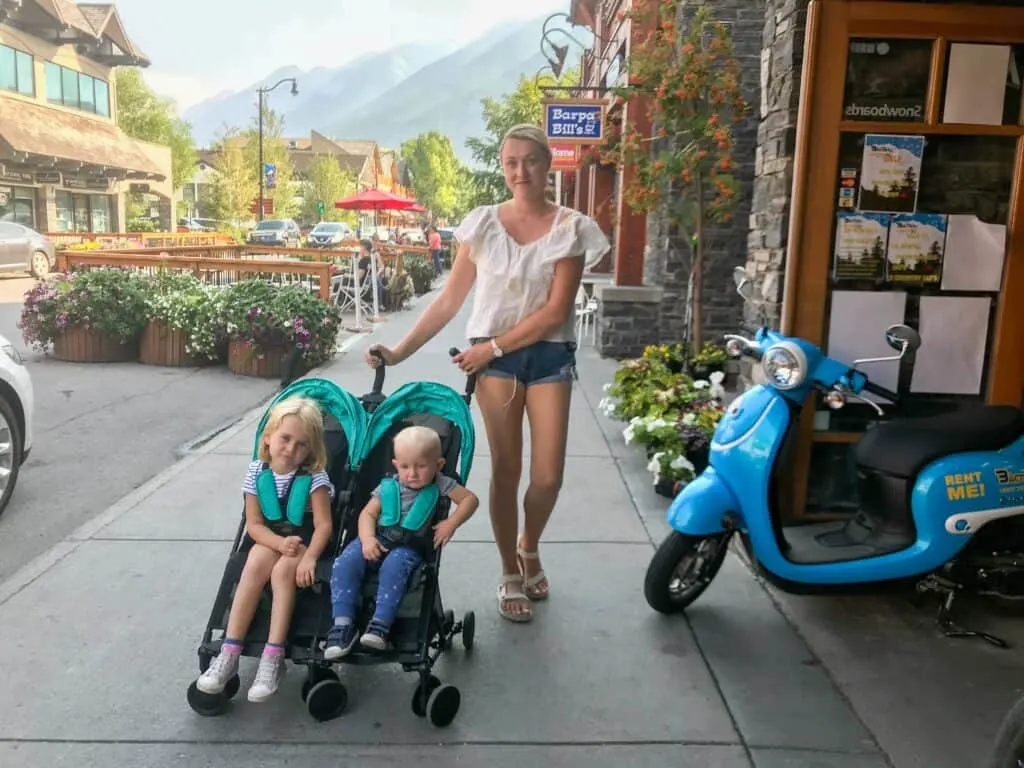 Sunshine Village
If you are driving from Calgary to Vancouver in a car, you will definitely want to stay at Sunshine Village Mountain Lodge. If you are in an RV, you will still want to visit for a half day of hiking and exploring.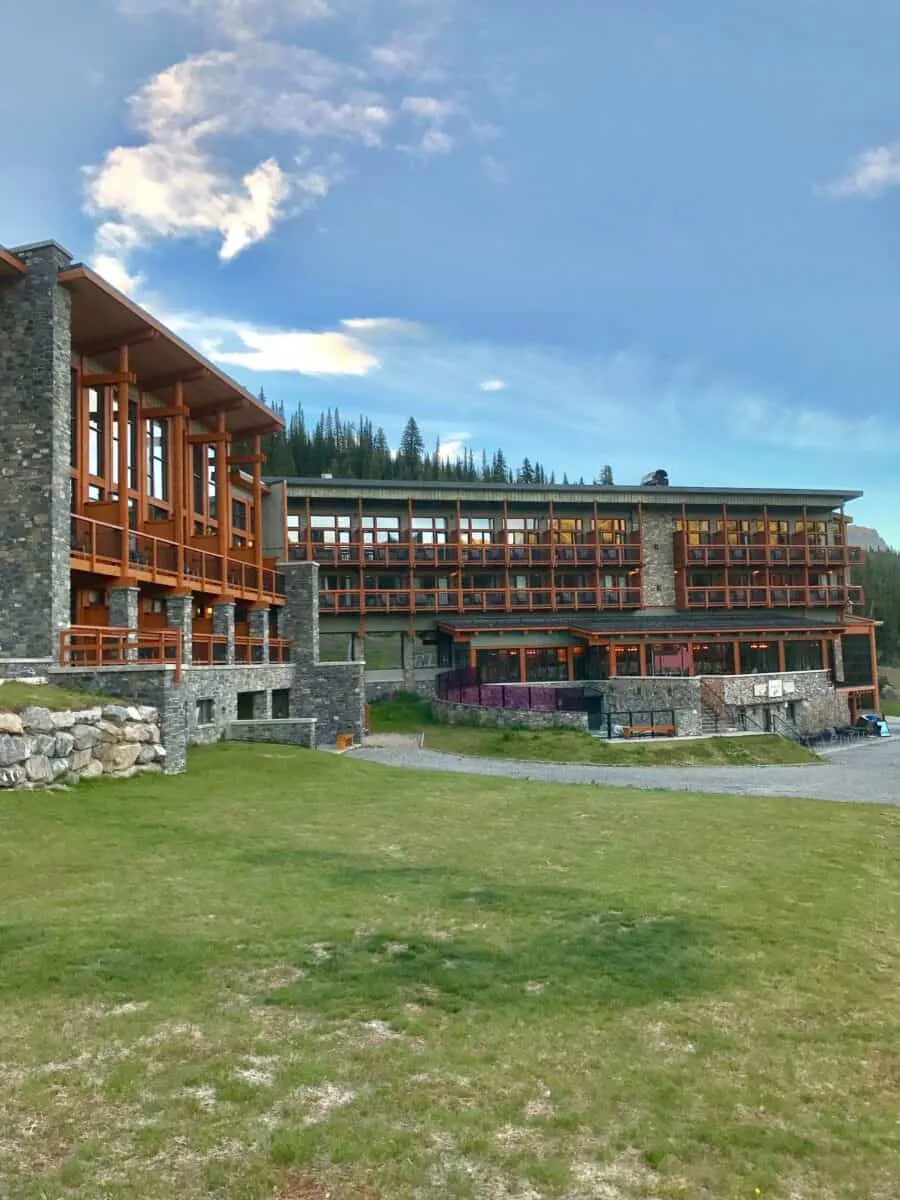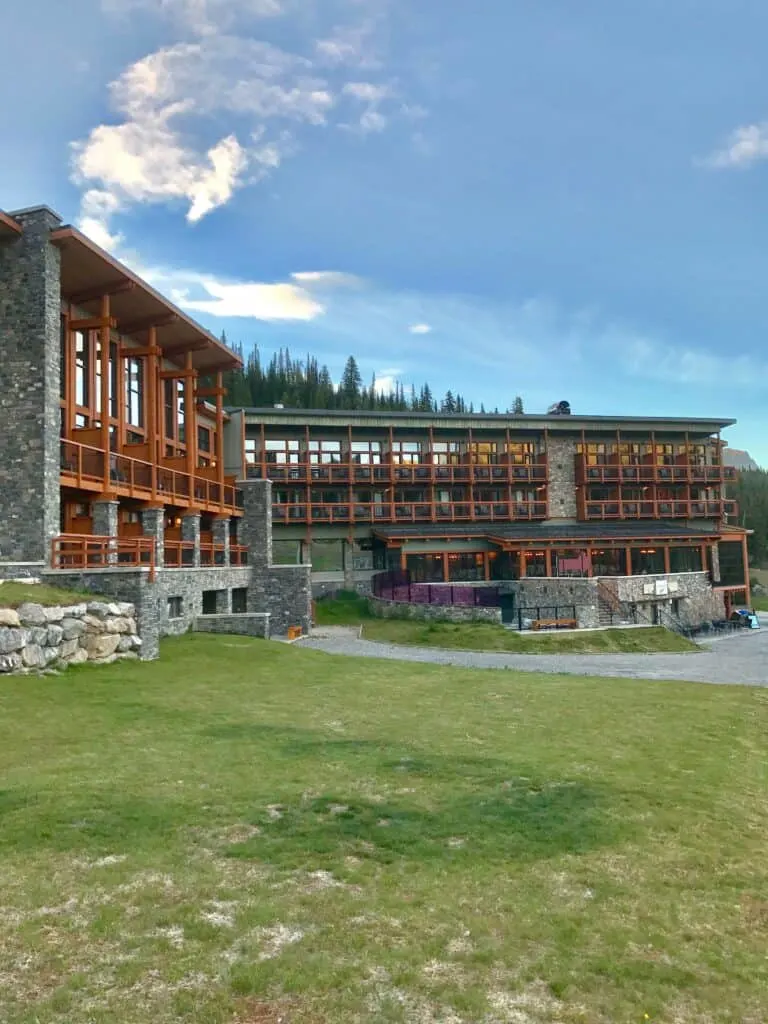 Downtown Banff is quite popular, however we found it crowded during peak season so we were happy to escape the crowds once we had a look around.
We stayed at the Sunshine Mountain Lodge. The property is at the top of a mountain and is also on the edge of some incredible hikes. We had free parking at the foot of the mountain and we were transported up in a gondola.
Check out prices and availability for Sunshine Mountain Lodge here.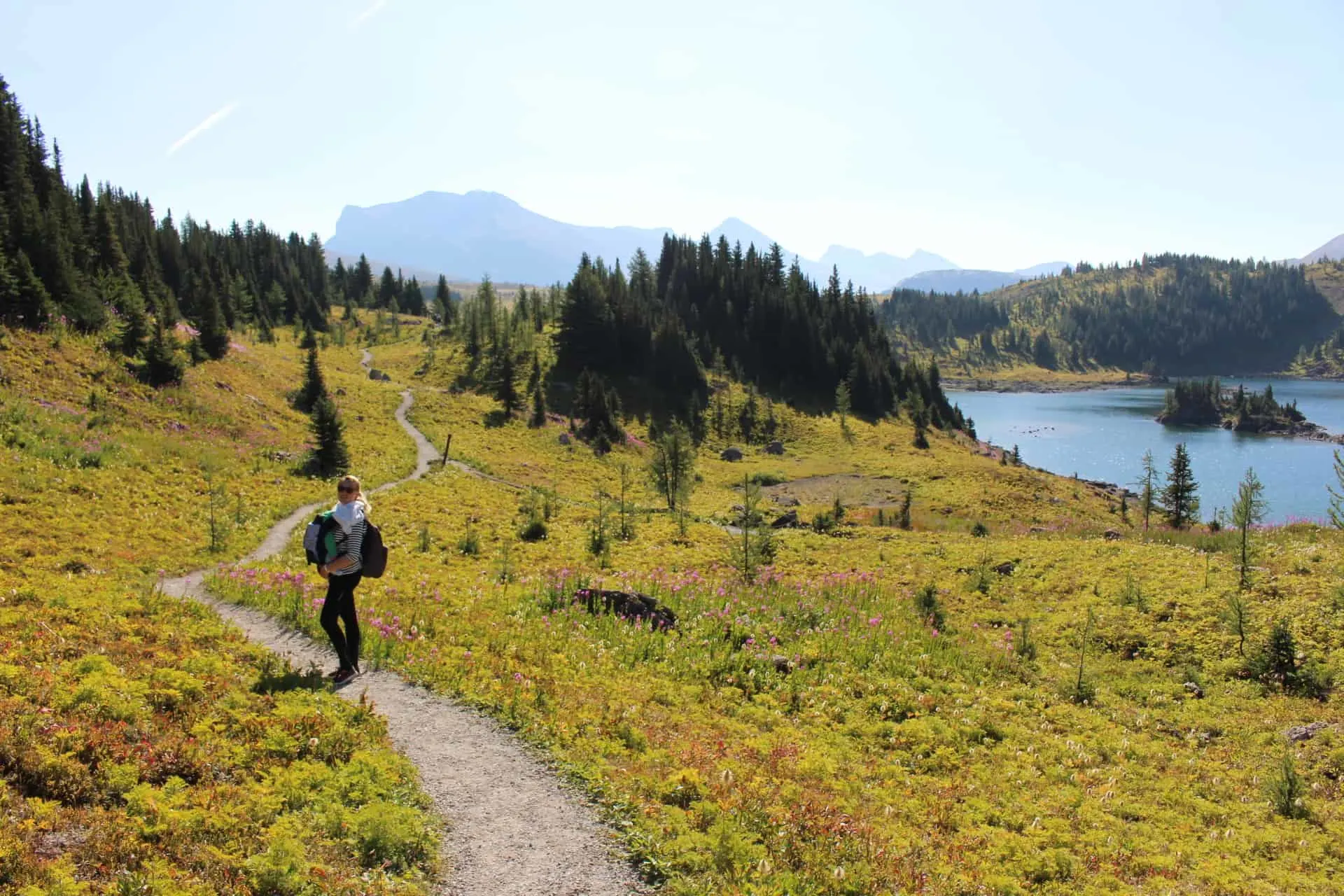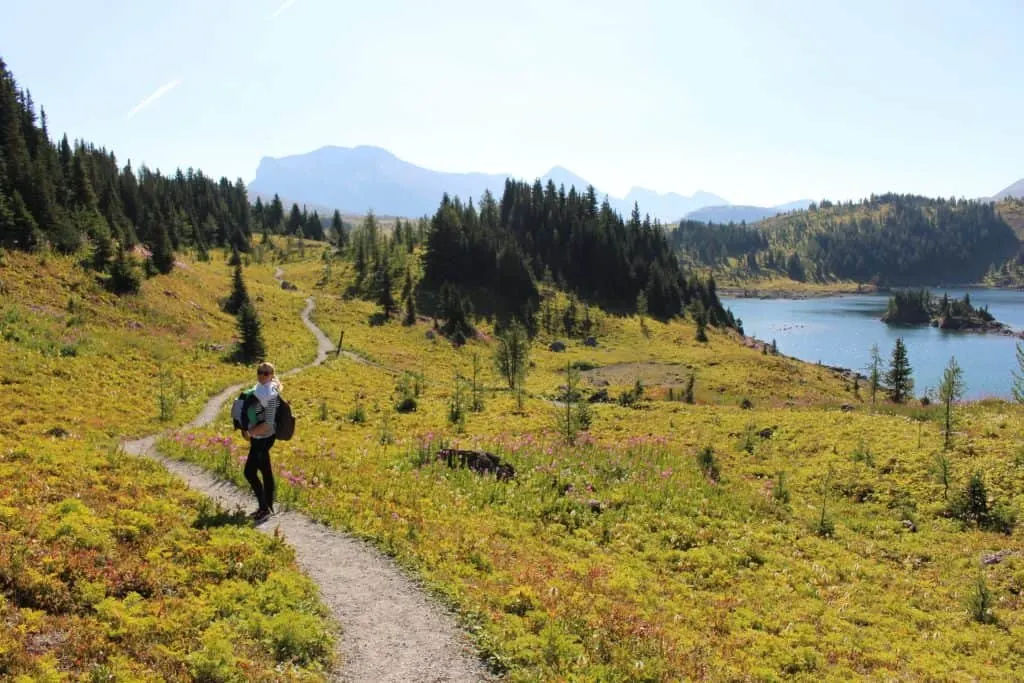 We used chairlifts to get to the trails. It's quite off the beaten track. There were some pretty lakes and so many beautiful wild flowers. The trails were easy so our three year old could manage most of it.
Sunshine Mountain is known for skiing and snowboarding, it is less well known for summer hikes. Honestly the hikes around Sunshine Mountain were some of my favourite in Canada.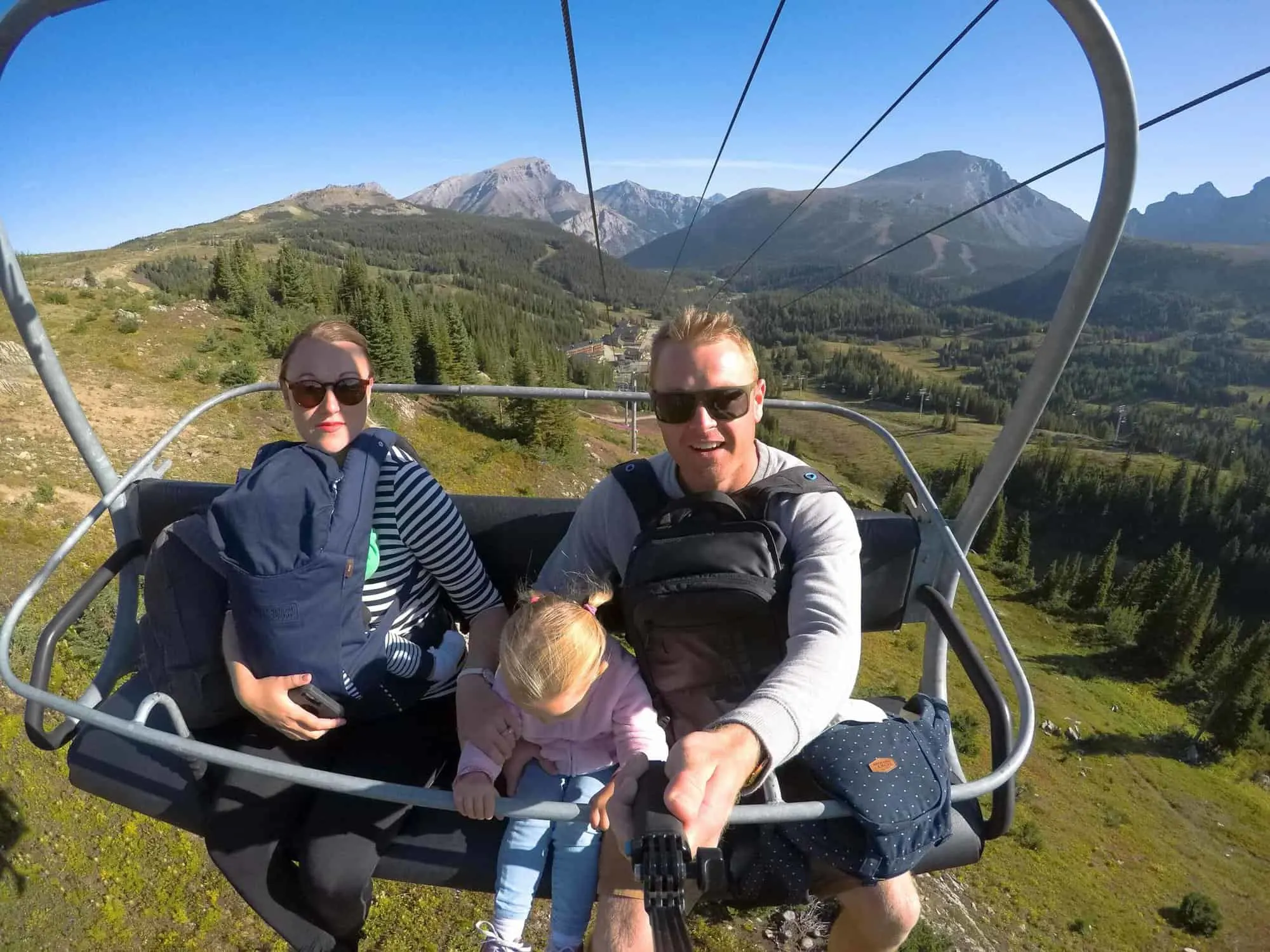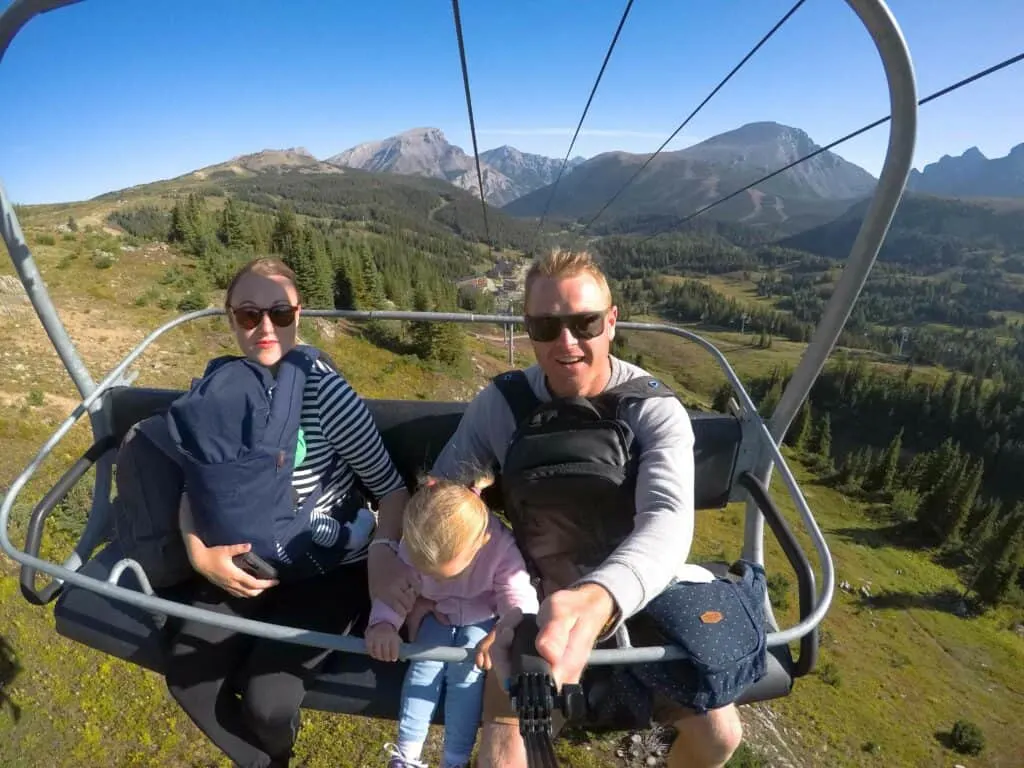 The Standish chairlift takes you 7875 ft high providing the highest views in all of Banff. It's also the only chairlift that provides access to 4 alpine lakes!
If you are just visiting for the day, nip into Sunshine Mountain Lodge for a much deserved lunch.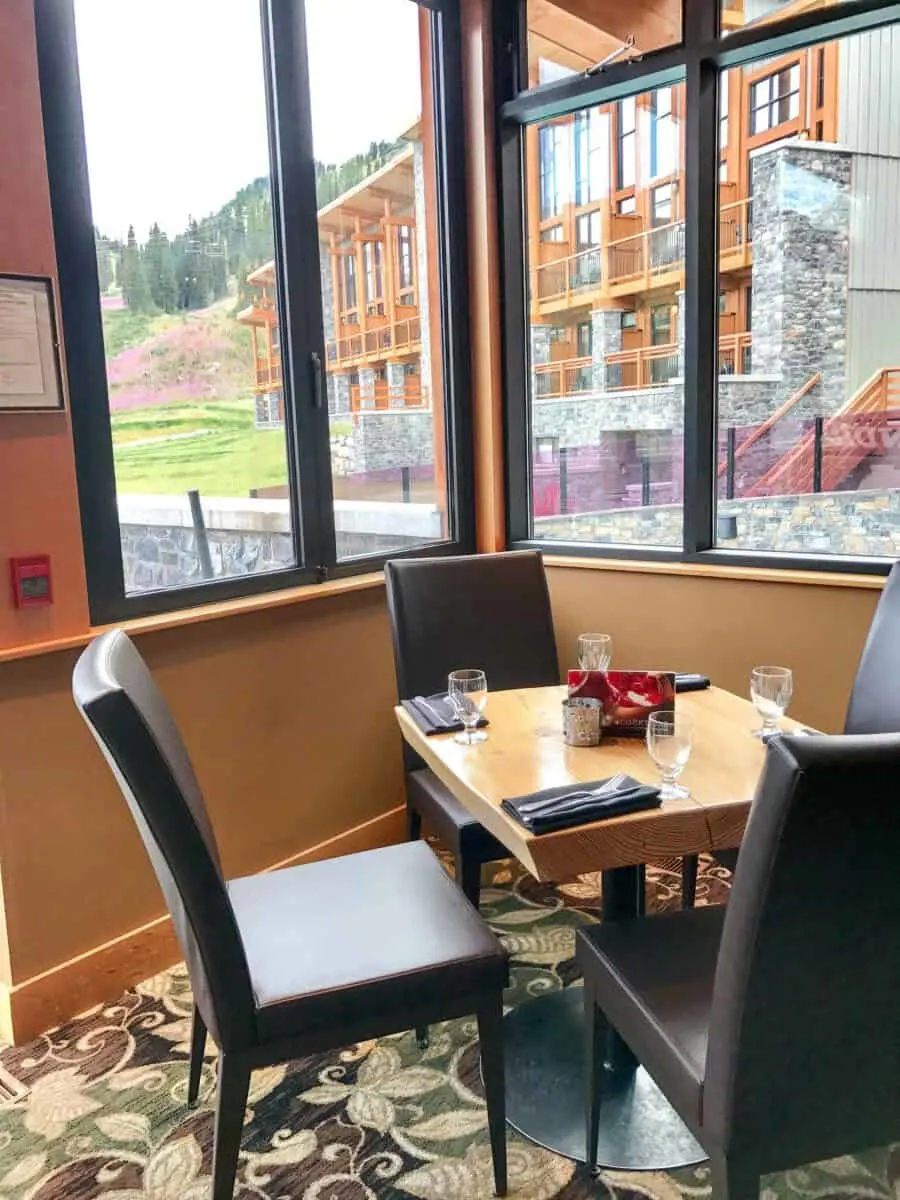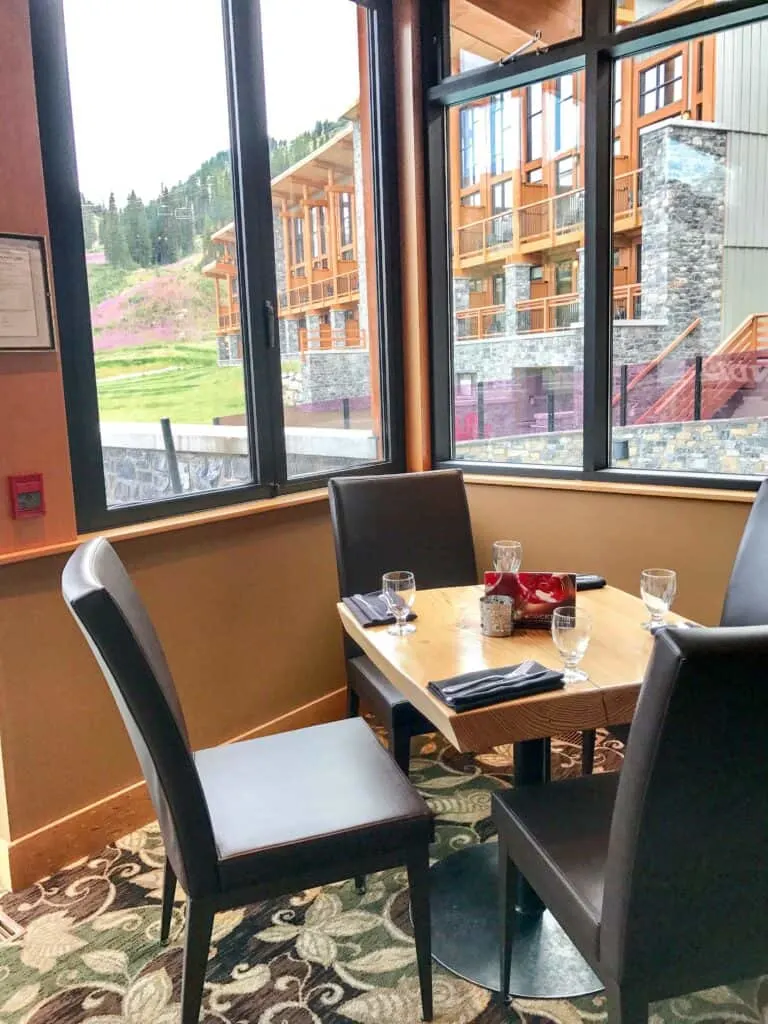 If you plan to stay for a couple of nights, the lodge features alpine suites, a restaurant, bar, wellness spa & outdoor hot pool.
The Lodge is a hit in winter as a ski in ski out property. They arrange walking tours, tobogganing tours, movie nights and so much more.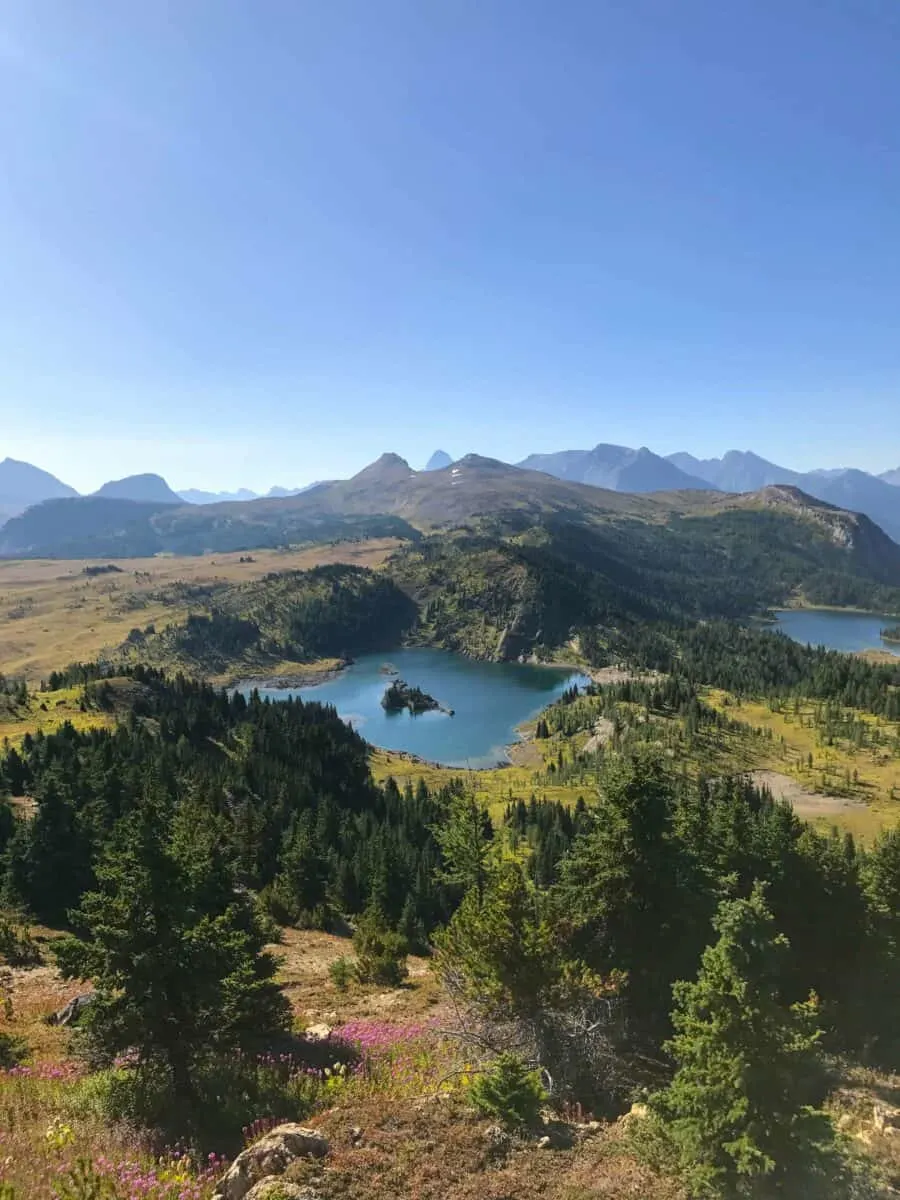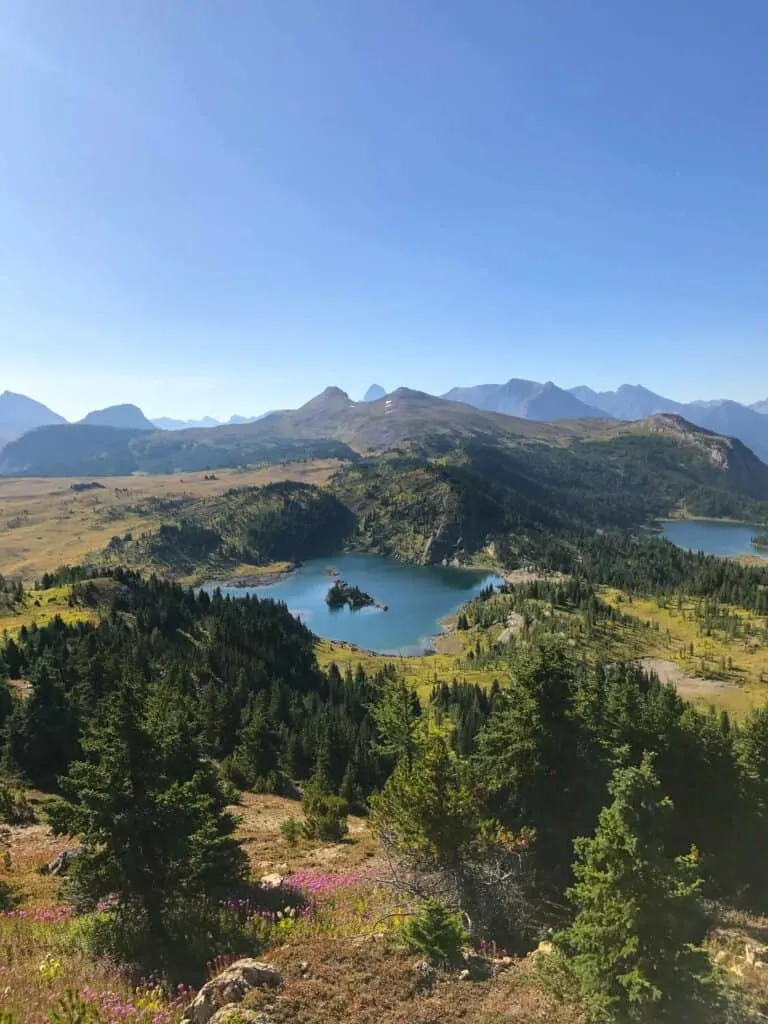 It is worth noting the lodge is only accessible by gondola, however they have a bell man at the gondola station so all your luggage is taken care of before you set off!
Check out Sunshine Mountain Lodge here.
RV Site Near Sunshine Village
The nearest site is the Johnston Canyon Campground. We stayed there twice in the past both in an RV and in one of their bungalows. It is a really lovely site with central BBQ facilities and picnic benches.
It is also ideally located for exploring the canyon off-peak hours! Read on to hear more about Johnston Canyon!
Johnston Canyon
Located at Badger Pass, you absolutely cannot pass by Johnston Canyon if you are going to drive from Calgary to Vancouver.
It is a tributary of the Bow River and has been formed over thousands of years through erosion. The trails along the canyon leads to upper and lower waterfalls, as well as meadows.
The first part of the walk is railed walkways and bridges so it is easy for kids to walk along too! Getting to the meadows is more strenuous and requires more preparation.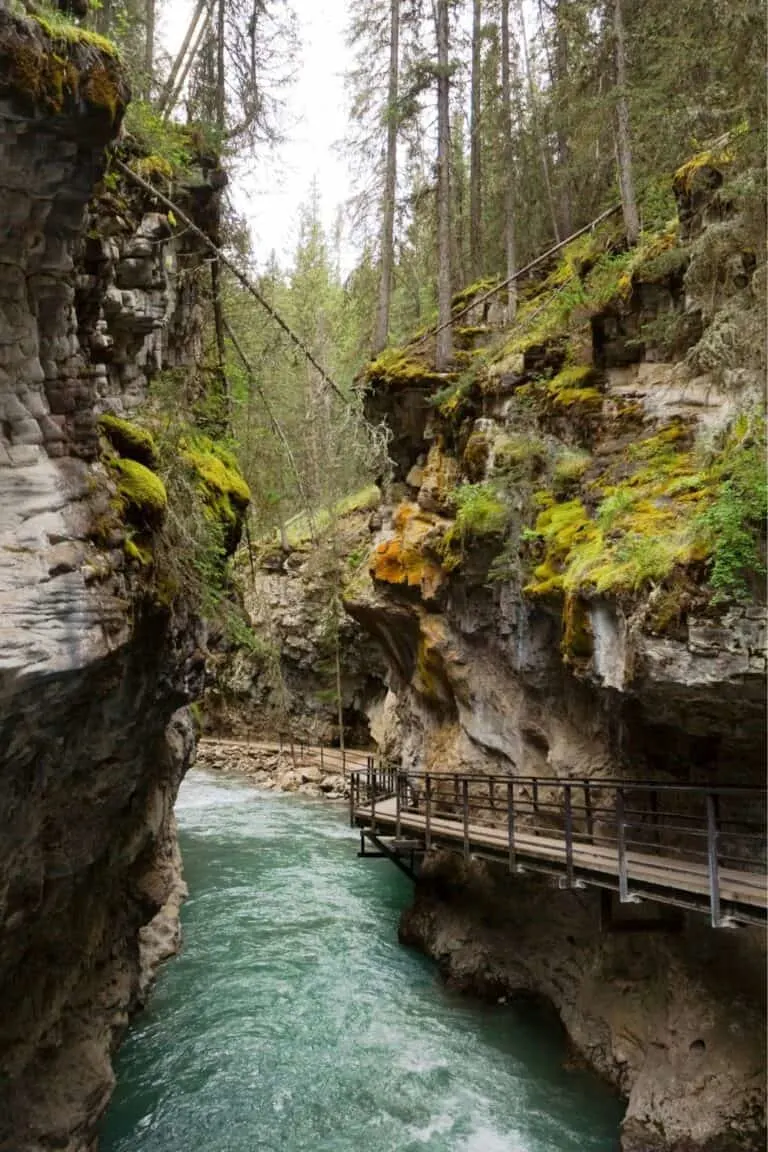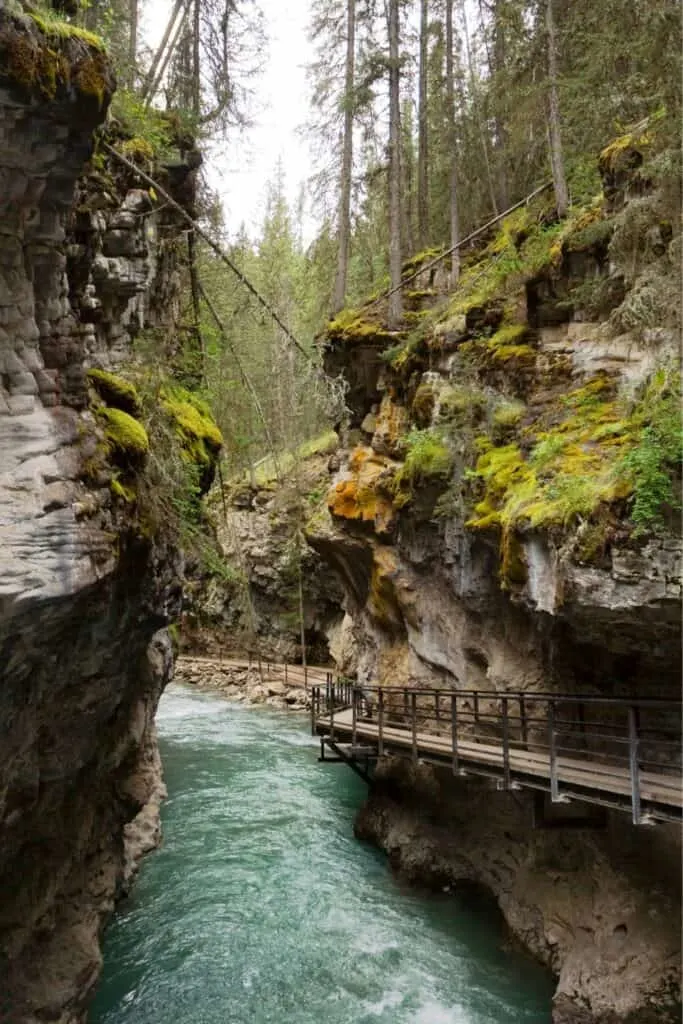 In the meadows, you'll find colourful spring pools which are a blue green colour much like the nearby Lake Moraine and Lake Louise.
Depending on what time of year you decide to drive from Calgary to Vancouver, Johnston Canyon offers different experiences.
In the summer the waterfalls are gushing, whilst in winter they are frozen and ice climbing up the falls is a pretty popular activity.
On our first visit we completely missed the secret cave which appears to be a less well known part of the hike. So the second time we were on the hunt for the cave!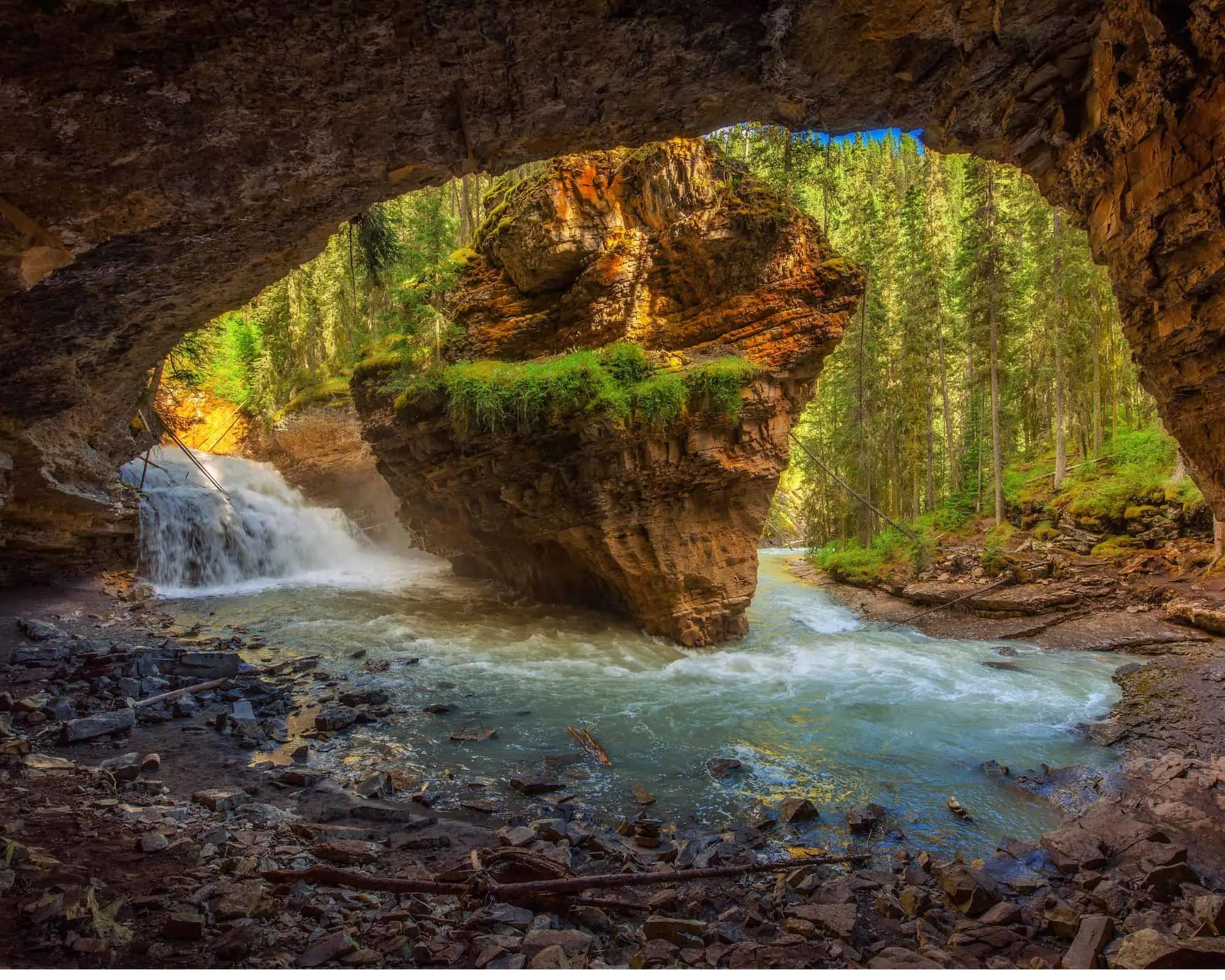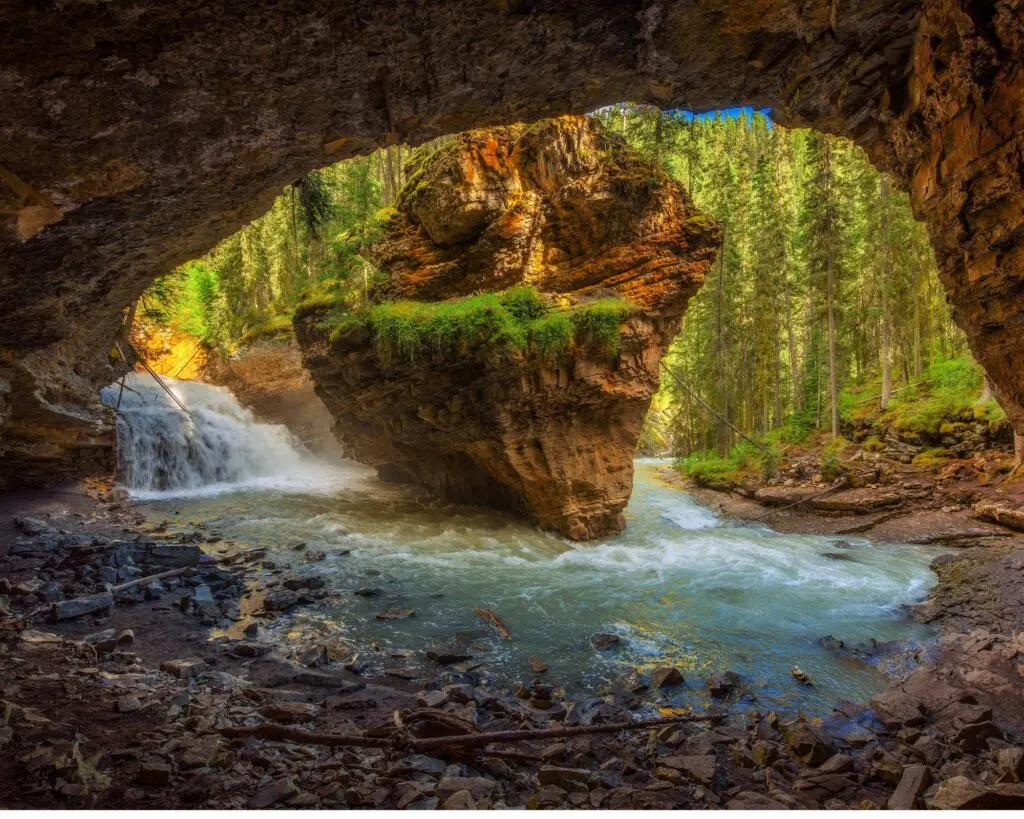 It is a little bit difficult to find the secret cave. It is at the last river bend on the right hand side just before the upper falls. If you can't find it, just ask other hikers passing on their way back.
The round trip to the upper falls is 6kms and takes around 2-3 hours. If you want to keep it simple, you can visit the lower falls. You still get to see the canyon in all its glory and some waterfall action too!
To the lower falls it will only take 45 minutes which is perfect for those with kids. As previously mentioned the trail gets busy on weekends and packed during tourist season. If you arrive early morning or late evening before sunset, it is a great time to visit.
At the end of the trip visit the market cafe, bistro or even the shack which serves ice-cream in summer. It is right near the car park and perfect place to have a coffee or a bite to eat.
Where To Stay In Johnston Canyon
Johnston Canyon right at the start of the hike has RV sites and cabins!. The cabins along the edge of the canyon are super cute. We loved everything from the log burner and old school radio, to the Victorian style bath and mood lighting.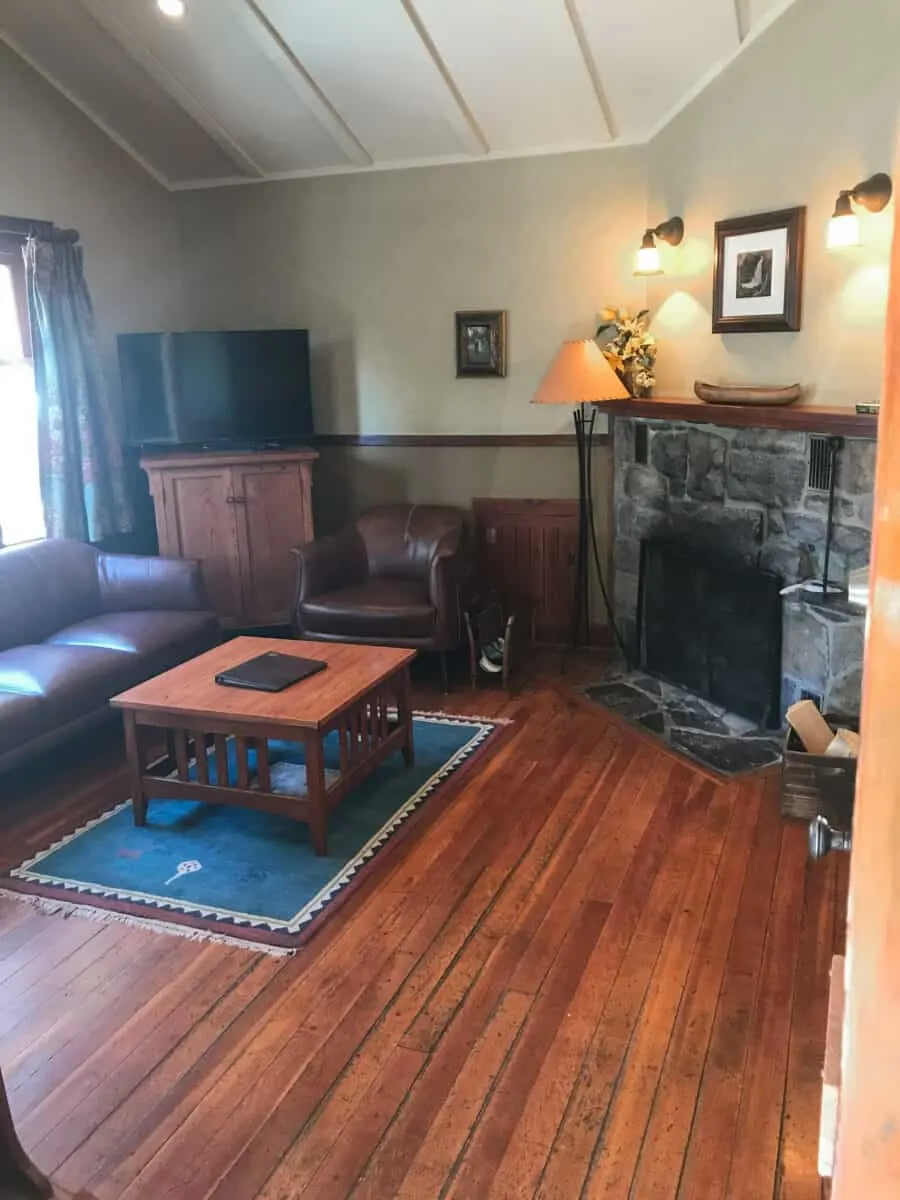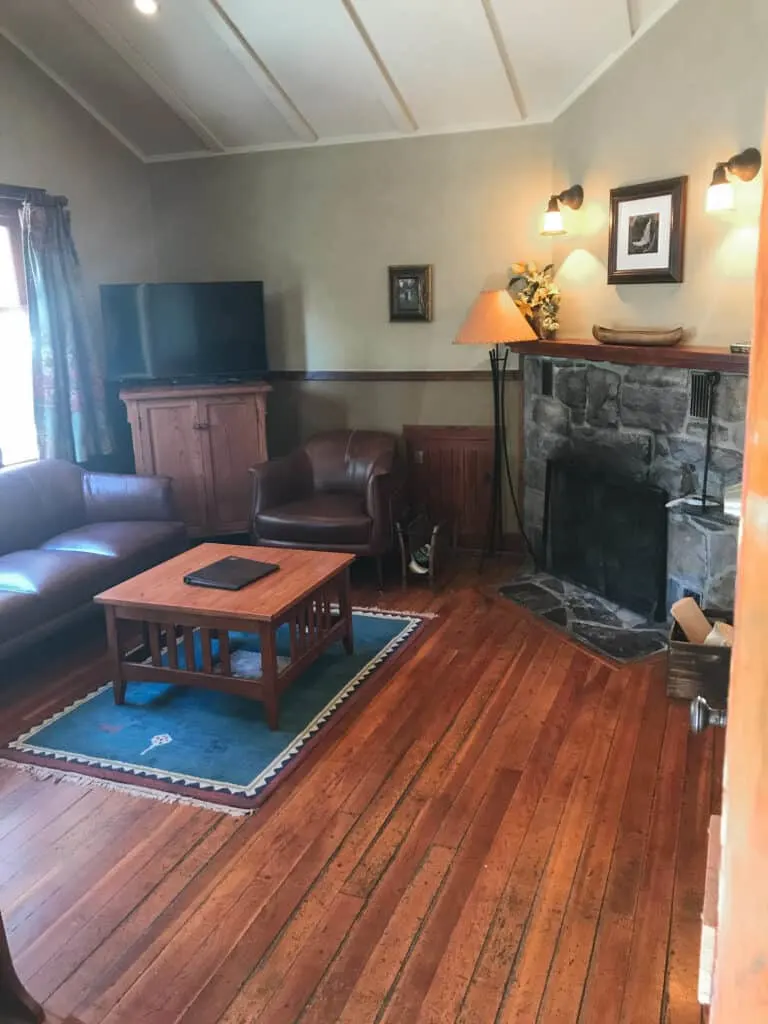 Our cabin had two bedrooms and some of the most comfy beds we have ever slept in. It felt super cosy.
Our cabin had a lounge with a TV and big comfy leather sofas, as well as a small kitchen with all the amenities. It was perfect for our little family.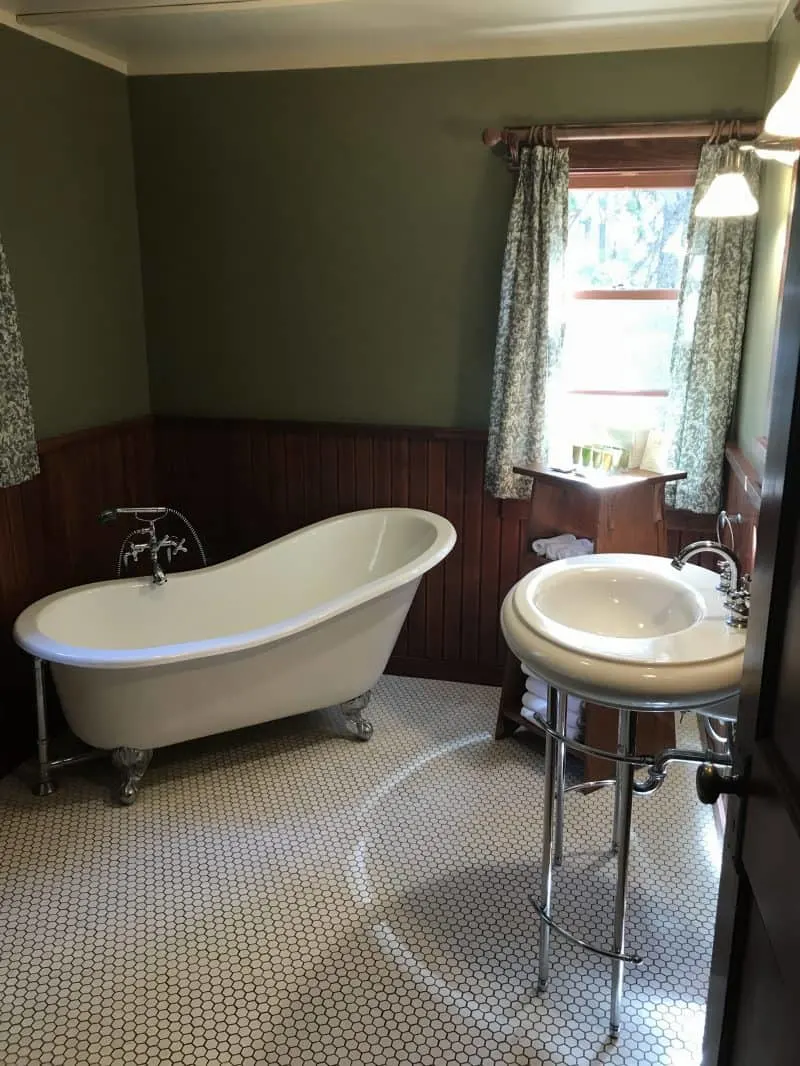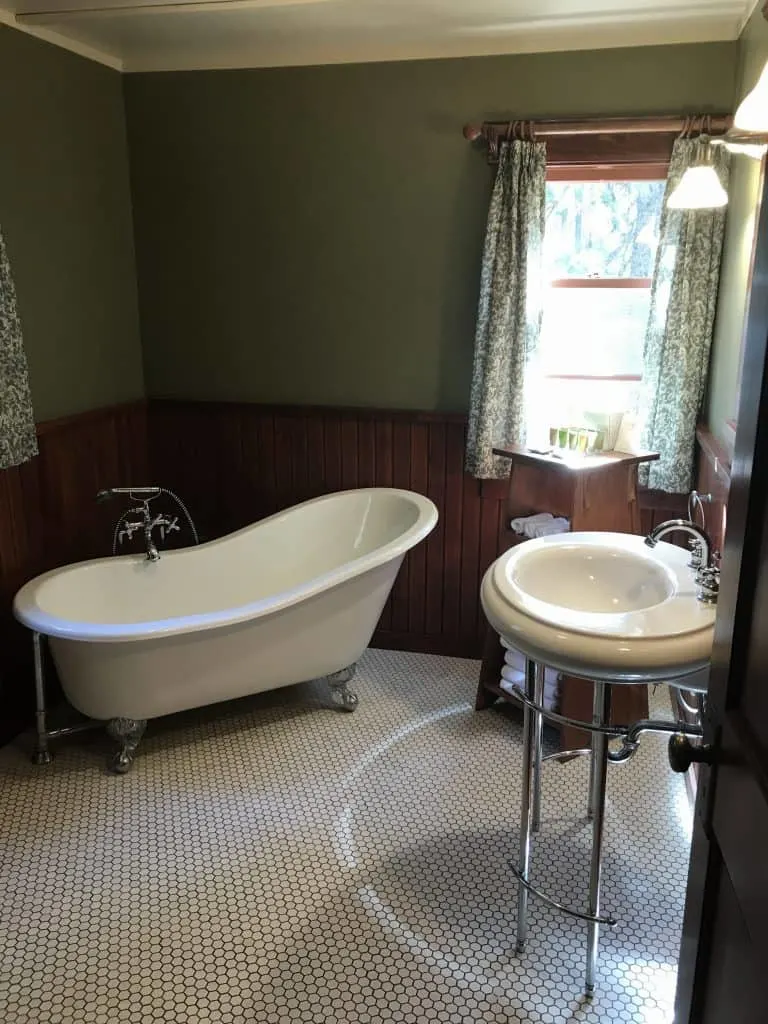 The bathroom was super quirky with the big bath and paisley patterned curtains. It was such a nice place to unwind after a long day of site seeing with kids.
The outdoor deck with shared BBQ facilities were great for an evening sitting around chatting!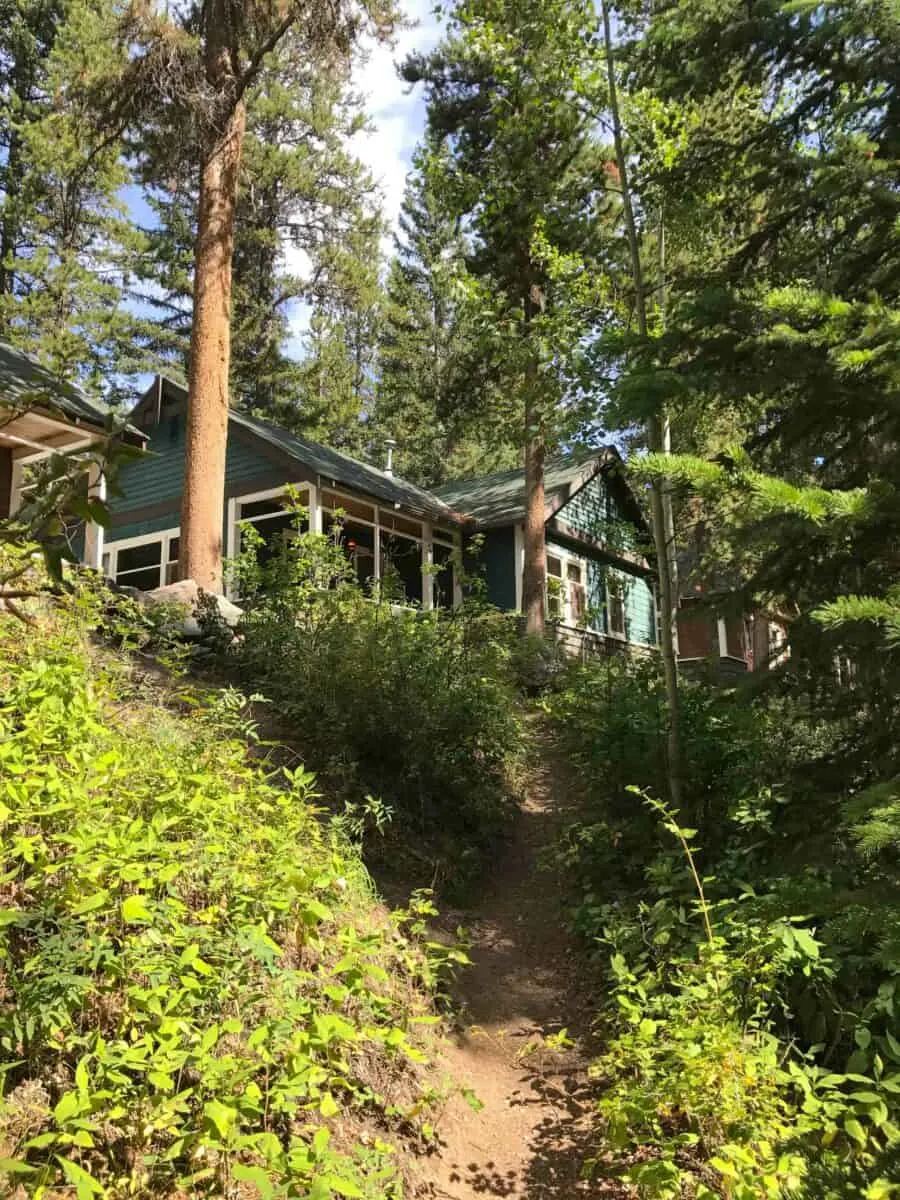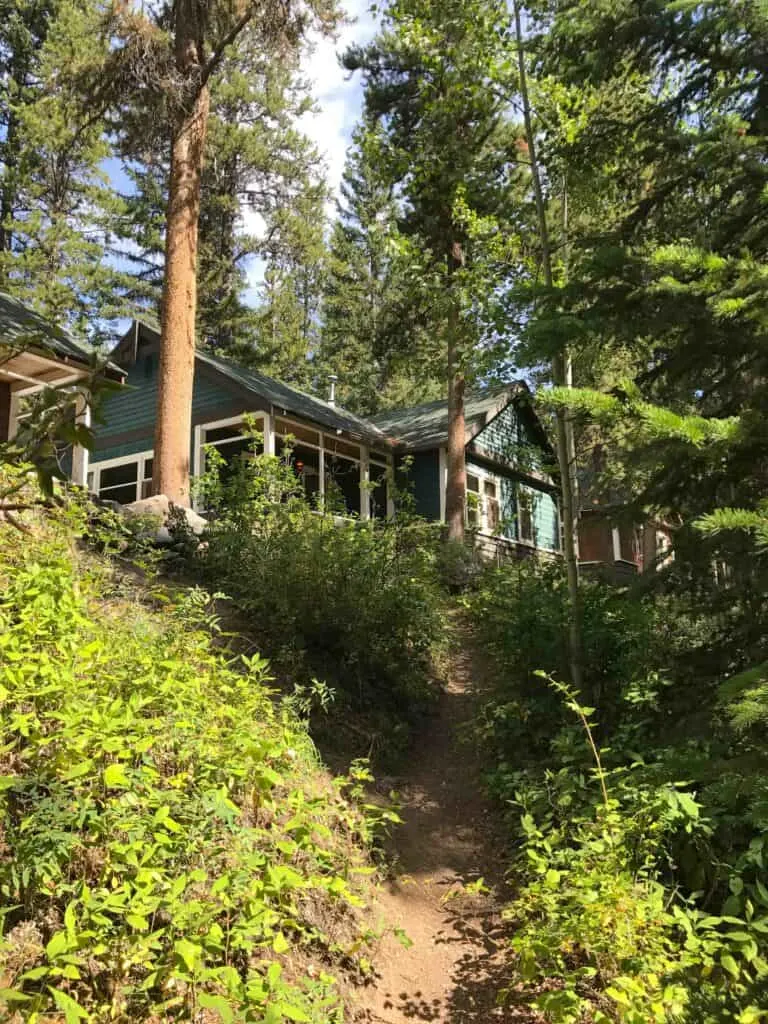 The same area is accessible to those parking up in an RV.
Check out the Johnston Canyon cabins here.
Moraine Lake
Moraine Lake has to be one of the most picturesque places on planet earth. The only issue is, you have to be up at the crack of dawn to see it.
In the summer time, come 8am, the 10 km road to Moraine Lake from the Trans-Canadian highway is closed.
Tourists have to park in overflow carparks miles away and come back in on a shuttle that costs around CAD 8, under 6 is free.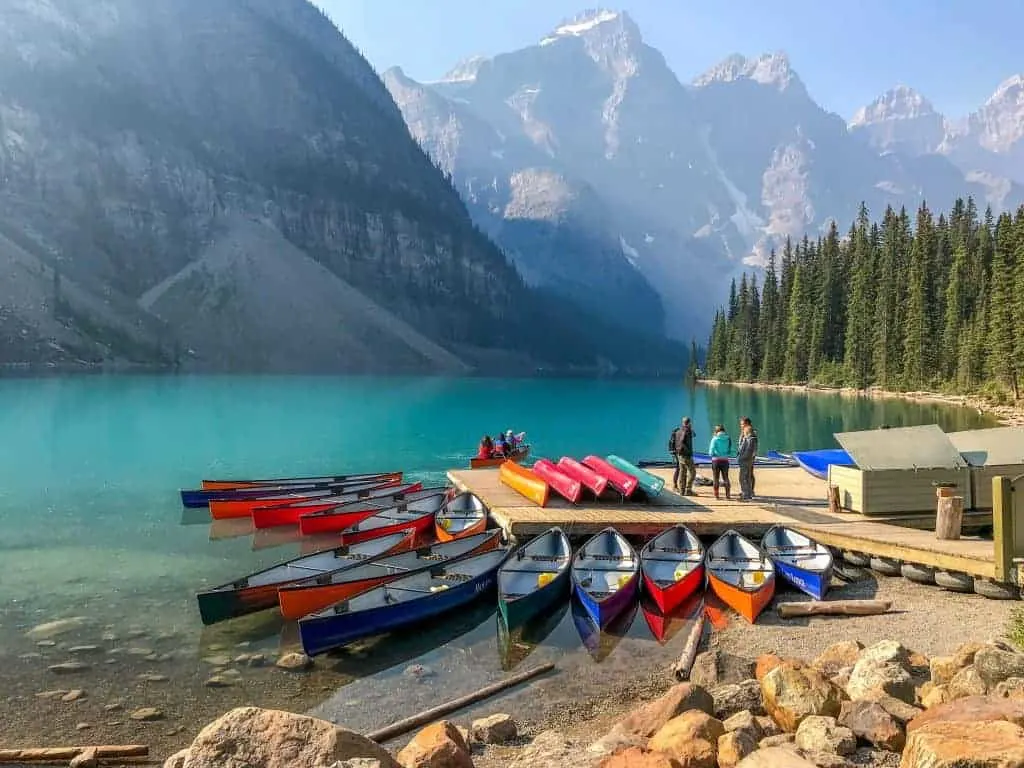 The best thing is to arrive just before sunrise or sunset so parking is readily available. Its' also a really nice time to see the lake change in the different light.
Wrap up well because it's a little cold first thing in the morning / later evening and bring some take-away breakfast to pass the time before its light if you visit at sunrise.
Moraine Lake is most beautiful when the sun is out but its pretty magical watching it light up in the morning, it has the best mirror reflection I have ever seen.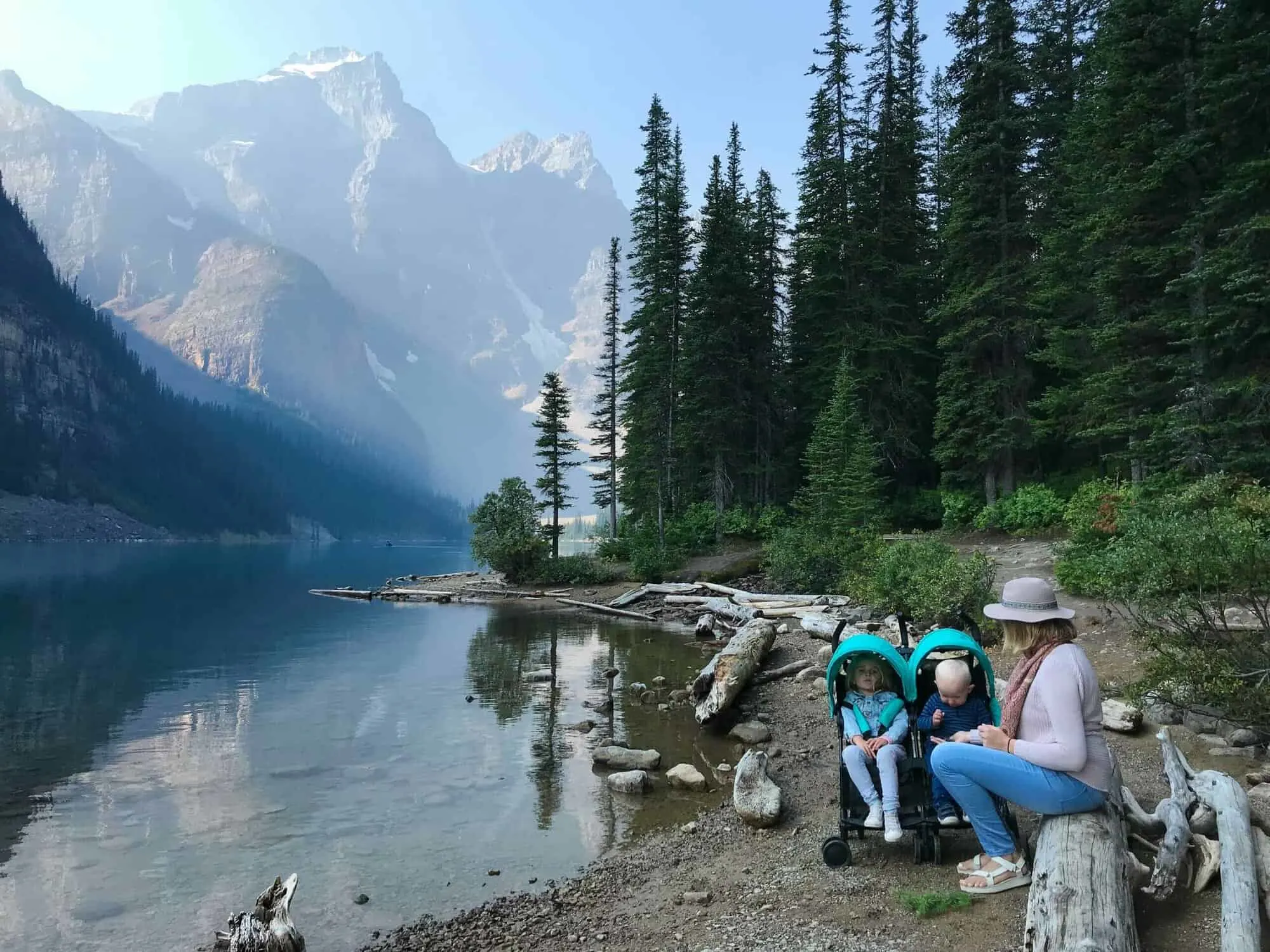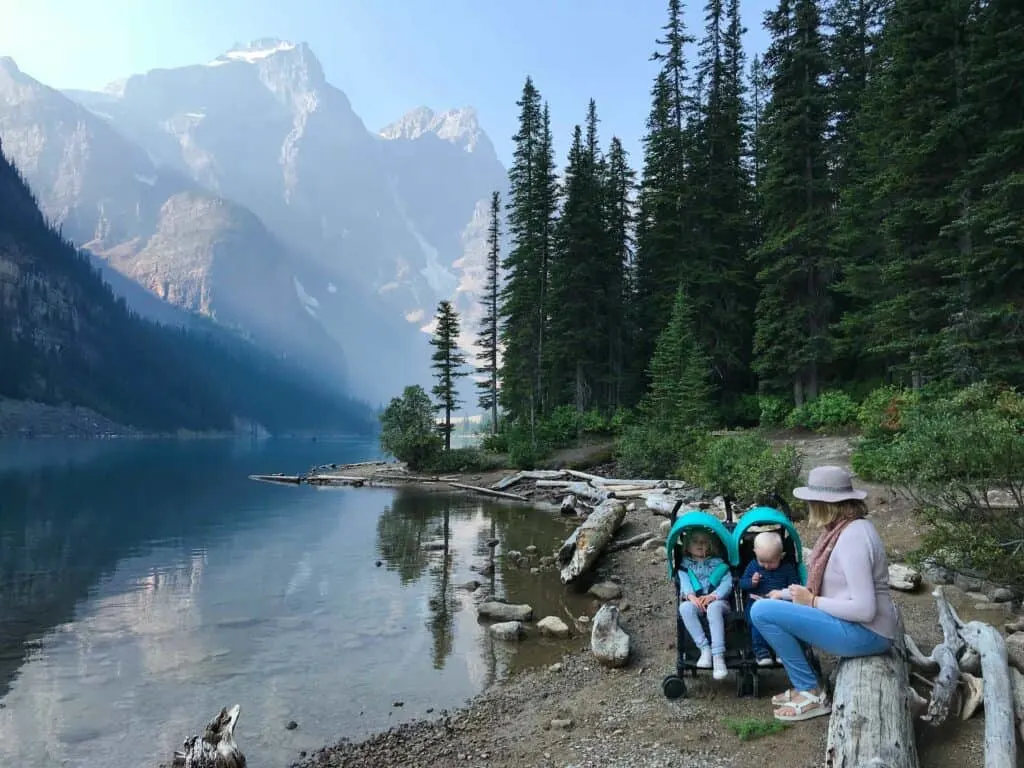 The water is so clear you can almost see yourself when you look in the water. The water gets its incredible blue colour as it is glacier water mixed with tiny microscopic rock particles.
If you visit after October, you will not get to see the beautiful colour of the lake as it will be frozen. It usually melts again by June, however with climate change, temperatures are not reliable and may happen earlier.
You can rent a canoe to explore on the water which is also a super nice way of seeing the lake away from the crowds. The price is quite expensive for one hour in a canoe, at around $115 CAD + tax. If you visit off peak season you won't experience the same number of visitors.
If you plan to stay in the area for the day, you can grab a coffee at the Snowshoe Cafe at Moraine Lake Lodge and walk one of the many trails nearby. Lakeshore trail is a lovely option.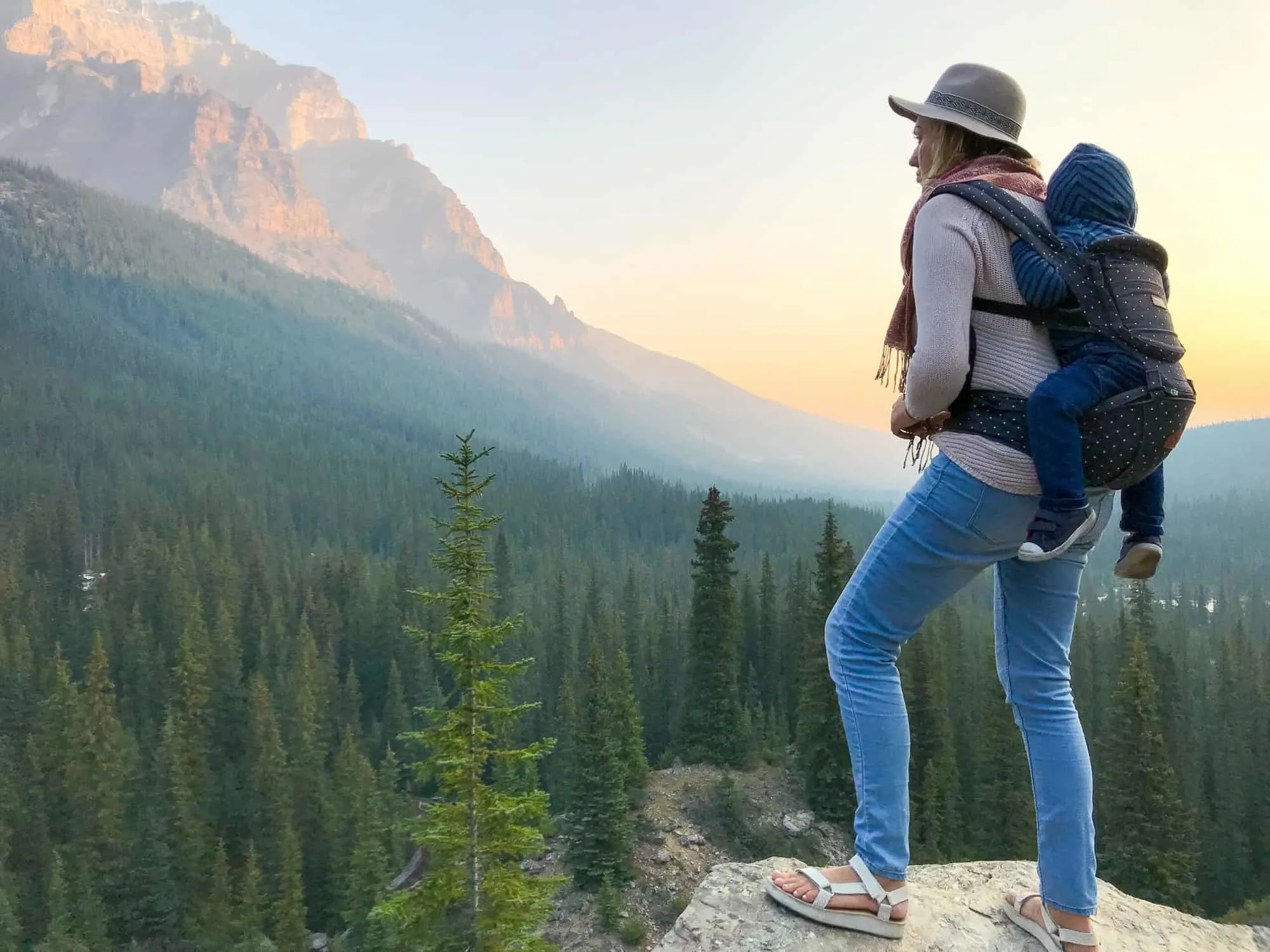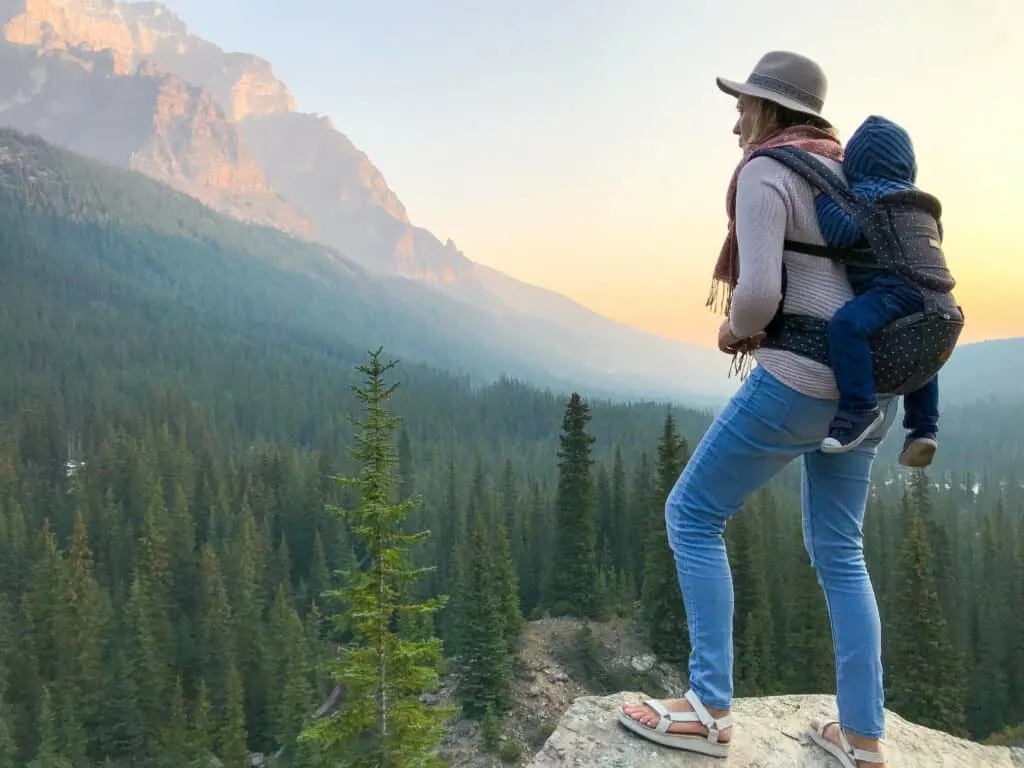 If worrying about parking sounds too painful, there are multiple tour options. You can take a 4 hour tour which will bring you to both Lake Louise and Moraine Lake! This is the perfect option for anyone who gets stressed out by parking or doesn't like to get up too early.
Where To Stay Near Moraine Lake
Moraine Lake lodge is a popular choice for anyone wanting to stay as close as possible. If you are not driving from Calgary to Vancouver in an RV, staying at a hotel is a great option. It allows you see the lake in many different lights throughout the day.
You can also take your time doing the nearby trails! The lodge features both rooms and cabins with a lovely bath to soak in after, not to mention the private balconies with views of the lake.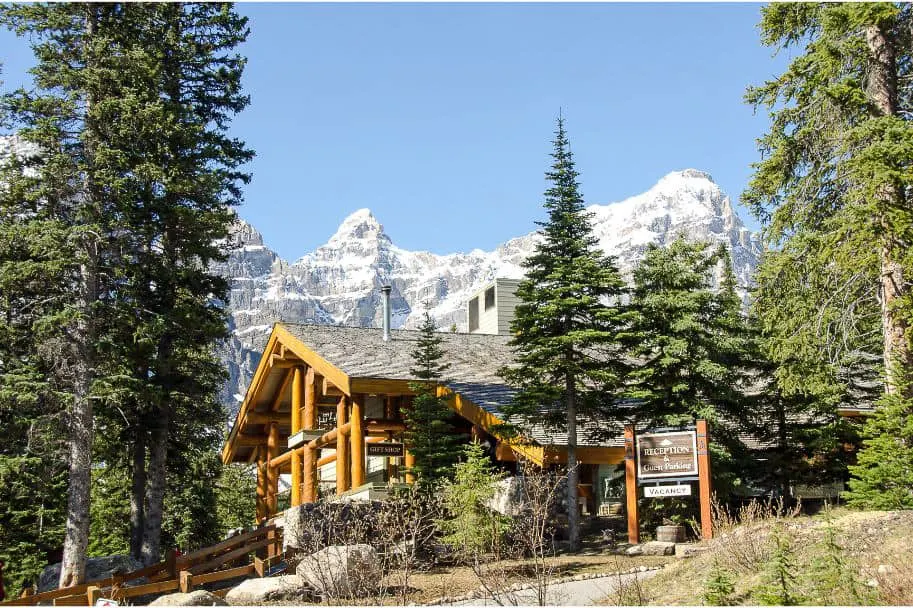 It is quite luxury accommodation and has a restaurant onsite called Walter Wilcox Dining. The food is incredible. They also serve breakfast in the restaurant and even a packed lunch if you want to bring a picnic on a hike.
Interestingly there are no Tv's or telephones in the rooms. Considering the views of the lake they are of course not needed! There is however free wifi and free parking for guests.
Check out Moraine Lake lodge here.
RV Sites Near Moraine Lake & Lake Louise
The nearest campground to Moraine Lake that allows RVs is Protection Mountain Campground. Located on the Bow Valley Parkway. The views from the campgrounds are stunning and excellent for stargazing on a clear night.
What is great about the campsite is they offer a Roam shuttle to and from Lake Louise and Moraine Lake. This is prefect to avoid the stress of trying to find a car park spot.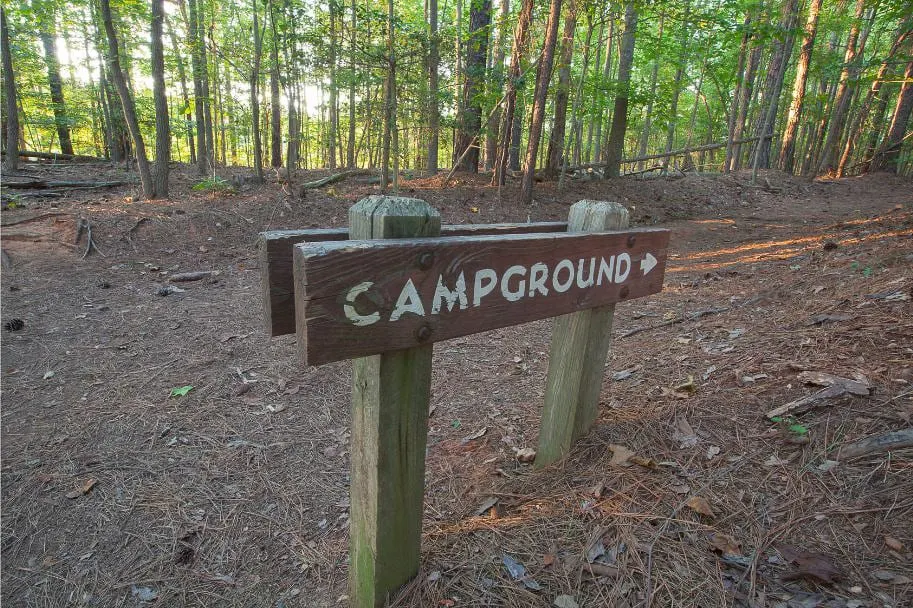 It is open from June through to September and is a first come first served basis. This is also the place to stay to explore Lake Louise.
Lake Louise
Lake Louise and Moraine Lake are just 20 minutes apart so it is possible to see both in one day. That being said, if you visit one early morning and the other late morning, the likelihood is you will have issues parking at one or the other.
So if possible stay in the area for a night and spend one early morning at each lake. As mentioned Moraine Lake Lodge is a lovely option as is the Protection Mountain Campground.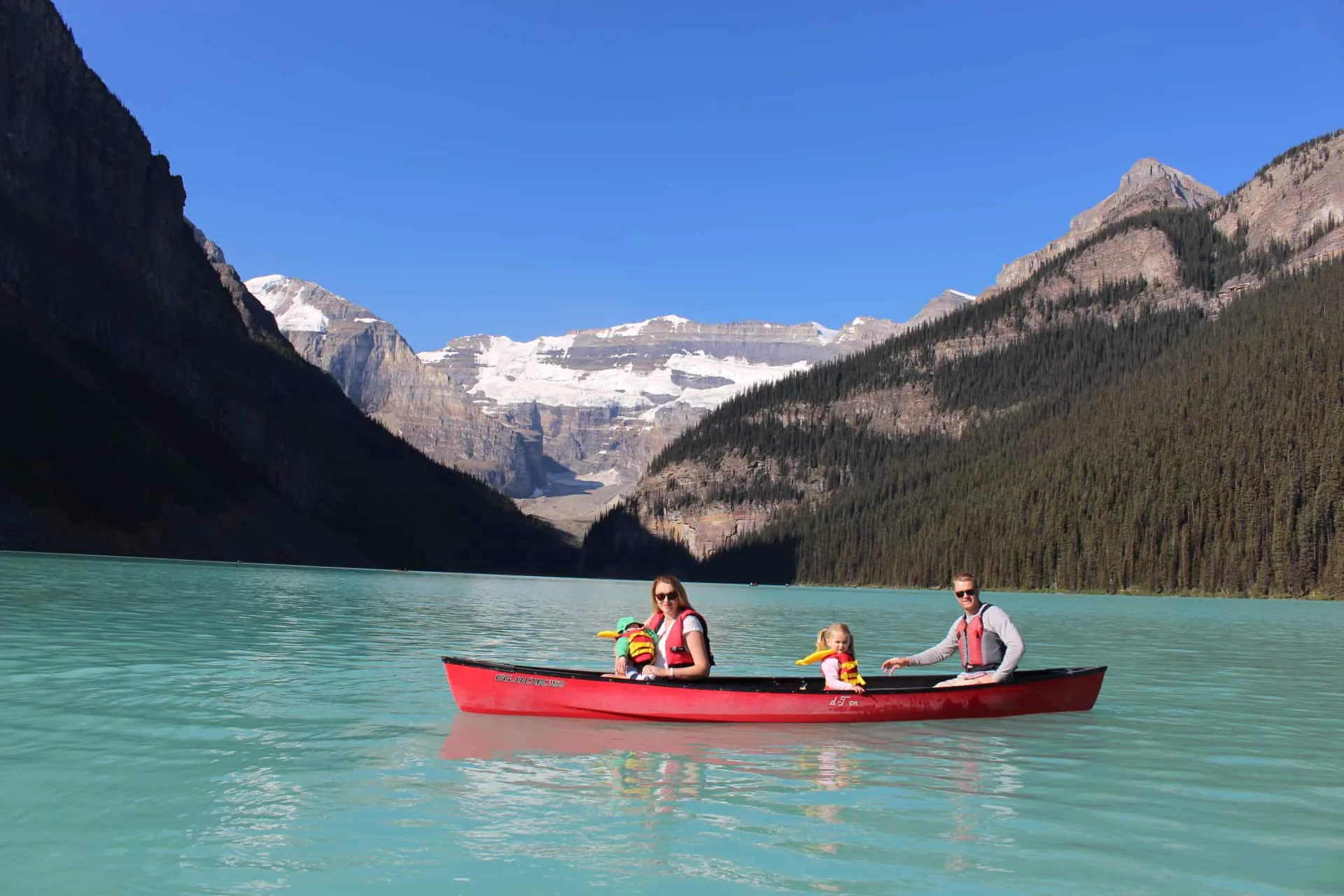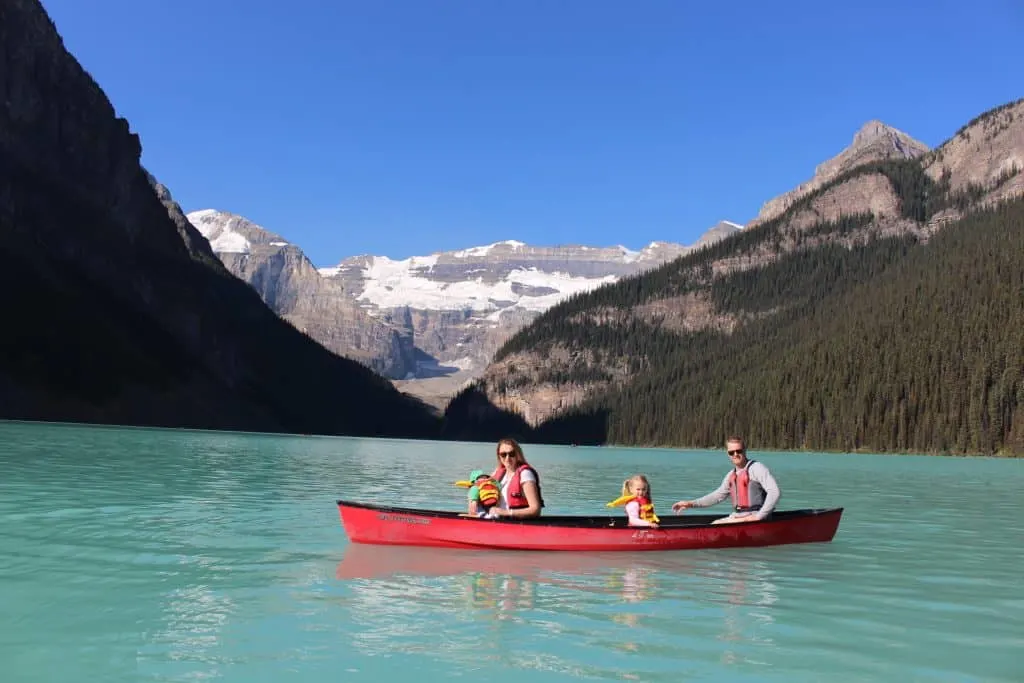 Lake Louise is another tourist hotspot, however it simply can't be missed. The aqua green colour of the water with the snow capped mountains in the background is so beautiful.
Around the edge of the lake is crazy busy with tourists taking photos. Although it's expensive for a canoe, its well worth taking it out, not only for the best photos you will get in all of Canada, but it's also incredibly peaceful similar to Moraine Lake.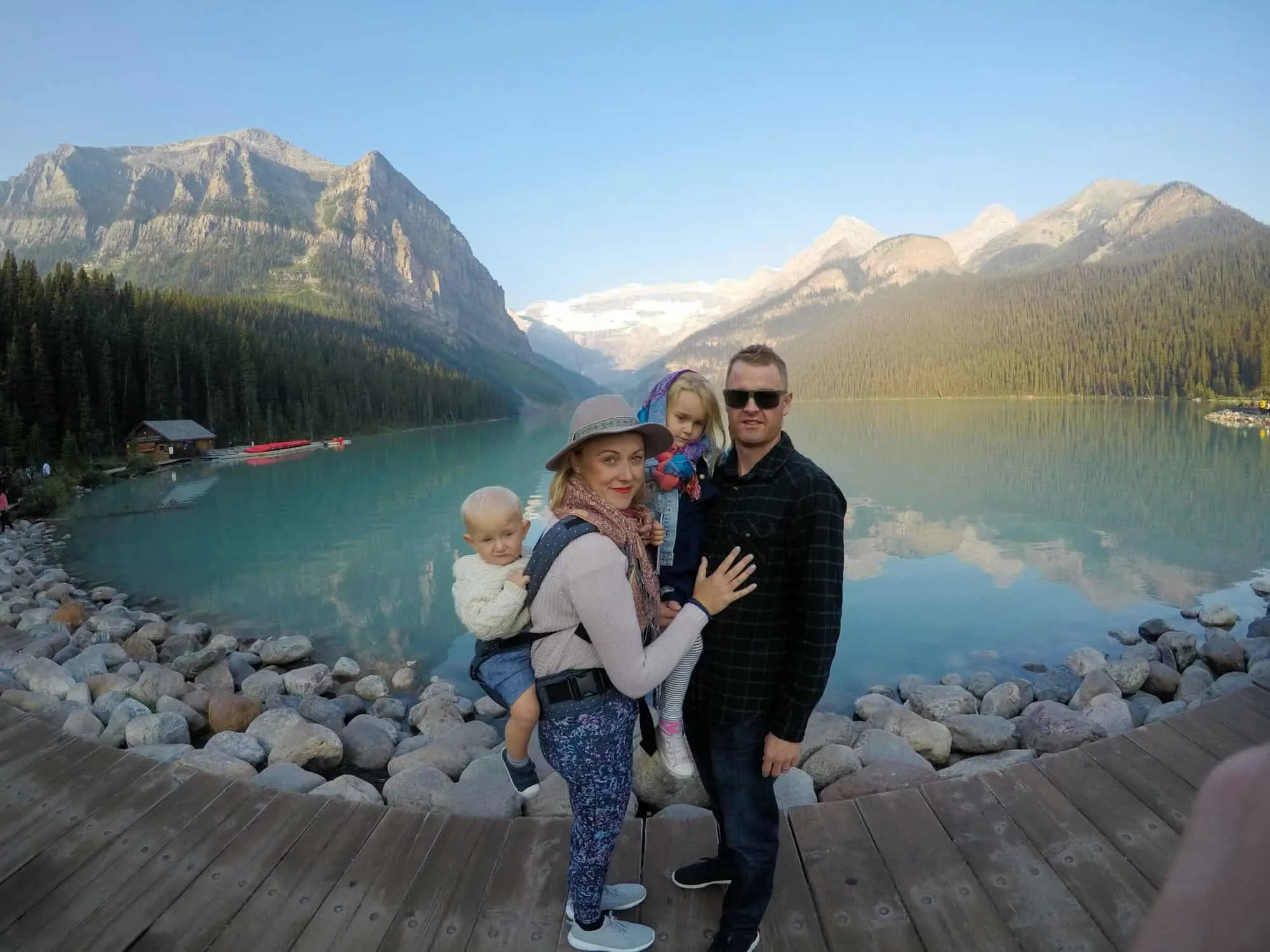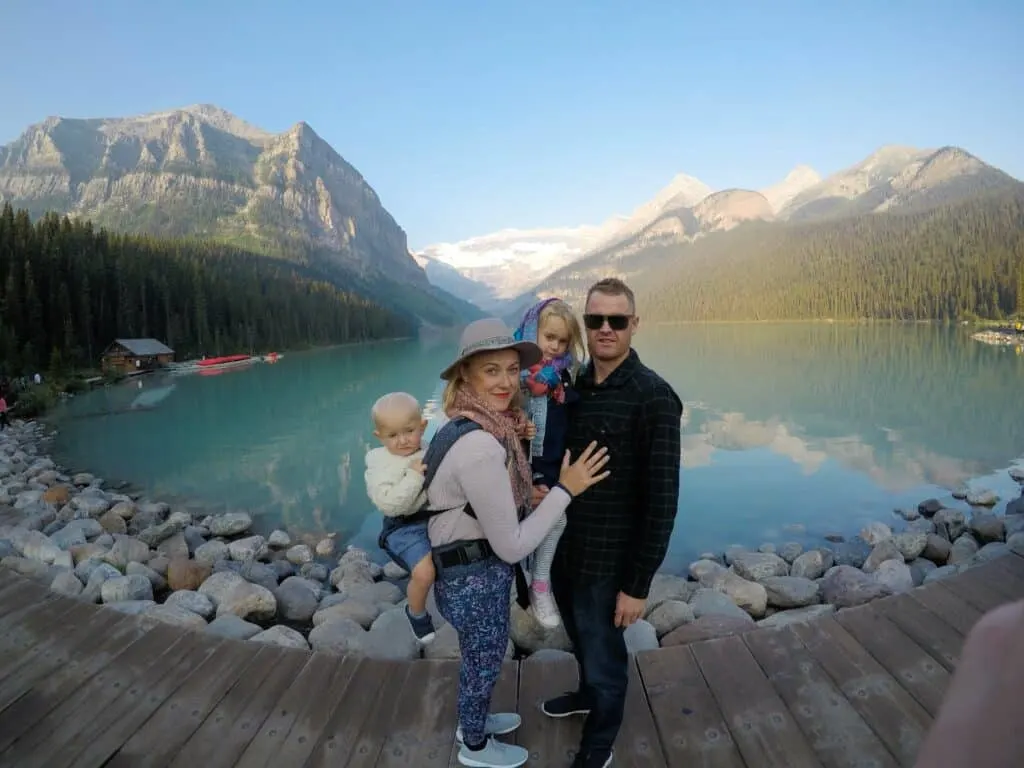 Renting a canoe for an hour costs $125 CAD + tax. You may only want to do one of the two canoe trips if you visit both lakes. In which case I suggest doing it at Lake Louise as it definitely felt more crowded around there.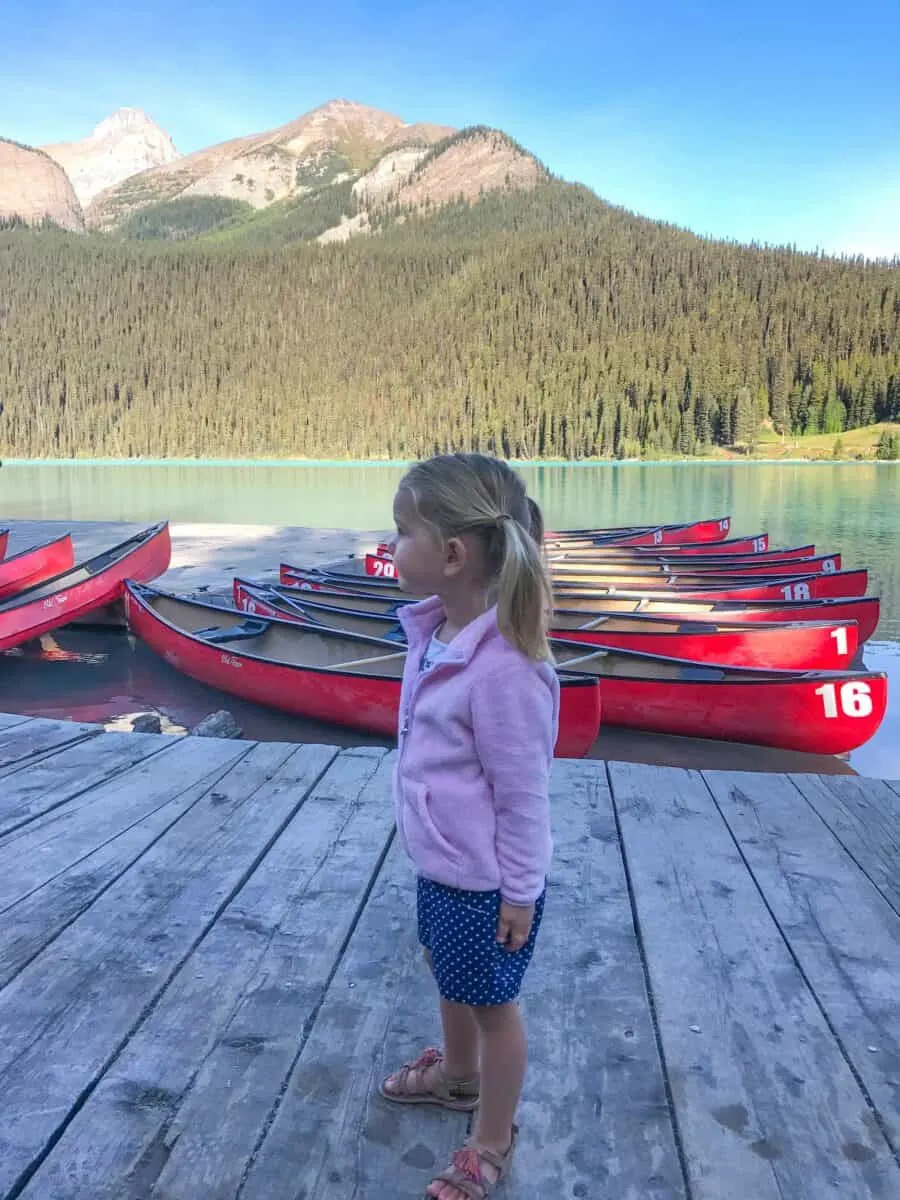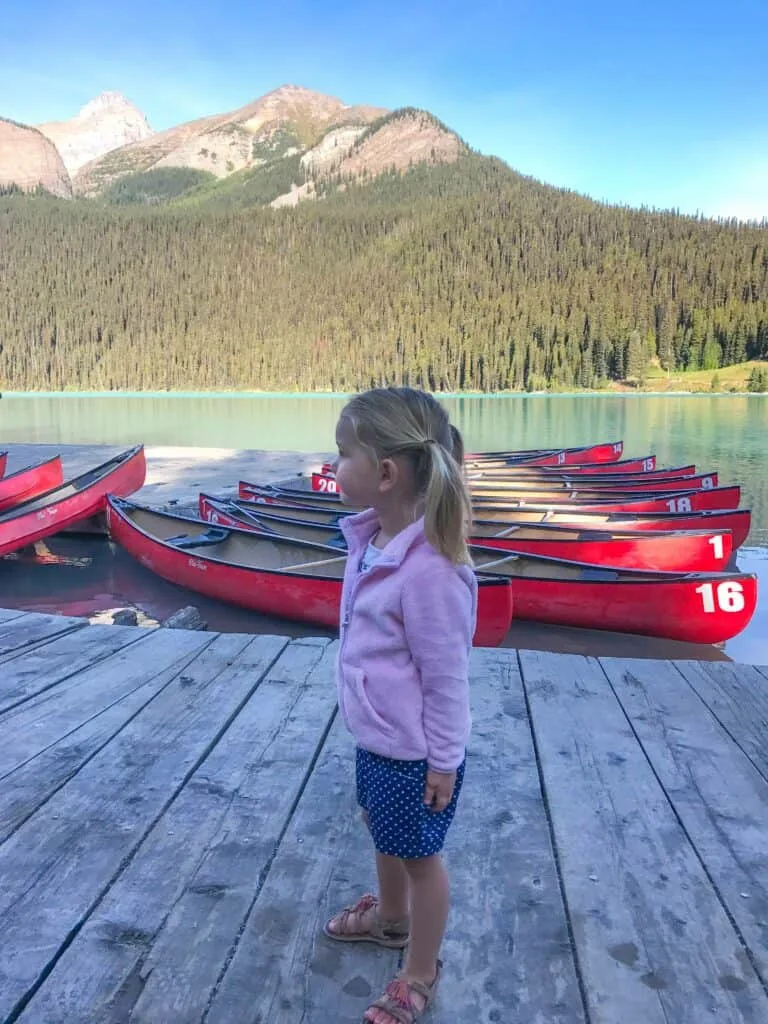 After the canoe, there is a nice hike along the Beehive circuit trail. It has quite a bit of incline but the elevated view of the lake is very pretty.
The Beehive trails is 11.9km long and there is a lot to see along the way. To cover everything along the trail, it takes around five hours to do the full circuit.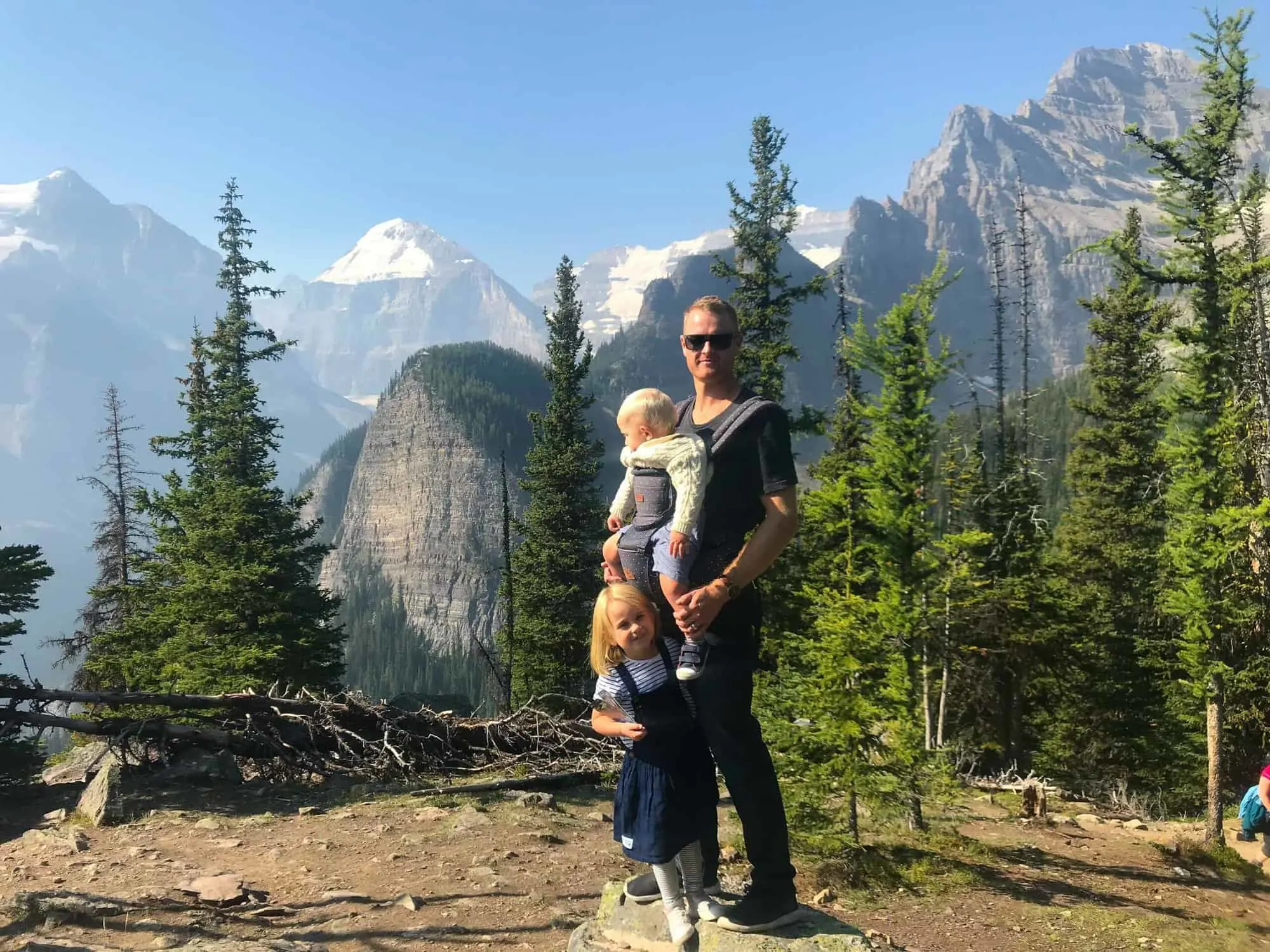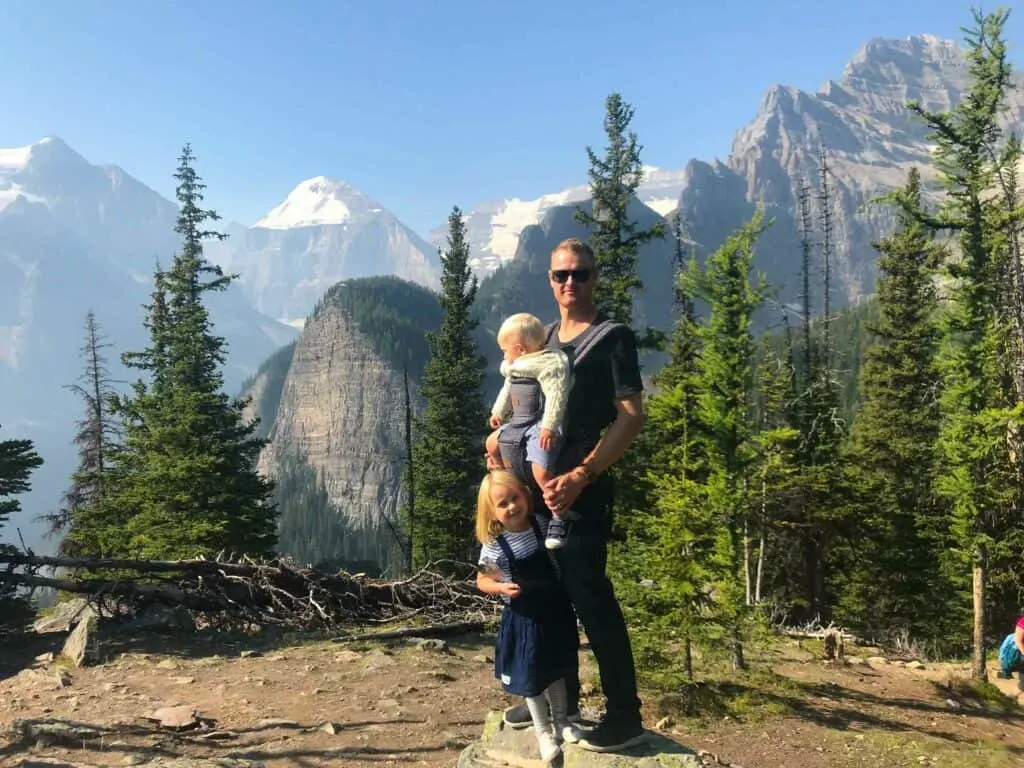 Along the way you will see Little Beehive, Big Bee Hive, Lake Agnes, Mirror Lake and Plain of Six Glaciers.
The beehive name comes from the shape of the mountain and you guessed it right, there is a big one and a little one! To be fair the shape is quite like a beehive.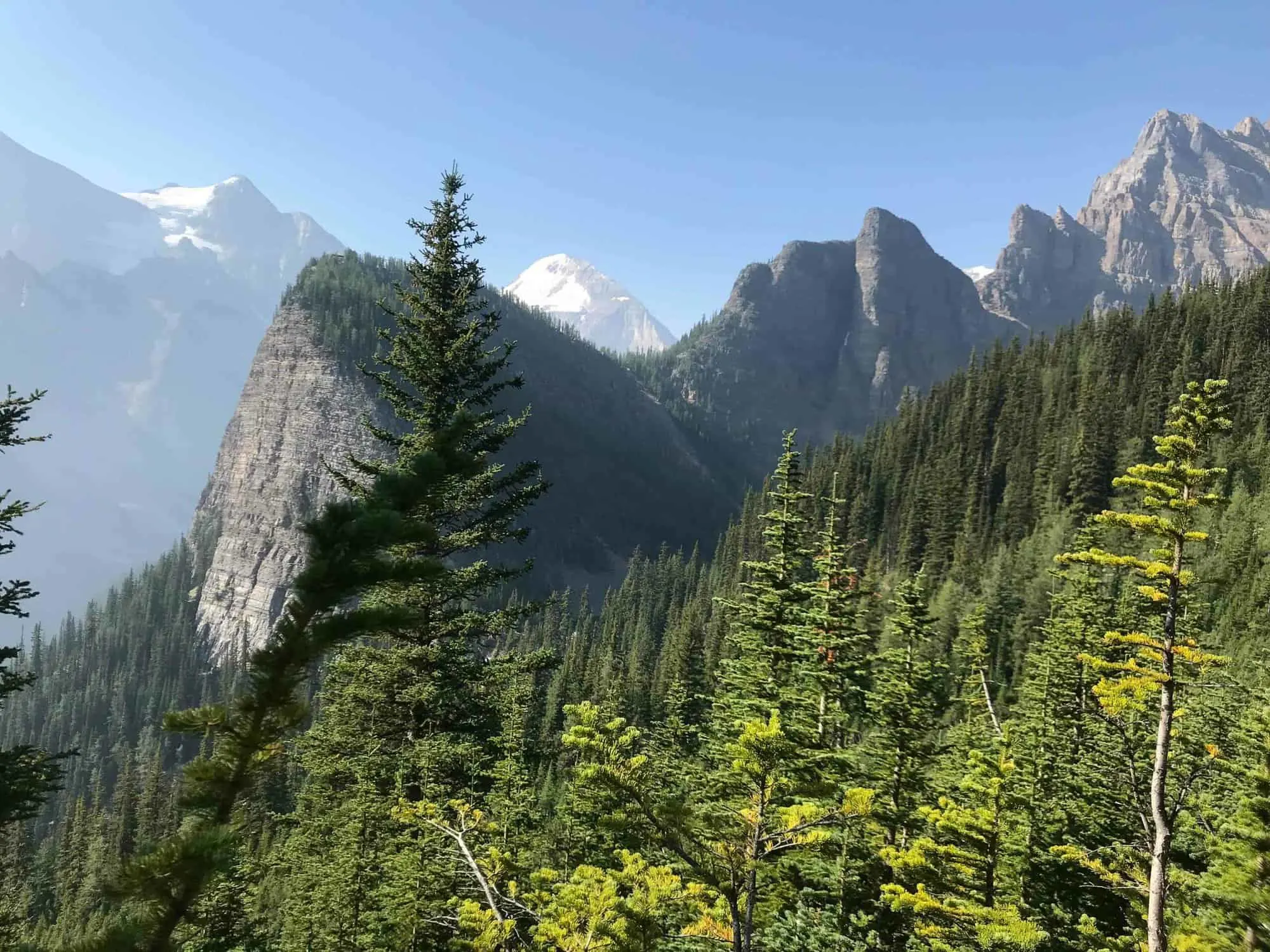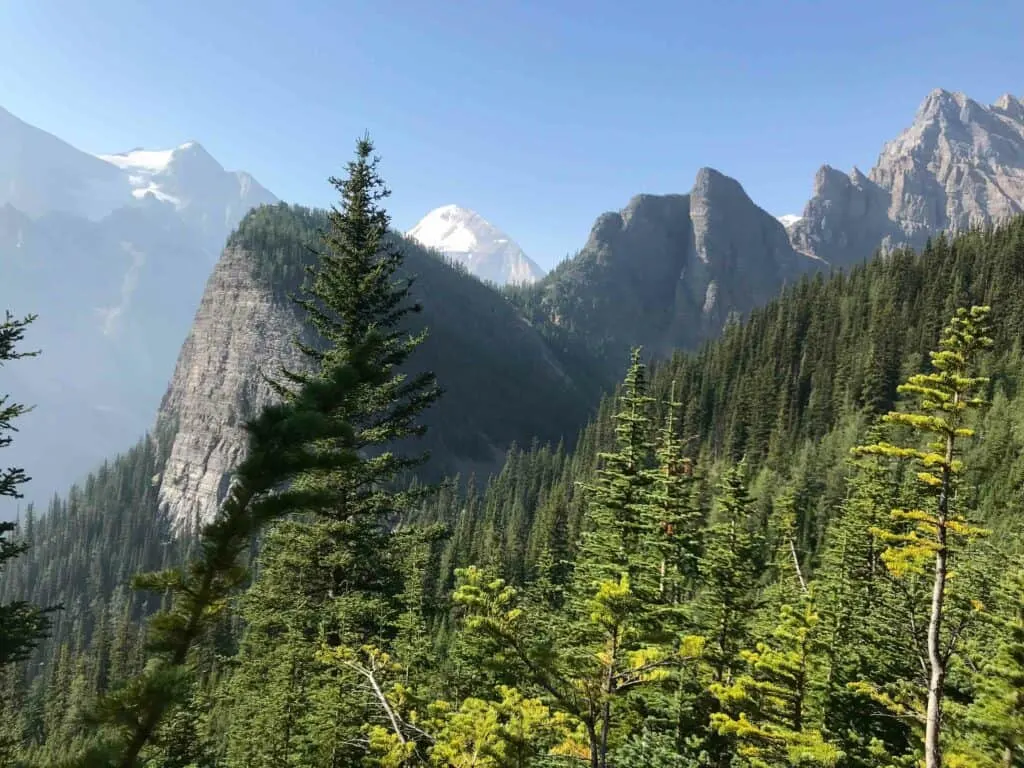 Although the trail is strenuous we managed to do it with a baby and a toddler in carriers. It was hard work but worth every minute for the views.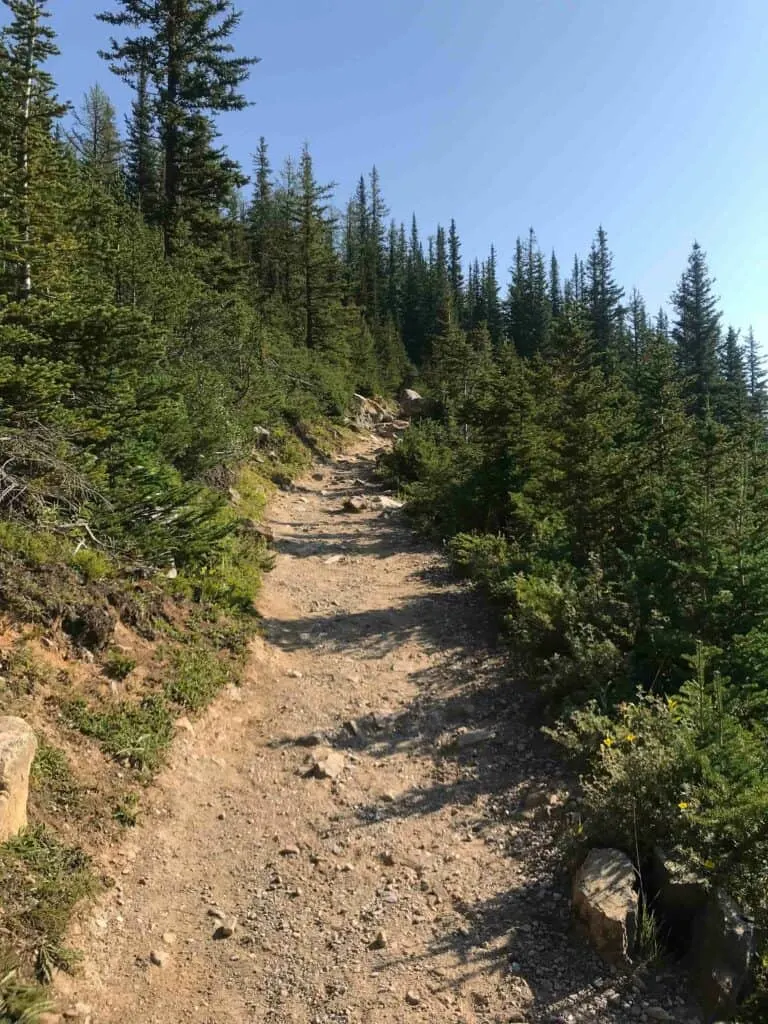 The teahouse was quite busy, there are no trash bins so come prepared to take your trash back down with you.
There are only a couple of toilets which also get busy. It is best to bring plenty of water and a picnic to avoid waiting especially in peak season.
We saw chipmunks along the walk darting across our path every once in a while. Other wildlife spotted in the area include mousse, elk and bears!
Where To Stay Near Lake Louise
If you are RVing, the campsite mentioned which is close by is Protection Mountain and is good. However if you drive from Calgary to Vancouver in a car, The Fairmont Chateau Lake Louise is a beautiful once in a lifetime place to stay.
If you stay at the hotel you get a discounted rate on canoe hire. You can also use the indoor heated pool and fitness centre. The hotel is also perfect in winter for a ski holiday. There are lots of dining options and the 24 hr deli is a real hit!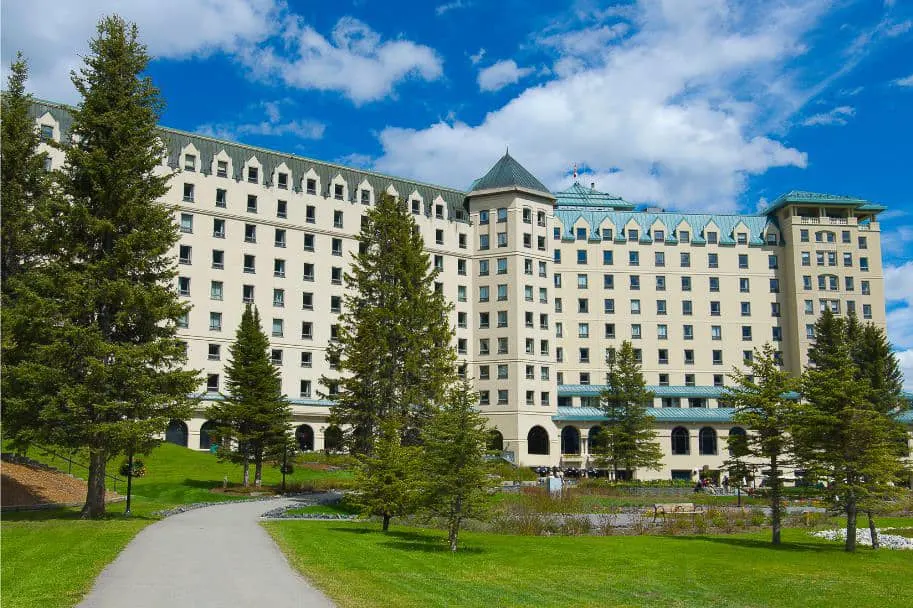 There is cheese fondue for cheese lovers with some incredible wines. They actually have a floor to ceiling wine library. Oh and the chocolate fondue for desert is another hit.
It is expensive to stay, however one night is a nice treat and super easy to explore the lake from the hotel.
Check out Fairmont Chateau Lake Louise here.
After we left Lake Louise, it was time to leave Banff, we absolutely loved it! Our next stop was Revelstoke.
Revelstoke
Revelstoke is a 2 hour 40 minute journey from Lake Louise and our first stop outside of Alberta, we had hit British Colombia. Revelstoke has become an adventure hub, especially with the Mountain Coaster Pipeline which we loved and a favourite destination for mountaineers, hikers, and explorers.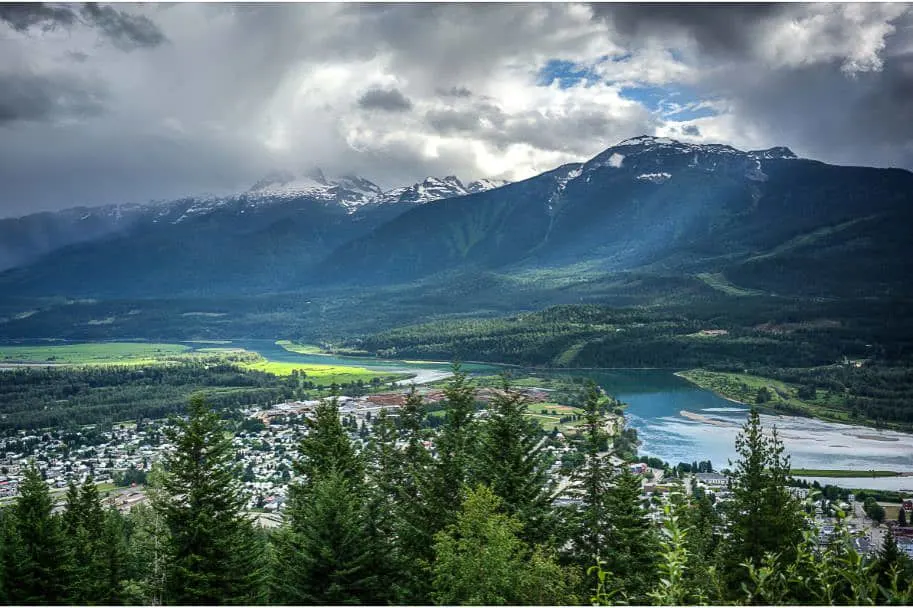 Meadow Sky Parkway
The National Park at the top of Mount Revelstoke has an amazing 25 km winding road called the Meadow in the Sky Parkway.
It's a picturesque drive with views of all the nearby mountain ranges which takes you through forests of cedar, spruce and the renowned subalpine wildflower meadows of Mount Revelstoke National Park.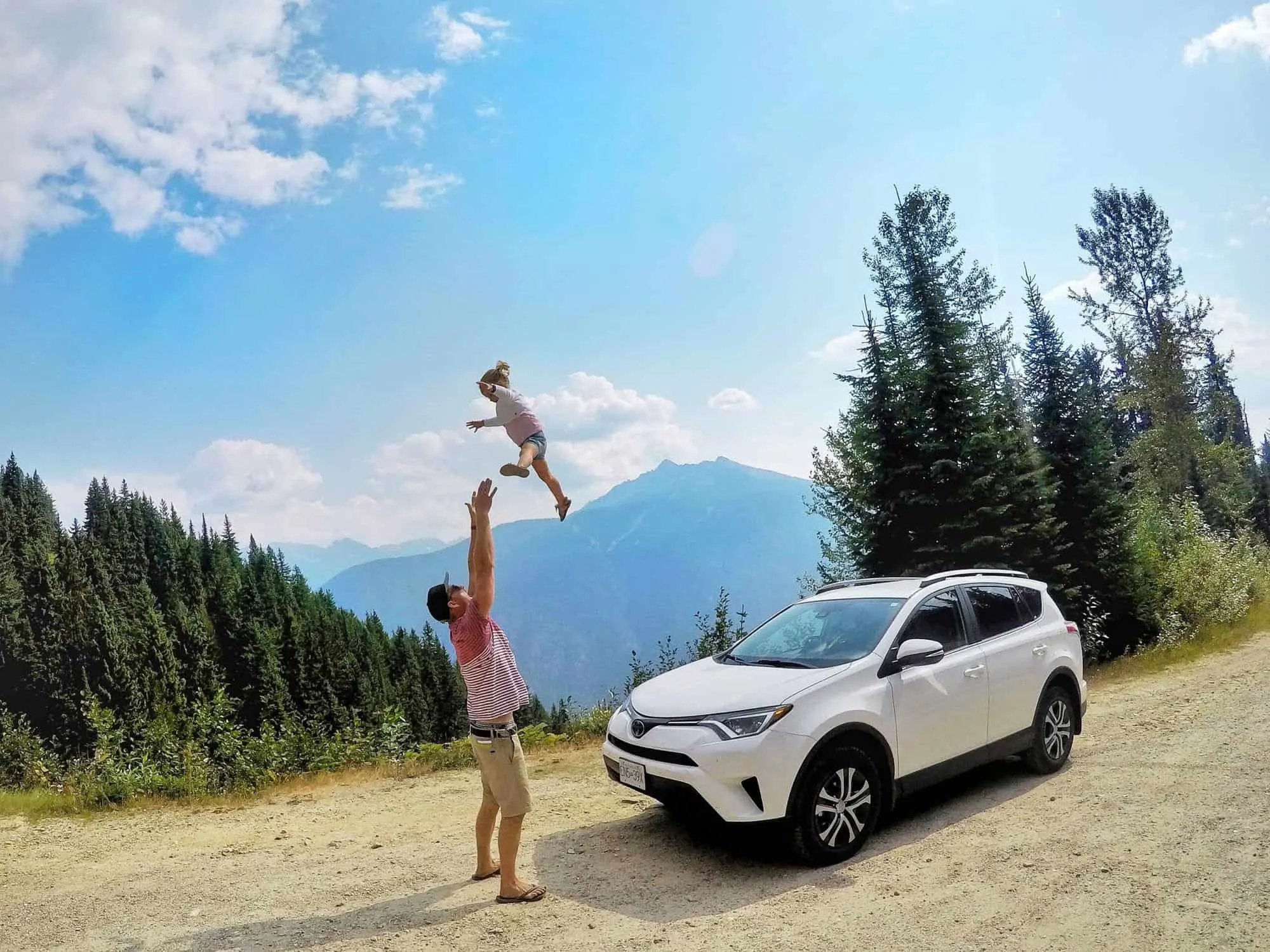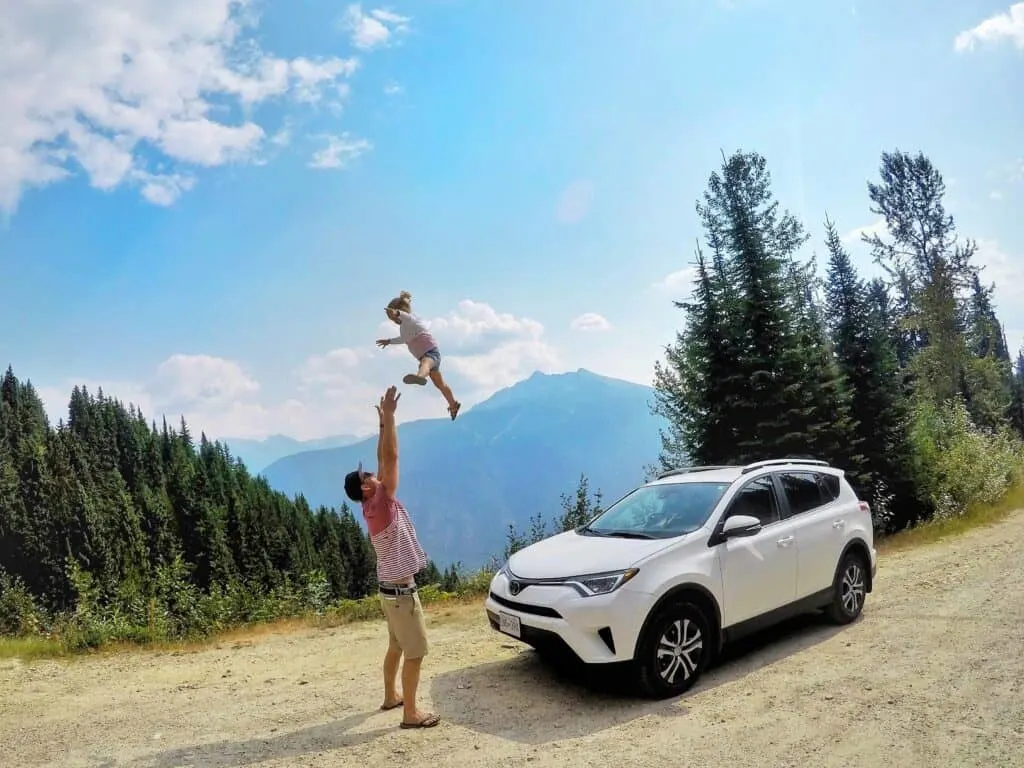 Enchanted Forest
We also visited the towns aquatic centre and the awesome Enchanted Forest just outside of town, both were a big hit with our three year old. She loved exploring the many huts, fairy doors and mystical characters spread throughout the forest.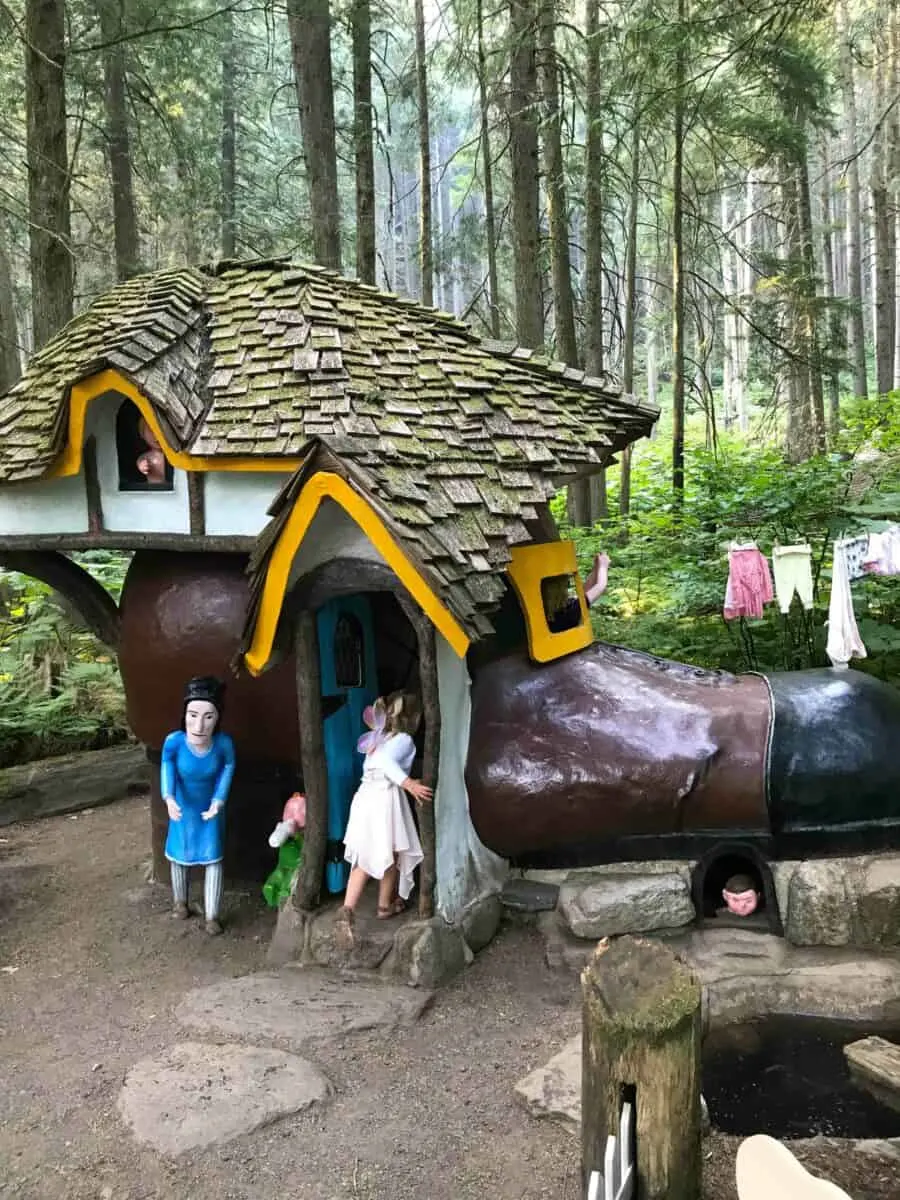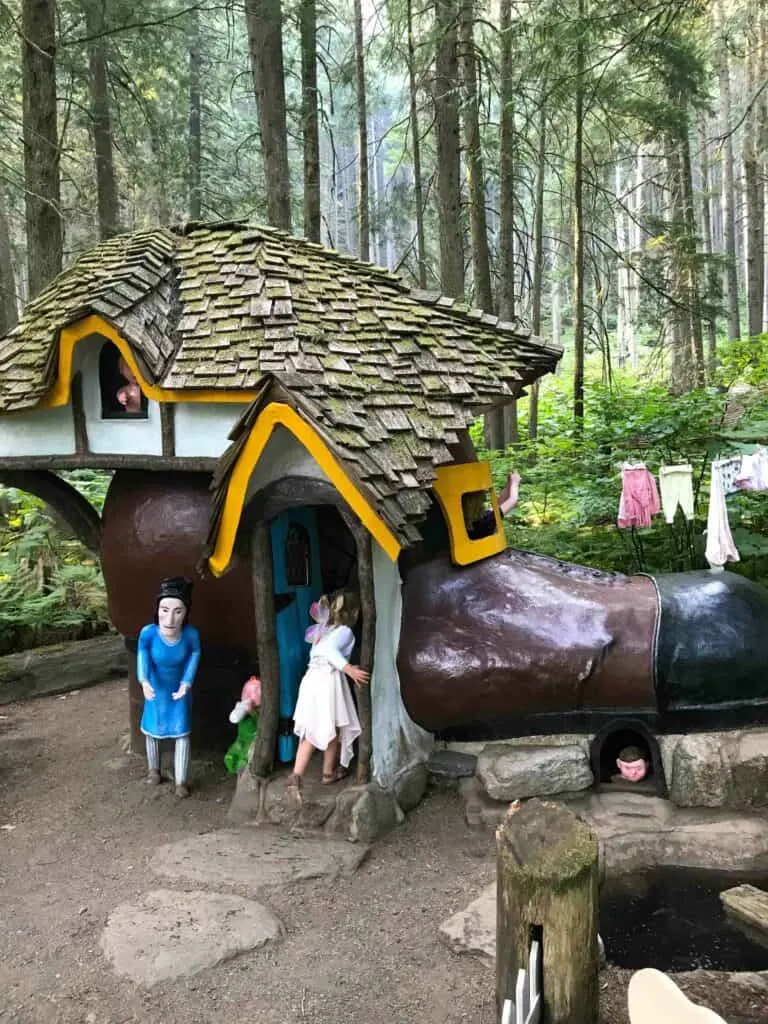 The Enchanted forest is set in BC's beautiful old growth forests in Canada's Monashee mountains.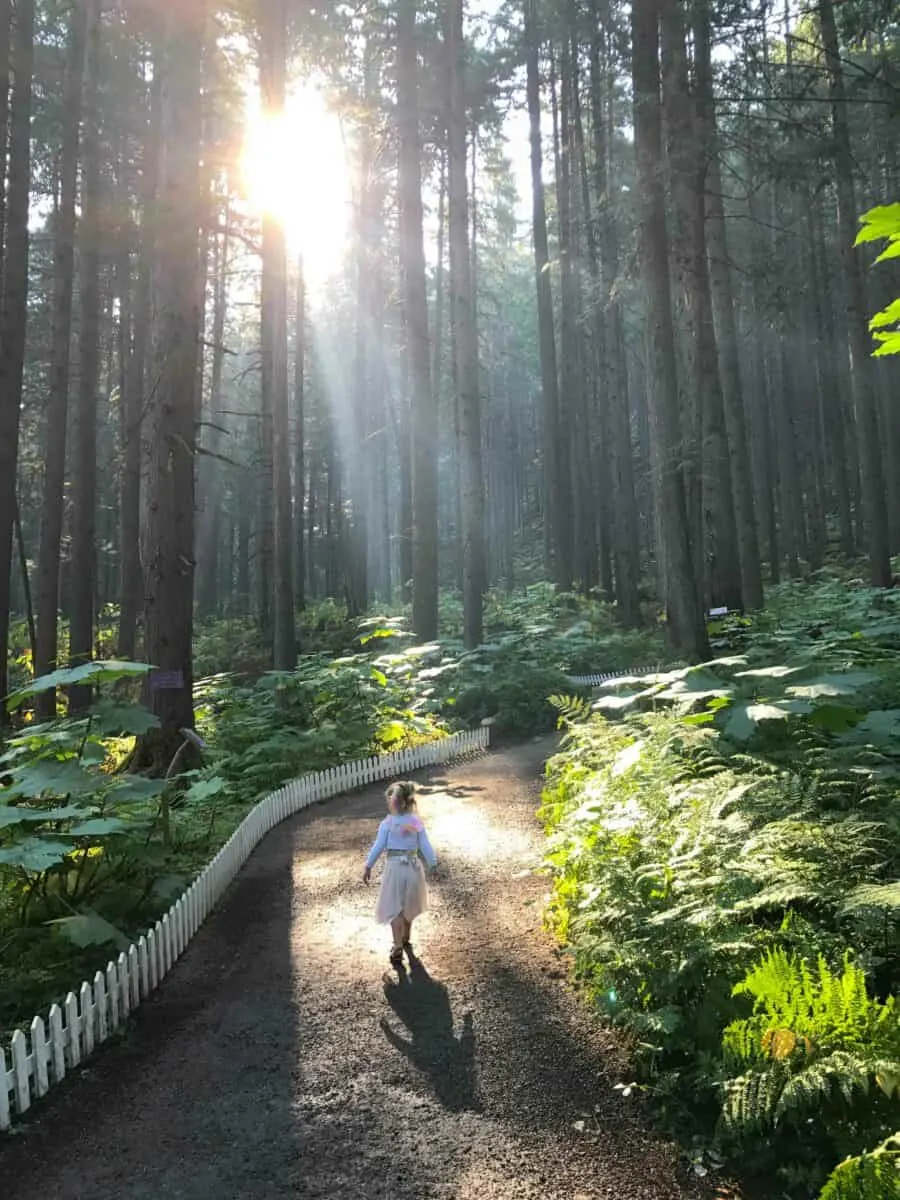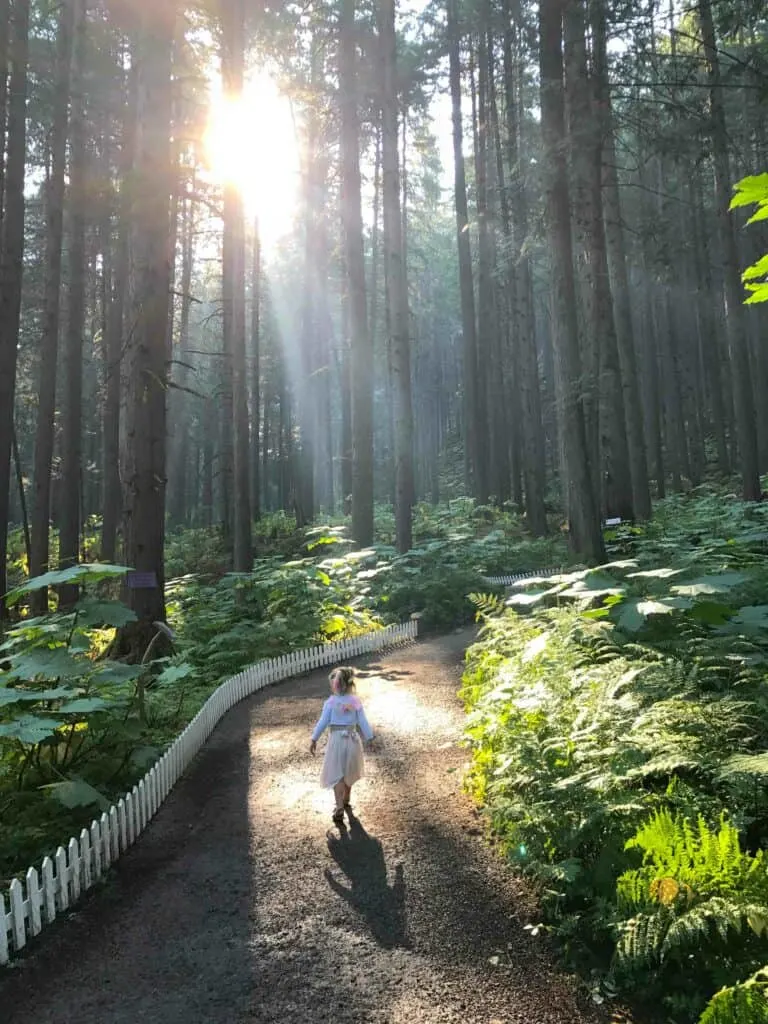 With over 350 figurines, a playground and interactive activities, a stop at the enchanted forest is a must if you have little ones.
Mount Revelstoke National Park
The national park is popular for its summer wildflower displays which blossom in the meadows of the upper subalpine zone. When we visited there were signs notifying people a bear had been spotted in the park over the previous few days.
This made our walk a little more unnerving but it was a really beautiful and peaceful hike finishing with a picnic by the lake. If you are planning on doing some hikes in any of the National Parks it is a good idea to have bear spray with you just in case.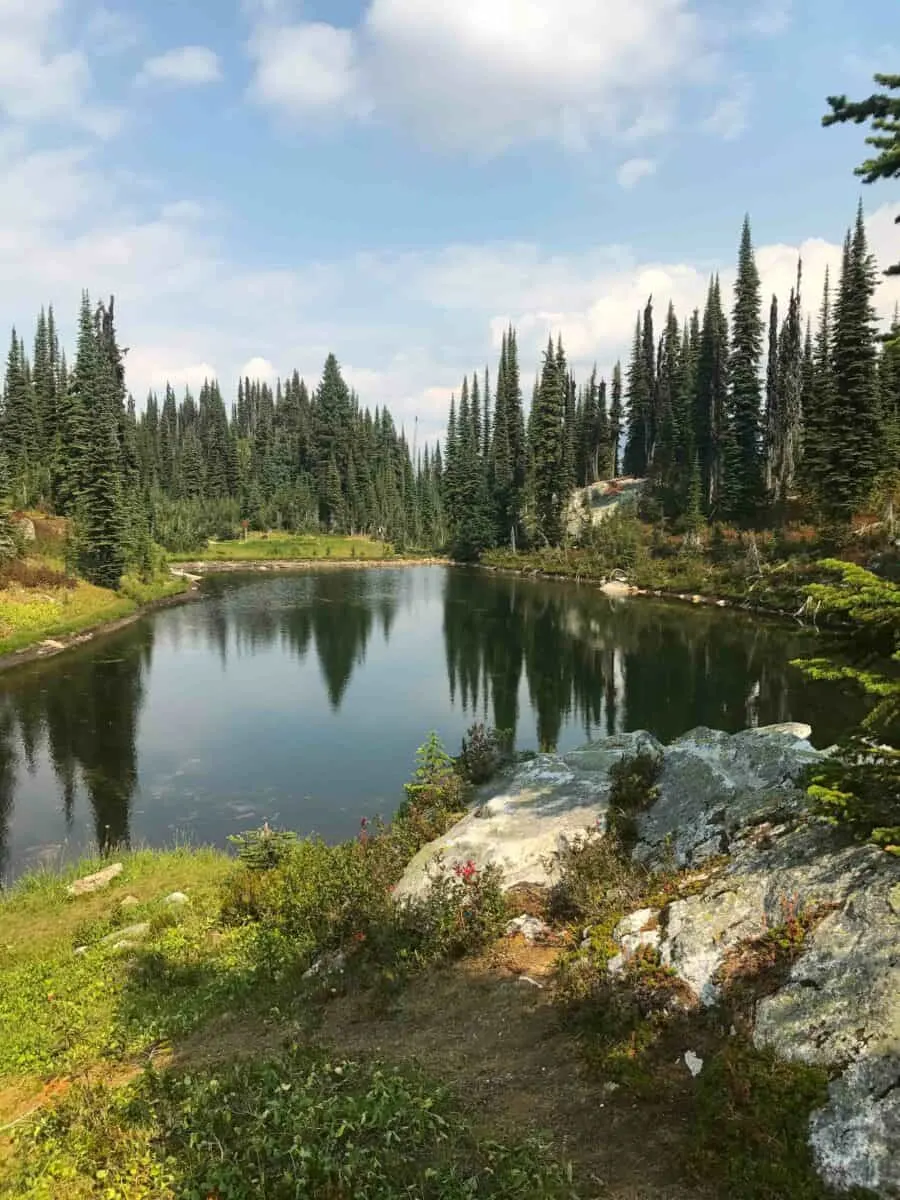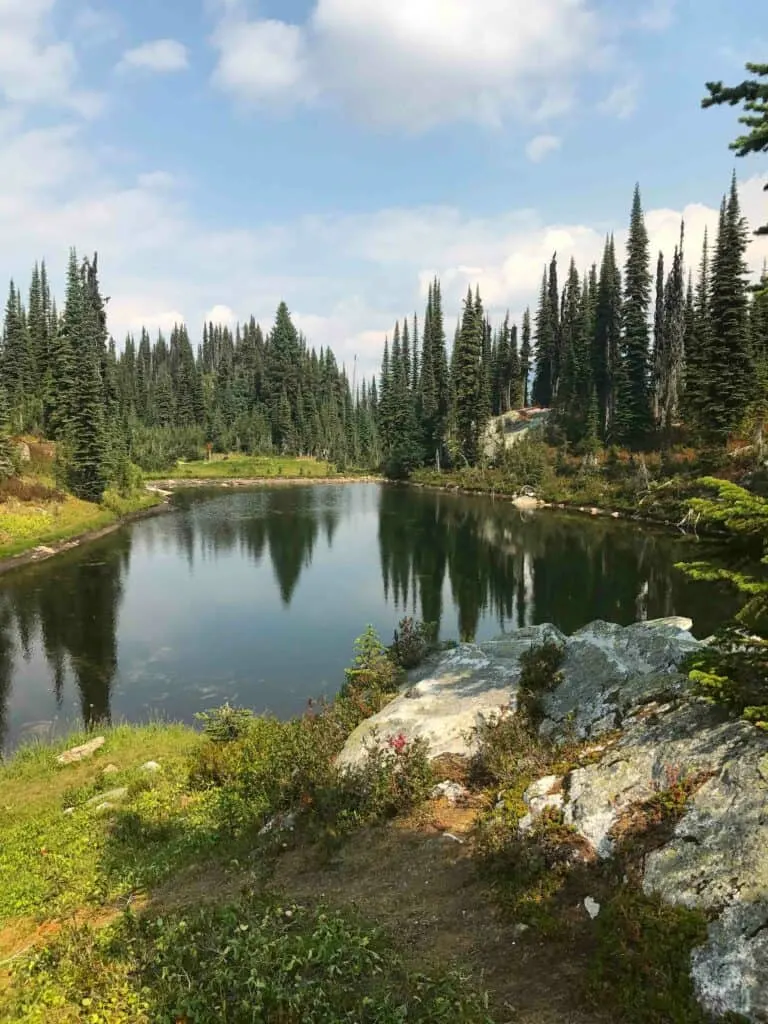 Sutherland Falls
Sutherland Falls are one of the most easily accessible and visually stunning waterfalls in the Revelstoke area. What is special about this waterfall is the way the rocks have formed surrounding the fall which amplifies the crashing water into the pool below.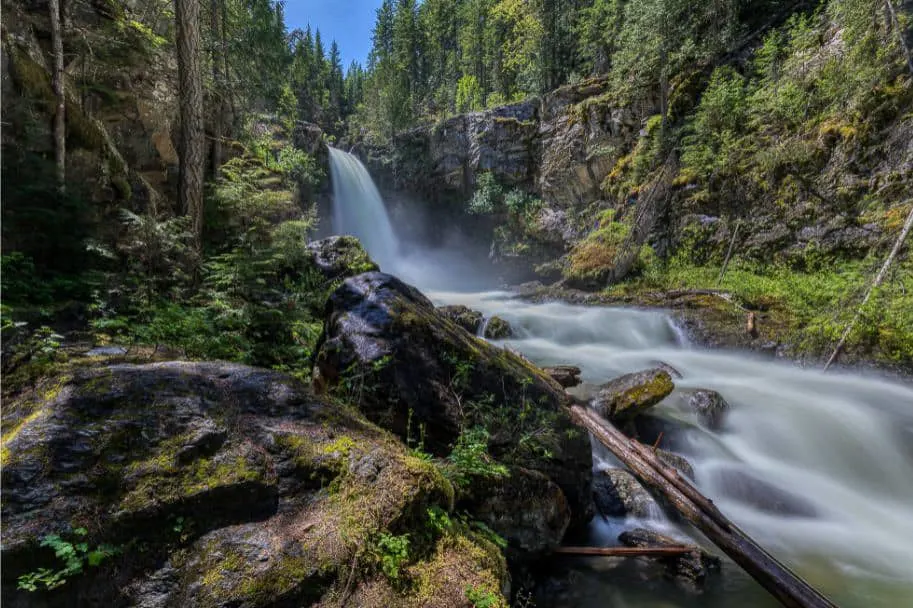 Sutherland falls are only a few minutes walk from the lower parking lot in summer and more of a hike during winter as the road is closed due to the weather. The are sections where you may have to scramble over fallen trees etc but on the whole is an easy hike.
Ride The Gondola
The 20 minute Revelation gondola ride takes you up 5500ft past several stunning mountain top view points. The 8 person gondola provides some incredible views over the Columbia River below.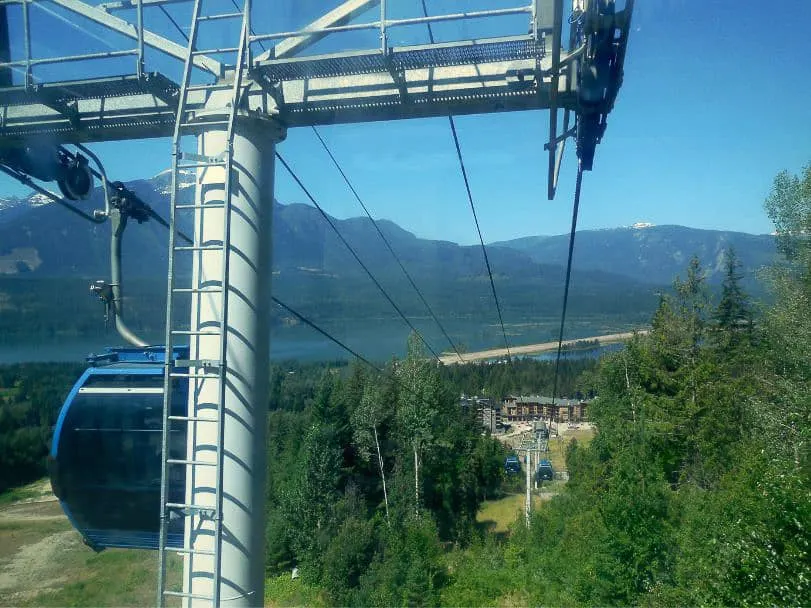 The Pipe Mountain Coaster
This has to be one of our favourite activities when we visited Revelstoke and we can see why it has been voted the number 1 summer attraction in the area. It involves a fast paced ride down a steel tube on a cart that is secured around the rail.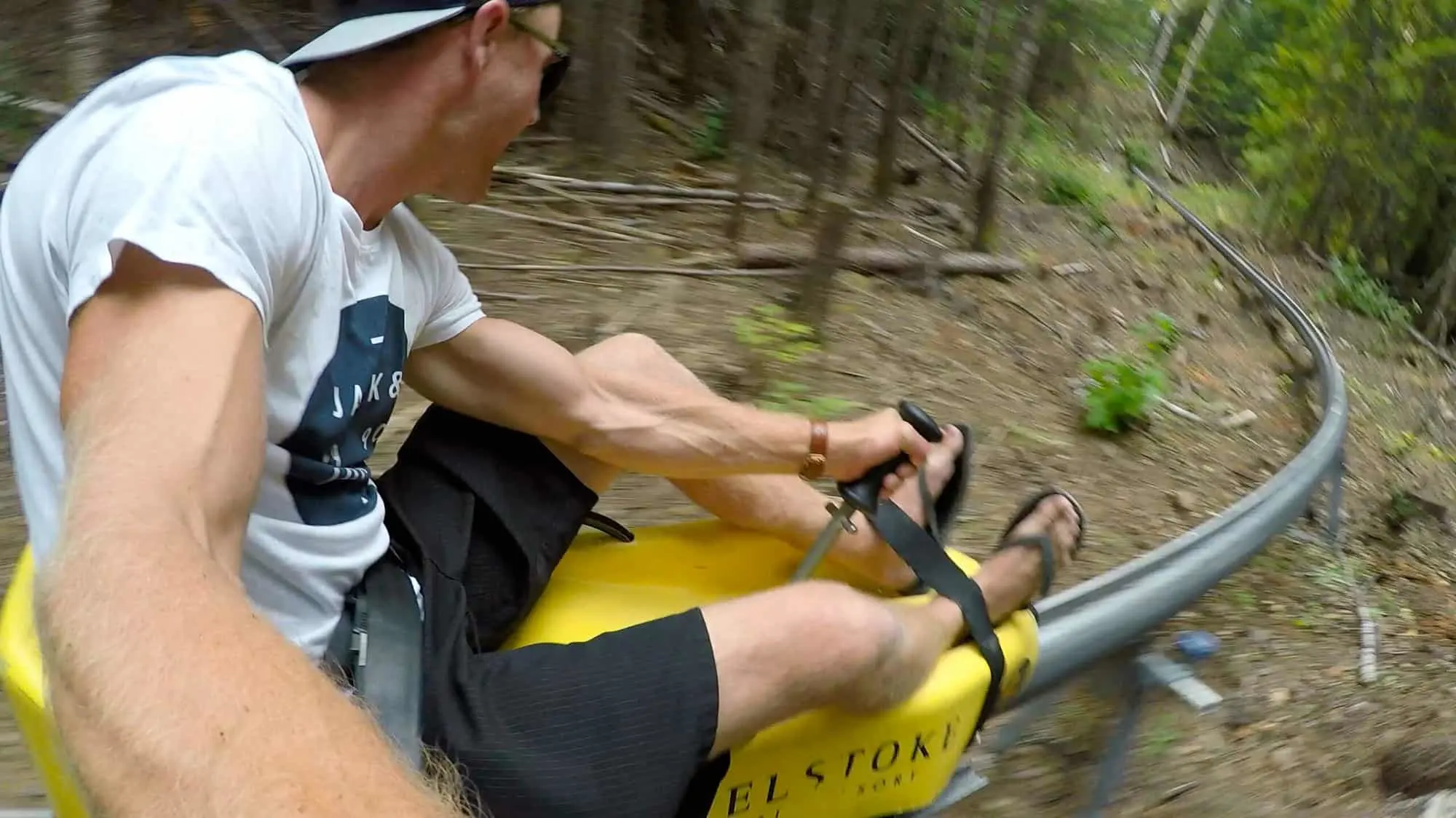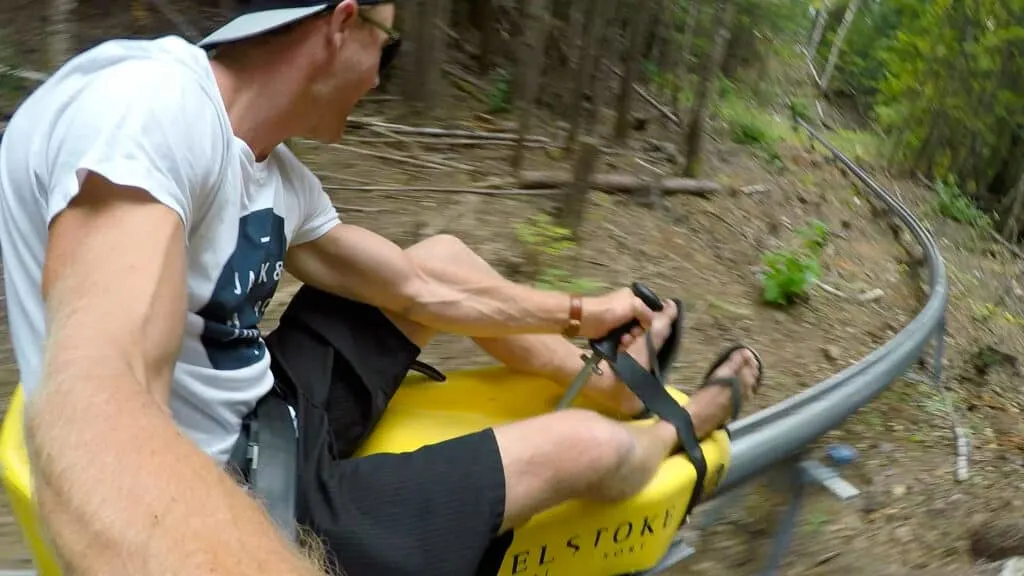 It is guaranteed to get your heart racing as you twist and turn your way down the mountain through the trees and tunnels. The rider can control the speed by pulling or releasing the leaver, and you can get up to speeds of 42km if you wish. We couldn't recommend it enough!!
Glacier National Park
Covering over 1 million acres, the Glacier National Park is named after its '25' active glaciers that move due to thawing and melting. Due to the Glacier National Parks raw untouched landscape It is highly likely that visitors might experience an encounter with the local wildlife here.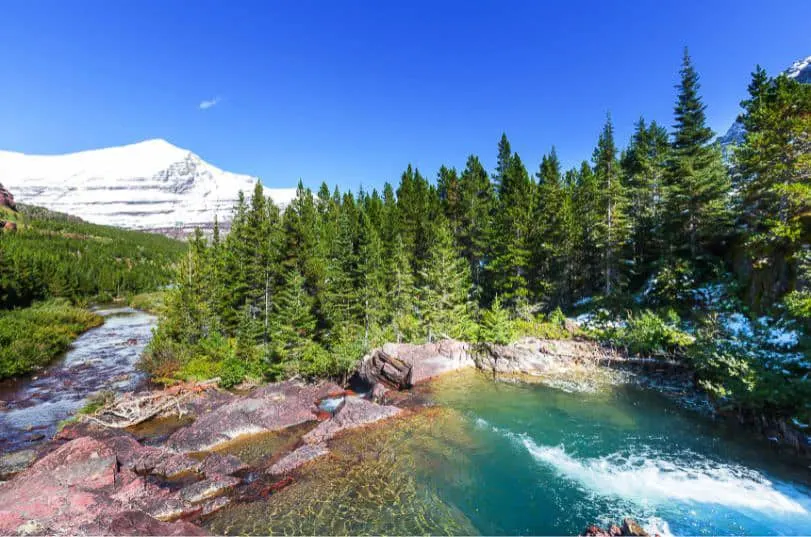 If your visiting the Glacier National Park make sure you are prepared and check for bear sightings etc before visiting. An epicentre of natural beauty with its 200 waterfalls, 700 lakes and 700 miles of trails, the park is more suited to experienced hikers.
Aerial Adventure Park
The adventure park that opened in 2019 located in the Revelstoke Mountain resort offers fifty different elements and obstacles suitable for all ability levels, including a 50 metre zipline, and a 10 metre climbing wall.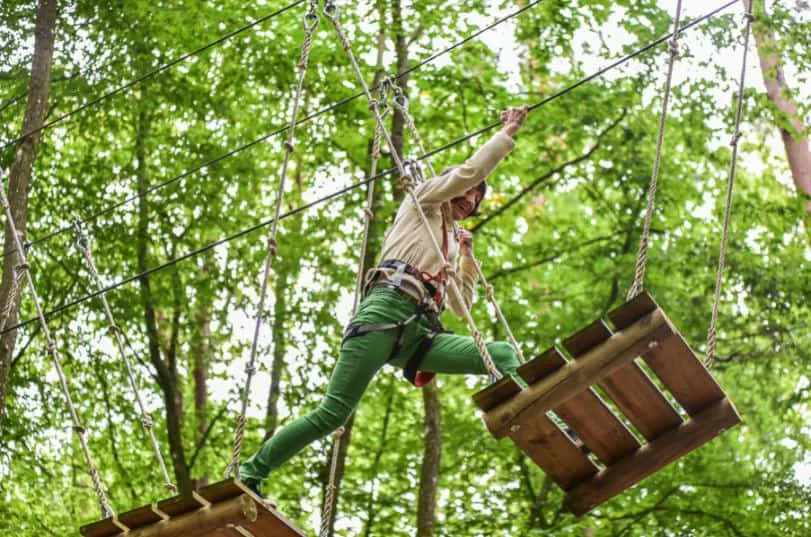 The Aerial Adventure park also has a four story ropes course located at the base of the Resort suitable for children aged six to eight years old. Children must be accompanied by an adult to participate and must be a minimum of 20 kg (44 lbs) and 125 cm (4'1").
The cost for adults is $40 and the cost for kids aged 6-12 years old is $30.
Where To Stay In Revelstoke
The Explorers Society Hotel
The Explorers Society Hotel is a beautifully restored heritage building from 1911. This hotel oozes character and has been nominated as part of TripAdvisor's "Best of the Best" for 2022.
With its cozy family rooms and rooftop hot tub and lounge, the hotel is located right in the heart of Revelstoke's historic downtown making it a great base to explore the surrounding area.
For more information and to book your stay at The Explorers Society Hotel click here.
Coast Hillcrest Hotel
This family friendly hotel offers jetted tubs and balconies with great views in some of its rooms. With an onsite restaurant serving great food and incredible views of the mountains.
The hotel also offers a free daily shuttle to the Revelstoke Mountain Resort, home to the biggest vertical in North America.
For more information and to book your stay at the Coast Hillcrest Hotel click here.
Noahs Ark Campground
Noahs Ark Campground is located just 3 km from the Enchanted Forest and the Sky Trek Adventure Park. Offering guests rustic cottages, mobile home and caravan accommodation as well as RV pitches.
The Revelstoke property offers shared bathroom/laundry facilities complete with showers, free WiFi is included in each rustic cottage and also has a gift shop onsite.
For more information and to book a stay at Noahs Ark Campground click here.
Experience A Hot Spring
After a strenuous day on the mountain in Revelstoke, what could be better than relaxing in one of the many hot springs located nearby. It is a stunning way to spend an afternoon or evening as well as relieving those tired and sore muscles in the adventure playground that is Revelstoke.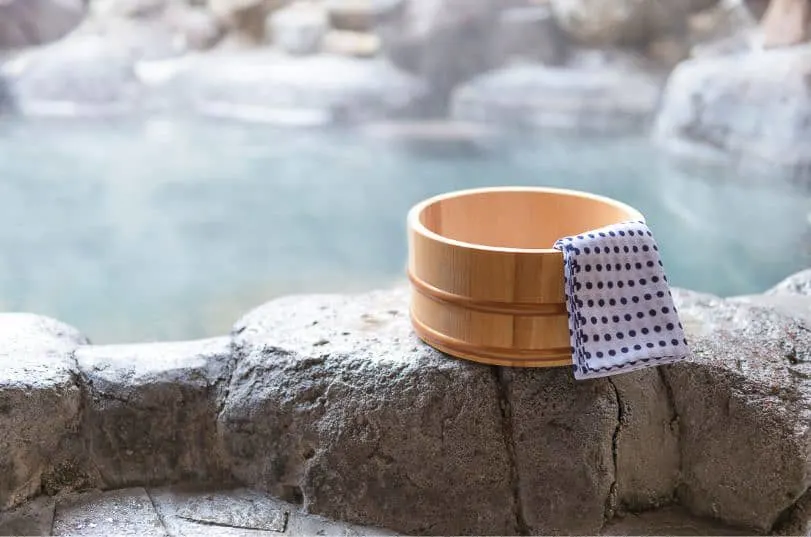 Crazy Creek Hot Pools
These geothermally heated pools are glacier-fed from a well found at the base of the Eagle pass mountain. The crystal clear sulphur free water is a great way to relax those tired bodies and vary in temperature allowing you to choose which is most ideal for you.
Canyon Hot Spring
Canyon Hot Spring is located between Glacier National Park and Mount Revelstoke National Park. Nestled in the forest, surrounded by the mountains and nature this hot spring has two mineral pools and accommodation onsite from camping to cabins.
Kelowna
Kelowna was slightly off track to the South. However we heard so many great things about it, we felt it was worth the detour.
What amazed me about Canada was, every stop is completely different. We only explored a small proportion, yet the experience along the road on our drive from Calgary to Vancouver was so diverse.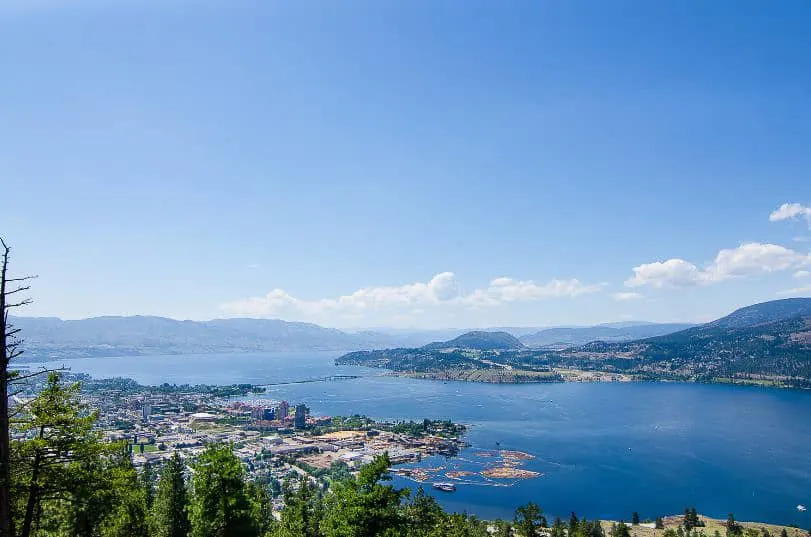 Kelowna is a city that is famous for its vineyards, the Okanagan Lake and some of its nearby hikes. I really didn't know Canadians made wine and its good! The heart of the community is at the lake.
Okanagan Lake
It seems like all the locals have boats, fish and spend their spare time socialising on the beaches and lakeside parkland. We only allowed two days for Kelowna, but in hindsight, we should have allowed more like three or four.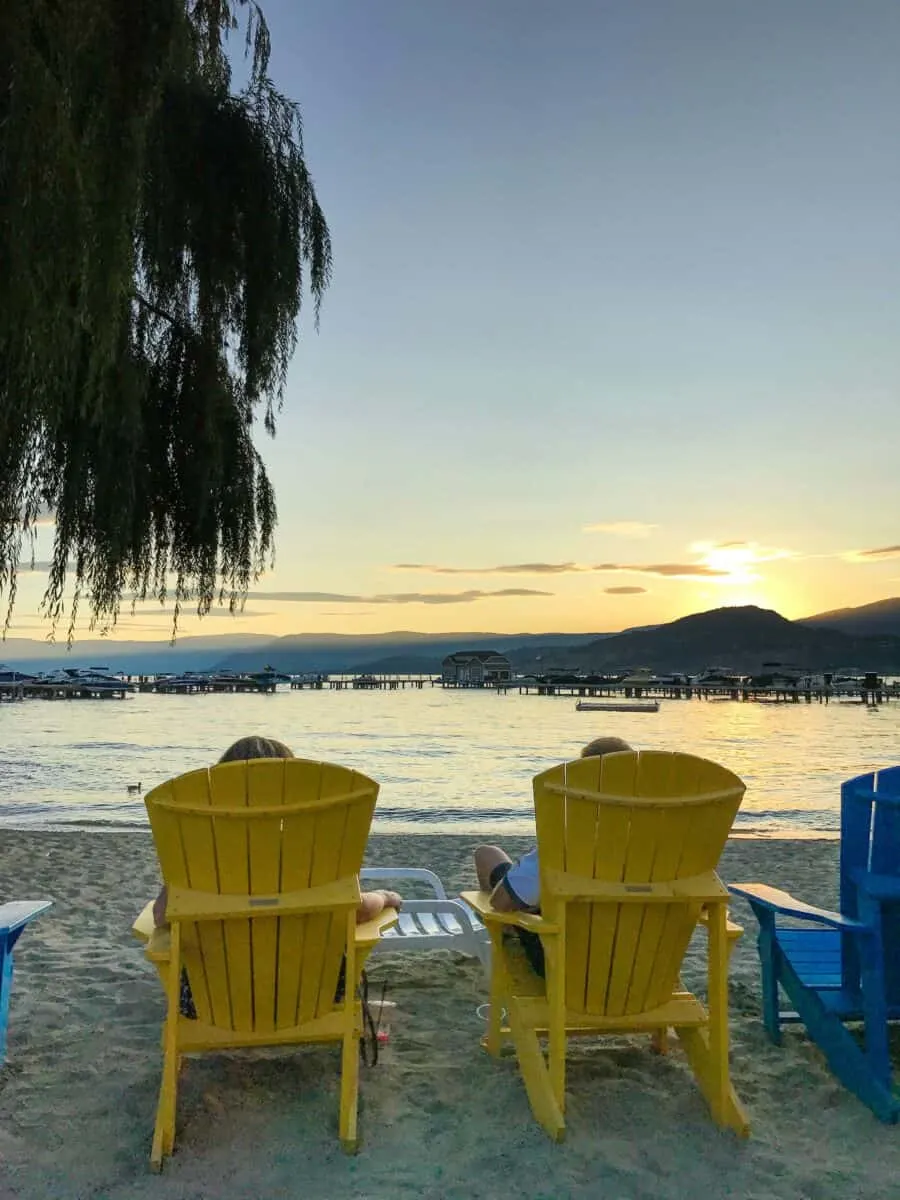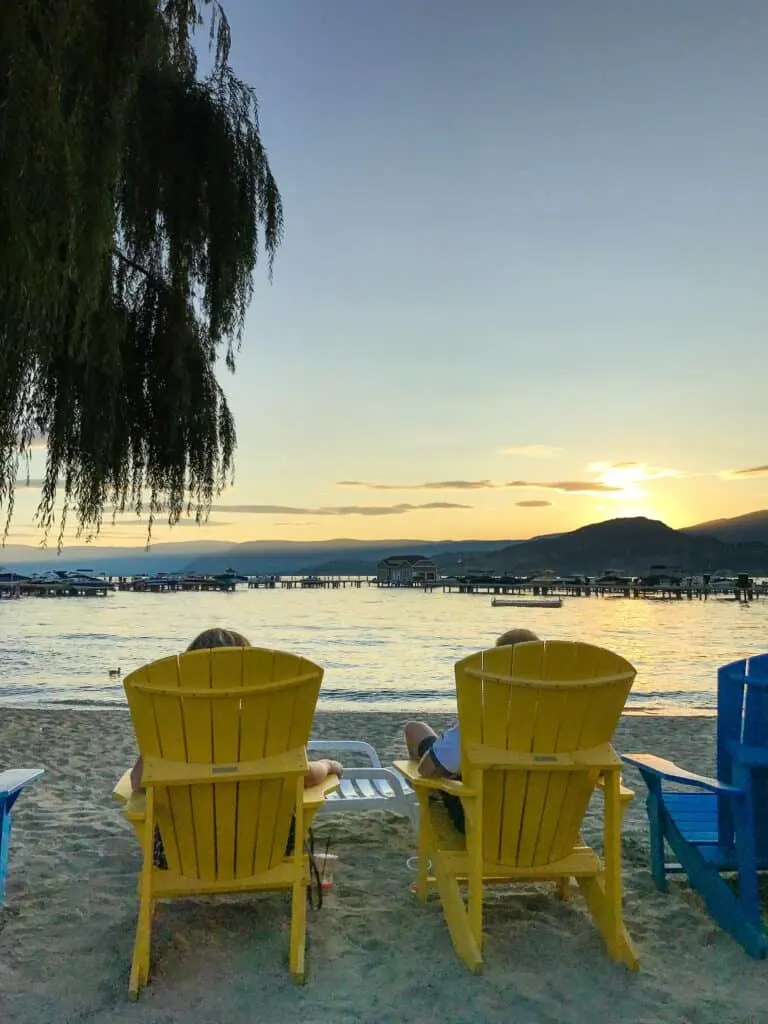 Kelowna Vineyards
There are over 40 wineries within a 20 minute drive in Kelowna, with the area being famous for its top quality wines and often referred to as the birthplace of winemaking in British Columbia.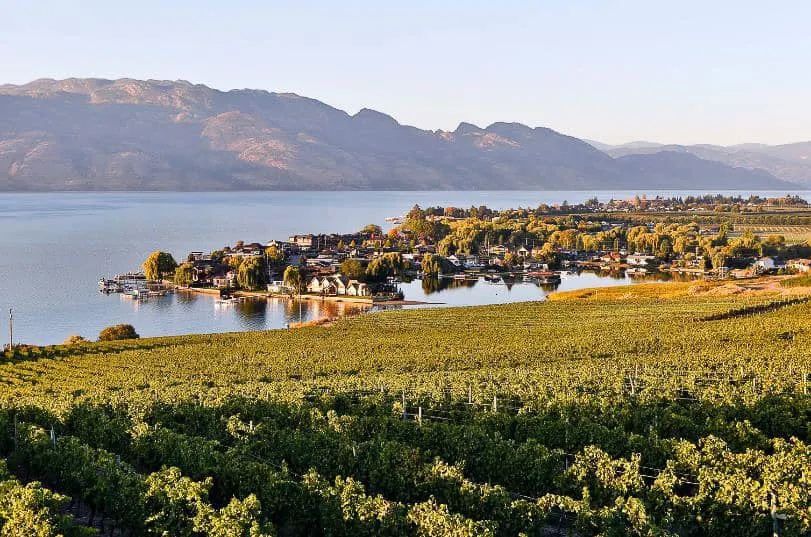 With so many vineyards on offer, guided wine tours are very popular in the region. Some of the popular vineyards to visit include The Vibrant Vine, Summerhill Pyramid Winery, Cedar Creek Estate, Ancient Hill Estate Winery, and Tantalus Vineyards.
For a afternoon sightseeing and Wine tour in West Kelowna click here.
Kempf Orchards
The family run Kempf Orchard dates back to 1966 and is very popular for pick yourself Cherries in the heart of the Okanagan. The fruit-picking season typically begins at the end of June/beginning of July, with cherries being the first fruit available to pick and last into early august.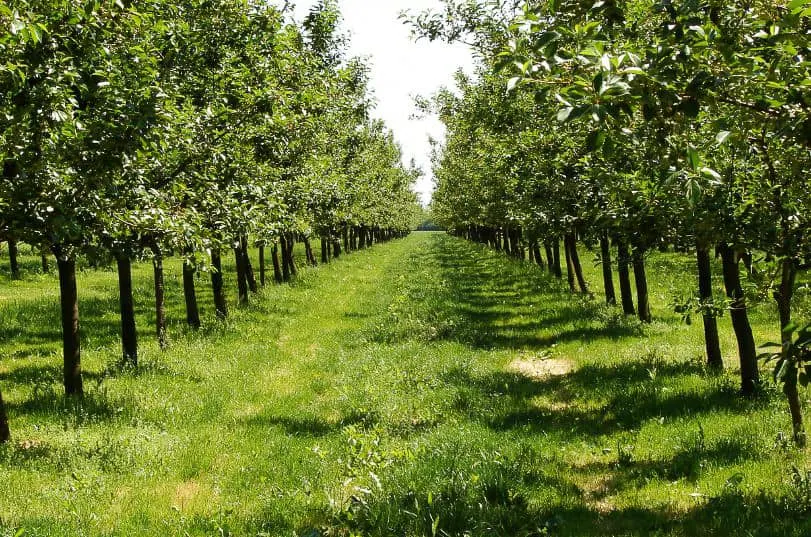 Admission is $2 per person and you can buy boxes and containers for $1 each, but feel free to bring your own.
Kelowna Visitors Centre are always able to help with knowing when it is possible to go fruit picking.
Christie Falls
Christie Falls is a free flowing waterfall nestled in the mountains northwest of Kelowna just behind Bear Creek Provincial Park. It is best visited in the early summer once the snow has melted.
It involves a 2.4km hike through fallen, charred trees as well as having to navigate some small stream crossings and steep trails. It is considered a moderate hike but is worth the hour long drive on a rather bumpy dirt road.
Kamloops
Kamloops is the second biggest city in BC, well known for its national and international sporting competitions. Kamloops is an adventure lovers playground benefiting from long summers with over 2,000 hours of sunshine annually.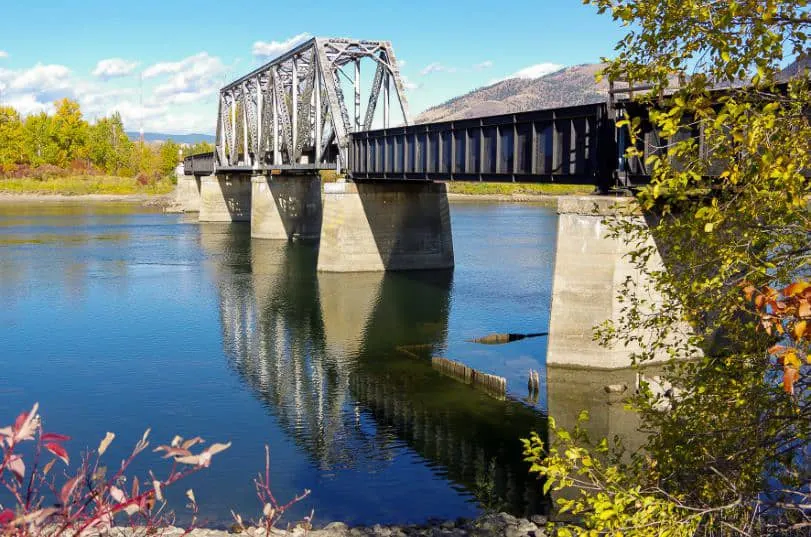 This makes Kamloops perfect for outdoor recreation including hiking, biking, water sports and winters made for exploring snowy trails.
The city is surrounded by rolling hills with forests and grasslands, with massive colourful mountains and where the North and South Thompson Rivers converge. With over 100 lakes within a 1-hour drive of the city making it a top fishing destination.
Rock Climbing
Having such an impressive mountain range surrounding Kamloops, it is no surprise that there is an abundance of rock climbing locations to suit every type of climber. The Beach is one of the more popular climbs at Kamloops Lake as well as Roche Lake, Prickly Pear, Oregon Jack, Hen House to name a few.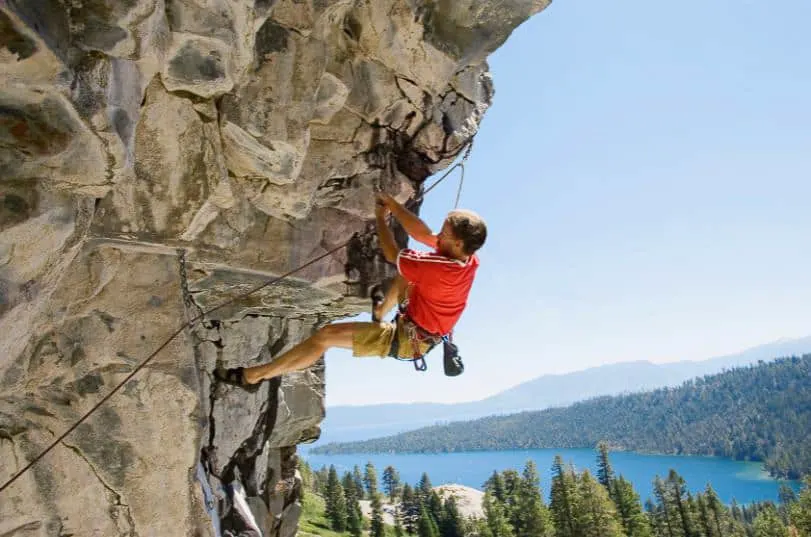 Riverside Park Beach
Looking for a nice beach to soak up some summer sun in Kamloops? The Riverside Park Beach is in easy walking distance from the city centre and a family friendly spot for beach access and kid friendly playtime.
With marked swimming areas, lifeguards on duty, waterpark and a playground it is the perfect spot for a picnic and a swim.
Horseback Riding
Offering something for everyone, Kamloops is an outdoor mecca of fun and recreation, so it is not surprising to know its also a beautiful place to go horseback riding in the picture perfect surroundings.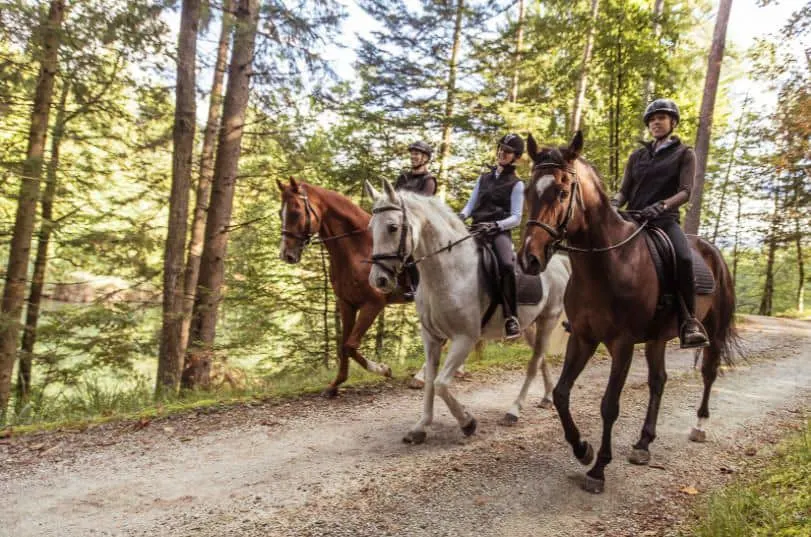 Some popular ranches and stables where you can go Horseback riding in the Kamloops area are Circle Creek Ranch, Sun Peaks Stables, Inspire Trails and The Erin Valley Riding Stable.
Downtown Kamloops
Kamloops has a vibrant downtown with everything you'd want in an urban centre with its mix of unique shops, tree-lined streets, historic buildings, and brick sidewalks, the downtown area is the heart and soul of the city.
Four major highways come together in the city, providing access from major centres such as Vancouver, Calgary, Edmonton and Seattle.
Hiking Sun Peaks Resort
The Sun Peaks Resort is famous for its 360-degree alpine views, beautiful vistas and stunning wildflower meadows that blossom during the peak wildflower season, from mid-July through mid-August.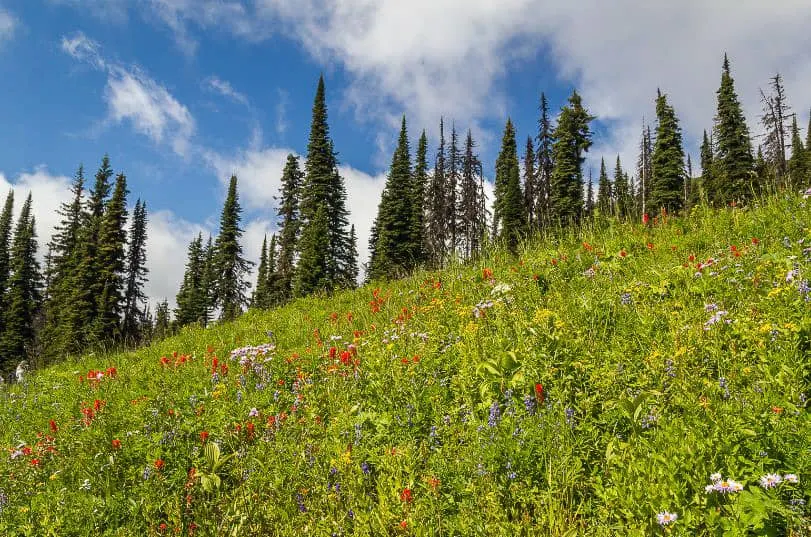 During this time you will witness its hills blanketed in magnificent wildflower displays. The natural beauty here is stunning with rolling alpine meadows in a kaleidoscope of colour. With over 15 designated hiking trails in the resort ranging from low grade to hiking in the upper reaches of the mountain.
Visitors can take advantage of the Sunburst chairlift and set off on a relaxing ride up/down the mountain with it operating from mid June through September.
Kenna Cartwright Nature Park
Established in 1996, Kenna Cartwright Park named after the former mayor has almost 800 hectares of gentle nature trails for hiking or cycling with panoramic views of the city. With 40kms of trails of varied difficulty and a number of picnic areas throughout the park for families.
Kamloops Lake
The drive from Kelowna took around two hours. Kamloops is another destination that has quite a few wineries to check out. Although it's not the most family friendly activity in the world, we found if we did a quick tasting they were very good at helping to keep the kids entertained by giving them apple juice tastings and colouring in.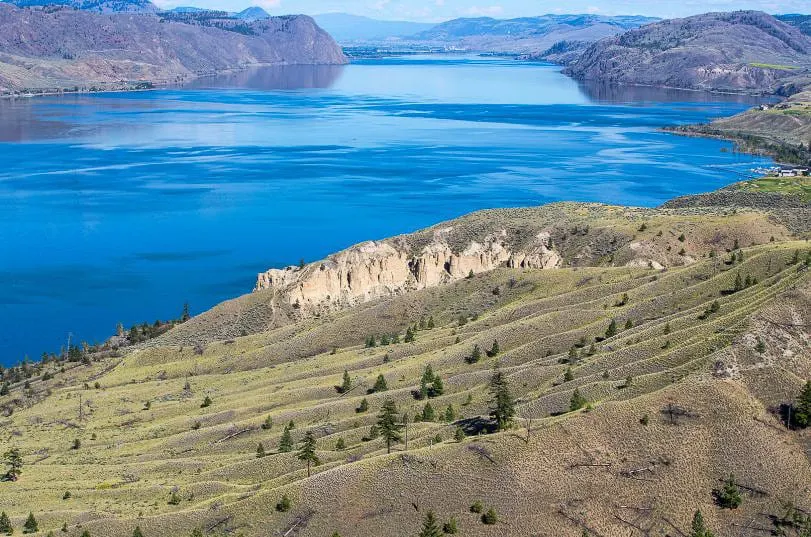 The Wildlife Park is also a good place to visit in Kamloops and there are plenty of walking trails in the area. They are family friendly and not too strenuous with kids.
Whistler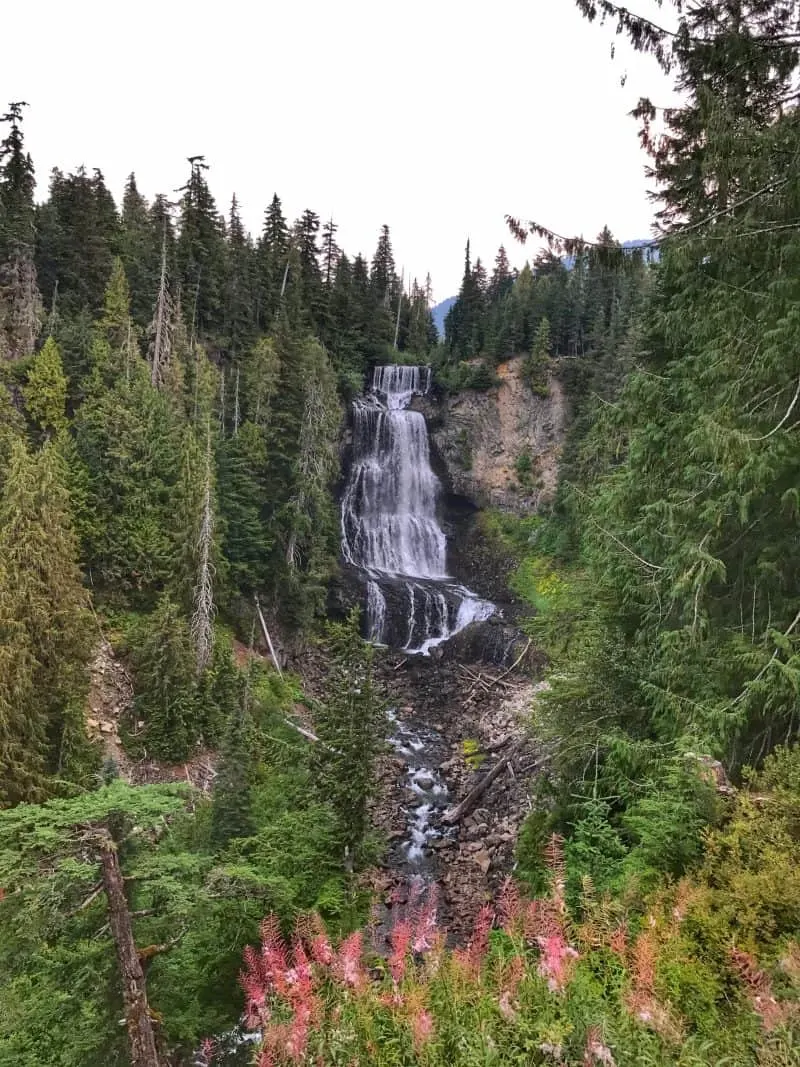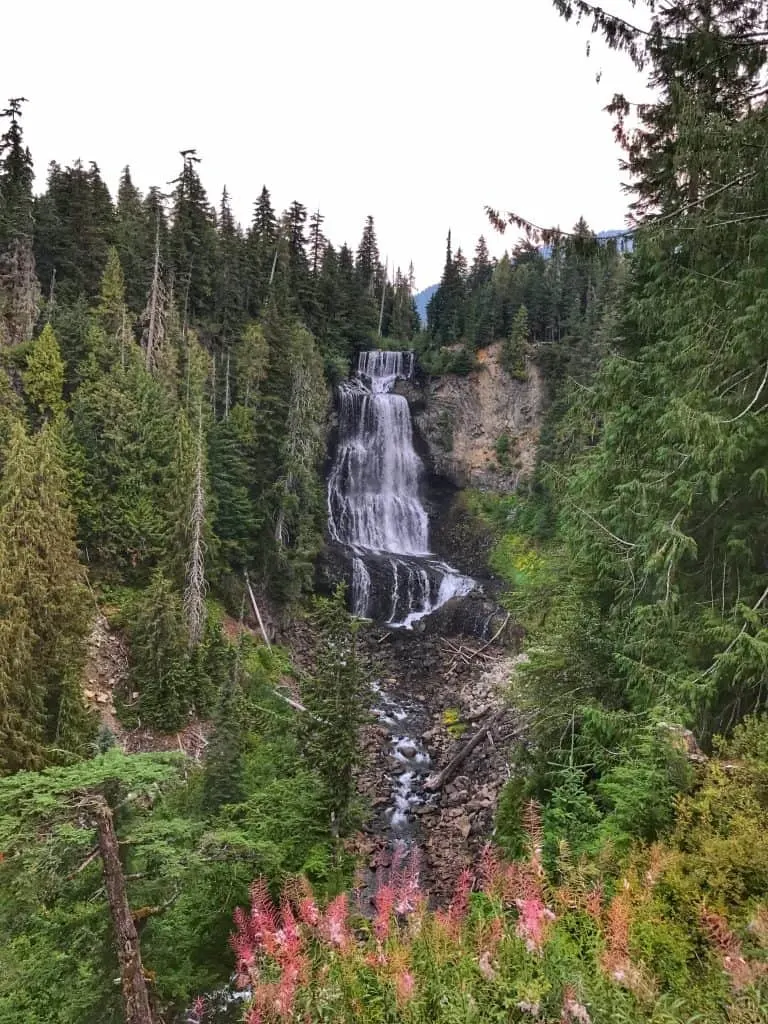 We spent two days in Whistler and although it was slightly north of Vancouver it was not too much of a detour. We loved the village especially as there are no vehicles in the centre with it being a pedestrian-only village.
It is cocooned at the foot of Blackcomb and Whistler Mountain. The base of both mountains is very much the hub of all the activities.
There are lots of big car parks all around the outskirts of Whistler where you can leave the car and explore the area on foot.
Peak to Peak Gondola
The Peak to Peak Gondola is the longest unsupported lift span in the world. To reach the gondola you must first ascend on a thirty minute ride to the top of Whistler Mountain before jumping on the next ride that crosses the valley to the Blackcomb Mountain.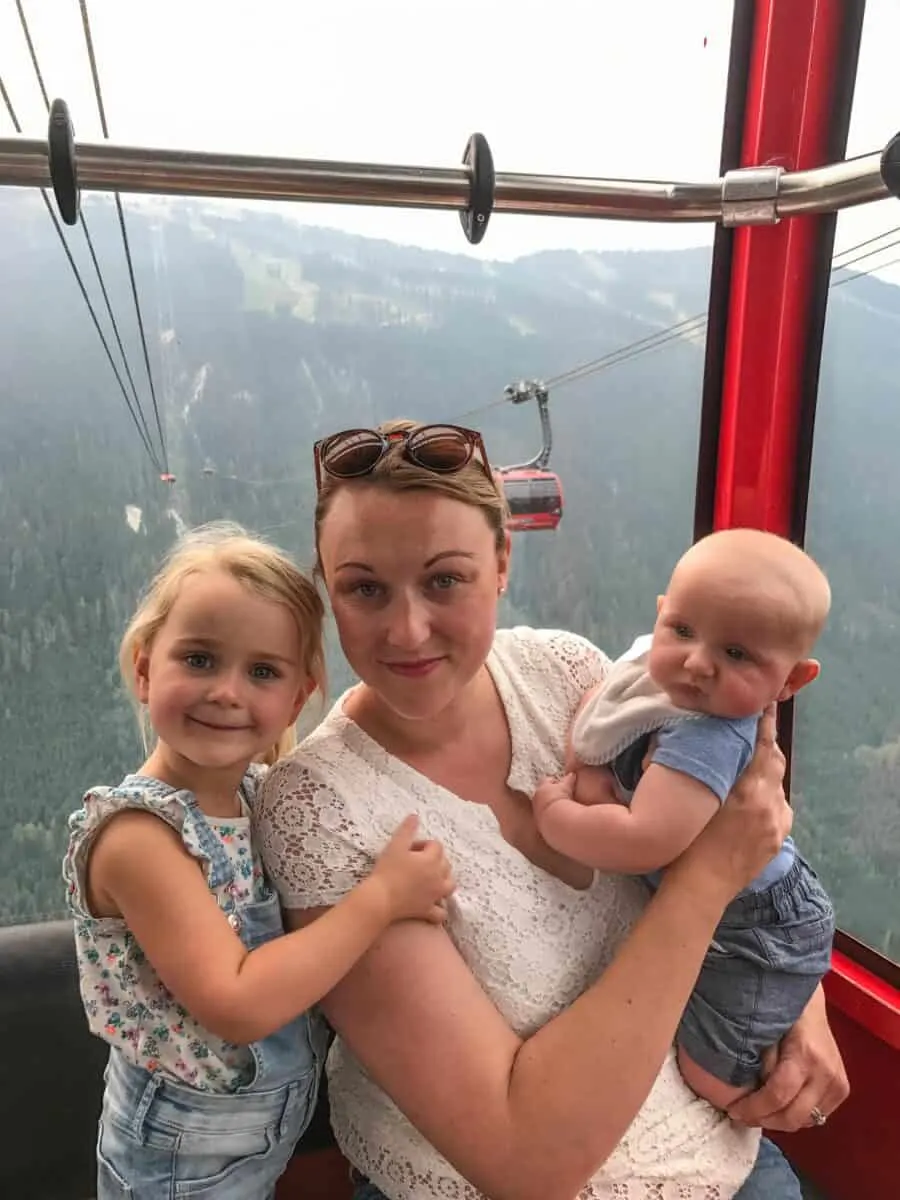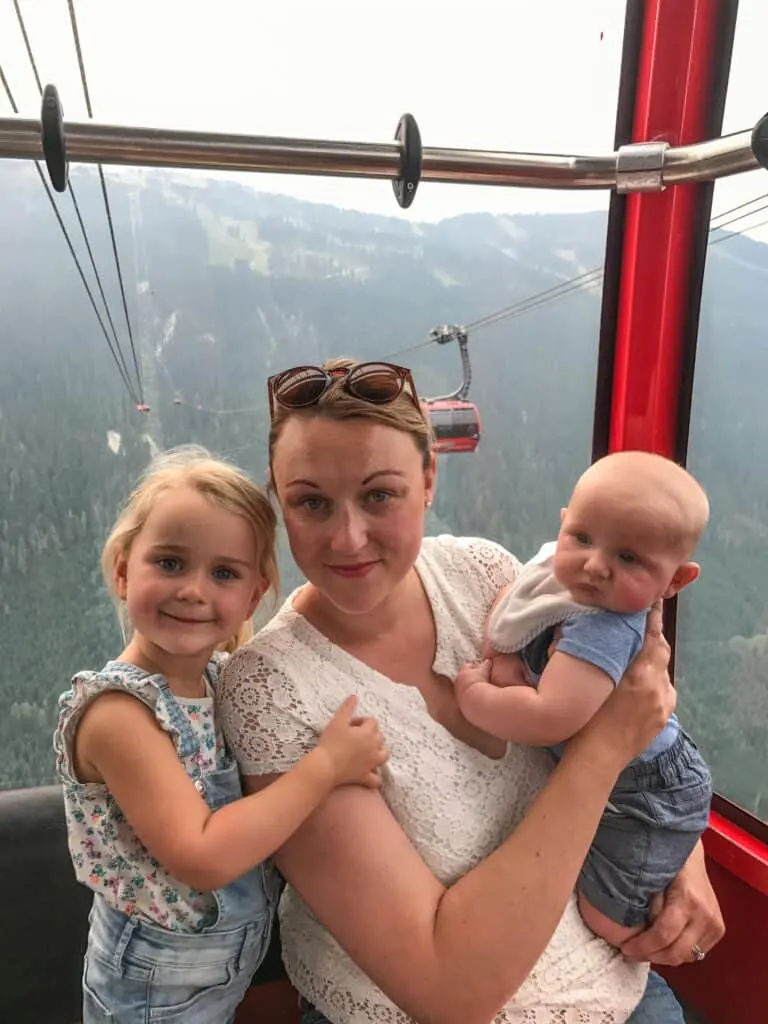 It is an incredible ride in which you get 360-degree views of Whistler Village, mountain peaks, lakes, glaciers and the pine forest below is dwarfed by the 436 metre elevated view so is not for the faint hearted.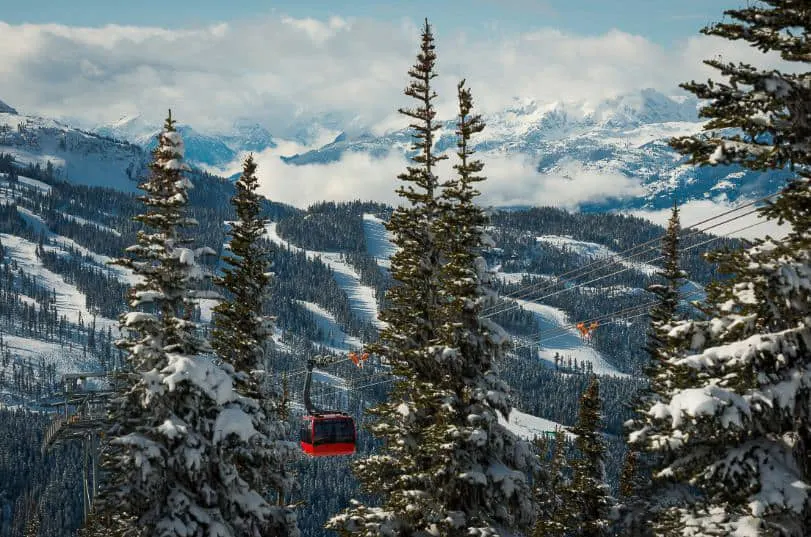 Squamish Lil Wat Centre
The Squamish Lil Wat cultural centre is located on the shared, traditional territories of the Squamish Nation and Lil'wat Nation. The centre celebrates and shares their cultures and traditions in a building that is shaped similarly to a canoe boat.
The centre offers hourly guided tours which last around 20minutes as you are shown around the centre and told about the nations heritage, our visit ended with our 3yr old making hand made rope bracelets with wet cedar. Esme is still wearing hers, she loved the craft element of the tour.
Peddle boat out on the lake
A relaxing activity to do as a family is to rent a Peddle boat on the calm waters of Alta Lake. For the past 100 years, pioneers and tourists alike have paddled, fished and swam in its clear waters. We spent an hour on the lake paddling about and as is a very peaceful and serene experience.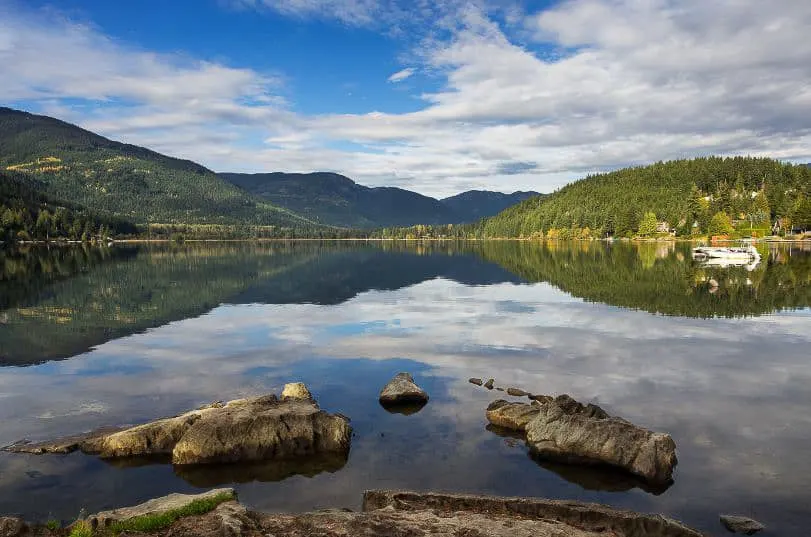 After spending some time on the lake there is a really nice lakeside park where you can enjoy a swim or a picnic afterwards.
Whistler Photo Safaris
If you are wanting to see Bears in their natural habitat then Whistler Photo Safaris run sunrise and sunset tours of the winter olympic park. The company offers a variety of tours including Bear Safari, 4×4 off roading adventures or a combination of both.
Our tour guide imparted lots of information about the different types of bears in the area as it was berry season when we were visiting. Guests can also be shown around the Olympic venue and the world famous ski jump which is a sight to behold.
The tour involves being driven in a comfortable 4×4 Jeep as you discover snow capped mountains, waterfalls and the abundant wildlife in Whistler.
Train Wreck Hike
The Whistler Train Wreck hike is perfect for kids as it is a short non strenuous hike though a towering cedar and fir forest. This unique hike ends at a colourful train wreck where the trains cabins can be explored.
The location which is a favourite with local graffiti artists, photographers, trail runners, hikers and bikers is located alongside the mighty Cheakamus River.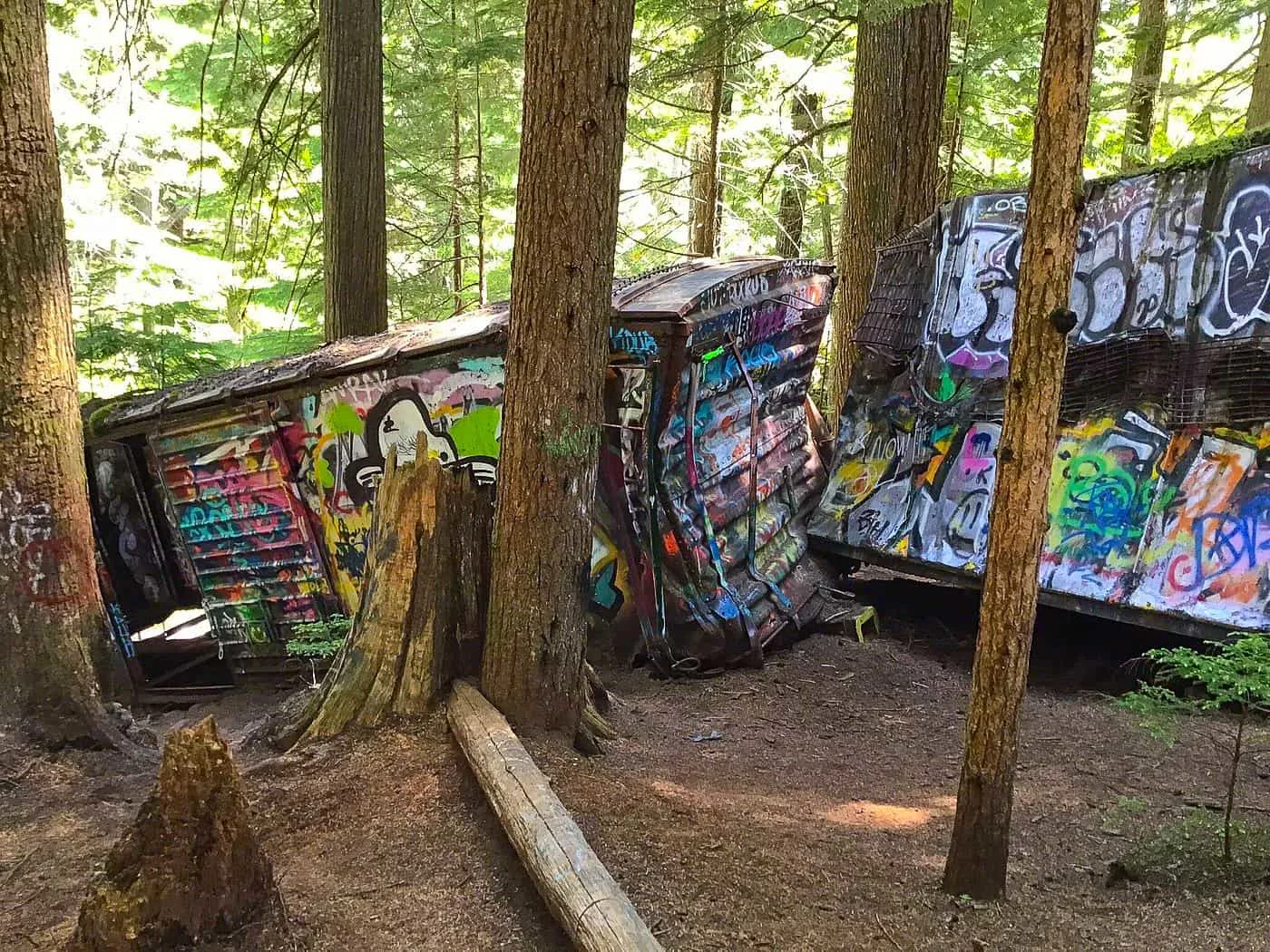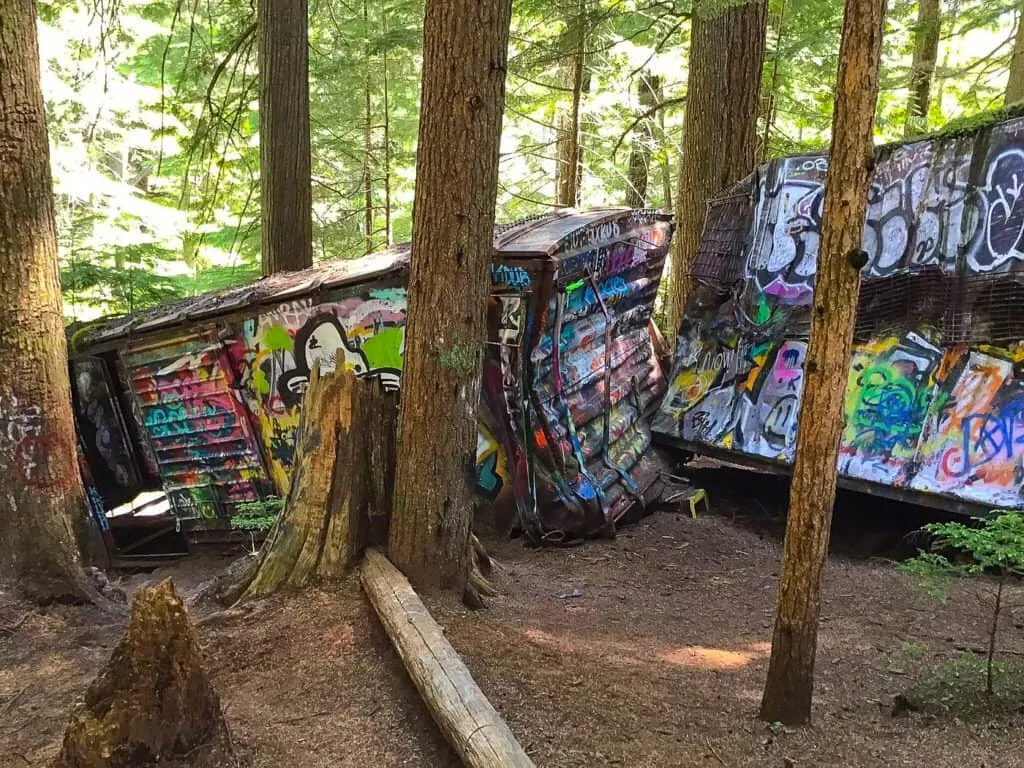 There is also a fun suspension-style footbridge which includes a nice length of boardwalk leading hikers back into the coastal rainforest. The bridge is an easy 1 KM hike from the Sea to Sky Trailhead in Cheakamus Crossing/Function Junction zone.
For a guided tour to the Whistler Train Wreck, Suspension Bridge & Hidden Waterfall Adventure click here.
Brandywine Falls Provincial Park
Brandywine Falls Provincial Park is located in the Cheakamus River Valley approximately 34 kilometers north of Squamish off Highway 99. The park is home to a spectacular 70 metre waterfall that is reached by a combination of boardwalk and steps that brings you into the waterfall's gorge.
It is a very short trail to the lookout, and it can get pretty busy and crowded so it is recommended that you visit the falls during early mornings or on a rainy day to avoid the tourists.
Parking is available but make sure you arrive early to secure a spot during summer as the parking lot is generally full between 10 am and 4 pm.
For more information and tours click here.
Wedgemount Lake
Wedgemount Lake is often referred to as the Wedge or Wedgemount for short and is a rather difficult hike situated in the Garibaldi Provincial Park. The Wedgemount Lake is a mountain-lovers paradise with ice crashing into its glacial blue lake, floating icebergs and alpine peaks surrounding it.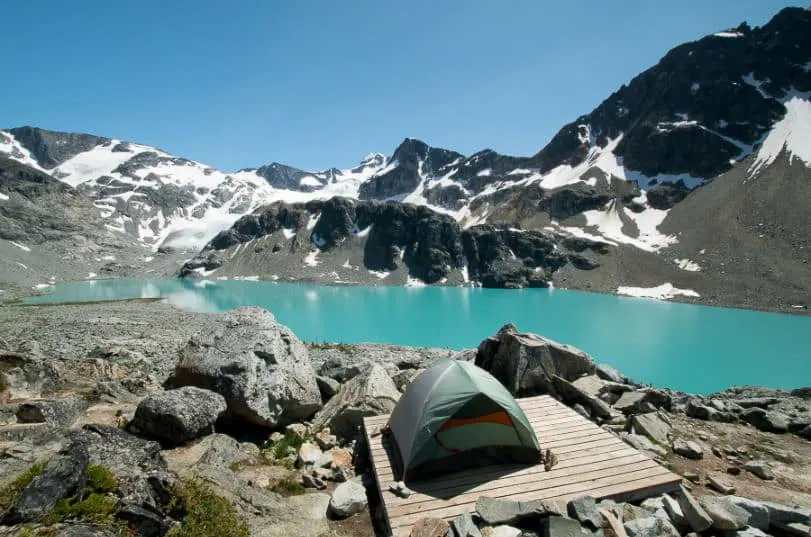 This hike is a 14kilometre round trip and is an all-day hike and more suited to experienced hikers only. Make sure you're prepared for the elements as you will be outside all day with extra layers, lots of water and extra snacks.
Many visitors sleep under the stars on one of the many beautiful tent platforms and huts that have been constructed around the landscape which are on a first come first serve basis. These solidly built, free wooden tent platforms and huts allow hikers the opportunity to sleep out over night and do the hike back down the mountain the next day.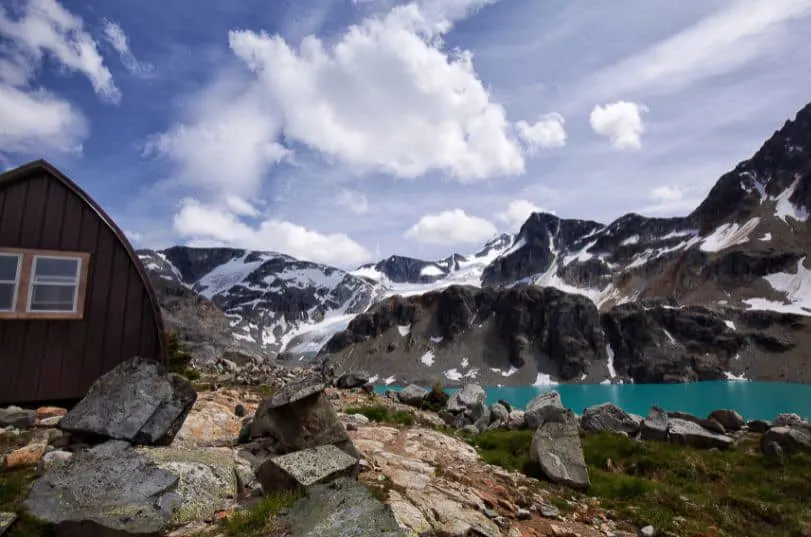 If the hike to Wedgemount Lake sounds to gruelling for your level of expertise, why not try a scenic helicopter tour over Wedgemount Lake, Wedge Mountain and Wedge Glacier.
Vancouver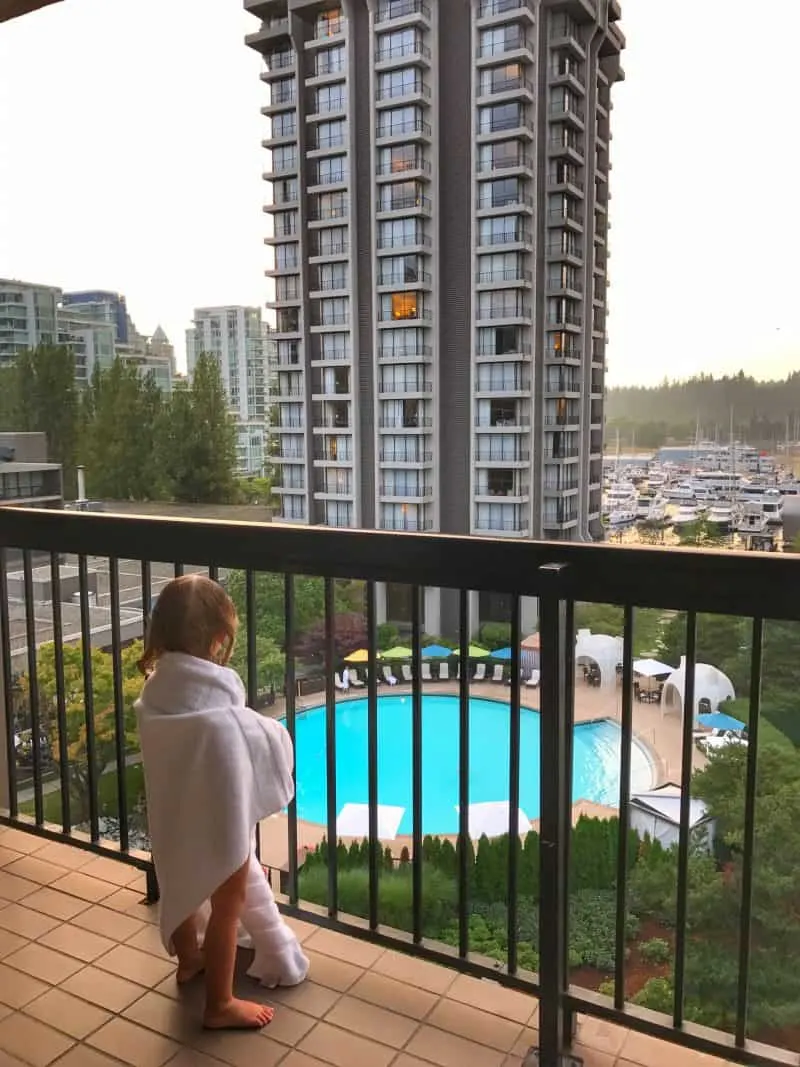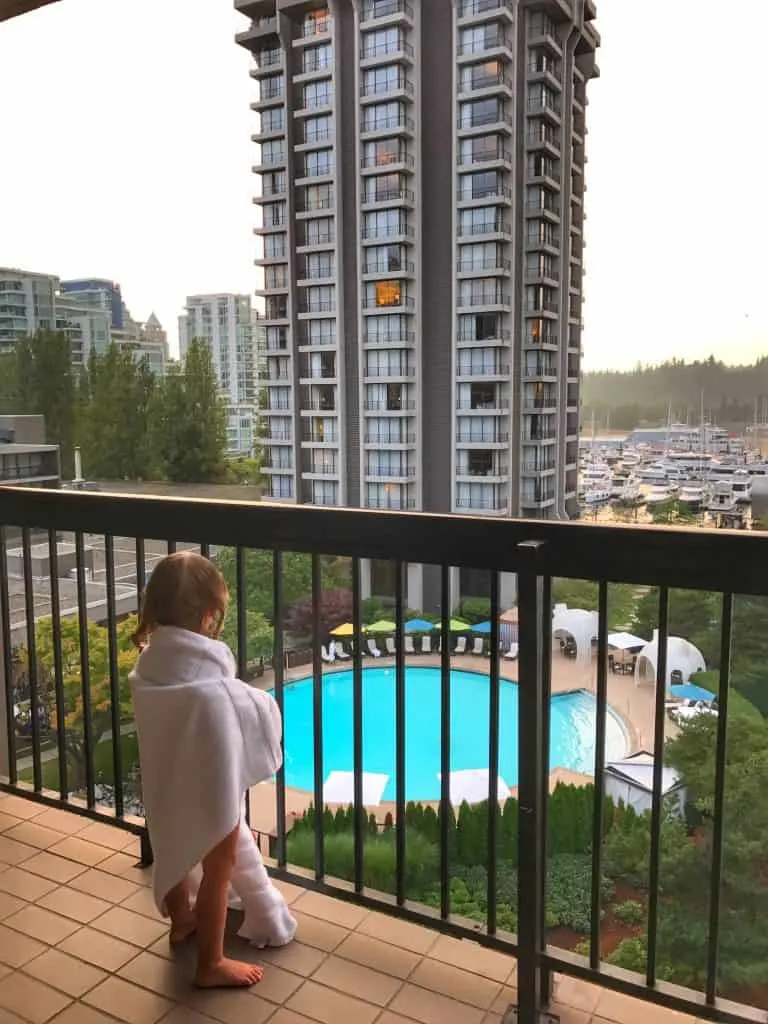 Stanley Park
Stanley park is a magnificent 400 hectare rainforest with scenic views of the water, mountains and its famous sea wall. The park located right next to the city centre of Vancouver offers a range of experiences from its historical landmarks, cafes, eateries, beautiful beaches and thriving wildlife.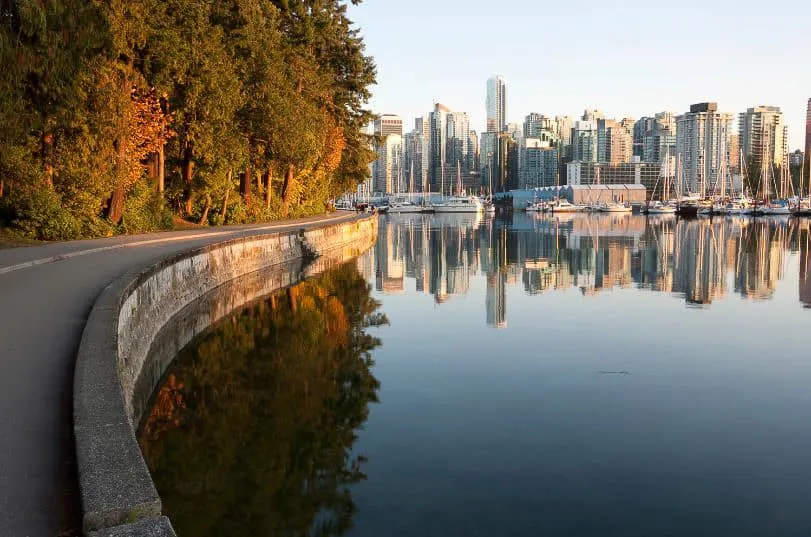 Vancouver is home to the world's longest uninterrupted waterfront path. The 28 km Seaside Greenway is an uninterrupted pathway, which runs along the coast of Vancouver. The pathway is popular for walkers, joggers, cyclists and inline skaters making it the place to be during summer.
For tickets to do a popular guided cycle tour of Stanley park click here.
Capilano Suspension Bridge Park
The Capilano Suspension Bridge Park is only a 15minute drive from Downtown Vancouver and is one of the areas oldest tourist attractions. This 27-acre park was made famous by its namesake bridge, which was built back in 1889.
With recent attractions being added to the parks list of activities such as the Treetops Adventure and Cliff Walk, you can easily spend a whole day exploring the area.
The Capilano Suspension Bridge offers spectacular views of the Capilano River below as you make your way across the wobbly bridge, with it being over 70m high and 137m long it is not for the faint-hearted.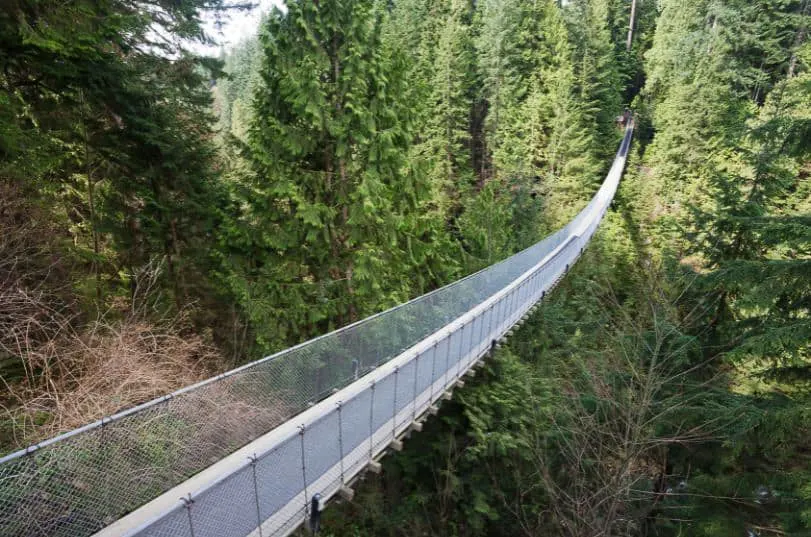 Set amongst the parks 250yr old Douglas Fir trees is the Treetops Adventure which allows guests to walk the suspension bridges 34m above the forest floor. Viewing platforms give an incredible birds eye view of this coastal rainforest.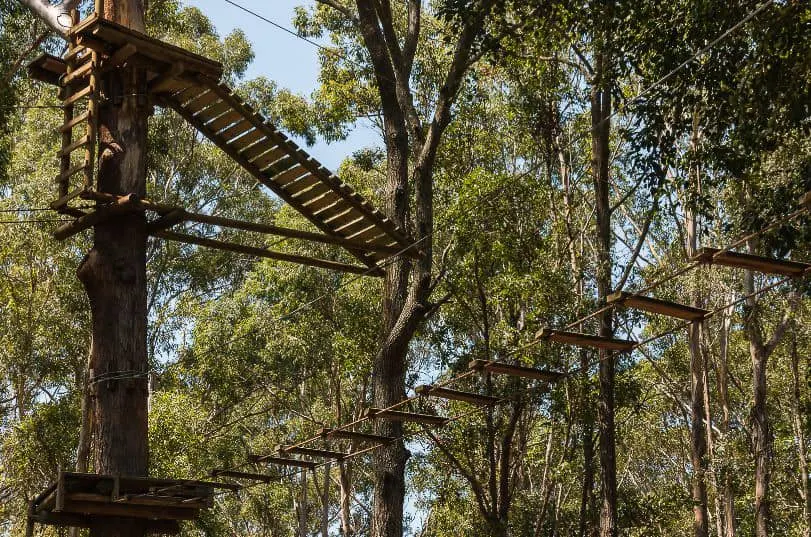 The thrilling 213m Cliffwalk consists of a series of narrow cantilevered bridges, stairs and platforms which is anchored to the granite cliff along the Capilano River.
You can enjoy breathtaking views and unique perspectives of the surrounding landscape from the cleverly positioned viewing platforms, some of which are made of glass to enhance the experience.
The best time to visit the park is in the morning as it can get crowded during the weekends and holidays.
For the tickets to the Capilano Suspension bridge Park click here.
Granville Island
Granville Island is best known for its famous Public Market which is home to more than 50 independent food stalls and making the Island a renowned culinary destination, making it both a locals' favourite and a huge draw for visitors.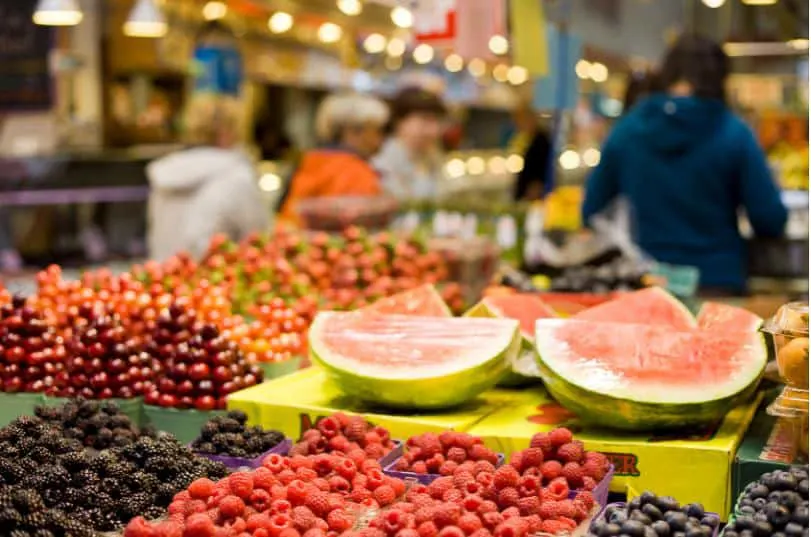 You can reach Granville Island by one of the many mini-tugboats that cross false creek. The market is described as a foodies delight and walking tours of the market a popular.
Outside of the market, there are many theatres on the island where you can watch a show, visit art gallery's, and studios with glassblowers, and jewel shops selling their crafts.
For a walking tour of the Granville Island markets click here.
Science World
Science World is home to a variety of interactive indoor and outdoor exhibits, that engages learners in the wonders of STEAM (science, technology, engineering, art & design and math).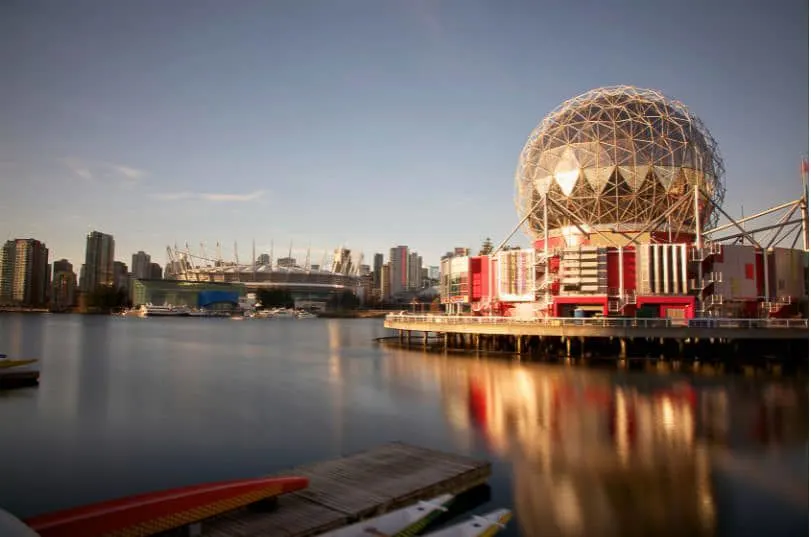 The live science shows held at different times throughout the day are a highlight and a visit to Science World is highly recommended for young families, especially ones with preschool and school-aged children. As the venue is 100 percent inside it is a great place to visit on a rainy day.
Queen Elizabeth Park
Queen Elizabeth Park is located less than 15 minutes' by car from downtown Vancouver. This sprawling 52 hectare recreational space, at 125 m above sea level is the highest point in Vancouver and offers brilliant panoramic views of the city.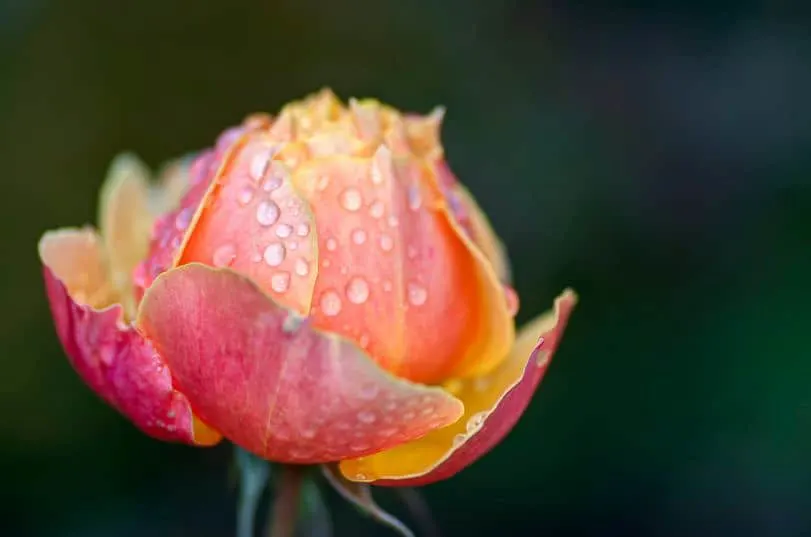 Thanks to its immaculate floral displays, landscaped quarry garden, and the arboretum with its collection of exotic and native trees, Queen Elizabeth Park is the perfect place to spend the day and have a picnic.
For information and tickets for the Best Vancouver Family Tour with kids designed specifically for families with little ones in tow click here.
Vancouver Island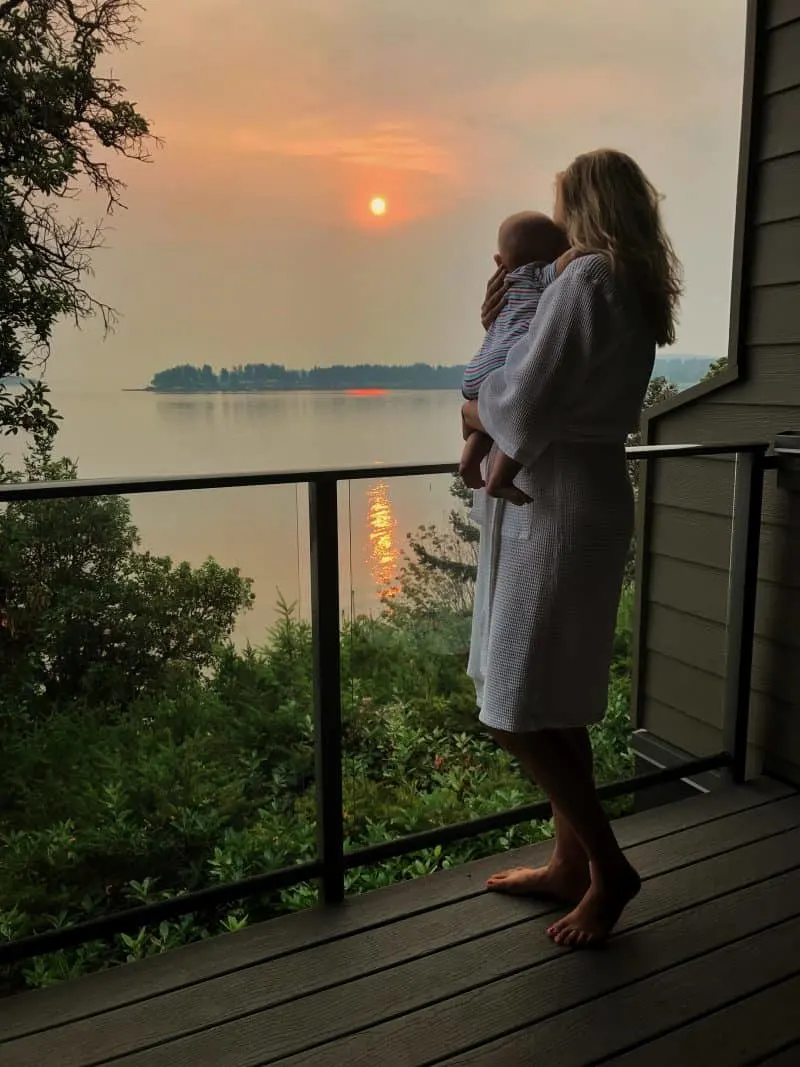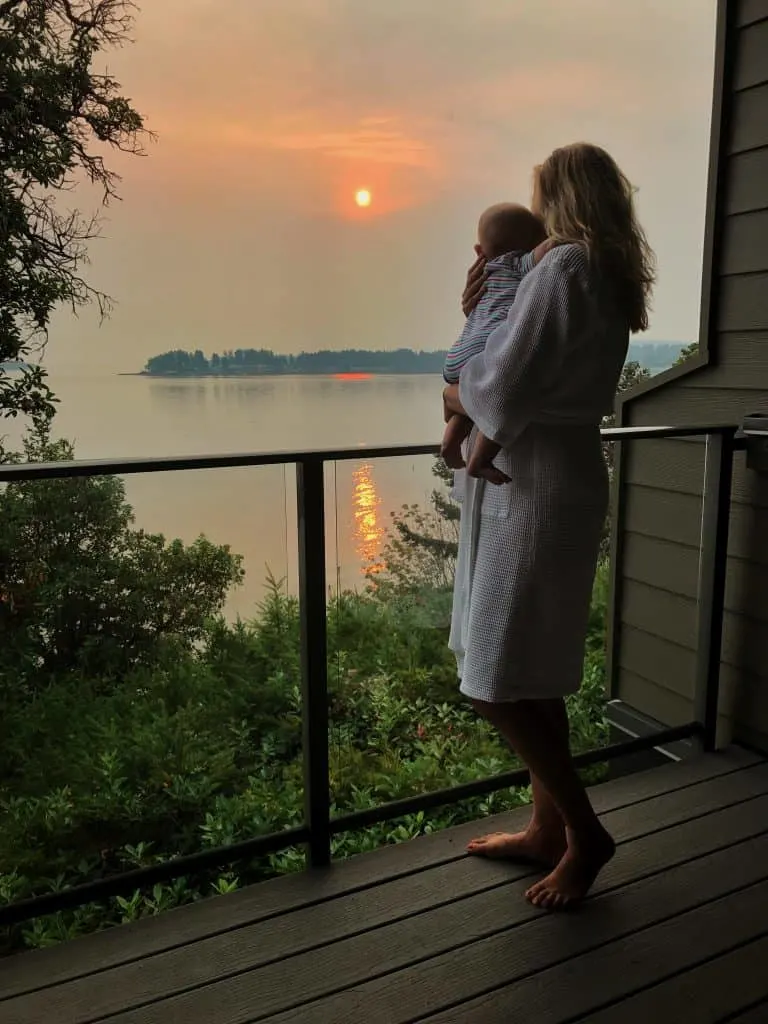 Foolishly we only spent one night on Vancouver Island. That was a huge mistake because the island is massive and we had completely underestimated that! The best port to go from is Horseshoe Bay to Nanaimo.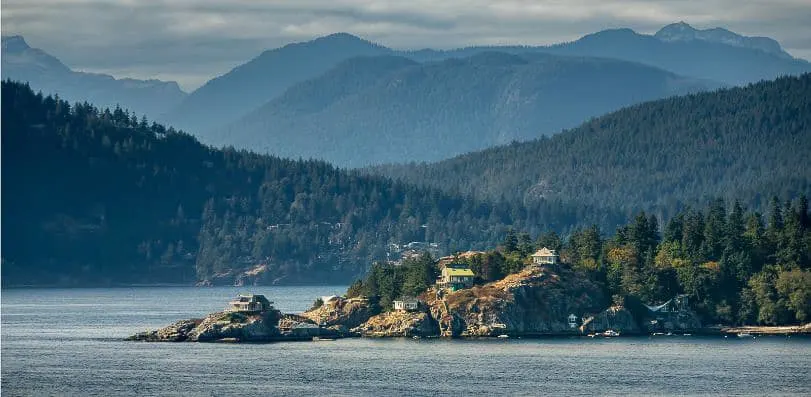 The ferry is quite reasonable with a car if booked in advance. They are very strict and close check-in 30 minutes before. Even if the ferry hasn't left, its still not possible to get on, even if you are only 10 second late, as we learnt.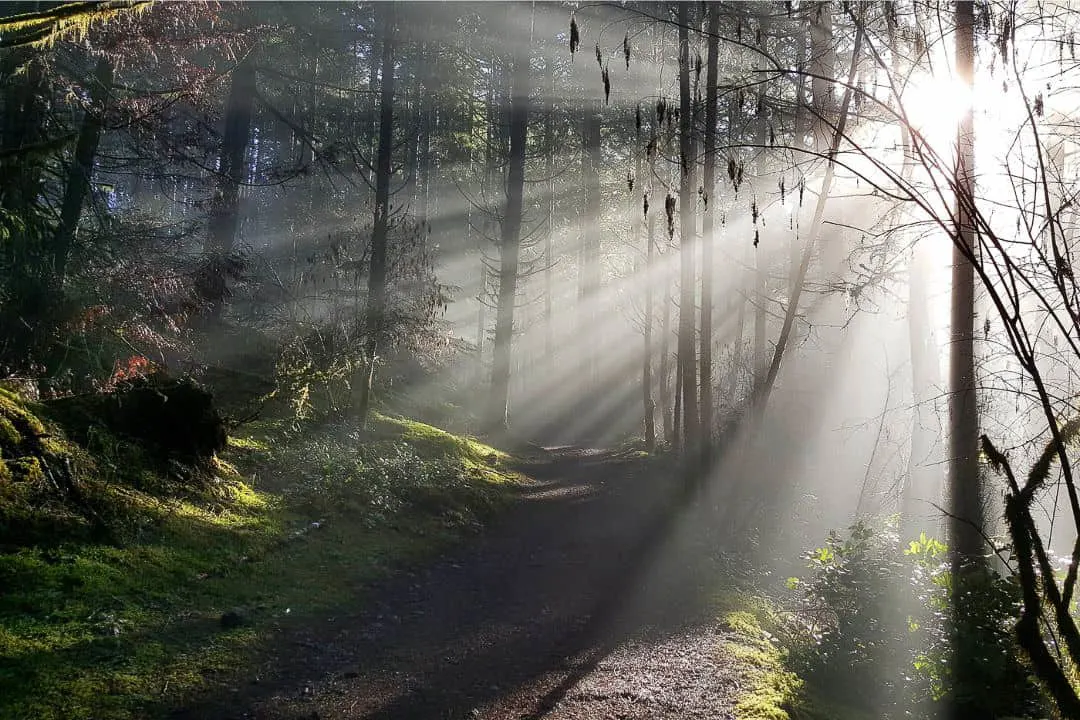 Despite the ferry check-in dramas, the journey is really beautiful. It's quite common to spot whales and dolphins along the way. We stayed at Canada's number one spa resort as voted by Spas of America the last two years running.
Tigh-Na-Mara
Tigh-Na-Mara is a beautiful little place with log cabins and some apartments with an ocean view. They have a nice beach and several activities for kids.
It's not every day you can go to a top spa resort that is family friendly. It's in an ideal location for getting to nearby sites like the Englishman Waterfall which is a short drive away.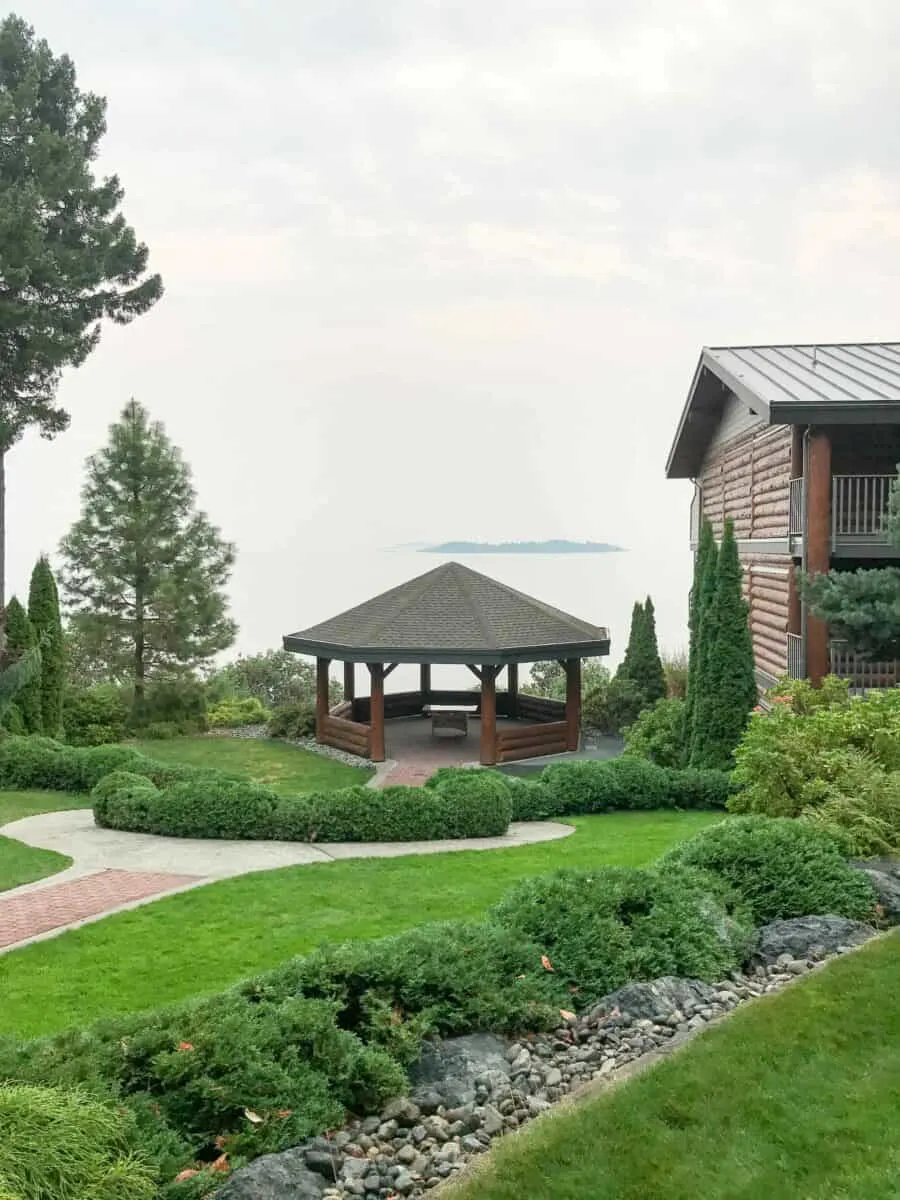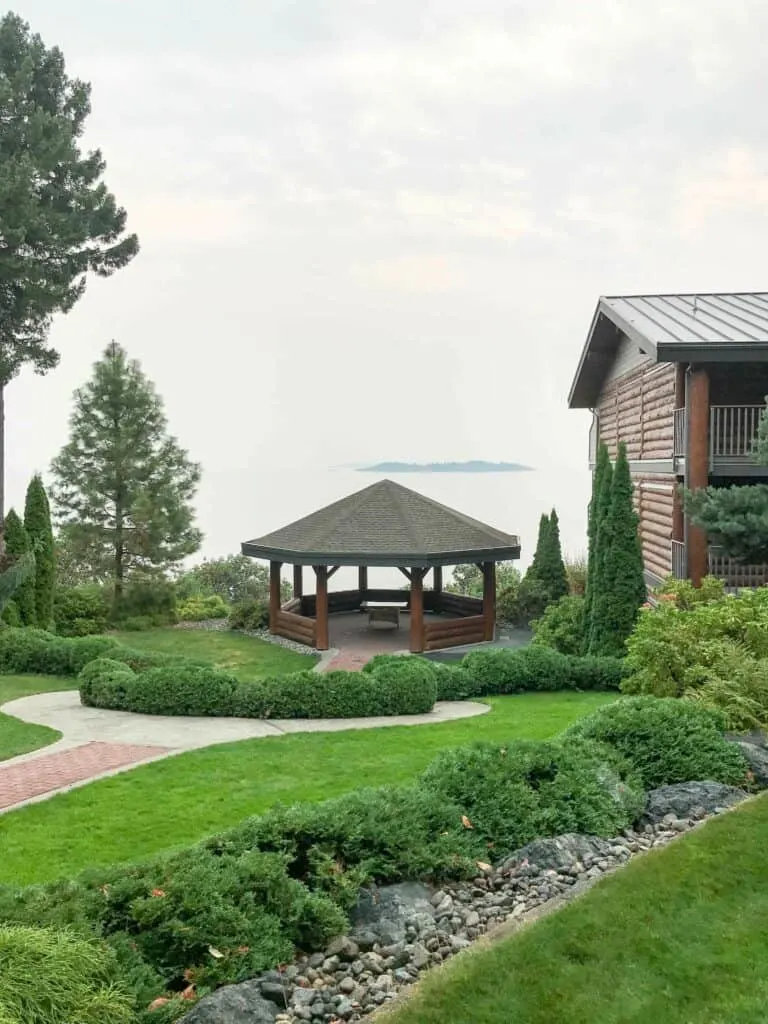 Be sure to read more about Tigh-Na-Mara here.
MacMillan Provincial Park
The Macmillan Provincial Park is situated along the shores of Lake Cameron on Vancouver Island with the park being famous for its ancient Douglas fir and Western red Cedar trees. These majestic trees are popular with visitors and locals alike with some measuring over 9metres in circumference.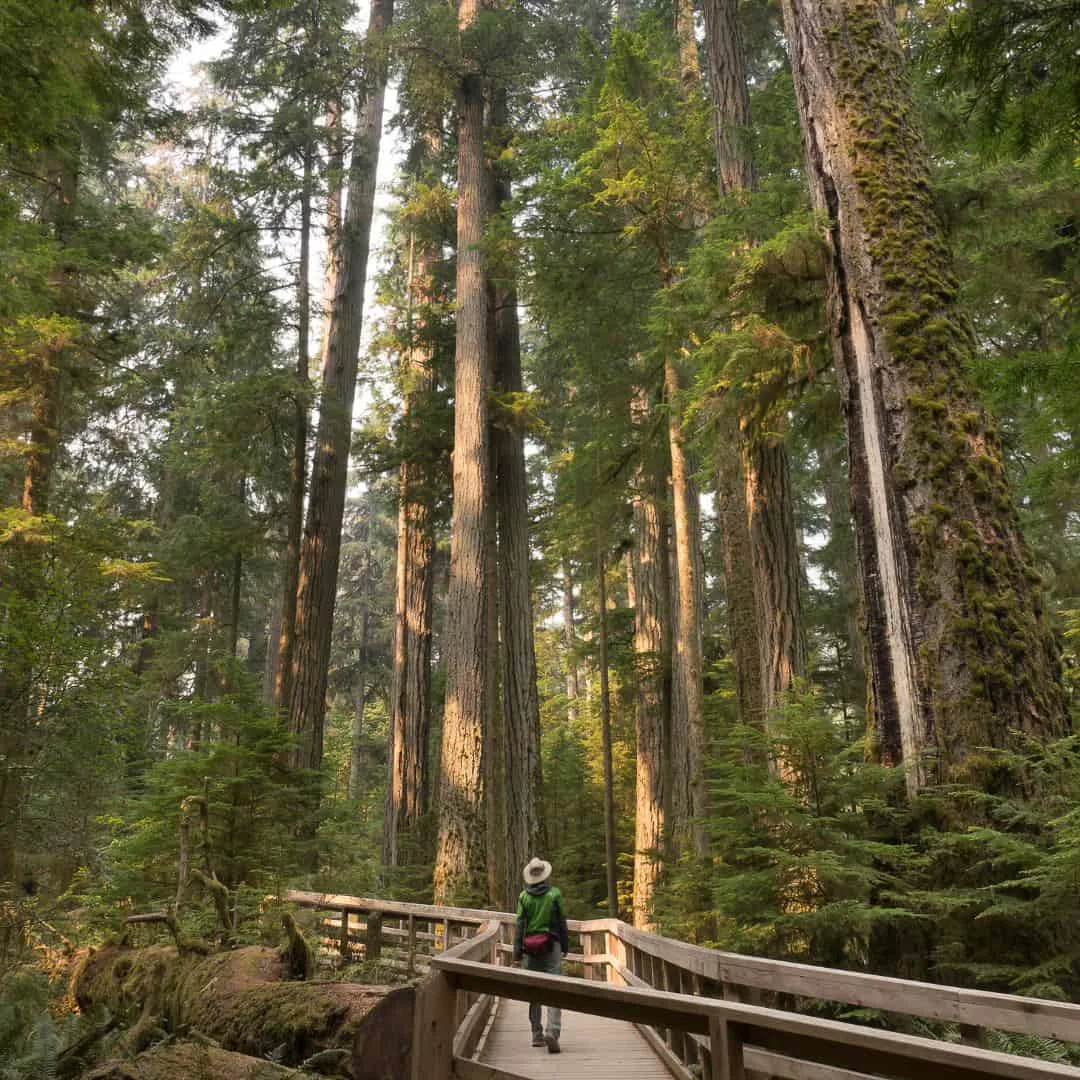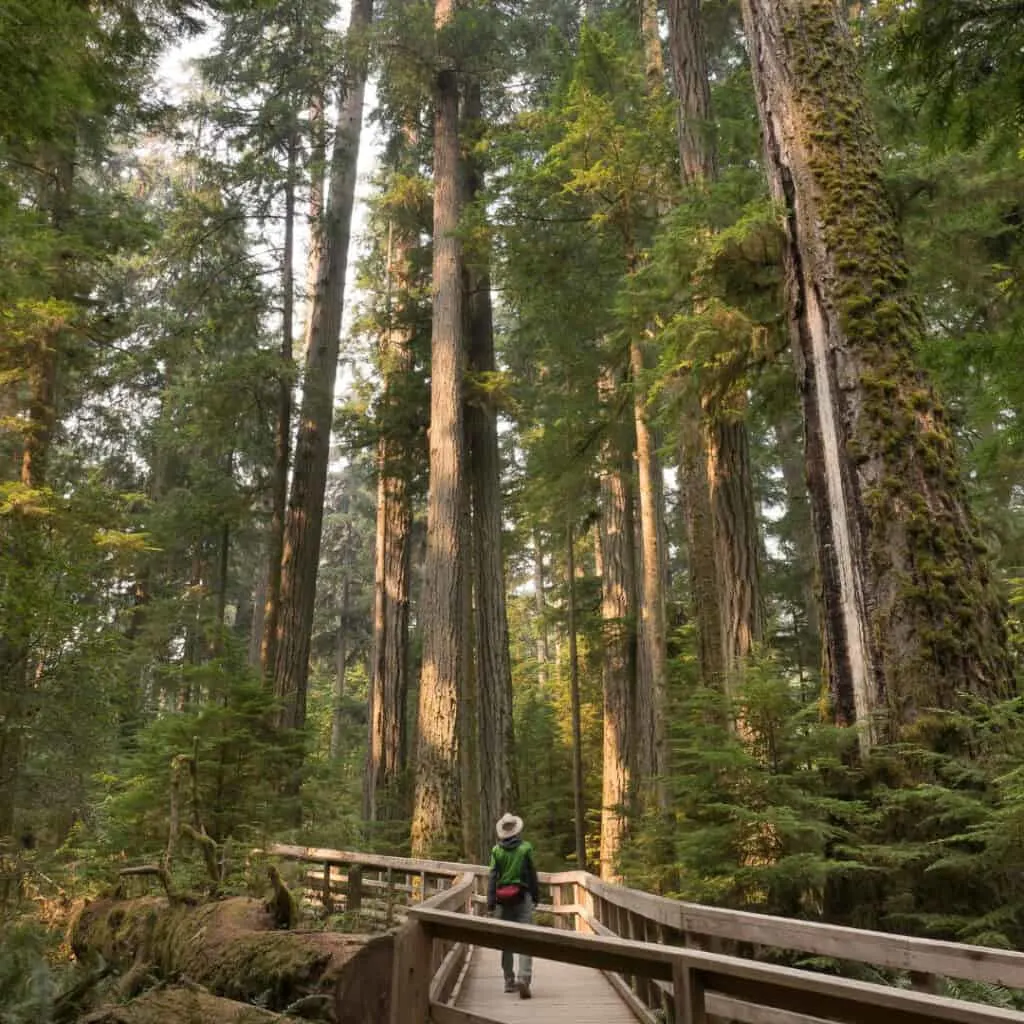 Some of the trees in the park had been destroyed after a severe storm back in 1997 but this has given new life to the regeneration of the forest by letting in precious sunlight to develop new growth. Facilities are rather limited to pit toilets in the park but visitors can enjoy a picnic or a swim in the lake.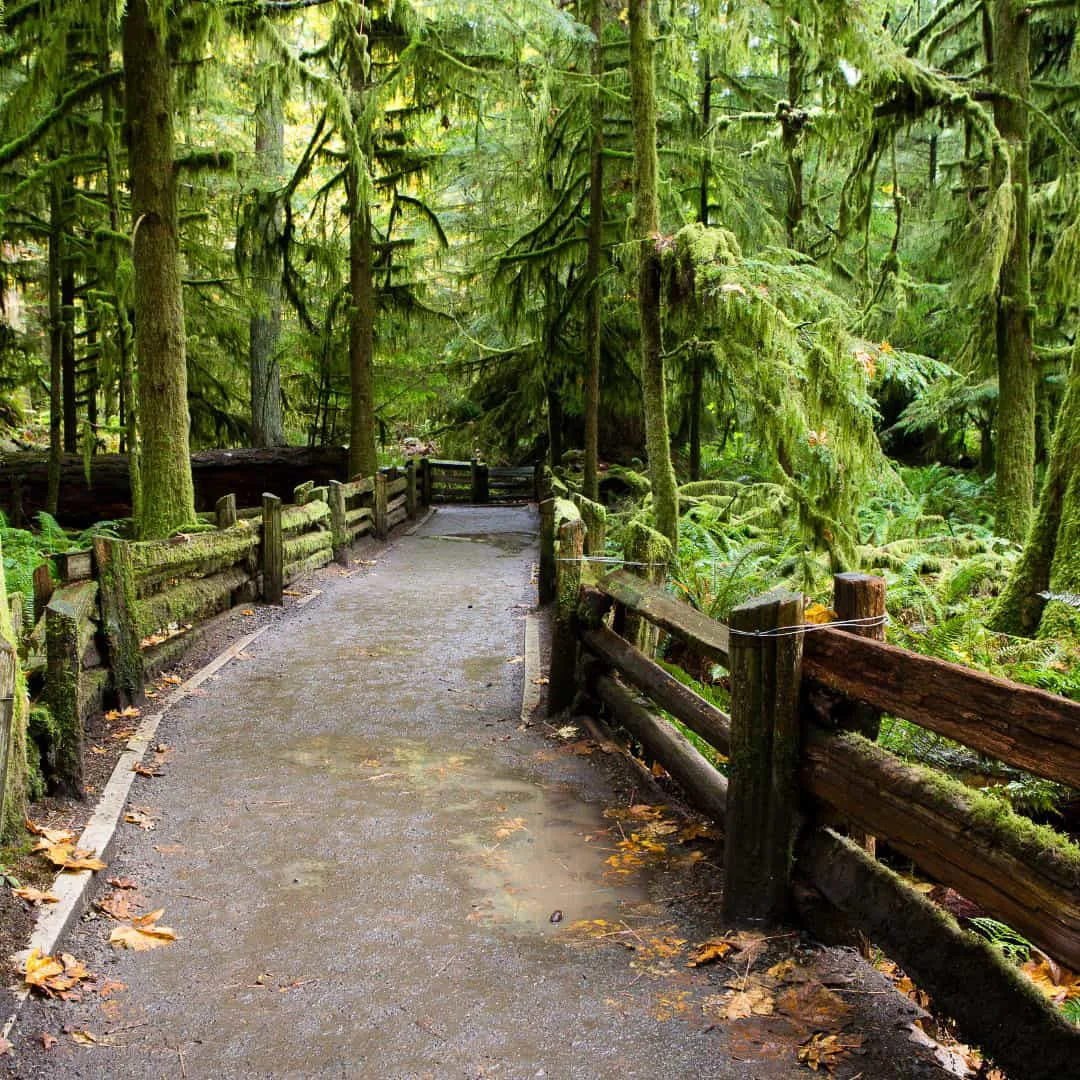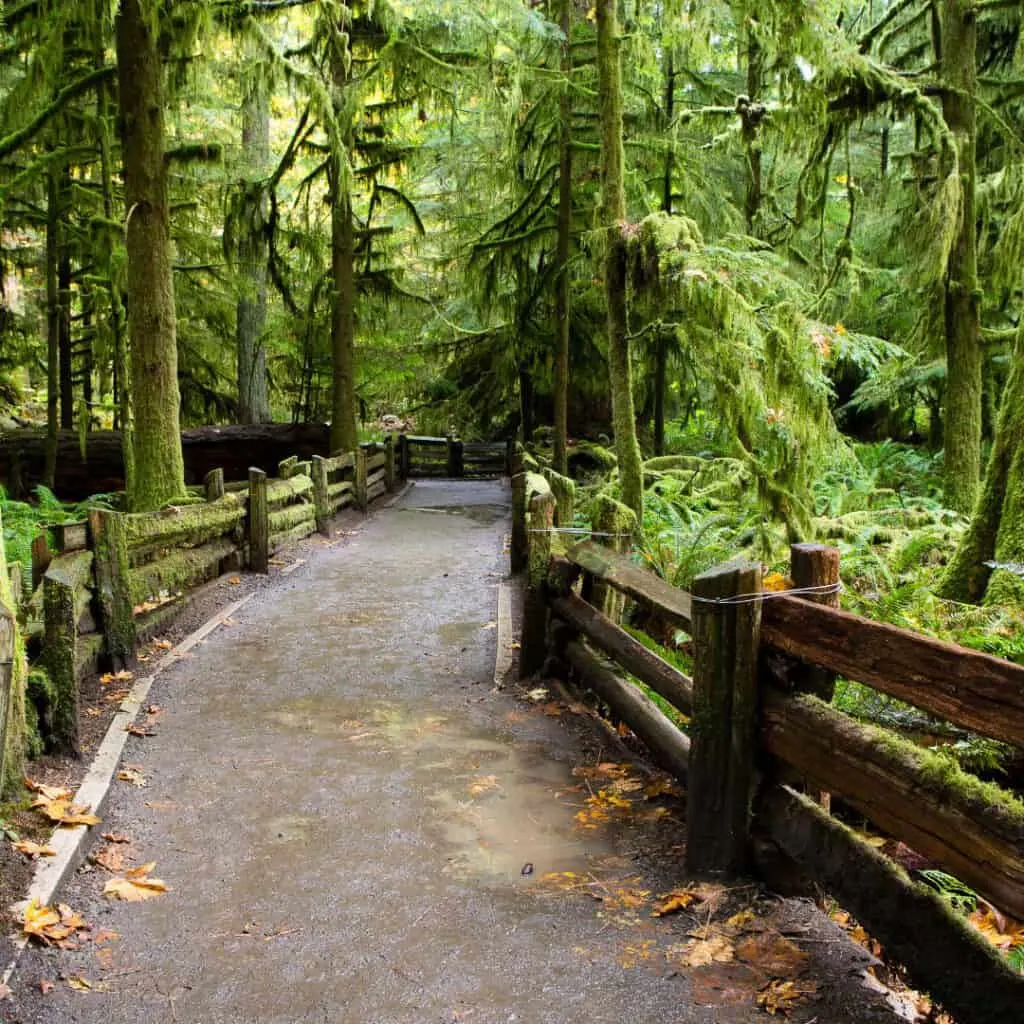 The park has trails through the forest either side of Pacific Highway 4, and is home to an array of wildlife including black bear, cougar and deer. The Cameron River which winds its way through the park is also popular with fisherman looking to catch rainbow, brown and cutthroat trout.
Craigdarroch Castle
This Victorian era castle was built in 1889 and has since been turned into a popular tourist attraction with over 150,000 visitors a year. The family Dunsmuir who came from immense wealth in the area with Robert Dunsmuir once being the richest man in western Canada as a successful coal baron.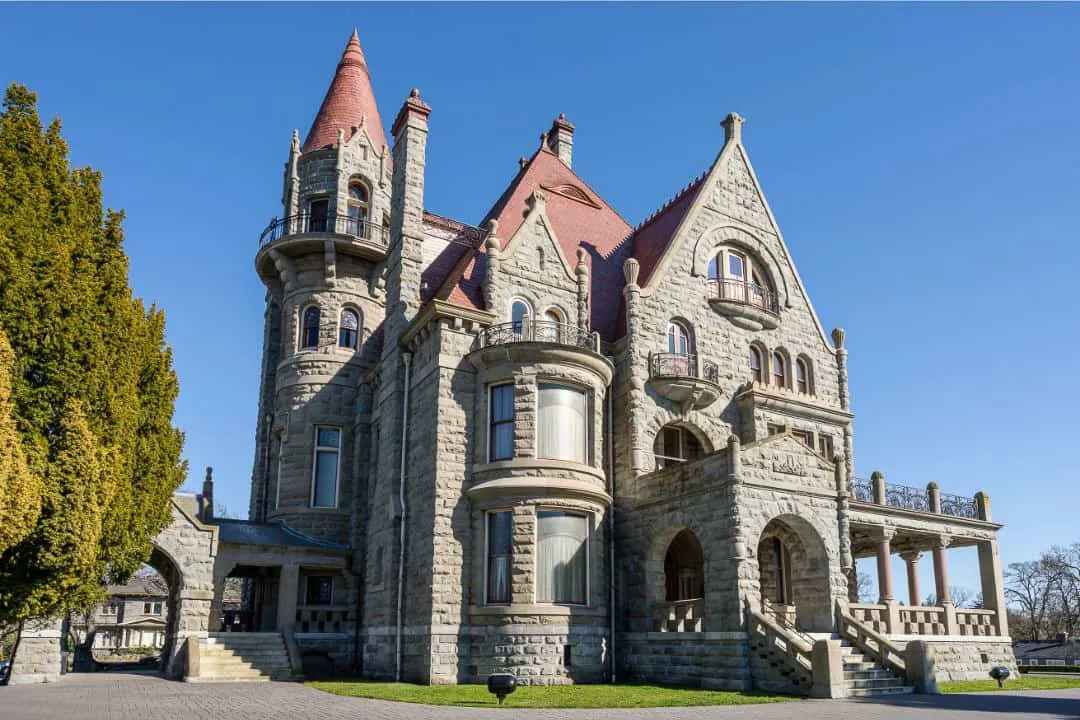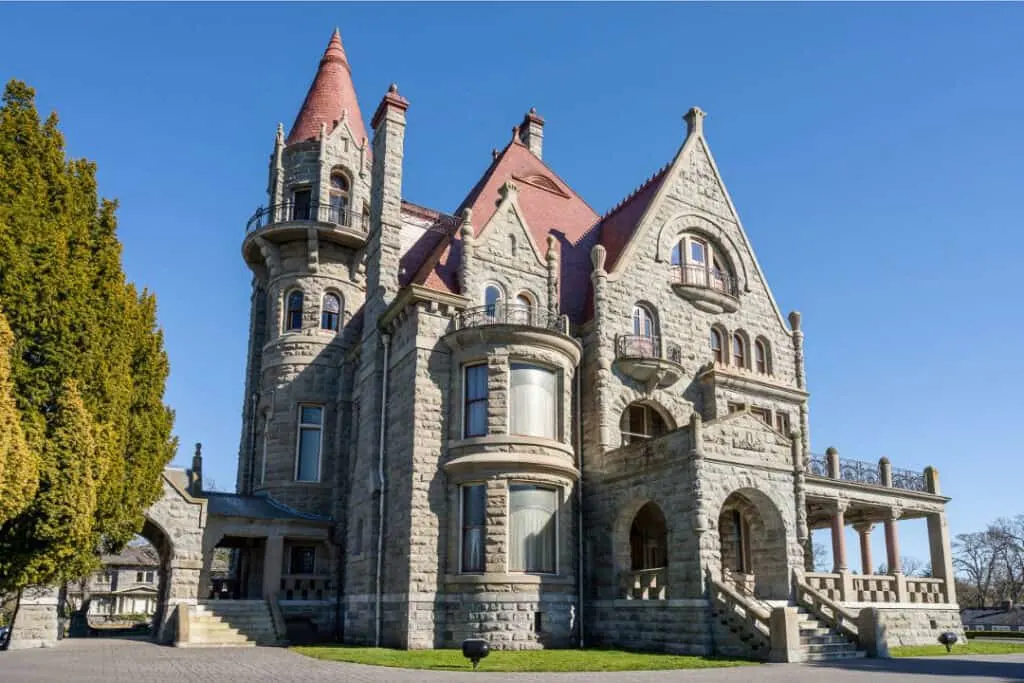 The public is welcome to take a tour while exploring the mansions sprawling grounds and passageways with the castle being meticulously restored over time to showcase the privileged life in the 1890's.
For a guided tour of Craigdarroch Castle click here.
The Butchart Gardens
The family owned and operated Butchart Gardens has been attracting over a million visitors a year to its pristine display gardens located in Brentwood Bay.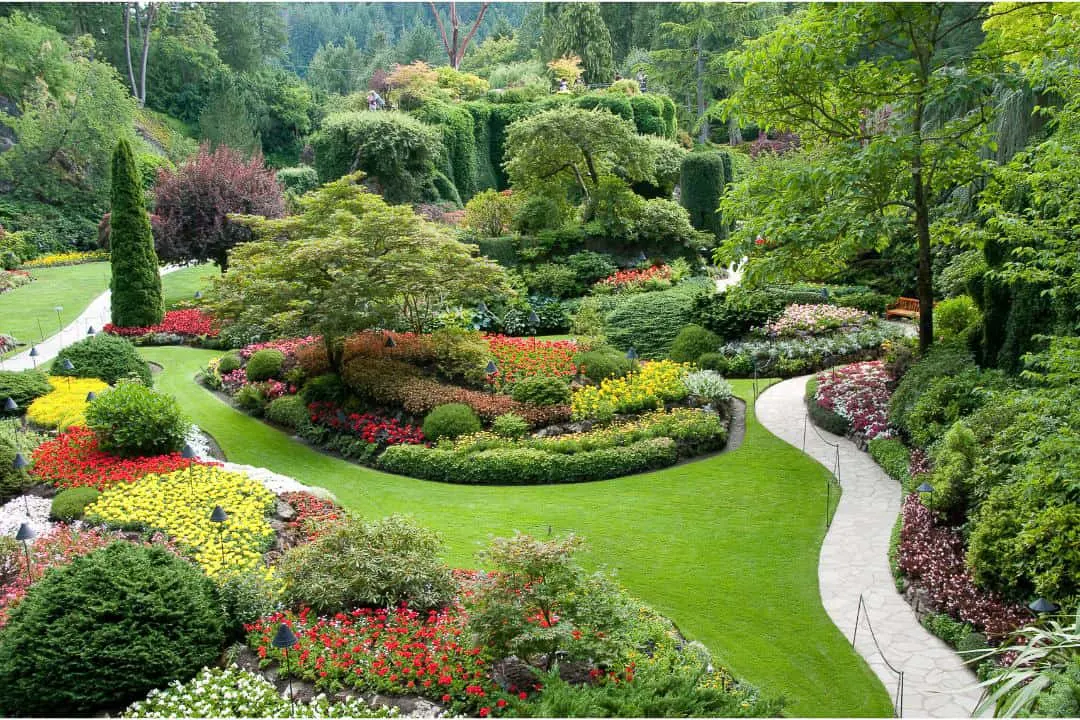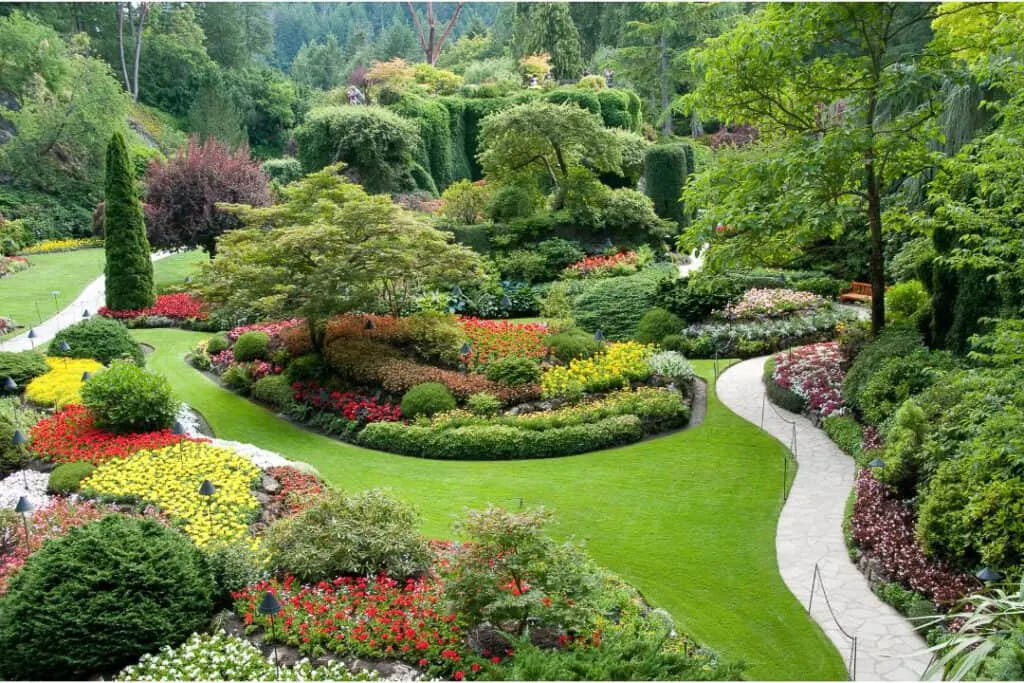 The gardens can be visited year round as they transform with the seasons to showcase everything from its world famous floral attractions to incredible colour changes in fall and winter wonderland over Christmas.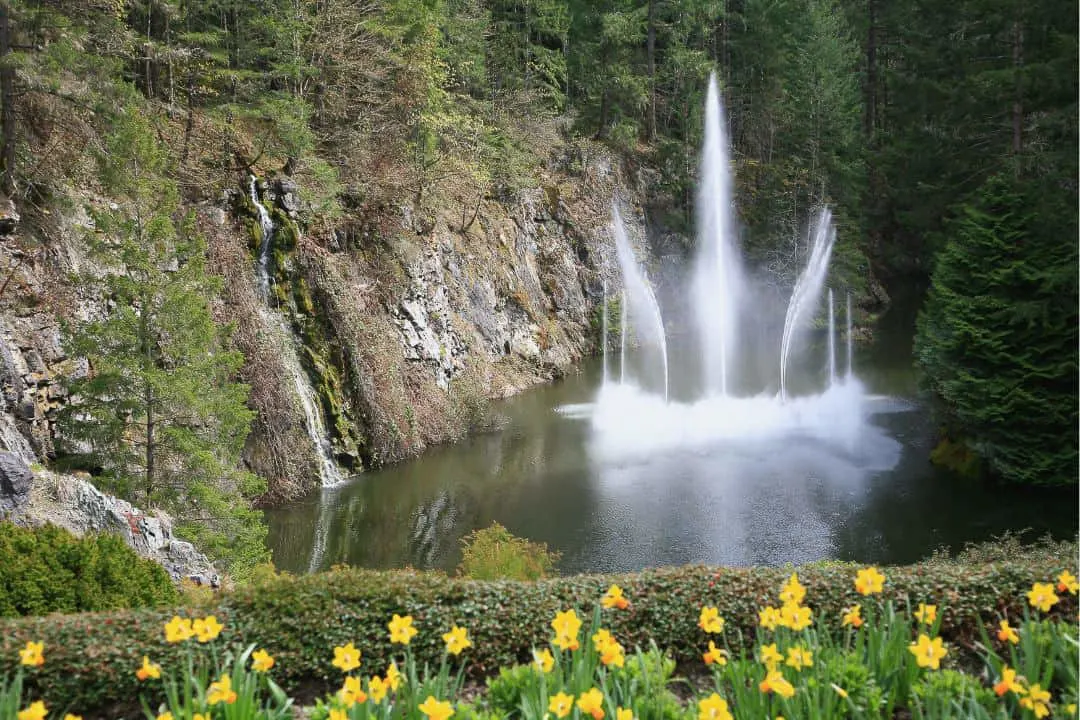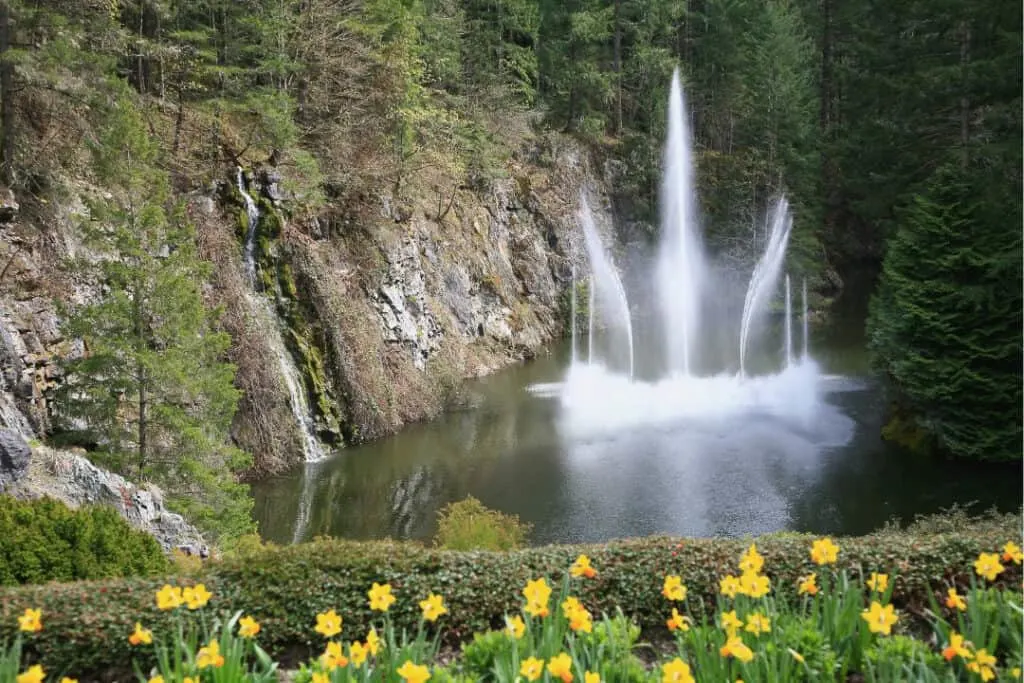 For one day round trip tickets from Victoria including a Gulf Islands Cruise and Butchart Entrance click here!
Rainforest Trail
The Rainforest Trail is a popular activity for families to enjoy. Situated in the Pacific Rim National Park, hikers can choose either of the two loops which are around 1.2km in length. The trail consists of a wooden boardwalk winding its way through some of the largest trees found on Vancouver Island.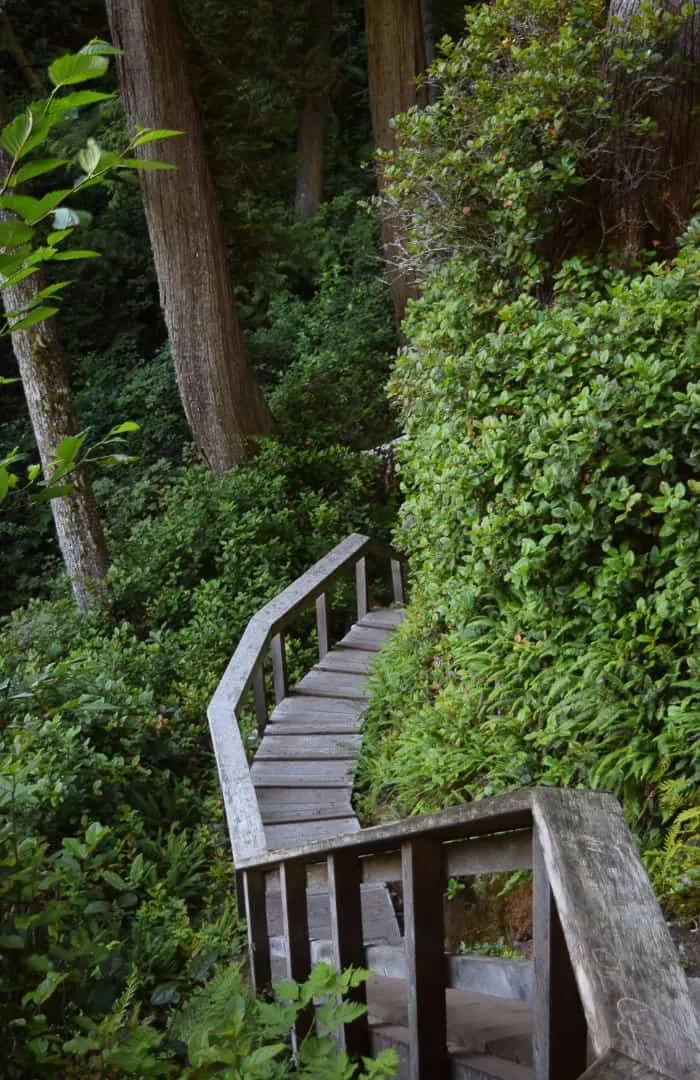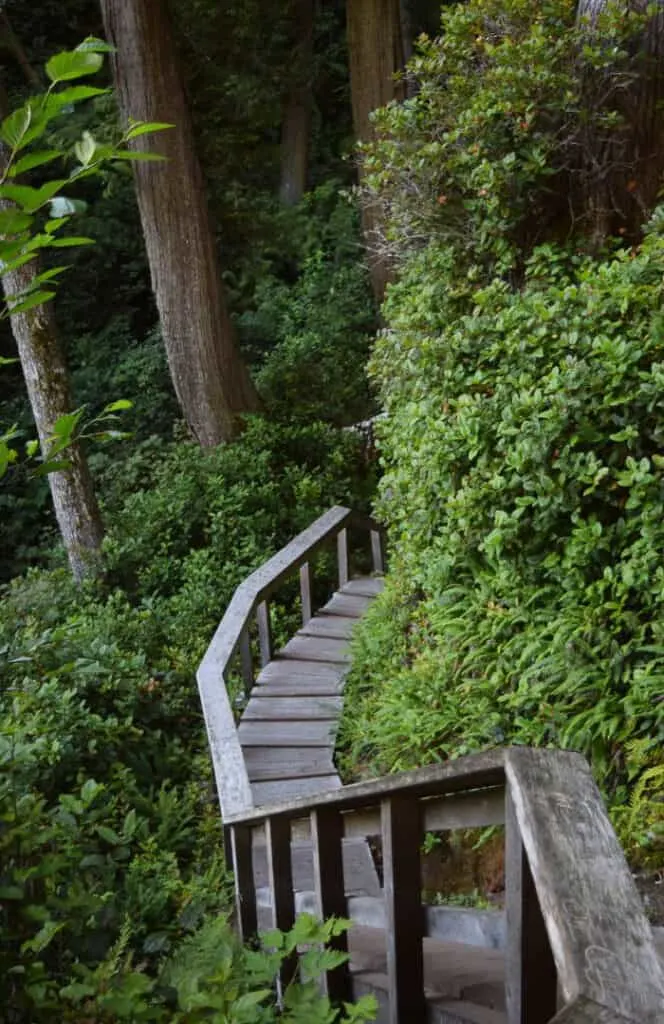 If your lucky you can catch a glimpse of some of the salmon in the streams below and other native wildlife that inhabit the Pacific National Park, if you happen to visiting the park during cooler times of the year make sure to wear appropriate clothing as the temperatures can drop quickly.
Mystic Beach
On the southern tip of Vancouver Island you will find one of the Islands most scenic beaches, Mystic Beach. The area is popular due to a small waterfall that cascades down the cliff onto the pebble each below.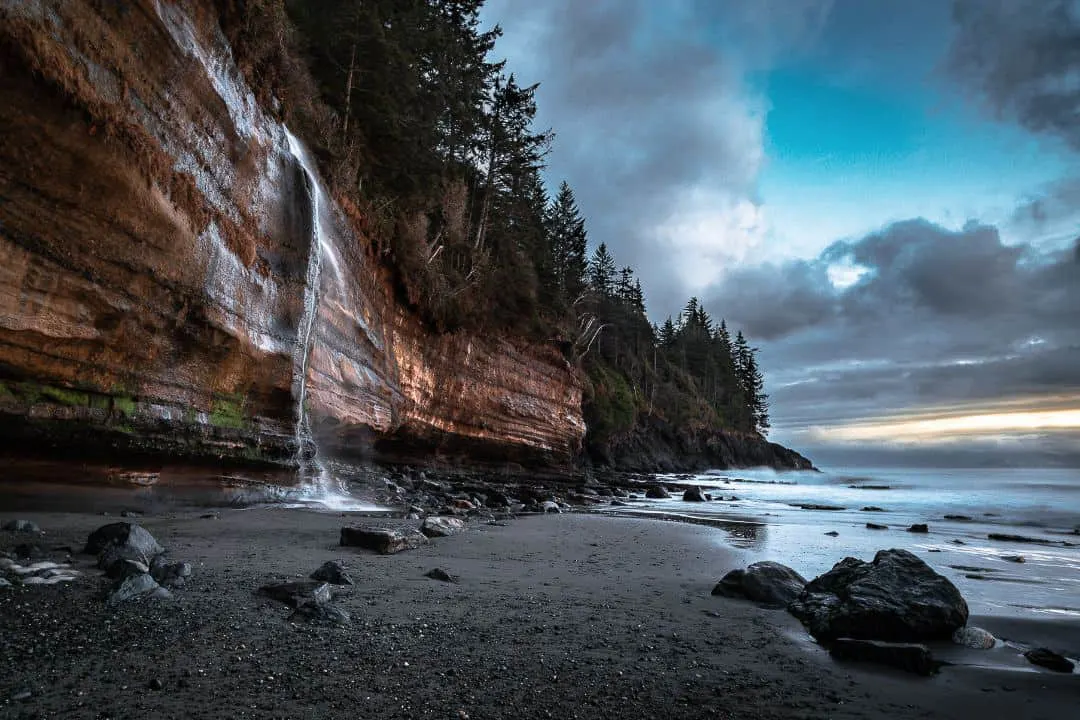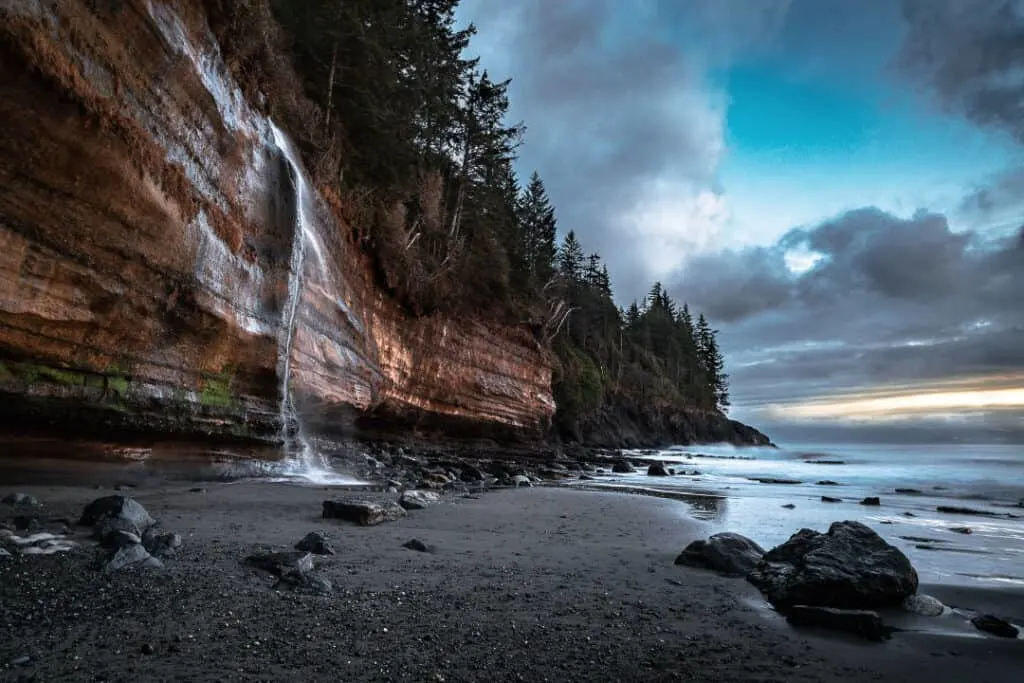 With its incredible views out onto the Juan de Fuca Strait, Mystic beach is a great place to explore its many natural attractions along the coast including sea caves, tidal pools and waterfalls. The walk takes between 1.5-2.5 hrs to complete and can get rather muddy during periods of rainfall but is well worth it.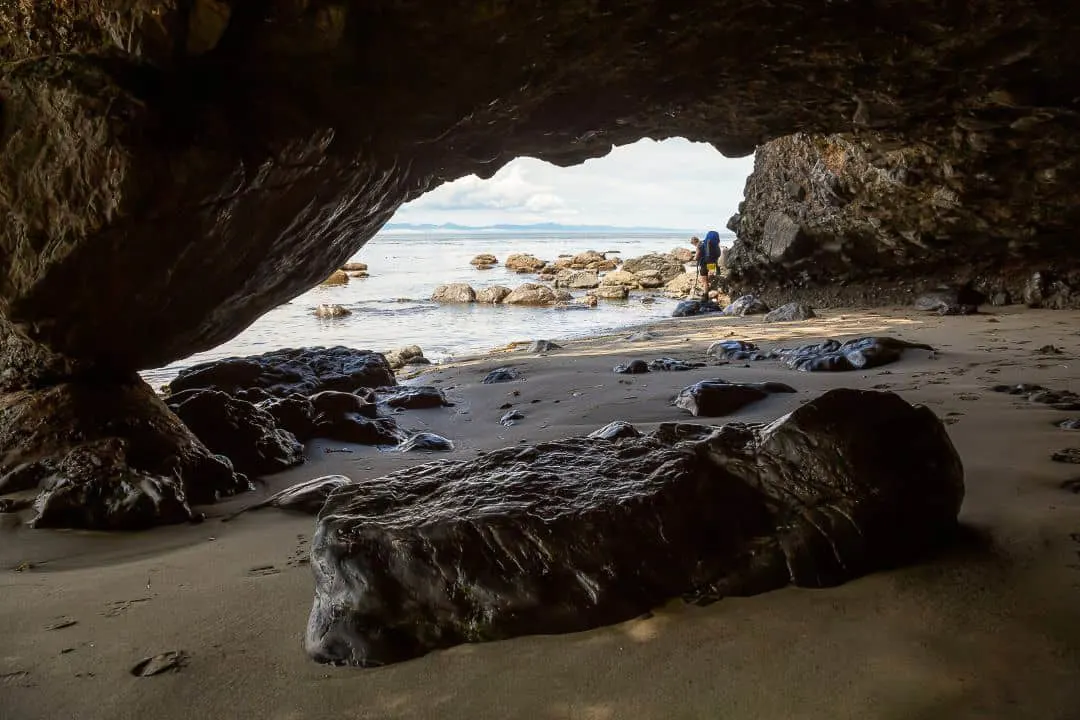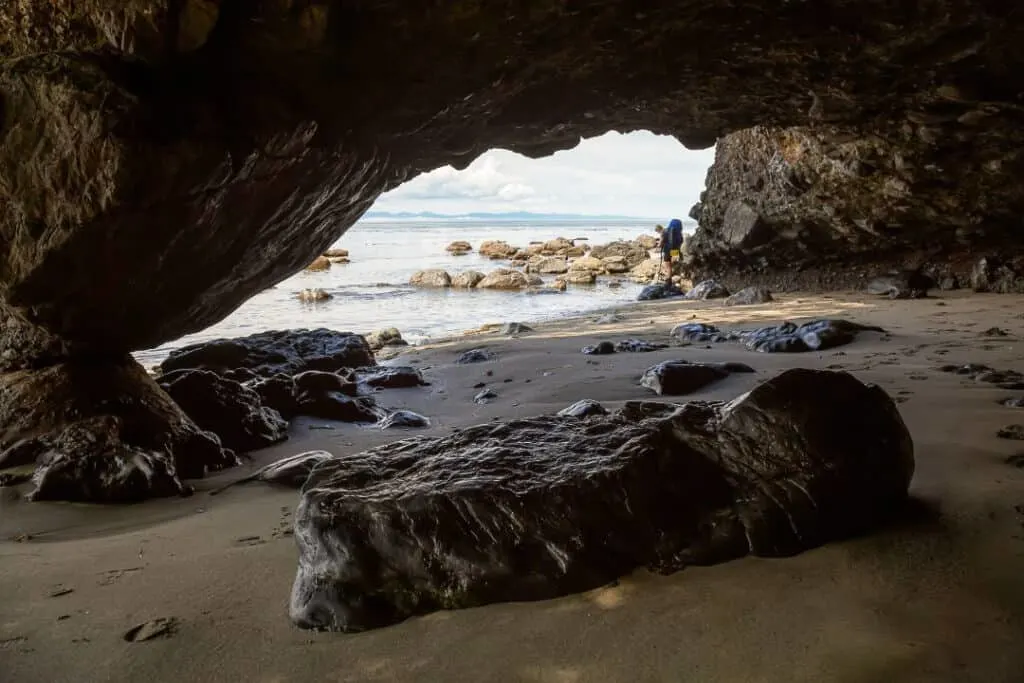 Tips For Parents
The car seat question is something that comes up time and time again. My answer is, if I am renting a vehicle, or if we are in a country where we will be travelling in cars a lot, we bring our own.
I know it can be really annoying lugging them around, they are seriously the least transportable piece of kiddy equipment. One incentive is it saves money!
Check out this article if you want to read more about whether you should bring your car seat.
If you are flying into Calgary, make sure to check out my tips for flying with newborns, babies, toddlers & kids.
Best Time To Travel On A Calgary To Vancouver Road Trip
This comes down to personal preference in my opinion as different times of the year will result in different experiences but generally the most popular time to see the Rocky Mountains and surrounding areas is when it is at its warmest during July and August.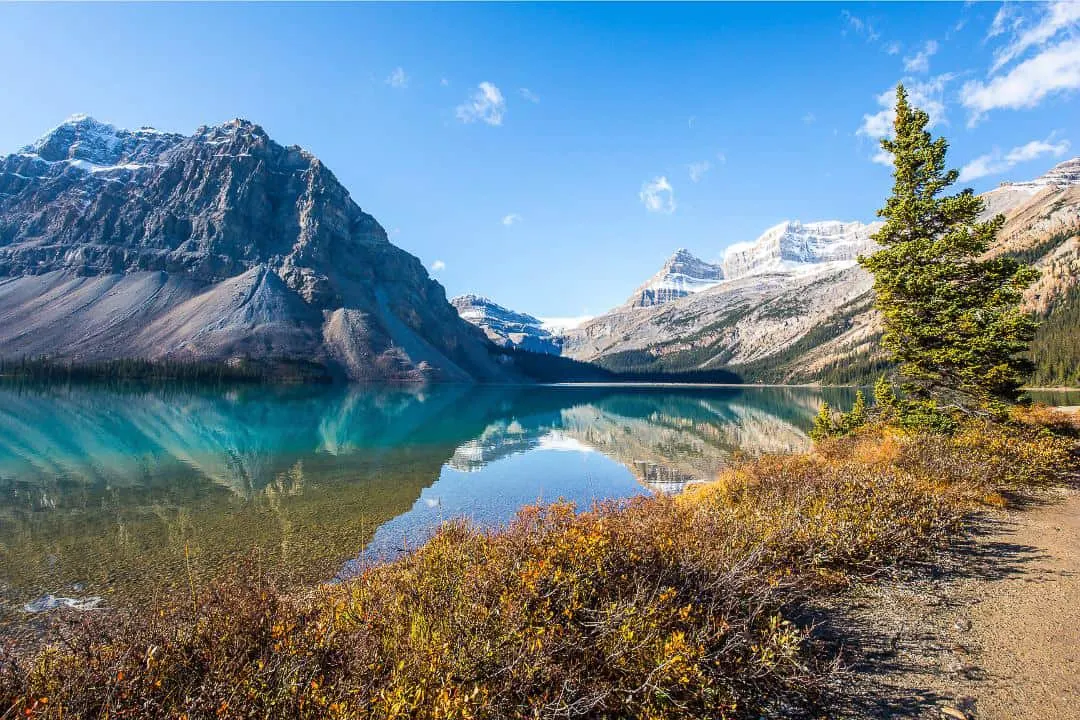 That being said, because these months are the most popular time to visit, it will also result in it being the busiest time on the roads and in the parks on your drive from Calgary to Vancouver.
September and October are good months to avoid the peak of the crowds but the temperature will also of started to drop in these months so make sure to plan your clothing for the trip appropriately.
Top Tips For Taking A Road Trip Between Calgary and Vancouver
Looking for more road trip inspiration? Check out Our Favorite Road Trips Around the World!
As always, don't forget to buy travel insurance! We like World Nomads.
Ready to book? Find great deals on flights, hotels, reliable internet, and rental cars!
I hope you have found our itinerary for a drive from Calgary to Vancouver trip useful. If you have any questions, we would love to hear from you. Leave a comment and we will get back to you as soon as possible.
Looking for more road trip inspiration? Check out these posts:
Our Favorite Road Trips Around the World
Top Tips for Road Trips with Kids
Disclaimer: This post contains affiliate links by using them, it will not cost you any extra, we will receive a small commission to help us keep on writing helpful itineraries and reviews.
Did you drive from Calgary to Vancouver road trip? If so please leave a comment and tell us how it went? Did you discover something amazing not included in this post.