If visiting Yosemite in February has never been top of the bucket list, it's time to add it! It may be cold and some of the park may be closed! However there are many amazing things to do in Yosemite in Feb.
Yosemite is probably the most famous destination for outdoor enthusiasts in California. The National Park Service say the park is "unparalleled," with "spectacular natural beauty." Yosemite Valley is home to many sites of historic interest and breathtaking scenery.
The majority of the attractions can be found in Yosemite Valley. It is also where the hotels are located and the best location for photo spots in the park.
It is a busy spot in the summer months however the crowds usually reduce around fall.
Yosemite in February usually has fewer visitors. However, it can be an extremely busy time for skiing and snowboarding at nearby resorts.
Skiing is not the only activity open in the winter months December, January, February and March. There are some incredible winter trails and if families are travelling with kids there are plenty of family friendly hikes to choose from!
Here are some of the amazing things to do in Yosemite in February!
How to Get to Yosemite February
Getting to Yosemite in February is a little tricker compared to other months of the year. This is especially true for anyone planning a trip to Yosemite from Las Vegas.
Normally visitors could use the Tiago Pass entrance. However, it is closed in February due to snow.
The other entrances to the park are open all year round. The South Entrance which is generally used by visitors from Los Angeles.
It adds a couple of extra hours to the journey so it would be difficult to see Yosemite in one day. However, a 2 day or 3-day trip is perfect.
The shortest journey to the park is from San Francisco. Hetchy Hetch, Big Oak and Arch Rock are the three options. Big Oak and Arch Rock are the most popular entrances to the park.
Hetchy Hetch is a very scenic route, however, it takes a little longer. Bear in mind, when visiting Yosemite in February, Hetchy Hetch is only open during daylight hours!
All entrances have a toll booth to pay the entrance fee to the park. Tickets purchased at the entrance are around $35. America the Beautiful Pass is accepted at Yosemite. It is very affordable and can be used at over 2000 sites across the US.
If you visit National Parks regularly, this pass is very cost-effective! Just one covers the entrance fee for a driver and all passengers. REI also donate 10% of pass sale proceeds to the National Park Foundation.
To find out more about the annual Beautiful National Park pass click here.
Yosemite Weather February
Before jumping into what there is to do in Yosemite in February. It is worth noting what the weather is like at this time of year. Just remember it is impossible to predict the weather precisely and it can change every year.
Generally, Yosemite can experience quite a lot of snowfall in the winter months. Winter falls in the months December, January, February and March. There may be snow on the ground in April.
In February there is usually around 14.6 inches/370.8mm of snowfall. The higher up in the park, the more snow.
Due to the snowfall, there is usually very few days of rain and / or sun. February in Yosemite is cold. Temperature can range from lows of 28°F /-2.2°C and highs of 53.1°F/11.7°C.
Don't let the cold weather deter from a visit to Yosemite in February. It may be cold, however, the park is quiet and still and it is a magical time to visit. Ensuring to pack the right items to keep warm is the key.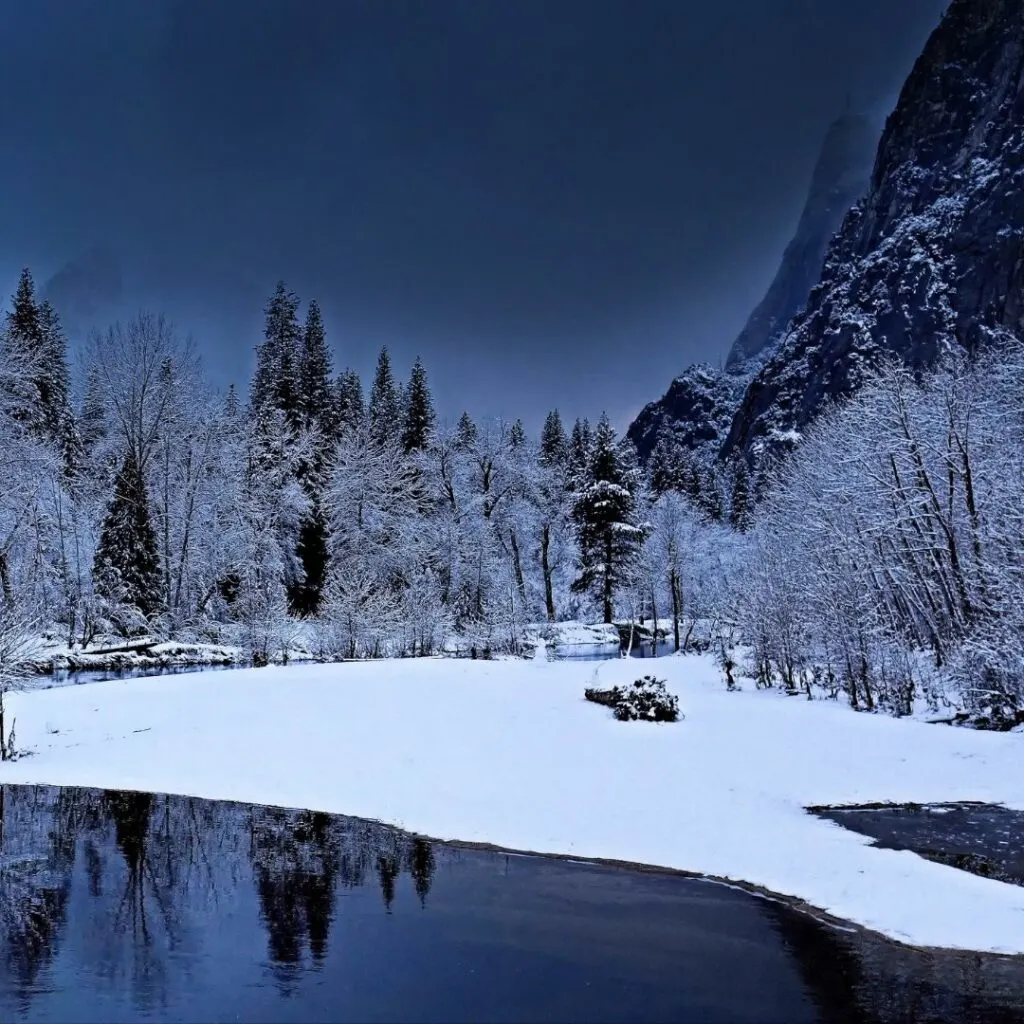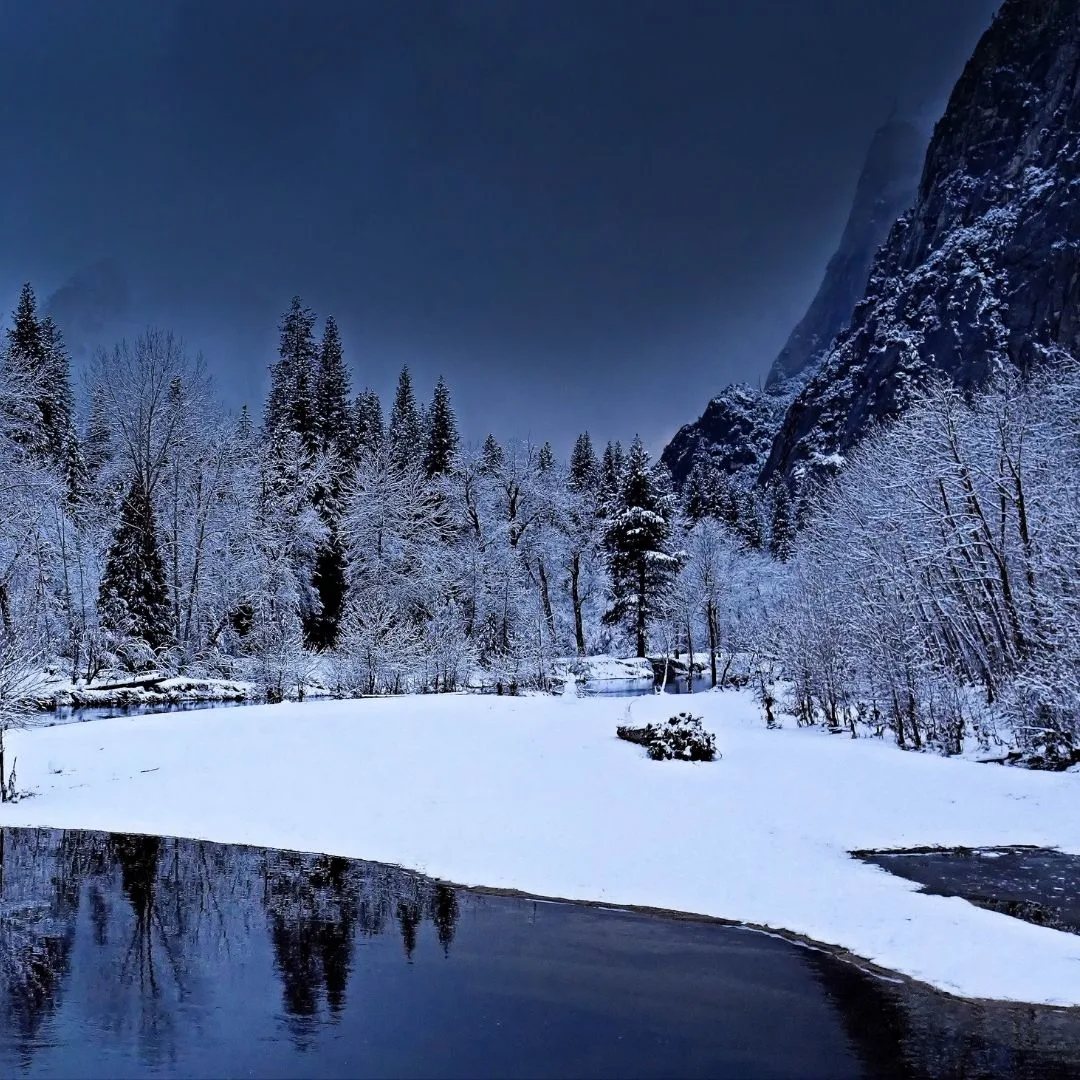 What to do in February
1. Go Skiing at Badger Pass
With snow starting in December or as early as November there is plenty on the ground in February. Skiing is perfect activity for weather Yosemite February.
One of the most popular places to ski in or near Yosemite is Badger Pass Ski Area. It opens around mid-December, the same time Glacier Point Road is ploughed. The resort has something for everyone.
With an average of 600 inches of snow per year, it attracts world-class athletes and beginners.
There are skiing lessons for beginner and snow tubing is another good option for fun.
cross country skiing is a perfect choice for seasoned skiers. The resort has the option to rent equipment or visitors can bring their own ski gear.
The season passes start at around $430 and there are discounts for students, military and first responders.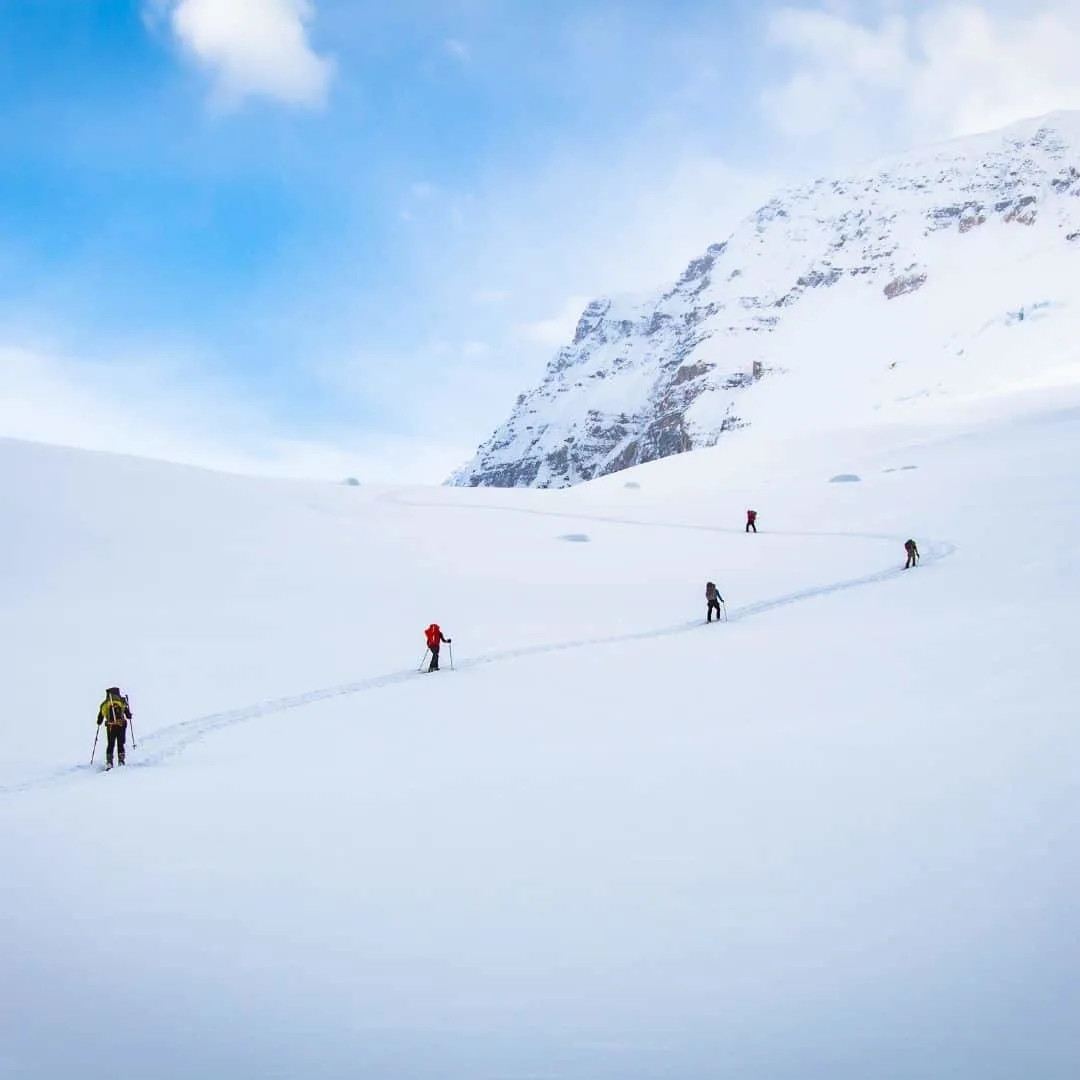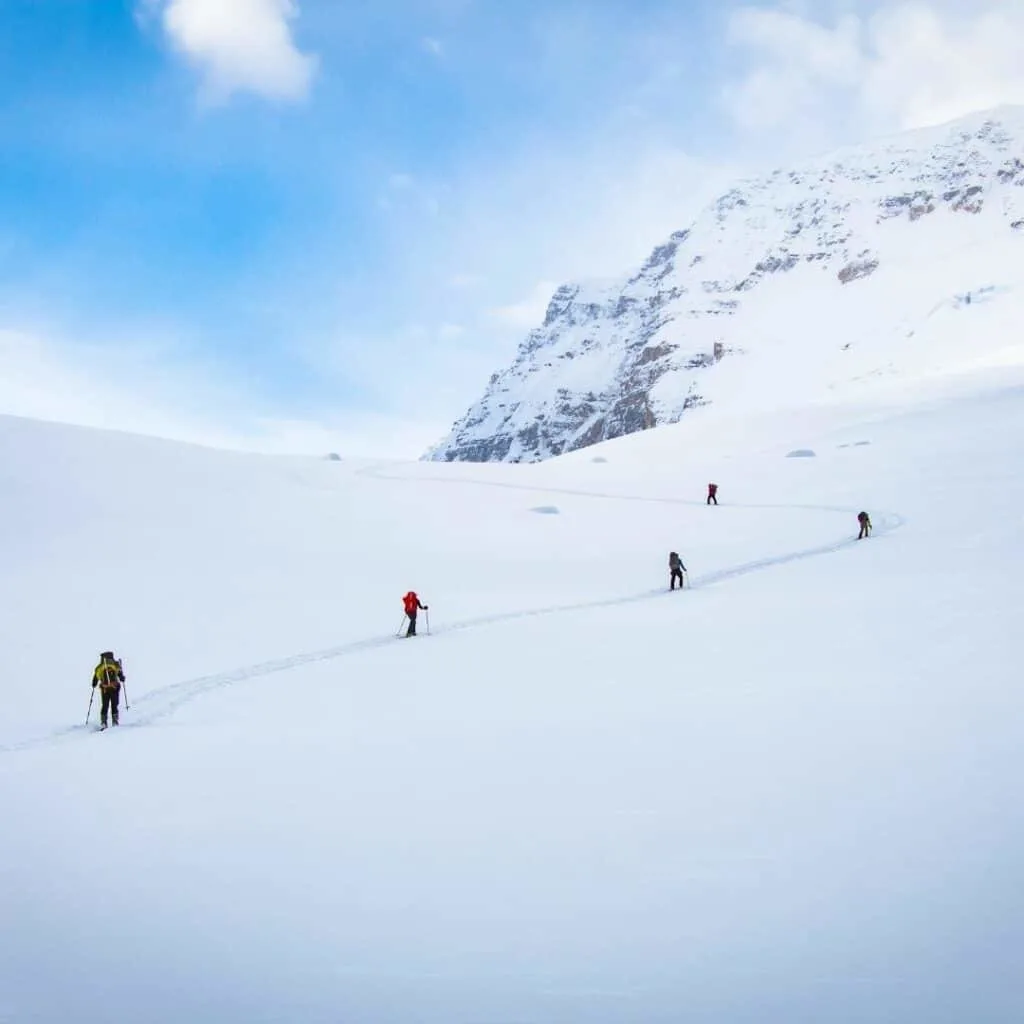 2. Take a Snowshoeing Tour
Yosemite in February weather can may be difficult to hike. Therefore a snowshoeing tour can be a good option.
After putting on snowshoes, visitors can take part in a Yosemite Valley and Giant Sequoias Snowshoe Tour.
The tour includes some of the best places in the park including Tunnel View, the Valley and Mariposa Grove. Starting in San Francisco visitors can be collected from their hotels and taken to the park in a private vehicle.
There is a maximum of ten people on the tour and a professional guide on hand to inform and answer questions.
The tour lasts four hours and kicks off at Tunnel View giving the oppurtunity to take photos at one of the best photo spots in the park.
Next, there is a hike around Mariposa Grove to see some of the oldest trees in the world. The tour comes to an end with free time in Yosemite Valley before visitors are dropped back off at their hotel.
To book a Yosemite Valley and Giant Sequoias Tour click here.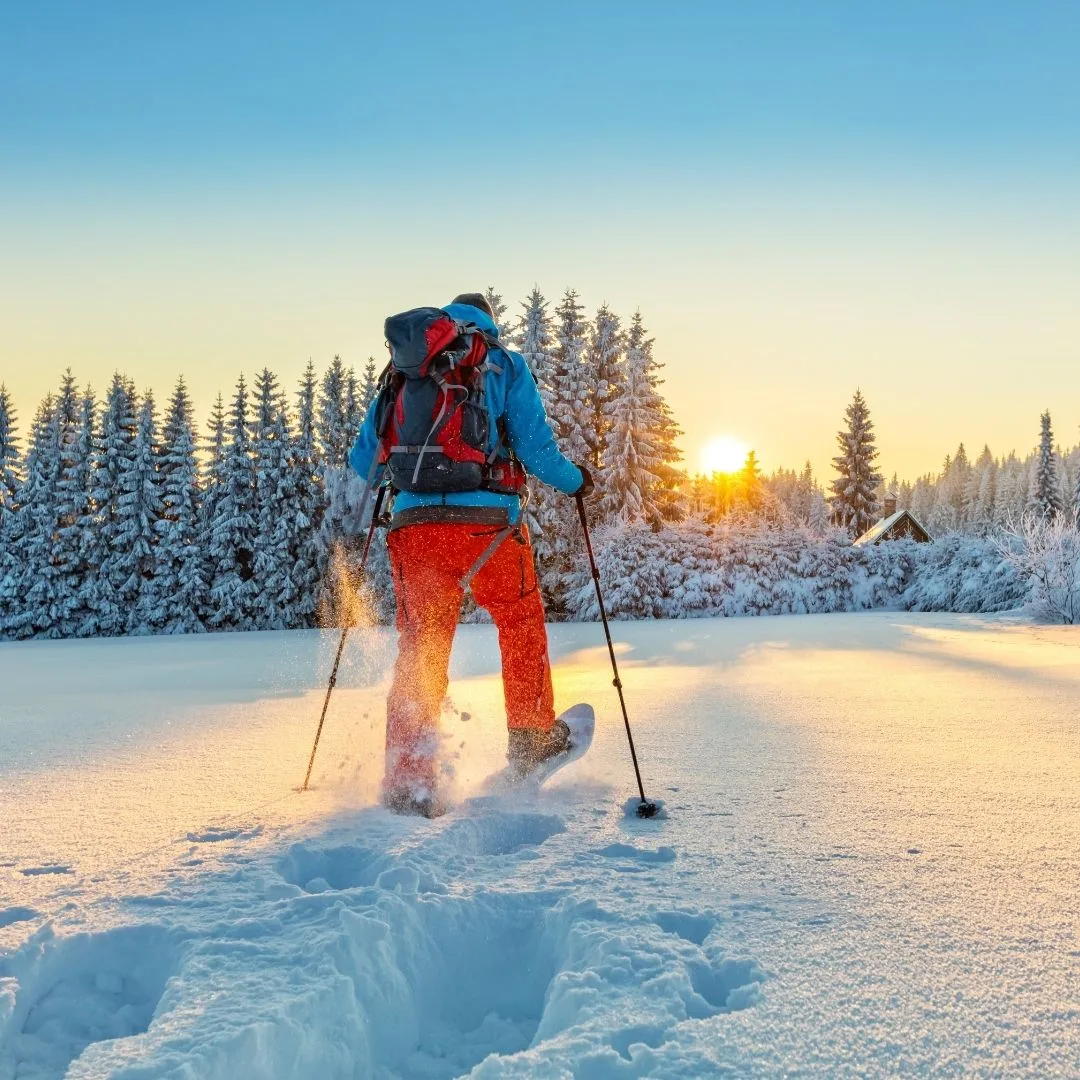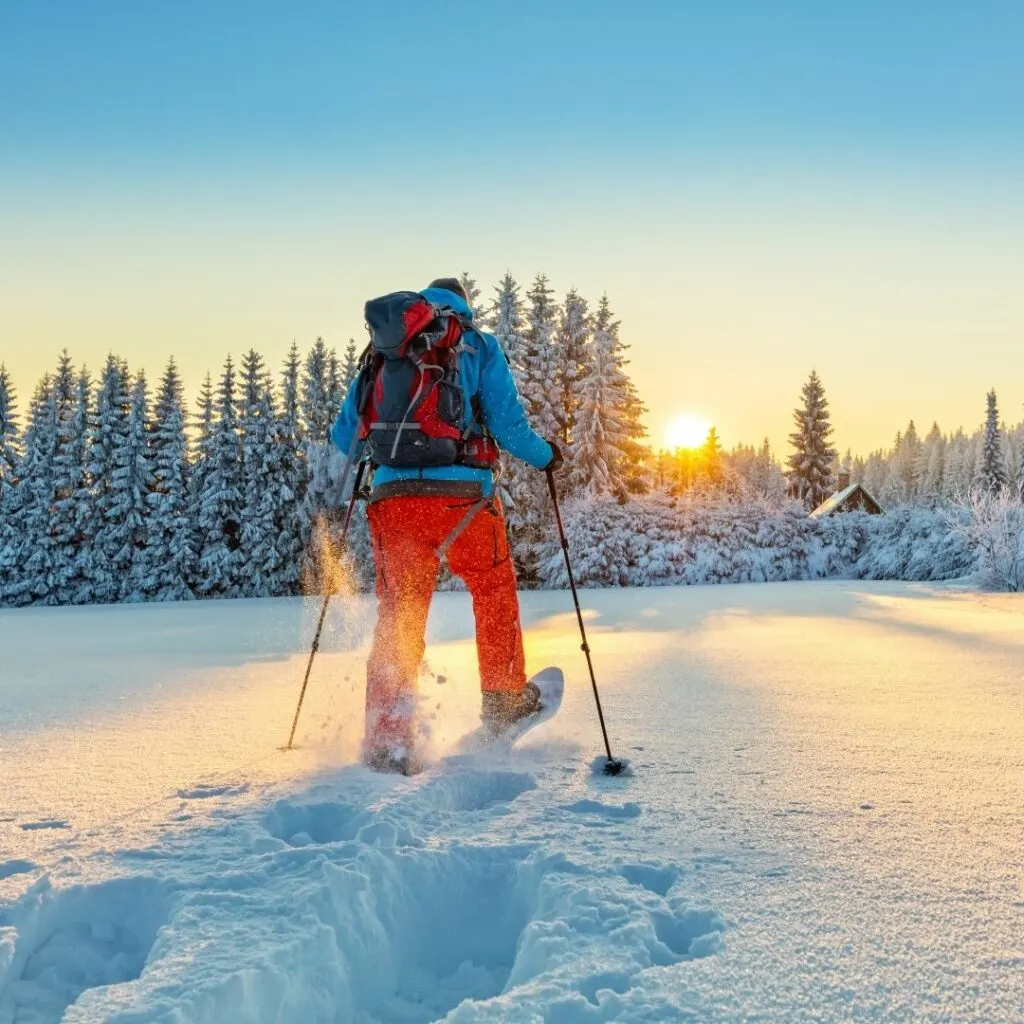 3. Ice Skating at Half Dome
Ice-skating is another popular winter activity. There is no surprise it is one of the top things to do in Yosemite National Park in February.
The ice rink is in Curry Village next to the backdrop of Half Dome. It opens in December and closes around March.
It is considered one of the best ice rinks in the country especially with the stunning surrounding views.
It usually opens in the afternoon for a few hours and again in the evening. However as the park is considerably busier at the weekend, the hours are extended and an extra morning timeslot is opened.
There is no need to make a reservation, simply turn up on the day and buy a ticket at Curry Village Tour & Activity Desk.
The stand opens around fifteen minutes before each session starts, so it may be wise to arrive early if the park is busy.
Each session is around $14 and an additional $5 charge to rent skates. The helmets are free and must be worn on the ice. After skating around the rink, grab a hot chocolate from Curry Village or sit at one of the fire rings.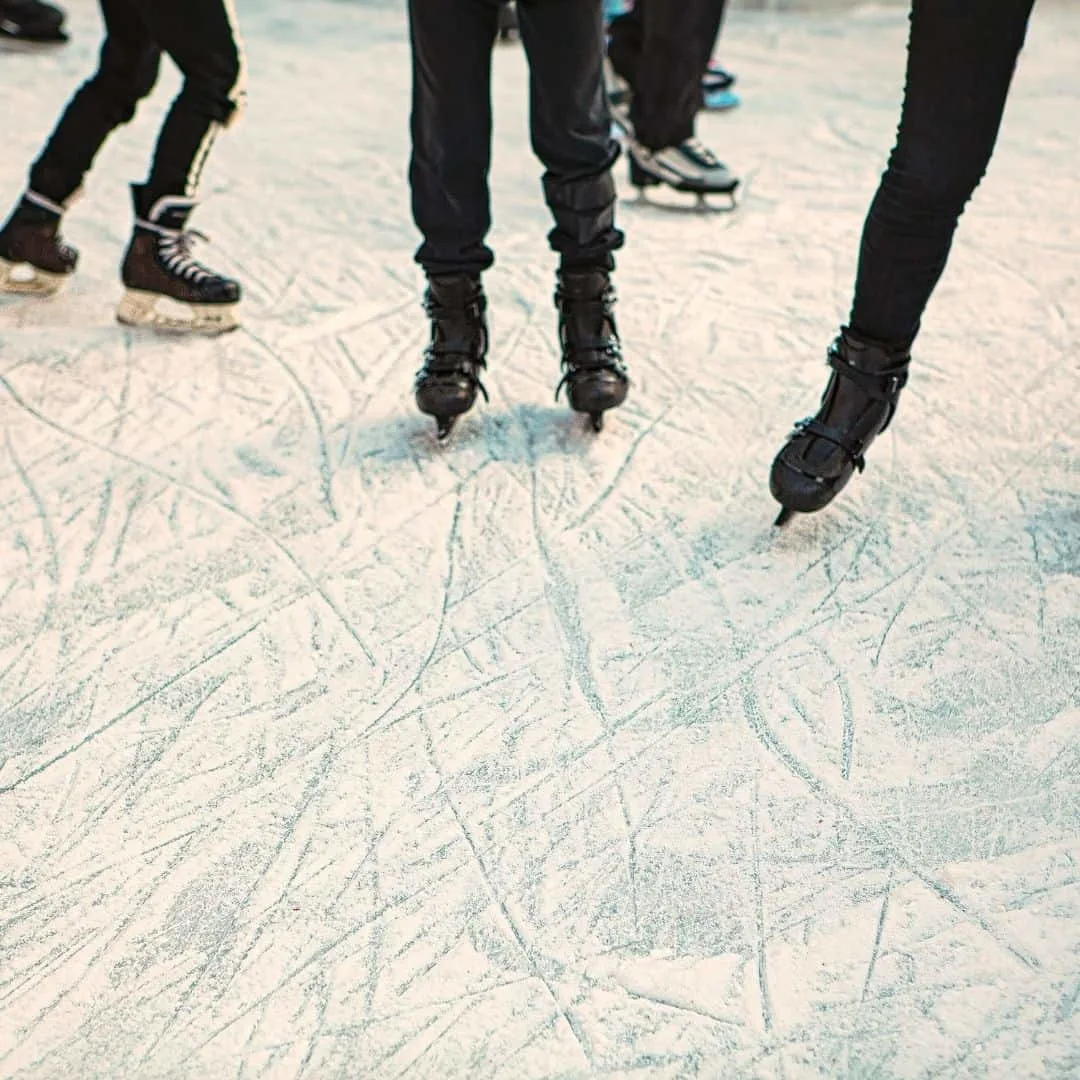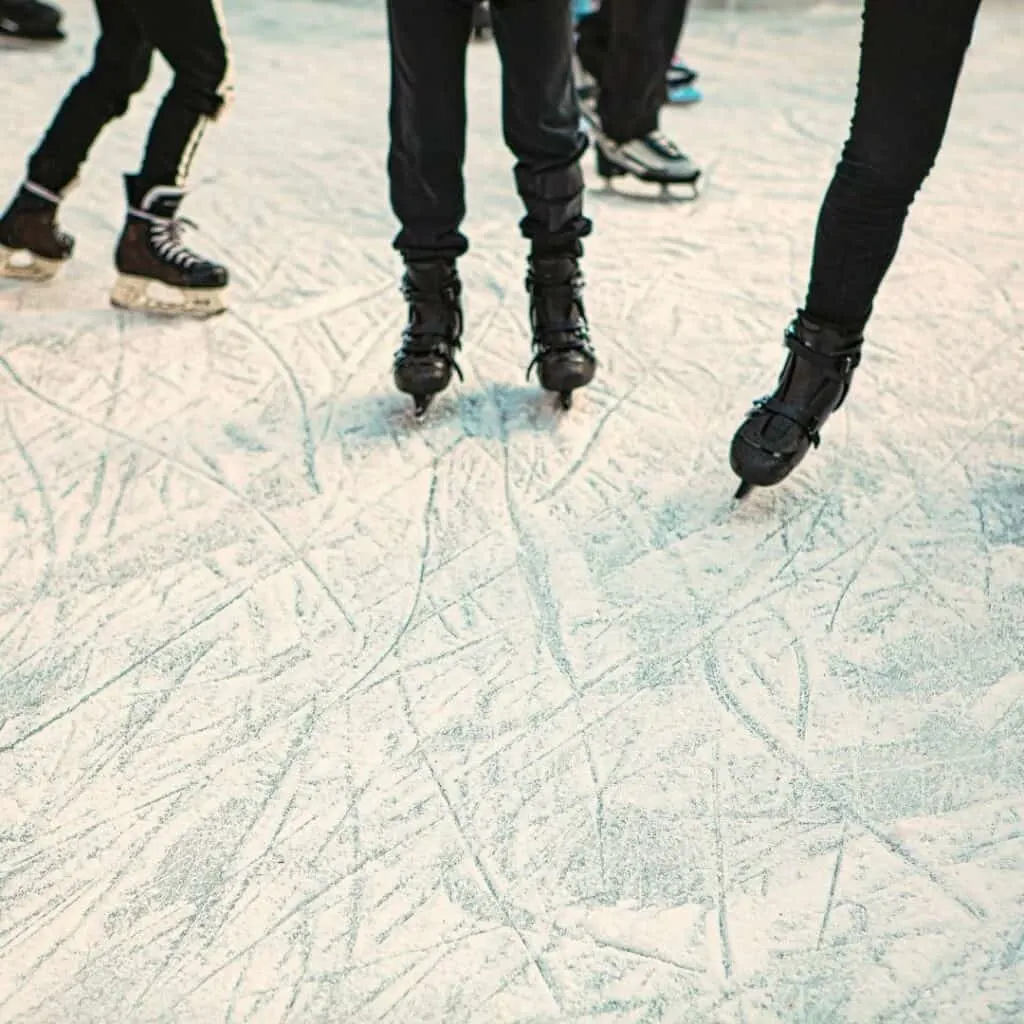 4. Hikes Around Yosemite
Yosemite National Park February weather may be cold, however, there are still plenty of trails to be explored in winter.
Due to the snowfall, many of the roads are closed. While there is still the possibility to hike the higher trails, most tend to stay near the Valley.
There are many trails around the Valley to choose from to see many of the famous landmarks in Yosemite. It is a long trail, however, it is easily accessible and takes the same route as the shuttle bus.
It provides the option of hopping on and off the bus if the weather changes. It is a great kid friendly hike since the bus is available should little legs get tired.
Another hiking option could include Lower Yosemite Falls. The waterfalls are not flowing in February, they start to flow in April when the snow starts to melt.
It doesn't mean Yosemite Falls is not worth seeing. In fact, it is breathtaking to see the waterfall with snow all around.
Another hike away from the Valley is in the Mariposa Grove. The most popular trail around the grove weaves around the well-known trees.
Some are over two thousand years old and it is gobsmacking to see how tall they are!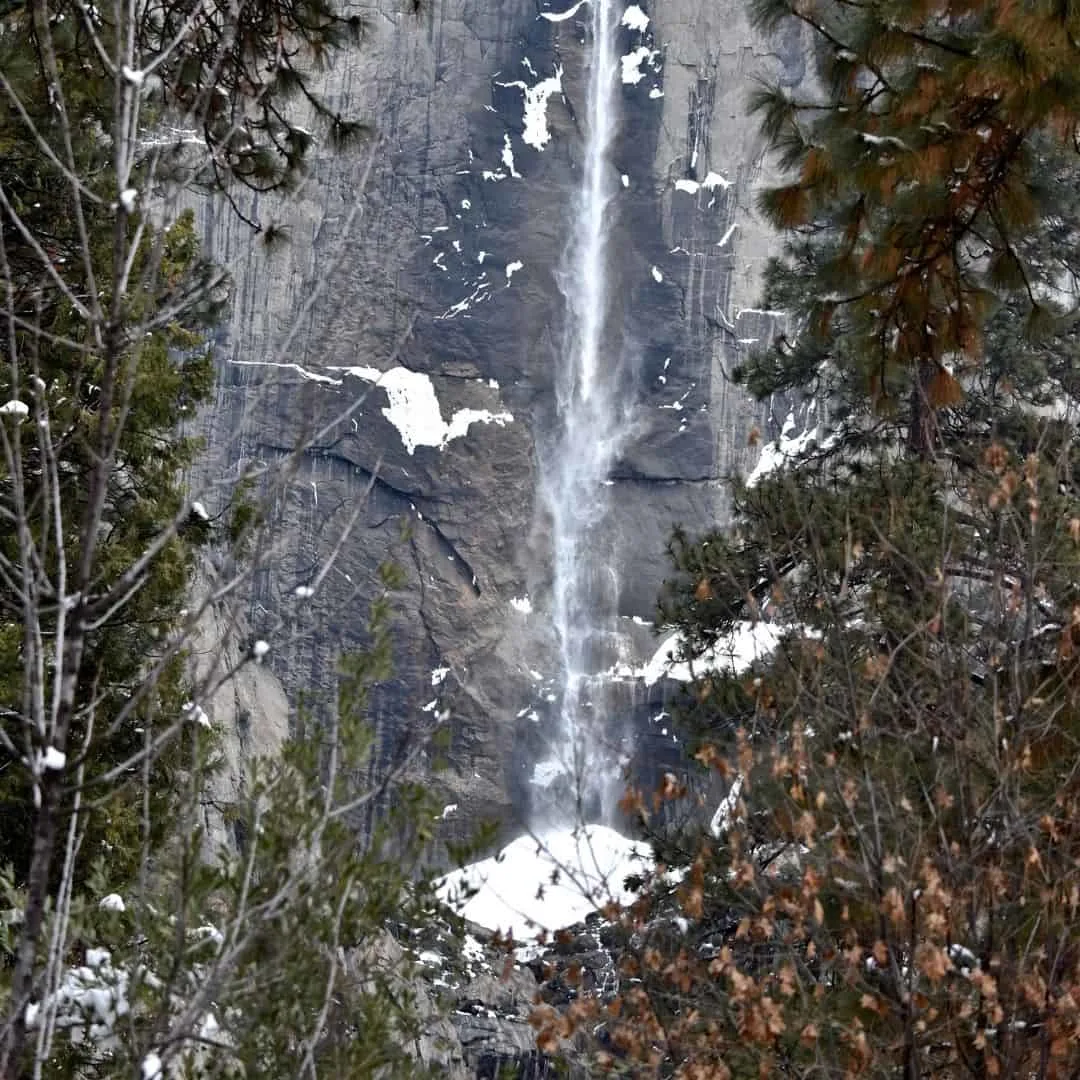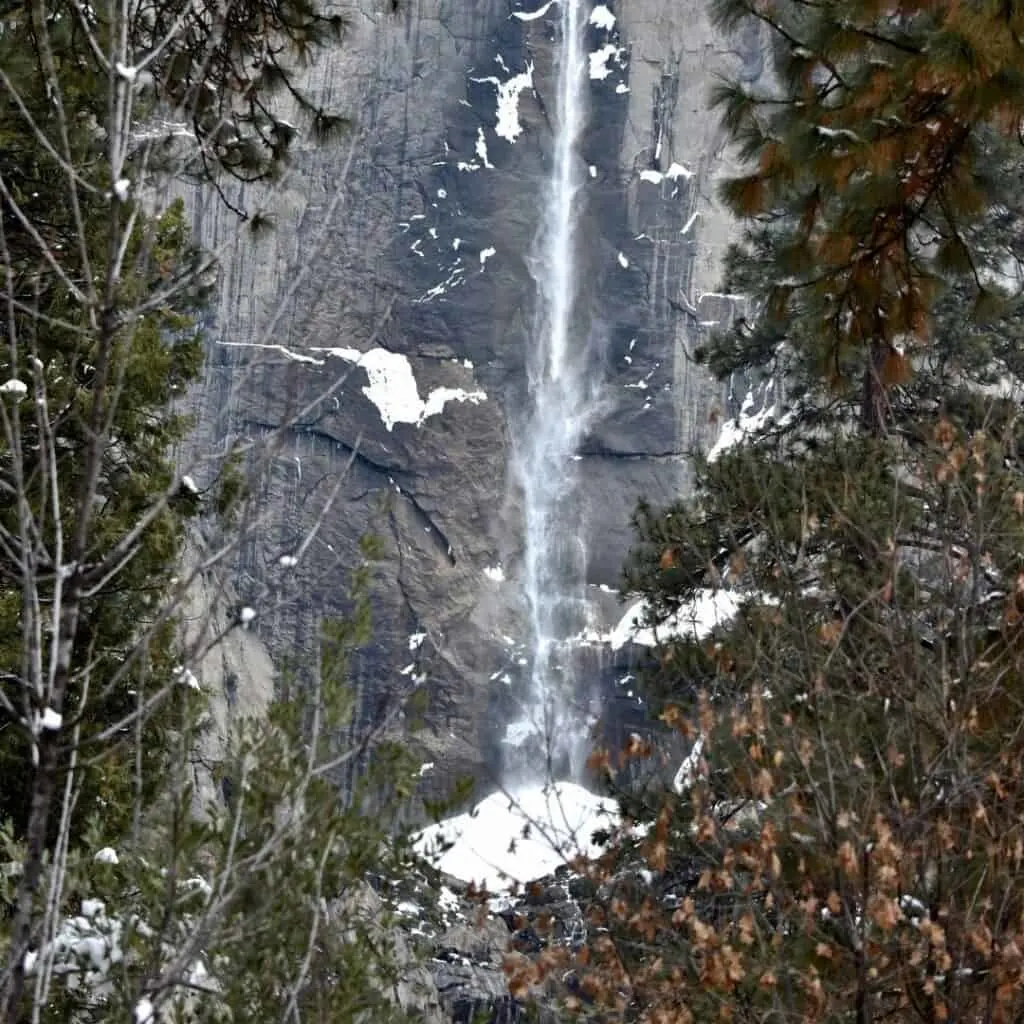 5. Visit the Museum
No trip to Yosemite in February is complete without a trip to the museum. Especially for a little respite from the cold.
It is open all year round and it is a great way to find out more about the park and its history.
The Yosemite Museum is both historical and educational and tells visitors about the natives who called Yosemite home.
It is used to educate the public about the natural and cultural history of the Yosemite region.
The museum has exhibits, interactive displays, and a theatre. It houses an archive library and artefacts in its research collections.
The Art Gallery beside the museum is worth a stop as well. The Ansel Adams Gallery has amazing images of many of the famous places around the park. Throughout the year there are workshops for any willing participants.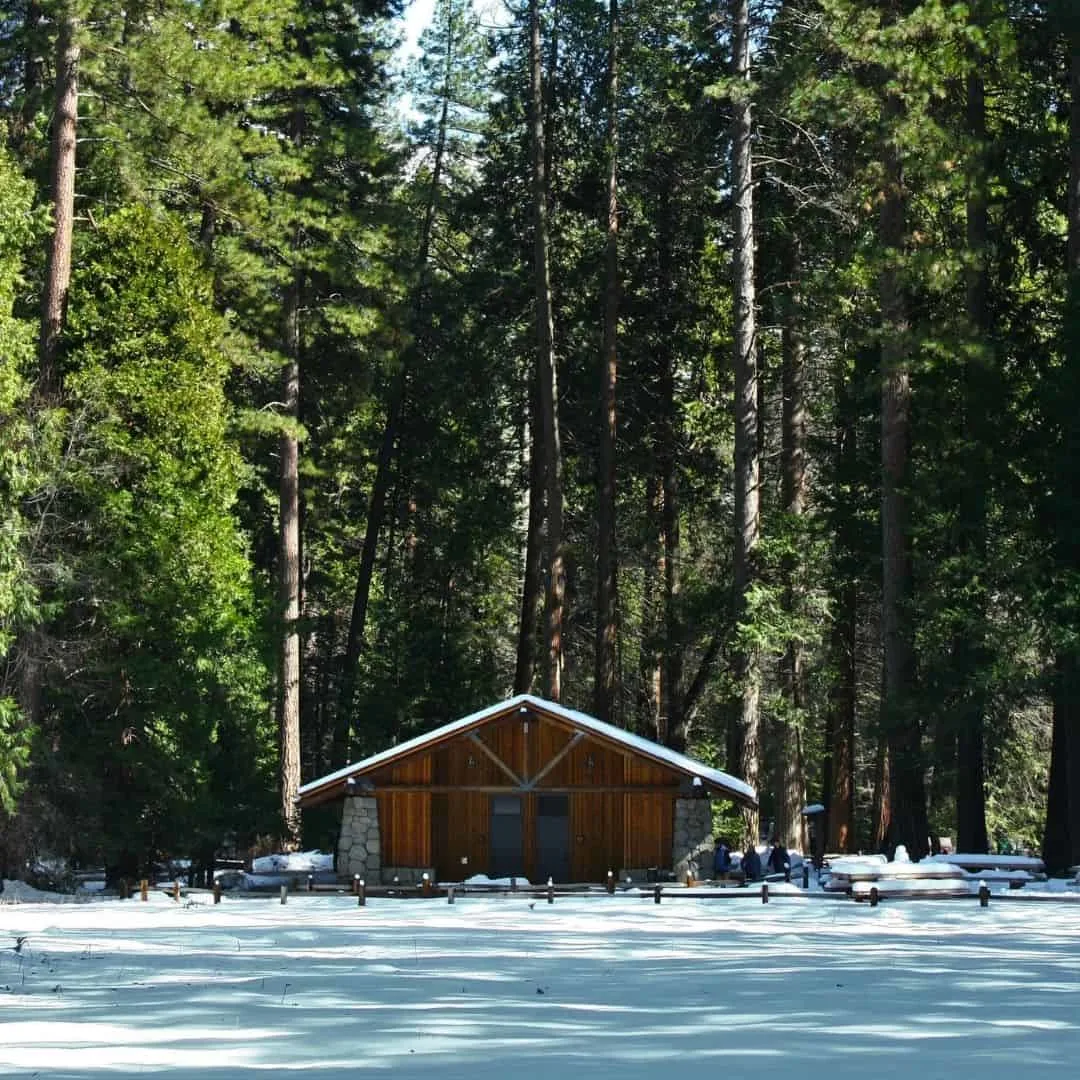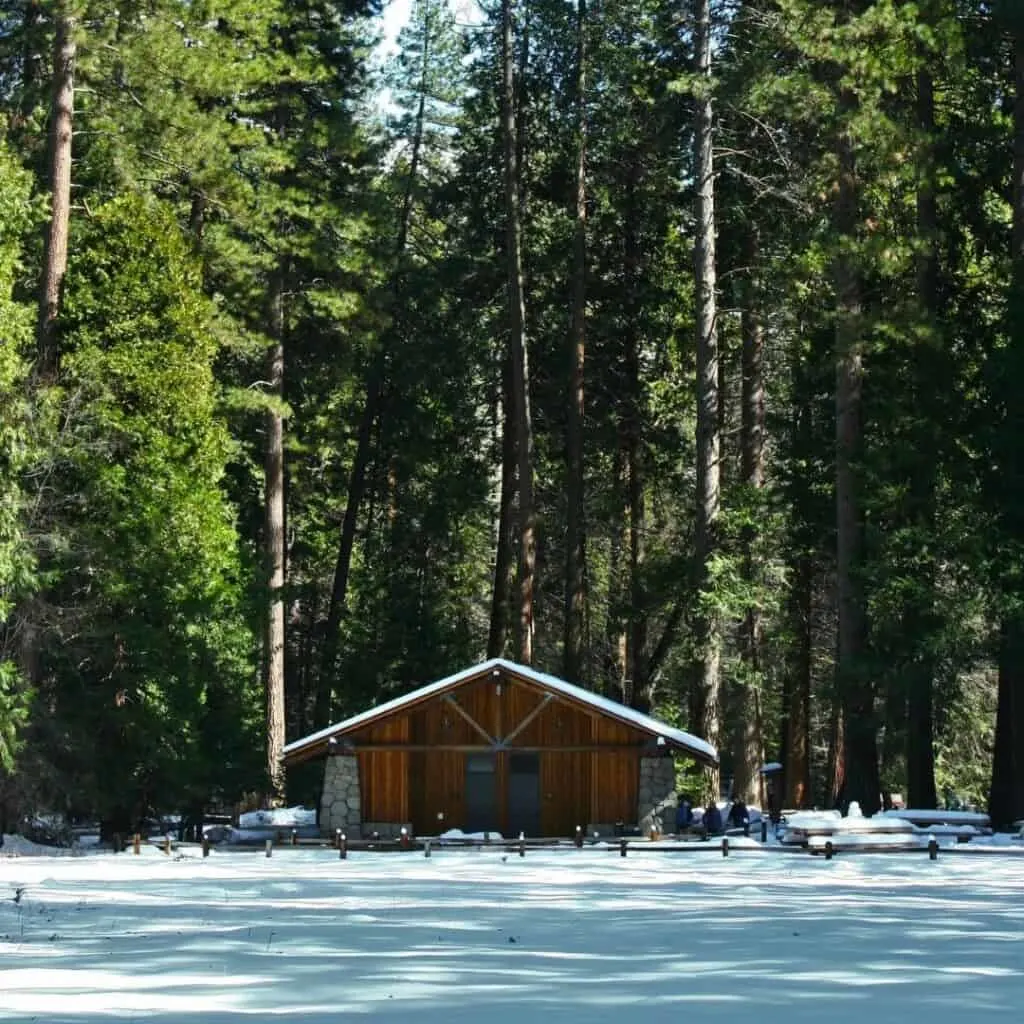 6. Star Gazing
There is plenty of time to see the stars fromYosemite in February as sun sets before 4 pm. Yosemite is a really dark place in winter so there is great visibility when it is a clear cold night.
There are many different ways to see stars in Yosemite Valley—dig out a telescope, set up a tripod for some astrophotography, or just lay back on the grassy meadows under the night sky and enjoy the view.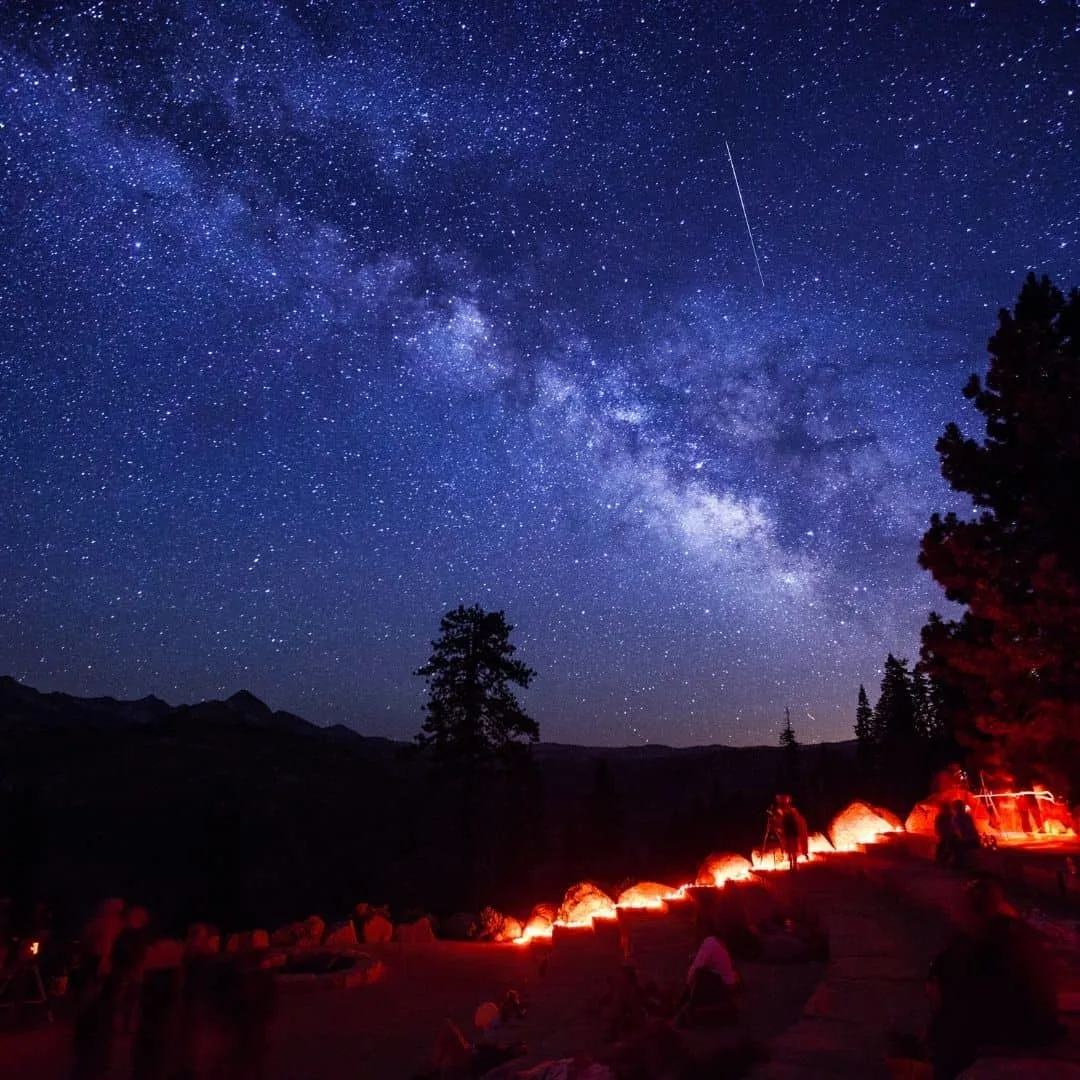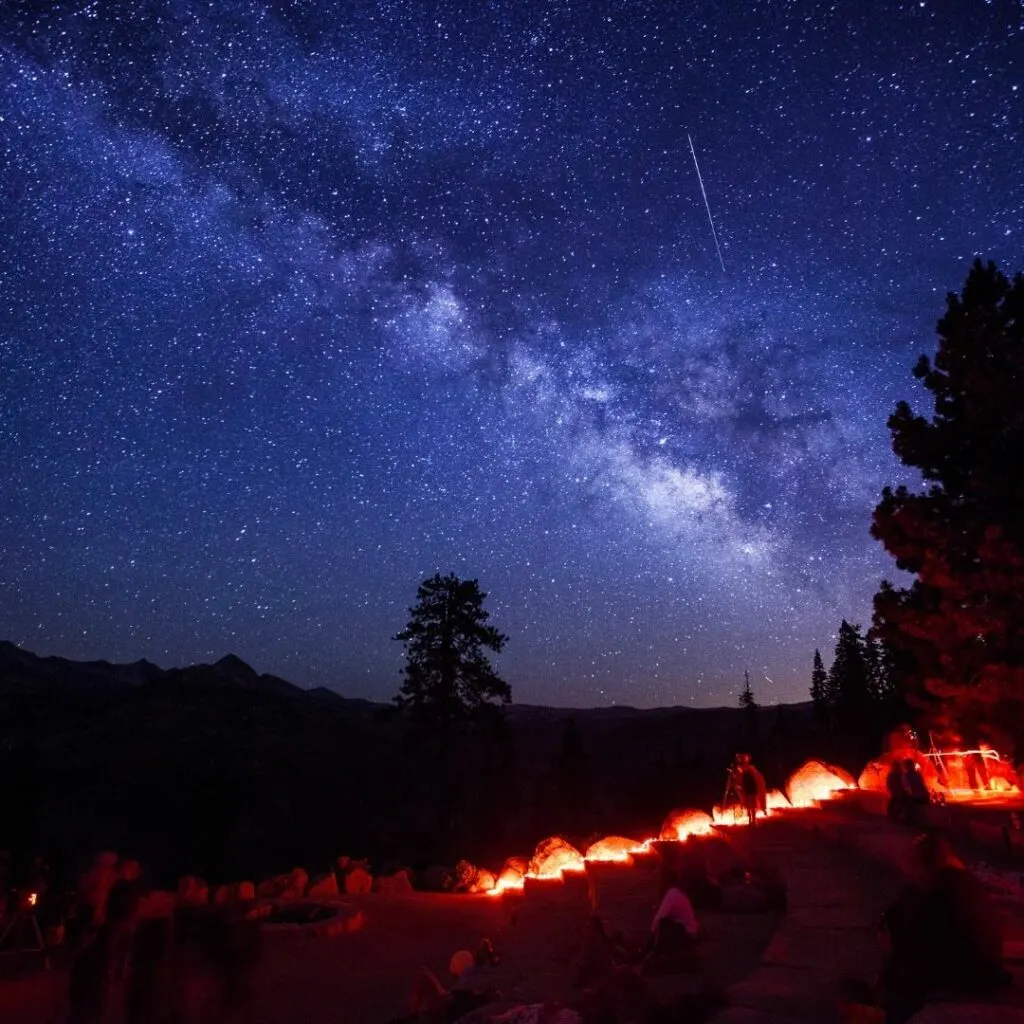 7. Watch a Sunset Over the Granite Cliffs
Before star gazing, make sure to watch one of the epic sunsets. It is something not to be missed from an itinerary.
Sunsets in Yosemite are some of the most spectacular in the country. The changes of colours over the granite cliffs leave many speechless.
Any other time of year, it would be recommended to head for higher ground. However, with the roads closed this would only be possible for hikers
Instead, there are a few places around the Valley to see the sun going down. One of the most popular places is Tunnel View.
It is just a short drive from the Valley and there is no hiking involved. Tunnel View is one of the most recognizable views from the park.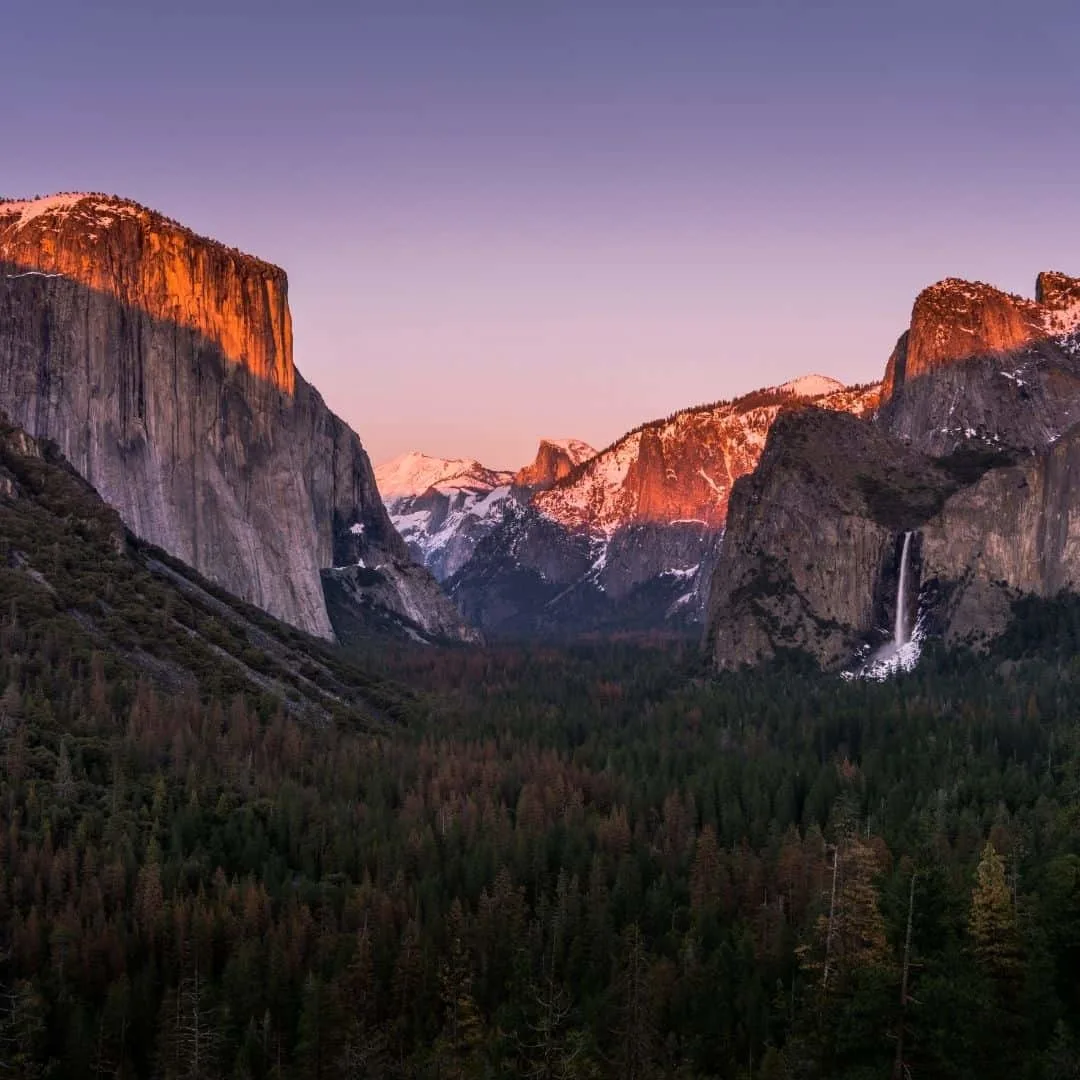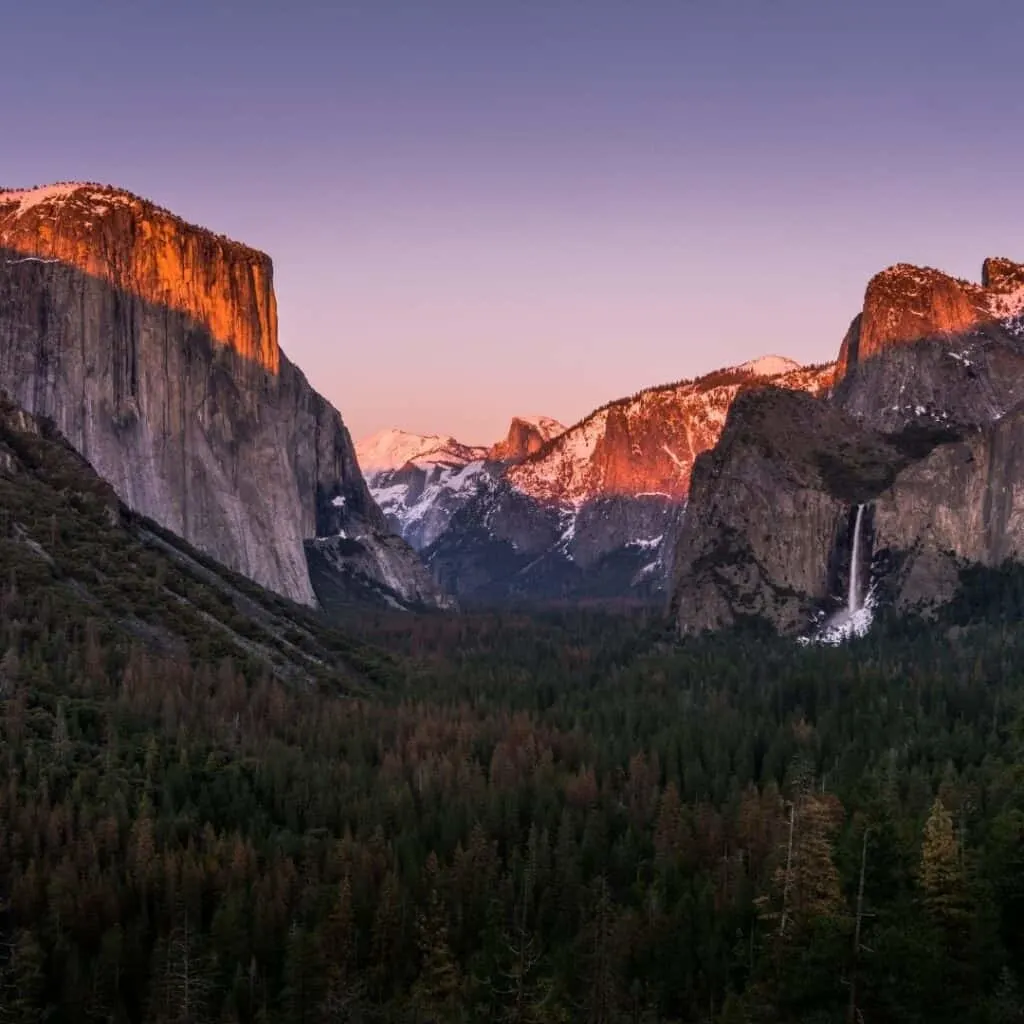 8. Tubing and Sledding in Yosemite
For this travelling with kids, families may want to have a little fun when and have their little ones burn off some energy.
If skiing doesn't appeal, consider tubing or sledding. Inside Yosemite, head to Badger's Pass where there is a whole area dedicated to tubing and sledding.
While it is a great place, it can be a little expensive. On the Big Oak Flat Road, there is a free play area and some more areas scattered around the park.
Ask at Curry Village for directions to the best ones as they change any given year. Another option is South entrance to Fish Camp, the location of Tenaya Lodge where there are many snow activities.
Some of them include ice skating, sledding and tubing. There is the option to rent equipment or take part in a guided tour.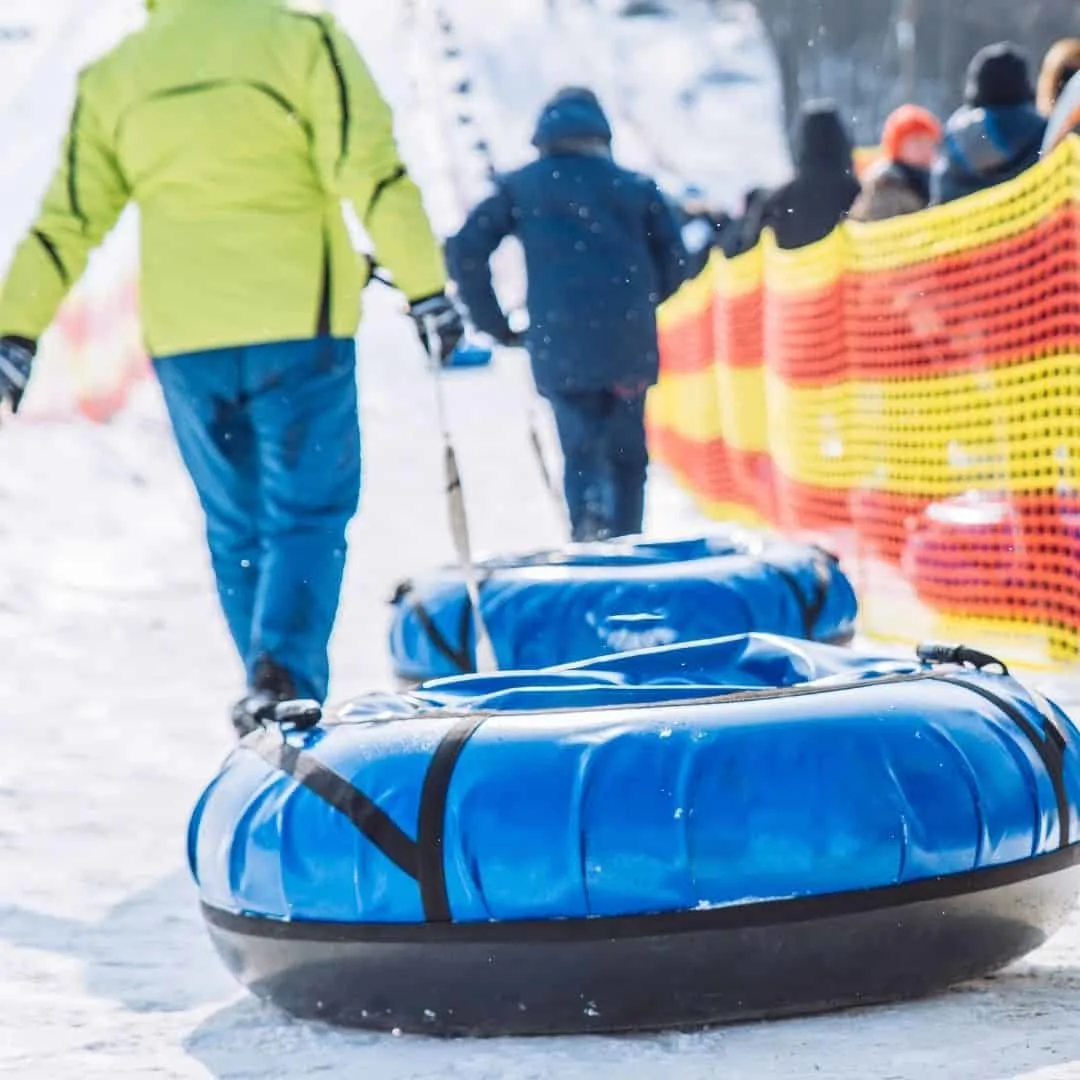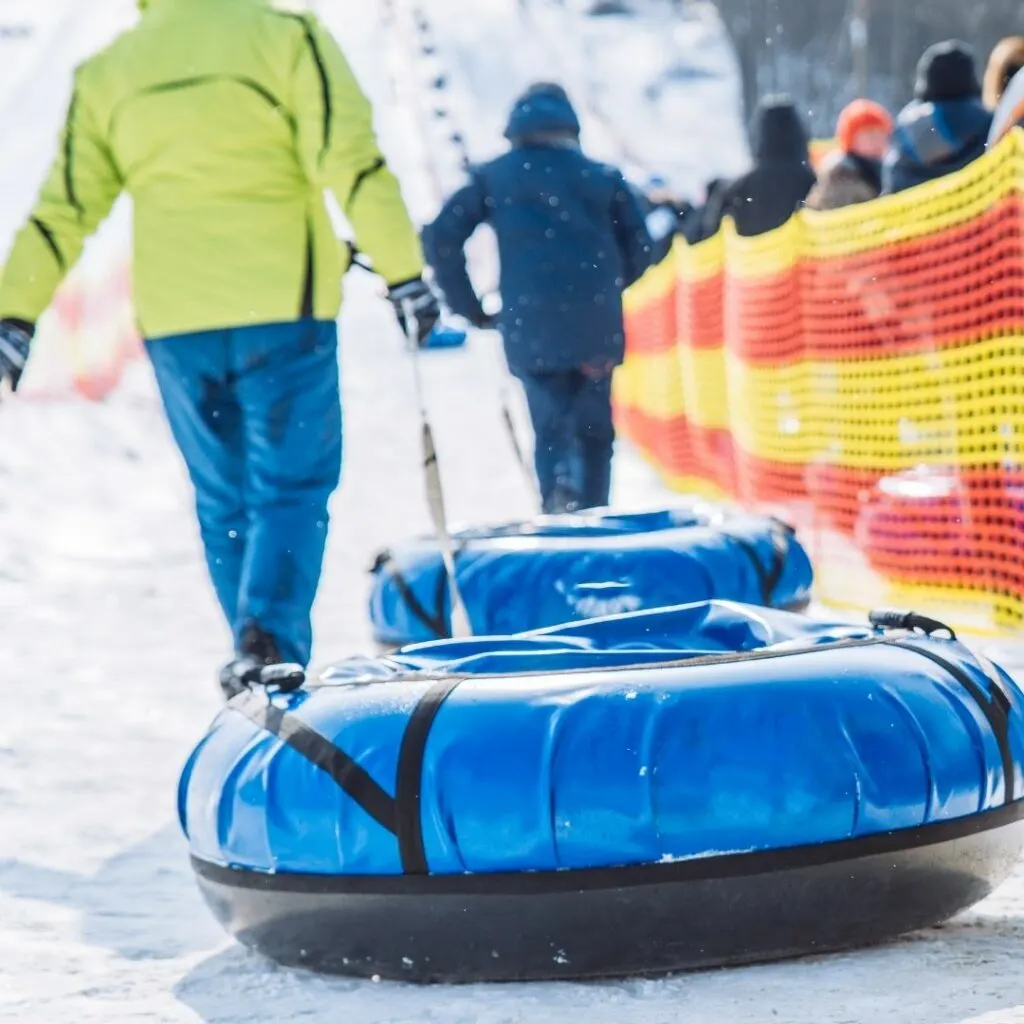 9. Sightseeing
Before leaving Yosemite Park in February, make sure to visit the famous landmarks. Most of which are located in the Valley and easy to get to any time of year.
Some of the most famous landmarks include El Capitan, Half Dome and Yosemite Falls.
It would be easy to squeeze a visit to all of these wonderful places with only a day in Yosemite. The hop shuttle bus makes this possible without a car.
A little away from the Valley is Mariposa Grove and is perfect for a hike.
In February the road is closed so visitors must hike the two miles from the car park. It usually takes around two or three hours to explore, however, allow more time in the winter months.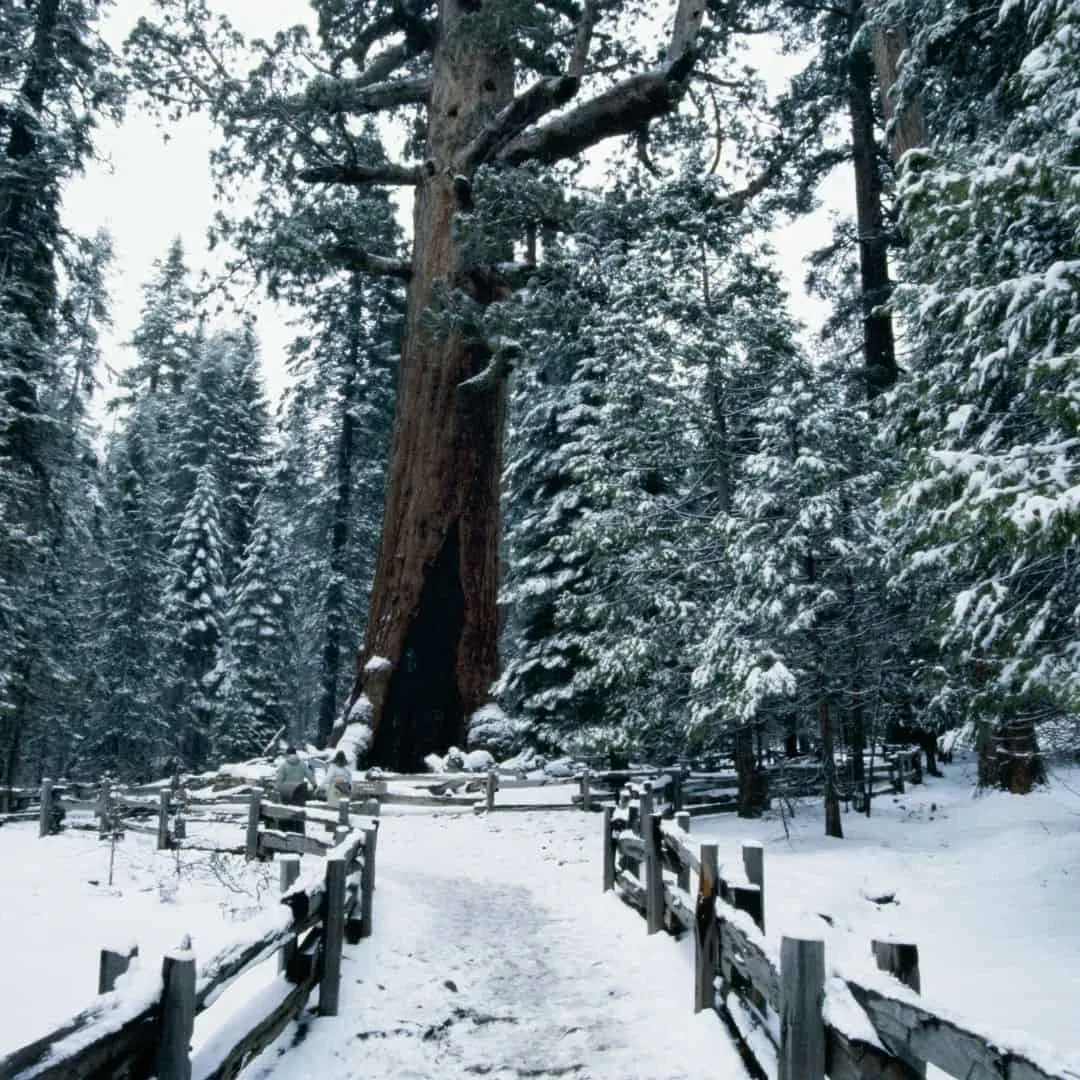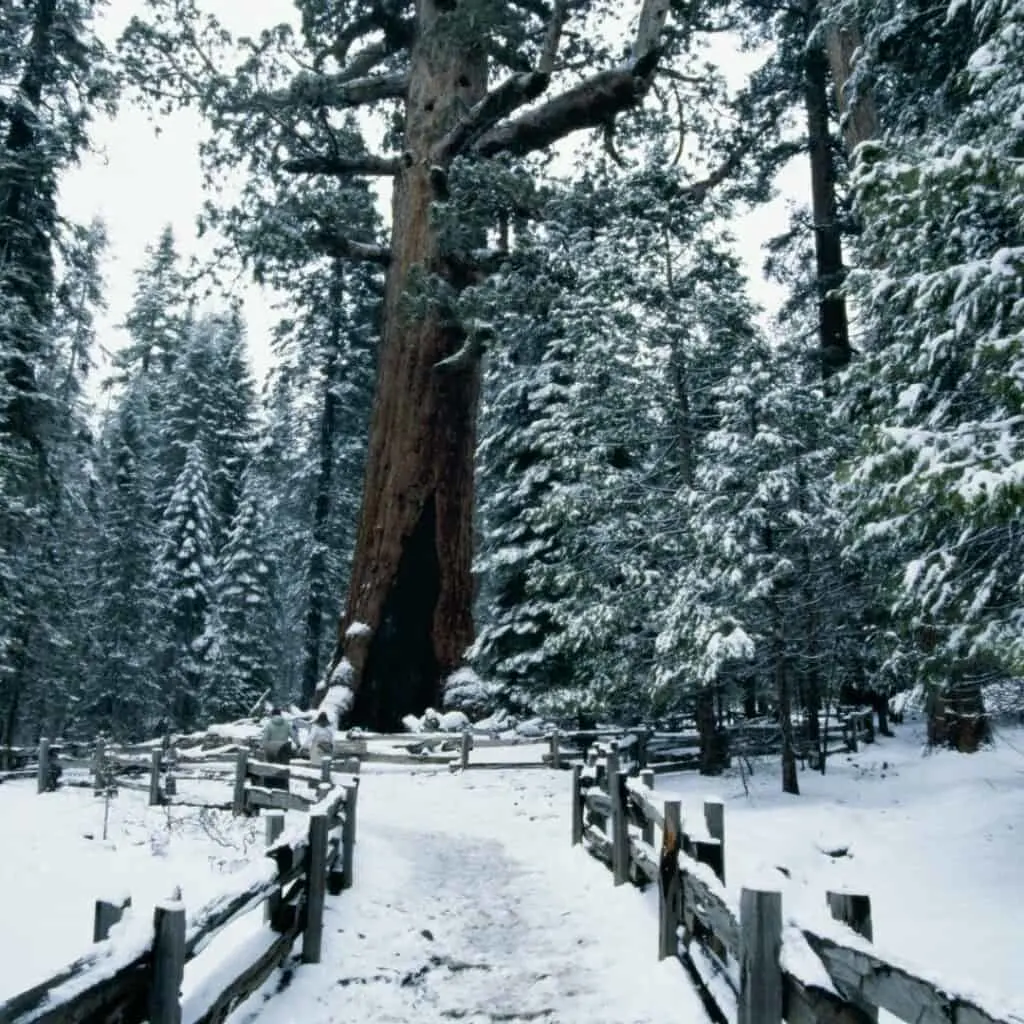 10. A Private Tour of Yosemite Valley
A Private Valley Tour is a great way to set a personal itinerary with the help of professional guide.
Choose from hikes, activities or some indoor time such as the museum. It is based on the interests of the visitors and is organized on the day with the guide.
Some things to expect on the tour are to see the snow cone at the base of Yosemite Falls and if the conditions are just right guests may see a phenomenon called frazil ice.
There are no special requirements other than bringing a packed lunch and drinks.
Click here to find out more about a private Valley Tour.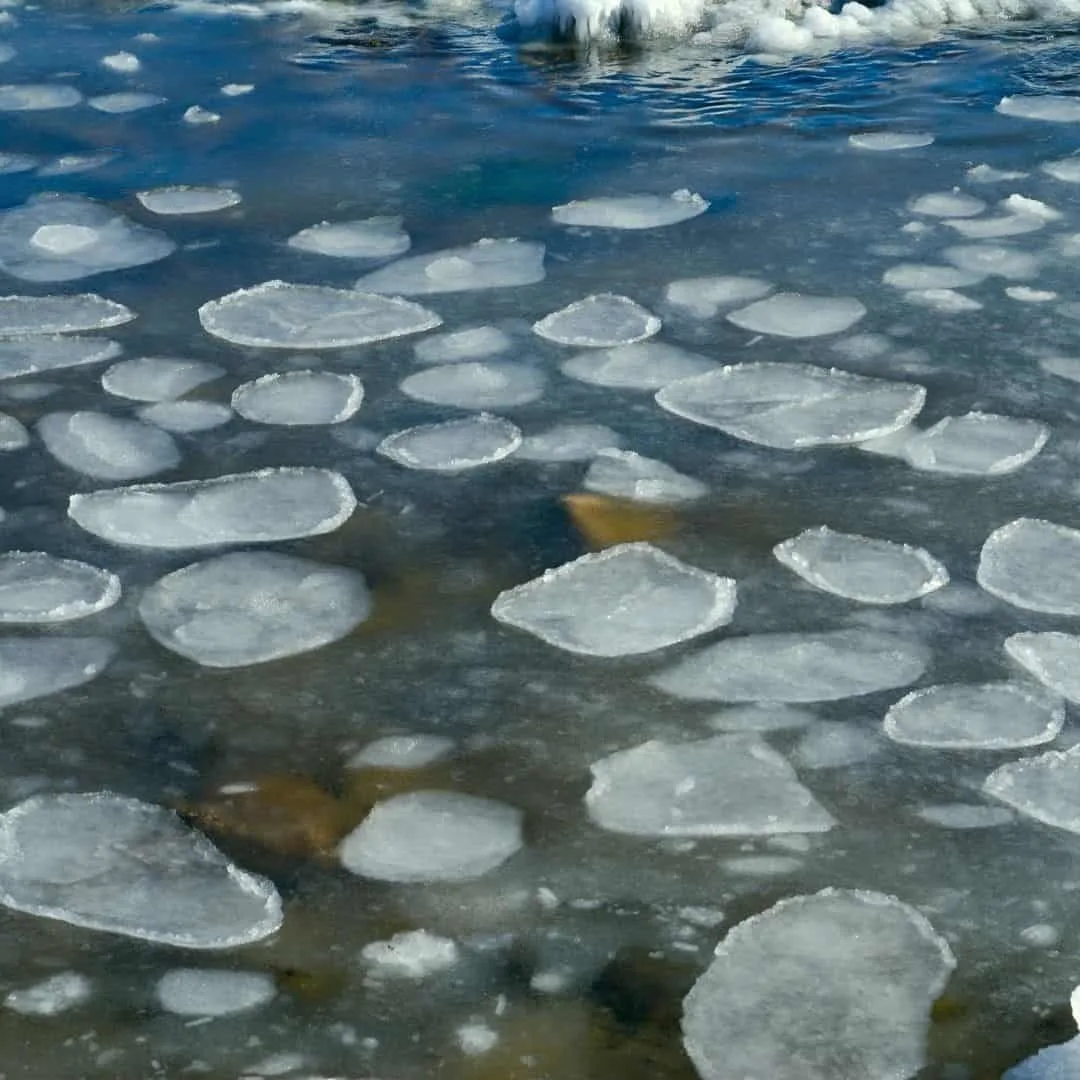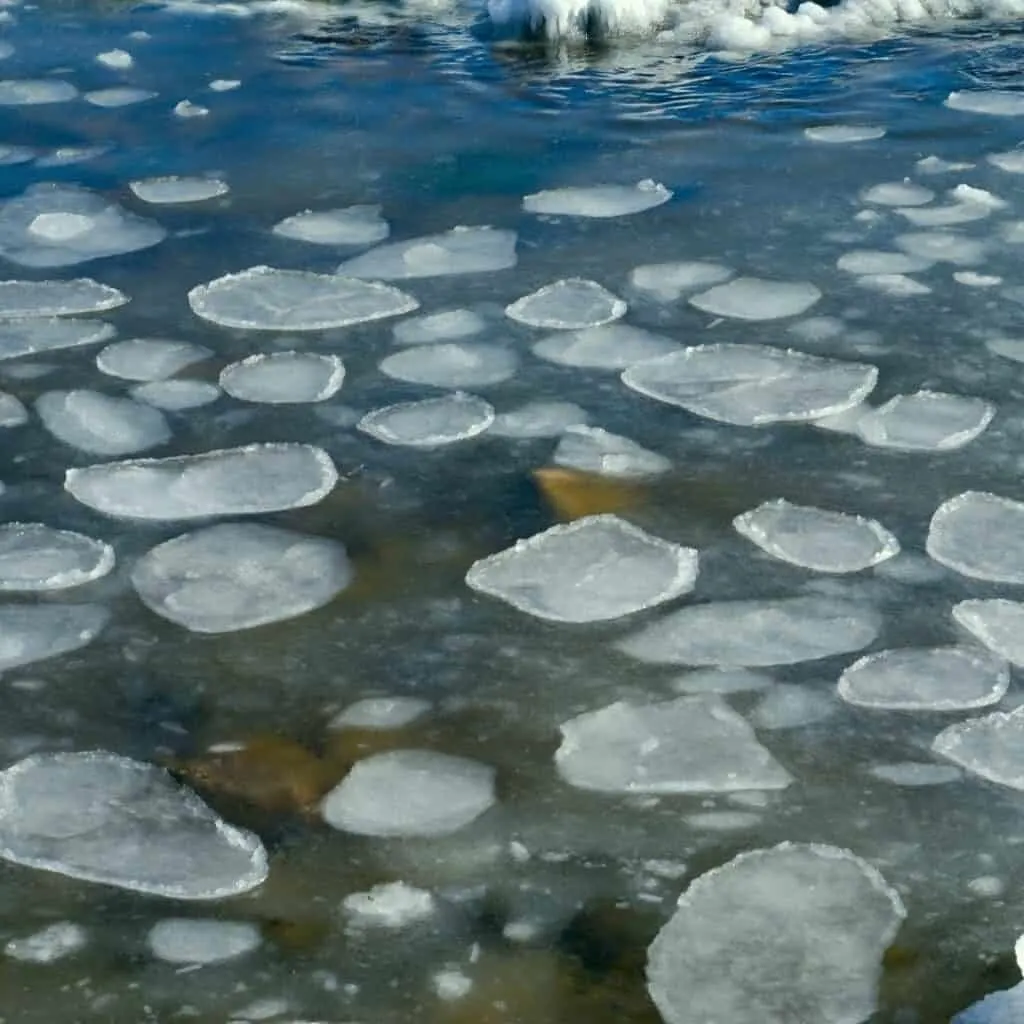 11. Yosemite February Firefall
If you are wondering what to do in Yosemite in February, the Firefall should be at the top of their list. When the sun shines on the snow and the ice, it causes a natural phenomenon.
It usually happens when the air is crisp and cool. There are only a few days it can be seen in the second week of February.
Head to Yosemite Valley Lodge to El Capitan Crossover before sunset. It is one of the most popular events at Yosemite and it draws crowds of people every year.
Due to the crowds at Yosemite, this is the only place it can be seen. Don't worry this is the best place to be as it has the best seats in the house.
As the sun sets, the light reflects off the snow and ice causing a red glow on the horizon just before sunset. It has been happening for thousands of years!
Things such as the temperature and the amount of snow all have an impact on whether it appears. However, if it does happen it is sure to be one of the most beautiful and jaw-dropping scenes.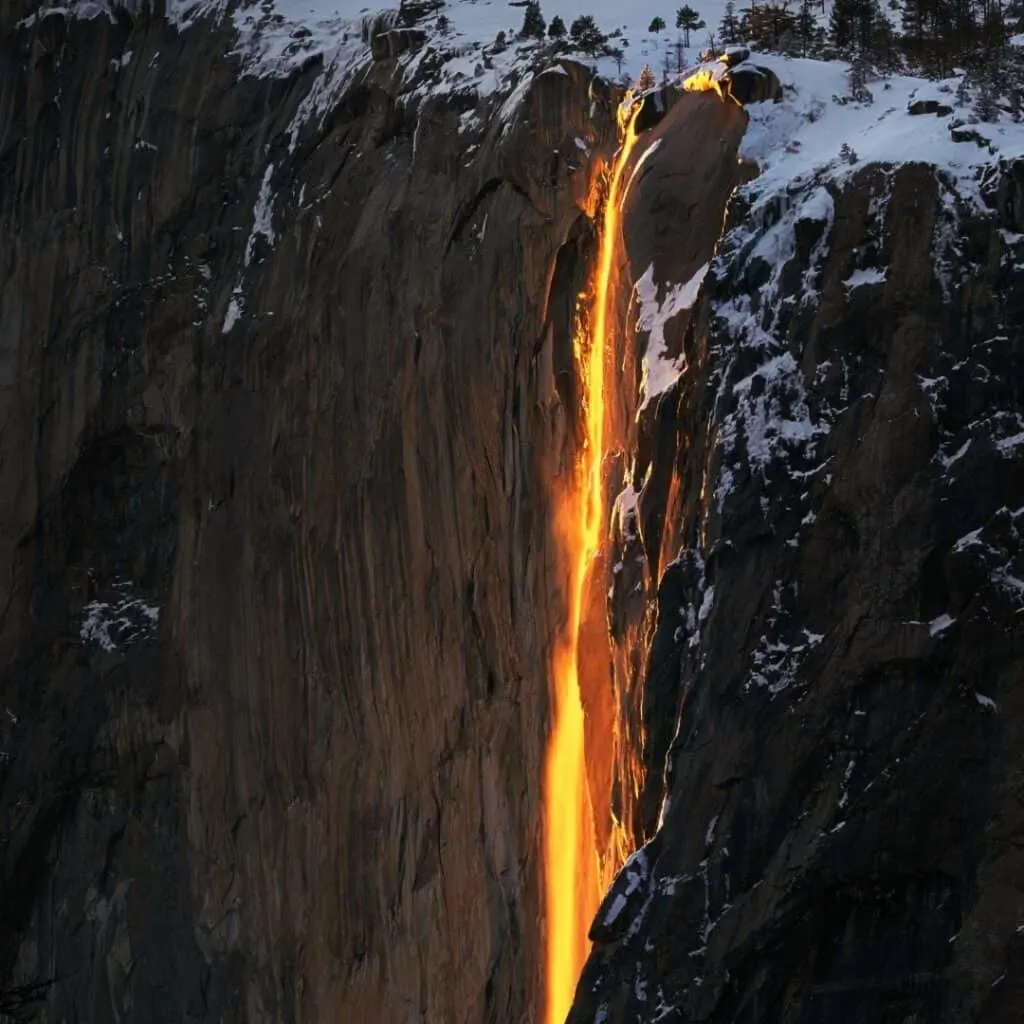 Camping in Yosemite in February
Camping in Yosemite is a fantastic experience. If you can handle the cold weather and are well prepared, it is a great choice for accommodation in Yosemite National Park.
There are a few campgrounds open all year round in Yosemite. One of the most popular is North Pines. It is located in Yosemite Valley and has amazing views of the park.
Before setting off, it is important to remember how cold the park is and how the temperature drops in the evening. Bringing the right items along is essential.
One of the most important items is a sleeping bag. Many brands state what temperature they are suitable for.
Most of the campgrounds have room for RVs. They are a warmer option if camping does not appeal. Don't expect a lot of amenities at the RV Parks. Hook-up is not available however most sites have access to toilets and some have dump stations.
If a stay in an RV sounds appealing, it is easy to rent an RV for the trip.
Click here to make a reservation at one of the RV Parks in the Valley.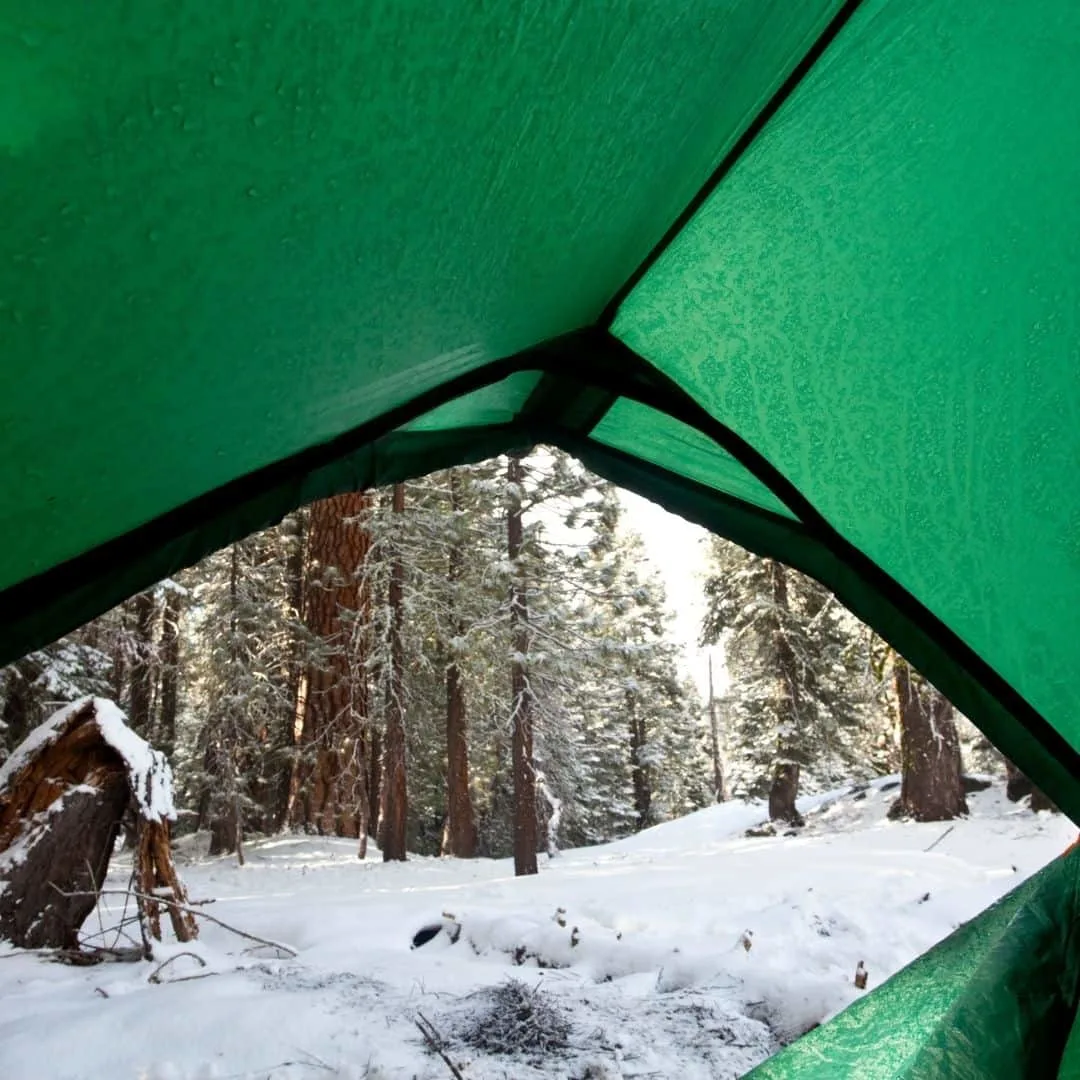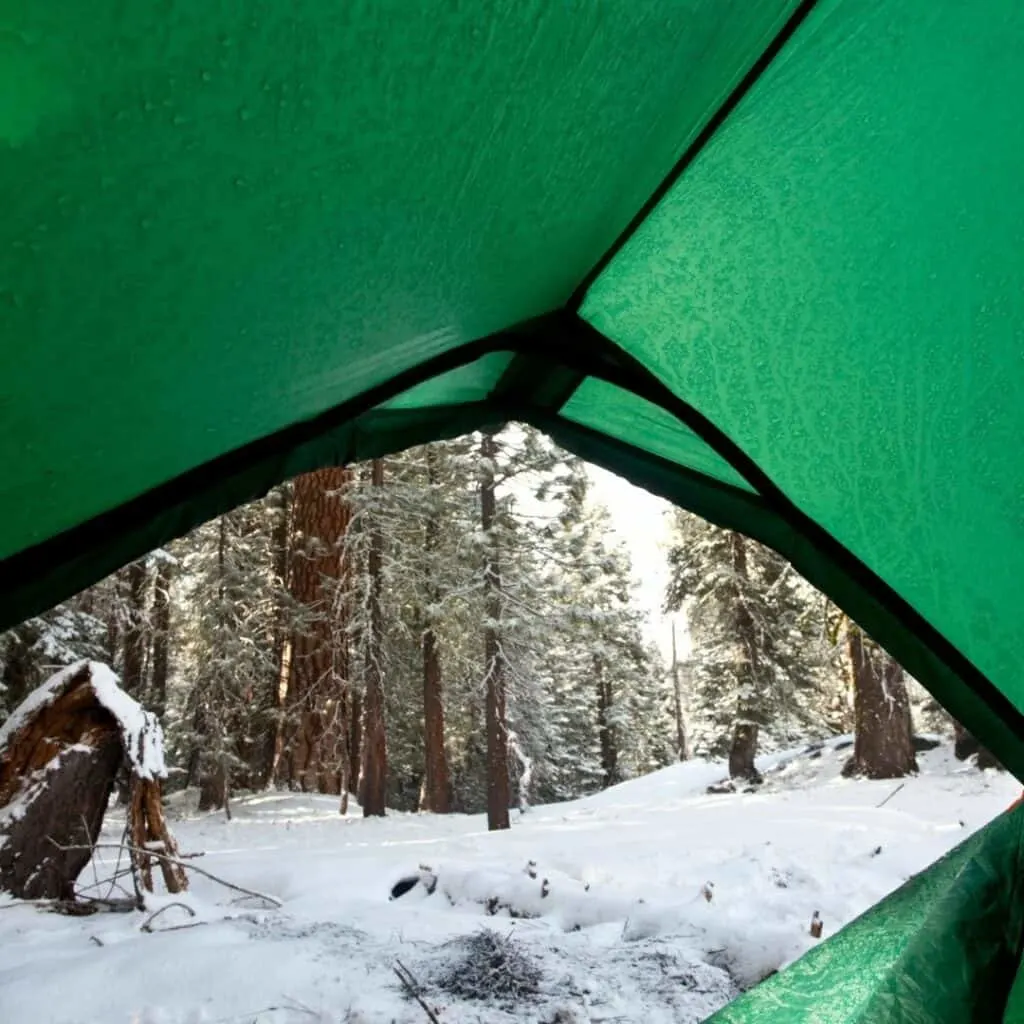 Holiday Homes in West Yosemite
On the west side of the park, there are a number of holiday homes and cabins to rent. Some people want to stay in Yosemite.
The holiday homes in Yosemite National Park are spread out so visitors have their own space. While they are away from the Valley, they are still close to many of the famous landmarks and hiking trails.
They come in all shapes and sizes. Some accommodate large families while others are only big enough for two. Some have log fires and others may have a hot tub perfect for a winter stay!
To book a vacation rental at Yosemite National Park click here.
Yosemite Hotel in the Valley
There are three hotels right in the hub of Yosemite Valley. One of the most popular is Yosemite Valley Lodge and it is near Yosemite Falls. It is only 750 yards from the Valley.
Like most of the waterfalls, Yosemite Falls in February is not going to be flowing. It is however stunning to look at no matter the time of year.
The hotel is a great place to stay for those wanting to stay close to the trails. It is just a short distance from Half Dome and El Capitan.
The hotel suits both couples and families. The rooms are spacious and there are plenty of amenities on-site including a restaurant. It.
This hotel is super popular as it is so easy to explore the park, it books up in advance so make sure to be prepared if you are planning to stay.
To make a reservation for Yosemite Valley Lodge click here.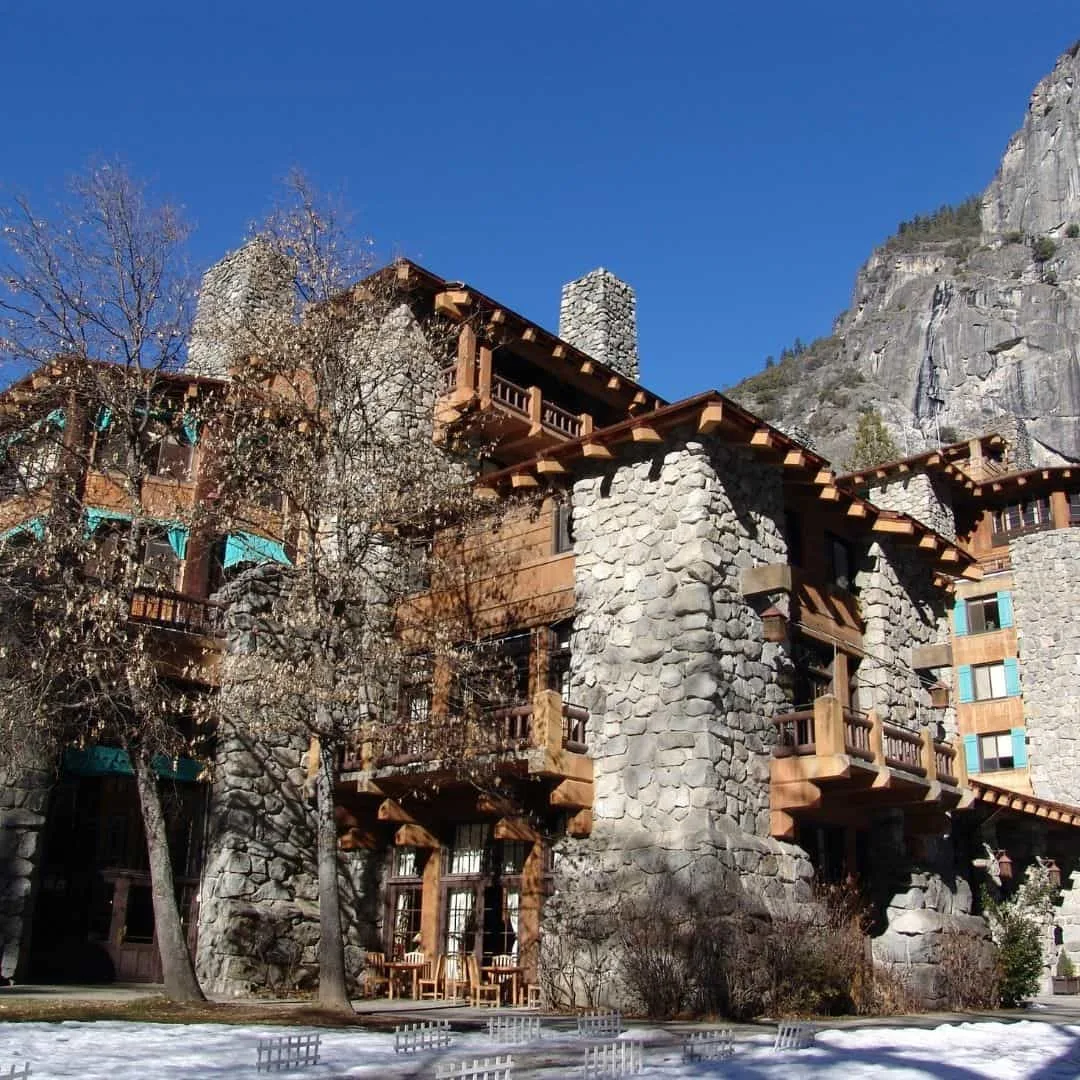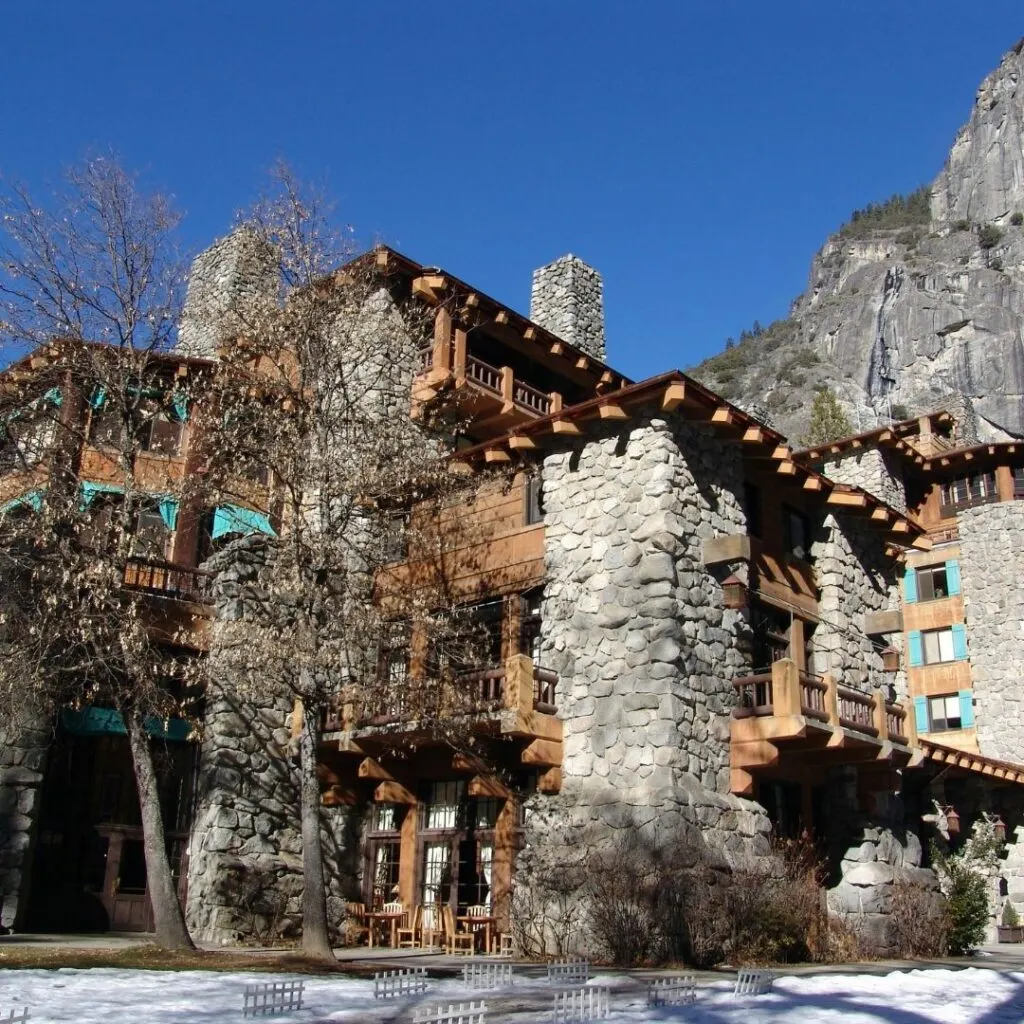 What to Pack
Remember Yosemite National Park weather in February is cold with plenty of snow on the ground. It is important yo think about clothing before leaving.
Some of the essential items include a warm hat, gloves and a warm jacket.
It is best to dress in layers while at the park. This way when exploring the museum or any other indoor venue, it is easy to remove clothing if it is too warm.
Socks and likely to get wet so bring a few extra pairs just to be on the safe side. Footwear is important. Snowboots should keep the feet warm with a few inches of snow on the ground.
There are a few hiking trails around Yosemite Valley which may require snowshoes. This is dependent on the snowfall, however, they can make hikes a lot easier so it is a great item to pack.
If visitors are planning on hiking, poles they are great to use in the snow, helping to take some of the pressure off and improve endurance. This is definitely a great feature to have when hiking in inches of snow.
Top Tips
Make sure to check on the weather before arriving, there are a few ways to do it. In particular check the website for any road closures.
There are webcams all around the park are a great chance to have a peek at what to expect before arriving.
In Yosemite in February it is not unusual for tire chains to be needed. The roads are often icy and it is important to take care while driving.
The perfect time for visiting Yosemite National Park is in February because there is less traffic and fewer crowds than during the summer season.
Visitors can enjoy all of the beautiful sights and sounds Yosemite has to offer while not having to worry about overcrowding, long lines and bad traffic.
You May Also Like:
How to Plan a Trip to Yosemite | April in Yosemite | The Best Hikes in Yosemite National Park | One Day in Yosemite | The Ultimate Yosemite Packing List | Yosemite in Fall | RV Parks Near Yosemite | Rafting in Yosemite | 10 Kid Friendly Hikes in Yosemite | Winter Hikes in Yosemite | The Magic of Yosemite in December | Best Photo Spots in Yosemite | Why Yosemite Weather in May Makes it the Best Time to Visit | 10 Reasons to Visit Yosemite in January | The Perfect Guide to Visiting Yosemite in March | 10 Amazing Things to do in Yosemite in February | 10 + Things to Do in Yosemite in June | Pumpkin Farms in Maryland
Best pumpkin farms in Oregon | Flying With A Toddler | Best Pumpkin Farms in Florida | Best Pumpkin Farms In California
Will you be needing travel insurance, flights, rental cars, or hotels for your trip?
Disclaimer: This post may contain affiliate links. By using them it will not cost you any extra, we will receive a small percentage of the sale.