Many visitors head to Yosemite in the summer months, July and August. However, visiting in winter has many advantages. The winter hikes in Yosemite are just one reason to grab a winter coat and head to the National Park this year.
Yosemite National Park covers an area of more than 1,200 square miles. It is located on the western slope of the Sierra Nevada mountain range and has many amazing photo spots.
While there are a few trails that are closed in winter, there are still many hikes to be added to a 2 day or 3 day Yosemite itinerary.
Yosemite is not somewhere that springs to mind when researching the best places to visit in the US in winter.
For one it is the perfect time for photography and with fewer crowds on the trails, visitors have more time to capture some amazing pictures as the park can look magical this time of year.
Visitors might think the activities are limited in the winter months but this couldn't be further from the truth. Activities such as skiing/snowboarding, snowshoeing, horseback riding, and ice skating in December throughout the month including Christmas, January, February and March are all on offer.
As long as you bring along the right items, and plan ahead, hiking one of Yosemite's many trails at this time of year is a unique and truly wonderful experience.
It may even be the perfect time to visit in an RV. At this time of year visitors can also avoid the headache of finding a place to stay or book a tour easily. There are trails for all levels, even something for the kids.
Winter Hikes Yosemite
Before setting off on a winter adventure, there are a few things to keep in mind. Many of the hikes are around the valley and one day is not the same as the next, temperatures are usually around 53°F (12°C) / 28°F (-2°C).
It snows a lot but visitors can also expect quite a few sunny days mixed in-between. In late fall some of the roads in the park close due to the weather.
This includes the Tiago Road and it means the entrance on the west side of the park is also closed and does not usually reopen until late May or June. If visitors are coming from this direction, the South Entrance is the next best option.
There are plenty of hikes where you can see waterfalls in Yosemite. While the waterfalls won't be flowing like April, May and June, there may be a trickle if there has been rainfall. This goes for wildlife too!
As you can imagine, there is a lot of wildlife in the park however in winter months, there is not much around. Visitors can expect the trails to be quieter. In fact, the silence and beauty of Yosemite in winter is an experience visitors never forget.
Yosemite Hikes in Winter: Valley Loop
As Yosemite Valley is in the heart of the park, this hike is the perfect place to start. It gives visitors the chance to take in their surroundings and get a feel for Yosemite.
This trail is not exactly a wilderness experience however it takes visitors to many of the places that have made Yosemite famous.
The trail takes the same route as the shuttle bus so start from any of the shuttle stops. Along the journey visitors can head to El Capitan, walk along the Merced River or even through some meadows.
The trail is easy however the distance is long at around 9km. The great thing about this trail, if it does get too much visitors can hop on the bus to a different part of the trail.
There is also the option to find out more about the Valley from a professional. A private Valley Tour allows visitors to customize their trip based on their interests.
Visitors can choose from easy to moderate hikes and while it lasts for fours hours, visitors go at their own pace. Lunches and drinks are not included in the tour, so bring some along for the adventure.
Click here to find out more about a private Valley Tour.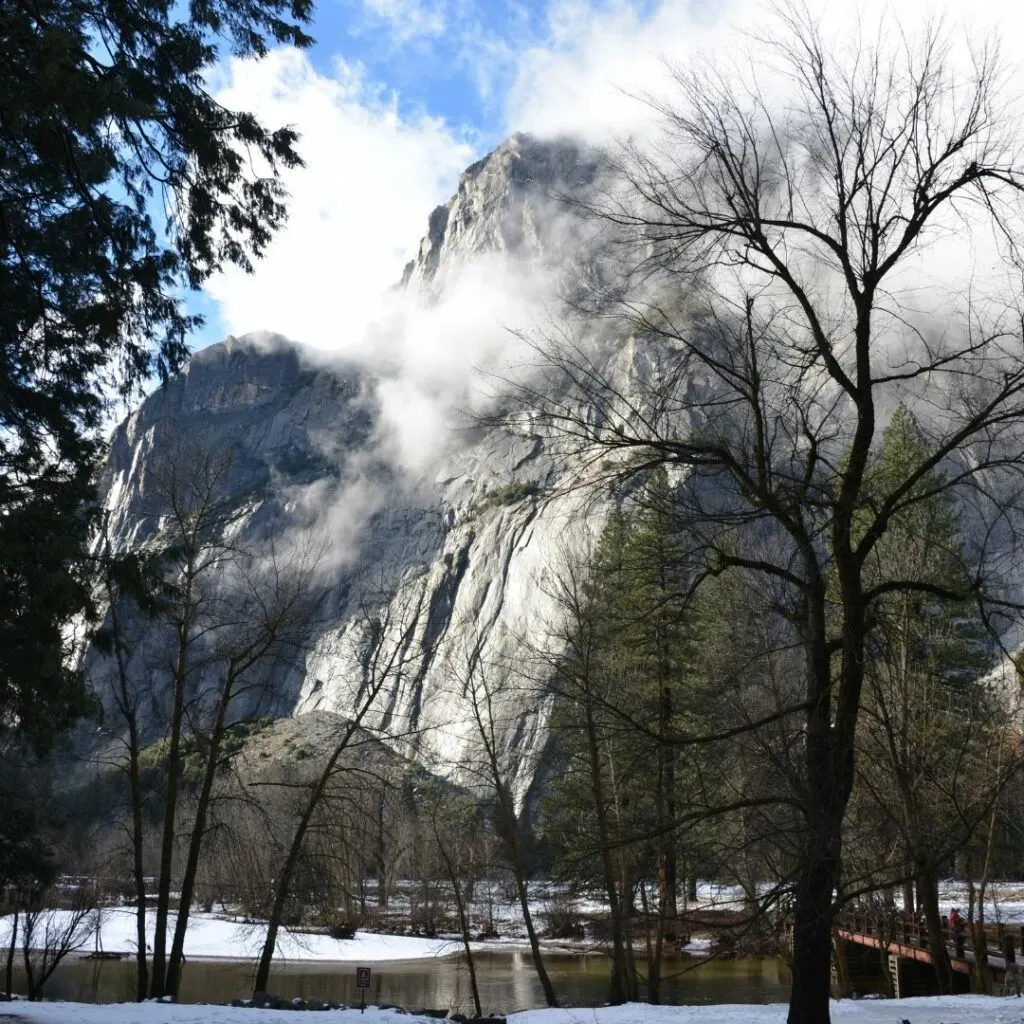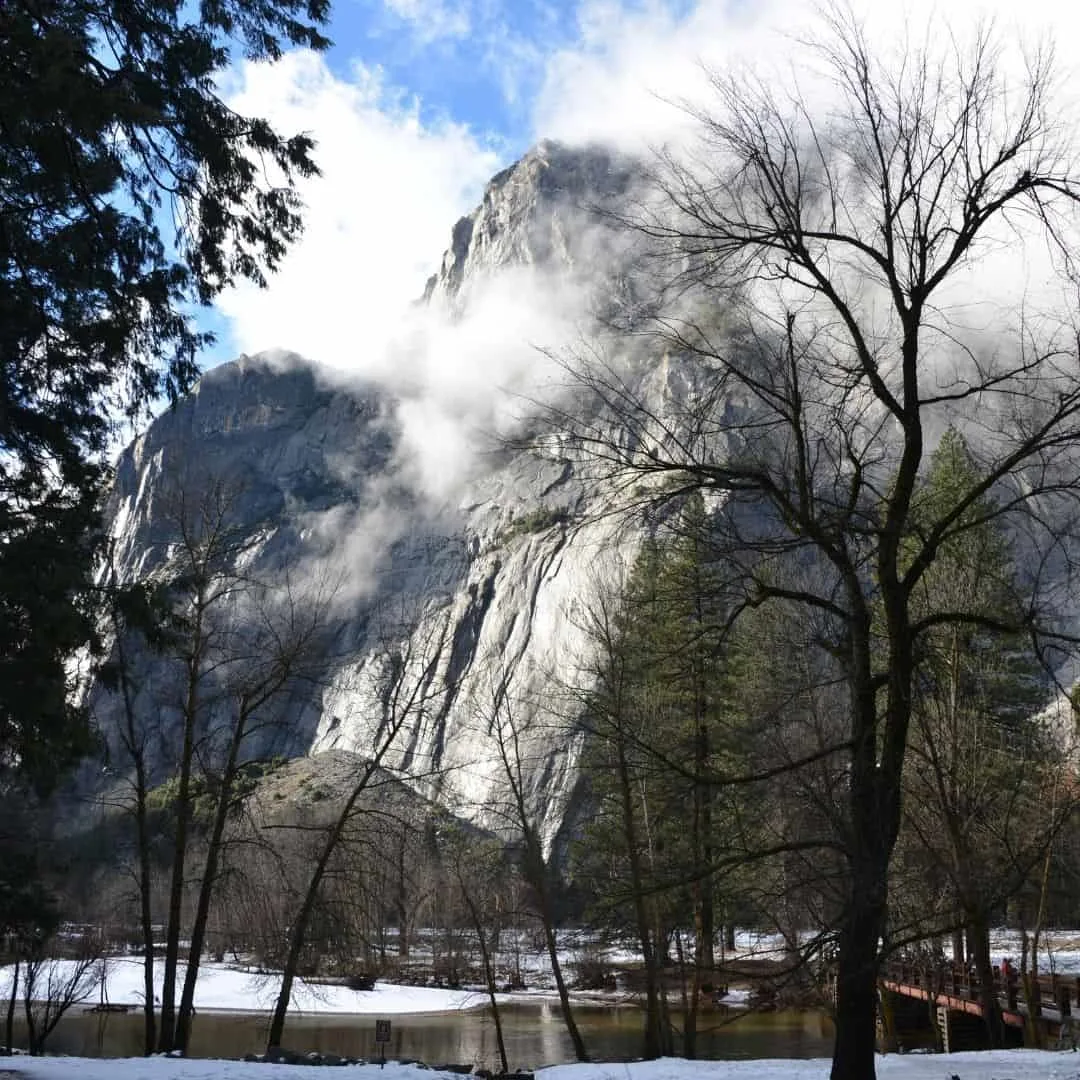 Yosemite Winter Hikes: Lower Falls
The Lower Falls hike is one that can easily be added to the Valley Loop trail. It starts at shuttle stop #6 and it is very short so easy to add to any itinerary.
It takes visitors to the base of Yosemite Falls and while it is unlikely to be gushing with water, the views are breathtaking and definitely worth it.
In fact, the Lower Falls trail is just thirty minutes and an easy walk. The walk is beautiful any time of year however with snow it really is stunning.
Visitors may spot a few deer around the base of the falls drinking the water that is collected there. Even though the trail is less than 2km, it is always rated as one of Yosemite's best hikes.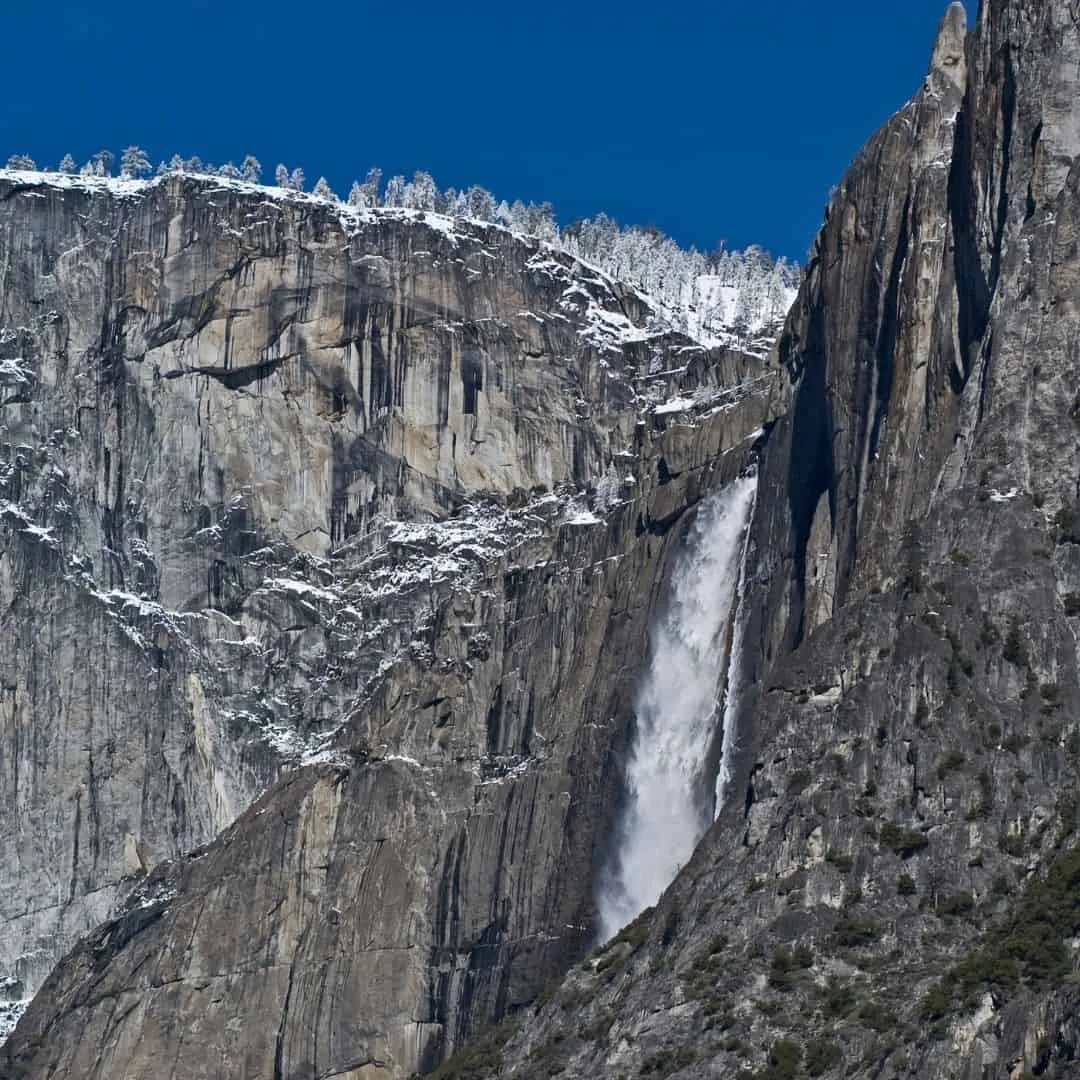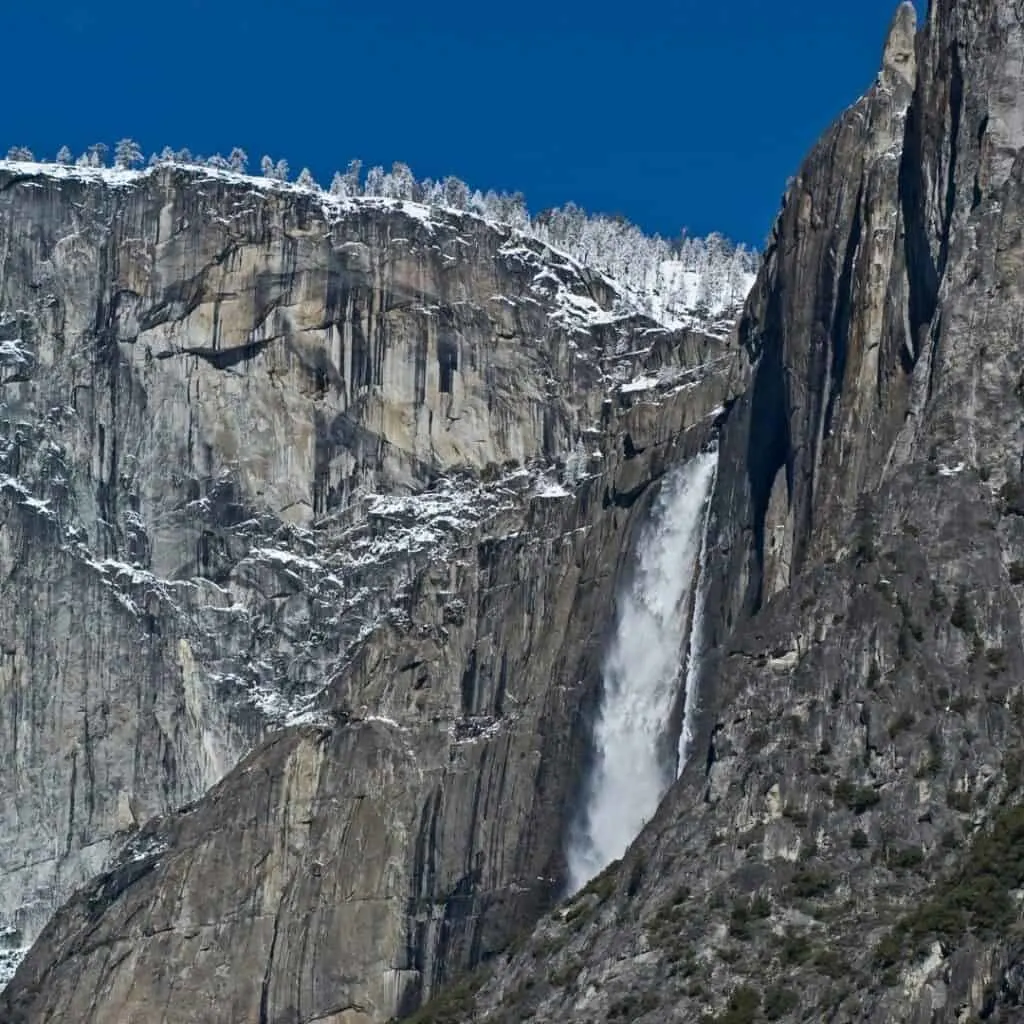 Best Day Hikes Yosemite: The Mist Trail
One of the most popular trails in Yosemite is the Mist Trail. In fact, if visitors plan on hiking the trail in summer, July and August, it may be quite busy. However, in winter it is much quieter.
This trail is difficult and it is not for those new to hiking. Stick it out and visitors are rewarded with some of the most amazing views in the park and the best photo spots in Yosemite.
It is recommended to take the John Muir Trail at the end of this hike, unfortunately in winter, this part is closed. This means that instead of a sloped walk downhill, visitors have to go back the way they came and climb down.
The trail starts and ends at Happy Isles Trailhead. No matter the time of year, try and get there bright and early, probably before 6 am. If the mornings are still dark, then bring a headlamp along.
The trail is around 11km and takes around four hours however in winter it may take longer due to ice and snow on the trail. No matter the time, make sure to bring water and snacks along.
Expect a few steep climbs so hiking boots with a good grip are highly recommended. The first waterfall you come across is Vernal Falls and then a little while later is Nevada Falls. This is the highest point of the hike, so stop and take a moment to admire the view.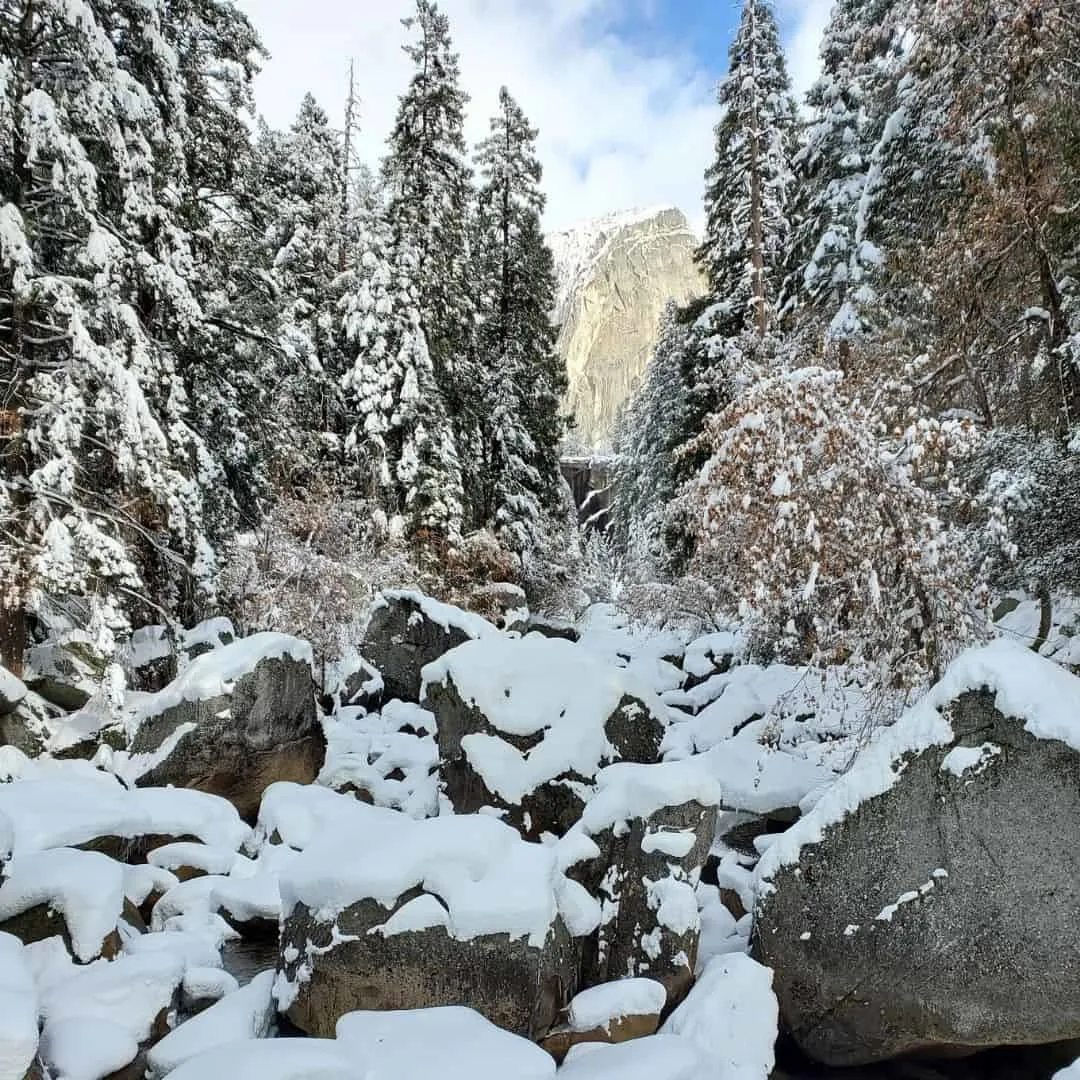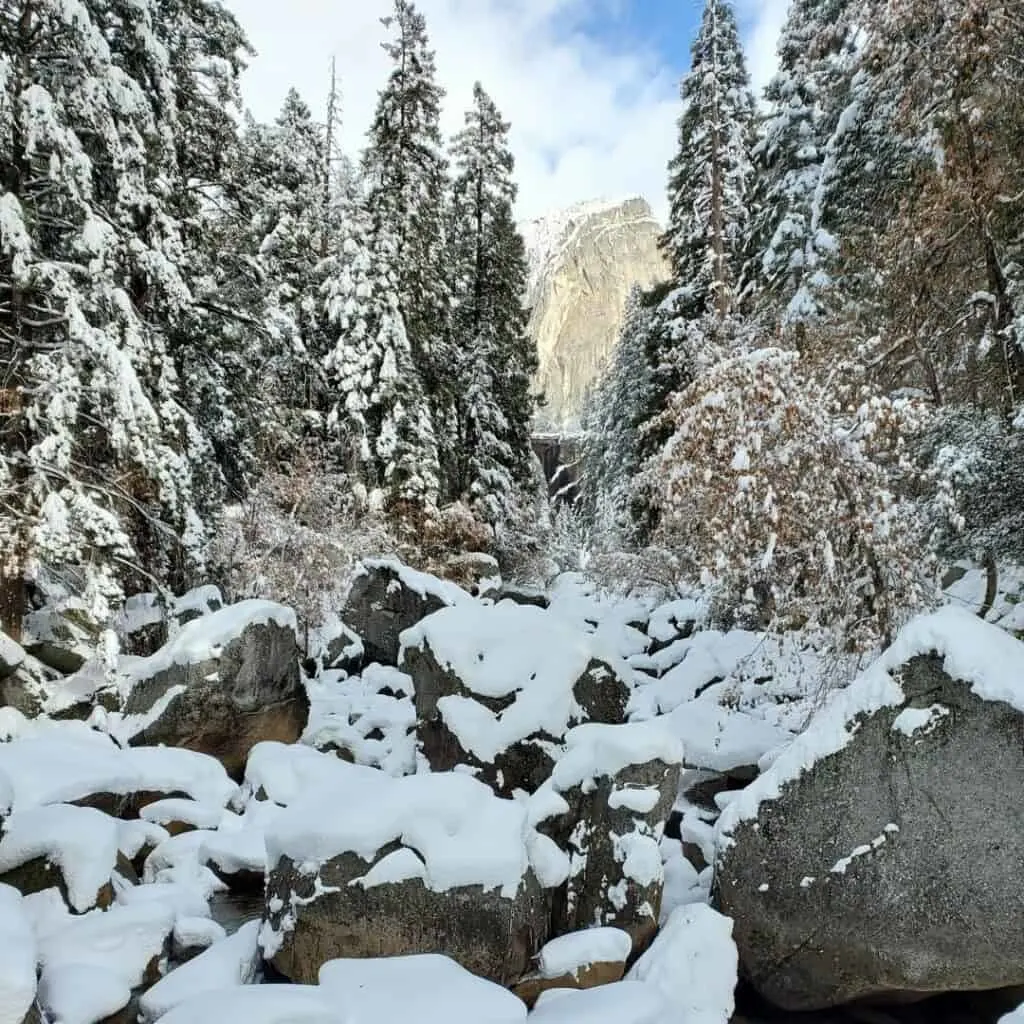 Best Winter Hikes in Yosemite: Mirror Loop Trail
One of the best winter hikes in Yosemite is the Mirror Lake Trail. Again this can also be added to the Valley Loop Trail. The trail starts in the far east of the valley.
During the winter the lake dries up, so what makes this trail so special? Well even though the trail is spectacular in spring with its wildflowers, the views in winter are the same except sprinkled with snow.
Along this 9.8km trail, the scenery changes every kilometre. Imagine stunning mountain views, a creek and beautifully frosted areas. In spring and summer, the area is full of black bears. In winter be on the lookout for coyotes.
Snow is pretty much guaranteed. Sturdy footwear is important. Snowshoes or crampons are the number one choice for this trail in winter, paired with waterproof hiking boots.
It takes under three hours to complete the trail, however expect it to take longer in winter. To help navigate the snow, poles make it easier.
Best Winter Hikes Yosemite: Artist Point Trail
One of the places that Yosemite is famous for is Tunnel View. It would be unthinkable to visit the park and not stop to see the sun setting here.
In fact, sunrise or sunset at Tunnel View has to be one of the most breathtaking views in the world.
Luckily Artist's Point Trail is still open in winter. This trail is busy in the summer months and likely to be busloads of visitors trying get a good viewpoint for a photo.
Visit in December, January, February and March it is quiet. In fact, many visitors have said they were the only ones on the trail. It is relatively easy and under 4km so should take around an hour to complete.
The hardest part of the hike is in the first half due to a steep incline. The rest of the way is pretty easy. Many hikers on this trail complain about there not being any clear markers.
The best advice is to steer left and visitors should end up with an amazing view of the valley.
Again good hiking boots are recommended especially for the incline. One thing that shouldn't be left behind is a good camera. A phone may work but the best wide angle shots are taken using a Go Pro.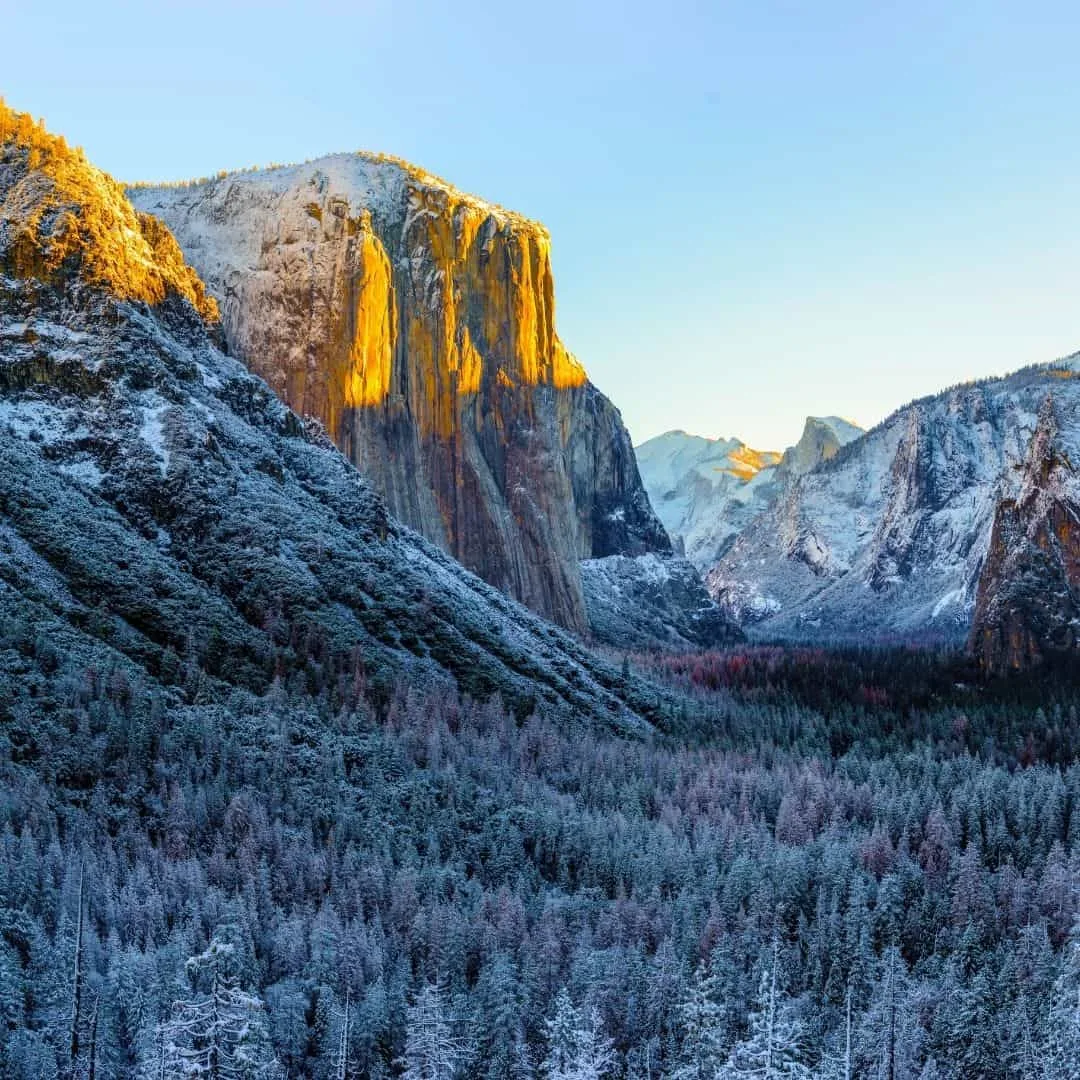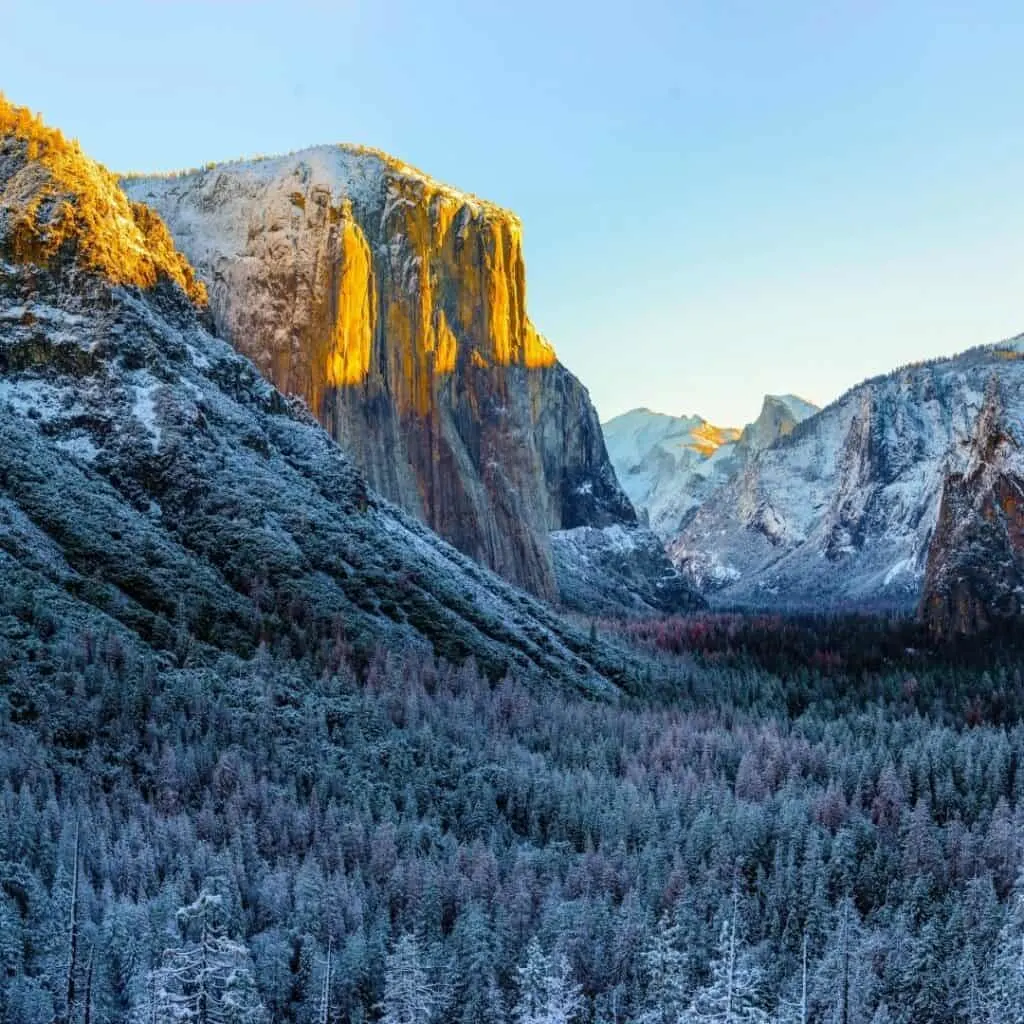 Best Winter Hikes in the US: Snow Creek Falls Trail
A trail that is often overlooked n the park is Snow Creek Falls Trail. It is probably due to the difficulty of the trail however it's worth it for the views at the top and along the way.
What makes the trail so difficult is the switchbacks. However, there are plenty of rest spots and some gorgeous views to be enjoyed.
The trail is also 32km long so it needs to be started early so hikers can make their way back before the sun goes down.
Snowshoes are recommended on this trail as well. Even though there might be little to no snow on the way up, expect a lot of snowfall at the top of Mount Watkins.
As this is a long trail remember to take enough water to last. It is recommended to carry around 6 – 10 litres of water. Hydration reservoirs are perfect for hikes like this as they are light and fit easily into a backpack.
To keep energy levels consistent take plenty of snacks like trail mix and granola bars. Always remember a first aid kit. It can help if any accidents occur along the way.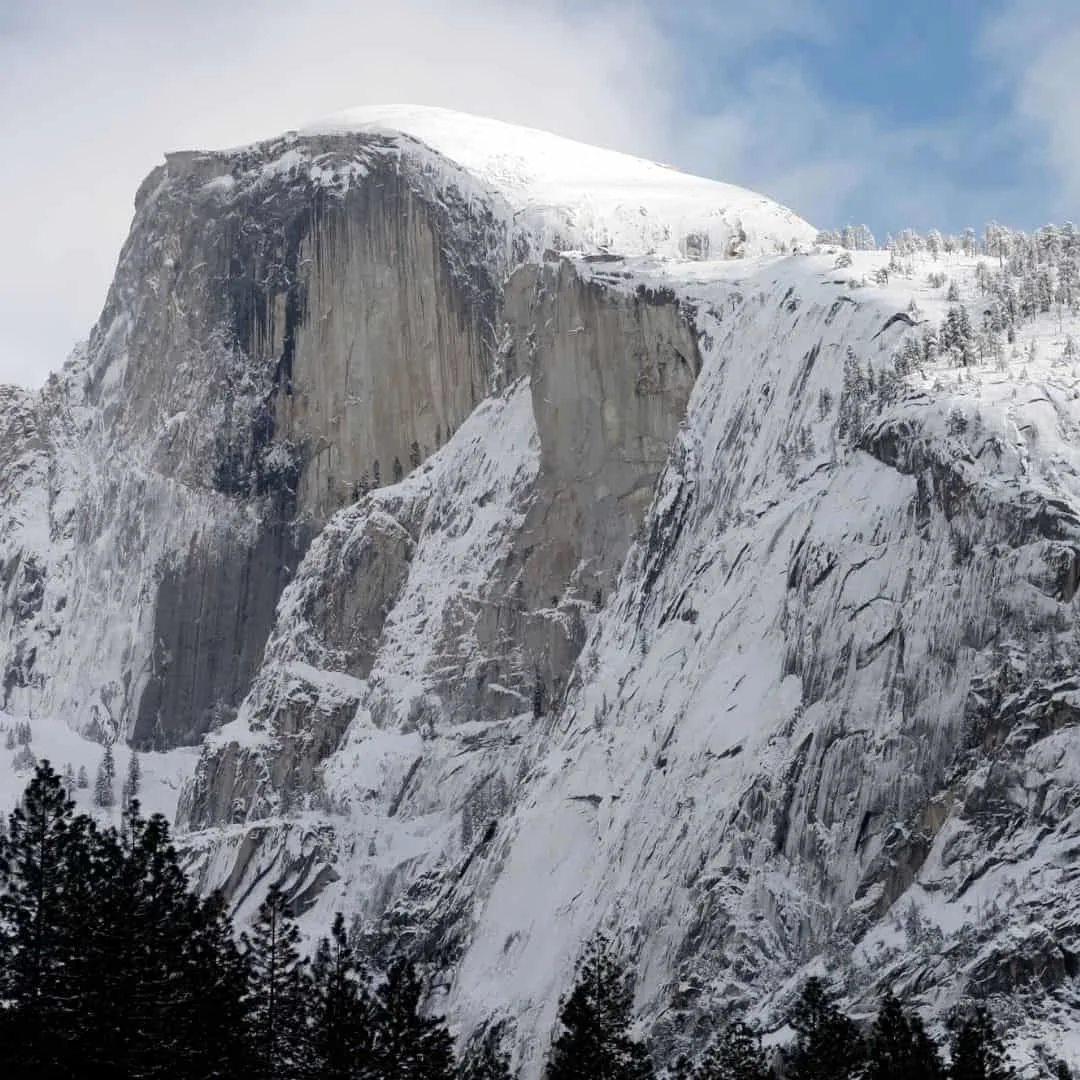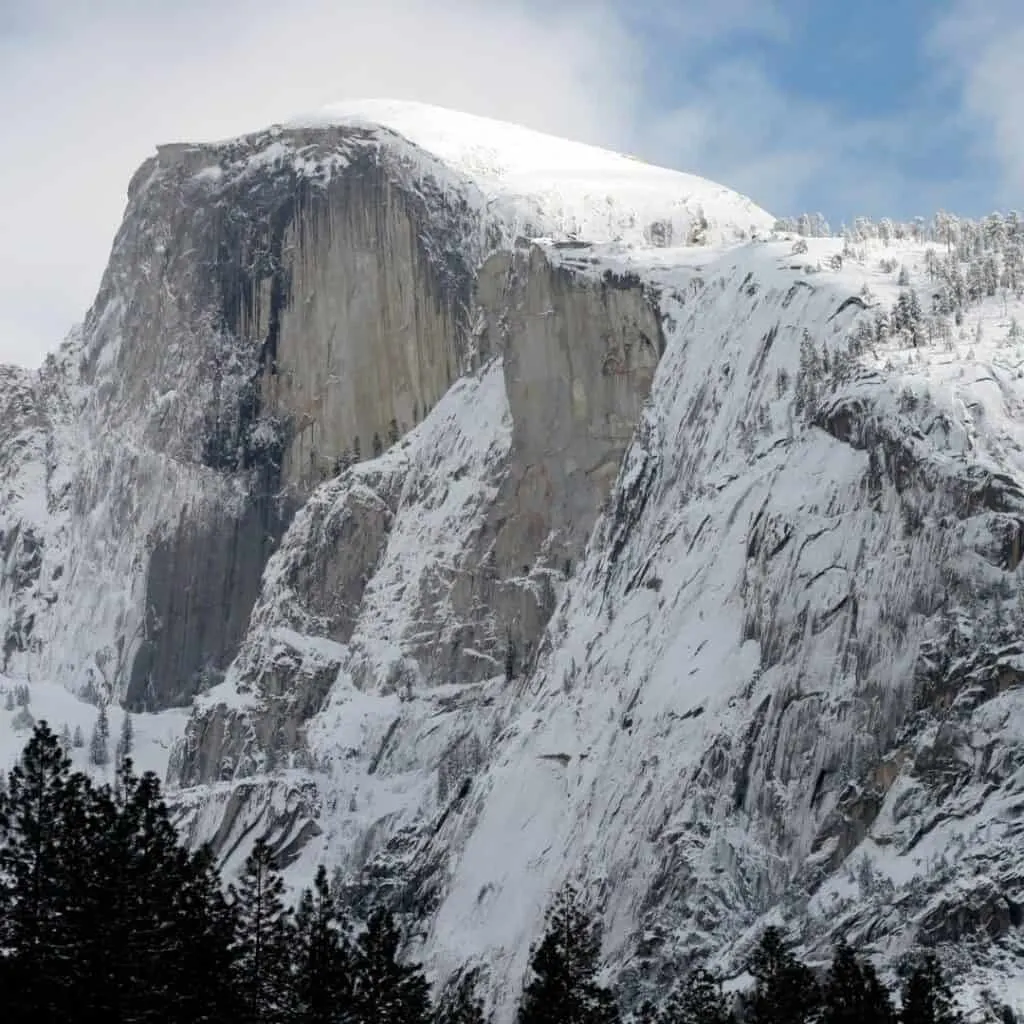 Best Winter Hikes USA: Dewey Point Trail
While many of the hikes start from the Valley, Dewey Point starts near the Yosemite Ski and Snowboard Area. it is relatively easy to get there as the shuttle bus goes throughout the day.
There is also the possibility to drive however if visitors are not used to driving with tire chains this is not recommended. With a free shuttle, it is an easy decision to make.
Once at the Ski and Snowboard Area, head to the start of the trail. The trail heads are on Glacier Road and easy to spot.
It is possible to rent skis or snowshoes at the Ski and Snowboard Area, however the trail can be too icy to ski and as the snow is tightly packed, there is no need for snowshoes. Microspikes are easy to carry and come highly recommended.
This moderate hike is around 8km with some steep climbs in places on the way up. The views of the Valley and Half Dome are stunning at the top.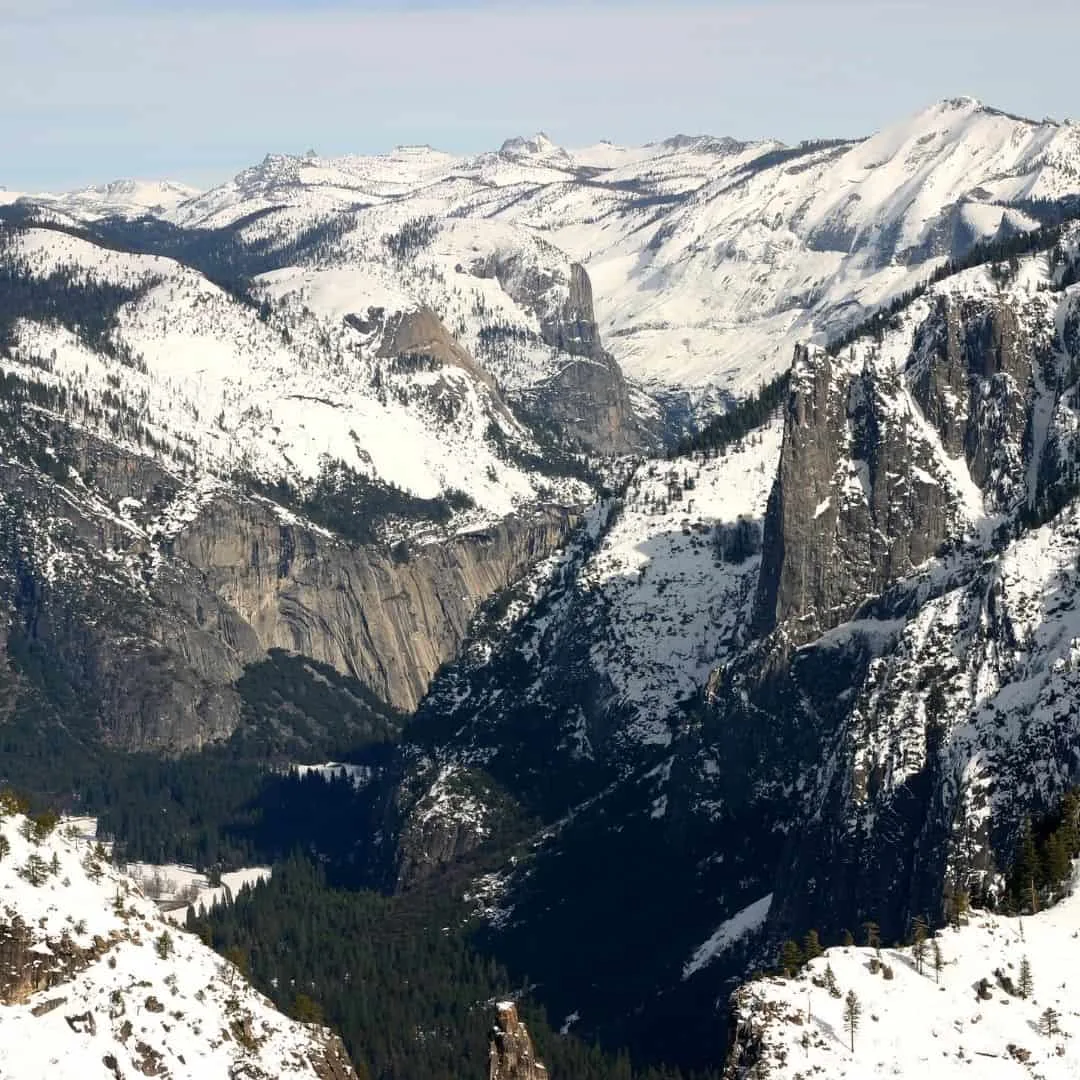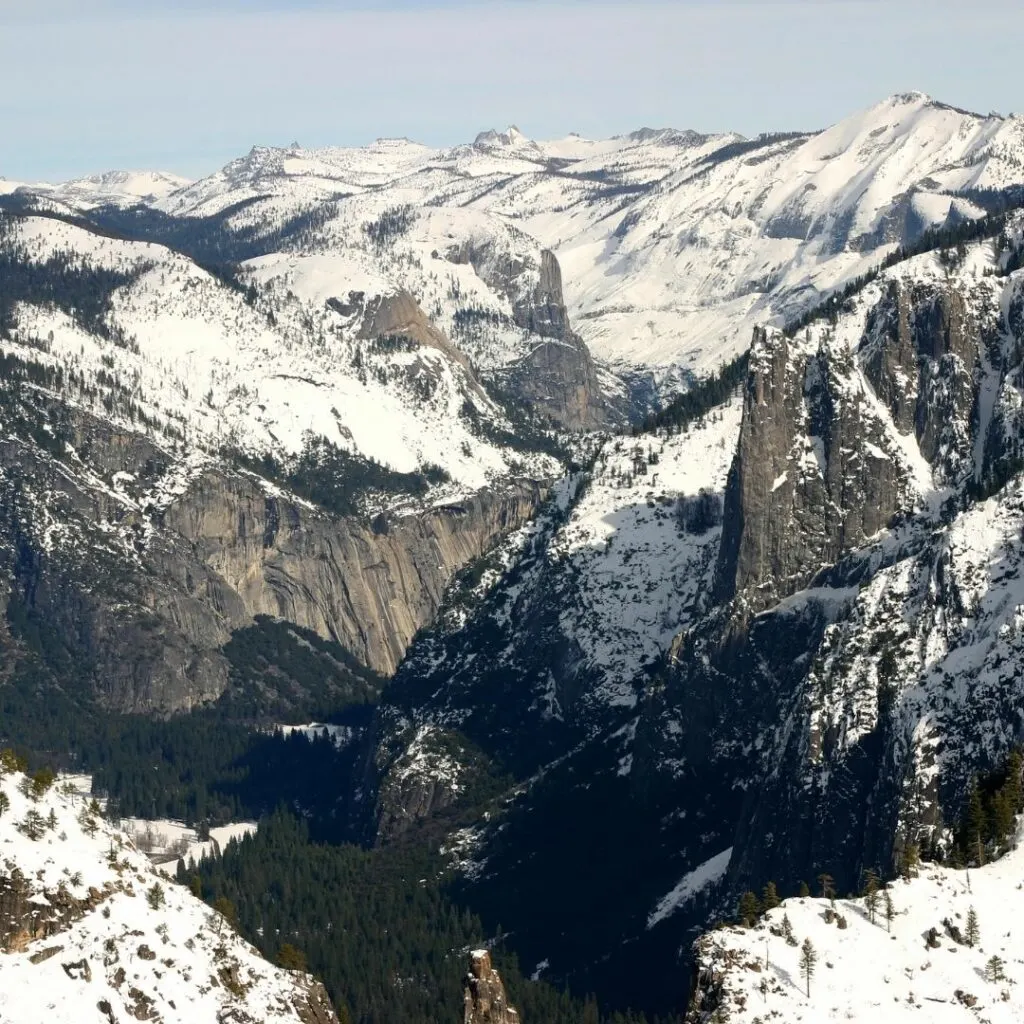 Winter Hikes Yosemite National Park: Mariposa Grove
Mariposa Grove in Yosemite National Park is home to over 500 mature sequoia trees. Some are even over 2000 years old. The grove is one of the most popular places to visit in the park, especially if visitors have kids.
Subsequently, the trail is often very busy and visitors can miss out on the peace and quiet while they are surrounded by these giant trees. Mariposa Grove is a little more difficult to get to in the winter, and this is one of the reasons it can be quiet.
The road to the trail is closed in winter but include a pair of snowshoes in your packing list and it is an easy two-mile hike.
There are several hikes to choose from but the Mariposa Grove of Giant Sequoias Trail takes you to all of the most famous trees in the grove.
Some of these include the Grizzly Giant, Fallen Monarch, California Tunnel Tree, Three Graces and the Wawona Tunnel Tree.
This trail is 10km and takes around two and a half hours to complete. There are plenty of places to sit and have a picnic so bring a packed lunch in your backpack.
If visitors want to combine tunnel view, with a Valley tour and a trip to Mariposa Grove, a Yosemite Valley and Giant Sequoias Snowshoe Tour is a fantastic option.
The first stop is the iconic Tunnel View where guests can look out on a snow-topped Yosemite Valley and snap some photos.
After that, guests put on their snowshoes and walk around Yosemite's groves of Giant Sequoias. Lunch and snowshoes are included in the price and if guests are staying outside the park, they can be picked up at their hotels too.
To book a Yosemite Valley and Giant Sequoias Tour click here.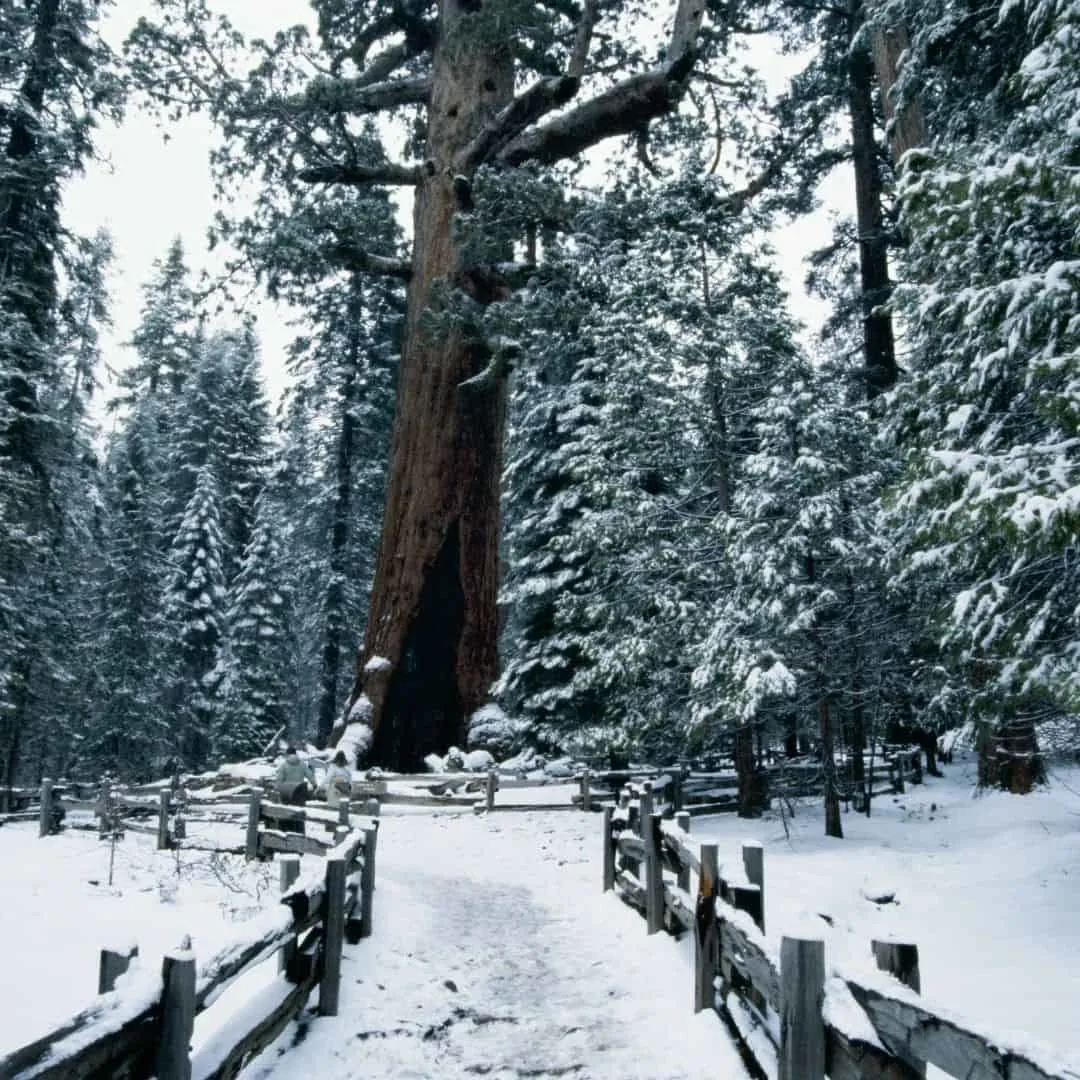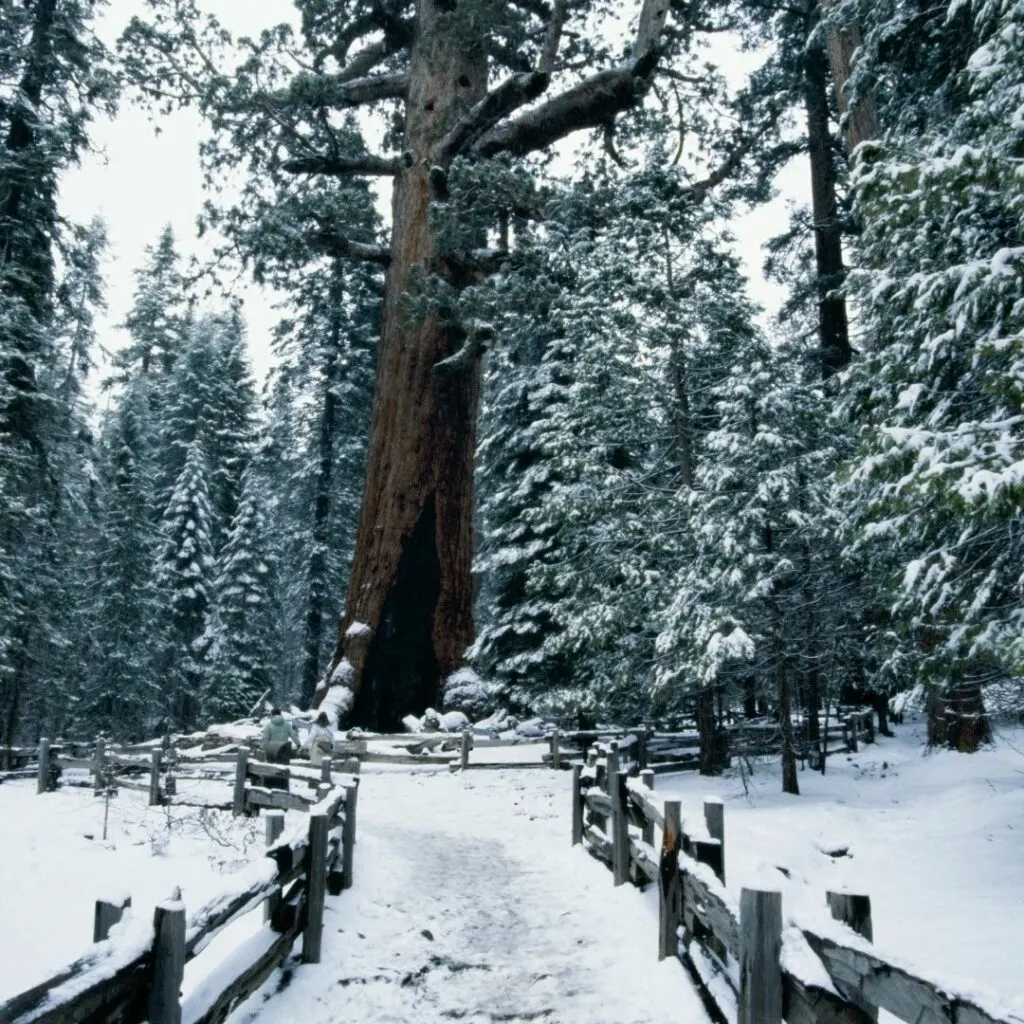 Winter Hikes in Yosemite: The Swinging Bridge Trail
The name of this trail is a little misleading. There used to be a swinging bridge here but it was replaced by a wooden one. It is a short and sweet trail at just 1.9km and it only takes around thirty minutes.
The bridge takes visitors across a slow-moving river. Many people come in summer to swim in the river or in spring to see the wildflowers all around.
Even though this is not an option, it is one of those places that is extremely quiet in winter. Bring along a snack and sit near the river and listen to the sounds of nature all around.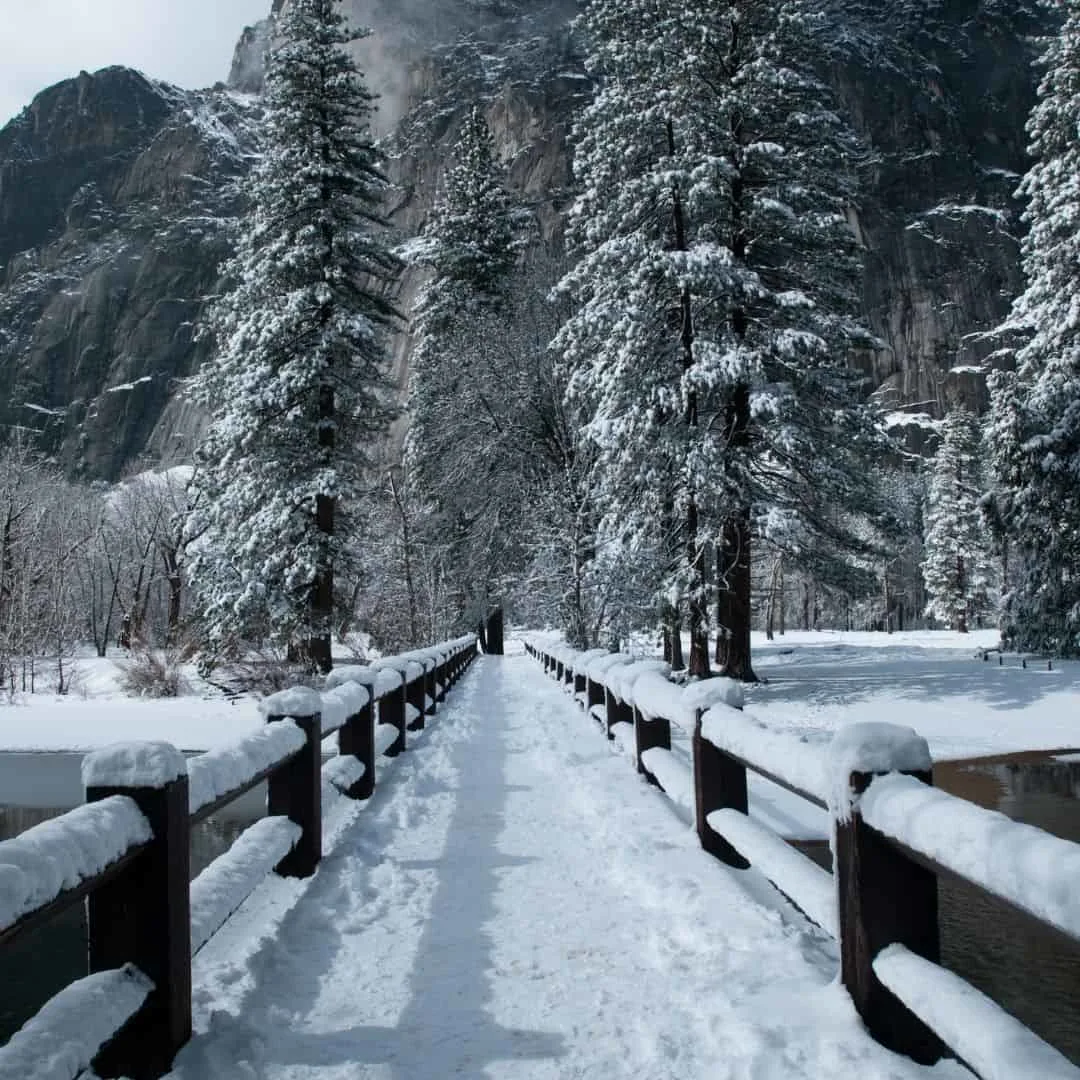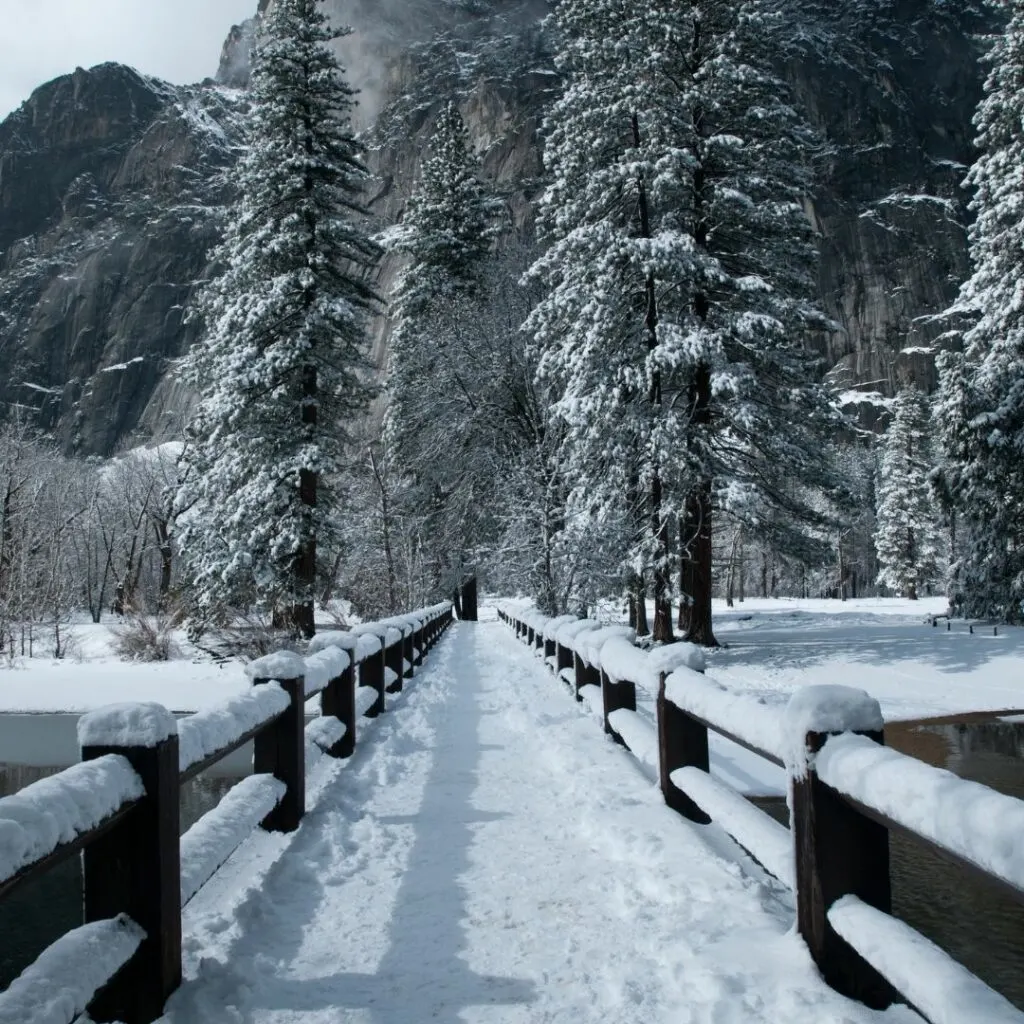 Seattle Winter Hikes: 2 day tour
Many people visit Yosemite as part of a road trip from Seattle. They can either drive to the park themselves or hop on one of the many tours from San Fransisco.
One day is possible however it is not long enough to see the beauty of Yosemite and what it has to offer. A two day Yosemite National Park Winter Tour picks guests up in San Fransico and takes them to the park in a guided coach.
After some free time in Yosemite Valley, guests can hike or snowshoe through giant sequoia groves, ice skate near the base of Half Dome and admire the snow-capped Sierra Nevada scenery.
After dinner in Curry Village, guests can stay in Yosemite Lodge by the Falls on one of the Yosemite Half Dome Village Heated Tent Cabins for the night.
The following day, guests are picked up and taken to Half Dome, El Capitan, and Yosemite where they can check out the view from Tunnel View's spectacular outlook!
Read more about 2-Day Yosemite National Park Winter Tour from San Francisco here.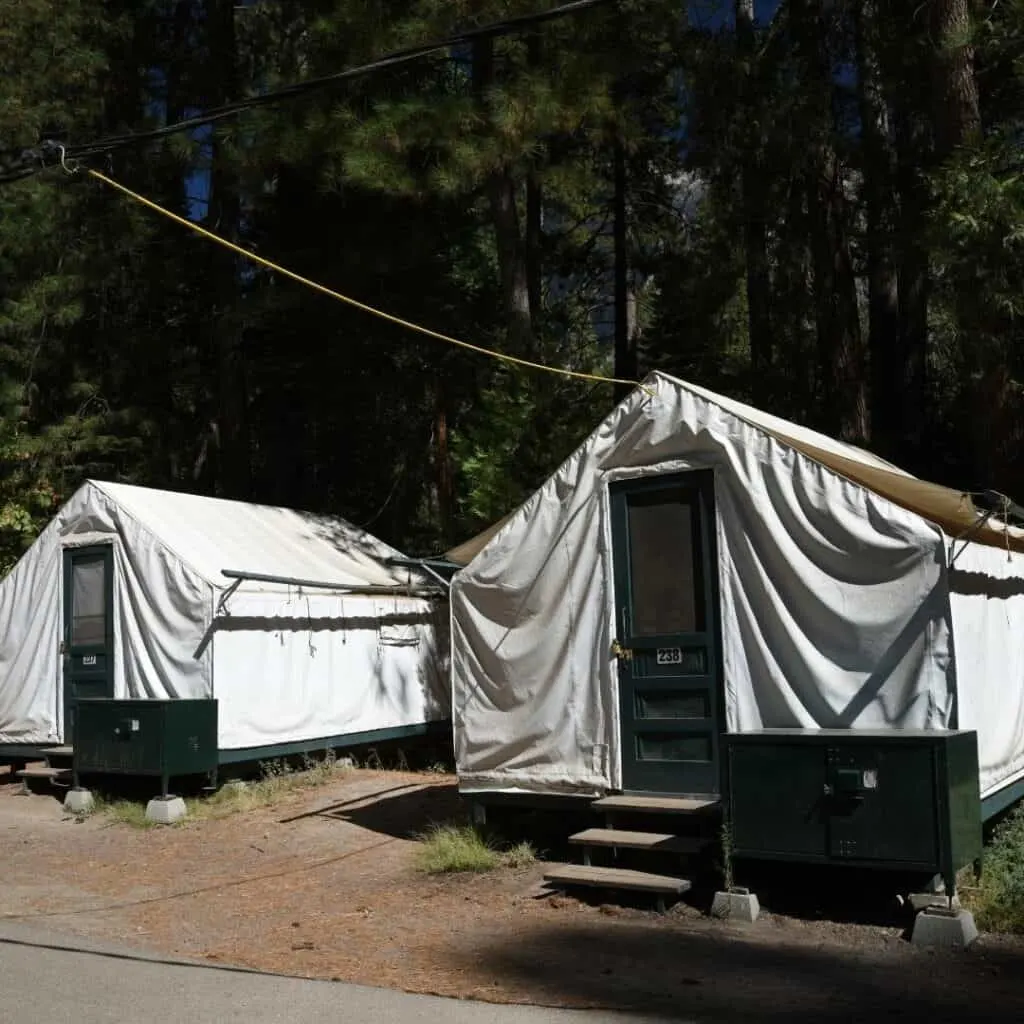 Other Winter Activities in Yosemite
Hiking is not the only winter activity to be enjoyed at Yosemite. Ice-skating is a popular choice too and Yosemite even has its own ice rink. It is situated in Curry Village with a wonderful view of Half Dome.
The ice rink opens at various times throughout the day and is open longer at the weekends. Cross-country skiing in Yosemite National Park is a unique experience in the winter. The high altitude, low humidity, and crisp air make for perfect snow conditions.
The cross-country ski trail system is over 150 miles long connecting the 20 trailheads. There are three different loops that can be used to cover different parts of the park effectively.
Even if visitors have forgotten their skis, they are available to rent at Badger Pass cross country school. Or if visitors are new to cross-country skiing, they could take a few lessons there as well.
Downhill skiing in Yosemite National Park is extremely popular, especially among beginners as the course is not too difficult and it is not crowded as there are no ski lifts. Head to Badger Pass to get started.
The last activity that appeals to many of the visitors in winter is tubing. This is also available at Badger Pass but there is a steep price. Many visitors head to Fish Camp just outside the South Entrance where it is more reasonably priced.
What better way to get into the Christmas spirit than a sleigh ride! The sleigh rides near Yosemite are pulled by horses. The sleighs go into the surrounding forest just outside the South Entrance. This activity is run by The Tenaya Lodge when there is enough snow on the ground.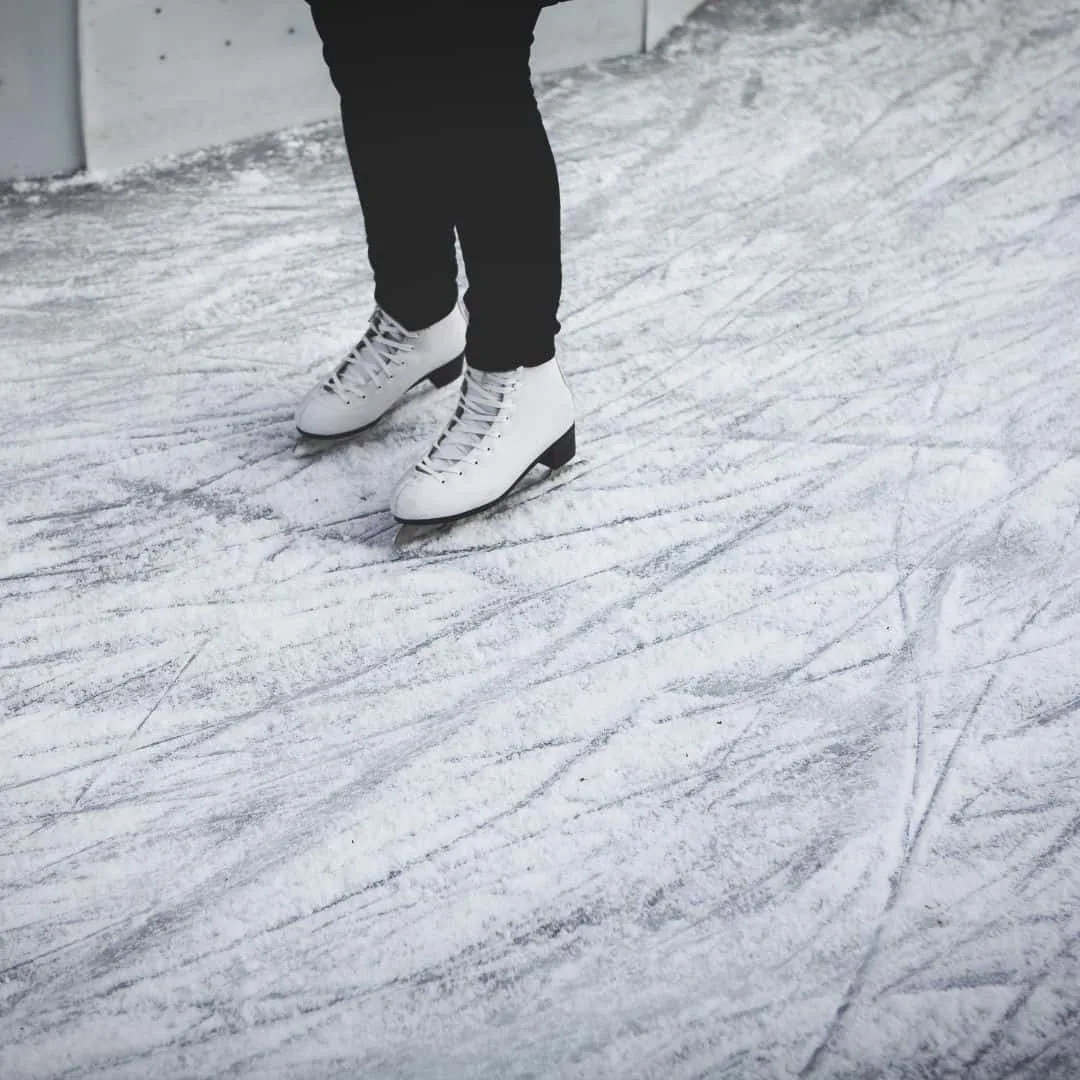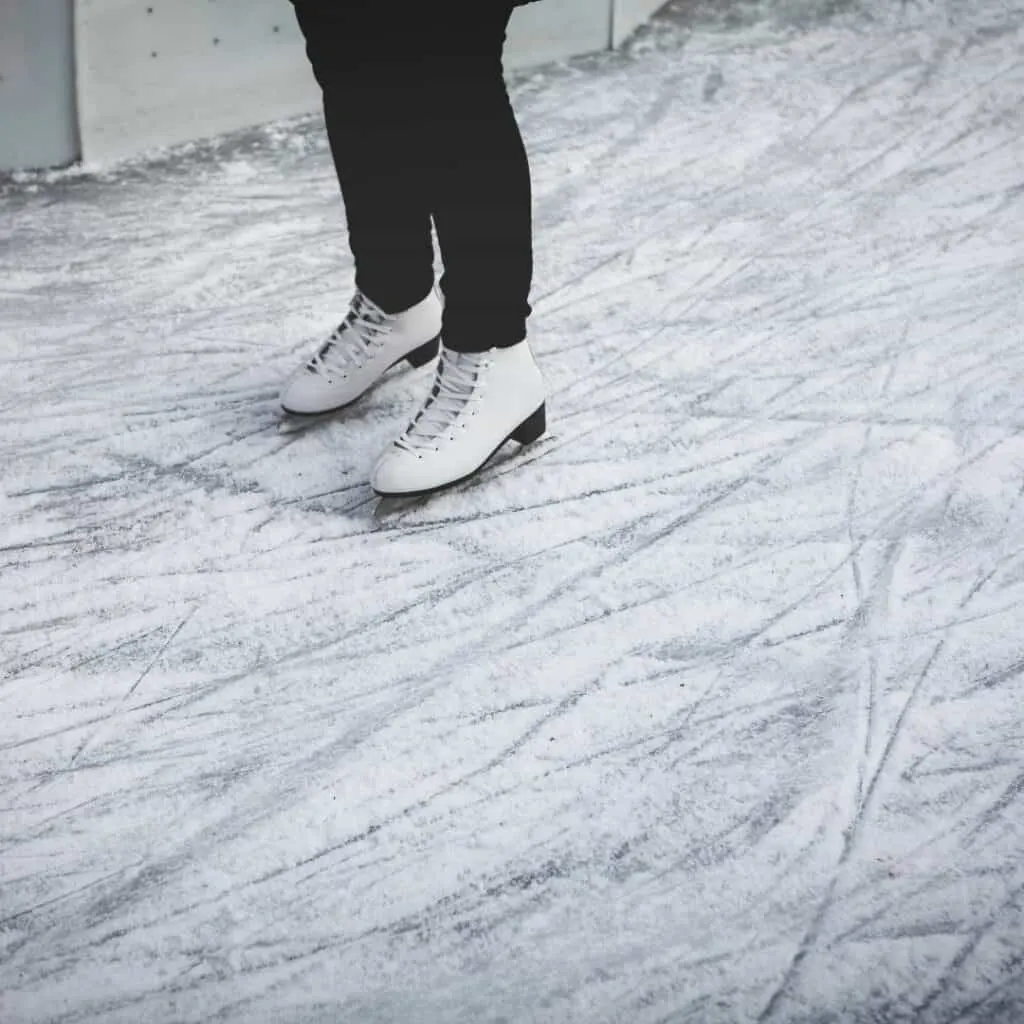 Camping in Yosemite in Winter
There are a few campgrounds that are open all year round in Yosemite. North Pines is open all year, near the Valley, and is one of the most popular.
Camping in Yosemite is very popular and due to the limited amount of space in winter, it can be difficult to reserve a place.
If visitors do manage to make a reservation, beware of how cold it is at night and bring the right items along. Make sure to bring the right sleeping bag for the season.
If it is too cold in winter for camping then the campgrounds also have space for RVs. Visitors don't even have to bring their own with them as it is easy to rent an RV for the trip.
Click here to make a reservation at one of the RV Parks in the Valley.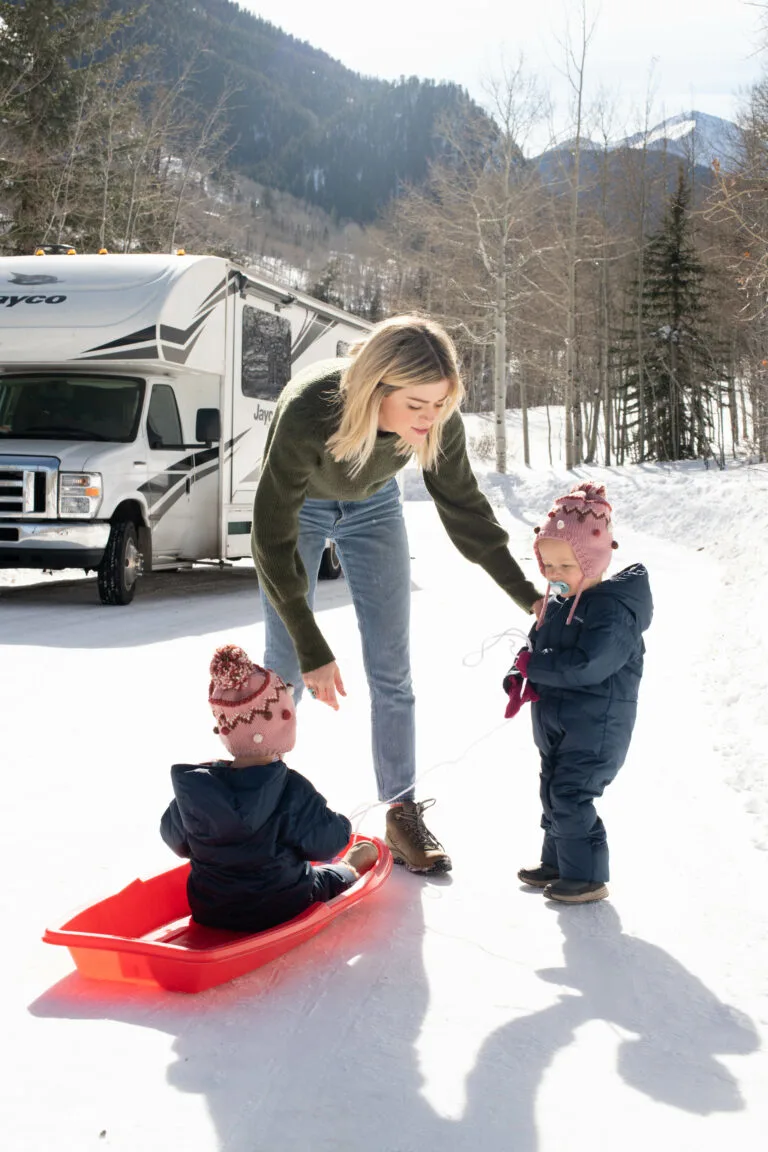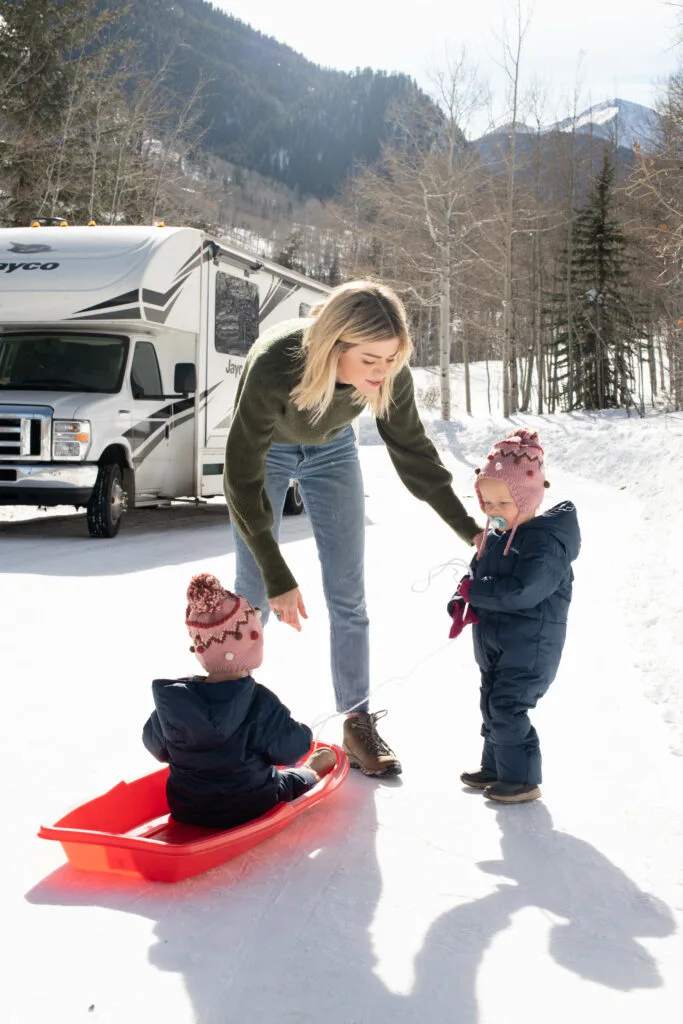 Holiday Homes at Yosemite in Winter
If the campsites or RV parks are full, check out the holiday homes in Yosemite National Park. They are spread out and are located on the west side of the park.
They come in all shapes and sizes are there is something to suit everyone and every budget. If visitors are looking for luxury look for one with a hot tub.
For a more rustic feel, be on the lookout for homes with log fires. Or for those on a tight budget, simple studios are available. They all come fully equipped with utensils and they are fully furnished.
To book a holiday home at Yosemite National Park click here.
Hotels in Yosemite in Winter
Yosemite Valley Lodge is probably the most popular hotel to stay at. Mainly because it is just 750 yards from Yosemite Valley so it is close to many of the main attractions and hiking trails.
Staying here means that visitors have more time to explore the park as their accommodation is right in the centre.
The hotel also has many amenities as well including a restaurant on-site and the rooms all come with a mountain view. The rooms are large so perfect for families.
However, due to the hotel being so popular, reservations need to be made in advance.
To make a reservation for Yosemite Valley Lodge click here.
Hotels Near Yosemite in Winter
Visitors who don't want to stray too far from Yosemite National Park can explore the many towns nearby. El Portal is the closest one and just a ten minute drive from the parks entrance. The hotel here can also get very busy.
Yosemite View Lodge is right along the Merced River and it can still feel like visitors are in Yosemite.
It has a little bit of luxury tucked away right outside the park. In fact, the hotel has four pools and a hot tub to relieve those tired muscles after hiking. As well as fantastic views, many units also come with their own kitchenette.
Make a reservation here for Yosemite View Lodge.
Packing for Winter Hikes in Yosemite
A winter packing list is going to look a little different from fall or April list. This is mainly due to the weather conditions. However, every winter is not the same.
Before heading off, always check what the weather is like and bring some items in case it changes at the last minute.
Check the weather reports or it's also possible to look at Yosemite through webcams around the park!
Below is a list of some items many visitors take on a hiking trip in winter to Yosemite.
As mentioned above, the roads in the park and in the surrounding area, may be icy. Before leaving, fit your vehicle with tire chains or bring them along to be fitted later. Visitors should know how to use tire chains before they attach them.
Don't forget a warm hat, gloves and a warm jacket. However, it is also best to include layers like vests, long and short sleeved t-shirts. Dress in layers, so it is easy to remove and add clothing when necessary.
If skiing is part of an itinerary, make sure to pack the right ski gear. It is easy to rent anything at Badger Pass, but it is not cheap.
It is mentioned above but snowshoes can make hiking in places a lot easier. They grip the ground better and make it easier to walk.
Before setting off, it is better to make a plan. A paper map is a great tool as the service is not great in Yosemite. Alternatively, dowload trails from ALLTrails. It costs next to nothing and visitors have maps on their phones.
Winter hikes in Yosemite offer their own set of challenges. It is not everyone's cup of tea, but they are worth every step.
Winter offers a different experience when hiking in Yosemite National Park. The trails are less crowded and many are covered with a fresh thin layer of snow. Some say make for a more pleasant hike!
The scenery in the winter is also completely different due to the lack of flowers and greenery, but it's no less breathtaking.
While it might take a little extra planning, winter hikes in Yosemite are magical and should be included on everyone's bucket list.
You May Also Like:
How to Plan a Trip to Yosemite | April in Yosemite | The Best Hikes in Yosemite National Park | One Day in Yosemite | The Ultimate Yosemite Packing List | Yosemite in Fall | RV Parks Near Yosemite | Rafting in Yosemite | 10 Kid Friendly Hikes in Yosemite | Winter Hikes in Yosemite | The Magic of Yosemite in December | Best Photo Spots in Yosemite | Why Yosemite Weather in May Makes it the Best Time to Visit | 10 Reasons to Visit Yosemite in January | The Perfect Guide to Visiting Yosemite in March | 10 Amazing Things to do in Yosemite in February | 10 + Things to Do in Yosemite in June | Pumpkin Farms in Maryland
Best pumpkin farms in Oregon | Flying With A Toddler | Best Pumpkin Farms in Florida
Will you be needing travel insurance, flights, rental cars, or hotels for your trip?
Disclaimer: This post may contain affiliate links. By using them it will not cost you any extra, we will receive a small percentage of the sale.