There are plenty of RV Parks Near Yosemite to choose from, ranging from very basic to luxurious setups.
While it is unlikely you will have trouble finding a park, the real issue is choosing what suits you best.
RV parks are extremely popular in Yosemite. One of the reasons is visitors have the ability to travel around the park to some amazing photo spots and have all of their facilities in tow!
Yosemite is 750,000 acres so there is a lot of ground to cover. RV Parks near Yosemite are a great way to enjoy all this great park has to offer! There is also the convenience of not having to set anything up. In fact, all guests have to do is drive onto their pitch.
The park is an excellent destination for RVs as visitors can enjoy the beauty of camping with a few more creature comforts and they are more kid-friendly.
RV's have increased in popularity recently, mainly due to the pandemic. RV parks near Yosemite allow visitors their own space and privacy while travelling and explore the surroundings and there is no better way to explore Yosemite than on foot.

If they choose to add one of the best hikes in the park to their 2 day or 3 day itinerary then the RV can be driven to the trailhead. This is perfect for those trails that start a little further from Yosemite Valley.
They are popular with families who are visiting Yosemite with kids, couples, those who want to go rafting and other road trippers.
The great thing is visitors can travel any time of the year in an RV to Yosemite. There is no need to worry about how cold it is or having to sleep on the ground.
While the park is busiest from April to fall, there are still some RV parks open all year round even in winter months, December, January, February, March. This guide helps plan a trip to Yosemite in an RV and includes where to stay, whether it is for one day or more and what to pack.
This post covers all the angles of the trip ensuring a stress-free trip to Yosemite in an RV.
RV Park Yosemite
Many visitors may feel overwhelmed by the sheer size of Yosemite, hence some take a tour from San Francisco. However, going it alone can be an adventure and there is no better way than in an RV.
There are still many things to consider when choosing RV parks near Yosemite. The first thing is whether or not the park offers amenities to ensure a comfortable stay.
This includes water and electric hookups, showers, restrooms, laundry facilities, and internet access. The more amenities available, the better the experience will be.
Next, check how crowded the RV park is likely to be. If there are too many people at one site it can lead to a lot of noise and other disturbances which will negatively impact the guest's stay.
RV parks are likely to be less crowded in December and the other winter months.
Finally, consider the location, especially for a place like Yosemite. It would be ideal to find an RV park in Yosemite but unfortunately, that is not always possible.
An RV park near Yosemite would be the next choice and if a more comfortable stay is important, just outside the park is a better option.
In today's world, there is also no need to own an RV. Many people rent one for trips and there is no special licence required. In fact, anyone with a driving licence over the age of 25 can drive an RV.
Yosemite RV Resort
There are three areas that have RV parks near Yosemite. They are in the Valley, the north and south of the park.
Within those areas, there are a few parks to choose from. Unfortunately due to the pandemic, a few are closed.
The Valley is the most popular place to stay. Not only is it where most of the best hikes in Yosemite start, it is also where many of the famous landmarks are situated.
El Capitan, Half Dome and Yosemite Falls are just a few of the places close to the Valley popular with visitors. There visitors can find the best spot spots in Yosemite.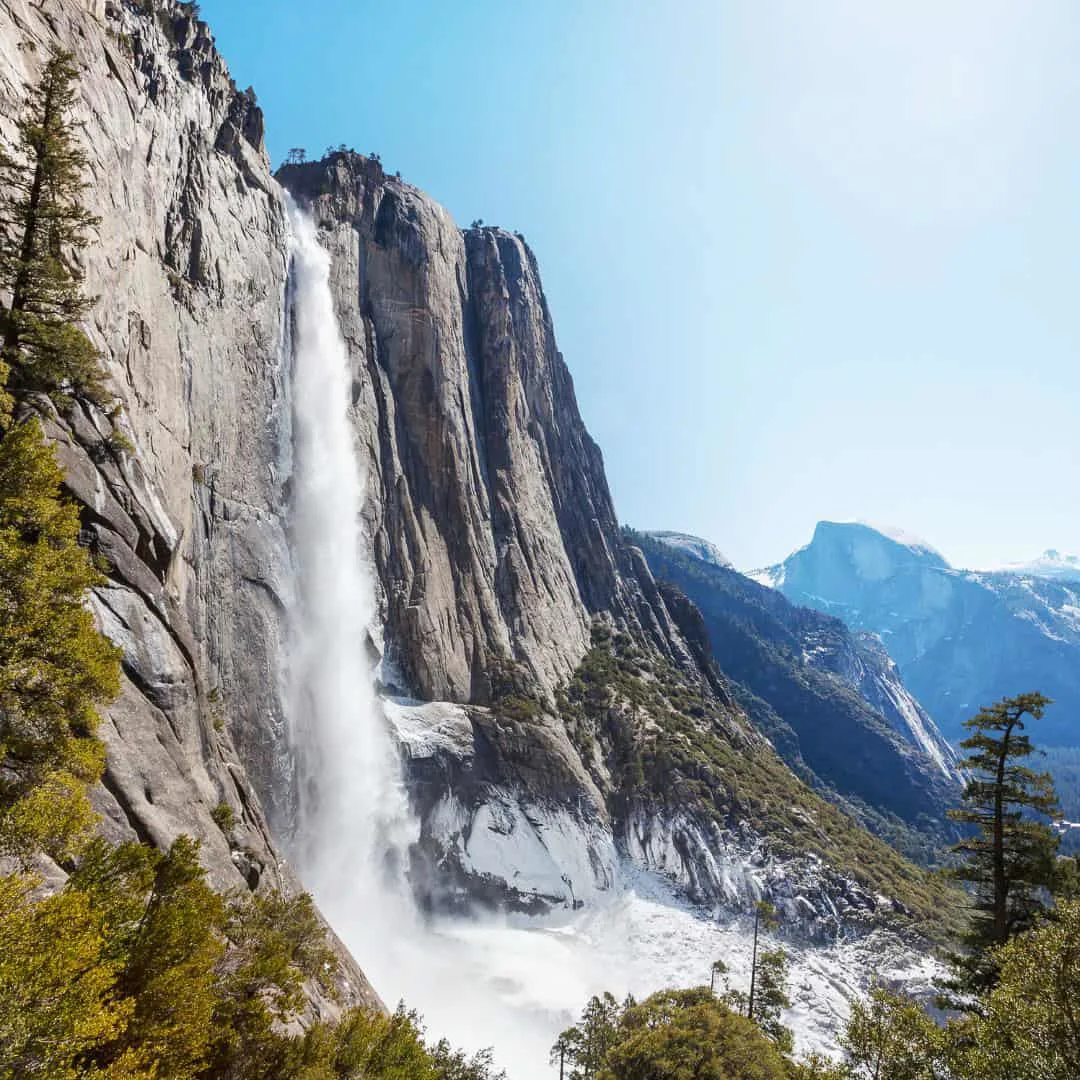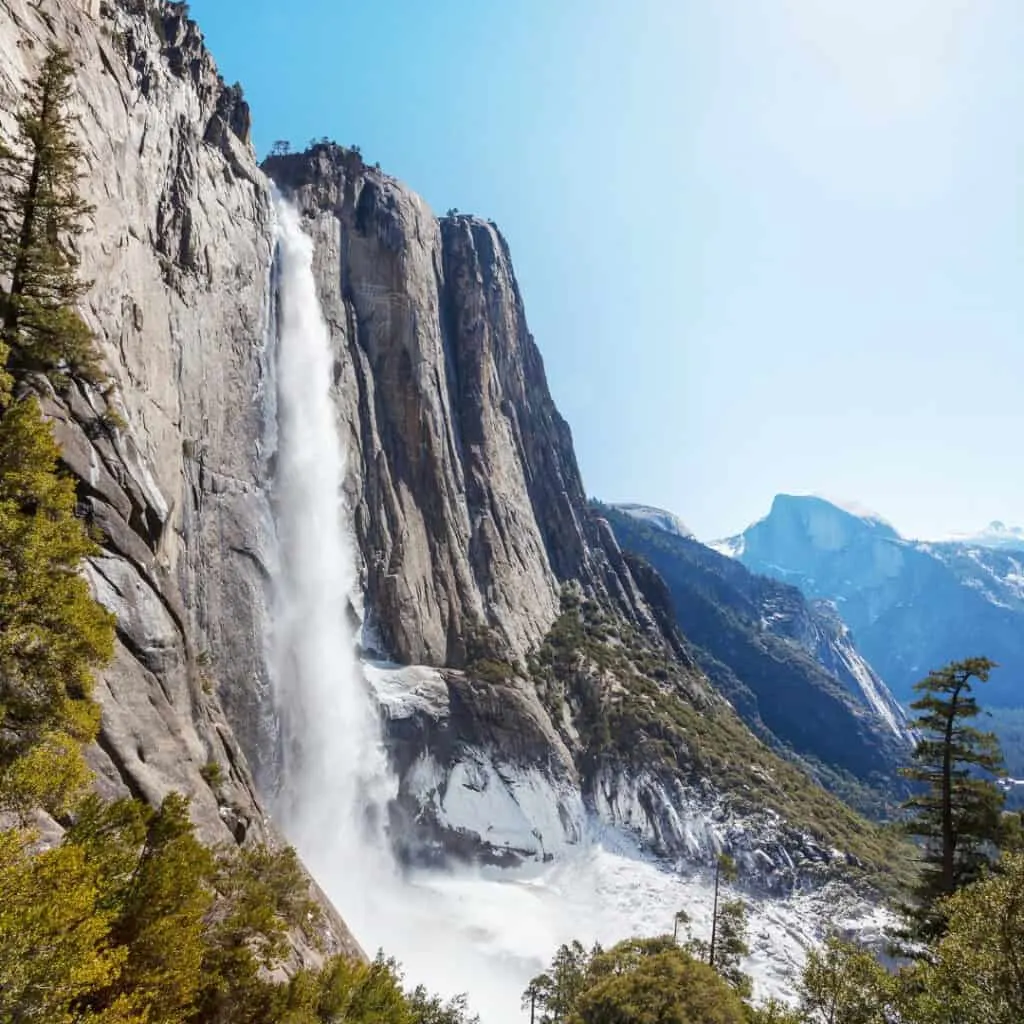 There is also the added bonus of being close to many of the amenities including restaurants and grocery shops. Although don't expect a lot of choices when it comes to groceries.
In the Valley, there are three RV parks near Yosemite with room for RVs. Lower Pines and Upper Pines are open from June until mid fall. If visiting any other time of year, then North Pines is open all year.
All of the campsites have access to a fire ring, picnic table, and are near a bathroom with drinking water and flushing toilets.
Campfires are allowed all year round between the hours of five and ten in the evening. However, from October to April in Yosemite, they are allowed at any time.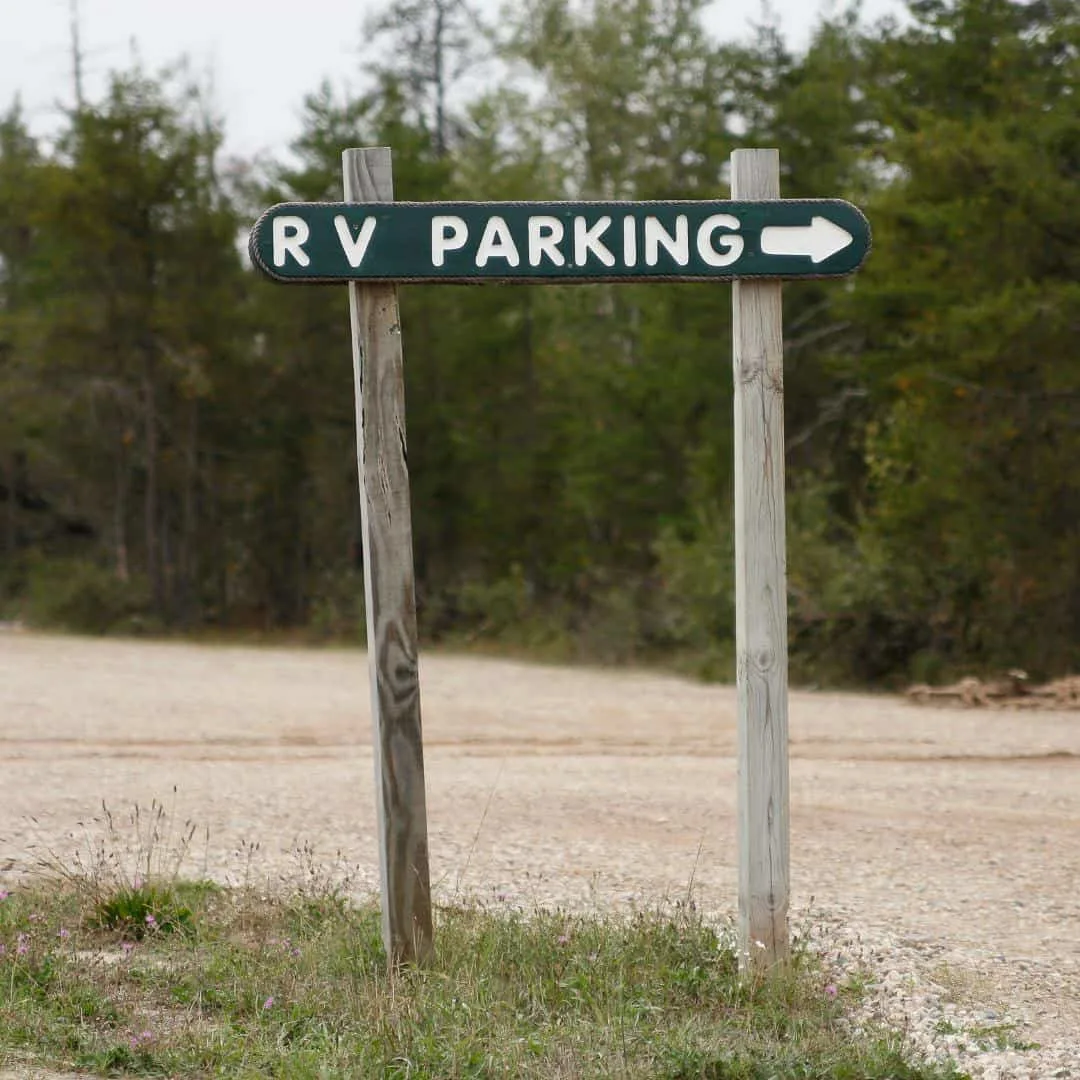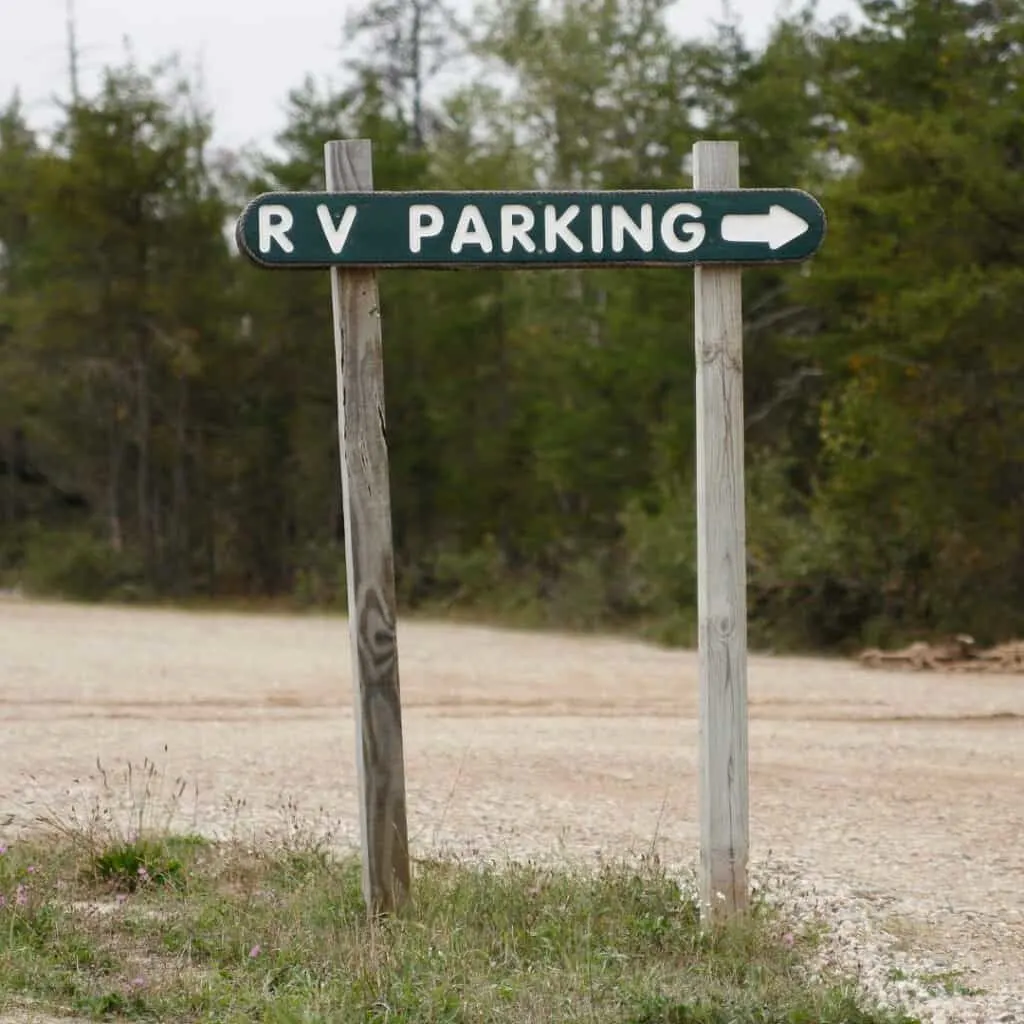 Food lockers are supplied at all campgrounds and visitors must use them to store their food and toiletries when they are not in as Bears inhabit the area.
Unfortunately, there are no electric hook-ups however there is a dump station near Upper Pines. For shower facilities, head to Half Dome Village which is located nearby.
Booking is essential and reservations can be made up to five months in advance. Dates are released on the 15th of the month and book up quickly.
There can be cancellations and are filled up on a first come first serve basis. It might not be possible to book a week however if it is only for one day in Yosemite there is more of a chance to grab a place.
Click here to make a reservation at one of the RV Parks in the Valley.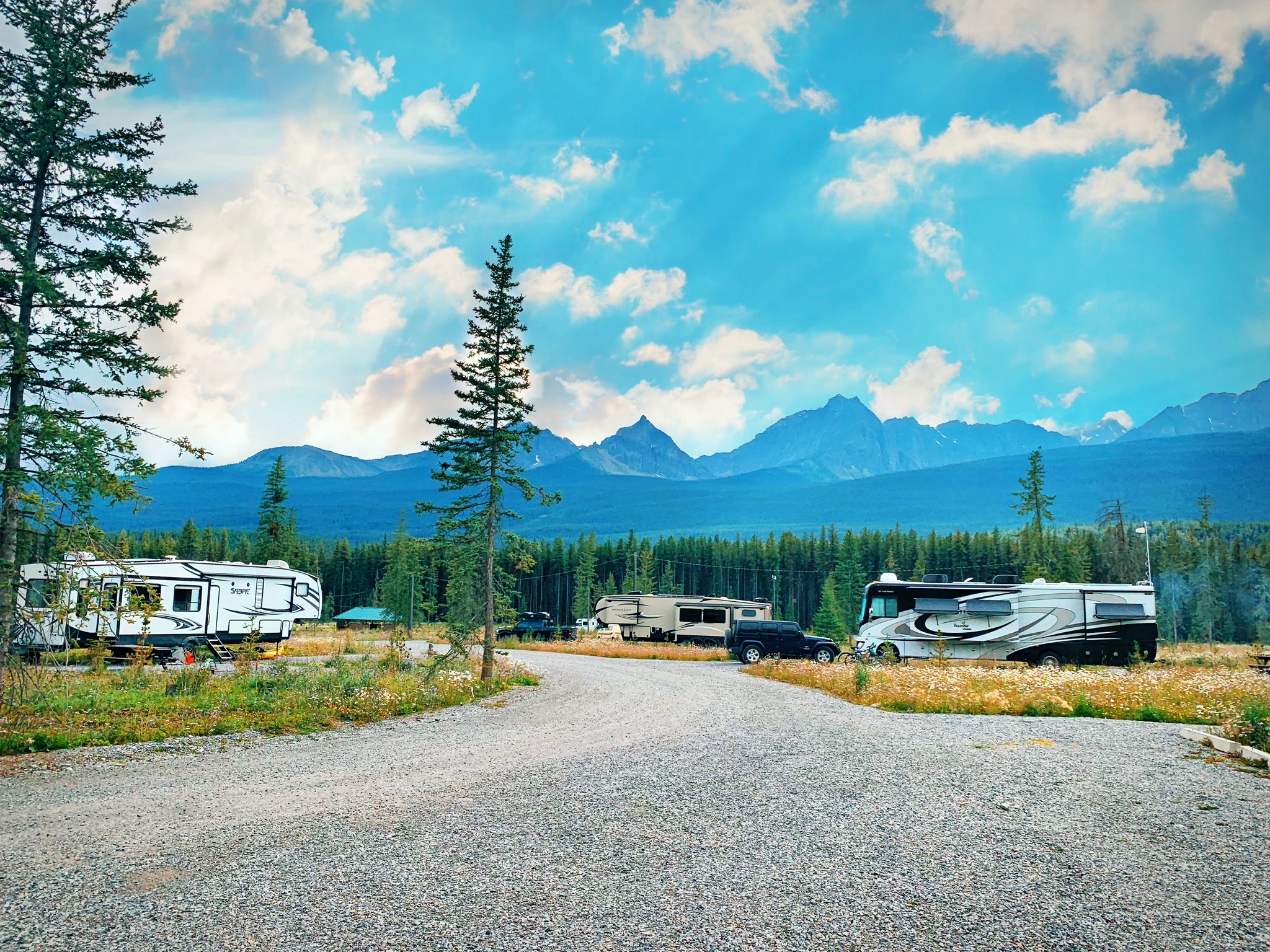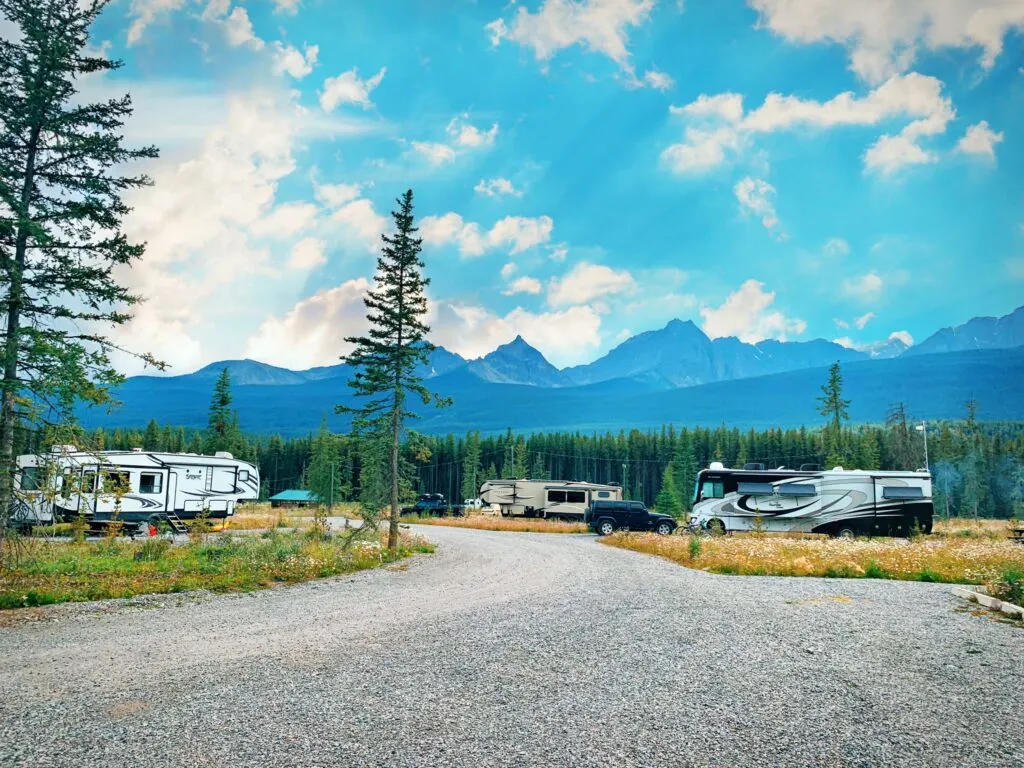 Yosemite RV Parks
South of the Valley are two other RV parks; Wawona and Bridalveil Creek. The latter is open during the busy season however Wawona is open all year round.
As visitors stray further from the Valley, many of the facilities on offer diminish. At Wawona, only trailers and RVs are allowed.
Visitors must have their own contained waste management system to stay. Drinking water and restrooms are unfortunately not available at this RV Park.
The RV park is 27 miles from Yosemite Valley and is approximately 45 minutes. However, it is very close to Mariposa Grove, which is home to Giant Sequoias, some of the world's oldest and tallest trees.
Bridalveil Creek is again 45 minutes south of Yosemite Valley, close to Glacier Point. This park is perfect for visitors arriving on a whim. No reservations are required as they operate on a first come first serve basis.
This site similar to Yosemite Valley has a fire ring and picnic tables. There are also toilets and drinking water nearby.
Unfortunately, there are no hookups and the nearest dump stations are on Forest Drive in the summer. Alternatively, visitors can use the one in the Valley which is open all year.
For more information on RV Parks South of Yosemite Valley click here.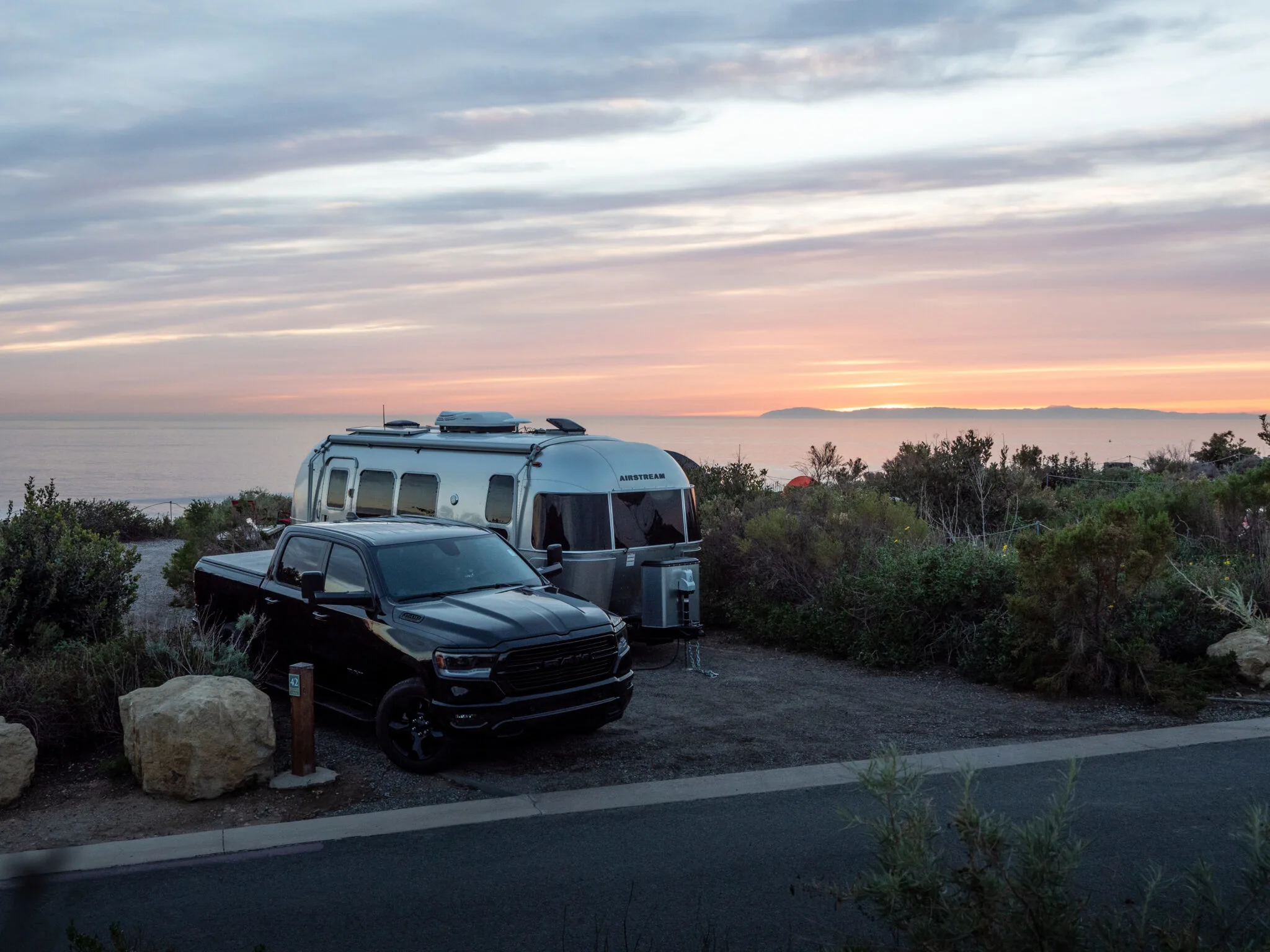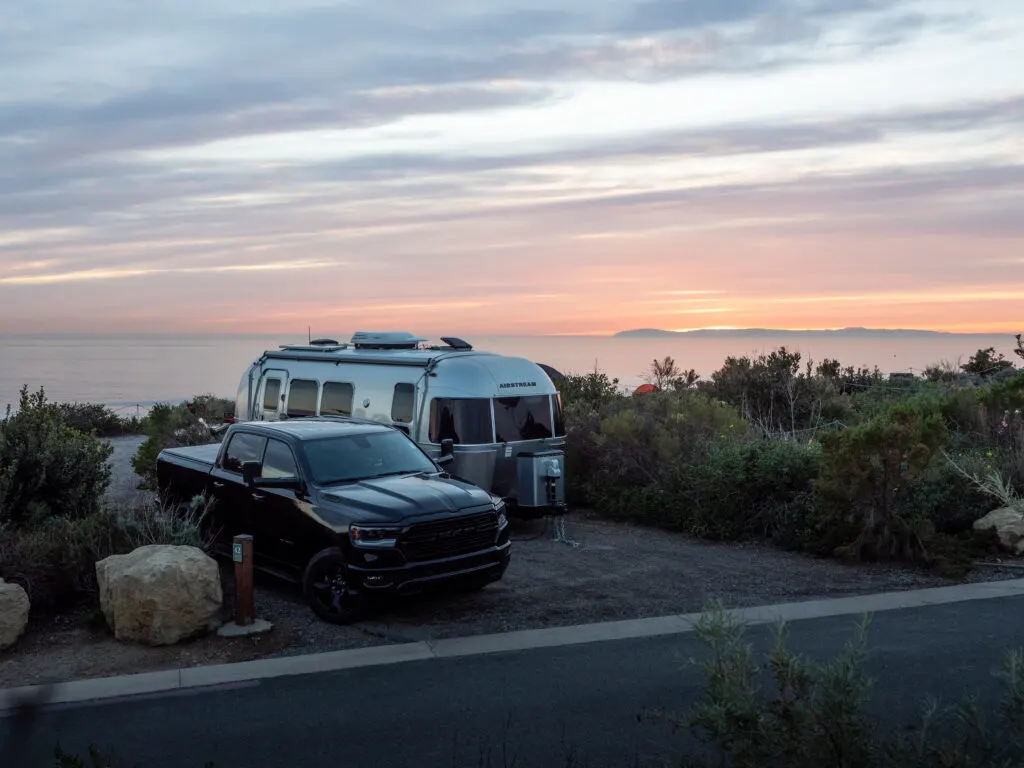 RV Campgrounds Yosemite North
There are four RV parks near Yosemite in the north of Yosemite Valley. They are Hodgdon Meadow, which is open all year, Crane Flat, White Wolf and Tuolumne Meadows which are open during peak season.
Tuolumne Meadows opened in June and stays open until November. It is the largest campground in Yosemite, just off Tioga Road.
It is open for both reservations and walkins. Tuolumne campground is ninety minutes from Yosemite Valley, however, it has a store, post office and grill nearby.
Visitors can find flushable toilets, potable water, a fire ring, and picnic tables. Like all of the campgrounds in Yosemite, there are no hook-ups available.
There is a dump station on Tioga Road so no need to plan a trip to Yosemite Valley.
To find out more about RV Campgrounds North of Yosemite Valley click here.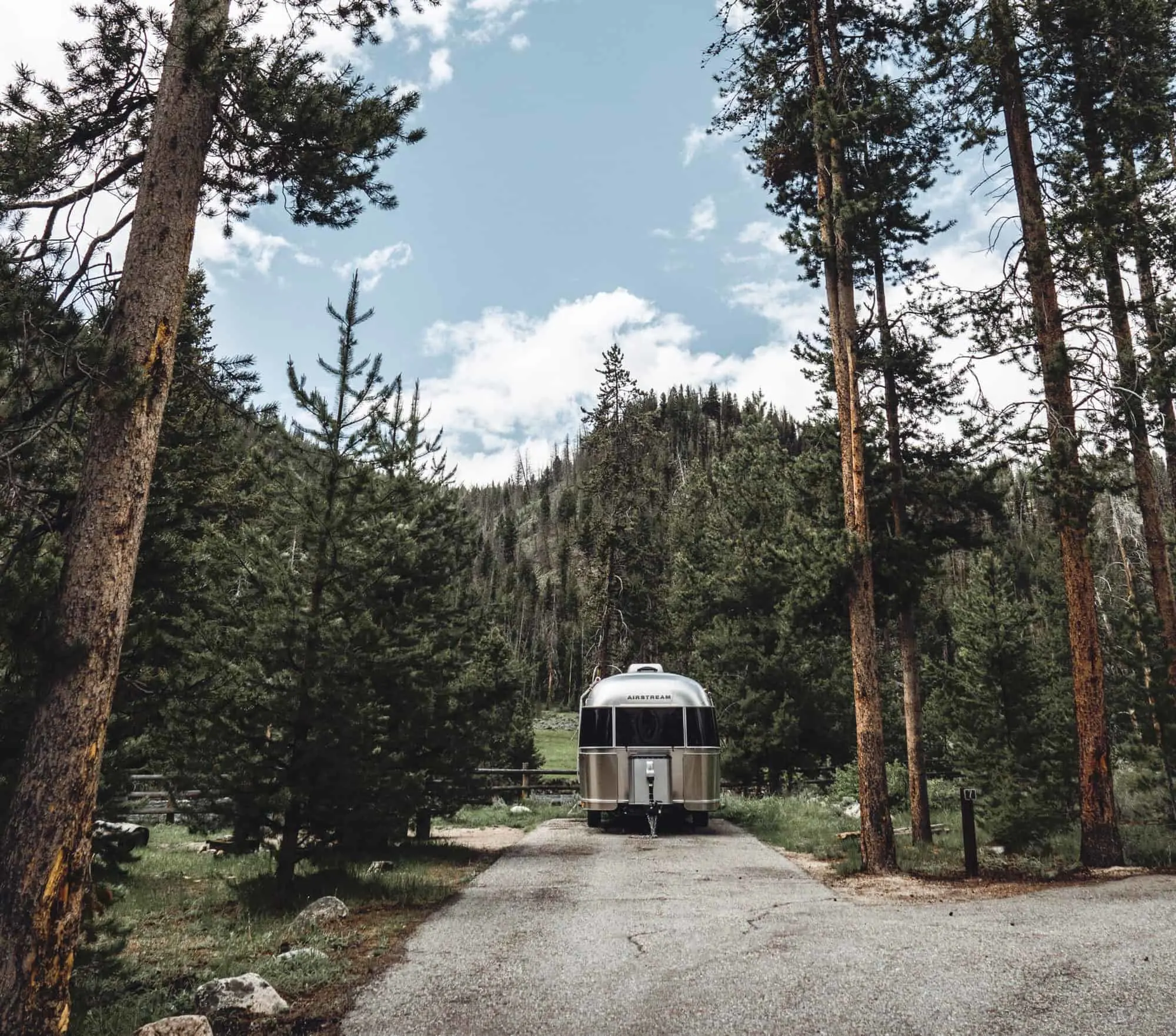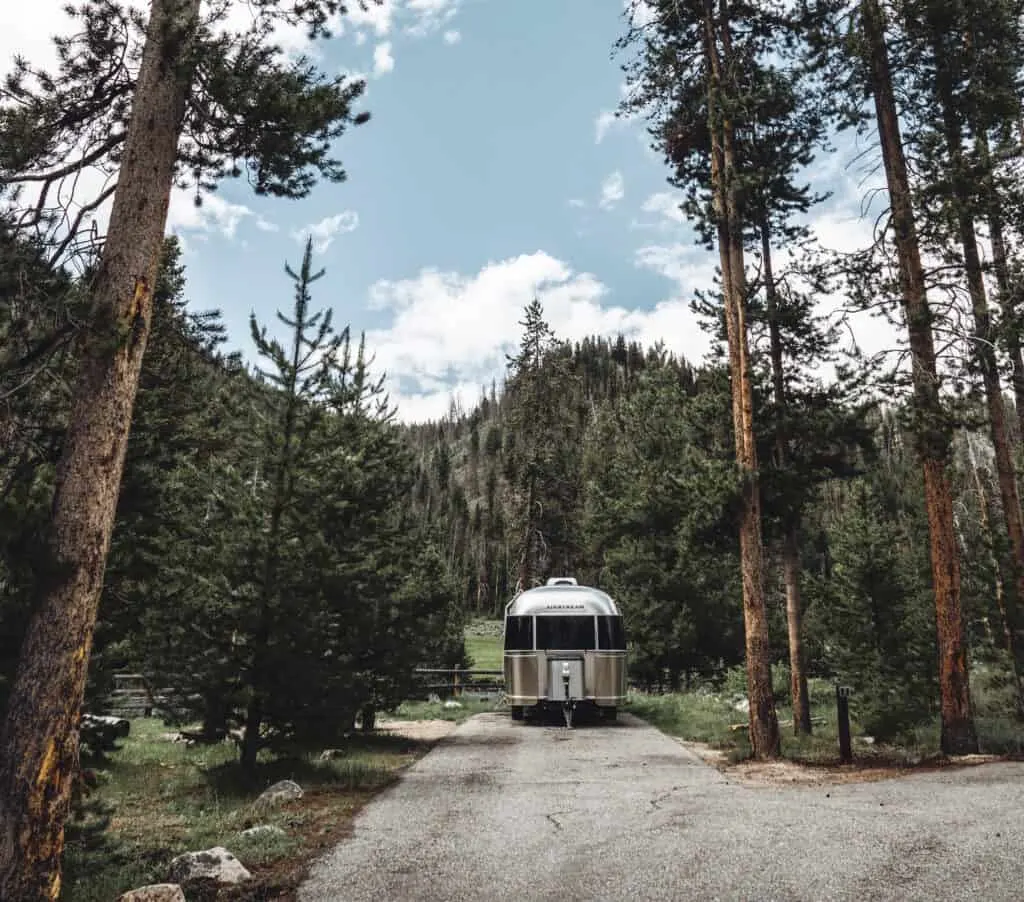 RV Park Near Yosemite
Reservations for the RV parks and campgrounds in Yosemite are usually booked out in minutes if not seconds. The dates are released five months before on the 15th of the month at 7:00 a.m. (PST).
To nab a spot, it is best to log in a few minutes before and make an account.
Even then it is likely to be sold out! However, if visitors are planning on staying for one day in Yosemite they might lucky. If not, there are few places outside of Yosemite where you can park an RV.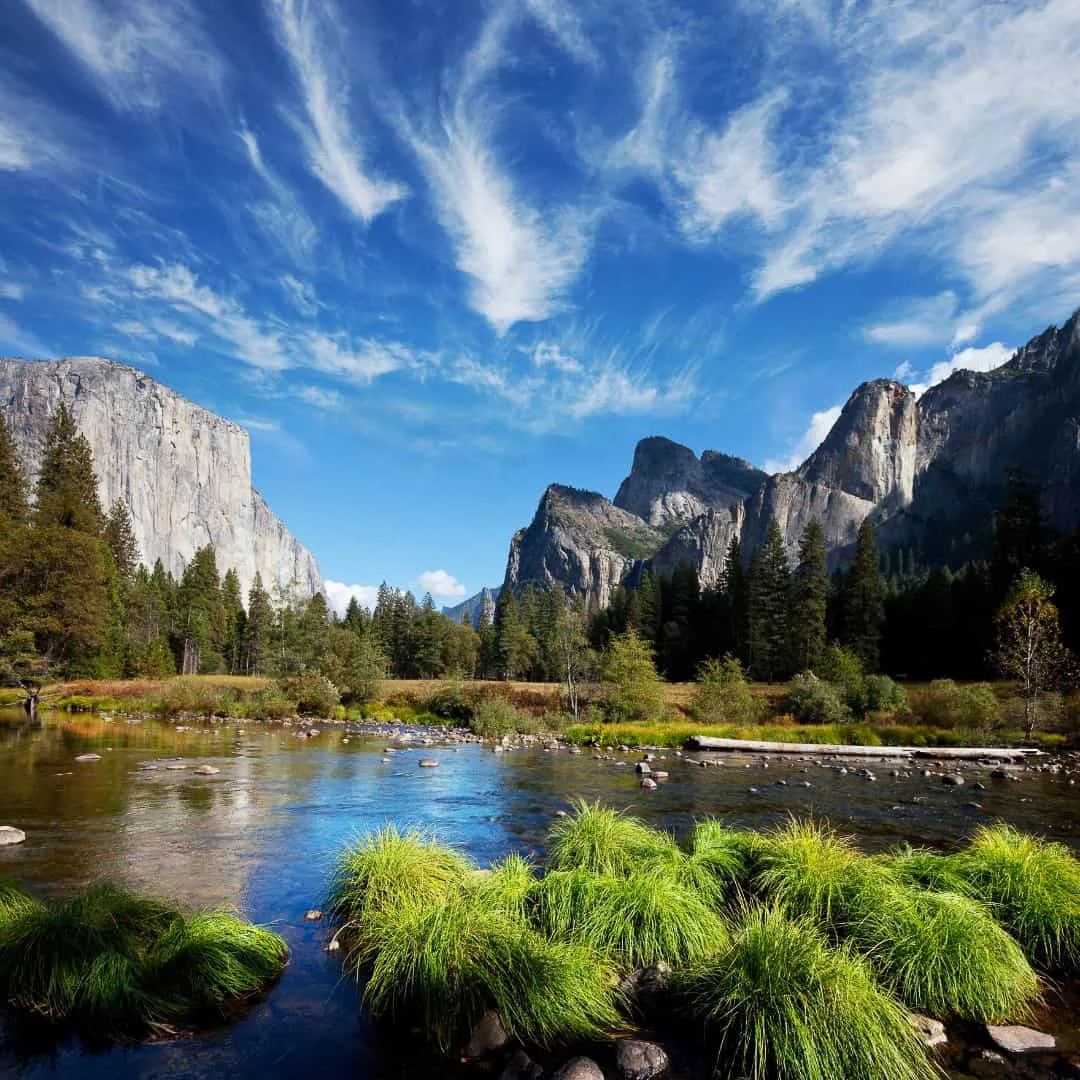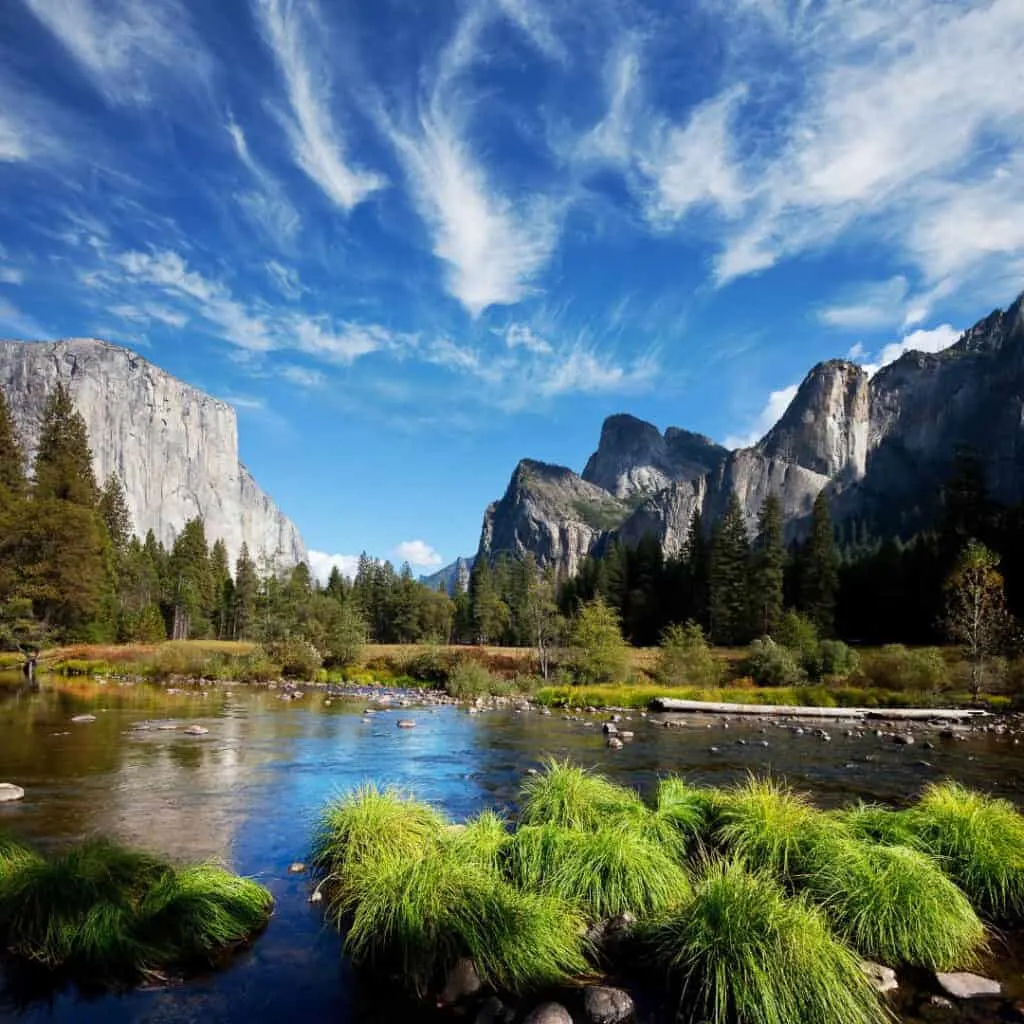 Yosemite RV Resort is in Coarsegold and it is just a 40-minute drive to the park. The facilities have everything to ensure a comfortable stay.
The kid-friendly campground is surrounded by more than 35 acres of Oak trees and Manzanita trees. There is a large pool, horseshoe pits, and a playground for the kids. In fact, there are many things to add to an itinerary.
It might sound like a resort, however with beautiful scenery all around, it feels like wilderness with a little more comfort.
The facilities are great too. There is a microwave, fridge, free Wi-Fi and luxury fire-pits. For RVs, there are electric hookups, a dump station, restrooms and shower facilities.
It adds a little bit of luxury to your RV trip.
Find out more about Yosemite RV Resort here.
RV Camping Near Yosemite
Just miles from the west entrance is Yosemite Lakes RV Camping. This 400-acre preserve offers plenty of activities for people of all ages.
Some of the activities to add to an itinerary are mini-golf, shuffleboard, volleyball, basketball and much more!
In summer there is a shuttle service to Yosemite, which gives guests the opportunity to leave the RV behind. Yosemite's roads can be intimidating so this is a bonus for many new RV drivers.
As the resort is big, it is easy to switch off and enjoy feeling at one with nature.
On hot summer days, guests can cool off in the South Fork of the Tuolumne River that runs through the preserve where many people go to raft.
There are full hookups available. Showers and restrooms are also on-site for guests to use.
Check out Yosemite Lakes RV Camping here.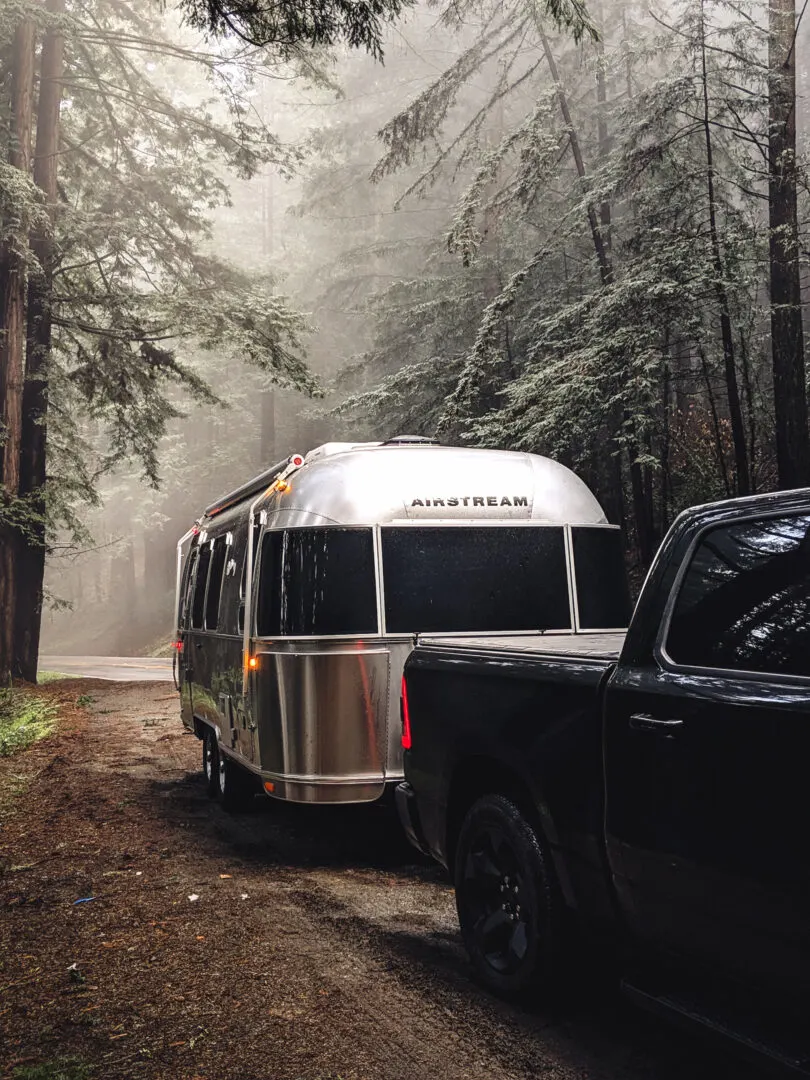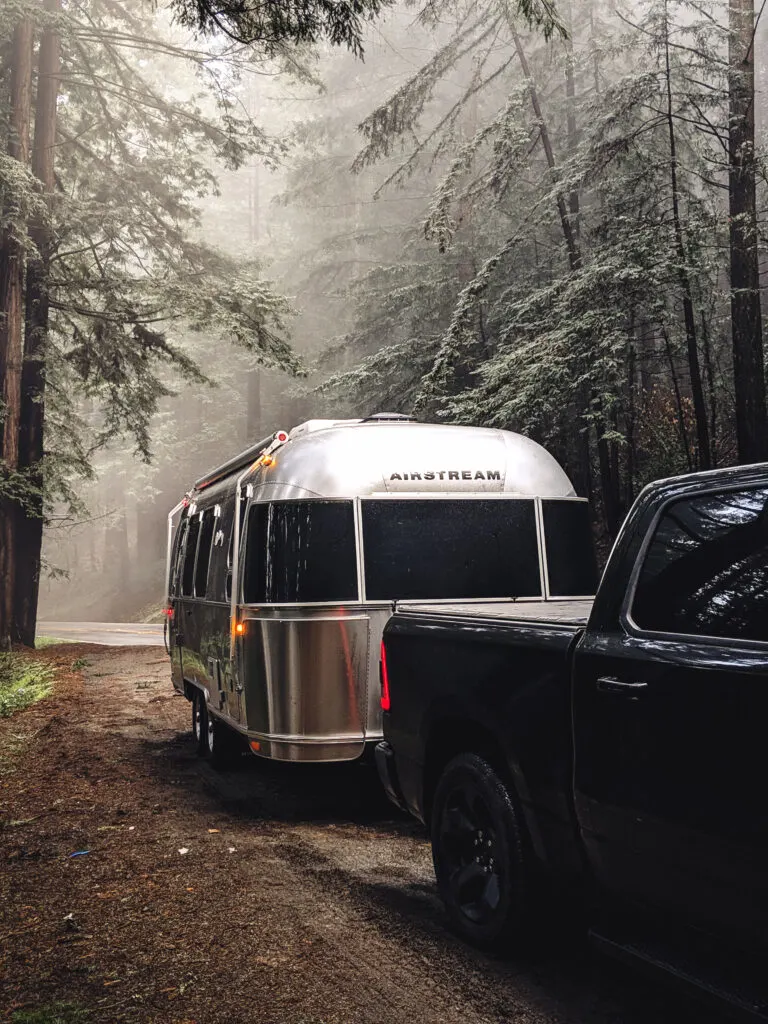 RV Parks Near Yosemite National Park
High Sierra RV Park & Campground is considered one of the best RV parks in Yosemite area. With a mountain setting and close to the Yosemite entrance it is easy to see why.
The campground sits directly on the banks of the seasonal Fresno River in Oakhurst. Not only does it have its own swimming hole, it also has two waterfalls. In fact, it is like being in Yosemite National Park already!
There are full hookups, free Wi-Fi and even cable TV for guests to use. The local convenience stores make it easy to pick up anything that has been left behind.
To see more information about High Sierra RV Park & Campground click here.
RV Campgrounds Near Yosemite
Another firm favourite is Bass Lake. It is situated on the foothills of the western slope of California's High Sierra. The campground is open in spring, summer and fall.
While it is popular with visitors to Yosemite, many locals come to spend time on the lake. Guests can water ski, fish or rent a boat. However, this is not mandatory.
There is also the option of just sitting by the edge of the water and admiring the scenery.
Due to its location, Bass Lake does not get too hot in the summer months, July and August. It also has lighter snowfall in winter. This makes it a great location to visit all year round.
Again guests can expect full hookups, restrooms and showers available to use on-site.
Find out more about Bass Lake here.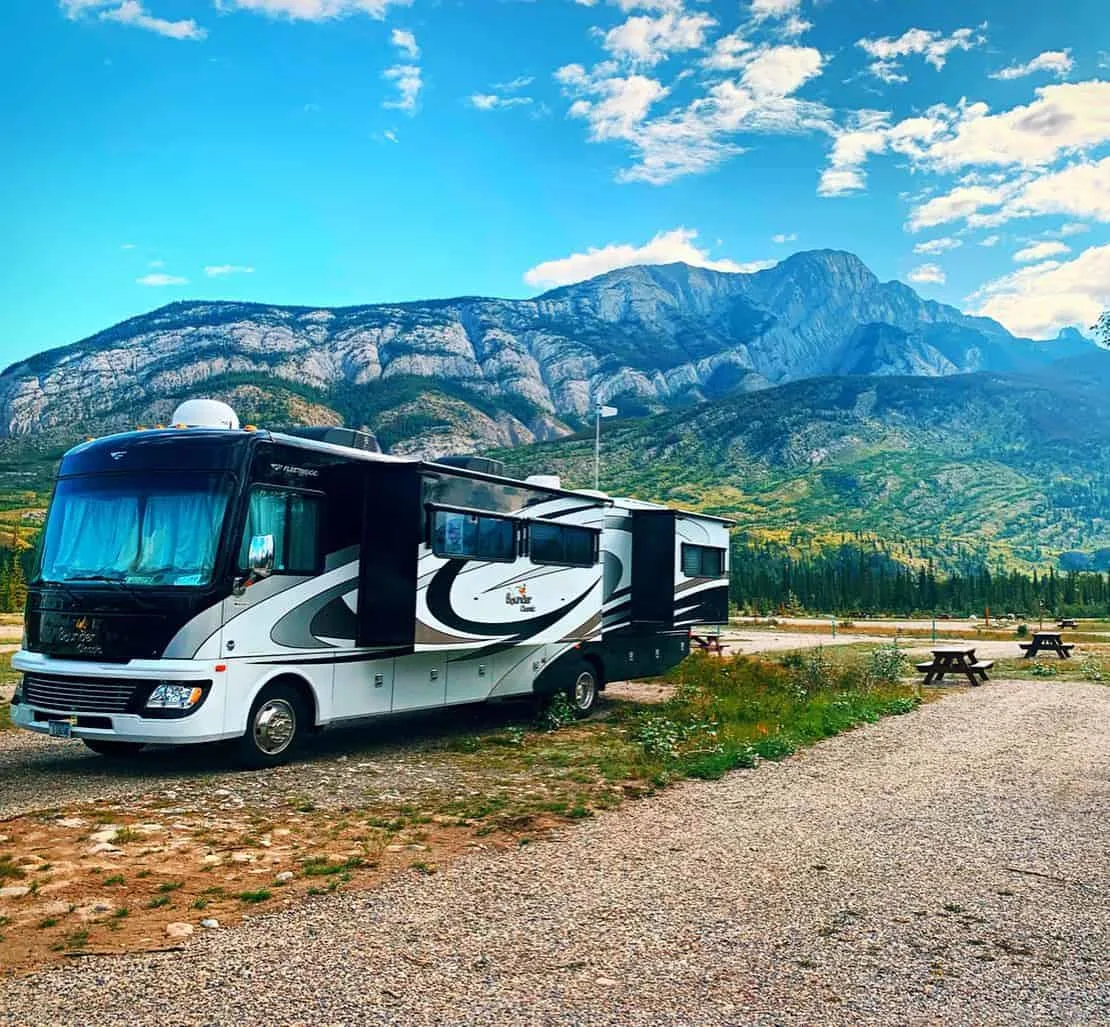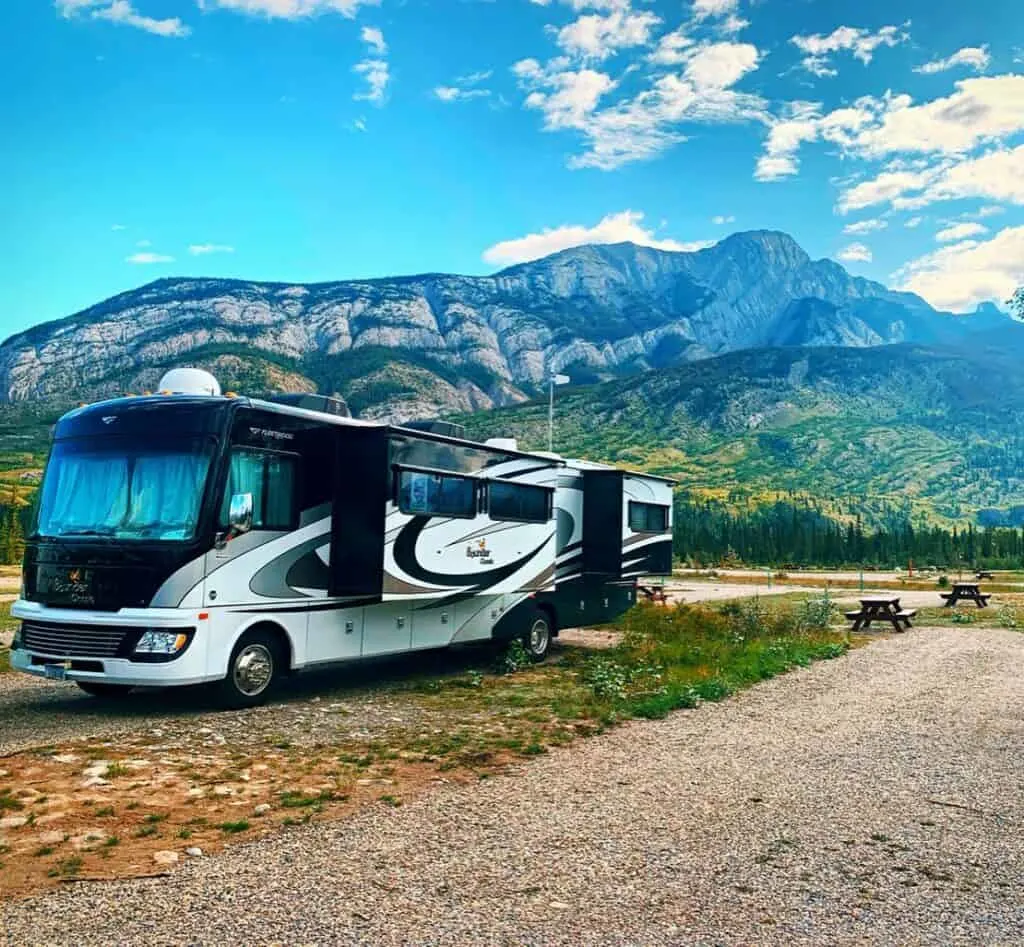 RV Resorts Near Yosemite
The last RV resort is a little different from the others. AutoCamp Yosemite offers guests luxury accommodation in RVs that are already on site. In fact, there is no need to bring an RV at all.
This campground is like glamping for RVs and perfect for anyone wanting to try the lifestyle!
While it is not possible to drive around in the RVs, guests can still sleep on board. They can also take advantage of the kitchens or even have a barbecue on the patio taking in the views of the mountains.
The scenery is breathtaking and the accommodation is on the side of luxury.
It is about an hours drive from the Valley in Midpines. While it is recommended to visit the National park, there are also plenty of things to do onsite. In fact, guests might want to add a few extra days to fit it all in!
There is a seasonal pool, community area and plenty of Yosemite tours to choose from including a trip to the beautiful town of Mariposa.
To book or find out more about AutoCamp Yosemite click here.
RV Rental Yosemite National Park
Buying an RV is a big investment. It is not something everyone can do especially if they are not sure if it is for them.
Anyone new to RVs and who don't want to buy one just yet should consider RV Share. They match people with the perfect RV to rent for their adventure.
There are over 100,000 listings across the US to choose from, so there is one to suit everyone's needs. In fact, they have everything from budget to luxury.
They take care of the insurance and roadside assistance so it is easy to travel with peace of mind.
RVs are most popular with families and it is easy to understand why. With everything guests need onboard, parents don't have to worry about taking all the usual family paraphernalia.
Check out RV Share to rent an RV for your next trip to Yosemite.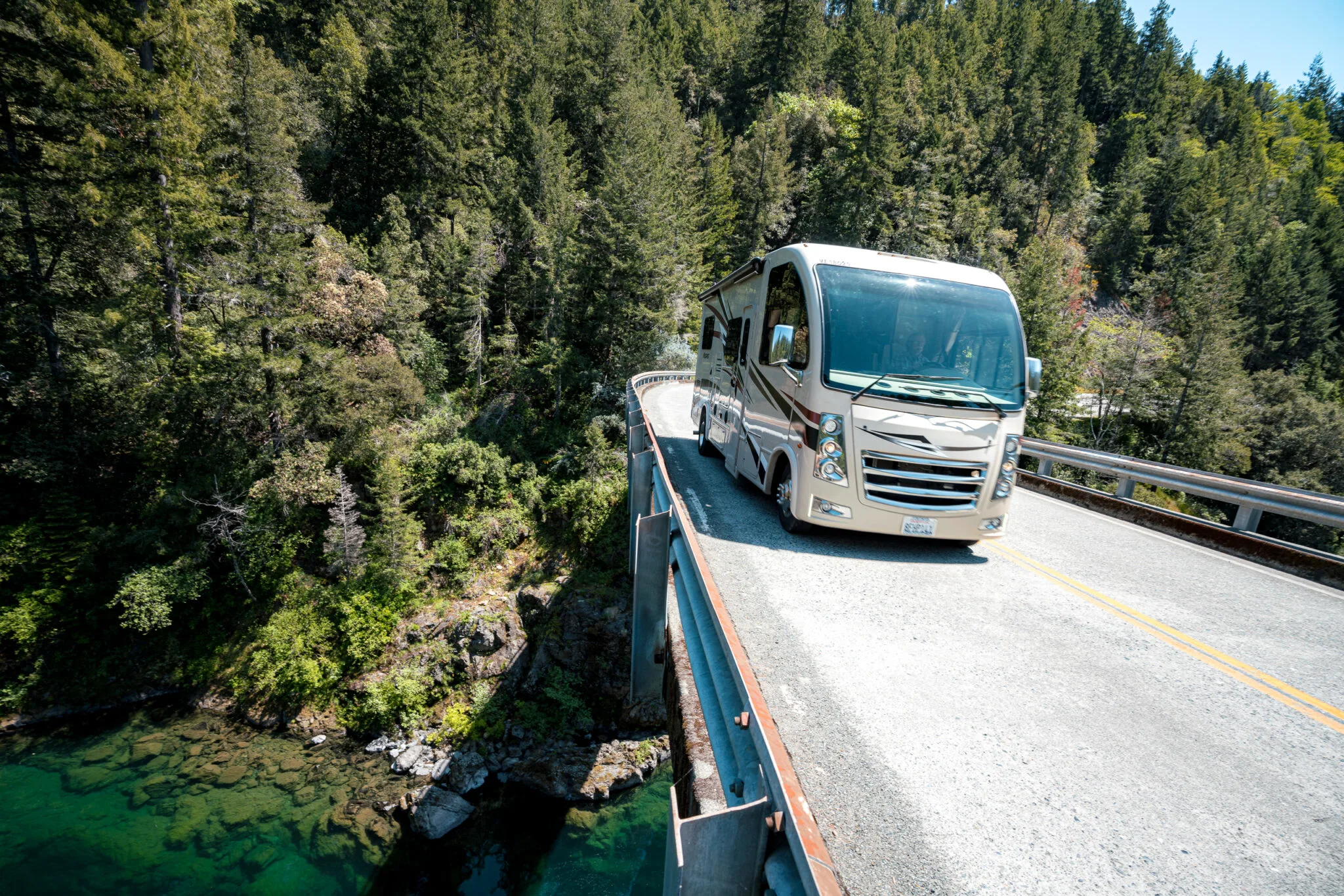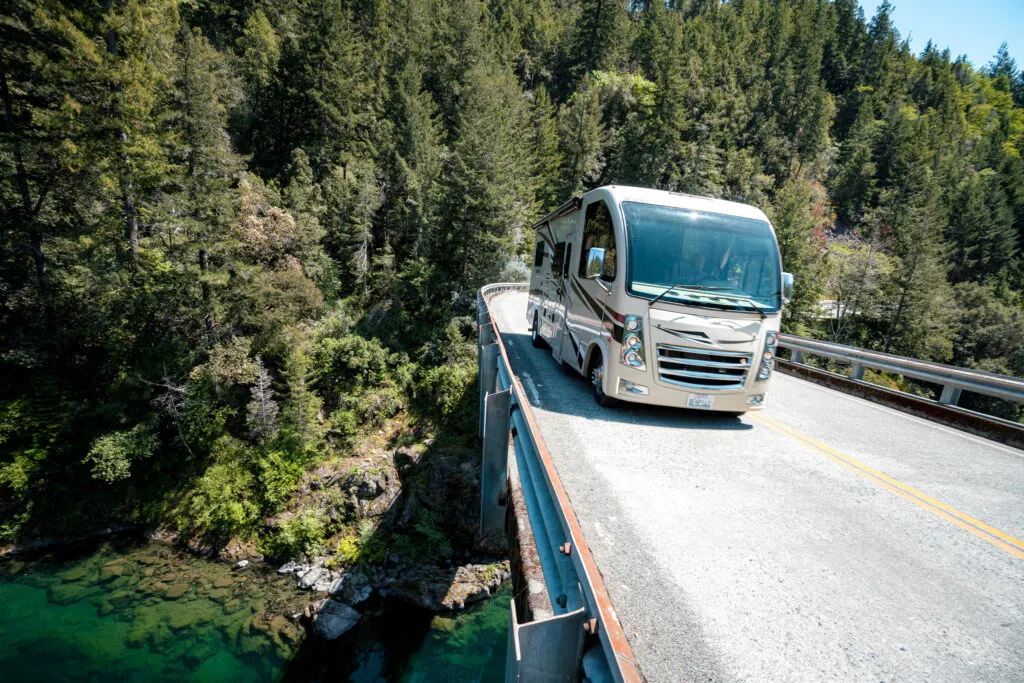 RV Parks Yosemite Area
Depending on the time of year, visitors to Yosemite may need to make a reservation to enter the park. Although if reservations have been made at one of the campgrounds then there is no need.
Tickets can be purchased at the entrance and the price can change throughout the year. In peak season tickets are around $35.
America the Beautiful Pass is also accepted at Yosemite. It is very affordable and can be used at over 2000 sites across the US.
It is perfect for people who visit National Parks regularly. As the pass is very cost-effective! Just one pass covers the entrance fee for a driver and all passengers. REI also donates 10% of pass sale proceeds to the National Park Foundation.
To find out more about the annual Beautiful National Park pass click here.
What you Should Know Before your Yosemite RV Trip
Most of the roads in Yosemite are paved although Glacier Point Road, Mariposa Grove Road, and Hetch Hetchy Road may have some restrictions depending on the type of vehicle visitors are driving.
Yosemite also has a lot of winding roads and some are steep. If guests are not used to driving an RV then they may feel a little out of their depth.
Just take it slow and if there is a lot of traffic behind, pull over to the nearest safe place and let them pass.
Yosemite has around four million visitors every year. Most of the visitors come in the summer months, July and August, meaning that the parking lots can fill up quickly around that time.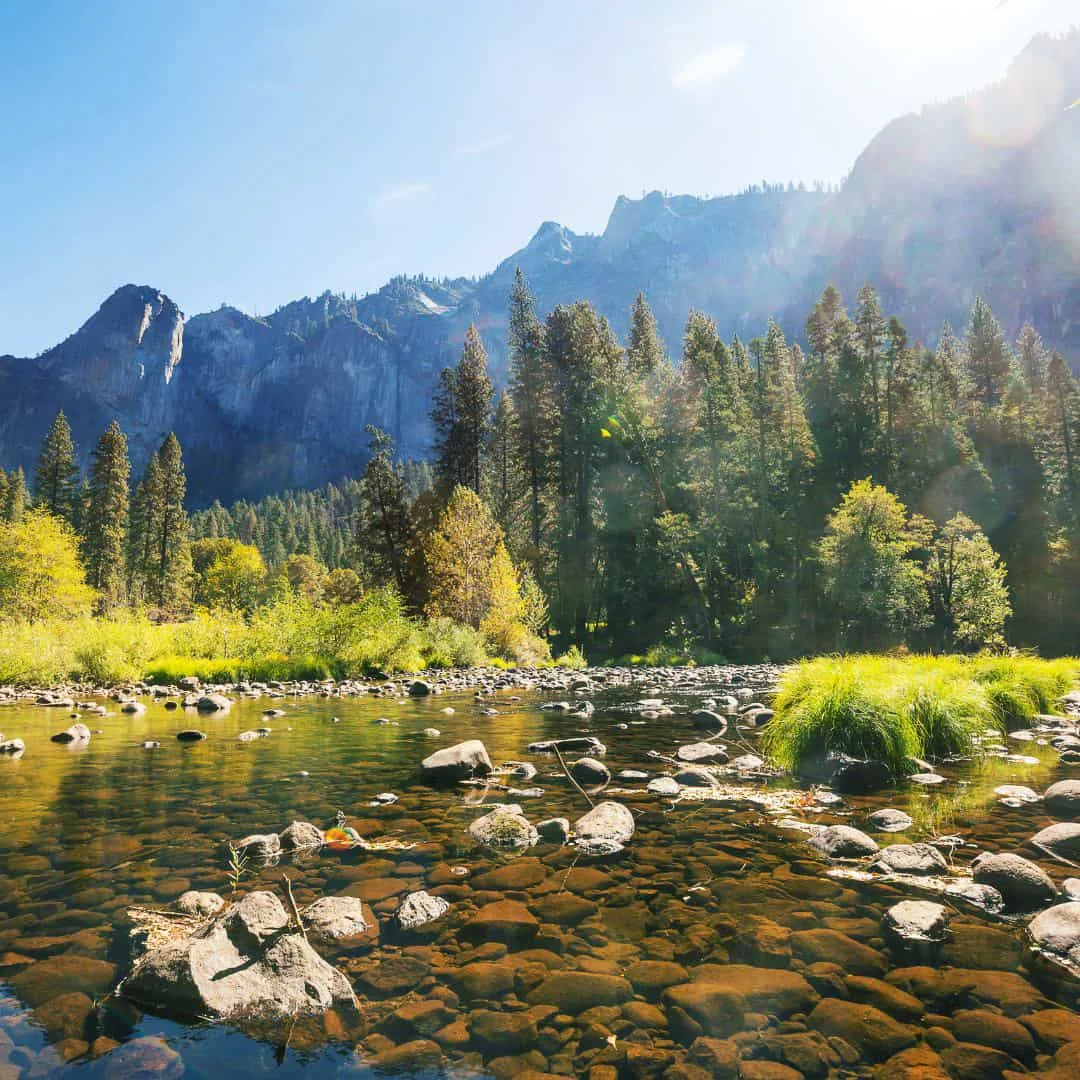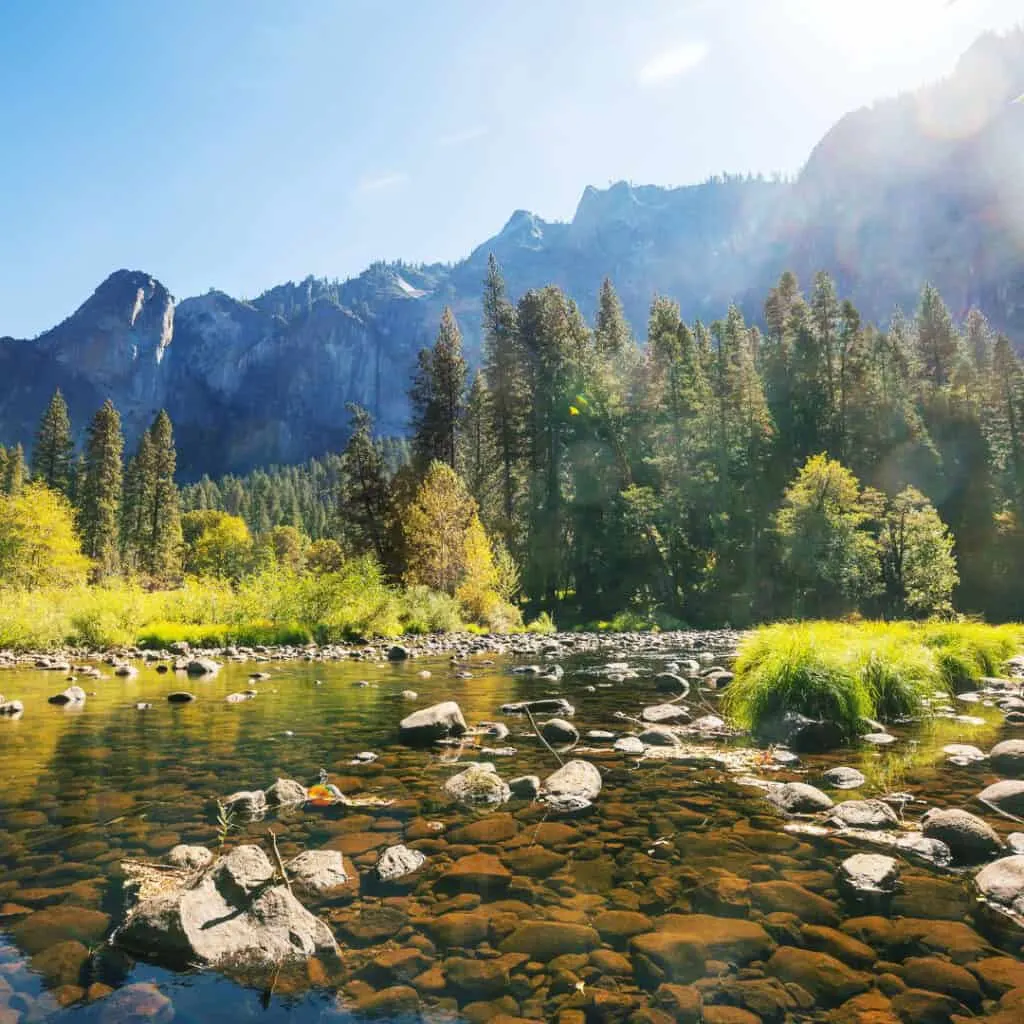 Parking in an RV is more difficult due to the size, so try to arrive early to grab a spot. If that is not possible then the shuttle service might be more convenient. It is a great way to get around the park and the service is very frequent in the summer months.
Expect to see snow on the roads in December, January, February, March and April. Tyre chains may be necessary. Before setting off, check the road conditions on the website.
The weather can change quickly in Yosemite so it is best for anyone travelling at this time of year to have some tyre chains with them.
There are a number of black bears in Yosemite and therefore many rules are enforced in the campgrounds. As well as food being stored in food lockers day and night, it is also possible to store them in an RV.
However, the RV's windows, doors, and vents must stay completely closed, the food is stored in cupboards and out of sight and the RV is completely hard-sided. Expect to see rangers in the area enforcing the rules.
Lastly, many of the RV parks and campgrounds have size restrictions for RVs and trailers.
It is always best to check what they are online or calling ahead before making a reservation to avoid disappointment.
RV Parks Near Yosemite Packing List
Travelling in an RV is definitely a unique experience. However, if it is a first, many people might be slightly baffled as to what they should add to their packing list.
While there is no need to bring sleeping bags and tents, there are a few items that visitors may not have thought of.
As well as the usual kitchen utensils, don't forget the essentials for washing-up after. Dish soap, sponges, and towels are all items not to leave without.
Most people go all out and stock pile canned food. Try to plan out meals before leaving. Not only will it take the stress off what to cook but it means guests only bring as much as they need. Supplies are available in Yosemite and the surrounding area, but they are usually more expensive and there is not a huge selection.
Yosemite has a leave nothing behind motto. Trash bags are a must to clean up after meal times and make sure to bring back all trash on hikes and sightseeing.
While sleeping bags are usually for camping, it is possible to use them in an RV. Otherwise sheets, blankets and pillows are needed to make up the beds in the evenings.
Flip flops are great to throw on especially if to use the shared shower facilities at any of the RV parks.
With plenty of campgrounds providing fire pits, it might be more comfortable to sit around the fire in camping chairs. There are plenty to choose from, ones that fold up well are quite popular for travelling and the are light too.
A deck of cards would be a great way to wind down in the evenings if guests are not too tired from all the hiking.
A picnic blanket to throw on the ground for kids or even adults to sit on in the evenings. they are also perfect for the picnic benches scattered all over the park or to have a picnic by one of Yosemite's many lakes.
Visiting Yosemite National Park in an RV is an option worth exploring. It is a great way to kill two birds with one stone as visitors get a mode of transport and a place to eat, relax and sleep.
Whether visitors choose to stay in an RV Park inside Yosemite or an RV park near Yosemite, there are certainly pros and cons to both.
Staying at Yosemite National Park offers the advantage of location. This makes it easier to explore the park while visitors are surrounded by amazing views. However, it does come with its own set of drawbacks too.
One of the biggest issues with staying in an RV in Yosemite is that there are no hookups available and sometimes the facilities are lacking. This is great for the more experienced RVer or if visitors are after a more authentic camping experience.
However, this could be problematic for those trying it out for the first time or those that are used to five star resorts.
If guests want a little bit of luxury or just a few more home comforts, then the surrounding area comes up trumps.
Many of the RV parks near Yosemite are not that far from the national park, so it is not too inconvenient to get there every day.
The facilities there are usually superior too. They usually have all that guests need and plenty of facilities and activities to keep them busy too.
It can also be difficult to nab a spot in Yosemite National Park. Not just in summer but throughout the year also.
In fact, it is one of the biggest issues and due to limited spaces during the pandemic, it has just got worse. If visitors know beforehand that this is going to be stressful, take the pressure off and reserve a place at an RV park near Yosemite.
No matter where guests choose to stay they are sure to have a magical time exploring the park and all of its majestic beauty. There really is no other place on Earth than Yosemite.
Where else could you find granite cliffs, gushing waterfalls, hikes that lead to stunning views all in one place?
You may also like:
How to Plan a Trip to Yosemite | April in Yosemite | The Best Hikes in Yosemite National Park | One Day in Yosemite | The Ultimate Yosemite Packing List | Yosemite in Fall | RV Parks Near Yosemite | Rafting in Yosemite | 10 Kid Friendly Hikes in Yosemite | Winter Hikes in Yosemite | The Magic of Yosemite in December | Christmas In Yosemite | Best Photo Spots in Yosemite | Why Yosemite Weather in May Makes it the Best Time to Visit | 10 Reasons to Visit Yosemite in January | The Perfect Guide to Visiting Yosemite in March | 10 Amazing Things to do in Yosemite in February | 10 + Things to Do in Yosemite in June | Pumpkin Farms in Maryland
Best pumpkin farms in Oregon | Flying With A Toddler | Best Pumpkin Farms in Florida | Best Pumpkin Farms In California
Will you be needing travel insurance, flights, rental cars, or hotels for your trip?
Disclaimer: This post may contain affiliate links. By using them it will not cost you any extra, we will receive a small percentage of the sale.