Yosemite National Park is a beautiful place with all kinds of scenic spots. However, it can also be overwhelming to decide where to stay Yosemite. There are many places to stay inside the park from hotels, campgrounds and RV parks. However, there are also certain hotels outside the park that offer shuttle services to visitors.
In fact, one of the first steps to planning your trip to Yosemite is deciding where to stay. Most people want to stay in the park campgrounds, cabins, or hotels. They are close to the valley and near some of the best hikes in Yosemite and the Merced River which is popular for rafting in May and June.
However, if you don't plan in advance, or you visit the park during the busy season like June, July and August, then you may have to look elsewhere. Not all of the accommodation at the park is kid-friendly if you are visiting Yosemite with kids.
Below is a list of places to stay both inside Yosemite and in the nearby towns.
It is always better to have a wide range of choices, so it covers everything from an Airbnb in Yosemite, a hotel, camping, a cabin, a vacation rental or even part of a Yosemite tour.
This information should help you figure out the best place to stay in Yosemite National Park even if you just have one day there or plan on staying for 3 days.
Deciding Where to Stay in Yosemite
The decision of where to stay in Yosemite is a difficult one. There are so many options and they all come with their own advantages and disadvantages. As it is such a beautiful place and you want to make sure you get the best out of your visit, the last thing you want to do is choose a hotel or motel that falls short of your expectations.
This guide can help you find out what time of year, from summer to fall, may be best for your visit. It is based on which part of the park you plan on visiting and it gives some advice on other attractions in the area that are not too far away from those hotels or accommodation.
All you need to do is decide which one is for you and what to pack.
Prices vary at different times of the year. However, the entrance price remains the same. It costs around $35 to enter the park. However, you can also use America the Beautiful Pass to enter the park.
In fact, the annual pass allows you to visit over 2000 sites around the US. It is relatively inexpensive and a great investment if you plan on visiting a few federal sites throughout the year.
For more information about America the Beautiful Pass click here.
Consider an Airbnb Yosemite National Park
Surprisingly there are a few Airbnbs in Yosemite to choose from. They have been incredibly popular the last few years due to many reasons. Many people love to stay in Airbnbs as they are like staying at home and they can cook their own food.
Airbnbs in Yosemite can save you some money while still enjoying the experience of staying right in the middle of nature! Most are near the entrances to the park and just a short drive to the Valley. They are all fully furnished so all you need to bring is yourself and some food to cook.
They are available all year round so no matter if you are visiting Yosemite in April or in the Winter months January, February and March, there is always a place to stay.
Bear in mind that many properties require guests to stay for a minimum of two nights. It would take two days to explore Yosemite so many guests are likely to stay two or more nights.
To check out Airbnbs in Yosemite National Park click here.
Rustic Yosemite Cabin Rentals
Many people enjoy renting a cabin in Yosemite National Park as it provides them with more privacy than camping or hotels. Most of Yosemite cabins are on the west side of the park. While they are just a quick drive from the valley, they are far enough away from the hustle and bustle.
The Log Home in Yosemite National Park is one of the best places to stay in Yosemite due to its location. It is just a half-hour to the famed Mariposa Grove of Big Trees (Giant Sequoias).
If you are there in late December, January or early February head east to Yosemite's Badger Pass Ski Area for downhill and cross-country skiing and snowboarding.
It is one of the oldest Yosemite Park cabins and that is obvious from the decor. There are a lot of stairs to climb too, so it may not be suitable for everyone. However, if you are looking to stay somewhere rustic and not in a typical hotel room, then this is the place for you.
Find out more information about The Log Home here.
The Best Yosemite Campground
Camping is probably the popular way to stay at Yosemite. In fact, many of the campgrounds and RV parks are fully booked months in advance and it can be difficult to reserve a place from June. It is easy to see why camping is not only one of the cheapest options, but you can feel closer to nature too.
Most of the campsites in Yosemite are located in and around the Valley. This is close to Yosemite's main attractions and some of the best photo spots.
North Pines Campground sticks out the most as it has some of the most incredible views and it is in the heart of Yosemite. If you plan on travelling by shuttle, it drops you off at the entrance to the campsite.
RVs are welcome here too and you can find drinking water and campfire rings on-site as well as toilets. Make sure to follow the rules of the campsite and store any food in one of the lockers near your tent as not to attract bears.
Click here to make a booking at North Pines Campground.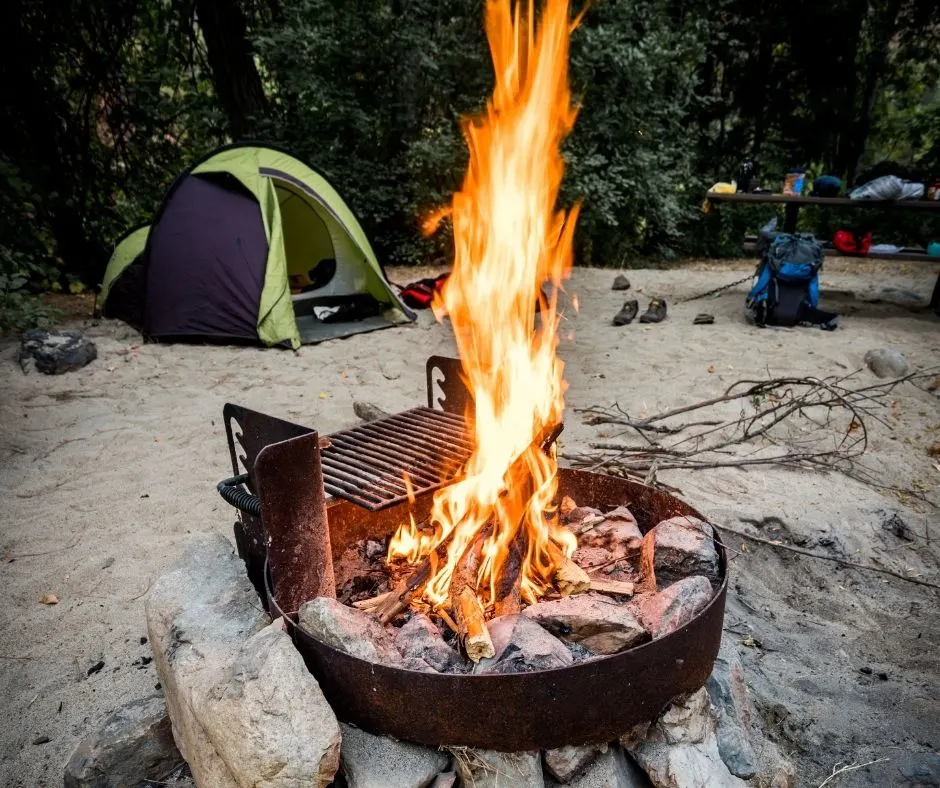 A Loft Cabin Yosemite
If you think all cabins are old fashioned wooden shacks, then then the Rustic 1Bdr w Loft Cabin- Inside Yosemite National Park is a pleasant surprise. it is the perfect size for a couple or small family. There is only one bedroom, but the sofa in the living room converts to a bed.
It's just over ten miles from the valley, so a great place if you want some seclusion but don't want to stray too far. Inside the cabin has a modern feel to it. The kitchen is fully equipped with everything you need for a stress-free stay.
The highlight of this cabin is the views from the balcony. They are stunning and a great place to sit in July and August for a barbecue. In December and the winter months, the log fire is there to keep you cosy.
Find out more about Rustic 1Bdr w Loft Cabin- Inside Yosemite National Park here.
A Modern Cabin Yosemite National Park
If rustic isn't for you then a refurbished holiday home might just be the best place to stay at Yosemite. Yosemite Magic "A" is also on the west side of the park and near the South entrance. It has modern appliances as well as looking stunning.
The great thing about this property is that it is suitable for large parties. This means that two or even three families could stay here comfortably. There are fireplaces in several of the rooms to keep you warm in the cooler evenings. The property is set up for summer too and has two barbecues on the patio.
There are TVs and satellite if you are missing home. Otherwise, head to the large rear deck. It overlooks an open space where you may get a glimpse of grazing deer and a wide variety of birds, Chipmunks and Squirrels.
To book Yosemite Magic "A" or for more information click here.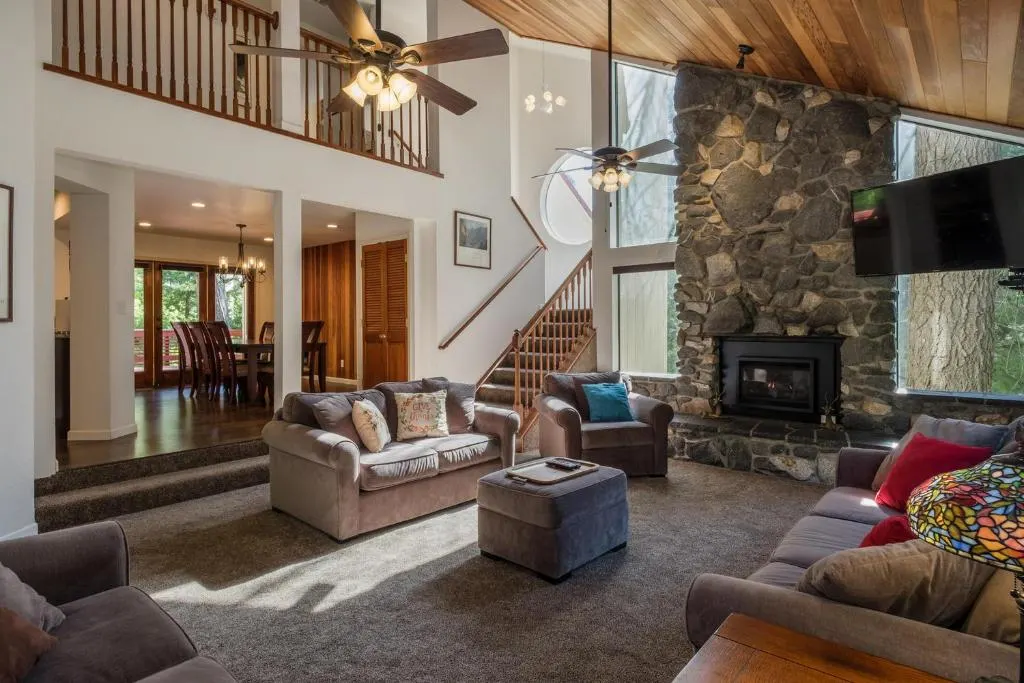 Yosemite Resorts
Yosemite Valley Lodge is 750 yards from Yosemite Valley which means that it is close to many of the main attractions and hiking trails. This makes it a great base and one of the best places to stay at Yosemite. In fact, you have more time to explore as you don't have to leave the park.
If you are staying in Yosemite in April or May then you may even get a fantastic view of Yosemite Falls. The rooms are spacious and have a minifridge. You don't have to go far for meals either as there is a restaurant on site. The hotel also has a swimming pool but it is not open all year round.
This is a very popular place to stay, so it is recommended to book in advance.
To make a reservation for Yosemite Valley Lodge click here.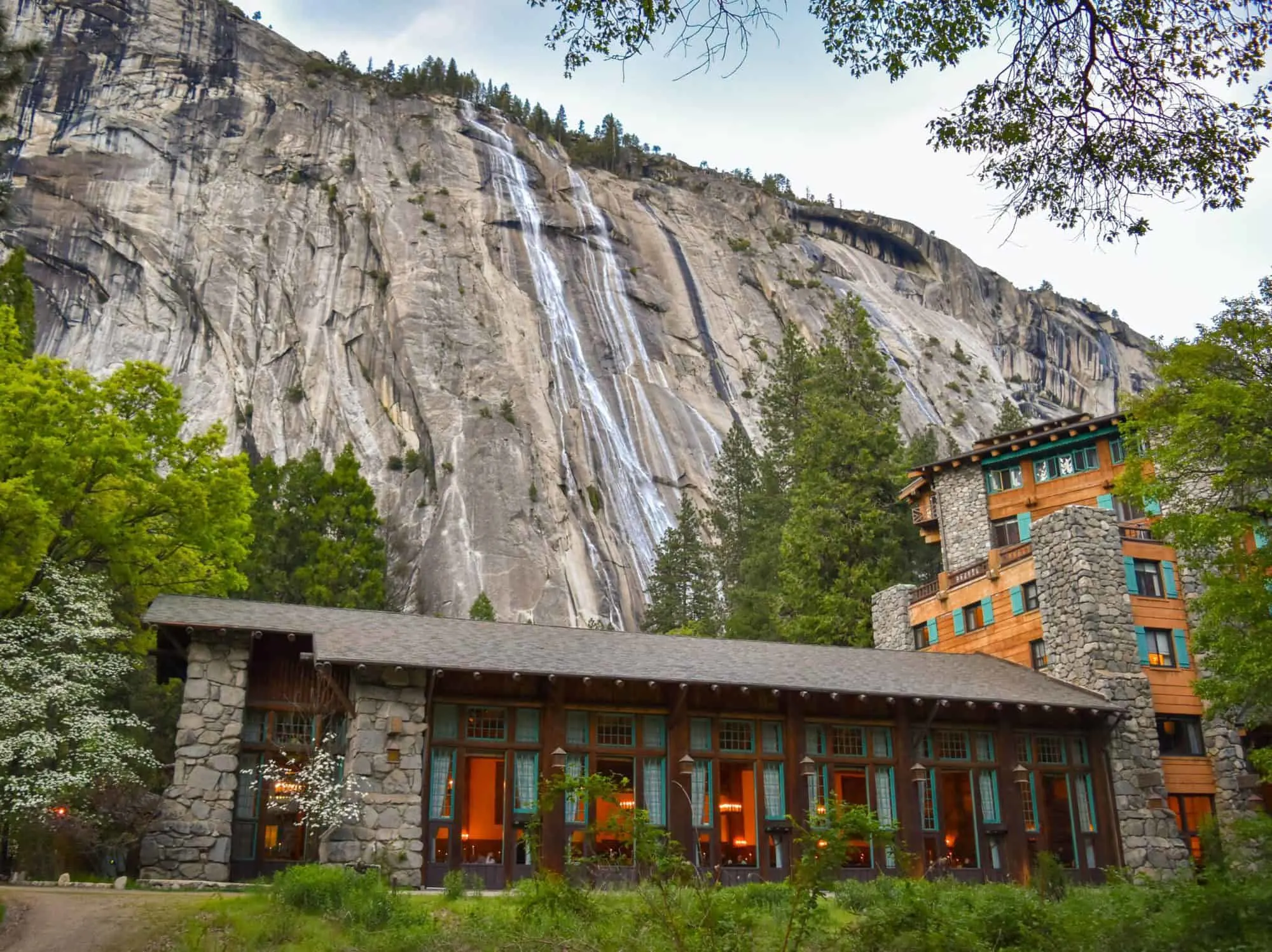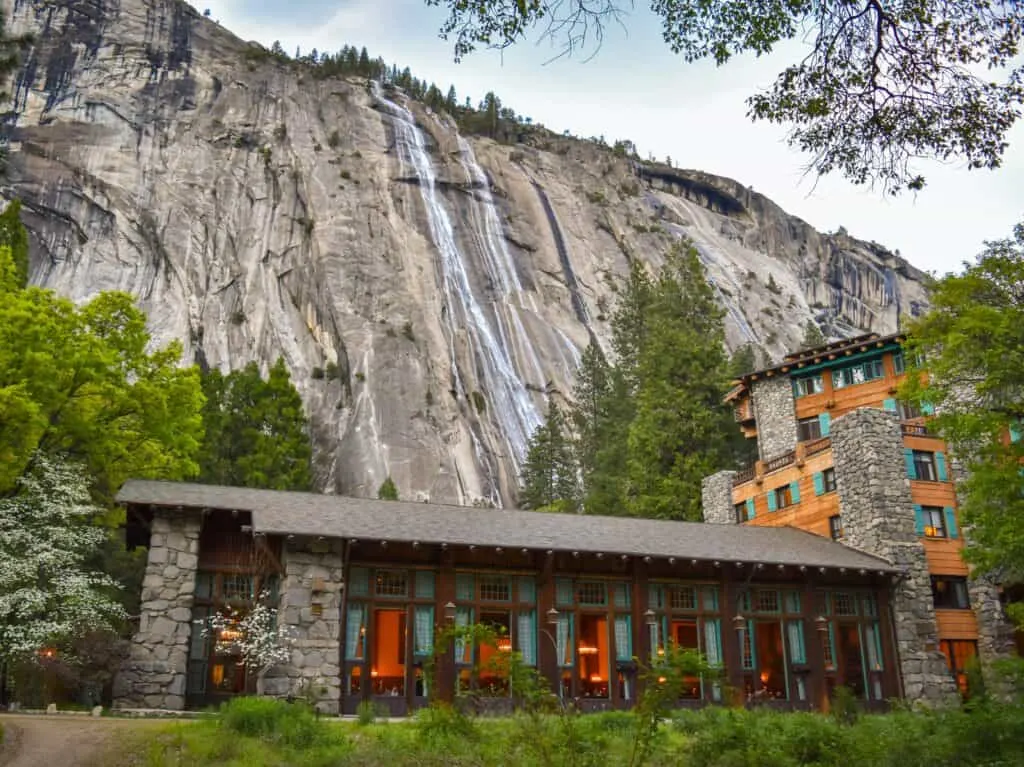 Holiday Homes In Yosemite
Just two miles from Yosemite Arch Rock Entrance is Cozy Bear South-Inside Yosemite National Park. This holiday home is nestled among the tall pine, fir, cedar and oak trees. Unlike many of the other properties in Yosemite, there are no stairs to climb so it is kid friendly.
The covered stone patio area has a gas barbeque, and comfortable patio furniture. Inside you have everything you need for a fantastic stay in Yosemite. The living room has a stunning stone fireplace and the theme of the cottage takes after the name, so expect to see lots of bears.
Book your stay at Cozy Bear South here.
More Yosemite Rentals
Chances are if you leave your booking to the last minute, the campgrounds will be full. Don't stress as there is the option to stay at one of the many holiday homes in Yosemite National Park. While there are many to choose from, Yosemite park is so big they are spread out.
You can stay in Yosemite vacation rentals for as little as two days and up to fourteen. This is just the right amount of time to hike a few trails and see all the main attractions of Yosemite.
There is something to suit every budget too. Some have luxury hot tubs or log fires to light in fall. While others are simple studios.
All of them are fully equipped with utensils and fully furnished. In fact, this might make them the best places to stay Yosemite.
To book a vacation rental at Yosemite National Park click here.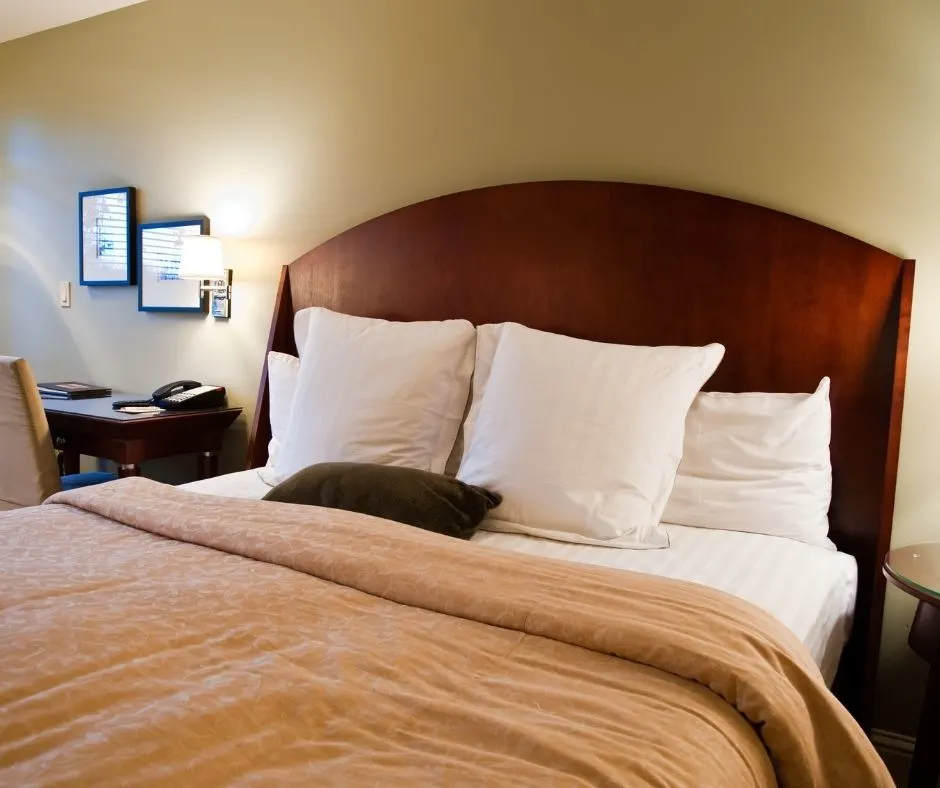 Yosemite Lodges
There are a lot of lodges in Yosemite too. They are spread around the park and it would be impossible to talk about them all. Many of the Yosemite Lodges are in fantastic locations and have that rustic feel to them. They also have a lot of perks that camping doesn't offer and can help to keep your packing list to a minimum.
These include free internet, fully equipped kitchens and private balconies. However, don't expect your internet to be fast, you can stay in touch with people, but you won't be able to stream movies.
The great thing about lodges is that they don't cost a fortune and they give you some privacy.
To find out more about Lodges in the valley area click here.
Camping in Yosemite
If you have some experience with camping then backcountry camping is a fantastic option of where to stay at Yosemite. However, you just can't turn up and pitch your tent anywhere. You need to register for a wilderness permit on the website.
Permits are available on a first-come-first-serve basis but you must reserve a place at least fifteen days in advance. It is definitely worth it as it is a unique experience. Another option is to book a Yosemite tour that includes backcountry camping.
There are a few things to be aware of though. Most of the places you can camp in are in remote areas. This means that you have to hike there and have your tent set up before nightfall. It is also not recommended if this is your first time camping and if you just have one day in Yosemite.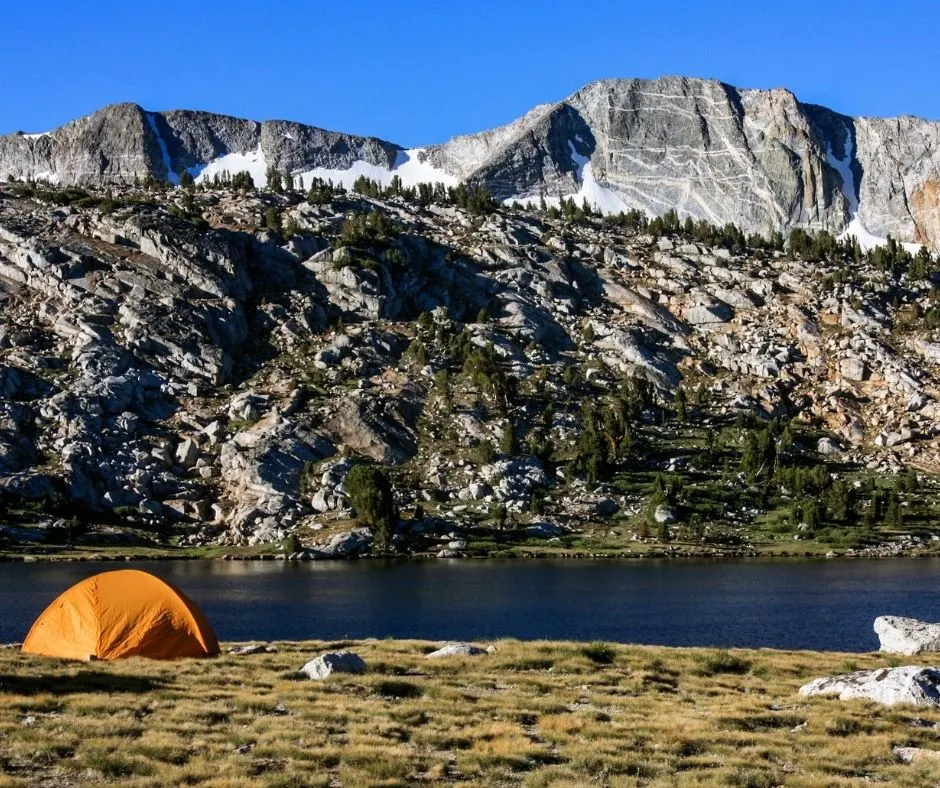 Where to Stay Near Yosemite
If visitors are staying for 3 days or more, they may not mind staying in a nearby town. There are many towns near Yosemite, El Portal is the closest one and there are a few places to stay. It is also the most popular place to stay near Yosemite as it is just a ten-minute drive.
Most visitors to the park have to stay in the towns in the busy season if they haven't booked early enough.
El Portal is located along the Merced River where many people like to raft. It is also where you can find Yosemite View Lodge. The hotel has four pools and a hot tub onsite. There is also an onsite restaurant and a nearby convenience store.
As the hotel is by the river, many of the units offer fantastic views. If you are planning on cooking then request one of the units with a kitchenette.
Make a reservation here for Yosemite View Lodge.
Glamping Near Yosemite National Park
AutoCamp Yosemite is in Midpines which is about an hour drive from the Valley. However, don't let that put you off staying here. The hotel is a hidden gem and offers unique rooms that allow you to experience the outdoors at its best.
The AirStreams come with their own kitchen and BBQ area, as well as closeted bathrooms. They sleep up to four people so they are the perfect size if you are visiting Yosemite with kids. All rooms have a patio and a beautiful view of the mountains.
To book or find out more about AutoCamp Yosemite click here.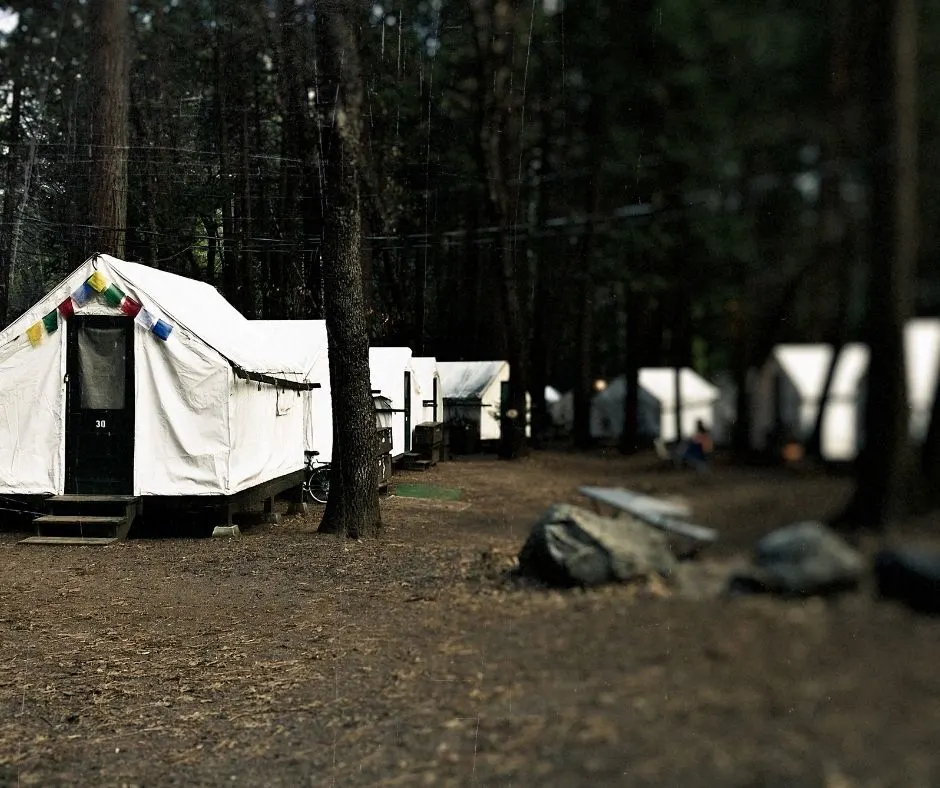 Lodges Near Yosemite National Park
The Evergreen Lodge has 88 cabins and while it is just a mile from Yosemite, the Valley is an hour away. The lodge is in Mather and it is in the middle Stanislaus National Forest. The rooms are basic, but have everything you need for a comfortable stay.
You may want to spend a few days at the lodge as well. There is plenty going on there including a game room, kids play areas, nightly activities and therapeutic massage. The staff know the area well and they are on hand to offer you advice when planning your trip to Yosemite.
They also offer packed lunches if you want to take one with you when you visit the park.
Click here to find out prices and more information about Evergreen Lodge.
Yosemite National Park Cabin Rental Nearby
El Portal also offers holiday homes. Yosemite Gatekeeper's Lodge is a self-catering holiday home that is fully furnished. The property has two bedrooms, but it can sleep up to eight people. This makes it a great option for large parties.
Not only is the location of the park superb but the views are too. The patio has barbecue facilities and a dining area inside and out. The property is accessed by a staircase so it may not be suitable for everyone.
Check out Yosemite Gatekeeper's Lodge here.
As you can see there are plenty of places to stay with Yosemite National Park and in the nearby towns. While it is always best to stay in the park, don't be too disappointed if you can't find somewhere.
Yosemite has around four million visitors a year and while it is a massive park, it is not possible to accommodate everyone who visits, especially in July and August.
You have more chance of booking the accommodation you wish if you visit the park in spring and autumn. In fact, these are the best times to visit. Winter has rock bottom prices and the park is quiet at this time. However, there is still a ton of things to do.
No matter when you decide to visit Yosemite you are sure to have fun exploring the many trails and seeing some of the most famous landmarks in the world.
You May Also Like:
Things to do in Banff with Kids
Best Things to Do in Redwood National Park with Kids
How to Plan a Trip to Yosemite | April in Yosemite | The Best Hikes in Yosemite National Park | One Day in Yosemite | The Ultimate Yosemite Packing List | Yosemite in Fall | RV Parks Near Yosemite | Rafting in Yosemite | Christmas In Yosemite | 10 Kid-Friendly Hikes in Yosemite | Winter Hikes in Yosemite | The Magic of Yosemite in December | Best Photo Spots in Yosemite | Why Yosemite Weather in May Makes it the Best Time to Visit | 10 Reasons to Visit Yosemite in January | The Perfect Guide to Visiting Yosemite in March | 10 Amazing Things to do in Yosemite in February | 10 + Things to Do in Yosemite in June | Pumpkin Farms in Maryland
Best pumpkin farms in Oregon | Flying With A Toddler | Best Pumpkin Farms in Florida | Best Pumpkin Farms In California
Will you be needing travel insurance, flights, rental cars, or hotels for your trip?
Disclaimer: This post may contain affiliate links. By using them it will not cost you any extra, we will receive a small percentage of the sale.