The perfect Yosemite 3 day itinerary includes the best parts of the National Park. However, if it's your first time visiting Yosemite, you may be wondering what can be squeezed into a 3 day itinerary. The great thing about Yosemite is there is so much to do, visitors are always coming back for more.
Visitors may only have one or two days, however, arranging a Yosemite 3 day itinerary is the best way to see this National Park and it is easy to pencil in a long weekend.
If visitors are looking for an escape from the daily grind, Yosemite National Park should be their number one destination. The park has plenty of opportunities to get up close and personal with nature. This Yosemite 3 Day Itinerary is packed with the top things to do in Yosemite.
It is rewarding to spend time in nature and Yosemite is a great place to do so. It offers hiking, camping, cycling trails and climbing opportunities. If visitors are really feeling adventurous, there are hikes to test the more experienced!
To ensure visitors make the most of their trip to Yosemite, this guide aims to walk through everything needed to plan before setting off on a three day adventure to Yosemite National Park. Not only does the guide include what to do and the best hiking trails, there are tips on what to pack and where to stay.
When to Arrive for a 3 Day Yosemite Itinerary
It is best to start any 3 Day Yosemite itinerary early to make the most of the first day. Aim to arrive at the park before lunch. This gives plenty of time to set up a camping base or check out a hotel.
If visitors are travelling from Las Vegas or Death Valley, it takes around six hours to get to Yosemite. The best entrance to use is the Tiago Pass entrance on the east side of the park. This is one of the most scenic routes to take, however, it is not open all year round.
Due to snow, the entrance is open from late May or early June until some time in fall, usually around October or November.
Visitors arriving in Yosemite in April or before this, can use the South Entrance instead as it is open all year round. Expect to add a couple of more hours on to the journey. This is the same entrance visitors from Los Angeles or San Diego would take. Travelling from this direction takes around five hours.
Many visitors arrive from San Francisco as it is the closest major city to the park four hours away. Visitors arriving from San Francisco have three entrances to the park; Hetchy Hetch, Big Oak and Arch Rock. The most direct route is Big Oak Flat and Arch Rock.
Hetchy Hetch may seem a little out of the way, however, it is a quiet route to the park and one with incredible views. Bear in mind the road is only open during daylight hours in winter months December, January, February and March.
All entrances have a toll booth to pay the entrance fee to the park. Tickets purchased at the entrance are around $35. America the Beautiful Pass is also accepted at Yosemite. It is very affordable and can be used at over 2000 sites across the US.
If you visit National Parks regularly, this pass is very cost-effective! Just one pass covers the entrance fee for a driver and all passengers. REI also donate 10% of pass sale proceeds to the National Park Foundation.
To find out more about the annual Beautiful National Park pass click here.
3 Days in Yosemite: Day 1
After arriving in Yosemite, many visitors are excited to start planning their hikes or tours. The first day should be all about Yosemite Valley. It is the heart of the park and many of the famous attractions.
With many attractions side by side, visitors have the option to hop on the free shuttle service with some of the best photo spots in Yosemite along the way. If visitors want to get more of a feel for the park, they could walk the Valley Loop. The trail takes the same route as the shuttle service so it is easy to hop on/off.
The Valley Loop may not be the nature trail visitors are expecting from Yosemite. It is on the main road but it does include a few detours through meadows in some parts.
The trail is around 9km and the terrain is flat making it an easy hike. The option of the shuttle service makes it a fantastic way to kick start a Yosemite 3 day itinerary.
Some of the highlights of the trail are El Capitan, Cathedral Beach and Lower Yosemite Falls. This trail is flexible so visitors can add on other trails or head back to base early if they choose.
As it is flat, it is a great kid-friendly hike and one of the best winter hikes in Yosemite.
A private Valley Tour is a great option for anyone who likes to hear history and information from an expert. It can be customized based on visitors interests. There are many hikes to choose, everything from easy to moderate and it lasts four hours, the same amount of time as the Valley Loop trail.
The tour includes a private guide and visitors can ask questions about the park. Snacks and drinks are not included, so bring some along.
Click here to find out more about a private Valley Tour.
Day 1: 3 Day Itinerary Yosemite Sunsets
There are plenty of places to eat in Yosemite Valley or homemade is an option if camping or staying in one of the RV Parks.
Depending on the time of year, visitors plan their evening meal around the sunsets in Yosemite. They are stunning from various locations around the park and not to be missed on a Yosemite 3 day Itinerary.
Glacier Point is one of the most popular destinations in the park to watch the sunset. It's 800 feet above the ground and offers a panoramic view of Half Dome, North Dome, Cathedral Rocks, El Capitan and Bridalveil Falls.
In fact, the overlook is at 7200ft elevation however there is no need to hike it. Most visitors head to Glaciers Point by car and park in the car park nearby. It is an hour's drive from Yosemite Valley, the roads can be steep and windy so allow a little extra time.
Once at the car park it is a short flat walk to the viewpoint. Bring a light jacket to watch the sunset as the temperature can drop quite quickly when the sun goes down.
The road to Glacier hike closes around December due to snow. If visitors are visiting the park at this time, watching the sunset closer to Yosemite Valley is a better option.
One place to stop at is Tunnel View. It is probably one of the most iconic views and photographed scenes in Yosemite National Park. The person who made it famous was Ansel Adams.
The reason it is so stunning is the viewpoint allows El Capitan, Bridalveil Falls, Cathedral Rocks and Half Dome to be seen. It is easy to get to the Valley as it is just a fifteen-minute drive. Head east on Wawona Road and turn off to the right just after Artist Point Trailhead.
While it is easy to get to, it is often very busy. It is one of the best photo spots in Yosemite, arrive early to get a good spot.
After watching the sunset opt for an early night and plenty of rest for another hike on day 3!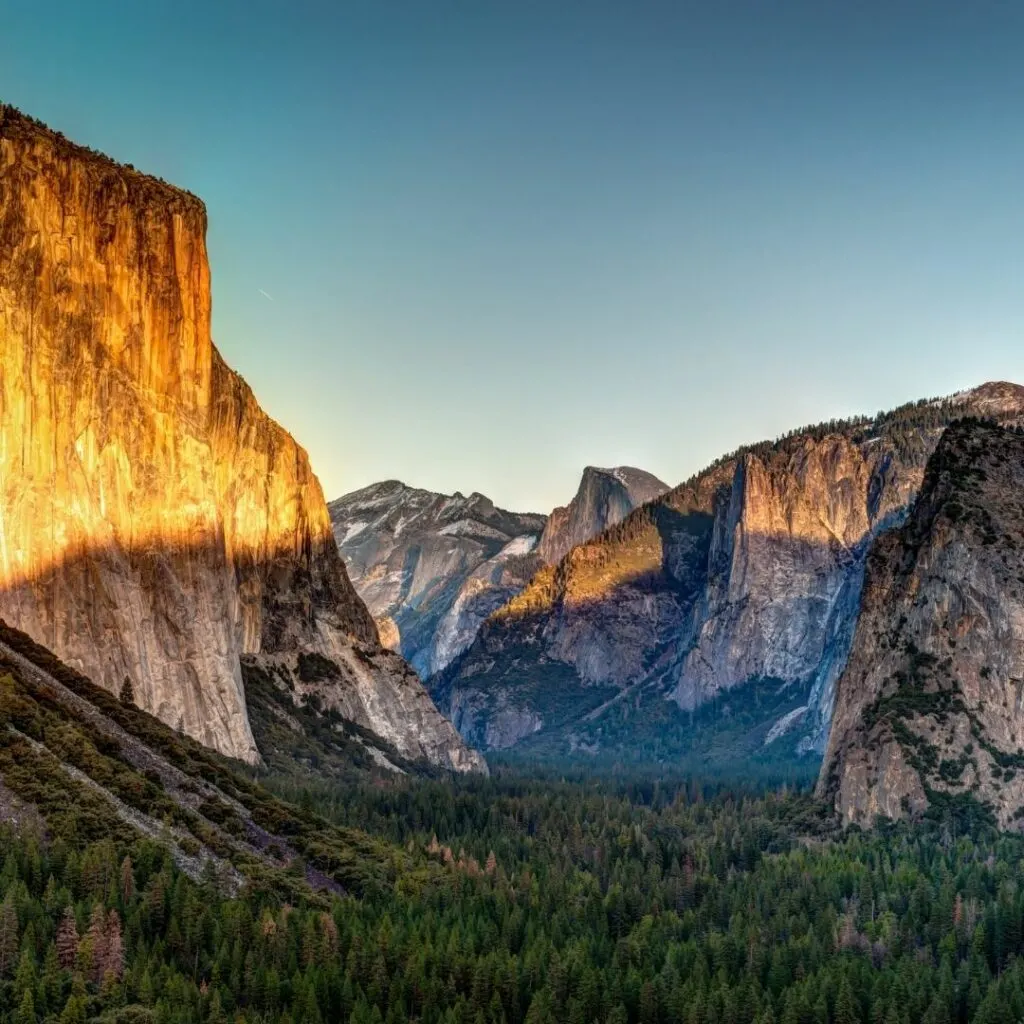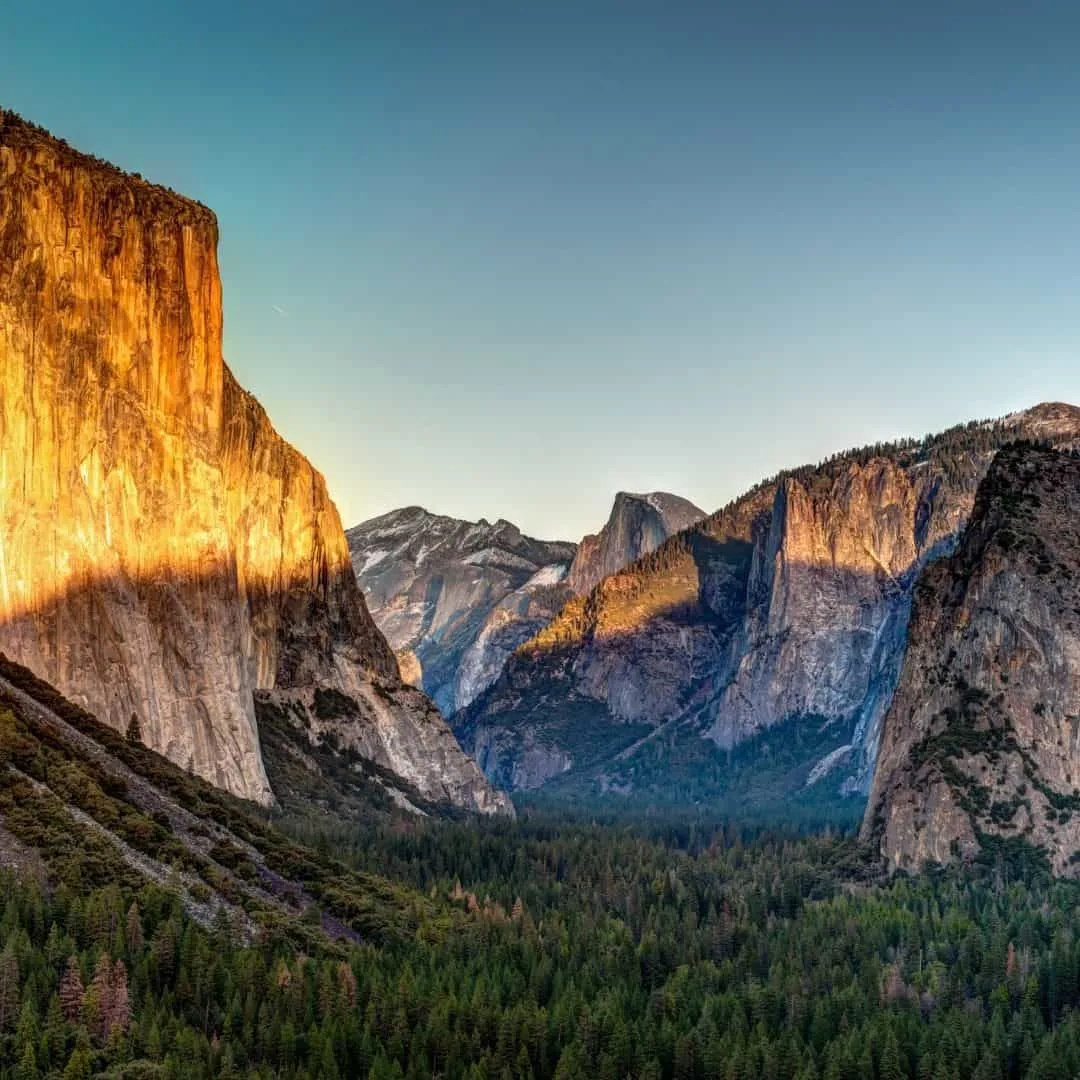 Day 2:
Yosemite Three Day Itinerary: The Hike
No Yosemite 3 day itinerary is complete without a hike. As everyone has different abilities, below is a couple of options to choose from.
For those familiar with hiking and not afraid of a challenge, the Mist Trail is a great choice. Many visitors flock to Yosemite to see the spectacular waterfalls and there are twenty-five of them located around the park. Some are easy to see from vantage points, however, others require a bit of a hike.
On the Mist Trail, visitors can hike to Vernal and Nevada Falls. It is one of the best hikes in Yosemite National Park. However, it is not for the faint-hearted. The hard work is rewarded with some breathtaking views.
It is best to start the hike early in the morning as it can get hot during the day. In fact, many visitors love to hike this trail in Fall when the weather is cooler. It is a busy trail, so starting early results in avoiding crowds.
The trail starts and ends at Happy Isles trailhead and it is around 11km long. Most can hike it in around four hours, however, allow extra time for photos and breaks. The trail starts off steep so wearing the right hiking boots is important.
The first waterfall is Vernal Falls and a little while later is Nevada Falls. The amount of water seen at the waterfalls is dependent on the time of year. The waterfalls in Yosemite are caused by snow melting so they are overflowing from April and start to dry up at the start of summer.
Many visitors take the John Muir Trail on their return. It is a little bit easier and allows visitors to see more of the park.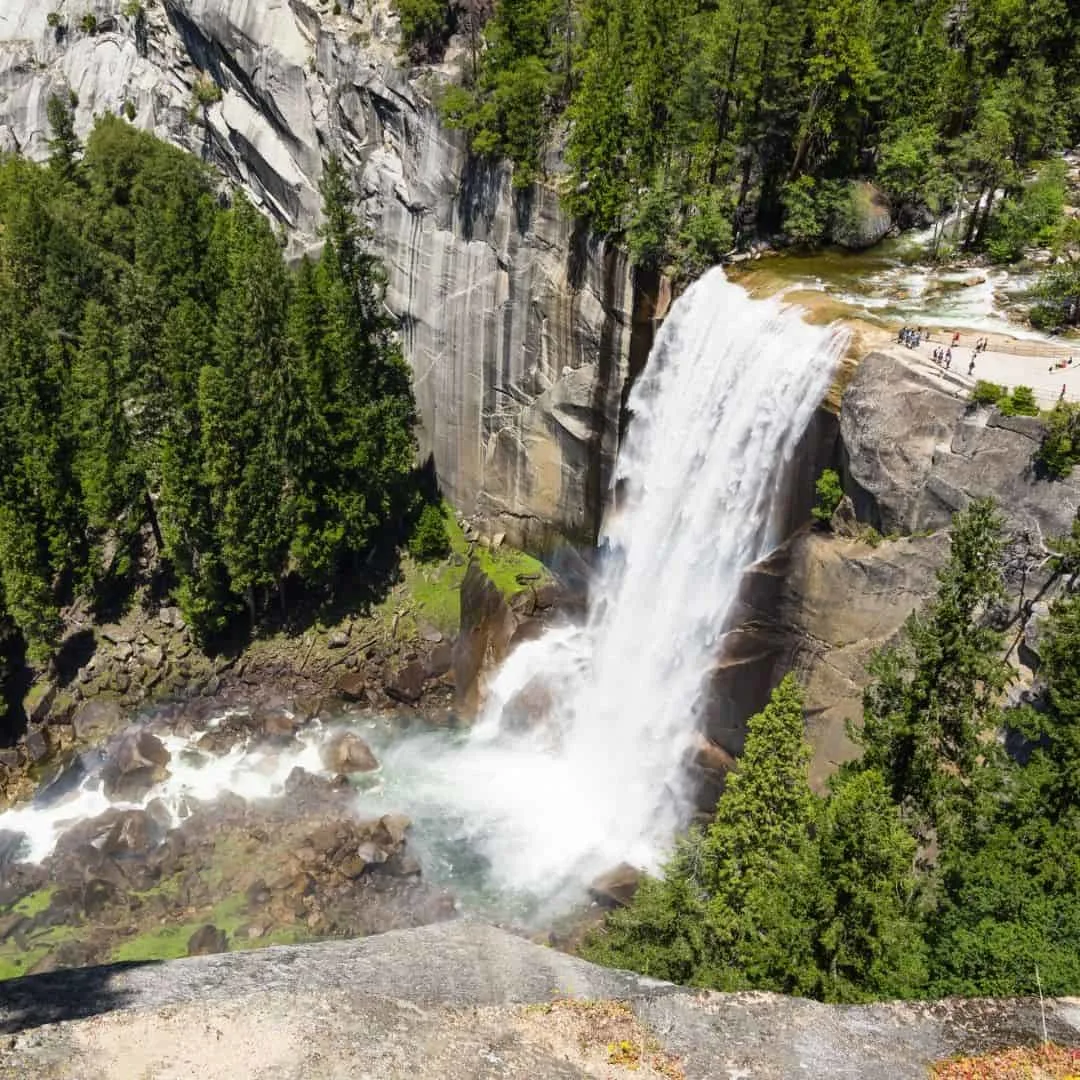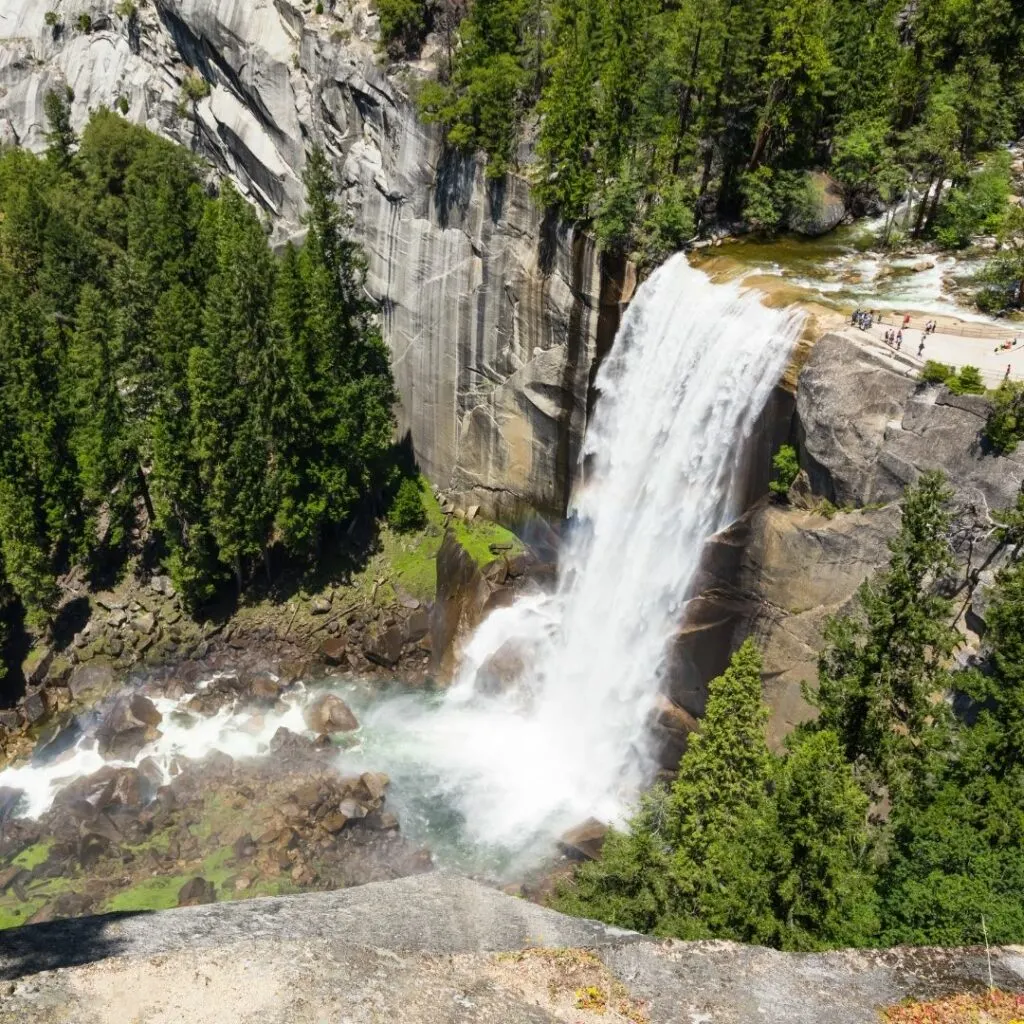 The trail may be icy in the winter months January, February and March and not suitable to hike. It is not a great hike for those visiting Yosemite with kids or for anyone not use to hiking. An alternative hike is the Mirror Loop Trail.
Mirror Lake is in the Valley and it is a kid-friendly hike. The trailhead starts at shuttle stop #17. Not only does it have fantastic views, it is known for having a large variety of animals including ducks, geese, and trout fish. The lake is seasonal however and the area is stunning all year round.
During summer many people utilise the lake to swim in. Once winter arrives the lake is usually covered in snow and it is a stunning sight.
The trail is 10km and is mostly flat with some steep sections. A lot of it is paved, making it great for bikes and strollers. One thing to be careful of is the bugs, so bring an insect repellant.
It is a great place to sit and take in the views, bring a picnic or a packed lunch to sit beside the lake. As Yosemite is home for many black bears, remember to never leave food unattended, carry bear spray and don't leave anything behind.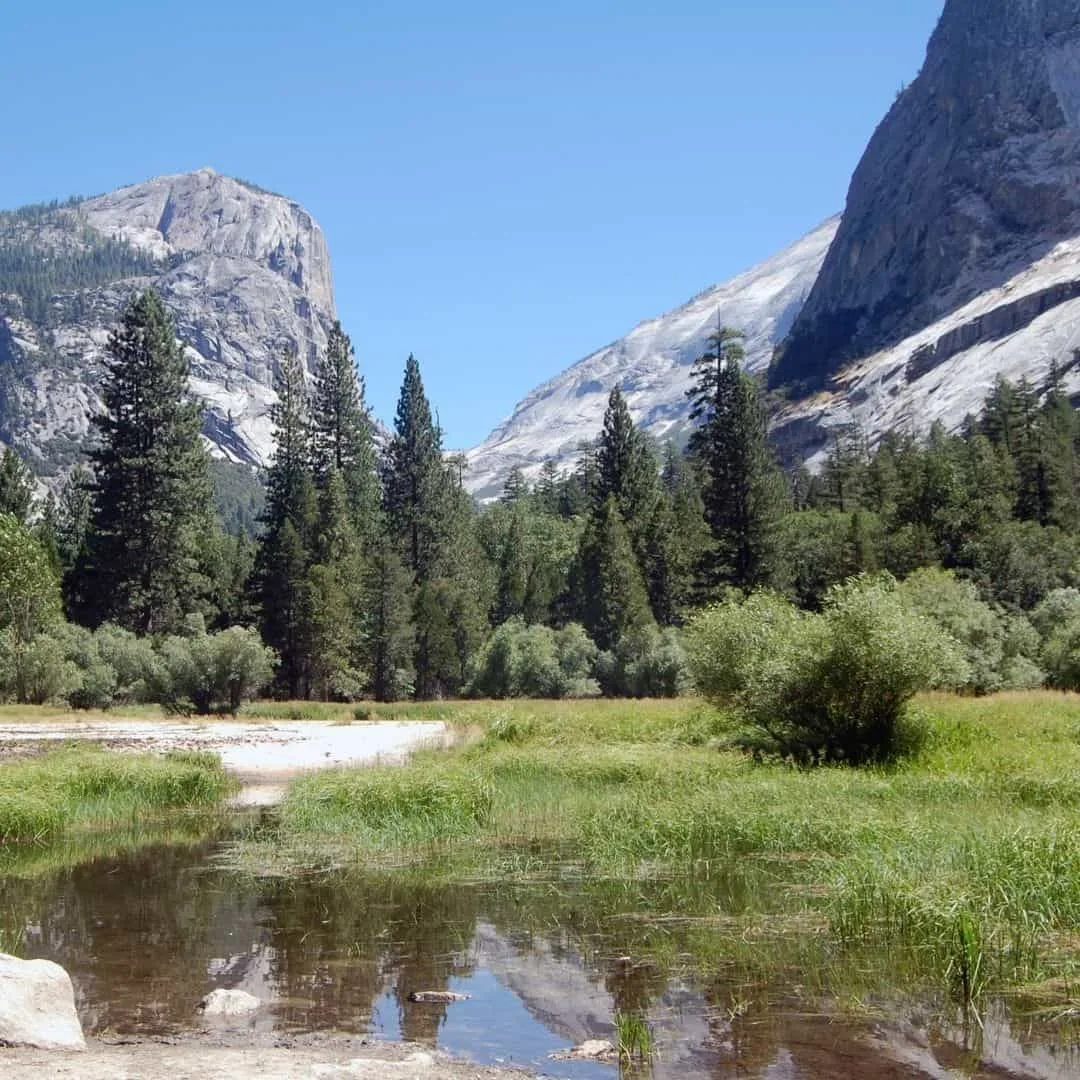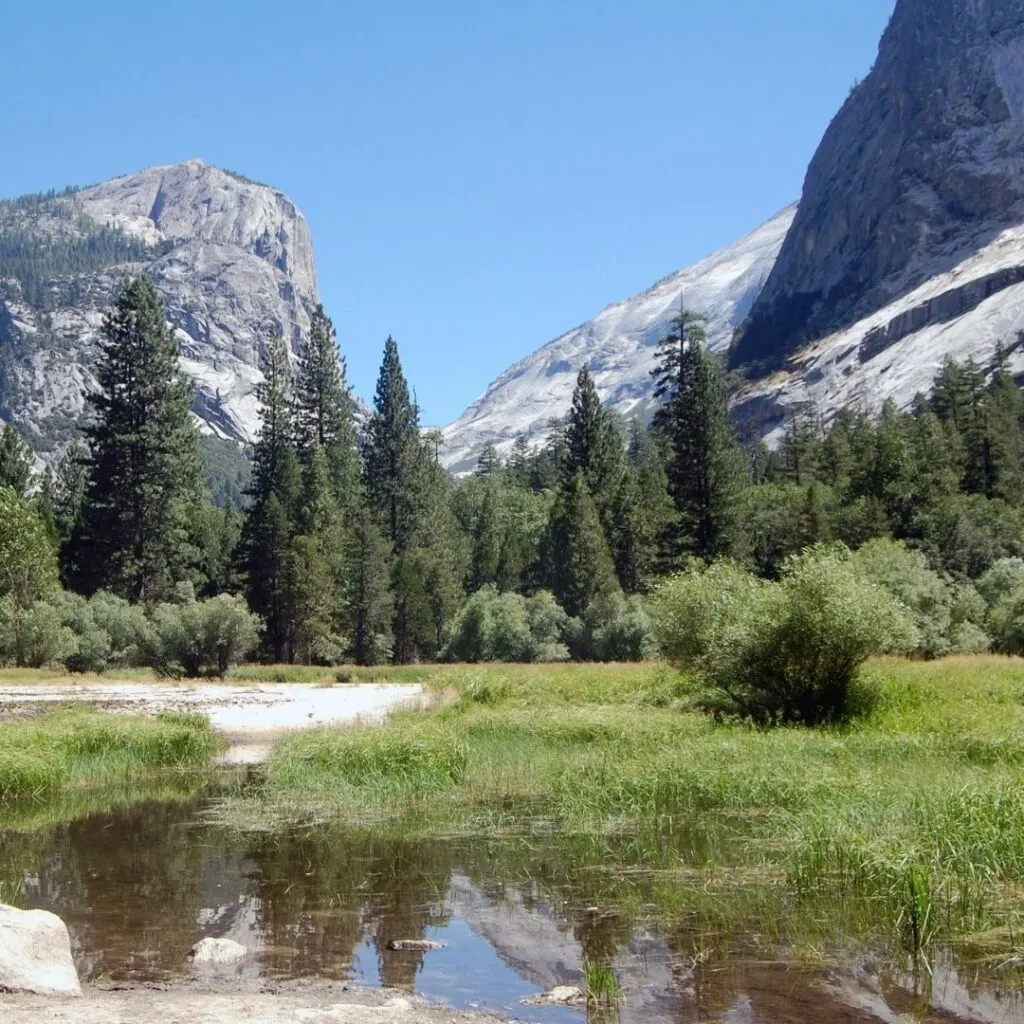 Yosemite National Park 3 Day Itinerary: Meadows
Cook's Meadow is located near the Valley and it is a beautiful place for a stroll in a Yosemite 3 Day Itinerary. Visitors can enjoy stunning views of Yosemite Falls, Half Dome, Glacier Point, and Sentinel Rock.
What sets this place apart from other areas in the park is the colours of the grass together with the surrounding trees. In spring the area is covered in wildflowers and the meadow is filled with reds, oranges and yellows of every shade. In the late afternoon, deer can be spotted grazing.
The location of Cook's Meadow is perfect as it is near the Visitor's centre at shuttle stop #5 or #9. It doesn't take long to walk or cycle the trail. However, there is no shade, so bring plenty of sunscreen and wear appropriate clothing such as hats if the sun is out.
If visitors are coming from the Valley, the trail leads straight to Sentinel Bridge. Sentinel Bridge is a popular attraction and can be added to the trail through the Meadows. This trail is included in the Yosemite national park 3 day itinerary due to the breathtaking views of Half Dome and sometimes Yosemite Falls.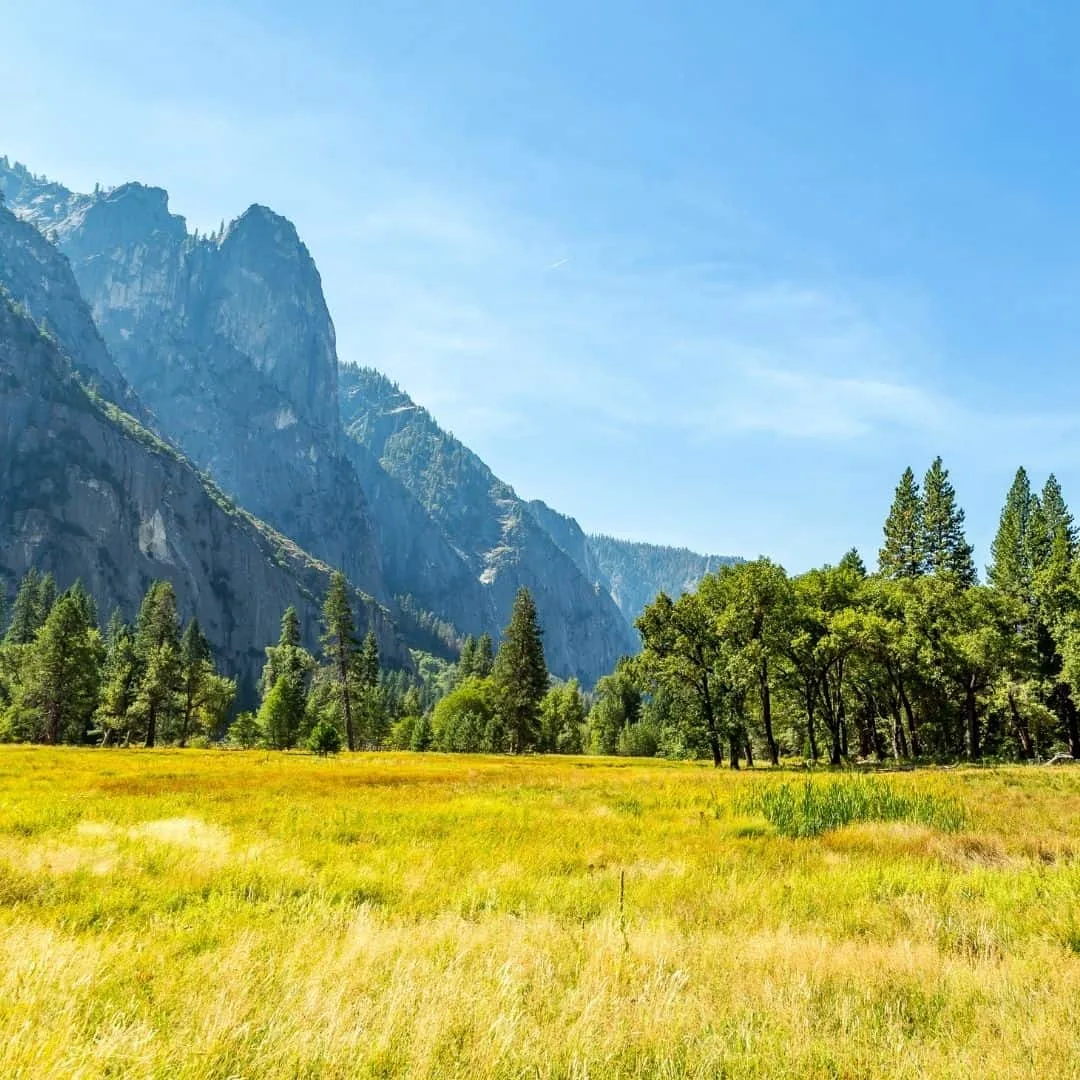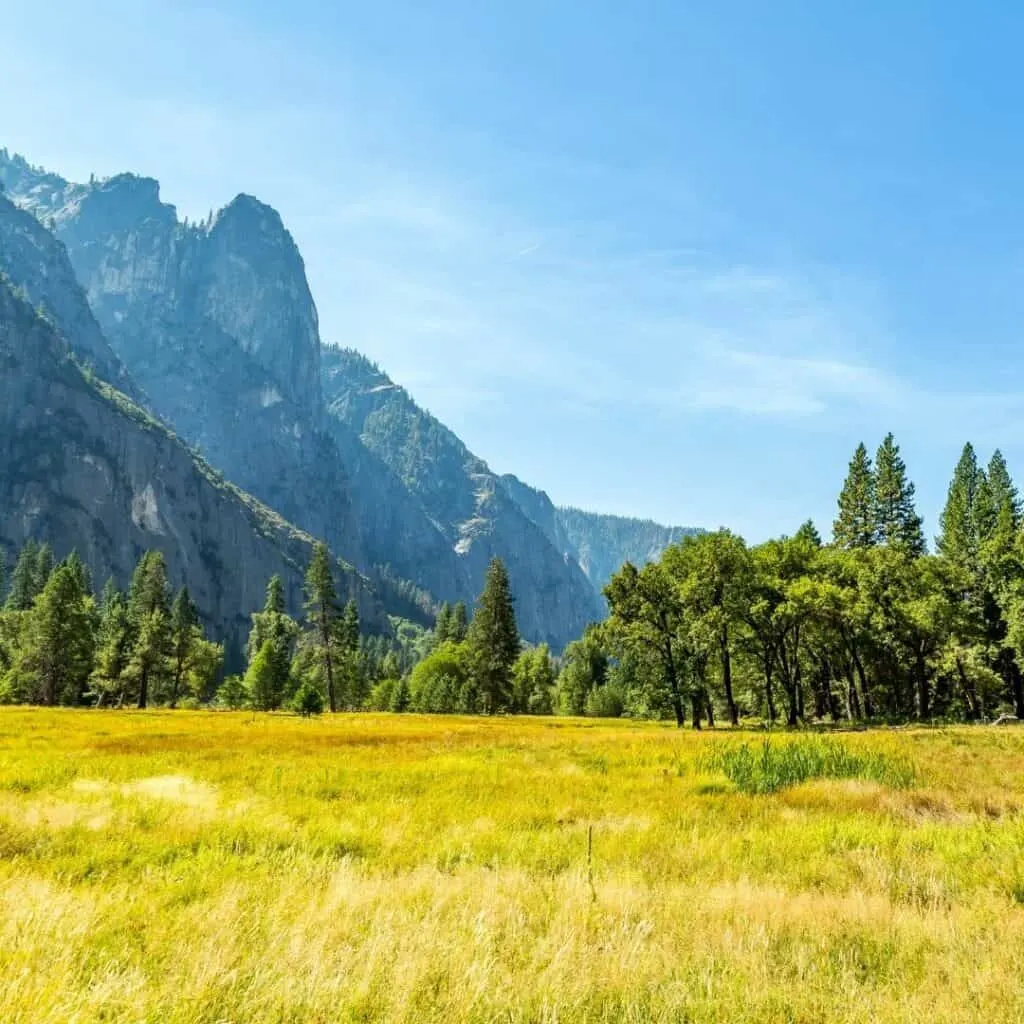 3 Day Trip to Yosemite: Chasing Sunsets
If visiting in winter, the Glacier Road is closed which limits the travel to the Valley unless visitors take a strenuous hike. If this is the case, then consider watching the sunset at Cook's Meadow or Sentinel Bridge. Both are stunning and amazing places to watch the sun go down.
However, if visitors want to take advantage of the many points in Yosemite, Taft Point is located just a short distance from Glacier Point and is a great addition to a 3 day trip to Yosemite. Head in the same direction as Glacier Point, use the car park for Sentinel Dome. This vantage point is usually busy, so expect a crowd.
The trail to Taft Point is under 1km and is an easy walk. When visitors reach Taft Point, they may be shocked to find there are no railings along the edge until the highest point.
At sunset, visitors should be mindful of where they are stepping. In fact, a torch or headlamp would be handy to have here. Expect to have amazing views of El Capitan as the sunsets over the granite cliffs.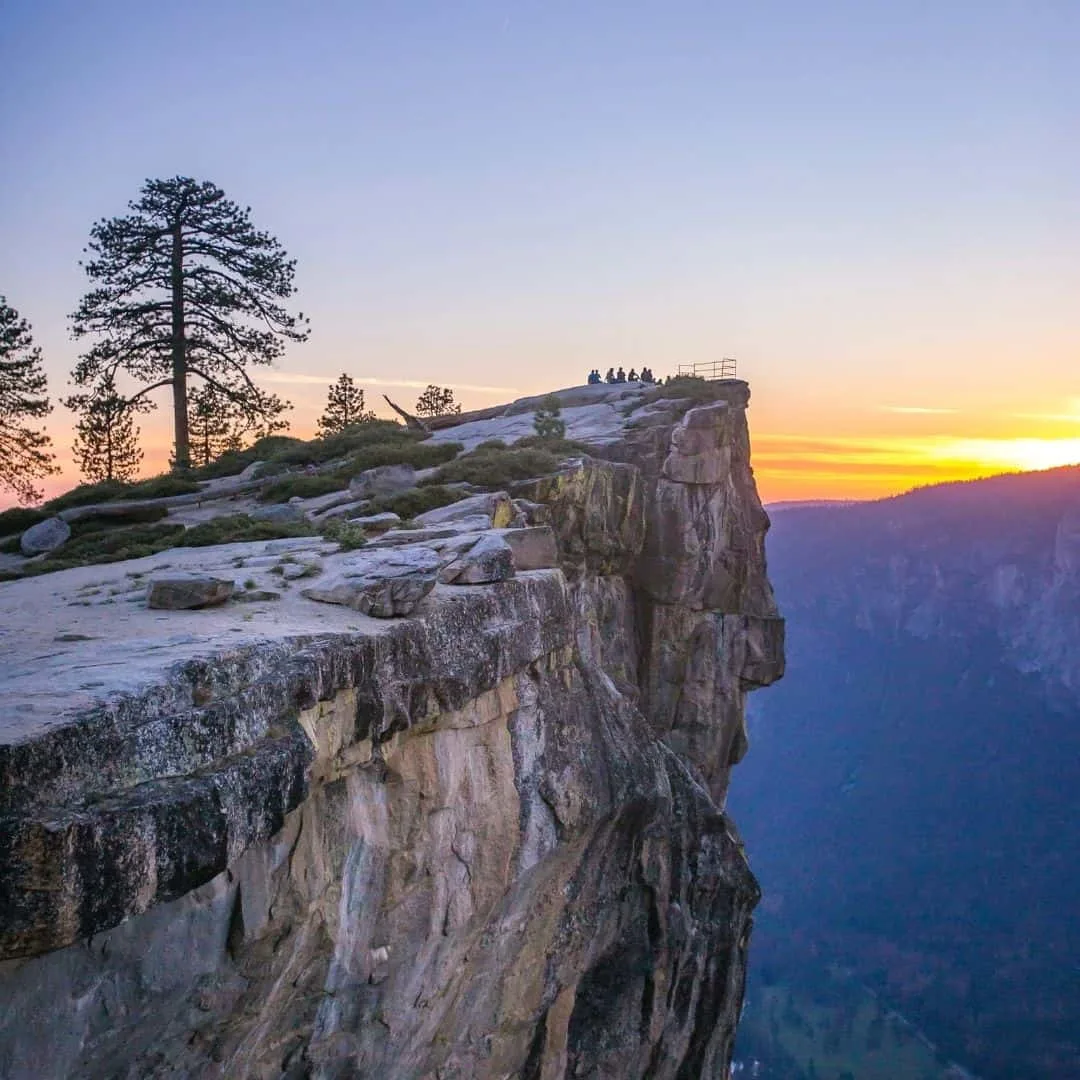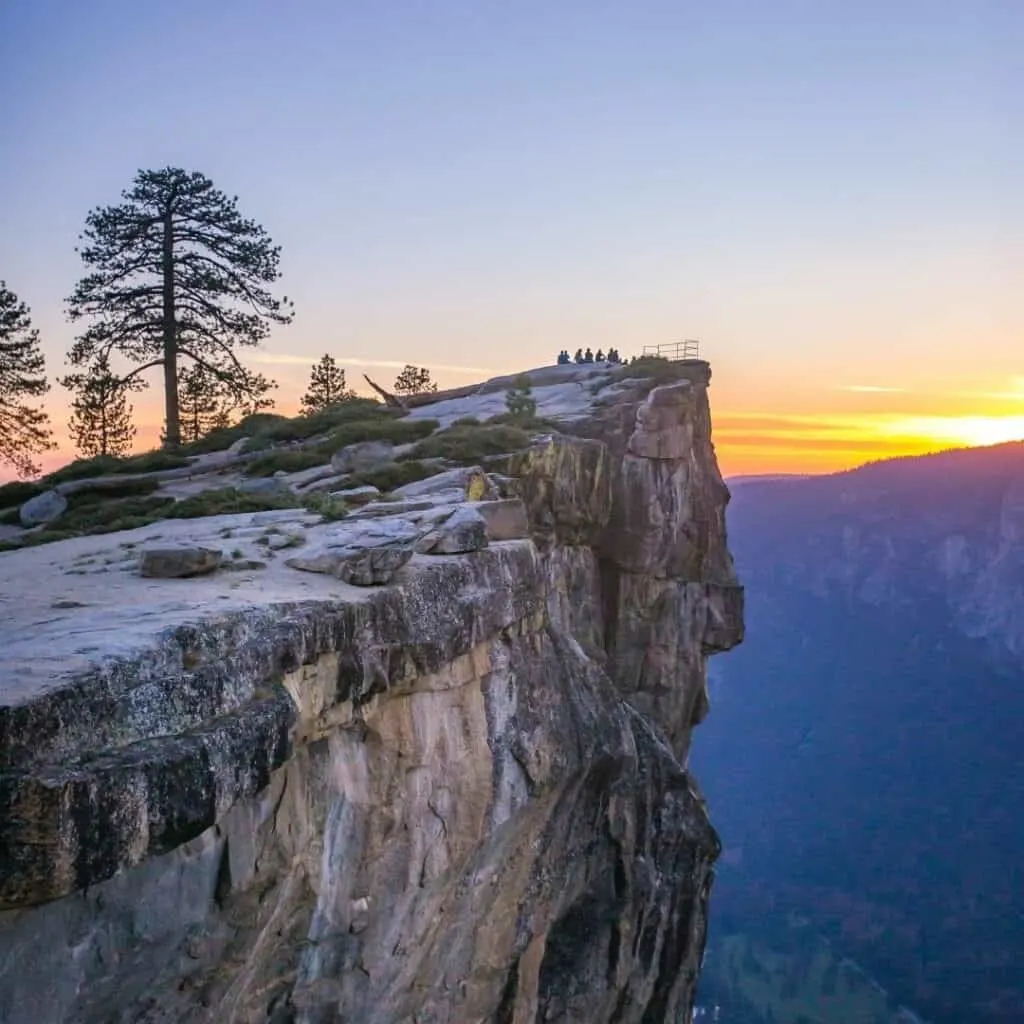 Unfortunately, Taft Point is not open all year. If the trail is closed, Sentinel Dome is not far away and it has stunning views of Yosemite Valley and Half Dome. Sentinel Dome is a little different from Glacier Point and Taft Point as it has 360-degree views.
If visitors look north, they can see Yosemite Valley, including El Capitan and Yosemite Falls. Over to the east are Nevada Falls, Half Dome, Clouds Rest, and some of the High Sierra peaks.
The West is Yosemite Valley and the Merced River Canyon. There are views to the south, however, they are not as stunning as the others.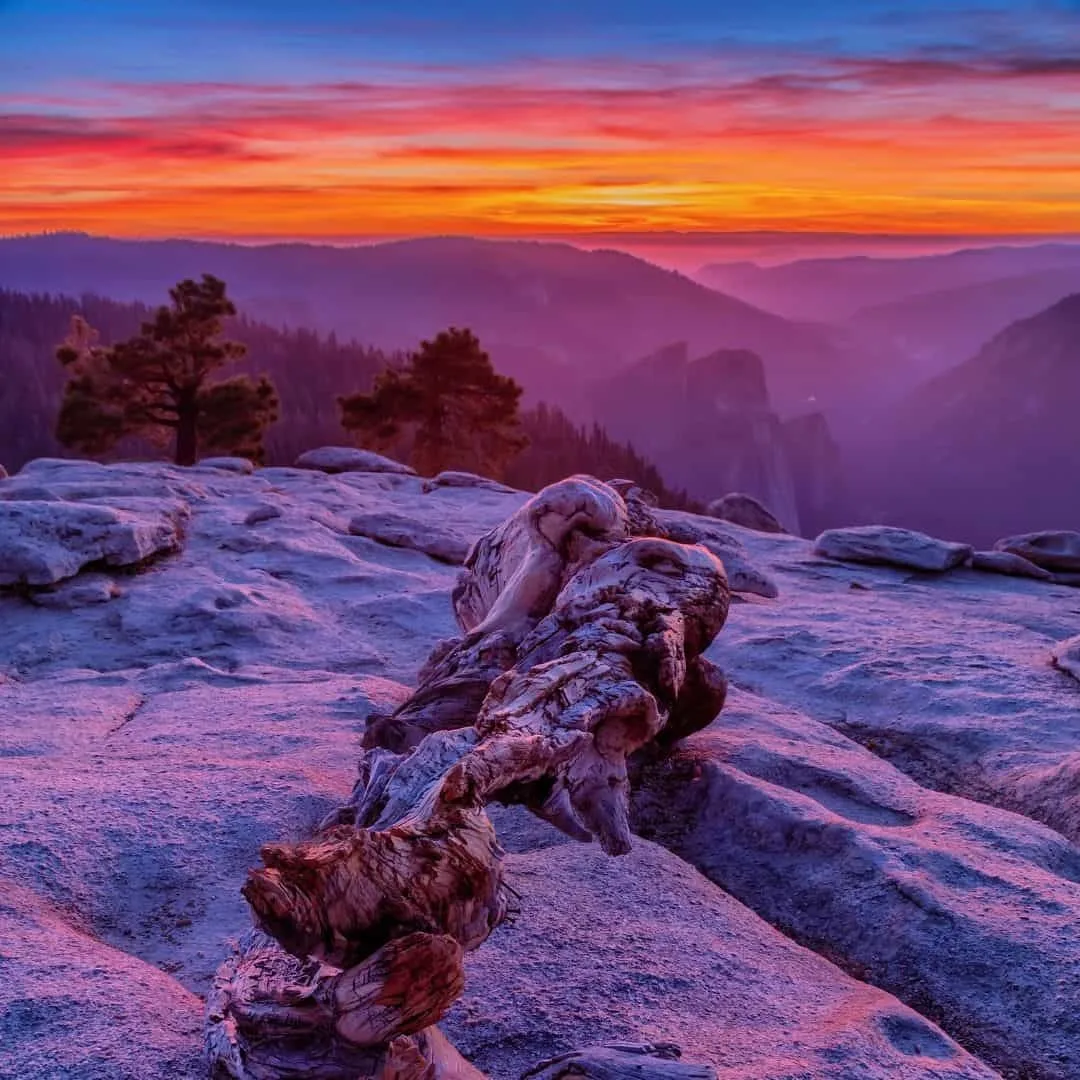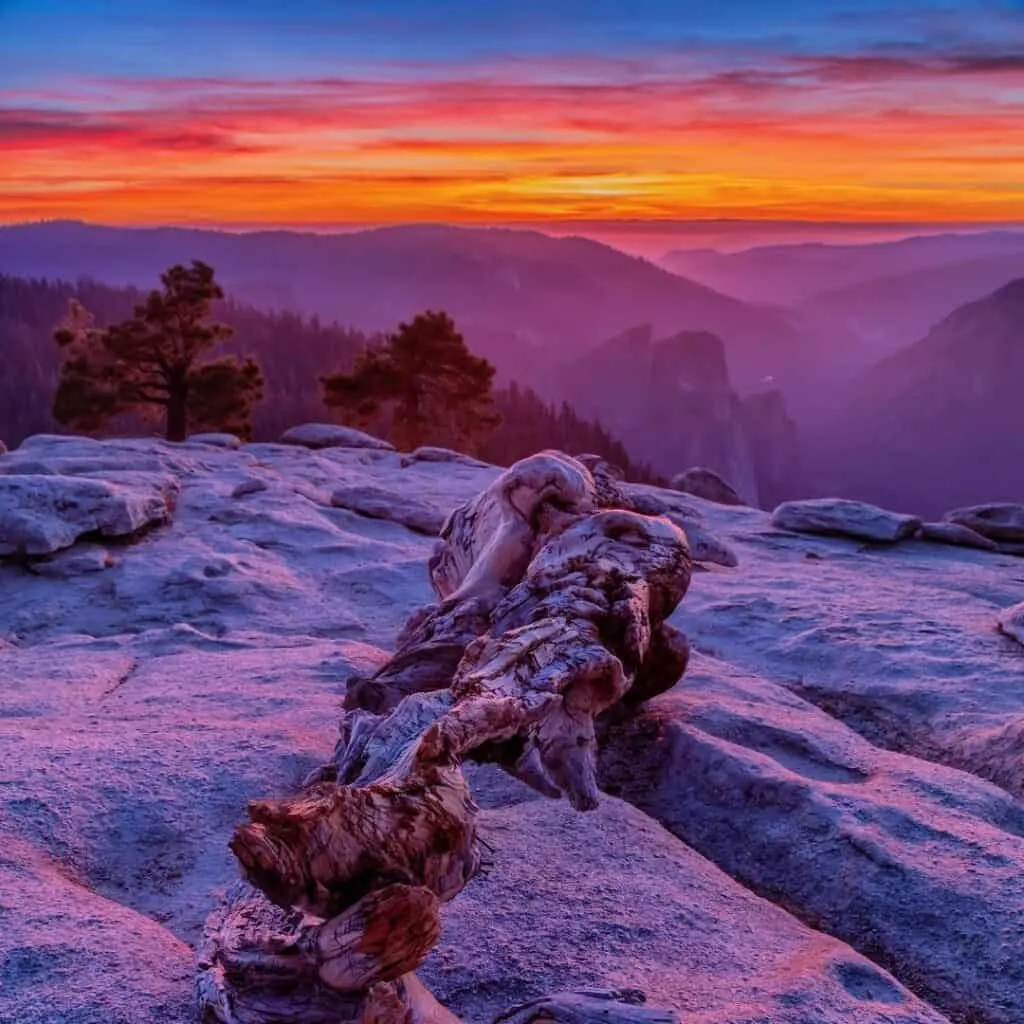 Day 3:
3 Days in Yosemite National Park: Sequonias
One thing Yosemite is known for is the famous trees that grow in Mariposa Grove. One of the most famous is known as the Grizzly Giant. The trees are not just impressive in size, it is mind-boggling how old they are!
To get to the grove head towards the South Entrance of the park along Wawona Road. It takes around an hour from Yosemite Valley and it is recommended to get there early. While the car park has over 300 spaces, they usually fill up before lunch.
There is a free shuttle to the entrance of the grove from the car park. However, the shuttle only runs for part of the year due to snow.
It usually stops sometime in fall and begins again in spring. It is possible to visit the grove without taking the shuttle, however, be prepared for a two-mile hike. With snow on the ground, snowshoes could make the hike a lot easier at this time of year.
The Mariposa Grove of Giant Sequoias Trail is considered the best trail in the grove as it takes visitors to all of the famous trees. It is 10km so leave around three to fours hours depending on how many breaks visitors want to take.
Bring snacks and a picnic or packed lunch. Visitors can find picnic benches around the car park and there are many places to stop on the trail. Mariposa is perfect all year round and still accessible in winter if visitors don't mind walking in the snow.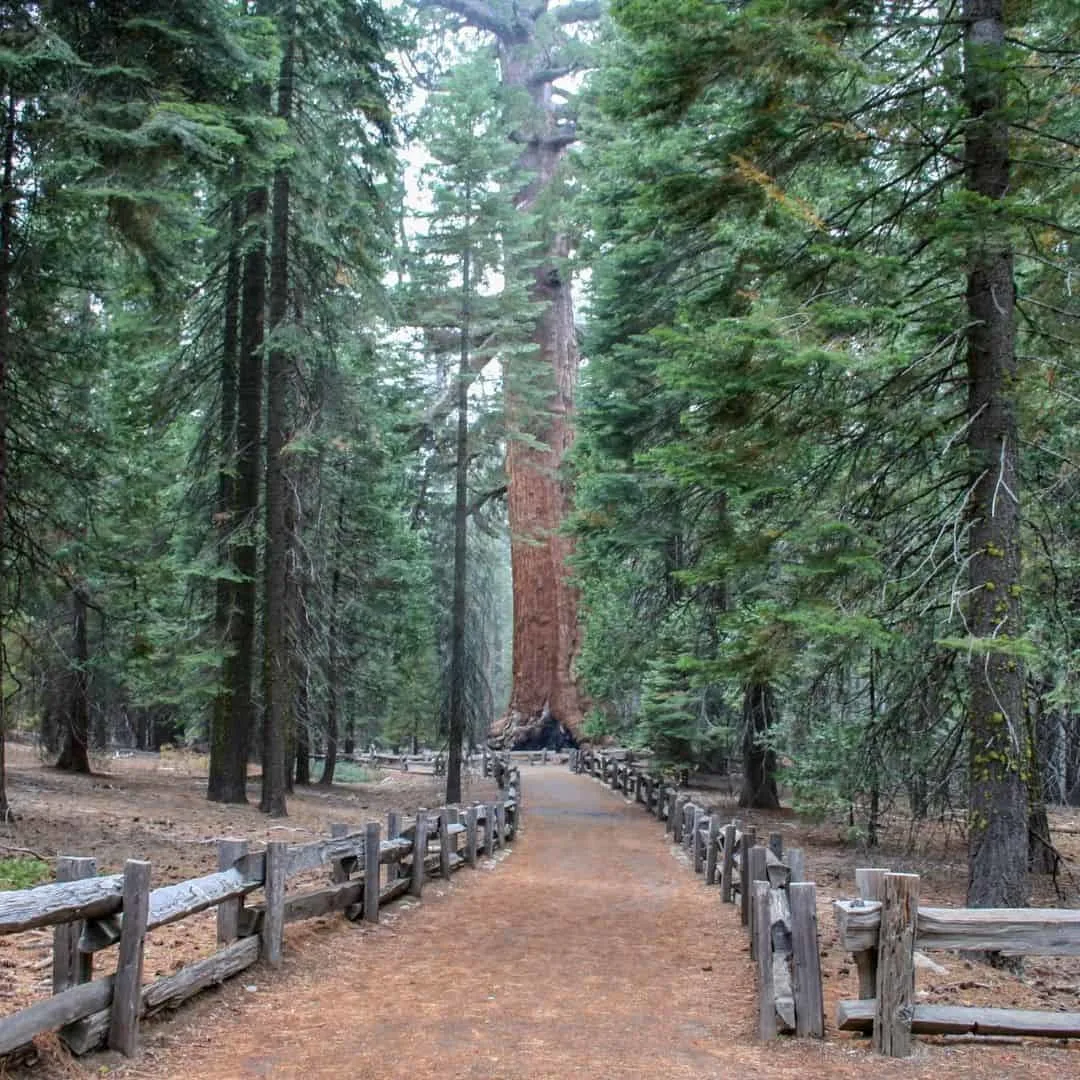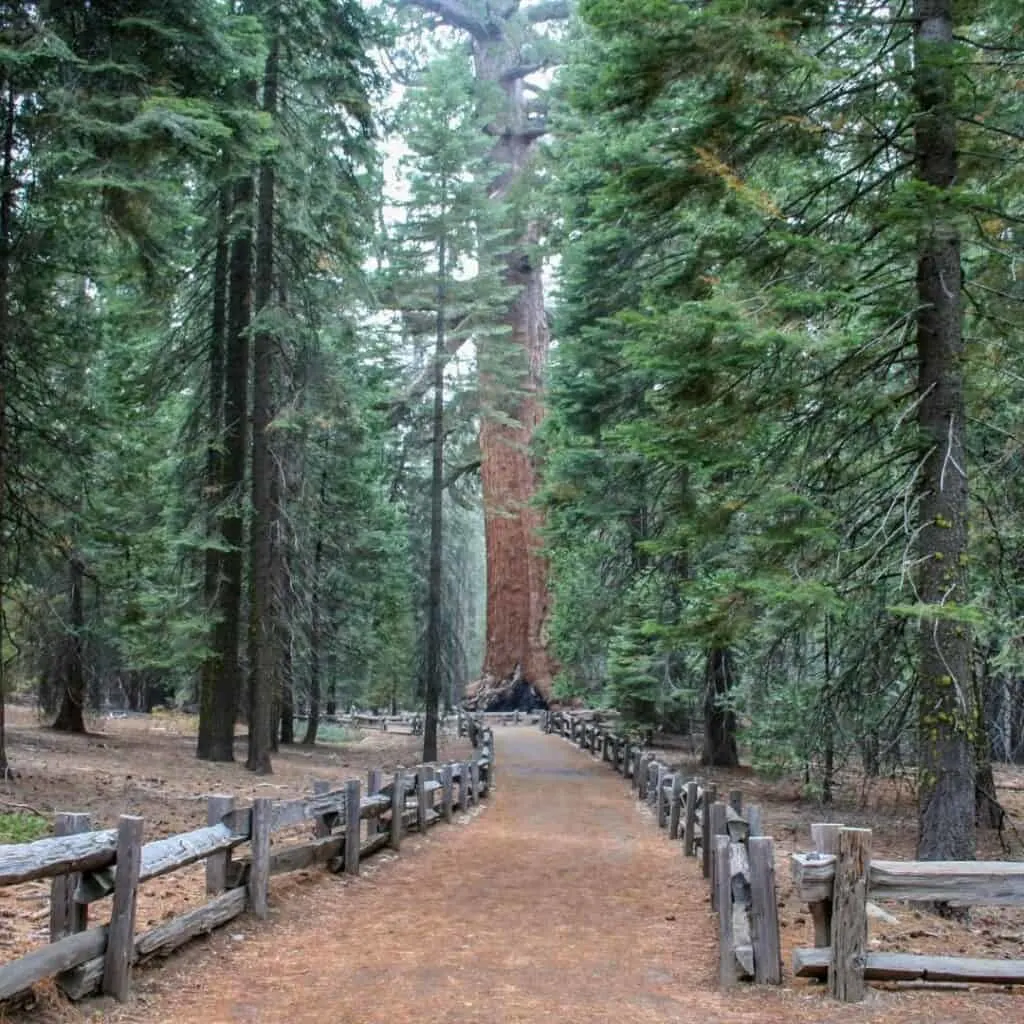 After spending the morning at the Mariposa Sequoia Grove, visitors wishing to learn more about the history of the park can visit the Yosemite Museum after lunch. There is a lot to see and do including a reconstructed Indian Village of the Ahwahnee.
Depending on the time of year, visitors can participate in some events held and watch demonstrations including basket-weaving, beadwork and traditional games. it's a great place to visit all year round and a little bit of contrast to the trails and views on a Yosemite 3 day itinerary.
Yosemite National Park 3 Days: Last Sunset
On the way back to Yosemite Valley, make a stop at Tunnel View car park and hike a mile to Inspiration Point. At first, this may remind visitors of Tunnel View. However, it is noticeably different.
There are usually fewer visitors around which makes it a great alternative to Tunnel View. The only downside is the steep climb. It doesn't take long, however, in winter the snow and ice can make it more difficult.
Getting to the top makes it all worthwhile as the view is breathtaking. The perfect end to your Yosemite 3 day itinerary.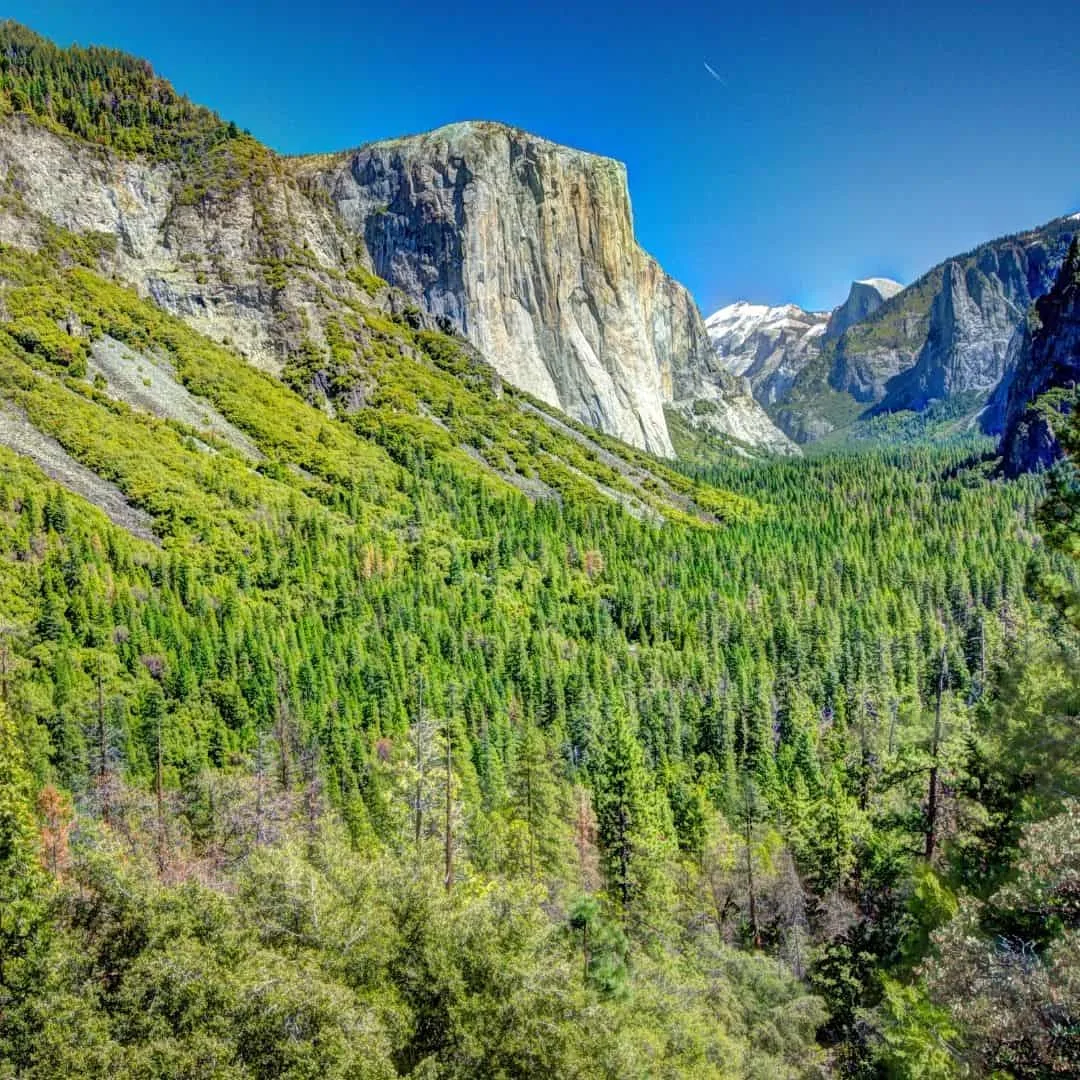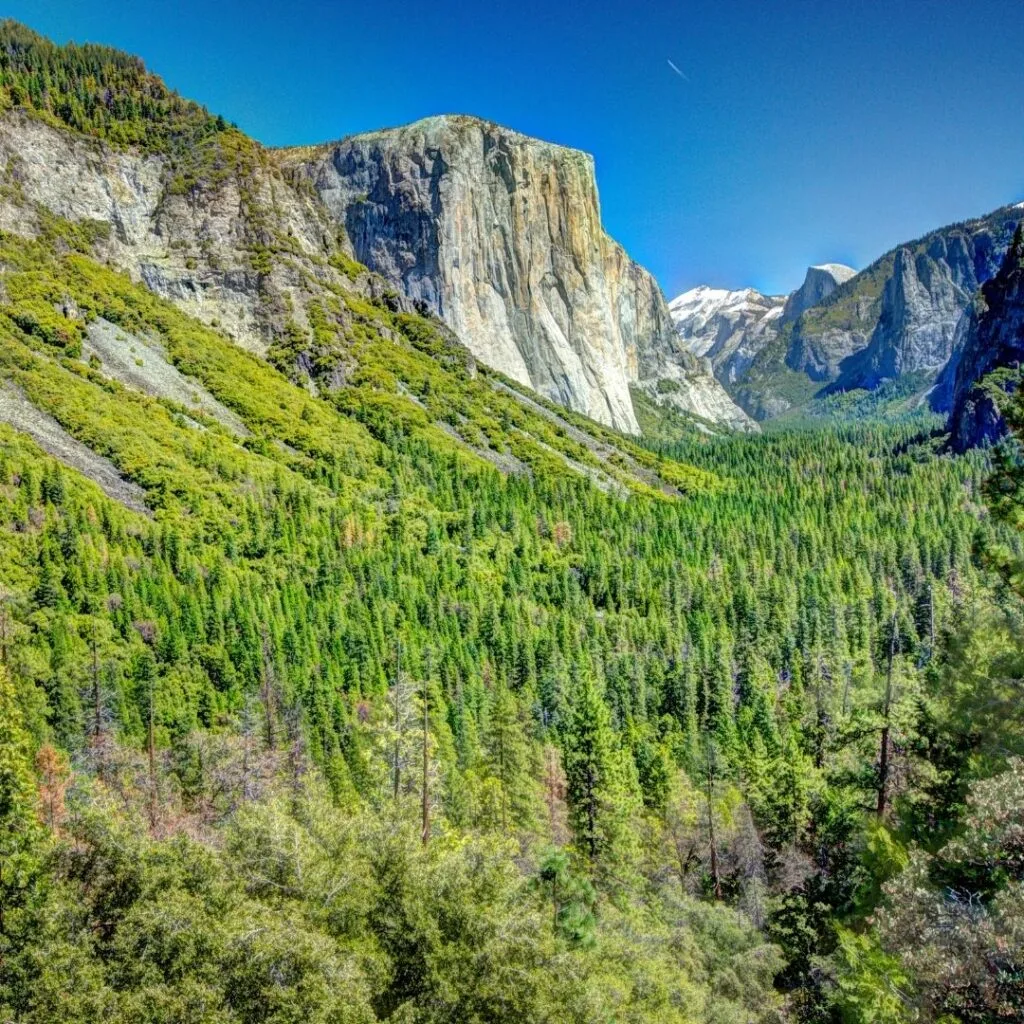 Where to Eat with Three Days in Yosemite National Park
Many people camp or stay in RVs in Yosemite and have come well prepared to make their own food. For others staying in hotels either in Yosemite or nearby, the hotel should have a restaurant onsite.
If visitors don't want to head back to the campground or hotel, Yosemite Valley has plenty of places to grab a quick bite to eat.
This is great for those seeking casual meals, however there may be a few that want a more formal meal. The Ahwahnee is a historic landmark in Yosemite. It opened its doors in 1927 and was built in the style of a Native American Indian lodge.
It has gone through several changes in the past few years, however it remains a firm favourite for families and couples looking to experience a great meal in a Yosemite 3 Day Itinerary. In fact, the Ahwahnee serves breakfast, lunch and dinner and open all year round.
Dinner is considered a formal meal at the Ahwahnee. With this in mind, formal attire for all party guests is expected. Men are required to wear shirts with collars and long trousers or pants.
Women are required to wear a dress, a skirt or long trousers with a blouse. Proper attire is expected of children over four as well. Indoor dining means seating is limited so make a reservation before arriving.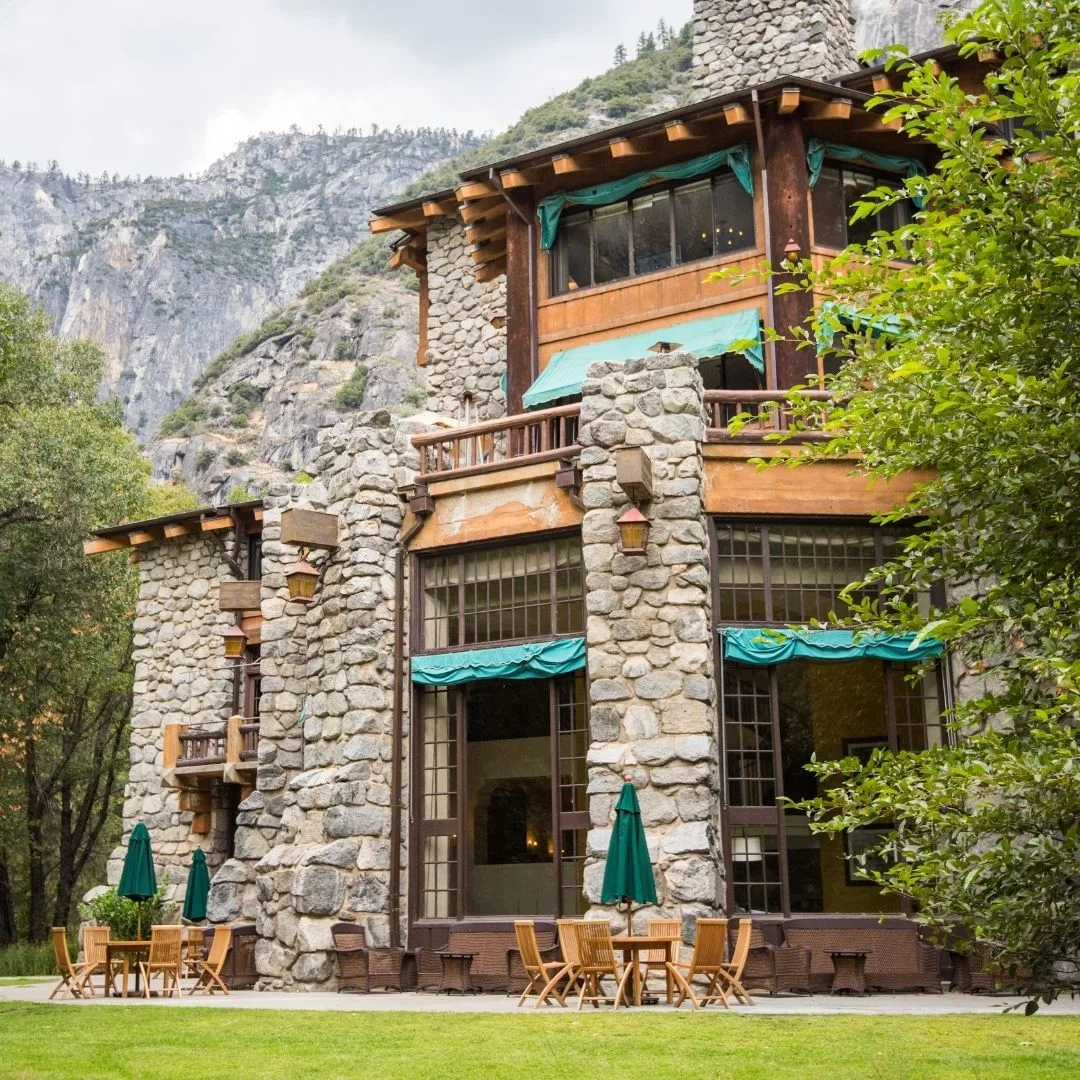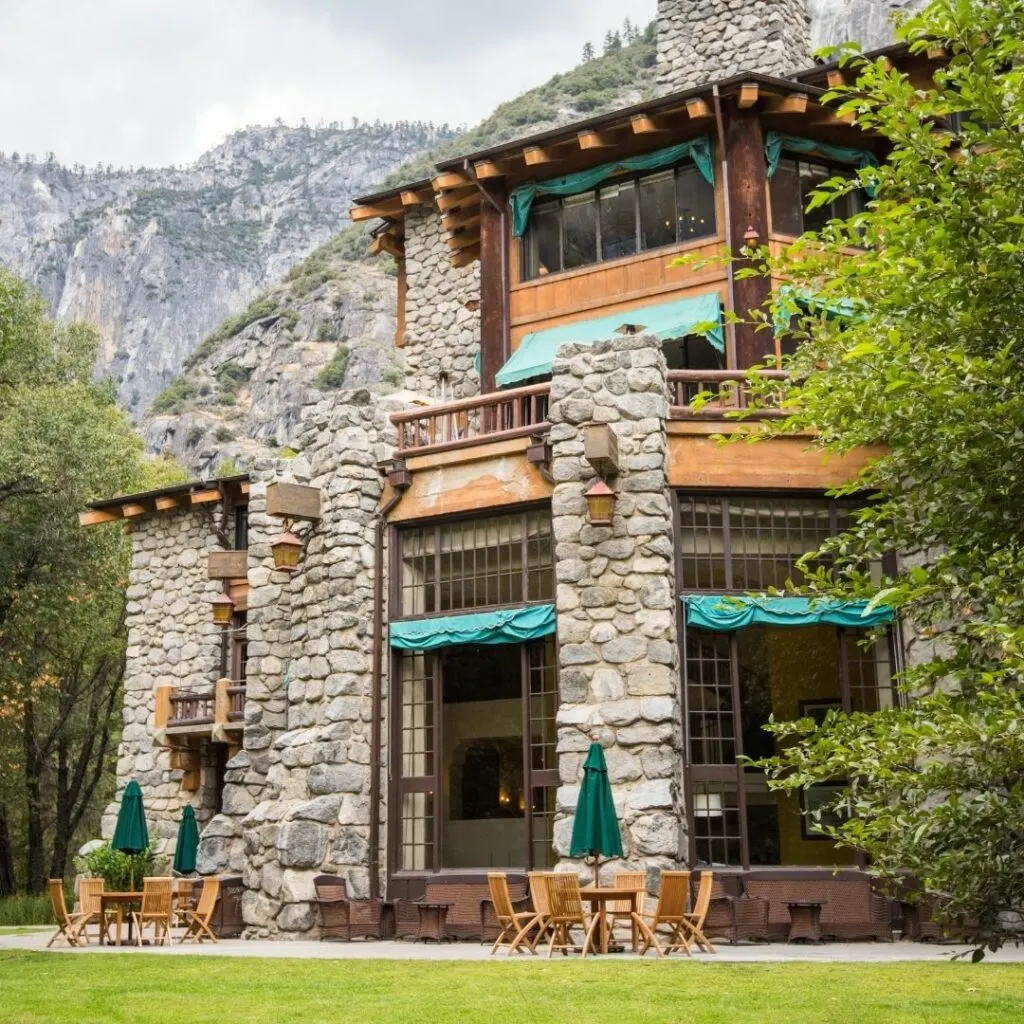 A Yosemite 3 Day Tour
Yosemite National Park is always amazing and even better if it is planned correctly. For some, this is half the fun about taking a trip, for others this can fill them with dread. Luckily there are many tours available in Yosemite which will take away the hassle of planning.
One of the most popular tours is this Yosemite Valley 3-Day Camping Adventure. This tour is popular as guests don't have to take all of their camping gear with them.
This means it takes the hassle out of packing and deciding where to stay. Everything from quality tents, to cooking equipment is included. The only thing guests need to bring along is a sleeping bag.
The Yosemite 3 day tour includes many of the activities guests would do if they were visiting themselves. They can set up the camp and take it down when they leave and also have the choice of what to cook in the evenings around the campfire.
A quick rundown of the Yosemite 3 day itinerary includes pick up in San Francisco at around 8.15 am. The trip kicks off right away with a small short hike through the giant sequoia trees. There guests can enjoy the packed lunch they brought with them.
After lunch, guests head to Yosemite Valley and will go over the itinerary for the next three days. The first evening is free so guests can enjoy exploring the park by themselves. However, it is recommended to go to bed early as it is an early start on day two after breakfast,
Day two is a full day of hiking and sightseeing. The Yosemite 3 day itinerary can change depending on the time of year, the weather and what the group wish to do. A popular choice is May Lake where visitors can hike to the summit of Mount Hoffman for some 360-degree views.
Day three is not planned and most tend to spend time in and around the Valley. The guide is there to give visitors tips and advice on where to go. After three days in Yosemite visitors return to San Fransico.
Find out more about a 3 Day Camping Adventure in Yosemite here.
3 Day Backpacking Yosemite
Yosemite National Park has over four million visitors every year. The majority of them arrive to see the landscapes and famous landmarks around the park.
If visitors are experienced campers, backcountry camping may appeal With over 95% wilderness, there are endless opportunities for adventure and to get away from crowds in Yosemite Valley.
Before rushing to get a backpack, it is important to understand the logistics of a 3 day backpacking Yosemite trip. First, visitors need to apply for a wilderness permit. Applications are filled out online and go into a lottery. In this instance, permits are assigned twenty-four weeks ahead of time.
Those who weren't successful for a permit in the lottery, can still get one at 11am the day before. These are not guaranteed and are given on a first come first serve basis.
There are several rules and guidelines visitors must stick to when they are backcountry camping. There are strict rules to protect the wildlife, visitors and the park itself. The Yosemite website has a complete guide, however below are a few of the most important ones.
Yosemite is home to many black bears. Visitors should store all food and toiletries in bear-resistant containers. Bear boxes are available at campgrounds, however, if visitors are backpacking they should bring their own. Other conditions include the distance between lakes and other useful information.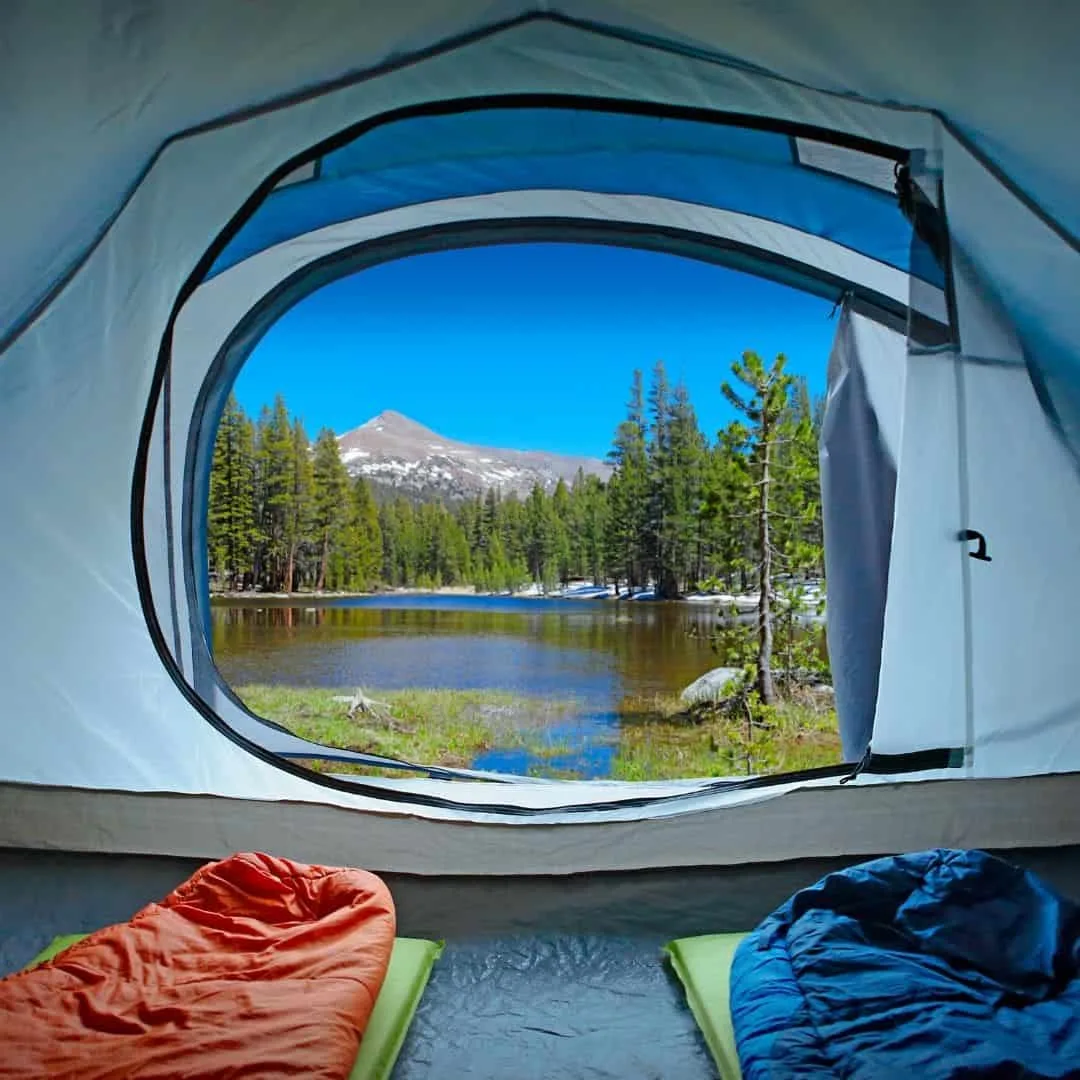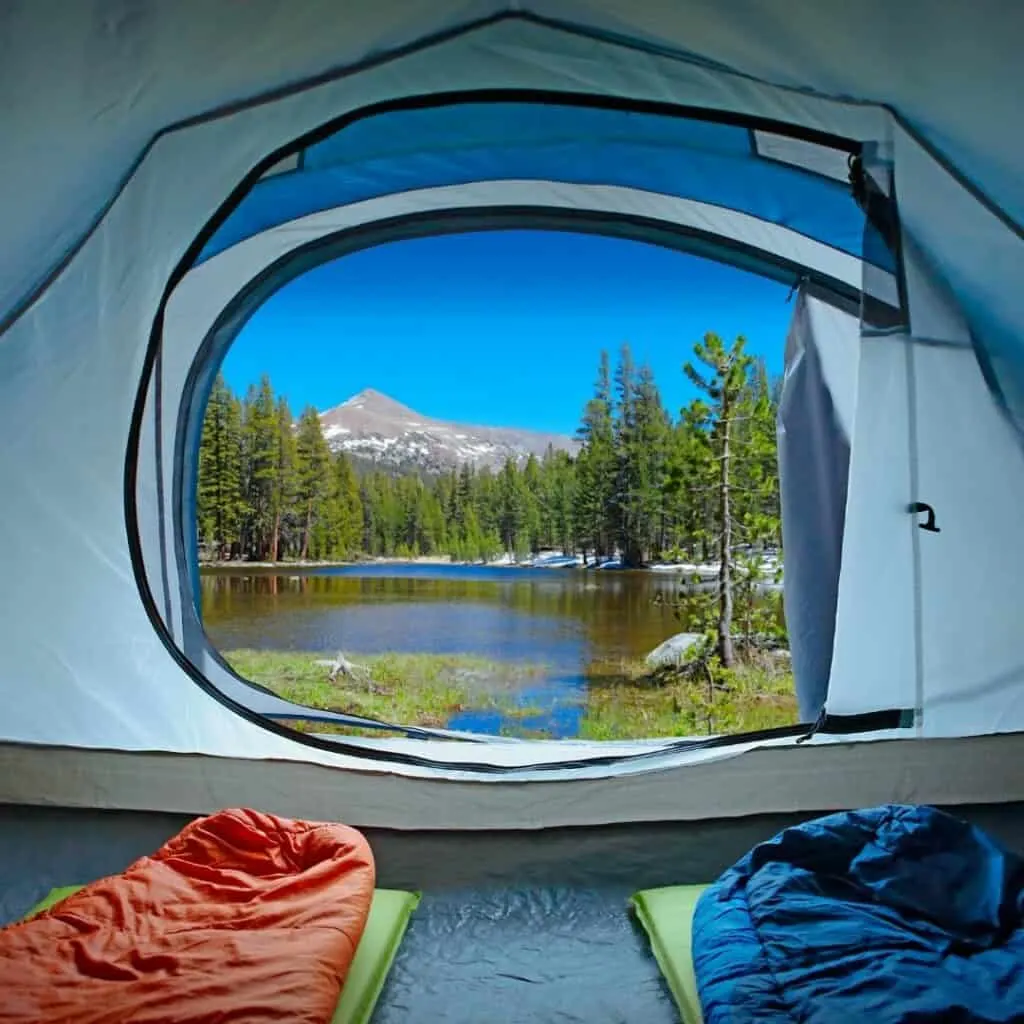 3 Day Hike Yosemite
If visitors have opted for a 3 day backpacking Yosemite trip there is sure to be a lot of hiking on the agenda. Back packing in Yosemite gives visitors the chance to combine many of the fantastic trails around the park. The majority are not easy and are for experienced hikers.
While there are plenty of short trails near the Valley, a little further out are some great two day or three day Yosemite hikes. One which comes highly recommended is the Ten Lake Loop. It starts at Yosemite Creek where visitors can hike up a stunning canyon.
It leads to Tens Lakes area where there are some amazing views. Some hikers say it is the hardest day as there are lots of switchbacks and the incline can be very steep. You pitch a tent before heading to Toulumne Peak the following day for breathtaking views of Tuolumne Valley.
On the third day, end the trip with a hike to Tenaya Lake. This hike is around 30km/18 miles. There are plenty of places to get water, however, carrying purification equipment is essential.
In fact, preparation is key to any backpacking trip. Remember on all backpacking trips there is always the chance of fallen trees where signs can be damaged.
Download a map of the trail from apps such as Alltrails and keep a phone or device charged. As there is no electricity, a powerbank is a handy item to pack. Alternatively, a paper map is just as reliable.
It is important to know what to do in an emergency. Not only if they encounter bears or mountain lions on their hike, they should know what to do if the weather changes for the worse.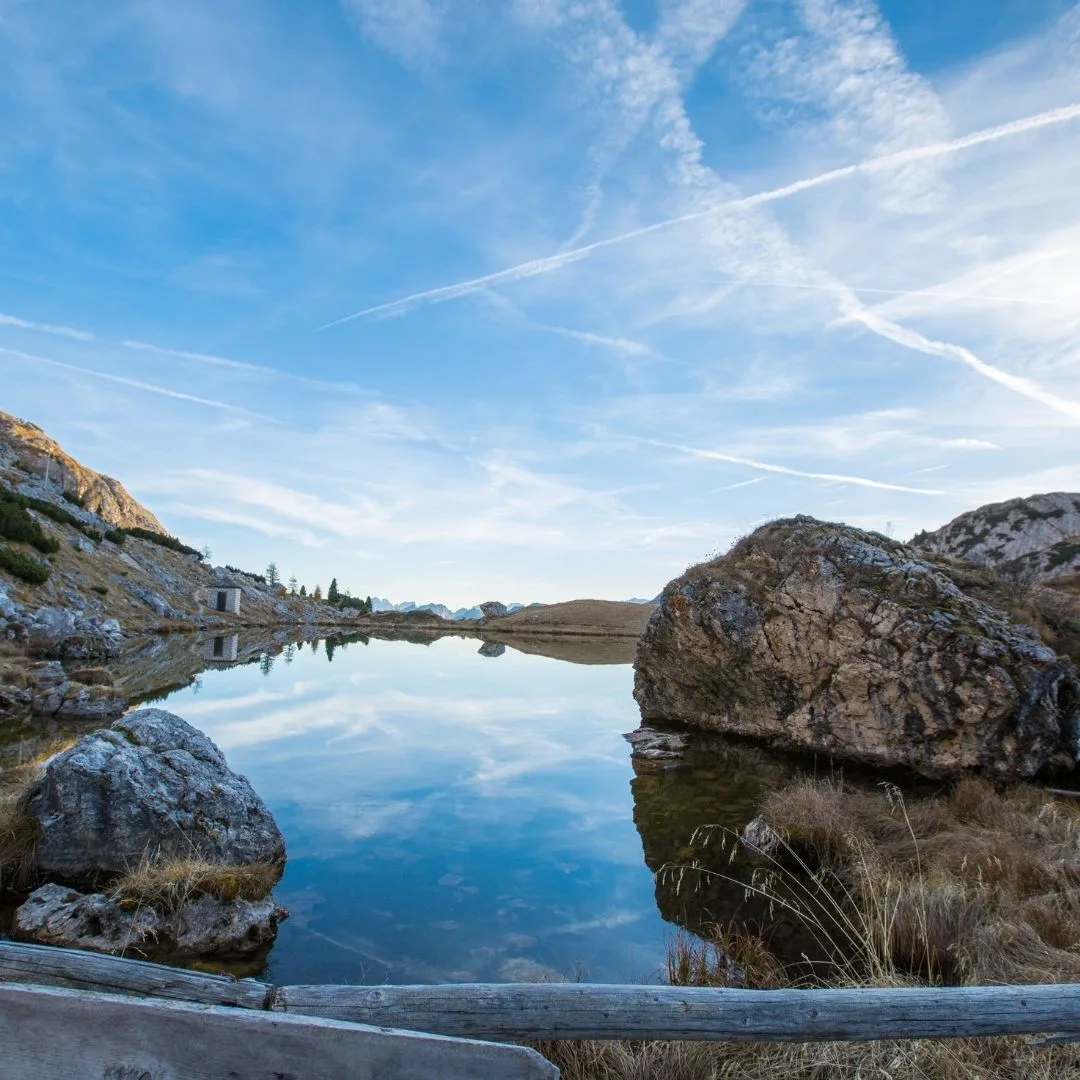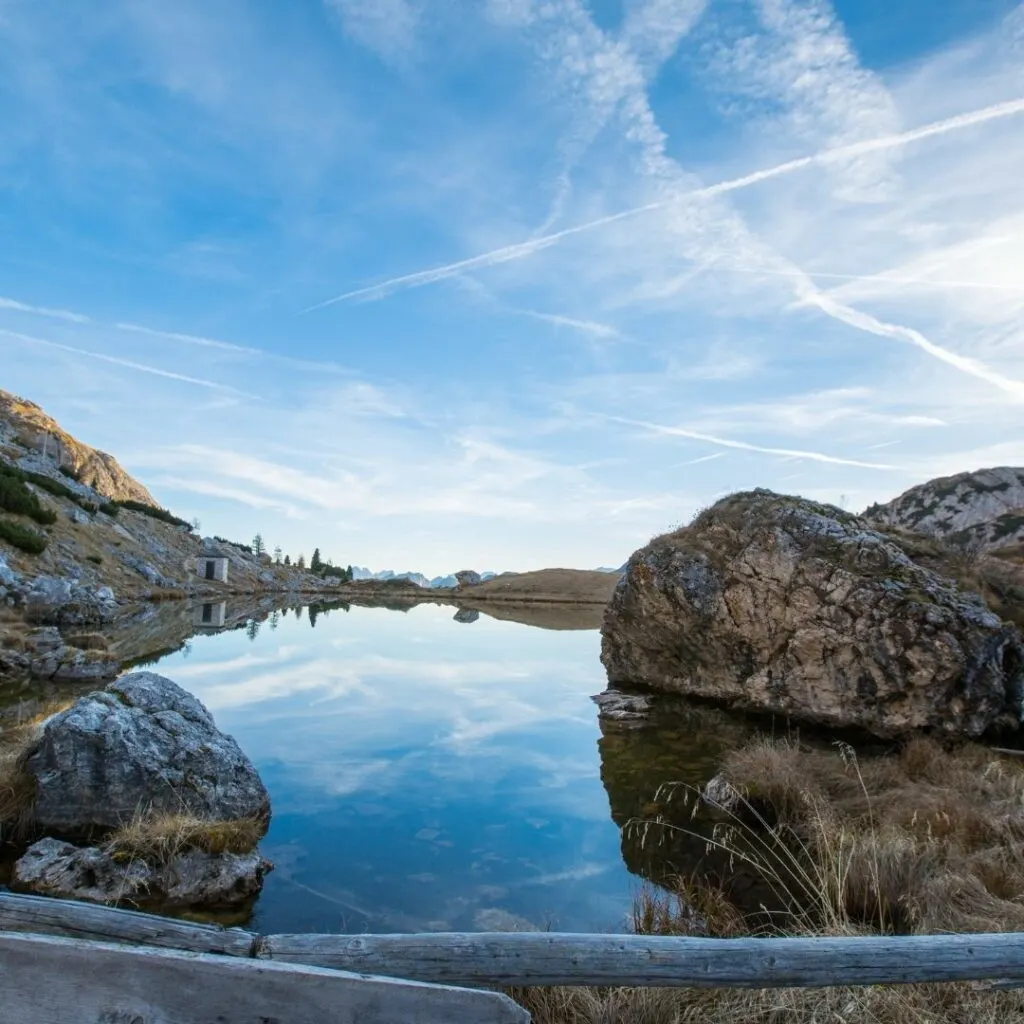 Day Trips for the Adventurer: 3 Days in Yosemite
Yosemite National Park lays claim to some of the most spectacular scenery in the world. From the famous El Capitan to Yosemite Falls, this park is a must-see for any adventurer.
Having Yosemite National Park as a playground offers endless options for adventure, here are some things visitors can expect to do if they are looking for an adrenaline rush.
The activities to add to an adventurer's itinerary depend on the time of year, and visitors adventure level. Below are a few alternative for visitors who like to step outside their comfort zone and get their heart racing. Everything from climbing El Capitan to rafting down the Merced River.
Half Dome Hike: Yosemite 3 Day Itinerary
The Half Dome Trail is a bucket list trek for experienced hikers. It is perfect for those who love a challenge and want to tick it off their list. This all-day trail is 26km long. There is a lot of ground to cover in one day and it can take up to 12 hours to complete.
The Half Dome is 1463 metres above the valley floor. It is a strenuous hike, however, it's worth the reward of climbing the near-vertical final section and reaching the summit. Many like to start at night when there are less people around.
Vernal and Nevada Falls, Liberty Cap, the Yosemite Valley, and the High Sierra can also be seen on this hike. Unfortunately, visitors can't just set off. There are limits on the number of permits.
Visitors must apply for the permit in March and applicants are emailed in April. The cable to the summit is put up around May and stays up until October.
This is the only time the trail to the summit is open. The lottery system means not everyone who applies secures a reservation.
Tour Groups have their own permits, so if the lottery was unsuccessful, consider hiking it as part of a 4 Day Yosemite Backpacking Trip from Glacier Point to Half Dome.
The first part of the hike involves a steep climb to Vernal Falls before Nevada Falls. Then walking through a forest to reach the cables at Half Dome. This is the most difficult part of the hike and there are many who are intimidated and simply give up at this point.
The trail ends with the John Muir trail. Visitors can switch up where they start and finish, however the John Muir trail is slightly easier so is recommended after a hard trek to Half Dome summit.
As this is an all day hike, there are a lot of items to take along. A backpack should have around 6 – 10 litres of water per person. This is dependent on the weather.
The hydration reservoirs are light and easy to use. Take plenty of breaks and keep energy levels up with snacks like trail mix and granola bars.
Hiking boots should be worn and light layers that can be removed as necessary. In the summer, sunglasses, a sun hat and sunscreen are important as a lot of the trail is not shaded.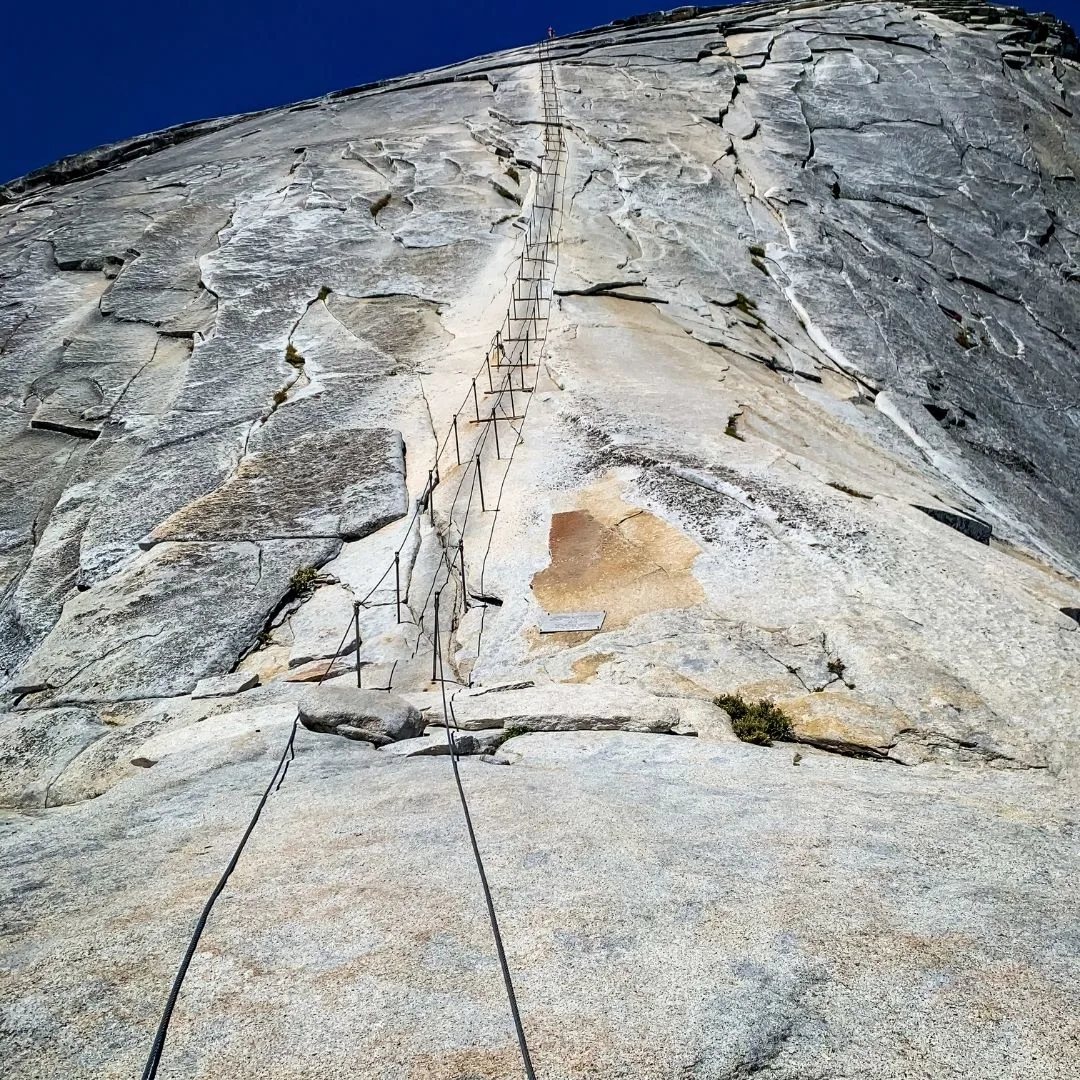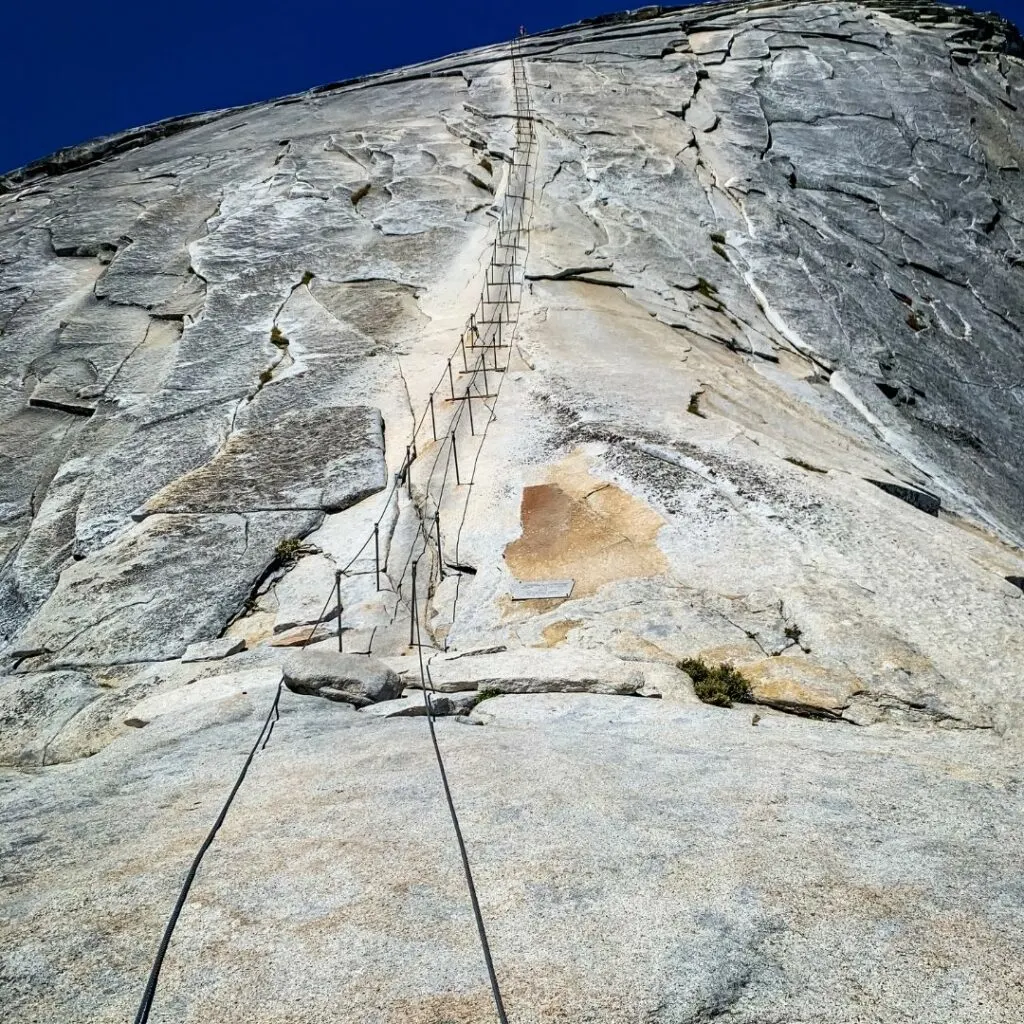 Spending 3 Days in Yosemite: Rafting
For a short window of time between April and July, there is the chance to go rafting in various places in and around the park. Rent a raft at Curry Village in Yosemite Valley and drift down the Merced River. All rafts must be put in at Stoneman Bridge and taken out at Sentinel Beach.
It may not be possible to raft every day as the gauge height is taken in the morning before a decision is made about safety.
If this is high on your list of things to do, bring a raft. It is not possible to reserve a raft so bringing one along guarantees a trip along the river. Floatation devices must be worn by kids under thirteen and everyone else must have one near them.
The rapids in Yosemite are not too strong. However as the river leaves the Valley, they start to increase. Head to El Portal for a more exhilarating ride.
It is just over an hour from the Valley and there are plenty of whitewater rafting tours in the area. Zephyr Whitewater Expeditions is one of the oldest and most popular places. Choose from a wide range of tours including full day or half day expeditions.
Included in the price of the tour is wetsuits, helmets and life jackets. If visitors opt for the full-day trip lunch is provided. Children can participate, however the allowed age depends on the rapids. Sometimes children as young as seven can participate.
For more information on tours at Zephyr Whitewater Expeditions click here.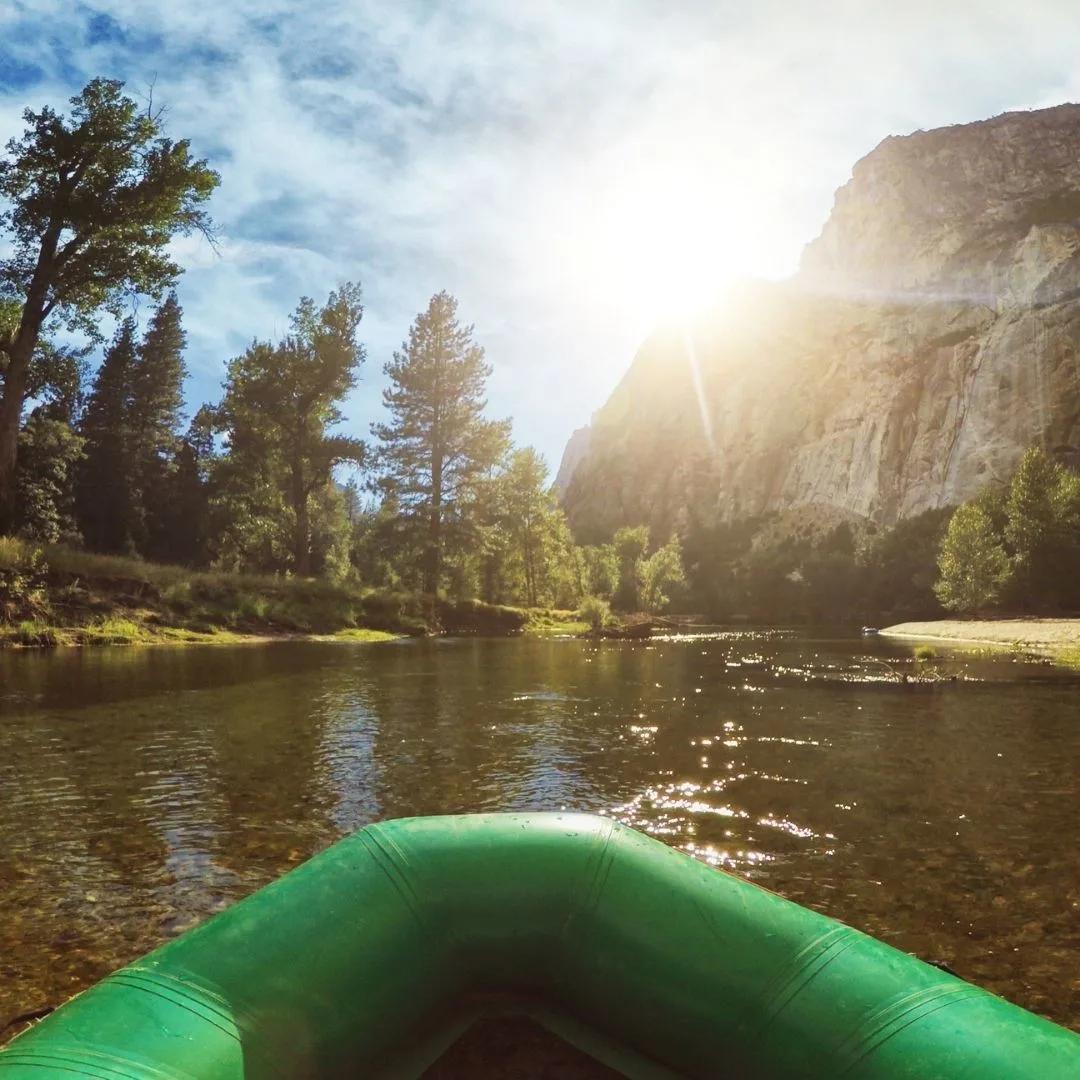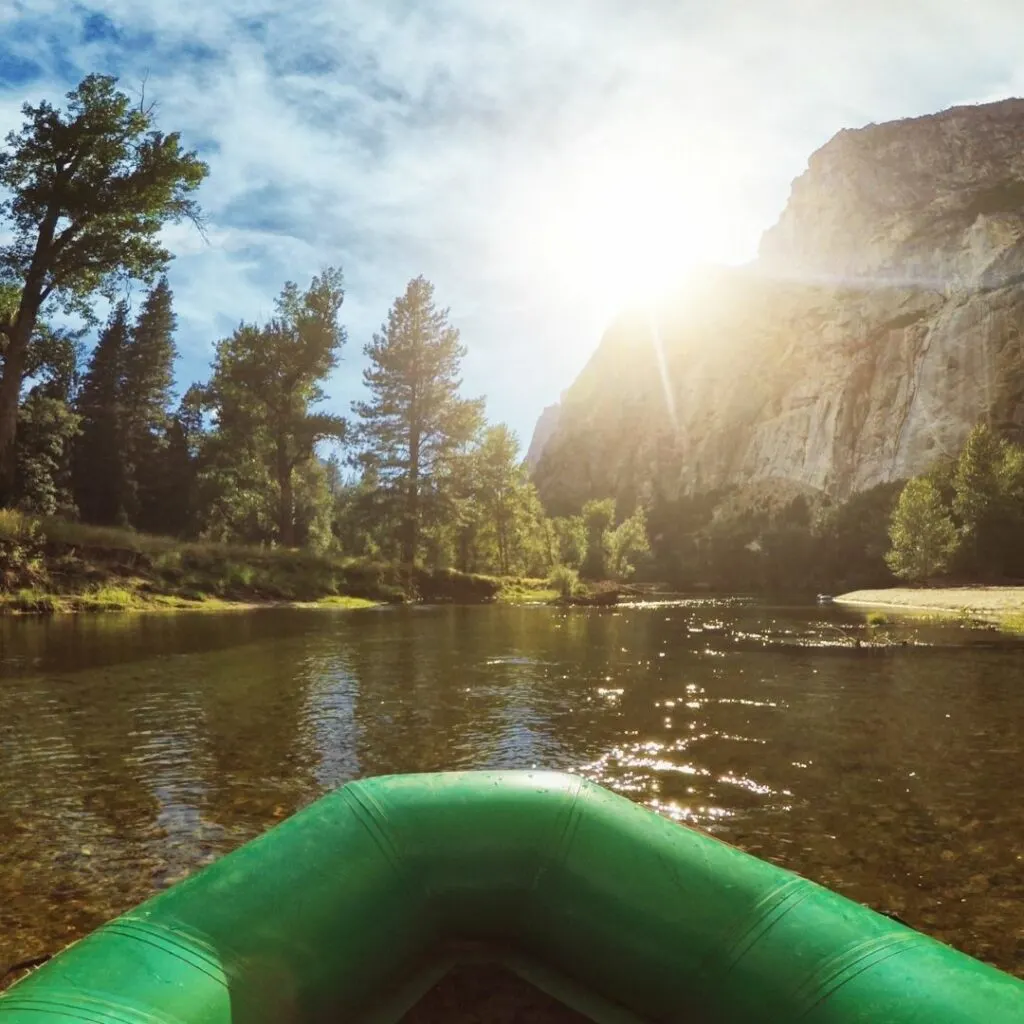 Seeing Yosemite in 3 days: Firefall
If you are trying to decide on a Yosemite 3 day itinerary, the Firefall is highly recommended. It is a natural phenomenon caused by the sun shining on snow and ice.
It usually happens in the colder months of the year, when the air is crisp and cool. In fact, there are only a few days it can be seen in the second week of February.
The way it occurs is sunlight falls on snow or ice on a mountain slope just before sunset. It reflects off the snow and back to earth as another reflection from this material. The result is a red glow on the horizon just before sunrise.
It is a natural phenomenon and thousands of visitors head to Yosemite at this time of year to catch a glimpse of it. Firefall doesn't always appear unfortunately so it is hit or miss.
Factors such as the temperature and the amount of snow impact on it occurring. If the conditions all line-up, prepare to be blown away!
Due to its popularity, there are new restrictions on where visitors can see it. The area from Yosemite Valley Lodge to El Capitan Crossover is the only place it. can be viewed. However don't be disappointed as these are the best seats in the house.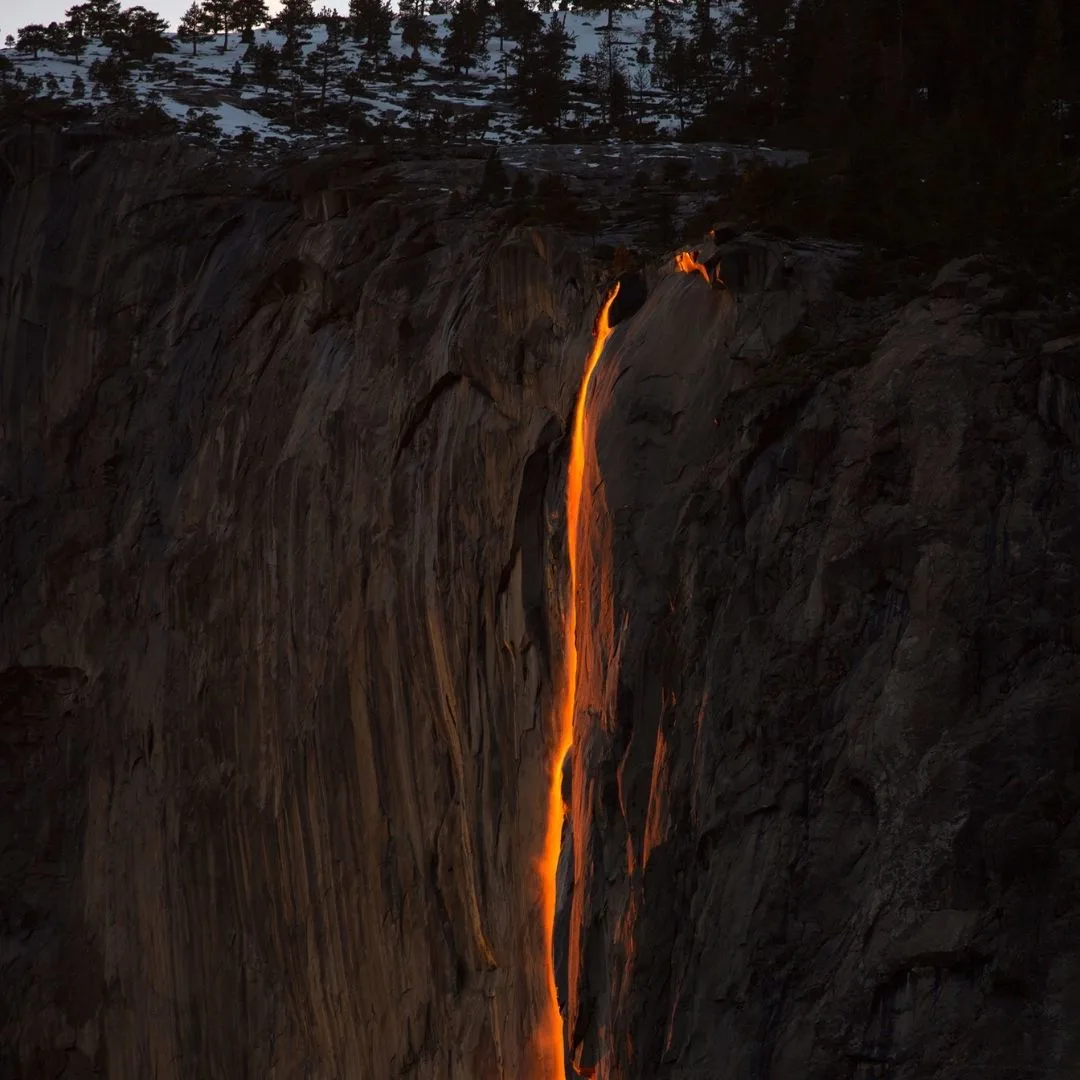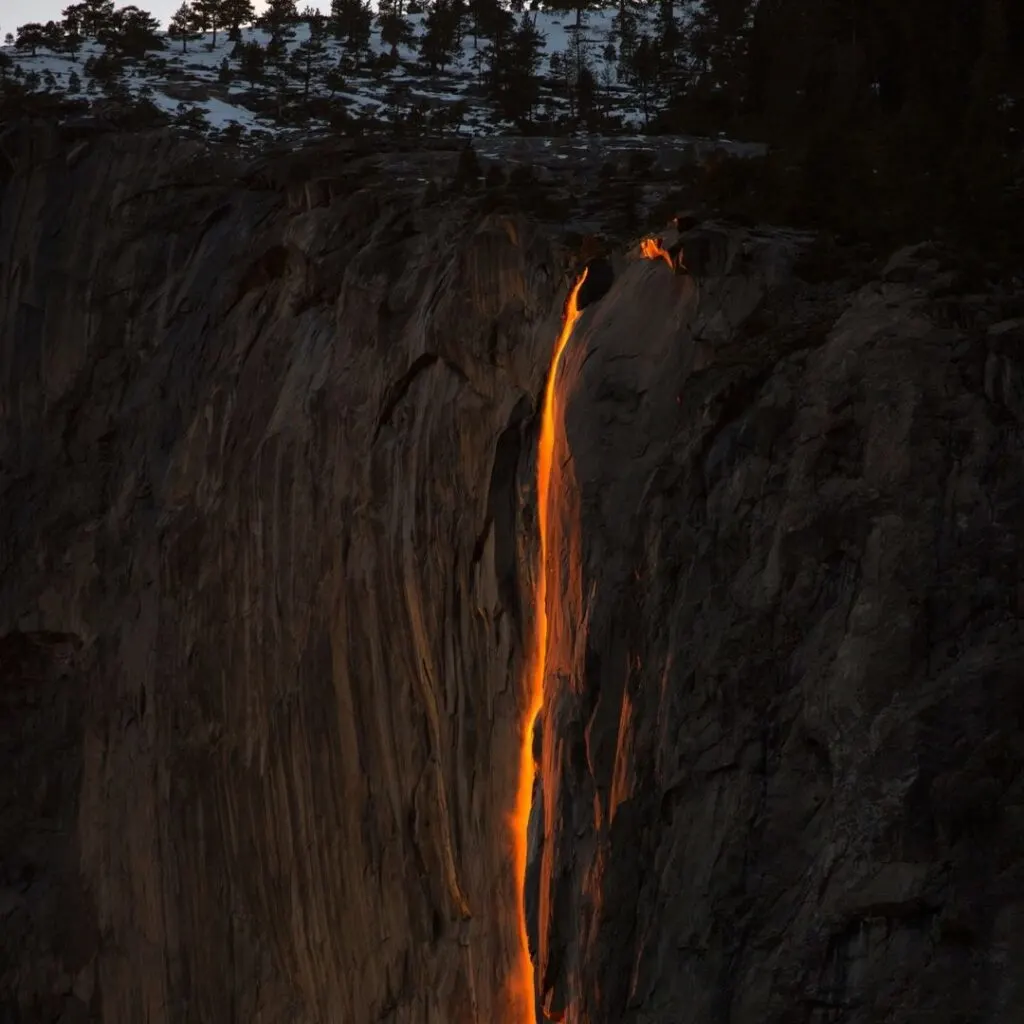 What to See in Yosemite in 3 Days: Climbing at El Capitan
Yosemite National Park is made up of 5 different valleys and each has an abundance of climbing routes to offer. There are over 9,000 established climbing routes and it has one of the biggest climbing areas in North America.
El Capitan is probably the most famous place to climb. There are usually several climbers seen scaling the walls all year round. However, climbing El Capitan is not an easy task.
The mountain presents a lot of different challenges for climbers, and they need to be physically and mentally prepared.
There are climbing rangers at the foot of El Capitan, however they do not stand there all day. They check the climbers abilities and monitor if somebody is a novice. No permits are needed for any climb in the park, unless climbers plan on backpacking.
Permits may be needed in the future. It is best to keep up to date with this information on the Yosemite National Park website.
Where to Stay with 3 Days in Yosemite:
Camping: 3 Days in Yosemite Itinerary
Camping is the most popular type of accommodation in the park. Most of the camp grounds are in and around the Valley making them the perfect place to stay. In fact, where to stay in Yosemite is going to have a huge impact on the itinerary.
North Pines Campground is in the centre of the Valley. Not only is this location perfect, it has some of the most breathtaking views.
The shuttle service is available from the entrance to the campground making it easy to get around. It has toilets, drinking water and campfire rings on-site.
There are a few rules to abide by when camping in Yosemite national park. Food and toiletries need to be stored in food lockers provided. This is due to the bears in the area.
At night visitors may hear rangers banging and making loud noises. This is to deter bears in the area nearby.
As the campgrounds are very popular, they fill up quickly. The dates are released five months before on the 15th of the month at 7:00 a.m. (PST). Be online a few minutes before as they are likely to be gone in a few minutes.
There is the option to reserve cancellations for visitors during a Yosemite 3 Day Itinerary Click here to make a booking at North Pines Campground.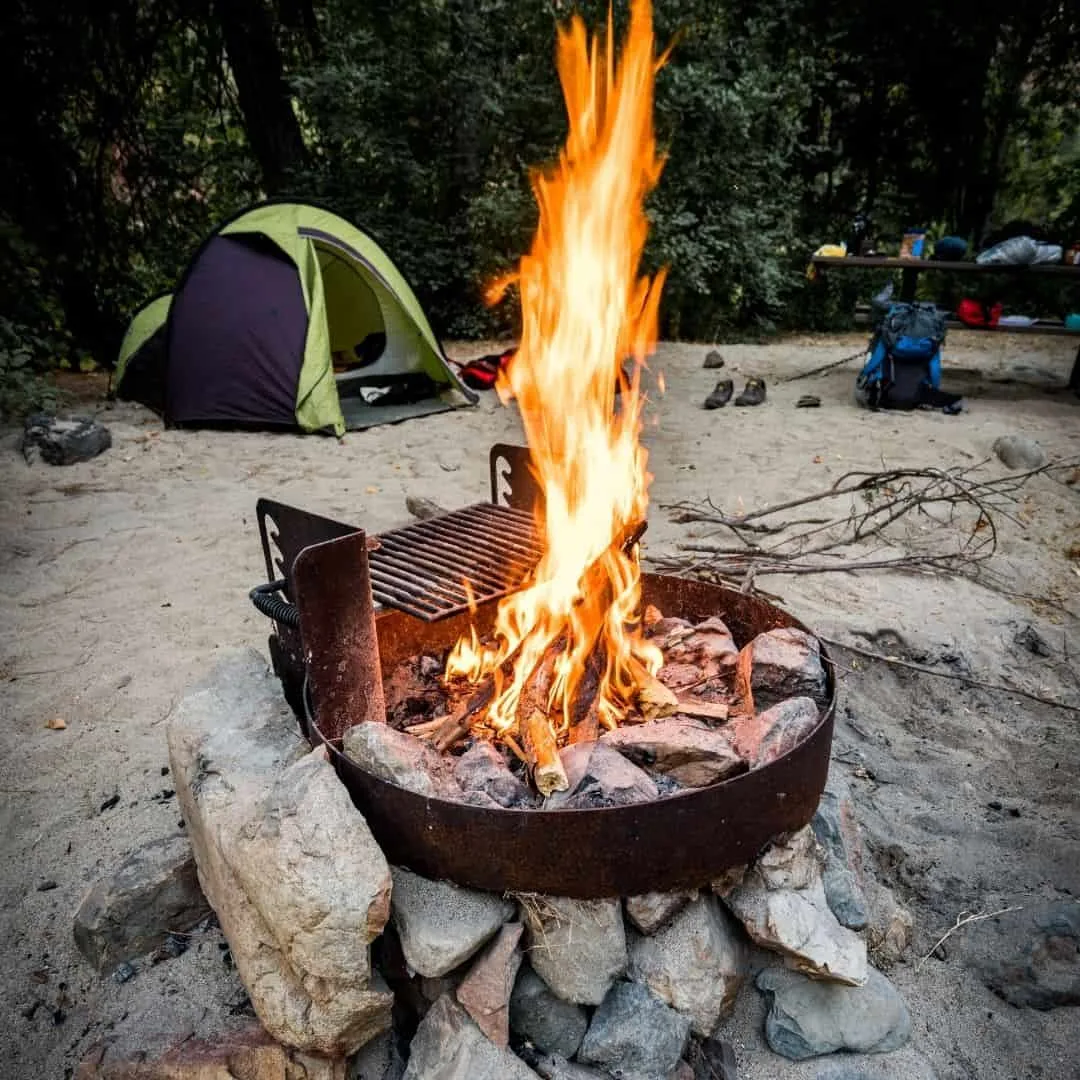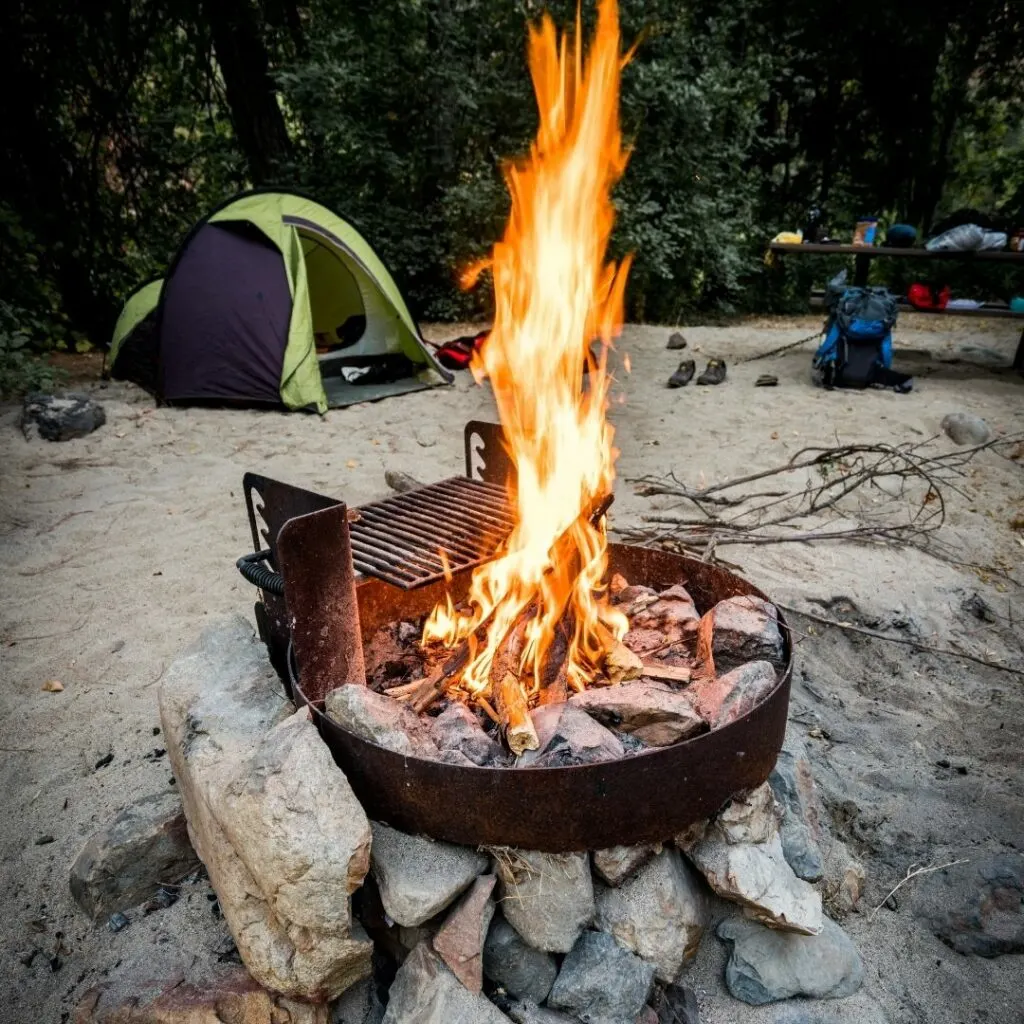 RV Parks: 3 Day Yosemite Itinerary
Many of the campgrounds have space for RVs. This is a great way to stay at the park as it is more comfortable opposed to setting up a tent. The only downfall about Yosemite is they do not supply water and electricity, however some sites offer dumping stations.
If visitors want to stay in an RV and don't have one of their own, consider RV Share. They match people with the perfect RV to rent for their adventure and it is a great way to test an RV before investing in one.
There are over 100,000 listings across the US to choose from and one to suit everyone's needs. In fact, they have everything from budget to luxury.
They take care of the insurance and roadside assistance giving you peace of mind on your travels.
Check out RV Share to rent an RV for a trip to Yosemite.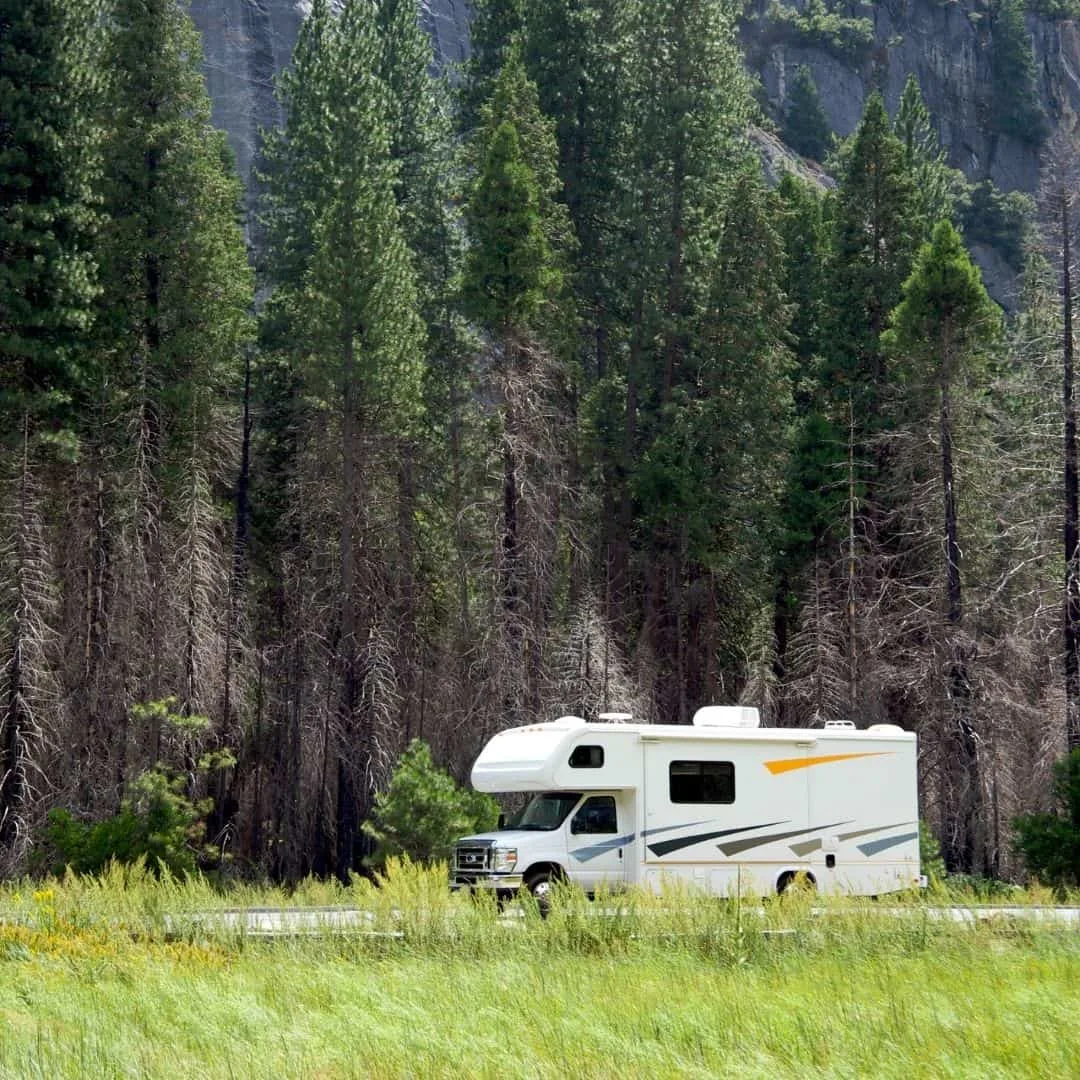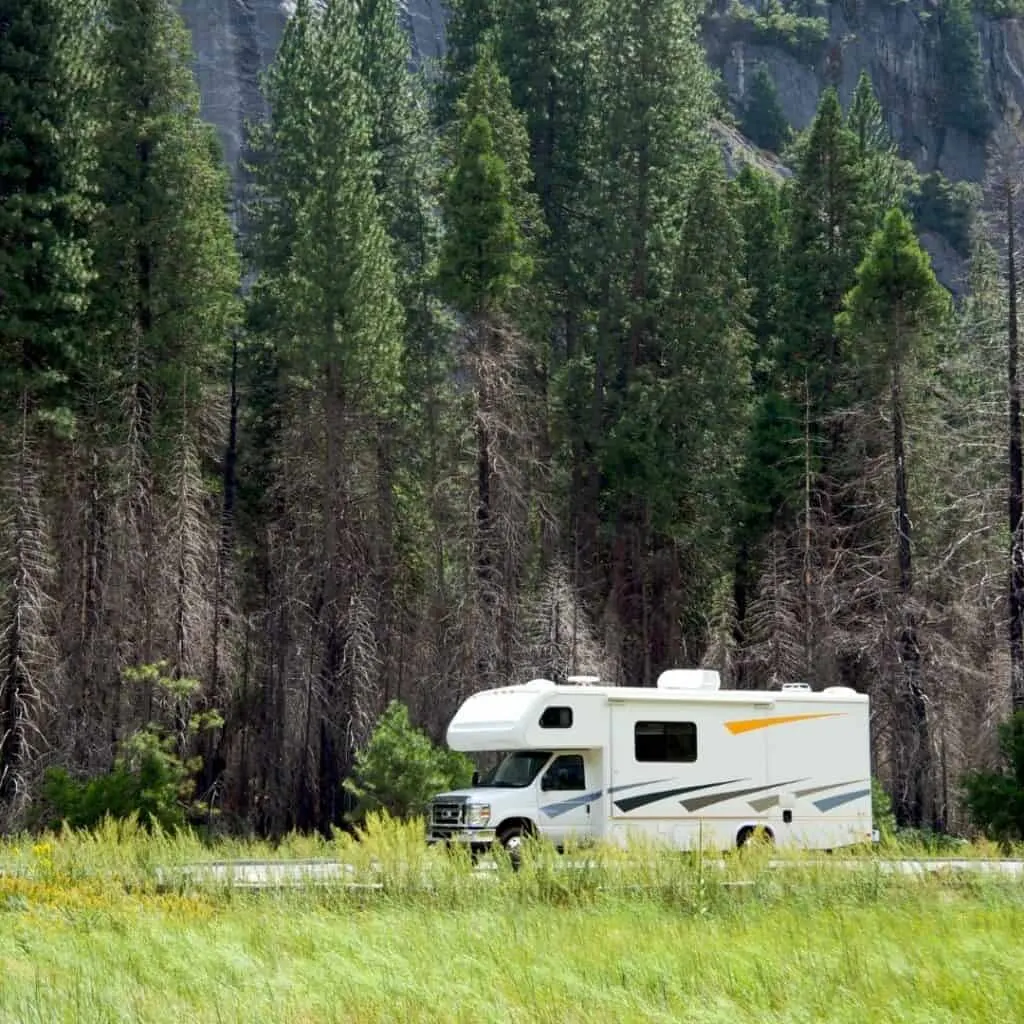 Visitors don't always have to sleep rough when staying in Yosemite Valley. There are three hotels right in the heart of Yosemite which are super comfortable.. One of the most popular is Yosemite Valley Lodge.
Not only is it 750 yards from the Valley, it is right beside Yosemite Falls. If visitors are staying at the hotel from April, May and June, the waterfall offers a spectacular view! This location is near many trails and just a short distance from Half Dome and El Capitan.
The hotel itself is perfect for both couples and families. The rooms are spacious and has plenty of amenities on-site including a restaurant. It is easy to see why this hotel is so popular as visitors can explore the park easily while enjoying some home comforts.
To make a reservation for Yosemite Valley Lodge click here.
Yosemite Lodges to Spend 3 Days in Yosemite
When there is no space at the campground, there are plenty of Yosemite Lodges to choose from. Most are on the east side of the park.
Lodges can have a rustic feel enhancing the experience of staying in Yosemite. They are a little more luxurious than camping and many have internet, private balconies and come fully-equipped with everything you could need. Guests can choose from budget lodges to luxury stay's for a minimum of two nights.
To find out more about Lodges in the valley area click here.
Yosemite Holiday Homes With Three Days in Yosemite
The other option inside Yosemite is a holiday home. Cozy Bear South-Inside Yosemite National Park is in the west of the park and it is nestled among the tall pine, fir, cedar and oak trees.
It is just a couple of miles from Yosemite Arch Rock entrance, so while it is away from the hustle of the Valley, it is still in a great location.
The facilities are good for parties of all sizes. There is a covered stone patio area with a gas barbeque and comfortable patio furniture. The decor is not for everyone but certainly lives up to its name.
The stone fireplace is stunning and it has all the equipment needed for a great stay. Book a stay at Cozy Bear South here.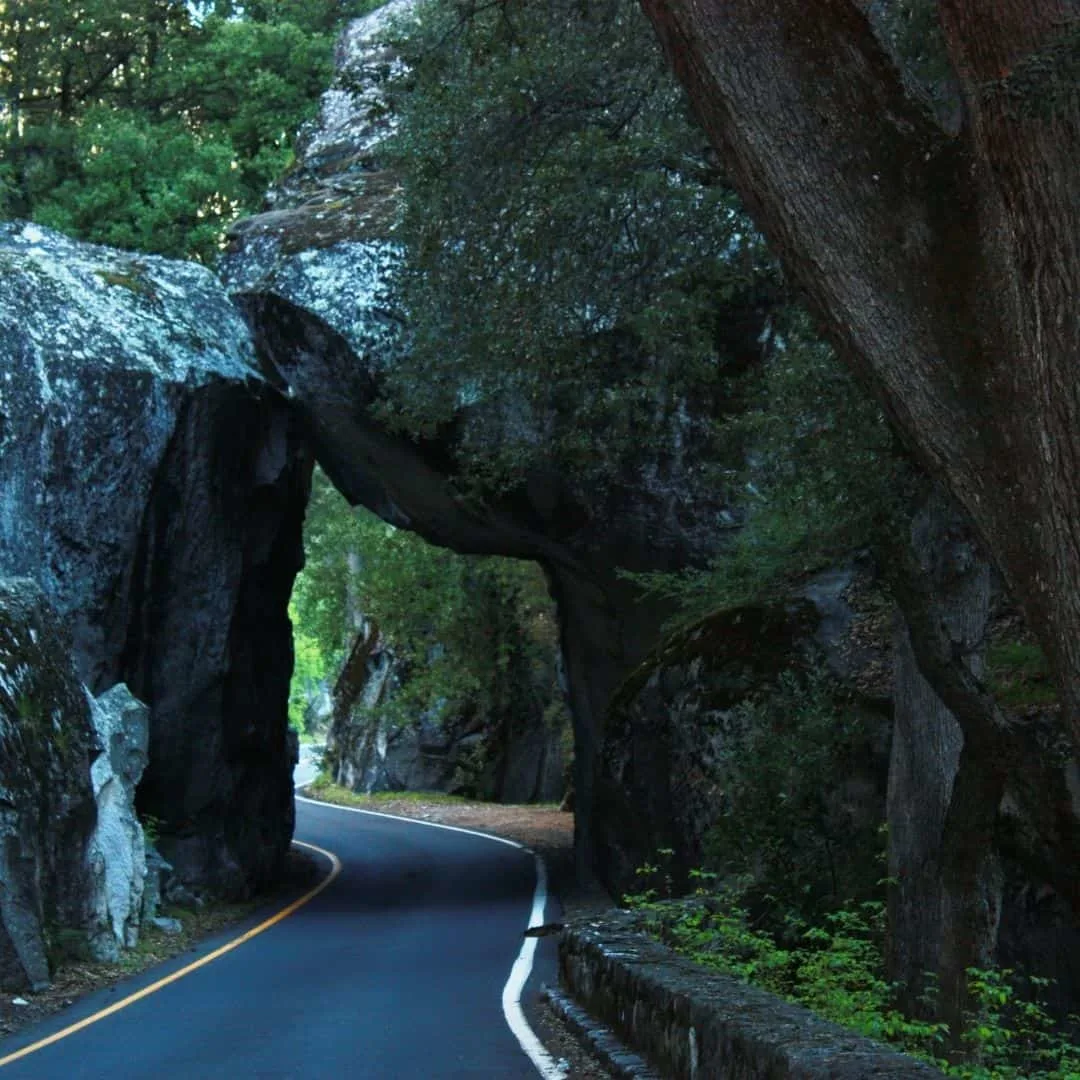 Yosemite Cabins: Yosemite 3 Day Itinerary
When the word cabin comes up, it is easy to picture an old fashioned wooden shack. Rustic 1 Bedroom with Loft Cabin – Inside Yosemite National Park could not be more different. While it only has one bedroom, the living room can sleep two more guests so it is a great size for small families.
It's just over ten miles from Yosemite Valley, so is a great place for visitors looking for some seclusion. The cabin is modern and the kitchen is fully equipped with everything visitors need for a stress-free stay as part of a Yosemite 3 day itinerary.
What sets this cabin apart from others is the views from the balcony. They are stunning and also comes with a barbecue, visitors can enjoy dinner together while taking in the scenery around them.
The cabin is open all year round so if the balcony is too cold in winter warm up by the log fire in the living room.
Find out more about Rustic 1Bdr w Loft Cabin- Inside Yosemite National Park here.
3 Days in Yosemite El Portal
Depending on the season, it may be difficult to find suitable accommodation inside the park. Luckily there are a few towns located nearby. El Portal is the most popular and it is just ten minutes drive to the park.
Located along the Merced River is Yosemite View Lodge where you can find places to raft. Yosemite View Lodge is a more luxurious stay with four pools and a hot tub onsite. There is an onsite restaurant and a nearby convenience store.
As the hotel is by the river, many of the units offer fantastic views. Some of the units come with a kitchenette and a spa bath so make a request before arriving.
Make a reservation here for Yosemite View Lodge.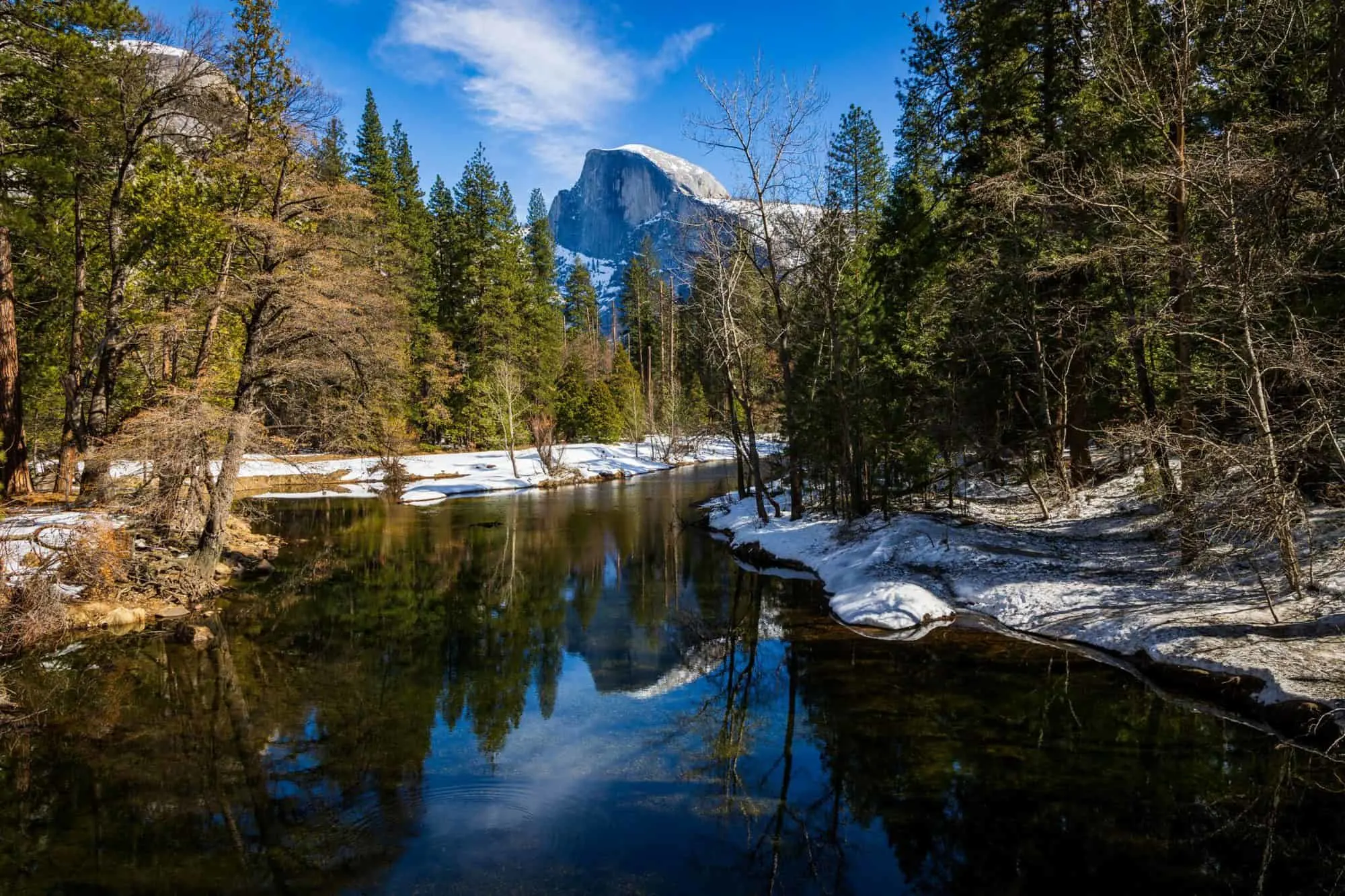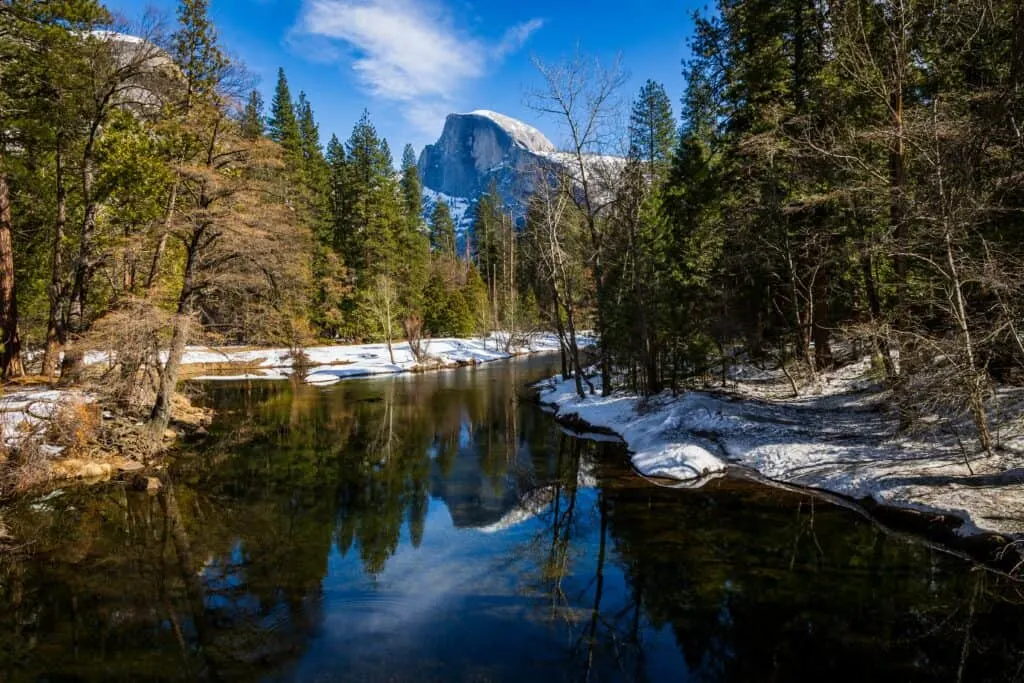 Yosemite 3 Day Itinerary: El Portal Holiday Home
El Portal offers holiday homes such as Yosemite Gatekeeper's Lodge which is a self-catering fully furnished holiday home. The property has two bedrooms, however, it can sleep up to eight people. This makes it a great option for large parties.
Not only is the location of the park superb, the views are as well. The patio has barbecue facilities and a dining area inside and out. The property is accessed by a staircase so it may not be suitable for everyone.
Check out Yosemite Gatekeeper's Lodge here.
Tips on How to See Yosemite in 3 Days
The Yosemite 3 day itinerary given above is just a guide on what visitors can see and do in the park. It is still important to come to Yosemite with some kind of plan.
There is no need to write down a detailed hour by hour plan. However, the basics of where to go and the plans for the day are important.
This is due to the locations of many of the landmarks trails around the park. Some can be more than an hour from each other. Timing is everything.
Another point to be mindful of is the times of sunrise and sunset. Many of the wonderful views Yosemite have are stunning around this time. You want to get to the location about fifteen minutes before the sun rises or the suns sets. This gives just enough time to find a spot to enjoy the view.
What to Pack for a Yosemite 3 Day Itinerary
When travelling to Yosemite, it is crucial to pack the right items. While it is always useful to have an extra set of clothes, just in case they are needed. There are a number of other things to include. Below is a list of some items to add to a Yosemite packing list.
If visitors follow the Yosemite 3 day itinerary above, they are going to be doing a lot of hiking. Some of the trails have rocks to climb over or they could be walking near waterfalls. This means the shoes they are wearing must be made to stand these conditions. Opt for breathable, slip resistant and waterproof hiking shoes and wear them in before arriving to avoid sore feet.
Many of the trips include picnics by the beach or lake. If visitors are travelling in summer months, July and August, the packed lunch they bring needs to stay cool. A YETI Roadie cooler has plenty of space for drinks and snacks. In fact, it may be enough for a 3 day hike in Yosemite.
In summer, items to protect visitors from the sun are needed. Pack suncream, sun hats, and of course bug spray for the mosquitoes.
Lightweight jackets are perfect as they are light enough to carry in a backpack and warm enough for when the sun goes down.
If visitors are camping or staying in an RV then pack plenty of food. There are several grocery stores in Yosemite and nearby, however there is not a great range and they can be very expensive.
The beauty of Yosemite is breathtaking and it has been listed as one of the most beautiful places in the world by National Geographic. The three days in Yosemite may seem to be a huge investment with a lot of work involved. However, it is a trip visitors will never forget having spent time planning beforehand.
A Yosemite 3 day itinerary can be tweaked to suit the individual. Visitors don't have to love hiking to enjoy Yosemite. It is a magical place where the nature and scenery intrigues those from all over.
Spending three days in Yosemite is an unforgettable experience and something everyone should do at least once in their lifetime!
You May Also Like:
How to Plan a Trip to Yosemite | April in Yosemite | The Best Hikes in Yosemite National Park | One Day in Yosemite | The Ultimate Yosemite Packing List | Yosemite in Fall | RV Parks Near Yosemite | Rafting in Yosemite | 10 Kid Friendly Hikes in Yosemite | Winter Hikes in Yosemite | The Magic of Yosemite in December | Best Photo Spots in Yosemite | Why Yosemite Weather in May Makes it the Best Time to Visit | 10 Reasons to Visit Yosemite in January | The Perfect Guide to Visiting Yosemite in March | 10 Amazing Things to do in Yosemite in February | 10 + Things to Do in Yosemite in June | Pumpkin Farms in Maryland
Best pumpkin farms in Oregon | Flying With A Toddler | Best Pumpkin Farms in Florida | Best Pumpkin Farms In California
Will you be needing travel insurance, flights, rental cars, or hotels for your trip?
Disclaimer: This post may contain affiliate links. By using them it will not cost you any extra, we will receive a small percentage of the sale.