Yosemite is one of the most popular national parks in the US. Every year around four million people visit the park. It may take some planning, but visiting Yosemite with kids can be a trip to remember.
While it is mostly known for its stunning waterfalls which are roaring in April in Yosemite, there is still plenty more to see here. Within its 1,200 square miles, it has some of the best hikes and photo spots in the country and great places to raft. Many of the trails are kid-friendly even with a stroller and there are still plenty of hikes in winter.
If families don't want to go it alone, book one of the many Yosemite tours available.
The park became a World Heritage Site in 1984 and almost 95% of the park is designated wilderness. Expect to see granite cliffs, streams, lakes, mountains, meadows, giant sequoia groves and even glaciers.
You could spend days exploring the park or squeeze it into a 2 day or 3 day Itinerary or if you are ambitious just one day. The great thing about Yosemite is that no matter the season, fall to summer, there is always something to do.
This guide explores all of the best things that kids love about Yosemite and what to pack to make your life a little easier.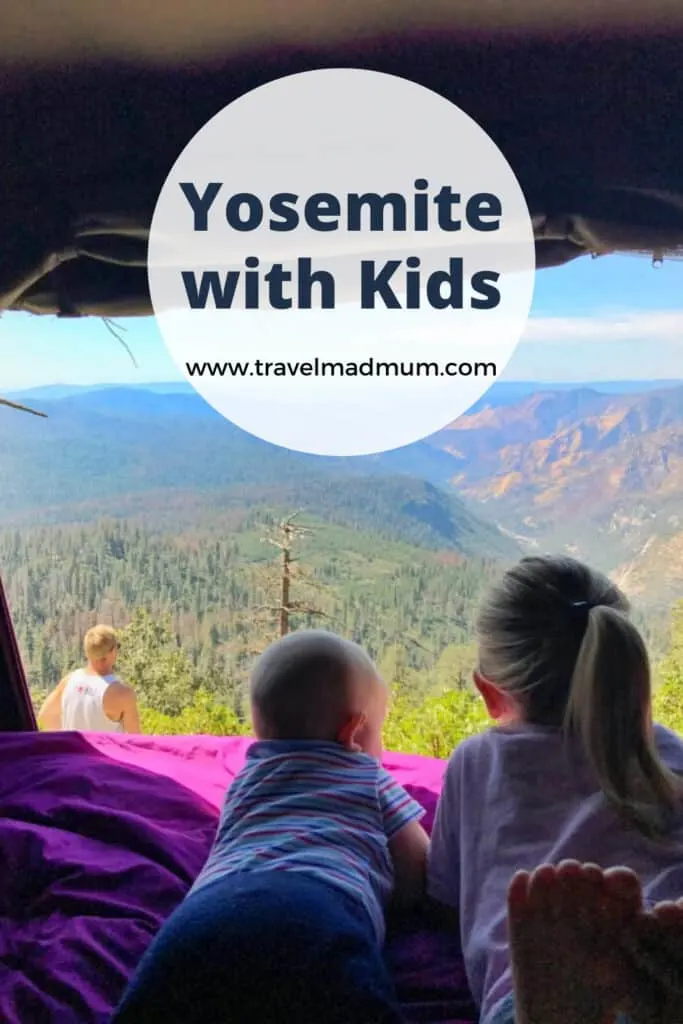 Yosemite Family Vacation
Where is Yosemite?
Yosemite Park is in east-central California. There are many cities just a few hours away. Las Vegas is to the Southeast and Los Angeles is to the South. San Francisco and Sacramento are to the west.
It is still a long drive for many people so they choose to stay at Yosemite in one of the hotels, campgrounds or RV parks for a few days.
Entrances
The park has five entrances, with four located on the western side. The fifth one is a little bit more remote on the eastern side.
Each entrance to Yosemite Park has stunning views. Depending on where you are coming from you might want to choose your entrance based on Yosemite attractions.
If you take Highway 120, then you have a choice of two entrances; Hetch Hetchy Entrance and Big Oak Flat Entrance. While the Big Oak Flat entrance is the most direct entrance, Hetch Hetchy is one of the quietest.
Highway 140 leads to Arch Rock entrance. This is the fastest route if you come from San Francisco. Which many families use when they come from San Fransico on a weekend road trip.Coming from San Diego or Los Angeles? The South entrance on Highway 41 is the closest.
The Tioga Pass Entrance is the only entrance on the east side of the park. It is best to use if you are coming from Lake Tahoe, Death Valley or Las Vegas on Highway 120. However, it is worth noting that the entrance is only open from May to October, depending on weather conditions.
Driving or renting a car are not the only ways to get to Yosemite either. The Yosemite Area Regional Transportation System is a great option too. It offers year-round service from Merced or routes from Fresno, Mammoth Lakes or Sonora in the summer.
It costs around $35 to enter the park. However, if you can also use America the Beautiful Pass to enter the park. In fact, the annual pass allows you to visit over 2000 sites around the US. It is relatively inexpensive and a great investment if you plan on visiting a few federal sites throughout the year.
For more information about America the Beautiful Pass click here.
Yosemite Park with Kids: When to visit Yosemite?
Yosemite National Park is open all year round. Each time of year has its perks. Figuring out what you and your family want to see and do can help determine when you should visit.
During December and the winter months, some areas of the park are closed due to the snow. It is the park's quietest time of year. Visiting in winter is great if you want to avoid crowds and high prices. The snow can make the park look magical too.
Summer is the most popular time of year to visit. In fact, the majority of the park's visitors arrive in July and August. All areas of the park are open. However, expect crowds and high prices. Accommodation needs to be booked six months in advance too.
The Best Time to Visit Yosemite for Families
May and September are undoubtedly the best months to visit the park. Both months are quiet and free from crowds. The majority if not all of the areas in the park should be open too.
The snow has usually melted in April in Yosemite. This means that the waterfalls are in full force in May. However, the weather in May can be unpredictable. August and September on the other hand is usually warm with little rain. The perfect weather to hike. However, many of the waterfalls have dried up.
To see Yosemite with snow on the ground, plan a trip in January, February or March.
How To Get Around When You Visit Yosemite with Children
There is a lot of ground to cover at Yosemite. Walking is great, but if your kids are young then they might not want to walk too far. Bicycles are a great option for kids of all ages. They are suitable for trails and the valley.
Bicycles and walking are not the only way to get around Yosemite. There is a wide range of public transport available too. Visitors can take their pick from free shuttles to tours.
There are nineteen stops darted around Yosemite Valley. Visitors can hop on the shuttle at any of the stops. The shuttle buses run all year round, but with shorter hours in the winter. They run every ten or twenty minutes and they even access Highway 120 in summer.
Tours on the open-air tram are another option to explore the park. There is a fee included, but the buses offer routes in plenty of areas across the park including Glacier Point, Wawona, Mariposa Grove and Tuolumne Meadows.
One of the most popular tours is the Valley Floor Tour. The tour covers 26 miles and it is 2 hours long. It goes past some of the most famous places and best photo spots in Yosemite. Expect to see Yosemite Falls, Half Dome, El Capitan and Bridalveil Fall.
There are also many other Yosemite tours that cover many of the famous attractions. Some leave from San Francisco while start in the park. They are very popular, so it is best to book them in advance.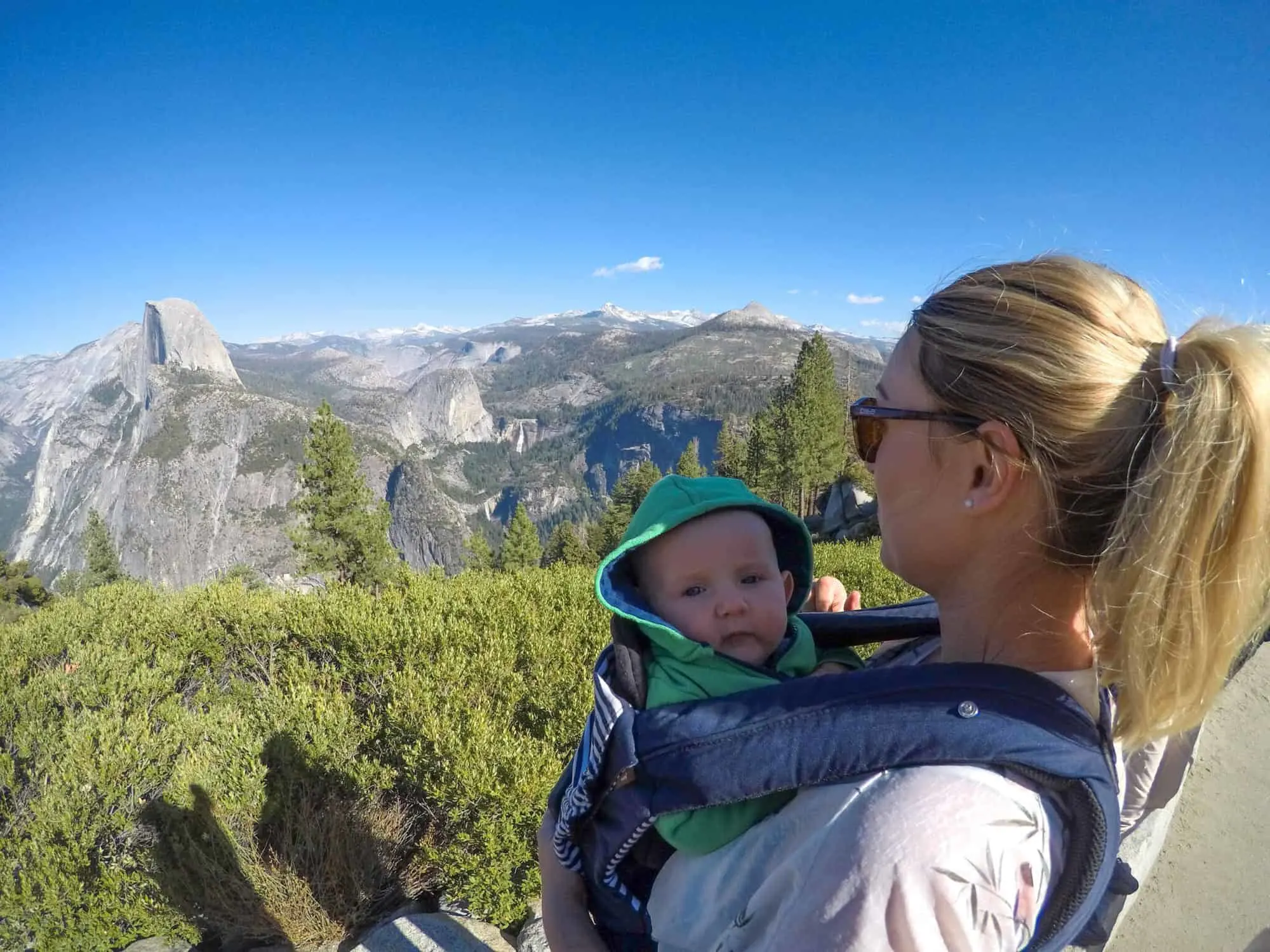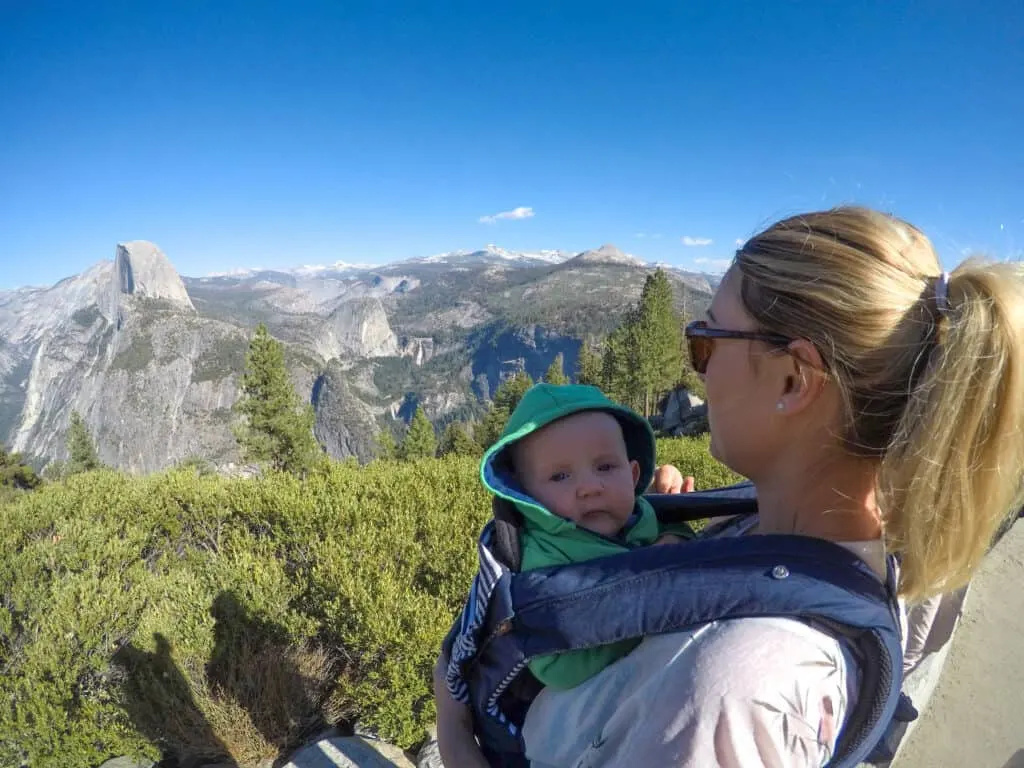 Yosemite with Kids: What to pack
What you bring with you depends on the time of year you visit. In the winter months, December, January, February and March it is very cold and snowy. In July and August it can get very hot. Throughout the year, the temperature can also drop considerably at night. When you plan your trip to Yosemite, it is best to be prepared for all types of weather.
Here is a list of a few essentials your packing list should include all year round:
Click here to see comfortable backpacks for hiking.
Best Places to Stay in Yosemite with Kids
There are plenty of places to stay in Yosemite. With many options available both in the park itself and in the nearby towns. One of the best places to stay in Yosemite with kids is the valley.
This makes it easier to travel and get around the park. Be prepared though there is no signal in Yosemite. This means no WIFI unless you stay at one of the hotels, but even then the signal is not strong.
Where to stay in Yosemite with Kids: Camping
Camping is a great option in Yosemite with kids. We camped out in our Jucy Camper van. It was great to be at one with nature but still have the perks of a sink and a fully functional kitchen.
We were able to travel around the park in it and the kids can nap at any time. Perfect if you are visiting Yosemite with toddlers.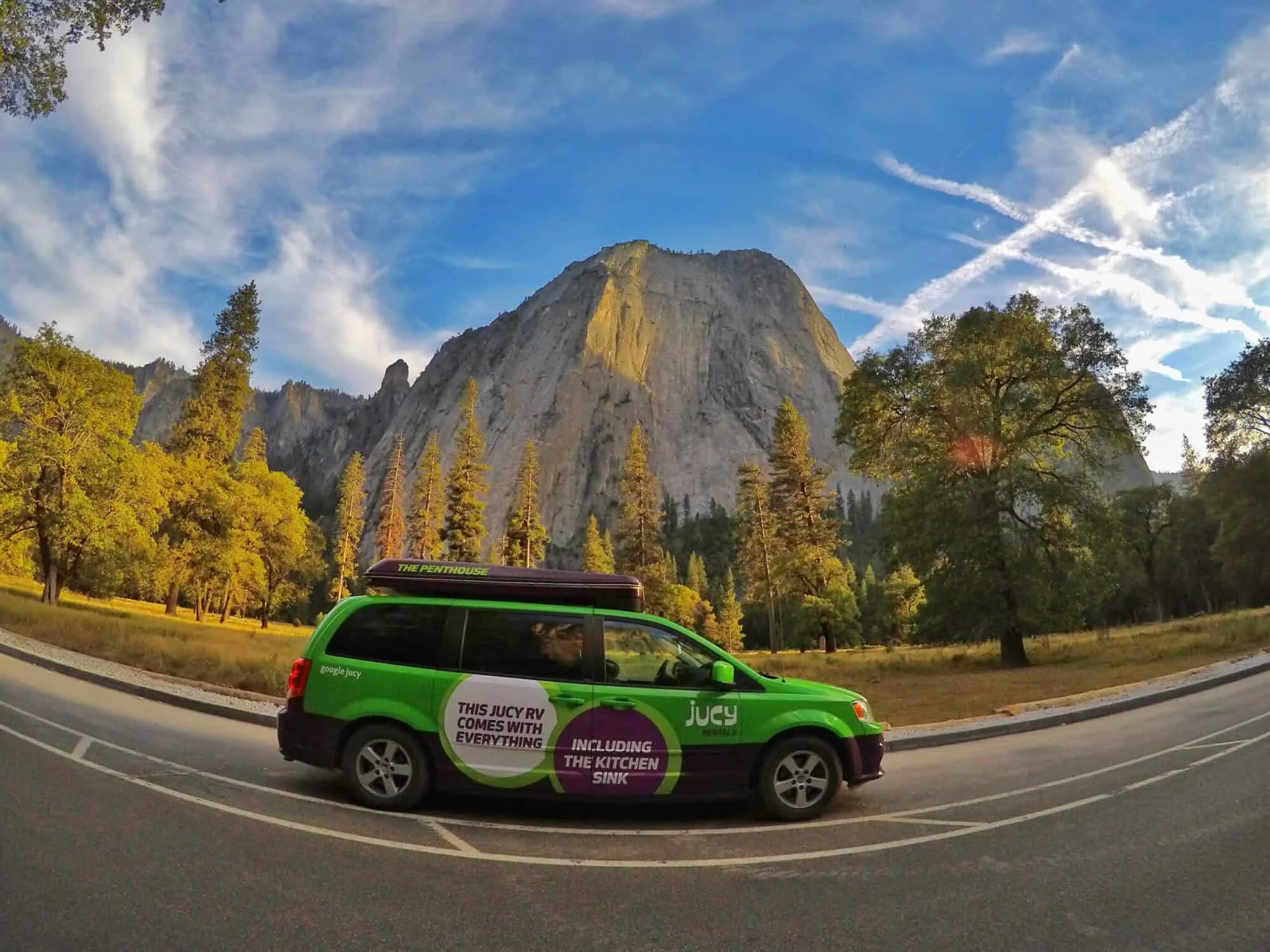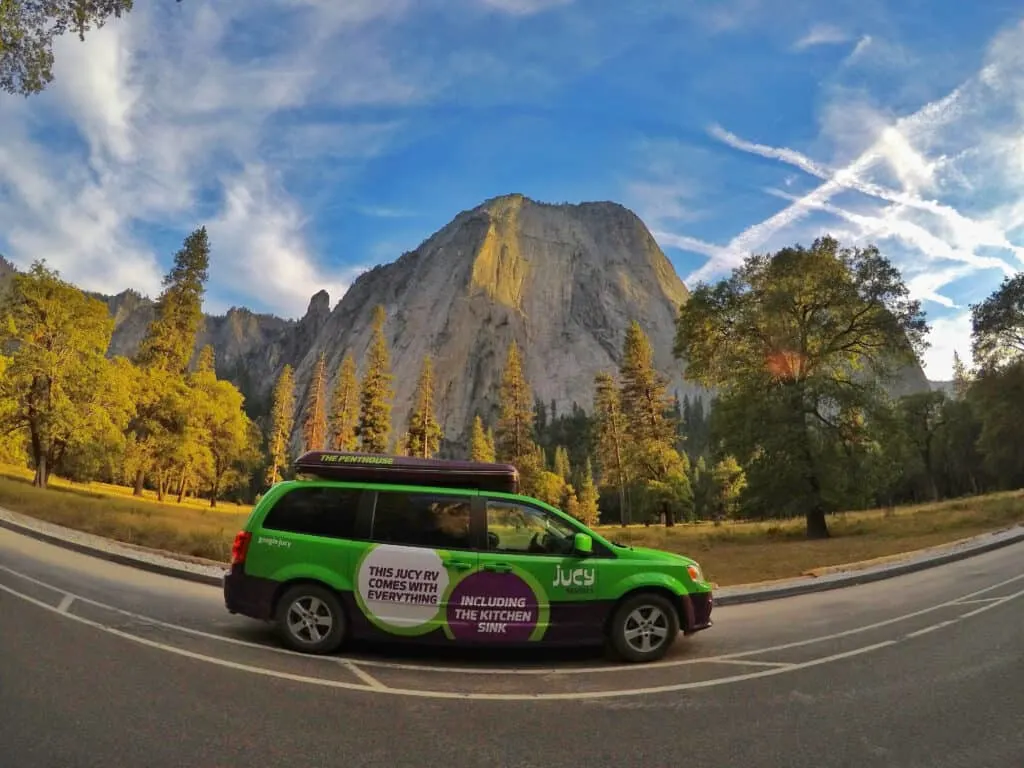 There are many campsites and RV parks spread out over the park. North Pines Campground is right in the middle of the valley. Not only is it in the perfect location but it has some of the most breathtaking views.
The shuttle drops you off at the entrance to the campground and on-site you can find toilets, drinking water and campfire rings.
There are bears in the area, so there are strict rules that must be followed. Some of these rules involve not leaving food or toiletries out. Don't worry, as all campgrounds however include food storage lockers.
Click here to make a booking at North Pines Campground.
Yosemite National Park Lodging with Kids
If camping is completely out of the question, there are other options in Yosemite. Yosemite Lodges are great for families. They have a great rustic feel and they blend into the surroundings. They don't have to cost a fortune either and often come with fantastic views.
At the lodges, you can find free internet and parking. Many also have swimming pools and restaurants available for guests. Each lodge has its own refrigerator and private balcony.
To find out more about Lodges in the valley area click here.
Yosemite with Kids: Where to Stay
Yosemite Cabins are darted throughout the park and the surrounding area. Timberlodge Cabin is located in Yosemite West. The cabin is great for large families as it can sleep up to six people.
The upper floor is one giant living room with windows on every side. It gives you great views of the woods and surrounding area. You may even catch a glimpse of the squirrels or birds nesting in the trees. The wooden cabin is also the perfect place to watch the sunset in the evenings.
Find out more about Timberlodge Cabin here.
Visiting Yosemite with Kids: Holiday Homes
The valley may be a great location, but it can also get quite busy. If you want to escape the hustle and bustle then a holiday home is a great choice. Yosemite Woods Upper is a beautiful holiday home that offers plenty of space for families.
It may be out of the way, but it is still close to all of the popular sights. It has all of the amenities that you expect from a holiday home including a fully equipped kitchen. Outside you can find a barbecue and a place to sit and eat surrounded by trees and nestled in the woods.
Click here to see more information about Yosemite Woods Upper.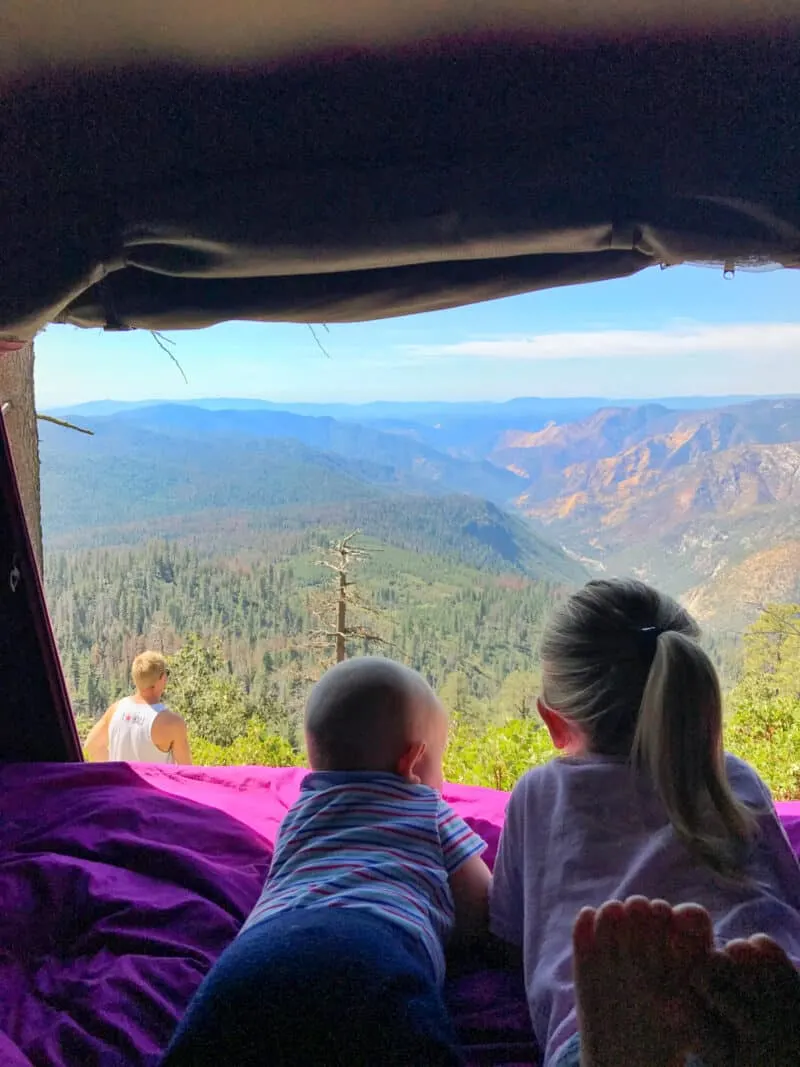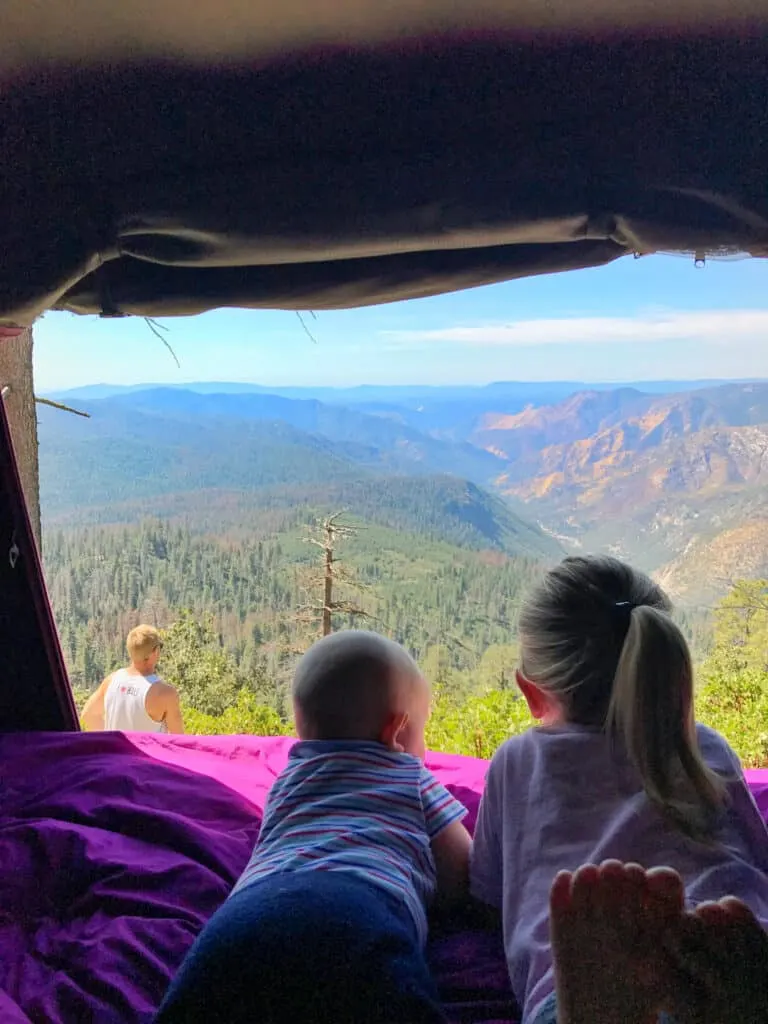 Yosemite National Park Hotels
AutoCamp Yosemite is a hotel with a difference. The rooms are not your standard hotel rooms. All rooms come with a patio and a mountain view.
Each airstream can sleep up to four people. They come with their own kitchen and barbecue area. The hotel is modern yet has a rustic feel about it. It blends into the surrounding area and it is only an hour away from Yosemite National Park.
To find out more about AutoCamp Yosemite hotel click here.
Hotels Near Yosemite National Park
If staying inside the park is not an option, then there is plenty of choice in the surrounding areas. The Evergreen Lodge has 88 cabins and it is just a mile from Yosemite. Yosemite National park attractions like Yosemite Valley, Tuolumne Meadows and Hetch Hetchy are all within easy reach.
The lodge has plenty to offer onsite too. Some of the amenities at the lodge are Evergreen's sun deck, game room, kids play areas, nightly activities and therapeutic massage. It is also a great place to stay if you need help planning your adventure in Yosemite as they offer free planning advice for self-guided adventures.
Click here to find out prices and more information about Evergreen Lodge.
Yosemite with Toddlers and Kids: Where to eat
There are many dining options in Yosemite National Park or just outside. If you are looking for something quick and easy then head to Yosemite Village and Curry Village/Half Dome Village. Ahwahnee and Yosemite Lodges have a few more formal options.
The towns in the surrounding area have many options too. You can also pick up some food in the local shops as well. This is a great suggestion if you are camping. Most of the stores are small, but there should be a good enough selection. Just don't forget to put it in your food storage locker when you return to camp.
That being said, the shops and gas are expensive in the surrounding area. It is better to stock up on everything you need before you arrive. However, when travelling with kids that's not always possible so it's great to have something close by.
Kid Friendly Things to do in Yosemite with Kids
When you arrive, you won't be stuck for things to do in Yosemite. The biggest problem is how to fit everything in especially if it's just one day or a weekend in Yosemite. Below is a list of some of the must-see attractions in Yosemite with kids.
Yosemite Must See: Glacier Point & Sentinel Dome
Glacier Point offers one of the best viewpoints in Yosemite National Park. It is a Yosemite must see with kids. Older kids you might want to attempt the hike, otherwise, it is an hour's drive from the valley.
From the top, you can see right down to the valley. Even though it is a gulping 3,200 feet drop, the stone wall in the viewing area provides a safe barrier. Sentinel Dome is close to Glacier point and it is worth a trip too. If you visit around sunset, be sure to take a jacket as it can get a bit chilly.
The road however closes in November or December due to snowfall.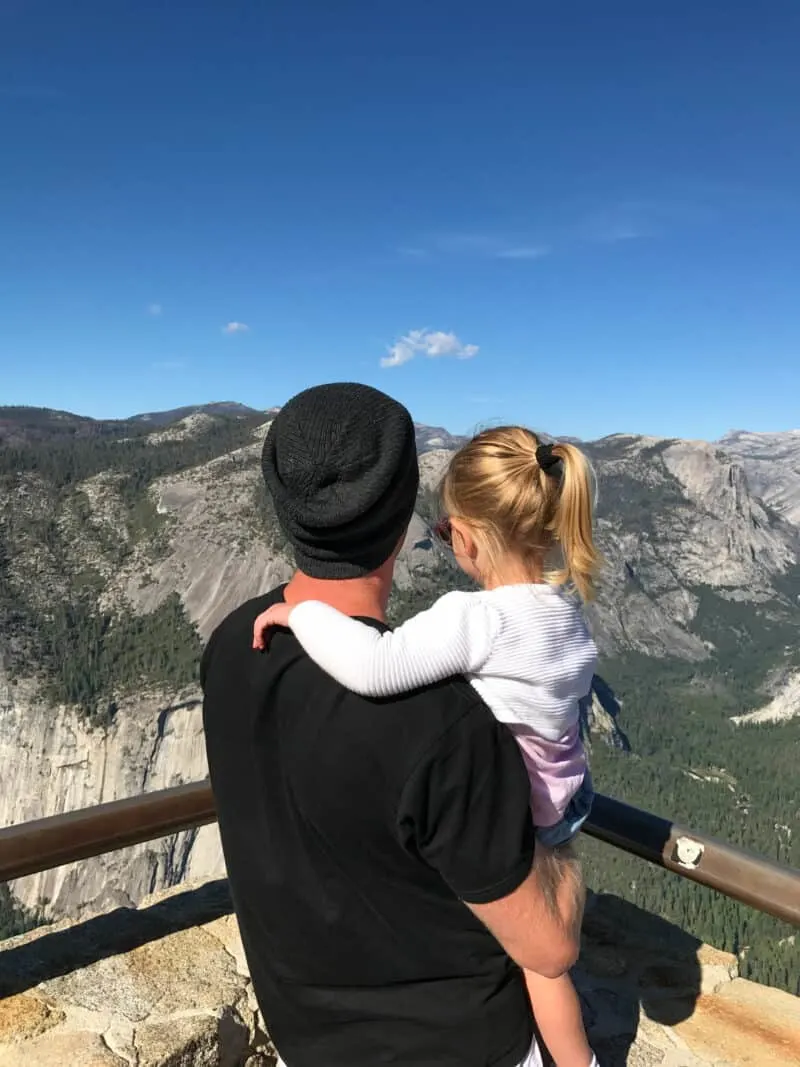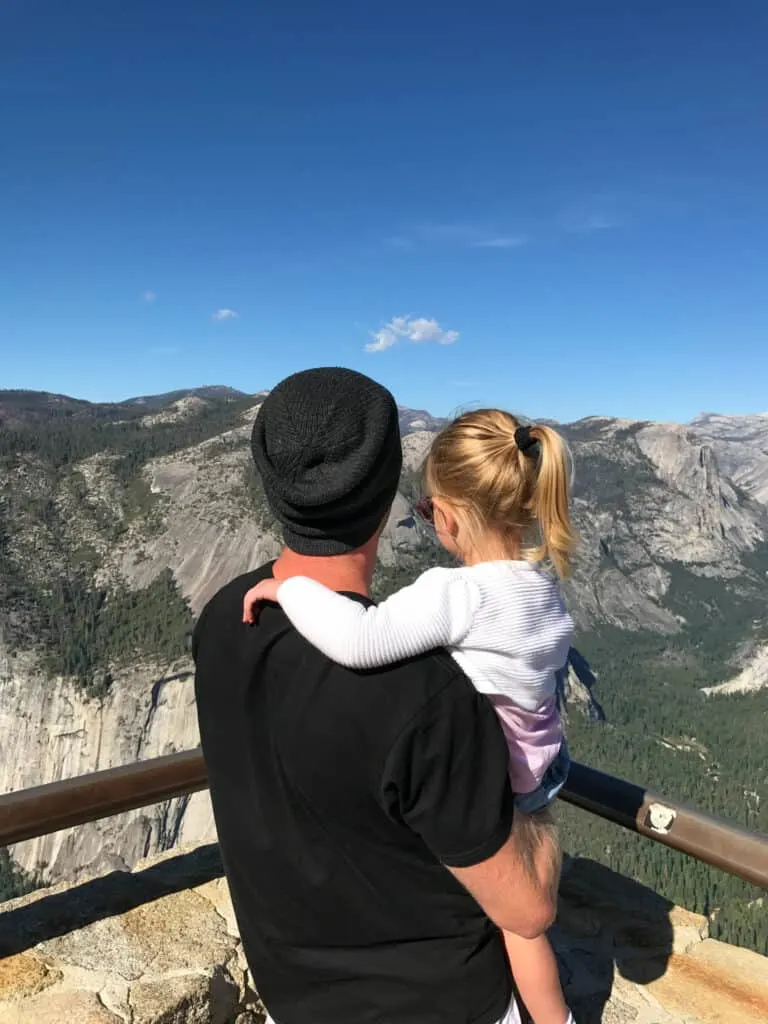 Things to do in Yosemite National Park with Kids
Mariposa Grove & The Museum
Located in the south of the park is Mariposa Grove. The Giant Sequoias are sure to impress kids of all ages so add it to your itinerary. There are a few groves in the park, but Mariposa is the largest.
It is also home to some of the most famous trees including the Grizzly Giant, Fallen Monarch, California Tunnel Tree, Three Graces and the Wawona Tunnel Tree. The Grove is a beautiful place to hike. A lot of the trails are flat and easy, but a few can be hilly.
Combine your trip to the grove with a trip to the Yosemite Museum. As a result, you can see a Miwok bark hut located just outside and to the rear a recreation of a Miwok village. Kids can learn about the history of the park and there are some great touchable exhibits.
Yosemite Things to do: Merced River
The Merced River runs right through Yosemite Valley. In the summer months, the river kids can enjoy playing in the river. However, if you get there in late summer or autumn, you could try to cross without getting wet.
Many families can also be seen with a raft or floating device. However, this is only possible in summer. In the winter, the river has strong river rapids. The water is also higher and it can be dangerous.
What to see in Yosemite: Wildlife And Plants
One of the best things to do in Yosemite with kids is to be on the lookout for wildlife and plants. Therefore, you could head to one of the many meadows darted all over the park.
Some of the most breathtaking are Wawona, Tuolumne, and Yosemite Valley.
The meadows come alive with animals and plants, especially around sunset. During this time you can see deer graze, bats flying and the flowers blossom. It is a spectacular sight and of course, kids can have fun watching.
If you are visiting Yosemite in Fall then the colours around the park are amazing. The poison oak on the El Portal Road turns purple and it is especially beautiful.
Yosemite National Park Activities with Kids: Hikes and Waterfalls
One of Yosemite National Parks attractions is hiking. Many families put off hiking when they are travelling with kids. At Yosemite National Park you can find hikes to suit all abilities including little feet. There are hiking trails open all year even in winter.
There is no better way to keep kids walking than the reward of seeing a waterfall at the end. The hike to Lower Yosemite Falls is one of the best hikes in Yosemite for kids.
What makes it so great is you can see the waterfall for most of the trek. It is about a mile of paved ground which makes it great for strollers.
Things to see in Yosemite with children: Mirror Lake
Mirror Lake is just a few miles hike from most of the campgrounds in the Valley. It is not assessable by car which means you can either bike or hike. However, if you have forgotten to bring bikes then check out Yosemite Village to rent some.
Kids will have fun playing in the water in spring or summer. If the winter most of the water has dried up. However, don't write the lake off. The hike there is beautiful and kids can still have fun playing around the lake.
Best Hikes for Kids in Yosemite: Cook's Meadow Hoop
If you want a family-friendly hike that is short and flat for small kids, then head to Cook's Meadow Hoop. It is a great trail for strollers too. The hike offers views of Glacier Point, Yosemite Falls and Half Dome.
There are so many great trails that it is difficult to cover all of them. A great tip is to download the APP AllTrails before you arrive. There you can find trails of all levels from easy to difficult.
If you are travelling with little ones then the easy trails will be perfect. You can even search for loops that take you straight back to where you started. Just remember the signal at Yosemite isn't great, so be sure to download the offline maps before you get there.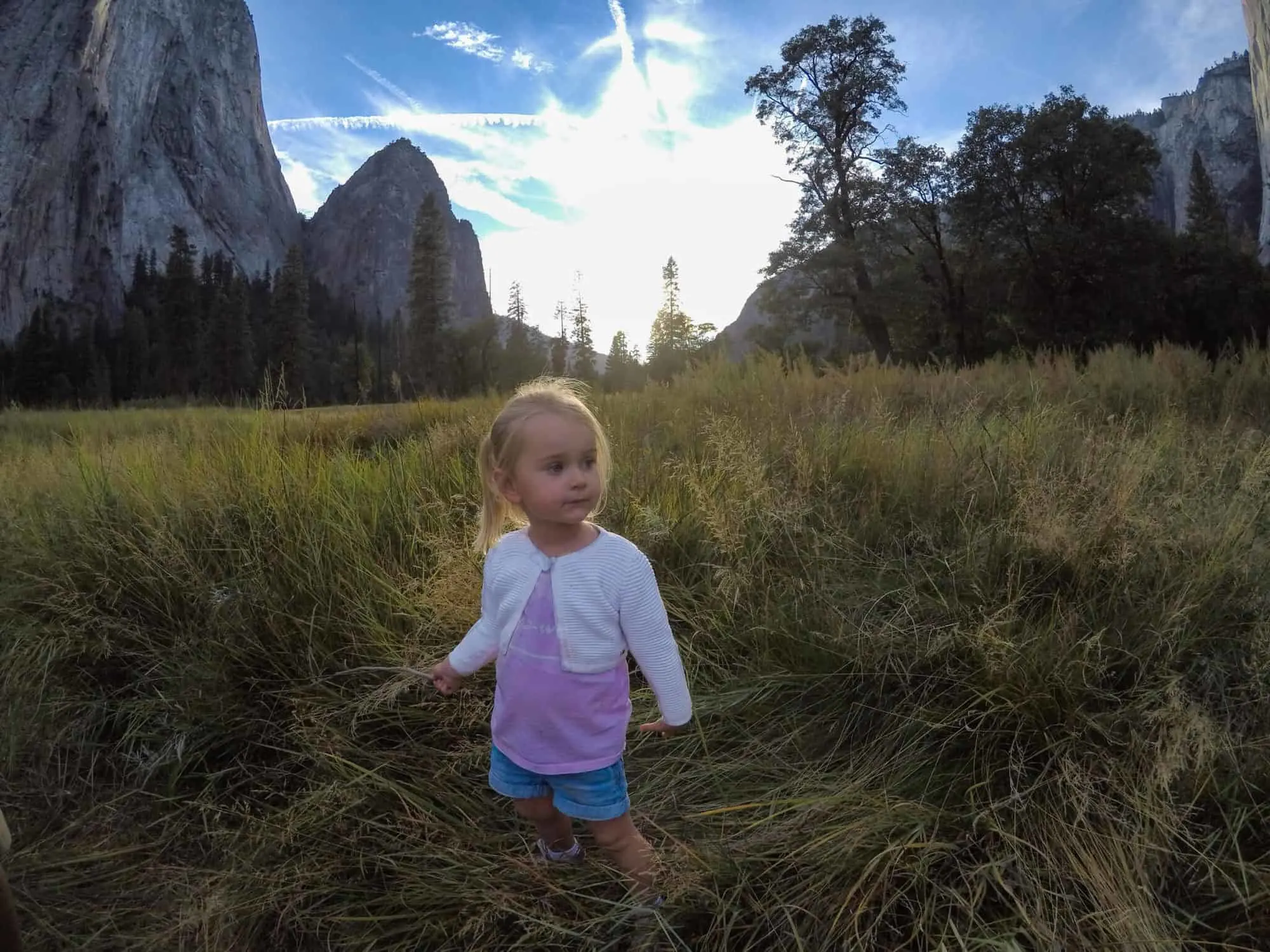 What to do in Yosemite with Kids: Jr. Ranger
The Junior Ranger program is available for kids of all ages. It is a free activity, but parents need to purchase the book for a small fee. First, kids complete the book then they attend a ranger program and pick up trash. Once they have achieved all three they are given a ranger's badge.
Yosemite Children's Activities
Kids of all ages are fascinated by the sight and animals that Yosemite has to offer. There are tons of travel-themed activities for kids. A fantastic way to keep the magic going is to read books or do activity packs with Yosemite in mind. These can be done before you go, while you are there or after your trip.
Babies and toddlers would enjoy a simple storybook. Goodnight Yosemite incorporates all of the special places in Yosemite. The Super Silly Yosemite Activity Pack is perfect for kids over four. It takes kids through a magical trip in Yosemite and has a range of activities including games and puzzles. Older kids and teenager might enjoy their own guide. My Yosemite lets kids discover the history and also gives them ideas on what they can do in the park.
Yosemite National Park Facts for Kids
We all know how kids like to ask questions. Here is a list of facts to inspire them as they explore Yosemite or to keep them entertained on the trip there.
The Giant Sequoia that grows in the park are the biggest living things on Earth
When there is a full moon and the light is right, a night rainbow can appear from the mist of one of the waterfalls
The park is home to more than 400 species including black bears and the rare Sierra Nevada red fox
The Awahneechee Indians live in Yosemite. Their homes are made of incense cedar bark and look like teepees
The granite rock formations found in Yosemite can look like they are on fire. At sunset El Capitan and Half Dome light up red and orange
Overall, Yosemite National Park offers a range of activities and attractions for kids of all ages.
You May Also Like:
Best Things to Do in Redwood National Park with Kids
Olympic National Park with Kids
Things to do in Banff with Kids
The Best Things to do in the Everglades with Kids
How to Plan a Trip to Yosemite
The Best Hikes in Yosemite National Park
The Best Yosemite Tours From San Francisco
The Ultimate Yosemite Packing List
10 Kid Friendly Hikes in Yosemite
The Magic of Yosemite in December
Why Yosemite Weather in May Makes it the Best Time to Visit
10 Reasons to Visit Yosemite in January
The Perfect Guide to Visiting Yosemite in March
10 Amazing Things to do in Yosemite in February
15+ Of The Best Things to do at Yosemite in July
guide to pumpkin picking in Florida.
Best Pumpkin Farms In California
Will you be needing travel insurance, flights, rental cars, or hotels for your trip?
Disclaimer: This post may contain affiliate links. By using them it will not cost you any extra, we will receive a small percentage of the sale.