Turkey is a unique country. While the majority of the country is in Asia, there is a small portion of it in Europe.
It has land borders with eight countries (Bulgaria, Greece, Armenia, Azerbaijan, Iran, Georgia, Syria and Iraq) and four seas (The Mediterranean, the Aegean, the Sea of Marmara and the Black Sea) surrounding it. Hence, it comes as no surprise that there are a staggering 463 blue flag beaches to choose from. You are also spoilt for choice with the best resorts in Turkey for families.
It is one of the most popular holiday destinations in the world due to the warm weather and the hospitality of the locals. What makes it so appealing for families is the amenities and the affordability.
Best Family Resorts in Turkey
Turkey is just a short plane ride away from the UK and Ireland. This is great if you are flying with babies or flying with kids, for that matter.
Unsurprisingly, most of the resorts are scattered along the coast and near a beach. There are hotels for every budget. Five-star hotels with waterparks and funfairs, budget-friendly resorts near the centre or quiet resorts in Turkey.
Take a look at some of the best resorts in Turkey for families below.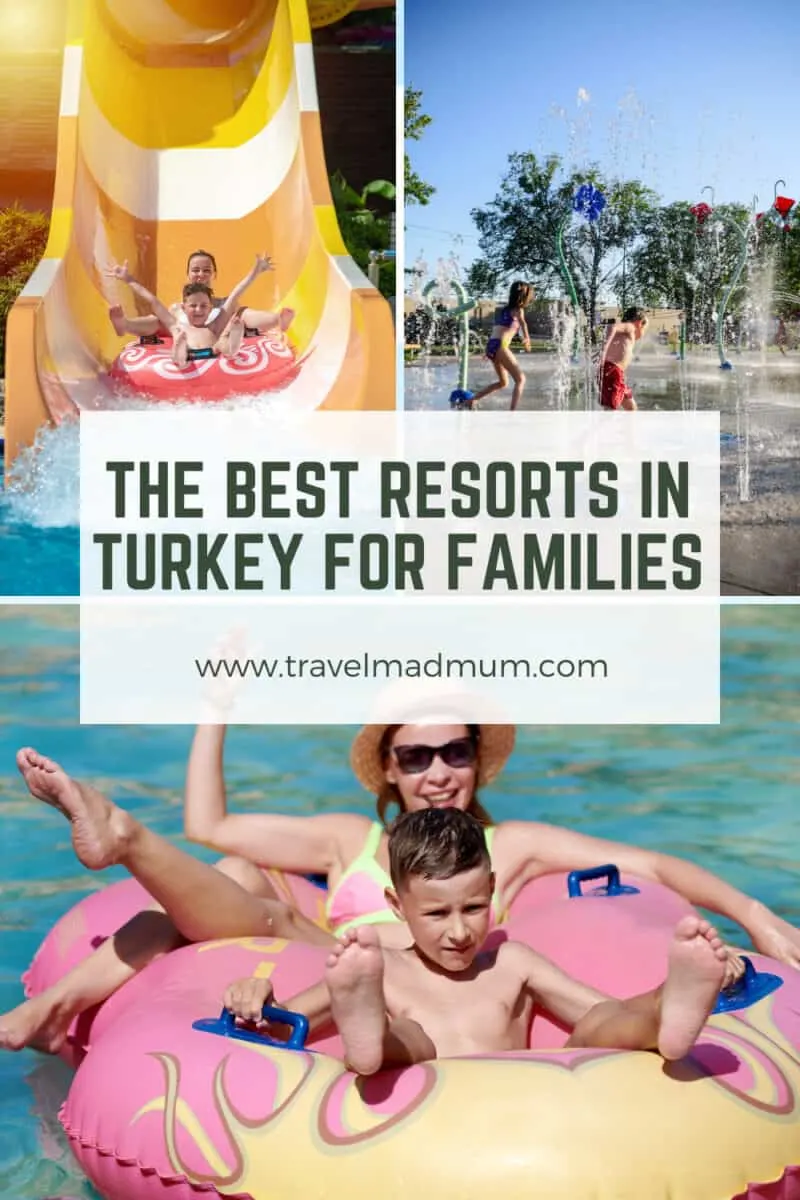 Antalya – Best Family Hotels In Turkey
Antalya is surrounded by the Taurus mountains. Unlike many of the other holiday destinations, Antalya is popular all year round. It is incredibly hot during the summer and cool and wet in the winter. It is soaked in history with ancient ruins, amphitheatres and artefacts.
With the Mediterranean sea on your doorstep, there are plenty of pristine beaches to choose from. This also makes it home to the best beach resorts in Turkey.
1. Delphin Imperial Lara, Antalya
Antalya is known for its lavish all-inclusive hotels, and the Delphin Imperial Lara certainly doesn't disappoint. The beachfront property looks the part with its unique architecture and breathtaking views.
The hotel offers everything you need, including a choice of five swimming pools. Taking advantage of the hotel's proximity to the airport means you can start your holiday as soon as you arrive.
Upon arriving at the hotel, you can choose from several restaurants and bars once you've settled in.
For prices and more information, click here.
2. A Stay At The Suite Apart Hotel And Rooms, Kaleici
No visit to Antalya is complete without a stroll along the cobblestone streets of Kaleici while in the city.
There are a lot of traditional houses in the area, as well as many souvenir shops, restaurants, and bars. In the heart of the city lies Hadrian's Gate, which is the main entrance to the city.
If you like to be in the middle of things, there are plenty of hotels to choose from in Kaleici. The Suite Apart Hotel & Rooms has a great pool area and garden. It is the perfect place to relax away from the hustle and bustle.
When you look at the Ottoman decorations around, there is a sense of stepping back in time.
Many restaurants and attractions are within walking distance, including Antalya's iconic Hirdirlik Tower. The owners are on-site to help you with any questions about the area as well.
Check here for more information
Belek – Best Resort In Turkey For Families
Belek offers a quieter atmosphere than the city centre of Antalya. However, it still provides plenty of entertainment with its golf courses, beaches, and various local attractions, such as the Aspendos Amphitheatre and the nearby ancient city of Perge.
For families, all-inclusive resorts provide a convenient and comfortable way to enjoy their holiday – just 45 minutes from the airport.
3. Budget Holidays At Limak Atlantis Deluxe Hotel, Belek
The Limak Atlantis Deluxe Hotel is a great choice for families on a budget. It is a luxury hotel that offers great deals for families. All guests are given a complimentary bottle of wine and a fruit basket upon arrival.
Limak Atlantis is a beachfront hotel with plenty of beach toys and accessories and five swimming pools to choose from at the hotel.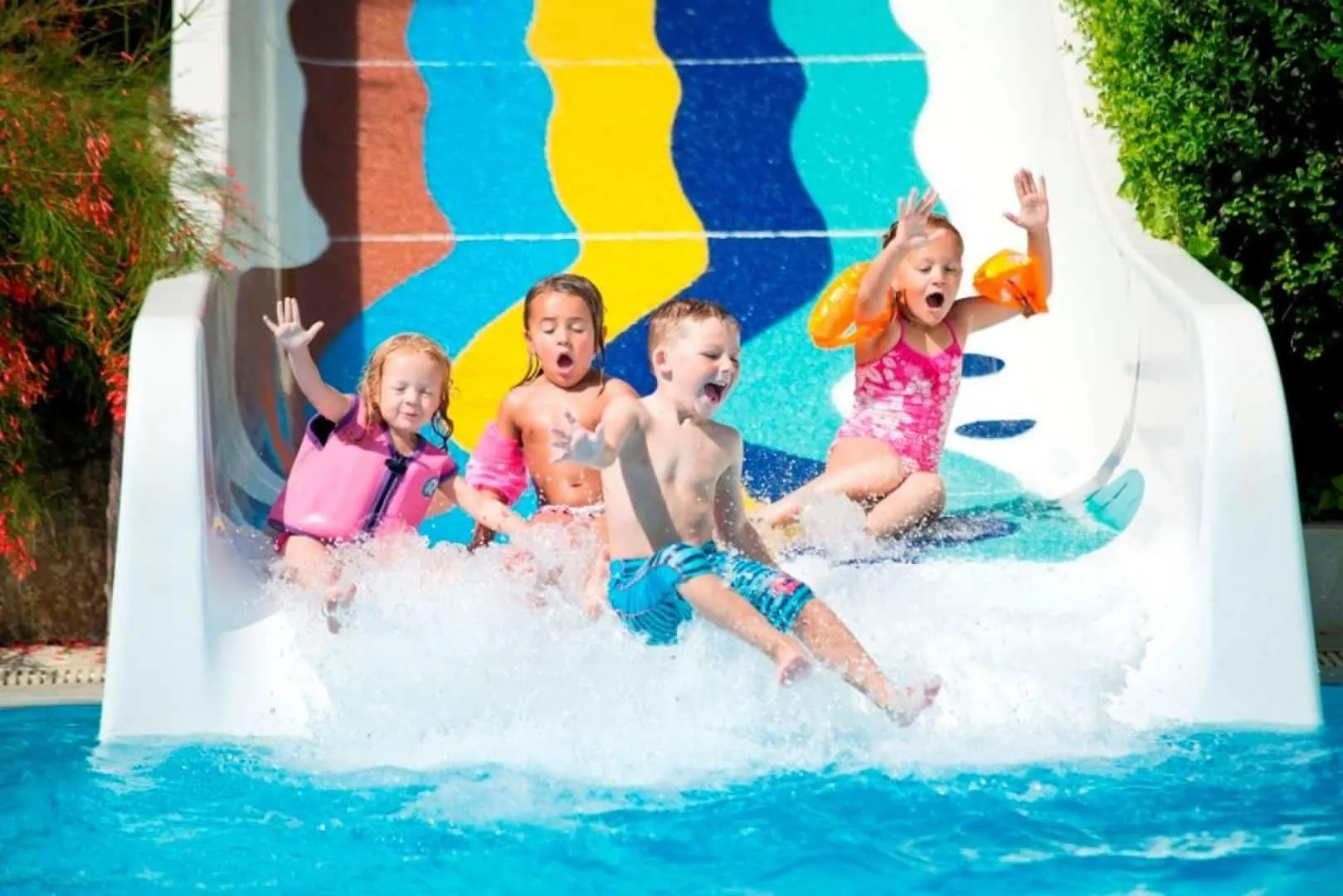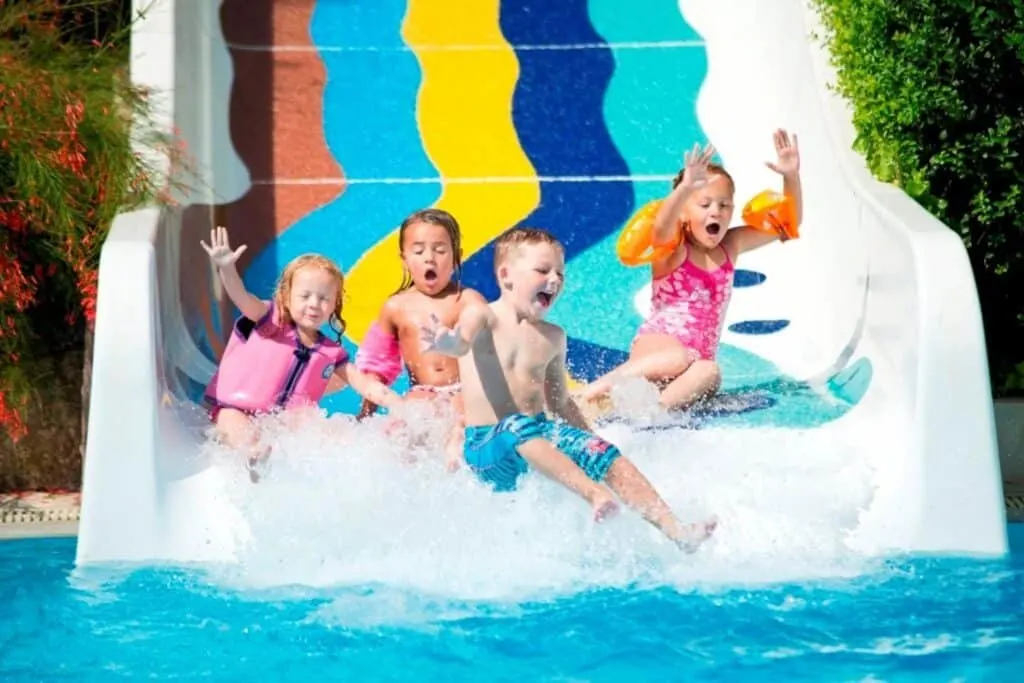 The all-inclusive concept includes the main restaurant and a booking for an evening meal at one of the à la carte restaurants during the stay. It is a convenient way to sample different cuisines and get a taste of local culture without paying extra.
4. The Land Of Legends Kingdom Hotel, Belek – Family Holidays In Turkey
The town of Belek made headlines all over Turkey a few years ago when it opened a theme park that received considerable attention.
An immersive multisensory experience awaits guests at Land of Legends Theme Park. The park is home to a water park, a 5D cinema, and a 4265-foot Hyper Coaster, along with so many other attractions.
The Land of Legends Kingdom hotel onsite is out of this world. Each room is custom-designed with kids in mind. The hotel does not offer an all-inclusive package; however, many of its restaurants offer a wide variety of international cuisines to suit every taste.
Enjoy strolling through the park and watching the light shows in the evening – a truly magical experience!
Take advantage of a complimentary ticket to the theme park when staying at the hotel. A total of 55 water slides are available to guests, including several sure to get their hearts racing.
The inclusion of areas specifically for young children ensures that they are well taken care of as well.
For bookings and more information about the Land of Legends Kingdom Hotel.
Side – Best Place In Turkey For Families
Side is a small resort about an hour away from Antalya airport. Right at the centre of Antik town lies the Apollo Temple. From there, you can snap the most amazing pictures at sunset while standing in the same place Mark Anthony is said to have proposed to Cleopatra.
5. Royal Dragon Hotel, Side – All Inclusive Turkey Family Holidays
A short dolmus ride away is the Royal Dragon Hotel. The hotel has a Chinese theme, and exceptional amenities are available to guests.
Besides the water park and several pools, there are amusement parks, a games room for children under 12, spa facilities, two floodlit tennis courts, and a fitness centre.
The all-inclusive concept offers four on-site restaurants serving Italian, Asian, and local cuisines with a daily breakfast buffet.
The property offers a range of amenities for guests to enjoy, including a selection of restaurants, a bowling alley, two outdoor swimming pools and direct access to the beachfront.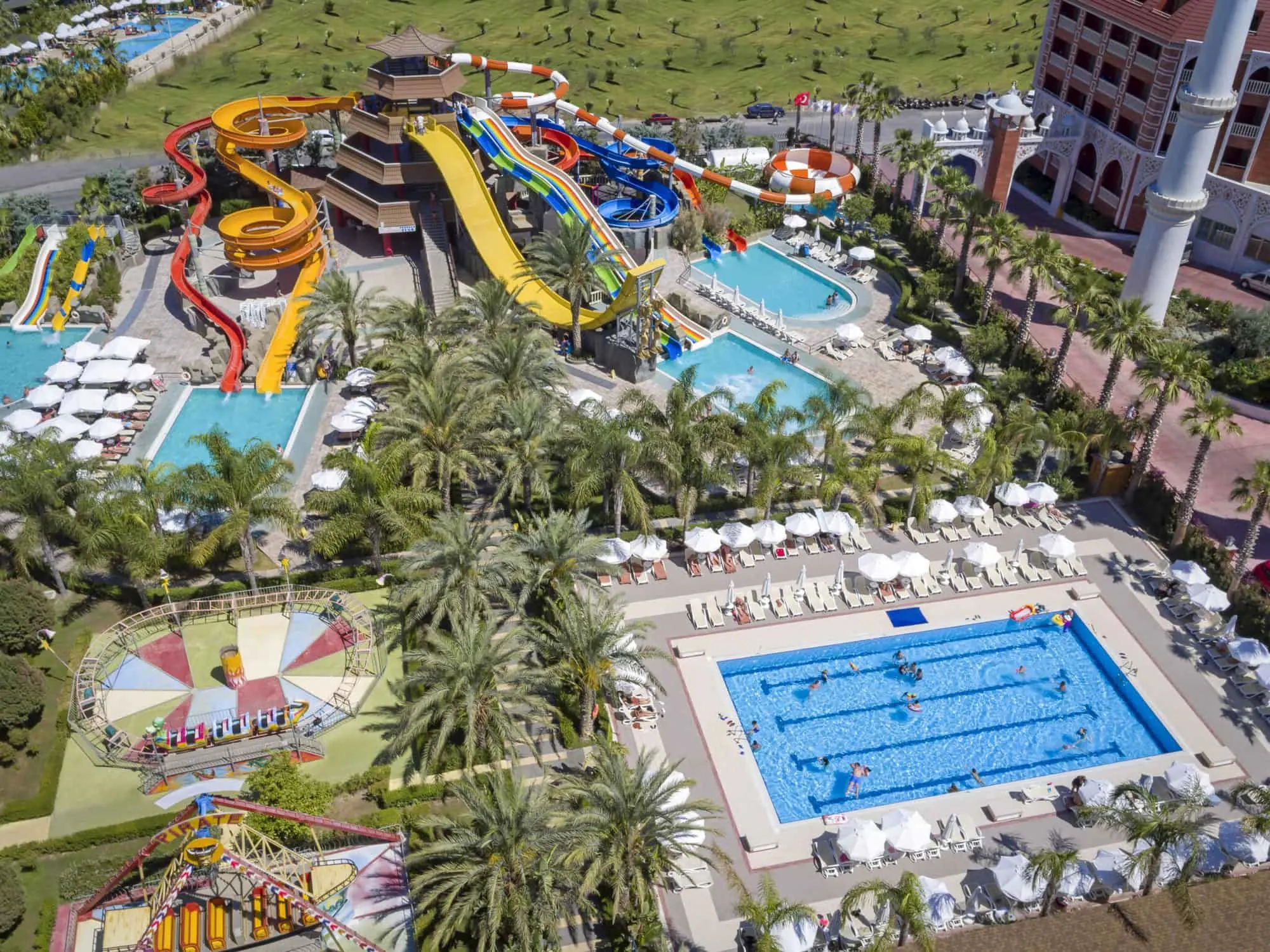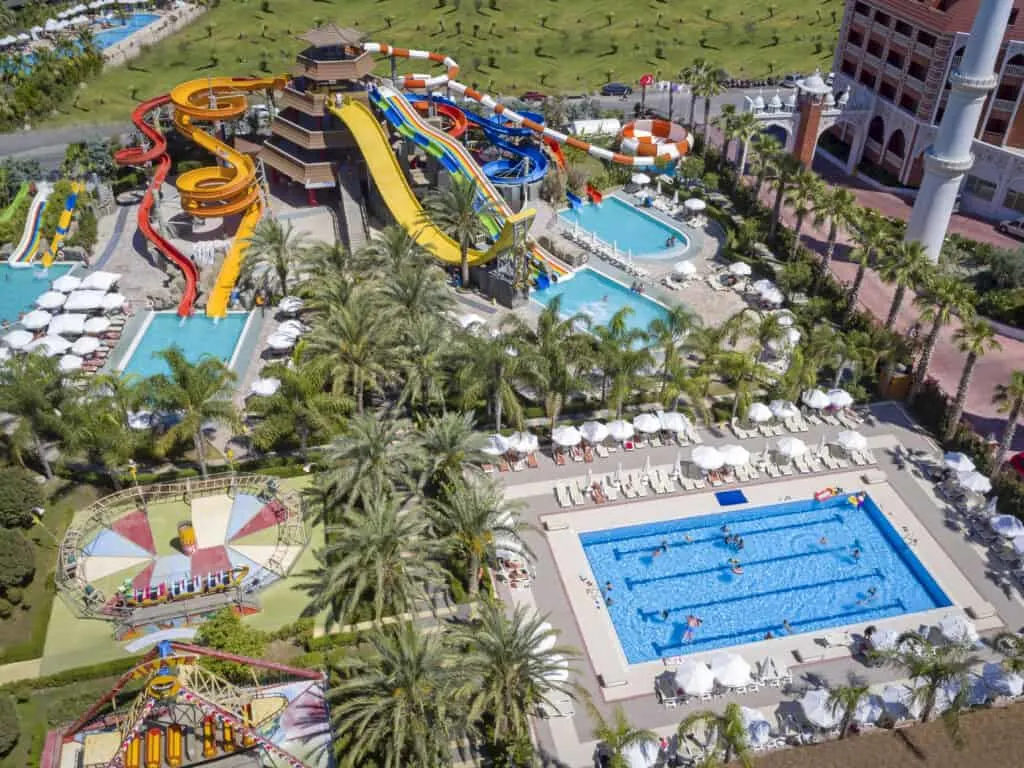 These facilities provide the perfect opportunity for visitors to relax and enjoy their stay in a comfortable and convenient setting.
Click here for more information and bookings at the Royal Dragon Hotel.
Alanya – Family Resorts In Turkey
The journey to Alanya may take a few hours from the airport, but it is worth the trip. Located in the centre of the city, stroll around the 13th-century castle or embark on a relaxing cruise to enjoy the views of the river.
Consider venturing a tad further out to find caves and canyons worth checking out. Dimcayi is where you can dip in the river's freezing cold water if brave enough.
6. The Riviera Hotel And Spa, Alanya – Family Resort Turkey
The fact that Alanya doesn't have the same luxury hotels as Antalya makes up for it with the city's crystal-clear waters and lively atmosphere.
Riviera Hotel & Spa stands just a few steps from Kleopatra beach and 1.5 kilometres from Alanya Castle and Alanya harbour and all its amenities.
The hotel also provides guests with a range of services and amenities, such as a 24-hour front desk, a business centre, room service, laundry service, and concierge service.
Guests can enjoy the hotel's fitness centre, two outdoor pools surrounded by palm trees and the beautiful sandy beach.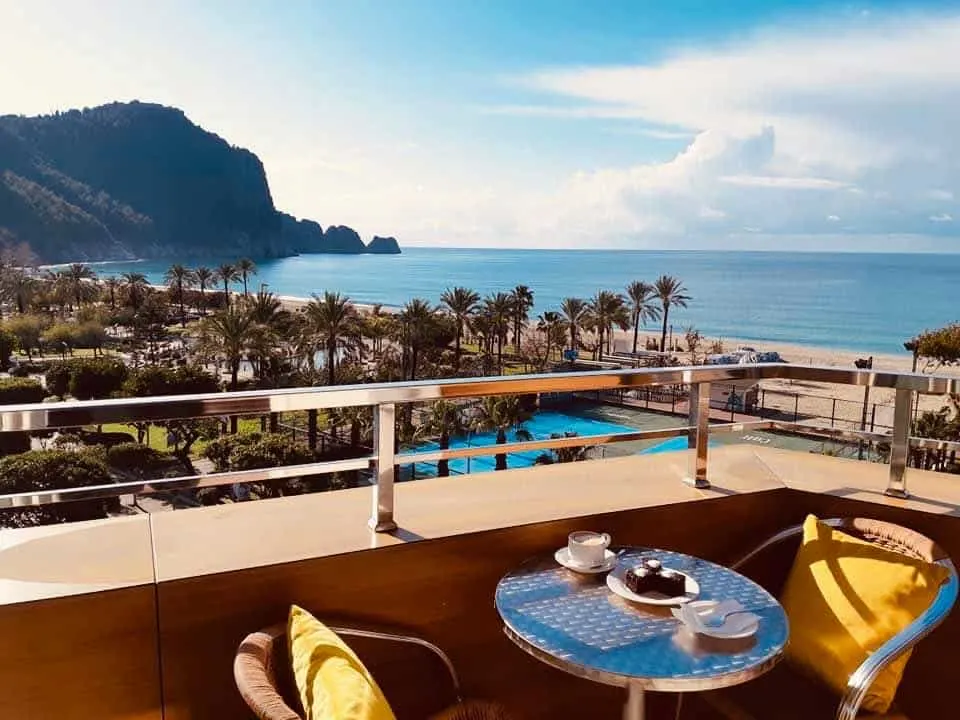 Riviera offers a wide variety of cuisine from the Mediterranean region, as well as international dishes to suit all tastes.
The elegant lobby bar is the perfect place to hang out with friends or family and enjoy a selection of drinks from around the world.
To find out more information and to book, click here.
Fethiye – Family Holidays Turkey All Inclusive
There are many reasons why Fethiye is the perfect place to stay when looking to combine a beach holiday with a bit of exploration of the ancient Lycian culture in the region.
Being a small resort town, Fathiye is gaining popularity among British ex-pats due to its laid back atmosphere and great location.
7. Jiva Beach Resort, Fethiye – Ultra All Inclusive
The Jiva Beach Resort has a natural lake and five swimming pools, comprising an activity pool, a silent pool, and a slide pool.
Every room at Jiva Beach Resort reflects a modern and stylish touch.
The room amenities include a 32-inch LED TV, a minibar, a safe box, a rain shower, a hairdryer in the private bathrooms, and complimentary toiletries. In addition, some rooms feature direct access to the pool.
On-site, families can enjoy a number of activities, including billiards, darts, table tennis, and many more.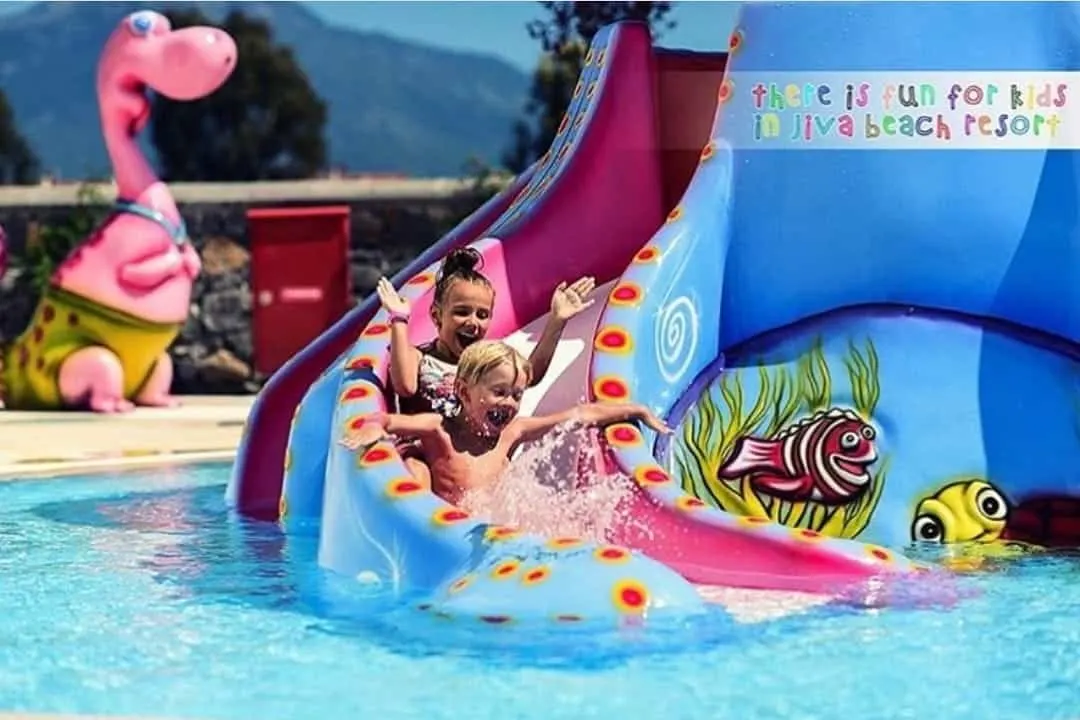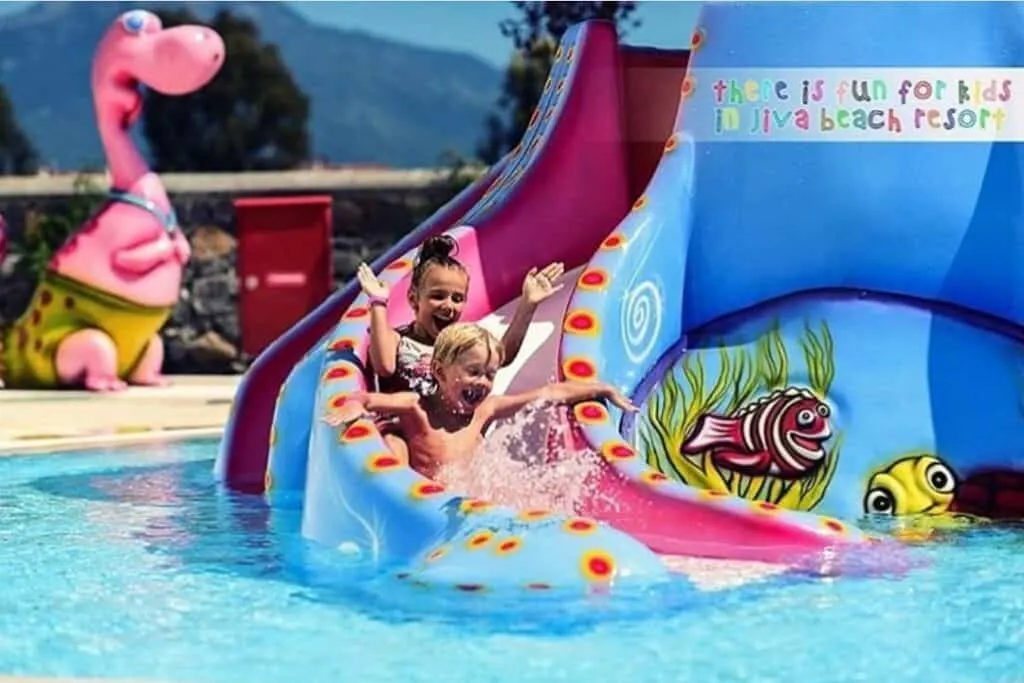 As part of the property's amenities, guests have access to free WiFi, a 24-hour front desk, various spa facilities and a fitness room.
The main restaurant offers breakfast, lunch, and dinner buffet meals, all-inclusive in the stay package. Furthermore, there are two additional restaurants, a snack restaurant and a bar, where a variety of delectable dishes are available.
There are a variety of entertainment options and night shows at the hotel so that children can enjoy themselves throughout the day and all evenings.
Click here to find out more information and bookings at Jiva Beach Resort.
Oludeniz – Best Turkey Resorts For Families
Oludeniz is home to the Blue Lagoon.
It is a great choice for a relaxing beach holiday. With shades of aquamarine and turquoise, it is no wonder this blue flag beach is popular with both tourists and locals.
8. Montana Pine Resort, Oludeniz – Family Hotels In Turkey
Nestled in a pine forest and on the Lycian Way walking trail is Montana Pine Resort. The entertainment team are on hand to keep you and the kids busy night and day. While the Oludeniz beach is a good 20-minute walk from the resort, the hotel provides a free shuttle service.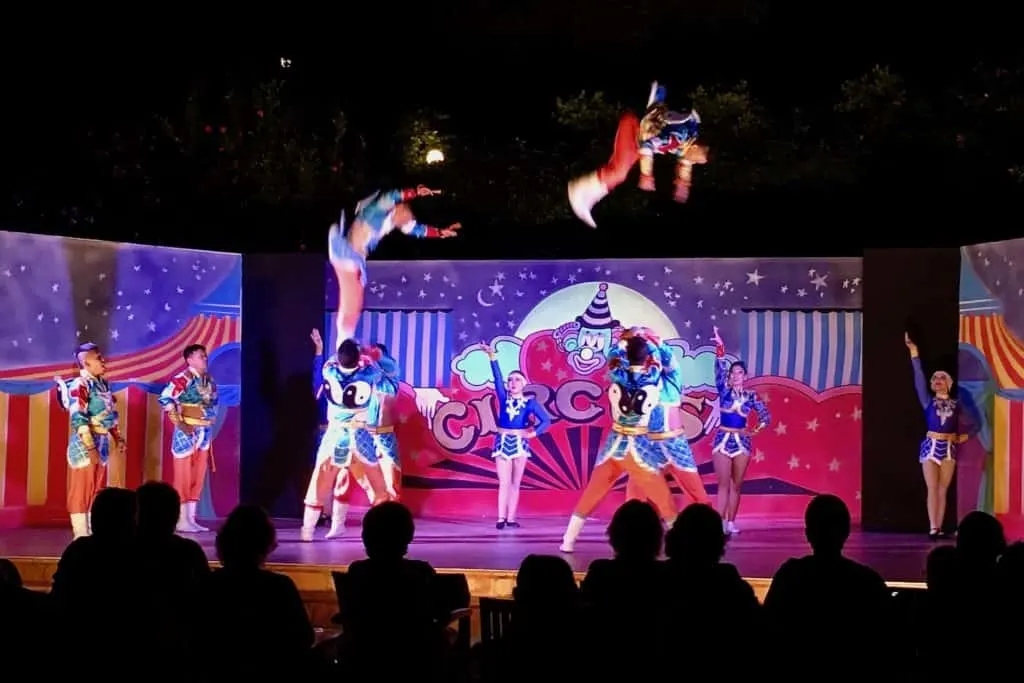 If you are up for a bit of adventure, then Mount Babadag is not far from the hotel. Here you can try paragliding which is popular in the area due to the spectacular views and good weather. You can also hop on a shuttle bus service from the beach to Butterfly Valley, an ecotourism area that is home to butterflies of several colours and varieties.
Those looking to spend a day relaxing at the property can avail of plenty of on-site amenities, including a fully appointed spa with massage rooms, a whirlpool and steam room, a Turkish bath, a relaxation room, a whirlpool, lounge chairs, and a fitness area.
An array of sports facilities are available for guests at the hotel, including tennis courts, a mini-golf course, as well as table tennis.
Find out more information and check availability here.
Bodrum – Best Hotels in Turkey for Families,
Bodrum has been popular with guests from the UK and Ireland for many years. It is a great place to stay if you want both history and adventure. You can find water sports on the beach and also day trips to jeep safaris and Pammukule.
9. The UzHan Beach Hotel, Bodrum – Family Hotels Turkey
The city centre is hiving day and night. Families may want to explore it during the day but escape to the peace and quiet of a small hotel. The UzHan Beach Hotel is a 15 minute drive from Bodrum's centre and just a few steps from the beach.
It offers a peaceful and relaxing atmosphere, with spectacular views of the Mediterranean Sea and the nearby islands.
As well as a private beach, an outdoor swimming pool, and a number of restaurants serving Turkish-style buffet breakfast, the complex also has a bar-café serving refreshments all day.
Furthermore, all of the guest rooms and suites feature a private balcony or terrace, making it a pleasant place for families to relax and enjoy the views.
For bookings and more information on reservations.
10. Jasmin Beach Hotel, Bodrum – Resorts In Turkey For Families
Bodrum is by the Aegean Sea. While it is the ideal location for a sailing holiday, you are spoilt for choice when it comes to activities and things to do. Along the Peninsula, you can find coves, beaches and bays popular with tourists and locals.
The area is well known for its stunning hotels and the Jasmin Beach Hotel lives up to that reputation. It is paradise right next to all the attractions, including the Bodrum windmill and the Pedasa Antique city.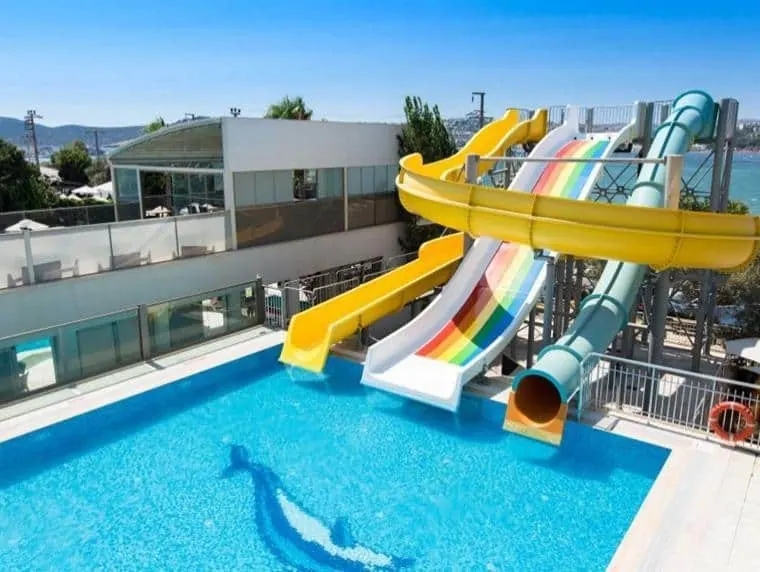 The hotel provides guests with stunning views and three swimming pools to choose from. It also has a private beach with a great selection of water sports activities. The hotel entertainment team are there day and night with adult and kid activities.
For updated information and bookings at Jasmin Beach Hotel.
Marmaris – Turkey Best Resorts For Families
Marmaris has it all; beaches, beauty and nature. It is a great choice if you want to travel but miss British food. The area is swarmed by British tourists every year so much so that prices are sometimes given in GBP.
Another reason Marmaris is so popular is for its Thursday Markets. You can find fake handbags as cheap as chips along with many other 'designer brands'.
11. The Mamaris Park Hotel – Family Hotel Turkey
The Marmaris Park Hotel is a short drive from the famous Thursday Market.
Even though the hotel is situated a few steps from the main street, it is an ideal retreat for those looking for a quiet escape in a peaceful location. Thanks to the lush gardens and dense trees that block out the noise and create a serene environment that allows guests to relax and unwind.
Guests can avail of facilities such as a spa centre and sauna and lay back and chill by the private beach area, with plenty of sun loungers.
With a convenient location just 4.1 km from Karacan Point Center, those looking to explore the area have the opportunity to hire a car or a bike and see what Marmaris has to offer.
Find out more information about the hotel here.
Best Places To Go In Turkey For Families
Exploring places in Turkey is a must. From Hagia Sophia in Istanbul to the iconic Blue Mosque and the ancient ruins of Ephesus and the palaces of Topkapı and Dolmabahçe to the beautiful beaches of Bodrum and Antalya, there is something for everyone in this amazing country.
Below is a list of the famous places worth visiting when staying at the best resorts in Turkey for families.
Visit The Travertines of Pamukkale, Denizli
One can never get enough of the Travertines of Pamukkale, which are a rare and magnificent sight to behold.
There are geological formations made up of terraces of carbonate minerals left by flowing water. The calcium-rich waters that created these terraces contain various minerals, such as sulfur and magnesium, which give the waters a unique range of colors.
It is a visual feast of colors and textures, from the white of the calcium deposits to the blues of the sky, the turquoise of the springs, and the intricate patterns of the land formed by the water. It almost feels like nature's symbiotic balance is right before you.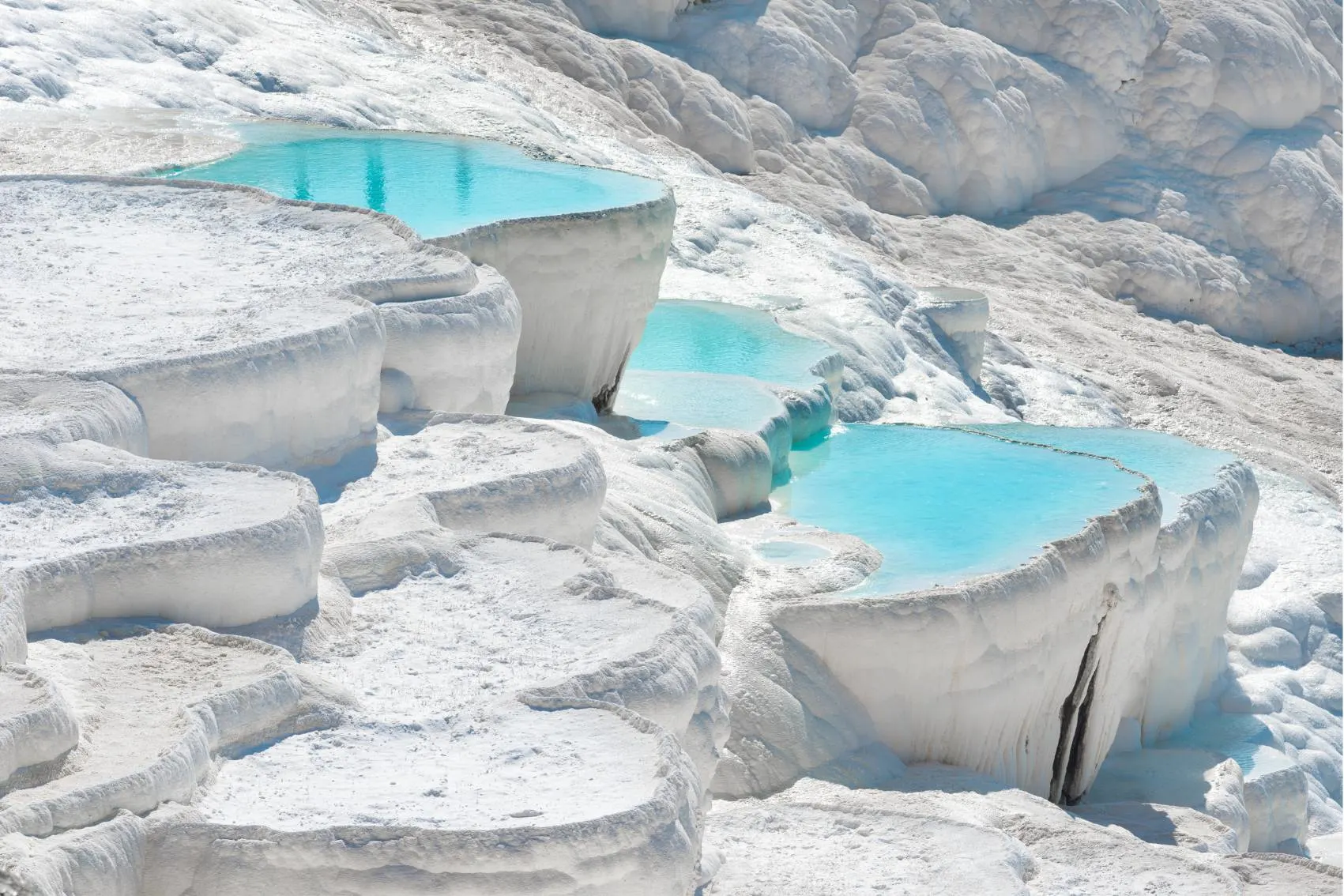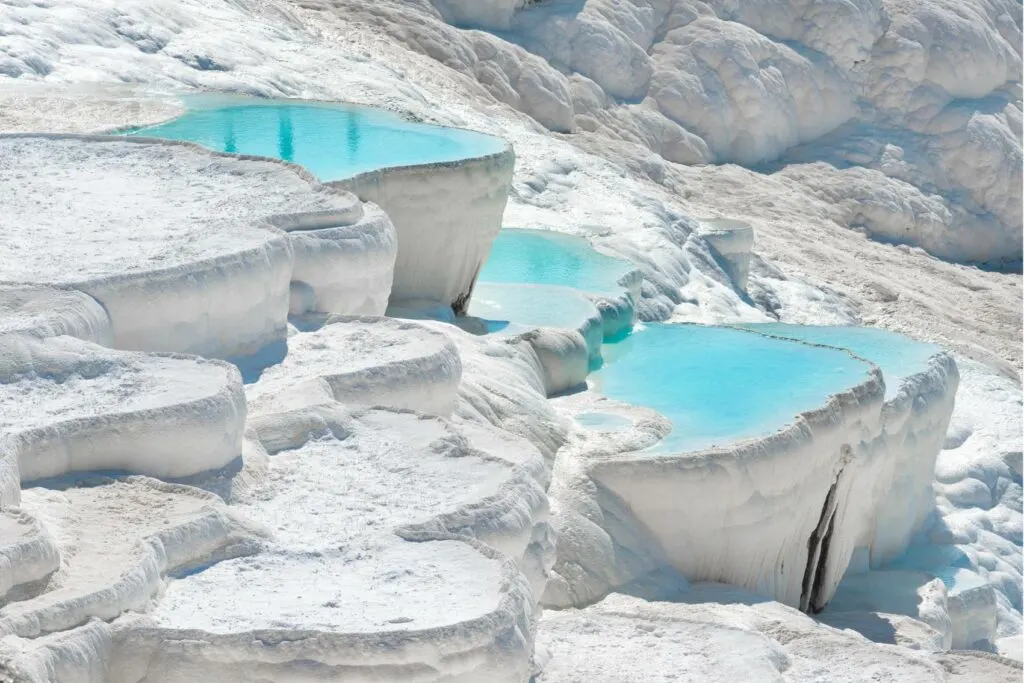 Following a doctor's examination, water from the travertines is recommended as a treatment for blood pressure, rheumatism, vascular diseases, stomach spasms, paralysis and kidney stones, to name a few.
The healing properties of the water are attributed to the natural minerals found in it. These minerals are believed to have anti-inflammatory and anti-bacterial properties, which help to reduce inflammation, improve circulation and soothe the symptoms of various conditions.
Visiting these thermal pools is a must-visit and should be on the itinerary when staying at one of the best resorts in Turkey for families.
For more information on the Travertines of Pamukkale.
Timings: 8 AM to 6:30 PM (Monday to Sunday)
Location: Merkez, 20190 Pamukkale/Denizli, Türkiye
The Ruins Of Hadrian's Gate, Antalya
Hadrian's Gate is the magnificent triumphant arch located at the western end of the city and represents one of the most significant landmarks in the city.
It comprises of three arches made of marble and sculptures of Roman gods and goddesses.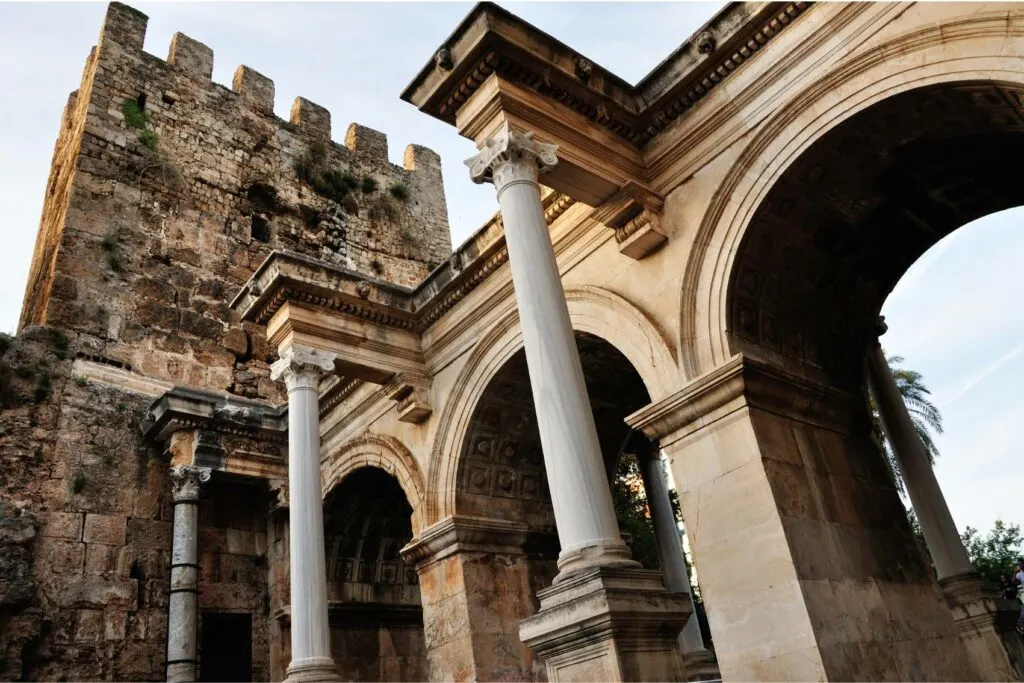 The Gate is a symbol of the city's strength and resilience throughout the centuries.
Having this combination of features is known as "Corinthian-Ionic" and is a typical style of classical architecture. The columns, gates and towers were likely built at the same time, probably during the Roman period.
A sight not to be missed when staying a few days in Antalya.
Location: Tekirova, 07995 Kemer/Antalya, Türkiye
Views Of The Lower Düden Waterfalls, Antalya
Between Antalya and Lara, the Lower Waterfalls of Düden are a must-see attraction you don't want to miss.
The Düden River plunges 40 meters over the brushy cliffs into the Mediterranean Sea.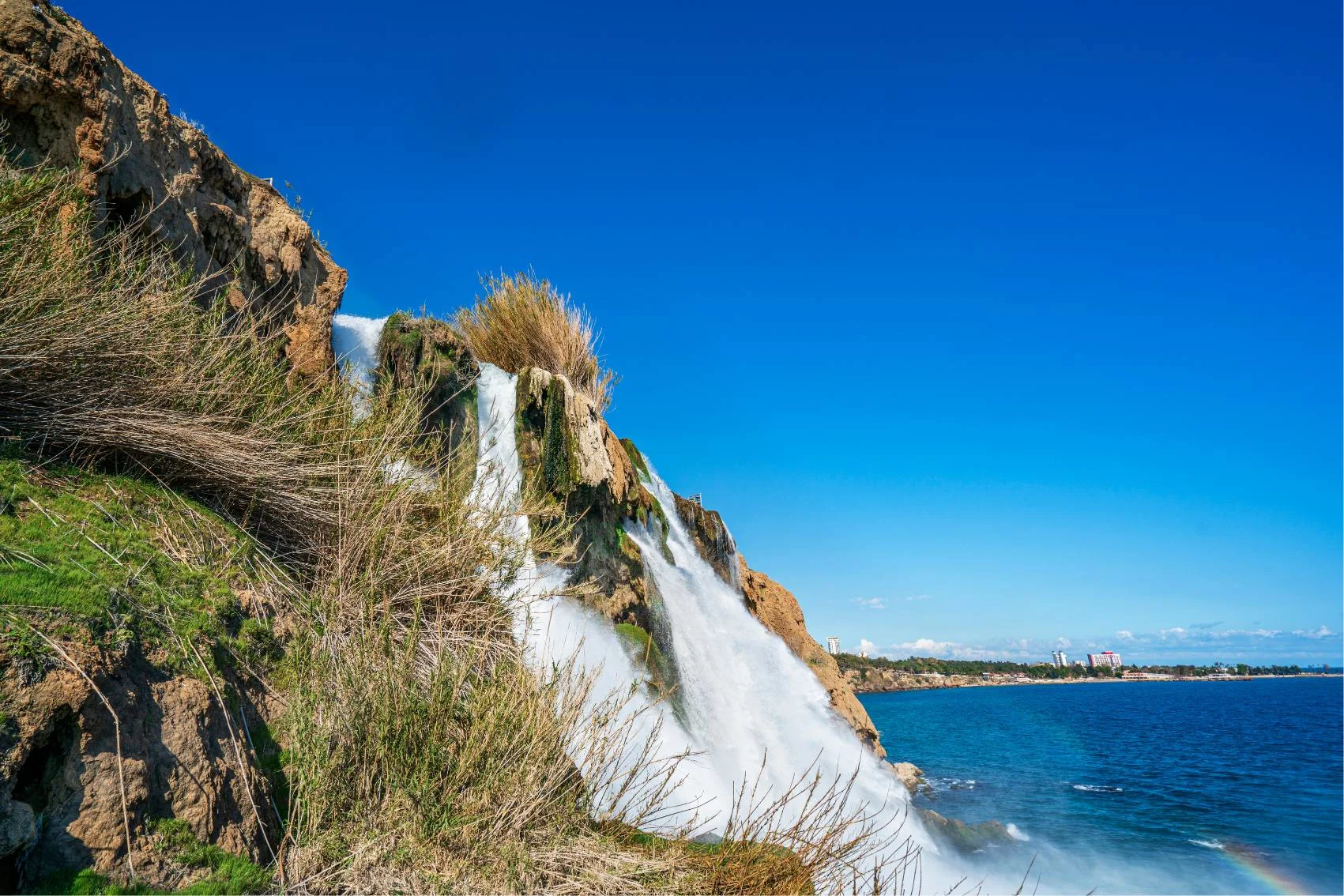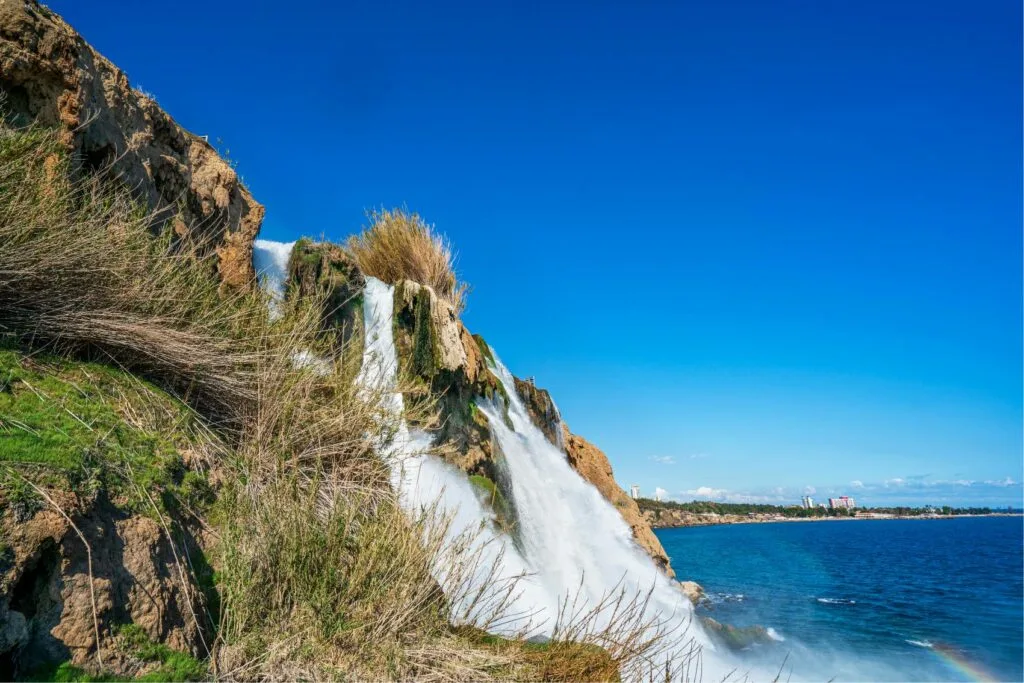 The Duden Lower Falls are most impressive from the park, where visitors can admire the sheer force and beauty of the falls. The power of the water cascading over the cliff is an awe-inspiring sight to behold, and the zip line provides an exhilarating experience for the brave.
Location: Çağlayan, Lara Cd. No:457, 07230 Muratpaşa/Antalya, Türkiye
The Historical Blue Mosque, Istanbul
Turkey's Blue Mosque, also known as the Sultan Ahmed Mosque, is a historically significant mosque in Istanbul. It is one of the country's most iconic mosques and a top tourist destination.
Its design is characterized by its six minarets and eight domes, making it one of the most recognizable landmarks in Istanbul.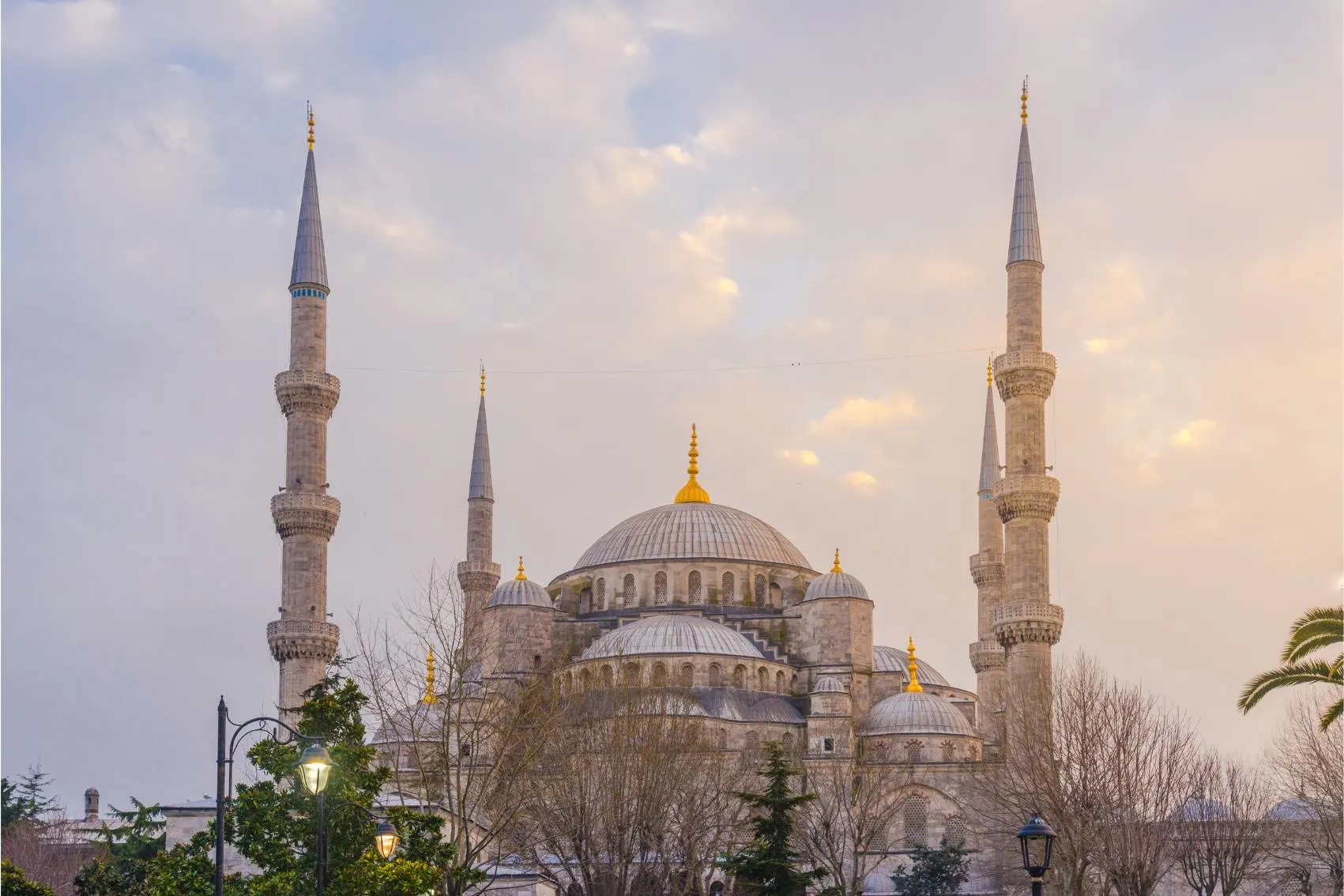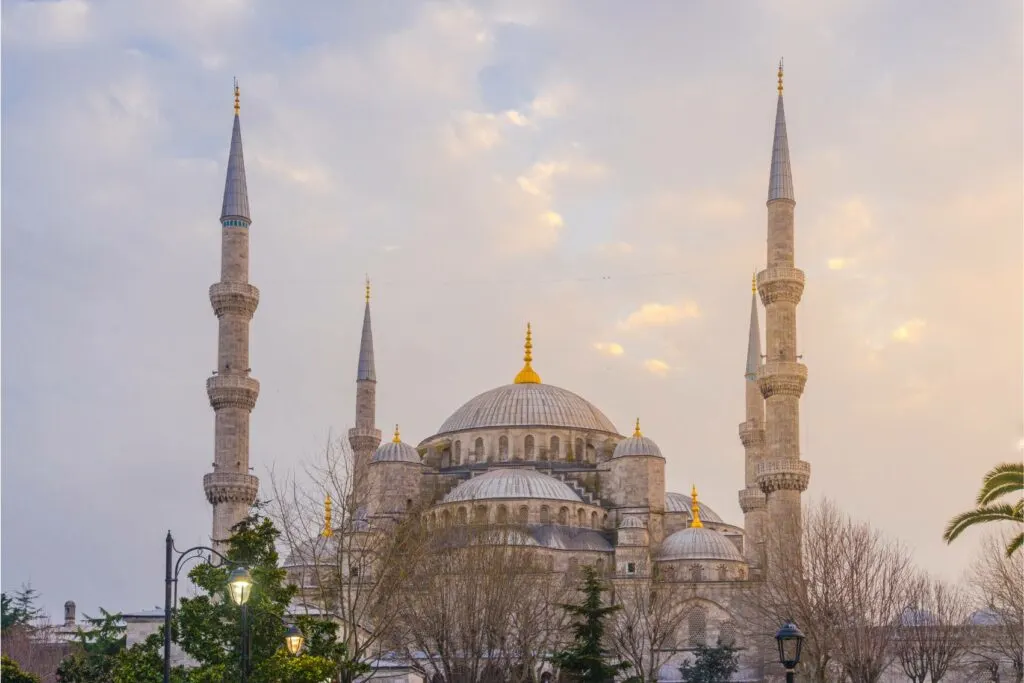 Furthermore, the interior of the mosque is covered with more than 20,000 handmade ceramic tiles and is decorated with intricate calligraphy, giving it an even more striking aesthetic.
Location: Binbirdirek, At Meydanı Cd No:10, 34122 Fatih/İstanbul, Türkiye
Hagia Sophia, Istanbul
Originally an imperial mosque and a Greek Orthodox Christian patriarchal basilica, Hagia Sophia is now a present-day museum.
When the Hagia Sophia was built, the massive dome on the top of the structure was the turning point for architecture in 537 AD.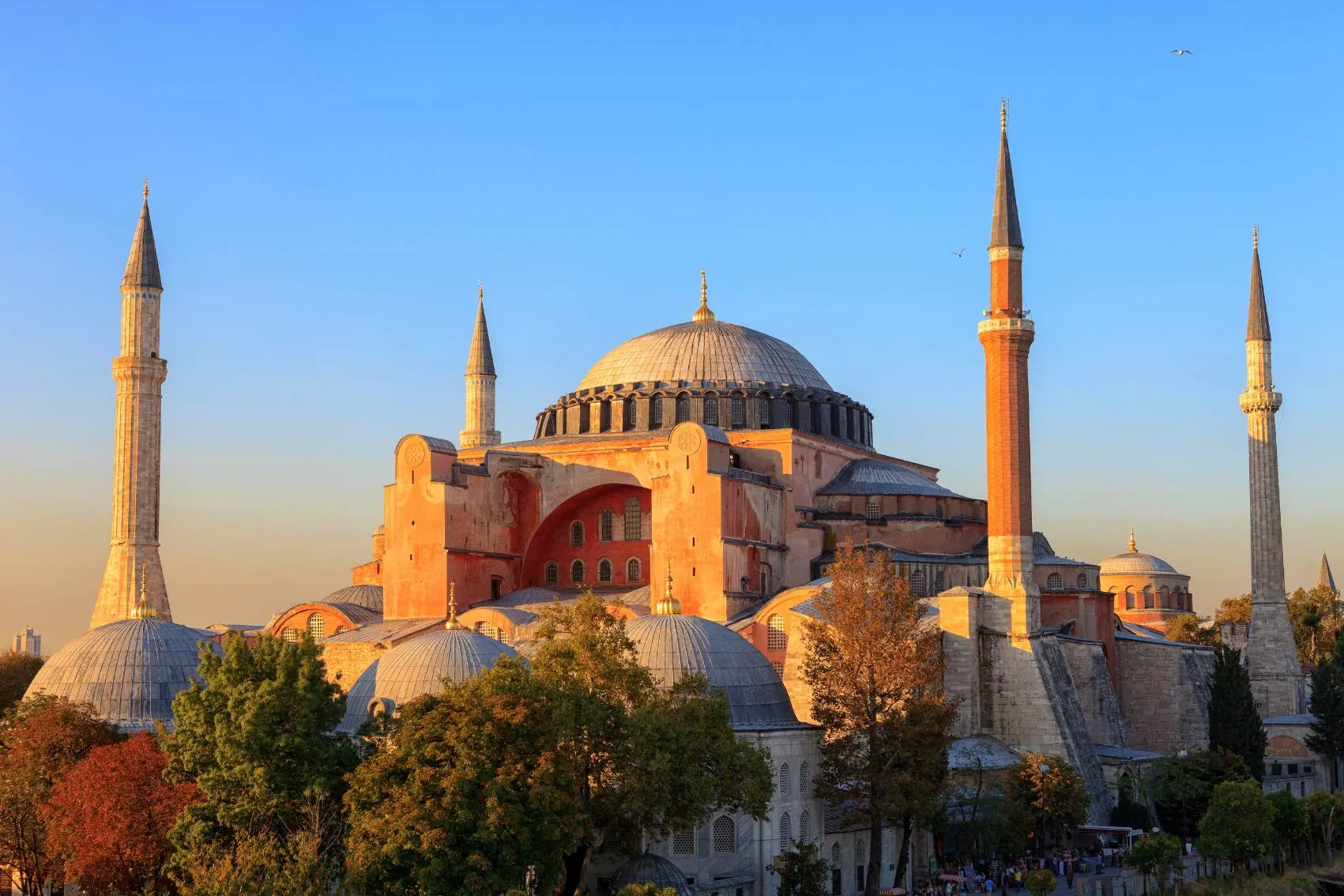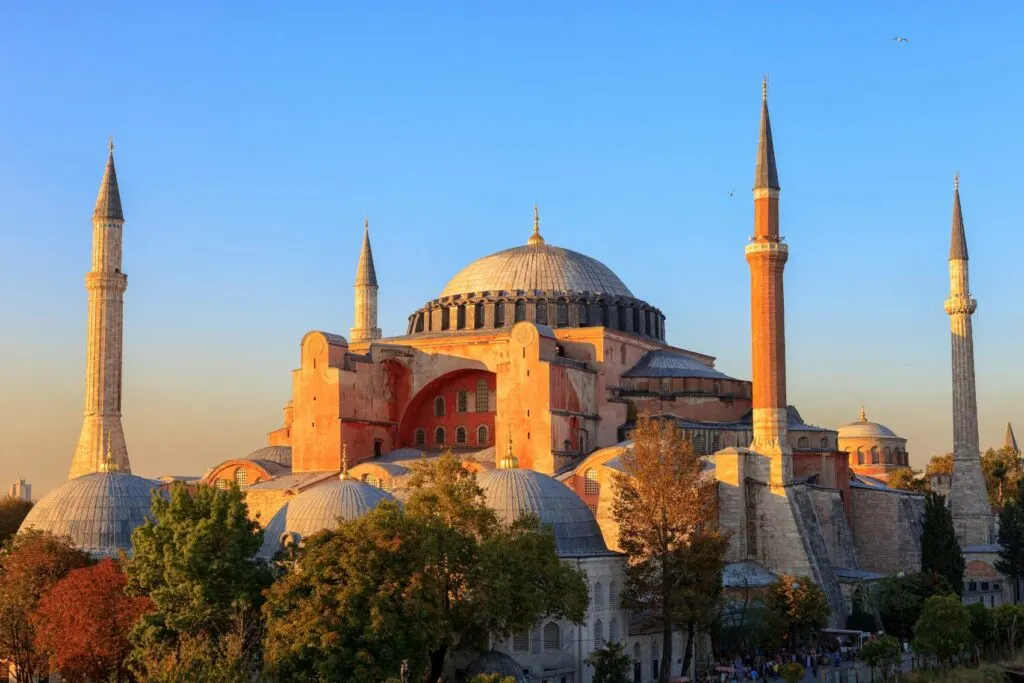 The characteristic elements of Hagia Sophia include:
The Saint John Chrysostom mosaic.
The 19th-century market for Enrico Dandolo's tomb.
And as with many iconic buildings that possess historical significance, the Hagia Sophia is now regarded by UNESCO as a World Heritage Site.
Cost: Free Admission
Timings: Open 24 hours
Location: Sultan Ahmet, Ayasofya Meydanı No:1, 34122 Fatih/İstanbul, Türkiye
Erimtan Archeology and Art Museum, Ankara
The Erimtan Archaeology and Arts Museum houses over 2,000 movable works, most of which constitute archaeological finds in the Anatolian regions of Turkey.
Take some time to admire these artifacts that date back to the Neolithic era and the Bronze and Iron Ages. These findings provide insight into the lives of ancient civilizations.
There is no doubt that the discovery of these artifacts has been of substantial historical significance and has helped scholars to gain a better understanding of the cultures of the past.
It is a museum and a venue that holds various events, including Tuesday concerts at the museum, workshops for children and adults, temporary exhibitions, a 'Museum takeover day' for children, and weekend educational workshops for children between the ages of four and up.
For more information on events at Erimtan Museum.
Cost: 40 TL for general admission
25 TL for students, teachers and ages over 65+
Free admission for children under four
Timings: 10 AM to 6 PM (Tuesday to Sunday), Closed on Monday.
Location: Kale, Gözcü Sk. No:10, 06240 Altındağ/Ankara, Türkiye
Turkey For Families – FAQs
When it comes to family holidays in Turkey, where is the best place to go?
Family holidays in Turkey are unforgettable and bucket list worthy.
Every coastal town in Turkey is unique and has a very unique vibe. Antalya, Kaleici and Belek have sure got our attention. They are well-located for airports, as well as day trips to historical sites.
How many days are enough to spend in Turkey with the family?
There are some spectacular sights in Turkey that you must witness once in a lifetime. These include the blue mosque, the Travertines of Pamukkale, and Hot Air Ballooning in Cappadocia, to name a few.
We suggest anywhere from 10 to 14 days to fully enjoy what Turkey has to offer.
What is the best time of the year to visit Turkey?
It is wise to travel to Turkey during the spring or fall months to have the best experience. In the months of March to May as well as September and November, the weather in Turkey is lovely, with an average temperature of 20°C to 30°C, allowing you to explore the beaches and historical sites during your visit.
Is Turkey an affordable country to visit?
A family vacation in Turkey can be extremely affordable if you plan it right and make suitable travel arrangements.
Book flights in advance, stay in budget family accommodations, dine at local restaurants, and remember to keep it simple.
Is Turkey a family-friendly destination?
Visiting Turkey as a family is an excellent way to have a memorable vacation.
Several great historical sites, adrenaline-pumping theme parks, picturesque sandy beaches, and fascinating museums are home to Turkey.
It's also famous for its magnificent thermal pools in Pamukkale and impressive waterfalls.
Do tourists have the right to drive in Turkey?
The Turkish government allows tourists of legal driving age to drive on the roads as long as they possess the required documents in order to do so.
Individuals with a UK driver's license can move around the country without additional requirements.
Is renting a car when commuting in Turkey with my family worthwhile?
Having a car in Turkey gives you the freedom to explore the country at your own pace and discover everything it has to offer.
It is worth noting, however, that if you intend to travel on a budget, we recommend that you find a place to stay near several tourist attractions that is easily accessible by public transportation.
What is the right way to tip in Turkey?
There is a customary tipping system in Turkey. For example, it is common practice to leave a ten per cent tip in restaurants, for housekeeping staff in hotels, and in the reception area for hotel staff.
Tips When Travelling in Turkey
Turkey is a secular country but the majority of citizens are Muslim. However, there is no need to cover up except if you are entering mosques. Ramazan is celebrated every year and many locals fast between sunrise and sunset. It can be quite difficult on long hot summer days. While It does not affect any restaurants or services, it is good to be mindful and respectful while out and about.
Police can carry out spot checks and photographic IDs must be carried with you at all times. A photocopy of your passport is sufficient and easy to carry around. Your passport is also required when checking in to your hotel and the reception staff will take a copy.
Prices in the resorts can vary especially at markets. Never accept the first price and prepare to barter. The local currency is TRY. In all resorts, USD EUR and GBP are widely accepted but you get more value for money when using the local currency.
Will you be needing travel insurance, flights, reliable internet, rental cars, or hotels for your trip?
Disclaimer: This post may contain affiliate links. By using them it will not cost you any extra, we will receive a small percentage of the sale.