Let's face it, things are looking a little different this winter. Many families don't want to navigate travelling abroad so this list of 20 incredible socially distanced winter breaks in the UK should help them find somewhere to go closer to home.
If your definition of a Winter break is sunshine and beaches, then you might not have considered the UK. However, a winter break in the UK is not limited to camping, glamping and London hotels. The UK is full of many hidden treasures that many of us are yet to discover.
While the weather might be unpredictable, families are sure to have a great time and find the right fit for their family. There is no such a thing as the weather being no good to explore, it's all about dressing right!
There are some incredible places to visit all over the UK, the ones featured here all offer contactless breaks from start to finish.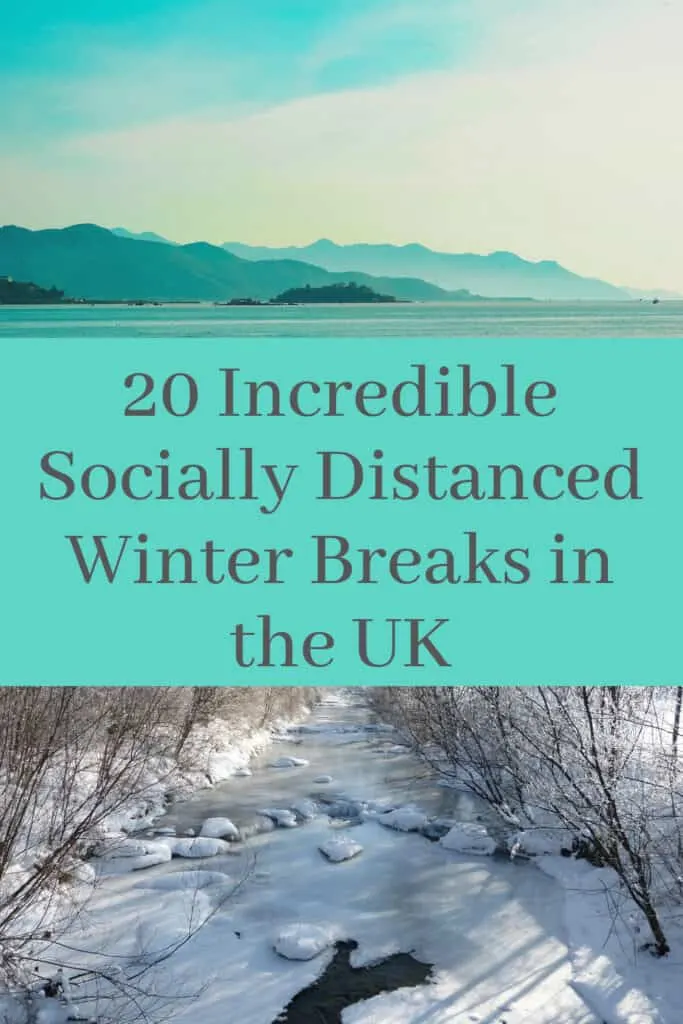 Luxury Lodge, London
A lodge might not scream luxury hotels in London, but you would be surprised at some of the facilities on offer. Beautiful scenery usually goes hand in hand at a lodge but you may also find private hot tubs here too.
You don't even have to go far from home. There is a beautiful estate located just a stone's throw from London, great for short weekend trips or longer breaks.
At Roydon Marina Village Lodges you have all you need onsite. The lodge has a well-equipped kitchen and even a Smart TV. The surrounding area is great for hiking, fishing and golfing. There is a river and a lake on-site nearby, where you can take a stroll and take in the natural beauty that surrounds you. However, Roydon is close by too if you want to explore the centre for some shopping or last-minute essentials.
It's is great for social distancing as you can isolate yourself away from other guests and staff, but if you fancy some company then you have the option of eating at the restaurant too.
To find out more about the lodges click here.
Cool Cottage, Cornwall
Nothing says cottage like Cornwall. There are an abundance of cottages to be found here due to the beautiful countryside. Secluded cottages are a great choice to keep yourself socially distanced while still being close to some of the best things to do in Cornwall with kids.
1 Water's Edge is nestled in the Cornish countryside. it is surrounded by undisturbed countryside by has a restaurant on-site and Lanreath for all your essentials. The location is great if you want to relax or explore the surrounding area of Cornwall.
Head to the beaches nearby and let the kids hunt for rocks or visit the Polperro Harbour Heritage Museum to learn about the history of the area. There are more attractions to be discovered in Polperro nearby.
It is perfect for a family of four and out of the private decking is a hot tub. As the name suggests, it is right beside the water's edge with fantastic views of the lake.
Find out more about the cool cottage here.
Beautiful Boatel, Scotland
Staying on a boat in winter might not sound appealing, but some boatels offer the luxury of four-star accommodation. As they are self-catering you can keep yourself and your family socially distanced.
The Four Sisters Boatel – Houseboat has everything you need for a winter break in Edinburgh. The boat has heating to keep you warm and bunk beds for the kids. The location is in central Edinburgh, but quiet and tranquil enough for you to think you have escaped the city.
It is just a 10 minute walk to Edinburgh Castle or the old town. As you are right in the centre, you are surrounded by some of the top restaurants in the area.
All you need is onboard including a kitchen and washing facilities. There are plenty of well-known restaurants located nearby and Hogmanay where you can ring in the New Year.
For somewhere unique to stay in Edinburgh click here.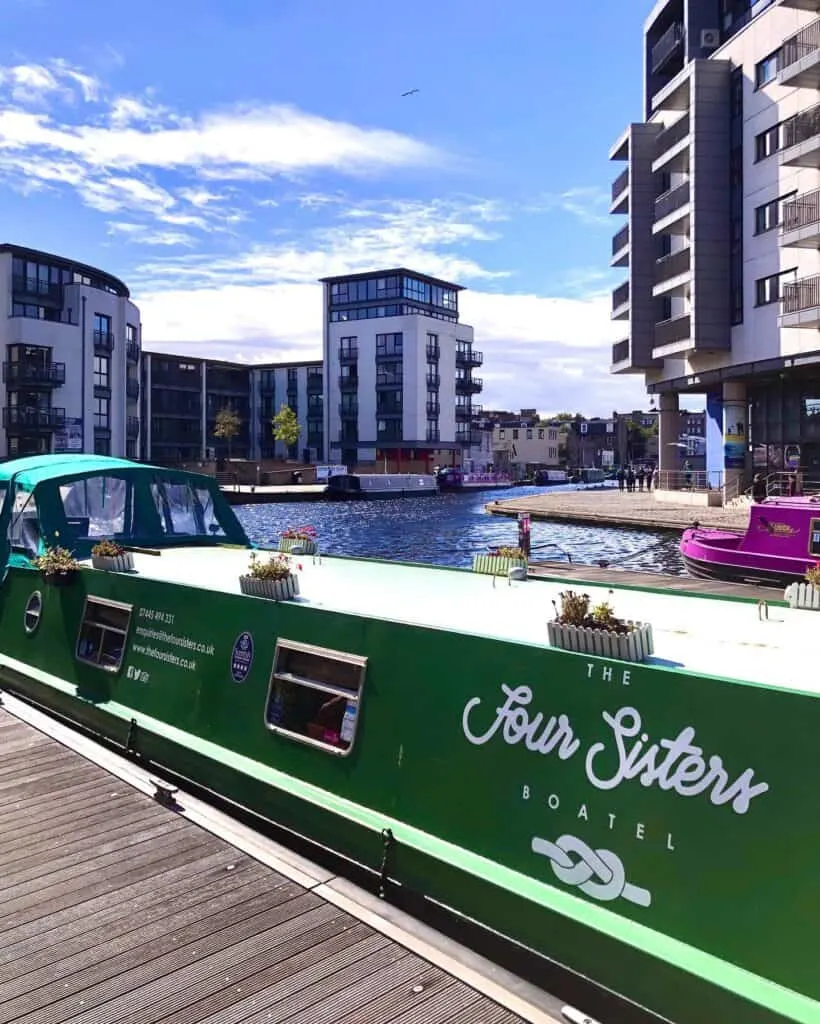 Lovely Log Cabin, Ulster
There are many log cabins scattered across the country. They each have their own unique features and offer guests a great escape from city life. Escaping to the country allows you get back to nature and breathe in the fresh air.
The North Croft is on a working farm and while you are not able to bring your pets along, you are allowed to bring your horse and stable it there. It is a great place to spend some quality time together.
The farm is located in Northern Ireland and the lake is only a short walk from the cabin. It has everything you need for a quiet winter break away, or you could pop to the village for drinks or food.
Discover more about the log cabin here.
Beachfront Property, Wales
A beachfront property may be the furthest thing from your mind when you are thinking about staying in the UK in winter. You may not get to enjoy sunbathing but there are definitely properties with stunning views and amazing sunsets.
In the Isle of Anglesey enjoy the stunning views of over Red Wharf Bay from 5 The Quay. The property has three floors and plenty of space for a big family. However, the best thing about the property is the view.
The balcony is the perfect place to wrap up and enjoy the sunset and this part of Wales is renowned for its stunning sunsets. During the day you can explore the castle or simply grab some last minute presents in the next town over.
Learn about the beachfront property here.
A Converted Barn, Devon
If you think that all barns are drafty, then you are in for a treat. Instead think woodburning fire and open plan spaces.
Devon is well-known for its spectacular coastline and its beaches have always made it a favourite UK holiday destination. Hidden in the Loddiswell village is Crosscombe Barn.
You probably won't want to leave the barn with its private garden and reading seat. Supplies can be found just a short stroll away, but venture a little further and there are great cycling routes or take a trek in the Dartmoor National Park.
You may have to table surfing and canoeing but that doesn't mean you can't take in the sights nearby. Watch the sunset at Thurlestone Rock archway or simply take the family on a nature spotting trip.
To check out the barn click here.
A Cornish Barn
If you want to combine your trip with a bit of history then Glebe Barn is a great choice. It may be secluded but it is also nearby a handful of historical sites. Stroll around The world-famous Eden Project, the Lost Gardens of Heligan, or the National Maritime Museum at Falmouth tare just some of the best things to do in Cornwall with kids. There are several beaches nearby or make your way down near the coves to take in some of the UK's most spectacular views.
As expected the cottage will have everything you need with a shop and pub all within walking distance. There is a seating area outside and even a creek for the kids or your dogs to play in.
If a history filled trip sounds perfect for you then click here.
Forest Cottage, Essex
Essex might be the last place you would expect to find a cottage. Situated deep in the Epping Forest District is a historic building that is owned by the City of London. It has since been transformed into Baldwin's Hill Cottage.
It is a private space that brings you close to nature. With plenty of animals visiting and open spaces for the kids to run around. The forest has plenty of hiking or cycling routes and even a place to try horse riding.
You might think you are in the middle of nowhere, but the village is a walk or short drive away. The perfect place to pick up any essentials or stop at the pub for a quick drink.
For a cottage close to nature check out the information here.
Fantastic Farmhouse, Anglesey
This renovated detached farmhouse will blow you away. it is located in an Area of Outstanding Natural Beauty. There are many beautiful beaches and cliff walks nearby and it is also close to the beautiful Llyn Alaw reservoir with SSSI designation and unspoilt lakeside trails.
Mountain View is a great choice for large families as it has six bedrooms and six bathrooms. The farmhouse has country views towards the peaks of Snowdon and a big lawn for the kids to play on. It is also home to a luxurious hot tub.
If you are looking for a bit more adventure then nearby there is everything go-karting to kite surfing. The island has everything you need to keep you entertained including beaches, rock pools and undiscovered coves.
To find out more about the fantastic farmhouse then click here.
A Cedar Log Home, Cumbria & The Lake District
This unique home is built solid cedar logs. Not only is the three-bedroom home incredible, but it boasts breathtaking views over the lake. Casa Loma is fully equipped for families of all ages, with a high chair and cot for the little ones and an entertainment room with PS4 for the older ones.
The fire pit table outside will keep you warm if you decided to brave the cold and dine alfresco on the patio area beside the lake. The surrounding area is great for scenery, walks or simply just relaxing in nature.
It is also perfectly located to access both the Yorkshire Dales and the Lake District for a bit more adventure. You even have the option to visit an award-winning promenade in Morecambe. Take a tour of the medieval ruins of Kendal Castle and learn more about the history of the area.
The home is surrounded by choice or simply sit by the fire with a good book and enjoy the view.
Check out the Cedar Log Home here.
An Amazing Apartment, Sussex
If you decided to stay in the UK but you are craving the charm of places abroad, then Zanzibar Beach Apartment is right up your street. Each bedroom has been decorated to reflect different places across the globe.
Every detail has been thought of, including a family dining area and Netflix in every room. The beautiful sea views are breathtaking and on a clear day, you may get to see France or a few seals in the distance. Along with an outdoor hot tub, the apartment is sure to blow you away.
St Leonards-on-Sea is bursting with cafes, history, shops and even cycling tracks. It is easy to get swept up in the magical seaside town which sports a promenade and underground tunnels.
Find out more about this stunning apartment here.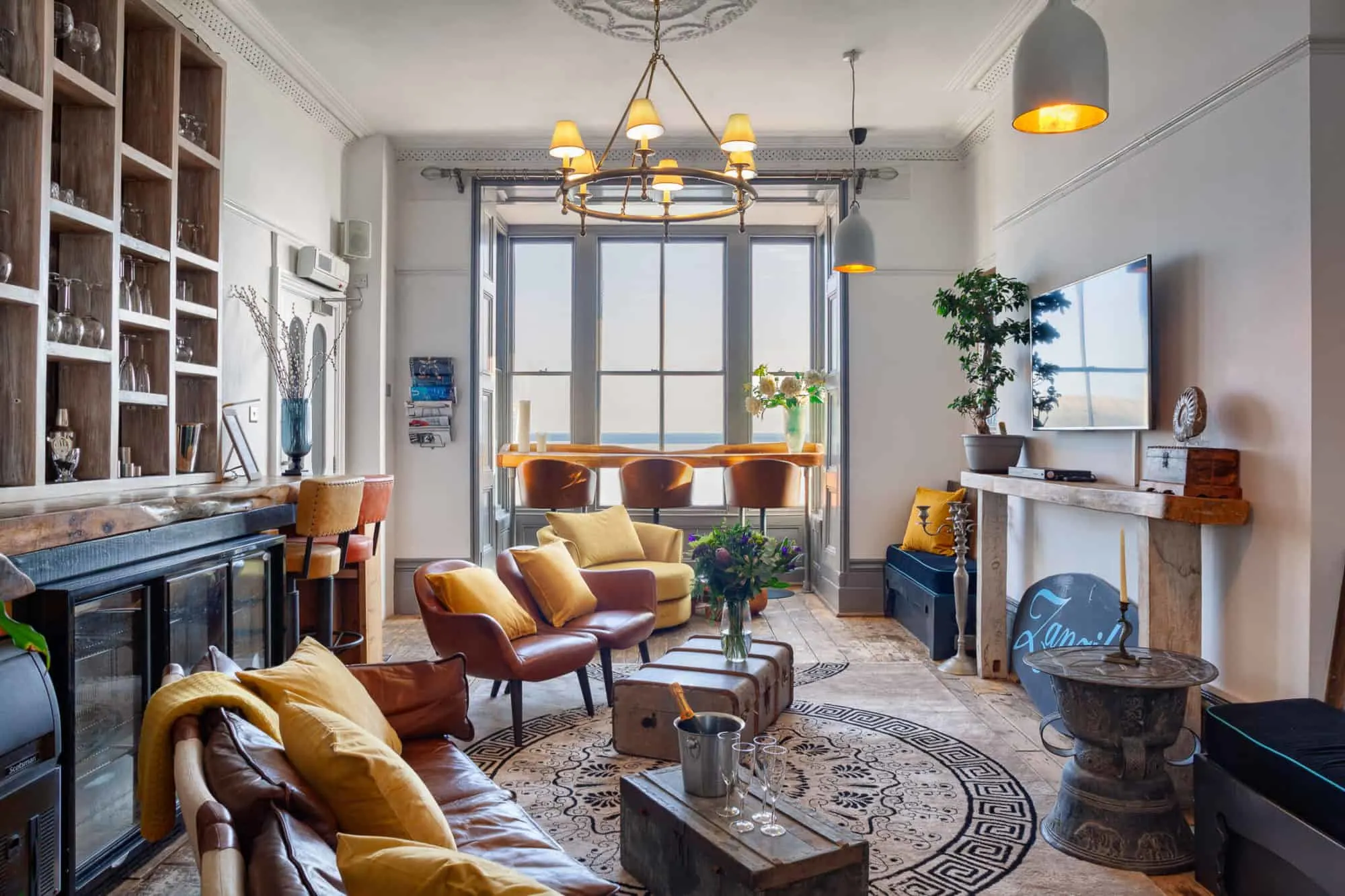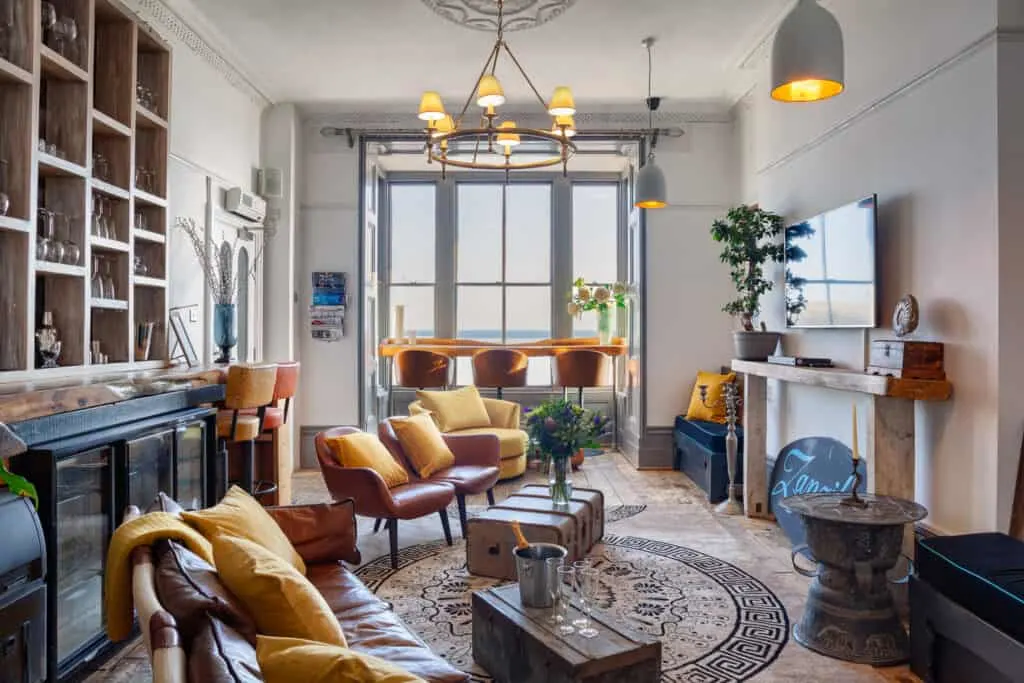 Home by the River Thames, Oxfordshire
Oxford is well-known for its history. It was the backdrop of the TV series Midsomer Murders and Agatha Christie also used to live there. In fact she based some of her characters on residents of the town and the local landmarks influenced her writing.
Thames Reach has the River Thames in its back garden and Oxford is close by. The home has a contemporary modern style and everything you need for a truly socially distanced break.
Take a stroll along the Thames Path all the way to Wallingford or travel on foot or bike to Ridgeway. Alternatively, you can go to Oxford and visit the iconic Bodleian Library and Carfax Tower. For a bit of Christmas shopping, the historic Covered Market is sure to be packed with choices.
Have a look at the home by the river here.
Rural Cottage, Shropshire
This beautiful cottage is located in Shrewsbury that has been called England's finest Tudor town. The property is impressive with stone walls and wooden beams. However, hidden behind is a property full of luxury and fun for all ages.
There is a sauna, hot tub and even a full-sized pool table. The Old Sheep Shed is well equipped for families to have an amazing winter break. It overlooks the garden pond with a waterfall and lights to help brighten up the dark winter evenings.
Loton Estate's deer park is just a 5-minute walk away or visit Powis Castle or the Ironbridge World Heritage Site. There is so much to see and do all while staying socially distanced.
Learn more about the rural cottage here.
A Stone Cottage, Portknockie
Portknockie is a charming fishing village located on the Moray Firth coast. The coast is beautiful and dolphins can be spotted there regularly. The scenery is beautiful and there is a sandy beach nearby. It is a great place for golf and for whiskey drinkers with good access to the Malt Whisky Trail.
Failte (meaning Welcome in Gaelic) lives up to its name. The cottage is beautiful throughout with enough room for a large family for all ages. Stairgates and fireguards can even be fitted on request on keep little ones safe.
With a dining room and kitchen have everything a family needs to make family meals or tuck into some local fish and chips. After walking around the village or the other fishing villages scattered across the coastline, return to the cottage to relax in the private hot tub.
Find out more about the Stone cottage here.
Grade II listed Georgian cottage, North Wales & Snowdonia
North Wales is famous for its mountains and its coast. Where Bwthyn Morse is situated, you get the best of both worlds. The charming cottage is just on the outskirts of Llanfair and the Snowdonia National Park. it promises seclusion but not isolation.
The cottage was renovated and while it is well-equipped and modern, it still hangs on to some of its original features. It is perfect for a family and the Aga cooking range will be a welcome surprise for the family chef.
Activities near the cottage include cycling, trekking and due to little pollution star gazing. Venture out a little further and go pony riding or visit Zip World.
To visit this Georgian cottage or find out more about it click here.
A Farm Cottage, York
Situated just outside Leeds is Skipbridge Farm Cottages. The buildings used to be part of a working farm but they have been renovated into beautiful cottages. Each cottage has everything you need for the perfect break. Some have wood-burning stoves and some have hot tubs.
There is plenty to do and see in the surrounding area as York and Harrogate are nearby if you want to sightsee or do some shopping. Around the cottages are some farm animals and a garden to keep the kids amused.
Your winter break will be contactless from start to finish but the owner is on hand to answer any questions or point you in the right direction for food or drinks.
Find out more information about the farm cottages here.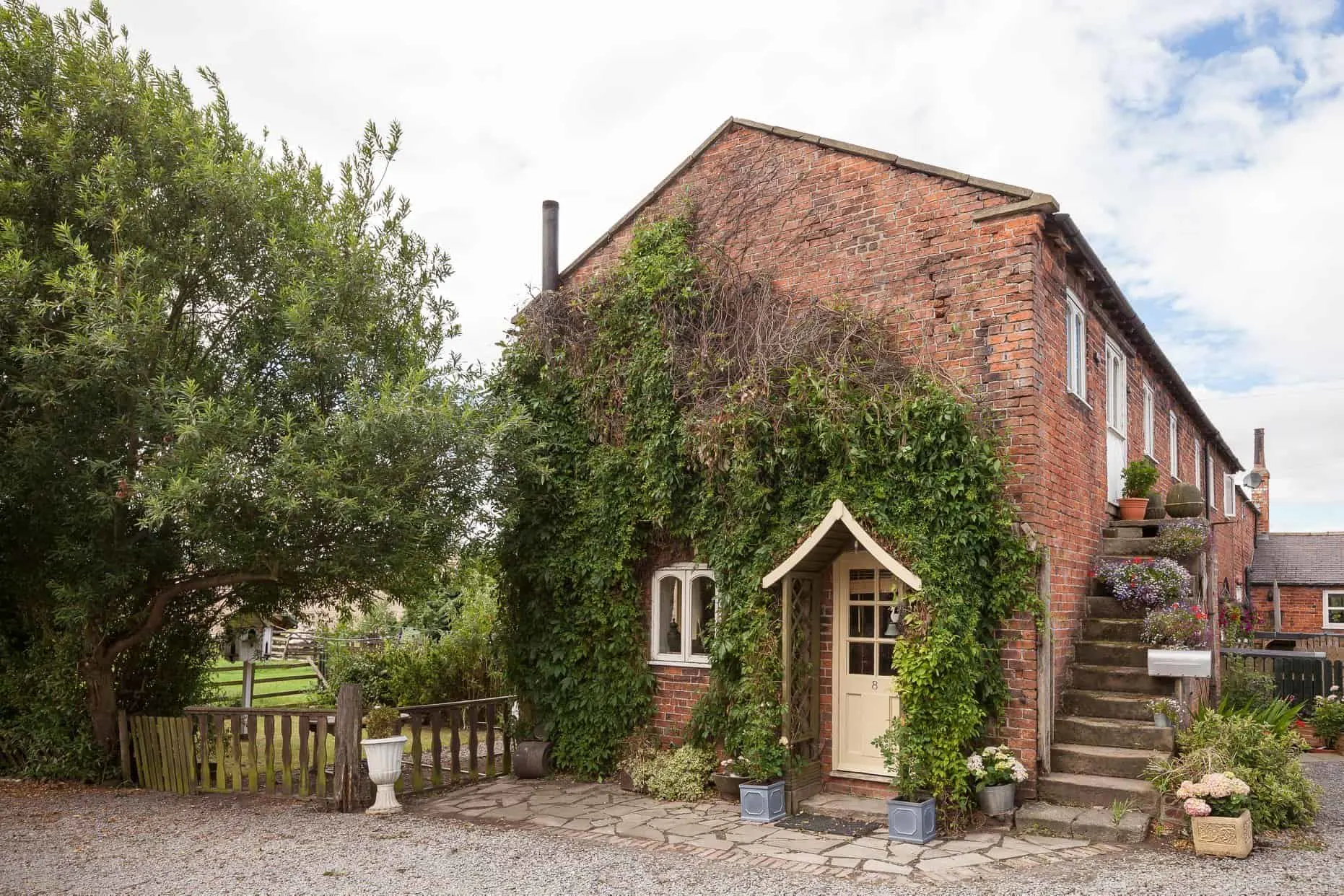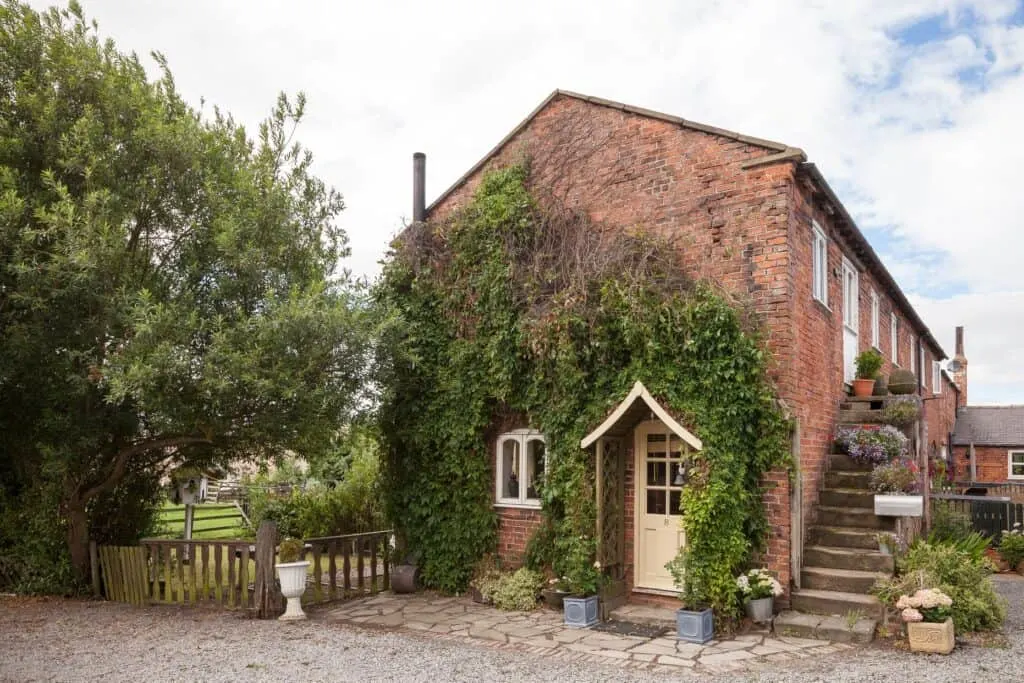 A Lodge in Lincolnshire
Just on the outskirts of Thorpe-on-the-Hill lies Thorpe Park Lodges. The area hosts a lake a provides a tranquil setting for guests. There are many cottages to choose from but they each have their own private veranda and three even have their own hot tub.
It's a great place to visit for fishermen as the lake is free for guests to use. There you can catch bream, rudd, tench, perch or carp. Guests also get complimentary use of the golf course where you can take some lessons or even play around.
Take a walk around the gardens or explore the nature reserves nearby. It is just a few miles from Lincoln and suitable for all members of the family.
Take a look at the lodges here.
Log Cabins and Chalets, Nottingham
There are many beautiful places to see in Nottingham including the castle and the famous forest. Fairview Farm Log Cabins & Holiday Accommodation is set in 88 acres of land in easy reach of many famous sites.
Guests are welcome to walk around the working farm and take in the sights or meet the horses. You can also head off for a walk or cycle in the forest. The nearby village has pubs and restaurants you can access through the fields for a quick drink or family meal.
Each home sports many facilities including the usual kitchen and bathroom. They all come with a terrace and a garden view.
Read more about the Log cabins and chalets here.
Gorgeous Green Bus, Hampshire
If you are looking for somewhere unique, then look no further than Olive. She was once a former Dublin Double Decker bus but is now nestled on the outskirts of Bramshott village.
It is fully contained and provides a family with everything needed for a great family break. The bus is in a field of its own surrounded by stunning views. You can also expect to run into horses and other wildlife there.
The area surrounding Olive is a great place for walks. There are lakes and even a wishing well to be found. For a bit more adventure Go Ape is also on your doorstep.
Check out more about Olive and Go Ape here.
The Tower, Boston
The Tower was originally a WW2 watchtower. The 360º views from the gorgeous glass observation room on the top floor let you see the marshlands while you dine or chat with family. The tower has five floors in total and is family-friendly, even the family dog is welcome to tag along.
Stroll through the marshlands or go for a hike in the Lincolnshire Wolds. There is also plenty to see and do in the seaside town of Skegness nearby to pick up some goodies or essentials. For a quick drink to warm you up then visit the pub at the end of the lane.
To add a bit of luxury to your stay, then jump into the private hot tub or sleep your other guests in the helicopter nearby.
Discover more about the incredible tower here.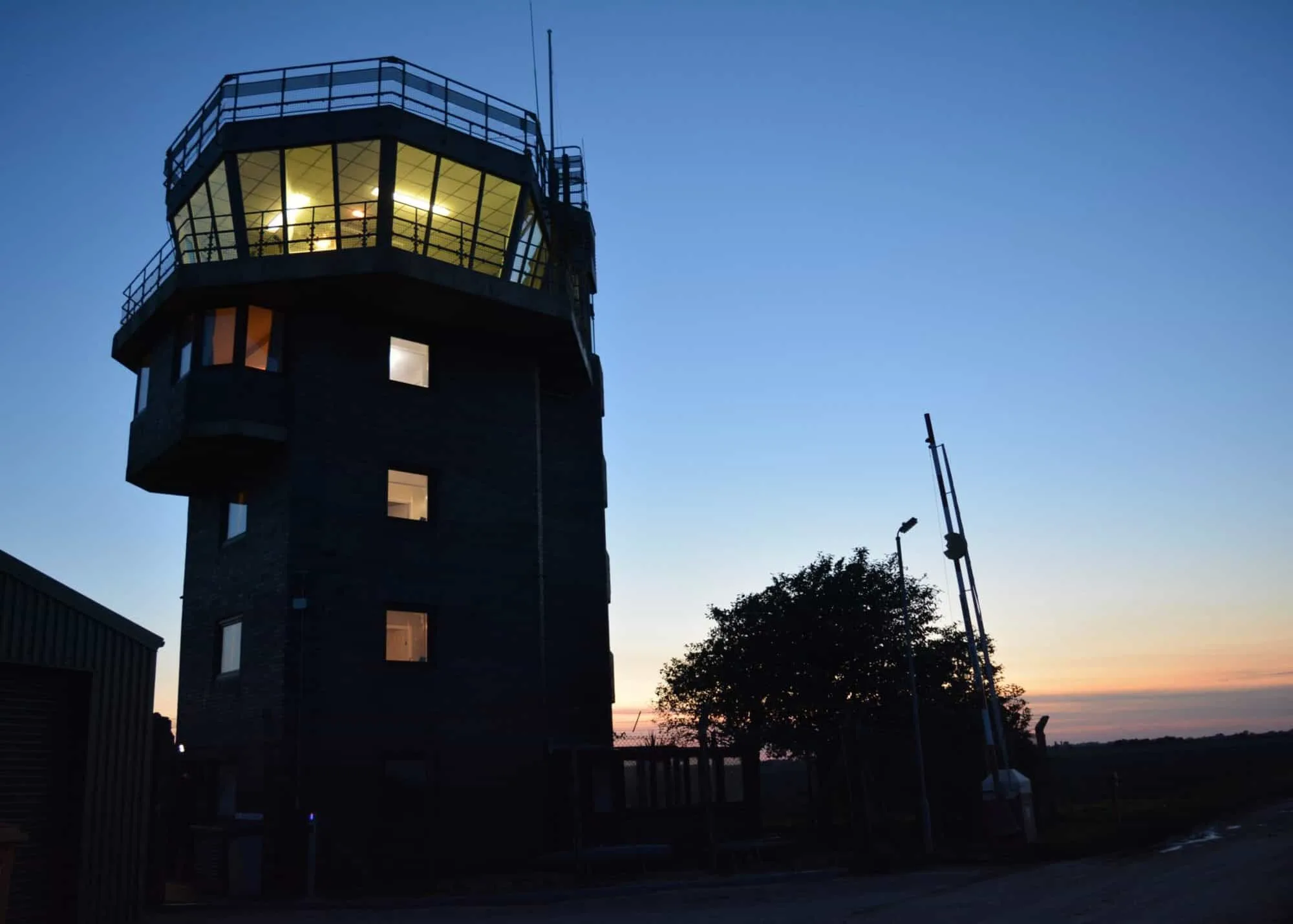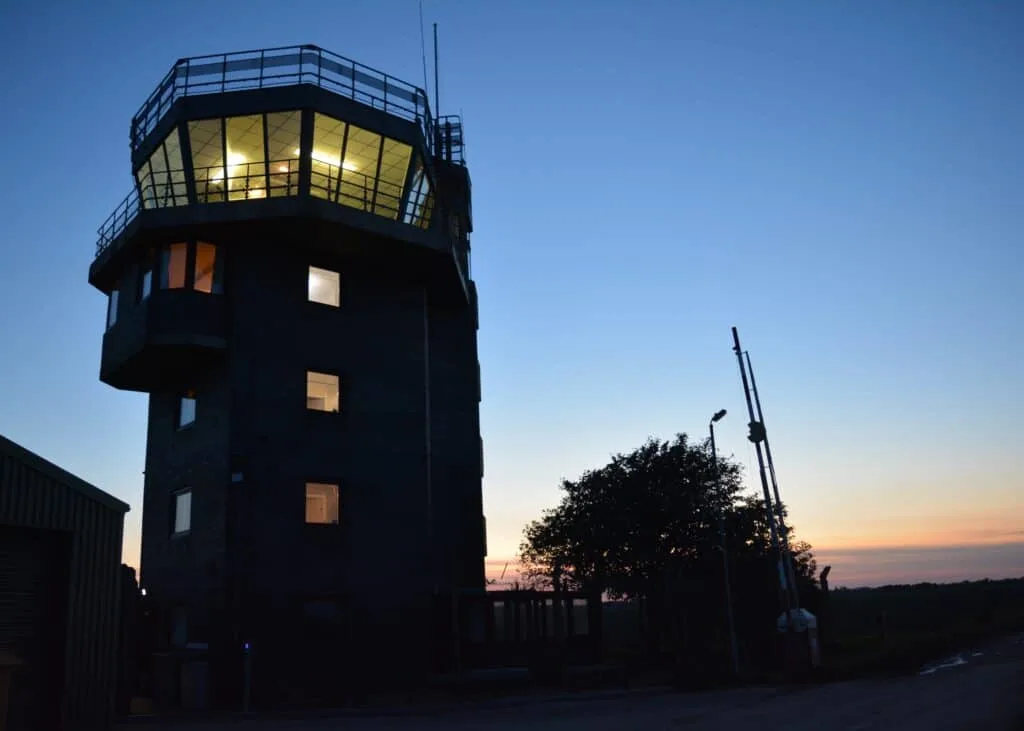 What to Pack for your Socially Distanced Winter Breaks
With 20 incredible socially distanced winter breaks in the UK to choose from, you are sure to find one to suit your family. Packing for a winter break in the UK can be a bit of a challenge, as an added bonus here is a list of a few essentials to put in your case to make sure your family has an incredible time away.
Pack a few board games to keep the family entertained. With the darker nights, your family will be headed home early to snuggle up beside the fire. Board games are great to have on hand for family time and to keep the kids amused.
The weather is guaranteed to be cold in winter, however, don't let that stop you going out and exploring with the kids. Most winter breaks include some kind of outdoor activity whether it is hiking or simply finding rocks in the garden.
To keep the kids warm for all types of weather think about layering them up. A thermal base layer is a great place to start. Add normal clothes on top and then a rain set to keep them dry. Finish the outfit off with some fleece-lined rain boots to keep them dry and protected from all the elements.
A travel first aid kit is also great to have with you on any trip, home or away. Click here to see what we carry with us.
The Best Things to do in Cornwall with Kids
The Best Things to do in New Forest with Kids
30 Of The Best Family Hotels London
Best Things To Do In London With Kids
Disclaimer: This Socially distanced winter breaks post may contain affiliate links. By using them it will not cost you any extra, we will receive a small percentage of the sale.